You are currently browsing the tag archive for the 'Douglas Ross' tag.
Yesterday's post covered Nicola Sturgeon's resignation as First Minister of Scotland on February 15 and the reasons for it.
The story continues.
More reaction
When Jacinda Ardern stood down in New Zealand, British conservatives wondered if Sturgeon would follow suit.
After all, the metropolitan elite adored both female 'saints', mothers of their respective nations.
On Thursday, February 16, The Telegraph's Jenny Hjul pointed out (emphases mine):
In her eight-plus years as Scotland's First Minister, Sturgeon has been loved and loathed in equal measure at home, something she acknowledged in her press conference. But beyond her domain, she has been regarded in many circles as an almost saintly presence, a pioneer of progressive causes, and a beacon of pure, strong leadership.
To the frustration of her critics in Scotland, she has been able to pull the wool over the eyes of London liberals in particular and garnered a good press over her botched handling of everything from Covid to the fall-out from Brexit.
In her parting, parallels will no doubt be drawn with that other recent quitter, and Sturgeon idol, Jacinda Ardern. Like the former premier of New Zealand, the SNP leader's attempt to portray her departure as an honourable exit will be taken at face value by those who understand little of the domestic politics that have made her position untenable in the long-term.
Sturgeon, like Ardern, banged on about running out of steam, about the pressures of the job and the constant scrutiny. And she flagged up what she saw as her achievements ("Scotland is a fairer country"), while regretting that she could not bring more rationality to politics. "If all parties were to take this opportunity to try to de-polarise public debate just a bit," she pleaded.
This is rich indeed from a politician who has thrived not just on driving divisions between Scotland and the rest of the UK but on polarising opinion north of the border.
Far from being democracy's champion, her party has shut down dissenting voices while claiming to represent the whole of Scotland. Under her tenure, Scotland has become all but a one-party state, with many public bodies, and civic and cultural organisations captured by SNP groupthink.
Sturgeon said her decision to stand down had crystallised over the past few weeks, perhaps since Ardern's resignation showed that even great (by their own reckoning) leaders have their limits. But more likely it is because her grip has gone – over her party, which is divided and growing rebellious, and her country, which is further away than ever from voting Yes …
To her wider fan club, she may have relinquished her crown with grace, but to those who know her better it is her final face-saving gesture.
The Gender Recognition Reform Bill, which the British government vetoed by using Section 35 provisions for the first time, has caused a split within the Scottish National Party. On Thursday, February 16, The Times reported that Party members' views are divided on the legislation:
The Scottish government has until April 17 to decide whether to appeal against the UK government's veto of the legislation, which would allow people to self-identify their gender and lower the age of transition to 16.
The SNP's ruling national executive committee will meet tonight to decide the rules and timetable for the leadership contest, raising the prospect that there may not be a new first minister in place before the key call has to be made …
"I think it dies in its current form," a senior SNP source said. "The sensible approach would be [for the new leader] to get round the table [with the UK government] and find a compromise on the bill."
The party is split on the bill, meaning whatever happens it will be controversial. Opening talks with Conservative ministers will anger those who lobbied for the bill to be pushed through with little compromise.
However, there is a significant number of elected representatives and grassroots members who are concerned about fighting a court case when a recent poll found that 50 per cent of voters in Scotland back the UK government's position …
Mixed reactions
When Liz Truss was Prime Minister, she labelled Nicola Sturgeon an 'attention seeker' and, as such, someone to be ignored. She never contacted Sturgeon.
Rishi Sunak was different and got in touch soon after he entered No. 10. He was rather gushing on her departure:
President Trump, on the other hand, viewed Sturgeon differently:
The day she resigned, he posted a statement on his 2024 campaign website:
Good riddance to failed woke extremist Nicola Sturgeon of Scotland! This crazed leftist symbolizes everything wrong with identity politics. Sturgeon thought it was OK to put a biological man in a women's prison, and if that wasn't bad enough, Sturgeon fought for a "Gender Recognition Reform Bill" that would have allowed 16-year-old children to change their gender without medical advice. I built the greatest Golf properties in the World in Scotland, but she fought me all the way, making my job much more difficult. The wonderful people of Scotland are much better off without Sturgeon in office!
Catalogue of failures
Is Trump right?
While he is no fan of the former US president, Scottish Conservatives leader Douglas Ross would agree with those sentiments.
On the morning of February 15, the sun was shining in the north east of Scotland, where Ross, an MP and MSP, was campaigning for candidates in an upcoming by-election. The sun was shining:
That was at 9:46. In just over an hour, the sun would shine even brighter with the unexpected news of Sturgeon's resignation.
The following tweet represents the political disconnect among the Scottish public between those who thought Sturgeon was a disaster and those who thought she was a saint:
I will certainly miss First Minister's Questions which always began with a Sturgeon-Ross face-off. In the last two sessions, Sturgeon was unable to answer Ross's question about sexual identity — 12 times, no less.
The evening that she resigned, Ross wrote in The Telegraph about her catalogue of failures:
She is, rightly, regarded as a formidable politician. But equally, it's hard to dispute that, by obsessing over independence, she has always governed in the nationalist interest, rather than the national interest.
Any rational analysis of her record as First Minister would have to conclude that it's one of failure.
On education, the policy area she asked to be judged on, it's dismal. Scotland tumbled so far down the international league tables that we were withdrawn from them to save face.
For a self-avowed "progressive", Nicola Sturgeon's abject failure to eradicate the poverty-related attainment gap, as promised, is a damning indictment of her reign.
Then, there's the increased violence in our classrooms and the first teacher strikes in almost 40 years.
On her watch, Scotland's NHS is on its knees with record waiting times for treatment and burnt-out, exhausted staff. The root cause is dismal workforce planning by successive SNP health secretaries, including Nicola Sturgeon who cut the number of funded places for homegrown medical students at Scottish universities.
Similarly, on transport, the ledger is grim. The ferries scandal is the most egregious case of wasteful public spending in the devolution era, with the latest cost estimates (£450 million) showing it's set to overtake the Scottish Parliament building as a money pit.
But it's about so much more than taxpayers' cash being squandered. It bears two other hallmarks of the Sturgeon government: remote Scotland being an afterthought and secrecy.
Meanwhile, the death toll on two of Scotland's vital trunk roads, the A9 and A96, continues to rise while the SNP, in thrall to the anti-car Greens, drag their heels on long-standing promises to expand the dual carriageways, and our trains remain over-priced and unreliable under nationalised ScotRail.
The First Minister has grown increasingly out of touch with the public mood in recent months, leaving her successor with dilemmas over whether to ditch or amend flawed policies, such as the National Care Service, the Deposit Return Scheme and, of course, gender self-ID.
By tying herself in knots over the latter, she was left in the absurd position of being unable to refer to a double rapist as a man.
That, coupled with her dismissal – indeed, smearing – of those who warned that her Gender Recognition Reform (Scotland) Bill threatened women and girls' safety betrayed her "I know best" arrogance.
Arguably, Nicola Sturgeon's greatest failing is Scotland's drug death epidemic, which has mushroomed to such an extent under her that fatality rates are now the worst in Europe by an enormous margin.
"We took our eye off the ball" was her slip-of-the-tongue mea culpa for those appalling statistics. But it could, and should, serve as her wider epitaph.
Coronavirus measures
Ross did not mention, or perhaps he agreed with, Sturgeon's draconian coronavirus policies.
From the start, she did things more radically than Boris Johnson. For whatever reason, the BBC televised her lengthy lunchtime coronavirus press conferences throughout the UK, when her policies pertained only to Scotland.
Her right-hand woman was Devi Sridhar, an American public health researcher who is the chair of global public health at the University of Edinburgh. The BBC frequently interviewed Sridhar for all the UK to see and hear, a subtle attempt to get every other Briton on board with Scotland's draconian policies.
In April 2020, the SNP's then-Westminster leader Ian Blackford MP wrote to Boris to delay full Brexit because of the pandemic.
On Sunday, April 5, The Express reported:
In his letter, Mr Blackford urges Mr Johnson to seek an extension to the current transition period in a bid to focus resources and efforts on tackling the pandemic – claiming failure to do would be "beyond reckless". He added: "We are not asking you to change your views on Brexit – we are simply asking you to recognise reality."
"This isn't about fighting old battles or rehearsing old arguments – it's about recognising the needs of people right now."
Fortunately, Boris ignored him.
However, that same day proved that the SNP was not whiter than white. Sturgeon's chief medical officer Dr Catherine Calderwood had already broken lockdown restrictions twice by travelling to her weekend home from Edinburgh.
Sturgeon did not act and even initially refused Calderwood's resignation.
If she had stayed then Ms Sturgeon and, probably the British government too, would have had to face the fact that for many politicians, the media and for huge sections of a terrified and angry general public, it will be this doctor – and not the nation's battle against a killer virus – who would have become the main issue. Dr Calderwood would have been the story, not coronavirus. And in the harsh world of politics, that's what ultimately counts.
She admitted that not once but twice she drove the 40-odd miles to her second home at a time when she is on our TV screens and in our newspapers constantly urging the rest of the population to stay at home and not to go off on non-essential trips to the countryside.
Whichever way you cut it, and although the First Minister insisted that she still depended on this lady's medical support, her foolish actions threatened to drive a coach and horses through the official advice – advice that Dr Calderwood helped draw up – on which the nation depends to beat this virus.
Ms Sturgeon was extraordinarily generous in refusing initially to accept Dr Calderwood's offer to resign and for insisting, somewhat ingenuously, that everyone makes mistakes. That is true, of course, but the reality is that for this senior official, this was no ordinary slip-up.
On the contrary, on two successive weekends Dr Calderwood decided to get into her car and do what she's been telling the rest of us not to do – and take a non-essential trip away from the city of Edinburgh to her holiday home in the Fife seaside village of Earlsferry. Trips that earned her an official and extraordinary warning from the police …
Moreover, what is already sticking in the craw of many people is that this is someone who has been a firm advocate of the severe restrictions imposed on the rest of the population who has decided to ignore them to visit her second home.
That this second home is in one of Scotland's most expensive seaside villages, much favoured by Edinburgh's better-off classes, will also not be lost on her critics.
SNP politicians said the doctor had to go, at which point Sturgeon relented:
She hoped that would have enabled the doctor to hang onto her position albeit in a backroom role but I'm certain that this experienced politician would have known that it was a hopeless situation.
That view was magnified by the ferocious level of protests she received from leading SNP politicians who said they were reflecting serious unease amongst the party faithful about Dr Calderwood's behaviour.
The hypocrisy of it all!
That month, an allegation surfaced that England was stealing Scotland's PPE supplies, a claim which Sturgeon retracted mid-month but, according to one Conservative MSP, allowed to continue spreading north of the border. On April 15, The Express reported (with a video of one of her press conferences):
At Ms Sturgeon's daily briefing, she promised to seek urgent clarity on reports that Scottish care homes were being given a lower priority for supplies of personal protective equipment. Claims of PPE priority for England surfaced on Monday and came from Donald Macaskill, the head of Scottish Care, which is the body representing private care homes in Scotland. He told BBC Radio Scotland the UK's four largest suppliers had said they were not sending to Scotland and instead prioritising "England, the English NHS and then English social care providers".
Andrew Neil mocked the First Minister of Scotland and tweeted: "Nicola Sturgeon told GMB [Good Morning Britain] that she accepts assurances that NHS England did not demand PPE suppliers give preference over Scotland …"
Jamie Greene, Scottish Conservative MSP for West Scotland tweeted: "They're still spouting the story, contrary to the language now being used by the FM, Health Secretary, and Clinical Director.
"If you're going to manufacture a grievance, at least coordinate it. Even their target audience is boring of the needless (dangerous) scaremongering."
UK Health Secretary Matt Hancock spoke to health ministers from different UK nations on Tuesday afternoon and insisted it had not instructed any company to prioritise PPE for one nation over the others.
Sturgeon often wanted to appear to be ahead of the curve as a means of scoring political points targeting Boris's policies for England. Unfortunately, he caved in all too often and followed suit.
On April 23, The Mail reported:
Ms Sturgeon has repeatedly gazumped Number 10 during the coronavirus crisis as she has moved on key issues before ministers in London. 
Previous examples include announcing a ban on large social gatherings, closing schools and saying that the original three week lockdown would be extended. 
That article laid out Sturgeon's plans to reopen Scotland soon.
Three days later, she was unable to give any further clarity, despite her announcement. As the reply says, when Boris hesitated, he was accused of obfuscation while Sturgeon was praised for her notional transparency:
Incredibly, on May 5, Sturgeon was pictured shaking hands with Bill Gates. It was okay for them, when no one else was allowed to do so. And look how close they were to each other. More hypocrisy:
Then it emerged that, like Boris, who at least had the excuse of attending Brexit transition meetings, Sturgeon also missed COBRA meetings about the pandemic. In fact, she missed six of them. This came from one of the Scottish papers: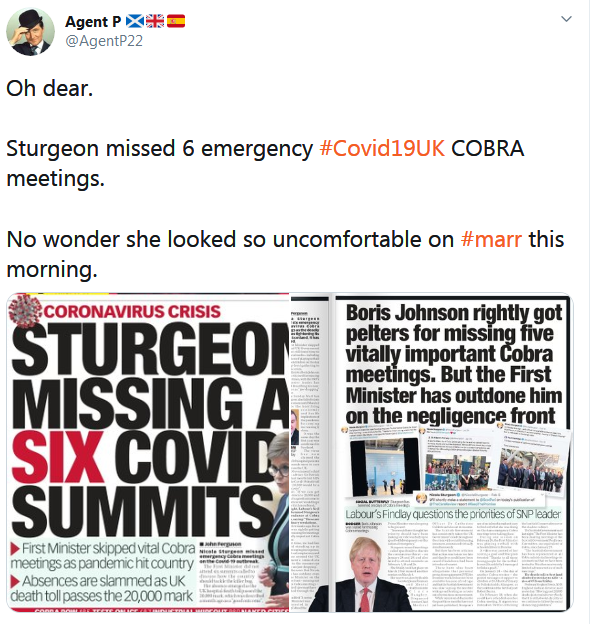 England and Wales effectively re-opened by early July, although with masks, social distancing and some visiting restrictions in place. Scotland lagged behind.
Already on July 10, it was becoming clear that Scotland's coronavirus policies were not working, as Tom Harwood wrote in The Telegraph:
Looking at Nicola Sturgeon's polling popularity it's easy to forget that the Scottish First Minister presided over a care home coronavirus death rate double that of England. It's easy to miss the fact that Scotland has been significantly behind England when it comes to the rate of testing too. As Labour's Shadow Scottish Secretary Ian Murray told a private zoom meeting at the end of May, "all of these things in Scotland are in a lot of instances worse than what's happening in England but Boris gets the blame and not Nicola Sturgeon."
How then has she managed to get away with it all so unscathed?
One answer is simple. The Westminster media bubble is so often so busy naval gazing that politicians elsewhere in the country escape the scrutiny placed on No 10. Few in the Westminster village are concerned with what's going on 400 miles north in Holyrood. This obviously allows much Scottish scandal to slide under the radar when it comes to national attention. But this explanation is to downplay the cunning strategy of the SNP Government, and its not so secret weapon. Nationalism.
Sure enough, on July 12, Sturgeon announced she was considering a mandatory quarantine of all English visitors to Scotland. Guido has the video:
On July 23, The Spectator published 'Nicola Sturgeon's care homes catastrophe':
Nicola Sturgeon is fond of telling Scots that the prevalence of Covid-19 is 'five times lower' in Scotland than in England. Or at least she was, until the Office for Statistics Regulation released a statement calling her data source 'unclear' and adding that 'we do not yet have evidence to support the validity of these comparisons'. The SNP has been retailing the notion that Sturgeon's response to the pandemic far outstrips that of Boris Johnson. The public may be on her side, but the facts are not.
… In England and Wales, deaths in care homes have accounted for 28 per cent of all fatalities involving coronavirus. In Scotland, the figure is 47 per cent. English and Welsh homes have lost 3.7 per cent of their residents to the virus while homes in Scotland have lost 5.6 per cent. This is all the more remarkable since the care home population south of the border is almost 12 times the size of that in Scotland.
One explanation is the SNP government's hive-like mentality. Dissenting views were pushed aside or ignored altogether …
Far from supplying an exemplar for others to follow, the Scottish Government has demonstrated the consequences of wrong-headed policy-making, spurning of expert counsel, and a failure to be transparent. The case for a public inquiry into what went wrong in Scotland's care homes, and in the decision-making at the top of government, is surely undeniable. With Covid-19 apparently under control at present, now is the optimal time to review policies and processes in case a second wave is looming down the line.
On July 31, Sturgeon announced a travel ban between Scotland and the north west of England:
She announced on the BBC:
I am today advising, strongly advising, people in Scotland to avoid travel to the areas affected in England… and also to ask people from these areas from these areas not to travel to Scotland.
Guido noted:
1,892 years on, Hadrian would be delighted she's picking up where he left off…
On August 5, Sturgeon effectively locked down the City of Aberdeen, although she did allow people to go to work and educational institutions. According to one person, this was because one bar was not following the rules:
On October 1, Sturgeon was slow to act on then-SNP MP Margaret Ferrier (now an Independent), who travelled by train from London to Scotland and back again, even though she knew she had the virus. By the time this appeared, Ian Blackford had suspended the whip:
The whole of the UK knew about Margaret Ferrier, who remains an Independent to this day. People were angry:
On October 7, Sturgeon announced a semi-lockdown, although she said schools would remain open and adults could leave the house:
On October 11, Sturgeon's government was failing to use its full testing capacity. It was only using half:
While hospitality establishments in England and Wales had been serving alcohol indoors since the summer and, later in 2020, with food only, Scotland opted to ban strong drink altogether until October 27 that year. Devi Sridhar probably played a role in that, too:
On November 23, Sturgeon closed the Scottish border to the rest of the UK.
Guido told us:
This weekend, in what must have been a dream come true to nationalists, Scotland closed its border to the rest of the UK. The move came as the most densely populated parts of Scotland moved into 'Tier 4' – lockdown in all but name. It is currently illegal for anyone from the rest of the UK to enter the country without a reasonable excuse. Scots are also forbidden from traveling to other parts of the UK. A dream come true for the more extreme SNP supporters.
People who enter or leave Scotland illegally are now being hit with £60 fines. Travel within Scotland is also restricted, with those living in Nicola's Tier 3 or 4 areas prohibited from leaving their local authority without a reasonable excuse. Guido gets the feeling some political tribes are secretly enjoying this pandemic…
On December 17, Sturgeon got stroppy with the Scottish Mail's political editor Mike Blackley for asking whether the self-isolation time could be cut, as was planned in the rest of the UK.
Sturgeon shot back:
Yeah, because that'd really help 'cause that would spread infections even further and that would not be doing any favours to businesses.
Guido has the video:
On December 22, Sturgeon was photographed maskless chatting to two women at a pub. They did not have masks, either, but at least they were eating, so had an excuse. Sturgeon apologised only because she was sorry she got caught:
The story caused quite a stir:
The following day, Sturgeon apologised in Holyrood:
She said she was kicking herself harder than her worst critic would:
The author of the Scottish blog Lily of St Leonards pointed out the hypocrisy not only of the mask violation but, more importantly, Sturgeon's criticism of Boris's continuation of Brexit negotiations:
Sturgeon is not merely a hypocrite about masks, she is also a hypocrite about transition periods.
Imagine if Sturgeon had been given her wish and there had been an independence referendum in 2018 and she had won it. There would have been a transition period. Let's say it was due to end in March 2020. Scottish Independence Day would have been April the First. Would Sturgeon have really extended the transition period because of the Covid outbreak? But what if she had extended it and Scotland had continued to receive money from the Treasury? When would the transition period end? When we no longer needed the money? It's another word for never.
While condemning the British Government for not extending the transition period with the EU due to Covid, Sturgeon is still planning an independence referendum for 2021. If we must extend the transition period because of Covid, why does she suppose it is sensible to have a referendum on breaking up Britain? We have had four years to prepare for leaving the EU. Sturgeon doesn't even have a plan for independence that takes into account the economic damage of 2020.
Brexit is massively easier to achieve than Scottish separatism. It doesn't involve setting up a new state. It merely involves us returning to what we had been for centuries until the early 1970s.
The winter saw a resumption of semi-lockdowns throughout the UK, in England as well as in the devolved nations.
Schools had to close just as pupils and students returned from Chrismas holidays in January.
It was thought that President Trump, having lost to Joe Biden, would be taking a golfing trip in Scotland in order to avoid handing over the presidency to him. Sturgeon put her foot down.
On January 5, NPR reported:
Scotland First Minister Nicola Sturgeon says President Trump wouldn't be allowed to visit Scotland to golf during its pandemic lockdown, responding to speculation that Trump might travel to a Scottish golf resort rather than attend President-elect Joe Biden's inauguration.
"We are not allowing people to come in to Scotland without an essential purpose right now and that would apply to him, just as it applies to anybody else," Sturgeon said after being asked about Trump on Tuesday. "Coming to play golf is not what I would consider to be an essential purpose."
Sturgeon was responding to questions spurred by a report in the Scottish newspaper The Sunday Post, which cited a source at Prestwick Airport as saying the facility has been told a U.S. military Boeing 757 aircraft will arrive on Jan. 19, the day before Trump's term expires and Biden is inaugurated …
As for the chance that Trump might use an international trip to one of his golf resorts to avoid the handover of power, Sturgeon said she has not been told of any of Trump's travel plans.
In the event, the whole world knows that Trump stayed in Washington …
Also on January 5, Scotland had not decreased the required number of days for self-isolation, as Guido reminded us:
On 22nd December, England's Covid rules changed so infected individuals can stop isolating after seven days rather than ten, so long as they test negative on day six and seven. Six days ago Wales followed suit, and a day later Northern Ireland copied the change. Leaving one obvious outlier…
It now looks like Sturgeon will confirm the cut, with a statement expected later today and her deputy John Swinney saying yesterday that their administration is "actively considering" reducing the self-isolation period.
Meanwhile, the vaccine rollout began.
On January 28, The Mail reported that Sturgeon sided with the EU in saying that the UK had too many vaccine doses and the EU too few:
Nicola Sturgeon was accused of taking the EU's side in the bitter vaccine row today as she vowed to publish details of the UK's supplies despite Boris Johnson ordering her to keep them secret.
In an extraordinary move, the First Minister risked undermining Britain's position, with Brussels heaping pressure on firms to give the bloc a bigger share of the stocks. 
Despite the PM warning that the information must be confidential to protect the rollout, Ms Sturgeon told Holyrood she will release it from next week 'regardless of what they say'. 
The timing of Ms Sturgeon's intervention was particularly provocative given that it came as Mr Johnson was on an official visit to Scotland to make the case for the Union. 
Tory MPs vented fury at Ms Sturgeon – who wants Scotland to be independent and rejoin the bloc – saying she is 'obviously more inclined to help the EU than she is the UK'. 
Tory MP Peter Bone told MailOnline: 'The simple truth is she has a tendency to support the EU rather than the United Kingdom.
'It is wrong, her behaviour. I would have thought she would praise the success of the UK because Scotland shares in that. If she was in the EU and not part of the UK she would still be waiting for her vaccines. Get behind the UK government and stop playing petty politics.' 
The row erupted as tensions between Britain and Brussels over vaccine supplies escalated again as the EU warned drug companies it will use all legal means to block the export of jabs from the continent unless manufacturers deliver the shots they have promised.
The EU's vaccination rollout continues to lag far behind the UK's, with the bloc now desperately scrambling to boost supplies – but deliveries have slowed due to production problems.
Brussels has publicly slammed AstraZeneca for failing to deliver on its contract with the bloc and has even asked the firm to divert jabs from Britain. 
Now it has emerged that European Council President Charles Michel has said in a letter to four EU leaders that the EU should explore legal means to ensure it receives the jabs it has bought.
On March 9, the Scottish Sun reported that Sturgeon was relaxing social gatherings — provided they were small, outdoors and close to home:
NICOLA Sturgeon has confirmed plans to allow four adults from two households to meet outdoors from Friday.
The First Minister also revealed older children can mix again in groups …
"And, in addition, we will make clear in our guidance that this will allow for social and recreational purposes, as well as essential exercise.
"Meeting will be possible in any outdoor space, including private gardens.
"But please, do stick to the new rules. Gatherings must be a maximum of four people, from two households. And you should only go indoors if that is essential in order to reach a back garden, or to use the toilet.
"And, for now, please stay as close to home as possible.
"We hope to be in a position to relax – at least to some extent – travel restrictions within Scotland in the weeks ahead, but it is not safe to do so just yet."
By April 2021, with the UK's schools still closed, Sturgeon was planning a phased re-opening in Scotland. In 2020, there were problems in marking exams with so much of the school year out the window. To be fair, other UK nations implemented similar policies with similar disastrous results. In 2021, Sturgeon stipulated that no exams were to be set. Understandable, but teachers needed some sort of assessment for pupils and came up with something called the Alternative Certification Model, which allowed teachers to mark pupils on what they observed in class. Sturgeon did not like the proposal and offered no alternative solution, leaving head teachers to come up with their own plans while trying to avoid the word 'exam':
At that time, booze and most hospitality was once again off the menu. Although Sturgeon followed Wales's Prif Weinidog (First Minister) in relaxing some restrictions, hospitality was not one of them:
This was less than a month before local and national elections (for Wales, Scotland and Northern Ireland) took place.
On April 13, Guido Fawkes noted that Scottish hospitality was suffering badly (red emphases his):
Sadly for Scotland's hospitality sector, Guido's tip-off that the Scottish government was to bring forward its unlocking of hospitality didn't materialise. Last night, Scotland's hospitality sector was warning the two-week lag north of the border would cost up to £20 million…
While Sturgeon often boasted at her televised briefings that Scotland had the best plan and the lowest infection rate as a result, it turned out that she was wrong.
On April 30, Guido posted that Scotland had the highest infection rates per capita in the UK:
Guido told us:
Statistics from the ONS this afternoon reveal Scotland is lagging significantly behind England, Wales and Northern Ireland in their Covid prevalence rate. Wales has the lowest rates by far, with one case per 1,570; followed by England's 1,010; and Northern Ireland's 940. Scotland, however, is well behind the rest of the country's progress, at one in every 640. Sturgeon's so-called 'good pandemic' has always been a smokescreen of spin, rather than epidemiological success…
On May 21, Sturgeon forgot to be politically correct and call the Indian variant by another name:
Guido observed:
A rule which apparently never applied to the Kent variant in the first place…
The Spectator thought along the same lines:
… newly appointed health secretary Hamza Yousaf was on hand to claim that 'a reason why we are calling it the April-02' variant is because it is 'important for us not to allow this virus to divide us as communities and people.'
Clearly the SNP feel no such qualms about doing so with the people of Kent.
On May 27, Boris's former adviser Dominic Cummings explained to a parliamentary select committee how Sturgeon sabotaged UK-wide coronavirus COBRA meetings.
Nicola Sturgeon undermined the UK's four-nations approach to tackling the coronavirus crisis by "babbling" about high-level meetings, Dominic Cummings has claimed.
Boris Johnson's former senior adviser accused the first minister of undermining meetings of Cobra, the disasters committee, by announcing the outcome of discussions at media briefings.
Sturgeon held her televised briefings daily at 12.15pm during the pandemic, so they were often directly after a UK-wide crisis meeting.
Cummings told the Westminster science and technology committee and health and social care committee that the online Cobra meetings became shams because other participants feared what Sturgeon would say on TV. This resulted in decisions not being made because of distrust, he added.
"The last Cobra meeting I can even remember downstairs in the Cobra room was essentially a Potemkin [fake] meeting because it was with the DAs [devolved administrations] and what happened was, as soon as we had these meetings, Nicola Sturgeon would just go straight out and announce what she wanted," Cummings said.
"So you had these completely Potemkin meetings without anyone actually digging into the reality in detail, because everybody thought, as soon as the meeting is finished, everyone's going to just pop up on TV and start babbling."
On June 1, Sturgeon said that the scheduled reopening of Scotland could be delayed because not enough people had been vaccinated. Once these people get hold of maximum control, they don't give it up easily:
On June 9, Sturgeon backed out of a Scotland-specific coronavirus inquiry, as did Mark Drakeford for Wales. A UK-wide inquiry would go ahead instead:
Guido pointed out that the SNP's May 2021 local/devolved election manifesto had promised one (because of the high rates of care home deaths):
Both Mark Drakeford and Nicola Sturgeon are facing backlash after seemingly cowering out of conducting their own, nation-specific Covid inquiries. Despite it being in the SNP manifesto, Sturgeon is now being warned not to break the pledge after backtracking away from the commitment. The SNP manifesto promised a Scotland-specific inquiry "as soon as possible after the election", however the first minister's spokesman told the press on Sunday that the government "was yet to decide whether Scotland needed an inquiry at all, insisting she would first wait to see the terms of reference of a proposed UK-wide probe instead." As slippery as a Sturgeon…
In Wales, Mark Drakeford didn't commit to an inquiry in his election manifesto, and is sticking to his refusal. Being pressed during first minister's questions yesterday, he told Tory leader Andrew RT Davies that the UK-wide inquiry being set up by the PM would be sufficient.
On June 29, Sturgeon had another travel ban in place between Scotland and the north west of England. Manchester's mayor Andy Burnham forced her to overturn it. She never consulted him on the matter.
Burnham called the ban hypocritical:
Guido explained:
… Health secretary Humza Yousaf confirmed in Holyrood today that the ban between Scotland and Manchester, Bolton and Salford will lift tomorrow. Sturgeon brought in the ban without approaching Burnham and without consultation. Mad with power…
Yousaf claims the restrictions are being removed "due to changes in the epidemiological position for those areas." The ban on travel between Scotland and Blackburn will remain in place, however. Guido imagines locals in Blackburn won't be too keen to travel to Scotland anyhow, given it's experiencing its largest Covid wave since the start of the pandemic…
On August 3, Sturgeon began lifting restrictions throughout Scotland. However, as Guido reported, some would stay in place for quite a while:
… the "number of mitigation measures" include
Mask mandates

which Sturgeon expects will 'likely (…) be mandated in law for some time to come."

An ongoing requirement for indoor hospitality venues to collect the contact details of customers.
Sturgeon added:
It is important to be clear that it does not signal the end of the pandemic or a return to life exactly as we knew it before Covid struck.
On August 25, Sturgeon announced that Scotland would be conducting its own coronavirus inquiry, independent of the UK-wide one. A change of heart from what she said earlier.
Nicola Sturgeon has said Scotland will launch its own judge-led public inquiry into the handling of the pandemic by the end of the year …
One of its central aims will be to investigate "events causing public concern" — specifically the excessive death rate in Scottish care homes.
Sturgeon and Jeane Freeman, the former health secretary, have both admitted that discharging 1,300 elderly people from hospitals into care homes without robust testing at the start of the pandemic had been a mistake. More than 3,000 people died in care homes, a third of all the deaths in Scotland …
Sturgeon said the Scottish government would continue to liaise with the UK government about its own inquiry.
Did that ever take place? I don't know. Certainly, no questions that I've heard have been asked in Holyrood.
Eventually, Scotland re-opened, long after England and some time after Wales.
Conclusion
From this litany of errors, including nationalism, hypocrisy and power-grabbing, we can see that Nicola Sturgeon was — and is — no saint.
More to follow on her other mistakes next week.
On Friday, I wrote that Prime Minister Boris Johnson was still standing; rumours of his political demise were premature.
On Thursday, February 10, The Spectator's Fraser Nelson, who also writes for The Telegraph, wrote an article for the latter: 'Whisper it, but I'm beginning to see how Boris just might survive this'.
That same day, two polling companies were conducting their polls for the weekend. Both YouGov and Opinium show that Boris's Conservatives at 34% are closing the gap with Labour on 37%:
Opinium have revised their methodology, re-evaluating how 'don't know' results are tabulated. Without that, Labour would have been ten points ahead.
Guido Fawkes explains (emphases in the original, purple one mine):
On Saturday Opinium – the most accurate 2019 pollster – also found this same lead with identical 37% and 34% poll ratings respectively. Opinium's poll also came with a methodology change that claims most polls giving Labour a very large lead is because of Tory voters switching to 'don't know' rather than Labour. The new methodology weights the Tory 'don't knows' differently, giving a more accurate picture of voting intention.
Without the methodology shift, Opinium says their latest poll would have shown a ten-point Labour lead…
Returning to Fraser Nelson's article, it details how Boris is returning to being the candidate of 2019. While we elect MPs rather than Prime Ministers, the Conservatives' majority of 80 at the time showed that Boris was the winning factor.
Nelson says that, with the pandemic in decline, Boris is reversing big-state policies that were alienating voters, especially those who had voted Conservative for the first time in 2019 (emphases mine):
The Prime Minister we see before us now is a very different creature to the one who governed by diktat for the best part of two years. He's humbly asking Tory MPs what to do, then doing it. It's humiliating, but it's greatly improving the quality of the Government. He has broken free from Sage (whose advice on omicron turned out to be bunkum) and didn't seek its advice before deciding to abolish all remaining Covid restrictions a month early. Warming to his theme, he's now referring to this as "freedom day".
Some of his worst ideas are being abandoned. His plans to set up an all-powerful Animal Sentience Committee to judge government policy now look doomed. His anti-obesity strategy – whereby a Conservative government would tell shops what sort of food they could and could not promote – is being shelved.
"That was his personal idea," says one minister, "so to see it abandoned showed how his personal power has vanished. But it helps him. People resent him less."
As Parliament is in recess as I write, Boris has no immediate rivals for his leadership:
… the rebellion is losing steam. Parliament is breaking up for half-term with no immediate threat to his leadership. He has been lucky in his enemies: when Christian Wakeford defected to Labour he revived the Tories' sense of tribal loyalty. Being attacked by Sir John Major, who has never recovered from the Brexit referendum result, will also have helped him. An attempt to change the rules of the 1922 Committee of Tory backbenchers – to make it easier to depose him – has also failed.
We can only hope the 'old' Boris returns and that this isn't a temporary move out of panic:
This holds out the prospect – no more than that – of the big-state, bossy Boris giving way to the buccaneering, risk-taking and freedom-loving leader they thought they were getting when they first elected him. So far, it seems he's prepared to do anything to survive. Even reform the NHS …
The Downing Street parties are still an issue. At the weekend, Boris received a questionnaire from the Metropolitan Police which he must complete within seven days:
The current obsession with the Met's investigation into Partygate might, paradoxically, help the Prime Minister. If he is not fined, he can claim vindication – and move, straightaway, to focus on his great Covid reopening. If he keeps moving while his enemies are still, there's every chance of his regaining momentum.
Still, if Boris can keep meeting the next departure deadline, he just might survive:
With an approval rating almost as low as John Major's, the chances of a full Johnsonian recovery look slim. But as one of his loyalists puts it: "The aim is to make it to Valentine's Day, then May Day, then summer. So far, so good."
On Saturday, February 12, Steve Barclay, the Chancellor of the Duchy of Lancaster and Boris's new Chief of Staff, wrote an article for The Telegraph: 'We in No 10 know that cutting back the size of the state must be a priority'.
Barclay says, that, post-Covid:
it is a priority to restore a smaller state – both financially and in taking a step back from people's lives. It's time to return to a more enabling approach. To trust the people, return power to communities, and free up business to deliver.
I know how frustrating the recent weeks of speculation about the workings of government have been – for the people of this country, and for political colleagues. But the Prime Minister has apologised for the things we simply did not get right, and for the way that some matters have been handled. And knowing the Prime Minister as I do, he is the best person to deliver the mission of renewal and recovery.
He outlined what will be happening in the coming weeks:
After this week's Parliamentary recess, the Prime Minister will be bringing forward a plan for everyone to live with Covid. Last Friday's move to relax travel restrictions further will encourage both business and leisure bookings and help kickstart the aviation sector. And in a fortnight – provided the data continues its encouraging trend – all Covid regulations in England are due to be abolished. That the Prime Minister can consider bringing this forward is thanks in part to the hard work of the British people, which has also contributed to our economic recovery.
We know that families are facing a rise in the cost of living, which is why the Prime Minister and Chancellor brought forward a support package earlier this month to help households with energy bills. The Prime Minister is raring to get the economy fully firing and determined to build more efficient and more responsive public services. He is the leader to capitalise on the benefits of Brexit – changing our laws to better reflect Britain's needs. And, through the levelling up white paper, he aims to balance the UK more fairly. These are the core values of the Conservative Party.
The week ahead will see the Prime Minister getting out of Westminster and visiting Scotland, the North East, and other parts of the UK to focus on the people's priorities and see how we are improving their communities. He'll be championing important domestic policies – like the apprenticeships that spread opportunity to people who earn as they learn and gain experience on the job. And he will carry on working with our allies to maintain peace in Europe, as he did last week in Brussels with our Nato partners, and in Poland with our armed forces.
Boris spent the morning of Valentine's Day in Scotland alone — with no Conservative support from north of the border.
The lockdown parties at No 10 have strained his relationship with the Scottish Conservatives, especially their leader Douglas Ross, who is both an MP at Westminster and an MSP at Holyrood.
Ross, the Scottish Parliament's leader of the opposition, was so put off by the party controversy that he initially did not invite Boris to the Scottish Conservatives' annual conference.
In the end, however, Ross relented and Boris will be appearing via video link.
On Monday, The Times reported further:
The prime minister also sent Ross a handwritten birthday card, according to The Daily Telegraph.
Conservatives at Holyrood are nervous about Boris:
Some MSPs are uncomfortable with Johnson's appearance and worry about the impact of the present situation if he survives in office.
Yet, Downing Street has reason to believe Scottish Conservative voters are more open to Boris:
… figures in No 10 believe Johnson is not as offputting to voters as his plunging poll ratings north of the border suggest.
"I think [Johnson's critics in the Scottish Conservatives] sort of have this view that the prime minister is a bit like Mrs Thatcher in the Eighties, [that] she was so toxic in Scotland but actually it was only under John Major that the party went into really serious reversal in Scotland," a Johnson ally said.
"With Boris's so-called toxicity in Scotland, we didn't do so badly at the last election in Scotland, relative to historic performances."
In 2019 the Scottish Tories lost seven seats but retained six [in Westminster], having had only one seat between 1997 and 2017.
The article says that Scottish Conservatives insist there is no personal animosity on the part of Douglas Ross and point out that he supported Boris in the 2019 leadership contest, which preceded the general election that year.
Boris's civil servants in Whitehall will be working more closely with Scotland's SNP government, especially in a bid to avoid another independence referendum:
Whitehall sources also intend to work more collaboratively with SNP ministers as part of efforts to take the heat out of disputes between the administrations.
Some senior figures believe that if both governments can agree to schemes that benefit Scotland economically it will help stave off public pressure for a second independence referendum. "We are hugging them close," said a source.
Earlier on Monday, the Daily Mail reported on Boris's half-day trip:
The Prime Minister visited Scotland to announce an agreement with the Scottish Government on a plan to create new green freeports.  
He visited Rosyth shipyard this morning and will later head to an oncology centre tackling coronavirus backlogs in the north west of England. 
The PM had been due to stay overnight in Cumbria but is now expected to return to Downing Street because of the Ukraine crisis …
The UK and Scottish governments have agreed there will be two 'green freeports' north of the border. 
Freeports – special economic zones offering tax breaks and lower tariffs for businesses – are being promoted by the UK Government as part of its 'levelling up' agenda …
Mr Johnson will have been bracing for a frosty welcome given the Tory civil war over the Partygate scandal. 
Mr Ross has said that Mr Johnson's position is 'no longer tenable' and has called for him to resign. 
The Scottish Tory leader is understood to have sent a letter of no confidence in Mr Johnson to Sir Graham Brady, the chairman of the 1922 Committee of Conservative MPs.     
The comments from Mr Ross prompted a slap down from Cabinet minister Jacob Rees-Mogg who described the Moray MP as a 'lightweight', fuelling rising tensions.
Six months from now we will look at Boris's travails and they will seem trivial. Everything will be water under the bridge, including partygate.
There will be bigger issues in the months to come — and Boris, rightly or wrongly, will still be at the helm.
With regard to Omicron, this is where we left off on Monday in the UK — one death:
Guido Fawkes's accompanying post says (emphasis in the original):
Boris has claimed this morning that one hospital patient has died with the Omicron variant, telling cameras "Sadly yes, Omicron is producing hospitalisations, and sadly at least one patient has been confirmed to have died with Omicron." It is not yet known whether the patient had comorbidities...
So far, it is believed that Omicron is a relatively mild variant. The Singaporean Ministry of Health has stated (H/T Guido Fawkes; emphasis mine):
Cases who have been detected around the world have mostly displayed mild symptoms, and no Omicron-related deaths have been reported so far. Common symptoms reported include sore throat, tiredness and cough.
The numbers hospitalised with Omicron are in single digits …
… never mind what Justice Secretary Dominic Raab said on this morning's news round:
Dominic Raab doesn't appear to know how many patients are in hospital with Omicron. Yesterday, Sajid Javid said it was "around ten", with Raab this morning claiming on Sky News that the figure had now jumped up to 250, which would be an alarming leap in just 24 hours. Thirty minutes later on BBC Breakfast, however, Raab inexplicably slashed that number all the way down to 9. The new antiviral treatments are good – they aren't that good.
Regardless, today, after the Government already implemented it last week, MPs voted on Plan B for England. There were four separate divisions (votes). One was on coronavirus passports.
When Tuesday's parliamentary session began, Plan B involved wearing masks in enclosed spaces and public transport as well, working from home as well as a return to quarantine.
When Health Secretary Sajid Javid began his address, he mentioned that quarantine would be less severe. It would now involve daily testing instead of a mandated policy to stay indoors (emphases mine):
At the end of last month, this House passed regulations requiring all close contacts of a suspected or confirmed omicron case to self-isolate for 10 days, but given the increasing dominance of omicron, this approach no longer makes sense for public health purposes and nor is it sustainable for the economy. So we are drawing on the testing capacity that we have built to create a new system of daily testing for covid contacts that has started today. Instead of close contacts of confirmed cases or suspected cases having to self-isolate, all vaccinated contacts, irrespective of whether the contact was with an omicron case, will be asked to take lateral flow tests every day for seven days. Regulation No. 1415 allows us to put this plan into action by revoking the omicron-specific provisions for self-isolation.
Ahead of the official vote, The Telegraph's cartoonist Bob Moran took action on masks on Saturday, December 11:
Not surprisingly, Plan B has begun to wreak havoc with cancellations of international travel and Christmas gatherings in hospitality venues.
At least 80 Conservative MPs were expected to rebel and vote against the Government. On the day, 98 rebelled against the vaccine passport, along with three others spotted by Labour Whips. They included Sir Desmond Swayne and Bob Seely. I plan to discuss the results in another post:
Although a rebellion by Conservatives alone did not stop the Government winning the votes — thanks to Labour! — it should send a clear message to Boris.
Alicia Kearns tweeted that she would vote against coronavirus passports:
People living in England are concerned about the constant moving of goalposts with regard to coronavirus restrictions.
Conservative MPs became angry last week. In his press conference on Wednesday, December 8, when he announced Plan B, Boris mooted the idea of 'a national conversation' about mandatory vaccinations:
The rebel MPs' reaction was immediate:
Guido began compiling his list on December 9. A selection of comments from MPs follows:
Alexander Stafford said "he cannot and will not support mandatory vaccinations", adding that working from home "disproportionately negatively affects younger people and those starting out in their careers".
Douglas Ross said "There is no evidence that vaccine passports stop the spread of Covid" and that since he didn't vote for them in Holyrood, he wouldn't vote for them in Westminster either.
Graham Brady said in the chamber last night that "it's deja vu all over again, isn't it?"
Peter Bone slammed compulsory vaccinations on Newsnight, calling the idea "completely outrageous", and even saying "I'd be the first to say the PM should go" if they were implemented.
Simon Jupp said "I don't support Plan B", called vaccine passports "divisive & discriminatory", and made it clear that he "won't vote for these measures."
Steve Baker insisted it is "vital that the maximum number of Conservative MPs vote against Plan B, whatever our useless Opposition do".
Over the weekend, Steve Baker tweeted that he would be relaunching his Conservative Way Forward movement, open to MPs and the general public. It is meant to restore the Conservative Party to its proper origins rather than a Boris-led Blairite/Labour-lite party:
Sir Edward Leigh MP stated his intention to vote against the Government for the first time during this Parliament:
Mark Harper MP pointed out:
"there is no exit strategy", and asked "why should people at home…do things that people working in Number 10 Downing Street are not prepared to do?" 
The Spectator's Kate Andrews also noted the same thing, comparing the content of December 8's press conference with the others that had preceded it. The Government and scientific advisers have made many poor contradictions and bad comparisons between the UK with a strongly vaccinated population versus one like South Africa's:
The Spectator contrasts what our scientific experts from SAGE put forward compared with the real statistics. SAGE have a lot of explaining to do, yet Boris continues to court their shamefully extreme modelling.
Guido's December 9 poll of the public shows that they are increasingly concerned about scope creep, especially with regard to Plan B:
Guido's post reveals who led the press ('lobby') briefing that day. It was not the Department for Health and Social Care (DHSC):
A poll of 3,170 Guido readers opened earlier has less than one-in-seven believing the government's timing of Plan B yesterday was based on epidemiological reasons, and not politics.
Guido can't say he's surprised. Sources suggest that while a quad meeting was always scheduled for yesterday afternoon, Plan B was not on the table. During the morning the briefings were coming from Downing Street not DHSC, further suggesting the move was more politically than epidemiologically motivated.
William Wragg MP was the first to notice the political end to Plan B — a diversion from the Christmas party debacle — and actually challenged Boris on it last Wednesday at PMQs, only hours before the press conference. Tom Newton Dunn tweeted:
Senior Tory William Wragg challenges Johnson directly during PMQs over if he's bringing in Plan B today, and says "few will be fooled by this diversionary tactic". Johnson doesn't deny, but says: "No decisions will be taken without consulting the Cabinet".
It would have been even better if Sir Keir Starmer, leader of the Opposition had said that, but, alas, he's all on board with further restrictions. If he were Prime Minister, we would have never had Freedom Day on Monday, July 19. We would have been where Scotland and Wales continue to be, still restricted in many ways, with compulsory masks and vaccine passports.
On Monday evening, December 13, Sir Keir somehow got media outlets to televise his support for Plan B. The reason for this baffles me, as he is not in Government.
It does appear as if we have a coalition Conservative-Labour government, because the latter jumps on every coronavirus restriction bandwagon going. The Sun's Trevor Kavanagh told Nigel Farage that this is not a good thing:
According to a GB News poll for Dan Wootton Tonight, the public strongly disapprove of Plan B:
Sadly, we now have Plan B in England: face coverings in enclosed spaces, vaccine passports for large venues/events and mandatory vaccines for NHS/care home staff by April 2022. Self-isolation with daily testing was approved unanimously; there was no division on that motion.
The question remains: do we get another lockdown, i.e. Plan C, in the New Year?
Boris wouldn't dare, would he?
The Conservative Party Conference took place in Manchester from Sunday, October 3 through Wednesday, October 6, 2021.
It was the first one since 2019, which was two months before their victory in the December 12 election that year.
UK in crisis
This year's conference took place during the ongoing petrol supply problems and shock record-breaking hikes in gas futures on Tuesday and Wednesday:
On top of that, on Wednesday, Reuters reported that the UK's petroleum regulator rejected Shell's plans to redevelop the Jackdaw gasfield in the North Sea (emphases in purple mine):
"We're disappointed by the decision and are considering the implications," a Shell spokesperson said.
It was unclear on what grounds the Offshore Petroleum Regulator for Environment and Decommissioning (OPRED) refused to approve the environmental statement for the field's development.
The Department for Business, Energy and Industrial Strategy, under whose umbrella OPRED operates, did not immediately reply to a request for comment.
Maddening.
The supply chain crisis for food continues. On Wednesday, The Times reported The National Pig Association warned retailers that 120,000 pigs would have to be slaughtered because of a lack of butchers. Some pig farmers are closing down altogether.
Some supermarkets are also suffering from empty shelves. Tesco, however, is bucking the trend. The Times reported that the supermarket chain is:
often highest up the pecking order when it comes to suppliers committing to make the business a priority …
Good for them.
Conference theme disappointing
The conference theme was … Build Back Better.
How awful.
Here it is draped across Central Station Manchester:
The Conservatives riffed on this in a Bake Off-style event. Pictured with Prime Minister Boris Johnson is Home Secretary Priti Patel:
Having listened to some of the speeches and read excerpts from others, they were all light in content. Most of them were pep rally or visionary statements rather than what plans Cabinet ministers have for the nation.
As The Telegraph's Madeline Grant wrote:
Never at a Tory Conference has so little been said, by so many, to so few.
Sunday, October 3
As the conference opened, rumours circulated about three unnamed Labour MPs thinking of crossing the aisle to the Conservatives, as the Mail on Sunday reported:
Guido Fawkes had more on the story (emphases in red Guido's):
… this is due to disillusionment with Starmer's leadership, with the MPs already having opened up "lines of communication" with Tory whips. In related news, a senior Labour MP was spotted by a co-conspirator chatting with two Mail on Sunday hacks and three senior Tory advisors at a conference bar last night…
The day's big event, according to The Spectator, was the drinks party that the 1922 Committee of backbenchers held, sponsored by ConservativeHome. Interestingly, a long-time Labour MP for north-west London — Barry Gardiner — was in attendance:
… the main focus of the night was the 1922 drinks with ConservativeHome in a room stuffed full of parliamentary talent and, for some reason, Barry Gardiner.
Strangely, Boris did not appear, leaving a gap which Chancellor of the Exchequer Rishi Sunak ably filled (video):
While Johnson was not scheduled to make an appearance here, Prime Ministers have traditionally done so in the past to pay tribute to their colleagues. His 'disappointing' absence – in the words of one disgruntled backbencher – left a vacuum for Sunak to fill, in a room full of MPs who will presumably one day decide who Johnson's successor should be.
The Chancellor leapt to the stage to tell fellow Tories about what he was most looking forward too at conference: Michael Gove dancing, the PM running in a full suit (not just a shirt) and 'machine like message discipline from every single one of you – and that means you too Cabinet.' He added that 'I've got your back' to anxious MPs in the room and that 'for the record I too am a low tax conservative' – welcome words for those party donors who Mr S[teerpike, columnist] understands attended a 'tense' meeting earlier at the Midland, amid considerable unease at the recent NI [National Insurance] hike.
In such circumstances, perhaps it's understandable that Boris would stay away.
According to The Telegraph, senior Conservatives have warned Boris not to dream up any more future tax hikes:
Earlier that day, Boris gesticulated wildly at the BBC's Andrew Marr, saying, 'You have no fiercer opponent to tax rises than me'. This probably means more tax rises are on the way:
The Spectator has more on the interview.
On tax hikes, Sir Desmond Swayne MP told talkRADIO's Julia Hartley-Brewer the raw truth. He added that lower taxes will enable greater economic growth:
Another event that Boris avoided was the one by the Tory Reform Group (TRG), which wants the Conservatives to move closer to the centre politically. They are Remainers. The Spectator reported:
Theresa May's former deputy Damian Green welcomed attendees …
Green, a mainstay of various causes on the left-ish wing of the party over the past two decades, told activists that it was their task to 'make sure that the voice of moderate conservatism, centre-right conservatism is as strong as possible within the party' – a job 'never more important than today because there are times when I slightly feel that it is only people like us that stop this party drifting back to being seen as the nasty party.' A tacit rejoinder to Priti Patel perhaps?
But then it was time for the speaker and the great white hope of Tory moderation. Tom Tugendhat, the chairman of the Foreign Affairs Select Committee, took to the stage to ecstatic applause and, like Green, was under no illusions about the awesome responsibility he and his One Nation caucus members share – to keep the Conservative party effectively sane …
There was also ample time for several potshots at the current Tory leader Boris Johnson, with whom Tugendhat is said to enjoy a wary relationship.
Foreign Secretary Liz Truss, tipped to be a future Party leader, also made the rounds that day (video):
The fringes were packed last night as Tory ministers did the rounds. Liz Truss, the darling of the free market think tanks, appeared at the Think Tent equipped with a magnificent blow dry and an applause-winning speech which castigated cancel culture as 'fundamentally wrong.' That and other jibes at identity politics in her conference address lead the Daily Mail this morning to ask whether she is in fact the new Mrs Thatcher.
Several reporters wrote about her new hairdo, which, to me, didn't look much different from the old one.
Returning to the mysterious Labour people who might want to change parties, here's Manchester mayor Andy Burnham, a former Labour MP, heaping praise on Michael Gove, the minister in charge of Boris's levelling up programme. Burnham spoke to Trevor Phillips on Sky News that morning. Hmm:
Neither Andy Burnham nor Barry Gardiner is a Conservative. Crossing the aisle for ideals they don't believe in seems a rather rash way of getting their own back at Keir Starmer.
Boris made four appearances at conference that day, including one for the Scottish Conservatives. Guido captured his wit along with audio:
The PM warned of a "crackpot coalition" between the SNP and Labour – "the only way they could" kick the Tories out.
He described the Labour conference as "a total rabble", saying it had the air to him of "a seriously rattled bus conductor" facing an "insurrection on the top deck of the bus", or the "captain of a Mediterranean cruise ship facing insurrection by a bunch of Somali pirates".
Douglas Ross MP/MSP also addressed Scottish Conservatives. As party leader in Scotland, he wants to position the party as that of the nation's working class. It's a good move, as The Spectator reported:
Like all good fables, Douglas Ross's speech at Tory conference had a beginning, middle and end. Act One detailed the many iniquities of the SNP, from their dysfunctional vaccine passport scheme to their Hate Crime Act, and most of all their agitation for Scotland to break away from the UK. Act Two took the sword to Labour, bemoaned its abandonment of working-class voters and its internal divisions over the constitution. Theirs was not the party to take on the SNP. Only one party was and it was the subject of Act Three, in which Ross deepened a theme begun under Ruth Davidson's leadership: the Scottish Conservatives as the party of the Scottish working-class.
He hit all the familiar notes about the SNP's failings in government, the ones that never seem to stick longer than two or three news cycles and are invariably forgotten about by the next election. He also hinted at an interesting theme that, if teased out carefully, could come into greater play. It is the perception, no longer wholly limited to unionists, that Nicola Sturgeon is a bit… off. Out of touch. Superior. Maybe even a bit of a snob.
In other news, last week, Labour's Angela Rayner called Conservatives 'Tory scum'. Feisty Dehenna Davison MP, representing Bishop Auckland as the constituency's first Conservative, had 'Tory Scum' badges made.
This harks back to 1948, when Aneurin 'Nye' Bevan said the Conservatives were 'lower than vermin'. Following that, the Conservatives formed the Vermin Club. Club member Margaret Roberts — who would become Margaret Thatcher — also had 'Tory Vermin' badges made, as Nigel Farage told Dehenna Davison on GB News:
Party chairman Oliver Dowden pledged that the Conservatives would do away with ugly new housing developments by strengthening planning laws.
He also assured the public that they would have turkeys for Christmas, referring to ongoing supply chain problems.
Monday, October 4
Monday opened with the latest ConservativeHome popularity poll.
Liz Truss is at the top. Other MPs pictured are (left to right) Defence Secretary Ben Wallace, Leader of the House Jacob Rees-Mogg, Chancellor Rishi Sunak and Education Secretary Nadhim Zahawi:
Guido analysed the results, excerpted below:
The turn round in her fortunes from last year when she was being tipped to be sacked from the Cabinet is quite something. Liz is one of the increasingly rare consistently free market voices around the Cabinet table…
Rishi Sunak is down by some 10 points and moves from second to fifth place. Rishi's tax hikes have clearly taken the gloss off him with the true blue believers. 
Grant Shapps [Transport] and Priti Patel are bumping along the bottom in barely positive approval territory. Shapps has been doing fairly well with the incredibly difficult transport brief. Patel is suffering because she has failed to do the seemingly impossible – stop the cross channel migrants. Tory activists are unforgiving, they don't want excuses, they want results.
It was the turn of Rishi Sunak to address the party faithful.
A rise in council tax would not go down well. Meanwhile, protesters pelted Sir Iain Duncan Smith MP with a traffic cone:
Some at conference are disappointed with Sunak, whose budget comes up in a few weeks' time. Steve Baker MP is pictured in the second tweet:
Boris was out and about in Greater Manchester. He spoke to an interviewer about policing and said that the Government needs to change its culture, which has become misogynistic, particularly in light of the Sarah Everard murder earlier this year, committed by … a policeman, who recently received a life sentence.
In other news, Justice Secretary Dominic Raab plans to reform UK human rights legislation and do away with the ties to EU human rights legislation we are still under.
With regard to the Labour mystery, Manchester's mayor, Andy Burnham, had a conversation with Levelling Up minister Michael Gove, whom he had praised the day before. The Mail reported that Burnham was also due to address Conservatives at a fringe event sponsored by Transport for the North the following day. Hmm.
The cervix question that appeared at Labour's conference was also brought up with Conservatives. Dominic Raab responded by bringing up both misogyny and misandry in a highly confused way (video):
Two MPs decided to have a bit of fun with the issue as they drove to Manchester together:
Guido recapped their amusing exchange:
Health-conscious Conservative MPs Marco Longhi and Lee Anderson don't want to fanny about when it comes to their well-being. Marco, according to their road-trip video, made sure to receive a cervix exam before heading to conference this week. Always better to be safe than sorry…
Why is it that no one ever asks if women have a prostate gland?
On the subject of health, Desmond Swayne told Julia Hartley-Brewer why he is firmly against vaccine passports:
Lord Frost (pictured on the right) threatened the EU over the post-Brexit trade issues with Northern Ireland. Outside of the conference, pig farmers protested over the inability to get their stock to market. Boris had said that government cannot solve every issue, referring to the supply chain problem. He also told British businesses to hike staff salaries, which did not go down well, either:
I think they should give the meat away. A lot of poor families would appreciate it.
Tuesday, October 5
Boris began the day with an interview to LBC's Nick Ferrari. Extinction Rebellion offshoot Insulate Britain had blocked some of Britain's roads for the ninth consecutive day.
Despite injunctions from Priti Patel's Home Office, their human blockades continue.
Boris told Ferrari they are 'irresponsible crusties' (video). The question remains whether Extinction Rebellion gets any Government funding:
Dominic Raab confirmed in his speech that he would be reform the Human Rights Act to free it from EU hackles.
Guido's post includes a quote and this summary:
They will detach it from the ECHR, enabling quicker deportations of convicted criminals and swifter action on domestic abusers …
Raab's successor at the Foreign Office, Liz Truss, confirmed a trip to India later this month, ahead of COP26 in Glasgow in November.
Guido had a chat with her:
Among other topics, the foreign secretary confided in Guido she was finding the new department's mandarins to be "a bit 'Yes, Minister'"…
Rishi Sunak addressed the Northern Powerhouse Leaders' Lunch.
Guido says:
Sunak claimed that there is a "new age of optimism" in the north thanks to Red Wall Tories, and heaped them with praise for "helping to change our party and change our country". "In me, you have a Chancellor who is going to be with you every step of the way," he added.
See? I told you these speeches were content-free.
Later in the day, he appeared at a fringe event where he was asked about the cost of Net Zero. This was his alarming answer:
Health Secretary Sajid Javid promised another reform of the NHS, which mostly involves digitisation. I can think of more pressing NHS concerns and agree with Guido:
… pouring in taxpayers' money without checking how it's being spent isn't enough. That cash needs to be put to good use. Reviewing the eye-watering pay packets of some NHS diversity managers would be a start…
The Telegraph's Christopher Hope interviewed Oliver Dowden, who is thinking about resurrecting the singing of the National Anthem at conference, calling it a 'splendid idea'.
Hope also took the opportunity to present Dowden with a 'Tory Scum' badge, which he put on and said he would wear for the duration of the interview. Hope suggested he wear it until the end of conference.
This video shows the badge exchange. Hope gives us more information on the aforementioned Vermin Club:
Guido says that the badges were most popular. Dehenna Davison had to order more:
Many conference-goers have spent the last couple of days asking Davison for one of her badges, only to be disappointed upon being told she'd run out. Good news however, after Davison put in an emergency order for 400 more given their popularity…
The most outrageous session of the day — and a British first — was an address by the Prime Minister's wife to Party faithful. No Prime Minister's spouse — we've had two husbands in that role — has ever made a party political address until now:
Never mind the subject matter: was it the right thing for Carrie Johnson to do — even if she is a very good public speaker? Boris watched from a distance.
Polling stable
I'll review Boris's closing speech in tomorrow's post.
Post-conference polling is stable. YouGov's was taken on Tuesday and Wednesday:
Sir Desmond Swayne explained to Julia Hartley-Brewer that Boris's popularity and the lack of ideas from the Opposition have buoyed the Conservatives:
What Government should do next
Health Secretary Sajid Javid needs to keep a gimlet eye on NHS spending, especially on things like this:
Guido says:
The NHS is recruiting a supplier to deliver "compassionate conversations training" to 14,000 front facing NHS staff in a publicly funded contract worth a mind-boggling £3 million. The contract tender, which was published yesterday and closes on 5 November 2021, says the aim is to equip NHS staff with "the skills they need to handle challenging situations with compassion whilst ensuring they feel able to look after their own wellbeing if needed". Guido assumed that doctors were already taught about the importance of a good bedside manner…
It's almost ludicrous to think that this weekend Javid promised a forensic review of the NHS's management and leadership whilst the NHS continues to recklessly splash cash on diversity roles. Just six months ago Guido revealed that the NHS was hiring eight more 'diversity, equality and inclusion managers' across the country, with salaries up to as much as a whopping £62,000. If Javid is going to cut down those waiting list times he needs to focus taxpayers' money on the clinical front line, not nonsense make-work contracts and diversity roles…
Guido says it is also time for Boris to reconsider the current Government moratorium on fracking:
If Boris wants to energise Britain, domestic gas production should be part of that mix; it would provide energy security when Britain's energy needs are being threatened by the Russians and the the French. Boris is now in a position to do something glorious, to stop pussy-footing around and leave no stone unturned or unfracked. So get on with it…
This is what Boris had to say on the subject while he was Mayor of London:
I won't be holding my breath on either of those propositions.
Tomorrow: Boris's keynote speech