You are currently browsing the tag archive for the 'Dr Anthony Fauci' tag.
Most of the British population has now had their two injections, myself included.
However, in terms of efficacy, the jury is out.
Since the summer, we have been told that boosters will be required as soon as this autumn.
This is what a Guido Fawkes reader had to say, referring to the implementation of vaccine passports in Scotland:
… the vaccine does not prevent infection, re-infection or onward transmission of those vaccinated, so is utterly futile as a warranty of safety for entering any type of premises. Indeed it gives a false warranty about those things. The lurgy may still be lurking.
Indeed.
Remember back in 2020 when Drs Fauci and Walensky told us that the vaccines are 100% effective and that vaccinated people do not carry the virus?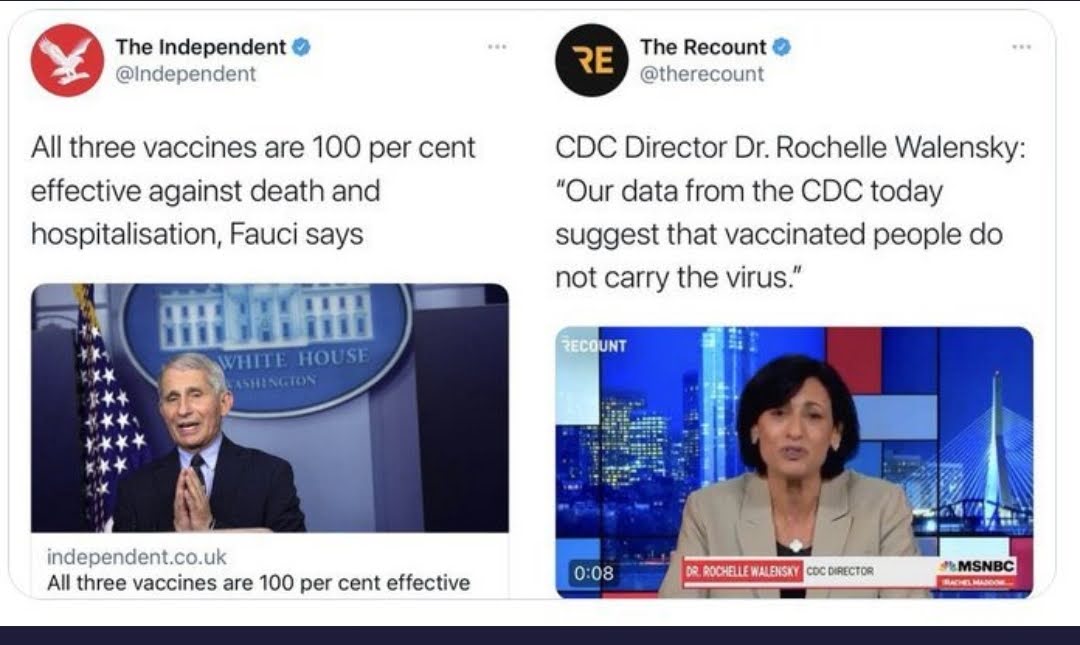 Not so, as we have discovered.
To make matters worse in this parlous state of affairs, the British public are now expected to help market vaccinations on social media. This campaign is called #ValuingVaccines: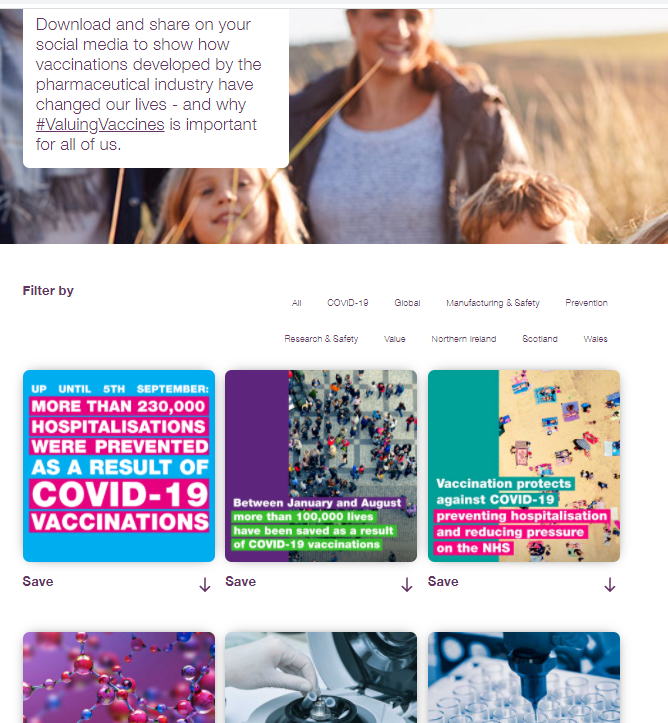 This is a photo of a letter to young Britons urging them to get vaccinated. What is missing from it? Any mention of health benefits: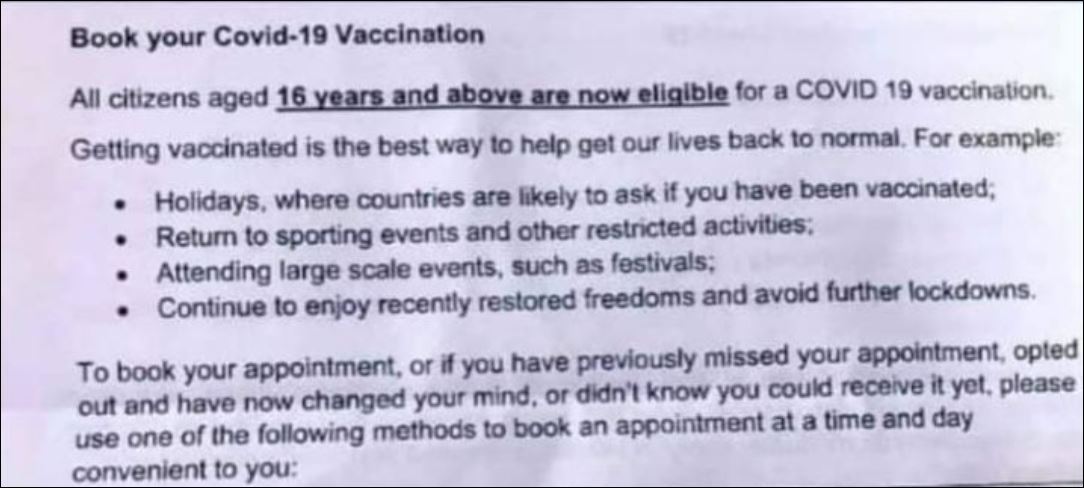 Note the mention of 'freedoms' in the last bullet point.
Here's a thought. Since when did our basic freedoms ever rely on getting a vaccine?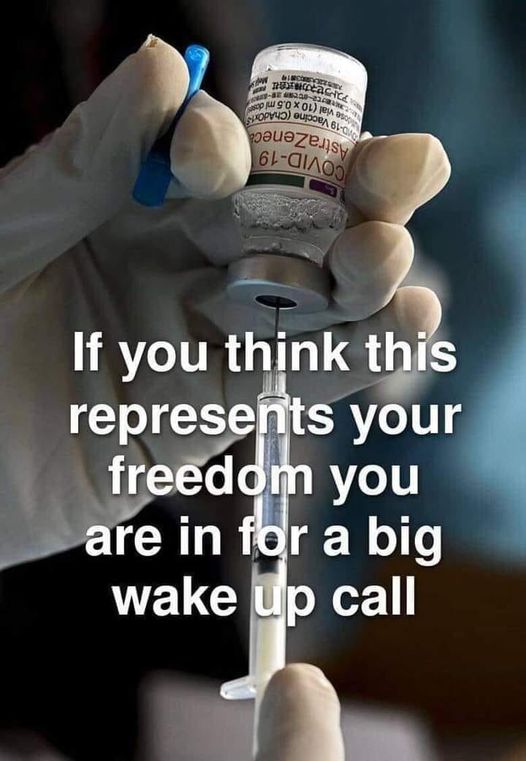 Also, minors eligible for the vaccine in the UK do not require their parents' consent. This is a mock-up of Chris Whitty, our chief medical officer. It's not far from the truth: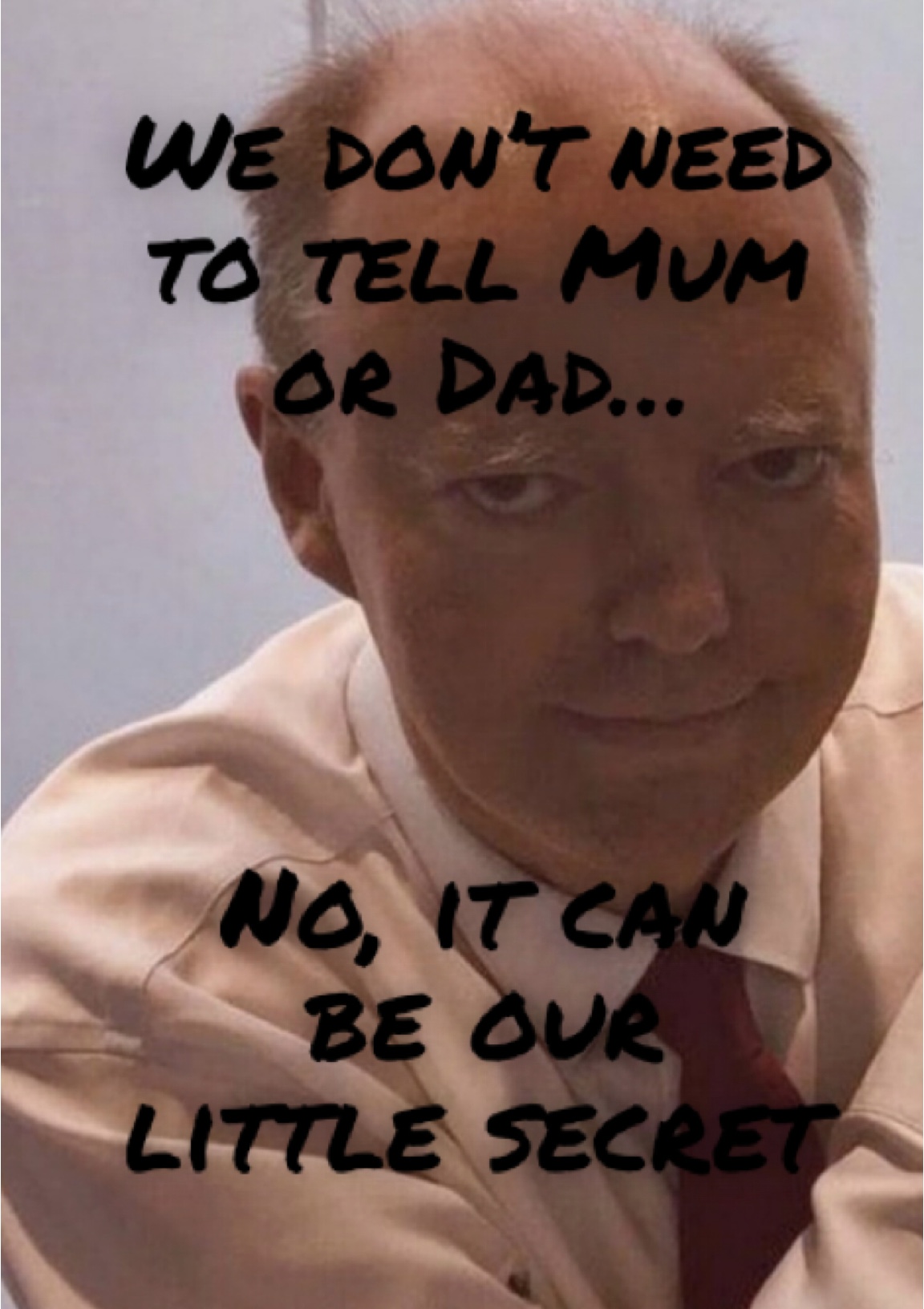 There are other issues with these notional vaccines.
One of them is the redefinition of the word 'vaccination', which has gone from disease prevention (I will always hold by the original and best) to producing immunity against a disease to the current protection from a disease. We've been had, folks, but most of my readers know that by now: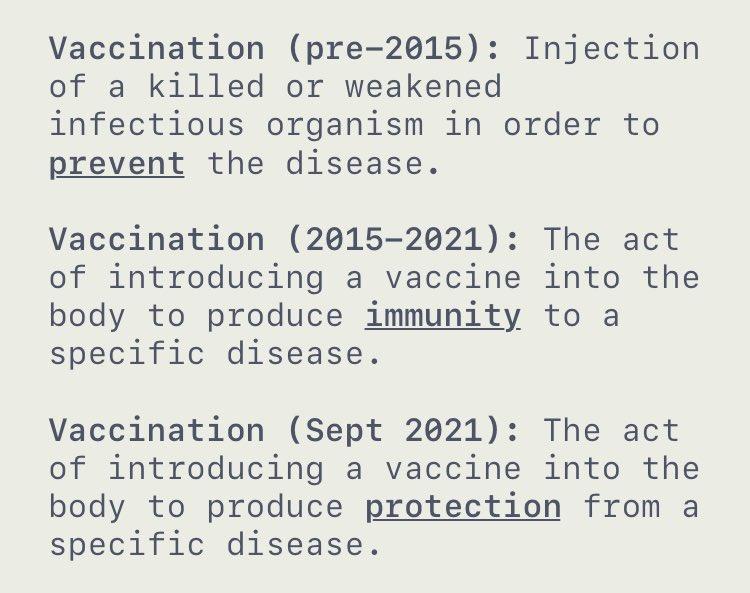 Now let's look at how long producing a vaccine has taken throughout history. With regard to coronavirus, we were told that vaccines take a lot less time these days. Perhaps. However, six months to market seems rather brief: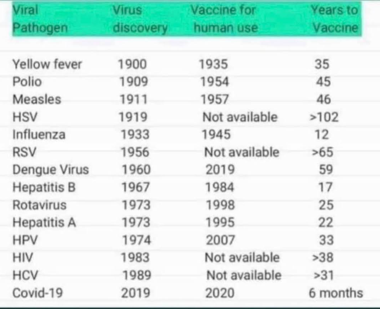 Now let's look at what six months to market has produced — a product that doesn't even work and could be injurious to one's health, if not fatal, depending on the individual. Some American youngsters have experienced heart problems after taking Pfizer or Moderna. The cure can be worse than the disease:

I am glad to see that 'vaccine' has quotation marks around it in this risk/benefit analysis: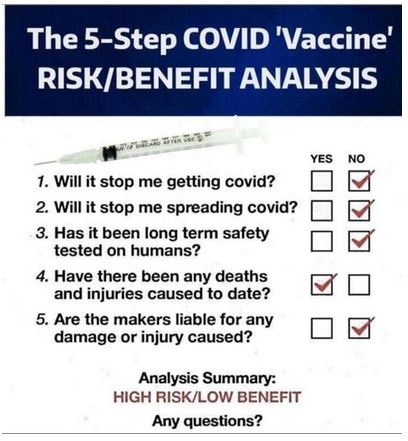 Our notional betters, including journalists, say that the unvaccinated are causing the vaccine to fail. Hmm. That's a new one: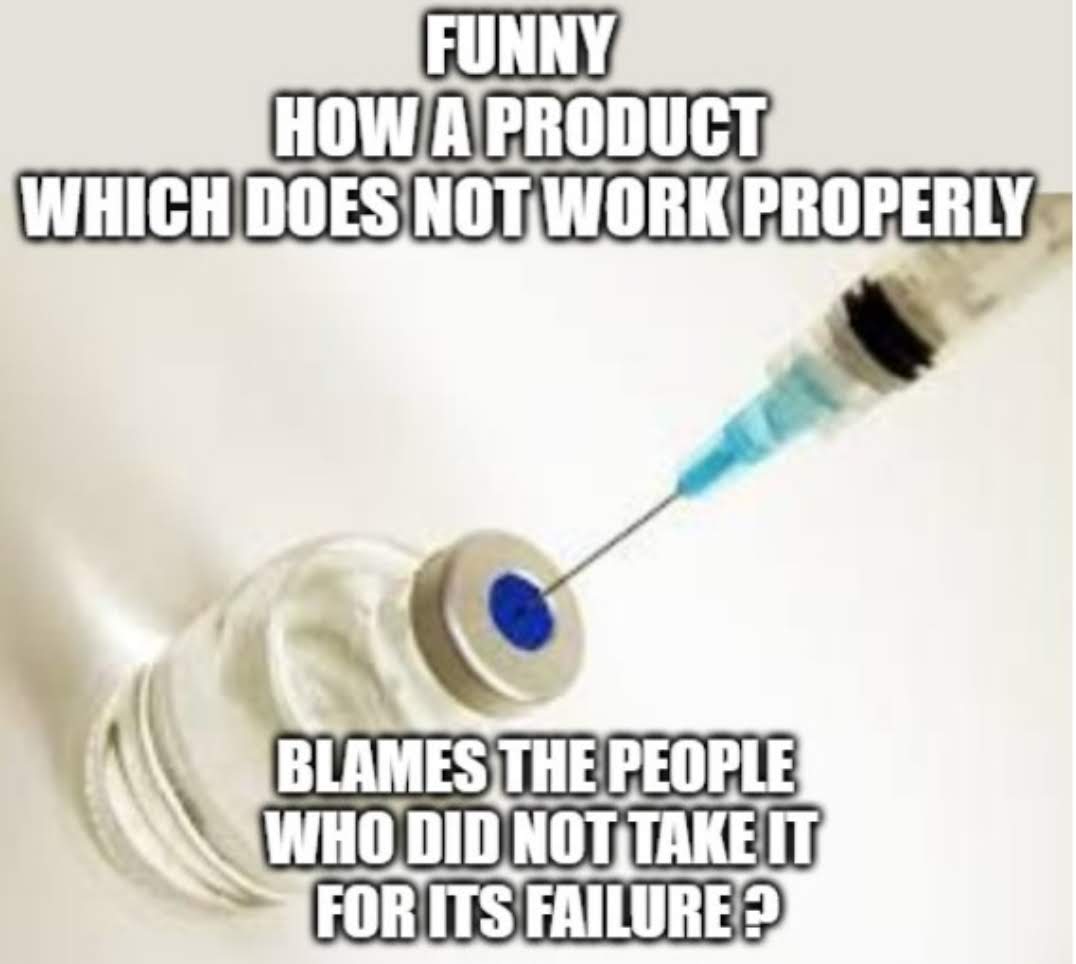 Now we have to worry about vaccine passports. France already requires them just to go to the supermarket. In other words, you cannot eat if you have not been vaxxed: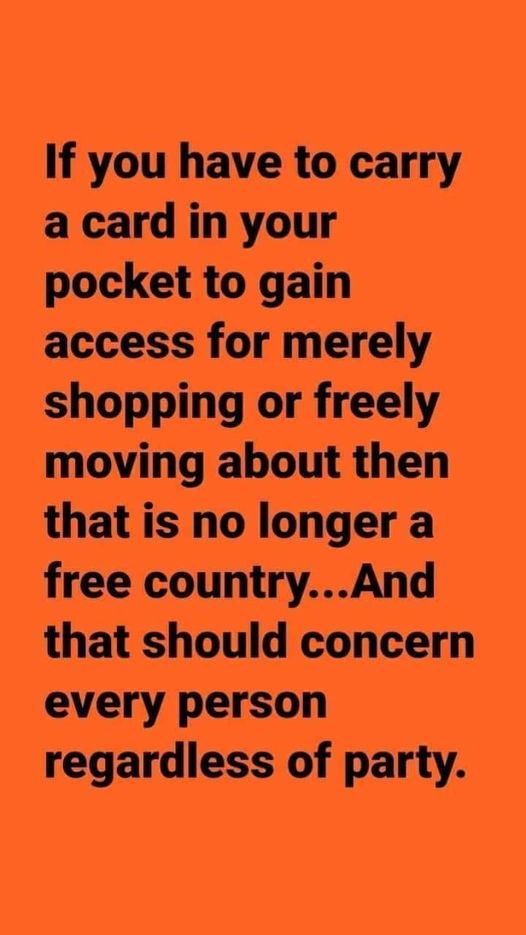 Speaking of supermarkets, here's Manchester mayor Andy Burnham, a former Labour MP, moaning about the lack of social distancing at Tesco. Yes, he named the chain. Yet, here's Burnham partying at Labour's conference this week as if it were the old days. The sheer hypocrisy of our leaders is mind-boggling:
But I digress.
Those are my thoughts on the coronavirus vaccines, a necessary evil if one wishes to go out again.
I would have liked to give credit to the people who created these images, which I found in various places online. My compliments to everyone involved.
From the beginning of the coronavirus crisis, anyone who doubted Big Media's narrative was branded a conspiracy theorist.
Strangely, most of what notional conspiracy theorists spoke and wrote about in 2020 has come true.
Last week, I read two articles of interest about the virus, the New York Times (NYT) and China.
The NYT, China and the virus
On August 2, 2021, Ashley Rindsberg, the author of The Gray Lady Winked: How the New York Times' Misreporting, Distortions and Fabrications Radically Alter History, wrote an article for UnHerd: 'Did the New York Times stifle lab leak debate?'
What an eye-opener it is. Excerpts follow, emphases mine.
Rindsberg has done a lot of research into the history of the paper, nicknamed The Gray Lady in the United States.
He says that the paper's relationship with China has been going on for over a decade and explores its dubious ties with totalitarian regimes of the 20th century:
Researching and writing my new book, I discovered that the Times has a dark history of inadvertently helping authoritarian regimes with its reporting, including the Nazis, the Soviet Union and Fidel Castro.
In the case of China, this appears true to an alarming degree. For over a decade, the Times has nurtured a special relationship with the CCP — though we can only speculate as to whether this influenced its editorial output. Still, the Times certainly appeared unconcerned about the appearance of impropriety as it took millions of dollars from Chinese propaganda outlets, most prominently China Daily. In exchange for this badly needed revenue, the Times has published hundreds of "advertorials" written by Chinese propaganda outlets, including China Daily, which promote CCP messaging on the most serious topics, such as a double-page spread on the hotly contested Diaoyu Islands brazenly titled: "Diaoyu Islands Belong to China".
But the paper's advertising relationship with Chinese state outlets is only the visible part of the iceberg. In 2012, seeking to capitalise on China's burgeoning middle and upper classes, the Times launched a Chinese edition of its daily paper followed by the launch of a luxury lifestyle magazine. "The appetite for New York Times journalism in Chinese has never been stronger," a company press release stated at the time.
In investing so heavily in China, the Times unintentionally handed the rapacious CCP an editorial lever to sway coverage. The Times learned this first-hand when, in 2012, the CCP blocked Chinese access to the Times online in retaliation for an unfavourable article on the family finances of China's outgoing premier, Wen Jiabao. The Times set out on a year-long "lobbying" effort to restore coverage that included meetings with Xinhua, the parent of China Daily.
In early 2020, the lab leak hypothesis was roundly condemned in Big Media, especially the NYT.
Rindsberg leads us through the timeline and the narrative:
Of course, over the past year newspapers across the world have fallen for the CCP's distorted Covid-19 narrative. And there is no evidence to suggest that the CCP did put pressure on the Times. But when it came to the lab leak debate, the Times was relentless. Starting in early 2020, when little was known about the virus — and nothing about its origins — the Times adopted a stridently anti-lab leak stance. In its first report on the topic, a February 17, 2020 article covering comments made by Sen. Tom Cotton, the Times stigmatised lab leak as a "fringe theory". Once the story was published, its reporter took to Twitter to describe it as "the kind of conspiracy once reserved for the tinfoil hatters".
Only one week prior, another outlet made strikingly similar claims. In an editorial, the CCP-owned China Daily thundered that Cotton's decision to spread "malicious rumors" shows "how irresponsible some are in their haste to attack China". The Times, echoing China Daily, also cast the lab leak hypothesis as a "rumor".
Over the months, the Times's coverage grew even more strident — and more in line with Chinese propaganda. In February 2020, it gave a platform to zoologist Peter Daszak, publishing an opinion piece by him which claimed that the pandemic was caused by "road-building, deforestation, land clearing and agricultural development". Daszak argued that "discovering and sequencing" viruses like Covid-19 in labs like the one in Wuhan should be a priority.
The Times, which used Daszak as a key source in over a dozen articles, has never mentioned that Daszak's organisation funded the Wuhan lab, in particular research into bats and coronaviruses, a flagrant conflict of interest. Crucially, there was no mention of this when a reporter interviewed Daszak this February, following his return from a heavily criticised WHO investigation into the virus's origins. (Danszak later recused himself from the investigation because of the conflict of interest.)
But the Times also never revealed that Daszak was a favoured source for another outlet: China Daily. The state-owned media organisation, along with Xinhua and sister outlet Global Times, repeatedly quoted Daszak to assure readers of China's full cooperation in the search for the virus's origins — and to discredit the possibility of a lab leak.
The NYT's coverage was so supportive of China that Chinese publications began quoting it:
In April 2020, for instance, the Times published an article claiming the Trump Administration's investigation into a lab leak "has echoes of the Bush administration's 2002 push for assessments saying that Iraq had weapons of mass of destruction." Within minutes, a China Daily columnist retweeted the story and parroted its central claim.
With more information coming out about a possible lab leak, the NYT has changed tack:
Today, however, just as the tide is turning on the lab leak debate, so too is the Times's approach to the subject. Last summer, the Times abruptly ended its advertising relationship with Chinese state media outlets and scrubbed all trace of the advertorials from its archive. And in recent months, it has published a handful of articles quoting scientists who believe we should take seriously the prospect of a lab leak.
But does this excuse the paper's behaviour at the start of the pandemic?
I do not think so. The NYT is one of the world's most influential newspapers. Everyone takes what it says as gospel truth. It is hard to disagree with Ashley Rindsberg on his conclusion:
Only time will tell whether the lab leak hypothesis is true or false. But whatever the result, what a tragedy it would be if the Times's coverage delayed that verdict.
Lab leak update
On Friday, September 10, 2021, UnHerd posted the latest on a possible lab leak in Ian Birrell's article, 'Is this proof of lab leak lies?' Birrell is an award-winning foreign reporter and columnist.
Over the past several years, the United States, Britain's Peter Daszak and France were all involved at some point with the Wuhan labs.
Birrell tells us:
… we do know one thing now beyond debate: speculative "gain-of-function" experiments on mutant bat viruses were taking place in Wuhan laboratories.
This research, carried out in labs that did not have maximum level of biosafety, was increasing the infectivity of laboratory-created diseases by constructing chimeric coronaviruses — despite strong denial of such practices by the key Chinese scientists. And the bio-engineering was being funded by United States taxpayers — channelled through a charity run by a British scientist — despite similar denials from America's most senior public health officials that they supported such science fiction activities in Chinese labs.
This information was uncovered via freedom of information requests made in the United States by The Intercept, which is devoted to investigative reporting:
The Intercept obtained 900 pages of documents detailing two research grants in 2014 and 2019 from the National Institutes of Health (NIH) to EcoHealth Alliance. This is the charity headed by Peter Daszak, the controversial Briton who led efforts to squash "conspiracy theories" about a possible lab incident after spending years hunting viruses with Shi Zhengli, the now-famous "Batwoman" expert at Wuhan Institute of Virology (WIV).
While some of this information was already circulating, The Intercept was able to obtain updates on the relevant projects:
… these documents include the original proposals along with project updates, so significantly flesh out what we knew. They highlight how US funding bodies outsourced risky gain-of-function research to China, even over a three-year period between 2014 and 2017 when it was banned in their own nation. They also show, with new clarity, the kind of work taking place in secretive Wuhan labs. These disclosures fuel the mystery over the pandemic origins, while also sparking fresh concerns over top scientists in both China and the West who sought to suppress inquiries into the lab leak hypothesis.
The NYT had a role to play here in defending the Wuhan Institute of Virology (WIV):
A $3.1m grant, according to the documents, was awarded to understand "the risk of bat coronavirus emergence" through screening thousands of samples collected from the nocturnal creatures. This included a chunk of funding worth $599,000 for WIV. Bear in mind that three months ago, Shi, director of its Centre for Emerging Infectious Diseases, angrily protested over the world "pouring filth on an innocent scientist" when emphatically refuting that they carried out gain-of-function work. "My lab has never conducted or co-operated in conducting GOF experiments that enhance the virulence of viruses" she told the New York Times.
Birrell gives us the NIH's definition for 'gain of function' (GOF):
the term gain-of-function research describes a type of research that modifies a biological agent so that it confers new or enhanced activity to that agent.
The following are real life examples of GOF:
Analysis of these papers show US funds supported construction of new chimeric Sars-related coronaviruses, which combined a spike gene from one with genetic material from another — and then showed the resulting creation could infect human cells and mice engineered to display human-type receptors on their cells.
One new virus had increased pathogenicity over the original virus and three new viruses increased viral load in lung tissues up to ten thousandfold, which is most definitely "enhanced activity." As scientists pointed out to me, these results demonstrated increased pathogenicity of SARSr-CoVs with different spike proteins in humanised mouse models. And similar construction work was proposed to be done with another type of deadly pathogen — the Middle Eastern Respiratory Syndrome coronavirus, which first flared up in Jordan nine years ago after spilling over from camels and has since cropped up in 27 countries, causing 858 deaths.
Dr Fauci is also involved:
Anthony Fauci, the US infectious diseases expert and presidential adviser, insisted earlier this year that his country "has not ever and does not now fund gain-of-function research in the Wuhan Institute of Virology". His stance led to a furious clash in Congress with Senator Rand Paul, who gleefully tweeted after The Intercept published its article on the papers: "Surprise surprise – Fauci lied again. And I was right about his agency funding novel coronavirus research at Wuhan."
Paul was backed by Richard Ebright, the bio-security expert and professor of chemical biology at Rutgers University, who has long been a fierce critic of such work since he argues that the risks of creating new diseases in laboratories vastly outweigh any potential benefits. "The documents make it clear that assertions by Anthony Fauci and the NIH Director, Francis Collins that the NIH did not support gain-of-function research or potential pandemic pathogen enhancement at WIV are untruthful," he said.
Birrell discusses France's involvement with Wuhan:
Buried in the documents are two more intriguing details. First, the experimental work creating mutant chimeric coronaviruses was carried out at WIV's biosafety level 2 lab and then the work analysing them in humanised mice performed at the biosafety level 3 Wuhan University Center for Animal Experiment, not at the new maximum level 4 WIV lab built with French assistance. The cluster of labs at the university hospital, incidentally, includes a breeding centre that created at least 1,000 types of genetically engineered animals from mice to monkeys. So this means the details in the papers accord with a previous statement by Shi that their coronavirus research is "conducted in BSL-2 or BSL-3 laboratories" — although a level 2 lab has, some say, barely higher safety standards than a dental clinic and certainly few safeguards against an lethal airborne virus.
As for Daszak, while he defended China, his charity warned about viral infections from animals encountered in fieldwork:
… while Daszak has been condemning supposed conspiracy theories and defending his friends in China with whom he has collected thousands of samples, his own charity was pointing out the major risk of accidental infection faced by researchers when collecting such specimens in a project he led. "Fieldwork involves the highest risk of exposure to SARS or other CoVs, while working in caves with high bat density overhead and the potential for fecal dust to be inhaled. There is also some risk of exposure to pathogens …while handling bats, civets, rodents or other animals, their blood samples or their excreta."
Accidental viral infection via animals was another point mentioned early last year which the media summarily dismissed.
The story of the origins of COVID-19 continues to unfold.
I look forward to reading more in future and covering it here.
On March 28, 2021 an hour-long interview with General Thomas McInerney appeared online.
I do not know of the interviewer Nino, but the two seemed to get on well. Both support President Trump and both are sceptical of coronavirus vaccines.
General McInerney, 84, began his career in the Army then joined the Air Force. He completed his initial pilot training in 1960. In 1962, he flew escort missions in the West Berlin Air Corridor during the Berlin Crisis and escort reconnaissance missions over Cuba during the Cuban Missile Crisis.
In April 1963, he was one of the first forward air controllers assigned to South Vietnam with a Vietnamese army division. He was sent to South East Asia on three additional deployments.
After the Vietnam War, he completed studies at the Armed Forces Staff College and graduated from the National War College.
In 1974, he was stationed in London as the air attaché to the U.S. Embassy. Between November 1976 and October 1977, he was assigned to the Royal Air Force Station in Upper Heyford, England, where he was vice commander of the 20th Tactical Fighter Wing.
In 1979, he was stationed in Asia, first in the Philippines, where he commanded the 3rd Tactical Fighter Wing at Clark Air Base, then in 1981, in Japan, where he commanded the 313th Air Division at Kadena Air Base.
In 1983, he was transferred to Hawaii, where he served as deputy chief of staff for operations and intelligence, Headquarters Pacific Air Forces at Hickam Air Force Base.
In 1985, he returned to Europe. He became commander of 3rd Air Force, Royal Air Force Station in Mildenhall, England. The following year, he became vice commander in chief, Headquarters US Air Forces in Europe, Ramstein Air Base, West Germany.
In 1988, he was reassigned to the United States, serving as commander of Alaskan Air Command, Alaskan NORAD Region, and Joint Task Force Alaska. In July 1989, when Alaskan Command was activated, he became its commander. In 1990, he commanded the 11th Air Force, the redesignation of Alaskan Air Command.
His last active duty assignment was as assistant vice chief of staff, Headquarters U.S. Air Force, Washington, DC. He retired from the Air Force in 1994, with the rank of Lieutenant General. Afterwards, he served on the boards of directors for several military contractors.
General McInerney endorsed Donald Trump both in 2016 and 2020. After the 2020 election, he supported the use of the Insurrection Act and all additional powers available. He was quoted as saying that he wanted President Trump:
to declare a national emergency, use the Insurrection Act, declare martial law, suspend habeas corpus, set up military tribunals, and suspend the electoral college [vote for president and vice-president] on December 14 and the presidential inauguration on January 20.
A summary of the General's interview with Nino follows. As one would expect in a conversation, the subjects ran together, so I have separated them below.
2020 election
At the 13-minute point, he said that Trump had 79 million votes to Biden's 68 million. At the 15-minute mark, he mentioned the recount in Maricopa County and two more recounts in two other states. He believes that the Supreme Court did not want to hear any cases about the election because Chief Justice John Roberts is 'compromised' in some way.
He also thinks that coronavirus was engineered to steal the election and that someone cut a deal with the C C P.
The General said that President Trump should have appointed Sidney Powell as special legal counsel in December.
He said that, as nothing has been done:
Americans have got to take control over their country.
As to why Cyber Command did not report election irregularities on the night to the President, he said
I believe we have a Deep State.
He would like to know the reasons why Trump did not contest the election and made this assertion:
Trump had a lot of the Deep State around him.
He repeated later in the interview that Trump was surrounded by:
Deep Staters.
When asked about his former Vice President, Mike Pence, he said:
I think he is Deep State. He is part of the problem.
He was disappointed that the military did not do anything with regard to the election. He believes that Germany intercepted Dominion votes but took no action:
I think the military's asleep at the switch.
He said that the United States needs:
a transparent audit that we're all comfortable with.
He asserted:
Biden did not win.
He explained that votes exceeded voter rolls in all suspect states, a situation that, on a national level, was previously:
unheard of … a stolen election.
He said that Biden did not win through properly cast votes and that one would have to throw out mail-in votes as well as:
get the right people to look at them.
He thinks the focus needs to be on clean elections for 2022:
We've got to just keep banging away at it …
and if done fairly, Trump gets in for 2024.
As for the Q movement, he said:
I don't know anything about the Q movement.
Coronavirus
With regard to coronavirus, at the 17:30 mark, the General said:
Do not take the vaccine.
He revealed that has already had one shot.
He explained that the vaccine is a prophylactic mRNA and that there will be no built-in immunity to COVID-20 and COVID-21.
Whether all the military have had it is still unconfirmed, he said.
He was and is clearly against lockdown. He added that a proper hydroxychloroquine protocol would have been sufficient and also suggested ivermectin. He believes that the CDC (Centers for Disease Control) lied to President Trump.
He mentioned a Dr Northrop, whom he described as a well renowned physician, who says that Americans should stop taking the vaccine.
The General has strong feelings on this subject:
This is our Normandy, this is our Iwo Jima.
He believes that Dr Fauci:
has been part of this cabal.
He mentioned New York's Governor Cuomo and deplored the nursing home deaths in that state.
On the other hand, he added, COVID-19 has a 99.2% survival rate and said of the American response:
We over-reacted.
Potentially, he said, Americans could go to 'camps' for refusing vaccines.
Conclusion
General McInerney said that Americans need to be realistic and resolute:
Hope is not a strategy.
He also foresees difficulties later in 2021, with serious problems starting:
this winter.
My readers wonder why President Trump is not doing more to oppose the Biden administration's agenda. I am not sure that he can do much, if anything, at this point.
I will have more on the concluding days of the Trump administration next week which might help explain his current circumstances. I haven't written about those final weeks. They have been too painful to consider.
I hope that everyone who could have helped former President Trump to set the election fraud straight is happy.
That includes Mike Pence and the Supreme Court.
Oh, my apologies. They do not care one jot for ordinary Americans. So, everything's okay.
I didn't think it was possible for the greatest nation in the world to go down the tubes so quickly.
Yet, that is where America is headed at breakneck speed.
Inauguration Day
YouTube viewers did not care about the inauguration on Wednesday, January 20. In fact, they registered their displeasure (H/T patriots.win, formerly thedonald.win):
Not many attended:
Freshman congresswoman Marjorie Taylor Greene (R-Georgia) observed:
By Friday, she filed articles of impeachment against him:
Tucker Carlson studied Biden's inaugural speech:
On the one hand, he notes, Biden spoke of 'unity'. On the other hand, he also spoke of a new 'war' on domestic extremism, which encompasses white supremacy. Tucker says that on the face of it, that's great, until one drills down to see what it really means. He spoke of his own show, which started only a few years ago. Six months after it began, Tucker Carlson Tonight was labelled a white supremacist broadcast. Tucker and his young staffers were shocked. Fortunately, the furore died down and it went on to become one of Fox News's best rated shows. Tucker concludes that it has to do with a belief in God, our Creator, who loves all of us equally, regardless of our race, creed or colour. By contrast, Tucker pointed out that Stalin and Mao Tse-Tung were atheists. People who believed in God were targeted under their regimes. Believers in God could be targets under the Biden administration for believing that we are all created equal.
The Conservative Woman featured Tucker's video and commented:
IT WAS fitting, as more than one commentator has pointed out, that the only people at the Biden inauguration yesterday were politicians, journalists, rich donors and the Hollywood elite. The spectacle of the Clintons, Bushes and Obamas congratulating the new President spelt out two things:
A return to the swamp.
The President of which is a sick man, as everyone knows but no one is saying.
Except for Tucker Carlson.
Equally worrying in his important monologue is that the US now has a party in power 'that is demonising half the country'.
After the inauguration, Biden wasted no time in signing a coronavirus mask mandate on federal lands.
Later, he and his family went to the Lincoln Memorial to remember those who have died from coronavirus. Note, no masks and no social distancing:
That night, there were fireworks:
The Bidens held a party:
That day, rioting broke out in some American cities. Those involved were not Trump supporters, but the usual anarchists. To Biden, they were an 'idea' during the campaign. Freshman congresswoman Lauren Boebert (R-Colorado) remembers:
In New York City, they attacked the Democratic National Committee office:
Portland demonstrators made it clear they did not like Biden:
The next day
On Thursday, January 21, Biden signed his first executive orders at a press conference. If true, shocking, but it does sound as if Biden is saying he doesn't know what he's signing:
More on the EOs below.
This is the sort of hardline questioning one can expect in the new administration:
Hundreds of comments followed the following video — all direct quotes from Biden during his 48-year political career and the campaign. Unfortunately, they are now unavailable as comments have been turned off. I remember when a court forbade former President Trump from blocking people replying to his tweets because he was a public figure. Hmm:
Biden was unimpressed with the AP's Zeke Miller who asked about something other than Biden's favourite flavour of ice cream. Biden short circuited the press conference then and there:
Kamala Harris was taken aback. Her:
body language was surprising. She looked almost frightened of Joe. Like a wife who walks on eggshells around her husband. The old bastard won't relinquish power as easily as they thought.
Earlier, he made his support for Dr Fauci clear. Less clear was Biden's own position. He still thought he was on the campaign trail:
Fauci's line hasn't changed:
This was interesting:
And did Fauci really say the following? I haven't been able to find an original source, but it sounds plausible:
I TOOK NO PLEASURE IN CONTRADICTING TRUMP WHEN HE WAS IN OFFICE, NOR DO I TAKE PLEASURE CONTRADICTING MY PREVIOUS DECISIONS NOW THAT BIDEN IS IN OFFICE
Unbelievably, Fauci has worked in the same post for 37 years. Good grief:
Speaking of coronavirus, Biden's press secretary quickly batted away a question from a reporter asking why the Bidens were not wearing masks when they commemorated the COVID dead at the Lincoln Memorial, despite his mask mandate on federal lands.
She didn't care:
Coronavirus rules do not apply to the Bidens. They apply to YOU.
Also, hydroxychloroquine is suddenly okay. Remember when former President Trump recommended it last year?
Executive orders
Not surprisingly, Biden is quickly undoing former President Trump's excellent and careful work for the American people:
A conservative British educator and political advisor, Calvin Robinson, agrees. He also criticised Biden's call for unity, which, he says, will end with more division. You can see his concise talkRADIO interview below:
As Biden pledged during the campaign — whether he remembers it or not — he will be ending fracking and the Keystone XL pipeline:
It is hard to disagree with the next two tweets:
Juanita Broaddrick, who knew Bill Clinton during his time as Arkansas governor, is one of Trump's biggest fans. She also predicts more bad news from the Biden administration:
It looks as if Biden fancies an international conflict, something happily missing from the Trump years:
Oh, yes, Jack, we are paying attention.
We also noticed:
Tucker Carlson has a superb analysis of those two measures and says flatly that they do not benefit Americans:
Then, there is the Paris Agreement. Trump pulled out of it and Biden has now signed back on.
Freshman congresswoman Lauren Boebert (R-Colorado) tweeted:
She believes that Biden wants to rule rather than work with the House and the Senate:
Wow, this is unbelievable:
Conclusion
I'll end with this:
For once, words fail me.
Please pray for the people of the United States and the future of the Great Republic, partially restored by President Trump.
Happy Thanksgiving to all my American readers … 
… wherever you might be experiencing lockdown.
I wish all of you a good day, however different it might be in 2020.
Lately, I've been watching Howie Carr every weekday on YouTube to find out how the election results are going.
Even now, Joe Biden is not yet president-elect. For the media, he is more like the president-select (all credit to Howie).
President Trump still occupies that spot, at least until January 2021, at least.
As I wrote this post, he rightly had a go at General 'Mad Dog' Mattis:
He highlighted Wisconsin's suspicious election results …
… and pointed out a fact about the 27 House races that notional experts said Republicans would lose. Republicans won all 27:
He rightly celebrated the Dow Jones Industrial Average reaching 30,000 for the first time in history. Never let it be said that this was Joe Biden's doing. It was Donald Trump's policies that made this beautiful record landmark possible.
This is the ninth stock market record in 2020 and the 48th of the Trump administration:
President Trump pardoned the Thanksgiving turkey, a tradition that began in the 1860s during Abraham Lincoln's administration when his son made friends with a turkey the Lincolns were planning to eat for Thanksgiving.
This year, a beautiful bird, Corn, came from Ames, Iowa, with his friend Cob — Corn and Cob, corncob — for the ceremony. They returned to Ames afterwards with the farmer who bred them:
Now back to Howie Carr, who also covers the latest coronavirus news on a daily basis.
Pity Americans who have to put up with Dr Anthony Fauci. Even Britons roll their eyes at his advice.
A disgusted English friend of mine scorned Fauci's 'don't kill Granny' advice. I shook my head at 'a quarter of a million deaths', which were revised downward drastically during the summer as being deaths with COVID and not of COVID. There's a big difference:
Back to the 'killing Granny' narrative — this is the other side of the story for many elderly with younger family members:
Too right.
Here's another choice morsel from Fauci:
I would love to know what Fauci is doing for Thanksgiving, but he doesn't have a Twitter account and it is too painful listening to his idiocy.
As I write on Tuesday, Howie has been reading out the American resistance to lockdowns and restrictions from news articles. These detail how the great and the good have been dictating, sometimes under penalty of law, how people like you and me should live our lives with an illness that has the same fatality rates as the flu. Note that this does not mean coronavirus is synonymous with flu.
Never mind Fauci. American governors have become more brazen and authoritarian with every passing day, no more so than at one of the sacrosanct, inviolable national holidays: Thanksgiving Day, which is celebrated this year on Thursday, November 26.
Let us make the rounds, coast to coast, to see what these governors have been doing, starting on what used to be known as the Eastern seaboard.
Massachusetts
Republican — actually, RINO — governor Charlie Baker (Joe Biden calls him Charlie Parker) has been issuing various prohibitions for ages.
This is his advice to the Commonwealth of Massachusetts (as it is officially known) for Thanksgiving, the kick-off to the holiday season, which ends in the US on New Year's Day. I enjoyed the response to Baker's advice — well said:
New York
Let's move somewhat south to New York State.
Howie Carr plays the best clips of Governor Andrew Cuomo.
Cuomo's monologues sound as if they are clips from horror movies until Howie says that they're the governor's pronouncements. Scary.
I don't have any of those audio clips, but Cuomo's tweets about Thanksgiving are unintentionally amusing.
Before I go there, however, let's look back to the beginning of the month, two days before the election on Tuesday, November 3.
There was a massive Trump car rally on the bridge named for his father, Mario Cuomo.
As far as I am concerned, the Governor Mario M Cuomo Bridge will always be the TAPPAN ZEE BRIDGE.
This was held in the rain. I embraced the enthusiasm and wished I could have been there:
The current Gov Cuomo, a Dem, as was his father, does not like the fact that President Trump has been able to announce two coronavirus vaccines:
On Friday, November 20, a group of business owners in Buffalo, upstate near Canada, told sheriffs and one or more notional health inspectors to get lost.
Gateway Pundit reported, in part, that the business owners were in a gym. Gyms are/were currently closed because of the Chi-vi (emphases mine below):
Business owners in Buffalo, New York fed up with Cuomo's authoritarian Covid lockdown orders asserted their Constitutional rights and kicked out sheriffs and "health inspectors" on Friday night.
50 business owners gathered inside of a shuttered gym in Buffalo, New York Friday night when two sheriffs and a so-called 'health inspector' showed up to harass the group in response to an "anonymous tip."
The business owners shouted down and kicked out the health inspector and the told the sheriffs to come back with a warrant.
Well done!
The story comes from the Buffalo News.
This brings us to Thanksgiving.
Cuomo warned New Yorkers to stay at home within their own households, so much so that the New York Post reported that there are big window decals with a photo of Cuomo snooping in people's homes, accompanied by an image of a turkey.
Interestingly, the company that makes the decals is also located in Buffalo:
One upstate company wants Gov. Andrew Cuomo to be the biggest turkey at your Thanksgiving dinner this year.
The Buffalo-based design firm Custom 716 is selling stickers of the governor's face that can be put on a window to make it look like Cuomo is peering inside — presumably to make sure not too many people are there to celebrate the holiday this year.
The sticker is a clear way of ripping Cuomo for demanding that New York families avoid gathering in large groups for the holiday out of fears of spreading COVID-19.
"Great for all gatherings, sure to get laughs, great for your business or your home!" they write about the $10 sticker on their firm's website.
"$10 and I will mail it to you for free, or pick up is available. Located in North Tonawanda, NY," the description reads, offering a promo code allowing customers to bypass the $8.05 shipping and handling fee.
Cuomo has been begging New Yorkers to spend Turkey Day alone, warning the coronavirus's rapid spread has increased in part thanks to small, indoor gatherings in recent months as the weather has turned slightly chillier.
"It's your family, it's your home, it's your table — these are all environments where you feel safe and that's the beauty of Thanksgiving," he said during a phone conference briefing with reporters Thursday.
"Your safe zone is not a safe zone, your safe zone is dangerous this year."
When you hear the audio of him saying that (thanks to Howie), it sends chills down the spine.
Fortunately:
politicians and law enforcement agents across the state … argue it's nearly impossible to enforce caps on indoor, private gatherings.
At the time, Cuomo included himself in that diktat:
However, a few days later, Andrew Cuomo announced big plans for a family get together. Hmm, interesting:
Here's a tweet, including a photo of the snoop decal from Buffalo. Note the 'for thee, but not for me' response from someone living in Governor Pritzker's fiefdom of Illinois (see below):
Howie Carr said on Tuesday, November 24 that Cuomo got so much blow back from New Yorkers that his family's plans for a communal turkey dinner changed. One of his daughters would not be attending (H/T Gateway Pundit):
Aww.
Also:
His daughter, wearing a tee shirt with 'New York tough' emblazoned across it, tweeted:
The Rochester Democrat and Chronicle reported:
New York Gov. Andrew Cuomo abruptly canceled his Thanksgiving plans Monday, less than two hours after revealing he planned to spend the holiday with his mother and two of his daughters.
During a radio interview Monday around 3:45 p.m., Cuomo revealed his "current plan" for the holiday: His 89-year-old mother, Matilda, and two of his three daughters, Michaela and Cara, are planning on joining him in Albany.
…By 5:30 p.m., Cuomo nixed the gathering entirely.
Good.
Hypocrisy is most unbecoming.
New Jersey
Just west of New York, across the Hudson River, New Jersey's governor Phil Murphy was accosted by angry diners when he was eating out with his family and appearing without a mask. New Jersey has had a particularly arduous lockdown.
Remember, Phil Murphy won't have to worry about where his next meal is coming from. The taxpayers are footing his bill:
Murphy, who, Howie Carr says, attended the same high school and college as Massachusetts's Charlie Baker, is still trying to frighten his state's residents:
His wife is at it, too:
I couldn't agree more about the gaslighting.
North Carolina
Moving several hundred miles south, North Carolina's Governor Roy Cooper approves of business closures in Greensboro:
On Monday, November 23, he issued a Thanksgiving sermonette on the 'stay at home' theme, most of which follows. Like the UK, he has a colour-based 'tier' designation:
With that sort of warning, what North Carolina resident could possibly want to go through with (gasp) a family or friend oriented Thanksgiving dinner?
Amazingly, people in North Carolina have not been able to attend church — or any sort of celebration — for nine months. He has the nerve to tell them to keep it up 'just a bit longer' — for November 2021. Good grief:
Governor Cooper has even better news for the run-up to Christmas:
Excellent response.
Illinois
Let's travel around 1,000 miles northwest to Illinois.
Governor JB Pritzker comes from a family of real estate moguls. As one would expect, he can escape Illinois, lovely as it is, to take a break at family properties elsewhere.
Last summer, he defied his own executive order to take part in a protest in Chicago. Pritzker is the man in the blue and white checked shirt in the second photo below:
More recently, Howie Carr said that Pritzker's immediate family have been spotted at their Florida farm which has horses that his children can ride. Howie, now a Florida resident, lives in the vicinity.
Hmm.
A Republican congressman from Illinois called out Pritzker:
Someone replied:
Fortunately, Pritzker's and Illinois's directives, such as these …
… are being ignored. Just look at Chicago's O'Hare airport:
Well done!
Gee, 20 years on, the TSA still have their checkpoint. Why didn't President Trump ever repeal the Patriot Act? 'There's a there there', no doubt.
For those Illinois residents who will not be travelling for Thanksgiving, there is no absolution if you live in Chicago. On November 15, a spokeswoman from Mayor Lori Lightfoot's office said, 'You are the problem; you are putting everyone at risk' (see the 11-second mark):
Yet, anecdotally, the vast majority of Chicagoans are wearing masks:
Speaking of masks:
Chicago — the Windy City — which is also darned chilly at this time of year, is pushing OUTDOOR dining in a TWO-sided tent!
You could not make this advice up:
As for Thanksgiving dinners, Chicago mayor Lori Lightfoot has cancelled them. She is pictured in the photo above with Governor Pritzker at a June 2020 protest. Note that CNN has not shown the official US COVID-19 death count, which is still at 'with' + 'of', as it was last summer:
Interestingly, during lockdown in April, Madame Mayor felt compelled to get her hair cut when she had told ordinary Chicagoans that hairdressing was non-essential. See the Daily Mail report from April 12, complete with photo of her with her hairdresser, no social distancing required.
Washington
Let's leave the Midwest for the West Coast, starting in the most northern state, Washington, home to Seattle, the site of much summer mayhem.
Governor Jay Inslee, who did not oppose said summer mayhem, is now telling Washington residents not to get together for Thanksgiving. This advert is unbelievable:
COVID-19 can find you everywhere! Woo-oo!
Inslee thanks Washington residents for not celebrating one of America's two most historic holidays this year. The reply is excellent:
Oregon
The state immediately south of Washington is Oregon.
There Governor Kate Brown is all in for the deadly coronavirus narrative, especially at Thanksgiving:
On Monday, November 23, she asked for Oregonians to snitch on each other at Thanksgiving.
Hot Air has the story, first reported in the Washington Times. Reporter Jazz Shaw says:
I guess nobody told Oregon Governor Kate Brown about the old rule regarding snitches and stitches. With the holidays fast approaching and an increasing number of citizens growing tired of government mandates forbidding them from gathering with friends and family to celebrate, Brown is concerned that people may simply ignore her orders and gather around the feast table anyway. So what's an autocratic executive to do? The answer is as simple as pumpkin pie. She'd like people to keep an eye out for large gatherings in their neighborhood and call the police if they see any suspiciously large, turkey-related activity going on. That's an idea that's sure to put everyone in the holiday spirit, right? (Washington Times)
This must be one of the snottiest adverts about family ever made. See what you think. A photo of the governor follows (she's not the one with the pink gloves):
Let us not forget that Portland has had mayhem going on since June. Every doggone night for months on end:
California
The most blatant nose-thumbing has come from California's governor Gavin Newsom, who with the co-operation of mayors and county officials has kept the Golden State under lockdown for most of the year, with most counties at the top two highest tier levels during that time.
The status holds true, if not worse, even now:
Meanwhile, Governor Newsom has been releasing prisoners sporadically because they are in danger of catching COVID-19. Forget about law-abiding citizens:
One used to think California voters were being silly in continuing to vote in Democrats.
However, in recent years, a growing number of Americans think that Democrats have won so many elections because of voter fraud:
With regard to the curfew, at least one protest took place. This is from Huntington Beach:
Protests last summer in the state were acceptable to most, but the anti-lockdown and anti-curfew ones attract comment. Fortunately, some can discern the truth:
Newsom has seemingly bought into the mask narrative, even though that policy has not improved his state's figures:
Exactly. Probably more adjusted statistics. We have them in the UK, too.
However, right now, more Californians are interested in Newsom's social life during lockdown:
With regard to masks …
No one cares that the Newsom family is self-isolating for a fortnight:
The tweets kept coming and coming:
Newsom isn't alone, it seems, in rule breaking. Is this the California state legislature? Yes, it is:
By the way, masks are probably not a good conversational topic for Thanksgiving. See this brief exchange:
But I digress.
The three-star French Laundry in Yountville (Napa Valley) is one of the world's most famous restaurants.
In the 1920s, it was used as a French steam laundry, hence the name.
In the 1970s, the then-mayor of Yountville Don Schmitt and his wife Sally turned the building into a restaurant.
In 1994, the French chef Thomas Keller bought the restaurant and made it into the legend it is today.
Friends invited Gavin Newsom to the French Laundry for a birthday celebration on November 6 during California's lockdown.
Talk about 'for me, but not for thee'.
The Daily Caller reported:
Photos show the maskless governor of California dining indoors at one of the highest rated restaurants in the world despite his restrictive coronavirus guidelines for the citizens of California.
Democratic California Gov. Gavin Newsom can be seen dining at the Michelin-starred French Laundry on the evening of November 6, according to photos obtained by Fox LA. The restaurant, located in California's Napa Valley, is considered "the pinnacle of California dining" and has been ranked the best restaurant in the world numerous times, according to various outlets.
Newsom has said the restaurant was outdoors, but FoxLA reported that the room's glass sliding doors had been closed, making the dinner party indoors. Newsom's office did not immediately respond to a request for comment from the Daily Caller News Foundation.
The group was so loud that customers complained:
"While we were there we realized there was a very loud party going on in a room 20 feet from us," the woman who took the photos told FoxLA. "It was a bit annoying since you're spending hard-earned money to go there. It got louder and louder and so they had some sliding glass doors that they were able to close, so then it was a closed-off room but you could still hear them with how loud they were."
She continued: "I just happened to look over and realize hey is that Gavin Newsom, who is that? And I did ask one of the waitresses and she confirmed it was, so I was able to take a couple of photos, I was able to document this especially since nobody was wearing a mask. It was a very large group of people shoulder to shoulder, something that he's always telling us not to do so yeah it was a bit annoying for sure."
Newsom has urged California residents to wear face masks "in between bites" at restaurants and announced Monday that California is "pulling an emergency brake" and mandating the most restrictive tier of coronavirus restrictions for more than two dozen California counties …
The governor also warned that he would announce more COVID restrictions Friday ahead of Thanksgiving.
Newsom apologized Tuesday for attending the dinner party, calling it a "bad mistake" and saying that he became uncomfortable after arriving when he realized that the group was larger than he expected, according to FoxLA.
…
But the woman who took the photos said Newsom did not appear uncomfortable.
"I was surprised because it didn't look like he was uncomfortable being there until the very end until people were looking at him and staring at him as he was leaving the room," she told FoxLA.
Not surprisingly, the dinner made a splash in California's media:
A few days ago, the California IBank had the nerve to tweet this. I applaud the reply:
That is so true.
Words fail me.
On Thanksgiving, when in doubt, eat more and add more butter.
I hope that those celebrating Thanksgiving can enjoy their dinner the best they can — with hearty gratitude. (Things could always be worse.)
Robert F Kennedy Jr went to Berlin late last week to speak at a rally for personal freedom in the city on Saturday, August 29, 2020:
The rally continued into the night with music:
For several years, Robert F Kennedy Jr has been concerned about the effect of modern vaccines on children and, as a result, founded Children's Health Defense.
The day before the Berlin rally, he launched Children's Health Defense Europe:
A press conference was held:
The press release says, in part:
On Friday August 28, 2020, Mr. Kennedy, chair of Children's Health Defense, held a press conference and met with the leaders of the newly-formed Children's Health Defense Europe Chapter. In attendance were Senta Depuydt and Tina Choy (board members of CHD Europe), RA Markus Haintz (Querdenken-731 Ulm), and Heiko Schöning (MD, Ärzte für Aufkärung). While in Berlin he will also meet with colleagues from all over Europe to discuss global challenges to health and human rights …
In photo [above], RFK, Jr. is with organizers Dr Heiko Schoening, M.D. and Attorneys Markus Haintz & Rolf Karpenstein in front of Brandenburg Gate where his uncle, President John F Kennedy, gave his famous "Ich bin ein Berliner" speech in 1963.
Kennedy gave an 18-minute speech at the launch:
He spends the first seven minutes discussing vaccines, then moves on to the current coronavirus situation in Western nations.
In those seven minutes, he says that Big Pharma is much larger and much more powerful than Big Oil. Big Pharma is also working with governments all over the world.
After that, he warns us about our compliance with government guidelines on coronavirus.
At 7:54, he says that when Herman Goering was interviewed at the Nuremberg Hearings, he said that the German government created a climate of fear to get people to obey. When pressed further on the nature of the German people, he replied, 'It wasn't just Germany', explaining that any government can successfully create a climate of fear causing people to do all sorts of things they would not normally do.
Kennedy noted that, by contrast, President Franklin Delano Roosevelt told the American people in that era:
The only thing we have to fear is fear itself.
He says that present-day Western governments have created a climate of coronavirus fear, using 'science' as a weapon. He wants to see the details on 'Bill Gates's and Dr Fauci's "science"'.
He discusses 5G and Alexa. Those who own an Alexa are allowing spying on them and their households. He says that 5G isn't there for the benefit of gamers, allowing seconds-long downloads of video games. Rather, it is there to enable phone networks, governments and the private sector to gather vast amounts of information on citizens.
With 5G, Western governments would be able to target individuals who are not obeying the system. They could freeze people's bank accounts for making notionally unauthorised purchases. (This is already being done in China, with deleterious effects on private citizens. It's called a 'social credit score'. Some Chinese have lost not only access to their money but also their jobs and, in some cases, their university places. Their next of kin can be similarly affected: guilt by association.)
He says he does not know whether coronavirus is a 'plandemic', as many have said, but understands how one could draw that conclusion.
Therefore, with all of this in mind, we need to be careful about complying with government directives en masse. Kennedy says that it would be very easy for governments to take away our precious civil liberties. He said that his father, the late Attorney General Robert F Kennedy who was assassinated during his run for president, told him as a child:
People in authority will lie to you.
Interestingly, on the day of the rally in Berlin, news emerged that the Centers for Disease Control (CDC) did an about-face on America's coronavirus deaths, revising them downwards. They are not the sky-high totals we've been shown over the past several months:
The Gateway Pundit reported (emphasis mine):
The CDC silently updated their numbers this week to show that only 6% of all coronavirus deaths were related to the coronavirus alone.  The rest of the deaths pinned to the China coronavirus are attributed to individuals who had other serious issues going on.  Also, most of the deaths are related to very old Americans.
The article also said (emphasis in the original):
So get this straight – based on the recommendation of doctors Fauci and Birx the US shut down the entire economy based on 9,000 American deaths to the China coronavirus …
Earlier this year, after the WHO seeded panic:
Doctors Fauci and Birx were next to push ridiculous and highly exaggerated mortality rates related to the coronavirus:
** Dr. Tony Fauci and Dr. Deborah Birx used the Imperial College Model to persuade President Trump to lock down the ENTIRE US ECONOMY.
** The fraudulent model predicted 2.2 million American deaths from the coronavirus pandemic
** The authors of the Imperial College Model shared their findings with the White House Coronavirus task force in early March
** Dr. Fauci and Dr. Birx then met with President Trump privately and urged him to shut down the US economy and destroy the record Trump economy based on this model
But the Imperial College model Dr. Fauci and Dr. Birx pushed was garbage and they recommended the destruction of the US economy using this model.
Today we now have empirical evidence that the WHO, Dr. Fauci and Dr. Birx were all wrong.  They were charlatans.  They lied.
Robert F Kennedy was right: authorities DO lie.
Franklin Delano Roosevelt was also correct. His maxim about fear still holds true today.
Be careful out there with statistics. Question today's 'science'. Today's technology is not there primarily for our benefit, either.
On Monday, May 25, 2020, the WHO dropped its hydroxychloroquine trials as a possible treatment for coronavirus.
The drug is one of a selection of anti-malarials which have been used successfully, under the right protocols.
In Europe, Prof Didier Raoult is the champion of this type of treatment. He has successfully used a protocol involving Plaquenil and azithromycin on his patients in Marseille. Raoult is the director of the regional institute for research on infections, the IHU Méditerranée Infection.
The medical establishment worldwide is attempting to discredit the renegade physician. The latest is the Lancet, Britain's renowned medical journal. The results of their studies with the drug prompted the WHO to halt their trials.
The BBC reports:
The Lancet study involved 96,000 coronavirus patients, nearly 15,000 of whom were given hydroxychloroquine – or a related form chloroquine – either alone or with an antibiotic.
The study found that the patients were more likely to die in hospital and develop heart rhythm complications than other Covid patients in a comparison group.
The death rates of the treated groups were: hydroxychloroquine 18%; chloroquine 16.4%; control group 9%. Those treated with hydroxychloroquine or chloroquine in combination with antibiotics had an even higher death rate.
The researchers warned that hydroxychloroquine should not be used outside of clinical trials.
President Trump is currently taking hydroxychloroquine as a preventive measure. He receives it via prescription.
The WHO advises people not to self-medicate with these drugs.
Indeed, Prof Raoult uses them only on people who test positive for COVID-19. He also runs a battery of tests on potential patients before administering the tablets. Anti-malarials can worsen pre-existing heart conditions.
His and his team's paper was published in May:
He was delighted to see that another study using the same two drugs was equally successful. Beneath it are the results of the less successful Lancet study, which used hydroxychloroquine and macrolide, instead of azithromycin:
He is aware that the medical establishment, including France's two most recent health ministers, Agnès Buzyn and Olivier Véran, want him out of the picture:
That's unfortunate, because I listen to RMC during the week and the callers from Marseille and the rest of the region of Provence-Alpes Maritimes-Côte d'Azur (PACA) consider him a hero.
However, RMC's morning show hosts dismiss Raoult and hydroxychloroquine. Now I know why. One of the station's main shareholders also is a major shareholder in Gilead, which is working on Remdesivir, a drug used to treat Ebola. So far, Remdesivir trials on COVID-19 have not been that successful but the marketing is good, and it would be a money maker:
Last Tuesday on RMC, the WHO/Lancet news was a topic for discussion on the mid-morning show. They took a poll of Raoult's popularity. Three-quarters of their listeners voting during the show love the man. The poll was open for another day:
One of the show's guests said that Didier Raoult was achieving success, not talking about hypotheticals. He found it strange that few of the other studies manage to reproduce his success:
A nurse from Marseille who used to work the the professor, who is a physician, said that the others are not following his protocol to the letter. She said that, if they were, they would get the same results.
Raoult points out in the next tweet that the other studies are not using the drugs on people who actually have the disease. Therefore, results will differ:
Back to RMC. One of the panellists compared Raoult to Trump: a renegade one loves or loathes. She said that, like Trump, Raoult is trending in popularity:
Needless to say, the conversation about Raoult got heated. The first panellist said he was annoyed that his GP wouldn't prescribe him hydroxychloroquine and azithromycin. The show's hosts, on either side of him, thought the GP was right not to do so:
A third panellist said that Raoult is resisting all the discrediting of his work — 'He's extremely courageous':
Criticised though Raoult might be, America's National Institutes of Health (NIH) will be doing a study on hydroxychloroquine and azithromycin:
Although Raoult gives Dr Anthony Fauci the credit, I think it actually belongs to President Trump.
——————————————————————————
MAJOR UPDATE — JUNE 4: The Guardian has investigated the Lancet paper and reports that it had to be withdrawn. The WHO is now resuming its hydroxychoroquine trials.
This never should have happened to a respected medical journal.
Emphases mine below:
The Lancet paper that halted global trials of hydroxychloroquine for Covid-19 because of fears of increased deaths has been retracted after a Guardian investigation found inconsistencies in the data.
The lead author, Prof Mandeep Mehra, from the Brigham and Women's hospital in Boston, Massachusetts decided to ask the Lancet for the retraction because he could no longer vouch for the data's accuracy.
The journal's editor, Richard Horton, said he was appalled by developments. "This is a shocking example of research misconduct in the middle of a global health emergency," he told the Guardian.
A Guardian investigation had revealed errors in the data that was provided for the research by US company Surgisphere. These were later explained by the company as some patients being wrongly allocated to Australia instead of Asia. But more anomalies were then picked up. A further Guardian investigation found that there were serious questions to be asked about the company itself.
An independent audit company was asked to examine a database provided by Surgisphere to ensure it had the data from more than 96,000 Covid-19 patients in 671 hospitals worldwide, that it was obtained properly and was accurate.
Surgisphere's CEO, Sapan Desai, had said he would cooperate with the independent audit, but it is understood he refused to give the investigators access to all the data they asked for.
In a statement on Thursday, Mehra said: "Our independent peer reviewers informed us that Surgisphere would not transfer the full dataset, client contracts, and the full ISO audit report to their servers for analysis as such transfer would violate client agreements and confidentiality requirements. As such, our reviewers were not able to conduct an independent and private peer review and therefore notified us of their withdrawal from the peer-review process"…
The World Health Organization and several countries suspended randomised controlled trials that were set up to find an answer. Those trials have now been restarted. Many scientists were angry that they had been stopped on the basis of a trial that was observational and not a "gold standard" RCT.
Mehra had commissioned an independent audit of the data after scientists questioned it …
The Guardian wrote about Surgisphere on June 3. This is shocking.
Excerpts follow, emphases mine:
The World Health Organization and a number of national governments have changed their Covid-19 policies and treatments on the basis of flawed data from a little-known US healthcare analytics company, also calling into question the integrity of key studies published in some of the world's most prestigious medical journals.
A Guardian investigation can reveal the US-based company Surgisphere, whose handful of employees appear to include a science fiction writer and an adult-content model, has provided data for multiple studies on Covid-19 co-authored by its chief executive, but has so far failed to adequately explain its data or methodology …
The Guardian's investigation has found:
A search of publicly available material suggests several of Surgisphere's employees have little or no data or scientific background.

An employee listed as a science editor appears to be a science fiction author and fantasy artist

. Another employee listed as a marketing executive is an adult model and events hostess.
The company's LinkedIn page has fewer than 100 followers and last week listed just six employees. This was changed to three employees as of Wednesday.
While Surgisphere claims to run one of the largest and fastest hospital databases in the world, it has almost no online presence. Its Twitter handle has fewer than 170 followers, with no posts between October 2017 and March 2020.
Until Monday, the "get in touch" link on Surgisphere's homepage redirected to a WordPress template for a cryptocurrency website, raising questions about how hospitals could easily contact the company to join its database.
Desai has been named in three medical malpractice suits, unrelated to the Surgisphere database. In an interview with the Scientist, Desai previously described the allegations as "unfounded" …
You could not make this up.
Still, it's a happy ending. Hydroxychloroquine and chloroquine trials will resume, including at the WHO.
Many thanks to my reader formerdem, who alerted me to this welcome change of events in the comment section below.
There is so much to write about COVID-19.
I have hundreds of bookmarks about PPE, lockdowns, deaths, profit-makers and more.
With regard to lockdowns and drugs, Americans and the British will remember two names after all of this is over: Dr Anthony Fauci and Professor Ian Ferguson.
Lockdowns
Professor Ian Ferguson of Imperial College London is the man primarily responsible for lockdowns in the UK and the US, heretofore known as bastions of liberty.
Unfortunately, Ferguson's track record is less than brilliant, as this subtitled video explains. I have no idea if someone really hacked his 13-year-old modelling code. The video is what's important here, as he did great harm to the British livestock industry on two separate occasions. Ferguson is the reason why beef and lamb have cost the earth over the past two decades:
I never thought that lockdown was the right way to go. I have not changed my mind.
I was so pleased with Prime Minister Boris Johnson and President Donald Trump for not going down that route … until they did.
Both had input from Ferguson's faulty coronavirus modelling, which he has since revised downward — when it's too late:
This is now reaching the media. The Spectator wrote about it on May 5 (see below):
The Spectator's editor Fraser Nelson wrote 'Sweden tames its 'R number' without lockdown'. An excerpt follows, emphases mine:
… Imperial also applied its UK assumptions to Sweden, warning that its rejection of lockdown was likely to leave the virus rampant with an R of between 3 and 4. That is to say: every person infected would give it to three or four others. Its modelling envisaged Sweden paying a heavy price for its rejection of lockdown, with 40,000 Covid deaths by 1 May and almost 100,000 by June.
The latest figure for Sweden is 2,680 deaths, with daily deaths peaking a fortnight ago. So Imperial College's modelling – the same modelling used to inform the UK response – was wrong, by an order of magnitude. Sweden has now published its own graph, saying its R was never near the 4 that Imperial imagined. More importantly, its all-important R level (all-important to the UK anyway – it has never much featured in the Swedish discussion) has in fact been below the safe level of 1 for the last few weeks.
As Johan Norberg has written, Imperial's model 'could only handle two scenarios: an enforced national lockdown or zero change in behaviour. It had no way of computing Swedes who decided to socially distance voluntarily. But we did.' Anders Tegnell, Sweden's state epidemiologist, has seen his trust ratings soar. Some Swedes are even having his face tattooed on their arm.
When Imperial first made its models, everyone was guessing. We know more now. Every day, in The Spectator's Covid-19 email, we bring new studies that add more detail to our understanding of the virus. At present, Britain is considering the South Korean model: an ambitious combination of tech, surveillance, track and trace. But given that Sweden achieved what Imperial College had thought undoable, without the surveillance or the tech or the loss of liberty, its lessons are also worthy of consideration.
Sweden's Prime Minister has said he is relying on 'Folkvett' – people's wit, or common sense. As Boris Johnson considers his options, he should also ask whether a folkvett option – described in a recent Spectator leading article as a 'trust the public' approach – might work for Britain.
PS For all of its prominence in virus modelling, 'the R' is not a known number. It can only be guessed at, because the actual number of infections can only be guessed at. Sweden has not targeted the R. It has simply sought to keep the virus at manageable levels (ie, so hospitals have spare capacity). But the UK's approach is more influenced by models, and No10 now says keeping an R below 1 is its main policy.
Fraser Nelson probably knows Boris, so I hope he sends him a copy of his article. Although Nelson began working at The Spectator a few years after Boris stopped editing the magazine to enter politics, they have probably met at the publication's annual summer garden parties or at Conservative Party functions.
Check out this graphic, of Sweden's coronavirus numbers predicted by Imperial and the reality. It is shocking.
Congratulations to Sweden! I knew they'd done the right thing from the get-go.
Returning to the UK, here's one unanswered question about Britain's coronavirus policy: why, in mid-March, was COVID-19 declassified as a high consequence infectious disease (HCID) in the UK only for us to have lockdown one week later, on the evening of Monday, March 23?
It wasn't just the deaths that Ferguson messed up, there were other aspects of health policy, too, as Martin Geddes discusses in an excellent essay, 'Coronagate: the scandal to end all scandals':
The British justification for lockdown and abandonment of "herd immunity" comes from the work of Prof Neil Ferguson of Imperial College in London. This institution has received over $185m from the Gates foundation. He has a truly appalling track record, having grotesquely mis-modelled foot and mouth disease, Creutzfeldt-Jakob disase, H5N1, and swine flu. But he was hired again for COVID-19, where he was only out by a factor of 20 on mortality, and made obvious errors like presuming frail elderly patients would need ventilators when this is well known to be inadvisable (as it kills them).
The combination of a cataclysmic death forecast with no known treatment is what then drove draconian lockdown policy. This was despite the policy being implemented so late it cannot have had any impact on the actual peak demand for healthcare. Whether done with integrity or as sabotage only history can tell. The damage is done now.
Sadly, Martin Geddes is only too right.
How will we ever recover? Not just the UK, but the rest of the Western world?
British farmers never have. A number of them had to leave farming; they couldn't afford it any more. Some committed suicide.
Pray God we pull out of this successfully — and relatively quickly!
Drugs
While there is no cure for COVID-19, anti-malarial drugs can be used to lessen the damage to lungs in sufferers who need it:
Geddes mentions Dr Anthony Fauci in the US, prefaced with this introduction (emphases in the original, those in purple mine):
I was going to title this essay "Hydroxychloroquine: does it cure CONS" — with the joke being CONS as an abbreviation for Credulous Official Narrative Syndrome. But people dying and losing their livelihoods worldwide for no good reason is not a joke. Coronagate is the political con job that promises to eclipse all others, even against stiff competition like Spygate.
Here's the bottom line: Dr Fauci and his institutional sponsors have known since at least 2005 that chloroquine — and its milder derivative hydroxychloroquine (HCQ) — inhibit coronaviruses like SARS from replicating in the body. They have withheld this important information from the public and failed to act on it when forming policy. Instead these besuited criminals have pushed experimental and expensive drugs, whilst having huge financial conflicts of interest.
This means that the present lockdown and the immense disruption and harm it is causing is for no real benefit. We could be offering cheap and effective prophylactic and therapeutic treatments for COVID-19, targeted at the vulnerable (like healthcare workers, elderly, those with comorbidities). Indeed, several countries are taking this course now with proven success.
Later on in his essay, he says:
The smoking gun is a Virology Journal paper from 2005 from the NIH, where Dr Fauci was director: "Chloroquine is a potent inhibitor of SARS coronavirus infection and spread." COVID-19 is a SARS virus similar to the one from 2005. It is undeniable that this information was public and known to Dr Fauci and his colleagues.
Yet, Fauci appears more often than not on the dais for America's daily coronavirus briefings! WHY?
I have quoted one of my readers — Prex — before on matters coronaviral. This is an excerpt from Prex's take on Fauci (emphases in bold mine):
… notice how the MSM and Cabal, including Fauci, FIGHT against Hydroxychloroquine + Azithromycin + Zinc SO vigorously? Then at the same time, they HAIL, Remdisivir, after ONE study, which, was NOT as effective as HAZ (91% effective AFTER infected, preventing further damage AND hospitalization) Remdisivir, was made FOR Ebola. It did NOT work.
In fact, it KILLED far more than it SAVED in Africa. Gee, is that not what they tried to project on Hydroxychloroquine? Why YES, yes, it is.
Want MORE? Guess, WHO funded the Ebola research into Remdisivir? The NIH. Guess who is the HEAD of the NIH? Dr Fauci. Guess who signed OFF on the drug for Ebola? Dr Fauci. Guess who funded the Covid 19 research in NC? Fauci and the NIH. Guess who used 3.7 MILLION taxpayer dollars to move it to CHINA and the Wuhan BSL4? The NIH and Fauci.
Want MORE? Guess who was the head of the AIDS taskforce in the 80's and 90's? Dr Fauci. A vaccine was NEVER found, despite HUNDREDS of BILLIONS spent. Guess who is AGAINST Hydroxychloroquine? Dr Fauci. Guess who had the VA put out that SHAM Hydroxychloroquine study the media tried to pass off to scare people from using HAZ? The NIH and Dr Fauci. Guess WHO advised Trump to do the shutdown and social distancing mitigation crap to flatten the curve? Dr Fauci. Who wants the shutdown to CONTINUE and is almost guaranteeing no herd immunity and a second wave? Dr Fauci.
See a pattern? Guess WHO, pun intended, advised Dr Fauci? Tedros and the World Health Organization. Guess WHO, pun intended they enable? CHINA. Guess WHO, funds the WHO? The NIH and Dr Fauci. Getting a CLEARER picture yet?
Remember Event 201. The mock by Johns Hopkins that was almost dead on to Covid 19? Funded by Bill and Melinda Gates' Foundation…AND…the NIH and Dr Fauci. Why do you THINK Fauci so readily took in the WHO and IHME models? HE had ALREADY seen them at Event 201. In October of 2019.
Want ICING? WHO does the WHO defend? China. WHO owns GILEAD, the makers of Remdisivir? CHINA. Who bought Gilead and used the drug in their country? China. Who would BENEFIT from that EXPENSIVE drug being used here in the US? CHINA. Who is PUSHING the NEW, expensive, hard to scale,limited effectiveness against Covid 19, and DANGEROUS drug in favor of the CHEAP, well known, easily scalable, safe, and PROVEN 91% effective against Covid 19 drug? Dr Fauci. WHO benefits from that? CHINA.
Now, ask yourself this. WHY would Fauci, who KNOWS EXACTLY where this virus came from, who did it, and who enabled it, PUSH something that was MORE expensive, LESS well KNOWN, LESS effective, LESS available and scalable, and MORE deadly than Hydroxychloroquine? Why would he push something that would BENEFIT China after THEY released the pandemic, hid it, and then enabled it to spread by hiding all info on it?
WHY would a member of Trump's Coronavirus task force do ANY of that? WHY is Fauci there? WHAT is his REAL purpose? Who does he REALLY work for? My bet is CHINA. Fauci is either a MOLE, and OR he is so deep in all this he is trying to mislead to cover up HIS complicity.
I am putting this on my blog Church, feel free to link it or spread it. I hope all is well in the UK. Our shutdown begins to end May 11th. I hope yours is sooner or not much later than that. Take care my friend!
It makes sense. All of it.
Martin Geddes agrees that the medical establishment is downplaying — if not damning — the use of hydroxychloroquine and similar drugs in treating COVID-19:
The medical establishment knows that it has been withholding cures, and that this is now an existential threat to its legitimacy. We have seen unprecedented action by regulators in multiple countries to prevent the off-label use of HCQ for COVID-19. If there is a cheap and immediate cure, it removes the market for expensive patented drugs, and exposes the con.
For example, in the USA the FDA has restricted its use to official clinical trials. To bring this to life, here is a quote from one American emergency room doctor:
[Dr] Dopko said in his 17 years of being a medical doctor, he has never seen the FDA issue restrictions on a drug like they have with hydroxychloroquine. "We've been told we're not supposed to prescribe hydroxychloroquine for Covid-19 unless the person is in the hospital and it's part of a clinical trial."
"I've never seen this before. Doctors prescribe drugs for off-label use all the time," he said.
The same has happened in France, where HCQ was suspiciously reclassified as a "poisonous substance" on 13th January, despite decades of safe use and being listed by WHO as an "essential medicine". Remember, denying people essential medical care is a crime against humanity: this was done by the same Macron government that has used illegal LBD40 ammunition against civilian protestors in breach of the Geneva Convention.
The same also applies in the UK, where HCQ is not being promoted by the NHS as standard protocol; this means many are dying on ventilators or in nursing homes for no good reason. "Do not resuscitate" orders are being widely signed by the elderly, who are effectively being culled to pad the COVID-19 numbers and hide the overreaction. Yes, it's that bad.
We also hear awful stories coming out of New York from whistle-blower nurses saying patients are being left to rot and die, since they lack family as advocates due to isolation of COVID-19 wards. The CDC has been caught reclassifying deaths, as the scam becomes too obvious. What happened to all the people dying of other causes, including old age? Where did they go? Where's the public outcry at the obvious massaging of the death toll numbers?
Conclusion
Regardless of what the media say, the total deaths worldwide (population: 7.7 bn) will be small.
More deaths, unrelated to COVID-19, because of severe hardship will be experienced by countless millions as a result of Prof Ferguson and Dr Fauci who live in their own little scientific bubbles yet ruin the world. I won't even go into Bill Gates. He disgusts me that much.
Martin Geddes says that individuals must be brought to justice for this:
A corrupt media has covered up for a corrupt government, and neither could be brought to account (until now) due to a corrupt justice system. Many people — including Bill Gates and Dr Fauci — need to answer for their actions in court. Those in the media who have knowingly connived to hype the threat, yet withheld information about a cure, should face prison.
We do not know whether COVID-19 is natural or manmade, and if the latter whether its release is accidental or deliberate. To the extent that we have a good enough cure, it doesn't matter at this point; indeed we may never know, as the truth could trigger WW3. COVID-19 is already the defining economic and social event of our lives, and Coronagate promises to be the defining governance scandal of modern history.
If we bring people to justice, and truly learn the lessons from it, it will trigger a deep reform our medical, media, and government institutions. If those reforms are successful, Coronagate could be the scandal to end all scandals. That is the only worthy legacy of the unnecessary death tolls of both COVID-19 and lockdown.
I couldn't agree more.
We need to insist that our legislators, whether in the UK or the US, shine a very bright light on all of this now and afterwards.