You are currently browsing the tag archive for the 'economy' tag.
My post last Friday was about Liz Truss's 4,000 word essay in The Telegraph, her 49-day premiership and the support her mandate for growth subsequently received.
There is still tension among conservative and Conservative voters about the direction of Rishi Sunak's premiership, especially with Jeremy Hunt installed as Chancellor in the last days of Truss's time in No. 10. Jeremy Hunt is a man no Conservative Party member ever wanted to see in either No. 10 or No. 11 Downing Street. Since October 2022, he seems to be running the country.
Even worse, Conservative Party members were denied a vote for Truss's successor. The Parliamentary Conservative Party elected Sunak and were delighted to crown their man without input from people they consider as plebs. That said, not every Conservative MP was happy with the new Prime Minister.
Public sentiment is not in Sunak's favour, as this poll from December 19 shows. Liz had far higher ratings in September:
Guido Fawkes wrote (red emphases his):
New polling from Ipsos MORI continues to show the dire state of Rishi Sunak's party. The poll puts Labour's lead at 26%, up 7% on November, with the Conservatives' trust on the economy falling. On public trust to secure economic growth specifically, Rishi's ratings are now significantly lower than Liz Truss managed. Liz had a lead of 15% over Labour, Rishi is level.
Economic statistics paint a similar picture. The economy outperformed other months in October, registering 0.5% growth in the one month Liz was PM. It seems the public had good reason to initially back Liz's pro-growth message.
This might seem like ancient history, but Jeremy Hunt's Spring Budget is due in March. He presented his Autumn statement in November.
On November 19, Liz Truss's favourite economist Patrick Minford wrote an analysis of Hunt's budget for The Telegraph. The opening and closing paragraphs follow:
Jeremy Hunt's Autumn Statement has presented us with big tax rises and spending cuts in order to avoid a large "fiscal hole" created by the need to have the debt-to-GDP ratio falling by 2027-28 – the new "fiscal rule". But it will worsen the recession and ironically will also wreck the public finances.
In short, the Autumn Statement is a wrecking ball – worsening recession, damaging growth, degrading the long-run public finances and even raising inflationary wage costs. Commons amendments are needed to restore sanity to these plans.
He had a much better critique for non-economists on November 5. While he disapproved of Truss's and Kwasi Kwarteng's mini-Budget delivery, he wrote (purple emphases mine):
The danger now is serious. Sunak and Hunt are set on a course that will turn a stagnant economy into a shrinking one, with unemployment rising, firms folding and the quality of public services declining even more.
The whole notion of a growth agenda has tragically been rendered toxic. The track we are now on – fiscal tightening (tax rises and spending cuts) plus monetary tightening (high interest and mortgage payments) – has been tried before and invariably leads us further on to the scorched earth of more tax rises, more spending cuts and a slump in living standards.
Politically, for the Conservatives, the outlook is grim. If Sunak and Hunt press ahead in the November 17 Autumn Statement with their triple whammy of tax rises, spending cuts and higher mortgage rates, the country is unlikely to forgive them.
That same day, The Telegraph released results of an Ipsos UK poll showing that voters were deeply unhappy with Hunt's tax increases:
Tory MPs have told The Telegraph that the decision by Jeremy Hunt, the Chancellor, to raise Britain's tax burden to the highest level since the Second World War on Thursday was the "economics of a madhouse" that has made the party "more Labour than Labour".
Polling conducted for The Telegraph by Ipsos UK shows the statement has also failed to reassure voters, with almost half of the public reporting they feel more concerned about the economy and their personal finances than they did beforehand …
In the wake of the Autumn Statement, three Conservative MPs told The Telegraph they had visited constituency associations and been met with hostility from members about the tax increases.
"I had an association dinner the day after the Kwasi and Liz mini-Budget – everybody was full of enthusiasm, they were excited again, they could see ­Conservative policies coming over the hill and they were cheering," said one backbencher. In contrast, the atmosphere at a dinner following Mr Hunt's statement was "unbelievably subdued", they said. 
Jacob Rees-Mogg, the former business secretary, said: "Conservative members are fretful, I think it's fair to say. They are loyal but fretful.
"They want to support Rishi [Sunak] and they want him to do well, but they are concerned about where we are on the economy."
Sir Bill Cash, the veteran Tory MP, said there was a "sense of bewilderment by some people at seeing things brought forward that are not at all Conservative economically or politically".
Another senior Tory MP said the ­party's supporters were "furious" about the statement, which they described as "the economics of a madhouse".
"Our voters feel as if frankly we've abandoned them and that we've become more Labour than Labour," they said.
On November 20, Liam Halligan, GB News's economics editor who also writes for The Telegraph, wrote, 'The Chancellor is taking us for fools with his cynical stealth budget':
This Autumn Statement was based on a false premise: that the UK is on the brink of fiscal implosion and set to be shut out of international bond markets.
As a result, Chancellor Hunt is imposing very substantial tax rises at precisely the wrong time, which risks driving an already shrinking economy deeper into recession and undermining our public finances even more.
Hours before Jeremy Hunt stood up in the House of Commons on Thursday, the 10-year gilt yield – the annual interest the Government must pay on a new decade-long loan – was 3.14pc.
Ahead of the now notorious mini-Budget in late September, that same yield was 3.49pc ­ – considerably higher.
It's not as if Britain is so much more indebted than other comparable countries. While our national debt stands at 97pc of GDP, the figures in France, Canada and the US are 115pc, 116pc and 132pc respectively. Across the G7, only Germany has less public debt than the UK.
But prior to the measures proposed by then Prime Minister Liz Truss and her Chancellor Kwasi Kwarteng, no-one was seriously questioning the UK Government's solvency. 
They weren't before this Autumn Statement either, as illustrated by the fact that – partly because of measures Hunt already implemented since becoming Chancellor – gilt yields had fallen by a third in little more than a month.
As such, was it really necessary, in the midst of a cost-of-living crisis, to drive the tax burden even higher? Government revenue as a share of GDP – 33.1pc as recently as 2019 – is now heading for 37.1pc, the highest sustained level since World War Two.
… no other major economy is imposing sharp tax rises in the face of a slowdown.
The UK is heading "into a storm", as Hunt said. But while he attempted to come across as humane – the word "compassion" appeared five times in a speech lasting less than an hour – the Chancellor came across as rather cynical …
It's as if he thinks we are fools and won't notice we're paying much more if most headline tax rates stay put.
When Nigel Lawson introduced the 40p rate of tax in 1988, it was paid by only the highest earning 1.7 million workers. Now, those paying income tax at 40pc or more will soon number almost 8 million – a fifth of the workforce …
This is the kind of fiscal management typically associated with Labour, not the Tories. And that could turn out to be ironic – given the voter anger that will be generated as this Autumn Statement sinks in.
Meanwhile, on another front, Rishi Sunak was undoing Truss's plan for a streamlined, more controlled No. 10. 'SpAds' below means 'special advisers'. I note that Sunak's welcome into No. 10 was much more muted than Liz Truss's:
Sunak also rejected Truss's plan for more affordable childcare.
On New Year's Day 2023, The Telegraph reported:
Rishi Sunak has shelved plans for a major overhaul of the childcare system aimed at saving parents money and helping them back into work.
Liz Truss had been looking at increasing free childcare support by 20 hours a week and ending mandated staff-child ratios in what her team described as a "big bang" shake-up of the system.
But The Telegraph understands that the policy drive has been postponed indefinitely, with the scale of reforms now being considered expected to be much smaller. Any proposed changes to the rules around childcare provision are not expected for months – a much later timescale than Ms Truss's push for announcements before Christmas …
The cost of childcare is often named by MPs as a major concern for constituents, with backers of reform arguing that better, cheaper provision would allow more parents to return to work, boosting the economy.
A stark drop in the number of facilities offering childcare has been a trend for years, with an overall fall of 10,600 providers since August 2019 in England – a 14 per cent drop.
Two days later, The Times reported, 'Don't ditch my childcare reforms, Liz Truss tells Rishi Sunak'.
Here we see Conservative MP Simon Clarke appearing. He will be a Trussite force with which to be reckoned this year. He was also a Treasury minister when Sunak was Chancellor:
Liz Truss has warned Rishi Sunak not to scrap her childcare reforms amid growing frustration from Tory MPs over the "unaffordable" costs facing parents …
Supporters of Truss, including Simon Clarke, the former levelling up secretary, are among those who have publicly criticised Sunak's plans.
Truss herself is understood to disapprove of the prime minister's reluctance to embrace significant reform.
A source close to Truss told The Times: "Excessive bureaucracy is making childcare in England increasingly unaffordable for many parents. The system needs to be reformed in order to boost growth and opportunity. Junking Liz's plans for this critical policy area seems economically and politically counterproductive."
Kit Malthouse, the education secretary under Truss, urged Sunak to "push the go button as soon as possible".
"The current system is a complicated Heath-Robinson affair that means no one, parents or providers, is happy. It's fundamental for economic growth that parents are supported in work and my team and I had formed up a 'Childcare Big Bang' plan to do just that," he said …
Amid concerns from Tory MPs over the spiralling costs of childcare, the education select committee will launch an inquiry into the problem.
On January 5, The Times's Katy Balls told us more about Simon Clarke's mobilisation of Trussite MPs:
Shortly before Christmas, in a darkly lit Chinese restaurant near the Home Office, a scene played out that would alarm any government whip. There, in a corner of Ma La Sichuan, was Liz Truss, dining with three of her allies. Simon Clarke, her one-time levelling up secretary, and Ranil Jayawardena, her environment secretary, were present. They were joined by her former parliamentary private secretary Rob Butler. None of them have prospered under Rishi Sunak.
… Clarke has already opened hostilities with Rishi Sunak, pushing to overturn the ban on new onshore wind farms. He's backed by Truss and Boris Johnson. He's also setting up a new group of Tories dedicated to that Trussite watchword: growth …
The less-than-edifying circumstances of Truss's ejection from Downing Street mean that both she and members of her cabinet have been keeping largely quiet …
But as the Trussites emerge from a period of reflection, they could pose the bigger threat in an ideological fight. They did, after all, triumph over Sunak in the argument with Tory members. "These MPs haven't suddenly changed their worldview," says a former adviser to Truss. As Clarke put it in an interview with The Spectator this week, "There is a real risk that with Liz's eclipse comes the wider rejection of an entire school of Tory thinking." He warns that "a battle for the soul of the Tory party is underway".
The good news for Sunak is that as things stand, a large chunk of these MPs don't want to throw another prime minister out of Downing Street. Free market Tories in marginal seats, such as Clarke and Jacob Rees-Mogg, will be nervous about more leader volatility ahead of the next election. But they also don't want to sit back and do nothing for two years. Instead, they want to see Sunak expand his ambitions for growth across housing, childcare and work …
Clarke's new outfit — Next Generation Tories — is aimed at bringing younger voters to the party, a cause few would disagree with. But it is ultimately free market with a focus on housebuilding and planning.
Truss could join the fray next. She has hired a press chief and there are talks about the possibility of her fronting or taking a role with a think tank. Not everyone thinks it is such a great idea. "I think silence is undervalued," says a former aide …
The Truss project didn't survive long enough for her to publish her growth plan, but a draft of the eight-page document offers a taste of the kind of policies this group is likely to advocate. They include mobile phone planning reform (relaxing planning regulations to extend 5G coverage across the country) which aides predicted would cause a parliamentary row over the digging required for new cabling. On childcare, easing restrictions for childminders; on farming, slowing cuts to subsidies to give the average farmer an extra £7,000 over two years; and on immigration, removing students and temporary workers from the net migration statistics as part of a looser policy to bolster the economy.
… while some MPs undoubtedly backed Truss for careerist reasons, plenty more regard her reform pitch as the right one. "If they pick their fight well, they'll start a debate on direction," says an MP who backed Sunak.
Katy Balls, who also writes for The Spectator, revealed Truss's growth plan in the magazine on February 9. It is eminently sensible and achievable. Truss planned for much of it to be achieved in 2023. Readers may peruse it at their leisure, as there are several tables to examine.
Returning to January 2023, the Financial Times took issue with Conservative efforts to reduce the deficit. They really have moved ever leftward over the years:
It also became clear that Truss wasn't such a bad PM after all. The UK's GDP results for November 2022 were better than expected:
On January 31, The Telegraph's Tim Stanley wrote that the IMF owes Liz Truss an apology. He reminded us of their previous critique in light of their new forecast:
Conservative Greg Clark made one very good point: this is only a forecast. The IMF has been known to get those wrong.
Moreover, it's the same clever-clogs IMF that advised us not to cut tax last year that now tells us our economy is in a nosedive because we raised taxes. Somebody owes Liz Truss an apology.
The Telegraph should apologise, too, for putting words in Truss's mouth when headlining her 4,000-word essay of February 4, their grand exclusive. The problem is that people who didn't read the essay, probably among them Andrew Neil, repeated the headline:
The day after Truss's essay appeared, her Conservative Party chairman, Red Wall MP Jake Berry, told the BBC that voters in the North had enough of the status quo and wanted a new way forward, i.e. Truss's policies. Guido Fawkes has the video:
That day, Grant Shapps told the BBC that Truss's instinct to lower taxes was correct in principle, but she collided with reality. A Twitter user pointed out Shapps's error. Truss's policies would have kept the UK second only to Germany in debt-to-GDP ratio of the G7 nations:
James Dyson, the vacuum cleaner mogul, would strongly disagree with Shapps. On January 19, The Guardian recapped an article he wrote for The Telegraph in which he criticised the lack of UK growth:
The founder of the eponymous vacuum cleaner firm said "growth has become a dirty word" under the current leadership and that on current trends, the average British family will be poorer than their Polish counterpart by 2030.
Dyson, a prominent supporter of Brexit, criticised the government's "ever higher tax bills" for the private sector and regulations, saying it is imposing "tax upon tax on companies in the belief that penalising the private sector is a free win at the ballot box".
"This is as shortsighted as it is stupid," Dyson wrote in the Telegraph on Thursday. "In the global economy, companies will simply choose to transfer jobs and invest elsewhere. Our country has an illustrious history of enterprise and innovation, born of a culture which we are in the process of extinguishing. We have got through the worst of Covid, but risk wasting the recovery."
Dyson said the government's failure to get workers back to the office after the pandemic had "badly damaged the country's work ethic", arguing face-to-face interaction was important, including for the training of new and young employees. He also claimed the growth of his business, which makes vacuum cleaners, fans and hairdryers, had happened largely "despite government, rather than because of it".
However, he concluded that "it is not too late for Britain to shake off its Covid inertia" if the government acts fast. "Starting with the spring budget in March, it must incentivise private innovation and demonstrate its ambition for growth," Dyson wrote.
The government is under pressure to reduce taxes for households and businesses in the spring budget to avoid a damaging and long-lasting recession.
On Sunday, February 12, John Redwood, who has been an MP since the Thatcher years, made an appeal on Sky News for more tax cuts, beginning with corporation tax (Guido has the video):
The following day, he wrote more about it in his online diary, pointing out that high corporation tax has caused AstraZeneca to renege on future expansion in the UK. Instead, the company will be moving to Ireland:
The decision by Astra Zeneca to put a major new investment  into Ireland where they charge 15% business tax compared to our new rate of 25% shows just how stupid our high tax policy is. Instead of getting 15% of a good stream of profits over many years alongside income tax and VAT on all the well paid ,jobs they bring, the UK has settled not to have any of it. 25%  of nothing is  nothing.
The same folly is evident in the North Sea. In a rush to get a bit more revenue this year with high and erratic windfall taxes, the government has delayed or lost important investments in new gas and oil fields. Instead of generating more well paid jobs and plenty of tax revenue on the output over the next decade or two, we opt to import and to pay huge taxes away to foreign governments on all the imports. Just one of the fields not currently going ahead would generate a gross £25bn over its life, with a lot of that passing directly to the Treasury in taxes.
Ireland makes my case perfectly. With a much lower rate of business tax than us Ireland enjoys a much higher proportion of its revenues from business tax because so many businesses go there to set up an HQ and to invest in plants and offices. Ireland  has a much higher per capita national income than us thanks to all the foreign investors congregating there to create jobs and spend money. The UK should copy them with a 15% tax rate as Jeremy Hunt himself proposed last summer. We too would get more revenue and have higher per capita average incomes. Enthusiasts for the EU are always urging us to align more with our Irish neighbours. This would be a great way of doing just that.
When Margaret Thatcher and her Chancellors cut higher rate income tax from 83% to 60% and then to 40% the amount of income tax paid by the better off rose in cash terms, rose in real terms, and rose as a proportion of total income tax. What's not to like for all involved? When George Osborne drove UK corporation tax down gradually to 19%, the take from company tax went up, not down. So why do OBR and Treasury models tell Ministers any cut in tax rates will lead to a reduction in tax revenue we cannot afford? History and modern experience suggests otherwise.
Last week, economic growth continued to be a hot topic. On February 24, The Telegraph published two letters from their readers on the subject.
One reads:
SIR – For many years we have believed that we live in a rich country – one that can afford top-class services such as the NHS, social support and good roads, railways and other infrastructure, and can buy whatever food it needs from abroad rather than growing it.
Sadly this is no longer the case. Britain does not generate enough wealth to support its needs, and has been borrowing ever more to make up the shortfall. Unless we make a fundamental change and start to grow our economy, we will not be able to afford the things we think we are entitled to.
The other says:
SIR – When will the Chancellor and Prime Minister remember that taxation discourages whatever it falls on, and that, in many cases, raising tax rates leads to lower overall receipts?
… we have ended in the grotesque chaos of a Conservative government – a Conservative government – scuttling around raising corporation tax at precisely the moment it should be lowering it in order to encourage businesses to set up and invest in our economy.
Meanwhile, the wagons have been circling from both the Sunak and the pro-Boris camps.
On the Sunak side, Lee Anderson is now the Deputy Chairman of the Conservative Party and, on February 21, another Red Wall MP, Brendan Clarke-Smith, was appointed to succeed Anderson as leader of the Blue Collar Conservatives. While both will do brilliantly, is it just a cynical move from Sunak to keep Red Wall voters onside with no policy changes from Downing Street?
On the pro-Boris/Liz side of the equation, David Campbell-Bannerman, a former Conservative MEP and head of the new Conservative Democratic Organisation, says that Conservative associations across England are prepared to de-select MPs who resigned when Boris was PM so that he was himself forced to stand down. They are also angry that they voted for Liz Truss and found her similarly deposed within a few weeks.
On February 23, The Telegraph's Christopher Hope reported:
Members are particularly irked that they chose both Mr Johnson and Ms Truss, only for MPs to force out both and eventually appoint Rishi Sunak as Prime Minister. During the Conservative leadership campaign last summer, members voted by 57.4 per cent to 42.6 per cent for Ms Truss over Mr Sunak.
Last weekend Damian Green, the former de facto deputy Prime Minister under Theresa May, was not selected to fight the Weald of Kent seat at the next general election. There were reports that this was because of anger at his criticism of Mr Johnson when he was prime minister, although this was disputed by friends of Mr Green.
Scores of MPs are facing votes on whether they will stand at the next election before July 23 – known as "vesting day" in Conservative Central Office – because of a shake-up of constituency boundaries.
There were suggestions in Westminster that Sir Richard Graham, who was critical of Mr Johnson, might not be readopted by his party at a meeting of local Tories in Gloucester on Friday. Sir Richard urged Conservative colleagues to focus on defeating Labour rather than party disunity …
Mr Campbell-Bannerman, a former Conservative MEP, told The Telegraph's Chopper's Politics podcast: "I get the feel of a reckoning – MPs being held to account. MPs have caused this chaos by bringing down Boris.
"There were about 60 MPs who signed letters or resigned or said Boris should go. There's more than that, maybe 150, who didn't want Boris. I'm not saying Boris was flawless. He certainly wasn't. But look at the disaster that has followed getting rid of him. Surely they should have toughed it out, got him to improve performance?"
He added that "potentially" dozens of these MPs could now find that they are not adopted as candidates by their local parties, adding: "A lot of MPs will be coming up for selection and they will be held to account.
"I'm not advocating it, but what I'm advocating is the members have the right and the power to do this. Central Office should back off and they should be allowed to make their decisions.
"We don't have a hit list or a target list. We're not operating like that. But we support members and I think we've empowered members to take back control, to say hang on, this isn't good enough. We're not getting a good enough choice here. We want to do it our way."
He said MPs were "being held to account for plunging the party into crisis", pointing out that the Tories had plummeted in the polls.
"We've really gone down badly, due to the chaos. And you can point fingers at Liz Truss, but Liz Truss would not have been there if they had kept Boris and Rishi wouldn't be there if they had kept Boris," he added.
Good! Well said!
Liz Truss stood by Boris all the way until the end. Her South West Norfolk Conservative association awarded her with reselection for the next general election:
An indirect compliment came Liz's way from Labour's Keir Starmer. Imitation is the sincerest form of flattery. He, too, is touting a growth-led economy — for now, at least:
An exciting year lies ahead, one that will make or break either the Conservatives or Labour ahead of 2024's general election.
On February 4, 2023, Liz Truss wrote an exclusive 4,000 word article for The Telegraph: 'I assumed upon entering Downing Street my mandate would be respected. How wrong I was'.
The date matters as it had been around 100 days since she left office as Prime Minister.
Excerpts follow, emphases mine.
She reflected on where she was at this point in 2022. February 24, the date of this post, is the first anniversary of the Russia-Ukraine conflict:
One year ago this week, I went to Moscow as foreign secretary to warn my Russian counterpart of the grave consequences that would result from any invasion of Ukraine. Had anyone told me then that, 12 months later, I would be a backbench MP following a 49-day term as prime minister, I would not have believed it.
Since my departure from Downing Street just over 100 days ago, I've spent many hours reflecting on what happened during my time there, what went wrong and what I might have done differently. This soul-searching has not been easy.
Now I want to set out, from my perspective, what happened and what I have learned.
Urgency
When Boris stood down as Conservative Party leader on July 7, Truss was in Bali at a G20 meeting of foreign ministers:
I watched his speech live in my hotel room. It struck me as crazy to be deposing a leader who had secured an 80-seat Commons majority for the Conservative Party less than three years ago.
I had always assumed that Boris would fight the next general election in 2024. Standing for the leadership myself was a faraway prospect and, as a result, I didn't have any kind of infrastructure in place for the contest on which the starting gun had just been fired.
All I had in that hotel room, nearly 8,000 miles from Westminster, was a series of messages urging me to return to London – including one from a fellow foreign minister that simply read: "Get back home woman and start hustling."
That's what I felt compelled to do.
She thought that boldness was the way forward:
I feared the consequences of high energy prices, high taxes and a slowing global economy without bold action. What we really needed was a change in policy direction and mindset in order to kick-start a return to sustainable economic growth.
As it was, the Government's economic policy platform included raising National Insurance (imposing the so-called Health and Social Care Levy) and increasing corporation tax to the same level as France – positions which I had vigorously challenged around the Cabinet table. Meanwhile, I sensed increasing resistance within the Government to the essential proposals to diverge from EU rules.
Sounds familiar, doesn't it, under Rishi Sunak and Jeremy Hunt? No wonder she had to go.
She felt a sense of urgency:
As I started piecing together my nascent leadership campaign, I was struck – not for the last time – with a sense that there was a vast amount to do and very little time in which to do it …

My party agreed that we needed to stop drifting in the direction of a higher-tax, higher-spend economy being choked by ever more regulation, which was causing sluggish growth, low productivity and a dampening of enterprise and innovation. My plan to get Britain back on the right trajectory was popular.
Her husband warned her about throwing her hat into the ring:
… my husband warned me that it would be awful – I could not duck the challenge. I knew that if I didn't step up, I would regret it …
The leadership campaign turned out to be as brutal as my husband had feared. I was called everything from immoral to insane – and that was just some of the "friendly fire" I encountered.
As Prime Minister:
Instinctively, I was determined to act with maximum speed. I knew this risked mistakes being made, but the normal pace of the Whitehall machine would be nowhere near sufficient to tackle the immediate emergencies we were facing, let alone to attempt to get the British economy onto a path to growth with barely two years left until the next election.
As a matter of urgency, I dealt with the issue of energy bills, which were projected to rise as high as an annual £6,000 for British families as a consequence of Vladimir Putin's invasion of Ukraine.  
Designing a targeted scheme was impossible given the urgency of the situation, so it had to be universal. Families and businesses would not be able to cope for much longer without assistance. I was also working on ways of mitigating the costs, in particular by signing up to longer-term energy supply agreements as well as through enabling more North Sea production, fracking and renewable energy. We urgently needed to move away from the short-termist approach that had left the UK dependent on global energy prices and vulnerable to the actions of a hostile state with strategic energy interests.
The benefits to the economy of the package were clear: it was set to reduce peak inflation by five per cent and contribute to our primary economic objective of boosting trend growth to 2.5 per cent. It's no exaggeration to say that there are firms which remain in business today only because of the action we took. This intervention prevented a major economic crisis. The markets welcomed my intervention, reducing the sky-high levels of uncertainty and anxiety.
The mini-Budget
The Queen's death and the consequent suspension of Parliament for two weeks did not help Truss's time in Downing Street.
Still, she had to press on, regardless:
… because of the expected size of the energy package (albeit dwarfed by the money spent on Covid-19 pandemic measures), it was going to be necessary for us to make a fiscal statement very soon.
The date of what inevitably became known as the mini-Budget was set for Sept 23. In hindsight, perhaps we could have delayed it for a few days. However, much longer than that would have meant not sticking to our commitments.
There were concerns in some quarters that the announcement would not be accompanied by forecasts from the Office for Budget Responsibility (OBR). However, the OBR's core purpose is to produce twice-yearly forecasts on whether the Government is on track to meet its fiscal targets. Commissioning a report at that juncture would not have been appropriate, given that the forecast would have been unable to take into consideration the future spending decisions we planned to outline in the Medium Term Fiscal Plan a few weeks later.
It's also worth recalling that no OBR forecast has accompanied many other fiscal announcements, not least the Covid-19 furlough scheme, which cost £70 billion.
As I had spelled out during the leadership campaign, I wanted to go for growth by reversing the proposed rises to corporation tax and National Insurance and implementing a programme of economic reform in order to prevent recession and stagnation and put the UK on a positive path.
Treasury opposition
She described how the civil servants at the Treasury think:
I saw first-hand during my two years as chief secretary to the Treasury that pessimism and scepticism about the growth potential of the British economy are sadly endemic at the Treasury: serious planning reform was dismissed as not politically deliverable; discussing monetary policy was a taboo; deregulation of financial services and other industries was viewed as undermining the prospects of a deal with the EU; and Brexit was seen as a damage-limitation exercise rather than a once-in-a-generation opportunity.
Instead, the focus from the Treasury was on micro, top-down tinkering such as productivity initiatives trying to encourage firms to become more efficient, along with government intervention.
Favourable reception
Truss called our attention to the favourable reception of the mini-Budget:
Following the announcement on Sept 23, the National Institute of Economic and Social Research came out and forecast that our energy support guarantee, coupled with the tax cuts announced, would lead to positive GDP growth in the fourth quarter of 2022, shortening the recession and raising annual GDP growth to around two per cent over 2023-24.
There were positive reactions from many quarters. Kitty Ussher, a Treasury minister in Gordon Brown's government and now chief economist at the Institute of Directors, declared it "a good news day for British business", adding that "in a time of low confidence and economic uncertainty, the new chancellor's emphasis on going for growth will be very welcome to firms of all sizes across the UK".
Tony Danker, director-general of the Confederation of British Industry (CBI), hailed it as "a turning point for our economy" and "day one of a new UK growth approach", recognising that "a simpler, smarter approach to tax can pay dividends".
There were some concerns about the abolition of the 45p tax rate, a small measure and virtually the only one I had not trailed during the leadership campaign. We were simply returning to the top rate that was in place for the vast majority of the 1997-2010 Labour government, although clearly the political sands had shifted.
Nonetheless, as the chancellor and I travelled to Kent to visit a factory that afternoon, we were positive that we had done the right thing for the country and felt optimistic about the future.
Pensions debacle a surprise
Truss explained why she was unaware of the effect of the mini-Budget on pension funds:
At no point during any of the preparations for the mini-Budget had any concerns about liability-driven investments (LDIs) and the risk they posed to bond markets been mentioned at all to me, the chancellor or any of our teams by officials at the Treasury. But then, late on the Sunday night, came the jitters from the Asian markets as they opened. I was alerted to this on the Monday morning, at which point the Bank of England governor was wanting to make a statement on LDIs.
Readers will not be surprised that, given their impact on events, since leaving office I have spent some time looking into LDIs. I was shocked by what I discovered.
In the early 2000s, pension funds were heavily underfunded. To increase their returns, they used LDIs – which use bond derivatives – freeing up cash for the pension funds to invest in other assets. This works when markets are calm but becomes problematic when the price of government bonds falls within a short timeframe. As LDIs entered the financial mainstream, with The Pensions Regulator seemingly encouraging their uptake, warnings started to be issued on the risks they could pose to financial markets – all unbeknownst to me at the time.
Astonishingly, it turns out that the value of total assets in LDI strategies is equivalent to around 60 per cent of the UK's GDP.
The day before the mini-Budget, the Bank of England raised interest rates by 0.5 per cent, whereas the US Federal Reserve had just announced a third successive rate rise of 0.75 per cent. In addition, the Bank simultaneously confirmed plans for a bond-selling programme. Bond prices fell sharply, putting pension funds under pressure.
Dramatic movements in the bond market had already begun, meaning the mini-Budget faced a very difficult environment. Only now can I appreciate what a delicate tinderbox we were dealing with in respect of the LDIs.
Admitting mistakes
In retrospect, Truss admitted that she made mistakes:
Regrettably, the Government became a useful scapegoat for problems that had been brewing over a number of months. Interest rates had been rising internationally and mortgage costs had been forecast to go up for some time.
I fully admit that our communication could have been better. As I said during the leadership campaign, I am not the slickest communicator. In addition, we did not have a system that was enthusiastic about communicating messages contrary to its orthodoxy and, so early in my premiership, I had not established the infrastructure inside No 10 to best explain all that we were doing.
In hindsight, maybe I should not have headed to New York after the late Queen's funeral to attend the UN General Assembly and instead supervised the final preparation of our announcements more closely.
Knowing what I know now, undoubtedly I would have handled things differently. I underestimated the extent to which the market was on edge and, like many others, was not aware of how fragile our system had become.
But, frankly, we were also pushing water uphill. Large parts of the media and the wider public sphere had become unfamiliar with key arguments about tax and economic policy and over time sentiment had shifted Left-wards. This is partly because we Conservatives had failed to make these arguments enough since 2010 – instead triangulating with Labour policy. It was also clear that, internal disagreements within my own party aside, there was a broader consensus in favour of raising taxes.
How the system operates
Truss explained how the system operates and how it fails long-term economic vision:
The process operates at arms-length, based on models which rely on a wide range of assumptions, including on the delivery of policies. In my view, this static modelling tends to undervalue the benefits of low taxes and supply-side reforms for economic growth, and overvalue the benefits of public spending. This inevitably puts pressure on a higher-tax and higher-spend outcome – hence the inexorable tax rises we are now seeing.
In the medium term, I believed my policies would have increased growth and therefore reduced debt.
Five-year forecasts are treated as accurate predictions and therefore filling the "gap" becomes the imperative of government policy. This leads to policies being adjusted to fit those forecasts, only for those forecasts to be revised with each new iteration of the figures, forcing further policy change down the line.
As a result, the Government is forced to make economically detrimental decisions, such as raising corporation tax, based on uncertain forecasts that may not come to fruition. For example, in September the energy package was set to cost £60 billion and by November it was forecast to be £43 billion, yet the latest projections are considerably lower.
Global opposition
With Truss at the helm, the UK was out of step with the rest of the Western nations. Conservative Party members might have liked her policies, but TPTB clearly did not:
We were also swimming against the international tide. There was a concerted effort by international actors to challenge our Plan for Growth. The IMF commented on distributional aspects rather than market stability which it is hard to conclude was anything but politically motivated.
Then there was the intervention from President Biden, who publicly voiced his disagreement with our economic policy, stating: "I wasn't the only one that thought it was a mistake."
These interventions were, sadly, in tune with growing efforts on the world stage to limit competition between G7 economies, as evidenced by the proposed global minimum tax rates.
Facing the headwinds we did, I could not allow the markets – backed by this economic consensus – to keep betting against the UK. Before long, I was given the starkest of warnings by senior officials that further market turmoil could leave the UK unable to fund its own debt. This is why I reluctantly concluded I had no option but to remove the chancellor and change the policy.
I was deeply disturbed by having to do this. Kwasi Kwarteng had put together a brave package that was genuinely transformative – he is an original thinker and a great advocate for Conservative ideas. But at this point, it was clear that the policy agenda could not survive and my priority had to be avoiding a serious meltdown for the UK. I still believe that seeking to deliver the original policy prescription on which I had fought the leadership election was the right thing to do, but the forces against it were too great.
I am very pleased that elements of it did survive – the reversal of the National Insurance rise and the cuts to stamp duty – and those measures have eased the burden a little on hard-working families and those buying their own home. But it was obviously going to be difficult to remain as prime minister after abandoning the thrust of the platform on which I had been elected, and it was already clear that elements of the parliamentary party were not prepared to allow me to stay.
I am not claiming to be blameless in what happened, but fundamentally I was not given a realistic chance to enact my policies by a very powerful economic establishment, coupled with a lack of political support.
Party opposition
Both Truss and Conservative Party members learned something about their MPs:
I underestimated the resistance inside the Conservative parliamentary party to move to a lower-tax, less-regulated economy. The furore over the reduction of the top rate of income tax was testament to this. In the overall package of measures, it was – in fiscal terms – little more than a rounding error, equivalent to 0.2 per cent of government spending. Even though the measure was economically sound, I underestimated the political backlash I would face, which focused almost entirely on the "optics" …
As a result:
We have ended up in a situation as a country where fiscal policy is in a straitjacket. Moreover, there is a worrying economic consensus – both at a national and, increasingly, international level – that is preventing economic dynamism and growth.
Median incomes here in the UK are now well below those in the US, Switzerland or Norway and the average in developed countries. If we are to succeed in putting our country on a path to high growth, rising wages and becoming internationally more competitive, things need to change.
We have not done enough over the past decade to make the arguments for a lower-tax, more deregulated economy, which meant that the groundwork had not been laid for what I sought to do …
And while I saw the power of "the blob of vested interests" within many a Whitehall department during my more than 10 years in ministerial office, I seriously underestimated the strength of the economic orthodoxy and its influence on the market.
Nonetheless, the average Joe and Jane are on Truss's side:
I have lost track of how many people have written to me or approached me since leaving Downing Street to say that they believe my diagnosis of the problems causing our country's economic lethargy was correct and that they shared my enthusiasm for the solutions I was proposing.
Ultimately, she still has hope that the UK can turn itself around. Millions of us hope so.
Pundits' views
On February 6, The Telegraph's Tim Stanley concluded that 'undemocratic forces prevailed'.
He says that she was not given a chance, whereas Theresa May was:
Theresa May nearly lost an election and bungled Brexit, yet the Tories stuck with her for three years. In 2023, by contrast, we got through three PMs in one year.
Was this really the reason May survived and Truss did not?
That's because our economy and society were upended by a pandemic that stoked demands for more government while injecting wild anxiety into our political culture.
Perhaps it was.
The most pathological thing is that the IMF is now advocating Trussonomics:
… last week the IMF said British recovery would be limited by its tax rises. And that, you silly people, was Truss's entire point.
CapX's Jon Moynihan says that the Bank of England was at least partly responsible for Truss's fall. He notes that no one has bothered to investigate their role in what happened in late September 2022 (green emphases his):
The Bank of England's Governor, Andrew Bailey, offered a classic of the 'not me guv' genre of explanations, telling the Treasury Committee that the movement in gilt rates had been 'outside historical experience'. But this was no bolt from the blue: the movement was a self-feeding one, caused by the leverage that regulators had permitted. Moreover, there are plenty of 'historical experiences' of industries with risky financial structures provoking market chaos. Remarkably, Bailey also claimed the Bank's later bond sales didn't move the markets. That's an odd claim, given that their promise to purchase £65bn of bonds was responsible for stopping the gilts rout: both claims can't be correct.
Of course, it suits the Bank to blame politicians for its own failings, particularly when the relationship between Bailey and Truss was never a particularly warm one to begin with. But there's a much broader failure here of the regulatory system to do anything about LDI funds – one that cannot plausibly be laid at Truss or Kwarteng's door.
Equally striking, however, is how little political scrutiny we've had of the whole affair. The consensus view that 'the mini budget blew up the bond market' seems to have been swallowed whole. But Parliament, via the Treasury and Work and Pensions committees, should be asking a long list of questions about why this situation was allowed to develop, what regulators did and didn't know, why there seemed to be such pervasive ignorance of LDIs and how the Bank misjudged its calls on interest rates and the jump  to QT immediately before the mini budget.
This is not just about identifying the mistakes of the past, however. There are still huge questions about the state of the UK's pensions funds that we need to get to the bottom of. At the very least, we should be told the state of the funds that have not recovered from September's rout and how big the overall hole is (Bailey told the Treasury Committee he didn't know the answer to that question). There is also the question of which players in the market aggressively sold this high-risk strategy to pension funds, and whether they deserve sanction.
There is a separate but important set of questions about the Bank's management of its own £5bn pension pot, which until June was 100% invested in a single Blackrock LDI fund (it was subsequently reduced to 82%).
Given the reports that this Blackrock fund took a hammering last September, we ought to know what the status of the Bank's own pension scheme now is. The Blackrock fund was reportedly under unsustainable pressure during the bond rout, and at one point was alleged to have lost an amount in the high tens of billions of pounds, threatening complete collapse. The Bank's Pension Fund's share of that loss was, some claim, around £1.5bn (out of its original £5bn).
If so, all of the bank's employees, from Andrew Bailey down, were under threat of losing much of the value of their gold-plated pensions. And imagine if the loss had not been recovered, it would have meant the Bank either reneging on its vast pension obligations to its employees, or finding £1.5bn from elsewhere, most likely you and me, the taxpayers. All of which suggests a serious potential conflict of interest concerning the Bank's interventions in the bond markets and of its own employees' pensions.
Yet so far we've had no real investigation of what the position of the Bank's fund is, whether the money has been recovered or how much is needed to return its members to fully funded status. Likewise, there has been no discussion of whether members of the Bank's Employee Pension Board (some on the Court of the Bank) are going to receive any criticism, sanction or blame for having acceded to what now appears an extremely naïve and dangerous investment strategy. (Indeed, today the FT reports that pension schemes are being told to sell their holdings in LDI funds, particularly Blackrock).
Former Brexit Party MEP and property developer Ben Habib blames the Bank of England — as well as Conservative MPs and the Treasury. On February 6, The Express reported their interview with him:
"Tory socialists, Michael Gove leading the charge, immediately moved to bring her down. The Treasury openly undermined her thesis. And even the Bank of England briefed and acted against her."
The day before former Chancellor Kwasi Kwarteng's now-infamous mini-budget, the BoE had forecast a recession, Mr Habib said.
He added: "It had been selling government bonds already putting pressure on their value. As values fell, pension funds, which had overleveraged themselves buying this rubbish were forced to dump it in order to remain solvent.
"The markets smelt a collapse and capitalised on the opportunity. Sterling was shorted. Having set-off these collapses, the Bank of England and all those who feast on state largesse laid the blame at Truss's door."
Within days Ms Truss had been ousted and replaced with Mr Sunak, "someone it could trust not to unsettle the status quo", Mr Habib argued.
He continued: "Sunak (supported fully by the Bank of England) is the man responsible for increasing national debt by a whopping £500 billion, or 33 percent in just two years.
"He has borrowed more money than any Chancellor in history but the establishment saw fit to give him the keys to the country.
"The new Prime Minister is not short of self-confidence. He believes he knows best how to spend our money. To him, those of us who think otherwise are idiots.
"Liz Truss offered the nation an opportunity to reverse our managed decline. Instead, failed orthodoxy prevailed."
Political commentator Tom Harwood also blames the Bank of England and says that Trussonomics was never tried:
In reality Truss implemented virtually none of her pro-agenda. In fact she had barely announced any of it before the men in grey suits came knocking.
But didn't she cost us £65 billion? So say reputable sources like the Have I Got News For You twitter account, French TV's 'Mr Europe', and Afghan dog rescue enthusiast Dominic Dyer. In reality, however £65 billion was not lost due to the mini budget. That was the amount that the Bank of England said it was willing to commit to stabilise the gilt market. As the independent economist Julian Jessop notes, in reality about £19 billion was spent by the bank, which – crucially – ended up delivering a profit of about £4 billion. But again, this was all before anyone had even got to the real point of Trussism.
The framework of what could have been is found throughout a document that the Rishi Sunak promptly ripped to shreds upon entering number ten. And no, it's not all about tax cuts. In fact, the most important parts – the most interesting bits too – are the other areas of supply side reform. Cheap or free to do, and potentially transformational. It was all laid out, albeit not in full detail, in The Growth Plan.
Harwood contends that the IMF was criticising Truss's blanket energy support plan, not the rest of her economic policy (green emphasis his):
It might be useful to explore what the IMF actually said in its press statement, the primary focus of which regarded the UK's "aims at helping families and businesses deal with the energy shock", going on to say that "we do not recommend large and untargeted fiscal packages at this juncture". It's talking about the energy price freeze. The least controversial part of the mini budget, pushed for by Labour – that free market think tanks like the Institute of Economic Affairs heavily criticised.
The IMF rightly points out that the energy price freeze would increase inequality – the plan devised by Labour and implemented by the Tories subsidises those who use more energy more than those who use less. Millionaires heating their swimming pools receive more taxpayer support than low income families in small houses or flats. And yet there was almost absolute political consensus on this enormous untargeted intervention.
Indeed, reading the IMF's press statement in full, before any mention of tax cuts, the primary concern is clearly the energy package. A package that could have cost up to £200 billion. As the numerate will recognise, hundreds of billions of pounds is a larger amount than £8 billion. Perhaps it makes sense that this is what the IMF's statement focussed on, ahead of new tax cuts.
Ultimately, Truss implemented a Labour plan for energy bills:
The biggest problem with the mini budget – other than a perceived disrespect for institutions like the Office for Budget Responsibility in delaying its report until months after the mini-budget – was the extra and uncertain spending the government committed to. The energy price guarantee was estimated to cost anywhere between 100bn and 200bn, although these estimates were in and of themselves guesses, as the guarantee committed the state to cover the cost of energy above a guaranteed unit price, however high it got. This was a functionally limitless commitment, made at a time of uncertainty in the international energy market. A decision clearly far more dangerous than the reversal of a handful of recent tax rises.
It was bad policy, and it was in no way free market. This element of government's plan – pushed for by all opposition parties – was the opposite of a libertarian experiment. It was socialist.
If Conservative MPs should be angry about the Truss administration for anything, it was its capitulation to the Labour Party's policy team and their ill thought through, indiscriminate, untargeted intervention that cost far more than the entirity of furlough.
Even the Labourite magazine The New Statesman said that Truss was not to blame for 'crashing the economy', something the Party's MPs still repeat with nauseating regularity:
Too much anger about Truss's time at No 10 has focused on the "unhappy" rather than the "brief".  There are reasonably hard limits as to what even a determined wrecker of civilisation can achieve in 49 days, particularly in an economy as large and complex as the UK's.
To do truly lasting damage you need more time – perhaps a decade, which is roughly how long we were subjected to the fiscal insanity of austerity. The social consequences of this are too obvious to ignore: the queues at the food banks, the rough sleepers, the crumbling schools, the collapsing National Health Service. Average life expectancy, for the first time since 1900, has stalled.
But the economic impacts have been more subtle, and too little discussed. By draining demand out of the economy, spending cuts depressed growth. By slashing government investment, they undermined future productivity. The combination of both together is the primary cause of the UK's economic malaise – more so than Brexit, and far more so than Truss.
… it wasn't ideologues such as Truss or Kwasi Kwarteng that condemned the UK to this fate. It was dead-eyed Sensibles like George Osborne who calmly shredded our prosperity, and affable former bureaucrats who justified those decisions. As a BBC review found last week, we suffer from a corps of political journalists who lack an understanding of "basic economics", relying instead on a limited selection of assumed authorities who, in turn, never deviate far from the Treasury view. The result was what the Confederation of British Industry head Tony Danker has called a "doom loop": as austerity failed, its failures justified more austerity to deal with the failures. Jeremy Hunt's response to Truss's implosion was to insist on a new round of spending cuts, was another crank of the handle.
Did Truss cause harm while she was in office? Yes, of course. The combination of radicalism and ineptitude in the mini-Budget led to a spike in government borrowing costs, triggering unexploded bombs in our pension funds, and rising mortgage rates. But the removal of Kwarteng as chancellor and then the prime minister herself rapidly (if not quite entirely) unwound that financial damage, leaving us much as we would have been without Truss – that is to say, in dire economic straits …
Truss is a sideshow. The more we focus on her, the less attention we are paying to the primary causes of our unmistakable economic decline – which means, above all, the austerity programme of the 2010s. Britain's economic woes have not been caused by its messiahs, but by its managers. The problem isn't the [libertarian] Institute of Economic Affairs. It's the Institute for Fiscal Studies.
There are several other commentators along with Conservative MPs who think that Trussonomics is not quite yet dead.
More on them next week.
The SNP (Scottish National Party) are currently looking for a new leader with the recent resignation of Nicola Sturgeon, Scotland's First Minister.
I'm doing a brief series on Sturgeon's time in office. Part 1 appeared last week.
Style over substance
Sturgeon will long be remembered for her expensive suits and shoes.
She prioritised style over substance and often had a grand project in mind, such as a publicly owned not-for-profit energy company announced in 2017, which never saw the light of day:
In 2019, she gave us her reading list, which, ironically, included 1984. A Twitter user reminded her that the SNP were imitating Orwell's dystopia rather too well. Their Named Person project would have seen a government representative monitor each child's upbringing:
During the 2021 election campaign, a local one for much of England but one of governance for the devolved nations, Sturgeon felt the need to announce her pronouns:
While Sturgeon did participate in some debates during the 2021 campaign …
… she pulled out of the BBC Question Time special. Guido Fawkes pointed out that, suddenly, after giving coronavirus press briefings nearly every day, she became camera-shy (red emphases his):
When Boris refused to debate Sturgeon in 2019, the SNP put out a Facebook graphic accusing him of "running scared" and being a "big feartie".
Sturgeon hasn't been having a great campaign, getting dragged into debate scraps with Douglas Ross, and appearing relatively low-energy. Today's poll has the SNP's constituency vote share down by 3%, and their list voting intention down to 38%. It's amazing someone who's hosted unchallenging live television briefings almost every day throughout the last year has suddenly become camera-shy…
When put on the spot, Sturgeon does not react well. In this BBC interview, fellow Scot Andrew Neil gave her a grilling over her poor record on almost everything north of the border. Unfortunately, the following clip does not include her response, but her facial expression is a familiar one, often seen at First Minister's Questions when Scottish Conservatives leader Douglas Ross and Scottish Labour leader Anas Sarwar question her government's shortcomings:
Scotland's drug deaths highest in Europe
One of Sturgeon's most appalling failures is the number of drug deaths in Scotland.
During the 2021 election campaign, Douglas Ross asked her about them.
Guido had the story and a video:
Nicola Sturgeon was put on the back foot last night during STV's Scottish leadership debate. Pressed by Douglas Ross over her appalling record on Scotland's escalating drug crisis – drug deaths have doubled since she became First Minister – Sturgeon floundered, saying:
I think we took our eye off the ball with drug deaths and I've said as much to the Scottish Parliament […] I set out at the start of this year £250 million investment programme to build up rehabilitation services including residential rehabilitation to make sure we give more support to community services, to make sure we provide faster access to treatment.
… Taking her eye off the ball is putting it mildly…
On August 2 that year, Dr Campbell Campbell-Jack, a retired Presbyterian minister, wrote an article for The Conservative Woman: 'Sturgeon's catalogue of catastrophe'.
On the drug deaths, he says (purple emphases mine):
… some SNP failures enter the realm of the tragic. If we are to judge a government on how they treat society's most vulnerable members, the SNP have a long way to go before their practice matches their pronouncements on the country's drug crisis.
A report released by the National Records Scotland on Friday shows that for the seventh year running Scotland had a record number of drug deaths last year with 1,339. The rate of drug deaths in Scotland, 231 people per million, is more than three and a half times higher than that in the rest of the UK and is the worst in Europe, 15 times higher than the European average. Statistics from developing countries are hard to come by but it is generally acknowledged that Scotland's record is one of the worst in the world. 
The SNP government, which has devolved power over health, has been in place since 2007. The number of drug deaths in 2007, when it came to power, was 455. This was considered scandalous at the time.
Nicola Sturgeon said the number of lives lost 'is unacceptable, each one a human tragedy'. She added, 'Today, my thoughts are with every family who has lost a loved one – I am sorry for the loss you have suffered.' Ms Sturgeon, however, has previously admitted some responsibility, saying that her government 'took our eye off the ball' on drug deaths.
Not surprisingly, the SNP blame the UK government for not allowing Scotland to have supervised shooting galleries for drug users.
However, the other three nations of the UK do not have the same problem:
Whilst it is possible to make an argument for a health-based approach to drug use, one wonders why if present drug laws do so much supposed harm in Scotland they don't do equivalent harm in England and Wales? Scotland's drug problem cannot be argued away by saying 'It wisnae me, a big boy did it and ran away'. The SNP have to take responsibility for their actions.
Dr Campbell Campbell-Jack alleges some drug users are so desperate for rehabilitation treatment that they commit a crime in order to get it in prison:
Rather than funding more rehab facilities and restoring the budgets of local alcohol and drug partnerships, which is within their power, the SNP have taken the easy way out by accusing the UK government of binding their hands by blocking plans for their innovative policies such as safe consumption rooms where addicts could shoot up in sanitary conditions rather than in underpasses and waste ground.
There is such an acute shortage of publicly funded rehabilitation places and cuts to local multi-agency drugs services that Scotland has entered Kafkaland where some addicts pursue what seems to them a logical course of action: they choose to commit crimes ensuring a prison sentence rather than remaining in the community because they know they have a better chance of accessing treatment behind bars. For Scotland's addicts, HMP Barlinnie beats NHS Scotland.
A failed lawyer [Sturgeon] leading a failed government is leading almost inexorably to a failed country, and the most vulnerable are paying the price.
On February 19, 2023, four days after Sturgeon stood down as SNP leader, veteran political journalist Simon Heffer wrote an article for The Telegraph: 'Nicola Sturgeon's dreamland is over — Scotland faces a painful reckoning'.
Since 2021, there have been only nine fewer drug deaths — 1,330 instead of 1,339:
An indication of the state of Scottish society is that nearly 60,000 people in a country whose population is five and a half million have a drug addiction problem. That is a higher proportion of addicts than any other country in Europe. Recent figures showed that Scotland had an annual rate of 1,330 deaths from drug addiction. In Slovakia, which has an identical-sized population, the number of deaths (in 2017) was 19.
In Scotland, the government-run treatment services for addicts are dismal. Around 40pc of Scottish addicts are in treatment, compared with 60pc in England. The rate of around 25.2 deaths per 100,000 of the population is three and a half times England's.
Incredibly, Sturgeon's government blames Margaret Thatcher, who left office in 1990:
When being forced to admit this shocking failure, the SNP blames Margaret Thatcher and the legacy of her economic policies for closing down much (inefficient and obsolete) Scottish heavy industry. In other words, the failure of the British state (which the SNP purports to loathe) to use the money of predominantly English taxpayers to subsidise the inefficiency and restrictive practices that undermined so much Scottish industry is the cause of the country's out-of-control drugs problem.
Mrs Thatcher left office more than 32 years ago; an SNP administration has run Scotland since 2007. There are, frankly, no excuses. If parts of Scotland are enduring poverty it is largely down to the failings of those who have ruled the country for the last 16 years, whose hostility to capitalism and incomprehension of business were proved by the many businesses that planned to relocate in England had the referendum in 2014 gone the other way.
Education disaster
Simon Heffer reminds us that Scottish schools were, until recently, the envy of the world. They aren't anymore:
Education has also been a disaster under the SNP. Scotland's schools were once among the finest in Europe; in the 18th and 19th centuries they sent young people to university from social classes that would not get inside an English university until the 1940s.
In June 2021, however, the Organisation for Economic Co-operation and Development (OECD) said that the SNP administration had no long-term strategy or vision for schools, and had failed to keep abreast of best practice. It attacked the examinations system, curriculum development, the management of teachers and the availability of data for measuring schools' performance. John Swinney, who has proved an entirely incapable education minister, was so embarrassed that he delayed publishing the report until after that year's Holyrood elections.
For maths and sciences, in which high attainment is now considered essential for the prosperity and development of any society, Scotland ranks 25th and 24th respectively among OECD countries. In 2019-20, the proportion of pupils in Scottish schools passing three or more Highers was 43pc lower than in any other year since 2015, when another international report from the Programme for International Student Assessment [PISA] condemned the standards of attainment in reading, maths and science.
To try to massage the figures, the SNP has relied on a feeble system of continuous assessment rather than rigorous examinations. This has ensured that the gap in attainment between those at the bottom of the ladder economically and those at the top has widened.
The other consequence of this failure to develop Scotland's human resources through education is that the brains, skills and talent that might improve the Scottish economy are scarce: and for those whose talents are developed, Dr Johnson's adage that the noblest prospect many of them ever see is the high road that takes them to England remains painfully true.
NHS and National Care Service in dire straits
At First Minister's Questions, Sturgeon becomes deeply annoyed at questions from Douglas Ross and Anas Sarwar over the lingering problems with the NHS and Scotland's National Care Service.
It is worth noting that Sturgeon was Scotland's health secretary for several years before becoming First Minister in 2014. According to Ross and Sarwar, some of the existing problems began then.
Simon Heffer tells us:
If the NHS is said to be on its knees in England, it is prostrate in Scotland. The British Medical Association said last month that the country was 2,000 GPs short and about three in 20 vacancies for consultants were unfilled. There were also 6,400 vacancies in nursing and midwifery. A Royal College of Nursing spokesman said that six in 10 nurses were thinking of leaving their profession because they have had enough of their overloaded working conditions.
The medical and paramedical professions in Scotland have repeatedly savaged Humza Yousaf, the Scottish Health Minister, for having (in the words of a Scottish geriatrician) "no plan, no strategy", and therefore inspiring "no trust" from the professions.
Waiting times in A&E have reached a record high, with 5,000 people in the last week of 2022 waiting over eight hours, and half of them for over 12 hours. The malfunctioning of Scotland's National Care Service means hospital beds are filled with people who otherwise could be discharged. Over 600,000 people are awaiting "planned procedures" compared with just over 300,000 when Ms Sturgeon took office in 2014.
High taxation, sluggish economy
The SNP are fond of blaming Brexit and the UK government for Scotland's economic woes.
However, Heffer says that a report from January 2023 points out that Sturgeon's government has no clear economic strategy:
The report said there was no clear strategy for innovation, that for the last decade productivity had been "muted" and that Scotland had failed to become a "hotbed of start-up activity". The SNP blame Brexit for this, which hardly explains why other cities in Britain are performing far better; the SNP will not admit that it has no idea how to encourage and support entrepreneurs …
The entrepreneurs Scotland so desperately needs are driven away by high taxation, the deep economic uncertainty provided by the threat of separatism, and a shrinking skills base.
Independence dream dies
During the 2021 election campaign, Holyrood magazine featured Mandy Rhodes's highly critical editorial, 'The mendacity of hope'.
Rhodes takes us back to the 2014 independence referendum campaign:
Back in 2014 in a campaign video for the independence referendum, Nicola Sturgeon asked us to imagine a baby – Kirsty – and to think about what kind of country we wanted her to grow up in.
It was a brilliant, evocative message, a hopeful one, with a positive vision that things could only get better, that our children could live their best lives. And who wouldn't want that?
Two years later, after the SNP were re-elected, Sturgeon made this pledge:
Let's all resolve that, when this parliament dissolves five years from now, we'll be able to say we've done everything we can to give all of Scotland's young people the best possible future.
Rhodes continues:
Well, we are now five years on, with independence no closer and Baby Kirsty now seven. The SNP heads into an election that it will win, still stuck on repeat, pledging to make Scotland the best country for any child to grow up in.
The SNP has been in power for 14 years and despite cleverly positioning itself as the party of opposition, lest you blame it for any of the country's ills, it is set to return to power on the back of yet more promises for that same change.
So, when is it coming?
… Yet here we are, with the SNP still winning votes on the back of a promise to build a fairer, more equal, Scotland. If it's window dressing you are after, then artifice has won over substance.
Every opinion poll has the SNP winning this next election. The only question now, is by how much.
Yet contrast that 2014 video message of hope, that forward-looking vision for a more positive future, with the dystopian styled, party-political broadcast issued by the SNP last week and the difference is clear. Fourteen years in government, and the SNP can't offer a positive narrative for its record, it can only blame Westminster for everything that is still wrong …
But if the Scottish Parliament does not have the powers to find Scottish solutions to Scottish problems, then what is its point? What is the point of a party of independence being in power for so long but not delivering on independence? What is the point of having a woman in power but who lets women down?
What is the point in an election that will merely deliver more of the same? And what is the point in promising a better future for children when those already growing up under the SNP's watch have been let down?
Come on. Nicola Sturgeon has said she hopes that this election will breathe fresh air onto the toxicity of our politics, but those winds of change need to sweep over her and her party too. It needs a clear out. Some fresh thinking. Some challenge, and some ambition to make the change it has promised over and over again.
There is something very sour about the SNP right now – a party that doesn't take well to criticism; that sneers at opposition; that hectors journalists, and silences its detractors.
Too often, political commentators are assumed to be people who care too much about party politics. We are accused of having an agenda, of being too close to power, of having nefarious causes that we are trying to promote. That in fact we are political stooges. But none of that is remotely true.
In the main, we are here to see change, to hold truth to power …
During the 2021 campaign, Sturgeon said she wanted to sort out the coronavirus crisis before holding a second independence referendum.
The Revd Stu Campbell of Wings Over Scotland took issue with Sturgeon's preference for 'patient persuasion' before a second referendum. On April 30 that year, he wrote:
As we noted earlier today, her "patient persuasion" has taken Yes from a 10-point lead to an 8-point deficit in the last four months. She's going backwards at a rate of knots, and in the most favourable circumstances she could ever dream of – Brexit, a pandemic in which she's been (erroneously) seen to have performed well, and a wildly unpopular and almost comically crooked complete buffoon in 10 Downing Street.
She HAD a majority for independence, and she's blown it. It's almost impossible to imagine anything that could possibly provide a bigger boost to the Yes vote than what she's already had and wasted.
She used to promise that she'd deliver a second indyref "before it is too late" to avoid the effects of Brexit. But Brexit happened 15 months ago and now we have to wait for some unspecified point at which the effects of COVID are over before she'll even begin to try. There's always an excuse, and there always will be …
The truth of the matter is that Nicola Sturgeon has poisoned the Yes movement. Every part of it is now at war with every other part, and so bitterly that it's hard to imagine the peace and unity of 2014 returning even if and when she's finally dragged kicking and screaming out of Bute House.
Simon Heffer, writing in 2023, seems to be of the same opinion:
… the nationalist movement may well become more of a minority sport. It is already split following the creation of the Alba party by Alex Salmond, who fell out with Ms Sturgeon over her handling of complaints of sexual misconduct against him. He was later acquitted of 13 offences in a criminal trial.
And although the fanatics will endure any hardship to be shot of the colonial oppressor, many others won't. Scotland reached peak Sturgeon a couple of years ago, after her polished performance in the pandemic, when she enjoyed being more welfarist at every turn than the English government.
It will require a remarkable achievement by her successor to lift support for nationalism to the point where it would look likely that the Scottish people would back separatism in a referendum. The SNP has scrapped a special conference it was holding on the question. Talk of the next UK election being a referendum on separatism is ending.
When SNP sources say, as they have in recent days, that a second referendum is off the agenda for the next five years, what they really mean – all being equal – is 10, 15 or 20 years. Every further failure in health, education, infrastructure planning and social care lines up more voters against them: for in the extensively devolved system, only they are responsible.
Heffer tells us how important English subsidies are to Scotland:
It is one thing to tell an opinion pollster that you, as a Scottish voter, would like to be shot of England; quite another to vote in a referendum, were there to be one, to cut the umbilical cord to the Treasury in Whitehall, whose subventions to Scotland under the block grant are around £41bn per year.
For every £100 the government spends per person in England, it spends £126 in Scotland. As the IFS's comments on the country's economic future imply, the SNP has nothing but pie in the sky to suggest as the source of that money post-independence.
The SNP never had a detailed plan for independence.
More on that tomorrow.
In December 2022, the then-GB News presenter Mark Steyn suffered two heart attacks within days of each other.
The first one he ignored, because he had never suffered a heart attack and didn't recognise the symptoms.
The second occurred when he and a female friend were in France. Fortunately, he got to the hospital just in time. Fifteen minutes more and he would have died.
While he recuperated in France — there was no chance of his returning to Canada, doctors said — some of GB News's sharpest hosts stepped in to sub for him between 8 and 9 p.m. They told viewers that Mark was on the mend, until the end of January, at which point they mentioned him no more.
Don't mention the vaccines
Then, late on Monday, February 6, 2023, Guido Fawkes posted that Mark would not be returning to GB News. The news channel's CEO wanted to make Steyn liable for any Ofcom fines they received over his segments that criticised the coronavirus vaccine:
Guido tells us, complete with the relevant video clip (emphases in red his):
Mark Steyn has quit GB News on fairly bad terms after a protracted leave of absence owing to his health. A few weeks ago Guido picked up that the channel had been trying to formalise Steyn's contract, having operated on a fairly ad hoc basis since starting his show. Part of trying to get him on board as a properly contracted presenter was also an attempt to rein in his output, given that in a rather short space of time he'd managed to spark two separate Ofcom investigations into claims made on his show.
GBN offered him a new contract to sign, otherwise he'd face termination. It now looks like Steyn is declining to sign the new contract, so he's out.
In a video put out on his website today, Mark doesn't hold back on his opinion of the channel's CEO Angelos Frangopoulos, ranting about the terms of the new contract that would have made him financially liable for any fines imposed on GB News by Ofcom because of his show's output. He also calls Frangopoulos an "habitual liar". Shame – Steyn managed to consistently beat Piers's view count…
After a few months, Mark Steyn Show regularly trounced Piers Morgan's TalkTV show Monday through Thursday in the same time slot.
GB News has been scrupulous about offering both sides of any story on their shows in order to avoid censure from Ofcom. This entails having a left-wing guest oppose the host's centrist or conservative perspective.
In 2022, Press Gazette reported on the channel's potential Ofcom violations. I'll start with the story from August 8, with the communications regulator's examination of two segments, one on Nigel Farage's evening show and one from a morning show with Patrick Christys, who now hosts a three-hour afternoon slot Monday through Friday:
The first two investigations by broadcast regulator Ofcom into GB News have ended with no rebukes, keeping the TV channel's record clean as it enters its 15th month.
Critics feared the opinion-led news channel would rub up poorly against the UK's strict impartiality rules, a problem not faced by broadcasters in the US such as Fox News.
But by balancing views from presenters and guests across its schedule, GB News has avoid any Ofcom rebukes despite airing some strident views on Covid-19 lockdowns and vaccines. Two Ofcom investigations into GB News TV and radio broadcasts remain ongoing.
In October 2022, complaints about Mark Steyn's show were still ongoing:
Ofcom has opened an investigation into an episode of Mark Steyn's 4 October programme on GB News after it received 411 complaints from viewers about comments made by author and journalist Dr Naomi Wolf in relation to Covid-19 vaccines.
Ofcom said: "Specifically, our investigation will consider whether this programme broke our rules designed to protect viewers from harmful material."
Wolf was banned from Twitter last year for spreading unfounded theories about vaccines.
Ofcom is already investigating Steyn's show for a potential breach of standards on 21 April when he claimed people who had a Covid-19 booster vaccine were three times more likely to die than those who had two doses or fewer.
Press Gazette says that the April 21 episode was removed from YouTube:
In a monologue that day, Steyn said: "Why aren't we talking about this? It seems, if the booster shot is making it thrice as likely that you're going to be deadsville, that they're going to carrying you out by the handles, why aren't we talking about that?"
Fact-checking charity Full Fact said the figures used by Steyn were "broadly accurate" but that he was "wrong to claim the booster 'increases your chances of hospitalisation and death'".
Interestingly:
No Ofcom investigations have yet been started into rival TalkTV, which Rupert Murdoch's News UK launched in April.
The Guardian had more, especially about Dr Matthew Sweet, who was interviewed on the BBC and had been monitoring Steyn's show for soundbites that criticised the vaccines. Steyn often mentioned Sweet:
The latest investigation relates to an interview with the author Naomi Wolf in which she claimed women were being harmed by Covid-19 vaccines as part of an effort to "to destroy British civil society".
Ofcom said it would investigate whether the programme broke "rules designed to protect viewers from harmful material" after receiving more than 400 complaints from members of the public.
In the interview, which was originally broadcast on 4 October, Wolf also compared doctors' support for the vaccine rollout to the behaviour of the medical profession in Nazi Germany and described herself as the "last remaining independent journalist" willing to question this.
She was being interviewed on the Mark Steyn Show, which has repeatedly raised doubts over the safety of vaccines. Steyn's claims that the jabs cause "every conceivable kind of damage" have been disputed by factchecking websites. He is already the subject of a separate Ofcom investigation over previous comments about vaccination.
Wolf began as a prominent feminist writer but in recent years her career has taken a hit after she wrote a book partly based on a misunderstanding of English court records. Since then she has veered into the world of conspiracy theories about the impact of 5G telephone masts and the coronavirus vaccine.
Presenter Matthew Sweet, whose BBC interview exposed the flaw in Wolf's book, has since kept tabs on her work and GB News's coverage of the pandemic and accused the channel of repeatedly "broadcasting misinformation about vaccines and presenting conspiracy theorists as legitimate experts on medical matters".
In a letter to Sweet tweeted last month, GB News insisted that at no point had Steyn's programme adopted an "anti-vax" approach. Instead it said he was conducting probing journalism in the face of people who want GB News to be "more supportive of government policy".
As I wrote in my post last week on Big Brother Watch's exposé of Government departments' surveillance of politicians' and journalists' Twitter accounts during the pandemic, the one thing one cannot do is criticise the vaccines.
The best of Mark Steyn's GB News output
Having watched nearly every Mark Steyn show once he began broadcasting weeknights in January 2022, I bookmarked the most notable ones.
Any interested readers should view the videos sooner rather than later. YouTube have already removed some of Steyn's GB News output.
Ratings
It took a while for people to tune into Steyn, which was no fault of his. He did a memorable series in March 2022 in Ukraine and told us that he was partly of Ukranian descent. He hoped to return when the war was over. You can read more about those programmes here.
At the end of that month, he had a special edition on the second anniversary of the first coronavirus lockdown, March 23, 2020. It's a good thing I described the content, because YouTube removed the video for the usual reasons.
Then on Monday, May 16, Mark hit the jackpot, beating TalkTV's Piers Morgan for the first time in the 8 to 9 p.m. slot. Mark wasn't the only ratings star that night — all the GB News evening shows beat TalkTV's:
The following day, Guido wrote:
The slow motion collapse in ratings of Talk TV is astounding. Until now, Piers Morgan has always held his lead in his slot against Mark Steyn on GB News. Last night Steyn beat Morgan for the first time…
And it would not be the last time, either. In fact, it became a regular occurrence.
Coronavirus
On Wednesday, January 12, 2022, Steyn interviewed Lord Ridley — Matt Ridley — about the coronavirus lab leak (30:00 – 40:00):
In February, he covered the Canadian truckers' protest in Ottawa against mandated vaccines:
He also interviewed a Canadian policewoman about the protests:
On April 21, he cited UK government data which said that people over 50 who had three jabs were five times more likely to get the virus: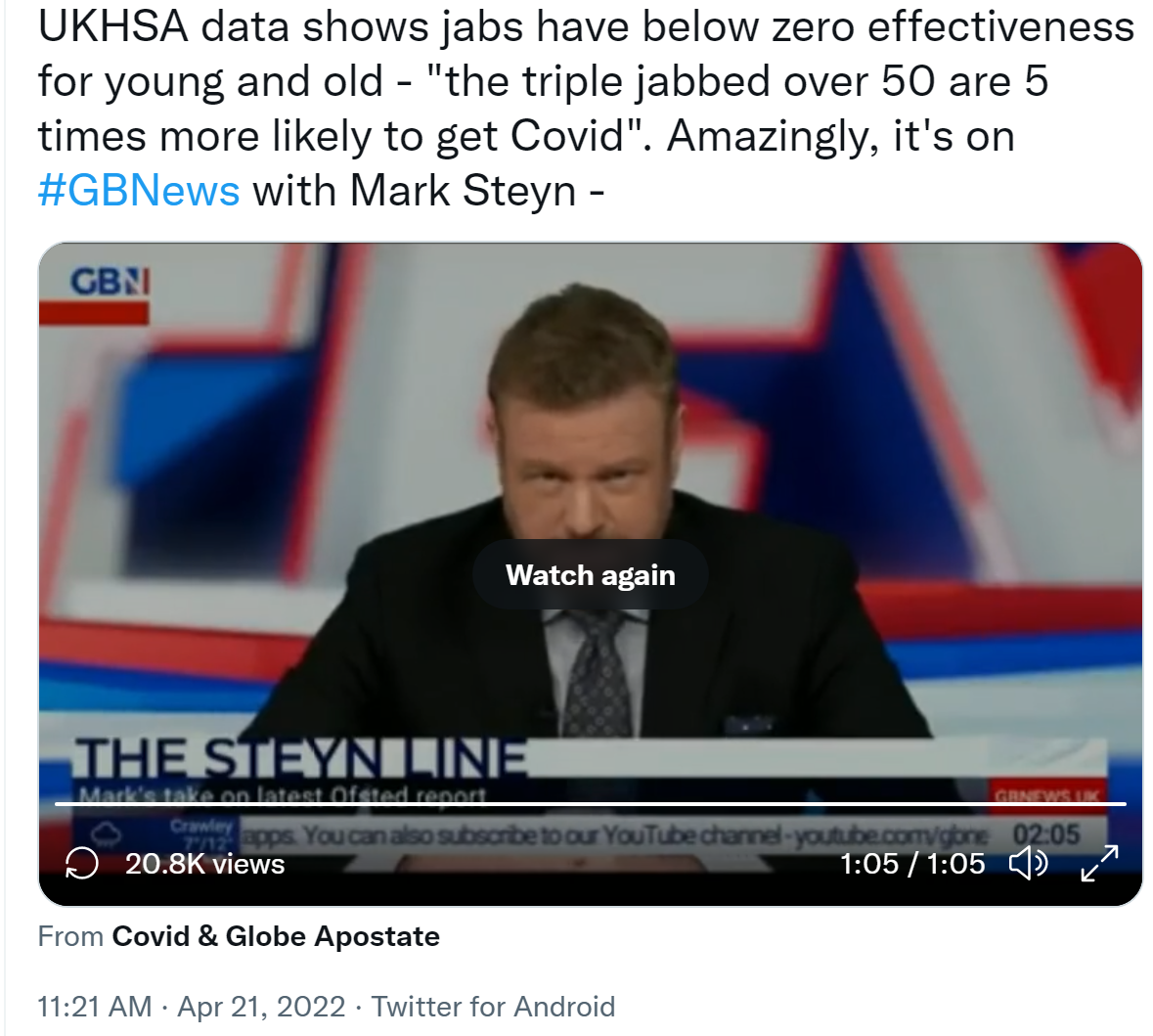 On Monday, May 9, he interviewed vaccine victims:
On May 11, he interviewed people who became seriously ill after taking the Astra Zeneca vaccine. No wonder it's no longer on the Government's vaccine list.
This man got a blood clot on the brain:
This lady suffered blood clots on her liver and lungs:
That day, Laura Perrins from The Conservative Woman waxed lyrical about Steyn's show. I, too, was a bit ambivalent about him many years ago, but as she pointed out:
It is true that a few decades ago he was considered an Establishment journalist; he has written for all your mainstream Right-wing publications. But he had long left that scene by the time I had my political awakening.
Anyway, somehow I stumbled across him, Praise be the Lord. The more I started listening, the more I read, I thought: 'Goodness gracious, hold the phone, shut the front door, this guy is the Real Deal.' This guy knows that we are being had by the political and media establishment and he is not afraid to say it …
Not only is Steyn the best-dressed, most-polished, most-sophisticated of all the presenters on TV, he says what you are thinking. For the last week or two he has been giving a voice to those the MSM have shamefully ignored – families who have lost loved ones through the 'safe and effective' non-vaccine vaccine.
… While Piers 'Lock Me Down Harder, Daddy' Morgan is interviewing Bruce Jenner, Steyn is pointing out that the lockdown has caused economic damage and inflation that the MPs like to ignore.
He also points out that when the Conservatives tell you they are getting a hold on illegal immigration, they are lying to you, they are lying to your face, dear reader.
So, do yourself a favour and watch Mark Steyn, Monday-Thursday, 8pm on GB News.
You can also catch up on YouTube when they haven't censored him for 'disinformation'. This is not a man who could ever be bought or sold for any price. I say again, Mark Steyn is the Real Deal.
The following day, news emerged that the WHO wanted nations to sign up to their pandemic treaty which would supercede national sovereignty. Unbelievable. Steyn said, 'The permanent abnormal staggers on':
On Tuesday, May 17, he talked about the WHO's involvement in the pandemic:
One week later, he interviewed a fellow broadcaster, Andrew Griffiths, who experienced serious side effects after getting the vaccine:
The Powers That Be tried to stir up fear over what is now called MPOX. On May 25, Steyn discussed Natalie Winters' findings for the National Pulse about an alleged link to the Wuhan lab:
Steyn had more on that and other topics on June 1, calling it 'the controlled demolition of the free world':
That was an exceptional show. Former ONS statistician Jamie Jenkins, one of Mark's regulars, alleged that the UK government had not collected any official statistics on vaccine injuries:
Claire Hibbs returned to discuss her injuries and the lack of compensation from the Government:
On June 16, he discussed the disastrous economic results of lockdown with Leilani Dowding:
Other Steyn broadcasts of note
In May 2022, he tapped into Canada's Rebel News output on Davos: excellent and entertaining.
On July 12, he was the only broadcaster to cover the July 12 celebrations in Northern Ireland in a non-confrontational way.
He interviewed Baroness Hoey — former Labour MP Kate Hoey — on her love for Northern Ireland and the United Kingdom:
He also spoke at length with the former leader of the Democratic Unionist Party, now-Baroness, Dame Arlene Foster:
These are just tasters. More to follow tomorrow.
No stranger to controversy
Mark Steyn has never been a stranger to controversy. Thank goodness.
Going way back in my Mark Steyn bookmarks, in 2004, he reviewed Mel Gibson's The Passion of the Christ, an incredible but much-criticised film, for The Spectator (full text here):
… Those who believe in Christ the Redeemer are booming, and Mel Gibson has made a movie for them. If Hollywood was as savvy as it thinks it is, it would have beaten him to it. But it isn't so it didn't. And as most studio execs have never seen an evangelical Christian except in films where they turn out to be paedophiles or serial killers, it's no wonder they're baffled by The Passion's success …
… Mel Gibson was driven by his own passion to make a movie that speaks to millions of people. As I said a couple of weeks back, if it's not the Jesus movie you'd have made, then go make your own. I saw it on a Monday night full house – a rare event in itself – and the crowd was rapt and eerily hushed, except for the occasional sob. It's true that if you don't believe that Christ's death on the cross is the central event in His time on earth then Mel's telling won't convince you and the film will look, as it does to Christopher Hitchens, like an S&M flayfest. One can regard this as a criticism of Gibson. On the other hand, all manner of movies – Star Wars, X-Men – leave you cold if you're not already a devotee. For millions of people, Mel Gibson shows them their Jesus and their salvation.
In 2009, Steyn wrote an article for Canada's Macleans about the danger that political correctness and censorship (i.e. 'hate speech') pose to human lives — the Fort Hood massacre (full text here):
… the old refrain echoes through the corridors of power: vigorous honest free speech will lead to mass murder unless we subject it to "reasonable limits."
Actually, the opposite is true: a constrained and regulated culture policed by politically correct enforcers leads to slaughter. I'm not being speculative here, as Commissar Lynch [Jennifer Lynch, Q.C., Canada's censor at the time] is about my murderous prose style. It's already happened, just a couple of weeks back. Thirteen men and women plus an unborn baby were gunned down at Fort Hood by a major in the U.S. Army. Nidal Hasan was the perpetrator, but political correctness was his enabler, every step of the way. In the days that followed, the near parodically absurd revelations piled up like an overripe satire …

Instead, asked "Who ya gonna believe—The Celebrate Diversity Handbook or your lyin' eyes?", more and more of us plump for the former, if only for a quiet life. Commissar Lynch has it exactly backwards: it's the craven submission to political correctness, the willingness to leave your marbles with the Diversity Café hat-check girl, that leads to death—real death, with real corpses, from Texas to Ontario.
It's amazing that the hot topics really have not changed since the Millennium. It's been the same-old, same-old for over 20 years now.
To be continued tomorrow
January 31, 2023 marks the third anniversary of Brexit:
As I have written before, those parliamentary debates early in 2020 were splendid. Newly and re-elected Conservative MPs, giving the Government a majority of 80 thanks to Boris Johnson's 2019 'Get Brexit Done' campaign slogan, were full of optimism about how Britain could — and would — be transformed.
Unfortunately, the pandemic put paid to those dreams in mid-March. We couldn't move past it. Even now, we are still suffering financially from the decisions the Government made, forced to do so by Opposition MPs. If Boris had just not given into SAGE, we probably could have stuck to the Swedish policy of no lockdown and minimal restrictions, which would have saved us hundreds of billions of pounds. Then again, Boris got coronavirus and had to be hospitalised for a week in early April. He came back a different man. SAGE were able to exercise power over him.
Even in 2022, once England finally returned to normal, the Government seemed to be treading water. We had three Prime Ministers and four Chancellors of the Exchequer last year. Very little of the optimistic legislation from the 2019 manifesto got started. Instead, Net Zero seemed to take over. It was in the manifesto, but as the final point, not the main one. The Online Safety Bill is a piece of intrusive legislation. The Conservatives are only getting started on pushing legislation through to get rid of thousands of EU laws on our books. Taxes are at a 70-year high. We have tens of thousands of migrants crossing the Channel in small boats. The possibility of any real progress for the Brexit agenda between now and the end of 2024 or January 2025 looks dim.
That said, Guido Fawkes reminds us (emphases his):
… we've signed about 71 new trade deals, led the European response to Putin's war in Ukraine and saved countless British lives with an independent vaccine rollout. And that's without any politicians actually making a concerted effort to capitalise on independence…
Of course, there is always a dismal economic forecast with which to deal. We must remember that Brexit was never about the economy but taking back control of our own national destiny.
Still, here is the latest dismal economic forecast and the danger ahead for Brexit in late 2024 or early 2025:
… even today's IMF report on growth forecasts couldn't bring itself to attribute any faults in the UK economy to our decision to leave the bloc. Now preparations must be made to save Brexit from a Starmer-led Labour government…
Because the IMF is the IMF, its forecasts receive undue attention. It is important to look back on the IMF's track record. They did a terrible job in predicting 2022:
Guido points out:
The 'good' news is the IMF has upped its forecast for 2024, now predicting 0.9% growth from 0.6%. It is also worth bearing in mind the IMF's analysis isn't gospel; it underestimated 2021's growth by 2 points. Chancellor Jeremy Hunt is doing his best to remind everyone of that:
Short-term challenges should not obscure our long-term prospects — the U.K. outperformed many forecasts last year.
A number of these forecasts are shaped to comply with political narratives. One of Guido's readers commented (purple emphases mine):
Rather a lot of years ago, I worked with a fellow who had, in previous employment, worked at the Board of Trade. He told me that every month, their top guy would get together with some other top guy from the Treasury and they would concoct the monthly trade figures to broadcast to the media. T'was all mainly fiction, of course, depending on what political message was required. I doubt if anything much has changed in the intervening years.
Here is another forecast gone wrong: Germany's. Keep in mind that Germany is at the heart of the EU, so we cannot blame Brexit for their woes:
Going back to August 2022, Germany and France joined the UK in having either flat or negative GDP:
Opposition MPs of all flavours, except for Northern Ireland's DUP, tell us that if we were still an EU member country, we wouldn't have inflation.
Yet, on January 26, 2023, Euronews informed us that food prices continue to rise across the EU:
Food prices have continued to rise across Europe despite inflation dropping for a second consecutive month in December, according to data shared on Wednesday by Eurostat, the European statistics agency.
The inflation of food prices in the EU was 18.2 per cent, and 16.2 per cent in the eurozone in December, which is a slight decrease compared to November on average. But some basic food items like sugar, milk cheese and eggs, oils, and fats prices are still going up.
One month earlier, Euronews reported on the plight of French university students who were forced to use food banks:
20% of students in France live below the poverty line. Rising food prices and energy bills soaring are exacerbating their situation. And yet, France gives more financial aid to students than many other European countries …
The government has recently allocated 10 millions euros to support the associations that organise food distributions for students. A consultation between the governement and student unions on the reform of the student grant system is ongoing, but concrete change is not expected anytime soon.
Our Opposition MPs also tell us that if we were still part of the EU, we would not be experiencing the multi-sector strikes that have been plaguing us.
However, let us look at France. Today, January 31, Euronews reported:
A new wave of strikes on Tuesday to protest French government plans to raise the retirement age to 64 has already impacted transport links and electricity production. 
TotalEnegies says between 75% and 100% of workers at its refineries and fuel depots are on strike, while electricity supplier EDF said they're monitoring a drop in power to the national grid equivalent to three nuclear power plants. 
"Following the call for a strike, shipments of products from TotalEnergies sites are interrupted today but TotalEnergies will continue to ensure supplies to its service station network and its customers," the group's management said.
In EDF power stations, strikers reduced loads by "nearly 3,000 MW" on Monday night, but without causing any cuts, the company said.
Hundreds of thousands of workers are expected to take to the streets across France on Tuesday, for a second day of industrial action that unions hope will be even more massive than the first, earlier this month … 
The government had warned in advance of Tuesday's strike about likely disruption to France's transport network. 
In the Paris region the metro and local rail services are "very disrupted" say officials. Long distance TGV train services are also impacted, as are regional trains with intercity services almost at a standstill. 
Rail operator SNCF said only one in three high-speed TGV trains will operate on Tuesday while disruptions are also expected at French airports and on transnational rail services …
French doctors were on an extended strike on January 2: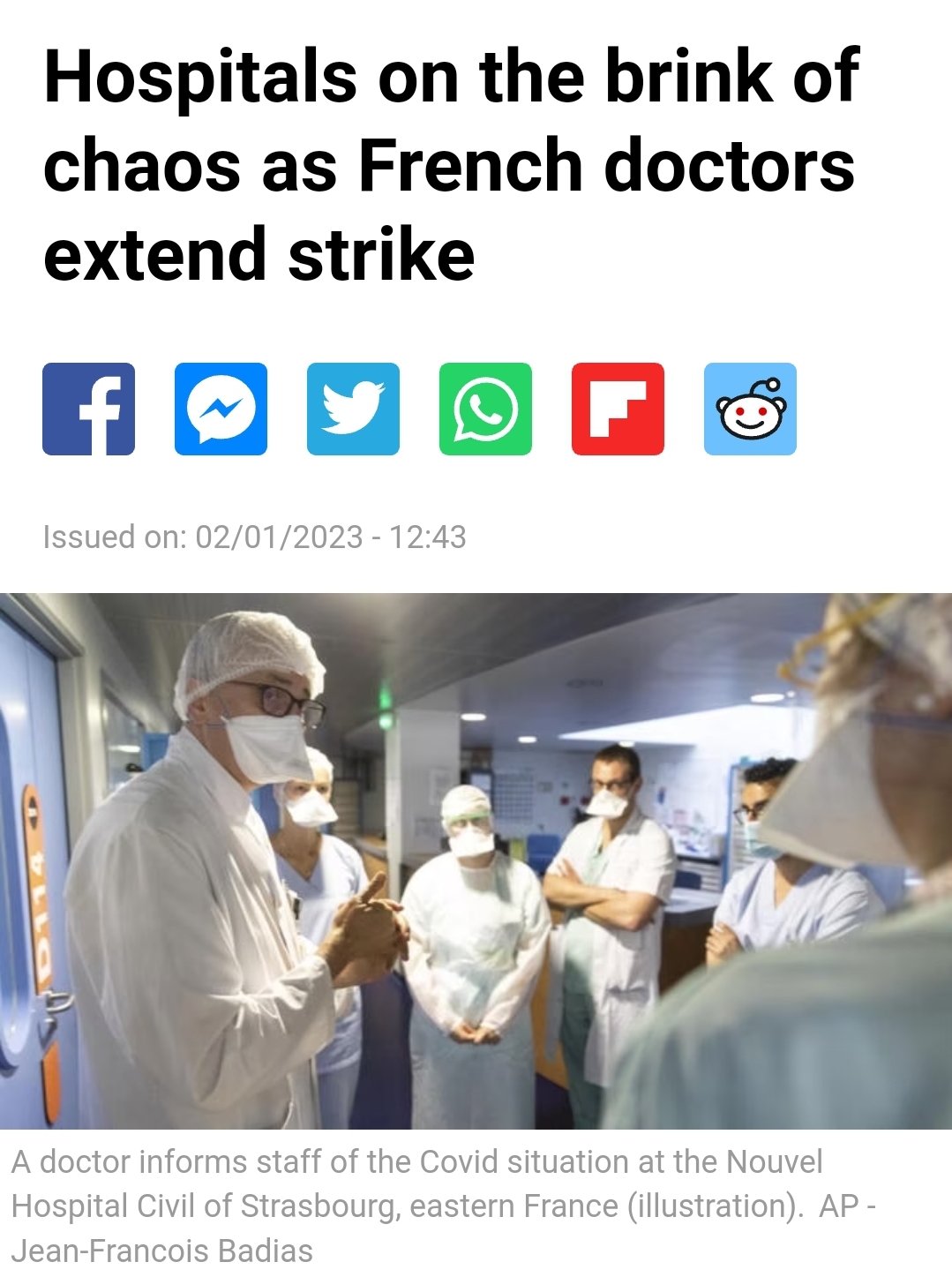 Then there is Ukraine. Nearly a year ago, Remainers told Leavers that Vladimir Putin would use Brexit to his advantage — an entirely erroneous talking point, as Boris was the first Western leader to champion Ukraine. If we had been part of the EU, he would not have been able to do so. By contrast, Germany was buying Russian gas and Italy was sending handbags to Russia:
Then there was the pandemic. In May 2022, the WHO published excess death statistics for 2020 and 2021. The UK had lower excess deaths than Spain, Italy and Germany, although France had fewer excess deaths than we did:
As for migration, France still has as much of a problem as we do, yet our Opposition MPs tell us that if we were still part of the EU, we would not have a Channel crossing issue.
On December 26, 2022, The Times reported that the French government opened the Château de Grignon to house them, which isn't too different to our policy, egregious as it is, of opening hotels to those coming nearly daily across the Channel:
A row has broken out in France over a government decision to shelter homeless families, notably migrants, on the estate of a Renaissance château …
Under a plan to provide shelter for the homeless during the winter, up to 200 people are to be housed in the château estate until March. The first 62, including 37 children, arrived this week.
Officially, they are classified as people of no fixed abode who have been sleeping rough. In practice, most are migrants unable to find shelter upon their arrival in France and often forced to live in squalid, makeshift camps around the Paris ring road.
In conclusion, EU nations share many of the major problems that the UK has.
Brexit has nothing to do with it. In fact, Brexit will probably help us get out of these issues more quickly than EU nations will.
Therefore, Happy Brexit Day! May many more follow!
My series on Matt Hancock MP continues.
Those who missed them can catch up on parts 1 and 2.
Today's post takes us further into the late Spring up to the early autumn of 2020. The Government's policy on coronavirus held the UK hostage at home, for varying amounts of time, depending on what part of the country one lived in.
Testing centres popped up around the country. Hancock, who was Health Secretary at the time, urged everyone to go to one of these centres to find out if they had the virus. The narrative was that the asymptomatic could still have it and transmit it to someone else. What a load of cobblers. As Mike Yeadon, who used to work for Pfizer said, if you're ill, you'll know about it.
A mobile phone app also appeared: Test and Trace. Another load of rubbish, which was very expensive. Surprisingly, many Britons with smartphones used it. Another good reason for not having a smartphone.
Imperial College's SAGE modeller, Prof Neil Ferguson, was discovered to have broken lockdown with his mistress, who lived on the other side of London.
In May, news emerged that Boris's top adviser Dominic Cummings slipped off from London with his wife and son to Barnard Castle, County Durham. As penance, Boris made Cummings give a 90-minute press conference in the Downing Street Rose Garden. Excruciating.
England's Independence Day was declared on the Fourth of July. Then-Chancellor Rishi Sunak's hospitality plan, Eat Out to Help Out, started a short while later, boosting restaurant sales.
During this time, the borders were open and people could travel freely. The problem were the sudden embargos which interrupted holidays at inconvenient hours of the day. Britons were often told to return home from a European country, mostly France and Spain, at midnight or 4 a.m.
However, it wouldn't be long before the long tentacles of SAGE would find more doom and gloom in the autumn.
More extracts from Matt Hancock and Isabel Oakeshott's Pandemic Diaries, serialised in the Mail, continue, with news items I bookmarked from the time. Emphases mine below.
May 2020
Amazingly, Hancock managed to achieve his testing goal of 100,000, which seemed impossible when he announced it only a month earlier.
These are the principal extracts from the Mail for the entries below, unless otherwise indicated.
Friday, May 1:
We did it, and with a very comfortable margin. 122,347 tests! Let the naysayers put that in their pipe and smoke it! I'd be lying if I didn't say I enjoyed my moment, given how desperately certain people were willing me to fail.
Then-Prime Minister Boris Johnson was fascinated by Australia's low rate of infection. Little did he know at the time that Australia would go into a prolonged lockdown lasting months.
Sunday, May 3:
We still haven't figured out what to do about borders. [Dominic] Raab, [Grant] Shapps and Sunak all want to keep the borders open. Crucially, they're supported by the Prof [Chief Medical Officer Chris Whitty]. On the other side, Priti Patel and I are in favour of far tougher measures, as is Boris.
Scotland's First Minister Nicola Sturgeon was enjoying her power over her people, starring in daily briefings which the BBC televised. She gave her briefings at lunchtime. The UK government gave theirs in the early evening.
Monday, May 4:
Tonight, Nicola Sturgeon announced a 'summer push to elimination [of Covid]', a policy which has about as much hope of working as Chairman Mao's attempt to eliminate sparrows by getting the Chinese population to bang pots and pans.
Much as I'm sure Nicola would love to build a Trump-style wall between her fiefdom and the rest of Great Britain, we're all in this together. One person who's clearly not keen on a hermit lifestyle is Prof Neil Ferguson [who was advising the Government on its Covid response]. 
I wasn't particularly sympathetic when I heard he'd been caught breaking the rules [by meeting with his lover]. He's issued a grovelling apology, but it was obvious he couldn't continue to act as a Government adviser.
Ferguson resigned from SPI-M, SAGE's modelling team, but was reinstated in 2021.
The care home situation continued to loom large. Infections and deaths were ever present. Furthermore, families were rightly distressed by having to press up against a window to see their elderly loved ones, a situation that persists in some care homes even today.
Boris suggested that Hancock hire Kate Bingham, a venture capitalist with a background in pharmaceuticals, as the head of the Vaccine Taskforce.
Also on May 4, we discovered that Good Morning Britain's star presenter Piers Morgan was a 'Government-designated essential worker'. His test was negative, but he was experiencing symptoms, so he stayed off air for a few more days. The Mail reported that Hancock tweeted his best wishes before Morgan got the results of his test:
Mr Hancock, who had his own battle with coronavirus and who has previously clashed with the GMB host on the ITV morning show, tweeted that he hoped if Mr Morgan did test positive for Covid-19 that the symptoms would be mild. 
On May 7, Hancock announced that Baroness Dido Harding would head the Test and Trace programme:
On May 9, the Mail on Sunday reported that Boris and Cabinet members were clashing with the beleaguered Health Secretary:
Matt Hancock is living on 'borrowed time' as Health Secretary following clashes with the three most powerful members of the Government over the Covid crisis, The Mail on Sunday has been told.
Mr Hancock is understood to have pleaded 'give me a break' when Boris Johnson reprimanded him over the virus testing programme – leading to open questioning within Downing Street over Mr Hancock's long-term political future.
His run-in with Mr Johnson follows battles with both Rishi Sunak and Michael Gove over the best strategy for managing the pandemic.
Shortly after Mr Johnson returned to work at No 10 a fortnight ago, he and Mr Johnson had a tense exchange about the the Health Department's 'grip' on the crisis, during which Mr Hancock said to the Prime Minister, in what has been described as a 'petulant' tone: 'That's not fair – give me a break.'
He is also being blamed in some Government quarters – or scapegoated, according to his allies – for not moving quickly enough to do more to protect care homes from the epidemic. 
On Wednesday, May 13, Hancock announced a new genomics initiative in order to better understand the virus:
People are starting to blame us for discharging elderly people from hospital into residential settings without testing them properly, before we introduced strict rules. The evidence simply doesn't bear that out: care home outbreaks rose sharply long after we had enough tests to put that right.
That day, a Labour peer was mystified as to why the Government did not know how much PPE there was:
Friday, May 22:
Westminster is abuzz with claims that Cummings broke lockdown rules, going to stay with his parents while he had Covid, which looks like a mega breach.
Saturday, May 23:
Downing Street called asking if I'd do some media [to support Cummings], but I'm uneasy. Despite all the reassurances, it feels off.
In the end, I issued a supportive tweet, saying he was right to find childcare for his toddler when both he and his wife were getting ill.
[Former Chancellor] George Osborne messaged me this evening warning me not to stick my neck out for Cummings again. 'Lie low' was his advice.
Sunday, May 24:
I spent much of the day fielding angry messages, many of them questioning why the PM is still standing up for Cummings. The answer is that he rules through fear and intimidation, squashing those who dare to challenge him or get in his way.
Monday, May 25:
Cummings tried to draw a line under the Barnard Castle affair by holding a press conference in the Downing Street garden. He sat behind a table, squinting awkwardly into the sun, looking like a sulky teenager who'd been sent outside to do his work for disrupting the class.
Afterwards, I found myself feeling strangely sorry for Boris.
Cummings has only one setting – divide and destroy – and now the boss is having to say some pretty stupid things as he machetes his way through the resulting mess.
The only thing for it was to keep backing Cummings – silence from me would only create an unhelpful story – so this evening I tweeted that I welcome the fact that Cummings 'has provided substantive answers to all the questions put to him'. Apparently it got me some credit in No 10, but I can't say I felt good about it.
Away from the Cummings s*** show, we had a Cabinet meeting to discuss plans for easing restrictions. It was a bizarre Cabinet, held on Zoom without a single mention of the Cummings-shaped elephant in the room. 
In fact, an absurd amount of bandwidth was occupied by a discussion about whether – when we allow two households to get together outside – people should be permitted to walk through a house to get to a friend's garden. 
It's fine by me, but are people going to ask whether they will also be able to go inside to use the loo? 'If they're quick and disinfect the handle?' the Prof replied.
Who could believe that under a Conservative government, the long arm of the State would find its way into people's loos?
On Tuesday, May 26, a Sky News reporter called out to Hancock asking if he was going to sack Cummings. Ermm, it wasn't Hancock's responsibility, only Boris's:
June 2020
Thursday, June 4:
Boris messaged me at 6.43am saying he was 'going quietly crackers' about not testing enough people. He told me he sees it as our 'Achilles heel'. He was in a proper flap. 'What is wrong with our country that we can't fix this?' he complained. 
I tried to calm him down. 'Don't go crackers,' I said. 'We now have the biggest testing capacity in Europe.' Tempting as it was, I refrained from saying we did this against the obstruction of his own No 10 operation.
Wednesday, June 17:
In an embarrassingly crude power grab, [European Commission President] Ursula von der Leyen is trying to wrest control of vaccine research and procurement from EU member states.
Never mind that health is a matter for individual countries: the woman who once sent German army units on manoeuvres with broomsticks – because they didn't have any rifles – wants to move responsibility for scientific development and manufacture into the sticky paws of Brussels bureaucrats.
I may have voted to Remain, but it's enough to make a Brexiteer out of anyone.
Friday, June 19:
A massive blow-up with Kate [Bingham, head of the Vaccine Taskforce]. She simply doesn't see the need to order 100 million doses of the Oxford vaccine – she wants 30 million – and can't seem to grasp almost everyone may want or need it.
I warned her during today's meeting that if we don't get our ducks in a row on this one, we risk a complete car crash.
She pushed back hard. But with the other elected Ministers on my side, I won the argument [for buying 100 million doses].
'I'm not happy with that meeting,' Kate snapped afterwards. 'Nor me,' I replied.
'We will create a guide for you to explain what we are doing – there are enormous risks with this,' she said, as if I don't spend all my time thinking about how to save lives.
Kate pressed on, claiming that the technology that underpins the vaccine Oxford is working on [Astra-Zeneca] 'is neither proven nor scaled', and that she has 'an expert team who are working round the clock, pushing hard'.
I told her: 'We need to have tried everything feasibly possible to accelerate delivery. I've been asking the same question over and over again and not yet had a satisfactory answer – hence my frustration.'
This only seemed to wind her up further, prompting a mini-lecture about the dangers of trying to go too far too fast.
'The worse case is we kill people with an unsafe vaccine,' she said. 'We need to tone the comms to register the fact this is risky and unproven.'
If there's one thing I can't stand, it's being patronised.
On Wednesday, June 24, Hancock, riding high as the chap in charge of the nation's health, appeared on Robert Peston's ITV current affairs show:
July 2020
July 4 was Independence Day from coronavirus in England.
However, separate regulations applied in Leicester, which still had a high rate of infection. Even so, nothing was stopping them travelling elsewhere to socialise or shop:
On Sunday, July 5, Hancock expressed concern over high infection rates and overcrowded working conditions in certain factories in Leicester. It seems he was thinking of certain textile factories operating like sweatshops:
Monday, July 6:
The Vaccine Taskforce have consistently argued that we only need to back three [vaccine] brands. My view is that, to hedge our bets, we need more. Any one of the vaccines could fail in clinical trials.
Fortunately, Rishi and Steve Barclay at the Treasury are totally onside.
Wednesday, July 8:
Rishi's announced a new Eat Out To Help Out initiative. I did my best to sound supportive, but in truth I'm worried that it might backfire and lead to a spike in cases.
In my box tonight was one particularly startling note relating to the way Covid has been getting into care homes. The main takeaway is that the virus is primarily being brought in by staff, not by elderly people who've been discharged from hospital.
This explains a lot, including why the rise in care home deaths came so much later than would have been the case if hospital discharges were the primary cause. We must ban staff movement between care homes, fast.
On Friday, July 17, news emerged that deaths from natural causes were being classified as coronavirus deaths because of a previous positive test. A retired journalist had the story:
He pointed out that Public Health England (PHE) never announced how they were tabulating deaths. Scotland, of course, tabulated theirs differently:
The question remains: how many 'Covid' deaths were true Covid deaths?
Saturday, July 25:
Anyone coming back from Spain from midnight tonight will have to self-quarantine for 14 days. This is very bad news for a lot of British holidaymakers.
Department for Transport officials kept pushing for 24 hours' notice for the Spain decision, which I thought was curious – Grant Shapps is normally an 'action this day' Minister – until I discovered that Grant and his family had just flown there on holiday. The officials were trying, perhaps too hard, to protect their Minister.
In Cobra meetings, Nicola Sturgeon's political games have become incredibly debilitating and significantly limit scope for open discussion. She sits like a statue, lips pursed like the top of a drawstring bag, only jolting into life when there's an opportunity to say something to further the separatist cause.
The minute someone presses 'End Meeting', you can almost hear her running for a lectern so she can rush out an announcement before we make ours. We now chew over big decisions elsewhere and relegate formal meetings to rubber-stamping exercises.
Monday, July 27:
Downing Street is in a semi-panic about a second wave.
Tuesday, July 28:
Sturgeon is on manoeuvres again, trying to persuade us all to sign up to her impossible and anti- scientific zero-Covid plan.
Sure, we'd all love zero Covid, but that's about as realistic as a bagpipe-playing unicorn.
She just wants to look and sound tough, then blame us when her policies don't work.
I can hardly bear to watch her on TV any more.
Wednesday, July 29:
Testing is a continuing concern. We still haven't sorted procurement for what Boris calls 'Operation Moonshot'. The idea is to carry out literally millions of Covid tests a day to keep the economy going.
Officials say we mustn't eliminate staff movement across care homes because it might lead to a shortage of staff. Yet research shows the risk of outbreaks in care homes doubles if carers are coming and going.
On Thursday, July 30, Bradford was experiencing a high rate of coronavirus. Hancock put restrictions in place.
This was Bradford Council's message:
Hancock's restrictions prohibited people meeting up at each other's homes:
SkyNews had a report on the story:
Fortunately, for them, it might have felt like an eternity but it was temporary.
What wasn't temporary was his announcement earlier that day that GP appointments would have to take place remotely. This is still in place today, causing untold distress to millions of Britons.
The Guardian reported:
All GP appointments should be done remotely by default unless a patient needs to be seen in person, Matt Hancock has said, prompting doctors to warn of the risk of abandoning face-to-face consultations.
In a speech setting out lessons for the NHS and care sector from the coronavirus pandemic, the health secretary claimed that while some errors were made, "so many things went right" in the response to Covid-19, and new ways of working should continue.
He said it was patronising to claim that older patients were not able to handle technology.
The plan for web-based GP appointments is set to become formal policy, and follows guidance already sent to GPs on having more online consultations.
But the Royal College of GPs (RCGP) hit back, saying it would oppose a predominantly online system on the grounds that both doctors and patients benefited from proper contact.
They don't seem to think so now, do they?
The article continues:
Addressing the Royal College of Physicians in London, Hancock noted the huge increase in online consultations as much of the NHS closed its doors to focus on the crisis. In the four weeks to mid-April, 71% of routine GP appointments were done remotely against 25% in the same period a year before.
Outlining what he said were the ways the pandemic had demonstrated the need for greater uses of technology in healthcare, Hancock said that before the coronavirus, "there was a view advanced by some which held that anyone over the age of 25 simply could not cope with anything other than a face-to-face appointment".
He said: "Of course there always has to be a system for people who can't log on. But we shouldn't patronise older people by saying they don't do tech."
The rise in online consultations had been welcome, he argued, especially in rural areas. "So from now on, all consultations should be tele-consultations unless there's a compelling clinical reason not to," Hancock said.
"Of course, if there's an emergency, the NHS will be ready and waiting to see you in person – just as it always has been. But if they are able to, patients should get in contact first – via the web or by calling in advance."
Sure, Matt.
What a disaster that policy has proven to be.
The month seemed to end on a positive note with regard to agency staff working in multiple care homes.
Good news on banning staff movement in care homes. After I blew my top, officials got the message.
August
By August, even though England was open and people were socialising again, rules were still in place. They caused a lot of confusion, including in Government. Only Boris had mastered them.
Monday, August 3:
To ram home his point about how complicated the Covid rules have got, Boris went round the [Cabinet] table asking everyone to set them out simply. We had endless different answers, and he got them all right. 
'I hope colleagues feel I have justified my general reputation for mastery of detail by being RIGHT this morning about the rules. It's two households inside and six outside,' he said triumphantly.
Boris was eager for people to get back to work. He saw self-administered tests — lateral flow tests — as the answer.
Friday, August 7:
Boris is having a sugar rush about DIY Covid testing, which he believes could lead us to what's he's dubbed – in emphatic capital letters – 'COVID FREEDOM DAY'. I have no idea who he's been talking to, but he's very fired up.
He thinks rapid home tests are the way to 'get Whitehall and the whole British army of bludgers and skivers' back to the office and 'douse all remaining embers of the disease'. Today, I'm on a short break in Hay-on-Wye. When we got to the pub, there was great excitement. I'm not used to people recognising me, so the universal recognition is a bit of a shock. Something I'll have to get used to, I suppose.
The following year, everyone would know who he was — and not just in the UK. How happy I am that The Sun released that photo of him and his girlfriend. It went viral, worldwide.
Hancock announced the end of Public Health England, which, strangely enough, still seems to be around.
Tuesday, August 18:
[Hancock has announced plans to abolish Public Health England.] On reflection, I should have been more brutal earlier. It wasn't fit for purpose, and I should have cleared out senior figures who blocked the expansion of testing, basically because they didn't want the private sector involved.
In response, Angela Rayner [deputy Labour leader] has been tweeting the usual tripe about Tories wanting to privatise the NHS by stealth. Does anyone seriously listen to this c**p any more?
The truth is, we wouldn't stand a chance of winning this fight against Covid if it wasn't for support from business. From manufacturing tests to developing the vaccine, the private sector – alongside the NHS and academia – has been critical to the fight.
Friday, August 21:
Border enforcement is a mess. Everyone who flies in to the UK has to fill out a passenger locator form, which they're supposed to hand to officials on arrival at the airport, but half the time the documents go straight in the bin.
We can blame compulsory masks for secondary school pupils on Nicola Sturgeon. The UK government fears the woman.
Tuesday, August 25:
Nicola Sturgeon blindsided us by suddenly announcing that when schools in Scotland reopen, all secondary school pupils will have to wear masks in classrooms. In one of her most egregious attempts at oneupmanship to date, she didn't consult us. The problem is that our original guidance on face coverings specifically excluded schools.
Cue much tortured debate between myself, Education Secretary Gavin Williamson and No 10 about how to respond.
Much as Sturgeon would relish it, nobody here wants a big spat with the Scots. So, U-turn it is.
Amazing — and not in a good way.
Boris was worried about the British economy, and rightly so.
Wednesday, August 26:
I was minding my own business, when suddenly, ping! Ping! Boris sprang into life. It was 6.29am. He veered off the reservation, suddenly going off on one about how the virus isn't really killing many people any more so 'how can we possibly justify the continuing paralysis?'
He noted that an 80-year-old now has a six per cent chance of dying, which he didn't think was enough to justify what we're doing.
'If I were an 80-year-old and I was told that the choice was between destroying the economy and risking my exposure to a disease that I had a 94 per cent chance of surviving, I know what I would prefer,' he argued.
This exchange, which continued on WhatsApp pretty much all morning, was more than a little stressful, given that it represented a fundamental challenge to our entire pandemic response.
I'm not quite sure what he expected – that the Chief Medical Officer, Chief Scientific Adviser, Cummings and I would all suddenly throw our hands up and say: 'You know what, you're right, this whole thing has been a huge mistake. Let's ditch everything we're doing and pretend none of it ever happened'?
Fortunately, after a few hours he ran out of both statistics and steam. All the same, I sense a very definite shift in attitude. Something has unsettled him. Who has he been on holiday with?
By the next day, Boris had gone back to normal.
Thursday, August 27:
Overnight, Boris's creeping suspicion that everything we're doing has been a catastrophic over-reaction has evaporated as quickly as it appeared, to be replaced by annoyance at the discovery that there is a supply/demand gap for testing. 
In fact, we are a victim of our own success. Our advertising campaign encouraging more people to come forward for tests has been a bit too effective, and now we're overwhelmed.
Saturday, August 29:
Boris has started going on about 'freedom passes'. I think he envisages some sort of app that would allow anyone who can prove they're negative to get back to normal. I can see the appeal, but I can also see the likely furore over anything resembling 'Papers, please'.
Covid cases are rocketing in France. 'We need to draw lessons pronto,' Boris said, asking if the French have tried local lockdowns or whether it is 'a case of the whole frog getting slowly boiled?'
September 2020
Wednesday, September 2:
Test and Trace is now identifying more than half of new cases. 'It's like the system actually works!' I messaged Dido Harding [head of Test and Trace] excitedly. 'Who would have guessed!!' she replied.
Hancock talked about a vaccine in a coronavirus briefing.
Tuesday, September 8:
I got a blast from No 10 about talking up the vaccine yesterday. Other than Boris, nobody there has ever really believed we can make it happen. In reality, their scepticism suits me, because it means they're not meddling. The last thing I need is Cummings interfering or the project going through the Cabinet Office mincer.
Restriction tiers across England were looming. An example would be the aforementioned restrictions in Leicester and the north of England where coronavirus was prevalent.
Tuesday, September 15:
The PM is still dithering over restriction tiers, a classic Boris battle between head and heart.
Thursday, September 17:
Cases are growing. Sage [the Scientific Advisory Group for Emergencies] thinks we need a two-week 'circuit-breaker'. Boris seemed confused, doing that thing he does, emphatically verbalising the arguments for and against out loud – alarming everyone as they try to work out where he's going to land.
Friday, September 18:
We are now at 6,000 new Covid infections a day in England alone, nearly double the figure last week.
By 10pm, No 10 had done a complete about-turn. They now want tougher local lockdowns and more warnings about what happens if people don't follow the rules. Apparently the PM wants to explain that we have to balance Covid with other health and economic factors. 
Well, no s***. What's really infuriating is that the people who want action to control the virus didn't insist on me being there [at meetings] to press the point.
Monday, September 21:
Boris is torn. Everyone's getting heavy with him, from the Prof to Sage, who say there will be 'catastrophic consequences' if we don't act now. They've proposed a two-week circuit-breaker.
Friday, September 25:
An alarming note from the modelling people who advise Sage. They say the epidemic is 'close to breaching the agreed reasonable worst-case scenario'. Meanwhile, public finances are a horror show – from April to August, the figure borrowed was £173.7 billion. 
Rishi has clearly been using these figures to freak out the PM. But the only sustainable way to get the economy back on track is to defeat the virus, not pretend it's gone away.
Saturday, September 26:
We've spent millions promoting the [NHS Covid] app, including buying wraparound ads in loads of publications. Just as I was allowing myself a moment of satisfaction at a job well done – or at least not ballsed up – there came news of fresh horror. A major glitch has emerged: the app can't take data from NHS Covid tests.
I sat very still, trying to absorb the full implications of the fact that we've just spent tens of millions of pounds of taxpayers' money on an NHS app that… doesn't link to the NHS. Which genius thought it would not need to do this, first and foremost? Which other genius signed it off on this basis?
Given the multiple overlapping responsibilities of the various quangos involved, Whitehall's institutional buck-passing and the involvement of two mega tech companies (Google and Apple), we just didn't know.
What I did know was the buck stopped with me, and it was probably time to adopt the brace position. I prayed that word of this hideous blunder would not reach Cummings, but that was of course too much to hope. Naturally he went nuts when he found out, and I can't say I blame him.
I find this sort of screw-up personally mortifying. Should I have asked such a basic and obvious question? I took it for granted that we would link our own app up to our own tests. Never assume!
To be continued tomorrow.
This week's news that former Health and Social Care Secretary Matt Hancock would be standing down as MP for West Suffolk at the next election was a joyful tiding, indeed.
Hancock is currently an Independent MP. The Conservative whip was withdrawn on November 1, 2002, when he accepted the invitation to appear on I'm A Celebrity … Get Me Out of Here, which takes place in the Australian jungle. Amazingly, he came third, getting further than Boy George did.
This week saw more Hancock news with the publication of his Pandemic Diaries, co-authored with former Times journalist, Isabel Oakeshott.
This series charts the rise and fall of the former Conservative MP, a principal protagonist in the coronavirus drama of 2020 and the first half of 2021.
Two Oxford medics give their verdict
On December 8, 2022, The Spectator featured an article from Drs Carl Heneghan and Tom Jefferson from the University of Oxford: 'The UK isn't learning the right lessons from lockdown'.
Both were sceptics during the pandemic, the type of medics Matt Hancock eschewed, as we will find out later on from the Pandemic Diaries.
Excerpts from Heneghan and Jefferson's article follow, emphases mine:
This month, the UK's Department of Health and Social Care published a Technical Report on the Covid-19 pandemic in the UK.
The report is a long 11-chapter document describing the UK's response and pointing out suggestions for dealing with future pandemics.
The report is described as 'independent', but the authors are public health civil servants and a handful of academics. Given that the authors were instrumental to a greater and lesser degree in implementing the catastrophes of lockdowns, this report is as independent as President Xi marking his own homework in China.
It is hard to reconcile some of the report's content with what we have written about in the past. For example, there is no mention of the misuse of PCR tests or of Britain's failure to follow the example of other countries, whose contact tracing systems were overwhelmed in days.
There is also no apology for the evidence-free mass testing programme, the segregation of healthy people, and the lack of identification of truly infectious cases.
I remember the early weeks of the pandemic, which entered totalitarian territory on Monday, March 23, 2020, with Boris's five-minute announcement on lockdown.
My far better half and I wondered then about the absurdity of contract tracing. Fortunately, neither of us has a smartphone, nor did we participate in any testing regime ever. We simply don't see that many people.
Heneghan and Jefferson's article states:
It would have been better if the report admitted that contact tracing is hugely challenging, that it would never have achieved its intended outcomes and was, therefore, a waste of £37 billion. This is something health officials in Lombardy, Italy had realised by the beginning of March 2020. The UK Parliament has also pointed out that the contract tracing programme had an 'unimaginable' cost.
Yet, Matt Hancock paraded it as being a fail-safe method of finding out about loads of infectious people.
Then there were the hospitalisations. Here is a little-known fact worth repeating again and again:
up to 40 per cent of 'hospital cases' were infections acquired in hospitals … suggesting that whatever 'protection' measures hospitals were taking did not work.
After that came the school closures, even when Government officials said that children were at low risk from coronavirus themselves but could still transmit it to older relatives. Hmm:
When it comes to the low risk to school children and teachers, the report portrays this as a tension between missing education and stopping transmission …
But school-age children had the lowest Covid risk, and we are now reaping the effects of this immunological segregation, with a whirlwind of influenza-like illnesses sweeping across the country. The costs to children socialising and the impact on their schooling are mere details in the report.
Heneghan and Jefferson point out that the report makes scant mention of the 7.2 million people on NHS waiting lists and the rise in excess deaths because of lockdown. Furthermore:
Our requests for the cause of the current excess in deaths have gone unanswered.
The footnotes and references in the report appalled them:
… the type of evidence cited in the report's footnotes and references is remarkable. It mainly relies on models, i.e. opinions formulated by those with a long history of getting it wrong or citing selective pieces of work.
They say that there should be no excuses for the lack of planning for the pandemic:
There is no mention of the need for proper planning to plug known gaps in the evidence. For example, suppose you need to know whether masks or other physical interventions work in the community, you prepare protocols for trials designed to find this out in a short time. In that case, you get prior ethical approval and fire the starter pistol when the WHO declares a pandemic or earlier.
There is plenty of precedent for this kind of preparation. That is what happened in 2009 with mock-up influenza pre-pandemic vaccines. So there can be no excuses here, just a disregard for crucial gaps in the evidence and a reluctance to address them. It is even easier in the case of non-pharmaceutical interventions (NPIs) as there are no regulators breathing down your neck.
As for crucial NPIs, such as mask wearing and lockdown, the report says:
It may never be possible fully to disentangle some of the effects of individual NPIs in this pandemic, as many were used together….
Observational studies on NPIs were often complicated by several potential confounders.
The medics conclude that nothing will change:
Due to the sheer number of interventions tried at any one time, we may never know what works, particularly if we also rely on low-quality observational studies – as we have done – to inform policy.
But none of this matters: it'll be more of the same next time.
Hancock champions Klaus Schwab
Matt Hancock entered Parliament in May 2010, when David Cameron became Prime Minister, ending 13 years of Labour government.
Hancock began his ministerial rise to in 2013 as a junior minister in what was then the Department for Business, Innovation and Skills. He was the UK's Anti-Corruption Champion from 2014 and 2015. He served as Minister for the Cabinet Office and Paymaster General between 2015 and 2016.
When Theresa May became Prime Minister, Hancock became Minister of State for Digital and Culture, now the Department for Digital, Culture, Media and Sport.
In that capacity, he delivered a speech praising Klaus Schwab's Fourth Industrial Revolution. He delivered the speech at the House of Commons to the All-Party Parliamentary Group (APPG) at the Fourth Industrial Revolution's (4IR's) autumn reception on October 16, 2017. Hancock introduced Klaus to the APPG.
The transcript is still available to read in full:
… the nature of the new technologies is that the changes we are experiencing today, are probably the slowest changes we will see over the rest of our lifetimes. If you don't much like change, I'm afraid I don't have so much good news.
Our task, in this building and around the world, is to make this technology, this change, work for humanity. And I'm profoundly confident we can. Because this technology is made by man, so it can be hewn to build a better future for mankind.
And I'm delighted to speak alongside so many impressive colleagues who really understand this, and alongside Professor Klaus Schwab who literally 'wrote the book' on the 4th Industrial Revolution. Your work, bringing together as you do all the best minds on the planet, has informed what we are doing, and I'm delighted to work with you.
For the 1st Industrial Revolution, the UK could claim to be the 'workshop of the world' – propelled by development of the steam engine, it reached its pinnacle in the mid-19th Century. But the UK has not had the monopoly on waves of industrialisation.
Now, in the fourth revolution, we are determined to use our strengths to play a leading part. By its nature the fourth industrial revolution is more collaborative than the first. And we will play our part …
… our Digital Strategy, embedded within the wider Industrial Strategy, sets out the seven pillars on which we can build our success. And inside that fits our 5G strategy, like a set of Russian Dolls.
Our Strategy covers infrastructure, skills, rules and ethics of big data use, cyber security, supporting the tech sector, the digitisation of industry, and digitisation of government. All these are important.
… today I am delighted to announce that we are launching the first £25m competition for 5G testbeds and trials projects. We already lead on the highly technical development of 5G standards through the international work of the University of Surrey and others.
Now we are looking for innovative projects to test the roll out of 5G to develop the UK's growing 5G ecosystem. We want projects that explore the real-world potential for 5G …
It will also support projects which explore ways of using 5G technology to address challenges in particular sectors, such as those faced in health and social care …
Earlier this year, the 'fourth industrial revolution' was not a very well-known term – at least before it became a central topic at the World Economic Forum. It recently made its way into an item on BBC Breakfast television – this shows we've probably started to reach critical mass.
It's a pleasure now to introduce the man who made the fourth industrial revolution a household phrase: Professor Klaus Schwab.
Hancock became Secretary of State for Health and Social Care under Theresa May in July 2018, when she promoted Jeremy Hunt, his predecessor, to Foreign Secretary. Hancock remained in post throughout the pandemic until he was caught on camera in a heavy embrace with his then-adviser, now girlfriend, in 2021, when social distancing restrictions were still in place.
Hancock returned to the Conservative backbenches on June 26, 2021, after The Sun published the photos. Hancock and his girlfriend immediately separated from their spouses and are still an item.
The run-up to the pandemic
Even before the pandemic, Hancock was opposed to people who questioned vaccines.
On Sunday, September 29, 2019, The Guardian reported that he wanted compulsory vaccinations for schoolchildren:
The government is "looking very seriously" at making vaccinations compulsory for state school pupils and has taken advice on how such a law could work, the health secretary has said.
Matt Hancock, a vehement critic of anti-vaccination campaigners, has previously suggested such a plan. Speaking at a fringe event at the Conservative party conference, he said he was "very worried" by falling vaccination rates, indicating the government could act soon.
"I've said before that we should be open-minded, and frankly, what I'd say is that when the state provides services to people then it's a two-way street – you've got to take your responsibilities, too," Hancock told the Q&A session hosted by the Huffington Post.
"So I think there's a very strong argument for having compulsory vaccinations for children when they go to school, because otherwise they're putting other children at risk.
"Then I'd want to make it very easy if the children do arrive at school not vaccinated, simply to get vaccinated, and make it the norm. But I think there's a very strong argument for movement to compulsory vaccination, and I think the public would back us."
He took aim at social media for spreading what he called 'anti-vaccine messages':
"It's unbelievable, I think, that Britain has lost its measles-free status, and it should be a real wake-up call. I think that the social media companies have got a lot to answer for, because they allow the spread of anti-vaccine messages.
"I will do whatever I can – the science is absolutely clear and settled on the importance of vaccination. And the worst thing is that if you don't vaccinate your child, and you can, then the person you're putting at risk is not only your child but it's also the child who can't be vaccinated for medical reasons."
He had already started thinking about compulsory vaccines in May that year:
Hancock first raised the idea of compulsory vaccinations in May, saying he did not wish to do it but might be forced to act if no other solutions to improve take-up rates could be found.
He said: "Those who have promoted the anti-vaccination myth are morally reprehensible, deeply irresponsible and have blood on their hands."
Confidence in the MMR vaccination seems to have dropped at least partly in response to social media misinformation and scare stories. The discredited claims of Andrew Wakefield, who in 1998 theorised that the jab was linked to autism, are widely circulated.
Wakefield was struck off the medical register in 2010 after suggesting a link between the MMR vaccine and autism.
He also seemed to be interested in social care at that time. On June 10, 2019, Care Home Professional reported:
Matt Hancock has pledged a £3.5bn cash injection to prop up the social care system as he kick-starts his campaign to become the UK's next prime minister.
In an interview with the Daily Mail, the Secretary of State for Health and Social Care said he would seek the extra funds in the next Spending Review …
The Health and Social Care Secretary described the current social care system as "unsustainable" and said there's a "whole number of injustices" affecting society's most vulnerable people.
"One of the biggest injustices is that for people who worked hard all their lives and have put money aside – the system penalises them and won't fund their care without them having to sell the house, whereas people who haven't put money aside get their care supported. I think this is very unfair," he added …
He wanted to see individuals funding their own social care by contributing to a personal fund:
He stressed that the payments could be made over many years of a working life.
The scheme, which would be made voluntary, would require all workers over 40 to contribute 2.5% of their wages.
"I'd like to see people encouraged to take it out when they get their first mortgage – that being the point where many people buy life insurance," the minister said.
The insurance scheme would do away with previous Conservative proposals to put a lifetime cap on care costs.
Cometh coronavirus, cometh the man — or not
We were only a fortnight into lockdown in the Spring of 2020, and already we could see Matt Hancock's true character.
The televised Coronavirus Updates appeared almost daily on the BBC, and he was in most of them.
On April 12 that year, The Mail on Sunday's Peter Hitchens wrote 'Matt Hancock is trying to run the UK like my 1950s prep school':
Until I started travelling in the Communist world, my main experience of living under tyranny was my time at a boarding school on the edge of Dartmoor, 60 years ago.
The headmaster, an enormous, booming man, had many fine qualities. But he was given to dreadful rages, which tended to strike late on Saturday afternoons.
He would throb with fury because some of the more loutish boys had left their games clothes on the changing room floor.
For some reason, he viewed this as a terrible crime closely related to murder. So he would summon us into the assembly hall, and harangue us as darkness fell outside.
The more we stood mulishly in front of him, saying nothing and with our eyes downcast, the angrier he became …
Collective punishments – a ban on eating toast, or the cancellation of a promised film show – would follow, along with more shouting and angry notices in red ink, threatening worse to come.
Most of us were guiltless of wrongdoing. But we were small, and he was huge. The staff seemed more scared of him than we were.
We were on a windswept hilltop miles from anywhere. We had no escape …
Hancock wanted to ban outdoor exercise because it was violating social distancing rules, hastily put into place:
I had thought such childish things were long over in my life. But a week ago I found that I was, once again, living at the mercy of an equally petulant would-be despot.
Matthew Hancock, Secretary of State for Health, went on national TV to threaten to ban outdoor exercise if people continued to break 'social distancing' rules.
From a Government that claims to be preserving life and health, this threat was literally mad.
Banning exercise for any length of time will lead to the deaths and illness of many thousands of currently healthy, older people who know that such exercise is vital to their physical and mental wellbeing.
Such exercise can easily be taken while maintaining the required distance from others.
The threat was a dictatorial one, of collective punishment of all for the wrongdoing of others.
This is illegal under Article 33 of the 1949 Geneva Conventions. A foreign occupier would not be allowed to do it.
Sunbathing and sitting on park benches also irked Hancock while the police were enjoying their newly-found powers over the public:
Mr Hancock also said it was 'quite extraordinary' that some people had spent the weekend sunbathing in public places despite it being against Government guidance.
Getting into his stride, he urged people not to sit down even for a minute on a park bench, saying those who disobeyed the rules were putting their own and others' lives at risk.
What is this nonsense? The words of Ministers and the words and actions of the police show a pointlessly bossy side to these measures – the attempted ban on Easter egg purchases, the sunbathing squad, alleged arrests of people for just buying wine and crisps, the lumpish threat by a police chief to search the baskets of shoppers.
Provided the people doing these things do not break the distancing rules, why are they wrong?
Sunbathing, for instance, probably reduces the risk of infection, and if people keep a proper distance apart, what on earth is wrong with it? Why shouldn't someone sit on a park bench?
Mr Hancock said: 'I say this to the small minority of people who are breaking the rules or pushing the boundaries: you are risking your own life and the lives of others and you're making it harder for us all.'
Hitchens, who spent years working in Communist countries, hit the nail on the head:
I sense something more going on here.
The Government are trying to get us to accept a far higher level of state intrusion in our lives than we have ever endured.
They are treating us as if we were unruly children. This is despite what I regard as a quite extraordinary willingness among the great majority to do as we are asked.
It has gone to their heads. They need to calm down, for the sake of all of us.
We are not children, this is not some 1950s prep school ruled by the swish of the cane, and Mr Hancock is not our headmaster.
Hitchens rightly questioned the number of deaths at that point, which were nothing unusual, coronavirus or not:
A week ago, at the daily official briefing, Dr Jenny Harries, the Deputy Chief Medical Officer, confirmed my point that many deaths with Covid are not necessarily from Covid. She said: 'These are Covid-associated deaths, they are all sad events, they would not all be a death as a result of Covid.'
What nobody says is how many are as a result of the virus.
Then, if you look at the Office for National Statistics weekly death charts, for week 13 of each year (the week which this year ended on March 27), you find some interesting things.
The total of deaths for that week in 2020 is higher than the five-year average for that time of year, which is 10,130. In fact, it is up to 11,141.
This is 1,011 more deaths than normal per week, 144 more deaths than normal per day, regrettable but not gigantic. Do these figures justify the scale of our reaction?
If you add up the total deaths for the first quarter of the year from respiratory diseases, the figure so far for 2020 (22,877) is less than those for 2013 (25,495), 2015 (28,969), 2017 (25,800), 2018 (29,898) and 2019 (23,336).
Again, is this event as exceptional as we are being told? If not, why the shutdown?
Obtaining PPE was a huge problem, and not only for the UK. France, along with other Western countries, was also scrambling to secure PPE. I know from having read Marianne, a French newsweekly.
PPE popped up regularly in parliamentary debates. Labour asked repeatedly what the Government was doing and to get on with the job.
However, people who knew what was going on in the NHS said that things weren't as bad as the Opposition benches made them out to be.
Sir Keir Starmer had only been Labour leader — succeeding Jeremy Corbyn — for a week or so in April. He was offended that Hancock told the NHS not to waste precious supplies:
However, those with connections inside the NHS said that a hoarding mentality was present and that there was an adequate provision of PPE:
On April 9, Hancock announced a testing lab in Milton Keynes, the Lighthouse Lab, a.k.a. the National Biosample Centre:
Meanwhile, many of us wanted an update on herd immunity.
On April 8, Guido Fawkes reported, complete with audio (emphases his):
As new modelling released by University College London (UCL) predicts the UK will pass the threshold for herd immunity by Monday (with 73.4% of the population protected either by vaccination or previous infection), Matt Hancock was quick to pour cold water on the findings during an interview with LBC's Nick Ferrari. Speaking this morning, Hancock said:
I was told by some scientists that we were going to have herd immunity in May, and then in June, and then after that […] what I prefer to do is watch the data. And so we've set out the road map, the road map is really clear, it is our route back to normal, we're on track to meet the road map, and that's our goal.
Pressed on why the government seemed keen to accept the pessimistic assumptions within the Imperial College data, yet sceptical of UCL's new study, Hancock – rather predictably – said:
I think we have taken the right course in plotting our way to freedom, and doing it carefully, because we want it to be irreversible. We have seen what happens when this virus gets going […] and we want to get out of this safely and irreversibly.
The 'data not dates' refrain feels less plausible with every passing day…
One Twitter user sounded the alarm:
When University College London, a respected establishment put out work saying we'll hit herd immunity by Monday and Matt Hancock immediately dismisses it You know darker forces are at work here. He's a member of Parliament that doesn't work for the people, he works for Gates.
On April 23, exactly two months into lockdown, Hancock was enjoying his power over the British people. Meanwhile, some of us were beginning to worry about the economic downside of keeping everyone at home.
The Mail reported that there was no end in sight:
Matt Hancock tonight insisted the coronavirus lockdown must stay until there is no risk of a second peak – as scientists warned the outbreak might not be fading.
The Health Secretary vowed not to compromise the national effort against the disease as Professor Jonathan Van-Tam told the daily Downing Street briefing that while hospital occupancy rates had dipped in in London the picture in other parts of the UK was 'more of a plateau'.
The figures – along with another 828 deaths being declared in the UK – add weight to the arguments of those who want to err on the side of caution despite the devastation being wreaked on the economy.
At this point, Boris Johnson had been released from St Thomas's Hospital from his near-death bout with the virus and was recuperating at Chequers. His wife Carrie, about to give birth to their first child, was with him.
Rifts were appearing as to how long lockdown should last:
Divisions have emerged between Cabinet 'doves' such as Mr Hancock and 'hawks' who believe the NHS has capacity and would prefer to loosen the draconian social distancing measures earlier.
The PM has intervened from his recuperation at Chequers to snuff out speculation about an imminent easing, with Downing Street making clear his priority is avoiding a 'second peak' in the outbreak.
There are reports Mr Johnson's inner circle has stopped using the phrase 'exit strategy' and instead wants to signal a 'next phase' of lockdown, with varying levels of restrictions set to continue for the rest of the year until the virus gets 'close to eradication' or a vaccine is found. Australia has successfully suppressed cases to very low numbers.
Scientists have been telling ministers behind the scenes that control of the outbreak is still so uncertain that even slight changes to the curbs on normal life could result in a disastrous flare-up.
Mr Hancock said tonight: 'We have been clear that we will not risk lives by relaxing the social distancing rules before our five tests have been met.
'First, that the NHS can continue to cope, second, that the operational challenges can be met, third, that the daily death rate falls sustainably and consistently, fourth, that the rate of infection is decreasing, and most importantly, that there is no risk of a second peak.'
The Mail included a photo montage of Cabinet members and this caption of where they stood on the issue:
How members of the cabinet are currently split over the ending of the lockdown. Mr Johnson (top left) and Matt Hancock (bottom left) are classed as 'doves'; Michael Gove, Liz Truss and Rishi Sunak (right, top-to-bottom) as 'hawks'; and Foreign Secretary Dominic Raab (top centre) is among those in the middle, with Gavin Williamson (centre) and Alok Sharma (centre bottom)
Senior Conservative MPs wanted an end to lockdown:
There is no prospect of lockdown measures being eased before the current period comes to an end on May 11.
However, some senior Tories have been pushing plans for an easing soon afterwards, pointing out that the NHS is still below surge capacity and could 'run hot' to limit the economic meltdown.
SAGE clearly wanted lockdown to continue:
Government scientists have been warning that the situation is currently so finely balanced that even marginal loosenings could have disastrous effects.
One Cabinet source told the Guardian the government's advisers on Sage had suggested any easing would push up the rate of transmission – known as R.
The source said: 'The scientists are very clear. There's no loosening of measures we can do that won't bring the R back over 1 …
'We did have an R of about 3. And we've driven that down. But even a small increase in transmission could put you above 1.'
The WHO were adamant that the Western world should remain locked down, even though some of those countries were already easing restrictions:
Dr Takeshi Kasai, the WHO regional director for the Western Pacific, said: 'This is not the time to be lax. Instead, we need to ready ourselves for a new way of living for the foreseeable future.'
He said governments must remain vigilant to stop the spread of the virus and the lifting of lockdowns and other social distancing measures must be done gradually and strike the right balance between keeping people healthy and allowing economies to function.
Despite concerns from health officials, some US states have announced aggressive reopening plans, while Boeing and at least one other American heavy-equipment manufacturer resumed production.
Elsewhere around the world, step-by-step reopenings are under way in Europe, where the crisis has begun to ebb in places such as Italy, Spain and Germany.
By the last week in April, questions were mounting.
On April 23, The Telegraph's Christopher Hope wondered why Hancock didn't take any questions from the media after that day's coronavirus briefing:
The next day, Hancock praised Muslims for their 'sacrifice' in not meeting daily for prayers during Ramadan, but had nothing to say to Christians who could not attend church on the holiest feast of the year, Easter, which remembers Christ's resurrection from the dead. Houses of worship were closed:
Hancock began wearing a prominent CARE lapel badge on television. By this time, he had pledged that a 'protective ring' had been placed around care homes, something he later denied saying.
People found the CARE badge risible.
James Kirkup, writing for The Spectator, defended the move:
Matt Hancock's badge for carers is a perfectly good idea. The mockery of it is in many cases shallow, ill-informed, revealing and hypocritical.
You don't need me to describe the badge or the mockery. Anyone with an internet connection and a glancing familiarity with what passes for 'news' these days is aware that the Health – and Social Care – Secretary announced that the Government is now backing a scheme that encourages social care staff to wear a green badge saying CARE.
Part of the aim is to give care workers the same sort of recognition, esteem and access to services – reserved shopping hours, for instance – as NHS workers.
This is reasonable, necessary and overdue. Part of the UK's social crisis lies in the social care workforce, which is too small and too transient. There are around 125,000 vacancies in social care at any moment, roughly eight per cent of the workforce. Turnover is around 30 per cent, double the average across the UK labour market.
Kings College London surveyed care workers and found that some said that teachers warned their children to do better in school, otherwise they'd end up working in care homes:
In a survey of care workers, the Kings' team found that it wasn't just society as a whole that looked down on care. It was care workers themselves. One of the most common phrases used by interviewees was 'I'm only a care worker'. Many reported that their children had been told if they don't work hard they would end up working in care. 'The lack of esteem has been internalised,' prof Manthorpe said. Our collective disregard for social care has left carers feeling worthless and keen to leave the sector, sometimes for jobs with equally poor wages.
The following year, after Hancock had urged all care workers to be vaccinated, a number of those who refused to do so were either fired or left for hospitality jobs.
John Pilger, writing for The Guardian, rightly predicted that a storm was brewing over PPE contracts and wasted money on testing:
A debate in Parliament took place just recently on the topic. Labour are still furious.
The prediction that came true
Former Conservative MEP Daniel Hannan, now Lord Hannan, predicted exactly what would happen as early as April 5. He was incredibly accurate.
The Express reported:
Economist Mr Hannan warned businesses would "topple like dominoes" if the lockdown remained in force until May, while pointing the finger at Public Health England for the failure to undertake a widespread programme of testing. The ardent Brexiteer, writing in The Sunday Telegraph, said the cost of the restrictions was hard to measure "but no less painful for that". He explained: "One of my university contemporaries, who has a history of mental health problems, has struggled terribly with confinement.
"A neighbour is facing the grimmest of hat-tricks: her business ruined, her house-move frozen and her cancer operation postponed.
"The village osteopath, who went from 300 patients a week to zero when the bans came in, has been forced into insolvency.
"Nationally, a million more people have been pushed on to benefits."
Mr Hannan also scoffed at the assertion stringent measures were required to minimise the number of people dying.
He said: "I am astonished by how many commentators duck these consequences by airily asserting that 'lives matter more than the economy'.
"What do they imagine the economy is, if not the means by which people secure their welfare?
"The economy is not some numinous entity that exists outside human activity; it is the name we give to transactions among people aimed at maximising their wealth, health and happiness."
If businesses – excluding those deemed likely to accelerate infections, such as nightclubs – were permitted to reopen next week, "we might yet escape the worst", he asserted.
However, he added: "If the prohibitions remain in force into May, businesses will topple like dominoes, and a decade of depression will ensue."
And so it came to pass.
To be continued next week.
My most recent post discussed Liz Truss's commitment to libertarianism and the part she played in her own downfall.
At the end, I mused whether she would still be in office were she a man. Having thought about it some more, I do believe that would have been the case. Truss has better morals than Boris Johnson and more integrity than Rishi Sunak. Furthermore, she is far more trustworthy than our de facto Prime Minister, Chancellor Jeremy Hunt. She has flaws. They have flaws.
It is curious that all of them, men, are given a pass. Truss, an honest woman, was not afforded that opportunity.
Let us look at who was out to finish Liz Truss's premiership.
The media
During the summer Conservative Party leadership campaign, most papers — right and left — came out in favour of Rishi Sunak.
Only the Daily Mail and The Telegraph consistently supported Truss. Truss also saw The Sun as a friendly paper, particularly its political editor Harry Cole.
Broadcast media also largely favoured Sunak. Only GB News supported Truss for the most part.
Why that was is unclear.
One could point to Truss's U-turns, evident as soon as the leadership campaign for Party members' votes started, but most of the media — print and broadcast — were already in the tank for Sunak when Conservative MPs were still voting in July.
On November 16, veteran columnist Andrew Gimson wrote about the media outlets covering Parliament, known as the 'lobby': 'Lobby journalism holds power to account. But it's often cruel, trivial — and unfair'.
Guido Fawkes liked what he had to say:
Gimson's article for ConservativeHome discussed the attacks on other Conservative ministers in Rishi Sunak's Cabinet. Suella Braverman, Home Secretary once again, is one of them and Justice Secretary/Deputy Prime Minister Dominic Raab is another.
Gimson says that journalists find their witch hunts as exhiliarating as blood sports (emphases mine):
Hunting is reckoned to improve the health of the fox population.
That is not, however, why people want to hunt them. They yearn to do so because it is a wonderful, exhilarating sport.
Forget for a moment any impulse to moralise. High-minded theories are all very well. Politics as actually practised is a blood sport.
Dominic Raab, Gavin Williamson and Suella Braverman are or were the most recent quarry, closely preceded by Liz Truss and Kwasi Kwarteng, before which a blond beast rampaged across the political landscape for three years with excited members of the Westminster lobby in close pursuit.
Four of the six were hunted down, while Raab and Braverman have so far (with intermissions) survived, but might at any moment find themselves once more in mortal danger.
The lobby is trained and ready at a moment's notice to follow any scent, no matter how faint, rival correspondents for different newspapers acting as a pack of hounds, each leaping at whichever politician is the hunted animal, drawing blood and emboldening the others to fresh frenzies of aggression …
It is impossible, if one is a lobby correspondent at Westminster, to stand aside from the full-blown crisis which rages, and any case, few experiences are more exhilarating than to be in at the death of a Prime Minister.
Every journalist, indeed everyone in the slightest bit interested in politics, will remember the first time he or she witnessed such a drama: in my case I was lucky enough in November 1990 to be in the Press Gallery to watch the fatal resignation speech delivered by Sir Geoffrey Howe, and 19 days later was in the crammed Committee Corridor on the evening it was announced amid almost unbearable excitement that Margaret Thatcher had fallen four votes – four votes! – short of beating Michael Heseltine by the necessary margin in the first round.
Such crises becomes all-consuming. You surrender yourself to the experience, and nothing else seems to matter. If you are a reporter, your news editor and editor demand constant reports from the front, and you want to distinguish yourself by revealing dramatic new charges, whether solid or flimsy, against the embattled minister, rather than just repeating what your rivals have said.
Such work requires the ruthless expertise to spot in an instant the two or three words in some dreary speech or answer which can be held to constitute a new development. The lobby are brilliant at this: they see the new angle, the incriminating admission, where a normal person would notice nothing.
News becomes an artificial commodity, an esoteric language only comprehensible to highly intelligent and practised correspondents, who translate it into the latest thrilling episode of a story which is intelligible to the dimmest of us, for it is as old as history: will the ruler live or die?
This question of life and death simplifies everything, and lends it a personal flavour. Does one like the look of whichever minister is just then being hunted, and hope he or she will get away? Or would one much rather see him or her bumped off?
The tyranny of the story extends to the comment pages. Leading articles and columns are written for or against the hunted person, most likely against, for it is much easier to write a vivid piece denouncing a politician for being disreputable than to compose a vivid defence.
In order to purify public life, the offending minister must be drummed out of it. Nothing which might serve this noble end is too cruel to be said; too piffling to be taken down and repeated.
Let the victim and his or her family cope as best they can. It would be wrong to spare them the full blast of public disgust. We find ourselves in a primitive world where human sacrifice is demanded; not in a rational one where events can be weighed and assigned their due importance, or unimportance …
There is a deep satisfaction to be derived from getting rid of a Prime Minister, so deep that we have in recent years got rid of three. For a short time, very short in the case of Liz Truss, we allow them to triumph, before restoring equality, for which all democracies have a deep yearning, by dragging them down with brutal abruptness to our own level …
What the lobby does, or helps Conservative politicians to do, is the modern version of an ancient and savage tradition. All else is forgotten while the tribe slays its chief.
And no tribe is better at slaying its chiefs than the Conservative Party.
Afterwards, some enemies of the prey express their empathy for the slain, such as Jenny Murray did for Truss on October 27 in The Mail. Murray's headline read 'I never expected to feel sorry for Liz Truss' and, upon closer inspection, she doesn't really feel sorry at all. She uses the piece to lick her own wounds after retiring from the BBC at the age of 70:
I was not sorry to see her go. Her short time in power was a disaster.
I'd known her professionally for a good few years and had often found her a bit weird with her oddly truncated speech patterns, bizarre facial expressions and apparent lack of emotional intelligence. She was no public speaker and I certainly never saw her as Prime Ministerial material.
In that I was right, but despite her self-serving, unapologetic final speech and her typically arrogant and selfish, 'Well at least I've been Prime Minister!' goodbye, I can't help sympathising with what she has to face next.
As an ordinary constituency MP, she'll join what I have dubbed, from bitter personal experience, the 'Once I Was Hot, But Now I'm Not,' club. I know she'll be asking herself, 'Who am I now?'
It's two years since I left the job that defined me for 33 years. I was Jenni Murray, presenter of Radio 4's Woman's Hour.
It had been my greatest ambition since childhood. I'd presented Newsnight and Today, but the moment I heard the announcer first say on Monday, September 14, 1987, 'And now Woman's Hour, with Jenni Murray' remains the most thrilling of my life.
I loved every minute of those 33 years and, unlike Liz Truss, I was not forced out of my position (though even when you leave a top job of your own volition, it doesn't stop others speculating). I made the choice to leave as my 70th birthday came and went.
So, nothing like Liz Truss after all. The rest of Murray's lengthy column is all about herself. Sickening.
On a positive note, I was surprised to read that Andrew Neil, normally a supporter of the status quo, supported Truss and Kwarteng's mini-budget just after it was announced in Parliament:
After 12 years of Tory government we finally get a Tory budget. Yesterday's not-so-mini-budget was a watershed event, taking the country in a new economic direction and creating clear blue water between government and opposition.
The Tory faithful couldn't quite believe it. Labour struggled to grapple with its implications. The political dividing lines will now be starker and fiercer than they've been for a generation.
No more tax rises by stealth (or, more recently, in plain sight). Or endless, futile tinkering with the minutiae of spending and taxation to give voters a false impression of constructive activity. Or the relentless doling out of taxpayers' dosh to whatever fashionable vested interests managed to catch ministers' attention.
Instead, Prime Minister Liz Truss and her Chancellor, Kwasi Kwarteng, junked all of that in favour of one overriding economic priority: higher economic growth. Many of the verities of Britain's economic establishment have been slaughtered in the process …
Scrapping next April's planned rise in corporation tax (on businesses' profits) won't win any popularity contests outside company boardrooms. But an essential part of Britain's post-Brexit future is surely to be a magnet for foreign investment. Whacking up the country's key business tax was a strange way of going about it …
New ways require new justifications. The Treasury estimates that abolishing the 45 per cent top rate of income tax will cost £2 billion a year.
This is a typically static official calculation. If it results in more top earners declaring their income in Britain, then it could soon more than pay for itself.
Ditto bankers' bonuses. The cap is a relic of EU regulation. Banks simply increased pay to compensate for reduced bonuses, thereby making their compensation costs more fixed and less flexible.
Frankfurt, Paris and Amsterdam have tried hard to lure our financial services away from the City since Brexit, with only limited success. Bonuses in those centres are still capped. London now has the advantage.
And, remember, with the new top rate of tax at an internationally competitive 40 per cent, every £1 million banker's bonus is £400,000 more for schools and hospitals …
… for more than a decade now I've watched chancellors take tough, painful decisions on tax and spending based on OBR borrowing forecasts that turned out to be huge over-estimates, so much so that in retrospect neither the tax rises nor spending cuts were necessary.
Indeed, as Truss attempts to take the country in a new, less orthodox direction, I'd argue that it's a blessing that she's been able to do so unencumbered by the OBR's dubious forecasting.
We'll get the OBR's latest workings in two months anyway, when it might have a better idea of what 2023 will look like. Nor are we entirely in the dark. The Treasury says the tax cuts and energy price cap measures will increase borrowing this year from £162 billion to £234 billion — an extra £72 billion.
The IFS thinks we'll still be borrowing £100 billion a year through the middle years of the decade.
These figures have spooked the markets. The pound continued its decline against the dollar after Kwarteng's statement and the yield (or interest rate) on short-term government debt rose to close to 4 per cent, making it a lot more expensive to borrow than only two years ago, when it was 0.4 per cent.
These are real constraints on the Government's ability to borrow even more. A falling pound merely fuels inflation, especially when it comes to imported energy, which is priced in dollars.
Interest rates are already rising. If excessive government borrowing forces them even higher, that will merely choke off the economic growth the Government so desperately seeks.
There's another factor at work here. The global currency and debt markets have had a 'down' on Britain for some time. It's not clear why. Britain's debt-to-GDP ratio is among the lowest in the G7 club of big economies. Our budget deficit is on a par with many other major economies. Economic growth is anaemic — as it is everywhere, from the Eurozone to America to China.
I suspect it's a Brexit hangover. The publications global market players read most closely include the New York Times, the Economist, the Financial Times and leading European papers such as Le Monde and the Frankfurter Allgemeine Zeitung. All — and others like them — have been relentlessly negative about Britain since the 2016 referendum …
It is said she's taking a great gamble. That's true. But sticking with the failed policies of the recent past was probably an even a bigger gamble. The stakes are certainly high.
If by this time next year the economy is still in the doldrums, then it's not just Truss who will be finished. So will any prospect of the Tories winning the next election.
Read it and weep. We are back to square one.
There is much that the media didn't tell us about the global picture of economic pandemonium.
Early in the week following Kwarteng's mini-budget, US mortgage rates went up to 7%:
The EU's average deficit is worse than the UK's: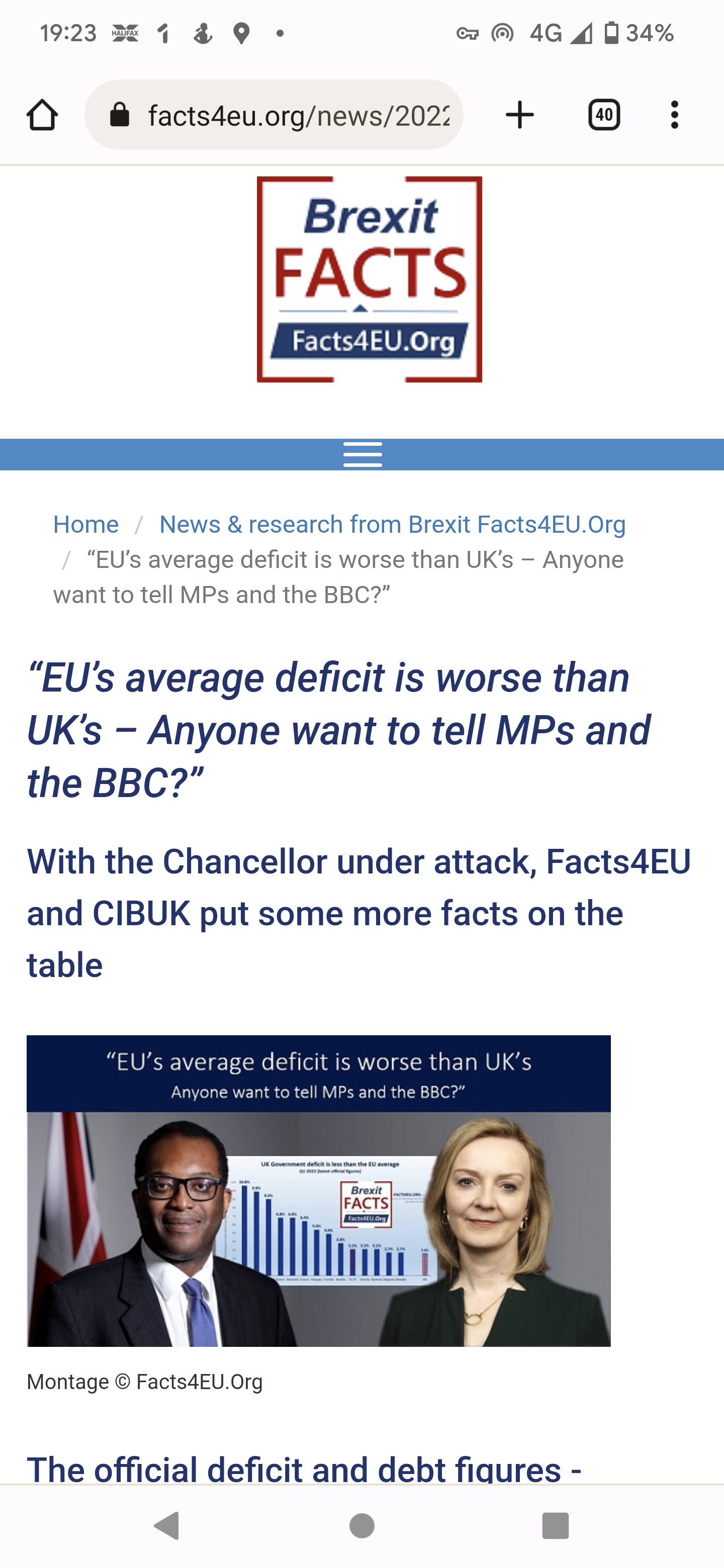 At the end of October, by which time Truss had gone, inflation in the Euro zone increased to 10.7% as growth slowed:
At the beginning of November, a Fed hike caused sterling to trade below £1.13 against the dollar:
And, finally, within three weeks of becoming Prime Minister, Rishi Sunak made new spending commitments, pledging billions to the world. This graphic appeared on November 7: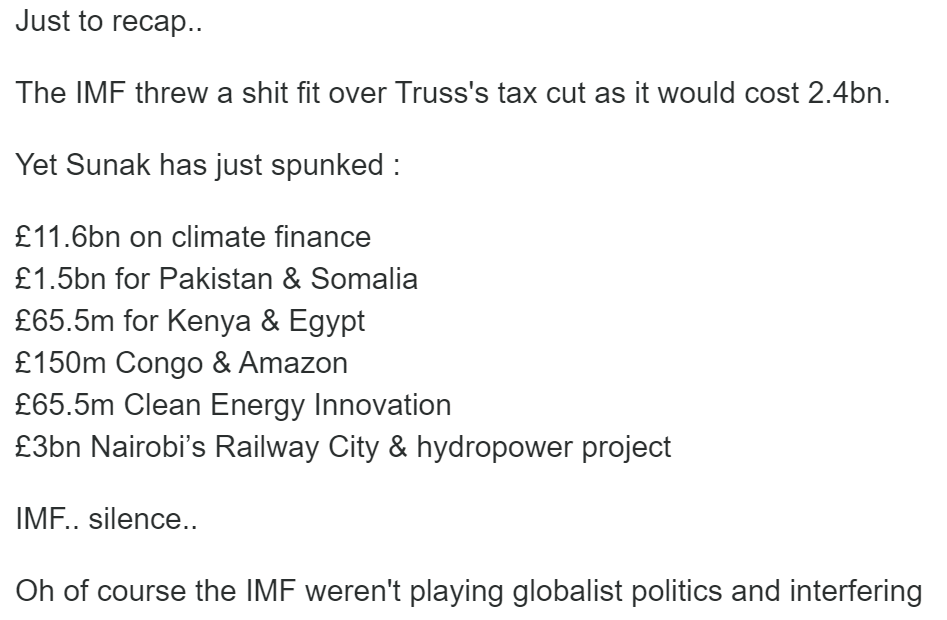 Objection from the media came none.
Conservative MPs
On October 20, in the immediate aftermath of Truss's stoic resignation, The Sun gave us the reaction from three Conservative MPs:
Responding to today's bombshell announcement, former minister and Red Wall poster boy Neil O'Brien tweeted: "The next PM must return to the national conservatism represented by our election winning 2019 manifesto and put us back on the side of normal working people."
If anyone was going to have done that, it would have been Truss, for whom Party members voted in the majority. Sunak and Hunt certainly aren't on the side of 'normal working people': tax 'em until the pips squeak.
Next up was Steve Baker, now an apologetic Northern Ireland Minister:
Brexit hardman Steve Baker urged colleagues that whatever the result, "we must accept and back the new Prime Minister".
Millions of us wish he had shown the same allegiance towards Truss.
The only one to say anything complimentary was Greg Hands, who served as an International Trade Minister:
He said:
A dignified exit as Prime Minister from Liz Truss. A difficult day for the country, the Party and for Liz personally.
She wasn't long as PM, but served at the Cabinet table longer than any of her three predecessors. She has long served the country – and I wish her very well.
At least Truss wasn't removed from the top table Chinese-style:
On October 27, one week after Truss's resignation, The Telegraph's Matthew Lynn said that backbench Conservatives just could not bring themselves to support Truss's economic plan, which Kwasi Kwarteng fronted.
In other words, Conservative MPs shy away from libertarianism, even though I think it would do the UK a lot of good:
The timing, to put it mildly, was unfortunate. It was a difficult transformation to pull off at the best of times, but against the backdrop of rising inflation and an out-of-control dollar, it was doubly difficult. 
Truss's programme did not have the necessary support within the Parliamentary Conservative Party either. Massive opposition from Labour, the Scottish Nationalists, and the Twitter mob was to be expected. 
But very few MPs were willing to support the plan, and without that backing it was always going to be hard to push through. Even before it got on to the genuinely difficult stuff – investment zones, planning reform, the green belt – the opposition was overwhelming. 
The Bank of England
Matthew Lynn points the finger of blame at the Bank of England (BoE):
… the real failure of Trussonmics may well have been the fault of the Bank of England. As Narayana Kocherlakota, a former President of the Minneapolis Fed, and now Professor of Economics at New York's Rochester University, argued in an opinion piece for Bloomberg this week, it was the Bank's failure to support the gilt market that killed the plan. 
"The way the Truss government collapsed should concern all who support democracy," he warned. 
In his Bloomberg article of October 26, Narayana Kocherlakota defended Truss and criticised the BoE:
Markets didn't oust Truss, the Bank of England did — through poor financial regulation and highly subjective crisis management.
… Truss won the leadership of the Conservative Party, which the UK electorate had voted into power, by promising a range of deep tax cuts and government spending increases. Whatever one might think of her policies, they were her mandate. I agree with the many observers who expected them to lead to higher inflation, higher interest rates and quite possibly higher unemployment. But such adverse outcomes take months and years to play out. Her government fell in a matter of weeks. How could this happen?
The common wisdom is that financial markets "punished" Truss's government for its fiscal profligacy. But the chastisement was far from universal. Over the three days starting Sept. 23, when the Truss government announced its mini-budget, the pound fell by 2.2% relative to the euro, and the FTSE 100 stock index declined by 2.2% — notable movements, but hardly enough to bring a government to its knees.
The big change came in the price of 30-year UK government bonds, also known as gilts, which experienced a shocking 23% drop. Most of this decline had nothing to do with rational investors revising their beliefs about the UK's long-run prospects. Rather, it stemmed from financial regulators' failure to limit leverage in UK pension funds. These funds had bought long-term gilts with borrowed money and entered derivative contracts to the same effect — positions that generated huge collateral demands when prices fell and yields rose. To raise the necessary cash, they had to sell more gilts, creating a doom loop in which declining prices and forced selling compounded one another.
The Bank of England, as the entity responsible for overseeing the financial system, bears at least part of the blame for this catastrophe. As a result of its regulatory failure, it was forced into an emergency intervention, buying gilts to put a floor on prices. But it refused to extend its support beyond Oct. 14 — even though its purchases of long-term government bonds were fully indemnified by the Treasury. It's hard to see how that decision aligned with the central bank's financial-stability mandate, and easy to see how it contributed to the government's demise.
The way the Truss government collapsed should concern all who support democracy. The prime minister was seeking to fulfill her campaign promises. She was thwarted not by markets, but by a hole in financial regulation — a hole that the Bank of England proved strangely unwilling to plug.
Two days before Truss resigned, Daniel Lacalle wrote an article for Mises Wire: 'The Bank of England Made Liz Truss a Scapegoat'.
Lacalle points out that economic turmoil was worldwide, something not reported widely in the British media. No surprise there:
I find it astonishing that not one of the so-called experts that have immediately placed the cause of the British market volatility on Liz Truss's budget have said anything about the collapse of the yen and the need for Bank of Japan intervention, which has been ongoing for two weeks.
Why did so many people assume the Truss minibudget was the cause of volatility when the euro, the yen, the Norwegian krone, and most emerging market currencies have suffered a similar or worse depreciation versus the US dollar this year? What about the bond market? This is the worst year since 1931 for bonds all over the world, and the collapse in prices of sovereign and private bonds in developed and emerging market economies is strikingly similar as those of the UK fixed income peers.
He blames British pension funds' liability-driven investing (LDI) strategies on the abuse of quantitative easing (QE) over the years. Who was in charge of that? The BoE.
Lacalle wrote while Truss was still Prime Minister:
British pension funds are not selling sovereign bonds because of lack of trust in this or another government's budget. They are selling negative-yielding sovereign bonds because they jumped wholeheartedly into the debt bubble created by artificially cheap money believing that central banks would keep fixed income prices elevated with constant repurchases.
British pension funds' unfunded liabilities are not a problem caused by the mini budget nor solely a UK problem. It was an enormous problem in 2019–20 disguised by insane currency printing. Unfunded global liabilities for state pension funds in the US were already $783 billion in 2021 and rose to $1.3 trillion in 2022 according to Reason Foundation. The funded ratio of state pensions was just 85 percent in 2021 and has fallen below 75 percent in 2022.
What happened in the years of negative rates and massive currency printing? Pension funds used liability-driven investing (LDI) strategies. Most LDI mandates used derivatives to hedge inflation and interest rate risk. And what happens when inflation kicks in and rates rise? "As interest rates have risen, the notional value of some of the derivatives held in LDI portfolios has fallen. The result: increased collateral calls. The speed at which rates have risen means some pension plans have had to liquidate portfolios to meet collateral calls" according to the Investment Association's latest report in September and Brian Croce at Pensions and Investment.
The total assets in LDI strategies almost quadrupled to £1.6 trillion ($1.8 trillion) in the ten years through 2021. Nearly two-thirds of Britain's defined benefit pension schemes use LDI funds, according to TPR and Reuters. Liz Truss and Kwasi Kwarteng are not to blame for this insanity. The policy of negative real rates and massive liquidity injection of the Bank of England is. Kwarteng and Truss are only to blame for believing that the party of policies of spending and printing defended by almost all mainstream Keynesian economists should work even when the music stopped …
Liz Truss and Kwasi Kwarteng are not to blame for the insanity of the past years or Rishi Sunak's ultra-Keynesian budgets. They are only to blame for believing that another dose of Keynesian deficit insanity would not harm.
Mr. Kwarteng's demise is just a casualty delivered by the modern monetary theory crowd and the monetary laughing gas city to justify that the problem was a ludicrous tax cut not years of currency printing and deficit increases.
What has happened in the UK or Japan is likely to happen soon in the eurozone, which accumulated more than twelve billion euro of negative-yielding bonds in the years of cheap money and reckless stimulus plans.
Liz Truss is not to blame for twenty years of monetary insanity and fiscal irresponsibility. She is to blame for a budget that increases spending without cutting unnecessary expenses.
The irony of it all is that the defenders of monster deficits and borrowing if it comes from bloating the size of government feel vindicated. It was the evil tax cuts!
The political analysis of the mini budget is astonishing. No one in the UK parliament sees any need to cut spending it seems, yet those expenses are consolidated and annualized, which means that any change in the economic cycle leads to larger fiscal imbalances as receipts are cyclical and, with it, more currency printing. The assumption that raising taxes will generate perennial annual increases in receipts no matter what happens to the economic cycle can only be defended by a bureaucrat.
Well, Rishi Sunak and Jeremy Hunt are those bureaucrats.
There are global players in pension fund management, BlackRock being one of them, as The Conservative Woman revealed on October 27:
BlackRock is heavily involved in the charity sector, managing over £4.5billion for more than 3,000 UK charities alone. 'Sustainability', food security and renewable energy rank very highly in their priorities in that sector.
The role of BlackRock in the recent selling off of derivatives by UK pension funds, said to be behind the triggering of a fall in sterling following the ill-fated Kwasi Kwarteng mini-Budget, is an intriguing one. BlackRock executives would defend their actions by stating they were merely protecting clients who were financially overcommitted in that sector and that pension fund managers ought to have known the risks involved in leveraged investment strategies in the first place, and that there is far more to that type of riskier investment than just following trends. Either way the political fallout was profound, triggering a chain of events which led to the fall of Prime Minister Liz Truss. BlackRock executive defends pensions strategy that fuelled UK crisis
Interestingly, Jeremy Hunt has appointed a BlackRock executive who is pro-Net Zero and anti-Brexit as one of his chief advisers:
A business with the financial resources of BlackRock will naturally attract well-connected people to its payroll. People such as Rupert Harrison, chief of staff to Chancellor George Osborne from 2006 to 2015. An opponent of Brexit, he tweeted in July 2017 that 'the rest of Europe is booming and we're not'.
Intriguingly, Harrison is now one of new Chancellor Jeremy Hunt's most senior advisers. On the surface, Hunt seemed to have been parachuted in from nowhere, having failed in two leadership elections and spending more than two years on the back benches, yet from the moment he was appointed he already had a highly expert team, including Harrison, ready to start at once and acting promptly with great self-assurance as though he knew he already had the backing of those who really matter.
However, Conservative Party members are unhappy with Hunt and Sunak's economic policy based on higher taxes, which are, in reality, much higher than they read on paper. This poll is from November 29:
Guido Fawkes wrote (emphases his):
The Tory membership doesn't support their own government's economic policy, according to the latest Conservative Home panel poll. Opposition stands at 48.78% and support at 41.87%. 9.35% don't know. 
It can't come as much surprise. As Rishi's supporters point out, he was warning of the consequences of Liz Truss's policies during the summer contest, and the membership still voted for Liz's low tax package. Support at 41.87 is actually 0.8% lower than Rishi received from the members during the summer…
Let us return to the BoE.
In the December 2022/January 2023 issue of The Critic, Jon Moynihan published 'How the Bank broke the Government', which refers to Narayana Kocherlakota's aforementioned article for Bloomberg and expands on the use of LDIs in pension fund management:
Kocherlakota's view was that the Bank of England was responsible for the crisis, through "poor financial regulation and highly subjective crisis management". Outside the UK chatterati, this view is widely supported.
The beef against the mini-budget was that it spooked the market. But virtually all of the policy announcements made by Kwasi Kwarteng on the day were not new; they had been pledged during the Truss campaign or — in the case of the energy price guarantee — confirmed shortly after her arrival in Downing Street. 
Sure, the mini-budget stated that clarifying how all the spending/lowered tax revenue would be paid for was to be put off until the later financial statement, due some weeks later. But the only new thing was the change to the top rate of income tax from 45 per cent to 40 per cent. 
Given the well-known dynamic impact of lowered tax rates, this change would arguably have been revenue neutral or even beneficial; even without any dynamic benefit, it could have cost at most £2 billion in tax revenue. That is a rounding error compared to the amounts already absorbed by the market and a fraction of the costs Rishi Sunak has accepted at COP 27 — to which the markets have reacted entirely complacently. It is just not credible to blame the mini-budget for the market turmoil.
Moynihan explains more about how LDIs work:
The prime obligation of a pension fund is to match its assets (the money it uses to make payments) to its liabilities (the payments it expects make to its pensioners over the years). For a fund to be as sure as it can that it will be able to pay its future pension liabilities, it buys assets whose coupons and maturity match its (actuarially expected) future pension payments.
So far, all well and good. The problem is with LDI funds. These, like so many pension funds these days, use gilts to accomplish that matching (in a popular meme of the past couple of decades, "gentlemen prefer bonds"). However, in addition the idea has been sold that they can goose up their returns a bit, to compensate for the low yields they are getting on their gilts. 
This little bit of extra profit is accomplished by borrowing some further money, short-term, and with it buying long, higher-yielding assets — either real assets, or derivatives. It's a well-known and always risky bet on interest rate movements; in some markets it's known as the "Carry Trade"; in the Japanese markets it's known as the "Widow Maker". It's entirely inappropriate for "safe" pension funds. 
If rates move against the bet, the bet sours. To cover the risk they are taking, the funds are required to give over their other assets (the gilts) as collateral to the bank that lent them the money. 
When the bet sours, the bank that lent them the money "calls the collateral", selling off the gilts in order to repay the borrowing … a wave of such sales can destabilise the gilts market and create a disorderly environment, as happened in late September 2022.

Some would say that the Bank of England should have known all of this and not allowed such risk to be taken by this huge market in LDI funds. Some would raise an eyebrow at the news that until the middle of 2022, the Bank of England itself held 100 per cent of its £5 billion pension fund in just one single LDI Fund, and therefore blithely seemed to believe it was OK for such risks to be taken (their 100 per cent recently was reduced to a scarcely less concerning 82 per cent).
For whatever reason, the Bank and other regulators did allow LDI funds to become more and more the fashion … The total value of liabilities hedged with LDI strategies was $1.8 trillion in 2021, around half of the total of LDI funds in the world, a sure sign that the Bank Of England had been far too lenient in allowing LDIs to flourish in the UK. That is Strike One.

Why then did the LDI funds start collapsing specifically in late September? It starts with the rapid appearance this year of inflation, caused in no small part — as the Bank has finally admitted — by the bank's excessive growth of the money supply in recent years. As inflation consequently shot up, so, all year, did gilt yields rise, putting increasing pressure on those rickety LDI funds. That is Strike Two against the BoE for its role in worsening inflation in the UK, leading to this instability.
Two days before Kwarteng delivered his mini-budget, Saxo Bank and Deutsche Bank correctly predicted a fall in sterling.
Saxo predicted:
"If the BoE fails to hike 75 basis points, let's shield our eyes for what is going to happen to the pound here." (They were predicting a fall in sterling, which duly happened. Low sterling leads to higher inflation leads to higher gilt yields.) 
Deutsche Bank said that the BoE needed a 'hawkish response'. It never materialised.
In the end:
Both Deutsche and Saxo were right. Only days after the Bank failed to step up to the 75 basis points mark, sterling momentarily dropped to $1.04, just as Deutsche had predicted — yet for reasons that remain to be explained, the drop was blamed on the mini-budget, not on the Bank's failure to sufficiently raise rates. The failure to raise rates enough, two days before the mini-budget, is Strike Three.
In addition, the BoE announced a fortnight-long programme of selling £40 billion of gilts, which ended in mid-October.
In other words, it moved from QE to QT, quantitative tightening.
Reuters noted the BoE was the first central bank to do that, at least in recent years. Bloomberg called the move 'historic' for the same reason:
In 2013, all it had taken was the Fed to announce it was doing less QE — not stopping, just doing less — for the markets to go into a "Taper Tantrum".
Ever since, most central banks have been cautious not to move too fast in shutting down their QE. But not the BoE. Why did it see itself as in a position to be the first in the world to take this very risky step, aware as they were that the mini-budget was about to be announced?
Not surprisingly, the markets responded:
… market participants move fast to get ahead: they quickly sell their own bonds before their value is hammered by the BoE sales. Yields immediately go up and the price of bonds immediately falls. Which is why it was — Strike Four — stupid for the central bank to announce its moves ahead of time: it's like the time that Gordon Brown announced he was selling all our gold, and the price collapsed so he made much less from the sale. But now the LDI pension funds started to get really hammered: as the market moved to dump gilts, the price of gilts fell and fell — this is still before the mini-budget — and collateral calls began to come thick and fast on the LDI funds.
The doom loop began:
And even more collateral calls then came in, and we were in an accelerating doom loop. All this was happening as the mini-budget was announced, and the lazy financial press, not seeing what had happened earlier, blamed the rout in the gilts market on the mini-budget. But it was started by the Bank of England's earlier decision to go full tonto QT. Strike Five.
Cue the headlines that Liz Truss 'crashed the economy', to borrow Labour's words, which they are still using in Parliament:
The Prime Minister is accused the following day of destroying the economy.
The BoE backtracked immediately, announcing it would move from QT back to QE:
The Bank of England, of course, immediately announces that it is not after all going to sell £40 billion of gilts — it is going to buy £60 billion of them — back from QT to QE in a blink of the eye. 
Of course, by then, it was too late for Truss and Kwarteng. Their collective goose was well and truly cooked:
… by now the gods of havoc have been unleashed. Truss's enemies in the Conservative party get to work, using the mini-budget narrative to undo the mini-budget, to oust the Chancellor, and finally to oust the Prime Minister herself. Job Done. 
The BoE defended its actions:
The post-mortem speech by the Bank's director for financial stability, entitled "Risks from leverage: how did a small corner of the financial industry threaten financial stability?" makes for interesting reading; in this telling, the Bank staved off a crisis from what, for anyone, would have been an unexpected direction, dealing more than adequately with the non-bank sector. If anything, the director claims, the UK was ahead of the curve!
As for the current Sunak-Hunt government, Jon Moynihan has also noted the presence of David Cameron's Chancellor and the former BlackRock executive:
George Osborne and Rupert Harrison, late of BlackRock, the UK's second largest provider of LDI funds, are now advising the new government.
Moynihan ends his article by pointing out that the BoE's governor, Andrew Bailey, has the nickname of 'Lullaby' because he tended to doze off during meetings in a prior position:
As head of the Financial Conduct Authority from 2016 to 2020, he saw first-hand the sort of shenanigans firms and funds will get up to if, pressed by smooth talking salesmen, they are given the freedom to act as they will.
It has been alleged that while in that role, Bailey "dozed off" during meetings over a pensions scandal. Now, the organisation he runs is accused of being asleep at the wheel on LDI pension funds, not to mention on inflation, the currency, the stability of markets.
It looks like the BoE's laxity led to the fall of a government:
All that led to the end of a government, in a way that will continue to reverberate, to the detriment of many people's view of democracy in this country, for decades to come.
What the British think
Only last week, on November 23, IPSOS published a poll saying that politicians are the least trustworthy of working Britons. Pictured alongside Rishi is a very young Piers Morgan when he edited The Mirror. Journalists have a trustworthiness rating of 29%, compared to politicians in general at 12%:
Guido has the full chart of occupations participants were asked to rank in order of trustworthiness:
Hardly unsurprisingly, public trust in politicians to tell the truth has fallen to its lowest level ever, according to the latest Ipsos poll. Just 12% of the public now trusts politicians to tell the truth, lower than advertising executives (14%) and government ministers (16%).
Unfortunately for journalists they don't fare much better, at just 29% – one percent above estate agents…
Nurses and doctors ranked the highest at 89% and 85%, respectively.
Television news readers ranked at 58%, above clergy/priests and the man in the street, both of which tied on 55%.
Conclusion
On November 22, roughly one month after Truss resigned, Dan Wootton did a follow up on GB News.
Nigel Farage told him:
Hunt was the coup. Sunak is little more than a puppet.
Wootton also interviewed Ranil Jayawardena, who served as Secretary of State for DEFRA, the Department of Environment, Food and Rural Affairs. He was very gracious and didn't want to get into any controversies. Wootton, who was a big Truss supporter, wanted to know how both of them were faring. He said that they were fine.
I'm including the nine-minute interview here just so you can hear Ranil Jayawardena's voice. He should record audio books in his retirement. Someone in the comments to the video said that he sounds like Boris. He sounds a thousand times better than Boris. This is received pronunciation, rarely heard today in such mellifluous tones:
The Liz Truss saga ends here.
I fear the worst, for the Conservative Party and for the British.
End of series
My most recent post on Liz Truss explored the background to her final week in office as Conservative Party leader for 44 days.
She remained Prime Minister until Rishi Sunak took over and was in post for 50 days.
The book
On Thursday, November 24, 2022, Out of the Blue, the biography of Liz Truss by The Sun's Harry Cole (right) and The Spectator's James Heale (left), went on sale:
They had to frantically rewrite parts of it and add the sad denouement:
The Guardian's Gaby Hinsliff gave it a good review, considering that The Sun and The Spectator are not aligned with the paper's politics:
More excerpts from Hinsliff's review follow (emphases mine):
… Liz Truss was also the first [Prime Minister] to unravel almost faster than a biographer can type. She quit eight days before the Sun's political editor Harry Cole and Spectator diarist James Heale were due to deliver a portrait already being written at breakneck speed, and for a book to emerge at all in the circumstances arguably represents something of a heroic technical achievement. True, the writing is clunky in places. But nobody is going to be buying this book for its literary elegance; the point is to rubberneck at what remains of the crash site, and if that isn't what Cole, Heale or most of their interviewees originally intended to deliver – well, life comes at you fast in British politics nowadays.
Then comes the bit in the tweet about the book being of two parts.
The review introduces tantalizing details into Liz's life, past and present, that are in the book:
Most of the clues as to what went wrong however lie in the first part, a very readable gallop through Truss's childhood as the daughter of Guardian-reading, mildly eccentric leftwing parents, via her political awakening at university – first as a free market Lib Dem, then as libertarian Conservative – right the way through to her stint as foreign secretary, careering round the world in pursuit of the perfect Instagram shot. (It was during this stage that her ministerial "rider" was said to include multiple espressos in a flat white-sized cup and a bottle of sauvignon blanc chilling at every overnight stay.)
I was intrigued by Truss's mother, Priscilla, who briefly moved to eastern Europe in the 1970s to "try out life under the communists", took her children on Greenham Common protests and made herself a bright yellow banana costume in which to promote fair trade back home in Leeds. When Truss recalls schoolmates shouting "saw your mum in Tesco's dressed as a banana again", other 70s children of free-thinking parents may understand her seeming obliviousness to criticism a little better. You don't grow up with a banana-clad mother, I suspect, without developing a certain sturdiness.
The book shows Truss's self-belief from the time she entered Parliament in 2010, when David Cameron became Prime Minister:
Obliviousness isn't always a blessing in politics however, as becomes clear in her first job as early years minister under David Cameron. Truss had hatched a plan to cut childcare costs by slashing the number of adults required to supervise children, which unsurprisingly proved controversial. Instead of patiently trying to build public and political support for it, she simply put her head down and charged – much as she would a decade later with her mini-budget, and about as successfully. All young politicians make mistakes. What's unusual about Truss is that the lesson she seemingly took from hers was to believe in herself even more, and listen to others even less …
But it's perhaps significant too that she had got away with so much in the past, leading to an overconfidence about her ability to wing it – as she did even in the early days of her leadership campaign.
Interestingly, a Conservative plan to expand the number of adults who can care for children was debated earlier this month. It would allow people to mind children in their own homes rather than at a day care centre.
As with anyone else, there are darker sides to Truss, most of which will never be fully known. Cole and Heale were unable to interview her a third time for the book:
The authors recount sympathetically the well-trodden story of how an earlier extramarital affair with the married former Tory MP Mark Field nearly wrecked Truss's search for a parliamentary seat, rightly noting the double standard that it never seemed to damage Field. But they also touch on some of the more explosive smears circulated about her during the leadership contest – including claims of an affair with an aide, allegations of predatory behaviour towards staff, and even one wild suggestion that there might be a sex tape of her in circulation. The authors interviewed her twice but their planned third session was canned when she resigned, so perhaps they simply never got to put these to her.
As to how things went wrong, perhaps she should have listened a bit more to others:
Despite his professional closeness to Truss, Cole and his co-author strive to put some distance between them in their final reflections on where it all went wrong. Putting aside her own fear, reportedly expressed to a visitor to the Foreign Office, that "I am weird and I don't have any friends", plausible theories for her implosion include that vaulting self-belief (even in her post-resignation speech to staff, she was still insisting she'd been on the right track) and determination to put the wrong people in cabinet.
How to read the books on Boris and Liz
In addition to a book on Truss, there is also one about Boris Johnson, by the Financial Times's Sebastian Payne.
How can one read both in chronological order?
Harry Cole says to read the first ten chapters of Out of the Blue, then Payne's biography of Boris, then end with the final four chapters of Liz's biography:
An MP writes
Recently, Simon Clarke, the Conservative MP for Middlesbrough South and East Cleveland who served as Secretary of State for Levelling Up, Housing and Communities in Liz Truss's Government, and before that as Chief Secretary to the Treasury under Boris Johnson, wrote an article for the December 2022/January 2023 edition of The Critic on Truss's premiership: 'How did it all go so wrong for Liz Truss?'
Simon Clarke is one of the better Conservatives, in my estimation. He is diligent, good at the despatch box and is self-effacing. He is also very tall and, as such, when pictured with Rishi Sunak, walked some distance behind him so as not to accentuate the difference in height between the two of them.
Clarke begins his article with a weekend at Chevening, the Foreign Secretary's country residence, and concludes with Truss's last one at Chequers, as she closed out her premiership:
From Chevening to Chequers. For me, two weekends, eight weeks apart, will forever bookend my friend Liz Truss's time as prime minister. The first, a wash of August Bank Holiday sunshine over the Kent countryside. Walking the grounds of the Foreign Secretary's home with her on one of the last days of a leadership contest she had already won, listening as she outlined her vision for government, stalking ahead impatiently through the yellowing grass.
The second, an October Sunday in Buckinghamshire, an afternoon of bruised clouds and close heat foreshadowing the storm which broke as we dispersed. A small circle of family, ministers and aides, gathered in the Great Hall to say goodbye. A day defined by the quiet dignity and absence of self-pity of its principal protagonist, entirely typical of our host.
These memories are appropriate, because so much of what happened in between was decided at Chevening in the dog days of August.
Clarke has read Out of the Blue, which he liked, calling it:
a brisk and insightful canter through Liz's career and the forces that shaped her …
In four breathless chapters at the close of their book, Heale and Cole do a good job of unpicking what went wrong, and why.
However, Clarke is disappointed they did not reach the conclusion he did — that Truss was right all along:
they largely decline to address an inconvenient truth — a truth perceived by those much-maligned Tory members all summer. Namely that in her diagnosis of the situation at home and abroad and what should be done about it, Liz Truss was fundamentally and importantly right. 
He goes through the failed mini-budget from September but points out that some of the fallout would have happened anyway:
In the eyes of millions of British voters, the fallout from the mini-budget meant the Government alone took responsibility for sharp spikes in both interest and mortgage rates, even though the majority of those increases were already in motion independently. 
He admits his error in the mini-budget but adds that Truss had a different economic plan during the summer:
The whole package was an exercise in Reaganomics without, fatally, the support of a reserve currency. Indeed, it was launched at the very moment when the strength of the dollar left sterling desperately exposed. As one of her Cabinet ministers, I take my share of the responsibility. But it is important to note that for much of the summer, there was a different plan. 
In July, in the days following Boris Johnson's resignation, I spoke with Liz about how best to implement her vision for a higher growth, lower tax economy. The role of Chief Secretary to the Treasury is to be a voice of caution, and speaking as the incumbent to a predecessor, I highlighted the need for credible savings options to accompany her tax cuts, warning that without these we would be monstered. She agreed.
We settled on a new spending review, the exercise by which departmental budgets and priorities are determined in conjunction with Number 10 and the Treasury. Events in Ukraine meant the review conducted in September 2021 now strays close to being a fiction: the world has changed. It was time for a reassessment.
We discussed the relative merits of requiring five and ten per cent reductions in expenditure, achievable given how far spending has soared in recent years, and capable of being cushioned by the size of so many Whitehall departments' Covid-driven underspends. 
Her only caveat, quite reasonably, was that it would be better to identify specific saving plans in the run-up to a budget once safely in office, as opposed to in the heat of a brutal campaign. But the overall approach of securing those savings was not, I believed, in any doubt. 
There was, therefore, a conscious and spectacular change in her policy from mid-July to the end of August. The latter two weeks of August seem to have been pivotal. With an unassailable polling lead and most votes already safely cast by party members, Liz settled in at Chevening for a blizzard of meetings. Here her distaste for "abacus economics", always present, won out over caution. 
She was well within her rights to point out that the guardians of Treasury orthodoxy are bad at conducting dynamic modelling of the positive impact of both lower taxes and supply side reforms. But this was not the time to try to test that weakness.
Clarke thinks that Truss should have brought on board some of Sunak's people. Personally, I do not think they would have helped. Perhaps they would have if she were a man:
As the storm broke from the mini- budget, so a second fundamental error of the Chevening days was laid bare: Liz's choice of personnel. It was a mistake to have excluded from government so many of those who had backed Rishi Sunak. Her administration had too few allies when its momentum faltered, while a pared-back Downing Street operation found itself fighting on too many fronts.
The opposition was real and it was destructive:
What Heale and Cole could acknowledge more clearly is that there was a sizeable group of MPs who were unpersuadable from the beginning. From those who shivered at the thought of making the case for lowering the top rate of income tax back to the level at which it had stood at for all but the last six weeks of New Labour's 13 years in office, even if it would raise more revenue, to those who did little to hide their desire for revenge for the summer's reversal, the kindling was dry. 
Clarke says it is now important for Conservatives to look ahead to the next general election or face a Labour government:
And so we return to the fundamental point: that for all the brickbats, the platform on which Liz was elected PM remains important and urgent, and still needs to be delivered …
Who can dispute the need for a plan for growth, at a time of flagging living standards when the Bank of England is forecasting a two-year recession? Taxes are at a 70-year high, and she was right to ease the burden by cutting National Insurance.
The opportunity for further tax cuts may have passed with the mini-budget, but supply-side reform is now more important, not less. Growth since the 2008 crash has been sluggish, and some of the principal reasons for this are the result of policy challenges that a Conservative government with a majority of 70 ought to confront.
I disagree with his plan to build more houses on the green belt but agree that the Conservatives need to maximise Brexit opportunities:
Productivity matters. We need to curb the culture of judicial review that ensures major infrastructure projects take years longer to deliver than they should. We also need to grasp the opportunities of Brexit, rather than just talk about them. Reform of EU rules such as Solvency II, proceeding with painful slowness, desperately needs to be accelerated if the City is to succeed. 
Liz saw this with total clarity and planned a series of interventions this autumn. If we are to get our economy moving, it is essential that we should act. None of these problems will resolve themselves of their own accord.
If her instinct for action on the home front was sound, it was doubly so abroad. The Northern Ireland Protocol legislation, so vital to ensuring that all parts of our country get to leave the EU, is very much Liz's legacy from her time as Foreign Secretary. She understood better than almost anyone in the senior ranks of Government that Brexit cannot be a partial or half-hearted endeavour. Delivering this will be a central test for the new Government. 
And then there's China:
With regard to China, Liz again rose to the level of events. Too many in British and European politics still cling to the German dream of Wandel durch Handel, or inspiring change through trade. Liz did indeed aim to deliver change through trade, but of a different kind. In one of the boldest policies of recent years, she had set out plans to build a democratic alternative to the Chinese "Belt and Road" initiative, not least by championing UK membership of the CPTPP trading bloc.
When she fell, she was poised to designate China officially as a threat to the UK. From the suppression of democracy in Hong Kong to the genocide being perpetrated against the Uighurs, we should be in no doubt as to the true nature of Xi's regime. The West will only be able to resist this challenge if we readopt the Cold War trinity of moral confidence, economic dynamism and military strength, and Liz instinctively recognised this.
He concludes:
It was precisely because Liz's sense of the kind of country we ought to be was so compelling that the Conservative party gave her their decisive backing this summer. It is her tragedy that the mistakes made at Chevening risk diminishing the vision she set out of a more successful Britain, walking tall abroad and better able to offer opportunity and dignity to her citizens at home …
In words which could be the epitaph for her short, extraordinary time as our prime minister, she reflected: "I think I could have gone out and done a better defence, and got on the front foot. On the other hand there is no point in doing these jobs unless you stand up for what you believe in." 
Rishi laughs, but should he?
At last week's Spectator Awards, everyone was there except Liz Truss.
The notional great and the good, politicians and journalists, gathered together. Pictured on the left is Grant Shapps MP and ex-BBC presenter Emily Maitlis:
Those who received awards and/or gave speeches, included witticisms:
Defence Secretary Ben Wallace won Minister of the Year:
As we had four Chancellors this year, it must have been hard for the magazine to choose, so they opted for Labour's Rachel Reeves for Chancellor of the Year:
Labour leader Sir Keir Starmer won Politician of the Year:
Ukraine's Volodymyr Zelenskyy won Parliamentarian of the Year. It looks like Transport Secretary Mark Harper gave the speech on his behalf:
During this annual starry schmoozefest, Prime Minister Rishi Sunak felt free to get a dig or two in about Liz Truss and the book:
Sunak quipped that the BBC turned down a request to make a television series about Cole and Heale's book, because 'it is hard to work with just one episode'. How they laughed:
Except things aren't so funny for Rishi.
He had no honeymoon as Prime Minister and, within a month, Conservative backbenchers began rebelling.
On Wednesday, November 23, the aforementioned MP, Simon Clarke, tabled an amendment to relax the ban on onshore wind farms in England:
Late on Thursday, November 24, The Telegraph reported that Clarke's proposed amendment was gaining traction. Furthermore, it had support from none other than Boris Johnson and Liz Truss:
Boris Johnson and Liz Truss have launched a challenge to Rishi Sunak's authority by joining a Tory rebellion backing wind farms to tackle the energy crisis.
In their first major interventions since leaving Downing Street, the two former prime ministers have demanded an end to the ban on new onshore wind farms.
They both signed an amendment to the Government's Levelling Up and Regeneration Bill, just days after Mr Sunak's government was derailed by a separate Tory revolt on the same legislation.
The bill is designed to speed up housebuilding, which is crucial to Mr Sunak's growth agenda.
The two former prime ministers have had tense relationships with Mr Sunak.
Mr Johnson's supporters view Mr Sunak as having dealt the fatal blow to his premiership by resigning as chancellor.
Ms Truss and Mr Sunak clashed repeatedly during the leadership race.
It is unusual for former leaders to oppose their successors, with Theresa May choosing the issue of partygate to make a rare criticism of Mr Johnson. 
Mr Johnson signed the pro-onshore wind amendment, tabled by Simon Clarke, who was levelling up secretary under Ms Truss – even though he supported the ban, which has been in place since 2015, during his three years in office.
Ms Truss said she wanted to end the ban when she was in Number 10, because she believes the energy crisis means Britain needs more energy independence …
The onshore wind revolt is the second blow to Mr Sunak's bill. 
On Tuesday night, more than 50 Conservative MPs rebelled against his plans to impose centrally-dictated housebuilding targets – forcing the Prime Minister to delay the votes until December.
That revolt risked the prospect of Mr Sunak only being able to get the measure through with Labour support.
The latest rebellion looks set to be even more serious – not only because it has attracted the support of two former prime ministers, but because it is considered more likely that Labour would back measures to promote onshore wind.
By Thursday night, a total of 18 Conservative MPs had signed the amendment.
It demands that Michael Gove, the present Levelling Up Secretary, revises the National Planning Policy Framework to allow councils to grant new onshore wind applications.
The amendment would also force the Town and Country Planning Act to be amended to allow the installation of "new onshore wind sites not previously used for generating wind energy or for repowering existing onshore wind applications".
On Monday, November 28, The Guardian reported that Sunak was likely to give in to Clarke, Boris, Liz and the other Conservative rebels:
Good morning. Rishi Sunak has only been prime minister for about a month, but already he is learning that a large part of his job consists of playing Whac-a-Mole with Tory party rebellions.
All party leaders face backbench rebellions from time to time but, with its poll ratings still in landslide defeat territory and MPs rushing for the post-parliament lifeboats, the Conservative party is more ungovernable than usual.
Sunak has had to postpone votes on the levelling up and regeneration bill (originally scheduled for today) because of two rebellions on it. One group of Tory MPs (the anti-growth coalition, as Liz Truss would call them), want to amend the bill to ban mandatory housebuilding targets, while another group of Tories (from the pro-growth coalition) are backing an amendment tabled by Simon Clarke, the former levelling up secretary, that would lift the ban on onshore windfarms. Although only 25 Tories have signed the Clarke amendment (less than half the number backing the one on housebuilding targets), Clarke's is more dangerous because it has Labour backing.
This morning Grant Shapps, the business secretary, was doing the morning interview round and he signalled that the Whac-a-Mole mallet is coming down on the Clarke rebellion. As my colleague Peter Walker reports, Shapps hinted that the government will avert the onshore windfarm rebellion by giving in.
In immigration news that morning, Conservative backbencher David Davis told Sky News that the easiest way to stop the influx of Albanians via the English Channel is to send them back home. Albania is classified as a safe country, therefore, claiming asylum should be discounted. Davis has the backing of 50 other Conservative MPs. He said:
[Legislation] would go through and basically we would say to the Albanian population, anybody else who comes across the Channel will be sent back. When that starts to happen, there is no bigger deterrent … than if somebody in your village pays thousands of pounds to a human trafficker and then ends up back in the village three weeks later.
We shall see what happens on both wind farms and immigration.
For now, the Conservatives will have to make the best of Sunak's premiership, as they cannot reasonably have any more Prime Ministers before the general election, which, all being well, is some time away, either near the end of 2024 or early in 2025.
Returning to Liz Truss, there was no question that she had insurmountable enemies, a subject I will explore later this week. In some respects, if she were a man, she would have been allowed to remain in office. Perhaps men deal with contrarian men better than contrarian women.
Tomorrow's post looks at Liz Truss's life.
My most recent post on Liz Truss examined her first two weeks in office as Conservative Party leader and Prime Minister, from September 6th through the 16th.
Things had started out so well. Ironically, Jeremy Hunt, who is now Chancellor, told ITV's political editor Robert Peston on September 7 that Truss would be 'formidable'. An amazing endorsement from someone who was her natural ally:
Hmm. Did he know anything at that point? We'll probably never know.
On September 20, The Sun's political editor Harry Cole was delighted to announce his and James Heale's book on Truss, Out of the Blue, which later had to have hastily written chapters added to it:
Yes, it is still coming out by Christmas — November 24, to be precise:
King Charles and COP27
Liz saw King Charles on Sunday, September 18, the day before the Queen's funeral. It was not their usual day to meet, but the Royal Family went into private mourning until the end of September:
On Saturday, October 1, The Times reported that Liz had asked the King not to attend COP27, which ran between November 6 and 18, despite an invitation from the organisers.
This was a good move, in my opinion, as climate change, or whatever it's being called this week, has turned highly political.
The article said (emphases mine):
The King, a passionate environmental campaigner, has abandoned plans to attend next month's Cop27 climate change summit after Liz Truss told him to stay away.
He had intended to deliver a speech at the meeting of world leaders in Egypt.
Had she remained PM, Liz would not have attended, either:
Truss, who is also unlikely to attend the Sharm el-Sheikh gathering, objected to the King's plans during a personal audience at Buckingham Palace last month.
There were no hard feelings between the Palace and No. 10:
… a Downing Street source claimed the audience had been cordial and there had "not been a row".
No doubt he was expecting it:
A senior royal source said: "It is no mystery that the King was invited to go there. He had to think very carefully about what steps to take for his first overseas tour, and he is not going to be attending Cop."
They said the decision was made on the government's advice and was "entirely in the spirit of being ever-mindful as King that he acts on government advice".
In the end, the King held a reception at Buckingham Palace for world leaders before they flew to the summit. In light of that, this was rather interesting:
Charles is still determined to make his presence felt there, and how he will do that is "under active discussion". A senior royal source said: "Just because he is not in physical attendance, that doesn't mean His Majesty won't find other ways to support it."
A source who knows Charles said he would be "personally disappointed" to miss it and was "all lined up to go", with several engagements planned around his Sustainable Markets Initiative (SMI) which aims to persuade businesses to invest in environmentally friendly initiatives.
Public v parliamentary opinion
In late September, a poll showed that Truss was ahead of Labour's Keir Starmer in Red Wall seats, boosting the Conservatives by eight points:
Admittedly, that was before Kwasi Kwarteng's fiscal event, or mini-budget, of Friday, September 23.
That said, I will go out on a limb and say that most conservative voters thought that Kwarteng's — Truss's — plan was the right one. My better half and I thought it was refreshingly libertarian.
However, Conservative MPs vehemently disagreed with the public and started writing in to Sir Graham Brady, the chairman of the 1922 Committee, the all-powerful group that Margaret Thatcher dubbed 'the men in grey suits'.
On September 26, the Northern Echo reported:
A former Tory minister MP has told Sky News the new Prime Minister is "f*****" and the party are already looking to bring her down following Friday's mini-budget.
The MP said: "They are already putting letters in as they think she will crash the economy. The tax cuts don't matter as all noise anyway – mainly reversing back to the status quo this year …
Another Tory MP told the broadcaster that Friday's announcement – which included reversing a 1.25% hike in National Insurance – had been a "s***show".
Note that MPs were siding with the Bank of England. Very establishmentarian of them:
"The issue is government fiscal policy is opposite to Bank of England monetary policy – so they are fighting each other. What Kwasi [Kwarteng] gives, the Bank takes away."
The mood among Conservative 'wets', to borrow Thatcher's name for such weaklings, only escalated.
At Liz's one — and only — appearance before the 1922 Committee on Thursday, October 13, Robert Halfon, a wet, told Truss she had 'trashed the past ten years'.
Liz Truss was accused by a senior MP of trashing "the last ten years" of Conservative government as her party turned on its new leader over the mini-budget.
Robert Halfon, a former minister who chairs the education select committee, unleashed a furious attack on her financial measures, saying they disproportionately benefited the wealthy and meant she had abandoned "workers' conservatism".
Anything but, however:
According to an MP present, Halfon told Truss in a meeting of the 1922 Committee of backbenchers — her first as prime minister — that "in the last ten years we had the living wage, a focus on apprenticeships and skills", contrasting that with "bankers' bonuses, benefits cuts and now cuts to affordable housing targets".
His intervention came after Truss tried to assuage Conservative MPs by saying she had "shielded families and businesses from bills of up to £6,000 this winter and for the winter ahead, while Labour has no plan beyond the next six months".
The meeting did not go well. Halfon seemed to voice other MPs' concerns:
… a Tory MP who has been in the Commons for more than a decade said: "It was the worst 1922 I've ever been to." They added: "With each tough question she looked like she'd had the wind knocked out of her — the 31st of October could finish her off on the basis of the reception she got in that room."
Halloween — who schedules these things? — was supposed to be the day Kwasi was going to set out more detail behind his fiscal event. Liz's friend and neighbour in Greenwich was on hand to support her:
Thérèse Coffey, the deputy prime minister, told reporters outside the 1922 meeting that the chancellor would meet MPs before presenting his medium-term plan on Halloween, stressing that engagement was key.
In the event, Truss had to sack Kwarteng and appoint (ahem) the aforementioned Jeremy Hunt as Chancellor. He delivered his shocking budget on Thursday, November 17, to Prime Minister Rishi Sunak's approval. Sunak nodded several times during the presentation.
Returning to The Times's article of October 13, what other wets said presaged the future:
Even those who back the prime minister expect some sort of climbdown. One MP said: "She will have to unwind everything fiscal in the statement. They have to backtrack. There is no alternative. They've done it on the 45p and they'll have to do it on the rest.
"Then if we are still 20 points behind in the polls we will have to change leader. We are cold-blooded like that."
Another admitted there was "definitely still a big split between her and the Rishi [Sunak] side of the party". Asked if Truss would have to perform another U-turn, they said: "Ultimately, I suppose it depends if she's leveraged into that position by our own party, but it's all by those with 20,000 majorities."
Hmm … Hmm.
However, one Rishi Sunak supporter — Esther McVey — is deeply unhappy over his Chancellor's budget:
On Tuesday, November 22, McVey rightly tore the budget apart in ConservativeHome, saying that Hunt's tax rises are 'socialist measures' that are 'punishing Conservative voters':
… It wasn't helped by the Chancellor's statement being such a pendulum swing from the Liz Truss / Kwasi Kwarteng mini budget. People went from thinking they were getting their taxes cut to seeing them hiked.
The Autumn Statement was clearly an over-correction to that mini-budget. Going from one extreme to the other is hardly reassuring for people. A middle ground was needed: an acceptance of Conservative principles, with a costed plan and the accompanying narrative to reassure the markets.
Instead, Hunt delivered his statement with a doom and gloom that would have appropriate were the country on the brink of financial collapse. However, despite some serious challenges, things are not so dire that we had to have such excessive medicine.
For instance, the ten-year gilt yield – the interest rate the Government must pay on a new decade-long loan – was 3.14 per cent, whereas, even before the notorious mini-Budget in late September, that same yield was much higher at 3.49 per cent.
Britain is no more indebted than other comparable countries. Our national debt (albeit too high) stands at 97 per cent of GDP, whereas France, Canada and the US stands at 115 per cent, 116 per cent and 132 per cent respectively. Across the G7, only Germany has lower levels of government debt than the UK.
So when I stood up in the House of Commons at PMQs the day before the budget and said –
Given that we have the highest burden of taxation in living memory, it is clear that the Government's financial difficulties are caused by overspending and not due to undertakings. Does the Deputy Prime Minster therefore agree, if the government has got enough money to proceed with HS2 at any cost then it has sufficient money not to increase taxes, if however, it has so little money it has to increase taxes (which is the last thing for a conservative government to do) then it doesn't have sufficient money for HS2 [High Speed Rail 2]?
So can I gently urge the Deputy Prime Minister not to ask Conservative MPs to support any tax rises, unless and until, this unnecessary vanity project is scrapped, because I for one won't support them.
– it was to remind everyone there are better choices for our Conservative government than hiking up taxes.
In fact, given that unprecedented tax burden, any self-respecting Conservative would instinctively know that the answer is to spend less. Dropping HS2 – an out-of-date white elephant, costing north of £150 billion which (as Andrew Gilligan revealed on my show on GB News) the Ministers themselves know will deliver less economic benefit than the cost of it – would have been an ideal place to start. That would certainly have been more desirable than increasing taxes on hard-working families who are already feeling the severe pain of higher energy prices and increased mortgage payments.
If a Conservative government with a sizeable majority – in a time of financial pressure – won't cut public expenditure to start living within our means, then when on earth will that ever happen? …
Parliament is debating Jeremy Hunt's budget this week. In Monday's proceedings, a number of Conservative MPs spoke out against it.
Liz's U-turn on windfall tax
On October 12, two days before she sacked her friend and neighbour Kwasi Kwarteng, she appeared to do a U-turn on 'no new taxes' by allowing an announcement for a new levy on green energy firms.
Her ally, then-Business (BEIS) Secretary Jacob Rees-Mogg, defended the move and claimed it was not a windfall tax:
Guido Fawkes reported (emphases his):
The government has announced a new plan to impose a multi-billion pound levy on green energy firms to fund support to consumers. Renewable and nuclear electricity generators in England and Wales will now have their revenues capped after windfall tax-hating Liz Truss seemingly bowed to pressure to limit profits. The announcement came from BEIS last night, which is calling the new policy a "Cost-Plus-Revenue Limit" and spinning that it isn't in any way a windfall tax "as it will be applied to 'excess revenues' as opposed to profits". If it walks like a tax, swims like a tax and quacks like a tax…
The latest backtracking on free market values by the government comes just 41 days after Liz Truss told party members at the London husting that they could read her lips, and there would be no new taxes under her leadership …
On Today this morning, Rees-Mogg tried performing a Jedi mind trick, saying "this is not a windfall tax…this is rationalising the market"…
Despite the government's denial that the new revenue limit is a tax, the boss of RWE – the third biggest renewable power generator in Britain – has told The Times the move "is a de facto 'windfall tax' on low-carbon generators that, if not designed and implemented correctly, could have severe negative consequences for investment in the renewable and wider energy market and so for the energy transition."
Guido warned that Labour's support for the new levy is not a good sign:
Ed Miliband welcoming the policy with open arms should give the government sufficient pause for thought before it buys its own spin…
The mystery of Liz signing UK up to EU's PESCO
Early in October, Liz did a strange thing, considering she is a staunch Brexit supporter.
She attended the first ever meeting of the European Political Community in Prague. The European Political Community is Emmanuel Macron's brainchild.
This group is made up of EU member countries, yet, somehow Liz got an invitation. No one knows for certain.
However, she went.
She met with Macron on Thursday, October 6, in an effort to get the Channel dinghy crossing issue resolved.
GB News reported:
Liz Truss hailed Emmanuel Macron as a "friend" on Thursday, as the two countries signalled that a new agreement could be close to tackle small-boat crossings in the Channel.
The pair met at the first summit of the European Political Community in Prague, a gathering pushed for by the French president.
There, the pair said they looked forward to "an ambitious package of measures this autumn" to address issue of migration across the Channel.
And in a sign that Ms Truss hopes to improve relations with Mr Macron, she had no hesitation in labelling him a "friend", just weeks after refusing to do so …
Mr Macron later suggested it was a "problem" if Britain could not call itself a friend of France.
But Prime Minister Ms Truss adopted a different tone ahead of a meeting with Mr Macron in Prague on Thursday.
She told broadcasters: "I work very, very closely with President Macron and the French government and what we're talking about is how the UK and France can work more closely together to build more nuclear power stations and to make sure that both countries have energy security in the future.
"We're both very clear the foe is Vladimir Putin, who has through his appalling war in Ukraine threatened freedom and democracy in Europe and pushed up energy prices which we're now all having to deal with."
Asked if he was then a friend, Ms Truss said: "He is a friend."
The bi-lateral meeting between the two leaders, which took place towards the end of the day, appeared to signal some progress on the issues of migration and energy, both areas Ms Truss had raised as priorities ahead of the summit.
"Thank you for being here," Mr Macron told the PM when they met.
It also emerged that the two countries have agreed to hold a joint summit next year to "take forward a renewed bilateral agenda", in a further sign of the desire for warmer relations between the two countries.
On migration, a joint statement said the leaders "agreed to deepen cooperation on illegal migration within the bounds of international law, to tackle criminal groups trafficking people across Europe, ending in dangerous journeys across the Channel".
But the big, and secret, news was that Liz had signed the UK up to the EU's PESCO — Permanent Structured Co-operation — which is a military initiative.
Nigel Farage announced the move on his GB News show as soon as he had heard.
On Friday, October 7, The Express said that the move could affect British armed forces by dragging them into an EU army:
The Prime Minister has been warned not to allow the UK to be dragged into an EU Army by accident after she signed a military deal this week at Emmanuel Macron's European Political Community (EPC) summit in Prague. The decision to go into part of the PESCO has alarmed some Brexiteers who fear it could undermine the UK's sovereignty.
Former defence minister Sir Gerald Howarth, a leading Brexiteer has led the campaign to resist joining PESCO for many years.
He said: "This is very serious and we must be very careful. The issue around PESCO is that the structures are permanent.
"We must not sign up to anything which undermines our sovereignty and where we do not have a veto.
"Second, we must not do anything that undermines NATO. If we have learnt anything over the last few months is that we need NATO for the defence of western values and Europe against our enemies which at the moment is clearly Russia."
Even if this has to do with Ukraine, and enables us to move troops and military equipment more easily, it still raises questions:
At the EPC meeting on Thursday, the EU member states voted unanimously to allow the UK to join the the mobility project that would allow the UK to move troops and military equipment more quickly.
The UK Government decided to enter the strand in case Britain is called upon as a NATO ally to defend the Baltic states from a Russian invasion.
However, staunch Brexiteer Mark Francois MP was relaxed about it:
One senior Brexiteer, former Armed Forces Minister, Mark Francois, who now chairs the powerful group of Tory Brexiteers the European Research Group (ERG), said he believes that the move was the right one.
He said: "As we are outside the EU, we can opt in to individual PESCO projects if they have merit and looking at how we could speed up reinforcing the Baltic States from the UK, across internal EU borders, may well have military advantages.
"However, it is NATO that remains the bedrock of our security, especially in deterring further Russian adventurism and we should never forget that."
On October 9, David Kurten, a former London Assembly member and founder of the Heritage Party, said that signing the UK up to PESCO was a betrayal of Brexit:
One month ago, the aforementioned Sir George Howarth appeared on Farage to say that we still do not know what part of PESCO Liz signed us up to. He was clearly concerned, saying that the implications could be important, especially as none of the countries involved has a veto. The EU calls all the shots:
Today, one month on, we are none the wiser about our involvement in PESCO.
Someone must know what's going on. In fact, a lot of people probably do know.
Liz's final week
All of Liz's opponents, whether on the right or the left, told us that Liz and Kwasi, joined at the hip politically, had to go.
Project Fear started as soon as Kwasi delivered his mini-budget on September 23.
On September 27, Bloomberg told us that UK markets had lost $500 billion in combined value since Liz Truss became PM. Really?
'Investor confidence' means international markets, ergo part of the Establishment.
Also at that time, former Conservative Chancellor George Osborne, who served under David Cameron, stuck the boot in.
On September 29, a comment from an UnHerd reader appeared in response to one of their articles, beginning with 'Is this the end for Liz Truss?':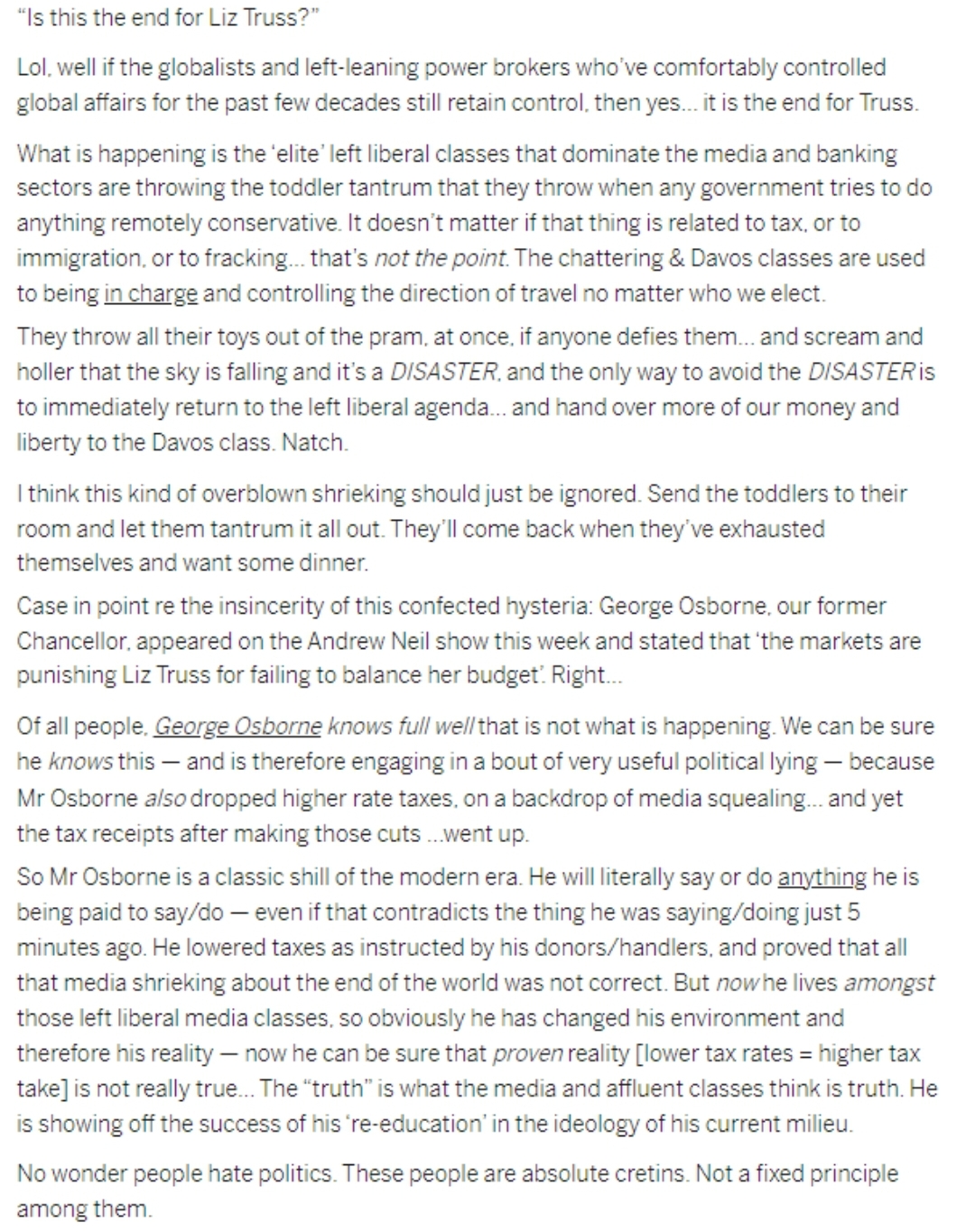 Osborne features heavily in it. The reader quotes him saying, 'The markets are punishing Liz Truss for failing to balance her budget'.
The UnHerd reader says:
Right.
Of all people, George Osborne knows full well that is not what is happening. We can be sure he knows this — and is therefore engaging in a bout of very useful political lying — because Mr Osborne also dropped higher rate taxes [the 50% rate], on a backdrop of media squealing … and yet the tax receipts after making those cuts … went up.
So Mr Osborne is a classic shill of the modern era …
As to whether Liz would have to go, the reader supplies the answer at the top of his message:
… well, if the globalists and left-leaning power brokers who've comfortably controlled global affairs for the past few decades still retain control, then yes … it is the end for Truss …
… It doesn't matter if that thing is related to tax, or to immigration, or to fracking … that's not the point. The chattering and Davos classes are used to being in charge and controlling the direction of travel no matter who we elect.
Speaking of such people, on Wednesday, October 12, King Charles greeted Liz with, 'Dear, oh dear', while the press were still there to record it for posterity:
What did he know and when?
The beginning of the end came two days later on Friday, October 14, when Liz sacked Kwasi and appointed (ahem) Jeremy Hunt as Chancellor. This was the shortest and most painful press conference — she only took four questions — in living memory. She looked like a rabbit in the headlamps or a hostage being forced at gunpoint to read out a message:
As soon as she announced it, we knew Hunt was, at that point, the de facto Prime Minister.
Hours later, The Telegraph reported:
Mr Hunt, a former foreign secretary, took the helm at the Treasury following the sacking of Kwasi Kwarteng over the mini-Budget fiasco. Ms Truss turned to him even though the pair have strongly disagreed on economic policy.
Mr Hunt, also an ex-health secretary, endorsed Rishi Sunak for the Tory leadership after being voted out of the race in July, saying: "This is the wrong time for populist crowd-pleasing and the right time for honesty."
He will hold huge power over a weakened Prime Minister, raising the likelihood that much of her growth plan will now be axed. Allies said that he would act as her "chief executive".
Mr Hunt ran for the Conservative leadership on a platform of slashing corporation tax to 15 per cent to boost growth but also opposed cuts to personal levies such National Insurance and income tax, with which Ms Truss still intends to press ahead.
His appointment was announced moments before the Prime Minister unveiled her U-turn on corporation tax at a press conference. She ditched what had been a core leadership pledge, meaning the rate companies pay on their profits will go up from 19 to 25 per cent in April. It means she has reverted to the plan put in place by Mr Sunak when he was chancellor.
Quelle surprise!
Conservative Party members had voted Liz Truss in largely on her economic policy.
The elites took out her Chancellor. Soon afterwards, they came for her in the form of Conservative MPs and the 1922 Committee. It was a grand game of political chess, not seen since Margaret Thatcher was removed from office in 1990.
To be continued on Friday.