You are currently browsing the tag archive for the 'Edinburgh' tag.
In 2017, The Guardian posted a long article: '"London Bridge is down": the secret plan for the days after the Queen's death'.
Halfway through, it says (emphases mine):
The reporting for this article involved dozens of interviews with broadcasters, government officials, and departed palace staff, several of whom have worked on London Bridge directly. Almost all insisted on complete secrecy. "This meeting never happened," I was told after one conversation in a gentleman's club on Pall Mall. Buckingham Palace, meanwhile, has a policy of not commenting on funeral arrangements for members of the royal family.
Royal funeral plans are top secret, which makes the article even more amazing. I don't know how the journalist, Sam Knight, managed it.
Queen Victoria's death
Until Queen Elizabeth II, Queen Victoria was the United Kingdom's longest reigning monarch.
A monarch's death is preceded by an announcement about illness, signifying that the end is near:
"The Queen is suffering from great physical prostration, accompanied by symptoms which cause much anxiety," announced Sir James Reid, Queen Victoria's physician, two days before her death in 1901.
Her longevity produced a shockwave of reaction, particularly as she did not perceive her heir, Edward VII, to be worthy of succession. This suggests a parallel between the Queen and Charles III:
It is not unusual for a country to succumb to a state of denial as a long chapter in its history is about to end. When it became public that Queen Victoria was dying, at the age of 82, a widow for half her life, "astonished grief … swept the country", wrote her biographer, Lytton Strachey. In the minds of her subjects, the queen's mortality had become unimaginable; and with her demise, everything was suddenly at risk, placed in the hands of an elderly and untrusted heir, Edward VII. "The wild waters are upon us now," wrote the American Henry James, who had moved to London 30 years before.
The parallels with the unease that we will feel at the death of Elizabeth II are obvious, but without the consolation of Britain's status in 1901 as the world's most successful country. "We have to have narratives for royal events," the historian told me. "In the Victorian reign, everything got better and better, and bigger and bigger. We certainly can't tell that story today."
George V's death
In a well run monarchical system, a symbiosis exists between monarchs and their subjects:
The bond between sovereign and subjects is a strange and mostly unknowable thing. A nation's life becomes a person's, and then the string must break …
This is what happened when the Queen's grandfather died. Note how George V's physician thought it was important for the news to make the morning rather than the evening newspapers:
"The King's life is moving peacefully towards its close," was the final notice issued by George V's doctor, Lord Dawson, at 9.30pm on the night of 20 January 1936. Not long afterwards, Dawson injected the king with 750mg of morphine and a gram of cocaine – enough to kill him twice over – in order to ease the monarch's suffering, and to have him expire in time for the printing presses of the Times, which rolled at midnight …
"For a little while," wrote Edward VIII, of the days between his father's death and funeral, "I had the uneasy sensation of being left alone on a vast stage."
Other Royal deaths
Sometimes, Royal deaths are unexpected events, leading to differences in who finds out first:
On 6 February 1952, George VI was found by his valet at Sandringham at 7.30am. The BBC did not broadcast the news until 11.15am, almost four hours later …
"It is with the greatest sorrow that we make the following announcement," said John Snagge, the BBC presenter who informed the world of the death of George VI. (The news was repeated seven times, every 15 minutes, and then the BBC went silent for five hours).
Also:
When Princess Diana died at 4am local time at the Pitié-Salpêtrière hospital in Paris on 31 August 1997, journalists accompanying the former foreign secretary, Robin Cook, on a visit to the Philippines knew within 15 minutes.
I do remember watching BBC1's Peter Sissons on the Saturday evening when the Queen Mother died in 2002:
On the BBC, Peter Sissons, the veteran anchor, was criticised for wearing a maroon tie. Sissons was the victim of a BBC policy change, issued after the September 11 attacks, to moderate its coverage and reduce the number of "category one" royals eligible for the full obituary procedure. The last words in Sissons's ear before going on air were: "Don't go overboard. She's a very old woman who had to go some time."
I thought his maroon tie was disrespectful, as was the way he read out that bit of news. It was as if he did not care. That started my dislike of the BBC's treatment of current affairs, which only escalated afterwards.
The Duke of Norfolk
As the Royal Family has been Anglican for centuries, it is ironic that the person they entrust with their funerals and coronations is the highest ranking Catholic layman of the realm, the Duke of Norfolk.
Dukes of Norfolk have been organising these events since 1672:
The 18th Duke of Norfolk, the Earl Marshal, will be in charge. Norfolks have overseen royal funerals since 1672. During the 20th century, a set of offices in St James's Palace was always earmarked for their use.
The current Duke is Edward William Fitzalan-Howard, 65. In April 2022, he ran a red light while talking on his mobile phone. He was found guilty of these traffic violations on September 26 and pleaded not to have his driving licence revoked for six months. His request was refused.
On his role as Earl Marshal, the Daily Mail reports:
Edward William Fitzalan-Howard, 65, became England's most senior peer and the 18th duke following the death of his father Miles in 2002.
For more than 350 years, his ancestors have passed down the ancient office of Earl Marshal – meaning that they are responsible for overseeing funerals for members of the Royal Family, the coronations of Britain's monarchs, and even state openings of parliament. 
And because the office is hereditary, it meant that the peer's grandfather Bernard Fitzalan-Howard, the 16th Duke of Norfolk, was responsible for organising Elizabeth II's Coronation in 1953, the state funeral of Winston Churchill in 1965 and the investiture of Charles as the Prince of Wales in 1969.
Eddie, as he is known to his friends, oversaw the planning and execution of the most majesty send-off of a Sovereign in living memory – as 2,000 VIPs including King Charles and the British royal family emperors, kings and queens, prime ministers, presidents, and members of the public including decorated war heroes, members of the Armed Forces and NHS staff who worked tirelessly during the pandemic attended Westminster Abbey for the state funeral …
… an overwhelming majority of Britons (86%) believe that the Duke of Norfolk did a 'good job' of commemorating the late Monarch. 
The duke began planning the Queen's funeral the week of his father's death 20 years ago, though plans for the service – codenamed Operation London Bridge – have been in place since the 1960s. Eddie held annual meetings in the throne room of Buckingham Palace, working closely with Lieutenant Colonel Anthony Mather, a long-serving member of the royal household who commanded the bearer party at Churchill's funeral, for the first 10 years. In the two decades which followed, the number of people involved swelled from just 20 to 280 in April this year.
Just days before the funeral, the peer explained that the funeral was being held in Westminster Abbey for the first time in more than 200 years – since George II in 1760 – so that 2,000 guests could attend. He also revealed that he extended the Queen's lying in state at Westminster Hall for an extra day 'to allow an additional 85,000 people to file past the coffin'. 
His niece Lady Kinvara Balfour told Tatler magazine: 'In organising the Queen's funeral (and the coronation to come), Uncle Eddie has done a truly outstanding job. What a show of elegance, efficiency and rare precision he has produced for our nation, and the world – just like the late Queen Elizabeth II herself did. He is an incredible father of five, a grandfather too'. 
As for the guilty verdict on his traffic violations:
His Grace The Duke of Norfolk, Edward William Fitzalan-Howard, 65, appeared at Lavender Hill Magistrates Court after being caught by the officers who told the court he appeared to run a red light while not paying attention.
The Duke pleaded guilty to one count of driving his six year-old blue three-litre diesel BMW while using a hand-held device in Battersea Park Road, south-west London on April 7.
The Oxford-educated father of five, who is a descendant of Elizabeth I, was also fined £800, with £350 costs and ordered to pay an £80 victim surcharge.
His Grace received six penalty points for using his mobile phone.
'That means, as you know, you will be disqualified for six months because you have more than twelve points on your licence,' magistrate Judith Way told him.
'We have been advised of the test for exceptional hardship and it is the burden of the defendant to show exceptional hardship,' announced magistrate Judith Way.
Before the ruling was handed down, his Grace had tried to argue it was necessary for him to keep his licence.
The highest-ranking duke in England argued he would suffer 'exceptional hardship' if he was disqualified, highlighting his official duties along with his conservation work to prevent 'nature's complete collapse' and 'the end of mankind'. 
In his hereditary role as Earl Marshal he told the court he is in charge of the coronation of King Charles III and asked for part of the hearing to be held in private in the interests of 'national security', while his legal team told the court he needed to be able to drive to ensure the organisation went smoothly.
His Grace, of Arundel Castle, Arundel, Sussex already has nine penalty points on his driving licence for two speeding offences and this latest conviction means he has been subjected to the minimum six-month ban under totting rules.
Dismissing The Duke's application to keep his licence, Ms Way said: 'We have heard sworn evidence from the defendant.
'We accept this is a unique case because of the defendant's role in society and his role in the King's coronation and even though inconvenience may be caused we do not find exceptional hardship.
'We know the need for security clearance for any driver and we do not think this is insurmountable for his high-profile role.
'We believe the defendant has the means to employ a driver.'
Indeed he does.
Managing the Queen's death rituals
Keeping in mind that The Guardian's article was written in 2017, this was true in the event:
During London Bridge, the Lord Chamberlain's office in the palace will be the centre of operations … The government's team – coordinating the police, security, transport and armed forces – will assemble at the Department of Culture, Media and Sport.
Michelle Donelan, formerly of the Department for Education, is the new Secretary of State for Digital, Culture, Media and Sport.
Someone in that group of officials also had the job of printing tickets for various events:
for invited guests, the first of which will be required for the proclamation of King Charles in about 24 hours time.
Everyone on the conference calls and around the table will know each other. For a narrow stratum of the British aristocracy and civil service, the art of planning major funerals – the solemnity, the excessive detail – is an expression of a certain national competence. Thirty-one people gathered for the first meeting to plan Churchill's funeral, "Operation Hope Not", in June 1959, six years before his death. Those working on London Bridge (and Tay Bridge and Forth Bridge, the Duke of Edinburgh's funeral) will have corresponded for years in a language of bureaucratic euphemism, about "a possible future ceremony"; "a future problem"; "some inevitable occasion, the timing of which, however, is quite uncertain".
Operation London Bridge had been in place for well over 50 years and was regularly updated from then until this month:
The first plans for London Bridge date back to the 1960s, before being refined in detail at the turn of the century. Since then, there have been meetings two or three times a year for the various actors involved (around a dozen government departments, the police, army, broadcasters and the Royal Parks) in Church House, Westminster, the Palace, or elsewhere in Whitehall. Participants described them to me as deeply civil and methodical. "Everyone around the world is looking to us to do this again perfectly," said one, "and we will." Plans are updated and old versions are destroyed. Arcane and highly specific knowledge is shared … The coffin must have a false lid, to hold the crown jewels, with a rim at least three inches high.
Processions were also carefully timed.
After the Queen died, the military personnel involved rehearsed day and night to get everything exactly right.
King Charles III was also involved:
… in the hours after the Queen has gone, there will be details that only Charles can decide. "Everything has to be signed off by the Duke of Norfolk and the King," one official told me … In recent years, much of the work on London Bridge has focused on the precise choreography of Charles's accession. "There are really two things happening," as one of his advisers told me. "There is the demise of a sovereign and then there is the making of a king." Charles is scheduled to make his first address as head of state on the evening of his mother's death.
In the event, he made it the following evening at 6 p.m.
The Throne Room at Buckingham Palace was the site for the Queen's lying at rest before going to Westminster Hall:
In every scenario, the Queen's body returns to the throne room in Buckingham Palace, which overlooks the north-west corner of the Quadrangle, its interior courtyard. There will be an altar, the pall, the royal standard, and four Grenadier Guards, their bearskin hats inclined, their rifles pointing to the floor, standing watch. In the corridors, staff employed by the Queen for more than 50 years will pass, following procedures they know by heart.
It is ironic that The Guardian published an article waxing incandescent over staff redundancies — lay-offs — because this piece makes it abundantly clear that they knew the King would bring in his own staff:
"Your professionalism takes over because there is a job to be done," said one veteran of royal funerals. There will be no time for sadness, or to worry about what happens next. Charles will bring in many of his own staff when he accedes. "Bear in mind," the courtier said, "everybody who works in the palace is actually on borrowed time."
Dying in Scotland
Although the article does not mention it, the Queen's death in Scotland activated Operation Unicorn.
However, that operation dovetailed with London Bridge:
The most elaborate plans are for what happens if she passes away at Balmoral, where she spends three months of the year. This will trigger an initial wave of Scottish ritual. First, the Queen's body will lie at rest in her smallest palace, at Holyroodhouse, in Edinburgh, where she is traditionally guarded by the Royal Company of Archers, who wear eagle feathers in their bonnets. Then the coffin will be carried up the Royal Mile to St Giles's cathedral, for a service of reception …
Thankfully, her coffin was flown back to London. According to this, a train journey would have been difficult to organise if she had travelled by rail:
put on board the Royal Train at Waverley station for a sad progress down the east coast mainline. Crowds are expected at level crossings and on station platforms the length of the country – from Musselburgh and Thirsk in the north, to Peterborough and Hatfield in the south – to throw flowers on the passing train. (Another locomotive will follow behind, to clear debris from the tracks.) "It's actually very complicated," one transport official told me.
Coming by plane also enabled an extra day of viewing at Westminster Hall.
How the media probably found out
Informing the media is also a big part of Royal deaths, especially the Queen's.
Radio and television channels had — and have — their response plans ready.
In the case of the Queen, the following more or less happened:
For many years the BBC was told about royal deaths first, but its monopoly on broadcasting to the empire has gone now. When the Queen dies, the announcement will go out as a newsflash to the Press Association and the rest of the world's media simultaneously. At the same instant, a footman in mourning clothes will emerge from a door at Buckingham Palace, cross the dull pink gravel and pin a black-edged notice to the gates …
The BBC has a special, secret transmission system, RATS:
At the BBC, the "radio alert transmission system" (Rats), will be activated – a cold war-era alarm designed to withstand an attack on the nation's infrastructure. Rats, which is also sometimes referred to as "royal about to snuff it", is a near mythical part of the intricate architecture of ritual and rehearsals for the death of major royal personalities that the BBC has maintained since the 1930s. Most staff have only ever seen it work in tests; many have never seen it work at all. "Whenever there is a strange noise in the newsroom, someone always asks, 'Is that the Rats?' Because we don't know what it sounds like," one regional reporter told me.
Royal experts were at the ready because they were pre-booked a long time ago. Media outlets have had obituaries ready to go, with only minor updates for the death to be added:
All news organisations will scramble to get films on air and obituaries online. At the Guardian, the deputy editor has a list of prepared stories pinned to his wall. The Times is said to have 11 days of coverage ready to go. At Sky News and ITN, which for years rehearsed the death of the Queen substituting the name "Mrs Robinson", calls will go out to royal experts who have already signed contracts to speak exclusively on those channels. "I am going to be sitting outside the doors of the Abbey on a hugely enlarged trestle table commentating to 300 million Americans about this," one told me.
Radio stations were also prepared with suitable music:
For people stuck in traffic, or with Heart FM on in the background, there will only be the subtlest of indications, at first, that something is going on. Britain's commercial radio stations have a network of blue "obit lights", which is tested once a week and supposed to light up in the event of a national catastrophe. When the news breaks, these lights will start flashing, to alert DJs to switch to the news in the next few minutes and to play inoffensive music in the meantime. Every station, down to hospital radio, has prepared music lists made up of "Mood 2" (sad) or "Mood 1" (saddest) songs to reach for in times of sudden mourning. "If you ever hear Haunted Dancehall (Nursery Remix) by Sabres of Paradise on daytime Radio 1, turn the TV on," wrote Chris Price, a BBC radio producer, for the Huffington Post in 2011. "Something terrible has just happened."
Incredibly, all television presenters wore black immediately:
… there will be no extemporising with the Queen. The newsreaders will wear black suits and black ties. Category one was made for her. Programmes will stop. Networks will merge. BBC 1, 2 and 4 will be interrupted and revert silently to their respective idents – an exercise class in a village hall, a swan waiting on a pond – before coming together for the news. Listeners to Radio 4 and Radio 5 live will hear a specific formulation of words, "This is the BBC from London," which, intentionally or not, will summon a spirit of national emergency …
According to one former head of BBC news … The rehearsals for her are different to the other members of the family, he explained. People become upset, and contemplate the unthinkable oddness of her absence. "She is the only monarch that most of us have ever known," he said. The royal standard will appear on the screen. The national anthem will play. You will remember where you were …
The passing of the Queen will be monumental by comparison. It may not be as nakedly emotional, but its reach will be wider, and its implications more dramatic. "It will be quite fundamental," as one former courtier told me.
And so it turned out to be.
Media broadcasts
I'm still wrapping my head around 12 days of continuous news coverage focusing on the Queen.
Somehow, it never got boring.
That is because there were seven decades of historic reign to cover, as well as the years between 1926 — the year of the Queen's birth — and 1952, when she succeeded George VI:
… there will be an almighty psychological reckoning for the kingdom that she leaves behind. The Queen is Britain's last living link with our former greatness – the nation's id, its problematic self-regard – which is still defined by our victory in the second world war. One leading historian, who like most people I interviewed for this article declined to be named, stressed that the farewell for this country's longest-serving monarch will be magnificent. "Oh, she will get everything," he said. "We were all told that the funeral of Churchill was the requiem for Britain as a great power. But actually it will really be over when she goes."
… The second Elizabethan age is likely to be remembered as a reign of uninterrupted national decline, and even, if she lives long enough and Scotland departs the union, as one of disintegration. Life and politics at the end of her rule will be unrecognisable from their grandeur and innocence at its beginning. "We don't blame her for it," Philip Ziegler, the historian and royal biographer, told me. "We have declined with her, so to speak."
The obituary films will remind us what a different country she inherited. One piece of footage will be played again and again: from her 21st birthday, in 1947, when Princess Elizabeth was on holiday with her parents in Cape Town. She was 6,000 miles from home and comfortably within the pale of the British Empire. The princess sits at a table with a microphone. The shadow of a tree plays on her shoulder. The camera adjusts three or four times as she talks, and on each occasion, she twitches momentarily, betraying tiny flashes of aristocratic irritation. "I declare before you all that my whole life, whether it be long or short, shall be devoted to your service, and the service of our great imperial family to which we all belong," she says, enunciating vowels and a conception of the world that have both vanished.
Conclusion
In summary:
London Bridge is the Queen's exit plan. "It's history," as one of her courtiers said. It will be 10 days of sorrow and spectacle in which, rather like the dazzling mirror of the monarchy itself, we will revel in who we were and avoid the question of what we have become.
It was an incredible time which galvanised the United Kingdom:
"I have to be seen to be believed," is said to be one of her catchphrases. And there is no reason to doubt that her funeral rites will evoke a rush of collective feeling. "I think there will be a huge and very genuine outpouring of deep emotion," said Andrew Roberts, the historian. It will be all about her, and it will really be about us. There will be an urge to stand in the street, to see it with your own eyes, to be part of a multitude. The cumulative effect will be conservative. "I suspect the Queen's death will intensify patriotic feelings," one constitutional thinker told me, "and therefore fit the Brexit mood, if you like, and intensify the feeling that there is nothing to learn from foreigners."
That is quite true. The conclusion that most of us drew from television coverage was that no one does monarchy and ritual quite like Britain. We are still the greatest in that regard.
On Monday, September 19, four million television viewers tuning in from around the world to pay their respects agreed.
My two previous posts about the Queen's death in Scotland are here and here.
Thanks to the Queen's and Princess Anne's Operation Unicorn plan for the monarch's death in Scotland, we saw their capital and the monarchy depicted magnificently.
Unicorn ticked all the boxes, especially at St Giles' Cathedral in Edinburgh.
A filmmaker could not have done better — and that was the Queen's intention.
History of St Giles' Cathedral
The Times has an excellent history of St Giles' Cathedral, the High Kirk: 'Beauty and peace of St Giles' make it a fitting place to lie at rest for Queen Elizabeth II'.
Excerpts follow, emphases mine:
St Giles' Cathedral in Edinburgh, High Kirk of the Church of Scotland, where the Queen will lie at rest, has been at the centre of Scottish history for more than 800 years. It has seen war, violence, rebellion and desecration, never more so than during the Reformation, when it was stripped to the bone by the firebrand Calvinist John Knox.
Kings and queens have left their mark on it down the ages. From it, Elizabeth's Stewart forebears in particular have tried at various stages to impose their religious beliefs on an unwilling and recalcitrant Scottish people.
Charles I gave it cathedral status in 1633 but when he insisted on introducing a common prayer book, based on the English order of worship, he provoked a riot, famously culminating in a tirade from a market trader called Jenny Geddes, who hurled a stool at the dean, forcing him to end the service abruptly.
It is also a place of beauty, its architecture lovingly restored, its 15th-century crown steeple one of Edinburgh's most distinctive landmarks — described by a historian as "a serene reminder of the imperial aspirations of the late Stewart monarchs". Here, in 1416, a graceful pair of storks made their nest, an event hailed as a portent of peace at a time of civic strife. Not until March 2020, when three birds nested at the Knepp Estate in Sussex, would storks return to Britain.
No one quite knows why the church, as it originally was, took its name from St Giles, the patron saint of lepers, but in its early days it was seen as a place with healing powers. The arm bone of the saint was brought as a relic from France, and at one stage the church had no fewer than 50 altars for those who came to pray for salvation. In the aftermath of the disastrous Battle of Flodden in 1513, when most of the Scottish nobility, and their king, James IV, were killed, Bishop Gavin Douglas held a requiem mass, a powerful act of mourning and renewal.
Knox was less forgiving. He ordered workmen to clear stone altars and monuments from the church. Precious items used in pre-Reformation worship were sold. The church was whitewashed, its pillars painted green, and St Giles's arm was hurled into the Nor' Loch. In 1558 Knox published his First Blast of the Trumpet Against the Monstrous Regiment of Women, a polemical work attacking female monarchs, and arguing that rule by women is contrary to the Bible …
The Queen will lie at peace in a place of singular beauty, close to the elegant Thistle Chapel, with which she was so familiar. Created by the great Scottish architect Robert Lorimer in 1909, it was the place where she, as senior member of the ancient Order of the Thistle, Scotland's equivalent to the Order of the Garter, welcomed new members, 16 in number, appointed on her personal recommendation.
The cathedral's interior is now a place of colour, its crown steeple is gilded with gold, its stained glass windows filter in the daylight, thanks to a renewal appeal, headed by the late financier Sir Angus Grossart, which led to the conservation of the medieval tower, the restoration of the stained glass windows, and the moving of the altar to the centre of the building. A thanksgiving service in the presence of the Princess Royal in January 2011 marked the conclusion of the project.
September 12, continued
In covering the events of Monday, September 12, 2022 in Edinburgh, I left off with the service at St Giles' Cathedral.
Afterwards, mourners were already queuing to pay their respects:
The Guardian reports that former Prime Minister Boris Johnson gave an interview to the BBC's Fiona Bruce that day. She asked him what his final meeting with the Queen at Balmoral on Tuesday, September 6, was like:
Johnson said: "In that audience, she had been absolutely on it. She was actively focused on geopolitics, on UK politics, quoting statesmen from the 50s, it was quite extraordinary.
"She seemed very bright, very focused. She was clearly not well. I think that was the thing that I found so moving when I heard about her death on Thursday, I just thought how incredible that her sense of duty had kept her going in the way that it had, and given how ill she obviously was, she could be so bright and so focused. It was a pretty emotional time."
Johnson gave a memorable tribute to the Queen in parliament on Friday, the day after her death. He told the broadcaster that her death was a "colossal" thing for him and that he felt a "slightly inexplicable access of emotion".
Shortly after 5:30 p.m., the King and Queen Consort arrived at Holyrood, Scotland's parliament, not far from the Palace of Holyroodhouse (emphases in the original):
King Charles and Camilla, Queen Consort have processed into the Scottish parliament in Holyrood, as trumpets played in the background.
They had met political leaders from Scotland beforehand, including first minister, Nicola Sturgeon, Labour leader, Anas Sarwar, and leader of the Conservative party, Douglas Ross.
Presiding officer, Alison Johnstone, opened the session and paid tribute to the Queen, who was there for the assembly's first session in 1999.
Two minutes' silence is now being held. Sturgeon will shortly move a motion of condolence.
She recounted an amusing anecdote from one of her visits to Balmoral:
I did, however, experience one rather tense moment at Balmoral. My husband and I were with the Queen before dinner when the drawing room light started to flicker. To my great alarm … my husband suddenly leapt up and darted across the room. Peter had spotted the cause of the flickering light, one of the Queen's young corgis, a beautiful pup called Sandy was eating through a lamp switch. Thankfully tragedy was adverted, not before a ticking off from his mistress.
Sturgeon, the woman who refused to deliver a message of loyalty on the occasion of the Platinum Jubilee, then waxed lyrical:
I deeply valued the time I spent alone with the Queen. Her words of wisdom, counsel, and humour will stay in my heart for the rest of my life …
The Queen has been intrinsic to the story of modern Scotland, from the opening of the Forties oil pipeline, to the Forth bridge, the Queensferry Crossing, three Commonwealth Games, she was present at so many of our iconic moments. She was a true and steadfast friend of this parliament.
Our nation is in mourning today for a Queen whose loss we have not yet begun to come to terms with. We are deeply honoured by the presence today of His Majesty King Charles III and the Queen Consort. Your Majesty, we stand ready to support you as you continue your own life of service and build on the extraordinary legacy of your mother. Queen Elizabeth, Queen of Scots, we are grateful for her life, may she now rest in peace.
After Sturgeon spoke, the other Party leaders had their turns: Douglas Ross from the Conservatives, Anas Sarwar from Labour and Patrick Harvie from the Greens.
Patrick Harvie's remarks once again revealed how far left he is. He praised all the social advances made during the Queen's reign — more than enough for most people — then said that much more needed to be done. He sounded ungrateful.
Harvie evidently did not want to meet the King. He sent the Greens' deputy leader Lorna Slater instead.
The session concluded with an address from the King:
Wearing a kilt, he stands and says:
I know that the Scottish parliament and the people of Scotland share with me a profound sense of grief at the death of my beloved mother. Through all the years of her reign, the Queen, like so many generations of our family before her, found in the hills of this land, and in the hearts of its people, a haven and a home.
My mother felt as I do, the greatest admiration for the Scottish people, for their magnificent achievements and their indomitable spirit. It was the greatest comfort for her to know, in turn, the true affection in which she was held. The knowledge of that depth and abiding bond must be a solace as we mourn the life of incomparable service.
If I might paraphrase the words of the great Robert Burns, my dear mother was the friend of man, the friend of truth, the friend of age, and guide of youth. Few hearts like hers with virtue warned, few heads with knowledge so informed.
While still very young, the Queen pledged herself to serve her country and her people and to maintain the principles of constitutional government. As we now mark with gratitude a promise most faithfully fulfilled, I am determined with God's help and with yours to follow that inspiring example.
The title of Duke of Rothesay and the other Scottish titles which I have had the honour of carrying for so long, I now pass to my eldest son, William, who I know will be as proud as I have been to bear the symbols of this ancient kingdom.
I take up my new duties with thankfulness for all that Scotland has given me, with resolve to seek always the welfare of our country and its people, and with wholehearted trust in your goodwill and good counsel as we take forward that task together.
The King and Camilla, Queen Consort, then leave the chamber while the bagpipes are being played.
By the time that the Holyrood session ended, mourners were entering St Giles' Cathedral to pay their respects.
The Vigil of the Princes took place that evening, with the Royal Family returning to St Giles' from Holyroodhouse.
The Vigil of the Princes was devised for George V's funeral in 1936. His four sons stood at his casket for a short time. It took place in Westminster Hall at 12:15 a.m. on January 28 that year, after it closed to the public.
In 2002, the Queen Mother's grandsons participated in a similar vigil in Westminster Hall.
For the first time, this silent ceremony included a woman. The Princess Royal, being one of the Queen's four children, participated in it at St Giles'.
This time, the public were able to see them in their solemn ten-minute vigil:
They have chosen not to be armed with swords, as they have the right to do so.
Charles stands at the head of the coffin, the crown behind him on top of it. He and his siblings, facing outwards, bow their heads. They are stood next to the Royal Company of Archers. Camilla is sat off to the side alongside Sophie, Countess of Wessex.
Prince Andrew and Princess Anne can be seen with their eyes closed.
Members of the public are still filing past the coffin.
It was incredibly moving. Two videos follow:
The Royals then returned to Holyroodhouse to spend the night.
The Queen lay at rest in the cathedral until early Tuesday afternoon, at which point staff and the military prepared for her casket to be put in the hearse for the journey back to London.
People queued all night. By the time the viewing closed on Tuesday, 26,000 people paid their respects. They were of all ages and included quite a few children, some dressed in their school uniforms.
The Guardian had a report on the mourners at the close of Monday:
Many thousands of people are waiting for hours in long queues through central Edinburgh to see the Queen lying in rest at St Giles' Cathedral, with some facing a wait until early morning before they pass the coffin.
Mourners queueing in George Square, an early Georgian square now part of the University of Edinburgh, have been waiting for over three hours, with the line six to eight people abreast in places.
The Scottish government responded by increasing the number of lines at the security checkpoint on George IV Bridge, dramatically increasing the numbers of people being cleared to move on to the cathedral. Officials estimate that up to 6,000 people per hour were being allowed through.
Aaron Kelly, 32, a psychotherapist originally from Belfast, who lives close to George Square, had been timing his wait on iPhone. It had clocked up three hours and five minutes by about 8.15pm. He felt it was essential to be there.
"This is a moment in history and I think the Queen has done so much for the nation; it just felt it was apt to come and pay our final respects," he said.
Behind him stood Corey Docherty, 14, and his mother, Mary, and their friend Janis. After travelling from the Glasgow area, and with school tomorrow, he faced getting home after midnight. Docherty has visited Balmoral, Buckingham Palace and Clarence House, the king's former residence in London.
"It's just the most famous royal family in the world," he said. Of the new king, he said: "He's the king. We must support him. He has waited 73 years."
Norman Davenport, 68, who recently retired after 18 years as an officer in the RAF reserve and before then 20 years as an army reservist, began queueing for the cathedral at 2pm on Monday, in good time for it to open to the public at 5.30pm, and arrived there by around 7pm. By 8.30pm, he was in George Square for a rest and a sandwich.
The queen was honorary air commodore of his RAF reserve unit, 603 (City of Edinburgh) Sqdn. He had met her twice. "I have a huge connection with her, from that point of view, as a personal thing. She was my sovereign, my commander in chief, my honorary air commodore."
The City of Edinburgh Council's website had a helpful list of guidelines for mourners.
The Guardian's Murdo MacLeod has an excellent photo compilation of the long queue as it grew throughout the night.
September 13
On Tuesday morning, September 13, The Guardian had an update on the mourners:
Tens of thousands of people, including royalists, "soft republicans" and the plain curious, have queued through the night in Edinburgh to view the Queen's coffin lying at rest.
The queues stretched several kilometres from St Giles' Cathedral on the Royal Mile – with the route winding past security checks, Scotland's national museum, Edinburgh university's student union and library on George Square, then on to The Meadows, a tree-lined park on the city's south side – in an event without modern parallel in Scotland.
Over Monday night, the queues were eight to 10 people abreast in places, with mourners and well-wishers – helped by dry and temperate weather – waiting more than five hours to reach the Queen's coffin.
At 5am on Tuesday, they queued in the open for more than hour to view the coffin, which was guarded by four green-garbed members of the Royal Company of Archers, each holding an upright bow, and four police officers wearing white gloves.
The Scottish government expects the queue – remarkable in its size – to grow again on Tuesday morning, before public viewing ends at 3pm. At about 5pm, the Queen's coffin will be taken by hearse to Edinburgh airport, accompanied by Princess Anne, the Princess Royal, then flown by military aircraft to RAF Northolt, before being driven to Buckingham Palace …
Victoria, 53, an artist, and her daughter Grace, 20, an art and philosophy student, woke up at 3.45am to come from Linlithgow, West Lothian, by train. Both women said they had an emotional response to the Queen's death, which contradicted their republican sympathies.
"We're not royalists but it has been a very strange thing, to be affected by the Queen dying," Victoria said. "And Grace was very affected too, so we thought: 'Let's go.'
"From a political point of view, I'm just a bit confused because it's what I'm against politically, but I just felt an emotional desire to come. I wasn't expecting to feel this way" …
Brian Todd, 51, who had joined the Royal Navy at 16 before serving as a fire fighter, and his partner, Allison Pearson, 55, a property manager, travelled from Livingston, West Lothian, getting up at 3.30am. They said they were monarchists, born to monarchist parents …
For Todd, originally from County Durham, the three days of events in Scotland attached to the Queen's death at Balmoral – events which began with the funeral cortege's slow 170-mile drive through eastern Scotland to Edinburgh on Sunday – were significant and resonant.
"Scotland needed this as well," he said. "Everything seems to be London-centric and set down south. It's not great that the queen has passed away, but it has been great for Scotland. At least we can say we did her proud. It's not just about London."
Meanwhile, at Holyroodhouse, the King and Queen Consort were preparing for a day in Northern Ireland while Princess Anne steeled herself to accompany her mother's casket on a flight back to London to rest overnight at Buckingham Palace. Her husband, Vice Admiral Sir Tim Laurence, accompanied her.
The plan was for the King and Queen Consort to arrive at Buckingham Palace in time to meet his mother's casket.
At 12:15, the Scottish Government reported on the visitors at St Giles':
The queue was still long, but by the end of the viewing, everyone was accommodated at St Giles':
The King and Queen Consort touched down in Belfast shortly after noon that day:
At 12:30 p.m., the King and Queen Consort had arrived at the official Royal residence in Northern Ireland, Hillsborough Castle, which had a huge crowd waiting to greet them.
The Royal couple did a walkabout before viewing an exhibition about the Queen's long association with Northern Ireland.
The Guardian reported that the crowd chanted 'God save the King':
He and the Queen Consort Camilla were greeted by delighted crowds. He went along the line smiling and laughing and receiving flowers for over five minutes.
"I spoke to him and he spoke back!" yelled one woman in delight as he passed.
The Daily Mail has a video of well-wishers, including a corgi:
The floral tributes were many.
Just before 1:30, the King met the new Northern Ireland Secretary, Chris Heaton-Harris, inside the castle.
The Northern Ireland Assembly, which meets at Stormont in Belfast, gathered at the castle to present official condolences to the monarch. This took place a short time after the King's meeting with the Northern Ireland Secretary.
The Assembly's speaker, Alex Maskey MLA, opened proceedings:
Maskey, a Sinn Féin member of the assembly, directly addressed the political context of the changes in Northern Ireland during Queen Elizabeth's lifetime, saying:
On the walls of parliament building in Stormont are images from two of Queen Elizabeth's visits during the coronation year 1953 and the second for the diamond jubilee in 2012. It is extraordinary to consider how much social and political change Queen Elizabeth witnessed in the time between those visits, and indeed throughout her long reign. Yesterday an assembly of Unionists, Republicans, nationalists met to pay tribute to the late Queen. When she first came to the throne, no one would have anticipated an assembly so diverse and inclusive.
Also:
It was notable that neither the speaker of the Northern Ireland assembly, Sinn Féin's Alex Maskey, nor the new King, shied away from talking about the history of Northern Ireland or the long years of conflict, and Maskey alluded to the current stalemate.
Maskey said that at one point it would have been unthinkable for someone "from my own background and political tradition" being in the position to deliver this address. He said:
… Queen Elizabeth was not a distant observer in the transformation and progress of relationships between these islands. She proudly demonstrated that individual acts of positive leadership can help break down barriers and encourage reconciliation. Queen Elizabeth showed that a small but significant gesture – a visit, a handshake, crossing the street or speaking a few words of Irish can make a huge difference and change attitudes and build relationships. Her recognition of both British and Irish citizens as well as the wider diversity of our community was undoubtedly significant.
Of course, such acts of leadership do not come without risks, or the need for courage and determination to see them through. I represent the elected assembly of a society which has struggled with the legacy of our past and how to move on from it without leaving those who have suffered behind.
During her visit to Dublin, Queen Elizabeth said that whatever life throws at us, our individual responses will be all the stronger for working together and sharing that load. Let us all pay heed to that. As we remember Queen Elizabeth's positive leadership, let us all reflect that such leadership is still needed. And let us be honest with ourselves enough to recognise that too often, that leadership has been lacking when it has been most required.
Maskey's reference to 'a handshake' recalled the time she shook Martin McGuinness's hand in 2012. She was wearing gloves. McGuinness was a pivotal figure in the IRA, which was responsible for assassinating one of the Queen's relatives, Lord Moutbatten, in 1979.
The King responded to Maskey's speech:
Charles says that his mother, the Queen, was aware of her own role, saying:
My mother felt deeply the significance of the role she has played in bringing together those who history had separated, and extending a hand to make possible the healing of long-held hurts.
He said he would dedicate himself to a similar role, saying:
At the very beginning of her life of service, she made a pledge to dedicate herself to her country and her people and to maintain the principles of constitutional government.
This promise she kept with steadfast faith.
Now with that shining example for me, and with God's help, I take up my new duties resolved to seek the welfare of all the inhabitants of Northern Ireland.
He recalled Lord Mountbatten's death:
King Charles thanked Northern Ireland for the condolences, and said that his mother never ceased to pray for the best of times for its people, "whose sorrows our family had felt", in a reference to the death of Lord Mountbatten in 1979.
Here is the video:
Then, the King met Northern Ireland's political leaders. The Guardian has photos of him with DUP (Democratic Unionist Party) leader Sir Jeffrey Donaldson MP, Northern Ireland Assembly speaker Alex Maskey, Alliance Party leader Naomi Long and Sinn Féin vice president Michelle O'Neill, who is the most senior member of the Assembly.
At the end of the Royal couple's visit, the King experienced pen problems once more as he signed the visitors' book. This time, it was more than a misplaced tray of pens. His fountain pen was well and truly leaking. The Queen Consort helped to dry it with a handkerchief, which ended up soaked with ink. Sky News has a subtitled version:
The Daily Mail's description reads:
'Can't bear this bloody thing!' King Charles frustrated by leaking pen, but Queen Consort Camilla saves the day. This is the moment King Charles blasts a leaking pen that threatens to ruin his mood just hours after the new monarch was warmly embraced by the people of Northern Ireland during his inaugural trip as monarch. King Charles III, sitting inside the royal residence of Hillsborough Castle appeared visibly frustrated as he tried wiping off dripping ink during a book signing towards the end of his visit. Charles complained about the faulty instrument he was using to sign his name, pronouncing he 'can't bear this bloody thing' as he briskly turned on his heels and left the room flanked by aides. The leaky pen was swiftly replaced by flustered courtiers before Queen Consort Camilla sat down to sign the book herself from inside the historic residence.
Afterwards, the Royal couple returned to Belfast for a Service of Reflection at St Anne's Cathedral (Anglican).
It was very moving, as have been all the religious services for the late Queen. You can find the Order of Service here.
Clergy representing Northern Ireland's main Christian denominations all participated.
Alex Maskey MLA read Philippians 4: 4-9:
Rejoice in the Lord always; again I will say, rejoice. Let your gentleness be known to everyone. The Lord is near. Do not worry about anything, but in everything by prayer and supplication with thanksgiving let your requests be made known to God. And the peace of God, which surpasses all understanding, will guard your hearts and your minds in Christ Jesus. Finally, beloved, whatever is true, whatever is honourable, whatever is just, whatever is pure, whatever is pleasing, whatever is commendable, if there is any excellence and if there is anything worthy of praise, think about these things. Keep on doing the things that you have learned and received and heard and seen in me, and the God of peace will be with you.
Also notable was the prayer before the sermon for its use of 'felicity', a word I have not heard in decades:
O Lord, our heavenly Father, high and mighty, King of kings and Lord of lords, the only ruler of princes, who from your throne beholds all who dwell upon earth; grant to us understanding of your will and thankfulness of heart for the life and reign of our most beloved Queen, and to her everlasting joy and felicity, through Jesus Christ our Lord. Amen.
The Most Reverend John McDowell, Archbishop of Armagh and Primate of All Ireland delivered the sermon, which was gentle in tone yet hard hitting in content when it came to reconciliation.
To me, this was the best sermon of all from the Services of Reflection.
Excerpts follow:
In the Name of the Father and of the Son and of the Holy Spirit. In anim a Athair, agus a Mhic agus a Spiorad Naomh. Amen.
For many of us in the United Kingdom there were two people whose deaths we could never imagine. Our own and the Queen's. I think that is one of the reasons why the death of Queen Elizabeth was literally felt so keenly by so many people when the news broke on Thursday afternoon. It was as though the nation's collective grief was gathered up in those remarkable words of Christopher Marlowe's:
"If I had wept a sea of tears for her, it would not ease the sorrow I sustain".
And if that was how those of us felt who were her adopted family through her coronation oath, how much more profound must that feeling of loss be to those of the Queen's blood family; those who knew her best and loved her most; Your Majesty, our prayers will be with you and your family for a long time to come.
St Paul could be a bit of a gloomy old moralist at times and some of the injunctions contained in his letters are far from easy to put into practice. It is pretty difficult to "have no anxiety about anything". But I would dare to suggest that for the family of the late Queen and for millions of others, there will be no difficulty whatsoever, when she comes to mind, in following St Paul's command to think on "whatever is true, whatever is just, whatever is pure, whatever is lovely, whatever is gracious and whatever is worthy of praise".
There were many other words used about the late Queen during her long reign. Faithfulness, care, dutifulness, love and devotion. All of these could be employed to describe her relationship with Northern Ireland (with patience binding them all together) but paying attention especially to what she said most recently, the word which I think will be most associated with Queen Elizabeth and Ireland, north and south, is reconciliation.
It is a great New Testament word and it is a great civic word; and it is a hard word. So hard in the religious sense that it was beyond the power of humanity to achieve, and God himself had to give it to us as a gift in his Son. And as a disciple of Jesus Christ, Queen Elizabeth followed where Jesus led as women often have in the elusive and unfinished work of reconciliation here in Ireland.
For where the Master is, there will his servant be also.
It has always been love's way that in order to rise, she stoops; so the bowing of her head in respect was far more powerful than much grander gestures would have been. Love listens far more than she speaks, so a few words in an unfamiliar language and a judicious sentence or two of heartfelt regret and wisdom said far more than ceaseless volubility. Love never rushes into anything for fear of overwhelming the beloved, but when the moment is right she walked the few steps between two Houses of Prayer in Enniskillen alongside the beloved, in encouragement and affection. Although love is easily injured, she keeps no record of wrongs and extends the open hand of sincerity and friendship, with courage, to create an environment and an atmosphere where reconciliation has a chance.
And love never fails; for where the Master is there will his servant be also.
Reconciliation is about the restoration of broken relationships. And the word should never be cheapened by pretending it is an easy thing to achieve. By and large in the work of reconciliation most of our victories will be achieved quietly and in private: and most of our humiliations will be in public.
Reconciliation requires the greatest of all religious virtues, love; and it requires the greatest of all civic virtues, courage. But as the great apostle of reconciliation says: "What you have learned and received and heard and seen in me, do; and the God of peace will be with you" …
It is only an impression, but it seemed to me that in the last years of her reign the tone and content of the Queen's broadcasts became more overtly religious and perhaps a little more personal. On Christmas Day 2017 she said this:
Although we are capable of great acts of kindness, history teaches us that we sometimes need saving from ourselves – from our recklessness and greed. God sent into the world a unique person – neither a philosopher or a general, important as they are; but a saviour with the power to forgive. Forgiveness lies at the heart of the Christian faith. It can heal broken families, it can restore friendships and it can reconcile divided communities. It is in forgiveness that we feel the power of God's love.
At her baptism Elizabeth Alexandra Mary was signed on her forehead with the sign of sacrifice; the cross. And for 96 years in a life which was a prodigy of steady endeavour she offered herself, her soul and body, as a living sacrifice to the God who loves her with an everlasting love.
So, I want to finish by reminding you of those final words spoken by Mr Valiant for Truth in Bunyan's Pilgrim's Progress, some of which the Queen herself used in her very first Christmas televised broadcast in 1957:
Then he said, I am going to my Fathers, and though with great difficulty I am got hither, yet now I do not repent me of all the trouble I have been at to arrive where I am. My sword I give to him who shall succeed me in my pilgrimage, and my courage and skill to him that can get it. My marks and scars I carry with me, that I have fought his battles who will now be my Rewarder. When the Day that he must go hence was come, many accompanied him to the riverside, into which as he went he said, Death where is thy sting; and as he went down deeper he said, Grave where is thy victory? So he passed over, and the trumpets sounded for him on the other side.
All these words I have offered from an unworthy heart.
God save the King
Oecumenical prayers followed.
Two verses of the National Anthem followed:
God save our gracious King,
Long live our noble King,
Thy choicest gifts in store
On him be pleased to pour,
To sing with heart and voice,
God save the King.
The service closed with a Celtic blessing.
The Belfast News Letter has a collection of photos from the service, leading with one of Prime Minister Liz Truss sitting next to Ireland's Taoiseach (pron. 'Tee-shuck') — Prime Minister — Micheal (pron. 'Mee-hull') Martin.
According to television reports, various politicians, including Truss and Martin, spent a long time in the cathedral talking after the service.
The Daily Mail reported that Truss and Martin will meet after the Queen's funeral on Monday, September 19:
Liz Truss is expected to hold talks with Irish premier Micheal Martin about Northern Ireland's Brexit political impasse when he visits London for the Queen's funeral.
They are expected to meet after the Taoiseach represents Ireland at the Westminster Abbey ceremony on Monday …
It comes after Mr Martin suggested the Queen's death was an opportunity to 'reset' relations between Britain and Ireland following bitter Brexit disputes.
Northern Ireland is currently gripped by heightened political tensions at Stormont and between the UK and Irish governments over post-Brexit arrangements for Northern Ireland. 
Sinn Fein became the largest party at the assembly in May's election but the DUP has refused to restore the power-sharing executive until the Northern Ireland Protocol of the UK/EU Brexit deal is replaced.
Ms Truss is also threatening to push ahead with legislation at Westminster to scrap key elements of the Protocol if negotiations with the EU on revamping trade rules continue to stall.
This has caused a furious response from both Dublin and Brussels, with the bloc launching fresh legal action against the UK.
After greeting clergy and other dignitaries, the King and Queen Consort returned to Belfast Airport to return to RAF Northolt in north west London.
The Daily Mail has a video showing the amazing crowds in Belfast and Hillsborough:
Back in Edinburgh, the military attending during the Queen's lying in state at St Giles' carefully placed her coffin in the hearse to go to Edinburgh Airport.
Princess Anne and her husband were there to accompany it.
People lined the roads on the way to the airport.
The Daily Mail has an article with many photographs showing the Princess and her husband making the sorrowful six-hour journey from Balmoral to Edinburgh on Sunday. Undertakers William Purves, which have been operating since the 19th century, provided the service. They followed up with a second article with more photos.
At least the ride to Edinburgh Airport was much shorter.
The number on the RAF aircraft, a C-17 Globemaster — also used to transport our military home from Afghanistan — was ZZ177, or Liz. Note that the Scottish Crown was removed, as it stays in Scotland: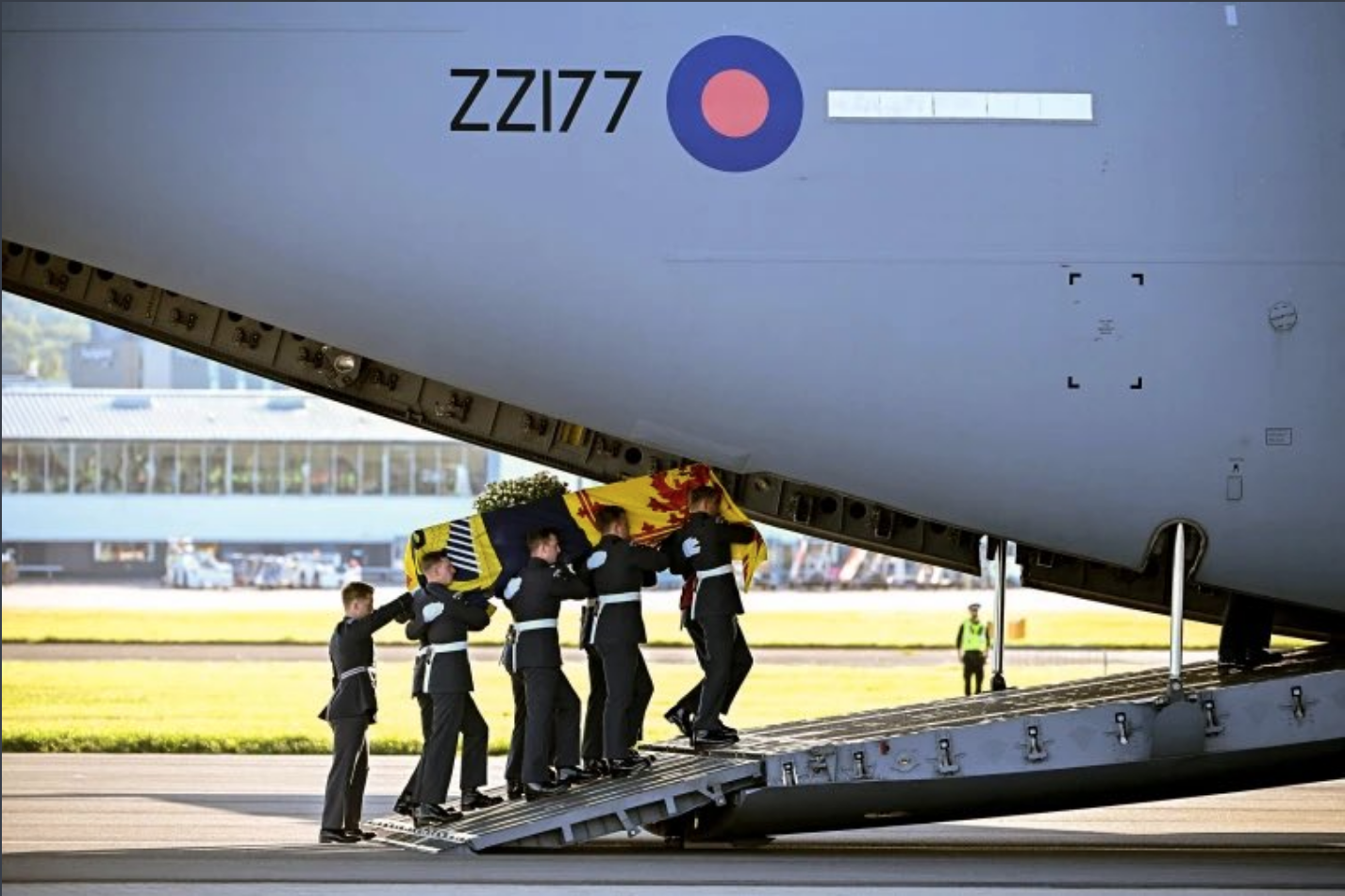 As Princess Anne and her husband prepared for takeoff, the King and Queen Consort arrived in London.
Crowds gathered around Buckingham Palace to welcome them.
The flight with the Queen's casket landed at RAF Northolt just after 7 p.m. Liz Truss and a senior Anglican clergyman, who offered a blessing, were present.
Crowds lined the route on the way into the capital. Rod Stewart's wife Penny Lancaster was outside RAF Northolt as a special constable, keeping order. You could not make this up:
The 51-year-old, who is married to crooner Rod Stewart, began working as a special constable last year and earlier confirmed she would be working during the Queen's funeral on Monday.
On Tuesday evening she was pictured engaging and marshalling expectant crowds and helping a wheelchair user.
The cortege arrived at Buckingham Palace an hour later:
The Queen's casket rested in the Bow Room of the palace overnight before moving to Westminster Hall on Wednesday.
On Wednesday, September 13, the Mail reported on the statement the Princess posted online after she reached London on Tuesday evening:
The Princess Royal has paid tribute to her mother and said it had been 'an honour and a privilege' to accompany the Queen on her final journeys as she travelled with the monarch's coffin back to London.
Princess Anne, the late monarch's only daughter, told how she was 'fortunate to share the last 24 hours of my dearest mother's life'.
She said the love and respect shown to the Queen on her journey from Balmoral to Edinburgh and onto London had been 'both humbling and uplifting'.
Anne also thanked the nation for the 'support and understanding offered to my dear brother Charles' as he takes on his duties as King.
She ended her statement with the words: 'To my mother, The Queen, thank you.' 
More will follow beginning next Monday, continuing on with Wednesday's events in London, Friday's trip to Wales and the Queen's funeral.
This has been an incredible period not only in British history, but also the world's.
We are experiencing the end of an era.
Yesterday's post introduced the significance of Scotland to Queen Elizabeth II.
In it, I mentioned that, after the 1707 Acts of Union, the history of Scotland began to be romanticised through the efforts of Queen Victoria, Prince Albert as well as Walter Scott's novels.
Romantic history
A royal historian told GB News that Prince Albert was quite taken by the countryside in Aberdeenshire, which reminded him of his native Rhineland.
He and Victoria had an amazing love life, according to a television documentary I saw many years ago. In the early days, at least, he used to dress and undress her. Her silk stockings were a favourite part of the ritual.
After Albert died in 1861, Victoria moved up to Balmoral for a time and became close friends with one of his servants, John Brown, a Scot. A film about their relationship, Mrs Brown, made its debut in 1997.
In 1863, courtiers and the Royal Family thought that Brown could rehabilitate the mourning Queen. Instead, he began controlling her daily life at her holiday idyll.
In time, rumours about the extent of their relationship began circulating not only among her inner circle but also in London, where a republican sentiment began growing in her absence. Courtiers and the Royal Family changed tack, this time urging Brown to get the widowed Queen back to the capital to make public appearances.
Brown followed orders, although his and Victoria's relationship was never the same afterwards.
On the other hand, her resumption of public appearances quelled restive republicans.
Brown remained a loyal servant, foiling an assassination attempt on the Royal Family. In 1883, he contracted pneumonia. Victoria visited him in his room and apologised for not having been a better friend. Brown died a short time later and left behind a diary, which, allegedly, has disappeared.
Victoria's two main courtiers, Sir Henry Ponsonby and Sir William Jenner, found it and read it. Only they knew what happened to it afterwards. One of them said later on that the then-Prince of Wales — Edward VII — was so resentful of Brown that he threw a bust of the man over the palace wall in London after his death.
At Balmoral, John Brown is immortalised in two paintings which hang in the drawing room where Queen Elizabeth II received Boris Johnson and Liz Truss on Tuesday, September 6, 2022.
On September 7, The Times helpfully told us more about the room's features, including the paintings which flank the fireplace (emphases mine):
Victoria and John Brown, her servant and close friend after the death of Prince Albert, feature twice in the room's paintings. To the left of the mantelpiece they appear in Sir Edwin Landseer's chalk and pastel drawing Sunshine: Balmoral in 1860 or Death of the Royal Stag. Albert stands proudly in the foreground with a gun over his shoulder, dogs at his heel and a stag at his feet. In the background Victoria sits side-saddle on a horse led by Brown, her ghillie.
To the right is Gilbert Sprague's copy of another Landseer painting of Victoria, in mourning as she sits on her pony Flora outside Osborne House, her retreat on the Isle of Wight. Victoria commissioned the original in 1861 after Albert's death, telling Landseer that she wished to be depicted "as I am now, sad and lonely, seated on my pony, led by Brown, with a representation of Osborne".
Queen Elizabeth also experienced the magic of Scotland that her forebears helped to create.
As a child, she remembered happy days at Glamis Castle then Balmoral. As an adult, she associated possibly her happiest memories with Balmoral. There, the love of her life, Prince Philip, proposed to her. The happy couple also spent their honeymoon there.
On September 8, The Times published an insightful article: 'Balmoral gave Elizabeth the chance to feel "free"', excerpted below:
Scotland played a large and emotional part in Elizabeth's life. Her happiest memories were of the childhood days she spent with "Granny Strathmore"— Cecilia Bowes-Lyon, Countess of Strathmore and Kinghorne, who was also her godmother — at Glamis Castle.
At the family home in Angus she enjoyed parties, children's theatre after tea, and visits to nearby Cortachy Castle, owned by Lord Airlie, where she once "borrowed" the young David Ogilvie's little blue pedal car, much to his fury. At Balmoral, she felt she could be "normal" — almost a housewife, like ordinary people; it took her into another world. "Here I can be free," she told a friend once.
Not that it was exactly ordinary; there were certain traditions. A piper played every morning before breakfast, and, when guests were staying, there would be pipers at dinner. The ladies would depart after the meal, leaving the men to talk over the brandy.
There were shooting parties, with the Queen and her dogs driving out to join the guns at lunch, then "picking up": her dogs retrieving the birds they had shot. "She was an ace picker-up," recalled one friend. Back at the house the first duty would be to feed the dogs.
She insisted on doing the washing-up after picnics, when Philip managed the barbecue and she did the rest. Those picnics — some of them in the evening, in one or other of the huts in the grounds of the estate, always kept open, and often used by members of the public — were famous occasions, remembered by guests long after for their combination of relaxed informality and perfectly organised routine.
Then it would be back to the castle. What one friend noticed, however, was that, as soon as Elizabeth walked through the door of Balmoral Castle, she became Queen again. This was the royal residence, and there was no mistaking who was in charge.
The Queen also enjoyed an annual week-long stay in Edinburgh at the Palace of Holyroodhouse. The city's Lord Provost would deliver the keys to the palace to her in the Ceremony of the Keys and a closing ceremony of her returning them to him took place upon her departure.
She would visit St Giles' Cathedral, probably the only Presbyterian cathedral in existence, and, beginning in the late 1990s, Holyrood, the Scottish parliament.
The independence movement strengthened by an SNP government has grown leaps and bounds since I last visited Scotland 30 years ago.
It is difficult to pin down what exactly the SNP expect as an independent nation, including where they stand on the monarchy. Although First Minister Nicola Sturgeon praised the Queen in death, she was less forthcoming in June during the Platinum Jubilee weekend:
After the scandal surrounding Prince Andrew, she said that there should be a "debate" about the future of the monarchy; she notably failed to deliver a message of loyalty at the time of the Platinum Jubilee; and she did nothing to contradict a statement from the Green Party, her allies in government, which accused the monarchy of "holding back" progress.
However:
None of that has diluted the Queen's affection for Scotland, and her pride in her Scottish connections. As Sir Charles Fraser, who was purse bearer at the Palace of Holyroodhouse for nearly 20 years, commented: "Over many conversations with the Queen, she always spoke of her love for Scotland and her commitment to her Scottish ancestry. Throughout her reign she gave us leadership and hope, where others have failed."
Incidentally, former Royal servants say that all of them enjoyed being at Balmoral and could hardly wait for their annual stay there. It seems that it was as delightful for them as it was for the Queen. 
Monday, September 12
In my preceding post, I wrote about a young woman getting arrested on Sunday, September 11, near St Giles' Cathedral for an anti-monarchy poster with an obscenity written on it. This happened during the proclamation of Charles III as the new King.
People in England were upset about it, but Scotland has its own speech laws which are much stricter than ours:
Guido Fawkes thought that the arrest was overkill. I tend to agree but, then again, I don't know anything about Scottish policing (emphases his):
The 22-year-old woman who was arrested after holding up this anti-monarchy placard at St Giles' Cathedral has been charged "in connection with a breach of the peace" and is reportedly due to appear at Edinburgh Sheriff Court today. Amid the emotional royalist fervour, the country is feeling it is even more important to stand up for universal and enduring values. The Free Speech Union has expressed concern that the protester been arrested for voicing anti-monarchist views during the Proclamation of King Charles III yesterday.  Defenders of free speech know that if they don't stand up for views with which they disagree or even find offensive, they're not defending free speech. Whatever your views on the monarchy, this protester has a right to hers.
… The Free Speech Union has already reached out to the protester to offer their assistance.
That day, Guido reported that the SNP's deputy leader John Swinney expressed surprising pro-monarchy views. He sounded like a Conservative:
Guido said that, on Sunday, Swinney said he watched the broadcast of Charles III's Accession Ceremony in London:
I thought that when I watched the accession council in London yesterday because right at the heart of it was the significance of Scotland's place within the Union and the extraordinary significance that was attached to that and the declarations and commitments that the King made and the fact the Secretary of State for Scotland, the First Minister of Scotland, the Lord Advocate of Scotland, the Lord President of the Court of Session in Scotland, were signatories to the documents which essentially facilitate the accession.
On Monday, Swinney went further:
This morning, Swinney went even further in irritating the most ardent of Scottish nationalists, stating the SNP would continue to have the UK monarch be Head of State in the event of independence, as they promised during the 2014 referendum:
The monarch should be the head of state of an independent Scotland. It's what we argued in the referendum in 2014 and it's what we will continue to argue.
Will the death of the Queen accidentally cause a cooling of temperatures in the Scottish independence debate?
That is part of what Operation Unicorn — the days of mourning in Scotland — was designed to do.
For much of Monday, the Queen continued lay in rest at the Palace of Holyroodhouse. This allowed staff to pay their respects in quiet privacy from Sunday afternoon onwards.
Senior members of the Royal Family, such as Princess Anne, were there awaiting the arrival of King Charles. Upon his and the Queen Consort's arrival, the Lord Provost would go to conduct the Ceremony of the Keys.
Meanwhile, in the morning, King Charles was in London, addressing both Houses of Parliament in the ancient Westminster Hall, adjacent to the Houses of Parliament.
Westminster Hall was built by William the Conqueror's son, William Rufus (William II) in 1097. It is the largest hall of its kind in Europe. The beamed ceilings were added in 1399 when Richard II had the pillars removed so that everyone inside could see what was going on. On the two occasions when the Palace of Westminster caught on fire or when it was bombed during the Second World War, the first priority of firefighters is to save Westminster Hall over the parliamentary palace.
The building has been used throughout the ages as Parliament, as court for the trials of Charles I and the real Guido Fawkes (a traitor) but has also been the venue for coronation banquets. It is still used by both houses of Parliament and is open to the public on important occasions when it is used for the lying in state of distinguised politicians such as Winston Churchill (1965) and members of the Royal Family. The Queen Mother was the last person to lie in state there. I went to pay my respects to her in 2002. The Queen is lying in state there as I write.
The Queen also spoke there on her Silver Jubilee (1977), her Golden Jubilee (2002) and her Diamond Jubilee (2012). A beautiful stained glass window commemorating her Diamond Jubilee is installed on one side of the hall.
Charles's visit was of historical significance and not only because he is the United Kingdom's first King in 70 years.
Both Speakers — of the Lords and of the Commons — wore their dress robes, which are gilded. Their respective serjants of arms brought each House's mace up to the appropriate Speaker and laid them down on a raised platform.
The Speakers stood across from each other below the raised platform on which Charles was due to speak. The maces were covered with a black cloth, indicating not only mourning but also that they were subservient to the Sovereign.
Peers and MPs, as well as staff members, were in attendance.
The Speaker of the Lords, Lord McFall spoke first to extend his and the Lords' sympathy to the King.
The life peer, a Scot, is a testament to the progress people can make in modern Britain:
Sir Lindsay Hoyle spoke next for the Commons, reminding the new monarch of the increased powers of Parliament since the Glorious Revolution of 1688. The King smiled wryly:
Then it was time for the King to address the room:
The Telegraph's summary has the key points of his speech:
We gather today in remembrance of the remarkable span of the Queen's dedicated service to her nations and peoples.
While very young her late Majesty pledged herself to serve her country and her people and to maintain the precious principles of constitutional government which lie at the heart of our nation.
This vow she kept with unsurpassed devotion. She set an example of selfless duty which, with God's help and your counsels, I am resolved faithfully to follow.
The King had already met with senior Government ministers, including Liz Truss, over the weekend at Buckingham Palace. Shadow (Opposition) ministers also met with him:
After the event at Westminster Hall ended, a reception was held, but the King and Queen Consort did not attend as they were due to fly to Edinburgh.
While the Royal couple were on their way, people lined up along Edinburgh's Royal Mile:
Once Charles and Camilla arrived at Holyroodhouse, they and other members of the Royal Family assembled to be led by members of Scottish regiments for the procession to St Giles' Cathedral, for a service of remembrance.
I know from first hand experience that it is a long walk and did not envy the Royals who did walk behind the hearse, especially on the cobbled road.
The Royals who walked were the Queen's children: the King, the Princess Royal, Prince Andrew and the Prince Edward. Vice Admiral Sir Tim Laurence, Princess Anne's husband, also walked with them.

Prince Andrew was not allowed to wear his military uniform. He appeared in morning dress with his military medals.
A young heckler shouted at Prince Andrew in reference to sexual allegations with an underage girl, was quickly tackled by a member of the public, then police dragged him to his feet and arrested him:
He was arrested for breach of the peace:
The SNP had toughened up that law in 2010:
The procession up the ancient road was deeply moving, like something out of a film.
Prince Charles wore the green sash and star of the Order of the Thistle.
The Queen's coffin was draped in the Royal Standard of Scotland.
The Guardian's diary for the day added:
The Queen's coffin is … dressed with a wreath of flowers consisting of white spray roses, white freesias, white button chrysanthemums, dried white heather from Balmoral, spray eryngium, foliage, rosemary, hebe, and pittosporum.
The hearse is flanked by a bearer party found by the Royal Regiment of Scotland and the King's Body Guard for Scotland.
The cortege arrived at St Giles' shortly after 3 p.m. Watching the procession, I do not think they allowed enough time.
Heralds and Pursuivants of Scotland stood outside the cathedral door to receive the Queen for one last time. The Guardian has a magnificent photo of their uniforms.
The Crown of Scotland (see photo) was placed on the Queen's casket before the service.
Here is a photo of the military bearer party dressed in kilts placing the casket on the catafalque in the cathedral.
The Guardian reported (emphases theirs):
At the beginning of the service of thanksgiving for the Queen, Reverend Calum MacLeod welcomed the royal family, "representatives of our nation's life" and "people whose lives were touched by the Queen in so many unforgettable ways".
Among those attending the service are the prime minister, Liz Truss, as well as Scotland's first minister, Nicola Sturgeon.
Unfortunately, there is no video of the service, which was very well done and oecumenical.
The Order of Service is here.
Nicola Sturgeon read Ecclesiastes 3:1-15. We know the first several verses well but here are the next:
What gain have the workers from their toil? I have seen the business that God has given to everyone to be busy with. He has made everything suitable for its time; moreover, he has put a sense of past and future into their minds, yet they cannot find out what God has done from the beginning to the end. I know that there is nothing better for them than to be happy and enjoy themselves as long as they live; moreover, it is God's gift that all should eat and drink and take pleasure in all their toil. I know that whatever God does endures forever; nothing can be added to it, nor anything taken from it; God has done this, so that all should stand in awe before him. That which is, already has been; that which to be, already is; and God seeks out what has gone by.
The Church of Scotland has a transcript of the sermon that the Right Revd Dr Iain Greenshields preached:
Excerpts follow:
Death has been overcome, these are the words of hope expressed and centered around Jesus who died and rose again.
And this is clearly something that Her Majesty Queen Elizabeth acknowledged and personally embraced.
These last few days, as tributes to her Majesty have poured in and we have watched images of her on screen from her earliest years, capturing that remarkable life, yet now beginning to sink in that she is gone from us – "gone home" to express her own words.
Today, we gather in this place of worship and throughout the nation, to express our thanks to God, for her Majesty Queen Elizabeth's extraordinary life.
We are united in sorrow at the death of our Monarch, but we are also so aware that His Majesty King Charles and all his family are not just grieving the loss of their Queen, but their mother, grandmother and great-grandmother too.
Her Majesty Queen Elizabeth began her reign, like King Solomon by asking for wisdom, something that she demonstrated in large measure and to which was added duty, honour, commitment, and faith.
These are the words that we reach for today to describe the life and reign of Queen Elizabeth, whose passing is mourned not only in her native land but across the Commonwealth and the world, as has been so evident to us in recent days.
Most of us cannot recall a time when she was not our monarch.
Committed to the role she assumed in 1952 upon the death of her beloved father, she has been a constant in all of our lives for over 70 years.
She was determined to see her work as a form of service to others and she maintained that steady course until the end of her life.
People who were in her company always felt that they were being listened to carefully and attentively and with compassion.
She possessed a sharp, intelligent mind, with amazing recall, a kindly heart and a gentle sense of humour.
She understood the breadth of world affairs and also cared about what happened to all of her people.
And although sometimes buffeted by events around her, she continued resolutely and cheerfully fulfilled her responsibilities …
Much has been said about the Queen's contribution to the life of the United Kingdom and the Commonwealth which meant so much to her.
But here in Scotland we acknowledge with gratitude her deep links with our land and its people.
Her love of the Balmoral estate is well known and being there latterly brought her great comfort.
There she was valued as a neighbour and a friend and there she drew strength and refreshment during the summer months.
She was active in the life of civic Scotland, travelling across the country to support numerous causes, entertaining guests at Holyrood Palace and presiding at ceremonial events, many of which took place in this Church.
Here she received the Scottish crown in 1953, an event vividly memorialised in the painting by the Orcadian artist Stanley Cursiter.
Her links with the Scottish churches were also deep and lasting.
She was the Supreme Governor of the Church of England, but she worshipped in the Church of Scotland here north of the border, at Canongate Kirk and especially at Crathie Kirk where she took her pew each Sunday morning, prevented from doing so latterly only by infirmity.
She perceived little difficulty in belonging to two Churches and appreciating the strength of each.
It is clearly evident and without doubt that the Queen's Christian faith was genuine, and often gave clear and sincere expression in those remarkable Christmas broadcasts.
She spoke unashamedly of her trust in God and of the example and teaching of Jesus Christ whom she sought to follow as best she could – indeed, of that faith she said she had no regret …
Today we mourn her passing but we also celebrate the long and happy reign that we experienced with her.
And we pray God's blessing upon King Charles who will surely draw strength from his mother's example and the many affectionate tributes of these days and from our assurance to him as a Church of our steadfast prayers at all times and of our unstinting support to him as was offered to his mother, the Queen.
The Cathedral's website has more about the Queen's visits.
The service lasted an hour and ended at 4:15.
The Royal party then returned to Holyroodhouse.
However, their day was far from over.
The King met with Nicola Sturgeon. He and the Queen Consort then went to Holyrood to visit the Scottish parliament where MSPs delivered a motion of condolence.
At 7:20 that evening, the senior Royals returned to St Giles' for the Vigil of the Princes. It would be the first time that a female — Princess Anne — would take part.
More on that tomorrow.
It is probably no coincidence that the Queen spent her final months at Balmoral in the north east of Scotland, near Aberdeen.
Scotland, especially the eastern half of the country, is romantic in all senses of the word.
The Queen had many fond memories of her summers there.
Therefore, she and the Princess Royal — Princess Anne — devised Operation Unicorn, to be activated in case she should die in Scotland. It was a great success not only for her Scottish subjects but for all of us watching in the United Kingdom and around the world.
A brief history
The last monarch to die in Scotland was James V in 1542.
He and his family were Catholic. His infant daughter Mary Queen of Scots succeeded him. Regents governed Scotland while she was young. She was forced to abdicate in 1567 and was beheaded in England in 1587.
Mary's son, James VI of Scotland, succeeded her in 1567. He, too, had regents until he reached majority age. Elizabeth I of England died in 1603 and, unmarried, had no successors. As James was the great-great-grandson of Henry VII, he had a rightful claim not only to the Scottish throne but also those in England and Ireland.
In the Union of England and Scotland Act 1603, the three kingdoms came under James's rule. In England and Ireland, he was known as James I. His 22-year reign is known as the Jacobean era.
Interestingly, he returned to Scotland only once during that time, in 1617. He styled himself King of Great Britain and Ireland, only modified in the past century to replace Ireland with Northern Ireland.
Having the same monarch but the ability to maintain respective laws and customs allowed Scotland and England the flexibility to trade with each other without a complete union. Successive monarchs discussed union, but the two governments and the clergy vehemently disagreed on how to implement one.
By the 1690s, the whole of Europe was in a severe economic slump. In 1698, the Company of Scotland Trading to Africa and the Indies received permission to raise capital through public subscription. The Company decided to invest in the Darién Scheme. This far-sighted investment involved establishing a trading post at Darién Bay on the Isthmus of Panama — where the Panama Canal is today — to engage in commerce with the Far East. The colony was to be called New Caledonia, or New Scotland.
Unfortunately, the Darién Scheme proved to be a disaster. The wealthy Scots who invested in it lost their money and Scotland's economy collapsed.
The Act of Settlement 1701 decreed that the monarch of England and Ireland would be a Protestant member of the House of Hanover. This meant that no more descendants of Charles I could accede to the throne. Anne acceded to the throne in 1702, reigning over not only those two countries but also Scotland. In a speech to the English parliament, she said that a union was absolutely necessary.
England and Scotland continued to be divided on political union, which affected trade and the status of Scots living in England once the English parliament passed the Alien Act 1705, which made them 'foreign nationals'.
That year, with Queen Anne pressing for a resolution, negotiations between the two countries' respective parliaments and commissioners began anew. The Act of Union passed the Scottish parliament first on January 16, 1707. The Scottish peer Lord Queensberry was instrumental in its passage by 110 votes to 69. The English parliament passed the Acts shortly thereafter. This resulted in the Acts of Union 1707. Most of these 25 acts are economic in nature. One provided for the establishment of the Church of Scotland, which is Presbyterian. It is called the kirk. Another act guaranteed the continued practice of Scottish law north of the border.
While the English were happy about the new legislation, Scottish residents were somewhat angry with Lord Queensberry. This dissatisfaction carries on today with the independence movement, led by the Scottish National Party (SNP), the third largest party in the UK parliament in Westminster. Tony Blair wanted Scotland, Wales and Northern Ireland to be devolved in order for his Labour Party to dominate politics in the first two of those nations. Little did he realise that the SNP would eclipse Labour in Scotland under the leadership of Alex Salmond and, afterwards, Nicola Sturgeon, the current First Minister.
Returning to 1707, however, Scotland began to flourish. Visitors to Edinburgh can clearly see that in New Town, where Princes Street is. Behind Princes Street are streets full of stately Georgian houses. Scotland began to contribute greatly to the good of the United Kingdom in medicine, architecture, philosophy and the arts.
During the Victorian era, between the Queen and Prince Albert and the romantic novels of Walter Scott, a mythological aura began to rest over the country, creating the romantic atmosphere we know today, whether in the capital city of Edinburgh or in the countryside.
This was the Scotland that Elizabeth II became acquainted with, thanks to her mother Elizabeth Bowes-Lyon, whose father, Lord Glamis (pron. 'Glahms') and the 14th Earl of Strathmore and Kinghorne, was Scottish.
Therefore, it is no wonder that she would want to spend her last months and hours at her beloved Balmoral knowing that Operation Unicorn would proceed in all its glory.
And what a beautifully poignant few days they were this week.
September 9
On Friday, September 9, the day after the Queen's death was announced, Scotland closed its courts and lowered its flags for their esteemed monarch.
The Times reported that First Minister Nicola Sturgeon praised the Queen, saying:
"Millions around the world will share their grief but only they will feel the loss of a mother and grandmother," she said.
"The Queen was unflinching in her dedication to duty, unwavering in her commitment to public service and unmatched in her devotion to the people of this country and the wider Commonwealth.
"We are all saddened by today's news and will come together in the days ahead to mourn.
"But it is right and proper that we celebrate the unparalleled contribution she made in her 70 years as sovereign."
The first minister added that Scotland "was special to her and she was special to Scotland" as she spoke of the Queen's love of Balmoral, where she spent her final days.
The article goes on to say:
The Queen maintained a deep affection for Scotland throughout her life, having spent much time as a young princess with her parents at Balmoral or her maternal grandparents at Glamis Castle, Angus.
She gave her first public speech in Aberdeen in 1944, when she opened a home for the British Sailors' Society while still a teenager.
After acceding to the throne in 1952, she maintained the royal family's tradition of holidaying at Balmoral every summer.
Although most Scots support the monarchy, those who oppose it are hardly thin on the ground. As last weekend unfolded, I hoped that Operation Unicorn would help them understand more about the significance of the monarchy and Queen Elizabeth II in particular.
September 10
On Saturday, the Royals at Balmoral were dressed semi-formally in black. The Mail reported that they viewed the tributes at the estate and at nearby Crathie Kirk. Their photo captions read:
Lady Louise Windsor, Sophie, Countess of Wessex, Prince Andrew, Duke of York, Prince Edward, Earl of Wessex and Anne, Princess Royal wave to the public outside Balmoral Castle on Saturday
The teary-eyed Countess of Wessex, Sophie studies the floral tributes and loving messages left to her mother-in-law, the Queen, at Crathie Kirk church near Balmoral on Saturday
However, one Scottish businesswoman in the Highlands was happy when the Queen died. The Mail reported that the locals dealt with her before police arrived:
A fish and chip shop owner who celebrated the Queen's death with a bottle of champagne, shouting 'Lizard Liz is dead' has had her restaurant windows smashed in.
A photo of the vandalism was shared to Twitter on Saturday night showing the front of the shop with a shattered window and a hole in the middle. 
Angry locals also vandalised the property on Thursday evening when they pelted the store front with eggs and ketchup.
Jaki Pickett, who runs Jaki's Fish and Chip Shop in Muir of Ord, Highlands in Scotland held up a chalkboard that read 'London Bridge has fallen' with a smiley face.
She posted the now-deleted clip of her happily celebrating the Queen's death on Facebook, but it caused huge outrage with locals who blasted Ms Pickett for disrespecting the late monarch …
A Police Scotland spokesperson said: 'Officers received a report of damage to a property in the Seaforth Road area of Muir of Ord, which is thought to have happened between 7.30pm on Friday, 9 September, and 10.30am on Saturday, 10 September, 2022.
'Enquiries are ongoing to establish the circumstances.'
Police Scotland were also called to the shop on Thursday evening after it was targeted by angry residents in Muir of Ord who egged the windows.
Pictures showed broken eggshells on the ground and egg mess over the shop windows, while ketchup was splattered on a bench.
Videos circulating on social media show residents surrounding the restaurant on Thursday evening, where owner Ms Pickett was seen driving away from the area with a police escort while locals booed her for her shameless Facebook post.
A Police Scotland spokesperson said: 'Shortly after 8.30pm on Thursday, 8 September officers attended at a business in the Seaforth Road area of Muir of Ord following a report of a large crowd gathered in the area.
'Officers remained at the scene to ensure the safety of all present and the group subsequently dispersed peacefully.
'No further police action has been required.'
Earlier, in London, at the special session of the House of Commons, an SNP MP, Joanna Cherry KC, spoke of the Queen's Scottish lineage (emphases mine):
It is very humbling to follow so many great speeches. On my own behalf and on behalf of my Edinburgh South West constituents, I too rise to honour the memory of our late Queen. Much has been said of her dedication and her service, but I want to concentrate on her love of Scotland and the love of many Scots for her.
As the Queen died at Balmoral, and is to be taken first to the palace of Holyroodhouse and then to St Giles' Cathedral in Edinburgh, Scotland will be the centre of the world's attention over the next few days. That is breaking with tradition, but those were the Queen's wishes, and Scotland is honoured by them. The last monarch to die in Scotland was James V, who died at Falkland in 1542. He was, of course, the father of Mary, Queen of Scots, and it was her son James VI who presided over the union of the Crowns. Mary, Queen of Scots is the ancestor of all the Stuarts and, indeed, all the Hanoverians who followed. Elizabeth Stuart, the daughter of James VI, married one of the German electors, and with the demise of the last Stuart monarch in 1714, Elizabeth's grandson succeeded to the British throne. That is the Hanoverian line, and it can be traced directly back to Scotland's Stuarts. Our late Queen was keenly aware of that—perhaps that is why she chose Stuart names for her first two children, Charles and Anne. And, of course, her mother was a Scot.
In 1953, after her coronation, the first place our late Queen visited was Edinburgh, and throughout her reign, she returned to Scotland for important events and, indeed, chose my country to be centre stage during state visits. In 1962, she chose Scotland for the state visit of the King of Norway; in 2010—very memorably for many people of my faith—she chose Holyrood for the state visit of Pope Benedict XVI; and, of course, she officially opened Scotland's Parliament when it was reconvened in 1999.
Our late Queen embodied the union of the English and Scottish Crowns, which of course is quite different from the Union of the Parliaments and predates it by over 100 years. At a time of change, there are many in my country—particularly younger people—who might prefer a republic to a constitutional monarchy, but that did not in any way prevent the affection our late Queen held for Scotland from being returned in equal measure. Sadly, I never had the privilege of meeting Her Majesty Queen Elizabeth, the Queen of Scots, but earlier this year I did have the privilege of meeting our new King. We spoke of Scotland, and I was left in no doubt that he shared his mother's abiding love of my country.
As such, before I resume my seat, in honour of his late mother, I want to recite just a few words of Burns' poetry that I believe may be a favourite of the King:
"Farewell to the mountains, high-cover'd with snow,
Farewell to the straths and green vallies below;
Farewell to the forests and wild-hanging woods,
Farewell to the torrents and loud-pouring floods.
My heart's in the Highlands, my heart is not here,
My heart's in the Highlands, a-chasing the deer;
Chasing the wild-deer, and following the roe,
My heart's in the Highlands, wherever I go."
May she rest in peace.
Sunday, September 11
Princess Anne had the solemn duty of escorting her mother's casket from Balmoral, near Ballater, Aberdeenshire, to Edinburgh's Palace of Holyroodhouse, the official Royal residence in Scotland.
The cortege passed slowly through Ballater, Aberdeen, Dundee and Perth. Many Scots lined the roads in silence to bow in respect.
The Queen's casket was covered in her standard with a wreath of white flowers, her favourites. Among them were delicate sweet peas. It was a beautiful last memory for her subjects.
Watching her on television, I do not know how the Princess Royal managed to stay so stoic. The journey began mid-morning and lasted well into the afternoon.
Meanwhile, in Edinburgh's Old Town, where the magnificent castle is, the proclamation of Charles III was declared.
Metro reported that a young green-haired woman held up an anti-monarchy sign with an obscenity on it and was arrested:
A woman was arrested holding an anti-monarchy sign in Edinburgh today, before the Queen's cortege arrived in the city.
She was detained outside St Giles' Cathedral, where the monarch's coffin is due to be held from tomorrow after spending the night at the Palace of Holyroodhouse.
Moments before the proclamation of Charles III as new king this afternoon, a demonstrator appeared in the crowd opposite the Mercat Cross …
Officers appeared behind her and took her away, prompting the crowd to applaud.
One man shouted: 'Let her go, it's free speech,' while others yelled: 'Have some respect.'
A police spokesman said a 22-year-old woman was arrested 'in connection with a breach of the peace'.
This started an online debate about whether protest of the monarchy is freedom of speech. Surely, it is, although others say it depends on how far it goes:
That narrow thoroughfare going down the Royal Mile from the castle was teeming with people and continued to be until the late afternoon of Monday, September 12.
Metro's article on the protest continues but with a focus on the proclamation and all who wanted to pay their respects:
It came on the day thousands lined the streets to watch the Queen's coffin arrive in Edinburgh, where she will stay before continuing the journey to her final resting place.
Countless tearful well-wishers turned out to pay their respects to the late monarch as her hearse made the 175-mile journey from Balmoral.
But some hecklers were heard booing among the crowds gathered in Scotland's capital to hear the proclamation of Charles.
The Lord Lyon King of Arms gave a speech before declaring 'God save the King', which the crowd repeated.
A Sunday Times article discusses the complex feelings Scots have about the monarchy: 'She adored Scotland but the Union will wobble without her'.
Reading it made me appreciate why the Queen wanted Operation Unicorn to proceed.
Excerpts follow:
"She came here to die in the Highlands," said Elizabeth Strachan, 69, who grew up near the Balmoral Estate. "This is her homeland. It is the place she knows."
Over the long years of the Queen's reign, the United Kingdom's collective identity has changed markedly. Scottish independence went from a fringe cause to the centre of the political debate.
Some believed she gave people a feeling of Britishness, which hampered the vote for separation, that her soft power pushed together a fragmenting nation. Others believed she was viewed as being above the debate and the nationalist cause moved forward regardless.
A poll this May by British Future, a think tank, found that more than 36 per cent of Scots thought the end of the Queen's reign would be the right time to abolish the monarchy.
How will the accession of King Charles III change things? Is the political union separate, in voters' minds, to the monarchical one? And if it is, can it remain that way?
Alex Salmond, the former first minister and leader of the SNP during the 2014 referendum, thinks the impact of her death on politics will be "on the margins". He said: "Her presence did not stop the rise of Scottish nationalism over the last 70 years of her great reign so her passing will not change its direction either." Salmond, who is a privy counsellor and attended yesterday's accession council, shared the Queen's love of horseracing and has spoken warmly of her.
Still, the smallest remarks she made about the Union generated big headlines. In 1977, before a vote on the establishment of an assembly in Edinburgh, she made a speech emphasising how she was crowned Queen of all four nations. Ahead of the 2014 referendum vote, she said to a wellwisher: "I hope people will think very carefully about the future."
[Then-Prime Minister] David Cameron later told Michael Bloomberg, the former New York mayor, that the Queen "purred down the line" when she found out about the "no" result. Salmond was invited for breakfast at Balmoral the next morning.
"The Queen was absolutely furious, the angriest I'd ever seen her," said Salmond. "I don't think she was trying to stop the rise of Scottish nationalism. She wasn't dyed in the wool for the political union but I think she was dyed in the wool for the union of the Crown. She understood well the difference."
Cameron has admitted his comments were "a terrible mistake" …
Nicola Sturgeon, the first minister, has been firm in her support of the Queen and the monarchy. In May of this year she reiterated that the royal family would continue to rule regardless of a "yes" or a "no" vote.
Scottish nationalists do not all agree. Chris McEleny, general secretary of the Alba Party, which Salmond now leads, said in a statement: "If the people of the rest of the UK wish to have King Charles as their head of state then good luck to them, but there should be zero countenance of that absurdity in an independent Scotland" …
Sandra Fagan, 66, drove to Balmoral from Perth with her mother, daughter, and grandson — four generations spanning four monarchs.
Sandra's father was a "red-hot" SNP supporter, shouting at the television that it was "all about England". "But when it came to royalty and the Queen it was different. He wanted different laws for Scotland but never a different head of state. Believing in the monarchy is spiritual, it has nothing to do with separatism, which you argue about over the dinner table" …
Graham and Susan Cameron, their son, Callum, 27, and dog, "Her Royal Highness" Tia Cameron, drove 85 miles from Buckie to lay flowers at the Balmoral gates on Friday morning.
"I'm not a monarchist," said Susan, 58, "but she was like a mother to all of us. She's been a constant through a relentless period of change, tying us all together. It is a relief to have Charles — it means the monarchy goes on" …
It was in Scotland that Prince Philip mooted the idea of their marriage, where the couple spent their honeymoon and later, where the family found out about the death of Diana, Princess of Wales.
The royal property portfolio is sprawling, worth £261.5 million and including Charles's Birkhall, the Queen's beloved Craigowan Lodge, both on Balmoral, the Palace of Holyroodhouse in Edinburgh, Dumfries House in Cumnock and the Castle of Mey in Caithness.
Balmoral was said to be the Queen's favourite. She was a "neighbour", said David Cobban, 56, the owner of a gift shop in the nearby town of Ballater, who grew up on the Balmoral Estate. The Queen spoke with residents in Doric, the northeast Scots dialect, and wore country clothes much like their own.
"Up here the relationship with the royal family is more intimate," said Cobban. "They come here so they can be as normal as they can be."
I will continue with another post about Scotland tomorrow. The television coverage was compelling.
Last weekend's big news stories concerned freedom of speech.
The world was horrified to learn of the bloody and debilitating assault on Sir Salman Rushdie, who might lose his sight in one eye. He was off his respirator early this week, thankfully, but, unfortunately, still has a long recovery awaiting him.
Then, here in Britain, on Saturday, August 13, we awoke to the news that raunchy comedian Jerry Sadowitz, 60, had his Edinburgh Fringe gig cancelled at the city's Pleasance Theatre.
Sadowitz gave only one performance before the Pleasance pulled the plug.
I've lived here as long as Sadowitz has been a comedian. For all that time, I have never met a man who liked his brand of comedy.
One could describe him as an equal-opportunity offender. He has appeared on television from time to time. I first saw him in the early 1990s on a comedy show. I couldn't see what was funny. His jokes were gratuitously offensive and filthy.
Nearly everyone in the UK knows about Sadowitz's humour, if one can call it that.
His show is not appropriate for a first date and certainly not for a blind date.
Being generous, I would say that, in terms of comedy, Jerry Sadowitz is the 21st century British version of Lenny Bruce.
Like Bruce, Sadowitz was born in the United States.
He moved to Scotland with his Glaswegian mother at the age of seven.
Let's look at the facts surrounding his cancellation, keeping in mind that the month-long Edinburgh Fringe is supposed to be the bastion of comedic free speech. Its whole purpose is to shock and provoke.
Another thing worth keeping in mind is that Sadowitz actually said what sort of material his show at the Pleasance would include.
The show was called 'Not for Anyone'.
That should have set people's expectations, but it did not.
On Saturday, I read Guido Fawkes:
Guido posted Sadowitz's tweet about how well he thought Friday night's show went:
Guido tied the news in with that of Salman Rushdie (emphases in the original):
Here's some news from the Edinburgh Fringe that Salman Rushdie might find amusing. In a statement announcing that they were cancelling further appearances by the comedian and magician Jerry Sadowitz, the venue said:
The Pleasance Theatre Trust have cancelled Jerry Sadowitz's second and final show at the Edinburgh Festival Fringe with immediate effect. In today's society, opinions such as those displayed on stage by Sadowitz are not acceptable and The Pleasance are not prepared to be associated with such material.
Anthony Alderson, Director of the Pleasance said:
The Pleasance is a venue that champions freedom of speech and we do not censor comedians' material. While we acknowledge that Jerry Sadowitz has often been controversial, the material presented at his first show is not acceptable and does not align with our values. This type of material has no place on the festival and the Pleasance will not be presenting his second and final show.
You couldn't make it up….
No, you couldn't.
Apparently, among other things, Sadowitz exposed himself to a woman in the front row.
The Scottish Daily Express reported (emphases mine):
Controversial Scots comedian Jerry Sadowitz has been cancelled by the Edinburgh Fringe after complaints from shocked audience members and venue staff.
The 60-year-old had two shows booked at the Pleasance called 'Jerry Sadowitz: Not for Anyone' which came with a warning of "strong language and themes some may find distressing" …
However, the decision sparked fury from fellow comics such as Leo Kearse, who said: "If the Islamic fundamentalists don't get you, the wokeists will."
He added that Sadowitz, who was born in the US and moved to Glasgow with his Scottish/Jewish mother at the age of seven, was the "only comedian worth seeing" at the Fringe this year.
Good grief. Yet, judging from this year's Edinburgh Fringe and Festival reviews in The Times, he's probably right.
Anyway:
The Pleasance said anyone who had booked a ticket for Saturday's gig would receive refunds for their tickets and that they "won't be working" with the entertainer again.
Meanwhile, Sadowitz was soon busy on Twitter promoting his run of 14 gigs at venues south of the Border later in the year.
How could the Pleasance not have known about Sadowitz's material when he'd performed there before?
On Sunday, the paper had an update:
The Pleasance has hit back at critics following the Jerry Sadowitz cancellation claiming the comedian made people "uncomfortable and unsafe" to remain in the theatre.
The Edinburgh Fringe venue slammed those who ripped into the "woke" decision as an attack on freedom of speech. The theatre claimed that Sadowitz crossed the line and that controversial comedians "need to be challenged" in a "changing world" …
Fans say his unique brand of black comedy has to be viewed in context and questioned why the venue booked him in the first place, as well as asking why people bought tickets to the show if they were so easily offended.
I completely agree.
Whereas Sadowitz tweeted that he didn't see anyone walk out, the Pleasance claimed that a number of people left during his act:
"A large number of people walked out of Jerry Sadowitz's show as they felt uncomfortable and unsafe to remain in the venue. We have received an unprecedented number of complaints that could not be ignored and we had a duty to respond. The subsequent abuse directed to our teams is also equally unacceptable …
"In a changing world, stories and language that were once accepted on stage, whether performed in character or not, need to be challenged. There is a line that we will not cross at the Pleasance, and it was our view that this line was crossed on this occasion.
"We don't vet the full content of acts in advance and while Jerry Sadowitz is a controversial comedian, we could not have known the specifics of his performance. The Pleasance has staged his work numerous times over the years, but as soon as we received complaints from those in the building which caused us great concern, we knew we could not allow the final performance to go ahead.
"The arts and comedy in particular have always pushed the boundaries of social norms but this boundary is always moving. Our industry has to move with it. However, this does not mean that we can allow such content to be on our stages."
I was heartened to read that a Scottish Conservative and a feminist were critical of The Pleasance:
Former Scots Tory strategy chief Eddie Barnes was among the critics of the decision. He tweeted: "The Pleasance's statement is totally contradictory. But it's that mealy-mouthed, morally vacuous phrase 'not acceptable' that really grates. To whom? And on what grounds? Who decided?"
Feminist campaigner Lucy Hunter Blackburn added: "I first came to the Fringe in 1986. The cancelling of Jerry Sadowitz (who I've never seen – not my bag, I strongly assume I'd not enjoy his material) feels like an important moment – something to stop and look at hard."
… While discussing the furore on GB News on Saturday night, Scots comedian Leo Kearse said: "The Edinburgh Fringe is over, the SNP have put a nail in it by restricting the amount of accommodation so there's not enough space for audiences and acts. Nobody wants to go and see woke comedy. It's like women's football, it gets written about by the Guardian but it's rubbish."
On Sunday evening, GB News's Andrew Doyle, a former teacher who went into stand up and created Titania McGrath, emphasised that what the audience sees is Sadowitz's 'persona', not the man himself. He added that while Sadowitz is lobbing his offensive material, he simultaneously performs magic tricks. (Sadowitz is accomplished at card tricks in particular. That's how he got his start.)
Doyle, who has seen Sadowitz's act, explains that the material is so out there that it makes people laugh:
He's an equal opportunities offender. Think of the worst thing in your head and then say it.
Leo Kearse and Josh Howie, another British comedian, joined Doyle in slamming the manager of The Pleasance, the Fringe's premier venue.
According to them, Sadowitz's material this year was nothing new. Doyle also confirmed that Sadowitz circulated a promo video in which he said what would be in the show.
Kearse said that the people complaining are probably the types who would be okay with Drag Queen Story Hour for children:
Why are we treating children like adults and adults like children?
Howie and Doyle were annoyed to see that some comedians at the Fringe supported The Pleasance. Howie said:
They're putting themselves out of a job.
Doyle added:
They're making a rod for their own backs.
Howie pointed out that Sadowitz is 'revered' on the comedy circuit and that he has inspired many newer comedians' material, which makes his cancellation a 'flash point'. Every new boundary push in comedy today has been thanks to him.
Doyle closed by saying that he had heard most of the complaints had come from members of staff at The Pleasance. Howie said that most venue employees are 'mostly students', ergo, likely to be offended and to 'feel unsafe'.
Doyle asked:
Why do people keep submitting to these brats?
Theirs is a great exchange about freedom of speech in comedy:
On Monday, August 15, BBC Scotland interviewed Russian emigré and free speech advocate Konstantin Kisin. Kisin, who hosts his own podcast, says that such censorship helps no one and that, ultimately, the Edinburgh Festival might become less appealing and lose its audience. The male BBC co-host implied that audience members went only so they could laugh at racism because they rarely get the chance to do so.
Kisin responded, beginning with:
If I were a mind reader like you …
and said:
I have more faith in human beings than you do …
The co-host doubled down:
I was there in the audience. You weren't …
Kisin asked him how he would assess what was going on in people's minds as they watched Sadowitz:
You can tell what someone thinks from their body language? … No, no, you did say that you knew from their body language. You said exactly that.
At which point, the co-host abruptly terminated the interview.
Here it is. I applaud GB News's Colin Brazier for his scathing remark about our being forced to pay for the BBC and their bias:
The same comedians had another go on Monday's Headliners show on GB News. By then, Sadowitz felt forced to explain his act, which disappointed Josh Howie. Sadowitz is also seeking an apology from The Pleasance. Nick Dixon, another comedian, said that today's big names in comedy (many of whom probably got where they are today thanks to Sadowitz) need to stand up for him. The owner of The Assembly Rooms, another top Fringe venue, has rightly criticised The Pleasance for cancelling the act:
Earlier that evening, Dan Wootton asked comedy veteran Jim Davidson, whose style is the exact opposite of Sadowitz's, for his opinion. Davidson got dragged into this because Sadowitz wrote 'I am not J** D*******, folks' and 'a lot of thought goes into my shows'. Davidson was generous in defending a comedian who does not wish to be compared to him. Davidson criticised The Pleasance, saying they knew 'exactly what act' Sadowitz was going to do.
Davidson thinks someone within the local council complained, which has happened before in England. He also pointed out that The Pleasance said that even performing material 'in character' should not be allowed:
Isn't every comedian in character?
Here's the video:
There is a huge gulf between the author of The Satanic Verses and obscene, offensive comedy, however, it is important to defend both.
James Marriott wrote about this conundrum for The Times on Wednesday, August 17: 'The grubby truth about freedom of speech'.
He gave an unintended plug for GB News. Remember that Murdoch owns The Times and TalkTV:
An honest defence of free speech acknowledges that it inflicts pain on vulnerable people, disperses power unequally and has no scientifically identifiable principles — but that it is precious nonetheless. It is a grubby, unfortunate truth.
Has there ever been a less glamorous time to support free speech? Because social media companies refuse to accept editorial responsibilities, the internet is overrun with the gory worst of what humans have to say.
The most vocal modern defenders of free speech are not artists or libertines but pimply "Enlightenment bros" and the talking heads of GB News. Of course, one's principles should never be formed in accordance with what is and isn't trendy. So we are left as the awkward, perhaps half-embarrassed, defenders of this unhappy, dysfunctional system which is nevertheless by far the best one we've yet devised.
That probably explains why GB News's ratings are way ahead of TalkTV's.
I'll leave the last word to The Telegraph's theatre critic Dominic Cavendish:
Though I've seen a number of his shows over the years, I didn't catch this one. His act – initiated in the 1980s, and bolstered since the 1990s by dexterous card tricks – is easy to summarise: misanthropic, unrelenting bile, awash with expletives and at war with political correctness. No one escapes his performative contempt, which springs from him, but qualifies too as an act.
His patter is knowingly extreme, and can be extremely funny, although the exhalation of laughter wars with the sharpest intakes of breath. His offence-giving once brought him celebrity but that has been on the wane – TV has barely touched him since the early 2000s. Sick-taste comedians have come up in his wake, most successfully Jimmy Carr and Frankie Boyle, yet he has admirers across the spectrum; even Stewart Lee, the darling of the progressive Left.
As Lee wrote in the New Statesman in 2013, "because Sadowitz is one of the most complete and perfect stand-ups in history, his exact political position is complicated. By accident or design, he appears to be socially, sexually, culturally, physically and economically at the bottom of the pile. This gives him licence to attack everything and everyone, like a drowning rat swimming desperately up the U-bend. And this tells us a lot about the essence of stand-up."
… It's impossible to justify every line of Sadowitz's sets but his worldview is to be suspicious of pleasantness and to detect phoneyness in progressivism. He confronts us with his viciousness and by extension, our own. Times have changed, have they? His pertinent thrust is that people haven't.
… The Pleasance can hardly say they didn't know who they were booking, this time around.
That they de-platformed Sadowitz just after Salman Rushdie was attacked felt doubly uncomfortable. There's a world of difference, of course, in being told that your show is cancelled, and being stabbed in the face. But how could the Pleasance feel on the right side of history? Though worlds apart in terms of finesse, and import – Rushdie is a highbrow culture hero, Sadowitz an increasing anachronism – are the two men not both flying the flag for freedom of expression?
Today, sure, cancel Sadowitz. But tomorrow? What about other less provocative but maybe also problematic acts? Take another fringe veteran, Arthur Smith, who gratuitously if comically has a naked woman walk across stage during his Pleasance show. Should he go next? The 2022 Fringe so far has been a sun-lit occasion – but dark clouds have gathered.
I don't like Jerry Sadowitz's comedy but I will defend his right to perform on stage.
Like him or loathe him, where freedom of speech is concerned, he's every bit as important as Salman Rushdie.
This is my final post on the events of the Queen's Platinum Jubilee Weekend.
For those who missed it, I have covered Trooping the Colour, the Service of Thanksgiving at St Paul's and the Party at the Palace concert.
Today's recap is about the fantastic pageant in central London and festive street parties around the nation on Sunday, June 5, 2022.
Before I go into that, however, there are two more things to cover from earlier in the weekend.
The first concerns lunch at the Guildhall following Friday's Service of Thanksgiving.
On Monday, June 6, Dan Wootton wrote about it for the Daily Mail (emphases mine):
The sense of disappointment within London's grand Guildhall was palpable.
One of the rooms hosting dignitaries and other invited guests had been left without a member of the Royal Family present to mingle and chat as promised.
The mood turned frosty when the upset attendees, who had expected to be hosted by a minor royal as they were served English sparkling wine and a buffet of traditional dishes like coronation chicken and smoked duck, were told by organisers it was because the Duke and Duchess of Sussex had turned down an invitation to attend.
But it wasn't just the public who were stunned at Harry and Meghan's notable snub following an awkward appearance at St Paul's Cathedral for the Service of Thanksgiving.
That carefully choreographed event had been derailed by the boos received by Harry and Meghan from onlookers as they entered and then departed the church where Princess Diana famously married Prince Charles – the worst nightmare for courtiers who have long feared normally polite monarchists might vocally turn on the couple after their unrelenting attacks on the institution since Megxit.
I've learned some members of the Royal Family and many senior courtiers were horrified at the detached and cold appearance by the exiled couple, who had also made the decision to fly out of the country before the Queen had even made her historic Buckingham Palace balcony appearance, alongside Charles, Camilla and the Cambridges, on Sunday evening.
Lady Colin Campbell spoke with Wootton on his GB News show Monday night. She, too, said the Sussexes were snubbed:
She added that the couple were deeply unhappy because the Jubilee has outshone their own 'brand':
At least Her Majesty was able to meet Lilibet, who celebrated her first birthday at the weekend.
In another news event not widely covered, the Queen's Baton Relay arrived in London on June 2 in advance of this summer's Commonwealth Games in Birmingham:
Commonwealth Games minister Nigel Huddleston (wearing a red tie) met with some of the participants on Saturday at the Tower of London:
The Commonwealth Games will be starting in Birmingham on July 28:
Street parties
At lunchtime, the weather was dismal in many parts of the UK.
The Mail on Sunday reported:
Royal superfans are set to brave the elements on the final day of the Queen's Platinum Jubilee weekend, amid fears today's £15million Pageant will be battered by thunderstorms.
The Met Office has issued a yellow warning for heavy rainfall and potentially even hail across much of England and Wales from midnight until 6pm this evening.
Forecasters have said that the bad weather – including downpours of up to 50mm an hour, and even hail – may cause travel disruption and flooding in some places, with parts of London and the South East, the Midlands, East Anglia most at risk.
In London, we had what I call Coronation Day weather. Coronation Day was on June 2, 1953. It was cold, damp and rainy.
The greatest of these lunch parties was the Big Jubilee Lunch at Oval Cricket Ground in Vauxhall, south London. Prince Charles and Camilla, Duchess of Cornwall, represented the Royal Family.
The Mail on Sunday has an article with so many photos, you will have felt as if you'd been there.
An excerpt follows:
Prince Charles today said he hopes 'bickering' does not return to Britain after the Platinum Jubilee generated a feeling of 'togetherness' across the country.
The Prince of Wales and Camilla, Duchess of Cornwall are tucking into the Big Jubilee Lunch at the Oval cricket ground in South London, where they marvelled at a 20ft tea table made entirely of felt and cut a big cake before toasting Her Majesty. 
Guests at the lunch have said that the future king remarked: 'When it comes to Monday are we going to go back to all the bickering again? Let's hope we don't do that.'
That is one thing Charles and I agree upon. Unfortunately, Monday's confidence vote about Boris Johnson put paid to that.
As for the rest of the nation attending street parties:
Britons are attending a record-breaking 12million parties and lunches today as they celebrate the Queen's astonishing seven-decade reign. 
Dear me. How was that even possible?
And there were more lunches, not only in the Commonwealth nations:
More than 600 Big Jubilee Lunches are being planned throughout the Commonwealth and beyond – from Canada to Brazil, New Zealand to Japan and South Africa to Switzerland.
How wonderfuul was that?
Meanwhile, in Windsor, Prince Edward and Sophie, Duchess of Wessex, attended a 'long lunch' just outside the castle gates:
… the Earl and Countess of Wessex are expected to join thousands of the Queen's neighbours for a record breaking 'long lunch' on the Long Walk outside the gates of Windsor Castle on the final day of the Platinum Jubilee celebrations.
Here is a photo montage of street parties and lunches across the UK, which the Eden Project has helped organise in an attempt to bring the nation together in unity:
Street parties are renowned for delightful sweet treats:
For once, Scotland had better weather than England.
Despite all their independence rhetoric as well as the SNP-run councils and the Scottish Parliament, Scots came out in force to celebrate the Queen.
Edinburgh, the capital, took the cake, according to The Times:
In Edinburgh, the street party capital of Scotland, neighbours laid tables and chairs outside their homes and shared a small mountain of home baking, wine and champagne to toast the Queen's landmark achievement.
Residents of 32 streets applied to Edinburgh city council to ban traffic for the afternoon, the most of any local authority area, which allowed long lunches and children's games to take place in safety …
In Rutherglen, South Lanarkshire, about 300 adults and children enjoyed a picnic in the town's Overtoun Park, as part of the Big Jubilee Lunch. With the Duchess of Rothesay as patron of the organisation, an estimated 85,000 similar events were taking place around the UK at the same time …
Eugenie Aroutcheff, organiser of the Rutherglen event, said the eco-friendly project in the park was designed to combat social isolation and loneliness in the community.
Following the pandemic, the emphasis this year is on getting neighbours and friends back together again.
I will have more on street parties in general. The consensus among some people is that we should not need a Jubilee in order to organise street parties. I could not agree more, especially as the next Jubilee is likely to be decades away — unless the Queen shows exceptional longevity. It's possible. Her mother died just days before her 102nd birthday.
The Platinum Jubilee Pageant
There was no time for the thousands of people organising and participating in the Platinum Jubilee Pageant to have a too leisurely sit-down lunch:
They were all busy making their final preparations for the last official event of the weekend:
In all, 10,000 people made this spectacular pageant possible. It was amazing, and I'm not all that keen on this sort of thing.
This was the parade route, which is quite long:
The theme was honouring the Queen and each of the seven decades of her reign:
The Royal Marines had been part of the official events since Thursday. They must have been exhausted. Here we can see a short video about their many rehearsals:
This video shows a few of the Pageant performers and the floats involved:
The acts were magnificent. The costumes and choreography were so creative. I've never seen anything like it.
Here's the full three-hour video as seen at the end near the Victoria Fountain in front of Buckingham Palace. All the Royal Family members and most of the politicians and dignitaries who were at Saturday's concert were there:
The Queen's third balcony appearance
Around 4 p.m., news emerged that the Queen would be travelling in from Windsor Castle to Buckingham Palace for a final balcony appearance, bringing an end to four days of celebrations.
Four generations of the Royal Family appeared on the balcony: the Queen, Prince Charles and Camilla, Prince William and Kate and their children.
One must object, however, to Prince William's entreaties the night before about saving the planet as he and his family took a private helicopter to London:
Hmm. Perhaps it's not the best look.
The Queen looked stunning in an emerald green outfit. She appeared before the crowd around 5:10 p.m.:
The crowds in The Mall ran to the palace as soon as her Standard (flag) went up sometime after 4 o'clock. When the Standard flies above any Royal household, the Queen is in residence:
Agence France Presse had lovely photos:
Chart-topper Ed Sheeran and a few other singers sang the National Anthem. Afterwards, Sheeran swiftly but sincerely wished everyone a safe journey home. The crowd dutifully dispersed. By then, the weather had improved.
The Queen's influence is worldwide
Incredibly, the Queen's Platinum Jubilee was celebrated even in countries that are not part of the Commonwealth, e.g. Thailand, Switzerland, Poland, Morocco and Portugal:
What a wonderful four-day weekend it was!
Long live our gracious Queen! Long live our noble Queen! Long live the Queen!
COP26? Oh, the hypocrisy of it all!
I watched the first hour of it on Monday, November 1 and nearly gagged but had to hear the actual speeches so that I would know exactly what the more prominent speakers actually said rather than read fake news regurgitations in the comment sections of the sites I read most frequently.
Air and limo travel: 'for me but not for thee'
The G20 summit in Rome closed on Monday, then it was time for the leaders to jet off to Glasgow for COP20.
While COP26 was scheduled to take place last year and couldn't go ahead because of the pandemic, it does seem as if these events, e.g. G20, could be better co-ordinated so that they took place in cities which are closer to each other.
But, you know, when it comes to our notional betters, no expense is spared. It's okay for them to fly then ride in limos all over the place, but it's not okay for us to go on a budget airline holiday with our family once a year:
In addition, Glaswegian women were made to walk down dark, unfamiliar thoroughfares while a COP26 VIP reception took place:
Let's take a closer look at the double standard that we, the great unwashed, are experiencing.
Ed Miliband MP
Ed Miliband used to lead the Labour Party. He is now in the Shadow (Opposition) cabinet.
On Sunday, October 31, he went on Andrew Marr's show on the BBC to object to Chancellor Rishi Sunak's lowering of passenger air duty on internal flights in the UK.
In fact, Miliband told Marr that domestic flights should be stopped 'as much as we possibly can'. However, in January 2020, Guido Fawkes revealed the MP's own air travel habits:
Guido's 2020 post said, in part (emphases mine below):
Last April, Guido reported on Ed Miliband's hypocrisy of constantly windbagging about the 'climate emergency' despite wracking up 19,000 air miles from his flights abroad, pumping out tonnes of carbon dioxide …
Green Ed's wracked up 12,000 air miles in 10 months – half the circumference of the globe.
Miliband is one of the North London elite who represents a working class city in the North of England, Doncaster. As one would expect, Miliband is more interested in promoting himself than Doncaster. This is what one of his constituents had to say:
Ed wants Britons to take the train, but that is not always possible within the United Kingdom, which includes Northern Ireland — and various islands:
One wonders if Miliband finally bought an electric car, the type of vehicle he insists the rest of us should have:
Miliband has complained about our rising energy prices which will be increasing by 20% per annum in 2022. However, he was the one who started the 'green tax' on energy when he was the energy secretary during Labour's last few years in power 10+ years ago:
Lorna Slater MSP
Another hypocrite is the Scottish Green MSP, deputy party leader Lorna Slater, originally from Canada.
She slammed G20 leaders for not going by train from Rome to Glasgow, which would have taken 28 hours:
However, Guido pointed out that, in 2019, Lorna Slater enjoyed a flight from Brussels to Sweden:
Couldn't she have gone by train?
As Guido points out:
According to Lorna's logic, Guido is outraged she didn't set an example by taking the 36-hour train from Glasgow Central via Euston, London St Pancras, Amsterdam and Berlin to Stockholm Central.
Joe Biden
As is customary for the leader of the free world, an American president has to have a ginormous motorcade for security purposes.
Apparently, in Rome, Joe Biden had to have more vehicles than usual because the city has social distancing laws during the coronavirus crisis. As such, he had an 85-car motorcade. The Daily Mail has the story along with numerous photos:
Biden at the upcoming environmental summit plans to tout $550 billion in new environmental programs in his Build Back Better framework, which he unveiled before jetting to Rome on Air Force One (another gas guzzler).
Here's the US motorcade leaving Edinburgh International Airport for Glasgow:
Here is his motorcade upon arrival in Glasgow:
Less hypocritical transport
Late last week and into the weekend, North West England and the South West of Scotland, including Glasgow, had a lot of heavy rain.
As a result, media reporters and other lesser beings found their trains from Euston to Glasgow Central cancelled:
CNN's Wolf Blitzer reports from … Edinburgh
Incredibly, CNN's veteran reporter, Wolf Blitzer, must have thought COP26 was taking place in Scotland's capital:
How does that happen?
Boris's opening speech
On Monday, as COP26 host, Prime Minister Boris Johnson was one of the first speakers welcoming everyone to the conference.
He laid out the purpose of this year's conference, which is to determine exactly how the Paris Agreement will work in practice:
The Daily Mail has a good summary of what he said:
The Prime Minister compared the situation facing the globe to the climax of a James Bond film where the hero has to thwart plans to blow up the planet.
But Mr Johnson said 'this is not a movie' and the 'doomsday device is real' as he urged his counterparts to do more to reduce harmful emissions.
The premier said the longer countries wait to take action then 'the higher the price when we are eventually forced by catastrophe to act'.
He said the world has 'long since run the clock down on climate change' and there is now just 'one minute to midnight', with action required immediately to prevent a global disaster.
The PM used his speech at the opening of the summit as a rallying cry to try to build momentum as he welcomed foreign leaders to Glasgow after securing only lukewarm climate commitments at the G20 summit in Rome over the weekend …
Mr Johnson pledged in his lunchtime speech to put another billion pounds into green finance – as long as the UK economy performs as expected in the coming years.
The PM repeated he wants global leaders to unveil steps on 'coal, cars, cash and trees' – the things he believes will make the most different in limiting temperature rises to 1.5 degrees.
Mr Johnson had set the tone as the G20 wrapped up last night by reading the riot act to his fellow world leaders, saying their promises on tackling climate change are starting to 'sound hollow'.
The PM said there are 'no compelling excuses for our procrastination' on reducing harmful emissions and action already taken amounts to 'drops in a rapidly warming ocean'.
Boris said that Glasgow was the site of the first steam engine, which James Watt invented. If I remember rightly from history class back in the mists of time, Britons called it the 'doomsday machine', because it was such a departure from anything anyone had known before.
In the event, it kicked off the Industrial Revolution which, despite its 'dark satanic mills' (William Blake), actually improved millions of people's lives not only in Britain but, with time, around the world:
As such, it seemed strange for Boris to refer to it at COP26. Was he inferring that Watt's steam engine was responsible for climate change?
Hmm. Look how GDP per capita has increased in England ever since the Industrial Revolution:
Tom Harwood of GB News nailed it, by pointing out how much Boris's views have changed:
This is what Boris wrote for The Telegraph in 2015, when we had a warm December. His editorial ends with this:
Scientists look at the data. But everyone else just looks at the weather – and it is the weather, therefore, that makes the psychological difference to the debate. Look at the recent summit in Paris, which ended in a good agreement to cut CO2, in contrast to the debacle at Copenhagen six years ago. What was the real difference? It was the weather. Paris was ridiculously warm for December. Six years ago, Copenhagen saw the biggest snowfalls anyone could remember. "Global warming?" everyone asked.
It is fantastic news that the world has agreed to cut pollution and help people save money, but I am sure that those global leaders were driven by a primitive fear that the present ambient warm weather is somehow caused by humanity; and that fear – as far as I understand the science – is equally without foundation.
There may be all kinds of reasons why I was sweating at ping-pong – but they don't include global warming.
Joe Biden and Boris — sleepy or just heads down?
The media are saying that Joe Biden fell asleep. It looks as if Boris did too.
Here are the photos and a video of Sleepy Joe:
The Queen's video message
In a recorded video message sent to the conference, the Queen expressed her wishes for COP26.
The message was aired on Monday evening at the aforementioned VIP reception in the centre of Glasgow.
She asked the world's leaders to rise above politics.
As ever, she had a photo on her desk that tied into the theme: a photo of Prince Philip surrounded by monarch butterflies.
The Mail's Robert Hardman reported:
Summoning the wisdom which comes with being the longest-serving head of state on the planet, the Queen distilled the monumental task facing this summit into just a few words.
'For more than 70 years, I have been lucky to meet and to know many of the world's great leaders,' she said.
'And I have perhaps come to understand a little about what made them special. It has sometimes been observed that what leaders do for their people today is government and politics. But what they do for the people of tomorrow – that is statesmanship.'
This was, she told them, their chance to be 'written in history books yet to be printed'. Big words from one who has already been written in to a few herself. But then the Monarch knows of what she speaks.
Though this was a speech she had wanted to make in person until her doctors decreed that it had to be delivered via video, it lost none of its punch. The poignancy of the setting only added to the power of her words.
There she was in the White Drawing Room at Windsor Castle, the same room in which delivered her historic address to a Covid-ravaged nation last year. At her side, was a favourite photo of the Duke of Edinburgh surrounded by butterflies during a 1988 visit to Mexico.
For years, she reminded us, she had watched him nurture a bright idea that turned in to a charity – the World Wildlife Fund – that, in turn, paved the way for so many of today's environmental organisations.
Between them, the couple had watched their eldest son and his eldest son embrace the same cause.
'I could not be more proud of them,' she said. And what was that on her lapel? Her much-loved butterfly brooch …
Another Mail article has more:
In her most personal speech to date, the monarch also paid tribute to Prince Philip and described how 'the impact of the environment on human progress' was a subject close to the heart of her 'dear late husband' – who in 1969 told a gathering: 'If we fail to cope with this challenge, all the other problems will pale into insignificance.'
The Queen's stern intervention, which was displayed on screens during a VVIP reception at Glasgow's Kelvingrove Museum, came hours after the Indian Prime Minister Narendra Modi pledged that India will target net-zero carbon emissions by 2070 – two decades later than the targets for the conference – disappointing many delegates.
It also comes after Boris Johnson kicked off the climate change summit by exhorting world leaders to back up their talk on climate change with action – warning it was 'one minute to midnight'.
A GB News panel thought that she had content and tone just right:
Archbishop of Canterbury apologises
The Anglican Communion is really into the impending doom and disaster of climate change.
To see that they are so wrapped up with the United Nations makes my skin crawl.
They sent a delegation to Glasgow:
Earlier on Monday, the Archbishop of Canterbury gave an interview to Radio 4's Today show. Later on, he had to apologise for his remarks in which he compared coming deaths from climate change to the Third Reich:
Coronavirus hypocrisy
As ever, delegates were expected to wear masks, but as the Daily Mail's photos show, world leaders took theirs off and defied social distancing.
How nice for the great and the good!
As for everyone else, it was masks or no admittance:
Public not interested
Thankfully, the general public are not interested in COP26. They have actual pressing issues with which to deal:
Guido's post says that a poll shows the British public are unwilling to shoulder the cost for any nonsense arising from COP26:
The lack of correlation between the BBC's output and what people want to read, and what it suggests about the British public's true feelings towards tackling climate change, seems to be backed up by a poll by Portland this morning. It found that while the public supports hypothetically punishing climate-damaging behaviour, or the government incentivising green behaviour, just 7% say "my family and me, and other families like me" should pay most of the cost. Just 36% are willing to pay more than £50 a month on top of existing bills to limit CO2 emissions.
I plan to feature more on climate change tomorrow.