You are currently browsing the tag archive for the 'egg' tag.
Gosh, what a lot of news to cover in one post.
Admittedly, a few of these items are a bit old but fit in thematically.
Theresa May U-turns on support for Scottish gender reform legislation
I wrote yesterday about former Prime Minister Theresa May's support for Scotland's Gender Recognition Reform bill on Tuesday, December 27.
Within 24 hours she had made a U-turn, thankfully, although she did it through a spokeswoman.
On Wednesday, December 28, The Times reported (emphases mine):
In the wake of the interview the BBC issued a press release which stated: "On the subject of Scotland's proposed gender recognition laws, Ms May said she was disappointed the Westminster government wasn't supporting them."
Yesterday, however, a spokeswoman for the Maidenhead MP insisted that was not the case.
"As prime minister, Theresa launched a consultation looking at gender recognition laws with the aim of providing a more sensitive approach to transgender people, but she does not agree with Nicola Sturgeon's legislation and is particularly concerned about the consequences it could have for children in Scotland and across the UK," she said.
We can but hope that the Secretary of State for Scotland does not send the legislation for Royal Assent:
Immediately after MSPs voted in favour of the legislation Alister Jack, the Scottish secretary, threatened to invoke section 35 of the Scotland Act, which allows him to prevent the legislation from receiving royal assent.
Although gender recognition is devolved to Holyrood, the Equality Act — with which the new law will interact — is reserved to Westminster.
As nearly two-thirds of Scottish voters — even SNP supporters — think this legislation is a terrible idea, Westminster can show the 'Union dividend' in being 'better off together'.
Gas futures coming down
On Thursday, December 29, The Guardian had encouraging news about the price of natural gas futures in Europe:
European gas prices have dropped back to levels seen before the Ukraine war began in February, as fears of a gas crisis this winter ease.
The month-ahead European gas future contract dropped as low as €76.78 per megawatt hour yesterday — its lowest level in 10 months, data from Refinitiv shows.
As this chart shows, gas prices have fallen back from their surge in March, and again in the summer as European countries scrambled to fill their gas storage tanks.
Prices have dropped thanks to warmer-than-normal temperatures this winter, which have limited demand for gas, after the European Union successfully filled reserves to a peak of almost 96% in November.
Consumption reduction targets have also helped to limit demand, with the EU aiming to cut its gas consumption by 15%.
Earlier this week, 83.2% of EU gas storage was filled, data from industry body Gas Infrastructure Europe shows, still above the target of 80% set for the start of November.
Traders are confident that inventories will end winter at a very comfortable level with a very low risk of falling to critically low levels, says John Kemp, energy market analyst at Reuters.
UK gas prices have also dropped back from their highs earlier this year. The day-ahead gas price closed at 155p per therm yesterday, compared with 200p/therm at the start of 2022, and over 500p/therm in August.
The UK versus the EU
All year long in Parliament we've heard that the UK is 'broken' and that we should have stayed in the EU.
Polls have been published showing that Brexit voters have buyer's remorse. Well, they shouldn't have. We are much better off outside an unelected European Commission. Furthermore, EU countries are not doing substantially better than Blighty.
France
This week, I received the latest copy of Marianne, the French newsweekly. Part of its cover story headline, referring to the state of their nation, reads:
EN PANNE
meaning, 'out of order', 'not working'.
On Wednesday this week, The Spectator had an excellent article about our neighbour: 'All is not well in Macron's France':
In 2021, both World Bank and United Nations GDP (nominal) rankings have the UK at 5th and France 7th. International Monetary Fund estimates for 2022 show India overtaking the UK to claim the 5th spot for world GDP, but with France still 7th.
One may question the reliability of GDP as a comparator, but a host of other measures regularly show France worse off than the UK. Debt to GDP ratios show France at some 115 per cent, the UK 99.6 per cent. Meanwhile the Bank for International Settlements gives France's total public and private debt (non-financial) at 351 per cent; the UK at 271 per cent.
One can rightly point to France's present day lower inflation at 7.1 per cent (EU harmonised) compared to the UK's 10.7 per cent. But as French debt statistics above show, president Emmanuel Macron began forcing down domestic inflation by subsidising prices during his 2022 presidential election campaign. French unemployment at 7.4 per cent compares unfavourably with the UK's 3.4 per cent. Meanwhile France is the highest taxed OECD and EU state, leaving little margin for manoeuvre. Her balance of payments figures are as gloomy as the UK's, together with her flat economic growth.
While Britain's position is not rosy, France's is certainly no better. That is why recent predictions in a certain European press, not least in France, taken up by British elites, that the UK was descending into terminal decline has lost all proportion. If the French press enjoy a touch of schadenfreude at the expense of the old enemy, and French politicians are glad to distract from their own problems, the willingness of much of the British middle class to swallow the same view can only be explained by ingrained cultural habit aggravated by post-Brexit resentment. Today, with Macron utterly wedded to the EU project, France for British elites is ipso facto superior to Britain. Yet France's moral state is parlous.
Since the 2022 presidential and legislative elections Macron's centrist party has no overall majority. France is stalemated and drifting towards ever more radical politics. Macron's prime minister Élisabeth Borne, unable to command a majority in the National Assembly, struggles to get her business other than by the constitutional sleight of hand of article 49,3, which guillotines parliamentary debate. With the chamber split four ways the question remains as to whether Macron will eventually dissolve parliament. Opinion polls suggest this would be a gift to Marine Le Pen's party, already the single largest opposition party with 89 seats. France might then come to replicate the present radical right Italian government.
Socially and culturally French society is far from healthy. Other than worsening violence and lawlessness in the banlieues – conveniently out of sight of English elites' visits to France – the French model of assimilation and laïcité is being tested to destruction. Official Justice Ministry statistics for July 2021 show 24.6 per cent of the prison population as foreign (double the proportion in Britain).  The French Interior Minister publicly stated this summer that, although foreigners make up 7.4 per cent of the French population, they account for 19 per cent of all delinquency nationally, and that 48 per cent of arrested delinquents in Paris are foreigners, 55 per cent in Marseille, 39 per cent in Lyon.
… The general picture is of a France far from at ease with itself. The prospect of a member of France's ethnic minorities leading the country with no fuss in the near future, as has just happened in Britain, seems impossible.
And remember the cries of 'Brexit is bad' when the Paris stock exchange overtook London's in November?
I don't recall any mea culpas from the metropolitan elite once we resumed normal service ten days later:
Guido Fawkes posted (emphases his):
The London stock market has re-overtaken Paris's after falling behind for 10 days, with a lead of $63 billion. A 2.5% rally in the value of the pound led to the improvement, and morale booster, compared to a modest 0.7% improvement for the Euro …
Germany
While Remainers in Britain's metropolitan elite moan about food inflation, our friends in Germany have experienced similar price hikes.
On October 14, September figures for the UK showed that our grocery price inflation hit an all-time high of 13.9%.
Yet, JustFood reported that Germany's grocery price inflation also reached historic highs:
Inflation levels in Germany reached their highest levels in three decades in September with food prices rising 18.7% year on year, figures show.
In a continued squeeze on consumer pockets, inflation reached 10% – its highest level since the country's reunification in 1990, the federal statistical office said.
Consumers faced the sharpest rises in edible fats and oils, which were up by 49%. Dairy products and eggs increased by 29.1%, meat and meat products 19.5% and bread and cereals 18.5%.
Month-on-month comparisons show consumers paid 1.8% more for food in September than in August, with vegetables 3.9% more expensive and dairy products up by 2.2%.
The consumer price index for food in Germany, measured against a 2015 baseline of 100, stood at 135.4 year-on-year in September, compared to 121.1 overall.
The federal statistical office said the cost of energy was leading inflation but food also played a major role, with both contributing to an overall 10% rise in prices.
Without food and energy rises in the equation, the country's inflation rate is reduced by over half to 4.6%. The prices of all goods increased by 17.2% in September 2022 compared to 2021, but the prices of non-durable consumer goods, which include food and energy, increased by 23.3%.
We cannot blame German inflation on Brexit. As Conservative ministers rightly say at the despatch box, inflation is up all over Europe and the West.
UK to relax egg rules to line up with EU
Another thing we hear from Remainers, especially in the Houses of Parliament, is that British food regulations are weaker than the EU's!
Nothing could be further from the truth! Our food standards have been higher than the EU's for decades.
Anyone wanting up-to-date proof can read an article in Wednesday's Guardian — 'UK free-range egg rules could be relaxed in line with EU for avian flu outbreaks':
Free-range egg rules in the UK could be relaxed in response to the European Union preparing to overhaul regulations after the biggest avian flu outbreak on record.
Ministers are understood to be considering a change to the rules that would mean eggs laid by hens kept in barns for months on end could be classed as free range.
Currently, eggs cannot be classed as free range if birds are indoors for more than 16 weeks. Farmers have that grace period in both the EU and UK, which means eggs can still be labelled as free-range if a government-issued housing order for birds is in place up to 16 weeks.
Subsequently, labels need to be added to packaging making it clear that those are now classified as barn eggs.
Whitehall sources told the Daily Telegraph that the Department for Environment, Food and Rural Affairs (Defra) is considering changing the regulations in order to keep farmers competitive with Europe …
The European Commission put forward a proposal in September, which stated "where temporary restrictions have been imposed on the basis of EU legislation, eggs may be marketed as 'free-range' notwithstanding that restriction".
The proposal, which is awaiting approval by the European parliament, means eggs could be classed as free range even if hens are forced to spend months indoors due to government rulings.
In September, egg producers in the UK said it was essential that the government now followed suit to avoid British suppliers being undercut by EU imports.
Climate change
Climate change sceptics will be on the right side of history in time.
Guido Fawkes's readers posted about deforestation in this post.
One chap posted an article about the increasing need for balsa wood from Latin and South America for blades on wind farms. Apparently, indigenous communities have not been consulted: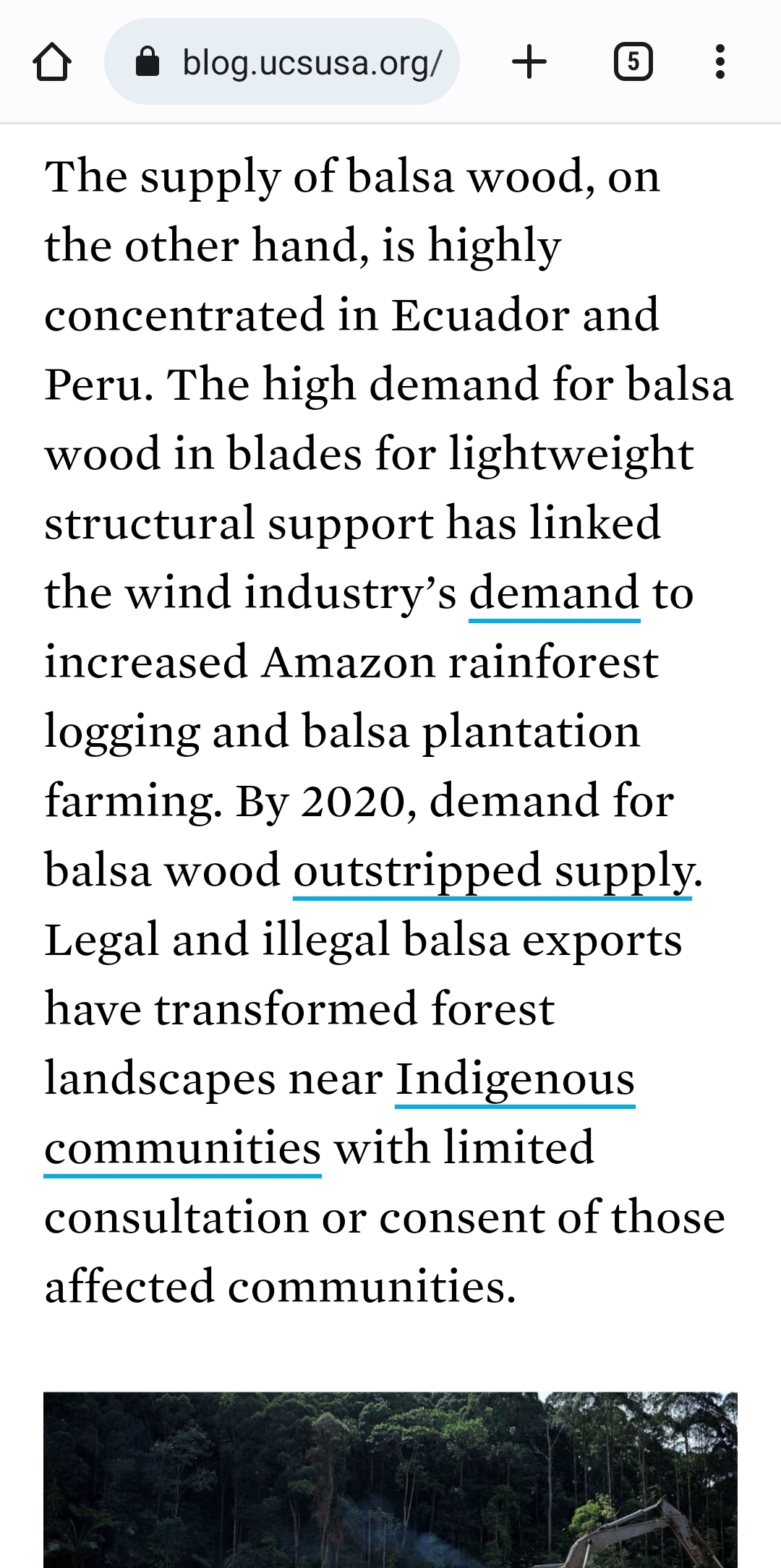 The article continues, stating that some companies are switching from balsa to oil byproducts, such as PET and PVC, or to cellulose: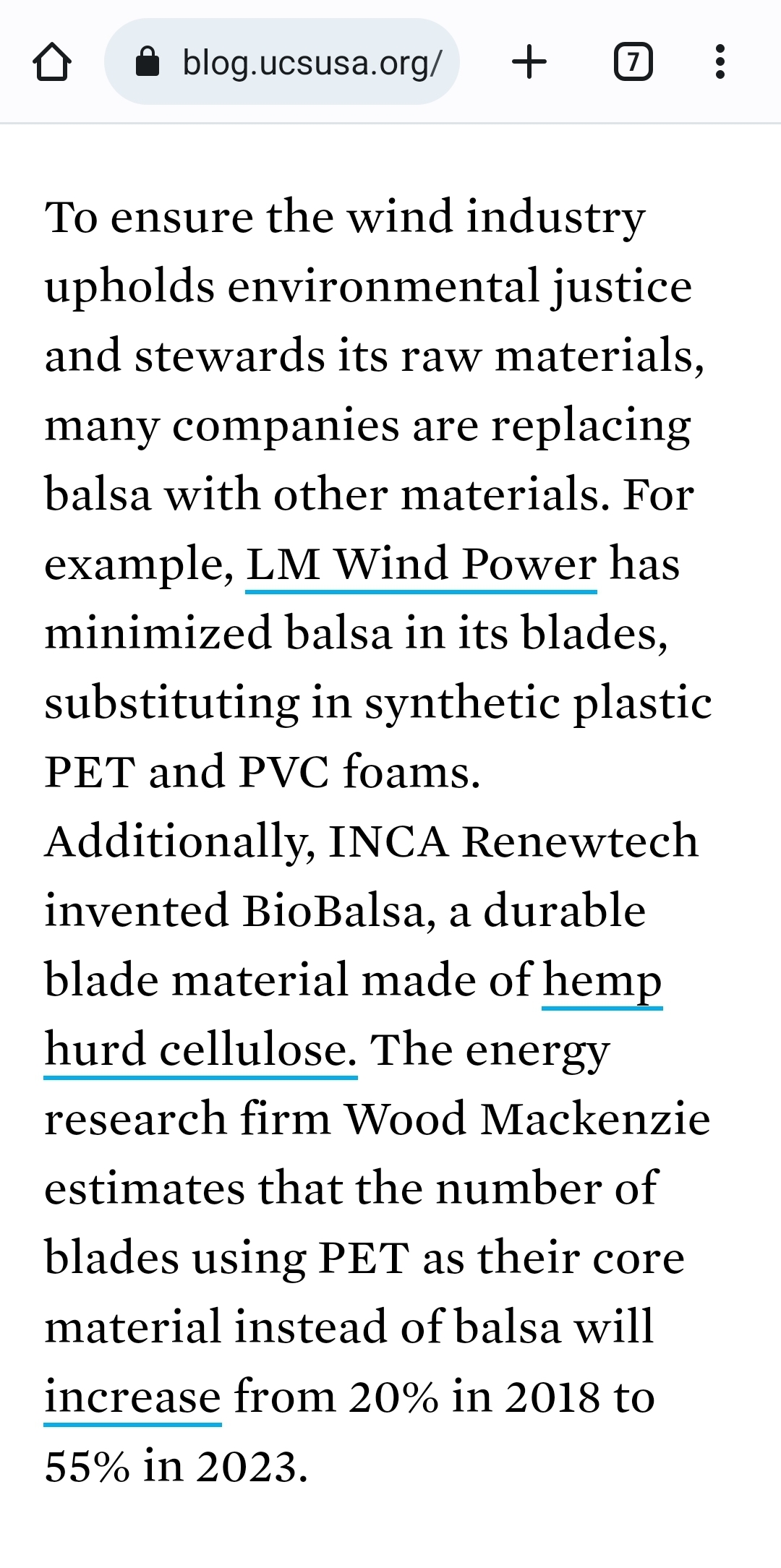 The man who posted the article pointed out:
BALSA is being replaced with PET and PVC (yep- crude oil) but are also experimenting with cellulose– which needs highly toxic chemicals to make.
Someone responded with this:
Synthetic PET usually uses food starch as a replacement for oil based derivatives. These divert food crops away from human and livestock consumption. They also encourage the use of GM crops and pesticides.
PVC production creates sodium chloride, which is a cause of acid rain.
The eco loons really didn't think this through.
Ultimately:
The eco l00ns NEVER think anything through.
And they hope we won't notice.
It's part of the reason why 'climate science is settled' and they refuse to debate.
You know how it goes.
Fracking bad – mining cobalt (even using young children) good.
You flying -bad- them flying- good.
On a similar note, an UnHerd article laments the loss of the hearth in 'Firewood will save the West'. The author, Paul Kingsnorth, lives in Ireland and has his firewood delivered to his home:
The Irish government is currently campaigning against households which burn turf or wood, the former on the grounds of CO2 emissions, and the latter on the grounds of air quality. As ever, the campaign is driven from Dublin, and mostly takes Dublin sensibilities into account. Rural households in Ireland have been burning turf and wood forever, with little significant impact on "air quality" — or at least, no impact comparable to that which Ireland's "Celtic Tiger" modernisation has had. Suddenly, though, the media is full of scientists armed with studies demonstrating how getting a fire going in your cottage in winter will lead to cancer and lung disease on a widespread scale.
That is nonsense. Until recently, Man had been surrounded by smoke for millennia.
Essentially, the Irish government, in line with other Western governments, wants to do away with fireplaces:
This new tilt against household fireplaces is not just an Irish phenomenon: it is suddenly popping up everywhere. Woodstoves are, curiously, becoming the number one air pollution villain. Never mind mass car use, accelerating air travel or industrial pollution. Never mind the emissions caused by the massive increase in Internet server farms, which within just a few years could be using up an astonishing 70% of this country's electricity. These days, if you want to demonstrate your social responsibility, you should be all aboard with the abolition of the traditional fireplace and its replacement with "green" alternatives.
He explains that the home hearth has been not only traditional but also atavistic throughout mankind's history. He cites the philosophical polymath John Michell (1933-2009):
The fireplace, whether our dessicated urban authorities know it or not, has a primal meaning, even in a world as divorced as ours from its roots and from the land.
In his short essay "Fireside Wisdom", the uncategorisable John Michell suggested that the "displacement of the hearth or fireplace" from the home was one of the many reasons for the craziness of the modern world which his life had been spent playfully exploring. The fireplace at the centre of the home, he wrote, was both an ancient practicality and a device of "cosmological significance" across cultures and time: "Conversation is directed into the fire while dreams and images are drawn out of it."
In the past, the act of sitting staring into the smoky fire with family or neighbours was the genesis of the folk tale and folk song which tied the culture together. Now we stare at digital fires hemmed into boxes manufactured by distant corporations who also tell us our stories. No song we can dream up around a real fireplace can compete with what these boxed fires can sell us. "Thus," wrote Michell, "the traditional cosmology is no longer represented by its domestic symbols, and a new, secular, restless, uncentred world-view has taken its place."
Focus, Michell explained, is "the Latin name for the central fireplace. The fire not only warms but, as a symbol, illuminates the corresponding images of a centre to each of our own beings and of a world-centre which is divine, eternal and unchanging." Lose your fires, and you literally lose your focus as a culture. In this context, a government spokesman telling his population, as one minister here recently did, that they should "get over" their "nostalgic" attachment to the hearth fire and install ground source heat pumps instead is more than just a nod to efficiency. It is an assault on what remains of the home and its meaning. It is an attack on the cultural — even the divine — centre.
Paul Kingsnorth posits that each move away from self-sufficiency, e.g. using one's own fireplace, puts us more under the control of government:
When you can no longer grow your own wood or cut your own turf to heat your own parlour, you are made that little bit more dependent on the matrix of government, technology and commerce that has sought to transmute self-sufficiency into bondage since the time of the Luddites. The justification for this attack on family and community sufficiency changes with the times — in 17th-century England, the enclosures were justified by the need for agricultural efficiency; today they are justified by the need for energy efficiency — but the attack is always of the same nature. Each blow struck against local self-sufficiency, pride and love of place weaves another thread into the pattern which has been developing for centuries, and which is almost complete now in most affluent countries …
In my lifetime, in my part of the world, the notion and meaning of "home" has steadily crumbled under external pressure until it is little more than a word. The ideal (post)modern home is a dormitory, probably owned by a landlord or a bank, in which two or more people of varying ages and degrees of biological relationship sleep when they're not out being employed by a corporation, or educated by the state in preparation for being employed by a corporation. The home's needs are met through pushing buttons, swiping screens or buying-in everything from food to furniture; for who has time for anything else, or has been taught the skills to do otherwise?
He refers to a 1980 manuscript, 'Family Work', by the American essayist Wendell Berry:
Like so much of Berry's work, it locates the centrepoint of human society in the home, and explains many of the failures of contemporary Western — specifically American — society as a neglect of that truth. The home, to Wendell Berry, is the place where the real stuff of life happens, or should: the coming-together of man and woman in partnership; the passing-down of skills and stories from elders; the raising and educating of children; the growing, cooking, storing and eating of food; the learning of practical skills, from construction to repair, tool-making to sewing; the conjuration of story and song around the fire …
Even back in 1980, Berry recognised that the home had become an "ideal" rather than a practical reality — precisely because the reality had been placed out of reach for many. What killed the home? Three things, said Berry: cars, mass media and public education. The first meant that both work and leisure could, for the first time in history, happen a long way from home. The second — "TV and other media" — have played a role, since the mid-20th century, in luring us all into a fantasy world of freedom from obligation, and a limitless, fun consumer lifestyle. "If you have a TV," writes Berry, "your children will be subjected almost from the cradle to an overwhelming insinuation that all worth experiencing is somewhere else and that all worth having must be bought." Finally, the school system is designed "to keep children away from the home as much as possible. Parents want their children kept out of their hair." Schools exist to train children to fit into individualistic, consumer societies; to internalise and normalise their ethics and goals, and to prepare for a life serving their needs.
I have to disagree with his disparagement of television, as my better half and I watch a lot of French programmes, food shows in particular. For us, it is a window into a culture we love very much. Were it not for television, we would have to visit France in person much more often. As it is, we can experience France from our sitting room and perfect our language skills while learning more about the world's finest cuisine.
Berry's solution is to make the home a welcoming, peaceful place for everyone living there:
… he suggested that we should "try to make our homes centres of attention and interest"; to make them as productive and nurturing as we can … you will see new possibilities begin to open up. You will see, in Berry's words, that "no life and no place is destitute; all have possibilities of productivity and pleasure, rest and work, solitude and conviviality that belong particularly to themselves", whether in the country, the city or the suburb. "All that is necessary," he suggests, is "the time and the inner quietness to look for them."
Television is a good thing
On the subject of television, a 104-year-old Australian woman told her grandson that it was probably the greatest development in her lifetime.
Lewis Isaacs wrote her story for The Guardian: 'My 104-year-old Nan's secret to a long life':
A life as long as hers can be hard to comprehend. Asked what the biggest change to the world she'd seen across her life was, Nan replied that it was television. Life when she grew up rarely extended past her suburb. Television connected the living room to the world.
How true! Well said, Nan!
The article has family photographs, too.
So what is Coral Isaacs's secret to longevity?
She says it comes down to genetics and finding the right partner. She was widowed more than 30 years ago and says the life she built with my Pop has supported her since. It helps to remember your pills, she adds, and to get up, shower and make your bed every day.
I suspect the truth about her endurance is something different though. Nan is determined to keep her eyes focused on the future. Even when the days are hard, she still looks forward.
I was hoping she would mention smoking a crafty cigarette or enjoying a daily digestif, but, sadly, no.
Churchill's cigar goes on sale
For a smoking story, we had to go to an auction house.
On Thursday, December 29, The Times reported that one of Winston Churchill's cigars is expected to fetch £3,000 at auction:
The former prime minister gave the Cuban cigar to an RAF doctor who helped him when he broke his leg in 1962.
The doctor's grandson has put the rare cigar up for sale with Hansons Auctioneers, which said it would be an "impressive item" for any Churchill collector. Charles Hanson, the owner, said: "We occasionally see Churchill cigar stubs that people have picked up after he dropped them. But to gain a whole cigar in such pristine condition, given as a gift in unusual circumstances, is special."
Churchill, who died in 1965 aged 90, was a lifelong smoker. While he was at boarding school, his mother learnt he had taken up smoking cigarettes and tried to bribe him to stop by promising him a pistol and a pony.
He switched to cigars after spending time in Cuba after his graduation from Sandhurst military academy, and friends, dealers and associates sent him regular deliveries of cigars from then on.
The circumstances are most Churchillian:
The auction house said the cigar under auction was given to an RAF squadron leader, Bertram AJ Barrow. Churchill fractured his femur while getting out of his bed at the Hotel de Paris in Monte Carlo, and was flown back to London on an RAF plane while in a waist-to-ankle plaster cast.
Barrow, the leader of the medical team, plucked up the courage to ask Churchill for one of his famous cigars.
For decades the treasured cigar was kept in a bedside drawer, but will now go under the hammer at on January 9 with an estimate of £2,000 to £3,000.
Barrow's grandson, Thomas Barrow, 33, an employment law adviser from London, said: "Bertram asked for a cigar as a keepsake, and Churchill advised that he could have 'one that he had been saving' — which was Cuban and still in its glass case."
What a story!
Conclusion
As my later grandmother-in-law, a lifelong Londoner, was fond of saying:
The old ways are the best.
I couldn't agree more.
Let's try to recapture them in 2023.
Following on from my news items of November 21, I have more, this time on Thanksgiving, crossword puzzles, technology and health.
Thanksgiving everywhere!
It is hard to disagree with Jordan Cracknell, the American wife of Olympic rower James Cracknell.
On November 22, 2022, she wrote an article for Metro: 'Thanksgiving is a holiday that all Brits need in their lives'.
I couldn't agree more, and I wouldn't restrict it to the UK, either.
The problem is turkey, which the British associate with Christmas dinner. The other problem is the lack of sausage links — chipolatas — which the British associate with turkey and are absent from Thanksgiving dinner.
Not surprisingly, when Mrs Cracknell took her husband to his first Thanksgiving dinner in 2019 at a friend's house:
he grumbled about 'the bastardisation of British dishes'.
Oh, yes. My far better half thought similarly three decades ago.
Now things are different, in both our households. James Cracknell's reaction sums up that of those Britons who taste Thanksgiving dinners and become converts:
By the time we'd eaten, he was in awe of the 'un-Britishly moist and juicy' turkey.
Indeed. Americans can definitely roast turkey to perfection.
His wife writes:
Now, I am firmly of the belief that this American holiday needs to become a British fixture.
Of course, the United States celebrates Thanksgiving in honour of our earliest settlers who learned from the Native Americans to cultivate the land and local livestock. That partnership and its bounty was the focus of the feast. The settlers gave thanks to God for that first harvest.
Admittedly, in Florida, initially settled by the Spanish, the menu might not include turkey. However, most Americans follow the New England menu celebrated in Massachusetts in the 1620s: turkey and corn being mainstays.
Jordan Cracknell explains what Americans give thanks for today. Her second paragraph below explains why I prefer Thanksgiving to Christmas (emphases mine):
Sometimes it can just be having gratitude for being able to see relatives, who might have travelled thousands of miles across the US. Other times we give thanks for our health.
It is as simple and lovely as that, and unlike Christmas there's no exchange of presents. A positive and non-materialistic holiday, where all the family get together, is something that seems to be missing from the British annual calendar …
I'm one of around 166,000 Americans living in the UK, and in my experience, other US expats would also be hard-pressed to give up the holiday …
Since being here, I have managed to convince a handful of UK friends to mark the day by inviting them to dinner. Going in with an open mind, they too have enjoyed it.
Thanksgiving is now James' favourite US holiday, and not just because of the food. 'It just makes sense to have two major holidays back-to-back to spend with family,' he says. 'Why try and fit it all in over Christmas where inevitably someone gets disappointed?'
I agree – and there are also a lot of benefits to having a holiday where the focus is merely on giving thanks and spending time with your family.
She is the descendant of one of those first settlers in Massachusetts who arrived on the Mayflower and learned from the Wampanoags (pron. 'Wom-pa-nogs') how to cultivate the land. As she says:
My ancestors would have starved to death without the help of the Wampanoag people.
True!
There are two other advantages to Thanksgiving, for me, anyway. First, turkey is out of the way for another year, enabling us to eat goose at Christmas. Secondly, it is the start of the holiday season, so we start decorating the house for Christmas in the days that follow.
The Telegraph's new Cross Atlantic crossword
Speaking of things American, The Telegraph is introducing a new crossword puzzle called Cross Atlantic.
The article says that The Telegraph was the first British paper to feature crosswords, an American creation. That was around 100 years ago:
It is that rare treat: a new puzzle, to be published every weekend and daily online, in our own Telegraph, a newspaper that knows a thing or two about the genre, having delivered its first crossword to readers almost a century ago, years before Fleet Street rivals cottoned on. The name of the new game gives a hint of its origins: American crosswords whose clues engagingly blend wordplay, odd definitions, colloquialisms, general knowledge and current affairs, stretching and testing the brain without the forbidding challenge that the cryptic grid presents to the uninitiated (and which, in the 1940s, prompted Bletchley Park to use the Telegraph crossword as a test to recruit new code-breakers).
The article shows the first Telegraph crossword, which is splendidly symmetrical and a joy to behold, unlike the new Cross Atlantic, which looks ugly by comparison. I can do the original puzzle, which has quick rather than the cryptic clues that are so characteristic of British newspaper crosswords.
My British readers will be interested to know that the geeky comedian Dave Gorman already sets the paper's cryptic crosswords and offers this advice to neophytes like me:
The formulations are unavoidable. The most frequent are hints that an anagram may be involved – using words like 'unsettled' that indicate other parts of the clue are anagrams of the answer. Then there are substitutes for letters. For example, 'sailor' often indicates the use of 'AB' for Able Bodied. Most solutions blend several such elements in directing the reader to a single answer.
I am lost already. I would not connect the word 'sailor' with the terms 'AB' or 'Able Bodied'.
Anyway:
To the inexperienced, says Gorman, all this can seem impossibly complicated, not to say convoluted – an off-putting ritual only for those initiated into its dark arts.
But there is a shortcut, he says, a way that smug solvers rarely mention. This is the fact that each clue contains a simple, straightforward pointer to the whole answer. What surrounds it are small elements of the whole. But if you can find that critical definition, usually at the beginning or end of the clue, you can leap straight to guessing at the answer. Then, says Gorman, 'you can work backwards', to confirm your guess using the other elements of the clue.
Take a poser of which Dave is extremely proud. The elements are as follows: sea eagles are known as ernes. 'Min' is an abbreviation of minimum, or smallest. Golf, as military folk know, is the letter 'G' in the Nato alphabet. And a way, or path, is also a course.
Again, that would not even enter my head.
Continuing on:
Armed with all that, try deciphering the clue: Eagles on the smallest golf course.
Did you get it?
No, I did not.
Here's the solution:
ERNES+THE+MIN+G+WAY. Which may still look baffling. But that's before you add the clue to the whole answer and the number of letters:
Writer eagles on the smallest golf course (6,9) = Ernest Hemingway.
Gorman says that 'it's far from being the best clue I've written but the discovery of it – the idea that a real person's name can also quite sensibly be rendered as a meaningful sentence – is somewhat delightful. There's no wrestling it into submission, adding an initial of something here or the last letter of something there. So it feels like it's been hiding in plain sight for ever. It's like discovering a fossil on a Dorset beach – the setter doesn't invent a clue, they find it.'
I'll leave cryptic crosswords there. Life is too short.
Old technology fans
On Wednesday, November 23, The Guardian had a fascinating article about fans of old technology, from 100-year-old typewriters to Atari. A number of the people interviewed would have been too young to experience the initial rush when these items first appeared.
The comments were equally fascinating. I read them all. It's amazing what people still enjoy and why.
Definitely an article to enjoy on Black Friday, while the rest of the family is out Christmas shopping.
The 'big night out' returns
Thankfully, after two years of pandemic fears, the big night out has returned.
This is the complete opposite to staying in with old tech.
On Saturday, November 19, The Times reported that disco-style skating rinks are this year's hot venue for Christmas parties:
This month has seen the arrival of Flipper's, a vast rink in a disused power station in west London, large enough to house 1,800 guests. Whatever you do, though, don't call it a roller disco — it is a roller "boogie palace", insists the venue, which has become one of the hottest places to host a Christmas party this year …
And it is not the only new skate venue to open in recent months. Two new rinks have opened in Manchester, including Paradise Skate World, which has seen Christmas bookings flood in. It's billed as an intergalactic experience, with tunnels you whizz through on the dancefloor and the option to hire "space visors".
"The obvious route was to go down the retro 1980s style, but we didn't want to regurgitate old ideas," says Chris Legh, the co-founder, who was also behind Junkyard Golf Club, another so-called "competitive socialising" format. This is the term used to describe a phenomenon of the past decade which has transformed the nightlife of many towns. Instead of going out drinking with your friends, you take part in some low-level sporting competition: ping-pong, crazy golf, cricket nets or axe-throwing …
Flipper's is co-owned by Liberty Ross, the model and daughter of Ian "Flipper" Ross, who founded the original rollerskating nightclub in Los Angeles in the late 1970s. It was swifty dubbed "Studio 54 on wheels" because it attracted Prince, Robin Williams, Elton John, Nile Rodgers, Cher and other hard-partying celebrities. It lasted until 1981 before it shut down …
At Flipper's it costs £22.50 for a two-hour session for an adult, including the hire of skates in a funky electric-blue suede.
Legh has another theory as to why rollerskating has become the new party craze: "If you are in charge of your Christmas party and you only have a £30-a-head budget, do you really want to spend £20 of it throwing drinks down your throat? Because so many young people don't drink now, there is still quite a bit of discretionary spending, and skating feels active and wholesome.
"For a couple of hours, it is escapism from the digital world," he adds. "Sure, people will take photos and post them on Instagram, but you can't be on WhatsApp while you're skating."
Partying deplored in 1922
Every generation thinks it is the first to decry partying.
To the finger-waggers, any and every party is bad, especially where seemingly endless alcohol and — gasp! — cigarettes are involved.
On November 23, The Times dug out an article on the topic from its 1922 archive: 'What cocktails, cigarettes and unhealthy meals meant for "society girls"'.
In reality, most socialites, then and now, get parties out of their system early on and settle down with a husband and a family.
But there's always someone, then and now, who wants to make them out to be physical and psychological wrecks.
Such was the case with Dr Agnes Savill, who delivered a lecture on partying socialites a century ago:
Dr Agnes Savill delivered a lecture on "The Dangers of Society to Health" at the Institute of Hygiene last evening. She said that the development of communities was found in the earliest stages of human society, and this gathering together of families to share a common life had many advantages, provided the individuals concerned were of a high grade and had a sound organization.
… the girl who could command her parents' wealth left school for a life of continual excitement which resulted in mental and physical deterioration …
"I have seen some of these girls after a few years of society life aged by ten years and, before the age of twenty, as worn out and nerve-tired as if they were forty.
The hectic life of continual excitement, the absence of all repose, all time for meditation, the perpetual change, the cigarette smoking, irregular and unhealthy meals — no wonder these girls become the prey of disease. And though the physical consequences are disastrous, even of greater importance is the evil effect of this life upon the character.
"Society life is responsible for deficient sleep and consequent deterioration of the nervous system. It encourages the pernicious habit of the too-frequent cigarette. It encourages the girls to take cocktails and whiskies-and-sodas, which ruin their digestion, impair their livers, and upset the nervous system, and it encourages them to take rich foods, which upset the rhythm of the body.
"The ill-health of modern society girls is in a measure the fault of their parents, who have it in their hands to postpone the downfall of our modern civilization."
My diagnosis of Dr Savill? She was deeply envious, as are all killjoys — then and now — who wish to restrain us, young and old, from having a bit of fun.
Most socialites have taken great care of themselves throughout their lives. Very few deteriorate. They cannot. They are in the public eye all the time.
Online gambling 'addiction' damaging young adults
Unlike cocktails, ciggies and rich food, there is a serious phenomenon affecting some twenty-somethings, especially young men on low incomes: the lure of online gambling.
I first read about this phenomenon in a French newsweekly earlier this year. Young lads place bets on sporting events, most often football fixtures, often prompted by frequent texts from gambling firms. Enough young men are going into debt and are sometimes driven to suicide because of it to be a worry.
In fact, the French government is currently running an advert about the lure of online gambling, showing some of the texts those who bet often receive. I've seen them on M6. If they were in English, they'd be something along the lines of:
Hi there, haven't heard from you in a while. Fancy a flutter?
The more the recipient ignores the messages, the more frequent they become, driven by algorithms.
The Times has a good article from November 22 on what is happening in the UK, especially in England. It says that victims also come from the middle classes. Furthermore, young women are also affected:
Health bosses urged betting firms to "think hard about the human cost behind their profits" after a 42 per cent annual rise in demand for NHS gambling clinics was revealed.
Doctors said more patients were attending A&E after losing all their money in online betting sprees. NHS gambling clinics are full of "young men in football shirts" who have fallen foul of "predatory tactics" by betting firms, including a boom in addictive "in-play" sports betting.
The health service will announce tomorrow that it has opened clinics in Southampton and Stoke, adding to a national network of five commissioned in 2019. Figures seen by The Times show that 599 patients have been referred to the service in the past six months, a 42 per cent increase on the same period last year and up 65 per cent from 2020-21.
The clinics offer addiction therapy, including medication usually given to opioid users to reduce cravings. Patients can be sent by GPs or hospitals or self-refer and usually spend several months in treatment. One in three have attempted suicide; 57 per cent report thinking they would be better off dead. There are more than 400 gambling-related suicides a year in England.
Matthew Gaskell, a consultant psychologist and clinical lead at NHS Northern Gambling Service, said that almost all the patients it saw were hooked on online gambling, including in-play betting, which allows fans to bet on every aspect of a live game. He said: "People start gambling as soon as they wake up in the morning; they're gambling in the shower, gambling while they're driving to work. The NHS is picking up the tab.
"There has been an increase in people turning up at A&E in crisis, in a state of suicide. People are completely desperate, begging for help and seeing suicide as a genuine escape." The service opened in 2019 and has clinics in Leeds, Manchester and Sunderland.
With football's World Cup going on as I write, one can only imagine the damage.
The article profiles a 34-year-old woman who developed an online slot machine addiction at the age of 24:
Jennifer, a young mother, spent weeks in hospital and lost custody of her children after her gambling addiction triggered a mental breakdown.
Jennifer — a pseudonym because she did not want to reveal her real name — began gambling a decade ago aged 24, and became addicted to online slot machines, feeling trapped "in a never-ending spiral with no escape".
By 2019 Jennifer had £40,000 of debt and was declared bankrupt. Her mental health collapsed and she was admitted to hospital, with social services taking control of her children …
She has not placed a bet for two years. She said: "The group therapy made me realise there's gambling addicts from all walks of life. By giving me the tools to manage gambling addiction, I've had the platform to rebuild my life financially and it means the world to me to be with my kids again as a happy family."
The article briefly mentioned two young men who took their lives, one of whom was an English teacher:
Jack Ritchie, 24, an English teacher, killed himself in 2017 after six years of battling his addiction to gambling.
Joshua Jones, 23, a talented jazz musician, leapt to his death from a ninth-floor balcony in 2015 after an addiction that culminated in him gambling all his money away and even selling his prized trombone.
I'm not the world's biggest fan of betting shops, but at least, I would imagine, they have some human control. Men who frequent betting shops often have a group of mates they meet up with there. They might tell their friend that he's been betting too much too often. The staff behind the counter are also likely to have a kind word with someone they see a bit too frequently.
Feet rule knees and hips
On November 19, The Times had an instructive article on the importance of our feet and how they affect other parts of our body.
While this is intended mostly for women, sedentary men would do well to pay attention, too:
According to Dalton Wong, the founder of Twenty-Two Training and who has worked with a host of celebrities including Jennifer Lawrence and Olivia Colman, stretching and strengthening the lower limbs can prevent pain in the feet and postural problems elsewhere in the body. Yet most of us neglect to focus on strengthening the 29 muscles of the foot and ankle.
"I am seeing an increasing number of clients coming in with hip, lower-back and knee issues that can be traced back to weakness and instability of their foot and ankle," Wong says. "What so many don't realise is that if you are not working your foot muscles enough, then it is reflected further up the body as ankle, knee and hip joints don't work well." Anatomically, these interconnecting body parts, joints and muscles that work together to perform particular movements are referred to as the kinetic chain. "Our toes, feet, ankles, lower legs, knees, upper legs, hips, pelvis and spine are all part of the body's lower kinetic chain," Wong says. "If one part is weak or out of kilter it has the potential to affect the rest of the chain."
A strong, healthy foot has a moderately high arch, minimal overpronation — rolling inwards — and some natural spreading of the toes. There are four layers of muscle and soft tissue in the feet that help to lock them into position and keep us upright. A team of Harvard researchers writing in the British Journal of Sports Medicine described how the foot has an intertwining central "core" of muscles that work to maintain a naturally raised arch, providing us with the stability needed to hold us in good posture or to support even the most basic movement patterns, such as walking. It follows that misuse of these muscles through, say, lots of sitting or the wearing of ill-fitting shoes can play havoc with foot performance and structure. For starters, too little strength of muscles in the feet can lead to decreased ankle mobility. "If your ankles are stiff and inflexible, you will be less able to transfer weight from foot to foot in a walking or running stride," says Lucinda Meade, a physiotherapist at Twenty-Two Training.
We should be able to flex our toes easily:
Big toe mobility is particularly important for better balance and gait. "If you can't bend and flex the big toe, your posture and functional movement will deteriorate," Meade says. "We should be moving all of our toes, especially our big toes, freely for at least 15 minutes every day."
Walking around in bare feet is also helpful:
Wong recommends that his clients perform some weekly workouts barefoot. "We spend so little time without shoes that even 20-30 minutes a couple of times a week going barefoot is helpful for strengthening the feet," he says. Not that you should ditch shoes for workouts overnight. "It takes time to strengthen the muscles in the feet, so build up your barefoot time gradually, starting with 5-10 minutes daily," Wong says.
Your ability to walk around in bare feet is dictated not just by the feet but by the strength of your glutes in supporting the pelvis and hips, and if these muscles are not strong enough the inside of the foot will collapse if you suddenly go shoeless, Wong says.
At the very least, practise some foot moves for ten minutes each day. "Setting aside some time for your feet will pay huge dividends," Wong says. "And if your feet are tired or tight, roll them on a cold bottle of water to release the fascia underneath the foot."
The article has simple foot exercises that anyone can do.
Who knew the role feet played in governing the body? I certainly didn't.
Egg news latest
And finally, barely a day goes by without a story about Britain's notional egg shortage. My last news post had an article about egg substitutes.
On Tuesday, November 22, The Telegraph reported that supermarkets will be rationing eggs and that the shortage is expected to last six months.
The second sentence below irritated me:
Both M&S and Morrisons have confirmed its customers are now limited to two boxes each. A spokesperson for Morrisons, which only sells British eggs, said the rationing followed "unprecedented demand" at the end of last week.
The reason for 'unprecedented demand' came from the media, blasting news of a 'shortage' here, there and everywhere.
At my supermarket, egg prices have remained relatively static for around two years: £1.10 for six, then $1.20 and, only within the past few weeks, £1.40.
Someone's not getting paid properly — the farmers:
… farmers are grappling with double-digit inflation in the price of feed and soaring energy costs to store eggs. The National Farmers' Union has warned the supply chain issues causing egg shortages on supermarket shelves could last until next summer …
Farmers who are currently making a loss on eggs are not reinvesting in new flocks of hens, leading to a shortage for shoppers.
Robert Gooch, of the British Free Range Egg Producers Association, said the egg shortages would last until "retailers pay a fair price to farmers" …
Ioan Humphreys, a fourth generation farmer in Wales, has 32,000 birds, for which the cost of feed has risen from £250 a tonne last year to £400 today. Meanwhile his electric bill on the farm has more than tripled.
But since December, Mr Humphreys has only received a 5p increase from retailers for each dozen eggs he sells them and is operating at a loss.
He said: "I have got to sell them even if at a loss to get some money in.
"Retailers are blaming bird flu for the shortages, but I haven't culled one bird from my flock this year. There are shortages on the shelves because farmers are not being paid fairly by supermarkets."
An M&S spokesperson said the company had provided "additional support, including for animal feed" to help suppliers manage rising costs. Meanwhile Sainsburys said it had increased the amount it paid to its own-brand egg packers, not directly to farmers, by 40pc in the past year.
A spokesman for Asda said the supermarket was "working hard" with its egg suppliers to resolve industry challenges.
Tesco and Ocado did not respond to requests for comment.
——————————————————————————————————-
In conclusion, I hope that my American readers had an enjoyable turkey day and that they've got plenty left over to enjoy this weekend.
While this is a change to the previous schedule of analysing Liz Truss's premiership, more about which next week, there are references below as to why hers and Kwasi Kwarteng's plan was the right one for the UK.
Chancellor Jeremy Hunt delivered his Autumn Statement — a Labourite Conservative budget — on Thursday, November 17, 2022.
Compared with Kwasi Kwarteng's fiscal event of September 23, this will be a disaster for most middle class Britons.
It was clear that Hunt designed this budget to placate the all-hallowed — for whatever reason — OBR (Office for Budget Responsibility) and the markets. Stability is their watchword. Growth, regardless of what Hunt said yesterday, plays little part in our economy for the foreseeable future.
Unlike Kwarteng's, which did focus on growth, Hunt's statement had little to no consideration of the British taxpayer in a cost of living crisis.
What Hunt said
Before going into Hunt's address, Guido Fawkes has a brief summary and the full detail from the Treasury, a 70-page document.
Below are excerpts from Hunt's Autumn Statement to the House of Commons (emphases mine):
… today we deliver a plan to tackle the cost of living crisis and rebuild our economy. Our priorities are stability, growth and public services. We also protect the vulnerable, because to be British is to be compassionate and this is a compassionate Conservative Government.
Remember when then-Chancellor Rishi Sunak told us we did not have to worry about the cost of borrowing and borrowing itself during the pandemic? Well, now we have to worry:
Most countries are still dealing with the fallout from a once-in-a-century pandemic. The furlough scheme, the vaccine roll-out and the response of the NHS did our country proud, but they all have to be paid for.
Hunt paid homage to the Bank of England and had a poke at Kwarteng for not doing so:
So the Bank of England, which has done an outstanding job since its independence, now has my wholehearted support in its mission to defeat inflation and I today confirm we will not change its remit. But we need fiscal and monetary policy to work together, and that means the Government and the Bank working in lockstep.
He delivered a deeper attack on Kwarteng:
I understand the motivation of my predecessor's mini-Budget and he was correct to identify growth as a priority, but unfunded tax cuts are as risky as unfunded spending, which is why we reversed the planned measures quickly. As a result, Government borrowing has fallen, the pound has strengthened and the OBR says today that the lower interest rates generated by the Government's actions are already benefiting our economy and public finances. But credibility cannot be taken for granted and yesterday's inflation figures show we must continue a relentless fight to bring it down, including a rock solid commitment to rebuild our public finances.
He bowed before the all-powerful OBR, whose forecasts have not been terribly accurate over the past few years. Let us see if these come true in the coming months:
Richard Hughes and his team at the OBR today lay out starkly the impact of global headwinds on the UK economy, and I am enormously grateful to him and his team for their thorough work. The OBR forecasts the UK's inflation rate to be 9.1% this year and 7.4% next year. It confirms that our actions today help inflation to fall sharply from the middle of next year. It also judges that the UK, like other countries, is now in recession. Overall this year, the economy is still forecast to grow by 4.2%. GDP then falls in 2023 by 1.4%, before rising by 1.3%, 2.6% and 2.7% in the following three years. The OBR says higher energy prices explain the majority of the downward revision in cumulative growth since March. It also expects a rise in unemployment from 3.6% today to 4.9% in 2024, before falling to 4.1%.
This is Hunt's strategy, with the blessing of the OBR and borrowing Sunak's morality from the August leadership campaign about leaving debts to the next generation:
I also confirm two new fiscal rules. The first is that underlying debt must fall as a percentage of GDP by the fifth year of a rolling five-year period. The second is that public sector borrowing over the same period must be below 3% of GDP. The plan I am announcing today meets both rules.
Today's statement delivers a consolidation of £55 billion, and means inflation and interest rates end up significantly lower. We achieve this in a balanced way. In the short term, as growth slows and unemployment rises, we will use fiscal policy to support the economy. The OBR confirms that, because of our plans, the recession is shallower and inflation is reduced. Unemployment is also lower, with about 70,000 jobs saved as a result of our decisions today. Then, once growth returns, we increase the pace of consolidation to get debt falling. This further reduces the pressure on the Bank to raise interest rates, because as Conservatives we do not leave our debts to the next generation.
So this is a balanced path to stability, tackling inflation to reduce the cost of living and protect pensioner savings, while supporting the economy on a path to growth. But it means taking difficult decisions.
Hunt then discussed the fiscal drag elements of the budget. Fiscal drag means drawing the unsuspecting into paying new and more tax:
I start with personal taxes. Asking more from those who have more means that the first difficult decision I take on tax is to reduce the threshold at which the 45p rate becomes payable from £150,000 to £125,140. Those earning £150,000 or more will pay just over £1,200 more in tax every year. We are also taking difficult decisions on tax-free allowances. I am maintaining at current levels the income tax personal allowance, higher rate threshold, main national insurance thresholds and the inheritance tax thresholds for a further two years, taking us to April 2028. Even after that, we will still have the most generous set of tax-free allowances of any G7 country.
I was amazed he could talk about 2028 with a straight face. By then, we will probably have a Labour government. Oh well, he's done their work for them.
Continuing on tax rises, he said:
I am also reforming allowances on unearned income. The dividend allowance will be cut from £2,000 to £1,000 next year, and then to £500 from April 2024. The annual exempt amount for capital gains tax will be cut from £12,300 to £6,000 next year, and then £3,000 from April 2024. Those changes still leave us with more generous allowances than countries such as Germany, Ireland, France, and Canada.
Because the OBR forecasts that half of all new vehicles will be electric by 2025, to make our motoring tax system fairer, I have decided that from then electric vehicles will no longer be exempt from vehicle excise duty. Company car tax rates will remain lower for electric vehicles, and I have listened to industry bodies and will limit rate increases to 1 percentage point a year for three years from 2025.
At least he kept one thing from Kwarteng's statement:
The OBR expects housing activity to slow over the next two years, so the stamp duty cuts announced in the mini-Budget will remain in place but only until 31 March 2025. After that, I will sunset the measure, creating an incentive to support the housing market, and the jobs associated with it, by boosting transaction during the period when the economy most needs it.
He won't even be Chancellor then.
Moving on to businesses:
I now turn to business taxes. Although I have decided to freeze the employers national insurance contributions threshold until April 2028, we will retain the employment allowance at its new higher level of £5,000. That means that 40% of all businesses will pay no NICs at all. The VAT threshold is already more than twice as high as the EU and OECD averages. I will maintain it at that level until March 2026.
Then came the windfall tax:
Can I just say that any such tax should be temporary, not deter investment and recognise the cyclical nature of energy businesses? So, taking account of that, I have decided that from 1 January until March 2028 we will increase the energy profits levy from 25% to 35%. The structure of our energy market also creates windfall profits for low-carbon electricity generation, so we have decided to introduce, from 1 January, a new, temporary 45% levy on electricity generators. Together, those measures will raise £14 billion next year.
Business rates have been a thorn in the side of those enterprises on our high streets. Here, it would seem, Hunt offered some relief:
Finally, I turn to business rates. It is an important principle that bills should accurately reflect market values, so we will proceed with the revaluation of business properties from April 2023, but I will soften the blow on businesses with a nearly £14 billion tax cut over the next five years. Nearly two thirds of properties will not pay a penny more next year and thousands of pubs, restaurants and small high street shops will benefit. That will include a new Government-funded transitional relief scheme, as called for by the CBI, the British Retail Consortium, the Federation of Small Businesses and others, benefiting around 700,000 businesses.
Then he turned to people on benefits, proving that Sunak's furlough scheme during the pandemic was more than adequate:
… I am proud to live in a country with one of the most comprehensive safety nets anywhere in the world. But I am also concerned that we have seen a sharp increase in economically inactive working-age adults of about 630,000 people since the start of the pandemic. Employment levels have yet to return to pre-pandemic levels, which is bad for businesses who cannot fill vacancies and bad for people missing out on the opportunity to do well for themselves and their families, so the Prime Minister has asked the Work and Pensions Secretary to do a thorough review of issues holding back workforce participation, to conclude early in the new year.
Alongside that, I am also committed to helping people already in work to raise their incomes, progress in work and become financially independent. So we will ask over 600,000 more people on universal credit to meet with a work coach so that they can get the support that they need to increase their hours or earnings. I have also decided to move back the managed transition of people from employment and support allowance on to universal credit to 2028, and will invest an extra £280 million in the DWP to crack down on benefit fraud and error over the next two years. The Government's review of the state pension age will be published in early 2023.
He then discussed foreign spending:
… I salute the citizens of another country right on the frontline … the brave people of Ukraine. The United Kingdom has given them military support worth £2.3 billion since the start of Putin's invasion, the second highest contribution in the world after the United States, which demonstrates that our commitment to democracy and open societies remains steadfast. In that context, the Prime Minister and I both recognise the need to increase defence spending. But before we make that commitment, it is necessary to revise and update the integrated review, written as it was before the Ukraine invasion. I have asked for that vital work to be completed ahead of the next Budget and today I confirm that we will continue to maintain the defence budget at at least 2% of GDP to be consistent with our NATO commitment.
I was pleased to hear that overseas aid will stay at 0.5%:
Another important international commitment is to overseas aid. The OBR's forecasts show a significant shock to public finances, so it will not be possible to return to the 0.7% target until the fiscal situation allows. We remain fully committed to that target, and the plans I have set out today assume that official development assistance spending will remain around 0.5% for the forecast period. As a percentage of GNI, we were the third highest donor in the G7 last year, and I am proud that our aid commitment has saved thousands of lives around the world.
Net Zero is still going ahead:
I also confirm that, despite the economic pressures, we remain fully committed to the historic Glasgow climate pact agreed at COP26, including a 68% reduction in our own emissions by 2030.
He discussed schools, beginning with those in England:
… we have risen nine places in the global league tables for maths and reading in the last seven years.
… as Chancellor I want to know the answer to one simple question: will every young person leave the education system with the skills they would get in Japan, Germany or Switzerland? So, I have appointed Sir Michael Barber to advise me and my right hon. Friend the Education Secretary on the implementation of our skills reform programme.
… Some have suggested putting VAT on independent school fees as a way of increasing core funding for schools, which would raise about £1.7 billion. But according to certain estimates, that would result in up to 90,000 children from the independent sector switching to state schools, giving with one hand only to take away with another.
So instead of being ideological, I am going to be practical: because we want school standards to continue to rise for every single child, we are going to do more than protect the schools budget—we are going to increase it. I can announce today that next year and the year after, we will invest an extra £2.3 billion per annum in our schools.
He has asked a former Labour MP, Patricia Hewitt, to help him reform the NHS. Oh, my days:
I have asked the former Health Secretary and chair of the Norfolk and Waveney integrated care system, Patricia Hewitt, to help me and the Health Secretary to achieve that by advising us on how to make sure that the new integrated care boards, the local NHS bodies, operate efficiently and with appropriate autonomy and accountability. I have also had discussions with NHS England about the inflationary pressures on their budgets.
More money will be pumped into the system:
With £3.3 billion for the NHS and £4.7 billion for social care, there is a record £8 billion package for our health and care system. That is a Conservative Government putting the NHS first.
Barnett consequentials, which come from the hard-pressed English taxpayer, will also increase:
The NHS and schools in Scotland, Wales and Northern Ireland face equivalent pressures, so the Barnett consequentials of today's decisions mean an extra £1.5 billion for the Scottish Government, £1.2 billion for the Welsh Government, and £650 million for the Northern Ireland Executive. That means more resources for the schools and hospitals in our devolved nations next year, the year after and every year thereafter.
A new energy strategy will be forthcoming from the Business Secretary.
These are Hunt's infrastructure commitments:
… today I can announce that I am not cutting a penny from our capital budgets in the next two years, and I am maintaining them at that level in cash terms for the following three years. That means that although we are not growing our capital budget as planned, it will still increase from £63 billion four years ago to £114 billion next year and £115 billion the year after, and will remain at that level—more than double what it was under the last Labour Government.
Smart countries build on their long-term commitments rather than discarding them, so today I confirm that because of this decision, alongside Sizewell C, we will deliver the core Northern Powerhouse Rail, HS2 to Manchester, East West Rail, the new hospitals programme and gigabit broadband roll-out. All these and more will be funded as promised, with over £600 billion of investment over the next five years to connect our country and grow our economy.
Our national Conservative mission is to level up economic opportunity across the country. That, too, needs investment in infrastructure, so I will proceed with round 2 of the levelling-up fund, at least matching the £1.7 billion value of round 1. We will also drive growth across the UK by working with the Scottish Government on the feasibility study for the A75, supporting the advanced technology research centre in Wales and funding a trade and investment event in Northern Ireland next year.
He is bringing devolution to England in the form of mayoralties:
Our brilliant [Conservative] Mayors such as Andy Street and Ben Houchen have shown the power of civic entrepreneurship. We need more of this inspirational local leadership, so today I can announce a new devolution deal that will bring an elected Mayor to Suffolk, and deals to bring Mayors to Cornwall, Norfolk and an area in the north-east to follow shortly. We are also making progress towards trailblazer devolution deals with the Greater Manchester Combined Authority and the West Midlands Combined Authority, and soon over half of England will be covered by devolution deals. Taken together, that £600 billion investment in our future growth represents the largest investment in public works for 40 years, so our children and grandchildren can be confident that this Conservative Government are investing in their future.
Hunt is altering the Truss-Kwarteng investment zones to be more in line with Michael Gove's aspirations for levelling up:
I will also change our approach to investment zones, which will now focus on leveraging our research strengths by being centred on universities in left-behind areas, to help to build clusters for our new growth industries. My right hon. Friend the Levelling Up Secretary will work with Mayors, devolved Administrations and local partners to achieve this, with the first decisions announced ahead of the spring Budget.
The Truss-Kwarteng energy support plan remains in place until the end of March 2023:
I pay tribute to my predecessor, my right hon. Friend the Member for Spelthorne (Kwasi Kwarteng), and to the former Prime Minister, my right hon. Friend the Member for South West Norfolk (Elizabeth Truss), for their leadership in this area. This winter, we will stick with their plan to spend £55 billion to help households and businesses with their energy bills—one of the largest support plans in Europe. From April, we will continue the energy price guarantee for a further 12 months at a higher level of £3,000 per year for the average household. With prices forecast to remain elevated throughout next year, this will mean an average of £500 of support for every household in the country.
There is more help for the most vulnerable:
At the same time, for the most vulnerable, we will introduce additional cost of living payments next year of £900 to households on means-tested benefits, £300 to pensioner households and £150 for individuals on disability benefit. We will also provide an additional £1 billion of funding to enable a further 12-month extension to the household support fund, helping local authorities to assist those who might otherwise fall through the cracks. For those households that use alternative fuels such as heating oil and liquefied petroleum gas to heat their homes, I am today doubling the support from £100 to £200, which will be delivered as soon as possible this winter. Before the end of this year, we will also bring forward a new targeted approach to support businesses from next April.
But I want to go further to support the people most exposed to high inflation. Around 4 million families live in the social rented sector—almost one fifth of households in England. Their rents are set at 1% above the September inflation rate, which means that on current plans they are set to see rent hikes next year of up to 11%. For many, that would just be unaffordable, so today I can announce that this Government will cap the increase in social rents at a maximum of 7% in 2023-24. Compared with current plans, that is a saving for the average tenant of £200 next year.
Labour started a commotion at this point. Hunt then announced a rise in the minimum wage:
This Government introduced—[Interruption.] I thought they cared about the most vulnerable! This Government introduced the national living wage, which has been a giant step in eliminating low pay, so today I am accepting the recommendation of the Low Pay Commission to increase it next year by 9.7%. This means that, from April 2023, the hourly rate will be £10.42, which represents an annual pay rise worth over £1,600 to a full-time worker. It is expected to benefit over 2 million of the lowest-paid workers in our country, and it keeps us on track for our target to reach two thirds of median earnings by 2024. It is the largest increase in the UK's national living wage ever.
Benefits will increase by the rate of inflation:
… today I commit to uprating such benefits by inflation, with an increase of 10.1%. That is an expensive commitment, costing £11 billion, but it means that 10 million working-age families will see a much-needed increase next year, which speaks to our priorities as a Government and our priorities as a nation. On average, a family on universal credit will benefit next year by around £600. To increase the number of households that can benefit from this decision, I will also exceptionally increase the benefit cap by inflation next year.
Finally, I have talked a lot about the British values of compassion, hard work, dignity and fairness, but there is no more British value than our commitment to protect and honour those who built the country we live in, so to support the poorest pensioners I have decided to increase pension credit by 10.1%, which is worth up to £1,470 for a couple and £960 for a single pensioner in our most vulnerable households, but the cost of living crisis is harming not just our poorest pensioners but all pensioners.
The triple-lock stays:
Because we have taken difficult decisions elsewhere today, I can also announce that we will fulfil our pledge to the country to protect the pension triple lock. In April, the state pension will increase in line with inflation, an £870 increase, which represents the biggest ever increase in the state pension. To the millions of pensioners who will benefit from this measure, I say: "Now and always, this Government are on your side."
Hunt did not receive a jubilant reception from Conservative MPs, some of whom had concerns.
Dr Liam Fox asked about quantitative easing and interest rates:
I congratulate my right hon. Friend on a balanced and skilful statement prioritising fiscal stability. He will be aware that some of us believe that the Bank of England maintained monetary conditions that were too loose for too long, but that it would also be a mistake to maintain monetary conditions that are too tight for too long. Can he therefore confirm that the anti-inflationary measures that he has taken today will mean that the pressure to raise interest rates will be minimised, and that there is a much greater chance that they will fall earlier than would otherwise have been the case?
Hunt replied:
My right hon. Friend is absolutely right to focus on this issue, because every 1% increase in interest rates is about £850 more on the average mortgage, so it is hugely important to families up and down the country. The OBR has said that the measures that we have taken today will mean that inflation is lower than it would otherwise have been. That means that the Bank of England is under less pressure to increase interest rates, which for reasons that he knows are such a worry for so many families.
Sir William Cash was concerned about the ever-increasing costs of the HS2 rail project:
My right hon. Friend argued for sound money and sound foundations. Would he be good enough to explain how it is that High Speed 2 will continue beyond Birmingham at a verifiable cost of at least £40 billion, when every independent report on HS2 condemns the project and confirms that phase 2 will make rail services to all west coast destinations north of Birmingham much worse? I ask him to make a clear commitment to keep this matter under review at all costs; it is in the national interest.
Hunt said:
My hon. Friend is right that the increases in the budget for HS2 are disappointing, but a strong economy needs to have consistency of purpose, and that means saying we will make sure that we are a better connected country. The lack of those connections is one of the fundamental reasons for the differences in wealth between north and south, which we are so committed to addressing. There is a bigger issue about the way that we do infrastructure projects: it takes too long, and the budgets therefore get out of control. We are just not very good at it, and we have to sort it out.
Theresa Villiers rightly asked how soon we could move to a lower-tax economy if the forecasts are wrong. For me, this was the question of the day:
I thank the Chancellor for the announcement on schools funding, which, as he knows, is something that I raised with him as being crucial. Can he also confirm that, if current forecasts about economic recovery and inflation prove to be overly pessimistic, we will move more quickly than he has announced today towards delivering a lower-tax economy?
Hunt was non-committal:
My right hon. Friend is an immensely experienced colleague. She is right to point out that there is always inaccuracy in any forecast, and there is always variation from fiscal event to fiscal event, so we keep all those decisions under review in the round. I think it is still important to have forecasts—that is better than not to have them—but we keep all those decisions under review.
Virginia Crosbie from Ynys Môn in Wales asked how soon the new nuclear programme would begin:
This Government's commitment to Sizewell C and large-scale nuclear is welcome, and it was noted that Labour's shadow Chancellor failed to mention nuclear. When will the launch of Great British Nuclear be announced, and will its scope include large-scale gigawatt nuclear at sites such as Wylfa in my constituency, as well as small modular reactors?
Hunt was encouraging:
There is no more formidable advocate for big nuclear investment on Ynys Môn than my hon. Friend. Indeed, when I went on a family holiday to Ynys Môn this summer, she tried to persuade me to visit the potential site of a nuclear power station with my children. I apologise that I did not take her up on the offer, but it shows her commitment. My right hon. Friend the Business Secretary will be making an announcement soon on things such as the launch of Great British Nuclear—I hope before Christmas, but if not just afterwards—because we want to crack on with our nuclear programme.
Richard Drax was concerned about the burden on the taxpayer, another excellent question:
I have huge sympathy for my right hon. Friend. We are facing severe financial challenges for the reasons he explained so well, but Members on both sides of the House are promising to spend billions and billions more pounds. I remind the House that it is the private sector, and hardworking people through their taxes, who pay for Government expenditure. Does my right hon. Friend agree that raising taxes on both risks stifling the growth and productivity that he and I both want, and that would counter the recession we are now in?
Hunt defended his budget:
My hon. Friend is right to make the case for a lightly taxed dynamic economy, and I would like to bring taxes down from their current level. We are faced with the necessity of doing something fast to restore sound money and bring inflation down from 11%, which is why we have made difficult decisions today. But yes, my hon. Friend is absolutely right: there is no future for this country unless we get back on the path to being a lower taxed economy.
Mark Pawsey asked about small businesses:
My constituents in Rugby and Bulkington will not enjoy the tough decisions that the Chancellor has had to make today, but they will understand the need for sound finances after the huge expenditure that the country has made on the pandemic and supporting people with their energy costs as a consequence of the war in Ukraine. They will also want to know that businesses will continue to invest to grow and to create jobs. Will he speak about the incentives that still exist for businesses to do exactly that?
Hunt pledged his support:
I am happy to do that. My hon. Friend is quite right to raise those issues. We are doing a lot of short-term things, including help with energy bills as well as business rates. As we move to a new business rates system, we are freezing the levels at which business rates can increase and introducing a 75% discount next year for retail, hospitality and leisure businesses. Fundamentally, as a Conservative Government, we know that we cannot flourish as an economy without flourishing small businesses, and we will back them to the hilt.
Greg Smith asked what Hunt was doing about reducing fuel duty:
I absolutely agree with my right hon. Friend when he talks about the inflationary pressures coming from the aftershocks of the pandemic and the war in Ukraine. We see that at the fuel pumps and, more significantly, our haulage and logistics sector sees it with the enormous level of taxation on diesel in particular driving inflation to get food and goods on to our shelves. As he prepares for the March Budget, will he look at the inflationary impact of fuel duty on top of the high cost of diesel and see whether we can reduce it?
Hunt said he was looking at the issue:
I assure my hon. Friend that I will absolutely do that. We have a little time, and I know that fuel duty is an important issue to him and many other colleagues.
March 2023 — fuel duty hike
Hunt's answer to Greg Smith on the fuel duty hike sounded reassuring, but GB News's economic editor Liam Halligan uncovered a planned fuel duty hike of 23% for March 2023 from the OBR forecast. It would be the first since 2011:
Here's Liam Halligan talking about it:
Forbes noticed it, too, bringing the news to an even wider international audience: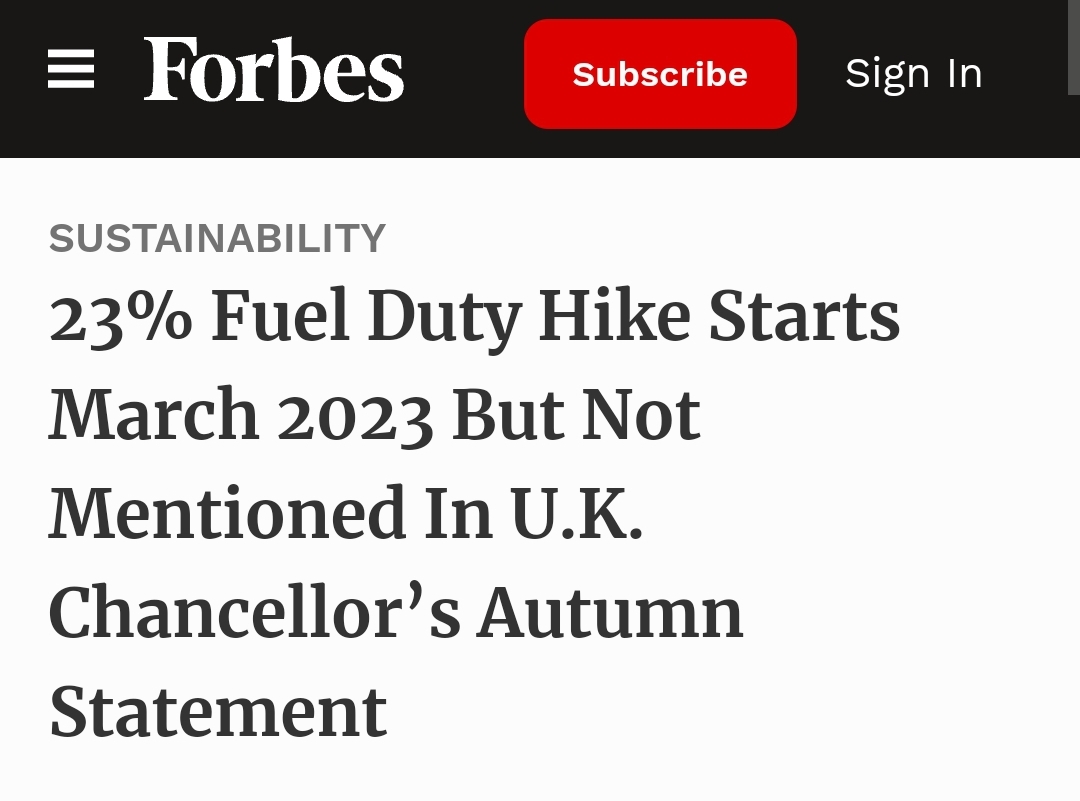 Fiscal drag
The Times had an article on the upcoming fiscal drag following Hunt's budget:
Disposable incomes, after adjusting for inflation, will fall by 4.3 per cent in 2022-23, which would be the largest fall since records began in the 1950s. It is set to be followed by the second largest fall — in 2023-24 — of 2.8 per cent.
… Despite the aspirations of Rishi Sunak to create a low-tax economy, Britain is on course for its biggest ever tax burden as hundreds of thousands of workers are dragged into higher income tax bands by the freezing of thresholds and allowances while businesses also face a jump in levies, including employment taxes.
The tax burden is set to rise to 37.5 per cent of GDP in the financial year ending 2025, reaching the highest level since records began shortly after the Second World War.
The level of taxation as a share of the national income will rise to 36.4 per cent of GDP this year and 37.4 per cent in the financial year ending 2024, breaking the previous record.
Recovery is not likely to begin until 2025, several months after the next general election. This is accurate only if Conservatives are still in power by then:
GDP is expected to rise by 4.2 per cent this year before falling by 1.4 per cent next year, only returning to pre-pandemic levels by the end of 2024. However, growth is expected to pick up to 2.6 per cent the following year and 2.7 per cent in 2026, following a recovery in real incomes, consumption and investment.
The Telegraph also had an article on fiscal drag:
Nearly a quarter of a million workers will be dragged into paying the 45p rate of income tax after Jeremy Hunt slashed the threshold at which it is charged.
The salary on which the additional rate is payable will be reduced from £150,000 to £125,140 effective next April, Chancellor Jeremy Hunt announced in the Autumn Statement, and frozen until 2028, forcing 232,000 workers into paying the top rate of tax for the first time and costing these quarter of a million taxpayers £620 on average, according to wealth manager Quilter.
The number of workers paying 45pc has more than doubled since the rate was first introduced in 2010 – rising from 236,000 to 629,000 today – as wage inflation has pushed more taxpayers into the highest income tax band.
Lowering the threshold will cost the 629,000 workers earning over £150,000 who are already impacted by the 45pc tax an additional £1,250 …
Just two months ago, then-Chancellor Kwasi Kwarteng promised that the top rate would be abolished altogether. But now the Government is hoping to earn £420m in 2023-24 by catching more taxpayers in the 45pc net, and almost double that – £855m – in 2027-28.
Neela Chauhan of accountancy firm UHY Hacker Young said the move was "a major attack" on higher earners.
She added: "It's going to bring in people into the upper rate who feel that they are far from being rich."
Tax firm RSM said that there are also unexpected consequences of slashing the additional-rate threshold and the Chancellor had opened the door to a new 67.5pc tax rate.
Taxpayers earning over £100,000 lose their personal allowance at a rate of £1 for every £2 of income.
This means for every £100 they earn between £100,000 and £125,140, a worker takes home just £40 – because £40 is lost to income tax and another £20 to the tapering of the personal allowance – creating a 60pc tax trap.
Dismal headlines
The Guardian has a breakdown of last Friday's front pages, which were bleak.
The Telegraph noted the austerity of George Osborne, Chancellor when the Conservative-Lib Dem coalition took over from in 2010, and the Labourite policies of his predecessor Gordon Brown. At the bottom of the page is an analysis from Lord Frost:
Lord Frost's analysis is pro-Truss/Kwarteng
Lord Frost points out that the OBR are predicting what Liz Truss did just a few weeks ago:
This was a very curious Autumn Statement. For the last month, we have been told that Britain needed to re-establish the confidence of the markets and put in place renewed fiscal discipline, supposedly so carelessly squandered by Liz Truss. "Eye-wateringly painful decisions" were coming for all of us …
… public spending will be at its highest since the 1970s and taxation the highest since the Second World War. Both only start to fall, gently, in the late 2020s, and then only because of some pretty heroic assumptions about growth. Indeed, under Liz Truss we were told that 2.5 per cent growth was impossible – yet the Office for Budget Responsibility (OBR) is predicting exactly that for 2025 and 2026.
How do we explain this?
To do so, I think, we have to go back to that extraordinary week in mid-October, when Truss's government blew up on the launch pad. 
She was levered out of Downing Street with the argument that she had been careless about the public finances, casual about fiscal discipline and had lost market confidence. An emergency correction was needed – tax rises or spending cuts, and probably both.
Yet on taking office, our current government will have found – as the OBR has now acknowledged – that we were already into a deepening recession. Tightening fiscal policy with growth collapsing and interest rates increasing globally would clearly have been an insane policy, one at variance with what virtually every economist would suggest. But, having destroyed the Truss administration for being insufficiently fiscally disciplinarian, the Government could hardly overtly change course itself.
That is why we got what we got. Keep growing spending, raise taxes now on unpopular groups, defer deficit reduction and everything else until 2025, and meanwhile talk a lot about austerity and discipline to disguise the reality that this is likely a similar fiscal policy to what Truss's would have been, just at higher levels of tax and spend. Then, after the election, if the Conservatives are still in power, it can all be looked at again …
… Taxes on business wreck investment and growth. Taxes on the (not very) rich destroy incentives. Britain's hard-won reputation for being a low tax country is permanently lost. And we all have less of our own money and are less free.
Another defence of Trussonomics
The Mail reminds us that the Truss plan was to cap energy prices for two years. Hunt has reduced this to the end of March 2023:
Average energy bills will rise to £3,000 a year from April as Chancellor Jeremy Hunt confirmed he was scrapping previous Government plans.
In his Autumn Statement to the House of Commons, Mr Hunt revealed changes to the 'Energy Price Guarantee' would leave Britons facing higher gas and electricity payments next year.
When former prime minister Liz Truss first announced the cost of living support in September, she outlined how average energy bills would be frozen at £2,500 a year for the next two years …
Delivering details of an altered plan today, Mr Hunt revealed the Energy Price Guarantee would now be set at a higher level of £3,000 a year for average households until April 2024.
Of course, those who use less energy at home might have less to pay:
The plan only caps the cost per unit that households pay, with actual bills still determined by how much is consumed.
Sarah Coles, senior personal finance analyst at Hargreaves Lansdown, said:
The fact that this comes on top of so many other price rises means life is going to get even tougher next spring.
More Trussonomics
The Spectator's editor Fraser Nelson wrote an analysis of the budget for The Telegraph, 'This could turn out to be the week that the Tories lost the next election'.
I noted above that some of what Hunt said points far into the future.
Fraser Nelson also observed that fact:
Suspiciously, almost all of this austerity is due to take place after April 2025, after the election. The Tory benches were very quiet during Hunt's speech, perhaps because they were piecing all this together. It was not just an Autumn Statement being written, but the next Conservative manifesto, too – with all the bad stuff saved for after the vote. Hardly the behaviour of a party expecting to win.
As one minister put it: "This was the day we lost the election." This is how some Tories see the Autumn Statement: a suicide note, wrapping a poison pill for a Keir Starmer government to swallow.
This is the alarming rate of borrowing today. Factor in the previous QE and the generous Sunak pandemic programmes when he was Chancellor:
Even now, the Government is borrowing £485 million a day – or £20,000 by the time you finish this sentence. It all needs to be repaid. And the interest we all have to pay for such debt is, broadly, treble what it was a year ago.
The new forecasts show a UK Government expecting to pay £484 billion in debt interest over the next five years – almost £300 billion more than was expected this time last year. This year alone it's £120 billion, twice last year's sum.
This extra £60 billion has had to come from somewhere. It's enough to double the size of the military, treble the police force or rebuild every school or hospital. But instead it is dead money, servicing an old debt – and things need to be squeezed to make room for it. For years, Tories wrote cheques, for HS2 and more, barely thinking about the cost. Now the bill has landed.
Nelson doesn't mention the number of times long-serving Conservative backbenchers warned Sunak over the past two years that the bill would come due, but I saw them in parliamentary debates being duly ignored. To Sunak, those men were mere Thatcherites, so last century. Rishi told us we could borrow with little consequence. Not so.
He created a lot of our current problems and campaigned in August that he would be the candidate to get us out of this situation.
Now he is No. 10, just as he wanted to be from the beginning:
Sunak can't be blamed for the debt interest. But he might have been expected to have better ideas of how to get out of the mess.
Of the Autumn Statement, Nelson writes:
Liz Truss said her message was "growth, growth, growth," but Sunak's seems to be "brace, brace, brace". A massive fiscal impact lies ahead, he says – and our mission is to recognise it, make our peace with it, and accept that talk about a low-tax future is futile. So his Autumn Statement did not kick-start a recovery. It was, instead, a requiem for growth.
Of the August leadership campaign, he reminds us:
During the leadership debate, Truss was asked what advice she would give to Sunak. Don't be so fatalistic, she told him. Don't go along with narratives of decline. She had a point. Groundless optimism ended her premiership very quickly, but groundless pessimism can also be deeply damaging.
Nelson wonders how a government can so quickly discount its people:
A million more Brits, for example, are expected to join the 1.7 million already claiming disability or health-related benefits over the next five years. They will, in turn, join the 3.5 million others on out-of-work benefits. Was it so unreasonable to hope that this number might go down, with people helped back to work? We've been promised a review into all this, but not much else.
Another assumption is that most of the 400,000 who have dropped out of the economy since the pandemic started, citing long-term sickness, will never work again. It's hard to find many other countries giving up so readily on such a stunningly large chunk of the population.
Is a uniquely British malady at work here? Or is the real problem a kind of Tory fatalism, where an exhausted governing party thinks the country is now too old, too sick or simply too workshy to get back to where it was in January 2020?
Many conservative voters said at the time that Rishi's furlough scheme was a bit too helpful — and we were paying for it.
Now we are paying even more for it.
Nelson concludes:
… the risk is that voters make up their mind now – and associate Toryism with chaos, broken promises and a general counsel of despair. Labour just needs to promise to do things better. As things stand, it's not a very high bar.
Feeling fleeced yet?
The Telegraph's editorial warned, 'Hard times ahead for British taxpayers':
Unlike the tumultuous response to Kwasi Kwarteng's unfunded growth measures in September, the market reaction was muted, which is precisely what Mr Hunt hoped for, even if the pound fell against the dollar amid forecasts of a year-long recession …
… benefits and the old age pension will rise in April by 10.1 per cent, the inflation rate in October.
This continues a trend of recent years whereby working people are expected to pay more in tax to protect social programmes that successive governments have been reluctant to reform. Although headline tax rates have not risen, the extended freeze on allowances at a time of double-digit inflation is a serious hit to the incomes of millions who will be dragged into higher bands. Some three million earners will pay income tax for the first time.
This year will see the sharpest fall in living standards on record, while the tax burden rises to its highest level as a share of GDP in decades. More than 47 per cent of national income will be spent in the public sector. In fact, spending will actually rise in real terms. The cuts are to planned budgets.
Rishi Sunak and Mr Hunt consider this social democratic approach to be fair and compassionate, closing off attack lines from Labour as a general election approaches. But there are consequences for the long-term well-being of the country if working people and businesses feel they are being fleeced to prop up failing public services and a benefit system in need of a drastic overhaul.
Essentially, the productive part of the economy is being squeezed to prop up the unproductive. The problem Mr Sunak faces is that, by 2024, the Conservatives will have been in office for 14 years and they need to offer voters a better slogan than "Labour will be worse". In fact, Labour would support many of the measures in the Autumn Statement, from loading more tax on the wealthy to increasing windfall taxes on the energy companies.
… ministers need to prepare for the worst and could proactively address the biggest drags on the economy, above all the NHS, social care and welfare benefits. The health service continues to soak up huge sums – with another £6 billion announced yesterday – and yet produces worse outcomes. Its shortcomings are causing problems throughout the economy, with treatment backlogs contributing to acute manpower shortages which the Government intends to fill by increasing immigration.
The Spectator's political editor James Forsyth, a close friend of Rishi Sunak's, explained in The Times why this recession is different to previous ones and why we need more people in the workforce. I hope his friend pays attention to this:
One bright spot amid the gloom is the unemployment rate, which is just 3.6 per cent, down from 3.8 per cent this year. This is close to historic lows. But even this glimmer is tarnished. The low unemployment number disguises how many people have left the labour force: one in five working-age Brits are economically inactive, meaning they are neither in work nor looking for it. More than five million are claiming out-of-work benefits.
The recession may last a year, perhaps two — but it will be different. Unemployment, as formally defined, won't exceed 5 per cent even during the worst of the downturn — in the 1980s it went into double digits. Seldom have there been more vacancies in the economy. It's an odd form of recession where almost anyone who wants a job can find one, but that's the situation we're in. Almost every month, the number of those not looking for work grows: it jumped by 169,000 in the three months to August. That is more than the population of Oxford.
This has consequences. The OBR thinks the cost of health and disability benefits will rise by £7.5 billion — quite a sum. A shrinking labour market is also one of the reasons why the Bank of England thinks potential growth is now a mere 0.75 per cent even in 2024-25. The Tories desperately need to get back to moving people from welfare into work — not just to reduce the welfare bill but also to boost the economy …
Alongside those not in work nor looking for it, there are 970,000 people on Universal Credit who are working very limited hours in an economy where employers are offering shifts. Hunt announced that about 600,000 of them will now be required to meet a work coach to try to increase their hours. This signals a return to Tory welfare reform …
… to ensure taxes don't need to keep going up indefinitely, two things are needed. The first is a renewed emphasis on public-sector reform. The Tory mantra used to be more for less from public services. But in recent years, it has felt like the opposite is the case. As the Institute for Fiscal Studies pointed out this week, the NHS has more money and more staff than it did before Covid yet is treating fewer people on the waiting list. This needs reversing if the tax burden is not to continue climbing ever higher.
The second is the economy needs to grow. Meat needs to be put on the bones of the growth agenda that Sunak and Hunt set out this week, with further incentives for businesses to invest.
After the debacle of the mini-budget, this autumn statement was always going to be about steadying the ship. Yet satisfying the markets is a necessary but not sufficient condition for a successful government. Sunak and Hunt must now deliver on public service reform, moving people from welfare into work and getting more out of the health and education budgets.
The Telegraph had more on the parlous state of the NHS, despite more taxpayer money being dumped into it, all for nought:
An analysis by the Institute for Fiscal Studies shows the health service in England carried out 600,000 fewer procedures in the first nine months of 2022, compared with the same period in 2019.
The NHS's budget rose from £123.7 billion in 2019-20 to £151.8  billion in 2022-23, with the extra funding tied to a target of increasing elective hospital activity by 30 per cent compared with pre-pandemic levels. This will not only be missed but matters have worsened. Why is no one being held to account?
Record sums have been poured in for years, yet there is now a waiting list of more than seven million patients. Working practices remain stuck in the past, with consultants complaining that hospitals are "like the Mary Celeste" at weekends, while most GP surgeries are only open on weekdays, pushing patients to overstretched A&E services.
The NHS unions are not helping in their demands for more money.
The article concludes:
There is something fundamentally wrong with the NHS which politicians must confront before it crashes and brings the rest of the economy down with it.
Hunt puts economic hope in migrants
It seems the OBR, a quango started by the Conservative Chancellor George Osborne and staffed by Labourites, has convinced Jeremy Hunt that he should increase our already heavy migration levels to boost the economy.
That's a left-wing idea that has never worked.
Home Secretary Suella Braverman will oppose that, but can she succeed? Only a few weeks ago, a 90-minute argument with Liz Truss and Hunt resulted in Braverman's resignation. Her security violations were a likely smokescreen for what really happened.
Jeremy Hunt is relying on a surge in net migration to more than 200,000 people per year to help deliver economic growth as he oversees a sharp rise in the tax burden to its highest ever peacetime level.
The Office for Budget Responsibility (OBR) predicted net migration – the numbers entering the UK minus those leaving – will be 224,000 next year, before gently declining to settle at 205,000 a year from 2026 onwards.
This is dramatically higher than the OBR's March estimate, when it predicted that net migration would be between 139,000 and 129,000 in the same years, some 80,000 lower.
It is also significantly higher than the long-term "ambition" of Suella Braverman, the Home Secretary, to reduce net migration to below 100,000 – similar to the target of Theresa May, one of her predecessors in the post.
The increase in migrant labour will help to buttress Britain's economy as Mr Hunt imposes higher taxes on earnings, jobs and investment. The OBR said that an increase in migration would help add to the potential size of the economy.
However, rising costs from tax are creating "growing disincentives to work", reduce business investment and depress wages, according to the OBR itself.
Business groups were even more damning. The Chancellor talked a lot about "hard work" and "fairness" in his Autumn Statement. But workers, entrepreneurs and businesses have been left to pick up the bill to keep Britain's welfare state on the road.
The OBR are being deeply irresponsible in advocating city-sized populations coming from abroad each year.
Where will these people live? How is our infrastructure — medical facilities, schools, water supply — increase to meet this demand year upon year?
Anyone travelling by Tube can pick up a copy of the Evening Standard to read about how many British twenty-somethings in London cannot find a room to rent. In many cases, there are 100 of them chasing every available room. The Standard interviews them. Their stories are heart-breaking. These young people are signed up to every rental app, to no avail.
Council tax increasing
On top of all of this, The Times reported that Hunt has given the green light to councils to increase council tax:
… the chancellor announced "more council tax flexibilities", enabling councils in England to raise council tax by 3 per cent a year (up from 2 per cent) from April 2023 and increase the adult social care precept by 2 per cent a year (up from 1 per cent) without having to hold a referendum — leaving councils free to raise the tax by up to 5 per cent next year.
Their article has charts of various council tax rates and offers this example:
If they decide to increase council tax by the full 5 per cent, council tax band D payments would rise by £115 from £2,300 to £2,415 a year in Rutland in the East Midlands — the local authority with the most expensive tax bills in England — while in Westminster in central London, the cheapest authority, they would increase by just £43 from £866 to £909 a year.
Short takes
The Telegraph has an article on winners and losers from the Autumn Statement. There are only two groups of winners: housebuyers and pensioners/benefits claimants.
The Guardian interviewed some of Hunt's constituents in leafy South West Surrey. They are unhappy with him as MP and are equally unhappy with the Government.
Guido Fawkes's sketchwriter summed up Hunt's announcement as follows:
What was the job of the day? To persuade the markets that all was under control. That debt-to-GDP would fall in reasonable time, that things would get back to normal in his cool, technocratic, managerial hands.
It's what we all need, to believe that someone knows how things work and that they know what they're doing. That there is such a thing as "sound money". That the great, communal hallucination of financial reality may be preserved.
In Guido's view, the Chancellor did exactly that. (Pound crashes, housing market collapses, the global financial architecture disappears into the Pacific Trench)
The readers' comments near the end of that post have to do with the raw deal Liz Truss got. Here's the exchange:
I find it impossible to believe that Liz Truss did so much damage in a couple of weeks with a mini budget which was never even enacted to require today's grotesque socialist budget. Hunt and Rishi must be following an ideological policy and using Truss as their excuse.
Yes, she's been made a convenient scapegoat by the WEF shills, to cover all their earlier and current mistakes and wrongdoings.
She went too far too fast and, by doing so, gave the one nation Tories and SunakHunts the opportunity to bring her down. The real villains are Sunak and Bailey [Bank of England governor] with their money printing and inflation denial. We are paying for their mistakes.
She didn't go too far too fast. That is the Conservative spin. The Socialist spin is that she crashed the economy. It was cautious and a promising start, a direction of travel being set, nothing more – except for that huge two year package on the gas bills which was pure socialism and not mentioned by anyone.
The true Conservative spin is that, as an experienced Cabinet minister, she didn't scan the political and financial hinterlands and underestimated the faux Conservative forces ranged against her. Once she u-turned she was done for.
On another of Guido's posts, a reader posited that this is all about reversing Brexit:
The champagne socialist billionaire Rishi Sunak and arch remainer narssisist Jeremy Hunt have nailed the final nails in the socialist party AKA as the Conservative party coffin. They will be wiped out at the next GE for a generation. They want to tank the economy and make everyone feel financial pain so they can say BREXIT didn't work. They will then seem to come to the rescue with every excuse on the planet and join us up first to the single market and customs union. Then kicking and screaming back into the EU. Why do you think they staged this remainer coup and got rid of Truss? The Truss budget of low tax, high wages, high growth, low government spend and the scrapping of the 2300-3000 EU laws retained on the UK statue book would have taken advantage of BREXIT and boosted the economy. They could not allow that to happen. They want to ditch plans to scrap the EU laws as that will make it harder to leave. They have folded on the NI Protocol and leaving the Jurisdiction of the ECHR. Why? Because they want to rejoin. We now are having forced on us a low wage, high tax, low growth, high government spend economy that will cripple most people financially and small businesses. Who wants to invest in the UK now?
On that note, another reader posted a photo of Hunt and Sunak sharing a laugh, with this fictitious caption:
Hunt: Told you you didn't need the support of the members.
Sunak: Yes, it was so easy to stab Truss in the back, too. Who needs democracy?
What taxpayers can do
All is not lost for taxpayers. There are ways to mitigate the effects from Hunt's statement.
Anyone who needs to cut back on food costs, protein in particular, should start eating eggs, which are cheap and the best source of protein around. Supposedly, they're in short supply, but I bought a dozen only yesterday.
The Telegraph has an excellent article on various egg preparations, whether sweet or savoury. It's well worth reading.
The paper also has a helpful article about what taxpayers can do to mitigate Hunt's raid on their money. Some will require advice from a financial planner. The most important tip is to get one's capital gains in order and start liquidating shares or funds to put into an ISA — a process called 'bed and ISA' — without exceeding the CGT thresholds. This has to be started well before the end of the 2022-23 tax year in April, when the current capital gains threshold of £12,300 expires and becomes £6,000 for one year, then £3,000 the year after that.
Good luck!
Food Network UK has been showing some of the network's American shows.
One which particularly impressed me — and is being rerun in the UK between 8 and 9 a.m. Monday through Friday (Freeview 41) during June 2015 — is The Kitchen.
The Kitchen's crew of cooks and critics has as its unofficial doyen Geoffrey Zakarian. Zakarian's first job as a professional was for renowned chef Daniel Boulud at Manhattan's Le Cirque. Anyone who was anyone went to Le Cirque in the 1980s. Zakarian was Chef de Cuisine between 1982 and 1987 before pursuing his own interests as an executive chef then restaurateur. He appears on at least three Food Network shows: Chopped, The Kitchen and Iron Chef.
Zakarian takes his culinary precision seriously but wears it lightly. Another striking thing is that he can cook whilst in a jacket and tie. No aprons for Geoffrey.
In one episode, Zakarian made scrambled eggs.
Instead of whisking the whole eggs and a dash of cream in a bowl, he used a glass cocktail shaker with a lid. Within seconds, the eggs were emulsified and ready to pour in the pan.
I used a 400g (approximately 1 lb) mayonnaise jar with a lid and had excellent results with two of my omelettes recently.
Less mess, less washing up — and great results for scrambled eggs or omelettes.
My reader underground pewster reviewed his church's Easter Sunday 2014 sermon, which happened to include a mention of Mary Magdalene's association with the egg, which came as news to me (emphases mine):
This Easter's sermon at our church started out as a good affirmation of the Gospel witness that Christ arose from the dead, but as it went on, my mind bgan to wander as we heard stories of surviving cancer being likened to "resurrection" (not exactly of the same significance to the world IMHO). As my mind drifted, the tale of the red Easter egg was recounted. I am not sure if I heard any caveats, and two witnesses likewise do not recall hearing a disclaimer to the story of Mary Magdalene standing in front of the Emperor who said to her that he would no sooner believe that Jesus was resurrected from the dead than he would believe that the egg she was holding would turn red, which of course it promptly did.
That story is not in the Bible, and probably should have been prefaced with a clear statement of its folklore status.
Apparently, according to Wikipedia:
she continued proclaiming the Gospel to the entire imperial house.[85]
Wikipedia says there is another tradition, more common among the Greek Orthodox:
Another version of this story can be found in popular belief, mostly in Greece. It is believed that after the Crucifixion, Mary Magdalene and the Virgin Mary put a basket full of eggs at the foot of the cross. There, the eggs were painted red by the blood of the Christ. Then, Mary Magdalene brought them to Tiberius Caesar.[citation needed]
The site also tells us why eggs are exchanged at an Orthodox Easter service:
The eggs represent new life, and Christ bursting forth from the tomb. Among Eastern Orthodox Christians this sharing is accompanied by the proclamation "Christ is risen!"
Lenten fasting and abstinence from all meat related products — including eggs and dairy — was common throughout the early Church. Those Lenten disciplines also lasted 50 days, not 40.
By the end, one would have been very happy to begin eating eggs, along with meat and dairy products.
So, the highly portable egg became associated with the joy of Christ's Resurrection and new life, which the faithful share, as well as the temporal anticipation of permission to return to normal eating habits.
Therefore, it is wrong for Protestants to label the Easter egg 'pagan', as it has clear Christian significance dating back to the early centuries of the Church.
Furthermore, there would have been an abundance of eggs accumulating during this time from the chickens, ducks and geese that people owned. Presumably, the faithful had a way of keeping them fresh and safely hard boil them over an open fire prior to Easter Day.
To carry them to church or a neighbour's house, they would have used a basket — as it was believed Mary Magdalene and Mary the mother of Jesus did — hence the Easter basket, also not 'pagan'.
There does not appear to be firm source material for the Mary Magdalene and the egg legend. That said, there was a very real devotion to her, particularly in the South of France.
According to legend, Mary Magdalene sailed along the Mediterranean preaching the risen Christ. The early Christians also identified her as Mary of Bethany, Martha and Lazarus's sister. (It would not be until the Reformation when the distinction between the two became widespread.)
These stories were not written up by doctors of the Church until the Dark Ages and Mediaeval Period:
Gregory of Tours, writing in Tours in the 6th century,[68] supported the tradition of the eastern Church that she retired to Ephesus, with no mention of any connection to Gaul. But for most of the Middle Ages the Western church believed that after her period as a disciple of Jesus Mary Magdalene had travelled to the south of France, and died there.
How a cult of St. Mary Magdalene first arose in Provence has been summed up by Victor Saxer[69] in the collection of essays in La Magdaleine, VIIIe – XIIIe siècle[70] and by Katherine Ludwig Jansen, drawing on popular devotions, sermon literature and iconology.[71] In Provence, Mary is said to have spent her last years alone in the wilderness, fasting and engaging in acts of penitential self-discipline, behavior that was rewarded with experiences of ecstatic union with the divine. Depictions of the Penitent Magdalen became enormously popular in preaching and art (see above).[72]
St. Mary Magdalene's relics were first venerated at the Abbey of la Madaleine, Vézelay in Burgundy from about 1050.[73] Jacobus de Voragine gives the common account of the transfer of the relics of Mary Magdalene from her sepulchre in the oratory of Saint Maximin at Aix-en-Provence to the newly founded Vézelay;[74] the transportation of the relics is entered as undertaken in 771 by the founder of the abbey, identified as Gerard, duke of Burgundy.[47] The earliest mention of this episode is the notice of the chronicler Sigebert of Gembloux (died 1112), who asserts that the relics were removed to Vézelay through fear of the Saracens.
The entry on Saint-Maximin-la-Sainte-Baume — referred to in the purple highlight above — includes more information:
It lies 40 km (25 mi) east of Aix-en-Provence, in the westernmost point of Var département. It is located at the foot of the Sainte-Baume mountains: baume or bama is the Provençal equivalent of "cave". The town's basilica is dedicated to Mary Magdalene.
This is because:
The founding tradition held that relics of Mary Magdalene were preserved here, and not at Vézelay,[2] and that she, her brother Lazarus, and Maximin, a 3rd-century martyr who was now added to earlier lists of the Seventy Disciples, fled the Holy Land by a miraculous boat with neither rudder nor sail[3] and landed at Saintes-Maries-de-la-Mer, in the Camargue near Arles. She then came to Marseille and converted the local people. Later in life, according to the founding legend, she retired to a cave in the Sainte-Baume mountains. She was buried in Saint-Maximin, which was not a place of pilgrimage in early times, though there is a Gallo-Roman crypt under the basilica. Sarcophagi are shown, of St Maximin, Ste. Marcelle, Ste. Suzanne and St. Sidoine (Sidonius) as well as the reliquary, which is said to hold the remains of Mary Magdalene.
Later:
The little town was transformed by the well-published discovery, 12 December 1279, in the crypt of Saint-Maximin, of a sarcophagus that was proclaimed to be the tomb of Mary Magdalene, signalled by miracles[1] and by the ensuing pilgrim-drawing cult of Mary Magdalene and Saint Maximin, that was assiduously cultivated by Charles II of Anjou, King of Naples. He founded the massive Gothic Basilique Ste. Marie-Madeleine in 1295; the basilica had the blessing of Boniface VIII, who placed it under the new teaching order of Dominicans.
That is the French story behind Mary Magdalene.
My apologies to underground pewster for not writing about this sooner. I also apologise for not being able to respond to his query:
I read the in biography of a Confederate soldier who had to steal eggs from a farmer's hen house as he hiked home after the war, and there is a proper way to steal the egg while not causing a noise in the hen house in the middle of the night. I'll leave it to Churchmouse for the rest of the recipe.
For that, I refer my reader to the old cartoon series Deputy Dawg! The hen house featured prominently and, if I remember rightly, in one episode Muskie and Vince came very close to stealing eggs successfully in the middle of the night. Perhaps it reveals the Confederate soldier's secrets in this regard!