You are currently browsing the tag archive for the 'election' tag.
Laird Wilcox researches political fringe movements and is the founder of The Wilcox Collection of Contemporary Political Movements, in the Kansas Collection of Kenneth Spencer Research Library at the University of Kansas.
A few days ago on another website, someone posted a link to his 1990 essay, 'The Practice of Ritual Defamation', which brought to mind Justice Brett Kavanaugh's nomination to the American Supreme Court.
See what you think as you read the excerpts below, beginning with the following (emphases mine):
Defamation is the destruction or attempted destruction of the reputation, status, character or standing in the community of a person or group of persons by unfair, wrongful, or malicious speech or publication. For the purposes of this essay, the central element is defamation in retaliation for the real or imagined attitudes, opinions or beliefs of the victim, with the intention of silencing or neutralizing his or her influence, and/or making an example of them so as to discourage similar independence and "insensitivity" or non-observance of taboos. It is different in nature and degree from simple criticism or disagreement in that it is aggressive, organized and skillfully applied, often by an organization or representative of a special interest group, and in that it consists of several characteristic elements.
Ritual Defamation is not ritualistic because it follows any prescribed religious or mystical doctrine, nor is it embraced in any particular document or scripture. Rather, it is ritualistic because it follows a predictable, stereotyped pattern which embraces a number of elements, as in a ritual.
Below are the elements which apply to Brett Kavanaugh in his nomination process:
2. The method of attack in a ritual defamation is to assail the character of the victim, and never to offer more than a perfunctory challenge to the particular attitudes, opinions or beliefs expressed or implied. Character assassination is its primary tool.
None of Kavanaugh's accusers or their enablers have come up with any details about these alleged assaults. Yet, on Thursday, September 27, he said that the damage is done. His family and name had been 'totally and permanently destroyed', his prior life now 'ruined':
One of his foes, a writer for Stephen Colbert's show, agrees (Twitter account now private):
3. An important rule in ritual defamation is to avoid engaging in any kind of debate over the truthfulness or reasonableness of what has been expressed, only condemn it. To debate opens the issue up for examination and discussion of its merits, and to consider the evidence that may support it, which is just what the ritual defamer is trying to avoid. The primary goal of a ritual defamation is censorship and repression.
The Democrats and the media have been focussing on the emotions, language and optics surrounding sexual assault and male anger …
… not whether or not the allegations are credible. Digging around shows that, often, they are not:
4. The victim is often somebody in the public eye – someone who is vulnerable to public opinion – although perhaps in a very modest way. It could be a schoolteacher, writer, businessman, minor official, or merely an outspoken citizen. Visibility enhances vulnerability to ritual defamation.
5. An attempt, often successful, is made to involve others in the defamation. In the case of a public official, other public officials will be urged to denounce the offender. In the case of a student, other students will be called upon, and so on.
How many women emerged to claim that Kavanaugh assaulted them in high school or at university? Seven?
And what about the reaction from legislators attending his hearings?
7. Also to be successful, a ritual defamation must bring pressure and humiliation on the victim from every quarter, including family and friends. If the victim has school children, they may be taunted and ridiculed as a consequence of adverse publicity. If they are employed, they may be fired from their job. If the victim belongs to clubs or associations, other members may be urged to expel them.
His wife Ashley Kavanaugh and their school-age daughters have been assaulted and threatened.
Then-Judge Kavanaugh has now said he will no longer teach at Harvard, where he has been a lecturer for the past ten years:
8. Any explanation the victim may offer, including the claim of being misunderstood, is considered irrelevant. To claim truth as a defense for a politically incorrect value, opinion or belief is interpreted as defiance and only compounds the problem. Ritual defamation is often not necessarily an issue of being wrong or incorrect but rather of "insensitivity" and failing to observe social taboos.
No one on the Left cared about Kavanaugh's moving testimony in his defence on Friday, September 28.
No one on the Left cared when an ex-girlfriend said the accusations were not true …
… or when a classmate defended him …
Or when Condoleezza Rice supported him:
As we have seen since the 2016 election, the Democrats have played these diabolical games at every turn. Unfortunately, over the past few weeks, it was Brett Kavanaugh's to be the victim of their malicious tricks. Because mid-terms are coming up in less than a month — Tuesday, November 6 — the knives are out.
These are four of the Democrat senators who sat in judgement. From top left going clockwise, they are Cory Booker (New Jersey), Richard Blumenthal (Connecticut), Dianne Feinstein (California) and Kamala Harris (California). Feinstein employed the Chinese spy:
Are they the ones well placed to judge a man who successfully passed six FBI background checks, with results of a seventh to come?
This just shows the world what a stinking pile the Democrat Party is.
And, no, they do not deserve to be called the Democratic Party, because they can no longer live up to the name.
Before this started, I had no opinions one way or the other on Brett Kavanaugh. However, on Sunday, I said a prayer of thanks that he is the newest Supreme Court justice in the United States.
In closing, may justice be done to all those who have ritually defamed Brett Kavanaugh.
Tuesday, November 6, 2018 is the date of the mid-term election in the United States.
I hope that my American readers are galvanised to go to the polls or have already voted where early voting applies.
Voter registration deadlines vary by state and, in some, it is too late to register now. However, there is still time to register in many others. Double check the information in the chart below against USA.gov and US Vote Foundation (H/T — The Conservative Treehouse):
I really hope that Americans have seen through the Democrats this year:
This is what President Trump had to say at the rally in Topeka, Kansas, on Saturday, October 6:
The next two posts will describe Democrat tactics in more detail. Stay tuned.
Occasionally, I read James Howard Kunstler's website, particularly his erudite blog posts.
Lately, he has been casting his gimlet eye on the Supreme Court (SCOTUS) proceedings with regard to Judge Brett Kavanaugh. Some of his readers are deeply disappointed with Kunstler's take, as he is a Democrat — and so are they. Not all of what he has been writing is in support of his political party.
On September 28, he posted an article, 'The Fog of Bad Faith' (pardon the language in the URLs), which clearly states what Democrats really want by stymieing and stalling a vote on Kavanaugh as the next SCOTUS justice (emphases mine):
The issues in the bigger picture concern a Democratic Party driven by immense bad faith to any means that justify the defeat of this Supreme Court nominee for reasons that everyone over nine-years-old understands: the fear that a majority conservative court will overturn Rowe v. Wade — despite Judge Kavanaugh's statement many times that it is "settled law." What one senses beyond that, though, is the malign spirit of the party's last candidate for president in the 2016 election and a desperate crusade to continue litigating that outcome until the magic moment when a "blue tide" of midterm election victories seals the ultimate victory over the detested alien in the White House.
Finally, a Dem sympathiser finally had the guts to say it.
The Dems are still licking their wounds over Hillary, nearly two years later, and they're driven mad by the possibility that federal abortion law could be overturned. The latter, as Kunstler — and Kavanaugh — have stated, is unlikely.
On October 1, Kunstler went further with 'Imaginary Monsters and the Use of Chaos', which describes what is really happening with the SCOTUS nomination. This essay also upset his readers. He makes several good points, which should sound alarm bells in all sensible people.
First, there's the absence of lucid thinking about the Kavanaugh nomination. An absence of objectivity and calm could have a deleterious impact on American society:
The Kavanaugh hearing underscored another eerie condition in contemporary USA life that offers clues about the combined social, economic, and political collapse that I call the long emergency: the destruction of all remaining categorical boundaries for understanding behavior: truth and untruth, innocent and guilty, childhood and adulthood, public and private. The destination of all this confusion is a society that can't process any quarrel coherently, leaving everyone unsatisfied and adrift, and no actual problems resolved.
Secondly, once again, the Dems are sowing chaos, just as the Spanish Inquisition sowed fear centuries ago:
One element of the story is clear, though. The Democratic party, in the absence of real monsters to slay, has become the party devoted to sowing chaos, mainly by inventing new, imaginary monsters using the machinery of politics, the way the Catholic Church manufactured monsters of heresy during the Spanish Inquisition in its attempt to regulate "belief."
Thirdly, when combined, hysteria and coercion result in totalitarianism:
The spirit of the kangaroo court has since graduated into business and politics where it has proven especially useful for settling scores and advancing careers and agendas dishonestly. Coercion has replaced persuasion. Coercion is at the heart of totalitarian politics. Do what you're told, or else. Believe what we say, or else. (Or else lose your reputation, your livelihood, your friends….) This plays neatly into the dynamics of human mob psychology. When the totalitarians set up for business, few individuals dare to depart from the party line. It's the perfect medium for cultivating mendacious ideologies.
The Democrats want a totalitarian state.
I disagree with Kunstler's conclusions about an economic and social collapse — his 'long emergency', about which he has written for years — because that will not happen under President Trump.
However, a long emergency is exactly what will happen if Democrats win the House and Senate in November. Should that happen, all bets are off.
James Howard Kunstler is so close to walking away from the Democrat Party, but by his continued rejection of Trump and Make America Great Again policies, so far away from seeing the Democrats for what they really are.
The haze is lifting around him, but he continues to cling to the long emergency, which he was predicting 15 or so years ago. It still hasn't happened.
Time to put the long emergency to bed, Jim, and embrace MAGA.
President Trump is on the elite's blacklist.
What does that say about him and his supporters?
This graphic cannot be attributed, but this is Trump's message about us and about his support for us, wherever we live. He might say 'America first', but he also wants to improve the world: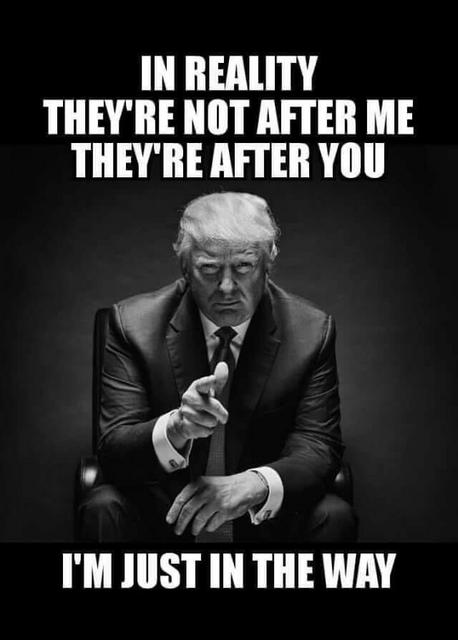 And, until he finishes his service to the United States and the world, this is what he will continue to say (graphic courtesy of The Conservative Treehouse):
For those Americans voting in the mid-terms, please consider these messages not only for your country but also for other nations as well.
Please vote Republican.
The New York Times is appealing to Americans to help them cover the 2018 mid-term elections:
Hmm.
In 2017, James O'Keefe's Project Veritas revealed a rich seam of anti-Trump and anti-Republican bias at the New York Times:
New Project Veritas video exposes New York Times (October 10)
Project Veritas 'American Pravda' series: second video (October 11)
American Pravda Part III — more from the New York Times (October 17)
American Pravda Part IV — Trump Derangement Syndrome at the New York Times (October 19)
Does anyone think that the New York Times intends to cover the mid-terms with integrity?
Those who are not convinced by the Project Veritas undercover videos might wish to read an article by Eric Zuesse for the Strategic Culture Foundation, 'How the New York Times Lies About Lies: Obama v. Trump as Example'.
Eric Zuesse documents various events of the Obama administration and how the New York Times reported them dishonestly. His article begins with this (emphases mine):
Although the New York Times says that President Donald Trump lies vastly more than did President Barack Obama, the definite liar in that comparison — based on the factual record, to be presented here — is the New York Times itself. It lies in alleging this, which isn't to say that either President lies more frequently than the other, but instead, that the Times's calculation fails to count, at all, but instead altogether ignores, some of President Obama's very worst lies — ones that were real whoppers. These were lies that were essential to his maintaining support among Democrats (such as the owners of this corporation, the NYT, are), and that would keep Democrats' support only if they failed to judge him by his actual decisions and actions (such as the NYT's owners do — or else they secretly know the truth on this, but prevent this truth from being published by their employees). Even to the present day, Obama is evaluated by Democrats on the basis of his lies instead of on the basis of his actions. He's admired for his stated intentions and promises, which were often the opposite of what his consistent actual decisions and actions turned out to be on those very same matters, on which he had, in retrospect, quite clearly lied (though that was covered-up at the time — and still is). 
Zuesse carefully details Obama's biggest lies, which the newspaper ignored. He concludes (emphasis in the original, purple highlights mine):
None of these whoppers was included in the listing that the NYT presented in their 14 December 2017 article "Trump's Lies vs. Obama's".
I am nonpartisan toward persons and toward political parties, and consider all of America's Presidents since 1981 (if not since 1968, but with the exception of Carter) to be and have been loathsome people (not even well-intentioned), but 'news'media such as the New York Times aren't any more trustworthy (nor more honest) than these Presidents have been, and the pontifications from such 'news'media (in both their 'news'-reporting and opinion-pieces) are just propaganda, mixtures of truths with lies — and more and more of the public are coming to recognize this disgusting fact, so these media's pretenses to honesty and trustworthiness are having fewer and fewer believers. But these media claim that fake 'news' comes only from their non-mainstream competitors (some of which are actually far more honest than they). Preserving their cartel is crucial to them. And it's crucial to the people who benefit from this cartel.
I mention this, because, recently, I got into a lively discussion with several people at an event about honest reporting about President Trump. To a man — and all have some of the best private school and university educations in the world — they not only read but believe whatever they read in the New York Times and other similar media outlets. They are not Americans, but they are firmly against the Republican Party and Donald Trump based on established media's lies.
When I mentioned that they might want to peruse a site such as The Daily Caller to get another perspective, they sneered, calling it 'fake news'. They've never even heard of, much less read, The Daily Caller.
This is a very sad state of affairs — great for the New York Times and parlous for those of us seeking objective reporting.
Tucker Carlson of Fox News tweeted something important to remember as the United States approaches mid-term elections. It is also relevant to the egregious resistance shown to President Trump and his administration:
For leftists — including the Democrats — 'political power is personal power'. Even a temporary loss of power destabilises them.
President Trump's administration — including the White House — has been the most transparent in living memory:
That's the beauty of Trump's presidency.
However, as we know, the US president has many enemies. A soft coup has been in operation since 2016:
President Trump's former strategist discussed the recent anonymous editorial published in the New York Times. What follows is from a September 9, 2018 ZeroHedge article (emphases in the original):
Responding to an anonymous Op-Ed in the New York Times detailing an active resistance within the Trump White House, former White House chief strategist Steve Bannon told Reuters that President Trump is facing a "coup" the likes of which haven't been seen since the American Civil War. 
"What you saw the other day was as serious as it can get. This is a direct attack on the institutions," Bannon said while flying to Italy. "This is a coup, okay".
The Wednesday column in the New York Times slams Trump's "amorality" and claims that "Many of the senior officials in his own administration are working diligently from within to frustrate parts of his agenda and his worst inclinations."
Bannon told Reuters that the last time a sitting US president had been challenged like this was during the American Civil War when Democratic General George B. McClellan went after Republican President Abraham Lincoln. 
"This is a crisis. The country has only ever had such a crisis in the summer of 1862 when General McClellan and the senior generals, all Democrats in the Union Army, deemed that Abraham Lincoln was not fit and not competent to be commander in chief," said Bannon – whose departure from the White House was in large part over a fallout with Trump's "establishment" advisers. Bannon said at the time that the "Republican establishment" sought to nullify the results of the 2016 election and effectively neuter Trump. 
"There is a cabal of Republic establishment figures who believe Donald Trump is not fit to be president of the United States. This is a crisis," Bannon said in Rome.
This is but one of President Trump's many enemies in the international establishment. See what he has to say:
He has said before that he makes money out of chaos. Pardon the language below, but this expresses the ugliness of at least one of Trump's enemies:
This is why it is essential for sensible Americans to make sure they get out and VOTE in the November mid-terms. Some states are still in primary season. Vote then, too, if at all possible:
Yes, America is at a critical juncture right now.
I hope all eligible American voters mark their calendars for Tuesday, November 6th, 2018. The world's future depends on them.
On Saturday, September 8, 2018 — the day after he received an award and made a fallacy-filled speech in Illinois — Obama went on to campaign for Democrat candidates in California.
Dems say 'no'
However, not every Democrat candidate wants him to stump for them. On September 2, The Hill reported:
Not all Democrats want Obama's help.
Democratic candidates running in states that President Trump won by double digits in 2016 would prefer that the former president stay far away.
Some Democrats in pro-Trump states, such as Sens. Bob Casey Jr. (Pa.), Debbie Stabenow (Mich.) and Sherrod Brown (Ohio), say they hope Obama will campaign for them. 
Others, such as Sens. Jon Tester (Mont.) and Heidi Heitkamp (N.D.), want to keep the race locked on the battle between themselves and their state rivals, fearing a high-profile surrogate like Obama could distract from the strategy …
While the former president remains extremely popular with the Democratic base, especially among African-American voters, Democrats fear his entrance into some battleground states could inadvertently rev up conservatives and pro-Trump voters.
Invitation only
In true Democrat style, Obama spoke to a select audience of 750 at the Anaheim Convention Center. The event was by invitation only.
Contrast this with President Trump's rallies, which are open to thousands of people at a time who apply for a ticket online.
On September 6, The Times of San Diego featured a number of tweets from interested Dems:
The accompanying article said that tickets were few and far between. The national Democratic Congressional Campaign Committee managed the distribution.
Although the convention centre can hold over 10,000 people, the Dems used 'security concerns' as an excuse for a small audience.
If anyone should be concerned about security, it's Donald Trump.
Anyway, the Dems explained themselves as follows (emphases mine, except for the link):
Despite media reports that local congressional campaigns would control precious tickets, a representative of 49th District candidate Mike Levin — seeking the Rep. Darrell Issa-vacated seat — said his office didn't have tix.
"The event is being hosted by the national party. So local groups/campaigns are unlikely to have much info" on tickets, said the spokesman. "You'll have to reach out to the DCCC directly."
The Democratic Congressional Campaign Committee didn't immediately respond to a request for details.
On Friday, a spokeswoman for the Democratic Party of Orange County noted the "text-to-win opportunity" but added: "This event was produced by the DCCC and the Obama team with very little public notice because of security concerns. The Democratic Party of Orange County was not part of the planning team."
Caryn Puma, the spokeswoman, said Saturday's rally otherwise has no publicly available seats.
"There will be no tickets given at the door," she said. "Each of the seven 'hot' congressional campaigns got an allotment of tickets for their volunteers, and a slim handful were given to the four [Southern California] county parties."
We know that Dems prefer small, select audiences. Obama was not in the habit of appearing at rallies with everyday voters. Hillary Clinton struggled to get students to attend her tiny meet-ups in 2016.
This is how a tiny number of Obama fans, no matter how select, looks to a Trump supporter:
Obama does not care about ordinary Democrats.
Obama's speech
Think Progress reported on the Obama event:
Former President Obama made his first campaign stop of the midterm elections in Orange County, California Saturday to stump for seven Democratic House candidates running in districts currently held by Republicans but that Hillary Clinton won in 2016.
About 750 people attended the event at Anaheim Convention Center, where Obama delivered a short speech centered on unity and the "politics of hope." And, after a story about getting kicked out of Disneyland when he was caught smoking in the Magic Kingdom after a concert as a teenager, Obama issued an impassioned critique of Trump and the state of American democracy and encouraged the crowd to back the candidates he came to support.
How edifying:
Two never-Trump Republican defectors also spoke, which must have added an extra frisson to the proceedings:
Ahead of Obama's remarks, two Republicans took the podium, Katherine Amoukhteh and Duraid Antone, to say they are supporting Democrats in the midterms.
"There is no shame in being a Republican, but there is shame in letting this political climate continue," Amoukhteh said.
A few minutes later, Antone, a veteran who said he was a registered Republican when he voted for Obama, spoke about his support for Rouda, who's running against longtime conservative lawmaker Dana Rohrabacher (R-CA).
In these historically Republican-leaning districts, some Democrats hope they can convince Republicans to abandon their party this fall. In his speech Saturday, Obama said he wants to win over independent voters and even some Republicans — especially those who don't recognize their own party anymore.
Obama spoke of Trump's 'authoritarian' administration. If anyone had an authoritarian administration, it was Obama, as evidenced in yesterday's post.
Reactions
The Conservative Treehouse pointed out:
One thing stands as abundantly clear, the former president is afraid – very afraid.
Former President Obama is acting like a man who knows there is a strong likelihood a win for President Trump in the mid-terms means all of the corruption discovered during Obama's administration will surface.   When campaigning today Obama says: "things can get worse", he's right.  Things likely will get much, much worse…. FOR HIM.
If President Trump can keep control or gain seats within the House of Representatives; and simultaneously build on the republican majority within the senate; there's a horizon filled with consequences for President Obama, democrat politicians, and former administration officials who weaponized government to retain power.
Everything is being controlled, scripted and planned. On the surface it might seem like President Obama is violating every polite political custom in an effort to win seats in the mid-term election; however, below the surface the real motive is to save himself.
Former Utah congressman and Republican Jason Chaffetz said:
Here's Rep. Louis Gohmert (R-Texas) throwing Obama's own words back at him:
ALWAYS REMEMBER 'THE MAGIC WAND'
In 2016, Obama decried Trump for his campaign pledges on the economy.
Obama said 'some of those jobs are not coming back' and that Trump would have to have a 'magic wand' to improve GDP. Watch and listen to the first minute of this video:
I'm highlighting that specifically because doubters — 'When did he say that? Citation needed' — needled Trump about it. See the first comment on this tweet:
Conclusion
This Dixon Diaz/Peanuts illustration best describes Obama's 2018 campaigning:
Enough said … except for a plea to every sensible American to vote Republican a) in remaining primaries (where applicable) and b) in November.
Once upon a time — in 1991 — Obama paid a compliment to Donald Trump:
Obama's association of the American Dream and Donald Trump came from a paper he co-wrote with classmate Robert Fisher at Harvard Law School that year. The paper was called 'Race and Rights Rhetoric'. The Daily Caller reported that a mention of the paper will appear in a forthcoming Obama biography (emphasis in the original):
"Race and Rights Rhetoric" summed up the American mindset as "a continuing normative commitment to the ideals of individual freedom and mobility, values that extend far beyond the issue of race in the American mind."
"The depth of this commitment may be summarily dismissed as the unfounded optimism of the average American—I may not be Donald Trump now, but just you wait; if I don't make it, my children will."
The excerpt of that previously unpublished law school paper found its way inside Rising Star: The Making of Barack Obama, the new 1,460-page biography written by Pulitzer Prize winning historian David Garrow that focuses on Obama's early years.
The paper argued that black Americans should "shift away from rights rhetoric and towards the language of opportunity."
Fast forward to the present: Obama started his mid-term campaign for the Democrats on Friday, September 7, 2018.
He received the Paul H. Douglas Award for Ethics in Government award from the University of Illinois in Champaign-Urbana, and used his speech to launch an unsurprising attack on President Trump. From the Chicago Sun-Times:
The nation's first African-American president ripped Trump for his response to the violence at a white nationalist rally in Charlottesville, Virginia, last year.
"We're supposed to stand up to discrimination," Obama told an audience at the University of Illinois' flagship campus in Urbana-Champaign.
"And we're sure as heck supposed to stand up clearly and unequivocally to Nazi sympathizers. How hard can that be, saying that Nazis are bad?"
Signaling a more direct engagement in get-out-the-vote efforts ahead of the November elections, the former Democratic president took credit for the booming economy Trump loves to tout even as he warned that the nation is at a dangerous crossroads.
"You need to vote because our democracy depends on it," Obama told the crowd.
The speech is Obama's first major foray into politics as Democrats scramble to win back control of Congress in the midterms.
USA Today had more:
Speaking to a packed auditorium with about 1,100 students, faculty and community members, he said young people are coming of age during a time when the powerful and privileged are pushing back on America's ideals.
"It did not start with Donald Trump," Obama said. "He is a symptom, not the cause. He's just capitalizing on resentments that politicians have been fanning for years."
The solution, he said, is not the purported resistance movement inside the administration that is working to thwart Trump's worst impulses, as described by a senior official who this week wrote an anonymous New York Times op-ed. Obama said that's not how democracy is supposed to work.
"They're not doing us a service by actively promoting 90 percent of the crazy stuff that's coming out of this White House, and then saying, 'Don't worry, we're preventing the other 10 percent,'" he said. "There is actually only one real check on bad policy and abuses of power, and that's you. You and your vote."
The Gateway Pundit exposed Obama's claims (emphases in the original).
On the economic crisis of 2008-2009, which Obama said resulted in a healthier economy:
Truth: Obama was the first president in history to not have a single year of 3.0% GDP growth.
On Obamacare, which he said covered an additional 20 million Americans:
Truth: Obamacare covered 21 million but 28 million Americans remained uninsured. It was a failed government boondoggle that ruined US health industry.
On the national deficit, which he claimed to have reduced by half:
Truth: The last Bush deficit was over $400 billion. Obama immediately increased the deficit by a trillion dollars. It was at $600 billion when he left office.
On job numbers, which he claimed were unchanged from his time in office:
Truth: Manufacturing jobs are up by 400,000 under President Trump. Obama lost 303,000 manufacturing jobs as president.
President Trump was campaigning in Fargo, North Dakota, that morning for Rep. Kevin Cramer. These were his reactions:
Track records: Obama versus Trump
Let us look at the presidents' respective track records —  and other aspects of Obama's speech — in more detail.
The economy
Obama took full credit for Trump's economic success:
Former Arkansas governor, past Republican presidential candidate and Press Secretary Sarah Huckabee Sanders's father said:
This is because Obama made negative noises about jobs and the economy during his eight years as president. During the 2016 campaign, he chided candidate Trump, saying he'd have to find a 'magic wand' to fulfil his promises:
This graphic by Dixon Diaz presents the contradiction nicely:
The Gateway Pundit's Jim Hoft posted a great comparison between the two presidents on September 8. Excerpts follow (emphases in the original):
After President Obama was elected President the already low stock market crashed.  When Trump was elected the stock market skyrocketed.  The markets are a gauge of the economy and include expectations of the future.
The day President Obama was elected President, November 4th, 2008, the DOW stood at 9,625.  Immediately however, the DOW began to tank and by March 9, 2009, the DOW could go down no further as it landed at 6,547 for a decrease of more than 30%.
After President Trump was elected the DOW exploded.  On November 8th, 2016, the DOW stood at 18,332.  Since that date the DOW has soared and it never looked back.
Not only has the DOW skyrocketed since Donald Trump was elected President, the market's rise is record breaking.  Since the 2016 election, the DOW has closed at new record all-time highs 99 times!  (President Obama never saw a new all-time high in the DOW his entire first term and only saw 105 all-time closing highs from his first election win until Trump's.) …

Also, President Trump didn't ride an Obama wave, the DOW under Obama went down in 2015 and stayed relatively flat until the 2016 election.
The Russell 2000 is a major index of US small cap stocks recognized throughout the financial industry. The 2000 companies in the Russell 2000 are the bottom 2000 companies in the Russell 3000. These companies have seen incredible results as well since President Trump was elected President.  The Russell 2000 reached 31 new highs in 2017 and this year already has reached 30 new all-time highs. 
The Russell 2000 never reached a new high in Obama's first 600 days and only reached 3 new all-time highs in his entire first term!  The other major indices are all the same, recording massive gains since President Trump was elected into office with dismal results in Obama's first 600 days in office.
According to Rex Sinquefield at Forbes in October of 2016 –
The Obama recovery of the last seven years remains the worst in postwar American history. Average gross domestic product (GDP) growth since the bottom of the recession in 2009 was barely above 2.1% per year. The average since 1949 is well above 4% per year during the previous 10 expansions.

This result is not just bad, it is catastrophic …  
President Trump however last quarter reached a GDP of 4.2%.
In regards to debt, President Obama increased the amount of US debt astronomically.  By the time Obama left office he had doubled the US debt to $20 trillion and incurred as much debt as all previous Presidents combined.  President Trump is slowing that trend.
In his first 600 days, in spite of increasing interest rates and the massive debt that he inherited, President Trump's debt increase is around half that of Obama's ($1.5 trillion).
As a result, the debt to GDP ratio is going down.  President Obama increased the US debt to GDP ratio by 40% from around 60% in 2009 to over 100% in 2016.
With his increasing GDP and slowing of debt increases, President Trump has managed to decrease the debt to GDP ratio in his first 600 days in office.  This is a very good result that is rarely mentioned by the MSM …
Trump bested Obama by 804,000 manufacturing jobs since taking over White House when compared to the 19 months prior to the 2016 election!  These high paying jobs are the same jobs that Obama said would never come back.
In President Obama's first 600 days in office, the US lost over (4.4) million jobs.  In President Trump's first 600 days in office, the US has gained over 3.4 million jobs.
In summary, in every major economic category, President Trump's economy is moving in the right direction and is mostly record breaking.  In comparison, President Obama's economy his first 600 days were some of the worst months in US economic history. President Trump has reversed the Obama economic nightmare.
Benghazi
Obama also spoke about Benghazi, which his opponents hoped would prevent him getting re-elected. Not only was he re-elected but the Benghazi investigation, which started early in 2013 and finished in 2016, was a damp squib. As K T McFarland wrote for Fox News in 2015:
The Benghazi Committee set out to investigate why four Americans died in Benghazi September 11, 2012, not to damage a presidential candidate. Rightly or wrongly, their credibility has been called into question, including by statements from fellow Republicans.
On Friday, Obama called the unanswered questions surrounding Benghazi a 'conspiracy theory':
Kris Paronto, an Army Ranger, is a Benghazi survivor. He had strong words for Obama:
Censorship
Obama claimed he took the high road when it came to opposition in the media:
Radio host Dana Loesch (pron. 'Lash') tweeted:
This chap with a parody account (he's not a congressman), pointed out:
Nazis
Obama criticised Trump for tolerating Nazis in American society:
He obviously hasn't been reading the news, because on August 21, ICE arrested and deported the last Nazi in the US:
95-year-old Jakiw Palij — the last known Nazi collaborator living in the United States — at his home in Queens, New York, and deported him to Germany.
"President Trump commends his Administration's comprehensive actions, especially ICE's actions, in removing this war criminal from United States soil," the Office of the Press Secretary said in a statement. "Despite a court ordering his deportation in 2004, past administrations were unsuccessful in removing Palij."
"To protect the promise of freedom for Holocaust survivors and their families, President Trump prioritized the removal of Pali," the statement continued. "Through extensive negotiations, President Trump and his team secured Palij's deportation to Germany and advanced the United States' collaborative efforts with a key European ally."
Trump's ambassador to Germany jumped on the issue straightaway, pointing out that Obama himself did nothing. Oh, the irony!
Press Secretary Sarah Sanders issued a statement from the White House. She, too, mentions that past administrations, e.g. Obama's, were ineffectual in this regard:
In summary …
Former Fox News host Eric Bolling summed up the respective presidential records as follows:
Other views

There were serious reasons why Americans voted for Trump in 2016, as Rep. Mark Meadows (R-North Carolina) said:
Senator Lindsay Graham (R-South Carolina) tweeted:
Former Secret Service agent Dan Bongino called the former president 'divisive':
… and had an interesting take:
Conclusion
There's only one more thing that needs to be said:
Obama needed his words thrown back at him. Glad to see someone did so.
Sal from New Media Central recently tweeted about the Democrats' hypocrisy on elections, noting their persistent attacks about Russian collusion in the 2016 election and their push to get non-citizens registered to vote in the US:
It makes no sense until we consider one thing.
Democrats need non-citizens' votes.
This was an issue long before 2016. You can find out by doing an online search with these words: Democrat says we need non-citizens to vote.
Pennsylvania
GOPUSA, representing the Republican Party, posted an eye-opening article about Pennsylvania from the Washington Times, dated July 13, 2018 (emphases mine):
Abdel showed up at his local Pennsylvania motor vehicle office to take his driver's license test — and walked out having registered to vote, even though he is not a citizen.
He said his command of English isn't good and the computer system was unclear, but he somehow managed to sign up even though he knew he shouldn't.
Then there was Angelo, who figured he could vote because he joined the U.S. military, even though he wasn't a citizen. He, too, signed up at the Pennsylvania motor vehicle bureau and registered as a Democrat. He then voted nearly every year from 2001 through 2014.
He finally wrote to Allegheny County asking to be stricken from the rolls, saying he had been ineligible all along.
Angelo and Abdel are some of the more than 130 people the county has nixed from its voter lists in recent years after discovering they weren't U.S. citizens and should never have been allowed to register, much less vote, according to a report being released Thursday from the Public Interest Legal Foundation.
Non-citizens applying for US citizenship often walk back their previous voter registration:
only when they did try to seek citizenship or some other immigration benefit — and learned that illegal registration or voting, both felonies, could be hurdles for their applications.
Voter registration at the motor vehicle office started at the federal level — i.e. across the US — in 1993, during Bill Clinton's presidency:
Under the 1993 federal "motor voter" law, people who show up to renew licenses or transact other business at motor vehicle bureaus are supposed to be asked if they want to register to vote. The form relies on the honor system for people to swear they are citizens.
The goal of the law was to boost election participation — but it also muddied voting lists.
Indeed.
Texas
Not every state with illegal voters wants to strike them from the rolls.
On June 7, GOPUSA reported on Houston's rolls. Houston is a Democrat city:
Ann Harris Bennett, registrar for Harris County in Texas, is battling to keep secret the names of non-citizens who signed up to vote and, in some cases, may have even cast ballots. In a federal court filing last week she said people can be removed for other reasons, but there is no requirement she erase names of people even after they tell her they aren't citizens.
"Once a person is officially registered to vote, a state may only remove them from the voting list if: the person dies, changes residence, asks to be removed from the list, or becomes ineligible under state law because of criminal conviction or mental incapacity," Ms. Bennett said in court papers. The National Voter Registration Act "does not create any obligation for a state to conduct a list maintenance program to remove the names of voters who may be ineligible due to lack of citizenship."
Maryland
In 2013, Think Progress posted an article, 'Why You Have Nothing to Fear From Non-Citizen Voting', which concerned an election in Takoma Park, Maryland:
Non-citizens may soon be voting in our nation's biggest city — at least in local elections — and that's got voter suppression groups like the Election Law Center sounding the alarm. Don't listen to them.
As New York City considers whether to expand the franchise to non-citizens, it's instructive to look at the experience other municipalities, like Takoma Park, Maryland, have had with non-citizen voting.
ThinkProgress spoke with two experts on non-citizen voting: Montgomery County (MD) Council member George Leventhal and Maryland State Sen. Jamie Raskin (D). Both individuals helped initiate Takoma Park's non-citizen voting policy in 1991.
The city-wide referendum was approved, putting the non-citizen voting policy into place in 1992. The referendum passed because of redistricting. Many non-citizens resided within the redrawn district boundaries.
Regardless, it isn't right, even if it's only in local elections and even if non-citizen voting numbers continue to be low.
California
The latest city to adopt non-citizen voting is San Francisco, after three goes at a referendum. Keep voting on the same thing and the Noes will turn into Yesses.
As in Takoma Park, Maryland, this measure is only for local elections — school board, in this instance — but how many ineligible voters are also voting nationally?
Conclusion
I don't have a solution to illegal voting, other than Pennsylvania's example of purging electoral rolls of ineligible voters.
Many Americans clamour for voter ID.
That won't work, either. Who, in a corrupt district, is going to check voter ID? No one.
P.S. – population count and political influence
There is another dimension to the Democrats' love of illegal aliens, which is to increase population not only for Congressional representation but also Electoral College votes:
This is what Rep. Mo Brooks (R-Alabama) said:
We're probably in the neighborhood of about 15 million illegal aliens in America now. 15 million comes out to roughly 20 congressional seats and 20 electoral college votes. Each congressional seat has roughly 700,000 to 800,000 people in it. [Emphasis added]
So, if you count illegal aliens in the Census for the purposes of distributing political power, that's the number of congressmen per state or … the number of electoral college votes per state, you're talking about … 20 electoral college votes and congressmen that are taken from states that follow our laws, that help our border patrol agents, and help our ICE agents … shifting those 20 congressional seats and 20 electoral college seats to states like California that have large numbers of illegal aliens in them. [Emphasis added]
I personally believe that's wrong, on a policy level, but I also believe it violates the Equal Protection clause of the 14th Amendment to the United States Constitution because it dilutes the voting power of citizens who live in states that don't harbor an enormous number of illegal aliens. [Emphasis added]
—————————————————————————————–
P.P.S. — On a lighter note, here's another great tweet from Sal:
The video is excellent — please watch his float go by!