You are currently browsing the tag archive for the 'election' tag.
Thanks to James O'Keefe's Project Veritas, Michael Beller, who was at the time Principal Counsel — head lawyer — for the partly publicly funded PBS network in the United States, freely aired his views about America and Donald Trump supporters.
This video was filmed before the November 3, 2020 general election. Gosh:
One of his statements was particularly snobbish. Beller is grateful for being able to live in Washington, DC, because (emphases mine):
Could you imagine if you lived in one of these other towns or states where everybody's just … stupid?
An aghast Howie Carr, who hails from Maine, Boston and Palm Beach, played that clip on his talk radio show on Tuesday, January 12.
Beller thinks the only solution for Trump supporters is to confiscate their children and put them in re-education camps.
You cannot make this up.
He also advocated circling the White House and throwing Molotov cocktails in the event that Trump stays in office:
Good grief.
Beller has no respect for those who partly fund the PBS network:
Americans are so f**king dumb. You know? Most people are dumb …
That was nice (not).
James O'Keefe managed to track Beller down in DC earlier this week. Before Beller slipped into a restaurant, he claimed that his reference to Molotov cocktails meant a new 'drink'. Sure, pull the other one. We all know what they are:
Fortunately, shortly after Project Veritas released their videos, Michael Beller lost his job:
Well, I hope so for America's sake.
James O'Keefe said that this was the quickest reaction ever to a Project Veritas exposé.
Well done, PBS:
The news made the Associated Press:
I wish Project Veritas many more successes as the year unfolds.
Monday's edition of Lou Dobbs Tonight on Fox Business Network was an eye-opener for those who had hoped for the best.
Earlier in the day, we saw the guest list, most prominently Leo Terrell, a well known civil rights lawyer:
These are the segments in order of his January 11 show.
Watch them and weep.
As the old saying in Europe goes, 'When America sneezes, the rest of the world catches a cold'.
Lou began by reporting that, along with social media, 'corporate America' is repudiating President Donald J Trump:
Hmm. Interesting.
Many of us learned in history class — perhaps long ago — that fascism involved government co-opting corporations to do its will.
Tom Fitton from Judicial Watch was up next. He said that the Left's — Democrats' — main goal was to remove Trump from office:
Investigative journalist Sara Carter was interviewed, citing a tweet from former CIA director John O Brennan, who has been keen to get rid of Trump since 2016:
She called attention to his tweet from January 9:
Note the words 'seeking national redemption', 'total denunciation of a despot's legacy' and 'eradicate any remaining malignancy'.
Those are words I never expected to see in a communication from an American official.
Clouthub CEO Jeff Brain followed:
Speaking personally, Leo Terrell's short segment was the best. He came right out and defended President Trump. I wish he had more time to speak:
The closing few minutes featured Lou Dobbs asking for short conclusions from everyone on the show:
In conclusion, the next four years could be very dangerous for the 74+-million people who supported President Trump.
Anyone doubting the possible peril can read John Brennan's recent tweets:
Brennan reposted a video from Arnold Schwarzenegger, who looks really mean. Perhaps plastic surgery went wrong. He doesn't look right, which doesn't lend much credence to his argument against the president:
The next CIA director should be interesting:
Meanwhile, back at the Capitol building, members of the House of Representatives were struck by coronavirus. These seemed to be Republicans only:
The chief of the Capitol Police was dismissed last week. He warned about future security in the building:
A Massachusetts congressman objected to Trump's award of the Presidential Medal of Freedom to his friend, the Patriots' (American football) coach Bill Belichick. Wow. Suddenly, everything Trump touches, so to speak, is tainted:
Belichick will not be accepting the award.
Jake Sherman reports for Punchbowl. He had a series of tweets about the Dems' moves to impeach President Trump for a second time. It is rumoured that Nancy Pelosi could sit on this for months and try to impeach him after he leaves office. This is a first:
This creates a problem for Republicans. This is evidence that corporate America is cutting off funds to the Republican Party. I feel sorry for House Minority Leader Kevin McCarthy (R-California):
It gets worse. Democrats propose to not recognise any Republican who moved to question the Electoral College vote. That is not very democratic, is it?
Looking back to Epiphany, Wednesday, January 6, while the president's rally progressed in various parts of Washington, DC, the first lady was busy with a photo shoot of White House furnishings. She also appeared to distance herself from the very public gathering:
Hmm.
Returning to the Dems and the president, here is a draft of the House impeachment resolutions. I can't see this proceeding, especially on the grounds of 'insurrection'. No one loves the United States more than President Trump:
The seasoned congressman Steny Hoyer is fully behind the impeachment motion:
I do not understand how a trial can begin 'right away'. They have to get a whole committee lined up. Good grief.
That said:
It's unclear whether the Department of Justice will go along with the Dems on claims that the president incited unrest. PJ Media reported:
A senior Justice Department official says there are no plans to indict Donald Trump or anyone else who spoke at a rally just before the Capitol building was breached by a pro-Trump mob.
Ken Kohl, a senior prosecutor in the U.S. attorney's office in Washington, said, "We don't expect any charges of that nature."
This will no doubt be enormously unsatisfying to Democrats who long to see Donald Trump do a perp walk into the federal courthouse.
Elsewhere in the nation's capital, pro-Trump lobbyists are being shunned:
It's worth remembering what happened last Wednesday into the early hours of Thursday. This is a concise summary from a commenter on the British political site Guido Fawkes (sorry, no permalinks available on his site):
Also, Trump's public polling is unchanged, despite negative media coverage and his social media ban. The National Pulse reports:
Numbers from Rasmussen Reports show that following both of these events, his approval rating has shifted either one or two percentage points – exclusively trending upwards.
In conclusion:
In 2016, around the time of Trump's election, I wrote that the Left — Democrats — were aping the Bolsheviks of the Russian Revolution.
I didn't get much traction with that suggestion then.
What about now?
On Monday, December 14, while the London area worried about moving into severe coronavirus tiers on Wednesday, electors from the 50 US states voted for the next leader of the free world.
Joe Biden won the Electoral College vote 306-232 with no faithless electors, however, the vote still has to be ratified on January 6, 2021, by the new Congress.
Biden gave an acceptance speech, riffing Margaret Thatcher's of many years ago which featured the Prayer of St Francis:
Guido Fawkes reported that Senate Majority Leader Mitch McConnell (R-Kentucky) acknowledged Biden's December 14 win:
Our country has officially a President-elect & a Vice President-elect… The Electoral College has spoken… Today, I want to congratulate President-elect Joe Biden.
Newsmax, the new network for disgruntled Fox News viewers, will now refer to the Democrat as President-elect Biden, even though reporters and presenters will continue to cover Team Trump's election battles.
It will be interesting to see what happens on January 6:
That is what the Trump supporters' Stop the Steal coalition hopes will happen. They said as much in their press conference after the electors voted and Mitch McConnell announced his congratulations to Biden and Harris:
McConnell doesn't want any Republicans countering the Electoral College result:
However, Rep. Mo Brooks (R-Alabama) is ready:
Brooks explained his position as follows:
I'm quite confident that if we only counted lawful votes cast by eligible American citizens, Donald Trump won the Electoral College, and we should not be counting illegal votes and putting in an illegitimate President of the United States.
President Trump is not wrong:
Would Mike Pence be ready to defend the Republic on January 6? He has that power, if he chooses to use it:
But, let's go back to Monday. A lot happened.
Earlier that day …
President Trump's adviser and speech writer Stephen Miller (with the dark tie below) spoke about an 'alternative slate' of electors:
Miller probably meant this:
I do not know if this would work or not, but former New York City police commissioner Bernard Kerik says:
The New York Times has a map that shows the result from each state.
In Nevada, Georgia and Pennsylvania, the electors' votes went to Biden.
However, Right Side Broadcasting (RSBN) showed a different result for Nevada:
Gateway Pundit reported that Georgia and Pennsylvania — much larger votes — also voted for the incumbent (emphases mine):
Electors in Georgia and Pennsylvania also cast procedural ballots for Trump while the states continue to be contested.
Procedural ballots are cast in states where the result is contested.
Yet, as I mentioned above, the NYT map shows that Biden won those states.
Trouble for Michigan's Republican electors
Meanwhile, appointed Republican — GOP — electors in Michigan were not allowed to vote. They could not even get in the building.
Gateway Pundit reported and included tweets:
A group of GOP electors on Monday arrived at the Michigan State Capitol to cast their votes for President Trump …
The police would not allow the Republicans in:
'The electors are already here, they've been checked in,' the police said as they blocked access to the Capitol.
The police told the Republican electors:
If you have a problem, you can contact the Governor's office.
Gateway Pundit stated that a Trump elector asked for the Sergeant at Arms. The police replied that he was in a meeting.
With that, the police directed the electors to Governor Gretchen Whitmer's office. She's a Democrat, by the way:
The Republican electors explained that they wanted to vote because Michigan's result is in dispute and under investigation (see below):
Meanwhile — Michigan: audit of Antrim County voting equipment
However, other big news took place in Michigan that day. A state judge, Kevin J Elsenheimer, ordered the release of the results of the December 4 audit of Dominion voting machines in Antrim County. (If you've ever visited Traverse City, famed for its annual Cherry Festival held in July, you've been in Antrim County.)
This is a big victory for Team Trump. As The Election Wizard explains:
The results had been shielded by a protective order, but this morning, Judge Elsensheimer removed that order, clearing the way for the audit results to go public.
The judge further ordered that the case move to the discovery phase and mentioned the case could go to trial by April of 2021.
The hearing was conducted by ZOOM and streamed live on YouTube this morning.
The release of the report is a major victory for President Trump and his supporters, who have called into question the Dominion machines.
However, the journey from December 4 to the 14th was an uneasy one for Constitutional Attorney Matthew DePerno of the DePerno Law Firm, who represented William Bailey, a member of the team who audited the county's voting equipment.
Gateway Pundit reported that Bailey and his team looked at everything:
the 16 Dominion voting machines, tabulators, thumb drives, related software and the Clerk's 'master tabulator' used in the November elections in Antrim County, MI.
The audit — inspection — resulted in a 'collection' and took eight hours:
With 16 CF cards (similar to SIM cards), 16 thumb drives, and forensic images of the Dominion voting machines in hand, the IT team was escorted to the local Antrim County Airport by two Antrim County Sheriff vehicles, where they boarded their jet plane with evidence in hand.
On the morning of December 5 — the following day — Matthew DePerno received a worrying phone call about a previous legal case about which he'd never had a complaint:
Mr. DePerno received a call from the MI State Bar warning him that they have opened an investigation into a case he tried over a year ago in Lapeer, MI.
In case anyone wonders if Lapeer is near Antrim County, it is in the opposite direction: south east central. Antrim County is in the north west.
The caller told DePerno that the State Bar of Michigan had requested 6,000 pages of documents related to the case that had never had a single complaint filed about it. DePerno told Gateway Pundit that the call might have been 'an act of intimidation' on the part of Michigan's Attorney General, Dana Nessel.
On December 9, DePerno and his client William Bailey awaited the forensic results from the election equipment inspection. While they awaited the outcome, DePerno discovered that he was named in a legal motion regarding Antrim County. It was a protection order filed by AG Dana Nessel to prevent the results of the investigation being made public.
The following day, DePerno filed an emergency order with the aforementioned state judge, Kevin J Elsenheimer, to lift the protection order, which the judge granted on Monday, December 14.
What an ordeal.
Here's a tweet with a summary of the findings:
Also, on the same topic:
One can only hope that Team Trump can use this information in their legal pursuits.
Georgia Dems gear up for January state run-off
Democrats in Georgia are gearing up for the state senate run-off in early January 2021.
On December 14, Newsmax reported that failed gubernatorial candidate Stacey Abrams was ready:
Former Georgia gubernatorial candidate Stacey Abrams, now the founder of the voting rights organization Fair Fight, said that Democrats are prepared to win the Senate runoff race in January, and that 1.2 million absentee ballots have already been requested.  
"We know from the numbers that we're in a good place; 1.2 million absentee ballots have been requested thus far," Abrams told CNN's Jake Tapper on "State of the Union." "Just to put that into context, 1.3 million were requested for all of the general election."
It is so sad that the United States has sunk this low. I never would have expected it.
Ongoing violence has its part to play
Political violence has been part of America's urban life since the summer. Granted, it hasn't been taking place everywhere, but it's been endemic in Portland, Oregon, and Seattle, Washington. Other sporadic outbursts of violence have occurred in other American cities, including Washington, DC, and towns, such as Kenosha, Wisconsin.
A former Democrat, who is a retired lawyer, commented on this year's violence on a website for ex-Dems, ex-Hillary supporters. While I disagree with most of it, the first two lines reminded me of what the Bolsheviks must have thought a little over a century ago:
For violence solves nothing, so they say.
But it does change the status quo, in ways words never can…
Think about that, then consider one possibility why the Supreme Court might not want anything to do with defending President Trump. This tweet comes from someone who seems to have an inside track on the election:
However, there is no need to be as senior as a Supreme Court Justice to receive threats:
Therefore, it seemed almost natural that the election would have gone to Joe Biden, because those committing the violence are like so many neighbourhood bullies. Sadly, they are much more serious.
Conclusion
For nearly a century, there has been a saying in Europe:
When America sneezes, the rest of the world catches a cold.
Good grief, please keep this corruption away from our shores. Thank goodness we have handwritten paper ballots and far fewer mail-in ballots.
Millions of us support President Trump even if we are thousands of miles away.
Four years ago at this time, I was lukewarm about Kevin McCarthy, the Republican (Minority) Leader in America's House of Representatives.
He represents California's 23rd District, so he knows a lot about the state's politics.
He wasn't too keen on Donald Trump in 2016, but, since then, he got on board the Trump Train and makes a lot of sense.
Below are some of his latest and greatest tweets.
The 2020 results for the House
Six days after the 2020 election, he tweeted:
He also had a go at Nancy Pelosi's predictions about the election results. She was so wrong:
2020 election censorship
On Wednesday, December 9, YouTube posted a statement: 'Supporting the 2020 U.S. Election'.
It reads in part (emphases mine):
Yesterday was the safe harbor deadline for the U.S. Presidential election and enough states have certified their election results to determine a President-elect. Given that, we will start removing any piece of content uploaded today (or anytime after) that misleads people by alleging that widespread fraud or errors changed the outcome of the 2020 U.S. Presidential election, in line with our approach towards historical U.S. Presidential elections. For example, we will remove videos claiming that a Presidential candidate won the election due to widespread software glitches or counting errors. We will begin enforcing this policy today, and will ramp up in the weeks to come. As always, news coverage and commentary on these issues can remain on our site if there's sufficient education, documentary, scientific or artistic context.
While only a small portion of watch time is election-related content, YouTube continues to be an important source of election news. On average 88% of the videos in top 10 search results related to elections came from authoritative news sources (amongst the rest are things like newsy late-night shows, creator videos and commentary). And the most viewed channels and videos are from news channels like NBC and CBS.
NBC and CBS weren't biased, were they?
Kevin McCarthy was quick to respond. He's absolutely right. There was nothing like this in 2016:
Praise for Trump's historic five peace deals in four months
On Thursday, December 10, the Trump administration made history once again, with yet another exceptional peace deal, where people said none could be done.
Yes, Donald Trump is the Peace President:
I couldn't agree more:
China
A week ago, I wrote on Orphans of Liberty about the revelations that a female Chinese spy was active in California and the Midwest for several years (see the part on China). The principal politician involved was Rep. Eric Swalwell. The Chinese national, Fang 'Christine' Fang, met him when he was councillor for a San Francisco Bay area town, Dublin City. At the time, she was a student at California State University East Bay and affiliated with the Chinese Student Association.
Swalwell was first elected to US Congress in 2012. He was re-elected in 2014. Fang was his 'bundler' for campaign contributions. That was ideal for her and for China. She ended up placing a few political interns in his offices, including one in Washington, DC.
Fang overplayed her hand in the months to come. By 2015 — and this was during Obama's second term — the FBI was on to her. They gave Swalwell a defence briefing about Fang and he put an end to his association with her.
Nonetheless, Swalwell has served on the House Intelligence Committee for several years. He is still serving on the House Intelligence Committee.
Furthermore, few people are more vocally anti-Trump than Eric Swalwell. He was one of the principal peddlers of the 'Russian collusion' narrative.
Kevin McCarthy nailed it with this tweet from Tuesday, December 8:
The following day, he explained to Laura Ingraham of Fox News that Speaker of the House Nancy Pelosi nominated him to that committee. Did Madam Speaker know about Swalwell's connections? If so, she never should have nominated him:
On Monday, December 14, he also had a go at Adam Schiff, the chairman of the House Intelligence Committee, about Swalwell. Schiff, also a Democrat, is another US legislator from California:
This is his message for the next session of Congress, when the Speaker of the House position is once again up for grabs:
Coronavirus lockdowns
For me, however, this is Kevin McCarthy's best tweet:
Yes, they do, indeed.
In August, he tweeted:
Yet, the longer lockdowns and restrictions go on, the more people are likely to believe small business closures, particularly those in the hospitality sector, are a way of letting either big firms or the Chinese in to buy vacant property.
Yesterday, Howie Carr interviewed a restaurant owner from the North End in Boston who has a long-established restaurant that is opening and closing at the whims of city officials and the Massachusetts governor. The man was fighting back tears. This is not easy — at all. He said he does not know what is going on but he says that all the benefit is going to big corporations rather than to him and his brother as well as other small business owners.
When I found McCarthy's 'lockdowns destroy livelihoods' tweet, I'd also spotted a prescient comment from someone who has been an ex-Democrat since 2008. The comment is excerpted below:
…Why are all the Dem leaders so blatantly cold & heartless & PUNITIVE towards destroying people's lives…while continuing to party in their own lives
Why would Cuomo & DeBlasio let NY turn into a ghost town? and Newsome & Garcetti let the great state of California & the once grand city of Los Angeles die a slow death to the point of driving even Silicon Valley & Elon Musk to skedaddle out to greener & nicer pastures taking all their jobs & moola with them??? Why??
…and then it hit me……there is a strategy…the Dems want the businesses to fail; they want the small business people to fail…they want to kill their golden goose…WHY? Democrats have always been big supporters of Eminent Domain…I could not believe it when I found out years ago it is usually the Dems behind confisicating people's land, homes, businesses…not really repubs…they believe in their right to do that…for the "greater good"
so my theory goes Dem leaders want to suffocate the small business & real estate & workers to the point of blight & where they give up, lose their businesses & property, have their business licenses & credentials taken away from them, etc
…and then Dems claim all the property & real estate, small businesses under eminent domain or some other concocted device…take what they want …demolish the rest & start selling the locations & properties to FOREIGN INVESTORS…namely CHINA, CHINA, CHINA…
Does anyone doubt that CHINA (given we are speaking about Dems, throw in Iran, etc) would love to own Los Angeles & New York City?
THIS is what I believe is the method to their madness…let things get as bad as they conceivably can without being too obvious…and then one by one Foreign money will appear & buy up the fire sales…& then recreate in their own image a "New America" with Dems in charge of who gets what & at what price.
That is very plausible, very plausible. And, if it is, it won't just be true in the United States. What about the many European countries experiencing endless lockdowns and restrictions?
The Democrats — either at state or federal level — are not helping the normal American who has worked hard to make his or her living.
McCarthy retweeted this:
As he told Maria Bartiromo of Fox News, Nancy Pelosi used this despicable strategy to hurt President Trump. Instead, it hurt millions of Americans:
Civil rights
On civil rights, McCarthy knows the history of the Republican Party, which has championed them from the 19th century:
After the 2020 election, McCarthy pointed out the diversity among the Republican winners:
Oldies but goodies from 2018 up to 2020
In 2018, McCarthy proved that a goodly number of Democrat congressmen don't care whether illegals vote in a US election:
Nearly three weeks later — and three weeks before the mid-term election that year — Newt Gingrich lauded McCarthy for his stance on immigration: 'Here's a leader with a plan to genuinely control our southern border. He needs our support'.
California politics is part of this, too:
When House Majority Leader Kevin McCarthy, R-Calif., introduced the Build the Wall, Enforce the Law Act he set the stage for a vital national debate on important questions …
When contrasted with the open borders bill of Sen. Dianne Feinstein, D-Calif. – which every Democratic Senate incumbent has co-sponsored – the choice between the two parties is clear.
Republicans will control the border. Democrats will throw the border wide open to anyone who wants to enter.
On October 23 that year, Fox News reported that two men threw a large rock through the window of McCarthy's office in Bakersfield, California. The men then burglarised the equipment inside:
McCarthy posted four photographs documenting the alleged episode on Instagram — three showing the individuals he identified as possible suspects, and one providing a clear view of a massive slab of rock lying on the floor amid shattered glass.
"Does anyone know these two guys?" McCarthy wrote on the social media site, next to images of two people spotted near his office.
The Bakersfield Police Department did not comment on the alleged incident when reached by Fox News and said it would have more information on Tuesday.
McCarthy, like several other congressional Republicans, has faced threats and harassment in the past several weeks. In August, protesters in Sacramento chanting "No justice, no peace" disrupted McCarthy's event at the Public Policy Institute of California.
Ironically, on Thursday, McCarthy retweeted President Trump's "#JobsNotMobs" slogan, underscoring the deteriorating level of civility in politics ahead of the Nov. 6 midterm elections.
After the November 6 election that year, McCarthy was approved by a vote of 159-43 to become the new House Minority Leader.
McCarthy is someone who appeals to all Republicans. Trump, however, also wanted a more controversial figure to also represent his interests — Jim Jordan from Ohio, a wrestler during his university days:
Jim Jordan did not get his appointment as Ranking Member of the House Judiciary Committee until March 20, 2020. That said, Doug Collins (R-Georgia) did an excellent job defending the president during his impeachment hearings.
During Sen. Chuck Schumer's (D-NY) shutdown early in 2019, McCarthy wanted Congress in session:
During that time, he also made it clear that he supports small government:
At the end of January 2019, in an effort for tighter border legislation, McCarthy gave a speech about the many Americans who had been the victims of crime at the hands of illegals. It was so moving that he received a bipartisan standing ovation.
A few days later, he upheld the right to life in criticising Virginia's Democrat governor Ralph Northam for his egregious racist behaviour and stance on abortion:
Sadly, Northam's still there.
On February 19, 2019, he posited that Adam Schiff should have recused himself from investigating Trump's notional 'Russian collusion' because Schiff met with Glenn Simpson, the founder of GPS Fusion, the opposition research firm behind the Democrat-funded Steele dossier at the Aspen Security Forum in July 2018.
The matter persisted through the end of March that year, but Schiff is still the chairman of the House Intelligence Committee.
In April, he warned Americans of the Democrat plan to regulate the Internet. He countered that Republicans want to keep the Internet free and open.
Two months later, he pointed out that YouTube considers itself a publisher, not a platform. It should be noted that a publisher can choose what to publish, a platform — which YouTube claims to be — cannot.
Kevin McCarthy also managed to raise a lot of money for President Trump's 2020 campaign, starting in 2019:
McCarthy had a strategy to win a House majority in 2020. Sadly, that didn't work — and historically, it's very difficult — BUT at least the Republicans did not lose any seats (see the first tweet in this post).
In late October 2019, McCarthy rightly criticised the secrecy that Adam Schiff engineered around the preparations for Trump's impeachment. Republicans were not allowed to see some of the evidence.
McCarthy refused to give it legitimacy:
On December 6, 2019, McCarthy brought Pelosi's forked tongue approach to the attention of all Americans:
In January 2020, McCarthy set an all-time annual fundraising record for the Republicans:
On February 5, 2020, McCarthy announced that Trump was 'acquitted for life':
He defended Attorney General Bill Barr (who is leaving his post this month) against 2,000 former DoJ — Department of Justice — employees who wanted him to resign.
In June, he saw the agenda that lies behind people who want to topple statues and destroy police stations, public housing as well as churches:
Later this past summer, he appeared in a moving campaign ad for President Trump:
In a change from four or more years ago, McCarthy stated that he did not want an endorsement from the Chamber of Commerce. That is because the Chamber of Commerce rejected Trump in 2020 and endorsed Democrats instead. Now please revisit the ex-Dem's comment earlier in this post about what could happen to the property that businesses going bust from coronavirus leave behind. It is entirely possible that those properties could be sold to a foreign entity or to big real estate developers.
On Wednesday, November 4, the day after the election, he tweeted, 'Americans rejected socialism and voted for freedom', which was true at state and federal levels. Team Trump continues to contest the presidential results.
McCarthy wants the battle for truth to continue. On November 6, he told Laura Ingraham of Fox News, 'Republicans will not be silenced'.
I have enjoyed what I have seen and heard from Rep. Kevin McCarthy of California over the past four years. I hope he continues like this, because, if he does, he would make an excellent Speaker of the House someday.
Just to keep everyone updated: President Donald Trump has not conceded.
On Friday, December 4, Sean Hannity spoke with former New York City mayor Rudy 'America's Mayor' Giuliani about vote discrepancies in the contested states, beginning with Nevada:
Giuliani said that when someone brings a civil lawsuit, the judge assumes that the allegations are 'true and correct', yet 'the judge' — US state unspecified — 'did just the opposite' (emphases mine):
Now, we can get it reversed but he's accomplished what he wants to accomplish.
He's delayed things, and, I'm sorry to say, he's a Democrat. And you can't tell me he's made this decision based his on legal knowledge unless he really didn't go to law school.
On a motion to dismiss, you have to assume that every allegation we make is true, and then say it doesn't violate the law.
Later on, you get to make a motion for summary judgement … we get a chance for a hearing.
The reason I went to the state legislatures, Sean, is because I saw what the courts were doing, and I wanted to go around them …
The Georgia court wouldn't have allowed those courts to put those witnesses up. The legislature did. In Michigan, the same thing.
We had two Democrat judges and they weren't allowing us to put witnesses up. But, I was able to get some of the witnesses up there because I went to the legislature.
Now, the simple fact is, we don't need courts.
The United States Constitution gives sole power to the state legislatures to decide presidential elections.
In fact, if we go back to the Founding Fathers, they would tell us that we're making a mistake.
This should be thrown right back to the House of Representatives and to the Senate — in each state — and they should hold hearings, they should make factual determinations, and they should decide what the right voter count is.
President Trump sounded off against Governor Kemp of Georgia:
Giuliani had a photo of the suitcases full of ballots in Georgia; I posted a video on Friday:
In Wisconsin, the state's supreme court threw out a Trump lawsuit: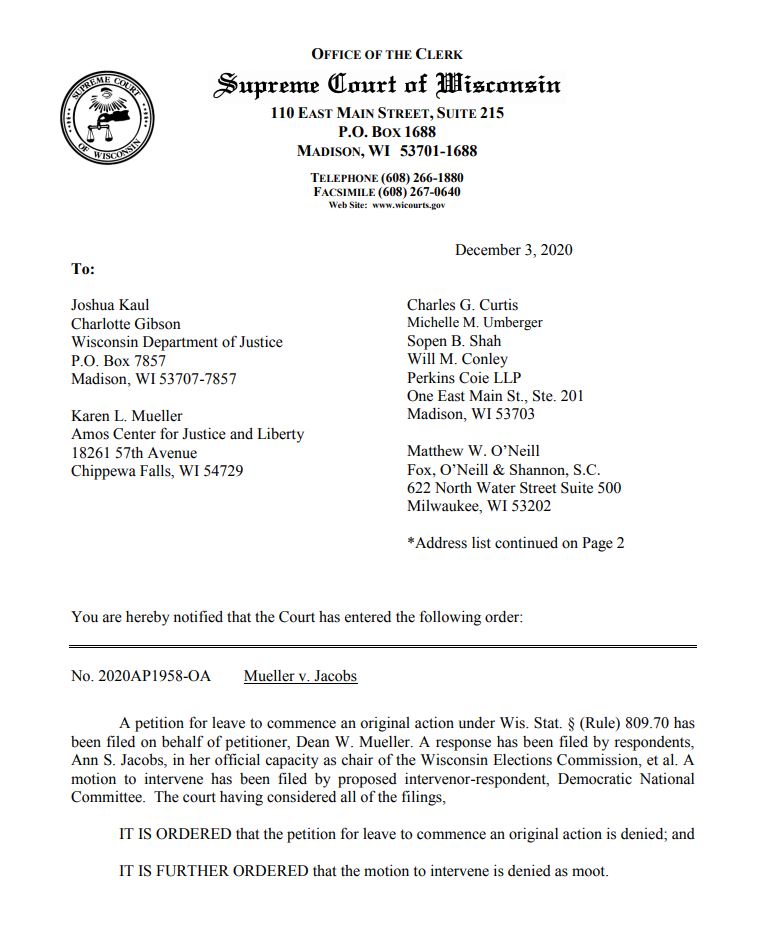 On Friday, December 4, the Daily Mail reported:
A divided Wisconsin Supreme Court on Thursday refused to hear President Donald Trump's lawsuit attempting to overturn his loss to Democrat Joe Biden in the battleground state, sidestepping a decision on the merits of the claims and instead ruling that the case must first wind its way through lower courts.
In another blow to Trump, two dissenting conservative justices questioned whether disqualifying more than 221,000 ballots as Trump wanted would be the proper remedy to the errors he alleged.
The defeat on a 4-3 ruling was the latest in a string of losses for Trump's post-election lawsuits. Judges in multiple battleground states have rejected his claims of fraud or irregularities.
Trump asked the Wisconsin Supreme Court to disqualify more than 221,000 ballots in the state's two biggest Democratic counties, alleging irregularities in the way absentee ballots were administered. His lawsuit echoed claims that were earlier rejected by election officials in those counties during a recount that barely affected Biden's winning margin of about 20,700 votes.
Trump's attorney Jim Troupis said he would immediately file the case in circuit court and expected to be back before the Supreme Court 'very soon.'
However, a hearing will take place in Wisconsin on December 11.
The Gateway Pundit reported:
Wisconsin Republicans will convene a public hearing on the 2020 election irregularities on December 11th. 'Mil' below is Milwaukee County:
Who would have ever thought voter fraud could take place in the land of touristy 'Food, Cheese, Gifts' (a ginormous sign I saw in my youth on trips to Wisconsin)?
Meanwhile, in Arizona, the state's Speaker of the House declined requests to overturn the certification of the vote count. In short:
It's so much easier to do nothing at all. However, doing nothing at all against the Democrats will have severe repercussions for the Great Republic:
It gets worse. Gateway Pundit continues to produce evidence that C h i n a was printing bogus ballots for the election. They have been following this story since November 28.
On December 5, they reported about a video, which has been properly translated into English (emphases in the original):
In the video a caller is heard requesting a bulk order of ballots to ship to the United States.
Here is the video with the translation.
FYI- Our Mandarin speaker confirmed the translation is accurate.
The order was reportedly for 5 million votes.
Two readers noticed that at the 0.54 second mark you can see "Charlotte County Florida" on the ballots …
Here are templates of the Mississippi counterfeit ballots printed in China.
Gateway Pundit have been talking to a former insider, Vinness A. Ollervides, the source for their information:
Here is the video:
On Saturday, President Trump held a successful afternoon rally in Valdosta, Georgia, for the Republican candidates in the state's run-off election early in January 2021. You can read more about it here. The candidates spoke briefly, while the audience voiced their support for the president with cries of 'Fight for Trump':
Elsewhere, President Trump's supporters are also fighting for him:
The battle continues, so, as my late grandfather used to say, 'Don't give up the ship!'
As December begins, here's where we are with regard to the November 2020 election.
This is another long thread, so feel free to grab some sustenance before reading.
Logical thinkers marvel (not) at Joe Biden's achieving the impossible:
And then there's Nate Silver, who rode to fame in predicting Obama's ascent to the White House in 2008:
This is the raw truth behind Biden's miraculous win (click on the last tweet to see the rest of the thread):
This is why Trump campaign lawyers continue to contest election results in six disputed states.
State law does not supersede the US Constitution:
The Dems' battle plan, published in 2019
In 2019, Loyola University's School of Law published a detailed battle plan on how the Democrats could win the 2020 election. It is over 50 pages long and covers all possible scenarios:
Recommended reading at the weekend.
Arizona
Arizona's chapter of the Republican Party does not want the results officially certified:
A hearing took place on Monday, November 30. Phoenix and Scottsdale are in Maricopa County:
This is how wide the disparity of votes is. Also, 100,000 ballots a day needed to be adjudicated:
One witness wanted a nationwide audit of the election results:
Furthermore, an expert witness, Colonel Phil Waldron, says the Dominion machine used was connected to the Internet on Election Day. Traffic went to Frankfurt, Germany. Algorithms changed votes. Another person alleged 35K fraud votes were added to Democrat candidates by spread distribution.
Now the state legislature must come to a decision about the election results:
This is where it gets confusing.
Governor Ducey certified the election that day …
… but a special session of the state legislature could still take place:
Arizona's Electoral College votes on December 14 could be withheld:
Meanwhile, Trump supporters gathered for a rally that started in the morning and continued into the evening:
It is astounding that a Republican governor would want to hasten the swearing in of a Democrat senator, especially after a lengthy hearing about election fraud took place.
Twitter censored at least one witness at the hearing:
On Wednesday, December 2, Doug Ducey was served with a lawsuit on his certification. This means that he must decertify Arizona's results:
Georgia
Lucian Lincoln 'Lin' Wood Jr continues to pursue the truth in Georgia, his home state:
Georgia's governor and lieutenant governor — Republicans — claim there was no voter fraud:
Suppose there has been foreign interference:
Wood has been investigating the voting machines:
On December 2, Breitbart published an assortment of Democrat campaigns to which Lin Wood donated in the past. The article also claims that Wood wants Trump supporters to vote for Democrat candidates in the upcoming state run-off elections.
Wood replied that he wants the Republican state candidates to take a tougher stand against the governor before the run-off:
That same day, The New American reported that Georgia's Secretary of State Brad Raffensperger began investigations into several groups trying to rig the January 5 run-off election:
Georgia Secretary of State Brad Raffensperger has initiated investigations into various groups, including one founded by former Georgia gubernatorial candidate and "voter suppression" alarmist Stacey Abrams, for seeking to "aggressively" register "ineligible, out-of-state, or deceased voters" before the January 5 runoff elections.
Raffensperger's office on Wednesday said the investigations probe groups like America Votes, Vote Forward and The New Georgia Project — which was founded by Abrams and previously chaired by Democratic Senate candidate Raphael Warnock.
For weeks, Raffensperger warned against registering individuals who are ineligible to vote in Georgia's runoff elections and against encouraging people to come to Georgia with the sole aim of casting ballots in the election …
On Wednesday, the secretary of state stated that his office has "received specific evidence that these groups have solicited voter registrations from ineligible individuals who have passed away or live out of state."
"I will investigate these claims thoroughly and take action against anyone attempting to undermine our elections," he assured.
President Trump will be appearing in Georgia on Saturday, November 5, to rally support the Republican candidates.
On Thursday, December 3, a 'blockbuster' video of suitcases of ballots emerged:
More follows in this thread, where you can see a Democrat deny what happened.
Michigan
After Arizona, Michigan was the next stop:
On Friday, November 13, Judge Timothy Kenny of the Third Circuit Court dismissed witness testimony regarding alleged voter fraud at the TCF Center (Cobo Hall, in old money) where ballots were being tabulated.
Judge Kenny dismissed the testimony because the witnesses, in his words, were:
not credible.
It is interesting, then, that Judge Kenny has been releasing violent criminals from prison because of coronavirus.
On Sunday, November 29, the Gateway Pundit reported (emphasis in the original):
The Detroit News broke the story, and they have not been given all the records they requested. The only time period covered so far has been from March through September 21, meaning there could be many more.
This includes alleged child molesters. And violent felons.
And it includes an alleged rapist who went on to allegedly rape while freed by Judge Kenny.
Back in March, Kenny said he would not release any violent offenders, but he did anyway:
The Wayne County Prosecutor's Office told the Detroit News: "Judge Kenny is ultimately the person determining who will be released. Prosecutor Worthy believes that Judge Kenny has been very responsible about not releasing violent criminals."
Prosecutor Worthy!
This next bit is from the Detroit News, but I could not find the direct link on Gateway Pundit. The released convicts are not people you'd invite round for tea (emphasis mine):
…released from the Wayne County Jail were Jameel Bradley and Kaylin Drewery, both of whom were convicted of third-degree criminal sexual conduct, meaning their victims were either aged 13-16, or the abusers were in positions of authority over them.
Egads.
Judge Kenny obviously does not care about the people of Michigan — or the people of the United States. He releases violent criminals. He also dismisses serious allegations of voter fraud.
Gateway Pundit has a video of several people who testified about alleged voter fraud in TCF Center in Detroit. They testified in Lansing, the state's capital on Tuesday, December 1 (emphases in the original):
Over the past three weeks The Gateway Pundit and our team in Detroit have interviewed DOZENS of GOP elections observers who were threatened, abused, attacked and harassed at the TCF Center in Detroit, Michigan following the 2020 election landslide for President Donald Trump.
Several of these observers witnessed carloads of ballots arriving at the center in the middle of the night on November 4th marked for Joe Biden.
These observers described their abuse at the TCF being followed around by far left goons and being locked out of the ballot counting room.
This was corruption and fraud at its worst.
And the Democrat Party condones this violence and theft.
A hearing took place on December 2, wherein witnesses said they have been threatened, intimidated and may not be able to find jobs:
Here is one witness's testimony. Please watch:
Nevada
By the time you read this, an inspection will have taken place in Clark County, where Las Vegas is located:
Discovery continues with Sidney Powell's team:
If the Democrats are certain they won legitimately, why would they beat someone up?
Re the discovery by Jesse Binnall, the Gateway Pundit reported that incentives were allegedly exchanged for votes (emphases mine):
The Gateway Pundit spoke to Jesse Law, one of the Trump Electors represented by Jesse Binnall in the trial that is set to begin on Thursday.
One of the issues sited in the lawsuit is improper campaigns in the Native American community, which appear to be bribes, in exchange for votes and registering to vote.
Law explained that "if we are to believe the many articles out these days that claim the Native American vote was critical to the election results this year, then yes, as it appears from your reporting and others' that this was a widespread effort in many tribal areas and states. Being from Nevada, I am familiar with a lot of the ongoing economic issues facing Native American communities and I think it's cynical and sad the way they appear to have been taken advantage of by this votes for dollars scheme."
As the Gateway Pundit reported on Sunday evening, Native Americans in Arizona, Nevada and a slew of other states were given gift cards, televisions, electronics, and even resort stays in exchange for voting. These efforts were partially funded by George Soros' Open Society Foundation and government agencies …
When asked how confident he is that the lawsuit will succeed, Law said that if the court is fair, they will win.
"If the judge will allow all the evidence to be heard, I think it will be very successful because this is a clear case of illegal behavior no matter how you spin it, and that coupled with the many other categories of voter fraud that occurred in this state well over count for the difference in current tallies for the presidential election."
A hearing was held yesterday, December 2. Matt Schlapp, who is helping with Team Trump's efforts, was confident of their evidence:
Yesterday, a Nevada judge decided not to rule on the hearing until today, Friday, December 4:
Pennsylvania
On Friday, November 27, a Circuit Court judge dismissed one lawsuit by Team Trump:
Republicans in the state legislature tried a last-ditch effort, but it was not good enough:
Not only were there not enough sponsors, the legislature is now adjourned until January 2021:
News emerges from Solomon Yue, the Vice Chairman & CEO at Republicans Overseas, that four US Supreme Court Justices have agreed to take the Pennsylvania case.
Wisconsin
On December 2, a new lawsuit was filed in Wisconsin. Developing:
The following day, the Gateway Pundit reported (emphases in the original):
President Trump's team's recent lawsuit in Wisconsin must be over the target. 

Is this why a Madison, Wisconsin Attorney pushed back and threatened Gateway Pundit after our reporting on absentee and 'indefinitely confined' ballots in Wisconsin?
This is about Dane County, where Madison is:
Thousands of IC votes were observed by recount watchers in Dane County that were in pristine condition rather than being folded or showing any sign of wear and tear. The same was observed in thousands of absentee votes with the initials of 'MLW' on them.
RedState has more details. An excerpt — an overview — follows:
This Complaint initiating the Election Contest challenges several categories of ballots that were counted by the Election Boards of Dane and Milwaukee Counties during the recount process, all of which were the subject of objections by the Trump Campaign during the recount process. The objections were denied by the Election Boards, and the ballots were included in the final tabulated results.
President Trump speaks out
President Trump spoke for 46 minutes on December 2 (full transcript here, at the end of the post):
Newsmax has a summary of the points he made about the election and about the Department of Justice's non-investigation into the spying that took place into his 2016 campaign.
An excerpt from Newsmax's article follows (emphases mine):
"Even what I am saying now will be demeaned and disparaged, but that's OK. I just keep on going forward."
"Their mail-in voting scam is the latest part of their four-year effort to overturn the results of the 2016 election, and it's been like living in Hell."
Separate from his lengthy list of alleged fraudulent acts, Trump took a moment to rip special counsel John Durham for moving too slowly.
Trump lamented that findings from Durham's investigation into potential FBI malfeasance in its probe of Russian meddling in the 2016 political cycle did not surface before the most recent election last month, effectively altering the course of the race.
"We caught them all," Trump said from the White House Diplomatic Room. "We're still waiting for a report from a man named Durham who I've never spoken to and never met. They can go after me before the election as much as they want, but unfortunately Mr. Durham didn't want to go after these people . . . before the election, so who knows if he'll ever even do a report."
Attorney General William Barr has granted Durham special counsel authority in his investigation of the investigators.
"If you look at the lies and leaks and illegal acts done by so many people," Trump insisted, "something should happen. The hardest thing I have to do is explain why nothing is happening to all of these people who got caught spying on my campaign."
But it was the fraud claims dominating the president's remarks, as he reemphasized his claim that the Nov. 3 election was "rigged." This, though AG Barr announced he has unearthed no proof of widespread voter fraud that would alter the outcome of the vote. Major news outlets have declared Biden winner, a conclusion Trump's legal team is challenging on the basis of those fraud claims.
(Though Newsmax has called several battleground states for Biden following official certification of their vote tallies, it has not yet called the overall election for either man, pending the outcome of the legal challenges.)
"This is not just about honoring the votes of 74 million Americans who voted for me," Trump said. "It's about ensuring that Americans can have faith in this election. And in all future elections."
His overarching claim: "This election is about great voter fraud, fraud that has never been seen like this before."
I knew from the beginning that Bill Barr, who served in the Bush administration, was bad news. I also had little faith in Durham.
Conclusion
Anything could happen in the days ahead.
Things could get rough:
Or this could all proceed calmly.
This is an excellent interview clip from the days of Citizen Trump:
It looks as if that fateful day has arrived for President Trump:
We should be careful what we wish for.
If this does not prove the existence of a Uniparty, what does?
What a pity.
Millions of us will continue to pray for President Trump, his family, his campaign lawyers and all who have filed affidavits and given testimony in hearings.
May the truth be acknowledged — soon.
Lest anyone wonders, I am being tongue in cheek with 'long live the conspiracy'.
We have lived a conspiracy in most of the Western world in 2020 with local and national coronavirus machinations.
The attached link leads to the most important article you will read this week:
What we have endured this year goes far beyond anything that Alex Jones could have considered happening simultaneously.
Daisy Luther's article on The Organic Prepper — a site I'd not read until the weekend — is excellent. It is fully sourced and well written.
The briefest of excerpts from '7 Things That Were "Crazy Conspiracy Theories" Until 2020 Happened' follow, because I would like you to read the article for yourselves.
1/ Universal Basic Income:
With this second round of lockdowns how many more jobs will go permanently down the tubes? What are all those people going to do for food? For rent? The government is going to give them money. And we can't even argue, really, because everyone knows someone who has lost a job they had for decades and who can't find other work.
They might call it something else, but Universal Basic Income is coming. And it's coming soon.
2/ Travel papers:
Don't be ridiculous. We'll never have to show our "papers" to travel freely in the United States.
Doh.
Not until a COVID pandemic with all its subsidiary restrictions occurred. Back in March, days after I warned about the first lockdown, I wrote:
…
Yesterday, readers sent me photos of "travel papers" provided to them by employers so they could get to and from work. These are employees who work in industries like healthcare, pharmacies, and foodservice, as well as those who work in the production, transport, and sales of essential supplies.
One reader wrote, "We were told to show these if we got stopped on the way to or from work and that if the authorities gave us any trouble, to not argue and just go back home."
Papers that people sent were from Pennsylvania, New York, Arizona, Michigan, North Carolina, Kansas, New Jersey, West Virginia, Virginia, Oregon, Florida, Louisiana, and Ohio. Industries mentioned in the papers were trucking, grocery stores, medical clinics, hospitals, nursing homes, city transit workers, railroads, food production plants, pharmacies, gas stations, stores like Target and Walmart, and automotive repair facilities.
You can see some of the papers that people sent me here.
3/ Mandatory GPS tracking of humans:
"Don't be silly. Nobody is actually tracking you with your phone. You're not Jason Bourne."
Whoops. 2020 proved that was a lie when they rolled out contact tracing apps to make sure you didn't breathe the same air as somebody who got a positive COVID test.
4/ Cashless societies:
This had a lot of people concerned, especially since Venezuela used COVID to push citizens toward a cashless society. Here in the United States, the "change shortage" was so extensive is caused many stores to give you your change on a store loyalty card or invite you to donate that change to some cause. A true cashless society would allow significant control over our day to day lives. See this article for some of the totalitarian ways it would affect us.
5/ Microchips:
Darpa got involved early on, touting it as a way to "save" us all from COVID …
The microchip talk died down but the fact it as even a discussion and topic of COVID research should be troubling. Anyway, after the initial microchip hubbub, the push got redirected toward our next conspiracy theory.
6/ Mandatory vaccines:
Remember back when nobody thought that adults would ever be forced to take vaccines except for "crazy conspiracy theorists?" Well, that day is coming sooner than many people expect …
And how will they make sure that "the majority" of the population gets the vaccines? It'll start out easy – there are tons of people who will gladly roll up their sleeves to get a vaccination that was rushed to market with no testing on the long-term effects. And then, the rest of us will be coerced by being unable to go to work, to a concert, to school, or into a public building without proof we've been vaccinated.
There is currently a petition posted on the White House website regarding vaccines. It needs 100,000 by Christmas Eve in order for consideration. It currently has under 3,000 signatures:
The petition text reads as follows:
There is plenty of evidence proving vaccines cause injury, illnesses and even death.
The National Childhood Vaccine Injury Act (NCVIA) of 1986 (42 U.S.C. §§ 300aa-1 to 300aa-34) was signed into law by Pres. Ronald Reagan on November 14, 1986. NCVIA's purpose was to eliminate the potential financial liability of vaccine manufacturers due to vaccine injury claims. This prevents us from fighting corruption that surrpetitiously infiltrated our health system. We demand the abolishment of this Act.
We also demand that a new Act be signed, outlawing any organization, corporation, institution, et al from requiring the vaccine in order to access their services such as work, education, leisure, travel, health, food etc.
This is unethical. The government is meant to be our servant, not our master.
Not everyone who is concerned about a vaccine is an anti-vaxxer. On a news show I saw on Sunday (BBC Parliament), a physician from Northern Ireland said that some contain necessary ingredients that some people might be allergic to. He mentioned eggs, which, if I remember rightly, he said are in a flu vaccine.
And finally, the seventh point, which has to do with 're-educating' Trump voters. The tweet below appears in Daisy Luther's article.
7/ Re-education camps:
Finally, for those of us who believed these conspiracy theories were conspiracy facts all along – oh – and for Trump voters – there's the discussion about how to re-educate us so we can rejoin society.
In a Twitter thread run amok, we saw the dark side of some "well-educated" Democrats who were sincerely trying to figure out how to redeem those of us who did not vote for Joe Biden.
This is true.
Yesterday, I was listening to C-SPAN's Sunday morning programme on BBC Parliament.
A Democrat union activist, married to another union activist (she said they met in a picket line years ago), asked C-SPAN's guest when Trump voters would be 're-educated'. She said that it must be done because they cannot vote in another 'unqualified' person for US president.
Conspiracy theories are no more. We're living a worldwide conspiracy right now.
As Madge from the old Palmolive adverts used to say, 'Relax, you're soaking in it'.
The announcement from President Trump's campaign legal team from November 22 shocked many Sidney Powell supporters.
Many Trump and Powell supporters think that the US president's case for election redress is sunk.
Here is what is happening. My post from Monday, November 23, offers background, including the Trump team's announcement.
What Sidney Powell said
Sidney Powell issued her own statement afterwards. Her work is about 'We the People', as is L Lin Wood Jr's.
Powell's statement is as follows (emphasis in the original, those in purple mine):
I agree with the campaign's statement that I am not part of the campaign's legal team. I never signed a retainer agreement or sent the President or the campaign a bill for my expenses or fees.
My intent has always been to expose all the fraud I could find and let the chips fall where they may–whether it be upon Republicans or Democrats.
The evidence I'm compiling is overwhelming that this software tool was used to shift millions of votes from President Trump and other Republican candidates to Biden and other Democrat candidates.  We are proceeding to prepare our lawsuit and plan to file it this week.  It will be epic.
We will not allow this great Republic to be stolen by communists from without and within or our votes altered or manipulated by foreign actors in Hong Kong, Iran, Venezuela, or Serbia, for example, who have neither regard for human life nor the people who are the engine of this exceptional country.
#WeThePeople elected Donald Trump and other Republican candidates to restore the vision of America as a place of life, liberty and the pursuit of happiness.
You may assist this effort by making a non tax-deductible contribution to www.DefendingTheRepublic.org.  #KrakenOnSteroids"
Sidney Powell
What Trump's campaign lawyers are working on and what Sidney Powell is perfecting are two different issues.
The Trump realm cannot easily enter the Powell realm because that would complicate things unnecessarily.
REX, whom I've quoted before, albeit not recently, has this analysis as to why there is a pincer movement going on:
This is also a useful analysis. I am unfamiliar with the author, but what he says makes sense:
Rush Limbaugh and Howie Carr want more action
On Monday, November 23, Rush Limbaugh was disappointed that nothing was happening yet from either Team Trump or Sidney Powell.
The Daily Caller carried portions of the transcript from his show (emphases mine):
"You call a gigantic press conference like that, one that lasts an hour. And you announce massive bombshells, then you better have some bombshells, there better be something at that press conference other than what we got," he explained.
Limbaugh went on to say that a witness — even one whose identity was disguised — would have gone a long way toward bolstering the claims made by the president's team.
"But you don't — you can't — I talked to so many people who were blown away by it, by the very nature of the press conference," Limbaugh continued. "They promised blockbuster stuff, and then nothing happened. And that's just, that's not — well, it's not good. If you're going to promise blockbuster stuff like that, then there has — now, I understand. Look, I'm the one that's been telling everybody, this stuff doesn't happen at warp speed, light speed, the way cases are made for presentation in court. But if you're going to do a press conference like that, with the promise of blockbusters, then — then there has to be something more than what that press conference delivered."
Limbaugh concluded by saying that if the Trump team was going to make a case, it needed to be done quickly. "Time, of course is of the essence now, as it is speedily vanishing. So they're going to have to act fast," he said.
The Howie Carr Show, now a Newsmax programme, came on in the afternoon.
Howie couldn't get hold of Sidney Powell for another interview, but he did speak with Boris Epshteyn and Joe diGenova. The next few paragraphs are my potted summary of what they told Howie.
Boris Epstein, part of Trump's campaign legal team spoke to Howie. Epstein said ALL the states in question are still in play. He appeared during Howie's Newsmax hour. (Howie wears a jacket and tie during that portion of his broadcast.)
Epstein said they are tracking things very closely and said he wanted to reassure Newsmax viewers that everything is in hand and progressing as planned.
Joe diGenova was on Howie Carr's Newsmax hour after Boris Epshteyn. Joe diGenova said that there IS a two-pronged strategy in play. He said that Sidney Powell doesn't have any problem pursuing the voting machines angle while Team Trump pursues what went on in the polling stations with no Republican observers admitted or placed so far away that they couldn't see anything.
He confirmed what Boris Epshteyn said: ALL the questionable states were still in play that day (and this week).
Is President Trump worried about paying for recounts and/or audits in individual states? Based on 2016 and the four years of lefty turmoil that followed, his team were prepared and set money aside, especially as mail-in ballots were heavily promoted in all Democratic-controlled states or cities.
Trump knew his campaign would need to pay for recounts. That's $3 – 7 million per state. They have that covered.
For those who think Trump should take Al Gore's advice and concede, in 2000, when the hanging chad contest in Florida was in dispute, Gore didn't concede until December.
But I digress.
Back to Howie Carr. As an organised crime reporter for the Boston Herald for many years, he knows how the legal system can be manipulated. On Monday's show he asked whether Sidney Powell's legal standing would be questioned. On whose behalf could she credibly make her case? (After all, L Lin Wood Jr's case in Georgia got thrown out last week for lack of standing. He is going to appeal the decision.)
It turns out that Sidney Powell is a military lawyer. As today is still Thanksgiving Day, the ultimate American feast, here's the retweet:
Now for the original tweet:
She has been representing Gen Michael Flynn.
She has also put the frighteners on certain people involved with the voting machines:
Patience required — more information emerging
An American Thinker article by Andrea Widburg puts the election legal fight into perspective:
Currently, I believe that this election was marked by epic fraud.  You cannot convince me that Biden, who got five or six people to his rallies, as opposed to the 52,000 or so at Trump's rallies in Pennsylvania, ended with more votes than Obama.
Nobody ever said proving this fraud would be easy (or, sadly, even possible).  I'm treating its unfolding like an epic novel with a surprise ending …

So should the rest of us.
Imagine if we were on the legal team. We wouldn't have time to sleep — or contemplate our annual turkey dinner with all the trimmings.
For Team Trump, there is much to challenge. RedState has an article with dizzying detail about Georgia alone.
There are also these items:
Yet another witness has come out in Michigan, describing the same scenario as in Georgia:
This is in addition to the legal challenges going on not only in these states but a handful of others which produced dubious results.
As for Sidney Powell, more information emerges for her, including this:
I really hope this isn't true (a must see/read thread about Republicans and the voting machines).
Conclusion
Meanwhile, Donald Trump is:
Prayers continue for everyone involved in this historic battle for the future of the Great Republic.