You are currently browsing the tag archive for the 'Emmanuel Macron' tag.
My most recent post on Liz Truss examined her first two weeks in office as Conservative Party leader and Prime Minister, from September 6th through the 16th.
Things had started out so well. Ironically, Jeremy Hunt, who is now Chancellor, told ITV's political editor Robert Peston on September 7 that Truss would be 'formidable'. An amazing endorsement from someone who was her natural ally:
Hmm. Did he know anything at that point? We'll probably never know.
On September 20, The Sun's political editor Harry Cole was delighted to announce his and James Heale's book on Truss, Out of the Blue, which later had to have hastily written chapters added to it:
Yes, it is still coming out by Christmas — November 24, to be precise:
King Charles and COP27
Liz saw King Charles on Sunday, September 18, the day before the Queen's funeral. It was not their usual day to meet, but the Royal Family went into private mourning until the end of September:
On Saturday, October 1, The Times reported that Liz had asked the King not to attend COP27, which ran between November 6 and 18, despite an invitation from the organisers.
This was a good move, in my opinion, as climate change, or whatever it's being called this week, has turned highly political.
The article said (emphases mine):
The King, a passionate environmental campaigner, has abandoned plans to attend next month's Cop27 climate change summit after Liz Truss told him to stay away.
He had intended to deliver a speech at the meeting of world leaders in Egypt.
Had she remained PM, Liz would not have attended, either:
Truss, who is also unlikely to attend the Sharm el-Sheikh gathering, objected to the King's plans during a personal audience at Buckingham Palace last month.
There were no hard feelings between the Palace and No. 10:
… a Downing Street source claimed the audience had been cordial and there had "not been a row".
No doubt he was expecting it:
A senior royal source said: "It is no mystery that the King was invited to go there. He had to think very carefully about what steps to take for his first overseas tour, and he is not going to be attending Cop."
They said the decision was made on the government's advice and was "entirely in the spirit of being ever-mindful as King that he acts on government advice".
In the end, the King held a reception at Buckingham Palace for world leaders before they flew to the summit. In light of that, this was rather interesting:
Charles is still determined to make his presence felt there, and how he will do that is "under active discussion". A senior royal source said: "Just because he is not in physical attendance, that doesn't mean His Majesty won't find other ways to support it."
A source who knows Charles said he would be "personally disappointed" to miss it and was "all lined up to go", with several engagements planned around his Sustainable Markets Initiative (SMI) which aims to persuade businesses to invest in environmentally friendly initiatives.
Public v parliamentary opinion
In late September, a poll showed that Truss was ahead of Labour's Keir Starmer in Red Wall seats, boosting the Conservatives by eight points:
Admittedly, that was before Kwasi Kwarteng's fiscal event, or mini-budget, of Friday, September 23.
That said, I will go out on a limb and say that most conservative voters thought that Kwarteng's — Truss's — plan was the right one. My better half and I thought it was refreshingly libertarian.
However, Conservative MPs vehemently disagreed with the public and started writing in to Sir Graham Brady, the chairman of the 1922 Committee, the all-powerful group that Margaret Thatcher dubbed 'the men in grey suits'.
On September 26, the Northern Echo reported:
A former Tory minister MP has told Sky News the new Prime Minister is "f*****" and the party are already looking to bring her down following Friday's mini-budget.
The MP said: "They are already putting letters in as they think she will crash the economy. The tax cuts don't matter as all noise anyway – mainly reversing back to the status quo this year …
Another Tory MP told the broadcaster that Friday's announcement – which included reversing a 1.25% hike in National Insurance – had been a "s***show".
Note that MPs were siding with the Bank of England. Very establishmentarian of them:
"The issue is government fiscal policy is opposite to Bank of England monetary policy – so they are fighting each other. What Kwasi [Kwarteng] gives, the Bank takes away."
The mood among Conservative 'wets', to borrow Thatcher's name for such weaklings, only escalated.
At Liz's one — and only — appearance before the 1922 Committee on Thursday, October 13, Robert Halfon, a wet, told Truss she had 'trashed the past ten years'.
Liz Truss was accused by a senior MP of trashing "the last ten years" of Conservative government as her party turned on its new leader over the mini-budget.
Robert Halfon, a former minister who chairs the education select committee, unleashed a furious attack on her financial measures, saying they disproportionately benefited the wealthy and meant she had abandoned "workers' conservatism".
Anything but, however:
According to an MP present, Halfon told Truss in a meeting of the 1922 Committee of backbenchers — her first as prime minister — that "in the last ten years we had the living wage, a focus on apprenticeships and skills", contrasting that with "bankers' bonuses, benefits cuts and now cuts to affordable housing targets".
His intervention came after Truss tried to assuage Conservative MPs by saying she had "shielded families and businesses from bills of up to £6,000 this winter and for the winter ahead, while Labour has no plan beyond the next six months".
The meeting did not go well. Halfon seemed to voice other MPs' concerns:
… a Tory MP who has been in the Commons for more than a decade said: "It was the worst 1922 I've ever been to." They added: "With each tough question she looked like she'd had the wind knocked out of her — the 31st of October could finish her off on the basis of the reception she got in that room."
Halloween — who schedules these things? — was supposed to be the day Kwasi was going to set out more detail behind his fiscal event. Liz's friend and neighbour in Greenwich was on hand to support her:
Thérèse Coffey, the deputy prime minister, told reporters outside the 1922 meeting that the chancellor would meet MPs before presenting his medium-term plan on Halloween, stressing that engagement was key.
In the event, Truss had to sack Kwarteng and appoint (ahem) the aforementioned Jeremy Hunt as Chancellor. He delivered his shocking budget on Thursday, November 17, to Prime Minister Rishi Sunak's approval. Sunak nodded several times during the presentation.
Returning to The Times's article of October 13, what other wets said presaged the future:
Even those who back the prime minister expect some sort of climbdown. One MP said: "She will have to unwind everything fiscal in the statement. They have to backtrack. There is no alternative. They've done it on the 45p and they'll have to do it on the rest.
"Then if we are still 20 points behind in the polls we will have to change leader. We are cold-blooded like that."
Another admitted there was "definitely still a big split between her and the Rishi [Sunak] side of the party". Asked if Truss would have to perform another U-turn, they said: "Ultimately, I suppose it depends if she's leveraged into that position by our own party, but it's all by those with 20,000 majorities."
Hmm … Hmm.
However, one Rishi Sunak supporter — Esther McVey — is deeply unhappy over his Chancellor's budget:
On Tuesday, November 22, McVey rightly tore the budget apart in ConservativeHome, saying that Hunt's tax rises are 'socialist measures' that are 'punishing Conservative voters':
… It wasn't helped by the Chancellor's statement being such a pendulum swing from the Liz Truss / Kwasi Kwarteng mini budget. People went from thinking they were getting their taxes cut to seeing them hiked.
The Autumn Statement was clearly an over-correction to that mini-budget. Going from one extreme to the other is hardly reassuring for people. A middle ground was needed: an acceptance of Conservative principles, with a costed plan and the accompanying narrative to reassure the markets.
Instead, Hunt delivered his statement with a doom and gloom that would have appropriate were the country on the brink of financial collapse. However, despite some serious challenges, things are not so dire that we had to have such excessive medicine.
For instance, the ten-year gilt yield – the interest rate the Government must pay on a new decade-long loan – was 3.14 per cent, whereas, even before the notorious mini-Budget in late September, that same yield was much higher at 3.49 per cent.
Britain is no more indebted than other comparable countries. Our national debt (albeit too high) stands at 97 per cent of GDP, whereas France, Canada and the US stands at 115 per cent, 116 per cent and 132 per cent respectively. Across the G7, only Germany has lower levels of government debt than the UK.
So when I stood up in the House of Commons at PMQs the day before the budget and said –
Given that we have the highest burden of taxation in living memory, it is clear that the Government's financial difficulties are caused by overspending and not due to undertakings. Does the Deputy Prime Minster therefore agree, if the government has got enough money to proceed with HS2 at any cost then it has sufficient money not to increase taxes, if however, it has so little money it has to increase taxes (which is the last thing for a conservative government to do) then it doesn't have sufficient money for HS2 [High Speed Rail 2]?
So can I gently urge the Deputy Prime Minister not to ask Conservative MPs to support any tax rises, unless and until, this unnecessary vanity project is scrapped, because I for one won't support them.
– it was to remind everyone there are better choices for our Conservative government than hiking up taxes.
In fact, given that unprecedented tax burden, any self-respecting Conservative would instinctively know that the answer is to spend less. Dropping HS2 – an out-of-date white elephant, costing north of £150 billion which (as Andrew Gilligan revealed on my show on GB News) the Ministers themselves know will deliver less economic benefit than the cost of it – would have been an ideal place to start. That would certainly have been more desirable than increasing taxes on hard-working families who are already feeling the severe pain of higher energy prices and increased mortgage payments.
If a Conservative government with a sizeable majority – in a time of financial pressure – won't cut public expenditure to start living within our means, then when on earth will that ever happen? …
Parliament is debating Jeremy Hunt's budget this week. In Monday's proceedings, a number of Conservative MPs spoke out against it.
Liz's U-turn on windfall tax
On October 12, two days before she sacked her friend and neighbour Kwasi Kwarteng, she appeared to do a U-turn on 'no new taxes' by allowing an announcement for a new levy on green energy firms.
Her ally, then-Business (BEIS) Secretary Jacob Rees-Mogg, defended the move and claimed it was not a windfall tax:
Guido Fawkes reported (emphases his):
The government has announced a new plan to impose a multi-billion pound levy on green energy firms to fund support to consumers. Renewable and nuclear electricity generators in England and Wales will now have their revenues capped after windfall tax-hating Liz Truss seemingly bowed to pressure to limit profits. The announcement came from BEIS last night, which is calling the new policy a "Cost-Plus-Revenue Limit" and spinning that it isn't in any way a windfall tax "as it will be applied to 'excess revenues' as opposed to profits". If it walks like a tax, swims like a tax and quacks like a tax…
The latest backtracking on free market values by the government comes just 41 days after Liz Truss told party members at the London husting that they could read her lips, and there would be no new taxes under her leadership …
On Today this morning, Rees-Mogg tried performing a Jedi mind trick, saying "this is not a windfall tax…this is rationalising the market"…
Despite the government's denial that the new revenue limit is a tax, the boss of RWE – the third biggest renewable power generator in Britain – has told The Times the move "is a de facto 'windfall tax' on low-carbon generators that, if not designed and implemented correctly, could have severe negative consequences for investment in the renewable and wider energy market and so for the energy transition."
Guido warned that Labour's support for the new levy is not a good sign:
Ed Miliband welcoming the policy with open arms should give the government sufficient pause for thought before it buys its own spin…
The mystery of Liz signing UK up to EU's PESCO
Early in October, Liz did a strange thing, considering she is a staunch Brexit supporter.
She attended the first ever meeting of the European Political Community in Prague. The European Political Community is Emmanuel Macron's brainchild.
This group is made up of EU member countries, yet, somehow Liz got an invitation. No one knows for certain.
However, she went.
She met with Macron on Thursday, October 6, in an effort to get the Channel dinghy crossing issue resolved.
GB News reported:
Liz Truss hailed Emmanuel Macron as a "friend" on Thursday, as the two countries signalled that a new agreement could be close to tackle small-boat crossings in the Channel.
The pair met at the first summit of the European Political Community in Prague, a gathering pushed for by the French president.
There, the pair said they looked forward to "an ambitious package of measures this autumn" to address issue of migration across the Channel.
And in a sign that Ms Truss hopes to improve relations with Mr Macron, she had no hesitation in labelling him a "friend", just weeks after refusing to do so …
Mr Macron later suggested it was a "problem" if Britain could not call itself a friend of France.
But Prime Minister Ms Truss adopted a different tone ahead of a meeting with Mr Macron in Prague on Thursday.
She told broadcasters: "I work very, very closely with President Macron and the French government and what we're talking about is how the UK and France can work more closely together to build more nuclear power stations and to make sure that both countries have energy security in the future.
"We're both very clear the foe is Vladimir Putin, who has through his appalling war in Ukraine threatened freedom and democracy in Europe and pushed up energy prices which we're now all having to deal with."
Asked if he was then a friend, Ms Truss said: "He is a friend."
The bi-lateral meeting between the two leaders, which took place towards the end of the day, appeared to signal some progress on the issues of migration and energy, both areas Ms Truss had raised as priorities ahead of the summit.
"Thank you for being here," Mr Macron told the PM when they met.
It also emerged that the two countries have agreed to hold a joint summit next year to "take forward a renewed bilateral agenda", in a further sign of the desire for warmer relations between the two countries.
On migration, a joint statement said the leaders "agreed to deepen cooperation on illegal migration within the bounds of international law, to tackle criminal groups trafficking people across Europe, ending in dangerous journeys across the Channel".
But the big, and secret, news was that Liz had signed the UK up to the EU's PESCO — Permanent Structured Co-operation — which is a military initiative.
Nigel Farage announced the move on his GB News show as soon as he had heard.
On Friday, October 7, The Express said that the move could affect British armed forces by dragging them into an EU army:
The Prime Minister has been warned not to allow the UK to be dragged into an EU Army by accident after she signed a military deal this week at Emmanuel Macron's European Political Community (EPC) summit in Prague. The decision to go into part of the PESCO has alarmed some Brexiteers who fear it could undermine the UK's sovereignty.
Former defence minister Sir Gerald Howarth, a leading Brexiteer has led the campaign to resist joining PESCO for many years.
He said: "This is very serious and we must be very careful. The issue around PESCO is that the structures are permanent.
"We must not sign up to anything which undermines our sovereignty and where we do not have a veto.
"Second, we must not do anything that undermines NATO. If we have learnt anything over the last few months is that we need NATO for the defence of western values and Europe against our enemies which at the moment is clearly Russia."
Even if this has to do with Ukraine, and enables us to move troops and military equipment more easily, it still raises questions:
At the EPC meeting on Thursday, the EU member states voted unanimously to allow the UK to join the the mobility project that would allow the UK to move troops and military equipment more quickly.
The UK Government decided to enter the strand in case Britain is called upon as a NATO ally to defend the Baltic states from a Russian invasion.
However, staunch Brexiteer Mark Francois MP was relaxed about it:
One senior Brexiteer, former Armed Forces Minister, Mark Francois, who now chairs the powerful group of Tory Brexiteers the European Research Group (ERG), said he believes that the move was the right one.
He said: "As we are outside the EU, we can opt in to individual PESCO projects if they have merit and looking at how we could speed up reinforcing the Baltic States from the UK, across internal EU borders, may well have military advantages.
"However, it is NATO that remains the bedrock of our security, especially in deterring further Russian adventurism and we should never forget that."
On October 9, David Kurten, a former London Assembly member and founder of the Heritage Party, said that signing the UK up to PESCO was a betrayal of Brexit:
One month ago, the aforementioned Sir George Howarth appeared on Farage to say that we still do not know what part of PESCO Liz signed us up to. He was clearly concerned, saying that the implications could be important, especially as none of the countries involved has a veto. The EU calls all the shots:
Today, one month on, we are none the wiser about our involvement in PESCO.
Someone must know what's going on. In fact, a lot of people probably do know.
Liz's final week
All of Liz's opponents, whether on the right or the left, told us that Liz and Kwasi, joined at the hip politically, had to go.
Project Fear started as soon as Kwasi delivered his mini-budget on September 23.
On September 27, Bloomberg told us that UK markets had lost $500 billion in combined value since Liz Truss became PM. Really?
'Investor confidence' means international markets, ergo part of the Establishment.
Also at that time, former Conservative Chancellor George Osborne, who served under David Cameron, stuck the boot in.
On September 29, a comment from an UnHerd reader appeared in response to one of their articles, beginning with 'Is this the end for Liz Truss?':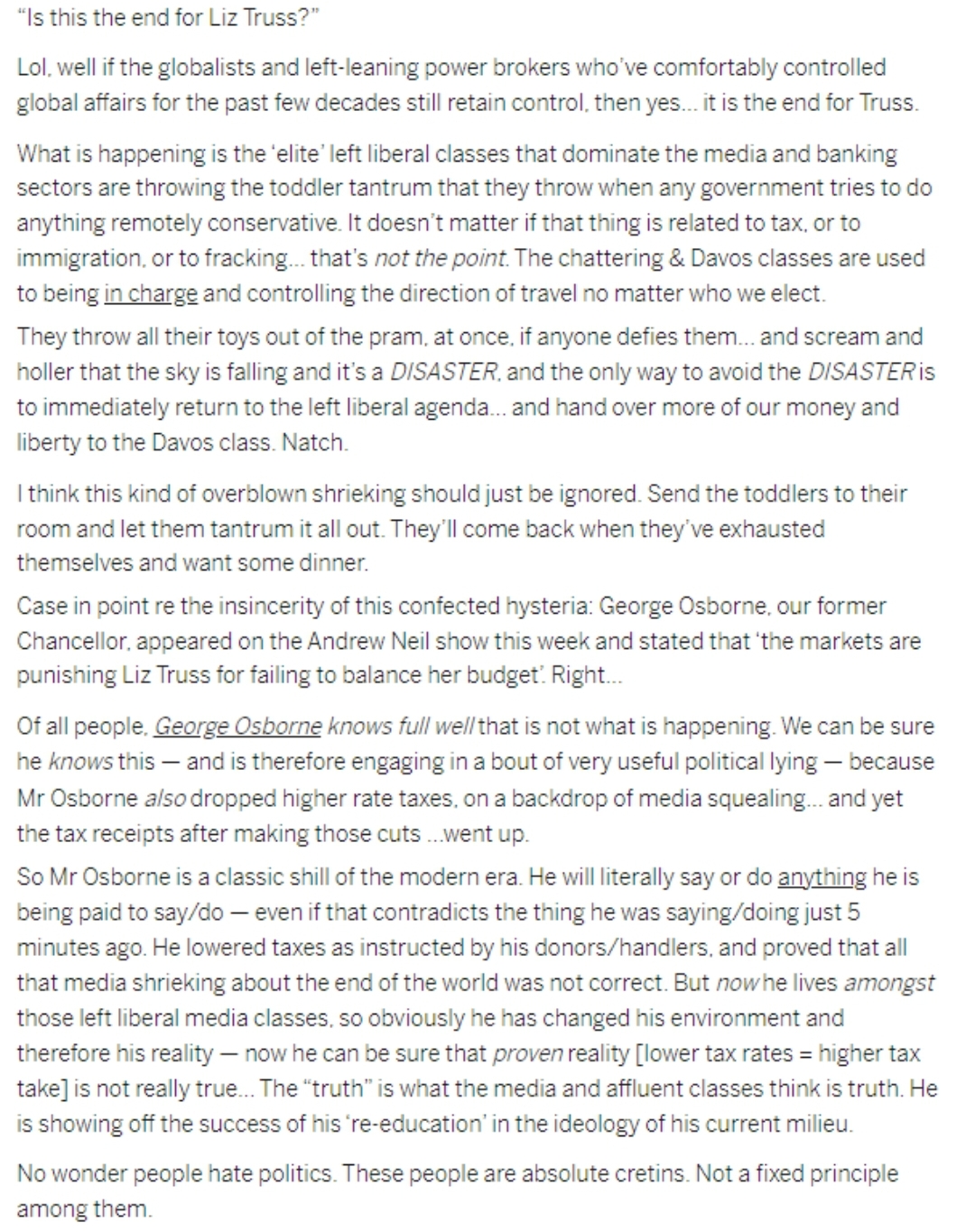 Osborne features heavily in it. The reader quotes him saying, 'The markets are punishing Liz Truss for failing to balance her budget'.
The UnHerd reader says:
Right.
Of all people, George Osborne knows full well that is not what is happening. We can be sure he knows this — and is therefore engaging in a bout of very useful political lying — because Mr Osborne also dropped higher rate taxes [the 50% rate], on a backdrop of media squealing … and yet the tax receipts after making those cuts … went up.
So Mr Osborne is a classic shill of the modern era …
As to whether Liz would have to go, the reader supplies the answer at the top of his message:
… well, if the globalists and left-leaning power brokers who've comfortably controlled global affairs for the past few decades still retain control, then yes … it is the end for Truss …
… It doesn't matter if that thing is related to tax, or to immigration, or to fracking … that's not the point. The chattering and Davos classes are used to being in charge and controlling the direction of travel no matter who we elect.
Speaking of such people, on Wednesday, October 12, King Charles greeted Liz with, 'Dear, oh dear', while the press were still there to record it for posterity:
What did he know and when?
The beginning of the end came two days later on Friday, October 14, when Liz sacked Kwasi and appointed (ahem) Jeremy Hunt as Chancellor. This was the shortest and most painful press conference — she only took four questions — in living memory. She looked like a rabbit in the headlamps or a hostage being forced at gunpoint to read out a message:
As soon as she announced it, we knew Hunt was, at that point, the de facto Prime Minister.
Hours later, The Telegraph reported:
Mr Hunt, a former foreign secretary, took the helm at the Treasury following the sacking of Kwasi Kwarteng over the mini-Budget fiasco. Ms Truss turned to him even though the pair have strongly disagreed on economic policy.
Mr Hunt, also an ex-health secretary, endorsed Rishi Sunak for the Tory leadership after being voted out of the race in July, saying: "This is the wrong time for populist crowd-pleasing and the right time for honesty."
He will hold huge power over a weakened Prime Minister, raising the likelihood that much of her growth plan will now be axed. Allies said that he would act as her "chief executive".
Mr Hunt ran for the Conservative leadership on a platform of slashing corporation tax to 15 per cent to boost growth but also opposed cuts to personal levies such National Insurance and income tax, with which Ms Truss still intends to press ahead.
His appointment was announced moments before the Prime Minister unveiled her U-turn on corporation tax at a press conference. She ditched what had been a core leadership pledge, meaning the rate companies pay on their profits will go up from 19 to 25 per cent in April. It means she has reverted to the plan put in place by Mr Sunak when he was chancellor.
Quelle surprise!
Conservative Party members had voted Liz Truss in largely on her economic policy.
The elites took out her Chancellor. Soon afterwards, they came for her in the form of Conservative MPs and the 1922 Committee. It was a grand game of political chess, not seen since Margaret Thatcher was removed from office in 1990.
To be continued on Friday.
Tuesday, October 25, 2022, was a historic day for the United Kingdom.
We have our first minority Prime Minister, Rishi Sunak — and, always remember, he is Conservative.
Labour, with all their waffling about equality and short-lists designed to produce the desired result, have not even come close to attaining what the Conservative Party has accomplished organically.
India cheers, on Diwali
When the 1922 Committee, which represents Conservative backbench MPs, announced on Monday, October 24, that Sunak was the winner of the leadership contest, India cheered.
Sunak's victory as the last man standing with an overwhelming amount of MPs' votes took place on Diwali.
The Times reported (emphases mine):
The prospect of Rishi Sunak being named as the UK's first British-Asian prime minister today has been headline news in India's media.
Newspapers and broadcasters pointed out that his likely victory in the Conservative leadership race would come on Diwali, the festival of lights marking the victory of light over darkness and the most important celebration in the Hindu religious calendar.
The former chancellor's mother and father are both Hindu Punjabis whose parents migrated from India to Tanzania and Kenya respectively before coming to the UK in the 1960s. But that has not stopped Indian journalists and commentators claiming him as one of their own.
India's press has not forgotten how then-Chancellor Sunak celebrated Diwali:
The Press Trust of India, a national news agency, noted that Sunak is a devout Hindu and a regular at the temple close to where he was born in Southampton. It reported that he had made history when he was the first chancellor of Indian origin by lighting Diwali lanterns at 11 Downing Street.
Sunak's rise to the premiership is important to India as it comes 75 years after the nation's independence in 1947:
The prominent Indian TV anchor Rajdeep Sardesai tweeted: "To think that on Diwali day, UK could have its first prime minister of Indian origin. That too in the 75th year of independence! Yeh hui na baat! [that's the spirit]" …

The former Bihar state government chief secretary MA Ibrahimi tweeted: "Revenge of history as well. Destiny." Another Twitter user, Ranjan Kumar, who described himself as a banker, joked: "Reverse colonisation."
Indian media also celebrated Sunak's wealth and billionaire in-laws:
Sunak is also married to Akshata Murty, the daughter of NR Narayana Murthy, the Indian billionaire and founder of Infosys, the information technology giant, who has a net worth of $3.2 billion. Many have noted that, through his family ties, Sunak is effectively richer than the King.
"Advantage Rishi Sunak: Narayana Murthy's son-in-law could be UK's next prime minister", read a headline in the Mint newspaper this morning.
Star adopts new motif: calendar PMs
The Star newspaper, having finished comparing Liz Truss's shelf life with that of a lettuce, put Sunak on the front page as their Prime Minister of the Month for October:
Their Tuesday Thought for the Day says:
Who'll be the PM for November? Stay tuned …
Liz Truss's final hours as Prime Minister
Although Liz Truss had not been Party leader after she resigned on Thursday, October 20, she did remain Prime Minister until she tendered her resignation to Charles III on Tuesday morning.
At 9 a.m., she held her final Cabinet meeting, as is customary on a Tuesday.
Meanwhile, a moving van arrived at No. 10 to remove the Truss family's belongings:
Most PMs use Bishop's Move removals company. Not so this time around. Liz Truss was always going to be different, and, if Harrow Green was her choice, it was further proof of her standing out in a crowd.
Various Cabinet members filed in through the front door of No. 10. It is likely that Chancellor Jeremy Hunt will keep his job under Sunak.
For the competent and calm Defence Secretary Ben Wallace, however, things could be different.
The Guardian's daily diary reported:
Wallace is very popular with Tory party members, but there is a good chance that he will be moved. In recent months people have been briefing papers on his behalf saying that he would resign if a new prime minister refused to stick to the plan to raise defence spending to 3% of GDP by the end of the decade. But Rishi Sunak is refusing to make that commitment.
The two also clashed when Sunak was chancellor, and in the summer Wallace publicly critcised Sunak's stance on defence spending. Wallace backed Liz Truss for the leadership.
Another capable MP, Welsh Secretary Robert Buckland, could be out, too:
In the summer leadership contest Buckland originally supported Sunak. But then, in a highly unusual move, he switched to backing Liz Truss. By that point she was the favourite, and Buckland's move raised a lot of eyebrows because MPs who pledge allegiance to one candidate almost never normally switch in public, because it makes them look inconsistent and opportunist.
Buckland kept his Welsh secretary job in Truss's first reshuffle (although if he was hoping for a return to his previous cabinet job, justice secretary, which was going to be vacant when Truss sacked Dominic Raab, he was disappointed). But this morning, Buckland may be thinking his summer Judas performance was not so wise after all.
Another MP who will probably be gone is the veteran Jacob Rees-Mogg, the current Business Secretary. Under Boris Johnson he was Leader of the House then the minister for Brexit efficiencies. He is very much a Boris loyalist:
Yesterday he said he would support Rishi Sunak as PM. But during the summer leadership contest he said he could never serve in a Sunak cabinet. He told Sky News in July:
I think as a chancellor, he made decisions that were of the left rather than on the right, that he was a tax increasing chancellor. I didn't support the decisions he made.
When asked whether he would serve in a Sunak government, he replied:
No, of course I wouldn't. I believe his behaviour towards Boris Johnson, his disloyalty means that I could not possibly support him. And he wouldn't want me in his cabinet anyway.
He will be sorely missed.
At 9:30, the Cabinet meeting ended.
Truss gave her final speech as Prime Minister at 10:15, before going to Buckingham Palace, to tell the King that she was standing down.
Her lectern appeared shortly before 10:00:
On GB News this morning, Darren McCaffrey explained that, starting 50 years ago, each Prime Minister has had his or her own podium. He showed us the various ones from Gordon Brown's to Truss's.
Liz Truss's has a terrible Zenga style to it, so I was relieved that McCaffrey said that Rishi Sunak would have his own lectern.
Truss's staff and closest MPs gathered off to one side of Downing Street:
At the appointed time, she left Downing Street for the final time, joined by her husband Hugh and daughters Frances and Liberty. The three stood off to one side of No. 10.
Truss approached the Zenga podium with a black folder.
On Monday, she pledged Sunak her full support:
However, her valedictory speech struck another tone, that her boldness and ideas were the correct ones.
This is the full transcript:
It has been a huge honour to be Prime Minister of this great country.
In particular, to lead the nation in mourning the death of Her Late Majesty The Queen after 70 years of service,
and welcoming the accession of His Majesty King Charles III.
In just a short period, this government has acted urgently and decisively on the side of hardworking families and businesses.
We reversed the National Insurance increase.
We helped millions of households with their energy bills and helped thousands of businesses avoid bankruptcy.
We are taking back our energy independence…
…so we are never again beholden to global market fluctuations or malign foreign powers.
From my time as Prime Minister, I am more convinced than ever we need to be bold and confront the challenges that we face.
As the Roman philosopher Seneca wrote: "It is not because things are difficult that we do not dare. It is because we do not dare that they are difficult."
We simply cannot afford to be a low growth country where the government takes up an increasing share of our national wealth…
and where there are huge divides between different parts of our country.
We need to take advantage of our Brexit freedoms to do things differently.
This means delivering more freedom for our own citizens and restoring power in democratic institutions.
It means lower taxes, so people keep more of the money they earn.
It means delivering growth that will lead to more job security, higher wages and greater opportunities for our children and grandchildren.
Democracies must be able to deliver for their own people…
We must be able to outcompete autocratic regimes, where power lies in the hands of a few.
And now more than ever we must support Ukraine in their brave fight against Putin's aggression.
Ukraine must prevail.
And we must continue to strengthen our nation's defences.
That is what I have been striving to achieve… and I wish Rishi Sunak every success, for the good of our country.
I want to thank Hugh, Frances, Liberty, my family and friends, and all the team at No10 for their love, friendship and support.
I also want to thank my protection team.
I look forward to spending more time in my constituency, and continuing to serve South West Norfolk from the backbenches.
Our country continues to battle through a storm.
But I believe in Britain.
I believe in the British people.
And I know that brighter days lie ahead.
Her speech was Johnsonian in so many ways. Like Boris, she had no apologies: good. After all, she'd made enough already. No backing down from her beliefs. Justification of her actions for her ideals. All good.
She was the first Prime Minister to thank her protection team: outstanding. More PMs should do so.
GB News criticised her for saying that brighter days lie ahead. It was her way of saying what President Lincoln did in the 1860s: 'This, too, shall pass'. In other words, don't give up hope.
As for Truss's future, being a backbench MP will be difficult for her, because she has had ministerial or Cabinet positions since the days of the Coalition government, dating from 2012. That's a decade ago. She began her Cabinet posts in 2014.
Perhaps she will find a continuing cause to champion:
Immediately after her speech, she and Hugh went in one vehicle and her daughters in another, escorted by police and special security detail to Buckingham Palace. Truss arrived shortly afterward.
At 10:56, GB News reported that Truss had tendered her resignation. At that point, King Charles was in charge of the UK, as we had no Government.
That sort of thing used to unnerve his mother, the late Queen, so she tried to make those time periods as brief as possible.
The King's conversation with Truss was lengthy.
After her motorcade left, it was time for Rishi Sunak to request the King's permission to form a new government.
The Queen received 15 Prime Ministers during her reign. King Charles, who ascended to the throne just days after Truss became Prime Minister, is already on his second.
Sunak's first hours as PM
Sunak's motorcade, also comprised of police and special security, arrived at the Palace immediately after Truss's left.
Sir Clive Alderton, principal private secretary to the king and queen consort, the monarch's equerry, Lt Col Jonny Thompson, and Sir Edward Young, joint principal private secretary to the king, PA Media reports.
Sunak also spent a long time with the King.
Just before 11:30, the monarch turned the Government over to Sunak. The King had been in charge of us for half an hour. With his mother, it was a matter of minutes. Fascinating.
Someone on GB News quipped that perhaps we should reconsider having an absolute monarchy.
Sunak was due to give his first speech at No. 10 at 11:35. In the event, it was closer to 11:50.
He and the King already know each other through a Prince's Trust event from a few years ago.
When Sunak arrived in Downing Street, he left his vehicle and immediately approached — thankfully — a new lectern.
There were no MPs around him. If there had, it would have been a phalanx, as he had the support of nearly half of them:
Sunak's speech lasted exactly five minutes.
It is possible that he knew what Truss had said in hers, because he wasted no time in blaming her for the mess he was about to land in:
I have just been to Buckingham Palace and accepted His Majesty The King's invitation to form a government in his name.
It is only right to explain why I am standing here as your new Prime Minister.
Right now our country is facing a profound economic crisis.
The aftermath of Covid still lingers.
Putin's war in Ukraine has destabilised energy markets and supply chains the world over.
I want to pay tribute to my predecessor Liz Truss.
She was not wrong to want to improve growth in this country. It is a noble aim.
And I admired her restlessness to create change.
But some mistakes were made.
Not borne of ill will or bad intentions. Quite the opposite, in fact. But mistakes nonetheless.
He warned of 'difficult decisions' to come:
And I have been elected as leader of my party, and your prime minister, in part, to fix [those mistakes – see 11.52am.].
And that work begins immediately.
I will place economic stability and confidence at the heart of this government's agenda.
This will mean difficult decisions to come.
But you saw me during Covid, doing everything I could, to protect people and businesses, with schemes like furlough.
There are always limits, more so now than ever, but I promise you this – I will bring that same compassion to the challenges we face today.
The government I lead will not leave the next generation – your children and grandchildren – with a debt to settle that we were too weak to pay ourselves.
I will unite our country, not with words, but with action.
I will work day in and day out to deliver for you.
This government will have integrity, professionalism and accountability at every level.
Trust is earned. And I will earn yours.
I hope so.
Then he paid tribute to Boris and said he would continue the 2019 manifesto:
I will always be grateful to Boris Johnson for his incredible achievements as prime minister, and I treasure his warmth and generosity of spirit.
And I know he would agree that the mandate my party earned in 2019 is not the sole property of any one individual. It is a mandate that belongs to and unites all of us.
And the heart of that mandate is our manifesto. I will deliver on its promise: a stronger NHS, better schools, safer streets, control of our borders, protecting our environment, supporting our armed forces, levelling up and building an economy that embraces the opportunities of Brexit, where businesses invest, innovate, and create jobs.
I understand how difficult this moment is. After the billions of pounds it cost us to combat Covid, after all the dislocation that caused in the midst of a terrible war that must be seen successfully to its conclusions, I fully appreciate how hard things are.
And I understand too that I have work to do to restore trust after all that has happened.
All I can say is that I am not daunted.
I know the high office I have accepted and I hope to live up to its demands.
But when the opportunity to serve comes along, you cannot question the moment, only your willingness.
So I stand here before you, ready to lead our country into the future.
To put your needs above politics.
To reach out and build a government that represents the very best traditions of my party.
Together we can achieve incredible things.
We will create a future worthy of the sacrifices so many have made and fill tomorrow, and every day thereafter with hope.
Hmm. That I will be interested to see.
Afterwards, Boris tweeted his congratulations. Better late than never:
He was just in time.
Emmanuel Macron tweeted his congratulations one minute later:
Cabinet resignations roll in
Afterwards, Sunak went to the Commons to meet with Cabinet members who he sacked or demoted.
The Guardian explains why this is not done in No. 10:
Prime ministers normally do the sacking element of the reshuffle in parliament because people losing their jobs can come and go without being photographed, or seen by journalists. Lobby journalists have access to some areas of parliament, but other parts are off limits and trying to doorstep the PM's office is definitely not allowed.
Sunak started from the lesser end of the spectrum and moved up the ladder:
According Sky's Beth Rigby, Wendy Morton, the chief whip, and Ranil Jayawarena, the environment secretary, have both been summoned. But were Truss acolytes who were seen as lightweight appointments to cabinet.
Chloe Smith was Truss's Work and Pensions Secretary:
Boris loyalist Kit Malthouse, who worked for him when he was Mayor of London, is out as Education Secretary. His brief stint at Education was under Truss. Prior to that, Malthouse was in charge of Policing:
It is customary for sacked MPs to write a resignation letter.
Jacob Rees-Mogg, a devout Catholic, dated his letter 'St Crispin's Day':
Here's Robert Buckland's:
Brandon Lewis pointed out that he had been one of the longest serving Cabinet members — under four Prime Ministers:
On a positive note, Suella Braverman could re-enter Cabinet:
The Guardian's Pippa Crerar has more news. Glad to see that Grant Shapps will not continue as Home Secretary. Business is better suited to him:
Commiserations to Jake Berry, a Red Wall MP and, however briefly, chairman of the Conservative Party. I wonder what Sunak has against Simon Clarke, though. He's been in the Treasury since Sunak was Chancellor. Hmm. Glad to see that James Cleverly, Ben Wallace and Thérèse Coffey could be staying. I hope that Coffey continues as Health Secretary:
Jake Berry tweeted:
For Foreign Secretary Cleverly, it looks like business as usual. If so, excellent:
With regard to Simon Clarke, it seems there's a bit of a back story there involving Liz Truss:
Simon Clarke has left his post as levelling up secretary. It is not clear from his tweet whether he was sacked, or whether he quit "voluntarily" to save face.
But it is no surprise that he has gone. He was one of Liz Truss's key allies, and during the Tory leadership contest in the summer he often criticised Rishi Sunak quite harshly on her behalf, at one point co-authoring an article accusing him of favouring "a Labour-lite economic policy".
On another point, he is very tall. When he walked with Rishi, he made sure he kept several paces behind so that no one would notice the difference in height.
ITV's political editor Robert Peston summed up the departures as follows:
Around 2:30, Sunak walked into Downing Street to applause. It is customary for staff to applaud the incoming Prime Minister.
New Cabinet appointments took place.
I'll leave it here — at 3:14 p.m.:
I'll have more tomorrow, particularly on the leadership contest that took place over the weekend.
In the United Kingdom, we had 12 days of wall-to-wall television coverage of the late Queen Elizabeth II and her family, which ended on Monday, September 19, 2022.
The commercial channels broadcast as usual but during the day BBC1, BBC2 and, throughout, the news channels covered her life and what the Royal Family were doing at this time.
GB News dropped all their advertising, substituting a memorial ident instead and, at other times, playing an instrumental version of the National Anthem accompanied by a photo montage of the Queen.
At first, it seemed unimaginable. Yes, our usual programmes were rescheduled for different days at different times, so we adjusted our video recorders to automatically catch up according to that day's television guide.
Yet, the reality of it was that, by the day of the funeral, I'd become quite used to the coverage. GB News had part of their broadcasts showing the live queue — the Elizabeth Line — in Westminster Hall for viewers to watch while listening to interviews in the studio. The Elizabeth Line was never boring. There was always something to see.
By mandating 12 days of mourning, it seems the Queen wanted us to learn something about our constitutional monarchy as a national institution. It seems she wanted us to reset the way we think about it and how we pass that knowledge and history on to the next generation.
This post covers the two days before the Queen's funeral on Monday, September 19, 2022, and looks at what Britons discovered throughout the days of mourning thus far.
What next for the monarchy?
If there were any lessons to be learned in the immediate aftermath of the Queen's death, it was that the monarchy goes on.
Charles became King immediately and had his Accession Ceremony two days later. There were no obstacles. The crown passed to him automatically.
A relieved nation cried, 'God save the King' and 'Hip, hip, hooray'.
On September 14, YouGov took a poll asking if the mourning period would change the way we perceive this ancient institution. Forty-four per cent said they thought it would change the UK in the long term for the better:
Bob Moran, The Telegraph's former cartoonist, was still upset that the Queen did not step in during the pandemic to call the Government to account over the sometimes fatal procedures at care homes, which are allegedy continuing in some of them:
Yet, most people interviewed on television and the clergy giving sermons at the church services remember with gratitude the Queen's message on the night then-Prime Minister Boris Johnson went to St Thomas Hospital in London with coronavirus. Neither the Queen nor we knew it at the time her message was broadcast, but who can forget her closing words about lockdown, borrowed from the wartime Dame Vera Lynn song:
We'll meet again.
The Queen was adamantly pro-vaccine and in 2021 said that people who didn't get it should think of others instead of themselves. I have seen on Mark Steyn's GB News show several people whose loved ones got the vaccine because of her words and later died of complications. The Government is giving each of those families £120,000 in compensation.
However, quibbles with the monarchy go much deeper than the pandemic. On September 15, The Telegraph addressed the issue of how monarchs attempted to stave off republicanism throughout the ages.
The 1990s were the worst years that the Queen saw during her reign. Princes Andrew and Charles divorced, Windsor Castle caught on fire and Princess Diana was killed in a car accident in Paris.
Regardless, the Royal Family regrouped and returned to normality (emphases mine):
"Diana died at the end of August 1997 and by the time of the Queen's golden wedding anniversary that November she was pretty much re-established," says royal biographer Hugo Vickers. Fast forward 15 years, to the Diamond Jubilee, and the Royal family were popular as never before, enjoying a near 50-point lead in polls over anti-monarchists.
Though so much about the British monarchy can appear unchanging, it was a hard-won transformation, relying on careful reflection and updating after the calamities of the 1990s. In making such adjustments, the royal house showed it could learn not just from its own experience, but from the experience of centuries of fluctuating royal fortunes.
In order to keep republicanism at bay, it is essential for the Royal Family to remain visible:
"In this country," says historian Andrew Roberts, author among others of a book on George III, "there are five areas that give Republicanism a chance to move from being a minority fetish into a mainstream threat." The first four are disastrous relationships, religious meddling, political interference and money. But it is perhaps the last and simplest that is the most important: steadfast presence.
"Sheer visibility is tremendously important," says Roberts. That enduring presence accounts for the astonishing popularity of Queen Elizabeth, he thinks, building on the legacy of her mother and father, who made such efforts to be visible to Britons even in the darkest days of the war. And absence has led perhaps to the darkest days of the monarchy, in the years following the death of Prince Albert, when Queen Victoria in her grief almost completely vanished from the public stage.
Centuries ago, money became a huge issue that still waxes and wanes today:
The Peasants' Revolt of 1381 is just the most notable example of a massed uprising at taxes levied by the king (in that case to support the Hundred Years' War). But grumbling about paying for the royal house's upkeep never went away. A key part of the rejuvenation of the House of Windsor's popularity in the 1990s came after the Queen agreed to pay tax. "At one stroke it took away one of the main planks of republicanism," says Roberts. Even today, some anti-monarchists are moaning about the cost of the Queen's funeral, or the income the new Prince of Wales receives from the Duchy of Cornwall, but it has become far easier to defend the Crown on cash-terms. "It's not the most gracious argument in favour of the monarchy," says Roberts, "but the pocketbook is an important one."
We all know what role religion played in British history as driven by Henry VII, Charles I and James II, so there is no need to elaborate further.
Another issue is — or was — the conflict between Parliament and the monarch. In 1649, Charles I made a fatal mistake:
He, though, committed the sin which would become unforgivable for his successors in the centuries to follow: disdaining parliament.
He was tried in Westminster Hall and executed on January 30, 1649, during the English Civil War:
Alienating, then suspending parliament was, of course, not the Stuart king's only problem. But interfering with the nation's political system was becoming an increasingly dangerous game to play. By the time James hot-footed it out of the country to be replaced by William of Orange, the era of kings by "divine right" had given way to kings approved by parliament. The constitutional monarchy had arrived.
Not that all monarchs understood. George III and prime minister Lord Bute impinged upon the supremacy of parliamentary power in the 1760s, drawing fierce criticism. "George became so unpopular in the 1760s that people pelted his carriage with dirt," says Roberts.
George III learned how to recover the situation:
… he learned his lesson and, by the time of his descent into – and recovery from – madness, he had come to be loved for his personal qualities: fidelity to his wife, frugality and piety.
Fast-forwarding to the 20th century, Prime Minister Stanley Baldwin insisted that Edward VIII abdicate. He got his way:
When it came to Wallis Simpson … Edward stayed by his woman and, on Stanley Baldwin's insistence, lost the throne.
Fortunately, George VI and the Queen Mother resolved the constitutional crisis:
George VI and his own queen Elizabeth (the late Queen Mother) were the ideal pair to succeed, setting the formula – visible, dutiful, steadfast – which so characterised their daughter's long reign.
So far, Charles III has been doing the right things, says historian Hugo Vickers:
"of course King Charles will have to be very aware. But his first speech as King dealt immediately with many of them – his new role, what he can and can't do [politically], about the Church of England, because there was talk about him wanting to be a defender of all faiths. It puts things to rest very quickly. It was very effective." The result was an immediate bounce in popular support, with the number of those who think he will make a good king near doubling to 63 per cent.
While republicanism will never die, it is hoped that people will value the monarchy over an elected president:
… from today's vantage point it seems unlikely that could be so serious as to prompt Britons to dispose of the monarchy altogether. Because ultimately, says Roberts, what makes us love it is not the individual, but the institution. "Even when individuals are unpopular, Britons recognise constitutional monarchy is a good idea, being a power above politics and therefore above politicians. And the British people like the idea of politicians not being at the top of the heap."
Well said.
Funeral attire
To find out more about the traditions of the Royal Family's funeral attire, I happened across a Telegraph article written in April 2021, after the Queen's husband, the Duke of Edinburgh, died.
The Royal Family did not always wear black.
In fact, throughout the Middle Ages until 1560, at least, there was a convention of wearing white (emphases mine):
"white mourning" or deuil blanc … deployed by medieval royals and seen in portraits of Mary, Queen of Scots after she lost her father-in-law, mother and husband within months of each other in 1560 …
The modern convention of wearing black began three centuries later, with Queen Victoria upon the death of her husband Prince Albert. However, even she had gold thread spun into her dresses, as one can see in the photograph in the article:
"Mourning dress has been part of European royal culture for centuries, but it reached its peak in the 19th century with the influence of Queen Victoria, who set a standard for the rest of society to follow," says Matthew Storey, curator at Historic Royal Palaces, which holds the Royal Ceremonial Dress collection. "When her beloved husband died in 1861 she abandoned the colourful clothes of her married life and, with the rest of the royal court, adopted black clothing as an outward sign of grief. Her subjects duly followed suit, causing a rush on suppliers of mourning fabric up and down the country."
That was a time when death was something of a societal obsession and there were strict rules around the wearing of "widows' weeds". "Widows were required to wear black, then either white or mauve, for at least three years before being able to return to richly coloured clothing. Victoria chose never to leave mourning and wore her now iconic black dresses and white widow's caps for the rest of her life," Storey continues. There was no concession even at moments of celebration: "She even insisted that her daughter, Princess Alice, had an all black trousseau when she married in 1862."
The mood oscillated from the dour to the unexpectedly glamorous; Victoria often wore her bridal veil with her black dresses and took to wearing a necklace containing a lock of Albert's hair, but she also popularised striking jet jewellery. "Her clothing was anything but dowdy," Storey confirms. "Every example in the collection is exquisitely made and highly embellished, as befitted her status. Victoria may have been a widow, but she was always a queen."

Queen Victoria died in January 1901. Her son, Edward VII, reigned until his death in 1910. His wife, Queen Alexandra, began wearing purple, although black was still the favoured colour:
After Victoria's death, mourning dress became even more opulent. An exhibition at the Metropolitan Museum of Art in New York in 2014, Death Becomes Her: A Century of Mourning Attire, included two exquisitely beautiful embellished purple gowns worn by Queen Alexandra, wife of Edward VII, in the year after her mother-in-law's demise. You'd really only know they denoted mourning if you were familiar with the strict dress codes of grief. And when Edward died, weeks before Royal Ascot in 1910, there was no question of cancelling, but attendees wore magnificent black outfits instead. That year's event is now remembered as Black Ascot.
In 1938, when the Queen Mother's mother, the Countess of Strathmore died, the Queen Mother was weeks away from joining George VI on a state visit to France. At that time, war was looming and Britain was still getting over the abdication of the King's brother, Edward VIII. Under the circumstances, black seemed too gloomy. Something had to be done, so the Queen Mother enlisted the help of her couturier, the incomparable Norman Hartnell:
A black wardrobe simply wouldn't do, as it was imperative to come bearing optimism.
Hartnell was the one who researched earlier monarchs and found the aforementioned portraits of Mary, Queen of Scots:
Within weeks he had scrapped the original colourful outfits intended for the tour and crafted an entirely white set of looks in their place.
"The Queen has taken with her on her state visit to Paris a superb white wardrobe consisting of 12 gowns, seven coats… one cape, eight hats – and a lace parasol," the Telegraph's report from July 20 1938 read. "Created by leading London designer Norman Hartnell, it symbolises the links between the two countries."
The report went on to explain that Hartnell had referenced the French Pompadour look and pannier, as well as English garden florals and Victorian silhouettes. Hartnell had the idea to revive the crinoline after being shown Winterhalter's portraits of Queen Victoria and her family by the new king.
The Queen Mother became a fashion sensation:
Though the reason for the Queen's all-white dressing was sombre, the reception to the wispy, lacy creations was rapturous. "No wardrobe of modern times has created greater interest than the state wardrobe chosen by the Queen for the visit to Paris," another glowing Telegraph review reported, going on to publish sketches of the gowns in glorious detail. The autumn fashion collections shown later that year were heavily influenced by the Queen's "white wardrobe" and her style more generally – Schiaparelli and Molyneux both included tartan as a nod to her Scottish heritage.
The Queen loved her white collection and the style muse status it had bestowed upon her so much that the following year she commissioned Cecil Beaton to photograph her at Buckingham Palace wearing the designs, resulting in a romantically optimistic set of portraits that do little to suggest that the clothes they capture are a symbol of mourning, nor that the Second World War is months away. The floaty, delicate look of Hartnell's designs influenced the Queen Mother's style for the rest of her life.
The Queen Mother's husband, George VI, died in 1952. Although he had a chronic illness, no one expected him to die while Queen Elizabeth II and Prince Philip were on holiday in Kenya. The Queen had no black dress to wear once she got off the plane in London.
Reports differ as to how a black outfit reached her. One Royal historian told GB News that an attendant was on hand when the plane reached Rome for refuelling. The Telegraph has a different account, intimating that she received mourning attire in London:
… when the plane landed, a black dress had to be taken on board for her to change into, an incident that means that no royal reportedly now travels without a black outfit in their luggage, just in case. On alighting the plane, the 25-year-old queen looked elegant yet solemn in her dark coat, brooch and neat hat.
On the day of the funeral, the Queen Mother, the Queen and Princess Margaret wore long silk veils. The Telegraph has a photo of them:
At her father's funeral, eight days later, the new queen, her mother, grandmother Queen Mary and sister Princess Margaret cast ethereal figures in their long black veils, said to be around 18 inches over the face and one and a half yards down the back. "There is no court regulation with regards to them," the Telegraph had written in 1936, "but the practice of wearing them has always been observed at the funeral of a Sovereign."
By the time the former Edward VIII, the Duke of Windsor, died in 1972, only Princess Margaret and the Duchess of Windsor wore a veil. The Queen and her mother opted for the turban, the stylish hat of the day for women:
It was notable, then, that at the funeral of the Duke of Windsor in 1972, the Royal family refrained from wearing veils. The abdicated king's wife, Wallis Simpson, however, sported a couture coat and chiffon veil that Hubert de Givenchy had reportedly stayed up all night to make for her … By contrast, the Queen wore a black version of the turban style hats she loved at the time, adding Queen Mary's Dorset Bow brooch.
When it came time for Prince Philip's funeral, the Royal Family wore black, but the Queen quickly reverted to wearing her usual clothes afterwards.
Who waited to pay respects to the Queen
For many gathering to pay their respects to the Queen, a family death brought back a deep seam of emotion.
Although The Telegraph's Lauren Libbert watched proceedings from the comfort of her home, what she experienced seemed to ring true for a goodly number of those camping outside in the cold:
For me, at 44 and then again at 49, I watched my parents being taken from their home in a coffin and transported to their final resting place at the nearby cemetery. Watching Queen Elizabeth's coffin make its journey from Balmoral to Edinburgh transported me right back to that heart-wrenching, inexplicable gut-punch of a feeling, remembering how it felt to know my beloved parent was inside and I'd never enfold them in my arms again.
It's a sadness that has not gone unnoticed at home. "But you didn't even know the Queen," said my teenage son, noting my smudged eyeliner and tears when watching the news earlier this week.
"I know," I replied. "But I really miss my mum and dad."
He held me, but he was a bit baffled at the connection. Admittedly, so am I.
Other people, whether in the Elizabeth Line, Parliament Square or near Buckingham Palace, were hardcore attendees of other Royal occasions, as The Times reported. Keep in mind that the nightly temperatures turned distinctly autumnal, in the 50s Fahrenheit:
Mary-Jane Willows loves the sound of metal barriers clattering onto the streets of Westminster. "It means everything is getting organised," she says.
It is 10pm on Thursday and Willows, 68, is settling down for a night's sleep in a camping chair just off Parliament Square. She and her crew of royal superfans are zipped into military bivvy bags and wrapped in foil blankets — at that point of the week they were not allowed to use tents or sleeping bags for security reasons.
It is a hardcore existence, but they will endure. Because on Monday, for the Queen's funeral, they will be in the "best spot in the world".
Just half a mile away there is another camp, also in the best spot in the world. They arrived "on site", on the Mall and overlooking Buckingham Palace, the previous Thursday. And they came with "equipment": bin liners and trolleys jammed with Union Jack flags, hand warmers, underwear, first-aid kits, torches, baby wipes, wine gums and corned beef sandwiches. They have been there since.
These two groups are the most dedicated royal watchers on the planet, bound by births, weddings, jubilees and deaths, and held together by WhatsApp groups and meme-sharing. They are always the first ones to arrive, pitching up on virgin pavement, knackered, cold and in it for the long haul.
John Loughrey, 67, and his friends on the Mall, Sky London, 62, and Maria Scott, 51, have done weddings together (Cambridge, Sussex, York, York), births (George, Charlotte, Louis), jubilees (Diamond, Platinum) and deaths (Diana, Princess of Wales; the Queen).
"If you want to be part of the gang you've got to be with the gang," says London. "It's the camaraderie. It's seeing history and being part of it."
However, whether remembering family losses or cadging the best seat in the house, as it were, how do these people view Britain?
Rob Johns, a politics professor at the University of Essex, claims to have the answer.
I'm not so sure.
He interviewed 400 mourners by the time The Guardian interviewed him on Saturday, September 17. Johns said:
… it is less a case of royalists simply wanting to mourn the Queen in person, and more "a collective gathering that is as much about the queue as it is about reaching the end of all the queueing".
This is the part about which I have doubts:
Who would be willing to wait outdoors for as long as 24 hours , braving the elements along the Thames, for a few seconds alongside the Queen's coffin – and why?
Now, as the Queen's lying in state in Westminster approaches its final hours before Monday's state funeral, researchers believe they have found the answer. A narrow majority vote Conservative, almost two-thirds backed remain and most of them are enjoying a feeling of "subdued positivity" as they wait in line for hours.
Really? I don't know how one could wait outdoors in the cold for a day and support EU supremacy over our monarchy.
With history and contemporary background covered, let us move on to what happened last weekend.
September 17
On Saturday, September 17, the King was back at work.
He had successfully completed his visits to the component nations of the United Kingdom during the mourning period under a plan called Operation Spring Tide. It derives its name from a particularly high tide in springtime known as king tide.
ITV reports that there were sub-operations to Spring Tide:
Scotland (Operation Kingfisher), Wales (Operation Dragon) and Northern Ireland (Operation Shamrock).
In London, Operation London Bridge continued apace.
The Queen's state funeral is the first such event to be held since Winston Churchill's in 1965.
However, unlike Churchill's funeral, the Queen's was mammoth by comparison. Police forces from around the UK travelled to London to participate in maintaining order. Only two were exempt.
The numbers of military engaged were also unprecedented.
Operation London Bridge required meticulous logistical planning to make sure everyone in the capital, including visiting heads of state and other dignitaries, were kept safe.
In the morning, the King visited members of the police and military working all hours to make this a success:
He went on a walkabout at the Elizabeth Line to express his appreciation of people's willingness to pay tribute to his late mother. William Prince of Wales and Sophie Countess of Wessex met mourners in other parts of the queue:
Then it was time for the King to return to Buckingham Palace for more meetings and a reception:
Early that evening, the Queen's grandchildren — The Prince of Wales, The Duke of Sussex, Princess Beatrice (Andrew), Princess Eugenie (Andrew), Lady Louise (Edward), Viscount Severn (Edward), Zara Tindall (Anne) and Peter Phillips (Anne) — held a Vigil of the Princes in Westminster Hall. I have added the relevant Royal parent's name in parentheses for clarity.
The aforementioned ITV article says that the events taking place at Westminster Hall were run under Operations Marquee and Feather:
This covers the four days of the Queen's lying-in-state, focusing on the arrangements inside Westminster Hall.
It's expected to begin on Wednesday, September 14, ending on Sunday before her funeral the next day.
Senior royals are also expected to pay their respects once more here, standing guard in a tradition known as the Vigil of the Princes.
It is linked to Operation Feather, the arrangements for the public who are expected to queue in their thousands for an opportunity to see the monarch's coffin as they did 20 years ago for her mother.
Here is the beginning of the grandchildren's Vigil of the Princes. Members of the Royal Family watched from a viewing point on one side of the hall. Once again, the public could file past:
This video from the Royal Family's YouTube channel has the full vigil, which was very moving indeed. Viscount Severn, who is only 14, was so composed for someone so young. As with other videos from this channel, click 'Watch on YouTube' and it should play, at least for the near future. If not, try the link in their tweet:
Here are some close-ups:
This video is of the young Royals filing out afterwards:
The days of mourning at Westminster Hall nearly passed without incident. On Friday, a man suddenly appeared in the queue outside and exposed himself to two women from behind. He jumped into the Thames but quickly got out. Police were on hand to arrest him. The Guardian reported:
… a man appeared at Westminster magistrates court following allegations that two women were sexually assaulted while they were waiting in the queue to see the Queen lying in state.
On Friday evening, a man inside Westminster Hall was arrested after lunging towards the Queen's coffin. The Telegraph reported:
The individual was reportedly taken to the floor by Metropolitan Police officers and arrested.
The Met told ITV: "At 22:00hrs on Friday 16 September officers from the Met's Parliamentary and Diplomatic Protection Command detained a man in Westminster Hall following a disturbance. He was arrested for an offence under the Public Order Act and is currently in custody".
Viewers of the BBC's live stream reported that the feed went down for 10 minutes.
The aforementioned Guardian article says:
Broadcasters showing the procession of mourners cut away from the scene and instead showed the view from outside parliament.
There are always simple ways to set things right. In this case, broadcasters were prepared with a still of the Palace of Westminster.
The Sun's political editor Harry Cole looked at the bigger picture of the mourners and tweeted a poke at the anti-monarchist metropolitan elite:
September 18
Sunday, September 18, put the logistics of Operation London Bridge to the test as 500 heads of state and other dignitaries arrived in London for the Queen's funeral.
As it would have been impossible for all of them to have been driven in separate cars to Buckingham Palace that day and to Westminster Abbey on Monday, the plan was to 'pod' the leaders into private coaches, painted in plain white.
Scheduled pickups of the great and the good at designated points in central London helped the plan run smoothly and safely.
Only Joe Biden was exempt. The Beasts — one operational and one decoy — were here along with his usual security motorcade.
France's Emmanuel Macron arrived with his wife Brigitte early enough to do an incognito walkabout during the afternoon:
Meanwhile, somehow with the permission of Speaker of the House of Commons Sir Lindsay Hoyle, the Chinese were allowed into Westminster Hall. Hoyle had pledged to MPs that they would not be allowed anywhere on the parliamentary estate:
Conservative MPs were less than impressed:
That evening, after a brief shower, a beautiful rainbow appeared, just as a double rainbow did when the flags were lowered to half mast over Buckingham Palace and Windsor Castle on the day of the Queen's death. This must mean something, surely:
The King and Queen Consort held a formal reception for the dignitaries at Buckingham Palace that evening.
Meanwhile, soldiers participating in the funeral were busy polishing medals and sewing on badges:
A few newspapers printed the last photographic portrait of the Queen for Monday's editions. Ranald Mackechnie took the photo in May, a few weeks before her Platinum Jubilee celebrations:
The Telegraph had an article about the portrait. As ever, the Queen's choice of jewelry told the story:
The Queen, who is dressed in a dusky dove blue dress with her hair neatly curled, is wearing her favourite three-strand pearl necklace, pearl earrings and her aquamarine and diamond clip brooches which were an 18th birthday present from her father George VI in 1944.
The two art deco-style pieces, worn one below the other, were made by Boucheron from baguette, oval and round diamonds and aquamarines.
The Queen wore the brooches when she addressed the nation on the 75th anniversary of VE Day in 2020 and for her Diamond Jubilee televised speech in 2012.
The image was taken by photographer Ranald Mackechnie, who also took the Jubilee portrait of the Queen released to mark the start of national festivities of her milestone 70-year reign.
I cannot help but agree with The Star's 'Kingdom United'. Thank you, your Majesty, for these 12 days of mourning:
The Independent was less sure about 'Kingdom United!' They wrote of a 'turning point':
The Guardian showed us a window of a house in Windsor and how the world was descending there and in London:
The i paper also focused on a world farewell:
The Financial Times took a final look at Westminster Hall:
In closing, The Metro published my favourite portrait of the Queen after she was inducted into the Order of the Garter. Pietro Annigoni (1910-1988) painted the portrait in 1955:
It is simply timeless, as is its subject.
I hope to cover the funeral and committal services in their entirety tomorrow.
The Queen's Platinum Jubilee celebrations began on Thursday, June 2, 2022.
A special Bank Holiday in the UK was declared months ago, and Britons have a public holiday on June 2 and June 3, taking us into a very special weekend.
The Queen's Platinum Jubilee is an historic first. Never before has a British monarch celebrated a 70 year reign:
This is her message of thanks to the people of the UK and the Commonwealth countries:
June 2 is also the 69th anniversary of Elizabeth II's coronation. The weather right now has been very similar to that time in 1953: cool and rainy.
Below is the chair in which 26 British monarchs have been crowned. It is kept in Westminster Abbey. Although it looks quite worn — and, yes, there is schoolboy graffiti on it — on Coronation Day it is covered with expensive fabric and cushions to look regal:
The Queen's coronation needed a year to arrange, so it could not have taken place in 1952, when she suddenly acceded the throne following her father's — George VI's — sudden death that year.
This three-minute video has clips of the coronation ceremony, held on a cold, rainy June day at Westminster Abbey, during which participating adults and children alike were in great discomfort from the chill, even if it doesn't look like it:
Today's — Thursday's — big event was Trooping the Colour.
Trooping the Colour celebrates the monarch's birthday. It used to be held on the actual date of birth. Edward VII's was in November, when the weather is cold and damp. Therefore, he had the date changed to June. Since his time, the monarch has two birthdays, so to speak: the actual one and the official one, marked by Trooping the Colour.
This year, it is two weeks early to tie in with the Platinum Jubilee weekend celebrations.
Because of her mobility issues, the Queen was not at Horse Guards Parade for this auspicious anniversary. Instead, she appeared on the balcony of Buckingham Palace to acknowledge those from the military who took part.
Gun salutes and a Royal Air Force flypast also took place:
Returning to Trooping the Colour, because of coronavirus restrictions, the military parade took place at Windsor Castle. This year is the first time in three years that it has been at Horse Guards Parade, so additional preparation was needed to make sure that everything was perfect.
This video gives a short insight on Trooping the Colour and the work that goes into making the Queen's official birthday a special one:
Here is a quiz question on the Irish Guards:
This is the Irish Guards' mascot, Seamus:
Horses are also an integral part of Trooping the Colour. They are groomed more than usual. Their many brasses must be perfectly polished, too:
Many hours of rehearsal are involved. The 251 Signal Squadron makes sure that everything happens when it should. It makes one wonder how they survived without radios decades ago. The parade must have been that much more onerous. The Queen would have known what was poorly timed:
Trooping the Colour dates back to the mid-18th century. The following photos show the Queen — then Princess Elizabeth — as well as other members of her family over the past century:
When the Queen actively participated in her Birthday Parade, she wore a modified military uniform. She served as an Army mechanic during the Second World War:
Although the Queen was at Buckingham Palace this year, members of the Royal Family attended, with Princes Charles and William and Princess Anne taking the salutes as the military passed by:
This was the scene at the Mall early on Thursday morning:
People were told that public viewing areas were at full capacity and to make other arrangements:
A Telegraph associate editor tweeted that onlookers gathered early in the morning:
The Mall was full by 9 a.m., 90 minutes before Trooping the Colour began:
Those fortunate enough to watch proceedings from Horse Guards itself dressed to the nines:
Meanwhile, back at Buckingham Palace, the Queen's great-grandchildren looked forward to a splendid day:
Shortly before the Birthday Parade took place, the Royals set off for a horse-drawn carriage journey down The Mall to Horse Guards:
They waved to those lining The Mall …
… some of whom enjoyed Champagne and a song or two:
The Royal children were thrilled:
Prince George is clearly having the time of his life as he experiences his first Jubilee, writes Gordon Rayner.  
As his carriage drove down the Mall, George, sitting with his siblings opposite his mother the Duchess of Cambridge, said: "Wow. This is GREAT!"
The Duchess said to her children: "This is wonderful! look at all these people!"
Princess Charlotte also said "wow" as she saw the crowds, and as the carriage reached Horseguards Parade Prince George asked the Duchess: "Mama, where does this stop?"
They watched the parade from a balcony (see circled area):
Afterwards, everyone returned to the balcony at Buckingham Palace to await the 82-gun salute and the RAF flypast:
When the Queen appeared, the crowds erupted with joy:
The Royal Navy and the Royal Marines will be participating in the Platinum Jubilee Pageant on Sunday at Buckingham Palace:
Meanwhile, in news across the English Channel, Trooping the Colour was the main story this morning in France, at least on their talk radio station RMC.
And Emmanuel Macron sent in warm words of praise for the Queen:
He gave her a thoroughbred gelding named Fabulous — Fabuleux de Maucourt — to mark the happy occasion of her Platinum Jubilee:
Friday's big event is a service of thanksgiving for the monarch's reign at St Paul's Cathedral.
On Saturday, the younger Royals will travel around the country to participate in various events.
Meanwhile, towns, cities and villages up and down the country will hold local events, including street parties, throughout the weekend. While the weather might be good today, Sunday's is forecast to be very much like that of Coronation Day in 1953.
Over the weekend, I read two contrasting approaches to coronavirus, going from the sublime to the ridiculous.
El Salvador
This is the latest message from the government in El Salvador about coronavirus. It advocates exercise, achieving a normal weight, eating properly and getting enough sleep:
It is sublime. If only other governments had advocated the same thing over the past 22 months. Then again, there's no Big Pharma involvement, so this never could have happened in the West.
France
Now we move to the ridiculous.
Last summer, the French government mandated the vaccine passport, popularly called le pass sanitaire, when in reality it is le pass vaccinale.
In August 2021, the Minister for Work, Elisabeth Borne, said that anyone refusing to get a vaccine passport would be denied his/her salary or unemployment benefit. Someone replied to this tweet with a quote from February 2021 in which Borne said that, as a woman of the Left, fighting for social justice and equal opportunity were her two biggest objectives in life. Oh, the irony:
Initially, at least, vaccine passports were required even to go into a supermarket.
Here's a chap at Carrefour who could not get past the security guard on August 17 at Noisy le Grand, just outside of Paris:
Two more videos appeared on August 18. One was in the city of Pau in the south west of France. Police prevented angry shoppers from entering Leclerc:
The second confrontation took place at an Auchan in Marseille. Shoppers chanted 'Liberté, liberté':
I don't know what happened after that, but I haven't heard or seen any more about people being prevented from entering a supermarket.
I did see videos with police checking people sitting outdoors at cafés and bars for vax passport status.
Fast forwarding to January 2, 2022, Prime Minister Jean Castex said that food and drink can only be taken in bars and cafés sitting down. A bit like Wales and Scotland, then:
That same day, the education minister, Jean-Michel Blanquer, explained that every school would have a list of students showing their vaccination status, thereby violating the principle of privacy with regard to personal health records — a slippery slope:
The following day, the president of France's parliament, Richard Ferrand, got coronavirus. No one was allowed to ask questions, though, because it wasn't anyone's business. Circulez, il n'y a rien a voir. Keep moving, nothing to see here:
Incidentally, no vax passport is required in France's parliament. Typical:
On January 4, French president Emmanuel Macron said that he wanted to 'p— off' as many unvaccinated as possible. This means that the unvaccinated will not be able to go to sports fixtures, the cinema — or even restaurants, bars and cafés.
Contrast that with what he said on December 15, 2021: 'With some things I've said, I've hurt people. I won't do it again':
There is even an older statement from Macron from April 29, 2021, in which he pledged there would never be a mandatory vax passport in France:
Jean Castex refused to comment on Macron's pronouncement about p—ing off the unvaccinated:
Meanwhile, an anti-vax passport petition circulated online. It had over 1.2 million signatures as of January 5. The initiator of the petition was not allowed to present it to parliament. Police restrained him:
France's senate will be voting on further vax passport measures this week, postponed from last week:
Constitutionalists say that the vax passport measures are unconstitutional:
Here is a roadside hoarding (billboard) critical of Macron's vaccination policies:
The vaccine passport mandate was supposed to end on November 16, 2021. Yet, it is still in place.
On Saturday, January 8, many thousands of French citizens took to the streets to protest.
This was the scene in Aix-en-Provence:
Paris had the largest demonstration, despite the rain:
Here's another view:
Of course, the media, in this case BFMTV, reported 'only a few thousand' protesters. They would, wouldn't they?
On Monday, January 10, a French physician who works in ER called for the abolition of vaccine passports and urged the government to focus on treating the sick — 'Revenons au basique', or 'Back to basics':
Just before Christmas, a general practitioners' union pledged their support for the unvaccinated, a clear refutation of Macron's policy:
France's talk radio station, RMC, discussed the unvaccinated on Monday. Here's the segment from Les Grandes Gueules [The Big Mouths], for any interested Francophones.
A general practitioner who is a regular guest on the show said that anyone spreading 'disinformation' should be put in prison. Unbelievable:
One of the panellists complained about the constant testing of schoolchildren, which she thought was a waste of time and money:
Some time ago, when waffling on about the necessity for constitutional reform, Macron pledged that any petition with more than 1 million signatures would go to a referendum in order to give the French people a voice. As the anti-vax passport petition has 1.2 million signatures, will Macron prove good on his word?
Even during an election year, I wouldn't hold my breath.
Macron's voters are pro-vaccine and pro-vaccine passport people. Sadly, I think he will win another five-year mandate in May 2022.
Last week at this time, Prime Minister Boris Johnson was preparing for the G7 summit at Carbis Bay in Cornwall.
Prior to that, meetings between G7 foreign ministers and finance ministers took place earlier in London.
This is the family photo of the foreign ministers from their meeting in May. The eighth man is an EU representative:
One of the outcomes of the finance ministers' meetings in early June was a tax on profits from the largest multinational tech giants, to be continued when the G20 meet in July:
Joe Biden
It was amazing to see Joe Biden last the full course of the G7, especially without Kamala Harris hovering over him:
I am still puzzling over this photo of Dr Jill prepping for the G7 and the text 'United States government official'. She is the First Lady, not a government official:
Joe Biden successfully triggered a post-Brexit storm around the EU trading arrangements with Northern Ireland, which are crucial to maintaining the peace agreement between that part of the UK and the Republic of Ireland:
Biden's opinion is important, because the UK wants to make a trade deal with the US, which would have been much easier were President Trump still in the White House:
Nigel Farage rightly tweeted:
The sad truth is that no one in government cares about Trump. Boris has made it pretty clear in Parliament that he prefers dealing with Biden.
On Thursday, June 10, the US and the UK signed The New Atlantic Charter to promote common interests between the two nations, including technology, health pandemics and climate change.
The original Atlantic Charter was signed by Winston Churchill and Franklin D Roosevelt in 1941.
This new charter is hardly as ground breaking as the original.
The Daily Mail reported:
The major focus of Mr Johnson and Mr Biden's new charter is defeating the coronavirus crisis and preventing further global health crises.
To achieve these goals, the two men agreed to 'scale up joint work on genomic sequencing and variant assessments' and to work together on a new global surveillance system.
This will see the UK Health Security Agency's new Centre for Pandemic Preparedness establishing a working relationship with its US counterpart, the proposed National Center for Epidemic Forecasting and Outbreak Analytics.
The new charter states: 'We recognise the catastrophic impact of health crises, and the global good in strengthening our collective defences against health threats.
'We commit to continuing to collaborate to strengthen health systems and advance our health protections, and to assist others to do the same.
Mr Johnson said: 'While Churchill and Roosevelt faced the question of how to help the world recover following a devastating war, today we have to reckon with a very different but no less intimidating challenge – how to build back better from the coronavirus pandemic.'
While the men met, Carrie Johnson, young Wilfred Johnson and Jill Biden took a walk along the beach. That evening, the Bidens enjoyed a drink at the Tregenna Castle Hotel in St. Ives.
On Sunday, June 13, the Bidens left Cornwall and were guests of the Queen at Windsor Castle where they enjoyed tea together. The Express has more.
On Monday and Tuesday, Biden met with NATO leaders and held a private meeting with the president of Turkey, Tayyip Erdogan.
The Bidens flew to Geneva on Tuesday night. On Wednesday, Biden met with Vladimir Putin in Geneva.
Sausage war
On the topic of Biden's beef over Northern Ireland, he wants the UK to move closer to the EU and had the diplomat at the American Embassy in London issue Boris with a démarche, a reprimand normally reserved for enemy nations.
On Wednesday, June 9, the Telegraph reported:
Joe Biden ordered US officials to rebuke Boris Johnson for jeopardising the peace process in Northern Ireland due to its stand-off with the European Union, it emerged on Wednesday night.
In a significant diplomatic intervention which now threatens to overshadow the G7 summit in Cornwall, America's most senior diplomat in Britain told the Brexit minister Lord Frost that the UK's stance on the Northern Ireland Protocol was "inflaming" tensions in Ireland and Europe.
Yael Lempert is said to have issued Lord Frost with a demarche – a formal diplomatic reprimand – at a meeting on June 3 in London, during which she relayed to him the US President's "great concern" over the UK's approach to the protocol, which was established to prevent a hard Irish border.
The protocol is causing difficulty in shipping sausages, hence 'sausage war'. You could not make this up.
Lord David Frost is attempting to negotiate with the EU:
During "frank" discussions in London, the Brexit minister Lord Frost said he would not rule out acting unilaterally to prevent a ban on the sale of British sausages in the province from coming into force at the end of the month.
It came despite Maros Sefcovic, the European Commission vice-president, warning that the EU could ultimately suspend parts of the Brexit trade deal and hit British products with tariffs should the UK choose to extend the grace period on chilled meats.
In a clear show of defiance, one insider involved in the joint committee that oversees the Northern Ireland Protocol told The Telegraph: "David very clearly said he wasn't taking that off the table."
Lord Frost also rebuffed EU calls for the UK to solve the row by signing up to a Swiss-style veterinary agreement which would require it to follow the bloc's food safety rules as they change over time in a process known as "dynamic alignment".
Over the years, British food and veterinary standards have become more strict than those of the EU, so it is no surprise that Lord Frost is sticking to his guns.
The démarche from the United States upset the DUP leader in Northern Ireland — Edwin Poots — and some Conservative MPs in Westminster.
On Thursday, June 10, the Daily Mail reported:
New DUP leader Edwin Poots laid into Joe Biden today after the US president intervened in Northern Ireland politics with a rebuke for Boris Johnson over the EU 'sausage war'.
Hardliner Mr Poots accused the Democrat of trying to drive 'a coach and horses through the Good Friday Agreement' that guarantees sectarian peace in Northern Ireland.
The US President instead used his diplomats to express 'great concern' over the conflict centred on post-Brexit trade rules agreed last year by both sides, which the UK is now seeking to change, the Times reported today.
The UK is now at loggerheads with the EU over rules governing the import of chilled goods like sausages into Ulster under the Northern Ireland Protocol agreed six months ago.
The US is said to have issued a 'demarche' to Britain, an official diplomatic censure not normally used against allies, especially those as close as the two nations.
The United States was said to have 'strongly urged' Britain to 'stay cool' and reach an agreement, even if that meant making 'unpopular compromises'.
The White House tried to row back from the row today, insisting the bust-up had been overplayed, but not before the president was branded 'senile' by a Tory Brexiteer …
… an anonymous Tory MP told Politico: 'America should remember who their allies are… unfortunately he's (Biden) so senile that he probably won't remember what we tell him anyway.
'Unless an aide is listening I'm not sure he's going to remember for very long.'
The Express had more from anonymous Conservative MPs:
One told Express.co.uk: "The cognitive decline of the American President appears to mirror the decline of the special relationship.
"I don't actually believe this is Biden doing this.
"He's lost the plot again. Somebody is pulling his strings because he's senile and just hasn't got it – if he ever had it."
Another angry Conservative told this website the US was picking fights with the wrong people.
They said the Biden administration had issued a rebuke to the UK, one of America's oldest allies, quicker than it had taken action against Iran or China.
"He's talking to the wrong people on this one I'm afraid," the MP said.
The Gateway Pundit picked up on the story:
Joe Biden's first trip abroad is turning into an utter disaster as the senile sock puppet offends our closest allies and endangers the peace process in Northern Ireland with his incompetent dementia …
On June 10, the Prime Minister and Biden met privately at St Michael's Mount, a 17th-century castle on an island just off the coast of Cornwall.
The Daily Mail reported that Boris downplayed the disagreement:
Boris Johnson tonight insisted Joe Biden did not rebuke him over the Northern Ireland situation during their first face-to-face talks – as the White House tried to cool a furious row.
The PM revealed that the US president avoided reading the riot act over the Brexit standoff when they met in Cornwall this afternoon.
But he said there is 'common ground' between the UK, America and the EU that solutions must be found to the Northern Ireland protocol issues.
The Express quoted him as saying:
So it's a relationship, you can call it the 'deep and meaningful relationship', whatever you want, the 'indestructible relationship'.
It's a relationship that has endured for a very long time, and has been an important part of peace and prosperity in Europe and around the world.
Emmanuel Macron's gaffe
Emmanuel Macron ruffled British feathers when he said that Northern Ireland was not part of the United Kingdom.
The Express reported on Macron's reaction to the sausage war:
Britain has been left frustrated by the EU's implementation of the mechanism, warning excessive customs checks are having a detrimental impact on trade between Britain and Northern Ireland.
During talks with Mr Macron at the G7 summit, Boris Johnson tried to explain the problems with the Protocol, comparing it to the hypothetical introduction of checks on goods between Toulouse and Paris.
Mr Macron responded by saying there was a difference because Northern Ireland is a separate country to the rest of the UK.
The comments enraged Boris Johnson and led to Foreign Secretary Dominic Raab blasting the EU for a lack of "respect".
According to the newspaper, Macron also threatened a reset of British and French relations:
Emmanuel Macron was among the leaders who visited Cornwall this week for the G7 summit. Mr Macron told Prime Minister Boris Johnson the two countries had common interests, but ties could only improve if he kept his word on Brexit. One source told the Guardian: "The president told Boris Johnson there needed to be a reset of the Franco-British relationship. This can happen provided that he keeps his word with the Europeans."
Meanwhile, Carrie Johnson took Brigitte Macron and Jill Biden to a performance at the Minack Theatre. Mrs Macron wore espadrilles.
The Queen's reception
On Friday, June 11, the Queen held a reception at the futuristic green Eden Project for G7 leaders and their spouses. Prince Charles (pictured) and the Duke and Duchess of Cambridge also attended:
A family photo was taken, where the Queen cracked a joke:
She also hosted G7 leaders in 1977. Among them was Justin Trudeau's father, Pierre, on the far left in the photo below. Valery Giscard d'Estaing and the Queen engaged in conversation. It is unclear why the Queen Mother and Jimmy Carter were holding hands:
Other members of the Royal Family also attended this year's reception.
The Queen has met nearly every US president since Dwight D Eisenhower. The only one she never met was Lyndon B Johnson.
The Duchess of Cambridge took Jill Biden for a visit to Connor Downs Academy, a primary school in Hayle:
Jill Biden revealed that she knows Prince Harry well, thanks to the Invictus Games.
In a separate event, the Duchesses of Cambridge and Cornwall accompanied the Queen to an event in St Austell, where the monarch cut a cake with a ceremonial sword. This video is a must:
Lighter moments
The G7 security costs were eye-watering:
In addition, the Daily Mail reported that the Royal Navy's giant new aircraft carrier sailed past the summit venue where the G7 leaders are staying to prove Britain's power.
A beach party was held on Saturday, June 12. The weather was good:
The G7 family photo this year was socially distanced because of coronavirus:
Elbow bumps replaced handshakes:
However, social distancing disappeared for the flypast by the Red Arrows:
Conclusion
The G7 summit ended on Sunday, June 13.
The French tried to clarify Macron's remark about Northern Ireland:
Boris announced that the UK would build back better in a 'gender neutral', possibly even 'more feminine', way.
The nations' leaders also agreed to counter China's belt and road policy:
Meanwhile, the sausage war rages on.
The next big British event will be COP26, to be held in Glasgow in November 2021.
By the way, that's Jersey as in the Channel Islands, not New Jersey.
The 200th anniversary of Napoleon's death was May 5, 2021.
A solemn commemoration was held at Les Invalides in Paris:
A number of Metro and railway stations in Paris are named after Napoleon's victories:
French president Emmanuel Macron was always a keen student of history, particularly Napoleon.
Britain's Prime Minister Boris Johnson is also a keen student of history, especially of battles that took place in antiquity.
Now we have a post-Brexit situation. France is upset that their fishing boats cannot go in Jersey's waters.
Sky News explains the new post-Brexit rules (emphases mine):
French fishing crews are demonstrating as part of a row over post-Brexit fishing rights.
Under the Brexit trade deal, which came into force on 1 January, EU fishermen continue to have some rights to fish in UK waters as part of a transition period until 2026.
However, under the new rules, EU boats wanting to fish within 12 miles of the UK coast need to be licensed and prove they have a history of fishing in those waters in order to carry on operating.
This includes submitting evidence of their past fishing activities.
Jersey has not granted licences to some of the boats that have applied to fish in its waters.
Ian Gorst, the island's external relations minister, said of the 41 boats which sought licences under the new rules last Friday, all but 17 had provided the evidence required.
"The trade deal is clear but I think there has been some confusion about how it needs to be implemented, because we absolutely respect the historic rights of French fishermen to fish in Jersey waters as they have been doing for centuries," he said.
"I do think a solution can be found. I am optimistic that we can provide extra time to allow this evidence to be provided."
The French government has also expressed its anger at what it said were unilaterally-imposed conditions on the fishing licences, including the time French fishing vessels could spend in Jersey's waters.
Jersey said it had issued permits in line with the terms of the post-Brexit trade deal.
The Jersey Evening Post reported:
Don Thompson, president of the Jersey Fisherman's Association, said Jersey had been 'quite generous' in its licensing scheme and described France's response as an 'over-reaction'.
He said: 'The EU have signed up to the [post-Brexit] Trade and Co-operation Agreement which states that Jersey must recognise the extent of previous fishing in our waters. The restrictions on the new licences cover what the French were already doing in our waters and are only preventing them from expanding their fishing efforts, which is needed if we are going to have sustainability in our waters.
'A point that is being missed is that Jersey boats do not have licences to fish in French waters – we are restricted to our own territorial waters while they can use ours, if any restrictions are placed on their own.'
Mr Thompson also highlighted how the approved 41 French vessels had been given a licence for free and urged Jersey's government not to give in to the French.
'Our boats would be charged £250,000 if they were to have something similar. Our advice to ministers is that they should not capitulate to these intimidation and bullying tactics that are being used,' he said.
'If we do capitulate now then they are just going to do the same thing every time we try to apply some form of management to make our waters sustainable.'
An oyster farmer from Jersey, mentioned in the headline, disagreed.
France threatened to cut off the electricity supply to Jersey. They have since backed down. Jersey Electricity said that customers did not have to worry:
On the evening of May 5, Guido Fawkes posted:
A reader responded:
These were the headlines on May 6:
They are armed fisheries protection vessels, or river class ships:
I wonder if the Royal Marines will use their new jetpack technology (videos here and here). It enables a Royal Marine to fly up to 12,000 feet in the air and up to 80mph:
As I write, these were the developments on Thursday, May 6. HMS Tamar, recently repainted with 'dazzle' camouflage, set sail for Jersey that morning:
We're in 2021 and not 1588 (sinking of the Spanish Armada), but, even so, there is a frisson of excitement about this:
France responded by sending two of their ships:
Guido Fawkes has more on France's reaction:
Guido's post says (emphases in the original here):
The head of the joint Normandy-Brittany sea authority has declared they are "ready for war" and "can bring Jersey to its knees" as tensions continue to ramp up between the UK and France over Jersey at a dizzying pace. War with France can only help Boris's 10 point poll lead…
Responding to two navy vessels being sent by Britain to patrol the situation last night, Macron has retaliated by sending one of his own military boats, to join 100 French fishing vessels blockading the harbour. A French minister has said the country "won't be intimidated" by British manoeuvres …
A military historian posted a thread about French fishermen protesting in Jersey:
This morning, a Jersey resident re-enacted an ancient battle with the French. He did this in safety, far from the port. Talk show host Jeremy Vine demonstrated how the blockade of the port was unfolding:
It's hard to disagree with this:
Negotiations are now taking place on Jersey between their government and the French fishermen:
The Jersey Evening Post reported:
External Relations Minister Ian Gorst, said: 'We are meeting with French fishing leaders this morning to listen to their concerns regarding fishing rights. There are continuing extensive political and operational efforts with both our local fishing community and French fishing associations, their regional representatives in France, and both the UK and French governments, in order to resolve the current dispute and resume previous good relations.'
A number of Islanders have turned up to watch and police are at the scene.
Although the crews have been setting off flares, the protest has so far remained peaceful.
One French fisherman complained that France has to go through the EU first for any resolution:
That could explain why Charles-Henri Gallois, president of Génération Frexit, is using this disagreement as an argument for France to leave the EU. He says: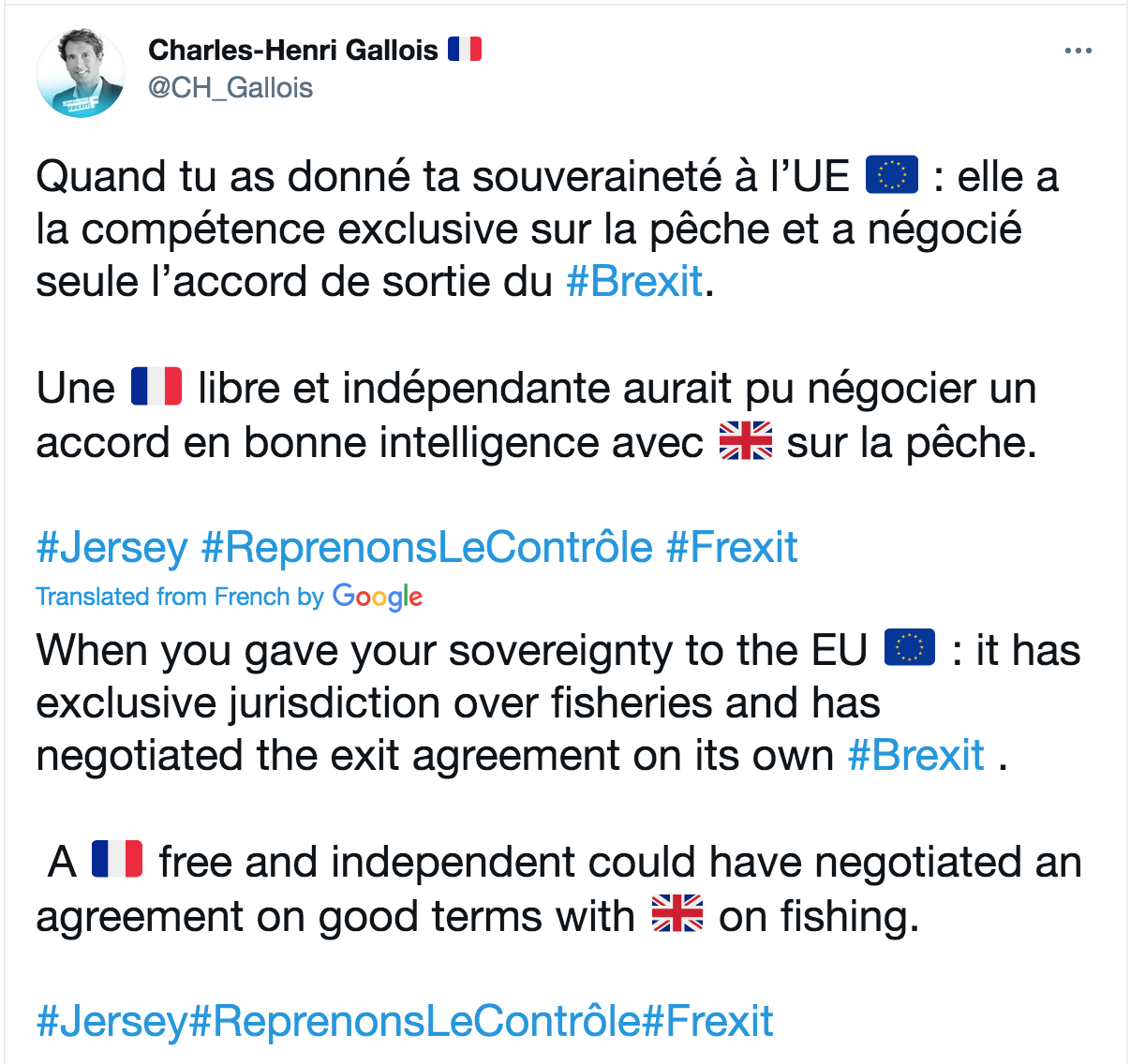 Here's his tweet, which met with an equally Frexit response:
Gallois also posted a link to an article in Les Echos, France's leading business newspaper, which says that the UK was able to handle their coronavirus vaccine rollout with 'great efficacy'. Gallois says that a free country which is independent is always more effective than one which is bureaucratic, slow and with divergent interests. He adds that, if one adds the totally antidemocratic aspect of the EU, one should not hesitate a single second to leave:
I wish Charles-Henri Gallois and Génération Frexit all the best in their pursuit of a France free from the EU.
Meanwhile, one wonders if the French are aware that today, Thursday, is England's local election day. As Guido says, this can only help Boris and the Conservatives.
UPDATE: IT ENDED BEFORE IT EVEN STARTED.
By dinnertime, the French fishermen had left Jersey:
Boris declared victory:
This is Guido Fawkes's version:
Guido reported:
The PM has hailed the end of the third battle of Jersey, understatedly calling the matter "resolved" after the 100 French fishing boats ran away earlier this afternoon.
The announcement comes as No. 10 says the two Royal Navy vessels will depart the island's waters in the coming hours, though will remain on standby in case Jersey once again finds itself in an hour of need. In the words of Maggie, just rejoice at that news, and congratulate our forces and the marines…
Many thanks to all involved in resolving this situation quickly. Even a small nuisance can be a lingering irritant if left to fester.
After a slow news period post-'inauguration', everything accelerated again to the point where there is too much to cover in one week.
At the end of January 2021, the EU tried to block the UK's coronavirus vaccine supply, specifically to the AstraZeneca vaccine developed in Oxford!
The EU poked at the softest, most vulnerable part of the UK-EU agreement post-Brexit: not to create division between Northern Ireland and the Republic of Ireland, covered by Article 16.
However, the EU, being short of coronavirus vaccines, briefly invoked the sacrosanct Article 16 on Friday, January 29, 2021, despite Jean-Claude Juncker's old commitment to Ireland that there would be no hard border with a post-Brexit EU-UK trade agreement. This debate in the Irish parliament took place long before coronavirus. What a sloppy dress code:
Then, just less than a month after the UK made a full Brexit with a trade agreement, the EU did this:
On Friday, January 29, Guido Fawkes reported (emphases in the original):
As part of its plot to block vaccine exports to the UK, the EU has invoked Article 16 of the Northern Ireland Protocol. This has effectively removed Northern Ireland from the EU's customs. In plain English, Article 16, the so-called safeguard clause, allows both the EU and the UK to unilaterally suspend part of the Northern Ireland Protocol (which keeps Northern Ireland in the EU's customs territory) in specific circumstances.
Most discussion around this particular article had been how or whether the UK would use it. The fact that the EU has implemented it less than a month after coming into effect could set a big precedent.
Practically this new EU-imposed hard border won't make a huge difference as Northern Ireland will receive their jabs via Great Britain, but this political move is extraordinary, after a week of terrible news for the Union. After years of arguing to keep Northern Ireland in its customs territory, the EU has just merrily kicked it out.
However, such an action threatened the long-standing peace agreement between North and South.
EU Commission president Ursula von der Leyen's action managed to unite Britain's — and Ireland's — Right and Left for the first time in years:
Guido's article says of the centre-right Democratic Unionist Party:
UPDATE: The DUP have, not unsurprisingly, slammed the EU's decision as "an incredible act of hostility". Arlene Foster says:
"This is an incredible act of hostility. By triggering Article 16 in this manner, the European Union has once again shown it is prepared to use Northern Ireland when it suits their interests but in the most despicable manner — over the provision of a vaccine which is designed to save lives.
At the first opportunity the EU has placed a hard border between Northern Ireland and the Republic of Ireland over the supply chain of the Coronavirus vaccine.
With the European Union using Article 16 in such an aggressive and most shameful way, it is now time for our Government to step up. I will be urging the Prime Minister to act and use robust measures including Article 16 to advance the interests of Northern Ireland and the rest of the United Kingdom."
As for Labour:
UPDATE II: Labour join in with the EU condemnation: Louise Haigh MP, Labour's Shadow Northern Ireland Secretary, commenting on the European Union's decision to invoke Article 16 of the Northern Ireland Protocol:
"This move is deeply destabilising and undermines the huge efforts being made to make the Protocol work.
Unilateral actions like this do nothing to aid the stability in Northern Ireland which the Protocol was designed to preserve.
The European Union must remember the Protocol depends on joint working and they share a responsibility to uphold that. They must think again, and revoke this action."
Later that day, Guido recapped the previous five days of hassle for AstraZeneca and vaccine supply. CEO Pascal Soriot insisted that the company never made a hard and fast commitment to the EU. AstraZeneca made what are contractually known as best reasonable efforts to supply to the EU. Guido's article has a copy of the contract, which you can read at the link:
AstraZeneca has committed to use its Best Reasonable Efforts (as defined below) to build capacity to manufacture 300 million Doses of the Vaccine, at no profit and no loss to AstraZeneca, at the total cost currently estimated to be [REDACTED] Euros for distribution within the EU [REDACTED] (the "Initial Europe Doses"), with an option for the Commission, acting on behalf of the Participating Member States, to order an additional 100 million Doses (the "Optional Doses").
The ball was then in von der Leyen's court:
Guido reported von der Leyen's response:
No. There are binding orders and the contract is crystal-clear. AstraZeneca has expressly assured us in this contract that no other obligations will stand in the way of fulfilling the contract.
However, Guido explained:
The key obligation in the agreement is in Section 5.1, which "silos" production for the doses to go to the EU, making clear that the AZ obligation is only to use best reasonable efforts to manufacture the initial doses within the EU. If they are manufacturing doses outside the EU that's irrelevant to that obligation. Has the EU just shot itself in the foot?
Guido's founder Paul Staines is based in Waterford, Ireland. He thinks that, for the good of relations between North and South, the UK should share their AstraZeneca doses with the Republic:
He was not alone. The Scotland editor for The Spectator agreed:
Fine. Let's make sure that Britons get their share first. That's why the deal was set up in the first place.
By the end of last Friday, right, left, centre and the Church of England opposed the EU action:
The Archbishop's intervention seemed to have a huge impact in Britain, which is surprising for such an atheistic nation:
The strange thing about Article 16 is that the British EU-lovers assumed that the UK Government would implement it first against the EU. That was the big stink around the Internal Market Bill, which gives the UK leeway to back out of parts of the trade agreement if the EU becomes threatening.
In the end:
Late that evening, the EU president conceded:
Boris made no mention of it on his Twitter feed.
More on the UK's coronavirus vaccine success will follow on Monday.
For now, here's the next EU-UK drama, which also started on Friday, January 29 — international travel:
Macron's probably upset because the Institut Pasteur vaccine failed this week. Because of that failure, he rubbished the AstraZeneca vaccine:
As Guido said:
The French haven't been able to produce a vaccine, and the Germans couldn't do it without American corporate help. No wonder voices in the EU were so keen to hit out, falsely, at the success of Brexit Britain's Oxford vaccine. Poor Little EU.
Oh, boy. Politics, politics.
2021 will be a doozy of a year.
While much of the UK is in some sort of coronavirus lockdown — England is now in the new Tier 5 — let's cast our minds back to Christmas Eve 2020.
An imminent announcement was rumoured by news channels from the early morning.
Christmas Eve morning — in our household, at least — provided more excitement than Christmas Day, particularly since our area were in Tier 4 at the time, forbidding anything but the briefest of visits.
As December 24 unfolded, there was no final trade agreement enabling the United Kingdom to terminate the Brexit transition phase, scheduled to end at 11:59 p.m. Brussels time, on December 31.
Mid-afternoon, Sky News announced that there would be no statement that day. We stayed tuned in, which was just as well, because a short time later, they changed tack and said that that EU Commission president Ursula von der Leyen and British Prime Minister Boris Johnson would be making separate statements about a deal having been struck.
Amazingly, as Sky News announced there would be no announcement, this independent journalist called it correctly. Well done:
Guido Fawkes's team, who run the best British political website, had been primed for this from the week before. Tom Harwood went the furthest and had worn his Merry Brexmas jumper (pullover sweater) in their news wrap up video on December 18:
Around 3 p.m., Ursula von der Leyen made her announcement from Brussels. Boris made his from No. 10. While Ursula and our chief EU negotiator Michel Barnier were downbeat, Boris was positively euphoric:
His tie had a fish motif:
Fishing was the sticking point that caused the delay to an agreement being reached:
In the end:
Leavers are very grateful to Lord David GH Frost for his tireless efforts in negotiating on the UK's behalf. Words cannot describe how hard he has worked on our behalf:
This was Boris's announcement about the new trade deal with the EU beginning on January 1, 2021. Guido Fawkes has a written summary (ignore the photo, which was not one from December 24):
It was on as even terms as possible. Both von der Leyen and Barnier acknowledged that we were 'tough' in our negotiations. Good.
Michel Barnier is in the first video:
Michel Barnier spoke after von der Leyen. Thank you, Michel:
Here he says that the UK has chosen to leave the European Union and the single market. The new agreement is the basis of a new partnership, one that is fair and equitable:
The woman on the right in that photo moderated the session, which included a press conference.
More highlights follow.
Journalist Dave Keating has an excellent thread, which he introduced with the reference to white smoke appearing at the Vatican when there is a new pope:
Boris's usual critics doubted the 'Canada-style' description, until they began analysing the text. Some admitted on air and in print that it was, indeed, a Canada-style agreement.
The Telegraph had more on the agreement:
Boris sent a three-page letter to each MP and peer.
Contrary to what Boris said, the agreement was 1,246 pages long. Annexes and footnotes probably accounted for the extra length. You can read the full text here, using the links at the bottom of that page:
I couldn't agree more with the poll results.
I also fully agree with the PM that Brexit dragged on long enough:
Agree.
We will always be European.
We love our European friends and family.
However, the EU construct, as it evolved from a common trading area to a common army (developing) and lack of national autonomy, were steps too far for 52% of the British public. Here's a case in point: the EU Parliament — individual MEPs — won't even be voting on this deal until early 2021. We left at the last minute of 2020. This proves further that the only EU decisions that matter come from the EU Commission.
After the announcement of the new EU-UK trade agreement, reactions poured in.
First, here's a reaction from a member of the general public, a Leaver. I felt the same way:
Nigel Farage — without whom we never would have had a referendum (thanks again, Nigel!) — approved, even though the deal isn't perfect:
David Cameron, who was PM at the time of the July 23, 2016 referendum, said:
Theresa May, Cameron's successor and MP for Maidenhead, who ended up resigning over her poor handling of Brexit within Parliament, must have tweeted this through gritted teeth:
Conservative MP Mark Harper was unique in thanking Lord David GH Frost — Barnier's British counterpart — who negotiated so well. Harper — one of the good guys — said that he would look forward to reading through the agreement over Christmas ahead of the December 30 vote.
Another Conservative MP, Chris Heaton-Harris, said, that contrary to negative reports circulating in the media, no MP objected to studying the agreement over Christmas.
The leaders of the devolved nations — Scotland, Wales and Northern Ireland — also reacted to the news.
Scotland's Nicola Sturgeon said that Brexit is happening 'against Scotland's will' and issued yet another plea for Scottish independence.
Another socialist, Mark Drakeford, the First Minister — Prif Weinidog — of Wales, offered a more balanced assessment. Perhaps he recalled that most Welsh voters wanted Brexit. Drakeford said that it wasn't the deal hoped for (probably not enough links with the EU) but was workable.
Northern Ireland's First Minister, Arlene Foster (DUP), said that, provisionally, the agreement looked like 'good news' and issued a full statement on it.
Kate Hoey, the former Labour MP for Vauxhall (London) and the current Baroness Hoey of Lylehill and Rathlin in the County of Antrim, was a staunch supporter of Brexit and was one of the main Leavers in 2016 on the public stage. Even though her heart is in Northern Ireland, her homeland, she participates actively in the House of Lords. She had this to say about the agreement:
Her friends at Labour Leave were equally relieved:
Emmanuel Macron, France's petit président, played the tough guy. In one tweet, he said that European unity and firmness paid off; the agreement with the UK had to protect France's citizens, fishermen and producers. He assured them that this was the case, pointing towards a Europe that is sovereign and strong. In a second tweet, he thanked Michel Barnier for his tenacity and engagement in defending European interests and unity. He also said that, thanks to von der Leyen, European solidarity showed its force.
That evening, Boris posted his Christmas message. The first half is about coronavirus. The second part is about Brexit:
That day, all 52% of us wanted to focus on was this great achievement — a happy one, brightening a coronavirus-dominated Christmas:
The second day of Brexmas will follow tomorrow.
As we approach 2021, a growing number of Europeans are sceptical about our governments' respective responses to coronavirus.
My guess is that people are becoming suspicious about the loss of their civil liberties, which was only supposed to last for two to three weeks, yet continues to this day — nine months on.
There is no end in sight as we face the possibility of another sharp, nationwide lockdown early in the New Year.
France
This was a major topic of discussion on RMC's Les Grandes Gueules today.
Vaccinations have reached saturation point in France, even though the programme has barely started. Perhaps the government was too slow in obtaining more doses at the outset:
Regardless, in France, as well as everywhere else, even the vaccinated will need to continue to wear masks — possibly even after their second BioNtech/Pfizer jab:
Of course, mass vaccination is the only way that a nation's economy can once again flourish. Recall that for most age groups — up to the 70+ cohort — the average death rate is around 0.05%:
In the meantime, the question arose over whether future lockdowns should be national or regional. (We've tried both recently in England and Wales. It doesn't seem to make much difference.) This educator says that we can't stay locked down for the next ten years — 'I'm horrified. We're in a world of madness":
The lawyer on the panel disagreed, saying that we need lockdowns until we get the all clear. Someone responded to the tweet casting doubt on government statistics, saying that lies are a way of dramatising the situation — Project Fear:
Listeners rang in to say that they were sceptical about lockdowns and mandatory vaccines. The lockdowns don't seem to work and there aren't enough data yet to show that the vaccines are reliable and safe, especially if they operate like the flu vaccine, meaning that one is still susceptible to getting coronavirus, albeit a milder form of it.
Spain
The Spanish government is considering whether to develop a list of residents who do not take the vaccine then circulate those names to other countries to restrict their movements.
British talk show host Maajid Nawaz of LBC warned that this is a very dangerous step for a nation to take. He said that, years ago, he was a prisoner of conscience in Egypt and found out how far the state can go in controlling one's life. The response to his video is quite telling:
Someone else replying said that Spain would not be able to circulate the list because of personal privacy laws under the Europe-wide GDPR regulations. Hmm, I wonder:
England
Maajid Nawaz had another excellent commentary on the futility of lockdowns. He said that only one person in the UK has put together a cost benefit analysis for public consumption and that only the Times has published it. Apparently, 500,000 lives are adversely affected among the general population and they are not COVID-19 'cases' or inpatients. He added that Government ministers have a lot of data they refuse to reveal to the public. I would go further and say they are not even revealing it to MPs. Matt Hancock lets nothing out in Parliament, only more fear-mongering messages, then expects MPs to approve more restrictions:
Simon Dolan, a businessman who has sued the Government over lockdown, points out that lockdown relies on asymptomatic transmission being true. However, yet another study shows that there is no truth behind asymptomatic transmission:
The latest study, which the JAMA published, focusses on household transmission:
On lockdown, Simon Dolan posits:
Yes, most probably.
But what about the lorry drivers stranded at Dover because Emmanuel Macron didn't want them coming into Calais unless they were tested? Only a tiny number tested positive:
It's no wonder people are sceptical.
In closing, I have been waiting for an ecological impact assessment on masks. Here it is:
Does anyone else find it odd that, given the alarm over coronavirus, no country has any HAZMAT bins for used masks? Shouldn't worn masks be considered hazardous waste?
It makes one wonder …
More to come.