You are currently browsing the tag archive for the 'Emmanuel Macron' tag.
Over the weekend, I read two contrasting approaches to coronavirus, going from the sublime to the ridiculous.
El Salvador
This is the latest message from the government in El Salvador about coronavirus. It advocates exercise, achieving a normal weight, eating properly and getting enough sleep:
It is sublime. If only other governments had advocated the same thing over the past 22 months. Then again, there's no Big Pharma involvement, so this never could have happened in the West.
France
Now we move to the ridiculous.
Last summer, the French government mandated the vaccine passport, popularly called le pass sanitaire, when in reality it is le pass vaccinale.
In August 2021, the Minister for Work, Elisabeth Borne, said that anyone refusing to get a vaccine passport would be denied his/her salary or unemployment benefit. Someone replied to this tweet with a quote from February 2021 in which Borne said that, as a woman of the Left, fighting for social justice and equal opportunity were her two biggest objectives in life. Oh, the irony:
Initially, at least, vaccine passports were required even to go into a supermarket.
Here's a chap at Carrefour who could not get past the security guard on August 17 at Noisy le Grand, just outside of Paris:
Two more videos appeared on August 18. One was in the city of Pau in the south west of France. Police prevented angry shoppers from entering Leclerc:
The second confrontation took place at an Auchan in Marseille. Shoppers chanted 'Liberté, liberté':
I don't know what happened after that, but I haven't heard or seen any more about people being prevented from entering a supermarket.
I did see videos with police checking people sitting outdoors at cafés and bars for vax passport status.
Fast forwarding to January 2, 2022, Prime Minister Jean Castex said that food and drink can only be taken in bars and cafés sitting down. A bit like Wales and Scotland, then:
That same day, the education minister, Jean-Michel Blanquer, explained that every school would have a list of students showing their vaccination status, thereby violating the principle of privacy with regard to personal health records — a slippery slope:
The following day, the president of France's parliament, Richard Ferrand, got coronavirus. No one was allowed to ask questions, though, because it wasn't anyone's business. Circulez, il n'y a rien a voir. Keep moving, nothing to see here:
Incidentally, no vax passport is required in France's parliament. Typical:
On January 4, French president Emmanuel Macron said that he wanted to 'p— off' as many unvaccinated as possible. This means that the unvaccinated will not be able to go to sports fixtures, the cinema — or even restaurants, bars and cafés.
Contrast that with what he said on December 15, 2021: 'With some things I've said, I've hurt people. I won't do it again':
There is even an older statement from Macron from April 29, 2021, in which he pledged there would never be a mandatory vax passport in France:
Jean Castex refused to comment on Macron's pronouncement about p—ing off the unvaccinated:
Meanwhile, an anti-vax passport petition circulated online. It had over 1.2 million signatures as of January 5. The initiator of the petition was not allowed to present it to parliament. Police restrained him:
France's senate will be voting on further vax passport measures this week, postponed from last week:
Constitutionalists say that the vax passport measures are unconstitutional:
Here is a roadside hoarding (billboard) critical of Macron's vaccination policies:
The vaccine passport mandate was supposed to end on November 16, 2021. Yet, it is still in place.
On Saturday, January 8, many thousands of French citizens took to the streets to protest.
This was the scene in Aix-en-Provence:
Paris had the largest demonstration, despite the rain:
Here's another view:
Of course, the media, in this case BFMTV, reported 'only a few thousand' protesters. They would, wouldn't they?
On Monday, January 10, a French physician who works in ER called for the abolition of vaccine passports and urged the government to focus on treating the sick — 'Revenons au basique', or 'Back to basics':
Just before Christmas, a general practitioners' union pledged their support for the unvaccinated, a clear refutation of Macron's policy:
France's talk radio station, RMC, discussed the unvaccinated on Monday. Here's the segment from Les Grandes Gueules [The Big Mouths], for any interested Francophones.
A general practitioner who is a regular guest on the show said that anyone spreading 'disinformation' should be put in prison. Unbelievable:
One of the panellists complained about the constant testing of schoolchildren, which she thought was a waste of time and money:
Some time ago, when waffling on about the necessity for constitutional reform, Macron pledged that any petition with more than 1 million signatures would go to a referendum in order to give the French people a voice. As the anti-vax passport petition has 1.2 million signatures, will Macron prove good on his word?
Even during an election year, I wouldn't hold my breath.
Macron's voters are pro-vaccine and pro-vaccine passport people. Sadly, I think he will win another five-year mandate in May 2022.
Last week at this time, Prime Minister Boris Johnson was preparing for the G7 summit at Carbis Bay in Cornwall.
Prior to that, meetings between G7 foreign ministers and finance ministers took place earlier in London.
This is the family photo of the foreign ministers from their meeting in May. The eighth man is an EU representative:
One of the outcomes of the finance ministers' meetings in early June was a tax on profits from the largest multinational tech giants, to be continued when the G20 meet in July:
Joe Biden
It was amazing to see Joe Biden last the full course of the G7, especially without Kamala Harris hovering over him:
I am still puzzling over this photo of Dr Jill prepping for the G7 and the text 'United States government official'. She is the First Lady, not a government official:
Joe Biden successfully triggered a post-Brexit storm around the EU trading arrangements with Northern Ireland, which are crucial to maintaining the peace agreement between that part of the UK and the Republic of Ireland:
Biden's opinion is important, because the UK wants to make a trade deal with the US, which would have been much easier were President Trump still in the White House:
Nigel Farage rightly tweeted:
The sad truth is that no one in government cares about Trump. Boris has made it pretty clear in Parliament that he prefers dealing with Biden.
On Thursday, June 10, the US and the UK signed The New Atlantic Charter to promote common interests between the two nations, including technology, health pandemics and climate change.
The original Atlantic Charter was signed by Winston Churchill and Franklin D Roosevelt in 1941.
This new charter is hardly as ground breaking as the original.
The Daily Mail reported:
The major focus of Mr Johnson and Mr Biden's new charter is defeating the coronavirus crisis and preventing further global health crises.
To achieve these goals, the two men agreed to 'scale up joint work on genomic sequencing and variant assessments' and to work together on a new global surveillance system.
This will see the UK Health Security Agency's new Centre for Pandemic Preparedness establishing a working relationship with its US counterpart, the proposed National Center for Epidemic Forecasting and Outbreak Analytics.
The new charter states: 'We recognise the catastrophic impact of health crises, and the global good in strengthening our collective defences against health threats.
'We commit to continuing to collaborate to strengthen health systems and advance our health protections, and to assist others to do the same.
Mr Johnson said: 'While Churchill and Roosevelt faced the question of how to help the world recover following a devastating war, today we have to reckon with a very different but no less intimidating challenge – how to build back better from the coronavirus pandemic.'
While the men met, Carrie Johnson, young Wilfred Johnson and Jill Biden took a walk along the beach. That evening, the Bidens enjoyed a drink at the Tregenna Castle Hotel in St. Ives.
On Sunday, June 13, the Bidens left Cornwall and were guests of the Queen at Windsor Castle where they enjoyed tea together. The Express has more.
On Monday and Tuesday, Biden met with NATO leaders and held a private meeting with the president of Turkey, Tayyip Erdogan.
The Bidens flew to Geneva on Tuesday night. On Wednesday, Biden met with Vladimir Putin in Geneva.
Sausage war
On the topic of Biden's beef over Northern Ireland, he wants the UK to move closer to the EU and had the diplomat at the American Embassy in London issue Boris with a démarche, a reprimand normally reserved for enemy nations.
On Wednesday, June 9, the Telegraph reported:
Joe Biden ordered US officials to rebuke Boris Johnson for jeopardising the peace process in Northern Ireland due to its stand-off with the European Union, it emerged on Wednesday night.
In a significant diplomatic intervention which now threatens to overshadow the G7 summit in Cornwall, America's most senior diplomat in Britain told the Brexit minister Lord Frost that the UK's stance on the Northern Ireland Protocol was "inflaming" tensions in Ireland and Europe.
Yael Lempert is said to have issued Lord Frost with a demarche – a formal diplomatic reprimand – at a meeting on June 3 in London, during which she relayed to him the US President's "great concern" over the UK's approach to the protocol, which was established to prevent a hard Irish border.
The protocol is causing difficulty in shipping sausages, hence 'sausage war'. You could not make this up.
Lord David Frost is attempting to negotiate with the EU:
During "frank" discussions in London, the Brexit minister Lord Frost said he would not rule out acting unilaterally to prevent a ban on the sale of British sausages in the province from coming into force at the end of the month.
It came despite Maros Sefcovic, the European Commission vice-president, warning that the EU could ultimately suspend parts of the Brexit trade deal and hit British products with tariffs should the UK choose to extend the grace period on chilled meats.
In a clear show of defiance, one insider involved in the joint committee that oversees the Northern Ireland Protocol told The Telegraph: "David very clearly said he wasn't taking that off the table."
Lord Frost also rebuffed EU calls for the UK to solve the row by signing up to a Swiss-style veterinary agreement which would require it to follow the bloc's food safety rules as they change over time in a process known as "dynamic alignment".
Over the years, British food and veterinary standards have become more strict than those of the EU, so it is no surprise that Lord Frost is sticking to his guns.
The démarche from the United States upset the DUP leader in Northern Ireland — Edwin Poots — and some Conservative MPs in Westminster.
On Thursday, June 10, the Daily Mail reported:
New DUP leader Edwin Poots laid into Joe Biden today after the US president intervened in Northern Ireland politics with a rebuke for Boris Johnson over the EU 'sausage war'.
Hardliner Mr Poots accused the Democrat of trying to drive 'a coach and horses through the Good Friday Agreement' that guarantees sectarian peace in Northern Ireland.
The US President instead used his diplomats to express 'great concern' over the conflict centred on post-Brexit trade rules agreed last year by both sides, which the UK is now seeking to change, the Times reported today.
The UK is now at loggerheads with the EU over rules governing the import of chilled goods like sausages into Ulster under the Northern Ireland Protocol agreed six months ago.
The US is said to have issued a 'demarche' to Britain, an official diplomatic censure not normally used against allies, especially those as close as the two nations.
The United States was said to have 'strongly urged' Britain to 'stay cool' and reach an agreement, even if that meant making 'unpopular compromises'.
The White House tried to row back from the row today, insisting the bust-up had been overplayed, but not before the president was branded 'senile' by a Tory Brexiteer …
… an anonymous Tory MP told Politico: 'America should remember who their allies are… unfortunately he's (Biden) so senile that he probably won't remember what we tell him anyway.
'Unless an aide is listening I'm not sure he's going to remember for very long.'
The Express had more from anonymous Conservative MPs:
One told Express.co.uk: "The cognitive decline of the American President appears to mirror the decline of the special relationship.
"I don't actually believe this is Biden doing this.
"He's lost the plot again. Somebody is pulling his strings because he's senile and just hasn't got it – if he ever had it."
Another angry Conservative told this website the US was picking fights with the wrong people.
They said the Biden administration had issued a rebuke to the UK, one of America's oldest allies, quicker than it had taken action against Iran or China.
"He's talking to the wrong people on this one I'm afraid," the MP said.
The Gateway Pundit picked up on the story:
Joe Biden's first trip abroad is turning into an utter disaster as the senile sock puppet offends our closest allies and endangers the peace process in Northern Ireland with his incompetent dementia …
On June 10, the Prime Minister and Biden met privately at St Michael's Mount, a 17th-century castle on an island just off the coast of Cornwall.
The Daily Mail reported that Boris downplayed the disagreement:
Boris Johnson tonight insisted Joe Biden did not rebuke him over the Northern Ireland situation during their first face-to-face talks – as the White House tried to cool a furious row.
The PM revealed that the US president avoided reading the riot act over the Brexit standoff when they met in Cornwall this afternoon.
But he said there is 'common ground' between the UK, America and the EU that solutions must be found to the Northern Ireland protocol issues.
The Express quoted him as saying:
So it's a relationship, you can call it the 'deep and meaningful relationship', whatever you want, the 'indestructible relationship'.
It's a relationship that has endured for a very long time, and has been an important part of peace and prosperity in Europe and around the world.
Emmanuel Macron's gaffe
Emmanuel Macron ruffled British feathers when he said that Northern Ireland was not part of the United Kingdom.
The Express reported on Macron's reaction to the sausage war:
Britain has been left frustrated by the EU's implementation of the mechanism, warning excessive customs checks are having a detrimental impact on trade between Britain and Northern Ireland.
During talks with Mr Macron at the G7 summit, Boris Johnson tried to explain the problems with the Protocol, comparing it to the hypothetical introduction of checks on goods between Toulouse and Paris.
Mr Macron responded by saying there was a difference because Northern Ireland is a separate country to the rest of the UK.
The comments enraged Boris Johnson and led to Foreign Secretary Dominic Raab blasting the EU for a lack of "respect".
According to the newspaper, Macron also threatened a reset of British and French relations:
Emmanuel Macron was among the leaders who visited Cornwall this week for the G7 summit. Mr Macron told Prime Minister Boris Johnson the two countries had common interests, but ties could only improve if he kept his word on Brexit. One source told the Guardian: "The president told Boris Johnson there needed to be a reset of the Franco-British relationship. This can happen provided that he keeps his word with the Europeans."
Meanwhile, Carrie Johnson took Brigitte Macron and Jill Biden to a performance at the Minack Theatre. Mrs Macron wore espadrilles.
The Queen's reception
On Friday, June 11, the Queen held a reception at the futuristic green Eden Project for G7 leaders and their spouses. Prince Charles (pictured) and the Duke and Duchess of Cambridge also attended:
A family photo was taken, where the Queen cracked a joke:
She also hosted G7 leaders in 1977. Among them was Justin Trudeau's father, Pierre, on the far left in the photo below. Valery Giscard d'Estaing and the Queen engaged in conversation. It is unclear why the Queen Mother and Jimmy Carter were holding hands:
Other members of the Royal Family also attended this year's reception.
The Queen has met nearly every US president since Dwight D Eisenhower. The only one she never met was Lyndon B Johnson.
The Duchess of Cambridge took Jill Biden for a visit to Connor Downs Academy, a primary school in Hayle:
Jill Biden revealed that she knows Prince Harry well, thanks to the Invictus Games.
In a separate event, the Duchesses of Cambridge and Cornwall accompanied the Queen to an event in St Austell, where the monarch cut a cake with a ceremonial sword. This video is a must:
Lighter moments
The G7 security costs were eye-watering:
In addition, the Daily Mail reported that the Royal Navy's giant new aircraft carrier sailed past the summit venue where the G7 leaders are staying to prove Britain's power.
A beach party was held on Saturday, June 12. The weather was good:
The G7 family photo this year was socially distanced because of coronavirus:
Elbow bumps replaced handshakes:
However, social distancing disappeared for the flypast by the Red Arrows:
Conclusion
The G7 summit ended on Sunday, June 13.
The French tried to clarify Macron's remark about Northern Ireland:
Boris announced that the UK would build back better in a 'gender neutral', possibly even 'more feminine', way.
The nations' leaders also agreed to counter China's belt and road policy:
Meanwhile, the sausage war rages on.
The next big British event will be COP26, to be held in Glasgow in November 2021.
By the way, that's Jersey as in the Channel Islands, not New Jersey.
The 200th anniversary of Napoleon's death was May 5, 2021.
A solemn commemoration was held at Les Invalides in Paris:
A number of Metro and railway stations in Paris are named after Napoleon's victories:
French president Emmanuel Macron was always a keen student of history, particularly Napoleon.
Britain's Prime Minister Boris Johnson is also a keen student of history, especially of battles that took place in antiquity.
Now we have a post-Brexit situation. France is upset that their fishing boats cannot go in Jersey's waters.
Sky News explains the new post-Brexit rules (emphases mine):
French fishing crews are demonstrating as part of a row over post-Brexit fishing rights.
Under the Brexit trade deal, which came into force on 1 January, EU fishermen continue to have some rights to fish in UK waters as part of a transition period until 2026.
However, under the new rules, EU boats wanting to fish within 12 miles of the UK coast need to be licensed and prove they have a history of fishing in those waters in order to carry on operating.
This includes submitting evidence of their past fishing activities.
Jersey has not granted licences to some of the boats that have applied to fish in its waters.
Ian Gorst, the island's external relations minister, said of the 41 boats which sought licences under the new rules last Friday, all but 17 had provided the evidence required.
"The trade deal is clear but I think there has been some confusion about how it needs to be implemented, because we absolutely respect the historic rights of French fishermen to fish in Jersey waters as they have been doing for centuries," he said.
"I do think a solution can be found. I am optimistic that we can provide extra time to allow this evidence to be provided."
The French government has also expressed its anger at what it said were unilaterally-imposed conditions on the fishing licences, including the time French fishing vessels could spend in Jersey's waters.
Jersey said it had issued permits in line with the terms of the post-Brexit trade deal.
The Jersey Evening Post reported:
Don Thompson, president of the Jersey Fisherman's Association, said Jersey had been 'quite generous' in its licensing scheme and described France's response as an 'over-reaction'.
He said: 'The EU have signed up to the [post-Brexit] Trade and Co-operation Agreement which states that Jersey must recognise the extent of previous fishing in our waters. The restrictions on the new licences cover what the French were already doing in our waters and are only preventing them from expanding their fishing efforts, which is needed if we are going to have sustainability in our waters.
'A point that is being missed is that Jersey boats do not have licences to fish in French waters – we are restricted to our own territorial waters while they can use ours, if any restrictions are placed on their own.'
Mr Thompson also highlighted how the approved 41 French vessels had been given a licence for free and urged Jersey's government not to give in to the French.
'Our boats would be charged £250,000 if they were to have something similar. Our advice to ministers is that they should not capitulate to these intimidation and bullying tactics that are being used,' he said.
'If we do capitulate now then they are just going to do the same thing every time we try to apply some form of management to make our waters sustainable.'
An oyster farmer from Jersey, mentioned in the headline, disagreed.
France threatened to cut off the electricity supply to Jersey. They have since backed down. Jersey Electricity said that customers did not have to worry:
On the evening of May 5, Guido Fawkes posted:
A reader responded:
These were the headlines on May 6:
They are armed fisheries protection vessels, or river class ships:
I wonder if the Royal Marines will use their new jetpack technology (videos here and here). It enables a Royal Marine to fly up to 12,000 feet in the air and up to 80mph:
As I write, these were the developments on Thursday, May 6. HMS Tamar, recently repainted with 'dazzle' camouflage, set sail for Jersey that morning:
We're in 2021 and not 1588 (sinking of the Spanish Armada), but, even so, there is a frisson of excitement about this:
France responded by sending two of their ships:
Guido Fawkes has more on France's reaction:
Guido's post says (emphases in the original here):
The head of the joint Normandy-Brittany sea authority has declared they are "ready for war" and "can bring Jersey to its knees" as tensions continue to ramp up between the UK and France over Jersey at a dizzying pace. War with France can only help Boris's 10 point poll lead…
Responding to two navy vessels being sent by Britain to patrol the situation last night, Macron has retaliated by sending one of his own military boats, to join 100 French fishing vessels blockading the harbour. A French minister has said the country "won't be intimidated" by British manoeuvres …
A military historian posted a thread about French fishermen protesting in Jersey:
This morning, a Jersey resident re-enacted an ancient battle with the French. He did this in safety, far from the port. Talk show host Jeremy Vine demonstrated how the blockade of the port was unfolding:
It's hard to disagree with this:
Negotiations are now taking place on Jersey between their government and the French fishermen:
The Jersey Evening Post reported:
External Relations Minister Ian Gorst, said: 'We are meeting with French fishing leaders this morning to listen to their concerns regarding fishing rights. There are continuing extensive political and operational efforts with both our local fishing community and French fishing associations, their regional representatives in France, and both the UK and French governments, in order to resolve the current dispute and resume previous good relations.'
A number of Islanders have turned up to watch and police are at the scene.
Although the crews have been setting off flares, the protest has so far remained peaceful.
One French fisherman complained that France has to go through the EU first for any resolution:
That could explain why Charles-Henri Gallois, president of Génération Frexit, is using this disagreement as an argument for France to leave the EU. He says: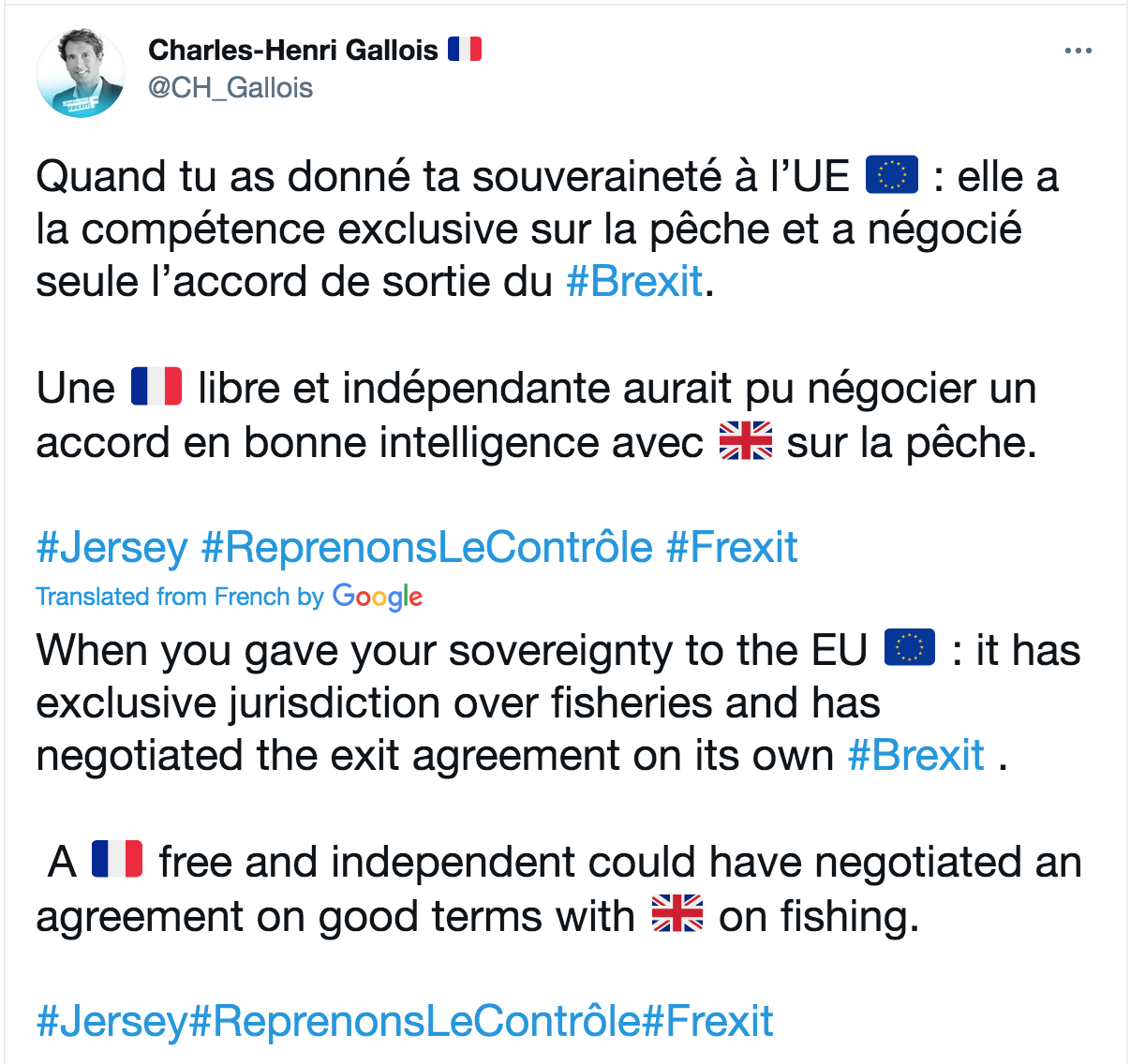 Here's his tweet, which met with an equally Frexit response:
Gallois also posted a link to an article in Les Echos, France's leading business newspaper, which says that the UK was able to handle their coronavirus vaccine rollout with 'great efficacy'. Gallois says that a free country which is independent is always more effective than one which is bureaucratic, slow and with divergent interests. He adds that, if one adds the totally antidemocratic aspect of the EU, one should not hesitate a single second to leave:
I wish Charles-Henri Gallois and Génération Frexit all the best in their pursuit of a France free from the EU.
Meanwhile, one wonders if the French are aware that today, Thursday, is England's local election day. As Guido says, this can only help Boris and the Conservatives.
UPDATE: IT ENDED BEFORE IT EVEN STARTED.
By dinnertime, the French fishermen had left Jersey:
Boris declared victory:
This is Guido Fawkes's version:
Guido reported:
The PM has hailed the end of the third battle of Jersey, understatedly calling the matter "resolved" after the 100 French fishing boats ran away earlier this afternoon.
The announcement comes as No. 10 says the two Royal Navy vessels will depart the island's waters in the coming hours, though will remain on standby in case Jersey once again finds itself in an hour of need. In the words of Maggie, just rejoice at that news, and congratulate our forces and the marines…
Many thanks to all involved in resolving this situation quickly. Even a small nuisance can be a lingering irritant if left to fester.
After a slow news period post-'inauguration', everything accelerated again to the point where there is too much to cover in one week.
At the end of January 2021, the EU tried to block the UK's coronavirus vaccine supply, specifically to the AstraZeneca vaccine developed in Oxford!
The EU poked at the softest, most vulnerable part of the UK-EU agreement post-Brexit: not to create division between Northern Ireland and the Republic of Ireland, covered by Article 16.
However, the EU, being short of coronavirus vaccines, briefly invoked the sacrosanct Article 16 on Friday, January 29, 2021, despite Jean-Claude Juncker's old commitment to Ireland that there would be no hard border with a post-Brexit EU-UK trade agreement. This debate in the Irish parliament took place long before coronavirus. What a sloppy dress code:
Then, just less than a month after the UK made a full Brexit with a trade agreement, the EU did this:
On Friday, January 29, Guido Fawkes reported (emphases in the original):
As part of its plot to block vaccine exports to the UK, the EU has invoked Article 16 of the Northern Ireland Protocol. This has effectively removed Northern Ireland from the EU's customs. In plain English, Article 16, the so-called safeguard clause, allows both the EU and the UK to unilaterally suspend part of the Northern Ireland Protocol (which keeps Northern Ireland in the EU's customs territory) in specific circumstances.
Most discussion around this particular article had been how or whether the UK would use it. The fact that the EU has implemented it less than a month after coming into effect could set a big precedent.
Practically this new EU-imposed hard border won't make a huge difference as Northern Ireland will receive their jabs via Great Britain, but this political move is extraordinary, after a week of terrible news for the Union. After years of arguing to keep Northern Ireland in its customs territory, the EU has just merrily kicked it out.
However, such an action threatened the long-standing peace agreement between North and South.
EU Commission president Ursula von der Leyen's action managed to unite Britain's — and Ireland's — Right and Left for the first time in years:
Guido's article says of the centre-right Democratic Unionist Party:
UPDATE: The DUP have, not unsurprisingly, slammed the EU's decision as "an incredible act of hostility". Arlene Foster says:
"This is an incredible act of hostility. By triggering Article 16 in this manner, the European Union has once again shown it is prepared to use Northern Ireland when it suits their interests but in the most despicable manner — over the provision of a vaccine which is designed to save lives.
At the first opportunity the EU has placed a hard border between Northern Ireland and the Republic of Ireland over the supply chain of the Coronavirus vaccine.
With the European Union using Article 16 in such an aggressive and most shameful way, it is now time for our Government to step up. I will be urging the Prime Minister to act and use robust measures including Article 16 to advance the interests of Northern Ireland and the rest of the United Kingdom."
As for Labour:
UPDATE II: Labour join in with the EU condemnation: Louise Haigh MP, Labour's Shadow Northern Ireland Secretary, commenting on the European Union's decision to invoke Article 16 of the Northern Ireland Protocol:
"This move is deeply destabilising and undermines the huge efforts being made to make the Protocol work.
Unilateral actions like this do nothing to aid the stability in Northern Ireland which the Protocol was designed to preserve.
The European Union must remember the Protocol depends on joint working and they share a responsibility to uphold that. They must think again, and revoke this action."
Later that day, Guido recapped the previous five days of hassle for AstraZeneca and vaccine supply. CEO Pascal Soriot insisted that the company never made a hard and fast commitment to the EU. AstraZeneca made what are contractually known as best reasonable efforts to supply to the EU. Guido's article has a copy of the contract, which you can read at the link:
AstraZeneca has committed to use its Best Reasonable Efforts (as defined below) to build capacity to manufacture 300 million Doses of the Vaccine, at no profit and no loss to AstraZeneca, at the total cost currently estimated to be [REDACTED] Euros for distribution within the EU [REDACTED] (the "Initial Europe Doses"), with an option for the Commission, acting on behalf of the Participating Member States, to order an additional 100 million Doses (the "Optional Doses").
The ball was then in von der Leyen's court:
Guido reported von der Leyen's response:
No. There are binding orders and the contract is crystal-clear. AstraZeneca has expressly assured us in this contract that no other obligations will stand in the way of fulfilling the contract.
However, Guido explained:
The key obligation in the agreement is in Section 5.1, which "silos" production for the doses to go to the EU, making clear that the AZ obligation is only to use best reasonable efforts to manufacture the initial doses within the EU. If they are manufacturing doses outside the EU that's irrelevant to that obligation. Has the EU just shot itself in the foot?
Guido's founder Paul Staines is based in Waterford, Ireland. He thinks that, for the good of relations between North and South, the UK should share their AstraZeneca doses with the Republic:
He was not alone. The Scotland editor for The Spectator agreed:
Fine. Let's make sure that Britons get their share first. That's why the deal was set up in the first place.
By the end of last Friday, right, left, centre and the Church of England opposed the EU action:
The Archbishop's intervention seemed to have a huge impact in Britain, which is surprising for such an atheistic nation:
The strange thing about Article 16 is that the British EU-lovers assumed that the UK Government would implement it first against the EU. That was the big stink around the Internal Market Bill, which gives the UK leeway to back out of parts of the trade agreement if the EU becomes threatening.
In the end:
Late that evening, the EU president conceded:
Boris made no mention of it on his Twitter feed.
More on the UK's coronavirus vaccine success will follow on Monday.
For now, here's the next EU-UK drama, which also started on Friday, January 29 — international travel:
Macron's probably upset because the Institut Pasteur vaccine failed this week. Because of that failure, he rubbished the AstraZeneca vaccine:
As Guido said:
The French haven't been able to produce a vaccine, and the Germans couldn't do it without American corporate help. No wonder voices in the EU were so keen to hit out, falsely, at the success of Brexit Britain's Oxford vaccine. Poor Little EU.
Oh, boy. Politics, politics.
2021 will be a doozy of a year.
While much of the UK is in some sort of coronavirus lockdown — England is now in the new Tier 5 — let's cast our minds back to Christmas Eve 2020.
An imminent announcement was rumoured by news channels from the early morning.
Christmas Eve morning — in our household, at least — provided more excitement than Christmas Day, particularly since our area were in Tier 4 at the time, forbidding anything but the briefest of visits.
As December 24 unfolded, there was no final trade agreement enabling the United Kingdom to terminate the Brexit transition phase, scheduled to end at 11:59 p.m. Brussels time, on December 31.
Mid-afternoon, Sky News announced that there would be no statement that day. We stayed tuned in, which was just as well, because a short time later, they changed tack and said that that EU Commission president Ursula von der Leyen and British Prime Minister Boris Johnson would be making separate statements about a deal having been struck.
Amazingly, as Sky News announced there would be no announcement, this independent journalist called it correctly. Well done:
Guido Fawkes's team, who run the best British political website, had been primed for this from the week before. Tom Harwood went the furthest and had worn his Merry Brexmas jumper (pullover sweater) in their news wrap up video on December 18:
Around 3 p.m., Ursula von der Leyen made her announcement from Brussels. Boris made his from No. 10. While Ursula and our chief EU negotiator Michel Barnier were downbeat, Boris was positively euphoric:
His tie had a fish motif:
Fishing was the sticking point that caused the delay to an agreement being reached:
In the end:
Leavers are very grateful to Lord David GH Frost for his tireless efforts in negotiating on the UK's behalf. Words cannot describe how hard he has worked on our behalf:
This was Boris's announcement about the new trade deal with the EU beginning on January 1, 2021. Guido Fawkes has a written summary (ignore the photo, which was not one from December 24):
It was on as even terms as possible. Both von der Leyen and Barnier acknowledged that we were 'tough' in our negotiations. Good.
Michel Barnier is in the first video:
Michel Barnier spoke after von der Leyen. Thank you, Michel:
Here he says that the UK has chosen to leave the European Union and the single market. The new agreement is the basis of a new partnership, one that is fair and equitable:
The woman on the right in that photo moderated the session, which included a press conference.
More highlights follow.
Journalist Dave Keating has an excellent thread, which he introduced with the reference to white smoke appearing at the Vatican when there is a new pope:
Boris's usual critics doubted the 'Canada-style' description, until they began analysing the text. Some admitted on air and in print that it was, indeed, a Canada-style agreement.
The Telegraph had more on the agreement:
Boris sent a three-page letter to each MP and peer.
Contrary to what Boris said, the agreement was 1,246 pages long. Annexes and footnotes probably accounted for the extra length. You can read the full text here, using the links at the bottom of that page:
I couldn't agree more with the poll results.
I also fully agree with the PM that Brexit dragged on long enough:
Agree.
We will always be European.
We love our European friends and family.
However, the EU construct, as it evolved from a common trading area to a common army (developing) and lack of national autonomy, were steps too far for 52% of the British public. Here's a case in point: the EU Parliament — individual MEPs — won't even be voting on this deal until early 2021. We left at the last minute of 2020. This proves further that the only EU decisions that matter come from the EU Commission.
After the announcement of the new EU-UK trade agreement, reactions poured in.
First, here's a reaction from a member of the general public, a Leaver. I felt the same way:
Nigel Farage — without whom we never would have had a referendum (thanks again, Nigel!) — approved, even though the deal isn't perfect:
David Cameron, who was PM at the time of the July 23, 2016 referendum, said:
Theresa May, Cameron's successor and MP for Maidenhead, who ended up resigning over her poor handling of Brexit within Parliament, must have tweeted this through gritted teeth:
Conservative MP Mark Harper was unique in thanking Lord David GH Frost — Barnier's British counterpart — who negotiated so well. Harper — one of the good guys — said that he would look forward to reading through the agreement over Christmas ahead of the December 30 vote.
Another Conservative MP, Chris Heaton-Harris, said, that contrary to negative reports circulating in the media, no MP objected to studying the agreement over Christmas.
The leaders of the devolved nations — Scotland, Wales and Northern Ireland — also reacted to the news.
Scotland's Nicola Sturgeon said that Brexit is happening 'against Scotland's will' and issued yet another plea for Scottish independence.
Another socialist, Mark Drakeford, the First Minister — Prif Weinidog — of Wales, offered a more balanced assessment. Perhaps he recalled that most Welsh voters wanted Brexit. Drakeford said that it wasn't the deal hoped for (probably not enough links with the EU) but was workable.
Northern Ireland's First Minister, Arlene Foster (DUP), said that, provisionally, the agreement looked like 'good news' and issued a full statement on it.
Kate Hoey, the former Labour MP for Vauxhall (London) and the current Baroness Hoey of Lylehill and Rathlin in the County of Antrim, was a staunch supporter of Brexit and was one of the main Leavers in 2016 on the public stage. Even though her heart is in Northern Ireland, her homeland, she participates actively in the House of Lords. She had this to say about the agreement:
Her friends at Labour Leave were equally relieved:
Emmanuel Macron, France's petit président, played the tough guy. In one tweet, he said that European unity and firmness paid off; the agreement with the UK had to protect France's citizens, fishermen and producers. He assured them that this was the case, pointing towards a Europe that is sovereign and strong. In a second tweet, he thanked Michel Barnier for his tenacity and engagement in defending European interests and unity. He also said that, thanks to von der Leyen, European solidarity showed its force.
That evening, Boris posted his Christmas message. The first half is about coronavirus. The second part is about Brexit:
That day, all 52% of us wanted to focus on was this great achievement — a happy one, brightening a coronavirus-dominated Christmas:
The second day of Brexmas will follow tomorrow.
As we approach 2021, a growing number of Europeans are sceptical about our governments' respective responses to coronavirus.
My guess is that people are becoming suspicious about the loss of their civil liberties, which was only supposed to last for two to three weeks, yet continues to this day — nine months on.
There is no end in sight as we face the possibility of another sharp, nationwide lockdown early in the New Year.
France
This was a major topic of discussion on RMC's Les Grandes Gueules today.
Vaccinations have reached saturation point in France, even though the programme has barely started. Perhaps the government was too slow in obtaining more doses at the outset:
Regardless, in France, as well as everywhere else, even the vaccinated will need to continue to wear masks — possibly even after their second BioNtech/Pfizer jab:
Of course, mass vaccination is the only way that a nation's economy can once again flourish. Recall that for most age groups — up to the 70+ cohort — the average death rate is around 0.05%:
In the meantime, the question arose over whether future lockdowns should be national or regional. (We've tried both recently in England and Wales. It doesn't seem to make much difference.) This educator says that we can't stay locked down for the next ten years — 'I'm horrified. We're in a world of madness":
The lawyer on the panel disagreed, saying that we need lockdowns until we get the all clear. Someone responded to the tweet casting doubt on government statistics, saying that lies are a way of dramatising the situation — Project Fear:
Listeners rang in to say that they were sceptical about lockdowns and mandatory vaccines. The lockdowns don't seem to work and there aren't enough data yet to show that the vaccines are reliable and safe, especially if they operate like the flu vaccine, meaning that one is still susceptible to getting coronavirus, albeit a milder form of it.
Spain
The Spanish government is considering whether to develop a list of residents who do not take the vaccine then circulate those names to other countries to restrict their movements.
British talk show host Maajid Nawaz of LBC warned that this is a very dangerous step for a nation to take. He said that, years ago, he was a prisoner of conscience in Egypt and found out how far the state can go in controlling one's life. The response to his video is quite telling:
Someone else replying said that Spain would not be able to circulate the list because of personal privacy laws under the Europe-wide GDPR regulations. Hmm, I wonder:
England
Maajid Nawaz had another excellent commentary on the futility of lockdowns. He said that only one person in the UK has put together a cost benefit analysis for public consumption and that only the Times has published it. Apparently, 500,000 lives are adversely affected among the general population and they are not COVID-19 'cases' or inpatients. He added that Government ministers have a lot of data they refuse to reveal to the public. I would go further and say they are not even revealing it to MPs. Matt Hancock lets nothing out in Parliament, only more fear-mongering messages, then expects MPs to approve more restrictions:
Simon Dolan, a businessman who has sued the Government over lockdown, points out that lockdown relies on asymptomatic transmission being true. However, yet another study shows that there is no truth behind asymptomatic transmission:
The latest study, which the JAMA published, focusses on household transmission:
On lockdown, Simon Dolan posits:
Yes, most probably.
But what about the lorry drivers stranded at Dover because Emmanuel Macron didn't want them coming into Calais unless they were tested? Only a tiny number tested positive:
It's no wonder people are sceptical.
In closing, I have been waiting for an ecological impact assessment on masks. Here it is:
Does anyone else find it odd that, given the alarm over coronavirus, no country has any HAZMAT bins for used masks? Shouldn't worn masks be considered hazardous waste?
It makes one wonder …
More to come.
Andrew Neil, veteran BBC journalist and chairman of The Spectator worldwide, hosted Episode 7 of The Week in 60 Minutes on Thursday, October 15, 2020:
A summary follows.
Not surprisingly, given events of the past week, coronavirus led the news.
Andrew Neil began with England's increasing number of regional lockdowns. It would seem that Prime Minister Boris Johnson is no longer following the science. The Labour and official Leader of the Opposition, Sir Keir Starmer, wants another national lockdown. The political editor of The Spectator, James Forsyth, said that, whatever coronavirus crisis measures Boris Johnson takes, he's 'damned if he does, damned if he doesn't' and has to deal with the damage of lockdowns.
Across the Channel in France, Emmanuel Macron has been following a similar strategy to that of Downing Street and is very concerned about COVID-19 in all respects. Neil asked about last week's contretemps in Ireland. Forsyth said that Ireland's dispute between their government and medical experts was played out in public; by contrast, in the UK, it was in private. In any event, he said that scientists are now in a position of 'negotiation'.
The magazine's deputy political editor, Katy Balls, was on next to discuss Labour's position on coronavirus. Labour MPs disagreed with Keir Starmer behind the scenes, a move which she said has united the Conservatives. That said, it seems England could well be heading towards a short 'circuit breaker', although that would be very difficult for Conservative MPs to stomach.
Forsyth said that this is a very dangerous time for the Government. Starmer could even emerge victorious. ('At some point', I might add, as Boris has a majority of 79 [from 80], and no general election is due before 2024.) At this stage, it's too soon to tell. He said that no one knows if a circuit breaker would actually work in England.
The Spectator's editor Fraser Nelson was up next. He said that Boris was pretty well on to the way to a national lockdown, adding that he lacks the way to fight off SAGE, having been  'outmanoeuvered'.
Neil asked about a recent poll showing approval for more coronavirus restrictions. Ben Page from IPSOS-Mori explained the polls, which showed that 62% of respondents thought that stricter measures should be taken. Page indicated that these were somewhat alarming results: 'quite astonishing in some ways … across the piece'.
Forsyth noted that 19% of Conservative voters in England oppose increased restrictions, which poses a problem for Boris because it creates a North-South divide. Ben Page countered that the polling support for Labour and Conservative has been fairly stable this year. Labour haven't been able to gain much ground since December 2019.
Jake Berry MP, a Conservative representing the northern constituency of Rossendale and Darwen in Lancashire, spoke next. He said that, although their regional lockdown had been relaxed recently, they are now on Tier 2. He said that people are largely ignoring the Government guidelines and will comply only with what they think is appropriate. He does not favour a national lockdown but supports a local circuit breaker 'based on the data', so that it becomes less political for the public. He believes that the Government could have 'handled the North better' and that recent weeks have proven a 'very dangerous moment for Parliament and the North'. That said, he added that Labour 'is in quite a lot of trouble over this as well' and said Starmer committed quite a big mistake this week when calling for a national circuit breaker.
Berry further advised that we need to give this new two-week regional lockdown the benefit of the doubt which might lead for in-and-out local lockdowns.
Neil then changed tack, moving across the Channel to France, with its local 10 p.m. coronavirus curfews (some of which are now at 9 p.m.) and a campaign against extremism.
Ayaan Hirsi Ali, speaking to the latter point, was the next guest. She was sceptical about any success against extremism. She said that extremists have convinced French immigrants they are living within another type of state to which they do not feel they naturally belong. She added that this is enough to subvert the French nation. She also said that the same narrative is going on in other Western nations, because leaders remain silent and refuse to admit what is really going on.
Talk then turned to Brexit arrangements, which were to have been concluded that day. James Forsyth said that the EU threw the ball into the UK's 'court'. That leaves the situation whereby Michel Barnier wants to carry on talks but neither side wants to back down.
Forsyth expects there will be a deal to be done 'but with a twist in the tail'. Fraser Nelson said that Boris and Macron communicate with each other quite closely and expected that Britain will budge over fishing rights. It will be, he predicted, one for revision: 'a process rather than an event'.
Forsyth said there could be a November deadline, even though neither side wants an early deadline because they do not want any changes to the deal. He predicted a last minute November 15 deal.
The last part of the programme concerned protecting the triple lock pension with Katy Balls affirming that Boris is 'committed to it'.
The panel noted Boris's 'unstrustworthiness' problem with voters. Questions from listeners followed for the last ten minutes. Ben Page said that the Labour Party is very unpopular even if Keir Starmer is popular in the polls.
Viewers are grateful to Charles Stanley Wealth Managers for sponsoring the programme.
On Saturday, May 16, I tuned into France's news channel BFMTV to see how the nation's partial reopening went.
President Emmanuel Macron got an earful from medical professionals at La Pitié-Salpêtrière, the Paris hospital he visited on Friday, May 15. Late last week, he announced that, at this year's Bastille Day ceremonies, health professionals and first responders would be honoured with medals commemorating their work during the coronavirus crisis. On Friday, as Macron was leaving, a health professional told him that he didn't want any medal. Macron snapped back:
If you don't want it, don't take it.
It was a rough visit. A group of nurses listened to what he had to say, then one spoke up, bluntly demanding more pay and more recognition. Macron said that he was giving them a bonus for their work over the past two months, but she retorted that was not enough. She demanded a pay rise for all nurses, which is fair enough. They are on relatively low pay, not far from minimum wage.
Going back a few years when the erstwhile Conservative prime minister François Fillon (serving under Nicolas Sarkozy from 2007-2012) visited a care home during his tenure, he was able to hold a calm, considered conversation with the workers there, who were all CGT union members:
Allow me a small digression from Macron. François Fillon should have been France's president after François Hollande. Unfortunately, the media put the boot into him for corruption, just as he was at a massive height in the popularity polls in January 2017, the year Macron was elected president.
In March 2020, Fillon was sentenced to two years in prison, with an additional three years suspended sentence. His wife was given a suspended three-year prison term and a fine of €375,000. (Source: Le Point.) Trumped up (no pun intended) or what? Something stinks there. The Fillons are a dignified couple who have kept to themselves over the years. They are low-profile people and devout Catholics.
This was François Fillon's agenda for France in 2017: ending bureaucracy, sorting out France's problems and restoring the pride in being French. In short: make France great again. Does that sound familiar?
How sad that it didn't happen and might never happen. Who will accomplish this now?
I agree with the tweet below that the framing of François Fillon is truly a shame for France.
The video is from 2017:
These replies say that Fillon's three-year plan, summarised above, was simply swept — balayé– under the carpet (by left-wing media, which started with one outlet and spread rapidly to the others):
Returning to the present day, a Parisian MP from France Insoumise (Unbowed France) says that it is urgent for Macron to say how soon the pay increase will be delivered and how much it will be. The second tweet includes one from health minister Olivier Véran, commenting on the 'passionate' feedback from the nurses:
Macron has been the latest French president to further shrink the nation's health system, following Nicolas Sarkozy (Conservative) and François Hollande (Socialist), both in terms of hospital beds and other measures. Hospital masks were in short supply during the height of the coronavirus crisis. French housewives banded together from their homes to sew fabric masks for nurses. While those were technically useless, nonetheless, nurses were grateful for any protection whilst awaiting proper face coverings.
Early Saturday afternoon, BFMTV reported on the mask shortage, discovered in January 2020. However, it was too late, even with Macron's government's requisitioning every surgical mask in France. They were the wrong type of masks, but they would have to do. Hospital and care workers were desperate.
One physician working on the front line in Lyon died because he did not have the right type of mask. He caught coronavirus and, despite treatment in Marseille, never recovered. His widow and two daughters are suing the hospital where he worked. I can't see how that will work, because every hospital experienced the same mask shortage.
Currently, there are enough masks for people living in France, who have been strongly encouraged to wear one outdoors. These are not proper coronavirus masks, but they will have to do.
It appears that Macron now has to get on with his promised reform — improvement — of a beleaguered health system. Here's an inside look at his control room:
The replies to this tweet featuring an LREM MP are interesting. The MP says that a centralised health system doesn't work, but the replies say that the system has been sclerotic for some time, Macron has ignored calls for improvement and there are too many hospital administrators and/or politicians involved rather than medical professionals. The response I've included below says that Germany spends far less money than France and has better performing hospitals, with four times more intensive care beds:
However, another BFMTV journalist reported that Macron is facing a crisis in other aspects of French society, including the gilets jaunes (yellow jackets). They are still protesting in some cities on Saturdays, although not in as great a number as before the coronavirus crisis:
Making matters worse, Macron's political party, LREM, no longer has an absolute majority in parliament:
Ten of his MPs have left to form their own party with ten other MPs — Ecologie, démocratie, solidarité:
It is unclear whether that will have any impact on the second round of local elections, rescheduled for June 28:
However, one commentator said that Macron's success as president will largely depend on how he and his government handle the coronavirus crisis this year. He has a few years left in his first term, which ends in 2022.
Meanwhile, during the first weekend of partial reopening, BFMTV reminded viewers that they are not allowed to travel further than 100km from home. They also cannot not leave the house to visit anyone, including relatives, unless they are going to drop something off. Visiting second homes is also forbidden. The French are allowed to travel to work, to school, to a child minder, for a funeral, for a medical appointment, for recreational purposes (limited at this point) or to shops that are open:
Late last week, some beaches in France opened so that people could have a new way of exercising. For now, reopening beaches is up to individual mayors. As the virus is still active, the beaches are 'dynamic', meaning that sitting or sunning oneself is strictly forbidden. Fishing is also forbidden. Beachgoers can walk, swim and surf. A one-way system is in place with an entrance and an exit:
The second tweet says, 'This increasing surveillance is seriously getting on my nerves':
Interior minister Christophe Castaner visited a beach in Normandy that was preparing to reopen. He said that everyone visiting beaches had to respect the rules in place, otherwise they will be closed. He hopes that beaches will reopen fully during the summer:
For those who miss culture, small museums, with hygiene restrictions in place, may reopen:
Driving schools can also open. There is no social distancing in the car, so the car windows must be open at all times during the lesson. Those taking virtual instruction are socially distanced. Driving tests can begin in June, provided there is no second wave of coronavirus:
Those worried about the impact of more drivers on the environment need not be too concerned. During lockdown, there was only a 7% decrease in particulates. That is surprising:
At 2 p.m. on Saturday afternoon, Lourdes reopened, even if there are no dine-in restaurants. It will attract locals until travel restrictions are lifted:
Speaking of health and healing, coronavirus testing continues. In Brittany, a new cluster of infections was discovered at an abattoir:
Elsewhere in France, new infections were found in schools that reopened last week. Those schools are now closed:
One Frenchman might have a future solution to school closures. He is developing a fabric that kills coronavirus. This video shows his chair and desk covers:
Where schools remained open, this is what the scene looked like outdoors. Recess must have been fun (not). This is so SAD, beyond belief:
France's medical agency has found that 500 medications are harmful in treating coronavirus. Incredibly, hydroxychloroquine is among them. This has to be the establishment's figurative poke in the eye at Prof Didier Raoult, Marseille's champion in treating patients with the drug combined with azithromycin:
The article says, in part:
Hydroxychloroquine (Plaquenil) represents the majority of adverse cardiac reactions, in 141 out of 159 cases. Cardiac reactions comprise 69% of those reported, versus 44% where Kaletra (an antiretroviral combining lopinavir and ritonavir) is used …
The number of deaths linked to hydroxychloroquine in hospital remains at four. In view of these risks, the health agency advises that these drugs, when used against Covid-19, must be used as a priority only in the context of ongoing clinical trials.
In general, provided there is no sizeable second wave of infections, more businesses will be able to open at the beginning of June.
Philippe Etchebest, who is a chef, restaurateur, television celebrity and MOF (maître ouvrier de France), says that restaurants must reopen as soon as possible, because the government cannot afford to keep them closed. The subsidies are 'colossal':
Last month, Etchebest said that partial reopening will not work. Social distancing — e.g. halving the number of tables — will not bring in enough revenue. Perhaps he will be employing one of these social distancing methods:
Recently, the loathsome globalist Jacques Attali said that restaurateurs must change their business model.
Etchebest took strong objection to that, saying that he is neither a grocer nor a wine merchant. Those replying to this tweet also criticised Attali, saying he should shut up for once or retire to a nursing home. The quote from Attali on the internet is interesting:
The internet represents a danger to those in the know and those who decide things, because it gives access to information outside of received knowledge.
Bravo, Philippe:
Attali was one of Emmanuel Macron's early mentors. Go figure.
No wonder the French are angry.
We have been told that our coronavirus lockdowns will not end until a vaccine has been successfully developed.
Meanwhile, in France, Professor Didier Raoult has been successfully using chloroquine, where suitable, on his COVID-19 patients at the IHU Méditerranée Infection facility, where he is the Director.
Professor Raoult is also a physician. A number of his fellow doctors oppose his use of an anti-malarial drug, which is cheap as chips, to treat this novel (new) coronavirus, said to have no known remedy, much less cure, at this time.
Raoult describes himself as a 'renegade' physician. Other doctors in France certainly agree. They doubt his claims. Now they want to suspend him from France's national medical association, l'Ordre des Médecins (The Order of Physicians).
On Saturday, April 25, Geopolintel (French language, translated below) reported that the ANSM (French National Agency for Medicines and Health Products Safety), INSERM (French National Institute of Health and Medical Research) and the biopharmaceutical drug company Gilead are out to get Raoult.
The article is an open letter to Raoult's critics:
The Covid-19 crisis shows the destructive ideology of your policies as well as that of the health institutions of our country.

Given the sums of money involved, it takes any and all costs to transfer the professor from Marseille for the generalized vaccination agreement between Macron and Bill Gates to be realized.
Censors, you have lost public opinion and you cannot regain it by threatening Professor Raoult with suspension by the Order of Physicians.
He makes fun of your stories of cash and corruption, unlike you, he treats and does not bear responsibility for death by organized shortage.

What displeases you in him is his indifference to lobbies and sirens of glory and as a professor, researcher and doctor; he cares while you polish your the seats of your trousers on the leather armchairs of the circles of initiates who have done nothing in their lives other than lying and earning dirty money.
There have been major pharmaceutical scandals in France in recent years, yet the establishment is going after Raoult, who has provided patient relief in an inexpensive prescription anti-malarial drug available at pharmacies. The medical establishment has accused the professor of employing 'illegal medical research protocols':
Regarding the "illegal clinical research protocols" which are attributed to Didier Raoult, what about the scandals of the Pick (Médiator), Depakin and other drugs approved in the so-called respect for randomized trial protocols?
As for his possible suspension by the Order of Physicians:
The Council of the Order of Physicians threatens Professor Raoult with immediate suspension of activity, because his clinical trials "do not comply with official procedures", and he risks up to a year in prison and 15,000 euros in fines.
Yet, President Macron visited Raoult in Marseille recently to find out more about the doctor's success with his COVID-19 patients. About this, the article says:
As a reminder, Professor Raoult presented Emmanuel Macron with the results of his work on 1,061 patients.
Almost 92% of patients cured in ten days,
Nearly 5% of patients cured "late"
Less than 5% of "patients with complications".
Or 31 patients hospitalized for more than ten days,
10 transferred to intensive care,
and 5 deaths. On 1061: do your accounts and compare to the rest of France…
The abstract and summary table of the data in our article on the treatment of 1061 patients are online!
The abstract and the summary table of our paper on the treatment of 1061 patients are online! https: //t.co/mTWj6aGpTk https: //t.co … pic.twitter.com/PLdygNolxG
– Didier Raoult (@raoult_didier) April 10, 2020
These are the full results of Raoult's study:
The article concludes:
The first reaction of the simple man that I am, in the delusional French context that I observe from afar, is this: Raoult heals while the profession flounders. It has no response, no treatment, adding the humiliation of the mandarins to the resentment of the rascals. In short, Raoult must be suspended. It is urgent: he risks treating even more people.
Now, it must be said that chloroquine doesn't work on everyone. Nor does a similar drug, hydroxychloroquine, often combined with azithromycin (which contains zinc), in COVID-19 treatment. The latter is the treatment that President Trump has been championing for weeks.
Both should be used with caution and under medical supervision. They can harm patients with certain types of heart ailments. Never self-medicate!
As is true in France, the American medical establishment is eager to pour cold water on Trump's claims.
On April 16, 2020, MedRxiv published an abstract of one such study: 'Outcomes of hydroxychloroquine usage in United States veterans hospitalized with Covid-19', which ends as follows:
CONCLUSIONS: In this study, we found no evidence that use of hydroxychloroquine, either with or without azithromycin, reduced the risk of mechanical ventilation in patients hospitalized with Covid-19. An association of increased overall mortality was identified in patients treated with hydroxychloroquine alone. These findings highlight the importance of awaiting the results of ongoing prospective, randomized, controlled studies before widespread adoption of these drugs.
Yet, nearly half of America's 50 states are stockpiling the drug, as Axios reported on April 25 (emphases in the original):
At least 22 states and Washington, D.C., are building up stores of the anti-malarial drug President Trump previously touted as a possible solution for the novel coronavirus, AP reports.
Why it matters: The Food and Drug Administration advised doctors Friday against prescribing hydroxychloroquine or the related drug chloroquine to coronavirus patients as it appears to be causing some serious and potentially life-threatening side effects.
'The warning comes as doctors at a New York hospital published a report that heart rhythm abnormalities developed in most of 84 coronavirus patients treated with hydroxychloroquine and the antibiotic azithromycin, a combo Trump has promoted," AP notes.
What they're saying: "While clinical trials are ongoing to determine the safety and effectiveness of these drugs for COVID-19, there are known side effects of these medications that should be considered," FDA Commissioner Stephen Hahn said.
The state of play: Some health experts worry the public could misuse the drug if it is made more widely available.
The FDA has authorised use of hydroxychloroquine under the following conditions, summarised on page 4 of their guidelines:
The hydroxychloroquine sulfate may only be used to treat adult and adolescent patients who weigh 50 kg or more hospitalized with COVID-19 for whom a clinical trial is not available, or participation is not feasible.9
South Dakota is the first state to participate in a trial of the drug:
Kudos to their governor, Kristi Noem, who ignored calls for lockdown. South Dakotans rewarded her with a parade:
But I digress.
Health Feedback is a site that debunks current coronavirus remedies or possible cures. Another is Poynter. Both must be busy.
There has been much talk of using ventilators on ICU patients with COVID-19. However, in some cases, ventilators do not always work and, in some instances, have worsened patients' outcomes.
On March 20, Cleveland Clinic published an explanation of the damage that COVID-19 can do to the lungs, leading to the need for intensive care and, likely, a ventilator. Excerpts follow (emphases mine):
Although many people with COVID-19 have no symptoms or only mild symptoms, a subset of patients develop severe respiratory illness and may need to be admitted for intensive care.
In a new video, lung pathologist Sanjay Mukhopadhyay, MD, lays out in detail how the lungs are affected in these severe cases. The 15-minute video walks through how COVID-19 causes a "dangerous and potentially fatal" condition known as acute respiratory distress syndrome (ARDS) while providing stark images that underscore the severity of the damage that condition can cause to your lungs.
As Dr. Mukhopadhyay explains, Chinese researchers have linked COVID-19 to ARDS. Their study examined risk factors for 191 confirmed coronavirus patients who died while being treated in two hospitals in Wuhan, China.
The researchers found 50 of the 54 patients who died had developed ARDS while only nine of the 137 survivors had ARDS …
If you have ARDS, you'll have symptoms like sudden breathlessness, rapid breathing, dizziness, rapid heart rate and excessive sweating.
But the four main things doctors will look for are:
If you have an acute condition, symptoms that started within one week of what they call a "known clinical insult," or new or worsening symptoms.

If your shortness of breath isn't explained by heart failure or fluid overload.

Having low oxygen levels in your blood

(severe

hypoxia

).
Both lungs appearing white and opaque (versus black) on chest X-rays (called bilateral lung opacities on chest imaging) …
There might have been other articles like this circulating recently, ones that mention hypoxia.
Hypoxia has been mentioned often in online discourse and in some online articles, such as one from April 5, posted on Medium, 'Covid-19 had us all fooled, but now we might have finally found its secret', written by a non-medic whose Medium account has since been deleted.
That article has appeared all over various fora over the past few weeks.
It does sound really plausible, even though Poynter and Health Feedback have both debunked it, which I'll get to below.
Not being a medic or have anyone in the family who is, I'm just going to throw these excerpts out there.
As such, I wonder if this is accurate, i.e. something that front line physicians will mention a year from now. Anyone with a medical background reading this should feel free to leave a comment below.
The author explains why ventilators don't always work on COVID-19 patients. This is what caught my eye:
There is no 'pneumonia' nor ARDS. At least not the ARDS with established treatment protocols and procedures we're familiar with. Ventilators are not only the wrong solution, but high pressure intubation can actually wind up causing more damage than without, not to mention complications from tracheal scarring and ulcers given the duration of intubation often required… They may still have a use in the immediate future for patients too far to bring back with this newfound knowledge, but moving forward a new treatment protocol needs to be established so we stop treating patients for the wrong disease.
Then the author quotes someone in the medical profession who published a paper that seems to have gone nowhere (see below). Unfortunately, there is no reference to what or whom he quotes, which is this:
The past 48 hours or so have seen a huge revelation: COVID-19 causes prolonged and progressive hypoxia (starving your body of oxygen) by binding to the heme groups in hemoglobin in your red blood cells. People are simply desaturating (losing o2 in their blood), and that's what eventually leads to organ failures that kill them, not any form of ARDS or pneumonia. All the damage to the lungs you see in CT scans are from the release of oxidative iron from the hemes, this overwhelms the natural defenses against pulmonary oxidative stress and causes that nice, always-bilateral ground glass opacity in the lungs. Patients returning for re-hospitalization days or weeks after recovery suffering from apparent delayed post-hypoxic leukoencephalopathy strengthen the notion COVID-19 patients are suffering from hypoxia despite no signs of respiratory 'tire out' or fatigue.
I only found the Medium article last week, but I have many COVID-19 links bookmarked, including this one from April 10:
The article is behind a paywall, but you can read it here in its entirety. The doctors the Telegraph interviewed seem to be saying the same as the Medium author does: no ARDS, no pneumonia, therefore, no ventilator, which can do more harm than good:
British and American intensive care doctors at the front line of the coronavirus crisis are starting to question the aggressive use of ventilators for the treatment of patients.
In many cases they say the machines, which are highly invasive and require the patient to be rendered unconscious, are being used too early and may cause more harm than good. Instead they are finding that less invasive forms of oxygen treatment through face masks or nasal cannulas work better for patients, even those with very low blood oxygen readings.
Dr Ron Daniels, a consultant in critical care at University Hospitals Birmingham NHS Foundation Trust, on Thursday confirmed reports from US medics that he and other NHS doctors were revising their view of when ventilators should be used.
At the heart of the issue was the "bizarre" and "frankly baffling" phenomenon of Covid-19 patients presenting with catastrophically low blood oxygen levels but few other ill effects.
The Telegraph says that this new protocol goes against prior received wisdom on the unknown COVID-19. Prime Minister Boris Johnson had been in intensive care that week, released back to a general ward on the evening of Maundy Thursday, April 9:
The initial recommendations from doctors in China and Italy were to ventilate Covid patients early and aggressively, with the so-called "PEEP" pressure on the machines turned up high so their lungs did not contract when they exhaled.
"The initial message was treat as if you were treating for acute respiratory distress syndrome (ARDS) with a high PEEP," said Daniels. "But now we are becoming braver. We are tolerating much lower blood oxygen levels and using lower pressures. We are learning as we go along".
The alternative to mechanical ventilation is oxygen treatment delivered via a mask or a nasal cannula or via a non-invasive high flow device. This is the sort of treatment the Prime Minister Boris Johnson is said to be receiving in an intensive care unit at St Thomas's hospital London. His blood oxygen levels are not known.
Increasingly doctors in the UK, America and Europe are using these less invasive measures and holding back on the use of mechanical ventilation for as long as possible …
Doctors in Italy and Germany wrote to the American Journal of Respiratory and Critical Care Medicine last week making a similar point. They urged other doctors to be "patient" with Covid patients, arguing for "gentle ventilation" wherever possible …
It is not known why Covid-19 allows some patients to tolerate such low blood oxygen readings without air hunger or obvious confusion. One clue may be that patients are still able to exhale carbon dioxide – a toxin – through their lungs even if they are having difficulty absorbing oxygen.
"The patients in front of me are unlike any I've ever seen," one American doctor working in a Brooklyn hospital told the specialist health publication STAT this week. "They looked a lot more like they had altitude sickness than pneumonia."
Dr Daniels agreed that there were similarities with altitude sickness, itself a potentially fatal condition. "We've seen a lot of headache and dizziness", he noted …
You might have heard of Drs Dan Erickson and Artin Massihi, whose two-part press briefing in California was removed last week from YouTube. The two went against the received wisdom of the WHO. I watched both videos when they came out at the beginning of April. In the second video, they warned against the aggressive use of ventilators when treating COVID-19.
Therefore, the Medium article might not be either wrong or fake news with regard to ventilators.
It has an explanation of what might be happening whereby blood gets starved of oxygen through COVID-19, and it is this which has proven to be controversial with physicians:
Your red blood cells carry oxygen from your lungs to all your organs and the rest of your body. Red blood cells can do this thanks to hemoglobin, which is a protein consisting of four "hemes". Hemes have a special kind of iron ion, which is normally quite toxic in its free form, locked away in its center with a porphyrin acting as it's 'container'. In this way, the iron ion can be 'caged' and carried around safely by the hemoglobin, but used to bind to oxygen when it gets to your lungs.
When the red blood cell gets to the alveoli, or the little sacs in your lungs where all the gas exchange happens, that special little iron ion can flip between FE2+ and FE3+ states with electron exchange and bond to some oxygen, then it goes off on its little merry way to deliver o2 elsewhere.
Here's where COVID-19 comes in. Its glycoproteins bond to the heme, and in doing so that special and toxic oxidative iron ion is "disassociated" (released). It's basically let out of the cage and now freely roaming around on its own. This is bad for two reasons:
1) Without the iron ion, hemoglobin can no longer bind to oxygen. Once all the hemoglobin is impaired, the red blood cell is essentially turned into a Freightliner truck cab with no trailer and no ability to store its cargo. It is useless and just running around with COVID-19 virus attached to its porphyrin. All these useless trucks running around not delivering oxygen is what starts to lead to desaturation, or watching the patient's spo2 levels drop. It is INCORRECT to assume traditional ARDS and in doing so, you're treating the WRONG DISEASE. Think of it a lot like carbon monoxide poisoning, in which CO is bound to the hemoglobin, making it unable to carry oxygen. In those cases, ventilators aren't treating the root cause; the patient's lungs aren't 'tiring out', they're pumping just fine. The red blood cells just can't carry o2, end of story. Only in this case, unlike CO poisoning in which eventually the CO can break off, the affected hemoglobin is permanently stripped of its ability to carry o2 because it has lost its iron ion. The body compensates for this lack of o2 carrying capacity and deliveries by having your kidneys release hormones like erythropoietin, which tell your bone marrow factories to ramp up production on new red blood cells with freshly made and fully functioning hemoglobin. This is the reason you find elevated hemoglobin and decreased blood oxygen saturation as one of the 3 primary indicators of whether the shit is about to hit the fan for a particular patient or not.
2) That little iron ion, along with millions of its friends released from other hemes, are now floating through your blood freely. As I mentioned before, this type of iron ion is highly reactive and causes oxidative damage. It turns out that this happens to a limited extent naturally in our bodies and we have cleanup & defense mechanisms to keep the balance. The lungs, in particular, have 3 primary defenses to maintain "iron homeostasis", 2 of which are in the alveoli, those little sacs in your lungs we talked about earlier. The first of the two are little macrophages that roam around and scavenge up any free radicals like this oxidative iron. The second is a lining on the walls (called the epithelial surface) which has a thin layer of fluid packed with high levels of antioxidant molecules… things like ascorbic acid (AKA Vitamin C) among others. Well, this is usually good enough for naturally occurring rogue iron ions but with COVID-19 running rampant your body is now basically like a progressive state letting out all the prisoners out of the prisons… it's just too much iron and it begins to overwhelm your lungs' countermeasures, and thus begins the process of pulmonary oxidative stress. This leads to damage and inflammation, which leads to all that nasty stuff and damage you see in CT scans of COVID-19 patient lungs. Ever noticed how it's always bilateral? (both lungs at the same time) Pneumonia rarely ever does that, but COVID-19 does… EVERY. SINGLE. TIME.
Poynter says this is clearly wrong:
The claim that COVID-19 causes hypoxia because the causative virus binds to hemoglobin in red blood cells is unsupported. For starters, no scientific evidence demonstrates that SARS-CoV-2 can enter red blood cells. The claim that the virus binds to hemoglobin is founded on the conclusions of a single pre-print, which solely involves computational analysis, without experimental verification or peer-review. The mechanism proposed is also inconsistent with clinical evidence from COVID-19 patients.
Health Feedback posted their refutation on Wednesday, April 15. It is lengthy and thorough. Excerpts follow:
Scientists told Health Feedback that the claim was not supported by experimental and clinical evidence. "There is no direct biological evidence that SARS-CoV-2 proteins interact with hemoglobin. The claim is based on a single study performed purely in silico without proper wet lab validation," explained Victor Tseng, pulmonologist and assistant professor of medicine at Emory University. Eva Nozik-Grayck, clinician-scientist and critical care specialist at the Children's Hospital Colorado, stated that "without any experimental evidence, it is dangerous and misleading to make these claims."
David Irwin, associate professor at the University of Colorado Denver, who studies hemoglobin and hypoxia, questioned the conclusions of the ChemRxiv pre-print that served as the basis for the claim. "The authors show no convincing data to suggest that the [viral] proteins of interest, such as Orf8, etc., actually bind heme other than in modeling theories. Most troubling is that there is no way that we know of to suggest that the virus accesses hemoglobin in red blood cells to attack the heme as described in the manuscript," he said.
A Medium article authored by Matthew Amdahl, a clinician-scientist and hemoglobin researcher at the University of Pittsburgh, details the numerous problems with [Medium author] Gaiziunas' hypothesis. Notably, he pointed out that SARS-CoV-2 is larger than the entire hemoglobin protein, but according to Gaiziunas' hypothesis, would somehow manage to fit into "a space barely large enough for two-atom molecules like oxygen (O2)" in order to eject iron from hemoglobin and bind to porphyrin:
"To put it charitably, this would be an entirely novel and seemingly impossible sort of chemistry, and there is absolutely no scientific evidence that supports such a possibility. It's this seemingly impossible interaction that forms the foundation of the blog post's entire argument, and so the remainder of the conclusions drawn by the blogger simply don't carry any weight."
Furthermore, clinical evidence from COVID-19 patients contradict Gaiziunas' hypothesis. Firstly, supposing that the virus did bind to hemoglobin and ejected iron from red blood cells, this would have produced a modified form of hemoglobin that has an altered ability to bind to oxygen, which can be detected by measuring the oxyhemoglobin dissociation constant …
In summary, while scientists have not ruled out a potential link between changes in red blood cell physiology and hypoxia observed in COVID-19 patients, the mechanisms proposed by Gaiziunas are founded on little to no scientific evidence, are highly implausible given what we already know of hemoglobin and the virus, and are contradicted by clinical evidence in COVID-19 patients.
We might find out more about hypoxia in COVID-19 patients in a year's time.
For now, I can't help but wonder if this type of hypoxia explains why hospitals have been refusing more ventilators for COVID-19 patients.
In the meantime, returning to Prof Didier Raoult, it seems that renegades are never in vogue with the establishment.
More power to him for successfully trialling on his coronavirus patients an inexpensive, prescription anti-malarial that has been on the market for decades. Well done. Millions of us support him in his work.
Watford, England, a quick ride from London, was the setting for the 70th anniversary of NATO.
Prime Minister Boris Johnson was the host and, despite a few squabbles, everything went well.
Watford residents were probably the most consterned, not to mention inconvenienced.
On November 13, Hertfordshire Police began warning about the residents' inability to circulate fully between Monday and Wednesday this week. The BBC reported (emphases mine):
Police in Hertfordshire are suggesting people work from home to avoid disruption caused by a meeting of world leaders in Watford next month.
Heads of state will congregate at the Grove Hotel on Wednesday, 4 December as part of Nato's 70th anniversary summit.
Several roads and footpaths will be shut and the Grand Union Canal will be closed to both boats and pedestrians.
The force said it aimed to keep the impact to an "absolute minimum".
The meeting is part of the London anniversary summit which Nato said will be "an opportunity for leaders to address current and emerging security challenges".
Hertfordshire Constabulary has been liaising with the Metropolitan Police and other agencies to take measures to "minimise the impact on the community".
Closures will be in place for all, or some, of the time between 06:00 GMT on 2 December and 20:00 GMT on 4 December but there will be access for emergency and essential services.
I heard from someone who has friends there that Watford 'looked like a war zone' with concrete bollards at the end of certain streets. Thankfully, it's all over now.
On Monday, December 2, the Watford Observer reported on the road closures in town and included photos of security at The Grove, where Bilderberg met a few years ago in June. The Grove was once home to the Earls of Clarendon. Today, it is a pricey hotel and conference centre with a golf course.
One Observer reader commented:
I hope Herts tax payers aren't paying for the extra security. The Bilderberg meeting cost us half a million.
The skies were busy:
As Conservative Party leader, Boris is in the midst of an election campaign. Voting day is Thursday, December 12. Therefore, given President Donald Trump's universal unpopularity here, journalists believed that Boris would minimise his appearances and private meetings with him.
President Trump had his own concerns, as Democrats continued impeachment hearings on December 4:
This week it is the turn of the House Judiciary Committee:
Returning to NATO, The Sun has a good summary of the participants in and schedule for this year's summit.
Boris interrupted his attendance with a few election campaign appearances:
This is a great photograph from Wednesday, December 4:
Before the summit began, The Spectator encapsulated the contentious tone that French president Emmanuel Macron had established:
This week is seminal for Boris Johnson and Emmanuel Macron. Boris, in Watford, is hosting one of the most important Nato summits for years. Its significance is not because it marks the Alliance's 70th anniversary, but because of President Macron's 'disruptive' and trenchant criticism of the Atlantic Alliance as close to 'brain dead', which has touched a nerve. The French President went on to reiterate his remarks at an Elysée press conference, with a visibly uncomfortable Nato Secretary General, three weeks later. Macron attacked the 'strident and unacceptable disconnection' from world threats during the last two Nato summits as being 'uniquely devoted', in his sarcastic words, 'to finding solutions to how to lighten the United States' financial costs'. All this, says Macron, while major strategic questions such as relations with Russia, Turkey and 'who is the enemy?' remain unanswered.
The Trumps arrived early Monday morning at Stansted Airport in Essex, not far from London. The Daily Mail has several photos of the Trumps' arrival.
Ambassador Robert 'Woody' Johnson hosted the couple at Winfield House in Regent's Park, the US ambassador's palatial residence. American heiress Barbara Hutton had the neo-Georgian mansion custom built in 1936. After the Second World War, she sold it to the US Government for one dollar.
This was the scene on Monday night as the Trumps returned to Winfield House after a reception at No. 10 Downing Street. Amazingly, an NHS lorry just beat the motorcade. The ongoing false accusations of Labour against Boris planning on 'selling the NHS' to the United States made this all the more ironic:
President Trump has been rightly exercised over the refusal of nearly all NATO nations to pay their share, leaving the US to largely foot the bill:
In January, NATO's secretary general, Jens Stoltenberg agreed with Trump's strategy:
Even James Mattis, who left the Trump administration as he and the president did not see eye to eye, admits that his former boss has improved NATO:
On Tuesday morning, the US president hit the ground running, beginning by co-hosting a breakfast at Winfield House with Jens Stoltenberg for principal NATO leaders and cabinet members:
He gave an extensive interview afterwards, covering 17 topics. Sky News has a good summary, some of which is excerpted below.
On the upcoming British election, he said:
On the NHS, he said:
I have nothing to do with it. Never even thought about it, honestly.
I don't even know where that rumour started.
We have absolutely nothing to do with it, and we wouldn't want to. If you handed it to us on a silver platter, we'd want nothing to do with it.
On Jeremy Corbyn:
I know nothing about the gentleman.
On France and, indirectly, Emmanuel Macron:
Nobody needs NATO more than France.
France is not doing well economically at all, they are struggling. It's a tough statement to make when you have such difficulty in France.
You look at what happened with the Yellow Vests, they've had a rough year, you can't go around making statements like that about NATO. It's very disrespectful.
That's why I think when France makes a statement like they do about NATO that's a very dangerous statement for them to make.
On upcoming US and French taxes:
Well look, I'm not in love with those companies – Facebook, Google and all of them, Twitter – though I guess I do pretty well with Twitter on the other side – but I'm not necessarily in love with those companies. But they're our companies, they're American companies, I want to tax those companies.
They're not going to be taxed by France. So France is going to put a tax on, it was totally out of the blue, they just had an idea, Emmanuel had an idea, let's tax those companies, well they're American companies. I'm not going to let people take advantage of American companies because if anyone's going to take advantage of American companies it's going to be us, it's not going to be France.
And so we're taxing, as you know, we're taxing their wines, and everything else and we have a very, very big tax to put on them. Plus we have a tax going on on Airbus and that would be a good thing for Boeing but we're only going to do that if it's necessary.
But they're American companies. I don't want France taxing American companies. If they're going to be taxed it's going to be the United States that will tax them.
On North Korea and Kim Jong-Un:
Likes sending rockets up, doesn't he? That's why I call him rocket man.
We have a very good relationship and we'll see what happens. It may work or not. But in the meantime, it's been a long time. President Obama said it's the number one problem and it would have been war. You'd be in a war right now if it weren't for me.
If I weren't president, you'd be in a war right now in Asia. And who knows where that leads? That brings in a lot of other countries."
On Mr Kim, he added: 'You know my relationship with Kim Jong Un is really good but that doesn't mean he won't abide by the agreement we signed. You have to understand, you have to go look at the first agreement that we signed. It said he will denuclearise. That's what it said. I hope he lives up to the agreement but we're going to find out.'
ZeroHedge had another remark from the US president on his French counterpart:
'I do see France breaking off. I'm looking at him and I'm saying he [Macron] needs protection more than anybody and I see him breaking off, so I'm a little surprised at that,' Trump said.
Returning to the NHS, here's a video of Trump saying he's not interested:
Labour supporters continue to circulate an old video saying he is. If the video you see does not look like the one immediately above, then it's old — and obsolete.
Late Tuesday afternoon, the Prince of Wales and the Duchess of Cornwall welcomed the Trumps to Clarence House for tea.
They then went to Buckingham Palace, where the Queen hosted a reception for NATO leaders:
The Daily Mail has extensive photos of both the reception and tea at Clarence House.
I cannot help but feel sorry for Her Majesty being squashed by Jens and Boris. Why could they not have given her some breathing room?
During the reception, Justin from Canada made his views known about Trump. He later admitted that he was talking about his meeting with the US president, which ended up being 40 minutes late because of the extended press conference:
Labour leader Jeremy Corbyn, also in attendance, hoped to corner Trump to tell him not to engage in any trade negotiations regarding the NHS. In the event, Corbyn was on one side of the room and Trump on the other. They never met.
Meanwhile, several dozen radical protesters demonstrated outside:
Then it was on to No. 10, where Boris hosted a reception for NATO leaders. Some news reports said that Boris wasn't there to greet them, but other news accounts said that he had been delayed by ten minutes in returning from Buckingham Palace.
In any event, since when does the Prime Minister personally open the door? It's always a policeman or woman who handles that.
The Trumps looked ill at ease when they arrived, despite a choir singing Christmas carols in the background. Had they already found out about Justin from Canada's hot mic moment at Buckingham Palace?
On Wednesday morning, Trump arrived at The Grove for the final day of the summit:
It is said that the president left early. He was there for the photo op. Perhaps he simply cancelled a second press conference. What more did he have to say?
The US president had his own hot mic moment that day:
In another NATO hot mic moment, President Donald Trump was recorded saying it was "funny" when he called Canadian Prime Minister Justin Trudeau "two-faced."
Interestingly, Boris's key adviser, Dominic Cummings, was spotted sitting on the sidelines that day:
No doubt the residents of Watford were happy to see the sun go down that day, heralding a return to normality for them:
The summit went well, as the Estonian and Dutch prime ministers respectively tweeted:
President Trump was happy, too:
Back in the UK, later that day, questions for Boris still persisted about the NHS:
Politics aside, our Prime Minister can be pleased with his role in hosting the 70th NATO summit, which took place without incident.