You are currently browsing the tag archive for the 'Emmanuel Macron' tag.
Part 1 discussed the events of Presidents Donald Trump and Emmanuel Macron meetings and dinner on Thursday, July 13, 2017.
Today's looks at the events Bastille Day — July 14 — and why this trip is so important not only for the two men but also for Europe.
I have been reading Hillary is 44 — renamed The Trumpet — since the summer of 2008. The author of the site — known only as Admin and Staff — has been incredibly precise with accurate predictions and political analysis since the 2008 presidential campaign. The author was a Hillary supporter in 2008 and, like many others, turned against the Obama team once they began bullying and threatening Hillary's delegates that year prior to the Democratic National Convention.
If you think I'm big on Trump, you haven't read The Trumpet. Excerpts below come from 'Crusade In Europe: President Trump Liberates The West'. Emphases mine below:
Power narrative. The great President Donald J. Trump is building a power narrative and taking little President of France Macron along. Think about all the roads that led to today. The American revolution in 1776 inspires the French revolution in 1789 which begins with the attack on the infamous imperial prison The Bastille. The Bastille is brought down by French revolutionaries so every year on July 14 the French commemorate Bastille Day the way we remember 1776.
Today is also the centennial marker for the day the United States entered "the great war" World War I. World War I was the most brutal war America has been in topping even the horror of the Civil War. World War I was really World War Part I and was continued by World War Part II. So there is President Donald J. Trump in Paris watching as for the first time ever American troops lead the Bastille Day parade.
The French felt something, because even the left-wing panellists on RMC's (French talk radio) Les Grandes Gueules (Big Mouths) show thought Trump's visit was a good thing. No one among this small group of socialists objected. Au contraire.
Most of the photos that follow are from the military parade down the Champs Elysées to the majestic Arc de Triomphe.
Presumably, this first photo, showing a bit of levity, was taken before the parade started:
American troops led the parade this year. The French wanted to show their gratitude for US troops arriving in France in 1917 during the Great War, hence the invitation to Trump and the soldiers marching in period uniforms below:
The Conservative Treehouse has more information:
The President and First Lady will be joined in the ceremony by troops from the United States Army's First Infantry Division as well as three heroic United States veterans of the Normandy Invasion. Also, the United States Air Force Thunderbirds will conduct a flyover with planes from the French Air Force.
This tweet shows the troops rehearsing at the break of day on July 12.
The Trumpet describes Trump's address that day as one of narrative building:
As he did in Warsaw … President Donald J. Trump is in Paris at the biggest event in France on the day that marks the anniversary of the Muslim terror attack on Nice.
In one stunning historic moment President Donald J. Trump weaves together the historic paths America and the French people have traveled. Independence Day/Bastille Day. World War I/World War II. 9/11 Muslim Terror attacks/7-14 Nice Muslim Terror attacks. As he wove a narrative in Warsaw which echoed FDR and JFK, President Donald J. Trump wove a vast historic landscape in France today.
Macron tweeted the same sentiment earlier that day, saying that nothing would separate France from the United States — an enduring friendship:
In his early morning — shades of Trump — Twitter sermonette, he also reminded France why they have a military parade: to remember the price that the country has paid for the rights that bind them together as one people. He wrote that, although the history of France began long before July 14, 1789, that day determined the values the French people wanted to embrace. He concluded by wishing the French people a joyous and peaceful fête nationale, which is what they call Bastille Day.
Macron inspected French troops.
The Trumps sat with the Macrons to watch the parade:
This is what they saw:
Trump saluted the US military as they marched past:
The national anthem was played:
Macron inspected French troops.
The London Evening Standard has a video of a French military band playing, oddly, a medley of Daft Punk numbers. Daft Punk are French. The New York Times explained that one of the tunes was originally done in collaboration with Pharrell Williams, showing French-American co-operation.
The Trumps no doubt enjoyed seeing the legendary French Legionnaires:
There were tanks and armoured vehicles:
There was a flypast:
Trump thoroughly enjoyed it:
On July 19, the New York Times published a transcript of an interview three reporters conducted with him in the Oval Office. Trump was so effusive about Paris that his remarks even made RMC's news on Friday, July 21. The French especially liked that Trump said the Bastille Day parade was better than the Super Bowl's:
TRUMP: And it was one of the most beautiful parades I have ever seen. And in fact, we should do one one day down Pennsylvania Ave.
HABERMAN: I wondered if you were going to say that.
TRUMP: I've always thought of that.
HABERMAN: Really?
TRUMP: I've always thought of that. I've thought of it long before.
TRUMP: But the Bastille Day parade was — now that was a super-duper — O.K. I mean, that was very much more than normal. They must have had 200 planes over our heads. Normally you have the planes and that's it, like the Super Bowl parade. And everyone goes crazy, and that's it. That happened for — and you know what else that was nice? It was limited. You know, it was two hours, and the parade ended. It didn't go a whole day. They didn't go crazy …

… It was a two-hour parade. They had so many different zones. Maybe 100,000 different uniforms, different divisions, different bands. Then we had the retired, the older, the ones who were badly injured. The whole thing, it was an incredible thing.
HABERMAN: It was beautiful.
TRUMP: And you are looking at the Arc [de Triomphe]. So we are standing in the most beautiful buildings, and we are looking down the road, and like three miles in, and then you had the Arc. And then you have these soldiers. Everyone was so proud. Honestly, it was a beautiful thing. I was glad I did it.
This short video no doubt encapsulates some of Trump's memories not only of the parade, but the entire trip:
The parade included a remembrance of those who died in Nice on July 14, 2016, victims of a crazed terror attack by a man in a truck mowing people down that night:
When the parade ended, the Trumps left Paris. Macron was going to Nice for their solemn commemoration (see photo and video, more here, here, here and here).
The Trump-Macron farewell was the most unusual and, perhaps significant, part of the day, in many ways:
The farewell handshake and embraces from the Macrons were lengthy. The final handshake between the two men including lasted 25-seconds: Macron did not want to let go of Trump!
Then it was time to leave:
The Trumpet analysed the Paris trip as follows:
And the Trump triumph does not end there. With this visit President Donald J. Trump helps little French President Emmanuel Macron grow in stature. How? Well, the invitation to President Donald J. Trump from President Macron is a direct challenge to the German leadership of Europe and to the decayed Angela Merkel.
And still it does not end there. The fact that the French still assert their nationalist pride in the face of German government hostility to President Donald J. Trump brings to the fore the hopeless task the European Union's attempt to end nationalism on the continent faces. Macron's embrace of President Donald J. Trump is a slap in the face (dare we say "schlonging") to Merkel and an assertion of leadership by the untested, untried, apprentice Macron.
A grateful Macron loves hisself some Trump (and once again Melania does America proud) …
Trump discussed Macron with the New York Times:
HABERMAN: He was very deferential to you. Very.
TRUMP: He's a great guy. Smart. Strong. Loves holding my hand.
HABERMAN: I've noticed.
TRUMP: People don't realize he loves holding my hand. And that's good, as far as that goes.
_________
TRUMP: I mean, really. He's a very good person. And a tough guy, but look, he has to be. I think he is going to be a terrific president of France. But he does love holding my hand.
The day before Trump arrived, Macron's government announced plans to 'systematically' deport illegal immigrants. This is probably what Trump had in mind when he said Macron was tough but has to be that way.
The world definitely noticed the handshake.
The New York Times said:
They repeatedly grabbed each other's arms, gripping hands for several moments before parting.
An Italian said that Macron is a gerontophile. True, that:
It's an Oedipal thing. The handshake is all "Look dad figure, I married mother figure and got all Freudian with her, who's laughing now?"
Another tweeter saw it differently. I tend to agree — and this is more important than Macron's peculiarities:
Interesting dynamics here, for certain, which go far beyond hugs and handshakes.
This is geopolitical.
It will be fascinating to see how this relationship develops — and where Angela Merkel, up to now Macron's political elder, fits into this new landscape.
On July 19, 2017, the New York Times (NYT) published a transcript of an extensive interview with President Donald Trump.
Portions of the transcript made French news on Friday, July 21. I heard it on RMC at lunchtime. Trump was most effusive about his meeting with French president Emmanuel Macron. Relevant excerpts will appear in this first part detailing the Trumps' trip as well as the second entry which will cover events on July 14, Bastille Day.
The French government decided months ago — before the US election last autumn — to invite the American president for Bastille Day commemorations on July 14, 2017. This year marks the centenary of American troops arriving in France during the Great War, and the French wanted to roll out special ceremonies of remembrance and thanksgiving.
Trump is not the first foreign leader to have been invited for Bastille Day celebrations. It is a common occurrence.
Security was tighter than usual in Paris during this time, but, despite the American president's remarks about their country, the French were looking forward to the Trumps' visit. A British journalist was thrilled they would be spending so much time in his neighbourhood.
No one could have predicted how well this trip went, possibly even President Trump and First Lady Melania.
Trump told the NYT how he reacted to the invitation:
… when Macron asked, I said: "Do you think it's a good thing for me to go to Paris? I just ended the Paris Accord last week. Is this a good thing?" He said, "They love you in France." I said, "O.K., I just don't want to hurt you."
Add to that the fact that Macron met with his beloved Angela Merkel the morning of Trump's arrival on Thursday, July 13.
The Trumps landed that morning:
The French were fascinated by Trump's reinforced Cadillac, The Beast.
While Macron and members of his cabinet spent time with Merkel and her German delegation, the Trumps had prior commitments.
Mrs Trump visited the Necker Hospital for children:
She spent time with patients:
Her husband was at the US Embassy for meetings.
Later, the couple met at the embassy where Trump addressed an enthusiastic gathering of military families and American veterans who served in the Second World War:
A somewhat younger audience was also delighted:
In covering the event, CNN's Poppy Harlow mistook the Star Spangled Banner for La Marseillaise.
You can see more embassy photos here, here and here.
There was no meeting at the Elysée Palace until after the tour of Les Invalides, the military museum, formerly a military hospital that Napoleon had built. It is a splendid place to visit.
The next few photos are from Les Invalides. You can see a news clip here which shows how grand it is and the welcome ceremony Macron laid on.
The Beast arrived:
What a magnificent setting:
Strict protocol was observed throughout:
Macron gave the Trumps a tour of the museum. No doubt it included quite a history lesson as the French president has always been scholarly, even from his early childhood:
Maréchal Foch's tomb was also part of the tour. The comment in the tweet explains why nearly every large French town and city has a Boulevard or Avenue Maréchal Foch:
Trump told the NYT that he was impressed with Macron's commentary on Napoleon and the tour of Les Invalides.
Afterwards, Macron hosted Trump at the Elysée.
It was a tight squeeze for The Beast:
Meetings took place, likely to have included counter-terrorism in the Horn of Africa:
A press conference followed:
It emerged that Trump spoke with the press on the flight to Paris. Bloomberg has a transcript.
You can watch the 35-minute press conference here.
Macron looked pleased:
The Guardian predicted a synergy between the two men whilst acknowledging Macron's opportunism (emphases mine):
The deeper worry for the UK must be that Trump warms to Macron's energy, and finds the British, preoccupied by the intricacies of Brexit and led by a "loser" who wasted her parliamentary majority, comparatively less appealing. His state visit to the UK – stalled at least until next year – is in danger of becoming a symbol of an ailing special relationship.
Above all Macron, unlike May, has shown himself to be an operator. At the "family" photo-shoot at the G20, Macron, realising his relatively small frame and slated for a rather undistinguished position in the second row, simply ignored protocol and inserted himself in the front row next to the US president. Trump may be an isolationist, but few politicians want to isolate themselves from him.
Equally, after the Manchester terrorist attack in May, Macron walked from the Élysée to sign a condolences book. A letter of gratitude for the gesture from the British embassy received a handwritten reply from Macron to the effect "it is what should be expected". Gallic charm and symbolism have their virtues.
Trump confirmed to the NYT that Great Britain can wait:
BAKER: Will you go to Britain? Are you going to make a state visit to Britain? Are you going to be able to do that?
TRUMP: As to Britain?
BAKER: Yeah.
HABERMAN: Will you go there?
[crosstalk]
While the meetings and press conference took place, Brigitte Macron took Mrs Trump on a tour of Notre Dame Cathedral …
… and a boat tour of the Seine:
That evening, the Macrons hosted the Trumps for dinner at the upmarket restaurant, the Jules Verne (more here):
It is one of Alain Ducasse's restaurants. You can see him in the video below:
The restaurant was closed to other diners, although photographers were allowed in from time to time:
While they had dinner, the main course of which was lobster, Trump's entourage took a night-time tour of the city.
Then it was time to get some rest:
Mrs Trump closed the day by sending a thank you via the White House:
"France is a beautiful country that is rich in history and culture," said First Lady Melania Trump. "I am grateful to President and Mrs. Macron for their gracious invitation and hospitality as we celebrate Bastille Day with them, which is not only a celebration of France's national day, but on this occasion, in 2017, also honors the historic cooperation between France and the United States during the First World War." The First Lady continued, "I also want to take a moment to thank the employees and families of the United States Embassy for all of their hard work on behalf of our country, and to extend my warmest wishes to the patients and staff at Necker Hospital. My visit with the patients was very special, and I will continue to keep them all in my thoughts and prayers for a speedy recovery."
You can see more images here, here, here, here and here.
The Daily Mail, The Telegraph and Breitbart each has a series of photos of the Trumps and Macrons taken on July 13.
A review of July 14 comes next week.
I still intend to write about President Donald Trump's visit to Paris, even though it happened a week ago.
However, time constraints prohibit me from doing so at the moment.
Unfortunately, Big Media did not cover the trip very well. No surprise there.
On Sunday, July 16, 2017, I saw an interview with ex-CIA man Dr Steve Pieczenik on the Alex Jones Show:
If that does not work, here is another link. The interview is in the first half of the segment.
Pieczenik talked about Trump's G20 meetings as well as his visit with France's president Emmanuel Macron.
He said that Trump has been able to find common ground with world leaders even when they disagree on important issues.
Trump was able to negotiate the ceasefire in Syria with Russian president Vladimir Putin at the G20. Pieczenik says that was facilitated by the two men finding common ground in other areas.
According to Pieczenik, both men admire beautiful, accomplished women. Putin is very proud of his daughter who speaks several languages. Likewise, Melania Trump might have been a model but is hardly an airhead. She, too, speaks five languages.
Both Trump and Putin enjoy the closeness of family and like to spend time with them. That would have been a topic of conversation. Angela Merkel wisely sat Putin and Mrs Trump together at dinner, also helpful.
Trump is forging important alliances, even if most of the world thinks he is tweeting all day long.
Besides Putin, Trump made an equally positive impression on Poland's president Andrzej Duda in Warsaw earlier this month. Whilst there, he participated in the Three Seas Initiative, forging new links with Central and Eastern European countries.
Trump's visit to Saudi Arabia and Israel went swimmingly. For the first time in many years, there is hope that peace in that region could become reality. His meeting with Egyptian president Abdel Fattah Al-Sisi in April was a tremendous success.
Trump has also been successful in forging alliances in the Far East, particularly with Japan's president Shinzō Abe. His meetings with China's president Xi Jinping were productive. The Trump administration is currently conducting sensitive trade negotiations with China.
Steve Pieczenik explained that China fears Japan because of their disputed claims on the Spratly Islands in the South China Sea. The United States might have to mediate at a certain point.
So, while Big Media and their lesser left-leaning counterparts continue to discuss Russian collusion in the 2016 election, President Trump is making productive inroads and good impressions on the world leaders he has met thus far.
So it was in France. Prior to meeting with Trump on Thursday, July 13, Emmanuel Macron met with German chancellor Angela Merkel that morning. Then, after Merkel's departure, Trump came on the scene. Everyone thought the pro-EU Macron would give him a chilly reception.
However, that was not the case, particularly in the 25-second departure handshake on Friday, July 14. Macron couldn't let go of his new friend.
Instead, Steve Pieczenik said that Trump was able to persuade Macron to also look to the United States. Pieczenik was certain that Trump was able to get Macron to see that the EU was 'dying' (Pieczenik's word) and that focussing on relations with the United States would be more important in the long run.
Pieczenik went further and said that Trump is slowly breaking up the European Union.
On his own website, Pieczenik described what the French and American delegations would have talked about during Trump's trip. 'Trump Meets Macron in Paris!' is recommended reading. Excerpts follow, emphases in the original:
Let me assure you, that these prestigious intelligence/military officers/operatives are not there to watch French planes fly around in the sky or watch soldiers march through the Arc de Triomphe. I would suspect that they have a full agenda that they want to share with Macron and his own chief of the army, the highly decorated General Jean-Pierre Bossier [CEMAT], regarding one very important issue: counter-terrorism!
Obama put thousands of American troops into the Horn of Africa, specifically Djibouti, to help fight terrorism alongside French troops. Trump has maintained US presence in the region. However, Trump's military advisors have noted that the American troops require more French input on language and culture there:
I am certain that critical strategic/tactical issues regarding present American occupation in the former French colony in Djibouti [Horn Of Africa] at Camp Lemonnier will become a salient issue. France is far more effective in counteracting the tribal/ethnic battles raging in Sudan, Somalia, Ethiopia, Eritrea, Chad, Central African Republic, et. al. than the novitiate Americans. Instead of sending more American troops, the key issue will be the nature of alternative aid to these impoverished African colonies in order to pre-empt the possible rise of terrorist cells.
Also:
Whatever the past histories are of each country, Macron realized thanks to his time as an investment banker at Rothschild & CIE Banque [closely affiliated with Goldman Sachs, J.P. Morgan Chase] that alienating any American POTUS was neither feasible nor productive.
In conclusion, there are many geopolitical successes going on right now involving President Trump.
Now, as to foreign collusion regarding elections, Pieczenik had interesting information.
Before I get to what he had to say, here is background information from Michael Caputo who worked in Bill Clinton's administration over 20 years ago. This was his mission:
He explained to Tucker Carlson that he was sent directly by the Clinton White House to Russia where he was able to get Boris Yeltsin successfully re-elected.
Pieczenik — ex-CIA himself — told Alex Jones that Caputo was part of a CIA programme to ensure Yeltsin's re-election.
So, there: Hillary's husband ordered — and got — interference in a Russian election.
Pieczenik also said that, on the domestic front, before John Brennan became CIA director in 2013 (he resigned before Trump's inauguration), he opened an 'office in Hollywood' to effect change in film and television storylines to turn people away from American values and ideals.
Now, back to Michael Caputo. Although he worked for the Clinton administration, two decades later, he became Donald Trump's communications advisor for the 2016 presidential campaign.
Caputo clearly enjoyed his time in Russia during the 1990s, because he met and married a Ukranian. On March 20, 2017, he found out that his wife's name was mentioned by Jackie Speier, a congresswoman (D-California), during televised Congressional hearings. (Speier, incidentally, was a survivor of the Jim Jones cult in Jonestown. That should tell you something.) Since then, Caputo told Tucker Carlson that he and his family have received many death threats because Mrs Caputo is Ukranian, even though she now has American citizenship.
The interview starts at the 2:25 mark:
Caputo tells Carlson that he had to testify last week as to what he knows about any involvement Russia had in Trump's campaign and the election. He says there is absolutely no evidence.
Caputo said — and Trump supporters already know this — the only reason for this accusation, which is now nearly a year old, is to prevent the president from getting anything done.
That, of course, would open the door to impeachment.
I realise that some reading this are hoping for it. I pray to the contrary.
Instead, it is the Democrats who must come clean about their nefarious activities.
On Thursday, July 13, 2017 one of the panellists on RMC (French talk radio) on the morning show Les Grandes Gueules (The Big Mouths) said that Emmanuel Macron is 'president by default'.
He added that anyone who was good for the country was eliminated electorally, which is not the same as saying Macron has the nation's support.
The panel were talking about Macron's reforms of the government. However, no one knows the specific plans.
Macron said he wanted to 'maintain the rhythm' of reforms to reassure the 'confidence of the French people and investors':
Pleasant words, but where is the substance? What exactly does he want to do?
One thing that is clear: Macron has delusions of grandeur that have surprised the French since he became president in May.
They were mystified that he chose to welcome Russian president Vladimir Putin at Versailles on Monday, May 29. Does Macron consider himself a king, they wondered? Why not use the presidential palace, L'Élysée like the other presidents?
On Monday, July 3, he returned to Versailles to address both houses of French government: the national assembly and the senate. This is not unheard of, but it is only the fourth time since 1948 that a French president has chosen this venue (François Hollande being a recent example):
Breitbart explains that French presidents convene their parliament at Versailles only in times of crisis.
In 2015, François Hollande called a meeting about ISIS.
In 2017, Macron used the venue to assert his supremacy (emphases mine):
Summoning over 900 politicians from both houses of the French parliament to a rare Congress at the palace of Louis XIV – the 'Sun King' – in Versailles, he threatened to overrule lawmakers with a referendum if they try to frustrate the "reforms" he wishes to impose on the legislature.
Macron might consider himself more than a president:
The GQ article from May 9, shortly after Macron's victory over Marine Le Pen, gushed:
He's an incredibly centrist figure
Really? To anyone looking at Macron seriously, he's Hollande's and Merkel's pet, their protégé.
GQ wrote about and excerpted the new president's thoughts from his new book Macron by Macron, co-authored by veteran French journalist Eric Fottorino.
On the subject of a king, Macron said there was a void in French politics:
"In French politics, this absence is the presence of a King, a King whom, fundamentally, I don't think the French people wanted dead," said Macron. "The Revolution dug a deep emotional abyss, one that was imaginary and shared: the King is no more!" According to Macron, since the Revolution France has tried to fill this void, most notably with Napoleon and then Charles de Gaulle, which was only partially successful. "The rest of the time," said Macron, "French democracy does not manage to fill this void."
Perhaps Macron intends to fill that void.
If so, he could be in trouble. I have never met a French person who wants royalty to return. That is because the notion of royalty opposes that of republican values.
With regard to reform, he said at Versailles that he would cut the number of MPs by a third, which would give the remaining ones more power. He also pledged to introduce proportional representation. Hmm.
Economically, Macron's reforms look to favour France's richest citizens. Hmm.
Shortly before convening the French congress at Versailles, the Élysée brushed off the press:
The announcement elicited this response:
That day, Macron opened up a new centre for French start-ups, Station F. It is, apparently, the largest of its kind in the world. The French president told the young entrepreneurs that they will run across people who succeed and those who have nothing. He added that those who have nothing never make the effort. A lively conversation took place on this Twitter thread. What did he mean? Are poor people nothing?
This is the thing. No one knows what Macron really means.
Then there was the kerfuffle about his official portrait:
The issue is that the presidential desk in the Salon Doré (Golden Salon) is, in reality, not in line with the window but off to the side of the room. The president's back is to a fireplace. This short video from the Élysée shows Macron carefully positioning objects on his desk.
Clearly, he wants everyone looking at it to pick up a message about him. Around this time, he said that he saw his presidency as 'Jupiterian'. Can you imagine if President Donald Trump had said that? They'd have whisked him off for psychiatric examination sooner than you could say 'White House'.
Back to the portrait. The Financial Times provided this sycophantic interpretation:
The French view was more tongue-in-cheek:
On July 1, the New York Times wrote about the French presidential phenomenon:
Here are the best parts of the article, which, on the whole, gushes with approval:
PARIS — Is he Machiavelli, Bonaparte or de Gaulle? Emmanuel Macron wrote a thesis about the first, is often compared to the second and frequently cites the third.
That parlor game playing out in the French media, as France tries to figure out its new president, demonstrates one thing: Mr. Macron has already concentrated all the power, nearly by default …
Mr. Macron believes France cannot be reformed, but instead is "a country that transforms itself, a country of revolution," as he put it in his one newspaper interview, last week.
The ambitions are grandiose. His coming to power is "the beginning of a French renaissance and I hope a European one as well," he said in the interview, with Le Figaro and other European newspapers. "A renaissance that will permit the rethinking of great national, European and international equilibriums."
Many disagree with that interpretation.
Despite her questionable politics, Marine Le Pen was correct when she said at the final presidential debate:
"You are the heir of François Hollande," scoffed nationalist rival Marine Le Pen during their head-to-head election debate. "We now call you Baby Hollande; Hollande Junior!"
She added that, whatever the outcome of the election, "France will be led by a woman: either me or Mrs. Merkel."
Breitbart recapped how unimpressed Central European heads of state were with Macron at the NATO summit in May:
Efforts by the EU loyalist to strengthen his public standing by picking fights with the governments of Central Europe, who have been resolutely defiant in the face of attempts by Brussels to impose compulsory migrant quotas on them, have been less than successful.
Hungarian premier Viktor Orbán gently dismissed him as "a new boy" who had yet to find his feet.
"Macron's entrance wasn't too encouraging, as he thought the best way to show friendship was to immediately kick Central European countries. This isn't how we do things around here, but he'll soon get to know his way around," he added.
Then there was the handshake with Trump at the same meeting:
Posing as the EU's champion against President Donald Trump has also backfired, with a pointed, public snub of the U.S. leader in favour of Angela Merkel and other Europeans at a NATO summit ending in embarrassment when the 70-year-old manhandled him with a powerful handshake.
Macron was clearly rattled by the exchange, granting a brief interview with journalists in order to emphasise that another handshake with President Trump – in which the Frenchman clung on for dear life – was a "moment of truth" in which he supposedly demonstrated that he "would not make small concessions, not even symbolic ones".
The BBC reported:
Their first meeting on 25 May in Brussels was notable for a handshake which saw them grip each other's hand so firmly that their knuckles turned white.
Mr Macron later said the handshake was "not innocent".
No, probably not, because Macron studiously — and very obviously — tried to avoid President Trump. Trump was, I think, half serious, half jesting, which made 'Jupiterian' Macron look really weak:
So much, then, for this (possible) self-perception:
Soon after he was elected, Macron visited soldiers in Gao (Mali) who are fighting alongside French troops against militant rebels.
Then, at the G20 conference — July 7 and 8 — he made remarks about Africa. Once again, no one was quite sure what he meant.
The edited remarks are startling and sweeping:
Not surprisingly, Macron's comments elicited a strong reaction:
All Africa reports that Macron made his statement in response to a journalist from the Ivory Coast:
Macron was answering a question from a Cote d'Ivoire journalist, who asked why there was no Marshall Plan for Africa (a huge block of U.S. economic aid for European countries after World War II).
Macron said much more than that, as All Africa's journalist Michael Tantoh transcribed in his report. Macron's remarks were still blunt, but he was trying to explain that the Marshall Plan was always intended as a temporary, short-lived means of assistance. Africa, he said, has too many problems to make a Marshall Plan, such as it was, possible:
For decades, Marshall plans for Africa have been promised and given. If it were that simple, you would have noticed it[s] results by now.  What are the problems in Africa? Failed states, complex democratic transitions, demographic transition, infrastructure, porous borders which poses a problems of security and regional coordination, drugs trafficking, arms trafficking, human trafficking, trafficking in cultural property and violent fundamentalism, Islamist terrorism. All these together creates difficulties in Africa.  At the same time, we have countries that are tremendously successful, with an extraordinary growth rate that makes people say that Africa is a land of opportunity.
He said much more. Perhaps he would have done better to clarify his comments. That said, he still favours aiding the continent, preferably through partnerships with first world nations, such as France:
It is a plan that must take into account our own commitments on all the projects that I have just mentioned, create better public and private partnerships and must be done in a much more regional, sometimes even national basis. That is the method that has been adopted and that is what we are doing everywhere we are committed.
To be fair to Macron, he reaffirmed helping the beleaguered continent.
More important for him is finding a solution to the grave economic and social problems that France currently faces.
By the time you read this, Emmanuel and Brigitte Macron will have hosted Donald and Melania Trump for a brief Bastille Day trip which was planned before either man ever took office. 2017 marks the centenary of the arrival of US troops in France during the Great War. The French government decided months ago to invite the American president — unknown then — to be present at the Bastille Day ceremony in Paris. More on that next week.
Yesterday's post related how Emmanuel Macron met Brigitte Trogneux, his wife and former teacher.
Today's post describes a bit more about his youth and Brigitte's involvement.
When he was a little boy, Macron often went to his maternal grandmother's house. Germaine, who died in 2013, was a retired schoolteacher. She instilled in her grandson a love of books and education. She was also keen for him to become a politician. She died in 2013. However, from the beginning, he was accustomed to being around older people.
When Macron was 15, he was a student at the Jesuit-run La Providence school in Amiens. Trogneux, then Mme Auzière — a mother of three, married to André-Louis Auzière — taught French and drama. The first lady of France told an interviewer before her husband became president that when the young Macron auditioned for the school play:
'I just found him incredible. He had such presence.'
She went on: 'Without doubt he wasn't like the others. He was always with the teachers. He simply wasn't an adolescent.'
The Daily Mail has photos of this particular production, including her giving him a congratulatory kiss at the end.
She was close to her 40th birthday at the time.
The Mail researched several of her interviews with French media, one of which had this:
'At the age of 17, Emmanuel said to me, 'Whatever you do, I will marry you!',' Miss Trogneux told Paris Match magazine last year.
Macron's parents were less than pleased. Heavy has 5 Fast Facts about Trogneux, including a description of how things unfolded at home in 1993 (emphases mine below):
According to the book Emmanuel Macron: A Perfect Young Man by Anne Fulda, Macron's parents told Trogneux to stay away from their son, at least until he was 18.
As Vogue notes, Macron's parents tried to split them up by sending Macron to Paris to finish his studies, but that didn't work.
"I cannot promise you anything," Trogneux told his parents, Fulda writes, notes Reuters. Their relationship continued and they married in 2007, after Trogneux and her husband divorced.
Macron's parents told Fulda that they believed their son was actually going after the heart of Trogneux's daughter. They were stunned to hear that this wasn't the case.
"We couldn't believe it. What is clear is that when Emmanuel met Brigitte we couldn't just say: 'That's great,'" Macron's mother told Fulda.
Then there was the possibility of Macron not having his own children. Starting one's own family is a top priority in France. Macron's mother had words for her son's teacher:
She is quoted as telling Trogneux, "Don't you see. You've had your life. But he won't have children with you."
This came true. Macron stated the reasons why:
During a BMFTV interview in April, Macron made it clear that he and his wife have decided not to have any children, Gala notes. He's already the step-grandfather of seven children.
"We have chosen not to have children. A choice that was not selfish for me," he told BMFTV. "It is a choice that has been assumed, which I had to make very young given the age difference …"
As the years passed, time healed the wounds between Macron's parents and the May-December couple:
Although Fulda did interview Macron and Trogneux, Macron's spokesman said he was disappointed that she didn't ask about his parents' approval of the relationship.
And, yes, the middle-aged teacher probably had broken the law, however:
"Emmanuel's parents were keen on emphasizing that they did not lodge a complaint against Brigitte Auziere (Trogneux's married name) for corruption of a minor," Macron's spokesman said, reports Reuters.
Even today, years later, she said:
"Nobody will ever know at what moment our story became a love story. That belongs to us. That is our secret," Trogneux is quoted as saying in the book.
Macron, 39, is two years younger than his step-son. He is the same age as his elder step-daughter and was a classmate of hers. He is only nine years older than Brigitte's youngest child, Tiphaine Auzière.
Tiphaine, a lawyer, worked on Macron's campaign.
Brigitte is very close to her second husband. The couple firmly expect that she will have an important role to play in his presidency.
One wonders whether she will have the family chocolates in the Elysée Palace. Heavy points out:
Trogneux's parents were Jean Trogneux and Simone Pujol. They had six children, with Trogneux as the youngest, according to Geneanet.org.
L'Express notes that Trogneux's family is well-known in the north of France for their chocolates. Her nephew, Jean-Alexandre Trogneux, leads the family business, which made four million euros in 2013 alone.
The Jean Trogneux website has a full list of merchandise. The chocolates and other specialities are very pricey.
There's a joke here, because the company makes the famous Macaron d'Amiens, which Catherine de Medici introduced in the 16th century:
The company's best-known product are their macaroons, or Mac[a]rons d'Amiens. In 2014, a local jokingly told Le Parisien that, "We already had the macaroon from Amiens. Now we also have the Macron d'Amiens!"
Such an unusual marriage cannot be without rumour:
Macron's unconventional marriage has led some to speculate that he's secretly gay. Back in February, he laughed off rumors that he was having an affair with Radio France CEO Mathieu Gallet … The Telegraph reports.
The NATO meeting and G7 summit last week put Brigitte Trogneux in the world spotlight. One French report said that Trogneux has the world at her feet (see the first 1:51 minutes):
Not everyone commenting on the video agreed (translation mine below):
It's more like Melania Trump who has the world at her feet!
Trogneux, 64, has teenage legs, to be sure. However, she doesn't need to show them off so much at every opportunity.
Here's another video of her attire contrasted with Melania Trump's:
In closing, below are links with photos of Macron's family from his inauguration ceremony.
The senior Macrons have been divorced for several years. However, Jean-Michel and Françoise Nogues-Macron were photographed together at the Elysée. Macron's mother is a retired physician and his father is a professor of neurology at the University Hospital in Amiens. Macron's brother Laurent, a radiologist in the Paris region, is two years younger than the president and was at the ceremony, although no one in the media knows what he looks like. Their younger sister Estelle, a kidney specialist near Toulouse, did not attend.
One cannot help but wonder whether Macron, too, would have gone into medicine if his secondary school years hadn't changed him so much.
In any event, I'm still thinking about a husband cuckolded by a 15-year-old and a set of very shocked parents. It's disgusting.
What follows is the background to Brigitte Trogneux and Emmanuel Macron's past.
The following tweets say:
'It's true that sleeping with students of 15 years of age is completely gross, borderline predatory, but it's a woman, so it's okay'. (Sarcasm alert there.)
'When journalists put romance in a story of corruption of a minor by a person in authority. Beauty in what is ugly.'
My translation of the article follows:
When she met Emmanuel Macron, then aged 15, Brigitte Trogneux was married to a certain André-Louis Auzière. A portrait of her first husband and the father of her three children.
Brigitte Macron never leaves Emmanuel Macron's side: an important source of support that the presidential candidate never missed emphasising during his numerous speeches and regular meetings. It has to be said that the couple are very closely knit, despite their significant age difference. The two lovebirds met in 1993 in a context more academic than romantic. At the time, Brigitte Trogneux was a French and drama teacher in the city of Amiens and very much married …
Coming from the comfortable middle class in Amiens, the young Brigitte Trogneux married André-Louis Auzière, two years her senior, although she was only 21 at the time. The ceremony took place in Le Touquet in June 1974. The son of an accountant in the public sector, André-Louis Auzière worked in a bank, the Crédit du Nord, and lived in Paris. He was born in the small town of Éséka, situated in northwestern Cameroon, as his father worked as a civil servant in this former French colony.
Emmanuel Macron born the same year as his step-daughter
The year after their marriage, André-Louis was transferred to Strasbourg. The couple began a new adventure in Alsace, soon followed by the birth of their son Sébastien that same year. Two years later, little Laurence arrived on the scene. She was born in the same year as Emmanuel Macron: 1977. André-Louis and Brigitte returned to live in Amiens, where, in 1984, they welcomed the arrival of their third and last child, Tiphaine. As she reached the age of 40, Brigitte seemed, for all intents and purposes, happy … however.
During a theatre workshop, she met young Emmanuel Macron, then 15 years old. She rapidly fell under his spell, intelligence and ardour. Anne Fulda, author of the book Emmanuel Macron, un jeune homme si parfait ('Such a perfect young man'), wrote in the biography, 'She spoke little of André-Louis Auzière. […] Because there were things she did not want to, or could not, say? In any event, he certainly was not making her very happy'.
Romantic encounters in Paris
The teacher and student began seeing each other outside of school … and were soon noticed by the residents of Amiens. On the one hand, those close to Emmanuel Macron opposed this romance taking place while her marriage was foundering more and more. The teacher finally left to work in Paris, where she met up with her young lover who [by then] was studying at Henri IV high school. In 2006, the Grand Tribunal in Amiens granted a divorce to Brigitte and André-Louis Auzière. One year later, she married Emmanuel Macron in Le Touquet for the continuation of an enduring love story.
Ugh!
I have more on this to come, but, to clarify: Macron's parents pulled him out of La Providence, the Jesuit school in Amiens where Trogneux was teaching, and sent him to Paris to Henri IV, a secondary school in the Latin Quarter that, despite its motto 'A Home for All', prepares its students for admission into the most elite institutions of higher education. Little did the Macrons know that Brigitte was fully prepared to follow their son to the capital.
In closing, two geographical notes: Amiens is a cathedral city in the north of France and Le Touquet is a popular upmarket resort not too far away on the coast. It is also known as a place for lovers, so it comes as no surprise that people go there to get married.
For all his words during the presidential campaign lauding diversity, Emmanuel Macron has a remarkably un-diverse cabinet.
I normally wouldn't say anything, but back in February, Teen Vogue — increasingly political and left-wing — took President Donald Trump apart for his lack of cabinet diversity:
President Donald Trump just shared a photo on Twitter late Thursday night from the @POTUS account that features the president sitting at his Oval Office desk surrounded by 12 others … And because nothing gets by the good people of the Internet, many immediately pointed out how much the photo is lacking in diversity: Everyone in the photo appears to be white, and there is only one woman included.
This was the offending tweet:
On May 8, Bloomberg speculated on who would be in Macron's cabinet. The article oohs and ahhs over the people coming in from the elite Sciences-Po and ENA (École Nationale d'Administration). Macron attended both, by the way:
The following tweet shows Macron's staff:
What would Teen Vogue say? Probably nothing. It's too inconvenient a truth.
After President Donald Trump's successful visits to Saudi Arabia and Israel, he and First Lady Melania Trump went to Europe.
I covered their visit to Vatican City in the comments on the Israel post.
The next stop was Brussels.
The first item of business on Thursday, May 25, 2017 was to address the leaks that had emerged from US intelligence or law enforcement about confidential aspects of the suicide bombing that had taken place on Monday, May 22.
British Prime Minister Theresa May was furious that the US had leaked sensitive information. From the BBC:
Details about Abedi's identity had already emerged in the US media less than 24 hours after the explosion and against the UK's wishes.
Home Secretary Amber Rudd said she was "irritated" by the disclosure of Abedi's identity and had warned Washington "it should not happen again".
However, the pictures of debris – which appear to show bloodstained fragments from the bomb and the backpack used to conceal it – were subsequently leaked to the New York Times, prompting a furious response from within Whitehall and from UK police chiefs.
BBC security correspondent Gordon Corera says UK officials believe that US law enforcement rather than the White House is the likely culprit for the leaks.
Trump issued an official statement, which reads in part:
I am asking the Department of Justice and other relevant agencies to launch a complete review of this matter, and if appropriate, the culprit should be prosecuted to the fullest extent of the law.   
There is no relationship we cherish more than the Special Relationship between the United States and the United Kingdom.
The Daily Caller provided Attorney General Jeff Sessions's comments:
I share the president's deep concern and talked to Home Secretary Rudd yesterday about this matter. These leaks cannot be tolerated and we will make every effort to put an end to it. We have already initiated appropriate steps to address these rampant leaks that undermine our national security.
This was a temporary situation which the two nations quickly resolved:
However, Trump is unlikely to be in a good mood once he returns to the White House. Next week's news cycle should be interesting.
This graphic describes Trump's mood in Brussels (courtesy of a contributor to The Conservative Treehouse):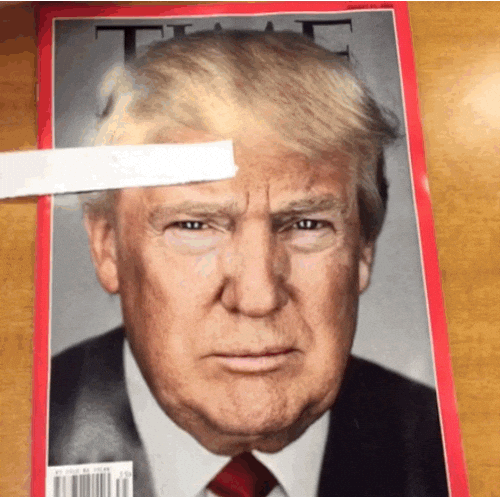 Unbelievably, French President Emmanuel Macron posted this video of Trump strongarming him into a handshake. Seconds earlier, Macron walked straight towards Trump before snubbing him for Angela Merkel:
Despite the smiles and hand gestures, their brief photo op and statements looked chilly:
In another group shot of NATO leaders, the following video makes it look as if the American president forced his way to the forefront:
A Washington Post reporter who lists her American allegiance last, tweeted:
In reality, Prime Minister Dusko Markovic of Montenegro had accidentally stepped on Trump's foot.
A contributor at The_Donald couldn't help but react:
Trump visited members of NATO today, and while walking with several members, is seen moving PM Dusko Markovic aside. The corrupt and fake media took this video clip and spun it completely into FAKE NEWS territory by saying:
"DONALD TRUMP SHOVES A MEMBER ASIDE IN ORDER TO REMAIN IN FRONT OF THE GROUP"
… You can CLEARLY see he winced in pain after his foot was apparently stepped on, and he moves the Prime Minister aside to get him off his foot. Even the PM reacts the moment he steps on Trump's foot, knowing he caused him pain.
Here's the clip in slow motion:
A ceremony took place for the new NATO headquarters and a memorial which included a metal remnant the 9/11 attack in 2001 and a chunk of the Berlin Wall from 1989. In his address, Trump said:
I want to extend my appreciation to the 9/11 Memorial and Museum in New York for contributing this remnant of the North Tower, as well as to Chancellor Merkel and the German people for donating this portion of the Berlin Wall.  It is truly fitting that these two artifacts now reside here so close together at the new NATO Headquarters.  And I never asked once what the new NATO Headquarters cost.  I refuse to do that.  But it is beautiful.
Each one marks a pivotal event in the history of this Alliance and in the eternal battle between good and evil.  On one side, a testament to the triumph of our ideals over a totalitarian Communist ideology bent on the oppression of millions and millions of people; on the other, a painful reminder of the barbaric evil that still exists in the world and that we must confront and defeat together as a group, as a world.
This twisted mass of metal reminds us not only of what we have lost, but also what forever endures — the courage of our people, the strength of our resolve, and the commitments that bind us together as one.
We will never forget the lives that were lost.  We will never forsake the friends who stood by our side.  And we will never waiver in our determination to defeat terrorism and to achieve lasting security, prosperity and peace.
Thank you very much.  It's a great honor to be here.  Thank you.
However, it's what he said before that really matters:
The following graphic from a contributor at The Conservative Treehouse explains Trump's objections. Out of each nation's GDP, the percentages reflect how much goes towards defence, NATO and otherwise:
We pay 4% to NATO defense budget.
We will pay 36% for our defense overall.
They pay less than 2% of their GNP for practically their entire defense overall.
NATO ally flags were raised cermonially:
The flypast:
Whereas Trump diplomatically summarised the meeting as being one of united interests:
Emmanuel Macron made it a Europeans-only occasion:
Fortunately, the NATO spouses and partners seemed to get on better. Melania Trump was buddied with Brigitte Trogneux, Macron's wife and his former high school teacher.
The group went on a tour of the Magritte Museum (Magritte misspelled below):
The Daily Mail, with excellent photos, reported on the visit to the royal palace:
Melania and Brigitte, who met while touring the Magritte Museum in Brussels earlier in the day, posed for pictures alongside the royal [Queen Mathilde] and the other spouses at the royal residence
Mrs Trump also had her own engagements that day:
The next and final stage of the trip is the G7 conference in Taormina, Sicily.
The Trumps left Brussels on Thursday, flying to Italy, then onto Taormina. Watch the Italian guard at 43 seconds in sneak a brief smile to the Trumps:
Trump tweeted:
Taormina is a beautiful ancient city:
This was the schedule and list of participants for Friday, May 26:
The 43rd G7 summit is taking place in Taormina, Sicily, between May 26-27. Attendees will include the leaders of the Group of Seven member states, as well as representatives of the European Union.
The summit is set to be the first for British Prime Minister Theresa May, French President Emmanuel Macron, Italian Prime Minister Paolo Gentiloni, and US President Donald Trump.
Other participants include German Chancellor Angela Merkel, Canadian Prime Minister Justin Trudeau and his Japanese counterpart Shinzo Abe. The EU will be represented by European Commission President Jean-Claude Juncker and European Council President Donald Tusk.
COVERAGE SCHEDULE:
06:00-08:00 GMT – Arrivals from Sigonella airbase.
08:00-09:00 GMT – Jean-Claude Juncker and Donald Tusk press conference.
09:30-10:30 GMT – Welcome cerimony and family photos at Greek Theatre.
10:00-10:30 GMT – Moving to Hotel San Domenico.
10:45-11:30 GMT – Arrivals at Hotel San Domenico. Tour de Table.
17:00-18:00 GMT – Concert for the opening of the G7 Summit at Greek Theatre.
18:15-18:45 GMT – Welcome ceremony and family photo at Hotel Timeo. Official dinner hosted by Italian President Sergio Mattarella.
A concert by La Scala Philharmonic Orchestra and dinner with President Mattarella followed.
Foreign Policy reported that Trump has an important American objective at the G7:
President Donald Trump's controversial senior advisor and speechwriter, Stephen Miller, has led White House efforts to undercut an initiative by Italy to place the migration crisis at the center of this week's Group of Seven major summit meeting starting Friday in Sicily.
For Italy, the summit in Taormina, Sicily, was to provide a poignant opportunity to raise awareness of the plight of hundred of thousands of refugees who cross the Mediterranean Sea to Italy's shores each year, and to reach agreement on a plan to find them permanent homes.
But the Donald Trump White House has largely blocked its Italian host from putting forward an initiative addressing the need to resettle millions of refugees and migrants who have poured into Europe on rickety boats or crossed borders on foot over the past decade. Instead, the United States has pressed the leaders to cap the session with a stern declaration on the need to fight terrorism, a cause that gained added urgency following a grisly suicide bombing at an Ariana Grande concert in Manchester.
The rearguard action was led by the 31-year-old Miller, who has exercised outside influence over the summit's response to the worst refugee crisis since World War II.  In line with President Trump's pledge to build a wall to keep Mexicans out of the United States, the White House has been pressing the G-7 leaders to focus more attention on the need to prevent illegal immigrants from crossing borders than on finding migrants who make the journey a permanent home.
Trump also intends to push back on other G7 preoccupations:
including climate change, trade, and migration that until recently aligned closely with President Obama's foreign-policy vision.
This G7 summit should prove to be a delicate one to be navigated diplomatically. The summit concludes on Saturday, May 27.
Emmanuel Macron officially became France's president on Sunday, May 14, 2017.
The Daily Mail has a good write up, with plenty of repetitive photos of Macron's £380 suit from Jonas and Cie and his 64-year-old wife Brigitte Trogneux's teenage legs. Trogneux wore a powder blue Louis Vuitton suit, price unknown.
On the night he won the first round, Trogneux wore skin tight black leather trousers and a cropped jacket. Seen from the back, she could have been mistaken for a much younger woman.
But I digress.
The Mail has a photo of Macron's parents, likely the only contemporary one we will ever see.
Sunday began with a huge red carpet rolled out at the Elysée Palace. After the ceremony inside, Hollande stood on the Elysée steps for the final time to rapturous applause. Macron escorted Hollande to a waiting car.
From there, the new president then went up the Champs Elysées to the Arc de Triomphe to lay a wreath at the tomb of the unknown soldier. A military ceremony took place.
After lunch at the Elysée Palace, Macron made a traditional presidential trip to the Hôtel de Ville (City Hall), which looked like this earlier in the day. Presumably, more people attended:
Then again, judging from the next tweet, I'm not so sure.
The caption translates as 'The sadness of a president elected by default. No one there to acclaim him, nowhere. This pretence of a celebration!':
It's important to note the following:
Mr Macron, the former unelected Economy Minister, left Mr Hollande's government to form his own electoral movement, En Marche! [On the Move], in April 2016.
Despite this, Hollande said he wanted today's handover of power to be 'simple, clear and friendly'…
The 64-year-old [Hollande] launched Macron's political career, plucking him from the world of investment banking to be an advisor and then his economy minister.
'I am not handing over power to a political opponent, it's far simpler,' Hollande said on Thursday.
Absolutely.
The plan from the beginning was for Macron to win. Macron is Hollande's heir apparent.
Macron had to run under another label, hence he created his own movement.
This is because the weakness of Hollande's presidency had tarnished the Parti Socialiste (PS) so much that everyone knew they would have a tough time winning.
That said, Manuel Valls, a law and order candidate, would have been a very strong favourite. However, through party machine sabotage, Valls came second in the PS primaries to the lacklustre former education minister Benoît Hamon. There was no way that Hamon could have beaten the conservative François Fillon, who was top in the polls in January 2017.
In order for Macron to win — the plan all along — Fillon, Nicolas Sarkozy's prime minister, had to be brought down. This began happening on January 25, through a series of alleged financial scandals which dogged him until April, effectively stopping his campaign.
With Fillon out of the way, Macron had a clear path to victory. The French do not want Marine Le Pen in the Elysée.
The beauty of Macron's En Marche! is that, even if he makes a total hash of his five years in office, the PS will have regrouped by then and En Marche! can be quietly put to sleep, with its leader likely moving on to bigger and better things in the private sector.
The following tweet sums up the situation as Hollande left office:
All the above points explain the highly negative tweets surrounding Macron:
To clarify: if a French traveller's stay is under 90 days, there is no visa requirement.
French presidents traditionally make their first trip to Germany, a pattern that Macron duly followed.
This will not end well.
I will have two posts on Macron's private life coming up soon.