You are currently browsing the tag archive for the 'energy' tag.
While this is a change to the previous schedule of analysing Liz Truss's premiership, more about which next week, there are references below as to why hers and Kwasi Kwarteng's plan was the right one for the UK.
Chancellor Jeremy Hunt delivered his Autumn Statement — a Labourite Conservative budget — on Thursday, November 17, 2022.
Compared with Kwasi Kwarteng's fiscal event of September 23, this will be a disaster for most middle class Britons.
It was clear that Hunt designed this budget to placate the all-hallowed — for whatever reason — OBR (Office for Budget Responsibility) and the markets. Stability is their watchword. Growth, regardless of what Hunt said yesterday, plays little part in our economy for the foreseeable future.
Unlike Kwarteng's, which did focus on growth, Hunt's statement had little to no consideration of the British taxpayer in a cost of living crisis.
What Hunt said
Before going into Hunt's address, Guido Fawkes has a brief summary and the full detail from the Treasury, a 70-page document.
Below are excerpts from Hunt's Autumn Statement to the House of Commons (emphases mine):
… today we deliver a plan to tackle the cost of living crisis and rebuild our economy. Our priorities are stability, growth and public services. We also protect the vulnerable, because to be British is to be compassionate and this is a compassionate Conservative Government.
Remember when then-Chancellor Rishi Sunak told us we did not have to worry about the cost of borrowing and borrowing itself during the pandemic? Well, now we have to worry:
Most countries are still dealing with the fallout from a once-in-a-century pandemic. The furlough scheme, the vaccine roll-out and the response of the NHS did our country proud, but they all have to be paid for.
Hunt paid homage to the Bank of England and had a poke at Kwarteng for not doing so:
So the Bank of England, which has done an outstanding job since its independence, now has my wholehearted support in its mission to defeat inflation and I today confirm we will not change its remit. But we need fiscal and monetary policy to work together, and that means the Government and the Bank working in lockstep.
He delivered a deeper attack on Kwarteng:
I understand the motivation of my predecessor's mini-Budget and he was correct to identify growth as a priority, but unfunded tax cuts are as risky as unfunded spending, which is why we reversed the planned measures quickly. As a result, Government borrowing has fallen, the pound has strengthened and the OBR says today that the lower interest rates generated by the Government's actions are already benefiting our economy and public finances. But credibility cannot be taken for granted and yesterday's inflation figures show we must continue a relentless fight to bring it down, including a rock solid commitment to rebuild our public finances.
He bowed before the all-powerful OBR, whose forecasts have not been terribly accurate over the past few years. Let us see if these come true in the coming months:
Richard Hughes and his team at the OBR today lay out starkly the impact of global headwinds on the UK economy, and I am enormously grateful to him and his team for their thorough work. The OBR forecasts the UK's inflation rate to be 9.1% this year and 7.4% next year. It confirms that our actions today help inflation to fall sharply from the middle of next year. It also judges that the UK, like other countries, is now in recession. Overall this year, the economy is still forecast to grow by 4.2%. GDP then falls in 2023 by 1.4%, before rising by 1.3%, 2.6% and 2.7% in the following three years. The OBR says higher energy prices explain the majority of the downward revision in cumulative growth since March. It also expects a rise in unemployment from 3.6% today to 4.9% in 2024, before falling to 4.1%.
This is Hunt's strategy, with the blessing of the OBR and borrowing Sunak's morality from the August leadership campaign about leaving debts to the next generation:
I also confirm two new fiscal rules. The first is that underlying debt must fall as a percentage of GDP by the fifth year of a rolling five-year period. The second is that public sector borrowing over the same period must be below 3% of GDP. The plan I am announcing today meets both rules.
Today's statement delivers a consolidation of £55 billion, and means inflation and interest rates end up significantly lower. We achieve this in a balanced way. In the short term, as growth slows and unemployment rises, we will use fiscal policy to support the economy. The OBR confirms that, because of our plans, the recession is shallower and inflation is reduced. Unemployment is also lower, with about 70,000 jobs saved as a result of our decisions today. Then, once growth returns, we increase the pace of consolidation to get debt falling. This further reduces the pressure on the Bank to raise interest rates, because as Conservatives we do not leave our debts to the next generation.
So this is a balanced path to stability, tackling inflation to reduce the cost of living and protect pensioner savings, while supporting the economy on a path to growth. But it means taking difficult decisions.
Hunt then discussed the fiscal drag elements of the budget. Fiscal drag means drawing the unsuspecting into paying new and more tax:
I start with personal taxes. Asking more from those who have more means that the first difficult decision I take on tax is to reduce the threshold at which the 45p rate becomes payable from £150,000 to £125,140. Those earning £150,000 or more will pay just over £1,200 more in tax every year. We are also taking difficult decisions on tax-free allowances. I am maintaining at current levels the income tax personal allowance, higher rate threshold, main national insurance thresholds and the inheritance tax thresholds for a further two years, taking us to April 2028. Even after that, we will still have the most generous set of tax-free allowances of any G7 country.
I was amazed he could talk about 2028 with a straight face. By then, we will probably have a Labour government. Oh well, he's done their work for them.
Continuing on tax rises, he said:
I am also reforming allowances on unearned income. The dividend allowance will be cut from £2,000 to £1,000 next year, and then to £500 from April 2024. The annual exempt amount for capital gains tax will be cut from £12,300 to £6,000 next year, and then £3,000 from April 2024. Those changes still leave us with more generous allowances than countries such as Germany, Ireland, France, and Canada.
Because the OBR forecasts that half of all new vehicles will be electric by 2025, to make our motoring tax system fairer, I have decided that from then electric vehicles will no longer be exempt from vehicle excise duty. Company car tax rates will remain lower for electric vehicles, and I have listened to industry bodies and will limit rate increases to 1 percentage point a year for three years from 2025.
At least he kept one thing from Kwarteng's statement:
The OBR expects housing activity to slow over the next two years, so the stamp duty cuts announced in the mini-Budget will remain in place but only until 31 March 2025. After that, I will sunset the measure, creating an incentive to support the housing market, and the jobs associated with it, by boosting transaction during the period when the economy most needs it.
He won't even be Chancellor then.
Moving on to businesses:
I now turn to business taxes. Although I have decided to freeze the employers national insurance contributions threshold until April 2028, we will retain the employment allowance at its new higher level of £5,000. That means that 40% of all businesses will pay no NICs at all. The VAT threshold is already more than twice as high as the EU and OECD averages. I will maintain it at that level until March 2026.
Then came the windfall tax:
Can I just say that any such tax should be temporary, not deter investment and recognise the cyclical nature of energy businesses? So, taking account of that, I have decided that from 1 January until March 2028 we will increase the energy profits levy from 25% to 35%. The structure of our energy market also creates windfall profits for low-carbon electricity generation, so we have decided to introduce, from 1 January, a new, temporary 45% levy on electricity generators. Together, those measures will raise £14 billion next year.
Business rates have been a thorn in the side of those enterprises on our high streets. Here, it would seem, Hunt offered some relief:
Finally, I turn to business rates. It is an important principle that bills should accurately reflect market values, so we will proceed with the revaluation of business properties from April 2023, but I will soften the blow on businesses with a nearly £14 billion tax cut over the next five years. Nearly two thirds of properties will not pay a penny more next year and thousands of pubs, restaurants and small high street shops will benefit. That will include a new Government-funded transitional relief scheme, as called for by the CBI, the British Retail Consortium, the Federation of Small Businesses and others, benefiting around 700,000 businesses.
Then he turned to people on benefits, proving that Sunak's furlough scheme during the pandemic was more than adequate:
… I am proud to live in a country with one of the most comprehensive safety nets anywhere in the world. But I am also concerned that we have seen a sharp increase in economically inactive working-age adults of about 630,000 people since the start of the pandemic. Employment levels have yet to return to pre-pandemic levels, which is bad for businesses who cannot fill vacancies and bad for people missing out on the opportunity to do well for themselves and their families, so the Prime Minister has asked the Work and Pensions Secretary to do a thorough review of issues holding back workforce participation, to conclude early in the new year.
Alongside that, I am also committed to helping people already in work to raise their incomes, progress in work and become financially independent. So we will ask over 600,000 more people on universal credit to meet with a work coach so that they can get the support that they need to increase their hours or earnings. I have also decided to move back the managed transition of people from employment and support allowance on to universal credit to 2028, and will invest an extra £280 million in the DWP to crack down on benefit fraud and error over the next two years. The Government's review of the state pension age will be published in early 2023.
He then discussed foreign spending:
… I salute the citizens of another country right on the frontline … the brave people of Ukraine. The United Kingdom has given them military support worth £2.3 billion since the start of Putin's invasion, the second highest contribution in the world after the United States, which demonstrates that our commitment to democracy and open societies remains steadfast. In that context, the Prime Minister and I both recognise the need to increase defence spending. But before we make that commitment, it is necessary to revise and update the integrated review, written as it was before the Ukraine invasion. I have asked for that vital work to be completed ahead of the next Budget and today I confirm that we will continue to maintain the defence budget at at least 2% of GDP to be consistent with our NATO commitment.
I was pleased to hear that overseas aid will stay at 0.5%:
Another important international commitment is to overseas aid. The OBR's forecasts show a significant shock to public finances, so it will not be possible to return to the 0.7% target until the fiscal situation allows. We remain fully committed to that target, and the plans I have set out today assume that official development assistance spending will remain around 0.5% for the forecast period. As a percentage of GNI, we were the third highest donor in the G7 last year, and I am proud that our aid commitment has saved thousands of lives around the world.
Net Zero is still going ahead:
I also confirm that, despite the economic pressures, we remain fully committed to the historic Glasgow climate pact agreed at COP26, including a 68% reduction in our own emissions by 2030.
He discussed schools, beginning with those in England:
… we have risen nine places in the global league tables for maths and reading in the last seven years.
… as Chancellor I want to know the answer to one simple question: will every young person leave the education system with the skills they would get in Japan, Germany or Switzerland? So, I have appointed Sir Michael Barber to advise me and my right hon. Friend the Education Secretary on the implementation of our skills reform programme.
… Some have suggested putting VAT on independent school fees as a way of increasing core funding for schools, which would raise about £1.7 billion. But according to certain estimates, that would result in up to 90,000 children from the independent sector switching to state schools, giving with one hand only to take away with another.
So instead of being ideological, I am going to be practical: because we want school standards to continue to rise for every single child, we are going to do more than protect the schools budget—we are going to increase it. I can announce today that next year and the year after, we will invest an extra £2.3 billion per annum in our schools.
He has asked a former Labour MP, Patricia Hewitt, to help him reform the NHS. Oh, my days:
I have asked the former Health Secretary and chair of the Norfolk and Waveney integrated care system, Patricia Hewitt, to help me and the Health Secretary to achieve that by advising us on how to make sure that the new integrated care boards, the local NHS bodies, operate efficiently and with appropriate autonomy and accountability. I have also had discussions with NHS England about the inflationary pressures on their budgets.
More money will be pumped into the system:
With £3.3 billion for the NHS and £4.7 billion for social care, there is a record £8 billion package for our health and care system. That is a Conservative Government putting the NHS first.
Barnett consequentials, which come from the hard-pressed English taxpayer, will also increase:
The NHS and schools in Scotland, Wales and Northern Ireland face equivalent pressures, so the Barnett consequentials of today's decisions mean an extra £1.5 billion for the Scottish Government, £1.2 billion for the Welsh Government, and £650 million for the Northern Ireland Executive. That means more resources for the schools and hospitals in our devolved nations next year, the year after and every year thereafter.
A new energy strategy will be forthcoming from the Business Secretary.
These are Hunt's infrastructure commitments:
… today I can announce that I am not cutting a penny from our capital budgets in the next two years, and I am maintaining them at that level in cash terms for the following three years. That means that although we are not growing our capital budget as planned, it will still increase from £63 billion four years ago to £114 billion next year and £115 billion the year after, and will remain at that level—more than double what it was under the last Labour Government.
Smart countries build on their long-term commitments rather than discarding them, so today I confirm that because of this decision, alongside Sizewell C, we will deliver the core Northern Powerhouse Rail, HS2 to Manchester, East West Rail, the new hospitals programme and gigabit broadband roll-out. All these and more will be funded as promised, with over £600 billion of investment over the next five years to connect our country and grow our economy.
Our national Conservative mission is to level up economic opportunity across the country. That, too, needs investment in infrastructure, so I will proceed with round 2 of the levelling-up fund, at least matching the £1.7 billion value of round 1. We will also drive growth across the UK by working with the Scottish Government on the feasibility study for the A75, supporting the advanced technology research centre in Wales and funding a trade and investment event in Northern Ireland next year.
He is bringing devolution to England in the form of mayoralties:
Our brilliant [Conservative] Mayors such as Andy Street and Ben Houchen have shown the power of civic entrepreneurship. We need more of this inspirational local leadership, so today I can announce a new devolution deal that will bring an elected Mayor to Suffolk, and deals to bring Mayors to Cornwall, Norfolk and an area in the north-east to follow shortly. We are also making progress towards trailblazer devolution deals with the Greater Manchester Combined Authority and the West Midlands Combined Authority, and soon over half of England will be covered by devolution deals. Taken together, that £600 billion investment in our future growth represents the largest investment in public works for 40 years, so our children and grandchildren can be confident that this Conservative Government are investing in their future.
Hunt is altering the Truss-Kwarteng investment zones to be more in line with Michael Gove's aspirations for levelling up:
I will also change our approach to investment zones, which will now focus on leveraging our research strengths by being centred on universities in left-behind areas, to help to build clusters for our new growth industries. My right hon. Friend the Levelling Up Secretary will work with Mayors, devolved Administrations and local partners to achieve this, with the first decisions announced ahead of the spring Budget.
The Truss-Kwarteng energy support plan remains in place until the end of March 2023:
I pay tribute to my predecessor, my right hon. Friend the Member for Spelthorne (Kwasi Kwarteng), and to the former Prime Minister, my right hon. Friend the Member for South West Norfolk (Elizabeth Truss), for their leadership in this area. This winter, we will stick with their plan to spend £55 billion to help households and businesses with their energy bills—one of the largest support plans in Europe. From April, we will continue the energy price guarantee for a further 12 months at a higher level of £3,000 per year for the average household. With prices forecast to remain elevated throughout next year, this will mean an average of £500 of support for every household in the country.
There is more help for the most vulnerable:
At the same time, for the most vulnerable, we will introduce additional cost of living payments next year of £900 to households on means-tested benefits, £300 to pensioner households and £150 for individuals on disability benefit. We will also provide an additional £1 billion of funding to enable a further 12-month extension to the household support fund, helping local authorities to assist those who might otherwise fall through the cracks. For those households that use alternative fuels such as heating oil and liquefied petroleum gas to heat their homes, I am today doubling the support from £100 to £200, which will be delivered as soon as possible this winter. Before the end of this year, we will also bring forward a new targeted approach to support businesses from next April.
But I want to go further to support the people most exposed to high inflation. Around 4 million families live in the social rented sector—almost one fifth of households in England. Their rents are set at 1% above the September inflation rate, which means that on current plans they are set to see rent hikes next year of up to 11%. For many, that would just be unaffordable, so today I can announce that this Government will cap the increase in social rents at a maximum of 7% in 2023-24. Compared with current plans, that is a saving for the average tenant of £200 next year.
Labour started a commotion at this point. Hunt then announced a rise in the minimum wage:
This Government introduced—[Interruption.] I thought they cared about the most vulnerable! This Government introduced the national living wage, which has been a giant step in eliminating low pay, so today I am accepting the recommendation of the Low Pay Commission to increase it next year by 9.7%. This means that, from April 2023, the hourly rate will be £10.42, which represents an annual pay rise worth over £1,600 to a full-time worker. It is expected to benefit over 2 million of the lowest-paid workers in our country, and it keeps us on track for our target to reach two thirds of median earnings by 2024. It is the largest increase in the UK's national living wage ever.
Benefits will increase by the rate of inflation:
… today I commit to uprating such benefits by inflation, with an increase of 10.1%. That is an expensive commitment, costing £11 billion, but it means that 10 million working-age families will see a much-needed increase next year, which speaks to our priorities as a Government and our priorities as a nation. On average, a family on universal credit will benefit next year by around £600. To increase the number of households that can benefit from this decision, I will also exceptionally increase the benefit cap by inflation next year.
Finally, I have talked a lot about the British values of compassion, hard work, dignity and fairness, but there is no more British value than our commitment to protect and honour those who built the country we live in, so to support the poorest pensioners I have decided to increase pension credit by 10.1%, which is worth up to £1,470 for a couple and £960 for a single pensioner in our most vulnerable households, but the cost of living crisis is harming not just our poorest pensioners but all pensioners.
The triple-lock stays:
Because we have taken difficult decisions elsewhere today, I can also announce that we will fulfil our pledge to the country to protect the pension triple lock. In April, the state pension will increase in line with inflation, an £870 increase, which represents the biggest ever increase in the state pension. To the millions of pensioners who will benefit from this measure, I say: "Now and always, this Government are on your side."
Hunt did not receive a jubilant reception from Conservative MPs, some of whom had concerns.
Dr Liam Fox asked about quantitative easing and interest rates:
I congratulate my right hon. Friend on a balanced and skilful statement prioritising fiscal stability. He will be aware that some of us believe that the Bank of England maintained monetary conditions that were too loose for too long, but that it would also be a mistake to maintain monetary conditions that are too tight for too long. Can he therefore confirm that the anti-inflationary measures that he has taken today will mean that the pressure to raise interest rates will be minimised, and that there is a much greater chance that they will fall earlier than would otherwise have been the case?
Hunt replied:
My right hon. Friend is absolutely right to focus on this issue, because every 1% increase in interest rates is about £850 more on the average mortgage, so it is hugely important to families up and down the country. The OBR has said that the measures that we have taken today will mean that inflation is lower than it would otherwise have been. That means that the Bank of England is under less pressure to increase interest rates, which for reasons that he knows are such a worry for so many families.
Sir William Cash was concerned about the ever-increasing costs of the HS2 rail project:
My right hon. Friend argued for sound money and sound foundations. Would he be good enough to explain how it is that High Speed 2 will continue beyond Birmingham at a verifiable cost of at least £40 billion, when every independent report on HS2 condemns the project and confirms that phase 2 will make rail services to all west coast destinations north of Birmingham much worse? I ask him to make a clear commitment to keep this matter under review at all costs; it is in the national interest.
Hunt said:
My hon. Friend is right that the increases in the budget for HS2 are disappointing, but a strong economy needs to have consistency of purpose, and that means saying we will make sure that we are a better connected country. The lack of those connections is one of the fundamental reasons for the differences in wealth between north and south, which we are so committed to addressing. There is a bigger issue about the way that we do infrastructure projects: it takes too long, and the budgets therefore get out of control. We are just not very good at it, and we have to sort it out.
Theresa Villiers rightly asked how soon we could move to a lower-tax economy if the forecasts are wrong. For me, this was the question of the day:
I thank the Chancellor for the announcement on schools funding, which, as he knows, is something that I raised with him as being crucial. Can he also confirm that, if current forecasts about economic recovery and inflation prove to be overly pessimistic, we will move more quickly than he has announced today towards delivering a lower-tax economy?
Hunt was non-committal:
My right hon. Friend is an immensely experienced colleague. She is right to point out that there is always inaccuracy in any forecast, and there is always variation from fiscal event to fiscal event, so we keep all those decisions under review in the round. I think it is still important to have forecasts—that is better than not to have them—but we keep all those decisions under review.
Virginia Crosbie from Ynys Môn in Wales asked how soon the new nuclear programme would begin:
This Government's commitment to Sizewell C and large-scale nuclear is welcome, and it was noted that Labour's shadow Chancellor failed to mention nuclear. When will the launch of Great British Nuclear be announced, and will its scope include large-scale gigawatt nuclear at sites such as Wylfa in my constituency, as well as small modular reactors?
Hunt was encouraging:
There is no more formidable advocate for big nuclear investment on Ynys Môn than my hon. Friend. Indeed, when I went on a family holiday to Ynys Môn this summer, she tried to persuade me to visit the potential site of a nuclear power station with my children. I apologise that I did not take her up on the offer, but it shows her commitment. My right hon. Friend the Business Secretary will be making an announcement soon on things such as the launch of Great British Nuclear—I hope before Christmas, but if not just afterwards—because we want to crack on with our nuclear programme.
Richard Drax was concerned about the burden on the taxpayer, another excellent question:
I have huge sympathy for my right hon. Friend. We are facing severe financial challenges for the reasons he explained so well, but Members on both sides of the House are promising to spend billions and billions more pounds. I remind the House that it is the private sector, and hardworking people through their taxes, who pay for Government expenditure. Does my right hon. Friend agree that raising taxes on both risks stifling the growth and productivity that he and I both want, and that would counter the recession we are now in?
Hunt defended his budget:
My hon. Friend is right to make the case for a lightly taxed dynamic economy, and I would like to bring taxes down from their current level. We are faced with the necessity of doing something fast to restore sound money and bring inflation down from 11%, which is why we have made difficult decisions today. But yes, my hon. Friend is absolutely right: there is no future for this country unless we get back on the path to being a lower taxed economy.
Mark Pawsey asked about small businesses:
My constituents in Rugby and Bulkington will not enjoy the tough decisions that the Chancellor has had to make today, but they will understand the need for sound finances after the huge expenditure that the country has made on the pandemic and supporting people with their energy costs as a consequence of the war in Ukraine. They will also want to know that businesses will continue to invest to grow and to create jobs. Will he speak about the incentives that still exist for businesses to do exactly that?
Hunt pledged his support:
I am happy to do that. My hon. Friend is quite right to raise those issues. We are doing a lot of short-term things, including help with energy bills as well as business rates. As we move to a new business rates system, we are freezing the levels at which business rates can increase and introducing a 75% discount next year for retail, hospitality and leisure businesses. Fundamentally, as a Conservative Government, we know that we cannot flourish as an economy without flourishing small businesses, and we will back them to the hilt.
Greg Smith asked what Hunt was doing about reducing fuel duty:
I absolutely agree with my right hon. Friend when he talks about the inflationary pressures coming from the aftershocks of the pandemic and the war in Ukraine. We see that at the fuel pumps and, more significantly, our haulage and logistics sector sees it with the enormous level of taxation on diesel in particular driving inflation to get food and goods on to our shelves. As he prepares for the March Budget, will he look at the inflationary impact of fuel duty on top of the high cost of diesel and see whether we can reduce it?
Hunt said he was looking at the issue:
I assure my hon. Friend that I will absolutely do that. We have a little time, and I know that fuel duty is an important issue to him and many other colleagues.
March 2023 — fuel duty hike
Hunt's answer to Greg Smith on the fuel duty hike sounded reassuring, but GB News's economic editor Liam Halligan uncovered a planned fuel duty hike of 23% for March 2023 from the OBR forecast. It would be the first since 2011:
Here's Liam Halligan talking about it:
Forbes noticed it, too, bringing the news to an even wider international audience: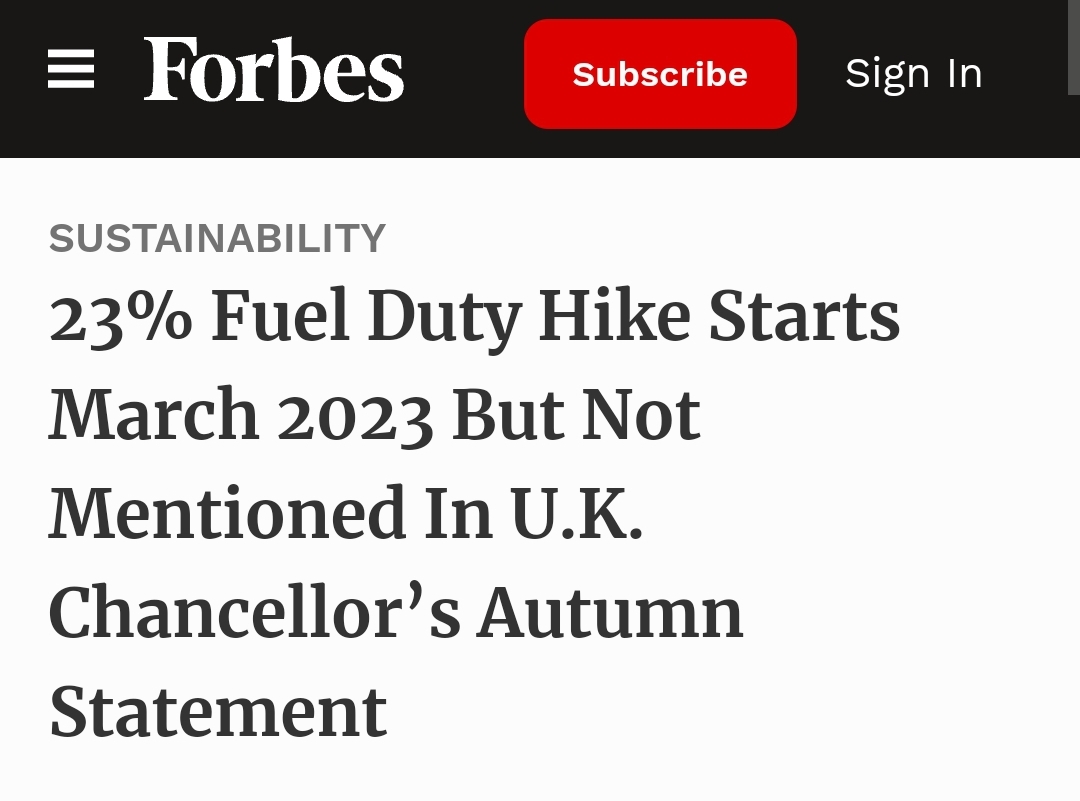 Fiscal drag
The Times had an article on the upcoming fiscal drag following Hunt's budget:
Disposable incomes, after adjusting for inflation, will fall by 4.3 per cent in 2022-23, which would be the largest fall since records began in the 1950s. It is set to be followed by the second largest fall — in 2023-24 — of 2.8 per cent.
… Despite the aspirations of Rishi Sunak to create a low-tax economy, Britain is on course for its biggest ever tax burden as hundreds of thousands of workers are dragged into higher income tax bands by the freezing of thresholds and allowances while businesses also face a jump in levies, including employment taxes.
The tax burden is set to rise to 37.5 per cent of GDP in the financial year ending 2025, reaching the highest level since records began shortly after the Second World War.
The level of taxation as a share of the national income will rise to 36.4 per cent of GDP this year and 37.4 per cent in the financial year ending 2024, breaking the previous record.
Recovery is not likely to begin until 2025, several months after the next general election. This is accurate only if Conservatives are still in power by then:
GDP is expected to rise by 4.2 per cent this year before falling by 1.4 per cent next year, only returning to pre-pandemic levels by the end of 2024. However, growth is expected to pick up to 2.6 per cent the following year and 2.7 per cent in 2026, following a recovery in real incomes, consumption and investment.
The Telegraph also had an article on fiscal drag:
Nearly a quarter of a million workers will be dragged into paying the 45p rate of income tax after Jeremy Hunt slashed the threshold at which it is charged.
The salary on which the additional rate is payable will be reduced from £150,000 to £125,140 effective next April, Chancellor Jeremy Hunt announced in the Autumn Statement, and frozen until 2028, forcing 232,000 workers into paying the top rate of tax for the first time and costing these quarter of a million taxpayers £620 on average, according to wealth manager Quilter.
The number of workers paying 45pc has more than doubled since the rate was first introduced in 2010 – rising from 236,000 to 629,000 today – as wage inflation has pushed more taxpayers into the highest income tax band.
Lowering the threshold will cost the 629,000 workers earning over £150,000 who are already impacted by the 45pc tax an additional £1,250 …
Just two months ago, then-Chancellor Kwasi Kwarteng promised that the top rate would be abolished altogether. But now the Government is hoping to earn £420m in 2023-24 by catching more taxpayers in the 45pc net, and almost double that – £855m – in 2027-28.
Neela Chauhan of accountancy firm UHY Hacker Young said the move was "a major attack" on higher earners.
She added: "It's going to bring in people into the upper rate who feel that they are far from being rich."
Tax firm RSM said that there are also unexpected consequences of slashing the additional-rate threshold and the Chancellor had opened the door to a new 67.5pc tax rate.
Taxpayers earning over £100,000 lose their personal allowance at a rate of £1 for every £2 of income.
This means for every £100 they earn between £100,000 and £125,140, a worker takes home just £40 – because £40 is lost to income tax and another £20 to the tapering of the personal allowance – creating a 60pc tax trap.
Dismal headlines
The Guardian has a breakdown of last Friday's front pages, which were bleak.
The Telegraph noted the austerity of George Osborne, Chancellor when the Conservative-Lib Dem coalition took over from in 2010, and the Labourite policies of his predecessor Gordon Brown. At the bottom of the page is an analysis from Lord Frost:
Lord Frost's analysis is pro-Truss/Kwarteng
Lord Frost points out that the OBR are predicting what Liz Truss did just a few weeks ago:
This was a very curious Autumn Statement. For the last month, we have been told that Britain needed to re-establish the confidence of the markets and put in place renewed fiscal discipline, supposedly so carelessly squandered by Liz Truss. "Eye-wateringly painful decisions" were coming for all of us …
… public spending will be at its highest since the 1970s and taxation the highest since the Second World War. Both only start to fall, gently, in the late 2020s, and then only because of some pretty heroic assumptions about growth. Indeed, under Liz Truss we were told that 2.5 per cent growth was impossible – yet the Office for Budget Responsibility (OBR) is predicting exactly that for 2025 and 2026.
How do we explain this?
To do so, I think, we have to go back to that extraordinary week in mid-October, when Truss's government blew up on the launch pad. 
She was levered out of Downing Street with the argument that she had been careless about the public finances, casual about fiscal discipline and had lost market confidence. An emergency correction was needed – tax rises or spending cuts, and probably both.
Yet on taking office, our current government will have found – as the OBR has now acknowledged – that we were already into a deepening recession. Tightening fiscal policy with growth collapsing and interest rates increasing globally would clearly have been an insane policy, one at variance with what virtually every economist would suggest. But, having destroyed the Truss administration for being insufficiently fiscally disciplinarian, the Government could hardly overtly change course itself.
That is why we got what we got. Keep growing spending, raise taxes now on unpopular groups, defer deficit reduction and everything else until 2025, and meanwhile talk a lot about austerity and discipline to disguise the reality that this is likely a similar fiscal policy to what Truss's would have been, just at higher levels of tax and spend. Then, after the election, if the Conservatives are still in power, it can all be looked at again …
… Taxes on business wreck investment and growth. Taxes on the (not very) rich destroy incentives. Britain's hard-won reputation for being a low tax country is permanently lost. And we all have less of our own money and are less free.
Another defence of Trussonomics
The Mail reminds us that the Truss plan was to cap energy prices for two years. Hunt has reduced this to the end of March 2023:
Average energy bills will rise to £3,000 a year from April as Chancellor Jeremy Hunt confirmed he was scrapping previous Government plans.
In his Autumn Statement to the House of Commons, Mr Hunt revealed changes to the 'Energy Price Guarantee' would leave Britons facing higher gas and electricity payments next year.
When former prime minister Liz Truss first announced the cost of living support in September, she outlined how average energy bills would be frozen at £2,500 a year for the next two years …
Delivering details of an altered plan today, Mr Hunt revealed the Energy Price Guarantee would now be set at a higher level of £3,000 a year for average households until April 2024.
Of course, those who use less energy at home might have less to pay:
The plan only caps the cost per unit that households pay, with actual bills still determined by how much is consumed.
Sarah Coles, senior personal finance analyst at Hargreaves Lansdown, said:
The fact that this comes on top of so many other price rises means life is going to get even tougher next spring.
More Trussonomics
The Spectator's editor Fraser Nelson wrote an analysis of the budget for The Telegraph, 'This could turn out to be the week that the Tories lost the next election'.
I noted above that some of what Hunt said points far into the future.
Fraser Nelson also observed that fact:
Suspiciously, almost all of this austerity is due to take place after April 2025, after the election. The Tory benches were very quiet during Hunt's speech, perhaps because they were piecing all this together. It was not just an Autumn Statement being written, but the next Conservative manifesto, too – with all the bad stuff saved for after the vote. Hardly the behaviour of a party expecting to win.
As one minister put it: "This was the day we lost the election." This is how some Tories see the Autumn Statement: a suicide note, wrapping a poison pill for a Keir Starmer government to swallow.
This is the alarming rate of borrowing today. Factor in the previous QE and the generous Sunak pandemic programmes when he was Chancellor:
Even now, the Government is borrowing £485 million a day – or £20,000 by the time you finish this sentence. It all needs to be repaid. And the interest we all have to pay for such debt is, broadly, treble what it was a year ago.
The new forecasts show a UK Government expecting to pay £484 billion in debt interest over the next five years – almost £300 billion more than was expected this time last year. This year alone it's £120 billion, twice last year's sum.
This extra £60 billion has had to come from somewhere. It's enough to double the size of the military, treble the police force or rebuild every school or hospital. But instead it is dead money, servicing an old debt – and things need to be squeezed to make room for it. For years, Tories wrote cheques, for HS2 and more, barely thinking about the cost. Now the bill has landed.
Nelson doesn't mention the number of times long-serving Conservative backbenchers warned Sunak over the past two years that the bill would come due, but I saw them in parliamentary debates being duly ignored. To Sunak, those men were mere Thatcherites, so last century. Rishi told us we could borrow with little consequence. Not so.
He created a lot of our current problems and campaigned in August that he would be the candidate to get us out of this situation.
Now he is No. 10, just as he wanted to be from the beginning:
Sunak can't be blamed for the debt interest. But he might have been expected to have better ideas of how to get out of the mess.
Of the Autumn Statement, Nelson writes:
Liz Truss said her message was "growth, growth, growth," but Sunak's seems to be "brace, brace, brace". A massive fiscal impact lies ahead, he says – and our mission is to recognise it, make our peace with it, and accept that talk about a low-tax future is futile. So his Autumn Statement did not kick-start a recovery. It was, instead, a requiem for growth.
Of the August leadership campaign, he reminds us:
During the leadership debate, Truss was asked what advice she would give to Sunak. Don't be so fatalistic, she told him. Don't go along with narratives of decline. She had a point. Groundless optimism ended her premiership very quickly, but groundless pessimism can also be deeply damaging.
Nelson wonders how a government can so quickly discount its people:
A million more Brits, for example, are expected to join the 1.7 million already claiming disability or health-related benefits over the next five years. They will, in turn, join the 3.5 million others on out-of-work benefits. Was it so unreasonable to hope that this number might go down, with people helped back to work? We've been promised a review into all this, but not much else.
Another assumption is that most of the 400,000 who have dropped out of the economy since the pandemic started, citing long-term sickness, will never work again. It's hard to find many other countries giving up so readily on such a stunningly large chunk of the population.
Is a uniquely British malady at work here? Or is the real problem a kind of Tory fatalism, where an exhausted governing party thinks the country is now too old, too sick or simply too workshy to get back to where it was in January 2020?
Many conservative voters said at the time that Rishi's furlough scheme was a bit too helpful — and we were paying for it.
Now we are paying even more for it.
Nelson concludes:
… the risk is that voters make up their mind now – and associate Toryism with chaos, broken promises and a general counsel of despair. Labour just needs to promise to do things better. As things stand, it's not a very high bar.
Feeling fleeced yet?
The Telegraph's editorial warned, 'Hard times ahead for British taxpayers':
Unlike the tumultuous response to Kwasi Kwarteng's unfunded growth measures in September, the market reaction was muted, which is precisely what Mr Hunt hoped for, even if the pound fell against the dollar amid forecasts of a year-long recession …
… benefits and the old age pension will rise in April by 10.1 per cent, the inflation rate in October.
This continues a trend of recent years whereby working people are expected to pay more in tax to protect social programmes that successive governments have been reluctant to reform. Although headline tax rates have not risen, the extended freeze on allowances at a time of double-digit inflation is a serious hit to the incomes of millions who will be dragged into higher bands. Some three million earners will pay income tax for the first time.
This year will see the sharpest fall in living standards on record, while the tax burden rises to its highest level as a share of GDP in decades. More than 47 per cent of national income will be spent in the public sector. In fact, spending will actually rise in real terms. The cuts are to planned budgets.
Rishi Sunak and Mr Hunt consider this social democratic approach to be fair and compassionate, closing off attack lines from Labour as a general election approaches. But there are consequences for the long-term well-being of the country if working people and businesses feel they are being fleeced to prop up failing public services and a benefit system in need of a drastic overhaul.
Essentially, the productive part of the economy is being squeezed to prop up the unproductive. The problem Mr Sunak faces is that, by 2024, the Conservatives will have been in office for 14 years and they need to offer voters a better slogan than "Labour will be worse". In fact, Labour would support many of the measures in the Autumn Statement, from loading more tax on the wealthy to increasing windfall taxes on the energy companies.
… ministers need to prepare for the worst and could proactively address the biggest drags on the economy, above all the NHS, social care and welfare benefits. The health service continues to soak up huge sums – with another £6 billion announced yesterday – and yet produces worse outcomes. Its shortcomings are causing problems throughout the economy, with treatment backlogs contributing to acute manpower shortages which the Government intends to fill by increasing immigration.
The Spectator's political editor James Forsyth, a close friend of Rishi Sunak's, explained in The Times why this recession is different to previous ones and why we need more people in the workforce. I hope his friend pays attention to this:
One bright spot amid the gloom is the unemployment rate, which is just 3.6 per cent, down from 3.8 per cent this year. This is close to historic lows. But even this glimmer is tarnished. The low unemployment number disguises how many people have left the labour force: one in five working-age Brits are economically inactive, meaning they are neither in work nor looking for it. More than five million are claiming out-of-work benefits.
The recession may last a year, perhaps two — but it will be different. Unemployment, as formally defined, won't exceed 5 per cent even during the worst of the downturn — in the 1980s it went into double digits. Seldom have there been more vacancies in the economy. It's an odd form of recession where almost anyone who wants a job can find one, but that's the situation we're in. Almost every month, the number of those not looking for work grows: it jumped by 169,000 in the three months to August. That is more than the population of Oxford.
This has consequences. The OBR thinks the cost of health and disability benefits will rise by £7.5 billion — quite a sum. A shrinking labour market is also one of the reasons why the Bank of England thinks potential growth is now a mere 0.75 per cent even in 2024-25. The Tories desperately need to get back to moving people from welfare into work — not just to reduce the welfare bill but also to boost the economy …
Alongside those not in work nor looking for it, there are 970,000 people on Universal Credit who are working very limited hours in an economy where employers are offering shifts. Hunt announced that about 600,000 of them will now be required to meet a work coach to try to increase their hours. This signals a return to Tory welfare reform …
… to ensure taxes don't need to keep going up indefinitely, two things are needed. The first is a renewed emphasis on public-sector reform. The Tory mantra used to be more for less from public services. But in recent years, it has felt like the opposite is the case. As the Institute for Fiscal Studies pointed out this week, the NHS has more money and more staff than it did before Covid yet is treating fewer people on the waiting list. This needs reversing if the tax burden is not to continue climbing ever higher.
The second is the economy needs to grow. Meat needs to be put on the bones of the growth agenda that Sunak and Hunt set out this week, with further incentives for businesses to invest.
After the debacle of the mini-budget, this autumn statement was always going to be about steadying the ship. Yet satisfying the markets is a necessary but not sufficient condition for a successful government. Sunak and Hunt must now deliver on public service reform, moving people from welfare into work and getting more out of the health and education budgets.
The Telegraph had more on the parlous state of the NHS, despite more taxpayer money being dumped into it, all for nought:
An analysis by the Institute for Fiscal Studies shows the health service in England carried out 600,000 fewer procedures in the first nine months of 2022, compared with the same period in 2019.
The NHS's budget rose from £123.7 billion in 2019-20 to £151.8  billion in 2022-23, with the extra funding tied to a target of increasing elective hospital activity by 30 per cent compared with pre-pandemic levels. This will not only be missed but matters have worsened. Why is no one being held to account?
Record sums have been poured in for years, yet there is now a waiting list of more than seven million patients. Working practices remain stuck in the past, with consultants complaining that hospitals are "like the Mary Celeste" at weekends, while most GP surgeries are only open on weekdays, pushing patients to overstretched A&E services.
The NHS unions are not helping in their demands for more money.
The article concludes:
There is something fundamentally wrong with the NHS which politicians must confront before it crashes and brings the rest of the economy down with it.
Hunt puts economic hope in migrants
It seems the OBR, a quango started by the Conservative Chancellor George Osborne and staffed by Labourites, has convinced Jeremy Hunt that he should increase our already heavy migration levels to boost the economy.
That's a left-wing idea that has never worked.
Home Secretary Suella Braverman will oppose that, but can she succeed? Only a few weeks ago, a 90-minute argument with Liz Truss and Hunt resulted in Braverman's resignation. Her security violations were a likely smokescreen for what really happened.
Jeremy Hunt is relying on a surge in net migration to more than 200,000 people per year to help deliver economic growth as he oversees a sharp rise in the tax burden to its highest ever peacetime level.
The Office for Budget Responsibility (OBR) predicted net migration – the numbers entering the UK minus those leaving – will be 224,000 next year, before gently declining to settle at 205,000 a year from 2026 onwards.
This is dramatically higher than the OBR's March estimate, when it predicted that net migration would be between 139,000 and 129,000 in the same years, some 80,000 lower.
It is also significantly higher than the long-term "ambition" of Suella Braverman, the Home Secretary, to reduce net migration to below 100,000 – similar to the target of Theresa May, one of her predecessors in the post.
The increase in migrant labour will help to buttress Britain's economy as Mr Hunt imposes higher taxes on earnings, jobs and investment. The OBR said that an increase in migration would help add to the potential size of the economy.
However, rising costs from tax are creating "growing disincentives to work", reduce business investment and depress wages, according to the OBR itself.
Business groups were even more damning. The Chancellor talked a lot about "hard work" and "fairness" in his Autumn Statement. But workers, entrepreneurs and businesses have been left to pick up the bill to keep Britain's welfare state on the road.
The OBR are being deeply irresponsible in advocating city-sized populations coming from abroad each year.
Where will these people live? How is our infrastructure — medical facilities, schools, water supply — increase to meet this demand year upon year?
Anyone travelling by Tube can pick up a copy of the Evening Standard to read about how many British twenty-somethings in London cannot find a room to rent. In many cases, there are 100 of them chasing every available room. The Standard interviews them. Their stories are heart-breaking. These young people are signed up to every rental app, to no avail.
Council tax increasing
On top of all of this, The Times reported that Hunt has given the green light to councils to increase council tax:
… the chancellor announced "more council tax flexibilities", enabling councils in England to raise council tax by 3 per cent a year (up from 2 per cent) from April 2023 and increase the adult social care precept by 2 per cent a year (up from 1 per cent) without having to hold a referendum — leaving councils free to raise the tax by up to 5 per cent next year.
Their article has charts of various council tax rates and offers this example:
If they decide to increase council tax by the full 5 per cent, council tax band D payments would rise by £115 from £2,300 to £2,415 a year in Rutland in the East Midlands — the local authority with the most expensive tax bills in England — while in Westminster in central London, the cheapest authority, they would increase by just £43 from £866 to £909 a year.
Short takes
The Telegraph has an article on winners and losers from the Autumn Statement. There are only two groups of winners: housebuyers and pensioners/benefits claimants.
The Guardian interviewed some of Hunt's constituents in leafy South West Surrey. They are unhappy with him as MP and are equally unhappy with the Government.
Guido Fawkes's sketchwriter summed up Hunt's announcement as follows:
What was the job of the day? To persuade the markets that all was under control. That debt-to-GDP would fall in reasonable time, that things would get back to normal in his cool, technocratic, managerial hands.
It's what we all need, to believe that someone knows how things work and that they know what they're doing. That there is such a thing as "sound money". That the great, communal hallucination of financial reality may be preserved.
In Guido's view, the Chancellor did exactly that. (Pound crashes, housing market collapses, the global financial architecture disappears into the Pacific Trench)
The readers' comments near the end of that post have to do with the raw deal Liz Truss got. Here's the exchange:
I find it impossible to believe that Liz Truss did so much damage in a couple of weeks with a mini budget which was never even enacted to require today's grotesque socialist budget. Hunt and Rishi must be following an ideological policy and using Truss as their excuse.
Yes, she's been made a convenient scapegoat by the WEF shills, to cover all their earlier and current mistakes and wrongdoings.
She went too far too fast and, by doing so, gave the one nation Tories and SunakHunts the opportunity to bring her down. The real villains are Sunak and Bailey [Bank of England governor] with their money printing and inflation denial. We are paying for their mistakes.
She didn't go too far too fast. That is the Conservative spin. The Socialist spin is that she crashed the economy. It was cautious and a promising start, a direction of travel being set, nothing more – except for that huge two year package on the gas bills which was pure socialism and not mentioned by anyone.
The true Conservative spin is that, as an experienced Cabinet minister, she didn't scan the political and financial hinterlands and underestimated the faux Conservative forces ranged against her. Once she u-turned she was done for.
On another of Guido's posts, a reader posited that this is all about reversing Brexit:
The champagne socialist billionaire Rishi Sunak and arch remainer narssisist Jeremy Hunt have nailed the final nails in the socialist party AKA as the Conservative party coffin. They will be wiped out at the next GE for a generation. They want to tank the economy and make everyone feel financial pain so they can say BREXIT didn't work. They will then seem to come to the rescue with every excuse on the planet and join us up first to the single market and customs union. Then kicking and screaming back into the EU. Why do you think they staged this remainer coup and got rid of Truss? The Truss budget of low tax, high wages, high growth, low government spend and the scrapping of the 2300-3000 EU laws retained on the UK statue book would have taken advantage of BREXIT and boosted the economy. They could not allow that to happen. They want to ditch plans to scrap the EU laws as that will make it harder to leave. They have folded on the NI Protocol and leaving the Jurisdiction of the ECHR. Why? Because they want to rejoin. We now are having forced on us a low wage, high tax, low growth, high government spend economy that will cripple most people financially and small businesses. Who wants to invest in the UK now?
On that note, another reader posted a photo of Hunt and Sunak sharing a laugh, with this fictitious caption:
Hunt: Told you you didn't need the support of the members.
Sunak: Yes, it was so easy to stab Truss in the back, too. Who needs democracy?
What taxpayers can do
All is not lost for taxpayers. There are ways to mitigate the effects from Hunt's statement.
Anyone who needs to cut back on food costs, protein in particular, should start eating eggs, which are cheap and the best source of protein around. Supposedly, they're in short supply, but I bought a dozen only yesterday.
The Telegraph has an excellent article on various egg preparations, whether sweet or savoury. It's well worth reading.
The paper also has a helpful article about what taxpayers can do to mitigate Hunt's raid on their money. Some will require advice from a financial planner. The most important tip is to get one's capital gains in order and start liquidating shares or funds to put into an ISA — a process called 'bed and ISA' — without exceeding the CGT thresholds. This has to be started well before the end of the 2022-23 tax year in April, when the current capital gains threshold of £12,300 expires and becomes £6,000 for one year, then £3,000 the year after that.
Good luck!
My far better half and I never miss a Neil Oliver editorial during his Saturday evening GB News shows.
His topic is the changing fabric of the Western world post-pandemic, whether it be through farming prohibitions, climate change or the ongoing revelations about coronavirus policies.
Here is the transcript and the video from his August 13 editorial:
Excerpts follow, emphases mine:
It is hard to think the unthinkable – but there comes a time when there's nothing else for it. People raised to trust the powers that be – who have assumed, like I once did, that the State, regardless of its political flavour at any given moment, is essentially benevolent and well-meaning – will naturally try and keep that assumption of benevolence in mind when trying to make sense of what is going on around them.
People like us, you and me, raised in the understanding that we are free, that we have inalienable rights, and that the institutions of this country have our best interests at heart, will tend to tie ourselves in knots rather than contemplate the idea those authorities might actually be working against us now. I took that thought of benevolent, well-meaning authority for granted for most of my life, God help me. Not to put too fine a point on it, I was as gullible as the next chump.
A couple of years ago, however, I began to think the unthinkable and with every passing day it becomes more and more obvious to me that we are no longer being treated as individuals entitled to try and make the most of our lives – but as a barn full of battery hens, just another product to be bought and sold – sold down the river …
Once the scales fall from a person's eyes, the resultant clarity of sight is briefly overwhelming. Or it is like being handed a skeleton key that opens every locked door, or access to a Rosetta Stone that translates every word into a language instantly understood.
Take the energy crisis: If you've felt the blood drain from your face at the prospect of bills rising from hundreds to several thousands of pounds while reading about energy companies doubling their profits overnight while being commanded to subsidise so-called renewables that are anything but Green while listening to this politician or that renew their vows to the ruinous fantasies of Net Zero and Agenda 2030 while knowing that the electricity for electric cars comes, in the main and most reliably, from fossil fuels if you can't make sense of it all and just know that it adds up to a future in which you might have to choose between eating and heating then treat yourself to the gift of understanding that the powers that be fully intend that we should have less heat and less fuel and that in the planned future only the rich will have cars anyway. The plan is not to fix it.
The plan is to break it, and leave it broken. If you struggle to think the best of the world's richest – vacuous, self-obsessed A-list celebrities among them – endlessly circling the planet on private jets and super yachts, so as to attend get-togethers where they might pontificate to us lowly proles about how we must give up our cars and occasional holiday flights – even meat on the dinner table … if you wonder how they have the unmitigated gall … then isn't it easier simply to accept that their honestly declared and advertised intention is that their luxurious and pampered lives will continue as before while we are left hungry, cold and mostly unwashed in our unheated homes.
Here's the thing: if any leader or celeb honestly meant a word of their sermons about CO2 and the rest, then they would obviously lead by example. They would be first of all of us willingly to give up international travel altogether … they would downsize to modest homes warmed by heat pumps. They would eschew all energy but that from the sun and the wind. They would eat, with relish, bugs and plants. They would resort to walking, bicycles and public transport. If Net Zero and the rest was about the good of the planet – and not about clearing the skies and the beaches of scum like us – don't you think those sainted politicians and A-listers would be lighting the way for us by their own example? If the way of life they preach to us was worth living, wouldn't they be living it already? Perhaps you heard Bill Gates say private jets are his guilty pleasure.
And how about food – and more particularly the predicted shortage of it: the suits and CEOs blame it all on Vladimir Putin. But if the countries of the world are truly running out of food, why is our government offering farmers hundreds of thousands of pounds to get out of the industry and sell their land to transnational corporations for use, or disuse unknown? Why aren't we, as a society, doing what our parents and grandparents did during WWII and digging for victory? Why is the government intent on turning a third of our fertile soil over to re-wilding schemes that make life better only for the beavers? Why aren't we looking across the North Sea towards the Netherlands where a WEF-infected administration is bullying farmers off their land altogether, forcing them to cull half the national herd …
Why do you think it matters so much, to the government of the second most productive population of farmers in the world, to gut and fillet that industry? Why? Why have similar protests, in countries all across Europe and the wider world, been largely ignored by the mainstream media – a media that would have crawled on its hands and knees over broken glass just to report on a BLM protester opening a bag of non-binary crisps. Why the silence on the attack on farming? …
Isn't the simple obvious answer … the answer that makes most sense and that is staring us in our trusting faces … that power for the power-hungry has always rested most effectively upon control of food and its supply? Why are the powers that be attributing this to a cost of living crisis when everyone with two brain cells to rub together can see it's a cost of lockdown crisis – the inevitable consequence of shutting down the whole country – indeed the whole world – for the best part of two years. Soaring inflation, rising interest rates, disrupted supply chains …
Rather than dismiss as yet another conspiracy theory the idea of cash being ultimately replaced with transactions based on the exchange of what amount to glorified food stamps that will only be accepted if our social credit score demonstrates that we've been obedient girls or boys … how about taking the leap and focussing on the blatantly obvious … that if we are not free to buy whatever and whenever we please, free of the surveillance and snooping of governments and the banks that run them, then we have absolutely no freedom at all. And while we're on the subject of money and banks, why not pause to notice something else that is glaringly obvious – which is to say that the currencies of the West are teetering on the abyss, and that one bank after another is revealed, to those who are bothering to watch, as being as close to bankruptcy as its possible to be without actually falling over the edge.
Then there's the so-called vaccines for Covid – I deliberately say "so-called" because by now it should be clear to all but the wilfully blind that those injections do not work as advertised. You can still contract the virus, still transmit the virus, still get sick and still die. Denmark has dropped their use on under-18s. All across the world, every day, more evidence emerges – however grudgingly, however much the various complicit authorities and Big-Pharma companies might hate to admit it – of countless deaths and injuries caused by those medical procedures …
Now I ask myself on a daily basis how I ignored the stench for so long. Across the Atlantic, the Biden White House sent the FBI to raid the home of former president Donald Trump. Meanwhile Joe Biden and his son Hunter – he of the laptop full of the most appalling and incriminating content – fly together on Air Force 1. No raids planned on the Obamas, nor on the Clintons. Speaker of the House Nancy Pelosi flew to Taiwan and onwards to China. Her son Paul, an investor in a Chinese tech firm and with seats on the board of companies dealing in lithium, was along for the ride, into that part of the world where three quarters of the world's lithium batteries are made. Taiwan leads in that technology.
It is hard to think the unthinkable. It's hard to think that all of it, all the misery, all the suffering of the past and to come might just be about money, greed and power. It is hard to tell yourself you've been taken for a fool and taken for a ride. It's hard, but the view from the other side is worth the effort and the pain. Open your eyes and see.
In the middle of last week, Rishi Sunak gave an interview to Fraser Nelson, editor of The Spectator, about his view on the Government's coronavirus policy and SAGE, their medical and scientific advisory team.
Excerpts from 'The lockdown files: Rishi Sunak on what we weren't told' follow:
When we meet at the office he has rented for his leadership campaign, soon to enter its final week, he says at the outset that he's not interested in pointing the finger at the fiercest proponents of lockdown. No one knew anything at the start, he says: lockdown was, by necessity, a gamble. Chris Whitty and Patrick Vallance, the chief medical officer and chief scientific adviser, would openly admit that lockdown could do more harm than good. But when the evidence started to roll in, a strange silence grew in government: dissenting voices were filtered out and a see-no-evil policy was applied.
Sunak's story starts with the first Covid meeting, where ministers were shown an A3 poster from scientific advisers explaining the options. 'I wish I'd kept it because it listed things that had no impact: banning live events and all that,' he says. 'It was saying: you should be careful not to do this stuff too early, because being able to sustain it is very hard in a modern society.' So the scientific advice was, initially, to reject or at least delay lockdown.
This all changed when Neil Ferguson and his team at Imperial College published their famous 'Report 9', which argued that Covid casualties could hit 500,000 if no action was taken – but the figure could be below 20,000 if Britain locked down. That, of course, turned out to be a vast exaggeration of lockdown's ability to curb Covid deaths …
A cost-benefit calculation – a basic requirement for pretty much every public health intervention – was never made. 'I wasn't allowed to talk about the trade-off,' says Sunak. Ministers were briefed by No. 10 on how to handle questions about the side-effects of lockdown. 'The script was not to ever acknowledge them. The script was: oh, there's no trade-off, because doing this for our health is good for the economy.'
… When he did try to raise concerns, he met a brick wall. 'Those meetings were literally me around that table, just fighting. It was incredibly uncomfortable every single time.' He recalls one meeting where he raised education. 'I was very emotional about it. I was like: "Forget about the economy. Surely we can all agree that kids not being in school is a major nightmare" or something like that. There was a big silence afterwards. It was the first time someone had said it. I was so furious.'
One of Sunak's big concerns was about the fear messaging, which his Treasury team worried could have long-lasting effects. 'In every brief, we tried to say: let's stop the "fear" narrative. It was always wrong from the beginning. I constantly said it was wrong.' The posters showing Covid patients on ventilators, he said, were the worst. 'It was wrong to scare people like that.' The closest he came to defying this was in a September 2020 speech saying that it was time to learn to 'live without fear' – a direct response to the Cabinet Office's messaging. 'They were very upset about that.'
… Lockdown – closing schools and much of the economy while sending the police after people who sat on park benches – was the most draconian policy introduced in peacetime. No. 10 wanted to present it as 'following the science' rather than a political decision, and this had implications for the wiring of government decision-making. It meant elevating Sage, a sprawling group of scientific advisers, into a committee that had the power to decide whether the country would lock down or not. There was no socioeconomic equivalent to Sage; no forum where other questions would be asked.
So whoever wrote the minutes for the Sage meetings – condensing its discussions into guidance for government – would set the policy of the nation. No one, not even cabinet members, would know how these decisions were reached.
In the early days, Sunak had an advantage. 'The Sage people didn't realise for a very long time that there was a Treasury person on all their calls. A lovely lady. She was great because it meant that she was sitting there, listening to their discussions.'
… But his victories were few and far between. One, he says, came in May 2020 when the first plans were being drawn to move out of lockdown in summer. 'There's some language in there that you will see because I fought for it,' he says. 'It talked about non-Covid health impact.' Just a few sentences, he says, but he views the fact that lockdown side-effects were recognised at all at that point as a triumph.
He doesn't name Matt Hancock, who presided over all of this as health secretary, or Liz Truss, who was silent throughout. As he said at the outset, he doesn't want to name names but rather to speak plainly about what the public was not told – and the process that led to this. Typically, he said, ministers would be shown Sage analysis pointing to horrifying 'scenarios' that would come to pass if Britain did not impose or extend lockdown. But even he, as chancellor, could not find out how these all-important scenarios had been calculated.
Liz Truss was not part of the 'quad', though, the four Cabinet ministers who determined policy. If I remember rightly, the 'quad' were Boris, Hancock, Michael Gove and Rishi. Truss claimed that she didn't speak up because she was told that the decisions were a fait accompli. Nelson verifies that below.
Returning to Rishi:
'I was like: "Summarise for me the key assumptions, on one page, with a bunch of sensitivities and rationale for each one",' Sunak says. 'In the first year I could never get this.' The Treasury, he says, would never recommend policy based on unexplained modelling: he regarded this as a matter of basic competence. But for a year, UK government policy – and the fate of millions –was being decided by half-explained graphs cooked up by outside academics.
'This is the problem,' he says. 'If you empower all these independent people, you're screwed.' Sir Gus O'Donnell, the former cabinet secretary, has suggested that Sage should have been asked to report to a higher committee, which would have considered the social and economic aspects of locking down. Sunak agrees. But having been anointed from the start, Sage retained its power until the rebellion that came last Christmas.
In December 2021, at the time JP Morgan's lockdown analysis appeared:
He flew back early from a trip to California. By this time JP Morgan's lockdown analysis was being emailed around among cabinet ministers like a samizdat paper, and they were ready to rebel. Sunak met Johnson. 'I just told him it's not right: we shouldn't do this.' He did not threaten to resign if there was another lockdown, 'but I used the closest formulation of words that I could' to imply that threat. Sunak then rang around other ministers and compared notes.
Normally, cabinet members were not kept in the loop as Covid-related decisions were being made – Johnson's No. 10 informed them after the event, rather than consulting them. Sunak says he urged the PM to pass the decision to cabinet so that his colleagues could give him political cover for rejecting the advice of Sage. 'I remember telling him: have the cabinet meeting. You'll see. Every-one will be completely behind you… You don't have to worry. I will be standing next to you, as will every other member of the cabinet, bar probably Michael [Gove] and Saj [Javid].' As it was to prove.
Nelson claims that Rishi is telling the truth:
For what it's worth, his account squares with what I picked up from his critics in government: that the money-obsessed Sunak was on a one-man mission to torpedo lockdown. And perhaps the Prime Minister as well. 'Everything I did was seen through the prism of: "You're trying to be difficult, trying to be leader,"' he says. He tried not to challenge the Prime Minister in public, or leave a paper trail. 'I'd say a lot of stuff to him in private,' he says. 'There's some written record of everything. In general, people leak it – and it causes problems.'
Rishi said why he did not resign at the time:
To quit in that way during a pandemic, he says, would have been irresponsible. And to go public, or let his misgivings become known, would have been seen as a direct attack on the PM.
At the time, No. 10's strategy was to create the impression that lockdown was a scientifically created policy which only crackpots dared question …
David Cameron employed the same strategy with the Brexit referendum in 2016. He said that the only people supporting Leave were 'swivel-eyed loons'.
Rishi explained why he waited until now to speak out:
He is opening up not just because he is running to be prime minister, he says, but because there are important lessons in all of this. Not who did what wrong, but how it came to pass that such important questions about lockdown's profound knock-on effects – issues that will probably dominate politics for years to come – were never properly explored …
And the other lessons of lockdown? 'We shouldn't have empowered the scientists in the way we did,' he says. 'And you have to acknowledge trade-offs from the beginning. If we'd done all of that, we could be in a very different place.' How different? 'We'd probably have made different decisions on things like schools, for example.' Could a more frank discussion have helped Britain avoid lockdown entirely, as Sweden did? 'I don't know, but it could have been shorter. Different. Quicker.'
Even now, Sunak doesn't argue that lockdown was a mistake – just that the many downsides in health, the economy and society in general could have been mitigated if they had been openly discussed. An official inquiry has begun, but Sunak says there are lessons to learn now …
To Sunak, this was the problem at the heart of the government's Covid response: a lack of candour. There was a failure to raise difficult questions about where all this might lead – and a tendency to use fear messaging to stifle debate, instead of encouraging discussion. So in a sentence, how would he have handled the pandemic differently? 'I would just have had a more grown-up conversation with the country.'
Hmm.
On Thursday, August 25, Fraser Nelson wrote an article about it for The Telegraph: 'Rishi Sunak is just the start. The great lockdown scandal is about to unravel':
For some time, I've been trying to persuade Rishi Sunak to go on the record about what really happened in lockdown. Only a handful of people really know what took place then, because most ministers – including members of the Cabinet – were kept in the dark. Government was often reduced to a "quad" of ministers deciding on Britain's future and the then chancellor of the exchequer was one of them. I'd heard rumours that Sunak was horrified at much of what he saw, but was keeping quiet. In which case, lessons would never be learnt.
His speaking out now confirms much of what many suspected. That the culture of fear, seen in the Orwellian advertising campaign that sought to terrify the country, applied inside Government. Questioning lockdown, even in ministerial meetings, was seen as an attack on the Prime Minister's authority. To ask even basic questions – about how many extra cancer deaths there might be, for example – was to risk being portrayed as one the crackpots, the "Cov-idiots", people who wanted to "let the virus rip". Hysteria had taken hold in the heart of Whitehall …
Chris Whitty and Patrick Vallance began by advising ministers not to lock down, saying public events were fine, and that face masks were pointless. They were talking about herd immunity as the way out. Then they flipped entirely. But this reveals something crucial: lockdown never was backed by science. It was about models and suppositions, educated guesswork. It was driven by moods, emotion, fear – and, worst of all, politics masquerading as science.
This is part of Sunak's point. He doesn't say locking down was wrong. Just that it somehow went from being a daft idea, rubbished by scientists, to a national imperative whose necessity was unquestionable scientific truth. So we need to ask: was the fear messaging really necessary? Why were No 10 outriders sent out to savage dissenting scientists? Why was Sunak made to feel, as he told me, that he was being seen – even inside government – as a callous money-grabber when he raised even basic concerns?
The disclosures should start a great unravelling of the lockdown myth, its pseudo-scientific sheen stripped away and the shocking political malfeasance left to stand exposed. Were Sage minutes manipulated, with dissent airbrushed out? If Sage "scenarios" were cooked up on fundamentally wrong assumptions we need to know, because that will mean lockdowns were imposed or extended upon a false premise. A premise that could have been exposed as false, had there been basic transparency or proper scrutiny.
This isn't just about a virus. An autocratic streak took hold of the Government and overpowered a weak Prime Minister – and did so because our democratic safeguards failed. It should have been impossible for policies of such huge consequence to be passed without the most rigorous scrutiny. So many lives were at risk that every single lockdown assumption should have been pulled apart to see if it was correct. It should have been impossible for government to suspend such scrutiny for more than a few weeks.
I suspect that this authoritarian reflex lies embedded in our system, ready to twitch again. Life, after all, is easier without opposition so if tools exist to suspend it, we can expect them to be grabbed …
Sunak doesn't speak like a man expecting to end up in No 10. He said earlier this week that he would rather lose having been honest with people than win by telling half-truths. Opening up on lockdown may not save, or even help, his campaign. But his candour has offered important insights into one of the most important stories of our times – and one that is only beginning to be told.
As the then-Chancellor, he was the most powerful man in Government after Prime Minister Boris Johnson. Rishi held the nation's purse strings and could have said 'no' at any point to the policies. But he didn't.
It was difficult to know exactly what Rishi's motives were in giving such an interview. Perhaps he was trying to glean votes from sceptical Conservative Party members in a last ditch attempt to save his candidacy.
Whatever his reason, one outcome was that it got Covid sceptics talking again, with some indirect support from him.
On Friday, August 26, one of those sceptics, Bev Turner, delivered a guest host editorial on GB News.
She was not happy with Rishi's silence over Government policy:
Now, Rishi Sunak says that lockdowns "could have been shorter. Different. Quicker. We could be in a very different place", he says now with the benefit of hindsight that some of us never needed… Apparently, as the economy tanks, he regrets the Government's Covid strategy, stating that the scientists at Sage should never have been put in charge of the country's response.
Well…who knew?…thanks for that, Rishi. Now I can sleep at night….except of course I can't. And I won't until there are arrests over the despotic, unscientific measures of the scamdemic and the perverted profits sucked up by vampirical pharma companies aided and abetted by a media paid off to the tune of £300m. Paid for, by Rishi Sunak's department with our tax payers money!
"If you empower all these independent people, you're screwed," he now says in reference to Sage, "We shouldn't have empowered the scientists in the way we did."
She brought up Susan Michie, who is now — or who soon will be — working for the WHO:
a leading member of Sage is a life-long member of the Communist Party and might just have enjoyed the frisson of power.
She wondered why Rishi didn't do more in his position of power:
… Rishi's wrong, you can empower scientists – except that as with any medical decision – the consequences of which could be life-changing, you seek a second opinion.
Are you telling us, Rishi Sunak, that you didn't have the chance, at one of your Sage meetings to ask your colleagues to read The Great Barrington Declaration for instance? That statement written in October 2020 by some of the world's top epidemiologists and public health scientists in which they expressed their grave concerns about the damaging physical and mental health impacts of your policies, instead recommending more Focused Protection for the vulnerable. They were publicly discredited as 'fringe' according to leaked emails and denounced as quacks. You should have had the gumption, Rishi Sunak, to insist to your team that there might have been a different way.
Rishi acknowledged that there was no cost-benefit analysis of the lockdowns. I remember a handful of  Conservative MPs asking for them in Parliament. Answer there came none.
Bev discussed her own demonisation during the pandemic:
Is he FINALLY referencing the necessity of a cost-benefit analysis of lockdowns?
Let me tell you, after making such statements on TV I was vilified by the press, demonised on social media and written off by former employers as a selfish granny-killer…
But it was so obvious if you chose to look. You didn't need to be the Chancellor to see what was coming. You just needed to switch off the BBC; seek out people who were looking at facts rather than trilling with emotion.
It wasn't easy taking a public stance for the poor, the old, the young, and anyone who was going to suffer harms from Covid theatre. But I did it anyway. Because it was the right thing to do.
She finds it hard to support Rishi's stance:
In my opinion, Sunak's words paint a picture of a man who lacked the spine to publicly call-out what he now says he knew were policy mistakes. How dare you, Rishi Sunak, How dare you …
… He wasn't a passenger when, long after we had a clear picture of the infection fatality rate, said nothing to stop confused, 98-year-old care-home residents having to mouth "I love you" through windows when all they wanted was to hold someone's hand.
Sunak wasn't a passenger when schools closed; when the decades-old pandemic response plan was mysteriously ripped up in favour of a Chinese style quarantine-the-healthy strategy. He wasn't a passenger when the Chief Medical Officers took to their lecterns with baffling figures seemingly obfuscated to maintain the fear.
He was a driver, one of a handful up front at the wheel, map in hand as he helped drive the country into a brick wall with businesses closed, families destroyed, mental health problems exacerbated and some educational achievements lost forever.
He was in on the meetings that decided the NHS must be solely obsessed with a disease that was involved in the deaths of those averaging 82 years of age. Thanks to the growing treatment backlog he was well aware of, we are now deep in a period of excess weekly mortality in the relatively young which dwarfs anything that Covid-19 managed …
"In every brief, we tried to stop the fear narrative," he now says. "I constantly said it was wrong."
No, you did not. If you had genuinely believed that you would have resigned noisily and defiantly with the backing of so many British people who could also see the Covid pantomime for what it was. You could have taken a temporary step off your own political career ladder and ironically – you could have eventually come back free from the stains of the Covid oil slick in which this country is now drowning.
You say, Rishi, that you were ticked off by the Cabinet Office after saying it was time to 'live without fear'. So tell us – who didn't want to hear that message? Name names now and put your money where your mouth is.
It's actually hard to know who Sunak is aiming this about-turn at: those of us who stuck our own necks out to question the non-scientific policy, whether that was on TV or even just round a family dinner table are not ready to forgive those who were in power.
Sunak has even said that minutes from Sage meetings were edited to omit dissenting voices from final drafts.
This has caused lawyer Francis Hoar to tweet: "This is absolutely shocking. If this is true then those responsible – and it is reasonable to suppose that Whitty and Vallance were at least aware – should face a criminal investigation for misconduct in public office."
Quite right.
Sunak has thrown the scientists under the bus. They will now blame the politicians who took the decisions. The inevitable infighting will be bloody and brutal and it will finally allow us to see behind the curtain and find out WHY in my opinion insanity was allowed to run riot. I will have my popcorn ready.
The next day, Neil Oliver delivered another great editorial.
This one is spectacular:
He advised us not to be taken in by Sunak, although he admits that the ex-Chancellor's revelations have brought the coronavirus policy narrative to the fore.
Excerpts follow:
Don't be fooled into thinking this disaster movie is coming to an end.
Rishi Sunak was quick off the mark last week with his pitiful, self-serving claims about having known the lockdowns were a bad thing but that despite him drumming his tiny fists on the table until they were a little bit sore no one would listen to him.
He said his heroic efforts to avert disaster were deleted from the official records of meetings he attended.
If that's true – if minutes of meetings affecting government policy were doctored – then Sunak's claims demand criminal investigation and jail time for those responsible – including big wigs with letters after their names, who presumably knew the truth of it as well and kept their mouths shut while people needlessly died miserable deaths, endured miserable lives and the country was driven off a cliff.
Sunak squeaks that he was on the right side of history but powerless. What absolute twaddle. He was arguably the second most powerful figure in government. By his own admission, he went along with all that was done to us. If it had ever been about principles, he would have resigned the first time his dissent was ignored and erased. He would have made his way hot foot to a television studio and there delivered an honest statement about how doing the right thing was more important than keeping his job. He did none of those things.
For all that, there's excitement in the air. The mere fact the former chancellor and would-be prime minister have broken ranks – basically opting for the tried and trusted playground tactic of claiming a big boy did it and ran away means many are scenting blood in the water.
I'm hearing a lot of people, desperate and hopeful that the whole truth will finally come out, saying things like, "the narrative is finally falling apart."
It might be and it might not. But the Covid and lockdown double-act is expendable. They've wrung all the juice they're ever going to get out of that rotten fruit and now it's ready to be cast aside. Or maybe it will just go on the back burner while other, fresher concoctions are brought forward. Either way, someone, somewhere seems to have decided it's time to move on.
Just don't be fooled into thinking that stuff about saving Granny and the NHS was ever the point, far less the main event. I've said before and I'll say it again:
"It's never about what they say it's about."
Thousands of grannies and grandpas died anyway and the NHS is a vast money pit that sucks in billions and now shuts its doors against people dying of cancer. I don't believe the last two years was ever about public health …
The good ship Pandemic is holed below the waterline and all the rats are scuttling towards the life rafts. All the lies about Covid, all the lies about vaccines, more and more exposed every day.
On the other side of the Atlantic, micro megalomaniac Antony Fauci is making for dry land as fast as his little paws will propel him. There are so many rats on that sinking ship, however, that they know there won't be enough rafts. They are aboard the Titanic and many won't make it. Here's hoping.
Now that some of the great and the good are changing their tune … now that more and more of the mainstream media are pirouetting like ballerinas and finally contemplating questions some of us have been asking, shouting indeed, on a desperate loop, for months and years, there's a narrow window of opportunity for getting some other stuff out into the open. And so now seems like the right time to think more of the unthinkable and say more of the unsayable.
Things are unfolding now exactly as the so-called conspiracy theorists, us with the tin hats on, said they would. And while everyone else – those who poured scorn, and ridiculed and hated – surely have to face the fact that we, the outcasts who lost work and reputations and much else besides – were right all along about the unforgivable damage of locking down, about harms to children, about being determined to refuse the Covid injections – in this brief moment while those who had nothing to offer but spite, and vitriol and undisguised loathing for those of us who first suspected we were being sold a pup – and who felt something wrong in our guts and so bothered to do our own reading and learned we were absolutely right and so spoke out and kept speaking out – right now before those smug smarty pants regroup behind the next line trotted out by the establishment, we can state some more of the blindingly obvious.
Let me, on behalf of my fellow conspiracy theorists, put more of the truth out there. After all, in a few months' time it's what those same smarty pants will be saying they knew all along as well.
Here's what I make of the bigger picture – and what some of us so-called Covidiots, anti-vaxxers, Putin-apologists, fascist, far-right extremist swivel-eyed loons want to talk about next.
… The horror show in the Ukraine is being exploited.
Here at home last week, Boris implied that while only lesser mortals are fretting selfishly about heat and food, his attentions are focused on the lofty heights of saving the world. The little people of Britain must endure cold and hunger for … guess what … the greater good.
Anyone with even the faintest grasp on, at least an interest in, geopolitics knowns it is utterly bogus and he is a fraud – along with Biden, Trudeau, Macron, Von der Leyen and the rest of a list so long I don't have time to read it out.
The imminent cold and hunger were made inevitable not by Putin in 2022, but years ago by the adoption of ruinous, ideologically-driven nonsense presented as world-saving environmental policies that only denied us any hope of energy independence, the profitable exploitation of all the resources beneath our feet and seas, and condemned much of Europe to dependence on Russia.
What we are paying is the cost of going Green, when those polices are not green at all but predicated upon some of the most destructive and toxic practices and technologies ever conceived.
Wind and solar will never provide the energy we need to keep thriving as societies, to grow and flourish. The situation is so insane I find it easiest to conclude we are simply meant to do without.
Stop thinking we're all going to have cars, and international travel, and warm homes – just different than before. What seems obvious is that we are being groomed to live small lives, to make way for the grandiose expectations and entitlements of the elites that are working so effectively to hoover up the last of the wealth …
Energy prices will keep going up. This will obviously hurt the poorest countries and poorest people first and worst. What is obvious about the Green warriors making war on affordable, reliable energy is that they care not a jot about the poor – at least not the actual poor alive in the world today. Those real flesh and blood people are to be sacrificed, by the millions, utterly denied the energy that might have lifted them out of poverty, so that imaginary people as yet unborn might thrive in a Utopia that exists only in the imaginations of pampered protesters. China will just burn more coal to compensate and seize more control but, shh, best not mention it.
That corrupted thinking comes from Communism – or perhaps Communism's idiot cousin Socialism. Green warriors don't care about the poor, in the same way socialists don't care about the poor … they just hate the rich.
Which is ironic, given that with their infantile protests they are doing the work of the very richest for them.
Ukraine produces a fifth of the wheat crop, required by the poorest. Not this year though. Whatever has been grown will be hard to store and harder to export – so that hunger and full-blown famine becomes a looming threat for hundreds of millions of the world's hungriest people.
In richer countries, life is being made deliberately impossible for farmers. Spiking costs of fertilisers and fuel are one thing but governments in the Netherlands, across Europe, in Canada and elsewhere around the world are persecuting those who grow our food. Farmers are being made to endure restrictions that destroy their businesses, being driven off their land altogether. They will have to watch as fields they have known and cared for over generations are hoovered up by transnational organisations with other ideas about what that land might be used for.
If you think mass migration and immigration are difficult problems now, wait until the unavoidable famines cause a haemorrhage of humanity out of the poorest countries of Africa and the Middle East. Perhaps hundreds of millions of people with nothing more to lose. Where do you think they'll go?
And here's another inconvenient truth: money and weapons keep flowing into Ukraine, but despite months of war and sanctions, the Russian rouble remains strong and an end to hostilities seems as far away as ever. Maybe no one wants that war to end. Wars don't determine who's right anyway; wars determine who's left.
Ultimately this is all about wealth and power. Not money, remember. Money is to wealth as a menu is to a steak. One's a worthless bit of paper, the other something that will keep you alive. This is about actual wealth and its acquisition. It's about the already super-rich getting hold of even more of the real things. Land, buildings, natural resources, gold. While we are supposed to be frightened out of our wits, squabbling among ourselves, and just hoping that one day it will all be over, a relative handful of others are hoovering up all the wealth, as planned …
Don't be fooled by Sunak and the rest and their about face – their pretence that they were with us all along. Covid and lockdown carried them only so far – but they plan to go much further. Disease, War, Famine, Death – the same people always ride on the same four horses. Now is not the time to take our eyes off the ball. Not by a long chalk. Keep watching the usual suspects.
On Sunday, August 28, Scottish comedian Leo Kearse guest hosted Mark Dolan's GB News show.
He gave an excellent editorial about eco-warriors. This is a five-minute video you won't regret seeing, full of fact with a generous scoop of wit:
He points out that Green pressure on Government has made us back away from energy independence over the years. The result? We are now dependent upon Putin for gas. He says that eco-warriors are helping Putin to win the war in Ukraine. Meanwhile, the rest of us will be cutting back on fuel we need to heat our homes this winter.
He concludes that Green policies are a nonsense, especially when the Scottish Green leader Patrick Harvie says that only right-wing extremists advocate energy independence.
He gives President Trump credit for telling Germany to become energy independent, even if the German delegation listening laughed in his face. He asks when Germany will ever be on the right side in a war.
I cannot help but agree.
Returning to Rishi's coronavirus revelations, I will have more on that tomorrow, as there was fallout over the weekend. Bev Turner was not wrong. They're turning on each other.
On Wednesday, August 10, 2022, Liz Truss appeared on GB News's The People's Forum to answer questions from residents of Leigh in Greater Manchester about her proposed policies:
The veteran newsreader and broadcaster Alistair Stewart ably moderated proceedings, allowing the audience to ask questions then reading viewers' questions and asking a few himself:
The programme was an hour long:
Brian Sheeran was first up to the microphone. Leigh, established in 1885, is a Red Wall constituency. They elected their first Conservative MP in 2019: James Grundy.
Sheeran asked why the people of Leigh should trust the Conservatives. Truss said that voters no longer could rely on Labour, because Labour never did anything for them:
She said that she would make sure that she started local projects as soon as possible, because people only trust a political party once they see tangible signs of improvements being made.
She also pledged to boost local businesses by rescinding EU laws that are still on the books post-Brexit.
She said that she would place a moratorium on the green levy on fuel and prepare an emergency budget as one of her first tasks as Prime Minister.
Not everything would happen straightaway. At least one measure would have to wait until April 2023 to be implemented because the Finance Act would require amending, a procedure that would require approval in both Houses of Parliament.
Another man asked what help Truss would give to working class families now, because the price of home energy has become crippling. He has had to take on a weekend job just to make ends meet:
Truss said that 'from day one', people would be able to keep more of what they earn.
He said that he needs help now, not at some point in the future. She said that she would look into all the options as soon as she becomes Prime Minister, should that happen.
Philip Orr asked about illegal immigration and was remarkably well informed on the statistics of our population increase over the past several years:
Truss summarised the situation of people trafficking across the Channel in dinghies. Criminal gangs are making big money. She hopes to make the Rwanda deportation policy work through Dominic Raab's proposed Bill of Rights. She also hopes to expand the number of countries who could take in these illegal migrants because they need more workers.
Orr suggested revoking French fishing licences if the French authorities continue to do nothing to stop the dinghies coming across the Channel.
In response, Truss said that she had had a 'tough' conversation with the French two weeks ago and that she would continue to be 'robust' in her negotiations. She cited the Northern Ireland Protocol Bill as proof that she could get things done.
She said that these migrants are in league with their lawyers before they make the trip over, enabling the lawyers to use ECHR laws to stop their deportation from the UK.
Finally, Orr asked why the UK couldn't use other countries' ports instead of being so reliant on France.
Orr called all of this 'sticking plaster politics', because nothing so far has been successful.
Jane Knight was the next to ask a question. She noted that the Government was not working. She asked what Truss's key strengths were and how she hoped to build a good Cabinet that would be ready to run on Day One:
Truss said that she has established a record of being able to get things done and has received backing from those Cabinet ministers, past and present, who have worked with her.
She said that she would be looking for three things in her Cabinet ministers: competence, the ability to stand up to civil servants in Whitehall and loyalty to her rather than to the media.
Knight said 'yes' to those but said there should be a certain amount of 'risk taking' and asked whether Kemi Badenoch, immensely popular among the people during her leadership campaign, would be able to have a Cabinet post, such as, perhaps, Foreign Secretary, Truss's current position:
Guido Fawkes has the dialogue (emphases his):
Jane Knight: I would like you to give some opportunity to maybe people that you might not know as well at the moment… certainly somebody who fired the imagination of the public was Kemi Badenoch and I'd really like to see her given a meaty role.
Truss: Do you have any ideas about what that role should be?
Knight: Oh well, Foreign Secretary! There might be a role going there!
Truss: Look, I don't want to get ahead of myself and this leadership campaign is still going on, but I can tell you that I will make sure the best players in the Conservative Party are on the pitch if I'm elected leader… Kemi – I've worked with her as Women & Equalities Minister – we've taken on a lot of the agenda of people who are trying to deny that women are women and so on, so I think she's absolutely brilliant and I would definitely want her as part of my team if I'm successful.
Knight also asked whether the Cabinet would be 'leaner, leaner, leaner', nodding for affirmation as she spoke those words.
Truss said that she could promise a 'leaner No. 10', which 'has become a bit too presidential' and she repeated her pledge to find a good post for Badenoch.
Knight said:
Ohhh, good answer.
Alistair Stewart brought up strikes at universities which prevent students from getting a full education. Some of these strikes are about changes in terms to lecturers' and professors' pensions because some universities took a 'pension holiday', not paying in continually to the pension pot. Other strikes, however, took place during the pandemic over health concerns. Either way, students are out of pocket, to the tune of £9,000 per year. They do not receive refunds for strike action.
Theo Murphin (?), a student, asked about this situation:
Truss said that she would hold universities to account to ensure that students get what they pay for.
In other strike areas, such as railways, she would ensure that industrial action would not overrun the network completely.
Theo also asked about the Online Safety Bill and the coming restrictions on freedom of speech. Truss said that her major focus of the bill would be to ensure that minors are not adversely affected by what they see online. With regard to adults, she said that one should be able to say the same things online as well as offline.
On the subject of strikes, Janice, a Daily Mail reader, wrote in with a question about the disruption of this year's strikes in various sectors across the country. Stewart asked her question for her.
Truss said she would legislate 'as soon as possible' to ensure that a minimum level of service is provided. She added that she is also concerned about activist organisations and mentioned Extinction Rebellion. She said that she would also take steps to ensure that they are dealt with, too, so as to not disrupt the daily circulation of people and goods.
Stewart brought up child grooming gangs (30:39), which seem to be everywhere in England now. He called Paul Eckersley to the microphone. Eckersley asked Truss what she planned to do about these gangs and 'bring criminals to justice':
Truss said that police should not be spending time patrolling tweets. Instead, she said, they should be fighting crime. She said that she wants to introduce police league tables on various forces' results.
Returning to the grooming gangs, she said that what has been going on has been 'absolutely repulsive'. She said that she wanted gang members to be held to account, 'but more than that' also the locals in authority — police, councillors and so forth — who did not do anything to stop them.
She received a round of applause for her answer.
Stewart then turned the subject to housing, especially getting young people on the housing ladder.
Jessica Buckthorpe, a cheerful and polite university student, asked whether Truss had any proposals to help young people in her situation, a student who works but cannot put together enough savings:
Truss proposes using young people's rental history of paying in full and on time to go on their mortgage applications, helping them to get a mortgage more easily.
Truss added that she also wanted to give more planning control to individual communities to plan for the housing they need. It is not unusual for young people to move away from where they grew up because they cannot afford the house prices.
Buckthorpe said that, while she appreciated these ideas, she said that the enormous actual mortgage deposit required is a 'pipe dream' not just for herself but for many other young adults.
Truss replied that using rental history would play an important part in enabling young adults to get a mortgage.
Truss said that it was important to keep in mind that our current inflationary period is temporary:
… we should not bake that into the future.
Stewart looked at Buckthorpe for her reaction:
There's a smile there.
A beaming Buckthorpe said:
Thank you very much.
The subject of war widows' pensions came up, especially those widows of veterans who subsequently remarried and lost their first husbands' pensions through subsequent rule changes. They are known as the WASPIs.
Stewart called on one woman who has a problem with her pension, Patricia Morgan, to ask her question. See the 2:40 point in this video:
Morgan said that, while she does not think she is getting the right amount of state pension because of a change in retirement dates, she cannot help but notice that money is going everywhere else, from coronavirus programmes to the war in Ukraine.
Truss said that she has met many such women in her own Norfolk constituency. The matter has also been addressed — unsatisfactorily, to many women — in Parliament. Truss said that she does not think that women have been looked after fairly in this regard. However, she said it would be very difficult to revisit the circumstances of the WASPIs and she apologised for that. She did, however, pledge to look at the tax system and see how it has an unfair impact on women in changing family circumstances.
Morgan politely countered by bringing up a parliamentary ombudsman's report which said that 'maladministration' had taken place. Truss said that she did not want to make promises that she could not keep. She could only address the future.
Stewart brought up the war widows' issue. Truss said she had already looked at that when she was in the Treasury. This issue, she said, she would look at again in more detail. Some 300+ women are affected.
Stewart then discussed the problems in the NHS.
Janine Ronaldson was the next person to approach the mic. She is a registered nurse with 31 years' experience, who works as a community nurse. She asked what Truss would do about the fact that nurses' salaries and benefits have decreased in recent years, resulting in many of them leaving the profession:
Truss said that nurses on the front line should be able to make more of their own decisions. She added that additional funding could come from existing funds and that the National Insurance tax rise was unnecessary. Some of this money can also go into social care, enabling hospital beds to be freed up for the elderly to go into a care home upon release from hospital. Currently, some patients have to stay in hospital because there is no satisfactory home situation for them to return to.
This, coupled with a huge post-pandemic backlog, is becoming a national problem.
Truss also pledged to look at the pension situation and talk to individuals to assess their concerns. She said that her incoming Health Secretary would also have to be committed to this.
Ronaldson said that it has been very difficult for her to see nurses leaving the profession and having to take on their workloads.
Stewart then asked for final questions on the topics that had been addressed.
One question came from Councillor Liam Billington, who asked about the child grooming problem. He said that Greater Manchester Council keep voting down motions to hold a public inquiry into what happened in Oldham. Truss responded that she would look into it and get back to him.
Johnny Riley (?) was next. He said that he had to give up his job to become a full-time carer for his wife. He receives only £70 a week from the Government in carer's allowance. He now has to use his life's savings to help them get by.
Truss thanked him for his devotion to his wife, who has cystic fibrosis. She said that her pledged review of the tax system should reveal how it works with the benefits system. She does not people like Johnny to be penalised for doing the right thing.
He said that he has paid into the system, so it's not about paying tax; it's about benefits, the least paid of all of them. Truss said that the whole system has to work, which is why she wants to look into it. She said she does not have a detailed answer. He said it was no wonder, because there has never been a detailed answer:
All we're asking for is a fair crack at the whip.
Trevor Bell asked how the Government can retain VAT on gas and electricity, when that is an EU law that should have gone once we left the European Union:
It was a Brexit promise … It should go now.
Truss reiterated that she would abolish the National Insurance tax rise and impose a temporary moratorium on the green energy levy. She also repeated that she would have an emergency budget early this autumn.
She said that the 70-year tax high is unacceptable but, right now, she cannot be more specific because the leadership contest is not yet over.
Truss said that getting rid of the green levy would save as much as getting rid of VAT.
The penultimate question came from Shelley Guest, who asked if Leigh could break away from Wigan Council and set up its own in order to use the tax receipts that it generates for its own needs (58:08). This is known as Lexit (!), something that Leigh's MP, James Grundy, also supports.
The room burst into applause.
Stewart told Truss that, while this seems like a local concern, it is also one that many other communities in England face.
Guest is concerned about rising council tax were Leigh to become independent.
Truss herself was once a local councillor. She appreciated Leigh's wish for independence and has spoken with James Grundy about it. She said she would consult the people of Leigh and appoint a Local Government Secretary to look into the matter with Grundy.
On a much lighter note, the final question came from a viewer who wanted to know about Truss's relationship with cats. Larry is the Downing Street moggie, and Liz remembered Palmerston, the Foreign Office's cat.
She replied that Larry frequently sidles up to her at Cabinet meetings, so she would like to develop her friendship with him. As for Palmerston, she said he left the Foreign Office during the pandemic and is now:
working from home. It's a true story!
She got a huge round of applause.
Some undecided voters there told Michelle Dewberry, who came on next with her show, that they really liked what Truss said.
They were a polite but hard-hitting group of real people who spoke frankly.
One wonders if Rishi Sunak would have the bottle to sit in a studio with their like. Would he or wouldn't he?
GB News has extended him an invitation to participate in his own People's Forum, so we'll see.
Speaking of Sunak, that day, a few other developments occurred.
Guido reported:
Away from the glare of the GB News cameras, Liz's team spent the day tearing chunks out of Camp Rishi on her behalf. After Rishi attacked Liz's cost of living plan for being "clear as mud", Team Truss went nuclear: "Rishi Sunak wouldn't know how people benefit from a tax cut because he has never cut a tax in his life.
People didn't vote for the Conservative Party to be subjected to old fashioned Gordon Brown style politics of envy." Team Rishi inevitably responded in kind – see below…
The mudslinging didn't stop there: Kwasi Kwarteng and Simon Clarke have an article in the Telegraph today in which they claim Rishi "dug his heels in" as Chancellor over post-Brexit reforms, particularly on plans to ditch the EU's Solvency II rule and reform the NI Protocol. You'd be forgiven for forgetting they're all in the same party. Team Rishi insist the claims in the article are "categorically untrue", and Sunak backed a muscular approach to Brussels all along…
Rishi didn't take kindly to Team Liz's attacks – it turns out being compared to Gordon Brown doesn't exactly flatter him. His team countered by claiming Liz's backtrack on regional pay boards last week was "a serious moral and political misjudgement affecting millions of people". This is the same Liz Truss whom Rishi has claimed he'll serve under in any Cabinet role.
His campaign also sent out a dubious press release claiming he'd cut taxes "16 times during and following the pandemic". One of those 'cuts' was reducing the Universal Credit taper rate, another is the promise to cut income tax by 1p in 2024 which, last time Guido checked, is two years away…
Instead of being with an average group of taxpayers, he chose to be interviewed one-on-one by the BBC's Nick Robinson:
He also promised to do more for households this winter beyond the package already announced, although didn't go into specific details on the basis that it was simply too early.

Although when asked whether it would cost "a few billion" or more than £10 billion, he said it would be "closer to the former than the latter"…
He gave Robinson an indication that he might lose the leadership contest:
He came the closest yet to admitting the race may well be over, claiming he'd always "stay true to [his] values" and he would rather lose than "win on a false promise".
It's interesting that Sunak chooses television formats that suit him rather than the electorate, even if, at present, they are Conservative Party members.
Sunak's non-participation in public fora other than Party hustings and closed interviews tells us something about the man.
Next week I will post on The Telegraph's hustings, held on Thursday, August 11.
On Tuesday, July 26, the UK's fledgling news channel TalkTV scheduled a Conservative Party leadership debate with The Sun for 6 p.m.:
Kate McCann was the moderator.
She was to have been joined by Guido Fawkes alumnus Harry Cole, The Sun's political editor, but he had coronavirus:
TalkTV asked for questions from viewers, as well as their audience, half of whom had voted Conservative in 2019.
It promised to be a debate quite unlike the ones on Channel 4 and the BBC:
With The Sun involved, one knew that the candidates would get hard-hitting questions rather than boring ones from the media establishment.
In the opening round, Kate McCann gave the candidates 60 seconds each to present themselves and their platform.
Rishi Sunak did well …
… even if he was still in Tony Blair mode and sounded like Labour's Keir Starmer …
… but Liz Truss had to glance at her notes:
Then it was on to the questions.
It was gratifying to see that the audience members, both in person and remotely, asked them of the candidates directly.
The first one came from John Hughes in Birmingham, who spoke remotely. He is a cancer patient and said that, since the pandemic, he has had a very difficult time getting the care and the support he needs. He said that a cancer charity has been helping him but the NHS and Macmillan Cancer Support nurses have not been available:
Rishi said that it was good that John was getting the support he needed. John retorted that he was not getting the support he needed. Rishi corrected himself.
Rishi gave a long answer, which did not respond to the question.
Sunak said that he had been criticised for raising national insurance contributions to tackle the NHS backlog and fund social care reform, but that it was a "brave decision" and the right thing to do.
Liz said that she would reform the NHS, reducing layers of management so that the focus could be on patient care rather than bureaucracy:
I want to see fewer layers of management in the National Health Service and less central direction because I simply don't think that people can sit there in Whitehall and direct everything that happens in local communities across our country.
It seemed that John preferred her answer to Rishi's. At least Liz offered a plan. Kate McCann asked John what he thought. He said that:
he remained unconvinced by their answers and stated that the Conservative Party had been given 12 years to fix the NHS.
The next question came from a member of the studio audience. A lady said that she was used to buying steak several times a week, however, the price has gone up so much that she can no longer afford to buy meat of any kind. She asked whether she should become vegetarian:
The Times reported:
The debate then moved on to the cost of living, with Gemma from Manchester, a Sun reader, telling the candidates about the rising cost of meat in supermarkets and asking if more people should go vegetarian to save money.
Rishi said:
he would ensure that prices came down by "making sure that the supermarkets and all the other people in the supply chain are being fair in how they price these things [and that] no one is taking advantage of the situation to pass on price rises."
Surely, although I agree with the principle, if everyone in the supply chain is being fairly remunerated, prices will go up even further.
Liz told Gemma that becoming vegetarian was 'a choice' and one that the Government leaves to individuals.
I understood what Gemma meant by asking about vegetarianism, because with this year's price rises, it does seem as if that is the end game.
Bloomberg's Alex Wickham summed up this refreshing debate well:
For once, we had real people asking about real problems.
However, the candidates reverted to a subject with which they were more comfortable — tax cuts.
As the i paper's Hugo Gye pointed out, it seemed as if Rishi and Liz still couldn't connect with the audience as well as a certain Prime Minister — Boris Johnson:
Harry Cole, watching from home, tweeted this at 6:27 p.m.:
The Times reported:
The candidates' response quickly turned to the economy, with Truss saying that Sunak's manifesto-breaking tax rises had been "morally wrong" as she accused the former chancellor of having policies which are "making us less competitive" as a country.
Sunak said that tackling inflation remained his priority but suggested that some businesses were also profiteering from the cost of living crisis. He said he would ensure that prices came down by "making sure that the supermarkets and all the other people in the supply chain are being fair in how they price these things [and that] no one is taking advantage of the situation to pass on price rises."
Sunak also defended his plans to increase corporation tax. He said: "I think it's entirely reasonable to ask the largest companies in this country, just the top 10 per cent of companies, to pay a bit more because they're received a lot of help during the pandemic."
Truss countered by telling Sunak: "You've made it worse". "Companies have a choice about whether they invest in the UK or whether they invest elsewhere. Rishi's policies are making us less competitive," she said.
The Mail's Henry Deedes described other exchanges between the candidates and the optics. Rishi still looked vexed when Liz contradicted him. Liz almost fell into the same trap this time (emphases mine):
Rishi seemed to have eased a little on the caffeine since the night before.
He'd also rediscovered his manners and used his opening spiel to wish his opponent a happy birthday. Truss, 47 yesterday, shot him an icicle smile. 
The Foreign Secretary wore a purple dress the colour of a Cadbury's Dairy Milk wrapper. Très snazzy. She went into a brief monologue about how her upbringing was more modest than Sunak's. 'I know what it looks like when economic times are hard,' she said. Rishi bit down and resisted making a tart response. There was a bit of early tit-for-tat, but nothing that required Kate to pull them apart. The candidates had a brief struggle over who had the stronger family connections to the NHS. 'My father was GP,' said Rishi. 'Well, my mother was nurse!' countered Liz. 
Tempers frayed whenever Truss began to discuss her economic plans. Rishi's blood pressure would visibly spike, his eyes flickering from side to side as if to say: 'Leave the maths to me, luv.' 
Once again their main beef was over taxes – Liz wants to cut them, Rishi thinks it's unaffordable to do so. 
He accused Truss of funding her cuts by saddling future generations with more debt. 'That's not true, that's not true!' Liz retorted, shaking her head crossly. 
Kate McCann was doing an excellent job as moderator, keeping everything going at a rolling pace which made it interesting. I was settling into an unusual comfort zone, which I normally don't do when watching debates.
Just after 6:30 p.m., Kate asked Liz a question.
While Liz was speaking, viewers at home could hear a soft rocking noise, possibly a perspex podium against the floor.
Seconds later, there was a crash of perspex on the floor.
Viewers saw this:
The Telegraph's Tim Stanley was also watching from home and describes what happened:
It was one of the strangest, most shocking moments in TV history. Liz Truss was in the middle of denouncing Russia with her characteristic tics – her hands gripping that invisible tea tray for dear life – when there was an almighty crash off-screen.
"Oh my God!" Liz covered her mouth. Then she stepped towards the camera.
Turns out that poor Kate McCann, the talented journalist and host, had fainted.
Rishi also went to Kate's aid, but we didn't see that.
We didn't know what had happened.
The Mail reported:
A loud noise caused the clearly worried Foreign Secretary to hold her face in shock as she exclaimed: 'Oh my God!'. Ms Truss was then seen leaving her podium and walking towards where Miss McCann had been standing.
The broadcast feed was swiftly cut, with viewers shown the message: 'We're sorry for the disruption to this programme. We're working hard to fix the issue and will return to normal programming soon.'
Stanley wrote:
For 25 excruciating minutes, viewers speculated if a light had fallen, a bomb had gone off, or Boris Johnson had rushed the stage demanding to be heard – all the while that producers tried to carry on as normal by cutting to a promo for their other shows.
What were they thinking? That this was a great chance to promote their product? We're lucky they didn't try to flog us some diamante earrings …
… debating tax policy is exactly how Liz would want to spend her birthday – and though the evening took an alarming turn, the gods did her a favour by having the camera focused on her when Kate passed out. Liz's instinct to run towards the disaster did her credit, a reminder that whatever her job, she is first and foremost a mum.
And her mother was a nurse!
Just before 7 p.m., when the debate would have ended:
TalkTV put on two talking heads who calmly discussed what we'd been watching – vegetarian options, clown doctors – without substantial reference to the one bit we were all shouting at the telly about: "What the hell just happened?!"
It was surreal: the commercial equivalent of Soviet TV cutting from the coup against Gorbachev to 72 hours of Swan Lake. Thankfully, Twitter was still reporting the news: Kate was ok. By then it was 7pm and time for Piers Morgan's landmark show on Ukraine – at which point what was probably TalkTV's largest ever audience, all 250 of us, turned off.
Kate, you're a star and your peers wish you the very best.
Henry Deedes said:
Doctor's orders were that she was done for the evening. It must have been frustrating for Team Rishi, who are running out of time. The former chancellor has agreed to be interviewed by that fearsome rottweiler of an interviewer, Andrew Neil, on Channel 4 on Friday. For politicians, such encounters rarely end well.
The candidates spent the remaining half hour talking to the studio audience:
Kate received many supportive messages.
Harry Cole tweeted:
BBC Newsnight's Nicholas Watt complimented Kate on her moderation of the debate:
The candidates also sent their best wishes, saying they would like to return to finish the debate:
I hope the debate is rescheduled — and agree that it should pick up where it left off:
Harry Cole is an excellent journalist.
That night, The Sun reported that, after all these days of insisting his tax plan was the right thing to do, Rishi decided to do an about-face and cut VAT on energy bills.
But has he stolen Work and Pensions Minister Thérèse Coffey's idea? Hmm:
Polling results must have been eating away at the former Chancellor.
The Telegraph also carried the story on its front page for Wednesday:
The Mail alleges that this was Boris's plan but Rishi wouldn't allow it:
Rishi Sunak makes a desperate bid to claw back lost ground in the Tory leadership race today by promising a £4billion VAT cut on energy bills just hours after he and his rival Liz Truss led tributes to TalkTV presenter Kate McCann after she fainted live on air.
The former chancellor has repeatedly refused to match rival Liz Truss on cutting taxes, labelling her plans a 'fairytale' and insisted such cuts must wait until inflation is curbed.
But today he pledges to scrap the 5 per cent VAT rate levied on domestic energy bills for a year.
Last night No10 insiders told the Daily Mail that this plan was something Boris Johnson tried to implement to ease the burden on consumers – but was blocked by Mr Sunak.
'Boris begged him to do it – but he wouldn't budge', said the source. 'It's astonishing that he's now claiming it as his own policy.'
A source close to Liz Truss's campaign told The Telegraph: 'It's good that Rishi has finally woken up and decided to offer something to people struggling with the rising cost of living.
'However, this feels like a screeching U-turn from someone who has spent the last few weeks of the leadership campaign branding everyone else's tax cuts immoral and fairytales.'
The article states that this was also Labour's policy:
Mr Sunak's energy bill tax move, which would save an average household £160, has been Labour Party policy for nearly a year, and Mr Sunak voted against the proposal in the Commons in January.
He told the Commons in February that the policy would 'disproportionately benefit wealthier households'.
He added: 'This would become a permanent £2.5billion Government subsidy… when we are trying to rebuild the public finances.'
This month he argued that tax cuts are 'immoral because there is nothing noble or good about racking up bills on the country's credit card that we then pass on to our children and grandchildren'.
One can understand his point, but when the Work and Pensions Minister and the Prime Minister both want it, it's the right thing to do.
I read only this week that VAT is an EU tax. Therefore, we can scrap it.
No one ever mentions that VAT is an EU tax. Why not?
The Mail says:
Until yesterday [Wednesday] Mr Sunak had refused to consider tax cuts before autumn 2023, the earliest point when a 1p cut in the basic rate of income tax could come in.
Autumn 2023 would be way too late, especially if our next general election is held in May 2024.
The Telegraph reported that Rishi's team denied a U-turn:
The Sunak camp denied there had been a U-turn, adding that the tax cut was "a tool that was always in our arsenal".
"We didn't use it back in spring because the size of the jump of the bills was way bigger, and it wouldn't have touched the sides," a source said. "This is a response to latest estimates that suggest the rise might be £100-200 more than anticipated."
For me, this volte face comes too late in the contest, because Rishi was adamant in three debates that he would not cut taxes.
As such, in Truss we trust.
———————————————————–
UPDATE — Guido Fawkes posted TalkTV's ratings for Tuesday night. The debate's 'off air' message beat Piers Morgan's show by far:
Morgan tweeted McCann, who has since recovered:
On Wednesday, July 27, the i paper reported ructions at TalkTV about the interruption of the debate, with staff asking why it didn't continue with another presenter:
Rupert Murdoch's TalkTV is holding an inquest into why there was no "plan B" to keep its Prime Ministerial debate on air after presenter Kate McCann fainted.
Presenters at TalkTV and its sister radio station were said to be ready and able to jump in and replace the stricken presenter during the abandoned live broadcast, i has been told.
As panic spread, executives asked Rishi Sunak and Liz Truss to remain at their podiums at the Ealing studio, normally used for Piers Morgan's nightly programme, while they considered their options.
However it was decided that stunned viewers would continue to be shown a recorded message saying normal programming would resume, rather than restart with a new presenter.
Trouble began behind the scenes when planned co-presenter Harry Cole was forced to pull out on the morning of the debate after contracting Covid.
An insider said: "Tom Newton Dunn (presenter of TalkTV's 7pm news show) would have stepped up to co-present but the bosses wanted Kate to front it solo as a showcase for her."
McCann, Talk's political editor, was said to be "nervous" at fronting the high-profile event but had shown no sign of ill health, even during the broadcast's first half hour.
The source said: "It was very sudden. She crashed forward into the podium. That was the loud bang viewers heard."
Truss, speaking on camera at the moment, said "oh my god" and rushed over towards McCann. At that point, with the clock showing 6.31pm, the channel cut from the debate.
"Rishi also rushed over. He knelt on the floot and held Kate's hand, he was very comforting," the insider said.
Faced with a crisis playing out live on TV and social media, some in the building believed that the show must go on.
"There were plenty of experienced on-screen talent already there who felt they could have taken over. They could have winged it."
"All the News UK bigwigs were there. There was a panicked pow-wow. Some said 'who can we get to fill in?' but they decided against it."
Instead the candidates were asked to stay in the studio and take questions informally from The Sun readers in the audience.
The insider added: "Today there is an inquest into why there wasn't a Plan B to keep the debate on air. It's a given for any serious broadcast channel" …

The incident gave a brief boost to TalkTV's struggling ratings. The channel has recorded zero viewers at low points in its schedules and Piers Morgan's flagship show has even been beaten by rival GB News on occasions.
The screen message telling viewers TalkTV was off air was watched by one of the channel's highest ever audiences.
Some 141,000 people tuned in, numbers comparable to Morgan's opening week on Talk in April before his figures tumbled.
The debate peaked with 183,000 viewers tuning in shortly after its 6pm start. However Talk's numbers dropped across the night with Morgan's programme dropping to 14,000 viewers at its conclusion.
Despite the lure of the debate, Sky News, BBC News and GB News all recorded a greater audience than TalkTV across the whole of primetime, according to Barb data.
Insiders said this would disappoint NewsUK's bosses who had hoped to relaunch TalkTV off the back of the debate, which was shared with sister title, The Sun …
The podium "crash" even gave TalkTV what it has been seeking since it launched three months ago – highly-shareable viral content that creates a buzz on social media.
On this occasion though, that content, seized upon by media rivals including the BBC, was unintended.
Last Friday's post introduced the Red Wall MP Marco Longhi, who represents Dudley North in the Black Country area of the Midlands.
The Black Country is so-called for its long coal mining history.
On March 31, 2022, Marco Longhi gave an excellent interview to Nigel Farage on GB News, which shows the measure of the man — level headed, polite and pragmatic:
Longhi said that having served in local politics — he was mayor of Walsall for two years beginning in 2017 — was a good way of preparing for becoming an MP.  His maternal grandfather Wilfred Clarke was also mayor of Walsall in 1978.
Before that, Longhi served as a local councillor in 1999.
The conversation between him and Farage turned to the 2019 phenomenon of the Red Wall seats that voted Conservative for the first time.
Longhi, whose mother's side of the family had a career history of working in the mines, said that miners were overwhelmingly Labour voters. However, by the time the Brexit referendum came about in 2016, they started to question their allegiance for Labour, which seemed to be ignoring them.
Longhi's Dudley North constituency voted to Leave in the referendum: 72 per cent. In subsequent elections, he and Farage agreed that Labour's dominance began breaking up, with voters turning to either UKIP or the Brexit Party.
Longhi said that, when the historic December 2019 election came around, Dudley North's voters rallied around Boris Johnson's premiership. Of Boris, Longhi said that the PM was:
able to sprinkle that little bit of gold dust.
Farage, not wanting to miss an opportunity to criticise the Conservatives, asked Longhi about their Net Zero policy. Farage mentioned the fracking company Cuadrilla, which was awaiting permission from the Government to begin extracting shale gas in the North of England. To date, they still are.
Longhi said that, while he supported the general push towards decarbonisation, he said it has to be done 'pragmatically, step by step'.
Farage said he was concerned about the cost of living. Longhi agreed and hoped that the Government could do something about reversing their new taxes, brought in to help pay for the cost of the pandemic measures, e.g. furlough and business grants.
Longhi agreed when Farage expressed concern that the Conservatives could lose the next election. Longhi said that the pandemic had truly paralysed Parliament for two years — acknowledging that the public would not accept that — and that two years to make up lost ground was not long enough. Longhi said that, when he was elected in 2019, he foresaw that it would take two Parliaments — ten years — to get the Conservative policies from the manifesto in place.
Therefore, he said he has been trying to set voters' expectations for the next election.
Farage said that Labour leader Sir Keir Starmer is positioning himself as a safe pair of hands. Longhi agreed, saying:
I have been talking about this danger since the day I was elected.
I am pleased since the recent shake-up at Number 10 [post-Partygate] they are more receptive, there are different people in place, and I really hope, for all of our sakes, that those changes are going to be acted upon.
Longhi said that being an MP is
the best job in the world
and that he enjoys helping out his constituents wherever he can. He says that the occasional thank you note he receives in return adds to that personal satisfaction.
Boris
Unlike other Conservative MPs, Longhi has not made any pronouncements about Boris Johnson.
Instead, he, as the UK's trade envoy to Brazil, tweeted his delight at meeting one of the country's former presidents:
He also tweeted his support for shale gas:
We now move on to looking at Marco Longhi's participation in Parliament.
Mayor of Walsall – mental health
On May 8, 2018, when Longhi, not yet an MP, had become mayor of Walsall again for another one-year term, the Conservative MP for Walsall North commended him in a session on Health and Social Care (emphases mine):
Eddie Hughes: I hope the Minister will join me in congratulating the mayor of Walsall, Marco Longhi, whose mayoralty has raised a significant sum to support WPH Counselling and Education Services, which provides adolescent mental care and counselling in Walsall.
Jackie Doyle-Price responded on behalf of the Government:
I am very grateful to my hon. Friend for raising this matter, and I very much welcome the contribution made by the charity to support teenagers in his constituency with psychological therapies and to help to address their mental health conditions. I join him in extending my congratulations to the mayor for choosing this very important cause and for endeavouring to raise so much money for it.
Committee appointments
As a new MP, on March 2, 2020, Longhi was appointed to two parliamentary committees: the Environmental Audit Committee and the European Scrutiny Committee. The latter monitors progress on Brexit.
Trade
On May 20, 2020, Longhi participated in a debate on the post-Brexit Trade Bill:
The Trade Bill we are discussing today is a framework that allows us to continue to trade as a nation state with those countries who already have a trade agreement with the EU. It enables UK service providers to seek out business in Government procurement markets worth £1.3 trillion, and reshores from the EU those protections available under WTO rules to support British business against unfair trading activities under the new trade remedies authority.
Why is that important? It means that we will harpoon yet again the ill cited arguments that we will crash out and fall off a cliff edge through Brexit. It means that we can seek out new business, and it means that we can finally take effective action ourselves against rogue nations who do not respect international trading conventions. Let us remind ourselves of the EU's impotence when China dumped its excess steel on our markets, and the jobs it cost us here in the UK.
It is an undisputed fact that open markets and free trade generate wealth and our new-found and hard-won ability to seek out new markets will grow our economy. Covid-19 has brought about a global tendency towards protectionism, which we know has the opposite effect. We must not be drawn into this trap at any cost, as we shall be poorer for it. However, what covid-19 has shown is that for all their rhetoric, the EU's institutions fail to respond effectively, if at all, and its constituent members immediately behaved as a collection of nation states. They offered a shallow apology to the Italian people for leaving them to their own devices while protecting their own. I must ask, was that not entirely predictable? That begs the question of how, as a nation at this historic junction, we consider the strategic implications of a future crisis. Should we be more self-reliant in key areas such as energy, food and medicines? Many large corporates are now reshoring as they understand the total cost of outsourced activities, including problems with quality control, the cost of unreliable supply chains and the carbon footprint of products, just to name a few. That is why I was delighted to hear about our investment to produce 70 million masks in the UK and create around 450 jobs at the same time. It is about taking a risk-based approach and understanding the total cost-benefit arguments of decisions that we take in the key areas that affect our national resilience.
Globalisation is here to stay. As we harness the great opportunities presented to us by Brexit and FTAs, our biggest challenge is how we do so. The area that I represent in Dudley and the many areas that my new colleagues represent have not always benefited. Globalisation has seen benefits, but also a race to the bottom with a low-wage economy in traditional manufacturing and the loss of jobs in the sector. Buying a pair of boots for a few pounds less is not a huge benefit if there is not a job to go to.
Analysis shows that there are between 250,000 and 350,000 businesses that currently do not export but could. My plea is that we target those businesses, with a special focus on those in the Midlands, with determination, enthusiasm and strategic focus, and at real pace, so that we can add value and bring new jobs to these areas while we also minimise the devastating impact of covid-19 on local economies and people's lives.
On June 24, 2021, Longhi participated in the Comprehensive and Progressive Agreement for Trans-Pacific Partnership debate, led by Liz Truss, who was, at the time, the Secretary of State for International Trade:
Longhi: Does the Secretary of State agree that if British business is to invest it needs confidence, and that that confidence will come by restating our commitment to free trade by diversifying our trade offer, generating new jobs and bringing more stability to the jobs we already have?
Truss: My hon. Friend is absolutely right. A key benefit of the CPTPP is increased resilience. It means that our exporters will not have all their eggs in one basket. They will have options about where they send their goods. It will also mean our importers are able to rely on strong relationships in countries which follow the rules and have good standards in areas such as the environment and worker protection.
He then intervened in Liam Fox's speech on protecting free trade, which, in turn, helps consumers:
Does my right hon. Friend agree that consumers will therefore have cheaper access to white vans and St George's flags, which particularly our self-employed make use of in the construction industry?
Fox did not want to go there:
I cannot think what my hon. Friend is alluding to, but it is certainly true that consumers will have access to far greater choice …
Labour's John Spellar — one of their few good guys — attempted to intervene and finally succeeded:
The right hon. Gentleman knows that I am very supportive of trade and trade agreements. Equally, I was rather surprised by his response to the hon. Member for Dudley North (Marco Longhi). Should we not be encouraging people to buy white vans made in Luton, and trying to ensure that St George's flags are made and sold in the United Kingdom?
Fox batted that intervention away in short order:
The right hon. Gentleman is quite right that we should ensure that as much is made in the United Kingdom as possible …
International aid
The temporary 0.2% reduction in international aid post-pandemic has been a long-running issue amongst Conservative MPs and arises again and again. Half the Conservative MPs, it seems, strongly disagree with the reduction while the other half support it, because it is only temporary.
On June 30, 2021, in the Opposition's Official Development Assistance and the British Council debate, Longhi said that MPs who made a big deal about the reduction were virtue signalling:
Foreign aid spend has frequently been a way for politicians to compete for moral righteousness in the public eye. My Dudley residents care not for this type of posturing.
My right hon. Friend the Member for Sutton Coldfield (Mr Mitchell)—he is no longer in the Chamber—who is a near neighbour of mine, referred in his closing remarks to his electorate, implying that they agree with his stance on foreign aid. I would make two points on that. First, my constituency is literally just down the road from his, and I can categorically assert that a significant majority of my residents do not agree with him. Secondly, I gently point out to him that, on average, two thirds of all people polled in this country very recently did not agree with him either. Just the other day, on GB News, he used the majority view argument to support assisted dying, so perhaps he might consider being consistent with his rationale, instead of imposing his moral virtues on the country's majority view.
Virtue signaller Anthony Mangnall, a Conservative, intervened:
I am sorry to interrupt my hon. Friend. It is fine if that is his argument, but surely he believes that it is right for this House to have a vote on the issue, because we are all representatives of our constituencies, and of the views of our constituents. Forget the polling and allow this place to have its say. Does he not agree with that sentiment?
Longhi replied:
I might refer my hon. Friend to votes on Brexit in previous years, when a significant number of elected Members did not represent their constituents and voted the opposite way to them.
Labour will always oppose what the Government do, even if they tripled foreign aid. Having only ever averaged a maximum spend under 0.4% of national income when it was in office, compared with the 0.7% that we achieved, Labour's protestations are somewhat shallow, if not risible. People will see Labour for what it is: out of touch with working-class people and totally clueless about their priorities.
I am concerned about some of my colleagues. They are being so generous with other people's money—a notable socialist behaviour, I might add. Perhaps they can explain to my Dudley North taxpayers why we should spend £15 billion overseas when my residents cannot find council houses and when we still have homeless people on our streets, some of them brave veterans.
Longhi went on, refusing to take further interventions:
I would like to make progress, please.
Covid has given rise to exceptional circumstances, and the Government were entirely right to reduce aid and focus on rebuilding our country. Charity begins at home. That said, I do not agree with reducing the foreign aid budget from 0.7% to 0.5% of national income; I would scrap the target altogether. Foreign aid should be and needs to be completely reformed. A fluctuating number each year that bears no real link with need, priorities or actual outcomes is no way to plan or act strategically. It is not how a household would budget, it is not how a business would budget, and it should not be how a Government budget. Which other Government Department do we fund as a percentage of national income?
Mangnall succeeded at last:
It is on that point—I can give the answer. We committed in our manifesto in 2019 to funding research and development at 2.7% of our GDP. We commit to NATO spending at 2% through the Ministry of Defence. The list goes on.
At that point, Madam Deputy Speaker (Dame Eleanor Laing) said that, as many MPs were leaving the chamber, she would be lifting time limits on speeches.
Longhi concluded, refusing to take another intervention from Mangnall:
Thank you, Madam Deputy Speaker.
I will respond by saying it is not the way we fund policing, education or health here at home. Surely a more sophisticated approach that is outcome-focused and delivers measurable change in very poor countries by employing some of our own local and UK-based companies is a far better approach than the arbitrary and unaccountable system that we continue to virtue-signal about.
I would ask two things of colleagues wanting to reinstate the 0.7%: let us focus efforts on achieving much better outcomes by reforming foreign aid, and, while we are at it, focus on challenging the EU and other wealthy countries that consistently fail to meet their own targets and do not measure up to what the UK is certainly doing …
By any measure, the UK already does far more than most, both in cash terms and in areas not captured by our foreign aid spending. Certainly my constituents know that very well.
Yes!
Buying a house
On October 7, 2020, Longhi put forward a Ten Minute Rule Bill, a type of Private Members Bill, about reforming Conveyancing Standards.
I do not know what became of it when it was debated, but he made good points about the pitfalls of house buying:
I beg to move,
That leave be given to bring in a Bill to establish minimum standards regarding searches and assessments of risk for solicitors and licensed conveyancers acting on behalf of purchasers of residential properties; and for connected purposes.
The main aim of this Bill is to help protect people who wish to buy a house—sometimes their first home—from being exposed to risks that currently are not sufficiently visible or understood at the point of purchase. The Bill does not propose radical changes to the conveyancing process; nor, indeed, does it propose changes to the development control system, although some may argue that that might be desirable to further de-risk the process for homebuyers.
I will set out two examples to illustrate the types of difficulties faced by homebuyers. Both are real cases of people who have been let down by a system that has not kept pace with an industry that has become increasingly cut-throat. The system does not offer enough consumer protections for people who are about to make possibly the single most important investment of their lives, while the transaction itself is mired in documents and legal complexities that are rarely fully understood.
My first example is of a developer who purchases land and applies for planning permission, which is granted subject to conditions. Those conditions are wide ranging and set out requirements of the developer in order for them to receive final planning certification at the end of the development. One such condition may be that soil sampling is undertaken to establish whether any contamination is present; another may be that properties must not be occupied until planning conditions have been fully satisfied.
That developer set up a limited company for the sole purpose of the development and started marketing the site almost immediately. Some properties were sold off-plan; some were sold when the buildings were largely complete. When the final plot was sold, the developer immediately liquidated the company. That means the legal entity that sold the properties no longer existed.
It became apparent immediately that a significant number of planning conditions had not been met: no soil sampling, no preventing of owners from occupying, and no top coating of road services or pavements to bring them up to council adoptable standards. Drainage was not connected properly, and the new homeowners had a huge list of unfinished works and complaints about poor standards of work.
At that point, the homeowners turned to the council for help, in the expectation that it would have the ability, as a local regulatory body, somehow to fix things. It transpired that any regulatory liabilities relating to the properties transferred to the property owners at point of sale, and that if the council chose to enforce breaches of planning, it would have to pursue the new homeowners.
It is important to note that the current system places no requirements on local planning authorities to pursue developers to evidence compliance with planning conditions. The expectation is that a developer will want final planning certification, but that is all it is: an expectation. What if a developer does not care about obtaining the certification? Their objective is to build, sell and maximise profit. So here we are; we have just purchased a property in good faith following the advice of the conveyancing solicitor—who, by the way, was recommended by the developer—and the property does not have planning permission. Certification costs could be extremely significant, and we have no recourse to the developer because they no longer exist as a legal entity.
My second example is probably more widespread than my first, and I suspect that similar examples may be present in several MPs' casework folders. Imagine we are very keen to buy a property. At the point of purchase, our solicitor handling the conveyancing might highlight the fact that there is a contract for maintenance of green spaces on the estate—grass cutting, hedge trimming and so on—as well as that those areas do not belong to any of the properties and the cost is about £100 per year. Do we still want to buy the property? Of course we do. That is not a lot of money in the grand scheme of things, and if it means securing the property of our dreams, of course we will pay it.
What is not discussed with sufficient clarity at the point of conveyance, if at all, is that the small print of the maintenance contract will state that contract owners can increase the price as and when they wish, and there is virtually no recourse within the contract for poor workmanship or lack of clarity. The fee of £100 per year may soon become £500 per year, and the grass cutting may be once a year instead of once a month. These areas remain unadopted by local councils—something that I find a little too convenient. How would you feel, Mr Speaker, if you paid an even higher council tax for services you did not receive, compared with a neighbour around the corner who pays less and gets more?
Usually, when a service is not rendered, one may choose not to pay. That cannot happen here, because these contracts state that a charge will be placed against the property, so it cannot be sold without payment. Furthermore, homeowners cannot complain to anybody, because an unresponsive contractor is virtually unaccountable and has plenty of legal cover, while homeowners are usually bounced around from contractor to subcontractor to developer in a never-ending merry-go-round.
Those two scenarios are real. The same thing has happened in Dudley and to other people from the Black Country whom I have met. People find themselves financially exposed. The system is being gamed by unscrupulous developers and contractors, because it is not transparent enough to shine a light on the potential risks to people when they are buying a property. People might feel that the very fact that a solicitor is handling the conveyance means that they are sufficiently protected. They employ a solicitor not just to carry out due diligence for them, but to highlight any potential downsides. That is not happening with enough robustness, and that is why I propose the Bill.
Crime and Labour
In a Business of the House session on June 16, 2021, Longhi lamented that Labour MPs voted against the Government's Police, Crime, Sentencing and Courts Bill:
I am sorry to say that it came as no surprise to me when Labour voted against tougher sentences for rapists and child rapists this week. My constituency of Dudley North has been waiting for a new police station in the centre of Dudley for many years, as was promised by the Labour police and crime commissioner. Will my right hon. Friend agree to explore this issue with me, and perhaps with the Home Secretary, and agree to a debate on the effectiveness of police and crime commissioners more generally?
Jacob Rees-Mogg, then Leader of the House, replied:
My hon. Friend raises an important point. The socialists, as always, are weak on crime and weak on the causes of crime, and they have shown their true colours in the recent refusal to support tougher sentences for violent criminals. Unfortunately, socialist police and crime commissioners have been failing their constituents. I hope that my hon. Friend will continue to hold his local PCC to account and at the highest level, because the Government are continuing to back the police and to support the public in fighting to bring down crime.
… We are taking the landmark Police, Crime, Sentencing and Courts Bill through Parliament at the moment, which will tackle serious violence throughout the country. We have hired nearly 9,000 additional police officers and are well on track to meet our target of 20,000 new officers this Parliament. I am grateful to my hon. Friend the Member for Dudley North (Marco Longhi) for the important issue that he raises.
Marco Longhi gets it, as it were.
I will conclude with more of his policy perspectives next week.
The voters of Dudley North should be pleased with him. He cares about them.
Continuing my series on Red Wall MPs and, most recently, Lee Anderson, this post gives his positions on various topics in British life.
Those who missed previous instalments can read about his adventures and opinions in Parts 1, 2, 3 and 4.
Rail strikes
This week, England has been crippled by a series of rail strikes, one every other day, which means that on the days there are no strikes, it is still fruitless trying to travel by rail.
On Monday, June 20, 2022, the House of Commons held a debate, Industrial Action on the Railway.
Lee Anderson was the last MP called to speak. He asked the following question of Grant Shapps, Transport Secretary (emphases mine):
This strike is a real kick in the teeth for hard-working taxpayers, who have dug deep over the past 18 months to keep this industry alive. Does my right hon. Friend agree that the Labour party—the spineless party opposite—should grow a backbone and condemn these strikes?
Grant Shapps replied:
That is an appropriate place to end. My hon. Friend is absolutely right. People have dug deep—that is exactly what they have done; it was £600 per household. People are furious. They paid out that money to make sure that nobody lost their jobs, and what thanks have they got? Where is the reward? Where is the "thank you" for keeping the railway going? It is a strike that will put people out of pay and hit people's pockets once again, and Labour Members cannot even find their way to say, "We condemn the strikes." It is a disgrace.
Immigration
On Wednesday, June 15, Home Secretary Priti Patel made a statement about the fact that the June 14 flight to Rwanda with scheduled deportees never took off. There were originally 37 people who were to be deported. Because of last minute legal delays, only a handful boarded the charter flight and, by 11 p.m., even they were taken off.
The Opposition parties hate the idea of sending illegals to Rwanda for processing. Strange that, as it is called the Switzerland of Africa.
Labour, the Lib Dems and Scotland's SNP have all said during debates about illegal migration that people can legitimately come to the UK from France. Such a statement implies that France is not a safe country.
In the June 15 debate, Migration and Economic Development Partnership with Rwanda, Lee Anderson asked Priti Patel:
Just when you think this place cannot get any dafter, you turn up and listen to the rubbish that the Opposition are coming out with today. Is the Home Secretary aware of the sniggering, smugness and delight shown on the out-of-touch Opposition Benches about the cancelled Rwanda flight? Will she please advise me? I need some travel advice—I am going away this summer. Is France a safe country to go to?
Priti Patel replied:
For the benefit of the British people, the public, I have in my hand just four pages with a list of Opposition Members making exactly that point with glee—basically wanting the policy to fail, condemning it and saying all sorts of things without coming up with alternative solutions.
My hon. Friend is absolutely right about France as a safe country. This is a fundamental principle of working with our colleagues more broadly—[Interruption.] Those on the Opposition Front Bench have already had their chance to speak. These are safe countries and there are people who are effectively picking to come to the UK. That is something we have to stop by going after the people smugglers and breaking up their business model.
Moral failings of Tony Blair versus Boris Johnson
Also on June 15, Boris Johnson lost his latest ethics adviser, Lord Geidt, who suddenly resigned.
This month, for whatever reason, Tony Blair became a member of the prestigious Order of the Garter, an honour the Queen decides independently.
On GB News, Patrick Christys asked a panel who was less ethical, Boris or Blair. Lee Anderson was one of the participants. He said that he had canvassed his constituents in Ashfield, Northamptonshire, and all said that Blair was less ethical. Anderson said there is no comparison between a Prime Minister being presented with cake and one who got us into a highly costly war in Iraq. The second tweet shows Blair with his spin doctor Alastair Campbell at the time:
The full discussion follows:
Labour
Anderson was a member of the Labour Party until 2018, when he switched to the Conservatives.
He has no praise for Labour MPs, especially Deputy Leader Angela Rayner. On May 22, she was angry with Chancellor Rishi Sunak for giving more aid to Ukraine.
The Daily Mail reported:
The party's deputy leader sparked outrage after she told the Chancellor on Twitter to 'do one' – a slang insult meaning 'get lost'.
The message was posted in response to a weekly No 11 newsletter from Mr Sunak, in which he detailed an additional £40 million of aid for Ukraine.
It is not the first time the senior Labour figure has landed herself in hot water for her remarks about those on the other side of the Commons. The former care worker resorted to calling senior Conservatives 'a bunch of scum, homophobic, racist, misogynistic, absolute pile of… banana republic… Etonian … piece of scum' in a foul-mouthed tirade at last year's Labour party conference.
Lee Anderson made his views known:
Lee Anderson, Tory MP for Ashfield, accused Ms Rayner of behaving pathetically after the latest controversial outburst.
He said: 'I don't know what it is about Angela Rayner and the Left that have it in for successful people running the country, surely it's much better for successful people who are successes in business to hold the purse strings of the country rather than somebody whose only claim to fame is dishing out insults.
'She is someone throughout her career who has made childish insults against Conservative politicians and now she's having a go at Rishi, who by the way is one of the most polite politicians you'll ever wish to meet. He's a real gentleman, regardless of your politics.'
Green energy policies
As is the case in most European countries, the prices of home fuel and petrol have gone through the roof.
On January 3, Nigel Farage asked Anderson for his views on what the UK should do. Anderson said that while it was imperative that we leave the planet in better shape for the next generation, he and his Ashfield constituents think that some of Boris's Net Zero policies need to be wound back. Furthermore, he wants us, rightly, to use our own energy sources during our transition period to Net Zero:
Two months later, Anderson appeared on Farage's Talking Pints segment of his show. They discussed the necessity of energy independence, which the UK can easily achieve. Instead, the Government prefers a policy of importing coal and gas from Russia:
You can see the full interview here, where Anderson says:
We should be selling gas to the rest of Europe!
The BBC
Anderson remains a firm supporter of Boris Johnson and wants him to be allowed to get on with his job. He accuses the BBC of conducting a witch hunt against the Prime Minister.
This interview took place the day after Boris survived a Conservative vote of confidence. Anderson laid his dislike of the BBC's tactics on the line. This is short, sharp and to the point:
Guido Fawkes wrote (emphases in the original):
Lee Anderson provided daytime fireworks as he confronted the BBC over anti-Boris bias live on the channel. He also called them "quite sad" over their refusal to let the Boris leadership question drop, accusing them of spearheading a witchhunt. Agree or not, it was great TV…
Not surprisingly, it was Guido's most popular post that day:
That night, the question of a BBC witch hunt popped up on Dan Wootton's GB News show:
Wootton invited Anderson on to discuss the issue with left-wing pundit Nina Myskow, who defended the BBC. Anderson said that his constituents supported Boris. He invited Myskow to speak with his constituents to hear their views. She replied, although not in this clip, that she never travels north of Selfridges:
Russia
On April 27, Anderson was disappointed not to have made the list of 287 MPs that Russia sanctioned.
He wrote a letter to the Russian ambassador to the UK to ask that his name be added to the list:
Crime
Lee Anderson has been outspoken against crime. I posted some of his perspectives last week.
During his candidacy in the autumn of 2019, he proposed creating forced labour camps for noisy council tenants:
After Winston Churchill's statue was desecrated in June 2020, during the pandemic and 'mostly peaceful' protests, Anderson gave a brief interview to a young independent reporter. He ended by saying:
You wouldn't be stood here today, young man, talking to me if it wasn't for Churchill.
On March 16, 2021, Anderson participated in the Crime Bill debate. Highlights follow:
Here's another, courtesy of Guido:
Ashfield's straight-talking MP Lee Anderson gave the Labour Party both barrels last night in the Crime Bill debate. Effusively supporting the Bill, no-nonsense Anderson took aim at what he sees as Labour's hypocritical positions:
I find it strange that Labour are talking about tougher sentences for crimes against women, yet in December they were trying to stop us deporting foreign rapists. One Labour MP said we should not deport these criminals in December as it was too close to Christmas. I disagree. I thought it was a great Christmas present.
Guido is fairly sure that the residents of Ashfield will be in overwhelming agreement. For such a short speech, many shots were fired – rounding off on some Labour politicians' attitude to the law…
Seven months later, his fellow Conservative MP Robbie Moore led a debate on the sexual exploitation of young girls by a certain demographic. Sadly, the 'grooming gang' phenomenon is growing to the extent that it is said to be present in every town in the UK.
Moore focused his attention on Bradford.
Guido points out that none of the three Labour MPs for Bradford bothered to show up for the debate.
Anderson contributed and, as one would expect, has strong views on what should happen to such politicians:
Away from the noise of the Budget, earlier this week Conservative MP Robbie Moore led a Commons debate on child sexual exploitation across Bradford, calling for a "Rotherham-style inquiry" into the scandal and claiming it had been "swept under the carpet" by the local authorities. Although the debate only attracted small number of MPs – none of the three Labour MPs for Bradford bothered to appear, despite two previously claiming they would – there was one booming voice lending his support to Moore's campaign: the Honourable Member for Ashfield, Lee Anderson. Asking Moore to give way twice so he could give the Chamber a piece of his mind, Anderson said:
The only way that we know the full scale of these vile crimes in Bradford is for a full Rotherham-style… investigation, and would he also agree with me that certain local politicians on the council, and the mayor, should hang their heads in shame.
Once this inquiry takes place, and we get to the bottom of this, and these grooming gangs are put away where they rightly belong in prison, then the next call will be these lazy politicians – and they need locking up too.
Even Moore sounded a bit surprised by Lee's fury…
Guido has the video:
Anderson's no-nonsense speech might have been partly due to his appointment to the Women and Equalities Committee in May 2021:
Guido wrote:
Guido learns that parliament's wokest committee – the Women and Equalities Committee – is to welcome two new, perhaps unexpected, members: Philip Davies and Lee Anderson. Philip Davies is making a, no doubt, welcome return after having served on it in 2016 – where he made headlines calling for the word "women" to be removed from the Committee's name. Lee Anderson is a co-conspirator favourite: from saying nuisance tenants should be forced to live in tents; to recently ranting that he's torn up his licence fee. Confirming the appointment, Lee told Guido:
The great women of Ashfield have been the backbone of my community for hundreds of years with barely any recognition.
Yes the men have worked down the pits and gone off to war but its our women that have kept everything together.
The women in communities like Ashfield need a voice in Parliament and anyone who knows me will tell you that I am a firm believer in better rights for women. I am a modern man with a modern outlook who is keen to speak up for the women in my community.
They deserve to be on a level playing field with us men which is not always the case. I will still open doors for women and give up my seat on public transport as I am a gentleman first and a politician second, but you can be assured that I will be fighting on all fronts for the women of Ashfield.
Both men will no doubt relish the appointments, which they richly deserve. Guido sends his warmest congratulations to the pair. Chapeau to the 1922 Committee on the wit and wisdom of their appointments.
Returning to politicians, on November 9, he had a go at convicted Labour MPs and recommended that they should work as a condition of their licence:
This morning in Parliament, straight-talking Lee Anderson told Deputy Prime Minister Dominic Raab exactly how he thinks the government should solve labour shortages:
Prisoners and ex-offenders out on licence should help fill the labour shortage and […] on release, all prisoners – including ex-Labour MPs – should be ready for work and starting work should be a condition of their licence.
Guido has the video:
Nutritious meals on the cheap
As I wrote in my third post on Lee Anderson, he took a lot of unnecessary stick in May 2022 for saying that people can make nutritious meals for only 30 pence per portion.
He revealed that he, too, had been a single parent for many years and lived scrimping and saving. He still got pilloried.
On May 26, however, the Mail profiled a partnered mother of three who makes meals for 29 pence a portion.
Was there any criticism of her from other media outlets, such as the BBC? No, there was not.
Such double standards. Such hypocrisy.
Conclusion
Regrettably, I have run out of Lee Anderson anecdotes.
He is my favourite MP. I would love to see him as the next Conservative leader, if not Prime Minister.
Sadly, that will not happen. He is not Establishment enough and never will be.
I hope that he is re-elected as MP for Ashfield and wish him all the best in his Parliamentary career.
We need more MPs like him.
A profile of another Red Wall MP will appear next week.