You are currently browsing the tag archive for the 'EU' tag.
January 31, 2023 marks the third anniversary of Brexit:
As I have written before, those parliamentary debates early in 2020 were splendid. Newly and re-elected Conservative MPs, giving the Government a majority of 80 thanks to Boris Johnson's 2019 'Get Brexit Done' campaign slogan, were full of optimism about how Britain could — and would — be transformed.
Unfortunately, the pandemic put paid to those dreams in mid-March. We couldn't move past it. Even now, we are still suffering financially from the decisions the Government made, forced to do so by Opposition MPs. If Boris had just not given into SAGE, we probably could have stuck to the Swedish policy of no lockdown and minimal restrictions, which would have saved us hundreds of billions of pounds. Then again, Boris got coronavirus and had to be hospitalised for a week in early April. He came back a different man. SAGE were able to exercise power over him.
Even in 2022, once England finally returned to normal, the Government seemed to be treading water. We had three Prime Ministers and four Chancellors of the Exchequer last year. Very little of the optimistic legislation from the 2019 manifesto got started. Instead, Net Zero seemed to take over. It was in the manifesto, but as the final point, not the main one. The Online Safety Bill is a piece of intrusive legislation. The Conservatives are only getting started on pushing legislation through to get rid of thousands of EU laws on our books. Taxes are at a 70-year high. We have tens of thousands of migrants crossing the Channel in small boats. The possibility of any real progress for the Brexit agenda between now and the end of 2024 or January 2025 looks dim.
That said, Guido Fawkes reminds us (emphases his):
… we've signed about 71 new trade deals, led the European response to Putin's war in Ukraine and saved countless British lives with an independent vaccine rollout. And that's without any politicians actually making a concerted effort to capitalise on independence…
Of course, there is always a dismal economic forecast with which to deal. We must remember that Brexit was never about the economy but taking back control of our own national destiny.
Still, here is the latest dismal economic forecast and the danger ahead for Brexit in late 2024 or early 2025:
… even today's IMF report on growth forecasts couldn't bring itself to attribute any faults in the UK economy to our decision to leave the bloc. Now preparations must be made to save Brexit from a Starmer-led Labour government…
Because the IMF is the IMF, its forecasts receive undue attention. It is important to look back on the IMF's track record. They did a terrible job in predicting 2022:
Guido points out:
The 'good' news is the IMF has upped its forecast for 2024, now predicting 0.9% growth from 0.6%. It is also worth bearing in mind the IMF's analysis isn't gospel; it underestimated 2021's growth by 2 points. Chancellor Jeremy Hunt is doing his best to remind everyone of that:
Short-term challenges should not obscure our long-term prospects — the U.K. outperformed many forecasts last year.
A number of these forecasts are shaped to comply with political narratives. One of Guido's readers commented (purple emphases mine):
Rather a lot of years ago, I worked with a fellow who had, in previous employment, worked at the Board of Trade. He told me that every month, their top guy would get together with some other top guy from the Treasury and they would concoct the monthly trade figures to broadcast to the media. T'was all mainly fiction, of course, depending on what political message was required. I doubt if anything much has changed in the intervening years.
Here is another forecast gone wrong: Germany's. Keep in mind that Germany is at the heart of the EU, so we cannot blame Brexit for their woes:
Going back to August 2022, Germany and France joined the UK in having either flat or negative GDP:
Opposition MPs of all flavours, except for Northern Ireland's DUP, tell us that if we were still an EU member country, we wouldn't have inflation.
Yet, on January 26, 2023, Euronews informed us that food prices continue to rise across the EU:
Food prices have continued to rise across Europe despite inflation dropping for a second consecutive month in December, according to data shared on Wednesday by Eurostat, the European statistics agency.
The inflation of food prices in the EU was 18.2 per cent, and 16.2 per cent in the eurozone in December, which is a slight decrease compared to November on average. But some basic food items like sugar, milk cheese and eggs, oils, and fats prices are still going up.
One month earlier, Euronews reported on the plight of French university students who were forced to use food banks:
20% of students in France live below the poverty line. Rising food prices and energy bills soaring are exacerbating their situation. And yet, France gives more financial aid to students than many other European countries …
The government has recently allocated 10 millions euros to support the associations that organise food distributions for students. A consultation between the governement and student unions on the reform of the student grant system is ongoing, but concrete change is not expected anytime soon.
Our Opposition MPs also tell us that if we were still part of the EU, we would not be experiencing the multi-sector strikes that have been plaguing us.
However, let us look at France. Today, January 31, Euronews reported:
A new wave of strikes on Tuesday to protest French government plans to raise the retirement age to 64 has already impacted transport links and electricity production. 
TotalEnegies says between 75% and 100% of workers at its refineries and fuel depots are on strike, while electricity supplier EDF said they're monitoring a drop in power to the national grid equivalent to three nuclear power plants. 
"Following the call for a strike, shipments of products from TotalEnergies sites are interrupted today but TotalEnergies will continue to ensure supplies to its service station network and its customers," the group's management said.
In EDF power stations, strikers reduced loads by "nearly 3,000 MW" on Monday night, but without causing any cuts, the company said.
Hundreds of thousands of workers are expected to take to the streets across France on Tuesday, for a second day of industrial action that unions hope will be even more massive than the first, earlier this month … 
The government had warned in advance of Tuesday's strike about likely disruption to France's transport network. 
In the Paris region the metro and local rail services are "very disrupted" say officials. Long distance TGV train services are also impacted, as are regional trains with intercity services almost at a standstill. 
Rail operator SNCF said only one in three high-speed TGV trains will operate on Tuesday while disruptions are also expected at French airports and on transnational rail services …
French doctors were on an extended strike on January 2: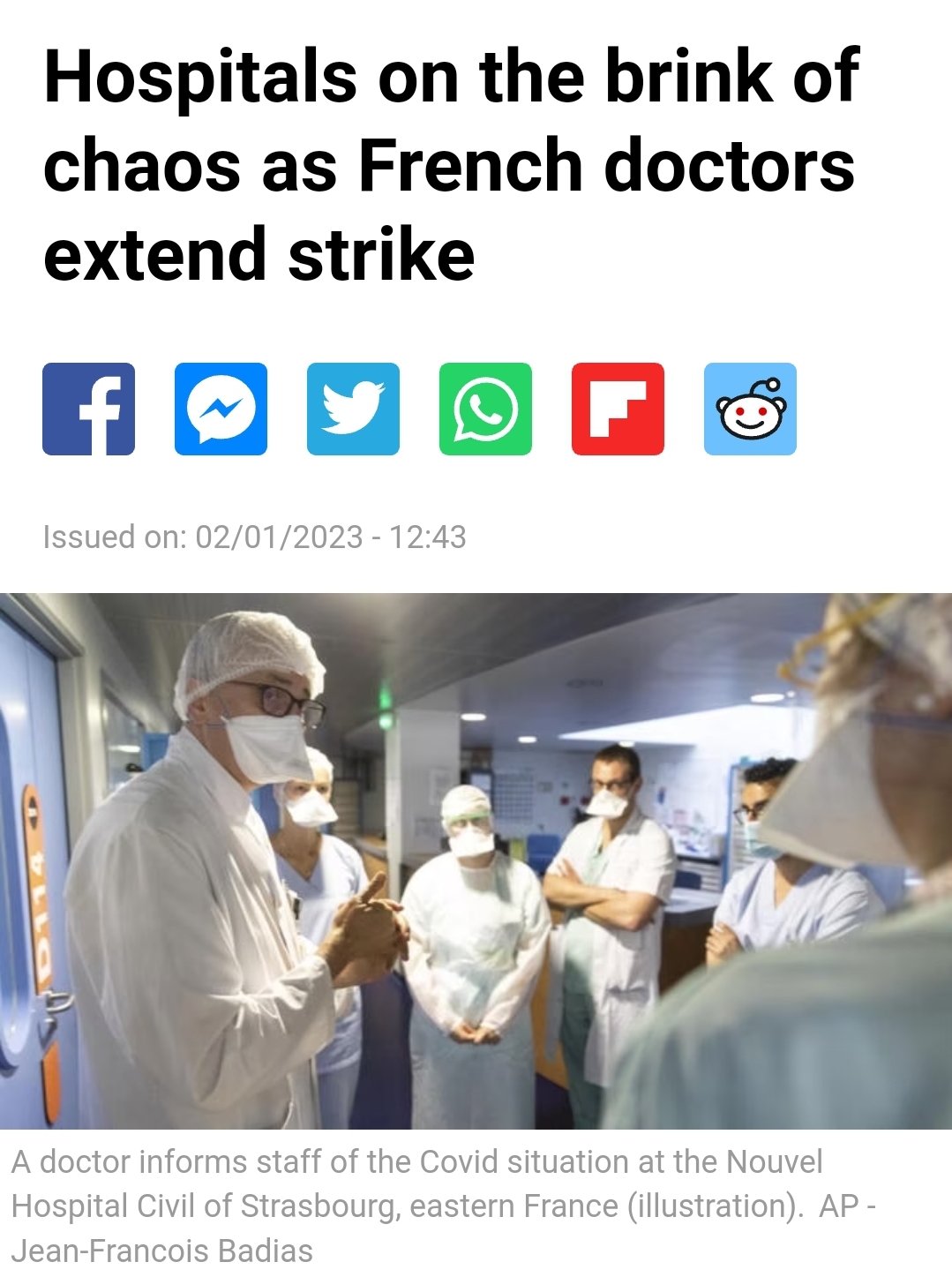 Then there is Ukraine. Nearly a year ago, Remainers told Leavers that Vladimir Putin would use Brexit to his advantage — an entirely erroneous talking point, as Boris was the first Western leader to champion Ukraine. If we had been part of the EU, he would not have been able to do so. By contrast, Germany was buying Russian gas and Italy was sending handbags to Russia:
Then there was the pandemic. In May 2022, the WHO published excess death statistics for 2020 and 2021. The UK had lower excess deaths than Spain, Italy and Germany, although France had fewer excess deaths than we did:
As for migration, France still has as much of a problem as we do, yet our Opposition MPs tell us that if we were still part of the EU, we would not have a Channel crossing issue.
On December 26, 2022, The Times reported that the French government opened the Château de Grignon to house them, which isn't too different to our policy, egregious as it is, of opening hotels to those coming nearly daily across the Channel:
A row has broken out in France over a government decision to shelter homeless families, notably migrants, on the estate of a Renaissance château …
Under a plan to provide shelter for the homeless during the winter, up to 200 people are to be housed in the château estate until March. The first 62, including 37 children, arrived this week.
Officially, they are classified as people of no fixed abode who have been sleeping rough. In practice, most are migrants unable to find shelter upon their arrival in France and often forced to live in squalid, makeshift camps around the Paris ring road.
In conclusion, EU nations share many of the major problems that the UK has.
Brexit has nothing to do with it. In fact, Brexit will probably help us get out of these issues more quickly than EU nations will.
Therefore, Happy Brexit Day! May many more follow!
Gosh, what a lot of news to cover in one post.
Admittedly, a few of these items are a bit old but fit in thematically.
Theresa May U-turns on support for Scottish gender reform legislation
I wrote yesterday about former Prime Minister Theresa May's support for Scotland's Gender Recognition Reform bill on Tuesday, December 27.
Within 24 hours she had made a U-turn, thankfully, although she did it through a spokeswoman.
On Wednesday, December 28, The Times reported (emphases mine):
In the wake of the interview the BBC issued a press release which stated: "On the subject of Scotland's proposed gender recognition laws, Ms May said she was disappointed the Westminster government wasn't supporting them."
Yesterday, however, a spokeswoman for the Maidenhead MP insisted that was not the case.
"As prime minister, Theresa launched a consultation looking at gender recognition laws with the aim of providing a more sensitive approach to transgender people, but she does not agree with Nicola Sturgeon's legislation and is particularly concerned about the consequences it could have for children in Scotland and across the UK," she said.
We can but hope that the Secretary of State for Scotland does not send the legislation for Royal Assent:
Immediately after MSPs voted in favour of the legislation Alister Jack, the Scottish secretary, threatened to invoke section 35 of the Scotland Act, which allows him to prevent the legislation from receiving royal assent.
Although gender recognition is devolved to Holyrood, the Equality Act — with which the new law will interact — is reserved to Westminster.
As nearly two-thirds of Scottish voters — even SNP supporters — think this legislation is a terrible idea, Westminster can show the 'Union dividend' in being 'better off together'.
Gas futures coming down
On Thursday, December 29, The Guardian had encouraging news about the price of natural gas futures in Europe:
European gas prices have dropped back to levels seen before the Ukraine war began in February, as fears of a gas crisis this winter ease.
The month-ahead European gas future contract dropped as low as €76.78 per megawatt hour yesterday — its lowest level in 10 months, data from Refinitiv shows.
As this chart shows, gas prices have fallen back from their surge in March, and again in the summer as European countries scrambled to fill their gas storage tanks.
Prices have dropped thanks to warmer-than-normal temperatures this winter, which have limited demand for gas, after the European Union successfully filled reserves to a peak of almost 96% in November.
Consumption reduction targets have also helped to limit demand, with the EU aiming to cut its gas consumption by 15%.
Earlier this week, 83.2% of EU gas storage was filled, data from industry body Gas Infrastructure Europe shows, still above the target of 80% set for the start of November.
Traders are confident that inventories will end winter at a very comfortable level with a very low risk of falling to critically low levels, says John Kemp, energy market analyst at Reuters.
UK gas prices have also dropped back from their highs earlier this year. The day-ahead gas price closed at 155p per therm yesterday, compared with 200p/therm at the start of 2022, and over 500p/therm in August.
The UK versus the EU
All year long in Parliament we've heard that the UK is 'broken' and that we should have stayed in the EU.
Polls have been published showing that Brexit voters have buyer's remorse. Well, they shouldn't have. We are much better off outside an unelected European Commission. Furthermore, EU countries are not doing substantially better than Blighty.
France
This week, I received the latest copy of Marianne, the French newsweekly. Part of its cover story headline, referring to the state of their nation, reads:
EN PANNE
meaning, 'out of order', 'not working'.
On Wednesday this week, The Spectator had an excellent article about our neighbour: 'All is not well in Macron's France':
In 2021, both World Bank and United Nations GDP (nominal) rankings have the UK at 5th and France 7th. International Monetary Fund estimates for 2022 show India overtaking the UK to claim the 5th spot for world GDP, but with France still 7th.
One may question the reliability of GDP as a comparator, but a host of other measures regularly show France worse off than the UK. Debt to GDP ratios show France at some 115 per cent, the UK 99.6 per cent. Meanwhile the Bank for International Settlements gives France's total public and private debt (non-financial) at 351 per cent; the UK at 271 per cent.
One can rightly point to France's present day lower inflation at 7.1 per cent (EU harmonised) compared to the UK's 10.7 per cent. But as French debt statistics above show, president Emmanuel Macron began forcing down domestic inflation by subsidising prices during his 2022 presidential election campaign. French unemployment at 7.4 per cent compares unfavourably with the UK's 3.4 per cent. Meanwhile France is the highest taxed OECD and EU state, leaving little margin for manoeuvre. Her balance of payments figures are as gloomy as the UK's, together with her flat economic growth.
While Britain's position is not rosy, France's is certainly no better. That is why recent predictions in a certain European press, not least in France, taken up by British elites, that the UK was descending into terminal decline has lost all proportion. If the French press enjoy a touch of schadenfreude at the expense of the old enemy, and French politicians are glad to distract from their own problems, the willingness of much of the British middle class to swallow the same view can only be explained by ingrained cultural habit aggravated by post-Brexit resentment. Today, with Macron utterly wedded to the EU project, France for British elites is ipso facto superior to Britain. Yet France's moral state is parlous.
Since the 2022 presidential and legislative elections Macron's centrist party has no overall majority. France is stalemated and drifting towards ever more radical politics. Macron's prime minister Élisabeth Borne, unable to command a majority in the National Assembly, struggles to get her business other than by the constitutional sleight of hand of article 49,3, which guillotines parliamentary debate. With the chamber split four ways the question remains as to whether Macron will eventually dissolve parliament. Opinion polls suggest this would be a gift to Marine Le Pen's party, already the single largest opposition party with 89 seats. France might then come to replicate the present radical right Italian government.
Socially and culturally French society is far from healthy. Other than worsening violence and lawlessness in the banlieues – conveniently out of sight of English elites' visits to France – the French model of assimilation and laïcité is being tested to destruction. Official Justice Ministry statistics for July 2021 show 24.6 per cent of the prison population as foreign (double the proportion in Britain).  The French Interior Minister publicly stated this summer that, although foreigners make up 7.4 per cent of the French population, they account for 19 per cent of all delinquency nationally, and that 48 per cent of arrested delinquents in Paris are foreigners, 55 per cent in Marseille, 39 per cent in Lyon.
… The general picture is of a France far from at ease with itself. The prospect of a member of France's ethnic minorities leading the country with no fuss in the near future, as has just happened in Britain, seems impossible.
And remember the cries of 'Brexit is bad' when the Paris stock exchange overtook London's in November?
I don't recall any mea culpas from the metropolitan elite once we resumed normal service ten days later:
Guido Fawkes posted (emphases his):
The London stock market has re-overtaken Paris's after falling behind for 10 days, with a lead of $63 billion. A 2.5% rally in the value of the pound led to the improvement, and morale booster, compared to a modest 0.7% improvement for the Euro …
Germany
While Remainers in Britain's metropolitan elite moan about food inflation, our friends in Germany have experienced similar price hikes.
On October 14, September figures for the UK showed that our grocery price inflation hit an all-time high of 13.9%.
Yet, JustFood reported that Germany's grocery price inflation also reached historic highs:
Inflation levels in Germany reached their highest levels in three decades in September with food prices rising 18.7% year on year, figures show.
In a continued squeeze on consumer pockets, inflation reached 10% – its highest level since the country's reunification in 1990, the federal statistical office said.
Consumers faced the sharpest rises in edible fats and oils, which were up by 49%. Dairy products and eggs increased by 29.1%, meat and meat products 19.5% and bread and cereals 18.5%.
Month-on-month comparisons show consumers paid 1.8% more for food in September than in August, with vegetables 3.9% more expensive and dairy products up by 2.2%.
The consumer price index for food in Germany, measured against a 2015 baseline of 100, stood at 135.4 year-on-year in September, compared to 121.1 overall.
The federal statistical office said the cost of energy was leading inflation but food also played a major role, with both contributing to an overall 10% rise in prices.
Without food and energy rises in the equation, the country's inflation rate is reduced by over half to 4.6%. The prices of all goods increased by 17.2% in September 2022 compared to 2021, but the prices of non-durable consumer goods, which include food and energy, increased by 23.3%.
We cannot blame German inflation on Brexit. As Conservative ministers rightly say at the despatch box, inflation is up all over Europe and the West.
UK to relax egg rules to line up with EU
Another thing we hear from Remainers, especially in the Houses of Parliament, is that British food regulations are weaker than the EU's!
Nothing could be further from the truth! Our food standards have been higher than the EU's for decades.
Anyone wanting up-to-date proof can read an article in Wednesday's Guardian — 'UK free-range egg rules could be relaxed in line with EU for avian flu outbreaks':
Free-range egg rules in the UK could be relaxed in response to the European Union preparing to overhaul regulations after the biggest avian flu outbreak on record.
Ministers are understood to be considering a change to the rules that would mean eggs laid by hens kept in barns for months on end could be classed as free range.
Currently, eggs cannot be classed as free range if birds are indoors for more than 16 weeks. Farmers have that grace period in both the EU and UK, which means eggs can still be labelled as free-range if a government-issued housing order for birds is in place up to 16 weeks.
Subsequently, labels need to be added to packaging making it clear that those are now classified as barn eggs.
Whitehall sources told the Daily Telegraph that the Department for Environment, Food and Rural Affairs (Defra) is considering changing the regulations in order to keep farmers competitive with Europe …
The European Commission put forward a proposal in September, which stated "where temporary restrictions have been imposed on the basis of EU legislation, eggs may be marketed as 'free-range' notwithstanding that restriction".
The proposal, which is awaiting approval by the European parliament, means eggs could be classed as free range even if hens are forced to spend months indoors due to government rulings.
In September, egg producers in the UK said it was essential that the government now followed suit to avoid British suppliers being undercut by EU imports.
Climate change
Climate change sceptics will be on the right side of history in time.
Guido Fawkes's readers posted about deforestation in this post.
One chap posted an article about the increasing need for balsa wood from Latin and South America for blades on wind farms. Apparently, indigenous communities have not been consulted: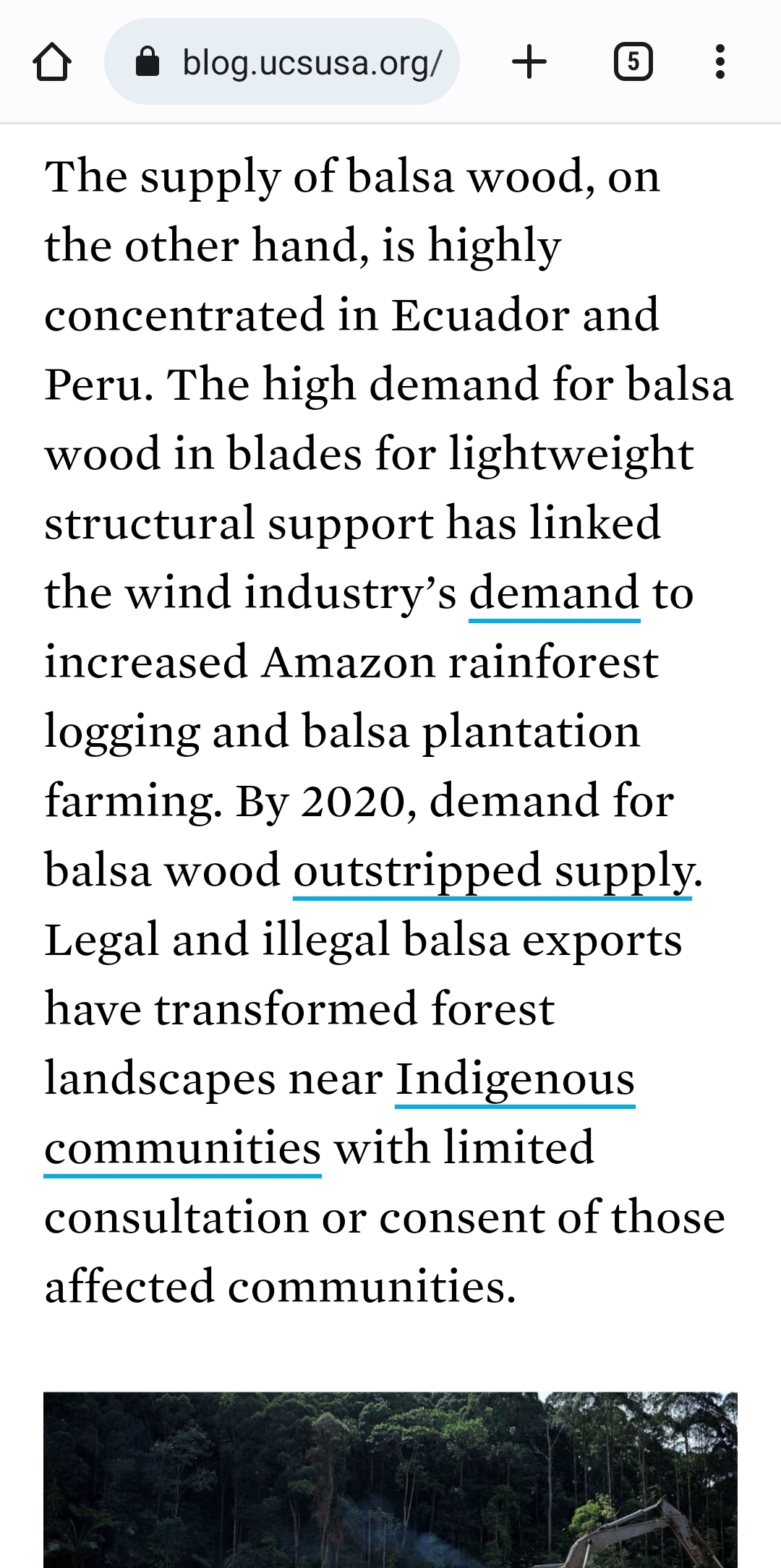 The article continues, stating that some companies are switching from balsa to oil byproducts, such as PET and PVC, or to cellulose: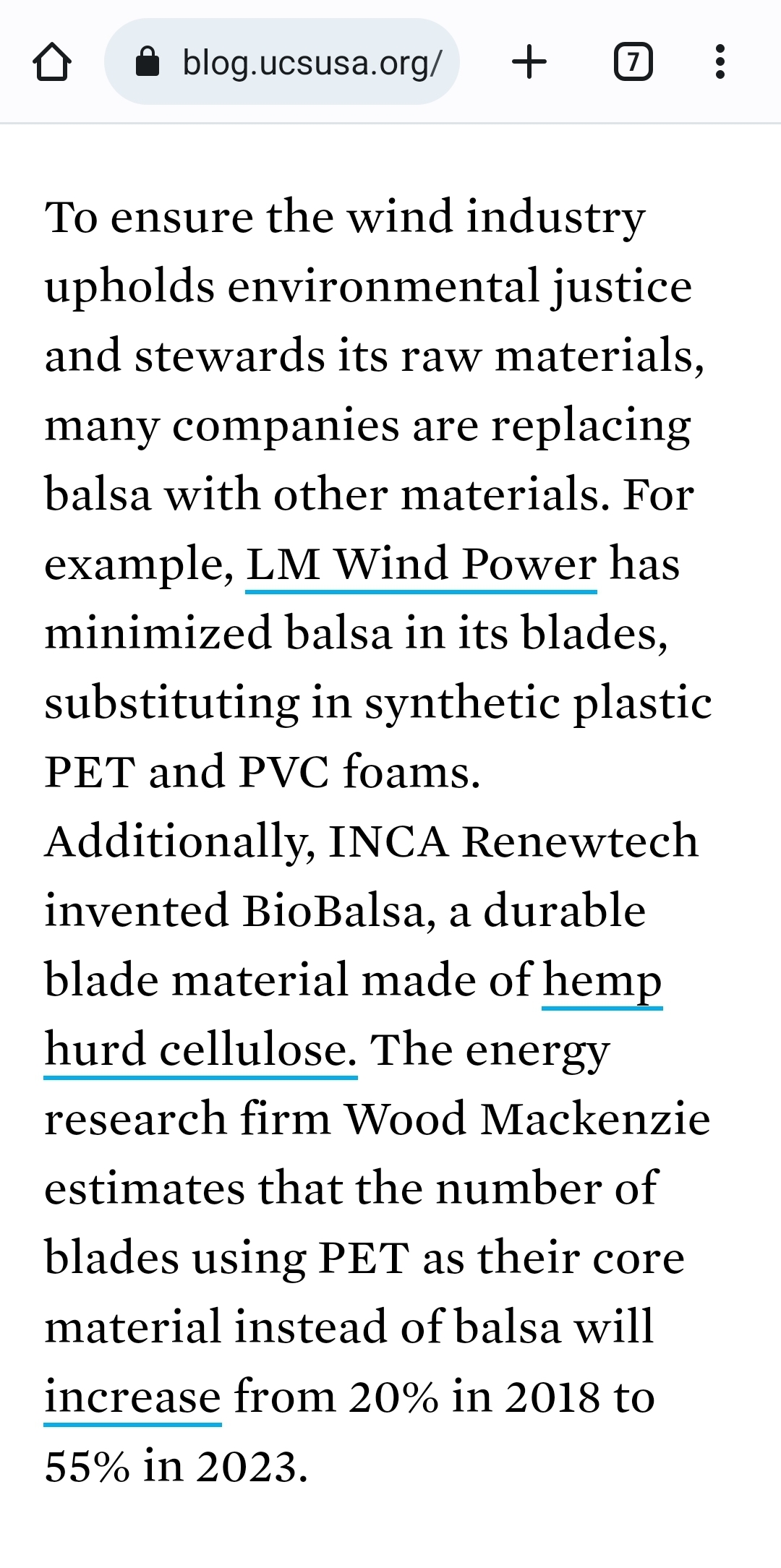 The man who posted the article pointed out:
BALSA is being replaced with PET and PVC (yep- crude oil) but are also experimenting with cellulose– which needs highly toxic chemicals to make.
Someone responded with this:
Synthetic PET usually uses food starch as a replacement for oil based derivatives. These divert food crops away from human and livestock consumption. They also encourage the use of GM crops and pesticides.
PVC production creates sodium chloride, which is a cause of acid rain.
The eco loons really didn't think this through.
Ultimately:
The eco l00ns NEVER think anything through.
And they hope we won't notice.
It's part of the reason why 'climate science is settled' and they refuse to debate.
You know how it goes.
Fracking bad – mining cobalt (even using young children) good.
You flying -bad- them flying- good.
On a similar note, an UnHerd article laments the loss of the hearth in 'Firewood will save the West'. The author, Paul Kingsnorth, lives in Ireland and has his firewood delivered to his home:
The Irish government is currently campaigning against households which burn turf or wood, the former on the grounds of CO2 emissions, and the latter on the grounds of air quality. As ever, the campaign is driven from Dublin, and mostly takes Dublin sensibilities into account. Rural households in Ireland have been burning turf and wood forever, with little significant impact on "air quality" — or at least, no impact comparable to that which Ireland's "Celtic Tiger" modernisation has had. Suddenly, though, the media is full of scientists armed with studies demonstrating how getting a fire going in your cottage in winter will lead to cancer and lung disease on a widespread scale.
That is nonsense. Until recently, Man had been surrounded by smoke for millennia.
Essentially, the Irish government, in line with other Western governments, wants to do away with fireplaces:
This new tilt against household fireplaces is not just an Irish phenomenon: it is suddenly popping up everywhere. Woodstoves are, curiously, becoming the number one air pollution villain. Never mind mass car use, accelerating air travel or industrial pollution. Never mind the emissions caused by the massive increase in Internet server farms, which within just a few years could be using up an astonishing 70% of this country's electricity. These days, if you want to demonstrate your social responsibility, you should be all aboard with the abolition of the traditional fireplace and its replacement with "green" alternatives.
He explains that the home hearth has been not only traditional but also atavistic throughout mankind's history. He cites the philosophical polymath John Michell (1933-2009):
The fireplace, whether our dessicated urban authorities know it or not, has a primal meaning, even in a world as divorced as ours from its roots and from the land.
In his short essay "Fireside Wisdom", the uncategorisable John Michell suggested that the "displacement of the hearth or fireplace" from the home was one of the many reasons for the craziness of the modern world which his life had been spent playfully exploring. The fireplace at the centre of the home, he wrote, was both an ancient practicality and a device of "cosmological significance" across cultures and time: "Conversation is directed into the fire while dreams and images are drawn out of it."
In the past, the act of sitting staring into the smoky fire with family or neighbours was the genesis of the folk tale and folk song which tied the culture together. Now we stare at digital fires hemmed into boxes manufactured by distant corporations who also tell us our stories. No song we can dream up around a real fireplace can compete with what these boxed fires can sell us. "Thus," wrote Michell, "the traditional cosmology is no longer represented by its domestic symbols, and a new, secular, restless, uncentred world-view has taken its place."
Focus, Michell explained, is "the Latin name for the central fireplace. The fire not only warms but, as a symbol, illuminates the corresponding images of a centre to each of our own beings and of a world-centre which is divine, eternal and unchanging." Lose your fires, and you literally lose your focus as a culture. In this context, a government spokesman telling his population, as one minister here recently did, that they should "get over" their "nostalgic" attachment to the hearth fire and install ground source heat pumps instead is more than just a nod to efficiency. It is an assault on what remains of the home and its meaning. It is an attack on the cultural — even the divine — centre.
Paul Kingsnorth posits that each move away from self-sufficiency, e.g. using one's own fireplace, puts us more under the control of government:
When you can no longer grow your own wood or cut your own turf to heat your own parlour, you are made that little bit more dependent on the matrix of government, technology and commerce that has sought to transmute self-sufficiency into bondage since the time of the Luddites. The justification for this attack on family and community sufficiency changes with the times — in 17th-century England, the enclosures were justified by the need for agricultural efficiency; today they are justified by the need for energy efficiency — but the attack is always of the same nature. Each blow struck against local self-sufficiency, pride and love of place weaves another thread into the pattern which has been developing for centuries, and which is almost complete now in most affluent countries …
In my lifetime, in my part of the world, the notion and meaning of "home" has steadily crumbled under external pressure until it is little more than a word. The ideal (post)modern home is a dormitory, probably owned by a landlord or a bank, in which two or more people of varying ages and degrees of biological relationship sleep when they're not out being employed by a corporation, or educated by the state in preparation for being employed by a corporation. The home's needs are met through pushing buttons, swiping screens or buying-in everything from food to furniture; for who has time for anything else, or has been taught the skills to do otherwise?
He refers to a 1980 manuscript, 'Family Work', by the American essayist Wendell Berry:
Like so much of Berry's work, it locates the centrepoint of human society in the home, and explains many of the failures of contemporary Western — specifically American — society as a neglect of that truth. The home, to Wendell Berry, is the place where the real stuff of life happens, or should: the coming-together of man and woman in partnership; the passing-down of skills and stories from elders; the raising and educating of children; the growing, cooking, storing and eating of food; the learning of practical skills, from construction to repair, tool-making to sewing; the conjuration of story and song around the fire …
Even back in 1980, Berry recognised that the home had become an "ideal" rather than a practical reality — precisely because the reality had been placed out of reach for many. What killed the home? Three things, said Berry: cars, mass media and public education. The first meant that both work and leisure could, for the first time in history, happen a long way from home. The second — "TV and other media" — have played a role, since the mid-20th century, in luring us all into a fantasy world of freedom from obligation, and a limitless, fun consumer lifestyle. "If you have a TV," writes Berry, "your children will be subjected almost from the cradle to an overwhelming insinuation that all worth experiencing is somewhere else and that all worth having must be bought." Finally, the school system is designed "to keep children away from the home as much as possible. Parents want their children kept out of their hair." Schools exist to train children to fit into individualistic, consumer societies; to internalise and normalise their ethics and goals, and to prepare for a life serving their needs.
I have to disagree with his disparagement of television, as my better half and I watch a lot of French programmes, food shows in particular. For us, it is a window into a culture we love very much. Were it not for television, we would have to visit France in person much more often. As it is, we can experience France from our sitting room and perfect our language skills while learning more about the world's finest cuisine.
Berry's solution is to make the home a welcoming, peaceful place for everyone living there:
… he suggested that we should "try to make our homes centres of attention and interest"; to make them as productive and nurturing as we can … you will see new possibilities begin to open up. You will see, in Berry's words, that "no life and no place is destitute; all have possibilities of productivity and pleasure, rest and work, solitude and conviviality that belong particularly to themselves", whether in the country, the city or the suburb. "All that is necessary," he suggests, is "the time and the inner quietness to look for them."
Television is a good thing
On the subject of television, a 104-year-old Australian woman told her grandson that it was probably the greatest development in her lifetime.
Lewis Isaacs wrote her story for The Guardian: 'My 104-year-old Nan's secret to a long life':
A life as long as hers can be hard to comprehend. Asked what the biggest change to the world she'd seen across her life was, Nan replied that it was television. Life when she grew up rarely extended past her suburb. Television connected the living room to the world.
How true! Well said, Nan!
The article has family photographs, too.
So what is Coral Isaacs's secret to longevity?
She says it comes down to genetics and finding the right partner. She was widowed more than 30 years ago and says the life she built with my Pop has supported her since. It helps to remember your pills, she adds, and to get up, shower and make your bed every day.
I suspect the truth about her endurance is something different though. Nan is determined to keep her eyes focused on the future. Even when the days are hard, she still looks forward.
I was hoping she would mention smoking a crafty cigarette or enjoying a daily digestif, but, sadly, no.
Churchill's cigar goes on sale
For a smoking story, we had to go to an auction house.
On Thursday, December 29, The Times reported that one of Winston Churchill's cigars is expected to fetch £3,000 at auction:
The former prime minister gave the Cuban cigar to an RAF doctor who helped him when he broke his leg in 1962.
The doctor's grandson has put the rare cigar up for sale with Hansons Auctioneers, which said it would be an "impressive item" for any Churchill collector. Charles Hanson, the owner, said: "We occasionally see Churchill cigar stubs that people have picked up after he dropped them. But to gain a whole cigar in such pristine condition, given as a gift in unusual circumstances, is special."
Churchill, who died in 1965 aged 90, was a lifelong smoker. While he was at boarding school, his mother learnt he had taken up smoking cigarettes and tried to bribe him to stop by promising him a pistol and a pony.
He switched to cigars after spending time in Cuba after his graduation from Sandhurst military academy, and friends, dealers and associates sent him regular deliveries of cigars from then on.
The circumstances are most Churchillian:
The auction house said the cigar under auction was given to an RAF squadron leader, Bertram AJ Barrow. Churchill fractured his femur while getting out of his bed at the Hotel de Paris in Monte Carlo, and was flown back to London on an RAF plane while in a waist-to-ankle plaster cast.
Barrow, the leader of the medical team, plucked up the courage to ask Churchill for one of his famous cigars.
For decades the treasured cigar was kept in a bedside drawer, but will now go under the hammer at on January 9 with an estimate of £2,000 to £3,000.
Barrow's grandson, Thomas Barrow, 33, an employment law adviser from London, said: "Bertram asked for a cigar as a keepsake, and Churchill advised that he could have 'one that he had been saving' — which was Cuban and still in its glass case."
What a story!
Conclusion
As my later grandmother-in-law, a lifelong Londoner, was fond of saying:
The old ways are the best.
I couldn't agree more.
Let's try to recapture them in 2023.
My most recent post on Liz Truss examined her first two weeks in office as Conservative Party leader and Prime Minister, from September 6th through the 16th.
Things had started out so well. Ironically, Jeremy Hunt, who is now Chancellor, told ITV's political editor Robert Peston on September 7 that Truss would be 'formidable'. An amazing endorsement from someone who was her natural ally:
Hmm. Did he know anything at that point? We'll probably never know.
On September 20, The Sun's political editor Harry Cole was delighted to announce his and James Heale's book on Truss, Out of the Blue, which later had to have hastily written chapters added to it:
Yes, it is still coming out by Christmas — November 24, to be precise:
King Charles and COP27
Liz saw King Charles on Sunday, September 18, the day before the Queen's funeral. It was not their usual day to meet, but the Royal Family went into private mourning until the end of September:
On Saturday, October 1, The Times reported that Liz had asked the King not to attend COP27, which ran between November 6 and 18, despite an invitation from the organisers.
This was a good move, in my opinion, as climate change, or whatever it's being called this week, has turned highly political.
The article said (emphases mine):
The King, a passionate environmental campaigner, has abandoned plans to attend next month's Cop27 climate change summit after Liz Truss told him to stay away.
He had intended to deliver a speech at the meeting of world leaders in Egypt.
Had she remained PM, Liz would not have attended, either:
Truss, who is also unlikely to attend the Sharm el-Sheikh gathering, objected to the King's plans during a personal audience at Buckingham Palace last month.
There were no hard feelings between the Palace and No. 10:
… a Downing Street source claimed the audience had been cordial and there had "not been a row".
No doubt he was expecting it:
A senior royal source said: "It is no mystery that the King was invited to go there. He had to think very carefully about what steps to take for his first overseas tour, and he is not going to be attending Cop."
They said the decision was made on the government's advice and was "entirely in the spirit of being ever-mindful as King that he acts on government advice".
In the end, the King held a reception at Buckingham Palace for world leaders before they flew to the summit. In light of that, this was rather interesting:
Charles is still determined to make his presence felt there, and how he will do that is "under active discussion". A senior royal source said: "Just because he is not in physical attendance, that doesn't mean His Majesty won't find other ways to support it."
A source who knows Charles said he would be "personally disappointed" to miss it and was "all lined up to go", with several engagements planned around his Sustainable Markets Initiative (SMI) which aims to persuade businesses to invest in environmentally friendly initiatives.
Public v parliamentary opinion
In late September, a poll showed that Truss was ahead of Labour's Keir Starmer in Red Wall seats, boosting the Conservatives by eight points:
Admittedly, that was before Kwasi Kwarteng's fiscal event, or mini-budget, of Friday, September 23.
That said, I will go out on a limb and say that most conservative voters thought that Kwarteng's — Truss's — plan was the right one. My better half and I thought it was refreshingly libertarian.
However, Conservative MPs vehemently disagreed with the public and started writing in to Sir Graham Brady, the chairman of the 1922 Committee, the all-powerful group that Margaret Thatcher dubbed 'the men in grey suits'.
On September 26, the Northern Echo reported:
A former Tory minister MP has told Sky News the new Prime Minister is "f*****" and the party are already looking to bring her down following Friday's mini-budget.
The MP said: "They are already putting letters in as they think she will crash the economy. The tax cuts don't matter as all noise anyway – mainly reversing back to the status quo this year …
Another Tory MP told the broadcaster that Friday's announcement – which included reversing a 1.25% hike in National Insurance – had been a "s***show".
Note that MPs were siding with the Bank of England. Very establishmentarian of them:
"The issue is government fiscal policy is opposite to Bank of England monetary policy – so they are fighting each other. What Kwasi [Kwarteng] gives, the Bank takes away."
The mood among Conservative 'wets', to borrow Thatcher's name for such weaklings, only escalated.
At Liz's one — and only — appearance before the 1922 Committee on Thursday, October 13, Robert Halfon, a wet, told Truss she had 'trashed the past ten years'.
Liz Truss was accused by a senior MP of trashing "the last ten years" of Conservative government as her party turned on its new leader over the mini-budget.
Robert Halfon, a former minister who chairs the education select committee, unleashed a furious attack on her financial measures, saying they disproportionately benefited the wealthy and meant she had abandoned "workers' conservatism".
Anything but, however:
According to an MP present, Halfon told Truss in a meeting of the 1922 Committee of backbenchers — her first as prime minister — that "in the last ten years we had the living wage, a focus on apprenticeships and skills", contrasting that with "bankers' bonuses, benefits cuts and now cuts to affordable housing targets".
His intervention came after Truss tried to assuage Conservative MPs by saying she had "shielded families and businesses from bills of up to £6,000 this winter and for the winter ahead, while Labour has no plan beyond the next six months".
The meeting did not go well. Halfon seemed to voice other MPs' concerns:
… a Tory MP who has been in the Commons for more than a decade said: "It was the worst 1922 I've ever been to." They added: "With each tough question she looked like she'd had the wind knocked out of her — the 31st of October could finish her off on the basis of the reception she got in that room."
Halloween — who schedules these things? — was supposed to be the day Kwasi was going to set out more detail behind his fiscal event. Liz's friend and neighbour in Greenwich was on hand to support her:
Thérèse Coffey, the deputy prime minister, told reporters outside the 1922 meeting that the chancellor would meet MPs before presenting his medium-term plan on Halloween, stressing that engagement was key.
In the event, Truss had to sack Kwarteng and appoint (ahem) the aforementioned Jeremy Hunt as Chancellor. He delivered his shocking budget on Thursday, November 17, to Prime Minister Rishi Sunak's approval. Sunak nodded several times during the presentation.
Returning to The Times's article of October 13, what other wets said presaged the future:
Even those who back the prime minister expect some sort of climbdown. One MP said: "She will have to unwind everything fiscal in the statement. They have to backtrack. There is no alternative. They've done it on the 45p and they'll have to do it on the rest.
"Then if we are still 20 points behind in the polls we will have to change leader. We are cold-blooded like that."
Another admitted there was "definitely still a big split between her and the Rishi [Sunak] side of the party". Asked if Truss would have to perform another U-turn, they said: "Ultimately, I suppose it depends if she's leveraged into that position by our own party, but it's all by those with 20,000 majorities."
Hmm … Hmm.
However, one Rishi Sunak supporter — Esther McVey — is deeply unhappy over his Chancellor's budget:
On Tuesday, November 22, McVey rightly tore the budget apart in ConservativeHome, saying that Hunt's tax rises are 'socialist measures' that are 'punishing Conservative voters':
… It wasn't helped by the Chancellor's statement being such a pendulum swing from the Liz Truss / Kwasi Kwarteng mini budget. People went from thinking they were getting their taxes cut to seeing them hiked.
The Autumn Statement was clearly an over-correction to that mini-budget. Going from one extreme to the other is hardly reassuring for people. A middle ground was needed: an acceptance of Conservative principles, with a costed plan and the accompanying narrative to reassure the markets.
Instead, Hunt delivered his statement with a doom and gloom that would have appropriate were the country on the brink of financial collapse. However, despite some serious challenges, things are not so dire that we had to have such excessive medicine.
For instance, the ten-year gilt yield – the interest rate the Government must pay on a new decade-long loan – was 3.14 per cent, whereas, even before the notorious mini-Budget in late September, that same yield was much higher at 3.49 per cent.
Britain is no more indebted than other comparable countries. Our national debt (albeit too high) stands at 97 per cent of GDP, whereas France, Canada and the US stands at 115 per cent, 116 per cent and 132 per cent respectively. Across the G7, only Germany has lower levels of government debt than the UK.
So when I stood up in the House of Commons at PMQs the day before the budget and said –
Given that we have the highest burden of taxation in living memory, it is clear that the Government's financial difficulties are caused by overspending and not due to undertakings. Does the Deputy Prime Minster therefore agree, if the government has got enough money to proceed with HS2 at any cost then it has sufficient money not to increase taxes, if however, it has so little money it has to increase taxes (which is the last thing for a conservative government to do) then it doesn't have sufficient money for HS2 [High Speed Rail 2]?
So can I gently urge the Deputy Prime Minister not to ask Conservative MPs to support any tax rises, unless and until, this unnecessary vanity project is scrapped, because I for one won't support them.
– it was to remind everyone there are better choices for our Conservative government than hiking up taxes.
In fact, given that unprecedented tax burden, any self-respecting Conservative would instinctively know that the answer is to spend less. Dropping HS2 – an out-of-date white elephant, costing north of £150 billion which (as Andrew Gilligan revealed on my show on GB News) the Ministers themselves know will deliver less economic benefit than the cost of it – would have been an ideal place to start. That would certainly have been more desirable than increasing taxes on hard-working families who are already feeling the severe pain of higher energy prices and increased mortgage payments.
If a Conservative government with a sizeable majority – in a time of financial pressure – won't cut public expenditure to start living within our means, then when on earth will that ever happen? …
Parliament is debating Jeremy Hunt's budget this week. In Monday's proceedings, a number of Conservative MPs spoke out against it.
Liz's U-turn on windfall tax
On October 12, two days before she sacked her friend and neighbour Kwasi Kwarteng, she appeared to do a U-turn on 'no new taxes' by allowing an announcement for a new levy on green energy firms.
Her ally, then-Business (BEIS) Secretary Jacob Rees-Mogg, defended the move and claimed it was not a windfall tax:
Guido Fawkes reported (emphases his):
The government has announced a new plan to impose a multi-billion pound levy on green energy firms to fund support to consumers. Renewable and nuclear electricity generators in England and Wales will now have their revenues capped after windfall tax-hating Liz Truss seemingly bowed to pressure to limit profits. The announcement came from BEIS last night, which is calling the new policy a "Cost-Plus-Revenue Limit" and spinning that it isn't in any way a windfall tax "as it will be applied to 'excess revenues' as opposed to profits". If it walks like a tax, swims like a tax and quacks like a tax…
The latest backtracking on free market values by the government comes just 41 days after Liz Truss told party members at the London husting that they could read her lips, and there would be no new taxes under her leadership …
On Today this morning, Rees-Mogg tried performing a Jedi mind trick, saying "this is not a windfall tax…this is rationalising the market"…
Despite the government's denial that the new revenue limit is a tax, the boss of RWE – the third biggest renewable power generator in Britain – has told The Times the move "is a de facto 'windfall tax' on low-carbon generators that, if not designed and implemented correctly, could have severe negative consequences for investment in the renewable and wider energy market and so for the energy transition."
Guido warned that Labour's support for the new levy is not a good sign:
Ed Miliband welcoming the policy with open arms should give the government sufficient pause for thought before it buys its own spin…
The mystery of Liz signing UK up to EU's PESCO
Early in October, Liz did a strange thing, considering she is a staunch Brexit supporter.
She attended the first ever meeting of the European Political Community in Prague. The European Political Community is Emmanuel Macron's brainchild.
This group is made up of EU member countries, yet, somehow Liz got an invitation. No one knows for certain.
However, she went.
She met with Macron on Thursday, October 6, in an effort to get the Channel dinghy crossing issue resolved.
GB News reported:
Liz Truss hailed Emmanuel Macron as a "friend" on Thursday, as the two countries signalled that a new agreement could be close to tackle small-boat crossings in the Channel.
The pair met at the first summit of the European Political Community in Prague, a gathering pushed for by the French president.
There, the pair said they looked forward to "an ambitious package of measures this autumn" to address issue of migration across the Channel.
And in a sign that Ms Truss hopes to improve relations with Mr Macron, she had no hesitation in labelling him a "friend", just weeks after refusing to do so …
Mr Macron later suggested it was a "problem" if Britain could not call itself a friend of France.
But Prime Minister Ms Truss adopted a different tone ahead of a meeting with Mr Macron in Prague on Thursday.
She told broadcasters: "I work very, very closely with President Macron and the French government and what we're talking about is how the UK and France can work more closely together to build more nuclear power stations and to make sure that both countries have energy security in the future.
"We're both very clear the foe is Vladimir Putin, who has through his appalling war in Ukraine threatened freedom and democracy in Europe and pushed up energy prices which we're now all having to deal with."
Asked if he was then a friend, Ms Truss said: "He is a friend."
The bi-lateral meeting between the two leaders, which took place towards the end of the day, appeared to signal some progress on the issues of migration and energy, both areas Ms Truss had raised as priorities ahead of the summit.
"Thank you for being here," Mr Macron told the PM when they met.
It also emerged that the two countries have agreed to hold a joint summit next year to "take forward a renewed bilateral agenda", in a further sign of the desire for warmer relations between the two countries.
On migration, a joint statement said the leaders "agreed to deepen cooperation on illegal migration within the bounds of international law, to tackle criminal groups trafficking people across Europe, ending in dangerous journeys across the Channel".
But the big, and secret, news was that Liz had signed the UK up to the EU's PESCO — Permanent Structured Co-operation — which is a military initiative.
Nigel Farage announced the move on his GB News show as soon as he had heard.
On Friday, October 7, The Express said that the move could affect British armed forces by dragging them into an EU army:
The Prime Minister has been warned not to allow the UK to be dragged into an EU Army by accident after she signed a military deal this week at Emmanuel Macron's European Political Community (EPC) summit in Prague. The decision to go into part of the PESCO has alarmed some Brexiteers who fear it could undermine the UK's sovereignty.
Former defence minister Sir Gerald Howarth, a leading Brexiteer has led the campaign to resist joining PESCO for many years.
He said: "This is very serious and we must be very careful. The issue around PESCO is that the structures are permanent.
"We must not sign up to anything which undermines our sovereignty and where we do not have a veto.
"Second, we must not do anything that undermines NATO. If we have learnt anything over the last few months is that we need NATO for the defence of western values and Europe against our enemies which at the moment is clearly Russia."
Even if this has to do with Ukraine, and enables us to move troops and military equipment more easily, it still raises questions:
At the EPC meeting on Thursday, the EU member states voted unanimously to allow the UK to join the the mobility project that would allow the UK to move troops and military equipment more quickly.
The UK Government decided to enter the strand in case Britain is called upon as a NATO ally to defend the Baltic states from a Russian invasion.
However, staunch Brexiteer Mark Francois MP was relaxed about it:
One senior Brexiteer, former Armed Forces Minister, Mark Francois, who now chairs the powerful group of Tory Brexiteers the European Research Group (ERG), said he believes that the move was the right one.
He said: "As we are outside the EU, we can opt in to individual PESCO projects if they have merit and looking at how we could speed up reinforcing the Baltic States from the UK, across internal EU borders, may well have military advantages.
"However, it is NATO that remains the bedrock of our security, especially in deterring further Russian adventurism and we should never forget that."
On October 9, David Kurten, a former London Assembly member and founder of the Heritage Party, said that signing the UK up to PESCO was a betrayal of Brexit:
One month ago, the aforementioned Sir George Howarth appeared on Farage to say that we still do not know what part of PESCO Liz signed us up to. He was clearly concerned, saying that the implications could be important, especially as none of the countries involved has a veto. The EU calls all the shots:
Today, one month on, we are none the wiser about our involvement in PESCO.
Someone must know what's going on. In fact, a lot of people probably do know.
Liz's final week
All of Liz's opponents, whether on the right or the left, told us that Liz and Kwasi, joined at the hip politically, had to go.
Project Fear started as soon as Kwasi delivered his mini-budget on September 23.
On September 27, Bloomberg told us that UK markets had lost $500 billion in combined value since Liz Truss became PM. Really?
'Investor confidence' means international markets, ergo part of the Establishment.
Also at that time, former Conservative Chancellor George Osborne, who served under David Cameron, stuck the boot in.
On September 29, a comment from an UnHerd reader appeared in response to one of their articles, beginning with 'Is this the end for Liz Truss?':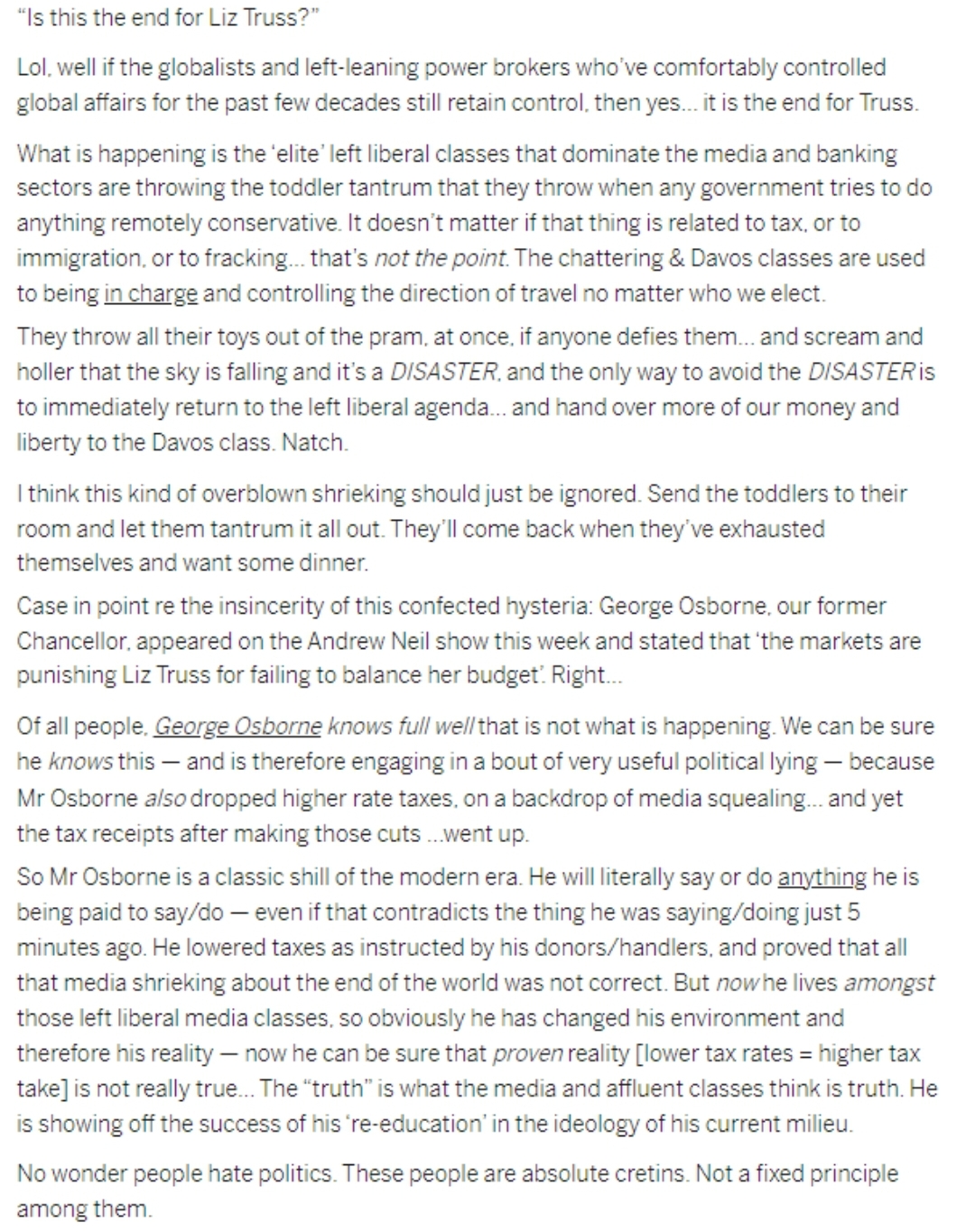 Osborne features heavily in it. The reader quotes him saying, 'The markets are punishing Liz Truss for failing to balance her budget'.
The UnHerd reader says:
Right.
Of all people, George Osborne knows full well that is not what is happening. We can be sure he knows this — and is therefore engaging in a bout of very useful political lying — because Mr Osborne also dropped higher rate taxes [the 50% rate], on a backdrop of media squealing … and yet the tax receipts after making those cuts … went up.
So Mr Osborne is a classic shill of the modern era …
As to whether Liz would have to go, the reader supplies the answer at the top of his message:
… well, if the globalists and left-leaning power brokers who've comfortably controlled global affairs for the past few decades still retain control, then yes … it is the end for Truss …
… It doesn't matter if that thing is related to tax, or to immigration, or to fracking … that's not the point. The chattering and Davos classes are used to being in charge and controlling the direction of travel no matter who we elect.
Speaking of such people, on Wednesday, October 12, King Charles greeted Liz with, 'Dear, oh dear', while the press were still there to record it for posterity:
What did he know and when?
The beginning of the end came two days later on Friday, October 14, when Liz sacked Kwasi and appointed (ahem) Jeremy Hunt as Chancellor. This was the shortest and most painful press conference — she only took four questions — in living memory. She looked like a rabbit in the headlamps or a hostage being forced at gunpoint to read out a message:
As soon as she announced it, we knew Hunt was, at that point, the de facto Prime Minister.
Hours later, The Telegraph reported:
Mr Hunt, a former foreign secretary, took the helm at the Treasury following the sacking of Kwasi Kwarteng over the mini-Budget fiasco. Ms Truss turned to him even though the pair have strongly disagreed on economic policy.
Mr Hunt, also an ex-health secretary, endorsed Rishi Sunak for the Tory leadership after being voted out of the race in July, saying: "This is the wrong time for populist crowd-pleasing and the right time for honesty."
He will hold huge power over a weakened Prime Minister, raising the likelihood that much of her growth plan will now be axed. Allies said that he would act as her "chief executive".
Mr Hunt ran for the Conservative leadership on a platform of slashing corporation tax to 15 per cent to boost growth but also opposed cuts to personal levies such National Insurance and income tax, with which Ms Truss still intends to press ahead.
His appointment was announced moments before the Prime Minister unveiled her U-turn on corporation tax at a press conference. She ditched what had been a core leadership pledge, meaning the rate companies pay on their profits will go up from 19 to 25 per cent in April. It means she has reverted to the plan put in place by Mr Sunak when he was chancellor.
Quelle surprise!
Conservative Party members had voted Liz Truss in largely on her economic policy.
The elites took out her Chancellor. Soon afterwards, they came for her in the form of Conservative MPs and the 1922 Committee. It was a grand game of political chess, not seen since Margaret Thatcher was removed from office in 1990.
To be continued on Friday.
John Redwood certainly has a bee in his bonnet over former Chancellor Rishi Sunak.
Unusually, Redwood has been tweeting several times daily in Trumpian style over which candidate — Sunak or Liz Truss — is better as the future leader of the Conservative Party and our new Prime Minister.
He has also continued to keep his readers updated in his eponymous diary.
On July 20, 2022, the final day of Conservative MPs voting for leadership candidates, he tweeted:
Later that day, he wrote a brief diary entry, 'Then there were two':
I am delighted Liz Truss will be in the final with Rishi Sunak. I want a change of economic policy as readers of this site will know. Liz Truss will give us that change. Rishi has accepted Treasury and Bank advice which has given us a high inflation and if unaltered will give us a recession next year. We can do better.
Redwood has been an MP since Margaret Thatcher was Prime Minister. Not only does he understand her monetary policy but also the way Treasury and Bank of England forecasts have gone wrong over the past 40 years. He advised Thatcher in the middle years of her long premiership.
Boris Johnson also understands that the Treasury gets things wrong. In his final PMQs on Wednesday, July 20, he gave advice to his successor, saying (emphases mine):
I love the Treasury, but remember that if we had always listened to the Treasury, we would not have built the M25 or the Channel Tunnel.
That day, the OBR (Office for Budget Responsibility) came out with a revised forecast.
On July 21, Redwood wrote 'Some funny numbers from the Treasury and OBR':
The OBR has had to explain why it was so far out in its forecasts of the deficit and borrowings last year. They have written:
"Our latest forecast for (Central government borrowing) 2021-2 is £48.3bn below the October forecast and £131.2bn below our March 2021 forecast (the Budget)". They accept they underestimate tax revenues by a massive £77bn and overstated state spending by £48.7bn. It should be easier to forecast what you spend when you are running the spending controls.
We can all make mistakes. Forecasting is difficult. What is more difficult to forgive is that this was not the first time they have underestimated the revenues and overstated the deficit. Worse still is they used their precise forecasts of revenue and deficit to tell the Chancellor he needed to raise more taxes to reduce the gap between spending and taxing. It turns out they need not have asked him to do that as the numbers were so much better than the numbers they tried to create with tax rises.  So when I am asked how do we pay for the tax cuts, the first answer is we are so far ahead of plan there is no problem. The second answer is if you cut the right tax rates to a sensible amount you can end up with more growth and more revenue, not less.
The Treasury also needs to come clean about the debt interest. They have been using their current high figure of £83bn which includes index costs on the repayment of inflation linked debt which does not entail making any cash payments before redemption. They use this figure to scare politicians into accepting more austerity to control the debt interest. What they omit to point out is on their definition of debt interest they forecast a collapse in the cost of it to £46.7bn by 2024-5. That is a fall of £36.3bn or 44% in debt interest.
The Treasury has a tradition of overstating deficits when there is good growth and understating them in recession. There is also a danger their policy advice based on very wrong forecasts could drive us unnecessarily into recession.
Redwood tweeted that our current inflation is likely to be temporary:
As soon as Truss and Sunak were the final two contenders in the Conservative Party leadership contest, The Times endorsed Sunak.
Much of the media have also swung behind Sunak, except for the more conservative news outlets which feature more articles on Liz Truss's candidacy and Kemi Badenoch as the future of the Conservative Party, even though she was eliminated from the leadership contest.
Redwood tweeted:
True.
The Remainer media have attacked Truss's proposed policies. Sunak's softness on the EU are why the media back him. They want a return to the EU:
Sunak has been pushing the line that Margaret Thatcher had an initial high tax policy that worked well. Therefore, Sunak is high tax, in a Thatcherite mode. In reality, once Thatcher got new advisers, she began cutting taxes, which brought economic growth.
Redwood tweeted:
Redwood believes that Liz Truss has the Thatcherite economic policy in this contest:
Redwood had more to say about Sunak's performance while he was Chancellor:
I particularly enjoyed this next tweet, in which Redwood compares Sunak to Labour Chancellor Gordon Brown, who later became Prime Minister, succeeding Tony Blair:
Redwood said that he tried to advise Sunak on the economy, but to no avail:
On Friday, July 22, Redwood correctly predicted that Rishi would send a message of panic:
Sure enough, the next day, Rishi said he wanted to declare a state of national emergency:
We can only hope that Redwood is right in saying that panic puts off voters:
Sunak made the statement in Grantham, Margaret Thatcher's home-town. Redwood finds it curious that Sunak never mentioned an interest in Thatcher until this leadership contest:
As I write on Monday afternoon, I will look at that day's BBC debate between the two candidates in a separate post.
Before the debate, Redwood shared his thoughts:
In closing, Redwood reiterates why Liz Truss is the better candidate:
Even though I have no vote in this contest, Liz Truss has accomplished far more in trade deals and foreign policy than Rishi Sunak as Chancellor. His time in No. 11 was disappointing for the most part.
Conservative Party members will receive their ballots early in August, enabling them to vote by post or online. The deadline for them is August 2. A new Prime Minister should be in place by September 5.
It is safe to say that the two most controversial British Prime Ministers of living memory are Margaret Thatcher (Conservative) and Tony Blair (Labour).
Baroness Thatcher has gone to her rest, so we are left with Tony Blair.
Blair's knighthood of the Most Noble Order of the Garter made the news at the end of 2021. On Saturday, January 1, 2022, The Guardian reported (emphases mine below):
Appointments to this ceremonial order are made without prime ministerial advice and are usually announced on St George's Day, on 23 April. Founded in 1348 by Edward III, it is the oldest and most senior British Order of Chivalry and a recognition of significant public service. Sir John Major [Conservative], Blair's predecessor, was the last to receive the honour.
The monarch makes this appointment, supposedly independently, but one wonders.
Only a year ago, the media reported that the Queen had refused to appoint him to the Garter. Incidentally, Blair has been sticking his nose in everywhere, especially Brexit. From this, we can deduce that he dislikes the average Briton:
Over the weekend, Angus Scott launched a petition on Change.org to have Blair's knighthood rescinded. By Tuesday, January 4, the petition had 500,000 signatures. Unfortunately, as the petition was not created on the parliamentary website, it is likely to be ignored. More importantly, as this appointment is the Queen's, Parliament cannot do anything about it.
The petition reads:
Tony Blair caused irreparable damage to both the constitution of the United Kingdom and to the very fabric of the nation's society. He was personally responsible for causing the death of countless innocent, civilian lives and servicemen in various conflicts. For this alone he should be held accountable for war crimes.
The Government rejected the petition:
The aforementioned Guardian article says that the Iraq war is still an issue with many members of the public. Speaker of the House Sir Lindsay Hoyle stepped in to defend his fellow Labourite. Not only that, he poured more oil on the flames by saying that every Prime Minister should be knighted, by virtue of their position. No, just no:
Sir Tony, rather than Sir Anthony, as he is now known, has been made a Knight Companion of the Most Noble Order of the Garter, 14 years after leaving Downing Street. But the honour has been criticised by Blair's political opponents and those who argue the legacy of his invasion of Iraq in 2003 makes him unsuitable.
Speaking on Saturday morning Hoyle said he felt the honour, the oldest and most senior British order of chivalry, was "a fitting tribute" for a former prime minister, although he felt it was not a political decision.
"Whatever people might think, it is one of the toughest jobs in the world," the Speaker said, "and I think it is respectful and it is the right thing to do, whether it is Sir David Cameron. They should all be offered that knighthood when they finish as prime minister."
Hoyle was talking to Today programme presenter Martha Kearney on BBC Radio 4 when he was asked if he believed all recent former prime ministers should now be knighted.
"If you have been prime minister of this country, I do believe the country should recognise the service given. Absolutely. You finish in the office and when you've finished it is the respect that we give to those prime ministers," he replied.
I'm going off Lindsay Hoyle rather rapidly.
Other new appointees to the Garter include Camilla, Duchess of Cornwall and to the former Labour cabinet member Lady Amos, the first black person to be honoured this way.
On Tuesday, January 4, The Guardian reported that Sir Keir Starmer, Labour Party leader, defended the knighthood on Good Morning Britain:
The Labour leader said Blair was a worthy recipient of the Knight Companion of the Most Noble Order of the Garter, received in the new year honour's list.
"I don't think it's thorny at all. I think he deserves the honour. Obviously I respect the fact that people have different views," Starmer told ITV's Good Morning Britain.
"I understand there are strong views on the Iraq war. There were back at the time and there still are, but that does not detract from the fact that Tony Blair was a very successful prime minister of this country and made a huge difference to the lives of millions of people in this country."
Blair, who led Labour to three election victories, was prime minister during the allied military invasions of Iraq and Afghanistan.
On Monday, January 3, Christine Hamilton, whose husband was a Conservative MP then a member of the Welsh Senedd ('Senate', Assembly), told Dan Wootton of GB News that there are reasons why Blair should not receive this honour: Iraq, Afghanistan, Brexit. She surmises that if Prince Philip were still alive, this appointment never would have happened:
Several years ago, The Telegraph had an article entitled 'Tony Blair believed God wanted him to go to war to fight evil, claims his mentor'. Unfortunately, it has since been withdrawn from their website.
Another Telegraph gem that no longer exists is the former Conservative MP Norman Tebbit's blog post, 'Gordon Brown is not as vain or greedy as Tony Blair but he is in deep denial and must be removed from office'.
Money, money, money
Blair watchers know that he loves his money.
Unfortunately, this Telegraph article is also gone: 'Tony Blair earned £680,000 for his foundation for 50 hours' work'. That was about The Tony Blair Faith Foundation. You could not make this up.
In March 2010, the Daily Mail reported that Tony Blair needed £5 million a year just to get by. How many properties did he own by then? Six? How many properties does he own now? Eight?
The Mail says:
Tony Blair has told friends he needs to earn at least £5million a year just to break even.
The former prime minister has been heavily criticised for cashing in on his contacts for personal gain and is thought to have made around £20million since leaving office.
But last night his former election agent John Burton claimed Mr Blair needed the astonishing annual income – and possibly much more – to pay spiralling wage bills at his growing list of companies and charities.
The revelation about his finances came as the former premier returned to the political fray with a lukewarm televised endorsement of Gordon Brown.
Mr Burton, one of Mr Blair's most loyal political friends, said: 'What I asked him was, you know he gets this criticism about what he earns. I said how many people do you employ? And he said 130.
'I mean it was 25 about two years ago and he said to me I have got to earn £5million a year to pay the wages, so God knows what he has got to earn now to pay the wages.'
2010 saw the Conservatives regain Government in May thanks to a coalition with the Liberal Democrats. David Cameron, mentioned below, became Prime Minister. The Mail's article appeared during the campaign:
The former prime minister was making a controversial intervention in the election campaign yesterday as he addressed the Labour Club in his old constituency.
It followed a warning from a former defence minister that his appearance could trigger a public backlash against Labour from those angry over the Iraq War as well as Mr Blair's business dealings.
Sporting a bizarre orange tan, Mr Blair spoke in support of his long-time rival Gordon Brown and attacked the ' vacuous' Tories – but stopped short of personally criticising David Cameron.
The Tories were relaxed about the appearance, with Mr Cameron taking a dig at the former premier's lecture circuit earnings, joking: 'It is nice to see him making a speech that no one is paying for.'
Security was tight as Iraq War protesters demonstrated outside the Trimdon Labour Club, in the Sedgefield constituency in County Durham …
But many senior Labour figures fear his involvement could harm the party. Chief among critics was former defence minister Peter Kilfoyle, who warned that Mr Blair was now a 'negative factor'.
He said: 'He evokes a strong antagonism, particularly because of the Iraq War, but not only that.
'Also the kind of things going on with allegedly Blairite former ministers and their apparently venal approach to life. He epitomises everything people think is wrong about New Labour.
'It is a mistake by the so-called strategists. It may seem a good idea to them, but to many people at the grassroots level it is not.'
Kilfoyle was not wrong.
On May 25, 2010, a few weeks after David Cameron became PM, The Telegraph reported, 'Tony Blair hired by US billionaire Vinod Khosla for climate change advice'. What does Tony Blair know about climate change?
The billionaire thought Blair was an expert, apparently:
The agreement will see Tony Blair Associates give strategic advice to Khosla Ventures, a venture capital firm that invests in companies pursuing green technologies. Mr Khosla, who made his fortune as co-founder of computing giant Sun Microsystems, is hoping that Mr Blair's decade on the global stage helps unlock doors for the companies that California-based Khosla Ventures invests in …
Mr Khosla said that "with Tony's advice and influence' we will create opportunities for entrepreneurs and innovators to devise practical solutions that can solve today's most pressing problems."
It wasn't disclosed how much Mr Blair will be paid for the advice he gives to Khosla. He already has a £2m lobbying post with JP Morgan Chase and a £500,000 job with Zurich Financial.
Mr Blair also charges tens of thousands of pounds for public speaking, received a £4.5m advance for his memoirs and set up Tony Blair Associates to advise foreign countries including Kuwait. In total, he is estimated to have earned at least £15 million since leaving office two and a half years ago.
Good grief.
Let's go back to Blair's properties. Most of them are stately homes or properties out of the reach of most people in the UK.
Less than a year after Blair left office as Prime Minister, he was somehow able to buy his sixth property. How can that happen on a PM's salary?
On May 4, 2008, the Mail reported (and included must-see photos):
Tony and Cherie Blair have added a £4million stately home once owned by Sir John Gielgud to their property portfolio.
The seven-bedroom mansion in Buckinghamshire is a few miles from Chequers, the prime ministerial retreat the Blairs gave up to Gordon Brown when he took over at No 10.
Mrs Blair was said to have longed for another historic home in the same area.
A source said: "It ticked all of Cherie's boxes. She wanted a small stately home within a 20-mile radius of Chequers."
The Grade I listed South Pavilion, in Wotton Underwood, brings to six the number of properties the couple now own.
They have two houses in London, two flats in Bristol and Mr Blair's former constituency home in Durham …
Since he left office last June Mr Blair is estimated to have signed deals worth nearly £10million.
Last month the former Prime Minister reportedly earned up to £240,000 for making a 90-minute speech to businessmen in Spain.
Theoretically Mr Blair could have written a cheque for £4million to buy the property outright, but it seems more likely the couple have taken out another mortgage.
If so it would double their mortgage debt to around £8million and push their payments to more than £30,000 a month, experts estimate.
Iraq War: Dr David Kelly's death and apologies
On June 26, 2010, the Mail alleged a cover up in the death of Dr David Kelly, said to have been unmasked as the source of the claim that the Blair government had 'sexed up' claims for a war in Iraq. Dr Kelly's case is still a mystery.
The Mail article says, in part:
The official story of Dr David Kelly is that he took his own life in an Oxfordshire wood by overdosing on painkillers and cutting his left wrist with a pruning knife …
A subsequent official inquiry led by Lord Hutton into the circumstances leading to the death came to the unequivocal conclusion that Kelly committed suicide.
Yet suspicions of foul play still hang heavy over the death of the weapons expert whose body was found seven years ago next month in one of the most notorious episodes of Tony Blair's premiership.
Many believe the truth about the manner of Dr Kelly's death has never been established properly. Some even fear that the 59-year-old, the world's leading expert in biological and chemical weapons, was murdered …
The blanket of secrecy thrown over the case by the last Labour Government has only fuelled the sense of mystery.
In January this year, it emerged that unpublished medical and scientific records relating to Dr Kelly's death – including the post-mortem report and photographs of his body – had been secretly classified so as not to be made public for 70 years.
Lord Hutton, who had been appointed by Blair, was responsible for this extraordinary gagging order, yet its legal basis has baffled experts accustomed to such matters.
Against this shadowy background, we have conducted a rigorous and thorough investigation into the mystery that surrounds the death of David Kelly. And our investigation has turned up evidence which raises still more disturbing questions.
Our new revelations include the ambiguous nature of the wording on Dr Kelly's death certificate; the existence of an anonymous letter which says his colleagues were warned to stay away from his funeral; and an extraordinary claim that the wallpaper at Dr Kelly's home was stripped by police in the hours after he was reported missing – but before his body was found.
Until now, details of Dr Kelly's death certificate have never been made public.
But the certificate was obtained by a group of leading doctors who have spent almost seven years investigating the case; doctors who believe it is medically implausible that he died in the manner Hutton concluded and are alarmed at the unorthodox way the death certificate was completed.
Near the top of all British death certificates is a box headed 'Date and place of death', in which a doctor or coroner should declare the exact location of a death, if it has been established.
Dr Kelly's certificate gives his date of death as July 18, 2003. It then states in reference to place of death: 'Found dead at Harrowdown Hill, Longworth, Oxon'.
Why was the word 'found' used? Why was the crucial question of 'place of death' not answered? The death certificate should be precise about the time, cause and location of death.
The doctors who have investigated the case believe the failure to answer this question leaves open the possibility that Dr Kelly died somewhere other than Harrowdown Hill, the wood where his body was discovered. If this was the case, they are concerned the law may have been subverted over Dr Kelly's death …
A full coroner's inquest, which, by law, must be held following any sudden, unexpected or violent death, would have addressed these discrepancies.
But no full inquest was ever held.
Oxfordshire Coroner Nicholas Gardiner opened an inquest on July 21. But on August 13 the then Lord Chancellor Lord Falconer, Tony Blair's former flatmate, ordered it to be adjourned indefinitely.
Falconer used an obscure law to suspend proceedings, and for the first time in English legal history he replaced an inquest with a non-statutory public inquiry to examine a single death, seemingly without any public explanation.
On October 24, 2015, The Telegraph reported that Blair gave an interview to CNN in which he partially apologised for the war in Iraq:
Tony Blair has apologised for some of the mistakes that were made during the Iraq War, and says he recognises "elements of truth" behind opinion that the invasion caused the rise of Isil.
In a candid interview with CNN, the former prime minister was challenged by US political broadcaster Fareed Zakar who accused Blair of being George Bush's 'poodle' over the conflict.
During the exchange, which will air on CNN Europe at 11am and 7pm on Sunday, Mr Blair says: "I apologise for the fact that the intelligence was wrong. I also apologise, by the way, for some of the mistakes in planning and certainly, our mistake in our understanding of what would happen once you removed the regime. But I find it hard to apologise for removing Saddam."
When asked whether he thought the invasion led to the rise of Isil, he says: "I think there are elements of truth in that. Of course you can't say those of us who removed Saddam in 2003 bear no responsibility for the situation in 2015."
… Blair's acknowledgement of responsibility, if not apology, for the rise of Islamic extremism, is aptly timed.
In 2004, he told MPs: "I will not apologise for the conflict. I believe it was right" and in 2007, he repeated this sentiment, saying: "I don't think we should be apologising at all for what we are doing in Iraq."
Last week, The Telegraph reported the inquiry was facing more chaotic delays after a leaked memo signalled Blair had signed up to the war in Iraq a year before it started.
It has also been reported that former David Blunkett, the former Labour home secretary, has revealed that he challenged Blair before the war about how to avoid any chaos after Saddam's downfall.
Meanwhile, it was revealed that Mr Blair made a secret trip to the White House to broker a deal on behalf of Muammar Gaddafi that deprived British victims of Libyan terrorism of millions of pounds in compensation.
Mr Blair acted as a go-between in negotiations between Gaddafi and President George Bush over payments to terror victims, according to a senior source.
The disclosure was made as Mr Blair ignored a deadline to explain his role to a parliamentary committee investigating the deal. He was invited to respond by Friday but instead sent a letter at 6pm on the day of the deadline, asking when the deadline was.
The source said Mr Blair travelled to Washington to intervene on behalf of Gaddafi in February 2008, after first meeting the dictator in Libya.
The new evidence suggests Mr Blair, who had quit as prime minister less than a year earlier, had played an important role in negotiations between President Bush and Gaddafi.
At the time, Libya was being sued through the US courts for committing terror atrocities, and billions of pounds of Gaddafi's assets were at risk of being frozen as part of the lawsuits.
The deal struck by President Bush and Gaddafi led to US victims receiving £1  billion in compensation , but in exchange all court cases were dropped under an act of Congress.
But British victims, who had brought cases in the US, including almost 200 families of victims of IRA terrorist attacks, were not included in the deal. Mr Blair has always insisted he had "nothing whatever to do with any compensation legislation signed by President Bush".
See? He does not like his own people.
On July 2, 2016, The Telegraph reported that Blair would not be investigated for war crimes in Iraq, although British soldiers could be:
Prosecutors at the International Criminal Court will examine the Chilcot report for evidence of abuse and torture by British soldiers but have already ruled out putting Tony Blair on trial for war crimes, The Telegraph can disclose.
The decision has outraged families of troops killed in Iraq who blame Mr Blair for engineering the war.
Sir John Chilcot's report will finally be published on Wednesday and is expected to strongly criticise Mr Blair's role in the US-led invasion of Iraq in 2003.
But in an official statement to the Telegraph, the International Criminal Court (ICC) said its prosecutors would comb through the 2.3 million word report for evidence of war crimes committed by British troops but that decision to go to war remained outside its remit.
It means individual soldiers could be prosecuted for war crimes but not Mr Blair.
The ICC, based in the Hague, has begun a 'preliminary examination' of claims of torture and abuse by British soldiers, after receiving a dossier from human rights lawyers acting for alleged Iraqi victims.
Brexit
In 1983, a young Tony Blair, running for MP in his first election standing in Sedgefield, pledged to support leaving the EU.
A campaign leaflet of his from that year surfaced, as a regional paper for the North East of England, The Chronicle, discovered:
Former Prime Minister Tony Blair hasn't half changed his tune on Brexit since the heady days of 1983.
A campaign leaflet from Mr Blair's first election standing in Sedgefield in 1983 has resurfaced online.
In the Labour literature, the bouffanted Oxford University graduate declares he wants to leave the European Economic Community, which later became the EU.
The pamphlet said: "We'll negotiate a withdrawal from the E.E.C. which has drained our natural resources and destroyed jobs."
On June 26, 2016, three days after the Brexit referendum, Blair pledged to seek a second referendum. Obviously, the British people are too stupid to handle such issues via the ballot box.
The Evening Standard reported:
When asked on the BBC's Sunday Politics programme about the possibility of another vote, he said: "As I'm looking at it here, I can't see how we can do that.
"But, you know, the point is, why rule anything out right now? As I say, you are going to have a reality to test yourself against."
Blair said the nation needs to "see the consequences" of Brexit as they play out in the coming weeks and months.
"I can't see how you would go through all of the mechanics of another referendum now," he continued. I just can't see it.
"But on the other hand I also think there will be a lot of people in the country who will say 'well, let's have a look at this and see what we are going to do' and Parliament will want to look at it."
Blair was still at it a year later, asking for a delay to Brexit negotiations:
In 2019, Blair asked for a second referendum, claiming it would be 'healing'. Oh, my:
A month later, this Brexit poll appeared, which the Tony Blair Institute for Global Change conducted:
Hilarious!
It should be noted that Blair did not offer British voters a referendum on the Treaties of Amsterdam and Nice during his time in office:
Do we need any further proof that Blair dislikes the British people? Perhaps we do.
Migration to UK unexpected
Then there was the issue of migration to the UK, which Blair facilitated during his time as PM.
On March 19, 2017, Tony Blair said he did not anticipate the number of migrants who would come to the UK when he opened the borders to European workers.
The former Labour leader relaxed immigration controls in 2004 after 10 new nations including Poland, Lithuania and Hungary, were admitted to the EU.
He tried to play down the significance of opening Britain's borders, arguing that most EU migrants came to the UK after 2008.
However, official figures show that the number of EU migrants who came to Britain rose from just 15,000 in 2003 to 87,000 the following year. That figure increased to 104,000 in 2006 and 127,000 in 2007.
Mr Blair also made a factual error by suggesting that he could only have imposed transitional controls, temporarily barring migrants for four years.
In fact other EU nations including Germany introduced the measures for up to seven years.
Those numbers, which continued to increase through subsequent years, represent one small city per year in the UK.
——————————————————–
What has Tony Blair done to deserve the Order of the Garter? Nothing whatsoever.
For several months now, Britain has been experiencing a supply chain problem with transport.
Detractors from the corporate world, such as IKEA, say that this is because of Brexit.
Wrong!
A shortage of lorry drivers is affecting deliveries worldwide.
Shipping problems have also been occurring.
On Thursday, September 9, Guido Fawkes posted an item whereby IKEA tried to blame the UK's transport problems on Brexit (emphases in the original):
In a recent BBC article on IKEA's supply shortages, the Swedish furniture giant went all in on blaming Brexit for their inventory issues:
"What we are seeing is a perfect storm of issues, including the disruption of global trade flows and a shortage of drivers, which have been exacerbated by the pandemic and Brexit."
However, IKEA tells a different story to EU countries, e.g. the Netherlands (emphases in purple mine):
The firm goes on to say that "10% of its stock, or around 1,000 product lines" have supposedly been affected by the Brexit-related shortage. In a separate statement given two days later to Dutch newspaper Dagblad van het Noorden, however, an IKEA spokesperson instead cited the exact same product shortage with a different excuse featuring one notable omission:
"There are major logistical problems worldwide. For example, there is a great scarcity of containers and container ships on important sea routes because the economic recovery from the corona pandemic is proceeding faster than expected. There are also congestion in ports due to the crowds and Chinese terminals were temporarily closed due to local corona outbreaks. Many IKEA products are made in China."
Both articles list the same 10% stock shortage figure, only one mentions Brexit.
Guido points out that the problem is global:
Remainers – and some parts of the media enjoying spinning the narrative on their behalf – are refusing to accept the lorry driver shortage is global: iron ore struggles to reach Australian ports; US petrol stations have run out of supplies after a 35,000 fall in lorry drivers; Asia reports a 20% fall in drivers …
Guido's article says that the only place where there is not a driver shortage is Africa.
Talk radio host Howie Carr has been talking about shortages and higher prices in the United States since the 2020 election. Lumber products had skyrocketed at the end of last year. Howie has also mentioned the petrol prices and shortages at the pump which started at the same time.
On August 21, 2021, Global Cold Chain News posted an excellent article on the European situation with regard to lorry drivers, including individual country profiles.
It puts paid to the misguided suggestions in the British commentariat that we should allow a few hundred thousand EU nationals to drive lorries for UK hauliers.
There are two reasons why such reasoning is faulty.
First, over six million EU nationals have been allowed by the Government to remain in the UK post-Brexit. If we cannot find our lorry drivers from among that group, then something is very wrong.
Secondly, as Global Cold Chain News explains, there are lorry driver shortages in most EU countries.
Excerpts follow, emphases mine:
Poland: According to Ti estimates, the shortage in Poland in 2020 is around 124,000 drivers. According to IRU, Poland is one of the most heavily impacted European countries and driver shortage in 2020 stands at around 37%.
Germany: Between 45,000 and 60,000 truck drivers are 'missing' in 2020 in the German market alone, according to the DSLV and BGL, and this number is only increasing. The IRU predicts a gap of 185,000 drivers by 2027 in Germany.
France: In 2019 it has been reported by several news outlets that France is experiencing a shortage of approximately 43,000 drivers.
Ukraine: The deficit of drivers in Ukraine in 2019 ranged from 12,000 to 120,000 depending on the region.
The article explains that HGV (heavy goods vehicle) shortages began years before coronavirus took hold — and, I would add, before Brexit:
The driver shortages have been affecting the global road freight market for around 15 years. The issue comes as the pool of truck drivers is contracting but demand for transport is rising. The COVID-19 pandemic has further exacerbated the already alarming issue of driver shortages as new drivers have been unable to train and take their tests and Covid restrictions make the job even less attractive.
Even before the pandemic a serious cause for concern in the industry, the lack of drivers in the road transport industry was at an all-time high, with many of its underlying issues being long-term challenges. Factors such as an aging workforce and insufficient numbers of new recruits, due to working conditions and image issues of the profession, have been plaguing the industry for many years.
The pandemic affected lorry drivers in the UK and the EU at its height in 2020. On France's talk radio station, RMC, a number of drivers rang in to complain that shower and toilet facilities at truck stops were closed. British drivers experienced the same inconveniences when delivering around the UK.
However, not every company is affected by product shortages.
Pub chain owner Tim Martin of Wetherspoons says that his supplies are at 2019 levels and that Brexit has not affected his business. In fact, it was strike action from a major brewer that caused a temporary shortage.
Guido Fawkes has the story:
Wetherspoon chairman Tim Martin has now pushed back to say these claims are all untrue. The reality is that beer supplies actually remain at 2019 (i.e. pre-pandemic) levels, and that the shortage of a few products over the last two weeks is the result of strike action from one major brewer. Martin added:
"There is clearly a shortage of HGV drivers, both in the UK and in mainland Europe- where, some reports say, there is a shortage of 400,000 drivers. Following the pandemic, there are supply chain issues in many other parts of the world also. In the light of the undoubted problems, it is important that the public is provided with accurate information. Factual inaccuracies and partisan Brexit politics will not assist in finding solutions."
Fake news about Brexit will not solve the transport problem.
Another factor is that another British organisation went on strike this year. The DVLA (Driver and Vehicle Licensing Agency), based in Wales, went on strike in August 2021, specifically the Drivers Medical Department. This is because coronavirus cases rose quickly at the DVLA site.
The strike has caused a backlog of delays surrounding licences and other driver certifications, including those for HGVs.
In conclusion, a number of factors are causing or exacerbating a shortage of HGV drivers — not only in Britain but around the world.
Congratulations, Team GB, for a medals haul that equals that of London 2012's.
NBC has an easily navigable medals table for those interested.
Before I get to Great Britain, however, below are highlights of the Tokyo Olympics.
Japanese opposition
The Japanese government lifted a state of emergency in mid-July so that the games could take place:
Not everyone in Japan was happy that the Olympics were going ahead, having been postponed from last year because of coronavirus. Protests took place when the games started.
Controversies from other nations
The decision to allow New Zealand's Lauren Hubbard to participate was controversial.
Former British Olympian swimmer Sharron Davies said it was:
another kick in the teeth for female athletes.
In the end, Hubbard failed dismally and now wishes to lead a quiet life.
Another person of the same persuasion, Team USA's Chelsea Wolfe, a BMX rider, posted on Facebook in 2020 that, if they won a medal, they wanted to:
burn the flag as a way of exacting retribution against the Trump Administration for hurting "trans children."
Wolfe later deleted the post and said in a June 2021 interview:
"Anyone who thinks that I don't care about the United States is sorely mistaken," Wolfe told Fox News.
In the end, Wolfe, an alternate, did not compete in the games.
On August 5, President Trump criticised Team USA's women's soccer team (emphases mine unless otherwise stated):
If our soccer team, headed by a radical group of Leftist Maniacs, wasn't woke, they would have won the Gold Medal instead of the Bronze. Woke means you lose, everything that is woke goes bad, and our soccer team certainly has. There were, however, a few Patriots standing. Unfortunately, they need more than that respecting our Country and National Anthem. They should replace the wokesters with Patriots and start winning again. The woman with the purple hair played terribly and spends too much time thinking about Radical Left politics and not doing her job!
The Boss's daughter
In brighter news, Bruce Springsteen's daughter, equestrian Jessica Springsteen, participated for Team USA.
She made the Telegraph's front page on August 6:
She proved to be The Boss's daughter in winning silver, although she failed to qualify for a solo event.
On August 3, The Guardian reported (emphases mine):
Jessica Springsteen had no luck going solo in Tokyo.
The daughter of Bruce Springsteen and his E Street Band wife, Patti Scialfa, failed to qualify for the Olympic individual jumping final at Tokyo's Equestrian Park on Tuesday night.
The 29-year-old's Olympic debut was off to a strong start on the 14-jump course before her horse got uneasy around the 11th obstacle, and the pair earned four penalty points for knocking down a rail. That put her on the bubble of the 73-horse field for one of 30 spots in the final. She was formally eliminated about an hour after riding.
She'll ride again Friday night as part of America's four-rider entry in the jumping team event.
"All in all, I'm thrilled with the round and I'm excited for the rest of the week," she said.
Springsteen learned to ride on her family's horse farm in Colts Neck, New Jersey, and she was an alternate for the London Games in 2012 but didn't participate.
I am so happy that, even in a small way, I was able to help The Boss buy his horse farm. Take that as you will.
On August 7, The Guardian reported on Springsteen's silver, again mentioning the horse farm:
Jessica Springsteen, Bruce's daughter, earned an Olympic silver medal for the US but they lost in a thrilling jump-off with Sweden in the team showjumping. She rode alongside Laura Kraut and McLain Ward in the final equestrian event of the Tokyo Games.
The medal went some way to wiping away the disappointment of not qualifying for the individual jumping final but the US came agonisingly close to gold.
Springsteen, who rode Don Juan van de Donkhoeve, a 12-year-old Belgian Warmblood stallion, is the second child of the Boss and his fellow musician Patti Scialfa, and began riding aged four – prompting "born to ride" headlines aplenty.
The 29-year-old grew up on the family's horse farm in Colts Neck Township in New Jersey and she is the highest placed woman in the world rankings in 14th. She was an alternate for 2012 but failed to make the cut for Rio in 2016.
One wonders what the paper would have said if Donald Trump owned a horse farm.
EU wants EU participation
Britain's medals haul must have struck a nerve with Belgian MEP Guy Verhofstadt, who thinks that the EU should participate as a bloc without individual European countries:
What Verhofstadt forgets is that, if he got his way, there would be fewer Europeans from EU states than at present.
Radek Sikorski, MEP and Chairman of the EU-USA Delegation in the EU Parliament, has forgotten that, too. This tweet was also from August 5, when the UK was still 6th in the medals table:
Tom Harwood of GB News explained the situation on August 6. It is also interesting that the EU tried to get their flag in the Olympics and failed:
Guido Fawkes had a slightly different take (emphases in the original):
Given this is the first Olympics since Brexit, Guido points out that were Britain still members the EU's medal total would be a whopping 25% higher. We were always propping them up…
We're also currently totaling the same number of gold medals as our nearest two EU medal table neighbours, France and Germany, combined. Guido will leave it up to Guy to tot up the Commonwealth…
Team GB's success
This brings us nicely to Team GB's medals haul, putting us in fourth place overall. Japan ended up in fifth.
On Sunday, August 8, the final day, The Express had a go at Verhofstadt, reporting Saturday's medals. We won a few more on Sunday:
The former Belgium MEP and current MEP, an arch-critic of Brexit, caused a stir earlier this week with his bizarre suggestion that the European Union was "winning" the Tokyo Olympics – as well as suggesting in future, EU members should compete with an EU flag on their outfits. As evidence, Mr Verhofstadt, the European Parliament's Brexit representative, pointed to the fact that as of August 5, the total number of gold medals won by members of the EU27 exceeded the combined sum of medals won by China and the United States.
However, as of Saturday, Great Britain's total stands at 20 golds, fourth behind China (38), the USA (34) and hosts Japan (26).
The EU's two most powerful nations Germany and France lag behind, with the former, led by Chancellor Angela Merkel, in 7th place, with ten golds, and France, led by Emmanuel Macron, in 10th, with seven medals.
As for Mr Verhofstadt's very own Belgium, they currently have three Olympic golds, and are 28th in the medal table.
And in a development which some might conclude suggest is Brexit-related, given the trade deal signed between London and Canberra earlier this year, Australia's current gold medal total of 17 is equal to that of Germany and France added together.
Welsh Conservative MP David Jones told The Express:
I'm sure Mr Verhofstadt, as a well-known Anglophile (he drives an Aston Martin), will be the first to give generous credit to Team GB on their outstanding success.
He may also acknowledge that international sporting success to a large extent reflects a strong national identity, for which the dry-as-dust mega-bureaucracy of the European Union could never be a substitute.
On Friday, August 6, cyclist Laura Kenny — Laura Trott from London 2012 — became the first British Olympian to be a mother and the first to win gold at three consecutive Olympics. Hers and husband Jason Kenny's son is now three years old. This photo shows her and her team-mates Katie Archibald and Kate French sporting gold after winning the madison:
Our Kate French won the modern pentathlon that day.
Our final gold was won by boxer Lauren Price, who defeated her Chinese opponent:
She was only the second British woman to win a gold in boxing.
We ended up in fourth place overall in the medals table:
Well done, everyone:
The Telegraph has a profile of each Team GB winner in chronological order.
On an individual level, if there were such a thing as Team GB royalty, surely, cyclist Jason Kenny and his wife Laura would be that couple:
The Telegraph reported that the Kennys are looking forward to a quiet night in to celebrate now that they are back in England:
Only one prize is now missing for Laura and Jason Kenny, the first couple of sport who have 12 Olympic titles between them: the inevitable Damehood and Knighthood.
Following a gold apiece at the Izu Velodrome last week, and with the Kennys now confirmed as Britain's most successful male and female Olympians of all time, that will arrive in due course. But while the medals may sit comfortably for the Kennys, they are so far from flashy they would sooner swim back from Tokyo than be seen to be putting on airs. Posh 'n Becks they are not.
Asked how they would celebrate their record-breaking Games, Jason said a quiet night in with their three-year-old Albie was as rock n roll as it would get.
"Just being at home is the plan," he said. "Just being together with Albie, we have not seen him for two weeks now. It is the longest we have ever been away from him. We haven't left him for more than a day or two previously."
Albie has been staying with his grandparents for the last two weeks, alternating between Laura's parents Adrian and Glenda Trott and Jason's parents, Michael and Lorraine Kenny. It is a familiar routine for them as they all pitch in to make Laura and Jason's sporting lives manageable.
"It's a huge team effort," says Dani Rowe, who won the team pursuit with Laura at London 2012. "Laura's parents even moved from Hertfordshire to Manchester to be nearer to them. They've all done so well to manage it."
Do not expect the Team GB power couple to morph suddenly into A-list celebs. Adrian Trott is proud of the fact that his daughter squirms when she is described as a star. Trott told Telegraph Sport last week that he was happiest when people describe her as "a nice, normal person… because we feel we did something right".
Jason Kenny has won seven gold medals in four consecutive Olympics:
Here's the breakdown:
The Kennys have surpassed some longstanding Olympics achievements held by Americans …
… as well as past achievements for Team GB:
Another British Olympian who broke a Team GB record was Keely Hodgkinson, who broke Dame Kelly Holmes's national record to win silver in the 800m on August 3, making the 11th day of the Games one of the nation's most successful so far.
The Times reported her reaction:
Hodgkinson, who is a student at Leeds Beckett University, said: "It was such a good race, it was so open, I just wanted to put it all out there. It'll take a couple of days to sink in. I'm so happy. I'm speechless right now, Kelly is a legend, I've looked up to her, I've spoken to her in the last couple of days. It means so much."
It was another fantastic win for Team GB.
————————————————
In closing, hearty congratulations to Team USA who took top spot over China and the ROC (Russia). Well done!
The Paralympics — even better than the Olympics — begin on August 24 and end on September 5. Bring it on!
On Wednesday, June 23, 2021 — the five year anniversary of the Brexit referendum — The Spectator had a good article about how wrong Project Fear's predictions were.
Excerpts from 'Five of the worst Remain predictions five years on' follow (emphases mine).
The sources for these are then-Chancellor George Osborne, the banks, an international accounting firm, then-Prime Minister David Cameron and the EU's Donald Tusk.
George Osborne
George Osborne and the Treasury peddled three Project Fear disasters: impoverished households, huge job losses and what The Spectator calls a 'punishment budget'.
On households, using Treasury figures, he predicted that each household in Britain would be poorer by £4,300 in 2030. Even the Remainer BBC had a problem with that. Their fact check said that the figure was:
questionable and probably not particularly helpful.
In reality, the opposite has happened:
records from the Office for National Statistics (ONS) show in the five years since that real disposable income per head has risen from £5,177 in the second quarter of 2016 to £5,354 at the end of 2020. 
On the jobs front, Treasury figures predicted 500,000 job losses across Britain.
In reality, early in 2020, before coronavirus hit, the employment rate was at a record high:
a million jobs were added by the time Covid hit, with the employment rate for those aged between 16 to 64 rising from 74.5 per cent in June 2016 to 76.6 per cent in January 2020 – the highest level since 1971.
Before the 2016 referendum, Osborne told BBC Radio 4's Today programme that the UK would leave the EU with no economic plan, therefore, a punishment budget of higher taxes and public spending cuts would have to be implemented.
In reality, after Cameron resigned at 9:30 a.m. on June 24, 2016, Osborne left his post as Chancellor. Philip Hammond, his successor, said that no such budget would be implemented.
As a result:
Hammond's first budget was described as a 'low-key package' that increased national insurance contributions for the self-employed and enjoyed stronger-than-expected tax receipts since the EU referendum. Britain even finished the year as one of the fastest growing economies in the G7.
The banks
Goldman Sachs predicted a British recession by early 2017.
Nomura and Credit Suisse predicted falls in GDP: 1.3% and 1%, respectively.
JP Morgan predicted that Scotland would leave the Union and create their own currency.
In reality, Scotland is still yearning to break free with no plan on how to do it:
with the British economy growing up until the first quarter of 2020 when Covid struck with 1.7 per cent annual GDP growth in both 2016 and 2017 followed by 1.3 per cent in 2018 and 1.4 per cent in 2019.
Big accounting firm
PricewaterhouseCoopers predicted a loss of up to 100,000 financial services jobs.
EY (Ernst & Young) came closer to the true figure:
Rivals EY estimated last month that PWC's figure had overestimated such losses by a factor of nine, with just 7,600 going overseas as of March 2021.
Donald Tusk and David Cameron
The EU's Donald Tusk predicted the loss of:
Western political civilization in its entirety.
David Cameron predicted a Third World War.
In reality:
it appears that the greater threat to the EU is in fact its own leaders, given the ongoing debacle of the vaccine rollout in the face of public dismay. Western political civilisation meanwhile has somehow remained intact.
Ordinary citizens — the 52% who voted to Leave — can discern the situation on the ground better than the experts — our notional betters — can.
Thanks again to all Britons who voted Leave on that rainy, miserable day five years ago.
We're out and, together as a Union, we are putting the 'Great' back into Britain. Our coronavirus vaccine rollout has been spectacular, surpassing the EU's by a country mile. More great accomplishments for us lie ahead.
When it comes to the EU, better out than in.
Last week at this time, Prime Minister Boris Johnson was preparing for the G7 summit at Carbis Bay in Cornwall.
Prior to that, meetings between G7 foreign ministers and finance ministers took place earlier in London.
This is the family photo of the foreign ministers from their meeting in May. The eighth man is an EU representative:
One of the outcomes of the finance ministers' meetings in early June was a tax on profits from the largest multinational tech giants, to be continued when the G20 meet in July:
Joe Biden
It was amazing to see Joe Biden last the full course of the G7, especially without Kamala Harris hovering over him:
I am still puzzling over this photo of Dr Jill prepping for the G7 and the text 'United States government official'. She is the First Lady, not a government official:
Joe Biden successfully triggered a post-Brexit storm around the EU trading arrangements with Northern Ireland, which are crucial to maintaining the peace agreement between that part of the UK and the Republic of Ireland:
Biden's opinion is important, because the UK wants to make a trade deal with the US, which would have been much easier were President Trump still in the White House:
Nigel Farage rightly tweeted:
The sad truth is that no one in government cares about Trump. Boris has made it pretty clear in Parliament that he prefers dealing with Biden.
On Thursday, June 10, the US and the UK signed The New Atlantic Charter to promote common interests between the two nations, including technology, health pandemics and climate change.
The original Atlantic Charter was signed by Winston Churchill and Franklin D Roosevelt in 1941.
This new charter is hardly as ground breaking as the original.
The Daily Mail reported:
The major focus of Mr Johnson and Mr Biden's new charter is defeating the coronavirus crisis and preventing further global health crises.
To achieve these goals, the two men agreed to 'scale up joint work on genomic sequencing and variant assessments' and to work together on a new global surveillance system.
This will see the UK Health Security Agency's new Centre for Pandemic Preparedness establishing a working relationship with its US counterpart, the proposed National Center for Epidemic Forecasting and Outbreak Analytics.
The new charter states: 'We recognise the catastrophic impact of health crises, and the global good in strengthening our collective defences against health threats.
'We commit to continuing to collaborate to strengthen health systems and advance our health protections, and to assist others to do the same.
Mr Johnson said: 'While Churchill and Roosevelt faced the question of how to help the world recover following a devastating war, today we have to reckon with a very different but no less intimidating challenge – how to build back better from the coronavirus pandemic.'
While the men met, Carrie Johnson, young Wilfred Johnson and Jill Biden took a walk along the beach. That evening, the Bidens enjoyed a drink at the Tregenna Castle Hotel in St. Ives.
On Sunday, June 13, the Bidens left Cornwall and were guests of the Queen at Windsor Castle where they enjoyed tea together. The Express has more.
On Monday and Tuesday, Biden met with NATO leaders and held a private meeting with the president of Turkey, Tayyip Erdogan.
The Bidens flew to Geneva on Tuesday night. On Wednesday, Biden met with Vladimir Putin in Geneva.
Sausage war
On the topic of Biden's beef over Northern Ireland, he wants the UK to move closer to the EU and had the diplomat at the American Embassy in London issue Boris with a démarche, a reprimand normally reserved for enemy nations.
On Wednesday, June 9, the Telegraph reported:
Joe Biden ordered US officials to rebuke Boris Johnson for jeopardising the peace process in Northern Ireland due to its stand-off with the European Union, it emerged on Wednesday night.
In a significant diplomatic intervention which now threatens to overshadow the G7 summit in Cornwall, America's most senior diplomat in Britain told the Brexit minister Lord Frost that the UK's stance on the Northern Ireland Protocol was "inflaming" tensions in Ireland and Europe.
Yael Lempert is said to have issued Lord Frost with a demarche – a formal diplomatic reprimand – at a meeting on June 3 in London, during which she relayed to him the US President's "great concern" over the UK's approach to the protocol, which was established to prevent a hard Irish border.
The protocol is causing difficulty in shipping sausages, hence 'sausage war'. You could not make this up.
Lord David Frost is attempting to negotiate with the EU:
During "frank" discussions in London, the Brexit minister Lord Frost said he would not rule out acting unilaterally to prevent a ban on the sale of British sausages in the province from coming into force at the end of the month.
It came despite Maros Sefcovic, the European Commission vice-president, warning that the EU could ultimately suspend parts of the Brexit trade deal and hit British products with tariffs should the UK choose to extend the grace period on chilled meats.
In a clear show of defiance, one insider involved in the joint committee that oversees the Northern Ireland Protocol told The Telegraph: "David very clearly said he wasn't taking that off the table."
Lord Frost also rebuffed EU calls for the UK to solve the row by signing up to a Swiss-style veterinary agreement which would require it to follow the bloc's food safety rules as they change over time in a process known as "dynamic alignment".
Over the years, British food and veterinary standards have become more strict than those of the EU, so it is no surprise that Lord Frost is sticking to his guns.
The démarche from the United States upset the DUP leader in Northern Ireland — Edwin Poots — and some Conservative MPs in Westminster.
On Thursday, June 10, the Daily Mail reported:
New DUP leader Edwin Poots laid into Joe Biden today after the US president intervened in Northern Ireland politics with a rebuke for Boris Johnson over the EU 'sausage war'.
Hardliner Mr Poots accused the Democrat of trying to drive 'a coach and horses through the Good Friday Agreement' that guarantees sectarian peace in Northern Ireland.
The US President instead used his diplomats to express 'great concern' over the conflict centred on post-Brexit trade rules agreed last year by both sides, which the UK is now seeking to change, the Times reported today.
The UK is now at loggerheads with the EU over rules governing the import of chilled goods like sausages into Ulster under the Northern Ireland Protocol agreed six months ago.
The US is said to have issued a 'demarche' to Britain, an official diplomatic censure not normally used against allies, especially those as close as the two nations.
The United States was said to have 'strongly urged' Britain to 'stay cool' and reach an agreement, even if that meant making 'unpopular compromises'.
The White House tried to row back from the row today, insisting the bust-up had been overplayed, but not before the president was branded 'senile' by a Tory Brexiteer …
… an anonymous Tory MP told Politico: 'America should remember who their allies are… unfortunately he's (Biden) so senile that he probably won't remember what we tell him anyway.
'Unless an aide is listening I'm not sure he's going to remember for very long.'
The Express had more from anonymous Conservative MPs:
One told Express.co.uk: "The cognitive decline of the American President appears to mirror the decline of the special relationship.
"I don't actually believe this is Biden doing this.
"He's lost the plot again. Somebody is pulling his strings because he's senile and just hasn't got it – if he ever had it."
Another angry Conservative told this website the US was picking fights with the wrong people.
They said the Biden administration had issued a rebuke to the UK, one of America's oldest allies, quicker than it had taken action against Iran or China.
"He's talking to the wrong people on this one I'm afraid," the MP said.
The Gateway Pundit picked up on the story:
Joe Biden's first trip abroad is turning into an utter disaster as the senile sock puppet offends our closest allies and endangers the peace process in Northern Ireland with his incompetent dementia …
On June 10, the Prime Minister and Biden met privately at St Michael's Mount, a 17th-century castle on an island just off the coast of Cornwall.
The Daily Mail reported that Boris downplayed the disagreement:
Boris Johnson tonight insisted Joe Biden did not rebuke him over the Northern Ireland situation during their first face-to-face talks – as the White House tried to cool a furious row.
The PM revealed that the US president avoided reading the riot act over the Brexit standoff when they met in Cornwall this afternoon.
But he said there is 'common ground' between the UK, America and the EU that solutions must be found to the Northern Ireland protocol issues.
The Express quoted him as saying:
So it's a relationship, you can call it the 'deep and meaningful relationship', whatever you want, the 'indestructible relationship'.
It's a relationship that has endured for a very long time, and has been an important part of peace and prosperity in Europe and around the world.
Emmanuel Macron's gaffe
Emmanuel Macron ruffled British feathers when he said that Northern Ireland was not part of the United Kingdom.
The Express reported on Macron's reaction to the sausage war:
Britain has been left frustrated by the EU's implementation of the mechanism, warning excessive customs checks are having a detrimental impact on trade between Britain and Northern Ireland.
During talks with Mr Macron at the G7 summit, Boris Johnson tried to explain the problems with the Protocol, comparing it to the hypothetical introduction of checks on goods between Toulouse and Paris.
Mr Macron responded by saying there was a difference because Northern Ireland is a separate country to the rest of the UK.
The comments enraged Boris Johnson and led to Foreign Secretary Dominic Raab blasting the EU for a lack of "respect".
According to the newspaper, Macron also threatened a reset of British and French relations:
Emmanuel Macron was among the leaders who visited Cornwall this week for the G7 summit. Mr Macron told Prime Minister Boris Johnson the two countries had common interests, but ties could only improve if he kept his word on Brexit. One source told the Guardian: "The president told Boris Johnson there needed to be a reset of the Franco-British relationship. This can happen provided that he keeps his word with the Europeans."
Meanwhile, Carrie Johnson took Brigitte Macron and Jill Biden to a performance at the Minack Theatre. Mrs Macron wore espadrilles.
The Queen's reception
On Friday, June 11, the Queen held a reception at the futuristic green Eden Project for G7 leaders and their spouses. Prince Charles (pictured) and the Duke and Duchess of Cambridge also attended:
A family photo was taken, where the Queen cracked a joke:
She also hosted G7 leaders in 1977. Among them was Justin Trudeau's father, Pierre, on the far left in the photo below. Valery Giscard d'Estaing and the Queen engaged in conversation. It is unclear why the Queen Mother and Jimmy Carter were holding hands:
Other members of the Royal Family also attended this year's reception.
The Queen has met nearly every US president since Dwight D Eisenhower. The only one she never met was Lyndon B Johnson.
The Duchess of Cambridge took Jill Biden for a visit to Connor Downs Academy, a primary school in Hayle:
Jill Biden revealed that she knows Prince Harry well, thanks to the Invictus Games.
In a separate event, the Duchesses of Cambridge and Cornwall accompanied the Queen to an event in St Austell, where the monarch cut a cake with a ceremonial sword. This video is a must:
Lighter moments
The G7 security costs were eye-watering:
In addition, the Daily Mail reported that the Royal Navy's giant new aircraft carrier sailed past the summit venue where the G7 leaders are staying to prove Britain's power.
A beach party was held on Saturday, June 12. The weather was good:
The G7 family photo this year was socially distanced because of coronavirus:
Elbow bumps replaced handshakes:
However, social distancing disappeared for the flypast by the Red Arrows:
Conclusion
The G7 summit ended on Sunday, June 13.
The French tried to clarify Macron's remark about Northern Ireland:
Boris announced that the UK would build back better in a 'gender neutral', possibly even 'more feminine', way.
The nations' leaders also agreed to counter China's belt and road policy:
Meanwhile, the sausage war rages on.
The next big British event will be COP26, to be held in Glasgow in November 2021.
On Saturday, March 6, 2021, Nigel Farage announced that, after nearly 30 years, he is leaving the world of politics:
That photo was taken in the EU Parliament on the last day in that British MEPs participated in proceedings.
Guido Fawkes points out how extraordinary Nigel Farage is:
Granted, Farage was an MEP for South East England for just over a decade — 1999-2020 — and his was probably the only MEP's name anyone in Britain knew. Yes, we voted for them, but it was all a bit of a forgettable side show. I could never remember who our regional MEP was.
1994 by-election
Nigel Farage did run for Parliament, however, and only once. That was in 1994, in Eastleigh, which is in Hampshire.
Eastleigh's Conservative MP, Stephen Milligan, had died suddenly at the age of 45. It transpired that the cause of his death was autoerotic asphyxiation. The story made the papers and LBC (the only talk radio station in England at the time). People talked about it for days: 'Is this really a thing?' Apparently so, among some people back then. We were bemused and astonished.
Milligan's secretary found his body.
From Wikipedia (emphases mine):
Milligan was found dead in his house at 64 Black Lion Lane, Hammersmith, London, by his secretary Vera Taggart on 7 February 1994. Milligan had failed to appear in the House of Commons as expected, and so Taggart went to look for him.[4] Milligan's corpse was found naked except for a pair of stockings and suspenders, with an electrical flex tied around his neck, a black bin liner over his head and an orange in his mouth.[5][4] The coroner concluded that he had died in the early hours of 7 February.[4] The pathology report into Milligan's death discounted the possibility of murder, lending weight to the belief that he died accidentally as a result of autoerotic asphyxiation. No drugs or alcohol were found in his blood, and no substances were found to have contributed to his death.[4][6]
Farage was one of the candidates in the by-election, which was held on June 8 that year. Farage represented UKIP at the time. David Chidgey, a Liberal Democrat, won the by-election. Farage came fourth. Chidgey had come in second to Milligan in the prior election. Chidgey is now in the House of Lords and holds a life peerage. His full title is Baron Chidgey of Hamble-le-Rice in the County of Hampshire.
Eastleigh currently has a Conservative MP, Paul Holmes.
European Parliament
In 1999, Farage was elected as an MEP for the South East England region. He was re-elected three subsequent times, until the UK left the EU. We were no longer allowed to participate once we began our Brexit transition period.
On Thursday, June 23, 2016, Britain voted to leave the EU in the biggest plebiscite in our history. People who hadn't voted for years went to polling stations across the land, especially in England and in Wales, to vote Leave. I remember the day well. It poured buckets all day long. Glastonbury, our biggest music festival, was the next day. Between the weather and Glasto, a lot of young adults who would have voted Remain either stayed home or were on their way to the festival. Leave won by 52% to 48%.
On Tuesday, June 28, 2016, Farage spoke in the EU Parliament, satisfied that, after having been trying since 1992, his life's work was being realised:
You all laughed at me. You're not laughing now, are you?
This short clip of his speech is worth watching. Many Britons have seen it, and it's always great viewing it again. Guy Verhofstadt and Jean-Claude Juncker appear in it, too:
In October 2019, Guy Verhofstadt objected to Prime Minister Boris Johnson's deal, calling it a 'virtual' withdrawal agreement and a 'blame game' against the EU. He then called Boris 'a traitor'. By then, the UKIP MEPs were representing the Brexit Party, Farage's new party incarnation.
In addition to Verhofstadt, this 15-minute video shows a left-wing British MEP denouncing Boris as a 'toe-rag', to which a Conservative MEP objected, Brexit Party MEPs Richard Tice and Claire Fox (now Baroness Fox in the House of Lords) as well as, of course, Farage himself (at the 13-minute point). Farage struck out at Michel Barnier, who was our negotiator for the EU, and a Remainer MEP (14-minute point). He called her a 'patronising stuck up snob'.
I saw this when it happened — a must-watch:
In 2019, with our departure from the EU becoming a reality, the Brexit Party became the Reform Party, devoted to reforming British institutions.
This brings us to the present day.
March 2021
On Saturday, Nigel Farage announced that, having worked for 30 years on getting Britain out of the EU, his work in the political sphere has been fulfilled. He added that it is more than most MPs can say about their parliamentary careers. He is right.
In his 10-minute video, he runs through his struggle for Brexit, expresses his hope that the current teething problems will be worked out and says that he will now devote himself to special personal 'projects' of his, which include shining a light on China and the British education system as well as planting trees to improve the environment:
Richard Tice, a successful businessman, will now head the Reform Party.
On Sunday, March 7, Farage reposted his video and added that he will become Honorary President of Reform UK:
He said that, if asked, he would help Richard Tice in campaigning in the run up to our May 2021 local elections.
Nigel Farage says that we have not heard the last from him and that he will continue to have a strong social media presence, including on YouTube.
He's done fantastic work for the nation.
I was delighted to have heard him speak in person several years ago as well as chat one-on-one with him briefly at that event. During intermission, members of the audience submitted written questions anonymously. I submitted three, and he kindly answered all of them! Thank you, Nigel!