You are currently browsing the tag archive for the 'Europe' tag.
On Saturday, May 16, 2020, a fractious protest against Britain's coronavirus lockdown in Hyde Park ended with arrests.
Piers Corbyn, brother of former Labour leader Jeremy Corbyn, was one of the speakers:
Corbyn is well known in the UK for his subscription-only weather forecasts. He also believes that changes in the sun are responsible for climate change, not mankind.
He makes a convincing argument for it, too.
It seems he also makes a convincing argument for the rather odd 5G-coronavirus theory, because after he appeared in protest in Glastonbury recently, that town's council voted down 5G. David Kurten is a Brexit Party councillor serving on the Greater London Assembly:
However, although Piers Corbyn supports Brexit — as does his brother, allegedly — he is not a conservative.
This is what he thinks about coronavirus:
A Press Association reporter filmed what happened on Saturday, May 16, near Speaker's Corner:
The police were out in force (pun intended). Isn't there any crime fighting to do?
This was the scene from the centre of operations:
They social distanced by holding on to each other's vests.
Shoulder to shoulder distance was less clear:
The Guardian reported (emphases mine):
The brother of the former Labour leader Jeremy Corbyn was one of 19 protesters arrested on Saturday, as small demonstrations against the coronavirus lockdown took place across the country.
Protesters gathered on green spaces across the UK holding placards describing the lockdown rules as unlawful and claiming that the government measures were suppressing civil rights.
In Hyde Park, London, about 50 people defied social distancing guidelines to gather close together at Speakers' Corner holding placards with slogans including "anti-vax deserves a voice" and "freedom over fear".
Dozens of police officers, including some on horseback, patrolled the protest, issuing 10 on-the-spot fines and making 19 arrests.
Corbyn's brother, Piers, was taken away after using a megaphone to declare that 5G and the coronavirus pandemic were linked and branding the pandemic as a "pack of lies to brainwash you and keep you in order".
He also said "vaccination is not necessary" and that "5G towers will be installed everywhere", adding: "5G enhances anyone who's got illness from Covid, so they work together."
The article gave the reason for Piers Corbyn's and others' arrests:
Corbyn was taken away after declining to leave when asked by a police officer and refusing to give his details when asked.
A flyer advertising the protest called for "no to mandatory vaccines, no to the new normal, and no to the unlawful lockdown" …
Deputy Assistant Commissioner Laurence Taylor said: "With the easing of restrictions we fully expected open spaces to be busy this weekend.
"It was disappointing that a relatively small group in Hyde Park came together to protest the regulations in clear breach of the guidance, putting themselves and others at risk of infection.
"Officers once again took a measured approach and tried to engage the group to disperse.
"They clearly had no intention of doing so, and so it did result in 19 people being arrested, and a further 10 being issued with a fixed-penalty notice."
The protest attracted a mixed social group:
David Samson, 50, a finance worker, who attended the protests told the Press Association news agency: "I never thought I'd see in my generation the suppressing of civil rights [over a] fake virus. This is nothing compared to what's coming."
There was a large round of boos whenever protesters were arrested, and repeated shouts of "jail Bill Gates".
Another demonstrator, 62-year-old Catharine Harvey, said she was defying the rules to highlight the "devastation this lockdown has caused".
The shop owner said: "Developing countries will have no trade, no tourism. I have had to close my shop on Columbia Road flower market. The effects of the lockdown are far, far worse than the virus – mental health, domestic violence, shops are closed, theatres, cinemas, restaurants. It's unnecessary."
Protests also took place on the southern coast of England in Southampton:
A separate protest in Southampton saw about a dozen protesters gather on Southampton Common, holding placards saying "Stop the Lies", "Say no to tyranny" and "Fight 4 Freedom".
One protester, Dee, who did not wish to give her surname, said her job in the hair and beauty industry had been hit by the crisis. She said: "I am here because I am worried about civil liberties being taken away.
"Reading the Coronavirus Act that has gone through parliament, it seems there are changes being made which infringe our freedom. And I am worried the media has run away with the Covid-19 thing and blown it all out of proportion."
And in Belfast, where police monitored:
a crowd of about 20 people who had gathered in Ormeau Park to denounce the lockdown measures. Officers warned participants to socially distance and they complied. The gathering dispersed without incident after an hour.
Another took place in Glasgow:
… on Glasgow Green in Scotland, with estimates of about 40 to 50 people taking part. People at the event reportedly chanted "experts lie – people die", "don't listen to the media, listen to the people", "Nicola Sturgeon is a traitor" and "we are not livestock".
However, Britain was not the only European nation to see protests. They took place in other countries, too:
Demonstrations also took place across Europe. In Germany the death toll from the virus has been lower than most of its European neighbours with some lockdown measures already relaxed.
However, protests against the measures that Chancellor Angela Merkel insists are needed to slow down the outbreak have grown with demonstrations held for a second weekend.
I certainly hope that this is not the 'new normal'.
Personally, I think it is a bit late to protest lockdown. We're coming out of it now.
However, as it has often been said, attributed to Voltaire but probably more accurately to in Evelyn Beatrice Hall (pseud. S. G. Tallentyre) in the biography The Friends of Voltaire (1906):
I disapprove of what you say, but I will defend to the death your right to say it.
By now, surely, with all the freedom of 'lifestyle' we currently have, we can still assemble to speak our minds when necessary?
Perhaps not, in the 'new normal'. Heaven forfend.
On Thursday, May 14, the Slovenian government announced that it was officially lifting its coronavirus lockdown, leaving only hygiene measures in place.
Slovenia is the first European government to go this far:
The nation had been in lockdown since mid-March:
Euractiv reported that persons travelling there from non-EU states will be subject to a 14-day quarantine. Anyone arriving from another nation and showing signs of coronavirus will not be allowed to enter the country. Masks are also required in indoor public spaces (emphases mine):
The Slovenian government late on Thursday (14 May) called an official end to its coronavirus epidemic, becoming the first European country to do so, after authorities confirmed [fewer] than seven new coronavirus cases each day for the past two weeks.
People now arriving in Slovenia from other European Union states will no longer be obliged to go into a quarantine for at least seven days as was the case from early April, the government said in a statement.
The country of 2 million people, which borders Italy, Austria, Hungary and Croatia, has so far reported 1,464 coronavirus cases and 103 deaths. It declared an epidemic on March 12.
"Slovenia has tamed the epidemic over the past two months… Today Slovenia has the best epidemiologic picture in Europe," Prime Minister Janez Jansa told parliament earlier on Thursday.
The end of epidemic means some measures, including financial aid to citizens and firms hit by the coronavirus, will expire at the end of May.
The government said foreign citizens who show signs of coronavirus infection will still not be allowed to enter the country.
A quarantine of at least 14 days will remain in place for people from non-EU states, except for some exemptions including diplomats and people transporting cargo.
Citizens will still have to follow basic rules to prevent a possible spread of infection, the government said without elaborating.
People have been required to wear masks in indoor public spaces, stand at least 1.5 metres (5 feet) apart and disinfect hands upon entering public spaces …
Slovenia began relaxing lockdown on April 20 and continued a gradual reopening until the end of last week.
This week, everything will be open, including bars and restaurants.
It's perhaps premature to speak of holidays, but:
Sounds great.
I wish the nation, which is Melania Trump's birthplace, every success in beating coronavirus and tedious lockdown, not to mention all the 'experts' who advocated trashing our economies worldwide:
Good luck, Slovenia!
A week is a long time in politics, as the saying goes.
Much happened during the past five days, beginning with the Queen's Speech and culminating with Boris's new Brexit deal.
Promises made — and kept
But, first, delivering a new Brexit deal was what Prime Minister Boris Johnson pledged on Tuesday, September 10, 2019. Please watch the first six minutes:
This week, he delivered on that pledge.
Queen's Speech
From the end of September to last weekend, the anti-Boris brigade wondered whether the Queen's Speech would go ahead on Monday, October 14:
Much to Remainers' dismay, it did indeed take place:
With regard to the Queen not wearing the Imperial Crown, this is why:
You can read the full text of proposed legislation for the next (now current) session of Parliament — including supporting facts — here. Preserving the Union and getting Brexit done are the top two priorities. Proposed legislation for this session involves the NHS, the environment, policing and the railways, among other issues. The BBC has a good summary.
It should be noted that the government — political party — in power writes the speech for the monarch.
Advance copies are issued, but they have to remain under embargo until afterwards. Therefore, media pundits pretend they do not know what the Queen is going to say as they have to create a news story for the folks at home:
On the day, Black Rod goes to the House of Commons to summon MPs to the House of Lords for the speech:
MPs are summoned by a House of Lords official, known as Black Rod. Before entering the Commons, Black Rod has the doors shut in their face, symbolising the chamber's independence from the monarchy.
During the speech, the Queen sets out the laws the government wants Parliament to approve. By convention, it is announced by the monarch in the presence of MPs, peers and other dignitaries in the House of Lords.
Afterwards, the House of Commons then needs to vote on whether to accept the contents of the speech. MPs normally spend five days debating whether to approve it. It is thought that they will vote on Monday or Tuesday next week.
I watched this week's tiresome 'debates', which were dominated by opposition MPs' petty speeches. One railed on about the cost of school uniforms and said that a proposed subsidy should have been included in the speech. For that reason, she does not want to approve it.
Five days of 'debate' over a 1,073-word speech that took around ten minutes to deliver. The mind boggles.
Brexit negotiations
Last week, Boris spent time in meetings with Ireland's Taoiseach — Prime Minister — Leo Varadkar:
Many MPs, including some Remainers, were optimistic.
The Democratic Unionist Party (DUP), with whom the Conservatives have had a confidence and supply agreement since the 2017 election, because of Theresa May's decreased majority, were cautiously optimistic:
Brexit Secretary Steve Barclay met with our EU negotiator Michel Barnier last Friday:
On Monday, the day of the Queen's Speech, Barclay's optimism continued:
Intensive rounds of meetings ensued this week:
Barclay returned to London on Wednesday to provide an update:
Then, it was back to the Continent for more meetings that lasted into the morning of Thursday, October 17.
At 9 a.m. (BST), there was finally a Brexit breakthrough, after Boris spoke to Cabinet members about it:
It was made public just after 10:30:
Jean-Claude Juncker said there was no need now for 'prolongation':
Boris was allowed to address EU leaders before they began their summit:
He also gave a joint press conference with Juncker:
I watched the news last night (a rare occurrence, but this was a historic moment). All the film clips showed the EU leaders greeting Boris as if he were a hero — hugs, hearty handshakes, the lot. See the 6:49 mark in the following video:
EU leaders approved the deal after he left:
A 'Tournedos Rossini of a deal'
When Parliament's session began yesterday morning, Leader of the House Jacob Rees-Mogg gave an enthusiastic speech about Boris's deal, calling it a 'Tournedos Rossini of a deal':
He also said (emphasis mine):
It takes out the undemocratic backstop, delivers on what the Prime Minister promised he would do. In 85 days achieved something that could not be achieved in three years.
Every single member who stood on a manifesto saying that they would respect the will of the people in the referendum can support this with confidence.
I believe him.
Unfortunately, the DUP will not be voting for it on Saturday, unless, by the time you read this, something or someone has changed their minds:
To compound the situation, hardcore anti-Boris and anti-Brexit Remainers have tricks up their sleeves.
Saturday's session in the Commons will not be easy. I suspect that this week's EU negotiations will appear like a walk in the park by comparison.
More next week.
Interestingly, whilst the Conservatives were at their annual party conference, the opposition benches were largely empty.
Strange. Last week, they voted against proroguing Parliament from Monday through Wednesday because they had serious work to get on with.
Or so they said.
As it turned out, only a handful of the diligent, hardworking opposition MPs showed up on those days.
On Tuesday, October 1, a Brexit-related session headed by George Eustice, the minister for DEFRA (Department for Environment, Food and Rural Affairs) covered the draft Common Agricultural Policy from July 24 which would be used for Brexit. The end of the debate is here. It's a pity that only the opposition agricultural ministers and a couple of other MPs attended:
On Wednesday, October 2, Foreign Minister Dominic Raab headed PMQs — Prime Minister's Questions — as Prime Minister Boris Johnson gave his rousing speech in Manchester to the party faithful.
That morning, the Labour Whips issued a directive to their MPs not to ask Urgent Questions that day:
It was even worse when the afternoon's proceedings began.
Recall — as if we could forget — that the opposition claim to be the champions of the vulnerable, especially women.
So, it was particularly galling to see that very few of them turned up for the second reading of the Domestic Abuse Bill:
Only a few Liberal Democrat MPs attended that afternoon. Labour produced more, but could have done much better.
Good grief.
Apparently, this bill and some others have been carried over post-Queen's Speech on October 14:
Therefore, if this is true, the opposition knew full well that they could have easily prorogued for three days during the Conservative Party Conference but chose not to out of sheer spite. Ditto the Supreme Court when they cancelled Boris's prorogation.
The main and most moving speech of the debate was that of Labour MP Rosie Duffield. Her testimony of a recent relationship is well worth sharing with your daughters or nieces.
Women cannot be too careful when getting involved in a long-term relationship. If this can happen to an MP, it can happen to anyone. Please watch:
This bill is Theresa May's. She brought it forward as a backbencher, therefore, before she became Prime Minister in 2016. How slowly the wheels of legislation turn.
Theresa May also gave an impassioned speech for the bill near the end.
Debate continues after October 14.
Attendance improved when Boris appeared on Thursday, October 3, to discuss a new proposal for Brussels, sent to Jean-Claude Juncker the day before:
Note the final paragraph about the Northern Ireland backstop on the first page: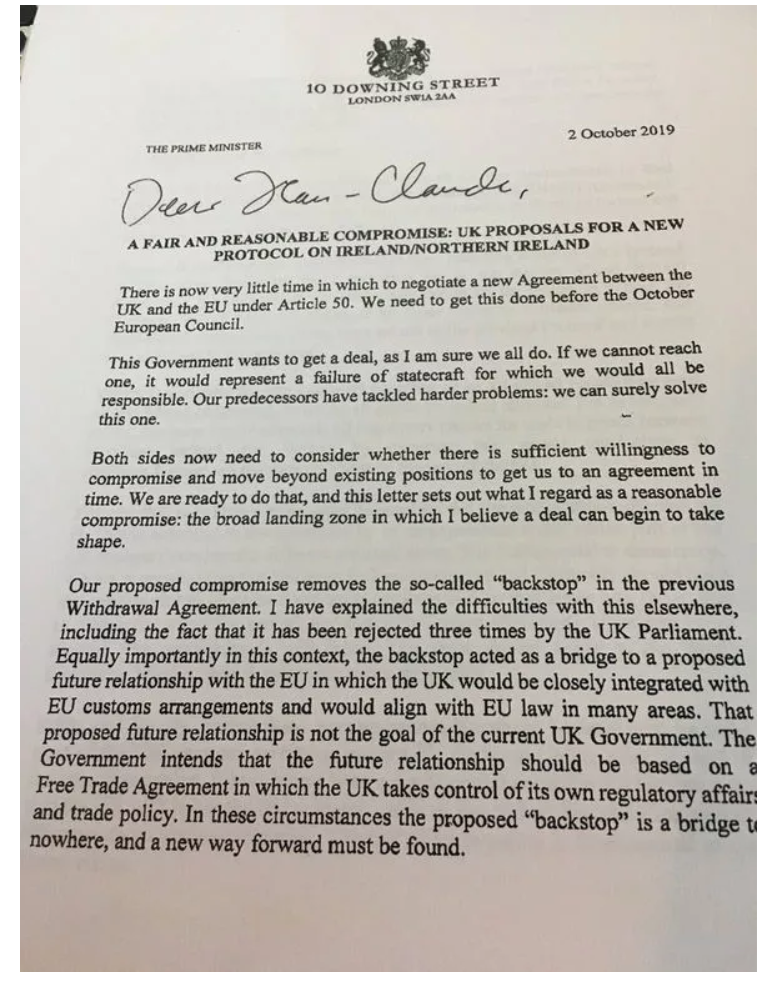 This is the European Commission's announcement about the letter (click on the image to enlarge text):
Many MPs who offered comments following Boris's address commented positively. Even most Remainers accepted the proposal, albeit with a request for more details, which will be forthcoming. Only two or three diehard Remainers spoke out against it.
Several MPs hoped that the EU commissioners were watching the positive reaction.
Guido Fawkes has more, including this video of Boris's speech:
Guido gives us the transcript of Boris's five elements concerning the abolition of the proposed backstop, the crux of the leaving date delay thus far (italics in the original):
In the first place all our actions are based on our shared determination to sustain the Belfast (Good Friday) Agreement, the fundamental basis of governance in Northern Ireland the protection of which is the highest priority of all.

And from this follows the second principle – namely that we shall of course uphold all the longstanding areas of co-operation between the UK and our friends in Ireland including the rights of all those living in Northern Ireland, North/South co-operation and the Common Travel Area, which predates both the Good Friday Agreement and the European Union itself.

Third, we propose the potential creation of a regulatory zone on the island of Ireland covering all goods, including agri-food. For as long as it exists, this zone would eliminate all regulatory checks for trade in goods between Ireland and Northern Ireland.

But fourth, unlike the so-called backstop, such a regulatory zone would be sustained with the consent of the people of Northern Ireland, as expressed through the Assembly and Executive. They will give their consent during the transition period as a condition for these arrangements entering into force. Thereafter, the Assembly will vote again every four years – and if consent were withheld, these arrangements would then lapse after one year.

Fifth, it has always been a point of principle for this government that at the end of the transition period, the UK should leave the EU Customs Union whole and entire restoring sovereign control over our trade policy and opening the way for free trade deals with all our friends around the world.
In short: no hard border between the Republic and Northern Ireland. Instead, there would be a regulatory zone covering all goods, including foodstuffs. Northern Ireland's Assembly and Executive would vote on the arrangements in the near future and every four years after that. (I do not know how that will work if Stormont is not sitting, but, no doubt, the government can find a way.)
I'm guardedly hopeful that Boris is onto something positive with this. It won't please Brexit Party members, but we were never going to get an absolute No Deal. I'm hoping that David Davis's Canada ++ arrangement can be revived. Theresa May insisted that his plans be superseded by her Withdrawal Agreement in July 2018, no ifs, ands or buts. Davis resigned as Secretary of State for Exiting the European Union on July 8 that year. It was all downhill from there.
Davis has not tweeted his reaction, but another staunch Leave MP, John Redwood, offered his thoughts on Boris's proposal:
Unfortunately, the Twitter replies to that were very angry, indeed.
It is essential to keep in mind that trade and other agreements will be in transition once we leave the EU.
It's not as if everything will change dramatically on November 1 (God willing) or whenever we leave.
The transition period is likely to last anywhere from two to four years, depending on negotiations.
As for prescription drug shortages, some of which are occurring now in the UK and being blamed on Brexit: several EU countries have been experiencing similar shortages of essential medication for several months now. France and the Netherlands are among those nations. We cannot blame Brexit for that.
British journalist and television presenter Piers Morgan recently gave an interview to Ben Shapiro about the Left.
He says:
The Left have become unbearable.
This video, which is subtitled and runs just under two minutes and thirty seconds, is excellent. I am not necessarily a Piers Morgan fan but agree with everything he says here:
Being in media, he begins with comedians hosting awards shows. Because people cannot make — and take — jokes anymore, said shows lack hosts or are being cancelled.
Even it that is no big deal, Morgan takes the totalitarian measures of the Left further, calling them a type of 'fascism' (his word). He says that if you do not live your life in the way leftists dictate, they go after you in a number of ways, from personal abuse to making sure you lose your job.
Consequently, he says, ordinary people are rebelling by electing populist — he says 'popularist', possibly purposely — politicians who are willing to confront the Left. He cites President Trump and says this is happening in Europe, too. (Incidentally, Hungary's Viktor Orban became prime minister long before Trump was elected. Orban assumed office in 2010, six years before the American president was elected. That said, western Europe has seen a continuing drift towards conservative and populist political parties.)
Here's the interview in full:
In conclusion, it would be good if Piers Morgan and millions of other people would stop using the word 'liberal' to describe leftists. Liberal refers to classical liberalism: free markets and small government.
Let's call these people what they are: leftists — the most illiberal of people.
Prime Minister Theresa May went to Brussels on Wednesday, April 10, 2019.
Another trip to Brussels for her, another Brexit extension for us. This one is called a 'flextension'. It expires on Halloween. You couldn't make it up:
There will be a progress check on June 30, but that is likely to be a mere formality:
It would be nice if this actually were the final deadline, unlike others, such as March 29 and April 12 …
… but the Brexit timetable continues to roll on and on and on:
Sadly, No Deal preparations have now stopped:
Emmanuel Macron and his EU team tried their best to block an extension, but the EU project is much bigger than Macron:
His scheduled press conference did not take place late Wednesday. Someone higher up in the EU is displeased with him:
Meanwhile, talks with Labour have not been going well. No surprise there:
The flextension is unhelpful for the UK:
That said, MPs will be happy …
… just like schoolchildren:
More Brexit news will appear as and when.
On Friday, March 29, 2019, Britain is — or was — supposed to leave the European Union.
That date has now been extended to April 12 and possibly further, should Parliament agree to participate in EU elections this summer.
It was not supposed to end like this. Brexit was supposed to happen by March 29, as Prime Minister Theresa May had pledged it would.
My personal suspicion is that Remainer MPs have been running down the clock for months so that the PM would be forced to go to Brussels to get an extension from the EU.
This week, anything could happen. It is doubtful a third vote on the PM's deal — a softer Brexit — will pass. It is also unknown whether we will see a no deal exit, even though I'd be quite happy with that:
This week, we will see all sorts of Remainer MP amendments which Remainer Speaker of the House John Bercow will table for a vote.
It should be noted that the Leader of the Opposition, Labour's Jeremy Corbyn, was in Brussels on Thursday, April 22, at the same time as Theresa May. Hmm. What will he be announcing this week?
What follows are possible routes Brexit negotiations could take.
Incidentally, I wrote this on Friday, March 22, based on available information at the time.
The reason for a possible Brexit delay
As you read the rest of this post, it is important to keep in mind the figures on this graphic from Jacob Rees-Mogg, Conservative MP for North East Somerset and member of the pro-Brexit European Research Group (ERG). The important item is the last one, visible only if you click on the image:
From that last item, you can see that the overwhelming majority of MPs are Remainers.
Extension dates
As it stands, the PM walked away from her discussion in Brussels with an immediate extension to Friday, April 12:
However, if she gets momentum with Parliament on a way forward, that could be extended to May 22:
This is a good summary:
There is also the possibility that, if Parliament decided to go down a route whereby the UK could get an even longer extension, then we would take part in EU elections. Personally, I hope this does not happen.
The following comments from a thread at PoliticalBetting.com explain more. MV3 — Meaningful Vote 3 — is the third vote MPs will have on Theresa May's exit plan on Tuesday, March 26. HOC is House of Commons:
F: … the need for an enabling bill for the Euro elections is why the date is April 12th. It is a prerequesite for a longer extension. If MV3 fails then voting against a Euro elections bill means voting for No Deal.
B: I am so pleased we are on the same page Foxy
It has been a battle over the last few days and this morning especially, to explain the 12th April was selected by the EU as it is the last date before the campaign for the EU elections and we have to take part if we want an extension of any kind
It is up to the HOC, but I am truly dismayed at how journalists, media and politicians are not explaining this in detail, as it was one of the most important issues coming from the EU
Also:
P: But according to Wiki at least the repeal of the European Elections Act hasn't been enacted yet. Therefore if we wish to hold elections we can presumably do so under the old act that is still legally current legislation. We just need to commit to do so as the law is still on the books. 
Political parties are preparing to take part in EU elections, as is top Leave campaigner, Nigel Farage, MEP and former UKIP leader:
Possible MV3 result
In order for MV3 to take place, PM May must amend her deal.
As she has not succeeded in getting her deal passed in the previous two Meaningful Votes, it is uncertain whether Tuesday's vote, even with changes, will be any different — especially if MPs can vote freely and not follow a party line. That could spell bad news for Leavers:
Also:
Labour's Jeremy Corbyn spent time in Brussels with Martin Selmayr, the Secretary-General of the EU commission. The Labour plan appears to entail joining a UK-EU customs union that would exclude other countries. Yet, Selmayr celebrated the European Economic Area Agreement (EEAA), which would also oblige the UK to follow EU rules, even if we were no longer formally in the EU. Selmayr conveniently leaves that out of his tweet:
A hiccup could result in one less vote for the PM's deal because of the following:
In principle, should MV3 fail, May would go for a no deal exit on March 29:
However, the EU extension and further negotiations between the PM and Parliament could change that:
Confusion reigns
One thing of which we can be certain: May's trip to Brussels has delayed Brexit.
The EU extension to Brexit was subject to unanimous approval of the 27 member nations. Given Matteo Salvini's criticism of the EU, it seemed that Italy would vote against. Ditto Poland. But no:
The only real public comments came from France's president, Emmanuel Macron:
At the end of last week, even May's own cabinet members were in a state of confusion, although to be fair, they have been known for leaking:
May seems to be more conciliatory since her announcement on Wednesday night at No. 10, wherein she was critical of MPs for not moving Brexit along. On Thursday, after her day in Brussels:
All possibilities on the table
The chart below shows all the complex possibilities surrounding Brexit at the moment.
Click on the graphic and it will automatically open in a new tab. Then click on the image to enlarge the text:
Deal or no deal?
The border situation between the Republic of Ireland and Northern Ireland is a primary sticking point in Brexit negotiations and parliamentary voting.
Currently, the border is open. With no deal, Remainers say it would be closed.
However, that might not be the case — even as far as the EU is concerned.
While former Conservative MP Michael Portillo threw cold water on no deal on Thursday:
On Friday, good news emerged from no less than Germany's chancellor, Angela Merkel:
Leave supporters can but hope that Mrs May is able to get the UK out of the EU by April 12.
More to follow when significant developments occur.
Forbidden Bible Verses will appear tomorrow.
This year, Epiphany fell on a Sunday.
I was delighted to go to church and find the tree lit and the two Nativity scenes still in situ. The vicar announced from the pulpit, 'The season is not over until Epiphany', even though the churchwardens wanted to take all the Christmas decorations down on Saturday, January 5. Instead, they will come down on Monday, the 7th.
There are two old traditional European festive days that follow Epiphany.
One is St Distaff's Day, or Roc Day, which is always on January 7. It has no religious significance, but is centuries old and is still a part of life in Europe where textiles and fibers are spun:
St Distaff's Day — Distaff Day: January 7
The second is Plough Monday, still celebrated in a few English towns, which is the first Monday after Epiphany. Between the 15th and 17th centuries, the local church and parish community were involved. Afterwards, it returned to its secular roots:
The English tradition of Plough Monday
Plough Monday — the Monday after Epiphany
In 2019, the two coincide. Imagine what fun was had centuries ago when people celebrated both traditions on the same day.
How many people know about the Battle of Lepanto?
In the 1970s, when Western education was still decent, I took a year of World History in high school. If we covered it, it must have been a footnote.
I read about it in depth only six years ago, when someone from the West Indies had a WordPress blog, since deleted. The writer was Catholic and explained the religious, historical and cultural significance of October 7, 1571, the date of the victory over the Ottoman Empire.
The victory was important to Mediterranean Europe. Inland, the Battle of Vienna took place just over a century later, on September 12, 1683, led by the indomitable King Jan (John) III Sobieski of Poland. Lepanto was to the Mediterranean what Vienna was to the rest of Europe.
On to the Battle of Lepanto and October 7, which Catholics venerate as the Feast of Our Lady of the Rosary. In 2017, Polish Catholics assembled nationwide to pray the Rosary on that day. The Daily Mail has more (emphases mine):
Hundreds of thousands of Polish Catholics are expected to descend Saturday on the country's borders to recite the rosary "to save Poland and the world" from the dangers facing them, organisers say, but others claim the event is aimed at protecting Europe from what they term a Muslim onslaught.
The episcopate insists that the "Rosary to the Borders" is a purely religious initiative, but some Catholics view it as a weapon against "Islamisation."
The date was not chosen at random. October 7 is when Catholics celebrate the Feast of Our Lady of the Rosary, marking the 1571 victory of Christianity over the Ottoman Turks at the Battle of Lepanto.
A victory attributed to the recital of the rosary "that saved Europe from Islamisation", the Solo Dios Basta foundation said on the website of the event it is organising.
Many Poles see Islam as a threat. The conservative government, which enjoys the backing of a sizeable portion of the population, refuses to welcome migrants to Poland, which has very few Muslims of its own.
Twenty-two border dioceses will take part in the event, whose faithful will congregate in some 200 churches for a lecture and mass before travelling to the border to say the rosary.
The goal is to have as many prayer points as possible along the 3,511 kilometres (about 2,200 miles) that make up Poland's borders with Belarus, the Czech Republic, Germany, Lithuania, Russia, Slovakia, Ukraine and the Baltic Sea.
Fishing boats will join in at sea, while kayaks and sailboats will form a chain along rivers and lakes. Prayers will also be said at the chapels of a few international airports …
The goal is to pray for world peace, according to Father Pawel Rytel-Andrianik, spokesman for the Polish Bishops' Conference.
"The initiative obviously received the approval of Poland's bishops," he told AFP, emphasising that it would be wrong to view the event as a prayer against the arrival of Muslim refugees.
"It is not a matter of closing ourselves off to others. On the contrary, the point of bringing the rosary to the borders is to break down walls and open ourselves up to Russians, Belarussians, Slovaks, Ukrainians and Germans," he said …
In 2018, on October 7, Italy's interior minister, Matteo Salvini, appeared on a talk show saying that the influx of immigrants arriving by boat are not true refugees. He estimates that only 10 per cent are. He recommends taking in only women and young children. He objects to turning Italy's public housing over to immigrants arriving by boat and says that local and regional governments should continue to reserve these flats and houses for Italians. Currently, Angela Merkel is trying to transfer immigrants who had arrived in Germany via Italy back to Italy:
RMC (French talk radio) had a lengthy segment on immigration from Africa on the morning of Monday, October 8. Opinion was strongly divided as to whether and how many more immigrants France — especially Paris — should accommodate. It was a lively discussion with no conclusion. One point that did stand out was that French people were being pushed down the queue for social housing for recently-arrived immigrants. So, the French housing situation is like Italy's, which is like Germany's and Sweden's.
Besides the religious and 21st century significance of the Battle of Lepanto, there is a historic one. It took place at a time when the invasion of hordes of groups of people — not just those from the Ottoman Empire — were invading not only Europe but also Asia.
I had always wondered how these groups had been stopped. A considered essay, 'The Significance of Lepanto', explains what happened from that point through to the 18th century.
First, we need to consider the main group of players in Europe's Holy League. These nation-states also controlled various parts of the Mediterranean, including islands such as Corsica, Cyprus and Crete. Trade and strategic ports were important to the Spanish, the Venetians and to the Vatican, which also controlled territory in this part of the world:
The Battle of Lepanto has a major place in the symbolism of the Western-Islamic relationship, and Niccolò Capponi's recently published Victory of the West: The Story of the Battle of Lepanto treats the battle as a major encounter between the Islamic Ottoman empire and the forces of Western Christendom.
Lepanto was the last great battle that could be described as a simple clash between Christendom and Islam. Fought on October 7, 1571, it saw the fleet of the Ottoman empire pitted against an alliance of Spain, Venice and various other minor players to form a Holy League under the leadership of Don Juan of Austria, the illegitimate half-brother of Philip II of Spain.
The battle was the response of the Christian powers to the invasion of the Venetian possession of Cyprus. At stake was control of the Mediterranean. If the Ottomans had won then there was a real possibility that an invasion of Italy could have followed so that the Ottoman sultan, already claiming to be emperor of the Romans, would have been in possession of both New and Old Rome. The Pope could have become as much a tool of the Ottoman sultan as his Orthodox counterpart the Patriarch of Constantinople already was.
Yet, as Capponi points out, the Holy League was hardly a model of Christian solidarity. The Spanish and the Venetians had different strategic objectives—the Spanish were concerned primarily with Italy, North Africa and the Western Mediterranean, while Venice was anxious to recover Cyprus and protect its interests in the eastern Mediterranean. The Spanish were not keen for a battle that might lose them precious resources, particularly as Philip II, with interests as well in northern Europe, was usually on the verge of bankruptcy. The Spanish were also concerned that the Venetians were in the process of cutting a deal with the Ottomans. Just a few days before the battle there was a conflict between the Spanish and Venetians that almost tore the fleet apart. Nevertheless the alliance held and the League fleet scored a stunning success.
Lepanto reshaped the religious bent of the Mediterranean:
The cultural shape of the lands around the Mediterranean was confirmed with a largely Islamic East and South staring across the waters at a Christian North and West.
The Ottoman Empire gradually lost territory and influence from that point until it collapsed with the Great War (1914-1918). That said, we are still dealing with the aftermath a century later:
The Ottoman empire, like the ancient Roman empire and the Byzantine empire before it, was left with the task of defending its ever diminishing borders over the next three centuries. When it did finally "fall" after the First World War the ramifications were enormous, and we are still attempting to cope with them from Bosnia to Iraq.
The Europeans defeated the Ottomans because of advanced naval battle tactics and weaponry. They also had more advanced trade and inventions, such as the printing press, which the Ottomans were slow to adopt:
The League won because it used innovative tactics. The usual form that galley warfare took was to ram the enemy ships and then take them by storm. The Venetian ships attempted a new and different tactic. Using a larger and modified form of galley known as galleasses, they filled these ships with cannons and attempted to blow as many of the Ottoman galleys as possible out of the water. League ships carried many more cannon and its troops made much greater use of firearms. Many of the Ottoman troops preferred to use bows, although these were not necessarily inferior to the clumsy arquebus of that time …
In the longer term, however, the future belonged to the new commercial instruments of the West rather than to the bureaucratic machinery of the Ottomans. In her study of seventeenth-century Crete, A Shared World, Molly Green demonstrates that the commercial techniques and practices used by the Venetians were much more sophisticated and developed than those of the Ottoman regime that replaced them in mid-century. It was also the case that the Ottomans were slow to take to make use of printing, with the "printing revolution" that swept the West in the sixteenth century not really taking off in the Islamic world until the nineteenth century.
Europe and Asia had been beset by invaders for centuries, especially during the perilous Dark Ages.
In Europe, during the latter days of the Roman Empire:
Rome, and the Roman empire, had to face an almost continuous set of threats, beginning with the Celts, then moving through to the Germans, Huns, Avars, Arabs and Turks. The Ottoman Turks simply delivered the coup de grâce to what had become little more than a living corpse.
In Asia:
China built its "great wall" to protect itself from nomadic predators, while the damage inflicted by the Mongols on the settled Islamic world, including the sack of Baghdad, was staggering.
These invasions happened because invading tribes of people envied the civilisation of settled societies:
A settled civilisation, by creating a measure of comfort and a settled way of life, makes itself a target for those living outside their boundaries who are drawn by what it has to offer.
Large-scale invasions ended in the 18th century, probably thanks to the Chinese:
… the Qing Chinese empire in the eighteenth century successfully conquered and subdued the last of the great nomadic empires of Eurasia. For the first time in millennia no barbarian horsemen, no Huns, no Avars, no Mongols, surged across the great plains of Eurasia to sack and pillage Europe, China and the great civilisations of the Islamic world and India.
When a new barbarian empire emerged powerful enough to threaten the Ottomans, and by this I mean the Russian empire, it was successfully checked by the jealousy of the other European powers. It was also into this world … of empires that were not revitalised by new sets of barbarians, in the Middle East, in India and in China, that the European empires were able to make such inroads from the eighteenth century onwards.
Lepanto, as with so many other advances of that era, helped to usher in modernity to Europe with an emphasis on trade rather than war:
Lepanto can be seen as symbolic of that transition, described by the nineteenth-century French liberal philosopher Benjamin Constant, from the age of war to the age of commerce. Or as others might say, it can be considered as the birth of modernity. Even the overwhelming use of firepower can be found in the pages of Constant as a feature of the utilitarian approach to warfare favoured by commercial nations. The irony was that the somewhat ramshackle empires of sixteenth-century Europe, with their disorganised finances and administrative apparatuses much inferior to those of the Ottomans, would within 300 years come to dominate the world not because of their superior asabiya or virtue but because of their capacity to create modern efficient institutions far superior to the slave bureaucracy of the Ottomans, and because of their ability to deliver superior firepower.
This new European and commercial form of empire supplanted an older, more traditional imperial form. What this meant was that the old rules of empire, of an imperial expansion dictated by the need to conquer to attain booty and slaves and a decline governed by the need to protect its settled possessions from new predators, would give way to a new set of rules. These are the rules of the export and import of capital, as described by Niall Ferguson in his recent studies of the English and American empires.
Looking at present day developments in Europe, there does seem to be an envy of others to have what we Europeans have without contributing to our respective nations. When well-intended private and state generosity is met with Marxist-driven violence and disregard for the host citizenry, it is no wonder that many think of Lepanto.