You are currently browsing the tag archive for the 'Europe' tag.
What follows are three stories the media won't have covered over the past week.
Call to prayer in the US — Revd Franklin Graham
Billy Graham's son, the Revd Franklin Graham has called for a national day of prayer and fasting in the US on Sunday, October 25:
This follows his Washington Prayer March, which took place on September 26.
May the Lord hear those who call on Him and guide the United States safely in the months ahead.
Censorship — new Project Veritas video
We know that Google and other social media outlets use algorithms to promote or suppress certain topics.
James O'Keefe's Project Veritas released another whistleblower film about Google. I'm posting the tweets, because YouTube might take down the video, which they have done before.
Ritesh Lakhar has worked for large corporations in the US. He has been a Google employee for several years and is Technical Program Manager.
He tells his story to Project Veritas:
Sounds like election interference to me.
Project Veritas posted an accompanying article which has much of the dialogue of the video along with two additional insights from Ritesh Lakhar.
First, here's what happened on November 9, 2016. I like the way he says 'When Trump won the first time', implying he will win again:
"When Trump won the first time, people were crying in the corridors of Google. There were protests, there were marches. I guess, group therapy sessions for employees–organized by HR," he said.
"There were days, like: 'Okay, don't come to work. We understand this is like a shocking event. Take some time off and cool off and we'll regather again to figure out our strategy,'" he said. "That kind of stuff–I'm like–are you serious, are you kidding me?"
The second is the contrast between Google and his previous employers — manufacturers (emphasis mine):
Lakhkar said he worked for other major industrial and medical companies, and none of them had the leftist culture he deals with at Google.
"When I worked for Caterpillar or Corning, politics didn't really matter," he said. "You just do your job and: 'Let's make tractors, let's make glass.'"
Coronavirus — doctors speak out
I have written about the German physician, Dr Heiko Schöning, before; he was arrested in London at an anti-lockdown rally in September and held without charge for 22 hours.
He and several other doctors and life scientists have formed a group called The World Doctors Alliance. They are speaking out against the way the coronavirus crisis has been handled internationally.
YouTube have removed their video, but two clips follow.
This clip is from the beginning, where some of the members, led by Dr Schöning, introduce themselves:
In the second clip, two members of the group speak:
A Dutch GP, Dr Elke De Klerk appears first. She says that there is no COVID-19 pandemic and says that it is a 'normal flu virus'. As such, she says they plan to sue The Netherlands. She says there is a 'really large group' of doctors and nurses who agree. She added that they have contact with '87,000 nurses that do not want the vaccine'. She said that the rights of people under the Dutch constitution cannot be violated for any medical reason. She said that the 'false positive' PCR tests are creating 'panic'. She said she was 'very happy' that Dutch media outlets are now questioning these tests.
Professor Dolores Cahill spoke next to say that, in Ireland, there have been only 100 actual deaths of, rather than with, coronavirus.
This is what she said in Ireland in September:
I haven't formed an opinion about this group, as I don't know too much.
At least they present an alternative perspective at a time when, increasingly, strategies and statistics just do not make sense.
During July, there were several British news items I did not have time to cover.
Without further ado, here they are …
St Swithin's Day
July 15 was St Swithin's Day, traditionally thought to successfully predict the weather for the next 40 days.
It was cool and cloudy.
So it is two weeks later.
The Mirror tried to debunk centuries of tradition that day by saying temps would reach 29° C that weekend. They never did, at least in the UK. We had a maximum of 24°.
Since then, it's been cool, cloudy and rainy — with a few hours of sunshine here and there.
The Mirror was wrong. As my late grandmother-in-law always said: 'The old ways are the best'.
This isn't the first year I've tracked the weather following St Swithin's Day.
Trust what happens on July 15 in the UK. That's the weather for the next six weeks.
Admittedly, we might get the odd, sunny, warm day, such as today — but, that might be a rarity during the month ahead.
Friday, July 17
This was the day when temps reached a maximum of 24°.
More importantly, Princess Beatrice was married at Windsor. Her father, Prince Andrew, stayed out of the photos.
The wedding was small, in keeping with coronavirus guidelines:
Another wonderful event took place that day at Windsor. Captain Tom Moore, 100, received a socially-distanced knighthood from the Queen:
Captain Sir Tom Moore raised tens of millions of £££ for the NHS during the height of the pandemic by walking around his garden 100 times on a zimmer frame (walker). I am sure that was not easy for him, yet he persevered.
Afterward, the Second World War veteran said:
It's been an absolutely outstanding day and you could never have believed I was never going to get such an honour as I have today. I really believed never ever would I be so privileged I could be so close to the Queen and speak to her, and that really was something absolutely outstanding.
Fantastic! May God continue to bless him abundantly.
Boris's first anniversary as PM
Thursday, July 23 marked Prime Minister Boris Johnson's first anniversary.
This delightful video shows clips of him promoting the 2010 Olympics when he was Mayor of London:
Although it's been a miserable year, he has achieved the impossible, as Guido Fawkes reminds us:
Defeated Corbyn

Delivered Brexit

Won an 80 seat Conservative Party majority
Boris listed many more achievements over the past year. He could not even list them all in two minutes:
But there was no time to rest, as Boris was busy planning for the best and the worst in the months ahead:
Conservatives are still happy with his performance:
Writing for UnHerd, Matthew Goodwin, professor of politics at the University of Kent, analysed Boris's appeal among his supporters (emphases mine):
To find a similar degree of constant and tribal support for the Conservative brand, you have to go all the way back to the spring of 1987 when Margaret Thatcher began a similar period of total dominance in the polls that lasted for around two years. Though even that is a little misleading — Thatcher might have had a lot going on, but she never had to grapple with a global pandemic and the shutdown of the entire economy …
… why have Johnson's voters stayed so loyal? …
The first thing to remember is how Boris Johnson achieved power. He pushed through what David Cameron had little interest in and Theresa May never really understood — the "realignment" of British politics. By organising around Brexit, which was itself an expression of a deeper fault line, Johnson was able to consolidate the Leave vote.
By doing so, he was able to anchor his party far more securely in a cross-class coalition of traditional "true blue" Tories and instinctively socially conservative blue-collar workers. By doing so, Johnson injected a greater degree of tribalism into his electorate and, by extension, a greater degree of "cultural polarisation" into the country. In a country where six in every ten constituencies broke for Brexit, this strategy makes sense. You might not like it but, electorally, strategically, it makes complete sense.
It also brings us to a point that many of his critics have failed to grasp. What unites Boris Johnson's voters is not so much their economic experience, as their values. They prioritise the nation and the national community. They prefer stability over change. And they favour continuity over disruption and discontinuity. This is why they cherish Britain's history, heritage and collective memory and are more sensitive to attempts to deconstruct them. And while they acknowledge that this history is complex, they believe that, on the whole, it was positive and that Britain has been a force for good in the world. In short, they believe in their country. They are proud of it. And they are proud of their fellow citizens …
… Johnson is offering a positive and forward-looking creed that is more interested in national renewal and salvation than decline and repudiation. He is proud of the country and its people. And until his opponents figure this out and change track, then I suspect that many of those voters will continue to stand behind him while keeping their distance from his critics.
Boris's war on fat
Boris has been on a diet since recovering from coronavirus. So far, he has lost a stone (14 pounds):
Now he wants all of us to lose weight — five pounds each — and save the NHS an estimated £100m. Hmm.
Guido Fawkes reported (emphases in the original):
Boris promises his health push will "not in an excessively bossy or nannying way, I hope" persuade Britons to lose a few pounds. Which is a curious line given the now-almost imminent, nonsensical ban on pre-watershed 'junk food' ads…
Agreed.
Last summer, London's mayor Sadiq Khan banned what he termed 'junk food' adverts across the capital. Last June, when Wimbledon was in full swing, Guido reported:
London's blanket ban on 'junk food' advertising is not only ineffective, inconsistent and impractical, it's going to cost a fortune too! Estimated at a whopping £35 million, it will deprive dilapidated public services of desperately needed investment. Who's decided that chicken burgers are not junk food but olive oil is? And no mince pies allowed at Xmas? No strawberries and cream for Wimbledon?
The simple truth is ad bans don't work – there's no proof they reduce childhood obesity. However, there is clear evidence that wide-ranging, collaborative and positive approaches are an effective solution. In Amsterdam, childhood obesity rates fell by 12% between 2012-15, through investment in positive lifestyle and education campaigns.
Telling people what they can do is much more effective than hectoring them about what they can't. Evidence-based solutions are more effective than political ones.
One year later, Boris thinks this is a great idea for television:
British artist David Hockney, who opposed the UK's smoking ban in 2007, was less than impressed:
I said to my far better half on Monday that they will probably target all the good foods, e.g. butter and meat.
The next day, I drank my morning coffee while waking up to this:
I love hummus! It's good for you, too.
Guido posted an extensive list of what falls under the category of junk food, based on UK government guidelines.
In addition to hummus and raisins we find butter (as I predicted), more than half of all meats (mm-hmm, also as predicted), margarine, pesto, tomato soup, nearly all cheese, most yoghurts and, strangely, the driest, blandest thing on the planet: cream crackers, which have no cream in them, by the way. Hell is a cream cracker.
Something's gone very wrong with this Conservative government. Most of us thought Boris was a libertarian.
Whatever the case, there must be a better way than another ban:
Maybe Boris is still frightened from his serious illness. I suspect it took him a long time to recuperate, judging from his appearance in the weeks that followed.
Cat contracts coronavirus
On Monday, July 27, Reuters reported:
The British environment ministry said "all available evidence" suggested the cat had contracted the coronavirus from its owners, who had both tested positive for COVID-19.
Both the cat and the humans made a full recovery and there was no transmission to any other animals or people in the household, the ministry said without identifying the individuals involved.
"This is the first case of a domestic cat testing positive for COVID-19 in the UK but should not be a cause for alarm," said Yvonne Doyle, medical director at Public Health England.
"The investigation into this case suggests that the infection was spread from humans to animal, and not the other way round," Doyle added.
The government said the infection was confirmed in lab tests on Wednesday, adding there was no evidence that cats could transmit the virus to humans.
The World Health Organisation (WHO) has said cats are the most susceptible animal species to the SARS-CoV-2 coronavirus and are able to transmit it to other cats.
Delays in getting stranded Britons home explained
When the pandemic broke, the Foreign Office pulled out all the stops to get stranded Britons back to the UK.
Arranging flights for some tourists overseas took longer than for others because hundreds were in remote places of the world.
Now it emerges there were other factors involved:
NHS relaxes self-isolation for patients entering hospital for treatment
Not so long ago, the NHS wanted all patients attending hospital for treatment or operations to self-isolate for 14 days beforehand.
Thankfully, as of Tuesday, July 28, that is no longer the case. The Daily Mail reported:
Updated guidance says strict social distancing and hand washing is enough to cut the risk of patients taking the virus into hospitals in England.
NHS patients will only need to self-isolate for a few days after taking a test in the run-up to them entering hospital, health bosses now say.  
Surgeons hope the relaxation of rules will help them to tackle the huge waiting lists that have built up during the Covid-19 crisis.
But they called for all patients to be given tests for the coronavirus before and after their operation to keep a lid on any potential outbreak.  
The change in advice was made because the virus is circulating at much lower levels than it was during the peak of the crisis in March and April.
Lewis Hamilton opines on a COVID-19 vaccine
Formula 1 champion Lewis Hamilton had to walk back a video and post he made on social media regarding a COVID-19 vaccine:
On Monday, July 27, The Guardian reported:
Hamilton has since deleted the video and published a statement saying he hadn't seen the comment attached to the clip, but wanted to show there is "uncertainty around side effects" of vaccines.
"I've noticed some comments on my earlier post about the coronavirus vaccine, and want to clarify my thoughts on it, as I understand why they might have been misinterpreted," he said.
"Firstly I hadn't actually seen the comment attached so that is totally my fault and I have a lot of respect for the charity work Bill Gates does.
"I also want to be clear that I am not against a vaccine and no doubt it will be important in the fight against coronavirus, and I'm hopeful for its development to save lives.
"However after watching the video, I felt it showed that there is still a lot of uncertainty about the side effects most importantly and how it is going to be funded. I may not always get my posting right. I'm only human but I'm learning as we go."
I agree with the highlighted bit 100%.
Holidays abroad
Whether it's a good idea or not right now, Britons want to enjoy a summer holiday in Europe.
Some made their reservations early in the year, before the pandemic arrived. Understandably, they want to get what they paid for.
Transport Secretary Grant Shapps and his family managed to arrive in Spain hours before the UK declared a quarantine for British travellers returning from that country. Shapps flew back to the UK on Wednesday, July 29:
He is returning early to get through a 10-day quarantine and, in the meantime, from home, to 'handle this situation'. The Foreign Office has advised against all non-essential travel to Spain.
Presumably, Europeans are travelling all across the continent.
The result is that coronavirus cases are rising again:
On July 28, RMC's Les Grandes Gueules (The Big Mouths) interviewed Dr Robert Sebbag, a specialist in infections who works at La Pitié Salpêtrière hospital in Paris. He said that, although the COVID-19 ward is seeing a small uptick in hospitalisations, no one is on a ventilator and most cases are 'mild' compared to what they were only a few months ago. If I understood correctly, the hospital has 24 patients in that particular ward. He said that the uptick in non-hospitalised cases points to those that can be treated safely whilst self-isolating at home.
Dr Sebbag wasn't too concerned and said that it was the normal progression of the cycle of a virus. The question remains, he said, whether or how COVID-19 will mutate.
For now, we will have to find ways of learning to live with the virus. Dr Sebbag does not see that herd immunity will become widespread. He estimates that only 6% to 10% of the French are immune.
Lockdown in the north west of England
As of Thursday, June 30, a lockdown is now in place in parts of the north west of England.
Matt Hancock should have announced it via a formal press conference. Instead, he did so via a pooled television interview, leaving it to Boris to do a coronavirus briefing from Downing Street on Friday to further explain the new measures.
Because of this new lockdown and rises in cases elsewhere, the proposed measures for reopening more facilities and close-contact beauty services are on hold for the foreseeable future.
Masks must now be worn in nearly all enclosed public spaces, not only in shops, but also in museums and houses of worship.
Boris also encouraged Britons to enjoy a staycation in the UK rather than abroad.
Brexit
Meanwhile, in Brexit news, the international trade secretary, Liz Truss, announced that she would like to get haggis with meat into the US as part of a trade deal:
Earlier this year, exports of Macsween's vegetarian haggis — branded as Scottish Veggie Crumble — were allowed into the US just in time for Burns Night on January 25. That was the first time in 49 years that any type of Scottish haggis was allowed in America.
And that concludes my roundup of the second half of July 2020.
Roll on August, come what may.
The British government did not request a Brexit negotiation extension in June 2020.
On Friday, June 12, our chief negotiator from No. 10 tweeted:
On June 25, David Frost updated us as follows:
As of July 1, we were on our way out.
Talks continued in London on July 8:
As of the end of June, despite coronavirus, the International Monetary Fund predicts that, post-Brexit, Britain's growth could surpass that of the EU next year:
Guido Fawkes summarises the details (red emphases in the original):
The International Monetary Fund's new growth projection shows a global contraction of 4.9%, with every region of the world simultaneously in recession for the first time in human history. Advanced economies are projected to be hit particularly harshly by this crisis, with double digit contractions for the UK and Euro area this year at -10.2% each. Notably, however, is that in 2021 (after the UK will have left the economic orbit of the EU) the UK is set to fall by as much, then grow back faster than the cumulative Euro area.
Of course the projected 2021 growth will not make up for the 2020 recession. All advanced European countries' economies are set to be smaller at the end of 2021 than they were at the end of 2019.  If we can believe IMF forecasting, individually over 2020 and 2021, Germany's economy will have shrunk by 2.8%, the UK by 4.5%, France by 6.1%, and Italy and Spain both by 7.3%…
On July 1, Parliament voted to end free movement of EU citizens when the transition period ends on December 31. This is the advantage the Conservatives have with their 80-seat majority:
Guido Fawkes points out:
If he wasn't having to deal with a deadly global pandemic, this year would be going pretty well for Boris…
Millions of EU nationals already resident in Britain are eligible for settled status, allowing them to live and work here among family and friends. The scheme opened last year and has already registered 3.3 million individuals.
The Settlement Scheme for EU nationals expires on June 30, 2021:
As for our freedom of movement in Europe, we always had it — even before joining the EU:
Last week's UK-EU negotiations produced a win for clearing houses in the City of London, the capital's financial centre.
On Thursday, July 9, The Telegraph reported, in part (emphases mine):
Brussels did not confirm how long the arrangement will last. It will kick in if the UK and the European Union fail to reach a Brexit deal.
The decision is likely to be seen as a climbdown by EU chiefs, who have long resented Britain's dominance in clearing.
A power grab was launched shortly after the Brexit vote to try and force Continental firms to clear trades through hubs within the bloc, but this stalled when it became clear no other financial centre could handle the volume of activity done in the City.
Clearing houses such as LCH, ICE Clear Europe and LME Clear perform a vital role in greasing the wheels of international finance, standing between buyers and sellers to settle trades and ensure sellers get paid.
Access to London's clearing houses for financial contracts such as swaps and futures is a key issue for European firms because the UK dominates the continent's €735 trillion (£658 trillion) annual market. It was feared they could be denied access to crucial finance and face serious stability risks if frozen out.
In a further boost, Liam Fox, the Conservative MP for North Somerset and former Secretary of State for International Trade under Theresa May, is one of the nominees for becoming the next Director-General of the World Trade Organisation.
Fox is on the right in the photo below. Pictured with him is his former adviser, Adam Werritty:
On July 10, Guido Fawkes reported:
Speaking to a Chatham House event last night, the US Trade Secretary Robert Lighthizer told the audience Fox was "one of the favourites", lavishing praise:
"I'm an admirer of his … I've had many a conversation with him. I've even had the occasional cocktail with him. He's smart, he knows the area, he has a good philosophy."
Last month Lighthizer told lawmakers the US is looking to back "someone who understands the nature of the problem of free economies dealing with China", which may not be too difficult a manifesto for Fox to get on board with, given the UK's shift away from warm relations over Hong Kong, and an impending u-turn on Huawei.
Incidentally, Oliver Dowden MP, Secretary of State for Digital, Culture, Media and Sport, announced the u-turn on Huawei today, Tuesday, July 14.
On Sunday, July 12, Ireland's new Taoiseach (prime minister, pron. 'Tee-sock') Micheál (pron. Mee-hull) Martin was hopeful of a transition deal between his country and Britain:

Home Secretary Priti Patel is working with the French to stop the boat people coming to the south east coast of England every day:
The UK government has launched a new transition period scheme for businesses — Check, Change, Go:
We have a lot to look forward to next year for business, and, in the case of the European Space Agency, research and exploration:
An exciting new era awaits just around the corner.
On Saturday, May 16, 2020, a fractious protest against Britain's coronavirus lockdown in Hyde Park ended with arrests.
Piers Corbyn, brother of former Labour leader Jeremy Corbyn, was one of the speakers:
Corbyn is well known in the UK for his subscription-only weather forecasts. He also believes that changes in the sun are responsible for climate change, not mankind.
He makes a convincing argument for it, too.
It seems he also makes a convincing argument for the rather odd 5G-coronavirus theory, because after he appeared in protest in Glastonbury recently, that town's council voted down 5G. David Kurten is a Brexit Party councillor serving on the Greater London Assembly:
However, although Piers Corbyn supports Brexit — as does his brother, allegedly — he is not a conservative.
This is what he thinks about coronavirus:
A Press Association reporter filmed what happened on Saturday, May 16, near Speaker's Corner:
The police were out in force (pun intended). Isn't there any crime fighting to do?
This was the scene from the centre of operations:
They social distanced by holding on to each other's vests.
Shoulder to shoulder distance was less clear:
The Guardian reported (emphases mine):
The brother of the former Labour leader Jeremy Corbyn was one of 19 protesters arrested on Saturday, as small demonstrations against the coronavirus lockdown took place across the country.
Protesters gathered on green spaces across the UK holding placards describing the lockdown rules as unlawful and claiming that the government measures were suppressing civil rights.
In Hyde Park, London, about 50 people defied social distancing guidelines to gather close together at Speakers' Corner holding placards with slogans including "anti-vax deserves a voice" and "freedom over fear".
Dozens of police officers, including some on horseback, patrolled the protest, issuing 10 on-the-spot fines and making 19 arrests.
Corbyn's brother, Piers, was taken away after using a megaphone to declare that 5G and the coronavirus pandemic were linked and branding the pandemic as a "pack of lies to brainwash you and keep you in order".
He also said "vaccination is not necessary" and that "5G towers will be installed everywhere", adding: "5G enhances anyone who's got illness from Covid, so they work together."
The article gave the reason for Piers Corbyn's and others' arrests:
Corbyn was taken away after declining to leave when asked by a police officer and refusing to give his details when asked.
A flyer advertising the protest called for "no to mandatory vaccines, no to the new normal, and no to the unlawful lockdown" …
Deputy Assistant Commissioner Laurence Taylor said: "With the easing of restrictions we fully expected open spaces to be busy this weekend.
"It was disappointing that a relatively small group in Hyde Park came together to protest the regulations in clear breach of the guidance, putting themselves and others at risk of infection.
"Officers once again took a measured approach and tried to engage the group to disperse.
"They clearly had no intention of doing so, and so it did result in 19 people being arrested, and a further 10 being issued with a fixed-penalty notice."
The protest attracted a mixed social group:
David Samson, 50, a finance worker, who attended the protests told the Press Association news agency: "I never thought I'd see in my generation the suppressing of civil rights [over a] fake virus. This is nothing compared to what's coming."
There was a large round of boos whenever protesters were arrested, and repeated shouts of "jail Bill Gates".
Another demonstrator, 62-year-old Catharine Harvey, said she was defying the rules to highlight the "devastation this lockdown has caused".
The shop owner said: "Developing countries will have no trade, no tourism. I have had to close my shop on Columbia Road flower market. The effects of the lockdown are far, far worse than the virus – mental health, domestic violence, shops are closed, theatres, cinemas, restaurants. It's unnecessary."
Protests also took place on the southern coast of England in Southampton:
A separate protest in Southampton saw about a dozen protesters gather on Southampton Common, holding placards saying "Stop the Lies", "Say no to tyranny" and "Fight 4 Freedom".
One protester, Dee, who did not wish to give her surname, said her job in the hair and beauty industry had been hit by the crisis. She said: "I am here because I am worried about civil liberties being taken away.
"Reading the Coronavirus Act that has gone through parliament, it seems there are changes being made which infringe our freedom. And I am worried the media has run away with the Covid-19 thing and blown it all out of proportion."
And in Belfast, where police monitored:
a crowd of about 20 people who had gathered in Ormeau Park to denounce the lockdown measures. Officers warned participants to socially distance and they complied. The gathering dispersed without incident after an hour.
Another took place in Glasgow:
… on Glasgow Green in Scotland, with estimates of about 40 to 50 people taking part. People at the event reportedly chanted "experts lie – people die", "don't listen to the media, listen to the people", "Nicola Sturgeon is a traitor" and "we are not livestock".
However, Britain was not the only European nation to see protests. They took place in other countries, too:
Demonstrations also took place across Europe. In Germany the death toll from the virus has been lower than most of its European neighbours with some lockdown measures already relaxed.
However, protests against the measures that Chancellor Angela Merkel insists are needed to slow down the outbreak have grown with demonstrations held for a second weekend.
I certainly hope that this is not the 'new normal'.
Personally, I think it is a bit late to protest lockdown. We're coming out of it now.
However, as it has often been said, attributed to Voltaire but probably more accurately to in Evelyn Beatrice Hall (pseud. S. G. Tallentyre) in the biography The Friends of Voltaire (1906):
I disapprove of what you say, but I will defend to the death your right to say it.
By now, surely, with all the freedom of 'lifestyle' we currently have, we can still assemble to speak our minds when necessary?
Perhaps not, in the 'new normal'. Heaven forfend.
On Thursday, May 14, the Slovenian government announced that it was officially lifting its coronavirus lockdown, leaving only hygiene measures in place.
Slovenia is the first European government to go this far:
The nation had been in lockdown since mid-March:
Euractiv reported that persons travelling there from non-EU states will be subject to a 14-day quarantine. Anyone arriving from another nation and showing signs of coronavirus will not be allowed to enter the country. Masks are also required in indoor public spaces (emphases mine):
The Slovenian government late on Thursday (14 May) called an official end to its coronavirus epidemic, becoming the first European country to do so, after authorities confirmed [fewer] than seven new coronavirus cases each day for the past two weeks.
People now arriving in Slovenia from other European Union states will no longer be obliged to go into a quarantine for at least seven days as was the case from early April, the government said in a statement.
The country of 2 million people, which borders Italy, Austria, Hungary and Croatia, has so far reported 1,464 coronavirus cases and 103 deaths. It declared an epidemic on March 12.
"Slovenia has tamed the epidemic over the past two months… Today Slovenia has the best epidemiologic picture in Europe," Prime Minister Janez Jansa told parliament earlier on Thursday.
The end of epidemic means some measures, including financial aid to citizens and firms hit by the coronavirus, will expire at the end of May.
The government said foreign citizens who show signs of coronavirus infection will still not be allowed to enter the country.
A quarantine of at least 14 days will remain in place for people from non-EU states, except for some exemptions including diplomats and people transporting cargo.
Citizens will still have to follow basic rules to prevent a possible spread of infection, the government said without elaborating.
People have been required to wear masks in indoor public spaces, stand at least 1.5 metres (5 feet) apart and disinfect hands upon entering public spaces …
Slovenia began relaxing lockdown on April 20 and continued a gradual reopening until the end of last week.
This week, everything will be open, including bars and restaurants.
It's perhaps premature to speak of holidays, but:
Sounds great.
I wish the nation, which is Melania Trump's birthplace, every success in beating coronavirus and tedious lockdown, not to mention all the 'experts' who advocated trashing our economies worldwide:
Good luck, Slovenia!
A week is a long time in politics, as the saying goes.
Much happened during the past five days, beginning with the Queen's Speech and culminating with Boris's new Brexit deal.
Promises made — and kept
But, first, delivering a new Brexit deal was what Prime Minister Boris Johnson pledged on Tuesday, September 10, 2019. Please watch the first six minutes:
This week, he delivered on that pledge.
Queen's Speech
From the end of September to last weekend, the anti-Boris brigade wondered whether the Queen's Speech would go ahead on Monday, October 14:
Much to Remainers' dismay, it did indeed take place:
With regard to the Queen not wearing the Imperial Crown, this is why:
You can read the full text of proposed legislation for the next (now current) session of Parliament — including supporting facts — here. Preserving the Union and getting Brexit done are the top two priorities. Proposed legislation for this session involves the NHS, the environment, policing and the railways, among other issues. The BBC has a good summary.
It should be noted that the government — political party — in power writes the speech for the monarch.
Advance copies are issued, but they have to remain under embargo until afterwards. Therefore, media pundits pretend they do not know what the Queen is going to say as they have to create a news story for the folks at home:
On the day, Black Rod goes to the House of Commons to summon MPs to the House of Lords for the speech:
MPs are summoned by a House of Lords official, known as Black Rod. Before entering the Commons, Black Rod has the doors shut in their face, symbolising the chamber's independence from the monarchy.
During the speech, the Queen sets out the laws the government wants Parliament to approve. By convention, it is announced by the monarch in the presence of MPs, peers and other dignitaries in the House of Lords.
Afterwards, the House of Commons then needs to vote on whether to accept the contents of the speech. MPs normally spend five days debating whether to approve it. It is thought that they will vote on Monday or Tuesday next week.
I watched this week's tiresome 'debates', which were dominated by opposition MPs' petty speeches. One railed on about the cost of school uniforms and said that a proposed subsidy should have been included in the speech. For that reason, she does not want to approve it.
Five days of 'debate' over a 1,073-word speech that took around ten minutes to deliver. The mind boggles.
Brexit negotiations
Last week, Boris spent time in meetings with Ireland's Taoiseach — Prime Minister — Leo Varadkar:
Many MPs, including some Remainers, were optimistic.
The Democratic Unionist Party (DUP), with whom the Conservatives have had a confidence and supply agreement since the 2017 election, because of Theresa May's decreased majority, were cautiously optimistic:
Brexit Secretary Steve Barclay met with our EU negotiator Michel Barnier last Friday:
On Monday, the day of the Queen's Speech, Barclay's optimism continued:
Intensive rounds of meetings ensued this week:
Barclay returned to London on Wednesday to provide an update:
Then, it was back to the Continent for more meetings that lasted into the morning of Thursday, October 17.
At 9 a.m. (BST), there was finally a Brexit breakthrough, after Boris spoke to Cabinet members about it:
It was made public just after 10:30:
Jean-Claude Juncker said there was no need now for 'prolongation':
Boris was allowed to address EU leaders before they began their summit:
He also gave a joint press conference with Juncker:
I watched the news last night (a rare occurrence, but this was a historic moment). All the film clips showed the EU leaders greeting Boris as if he were a hero — hugs, hearty handshakes, the lot. See the 6:49 mark in the following video:
EU leaders approved the deal after he left:
A 'Tournedos Rossini of a deal'
When Parliament's session began yesterday morning, Leader of the House Jacob Rees-Mogg gave an enthusiastic speech about Boris's deal, calling it a 'Tournedos Rossini of a deal':
He also said (emphasis mine):
It takes out the undemocratic backstop, delivers on what the Prime Minister promised he would do. In 85 days achieved something that could not be achieved in three years.
Every single member who stood on a manifesto saying that they would respect the will of the people in the referendum can support this with confidence.
I believe him.
Unfortunately, the DUP will not be voting for it on Saturday, unless, by the time you read this, something or someone has changed their minds:
To compound the situation, hardcore anti-Boris and anti-Brexit Remainers have tricks up their sleeves.
Saturday's session in the Commons will not be easy. I suspect that this week's EU negotiations will appear like a walk in the park by comparison.
More next week.
Interestingly, whilst the Conservatives were at their annual party conference, the opposition benches were largely empty.
Strange. Last week, they voted against proroguing Parliament from Monday through Wednesday because they had serious work to get on with.
Or so they said.
As it turned out, only a handful of the diligent, hardworking opposition MPs showed up on those days.
On Tuesday, October 1, a Brexit-related session headed by George Eustice, the minister for DEFRA (Department for Environment, Food and Rural Affairs) covered the draft Common Agricultural Policy from July 24 which would be used for Brexit. The end of the debate is here. It's a pity that only the opposition agricultural ministers and a couple of other MPs attended:
On Wednesday, October 2, Foreign Minister Dominic Raab headed PMQs — Prime Minister's Questions — as Prime Minister Boris Johnson gave his rousing speech in Manchester to the party faithful.
That morning, the Labour Whips issued a directive to their MPs not to ask Urgent Questions that day:
It was even worse when the afternoon's proceedings began.
Recall — as if we could forget — that the opposition claim to be the champions of the vulnerable, especially women.
So, it was particularly galling to see that very few of them turned up for the second reading of the Domestic Abuse Bill:
Only a few Liberal Democrat MPs attended that afternoon. Labour produced more, but could have done much better.
Good grief.
Apparently, this bill and some others have been carried over post-Queen's Speech on October 14:
Therefore, if this is true, the opposition knew full well that they could have easily prorogued for three days during the Conservative Party Conference but chose not to out of sheer spite. Ditto the Supreme Court when they cancelled Boris's prorogation.
The main and most moving speech of the debate was that of Labour MP Rosie Duffield. Her testimony of a recent relationship is well worth sharing with your daughters or nieces.
Women cannot be too careful when getting involved in a long-term relationship. If this can happen to an MP, it can happen to anyone. Please watch:
This bill is Theresa May's. She brought it forward as a backbencher, therefore, before she became Prime Minister in 2016. How slowly the wheels of legislation turn.
Theresa May also gave an impassioned speech for the bill near the end.
Debate continues after October 14.
Attendance improved when Boris appeared on Thursday, October 3, to discuss a new proposal for Brussels, sent to Jean-Claude Juncker the day before:
Note the final paragraph about the Northern Ireland backstop on the first page: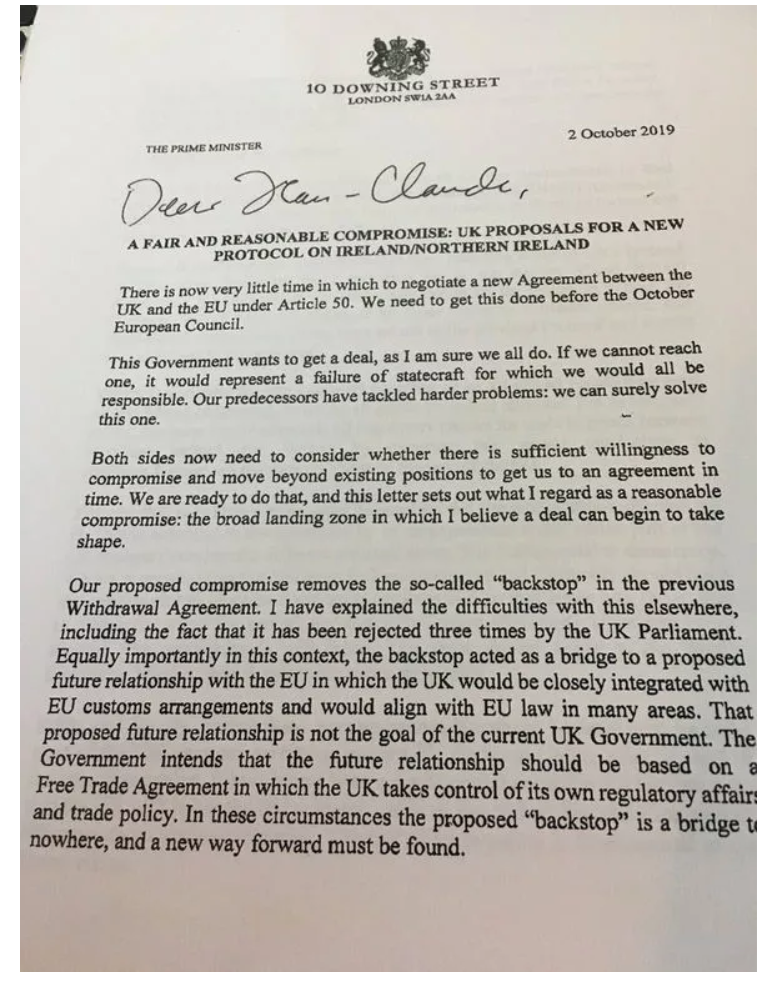 This is the European Commission's announcement about the letter (click on the image to enlarge text):
Many MPs who offered comments following Boris's address commented positively. Even most Remainers accepted the proposal, albeit with a request for more details, which will be forthcoming. Only two or three diehard Remainers spoke out against it.
Several MPs hoped that the EU commissioners were watching the positive reaction.
Guido Fawkes has more, including this video of Boris's speech:
Guido gives us the transcript of Boris's five elements concerning the abolition of the proposed backstop, the crux of the leaving date delay thus far (italics in the original):
In the first place all our actions are based on our shared determination to sustain the Belfast (Good Friday) Agreement, the fundamental basis of governance in Northern Ireland the protection of which is the highest priority of all.

And from this follows the second principle – namely that we shall of course uphold all the longstanding areas of co-operation between the UK and our friends in Ireland including the rights of all those living in Northern Ireland, North/South co-operation and the Common Travel Area, which predates both the Good Friday Agreement and the European Union itself.

Third, we propose the potential creation of a regulatory zone on the island of Ireland covering all goods, including agri-food. For as long as it exists, this zone would eliminate all regulatory checks for trade in goods between Ireland and Northern Ireland.

But fourth, unlike the so-called backstop, such a regulatory zone would be sustained with the consent of the people of Northern Ireland, as expressed through the Assembly and Executive. They will give their consent during the transition period as a condition for these arrangements entering into force. Thereafter, the Assembly will vote again every four years – and if consent were withheld, these arrangements would then lapse after one year.

Fifth, it has always been a point of principle for this government that at the end of the transition period, the UK should leave the EU Customs Union whole and entire restoring sovereign control over our trade policy and opening the way for free trade deals with all our friends around the world.
In short: no hard border between the Republic and Northern Ireland. Instead, there would be a regulatory zone covering all goods, including foodstuffs. Northern Ireland's Assembly and Executive would vote on the arrangements in the near future and every four years after that. (I do not know how that will work if Stormont is not sitting, but, no doubt, the government can find a way.)
I'm guardedly hopeful that Boris is onto something positive with this. It won't please Brexit Party members, but we were never going to get an absolute No Deal. I'm hoping that David Davis's Canada ++ arrangement can be revived. Theresa May insisted that his plans be superseded by her Withdrawal Agreement in July 2018, no ifs, ands or buts. Davis resigned as Secretary of State for Exiting the European Union on July 8 that year. It was all downhill from there.
Davis has not tweeted his reaction, but another staunch Leave MP, John Redwood, offered his thoughts on Boris's proposal:
Unfortunately, the Twitter replies to that were very angry, indeed.
It is essential to keep in mind that trade and other agreements will be in transition once we leave the EU.
It's not as if everything will change dramatically on November 1 (God willing) or whenever we leave.
The transition period is likely to last anywhere from two to four years, depending on negotiations.
As for prescription drug shortages, some of which are occurring now in the UK and being blamed on Brexit: several EU countries have been experiencing similar shortages of essential medication for several months now. France and the Netherlands are among those nations. We cannot blame Brexit for that.
British journalist and television presenter Piers Morgan recently gave an interview to Ben Shapiro about the Left.
He says:
The Left have become unbearable.
This video, which is subtitled and runs just under two minutes and thirty seconds, is excellent. I am not necessarily a Piers Morgan fan but agree with everything he says here:
Being in media, he begins with comedians hosting awards shows. Because people cannot make — and take — jokes anymore, said shows lack hosts or are being cancelled.
Even it that is no big deal, Morgan takes the totalitarian measures of the Left further, calling them a type of 'fascism' (his word). He says that if you do not live your life in the way leftists dictate, they go after you in a number of ways, from personal abuse to making sure you lose your job.
Consequently, he says, ordinary people are rebelling by electing populist — he says 'popularist', possibly purposely — politicians who are willing to confront the Left. He cites President Trump and says this is happening in Europe, too. (Incidentally, Hungary's Viktor Orban became prime minister long before Trump was elected. Orban assumed office in 2010, six years before the American president was elected. That said, western Europe has seen a continuing drift towards conservative and populist political parties.)
Here's the interview in full:
In conclusion, it would be good if Piers Morgan and millions of other people would stop using the word 'liberal' to describe leftists. Liberal refers to classical liberalism: free markets and small government.
Let's call these people what they are: leftists — the most illiberal of people.
Prime Minister Theresa May went to Brussels on Wednesday, April 10, 2019.
Another trip to Brussels for her, another Brexit extension for us. This one is called a 'flextension'. It expires on Halloween. You couldn't make it up:
There will be a progress check on June 30, but that is likely to be a mere formality:
It would be nice if this actually were the final deadline, unlike others, such as March 29 and April 12 …
… but the Brexit timetable continues to roll on and on and on:
Sadly, No Deal preparations have now stopped:
Emmanuel Macron and his EU team tried their best to block an extension, but the EU project is much bigger than Macron:
His scheduled press conference did not take place late Wednesday. Someone higher up in the EU is displeased with him:
Meanwhile, talks with Labour have not been going well. No surprise there:
The flextension is unhelpful for the UK:
That said, MPs will be happy …
… just like schoolchildren:
More Brexit news will appear as and when.