You are currently browsing the tag archive for the 'fake news' tag.
The New York Times is appealing to Americans to help them cover the 2018 mid-term elections:
Hmm.
In 2017, James O'Keefe's Project Veritas revealed a rich seam of anti-Trump and anti-Republican bias at the New York Times:
New Project Veritas video exposes New York Times (October 10)
Project Veritas 'American Pravda' series: second video (October 11)
American Pravda Part III — more from the New York Times (October 17)
American Pravda Part IV — Trump Derangement Syndrome at the New York Times (October 19)
Does anyone think that the New York Times intends to cover the mid-terms with integrity?
Those who are not convinced by the Project Veritas undercover videos might wish to read an article by Eric Zuesse for the Strategic Culture Foundation, 'How the New York Times Lies About Lies: Obama v. Trump as Example'.
Eric Zuesse documents various events of the Obama administration and how the New York Times reported them dishonestly. His article begins with this (emphases mine):
Although the New York Times says that President Donald Trump lies vastly more than did President Barack Obama, the definite liar in that comparison — based on the factual record, to be presented here — is the New York Times itself. It lies in alleging this, which isn't to say that either President lies more frequently than the other, but instead, that the Times's calculation fails to count, at all, but instead altogether ignores, some of President Obama's very worst lies — ones that were real whoppers. These were lies that were essential to his maintaining support among Democrats (such as the owners of this corporation, the NYT, are), and that would keep Democrats' support only if they failed to judge him by his actual decisions and actions (such as the NYT's owners do — or else they secretly know the truth on this, but prevent this truth from being published by their employees). Even to the present day, Obama is evaluated by Democrats on the basis of his lies instead of on the basis of his actions. He's admired for his stated intentions and promises, which were often the opposite of what his consistent actual decisions and actions turned out to be on those very same matters, on which he had, in retrospect, quite clearly lied (though that was covered-up at the time — and still is). 
Zuesse carefully details Obama's biggest lies, which the newspaper ignored. He concludes (emphasis in the original, purple highlights mine):
None of these whoppers was included in the listing that the NYT presented in their 14 December 2017 article "Trump's Lies vs. Obama's".
I am nonpartisan toward persons and toward political parties, and consider all of America's Presidents since 1981 (if not since 1968, but with the exception of Carter) to be and have been loathsome people (not even well-intentioned), but 'news'media such as the New York Times aren't any more trustworthy (nor more honest) than these Presidents have been, and the pontifications from such 'news'media (in both their 'news'-reporting and opinion-pieces) are just propaganda, mixtures of truths with lies — and more and more of the public are coming to recognize this disgusting fact, so these media's pretenses to honesty and trustworthiness are having fewer and fewer believers. But these media claim that fake 'news' comes only from their non-mainstream competitors (some of which are actually far more honest than they). Preserving their cartel is crucial to them. And it's crucial to the people who benefit from this cartel.
I mention this, because, recently, I got into a lively discussion with several people at an event about honest reporting about President Trump. To a man — and all have some of the best private school and university educations in the world — they not only read but believe whatever they read in the New York Times and other similar media outlets. They are not Americans, but they are firmly against the Republican Party and Donald Trump based on established media's lies.
When I mentioned that they might want to peruse a site such as The Daily Caller to get another perspective, they sneered, calling it 'fake news'. They've never even heard of, much less read, The Daily Caller.
This is a very sad state of affairs — great for the New York Times and parlous for those of us seeking objective reporting.
Yesterday's post discussed developments that immediately followed the US-North Korea Singapore Summit held on Monday, June 12, 2018.
Much went on with Secretary of State Mike Pompeo's trip to South-east Asia and the US-Chinese trade war early in July.
Keep in mind this explanatory graphic about the relationship between North Korea and China from The Conservative Treehouse:
On July 7, the US state department's impression of the two nations' talks was different to that of North Korea, according to an unnamed North Korean official who called them 'regrettable'. Townhall reported:
Just hours after Secretary of State Mike Pompeo said that his talks during the past two days with the North Korean government were "productive" and beneficial regarding "central issues," the communist nation's Foreign Ministry categorically disagreed, calling the meetings in Pyongyang "regrettable."
The Associated Press reports that an "unnamed North Korean Foreign Ministry spokesman" claims that the United States "betrayed the spirit of last month's summit between President Donald Trump and North Korean leader Kim Jong Un by making unilateral demands" regarding denuclearization of the Korean peninsula. 
The North Koreans issued a lengthy official statement along those lines, which ended with this:
If the objective situation does not stand in favor of the denuclearization against our wills, this would rather cast a heavy cloud over the atmosphere of developing bilateral relations which had shown its good movement in its beginning.
Should the headwind begin to blow, it would cause a great disappointment not only to the international society aspiring after global peace and security but also to both the DPRK and the U.S. If so, this will finally make each side seek for another choice and there is no guarantee that this will not result into yet another tragedy.
We still cherish our good faith in President Trump.
The U.S. should make a serious consideration of whether the toleration of the headwind against the wills of the two top leaders would meet the aspirations and expectations of the world people as well as the interests of its country.
The Conservative Treehouse pointed out (emphases mine):
Keep in mind that Secretary Pompeo was not permitted to meet with Kim Jong-un.  If our ongoing thesis is accurate it is likely Red Dragon (Chairman Xi) is positioning the DPRK for maximum trade and economic leverage.  It would be against Chinese Chairman Xi Jinping's interests for Pompeo and Kim Jong-un to have a public display of agreement.
Until there is an empirical or factual reason to counter what seems like an obvious geopolitical strategy, we should consider all events through the prism that the primary leadership within the DPRK, the officials controlling Kim, are under the control of China.
The trade confrontation is China's biggest geopolitical risk.  The primary weapon China holds toward demanding terms from the U.S. would be their ability to change the dynamic in North Korea at any given moment.  From this frame-of-reference things begin to make more sense.
On the surface it appears the U.S. is negotiating terms for a denuclearized North Korea; however, under the surface the bigger issue is the ongoing economic confrontation between the U.S. and China.   The DPRK is Red Dragon leverage.
That day, Mike Pompeo had left North Korea for Japan:
He also met with foreign ministers Kong and Kang, from China and South Korea, respectively:
The US-China trade war also attracted attention.
US tariffs on Chinese goods went into effect on July 6. To mask what was really going on in their economy, the Chinese maintained that Americans did not support this policy:
In fact, the truth is that most Americans want tariffs on foreign goods:
The Rasmussen survey of March 12 says:
… 89% of American Adults believe it is at least somewhat important for the United States to have a major manufacturing and industrial base, including 63% who believe it is Very Important. Only eight percent (8%) say it is not very or Not At All Important to keep a manufacturing base at home. (To see survey question wording, click here.)
On July 6, White House Office of Trade and Manufacturing Policy Director Peter Navarro appeared on Fox Business to explain the American view of trade with regard to China. As The Conservative Treehouse explained:
Almost all of the financial media and economic punditry are intentionally obfuscating the underlying nature of China's economic model.
China is a communist central government controlled economic system. Free-market principles do not apply when dealing with China; therefore trade strategies based on 'free markets' cannot succeed against the centralized planning of a communist regime.
Charlie Kirk, founder and president of Turning Point USA, active on university campuses, put it bluntly:
On July 8, Mike Pompeo met with Taro Kono, Minister for Foreign Affairs of Japan and Kang Kyung-wha, Minister of Foreign Affairs of the Republic of Korea in Tokyo. The full State Department transcript of their press conference is here. Interestingly, some of the media correspondents there asked about the 'abductions' by the North Koreans of the Japanese (emphases in the original, video here):
FOREIGN MINISTER KONO: (Via interpreter) …
Now on the question of abduction, from Secretary Pompeo this time around the issue was raised, and I'd like to thank him for raising the issue at the meeting. Regarding the reaction from North Korea, I will refrain from making any comment.
As far as Japan is concerned, the U.S. and North Korean negotiations should advance furthermore, and we'd like to work in tandem with the international community so that Security Council resolution-based sanction can be solidly implemented regarding North Korea.
FOREIGN MINISTER KANG: … On the abduction issue, yes, my president has also raised this in two rounds of discussions with Chairman Kim, and we urge them to engage in bilateral discussions with Japan on this issue. After all, it's a bilateral issue. We also have a couple of our nationals detained in North Korea, so it's an issue that concerns us as well. 
SECRETARY POMPEO: … I did raise the issue of the abduction of Japanese. I've done it at each conversation I've had with my North Korean counterparts, whether it was on my first two trips with Chairman Kim or on this trip with Kim Yong-chul. I've raised it repeatedly. I won't go into any of the details about particular parts of that element of our discussion. Know that it is important to the United States; it's part of our discussions each and every time we interact with our North Korean counterparts. 
Pompeo and US officials also met privately with Kono and his delegation:
On July 9, the South China Morning Post reported that China responded to the imposition of tariffs by the United States with tariffs on American goods going into the country. The main thrust of the article, however, was that the Chinese government thought it would be a good idea to go easy on Trump (emphases mine):
After answering Washington's 25 per cent levy on US$34 billion of Chinese goods with equivalent tariffs on US products, Beijing has directed state media to watch how they report on US President Donald Trump, mainland media sources said.
"It's been said that we should not use aggressive language for Trump," said one of two sources who declined to be named because internal directions often are regarded as confidential information.
Even though Chinese officials and state media have attacked the trade policies of the Trump administration, so far they have not laid blame on the US president or his officials – a move seen as an attempt to avoid antagonising Trump and further complicating negotiations.
While the Beijing directive may not have been issued across the board – two other state media sources said they were not instructed how to write about Trump with regards to trade – it mirrored one of the guidelines on an official propaganda instruction widely circulated on social media.
The edict called on media outlets not to make vulgar attacks on Trump to avoid "making this a war of insults".
Breitbart had more. One way the Chinese are able to criticise Trump is by quoting Westerners:
Reuters' sources also said they were "instructed not to mention the impact of the trade war on Chinese companies" because they don't want to give the impression pressure against China might be working …
"China might need to restrict the market access of American companies. But to purge American companies that are already operating in China might be a very bad idea. Those companies generate jobs and revenue for China. Most Apple products are made in China. To do something to harm American firms that are already operating in China would be very stupid," ventured trade expert Wang Jiangyu of the National University of Singapore.
The Communist Party People's Daily provided an interesting example of the tightrope walked by Chinese media on Wednesday, publishing an article that attacked Trump for accusing China of sabotaging talks with North Korea but using a few Westerners plucked from Twitter at random to do it, rather than editorializing against Trump directly or quoting Chinese social media users.
That day, the tension surrounding Pompeo's meetings with North Korea was still in play. Trump tweeted:
CNBC reported that, after leaving south-east Asia, Pompeo made an unscheduled trip to Kabul, Afghanistan, where he told the media:
"We still have a long ways to go. But that commitment that the North Koreans made, frankly that Chairman Kim personally made to President Trump, remains as when reinforced," he said.
Pompeo also stressed that North Korea's remarks were "mixed," and represented an expression of Kim's continuing "desire to complete the denuclearization to which he is so committed."
Meanwhile, the North Koreans were still committed to strengthening ties with their fellow travellers:
On July 12, Trump received a gracious letter from Kim Jong Un …
… which Big Media ignored:
On July 15, the US and North Korea held meetings to discuss the return of American soldiers' remains, the first since 2009:
Korean media reported:
The North Koreans agreed to transfer the remains already in their possession to the United States on:
July 27, which is the 65th anniv of the Armistice Agreement …
This was another result:
The Premium Times said that the head of the North Korean government occasionally grants amnesty. The last time was in 2015. This year's is part of marking North Korea's 70th anniversary:
The Communist Leadership in Pyongyang would grant amnesty to those convicted of crimes against the state in light of North Korea's 70th anniversary, the state-run KCNA reported on Monday …
Similar to other instances in which amnesty has been granted, it remained unclear exactly which groups the announcement applied to and how many prisoners would be affected.
The following day, the Trump – Putin Helsinki Summit of July 16 included discussions about North Korea and China.
Two days later:
Trump tweeted:
He enjoys solving problems:
His 2020 campaign manager made an excellent point:
Tomorrow's post will cover the most recent developments between the United States, North Korea and China.
I've said it before, and I'll say it again: the Mockingbird sings at 4 a.m.
On July 2, the top story was Trump's former lawyer Michael Cohen. The graphic below comes from Q's message 1670, dated July 3. Note the time stamps therein (emphasis in the original):
[4am]
What will tomorrow be?
Coordinated.
What happened to Stormy?
Fake news!
Q
Some of you might remember the following paragraph from this post of May 17:
It has been reported that an unnamed law enforcement official has leaked Michael Cohen's — President Trump's former personal lawyer's — bank records which ended up in the hands of Stormy Daniels's lawyer. And there is now a question over the banking records of two other Michael Cohens inadvertently mixed up in this hot mess. Surely, the Mueller team could have requested Trump's attorney's records through the relevant New York State authorities rather than sending in the FBI to raid his home, office and hotel room.
The tweet below is about Cohen's interview to ABC's Good Morning America (GMA), mentioned in the headlines above.
Notice how George Stephanopoulos — ex-Clinton administration adviser and current ABC journalist — was sitting an inch or two above Cohen:
I hope this interview bodes well for Cohen in the weeks ahead, but knowing the interviewer's past form, I wonder.
By the way, if any of you missed yesterday's post featuring the late Udo Ulfkotte, please do read it. It discusses the close ties between journalists and intelligence agencies around the world.
Udo Ulfkotte was a German journalist who died of a heart attack in 2017 at the age of 56.
Strangely enough, he never studied journalism, but rather jurisprudence and politics.
He had a distinguished career, which included being assistant editor of Frankfurter Allgemeine Zeitung for several years; he left the paper in 2003. Between 1986 and 1998, he lived in several Middle Eastern countries. He also wrote several investigative books during his lifetime.
One of his books that is nearly impossible to buy is Gekaufte Journalisten ('Bought Journalists'), which appeared in English as Journalists for Hire: How the CIA Buys the News. It sells for a whopping $900 on Amazon.com.
Image credit: Amazon.com
It's worth reading the comments on the aforementioned English language Amazon page for the various comments. In effect, the book is being censored. Here is a good representative comment, where the reviewer gave the book five stars (emphases mine below):
No, I haven't read the book, because it is priced completely out of my reach. I am giving it five stars anyway because of what I've read *about* it, as I've followed its author's saga — the blackout by German media of the original German edition Gekaufte Journalisten (Bought Journalists) for a couple of years now, raids by German police on the author's house, his noting how he feared for his life, and his finally being found dead on January 13 of this year "from a heart attack" (he was only 56, and because it is possible to kill someone in ways that look like a heart attack, some people believe he was murdered).
The fate of a whistleblower against one of the world's most powerful organizations in a controlled society being passed off as a democracy?
Two things are abundantly clear: (1) The English translation of this book has been "privished." There are a couple of good recent discussions of what it means to "privish" a book, but Amazon will not allow me to link to them. So let's just say: the purpose of "privishing" is make a book with an unwanted message disappear without a trace by limiting information about it, destroying its marketability by printing too few copies, and refusing reprint rights, so that the copies available are too expensive for readers of ordinary means (which is nearly all of us). (2) Anyone who claims there are no conspiracies, that there are no behind-the-scenes efforts by powerful people to suppress information that would expose their efforts at global domination, is full of crap.
Privishing = private + publishing.
Until I read that review, I thought the word had positive connotations, as in a publishing house saving a title and making it more affordable and better-known.
I could not have been more mistaken.
Privishing is meant to kill off a title.
On January 8, 2018, Off Guardian published a good post on the book and the implications of privishing; James Tracy's 'English Translation of Udo Ulfkotte's "Bought Journalists" Suppressed?' is a must read. A summary with excerpts follows.
A US-Canadian publishing house, Tayen Lane, released the title through their imprint Next Revelation Press in May 2017. Ulfkotte had died earlier, in January. However, in 2015, when James Tracy enquired as to whether there would be an English release, Ulfkotte responded:
Please find the link to the English edition here http://www.tayenlane.com/bought-journalists
The page, at that time, gave an expected publication date.
Today, the page no longer exists.
Tracy explains:
When a book publisher determines that it has acquired a politically volatile or otherwise "troublesome" title it may embark on a process recognized in the industry as "privishing." "Privishing is a portmanteau meaning to privately publish, as opposed to true publishing that is open to the public," writes investigative journalist Gerald Colby.
Also:
Privishing often takes place without the author knowing, simply because it involves breach of contract and potential liability.
Tayen Lane will likely not face any legal challenge in this instance, however. Ulfkotte died of a heart attack on January 13, 2017, at age 56.[4]
Tracy provided an update to his article to say — see the tweet below — that someone had ordered a copy of the book, only to receive a cancellation:
Tracy included a 2014 video of Ultkotte saying that he had to work with intelligence agencies at the risk of losing his job. Ultimately, intelligence agencies gave him articles to publish under his own name:
Tracy gives us more about the content of the video:
The German journalist explains how he was recruited during the 1980s to work in espionage. This began through an invitation proffered by his graduate school advisor for an all-expense-paid trip to attend a two-week seminar on the Cold War conflict in Bonn.
After Ulfkotte obtained his doctorate he was given a job as a reporter at "the leading conservative German newspaper, the Frankfurter Allgemeine Zeitung, oddly appointed despite no journalistic training and hundreds of other applicants.
Serving as a correspondent throughout the Middle East, Ulfkotte eventually became acquainted with agents from the CIA, German intelligence agency Bundesnachrichtendienst (BND), Britain's MI6, and Israel's Mossad, all of whom valued his ability to travel freely in countries largely closed to the West.
His editors readily collaborated in such intelligence gathering operations,"[5] for which journalist possess "non-official cover" by virtue of their profession.
"Non-official cover" occurs when a journalist is essentially working for the CIA, but it's not in an official capacity," Ulfkotte explains.
Tracy includes one of Ulfkotte's last tweets prior to his death:
Tracy says that intelligence agencies' ties to media outlets accounts for a) the CIA's antipathy towards WikiLeaks (which could no doubt make all this public) and b) the media's insistence on pushing the Trump-Russian collusion narrative.
An American Free Press article from October 2014 — the same year the RT video above was made — has more on Ulfkotte's book and how he came to be part of the intelligence agency network. Ronald L Ray's 'Reporter Admits Most Media Work for CIA, MI6, Mossad' is also a must read.
While most of us would say 'no' to becoming part of an intelligence network, this is how Ulfkotte described his recruitment:
Prior to a particular semester break, when he hoped to visit Italy and meet young women, a professor asked if he would like to attend a two-week seminar in Bonn on the East-West conflict. This was during the Cold War in a divided Germany. Ulfkotte was not at all interested, but university professors in Germany were (and are) highly respected. It was difficult to refuse.
He was promised that his travel would be paid for, as well as lodging and meals, and he would receive spending money into the bargain. For a young man from poor economic circumstances, this was too much. Relates Ulfkotte, "I suddenly felt this deep feeling inside me that I had 'always' wanted to go" to such a seminar. Such "innocent" beginnings were the first bribes, which would draw him ever deeper into a widespread network of corruption and spying, where no one considered such behavior immoral, but rather "accepted practice."
No one said, "I'm from the CIA," or from the Bundesnachrichtendienst (BND)—the German intelligence service. But the seminar leaders sorted out "who was communist and who was pro-Western" among the young attendees. After further similar events, someone asked Ulfkotte if he would work for the BND—the last thing on his mind. But again, a professor—his doctoral advisor—pressured him to "think about it." And once more, a poor boy found a free automobile and a good salary very attractive.
Ronald L Ray relates that Ulfkotte's journalistic career as a war correspondent was a good one in these terms:
Eventually, he did indeed meet agents of the Central Intelligence Agency (CIA), BND, Britain's Secret Intelligence Service, commonly known as MI6 (Military Intelligence, Section 6), and Israel's Mossad, who valued his ability to travel freely in countries largely closed to the West. His editors were knowing accomplices.
What follows is how Ray, using Ulfkotte's experiences, describes the system working.
This is far worse than I had imagined.
There are the 'unofficial covers' — people who work with an intelligence agency but are not on their payroll as actual agents:
It is a broad, loose network of "friends," doing one another favors. Many are lead journalists from numerous countries. This informality provides plausible deniability for both sides, but it means an "unofficial cover," as Ulfkotte became, is on his own if captured.
Those involved leave their various connections and affiliations unknown. Ray says that Ulfkotte once accompanied then Chancellor Helmut Kohl to Jordan. There, he attended a function at which the president of Israel was also present. Ulfkotte began shaking the hands of journalists and officials he knew. All of them had intelligence agency ties:
He was ordered sharply back to his place. Otherwise, "everyone would know" who the other intelligence assets were. It must have been an appreciable percentage, because Ulfkotte then realized they were "all in the same boat."
Ulfkotte's 'friends' often asked for special favours, e.g. soil samples from various trips or a description of political opinions of leaders in certain countries.
But there was more — an ongoing bribery system of lavish favours — which he received when an intelligence agency or powerful institution approached him with an article to put under his own byline:
Large sums of money, gifts, public recognition and significant career advancement go to those journalists who provide useful information on people they meet or know, or on places to which they travel. Many times, the reporter, like Ulfkotte, need only put his name on an article written for him by some spy agency or financial institution. Money and gifts change hands; doors open to elitist groups, like the Trilateral Commission, Atlantik-Brücke, the Aspen Institute and the German Marshall Fund of the United States. Those who do not cooperate are fired.
Ulfkotte also believed that the CIA created Germany's BND:
Because Iran has no U.S. embassy, he would enter the Turkish embassy and follow a then-secret, underground escape tunnel into the German embassy, where he would turn over his reports for the CIA or BND. In a recent RT interview, Ulfkotte noted that the BND was created by the CIA. To him, it is a symbol of Germany's status as a "banana republic," a "colony of the U.S."
In closing, here is a direct quote from Ulfkotte that Ray included in his article (emphasis in the original):
"I've been a journalist for about 25 years, and I've been educated to lie, to betray—and not to tell the truth to the public. . . . The German and American media [is trying] to bring war to the people in Europe, to bring war to Russia. This is a point of no return, and I am going to stand up and say it is not right what I have done in the past, to manipulate people, to make propaganda against Russia, and it is not right what my colleagues do, and have done in the past, because they are bribed to betray the people not only in Germany, but all over Europe. . . . I am very fearful of a new war in Europe, and I don't [want to see] this situation again. There are always people who push for war, and this is not only politicians, it is journalists too. We have betrayed our readers. . . . I'm fed up with this propaganda. We live in a banana republic [Germany], and not in a democratic country where we have press freedom."  — Udo Ulfkotte
Reading that quote from 2014 and thinking about President Trump's attempts at negotiating world peace, one can better understand exactly why the media — not to mention the Left and their paymasters — want Trump de-legitimised and, ultimately, suppressed.
May the Hand of God continue to protect the American president, his staff and his family.
Further reading:
'THE WORLD – upside down' – Udo Ulfkotte article about his experience in the Middle East (2006)
'Leading German Journalist: CIA Media Pushing for World War' – Infowars (2014)
There is only time for a short post today.
Late last year, President Donald Trump explained why he tweets:
Something must be done about the Fake News Media.
It is regrettable that so many of us trust these notional news outlets.
At least Trump keeps us apprised of what is going on. That said, only 50% of CPAC Republicans polled in late February agree:
Trump's tweets convey more information than traditional presidential fireside chats. Well done! Keep 'em coming!
On Wednesday, January 17, 2017, President Donald Trump announced his first ever Fake News Awards.
He did not announce them by voice, but RSBN did a great job going through every item:
On Monday, January 15, Politico quoted 'experts' — including Republicans — who said that Fake News Awards could violate White House and ethics rules.
That's rich. Big Media are violating ethics rules every day by reporting falsehoods lies.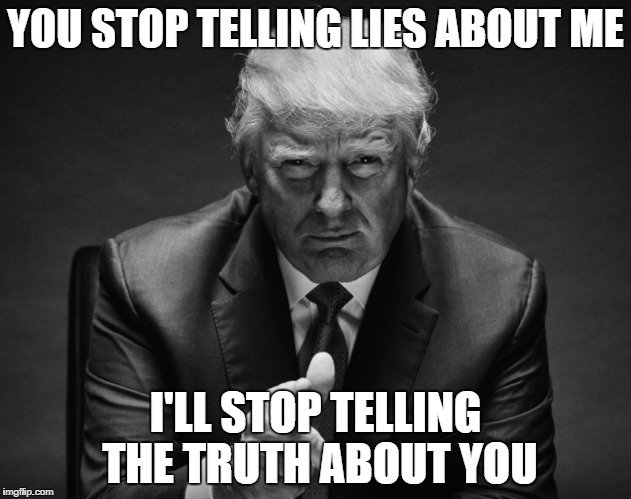 The president's tweet appeared later than scheduled. The Washington Post was quick to pounce before …
… and after …
But, once again, Fakey winner WaPo was wrong.
The GOP (Republican Party) page crashed from all the traffic:
This generated a greater American buzz than big-ticket award ceremonies:
Gateway Pundit reported (emphases mine):
Internet giants Google, Twitter and AOL publish the most popular trending subjects. And Wednesday night the most popular subject on all three sites was Trump's Fake News Awards.
Even the trendy celeb news site TMZ covered it:
President Donald Trump came through on presenting "The Fakies" … his 2017 Fake News Awards. He teased it up as "The Most Dishonest and Corrupt Media Awards of the Year" … and here are the HUGE winners (losers?) in his words. No shocker, CNN took the most trophies. 
The tweet below has a screenshot of the winners, as posted on Legal Insurrection:
The GOP rightly introduced the results — including sources — with this:
2017 was a year of unrelenting bias, unfair news coverage, and even downright fake news. Studies have shown that over 90% of the media's coverage of President Trump is negative.
That is true.
Paul Krugman discredited
How wrong could Paul Krugman be? This is what happens when personal bias obliterates objectivity:
Donald J Thump — of Thump: The First Bundred Days — tweeted:
Here's a page from the book, for children — and adults — alike:
Nothing for CNN's Acosta
CNN's Jim Acosta did not receive a Fakey:
He was told to leave after a press briefing in the Oval Office the other day in front of President Nursultan Nazarbayev of Kazakhstan.
Of course, Acosta paints himself to be a victim:
That was far from his first offence against Trump and his administration, which dates back to the post-election transition period in 2016.
Regarding this incident and Acosta's history, The Conservative Treehouse sums it up perfectly:
CNN Chief White House Correspondent Jim Acosta has a history of rude journalistic behavior and disrespect that has never before been allowed in the White House.
… the CNN journalist exhibited a level of disrespectful behavior that should lead to his White House press credentials being revoked permanently.
In a lesser offence, last year, Acosta insisted that CNN reports the truth:
This is how Big Media see themselves:
How public sees media
This is the most accurate description summing up the media:
Praying Medic has a good take on Big Media stories from the past year, starting at No. 12:
Someone replied with this item about MSNBC's Rachel Maddow:
Fake news remembered
Many of us remember not only the fake news but also the omissions from the news cycle in 2016:
Fake news can cost lives.
What will it take for these ridiculously overpaid so-and-sos to stop it?
On Saturday, January 6, 2018, Newsbusters posted an article about a BBC interview with Michael Wolff, author of Fire and Fury, which is about President Donald Trump.
Incidentally, the book is currently available for free online. As such availability likely violates copyright law, I have not posted the link.
Nicholas Fondacaro's article, 'Wolff Touts Book "Will Finally Bring Down…This Presidency"' recaps a BBC interview Wolff gave to the BBC's Nick Robinson last Saturday. Excerpts follow (emphases in the original):
In an interview with BBC Radio on Saturday, Michael Wolff, the author of the dubiously sourced gossip book targeting President Trump, boasted to host Nick Robinson that "the story" that he told, "will finally end…this presidency" once and for all …
"Now, all of this is fascinating, it's an insight, it's gossip some of it, it may not be enough to stop him from being president. Whereas, the allegations about Russia may be," Robinson prefaced. "Do you believe that anything in the book will actually change the chances of the allegations of collusion with Russia being found to be true and therefore leading to the impeachment of the President?"
Wolff said:
You know, I think one of the interesting effects of the book so far is a very clear emperor-has-no-clothes effect. That, the story that I have told seems to present this presidency in such a way that it says he can't do his job. The emperor has no clothes. Suddenly everywhere people are going: 'Oh my God, it's true, he has no clothes.' That's the background to the perception and the understanding that will finally end this – that will end this presidency.
As retired courtroom lawyer Lionel says, such talk is potentially dangerous:
Incredibly, Wolff told Robinson that Trump hardly has any staff and that he will do little as president. Despite stellar economic results in 2017, Wolff said:
The economy is booming possibly because you'll have someone who's not capable of actually implementing any policies or regulation.
In a way, that makes no sense.
In another, such a statement implies that the economy does better with less government interference.
Trump's insistence on rolling back Obama era regulations has helped the economy improve. Trump was also busy last year negotiating various trade initiatives, such as coal.
In June, the New York Post published an article on coal by Salena Zito, who does an excellent job of covering small town life in Pennsylvania and Ohio.
'Don't be so quick to dismiss Trump's coal mining initiative' is an eye-opener. For the first time in a decade, a new coal mine opened in Acosta, Pennsylvania. Trump sent his congratulations via video shown to local residents (emphases mine below):
The Acosta Deep Mine in Somerset County marks a dramatic upturn for the area. And while President Trump cannot claim that he brought the industry back here personally (this new mine was already being developed before the election), he is an effective cheerleader for folks who've been discounted by the political elite.
"We will begin by employing 70 to 100 miners and we hope to open a total of three new mines in the next 18 months — and that will mean additional hiring," said George Dethlefsen, CEO of Corsa Coal, which owns the mine.
More than 400 people applied for the first wave of jobs that will pay from $50,000 to $100,000, Dethlefsen said.
In a region where the median household income is $29,050, and nearly 12 percent of the population lives below the poverty line, the economic injection is huge.
It also creates a ripple effect: For every new job generated by the mine, even more jobs like waitresses, hotel workers, barbers or grocery workers are needed to support the community.
Absolutely.
Furthermore, the coal mined in Acosta is being used for steel production:
The coal from this mine is not going to be used for energy — instead, it will be used for the production of steel for the next 15 years. (According to the World Steel Association, coal is used to make 70 percent of the steel today.)
Every single one of us relies on steel in our daily lives. It's found in our cars, bikes and public transportation. Those wind turbines so loved by environmentalists? Made of steel. The utensils we use to eat? Steel. Medical devices used to save lives? Steel.
Roads, bridges, appliances and even iPhones and computers all contain steel.
Exactly.
This is a great move.
And there is more good news on the coal front. In July, The Conservative Treehouse reported on the increase in American coal exports. This came as news to me:
U.S. EIA data shows a gain of 60.3% so far this year in exports of both steam coal (used to generate electricity) and coking coal (metallurgical coal used for steel manufacturing) as a direct consequence of President Trump's common sense energy policy.
Interestingly, the largest destinations for the growth in American coal export are the U.K. (+175%) and a doubling of tonnage to both France (+100%), and Asia (+100%). High transport costs to ship coal to the EU are being offset by U.S. coal manufacturing efficiencies and improvements in mining productivity.
Reuters has more:
"Simply to know that coal no longer has to fight the government – that has to have some effect on investment decisions and in the outlook by companies, producers and utilities that use coal," said Luke Popovich, a spokesman for the National Mining Association.
Shaylyn Hynes, a spokeswoman at the U.S. Energy Department, said: "These numbers clearly show that the Trump Administration's policies are helping to revive an industry that was the target of costly and job killing overregulation from Washington for far too long."
Coal could also be a major economic weapon used against North Korea, one of China's principal coal suppliers.
Recall that China's president Xi Jinping met with Trump at Mar a Lago on April 6 and 7, 2017. On April 11, Reuters reported:
Following repeated missile tests that drew international criticism, China banned all imports of North Korean coal on Feb. 26, cutting off the country's most important export product.
To curb coal traffic between the two countries, China's customs department issued an official order on April 7 telling trading companies to return their North Korean coal cargoes, said three trading sources with direct knowledge of the order …
The Trump administration has been pressuring China to do more to rein in North Korea, which sends the vast majority of its exports to its giant neighbor across the Yellow Sea …
North Korea is a significant supplier of coal to China, especially of the type used for steel making, known as coking coal.
To make up for the shortfall from North Korea, China has ramped up imports from the United States in an unexpected boon for U.S. President Donald Trump, who has declared he wants to revive his country's struggling coal sector.
Eikon data shows no U.S. coking coal was exported to China between late 2014 and 2016, but shipments soared to over 400,000 tonnes by late February.
This trend was exacerbated after cyclone Debbie knocked out supplies from the world's top coking coal region in Australia's state of Queensland, forcing Chinese steel makers to buy even more U.S. cargoes.
I digressed from Wolff. However, he and his fellow ilk in the media deserve to have their collars felt by the authorities. What Wolff is doing with his book and what the media have been doing with fake news could be construed as advocating the overthrow of government, or, as Lionel tweeted, sedition.