You are currently browsing the tag archive for the 'fake news' tag.
As I have said before, sometimes things are not as they appear.
This is especially true of media attacks on Prime Minister Boris Johnson.
Fake news polls
On February 6, 2022, The Sunday Times published a poll showing that Chancellor Rishi Sunak is more popular with Red Wall (ex-Labour) voters than Boris.
However, Guido Fawkes has shown this is not true — including on a national level.
In fact, Boris is far more popular in Red Wall seats — and nationally — than Rishi is:
Guido seems to be the only one who has uncovered this fake news:
On Monday, Guido wrote about the poll as well as another one published last weekend and asked (emphases in the original):
Who benefits from briefing the Sunday paper most closely read by Tory MPs with fake polls that falsely inflate the electoral prospects of Rishi Sunak?
Guido resolved the issue on Tuesday, February 8:
Yesterday Guido reported on the mystery of the fake polls creating fake news in the Sunday Times. The paper claimed two polls from Survation and Focaldata showed Rishi was the top choice nationally, especially with Red Wall voters. Survation and Focaldata later denied these polls ever existed. The CEO of Focaldata now says he actually forgot* about a poll commissioned by Hanover Communications, and has since provided the data tables which generated the above chart. It shows that, based on the stated "first preference for Prime Minister", voters nationally prefer Boris and he currently ties with Starmer in Red Wall seats.
Given the Sunday Times article reported the poll as showing Rishi Sunak supposedly had the best chance of reaching voters in the Red Wall seats that flipped to the Tories in 2019, it is striking that the actual data shows Rishi well behind in the Red Wall seats and nationally as the first choice for voters. Whomever span the poll to the Sunday Times emphasised that Rishi was a strong second choice versus Starmer and Boris …
*Justin Ibbett, CEO of Focaldata, who tweeted on Sunday that he had not conducted a poll regarding a "hypothetical leader" has now explained that his firm is primarily a software platform. Customers like Hanover Communications can automate their polling without human intervention from them. Hence his ignorance of a poll his firm conducted.
Biased BBC reporting of Downing Street parties
On a related Boris-bashing topic, the media have been going into overdrive over parties in Downing Street. I fully appreciate why and agree with the exposure of rule-breaking of draconian lockdown measures which the rest of the population obeyed, being cruelly separated from loved ones in life and in death.
However, the BBC — an organisation we all have to pay for in order to watch any television — have taken their coverage of the parties to a whole new level.
On January 18, The Telegraph's Charles Moore wrote about their coverage, which is supposed to be impartial: 'The BBC has been acting like the Fox News of the Left'.
Moore wrote, in part (emphases mine):
I actually do believe that Tim Davie, the director-general, is serious about impartiality, but the corporation's implementation of his Action Plan is slow in that special way that only great bureaucracies can manage.
The story about Boris and parties is a classic case where the national broadcaster needs to show super-impartiality; but the coverage has showed no recognition whatever of what Mr Davie seeks.
On the contrary, from the news that starts the day to Newsnight, with presenters like Lewis Goodall, which ends it, the BBC has tried to prove that this is the worst scandal in living memory and will be fatal to Boris Johnson's premiership. It has dragged out the sort of disgruntled Tory backbenchers it normally despises and given them endless airtime to attack the Prime Minister. It is not far off being a Fox News of the Left, taking a line and incessantly promoting it.
Newspapers, too, have made a great meal of the scandal, and a good read it has often been. But this is exactly the sort of occasion where a compulsorily funded broadcaster should not try to ape Fleet Street. If you had relied solely on BBC coverage last week, you would have concluded that Boris was about to be kicked out. There was almost no presentation of the contrary view – which precedent suggests is likelier to be right – that he probably wasn't.
Moore points out that there are other news stories that the BBC could be covering, which are far more important in the long term than events from 2020 and 2021:
The biggest story in the world last week (and this) is the possibility of Russia invading Ukraine. The BBC virtually forgot this.
The news that a Chinese agent had donated nearly half a million pounds to the office of the Labour MP Barry Gardiner was also strong – a much more significant example of apparent political corruption than the standard "Tory sleaze" tales which the BBC relishes, yet it was downplayed.
Egregious coverage of Boris's accusation of Keir Starmer over Jimmy Savile
Speaking of Labour and the BBC, in his January 31 statement about the Sue Gray inquiry looking into the parties, Boris accused Sir Keir Starmer of not investigating Sir Jimmy Savile while Starmer was the Director of Public Prosecutions.
Savile was the BBC's darling, presenting Top of the Pops (TOTP) for many years and then his own show, Jim'll Fix It.
The BBC have said that Boris's accusation is fake news and should be retracted.
However, the accusations against Savile for taking advantage of minors have been many and have been circulating for years. One famous punk rock lead singer said several years ago on a late-night programme on another network that everyone was discussing Savile's proclivities backstage on TOTP in the 1970s!
Savile's death in 2011 provoked months of discussion on English websites asking why he was never prosecuted for taking advantage of young people who were part of the dancing audience on TOTP.
In other words, everyone knew what Savile got up to, but he was untouchable — and the BBC refuses to hear any criticism of their iconic star.
On Monday, February 7, a group of left-wing protesters which gathered in London to voice their discontent with coronavirus measures, verbally attacked Starmer while he and another Labour MP were walking back to Parliament from a meeting elsewhere.
They asked him about Freemasonry, called him a traitor, denounced his lack of opposition to the Government and — at the bottom of the list — criticised his lack of prosecution of Savile's crimes against minors. In the end, police had to escort him and the other MP to a car to drive them back.
Piers Corbyn led the anti-coronavirus protest. He has led many of these in England. He is the brother of Labour MP Jeremy Corbyn.
Piers Corbyn is not a Boris supporter.
However, the BBC blamed Boris for the mob's verbal attack on Starmer. Below is Laura Kuenssberg's analysis, saying that the Prime Minister should retract his accusation of January 31. Note how she doesn't even mention the name Jimmy Savile, only 'false claims':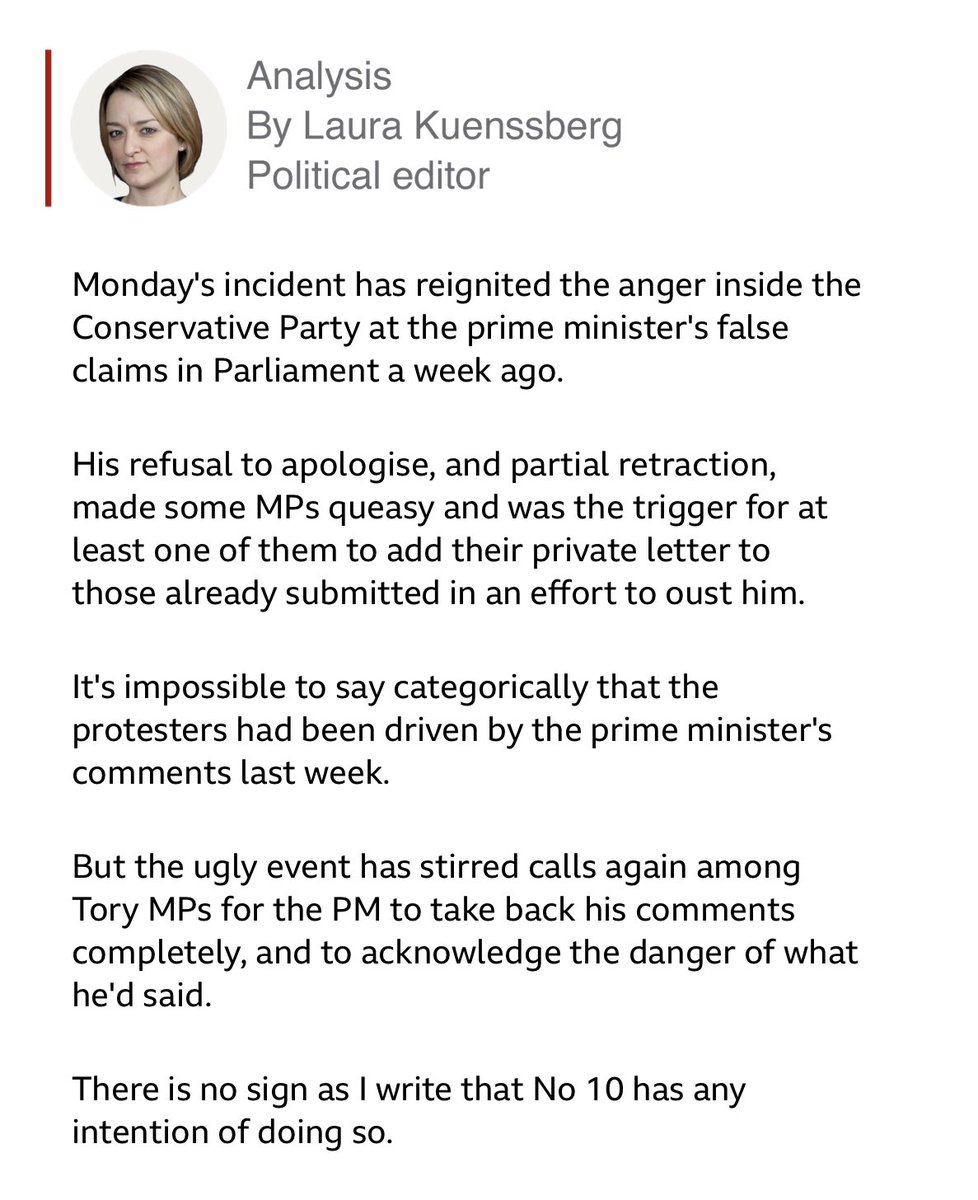 However, Channel 4 News actually interviewed Piers Corbyn, who said that Boris had nothing to do with his group surrounding Starmer in the street:
It's a good interview, with intelligent questions from the reporter.
Corbyn says that people have known about Savile for years.
Conclusion
Fake news used to be an American phenomenon.
It's quickly spreading here and, sadly, infecting what used to be our most trusted media outlets.
Readers of The Times and viewers of the BBC should be aware that not everything is as it seems.
What we are witnessing is a kangaroo media court.
It's been quite apparent that the BBC were anxious to attack the Conservative government at every turn prior to May's elections.
Other media outlets also promoted the same stories.
Some accounts were reported inaccurately. They weren't exactly fake news, but either details were omitted or added, with any corrections placed on less visited web pages.
The Sir James Dyson story from the BBC is a case in point.
In early 2020, when coronavirus had every Western country in a tailspin, the Government were negotiating with British vacuum machine and hand dryer company owner/founder Sir James Dyson on the manufacture of ventilators. Dyson said that his company could develop the technology and do the job. Dyson is based in Singapore, so he wanted to make sure that, if his employees had to come to the UK, their wages would not incur tax in Britain.
By April 24, 2020, new ventilators were no longer needed. The Government no doubt thanked Dyson for his kind offer, and that was the end of the story.
However, the media resurrected the story one year later. This is how it was seen by a Twitter user in April 2021. Dyson is pictured with one of his amazing hand dryers, which really work:
On April 21, Guido Fawkes reported on the handling of the story and recalled that MPs — including Labour, especially Sir Keir Starmer — agreed that taxation of foreign companies' employees who manufactured critical clinical equipment, such as ventilators, would be waived during the first few months of the pandemic:
Guido's post says (emphases in the original):
This morning the BBC reveal texts between the PM and James Dyson, in which Boris promised to "fix" a tax issue to prevent Dyson's employees having to pay extra if they came here to make Covid ventilators during what was a national emergency. The Treasury changed the rules to mean any days worked by foreign employees towards the national Covid effort wouldn't be counted by HMRC between March and June 2020. Only an hysterical partisan would take issue with this, here's Labour's line this morning:
"These are jaw-dropping revelations. Boris Johnson is now front and centre of the biggest lobbying scandal in a generation, and Tory sleaze has reached the heart of Downing Street."
A gigantic volte-face given Labour repeatedly praised the ventilator response – a response the tax changes aimed to bolster. The changes were openly put to parliament and applied to non-tax-resident doctors and engineers who would otherwise have had negative tax implications for helping in the fight against Covid. VAT and customs duties on vital medical equipment were also waived. In April 2020, Rachel Reeves said the government needed to "strain every sinew and utilise untapped resources in UK manufacturing, to deliver essential equipment to frontline workers". A week later, Starmer praised everyone involved in the effort to get ventilators:
Even Tony Blair (Labour) thought that this year's furore was a load of cobblers:
Last year, Dyson and Prime Minister Boris Johnson had exchanged text messages about the taxation issue. Boris defended the texts. On April 23, this was Guido's Quote of the Day. Boris said:
If you think that there's anything remotely dodgy, or rum, or weird, or sleazy about trying to secure more ventilators at a time of a national pandemic, and doing everything in your power to do that…then I think that you're out of your mind.
On April 26, the BBC had to issue a retraction. They had added fake news to the story (emphases in purple mine):
Various outlets, Wednesday 21 April 2021
In our coverage of texts he had sent to the Prime Minister we referred in various outlets to Sir James Dyson as a prominent Conservative supporter or said he backed the Conservatives.
Sir James says this is factually incorrect.
We are happy to set the record straight.
26/04/2021
However, for some, the story did not end there. It is unclear whether the BBC reported the next item or where it originated. On Tuesday, May 4, two days before the UK's local and regional elections, some Scots were angry to find out that Boris's brother is a company director for Dyson Technical Training Limited. Perhaps it was a coincidence, perhaps not. In any event, plenty of people on the Left have their high-status connections, too.
Jo Johnson was appointed to that post on February 18, 2020:
But I digress.
Returning to the BBC, on Wednesday, May 12, the broadcaster was forced to make a further retraction of its Dyson coverage:
Guido has the full story.
The BBC stated (emphases mine):
We accept that Sir James Dyson is not a prominent Conservative supporter as was stated in some of our coverage of his text messages with the Prime Minister. The James Dyson Foundation made a charitable gift to support the Wiltshire Engineering Festival for school children. We accept that this does not signal affiliation to any political party and we would like to put the record straight. Sir James also raised concerns about the accuracy of other aspects of our reporting. We wish to make clear that Sir James contacted Number 10 in response to the Prime Minister's direct request to him for assistance in relation to the urgent need for ventilators and incurred costs of £20 million which his company voluntarily absorbed in trying to assist in the national emergency. His text messages to the Prime Minister were also later sent to officials. We are sorry that these facts were not always reflected in our coverage, and we apologise for not doing so.
Dyson responded:
The BBC now acknowledges that it was wrong and has issued an apology – which I accept. To justify its claim that I am a "prominent Conservative supporter" the BBC shamefully twisted our charitable gift to school children to suit their political narrative. The Prime Minister asked Dyson to help at a time of crisis, in the national interest, and we did just that. We dropped everything and focused on the national effort. Far from any gain, the project cost us £20 million – a sum we voluntarily bore. I am proud of the efforts of every Dyson person who contributed and we would do precisely the same again. It was deeply disappointing, for me and for the hundreds of Dyson people who gave it their all, to have our efforts developing an emergency ventilator mischaracterised and used for political mudslinging.
To think that everyone in Britain with a television set is forced to pay annually for the BBC's fake news or be fined — perhaps even sentenced to jail, as has happened in the past — is shameful.
I have several more examples of the Beeb's 'stories' to explore in future posts.
President Trump has given three interviews in mid-March. More on those below.
Americans clearly miss him and his clear-cut, sensible policies. Joe Biden's administration is reversing many of them. Remember the manufacturing plants that were going to stay in the United States? Ford has now reneged and is going back to its original plan of moving one of its plants from Ohio to Mexico:
In other news, it took more than two months for the media, led by the original source, the Washington Post, to retract the story about Trump's phone conversation with Georgia's secretary of state about the election. WaPo finally retracted their false quotes attributed to the former president on Tuesday, March 16:
RedState has an excellent article about this further example of fake news (emphases mine below):
The alleged contents of this conversation had been part of the national conversation ever since January 9 when Washington Post reporter Amy Gardner published a story claiming, based on a single anonymous source, that President Trump had attempted to pressure Ms. Watson into creating evidence of fraud where all right-thinking people know that all voting in Georgia, especially in Fulton County, was totally on the up-and-up. The story blew up. It slid neatly into the Pantheon of Evil Acts By Trump worshiped by the left, the media, and NeverTrump. Through the miracle of journalisming, something we lay folks can't be expected to understand, the anonymously sourced story was quickly and independently confirmed by NBC, ABC, USA Today, PBS, and CNN.
When President Trump was impeached after leaving office for giving a speech on the National Mall on January 6, this unsourced, though now multiply "corroborated," allegation found its way into the "impeachment brief" submitted by the House "impeachment managers," see page 10 if you care to wade through this dross. And, they, relying upon that integrity and sense of fair play for which progressives are famous, even used it in their impeachment arguments …
One final note. If the Daily Caller or Free Beacon or even the Washington Examiner had pulled a bullsh** stunt like this, they would be out of business (read The Washington Post Doesn't Deserve to Exist After Making up Trump Quotes to Own the Orange Man). Facebook and Twitter would have de-platformed them by now (read Based on Brian Stelter's Own Arguments, CNN and Washington Post Should Be Deplatformed). They would be ritually sacrificing staffers to try to keep advertisers from fleeing, and they would still fail. The Washington Post and Amy Gardner will simply move ahead. They will continue to sling wild conspiracy theories based on uncorroborated single sources, and they will continue to be treated as though they are serious newsgathering organizations.
Trump quickly compiled quotes from all the journalists condemning WaPo — including one from Glenn Greenwald, not a fan of his by any stretch of the imagination. When clicking that Telegram link, click on 'Context' to view in its entirety. It is easier just to visit his website's announcement with all the quotes.
On Saturday, March 20, at Mar-a-Lago, he made reference to Joe Biden's tripping on the airplane stairs and quickly added that he himself won the election by more than 75 million votes:
That Trump won is very likely to be true. On March 19, Howie Carr interviewed Jonathan Allen, one of the authors of Lucky: How Joe Biden Barely Won The Presidency. At the 8 minute point of the interview, Allen tells Carr that Trump lost within 43,000+ votes in three states. Peter Navarro, who wrote three reports for Trump on the 2020 election results, maintained that only six counties needed recounts, yet the swampy advisers around Trump said not to pursue the matter. After all, they have careers to preserve.
Former Democrat — now proud Republican — Georgia state congressman Vernon Jones was a guest of President Trump's at Mar-a-Lago twice in one week:
On Monday, March 22, Harris Faulkner of Fox News interviewed Trump. They discussed the border situation and Biden's reversal of his policies:
Trump is clearly concerned about the Second Amendment (guns), packing the Supreme Court and the weakness of Mitch McConnell, now the Senate Minority Leader.
There was also this:
On Tuesday, March 23, Trump gave an interview to Greg Kelly of Newsmax, wherein he discussed the 'gross incompetence' of the border situation, Operation WarpSpeed and more:
Biden's fall also came up for discussion. Trump said he had 'expected it':
James O'Keefe of Project Veritas was Trump's guest at Mar-a-Lago on March 23:
Rep. Madison Cawthorn (R-North Carolina), elected in 2020, was Trump's guest the following day:
And, finally, on Thursday, March 25, Laura Ingraham of Fox News interviewed him. This interview, which is 26 minutes long, is excellent. It covers the recent policy changes that have happened since Biden took office, including his first press conference that day, and ends with a discussion about Trump's social media plans. Trump seems less sure about a new social media platform, saying that it would be rather complicated and that he enjoys his current communication streams on his website and Telegram.
The former president says he has been relaxing, yet keeping busy. It certainly looks like it.
Recently, The Atlantic published an anti-Trump article saying he has no regard for military veterans.
The article also has other falsehoods in it about President Trump's time in the White House, supplied by anonymous sources:
First Lady Melania Trump tweeted:
The Atlantic wants to help Joe Biden win, of course:
President Trump is angry with Fox News for pressing on with the lies. This Twitter user says that the reporter in question is married to another journalist who works for NPR, which is pro-Democrat:
I'll get to that story tomorrow.
Trump's former press secretary, Sarah Huckabee Sanders, is angry about The Atlantic's article:
Former ambassador John Bolton, who has written an anti-Trump book, also says that The Atlantic's article is wrong. The American president did not show up at a military cemetery in France in 2018 for a memorial ceremony because his security detail would not allow it. Breitbart carried the story:
Bolton, who has emerged as an adversary of the president since leaving the administration last fall, wrote in his tell-all book about Trump that the visit to the cemetery by helicopter had been canceled because of weather. Driving, Bolton wrote, was not an option because of the "unacceptable risk" of being stuck in traffic if an emergency arose. He criticized the media for falsely reporting that Trump skipped his visit because he was "afraid of the rain."
He also denied the accusations about the president's words:
On Friday, Bolton confirmed his account in an interview with the Times, and added that he never heard Trump say "losers" or "suckers":
He got support from an unlikely source on Friday when John R. Bolton, his former national security adviser who has broken with him and called him unfit for office, said he was on the trip in question and never heard Mr. Trump make those remarks. "I didn't hear that," Mr. Bolton said in an interview. "I'm not saying he didn't say them later in the day or another time but I was there for that discussion."
History tells us that the Democrats used the same tactic with Abraham Lincoln, who was also a Republican:
Let us fast-forward to 2007 to Donald Trump, real estate mogul and proprietor of the golf club at Mar-a-Lago. He welcomed veterans every Monday and said that their wives were in tears:
Veterans have been on to Obama's vice president Biden for some time, as this video from March shows. Biden had no Secret Service detail earlier this year because he was not the official nominee at the time:
Fast forward to the present day. These three disabled veterans say that President Trump has done more for minorities and the military than any other US president. The retired Marine says that he was a staunch Democrat, but no longer because of what the Democrats have been doing over the past several years and because President Trump has cleaned up the Department of Veterans Affairs, enabling them to get the health care they need:
This US Army veteran says that Joe Biden doesn't care about American troops and would cut military funding. He says that President Trump has always been there for all the armed forces:
This man is a retired paratrooper and tells of all the reforms President Trump has put into the Department of Veterans Affairs and the military, making both stronger than ever. He says that The Atlantic is 'a disgrace to journalism' and 'fake news':
This veteran says that Joe Biden and the Democrats want to 'burn down' America and turn it into 'a socialist crap-hole', but 'we're not going to let that happen'. He staunchly supports President Trump:
This veteran is also pro-Trump. Contrary to what the Democrats and their water-carrying buddies in the media said in 2016, Trump has started no wars and is trying to get troops out of Afghanistan:
This veteran also supports Trump for the same reason:
I hope these tweets help put to rest the lies that have been circulating about President Trump.
Hats off to OAN's Jack Posobiec, a Navy veteran, for starting the #VetsBackTrump trend on Twitter.
On Friday April 18, a news story from the BBC about an NHS procurement director circulated on the BBC news channel.
The man, unnamed, wanted to contact Burberry and Barbour directly to obtain much-needed PPE.
I heard it reported more than once. The story even popped up on the national coronavirus briefing at the weekend.
On Saturday, April 19, the Mail on Sunday's deputy political editor Harry Cole exposed the BBC story as FAKE NEWS.
Click on the image below or here to read the article in full:
Incidentally, Sarah Smith (pictured), who presented the story is the daughter of the late Labour leader John Smith, who died in May 1994. (Tony Blair succeeded him.) Her mother is a life peer: Baroness Smith of Gilmorehill. But I digress.
As Harry Cole says, the story got several airings on the BBC News channel, then, suddenly, there was nothing more. A newsreader read a retraction at 7:10 a.m. on Saturday.
Unbeknownst to Cole — and most of the viewing public, myself included — the BBC retracted the story on its website late on Friday, the same day it appeared:
The 'correction' says, in part:
We should clarify that the person concerned is not the boss of an NHS trust but is part of a network of organisations helping to source personal protective equipment for some NHS trusts.
The mistake was caused by a misunderstanding of the person's role in the fight against the pandemic.
Cole was able to find out the identity of the mystery man, who works at The Oxford Academic Health Science Network, which is currently helping to source PPE:
He was later identified by the BBC News at One as 'senior health expert' Paul Durrands. Mr Durrands, who has a doctorate in philosophy and molecular plant pathology …
Since 2011:
he has been the chief operating officer of the Oxford Academic Health Science Network, a publicly funded 'innovation exchange'.
It is understood he has been helping NHS trusts seek PPE, but is not and never has been a major NHS trust boss. He did not respond to requests for comment last night.
The BBC are not on the government's side unless it's a Labour one.
They have really pushed the boat out in their anti-Conservative coronavirus coverage, which never covers anything good the government has done thus far.
One gets only noxious narratives from the BBC and, now, fake news. Yet, they have a special segment a few afternoons a week wherein a reporter debunks various online fake news items about the coronavirus. They should take a close look at themselves in the mirror first.
It is a pity that every British household is obliged to pay an annual licence fee to keep this broken outfit going.
At 5 p.m. on Friday, March 22, 2019, news emerged that special counsel Robert Mueller's report was complete, with no more indictments:
Attorney General William Barr wrote a letter to both houses of Congress:
This investigation has been a millstone around President Trump's neck since 2017.
Rep. Mark Meadows (R-North Carolina) said:
It was an expensive investigation:
The third paragraph in the following announcement details what it involved — all to no avail:
Imagine the disappointment:
Media and the coming downfall
The media were positive that President Trump was guilty of a criminal offence, as they watched the Mueller probe unfold involving:
More on this in a moment:
For now, let's look at three people on MSNBC.
Rachel Maddow
Rachel Maddow wasn't crying, but she came pretty close:
Mika Brzezinski
Morning Joe's Mika Brzezinski also had a close call with the tear ducts:
Chris Matthews
Chris Matthews, who once said he felt a tingle go up his leg during Obama's 2008 campaign, looked as if he was fighting back tears but spoke in anger. He was particularly upset the report was released at 5 p.m. on a Friday:
There is always the danger that a lie told long enough appears to be true:
There was also this gem in Chris's segment:
HE ADMITS they were "TARGETING" Trump! Listen about 2/3 the way through Apx 1 min into it he slips up & calls Pres. Trump "THE PERSON BEING TARGETED" and quickly corrected himself saying "the subject being investigated"
Ratings tank
On Wednesday, March 27, Breitbart's John Nolte reported on the tanking ratings for CNN and MSNBC (excerpts follow, emphases mine):
During the week of March 18, the far-left CNN lost almost 30 percent of an audience that is already minuscule …
On the credibility front, CNN chief Jeff Zucker tried to excuse his network's two-year deliberate deception about Trump colluding with the Russians by admitting on Tuesday that no one at CNN does investigative work.
Like we didn't already know that.
"We are not investigators," he told the far-left New York Times. "We are journalists, and our role is to report the facts as we know them, which is exactly what we did."
All Zucker did there was to confirm what we already knew: CNN acts as stenographers for the establishment, most especially the intelligence community, all of whom share CNN's left-wing agenda for the country.  The facts are that so-and-so told us this and so-and-so told us that, is not journalism. Journalism requires investigation and the risk of uncovering a truth that might be inconvenient to your own personal beliefs and still reporting that truth …
For the week of March 18, meaning prior to the release of the Mueller Report exonerating Trump from the Russia Collusion Hoax, CNN lost a jaw-dropping 24 percent of its total day viewers and 27 percent of its primetime viewers, when compared to this same week last year.
In the 25-54 age demo, which sets advertiser rates, CNN lost an astonishing 37 percent of total day viewers and 38 percent primetime viewers.
For comparison purposes, during this same week, Fox News increased its total day and primetime viewership by +8 and +2 percent, respectively.
MSNBC, CNN's competition for left-wing viewers, only lost 9 percent of its total day viewers and 15 percent of primetime viewers. In the 25-54 demo, MSNBC also took a huge loss in total day and primetime; 33 percent and 32 percent, respectively …
On Monday, during primetime, four of CNN's hours failed to break 700,000 total viewers: Jake Tapper (683,000), Wolf Blitzer (637,000 & 622,000), Erin Burnett (685,000).
MSNBC might see a ratings dip as it maneuvers in the post-Mueller world, but CNN was already in trouble, already in far-last place, and those wondering how CNN's ratings could possibly get any worse are about to find out.
With the Mueller probe wrung dry, Rachel Maddow's show definitely took a hit:
Not surprisingly, Trump tweeted about both networks' ratings:
Reactions from Democrats and their allies
Before the Mueller report was completed, the American public saw these now-familiar Democrats on television with nauseating regularity:
The Dems and their supporters will continue to press on with other anti-Trump talking points:
Assassination attempt
This attempted coup has roused radicals to take matters into their own hands. The latest was, thankfully, thwarted on Wednesday, March 27, on the border between West Virginia and Maryland:
Nancy Pelosi
Speaker of the House Nancy Pelosi (D-California) has put impeachment on the back burner for now:
Adam Schiff
Rep. Adam Schiff (D-California), who chairs the House Intelligence Committee and is one of the president's most constant critics, refuses to let go:
He commiserated with Rachel Maddow, but that was only momentarily:
A fellow House member, Dan Crenshaw (R-Texas), has strong words for him …
… as does journalist Paul Sperry:
On March 27, Fox News reported of Republicans' calls for Schiff's resignation:
Republicans are stepping up calls for House Intelligence Committee Chairman Adam Schiff to resign or give up his committee post for repeatedly pushing claims of collusion between President Trump's 2016 campaign and Russian operatives.
Now that Robert Mueller's probe has shown no evidence of collusion, White House adviser Kellyanne Conway has been the most vocal in calling for Schiff's resignation – telling "Fox & Friends" on Monday that the California Democrat "ought to resign today."
… While not going so far as Conway in calling for Schiff to leave office, House Minority Leader Kevin McCarthy, R-Calif., said that Schiff does owe "an apology to the American public" and should step down from his post as head of the intelligence committee.
"He owes an apology to the American public," McCarthy said. "There is no place in Adam Schiff's world or in Congress that he should be chair of the intel committee."
McCarthy added: "There is no way he could lead the intel committee and he should step back."
James Comey
On Sunday, March 24, former FBI director James Comey tweeted, and Senator Lindsey Graham (R-South Carolina) — chairman of the Senate Judiciary Committee — duly replied:
Sean Hannity also replied:
Yes Mr @Comey . Let's start with why did you sign off on the FISA warrant based on hrc lies in oct 2016. And in January 2017 say it's "unverified and salacious" ? Did you commit a fraud of the FISA court or lie to the President Elect you hated?
And, let's not forget a memo that Comey leaked in 2017:
Comey instructed his friend, Daniel Richman, to give the [New York] Times a memo he wrote about a conversation he had with Trump on Feb. 14, 2017. Comey claimed Trump asked him to shut down an investigation of former national security adviser Michael Flynn.
Comey's ploy worked, as Robert Mueller was appointed special counsel May 17, 2017.
What happens next?
It seems probable that President Trump will not let sleeping dogs lie. Nor should he.
On Wednesday, March 27, he gave an interview to Sean Hannity, his first since the Mueller report's completion (watch on YouTube):
President Trump, in an exclusive wide-ranging interview Wednesday night with Fox News' "Hannity," vowed to release the full and unredacted Foreign Intelligence Surveillance Act (FISA) warrants and related documents used by the FBI to probe his campaign, saying he wants to "get to the bottom" of how the long-running Russia collusion narrative began.
Trump told anchor Sean Hannity that his lawyers previously had advised him not to take that dramatic step out of fear that it could be considered obstruction of justice.
"I do, I have plans to declassify and release. I have plans to absolutely release," Trump said. "I have some very talented people working for me, lawyers, and they really didn't want me to do it early on. … A lot of people wanted me to do it a long time ago. I'm glad I didn't do it. We got a great result without having to do it, but we will. One of the reasons that my lawyers didn't want me to do it, is they said, if I do it, they'll call it a form of obstruction."
Trump added: "Frankly, thought it would be better if we held it to the end. But at the right time, we will be absolutely releasing."
Trump also accused FBI officials of committing "treason" — slamming former FBI Director James Comey as a "terrible guy," former CIA Director John Brennan as potentially mentally ill, and Democrat House Intelligence Committee Chairman Adam Schiff as a criminal.
He mentioned 'treason' more than once:
"It was treason, it was really treason," Trump said, referring to texts between former FBI Special Agent Peter Strzok and former FBI lawyer Lisa Page that discussed an "insurance policy" in the event of Trump's election.
"You had dirty cops, you had people who are bad FBI folks … At the top, they were not clean, to put it mildly." He said later, "We can never allow these treasonous acts to happen to another president."
Also:
"I think Brennan's a sick person, I really do," Trump said. "I believe there's something wrong with him, for him to come out of the CIA and act that way was so disrespectful to the country and to the CIA. He was not considered good at what he did. He was never a respected guy."
Looking back to 2016:
"When I said there could be somebody spying on my campaign, it went wild out there," Trump told Hannity. "They couldn't believe I could say such a thing. As it turned out, that was small potatoes compared to what went on. … Millions and millions [spent] on the phony dossier, and then they used the dossier to start things. It was a fraud, paid for by Hillary Clinton and the Democrats."
As for the mysterious tarmac meeting between Bill Clinton and Obama's attorney general Loretta Lynch during the summer that year, he said:
I had a lot of planes for a long time. I've never stopped the plane on the tarmac to let somebody on the plane. Bill Clinton said he was there to play golf, but I know the area very well. Arizona. It's a little warm at that time of year for golf, OK?
He also had a dig at his own former AG Jeff Sessions — and rightly so:
Trump also told Hannity "this all would not have happened" if Attorney General William Barr had been with his administration from the beginning.
I could not agree more!
However, without Mueller and Stumbling Block Sessions, the administration can move forward, and one congressman, dairy farmer Devin Nunes (R-California), is raring to go:
Onwards and upwards!
MAGA!
The New York Times is appealing to Americans to help them cover the 2018 mid-term elections:
Hmm.
In 2017, James O'Keefe's Project Veritas revealed a rich seam of anti-Trump and anti-Republican bias at the New York Times:
New Project Veritas video exposes New York Times (October 10)
Project Veritas 'American Pravda' series: second video (October 11)
American Pravda Part III — more from the New York Times (October 17)
American Pravda Part IV — Trump Derangement Syndrome at the New York Times (October 19)
Does anyone think that the New York Times intends to cover the mid-terms with integrity?
Those who are not convinced by the Project Veritas undercover videos might wish to read an article by Eric Zuesse for the Strategic Culture Foundation, 'How the New York Times Lies About Lies: Obama v. Trump as Example'.
Eric Zuesse documents various events of the Obama administration and how the New York Times reported them dishonestly. His article begins with this (emphases mine):
Although the New York Times says that President Donald Trump lies vastly more than did President Barack Obama, the definite liar in that comparison — based on the factual record, to be presented here — is the New York Times itself. It lies in alleging this, which isn't to say that either President lies more frequently than the other, but instead, that the Times's calculation fails to count, at all, but instead altogether ignores, some of President Obama's very worst lies — ones that were real whoppers. These were lies that were essential to his maintaining support among Democrats (such as the owners of this corporation, the NYT, are), and that would keep Democrats' support only if they failed to judge him by his actual decisions and actions (such as the NYT's owners do — or else they secretly know the truth on this, but prevent this truth from being published by their employees). Even to the present day, Obama is evaluated by Democrats on the basis of his lies instead of on the basis of his actions. He's admired for his stated intentions and promises, which were often the opposite of what his consistent actual decisions and actions turned out to be on those very same matters, on which he had, in retrospect, quite clearly lied (though that was covered-up at the time — and still is). 
Zuesse carefully details Obama's biggest lies, which the newspaper ignored. He concludes (emphasis in the original, purple highlights mine):
None of these whoppers was included in the listing that the NYT presented in their 14 December 2017 article "Trump's Lies vs. Obama's".
I am nonpartisan toward persons and toward political parties, and consider all of America's Presidents since 1981 (if not since 1968, but with the exception of Carter) to be and have been loathsome people (not even well-intentioned), but 'news'media such as the New York Times aren't any more trustworthy (nor more honest) than these Presidents have been, and the pontifications from such 'news'media (in both their 'news'-reporting and opinion-pieces) are just propaganda, mixtures of truths with lies — and more and more of the public are coming to recognize this disgusting fact, so these media's pretenses to honesty and trustworthiness are having fewer and fewer believers. But these media claim that fake 'news' comes only from their non-mainstream competitors (some of which are actually far more honest than they). Preserving their cartel is crucial to them. And it's crucial to the people who benefit from this cartel.
I mention this, because, recently, I got into a lively discussion with several people at an event about honest reporting about President Trump. To a man — and all have some of the best private school and university educations in the world — they not only read but believe whatever they read in the New York Times and other similar media outlets. They are not Americans, but they are firmly against the Republican Party and Donald Trump based on established media's lies.
When I mentioned that they might want to peruse a site such as The Daily Caller to get another perspective, they sneered, calling it 'fake news'. They've never even heard of, much less read, The Daily Caller.
This is a very sad state of affairs — great for the New York Times and parlous for those of us seeking objective reporting.
Yesterday's post discussed developments that immediately followed the US-North Korea Singapore Summit held on Monday, June 12, 2018.
Much went on with Secretary of State Mike Pompeo's trip to South-east Asia and the US-Chinese trade war early in July.
Keep in mind this explanatory graphic about the relationship between North Korea and China from The Conservative Treehouse:
On July 7, the US state department's impression of the two nations' talks was different to that of North Korea, according to an unnamed North Korean official who called them 'regrettable'. Townhall reported:
Just hours after Secretary of State Mike Pompeo said that his talks during the past two days with the North Korean government were "productive" and beneficial regarding "central issues," the communist nation's Foreign Ministry categorically disagreed, calling the meetings in Pyongyang "regrettable."
The Associated Press reports that an "unnamed North Korean Foreign Ministry spokesman" claims that the United States "betrayed the spirit of last month's summit between President Donald Trump and North Korean leader Kim Jong Un by making unilateral demands" regarding denuclearization of the Korean peninsula. 
The North Koreans issued a lengthy official statement along those lines, which ended with this:
If the objective situation does not stand in favor of the denuclearization against our wills, this would rather cast a heavy cloud over the atmosphere of developing bilateral relations which had shown its good movement in its beginning.
Should the headwind begin to blow, it would cause a great disappointment not only to the international society aspiring after global peace and security but also to both the DPRK and the U.S. If so, this will finally make each side seek for another choice and there is no guarantee that this will not result into yet another tragedy.
We still cherish our good faith in President Trump.
The U.S. should make a serious consideration of whether the toleration of the headwind against the wills of the two top leaders would meet the aspirations and expectations of the world people as well as the interests of its country.
The Conservative Treehouse pointed out (emphases mine):
Keep in mind that Secretary Pompeo was not permitted to meet with Kim Jong-un.  If our ongoing thesis is accurate it is likely Red Dragon (Chairman Xi) is positioning the DPRK for maximum trade and economic leverage.  It would be against Chinese Chairman Xi Jinping's interests for Pompeo and Kim Jong-un to have a public display of agreement.
Until there is an empirical or factual reason to counter what seems like an obvious geopolitical strategy, we should consider all events through the prism that the primary leadership within the DPRK, the officials controlling Kim, are under the control of China.
The trade confrontation is China's biggest geopolitical risk.  The primary weapon China holds toward demanding terms from the U.S. would be their ability to change the dynamic in North Korea at any given moment.  From this frame-of-reference things begin to make more sense.
On the surface it appears the U.S. is negotiating terms for a denuclearized North Korea; however, under the surface the bigger issue is the ongoing economic confrontation between the U.S. and China.   The DPRK is Red Dragon leverage.
That day, Mike Pompeo had left North Korea for Japan:
He also met with foreign ministers Kong and Kang, from China and South Korea, respectively:
The US-China trade war also attracted attention.
US tariffs on Chinese goods went into effect on July 6. To mask what was really going on in their economy, the Chinese maintained that Americans did not support this policy:
In fact, the truth is that most Americans want tariffs on foreign goods:
The Rasmussen survey of March 12 says:
… 89% of American Adults believe it is at least somewhat important for the United States to have a major manufacturing and industrial base, including 63% who believe it is Very Important. Only eight percent (8%) say it is not very or Not At All Important to keep a manufacturing base at home. (To see survey question wording, click here.)
On July 6, White House Office of Trade and Manufacturing Policy Director Peter Navarro appeared on Fox Business to explain the American view of trade with regard to China. As The Conservative Treehouse explained:
Almost all of the financial media and economic punditry are intentionally obfuscating the underlying nature of China's economic model.
China is a communist central government controlled economic system. Free-market principles do not apply when dealing with China; therefore trade strategies based on 'free markets' cannot succeed against the centralized planning of a communist regime.
Charlie Kirk, founder and president of Turning Point USA, active on university campuses, put it bluntly:
On July 8, Mike Pompeo met with Taro Kono, Minister for Foreign Affairs of Japan and Kang Kyung-wha, Minister of Foreign Affairs of the Republic of Korea in Tokyo. The full State Department transcript of their press conference is here. Interestingly, some of the media correspondents there asked about the 'abductions' by the North Koreans of the Japanese (emphases in the original, video here):
FOREIGN MINISTER KONO: (Via interpreter) …
Now on the question of abduction, from Secretary Pompeo this time around the issue was raised, and I'd like to thank him for raising the issue at the meeting. Regarding the reaction from North Korea, I will refrain from making any comment.
As far as Japan is concerned, the U.S. and North Korean negotiations should advance furthermore, and we'd like to work in tandem with the international community so that Security Council resolution-based sanction can be solidly implemented regarding North Korea.
FOREIGN MINISTER KANG: … On the abduction issue, yes, my president has also raised this in two rounds of discussions with Chairman Kim, and we urge them to engage in bilateral discussions with Japan on this issue. After all, it's a bilateral issue. We also have a couple of our nationals detained in North Korea, so it's an issue that concerns us as well. 
SECRETARY POMPEO: … I did raise the issue of the abduction of Japanese. I've done it at each conversation I've had with my North Korean counterparts, whether it was on my first two trips with Chairman Kim or on this trip with Kim Yong-chul. I've raised it repeatedly. I won't go into any of the details about particular parts of that element of our discussion. Know that it is important to the United States; it's part of our discussions each and every time we interact with our North Korean counterparts. 
Pompeo and US officials also met privately with Kono and his delegation:
On July 9, the South China Morning Post reported that China responded to the imposition of tariffs by the United States with tariffs on American goods going into the country. The main thrust of the article, however, was that the Chinese government thought it would be a good idea to go easy on Trump (emphases mine):
After answering Washington's 25 per cent levy on US$34 billion of Chinese goods with equivalent tariffs on US products, Beijing has directed state media to watch how they report on US President Donald Trump, mainland media sources said.
"It's been said that we should not use aggressive language for Trump," said one of two sources who declined to be named because internal directions often are regarded as confidential information.
Even though Chinese officials and state media have attacked the trade policies of the Trump administration, so far they have not laid blame on the US president or his officials – a move seen as an attempt to avoid antagonising Trump and further complicating negotiations.
While the Beijing directive may not have been issued across the board – two other state media sources said they were not instructed how to write about Trump with regards to trade – it mirrored one of the guidelines on an official propaganda instruction widely circulated on social media.
The edict called on media outlets not to make vulgar attacks on Trump to avoid "making this a war of insults".
Breitbart had more. One way the Chinese are able to criticise Trump is by quoting Westerners:
Reuters' sources also said they were "instructed not to mention the impact of the trade war on Chinese companies" because they don't want to give the impression pressure against China might be working …
"China might need to restrict the market access of American companies. But to purge American companies that are already operating in China might be a very bad idea. Those companies generate jobs and revenue for China. Most Apple products are made in China. To do something to harm American firms that are already operating in China would be very stupid," ventured trade expert Wang Jiangyu of the National University of Singapore.
The Communist Party People's Daily provided an interesting example of the tightrope walked by Chinese media on Wednesday, publishing an article that attacked Trump for accusing China of sabotaging talks with North Korea but using a few Westerners plucked from Twitter at random to do it, rather than editorializing against Trump directly or quoting Chinese social media users.
That day, the tension surrounding Pompeo's meetings with North Korea was still in play. Trump tweeted:
CNBC reported that, after leaving south-east Asia, Pompeo made an unscheduled trip to Kabul, Afghanistan, where he told the media:
"We still have a long ways to go. But that commitment that the North Koreans made, frankly that Chairman Kim personally made to President Trump, remains as when reinforced," he said.
Pompeo also stressed that North Korea's remarks were "mixed," and represented an expression of Kim's continuing "desire to complete the denuclearization to which he is so committed."
Meanwhile, the North Koreans were still committed to strengthening ties with their fellow travellers:
On July 12, Trump received a gracious letter from Kim Jong Un …
… which Big Media ignored:
On July 15, the US and North Korea held meetings to discuss the return of American soldiers' remains, the first since 2009:
Korean media reported:
The North Koreans agreed to transfer the remains already in their possession to the United States on:
July 27, which is the 65th anniv of the Armistice Agreement …
This was another result:
The Premium Times said that the head of the North Korean government occasionally grants amnesty. The last time was in 2015. This year's is part of marking North Korea's 70th anniversary:
The Communist Leadership in Pyongyang would grant amnesty to those convicted of crimes against the state in light of North Korea's 70th anniversary, the state-run KCNA reported on Monday …
Similar to other instances in which amnesty has been granted, it remained unclear exactly which groups the announcement applied to and how many prisoners would be affected.
The following day, the Trump – Putin Helsinki Summit of July 16 included discussions about North Korea and China.
Two days later:
Trump tweeted:
He enjoys solving problems:
His 2020 campaign manager made an excellent point:
Tomorrow's post will cover the most recent developments between the United States, North Korea and China.