You are currently browsing the tag archive for the 'family' tag.
Lately, I have been reading Jay Rayner's restaurant reviews in The Guardian.
He writes the way he speaks, which make them all the more enjoyable.
During lockdown in the first few months of 2021, he looked back at classic British cookbooks and chefs who changed the world of food in the UK during the 1980s and 1990s.
His last lockdown column on April 11, 2021 was about the family recipe collection, whether it be a box of clippings, a notebook or a scrapbook.
'The old scrapbook recipe collections that tell the story of our lives' brought back a lot of memories for his readers and for me.
Excerpts follow, emphases mine.
He opens with this:
The cookbooks I've written about over the past three months were not included randomly. They weren't selected because they offered up 97 clever things to do with a courgette and a spiraliser, or for their novel ways with quinoa. They were chosen because they had a serious impact on how we cook and how we eat. They were big sellers. As a result, week by week, people have discovered that they had the volume I was eulogising on their shelves. Some readers have owned a few of them.
But as this is the last column in the series, it's time to look at a collection of recipes almost everyone has. I certainly have one. Mine has the word "Challenge" embossed on the front. That's not a description of how hard the recipes are. It's the name of the venerable stationery company which manufactured the blue, hardcover A4 notebook within which those ideas for dinner are contained. It is our collection of recipes cut from magazines and newspapers, photocopied from a friend's book or scribbled down by a relative. It is an unplanned collage of a good life, or a feverish attempt at one, measured out in ingredients, volumes and oven temperatures. It is the ballad of traybakes and crumbles, of new and sophisticated ways with pasta and swift things to do with chicken and a bunch of lemons.
Rayner's wife Pat started the cookbook over 30 years ago:
It is aspiration expressed through the medium of scissors and Pritt Stick. Witness: cider-glazed chops or peppered ham and tomato risotto or lamb and apricot kebabs. Many dishes remained just an aspiration. Some were cooked once or twice. Then there's the discoloured recipe for Italian Celebration Turkey, which I return to often, if only for the stuffing. It's a glorious mess of unsweetened chestnut purée, Parma ham, marjoram, sausage meat and onions cooked down in sherry. I have no idea who wrote it.
Food historian Annie Gray says that these recipe collections are:
a "sublime and fascinating form of biography", which go back as long "as people have been writing things down".
I fully agree. No two recipe scrapbooks or ring binders will be the same. Mine is completely different to my late mother's and grandmothers'. Unfortunately, those are lost forever. My mother threw hers out before I could inherit it. My paternal grandmother's went to my aunt and disappeared when she died.
Fortunately, my maternal grandmother's collection went to her eldest granddaughter who, in the 1970s, had the genius idea of compiling them and publishing them in book form for our whole family. Everyone has a copy. Even better, anyone of us who had a favourite recipe could contribute it to the book. As a result, the recipes range from the traditional late 19th-century European staples from our family to more recent recipes from the Middle East and Asia, popularised in the United States of the late 1960s. We have my grandparents' tastes, our mothers' favourites from the 1950s and world food from the grandchildren.
But I digress.
Returning to Rayner, he says that the food historian Annie Gray bought an old cookbook with further pleasant surprises in it:
A few years ago, she found a volume by the 19th-century cookbook writer Florence A George on a Cambridge market stall. The book was interesting enough. "But better than that, it was stuffed full of recipes cut from newspapers and magazines dating from 1907 to the 1950s, collected by a previous owner. That's pretty much a woman's whole life measured out in these dishes."
A friend of Rayner's paid her daughter to compile her recipes in a ring-bound album format:
A few years ago, a close friend, Sarah, paid her daughter to stick all of hers into a ring-bound album. She admits she cooks few of them, but they do still tell her story. "There's a lemon drizzle cake in there that I did many times when the kids were small and it reminds me of their childhood," she says. "And there's a Yorkshire curd tart recipe from my late sister written in her own hand, and that's very important."
Tim Anderson, an American who won the UK MasterChef title a few years ago, also has an album of family recipes from his childhood in Wisconsin:
"The original volume of Anderson Family Recipes dates from 2003 when my brother and I were off at college," he says. "It's recipes from my mother and grandmothers, food we ate when we were kids, though they don't actually originate from my family in any way." All of them came from boxes of torn clippings. It is a sturdy snapshot of American midwestern cooking, often incorporating the unashamed introduction of one canned or jarred product to another. Hooray for Betty Crocker. "There's something called chicken Costa Brava involving chicken breasts, a jar of shop-bought salsa, jars of olives and tinned pineapple," Tim says. "I really liked that growing up."
Yes! I remember lots of those recipes, particularly the ones using packets of powdered onion soup mix or Campbell's cream soups for sauces. Happy days!
I make all my sauces from scratch. It's something I truly enjoy doing, but fond memories linger from my mother's ladling cream of mushroom soup onto a beef dish and putting in the oven. Beef parmesan was one of my childhood favourites. For anyone wondering, the parmesan was Kraft's, already grated, in the round cardboard container. We couldn't get the real thing back then.
Jay Rayner implores us to make our own cookbooks for posterity. I have a handwritten one of my own, which I put together several years ago. I also have ring binders full of other recipes, some tried and tested, others which I've not yet used.
Rayner says that organising our family recipe collections is important:
An internet search history will never be as romantic as a scrapbook. It's time, I think, to put a sheet of A4 through the printer. Perhaps it's time we all did. Because without these collections we'll lose a significant slab of our shared cultural, and edible, history. Future historians will not be able to work out our life stories through the dinners we dreamed of making. That would be a crying shame.
I couldn't agree more. Fortunately, my far better half and I also have my mother-in-law's extensive cookbook collection, from a 1960s edition of Larousse Gastronomique to Robert Carrier to Delia Smith. It is a 20th century treasure trove to behold — and to use!
The other day, I read the comments to an agony aunt column in The Guardian concerning a family issue.
One of the paper's readers remarked that 'blood is thicker than water', which received this response …
The original meaning of "Blood is thicker than water" was that a blood bond (where two friends or comrades cut their hands or wrists to mingle their blood together and vow eternal support) was regarded as stronger and of more importance than the accident of birth (the "water" being the amniotic fluid, as in the phrase, "Her waters have broken").
… followed by this one (emphases mine below):
Incorrect. The phrase is a corruption of the original saying, which is "The blood of the Covenant is thicker than the water of the womb".
The original saying meant that people's relationship to each other through their Christian faith was even more important than kinship. Over time, it was shortened to "blood is thicker than water" and the modern meaning is now precisely the opposite of the original meaning.
I learned something new that day.
By His Grace; For His Glory has a thought-provoking devotional on this saying, affirming its religious meaning. Excerpts follow.
One example from the Bible is Luke 8:19-21:
Over the past 8 months of devoted Bible study I have come to terms with the grief I often felt by what I had considered a "lost relationship" in my life. One that should have been much stronger than it is. My lesson from the Lord began in Luke chapter 8.
19 Then Jesus' mother and brothers came to see him, but they couldn't get to him because of the crowd. 20 Someone told Jesus, "Your mother and your brothers are standing outside, and they want to see you." 21 Jesus replied, "My mother and my brothers are all those who hear God's word and obey it."
Here I began to understand that the relationship I grieved was not necessarily a void in my life; but rather, God began to show me He has provided the satisfaction and fullness of what that relationship should bring through others that are not of any blood relation.
The author of the devotional gives several other examples from Scripture, one of which is from the Old Testament, involving Jonathan and David in 1 Samuel 20:16-17:
I Samuel 20:16,17, "So Jonathan made (cut) a covenant with the house of David, saying, 'Let the Lord even require it at the hand of David's enemies.' And Jonathan caused David to swear again, because he loved him: for he loved him as he loved his own soul."
The author then cites an explanation from Pastor Johnie Akers of how the blood covenant ceremony in the ancient world was done:
The expression "blood is thicker than water" may be familiar with us in general terms, but its true meaning, especially in Western culture, is somewhat foreign. An understanding of ancient Eastern covenants brings new light to this obscure phrase. During the ritual of ancient covenant making, the two parties involved would divide an animal in half, and stand together in the blood, with their right hands clasp, and swear a mutual oath binding them to each other. In some cases, each party would cut their respective hands, bind them together with the other party, allowing their blood to mingle. The resulting union of this blood oath was never to be broken. In effect, the two participants in the covenant would become "blood brothers," and thus become one flesh. The relationship born of this union was so knit, that brothers made through the blood of covenants were closer to each other than brothers who were born from the same womb. Hence, blood (of the covenant) is thicker than water (of the womb).
In the … scripture above, Jonathan and David cut a covenant and become, likewise, blood brothers. This bond lasted until death … Christ, too, makes a blood covenant with his disciples and thereby binding himself to them, and all disciples to follow, with a covenant that exceeds any natural relationship. As ancient covenants go, Christ's was also "till death us do part."
The devotional concludes:
Of course we should love and pray for our families. However we must be aware that some boundaries are needed even between family. We can love without enabling, we can care without subjecting ourselves to a situation that brings harm. We can pray for them but one thing we have to remember is that we can not change them! Only God can bring about true change. I'm not saying it's easy to do but proper relational balance is in order.
So pay close attention to those you spend your time and energy with. If you don't have a good relationship with the ones you think should be closest to you, don't count it as a loss. God can still fulfill that desire through others in the family of God.
Wise words, indeed.
Yesterday was Father's Day. I hope that all dads reading had a good day with their children, communicating in some sort of significant way, either in person or by phone.
As ours is a childless household, I was interested to follow coverage of the day on GB News.
Alastair Stewart
Alastair Stewart got a pleasant surprise on his afternoon show, as his daughter, a headmistress, rang in with her good wishes and thanks on behalf of herself and her siblings as well as Mrs Stewart:
Stewart said that he has good relationships with all of his children, but that he and they relate to each other in a very individualised way, making fatherhood that much more special.
He said that he was taken aback that his daughter rang in to the show, at the suggestion of the production team. He wiped away a little tear after the call ended.
Neil Oliver
Archaeologist and television presenter Neil Oliver, also a member of the GB News team, appeared in the studio on Stewart's show and the one that followed, where Father's Day was the main topic.
Riding lessons for a young daughter
Oliver told Stewart that some children have an instinctive attraction to loving certain animals. He told Stewart how his daughter wanted riding lessons because she loved horses. Oliver and his wife thought the girl was too young. One day when the three of them were out, the girl saw horses in a field and spontaneously ran towards them. Oliver and his wife were worried for her safety, but the horses lowered their heads as she approached so that she could hug them. Riding lessons followed shortly afterwards.
His daughter will be entering Edinburgh University this autumn.
The awe of holding a newborn
On the show that followed Alastair Stewart's, Oliver said that holding his children as newborns was one of the most awe-inspiring experiences he could have. He said that holding his tiny babies turned him to jelly. He said that he felt as if his ribcage were floating around in his body, it was such a tremendous experience.
Celebrating together
As Oliver was in London in the studio and his children at home in Scotland, he told them they could celebrate Father's Day together once he returned to Stirling.
He said that he enjoys all the days that most of us regard as greeting card holidays, saying that any day that brings families closer together is worth celebrating.
Proudest accomplishments
Oliver said that his proudest accomplishments in life are being a husband and a father.
He said he knew from a young age that he wanted a wife and children. They make his life complete.
—————————–
I did search on Twitter to see if GB News had posted any of these clips. Alas, no.
Furthermore, Neil Oliver no longer has a Twitter feed.
He deleted his Twitter account in 2016, after harassment from people who want Scottish independence. The Express carried the story in August that year (emphases mine):
The archaeologist, writer and broadcaster, who presents BBC's Coast, said he was forced off social media by the so-called cybernats, disappointing his 40,000 followers.
Mr Oliver says he became a target for abuse and received scores of hate-filled messages after deciding to speak out in favour of the Union.
The Renfrewshire-born broadcaster said: "A great chunk of the response was not just negative but very personal and filled with bile and vicious loathing.
"People made it clear they wished the worst for me. They wished that I would develop cancer and said I deserved to be burnt as a traitor. It was one or two positive comments accompanied by hundreds of hate-fuelled messages" …
"I realised that by having a Twitter identity I had opened a door into my personal life in which strangers could pass at will. The minute I deactivated my account I felt like I had brought my head out of deep water and could breathe easily. It was an almost instantaneous fix."
Mr Oliver said that he was now worried about his three young children being targeted.
In an earlier article from January 2016, Oliver revealed his favourite personal photo to The Express, one of him and his wife as students at Glasgow University.
He told the reporter:
This is a picture of me and my wife Trudi at Glasgow University. l graduated with an MA in archaeology in 1988, and this was at Trudi's graduation in 1990. We were together for a long time, then broke up in our twenties.
It was nothing particularly dramatic, but we were apart for eight years and met again by chance in 2002 after I bumped into her brother. It was as if we'd never been apart and we've been together ever since.
Our daughter Evie and sons Archie and Teddy were all present when we married in Solsgirth, Kinross-shire, on October 10, 2009, exactly 23 years after we first met.
We're very similar people from similar backgrounds. We each had a happy and normal working-class childhood. Trudi grew up in Falkirk mostly, and I was raised in Ayr and Dumfries where my family still live. After several years working as an archaeologist, then I became a newspaper journalist – like Trudi.
Oliver is known for his shoulder-length hair, which he has had since he was 15.
He doesn't dare get it cut:
I've basically had the same haircut since I was 15. When I was at university, quite a lot of men were scruffy with long hair, and I fell into that and fossilised. But Trudi was taken with my long hair. She is my number one fan and likes the way I look.
We'd end up in the divorce courts if I got my hair cut short now! But I've always had people telling me I should get it cut. A TV reviewer from The Guardian recently wrote that whenever I appear on screen she wants to scream, "Get your hair cut, laddie!" Any review I get for a TV show always starts with something like "the Scottish archaeologist with the long flowing locks…"
He missed his family when he was away filming his series:
I miss Trudi and the children when I'm away from our home in Stirling. My job is not onerous in any way, and I enjoy it thoroughly, but being away is the hardest part by far. I've missed a lot of birthdays, school concerts… just family time. I try and minimise how long I'm away. When I'm home I do the school run and I go in from time to time to talk about history.
Although I'm away for long chunks of time, the kids have always had their mum with them 24/7. She has the toughest gig, operating as a single mum for half the year. But, when I am home, it's often for periods of about two months.
He wrote books when at home:
I spent five months of the last year writing my first novel Master Of Shadows in the spare bedroom at home. I had previously had eight non-fiction works published, but I was more nervous about the reaction to this.
Now Neil Oliver has a weekly show on GB News. He told Alastair Stewart that this was a career move he had not anticipated but feels that now is the time, because he has much to say about British society today.
He added that doing a show live is much different from doing a television series, where something can be redone, if necessary. He said he is always nervous before filming. He and Stewart agreed that any presenter who isn't nervous beforehand should probably stop broadcasting.
In closing, it was fascinating to hear Oliver's thoughts on fatherhood, especially as his children are teenagers now.
And who doesn't like a good love story?
On June 24, 2020, John MacArthur posted a sermon, 'Act Like Men', with the key phrase from the Bible, 'be strong and courageous':
It is one hour and six minutes long and, as you would expect, every minute is well spent watching and listening.
Without saying it explicitly, MacArthur disparages the welfare state which has caused millions of men to relinquish their family responsibilities.
Those of us who have had responsible fathers will greatly appreciate what the founder of Grace To You and Master's Seminary has to say to men in the modern world.
In order to place this into context, you might wish to read my post from June 29, 'John MacArthur videos about the protests', which offers excellent advice about what to do in our journey as Christians.
Excerpts from the 'Act Like Men' transcript follow, emphases mine.
MacArthur begins by saying that, in the wake of the protests across the United States and the rest of Western world, he called a meeting of men from his congregation and Master's Seminary — particularly men of colour — to enlighten him further. He asked them to give him five working points for a Christian agenda moving forward:
These are young Black men that gave up a chunk of their time to sit with me and talk through some of these issues. Thanks to Carl Hargrove for kind of leading that discussion which was powerfully fruitful for me …
So I said to these men after about two hours plus of talking together, and it was a very gracious and loving communication. I said, "So give me five things that we need to do as believers in Jesus Christ to reach across racial lines and bring the gospel to these people and have it received." So I said, "You get five shots, and I'll have this as the introduction to my sermon." So here we go. This is what they said to me.
Number One: "Tell people that racism is a sin." Racism is a sin, isn't it. Any kind of hate is a sin, and racism is an utterly irrational hate. Racism is what causes genocide, what caused the Holocaust, what causes ethnic battles all across the planet as long as there's been human history. But then men in their natural state hate God, and the Bible says they hate each other. The first crime was a murder based upon anger, based upon hate, when Cain killed his brother.
Any kind of hate is a sin. Any kind of racial hate is an irrational expanded form of hate coming from any human heart; it is reflective of the fallenness of that heart. And we also know in our society that there are some people who have received more of that than others. We need to make it very clear that to hate anyone on any basis or any group of people is a sin against God of monumental proportions.
Secondly: "We need to show compassion, compassion to those who've experienced this." And lots of people have. We need to open our hearts and weep with those who weep and mourn with those who mourn. Jesus looked at the multitudes and had compassion. Even when He went to the grave of Lazarus, He wept; and He knew He was going to raise him from the dead, and He still wept. That's the heart of Jesus.
Life is hard, and it has been especially hard for some groups of people; and that certainly speaks to the issue of the history of Black people in America. For those of us who know and love the Lord Jesus Christ, they don't want to hear the statistics, but they would love to know you have compassion for them.
Thirdly, we talked about the fact that, "We need to listen." And that's pretty much a basic principle, isn't it: slow to speak and quick to hear. We may have all the theological answers, we may have all the statistical answers, but can we keep our mouths closed long enough to hear the heart of someone else? Engaging someone with the gospel is so much more effective if that comes in the context of having heard their heart.
Number Four they said: "Use these days as an opportunity to show the love of Christ." This was really rich advice for me. Say racism is a sin, and it is. Any kind of hate coming from anybody in any direction and you can see that it is tearing this culture to shreds.
Show compassion, listen, and use these opportunities as an occasion to show love. That's four; got one more. And the final one was this: "The only thing that's going to break the cycle of our problems in this country is godly fathers. Help us develop godly fathers." Now you might say that was a providence of God that it happened the week of Father's Day. Sure set me up for this morning because I want to talk about fathers.
Here are the current American statistics on fatherhood. These involve the main demographics, by the way. The statistics are probably similar, proportionally, throughout the Western world. Please read these and note them well:
Here's the current reality. Twenty-five million children in our country live without a biological father – one out of three. Grades 1 to 12, forty percent of children live without a biological father in the home. Over fifty percent currently of children are born outside marriage. Eighty-five percent of prisoners grew up in a fatherless home. Eighty-five percent of children with behavioral disorders came from fatherless homes. Ninety percent of youth who run away and become homeless come from fatherless homes. Children from fatherless homes are three hundred percent more likely to deal drugs and carry weapons.
This is a holocaust. And it's not limited to any group of ethnic people, it is a national holocaust. The statistics I gave you are across the board for our country. Just that one statistic, eighty-five percent of prisoners grew up in a fatherless home, is a terrifying reality.
I used to hear when I was a kid that if you had a good mother you could have any ol' schtick for a dad. That's not true. I used to hear when I was a kid preachers say, "You men, it's important how you live, you Christian men, because your children will get their view of God from you." That's ridiculous. They don't get their view of God from me, they get their view of God from the Bible. That's an insult to God. What they do get from me is their view of a man. Children will get their view of a man and what a man is from the father.
There, I must disagree, at least in part. I have posted a few entries on fathers and clergy who have not fulfilled their respective responsibilities, either in the family or in the Church:
Here's what happens when Dad doesn't attend church
Consistent churchgoing habits important for children
The Methodist Church advocates man-centredness — survey (2010)
Which is more deplorable, the gun culture or the fatherless culture?
What kind of father doesn't protect his family? (concerns bishops)
But I digress.
Back to John MacArthur:
Sexual immorality, relentless assault of feminism, overexposure to perversion, complete collapse of homes has just produced generations of bad fathers. And the reality is nothing is more devastating to a society than that, nothing. And on the other hand, the only hope for stability and the only hope for sanity, the only hope for peace in a society is masculine, virtuous men.
Some will find that hard to absorb. However, think of the rise of the welfare state over the past half-century. That might begin to put this into context. A virtuous life is not about absentee fathers or Big Government acting as a husband or father. If you sire a child, you need to be there as part of a family unit.
Even if one disagrees with that, it is hard to disagree that, during the past 50 years or so, the further we slip into moral laxity, the more we see evil. In fact, we're seeing unimaginable evil. We thought we would be nice and allow people to do what they please. Now we see the results of that ill-advised experiment:
Evil abounds absolutely everywhere. How men respond to its presence determines the survival and well-being of a society. Let me say that again: "Evil abounds everywhere. How men respond to its presence determines the survival and well-being of that society." One psychologist said, "Masculinity is taking responsibility to reduce evil and produce good."
No culture will ever rise above the character of its men: fathers. The feminist lie has been that patriarchy is bad. It is tyrannical. It is toxic. It needs to be destroyed. And they've been doing it for decades. To destroy masculinity, to destroy strong male leadership and character leads to the current disaster: irresponsible men running loose in the streets terrorizing a society. Weak men have given us this legacy. Weak men produce the death of society. And men are in a crisis today, they are being continually told to try to get in touch with their feminine side, so they have become defensive about their masculinity.
Women rise higher and higher and higher and more frequently into positions of leadership, as men feel overwhelmed and overpowered and unable to fight against the trend. Oh, there are lots of men at the gym, pretty buff, have some muscles, but they're doing virtually nothing to stop the tide of evil in the world. And by the way, in case women haven't begun to realize it: weak, immoral men abuse women, and they produce more weak, immoral sons. No, children don't get their view of God from their father, but they do get their view of what a man is. And we are in some serious trouble because the current crop of men are infecting the children.
There are two views in the Bible on generational sin. If one repents of a generational sin, one has wiped his slate clean. See Ezekiel 18:19-20:
19 "Yet you ask, 'Why does the son not share the guilt of his father?' Since the son has done what is just and right and has been careful to keep all my decrees, he will surely live. 20 The soul who sins is the one who will die. The son will not share the guilt of the father, nor will the father share the guilt of the son. The righteousness of the righteous man will be credited to him, and the wickedness of the wicked will be charged against him.
Yet, where there is no repentance from generation to generation, the sin endures as a punishable act:
Listen to the Word of God, Exodus chapter 20 and verse 5: I, the Lord your God, am a jealous God, visiting the iniquity of the fathers on the children, on the third and fourth generation of them that hate Me." Listen to Exodus 34:7, "God will by no means leave the guilty unpunished, visiting the iniquity of the fathers on the children to the third and fourth generation." God says it again in Deuteronomy 5:9 and 10, "I, the Lord your God, am a jealous God, visiting the iniquity of the fathers on the children, and on the third and fourth generation of those who hate Me, but showing lovingkindness to thousands, to those who love Me and keep My commandments."
Repeatedly, God says corrupt fathers create in society a legacy of corruption that is generational. He's not saying that a son would be punished for a father's sin; clearly that is not the case. Deuteronomy 24:16 says, "Fathers shall not be put to death for their sons, nor shall sons be put to death for their fathers; everyone will be put to death for his own sin." We're not talking about an individual suffering punishment for another person's sin. What we are saying is fathers – plural – who are corrupt leave a legacy that will not be overturned in three or four generations. And if the next generation is corrupt, it pushes that out another three or four, and the next generation another three or four, and it becomes an impossible cycle.
In the words of the prophet Zechariah as he begins his prophecy, "In the eighth month of the second year of Darius, the word of the Lord came to Zechariah the prophet, son of Berechiah, the son of Iddo saying, 'The Lord was very angry with your fathers. Therefore say to them, "Thus says the Lord of hosts, 'Return to Me,' declares the Lord of hosts, 'that I may return to you,' says the Lord of hosts. "Do not be like your fathers."'" Something has to break the cycle.
This is what happens without repentance:
Clearly, a generation dominated by sinful fathers will bear the crushing consequence of their sinful progenitors. Their children will suffer. Their grandchildren will suffer. Their great-grandchildren will suffer. No generation exists in isolation or as an island. A wicked society defined as wicked by the behavior of the men won't be rooted out for multiple generations. So it isn't that people get their view of God from a father, but they do get their view of what a father is, and if it's the wrong view, it's just purposely repeated again and again and again.
So, as Christians, what do we do? First, we need to acknowledge that we are all prone to sin. When we give in to sin, we give in to all sorts of carnality. On the other hand, when we are alive in Christ, God's infinite grace enables us to resist temptation through faith and the gifts of the Holy Spirit:
The default position of every man is corruption, right? It's the most natural thing they do is sin. The most accessible affect of that sin is on the women in their lives, and then on the children in their lives, and then it extends to everybody else.
The problem is, "There's none righteous, no, not one. They're all evil," as we read in Romans 3. They don't seek after God. They hate God, they hate others, and they're influencing their children while they're harming their wives. I understand why there's a women's movement. And even though it's wrong and totally devastates a society, pushes women into places they were never intended to be and men out of the places they were intended to be, I understand it because of the corruption of men.
So where do we begin? We have to begin as believers who have new natures, right? We are new creations in Christ, we have the Holy Spirit, and we start by breaking the cycle. It's not going to be broken, it's still around, right? What you're seeing today in the chaos of this culture, what you see in the weakness and foolishness of people in high places, what you see is just the reality that corrupt fathers destroy society.
MacArthur then begins discussing one of the gifts of the Holy Spirit: fortitude. As we are in the season of Pentecost — please do ignore the term 'Ordinary Time' — it is important that we take some lessons from the weeks from Pentecost until the end of the Church year, just before December.
Fortitude is no casual word. It is not restricted to men alone, however, it is in scarce supply these days among some of today's men, enough to make a difference in Western society:
Fortitude. What is fortitude? It's a great word. Firmness, strength of soul that faces danger with courage and bears loss and pain without complaint. Fortitude: "Firmness and strength of soul that faces danger with courage and bears loss and pain without complaint." That's not a theological definition, that's just a definition of the word.
When you say a man has fortitude, you're talking about someone who doesn't compromise even when there's danger, even when that danger escalates to fear and pain. Fortitude is a combination of conviction, courage, and endurance – conviction, courage, and endurance. It is the willingness – it is not just the willingness, I would say it's even the desire to risk, to literally create challenges if they're not already there, to attack difficulty, to challenge difficulty head on, to bear suffering with courage. This is what makes a man a man, and this is the kind of man in whom a woman finds her security, finds her protection; and in that kind of relationship, the woman's femininity flourishes.
Men are those who should be the protectors, the purifiers, who secure their wives, who secure their children, who accomplish all that needs to be done to reduce evil in a society and produce good; and yet this society for years and decades has had men busy producing evil, and diminishing good. True manliness is bound up in the word "courage." That is the virtue that marks a real man. Truth, conviction, courage.
Turn to 1 Corinthians chapter 16, 1 Corinthians chapter 16. At the end of this wonderful letter, near the end, is tucked a very important verse, actually two verses: verses 13 and 14. Listen to what the apostle Paul says: "Be on the alert, stand firm in the faith, act like men, be strong. Let all that you do be done in love." "Be on the alert," – danger is everywhere – "stand firm in the faith," – don't waiver in your belief and convictions – "act like men," – What does that mean? Fortitude, uncompromising courage – "be strong." The New King James actually says, "Be brave, be strong." "Act like men" essentially means to conduct one's self in a courageous way, to conduct one's self in a courageous way.
Courage is the stock-in-trade of a man: courage in the face of danger, courage in the face of temptation, courage in the face of loss, courage in the face of suffering. This strength of verse 13, essentially four statements saying, one way or another, "Be strong." Is then balanced in verse 14 by, "Let all that you do be done in love." And how important is it to add that. There's nothing more manly than a man with consummate conviction, courage, and endurance, who is marked by love. That's a man – not weak, not vacillating, not fearful; and loving.
Real men face life with this kind of fortitude. They're watchful of the dangers around them. They're alert. They're protectors of their wives and children, and of their friends and all the people over whom they have influence. They have convictions about what is true. They have courage to live out those convictions and the strength to be unwavering when those convictions will cost them everything. Your convictions, they're only real convictions if they hold up under the most intense pressure.
MacArthur then goes into the many Bible verses with the words 'be strong and courageous':
In Deuteronomy 31, Moses is passing the mantle on to Joshua, and in verse 6, Deuteronomy 31, he says this: "Be strong and courageous, do not be afraid or tremble at them," – meaning your enemies – "for the Lord your God is the one who goes with you. He will not fail you or forsake you." "Then Moses called to Joshua and said to him in the sight of all Israel, 'Be strong and courageous, for you shall go with this people into the land which the Lord has sworn to their fathers to give them, and you shall give it to them as an inheritance. The Lord is the one who goes ahead of you; He will be with you. He will not fail you nor forsake you. Do not fear or be dismayed." That's the greatest transitional leadership speech ever.
Look at … 2 Samuel chapter 10 and verse 12. This is Joab to the Israelites who were facing opposition, strong opposition, tremendously strong opposition. Back in verse 6, it lays out the forces that were coming against them. But in verse 12, Joab says to the Israelites, "Be strong, and let us show ourselves courageous for the sake of our people and for the cities of our God; and may the Lord do what is good in His sight."
First Kings chapter 2. In 1 Kings chapter 2, David addresses Solomon his son. "David's time to die drew near. He charged Solomon his son, saying, 'I'm going the way of all the earth. Be strong, therefore, show yourself a man. Keep the charge of the Lord your God, to walk in His ways, to keep His statutes, His commandments, His ordinances, and His testimonies, according to what is written in the Law of Moses, that you may succeed in all that you do and wherever you turn, so that the Lord may carry out His promise which He spoke.'" Moses to Joshua, Joab to the Israelites, David to Solomon.
For another view of David's speech to his son Solomon, look at 1 Chronicles chapter 22. I'm showing you these because I want you to see how common this is. First Chronicles 22, David calls for his son to build the house of God, and we can pick it up in verse 11: "Now, my son, the Lord be with you that you may be successful, and build the house of the Lord your God just as He has spoken concerning you. Only the Lord give you discretion and understanding, and give you charge over Israel, so that you may keep the law of the Lord your God. Then you will prosper, if you're careful to observe the statues and ordinances which the Lord commanded Moses concerning Israel. Be strong and courageous, do not fear nor be dismayed." All of these declarations assume that your devotion to God is going to be tested, and you're going to have to be strong. It's going to be tested, no way around it.
David says again, 1 Chronicles 28:20, to his son Solomon, he gives this speech another time: "Be strong and courageous, and act; do not fear nor be dismayed, for the Lord God, my God, is with you. He will not fail you nor forsake you until all the work for the service of the house of the Lord is finished." Just a couple more.
Toward the end of 2 Chronicles, Hezekiah is speaking to men in positions of leadership. Hezekiah, chapter 32 of 2 Chronicles, the first verse: "After these acts of faithfulness Sennacherib king of Assyria came, invaded Judah, besieged the fortified cities, and thought to break into them for himself. Hezekiah saw that Sennacherib had come invading Judah and he intended to make war on Jerusalem; he decided with his officers and warriors to cut off the supply of water from the springs" – this was a siege – "which were outside the city, and they helped him. So many people assembled and stopped up all the springs and streams which flowed through the region, saying, 'Why should the kings of Assyria come and find abundant water?' And he took courage and rebuilt all the wall that had been broken down and erected towers on it, built another outside wall, strengthened the Millo in the city of David, made weapons and shields in great number, appointed military officers over the people and gathered them in the square of the city gate, and spoke encouragingly to them, and this is what he said: 'Be strong and courageous, do not fear or be dismayed because the king of Assyria nor because of all the horde that is with him; for the one with us is greater than the one with him. With him is only an arm of flesh, but with us is the Lord our God to help us and to fight our battles.'" That's a great pep talk, isn't it, for an army. Psalm 27:14 says, "Be strong and let your heart take courage."
Men don't give in to fear. Men don't give in to pressure. Men don't give in to intimidation, and they don't give in to temptation. They don't seek the easy way. They will take the pain, they will invite the risk, they will confront the challenge, and they will not bow to the pressure to compromise the commandments of God. Strength of a man is that he lives on principle, that he lives on conviction, that he has the courage of those convictions, stands strong against everything that comes at those convictions, bravely faces the challenges in a fortified way. Manly fortitude means contending with difficulty, facing every enemy, meeting the enemy head on, bearing the pain, maintaining self-discipline, upholding truth, pressing on to the goal. That's what defines a man.
MacArthur cites more examples. God spoke the same words to Joshua in the presence of Moses:
I want to show you another passage back in Joshua, right at the beginning of Joshua. Moses gives this speech again as he passes the baton, as it were, to Joshua. He says to him in chapter 1 of Joshua, verse 5, "No man will be able to stand before you all the days of your life. Just as I have been with Moses, I will be with you." This is God now speaking, God is the one speaking. "Just as I have been with Moses, I will be with you."
So here it comes not from Moses to Joshua, but from God to Joshua in the presence of Moses. And here's what God says to Joshua, verse 6: "Be strong and courageous, for you shall give this people possession of the land which I swore to their fathers to give them. Only be strong and very courageous; be careful to do according to all the law which Moses My servant commanded you; do not turn from it to the right or to the left, so that you may have success wherever you go."
And here comes the key to that. How do you live like that? How do you live with that strength and courage? How do you live without ever compromising? Verse 8: "This book of the law" – the Word of God – "shall not depart from your mouth, but you shall meditate on it day and night, so that you may be careful to do according to all that is written in it; for then you will make your way prosperous, and then you will have success. Have I not commanded you? Be strong and courageous! Do not tremble or be dismayed, for the Lord your God is with you wherever you go." It's an incredible speech from God.
"Be strong" – verse 5 – "because God will be with you," – "because you're fulfilling a divine cause, a promise from God." Verses 7 and 8, "The only way you can do this is to submit to the Word of God so that it constantly is in your mind and you live out its truths." You will be able to be obedient if you're saturated by the Word of God empowered by the Spirit of God.
Can you see why this speech is repeated so many, many times? This is the mark of a man. It takes a father like that to raise a son like that. Spiritual men are courageous, strong, principled, uncompromising, and bold. This is God's role for men to play in a society, but it is also God's role for the men to play who are the leaders of His people Israel. And this is God's standard for the men who lead His church.
This is what we should expect from our clergy:
When we come into the New Testament and we are introduced to the kind of men that the Lord commands to lead His church. This is how He describes them in 1 Timothy 3: "This man must be above reproach, a one-woman man, temperate, prudent, respectable, hospitable, able to teach, not addicted to wine or pugnacious, but gentle, peaceable, free from the love of money. He must be one who manages his own household well, keeping his children under control with all dignity (if a man doesn't know how to manage his own children, how will he take care of the church of God?), and not a new convert, so that he will not become conceited and fall into the condemnation incurred by the devil. And he must have a good reputation with those outside the church, so that he will not fall into reproach and the snare of the devil." High standards for a pastor, an elder.
To Titus, Paul says similarly, "Appoint elders. If a man is above reproach, one-woman man, having children who believe, not accused of dissipation or rebellion; for the overseer" – or the shepherd, pastor, bishop – "must be above reproach as God's steward, not self-willed, not quick-tempered, not addicted to wine, not pugnacious, not fond of sordid gain, but hospitable, loving what is good, sensible, just, devout, self-controlled, holding fast the faithful word which is in accordance with the teaching, so that he'll be able to exhort in sound doctrine and refute those who contradict." This is the kind of men who lead the church.
Why is the standard so high for the leaders of the church? Because the leaders of the church have the responsibility to set the pattern for what manliness looks like in a godly environment. It's not that they alone should be like this, it is that they should be like this so the others can see what a man should be. It isn't that the Lord wants to pick up all the pastors and elders and take them to another level of spirituality which no one could attain, it is rather that this is what God expects from every man. But it's got to be modeled. Men like that and men, as Ephesians 5 said, who love their wives like Christ loved the church, and who are protectors of their wives and who literally are the saviors of their wives, are the kind of men who become a haven for the wife, who make her feel secure and protected, nourished, cherished. And when children grow up in a home where the man secures the woman and the children, there's peace.
So, how have we gone so far astray?
This culture has turned on God, eliminated His Word. The bible and the gospel is an enemy.
One wonders what John MacArthur thinks of President Trump. To my knowledge, he has not been invited to the White House. I wish that President Trump would invite him. That would make for an interesting transcript.
But I digress. MacArthur says:
The leaders of this nation have no interest in God or in His Word, and they are basically running this country right into hell as fast as they can. The only thing that's going to stop this is not a group of feminized men who thinks God just wants to give them what they want so they can be happy. What this world needs is not sensitive men, it needs strong men. We live in a world of compromise, more than compromise. You could barely call it compromise because there's nothing left of that which is good, so what are they compromising with.
That said, it is clear that MacArthur, a Californian, disapproves of California Governor Gavin Newsom's views. Newsom is a self-proclaimed Catholic. Here's a 2008 video of the two of them on the old Larry King Show on CNN when Newsom was the mayor of San Francisco and married to his second wife at the time:
Now on to the word 'integrity':
To add another word to your thoughts about this, I would say that people who have no price have integrity, integrity. So we talk about fortitude, let me talk about integrity. "People who have no price have integrity."
What is integrity? It is essentially unbreakable fortitude. Integrity is defined as steadfast adherence to a moral code. It comes from "integer," which means "whole" or "complete." Its synonyms are "honesty," "sincerity," "simplicity," "incorruptibility." It's antonym is "duplicity" or "hypocrisy." A person who lacks integrity is a hypocrite. Integrity means that you live by your convictions: you say what you believe, you hold to what you believe, you're immoveable. That's wholeness. That's integrity: you are one. It was said long ago of a preacher that he preached very well, but he lived better. The world is a seducer, and Satan is a seducing deceiver, pushing us into compromise, and therefore into hypocrisy.
When our Lord indicted the scribes and Pharisees who were the frequent objects of His blistering attacks. Inevitably it was on their integrity that He assaulted them. For example, in Matthew 23:3, He said, "They say things and do not do them."
MacArthur, who is truly blessed, has a number of additional observations. As such, I would invite you to read or watch his sermon in full.
In short, manliness does not involve belonging to a street gang.
Each man, at some point, will have to rely upon his own wits, determination and fortitude to resolve his own trials, whether they be his own or those of his family.
We need to recover the biblical ideal of manliness, which has kept Western society protected for centuries. It hasn't always succeeded, but we are fallen people, susceptible to temptation and sin.
Men have been beaten into the ground for decades. This must be remedied:
We need a generation of men who are alert to danger, who stand firm in the faith, who are courageous with the Word of God, uncompromising and strong.
And, listen, everything about this that I've said indicates they will be tested. Manliness will be tested. Conviction will be tested. Courage will be tested. Strength will be tested. The pressure will come, it'll come in unexpected ways, but it'll come. You may get away with your statement of conviction for years, but there will come a test, and many men will shock the people who knew them by selling out, compromising, abandoning their integrity, playing the hypocrite out of cowardice. This falls into a translation of Romans 12:2. Don't let the world squeeze you into its mold.
Stay strong. Stand firm in the faith, as Saint Paul did.
The world needs real men now more than ever, especially to stand by principled women.
As I close a week discussing Disroyalty starring the Duke and Duchess of Sussex, here are a few more views about their plans as well as a summary of what went on at Sandringham on Monday, January 13, 2020.
Before I get to those, however, it is important to remember that other Royals will have to pick up the Sussexes' slack, leaving 200 engagements per year to divide among them.
Key points about the Sandringham summit
Here's what to know about the Sandringham summit on Monday.
The Daily Mail says that Harry arrived at 11:20 a.m.
By then, Prince Philip had already left and was driven elsewhere on the estate. He was reportedly furious last week:
Philip was reportedly 'spitting blood' with anger when he found out last Wednesday and yelled at his aides: 'What the hell are they playing at?'
If he left, he wasn't feeling any calmer.
Prince Charles had arrived the day before. Prince William showed up 15 minutes before the meeting began at 2:00 p.m.
The meeting was held in the Long Library, which used to be a bowling alley. Princes William and Harry spent much time there as children.
It is located away from other rooms where the Royals might have been overheard.
Meanwhile, the Home Secretary, Priti Patel, denied charges of racism (same link):
Ms Patel, speaking to BBC Radio 5 Live, said: 'I'm not in that category at all where I believe there's racism at all. 
'I think we live in a great country, a great society, full of opportunity, where people of any background can get on in life.'
Asked if the media had been in any way racist, she replied: 'I don't think so, no… I certainly haven't seen that through any debates or commentary or things of that nature.'
On January 14, the Mail reported that Prime Minister Boris Johnson wisely refused to be drawn in on the controversy:
In his first major TV interview since the election, Mr Johnson said: 'I am a massive fan of the Queen and of the Royal Family…
'I am absolutely confident that they are going to sort this out.'
I was happy to read that Harry's early arrival ensured that he could have a lengthy one-on-one conversation with his grandmother.
Bolter
In 2018, a few months before Prince Harry and Meghan Markle got married, Germaine Greer gave an interview to Australia's 60 Minutes in which she said she thought the bride would end up leaving.
The Cut posted the story on April 16. Prescient (emphases mine):
During an interview with 60 Minutes Australia this weekend, outspoken and controversial feminist author Germaine Greer said she thinks Markle "will bolt" as soon as she gets a sense of what life in the British royal family (which Greer refers to as "the firm") is really like.
"Let's hope they're in love. If they're not it's going to be totally unbearable," Greer told journalist Tara Brown. "She will see vistas of boredom that are unbelievable. I think the pressure to escape from the firm is crushing."
When Brown asked what she predicted for the couple's future, Greer answered, "I think she'll bolt."
"She bolted before. She was out the door," she said, referring to Markle's 2013 divorce from Trevor Engelson. "I think she'll bolt. I hope in a way that she'll bolt but maybe she'll take Harry with her."
When asked why Markle, already a successful television star, would give up her career to marry into the royal family, Greer quipped: "Why would a girl born in poverty marry a man with 53 million quid? I can't think of single reason."
It seems Harry might be worth less than that — possibly £30m, but the point stands.
There is also the status involved.
Opportunism
The deputy political editor at the Daily Mail, John Stevens, had this to say about the Sussexes' announcement last week:
In fact, that is quite possible.
Allegedly, Justin Trudeau knew of their plans before the Queen and the rest of the Royal Family. So did Elton John.
On January 11, the Daily Mail reported:
There was speculation last night that Canada's Prime Minister Justin Trudeau may have given a cryptic Twitter clue about the crisis that was about to engulf the Royal Family.
When news emerged that the Duke and Duchess of Sussex had turned their back on Royal tradition and flown to Canada for Christmas, their powerful friend was one of the first to welcome them on social media.
He wrote: 'You're among friends, and always welcome here.'
Just weeks later, the Royal couple were looking to test that 'always' by announcing their move to Canada.
And the tweet has done little to dampen gossip in Embassy circles that Mr Trudeau was more aware of the Sussexes' emigration plans than even their closest family.
Diplomatic sources claim Mr Trudeau and his wife Sophie were consulted about the decision late last year, before members of the Royal family and even the Queen.
The Trudeaus are friends with the Sussexes:
Last night, the Canadian government did not respond when confronted about the claims, but sources close to the Sussexes denied they had discussed the move with Prime Minister Trudeau.
The Canadian First Couple and the Sussexes have been close friends, with Meghan and Sophie even sharing a stylist – Meghan's best friend and sometime babysitter for Archie, Jessica Mulroney.
Prince Harry, 35, and Mr Trudeau, 48, are two of the younger fixtures on the world stage, with both men appearing to enjoy each other's company at events such as Commonwealth commemorations.
The two have also encountered each other on multiple occasions through Prince Harry's Invictus Games for disabled servicemen.
I wonder if the Sussexes are aware that, many years ago, Trudeau once attended a fancy dress party in blackface. He thought nothing of it at the time. Terrible.
Returning to John Stevens's tweet, here are a few responses:
Money
Although, technically, what Prince Charles does with his income from the Duchy of Cornwall is his business, the British would be annoyed if he continued to finance Prince Harry:
This YouGov poll shows similar results:
This Briton tweeted about the video of Harry touting Meghan to Disney's Bob Iver for voiceover work:
Naturally, some of the money she would earn from such work would go to charity. Of course:
Trudeau said that his country will pay for the Sussexes' security detail. Canadians won't be too happy about that:
Another Daily Mail report said that Canada would pay half the Sussexes' £1m annual security detail cost. We shall see. On January 14, the Mail published an article quoting Trudeau, who said:
I think most Canadians are very supportive of having royals be here, but how that looks and what kind of costs are involved, there are still lots of discussions to have.
Family
The young Anglican priest who tweeted the following has mistakenly said that the Sussexes are on the Civil List. They are not.
However, the larger point about their role in the Royal Family is what is important:
The Revd Giles Fraser, formerly Canon at St Paul's Cathedral and now Rector of St Mary, Newington in South London, wrote a considered article on the topic that the Revd Philip Murray raised. The Bishop of Dorking (Surrey) complimented him on it:
Do we still recognise moral obligations that exist prior to our having chosen them? That is, it seems to me, the question embedded within the whole Megxit scandal. It couldn't have been better designed to drive a wedge between two very different ways of seeing the world …
But this isn't just about monarchy. For the same tension exists within the very idea of a family — the Windsors being, as well as royal, the most famous family in the world. How does liberalism — of which Meghan Markle feels like a supreme representative — deal with that age-old sense of moral obligation towards those who have brought you into life and have raised and nurtured you, without you having chosen them for the task. Of course, some families fail in this very basic duty. And most of us parents only get it half right, at best.
Without this very basic idea that we are born into some fundamental unit of existential solidarity, something towards which we owe an allegiance long before we are able to choose it, human life is released from its moorings and we are all deeply lost. This is where liberalism flounders. For when it comes to the most important basis of human flourishing, family life, liberalism has nothing useful to say, other than to remind us that some families are destructive and dysfunctional and best escaped from. Be your own person, it advises. Break free. But this is to cut off the branch on which nests are built.
Sense of duty
A Theology graduate from Cambridge University has the ultimate analysis of the Duchess and her outlook on a sense of duty.
This is a must-read:
So true — especially the closing thought about helping minority Britons!
When they got married, I thought she might look forward to such a role. I was wrong.
Poll on the monarchy
Between Thursday and Friday, January 9 and 10, Deltapoll conducted a survey on the monarchy. This was after the Sussexes' announcement.
The favourable results were lower than I'd expected:
A Pole responded to that tweet, encouraging us to keep the Royal Family:
Good or bad? It's important. I come originally from Poland. I read Polish papers and #British monarchy issues make front page headlines there. The monarchy is #Britain's trademark, as it were, recognised worldwide. Try and lose it to see how good it actually is to have it.
I fully agree.
This is a breakdown of the question by age group:
I also agree with these replies:
I do not think that most of our Prime Ministers would have made great Presidents.
The Royal Family are good for Britain. Let's not discard them because of the actions of a few bad apples.
Happy New Year!
Happy new decade!
I enjoy, albeit with trepidation at times, looking back at the decades I've lived through and charting the change from beginning to end.
O tempora, o mores!
1960s
In 1960, growing up in the United States, I remember that things were still quite formal. Most people took care in the way they spoke and in their appearance. They were careful to conduct their households in a respectable manner. By the middle of the decade, that began to change but not too noticeably.
By 1968, a social revolution was underway, including sexually. What was once private became public. Attire reflected that. Women began wearing skirts above the knee. Men's clothes became more form-fitting.
Sloppiness and drugs became fashionable with the advent of hippies. Even though they were a small minority, they received a lot of media coverage. A slogan connected with them — 'If it feels good, do it' — began to pervade society at large.
Cinema and television reflected this change.
At home, Americans moved from watching westerns to tuning into a zany comedy hour. In 1960, Gunsmoke was the most viewed programme. In 1969, it was Rowan and Martin's Laugh-In. Gunsmoke had moved to sixth place in the Nielsen ratings.
Film genres and themes also shifted. In 1960, the great epics were popular, with Spartacus the highest grossing film and Exodus coming third. Psycho was second. In 1969, while Butch Cassidy and the Sundance Kid was in the top slot, Midnight Cowboy was at No. 3, Bob & Carol & Ted & Alice was No. 6 and an X-rated movie, I Am Curious (Yellow) was No. 12. It would have been unthinkable in 1960 that an urban drama about homosexuality, a movie about swingers and one that was pornographic would have been so popular nine years later.
1970s
The cultural shift continued in the 1970s. American magazines and newspapers devoted many column inches to social drop-outs experimenting with communal living. Swingers were becoming popular in suburbia. Again, those were two small sub-groups of society, but everyone — even the most respectable — knew about these two phenomena.
Pop music got bolder, more sexualised. I remember in high school that we talked a lot about sex and could hardly wait to start dating so that we could experiment. Our parents wondered what was wrong with us. The idea of sin and the forbidden went out the window. 'If it feels good, do it' had spread to the middle classes. Previously forbidden carnal acts were encouraged as being completely 'natural'. This furthered the evolution of a shame-free society. Today, I read that some teenagers don't kiss on a first date; instead they engage in oral sex.
Interestingly, one of the most suggestive singers of the decade, Eric Carmen of the Raspberries, laments where this has led today:
I remember neighbours of ours getting divorced. The wife said that she could earn her own living now, thank you very much. The husband was heartbroken. We felt sorry for their two children. Until then, my family and I personally did not know any couples who got divorced. It just didn't happen to everyday individuals. However, divorce rates continued to rise and, these days, no one bats an eyelid.
More women started working. What began as a liberating elective would turn out to be a mandatory means of survival in marriage in the years that followed. Few of us knew that then, though.
Returning to music, it was a great decade for youngsters. FM radio produced rather excellent stations devoted to little known genres that never reached Top 40 AM stations. Through them, we discovered prog rock from Britain: Yes, Rick Wakeman, and Emerson, Lake and Palmer, to name but three musical greats. There were many more, too numerous to mention here.
Near the end of the decade we had disco. Saturday Night Fever was a huge box office hit and propelled John Travolta from television (Welcome Back Kotter) to cinema fame.
The most popular television sitcoms, such as Welcome Back Kotter, were all set in metropolitan areas. In terms of television in general, The Waltons was probably the only show with a rural setting.
Halfway through the decade, I spent a year in France, which was much quieter than the US socially and still quite formal, even though the more leftist state university students were generally unkempt and unwashed. In many respects, the country was a bridge between the 1960s and the 1970s in the nicest possible way.
1980s
Leaving university, I recall that many of my friends latched onto the Reagan zeitgeist and became conservatives.
They turned into their parents and lost the fun-loving verve they once had. I stayed single the longest, so was more acutely aware of a shift into respectability and suburban living.
I lived in a major US city then, earning my own way in life. For relaxation, I used to go to matinees at the weekend. The price of admission was cheaper and the cinemas were nearly empty, giving me the impression I had the big screen all to myself.
I saw a lot of world films in the first part of that decade, some from Brazil and Australia but mostly Britain and France. French film became a passion. Even one of the UHF television channels showed French films from the 1950s. Bliss.
As far as music was concerned, my favourite FM station played British and European singles apart from reggae on Sunday afternoons. More bliss.
Then, around 1986, something began to change. Although my favourite radio station stayed the same, the movie theatres weren't showing as many foreign films. Within a couple of years, they stopped showing them altogether. One of my lifelines had vanished, sadly. The American films that replaced them were not very good, either, so I stopped going to the cinema.
Everything became very one-dimensional. America, somehow, had lost the link with the zeitgeist of European culture, which it never recovered. It used to be that people in the 1960s and early 1970s made a two- or three-week trip to western Europe to see the historic sites they learned about in school. It was what we today would call a bucket list item.
Fortunately, by the end of the decade, employment events intervened — and further improved — for me.
1990s
Living in England, I realised that I had an insatiable appetite for history and politics. I learned a lot about both thanks to a gift subscription to The Spectator, which I had read about in English lit class in high school. It's been around since 1828.
In 1990s, my in-laws told me that Margaret Thatcher's time was up. She had become too full of herself. We had high hopes for John Major.
I remember the 1992 election, which Major won handily. I could not understand the rage of my female colleagues who expected Neil Kinnock to win. They stayed up all night drinking, waiting for a Labour government that never came. The next day, at work, they were hungover, tearful — and, above all, angry. Why did they think he stood a chance? Perhaps I had been reading too much of The Spectator, but I had no doubt that Major would continue as Prime Minister.
By 1997, most of us felt change was needed. The Conservative MPs on the front bench seemed like tired, bloated bureaucrats. None of them had an original idea. Most seemed to be lining their own pockets. I was most consterned by Health Secretary Virginia Bottomley, who started closing A&E (Accident and Emergency) services at local hospitals. What was she thinking?
When Tony Blair became Prime Minister in 1997, nearly everyone I knew rejoiced. Change was coming.
And how …
2000s
The first few years of Labour were fine. I was enjoying my work too much to pay any attention.
By 2005, I longed for a Conservative government, especially when Gordon Brown became PM with no general election.
After that, Labour became unbearable, banging on about people's personal lives and habits. The smoking ban came into force in the summer of 2007. Ministers assured us in television interviews that private members clubs and hotels would be exempt. No, not at all. It was a blanket ban everywhere.
It was during this decade that London elected its first mayor, Ken Livingstone. He served two terms and introduced the city-wide congestion charge for motor vehicles, which we called the Kengestion Charge. My colleagues at the time reminded me that, as head of the old GLA (Greater London Authority), he was known as Red Ken.
Boris Johnson succeeded him, also serving two terms. His administration made the streets tidy again and also lowered crime.
By 2006, I started looking more closely at the EU and the unelected bureaucrats in Brussels who seemed to rule our lives. I agreed with those disgruntled Britons who wanted a referendum on our membership.
Most of all, however, I was sick and tired of Labour, to the point of despair.
I also asked my far better half to cancel my gift subscription to the The Spectator, as it had changed its editorial line considerably after Boris Johnson left as editor. Although more people now read it, it is a former shadow of itself. I would not call it neither conservative nor traditional at all any more.
2010s
Hope came in the May 2010 general election.
The Conservatives had to form a coalition government with the Liberal Democrats. It was the David Cameron and Nick Clegg Show, but at least Labour were out of the picture after 13 years.
David Cameron referred to himself as the 'heir to Blair'. It took me some time to see it, but he was not wrong.
He set out to reform the Conservative Party and alienated older, faithful members in their local associations. CCHQ suddenly did not need their help.
On a broader level, Cameron will probably be best remembered for opening up marriage to same-sex couples and for offering us the EU referendum, billed by all parties as a 'once in a lifetime' choice which they all pledged to implement.
A number of televised debates took place in 2016. I watched them all. Some of my friends were less than convinced by the Leave proposition. The one clincher was Brexit The Movie, which is an hour-long eye-opener about the Brussels gravy train and better than any of the debates, no matter how good:
I stayed up until the early hours of the morning of Friday, June 24, 2016 to watch the result. When it was clear that Leave had won, I went to bed. The next day, my far better half and I woke up to Cameron resigning because he did not like the result. We had a celebratory lunch in London and went to a party that evening that had been planned months earlier. I remember the apprehension we both felt about sounding out the other party guests as to their views on the EU. We later discovered that were not alone. Finally, someone there broke the ice upon his arrival by exclaiming:
Is everybody HAPPY? I certainly am!
At that point, we were free to talk about Brexit.
Theresa May became Prime Minister later that summer.
Across the pond, another sea change was happening: Donald Trump's candidacy. It was even more of a shock when he won. A startled nation awoke to find that Hillary Clinton was not their president.
The conflicts about Brexit and Trump continue today. Opponents to both have grown ever more vehement.
On September 20, 2019, the British website Spiked issued a thought-provoking documentary on Trump and Brexit. It's 26-minutes long and well worth watching. To cover Brexit, their reporters interviewed residents of Southend-on-Sea in Essex. To cover the Trump phenomenon, they interviewed Pennsylvania journalist Salena Zito and residents of Erie, which was once a major industrial powerhouse in that state. It has fallen on very hard times, indeed:
The major theme running through both is, as they put it, 'change', which I believe they should have called 'self determination' and 'recovering the aspirational dream'.
One thing that struck me was the interview with the owner of a gym in Erie. He said that his father raised seven children on a janitor's salary:
You couldn't do that now.
Too right. Both parents now have to work — unlike in the 1960s — and few households can support more than two or three children.
People in Britain and the United States want to work and save more of their hard-earned cash. They also want good job opportunities for their children.
A fisherman in Southend said that, because of EU rules, he is restricted to an ever-smaller part of waters in which to fish. The number of fishing boats has continued to decline, he added, and the number of fisherman has also dropped dramatically. That is why he, and many others in Southend, voted Leave in 2016.
The decade closed with Boris Johnson's landslide victory on December 12. Historian David Starkey explores what this means for the nation in this 57-minute documentary from The Sun, ably conducted by a young reporter:
Starkey explores the evolution of Parliament since Victorian times, when it became the institution we know today. As many Northern constituencies flipped from Labour to Conservative, Starkey says that Boris's pledge to revitalise the North will mean little unless he espouses their values of patriotism, which, he says, has been a dirty word for many years.
He says that Boris could well become a figure like Charles II, who restored the monarchy beginning in 1660. Many of their personality traits are similar, he notes, particularly their penchant for bringing a nation together and reforming it at the same time. It is well worth watching when you have the opportunity.
There is much more to Starkey's interview than summarised here. He talks about the people of the North, Labour, Jeremy Corbyn, David Cameron, Tony Blair and, significantly, Benjamin Disraeli. Starkey hopes that the PM will study his Victorian predecessor's successes closely.
With that, I must close for now. There are many developments over the past 60 years that I have not mentioned. This is merely to give an idea about the direction that Western society took as the decades rolled on.
Welcome to 2020. Let's hope it brings many good tidings. I wish all of us the very best.
ADHD diagnoses became prevalent in the 1990s — from my recall, anyway.
They involved Ritalin prescriptions for children.
Now those adults are having children. Are they still on SSRIs — psychotropes — of some sort?
What chances their offspring will be diagnosed with ADHD, too?
There once was a time when children could play outdoors. They built forts or played in treehouses. They played as cowboys in the US or knights in the UK imagining appropriately shaped sticks as guns ('Pew pew!') or swords. They played baseball or football in someone's back garden. They ran around. They rode bikes. Their mothers called them home for dinner.
In the 1980s, the milk carton children began appearing in the US. Those were missing youngsters whose photos were on the sides of milk cartons with a phone number to ring should they be sighted.
Understandably, parents — particularly mothers — panicked. Even I, as an adult, found the idea of so many missing children disturbing. What started out as one photo on a milk carton extended to several by the end of that decade.
Consequently, boys and girls spent more time indoors. Television became more popular with them. Family-oriented video games entered the market.
More women worked outside the home, whether married or divorced.
This led to the latch key child phenomenon in the US, which involved children letting themselves in the house after school and staying there until their mothers came home. Although the children were safer indoors, they had few outlets to let off steam and their natural energy.
All of that has led to more prescription drugs for youngsters to control their behaviour. And if their parents were on childhood medication, then, they are less likely to see their own children's prescriptions as worrisome.
It's time everyone stopped becoming so dependent on SSRIs. Whether we realise it or not, multiple generations of Westerners swallowing these tablets is unhealthy:
I agree wholeheartedly. Yet, it can be very difficult, if not impossible, to do battle with schools. Sometimes, parents are obliged to put energetic children on medication in order for them to get an education.
Not having a husband makes parenting particularly difficult, too. Daycare isn't really an answer. The solution has to come from the home.
Note that with so many mothers working, there are more kids who have gone haywire. The easy answer — put forward by our governments, pharmaceutical companies and health experts — involves prescription drugs. The harder — yet, better — solution is to create a structured home life from the start.
I also accept that, even in the suburbs, it isn't safe for children to play outdoors.
Bottom line: all of this is having a detrimental effect on society.
Addiction to prescription pain relievers is another huge problem.
Some prescription pain relievers can be obtained through criminals operating through pharmacies and clinics:
The DOJ issued the following press release on Wednesday, August 28, 2019:
Charges Filed Against Dozens in Trafficking Network Responsible for Diverting Over 23 Million Oxycodone, Hydrocodone and Carisoprodol Pills
DEA Also Takes Administrative Action and Immediately Suspends Seven Pharmacies and Two Providers; DOJ Announces Expansion of Health Care Fraud Strike Force into Rio Grande Valley and San Antonio
Emphases mine below:
A total of 41 individuals have been charged in nine indictments for their alleged involvement in a network of "pill mill" clinics and pharmacies. Those charged include medical providers, clinic owners and managers, pharmacists, pharmacy owners and managers as well as drug dealers and traffickers. Their actions allegedly resulted in the diversion of approximately 23 million oxycodone, hydrocodone and carisoprodol pills.
In addition, federal law enforcement agents executed 36 search warrants including 15 pharmacies and six "pill mill" clinics, as well as other offices and residences, aimed at disrupting networks of opioid diversion.  The Drug Enforcement Administration (DEA) also served immediate suspension orders on seven pharmacies and two providers involved in dispensing controlled substances without legitimate medical purpose.
The Health Care Fraud Unit of the Criminal Division's Fraud Section (HCF Unit) led the enforcement actions in conjunction with U.S. Attorney's Offices (USAOs) for the Southern and Eastern Districts of Texas and District of Massachusetts as well as the DEA and task force officers from greater Houston police departments and the FBI.
The charges allege participating doctors, medical professionals and pharmacies knew the prescriptions had no legitimate medical purpose and were outside the usual course of professional practice.  In some cases, "crew leaders" and "runners" allegedly filled or had the individuals who posed as patients fill the illegal prescriptions at Houston-area pharmacies.  The owner and pharmacist in charge at one pill mill pharmacy allegedly dispensed the second highest amount of oxycodone 30mg pills of all pharmacies in the entire State of Texas in 2019, and the ninth highest amount in the nation.  One hundred percent of the oxycodone dispensed by this pharmacy – every single oxycodone pill that left the premises – was in the highest available dosage strength of that drug.
On certain occasions the indictments allege that drug dealers and traffickers then allegedly diverted and distributed the controlled substances to the streets, with some pills trafficked from Houston to Boston.
The press release goes on to state the names, professions and places of employment of those charged. Here are just a few of them:
Bobby Hobbs, M.D., James John Jackson, Jr., MD, Tameka Moore, Kondre Graves, owner of Chasen Clinic of Houston, Texas, and Tara Graves, for their alleged participation in a scheme to unlawfully distribute and dispense controlled substance without a legitimate medical purpose through Chasen. The case is being prosecuted by Trial Attorney Drew Pennebaker of the Fraud Section.
Brandy LaDawn Fears, 44 of Houston, Texas, owner of Meds R Us Pharmacy of Missouri City, Texas, and Ricky Moten, 44 of Houston, Texas, alleged crew leader, for their alleged participation in a scheme to unlawfully distribute and dispense controlled substance without a legitimate medical purpose. The case is being prosecuted by Trial Attorney Drew Pennebaker.
Arthur Billings, 55 of Missouri City, Texas, owner of Healthfit Pharmacy of Houston, Texas; Jeremy Branch, 32 of Houston, Texas, pharmacist-in-charge; Deanna Michelle Winfield-Gates, 50 of Houston, Texas, pharmacist; Frank Cooper, 49 of Houston, Texas, pharmacist; and Donna Hooper, 56 of Houston, Texas, pharmacy technician, for their alleged participation in a scheme to distribute and dispense controlled substance without a legitimate medical purpose. The case is being prosecuted by Trial Attorney Drew Pennebaker.
It's shocking.
I had a friend who fell into pain reliever addiction several years ago. I only found out about it from him after he was clean. As we didn't live near each other anymore, I wasn't seeing him very often. He said it was a very difficult time for him. It took a couple of years for him under medical supervision to recover.
We should be taking stock of our dependence on prescription drugs. My guess is that our notional betters — the great and the good — shy away from them. So should we.
I spotted this last week:
I hope this is satire, but, these days, who knows?
GenZ Conservative appears to claim this came from the Left, but gives us no source. Nonetheless, his/her text gives pause for thought:
… according to this poster it turns out that behaving in ways that were traditionally expected of American citizens is now extremist behavior. Avoiding drugs, promiscuity, and spending time outdoors used to be virtues that Americans would strive for. If the Social Justice Warriors that made this "info sheet" rule us, then I guess we will turn away from them. That won't end well. In fact, it will end disastrously.
And that could make the left label you a far right extremist, or a deplorable! How crazy is that? Being a responsible, patriotic, or normal citizen will now get you blacklisted. I think that is ridiculous and will end poorly for the Western world.
There is a germ of truth in this, because CNN is promoting the idea that Republicans are 'the greatest terrorist threat':
The Left will make the 2020 presidential campaign tense — and tedious.
Below are two views of abortion.
The first is Bill 'Science Guy' Nye presenting his opinion, strongly objecting to the pro-life movement and stupid men of 'European' extraction who legislate against it. Nye, an atheist, disapproves of the Bible, which he mentions here as 'a book around 5,000' years old, and, clearly, outmoded. He does not present one salient fact about abortion. Essentially, if you don't like abortion — tough. You're probably too dumb:
The second is from a former abortionist, Dr Anthony Levatino, who still works as an obstetrician and gynaecologist. He testified in 2015 before the House Judiciary Committee hearing about Planned Parenthood's medical procedures. The YouTube description adds:
Planned Parenthood has been under fire after videos were released showing how the mega abortion provider sold fetal tissue to researchers.
Regardless of where you stand on the subject, I strongly recommend watching — not just listening to — Dr Levatino's description of what happens during a second-trimester abortion. This video is especially important for those who call foetuses/developing babies 'whatchamacallits':
During his career as an abortionist, he performed over 1,200 D&Es — dilations and evacuations — as abortions done between 13 and 24 weeks are known in the medical profession.
The instrument he is holding in his hand is a Sopher clamp. That is used to remove all the body parts. Watch him describe how the abortionist has to use it 'blindly' in search of a leg, then an arm, then the head.
The Sopher clamp purposely has rows of sharp metal teeth on it so that the doctor can grasp all of the body parts as efficiently as possible.
He says that all the body parts must be set aside on a table and be accounted for. Anything left in the former mother can cause infection, haemorrhaging and, possibly, death.
He then related his own family experience. He met his wife while at medical school in Albany. Interestingly enough, they wanted to start a family, but they had an infertility problem. They adopted a baby, Heather, in 1978. Incredibly, his wife became pregnant a month later.
Just before Heather turned six, she was fatally injured in an automobile accident. Levatino thought he could get through the mourning period and go back to work.
He did, for a time.
Then, one day when he was beginning another abortion, he pulled out a limb and got sick. He composed himself and finished the abortion, but when he looked at all the assembled body parts:
All I could see was somebody's son or daughter.
That was the last D&E he ever performed.
Several months later, he stopped doing abortions altogether.
————————————————————————————
In November 1987, Levatino spoke at the first ever Meet the Abortion Providers conference.
Pro-Life Action has an edited transcript of what he said. Excerpts follow, emphases mine.
He said that the private clinic where he worked in Albany was about the only one performing D&Es:
My partner and I, however, were relatively important in the Albany area for one infamous fact, which to this day I regret. Our group was just about the only group that was performing late abortions, D & E procedures, Dilatation and Evacuation. And we received referrals from all over the area in our part of the state, even from neighboring counties 70 to 80 miles away. We had a lot of patients.
He explained why OB-GYNs perform abortions:
It's profitable, there's a lot of money in it! But there's philosophical things that come first. As I'm fond of telling people, if you are pro-choice and you happen to be a gynecologist, then it's up to you to take the instruments in hand and actively perform an abortion. It's the most natural association in the world.
Along the way you find out you make a lot of money doing abortions. In my practice we were averaging between $250 and $500 for an abortion, and it was cash.
The pro-choice movement helped a lot, too:
There are other reasons; they're perhaps no less important. I've heard many times from other obstetricians: Well, I'm not really pro-abortion, I'm pro-woman. How many times have you heard that one? The women's groups in this country, they're not alone, but they've done a very good job selling that bill of goods to the population. That somehow destroying a life is pro-woman. But a lot of obstetricians use that justification to themselves, and I can tell you, a lot of them believe it. I used to. It's not hard to be convinced of it.
There is a gynaecological procedure known as a D&C — dilation and curretage — which is performed when a woman has a uterine ailment. However, it is also used for early-term abortions. Levatino described his residency period, which required that he perform several D&C suction abortions twice a week. Despite the fact that they are first-trimester abortions, they can also present risks to a woman. And, in case anyone is still unconvinced, there is more than 'a mass of cells' afterwards:
When the abortionist finishes a suction D & C he has to literally reassemble the child.
When the abortionist finishes a suction D & C, he has to open a little suction bag and he has to literally reassemble the child. He has to do that because he wants to make sure he didn't leave anything behind.
I had complications, just like everybody else. I have perforated uteruses. I have had all kinds of problems — bleeding, infection — Lord knows how many of those women are sterile now.
I remember getting called down to my chairman's office because a young lady that I had done an abortion on showed up, and the abortion had been incomplete. I had not done my job right, and she passed an arm or a leg and she freaked out because she didn't realize what had happened.
He also performed saline procedures. This was during the time he and his wife were going through their period of infertility. Saline is painless, right? Saline is harmless, right? After all, 'it's just a mass of cells', right? Levatino describes what he experienced during his residency:
My discomfort came at that point because there was a tremendous conflict going on inside me. Here I was doing my D & Cs, five and six a week, and I was doing salines on a nightly basis whenever I was on call.
I wish one of these people would just let me have their child. But it doesn't work that way.
The resident on call got the job of doing the salines and there would usually be two or three of those. They were horrible because you saw one intact, whole baby being born, and sometimes they were alive. That was very, very frightening. It was a very stomach-turning kind of existence.
Yet, I was doing that at the same time that my wife and I were trying to have a child, and we were having difficulty with that. We had been married a couple of years at that point — and no baby. Suddenly, we realized we had an infertility problem.
I kept doing abortions, I didn't stop. But it was tough. We started desperately looking for a baby to adopt, and I was throwing them in the garbage at the rate of nine and ten a week. It even occurred to me then: I wish one of these people would just let me have their child. But it doesn't work that way. So the conflict was there.
Remember that Levatino also helped pregnant women have their babies. I cannot fathom how one can rejoice with an expectant mother one moment, then perform an abortion the next. Yet, these men and women do it. Levatino said:
As a doctor, you know that these are children; you know that these are human beings with arms and legs and heads and they move around and they are very active. But you get reminded — every time you put that scanner down on somebody's uterus — you are reminded. Because you see the children in there — hearts beating, arms flinging.
We have a ball with it. It is a lot of fun. We have people coming in who have bleeding and who are afraid they may have a miscarriage — now this is someone who wants to have their child. There is no better news for me than to put that scanner on them at seven and eight weeks and show them a heartbeat and say: Your baby is okay. You do that as an obstetrician all the time.
And then, an hour later, you change your clothes, walk into an operating room and do an abortion. If you have any heart at all, it affects you.
Having graduated and being the proud adoptive father of baby Heather, he joined a gynaecologist in the Albany area who did D&Es. Levatino learned how to perform them. By then, his wife was expecting their first child:
Again, I didn't particularly like doing abortions, but my partner did abortions and I didn't object to it morally, so we worked together. I was on salary at the time, as a new partner, so it made not a whit of difference on my income. I did it to be agreeable. It's a lousy reason in retrospect, but that was my reason. That was our business for years to come.
In 1984, his daughter Heather was hit by a car in front of their home and died:
Everything changes. All of a sudden, the idea of a person's life becomes very real. It is not an embryology course anymore. It's not just a couple of hundred dollars. It's the real thing. It's your child you buried.
His relationships at home and in the office became strained:
Every time I was asked to schedule an abortion, I got very angry. I began feeling that people were doing something to me. That was ridiculous — I was doing it to myself.
After a few months of that I started to realize — this is somebody's child. I lost my child, someone who was very precious to us. And now I am taking somebody's child and I am tearing him right out of their womb. I am killing somebody's child.
Eventually, he turned his revulsion on himself:
My own sense of self-esteem went down the tubes. I began to feel like a paid assassin. That's exactly what I was. It got to the point where it just wasn't worth it to me anymore. It was costing me too much personally. All the money in the world wouldn't have made a difference.
So, Levatino stopped performing abortions:
I slept a lot better at night after that.
I really like hearing male doctors present the case against abortion, and I particularly liked Levatino's staccato, matter-of-fact delivery in the video above. He presents his case objectively. Any men who are fence-sitting on abortion would do well to watch his video.
I hope that someday that Dr Levatino meets Bill Nye and teaches him a thing or two about abortion.
This photo montage speaks for itself.
For those outside of the United States, below are CNN's Don Lemon, MSNBC's Rachael Maddow, CNN's Anderson Cooper and Fox News's Tucker Carlson: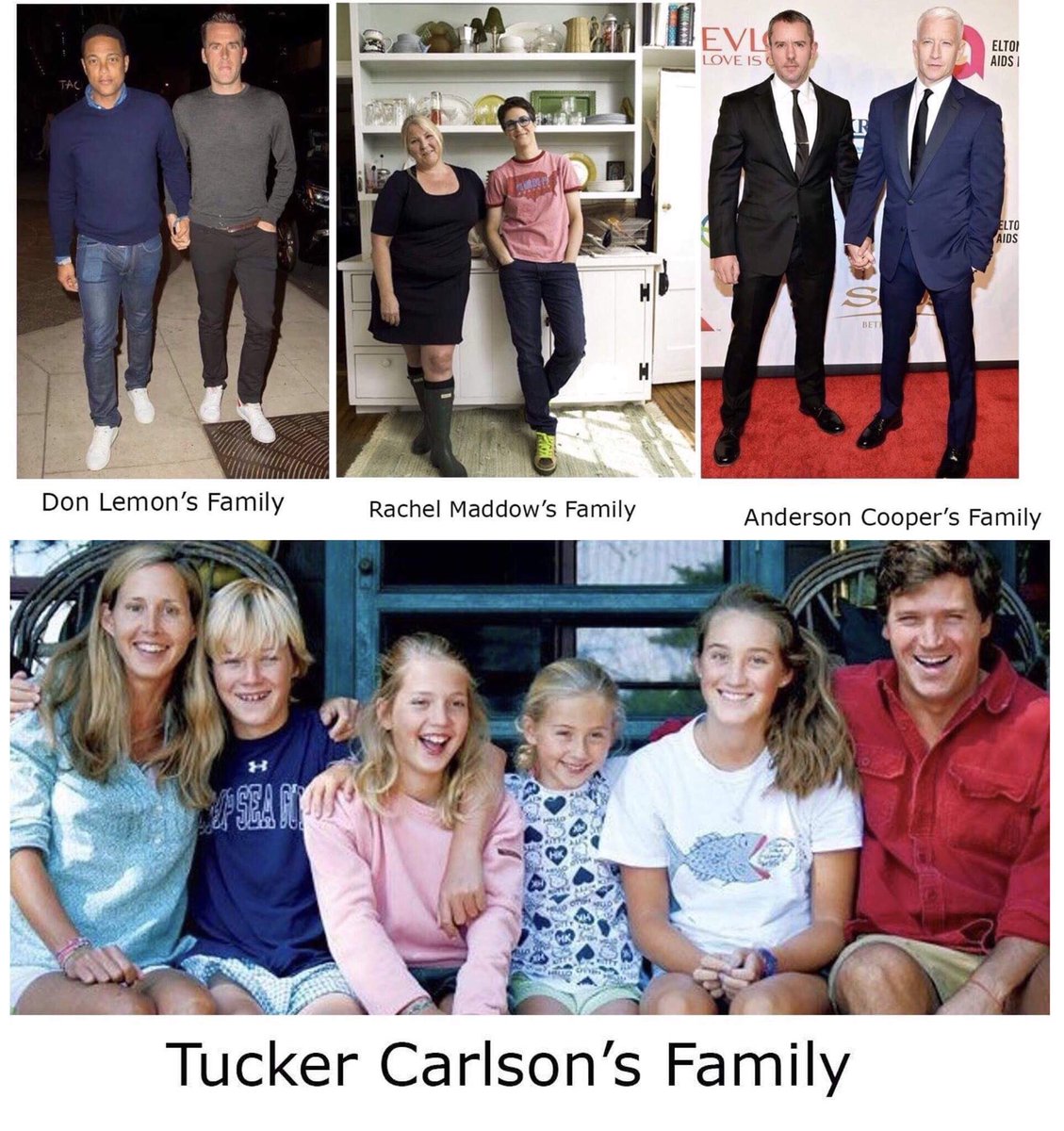 I do not know who put this together, but it speaks a thousand words.