You are currently browsing the tag archive for the 'family' tag.
This photo montage speaks for itself.
For those outside of the United States, below are CNN's Don Lemon, MSNBC's Rachael Maddow, CNN's Anderson Cooper and Fox News's Tucker Carlson: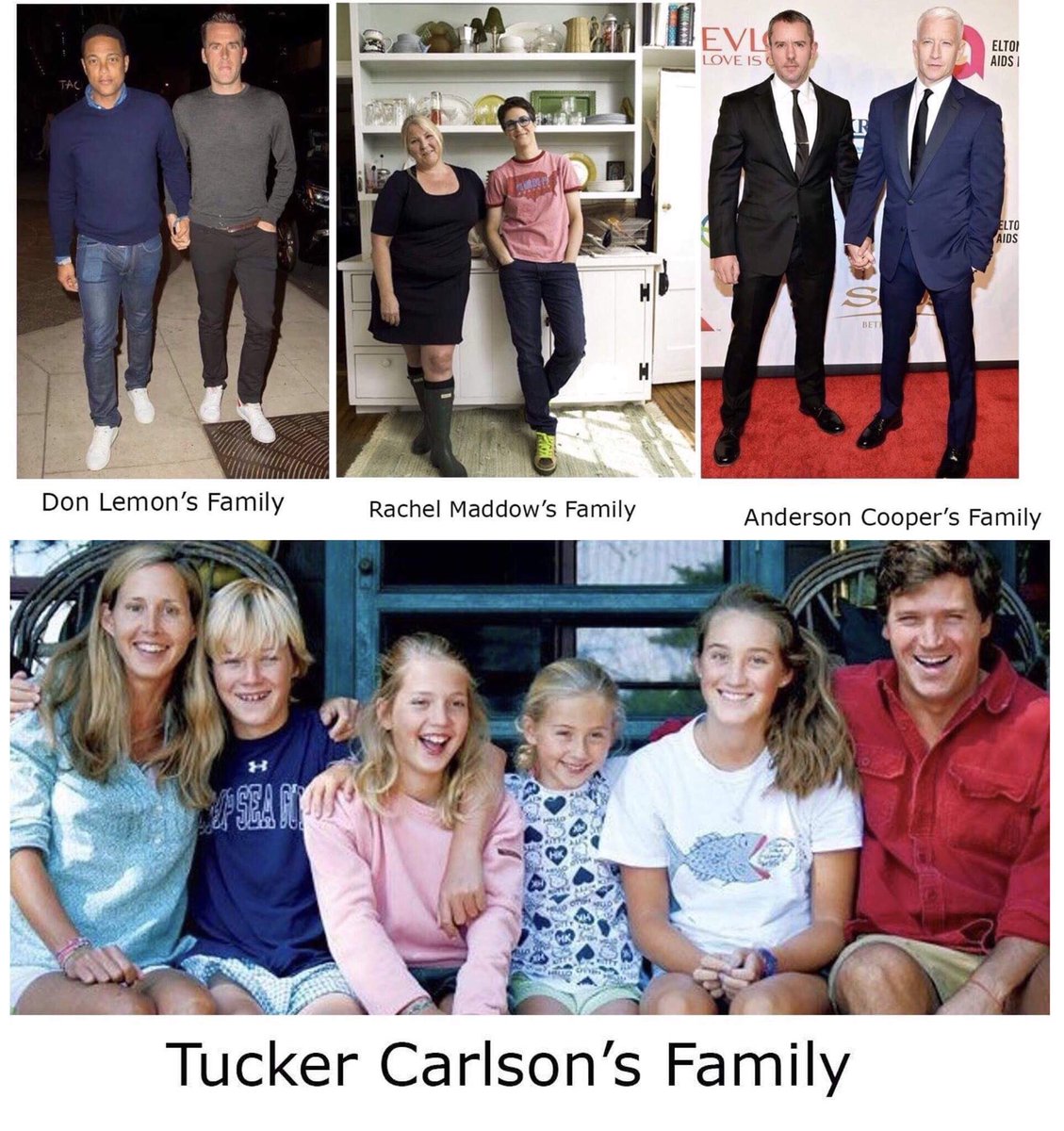 I do not know who put this together, but it speaks a thousand words.
Last week, I featured two posts on Billy Graham:
My last piece on him relates more to his daughter Ruth, who, in 2012, first opened her heart on Beliefnet. Since then, she writes regularly for the site on her page Safe Place with Ruth Graham.
In 2012, Beliefnet recapped her first column in an article called 'Billy Graham's daughter Ruth has been through the fire, says it's time for honesty'. Anyone who has been through a marital breakup or has been dogged by self doubt will want to read it.
The article also has great Graham family photos from the 1950s, which are definitely worth seeing.
Excerpts and a summary of the article follow, emphases mine.
The article begins by introducing her Safe Place page and assuring readers that she will reply to anyone commenting on her posts. Ruth said that she felt it was time to be open and honest, something she could not always do growing up:
She knows what it's like to have to put on a false smile. The third of Billy and Ruth Bell Graham's five kids remembers having to pretend nothing is wrong – even when her world was falling apart. All preachers' kids endure that, but a famous evangelist's kid has to be especially careful. Stepping out of line can result in a front page headline in the National Enquirer – and bring shame upon a beloved dad.
Fortunately, for her, she was always a devout Christian:
"I really did have a genuine relationship with the Lord," she recalls. "I gave my heart to Jesus when I was seven, kneeling beside my bed with my mother. At age 11, I made that commitment public by going forward at the altar call at a church revival held by a friend of my father. Daddy went with me."
Incidentally, she said that she and her siblings met a lot of famous people who were friends of her parents, but they were only introduced and that was the extent of it.
Ruth was not a rebellious teenager and, at the age of 15, was sent to:
an exclusive boarding school in New York. There, "I came down with mononucleosis and I was miserable." All alone, it was just her and God. "I just had to claim my faith as my own. At that point, it was no longer Mother or Daddy's faith, it was mine."
She followed a conventional middle class route of college followed by marriage. In the 1990s, she faced a greater personal crisis than mononucleousis:
… her world fell apart when her husband was unfaithful. After 18 years of marriage, Ruth was devastated. They went through months of counseling before admitting defeat. Then just a few months after the divorce, she remarried "on the rebound" but knew within 24 hours that she'd made a terrible mistake. Her life a shambles, she loaded up everything and sought refuge with her parents.
She was worried about their reaction. However, all was well. Her father Billy stood in the driveway, awaiting her arrival:
He wrapped his arms around me and said, 'Welcome home.'"
Ruth said that, at the age of 40, she was in a deep spiritual crisis. Although she followed her mother's example of being active in the church, including teaching Bible studies, Ruth did not feel as if God was 'taking care' of her — and her children. One daughter had an eating disorder. Another gave birth out of wedlock in her mid-teens. Her son had to go to rehab for drug abuse.
Gradually, Ruth came to understand that these were severe trials God's people sometimes have to endure:
He had something to teach me about the difficulties of life: to show me that none of us are exempt, that we all have hardships. We all have things that happen to us that we don't ask for, but we have to endure.
And it's OK. It's all part of God's plan. I didn't like having to go through that – none of us do.
But it was very important for me to have that experience – and to grow from it. I'm still growing. The story is not over. But that's OK, God gives me grace. And God is a covenant-keeping God. He is faithful even when I am not. Now I'm living life. I am just living in the grace of God.
During her crisis years, her father told her she was being too harsh on herself:
I remember one day when I was really beating myself up and taking responsibility for my marriage falling apart – just pouring my heart out. Daddy said, 'Quit beating yourself up. We all live under God's grace and we just do the best we can.'
Whenever I go home, there's always a bouquet of flowers in my room with a handwritten note that reads, 'Welcome home. Daddy.'
Ruth said she had been focussing too much on meeting other people's expectations rather than on God's love:
I have realized that I have an audience of One. As long as He's happy with me, then that's OK. You can't please all those other people anyway. There's always going to be somebody who doesn't think you measure up.
At each stage as I went through this, I knew I loved the Lord. There was no question of that. At each stage, He has taken me deeper. And I don't like the fact that the deep things of God are taught in suffering.
As a result, I know God's grace in a way that I never would have otherwise. I'm learning to tell myself the truth.
Hence the reason for her Beliefnet columns. She wants to help others open up, too:
I want to share that and also to dialogue with my readers – so they can unburden themselves – making my column a confessional of sorts. And they will find no condemnation from me. I am not into shaming people.
I believe in passing along God's grace.
Ruth told Beliefnet that it was difficult watching her father battle pain and illness. It was also hard for him to lose his beloved wife Ruth after so many decades. That said, his daughter thought he was less distracted and a gentler person in his twilight years.
After her father's funeral earlier this month, Ruth wrote a column, 'Taking Daddy Home'. She described the funeral and interment — and the bitterly cold weather:
It was freezing in the tent! Daddy started in a tent in Los Angeles and Franklin thought it would be appropriate. Fortunately, my older sister brought an extra coat for which I was grateful.
Each of us had 3 minutes to speak. I asked the Lord to help me and He did. I felt the freedom from the Holy Spirit to talk of my father's lasting legacy to me. It touched many hearts for which I am grateful. I want to pass on my father's legacy of grace.
I stayed until he was buried – even though it was so cold – but I didn't want him to be alone. I went back the next day to see it all finished and landscaped. At long last Mother and Daddy are side by side!
She also had things to take care of at home. Her refrigerator was not working properly and one of her daughters is staying with her. A tree fell on the daughter's house and they have no heat, so Ruth is hosting her and her family. As such, she says she has had no time to reflect on her father's death.
Nevertheless:
God has been working wonderful ways and I praise Him that I have seen His hand in a multitude situations that could have been difficult. God just paved the way.
He keeps His promises of Isaiah 40:4-5.
Those verses are as follows:
4 Every valley shall be lifted up,
and every mountain and hill be made low;
the uneven ground shall become level,
and the rough places a plain.
5 And the glory of the Lord shall be revealed,
and all flesh shall see it together,
for the mouth of the Lord has spoken."
May God continue to bless Ruth Graham and her family at this difficult time.
What has been evolving out of the Valentine's Day shooting in Parkland, Florida, beggars belief.
I wasn't even going to write about it, but decided to do so once people began clamouring for gun control and ignoring mental health issues, including the effect that SSRIs can have on the mind. I followed up with another post on the media attention certain young people received.
Before I discuss two more contributing factors — lack of two-parent households as well as school and law enforcement policies for young people — let us look at the latest headlines in the aftermath of the shooting.
Latest curiosities
CNN held a town hall broadcast with Florida senators Marco Rubio (R) and Bill Nelson (D) about gun control. A student from Marjory Stoneman Douglas High School, the scene of the crime, was in attendance and already had a question prepared. He claimed that CNN gave him a scripted question.
From Real Clear Politics (emphases mine):
Colton Haab said he was approached by CNN to ask a question at Wednesday night's town hall but decided not to after the network gave him a "scripted question," quashing one he wrote himself. Haab, a member of the Junior ROTC, shielded students while the school was under attack from the shooter, said he was going to ask about using veterans as armed security guards …
"CNN had originally asked me to write a speech and questions and it ended up being all scripted," Haab told WPLG-TV …
"I expected to be able to ask my questions and give my opinion on my questions," Haab said.
"Colton Haab, a member of the Junior ROTC who shielded classmates in the midst of terror says he did not get to share his experience," WPLG's Janine Stanwood explained.
"Colton wrote questions about school safety, suggested using veterans as armed school security guards but claims CNN wanted him to ask a scripted question instead so he decided not to go," Stanwood reported.
CNN responded:
CNN did not, and does not, script any questions for town hall meetings, ever.
Really? One wonders.
On Wednesday, February 21, Alex Jones interviewed a student at the school who Snopes says is not enrolled there. Infowars has an article, a video and the student's school schedule (emphasis in the original):
Managing editor of left-leaning publication Snopes Brook Binkowski attempted to discredit a Marjory Stoneman Douglas student in a now-deleted tweet for calling in on The Alex Jones Show the day after the shooting took place.
However, records reveal the student, Jalen Martin, does in fact attend Marjory Stoneman Douglas high school.
Here is the video. Jalen's interview is the first part. He says there had been a fire drill in the morning, then, in the afternoon, they heard the alarm again. Everyone evacuated the building and Jalen says people were talking about whether it was a code black (bomb) or code red (active shooter). One of Jalen's classmates left his phone behind, so Jalen lent him his. The boy rang his mother to say that there was a shooter. A teacher overheard and told him, 'Don't say that!' The teacher confiscated the phone and looked as if he were about to break it. Jalen stepped in to say, 'That's my phone':
Jalen also told Jones that there was a visit from the Secret Service four weeks prior to the shooting to train teachers in defence. That was also reported after the shooting took place.
Why would the Secret Service do that sort of training, impose protocols and regular drills? That is not part of their function.
Jalen said that the students were not allowed to leave — or call anyone to let them know what was happening — until later. Law enforcement showed up within just a few minutes. He also confirmed multiple shooters.
In short, the official story line does not add up.
In another development, the mother of one of the young media stars has connections at CNN. Big League Politics explains (emphases mine):
"Great VIP tour," said a post by Rebecca Boldrick showing a series of photos taken in 2016 at CNN world headquarters.
One photo shows her children sitting at an anchor's desk.
Boldrick is the mother of David Hogg, who has gained internet fame for his activism in the days since the shooting …
Hogg and his merry band of anti-gun crusaders have been paraded around by nearly every cable news network in America.
Apparently, activism runs in the family. A series of Facebook posts show that Boldrick is an avowed Democrat and anti-Trumper …
"I can't sit by and do nothing with what is going on currently in the USA," says one of Boldrick's posts. "If you like what Trump is currently doing please unfriendly [sic] or block me because you won't like what I am going to begin posting."
The article concludes:
Is this organic, grassroots teen activism in the wake of a horrible tragedy, or are these children being exploited in an orchestrated effort to serve the political interests of adults?
There seems to be something very selective about these calls for gun control. Why aren't the same people outraged about MS-13? FrontPageMag has an excellent article on the subject. Daniel Greenfield, the author, points out:
The media can't be bothered to talk about their victims because it's politically inconvenient. Many of the perps are illegal aliens or undocumented beheaders. The victims aren't people they could envision as their kids. And reporting on MS-13's crimes endangers their push for illegal alien amnesty. It also shines a harsh light on the policies of Obama Inc.
But while CNN won't have that town hall, conservatives should. Imagine President Trump hearing more from the Latino parents of MS-13 victims. The media would have to grit its teeth and cover the story.
Failures of law enforcement and mental health treatment
A school administrator from Florida tweeted to ask questions about the shooting. It's a long thread and well worth reading. Excerpts follow:
As for the aforementioned son of a retired FBI agent (father) and anti-Trump activist (mother):
It is weird that part of the school building will now be demolished. Has forensic evidence been collected? Sound familiar? Think Sandy Hook in Newtown, Connecticut:
His conclusion:
I for one am SICK TO DEATH of fake news outlets pretending this is about a rifle- its not. Its about a mentally ill person, totally abandoned and discarded and politically expediently ignored, by multiple agencies allowed to commit inhumane acts of terror due to incompetence. END
Local school board policies and law enforcement failing troubled teens
Here are some answers for Mr Bouchell.
The Conservative Treehouse has an illuminating post about how Broward County — where Parkland is located — and Miami-Dade County (immediately to the south) enacted policies whereby students could not be arrested. Please take the time to read the post in full. Two excerpts follow:
In 2012 and 2013 while doing research into the Trayvon Martin shooting we discovered an alarming set of school policies being enacted in Miami-Dade and Broward County Florida.  The policies were called "diversionary programs" and were essentially about stopping High School students from being arrested. Law enforcement was instructed to avoid arrests and defer criminal conduct to school administrators.
Students who engaged in violence, drug sales, robberies, burglaries, theft and other various crimes were intentionally kept out of the criminal justice system.  County administrators and School Superintendents told local and county law enforcement officers to stop arresting students …
Unfortunately, the school board mandated policies came into conflict with law and order. The problem of the conflicted policy -vs- legality worsened over time as the police excused much more than misdemeanor crimes.  Over time this culminated in police officers falsifying documents, hiding criminal activity, lying on official police reports and even hiding stolen merchandise police retrieved from high school students.
Imagine what happens after an extended period of time? A mass shooting that could have been prevented if a twisted school/law enforcement policy had not been in place. Given that police visited Nikolas Cruz's home at the request of his mother 39 times, had the system been left alone, he never would have been allowed to handle firearms. He probably would have had better mental health care, too.
Fatherlessness a huge issue
On February 17, Susan L M Goldberg wrote an excellent article for PJ Media about the effect the lack of a father has on young men. Excerpts follow:
Now that the gun control advocates have had their fifteen minutes of fame, let's start focusing on the real issues impacting the rise in school shootings since that infamous day in Columbine in 1999. Issue number one that no one in the mainstream media or government wants to acknowledge: fatherlessness. Specifically, the impact of fatherlessness on the boys who grew up to become school shooters.
Nikolas Cruz was adopted. His adoptive father died when he was a boy. His mother, who was in her 60s when she died in November 2017, could not control him, hence the police visits.
Goldberg provides various statistics on the damage the absence of a father has on young men:
As Terry Brennan, co-founder of Leading Women for Shared Parenting, notes:
72 percent of adolescent murderers grew up without fathers; the same for 60 percent of all rapists.

70 percent of juveniles in state institutions grew up in single- or no-parent situations

The number of single-parent households is a good predictor of violent crime in a community, while poverty rate is not.
This is a dangerous situation for society — not just in the US but elsewhere in the West. We are deceiving ourselves when we argue against guns:
Instead of spending so much as fifteen minutes on fatherlessness we are forced to endure the same salacious headlines, the same provocative tweets, the same tired old memes about the evils of guns as if somehow a cold piece of metal convinced yet another boy to become a mass-murderer. We ignore the lack of adequate mental health services, the failure of law enforcement to effectively intercede, and the sickening impact fatherlessness has on each one of these tragic cases. Why? Because it is easier to ban a hunk of metal than it is to right systemic cultural wrongs.
She rightly concludes:
What is the primary way to attack a boy's masculinity? Strip him of his primary male role model: his father. Over the past 50 years, we have taught women to embrace single motherhood and to cut fathers out of their children's lives through divorce. Now, thanks to the gun control echo-chamber, it will probably take another 50 years to right the wrongs we've done to our fathers and our boys.
I couldn't agree more.
Conclusion
Single-parent homes are not serving society well. In Cruz's case, one can understand that his mother might not have wanted to remarry. Perhaps her husband was the love of her life. However, it would have been good for her to get male role models for her sons in the form of a family friend or a relative.
School boards are failing troubled teens by asking law enforcement to compromise proper procedures.
Law enforcement officers are failing troubled teens by enabling bad behaviour in accordance with school board policies.
More gun control is a bad idea. Europe is largely a gun free zone outside of police and criminals. Many European cities — e.g. Marseille — have turned into violent dumps where shoot-outs occur with alarming regularity. Criminals have no problems getting firearms.
All of these factors make a heady brew for a mass shooting.
Earlier this year, the British mothers' site Mumsnet and grandmother's site Gransnet each took a survey of grandparents' attitudes towards babies' names.
Mumsnet's and Gransnet's results are now in. The two groups worked together on the surveys.
Generally speaking, 81% (Gransnet) to 85% (Mumsnet) of grandparents have no problem with their grandchildren's names.
However, Gransnet says that, for the small majority that do:
44% of grandparents said that the disagreement was with their daughter, 22% with their son, 17% with their daughter-in-law and only 6% with their son-in-law. In order to avoid using the hated name, 17% said they avoid mentioning the child's name when talking to other people about them, another 17% admit to using the child's name begrudgingly and 6% said they avoid saying the name at all. 39%, however, have found that they've come to terms with the name now that they've got used to it.
Mumsnet says that grandmothers are more likely to object to names than grandfathers:
Forty-four percent of parents said the complaints came from their own mother and 42% said they came from their mother-in-law. Only 14% said their dad objected and the figure was the same for objections from father-in-laws.
That should be fathers-in-law.
Anyway, on September 13, The Telegraph had an article about the survey and included a list of popular baby names over the past 100 years, which makes for interesting reading.
I don't know what the situation is in the US, but British names have changed over the past 20 years (emphases mine):
Among the reasons given for such grand parental distaste is that – like Muireann – the name is too hard to pronounce. This does not explain, however, why names loathed by grandparents include Charlotte, Jack, Sally and Finn, my own son's name. (His grandparents love it, by the way. Or at least, they claim to.)
Other objections raised by grandparents include the name being too odd, too "made-up" or too old-fashioned; annoyance that their suggested name hadn't been used; and annoyance that a family name hadn't been used. For some, the name is just too ugly. Aurora, Elijah and Tabitha were cited among the offensive choices.
With regard to Tabitha, one wonders why people don't use Dorcas instead.
Jack and Finn sound like nicknames. Yet, Jack is perfectly acceptable as a name on its own, apparently:
Derived from Jackin (earlier Jankin), a medieval diminutive of JOHN. It is often regarded as an independent name. During the Middle Ages it was very common, and it became a slang word meaning "man". It was frequently used in fairy tales and nursery rhymes, such as 'Jack and the Beanstalk', 'Little Jack Horner', and 'Jack Sprat'.
Anyone naming their baby daughter Sally should put the full name on the birth certificate. Sally is a diminutive of Sarah.
The boys' names from 1944 through to 1984 included (among others) John, James, Matthew, Michael, Richard and Robert.
Girls' names between 1944 and 1974 were straightforward: Ann, Barbara, Jean, Mary, Sarah and Susan, to name but a few.
These are the most popular names for boys and girls as of 2015. I omitted the few conventional ones:
Oliver, ​J​ack, Harry, George, Jacob, Charlie, Noah, William, Oscar​
Amelia, ​Olivia​, Emily​​, Isla​​, Ava​​, Ella​​, Isabella​​, Mia​, Poppy​​
Charlie? Charles, surely. Harry is short for Henry. Parents, please take note.
Poppy? Hmm.
What a parent thinks is cute is something the child will have to endure for a lifetime. Perhaps the solution is a more conventional middle name that can be used if necessary.
Watching children with their parents in southern France fascinates me.
Even toddlers there are well behaved.
Families walk along the beach together late at night, and it's a beautiful sight to behold.
The children are also good in restaurants. They eat an amazing variety of seafood and know how to use their utensils properly.
So I was fascinated to read an article in The Telegraph, 'No kids allowed: is Britain becoming an anti-child society?'
Excerpts follow:
Eileen Potter, owner of Treacle's Tea Shop in Winchmore Hill, north London, recently found herself in hot water when she banned pre-schoolers, to the fury of many parents. In response, she explained: 'We can not continually afford to replace crockery. We are not a family establishment' …
Italy is famed for being especially family-friendly, but Marco Magliozzi of Rome fish restaurant, La Fraschetta del Pesce, imposed the same restriction. 'Children throw olive oil on the floor, they send the salt cellar flying across the room and, above all, they hate fish,' he complained.
Well, I have not seen that in the south of France.
Part of the problem perhaps is letting children rule the roost at home. Another is not eating at the kitchen or dining room table every night. I can remember pretty far back and recall eating with my parents at table from the time I was three. I had my dad's children's cutlery set so I could eat properly. No special meals. I ate what my parents ate. Mom did have to cut my pork chops up for a while, but other than that I never had a problem.
However, there is another difficulty here with children since the smoking bans came in force across much of Europe. Every adult establishment now seems to be child-friendly. Pubs and continental cafés are no longer for adults.
The Telegraph points this out:
Several of my London friends (in their 40s and 50s, with no kids) complain that their long-held ritual of a quiet, lazy weekend pub lunch is now impossible.
'Every decent pub in my neighbourhood is full of children running wild, and that's if you can get through the door, which is invariably barricaded by buggies,' says one who wants to remain anonymous. She now eats out only in the evening: 'But even at 8pm or 9pm, there are often loads of children. Is nowhere sacred?'
Another seethed her way through a recent restaurant outing: 'There was a toddler on his scooter, whizzing around the dining room, weaving between the tables, tripping up the staff. His parents ignored him and carried on drinking their wine.'
Those ladies would be fine in Cannes, where, somehow, even in the most cramped restaurant, no one notices buggies since they are always thoughtfully placed. Children also look forward to the restaurant experience there. It seems to make them feel more grown up.
The solution is for parents to bring up their children from infancy to be as quiet and calm as possible so as not to be a nuisance to others.
Unfortunately, most parents think of their children as entertaining little darlings when many certainly are not.
The Telegraph gave several examples of places in Britain and Italy that are going child-free. It is regrettable that well-behaved children will have to wait several years before they can enjoy such places themselves, but indulgent parents have only themselves to blame for this inevitable outcome.
This short video, despite the robotic voice, explains that First Lady Melania Trump is concerned about opioid abuse and brought the issue to prominence in her husband's administration:
Thank you, Mrs Trump, for your interest in families and in children's health.
Yesterday's post related how Emmanuel Macron met Brigitte Trogneux, his wife and former teacher.
Today's post describes a bit more about his youth and Brigitte's involvement.
When he was a little boy, Macron often went to his maternal grandmother's house. Germaine, who died in 2013, was a retired schoolteacher. She instilled in her grandson a love of books and education. She was also keen for him to become a politician. She died in 2013. However, from the beginning, he was accustomed to being around older people.
When Macron was 15, he was a student at the Jesuit-run La Providence school in Amiens. Trogneux, then Mme Auzière — a mother of three, married to André-Louis Auzière — taught French and drama. The first lady of France told an interviewer before her husband became president that when the young Macron auditioned for the school play:
'I just found him incredible. He had such presence.'
She went on: 'Without doubt he wasn't like the others. He was always with the teachers. He simply wasn't an adolescent.'
The Daily Mail has photos of this particular production, including her giving him a congratulatory kiss at the end.
She was close to her 40th birthday at the time.
The Mail researched several of her interviews with French media, one of which had this:
'At the age of 17, Emmanuel said to me, 'Whatever you do, I will marry you!',' Miss Trogneux told Paris Match magazine last year.
Macron's parents were less than pleased. Heavy has 5 Fast Facts about Trogneux, including a description of how things unfolded at home in 1993 (emphases mine below):
According to the book Emmanuel Macron: A Perfect Young Man by Anne Fulda, Macron's parents told Trogneux to stay away from their son, at least until he was 18.
As Vogue notes, Macron's parents tried to split them up by sending Macron to Paris to finish his studies, but that didn't work.
"I cannot promise you anything," Trogneux told his parents, Fulda writes, notes Reuters. Their relationship continued and they married in 2007, after Trogneux and her husband divorced.
Macron's parents told Fulda that they believed their son was actually going after the heart of Trogneux's daughter. They were stunned to hear that this wasn't the case.
"We couldn't believe it. What is clear is that when Emmanuel met Brigitte we couldn't just say: 'That's great,'" Macron's mother told Fulda.
Then there was the possibility of Macron not having his own children. Starting one's own family is a top priority in France. Macron's mother had words for her son's teacher:
She is quoted as telling Trogneux, "Don't you see. You've had your life. But he won't have children with you."
This came true. Macron stated the reasons why:
During a BMFTV interview in April, Macron made it clear that he and his wife have decided not to have any children, Gala notes. He's already the step-grandfather of seven children.
"We have chosen not to have children. A choice that was not selfish for me," he told BMFTV. "It is a choice that has been assumed, which I had to make very young given the age difference …"
As the years passed, time healed the wounds between Macron's parents and the May-December couple:
Although Fulda did interview Macron and Trogneux, Macron's spokesman said he was disappointed that she didn't ask about his parents' approval of the relationship.
And, yes, the middle-aged teacher probably had broken the law, however:
"Emmanuel's parents were keen on emphasizing that they did not lodge a complaint against Brigitte Auziere (Trogneux's married name) for corruption of a minor," Macron's spokesman said, reports Reuters.
Even today, years later, she said:
"Nobody will ever know at what moment our story became a love story. That belongs to us. That is our secret," Trogneux is quoted as saying in the book.
Macron, 39, is two years younger than his step-son. He is the same age as his elder step-daughter and was a classmate of hers. He is only nine years older than Brigitte's youngest child, Tiphaine Auzière.
Tiphaine, a lawyer, worked on Macron's campaign.
Brigitte is very close to her second husband. The couple firmly expect that she will have an important role to play in his presidency.
One wonders whether she will have the family chocolates in the Elysée Palace. Heavy points out:
Trogneux's parents were Jean Trogneux and Simone Pujol. They had six children, with Trogneux as the youngest, according to Geneanet.org.
L'Express notes that Trogneux's family is well-known in the north of France for their chocolates. Her nephew, Jean-Alexandre Trogneux, leads the family business, which made four million euros in 2013 alone.
The Jean Trogneux website has a full list of merchandise. The chocolates and other specialities are very pricey.
There's a joke here, because the company makes the famous Macaron d'Amiens, which Catherine de Medici introduced in the 16th century:
The company's best-known product are their macaroons, or Mac[a]rons d'Amiens. In 2014, a local jokingly told Le Parisien that, "We already had the macaroon from Amiens. Now we also have the Macron d'Amiens!"
Such an unusual marriage cannot be without rumour:
Macron's unconventional marriage has led some to speculate that he's secretly gay. Back in February, he laughed off rumors that he was having an affair with Radio France CEO Mathieu Gallet … The Telegraph reports.
The NATO meeting and G7 summit last week put Brigitte Trogneux in the world spotlight. One French report said that Trogneux has the world at her feet (see the first 1:51 minutes):
Not everyone commenting on the video agreed (translation mine below):
It's more like Melania Trump who has the world at her feet!
Trogneux, 64, has teenage legs, to be sure. However, she doesn't need to show them off so much at every opportunity.
Here's another video of her attire contrasted with Melania Trump's:
In closing, below are links with photos of Macron's family from his inauguration ceremony.
The senior Macrons have been divorced for several years. However, Jean-Michel and Françoise Nogues-Macron were photographed together at the Elysée. Macron's mother is a retired physician and his father is a professor of neurology at the University Hospital in Amiens. Macron's brother Laurent, a radiologist in the Paris region, is two years younger than the president and was at the ceremony, although no one in the media knows what he looks like. Their younger sister Estelle, a kidney specialist near Toulouse, did not attend.
One cannot help but wonder whether Macron, too, would have gone into medicine if his secondary school years hadn't changed him so much.
In any event, I'm still thinking about a husband cuckolded by a 15-year-old and a set of very shocked parents. It's disgusting.
On Friday, May 12, 2017 President Donald Trump and First Lady Melania Trump hosted a reception for active-duty troops, their spouses and mothers at the White House.
Mother's Day was on May 14 in the US, and Mrs Trump's speech touched on that beautifully:
As everyone in this room knows, mother is a title that claims your heart and changes your life forever. In fact, it has been said that having a child means allowing your heart to walk around outside of your body.
She added:
For the mothers of someone who has or is serving our country, this must be especially true …
However, I have no idea what kind of different challenges each of you must face as the parent of a soldier. And while you stand with many other parents, so strong and so proud, I am sure that you sometimes march on this journey alone. While your sons and daughters are away serving so selflessly, having a community share even some of that burden must make all the difference in the world.
I want to know – I want you to know, you're among that community today and we are all so proud to be part of it with you. I also want to say thank you for all that you do, for your selflessness and for your own sacrifice on behalf of our country. Let today's celebration with this community of strong and selfless moms be a first step in building the relationships and – and in your knowing that my husband and I, along with the vice president and Mrs. Pence and everyone here at the White House, hold you close in our hearts and thoughts each and every day.
Here's the video:
.
I hope they were able to see the White House Movie Theater, which was opened to the public for the first time that day.
It's heartening to see the Trump White House give the military and their families such deep consideration.
April was the Month of the Military Child and May is Military Appreciation Month in the United States, so the Trumps and the Pences have been holding a number of events for service personnel, their families and veterans.
I do not understand how people still cannot see that the current administration is working for the benefit of all Americans.
Follow the White House site and Twitter feeds to see all the news that Big Media fail to report to the American public.
In 2008, many voters who did not cast a ballot for Barack Obama were disappointed but philosophical.
Life must go on, we figured.
We then hoped that a Republican would defeat him in 2012, but such was not the case. Again, we were disappointed but philosophical.
Now, finally, a Republican has won the election. Donald Trump's voters are cautiously optimistic about the Electoral College vote despite the Jill Stein recounts and look forward to a safe inauguration in January.
Trump voters bear no ill will towards Hillary voters. We understand that some people are lifelong Democrats who still romanticise the party, recalling the days of FDR and Harry Truman. That's okay.
However, Hillary's voters are still apoplectic. The_Donald has a full list (language alert in comments) of the violence angry leftists have committed against people of all ages — including children — who like Trump. There were also leftists who didn't physically or verbally lash out but lied about Trump supporters attacking them.
One of the incidents on the list concerns a news item published on December 1 in the Observer-Reporter in Washington County, Pennsylvania. A 27-year-old man brutally assaulted his 69-year-old neighbour in a block of flats. This took place just a few days before Thanksgiving (emphases mine):
Matthew Pugh, 27 … was arrested Wednesday on a warrant obtained by Donora police on charges of attempted homicide, aggravated assault, simple assault and reckless endangerment.
Borough police were called to the apartment complex Nov. 20. Witnesses told police that Pugh and the woman, also a Donora Towers resident, were in the lobby when they got into a disagreement about politics, particularly the recent presidential election.
Pugh reportedly became enraged. He allegedly picked up a chair and hit the woman over the head, knocking her to the floor. The chair opened a gash on her head that bled severely, police said. The woman also suffered other injuries in the fall …
The woman was taken to Monongahela Valley Hospital for treatment of her injuries. Police said Pugh was taken to the same hospital for an evaluation.
Pugh was arraigned before District Judge Larry Hopkins and placed in Washington County jail on $50,000 bond. He is scheduled for a Dec. 14 preliminary hearing before District Judge Mark Wilson.
An article by Dennis Prager for Townhall described the madness surrounding Thanksgiving celebrations. A number of Hillary voters decided to not participate with Trump-voting family members. This affected all generations and, yes, some parents disowned their Trump-supporting children.
This will probably recur at Christmas. I highly recommend everyone read Prager's '10 Reasons Left-Wingers Cut Trump Voters From Their Lives'. Excerpts follow:
… conservatives were not one whit less fearful of Clinton and the Democrats than Democrats were of Trump and Republicans.
Yet virtually no conservatives cut off contact with friends, let alone parents, who supported Clinton.
Exactly.
Here are 10 reasons left-wingers cut Trump voters from their lives.
1. Just like our universities shut out conservative ideas and speakers, more and more individuals on the left now shut out conservative friends and relatives as well as conservative ideas.
2. Many, if not most, leftists have been indoctrinated with leftism their entire lives …
There are far more conservatives who read articles, listen to and watch broadcasts of the left and have studied under left-wing teachers than there are people on the left who have read, listened to or watched anything of the right or taken classes with conservative instructors.
3. Most left-wing positions are emotion-based. That's a major reason people who hold leftist views will sever relations with people they previously cared for or even loved. Their emotions (in this case, irrational fear and hatred) simply overwhelm them.
This is why I occasionally make the plea for less emotion, especially crying. It interferes with a rational thought process.
4. Since Karl Marx, leftists have loved ideas more than people. All Trump voters who have been cut off by children, in-laws and lifelong friends now know how true that is …
5. People on the right think that most people on the left are wrong; people on the left think that most people on the right are evil …
That is a very important distinction: wrong versus evil. Wrong has to do with thoughts and beliefs. Evil implies dark immorality.
The next point elaborates on that notion further:
6. The left associates human decency not so much with personal integrity as with having correct — i.e. progressive — political positions. Therefore, if you don't hold progressive positions, you lack decency. Ask your left-wing friends if they'd rather their high school son or daughter cheat on tests or support Trump.
That is an erroneous way of thinking — one that affects how leftists see others, including centrist or conservative family members.
There is more at the link.
Prager strongly encourages Hillary voters to make amends with those they have defriended and disowned.
I couldn't agree more. Christmas is only a few weeks away. Advent is a time of preparation for Jesus's earthly birth. John the Baptist exhorted his followers to repent and to exercise charity during this time. May we follow suit.
Pastor Ashcraft of Mustard Seed Budget has an excellent post, 'Suspicion is not proof', which gives seven good tips on dealing with those suspected of wrongdoing in a church context:
If you are in Christian leadership, you should exercise much wisdom:
1. Always use the lightest correctionary discipline possible, not the heaviest.
2. Be suspect of "revelation or confirmation of the Holy Spirit."
3. Be aware of your own personality and flesh and how that might color your judgement.
4. Use grace. Forgive others.
5. Don't insist on having your way but look for God's.
6. Allow the Holy Spirit to rule the church. You are not the Holy Spirit.
7. Know that the Pharisees exceeded their authority and punished the innocent (Jesus). Don't join the company of the Pharisees.
Hope these tips are helpful.
They are also helpful in the home. I shudder when I read some parents' blogs with their accounts of supposed divinely received messages or visions. Scary. Is that bringing their children closer to Christ or estranging them?
There are also many families who are quick to universally condemn a sibling or cousin who, for whatever reason, feels estranged: 'We don't talk to them any longer'. Why not? Instead of behaving like Pharisees and all falling into line without getting the facts, talk to those relatives! Resolve the problem!
One of my cousins from my late mother's side once said, 'Your dad was always so nice — and so witty!'
I said, knowing of our side's estrangement of another cousin — a devout Christian — who, after many years, feels as if she can no longer be part of the family despite my long-distance appeals, 'My dad's side did not have feuds or a falling out, even though everyone was an individual with different life experiences.'
He replied, 'Wow. That's sure not how our family operates.'
'No kidding. What are you going to do about it?'
'Nothing. None of my business. I have my own children and grandchildren now. They keep me busy enough.'
I hope that my readers are not like my cousin, congenial and responsible as he is. I pray that if you are reading this and have a family estrangement for no good reason, you take constructive steps to resolve it, especially before Christmas. Invite that relative over for coffee or meet up somewhere. Have a friendly conversation. Let them know you love them — and keep in touch afterwards.