You are currently browsing the tag archive for the 'family' tag.
Before David Cameron became Prime Minister in May 2010, Conservatives used to encourage marriage and the family.
Very few Conservatives these days speak highly of either institution in or out of Parliament.
Two debates in the House of Commons within a week of each other demonstrate the low regard the Conservative Government has for families.
Education
On Wednesday, March 8, 2023, at Prime Minister's Questions (PMQs), Conservative MP Miriam Cates, who represents Penistone and Stockbridge (a Red Wall constituency), expressed her concern to Rishi Sunak over the adult — not to mention deviant — nature of the sex education curricula offered in schools in England.
The Telegraph reported (emphases mine):
Rishi Sunak has ordered an urgent review of sex education after The Telegraph exposed evidence of the widespread teaching of "age inappropriate" materials in schools.
MPs have welcomed the news, but warned that the review must be independent as the Department for Education (DfE) has produced "confusing" guidance.
This week, nearly 50 Conservative MPs wrote to the Prime Minister urging him to launch an independent inquiry into "age inappropriate" sex education following evidence that graphic sexual content and gender ideology was being widely taught in schools.
The letter, co-ordinated by Miriam Cates, the MP for Penistone and Stockbridge, was signed by Priti Patel, the former home secretary; Simon Clarke, the former levelling up secretary; and Jonathan Gullis, Andrea Jenkyns, Brendan Clarke-Smith and Kelly Tolhurst, all former Cabinet ministers.
It came after The Telegraph revealed last week that some 13-year-old pupils have been taught there are 100 genders, while in some schools children as young as 12 have been asked how they feel about oral and anal sex.
On Wednesday, Mr Sunak told the Commons that he would now bring forward a review into sex education …
In the Commons, Mrs Cates said: "Graphic lessons on oral sex. How to choke your partner safely, and 72 genders. This is what passes for relationships and sex education in British schools.
"Across the country, children are being subjected to lessons that are age inappropriate, extreme, sexualising and inaccurate, often using resources from unregulated organisations that are actively campaigning to undermine parents.
"This is not a victory for equality. It is a catastrophe for childhood."
In theory, parents are supposed to be able to see the teachers' materials for these lessons. However, in reality, some parents have been denied access to them. Others can see only a broad outline of the curriculum, which does not include specific lesson content.
This has been allowed to go on since 2019, with input from sex equality charities and their activists.
One teachers' union blamed the Government. No surprise there:
James Bowen, the director of policy at the NAHT school leaders' union, said it was hard " to be anything other than deeply concerned by this announcement".
"The overwhelming majority of schools are doing nothing more than following the Government's own statutory guidance when it comes to relationships and sex education," he said.
"It is worth remembering that the current curriculum was subject to extensive consultation before it was introduced. We have seen no evidence to suggest there is a widespread problem with pupils being presented with age-inappropriate materials and if this were the situation, we would expect it to have been picked up on a case-by-case basis.
"There is a real concern that this is a politically motivated review, rather than one based on the reality of what is happening in the vast majority of schools up and down the country.
"Our appeal to [the] Government is to ensure this review is now handled with the care, sensitivity and impartiality it requires and to listen carefully to the voices of education professionals and pupils."
Notice that he omits the voice of parents.
Jeremy Hunt's budget
On Wednesday, March 15, Chancellor Jeremy Hunt presented his budget. It is rather Blairite in many ways. Most people will find it 'middle of the road'. Upon closer inspection, there is no plan for growth through tax cuts. Furthermore, corporation tax will rise to 25%. There is much more that one could criticise. Not mentioned in Hunt's speech is the drastic reduction of capital gains allowance this year and next year.
This is what Hunt had to say about working mothers (see Column 846):
For many women, a career break becomes a career end. Our female participation rate is higher than average for OECD economies, but we trail top performers, such as Denmark and the Netherlands. If we matched Dutch levels of participation, there would be more than 1 million additional women working. And we can do that.
So today I announce a series of reforms that start that journey. I begin with the supply of childcare. We have seen a significant decline in childminders over recent years— down 9% in England in just one year. But childminders are a vital way to deliver affordable and flexible care, and we need more of them. I have listened to representations from my hon. Friend the Member for Stroud (Siobhan Baillie) and decided to address this by piloting incentive payments of £600 for childminders who sign up to the profession, rising to £1,200 for those who join through an agency.
I have also heard many concerns about cost pressures facing the sector. We know that is making it hard to hire staff and raising prices for parents, with around two thirds of childcare providers increasing fees last year alone. So we will increase the funding paid to nurseries providing free childcare under the hours offer by £204 million from this September, rising to £288 million next year. That is an average of a 30% increase in the two-year-old rate this year, just as the sector has requested.
I will also offer providers more flexibility in how they operate in line with other parts of the UK. So alongside that additional funding, we will change minimum staff-to-child ratios from 1:4 to 1:5 for two-year-olds in England as happens in Scotland, although the new ratios will remain optional with no obligation on either childminders or parents to adopt them.
I want to help the 700,000 parents on universal credit who, until the reforms I announced today, had limited requirements to look for work. Many remain out of work because they cannot afford the upfront payment necessary to access subsidised childcare. So for any parents who are moving into work or want to increase their hours, we will pay their childcare costs upfront. And we will increase the maximum they can claim to £951 for one child and £1,630 for two children, an increase of almost 50%.
I turn now to parents of school-age children, who often face barriers to working because of the limited availability of wraparound care. One third of primary schools do not offer childcare at both ends of the school day, even though for many people a job requires it to be available before and after school. To address this, we will fund schools and local authorities to increase the supply of wraparound care so that all parents of school-age children can drop their children off between 8 am and 6 pm. Our ambition is that all schools will start to offer a full wraparound offer, either on their own or in partnership with other schools, by September 2026.
Today's childcare reforms will increase the availability of childcare, reduce costs and increase the number of parents able to use it. Taken together with earlier Conservative reforms, they amount to the most significant improvements to childcare provision in a decade. But if we really want to remove the barriers to work, we need to go further for parents who have a child under 3. For them childcare remains just too expensive.
In 2010, there was barely any free childcare for under-fives. A Conservative-led Government changed that, with free childcare for three and four-year-olds in England. It was a landmark reform, but not a complete one. I do not want any parent with a child under five to be prevented from working if they want to, because it is damaging to our economy and unfair, mainly to women, so today I announce that in eligible households in which all adults are working at least 16 hours, we will introduce 30 hours of free childcare not just for three and four-year-olds, but for every single child over the age of nine months.
The 30 hours offer will now start from the moment maternity or paternity leave ends. It is a package worth on average £6,500 every year for a family with a two-year- old child using 35 hours of childcare every week, and it reduces their childcare costs by nearly 60%. Because it is such a large reform, we will introduce it in stages to ensure that there is enough supply in the market. Working parents of two-year-olds will be able to access 15 hours of free care from April 2024, helping about half a million parents. From September 2024, that 15 hours will be extended to all children from nine months up, meaning that a total of nearly 1 million parents will be eligible. From September 2025, every single working parent of under-fives will have access to 30 hours of free childcare per week.
Here, too, Miriam Cates spoke out, saying that Hunt's plan did not offer parental choice:
Jacob Rees-Mogg, a father of six, had Cates on his show last night:
Guido Fawkes has the story (emphases his):
Miriam Cates has added her name to the list of those criticising the Chancellor's £4 billion childcare handouts which, as Guido pointed out yesterday, restrict choice. Speaking to an approving Jacob Rees-Mogg on GB News, Cates joined a growing list of Conservatives, including Ranil Jayawardena and Kit Malthouse, speaking out against the policy. She got to the heart of the matter:
It doesn't provide choice… many mothers do want to go back to work, but many mothers don't. And they want to look after their own children, particularly babies under two and I very much question if this is the right policy for children and families.
At least some in the Conservatives are intent on playing happy families…
I would not have thought that the Centre for Social Justice and a Conservative MP would be natural allies, but the think tank applauded her and showed a video of her testimony at Westminster Hall in a side debate:
Most other European countries lower taxes for parents. I have seen the French advert showing the mother cradling her newborn and advising that she contact her tax office as soon as practicable to let them know she has just had a child. Note that British working class voters would rather provide child care themselves were money not an object:
Conservative MP Andrea Leadsom has spoken several times over the past few years in favour of 1000 Days, a programme that promotes babies' development in the first three years of life. The CSJ refers to it below and rightly recommends the resurrection of the Marriage Allowance, a Conservative policy that disappeared some years ago:
I fully agree that any tax scheme should discourage abuse from people who are already receiving benefit, but encouraging more mothers to stay at home in those precious early years at least would effectively ward off influences from outside the home:
Guido Fawkes also supports the aforementioned French policy of tax relief:
Guido says that his wife decided to give up work to care for their children:
Other mothers agreed:
Guido has a post on the French policy and on Conservative MPs who support a family-friendly policy for parents:
Guido would suggest borrowing from our esteemed European neighbours. As Madeline Grant points out, in France, parents of two children only hit the top tax bracket when household income reaches €250,000, while the childless hit it at under €100,000. French family taxation is based on the number of adults and children within the household, rather than on the parents individually. Policy Exchange say that "at an annual income of £30,000, a UK household currently pays £3,250 in tax with an actual tax rate (ATR) of 11%. Under the French principle of quotient familial, that same household would pay no tax (an ATR of 0%)". Making babies tax deductible is a sexy policy.
If a UK household earns £70,000, they currently pay £15,500 in annual tax with an ATR of 22%. Applying the French principle would save the same family £9,000. Even in the US, Obama gave parents a $1,000 tax break per child in 2010. This would also benefit stay-at-home mums (or dads) who choose to look after their own children rather than to farm them out to strangers in order to boost GDP. Childcare policy in the UK is framed in terms of what is good for the economy rather than what is good for children and family life. Tax deductible children would please the squeezed middle-classes during tough economic times… who knows they might even vote for a party that puts it in the manifesto.
Kit Malthouse, a former Cabinet member:
had an article in The Times on same theme this morning:
If we are serious about supporting people to have children and get back into work, a major childcare overhaul is clearly the right place to start. Here is how we start.

We need to begin with the tax system. I have often wondered why we recognise children in the welfare system but not through our taxes. In that sense, they're treated like a burden that needs offsetting rather than a cause for celebration and an economic bonus. To fix that, we could abolish child benefit and simply gave parents a tax-free income allowance of, say, £15,000 per child up to 11 years old. If you are a couple on £30,000 each with two children, for instance, this would mean that with your existing personal allowance, you could jointly earn £55,140 before you paid a penny to the government …

So rather than collecting money from families in taxation, losing some of it in administration and then returning it to them as childcare, we could simply leave more of it in their pockets to do with as they see fit.
Another Conservative, Ranil Jaywardena, spoke out in favour of a flexible taxation system for families:
He said (see Column 783):
… I welcome the Chancellor's commitment to helping families with the cost of childcare specifically. It is a great starter for 10. Finding ways to keep down the cost of childcare for parents is important, but we must not lose sight of keeping down the cost of childcare for the taxpayer too. It is extraordinary to see some on the Opposition Benches and elsewhere attack the alignment of the system in England with the system in Scotland, increasing the ratio from 1:4 to 1:5, but what is missing is choice. For 25 years, the consensus has been that everyone should go to work, and the state will provide ever more free childcare, except that it is not free—taxes are at a 70-year high—and I contend that choice is missing from the equation.
Instead of a one-size-fits-all system from Whitehall, families should be able to decide what works for them. Instead of the Government dictating how many hours of free childcare and from who in the years ahead, how about moving to a system of tax reliefs, so that parents can pay for the childcare they want, and from whom they want? Indeed—a radical thought—one parent could even choose to stay at home, allowing the other to work extra hours, if that is what they want to do.
I therefore urge the Treasury to consider reigniting the review into family taxation. Things may have changed since 2019, but I recall that in 2019 single people without a family paid 8% less tax than the OECD average, but a single-earner couple, with two children, paid 26% more. There is an injustice in this that I hope the Government will address in the not-too-distant future by commissioning a family tax review.
That tax review should reflect the fact that familial support not only for childcare but for elderly relatives provides about £1 trillion of unpaid care in this country, which people could decide to pass to the state. I do not believe that is desirable, and I believe that the state should in turn provide the environment that allows people to take responsibility for themselves.
On wraparound childcare, this is an excellent step to help working parents and for them not to have to worry about what happens after school time, but I urge the Government to ensure that we give that money directly to schools and academies to do what is right, providing a co-curricular offer that is suitable for their particular community and their children, who they know best, rather than any Government Department, or indeed any local authority.
We cannot pay for any of this without strong British businesses, and I welcome the full expensing of the business investment …
Is there any chance that Jeremy Hunt will listen to these sensible suggestions?
I doubt it. They are not statist enough for him or most Conservative MPs, sadly.
Interestingly, as I close this post on Thursday afternoon, Conservative MP George Eustice, another former Cabinet member, is on the side of his colleagues quoted above. Eustice said in Parliament this afternoon that our society no longer values motherhood and considers the term 'stay-at-home mother' to be derogatory.
How right he is.
As for David Cameron, Eustice said in his speech that the former Prime Minister was the greatest supporter of marriage and family ever but that 'bean counters in the Treasury ground him down' over tax relief.
There must be some way to discourage more welfare claims for motherhood and a way to encourage two-parent families and marriage tax allowances.
It is an interesting coincidence that family policies are being debated just days before Mothering Sunday, March 19.
The three-year Lectionary that many Catholics and Protestants hear in public worship gives us a great variety of Holy Scripture.
Yet, it doesn't tell the whole story.
My series Forbidden Bible Verses — ones the Lectionary editors and their clergy omit — examines the passages we do not hear in church. These missing verses are also Essential Bible Verses, ones we should study with care and attention. Often, we find that they carry difficult messages and warnings.
Today's reading is from the English Standard Version Anglicised (ESVUK) with commentary by Matthew Henry and John MacArthur (as indicated below).
Qualifications for Overseers
3 The saying is trustworthy: If anyone aspires to the office of overseer, he desires a noble task. 2 Therefore an overseer[a] must be above reproach, the husband of one wife,[b] sober-minded, self-controlled, respectable, hospitable, able to teach, 3 not a drunkard, not violent but gentle, not quarrelsome, not a lover of money. 4 He must manage his own household well, with all dignity keeping his children submissive, 5 for if someone does not know how to manage his own household, how will he care for God's church? 6 He must not be a recent convert, or he may become puffed up with conceit and fall into the condemnation of the devil. 7 Moreover, he must be well thought of by outsiders, so that he may not fall into disgrace, into a snare of the devil.
————————————————————————————————————————————–
Part 1 covered verses 1 and the first part of verse 2, up to 'the husband of one wife'. I presented Matthew Henry's summation of the second verse, but will cover aspects of it more thoroughly here.
This is another long post as John MacArthur looks at these qualifications in detail. In 1986, he preached seven sermons on these verses alone.
Continuing with verse 2, Paul says that the overseer must be sober-minded.
MacArthur is teetotal, so he has a bias against strong drink. Nonetheless, he tells us what the Bible says and provides insight as to why sobriety is so important in the priesthood:
… the word "temperate." Interesting word. Not until this study began for me did I really understand this word. I had never really dealt with it before. But I looked it up, and it's the word nēphalios. It means wineless. Kind of interesting. It means unmixed with wine.
Yes, Judges 9:13 says, "Wine cheers the heart." Sure it was a pleasurable thing to drink the sweet juice of the grape. But it was also a potential for great harm. That's why they always mixed it with water. You see, it's a hot and dry land – Bible lands – and you would drink a lot just to replenish the fluids that your body lost in the heat. And the more you drank, the more potential for drunkenness. And so, wine was always mixed with high amounts of water so that you could drink it without having drunkenness result.
But even so, it was potentially dangerous because of the lack of refrigeration and the degenerative properties of wine that made it ferment and gain an alcoholic content which could be intoxicating. And that is why, though it can cheer the heart, and though it can be good, as Paul says to Timothy, for the stomach's sake in some matters, and though it could be given to someone who's near death for the sake of relieving their pain, still it's goodness is not the whole story. It is offset greatly by statements like this in Proverbs 20, verse 1, "Wine is a mocker, strong drink is raging, and whosoever is deceived thereby is not wise."
Or Proverbs 23, "Who hath woe? Who hath sorrow? Who hath contentions? Who hath babbling? Who hath wounds without cause? Who hath redness of eyes? They that tarry long at the wine, they that go and seek even mixed wine. Look not thou upon the wine when it is red, when it gives its color in the cup, when it moves itself aright." In other words, full bodied wine. "At the last, it bites like a serpent; it stings like an adder. And thine eyes shall behold strange things." That's the DTs. "Thine heart shall utter perverse things. You'll be like somebody lying in the middle of the sea or lying on the top of a mast." All kinds of illusions. You'll be saying, "They've stricken me," and you'll say, "I wasn't sick; and they've beaten me, and I felt it not." And then you'll say, "When will I awake? And I'll see it again." The wine that mocks.
I think of Noah in Genesis chapter 9. He decided to plant a vineyard. He was a farmer, it says, and he was going to plant a vineyard. So he did. And then he drank of his vineyard, and he became drunken, and he went in his tent. And it says, "He appeared in his nakedness." And that doesn't just mean he didn't have his clothes on; there is some kind of evil sexual allusion in those words. And his son came in and came out and mocked him. And his other sons went in backwards with something to cover him up because they were so ashamed of his nakedness; his evil, vile, sinfulness because of his intoxication.
And you read of Amnon in 2 Samuel chapter 13, verses 28 and 29. Read throughout Scripture the evil of drink, and read Leviticus 10:9, where it says that the priest is never to enter into the house of God, to function in his priestly duty, having consumed wine. It was forbidden to them forever it says. The Nazarite vow, the highest vow of spiritual commitment in the Old Testament, Numbers 6:3, forbid a person to drink it. It was forbidden to kings; it was forbidden to princes and all leaders in Proverbs 31:4.
The potential of that is so devastating because of the judgments that have to be made, because of the model that has to be set, because of the example. And so, he says, first of all, "This overseer must be a one-woman man, and a man who doesn't participate in drinking." Those are the two cultural evils of the time, as well as the two evils of the heart. Drunken orgies were part of Ephesian culture. You read the story of Diana of the Ephesians and what went on at the temple, and the kind of lifestyle. Josephus says, "The word was commonly used for abstaining from wine entirely." That's Josephus.
The primary idea here may not even be this, although this is certainly an inherent idea. And the reason the word is translated temperate rather than having something to do with wine specifically is because in a metaphorical usage, it means to be – what can I say? – alert, watchful, vigilant, clearheaded. You never allow yourself to get intoxicated. You're always thinking clearly. It is that inner strength that denies any excess.
Food can also be problematic:
Any excess, really, we could apply here. There's a certain moderation of life in this. And there are so many things in which we can be excessive, not just drink, but for some food and often gluttony and drinking are linked. It seems to be that in the past that overeating has been known as the preacher's sin. And often that's a just criticism. But we are to be balanced; we are to be without excess who leads spiritually. Why? Because God expects us to have a higher standard than the people? No, because God expects the people to have that high standard. But in order to have that high standard, they have to have a model to follow. Okay? That's very important to understand. We're not to live this in isolation from the people. We're not to elevate ourselves to some priestly stratosphere where everybody bows down and says, "Oh, aren't they supernatural?" We're to be the pattern to which everyone arises …
… that is also another mark of moral character.
The overseer is to be hospitable, i.e. towards strangers.
MacArthur explains how hospitality worked in the ancient world. I hope you find this as fascinating as I did:
Persecution, poverty, orphans, widows, traveling Christians – it made it necessary, in ancient days, to open the home. There weren't any hotels like we have; motels. They didn't pamper people like they do today. And the inns, for the most part, were brothels. They marked the ancient world with a black mark. There people were robbed and beaten, solicited to evil.
William Barclay writes of the picture of the ancient world with these words, "In the ancient world, inns were notoriously bad. In one of Aristophanes' plays, Heracles asks his companion where they will lodge for the night, and the answer is, "Wherever the fleas are the fewest." Plato speaks of the innkeeper being like a pirate who holds his guests to ransom. Inns tended to be dirty and expensive and, above all, immoral.
The ancient world, therefore, had developed a system of what were called guest friendships. Over generations, families had arrangements with other families to give each other accommodation and hospitality if they were in the area. And often the members of the families came, in the end, to be unknown by each other by sight, as the generations went on. They would then identify themselves by means of what were called tallies. A stranger coming into a town would seek accommodation and produce one-half of an object. That was called a tally. And if the house owner had the other half, he would know that this was someone from a family that had a guest friendship with his family in generations past, and the stranger was indeed the friend and could be admitted to the home.
In the Christian church, there were wandering teachers and preachers; they needed hospitality. There were many slaves who had no homes of their own. It was a great privilege to have them come into a Christian home, maybe for the only time in their life. You see, the whole church was kind of like a little island of Christianity in a sea of paganism and Christian homes would be the safest, most enriching and wonderful place of all.
And I still think we live in a world like that. Many are far from home, many are strangers, and many need a place to stay, and a Christian home would be the best place of all, and the door of the Christian home, as well as the heart of the Christian family ought to be open to all who come.
You see, what it's saying here is that the pastor is not somebody who's elevated to a place where he's unapproachable. He's not remote; he's available. This is not the place for seclusion; this is not the place for isolation. His life and his home are open so that the true character of his life is manifest to all who come there. I mean if I want to know the most about you, I can go to your house and watch you for a few days or weeks. The pastorate is not a place where you ascend beyond the people and become untouchable; it's a place where you become touchable and you hold our home as a stewardship to be used as God sees fit. And I'm always reminded, when I think about this, that received those of us who were strangers and alien from the covenant – those Gentiles. He received us as strangers into his family, and how can we who have been so welcomed not welcome other strangers into our own.
MacArthur also explains more about what it means to be able to teach:
… teaching effectively is predicated on the character of the teacher. You cannot divorce what a teacher is from what he says, when the whole content of his teaching is moral. So, this in itself is a moral qualification. That is he is to be able to teach, and he will only be able to teach effectively if he lives up to what it is he teaches. Right? So, it is a moral qualification as well as a note about his function. He is to be a skilled teacher.
In 1 Timothy 5:17, the note is that he is one who labors – kopiaō – who works to exhaustion in the Word and doctrine. And I am always amazed at how many people are concerned about leisure, and how many people want time off, and yet in the Word of God, there is the constraint that one labors to the point of exhaustion in the Word and in the teaching. This is the primary task.
… The Lord's servant must be didaktikos, skilled in teaching, able to teach because his life is of such moral constitution, so impeccable virtue that he is believable. Not only does he have skill in the communicating end of it, but he has the ability to make it believable because he lives it.
Now, not everybody is a teacher, and not everybody is called to be a teacher. And it isn't wrong not to be a teacher of the church as a pastor or evangelist or leader. It isn't wrong. It's a question of the calling of God.
Paul says that the overseer must not be a drunkard; he must be gentle rather than violent, not quarrelsome, not a lover of money (verse 3).
Henry offers the best example, that of the supreme overseer:
Christ, the great Shepherd and Bishop of souls, is so.
MacArthur reminds us that the overseer's role is to bring the sinner to salvation and to build up the saints, a heavy responsibility:
So, mark it; when you are called to church leadership, you are called to the task of bringing unconverted sinners to Christ. And even though you may emphasize the edification ministry, and even though you may emphasize some kind of design of church program, even though you may have oversight into some area of administration, the ultimate end of everything you do and I do is to bring the unconverted to Christ.
Secondly, it is a supporting priority for the church leader to build up the saved to maturity in Christ. We are called to build up the saved. This includes "Warning them that are unruly, encouraging the fainthearted, supporting the weak, and being patient to all men," Paul says in 1 Thessalonians 5:14. We are called to perfect the saints for the work of the ministry to the building of the body of Christ.
So, the priority then of perfecting and polishing the saints for useful service, for strong service for Christ, is a top priority. This means we must provide care for those who fall into sin, for those who lose their zeal, for those who disobey the Word, for those who lose their first love. The responsibility of strengthening, restoring those who are overtaken in a sin, feeding, challenging the strong to greater perseverance and even greater strength.
The third thing – and we could spend a lot of time on each, but just to touch them – the third thing that we are called to do by way of objective in the ministry is to feed the flock the Word of God regularly. To feed the flock the Word of God regularly. A strong and steady diet of divine truth and exhortation is the core of the church's life.
There should be, in the heart of the pastor or elder a certain amount of anxiety, a certain amount of pain. Paul calls it travail or birth pains until the people have Christ formed in them. This means that we are involved also in the ministry of intercession on behalf of those to whom we speak the Word of God.
So, we are called then for the work of seeing the unconverted come to salvation. We are called also to build up the saved to maturity in Christ, and we are called to feed the flock of God regularly, to feed them the Word which equips them for service.
Then there is the aspect of counselling or advising in some respect:
Another of our priorities is to give special attention to the spiritual order and devotion of families – to give special attention to the spiritual order and devotion of families. This involves leading families I think into proper roles, men into proper roles for men, women into proper roles for women. This involves teaching families how to love each other, how to serve each other, how to combat treacherous, destructive things that are happening in the world around them, influences that tend to tear the family apart. This involves teaching the family how to devote themselves to one another, how to devote themselves to God, how to devote themselves to the Word, how to devote themselves to the church, how to devote themselves to the ministry, and how to have Christ at the center of everything they do. It is a high priority of ministry in the church to give special attention to the spiritual order and devotion of families.
Another one that helps crystallize what it is that the pastor or elder does, we are to minister to those people who are in special distress. We are to minister to those people who are in special distress. One of the great traditions in ministry, and as it ought to be, as the Savior gives us the example, is to reach out to those people who have unusual problems, whether they are ill, whether they are facing death, whether they have disease or divorce or disappointment, whether they've gone through a disaster, whether they are in need of comfort. This becomes a very important matter of commitment on the part of those who serve in the church, to minister to people who are in special distress.
I read an article at the weekend by an Anglican priest in his mid-thirties who says that priesthood involves the whole of the human life cycle every day, from birth to death and everything in between. Even a party can be a mission field. I didn't bookmark the article, but he said that he once attended a friend's party in civvies (no dog collar) and went outdoors for a breath of fresh air. He was followed by another guest going out for a cigarette break. The man asked the priest what he did for a living. When the priest said what he did, the man broke down in tears and poured his heart out to him. Therefore, a priest has to be prepared for every eventuality at any moment.
Update — Friday, March 24, 2023: The priest appeared on Mark Dolan's GB News show. Although the Revd Fergus Butler-Gallie does not relate that particular incident, this short interview is still interesting:
MacArthur says:
… we recognize, then, that this is a high and holy and sacred calling to which men are called when they are called into the leadership of the church. It involves several things. It involves discipline. Anyone who is going to be successful in fulfilling this divine calling is going to maintain in his own life discipline. There's going to be, in his own life, self-denial, because your life is not your own. You talk about a person who is called into a task beyond himself, this is it. You are not the master of your own fate; you are not the captain of your own soul; you are not the determiner of your own destiny. You move at the bidding of the Spirit of God, and the work that is done well will be done well, then, by those who are disciplined and by those who understand self-denial.
He says that teaching is an important part of being a priest in order to convey strong doctrine, which will help in any situation:
Two things, basically: one, do you have a strong and consuming desire to teach; Two, do the people you teach think you have the gift? Very important. There are people running around saying, "I have the gift; I have the gift," and their class is coming after them saying, "No, he doesn't; no, he doesn't." You don't want to be under some illusion. You don't want to seek some place of preeminence. You don't want to rise in your own ego to a place where you are revered and esteemed a teacher if you do not have the gift. The gift of teaching is a Holy Spirit endowment that is given by God specially to those called to teach.
You know, sometimes people say to me – in fact, this is quite common – "How do you get that out of the Scripture? I read that verse so many times; I don't see that."
Other people will say, "How is it that you can do – convey Scripture and other people can't?"
And the answer to that is very simple: it is a gift given by the Spirit of God. It is different, maybe, than your gift. You have a gift to do things with a facility spiritually that I don't have, and that's the way the Lord has structured His body.
So, skill in teaching involves exemplary life and the gift of teaching. Thirdly, a skilled teacher will have a reservoir of doctrinal understanding. A skilled teacher will have a reservoir of doctrinal understanding. In 1 Timothy 4, again, verse 6, he says, "A good minister of Jesus Christ" – 1 Timothy 4:6 – "is one nourished up in the words of faith and of good doctrine." And he says, "Timothy, you've attained to that."
Do you know what set Timothy apart as such a skilled teacher was the tremendous reservoir of biblical knowledge that he had. In 1 Timothy 6:20, "O Timothy, keep that which is committed to your trust." What did he mean? He meant doctrine – sound doctrine …
Timothy was beginning to be equipped for the role of teaching, when he was just a child, because he learned the Scriptures. And there came into his life a deep reservoir of truth out of which one teaches.
That was thanks to his mother and grandmother, Eunice and Lois, respectively. My message to parents is to bring your children up well informed about prayer and the Bible at home from an early age. Don't wait for Sunday School or a faith school to do it, because the results could be disappointing.
Verse 3 in older translations reads:
Not given to wine, no striker, not greedy of filthy lucre; but patient, not a brawler, not covetous;
MacArthur explains the importance of patience and not getting involved in violent quarrels:
I remember the pastor who told me about the fight he had with his deacon. The deacon punched him, and away they went. I'm sure he wasn't the only one. But you don't want people who deal with difficulty through violent, physical reactions. No place for that. This leadership demands a man who can deal with things with a cool mind, with gentleness, who doesn't fight. Remember what I said that Paul said to Timothy in chapter 2 of 2 Timothy? "The servant of the Lord must not fight; he must not strive." He doesn't deal with things like that. He doesn't resort to violence.
And it's not only physical violence. I think we could imply also that it's verbal violence. His tongue is not to be a lashing tongue which reaches out in strife. First Timothy 6 talks about using the tongue to bring about strife and railings. The tongue can be an instrument of violence. It can, as James 3 says – and we'll get into that in some weeks – it can set on fire all of nature. The tongue can be such a violent, violent instrument. So, the man, then, who leads the church, is not to deal with difficulty through violent physical or verbal means.
Notice, then – and we skipped one in the Authorized Version; it's not in the better manuscripts, and it's covered by the last one – so, we go to the one that says patient. Patient – epieikēs. It means to be considerate, and genial, and forbearing, and gracious, and gentle. Aristotle said, "It has the idea of a person who easily pardons human failure." It's a beautiful virtue, a person who easily pardons human failure. And it's used in 2 Timothy 2:23. He says, "The servant of the Lord" – 2:24 rather; 2:23 says, "Don't start fights," 2:24 says – "be gentle and patient." Patient. What does it mean? You remember; Good not evil. You don't build up a chronologue of everything everybody ever did against you. Listen, that messes up people's ministry. I have known people in the ministry who get out of the ministry, who leave churches because they cannot get over the fact that somebody criticized them. Somebody said something against him. Somebody did something that upset them, and they carry around a list of grievances that eventually makes it impossible for them to serve anybody. That's all they can see.
… All that does is cloud your mind with things to anger you. Patience is the ease of pardoning human failure, focusing on the good done by others rather than injury and retaliation, all of that. And that's the kind of person you want. You don't want a person who holds grudges.
And then, "Not a brawler" – amachos. Again, this is a quarrelsome thing. It's very much like the other term we looked at, which talks about coming to blows, but it doesn't so much mean using physical violence; it means a quarrelsome person. Nothing is more difficult in a plurality of leadership, leading a church, than to have somebody who just likes to quarrel about everything.
MacArthur discusses covetousness, another danger to an overseer:
"Not covetous" – aphilarguros. That two-part word – three-part word, really, with an alpha privative makes it a negative, but the two main parts mean to love silver – not be a lover of silver. What a corruption that is in the ministry, to love money. And you see people as means to getting money. Everybody you look at becomes simply an avenue for you to get rich. That is such a temptation. And that's why in 1 Timothy 6, Paul says, in verse 6, to Timothy, "Godliness with contentment is great gain, Timothy. We brought nothing into the world. It's certain we're going to do what? – take nothing out.
This brings us to Paul's stipulation that the overseer must manage his own household well, with all dignity, keeping his children submissive (verse 4).
Henry's version of the Bible puts the verse as follows:
One that ruleth well his own house, having his children in subjection with all gravity;
'Gravity' means 'gravitas' there: seriousness.
If a man cannot run his own household, Paul says, then how can he care for God's church (verse 5)?
This, too, is another indicator of morality and good example. Henry says:
He must be one who keeps his family in good order: That rules well his own house, that he may set a good example to other masters of families to do so too, and that he may thereby give a proof of his ability to take care of the church of God: For, if a man know not how to rule his own house, how shall he take care of the church of God. Observe, The families of ministers ought to be examples of good to all others families. Ministers must have their children in subjection; then it is the duty of ministers' children to submit to the instructions that are given them.—With all gravity. The best way to keep inferiors in subjection, is to be grave with them. Not having his children in subjection with all austerity, but with all gravity.
MacArthur says that a bad example at home will last through succeeding generations, not as a judgement but as the only example children know to follow:
It is not enough in the church to teach the truth. The truth must be modeled. That's integrity. Integrity is living and teaching the same thing. That's why the standards for church leadership here all relate to moral character – the power of influence.
You recall – do you not? – in the Old Testament that the Scripture tells us that evil is visited – the evil of the fathers is visited upon the third and fourth generation. Now please, don't misunderstand that. That does not mean that an evil man has his children cursed by God for three or four generations. That does not mean that you shouldn't adopt children because they might be under some curse because they had an evil grandfather or great-grandfather. That is a ludicrous thought. What it means is that influence is so powerful that once you have an evil generation, it takes you three or four generations to root out that evil and turn it around. It is not a statement about God cursing children' it is a statement about the power of an evil influence …
… all of this is to say that in terms of leadership, the crucial aspect is the matter of influence. And influence flows primarily out of example.

MacArthur discusses ruling well in verse 4:
Notice it says that as he rules at home, he is to rule well. It is not just that he rules. There are a lot of men who rule in the home, but they don't rule very well. They don't get the desired effect. This one rules well, and the word here is a very rich word. It is the word kalōs in the Greek, and basically we could translate it excellently, but that wouldn't give us the full understanding.
In order to grasp what it means, we need to compare two Greek words: agathos and kalōs. Agathos is a common word in the New Testament that means inherently good or morally good or practically good. Kalōs takes it a step further, not instead of that, but in addition to that, it is aesthetically good. It is appealingly good. It is beautiful; it is lovely; it is appealing to the eye. Agathos, inherently good; kalōs inherently good and also appealing to the eye. And so, the idea is that here is a man who is to be leading his family in such a way that his leadership is inherently good and it is manifestly good to all those who perceive and see his leadership there …
He is a leader in the family, and his leadership, I believe, involves three things. I want to share these with you as we draw to a conclusion: number one, firmness; number two, wisdom; and number three, love – or number one could be authority. Authority, wisdom, and love.
In the family, I believe it is essential that the father exercise authority that makes it – listen to this – advisable for his children to obey. Did you get that? He must exercise authority that makes it advisable for his children to obey …
And so, I suggest to you an authority that makes it advisable to obey, and a wisdom that makes it natural and reasonable to obey.
Thirdly, a love that makes it delightful to obey. A love that makes it delightful to obey. Your children ought to long to obey you because they enjoy so much the intimacy of an unhindered, an uninterrupted love relationship with you. And that love has to be there. That love has to be there.
… Now, there is a man who is fitted to lead the church, and that's exactly what verse 5 says from a negative viewpoint. "If a man doesn't know how to rule his own house, how shall he take care of" – and it's an anarthrous construction here – "a church of God?" How can he rule a local assembly if he can't rule his own house?
I will have more on verse 5 tomorrow, along with verses 6 and 7.
Yesterday's post covered the early years of Benedict XVI's papacy, from 2005 to the beginning of 2010.
Today's post will cover a few more news items from 2009 before moving on to the remainder of this good man's time in the Vatican.
He certainly had his cross to bear between 2005 and 2013. For whatever reason, the world's media were dead set against him from the beginning. Many bishops and priests opposed his liberation, for lack of a better word, of the Tridentine — Latin — Mass so that it could be more widely celebrated. Pope Francis shut that down, but it is still possible to attend a Latin Mass in some churches, e.g. Cannes and Nice.
Furthermore, some Catholic traditionalists did not consider Benedict to be traditional enough. To an extent, I agree. Then again, it would have been impossible for him to do away with the Novus Ordo, what my mother and I called Modern Mass, and the other ill-judged reforms of Vatican II. For those reasons, I became a Protestant in the 1980s.
I read some years ago that, near the end of his papacy, Benedict was unable to go into parts of the Vatican without feeling as if he were under spiritual attack, not because he was a bad servant of God but because he was a good one and that Satan wanted his soul. Some months after I read that article, Benedict resigned. If what I read was true, who can blame him? He deserved temporal and spiritual peace. Now he rests with the Lord for eternity.
2009 Easter address
On April 12, 2009, Pope Benedict gave his Easter message, that year's Urbi Et Orbi. Excerpts follow, emphases mine:
Dear Brothers and Sisters in Rome and throughout the world,
From the depths of my heart, I wish all of you a blessed Easter.  To quote Saint Augustine, "Resurrectio Domini, spes nostra – the resurrection of the Lord is our hope" (Sermon 261:1).  With these words, the great Bishop explained to the faithful that Jesus rose again so that we, though destined to die, should not despair, worrying that with death life is completely finished; Christ is risen to give us hope (cf. ibid.). 
Indeed, one of the questions that most preoccupies men and women is this: what is there after death?  To this mystery today's solemnity allows us to respond that death does not have the last word, because Life will be victorious at the end.  This certainty of ours is based not on simple human reasoning, but on a historical fact of faith: Jesus Christ, crucified and  buried, is risen with his glorified body.  Jesus is risen so that we too, believing in him, may have eternal life. This proclamation is at the heart of the Gospel message.  As Saint Paul vigorously declares:  "If Christ has not been raised, our preaching is in vain and your faith is in vain."  He goes on to say: "If for this life only we have hoped in Christ, we are of all men most to be pitied" (1 Cor 15:14,19).  Ever since the dawn of Easter a new Spring of hope has filled the world; from that day forward our resurrection has begun, because Easter does not simply signal a moment in history, but the beginning of a new condition: Jesus is risen not because his memory remains alive in the hearts of his disciples, but because he himself lives in us, and in him we can already savour the joy of eternal life.
The resurrection, then, is not a theory, but a historical reality revealed by the man Jesus Christ by means of his "Passover", his "passage", that has opened a "new way" between heaven and earth (cf. Heb 10:20).  It is neither a myth nor a dream, it is not a vision or a utopia, it is not a fairy tale, but it is a singular and unrepeatable event: Jesus of Nazareth, son of Mary, who at dusk on Friday was taken down from the Cross and buried, has victoriously left the tomb.  In fact, at dawn on the first day after the Sabbath, Peter and John found the tomb empty.  Mary Magdalene and the other women encountered the risen Jesus.  On the way to Emmaus the two disciples recognized him at the breaking of the bread.  The Risen One appeared to the Apostles that evening in the Upper Room and then to many other disciples in Galilee. 
The proclamation of the Lord's Resurrection lightens up the dark regions of the world in which we live.  I am referring particularly to materialism and nihilism, to a vision of the world that is unable to move beyond what is scientifically verifiable, and retreats cheerlessly into a sense of emptiness which is thought to be the definitive destiny of human life.  It is a fact that if Christ had not risen, the "emptiness" would be set to prevail.  If we take away Christ and his resurrection, there is no escape for man, and every one of his hopes remains an illusion.  Yet today is the day when the proclamation of the Lord's resurrection vigorously bursts forth, and it is the answer to the recurring question of the sceptics, that we also find in the book of Ecclesiastes:  "Is there a thing of which it is said, 'See, this is new'?" (Ec 1:10).  We answer, yes:  on Easter morning, everything was renewed.  "Mors et vita, duello conflixere mirando:  dux vitae mortuus, regnat vivus – Death and life have come face to face in a tremendous duel:  the Lord of life was dead, but now he lives triumphant."  This is what is new!  A newness that changes the lives of those who accept it, as in the case of the saints.  This, for example, is what happened to Saint Paul …
Resurrectio Domini, spes nostra!  The resurrection of Christ is our hope!  This the Church proclaims today with joy.  She announces the hope that is now firm and invincible because God has raised Jesus Christ from the dead.  She communicates the hope that she carries in her heart and wishes to share with all people in every place, especially where Christians suffer persecution because of their faith and their commitment to justice and peace.  She invokes the hope that can call forth the courage to do good, even when it costs, especially when it costs.  Today the Church sings "the day that the Lord has made", and she summons people to joy …  To him, our victorious King, to him who is crucified and risen, we sing out with joy our Alleluia!
Five new saints
On Sunday, April 26, 2009, Benedict canonised five new saints.
Speaking in a packed St Peter's Square, the Pope praised each of the five as a model for the faithful, saying their lives and works were as relevant today as when they were alive.
The Pontiff singled out the Rev Arcangelo Tadini, who lived at the turn of the last century and founded an order of nuns to tend to factory workers – something of a scandal at the time, since factories were considered immoral and dangerous places. Tadini also created an association to provide emergency loans to workers experiencing financial difficulties.
"How prophetic was Don Tadini's charismatic intuition, and how current his example is today, in this time of grave economic crisis!" Benedict marvelled in his homily.
The only non-Italian canonised Sunday was Nuno Alvares Pereira, who helped secure Portugal's independence from the Spanish kingdom of Castile, leading Portuguese forces in the critical Battle of Aljubarrota in 1385.
After leaving the military, he entered religious life as a Carmelite and changed his name to Nuno de Santa Maria. He dedicated himself to the poor, never taking the privileges that would have been afforded to him as a former commander.
He is remembered as a national hero today in Portugal, with street signs named after him in many towns, but also as a humble man of great spirituality …
Also canonised on Sunday was Bernardo Tolomei, a nearly blind monk who founded the Benedictine Congregation of Santa Maria di Monte Oliveto in the 1340s. He died in 1348 along with 82 of his monks after leaving the safety of his monastery to tend to plague victims in Siena.
The Pope praised his dedication, saying he died "as an authentic martyr of charity."
The others canonised were Gertrude Comensoli and Caterina Volpicelli, 19th century Italian nuns who founded religious orders.
He has presided over a handful of canonisation ceremonies in his four-year pontificate, and has left it to other Vatican officials to officiate at beatification ceremonies …
Beatification is the first step to possible sainthood. The Vatican must certify one miracle attributed to the candidate's intercession for beatification, and a second miracle that occurred after beatification for the candidate to be declared a saint.
Address to the academic community in Prague
On September 27, 2009, Benedict addressed the academic community in Prague, reminding everyone of the true purpose of education — truth and reason:
Mr President,
Distinguished Rectors and Professors,
Dear Students and Friends,
The great changes which swept Czech society twenty years ago were precipitated not least by movements of reform which originated in university and student circles. That quest for freedom has continued to guide the work of scholars whose diakonia of truth is indispensable to any nation's well-being.
I address you as one who has been a professor, solicitous of the right to academic freedom and the responsibility for the authentic use of reason, and is now the Pope who, in his role as Shepherd, is recognized as a voice for the ethical reasoning of humanity. While some argue that the questions raised by religion, faith and ethics have no place within the purview of collective reason, that view is by no means axiomatic. The freedom that underlies the exercise of reason – be it in a university or in the Church – has a purpose: it is directed to the pursuit of truth, and as such gives expression to a tenet of Christianity which in fact gave rise to the university. Indeed, man's thirst for knowledge prompts every generation to broaden the concept of reason and to drink at the wellsprings of faith. It was precisely the rich heritage of classical wisdom, assimilated and placed at the service of the Gospel, which the first Christian missionaries brought to these lands and established as the basis of a spiritual and cultural unity which endures to this day. The same spirit led my predecessor Pope Clement VI to establish the famed Charles University in 1347, which continues to make an important contribution to wider European academic, religious and cultural circles.
The proper autonomy of a university, or indeed any educational institution, finds meaning in its accountability to the authority of truth. Nevertheless, that autonomy can be thwarted in a variety of ways. The great formative tradition, open to the transcendent, which stands at the base of universities across Europe, was in this land, and others, systematically subverted by the reductive ideology of materialism, the repression of religion and the suppression of the human spirit. In 1989, however, the world witnessed in dramatic ways the overthrow of a failed totalitarian ideology and the triumph of the human spirit. The yearning for freedom and truth is inalienably part of our common humanity. It can never be eliminated; and, as history has shown, it is denied at humanity's own peril. It is to this yearning that religious faith, the various arts, philosophy, theology and other scientific disciplines, each with its own method, seek to respond, both on the level of disciplined reflection and on the level of a sound praxis.
… From the time of Plato, education has been not merely the accumulation of knowledge or skills, but paideia, human formation in the treasures of an intellectual tradition directed to a virtuous life. While the great universities springing up throughout Europe during the middle ages aimed with confidence at the ideal of a synthesis of all knowledge, it was always in the service of an authentic humanitas, the perfection of the individual within the unity of a well-ordered society. And likewise today: once young people's understanding of the fullness and unity of truth has been awakened, they relish the discovery that the question of what they can know opens up the vast adventure of how they ought to be and what they ought to do.
The idea of an integrated education, based on the unity of knowledge grounded in truth, must be regained. It serves to counteract the tendency, so evident in contemporary society, towards a fragmentation of knowledge. With the massive growth in information and technology there comes the temptation to detach reason from the pursuit of truth. Sundered from the fundamental human orientation towards truth, however, reason begins to lose direction: it withers, either under the guise of modesty, resting content with the merely partial or provisional, or under the guise of certainty, insisting on capitulation to the demands of those who indiscriminately give equal value to practically everything. The relativism that ensues provides a dense camouflage behind which new threats to the autonomy of academic institutions can lurk. While the period of interference from political totalitarianism has passed, is it not the case that frequently, across the globe, the exercise of reason and academic research are – subtly and not so subtly – constrained to bow to the pressures of ideological interest groups and the lure of short-term utilitarian or pragmatic goals? What will happen if our culture builds itself only on fashionable arguments, with little reference to a genuine historical intellectual tradition, or on the viewpoints that are most vociferously promoted and most heavily funded? What will happen if in its anxiety to preserve a radical secularism, it detaches itself from its life-giving roots? Our societies will not become more reasonable or tolerant or adaptable but rather more brittle and less inclusive, and they will increasingly struggle to recognize what is true, noble and good …
An understanding of reason that is deaf to the divine and which relegates religions into the realm of subcultures, is incapable of entering into the dialogue of cultures that our world so urgently needs. In the end, "fidelity to man requires fidelity to the truth, which alone is the guarantee of freedom" (Caritas in Veritate, 9). This confidence in the human ability to seek truth, to find truth and to live by the truth led to the foundation of the great European universities. Surely we must reaffirm this today in order to bring courage to the intellectual forces necessary for the development of a future of authentic human flourishing, a future truly worthy of man …
Benedict extends welcome to disaffected Anglicans
On October 21, 2009, without notifying the Archbishop of Canterbury, Rowan Williams, Benedict extended a sincere welcome to disaffected Anglicans to join the Catholic Church, even granting them permission to use Anglican liturgies.
The Daily Mail reported:
The Pope paved the way for tens of thousands of disaffected Anglican worshippers to join the Roman Catholic Church while maintaining parts of their Protestant heritage. 
Those who convert could even be able to keep traditions including the Church of England's historic prayer book – a major concession …
But the Vatican offer, which would allow conservative Anglicans who do not accept women bishops or gay rights to cross to Rome under the leadership of their own bishops, deepened divisions within the Church of England last night.
Archbishop of Canterbury Dr Rowan Williams said it showed that relations between Anglicans and Roman Catholics were closer than ever.
However, evangelical traditionalists accused him of a lack of leadership.
The offer of an 'Apostolic Constitution' applies to all 70million Anglicans across the globe.
Anglican bishops would be called 'ordinaries' in the Roman Catholic Church. Anglican priests can already be accepted as Roman Catholic priests, even if married, but no married Anglican is allowed to become a Catholic bishop.
In a letter to Church of England bishops and primates of the Anglican Communion, Dr Williams said he was 'sorry' there had been no opportunity to alert them earlier to Rome's announcement.
Church of England authorities appear to have learned about the offer just before they offered their own concession to Anglo-Catholics earlier this month over plans for future women bishops …
The Pope's offer follows secret talks last year with the two Church of England 'flying bishops' – whose job is to minister to Anglo-Catholics who do not recognise women priests. Yesterday they admitted the meeting for the first time.
Bishop of Ebbsfleet Andrew Burnham and Bishop of Richborough Keith Newton said in a statement: 'We were becoming increasingly concerned that the various agendas of the Anglican Communion were driving Anglicans and Roman Catholics further apart. It was our task, we thought, to take the opportunity of quietly discussing these matters in Rome.'
Visit to the UK
Benedict visited the UK in 2010.
On March 17, the Mail posted his itinerary:
The Pontiff will use his visit to 'give guidance on the great moral issues of the day' and his itinerary includes a speech on civil society in Westminster Hall that is certain to reflect on controversies over religious freedom, different attitudes to homosexuality, and abortion …
The cost of the Pope's travels and organising his events will be £15million, which will be shared between the Government and the Church. The taxpayer will have to pick up the cost of policing including protecting the Pontiff from hostile demonstrators. This cost is not yet known.
Benedict's itinerary will include visiting the Queen at the Palace of Holyroodhouse in Edinburgh, conducting the beatification service for 19th century theologian Cardinal Newman in Coventry and praying with other church leaders at Westminster Abbey.
On April 26, the Mail reported that a young civil servant sent an offensive email about the Pope's upcoming visit stating, among other things, that he should open an abortion clinic. As this was a state visit, it nearly caused a diplomatic incident:
An Oxford graduate who sent a 'seriously offensive' email suggesting the Pope should open an abortion clinic ahead of the pontiff's visit to Britain will keep his job in the civil service, it emerged today.
Steven Mulvain, 23, who once listed 'drinking a lot' as a hobby, emailed the document, which also included the suggestion of launching a range of 'Benedict' condoms, to Downing Street and three Whitehall departments.
It is believed that Mr Mulvain … escaped punishment because he was given authorisation to send the memo by a more senior civil servant, who has since been 'transferred to other duties'.
However, the shock e-mail threatened to plunge the Pope's state visit into jeopardy with 'dark forces' within the Foreign Office casting a shadow over the trip, Vatican officials declared yesterday.
A well-placed aide in the Vatican said: 'This could have very severe repercussions and is embarrassing for the British Government – one has to question whether the action taken is enough. It is disgusting.'
However, when the Pope arrived in September, all went well. Even the media covered his visit in a respectful way. The Queen acknowledged the Holy See's help in resolving the Troubles in Northern Ireland.
In my post, I wrote:
The Mass at Westminster Cathedral on Saturday morning (September 18) was beautiful and dignified, with the Eucharistic Prayer and a few of the other prayers said or sung in Latin (1968 Novus Ordo), but the real highlight was when the Pope walked out of the cathedral to hundreds (probably thousands) of youngsters from every diocese in England. Wow — you would have thought they were glimpsing a rock star — screams of delight which brought real smiles to BXVI's face. His talk to them was the most spontaneous that I have heard him give on this trip. Although he had his speech typed up, he looked up from it most of the time, making eye contact with them. The kids were so energised, and I think that he was, too. He told them how important prayer was and to discern Christ's direction in their lives and careers. He told them how important it was to make time for daily prayer and — silence. So important.
Blessing the 2012 Olympics
On July 12, 2012, Benedict blessed the Olympic Games:
Let us pray that, according to God's will, the London Games are a true experience of fraternity among the people of the Earth.
I send greetings to the organizers, athletes and spectators alike, and I pray that, in the spirit of the Olympic Truce, the good will generated by this international sporting event may bear fruit, promoting peace and reconciliation throughout the world. Upon all those attending the London Olympic Games, I invoke the abundant blessings of Almighty God.
Benedict's resignation
On February 11, 2013, Benedict XVI announced his resignation, something a Pontiff had not done for 600 years, since Celestine V.
That evening, lightning hit the dome of St Peter's Basilica.
On February 12, USA Today reported:
An apparent photo of a lightning bolt striking St. Peter's Basilica in the Vatican Monday night (left) — the same day that Pope Benedict XVI announced his resignation, stunning the world — has gone viral.
Filippo Monteforte, a photographer with Agence France Press, told England's Daily Mirror that "I took the picture from St. Peter's Square while sheltered by the columns. It was icy cold and raining sheets. When the storm started, I thought that lightning might strike the rod, so I decided it was worth seeing whether – if it DID strike – I could get the shot at exactly the right moment."
Monteforte waited for more than two hours and was rewarded for his patience with not one but two bolts, the Mirror reported.
But could it be fake? One expert, AccuWeather meteorologist and lightning photographer Jesse Ferrell, thinks it's real. In addition to the account from Monteforte — a trusted and well-known photographer — Ferrell sees telltale signs of a genuine lightning strike.
"I believe the photo is plausible, and since it was taken by a professional, with potential video to back it up, I'd say that the photo is legitimate," Ferrell writes on his blog.
Also, he notes that thunderstorms were present in Rome Monday afternoon, according to several Facebook users.
The article closes with a video of the dramatic lightning strike, something to behold. With the second bolt, it looked as if the dome was going to explode.
Benedict's last official act was to address the College of Cardinals in the Vatican's Clementine Hall on February 28, 2013. That was the first day of his retirement. He became Pope Emeritus.
Traditionalists were appalled at the resignation and wondered what it meant for future Popes. Could they be pushed out of the way by senior clergy or by laypeople? In any event, Benedict seemed to have no regrets, and Francis clearly became flavour of the month to most people, including those in the media.
90th birthday
The Pope Emeritus celebrated his 90th birthday in Rome with fellow Bavarians.
April 16, 2017 also happened to be Easter Sunday.
Breitbart has an article and photos from the day, which shows him enjoying a stein of beer. His guests are dressed in traditional Bavarian clothing.
Benedict gave a rare speech inside the Vatican. He said:
My heart is filled with gratitude for the 90 years that the good God has given me.
There have also been trials and difficult times, but through it all He has always led me and pulled me through, so that I could continue on my path.
The article continued:
Surrounded by friends and well-wishers from his native Bavaria on his birthday, Benedict said he was full of thanks in a special way for his "beautiful homeland," adorned with "church towers, houses with balconies filled with flowers, and good people."
Bavaria is beautiful, Benedict reminisced, "because God is known there and people know that He has created the world and that we do well to build it up together with Him."
"I am glad that we were able to gather together under the beautiful blue Roman sky," he continued, "which with its white clouds also reminds us of the white and blue flag of Bavaria—it is always the same sky."
"I wish you all God's blessings," he said. "Carry my greetings home, as well as my gratitude to you. How I enjoy to continue living and walking about amidst our landscapes in my heart."
Church 'on the verge of collapsing'
Two months after his 90th birthday, on July 16, 2017, Benedict prepared a written message to be delivered by his personal secretary, Archbishop Georg Gänswein, in Cologne Cathedral at the funeral Mass of his close friend, Cardinal Joachim Meisner.
Breitbart reported:
In the text, Benedict said that Cardinal Meisner "found it difficult to leave his post, especially at a time in which the Church stands in particularly pressing need of convincing shepherds who can resist the dictatorship of the spirit of the age and who live and think the faith with determination."
What moved me all the more, Benedict said, was that, "in this last period of his life, he learned to let go and to live out of a deep conviction that the Lord does not abandon His Church, even when the boat has taken on so much water as to be on the verge of capsizing."
This appears to have been in response to Pope Francis lack of response to Cardinal Meisner's question, a dubio:
Notably, Cardinal Meisner was one of the four cardinals who presented a series of questions, or "dubia," to Pope Francis last September, asking him to clarify five serious doctrinal doubts proceeding from his 2016 apostolic exhortation Amoris Laetitia (The Joy of Love) concerning Holy Communion for the divorced and remarried, the indissolubility of marriage, and the proper role of conscience.
The other three prelates who submitted the questions to the Pope were Cardinal Raymond Burke, patron of the Sovereign Military Order of Malta; Carlo Caffarra, archbishop emeritus of Bologna; and Walter Brandmüller, president emeritus of the Pontifical Committee for Historical Sciences.
When Pope Francis failed to respond to the dubia, the four cardinals published their questions publicly last November.
"The Holy Father has decided not to respond," they wrote. "We have interpreted his sovereign decision as an invitation to continue the reflection and the discussion, calmly and with respect."
Final visit to brother, also a priest
On August 3, 2020, Sky News reported that Benedict had travelled to Germany to see his brother, the Revd Georg Ratzinger, for the final time.
Afterwards, he had a bout of shingles, although, fortunately, they were on his face rather than around his waistline:
Sky News reported on the visit between the two priestly brothers:
The 93-year-old retired pontiff has become very frail and his voice is barely audible, author Peter Seewald told German daily Passauer Neue Presse.
However, German-born Benedict met with Mr Seewald on Saturday and appeared optimistic, adding that he might pick up writing again if he regains his strength, according to the paper.
Benedict visited his native Bavaria in June to pay his ailing brother Reverend Georg Ratzinger a final visit.
Mr Ratzinger, aged 96, died shortly afterwards.
It was Benedict's first trip outside Italy since 2013, the year he resigned the papacy.
The retired pope has lived in a monastery in Vatican City since shortly after his retirement.
Spiritual testament
On August 29, 2006, Benedict XVI finalised his spiritual testament, which the Holy See released upon his death on December 31, 2022:
When, at this late hour of my life, I look back on the decades I have wandered through, I see first of all how much reason I have to give thanks. Above all, I thank God Himself, the giver of all good gifts, who has given me life and guided me through all kinds of confusion; who has always picked me up when I began to slip, who has always given me anew the light of his countenance. In retrospect, I see and understand that even the dark and arduous stretches of this path were for my salvation and that He guided me well in those very stretches.
I thank my parents, who gave me life in difficult times and prepared a wonderful home for me with their love, which shines through all my days as a bright light until today. My father's clear-sighted faith taught us brothers and sisters to believe and stood firm as a guide in the midst of all my scientific knowledge; my mother's heartfelt piety and great kindness remain a legacy for which I cannot thank her enough. My sister has served me selflessly and full of kind concern for decades; my brother has always paved the way for me with the clear-sightedness of his judgements, with his powerful determination, and with the cheerfulness of his heart; without this ever-new going ahead and going along, I would not have been able to find the right path.
I thank God from the bottom of my heart for the many friends, men and women, whom He has always placed at my side; for the co-workers at all stages of my path; for the teachers and students He has given me. I gratefully entrust them all to His goodness. And I would like to thank the Lord for my beautiful home in the Bavarian foothills of the Alps, in which I was able to see the splendour of the Creator Himself shining through time and again. I thank the people of my homeland for allowing me to experience the beauty of faith time and again. I pray that our country will remain a country of faith and I ask you, dear compatriots, not to let your faith be distracted. Finally, I thank God for all the beauty I was able to experience during the various stages of my journey, but especially in Rome and in Italy, which has become my second home.
I ask for forgiveness from the bottom of my heart from all those whom I have wronged in some way.
What I said earlier of my compatriots, I now say to all who were entrusted to my service in the Church: Stand firm in the faith! Do not be confused! Often it seems as if science – on the one hand, the natural sciences; on the other, historical research (especially the exegesis of the Holy Scriptures) – has irrefutable insights to offer that are contrary to the Catholic faith. I have witnessed from times long past the changes in natural science and have seen how apparent certainties against the faith vanished, proving themselves not to be science but philosophical interpretations only apparently belonging to science – just as, moreover, it is in dialogue with the natural sciences that faith has learned to understand the limits of the scope of its affirmations and thus its own specificity. For 60 years now, I have accompanied the path of theology, especially biblical studies, and have seen seemingly unshakeable theses collapse with the changing generations, which turned out to be mere hypotheses: the liberal generation (Harnack, Jülicher, etc.), the existentialist generation (Bultmann, etc.), the Marxist generation. I have seen, and see, how, out of the tangle of hypotheses, the reasonableness of faith has emerged and is emerging anew. Jesus Christ is truly the Way, the Truth, and the Life – and the Church, in all her shortcomings, is truly His Body.
Finally, I humbly ask: pray for me, so that the Lord may admit me to the eternal dwellings, despite all my sins and shortcomings. For all those entrusted to me, my heartfelt prayer goes out day after day.
Tomorrow's post will conclude with lesser-known facts about and insights into Benedict XVI.
Eternal rest grant unto your servant, O Lord, and let perpetual light shine upon him. May his soul and all the souls of the faithful departed, through the mercy of God, rest in peace. Amen.
Gosh, what a lot of news to cover in one post.
Admittedly, a few of these items are a bit old but fit in thematically.
Theresa May U-turns on support for Scottish gender reform legislation
I wrote yesterday about former Prime Minister Theresa May's support for Scotland's Gender Recognition Reform bill on Tuesday, December 27.
Within 24 hours she had made a U-turn, thankfully, although she did it through a spokeswoman.
On Wednesday, December 28, The Times reported (emphases mine):
In the wake of the interview the BBC issued a press release which stated: "On the subject of Scotland's proposed gender recognition laws, Ms May said she was disappointed the Westminster government wasn't supporting them."
Yesterday, however, a spokeswoman for the Maidenhead MP insisted that was not the case.
"As prime minister, Theresa launched a consultation looking at gender recognition laws with the aim of providing a more sensitive approach to transgender people, but she does not agree with Nicola Sturgeon's legislation and is particularly concerned about the consequences it could have for children in Scotland and across the UK," she said.
We can but hope that the Secretary of State for Scotland does not send the legislation for Royal Assent:
Immediately after MSPs voted in favour of the legislation Alister Jack, the Scottish secretary, threatened to invoke section 35 of the Scotland Act, which allows him to prevent the legislation from receiving royal assent.
Although gender recognition is devolved to Holyrood, the Equality Act — with which the new law will interact — is reserved to Westminster.
As nearly two-thirds of Scottish voters — even SNP supporters — think this legislation is a terrible idea, Westminster can show the 'Union dividend' in being 'better off together'.
Gas futures coming down
On Thursday, December 29, The Guardian had encouraging news about the price of natural gas futures in Europe:
European gas prices have dropped back to levels seen before the Ukraine war began in February, as fears of a gas crisis this winter ease.
The month-ahead European gas future contract dropped as low as €76.78 per megawatt hour yesterday — its lowest level in 10 months, data from Refinitiv shows.
As this chart shows, gas prices have fallen back from their surge in March, and again in the summer as European countries scrambled to fill their gas storage tanks.
Prices have dropped thanks to warmer-than-normal temperatures this winter, which have limited demand for gas, after the European Union successfully filled reserves to a peak of almost 96% in November.
Consumption reduction targets have also helped to limit demand, with the EU aiming to cut its gas consumption by 15%.
Earlier this week, 83.2% of EU gas storage was filled, data from industry body Gas Infrastructure Europe shows, still above the target of 80% set for the start of November.
Traders are confident that inventories will end winter at a very comfortable level with a very low risk of falling to critically low levels, says John Kemp, energy market analyst at Reuters.
UK gas prices have also dropped back from their highs earlier this year. The day-ahead gas price closed at 155p per therm yesterday, compared with 200p/therm at the start of 2022, and over 500p/therm in August.
The UK versus the EU
All year long in Parliament we've heard that the UK is 'broken' and that we should have stayed in the EU.
Polls have been published showing that Brexit voters have buyer's remorse. Well, they shouldn't have. We are much better off outside an unelected European Commission. Furthermore, EU countries are not doing substantially better than Blighty.
France
This week, I received the latest copy of Marianne, the French newsweekly. Part of its cover story headline, referring to the state of their nation, reads:
EN PANNE
meaning, 'out of order', 'not working'.
On Wednesday this week, The Spectator had an excellent article about our neighbour: 'All is not well in Macron's France':
In 2021, both World Bank and United Nations GDP (nominal) rankings have the UK at 5th and France 7th. International Monetary Fund estimates for 2022 show India overtaking the UK to claim the 5th spot for world GDP, but with France still 7th.
One may question the reliability of GDP as a comparator, but a host of other measures regularly show France worse off than the UK. Debt to GDP ratios show France at some 115 per cent, the UK 99.6 per cent. Meanwhile the Bank for International Settlements gives France's total public and private debt (non-financial) at 351 per cent; the UK at 271 per cent.
One can rightly point to France's present day lower inflation at 7.1 per cent (EU harmonised) compared to the UK's 10.7 per cent. But as French debt statistics above show, president Emmanuel Macron began forcing down domestic inflation by subsidising prices during his 2022 presidential election campaign. French unemployment at 7.4 per cent compares unfavourably with the UK's 3.4 per cent. Meanwhile France is the highest taxed OECD and EU state, leaving little margin for manoeuvre. Her balance of payments figures are as gloomy as the UK's, together with her flat economic growth.
While Britain's position is not rosy, France's is certainly no better. That is why recent predictions in a certain European press, not least in France, taken up by British elites, that the UK was descending into terminal decline has lost all proportion. If the French press enjoy a touch of schadenfreude at the expense of the old enemy, and French politicians are glad to distract from their own problems, the willingness of much of the British middle class to swallow the same view can only be explained by ingrained cultural habit aggravated by post-Brexit resentment. Today, with Macron utterly wedded to the EU project, France for British elites is ipso facto superior to Britain. Yet France's moral state is parlous.
Since the 2022 presidential and legislative elections Macron's centrist party has no overall majority. France is stalemated and drifting towards ever more radical politics. Macron's prime minister Élisabeth Borne, unable to command a majority in the National Assembly, struggles to get her business other than by the constitutional sleight of hand of article 49,3, which guillotines parliamentary debate. With the chamber split four ways the question remains as to whether Macron will eventually dissolve parliament. Opinion polls suggest this would be a gift to Marine Le Pen's party, already the single largest opposition party with 89 seats. France might then come to replicate the present radical right Italian government.
Socially and culturally French society is far from healthy. Other than worsening violence and lawlessness in the banlieues – conveniently out of sight of English elites' visits to France – the French model of assimilation and laïcité is being tested to destruction. Official Justice Ministry statistics for July 2021 show 24.6 per cent of the prison population as foreign (double the proportion in Britain).  The French Interior Minister publicly stated this summer that, although foreigners make up 7.4 per cent of the French population, they account for 19 per cent of all delinquency nationally, and that 48 per cent of arrested delinquents in Paris are foreigners, 55 per cent in Marseille, 39 per cent in Lyon.
… The general picture is of a France far from at ease with itself. The prospect of a member of France's ethnic minorities leading the country with no fuss in the near future, as has just happened in Britain, seems impossible.
And remember the cries of 'Brexit is bad' when the Paris stock exchange overtook London's in November?
I don't recall any mea culpas from the metropolitan elite once we resumed normal service ten days later:
Guido Fawkes posted (emphases his):
The London stock market has re-overtaken Paris's after falling behind for 10 days, with a lead of $63 billion. A 2.5% rally in the value of the pound led to the improvement, and morale booster, compared to a modest 0.7% improvement for the Euro …
Germany
While Remainers in Britain's metropolitan elite moan about food inflation, our friends in Germany have experienced similar price hikes.
On October 14, September figures for the UK showed that our grocery price inflation hit an all-time high of 13.9%.
Yet, JustFood reported that Germany's grocery price inflation also reached historic highs:
Inflation levels in Germany reached their highest levels in three decades in September with food prices rising 18.7% year on year, figures show.
In a continued squeeze on consumer pockets, inflation reached 10% – its highest level since the country's reunification in 1990, the federal statistical office said.
Consumers faced the sharpest rises in edible fats and oils, which were up by 49%. Dairy products and eggs increased by 29.1%, meat and meat products 19.5% and bread and cereals 18.5%.
Month-on-month comparisons show consumers paid 1.8% more for food in September than in August, with vegetables 3.9% more expensive and dairy products up by 2.2%.
The consumer price index for food in Germany, measured against a 2015 baseline of 100, stood at 135.4 year-on-year in September, compared to 121.1 overall.
The federal statistical office said the cost of energy was leading inflation but food also played a major role, with both contributing to an overall 10% rise in prices.
Without food and energy rises in the equation, the country's inflation rate is reduced by over half to 4.6%. The prices of all goods increased by 17.2% in September 2022 compared to 2021, but the prices of non-durable consumer goods, which include food and energy, increased by 23.3%.
We cannot blame German inflation on Brexit. As Conservative ministers rightly say at the despatch box, inflation is up all over Europe and the West.
UK to relax egg rules to line up with EU
Another thing we hear from Remainers, especially in the Houses of Parliament, is that British food regulations are weaker than the EU's!
Nothing could be further from the truth! Our food standards have been higher than the EU's for decades.
Anyone wanting up-to-date proof can read an article in Wednesday's Guardian — 'UK free-range egg rules could be relaxed in line with EU for avian flu outbreaks':
Free-range egg rules in the UK could be relaxed in response to the European Union preparing to overhaul regulations after the biggest avian flu outbreak on record.
Ministers are understood to be considering a change to the rules that would mean eggs laid by hens kept in barns for months on end could be classed as free range.
Currently, eggs cannot be classed as free range if birds are indoors for more than 16 weeks. Farmers have that grace period in both the EU and UK, which means eggs can still be labelled as free-range if a government-issued housing order for birds is in place up to 16 weeks.
Subsequently, labels need to be added to packaging making it clear that those are now classified as barn eggs.
Whitehall sources told the Daily Telegraph that the Department for Environment, Food and Rural Affairs (Defra) is considering changing the regulations in order to keep farmers competitive with Europe …
The European Commission put forward a proposal in September, which stated "where temporary restrictions have been imposed on the basis of EU legislation, eggs may be marketed as 'free-range' notwithstanding that restriction".
The proposal, which is awaiting approval by the European parliament, means eggs could be classed as free range even if hens are forced to spend months indoors due to government rulings.
In September, egg producers in the UK said it was essential that the government now followed suit to avoid British suppliers being undercut by EU imports.
Climate change
Climate change sceptics will be on the right side of history in time.
Guido Fawkes's readers posted about deforestation in this post.
One chap posted an article about the increasing need for balsa wood from Latin and South America for blades on wind farms. Apparently, indigenous communities have not been consulted: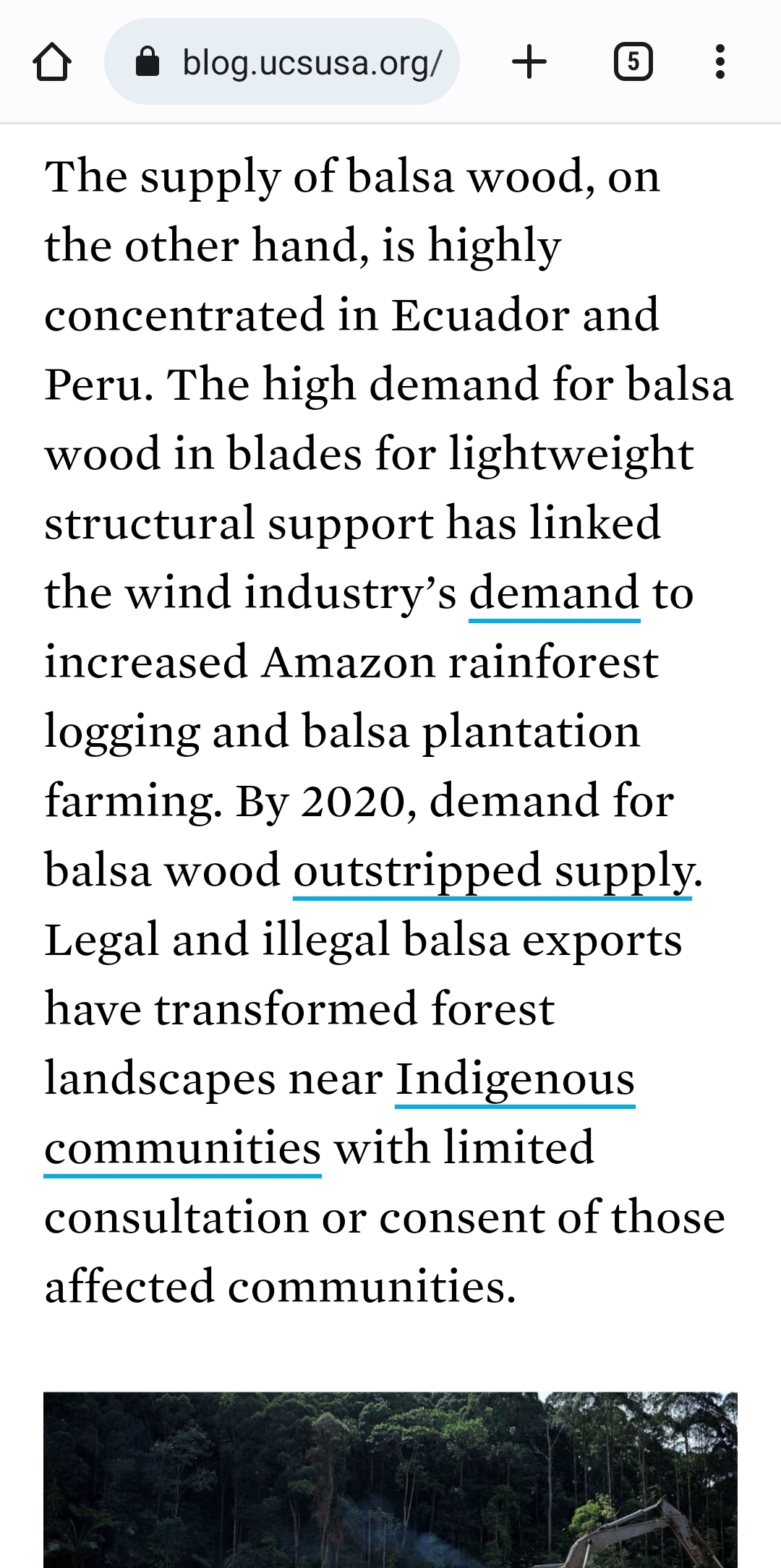 The article continues, stating that some companies are switching from balsa to oil byproducts, such as PET and PVC, or to cellulose: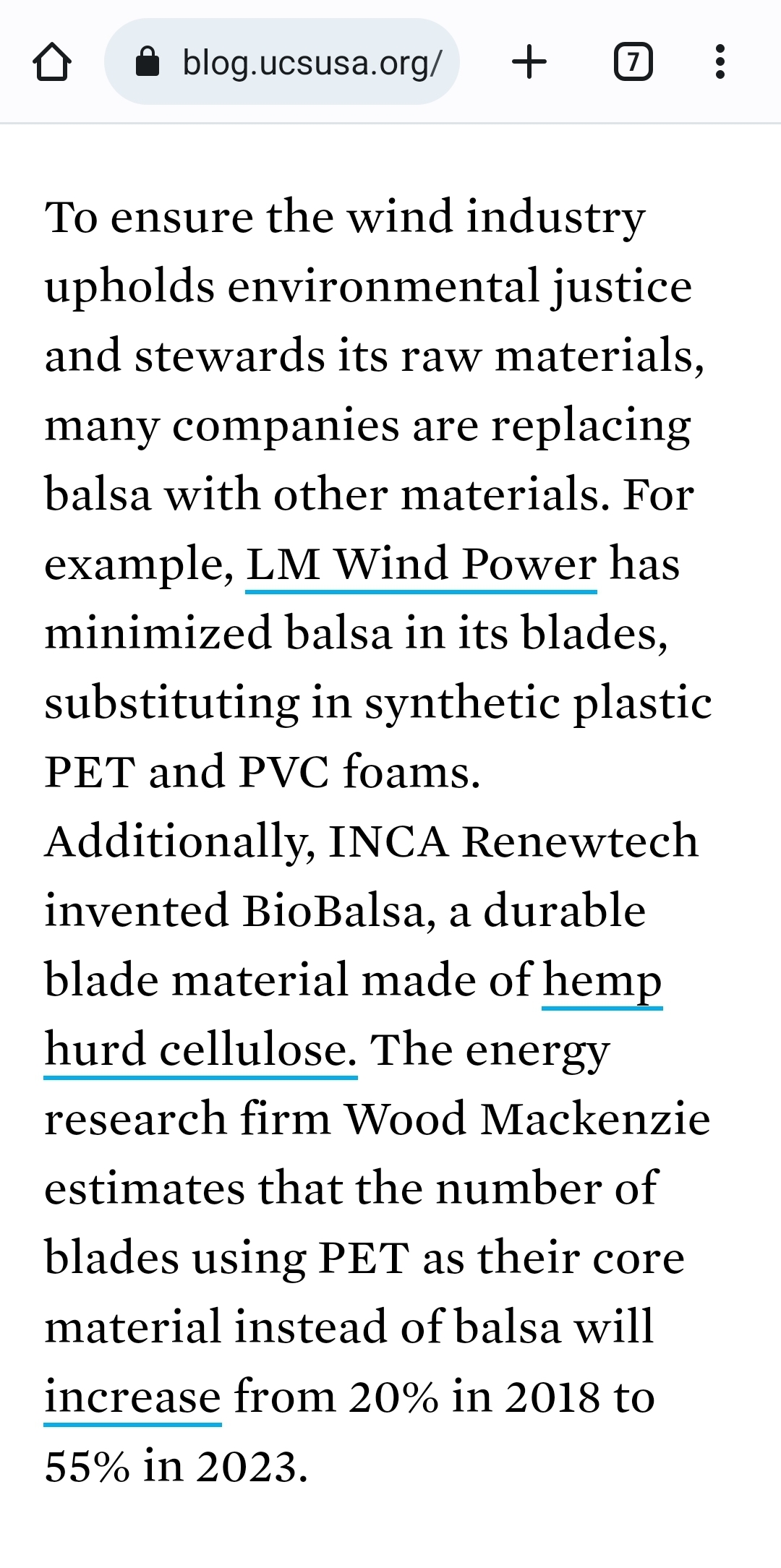 The man who posted the article pointed out:
BALSA is being replaced with PET and PVC (yep- crude oil) but are also experimenting with cellulose– which needs highly toxic chemicals to make.
Someone responded with this:
Synthetic PET usually uses food starch as a replacement for oil based derivatives. These divert food crops away from human and livestock consumption. They also encourage the use of GM crops and pesticides.
PVC production creates sodium chloride, which is a cause of acid rain.
The eco loons really didn't think this through.
Ultimately:
The eco l00ns NEVER think anything through.
And they hope we won't notice.
It's part of the reason why 'climate science is settled' and they refuse to debate.
You know how it goes.
Fracking bad – mining cobalt (even using young children) good.
You flying -bad- them flying- good.
On a similar note, an UnHerd article laments the loss of the hearth in 'Firewood will save the West'. The author, Paul Kingsnorth, lives in Ireland and has his firewood delivered to his home:
The Irish government is currently campaigning against households which burn turf or wood, the former on the grounds of CO2 emissions, and the latter on the grounds of air quality. As ever, the campaign is driven from Dublin, and mostly takes Dublin sensibilities into account. Rural households in Ireland have been burning turf and wood forever, with little significant impact on "air quality" — or at least, no impact comparable to that which Ireland's "Celtic Tiger" modernisation has had. Suddenly, though, the media is full of scientists armed with studies demonstrating how getting a fire going in your cottage in winter will lead to cancer and lung disease on a widespread scale.
That is nonsense. Until recently, Man had been surrounded by smoke for millennia.
Essentially, the Irish government, in line with other Western governments, wants to do away with fireplaces:
This new tilt against household fireplaces is not just an Irish phenomenon: it is suddenly popping up everywhere. Woodstoves are, curiously, becoming the number one air pollution villain. Never mind mass car use, accelerating air travel or industrial pollution. Never mind the emissions caused by the massive increase in Internet server farms, which within just a few years could be using up an astonishing 70% of this country's electricity. These days, if you want to demonstrate your social responsibility, you should be all aboard with the abolition of the traditional fireplace and its replacement with "green" alternatives.
He explains that the home hearth has been not only traditional but also atavistic throughout mankind's history. He cites the philosophical polymath John Michell (1933-2009):
The fireplace, whether our dessicated urban authorities know it or not, has a primal meaning, even in a world as divorced as ours from its roots and from the land.
In his short essay "Fireside Wisdom", the uncategorisable John Michell suggested that the "displacement of the hearth or fireplace" from the home was one of the many reasons for the craziness of the modern world which his life had been spent playfully exploring. The fireplace at the centre of the home, he wrote, was both an ancient practicality and a device of "cosmological significance" across cultures and time: "Conversation is directed into the fire while dreams and images are drawn out of it."
In the past, the act of sitting staring into the smoky fire with family or neighbours was the genesis of the folk tale and folk song which tied the culture together. Now we stare at digital fires hemmed into boxes manufactured by distant corporations who also tell us our stories. No song we can dream up around a real fireplace can compete with what these boxed fires can sell us. "Thus," wrote Michell, "the traditional cosmology is no longer represented by its domestic symbols, and a new, secular, restless, uncentred world-view has taken its place."
Focus, Michell explained, is "the Latin name for the central fireplace. The fire not only warms but, as a symbol, illuminates the corresponding images of a centre to each of our own beings and of a world-centre which is divine, eternal and unchanging." Lose your fires, and you literally lose your focus as a culture. In this context, a government spokesman telling his population, as one minister here recently did, that they should "get over" their "nostalgic" attachment to the hearth fire and install ground source heat pumps instead is more than just a nod to efficiency. It is an assault on what remains of the home and its meaning. It is an attack on the cultural — even the divine — centre.
Paul Kingsnorth posits that each move away from self-sufficiency, e.g. using one's own fireplace, puts us more under the control of government:
When you can no longer grow your own wood or cut your own turf to heat your own parlour, you are made that little bit more dependent on the matrix of government, technology and commerce that has sought to transmute self-sufficiency into bondage since the time of the Luddites. The justification for this attack on family and community sufficiency changes with the times — in 17th-century England, the enclosures were justified by the need for agricultural efficiency; today they are justified by the need for energy efficiency — but the attack is always of the same nature. Each blow struck against local self-sufficiency, pride and love of place weaves another thread into the pattern which has been developing for centuries, and which is almost complete now in most affluent countries …
In my lifetime, in my part of the world, the notion and meaning of "home" has steadily crumbled under external pressure until it is little more than a word. The ideal (post)modern home is a dormitory, probably owned by a landlord or a bank, in which two or more people of varying ages and degrees of biological relationship sleep when they're not out being employed by a corporation, or educated by the state in preparation for being employed by a corporation. The home's needs are met through pushing buttons, swiping screens or buying-in everything from food to furniture; for who has time for anything else, or has been taught the skills to do otherwise?
He refers to a 1980 manuscript, 'Family Work', by the American essayist Wendell Berry:
Like so much of Berry's work, it locates the centrepoint of human society in the home, and explains many of the failures of contemporary Western — specifically American — society as a neglect of that truth. The home, to Wendell Berry, is the place where the real stuff of life happens, or should: the coming-together of man and woman in partnership; the passing-down of skills and stories from elders; the raising and educating of children; the growing, cooking, storing and eating of food; the learning of practical skills, from construction to repair, tool-making to sewing; the conjuration of story and song around the fire …
Even back in 1980, Berry recognised that the home had become an "ideal" rather than a practical reality — precisely because the reality had been placed out of reach for many. What killed the home? Three things, said Berry: cars, mass media and public education. The first meant that both work and leisure could, for the first time in history, happen a long way from home. The second — "TV and other media" — have played a role, since the mid-20th century, in luring us all into a fantasy world of freedom from obligation, and a limitless, fun consumer lifestyle. "If you have a TV," writes Berry, "your children will be subjected almost from the cradle to an overwhelming insinuation that all worth experiencing is somewhere else and that all worth having must be bought." Finally, the school system is designed "to keep children away from the home as much as possible. Parents want their children kept out of their hair." Schools exist to train children to fit into individualistic, consumer societies; to internalise and normalise their ethics and goals, and to prepare for a life serving their needs.
I have to disagree with his disparagement of television, as my better half and I watch a lot of French programmes, food shows in particular. For us, it is a window into a culture we love very much. Were it not for television, we would have to visit France in person much more often. As it is, we can experience France from our sitting room and perfect our language skills while learning more about the world's finest cuisine.
Berry's solution is to make the home a welcoming, peaceful place for everyone living there:
… he suggested that we should "try to make our homes centres of attention and interest"; to make them as productive and nurturing as we can … you will see new possibilities begin to open up. You will see, in Berry's words, that "no life and no place is destitute; all have possibilities of productivity and pleasure, rest and work, solitude and conviviality that belong particularly to themselves", whether in the country, the city or the suburb. "All that is necessary," he suggests, is "the time and the inner quietness to look for them."
Television is a good thing
On the subject of television, a 104-year-old Australian woman told her grandson that it was probably the greatest development in her lifetime.
Lewis Isaacs wrote her story for The Guardian: 'My 104-year-old Nan's secret to a long life':
A life as long as hers can be hard to comprehend. Asked what the biggest change to the world she'd seen across her life was, Nan replied that it was television. Life when she grew up rarely extended past her suburb. Television connected the living room to the world.
How true! Well said, Nan!
The article has family photographs, too.
So what is Coral Isaacs's secret to longevity?
She says it comes down to genetics and finding the right partner. She was widowed more than 30 years ago and says the life she built with my Pop has supported her since. It helps to remember your pills, she adds, and to get up, shower and make your bed every day.
I suspect the truth about her endurance is something different though. Nan is determined to keep her eyes focused on the future. Even when the days are hard, she still looks forward.
I was hoping she would mention smoking a crafty cigarette or enjoying a daily digestif, but, sadly, no.
Churchill's cigar goes on sale
For a smoking story, we had to go to an auction house.
On Thursday, December 29, The Times reported that one of Winston Churchill's cigars is expected to fetch £3,000 at auction:
The former prime minister gave the Cuban cigar to an RAF doctor who helped him when he broke his leg in 1962.
The doctor's grandson has put the rare cigar up for sale with Hansons Auctioneers, which said it would be an "impressive item" for any Churchill collector. Charles Hanson, the owner, said: "We occasionally see Churchill cigar stubs that people have picked up after he dropped them. But to gain a whole cigar in such pristine condition, given as a gift in unusual circumstances, is special."
Churchill, who died in 1965 aged 90, was a lifelong smoker. While he was at boarding school, his mother learnt he had taken up smoking cigarettes and tried to bribe him to stop by promising him a pistol and a pony.
He switched to cigars after spending time in Cuba after his graduation from Sandhurst military academy, and friends, dealers and associates sent him regular deliveries of cigars from then on.
The circumstances are most Churchillian:
The auction house said the cigar under auction was given to an RAF squadron leader, Bertram AJ Barrow. Churchill fractured his femur while getting out of his bed at the Hotel de Paris in Monte Carlo, and was flown back to London on an RAF plane while in a waist-to-ankle plaster cast.
Barrow, the leader of the medical team, plucked up the courage to ask Churchill for one of his famous cigars.
For decades the treasured cigar was kept in a bedside drawer, but will now go under the hammer at on January 9 with an estimate of £2,000 to £3,000.
Barrow's grandson, Thomas Barrow, 33, an employment law adviser from London, said: "Bertram asked for a cigar as a keepsake, and Churchill advised that he could have 'one that he had been saving' — which was Cuban and still in its glass case."
What a story!
Conclusion
As my later grandmother-in-law, a lifelong Londoner, was fond of saying:
The old ways are the best.
I couldn't agree more.
Let's try to recapture them in 2023.
Lately, I have been reading Jay Rayner's restaurant reviews in The Guardian.
He writes the way he speaks, which make them all the more enjoyable.
During lockdown in the first few months of 2021, he looked back at classic British cookbooks and chefs who changed the world of food in the UK during the 1980s and 1990s.
His last lockdown column on April 11, 2021 was about the family recipe collection, whether it be a box of clippings, a notebook or a scrapbook.
'The old scrapbook recipe collections that tell the story of our lives' brought back a lot of memories for his readers and for me.
Excerpts follow, emphases mine.
He opens with this:
The cookbooks I've written about over the past three months were not included randomly. They weren't selected because they offered up 97 clever things to do with a courgette and a spiraliser, or for their novel ways with quinoa. They were chosen because they had a serious impact on how we cook and how we eat. They were big sellers. As a result, week by week, people have discovered that they had the volume I was eulogising on their shelves. Some readers have owned a few of them.
But as this is the last column in the series, it's time to look at a collection of recipes almost everyone has. I certainly have one. Mine has the word "Challenge" embossed on the front. That's not a description of how hard the recipes are. It's the name of the venerable stationery company which manufactured the blue, hardcover A4 notebook within which those ideas for dinner are contained. It is our collection of recipes cut from magazines and newspapers, photocopied from a friend's book or scribbled down by a relative. It is an unplanned collage of a good life, or a feverish attempt at one, measured out in ingredients, volumes and oven temperatures. It is the ballad of traybakes and crumbles, of new and sophisticated ways with pasta and swift things to do with chicken and a bunch of lemons.
Rayner's wife Pat started the cookbook over 30 years ago:
It is aspiration expressed through the medium of scissors and Pritt Stick. Witness: cider-glazed chops or peppered ham and tomato risotto or lamb and apricot kebabs. Many dishes remained just an aspiration. Some were cooked once or twice. Then there's the discoloured recipe for Italian Celebration Turkey, which I return to often, if only for the stuffing. It's a glorious mess of unsweetened chestnut purée, Parma ham, marjoram, sausage meat and onions cooked down in sherry. I have no idea who wrote it.
Food historian Annie Gray says that these recipe collections are:
a "sublime and fascinating form of biography", which go back as long "as people have been writing things down".
I fully agree. No two recipe scrapbooks or ring binders will be the same. Mine is completely different to my late mother's and grandmothers'. Unfortunately, those are lost forever. My mother threw hers out before I could inherit it. My paternal grandmother's went to my aunt and disappeared when she died.
Fortunately, my maternal grandmother's collection went to her eldest granddaughter who, in the 1970s, had the genius idea of compiling them and publishing them in book form for our whole family. Everyone has a copy. Even better, anyone of us who had a favourite recipe could contribute it to the book. As a result, the recipes range from the traditional late 19th-century European staples from our family to more recent recipes from the Middle East and Asia, popularised in the United States of the late 1960s. We have my grandparents' tastes, our mothers' favourites from the 1950s and world food from the grandchildren.
But I digress.
Returning to Rayner, he says that the food historian Annie Gray bought an old cookbook with further pleasant surprises in it:
A few years ago, she found a volume by the 19th-century cookbook writer Florence A George on a Cambridge market stall. The book was interesting enough. "But better than that, it was stuffed full of recipes cut from newspapers and magazines dating from 1907 to the 1950s, collected by a previous owner. That's pretty much a woman's whole life measured out in these dishes."
A friend of Rayner's paid her daughter to compile her recipes in a ring-bound album format:
A few years ago, a close friend, Sarah, paid her daughter to stick all of hers into a ring-bound album. She admits she cooks few of them, but they do still tell her story. "There's a lemon drizzle cake in there that I did many times when the kids were small and it reminds me of their childhood," she says. "And there's a Yorkshire curd tart recipe from my late sister written in her own hand, and that's very important."
Tim Anderson, an American who won the UK MasterChef title a few years ago, also has an album of family recipes from his childhood in Wisconsin:
"The original volume of Anderson Family Recipes dates from 2003 when my brother and I were off at college," he says. "It's recipes from my mother and grandmothers, food we ate when we were kids, though they don't actually originate from my family in any way." All of them came from boxes of torn clippings. It is a sturdy snapshot of American midwestern cooking, often incorporating the unashamed introduction of one canned or jarred product to another. Hooray for Betty Crocker. "There's something called chicken Costa Brava involving chicken breasts, a jar of shop-bought salsa, jars of olives and tinned pineapple," Tim says. "I really liked that growing up."
Yes! I remember lots of those recipes, particularly the ones using packets of powdered onion soup mix or Campbell's cream soups for sauces. Happy days!
I make all my sauces from scratch. It's something I truly enjoy doing, but fond memories linger from my mother's ladling cream of mushroom soup onto a beef dish and putting in the oven. Beef parmesan was one of my childhood favourites. For anyone wondering, the parmesan was Kraft's, already grated, in the round cardboard container. We couldn't get the real thing back then.
Jay Rayner implores us to make our own cookbooks for posterity. I have a handwritten one of my own, which I put together several years ago. I also have ring binders full of other recipes, some tried and tested, others which I've not yet used.
Rayner says that organising our family recipe collections is important:
An internet search history will never be as romantic as a scrapbook. It's time, I think, to put a sheet of A4 through the printer. Perhaps it's time we all did. Because without these collections we'll lose a significant slab of our shared cultural, and edible, history. Future historians will not be able to work out our life stories through the dinners we dreamed of making. That would be a crying shame.
I couldn't agree more. Fortunately, my far better half and I also have my mother-in-law's extensive cookbook collection, from a 1960s edition of Larousse Gastronomique to Robert Carrier to Delia Smith. It is a 20th century treasure trove to behold — and to use!
The other day, I read the comments to an agony aunt column in The Guardian concerning a family issue.
One of the paper's readers remarked that 'blood is thicker than water', which received this response …
The original meaning of "Blood is thicker than water" was that a blood bond (where two friends or comrades cut their hands or wrists to mingle their blood together and vow eternal support) was regarded as stronger and of more importance than the accident of birth (the "water" being the amniotic fluid, as in the phrase, "Her waters have broken").
… followed by this one (emphases mine below):
Incorrect. The phrase is a corruption of the original saying, which is "The blood of the Covenant is thicker than the water of the womb".
The original saying meant that people's relationship to each other through their Christian faith was even more important than kinship. Over time, it was shortened to "blood is thicker than water" and the modern meaning is now precisely the opposite of the original meaning.
I learned something new that day.
By His Grace; For His Glory has a thought-provoking devotional on this saying, affirming its religious meaning. Excerpts follow.
One example from the Bible is Luke 8:19-21:
Over the past 8 months of devoted Bible study I have come to terms with the grief I often felt by what I had considered a "lost relationship" in my life. One that should have been much stronger than it is. My lesson from the Lord began in Luke chapter 8.
19 Then Jesus' mother and brothers came to see him, but they couldn't get to him because of the crowd. 20 Someone told Jesus, "Your mother and your brothers are standing outside, and they want to see you." 21 Jesus replied, "My mother and my brothers are all those who hear God's word and obey it."
Here I began to understand that the relationship I grieved was not necessarily a void in my life; but rather, God began to show me He has provided the satisfaction and fullness of what that relationship should bring through others that are not of any blood relation.
The author of the devotional gives several other examples from Scripture, one of which is from the Old Testament, involving Jonathan and David in 1 Samuel 20:16-17:
I Samuel 20:16,17, "So Jonathan made (cut) a covenant with the house of David, saying, 'Let the Lord even require it at the hand of David's enemies.' And Jonathan caused David to swear again, because he loved him: for he loved him as he loved his own soul."
The author then cites an explanation from Pastor Johnie Akers of how the blood covenant ceremony in the ancient world was done:
The expression "blood is thicker than water" may be familiar with us in general terms, but its true meaning, especially in Western culture, is somewhat foreign. An understanding of ancient Eastern covenants brings new light to this obscure phrase. During the ritual of ancient covenant making, the two parties involved would divide an animal in half, and stand together in the blood, with their right hands clasp, and swear a mutual oath binding them to each other. In some cases, each party would cut their respective hands, bind them together with the other party, allowing their blood to mingle. The resulting union of this blood oath was never to be broken. In effect, the two participants in the covenant would become "blood brothers," and thus become one flesh. The relationship born of this union was so knit, that brothers made through the blood of covenants were closer to each other than brothers who were born from the same womb. Hence, blood (of the covenant) is thicker than water (of the womb).
In the … scripture above, Jonathan and David cut a covenant and become, likewise, blood brothers. This bond lasted until death … Christ, too, makes a blood covenant with his disciples and thereby binding himself to them, and all disciples to follow, with a covenant that exceeds any natural relationship. As ancient covenants go, Christ's was also "till death us do part."
The devotional concludes:
Of course we should love and pray for our families. However we must be aware that some boundaries are needed even between family. We can love without enabling, we can care without subjecting ourselves to a situation that brings harm. We can pray for them but one thing we have to remember is that we can not change them! Only God can bring about true change. I'm not saying it's easy to do but proper relational balance is in order.
So pay close attention to those you spend your time and energy with. If you don't have a good relationship with the ones you think should be closest to you, don't count it as a loss. God can still fulfill that desire through others in the family of God.
Wise words, indeed.
Yesterday was Father's Day. I hope that all dads reading had a good day with their children, communicating in some sort of significant way, either in person or by phone.
As ours is a childless household, I was interested to follow coverage of the day on GB News.
Alastair Stewart
Alastair Stewart got a pleasant surprise on his afternoon show, as his daughter, a headmistress, rang in with her good wishes and thanks on behalf of herself and her siblings as well as Mrs Stewart:
Stewart said that he has good relationships with all of his children, but that he and they relate to each other in a very individualised way, making fatherhood that much more special.
He said that he was taken aback that his daughter rang in to the show, at the suggestion of the production team. He wiped away a little tear after the call ended.
Neil Oliver
Archaeologist and television presenter Neil Oliver, also a member of the GB News team, appeared in the studio on Stewart's show and the one that followed, where Father's Day was the main topic.
Riding lessons for a young daughter
Oliver told Stewart that some children have an instinctive attraction to loving certain animals. He told Stewart how his daughter wanted riding lessons because she loved horses. Oliver and his wife thought the girl was too young. One day when the three of them were out, the girl saw horses in a field and spontaneously ran towards them. Oliver and his wife were worried for her safety, but the horses lowered their heads as she approached so that she could hug them. Riding lessons followed shortly afterwards.
His daughter will be entering Edinburgh University this autumn.
The awe of holding a newborn
On the show that followed Alastair Stewart's, Oliver said that holding his children as newborns was one of the most awe-inspiring experiences he could have. He said that holding his tiny babies turned him to jelly. He said that he felt as if his ribcage were floating around in his body, it was such a tremendous experience.
Celebrating together
As Oliver was in London in the studio and his children at home in Scotland, he told them they could celebrate Father's Day together once he returned to Stirling.
He said that he enjoys all the days that most of us regard as greeting card holidays, saying that any day that brings families closer together is worth celebrating.
Proudest accomplishments
Oliver said that his proudest accomplishments in life are being a husband and a father.
He said he knew from a young age that he wanted a wife and children. They make his life complete.
—————————–
I did search on Twitter to see if GB News had posted any of these clips. Alas, no.
Furthermore, Neil Oliver no longer has a Twitter feed.
He deleted his Twitter account in 2016, after harassment from people who want Scottish independence. The Express carried the story in August that year (emphases mine):
The archaeologist, writer and broadcaster, who presents BBC's Coast, said he was forced off social media by the so-called cybernats, disappointing his 40,000 followers.
Mr Oliver says he became a target for abuse and received scores of hate-filled messages after deciding to speak out in favour of the Union.
The Renfrewshire-born broadcaster said: "A great chunk of the response was not just negative but very personal and filled with bile and vicious loathing.
"People made it clear they wished the worst for me. They wished that I would develop cancer and said I deserved to be burnt as a traitor. It was one or two positive comments accompanied by hundreds of hate-fuelled messages" …
"I realised that by having a Twitter identity I had opened a door into my personal life in which strangers could pass at will. The minute I deactivated my account I felt like I had brought my head out of deep water and could breathe easily. It was an almost instantaneous fix."
Mr Oliver said that he was now worried about his three young children being targeted.
In an earlier article from January 2016, Oliver revealed his favourite personal photo to The Express, one of him and his wife as students at Glasgow University.
He told the reporter:
This is a picture of me and my wife Trudi at Glasgow University. l graduated with an MA in archaeology in 1988, and this was at Trudi's graduation in 1990. We were together for a long time, then broke up in our twenties.
It was nothing particularly dramatic, but we were apart for eight years and met again by chance in 2002 after I bumped into her brother. It was as if we'd never been apart and we've been together ever since.
Our daughter Evie and sons Archie and Teddy were all present when we married in Solsgirth, Kinross-shire, on October 10, 2009, exactly 23 years after we first met.
We're very similar people from similar backgrounds. We each had a happy and normal working-class childhood. Trudi grew up in Falkirk mostly, and I was raised in Ayr and Dumfries where my family still live. After several years working as an archaeologist, then I became a newspaper journalist – like Trudi.
Oliver is known for his shoulder-length hair, which he has had since he was 15.
He doesn't dare get it cut:
I've basically had the same haircut since I was 15. When I was at university, quite a lot of men were scruffy with long hair, and I fell into that and fossilised. But Trudi was taken with my long hair. She is my number one fan and likes the way I look.
We'd end up in the divorce courts if I got my hair cut short now! But I've always had people telling me I should get it cut. A TV reviewer from The Guardian recently wrote that whenever I appear on screen she wants to scream, "Get your hair cut, laddie!" Any review I get for a TV show always starts with something like "the Scottish archaeologist with the long flowing locks…"
He missed his family when he was away filming his series:
I miss Trudi and the children when I'm away from our home in Stirling. My job is not onerous in any way, and I enjoy it thoroughly, but being away is the hardest part by far. I've missed a lot of birthdays, school concerts… just family time. I try and minimise how long I'm away. When I'm home I do the school run and I go in from time to time to talk about history.
Although I'm away for long chunks of time, the kids have always had their mum with them 24/7. She has the toughest gig, operating as a single mum for half the year. But, when I am home, it's often for periods of about two months.
He wrote books when at home:
I spent five months of the last year writing my first novel Master Of Shadows in the spare bedroom at home. I had previously had eight non-fiction works published, but I was more nervous about the reaction to this.
Now Neil Oliver has a weekly show on GB News. He told Alastair Stewart that this was a career move he had not anticipated but feels that now is the time, because he has much to say about British society today.
He added that doing a show live is much different from doing a television series, where something can be redone, if necessary. He said he is always nervous before filming. He and Stewart agreed that any presenter who isn't nervous beforehand should probably stop broadcasting.
In closing, it was fascinating to hear Oliver's thoughts on fatherhood, especially as his children are teenagers now.
And who doesn't like a good love story?
On June 24, 2020, John MacArthur posted a sermon, 'Act Like Men', with the key phrase from the Bible, 'be strong and courageous':
It is one hour and six minutes long and, as you would expect, every minute is well spent watching and listening.
Without saying it explicitly, MacArthur disparages the welfare state which has caused millions of men to relinquish their family responsibilities.
Those of us who have had responsible fathers will greatly appreciate what the founder of Grace To You and Master's Seminary has to say to men in the modern world.
In order to place this into context, you might wish to read my post from June 29, 'John MacArthur videos about the protests', which offers excellent advice about what to do in our journey as Christians.
Excerpts from the 'Act Like Men' transcript follow, emphases mine.
MacArthur begins by saying that, in the wake of the protests across the United States and the rest of Western world, he called a meeting of men from his congregation and Master's Seminary — particularly men of colour — to enlighten him further. He asked them to give him five working points for a Christian agenda moving forward:
These are young Black men that gave up a chunk of their time to sit with me and talk through some of these issues. Thanks to Carl Hargrove for kind of leading that discussion which was powerfully fruitful for me …
So I said to these men after about two hours plus of talking together, and it was a very gracious and loving communication. I said, "So give me five things that we need to do as believers in Jesus Christ to reach across racial lines and bring the gospel to these people and have it received." So I said, "You get five shots, and I'll have this as the introduction to my sermon." So here we go. This is what they said to me.
Number One: "Tell people that racism is a sin." Racism is a sin, isn't it. Any kind of hate is a sin, and racism is an utterly irrational hate. Racism is what causes genocide, what caused the Holocaust, what causes ethnic battles all across the planet as long as there's been human history. But then men in their natural state hate God, and the Bible says they hate each other. The first crime was a murder based upon anger, based upon hate, when Cain killed his brother.
Any kind of hate is a sin. Any kind of racial hate is an irrational expanded form of hate coming from any human heart; it is reflective of the fallenness of that heart. And we also know in our society that there are some people who have received more of that than others. We need to make it very clear that to hate anyone on any basis or any group of people is a sin against God of monumental proportions.
Secondly: "We need to show compassion, compassion to those who've experienced this." And lots of people have. We need to open our hearts and weep with those who weep and mourn with those who mourn. Jesus looked at the multitudes and had compassion. Even when He went to the grave of Lazarus, He wept; and He knew He was going to raise him from the dead, and He still wept. That's the heart of Jesus.
Life is hard, and it has been especially hard for some groups of people; and that certainly speaks to the issue of the history of Black people in America. For those of us who know and love the Lord Jesus Christ, they don't want to hear the statistics, but they would love to know you have compassion for them.
Thirdly, we talked about the fact that, "We need to listen." And that's pretty much a basic principle, isn't it: slow to speak and quick to hear. We may have all the theological answers, we may have all the statistical answers, but can we keep our mouths closed long enough to hear the heart of someone else? Engaging someone with the gospel is so much more effective if that comes in the context of having heard their heart.
Number Four they said: "Use these days as an opportunity to show the love of Christ." This was really rich advice for me. Say racism is a sin, and it is. Any kind of hate coming from anybody in any direction and you can see that it is tearing this culture to shreds.
Show compassion, listen, and use these opportunities as an occasion to show love. That's four; got one more. And the final one was this: "The only thing that's going to break the cycle of our problems in this country is godly fathers. Help us develop godly fathers." Now you might say that was a providence of God that it happened the week of Father's Day. Sure set me up for this morning because I want to talk about fathers.
Here are the current American statistics on fatherhood. These involve the main demographics, by the way. The statistics are probably similar, proportionally, throughout the Western world. Please read these and note them well:
Here's the current reality. Twenty-five million children in our country live without a biological father – one out of three. Grades 1 to 12, forty percent of children live without a biological father in the home. Over fifty percent currently of children are born outside marriage. Eighty-five percent of prisoners grew up in a fatherless home. Eighty-five percent of children with behavioral disorders came from fatherless homes. Ninety percent of youth who run away and become homeless come from fatherless homes. Children from fatherless homes are three hundred percent more likely to deal drugs and carry weapons.
This is a holocaust. And it's not limited to any group of ethnic people, it is a national holocaust. The statistics I gave you are across the board for our country. Just that one statistic, eighty-five percent of prisoners grew up in a fatherless home, is a terrifying reality.
I used to hear when I was a kid that if you had a good mother you could have any ol' schtick for a dad. That's not true. I used to hear when I was a kid preachers say, "You men, it's important how you live, you Christian men, because your children will get their view of God from you." That's ridiculous. They don't get their view of God from me, they get their view of God from the Bible. That's an insult to God. What they do get from me is their view of a man. Children will get their view of a man and what a man is from the father.
There, I must disagree, at least in part. I have posted a few entries on fathers and clergy who have not fulfilled their respective responsibilities, either in the family or in the Church:
Here's what happens when Dad doesn't attend church
Consistent churchgoing habits important for children
The Methodist Church advocates man-centredness — survey (2010)
Which is more deplorable, the gun culture or the fatherless culture?
What kind of father doesn't protect his family? (concerns bishops)
But I digress.
Back to John MacArthur:
Sexual immorality, relentless assault of feminism, overexposure to perversion, complete collapse of homes has just produced generations of bad fathers. And the reality is nothing is more devastating to a society than that, nothing. And on the other hand, the only hope for stability and the only hope for sanity, the only hope for peace in a society is masculine, virtuous men.
Some will find that hard to absorb. However, think of the rise of the welfare state over the past half-century. That might begin to put this into context. A virtuous life is not about absentee fathers or Big Government acting as a husband or father. If you sire a child, you need to be there as part of a family unit.
Even if one disagrees with that, it is hard to disagree that, during the past 50 years or so, the further we slip into moral laxity, the more we see evil. In fact, we're seeing unimaginable evil. We thought we would be nice and allow people to do what they please. Now we see the results of that ill-advised experiment:
Evil abounds absolutely everywhere. How men respond to its presence determines the survival and well-being of a society. Let me say that again: "Evil abounds everywhere. How men respond to its presence determines the survival and well-being of that society." One psychologist said, "Masculinity is taking responsibility to reduce evil and produce good."
No culture will ever rise above the character of its men: fathers. The feminist lie has been that patriarchy is bad. It is tyrannical. It is toxic. It needs to be destroyed. And they've been doing it for decades. To destroy masculinity, to destroy strong male leadership and character leads to the current disaster: irresponsible men running loose in the streets terrorizing a society. Weak men have given us this legacy. Weak men produce the death of society. And men are in a crisis today, they are being continually told to try to get in touch with their feminine side, so they have become defensive about their masculinity.
Women rise higher and higher and higher and more frequently into positions of leadership, as men feel overwhelmed and overpowered and unable to fight against the trend. Oh, there are lots of men at the gym, pretty buff, have some muscles, but they're doing virtually nothing to stop the tide of evil in the world. And by the way, in case women haven't begun to realize it: weak, immoral men abuse women, and they produce more weak, immoral sons. No, children don't get their view of God from their father, but they do get their view of what a man is. And we are in some serious trouble because the current crop of men are infecting the children.
There are two views in the Bible on generational sin. If one repents of a generational sin, one has wiped his slate clean. See Ezekiel 18:19-20:
19 "Yet you ask, 'Why does the son not share the guilt of his father?' Since the son has done what is just and right and has been careful to keep all my decrees, he will surely live. 20 The soul who sins is the one who will die. The son will not share the guilt of the father, nor will the father share the guilt of the son. The righteousness of the righteous man will be credited to him, and the wickedness of the wicked will be charged against him.
Yet, where there is no repentance from generation to generation, the sin endures as a punishable act:
Listen to the Word of God, Exodus chapter 20 and verse 5: I, the Lord your God, am a jealous God, visiting the iniquity of the fathers on the children, on the third and fourth generation of them that hate Me." Listen to Exodus 34:7, "God will by no means leave the guilty unpunished, visiting the iniquity of the fathers on the children to the third and fourth generation." God says it again in Deuteronomy 5:9 and 10, "I, the Lord your God, am a jealous God, visiting the iniquity of the fathers on the children, and on the third and fourth generation of those who hate Me, but showing lovingkindness to thousands, to those who love Me and keep My commandments."
Repeatedly, God says corrupt fathers create in society a legacy of corruption that is generational. He's not saying that a son would be punished for a father's sin; clearly that is not the case. Deuteronomy 24:16 says, "Fathers shall not be put to death for their sons, nor shall sons be put to death for their fathers; everyone will be put to death for his own sin." We're not talking about an individual suffering punishment for another person's sin. What we are saying is fathers – plural – who are corrupt leave a legacy that will not be overturned in three or four generations. And if the next generation is corrupt, it pushes that out another three or four, and the next generation another three or four, and it becomes an impossible cycle.
In the words of the prophet Zechariah as he begins his prophecy, "In the eighth month of the second year of Darius, the word of the Lord came to Zechariah the prophet, son of Berechiah, the son of Iddo saying, 'The Lord was very angry with your fathers. Therefore say to them, "Thus says the Lord of hosts, 'Return to Me,' declares the Lord of hosts, 'that I may return to you,' says the Lord of hosts. "Do not be like your fathers."'" Something has to break the cycle.
This is what happens without repentance:
Clearly, a generation dominated by sinful fathers will bear the crushing consequence of their sinful progenitors. Their children will suffer. Their grandchildren will suffer. Their great-grandchildren will suffer. No generation exists in isolation or as an island. A wicked society defined as wicked by the behavior of the men won't be rooted out for multiple generations. So it isn't that people get their view of God from a father, but they do get their view of what a father is, and if it's the wrong view, it's just purposely repeated again and again and again.
So, as Christians, what do we do? First, we need to acknowledge that we are all prone to sin. When we give in to sin, we give in to all sorts of carnality. On the other hand, when we are alive in Christ, God's infinite grace enables us to resist temptation through faith and the gifts of the Holy Spirit:
The default position of every man is corruption, right? It's the most natural thing they do is sin. The most accessible affect of that sin is on the women in their lives, and then on the children in their lives, and then it extends to everybody else.
The problem is, "There's none righteous, no, not one. They're all evil," as we read in Romans 3. They don't seek after God. They hate God, they hate others, and they're influencing their children while they're harming their wives. I understand why there's a women's movement. And even though it's wrong and totally devastates a society, pushes women into places they were never intended to be and men out of the places they were intended to be, I understand it because of the corruption of men.
So where do we begin? We have to begin as believers who have new natures, right? We are new creations in Christ, we have the Holy Spirit, and we start by breaking the cycle. It's not going to be broken, it's still around, right? What you're seeing today in the chaos of this culture, what you see in the weakness and foolishness of people in high places, what you see is just the reality that corrupt fathers destroy society.
MacArthur then begins discussing one of the gifts of the Holy Spirit: fortitude. As we are in the season of Pentecost — please do ignore the term 'Ordinary Time' — it is important that we take some lessons from the weeks from Pentecost until the end of the Church year, just before December.
Fortitude is no casual word. It is not restricted to men alone, however, it is in scarce supply these days among some of today's men, enough to make a difference in Western society:
Fortitude. What is fortitude? It's a great word. Firmness, strength of soul that faces danger with courage and bears loss and pain without complaint. Fortitude: "Firmness and strength of soul that faces danger with courage and bears loss and pain without complaint." That's not a theological definition, that's just a definition of the word.
When you say a man has fortitude, you're talking about someone who doesn't compromise even when there's danger, even when that danger escalates to fear and pain. Fortitude is a combination of conviction, courage, and endurance – conviction, courage, and endurance. It is the willingness – it is not just the willingness, I would say it's even the desire to risk, to literally create challenges if they're not already there, to attack difficulty, to challenge difficulty head on, to bear suffering with courage. This is what makes a man a man, and this is the kind of man in whom a woman finds her security, finds her protection; and in that kind of relationship, the woman's femininity flourishes.
Men are those who should be the protectors, the purifiers, who secure their wives, who secure their children, who accomplish all that needs to be done to reduce evil in a society and produce good; and yet this society for years and decades has had men busy producing evil, and diminishing good. True manliness is bound up in the word "courage." That is the virtue that marks a real man. Truth, conviction, courage.
Turn to 1 Corinthians chapter 16, 1 Corinthians chapter 16. At the end of this wonderful letter, near the end, is tucked a very important verse, actually two verses: verses 13 and 14. Listen to what the apostle Paul says: "Be on the alert, stand firm in the faith, act like men, be strong. Let all that you do be done in love." "Be on the alert," – danger is everywhere – "stand firm in the faith," – don't waiver in your belief and convictions – "act like men," – What does that mean? Fortitude, uncompromising courage – "be strong." The New King James actually says, "Be brave, be strong." "Act like men" essentially means to conduct one's self in a courageous way, to conduct one's self in a courageous way.
Courage is the stock-in-trade of a man: courage in the face of danger, courage in the face of temptation, courage in the face of loss, courage in the face of suffering. This strength of verse 13, essentially four statements saying, one way or another, "Be strong." Is then balanced in verse 14 by, "Let all that you do be done in love." And how important is it to add that. There's nothing more manly than a man with consummate conviction, courage, and endurance, who is marked by love. That's a man – not weak, not vacillating, not fearful; and loving.
Real men face life with this kind of fortitude. They're watchful of the dangers around them. They're alert. They're protectors of their wives and children, and of their friends and all the people over whom they have influence. They have convictions about what is true. They have courage to live out those convictions and the strength to be unwavering when those convictions will cost them everything. Your convictions, they're only real convictions if they hold up under the most intense pressure.
MacArthur then goes into the many Bible verses with the words 'be strong and courageous':
In Deuteronomy 31, Moses is passing the mantle on to Joshua, and in verse 6, Deuteronomy 31, he says this: "Be strong and courageous, do not be afraid or tremble at them," – meaning your enemies – "for the Lord your God is the one who goes with you. He will not fail you or forsake you." "Then Moses called to Joshua and said to him in the sight of all Israel, 'Be strong and courageous, for you shall go with this people into the land which the Lord has sworn to their fathers to give them, and you shall give it to them as an inheritance. The Lord is the one who goes ahead of you; He will be with you. He will not fail you nor forsake you. Do not fear or be dismayed." That's the greatest transitional leadership speech ever.
Look at … 2 Samuel chapter 10 and verse 12. This is Joab to the Israelites who were facing opposition, strong opposition, tremendously strong opposition. Back in verse 6, it lays out the forces that were coming against them. But in verse 12, Joab says to the Israelites, "Be strong, and let us show ourselves courageous for the sake of our people and for the cities of our God; and may the Lord do what is good in His sight."
First Kings chapter 2. In 1 Kings chapter 2, David addresses Solomon his son. "David's time to die drew near. He charged Solomon his son, saying, 'I'm going the way of all the earth. Be strong, therefore, show yourself a man. Keep the charge of the Lord your God, to walk in His ways, to keep His statutes, His commandments, His ordinances, and His testimonies, according to what is written in the Law of Moses, that you may succeed in all that you do and wherever you turn, so that the Lord may carry out His promise which He spoke.'" Moses to Joshua, Joab to the Israelites, David to Solomon.
For another view of David's speech to his son Solomon, look at 1 Chronicles chapter 22. I'm showing you these because I want you to see how common this is. First Chronicles 22, David calls for his son to build the house of God, and we can pick it up in verse 11: "Now, my son, the Lord be with you that you may be successful, and build the house of the Lord your God just as He has spoken concerning you. Only the Lord give you discretion and understanding, and give you charge over Israel, so that you may keep the law of the Lord your God. Then you will prosper, if you're careful to observe the statues and ordinances which the Lord commanded Moses concerning Israel. Be strong and courageous, do not fear nor be dismayed." All of these declarations assume that your devotion to God is going to be tested, and you're going to have to be strong. It's going to be tested, no way around it.
David says again, 1 Chronicles 28:20, to his son Solomon, he gives this speech another time: "Be strong and courageous, and act; do not fear nor be dismayed, for the Lord God, my God, is with you. He will not fail you nor forsake you until all the work for the service of the house of the Lord is finished." Just a couple more.
Toward the end of 2 Chronicles, Hezekiah is speaking to men in positions of leadership. Hezekiah, chapter 32 of 2 Chronicles, the first verse: "After these acts of faithfulness Sennacherib king of Assyria came, invaded Judah, besieged the fortified cities, and thought to break into them for himself. Hezekiah saw that Sennacherib had come invading Judah and he intended to make war on Jerusalem; he decided with his officers and warriors to cut off the supply of water from the springs" – this was a siege – "which were outside the city, and they helped him. So many people assembled and stopped up all the springs and streams which flowed through the region, saying, 'Why should the kings of Assyria come and find abundant water?' And he took courage and rebuilt all the wall that had been broken down and erected towers on it, built another outside wall, strengthened the Millo in the city of David, made weapons and shields in great number, appointed military officers over the people and gathered them in the square of the city gate, and spoke encouragingly to them, and this is what he said: 'Be strong and courageous, do not fear or be dismayed because the king of Assyria nor because of all the horde that is with him; for the one with us is greater than the one with him. With him is only an arm of flesh, but with us is the Lord our God to help us and to fight our battles.'" That's a great pep talk, isn't it, for an army. Psalm 27:14 says, "Be strong and let your heart take courage."
Men don't give in to fear. Men don't give in to pressure. Men don't give in to intimidation, and they don't give in to temptation. They don't seek the easy way. They will take the pain, they will invite the risk, they will confront the challenge, and they will not bow to the pressure to compromise the commandments of God. Strength of a man is that he lives on principle, that he lives on conviction, that he has the courage of those convictions, stands strong against everything that comes at those convictions, bravely faces the challenges in a fortified way. Manly fortitude means contending with difficulty, facing every enemy, meeting the enemy head on, bearing the pain, maintaining self-discipline, upholding truth, pressing on to the goal. That's what defines a man.
MacArthur cites more examples. God spoke the same words to Joshua in the presence of Moses:
I want to show you another passage back in Joshua, right at the beginning of Joshua. Moses gives this speech again as he passes the baton, as it were, to Joshua. He says to him in chapter 1 of Joshua, verse 5, "No man will be able to stand before you all the days of your life. Just as I have been with Moses, I will be with you." This is God now speaking, God is the one speaking. "Just as I have been with Moses, I will be with you."
So here it comes not from Moses to Joshua, but from God to Joshua in the presence of Moses. And here's what God says to Joshua, verse 6: "Be strong and courageous, for you shall give this people possession of the land which I swore to their fathers to give them. Only be strong and very courageous; be careful to do according to all the law which Moses My servant commanded you; do not turn from it to the right or to the left, so that you may have success wherever you go."
And here comes the key to that. How do you live like that? How do you live with that strength and courage? How do you live without ever compromising? Verse 8: "This book of the law" – the Word of God – "shall not depart from your mouth, but you shall meditate on it day and night, so that you may be careful to do according to all that is written in it; for then you will make your way prosperous, and then you will have success. Have I not commanded you? Be strong and courageous! Do not tremble or be dismayed, for the Lord your God is with you wherever you go." It's an incredible speech from God.
"Be strong" – verse 5 – "because God will be with you," – "because you're fulfilling a divine cause, a promise from God." Verses 7 and 8, "The only way you can do this is to submit to the Word of God so that it constantly is in your mind and you live out its truths." You will be able to be obedient if you're saturated by the Word of God empowered by the Spirit of God.
Can you see why this speech is repeated so many, many times? This is the mark of a man. It takes a father like that to raise a son like that. Spiritual men are courageous, strong, principled, uncompromising, and bold. This is God's role for men to play in a society, but it is also God's role for the men to play who are the leaders of His people Israel. And this is God's standard for the men who lead His church.
This is what we should expect from our clergy:
When we come into the New Testament and we are introduced to the kind of men that the Lord commands to lead His church. This is how He describes them in 1 Timothy 3: "This man must be above reproach, a one-woman man, temperate, prudent, respectable, hospitable, able to teach, not addicted to wine or pugnacious, but gentle, peaceable, free from the love of money. He must be one who manages his own household well, keeping his children under control with all dignity (if a man doesn't know how to manage his own children, how will he take care of the church of God?), and not a new convert, so that he will not become conceited and fall into the condemnation incurred by the devil. And he must have a good reputation with those outside the church, so that he will not fall into reproach and the snare of the devil." High standards for a pastor, an elder.
To Titus, Paul says similarly, "Appoint elders. If a man is above reproach, one-woman man, having children who believe, not accused of dissipation or rebellion; for the overseer" – or the shepherd, pastor, bishop – "must be above reproach as God's steward, not self-willed, not quick-tempered, not addicted to wine, not pugnacious, not fond of sordid gain, but hospitable, loving what is good, sensible, just, devout, self-controlled, holding fast the faithful word which is in accordance with the teaching, so that he'll be able to exhort in sound doctrine and refute those who contradict." This is the kind of men who lead the church.
Why is the standard so high for the leaders of the church? Because the leaders of the church have the responsibility to set the pattern for what manliness looks like in a godly environment. It's not that they alone should be like this, it is that they should be like this so the others can see what a man should be. It isn't that the Lord wants to pick up all the pastors and elders and take them to another level of spirituality which no one could attain, it is rather that this is what God expects from every man. But it's got to be modeled. Men like that and men, as Ephesians 5 said, who love their wives like Christ loved the church, and who are protectors of their wives and who literally are the saviors of their wives, are the kind of men who become a haven for the wife, who make her feel secure and protected, nourished, cherished. And when children grow up in a home where the man secures the woman and the children, there's peace.
So, how have we gone so far astray?
This culture has turned on God, eliminated His Word. The bible and the gospel is an enemy.
One wonders what John MacArthur thinks of President Trump. To my knowledge, he has not been invited to the White House. I wish that President Trump would invite him. That would make for an interesting transcript.
But I digress. MacArthur says:
The leaders of this nation have no interest in God or in His Word, and they are basically running this country right into hell as fast as they can. The only thing that's going to stop this is not a group of feminized men who thinks God just wants to give them what they want so they can be happy. What this world needs is not sensitive men, it needs strong men. We live in a world of compromise, more than compromise. You could barely call it compromise because there's nothing left of that which is good, so what are they compromising with.
That said, it is clear that MacArthur, a Californian, disapproves of California Governor Gavin Newsom's views. Newsom is a self-proclaimed Catholic. Here's a 2008 video of the two of them on the old Larry King Show on CNN when Newsom was the mayor of San Francisco and married to his second wife at the time:
Now on to the word 'integrity':
To add another word to your thoughts about this, I would say that people who have no price have integrity, integrity. So we talk about fortitude, let me talk about integrity. "People who have no price have integrity."
What is integrity? It is essentially unbreakable fortitude. Integrity is defined as steadfast adherence to a moral code. It comes from "integer," which means "whole" or "complete." Its synonyms are "honesty," "sincerity," "simplicity," "incorruptibility." It's antonym is "duplicity" or "hypocrisy." A person who lacks integrity is a hypocrite. Integrity means that you live by your convictions: you say what you believe, you hold to what you believe, you're immoveable. That's wholeness. That's integrity: you are one. It was said long ago of a preacher that he preached very well, but he lived better. The world is a seducer, and Satan is a seducing deceiver, pushing us into compromise, and therefore into hypocrisy.
When our Lord indicted the scribes and Pharisees who were the frequent objects of His blistering attacks. Inevitably it was on their integrity that He assaulted them. For example, in Matthew 23:3, He said, "They say things and do not do them."
MacArthur, who is truly blessed, has a number of additional observations. As such, I would invite you to read or watch his sermon in full.
In short, manliness does not involve belonging to a street gang.
Each man, at some point, will have to rely upon his own wits, determination and fortitude to resolve his own trials, whether they be his own or those of his family.
We need to recover the biblical ideal of manliness, which has kept Western society protected for centuries. It hasn't always succeeded, but we are fallen people, susceptible to temptation and sin.
Men have been beaten into the ground for decades. This must be remedied:
We need a generation of men who are alert to danger, who stand firm in the faith, who are courageous with the Word of God, uncompromising and strong.
And, listen, everything about this that I've said indicates they will be tested. Manliness will be tested. Conviction will be tested. Courage will be tested. Strength will be tested. The pressure will come, it'll come in unexpected ways, but it'll come. You may get away with your statement of conviction for years, but there will come a test, and many men will shock the people who knew them by selling out, compromising, abandoning their integrity, playing the hypocrite out of cowardice. This falls into a translation of Romans 12:2. Don't let the world squeeze you into its mold.
Stay strong. Stand firm in the faith, as Saint Paul did.
The world needs real men now more than ever, especially to stand by principled women.
As I close a week discussing Disroyalty starring the Duke and Duchess of Sussex, here are a few more views about their plans as well as a summary of what went on at Sandringham on Monday, January 13, 2020.
Before I get to those, however, it is important to remember that other Royals will have to pick up the Sussexes' slack, leaving 200 engagements per year to divide among them.
Key points about the Sandringham summit
Here's what to know about the Sandringham summit on Monday.
The Daily Mail says that Harry arrived at 11:20 a.m.
By then, Prince Philip had already left and was driven elsewhere on the estate. He was reportedly furious last week:
Philip was reportedly 'spitting blood' with anger when he found out last Wednesday and yelled at his aides: 'What the hell are they playing at?'
If he left, he wasn't feeling any calmer.
Prince Charles had arrived the day before. Prince William showed up 15 minutes before the meeting began at 2:00 p.m.
The meeting was held in the Long Library, which used to be a bowling alley. Princes William and Harry spent much time there as children.
It is located away from other rooms where the Royals might have been overheard.
Meanwhile, the Home Secretary, Priti Patel, denied charges of racism (same link):
Ms Patel, speaking to BBC Radio 5 Live, said: 'I'm not in that category at all where I believe there's racism at all. 
'I think we live in a great country, a great society, full of opportunity, where people of any background can get on in life.'
Asked if the media had been in any way racist, she replied: 'I don't think so, no… I certainly haven't seen that through any debates or commentary or things of that nature.'
On January 14, the Mail reported that Prime Minister Boris Johnson wisely refused to be drawn in on the controversy:
In his first major TV interview since the election, Mr Johnson said: 'I am a massive fan of the Queen and of the Royal Family…
'I am absolutely confident that they are going to sort this out.'
I was happy to read that Harry's early arrival ensured that he could have a lengthy one-on-one conversation with his grandmother.
Bolter
In 2018, a few months before Prince Harry and Meghan Markle got married, Germaine Greer gave an interview to Australia's 60 Minutes in which she said she thought the bride would end up leaving.
The Cut posted the story on April 16. Prescient (emphases mine):
During an interview with 60 Minutes Australia this weekend, outspoken and controversial feminist author Germaine Greer said she thinks Markle "will bolt" as soon as she gets a sense of what life in the British royal family (which Greer refers to as "the firm") is really like.
"Let's hope they're in love. If they're not it's going to be totally unbearable," Greer told journalist Tara Brown. "She will see vistas of boredom that are unbelievable. I think the pressure to escape from the firm is crushing."
When Brown asked what she predicted for the couple's future, Greer answered, "I think she'll bolt."
"She bolted before. She was out the door," she said, referring to Markle's 2013 divorce from Trevor Engelson. "I think she'll bolt. I hope in a way that she'll bolt but maybe she'll take Harry with her."
When asked why Markle, already a successful television star, would give up her career to marry into the royal family, Greer quipped: "Why would a girl born in poverty marry a man with 53 million quid? I can't think of single reason."
It seems Harry might be worth less than that — possibly £30m, but the point stands.
There is also the status involved.
Opportunism
The deputy political editor at the Daily Mail, John Stevens, had this to say about the Sussexes' announcement last week:
In fact, that is quite possible.
Allegedly, Justin Trudeau knew of their plans before the Queen and the rest of the Royal Family. So did Elton John.
On January 11, the Daily Mail reported:
There was speculation last night that Canada's Prime Minister Justin Trudeau may have given a cryptic Twitter clue about the crisis that was about to engulf the Royal Family.
When news emerged that the Duke and Duchess of Sussex had turned their back on Royal tradition and flown to Canada for Christmas, their powerful friend was one of the first to welcome them on social media.
He wrote: 'You're among friends, and always welcome here.'
Just weeks later, the Royal couple were looking to test that 'always' by announcing their move to Canada.
And the tweet has done little to dampen gossip in Embassy circles that Mr Trudeau was more aware of the Sussexes' emigration plans than even their closest family.
Diplomatic sources claim Mr Trudeau and his wife Sophie were consulted about the decision late last year, before members of the Royal family and even the Queen.
The Trudeaus are friends with the Sussexes:
Last night, the Canadian government did not respond when confronted about the claims, but sources close to the Sussexes denied they had discussed the move with Prime Minister Trudeau.
The Canadian First Couple and the Sussexes have been close friends, with Meghan and Sophie even sharing a stylist – Meghan's best friend and sometime babysitter for Archie, Jessica Mulroney.
Prince Harry, 35, and Mr Trudeau, 48, are two of the younger fixtures on the world stage, with both men appearing to enjoy each other's company at events such as Commonwealth commemorations.
The two have also encountered each other on multiple occasions through Prince Harry's Invictus Games for disabled servicemen.
I wonder if the Sussexes are aware that, many years ago, Trudeau once attended a fancy dress party in blackface. He thought nothing of it at the time. Terrible.
Returning to John Stevens's tweet, here are a few responses:
Money
Although, technically, what Prince Charles does with his income from the Duchy of Cornwall is his business, the British would be annoyed if he continued to finance Prince Harry:
This YouGov poll shows similar results:
This Briton tweeted about the video of Harry touting Meghan to Disney's Bob Iver for voiceover work:
Naturally, some of the money she would earn from such work would go to charity. Of course:
Trudeau said that his country will pay for the Sussexes' security detail. Canadians won't be too happy about that:
Another Daily Mail report said that Canada would pay half the Sussexes' £1m annual security detail cost. We shall see. On January 14, the Mail published an article quoting Trudeau, who said:
I think most Canadians are very supportive of having royals be here, but how that looks and what kind of costs are involved, there are still lots of discussions to have.
Family
The young Anglican priest who tweeted the following has mistakenly said that the Sussexes are on the Civil List. They are not.
However, the larger point about their role in the Royal Family is what is important:
The Revd Giles Fraser, formerly Canon at St Paul's Cathedral and now Rector of St Mary, Newington in South London, wrote a considered article on the topic that the Revd Philip Murray raised. The Bishop of Dorking (Surrey) complimented him on it:
Do we still recognise moral obligations that exist prior to our having chosen them? That is, it seems to me, the question embedded within the whole Megxit scandal. It couldn't have been better designed to drive a wedge between two very different ways of seeing the world …
But this isn't just about monarchy. For the same tension exists within the very idea of a family — the Windsors being, as well as royal, the most famous family in the world. How does liberalism — of which Meghan Markle feels like a supreme representative — deal with that age-old sense of moral obligation towards those who have brought you into life and have raised and nurtured you, without you having chosen them for the task. Of course, some families fail in this very basic duty. And most of us parents only get it half right, at best.
Without this very basic idea that we are born into some fundamental unit of existential solidarity, something towards which we owe an allegiance long before we are able to choose it, human life is released from its moorings and we are all deeply lost. This is where liberalism flounders. For when it comes to the most important basis of human flourishing, family life, liberalism has nothing useful to say, other than to remind us that some families are destructive and dysfunctional and best escaped from. Be your own person, it advises. Break free. But this is to cut off the branch on which nests are built.
Sense of duty
A Theology graduate from Cambridge University has the ultimate analysis of the Duchess and her outlook on a sense of duty.
This is a must-read:
So true — especially the closing thought about helping minority Britons!
When they got married, I thought she might look forward to such a role. I was wrong.
Poll on the monarchy
Between Thursday and Friday, January 9 and 10, Deltapoll conducted a survey on the monarchy. This was after the Sussexes' announcement.
The favourable results were lower than I'd expected:
A Pole responded to that tweet, encouraging us to keep the Royal Family:
Good or bad? It's important. I come originally from Poland. I read Polish papers and #British monarchy issues make front page headlines there. The monarchy is #Britain's trademark, as it were, recognised worldwide. Try and lose it to see how good it actually is to have it.
I fully agree.
This is a breakdown of the question by age group:
I also agree with these replies:
I do not think that most of our Prime Ministers would have made great Presidents.
The Royal Family are good for Britain. Let's not discard them because of the actions of a few bad apples.
Happy New Year!
Happy new decade!
I enjoy, albeit with trepidation at times, looking back at the decades I've lived through and charting the change from beginning to end.
O tempora, o mores!
1960s
In 1960, growing up in the United States, I remember that things were still quite formal. Most people took care in the way they spoke and in their appearance. They were careful to conduct their households in a respectable manner. By the middle of the decade, that began to change but not too noticeably.
By 1968, a social revolution was underway, including sexually. What was once private became public. Attire reflected that. Women began wearing skirts above the knee. Men's clothes became more form-fitting.
Sloppiness and drugs became fashionable with the advent of hippies. Even though they were a small minority, they received a lot of media coverage. A slogan connected with them — 'If it feels good, do it' — began to pervade society at large.
Cinema and television reflected this change.
At home, Americans moved from watching westerns to tuning into a zany comedy hour. In 1960, Gunsmoke was the most viewed programme. In 1969, it was Rowan and Martin's Laugh-In. Gunsmoke had moved to sixth place in the Nielsen ratings.
Film genres and themes also shifted. In 1960, the great epics were popular, with Spartacus the highest grossing film and Exodus coming third. Psycho was second. In 1969, while Butch Cassidy and the Sundance Kid was in the top slot, Midnight Cowboy was at No. 3, Bob & Carol & Ted & Alice was No. 6 and an X-rated movie, I Am Curious (Yellow) was No. 12. It would have been unthinkable in 1960 that an urban drama about homosexuality, a movie about swingers and one that was pornographic would have been so popular nine years later.
1970s
The cultural shift continued in the 1970s. American magazines and newspapers devoted many column inches to social drop-outs experimenting with communal living. Swingers were becoming popular in suburbia. Again, those were two small sub-groups of society, but everyone — even the most respectable — knew about these two phenomena.
Pop music got bolder, more sexualised. I remember in high school that we talked a lot about sex and could hardly wait to start dating so that we could experiment. Our parents wondered what was wrong with us. The idea of sin and the forbidden went out the window. 'If it feels good, do it' had spread to the middle classes. Previously forbidden carnal acts were encouraged as being completely 'natural'. This furthered the evolution of a shame-free society. Today, I read that some teenagers don't kiss on a first date; instead they engage in oral sex.
Interestingly, one of the most suggestive singers of the decade, Eric Carmen of the Raspberries, laments where this has led today:
I remember neighbours of ours getting divorced. The wife said that she could earn her own living now, thank you very much. The husband was heartbroken. We felt sorry for their two children. Until then, my family and I personally did not know any couples who got divorced. It just didn't happen to everyday individuals. However, divorce rates continued to rise and, these days, no one bats an eyelid.
More women started working. What began as a liberating elective would turn out to be a mandatory means of survival in marriage in the years that followed. Few of us knew that then, though.
Returning to music, it was a great decade for youngsters. FM radio produced rather excellent stations devoted to little known genres that never reached Top 40 AM stations. Through them, we discovered prog rock from Britain: Yes, Rick Wakeman, and Emerson, Lake and Palmer, to name but three musical greats. There were many more, too numerous to mention here.
Near the end of the decade we had disco. Saturday Night Fever was a huge box office hit and propelled John Travolta from television (Welcome Back Kotter) to cinema fame.
The most popular television sitcoms, such as Welcome Back Kotter, were all set in metropolitan areas. In terms of television in general, The Waltons was probably the only show with a rural setting.
Halfway through the decade, I spent a year in France, which was much quieter than the US socially and still quite formal, even though the more leftist state university students were generally unkempt and unwashed. In many respects, the country was a bridge between the 1960s and the 1970s in the nicest possible way.
1980s
Leaving university, I recall that many of my friends latched onto the Reagan zeitgeist and became conservatives.
They turned into their parents and lost the fun-loving verve they once had. I stayed single the longest, so was more acutely aware of a shift into respectability and suburban living.
I lived in a major US city then, earning my own way in life. For relaxation, I used to go to matinees at the weekend. The price of admission was cheaper and the cinemas were nearly empty, giving me the impression I had the big screen all to myself.
I saw a lot of world films in the first part of that decade, some from Brazil and Australia but mostly Britain and France. French film became a passion. Even one of the UHF television channels showed French films from the 1950s. Bliss.
As far as music was concerned, my favourite FM station played British and European singles apart from reggae on Sunday afternoons. More bliss.
Then, around 1986, something began to change. Although my favourite radio station stayed the same, the movie theatres weren't showing as many foreign films. Within a couple of years, they stopped showing them altogether. One of my lifelines had vanished, sadly. The American films that replaced them were not very good, either, so I stopped going to the cinema.
Everything became very one-dimensional. America, somehow, had lost the link with the zeitgeist of European culture, which it never recovered. It used to be that people in the 1960s and early 1970s made a two- or three-week trip to western Europe to see the historic sites they learned about in school. It was what we today would call a bucket list item.
Fortunately, by the end of the decade, employment events intervened — and further improved — for me.
1990s
Living in England, I realised that I had an insatiable appetite for history and politics. I learned a lot about both thanks to a gift subscription to The Spectator, which I had read about in English lit class in high school. It's been around since 1828.
In 1990s, my in-laws told me that Margaret Thatcher's time was up. She had become too full of herself. We had high hopes for John Major.
I remember the 1992 election, which Major won handily. I could not understand the rage of my female colleagues who expected Neil Kinnock to win. They stayed up all night drinking, waiting for a Labour government that never came. The next day, at work, they were hungover, tearful — and, above all, angry. Why did they think he stood a chance? Perhaps I had been reading too much of The Spectator, but I had no doubt that Major would continue as Prime Minister.
By 1997, most of us felt change was needed. The Conservative MPs on the front bench seemed like tired, bloated bureaucrats. None of them had an original idea. Most seemed to be lining their own pockets. I was most consterned by Health Secretary Virginia Bottomley, who started closing A&E (Accident and Emergency) services at local hospitals. What was she thinking?
When Tony Blair became Prime Minister in 1997, nearly everyone I knew rejoiced. Change was coming.
And how …
2000s
The first few years of Labour were fine. I was enjoying my work too much to pay any attention.
By 2005, I longed for a Conservative government, especially when Gordon Brown became PM with no general election.
After that, Labour became unbearable, banging on about people's personal lives and habits. The smoking ban came into force in the summer of 2007. Ministers assured us in television interviews that private members clubs and hotels would be exempt. No, not at all. It was a blanket ban everywhere.
It was during this decade that London elected its first mayor, Ken Livingstone. He served two terms and introduced the city-wide congestion charge for motor vehicles, which we called the Kengestion Charge. My colleagues at the time reminded me that, as head of the old GLA (Greater London Authority), he was known as Red Ken.
Boris Johnson succeeded him, also serving two terms. His administration made the streets tidy again and also lowered crime.
By 2006, I started looking more closely at the EU and the unelected bureaucrats in Brussels who seemed to rule our lives. I agreed with those disgruntled Britons who wanted a referendum on our membership.
Most of all, however, I was sick and tired of Labour, to the point of despair.
I also asked my far better half to cancel my gift subscription to the The Spectator, as it had changed its editorial line considerably after Boris Johnson left as editor. Although more people now read it, it is a former shadow of itself. I would not call it neither conservative nor traditional at all any more.
2010s
Hope came in the May 2010 general election.
The Conservatives had to form a coalition government with the Liberal Democrats. It was the David Cameron and Nick Clegg Show, but at least Labour were out of the picture after 13 years.
David Cameron referred to himself as the 'heir to Blair'. It took me some time to see it, but he was not wrong.
He set out to reform the Conservative Party and alienated older, faithful members in their local associations. CCHQ suddenly did not need their help.
On a broader level, Cameron will probably be best remembered for opening up marriage to same-sex couples and for offering us the EU referendum, billed by all parties as a 'once in a lifetime' choice which they all pledged to implement.
A number of televised debates took place in 2016. I watched them all. Some of my friends were less than convinced by the Leave proposition. The one clincher was Brexit The Movie, which is an hour-long eye-opener about the Brussels gravy train and better than any of the debates, no matter how good:
I stayed up until the early hours of the morning of Friday, June 24, 2016 to watch the result. When it was clear that Leave had won, I went to bed. The next day, my far better half and I woke up to Cameron resigning because he did not like the result. We had a celebratory lunch in London and went to a party that evening that had been planned months earlier. I remember the apprehension we both felt about sounding out the other party guests as to their views on the EU. We later discovered that were not alone. Finally, someone there broke the ice upon his arrival by exclaiming:
Is everybody HAPPY? I certainly am!
At that point, we were free to talk about Brexit.
Theresa May became Prime Minister later that summer.
Across the pond, another sea change was happening: Donald Trump's candidacy. It was even more of a shock when he won. A startled nation awoke to find that Hillary Clinton was not their president.
The conflicts about Brexit and Trump continue today. Opponents to both have grown ever more vehement.
On September 20, 2019, the British website Spiked issued a thought-provoking documentary on Trump and Brexit. It's 26-minutes long and well worth watching. To cover Brexit, their reporters interviewed residents of Southend-on-Sea in Essex. To cover the Trump phenomenon, they interviewed Pennsylvania journalist Salena Zito and residents of Erie, which was once a major industrial powerhouse in that state. It has fallen on very hard times, indeed:
The major theme running through both is, as they put it, 'change', which I believe they should have called 'self determination' and 'recovering the aspirational dream'.
One thing that struck me was the interview with the owner of a gym in Erie. He said that his father raised seven children on a janitor's salary:
You couldn't do that now.
Too right. Both parents now have to work — unlike in the 1960s — and few households can support more than two or three children.
People in Britain and the United States want to work and save more of their hard-earned cash. They also want good job opportunities for their children.
A fisherman in Southend said that, because of EU rules, he is restricted to an ever-smaller part of waters in which to fish. The number of fishing boats has continued to decline, he added, and the number of fisherman has also dropped dramatically. That is why he, and many others in Southend, voted Leave in 2016.
The decade closed with Boris Johnson's landslide victory on December 12. Historian David Starkey explores what this means for the nation in this 57-minute documentary from The Sun, ably conducted by a young reporter:
Starkey explores the evolution of Parliament since Victorian times, when it became the institution we know today. As many Northern constituencies flipped from Labour to Conservative, Starkey says that Boris's pledge to revitalise the North will mean little unless he espouses their values of patriotism, which, he says, has been a dirty word for many years.
He says that Boris could well become a figure like Charles II, who restored the monarchy beginning in 1660. Many of their personality traits are similar, he notes, particularly their penchant for bringing a nation together and reforming it at the same time. It is well worth watching when you have the opportunity.
There is much more to Starkey's interview than summarised here. He talks about the people of the North, Labour, Jeremy Corbyn, David Cameron, Tony Blair and, significantly, Benjamin Disraeli. Starkey hopes that the PM will study his Victorian predecessor's successes closely.
With that, I must close for now. There are many developments over the past 60 years that I have not mentioned. This is merely to give an idea about the direction that Western society took as the decades rolled on.
Welcome to 2020. Let's hope it brings many good tidings. I wish all of us the very best.