You are currently browsing the tag archive for the 'fishing' tag.
The UK's biggest topics that truly matter to everyday people are coronavirus, COP26 and the fishing row with France.
Coronavirus
On Wednesday, November 10, the BBC news site featured an article on mothers and babies over the past year and a half: 'Coronavirus births: "My baby's first word was mask"'.
How sad is that? My first word was 'Da-da'.
The BBC interviewed Leanne Howlett, who gave birth to a daughter in March 2020, during the first lockdown. Poor woman.
She said (emphases mine):
"Overnight, home appointments [from the perinatal mental-health team] dropped away," she remembers.
They would be over the phone instead, she was told, causing her panic about how she would cope.
Nurseries were closed, she couldn't see family and getting through the basics of each day was a huge struggle.
"I dipped to rock-bottom," says the 34-year-old.
"You cannot bring yourself out of it – you think everyone is better off without you" …
Leanne started to feel better last summer, when childcare bubbles were allowed and her husband took time off work, but she believes the impact on her daughter, Miley, now two years old, has been profound.
"She is not at all sociable – she didn't see anyone but us until she was nearly one.
"All those missed activities, photos, and all those firsts," laments Leanne.
When she did go to her first baby group, all the mums wore face coverings, she says.
"My baby's first word was mask."
Black taxis
Prior to the pandemic, Uber was more popular than the traditional black taxi, especially in London.
In fact, Uber drivers from as far away as Manchester drove to the capital every weekend to reap the largesse.
On October 30, The Guardian posted an article on the new-found success of black cabs: 'Black cabs roar back into favour as app firms put up their prices'.
It begins with the story of a young man who had been stood up by Uber and another app-oriented service, Bolt:
The young man was frantic, trying to get to a third date with a woman he already knew he wanted to marry. But four Bolt drivers had let him down, and when he tapped his Uber app, it was asking for triple surge pricing. In desperation, he did something he'd never done before – flagged down a black London taxi.
"He was trying to open the front door to get in. He wanted to give me a postcode – it was the usual thing you get from the ones who've never been in a cab before," said Karen Proctor, a London taxi driver for more than a decade. "I told him 'the postcode's not going to help – just tell me where you want to get to'. It was a restaurant. And we got there seven minutes early, at about a third of the cost. He was converted."
Tales like that are why, after nearly a decade of Uber-induced gloom, things are looking up for cabbies. Trade has roared back into life since the end of Covid measures in July, with many talking with some astonishment about their best-ever takings.
I hope the marriage proposal met with success.
I am a big champion of black taxis. London drivers have to pass a three-year course called The Knowledge, where they regularly go in at least once a week to be quizzed by a veteran taxi driver on how to get various places in and out of the capital. This requires memorising routes, including all the requisite street names. I saw a three-part documentary on it several years ago. It looked and sounded daunting.
During lockdown, some black taxi drivers sold their vehicles and left the road for good. Some firms are buying up those taxis and renting them out to licensed drivers:
While drivers with a cab talk of people running towards cabs when they stop to let out a passenger, arguing about whose taxi it is, or queues of 100 people outside Victoria train station or Liverpool city centre, there are plenty of licensed drivers without a vehicle.
"People are coming to us every single day looking for a cab," said Lee DaCosta, a founder of Cabvision which runs payment systems for taxis and also rents a fleet for drivers who don't own a vehicle. "We're having drivers turning up literally walking the streets from garage to garage going 'got any cabs?'"
Transport for London (TfL) figures show there were 13,858 licensed taxis in London on 24 October, compared with historic levels of about 21,000.
The rapid decline is partly due to Covid. During the pandemic, when drivers had no prospect of earning money and some were ineligible for government support, some were forced to sell their cabs and take up other jobs. It led to the sight of hundreds of cabs being stored in unused car parks and fields around London.
But some of the decline pre-dated the pandemic, and DaCosta says TfL's policy of forcing older, diesel taxis off the road has not been accompanied by enough support for electric cabs.
As Uber demand returns to normal, however, drivers are fewer on the road than before. Some were EU nationals who went home and never returned. Others have opted to drive delivery vehicles instead.
No doubt everything will stabilise in time.
COP26
It appears that COP26 did not do much for Glasgow's hospitality sector.
On Wednesday, November 10, The Times reported that the anticipated uplift didn't happen. The conference ends this weekend:
While hotels across Glasgow are fully booked to accommodate the thousands of delegates, the hospitality trade is understood not to have seen any uplift in trading since the event began on October 31.
There are even suggestions the event has led to a reduction in trade for some operators. Footfall in the city centre is said to have been affected as people try to avoid the demonstrations.
There is also thought to be a number of delegations which have stayed outside of the city, with Edinburgh hotels among those which are busy.
Oli Norman, whose Ashton Properties owns venues such as Brel and Sloans, said he had heard of some publicans and restaurant owners who have seen their trading fall by up to 50 per cent, and added: "It should have signified a resurgence in the local economy but if anything it has been a damp squib."
Fishing wars
Any Englishwoman hoping to keep relations smooth with the French during the fishing wars in the Channel would do well to support her adopted country, as Samantha Brick, who lives in France, wrote in The Telegraph:
"Fishing wars" isn't a phrase I'd ever suppose would have an impact on my marriage – or indeed on my status in France – but in these strange times I suppose I shouldn't be surprised.
After I recently strutted through arrivals at Bergerac airport I was pulled up sharp at passport control. While my documents were checked, I was casually asked what I thought about the issue of French fishing trawlers being unable to go about their business in British waters.
Noting my French passport was still in the hands of the uniformed officer, I swallowed my pride and, after a bit of inconclusive waffle, I was told I should be proud of my French passport and those fishing trawlers. I feebly replied: "Vive la France" …
Not since Brexit has my other half been so fired up about Anglo-French relations. The right to fish is something that the French get very, very angry about. Pascal routinely shouts at the breakfast and lunchtime television (frankly OTT) news reports of the French fishing industry being stymied by brazen Brits and a dozen or so of our fishing boats.
Crustacea, I've learnt, is a French human right. The right to gorge on seafood is taken so seriously that drones and police on horseback are deployed to patrol and protect Atlantic oyster farms.
Her husband Pascal's household does not sound either women- or Anglo-friendly:
My brother-in-law is also married to an English woman. She isn't mad about the dozen or so oysters the family get in per person each Christmas either; note, we Brits have to compare notes outside the home on this as speaking in our native tongue at home is banned.
In fact, food is probably the area of most contention in our marriage …
… the French are pretty rigid when it comes to anything and everything at the kitchen table. There are centuries old traditions and behaviours which have been silently passed down the generations.
In the early days I once stood up, noticed I'd not finished my rosé and then drained the glass. Pascal was in turn speechless and outraged afterwards. This is, apparently, something no French woman would ever do. Women are supposed to nurse just one glass of wine throughout the evening …
… one rule he is immovable on is not clearing your plate. The motto – which is drilled into every house guest – is "you eat what you take". The French cannot abide waste.
Sounds dire.
I don't remember my academic year in France being like that and I was a fairly regular guest in French households, either for parties or for sleepovers concluding with Sunday lunch.
Look before you leap, ladies.
Conclusion
We in the UK are at a strange crossroads at the moment.
Everything we were told not to worry about has become of increasing concern: children's development post-COVID, Glasgow's resurgence during COP26 and the nothing-to-see-here fishing wars. At least the taxi trade is prospering.
By the way, that's Jersey as in the Channel Islands, not New Jersey.
The 200th anniversary of Napoleon's death was May 5, 2021.
A solemn commemoration was held at Les Invalides in Paris:
A number of Metro and railway stations in Paris are named after Napoleon's victories:
French president Emmanuel Macron was always a keen student of history, particularly Napoleon.
Britain's Prime Minister Boris Johnson is also a keen student of history, especially of battles that took place in antiquity.
Now we have a post-Brexit situation. France is upset that their fishing boats cannot go in Jersey's waters.
Sky News explains the new post-Brexit rules (emphases mine):
French fishing crews are demonstrating as part of a row over post-Brexit fishing rights.
Under the Brexit trade deal, which came into force on 1 January, EU fishermen continue to have some rights to fish in UK waters as part of a transition period until 2026.
However, under the new rules, EU boats wanting to fish within 12 miles of the UK coast need to be licensed and prove they have a history of fishing in those waters in order to carry on operating.
This includes submitting evidence of their past fishing activities.
Jersey has not granted licences to some of the boats that have applied to fish in its waters.
Ian Gorst, the island's external relations minister, said of the 41 boats which sought licences under the new rules last Friday, all but 17 had provided the evidence required.
"The trade deal is clear but I think there has been some confusion about how it needs to be implemented, because we absolutely respect the historic rights of French fishermen to fish in Jersey waters as they have been doing for centuries," he said.
"I do think a solution can be found. I am optimistic that we can provide extra time to allow this evidence to be provided."
The French government has also expressed its anger at what it said were unilaterally-imposed conditions on the fishing licences, including the time French fishing vessels could spend in Jersey's waters.
Jersey said it had issued permits in line with the terms of the post-Brexit trade deal.
The Jersey Evening Post reported:
Don Thompson, president of the Jersey Fisherman's Association, said Jersey had been 'quite generous' in its licensing scheme and described France's response as an 'over-reaction'.
He said: 'The EU have signed up to the [post-Brexit] Trade and Co-operation Agreement which states that Jersey must recognise the extent of previous fishing in our waters. The restrictions on the new licences cover what the French were already doing in our waters and are only preventing them from expanding their fishing efforts, which is needed if we are going to have sustainability in our waters.
'A point that is being missed is that Jersey boats do not have licences to fish in French waters – we are restricted to our own territorial waters while they can use ours, if any restrictions are placed on their own.'
Mr Thompson also highlighted how the approved 41 French vessels had been given a licence for free and urged Jersey's government not to give in to the French.
'Our boats would be charged £250,000 if they were to have something similar. Our advice to ministers is that they should not capitulate to these intimidation and bullying tactics that are being used,' he said.
'If we do capitulate now then they are just going to do the same thing every time we try to apply some form of management to make our waters sustainable.'
An oyster farmer from Jersey, mentioned in the headline, disagreed.
France threatened to cut off the electricity supply to Jersey. They have since backed down. Jersey Electricity said that customers did not have to worry:
On the evening of May 5, Guido Fawkes posted:
A reader responded:
These were the headlines on May 6:
They are armed fisheries protection vessels, or river class ships:
I wonder if the Royal Marines will use their new jetpack technology (videos here and here). It enables a Royal Marine to fly up to 12,000 feet in the air and up to 80mph:
As I write, these were the developments on Thursday, May 6. HMS Tamar, recently repainted with 'dazzle' camouflage, set sail for Jersey that morning:
We're in 2021 and not 1588 (sinking of the Spanish Armada), but, even so, there is a frisson of excitement about this:
France responded by sending two of their ships:
Guido Fawkes has more on France's reaction:
Guido's post says (emphases in the original here):
The head of the joint Normandy-Brittany sea authority has declared they are "ready for war" and "can bring Jersey to its knees" as tensions continue to ramp up between the UK and France over Jersey at a dizzying pace. War with France can only help Boris's 10 point poll lead…
Responding to two navy vessels being sent by Britain to patrol the situation last night, Macron has retaliated by sending one of his own military boats, to join 100 French fishing vessels blockading the harbour. A French minister has said the country "won't be intimidated" by British manoeuvres …
A military historian posted a thread about French fishermen protesting in Jersey:
This morning, a Jersey resident re-enacted an ancient battle with the French. He did this in safety, far from the port. Talk show host Jeremy Vine demonstrated how the blockade of the port was unfolding:
It's hard to disagree with this:
Negotiations are now taking place on Jersey between their government and the French fishermen:
The Jersey Evening Post reported:
External Relations Minister Ian Gorst, said: 'We are meeting with French fishing leaders this morning to listen to their concerns regarding fishing rights. There are continuing extensive political and operational efforts with both our local fishing community and French fishing associations, their regional representatives in France, and both the UK and French governments, in order to resolve the current dispute and resume previous good relations.'
A number of Islanders have turned up to watch and police are at the scene.
Although the crews have been setting off flares, the protest has so far remained peaceful.
One French fisherman complained that France has to go through the EU first for any resolution:
That could explain why Charles-Henri Gallois, president of Génération Frexit, is using this disagreement as an argument for France to leave the EU. He says: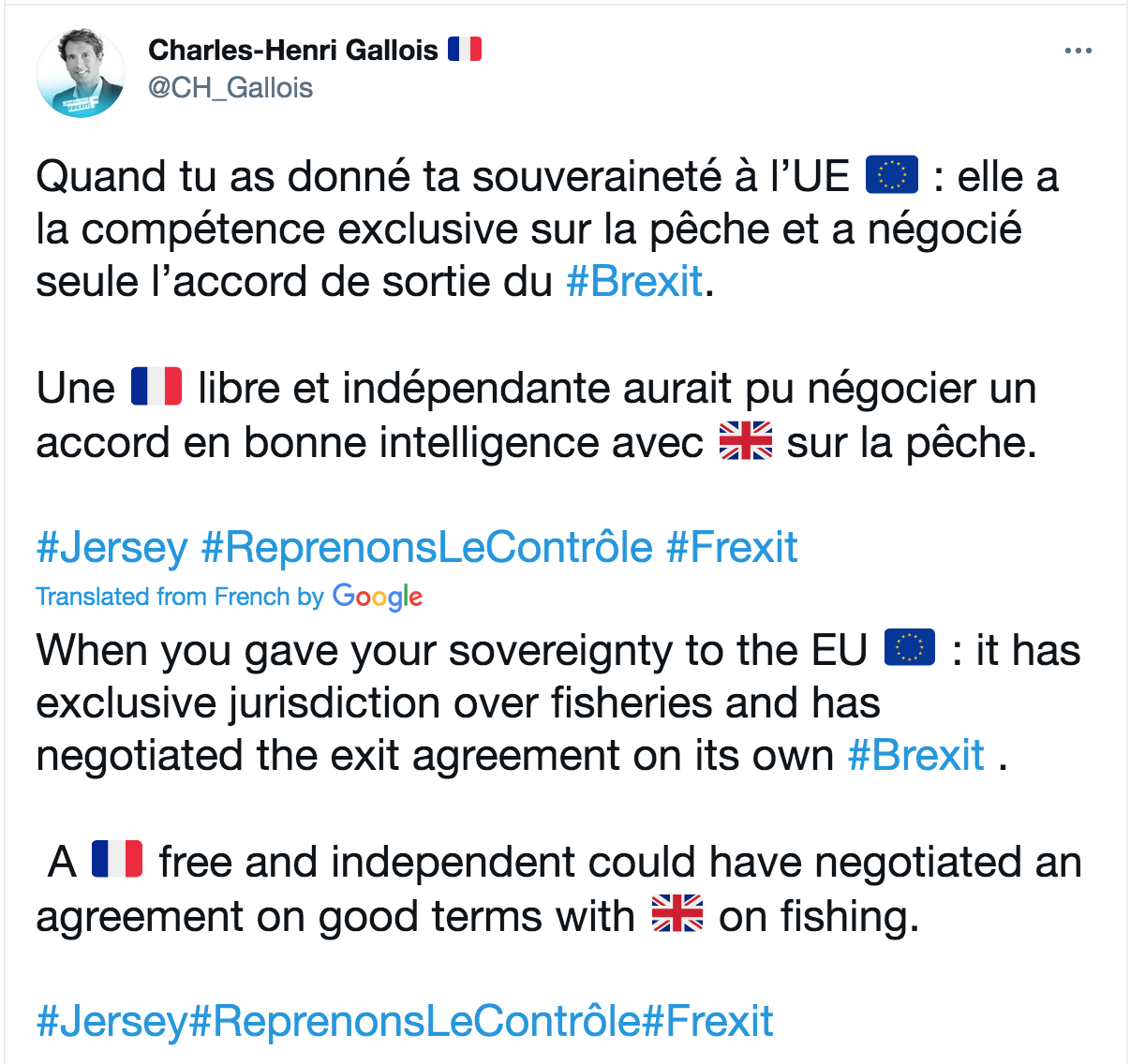 Here's his tweet, which met with an equally Frexit response:
Gallois also posted a link to an article in Les Echos, France's leading business newspaper, which says that the UK was able to handle their coronavirus vaccine rollout with 'great efficacy'. Gallois says that a free country which is independent is always more effective than one which is bureaucratic, slow and with divergent interests. He adds that, if one adds the totally antidemocratic aspect of the EU, one should not hesitate a single second to leave:
I wish Charles-Henri Gallois and Génération Frexit all the best in their pursuit of a France free from the EU.
Meanwhile, one wonders if the French are aware that today, Thursday, is England's local election day. As Guido says, this can only help Boris and the Conservatives.
UPDATE: IT ENDED BEFORE IT EVEN STARTED.
By dinnertime, the French fishermen had left Jersey:
Boris declared victory:
This is Guido Fawkes's version:
Guido reported:
The PM has hailed the end of the third battle of Jersey, understatedly calling the matter "resolved" after the 100 French fishing boats ran away earlier this afternoon.
The announcement comes as No. 10 says the two Royal Navy vessels will depart the island's waters in the coming hours, though will remain on standby in case Jersey once again finds itself in an hour of need. In the words of Maggie, just rejoice at that news, and congratulate our forces and the marines…
Many thanks to all involved in resolving this situation quickly. Even a small nuisance can be a lingering irritant if left to fester.
While much of the UK is in some sort of coronavirus lockdown — England is now in the new Tier 5 — let's cast our minds back to Christmas Eve 2020.
An imminent announcement was rumoured by news channels from the early morning.
Christmas Eve morning — in our household, at least — provided more excitement than Christmas Day, particularly since our area were in Tier 4 at the time, forbidding anything but the briefest of visits.
As December 24 unfolded, there was no final trade agreement enabling the United Kingdom to terminate the Brexit transition phase, scheduled to end at 11:59 p.m. Brussels time, on December 31.
Mid-afternoon, Sky News announced that there would be no statement that day. We stayed tuned in, which was just as well, because a short time later, they changed tack and said that that EU Commission president Ursula von der Leyen and British Prime Minister Boris Johnson would be making separate statements about a deal having been struck.
Amazingly, as Sky News announced there would be no announcement, this independent journalist called it correctly. Well done:
Guido Fawkes's team, who run the best British political website, had been primed for this from the week before. Tom Harwood went the furthest and had worn his Merry Brexmas jumper (pullover sweater) in their news wrap up video on December 18:
Around 3 p.m., Ursula von der Leyen made her announcement from Brussels. Boris made his from No. 10. While Ursula and our chief EU negotiator Michel Barnier were downbeat, Boris was positively euphoric:
His tie had a fish motif:
Fishing was the sticking point that caused the delay to an agreement being reached:
In the end:
Leavers are very grateful to Lord David GH Frost for his tireless efforts in negotiating on the UK's behalf. Words cannot describe how hard he has worked on our behalf:
This was Boris's announcement about the new trade deal with the EU beginning on January 1, 2021. Guido Fawkes has a written summary (ignore the photo, which was not one from December 24):
It was on as even terms as possible. Both von der Leyen and Barnier acknowledged that we were 'tough' in our negotiations. Good.
Michel Barnier is in the first video:
Michel Barnier spoke after von der Leyen. Thank you, Michel:
Here he says that the UK has chosen to leave the European Union and the single market. The new agreement is the basis of a new partnership, one that is fair and equitable:
The woman on the right in that photo moderated the session, which included a press conference.
More highlights follow.
Journalist Dave Keating has an excellent thread, which he introduced with the reference to white smoke appearing at the Vatican when there is a new pope:
Boris's usual critics doubted the 'Canada-style' description, until they began analysing the text. Some admitted on air and in print that it was, indeed, a Canada-style agreement.
The Telegraph had more on the agreement:
Boris sent a three-page letter to each MP and peer.
Contrary to what Boris said, the agreement was 1,246 pages long. Annexes and footnotes probably accounted for the extra length. You can read the full text here, using the links at the bottom of that page:
I couldn't agree more with the poll results.
I also fully agree with the PM that Brexit dragged on long enough:
Agree.
We will always be European.
We love our European friends and family.
However, the EU construct, as it evolved from a common trading area to a common army (developing) and lack of national autonomy, were steps too far for 52% of the British public. Here's a case in point: the EU Parliament — individual MEPs — won't even be voting on this deal until early 2021. We left at the last minute of 2020. This proves further that the only EU decisions that matter come from the EU Commission.
After the announcement of the new EU-UK trade agreement, reactions poured in.
First, here's a reaction from a member of the general public, a Leaver. I felt the same way:
Nigel Farage — without whom we never would have had a referendum (thanks again, Nigel!) — approved, even though the deal isn't perfect:
David Cameron, who was PM at the time of the July 23, 2016 referendum, said:
Theresa May, Cameron's successor and MP for Maidenhead, who ended up resigning over her poor handling of Brexit within Parliament, must have tweeted this through gritted teeth:
Conservative MP Mark Harper was unique in thanking Lord David GH Frost — Barnier's British counterpart — who negotiated so well. Harper — one of the good guys — said that he would look forward to reading through the agreement over Christmas ahead of the December 30 vote.
Another Conservative MP, Chris Heaton-Harris, said, that contrary to negative reports circulating in the media, no MP objected to studying the agreement over Christmas.
The leaders of the devolved nations — Scotland, Wales and Northern Ireland — also reacted to the news.
Scotland's Nicola Sturgeon said that Brexit is happening 'against Scotland's will' and issued yet another plea for Scottish independence.
Another socialist, Mark Drakeford, the First Minister — Prif Weinidog — of Wales, offered a more balanced assessment. Perhaps he recalled that most Welsh voters wanted Brexit. Drakeford said that it wasn't the deal hoped for (probably not enough links with the EU) but was workable.
Northern Ireland's First Minister, Arlene Foster (DUP), said that, provisionally, the agreement looked like 'good news' and issued a full statement on it.
Kate Hoey, the former Labour MP for Vauxhall (London) and the current Baroness Hoey of Lylehill and Rathlin in the County of Antrim, was a staunch supporter of Brexit and was one of the main Leavers in 2016 on the public stage. Even though her heart is in Northern Ireland, her homeland, she participates actively in the House of Lords. She had this to say about the agreement:
Her friends at Labour Leave were equally relieved:
Emmanuel Macron, France's petit président, played the tough guy. In one tweet, he said that European unity and firmness paid off; the agreement with the UK had to protect France's citizens, fishermen and producers. He assured them that this was the case, pointing towards a Europe that is sovereign and strong. In a second tweet, he thanked Michel Barnier for his tenacity and engagement in defending European interests and unity. He also said that, thanks to von der Leyen, European solidarity showed its force.
That evening, Boris posted his Christmas message. The first half is about coronavirus. The second part is about Brexit:
That day, all 52% of us wanted to focus on was this great achievement — a happy one, brightening a coronavirus-dominated Christmas:
The second day of Brexmas will follow tomorrow.
The UK-EU deal deadline looms.
With fewer than 100 days left, October is a decisive month:
On October 8, The Independent reported (emphases mine):
So what are the chances of a Brexit trade deal between the UK and EU before the end of 2020? Michael Gove told MPs on Wednesday the chances were around "66 per cent" – while No 10's negotiator also sounded relatively upbeat.
But EU officials are sceptical about the shift in tone from Downing Street, claiming the UK side was "pushing a sense of positivism and momentum, but we just don't see it".
One Brussels official has told Politico: "We are seriously questioning their tactic and why they are sending these kinds of messages as there is no deal in sight at all at this point.
"There's clearly a spin that the UK wants to get out there: a deal is within reach, only fish is still a problem. That's complete nonsense, as a deal on none of the EU's red lines is nowhere in sight at this stage."
Well, we'll see.
This is what our chief negotiator David Frost had to say on September 13:
On Friday, October 2, he issued a statement after Round 9 of the negotiations:
These were constructive discussions conducted in a good spirit.
In many areas of our talks, although differences remain, the outlines of an agreement are visible.  This is true of most of the core areas of a trade and economic agreement – notably trade in goods and services, transport, energy, social security, and participation in EU programmes.  This has however been true for some time.
I am also encouraged that progress has been possible on a law enforcement agreement and that there has been convergence on the structure of the overall partnership.
In other areas familiar differences remain. On the level playing field, including subsidy policy, we continue to seek an agreement that ensures our ability to set our own laws in the UK without constraints that go beyond those appropriate to a free trade agreement.  There has been some limited progress here but the EU need to move further before an understanding can be reached.  On fisheries the gap between us is unfortunately very large and, without further realism and flexibility from the EU, risks being impossible to bridge.  These issues are fundamental to our future status as an independent country.
I am concerned that there is very little time now to resolve these issues ahead of the European Council on 15 October.
For our part, we continue to be fully committed to working hard to find solutions, if they are there to be found.
In any event, by now, 'no deal' might not be such a big deal, given the replies to this tweet from a London Assembly member:
One wonders if the UK and EU negotiators are aware of the following:
On Tuesday, September 29, the third reading of the Internal Market Bill passed the House of Commons:
It then went to the House of Lords:
Most of the Lords are Remainers, so what happens if they reject it?
The first reading of the Internal Market Bill in the House of Lords, a brief formality, took place on Wednesday, September 30.
The following day, Ursula von der Leyen, the president of the EU Commission, said that legal proceedings against the UK were underway:
This is not unusual:
The bill's second reading in the Lords, which includes a debate, takes place on October 19.
On October 6, news emerged that European leaders want Prime Minister Boris Johnson to get involved in talks:
There's a Boris alert in tweet 3:
Things are tricky at the moment:
The thread ends with another call for Boris to get involved:
However, another commentator thinks that the request for Boris to get involved reveals the EU's panic:
On September 17, Guido Fawkes explained what would happen in the worst case scenario involving EU negotiations and rejection of the Internal Market Bill in the Lords (emphases in the original):
There it faces not only opposition from a lawyer-stuffed house dominated by non-Tory remainers Peers, but also Brexiteers like Michael Howard who have today refused to accept the compromise. One Lords source tells Guido that after the Commons won a concession the Lords will expect something now too…
In reality, the Government is considering a likely defeat. A senior source tells Guido that in the event the Bill is rejected by the Lords then the Government would have to convene a new session of Parliament in order to 'Parliament Act' the legislation through without the Lords' consent. To convene a new session the Government would have to prorogue Parliament again (Because it went so well last time)…
If the EU fails to engage constructively by Boris's 15th October deadline, talks will be cut off. After that date, heading for no FTA, the UK will either seek to escape the jurisdiction of the Withdrawal Agreement by declaring the EU did not act in good faith, or act more decisively to start a new session of Parliament to get the Internal Market Bill past the Lords. Or both.
Meanwhile, on the upside, Marshall Aerospace has won a huge contract with the United States Marine Corps:
On September 30, the UK and Norway reached an important agreement on fishing.
DEFRA (Department for Environment, Food and Rural Affairs) announced:
The UK has today signed an historic fisheries agreement with Norway – the UK's first since leaving the EU and first as an independent coastal state in 40 years.
The Fisheries Framework Agreement signed today by Environment Secretary George Eustice and Norwegian Fisheries Minister Odd Emil Ingebrigtsen will mean that the UK and Norway hold annual negotiations on the issues of access to waters and quotas.
It is a significant step forward as the UK prepares to leave the EU's Common Fisheries Policy at the end of December. Leaving the EU means the UK is able to decide who can access its waters and on what terms, in the best interest of its marine environment and its seafood and fishing sectors.
The agreement demonstrates the shared will of the UK and Norway to cooperate as independent coastal states and seek effective and sustainable management of their fisheries. The treaty incorporates the same principles that the UK is currently seeking with the EU – a framework agreement which reflects the UK's and Norway's rights under international law.
The Norwegian government was equally enthusiastic:
– This is a great day! I am pleased that we have reached an agreement with the United Kingdom, which will be an important coastal state and partner from January 2021, says the Norwegian Minister of Fisheries and Seafood Odd Emil Ingebrigtsen.
Arrangements for reciprocal fishing access and the exchange of fishing quotas will be made through annual fishing agreements, as today. Other parts of the fisheries cooperation in the North Sea will, however, need to be regulated by a separate tripartite agreement between the EU, Norway and the United Kingdom.
– I am glad that we now have an agreement that provides a framework for extensive fisheries cooperation with the UK, which is an important country for Norway. The agreement is consistent with our obligations under the law of the sea to cooperate with other coastal states on the joint management of shared fish stocks, in line with modern sustainable management regimes, an ecosystem-based approach and the precautionary principle. We will also maintain our close cooperation with the EU on fisheries in the North Sea. We look forward to putting in place a trilateral agreement between Norway, the UK and the EU on the management of joint fish stocks in the North Sea, once Brexit becomes a reality, said Minister of Foreign Affairs Ine Eriksen Søreide.
The City of London is well positioned as a leading global financial centre:
On September 25, Guido reported (highlights in the original):
London has managed to significantly close the gap on New York in the competition to be the leading global financial centre, gaining 24 points in the latest Global Financial Centres Index and leaving the capital just four points behind the Big Apple. Despite Brexit and Corona…
The 24 point jump is by far the largest of the top 20 index, with Shenzhen seeing the second-highest rise of 10 points to 9th place. On top of London's triumph, Edinburgh has also risen two points 14th place. The best the EU can muster is Luxembourg in 12th place and Paris in 18th. Shanghai, which remains in 3rd place, was previously only 2 points behind London, however has now opened up a -18 gap…
On September 23, Labour leader Sir Keir Starmer told ITV's Robert Peston that he sees no reason to delay Brexit.
The new leader of the Liberal Democrats, Sir Ed Davey, found that the Britons he spoke with had no appetite to delay our departure. I wonder if he was surprised. A year ago at this time, the Lib Dems were desperate to reverse Brexit and made that the focus of their general election campaign:
On September 13, the UK finalised a trade deal with Japan:
And there's a bit more good news about British beef and the prospect of our joining the Pacific Rim trading bloc:
I truly hope that we do exit from the EU once and for all on December 31, 2020.
That would be a real treat — and accomplishment — in what has been, for the most part, a dreadful year.
This is my final post on the EU Referendum before June 23, 2016.
All my previous posts on the topic are under Brexit. They appear when you click that link.
Emphases mine below, unless otherwise specified.
Two must-see films
Yesterday, I said that I would post two more important films, in addition to Brexit: The Movie.
The first is 35 minutes long and is an independent production from 2008. The late Sir Patrick Moore introduced it. Two journalists, one of whom is The Telegraph's Christopher Booker, an economist and a Russian refugee to the UK made the case for our leaving the EU.
It provides a useful history of the EU in short segments. One of the early segments explains how the EU was designed from the beginning to expand incrementally, step by step, not only in terms of territory but also in structure.
Writer and lecturer Vladimir Bukovsky had the final segment. He saw a direct parallel between the growth and structure of the former USSR and that of the EU. Chilling.
The second film is from Labour Leave. Lexit the Movie is an hour long. It traces the Labour Party's historical opposition to the EU in the 1970s. It also describes how the UK declined by being in the EU.
The fisheries segment is particularly depressing. Important English and Scottish ports, which used to be bustling with hundreds of boats and hundreds of fishing industry employees, have shrunk to a handful of vessels and a few dozen workers. The fishermen who came of age in the 1970s tell their stories most ably.
Labour politicians, union leaders and workers explain why leaving the EU will benefit Great Britain. I strongly encourage my Labour-leaning readers to take an hour out of their day to watch this. Kate Hoey is in it. She is a remarkable politician. George Galloway and Jim Sillars are also interviewed. Keep in mind that those three entered politics around the time of the first referendum in 1975 (see next part of the post), so that experience no doubt formed their thinking on the subject. All make excellent points, even though I am not at all keen on Labour or George Galloway.
Several of the people interviewed said the big banks, such as JP Morgan, are the ones encouraging Remain, because that is what would benefit them.
Two short clips and some history
Labour – 1970s
In 2013, not long before his death, the former Labour MP Tony Benn addressed the Oxford Union and discussed the EU, which he said would
frighten and demoralise people
into remaining. This clip is two and a half minutes long. Again, I was never a Benn fan, but he was spot on regarding Brussels:
Benn spearheaded the effort to give the British people their first referendum on EU membership in 1975. He warned how dangerous remaining would be. And so it has proven 41 years later.
Unfortunately, people were so fed up with the antics of Labour in general under Harold Wilson's second term that the party did themselves no favours. Even today, people aged 50+ have vivid and unpleasant memories of strikes, three-day working weeks and limited electricity. This discontent ran from 1973 through to 1979. This is why Margaret Thatcher took such a tough stance when she won the 1979 election. She also actively campaigned for Britain to stay in the European project in 1975.
As a result, the British voted overwhelmingly to remain in the Common Market, as it was known at the time. Not surprisingly, everyone believed it would remain a trade-based construct. The truth was in the name, wasn't it?
Now it is called the European Union, with a bevy of unelected officials and highly-paid bureaucrats who want to break down the nation state and replace it bit by bit with a centrally-controlled federation run by anonymous, unaccountable men and women who influence our law-making and destroy our distinctive history.
Luxembourg's Jean-Claude Juncker exemplifies this perfectly. The Telegraph has a few of his most outrageous quotes, which include the following (emphases in the original):
"I'm ready to be insulted as being insufficiently democratic, but I want to be serious … I am for secret, dark debates"
On British calls for a referendum over Lisbon Treaty
"Of course there will be transfers of sovereignty. But would I be intelligent to draw the attention of public opinion to this fact?"
Are Remainers understanding the bigger picture now?
Norway – 1994
On June 20, BBC's The Daily Politics had a short feature on the pressure put on Norway to vote to join the EU in 1994.
Jo Coburn interviewed Norwegian politician Anne Tvinnereim, who described the Project Fear rhetoric. Much of what she cited sounds exactly like what the Remain camp have been telling us 22 years later — especially the figure that each household would lose per year in income.
Tvinnereim said that Norwegians heard they would be a small, meaningless country; they would never have trade agreements again and they would experience long-term financial disaster. Of course, none of that happened. The Norwegians wisely declined to join the EU and are part of the EEA. Tvinnereim said that the agreement is not perfect, but it is workable for the time being. Kate Hoey was on the panel and said that, if Britain votes Leave, the EEA could have subsequent scope for reform. Hoey, incidentally, stated that she does not believe Britain needs to be part of the EEA or any other formal trading bloc.
Who's saying what
Now for a round-up of the latest soundbites.
George Soros – Remain
Amazingly, The Guardian had the chutzpah today to lead with an article written by, of all people, George Soros.
It seems he is their latest and best poster boy for Remain.
Unbelievable.
If that doesn't want to make you vote Leave, I don't know what will.
Physiocrat, a Catholic blogger from Britain who lives in Sweden, dismantles Soros's reasons for Remaining and asks:
I wonder how much Soros stands to lose from a Brexit vote?
Indeed!
Theo Usherwood, London's LBC radio Political Editor tweeted:
Market speculation – George Soros… Job creation – Anthony Bamford, James Dyson, says Boris Johnson.
Just so.
Emmanuel Macron – Remain
On June 17, France's economy minister Emmanuel Macron said that if Brexit wins:
Leaving the EU would mean the 'Guernseyfication' of the UK, which would then be a little country on the world scale. It would isolate itself and become a trading post and arbitration place at Europe's border.
Gosh, that sounds remarkably like what Anne Tvinnereim said Norway was threatened with!
We've been the world's fifth largest economy since 1970 — well before our accession to the EU!
Macron, who previously worked for Rothschild, told France's RTL radio:
the June 23rd referendum was "dangerous" and that Britain had "taken the rest of the European Union hostage".
David Beckham – Remain
David Beckham says we should think of the children.
Victoria Beckham – Leave
Victoria Beckham, mother of David's children, supports Brexit:
The Euro bureaucrats are destroying every bit of national identity and individuality. We must keep our national individuality.
Steve Hilton – Leave
Steve Hilton, former adviser to David Cameron, whose views I wrote about on May 27, said today that reducing the immigration numbers is impossible as long as we stay in the EU:
I remember the meetings on immigration towards the end of my time in Downing Street. Everyone around the table, in some way or another, was working hard to try to deliver the government's commitment.
We were presented with analysis of the numbers of people coming to Britain through various routes, the impact of policy changes we had already made, and projections stretching into the future.
The news was not good. We were way off target; indeed, the numbers were going in the wrong direction. We explored various policy options — and I'm sure that process continued after I left the government in May 2012. But I recall very clearly one of the points that was made to us by the expert officials in the room.
We were told, directly and explicitly, that it was impossible for the government to meet its immigration target as long as we remained members of the EU, which, of course, insists on the free movement of people within it.
Theo Paphitis – Leave
Theo Paphitis, entrepreneur and star of Dragon's Den, favours Brexit:
though he added short term gaps in employment should be filled by immigration.
He said: "A trading alliance is really, really good."
But the businessman, who was born in Cyprus, added: "It has moved more towards federalism than trading, which has brought bureaucracy that makes it difficult to be competitive outside the EU – and also within the EU."
The big question
I shall leave British readers with the following question, which Leave proponent Conservative MP Andrea Leadsom put forward in the ITV debate a fortnight ago. Christopher Booker reprised it for The Telegraph:
if we weren't already in it today, is it conceivable that we would now wish to join the European Union as it has become?
Please take the time to read his article in full.
I'll have more post-referendum once the dust settles.
There is so much to write about the EU Referendum that it would take days.
However, here is a penultimate post with a set of topics to consider before voting on Thursday, June 23.
Tone of the arguments presented
The Chancellor of the Exchequer, George Osborne, has threatened the UK with a 'punishment' budget if we vote Leave.
This makes no sense because we already have our budget for the year and, even if Leave wins, we are still fully part of the EU for the next two to four years until the government negotiates our full exit.
Therefore, one can conclude only that this is the final scare tactic of Remain's Project Fear.
One of the comments following The Guardian's story on the 'punishment' budget makes excellent points about the way both Remain and Leave presented their respective arguments (emphases mine):
LEAVE is about hope, independence and a national identity our children can be proud of. REMAIN, is all about fear, threats and bullying. In the history of the UK peoples, when have we ever given in to threats and fear? Because the electorate simply WON'T do as our elitist, privileged superiors tell us. They threaten Armageddon, they use fear for they lack reason and honesty. The Guardian is legitimising FEAR as a means to subdue a democracy. Wonderfully liberal, precisely what the wealthy, know best political elites have done for decades. A vote to remain, is a vote for the same. Or we refuse fear, we refuse bullying, we vote to leave and raise two defiant fingers to their smug arrogant faces!
Five questions the government won't answer
The surge in EU migration to the UK in recent years has raised questions in people's minds — sometimes prompted by television documentaries, newspaper exposes or personal observation — about UK benefit money sent abroad. Child benefit figures prominently.
On June 15, the Daily Mail had an article describing how four Conservative MPs have accused Cabinet Secretary Sir Jeremy Heywood of showing 'contempt for Parliament' by refusing to reveal the amount of child benefit sent to other EU countries.
The MPs have accused Sir Jeremy of politicising the civil service in order to protect Prime Minister David Cameron's Remain campaign. Other ministers are also implicated.
These are the five questions the government refuses to answer:
Q. To ask the Secretary of State for Education, what her policy is on taking account of the effect on the demand for school places caused by immigration (a) in general and (b) from nationals from other EEA countries.
A. It has not proved possible to respond in the time available.
Q. To ask the Chancellor of the Exchequer, what estimate he has made of annual claims made for (a) tax credits and (b) child benefit by EU nationals who remain in the UK for less than one year in each of the last three years.
A. The information requested is not available.
Q. To ask the Chancellor of the Exchequer if he will estimate the cost to the public purse of child benefit payments paid to non-UK citizens in each financial year since 2010-11.
A. Around 7 million people are receiving Child Benefit. To extract and collate the value of all payments made to EU migrants for children living outside the UK in the format requested could only be provided at disproportionate cost.
Q. To ask the Secretary of State for Health, how many nationals of other EU member states registered with a GP in each of the last 10 years.
A. The requested information is not collected centrally.
Q. To ask the Secretary of State for Work and Pensions, how many people from other EU member states were in receipt of housing benefit in each of the last 10 years; and what the total cost to the public purse was of those people claiming that benefit in each of those years.
A. The information requested is not available and could only be provided at disproportionate cost.
Conservative MP William Wragg co-ordinated the written complaint, supported by fellow MPs Bernard Jenkin, Anne Main and Karl McCartney.
Wragg said:
The public will be appalled and surprised to learn that the Government refusing to tell us how mass uncontrolled migration from the EU is affecting these vital public services.
Remaining in the EU means that there will be more demand on the NHS, more pressure on schools, more pressure on social housing, and more costs to taxpayers in benefits being paid to EU migrants, some of whom send benefits home to their children who do not even live in the UK.
However the public will be shocked to see that the Government either don't care, or lacks the courage to admit this.
The Cabinet Office had no comment.
Fishing stocks and quotas
On June 15, an early evening edition of Question Time on BBC1 featured Justice Secretary Michael Gove answer questions from the audience about his case for Leave.
Nearly all the questions he received were from people who backed Remain.
At one point, Gove brought up the control we would have over our fishing stocks. He described how his father had to close his own fishing business in Aberdeen in the 1980s because of EU rules. Notional moderator David Dimbleby said that was untrue, because The Guardian had interviewed Gove's father who said EU regulations had nothing to do with it per se. There were a myriad of local factors which caused him to wrap up his company.
Gove accused The Guardian of misquoting his father. The paper then reprinted the full transcript of the reporter's conversation with Gove Sr. The Mail reported:
After the newspaper approached the Cabinet Minister for reaction to his father's remarks, a clarification was issued.
Mr Gove Snr said he would be voting Leave and was proud of his son for standing-up for people who lost their jobs due to the EU.
"I don't know what this reporter is going on about," Mr Gove Snr said, according to The Guardian.
"Everybody in the north-east knows it was Europe that did such damage to the fish trade. The common fisheries policy was a disaster not just for Aberdeen but all of Scotland. There wasn't any future for my business. It closed as a direct result of Europe," the statement added.
However, how did the UK get into such a situation? A 1996 article from The Independent provides the answers. Excerpts follow:
Everyone agrees that too many European boats are chasing too few fish. Britain, along with other EU states, has agreed three Europe-wide programmes to pay off fishermen and scrap their boats. But the British Government refused at first to fund its share (30 per cent) of the compensation, so for many years the scheme was not available to British fishermen.
Why not? The Treasury blocked the scheme because it would have reduced the annual UK budget rebate from Brussels. Whatever the EU spent on paying off British boats would be deducted from the celebrated Thatcher cash- back scheme, which reduces Britain's net budget deficit with the EU. The Government preferred to spend both its money, and the EU money, in other ways. Fisheries were not a priority.
Spanish and Dutch fishermen became a problem during the 1980s because of the way the British government allowed our fishing boats to be sold and the rights that went with the sale:
British trawler owners sold their boats to the Spanish and Dutch. Or in some cases they sold them to British brokers, who sold them to the Spanish and Dutch. Why? Because they were offering the best price.
The main alternative – EU scrapping grants – were not on offer in Britain. Why were the foreign skippers so keen to buy British boats? Because under British, not EU, regulations, if you bought the boat, you also got the licence to fish and a guaranteed share of the national quota.
It is a purely British government policy to break down the national quota boat by boat, and allow the sale of quotas, in this way. Other EU governments have other ways of enforcing (or in some cases failing to enforce) the Common Fisheries Policy.
In case of a Leave win, this would be renegotiated. One would hope so. Two suggestions follow, although both have a direct negative impact on British fishermen and fleet owners:
Britain could, for instance, insist that all British fishing boats must land a proportion of their annual catch (say, 30 per cent) for sale or processing at a British port. Until now, the Government has declined to do this. Why? Because many Scottish boats, in particular, like to sell their catches directly to Spain or France, where prices for some species are much higher.
Alternatively, EU officials say, the Government could introduce a law insisting that the crews of "British" fishing boats be covered by British social security and health insurance. This would drill several holes below the waterline of the economics of quota-hopping.
The Government has been reluctant to follow this up. Why? Because it would impose a new burden of regulation on British fishermen, as well as quota-hoppers. Many British fishing crews, who operate on a casual basis, would have to come fully into the social security system.
The television documentaries I've seen on fishermen over the past two years show them being paid in cash. Some of these men are regular crew. Others are occasional workers.
Fleet owners continue to sell directly to Europe, not only in Scotland but also in Cornwall.
Changes to either arrangement would be as challenging as they would have been 20 years ago.
Conclusion
No one says that leaving Europe would be easy.
However, is freedom and independence worth a few years of pain?
It is, when we consider the alternative of the EU evolving and expanding with new demands placed on us every year.
No one can accurately predict what sort of Britain Leave would produce.
However, nor can anyone predict what the EU will decide over the course of the next few years.
This is our last chance, Britain! Vote wisely on Thursday, June 23!
Tomorrow: Two must-see films on the EU