You are currently browsing the tag archive for the 'food' tag.
Following on from my news items of November 21, I have more, this time on Thanksgiving, crossword puzzles, technology and health.
Thanksgiving everywhere!
It is hard to disagree with Jordan Cracknell, the American wife of Olympic rower James Cracknell.
On November 22, 2022, she wrote an article for Metro: 'Thanksgiving is a holiday that all Brits need in their lives'.
I couldn't agree more, and I wouldn't restrict it to the UK, either.
The problem is turkey, which the British associate with Christmas dinner. The other problem is the lack of sausage links — chipolatas — which the British associate with turkey and are absent from Thanksgiving dinner.
Not surprisingly, when Mrs Cracknell took her husband to his first Thanksgiving dinner in 2019 at a friend's house:
he grumbled about 'the bastardisation of British dishes'.
Oh, yes. My far better half thought similarly three decades ago.
Now things are different, in both our households. James Cracknell's reaction sums up that of those Britons who taste Thanksgiving dinners and become converts:
By the time we'd eaten, he was in awe of the 'un-Britishly moist and juicy' turkey.
Indeed. Americans can definitely roast turkey to perfection.
His wife writes:
Now, I am firmly of the belief that this American holiday needs to become a British fixture.
Of course, the United States celebrates Thanksgiving in honour of our earliest settlers who learned from the Native Americans to cultivate the land and local livestock. That partnership and its bounty was the focus of the feast. The settlers gave thanks to God for that first harvest.
Admittedly, in Florida, initially settled by the Spanish, the menu might not include turkey. However, most Americans follow the New England menu celebrated in Massachusetts in the 1620s: turkey and corn being mainstays.
Jordan Cracknell explains what Americans give thanks for today. Her second paragraph below explains why I prefer Thanksgiving to Christmas (emphases mine):
Sometimes it can just be having gratitude for being able to see relatives, who might have travelled thousands of miles across the US. Other times we give thanks for our health.
It is as simple and lovely as that, and unlike Christmas there's no exchange of presents. A positive and non-materialistic holiday, where all the family get together, is something that seems to be missing from the British annual calendar …
I'm one of around 166,000 Americans living in the UK, and in my experience, other US expats would also be hard-pressed to give up the holiday …
Since being here, I have managed to convince a handful of UK friends to mark the day by inviting them to dinner. Going in with an open mind, they too have enjoyed it.
Thanksgiving is now James' favourite US holiday, and not just because of the food. 'It just makes sense to have two major holidays back-to-back to spend with family,' he says. 'Why try and fit it all in over Christmas where inevitably someone gets disappointed?'
I agree – and there are also a lot of benefits to having a holiday where the focus is merely on giving thanks and spending time with your family.
She is the descendant of one of those first settlers in Massachusetts who arrived on the Mayflower and learned from the Wampanoags (pron. 'Wom-pa-nogs') how to cultivate the land. As she says:
My ancestors would have starved to death without the help of the Wampanoag people.
True!
There are two other advantages to Thanksgiving, for me, anyway. First, turkey is out of the way for another year, enabling us to eat goose at Christmas. Secondly, it is the start of the holiday season, so we start decorating the house for Christmas in the days that follow.
The Telegraph's new Cross Atlantic crossword
Speaking of things American, The Telegraph is introducing a new crossword puzzle called Cross Atlantic.
The article says that The Telegraph was the first British paper to feature crosswords, an American creation. That was around 100 years ago:
It is that rare treat: a new puzzle, to be published every weekend and daily online, in our own Telegraph, a newspaper that knows a thing or two about the genre, having delivered its first crossword to readers almost a century ago, years before Fleet Street rivals cottoned on. The name of the new game gives a hint of its origins: American crosswords whose clues engagingly blend wordplay, odd definitions, colloquialisms, general knowledge and current affairs, stretching and testing the brain without the forbidding challenge that the cryptic grid presents to the uninitiated (and which, in the 1940s, prompted Bletchley Park to use the Telegraph crossword as a test to recruit new code-breakers).
The article shows the first Telegraph crossword, which is splendidly symmetrical and a joy to behold, unlike the new Cross Atlantic, which looks ugly by comparison. I can do the original puzzle, which has quick rather than the cryptic clues that are so characteristic of British newspaper crosswords.
My British readers will be interested to know that the geeky comedian Dave Gorman already sets the paper's cryptic crosswords and offers this advice to neophytes like me:
The formulations are unavoidable. The most frequent are hints that an anagram may be involved – using words like 'unsettled' that indicate other parts of the clue are anagrams of the answer. Then there are substitutes for letters. For example, 'sailor' often indicates the use of 'AB' for Able Bodied. Most solutions blend several such elements in directing the reader to a single answer.
I am lost already. I would not connect the word 'sailor' with the terms 'AB' or 'Able Bodied'.
Anyway:
To the inexperienced, says Gorman, all this can seem impossibly complicated, not to say convoluted – an off-putting ritual only for those initiated into its dark arts.
But there is a shortcut, he says, a way that smug solvers rarely mention. This is the fact that each clue contains a simple, straightforward pointer to the whole answer. What surrounds it are small elements of the whole. But if you can find that critical definition, usually at the beginning or end of the clue, you can leap straight to guessing at the answer. Then, says Gorman, 'you can work backwards', to confirm your guess using the other elements of the clue.
Take a poser of which Dave is extremely proud. The elements are as follows: sea eagles are known as ernes. 'Min' is an abbreviation of minimum, or smallest. Golf, as military folk know, is the letter 'G' in the Nato alphabet. And a way, or path, is also a course.
Again, that would not even enter my head.
Continuing on:
Armed with all that, try deciphering the clue: Eagles on the smallest golf course.
Did you get it?
No, I did not.
Here's the solution:
ERNES+THE+MIN+G+WAY. Which may still look baffling. But that's before you add the clue to the whole answer and the number of letters:
Writer eagles on the smallest golf course (6,9) = Ernest Hemingway.
Gorman says that 'it's far from being the best clue I've written but the discovery of it – the idea that a real person's name can also quite sensibly be rendered as a meaningful sentence – is somewhat delightful. There's no wrestling it into submission, adding an initial of something here or the last letter of something there. So it feels like it's been hiding in plain sight for ever. It's like discovering a fossil on a Dorset beach – the setter doesn't invent a clue, they find it.'
I'll leave cryptic crosswords there. Life is too short.
Old technology fans
On Wednesday, November 23, The Guardian had a fascinating article about fans of old technology, from 100-year-old typewriters to Atari. A number of the people interviewed would have been too young to experience the initial rush when these items first appeared.
The comments were equally fascinating. I read them all. It's amazing what people still enjoy and why.
Definitely an article to enjoy on Black Friday, while the rest of the family is out Christmas shopping.
The 'big night out' returns
Thankfully, after two years of pandemic fears, the big night out has returned.
This is the complete opposite to staying in with old tech.
On Saturday, November 19, The Times reported that disco-style skating rinks are this year's hot venue for Christmas parties:
This month has seen the arrival of Flipper's, a vast rink in a disused power station in west London, large enough to house 1,800 guests. Whatever you do, though, don't call it a roller disco — it is a roller "boogie palace", insists the venue, which has become one of the hottest places to host a Christmas party this year …
And it is not the only new skate venue to open in recent months. Two new rinks have opened in Manchester, including Paradise Skate World, which has seen Christmas bookings flood in. It's billed as an intergalactic experience, with tunnels you whizz through on the dancefloor and the option to hire "space visors".
"The obvious route was to go down the retro 1980s style, but we didn't want to regurgitate old ideas," says Chris Legh, the co-founder, who was also behind Junkyard Golf Club, another so-called "competitive socialising" format. This is the term used to describe a phenomenon of the past decade which has transformed the nightlife of many towns. Instead of going out drinking with your friends, you take part in some low-level sporting competition: ping-pong, crazy golf, cricket nets or axe-throwing …
Flipper's is co-owned by Liberty Ross, the model and daughter of Ian "Flipper" Ross, who founded the original rollerskating nightclub in Los Angeles in the late 1970s. It was swifty dubbed "Studio 54 on wheels" because it attracted Prince, Robin Williams, Elton John, Nile Rodgers, Cher and other hard-partying celebrities. It lasted until 1981 before it shut down …
At Flipper's it costs £22.50 for a two-hour session for an adult, including the hire of skates in a funky electric-blue suede.
Legh has another theory as to why rollerskating has become the new party craze: "If you are in charge of your Christmas party and you only have a £30-a-head budget, do you really want to spend £20 of it throwing drinks down your throat? Because so many young people don't drink now, there is still quite a bit of discretionary spending, and skating feels active and wholesome.
"For a couple of hours, it is escapism from the digital world," he adds. "Sure, people will take photos and post them on Instagram, but you can't be on WhatsApp while you're skating."
Partying deplored in 1922
Every generation thinks it is the first to decry partying.
To the finger-waggers, any and every party is bad, especially where seemingly endless alcohol and — gasp! — cigarettes are involved.
On November 23, The Times dug out an article on the topic from its 1922 archive: 'What cocktails, cigarettes and unhealthy meals meant for "society girls"'.
In reality, most socialites, then and now, get parties out of their system early on and settle down with a husband and a family.
But there's always someone, then and now, who wants to make them out to be physical and psychological wrecks.
Such was the case with Dr Agnes Savill, who delivered a lecture on partying socialites a century ago:
Dr Agnes Savill delivered a lecture on "The Dangers of Society to Health" at the Institute of Hygiene last evening. She said that the development of communities was found in the earliest stages of human society, and this gathering together of families to share a common life had many advantages, provided the individuals concerned were of a high grade and had a sound organization.
… the girl who could command her parents' wealth left school for a life of continual excitement which resulted in mental and physical deterioration …
"I have seen some of these girls after a few years of society life aged by ten years and, before the age of twenty, as worn out and nerve-tired as if they were forty.
The hectic life of continual excitement, the absence of all repose, all time for meditation, the perpetual change, the cigarette smoking, irregular and unhealthy meals — no wonder these girls become the prey of disease. And though the physical consequences are disastrous, even of greater importance is the evil effect of this life upon the character.
"Society life is responsible for deficient sleep and consequent deterioration of the nervous system. It encourages the pernicious habit of the too-frequent cigarette. It encourages the girls to take cocktails and whiskies-and-sodas, which ruin their digestion, impair their livers, and upset the nervous system, and it encourages them to take rich foods, which upset the rhythm of the body.
"The ill-health of modern society girls is in a measure the fault of their parents, who have it in their hands to postpone the downfall of our modern civilization."
My diagnosis of Dr Savill? She was deeply envious, as are all killjoys — then and now — who wish to restrain us, young and old, from having a bit of fun.
Most socialites have taken great care of themselves throughout their lives. Very few deteriorate. They cannot. They are in the public eye all the time.
Online gambling 'addiction' damaging young adults
Unlike cocktails, ciggies and rich food, there is a serious phenomenon affecting some twenty-somethings, especially young men on low incomes: the lure of online gambling.
I first read about this phenomenon in a French newsweekly earlier this year. Young lads place bets on sporting events, most often football fixtures, often prompted by frequent texts from gambling firms. Enough young men are going into debt and are sometimes driven to suicide because of it to be a worry.
In fact, the French government is currently running an advert about the lure of online gambling, showing some of the texts those who bet often receive. I've seen them on M6. If they were in English, they'd be something along the lines of:
Hi there, haven't heard from you in a while. Fancy a flutter?
The more the recipient ignores the messages, the more frequent they become, driven by algorithms.
The Times has a good article from November 22 on what is happening in the UK, especially in England. It says that victims also come from the middle classes. Furthermore, young women are also affected:
Health bosses urged betting firms to "think hard about the human cost behind their profits" after a 42 per cent annual rise in demand for NHS gambling clinics was revealed.
Doctors said more patients were attending A&E after losing all their money in online betting sprees. NHS gambling clinics are full of "young men in football shirts" who have fallen foul of "predatory tactics" by betting firms, including a boom in addictive "in-play" sports betting.
The health service will announce tomorrow that it has opened clinics in Southampton and Stoke, adding to a national network of five commissioned in 2019. Figures seen by The Times show that 599 patients have been referred to the service in the past six months, a 42 per cent increase on the same period last year and up 65 per cent from 2020-21.
The clinics offer addiction therapy, including medication usually given to opioid users to reduce cravings. Patients can be sent by GPs or hospitals or self-refer and usually spend several months in treatment. One in three have attempted suicide; 57 per cent report thinking they would be better off dead. There are more than 400 gambling-related suicides a year in England.
Matthew Gaskell, a consultant psychologist and clinical lead at NHS Northern Gambling Service, said that almost all the patients it saw were hooked on online gambling, including in-play betting, which allows fans to bet on every aspect of a live game. He said: "People start gambling as soon as they wake up in the morning; they're gambling in the shower, gambling while they're driving to work. The NHS is picking up the tab.
"There has been an increase in people turning up at A&E in crisis, in a state of suicide. People are completely desperate, begging for help and seeing suicide as a genuine escape." The service opened in 2019 and has clinics in Leeds, Manchester and Sunderland.
With football's World Cup going on as I write, one can only imagine the damage.
The article profiles a 34-year-old woman who developed an online slot machine addiction at the age of 24:
Jennifer, a young mother, spent weeks in hospital and lost custody of her children after her gambling addiction triggered a mental breakdown.
Jennifer — a pseudonym because she did not want to reveal her real name — began gambling a decade ago aged 24, and became addicted to online slot machines, feeling trapped "in a never-ending spiral with no escape".
By 2019 Jennifer had £40,000 of debt and was declared bankrupt. Her mental health collapsed and she was admitted to hospital, with social services taking control of her children …
She has not placed a bet for two years. She said: "The group therapy made me realise there's gambling addicts from all walks of life. By giving me the tools to manage gambling addiction, I've had the platform to rebuild my life financially and it means the world to me to be with my kids again as a happy family."
The article briefly mentioned two young men who took their lives, one of whom was an English teacher:
Jack Ritchie, 24, an English teacher, killed himself in 2017 after six years of battling his addiction to gambling.
Joshua Jones, 23, a talented jazz musician, leapt to his death from a ninth-floor balcony in 2015 after an addiction that culminated in him gambling all his money away and even selling his prized trombone.
I'm not the world's biggest fan of betting shops, but at least, I would imagine, they have some human control. Men who frequent betting shops often have a group of mates they meet up with there. They might tell their friend that he's been betting too much too often. The staff behind the counter are also likely to have a kind word with someone they see a bit too frequently.
Feet rule knees and hips
On November 19, The Times had an instructive article on the importance of our feet and how they affect other parts of our body.
While this is intended mostly for women, sedentary men would do well to pay attention, too:
According to Dalton Wong, the founder of Twenty-Two Training and who has worked with a host of celebrities including Jennifer Lawrence and Olivia Colman, stretching and strengthening the lower limbs can prevent pain in the feet and postural problems elsewhere in the body. Yet most of us neglect to focus on strengthening the 29 muscles of the foot and ankle.
"I am seeing an increasing number of clients coming in with hip, lower-back and knee issues that can be traced back to weakness and instability of their foot and ankle," Wong says. "What so many don't realise is that if you are not working your foot muscles enough, then it is reflected further up the body as ankle, knee and hip joints don't work well." Anatomically, these interconnecting body parts, joints and muscles that work together to perform particular movements are referred to as the kinetic chain. "Our toes, feet, ankles, lower legs, knees, upper legs, hips, pelvis and spine are all part of the body's lower kinetic chain," Wong says. "If one part is weak or out of kilter it has the potential to affect the rest of the chain."
A strong, healthy foot has a moderately high arch, minimal overpronation — rolling inwards — and some natural spreading of the toes. There are four layers of muscle and soft tissue in the feet that help to lock them into position and keep us upright. A team of Harvard researchers writing in the British Journal of Sports Medicine described how the foot has an intertwining central "core" of muscles that work to maintain a naturally raised arch, providing us with the stability needed to hold us in good posture or to support even the most basic movement patterns, such as walking. It follows that misuse of these muscles through, say, lots of sitting or the wearing of ill-fitting shoes can play havoc with foot performance and structure. For starters, too little strength of muscles in the feet can lead to decreased ankle mobility. "If your ankles are stiff and inflexible, you will be less able to transfer weight from foot to foot in a walking or running stride," says Lucinda Meade, a physiotherapist at Twenty-Two Training.
We should be able to flex our toes easily:
Big toe mobility is particularly important for better balance and gait. "If you can't bend and flex the big toe, your posture and functional movement will deteriorate," Meade says. "We should be moving all of our toes, especially our big toes, freely for at least 15 minutes every day."
Walking around in bare feet is also helpful:
Wong recommends that his clients perform some weekly workouts barefoot. "We spend so little time without shoes that even 20-30 minutes a couple of times a week going barefoot is helpful for strengthening the feet," he says. Not that you should ditch shoes for workouts overnight. "It takes time to strengthen the muscles in the feet, so build up your barefoot time gradually, starting with 5-10 minutes daily," Wong says.
Your ability to walk around in bare feet is dictated not just by the feet but by the strength of your glutes in supporting the pelvis and hips, and if these muscles are not strong enough the inside of the foot will collapse if you suddenly go shoeless, Wong says.
At the very least, practise some foot moves for ten minutes each day. "Setting aside some time for your feet will pay huge dividends," Wong says. "And if your feet are tired or tight, roll them on a cold bottle of water to release the fascia underneath the foot."
The article has simple foot exercises that anyone can do.
Who knew the role feet played in governing the body? I certainly didn't.
Egg news latest
And finally, barely a day goes by without a story about Britain's notional egg shortage. My last news post had an article about egg substitutes.
On Tuesday, November 22, The Telegraph reported that supermarkets will be rationing eggs and that the shortage is expected to last six months.
The second sentence below irritated me:
Both M&S and Morrisons have confirmed its customers are now limited to two boxes each. A spokesperson for Morrisons, which only sells British eggs, said the rationing followed "unprecedented demand" at the end of last week.
The reason for 'unprecedented demand' came from the media, blasting news of a 'shortage' here, there and everywhere.
At my supermarket, egg prices have remained relatively static for around two years: £1.10 for six, then $1.20 and, only within the past few weeks, £1.40.
Someone's not getting paid properly — the farmers:
… farmers are grappling with double-digit inflation in the price of feed and soaring energy costs to store eggs. The National Farmers' Union has warned the supply chain issues causing egg shortages on supermarket shelves could last until next summer …
Farmers who are currently making a loss on eggs are not reinvesting in new flocks of hens, leading to a shortage for shoppers.
Robert Gooch, of the British Free Range Egg Producers Association, said the egg shortages would last until "retailers pay a fair price to farmers" …
Ioan Humphreys, a fourth generation farmer in Wales, has 32,000 birds, for which the cost of feed has risen from £250 a tonne last year to £400 today. Meanwhile his electric bill on the farm has more than tripled.
But since December, Mr Humphreys has only received a 5p increase from retailers for each dozen eggs he sells them and is operating at a loss.
He said: "I have got to sell them even if at a loss to get some money in.
"Retailers are blaming bird flu for the shortages, but I haven't culled one bird from my flock this year. There are shortages on the shelves because farmers are not being paid fairly by supermarkets."
An M&S spokesperson said the company had provided "additional support, including for animal feed" to help suppliers manage rising costs. Meanwhile Sainsburys said it had increased the amount it paid to its own-brand egg packers, not directly to farmers, by 40pc in the past year.
A spokesman for Asda said the supermarket was "working hard" with its egg suppliers to resolve industry challenges.
Tesco and Ocado did not respond to requests for comment.
——————————————————————————————————-
In conclusion, I hope that my American readers had an enjoyable turkey day and that they've got plenty left over to enjoy this weekend.
A number of recent news items popped up over the past week covering a variety of interesting topics.
Food
Food is always a favourite topic, and those who read the British papers last week will not have been disappointed.
Egg substitutes
In my post from Friday, November 18, I suggested eating more eggs, the world's most complete food.
On Wednesday, November 16, The Times helpfully brought to light several egg substitutes, relevant as the UK is apparently undergoing an egg shortage. I haven't noticed it, so it could be another short chapter in the everlasting narrative, Project Fear.
The paper tells us that Delia Smith, the doyenne of British home cooks, uses condensed milk:
in her egg-free prune and date cake from Delia's Cakes, which she says makes it "dark, sticky and moist".
By now, most of us have heard of aquafaba, which literally means chickpea water. In an episode of the UK version of MasterChef : The Professionals last year or the year before, top chef Monica Galetti whipped it to make a meringue-like substance. It came as news to me.
The Times says that aquafaba is a versatile ingredient (emphases mine):
Cooks only realised its potential in 2014, when a French vegan started experimenting in his kitchen and published his innovative recipes for chocolate mousse, floating islands and meringues online. Now TikTok abounds with home chefs sharing their trials and errors with the egg substitute.
As a general rule, 30ml of aquafaba is equivalent to one medium egg white, and 45ml to a whole egg.
As well as meringues, aquafaba can be used to make macarons, ice cream, fudge and marshmallows, and even the foamy top on a whisky sour.
"It's amazing for adding a fluffy texture to mousses and cakes once whipped," says the plant-based chef Niki Webster, founder of RebelRecipes (rebelrecipes.com). "It's also brilliant for making vegan mayonnaise as an emulsifier. Be patient. It works and tastes delicious."
The best, and cheapest, way to get it is by simply draining the liquid from a can of chickpeas via a sieve and whisking it using a balloon or electric whisk. You can also use the water from white beans, kidney beans, black beans, lentils or peas, although the consistency may vary — so chickpeas are your best bet.
You can now also buy it alone, without the chickpeas: London-based OGGS sells 200ml and 1 litre cartons of aquafaba from £1 in Waitrose, Sainsbury's, Asda and the Co-op.
Interestingly, powdered 'egg', which harks back to rationing from the Second World War, has also made a comeback:
Longer-lasting than a box of eggs and made from a variety of veggie ingredients (such as potato flour, bean flour, pea fibre and tapioca), all you have to do is add water.
Whisk according to your recipe.
Be careful to check whether the powder mimics whole eggs or just egg whites.
Food additives
Every so often, we get another Project Fear article about food additives.
Those who make their meals and desserts from scratch don't really have to worry about them. People who buy everything ready made off the supermarket shelf, however, probably do need to pay more attention.
On November 15, The Telegraph covered all the different types of food additives, from colourings to emulsifiers. Each one plays its own role in making food more appealing to the eye or better on the tongue.
Whilst not panicking over additives, I do wonder whether they are partly responsible for a rise in cancer rates over the past 50 years. The article does mention nitrates and nitrites in this regard, but that is old news.
The bigger issue is obesity, likely to be fuelled by ultra-processing. The gut has less to do and, consequently, we feel less full, therefore, we want more processed food.
The article concludes:
What should consumers do to avoid scary additives? These scientists were unanimous: avoid ultra-processed foods.
That means cooking from scratch, which brings me neatly on to the next article.
'Soaring' food prices
Food prices are always going up, and not just in the UK.
I remember going back to the US many years ago and was astounded to see that my favourite whole grain breakfast cereal had soared to $4.50 and was in a considerably smaller box.
In the UK today, Heinz tomato ketchup has gone up the most. In fact, my British readers will know that one of our supermarket chains temporarily took several Heinz products off its shelves in June. They are back now, but the supermarket wanted to send a message to Heinz that they were price gouging.
The Times reviewed a list of foods that have increased in price the most in 2022, according to consumer watchdog Which?'s analysis.
Note that most of them are ready made products:
The research found that Heinz tomato ketchup had the biggest average increase in price, going up by 53 per cent (91p) on average. The second biggest increase was for Dolmio lasagne sauce, which went up by 47 per cent (61p) on average. Batchelors Super Noodles, the student staple, went up by an average of 43 per cent to 82p.
Prices also went up on branded bread: a loaf of Hovis granary wholemeal increased by an average of 43 per cent to £1.97.
The increases compare with average food inflation of 14.6 per cent since this time last year, and 0.8 per cent during the preceding 12 months, suggesting that some manufacturers may have been taking the opportunity to increase profit margins. In June Tesco stopped stocking products from Heinz during a row about price rises that the US food maker was trying to impose.
The research found that branded butter had some of the biggest price increases in absolute terms. A 500g tub of Anchor Spreadable, for example, has gone up by £1.31 on average. The single biggest price rise was on a box of 100 Everyday tea bags by Twinings, which jumped by £2.33 at one supermarket.
Who buys Twinings for regular tea? I have it in my cupboard, but only when I fancy a cuppa, which isn't that often. For everyday tea breaks, PG Tips and Yorkshire Tea are perfectly good and cost a lot less.
Heinz Classic Cream Of Chicken Soup is another items which has gone up considerably.
The message here is to start making your own tomato sauces and soups as well as preparing dried noodles from scratch. A tin of supermarket own brand tomatoes costs 50p. Dried noodles are pretty cheap, as are the vegetables to add to them. Chicken is still cheap. YouTube must be full of videos with instructions on how to make cream of chicken soup.
Making one's own bread also saves a fortune. My brand of flour has not increased noticeably this year, so I would highly recommend tuning in to YouTube for tutorials.
Honestly, once you make your own meals, you'll never buy another ready made product again.
British cheese popular in France
It's been 30 years in the making, but British artisan cheese has finally found its place in France.
On November 15, The Telegraph reported:
Find yourself in a Parisian restaurant these days and chances are that alongside roquefort and comté you will see cheddar or stilton on the cheese board. In fact, having shaken off its reputation for wax-wrapped, mass-produced, tasteless blocks, British cheese is the hot new thing. 
Over the past decade, overall exports of British cheese have been growing. Wyke Farms, the large Somerset producer, now sends 6,000 tonnes of cheese per year to over 160 countries. According to the Agriculture and Horticulture Development Board, in the second quarter of 2022, exports to Europe were up 22 per cent on the same period the year before (although 2021 was hampered by Brexit uncertainties). 
Our neighbour across the Channel is emerging as a key market. In 2014, the artisan cheesemonger Neal's Yard Dairy exported €500,000 of British cheese to France; by 2021, the figure had jumped to €1 million, with France becoming the second-largest market after the United States. 
British cheese is en vogue. Artisan fromagerie Taka & Vermo, near the Gare du Nord in Paris, stocks cheddar and stilton. At restaurants like Frenchie and L'Entente, diners can end a meal with a British board featuring classics including stilton and cheddar and less well-known cheeses. Oliver Woodhead, the British owner of L'Entente, has even been on French TV to espouse British fromage. British cheese is no longer a joke. 
It comes as no surprise. There are around 150,000 French people in Britain, and many more in France who have lived here at some point and developed a taste for British food. As adventurous as anyone else, young French people are searching for new exciting foods to try. Most importantly, British cheese has improved dramatically over the past 40 years. Once the poor man of Europe, it's now up there with the best. 
Neal's Yard Dairy sales director Jason Hinds has done more than most to promote British cheese in France. When he started working for the London-based cheesemonger and wholesaler in the early 1990s, its exports to France totalled a big fat zero. "My goal was always to export the best British cheese to France," Hinds explains. "The perception of British food generally in the early 1990s was that, in culinary terms, we were savages. But while it seemed like a fanciful idea to some at the time, the cheese was good so I knew it could be done." 
Well done, everyone!
British cheese is every bit as good as French cheese, of which I eat a lot.
Champagne scion dies
While we're on the subject of France, I have two more stories to cover which concern that lovely country and our own sceptred isle.
The first is about Christian de Billy, who oversaw the Pol Roger Champagne house for decades. He died at the age of 93 on August 26, 2022. The Telegraph brought his demise to our attention on November 18.
The Pol Roger family have been involved in civic life for over a century as well as producing one of the world's finest Champagnes, which is one of my favourites:
Christian de Billy, who has died aged 93, was the great-grandson of Pol Roger, founder of the Champagne house which remains in independent family ownership to this day. Among the smaller of the great Champagne houses, Pol Roger is known for its wines of unimpeachable finesse, which have long attracted a following on this side of the Channel, where de Billy was a regular visitor and ebullient ambassador.
Christian de Billy devoted more than 70 years to the family business, joining in the company's centenary year (1949) under the watch of his redoubtable grandfather Maurice Pol-Roger, who had been Mayor of Epernay in the First World War, narrowly escaping execution under the German occupation and renowned for fighting one of the last recorded duels in France with the Préfet de la Marne, whom he had accused of deserting his post.
From an early apprenticeship in the cellars and offices on the Avenue de Champagne (whose No 44 was to be described by Pol Roger's most famous customer, Sir Winston Churchill, as "the world's most drinkable address") Christian de Billy rose to become Export Director in 1953 and President Directeur General in 1977, later forming a supervisory Conseil de Surveillance of which he remained President until his retirement in 2019, when he passed the reins to his daughter Véronique …
Today, his daughters Laurence, Evelyne and Véronique, together with his son Hubert and grandson Bastien, are all closely involved in the direction of the company.
The article has more about the family's friendship with Sir Winston Churchill and his descendants:
… it was Christian de Billy who took on the legacy of his glamorous aunt Odette Pol-Roger, who had so captivated Sir Winston Churchill at their first meeting at the British Embassy in Paris in the closing days of the Second World War, both maintaining and strengthening the friendship with successive generations of the Churchill family. 
Together with Christian Pol-Roger, he created, and received the family's blessing for, the Cuvée Sir Winston Churchill, which was launched at Blenheim Palace in 1984 and is now in its 20th edition …
It was also de Billy who oversaw the creation in 1990 of the British subsidiary, Pol Roger Ltd, which has become a successful presence on the company's leading export market.
Come to think of it, the first time I tried Pol Roger was in the UK in the early 1990s.
The article includes this video of the history of Pol Roger:
Christian de Billy had a wide variety of outside interests:
Appointed to the Légion d'honneur, he was as comfortable in the company of presidents (including General de Gaulle) and prime ministers (including Jacques Chirac) as he was with the remueurs in the Pol Roger cellars. His smallness of stature belied the generosity of spirit within, combining an innate warmth with a mischievous sense of humour. A bon vivant, Christian was a keen follower of the pleasures of the table and a long-standing member of the Académie des Gastronomes.
De Billy, like his grandfather, was a keen sportsman, presiding over extensive shoots in the forests of Boursault and Milan, near Reims. His large collection of wild boar models, pictures and other memorabilia testified to his love of the sport: at his funeral, his coffin was driven off to a lively serenade of hunting horns. A skilled fly-fisherman, he had a cherished beat on the Andelle, one of Normandy's finest chalk streams.
A life well lived. I'm delighted the family have maintained their business in Britain.
British veteran reunites with Frenchwoman
One week after Remembrance Day, The Telegraph related a moving Second World War story involving a young British Royal Engineer who shared his Army ration with a starving French girl.
By way of thanks, she wrote a note on the back of her First Communion photo and left it for him.
The two were reunited in 2022, 78 years later. Reg Pye is now 99 and Huguette is 92. They certainly don't look that old.
The Telegraph reported the story, complete with photos, including the one from Huguette's First Communion:
Reg Pye, from Burry Port, South Wales, served with the 224 Field Company, Royal Engineers, as a driver carrying sappers, mines and ammunitions, during the Battle of Normandy.
While moving through Normandy in June 1944, 14 days after D-Day, Mr Pye spotted a 14-year-old girl staring at him as he ate his evening meal – a slice of bread with jam and a tin of pilchards.
The then 21-year-old immediately gave the girl his bread with jam and she ran away to eat it.
When he woke the next morning, he found that she had half-filled his mess tin with milk and left a picture of herself with a written message on the back, which he kept in his wallet.
In November this year, the girl was identified as Huguette, now 92, and was reunited with Mr Pye in France where he showed her the picture he had held for 78 years, and gave her another jam sandwich.
When meeting Huguette, Mr Pye said: "Nice to see you again after such a long time. We got older but we're still the same."
One wonders if they drank Pol Roger:
They drank champagne with their extended families and a translator.
Incredibly, Reg Pye spent years trying to find Huguette:
Mr Pye said: "The memory of my very brief encounter with this young girl will stay with me forever.
"In the bleakest of times, this bit of human interaction made a huge mark on my life. I have carried her picture in my wallet for 78 years always hoping we might meet again."
Mr Pye went back to Normandy 20 years ago to try to find Huguette but was unsuccessful.
Taxi drivers helped the veteran find his erstwhile friend:
After hearing the story, volunteer Paul Cook, from the Taxi Charity for Military Veterans, an organisation run by London black taxi drivers which arranges free trips for veterans to the Netherlands, Belgium and France, started a social media campaign which eventually reunited the pair.
Mr Pye added: "I cannot believe that she has finally been found and I wish to thank everyone, including our friend Emma, our cab driver Paul and the Taxi Charity's French adviser Nathalie Varniere, who have helped to make my dream come true."
Mr Cook said: "There are no words to describe how elated I am that Reg has found Huguette, this is like a Hollywood blockbuster and I wouldn't be surprised if this beautiful story was made into a film."
I hope it is made into a film. It's a beautiful story.
Perseverance is always rewarded. Never give up on a dream.
Good taste 'nothing to do with money or class'
On November 15, The Telegraph's Melissa Twigg interviewed socialite India Hicks, who has featured in Tatler over the decades.
I was surprised to find that she is now 55. She still looks like a twenty-something.
Hicks has a proper pedigree. Some might have seen her mother, Lady Pamela Hicks, in television documentaries about the Royal Family.
Twigg tells us that India is:
the third child of Lady Pamela Hicks (whose parents were the Earl and Countess Mountbatten of Burma) and the late interior designer David Hicks. She is also the second cousin and goddaughter of King Charles – like him, she spent her teenage years in the no-nonsense Scottish boarding school of Gordonstoun. Her glamorous life is put somewhat in perspective when you realise that, aged 11, she was on holiday with her family in Ireland when her grandfather's fishing boat was blown up by the IRA. He died, as did her 14-year-old cousin, Nicholas, and this frightening period of British history was memorably dramatised in the fourth series of The Crown, with Mountbatten played by Charles Dance. I ask if she has seen it and she quickly says no. "We don't really get Netflix out here." 
I have no doubt that Hicks could watch the show if she wanted to – but I also understand why she doesn't want to discuss it. She has built a successful career in Britain and America from being stylish, beautiful and royal-adjacent; distant enough from the family to freely write books and launch clothing and interiors collections, but close enough to attend the funeral of Elizabeth II and be a patron of the Prince's Trust. 
"It was extraordinary being there for [Elizabeth II's] funeral," she says. "I was very relieved to find myself in England with my mother during that period. The Queen's death was a chapter closing for all of us, but for my mother [who was a bridesmaid and lady-in-waiting to the Queen] it was grief on a more personal level. I often wondered how she was and she kept using the word 'acceptance'." 
Here's the high point — on good taste:
… when I ask if her aristocratic roots have influenced her taste, she pauses. "I definitely shy away from the word 'class'," she says. "Good taste is everything, but in the end it has nothing to do with class. My father came from an ordinary background but he was anything but ordinary. He was a difficult father but a brilliant designer and made me realise good taste and design are by no means dependent on money." 
True!
Furthermore, this is my own observation: good taste offends no one and pleases nearly everyone.
I have a few more news stories to share on Thursday. I think you will like them.
While this is a change to the previous schedule of analysing Liz Truss's premiership, more about which next week, there are references below as to why hers and Kwasi Kwarteng's plan was the right one for the UK.
Chancellor Jeremy Hunt delivered his Autumn Statement — a Labourite Conservative budget — on Thursday, November 17, 2022.
Compared with Kwasi Kwarteng's fiscal event of September 23, this will be a disaster for most middle class Britons.
It was clear that Hunt designed this budget to placate the all-hallowed — for whatever reason — OBR (Office for Budget Responsibility) and the markets. Stability is their watchword. Growth, regardless of what Hunt said yesterday, plays little part in our economy for the foreseeable future.
Unlike Kwarteng's, which did focus on growth, Hunt's statement had little to no consideration of the British taxpayer in a cost of living crisis.
What Hunt said
Before going into Hunt's address, Guido Fawkes has a brief summary and the full detail from the Treasury, a 70-page document.
Below are excerpts from Hunt's Autumn Statement to the House of Commons (emphases mine):
… today we deliver a plan to tackle the cost of living crisis and rebuild our economy. Our priorities are stability, growth and public services. We also protect the vulnerable, because to be British is to be compassionate and this is a compassionate Conservative Government.
Remember when then-Chancellor Rishi Sunak told us we did not have to worry about the cost of borrowing and borrowing itself during the pandemic? Well, now we have to worry:
Most countries are still dealing with the fallout from a once-in-a-century pandemic. The furlough scheme, the vaccine roll-out and the response of the NHS did our country proud, but they all have to be paid for.
Hunt paid homage to the Bank of England and had a poke at Kwarteng for not doing so:
So the Bank of England, which has done an outstanding job since its independence, now has my wholehearted support in its mission to defeat inflation and I today confirm we will not change its remit. But we need fiscal and monetary policy to work together, and that means the Government and the Bank working in lockstep.
He delivered a deeper attack on Kwarteng:
I understand the motivation of my predecessor's mini-Budget and he was correct to identify growth as a priority, but unfunded tax cuts are as risky as unfunded spending, which is why we reversed the planned measures quickly. As a result, Government borrowing has fallen, the pound has strengthened and the OBR says today that the lower interest rates generated by the Government's actions are already benefiting our economy and public finances. But credibility cannot be taken for granted and yesterday's inflation figures show we must continue a relentless fight to bring it down, including a rock solid commitment to rebuild our public finances.
He bowed before the all-powerful OBR, whose forecasts have not been terribly accurate over the past few years. Let us see if these come true in the coming months:
Richard Hughes and his team at the OBR today lay out starkly the impact of global headwinds on the UK economy, and I am enormously grateful to him and his team for their thorough work. The OBR forecasts the UK's inflation rate to be 9.1% this year and 7.4% next year. It confirms that our actions today help inflation to fall sharply from the middle of next year. It also judges that the UK, like other countries, is now in recession. Overall this year, the economy is still forecast to grow by 4.2%. GDP then falls in 2023 by 1.4%, before rising by 1.3%, 2.6% and 2.7% in the following three years. The OBR says higher energy prices explain the majority of the downward revision in cumulative growth since March. It also expects a rise in unemployment from 3.6% today to 4.9% in 2024, before falling to 4.1%.
This is Hunt's strategy, with the blessing of the OBR and borrowing Sunak's morality from the August leadership campaign about leaving debts to the next generation:
I also confirm two new fiscal rules. The first is that underlying debt must fall as a percentage of GDP by the fifth year of a rolling five-year period. The second is that public sector borrowing over the same period must be below 3% of GDP. The plan I am announcing today meets both rules.
Today's statement delivers a consolidation of £55 billion, and means inflation and interest rates end up significantly lower. We achieve this in a balanced way. In the short term, as growth slows and unemployment rises, we will use fiscal policy to support the economy. The OBR confirms that, because of our plans, the recession is shallower and inflation is reduced. Unemployment is also lower, with about 70,000 jobs saved as a result of our decisions today. Then, once growth returns, we increase the pace of consolidation to get debt falling. This further reduces the pressure on the Bank to raise interest rates, because as Conservatives we do not leave our debts to the next generation.
So this is a balanced path to stability, tackling inflation to reduce the cost of living and protect pensioner savings, while supporting the economy on a path to growth. But it means taking difficult decisions.
Hunt then discussed the fiscal drag elements of the budget. Fiscal drag means drawing the unsuspecting into paying new and more tax:
I start with personal taxes. Asking more from those who have more means that the first difficult decision I take on tax is to reduce the threshold at which the 45p rate becomes payable from £150,000 to £125,140. Those earning £150,000 or more will pay just over £1,200 more in tax every year. We are also taking difficult decisions on tax-free allowances. I am maintaining at current levels the income tax personal allowance, higher rate threshold, main national insurance thresholds and the inheritance tax thresholds for a further two years, taking us to April 2028. Even after that, we will still have the most generous set of tax-free allowances of any G7 country.
I was amazed he could talk about 2028 with a straight face. By then, we will probably have a Labour government. Oh well, he's done their work for them.
Continuing on tax rises, he said:
I am also reforming allowances on unearned income. The dividend allowance will be cut from £2,000 to £1,000 next year, and then to £500 from April 2024. The annual exempt amount for capital gains tax will be cut from £12,300 to £6,000 next year, and then £3,000 from April 2024. Those changes still leave us with more generous allowances than countries such as Germany, Ireland, France, and Canada.
Because the OBR forecasts that half of all new vehicles will be electric by 2025, to make our motoring tax system fairer, I have decided that from then electric vehicles will no longer be exempt from vehicle excise duty. Company car tax rates will remain lower for electric vehicles, and I have listened to industry bodies and will limit rate increases to 1 percentage point a year for three years from 2025.
At least he kept one thing from Kwarteng's statement:
The OBR expects housing activity to slow over the next two years, so the stamp duty cuts announced in the mini-Budget will remain in place but only until 31 March 2025. After that, I will sunset the measure, creating an incentive to support the housing market, and the jobs associated with it, by boosting transaction during the period when the economy most needs it.
He won't even be Chancellor then.
Moving on to businesses:
I now turn to business taxes. Although I have decided to freeze the employers national insurance contributions threshold until April 2028, we will retain the employment allowance at its new higher level of £5,000. That means that 40% of all businesses will pay no NICs at all. The VAT threshold is already more than twice as high as the EU and OECD averages. I will maintain it at that level until March 2026.
Then came the windfall tax:
Can I just say that any such tax should be temporary, not deter investment and recognise the cyclical nature of energy businesses? So, taking account of that, I have decided that from 1 January until March 2028 we will increase the energy profits levy from 25% to 35%. The structure of our energy market also creates windfall profits for low-carbon electricity generation, so we have decided to introduce, from 1 January, a new, temporary 45% levy on electricity generators. Together, those measures will raise £14 billion next year.
Business rates have been a thorn in the side of those enterprises on our high streets. Here, it would seem, Hunt offered some relief:
Finally, I turn to business rates. It is an important principle that bills should accurately reflect market values, so we will proceed with the revaluation of business properties from April 2023, but I will soften the blow on businesses with a nearly £14 billion tax cut over the next five years. Nearly two thirds of properties will not pay a penny more next year and thousands of pubs, restaurants and small high street shops will benefit. That will include a new Government-funded transitional relief scheme, as called for by the CBI, the British Retail Consortium, the Federation of Small Businesses and others, benefiting around 700,000 businesses.
Then he turned to people on benefits, proving that Sunak's furlough scheme during the pandemic was more than adequate:
… I am proud to live in a country with one of the most comprehensive safety nets anywhere in the world. But I am also concerned that we have seen a sharp increase in economically inactive working-age adults of about 630,000 people since the start of the pandemic. Employment levels have yet to return to pre-pandemic levels, which is bad for businesses who cannot fill vacancies and bad for people missing out on the opportunity to do well for themselves and their families, so the Prime Minister has asked the Work and Pensions Secretary to do a thorough review of issues holding back workforce participation, to conclude early in the new year.
Alongside that, I am also committed to helping people already in work to raise their incomes, progress in work and become financially independent. So we will ask over 600,000 more people on universal credit to meet with a work coach so that they can get the support that they need to increase their hours or earnings. I have also decided to move back the managed transition of people from employment and support allowance on to universal credit to 2028, and will invest an extra £280 million in the DWP to crack down on benefit fraud and error over the next two years. The Government's review of the state pension age will be published in early 2023.
He then discussed foreign spending:
… I salute the citizens of another country right on the frontline … the brave people of Ukraine. The United Kingdom has given them military support worth £2.3 billion since the start of Putin's invasion, the second highest contribution in the world after the United States, which demonstrates that our commitment to democracy and open societies remains steadfast. In that context, the Prime Minister and I both recognise the need to increase defence spending. But before we make that commitment, it is necessary to revise and update the integrated review, written as it was before the Ukraine invasion. I have asked for that vital work to be completed ahead of the next Budget and today I confirm that we will continue to maintain the defence budget at at least 2% of GDP to be consistent with our NATO commitment.
I was pleased to hear that overseas aid will stay at 0.5%:
Another important international commitment is to overseas aid. The OBR's forecasts show a significant shock to public finances, so it will not be possible to return to the 0.7% target until the fiscal situation allows. We remain fully committed to that target, and the plans I have set out today assume that official development assistance spending will remain around 0.5% for the forecast period. As a percentage of GNI, we were the third highest donor in the G7 last year, and I am proud that our aid commitment has saved thousands of lives around the world.
Net Zero is still going ahead:
I also confirm that, despite the economic pressures, we remain fully committed to the historic Glasgow climate pact agreed at COP26, including a 68% reduction in our own emissions by 2030.
He discussed schools, beginning with those in England:
… we have risen nine places in the global league tables for maths and reading in the last seven years.
… as Chancellor I want to know the answer to one simple question: will every young person leave the education system with the skills they would get in Japan, Germany or Switzerland? So, I have appointed Sir Michael Barber to advise me and my right hon. Friend the Education Secretary on the implementation of our skills reform programme.
… Some have suggested putting VAT on independent school fees as a way of increasing core funding for schools, which would raise about £1.7 billion. But according to certain estimates, that would result in up to 90,000 children from the independent sector switching to state schools, giving with one hand only to take away with another.
So instead of being ideological, I am going to be practical: because we want school standards to continue to rise for every single child, we are going to do more than protect the schools budget—we are going to increase it. I can announce today that next year and the year after, we will invest an extra £2.3 billion per annum in our schools.
He has asked a former Labour MP, Patricia Hewitt, to help him reform the NHS. Oh, my days:
I have asked the former Health Secretary and chair of the Norfolk and Waveney integrated care system, Patricia Hewitt, to help me and the Health Secretary to achieve that by advising us on how to make sure that the new integrated care boards, the local NHS bodies, operate efficiently and with appropriate autonomy and accountability. I have also had discussions with NHS England about the inflationary pressures on their budgets.
More money will be pumped into the system:
With £3.3 billion for the NHS and £4.7 billion for social care, there is a record £8 billion package for our health and care system. That is a Conservative Government putting the NHS first.
Barnett consequentials, which come from the hard-pressed English taxpayer, will also increase:
The NHS and schools in Scotland, Wales and Northern Ireland face equivalent pressures, so the Barnett consequentials of today's decisions mean an extra £1.5 billion for the Scottish Government, £1.2 billion for the Welsh Government, and £650 million for the Northern Ireland Executive. That means more resources for the schools and hospitals in our devolved nations next year, the year after and every year thereafter.
A new energy strategy will be forthcoming from the Business Secretary.
These are Hunt's infrastructure commitments:
… today I can announce that I am not cutting a penny from our capital budgets in the next two years, and I am maintaining them at that level in cash terms for the following three years. That means that although we are not growing our capital budget as planned, it will still increase from £63 billion four years ago to £114 billion next year and £115 billion the year after, and will remain at that level—more than double what it was under the last Labour Government.
Smart countries build on their long-term commitments rather than discarding them, so today I confirm that because of this decision, alongside Sizewell C, we will deliver the core Northern Powerhouse Rail, HS2 to Manchester, East West Rail, the new hospitals programme and gigabit broadband roll-out. All these and more will be funded as promised, with over £600 billion of investment over the next five years to connect our country and grow our economy.
Our national Conservative mission is to level up economic opportunity across the country. That, too, needs investment in infrastructure, so I will proceed with round 2 of the levelling-up fund, at least matching the £1.7 billion value of round 1. We will also drive growth across the UK by working with the Scottish Government on the feasibility study for the A75, supporting the advanced technology research centre in Wales and funding a trade and investment event in Northern Ireland next year.
He is bringing devolution to England in the form of mayoralties:
Our brilliant [Conservative] Mayors such as Andy Street and Ben Houchen have shown the power of civic entrepreneurship. We need more of this inspirational local leadership, so today I can announce a new devolution deal that will bring an elected Mayor to Suffolk, and deals to bring Mayors to Cornwall, Norfolk and an area in the north-east to follow shortly. We are also making progress towards trailblazer devolution deals with the Greater Manchester Combined Authority and the West Midlands Combined Authority, and soon over half of England will be covered by devolution deals. Taken together, that £600 billion investment in our future growth represents the largest investment in public works for 40 years, so our children and grandchildren can be confident that this Conservative Government are investing in their future.
Hunt is altering the Truss-Kwarteng investment zones to be more in line with Michael Gove's aspirations for levelling up:
I will also change our approach to investment zones, which will now focus on leveraging our research strengths by being centred on universities in left-behind areas, to help to build clusters for our new growth industries. My right hon. Friend the Levelling Up Secretary will work with Mayors, devolved Administrations and local partners to achieve this, with the first decisions announced ahead of the spring Budget.
The Truss-Kwarteng energy support plan remains in place until the end of March 2023:
I pay tribute to my predecessor, my right hon. Friend the Member for Spelthorne (Kwasi Kwarteng), and to the former Prime Minister, my right hon. Friend the Member for South West Norfolk (Elizabeth Truss), for their leadership in this area. This winter, we will stick with their plan to spend £55 billion to help households and businesses with their energy bills—one of the largest support plans in Europe. From April, we will continue the energy price guarantee for a further 12 months at a higher level of £3,000 per year for the average household. With prices forecast to remain elevated throughout next year, this will mean an average of £500 of support for every household in the country.
There is more help for the most vulnerable:
At the same time, for the most vulnerable, we will introduce additional cost of living payments next year of £900 to households on means-tested benefits, £300 to pensioner households and £150 for individuals on disability benefit. We will also provide an additional £1 billion of funding to enable a further 12-month extension to the household support fund, helping local authorities to assist those who might otherwise fall through the cracks. For those households that use alternative fuels such as heating oil and liquefied petroleum gas to heat their homes, I am today doubling the support from £100 to £200, which will be delivered as soon as possible this winter. Before the end of this year, we will also bring forward a new targeted approach to support businesses from next April.
But I want to go further to support the people most exposed to high inflation. Around 4 million families live in the social rented sector—almost one fifth of households in England. Their rents are set at 1% above the September inflation rate, which means that on current plans they are set to see rent hikes next year of up to 11%. For many, that would just be unaffordable, so today I can announce that this Government will cap the increase in social rents at a maximum of 7% in 2023-24. Compared with current plans, that is a saving for the average tenant of £200 next year.
Labour started a commotion at this point. Hunt then announced a rise in the minimum wage:
This Government introduced—[Interruption.] I thought they cared about the most vulnerable! This Government introduced the national living wage, which has been a giant step in eliminating low pay, so today I am accepting the recommendation of the Low Pay Commission to increase it next year by 9.7%. This means that, from April 2023, the hourly rate will be £10.42, which represents an annual pay rise worth over £1,600 to a full-time worker. It is expected to benefit over 2 million of the lowest-paid workers in our country, and it keeps us on track for our target to reach two thirds of median earnings by 2024. It is the largest increase in the UK's national living wage ever.
Benefits will increase by the rate of inflation:
… today I commit to uprating such benefits by inflation, with an increase of 10.1%. That is an expensive commitment, costing £11 billion, but it means that 10 million working-age families will see a much-needed increase next year, which speaks to our priorities as a Government and our priorities as a nation. On average, a family on universal credit will benefit next year by around £600. To increase the number of households that can benefit from this decision, I will also exceptionally increase the benefit cap by inflation next year.
Finally, I have talked a lot about the British values of compassion, hard work, dignity and fairness, but there is no more British value than our commitment to protect and honour those who built the country we live in, so to support the poorest pensioners I have decided to increase pension credit by 10.1%, which is worth up to £1,470 for a couple and £960 for a single pensioner in our most vulnerable households, but the cost of living crisis is harming not just our poorest pensioners but all pensioners.
The triple-lock stays:
Because we have taken difficult decisions elsewhere today, I can also announce that we will fulfil our pledge to the country to protect the pension triple lock. In April, the state pension will increase in line with inflation, an £870 increase, which represents the biggest ever increase in the state pension. To the millions of pensioners who will benefit from this measure, I say: "Now and always, this Government are on your side."
Hunt did not receive a jubilant reception from Conservative MPs, some of whom had concerns.
Dr Liam Fox asked about quantitative easing and interest rates:
I congratulate my right hon. Friend on a balanced and skilful statement prioritising fiscal stability. He will be aware that some of us believe that the Bank of England maintained monetary conditions that were too loose for too long, but that it would also be a mistake to maintain monetary conditions that are too tight for too long. Can he therefore confirm that the anti-inflationary measures that he has taken today will mean that the pressure to raise interest rates will be minimised, and that there is a much greater chance that they will fall earlier than would otherwise have been the case?
Hunt replied:
My right hon. Friend is absolutely right to focus on this issue, because every 1% increase in interest rates is about £850 more on the average mortgage, so it is hugely important to families up and down the country. The OBR has said that the measures that we have taken today will mean that inflation is lower than it would otherwise have been. That means that the Bank of England is under less pressure to increase interest rates, which for reasons that he knows are such a worry for so many families.
Sir William Cash was concerned about the ever-increasing costs of the HS2 rail project:
My right hon. Friend argued for sound money and sound foundations. Would he be good enough to explain how it is that High Speed 2 will continue beyond Birmingham at a verifiable cost of at least £40 billion, when every independent report on HS2 condemns the project and confirms that phase 2 will make rail services to all west coast destinations north of Birmingham much worse? I ask him to make a clear commitment to keep this matter under review at all costs; it is in the national interest.
Hunt said:
My hon. Friend is right that the increases in the budget for HS2 are disappointing, but a strong economy needs to have consistency of purpose, and that means saying we will make sure that we are a better connected country. The lack of those connections is one of the fundamental reasons for the differences in wealth between north and south, which we are so committed to addressing. There is a bigger issue about the way that we do infrastructure projects: it takes too long, and the budgets therefore get out of control. We are just not very good at it, and we have to sort it out.
Theresa Villiers rightly asked how soon we could move to a lower-tax economy if the forecasts are wrong. For me, this was the question of the day:
I thank the Chancellor for the announcement on schools funding, which, as he knows, is something that I raised with him as being crucial. Can he also confirm that, if current forecasts about economic recovery and inflation prove to be overly pessimistic, we will move more quickly than he has announced today towards delivering a lower-tax economy?
Hunt was non-committal:
My right hon. Friend is an immensely experienced colleague. She is right to point out that there is always inaccuracy in any forecast, and there is always variation from fiscal event to fiscal event, so we keep all those decisions under review in the round. I think it is still important to have forecasts—that is better than not to have them—but we keep all those decisions under review.
Virginia Crosbie from Ynys Môn in Wales asked how soon the new nuclear programme would begin:
This Government's commitment to Sizewell C and large-scale nuclear is welcome, and it was noted that Labour's shadow Chancellor failed to mention nuclear. When will the launch of Great British Nuclear be announced, and will its scope include large-scale gigawatt nuclear at sites such as Wylfa in my constituency, as well as small modular reactors?
Hunt was encouraging:
There is no more formidable advocate for big nuclear investment on Ynys Môn than my hon. Friend. Indeed, when I went on a family holiday to Ynys Môn this summer, she tried to persuade me to visit the potential site of a nuclear power station with my children. I apologise that I did not take her up on the offer, but it shows her commitment. My right hon. Friend the Business Secretary will be making an announcement soon on things such as the launch of Great British Nuclear—I hope before Christmas, but if not just afterwards—because we want to crack on with our nuclear programme.
Richard Drax was concerned about the burden on the taxpayer, another excellent question:
I have huge sympathy for my right hon. Friend. We are facing severe financial challenges for the reasons he explained so well, but Members on both sides of the House are promising to spend billions and billions more pounds. I remind the House that it is the private sector, and hardworking people through their taxes, who pay for Government expenditure. Does my right hon. Friend agree that raising taxes on both risks stifling the growth and productivity that he and I both want, and that would counter the recession we are now in?
Hunt defended his budget:
My hon. Friend is right to make the case for a lightly taxed dynamic economy, and I would like to bring taxes down from their current level. We are faced with the necessity of doing something fast to restore sound money and bring inflation down from 11%, which is why we have made difficult decisions today. But yes, my hon. Friend is absolutely right: there is no future for this country unless we get back on the path to being a lower taxed economy.
Mark Pawsey asked about small businesses:
My constituents in Rugby and Bulkington will not enjoy the tough decisions that the Chancellor has had to make today, but they will understand the need for sound finances after the huge expenditure that the country has made on the pandemic and supporting people with their energy costs as a consequence of the war in Ukraine. They will also want to know that businesses will continue to invest to grow and to create jobs. Will he speak about the incentives that still exist for businesses to do exactly that?
Hunt pledged his support:
I am happy to do that. My hon. Friend is quite right to raise those issues. We are doing a lot of short-term things, including help with energy bills as well as business rates. As we move to a new business rates system, we are freezing the levels at which business rates can increase and introducing a 75% discount next year for retail, hospitality and leisure businesses. Fundamentally, as a Conservative Government, we know that we cannot flourish as an economy without flourishing small businesses, and we will back them to the hilt.
Greg Smith asked what Hunt was doing about reducing fuel duty:
I absolutely agree with my right hon. Friend when he talks about the inflationary pressures coming from the aftershocks of the pandemic and the war in Ukraine. We see that at the fuel pumps and, more significantly, our haulage and logistics sector sees it with the enormous level of taxation on diesel in particular driving inflation to get food and goods on to our shelves. As he prepares for the March Budget, will he look at the inflationary impact of fuel duty on top of the high cost of diesel and see whether we can reduce it?
Hunt said he was looking at the issue:
I assure my hon. Friend that I will absolutely do that. We have a little time, and I know that fuel duty is an important issue to him and many other colleagues.
March 2023 — fuel duty hike
Hunt's answer to Greg Smith on the fuel duty hike sounded reassuring, but GB News's economic editor Liam Halligan uncovered a planned fuel duty hike of 23% for March 2023 from the OBR forecast. It would be the first since 2011:
Here's Liam Halligan talking about it:
Forbes noticed it, too, bringing the news to an even wider international audience: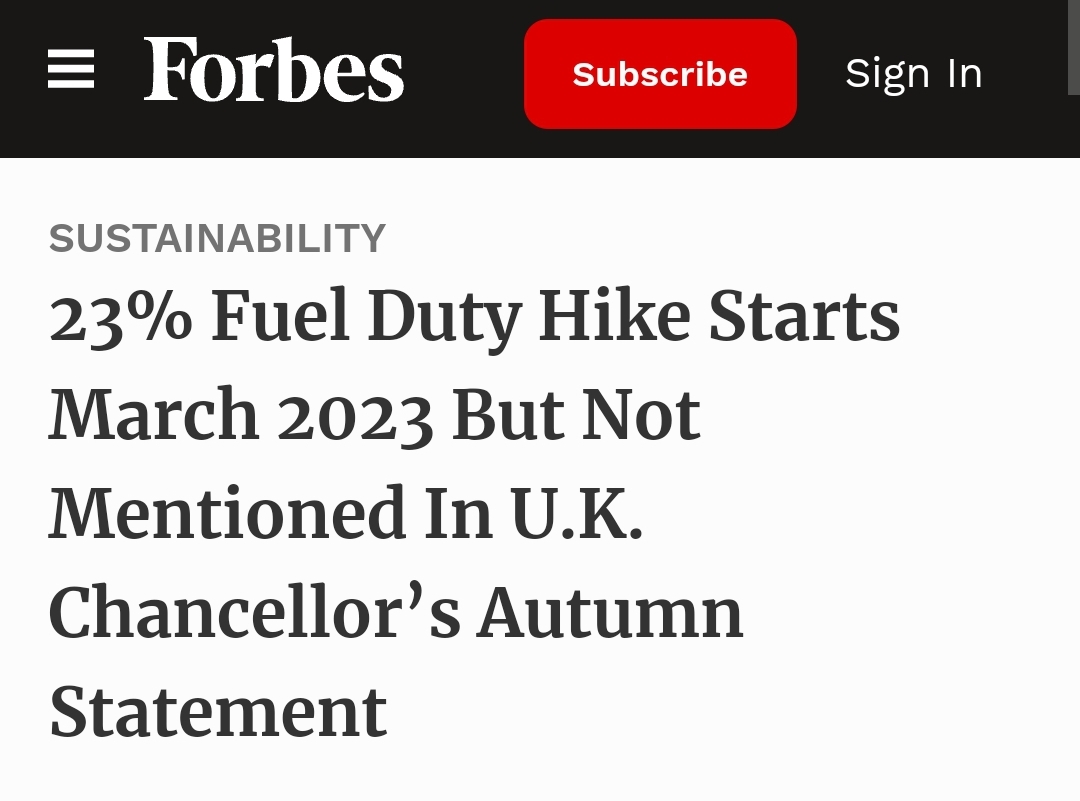 Fiscal drag
The Times had an article on the upcoming fiscal drag following Hunt's budget:
Disposable incomes, after adjusting for inflation, will fall by 4.3 per cent in 2022-23, which would be the largest fall since records began in the 1950s. It is set to be followed by the second largest fall — in 2023-24 — of 2.8 per cent.
… Despite the aspirations of Rishi Sunak to create a low-tax economy, Britain is on course for its biggest ever tax burden as hundreds of thousands of workers are dragged into higher income tax bands by the freezing of thresholds and allowances while businesses also face a jump in levies, including employment taxes.
The tax burden is set to rise to 37.5 per cent of GDP in the financial year ending 2025, reaching the highest level since records began shortly after the Second World War.
The level of taxation as a share of the national income will rise to 36.4 per cent of GDP this year and 37.4 per cent in the financial year ending 2024, breaking the previous record.
Recovery is not likely to begin until 2025, several months after the next general election. This is accurate only if Conservatives are still in power by then:
GDP is expected to rise by 4.2 per cent this year before falling by 1.4 per cent next year, only returning to pre-pandemic levels by the end of 2024. However, growth is expected to pick up to 2.6 per cent the following year and 2.7 per cent in 2026, following a recovery in real incomes, consumption and investment.
The Telegraph also had an article on fiscal drag:
Nearly a quarter of a million workers will be dragged into paying the 45p rate of income tax after Jeremy Hunt slashed the threshold at which it is charged.
The salary on which the additional rate is payable will be reduced from £150,000 to £125,140 effective next April, Chancellor Jeremy Hunt announced in the Autumn Statement, and frozen until 2028, forcing 232,000 workers into paying the top rate of tax for the first time and costing these quarter of a million taxpayers £620 on average, according to wealth manager Quilter.
The number of workers paying 45pc has more than doubled since the rate was first introduced in 2010 – rising from 236,000 to 629,000 today – as wage inflation has pushed more taxpayers into the highest income tax band.
Lowering the threshold will cost the 629,000 workers earning over £150,000 who are already impacted by the 45pc tax an additional £1,250 …
Just two months ago, then-Chancellor Kwasi Kwarteng promised that the top rate would be abolished altogether. But now the Government is hoping to earn £420m in 2023-24 by catching more taxpayers in the 45pc net, and almost double that – £855m – in 2027-28.
Neela Chauhan of accountancy firm UHY Hacker Young said the move was "a major attack" on higher earners.
She added: "It's going to bring in people into the upper rate who feel that they are far from being rich."
Tax firm RSM said that there are also unexpected consequences of slashing the additional-rate threshold and the Chancellor had opened the door to a new 67.5pc tax rate.
Taxpayers earning over £100,000 lose their personal allowance at a rate of £1 for every £2 of income.
This means for every £100 they earn between £100,000 and £125,140, a worker takes home just £40 – because £40 is lost to income tax and another £20 to the tapering of the personal allowance – creating a 60pc tax trap.
Dismal headlines
The Guardian has a breakdown of last Friday's front pages, which were bleak.
The Telegraph noted the austerity of George Osborne, Chancellor when the Conservative-Lib Dem coalition took over from in 2010, and the Labourite policies of his predecessor Gordon Brown. At the bottom of the page is an analysis from Lord Frost:
Lord Frost's analysis is pro-Truss/Kwarteng
Lord Frost points out that the OBR are predicting what Liz Truss did just a few weeks ago:
This was a very curious Autumn Statement. For the last month, we have been told that Britain needed to re-establish the confidence of the markets and put in place renewed fiscal discipline, supposedly so carelessly squandered by Liz Truss. "Eye-wateringly painful decisions" were coming for all of us …
… public spending will be at its highest since the 1970s and taxation the highest since the Second World War. Both only start to fall, gently, in the late 2020s, and then only because of some pretty heroic assumptions about growth. Indeed, under Liz Truss we were told that 2.5 per cent growth was impossible – yet the Office for Budget Responsibility (OBR) is predicting exactly that for 2025 and 2026.
How do we explain this?
To do so, I think, we have to go back to that extraordinary week in mid-October, when Truss's government blew up on the launch pad. 
She was levered out of Downing Street with the argument that she had been careless about the public finances, casual about fiscal discipline and had lost market confidence. An emergency correction was needed – tax rises or spending cuts, and probably both.
Yet on taking office, our current government will have found – as the OBR has now acknowledged – that we were already into a deepening recession. Tightening fiscal policy with growth collapsing and interest rates increasing globally would clearly have been an insane policy, one at variance with what virtually every economist would suggest. But, having destroyed the Truss administration for being insufficiently fiscally disciplinarian, the Government could hardly overtly change course itself.
That is why we got what we got. Keep growing spending, raise taxes now on unpopular groups, defer deficit reduction and everything else until 2025, and meanwhile talk a lot about austerity and discipline to disguise the reality that this is likely a similar fiscal policy to what Truss's would have been, just at higher levels of tax and spend. Then, after the election, if the Conservatives are still in power, it can all be looked at again …
… Taxes on business wreck investment and growth. Taxes on the (not very) rich destroy incentives. Britain's hard-won reputation for being a low tax country is permanently lost. And we all have less of our own money and are less free.
Another defence of Trussonomics
The Mail reminds us that the Truss plan was to cap energy prices for two years. Hunt has reduced this to the end of March 2023:
Average energy bills will rise to £3,000 a year from April as Chancellor Jeremy Hunt confirmed he was scrapping previous Government plans.
In his Autumn Statement to the House of Commons, Mr Hunt revealed changes to the 'Energy Price Guarantee' would leave Britons facing higher gas and electricity payments next year.
When former prime minister Liz Truss first announced the cost of living support in September, she outlined how average energy bills would be frozen at £2,500 a year for the next two years …
Delivering details of an altered plan today, Mr Hunt revealed the Energy Price Guarantee would now be set at a higher level of £3,000 a year for average households until April 2024.
Of course, those who use less energy at home might have less to pay:
The plan only caps the cost per unit that households pay, with actual bills still determined by how much is consumed.
Sarah Coles, senior personal finance analyst at Hargreaves Lansdown, said:
The fact that this comes on top of so many other price rises means life is going to get even tougher next spring.
More Trussonomics
The Spectator's editor Fraser Nelson wrote an analysis of the budget for The Telegraph, 'This could turn out to be the week that the Tories lost the next election'.
I noted above that some of what Hunt said points far into the future.
Fraser Nelson also observed that fact:
Suspiciously, almost all of this austerity is due to take place after April 2025, after the election. The Tory benches were very quiet during Hunt's speech, perhaps because they were piecing all this together. It was not just an Autumn Statement being written, but the next Conservative manifesto, too – with all the bad stuff saved for after the vote. Hardly the behaviour of a party expecting to win.
As one minister put it: "This was the day we lost the election." This is how some Tories see the Autumn Statement: a suicide note, wrapping a poison pill for a Keir Starmer government to swallow.
This is the alarming rate of borrowing today. Factor in the previous QE and the generous Sunak pandemic programmes when he was Chancellor:
Even now, the Government is borrowing £485 million a day – or £20,000 by the time you finish this sentence. It all needs to be repaid. And the interest we all have to pay for such debt is, broadly, treble what it was a year ago.
The new forecasts show a UK Government expecting to pay £484 billion in debt interest over the next five years – almost £300 billion more than was expected this time last year. This year alone it's £120 billion, twice last year's sum.
This extra £60 billion has had to come from somewhere. It's enough to double the size of the military, treble the police force or rebuild every school or hospital. But instead it is dead money, servicing an old debt – and things need to be squeezed to make room for it. For years, Tories wrote cheques, for HS2 and more, barely thinking about the cost. Now the bill has landed.
Nelson doesn't mention the number of times long-serving Conservative backbenchers warned Sunak over the past two years that the bill would come due, but I saw them in parliamentary debates being duly ignored. To Sunak, those men were mere Thatcherites, so last century. Rishi told us we could borrow with little consequence. Not so.
He created a lot of our current problems and campaigned in August that he would be the candidate to get us out of this situation.
Now he is No. 10, just as he wanted to be from the beginning:
Sunak can't be blamed for the debt interest. But he might have been expected to have better ideas of how to get out of the mess.
Of the Autumn Statement, Nelson writes:
Liz Truss said her message was "growth, growth, growth," but Sunak's seems to be "brace, brace, brace". A massive fiscal impact lies ahead, he says – and our mission is to recognise it, make our peace with it, and accept that talk about a low-tax future is futile. So his Autumn Statement did not kick-start a recovery. It was, instead, a requiem for growth.
Of the August leadership campaign, he reminds us:
During the leadership debate, Truss was asked what advice she would give to Sunak. Don't be so fatalistic, she told him. Don't go along with narratives of decline. She had a point. Groundless optimism ended her premiership very quickly, but groundless pessimism can also be deeply damaging.
Nelson wonders how a government can so quickly discount its people:
A million more Brits, for example, are expected to join the 1.7 million already claiming disability or health-related benefits over the next five years. They will, in turn, join the 3.5 million others on out-of-work benefits. Was it so unreasonable to hope that this number might go down, with people helped back to work? We've been promised a review into all this, but not much else.
Another assumption is that most of the 400,000 who have dropped out of the economy since the pandemic started, citing long-term sickness, will never work again. It's hard to find many other countries giving up so readily on such a stunningly large chunk of the population.
Is a uniquely British malady at work here? Or is the real problem a kind of Tory fatalism, where an exhausted governing party thinks the country is now too old, too sick or simply too workshy to get back to where it was in January 2020?
Many conservative voters said at the time that Rishi's furlough scheme was a bit too helpful — and we were paying for it.
Now we are paying even more for it.
Nelson concludes:
… the risk is that voters make up their mind now – and associate Toryism with chaos, broken promises and a general counsel of despair. Labour just needs to promise to do things better. As things stand, it's not a very high bar.
Feeling fleeced yet?
The Telegraph's editorial warned, 'Hard times ahead for British taxpayers':
Unlike the tumultuous response to Kwasi Kwarteng's unfunded growth measures in September, the market reaction was muted, which is precisely what Mr Hunt hoped for, even if the pound fell against the dollar amid forecasts of a year-long recession …
… benefits and the old age pension will rise in April by 10.1 per cent, the inflation rate in October.
This continues a trend of recent years whereby working people are expected to pay more in tax to protect social programmes that successive governments have been reluctant to reform. Although headline tax rates have not risen, the extended freeze on allowances at a time of double-digit inflation is a serious hit to the incomes of millions who will be dragged into higher bands. Some three million earners will pay income tax for the first time.
This year will see the sharpest fall in living standards on record, while the tax burden rises to its highest level as a share of GDP in decades. More than 47 per cent of national income will be spent in the public sector. In fact, spending will actually rise in real terms. The cuts are to planned budgets.
Rishi Sunak and Mr Hunt consider this social democratic approach to be fair and compassionate, closing off attack lines from Labour as a general election approaches. But there are consequences for the long-term well-being of the country if working people and businesses feel they are being fleeced to prop up failing public services and a benefit system in need of a drastic overhaul.
Essentially, the productive part of the economy is being squeezed to prop up the unproductive. The problem Mr Sunak faces is that, by 2024, the Conservatives will have been in office for 14 years and they need to offer voters a better slogan than "Labour will be worse". In fact, Labour would support many of the measures in the Autumn Statement, from loading more tax on the wealthy to increasing windfall taxes on the energy companies.
… ministers need to prepare for the worst and could proactively address the biggest drags on the economy, above all the NHS, social care and welfare benefits. The health service continues to soak up huge sums – with another £6 billion announced yesterday – and yet produces worse outcomes. Its shortcomings are causing problems throughout the economy, with treatment backlogs contributing to acute manpower shortages which the Government intends to fill by increasing immigration.
The Spectator's political editor James Forsyth, a close friend of Rishi Sunak's, explained in The Times why this recession is different to previous ones and why we need more people in the workforce. I hope his friend pays attention to this:
One bright spot amid the gloom is the unemployment rate, which is just 3.6 per cent, down from 3.8 per cent this year. This is close to historic lows. But even this glimmer is tarnished. The low unemployment number disguises how many people have left the labour force: one in five working-age Brits are economically inactive, meaning they are neither in work nor looking for it. More than five million are claiming out-of-work benefits.
The recession may last a year, perhaps two — but it will be different. Unemployment, as formally defined, won't exceed 5 per cent even during the worst of the downturn — in the 1980s it went into double digits. Seldom have there been more vacancies in the economy. It's an odd form of recession where almost anyone who wants a job can find one, but that's the situation we're in. Almost every month, the number of those not looking for work grows: it jumped by 169,000 in the three months to August. That is more than the population of Oxford.
This has consequences. The OBR thinks the cost of health and disability benefits will rise by £7.5 billion — quite a sum. A shrinking labour market is also one of the reasons why the Bank of England thinks potential growth is now a mere 0.75 per cent even in 2024-25. The Tories desperately need to get back to moving people from welfare into work — not just to reduce the welfare bill but also to boost the economy …
Alongside those not in work nor looking for it, there are 970,000 people on Universal Credit who are working very limited hours in an economy where employers are offering shifts. Hunt announced that about 600,000 of them will now be required to meet a work coach to try to increase their hours. This signals a return to Tory welfare reform …
… to ensure taxes don't need to keep going up indefinitely, two things are needed. The first is a renewed emphasis on public-sector reform. The Tory mantra used to be more for less from public services. But in recent years, it has felt like the opposite is the case. As the Institute for Fiscal Studies pointed out this week, the NHS has more money and more staff than it did before Covid yet is treating fewer people on the waiting list. This needs reversing if the tax burden is not to continue climbing ever higher.
The second is the economy needs to grow. Meat needs to be put on the bones of the growth agenda that Sunak and Hunt set out this week, with further incentives for businesses to invest.
After the debacle of the mini-budget, this autumn statement was always going to be about steadying the ship. Yet satisfying the markets is a necessary but not sufficient condition for a successful government. Sunak and Hunt must now deliver on public service reform, moving people from welfare into work and getting more out of the health and education budgets.
The Telegraph had more on the parlous state of the NHS, despite more taxpayer money being dumped into it, all for nought:
An analysis by the Institute for Fiscal Studies shows the health service in England carried out 600,000 fewer procedures in the first nine months of 2022, compared with the same period in 2019.
The NHS's budget rose from £123.7 billion in 2019-20 to £151.8  billion in 2022-23, with the extra funding tied to a target of increasing elective hospital activity by 30 per cent compared with pre-pandemic levels. This will not only be missed but matters have worsened. Why is no one being held to account?
Record sums have been poured in for years, yet there is now a waiting list of more than seven million patients. Working practices remain stuck in the past, with consultants complaining that hospitals are "like the Mary Celeste" at weekends, while most GP surgeries are only open on weekdays, pushing patients to overstretched A&E services.
The NHS unions are not helping in their demands for more money.
The article concludes:
There is something fundamentally wrong with the NHS which politicians must confront before it crashes and brings the rest of the economy down with it.
Hunt puts economic hope in migrants
It seems the OBR, a quango started by the Conservative Chancellor George Osborne and staffed by Labourites, has convinced Jeremy Hunt that he should increase our already heavy migration levels to boost the economy.
That's a left-wing idea that has never worked.
Home Secretary Suella Braverman will oppose that, but can she succeed? Only a few weeks ago, a 90-minute argument with Liz Truss and Hunt resulted in Braverman's resignation. Her security violations were a likely smokescreen for what really happened.
Jeremy Hunt is relying on a surge in net migration to more than 200,000 people per year to help deliver economic growth as he oversees a sharp rise in the tax burden to its highest ever peacetime level.
The Office for Budget Responsibility (OBR) predicted net migration – the numbers entering the UK minus those leaving – will be 224,000 next year, before gently declining to settle at 205,000 a year from 2026 onwards.
This is dramatically higher than the OBR's March estimate, when it predicted that net migration would be between 139,000 and 129,000 in the same years, some 80,000 lower.
It is also significantly higher than the long-term "ambition" of Suella Braverman, the Home Secretary, to reduce net migration to below 100,000 – similar to the target of Theresa May, one of her predecessors in the post.
The increase in migrant labour will help to buttress Britain's economy as Mr Hunt imposes higher taxes on earnings, jobs and investment. The OBR said that an increase in migration would help add to the potential size of the economy.
However, rising costs from tax are creating "growing disincentives to work", reduce business investment and depress wages, according to the OBR itself.
Business groups were even more damning. The Chancellor talked a lot about "hard work" and "fairness" in his Autumn Statement. But workers, entrepreneurs and businesses have been left to pick up the bill to keep Britain's welfare state on the road.
The OBR are being deeply irresponsible in advocating city-sized populations coming from abroad each year.
Where will these people live? How is our infrastructure — medical facilities, schools, water supply — increase to meet this demand year upon year?
Anyone travelling by Tube can pick up a copy of the Evening Standard to read about how many British twenty-somethings in London cannot find a room to rent. In many cases, there are 100 of them chasing every available room. The Standard interviews them. Their stories are heart-breaking. These young people are signed up to every rental app, to no avail.
Council tax increasing
On top of all of this, The Times reported that Hunt has given the green light to councils to increase council tax:
… the chancellor announced "more council tax flexibilities", enabling councils in England to raise council tax by 3 per cent a year (up from 2 per cent) from April 2023 and increase the adult social care precept by 2 per cent a year (up from 1 per cent) without having to hold a referendum — leaving councils free to raise the tax by up to 5 per cent next year.
Their article has charts of various council tax rates and offers this example:
If they decide to increase council tax by the full 5 per cent, council tax band D payments would rise by £115 from £2,300 to £2,415 a year in Rutland in the East Midlands — the local authority with the most expensive tax bills in England — while in Westminster in central London, the cheapest authority, they would increase by just £43 from £866 to £909 a year.
Short takes
The Telegraph has an article on winners and losers from the Autumn Statement. There are only two groups of winners: housebuyers and pensioners/benefits claimants.
The Guardian interviewed some of Hunt's constituents in leafy South West Surrey. They are unhappy with him as MP and are equally unhappy with the Government.
Guido Fawkes's sketchwriter summed up Hunt's announcement as follows:
What was the job of the day? To persuade the markets that all was under control. That debt-to-GDP would fall in reasonable time, that things would get back to normal in his cool, technocratic, managerial hands.
It's what we all need, to believe that someone knows how things work and that they know what they're doing. That there is such a thing as "sound money". That the great, communal hallucination of financial reality may be preserved.
In Guido's view, the Chancellor did exactly that. (Pound crashes, housing market collapses, the global financial architecture disappears into the Pacific Trench)
The readers' comments near the end of that post have to do with the raw deal Liz Truss got. Here's the exchange:
I find it impossible to believe that Liz Truss did so much damage in a couple of weeks with a mini budget which was never even enacted to require today's grotesque socialist budget. Hunt and Rishi must be following an ideological policy and using Truss as their excuse.
Yes, she's been made a convenient scapegoat by the WEF shills, to cover all their earlier and current mistakes and wrongdoings.
She went too far too fast and, by doing so, gave the one nation Tories and SunakHunts the opportunity to bring her down. The real villains are Sunak and Bailey [Bank of England governor] with their money printing and inflation denial. We are paying for their mistakes.
She didn't go too far too fast. That is the Conservative spin. The Socialist spin is that she crashed the economy. It was cautious and a promising start, a direction of travel being set, nothing more – except for that huge two year package on the gas bills which was pure socialism and not mentioned by anyone.
The true Conservative spin is that, as an experienced Cabinet minister, she didn't scan the political and financial hinterlands and underestimated the faux Conservative forces ranged against her. Once she u-turned she was done for.
On another of Guido's posts, a reader posited that this is all about reversing Brexit:
The champagne socialist billionaire Rishi Sunak and arch remainer narssisist Jeremy Hunt have nailed the final nails in the socialist party AKA as the Conservative party coffin. They will be wiped out at the next GE for a generation. They want to tank the economy and make everyone feel financial pain so they can say BREXIT didn't work. They will then seem to come to the rescue with every excuse on the planet and join us up first to the single market and customs union. Then kicking and screaming back into the EU. Why do you think they staged this remainer coup and got rid of Truss? The Truss budget of low tax, high wages, high growth, low government spend and the scrapping of the 2300-3000 EU laws retained on the UK statue book would have taken advantage of BREXIT and boosted the economy. They could not allow that to happen. They want to ditch plans to scrap the EU laws as that will make it harder to leave. They have folded on the NI Protocol and leaving the Jurisdiction of the ECHR. Why? Because they want to rejoin. We now are having forced on us a low wage, high tax, low growth, high government spend economy that will cripple most people financially and small businesses. Who wants to invest in the UK now?
On that note, another reader posted a photo of Hunt and Sunak sharing a laugh, with this fictitious caption:
Hunt: Told you you didn't need the support of the members.
Sunak: Yes, it was so easy to stab Truss in the back, too. Who needs democracy?
What taxpayers can do
All is not lost for taxpayers. There are ways to mitigate the effects from Hunt's statement.
Anyone who needs to cut back on food costs, protein in particular, should start eating eggs, which are cheap and the best source of protein around. Supposedly, they're in short supply, but I bought a dozen only yesterday.
The Telegraph has an excellent article on various egg preparations, whether sweet or savoury. It's well worth reading.
The paper also has a helpful article about what taxpayers can do to mitigate Hunt's raid on their money. Some will require advice from a financial planner. The most important tip is to get one's capital gains in order and start liquidating shares or funds to put into an ISA — a process called 'bed and ISA' — without exceeding the CGT thresholds. This has to be started well before the end of the 2022-23 tax year in April, when the current capital gains threshold of £12,300 expires and becomes £6,000 for one year, then £3,000 the year after that.
Good luck!
On Tuesday, November 1, former Prime Minister Boris Johnson gave an exclusive interview on Ukraine to Sky News's Mark Austin.
The video is here.
Boris gave the interview on the condition that it focused only on Ukraine.
The Daily Mail recapped the interview (emphases mine):
The former premier was speaking to Sky News when he was asked if he would like to return to the top role, and whether he had 'unfinished business'.
'You promised this was going to be about Ukraine,' he said. 'I harbour hopes of continuing to campaign for Ukraine and that is my priority.
'There are various other things that I'm doing but that is of course very dear to my heart.'
I'm not as optimistic as Boris is about Putin's holding back in Ukraine, so let's hope our former PM is correct:
In the interview, Mr Johnson claimed Russia would be plunged into a 'cryogenic economic freeze' if Vladimir Putin launched a 'crazy' nuclear strike on Ukraine.
In a warning to the Russian President about the consequences of escalating his barbaric war, the former prime minister insisted Mr Putin would suffer a 'total disaster'.
Mr Johnson told Sky News that Mr Putin would 'immediately tender Russia's resignation from the club of civilised nations' if he used nuclear weapons.
He insisted the Russian President would be further isolated among global nations by losing the 'tacit acquiesence' of countries across Africa, South America and Asia, as well as the 'patronage of the Chinese'.
The ex-PM also claimed Mr Putin's launching of a nuclear strike would see 'an absolutely hysterical reaction' in Russia itself.
Mark Austin asked Boris if he hadn't thrown away his most privileged opportunity to help Ukraine. Austin was talking about Partygate, which pressured Boris into resigning as Conservative Party leader and, as such, Prime Minister. Predictably, Boris gave him a bemused 'What are you talking about?' look, then said that his successor but one, Rishi Sunak, would carry on supporting the war-torn country. Boris also talked up the American aid being pledged, even if Republicans win the mid-terms this Tuesday.
With Boris on the backbenches now, Austin asked if he thought Rishi would give him a special role, perhaps as an envoy to Ukraine:
During the interview with Sky News, Mr Johnson was asked if he has spoken to Rishi Sunak about a 'possible role', with which he said: 'What I can do and what I will want to do is to continue to champion the cause of Ukrainian freedom, of a free sovereign, independent Ukraine. It is a great cause. I think it is a cause that has mobilised a phenomenal level of support across the UK.'
When pressed as to whether he would like 'a formal role', Mr Johnson said: 'I'm happy doing what I'm doing. I think, my job is to talk up what I think are the immediate needs of the Ukrainians,' adding that he will 'inevitably' return to the country.
Mr Johnson was also asked if he feels 'more appreciated on the world stage than he does domestically'.
Responding, he said: 'I have an absolute passionate belief that the war in Ukraine, Putin's act of aggression, is something that we shouldn't accept, we shouldn't tolerate.
'I think that I can continue to campaign for Ukraine out of office and that's what I'm going to do.'
The Mail has many more quotes from the interview.
One interesting thing is that Boris first became interested in Ukraine when he was Foreign Secretary under Theresa May. He said:
I was Foreign Secretary in 2016 and one of the first things I did was go to Ukraine and I remember talking to Ukrainians who had been fighting in Donbas and I remember going to see this great wall, with pictures of thousands and thousands of Ukrainian soldiers who've given their lives for the freedom and independence of their country, and I became very sympathetic to their cause.
I remember standing on that beautiful acropolis in Kyiv and talking about the possibility that Russia might be so insane as to take advantage of the fact that there was no security guarantee to Ukraine, because Ukraine was not given NATO membership and clearly it was a problem, and that is what we now have to fix.
COP27 came up. At the time Boris gave his interview, Rishi said he himself would not be going because he had more pressing business — the cost of living crisis — to resolve.
Boris received an invitation probably because he was the PM during COP26, held last year in Glasgow:
Yes as it happens, but that's not relevant to Ukraine… I was invited by the Egyptians so I'm very happy to go.
He is in Egypt for the conference as I write.
Boris showed his support for Rishi:
Mr Johnson also gave his backing to Mr Sunak, insisting the PM had 'a massive amount to do'.
'We've got to sort out a huge agenda – that's what's he's getting on with,' he said.
As for his own participation at COP27, Boris said:
I was at the Glasgow Cop – although it's become unfashionable to talk about it, was a fantastic global success.
'We did a huge amount of good for the planet, I want to talk a little bit about how I see things and how we see things in the UK.'
Rishi Sunak decided to attend COP27 after all and is also there, enjoying fine meat and dairy menu options such as these:
Note the beef on offer.
Remember, COP27 folks want plebs like you and me to eat … BUGS.
Boris has taken the stage at COP27 twice.
In a speech, he said that the United Kingdom's summer heat wave might have been responsible for was going on at Westminster (video here):
That's a bit of a stretch.
In that video, he also referred to 'pharaonic' climate events, indirectly referring to the Israelites' captivity in Egypt in the Bible.
Then he was interviewed by a reporter for The New York Times's Climate Forward (video here):
Supporting Rishi's attendance, he said:
Some will go weak and wobbly on zero, we can't have that…
Boris has his father Stanley whispering in one ear and his wife Carrie in the other about environmental issues. Meanwhile, the British are choosing between food and fuel this winter, but they do not care.
Just before the last Conservative leadership election last month, Boris gave a speech in Colorado. According to the rules owned by the Cabinet Office and administered by the Advisory Committee on Business Appointments (ACOBA) for former ministers of state and senior civil servants, one must wait at least three months after leaving office to take up an official appointment or employment. Speeches would fall under that category. Boris will have been handsomely paid for his time.
Now he is scheduled to speak for a second time within that three-month period, at Singapore in December:
On November 1, Guido Fawkes reported (emphases his):
The event is scheduled for December 2 in Singapore, where former US Vice President Dick Cheney is also expected to speak. This means Boris is still – by just a couple of days – within the three-month embargoed window of ACoBA's Business Appointment rules:
The Rules state that a minimum waiting period of three months from the date of leaving office to taking up an appointment or employment will be expected when the former official was a Cabinet Ministers or a Permanent Secretary or equivalent, and may also be applied to other applicants if ACOBA believes this to be warranted by the circumstances of the individual case.
When Guido pointed out Boris's first post-PM speech could be a potential breach, his team argued that ACoBA does allow for one-off gigs without them being signed off by Lord Pickles. A second, within the three months, doesn't help Boris's office's line of defence…
Well, Boris never thought that rules applied to him, anyway.
One wonders if we will ever see him on the backbenches again.
On October 23, when the latest Conservative leadership contest was going on, Boris's biographer, the redoubtable Tom Bower, appeared on GB News to say that he could earn a lot of money on the speaking circuit.
We recall that Boris was deeply concerned about money while he was PM, so this route must be appealing.
The Mail on Sunday quoted Bower as saying:
'He was on track to earn £5 million this year but if he wins this vote, eventually the sky's the limit,' said Mr Bower …
Mr Bower said Mr Johnson could easily match the estimated £100 million Tony Blair has made since quitting No 10 in 2007.
Also:
He has lined up a series of US speeches for up to £250,000 a time and signed a £1.5 million deal to write his memoirs, which will be put on hold should he return to No 10.
No wonder Boris decided not to pursue the leadership contest. He's quids in as it is. Why ruin a great opportunity? For him, as a speaker and a former journalist, this will be money for old rope. He could do this in his sleep.
For anyone wondering, Sir Graham Brady MP, chair of the 1922 Committee of Conservative backbenchers — the man who can make or break a Prime Minister — stated on Friday, November 4, that Boris did have the numbers needed for the contest:
Guido reported:
In news that will only surprise deranged Boris-haters, reamainiacs and conspiracists, Graham Brady has confirmed Boris did have the support to make the final round of the Conservative leadership contest. Speaking to the BBC, the Chairman of the 1922 Committee confirmed Boris had over 100 MP supporters and simply decided not to stand. If Boris had made the ballot, he almost certainly would have won…
As the officer responsible for the contest, and one who remained neutral throughout, Brady is the authoritative source on the matter. This only strengthens Boris's claims that his decision not to stand was motivated by concerns over party unity.
The coronation of Sunak has caused widespread discontent amongst Tory members, many of whom are now jumping ship to Reform UK. Not the ideal way to establish Conservative unity…
Agreed, but Sir Graham doesn't care about party unity, nor does Rishi, nor does Boris.
And, finally, just to dispel any lingeringn doubt about Boris's numbers, The Telegraph gave us Sir Graham's quote to the BBC:
Speaking to the BBC, Sir Graham – chair of the Tory party's 1922 Committee – said "two candidates" had reached the threshold, and "one of them decided not to then submit his nomination".
There you have it.
No doubt Boris will be watching Rishi's premiership with interest.
On October 28, 2022, the Times featured an article on food prices from that day in 1922: 'Weekend food: a glut of turbot'.
I would love to experience a glut of turbot, the king of fish — and my favourite.
I was amazed to read that, already, the UK was importing food from other countries and continents. Even then they had Danish bacon. I wonder if it was as watery then as it is now.
Note that French poultry had returned for the first time since the First World War (emphases mine):
Perhaps the principal points of interest in the food market this weekend are the glut of turbot, which is selling at 9d a lb for the whole fish, and the arrival of the first French poulardes to reach these shores since 1914. West End chefs welcome the poularde's arrival on account of the bird's delicacy and tenderness. The price, however, is high, 2s 6d to 2s 8d a lb, and the birds weigh about 4lb each.
I will get to poulardes below.
Moving on to cheap Danish bacon:
Bacon may presently rise a little, as the stocks of cheap Danish bacon are expected to be exhausted in a week or two.
We discover more about the provenance of some butter and eggs, which is rather surprising:
Butter is cheap, and there is a certain amount of Australian butter selling at 1s 10d a lb. Eggs are going to be dearer, and the fivepenny and sixpenny egg may be expected at about Christmas. At present there is a large quantity of eggs coming from South Africa, but the "day old" new laid egg is almost impossible to obtain.
I remember my late grandmother asking our butcher in the United States for day old eggs.
I can't imagine shipping butter from Australia to the United Kingdom. One wonders how often the ice blocks would have to be replaced on the ship. It would not have been possible to fly long distances at that time. Air cargo didn't really take off, so to speak, until after the Second World War.
In 1922, Britain was already importing fruit from the United States:
Californian apples are also on sale at 8d a lb, or 2s, 2s 6d, and 3s a dozen.
As for domestic meats, we discover that chicken was half the price of its French counterpart. I was surprised to read that turkey was already available, which isn't the case now when whole birds go on sale from mid-November, if not the beginning of December. Also, beef was pricey that year; times have not changed. By contrast, lamb was a bargain:
The price of the ordinary English chicken is still about 1s 5d a lb. Rabbits were selling rapidly all the week at 1s 8d each. Pheasants are still dear from 7s 6d to 8s 6d, but should be cheaper soon. Turkeys, at 2s a lb, have been in good demand.
English and Scotch meat remains high in price, principally because there is not a great quantity on the market. As feeding stuffs are more plentiful, not so many animals are being killed. Chilled beef is cheaper; 10 1/2d a lb is being asked for sirloins and wing ribs. Canterbury lamb is 1s 5d a lb for legs and 1s 4d for shoulders.
Now on to poularde, which comes from Bresse and is expensive, even in France.
Today, poultry from Bresse has a protected food name specific to that area, with a Protected Designation of Origin (PDO).
In France, poultry from Bresse originally had an AOC, Appelation d'Origine Contrôlée, now replaced by the EU's PDO.
La Radio du Goût (Taste Radio) tells us that, in 1957, President René Coty personally conferred the AOC on Bresse poultry.
Breeding of these birds began in the 17th century. Although their meat is unsurpassed, their colour has also held a special place in France's heart: red comb, white plumage and blue feet.
The reason they received an AOC and, later, a PDO is because of the unique way they are reared in their specific location.
The AOC definition reads as follows:
The specificity of an AOC product is determined by the combination of a physical and biological environment with established production techniques transmitted within a human community that, together, give the product its distinctive qualities. These crucial technical and geographic factors are set forth in standards for each product, including wines, cheeses and meats. Other countries and the European Union have similar labeling systems. The European Union's protected designation of origin (PDO) system has now largely replaced France's AOC designations for all products except wine …
Can anyone say terroir?
The AOP certification of authenticity is granted to certain geographical indications for wines, cheeses, butters, and other agricultural products by the Institut national de l'origine et de la qualité (INAO). The certification system is designed to protect distinctive and traditional regional products, based on the upon the concept of terroir. Terroir refers to a given geographical area having specific environmental and human features that affect an agricultural product's key characteristics. These factors are meant to capture unique environmental features (e.g. type of soil, topology of the production environment, local climate) and farming and processing practices (e.g. the steps taken and inputs used in producing a specific type of cheese). Thus, it includes the traditional savoir-faire that goes into the production of AOC products. Taken together, these give the product its distinctive qualities.[1]
La Radio du Goût says that, although Bresse is a small area in eastern France, it has three borders: Burgundy, Franche-Comté and Rhône-Alpes.
The poultry there are free to roam, feeding not only on earthworms, insects and larvae but also on wheat and corn specific to that area.
In the weeks approaching their going to market, the Bresse chickens and capons are put in roomy, airy wooden cages where they are pampered to the point where they look forward to food and water as there is nothing else to do. Although the birds are not force fed, the more frequent feeds produce a tender and succulent meat. The finished chickens weigh around 5 lb.
The cooking method is a gentle one. La Radio du Goût says that birds from Bresse are best done in a Le Creuset pot (enameled) over very low heat with no additional butter or fat. They will render enough fat and juices as they gently brown. They require frequent turning over in the initial stage. Season with salt and pepper. The total cooking time is three hours. Although the article doesn't say, presumably one puts a lid on the pot after the meat is golden brown, checking on it every so often to turn it over.
When the meat is done and resting, one can sauté potatoes in the fatty juices. The recipe recommends a sauce of creamed mushrooms — morels, if one can find them — to accompany the poultry.
Another recipe comes from the legendary Bresse cook Elisa Blanc — la Mère Blanc — who was probably the first woman to obtain two Michelin stars in the 20th century.
Her grandson Georges, now an older man, took over her inn in Vonnas — L'Auberge de Vonnas — itself in the Bresse area, and owns most of that village complete with shops and a spa, if I'm not mistaken. He is richer than Croesus.
He also earned a third Michelin star.
Her recipe is for Bresse chicken in cream sauce.
She jointed her chicken into eight pieces and cooked it in a large, shallow pan with Bresse butter. She browned the pieces first in butter, then added a bit more butter, an onion studded with cloves, one garlic clove, a bay leaf, thyme sprigs and a small amount of water before putting a lid on the pan. She cooked the chicken over medium heat for 30 minutes, checking on it from time to time.
While the meat rested, she took a pot of Bresse cream, poured it into a bowl and whisked two egg yolks into it to make an emulsion. She poured the cream-egg combination into the pan in which she cooked the chicken and stirred the sauce over low heat until the eggs were emulsified. The sauce would have been glossy and unctuous, with body. She then strained it to remove any little egg lumps (ideally, there would have been very few), then poured it over the chicken to serve.
Many French families treat themselves to Bresse poultry before Christmas. La Radio du Goût suggests singing Christmas carols while the bird is cooking.
The festival called Les Glorieuses de Bresse runs for five days in mid-December in Bourg-en Bresse, Montrevel-en-Bresse, Louhans, et Pont-de-Vaux.
I do wonder if I could tell the difference between a Bresse chicken and the Tesco Finest from Northern Ireland that I buy. Hmm.
Nonetheless, the recipes should work for any kind of poultry, although some fat would need to be added for browning.
To our modern minds, the Victorian Era probably seems un-democratic.
Yet, it was a time of great transformation in the United Kingdom, from labour legislation to public transport  — and even food.
One man at the vanguard of improving basic nutrition and gustatory enjoyment for everyone during this time was none other than the French chef Alexis Soyer (1810-1858).
Soyer began his British career in London, cooking for the great and the good at the Reform Club, immortalised by Jules Verne in Around the World in Eighty Days. He then turned his attention to the culinary needs of the poor and of infantrymen.
Dr Marjie Bloy, Senior Research Fellow for the Victorian Web, tells us more about this remarkable man:
Alexis Benoît Soyer was born on 4 February 1810 at Meaux-en-Brie on the Marne in France. He was the youngest son of Emery Roch Alexis Soyer, a grocer, and his wife Marie Chamberlan. The couple had five sons: Alexis was the youngest. However two of the sons — Paul and Rene — died. When Alexis was born, Marie thought he was a blessing, therefore she wanted him to enter the Church. However, he did not choose that calling in life.
Early in his career he worked outside of Paris, near Versailles, then progressed to the capital. By the time he was 20 years old in 1830, he was second cook in the French Foreign Office.
He left France in June that year because of a second French revolution and moved to England where he worked for British nobility in and near London:
… in 1831 he accepted employment in the London kitchen of the Duke of Cambridge. Subsequently he worked for the Duke of Sutherland, the Marquis of Waterford, William Lloyd of Aston Hall, Oswestry, and the Marquis of Ailsa at Isleworth.
In 1837, he began working for the Reform Club in the heart of London. On the occasion of Queen Victoria's coronation, he prepared a breakfast for 2,000 guests at the Club.
In 1847, Soyer wrote several letters to the editor about the Irish Famine. Ireland was part of the United Kingdom at the time. The British government appointed him to go to Dublin:
where he built and opened kitchens from where he sold soup and meat at half the usual cost. While there, he published a sixpenny book, Soyer's Charitable Cookery, giving part of the proceeds to various charities.
In 1855, he wrote another budget recipe book, A Shilling Cookery Book for the People:
In 1849, he invented his 'magic stove', which he took to Crimea with him in 1855. The British Army used the 'Soyer Stove' until 1982:
The success of his portable stove and utensils prompted him to resign from the Reform Club in May 1850. At that time, his salary and fees amounted to a very healthy £1,000 per annum. In May 1851, he opened a restaurant in Gore House, Kensington. While he had many customers, especially during the Great Exhibition in Hyde Park, the restaurant closed with losses of £7,000.
On February 2, 1855, he wrote to The Times announcing that he was going to Crimea at his own expense to offer advice on cooking for the infantrymen fighting there (emphases mine):
He began by revising the diet sheets for the hospitals at Scutari and Constantinople. In two visits to Balaklava he, Florence Nightingale and the medical staff reorganised the provisioning of the hospitals; he also began to cook for the fourth division of the army.
When he returned to London, he shared what he learned in Crimea:
On 3 May 1857 he returned to London, and on 18 March 1858 he lectured at the United Service Institution on cooking for the army and navy. He also built a model kitchen at the Wellington Barracks, London.
He also wrote two cookery books for military use, one of which was published posthumously:
Soyer's Culinary Campaign (1857) and Instructions for Military Hospitals (1860).
Soyer devoted his adult life to the British and, as such, is buried in London:
He died on 5 August 1858 at St. John's Wood, London and was buried on 11 August in Kensal Green cemetery.
He certainly had a public relations touch. The subtitle to A Shilling Cookery Book for the People is:
Embracing an entirely new system of plain cookery and domestic economy.
Soyer was predeceased by his English wife, Elizabeth Emma Soyer, an oil painter whose interests included the abolition of slavery. She died while pregnant in 1842. Soyer erected a large memorial monument to her in Kensal Green Cemetery. Her paintings were displayed in London and in Paris, where her art was highly esteemed. Her portrait of her husband remains in the Reform Club's collection.
How long did it take for me to get the perfect crackling on a loin of pork?
Thirty-one years.
I tried everything.
The secret to excellent crackling follows, but let us also look at the basics of buying a pork loin rib for roasting.
This is probably more pertinent to readers living in the UK and possibly a few Commonwealth countries than elsewhere. I'd never encountered crackling until I moved here.
You will need two roasting tins, coarse salt and sturdy kitchen scissors.
At the butcher's
Ask your butcher for a loin of pork that has a good rim of fat on it.
He will produce a large rib from which he will cut your roasting joint. He will also ask how many ribs you would like.
A seven-rib joint will serve 14-16 people comfortably. We like leftovers, so we had roast dinner for four nights running and sandwiches on two other nights. A roast pork sandwich with butter and mayonnaise is Proustian to me. It also works well with pickle.
In 2022, a seven-rib joint costs between £34 and £36.
Ask the butcher to chine the joint (for easier carving) and to score the skin.
Crackling — and roast — preparation
At home, an hour or two before cooking anything, boil a large pan or roasting tin of water for the crackling. Either vessel should be half full of water.
Meanwhile, remove the crackling portion by carefully cutting the skin with as thick a layer of fat as you can from the roasting joint. Set it aside on a board or a plate.
Make sure you leave a thin bit of fat covering the meat on the joint. Season the joint well with salt and pepper and set it aside on a cutting board or platter.
When the pan or roasting tin of water is up to a rapid boil, carefully drop the skin into it and cook it for five to ten minutes. Reverse the skin and cook on the other side — the fatty one — for five minutes.
I learned about the boiling technique on a television show from a French chef who said that his mother always prepared crackling that way. Gordon Ramsay uses the same method.
It works.
Remove the crackling portion from the boiling water and place it on a plate. When it has cooled, carefully pat it dry with kitchen towel and put it on a dry plate. Refrigerate it for one to two hours.
Roasting the crackling
The chilled crackling should go into the oven 20 minutes before the meat. It will take about two to two-and-a-quarter hours to roast.
Method:
1/ Preheat the oven to 200°C (395°F).
2/ You will need a smaller roasting tin and coarse salt, which is a must.
3/ Rub coarse salt all over both sides of the crackling, including between the crevices of the skin. Make sure you adhere to good hand and food hygiene as you don't want to contaminate your salt container with raw pork bacteria.
4/ Place the crackling in the roasting tin and put it on the top shelf of the oven. Roast for 20 minutes.
5/ When you are ready to roast the meat (see below), move the crackling to the lower shelf and reduce the heat to 180°C (350°F).
6/ After an hour, remove the crackling, pour any excess fat into a mixing jug and return the crackling to the lower shelf to continue roasting.
7/ After another hour, remove the crackling tray from the oven and strain the remaining excess fat into the jug. (Once the fat has cooled, pour it into a clean jar with a lid, refrigerate and use for pan frying fish or roasting it in the oven — a great substitute for deep frying.)
8/ After two hours, your crackling is done if you can cut it easily with kitchen scissors. If it does not cut easily, return it to the lower shelf for another 15 to 20 minutes.
9/ When the crackling is done, remove the pan from the oven and set it on a board to cool. Once cooled, cut it into large strips with kitchen scissors.
Roasting and carving the meat
Roasting the meat is straightforward.
Method:
1/ Put the seasoned joint of seven ribs (see above) on the top shelf of a 180°C (350°F) oven for one hour and 45 minutes.
2/ When done, remove the roast to a carving tray and let it cool for 30 to 45 minutes.
3/ When it has sufficiently cooled, begin carving the meat. Carefully remove the rib bones and place them in a large saucepan so that you can make stock. Fill the saucepan with water and place on the stovetop on medium heat for two hours. The stock should reduce by half. Season the stock with salt and pepper. Leave to cool for a few hours before decanting and refrigerating for later use. (I use large mayonnaise jars or litre-sized soft drinks containers. They do need lids or bottletops.)
4/ When you are left with just the meat, carve it into thin slices. These photos show what the slices should look like.
Sauce
While the meat is cooling, make a sauce, or gravy, to accompany the meat. I use a combination of Port and 1/2 to 3/4 cup of any meat or vegetable stock I've made previously.
This takes about 20 minutes.
Method:
1/ Heat the empty roasting tin on the stovetop, placing 50g (2oz) of butter and 50g (2oz) of flour in it to cook until bubbly. This is the beginning of a roux.
2/ Once the butter and flour are bubbly, have a whisk ready. Add a good splash of Port and whisk until the roux and the wine come together in a thick mass.
3/ Slowly add meat or vegetable stock a little at a time, whisking between each addition until smooth. The sauce will gradually get thinner until it resembles jus, a lightly-textured gravy.
4/ When the sauce is ready, add the meat to the sauce in the pan and gently warm it through over low heat. Increase the heat to medium or medium-high two or three minutes before serving so that everything is hot.
Serving
Place the meat covered in sauce with a piece of crackling on the side of the plate.
Wrap any leftover crackling in aluminium foil and refrigerate it. Reheat it on the foil the next day at 180°C (350°F) for five minutes.
I have prepared crackling this way for a year, and it is the best yet.
One of my good friends and I occasionally discuss whether all calories are alike.
His perspective on losing weight involves eating less, full stop.
Mine involves eating the right kind of foods, which the body has to work harder to digest.
On Monday, June 20, 2022, an article appeared in the Daily Mail, 'Counting calories is a waste of your time, says gut health guru Dr Megan Rossi'.
Here is the essential part of the article (emphases mine):
… with highly processed foods, most of the food matrix has already been broken down for us by machines, making the calories more accessible (so the figures on the labels for ultra-processed foods are a more accurate measure of what our body absorbs).
Another reason for not focusing on calories is that not all calories are equal, because of food's thermogenic effect. This is when you burn calories while eating and digesting. In other words, your body's processing will counter some of the calories — and here's the important bit — depending on the specific food.
Whole foods such as fruit, veg and nuts that need chewing, breaking down and more digesting have a higher thermogenic effect than ultra-processed foods.
And the calories from highly processed foods are much more readily available. For example, a KitKat and a banana might contain similar calories and your food-tracking app won't treat them any differently — but your body will.
One study in particular (published in 2010 by Pomona College, Claremont, in the U.S.) found that the body burns nearly 50 per cent fewer calories digesting a meal of processed foods than after a whole-food meal, even if both contain the same total of carbs, fat and protein.
It might not sound enough to make a lot of difference, but over a month, a year, a lifetime, it certainly adds up.
Further research in the journal Cell Metabolism in 2019 found that people told to eat as much as they liked gained more weight when given ultra-processed foods than when having unprocessed options — again, even when the meals were matched for carbs, fat and protein.
This supports what I've seen in clinic: limiting processed foods is a better weight-management strategy than counting calories.
These sorts of findings are repeated time and time again, and explain why we often don't experience a lasting feeling of fullness after eating processed foods. For instance you might feel stuffed after a fast-food meal, yet weirdly ready to eat more an hour later.
If a food has already been broken down for you, your body has less work to do and it's less satisfying. An apple takes longer to eat and is way more filling than apple sauce, which itself is more satiating than a glass of apple juice. That's because a whole fruit contains fibre and water bound up in that food matrix.
Unlike me, Dr Rossi is big on plant-based diets. However, she did have something interesting to say about gut bacteria, which she says is a:
secret weapon … These, and the chemicals they make when they digest plant fibre, can affect appetite.
These chemicals, such as short-chain fatty acids, tell our body we've had enough. This halts the production of hunger hormones such as ghrelin, and increases the 'I'm full' hormones such as leptin.
Other chemicals produced by our gut microbiota are thought to target the reward network in the brain, which influences our relationship with food and our tendency towards emotional eating.
Microbes and their by-products have also been linked with 'turning on' genes related to fat distribution. Added to the fact that our microbes may influence our taste receptors, it's pretty clear that having a higher body weight is way more complex than simply eating too much and not exercising enough. So feed your gut microbes and it's likely to keep everything else in check.
This is why it is important to prepare meals from scratch. Even at my busiest during my working years, which included being in the office at the weekends, I always made time to prepare two sets of dinners for the days ahead. I could take one portion out from the freezer every day and put it in the refrigerator. It was thawed by the time I got home that evening.
Ready meals never gave me as full a feeling, so to speak, as homemade dinners did.
The same goes for treats, such as cakes and biscuits. Baking with butter and sugar produces a more satisfying result than buying something off the shelf made with vegetable oil and corn syrup. Consequently, one eats less of a homemade sweet treat than an industrial product.
The answer to obesity is to eat fewer processed foods, especially carbohydrates, and to focus on natural fats and proteins instead.
The ketogenic diet is a way of eating, for life. It makes food more enjoyable and satisfying.
On Saturday, June 18, 2022, a group of Telegraph columnists shared the lessons they learned at the age of 40.
'What I wish I had known at 40' is a thought-provoking article and worth sharing with younger family members. I hope that Prince William, who is reaching this milestone on June 21, reads it.
Some of these columnists are well over 40 now, which makes their observations all the more worthwhile.
Excerpts follow, emphases mine.
Janet Daley had no choice but to leave her academic career abruptly, aged 40:
Not very long after my 40th birthday, I lost the career to which I had devoted my adult life. From the time I arrived at university – which seemed to me like heaven on earth – I had never wanted to be anything other than an academic …  But then came one of those brutal moves for which academic life is notorious: my department was closed down and I was out. It was like a bereavement. My family were for a time seriously worried about my emotional stability.
But there was, as you may have guessed, to be a whole new chapter. By an extraordinary stroke of luck, newspapers were at that time expanding exponentially. This was just after the Wapping revolution when the press was freed from the decline to which the domination of the print unions had once condemned it. This liberation also encompassed the old National Union of Journalists rule, which had made it very difficult for Fleet Street to hire writers who had not served years of apprenticeship on provincial newspapers. Those two factors combined to allow me to enter what would always have been a natural alternative profession. I started out as a commentator for The Times. Then The Independent – only recently launched and very fashionable – offered me a column. Then, a year later, The Times brought me in as a columnist. Five years after that, I joined The Telegraph, where I have had a happy home ever since.
So what do I wish I had known back in that period of grief and hopelessness in my 40s? That you can reinvent yourself at almost any point in your life, and that there is a world of possibilities out there if you refuse to be defeated by despair.
Bryony Gordon is still learning, every day:
It wasn't that long ago that I turned 40 – I will be 42 in a couple of weeks – but two years in pandemic years is like 20 years in normal human years, so perhaps I have managed to gather some pieces of advice for my marginally younger self. Namely: don't trust your Prime Minister, don't imagine you'll ever go abroad again, and don't wait to get work done on the kitchen, because building materials are going to be more pricey than printer's ink.
Practical matters aside, I wish I had known that I didn't have to live in fear. Fear of failure, fear of not doing enough, fear of losing everyone I love. If I have learnt anything in the past two years, it's that I have very little control over anything, so I might as well start enjoying life, instead of waiting anxiously for it to end. At 40, nothing is certain any more – not immortality, not oestrogen, not the 8.47 to Waterloo. You can sit around railing at the unfairness of it all, or you can start sucking the delicious juice out of what you do have. This is the option I have decided to take, but only after a fair bit of railing, flailing and pain.
But what do I wish I'd known most at 40? That I barely know anything at all, and if I'm lucky, I've got a whole lot of learning on the way. Bring it on, I say.
Christopher Howse recounts the mistakes of his his middle years and says:
At 40 I still hadn't realised that almost everyone's troubles were as big as mine. It took a few more years to swim along with other people cheerfully. The worst thing would have been to make my woes define me against a world that was to blame for my miseries. But now, like minnows in a stream lit up by the English sun, we swim one way, then swirl round in formation, then dart explosively apart. It's better than solitary splashing, exhilarated one moment and towed under a dark wave the next. To me it looks like the Prince learnt to swim some time ago.
Judith Woods says that it is important to be oneself:
I wish I'd known at 40 that it's not too late. To start a lifelong quest. To end a toxic friendship. To be reckless. To be careful. To be, in George Eliot's immortal words, what you might have been. If only your inner critic could be silenced …
I spent my early life worrying, ruminating and second-guessing what "other people" thought of me, would think of me if I went blonde, brought supermarket wine to a dinner party or let my baby daughter have a dummy. Silly things. Stressful things.
Finally, at 40 I started to realise that unless anyone (by which I mean someone who mattered) explicitly said something to the contrary, it was safe to assume my dress wasn't too short, my work was fine, I didn't say anything unforgivably awful in the pub and I was not a high-functioning failure, in danger of being outed at any moment.
Do princes suffer from impostor syndrome? Apart from the one moonlighting as a pauper in Mark Twain's classic novel, I suspect not. An heir to a throne is, of necessity, schooled in resilience as well as tireless public service.
Here in the cheap seats, I'm more than a decade ahead of the Duke of Cambridge and can joyfully report that not giving a monkey's about other people's (unvoiced and entirely putative) opinions of how dreadful I am is gloriously liberating. Curtailing the self-sabotage remains a work in progress of course. But it's never too late to begin.
On a similar note, Michael Deacon points out that, at age 40, one can finally ditch the conformity that defined one's youth:
We think of the young as rebels, but in reality the opposite is true. The young are conformists, desperate conformists. In everything they do they crave acceptance, perhaps not from their parents or teachers, but always from those their own age – and in particular from those they deem to be cooler or more attractive than they are.
And inevitably this frantic, fevered craving makes them unhappy, because it compels them to do things they don't really want to, things they don't actually enjoy. They force themselves to go to parties they'd been dreading, go clubbing even if they hate the music, buy clothes they know don't suit them, pretend to love books they've never read – and all in a neurotic attempt to impress others, or at least to avert their contempt.
By 40, however, all that nonsense has dissolved. We go out when we want to, and stay in when we don't. We choose the music, films and books we genuinely enjoy, rather than slog our way through unrelieved tedium in a miserable bid to seem clever and sophisticated. We lose all interest in the concept of cool, and accept our tastes and our views as they actually are. We allow ourselves to think what we really think, rather than what we think we should think. In short: we start being honest – both with others, and with ourselves.
No longer do we have time to worry about how we might look to people we don't even know. This is the wonderful thing about middle age. Things that don't matter don't matter any more.
I couldn't agree more. My 20s were miserable, especially as I was still trying to find my own identity as a person — and be accepted for my foibles.
I was so relieved to turn 30. It felt as if a shroud had been lifted from me.
At 40, I was even happier in myself. At 50 and 60, my personal happiness increased. Long may it continue.
I am closing with Philip Johnston's warning about weight increase after the age of 40. Monitor it and get rid of it:
My advice is mundanely practical. Remember that just putting on a mere 1lb in weight a year can add two stone by the time you are in your 60s, so watch what you eat. I wish I'd taken a friend's advice on reaching 40 to apply for MCC membership as I'd be in by now, just. I wish I'd taken up those Italian classes and properly learned the piano but didn't. Do it. As Housman said, the land of lost content cannot come again.
But I also like the somewhat opaque observation of the American rock singer Bob Seger: I wish I didn't know now what I didn't know then.
On the subject of weight gain and loss, one of the greatest British success stories is that of Labour's Tom Watson, who used to be the party's deputy leader.
On Monday, June 20, 2022, The Telegraph interviewed him to find out his dieting secrets. The article has before and after pictures.
Excerpts follow:
In 2018 the former Labour deputy leader astounded everyone when he lost eight stone, going from 22st to 14st in two years and reversing his type 2 diabetes, going on to write the bestselling book Downsizing. 
Watson still admits to the occasional eating binge and has to resist temptation when he goes down the biscuit aisle in the supermarket:
Watson will never be free of the urge to eat sugar. The mere thought of a Hobnob can still have him salivating. If he finds himself needing to re-fuel on the go he'll grab a packet of turkey slices from the likes of M&S. "But I could so easily go to the biscuit aisle and eat a packet there and then," he says.
He has another book out about his weight loss:
Calling his new book Lose Weight 4 Life might at first seem a bit of a boast. As Watson says: "That's a heavy and onerous responsibility I've given myself there".
However, the title in fact refers to the cycle of small setbacks followed by resets that are inevitable.
Not every day will be a success, and those losing weight will have to adapt to good days and bad:
"You are losing weight for life because you're going to have good days and bad days. You're going to put a bit of weight on and have to learn how to put yourself in the mood to shift it. Whether it's logging your food that week, or starting to take your measurements, as long as you've got a reset programme that brings you back to the journey, you're going to be OK."
Multiple times during our interview he tells me that weight loss is a "journey, not a destination".
In Week One, he advocates:
creating and maintaining a log of food consumption along with one's weight;
preparing oneself mentally;
avoiding getting down when one has not lost weight;
taking it one day at a time and reviewing the food log to see if any bad habits are apparent. If so, those are the ones on which to focus.
He makes it clear that what works for him might not work for someone else:
Not everything he did, he makes clear, will work for everyone else, but it's a place to start.
His overall strategy is to adopt the keto way of eating:
Watson's reset is to go keto, cutting back on the carbs.
If he was a minister now he'd be reengineering the British breakfast away from sugary cereals back to Fay Weldon's 'Go to work on an egg', he says.
Cutting carbs also means cutting out beer:
… he hasn't had a beer in five years ("Too much sugar"), now favouring spirits such as vodka and gin.
Correct. Dry wine is also good with meals.
He also advocates the following:
not eating straight from the fridge; place your food on a plate and eat it with cutlery;
avoid snacking when going to parties;
don't despair if your clothes suddenly feel tight; recalibrate and carry on;
pay attention to what is going on in your life and how it can affect your eating habits;
build a support group of friends who can help keep you on track;
get plenty of sleep; lack of it can cause people to gain weight.
I have a lot of posts about the ketogenic diet, which also improves mood, just the thing one needs at age 40 and beyond.
In closing, to my readers in the Northern Hemisphere, best wishes for the summer!
And many happy returns to Prince William on his special day.
Of all the Red Wall MPs, Lee Anderson's star shines the brightest among true conservatives.
Those who missed the first two instalments of his profile can read them here and here.
Anderson-Bray latest
I left off with Anderson's exchanges with Steve Bray, who lives up to his surname. For years, he has been on the open spaces around Parliament, e.g. College Green, braying against Brexit. He appears to be crowdfunded. He is very loud and the police won't move him along. As for MPs taking action, not enough witnesses will come forward to corroborate his disturbances with them or with employees on the estate. After six or so years, he should really find a proper job.
The latest instalment in Bray-Anderson story took place on June 9, 2022:
Guido Fawkes has the story and the video (red emphases in the original):
The ongoing war of words between Red Wall Rottweiler Lee Anderson and Professional Loiterer Steve Bray has taken another dramatic turn. Yesterday, after Bray once again tried to confront Anderson on College Green, Lee bit back by asking "why haven't you been sectioned yet?". This, according to the London Economic, "sparked outrage"…
So much outrage that Shadow Mental Health Minister Rosena Allin-Khan demanded an immediate apology, claiming "MPs should not use mental health tropes when responding to criticism."
Now, following Allin-Khan's intervention, Anderson has offered a heartfelt apology. He tells Guido:
I will be apologising to the good people of London as it would appear Lord Bray has slipped through the net and quite clearly should be getting help.
Don't count on it…
No doubt, the story will run and run.
Food banks
One story the whole nation knows about is Lee Anderson's views on home cooking in light of food bank use.
One month ago, on Wednesday, May 11, a week after local elections, Anderson, who participates at his local food bank, said in Parliament:
There's not this massive use for food banks in this country. We've got generation after generation who cannot cook properly, they can't cook a meal from scratch, they cannot budget.
Guido has the video of his part in the Commons debate. Anderson invited any MP who wished to take him up on it an invitation to his local food bank in Ashfield. His food bank has a scheme whereby anyone who comes for food has to sign up to a budgeting course and a lesson in how to cook from scratch.
He rightly criticised the Labour MPs opposite for being out of touch and, fortunately, he said, out of power. Guido borrowed the motif from a popular BBC programme, Eat Well for Less:
Remember that, until 2018, Anderson was a card-carrying member of the Labour Party. He joined the Conservatives that year.
It is also worth saying that Anderson was hardly born with a silver spoon in his mouth. He grew up in a mining family and said in another parliamentary speech that Labour's poor education policies prevented him and his classmates from progressing in life. They all ended up working in the local mine when they left school.
Michelle Dewberry invited him on her show that evening to allow him to elaborate on his views. He told her that his mother and grandmother cooked from scratch every night.
In an interview with Dan Wootton (see below), he said that, for many years, he was a single parent, and also cooked fresh meals daily for his children.
Dewberry's segment is worth watching:
Anderson and other food bank staff brought in a local, award-winning chef to do a cook off. He participated in it. He said that people can make a batch of meals for only 30p a portion. I can believe it.
He described it to Michelle Dewberry (emphases mine):
We did a small project where we took some school children and we spent £50, we filled a trolley up, we had a local chef, an award-winning chef.
We went back to the college and invited four other MPs and we had a bake off, like a cook off.
We prepared I think it was about 1700 meals and we put them in a container and froze them, now that's enough to feed a family of five for about £50.
Now they're not massive piles that people get at the local carvery, but they were enough, they were nutritious, good value meals.
He also told her:
My position is, yes, we have to support some people but, in the meantime, instead of throwing money at everything, let's try and help people.
I couldn't agree more. It's not just food bank users who cannot — or won't — cook, it's also a lot of ordinary middle-class women. I'm nodding at the women who live on either side of me. There are countless more who rely on a) ready meals, especially the pricey ones from Marks & Spencer, and b) weekend roast lunches at the local carvery.
For a family of four — parents and two children — the sums add up pretty quickly, week after week.
The front pages from Thursday, May 12, were expectedly execrable, shouting that he was just another out of touch Conservative.
Metro is the free newspaper, available to all metropolitan commuters:
This was the headline from Labour's house organ, The Mirror:
The story made GB News shows again that evening.
Colin Brazier invited left-wing Tom Pollard and conservative Benjamin Loughnane to debate what Anderson said in Parliament:
Pollard, not surprisingly, said that the poor are going through some really rough times. True, but one of the cheapest ways of saving a bit more of dole money is by getting smart by cooking at home. There's nothing shameful about a hot dinner of a baked potato topped with hot baked beans. The potato can be done in the microwave and crisped up for 15 minutes in the oven. The beans can be poured out of the tin into a microwave-proof dish.
Loughnane said that he thought what Anderson said was well-intentioned and 'not malicious'. He agreed that there were other ways to help people rather than monetarily. He said that the controversial element was that a Conservative MP had said it. However, Loughnane said that Conservative policies haven't helped anyone's cost of living very much, especially the poor.
Later that evening, Dan Wootton used the Anderson controversy for his lead editorial. He featured clips from all the televisual media — ITV, BBC, Sky — and said that their left-wing claims were false. Wootton said that Anderson made a practical point about the lack of cooking and budgeting skills in today's households. He also played the full exchange from Parliament and explained that Anderson was a regular volunteer at the Ashfield food bank. He said that Anderson himself fed his two sons for 17 years by cooking from scratch:
Wootton interviewed Anderson later in the show:
Anderson said that there were also a lot of:
rich people who can't cook, either, and that's my whole point.
Wootton then went into Anderson's background. The MP said:
I did struggle. I had to sell my car and walk everywhere. I've been that single parent.
As for what he said in Parliament:
What I alluded to … is common sense. The media have just run amok with it, really.
He said that it is better for him, as someone who has experienced living on the edge, to say what he did rather than some of his colleagues 'who have been to Eton'.
Anderson said that food banks should be considered as a safety net not as a regular fixture in their lives. He supports people who are on hand to ask if those getting food parcels have problems with debt or money in general.
He added that he'd worked in his Citizen's Advice Bureau and was used to encountering these types of issues from the people he helped.
I still have more on Lee Anderson to come next week.
He's a no-nonsense, common-sense man who would make a great Prime Minister. It's just a shame that he would never get that chance in the current political climate of Islington, the London borough that rules Westminster.
The metropolitan elites have done this country no favours at all. Lee Anderson and other Conservative MPs from modest backgrounds are trying their best to reset the balance.