You are currently browsing the tag archive for the 'Fourth of July' tag.
England is finally reopening during the latter stages of the coronavirus pandemic.
On Friday, I wrote about what's coming up during the rest of July.
However, I did not have time to write about what happened at the beginning of the month.
Saturday, July 4, was called 'Independence Day' by the government and 'Super Saturday' by the media.
Prime Minister Boris Johnson made the announcement during the coronavirus briefing on July 3. The businesses concerned were already prepared:
Barbers and hairdressers reopened:
Restaurants, pubs and cinemas were also allowed to reopen that day.
This was the scene in Camden (London) at midnight:
ITV reported:
Sandra Jacobs was among the first people through the door at Tusk Hair in Camden on Friday night when the north London business opened its doors at midnight for the first time in three-and-a-half months.
Despite the abundance of masks, aprons and faceshields serving as a reminder of the new normal of post-Covid society, Ms Jacobs said she was just relieved to be sitting in owner Carole Rickaby's salon chair again.
"It's such a relief, I can't tell you," she said …
Despite the late night, things are only set to get busier for Ms Rickaby with bookings flooding in over the last few days.
But she said she is delighted to be able to give people something to look forward to in these difficult times.
"I'm just happy to be able to come back to work," she said.
"Getting their hair done makes people feel better.
"Getting a haircut is a big boost for mental health and that's exactly what people need right now."
Judging from men getting a welcome shearing, it does appear that it gave them a great mental as well as physical boost:
Queues appeared outside barbers across England, from London …
… to Essex, in the South East …
… to the Midlands, where an ITV Central reporter shared his before and after photos …
… to Herefordshire in the West Midlands …
… to Wigan, in the North:
Boris had his hair cut, as did other MPs:
As for pubs, Prince William visited his local in Norfolk:
ITV reported that Prince William spent time talking with the publicans, who reassured him that they were ready for any rowdiness:
The duke took a seat in the pub's garden with the landlords, their head chef Philip Milner and duty manager Lucy Heffer, and when his drink and food arrived he joked: "I don't know where I pay, I'll do that before I leave, I promise."
Concerns have been raised about pubs and bars reopening on the weekend dubbed "super Saturday" rather than a weekday, and the Prime Minister has already appealed to pubgoers to show restraint …
Anthony and Jeannette Goodrich have owned the pub for 25 years and had to close their premises and furlough more than 25 full-time employees, who are bolstered by another 10 or 15 temporary weekend workers, when the outbreak struck.
Government ministers had issued a warning about breaking the law:
In the end, it rained nearly everywhere in England that day, so the weather put a dampener on any crowds, rowdy or not:
Everyone who went to a pub was just delighted for the experience of going out for a drink for the first time since Friday, March 20.
Pubs were allowed to open at 8 a.m. One Guardian reporter shared his experience in north London:
One does have to sign in at the pub, in case of a coronavirus outbreak. The Test and Trace folks can then get in touch with you. This man rips apart Health Secretary Matt Hancock's original policy of registering online with a pub. This is an amusing but considered video made on June 22, well before the reopening and signing in at the door. He also points out that the government is very good at perpetuating the illusion that the public are in control of their own decisions; clearly, they are not:
Chancellor Rishi Sunak does not drink, but he recognises the importance of pubs as part of English life:
Finally, a sign of normality for both businesses and customers during a most unusual year.
Dr Trump is quickly working to restore the Great Republic to health, but she is still gravely ailing.
This film, ostensibly about Q, is more of a general op-ed piece about the state of America today. For that reason, I would recommend watching the last two minutes for a glimpse of a brighter future. Even though I'm on the fence about the first several minutes as being representative of Q, a lot of people like the video, so here it is:
On this note, on July 1, 2018,the Washington Times published a good editorial by L Todd Wood, 'America really did have a Manchurian Candidate in the White House'.
a graduate of the U.S. Air Force Academy, flew special operations helicopters supporting SEAL Team 6, Delta Force and others. After leaving the military, he pursued his other passion, finance, spending 18 years on Wall Street trading emerging market debt, and later, writing. The first of his many thrillers is "Currency." Todd is a contributor to Fox Business, Newsmax TV, Moscow Times, the New York Post, the National Review, Zero Hedge and others. For more information about L. Todd Wood, visit LToddWood.com.
Excerpts from his editorial follow, emphases mine:
After returning from a tour of some of the war zones in the Middle East — which ended with the Free Iran Gathering 2018 in Paris — I am struck by the realization that America really did have a Manchurian Candidate in The White House for eight years. If you look at the evidence, there really is no other conclusion. The calamitous consequences of the Obama presidency will be felt for the foreseeable future.
In the short year and a half that President Trump has been in office, he has put in place policy that has mitigated the damage that President Obama inflicted on our national security and on our allies. The speed with which Trump has been able to turn things around points to the diabolical depths the Obama administration went to in order to undermine our national strength and way of life. All Trump had to do was stop doing things that hurt America; America could then take care of itself. The results are plain as day. However, it will take decades for the Obama damage to be completely undone. The deviousness of the Obama sedition runs deep.
Todd then analyses the destabilising effect Obama's policies in the Middle East had not only there but on the rest of the world — well worth reading.
He concludes:
I won't go into why Obama ran up more debt for the United States than all previous presidents combined. I won't ask why he weakened our armed forces. I won't ask why he used tyrannical policies, like using the agencies of the federal government to go after his political opposition. I won't ask why he politicized our security apparatus in an attempt to frame President Trump.
What I will say is that there was a big fox in the hen house for eight long years. Eight long years for people like Brennan, Hillary, Kerry, Clapper, Comey and Jarrett to really hurt us regarding our safety and security.
Trump has a lot of house cleaning to do. Thank goodness he's being quick about it.
Indeed.
On this Fourth of July, it is important to honour the Great Republic and to be aware that much still needs to be done to restore her to health.
I hope my American readers enjoy a happy Independence Day. Please remember the nation the Founding Fathers had in mind and pray for her continued recovery.
President Donald Trump and First Lady Melania Trump hosted an Independence Day celebration for military families at the White House on Tuesday, July 4, 2017.
While the nearby Trump International attracted relaxed Americans …
… the First Family put on their first Fourth of July celebration:
The Pences were also present …
… including their son Michael, who is in the United States Marine Corps (far right in the photo):
The evening began with the National Anthem:
President Trump addressed the crowd:
The festivities began with a picnic:
Vice President Mike Pence's press secretary was moved by the event:
The colour scheme and gentle drape of Mrs Trump's dress suggested the American flag:
Ivanka Trump's children enjoyed a sweet treat:
The celebration ended traditionally:
The White House was illuminated beautifully:
I have read anecdotally that local celebrations were widespread and better than in previous years. Someone from Queens, NY, said that fireworks were going off everywhere. Someone else said that the supermarkets cleared quickly of hot dogs, hamburgers and the requisite buns. One supermarket staffer said that they could not keep up with the demand — even though they had ordered more than they had in previous years.
Trump noted that petrol prices are significantly lower in 2017:
He is now on his way to Europe:
The Poles are looking forward to it:
I hope his trip, particularly the Polish one — thought to involve discussions about their importation of American natural gas, among other topics — exceeds all expectations.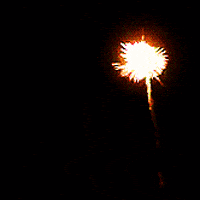 Best wishes to all my American readers for a happy Independence Day. I hope all, wherever they are in the world, have a happy Fourth of July.
May it be enjoyable, yet peaceful.
And may it be spent in good company, with excellent food and summertime beverages.
This year, Americans have channelled the spirit of Brexit:
The US Department of the Interior has a great little video (the length of a television advert) with beautiful photos of the American landscape from sea to shining sea as well as of those who fought to keep the nation free:
Below are a few reflections and facts about the American colonies' fight for independence and the country they built.
Happiness
Since the late 1970s, the notion of personal happiness became a priority first in American society then elsewhere in the Western world.
The Declaration of Independence, adopted on July 4, 1776, contains the following text (an amendment by the Committee of Five of Thomas Jefferson's initial sentence):
We hold these truths to be self-evident, that all men are created equal, that they are endowed by their Creator with certain unalienable Rights, that among these are Life, Liberty and the pursuit of Happiness. ——
Read it carefully.
Karl Denninger at Market Ticker points out (emphasis in the original):
I note that the Founding Fathers, wise men that they were, recognized this as they called out in the Declaration of Independence the fundamental human right to the pursuit of happiness.
Nowhere is attainment of happiness mentioned, nor can it be assured, and for good reason — it's mostly in our heads!
The Declaration of Independence does not guarantee happiness, only the pursuit thereof.
Life and liberty, on the other hand, are the bedrock of the document and the ideals behind the new nation.
It is ironic and sad that, today, life (abortion, euthanasia, murder) and personal liberty (constantly eroded) take second place to a misplaced and misguided idea of the achievement — rather than the pursuit — of happiness, which is impossible in a fallen world.
Freemasonry and the Founding Fathers
If only history were taught academically and disseminated publicly the way it was in 1976, the year of the Bicentenary, which I remember well.
Everything was much more straightforward then.
Over the past 20 years, aided by the Internet, every revisionist kook — 'Christian' and secularist — is coming out of the woodwork to denounce the Founding Fathers who made such painstaking efforts to give the world the United States of America.
I say 'world', because, by now, someone from nearly every country on earth has been able to settle there.
But I digress.
Much has been made by certain religious Americans about Freemasonry's role in the independence effort.
It is difficult to know what books and websites are telling the truth. By now, we may never know. With the passage of time come more biased perceptions and selective evidence.
One interesting webpage on the subject is called 'Freemasonry and the American Revolution'. Highlights follow.
On one Founding Father and President:
Thomas Jefferson was not a Freemason
nor was he part of any Illuminati Conspiracy
While there were a lot of Masonic lodges in the colonies, few Masons led the independence effort:
While some Freemasons joined the Revolutionary cause, the vast majorities of American Revolutionaries were not members of the Masonic fraternity. Important Revolutionary leaders like Thomas Jefferson, Thomas Paine, John Adams, and Patrick Henry were not Freemasons. Of the fifty-six signers Declaration of Independence only eight or nine can be shown to have been Freemasons.[4]
On George Washington's commitment to the Masons:
While Masons shamelessly promote George Washington's membership and sometimes allege his persevering zeal for the Masonic fraternity, his commitment to the organization is unclear. In 1798 Washington wrote to a Reverend Synder, "to correct an error you have run into, of my presiding over the English Lodges in this country. The fact is I preside over none, nor have I been in one more than once or twice in the last thirty years." As early as 1780, Washington called Freemasonry "Child's Play" and subsequently announced to a committee of right worshipfuls of King David's Lodge, that it was not agreeable to him to be addressed as a Mason. When Washington retired to private life, Freemasons Andrew Jackson and Edward Livingston were two of the three men to vote AGAINST Congressional resolutions giving thanks to this great man. It is unclear whether the third man was also a Mason.[5]
The essay says that Benjamin Franklin was cagey about his membership.
General Lafayette joined the Masons only after the Revolutionary War. He seemed sceptical of them during a trip to New York City:
To-morrow, I am to visit the schools; I am to dine with the Mayor; and in the evening, I suppose, I am to be made VERY WISE by the Masons.
The traitor Benedict Arnold was a Freemason.
The article says that in early America, the Masons were somewhat divided post-independence. Those who supported independence sided with the Founding Fathers. Many others wanted to retain a certain primacy that harked back to England:
The American Revolution had a profound impact on the America's Masonic lodges. It should come as no surprise that many American Masons were swept up in the spirit of non-Masonic giants like Thomas Jefferson. However, Freemasons were inherently ideologically opposed to the egalitarian beliefs of America's revolutionaries. After the war was over many Masons, who had benefited from strong ties to the English Monarchy's hierarchical and class oriented structure, worked to create 'a new hierarchical order' which could preserve and promote exclusive membership privileges in a country without a ruling monarch.
I have no opinion on this. It was the most thought-provoking piece of historical research I've seen, and it seemed worth citing.
Freemasonry or not, there is always a pecking order. Every society, even the most 'egalitarian', has one.
Christianity and independence
Another contentious subject today — an era where the vast majority of Americans have plenty of creature comforts to hand and every citizen has free access to the democratic process — is whether the Revolutionary War and subsequent independence were biblical.
A number of Protestant pastors today think Romans 13 should be obeyed at all costs. These are men who live comfortable lives. They are firmly middle class. They do not know what it was to live in the American colonies.
Anyone who thinks American independence was unbiblical, disobedient or ill-advised should move to Canada.
Yet, notice that these pastors keep appearing like the proverbial bad penny, establishing their churches in the United States and making a living off of the American people.
If the Revolutionary War and the War of 1812 were not destined, respectively, to achieve and maintain independence, the British would have won. Of that, we can be sure.
Let us now look at a webpage from a history about the early United States, 'III. Religion and the American Revolution'. Excerpts, a summary and graphics follow.
Although the essay does not mention it, the 18th century was the era of the First Great Awakening:
World events at the time of the First Great Awakening
George Whitefield, a great preacher in the First Great Awakening
The powerful preaching and widespread revivals were important in the life of colonial America and no doubt influenced how the settlers viewed the British. Not all were anti-British. However, the more vocal supporters of British rule had to either keep their views quiet or move. Some Loyalists — pejoratively called Tories (bandits) — went back to Britain and others settled in Canada.
'Religion and the American Revolution' says that clergy were similarly divided.
I have read elsewhere that some clergy supporting independence cited Acts 5:29 (when the temple leaders tried to forbid the Apostles from preaching):
29 But Peter and the apostles answered, "We must obey God rather than men.
In any event (emphases mine):
The Revolution strengthened millennialist strains in American theology. At the beginning of the war some ministers were persuaded that, with God's help, America might become "the principal Seat of the glorious Kingdom which Christ shall erect upon Earth in the latter Days." Victory over the British was taken as a sign of God's partiality for America and stimulated an outpouring of millennialist expectations–the conviction that Christ would rule on earth for 1,000 years. This attitude combined with a groundswell of secular optimism about the future of America to create the buoyant mood of the new nation that became so evident after Jefferson assumed the presidency in 1801.
Jonathan Mayhew (1720-1766) was born in the colony of Massachusetts. He was a Congregationalist minister who took strong exception to the Anglican Church:
Jonathan Mayhew considered the Church of England as a dangerous, almost diabolical, enemy of the New England Way. The bishop's mitre with the snake emerging from it represented his view of the Anglican hierarchy.
Mayhew asserted that resistance to a tyrant was a "glorious" Christian duty. In offering moral sanction for political and military resistance, Mayhew anticipated the position that most ministers took during the conflict with Britain.
A Presbyterian minister from New York, Abraham Keteltas (1732-1798):
celebrated the American effort as "the cause of truth, against error and falsehood . . .the cause of pure and undefiled religion, against bigotry, superstition, and human invention . . .in short, it is the cause of heaven against hell–of the kind Parent of the Universe against the prince of darkness, and the destroyer of the human race."
Peter Muhlenberg (1746-1807), a Lutheran pastor from Pennsylvania who served in the Continental Army and later as a congressman, was the foremost 'fighting parson':
The eldest son of the Lutheran patriarch Henry Melchior Muhlenberg, young Muhlenberg at the conclusion of a sermon in January 1776 to his congregation in Woodstock, Virginia, threw off his clerical robes to reveal the uniform of a Virginia militia officer. Having served with distinction throughout the war, Muhlenberg commanded a brigade that successfully stormed the British lines at Yorktown. He retired from the army in 1783 as a brevetted major general.
The Scottish-born president of Princeton University, John Witherspoon (1723-1794), a Presbyterian
minister, was dubbed the most 'political parson' of the Revolutionary period. He represented New Jersey in the Continental Congress and, as such, was a signatory to the Declaration of Independence:
As president of Princeton, Witherspoon was accused of turning the institution into a "seminary of sedition."
Religious inscriptions were common on Revolutionary flags and banners, such as the one below:
Its saying is still used today where Americans oppose bureaucracy and the Deep State.
Incidentally, the Quakers suffered a schism. Those who wanted to join the Revolutionary effort broke away from their pacifist brethren and became known as the Free Quakers. They built their own Free Quaker meeting house in Philadelphia.
Conclusion
Unlike the French Revolution and the Bolivarian liberations of various South American countries from Spain, the American Revolution was well rooted in the Bible and Christian preaching. The other two were purely secular.
Any country which turns to God will receive His merciful blessings.
However, based on the nature of its independence effort, tied as it was to scriptural and Christian support, the Great Republic has survived this long because of Americans' enduring faith in the Almighty.
Long may it remain so.
As Americans gather together to celebrate their independence, may we recall this timely quote from the late President John F Kennedy:
Wherever you are today, have a safe, happy — and considered — celebration of American independence. Men fought, died and went bankrupt to make it possible in 1776.
Freedom and liberty involve sacrifice. Sometimes it is financial. Sometimes it involves the loss of life or reputation.
May Americans never view liberty as a trivial matter.
Once lost, it is rarely recovered.
(Graphic courtesy of Crayfisher.)
One of the things I never understood was the viciousness of certain Americans when France refused to join President Bush's war on terror 14 years ago.
Referring to the French as 'cheese eating surrender monkeys' — bouffes-fromage singes capitulaires — was beyond the pale, not to mention renaming French fries as 'freedom fries'.
If it weren't for French help during the Revolutionary War, American independence might not have been sustainable.
France spent much more than it gained by helping American patriots. In fact, the country's national debt ballooned, a situation which eventually contributed to open, bloody revolt — the French Revolution. America pledged future trade with France, but, out of necessity, reneged by 1793 and remained neutral in future conflicts between Britain and France.
France's motivations for involving themselves in the fate of the former British colonies were to avenge Great Britain's victory in the Seven Years War and to help America's Founding Fathers whose brilliance they greatly admired. It could be argued that France and America defined the Enlightenment.
On a practical level, King Louis XVI was concerned that Britain might make certain concessions to the former colonies and that, together, both might unite against French territories in the West Indies. Prior to 1778, the king discouraged his military men from actively helping the Americans. However, the Treaty of Alliance signed that year between France and the United States committed both to achieving America's full independence, nothing less.
General Lafayette and the French touch
Prior to 1776, the French had been watching American colonists' independence movement with great interest. They saw it as the perfect embodiment of Enlightenment ideals. A group of French agents began covertly shipping gunpowder to the patriots months before the colonists declared their independence. After the Declaration of Independence was signed, Benjamin Franklin sailed to France in December 1776. He was the toast of Paris, well received wherever he went. Thomas Jefferson was also enthusiastically welcomed on his visits.
By 1777, France was shipping more arms and men to America, although not with the official permission of Louis XVI. The Duc de Choiseul enlisted Frenchmen for army and navy reinforcements. Pierre Charles l'Enfant sailed to the United States to fight with the patriots.
Similarly, the Marquis de Lafayette ignored the king's orders to not get actively involved and, like l'Enfant, fought with the Americans. He was only 20 years old. However, he had a charming personality and military prowess beyond his years. He served under George Washington and eventually became a combat general. His diplomatic manner helped to legitimise the American cause among Europeans. Wounded in 1778, Lafayette returned to France until he could return in 1780. After the war, he served in France as a parliamentarian for several years. At the behest of President James Monroe, he returned to the United States for a 24-state farewell tour in 1824. He was widely feted during his stay.
Sail Training's brochure on Lafayette and the reconstructed ship L'Hermione — more about which below — tells us (p. 5):
– Lafayette said of his participation in the American cause: 'Why not?' His can-do spirit prompted Americans of the day to call him 'our Marquis'.
– During his service with George Washington, Lafayette became a trusted, loyal friend of the future first President. He served with distinction, including at the Battle of Brandywine.
– Once he returned to France to recover from war wounds, Lafayette further rallied the French to the patriots' cause. It was his influence that encouraged Louis XVI to approve France's formal involvement in the Revolutionary War and recognise the young Marquis as one of Washington's generals.
L'Hermione and Lafayette's return
In 1780, Lafayette sailed back to the United States on a new lightweight frigate, L'Hermione.
Lafayette said the ship 'sailed like a bird'. Less relaxed, no doubt, was the commander, Louis-René de Latouche. Although Latouche was 13 years older than Lafayette, he was already awestruck by the young general's reputation at home and abroad. He was also very concerned that Lafayette arrive safely in Boston. Describing the journey as 'agréable', he later returned to France where he led a distinguished naval career.
L'Hermione's arrival in Boston Harbor on April 28, 1780, was met with a 13-gun salute. Lafayette sent word to Washington: 'Here I am'. The Massachusetts revolutionary council invited Lafayette to spend time with them. Immediately afterward, he went on to meet with Washington and give him the news that he had 5,500 French volunteers and five frigates available.
Meanwhile, the Massachusetts revolutionary council asked Latouche to sail to Penobscot Bay in Maine to check on British strength at Fort George. Latouche completed the week-long mission in May 1780, then sailed to Rhode Island. A few weeks later, L'Hermione was attacked and damaged by HMS Iris in the indecisive Action of 7 June 1780.
In 1781, L'Hermione sailed to Philadelphia. Members of the Congressional Congress toured the ship and paid tribute to her.
By then, Lafayette was on the frontline in Virginia. Employing guerilla techniques, he played a pivotal role not long after in repelling General Cornwallis at Yorktown. L'Hermione was part of the blockade in Chesapeake Bay which sealed the victory and forced the British to surrender.
Lafayette returned to France shortly thereafter. It is prescient that his final words to Washington were 'Remember your adopted son'. The two never met again. Washington died before Lafayette's farewell tour in 1824.
In February 1782, L'Hermione returned to France. She sailed to India as part of a squadron to help Suffren fight the British.
When peace was declared after that conflict, the ship sailed back to her home port of Rochefort in April 1784. In September 1793, employed in another French battle with the British, L'Hermione was shipwrecked in stormy seas off Le Croisic in Brittany. A court-martial found her pilot Guillaume Guillemin du Conquet responsible. Commanding officer Captain Martin was honourably acquitted.
The new L'Hermione on tour on the East Coast
L'Hermione
captured the imagination to such an extent that a team of shipbuilders and sponsors felt the need to rebuild her.
France's Centre International de la Mer came up with the idea in 1992 and construction began in 1997.
The new ship, pictured at right, launched in 2012 but underwent subsequent rigourous seaworthy trials in 2014 to ensure she could sail across the Atlantic to the United States. Whilst the build is largely faithful to original plans, certain modern modifications have been necessary.
L'Hermione set sail from La Rochelle on April 18, 2015, and arrived in Yorktown on June 5.
Some readers might have already had a chance to see her in Virginia, Maryland or Philadelphia. L'Hermione is docked in New York City over Independence Day weekend then continues north along the East Coast. The Hermione 2015 website has a schedule of dates. Click on the individual cities and towns in the right hand column for a list of events.
Enjoy the weekend!

I wish all my American readers a very happy Fourth of July.
And, without further ado, here's a toast to the French touch!
May I wish all my American readers — wherever they are in the world today — a happy, fun and safe Fourth of July.
This year, I cannot help but think of Ann Coulter's recent musings on football — soccer — particularly as the 2014 World Cup plays on as I write.  This woman has a new future as a female PJ O'Rourke. She is certainly funnier, although unlike O'Rourke, unintentionally.
Another lady with a similar name, Anna, has listed a few important but little-known American anniversaries which occur on July 4. These concern the history of peoples as far apart as Wisconsin and the Phillipines — along with others.
Enjoy!
As I watched the first three stages of the 100th Tour de France, which took place in Corsica, I spent one morning researching the historical references to this Isle of Beauty, as it is known.
The Tour de France is accompanied by a bit of travelogue. ITV4 commentators told us at the weekend that people watch the Tour just as much for the regional information and historical insights as they do the cycling.
One of the major personalities viewers learned about was Pasquale (sometimes 'Pascal' for the French) Paoli. The Corsicans call him 'Babbu di a Patria', father of the nation.
Paoli lived between 1725 and 1807. He followed his father in fighting for independence for the island. He went on to govern much of it between 1755 and 1769. Paoli's modern ideals would go on to inspire the American patriots and capture the imagination of other great minds of the Enlightenment.
The site Terracorsa offers this brief history of the man still revered today:
In 1755 Pasquale Paoli (son of Ghjacintu [Jacinto, Hyacinth]) was proclaimed General of the Corsican Nation.
He was the greatest of a long line of Corsican heroes during their long struggle for freedom. He made Corte his capital and declared this newly independant state a constitutional democracy. Jean-Jacques Rousseau, on whose theories the constitution was based, offered his admiring support.
Paoli built a new port at Ile Rousse because Calvi and Bastia were still under Genoese domination. In 1765 he founded a university in Corte, which lasted only 25 years [however, because of the lobbying of the nationalist movement, it reopened in the 1980s].
He also founded the first Corsican printing presses, the first operative mint, a gazette. He opened mines, started an arms factory and promoted the cultivation of potatoes.
Ghjacintu and Pasquale were in exile in Naples during the latter's youth. The father made sure the son was well educated there. Not only did Pasquale learn many of the classics by heart (e.g. Virgil), he had begun to absorb all the best ideas from the Enlightenment by the time he returned to Corsica.
Later, whilst he and Napoleon Bonaparte — also born in Corsica — were on the same side with regard to independence, Paoli went on to empathise with French royalists after the King was executed.
Paoli then instigated an English annexation of Corsica which resulted in the Anglo-Corsican Kingdom. It was short-lived, lasting a little over two years between July 1794 and October 1796. The British were at war with France at the time. France had declared Paoli a traitor. He asked for British protection and mooted the idea of making it an autonomous kingdom, as Ireland was at the time.
Finding the idea of a Mediterranean base attractive, the British sent a fleet under the leadership of Admiral Samuel Hood to Corsica in 1794. It was during that operation that Horatio Nelson lost the sight in his right eye as he tried to capture the northwestern port of Calvi.
The British added Corsica to George III's dominions, appointing Sir Gilbert Elliot as viceroy. Not surprisingly, Elliot had different designs to Paoli as to the island's governance and independence.
In 1796, the Spanish pledged reinforcements to the French to recapture Corsica. The British decided to retreat and invited Paoli to move to England. The government provided him with a pension and, once in London, Paoli was warmly welcomed by all the great and good of that time: Joshua Reynolds, Samuel Johnson, Edmund Burke, the Garricks and more.
By now, you must be wondering what Paoli has to do with the American Revolution, particularly as he plight his troth to the British.
The American colonists urging independence admired Paoli's use of Enlightenment principles. He was elected to his post as president and wrote Corsica's constitution. He installed the Corsican Republic, essentially a representative democracy.
He and his men were also good in combat. Of the French defeat of Paoli and his army in 1769, Voltaire wrote:
The main weapon of the Corsicans was their courage. This courage was so great that in one of those battles, at a river called Golo, they made a rampart of their dead to have time to reload behind them before making a necessary retreat; their wounded were mingled among the dead in order to strengthen the rampart. Such actions one only sees among free peoples.
Paoli was an inspiration for the patriots' group, Sons of Liberty. One of the founding Sons of Liberty members, Ebenezer McIntosh, named his son after the Corsican leader, calling the lad Paschal Paoli McIntosh. Furthermore:
In 1768, the editor of the New York Journal described Paoli as "the greatest man on earth".
The Sons of Liberty started as an underground group championing 'no taxation without representation', which became their well known motto. All of the 13 colonies had a Sons of Liberty chapter.
They took their name from what might seem an unlikely source of support, the British (Irish) Army officer and Member of Parliament, Isaac Barré, whose ancestors were French Huguenots.
Although Barré was part of the British establishment, he was vehemently opposed to excessive British taxes on the American colonies and called the settlers 'Sons of Liberty'.
In their defence he said:
They planted by your care! No, your oppressions planted them in America. They fled from your tyranny to a then uncultivated, inhospitable country, where they exposed themselves to almost all the hardships to which human nature is liable, and among others to the cruelties of a savage foe and actuated by principles of true English liberties, they met all hardships with pleasure compared with those they suffered in their own country from the hands of those who should be their friends.
An independent America remembered both Paoli and Barré by naming towns after them.
There are five towns in the United States called Paoli — in Pennsylvania, Colorado, Wisconsin, Indiana and Oklahoma. Paoli, Pennsylvania
was named after "General Paoli's Tavern" a meeting-point of the Sons of Liberty and homage to the "General of the Corsicans".
Paoli, Oklahoma was so named after railway workers from the town in Pennsylvania settled near their work further south. Paoli, Indiana was a stop on the Underground Railroad, enabling slaves to escape to freedom — something which would have dovetailed nicely with Paoli's ideals.
As for Barré, the towns named Barre in Massachusetts and Vermont are in his honour as is — partly — Wilkes-Barre, Pennsylvania. (The other person remembered is John Wilkes.)
Meanwhile, back in England, Westminster Abbey has an impressive cenotaph (large plaque and bust) dedicated to Paoli. Upon his death in 1807, Paoli was buried in St Pancras churchyard. In 1889, a British frigate took his remains to Corsica, where they were buried in the grounds of his family's home.
The story of America's independence never fails to reveal new information. Corsica was a turn up for the books as was Isaac Barré's empathy with the colonists.
I wish all my American readers a happy Fourth of July wherever they find themselves celebrating this holiday.
May they never forget the determination, intelligence and ideals of the Founding Fathers and those who fought for freedom.
H L Mencken was a well known and much celebrated journalist, critic and social commentator of the early 20th century.
The house where he lived for most of his life is open to the public in Baltimore, if one can arrange a tour.
The blogger at Tobaccoland explores historical sites from colonial days to the present. He had this to say about Mencken:
It is fair to call Mencken a libertarian …
Many today are unaware of who Mencken was and how he and his ideas influenced his world and the world we live in today. The Mission of the Friends of the H.L. Mencken House is to educate "the public about the life and legacy of H. L. Mencken." To this end they are interested in purchasing, or at least permanently leasing, Mencken's house to establish a museum to teach others about Mencken, his life, ideas, and times.
The Mencken House, where H.L. lived all but 8 years of his life, and where he died, is only opened today for private tours and special events. I had the opportunity to visit the house during one of those events.
Located at 1524 Hollins Street in the Union Square area of Baltimore, the neighborhood could use some work. I spotted at least one drug deal while driving away. I would advise against leaving out any valuables. But it is safe enough, especially during the daytime and especially if you park near the house. Parking is generally not a problem …
On the second floor, if you visit on the right day, the ghost of H.L. Mencken himself, still thinking it is the past, will greet you and talk about his life, views, work, and times. Also, if you would like H.L. to come to your event or party that can be arranged as well.
Mencken would have had much to say about our society today. It is for this reason that he is well worth mentioning on the Fourth of July, America's Independence Day.  What better day to discuss the individual as well as his freedom and liberty?
My American readers might wish to run portions of the following Mencken quotes past their family and friends over a beer and a burger. Emphases mine below with thanks to Tobaccoland:
The trouble with fighting for human freedom is that one spends most of one's time defending scoundrels. For it is against scoundrels that oppressive laws are first aimed, and oppression must be stopped at the beginning if it is to be stopped at all.
——–
Democracy is the theory that the common people know what they want, and deserve to get it good and hard.
——–
The most dangerous man to any government is the man who is able to think things out for himself, without regard to the prevailing superstitions and taboos. Almost inevitably he comes to the conclusion that the government he lives under is dishonest, insane and intolerable, and so, if he is romantic, he tries to change it. And even if he is not romantic personally he is very apt to spread discontent among those who are.
——–
Every time the papers print another account of a Prohibionist agent murdering a man who resists him or searching some woman's underwear or raiding a Vanderbilt yacht or blackmailing a Legislature or committing some other such inordinate and anti social act they simply make a thousand more votes for Prohibition. It is precisely that sort of entertainment that makes Prohibition popular with the boobery. It is precisely because it is unjust, imbecile, arbitrary and tyrannical that they are so hot for it. The incidental violation of even the inferior man's liberty is not sufficient to empty him of delight in the chase. The victims reported in the newspapers are commonly his superiors he thus gets the immemorial democratic satisfaction out of their discomfiture. Besides he has no great rage for liberty himself. He is always willing to surrender it at demand. The most popular man under a democracy is not the most democratic man but the most despotic man. The common folk delight in the exactions of such a man. They like him to boss them. Their natural gait is the goose step.
Agree or disagree with this agnostic who had a deep admiration for the orthodox Presbyterian John Gresham Machen, Henry Louis Mencken is guaranteed to provide worthwhile talking points.
Best wishes to all my American readers — wherever you may be today — for a happy and safe Fourth of July!