You are currently browsing the tag archive for the 'France' tag.
Lent ends on the evening of Holy Saturday, generally timed around the first Easter Vigil service.
Many Christians enjoy attending Easter Vigil services to see the blessing and lighting of the Paschal Candle, which is lit at services for the next 40 days, until Ascension Day.
New holy water is blessed in Catholic and High Anglican churches. (Chrism Masses would have been held on Wednesday of Holy Week, at which time bishops bless the oil used in Baptism, Confirmation, Ordination and the Anointing of the Sick and Dying for the next year.)
Traditionally, catechumens — newcomers to the faith — are baptised at this service.
The following post has more information:
What happens on Holy Saturday?
During the day, families are busy purchasing and preparing festive dishes for Easter Day. A popular custom among Polish Catholics is to have their food blessed at church.
(Image credit: annhetzelgunkel.com)
The following post, with the help of the aforementioned website, explains the importance of these traditional ingredients:
Holy Saturday and food traditions
Every Christian culture has certain food traditions. In 2016, Mary Berry, the doyenne of English home cooks, presented a two-part programme for the BBC in which she explored different Easter treats from around the world. Find out more below:
Easter food explored — part 1 (Mary Berry, BBC — 2016)
Easter food explored — part 2 (Mary Berry, BBC — 2016)
A French cooking site has an interesting article on Easter food in Europe and Algeria. 'Gâteaux de Pâques traditionnels' has excellent close-up photographs by way of illustration. A summary of the article follows along with my own commentary.
France
In Alsace, the traditional Easter cake is made in the shape of a lamb. It was originally called Osterlammele — Easter lamb — suggesting its German origins.
Easter cakes in other European countries are also in lamb shapes, using special moulds. Polish lamb cakes are elaborately iced and decorated.
The one from Alsace is plainer, lightly dusted with icing sugar. Traditionally, it was wrapped in fine paper in the colours of Alsace or the Vatican.
Regardless of decoration, lamb cakes are rich in eggs, which were traditionally forbidden during Lent.
Wherever it is used, the lamb shape reminds us of the goodness of Christ and that we should follow His example.
All Recipes provides the instructions. The video below might not be the most expert, but I did enjoy watching the two young lads make a lamb cake:
Italy
Pasteria Napoletana is a popular Easter tart.
Its origins go back to pagan times, when a special bread made from spelt was offered to Ceres, the goddess of agriculture and fertility, in springtime.
Wikipedia says that it is possible that early bread evolved into a ritual bread made of honey and milk which catechumens received after their baptism on Easter Eve during the reign of Constantine.
In the 18th century, one of the nuns at the convent of San Gregorio Armeno in Naples, which still exists today, was responsible for the version eaten today. She wanted to create a tart that symbolised the Resurrection, including orange blossom water from the convent's garden.
The symbolism is as follows: wheat for rebirth, flour for force and strength, eggs for infinity, white ricotta for purity and orange blossom water — along with dried fruit, spices and sugar — for richness.
Wikipedia says that the nuns were 'geniuses' in preparing these tarts, which had to be made on Maundy Thursday in order to set properly for Easter. They were then given to wealthy benefactors for the Easter table.
Although variations exist — sometimes with pastry cream added — each must have wheat and ricotta to be considered authentic.
Laura in the Kitchen has a recipe and a video:
Portugal
At Easter, the Portuguese eat folar, bread which can be sweet or savoury.
Sometimes folar is wrapped around whole eggs (before baking) to symbolise new life.
Other variations include chorizo or other charcuterie.
Traditionally, this bread is given to priests, godparents or godchildren as a symbol of happiness and prosperity.
The lady in the video below makes a savoury folar in the most traditional way — in a bread trough. The film is in Portuguese, but you can check it for consistency and shaping while you follow a recipe, in this case from Pocket Cultures:
Austria
Austrians celebrate Easter by including on their tables a rich brioche called Osterpinze or Pinza. (Oster means 'Easter'.)
This brioche originated in southern Austria. It is shaped into three petals — no doubt to symbolise the Holy Trinity — and sometimes has a coloured Easter egg — the Resurrection and new life — in the centre. Orange blossom water is used in the dough. Some variations also include dried fruits for extra richness.
The Austrians adapted this recipe from pannetone. Italy borders the southern part of the country.
The Bread She Bakes has a recipe in English. Although the video below is in German, watch this gentleman's techniques:
Algeria
Although Algeria is primarily Muslim today, it is important to remember that North Africa was the cradle of the early Church. One could certainly put forward a case for Christianity being an African faith, because it spread to Europe later.
Christians in Algeria ate Mouna Oranaise at Easter. La Mouna — a mountain — is situated outside of Oran, Algeria's second largest city. Christians from Oran went to this mountain to celebrate Easter and to break bread.
Although the French article does not say, it seems likely that the bread developed into a brioche when the French arrived and took its present-day form.
All good brioches take time, and the Mouna takes six hours to rise: four initially, after which the dough is divided into two and left to rise for another two hours.
The Mouna has a rich egg glaze and is topped with pearl sugar.
Today, people of all faiths eat Mouna. A Muslim included the recipe on her Pinterest page. A YouTube video appears on the Sephardic (Jewish) food channel.
Christian pied-noirs brought the Mouna recipe to France as an Easter speciality. Make a brioche dough and include orange flower water or lemon zest. Knead the dough well — or use a food processor with a dough hook — to ensure the dough is nice and light:
I am sure that some of these Easter treats cross borders. I am particularly interested in hearing from others with regard to breads and pastries. Feel free to comment below!
In the meantime, I hope that everyone's Easter preparations go well!
On Thursday, March 23, 2017, RMC (French talk radio) had a morning discussion on the London attack which occurred the day before.
Les Grandes Gueules (The Big Mouths) discussed the trend for vehicle terrorism, an ISIS-approved method which started with the July 14, 2016 attack in Nice. The Berlin Christmas market attack on December 19 was the next spectacular. On Wednesday, it was London:
The day after the London attack, Belgian police detained a man in Antwerp for driving at speed along a main pedestrian-only street. Reuters reported:
"At about 11 a.m. this morning a vehicle entered De Meir at high speed due to which pedestrians had to jump away," a police spokesman told a news conference, referring to the street name.
He added the driver was later arrested and additional police and military personnel had been deployed to the center of Antwerp, but did not give any further details.
The Daily Mail reports that the attacker is French-Tunisian. The article has good accompanying photographs.
French media now call such attacks 'low cost' terrorism, meaning that no equipment other than a vehicle is required. The radio show panel debated on whether this was appropriate terminology. Opinion was divided. Some found it demeaning to the victims. Others thought it described the situation objectively.
Regardless, the London attack has raised the same reactions and the same questions of previous attacks.
American military veteran, author and film maker Jack Posobiec summed it up on Twitter:
An Englishman, Paul Joseph Watson, Infowars editor-at-large, tweeted:
He also made a short news video in which he put forth the inconvenient truth about the London attacks and others:
People have been speculating incorrectly on the significance of the date the London attack took place. Reuters has the answer (emphases mine below):
The mayhem in London took came on the first anniversary of attacks that killed 32 people in Brussels.
The article also stated that Khalid Masood — formerly Adrian Elms, then Adrian Ajao — whom police shot dead:
was British-born and was once investigated by MI5 intelligence agents over concerns about violent extremism, Prime Minister Theresa May said on Thursday.
The Islamic State group claimed responsibility for the attack in a statement issued by its Amaq news agency. But it gave no name or other details and it was not clear whether the attacker was directly connected to the group.
Police arrested eight people at six locations in London and Birmingham in the investigation into Wednesday's lone-wolf attack that May said was inspired by a warped Islamist ideology.
About 40 people were injured and 29 remain in hospital, seven in critical condition, after the incident which resembled Islamic State-inspired attacks in France and Germany where vehicles were driven into crowds.
The assailant sped across Westminster Bridge in a car, ploughing into pedestrians along the way, then ran through the gates of the nearby parliament building and fatally stabbed an unarmed policeman before being shot dead. tmsnrt.rs/2napbkD
"What I can confirm is that the man was British-born and that some years ago he was once investigated by MI5 in relation to concerns about violent extremism," May said in a statement to parliament.
So far, four people have died:
It was the worst such attack in Britain since [July 7] 2005, when 52 people were killed by Islamist suicide bombers on London's public transport system. Police had given the death toll as five but revised it down to four on Thursday.
Some found it strange that the March 22 London attack took place on the same day that Turkey's president Tayyip Erdogan said:
that Europeans would not be able to walk safely on the streets if they kept up their current attitude toward Turkey, his latest salvo in a row over campaigning by Turkish politicians in Europe.
While that is strange, it probably remains a coincidence. Erdogan is angry with the Netherlands and Germany at the moment.
Once again, we have the lone-wolf narrative. Patently wrong, as it has been in other terror attacks. Notice Reuters says police arrested eight people. Therefore, how could it have been a lone-wolf operation?
On the notion of normalising terror in big cities, Tucker Carlson had this to say:
Although it sounds clichéd, it is true that prayer — public and private — help greatly at a time like this.
We can pray for the families and friends of victims PC Keith Palmer, fatally stabbed by the attacker, as well as the two civilians who died: Aysha Frade (wife and mother of two daughters), Kurt Cochran (an American tourist, husband and father) and the latest victim, a 75-year-old man. We can pray for Mrs Cochran, who was injured in the attack and is in hospital. We can pray for the 40 injured. Their lives will never be the same again. They will need God's help for physical and mental recovery.
In closing, The Sun has an excellent set of photographs which tell the horrific story of the March 22, 2017 attack.
Yesterday, I profiled a Millennial who made the journey from the Left to becoming a Trump supporter.
Visit MAGA1776 for the full account in 'My Story'.
The person contributes to The_Donald under the user ID CorruptionISTreason.
MAGA1776 has several sections tracking Donald Trump's progress as president. There is also a news section. The latest items concern serious scandals from the Obama adminstration. Each has its own infographic and another user on The_Donald put these all together in one graphic, reproduced below.
These are the real reasons why Democrats — including Tulsi Gabbard, darling of Trump supporters until last week — want Attorney General Jeff Sessions to stand down. They do not want any of this investigated (click to enlarge):
More details about all of these are online. More will come to light as the year progresses.
Fast and Furious
In 2009, Fast and Furious sounded good to millions of Americans. After all, it was supposed to root out Mexican drug cartels. Wikipedia describes the operation, which had also been done under another name during Bush II's second term. Regardless of when these operations took place:
The stated goal of allowing these purchases was to continue to track the firearms as they were transferred to higher-level traffickers and key figures in Mexican cartels, with the expectation that this would lead to their arrests and the dismantling of the cartels.[6][8][9]
However, the programme was such a disaster, that millions of other Americans wonder if it was deliberately planned to fail spectacularly.
As Judicial Watch explains:
The ATF ran the Fast and Furious experiment and actually allowed criminals, "straw purchasers," working for Mexican drug cartels to buy weapons at federally licensed firearms dealers in Phoenix and allowed the guns to be "walked"—possessed without any knowledge of their whereabouts.
However (emphases mine):
The government lost track of most of the weapons and many have been used to murder hundreds of innocent people as well as a U.S. Border Patrol agent, Brian Terry, in Arizona.
Also:
A mainstream newspaper reported that a Muslim terrorist who planned to murder attendees of a Muhammad cartoon contest in Garland, Texas last year bought a 9-millimeter pistol at a Phoenix gun shop that participated in the ATF's Fast and Furious program despite drug and assault charges that should have raised red flags. Judicial Watch has thoroughly investigated Fast and Furious and has sued the Obama administration for information about the once-secret operation.
Investigations into Fast and Furious have proven inconclusive and murky.
On June 20, 2012, Obama invoked executive privilege over 1,300 pages of documents that the Department of Justice had not turned over to Congress.
The following week — June 28, 2012 — Eric Holder, then Attorney General:
became the first sitting member of the Cabinet of the United States to be held in criminal contempt of Congress by the House of Representatives for refusing to disclose internal Justice Department documents in response to a subpoena. The vote was 255–67 in favor, with 17 Democrats voting yes and a large number of Democrats walking off the floor in protest and refusing to vote. A civil contempt measure was also voted on and passed, 258–95. The civil contempt vote allows the House Committee on Oversight and Government Reform to go to court with a civil lawsuit to look into the US Justice Department's refusal to turn over some of the subpoenaed documents and to test Obama's assertion of executive privilege. Holder dismissed the votes as "the regrettable culmination of what became a misguided—and politically motivated—investigation during an election year," and the White House called it "political theater rather than legitimate congressional oversight".[19][20]
In September 2016, The Hill wrote about Fast and Furious in light of Border Patrol Agent Brian Terry's death in December 2010.
Asking 'What alarmed agent Brian Terry?', The Hill states that, when clearing out Brian's effects, his brother Kent Terry found notes in a pair of his work boots:
These notes are both confirmed to be those of Agent Terry and according to his family are completely consistent with his handwriting.
Before then, just after Brian Terry's death:
and directly after his dad had discussed with U.S. Attorney Dennis Burke the three emails Brian had sent to the National Border Patrol Council, fourth amendment search and seizure violations ensued. The government ransacked Brian Terry's residence without a warrant and removed all electronic media devices. The family received the devices back after approximately one year. The devices were thoroughly and completely wiped clean by the government. Again the persistent question remains: Why?
The agent ran across some curious things in his work, such as multiple weapons caches buried in the desert. His superiors did not seem concerned. Three weeks before his death, The Hill says he confided in his mother:
how concerned he was about "something bad was going to happen"
and that there were
"two bad agents," as Brian described them to his mom on that same visit home, who "aggressively confronted him".
Just as bad, possibly worse in some respects, is the alleged international reach of these 'walked' weapons — across the Atlantic Ocean.
The Hill states that the nexus of Fast and Furious was the Arizona Biltmore Resort in Phoenix:
These weapons have not only been involved in killings of hundreds in Mexico, but were found at Joaquin "El Chapo" Guzman's hideout, and could be linked to the Bataclan terrorist attack in France on Nov. 13, 2015.
'Could be'. We don't yet know. However:
Did Agent Terry unknowingly stumble not only upon Operation Fast and Furious but a larger, international gun-running operation as well? A July 1, 2011 meeting at a Border Patrol office in Las Cruces, New Mexico at which Border Patrol Intelligence personnel from all of the area sectors attended, suggests that might have been the case. Was the underlying reason for this meeting what alarmed Brian Terry? Or perhaps because in all of this there are more questions than answers; more people willing to "Let 'em through" than to thoroughly investigate and more hollow words than meaningful action. Perhaps this is what truly alarmed Agent Brian Terry, and lead to his prescient action regarding his journal notes.
In June 2016, Judicial Watch gave details on the possibility — a certainty to them — that one of the firearms was used in the Bataclan attack:
One of the guns used in the November 13, 2015 Paris terrorist attacks came from Phoenix, Arizona where the Obama administration allowed criminals to buy thousands of weapons illegally in a deadly and futile "gun-walking" operation known as "Fast and Furious."
A Report of Investigation (ROI) filed by a case agent in the Bureau of Alcohol, Tobacco Firearms and Explosives (ATF) tracked the gun used in the Paris attacks to a Phoenix gun owner who sold it illegally, "off book," Judicial Watch's law enforcement sources confirm. Federal agents tracing the firearm also found the Phoenix gun owner to be in possession of an unregistered fully automatic weapon, according to law enforcement officials with firsthand knowledge of the investigation.
The investigative follow up of the Paris weapon consisted of tracking a paper trail using a 4473 form, which documents a gun's ownership history by, among other things, using serial numbers. The Phoenix gun owner that the weapon was traced back to was found to have at least two federal firearms violations—for selling one weapon illegally and possessing an unregistered automatic—but no enforcement or prosecutorial action was taken against the individual … "Agents were told, in the process of taking the fully auto, not to anger the seller to prevent him from going public," a veteran law enforcement official told Judicial Watch.
Yet:
An ATF spokesman, Corey Ray, at the agency's Washington D.C. headquarters told Judicial Watch that "no firearms used in the Paris attacks have been traced" by the agency. When asked about the ROI report linking the weapon used in Paris to Phoenix, Ray said "I'm not familiar with the report you're referencing." Judicial Watch also tried contacting the Phoenix ATF office, but multiple calls were not returned.
There we have it.
This is but one reason why Democrats want Sessions to resign — immediately.
My post last year at this time discussed the life St Nicholas, legends associated with him and how the Dutch regard him.
St Nicholas's feast day is December 6 and a French website, L'Internaute, had an excellent article about him. A summary follows.
St Nicholas became the patron saint of children thanks to the legends associated with him, which last year's post explored. Most of them involved him rescuing young people: the poor man with three daughters, the three theological students or, as the French tell it, the three children who fell afoul of an evil butcher, and the boy from Myra kidnapped by pirates.
As the Dutch have Black Pete as a companion to Nicholas, the French have the Bogeyman (Père Fouettard — fouetter means 'to whip'). The French article says that in both cases, these two are alter-egos of the great bishop. There is the benevolent Nicholas who is kind to good children and the companion who punishes bad youngsters. Together, they mete out justice.
The French legend of Nicholas and the Bogeyman visiting homes on the night of December 5 into the morning of December 6 started in the Middle Ages. Nicholas would ask if the children had been good or bad during the year. A song even grew around this construct, the lyrics of which go like this (translation mine and, yes, the words rhyme in French). Here's the first verse:
O great St Nicholas
Patron of schoolchildren
Bring me apples
In my little basket
I will always be good
Like a little picture
I will learn my lessons
To earn some sweets.
It's not hard to see how Nicholas made the transition into Father Christmas, or, as the Dutch say, Sinterklaas, giving rise to the American Santa Claus who arrives at the time of the Christ Child.
Like the Dutch, the Belgians and a number of countries in Northern Europe, some French towns and cities hold local festivals on or near the time of St Nicholas Day. This is particularly true in the region of Lorraine in northeastern France.
The celebrations have extra meaning there, because in the late Middle Ages, an imposing German nobleman by the name of Hans von Trotha ruled over the area. He had a nasty reputation as a robber baron and a defiler of young girls. Over time, his evil reputation was extended to frighten children in the region to be good or 'Hans Trapp' or 'Hans Trott' would give them a good beating. The threats worked, as Hans in real life was a tall, robust man.
This year's celebrations in eastern France are going ahead, despite the security threats. That said, authorities have forbidden firework displays because of the 2015 Paris attacks and the July 14 attack in Nice.
In closing, St Nicholas is also the patron saint of sailors (another legend), prisoners, lawyers, physiotherapists and single men.
Ahh, the dog days of August. They bring to mind sunshine and the beach. The days for both are swiftly drawing to a close.
Let us, therefore, consider both for a final time this year.
The burkini
As Britain baked for two glorious days, France debated a hot question.
For the past fornight, RMC's (radio) talk shows have been crackling with daily discussions about the dreaded burkini, which, by the way, is sadly becoming part of the fundamentalist Christian wardrobe. All in the name of modesty.
Modesty, my foot. This is physically dangerous (inhibiting swimming) and socially provocative. Christian women have no business wearing such an outfit.
Around the time the Catholic priest near Rouen was stabbed to death in cold blood as he prayed the Mass — and, just as importantly, the Nice attack two days before — this notional swimming garment hit the headlines. In a preventive measure the mayor of Cannes — David Lisnard, LR (Les Républicains, conservative) — forbade burkinis on the city's beaches. The city of Nice, the nearby town of Villeneuve-Loubet and a dozen others followed suit as did the town of Sisco in Corsica. Sisco was recently the scene of a violent altercation by a group of Muslims against several locals — on the beach. No burkini appears to have been involved. A court case will be heard on September 15.
These local burkini bans are being debated at national level in a French court, in response to a complaint by a human rights group. A decision might be arrived at as I write on August 25.
The Guardian reports on the wording of relevant local law:
The various mayoral decrees do not explicitly use the word burkini; instead they ban "beachwear which ostentatiously displays religious affiliation," citing reasons such as the need to protect public order, hygiene or French laws on secularism.
French opinion is sharply divided on the burkini. Opponents say the garment goes against French values. Others surmise that it is a religious or political provocation. Coming so closely after the murder of the priest and the Bastille Day attack in Nice, the burkini does seem to be over the top. Both groups support the mayoral bans. So does the prime minister, Manuel Valls.
On the other hand, feminists, oddly enough, say it is liberating, even if they do not wear one. Muslims say it has nothing to do with religion. Secularists say that allowing the burkini promotes republican values; after all, don't people wear swimsuits everywhere?
No, they do not. Not even on the relaxed Côte d'Azur.
I know Cannes well and have stayed in Nice long enough during the summer to know who goes to the beach. Contrary to what French Muslims say, nuns, monks and priests do not go. Whilst that is stating the obvious, I have heard that argument posited on RMC nearly every day.
I have seen Westerners on the beach and Muslim African men peddling trinkets. That's it.
When I walk the streets of Cannes — and, similarly, those of Nice — everyone wears normal clothes. I have never seen anyone in a bathing suit. I mention this because pro-burkini people say that bathing suits are allowed everywhere. Whilst there are no signs forbidding them, I have never seen anyone going to or returning from the beach without a cover of tee shirt and skirt or shorts.
It's like it is in the United States, although many establishments in American beach resorts have signs on the doors saying that patrons must be dressed appropriately. Swimsuits are strictly forbidden.
The police in Nice have issued fines to 24 women seen inappropriately dressed on their beaches.
The most controversial police intervention involved a former flight attendant on Tuesday, August 23. Did it happen in Cannes or in Nice? Were there two incidents? It's hard to tell and, frankly, it's not worth the time to investigate further. You can see photos at the links.
It looks to some people as if this woman — or these two women — might have been seeking attention for the following reasons.
One, she came with no towel or beach bag and, according to reports, had one or two children with her. They were not nearby when photos were taken of the police approaching her. Furthermore, as can be seen by the photo, Nice's public beaches are stony, not sandy as they are in Cannes. Regardless of terrain, no one goes to the beach without a towel. Nobody, nobody, nobody would ever lie on a public beach without a towel. The woman just looks weird lying there curled up on uncomfortable stones. One of RMC's panellists, a grandmother, also pointed out that parents always bring toys and soft drinks for their children. I can vouch for that. There were none in the photo.
Two, even if the woman denied she was wearing a burkini, her outfit looked suspiciously just like a … burkini.
Beachgoers seemed divided. Global Scoop has more.
I read in passing on a French site that Frenchwomen opposed to the burkini did not want fundamentalist Muslim ladies to turn public beaches into places where modesty patrols take place. One lady wrote:
What happens when children see a lot of women in burkinis? Do they look at those of us in swimsuits and say, 'Look at the Frenchwomen prostituting themselves'?

I predict that, next summer, Muslims will be requesting their own public beaches, in the same manner no-smoking stretches of beach were allocated in France a few years ago.
Regardless, informal modesty and vice patrols could become a reality.
On August 24, The Guardian reported on the trial of a British convert to Islam found guilty of assaulting a teenager hugging his own girlfriend:
Michael Coe, 35, was driving through east London when he spotted the two 16-year-olds hugging on the pavement. He pulled over to confront the pair, demanding to know if they were Muslims and calling the girl a "whore".
He then grabbed the boy by the throat and threw him to the ground, kicking his head and leaving him unconscious and bleeding from two injuries. When passing schoolteacher Boutho Siwela tried to come to the teenager's aid, he was also attacked.
Coe admitted "shoving" the boy, but claimed he was acting in self-defence. He was convicted after a trial at Southwark crown court of assault occasioning actual bodily harm and battery in Wilson Road, Newham, on 15 April.
The jury returned unanimous guilty verdicts after 90 minutes of deliberation.
Coe was convicted of a similar offence in May 2013, after getting out of his car to confront a group of young people about their "inappropriate language" on an estate in east London. During that incident, he allegedly called a girl a "slut" and the others "kafir scum".
And that's appropriate language?
In any event:
Judge Michael Gledhill described Coe as a danger to the public and warned him that he faced a "substantial" term of imprisonment. Sentencing was adjourned until 21 September for further reports.
And who knows the motive behind the murder by a French national of a young British woman in Queensland? The perpetrator, making the usual cry ('AA!'), also killed a dog at the hostel and injured a man who tried to intervene in the attacks.
A happier subject: the man tan
It's summer. It's supposed to be a happy time. So, let's end on a lighter note.
A few summers ago, the French newsweekly Marianne had a humorous yet true analysis of the link between the man tan and social status.
If people from the ancient world, whether Mesopotamia, Greece or Rome, were to come back to life now, they would be shocked to see that the Western male with the highest social status today has the suntan a slave would have had a few millennia ago. Only a senior executive or wealthy business owner has deep and (nearly) all-encompassing colour.
The plagiste — private beach attendant (plage means 'beach') — has the same skin tone from his summer on the sand, however, a tee shirt and shorts limit his man tan coverage. A plagiste directs you to a chaise longue and gives you a beach towel. He also takes your order for — and may serve — drinks and snacks.
Last year, I spoke with a senior executive who worked as a plagiste in France one summer when he was a university student 20 or so years ago. Like many French, he has dark hair and colouring. He said that, by the end of the summer, his hair was blond. Although we did not discuss man tans, he did volunteer what happened to the soles of his feet. In his day, he and his colleagues were barefoot during their working hours:
The hot sand hurt like anything. It took weeks to build up calluses which served like a shoe sole. After that, we felt no pain. I didn't think anything more of it, until term started again. I was off the beach, back in socks and shoes. By October, the calluses were coming off — in big strips of skin. It was weird at first. Oh, and, by the way, my hair grew out too — back to its normal colour, as you can see.
Beneath the plagiste in the pecking order is the construction worker, who has the same man tan but lacks the advantage of working on the beach.
At the bottom of the pile is the man who had no opportunity to seek sunshine and relaxation. Marianne said, tongue in cheek, that he deserves our empathy. Indeed.
I hope that all my readers had the chance for a relaxing summer holiday, even if it was one at home. I also hope that the sun shone brightly on you and your chaise longue.
Whilst it is wise to refrain from labelling an attack 'terrorist' until we have the facts, the media are distorting and denying various aspects of the recent attacks in Europe, particularly Germany.
Foreign Secretary Boris Johnson came under attack from The Guardian and Liberal Democrat foreign affairs spokesman Tom Brake for saying that the recent Munich mall attack on Friday, July 22, was related to terrorism.
In fact, this is what he said from New York where he met with US Secretary of State John Kerry (emphases mine):
If, as seems very likely, this is another terrorist incident, then I think it proves once again that we have a global phenomenon and a global sickness that we have to tackle both at the source – in the areas where the cancer is being incubated in the Middle East – and also of course around the world.
That quote comes from the same Guardian article that accuses Johnson of jumping the gun in labelling the Munich incident as terror-related. Nine people died. The attacker, an 18-year-old German of Iranian extraction, then killed himself.
Since then, the name of the attacker — Ali Sonboly — has been distorted to David Ali Sonboly. That is a BBC link, but I have also seen it on other news outlets where it sometimes appears as Ali David Sonboly. Thankfully, a BBC viewer tweeted in response that the perpetrator's name is, in fact, Ali Davood Sonboly.
Note the progression from Ali Sonboly to David Ali Sonboly or Ali David Sonboly, when his real name was Ali Davood Sonboly.
You know, we cannot call this what it is or call the attackers by their right names because people might be offended.
The result will be that low info viewers, of which the BBC have many, will be under the impression that this lad was someone he wasn't. These viewers take the BBC at their word.
I know a lot of people who believe that BBC reports are completely trustworthy because they were 40 or 50 years ago. Folks, the BBC have moved on since then, ever leftward, ever economical with the truth. Their report on Debbie Wasserman Schultz's resignation on Sunday, July 24, was but another example.
On July 18, three days before Sonboly's attack in Munich, another adolescent — an 'unaccompanied' 17-year-old Afghan asylum seeker who had been living with a foster family in Germany — went on a rampage on a train in northern Bavaria. He took an axe and a knife to 20 passengers. Three were seriously hurt and one sustained 'light injuries'. All four were from the same family — tourists from Hong Kong who had been enjoying a delightful holiday prior to the attack, including the wedding of an immediate family member in Britain.
The '17-year old' (he looked older), whom police shot dead soon afterwards, was reported to have shouted:
"Allahu Akbar" before the attack and investigators believed he had a become 'self-radicalised' Muslim.
The same report, from The Mirror, has a video of him wherein IS claimed responsibility:
The teenage ISIS terrorist who launched the terrifying axe attack has been named by Bild as Riaz Khan Ahmadzai, also known as Muhammad Riyad, and he left a suicide note revealing chilling details of his plot, it was reported …
Although police have yet to confirm his identity, a video released by ISIS claims to show him delivering a speech in Pashto to the camera while holding a knife.
The video calls him 'a soldier of the Islamic State who carried out the Wurzburg attack'.
The video appears to show Riyad saying he would 'slaughter infidels' with the knife he holds up to the camera.
He says: "I am a soldier of the caliphate and I am going to carry out an suicide attack in Germany.
"O Kufar, the time has passed when you would come to our homeland and kill our men, our women and our children. And your apostate rulers were silent about these massacres …
The rest of the quote is at the link. A Shanghai paper has more information with links to other media reports.
On Sunday, July 24, a 21-year-old Syrian refugee killed a 45-year-old pregnant Polish lady with a machete in southern Germany. He argued with her around 4:30 p.m. then hacked her to death. He also injured two other people. German authorities imply it was a lone wolf attack, nothing more. They also said that others in the vicinity should not feel threatened. The man is in police custody. Deutsche Presse-Agentur reported on Monday that the two were colleagues and worked in a restaurant. Authorities are unclear when the man arrived in Germany. This was the third act of violence in Germany within 10 days.
The fourth took place that evening. A 27-year old Syrian who had been refused asylum in Germany — and admission to a music festival because he had no ticket — lashed out in the Bavarian town of Ansbach. He had a rucksack with metal items in it used in 'wood manufacturing', as authorities put it. He blew himself up outside a local wine bar, the impact of which injured 12 people, three of whom are in serious condition. Few in authority wish to comment further as I write on Monday, although Bavarian interior minister, Joachim Herrmann, said (emphasis in the original):
it was likely the attack was the work of an "Islamist" suicide bomber.
Yet (emphases mine):
Bavarian police said it was unclear if the attacker was Islamist.
The attacker was due to be deported to Bulgaria and had received two deportation orders, the most recent of which was on July 13. Bulgaria was his first safe country of entry.
Patrons of the wine bar were initially told the explosion was caused by a gas leak!
Pity Bavaria, which has had to take in so many refugees and migrants, particularly during the past year.
On Thursday, July 21, the day before the Munich attack, Konstantin Richter wrote a guest post for The Guardian. He gave more information about the train attacker and migration to Germany in general. Excerpts follow:
There are almost 70,000 unaccompanied children living in Germany, and he happened to be one of them. For two weeks prior to the attack he'd been staying with a foster family. He had also started an internship at a local bakery. In the best of all possible worlds, he would have gone from intern to trainee and then to certified German baker. He could have been a role model …
When Germany's Willkommenskultur (welcome culture) was still in full swing, its advocates argued that Isis would not dare to target a nation that generously opened its borders to those in need. They also thought refugees coming to Germany would feel such enormous gratitude that they couldn't possibly turn against their host country. Truth be told, I thought so too, but it doesn't sound right any more.
The refugees who entered Germany had high hopes. Smugglers told them they'd prosper and find jobs instantly. Now they are languishing in asylum-seeker centres and struggling with bureaucracy, uncertain whether they can stay at all. Many of them are young men who are homesick, angry and frustrated, and extremists are deliberately visiting their homes because they know they are fertile ground for recruiting.
… advocates of Willkommenskultur have been on the losing side of the public debate since the events that unfolded in Cologne on New Year's Eve. They'd be well advised to acknowledge that the open-door asylum policy was overly idealistic, and that they underestimated some of the challenges posed by mass migration.
Meanwhile in France, a policewoman in Nice is at loggerheads with the French government over a report a central government department asked her to prepare concerning the attack on Bastille Day, July 14.
In an interview to a Sunday newspaper, Sandra Bertin said she was in charge of the CCTV room that night. She did not see any national police on duty where the lorry entered the Promenade des Anglais, where the attack with the lorry took place. Local police were unarmed. Bertin says that had they been better armed — like the national police — they would have had a decent chance at stopping the lorry by shooting at the tyres.
National police were stationed further along and were able to stop the lorry by shooting at the windscreen. By then, for 84 people, it was too late.
The next day — Friday — Bertin filed a report, by request, to the CSU (Centre for Urban Supervision), a department of the Interior Ministry but not that of the Interior Minister himself, Bernard Cazeneuve.
She had a difficult telephone conversation with someone who 'harrassed' her for an hour asking for specific details of the scene, including the position of the national police. Eventually, Bertin was able to get permission to compile a written report:
"I told her I would only write what I had seen. Perhaps the national police were there, but I didn't see them on the cameras," Bertin said.
Bertin, who, incidentally, is secretary general of a Nice public servants union, sent her report electronically.
A few days later, the antiterrorist branch visited her office requesting that she destroy the CCTV tapes she had from that night. She said in her newspaper interview that was because they feared the public might see the tapes.
Officials in Nice have refused to destroy them.
Paris public prosecutor François Molins, whose office is overseeing the investigation, says that the officials visiting Bertin's office only wanted to see the evidence for themselves.
Interior Minister Cazeneuve said he and his office had no direct involvement in these events. Bertin might be asked to submit to questioning by him or a representative. Even worse, he is suing her for defamation over 'serious accusations' she allegedly made against him.
There is a party-political aspect to this. The administration is Socialist. The Agglomeration of Nice is run by the right-of-centre Les Républicains, led locally by Nice's long-time mayor Christian Estrosi.
From the off, Estrosi said the police protection was woefully inadequate on July 14.
On Tuesday, July 26, a Catholic Mass was brutally interrupted in a town near Rouen in Normandy. Two men, armed with knives, entered the church at Saint-Etienne-du-Rouvray shouting 'Daesh!' A subsequent report said, 'Allah akbar!' One man had a beard, the other was wearing a prayer cap. They took five people hostage and slit the throat of the priest celebrating morning Mass. He died. A nun, Sister Danielle, was able to slip out of the church and call police. Security forces arrived quickly and fatally shot the two men. The article from l'Internaute (linked to above) said this was 'very likely' a 'terrorist attack'. (It is the sort of attack that takes place on churches in Muslim-majority countries.)
Honest reporting. It will be interesting to see what the major French newspapers say. Let's hope they do not name the attackers 'Antoine' and 'Jean-Pierre'.
Except if it is Maxime, as in Maxime Hauchard, now Abu Abdullah al-Faransi, who — possibly still in Syria since 2013, according to The Mirror — indirectly collaborated in this gruesome act with Adel Kermiche, according to the Daily Mail.
L'Internaute had a live column of what happened in the immediate aftermath. The priest was 86-year-old Revd Jacques Hamel, ordained in 1958. Someone would have to be pathological to murder an elderly priest, especially in such a horrifying manner. A nun who was helping him at the altar was seriously injured. Some of the other hostages also required medical treatment. Police told those living in the immediate vicinity to stay indoors.
Word of the attack soon reached those at the Catholic World Youth Day events being held in Krakow. The Pope, who is in in the Polish city, expressed his 'pain and horror'. Archbishop LeBrun of Rouen returned to France and his Vicar General took his place in Krakow. The Vicar General went to the scene of the attack immediately. François Hollande and Bernard Cazeneuve arrived shortly afterwards.
The live report states that this church was on the target list of Sid Ahmed Ghlam, 24, the extremist who intended to murder Catholics coming out of Sunday Mass in April 2015 in suburban Paris. Instead, he murdered fitness instructor Aurélie Châtelain who was in her car consulting her computer in Villejuif, just outside Paris. Then Ghlam ran into a spot of bother. He accidentally shot himself in the leg and was bleeding profusely. He drove his own car for some distance, before ringing the emergency services! Police arrived on the scene and arrested him.
Hamel was an active participant in the regional Christian-Muslim dialogue efforts. Mohammed Karabila, president of the regional Muslim organisation, said he was 'alarmed' to hear the news of his Christian friend, someone who gave his life serving others: 'We are all dumbfounded at the mosque. Our prayers go to his family and to the Catholic community.'
I wrote this shortly after the attack. More news has emerged, notably that one of the attackers, who wore an electronic tag, was allowed to roam freely on weekday mornings. The tag was switched off as usual before he left his parents' home the day of the attack. The Telegraph has a live column, and other news outlets around the world have rightly given this story the attention it deserves.
————————————————————————
These issues with the media and state security forces affect more countries than Germany and France. Belgium's security police and intelligence departments also have their problems.
The media, however, would do well by telling people the truth.
The 2016 Tour de France is likely to be defined by Stage 12, which stopped just short of the iconic Mont Ventoux and saw Chris Froome running to the finish as he awaited a new bike.
Running up that hill
The intense crowds near the finish line caused a television motorbike to brake suddenly. Richie Porte (BMC Racing) slammed into it, followed by Froome (Team Sky) and Bauke Mollema (Trek-Segafredo). Then, a second motorbike ran into Froome, breaking the frame of his bike.
What do you do?
Mollema was able to get back on his and continue to the finish.
Froome decided to start running up the hill so he had less distance to cover when his replacement bike arrived. Running in bike shoes is not easy. The neutral service car arrived with the replacement bike, but Froome found it ill-fitting. He struggled and made it to the finish in 25th place.
Thomas de Gendt (Lotto Soudal) won the stage with Serge Pauwels (Dimension Data) coming in two seconds later, followed by Daniel Navarro Garcia (Cofidis).
Deliberation took place afterwards about the riders in the general classification, Froome having been leader for most of the Tour. The Telegraph explained this dramatic Bastille Day stage, soon to be overshadowed by the terrorist attack in Nice later that evening:
Froome lost around a minute and a half on the road and slipped to sixth on the provisional general classification, 53 seconds behind fellow Briton Adam Yates, before the race jury intervened.
They ruled that Porte and Froome should receive the same time as Mollema after the Dutchman got back on his bike and stayed clear of the chasing rivals.
A grateful Froome said:
Ventoux is full of surprises. With about 1.2km to go, the motorbike slammed on its brakes – the road was blocked in front – the three of us just ran into the motorbike and another motorbike ploughed into me, breaking my frame. I just started running. I knew the car was stuck and was five minutes behind.
I think it was a fair decision, and I want to thank the jury and the organisation. It was the right decision.
We agree, although millions of Frenchmen would not.
Froome has received bad press for the second year running, certainly in Le Monde's En Danseuse blog, which has also commented on the dominance of 'Anglo-Saxon' (English-speaking) riders in the top of the GC and stage wins.
Incidentally, Bernard Hinault was the last Frenchman to win a Tour. That was in … 1985.
The French do not say anything critical about Peter Sagan's (Tinkoff) dominance of the green jersey for the points competition, however. And not a peep about Alberto Contador (Tinkoff), previously banned for doping, who had to drop out part way through this year's Tour because of a crash.
Froome rightly
questioned why he faces more scrutiny that other previous Grand Tour winners.
"I wouldn't say they need more scrutiny but I've got to admit it's frustrating to an extent that if you look at last five Grand Tour winners, there's not the same outcry for data and numbers. We didn't see it with Contador, we didn't see the same level of questioning. I don't really understand why it seems to be such a hot topic in the Tour de France because I won a mountain stage (to La Pierre-Saint-Martin in the Pyrenees) by 59 seconds. It just seems strange to me."
Agreed.
Another first — collapsing flamme rouge
As riders were approaching the finish line of Stage 7, the inflatable flamme rouge collapsed.
In addition with a rider running up a hill, this was another first. For years, I've been wondering when one of the flammes would collapse. Cycling News has the full story and photos of the incident.
A spectator caught his belt on one of the cables keeping the flamme upright.
Britain's Adam Yates (Orica-BikeExchange) took the brunt of the collapse. He required four stitches on his chin and sustained other cuts as well as bruises.
Best wishes to Adam for the remainder of the Tour. This is his first one and he has been wearing the Best Young Rider shirt for several stages now. As I write, he is also third in the general classification!
Mark Cavendish
The Isle of Man's Mark Cavendish (Dimension Data) continued to dazzle, taking four stage wins this year before he left the race to prepare for the Rio Olympics.
His 30 stage wins put him second between two Tour de France legends — Eddy Merckx with 34 and Bernard Hinault with 28.
Hinault was at the podium presentations every day. One couldn't help but wonder what Hinault thought of Cav's surpassing him.
Team Sky
ITV4 has been fortunate in being able to interview Sir Dave Brailsford of Team Sky a few times during the Tour this year.
He said that Froome was not only an amazing rider but also a well-balanced individual. Although Froome is highly competitive, he takes a measured approach to each stage.
In one of the ITV4 interviews, Brailsford said that the team are coached to remain calm: never do anything out of emotion. Those are wise words all of us should consider.
Brailsford said that team members are carefully evaluated and continually coached so that they can deliver the best for themselves and the team. Each rider's talents are considered as to where they can best be placed.
It sounds obvious, but careful, cautious initial planning yields better and more consistent results than chopping and changing every so often.
Team Sky are a smooth running machine. Long may it continue.
More 'Anglo-Saxon' inspiration
Although the French are livid at the 'Anglo-Saxon' mastery of cycling on their home territory, the coach of the England Rugby team, Eddie Jones, spent Stage 9 in the Orica-BikeExchange's team car in order to study their strategy.
Jones was also interested in the riders' preparation and recovery.
Stage 9 took place in the Pyrenees, which riders either love or hate. Even Mark Cavendish said this year that he 'hates the Pyrenees'.
Jones hopes to take lessons back to the rugbymen. The Express had the story (emphases mine):
The 56-year-old, who has won nine out of nine with England, is still not satisfied after their 3-0 series win over Australia and reckons his side can learn a lot from the cyclists.
Jones, who was at Lord's with the England cricketers yesterday, said: "It was just the professionalism of the preparation, really good individually before the ride, during the ride the information that each rider gets and post the ride the debriefing they did.
"Also the way that they set up, the preparation, it just shows that we've done some good things in rugby but there's still a long way to go.
"There is almost a race behind the bike race as the cars with the head coaches drive behind the bikes giving instructions and water. It's quite incredible – just the toughness of the riders and what they do.
"They've done that nine days in a row and they were talking about their recovery, so they had recovery Monday and they'll ride for an hour and half to recover. That's professional."
Jones is right. Tour de France riders are indeed incredible. I've been watching ITV4's live afternoon coverage in earnest for several years and have been more amazed with each passing Tour. This truly is the king of endurance sports.
Stamina also needed for publicity staff
Just as much stamina is often needed for drivers of publicity vehicles as well as the staff.
I wrote about the sausage and snacks company Cochonou in 2014. Just as riders making the Tour find it a coveted position, so do those hired to work for this company — and others — in handing out free goodies to spectators. My 2014 post described what Cochonou looks for in staff. It's not an easy brief to fulfil nearly every day for three weeks' running. You have to be smiling and cheerful even with the most obnoxious customers, even when they spit or urinate on you. Yes, it happens.
Being an official sponsor of the Tour de France benefits them enormously. In fact, it is 'indispensable'.
Thanks to their Twitter feed, we can see what the company's publicity caravan was up to on July 14 in a film from La Provence newspaper:
Teisseire is another official sponsor. They make fruit flavoured syrups and ready mixed juice drinks.
They began recruiting for the Tour in February. Their exacting and demanding brief for staff is very much the same as Cochonou's.
Teisseire's distribution staff must represent the company properly at all times, including when they are off-duty. Other characteristics which must be exhibited at all times are conviviality, good humour, participation in a close-knit group, proactivity and, of course, smiling. The same is expected of vehicle drivers, who must also keep the vehicles immaculately clean at all times.
It all sounds quite exhausting.
Here's a short video of Teisseire's publicity parade:
Tour de France vocabulary
This year, it seems that the official Tour handbook given to journalists and broadcasters is covering a lot of rider vocabulary.
A new term comes out every day or so and previous ones are reinforced when appropriate on subsequent stages.
As the Tour does not end until Sunday, July 24 in Paris, it is possible that one or more of the following might be heard in commentary:
allumer la chaudière (to light the furnace): be on performance-related dope
descendre comme un fer à repasser (to descend like a clothes iron): to have a not-so-smooth, hesitant or rough descent
être en chasse-patate (to be in a potato chase): idiom for expending a lot of energy on nothing, as a rider does when caught between two groups hoping to reach the one in front and can't
saler la soupe (to salt the soup): be on performance-related dope
sprinter comme un fer à repasser (to sprint like a clothes iron): to have a less-than-smooth or hesitant sprint
Abelard's France Zone has many more — including English, Spanish and Italian cycling expressions.
The yellow jersey lion
And finally, in case anyone is wondering if they can order a yellow jersey lion online: no, they cannot.
Those lions are only for the rider in the yellow jersey. Chris Froome is building up quite a collection.
The lions are part of the LCL — Le Crédit Lyonnais — yellow jersey sponsorship agreement which began in 1987, although the bank has been a commercial partner of the Tour since 1981.
Although Lyon's name in Latin was Lugdunum, implying no connection with a lion, the king of the jungle has been on the city's crest for centuries and might have had some bearing on the later name of Lyon.
Sports magazine Outside explains the reason for the toy, which the bank has been providing the Tour since 1987:
the lion was actually the mascot of longtime Tour de France title sponsor Crédit Lyonnais.
'Was'. Outside notes that it no longer is because LCL considered it 'too aggressive' a symbol. Executives discussed whether to discontinue the toy lions but decided not to, fortunately.
The lion supply is closely guarded on the Tour.
As LCL's sponsorship continues to 2018, they will be around for a few more years.
Thanks, ITV4
In closing, millions of Britons would like to thank ITV4 for another year of fine coverage and commentary.
The live coverage has been a joy to watch once again, especially the extended time at the weekends.
David Millar's commentary has also provided viewers with new, updated information. He knows many of the riders and understands the strategies, augmented by team radios and the latest bike technology.
Jens Voigt's Tour insight has also been a treat. He sees a few stages ahead and his predictions are bang on the money.
We'll be sorry to see it come to a close on Sunday. The riders, on the other hand, will be relieved!
It has been just under four weeks since the UK voted to leave the EU.
Theresa May has been our PM for one week.
She has done quite a lot of housecleaning in that time with many new appointments to the Cabinet, making it her own, and has created a department for Brexit.
It is unfortunate that the Nice attack took away our initial enjoyment of May's premiership. I have much to write on her appointment and the lady herself.
For now, a few brief observations follow.
The Conservative Party — best for women
The Conservative Party is the best political party for women in Britain.
Within 26 years, they have given us two female Prime Ministers, redoubtable women both.
By contrast, the right-on, progressive Labour Party has never had a female leader.
Around the time May was entering Downing Street last week, Angela Eagle — a contender for Labour leadership — said that it was high time they had a woman at the top. What Ms Eagle misses is that the Conservatives chose Margaret Thatcher and Theresa May not because of their gender but because of their competence.
I remember watching Andrew Neil's Sunday Politics (BBC) in 2015 prior to the general election. Several Labour women MPs told Neil week after week that the Conservatives should have more women in Cabinet.
Ho hum. Which party has two female Prime Ministers? The Conservative Party. Which party just happened to have an all-women shortlist for party leadership with Theresa May and Andrea Leadsom just ten days ago? The Conservative Party.
Enough said.
First PMQs an absolute blinder
On Wednesday, July 20, Theresa May held her first Prime Minister's Questions in the House of Commons.
She played an absolute blinder; she was confident, competent and concise. She answered every question with historical data and/or departmental updates. She took questions on housing, Brexit, 'honour' killings and the NHS, to mention a few.
Afterwards, I watched Daily Politics (BBC2) with Jo Coburn and her panel, most of whom, like Coburn herself, are very much left-of-centre. All said that May did very well indeed. Veteran reporter John Pienaar said she was much better than Margaret Thatcher in her early days of PMQs.
Meeting Merkel
May will be travelling to Berlin on July 20 to meet with Angela Merkel over a working dinner. (I will have an update in a subsequent post.)
Brexit is likely to dominate the dinner discussions. Terrorism and the recent attempted Turkish coup are also probable topics.
This is an historic occasion, as both Britain and Germany have female leaders at the same time.
The two seem similar in several respects: both their fathers were clergymen, neither has children, both have a penchant for improving society and they have strong personalities.
Expect mutual respect and honest discussions. It will be interesting to see if, once she meets May, Merkel is willing to engage in some sort of negotiations prior to our invoking Article 50 of the Treaty of Rome.
May will be meeting with France's François Hollande on July 21. Calais and terrorism are sure to be on the agenda along with Brexit.
Brexit
On July 19, May held her first Cabinet meeting.
She reiterated her commitment to Brexit and will personally oversee that new department as well as those for the economy and social reform.
May has wisely appointed three Leavers to key positions involving Britain's future outside the EU. Longtime MP David Davis is in charge of the Brexit unit as the Secretary of State for Exiting the European Union. Boris Johnson, MP and former two-term Mayor of London, is Secretary of State for Foreign and International Affairs. Liam Fox is the Secretary of State for International Trade.
Keeping a close eye on Brexit, the economy and social reform ties together May's overall agenda for her administration:
we will not allow the country to be defined by Brexit; but instead build the education, skills, and social mobility to allow everyone to prosper from the opportunities of leaving the EU.
I hope she continues to make progress in these areas. I'm beginning to like her a lot.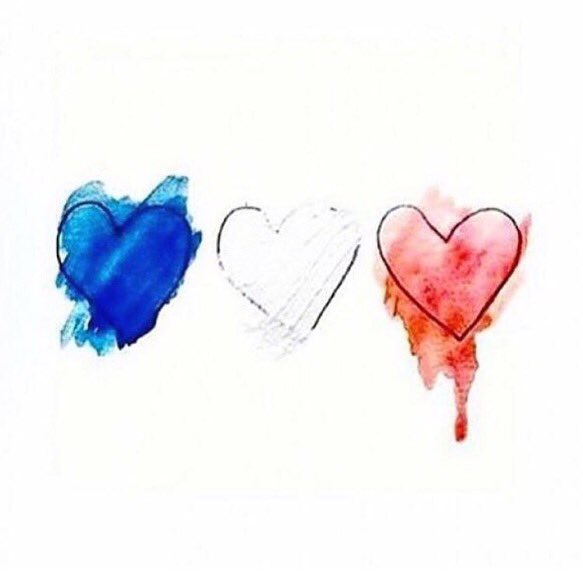 As I write on the afternoon of Friday, July 15, 2016, an analysis of Nice's Bastille Day attack is unfolding on RMC (French radio).
Nice-Matin is running a live column of developments since last night. Eighty-four people died and at least 18 were seriously injured.
After much deliberation, today's Tour de France stage will go ahead as planned. Various riders, including Chris Froome, have tweeted their condolences.
The film of the killer in the rented lorry mowing people down on the Promenade des Anglais was horrifying. How could a human being could do this? How can people commit such cold-blooded extremist attacks?
Along with millions of others around the world, my heart and thoughts go out to the victims of the Nice attack, their families and friends. Not just today, but in the weeks and months ahead.
I have borrowed the image above from Maina Sage's tweet. Ms Sage is an MP from French Polynesia.
Nice-Matin published a first hand account from one of their journalists, Damien Allemand, who happened to be in the vicinity as the horror unfolded. He was out to celebrate France's national holiday that night, hoping to enjoy the fireworks along with the rest of the crowd. Excerpts follow, translation and emphases mine:
It was a cool evening. The ambiance was good, the fireworks pretty neat, kids skimming pebbles on the water … In short, it was a cool evening.
The Prom' was thick with people. Like every July 14th. I chose to spend the evening on the beach at the High-Club, at the point where the Prom' becomes a pedestrian thoroughfare. At the end of the show, we all got up at the same time. Going towards the staircase, crushed like sardines. I was zigzagging between people to reach my scooter, parked just outside.
In the distance, a noise. Screams. My first thought: some clever clogs tried to set off his own firework and it failed … But no. A fraction of a second later, an enormous white lorry was going at breakneck speed swerving to mow down as many people as possible. 
This deathmobile passed within metres of me and I hadn't even realised it. I saw bodies flying like bowling pins. Hearing those screams, that howling, is something I will never forget. I was paralysed with fear. I couldn't move. I followed the vehicle with my eyes. Around me, it was pandemonium. People running, shouting, crying. Then I realised what was happening. And I ran along with them.
Around him he heard people shouting at each other to seek shelter, to not stand in certain places — and one man asking, 'Where's my son? Where's my son?'
Suddenly, it was over:
The Prom' was deserted. No noise. No sirens. No cars. I went back to see where the lorry had gone.
The journalist then encountered a man in his 50s. Breathless, the man said:
There are dead people everywhere.
And:
He was right. Just behind him, lifeless bodies and limbs every five metres. Blood. Moaning. The beach attendants were the first on the scene. They brought water to the injured and placed towels over those for whom there was no hope.
The journalist wanted to help, but, once again, he was paralysed with fear. Then he had a moment of panic, imagining the lorry might turn around and come back, until he saw that the vehicle was stationary, its windscreen full of bullet holes:
I hadn't heard any gunshots. Only screams. And, now, crying. A lot of crying.
He retraced his steps towards his scooter. He rode past the carnage. By then, the ambulances were starting to arrive. He concluded:
This evening was one of horror.
RMC's coverage has featured a lot of interviews with security officials, police, government officials and eyewitnesses. The talk show hosts and their panellists have been asking how something like this could happen when France has been in a state of emergency since November 13, 2015, the night of the Paris attacks.
During the afternoon it emerged that the man was able to access the Promenade des Anglais because he said he was delivering ice for the festivities. He then ploughed through the traffic barrier. No signs of ice were in the lorry.
The killer, whom police shot dead, had a criminal record for petty crime. He wasn't thought to be a radical, and people in his neighbourhood to the north of Nice said he had not really observed Ramadan last month, nor was he particularly religious.
He was a 31-year-old Frenchman who was born in Tunisia. RMC's reports said that he was recently divorced from his wife and had three children. He had been working as a courier for the past year but his employer had suspended him for falling asleep at the wheel, which caused an accident.
The lorry involved in the carnage was a rented one. The man was said to have been 'depressed'. At 13:32 BST today, it emerged that his name was Mohamed Lahouaiej Bouhlel and that he had a pistol as well as two 'long weapons'.
His victims were not only from Nice or France. Two Americans, a Russian, a Ukranian and an Armenian are also among the dead.
Another subject arose in the radio conversation. Do authorities crack down on aberrant imams, like the one in France who says that people who listen to music are monkeys and pigs? Opinion was divided. A crackdown could drive radicalism more underground than it currently is. On the other hand, the pundits said, a case could be made that France has to take a harder line against elements in their society that oppose secularism — laïcité.
For now, there are no answers. IS might claim responsibility at some point, but they haven't thus far.
It is too early to tell, but this could be an attack similar to the Germanwings plane crash in 2015, undertaken by someone who was mentally unstable at the time.
N.B.: This is being published on the afternoon of July 15 BST based on the information available at this time. More facts will come to light via the authorities and the media in the coming days.
UPDATE – Saturday, July 16 – The Guardian reports:
Islamic State has claimed responsibility for the truck attack in Nice that killed 84 people, injured more than 200 and brought carnage to a Bastille Day fireworks celebration on Thursday night. 
In a statement on Saturday, the news agency Amaq, which supports Isis, said: "The person who carried out the operation in Nice, France, to run down people was one of the soldiers of Islamic State. He carried out the operation in response to calls to target nationals of states that are part of the coalition fighting Islamic State."
… The claim of responsibility, which came 36 hours after the attack, will increase pressure on French authorities investigating the massacre. No evidence was presented to support the claim that Lahouaiej-Bouhlel had been acting in Isis's name. 
———————————————————————
I had hoped to write another edition of Brexit Chronicles. Under the circumstances, that can wait until next week.
Over the course of the past few years, migrant camps have been springing up in and around Paris, some with the authorisation of the mayor's office.
Annie Hidalgo, the current mayor and a Socialist — as was her predecessor Bertrand Delanoë — has more planned.
The latest is said to be planned for an area in the 10th arrondissement between the Gare du Nord and the boulevard de la Chapelle (see bottom right hand centre of this map).
I last took the Eurostar in early 2002. The sidewalks outside the Gare du Nord were not a comfortable place to be then with panhandlers all over the place. I can only imagine how the situation has deteriorated since then and, even worse, what it will be like later this year once the new camp opens up.
At the end of June 2016, the City of Paris sent out a press release stating that the 'humanitarian centre' would be opening in that area. The mayor's office refuses to state exactly where it will be, in case the project is 'put in peril' as a result. The decision as to location, they say, has been taken with the consent of local humanitarian associations.
Last year, in the neighbouring 19th arrondissement to the northeast, left-wing extremists and migrants squatted in Lycée Jean-Quarré (a high school), which was closed for refurbishment. The City had hoped to complete the work over the summer. Instead, vandalism and violence broke out among the squatters. I have read about it in French media and seen the pictures. The damage was so bad that it was becoming unsafe for the trespassers. In late September, the school was finally evacuated and closed.
One of the local councillors Aurélie Solans (EELV — Green), gave an interview to Metronews at that time in which she explained (translation mine):
Every day there was tension about food. The over-population of the place made the situation harmful. Right now, the atmosphere is dangerous for everyone. From Saturday night into Sunday, there were 160 cases of food poisoning.
Food donations kept the squatters going, but Solans said that most of the foodstuffs required cooking, and there were not enough facilities for that.
That situation and others elsewhere in Paris have contributed to councillors' pleas for properly constructed centres in town. Everyone envisages only one or two.
Yet, in the 18th arrondissement immediately to the east of Lycée Jean-Quarré, residents are worried over their personal safety and health because of three camps there.
On June 30, 2016, the Nouvel Obs featured a story on one of the illegal camps which is in la Halle Pajol in the Esplanade Nathalie Sarraute, a residential area catering to hipster tourists. Incredibly, a migrant camp has popped up two summers running (see right hand centre of the map near Marx Dormoy station). It was cleared out once again at the end of last month, but not for long.
Nouvel Obs spoke with local residents to get their assessment. Everyone was apprehensive. Ibrahim, father of a six year old, said:
We'd heard there was tuberculosis in the area, making it impossible to walk past there. No one there asked anything of us, but it wasn't a place they could stay long term.
Several hundred migrants — mostly Eritreans, Sudanese and Afghanis — were evacuated by convoys of buses which required police patrols throughout.
Ibrahim told the reporter:
It wasn't this big last year, just some mattresses at the end of the street. This time, it really was a camp.
The article said that the residents are known for their tolerance (Socialist and Communist councillors), but even they were getting fed up.
Christel, a woman in her 50s, said:
It must have been 11 o'clock at night; we could hear noise. It was awful. They were beating each other up, pulling off branches from trees to beat each other with. There was a little 12-year-old in that camp. He was afraid. He was crying. It broke my heart.
She agreed with Ibrahim's assessment:
Last year, the neighbourhood gave clothing, food. The associations seemed to manage it better. This year, we felt more aggression towards us, which isn't normal. We can't have that every summer.
Rita closed her Cuban restaurant in the area when the camp reappeared this year. She wants the government to reimburse her for a loss of €500 per day.
The mayor of the 19th arrondissement — a Communist, incidentally — said he is 'powerless' to act and despite the 'anger' he shares, it's not his department. That's the city's problem.
The mayor's office, the article says, gave the same 'spiel' — someone else's problem. They did, however, acknowledge that complaints had risen sharply on the previous year and added:
Even people sympathetic to the plight of the migrants are finding that violence and squalor are occurring more rapidly.
Unfortunately for residents living near Halle Pujol, within days after the migrants were evacuated, they began returning little by little. Post-evacuation, they had been sent elsewhere in the city or suburbs. One charity worker said that one of the organised camps resembled a 'prison' and that a number of migrants were determined to find their way back to places such as Halle Pujol where they could live independently in tents.
Dominique Bordin, a spokesperson for the mayor's office, explained that some migrants are afraid and confused by being sent from one authorised reception centre to another:
It's difficult to explain the situation when, on a single bus, there are three or four different destinations. It looks to them like injustice.
The article went on to explain that migrants feel they have nothing to lose by taking chances with their housing situation. If a reception centre is full, they might get to stay in a gymnasium.
The unsuccessful evacuation of the Halle Pujol camp was the 25th in Paris. Government ministers are working with local officials to create another 3,000 places in centres for migrants by the end of September.
The obvious question is, will that be enough? Those close to the situation describe it as an 'endless cycle' of unauthorised camps followed by evacuation. Because there are not enough places in the government's reception centres, activists from associations and charities dealing with migrants encourage the pop-up camps.
This lack of communication and co-ordination with local officials produces a lack of safety and security in normally quiet neighbourhoods.
It is no wonder that residents get upset. They want to help but feel increasingly compromised, especially if they detect aggression. What about their quality of life?
There is no quick solution. There is, however, a lot of buck passing and obfuscation. The situation in Paris is likely to get worse.
It is hard to think of a worse place than an organised camp near the Gare du Nord, especially as it is relatively close to Halle Pujol and two other unauthorised settlements nearby. It's bad for residents as well as tourists.