You are currently browsing the tag archive for the 'France' tag.
On Wednesday, August 10, 2022, Liz Truss appeared on GB News's The People's Forum to answer questions from residents of Leigh in Greater Manchester about her proposed policies:
The veteran newsreader and broadcaster Alistair Stewart ably moderated proceedings, allowing the audience to ask questions then reading viewers' questions and asking a few himself:
The programme was an hour long:
Brian Sheeran was first up to the microphone. Leigh, established in 1885, is a Red Wall constituency. They elected their first Conservative MP in 2019: James Grundy.
Sheeran asked why the people of Leigh should trust the Conservatives. Truss said that voters no longer could rely on Labour, because Labour never did anything for them:
She said that she would make sure that she started local projects as soon as possible, because people only trust a political party once they see tangible signs of improvements being made.
She also pledged to boost local businesses by rescinding EU laws that are still on the books post-Brexit.
She said that she would place a moratorium on the green levy on fuel and prepare an emergency budget as one of her first tasks as Prime Minister.
Not everything would happen straightaway. At least one measure would have to wait until April 2023 to be implemented because the Finance Act would require amending, a procedure that would require approval in both Houses of Parliament.
Another man asked what help Truss would give to working class families now, because the price of home energy has become crippling. He has had to take on a weekend job just to make ends meet:
Truss said that 'from day one', people would be able to keep more of what they earn.
He said that he needs help now, not at some point in the future. She said that she would look into all the options as soon as she becomes Prime Minister, should that happen.
Philip Orr asked about illegal immigration and was remarkably well informed on the statistics of our population increase over the past several years:
Truss summarised the situation of people trafficking across the Channel in dinghies. Criminal gangs are making big money. She hopes to make the Rwanda deportation policy work through Dominic Raab's proposed Bill of Rights. She also hopes to expand the number of countries who could take in these illegal migrants because they need more workers.
Orr suggested revoking French fishing licences if the French authorities continue to do nothing to stop the dinghies coming across the Channel.
In response, Truss said that she had had a 'tough' conversation with the French two weeks ago and that she would continue to be 'robust' in her negotiations. She cited the Northern Ireland Protocol Bill as proof that she could get things done.
She said that these migrants are in league with their lawyers before they make the trip over, enabling the lawyers to use ECHR laws to stop their deportation from the UK.
Finally, Orr asked why the UK couldn't use other countries' ports instead of being so reliant on France.
Orr called all of this 'sticking plaster politics', because nothing so far has been successful.
Jane Knight was the next to ask a question. She noted that the Government was not working. She asked what Truss's key strengths were and how she hoped to build a good Cabinet that would be ready to run on Day One:
Truss said that she has established a record of being able to get things done and has received backing from those Cabinet ministers, past and present, who have worked with her.
She said that she would be looking for three things in her Cabinet ministers: competence, the ability to stand up to civil servants in Whitehall and loyalty to her rather than to the media.
Knight said 'yes' to those but said there should be a certain amount of 'risk taking' and asked whether Kemi Badenoch, immensely popular among the people during her leadership campaign, would be able to have a Cabinet post, such as, perhaps, Foreign Secretary, Truss's current position:
Guido Fawkes has the dialogue (emphases his):
Jane Knight: I would like you to give some opportunity to maybe people that you might not know as well at the moment… certainly somebody who fired the imagination of the public was Kemi Badenoch and I'd really like to see her given a meaty role.
Truss: Do you have any ideas about what that role should be?
Knight: Oh well, Foreign Secretary! There might be a role going there!
Truss: Look, I don't want to get ahead of myself and this leadership campaign is still going on, but I can tell you that I will make sure the best players in the Conservative Party are on the pitch if I'm elected leader… Kemi – I've worked with her as Women & Equalities Minister – we've taken on a lot of the agenda of people who are trying to deny that women are women and so on, so I think she's absolutely brilliant and I would definitely want her as part of my team if I'm successful.
Knight also asked whether the Cabinet would be 'leaner, leaner, leaner', nodding for affirmation as she spoke those words.
Truss said that she could promise a 'leaner No. 10', which 'has become a bit too presidential' and she repeated her pledge to find a good post for Badenoch.
Knight said:
Ohhh, good answer.
Alistair Stewart brought up strikes at universities which prevent students from getting a full education. Some of these strikes are about changes in terms to lecturers' and professors' pensions because some universities took a 'pension holiday', not paying in continually to the pension pot. Other strikes, however, took place during the pandemic over health concerns. Either way, students are out of pocket, to the tune of £9,000 per year. They do not receive refunds for strike action.
Theo Murphin (?), a student, asked about this situation:
Truss said that she would hold universities to account to ensure that students get what they pay for.
In other strike areas, such as railways, she would ensure that industrial action would not overrun the network completely.
Theo also asked about the Online Safety Bill and the coming restrictions on freedom of speech. Truss said that her major focus of the bill would be to ensure that minors are not adversely affected by what they see online. With regard to adults, she said that one should be able to say the same things online as well as offline.
On the subject of strikes, Janice, a Daily Mail reader, wrote in with a question about the disruption of this year's strikes in various sectors across the country. Stewart asked her question for her.
Truss said she would legislate 'as soon as possible' to ensure that a minimum level of service is provided. She added that she is also concerned about activist organisations and mentioned Extinction Rebellion. She said that she would also take steps to ensure that they are dealt with, too, so as to not disrupt the daily circulation of people and goods.
Stewart brought up child grooming gangs (30:39), which seem to be everywhere in England now. He called Paul Eckersley to the microphone. Eckersley asked Truss what she planned to do about these gangs and 'bring criminals to justice':
Truss said that police should not be spending time patrolling tweets. Instead, she said, they should be fighting crime. She said that she wants to introduce police league tables on various forces' results.
Returning to the grooming gangs, she said that what has been going on has been 'absolutely repulsive'. She said that she wanted gang members to be held to account, 'but more than that' also the locals in authority — police, councillors and so forth — who did not do anything to stop them.
She received a round of applause for her answer.
Stewart then turned the subject to housing, especially getting young people on the housing ladder.
Jessica Buckthorpe, a cheerful and polite university student, asked whether Truss had any proposals to help young people in her situation, a student who works but cannot put together enough savings:
Truss proposes using young people's rental history of paying in full and on time to go on their mortgage applications, helping them to get a mortgage more easily.
Truss added that she also wanted to give more planning control to individual communities to plan for the housing they need. It is not unusual for young people to move away from where they grew up because they cannot afford the house prices.
Buckthorpe said that, while she appreciated these ideas, she said that the enormous actual mortgage deposit required is a 'pipe dream' not just for herself but for many other young adults.
Truss replied that using rental history would play an important part in enabling young adults to get a mortgage.
Truss said that it was important to keep in mind that our current inflationary period is temporary:
… we should not bake that into the future.
Stewart looked at Buckthorpe for her reaction:
There's a smile there.
A beaming Buckthorpe said:
Thank you very much.
The subject of war widows' pensions came up, especially those widows of veterans who subsequently remarried and lost their first husbands' pensions through subsequent rule changes. They are known as the WASPIs.
Stewart called on one woman who has a problem with her pension, Patricia Morgan, to ask her question. See the 2:40 point in this video:
Morgan said that, while she does not think she is getting the right amount of state pension because of a change in retirement dates, she cannot help but notice that money is going everywhere else, from coronavirus programmes to the war in Ukraine.
Truss said that she has met many such women in her own Norfolk constituency. The matter has also been addressed — unsatisfactorily, to many women — in Parliament. Truss said that she does not think that women have been looked after fairly in this regard. However, she said it would be very difficult to revisit the circumstances of the WASPIs and she apologised for that. She did, however, pledge to look at the tax system and see how it has an unfair impact on women in changing family circumstances.
Morgan politely countered by bringing up a parliamentary ombudsman's report which said that 'maladministration' had taken place. Truss said that she did not want to make promises that she could not keep. She could only address the future.
Stewart brought up the war widows' issue. Truss said she had already looked at that when she was in the Treasury. This issue, she said, she would look at again in more detail. Some 300+ women are affected.
Stewart then discussed the problems in the NHS.
Janine Ronaldson was the next person to approach the mic. She is a registered nurse with 31 years' experience, who works as a community nurse. She asked what Truss would do about the fact that nurses' salaries and benefits have decreased in recent years, resulting in many of them leaving the profession:
Truss said that nurses on the front line should be able to make more of their own decisions. She added that additional funding could come from existing funds and that the National Insurance tax rise was unnecessary. Some of this money can also go into social care, enabling hospital beds to be freed up for the elderly to go into a care home upon release from hospital. Currently, some patients have to stay in hospital because there is no satisfactory home situation for them to return to.
This, coupled with a huge post-pandemic backlog, is becoming a national problem.
Truss also pledged to look at the pension situation and talk to individuals to assess their concerns. She said that her incoming Health Secretary would also have to be committed to this.
Ronaldson said that it has been very difficult for her to see nurses leaving the profession and having to take on their workloads.
Stewart then asked for final questions on the topics that had been addressed.
One question came from Councillor Liam Billington, who asked about the child grooming problem. He said that Greater Manchester Council keep voting down motions to hold a public inquiry into what happened in Oldham. Truss responded that she would look into it and get back to him.
Johnny Riley (?) was next. He said that he had to give up his job to become a full-time carer for his wife. He receives only £70 a week from the Government in carer's allowance. He now has to use his life's savings to help them get by.
Truss thanked him for his devotion to his wife, who has cystic fibrosis. She said that her pledged review of the tax system should reveal how it works with the benefits system. She does not people like Johnny to be penalised for doing the right thing.
He said that he has paid into the system, so it's not about paying tax; it's about benefits, the least paid of all of them. Truss said that the whole system has to work, which is why she wants to look into it. She said she does not have a detailed answer. He said it was no wonder, because there has never been a detailed answer:
All we're asking for is a fair crack at the whip.
Trevor Bell asked how the Government can retain VAT on gas and electricity, when that is an EU law that should have gone once we left the European Union:
It was a Brexit promise … It should go now.
Truss reiterated that she would abolish the National Insurance tax rise and impose a temporary moratorium on the green energy levy. She also repeated that she would have an emergency budget early this autumn.
She said that the 70-year tax high is unacceptable but, right now, she cannot be more specific because the leadership contest is not yet over.
Truss said that getting rid of the green levy would save as much as getting rid of VAT.
The penultimate question came from Shelley Guest, who asked if Leigh could break away from Wigan Council and set up its own in order to use the tax receipts that it generates for its own needs (58:08). This is known as Lexit (!), something that Leigh's MP, James Grundy, also supports.
The room burst into applause.
Stewart told Truss that, while this seems like a local concern, it is also one that many other communities in England face.
Guest is concerned about rising council tax were Leigh to become independent.
Truss herself was once a local councillor. She appreciated Leigh's wish for independence and has spoken with James Grundy about it. She said she would consult the people of Leigh and appoint a Local Government Secretary to look into the matter with Grundy.
On a much lighter note, the final question came from a viewer who wanted to know about Truss's relationship with cats. Larry is the Downing Street moggie, and Liz remembered Palmerston, the Foreign Office's cat.
She replied that Larry frequently sidles up to her at Cabinet meetings, so she would like to develop her friendship with him. As for Palmerston, she said he left the Foreign Office during the pandemic and is now:
working from home. It's a true story!
She got a huge round of applause.
Some undecided voters there told Michelle Dewberry, who came on next with her show, that they really liked what Truss said.
They were a polite but hard-hitting group of real people who spoke frankly.
One wonders if Rishi Sunak would have the bottle to sit in a studio with their like. Would he or wouldn't he?
GB News has extended him an invitation to participate in his own People's Forum, so we'll see.
Speaking of Sunak, that day, a few other developments occurred.
Guido reported:
Away from the glare of the GB News cameras, Liz's team spent the day tearing chunks out of Camp Rishi on her behalf. After Rishi attacked Liz's cost of living plan for being "clear as mud", Team Truss went nuclear: "Rishi Sunak wouldn't know how people benefit from a tax cut because he has never cut a tax in his life.
People didn't vote for the Conservative Party to be subjected to old fashioned Gordon Brown style politics of envy." Team Rishi inevitably responded in kind – see below…
The mudslinging didn't stop there: Kwasi Kwarteng and Simon Clarke have an article in the Telegraph today in which they claim Rishi "dug his heels in" as Chancellor over post-Brexit reforms, particularly on plans to ditch the EU's Solvency II rule and reform the NI Protocol. You'd be forgiven for forgetting they're all in the same party. Team Rishi insist the claims in the article are "categorically untrue", and Sunak backed a muscular approach to Brussels all along…
Rishi didn't take kindly to Team Liz's attacks – it turns out being compared to Gordon Brown doesn't exactly flatter him. His team countered by claiming Liz's backtrack on regional pay boards last week was "a serious moral and political misjudgement affecting millions of people". This is the same Liz Truss whom Rishi has claimed he'll serve under in any Cabinet role.
His campaign also sent out a dubious press release claiming he'd cut taxes "16 times during and following the pandemic". One of those 'cuts' was reducing the Universal Credit taper rate, another is the promise to cut income tax by 1p in 2024 which, last time Guido checked, is two years away…
Instead of being with an average group of taxpayers, he chose to be interviewed one-on-one by the BBC's Nick Robinson:
He also promised to do more for households this winter beyond the package already announced, although didn't go into specific details on the basis that it was simply too early.

Although when asked whether it would cost "a few billion" or more than £10 billion, he said it would be "closer to the former than the latter"…
He gave Robinson an indication that he might lose the leadership contest:
He came the closest yet to admitting the race may well be over, claiming he'd always "stay true to [his] values" and he would rather lose than "win on a false promise".
It's interesting that Sunak chooses television formats that suit him rather than the electorate, even if, at present, they are Conservative Party members.
Sunak's non-participation in public fora other than Party hustings and closed interviews tells us something about the man.
Next week I will post on The Telegraph's hustings, held on Thursday, August 11.
In the autumn of 2021, a weeks-long protest by Insulate Britain, an offshoot of Extinction Rebellion, took place on Greater London's roads.
A bemused nation looked on as police a) did nothing, b) asked protesters if they needed anything and c) focused on members of the public who tried to remove human obstructions.
This was the scene on September 15:
Guido Fawkes wrote (emphases his):
The idiotic M25 Extinction Rebellion protestors are back this morning, once again bringing cars to a standstill, pumping out their fumes in an environmentally-friendly traffic jam. Pathetically, a solitary policeman is there and has been filmed asking them to kindly move on. In the most surprising news of the week, they didn't listen to him…
The next day, another sit-in took place on the M25 near the South Mimms services in Hertfordshire, just north of London.
Motorists took the law into their own hands. The police reacted quickly — against them, not the protesters:
And, yes, blocking a road, even part of it, is against the law:
On October 13, motorists continued to do battle with protesters, because the police certainly weren't. This took place in southeast London at the Dartford Crossing, going into Kent:
Guido wrote:
Insulate Britain has once again clashed with fed-up commuters this morning after blocking a road near the Dartford Crossing. The 40-something eco-activists prompting drivers to rip posters from the protestors and drag the insolent mob out the road. In other scenes, a lorry driver was filmed coming within inches of running a couple of them over.
On October 25, a man named Matthew, who was clearly old enough to know better, glued his head to an unspecified road. He expressed concern for his face:
Guido had more on the story:
The activist explained from his roadside position that he decided to glue his head to the road because the government is not treating the climate crisis as an "emergency", despite Insulate Britain admitting it was when they announced a pause in their campaigning a fortnight ag. When asked whether he'd "snipped himself" by the Mirror, a grimacing-in-pain Matthew said "…you'll find out if there's blood coming out." Someone clearly wasn't thinking with their head when they made this decision…
Interestingly, on the Continent, the police have no problem stepping in and restoring order.
On January 24, 2022, Extinction Rebellion Deutschland found that German police weren't nearly as kind and accommodating as their British counterparts:
Guido had the story:
German police demonstrated a no-nonsense approach to dealing with climate road-blockers this morning – the kind that's sorely lacking here in the UK. Dozens of protestors from "Aufstand der letzten generation" – which translates to "Last Generation Uprising", a branch of Extinction Rebellion Deutschland – blocked motorway exits in Berlin and demanded a new anti-food waste law, including "the implementation of measures for a sustainable agricultural turnaround by 2030″. Police quickly hauled them all off the road to inevitable accusations of police violence ("Polizeigewalt"). If only Germany were as willing to stand up to Putin with the same verve they do with eco-loons…
And, on Monday, June 27, French police didn't hesitate in ripping protesters' hands from tarmac in Paris. Don't worry. There's no blood, just pain:
The long-haired chap wailed. The young policeman told him, 'It's nothing. Stop making a drama out of it' ('Il n'y a rien. Ce n'est pas de cinéma').
Therefore, it's probably not a good idea to glue one's face to the road in France.
Why can't our police act with authority, the way they do with law-abiding citizens who want to get to work or drive their children to school?
The Extinction Rebellion protests stopped months ago in the UK, but our police need to get tougher with those who actively break the law by sitting in or gluing themselves to roads.
As one would have expected, the Queen's Platinum Jubilee brought out a number of snide republicans — anti-monarchists — on social media.
However, there is a reason why a constitutional monarchy is still a relevant form of government today.
On June 1, 2022, writing for The Telegraph, veteran columnist Allister Heath explained (emphases mine):
The 1,136 years of Royal continuity since Alfred the Great have been a remarkable story of evolution, a shift from absolutism to rule by consent, from feudalism to a form of capitalism, from Catholicism to a multi-faith society, from Anglo-Saxon kingdom to empire to Brexit. The monarchy, paradoxically, given what it was prior to Magna Carta and the Bill of Rights, now protects the people against power. The monarch serves as a reminder to politicians that they are not, ultimately, in total control: there are forces and institutions above them.
Other methods exist to protect nations against extremism or tyranny, such as the division of powers at the heart of the US constitution. But the downside for America is constant paralysis and an inability to reform institutions that are broken. Thanks to our constitutional monarchy, we are able to evolve when necessary; others must raze everything if they are to change. This is no naive paean to a Whiggish view of history: plenty of the changes made to this country over time have been bad, with botched devolutions a case in point. But we can cope with and absorb damaging ideas or ideological revolutions without losing our souls; the French and Russians and even Americans cannot.
It used to be argued by republicans that meritocracy was incompatible with a monarchy: the huge changes of the past few decades, Big Bang in the City, the drastic progress made by the working classes in the 1980s and by minorities in the 2010s, has shown this not to be true. Anybody in Britain today can be prime minister or a billionaire.
Crucially, the monarchy's central role in British life moderates our politics and society. It drastically reduces the threat of extremism, violence or ideological overreach, a quality that the rest of the world values hugely about Britain.
A monarchy, with its titles, palaces, carriages and servants, is obviously not compatible with communism, although it can coexist with pretty radical Left-wing governments. The Royal family is inherently internationalist, as is the Commonwealth: autarky or complete isolationism would be psychologically difficult. When military personnel sign up to the Armed Forces they swear an Oath of Allegiance not to the prime minister, but to the Queen: the threat of a coup organised by some hothead demagogue is vanishingly small …
Monarchies' time horizons are extremely long, a useful counterpoint to a social media-addled age where attention spans are diminishing, where senior roles turn over too quickly in the public and private sectors, where ministers come and go every year, and where wisdom and experience are undervalued. Western societies also tend to downplay the importance of the family: nepotism is rightly taboo in educational institutions, big firms and the public sector. But in the private sphere, in the real world, the family and blood ties matter, and often more than anything else. The Royal family reminds us of the continuity between the generations, even when there are tensions, disagreements and scandals. When millions are battling atomism, a demographic implosion, loneliness and a quest for meaning, anything that rebalances our perceptions of the good life is surely welcome …
The monarchy has become a unifying focal point around which every group can coalesce without degenerating into identity politics: all can feel pride. It is an institution that reminds us of our unique history, of the extension of rights, individual and political freedoms and immense economic opportunity that has characterised British history. No honest reading of the past 1,000 years can remotely claim that we are uniquely bad – for all our flaws, all our mistakes, we have long been a beacon among nations, improving and developing before others and tackling injustices more quickly.
… Ephraim Mirvis, the Chief Rabbi, perfectly captured Her Majesty's remarkable qualities and dedication in his special Jubilee prayer: "Her crown is honour and majesty; her sceptre, law and morality. Her concern has been for welfare, freedom and unity, and in the lands of her dominion, she has sustained justice and liberty for all races, tongues and creeds."
The monarchy, and the Queen in particular, have provided us with an in-built advantage in contending with the destabilising forces battering Western democracies. For that, and for everything else Her Majesty has given us during her 70 extraordinary years on the throne, we should be eternally grateful.
On April 21, 2021, the Queen's real birthday, Mary Harrington, a contributing editor to UnHerd, also put forward the historical case for preserving the constitutional monarchy. This was just days after the Queen attended Prince Philip's funeral.
Harrington wrote:
I was reminded of her iron self-control and bird-like fragility watching our Queen enter St George's Chapel for the funeral of Prince Philip on Saturday. She stumbled momentarily as she approached the chapel door; inside, she sat alone. Born 12 years after my grandmother, she has been our Queen since 1952 and remains so today, her 95th birthday.
And yet despite the dignified pathos of last Saturday, we can be sure that some will celebrate the Queen's birthday by calling for her deposition. For many progressives view the Queen as an unacceptable relic of the past. Never mind personal travails; monarchy, they say, is undemocratic, even if the Queen never wields her power. We should have an elected head of state.
But far from being a relic of despotism, constitutional monarchy is our best protection against its reappearance. The story we like to recall traces a thousand years of royal continuity — the same deep history which progressives say demonstrates the obsolescence of our monarchy. But in truth this story skates over a profound rupture: the end of absolute kingship …
Just as the Reformation represented England's secession from spiritual absolutism, the Glorious Revolution represented something similar in the political sphere. Having got rid of one absolute monarch, the statesmen who defenestrated James II set about making sure their new monarch, William, knew his place. A 1689 Bill of Rights set out constitutional principles we have to this day, including regular Parliaments, open elections and freedom of speech. The Bill also limited and specified the monarch's powers.
The Reformation and Glorious Revolution produced an England in which both spiritual and temporal rule had the same figurehead: a head of both Church and Parliament. The change was subtle but profound, as the authority of England's priest-kings now theoretically extended across moral and political domains. But in practice, they wielded no direct power.
This homeopathic dilution of theocratic tyranny proved exceptionally liberating. The new settlement drove the emergence of our parliamentary system, our two main political parties, and — as the monarchy sought a new role — many of the High Victorian institutions such as the Royal Societies, whose grand buildings form the majestic backbone of London today …
Two world wars, one collapsed empire and a de-industrialised North later, things look rather different. Today, younger adults widely believe the world has been getting worse throughout their lives, and are pessimistic about the capacity of science, government or their own agency to change this. In parallel, the freedom of speech first guaranteed in the 1689 Bill of Rights is increasingly regarded as a stalking-horse for hatred. Growing numbers believe that what's right and wrong — especially where it concerns the rights of marginalised groups — are sufficiently self-evident they shouldn't be up for debate.
But who decides on the exceptions to our post-Glorious Revolution norm of debate? It's been nearly half a millennium since Henry VIII ended England's official embrace of the Pope in this role. Progressives have yet to offer a clear alternative to either the Pope or the Defender of the Faith, though many assert that no hereditary ruler should be allowed such spiritual clout.
Unsurprisingly, then, progressives (such as Jeremy Corbyn) who support abolishing the monarchy, often also argue for disestablishment of the Church of England. Meanwhile a growing chorus of other progressive voices calls for a lengthening list of often self-contradictory articles of faith to be excluded from legitimate debate — a move that bears comparison with the religious ordinances of England's Catholic and Anglican eras.
But what if the progressives are wrong and power can never truly be democratised? This was the argument advanced by political theorist Carl Schmitt. Schmitt argued that democracy is always compromised by absolutism, because no matter how flawless a set of rules you devise, and no matter how fair your electoral system, sooner or later a situation will crop up that doesn't fit the rules.
When that happens, you have to break the rules: a situation Schmitt called the "state of exception". Coronavirus lockdowns are a good example: of the past year, countless ordinary freedoms were abruptly suspended in the name of virus control. Schmitt argued that you can tell who's really in charge by who gets to implement such a state: "Sovereign is he who decides the exception".
Carl Schmitt was, of course, a Nazi. For him, exposing the traces of arbitrary rule that persist even in democratic government was part of a wider argument in favour of strongman rule …
… It wasn't the Queen who decided to suspend our ordinary liberties for the pandemic, but Parliament, which is made up of our elected representatives.
The role of our Queen is to symbolise that tyrannical twitch we can't wholly eradicate even in democracies, lest such twitches break out more regularly among our elected leaders. And she must do so without availing herself of actual power. As such, she acts as a kind of inoculation against real tyranny.
Our Queen has two birthdays: her actual birthdate, which is today, and her "official" birthday on the second weekend in June. This aptly reflects her double existence. On the one hand she's a human individual with a family, a birthday and a recent, terrible bereavement. On the other, she's an interchangeable cipher, a part not just replaceable but designed to be replaced by her heir apparent when the time comes. Her role is to act, with total self-effacement, as the fulcrum between tyranny and democracy. It's a position that, once understood, is rightly seen as profoundly sacred.
On the topic of coronavirus, The Telegraph's French correspondent, Anne-Elisabeth Moutet, wrote of her fellow countrymen's envy when the Queen addressed the United Kingdom on Sunday, April 5, 2020. It was a planned address but was aired — coincidentally — shortly before Prime Minister Boris Johnson was admitted to hospital with coronavirus. Talk about serendipity.
Moutet wrote of French leftists who praised the Queen:
Three weeks into le confinement, the complete lockdown French authorities have imposed on the nation, TV viewers here tuned into the Queen's address yesterday more out of curiosity than to find any kind of succour.
The nation is exhausted. A good deal of Emmanuel Macron's response to the Covid-19 crisis has been deemed flawed. The President and the country's health authorities simultaneously decreeing that masks were unnecessary for the general public and pledging to buy millions as soon as they could be sourced was rightly seen as inconsistent. So was the failure of the French health ministry's bureaucracy, for weeks, to greenlight promising antiviral therapies while deaths rose by the thousands. Trust is at its lowest.
And yet, after a four minutes and thirteen seconds speech broadcast on all our news channels, France, a country that has forgotten neither Waterloo no Mers-el-Kébir, had been utterly won over. "Queen Elizabeth II Would Make Me a Monarchist," Marion Van Renterghem, a seasoned former Le Monde reporter, who now writes for both L'Express and the Guardian, tweeted. "A model Chief of State. A class act" …
"The entire world has just been given a masterly political communication lesson in a crisis by a 93-year-old grande dame," tweeted one of France's foremost spin doctors (and a professor at Sciences Po, Paris' answer to Oxford's PPE), Philippe Moreau-Chevrolet.
In a country where, since the day of Charles de Gaulle, the President has simultaneously tried to symbolise the Republic and manage current affairs hands-on, the Queen's address has reminded everyone that there's a lot to be said for an uncontested head of state, completely detached from the fluctuations of day-to-day politics — and from politicians' vagaries. Most of Emmanuel Macron's speeches here have been too long: in time (rarely less than 20 minutes); on posturing ("We're at war," repeated 6 times in an awkward televised speech three weeks ago); on insincere technocratic babble …
"It was moving; it was subtle; it carried weight because instead of trying to instrumentalise war parallels, the Queen never even said the word, but let us all remember her and her father's history. She had grace, she had authority, she had compassion," says Moreau-Chevrolet.
That direct link between the sovereign and her people, above politics, has often been mocked in Britain as in France; but faced with it, we all recognise it. A politician who had to campaign for the job, and has to look to his numbers the following days — Blair, Sarkozy, Macron — simply can't manufacture that.
Even more notable: patriotism, a word too often used pejoratively, came spontaneously to describe the strange experience of hearing Britain's great-grandmother praising and encouraging her people in adversity. We were, to be honest, more than a little envious.
The day the Queen delivered her coronavirus message to millions of Britons …
… Tony Blair's odious spin doctor, Alastair Campbell, wrote an editorial for The Telegraph, 'From her sense of humour to sense of duty, The Queen is the most remarkable person on earth'.
I am hardly a fan of Campbell's, but he explains how he shifted from being a republican to becoming a monarchist. The Queen's example showed him the way:
My first political row, aged six or seven, was about The Queen, when my mother said I had to sit with her and the rest of the family to watch the traditional Christmas message. 'Why?' I protested. 'Why should I care what some rich woman says, just because she lives in a big posh house, wears a crown and has a silly voice?'
That was more than half a century ago, and the beginnings of fairly persistent Republicanism. My mother, born in the same year as the Queen, and with the same first name, Elizabeth, is alas no longer with us. The Queen, very much, is. How I wish my mother was here to see me write this: that in common with millions around the world, I was keen to see and hear The Queen as soon as it was announced she would be broadcasting a special message to the nation about the coronavirus crisis.
I would go further… I think it is possible to make the case that The Queen is one of, if not the, most remarkable people on the planet. Below are just ten among many reasons.
Campbell praised Her Majesty's longevity:
She has 'done the same job' for almost 70 years … 70 years; there is nobody else, in any other walk of life, who has done that.
He praised her 'enduring excellence':
… her standing with the public has never been below 60 per cent approval in the polls, and often in the 80s and 90s, because of the way she has performed her role.
He pointed to her universal fame:
Her face is perhaps the most reproduced image in the world (300 billion stamps and counting, hundreds of millions of coins and banknotes throughout the Commonwealth.) She is universally known, and near universally admired. Say 'The Queen' in conversation anywhere in the world, and she, the Monarch of all Monarchs, is the one people assume you are talking about. Her death, when it comes, will be one of the defining moments of our times, globally.
He praised her humility:
Despite that fame, and the authority that comes with her constitutional position, she wears both lightly. As one of her advisers once explained to me, 'she knows that she did nothing to deserve the privileged position she holds. She was just plonked there, an accident of birth.' Not for one second, he said, does she ever forget that.
He recalled her ability to handle a crisis, specifically Princess Diana's horrible death on August 31, 1997. Princes William and Harry were with the Queen and Prince Philip at Balmoral at the time. Tony Blair was Prime Minister then, and Campbell was working for him:
… There was considerable reluctance among many at the Palace, her included, to lowering the flag at Buckingham Palace, to returning from Balmoral, to the Queen speaking to the nation. But when she and Prince Philip decided it all needed to be done, it was all systems go, and her walkabout outside the Palace, as I recorded in my diary at the time, dramatically changed the public mood, instantly. 'The Queen,' says historian Tristram Hunt, 'will become a business-school case study in the management technique of rebooting.'
Campbell recalled her resilience when Windsor Castle caught fire in 1992, the same year when Charles and Diana's marriage was breaking down:
There have been periods when the Republican movement has felt wind in its sails, and sensed the possibility of the whole Royal edifice crumbling. She has survived them all. Her annus horribilis, 1992, amid the grisly soap opera her family had become, with the Windsor Castle fire the tipping point to tears, was the only time her courtiers feared she was losing her capacity to endure whatever life threw at her. From that too though, she emerged stronger.
He admired her humanity:
I have met a fair few of her staff, at various levels, and have yet to meet one who doesn't like as well as respect her … Another of her advisers told me that the reason she loves horses so much is that when she rides, 'she feels like an ordinary human being, not a Head of State.' 
He said she has a sense of humour, citing a quip of hers from 2002:
At the time of her Golden Jubilee, Tony Blair hosted a dinner for The Queen and all surviving Prime Ministers at Downing Street – Blair, John Major, Margaret Thatcher and Jim Callaghan – and descendants of the Prime Ministers who had died. As they all gathered somewhat nervously, she said: 'Isn't it just marvellous not to have to be introduced to anyone?'
On the subject of Prime Ministers, Campbell said the Queen has a certain mystique:
Even those who see her regularly, like her fourteen Prime Ministers with their weekly audiences, do not really know what she thinks about many of the major issues they discuss. She never puts a foot wrong on the political front, and though she is one of the most written about people on earth, we don't really know much about her beyond what we see.
He praised the Queen's sense of duty, performing the same rituals time and time again:
This defines her, really. She would not be human, if she did not occasionally think, 'oh no, not another garden party/investiture/State opening/Trooping the Colour/regional visit/Commonwealth trip/State banquet for me to read platitudes drafted by the Foreign Office.' Whatever it is, she just does it, again and again and again. Because it is her duty …
Campbell ended by noting the change through which the Queen has lived. Yet she remains a constant presence in our lives:
She has seen so much change, and helped to drive change too. But she just is; 'show not tell' at its best. The Queen of 1953 would not have had a rock star like Brian May playing the national anthem on the roof of Buckingham Palace, as happened at the Golden Jubilee. The Queen of 2002 would not have appeared in a film for an Olympic and Paralympic Games opening ceremony, with Daniel Craig as James Bond, and a Queen lookalike jumping from a helicopter, as she did in 2012.
There is so much change in those different scenarios, but the only thing different about her is her clothing, and the colour of her hair. She just is, that's it, and her latest broadcast, just being The Queen, will further add to the legend, and the history, of a truly remarkable human being.
That is the one time when Alastair Campbell and I have agreed on something.
That said, the year before, in September 2019, The New York Post published the results of a Sunday Times poll on Labourites' — Campbell's fellow travellers' — views of the Queen. Who knew there were so many republicans among their number?
Only 29% of party members polled believe in keeping the British monarchy, the Sunday Times of London reported. And only one in five would be "happy" or "proud" to sing the national anthem, "God Save the Queen" …

Even more shocking in a country that's in the midst of leaving the European Union in part because of immigration issues, almost half of the poll's respondents agreed that nations "should remove borders and people should decide where they want to live."
I had forgotten about that poll, but everything remains true today. Few Labour MPs attended the Commons debate on the upcoming Platinum Jubilee. Furthermore, with regard to illegal immigration, most of them say that there is no such thing. In other words: come one, come all, no matter how.
Speaking of Labour, in 2005, Keir Starmer had just been made a Queen's Counsel (QC). This was before he was made Director for Public Prosecutions (DPP) in 2008.
Guido Fawkes unearthed this video, in which Starmer said he was against the monarchy:
Guido posted the video on February 3, 2021.
This begs the question: as the current leader of the Labour Party and desperate to appear as a safe pair of hands, is Starmer still a republican?
Guido offered this analysis about Sir Keir, as he now is (red emphasis in the original):
The 2005 interview … shows Sir Keir smugly boasting about his long-held republican views. Sir Keir, reflecting modestly on his other achievements, brags "I also got made a Queen's Counsel, which is odd since I often used to propose the abolition of the monarchy" before smirking …
UPDATE: Owen Jones et al [more leftists] are blabbering on about the past tense of "I often used to propose the abolition of the monarchy". That strictly reads as he used to propose the abolition, now he does not. Doesn't necessarily mean Starmer has changed his mind, just his campaigning priorities. As he embarks on his patriotic makeover, it is reasonable to ask; is that a tactical change or has he truly converted to the merits of a constitutional monarchy? If so, what was it about becoming a knight of the realm that converted him?
I have much more to write about the merits of a constitutional monarchy and the Queen's role within it.
For now, I will close with the thoughts of Alexandra Marshall, an Australian who contributes to that country's edition of The Spectator.
Marshall was on Mark Steyn's GB News show prior to the Platinum Jubilee celebrations and made a solid case for a constitutional monarchy, which she also summed up in a tweet:
Precisely.
Paradoxically, today's monarchies safeguard their citizens from tyranny.
More to come on this topic next week.
Over the weekend, I read two contrasting approaches to coronavirus, going from the sublime to the ridiculous.
El Salvador
This is the latest message from the government in El Salvador about coronavirus. It advocates exercise, achieving a normal weight, eating properly and getting enough sleep:
It is sublime. If only other governments had advocated the same thing over the past 22 months. Then again, there's no Big Pharma involvement, so this never could have happened in the West.
France
Now we move to the ridiculous.
Last summer, the French government mandated the vaccine passport, popularly called le pass sanitaire, when in reality it is le pass vaccinale.
In August 2021, the Minister for Work, Elisabeth Borne, said that anyone refusing to get a vaccine passport would be denied his/her salary or unemployment benefit. Someone replied to this tweet with a quote from February 2021 in which Borne said that, as a woman of the Left, fighting for social justice and equal opportunity were her two biggest objectives in life. Oh, the irony:
Initially, at least, vaccine passports were required even to go into a supermarket.
Here's a chap at Carrefour who could not get past the security guard on August 17 at Noisy le Grand, just outside of Paris:
Two more videos appeared on August 18. One was in the city of Pau in the south west of France. Police prevented angry shoppers from entering Leclerc:
The second confrontation took place at an Auchan in Marseille. Shoppers chanted 'Liberté, liberté':
I don't know what happened after that, but I haven't heard or seen any more about people being prevented from entering a supermarket.
I did see videos with police checking people sitting outdoors at cafés and bars for vax passport status.
Fast forwarding to January 2, 2022, Prime Minister Jean Castex said that food and drink can only be taken in bars and cafés sitting down. A bit like Wales and Scotland, then:
That same day, the education minister, Jean-Michel Blanquer, explained that every school would have a list of students showing their vaccination status, thereby violating the principle of privacy with regard to personal health records — a slippery slope:
The following day, the president of France's parliament, Richard Ferrand, got coronavirus. No one was allowed to ask questions, though, because it wasn't anyone's business. Circulez, il n'y a rien a voir. Keep moving, nothing to see here:
Incidentally, no vax passport is required in France's parliament. Typical:
On January 4, French president Emmanuel Macron said that he wanted to 'p— off' as many unvaccinated as possible. This means that the unvaccinated will not be able to go to sports fixtures, the cinema — or even restaurants, bars and cafés.
Contrast that with what he said on December 15, 2021: 'With some things I've said, I've hurt people. I won't do it again':
There is even an older statement from Macron from April 29, 2021, in which he pledged there would never be a mandatory vax passport in France:
Jean Castex refused to comment on Macron's pronouncement about p—ing off the unvaccinated:
Meanwhile, an anti-vax passport petition circulated online. It had over 1.2 million signatures as of January 5. The initiator of the petition was not allowed to present it to parliament. Police restrained him:
France's senate will be voting on further vax passport measures this week, postponed from last week:
Constitutionalists say that the vax passport measures are unconstitutional:
Here is a roadside hoarding (billboard) critical of Macron's vaccination policies:
The vaccine passport mandate was supposed to end on November 16, 2021. Yet, it is still in place.
On Saturday, January 8, many thousands of French citizens took to the streets to protest.
This was the scene in Aix-en-Provence:
Paris had the largest demonstration, despite the rain:
Here's another view:
Of course, the media, in this case BFMTV, reported 'only a few thousand' protesters. They would, wouldn't they?
On Monday, January 10, a French physician who works in ER called for the abolition of vaccine passports and urged the government to focus on treating the sick — 'Revenons au basique', or 'Back to basics':
Just before Christmas, a general practitioners' union pledged their support for the unvaccinated, a clear refutation of Macron's policy:
France's talk radio station, RMC, discussed the unvaccinated on Monday. Here's the segment from Les Grandes Gueules [The Big Mouths], for any interested Francophones.
A general practitioner who is a regular guest on the show said that anyone spreading 'disinformation' should be put in prison. Unbelievable:
One of the panellists complained about the constant testing of schoolchildren, which she thought was a waste of time and money:
Some time ago, when waffling on about the necessity for constitutional reform, Macron pledged that any petition with more than 1 million signatures would go to a referendum in order to give the French people a voice. As the anti-vax passport petition has 1.2 million signatures, will Macron prove good on his word?
Even during an election year, I wouldn't hold my breath.
Macron's voters are pro-vaccine and pro-vaccine passport people. Sadly, I think he will win another five-year mandate in May 2022.
The UK's biggest topics that truly matter to everyday people are coronavirus, COP26 and the fishing row with France.
Coronavirus
On Wednesday, November 10, the BBC news site featured an article on mothers and babies over the past year and a half: 'Coronavirus births: "My baby's first word was mask"'.
How sad is that? My first word was 'Da-da'.
The BBC interviewed Leanne Howlett, who gave birth to a daughter in March 2020, during the first lockdown. Poor woman.
She said (emphases mine):
"Overnight, home appointments [from the perinatal mental-health team] dropped away," she remembers.
They would be over the phone instead, she was told, causing her panic about how she would cope.
Nurseries were closed, she couldn't see family and getting through the basics of each day was a huge struggle.
"I dipped to rock-bottom," says the 34-year-old.
"You cannot bring yourself out of it – you think everyone is better off without you" …
Leanne started to feel better last summer, when childcare bubbles were allowed and her husband took time off work, but she believes the impact on her daughter, Miley, now two years old, has been profound.
"She is not at all sociable – she didn't see anyone but us until she was nearly one.
"All those missed activities, photos, and all those firsts," laments Leanne.
When she did go to her first baby group, all the mums wore face coverings, she says.
"My baby's first word was mask."
Black taxis
Prior to the pandemic, Uber was more popular than the traditional black taxi, especially in London.
In fact, Uber drivers from as far away as Manchester drove to the capital every weekend to reap the largesse.
On October 30, The Guardian posted an article on the new-found success of black cabs: 'Black cabs roar back into favour as app firms put up their prices'.
It begins with the story of a young man who had been stood up by Uber and another app-oriented service, Bolt:
The young man was frantic, trying to get to a third date with a woman he already knew he wanted to marry. But four Bolt drivers had let him down, and when he tapped his Uber app, it was asking for triple surge pricing. In desperation, he did something he'd never done before – flagged down a black London taxi.
"He was trying to open the front door to get in. He wanted to give me a postcode – it was the usual thing you get from the ones who've never been in a cab before," said Karen Proctor, a London taxi driver for more than a decade. "I told him 'the postcode's not going to help – just tell me where you want to get to'. It was a restaurant. And we got there seven minutes early, at about a third of the cost. He was converted."
Tales like that are why, after nearly a decade of Uber-induced gloom, things are looking up for cabbies. Trade has roared back into life since the end of Covid measures in July, with many talking with some astonishment about their best-ever takings.
I hope the marriage proposal met with success.
I am a big champion of black taxis. London drivers have to pass a three-year course called The Knowledge, where they regularly go in at least once a week to be quizzed by a veteran taxi driver on how to get various places in and out of the capital. This requires memorising routes, including all the requisite street names. I saw a three-part documentary on it several years ago. It looked and sounded daunting.
During lockdown, some black taxi drivers sold their vehicles and left the road for good. Some firms are buying up those taxis and renting them out to licensed drivers:
While drivers with a cab talk of people running towards cabs when they stop to let out a passenger, arguing about whose taxi it is, or queues of 100 people outside Victoria train station or Liverpool city centre, there are plenty of licensed drivers without a vehicle.
"People are coming to us every single day looking for a cab," said Lee DaCosta, a founder of Cabvision which runs payment systems for taxis and also rents a fleet for drivers who don't own a vehicle. "We're having drivers turning up literally walking the streets from garage to garage going 'got any cabs?'"
Transport for London (TfL) figures show there were 13,858 licensed taxis in London on 24 October, compared with historic levels of about 21,000.
The rapid decline is partly due to Covid. During the pandemic, when drivers had no prospect of earning money and some were ineligible for government support, some were forced to sell their cabs and take up other jobs. It led to the sight of hundreds of cabs being stored in unused car parks and fields around London.
But some of the decline pre-dated the pandemic, and DaCosta says TfL's policy of forcing older, diesel taxis off the road has not been accompanied by enough support for electric cabs.
As Uber demand returns to normal, however, drivers are fewer on the road than before. Some were EU nationals who went home and never returned. Others have opted to drive delivery vehicles instead.
No doubt everything will stabilise in time.
COP26
It appears that COP26 did not do much for Glasgow's hospitality sector.
On Wednesday, November 10, The Times reported that the anticipated uplift didn't happen. The conference ends this weekend:
While hotels across Glasgow are fully booked to accommodate the thousands of delegates, the hospitality trade is understood not to have seen any uplift in trading since the event began on October 31.
There are even suggestions the event has led to a reduction in trade for some operators. Footfall in the city centre is said to have been affected as people try to avoid the demonstrations.
There is also thought to be a number of delegations which have stayed outside of the city, with Edinburgh hotels among those which are busy.
Oli Norman, whose Ashton Properties owns venues such as Brel and Sloans, said he had heard of some publicans and restaurant owners who have seen their trading fall by up to 50 per cent, and added: "It should have signified a resurgence in the local economy but if anything it has been a damp squib."
Fishing wars
Any Englishwoman hoping to keep relations smooth with the French during the fishing wars in the Channel would do well to support her adopted country, as Samantha Brick, who lives in France, wrote in The Telegraph:
"Fishing wars" isn't a phrase I'd ever suppose would have an impact on my marriage – or indeed on my status in France – but in these strange times I suppose I shouldn't be surprised.
After I recently strutted through arrivals at Bergerac airport I was pulled up sharp at passport control. While my documents were checked, I was casually asked what I thought about the issue of French fishing trawlers being unable to go about their business in British waters.
Noting my French passport was still in the hands of the uniformed officer, I swallowed my pride and, after a bit of inconclusive waffle, I was told I should be proud of my French passport and those fishing trawlers. I feebly replied: "Vive la France" …
Not since Brexit has my other half been so fired up about Anglo-French relations. The right to fish is something that the French get very, very angry about. Pascal routinely shouts at the breakfast and lunchtime television (frankly OTT) news reports of the French fishing industry being stymied by brazen Brits and a dozen or so of our fishing boats.
Crustacea, I've learnt, is a French human right. The right to gorge on seafood is taken so seriously that drones and police on horseback are deployed to patrol and protect Atlantic oyster farms.
Her husband Pascal's household does not sound either women- or Anglo-friendly:
My brother-in-law is also married to an English woman. She isn't mad about the dozen or so oysters the family get in per person each Christmas either; note, we Brits have to compare notes outside the home on this as speaking in our native tongue at home is banned.
In fact, food is probably the area of most contention in our marriage …
… the French are pretty rigid when it comes to anything and everything at the kitchen table. There are centuries old traditions and behaviours which have been silently passed down the generations.
In the early days I once stood up, noticed I'd not finished my rosé and then drained the glass. Pascal was in turn speechless and outraged afterwards. This is, apparently, something no French woman would ever do. Women are supposed to nurse just one glass of wine throughout the evening …
… one rule he is immovable on is not clearing your plate. The motto – which is drilled into every house guest – is "you eat what you take". The French cannot abide waste.
Sounds dire.
I don't remember my academic year in France being like that and I was a fairly regular guest in French households, either for parties or for sleepovers concluding with Sunday lunch.
Look before you leap, ladies.
Conclusion
We in the UK are at a strange crossroads at the moment.
Everything we were told not to worry about has become of increasing concern: children's development post-COVID, Glasgow's resurgence during COP26 and the nothing-to-see-here fishing wars. At least the taxi trade is prospering.
From the beginning of the coronavirus crisis, anyone who doubted Big Media's narrative was branded a conspiracy theorist.
Strangely, most of what notional conspiracy theorists spoke and wrote about in 2020 has come true.
Last week, I read two articles of interest about the virus, the New York Times (NYT) and China.
The NYT, China and the virus
On August 2, 2021, Ashley Rindsberg, the author of The Gray Lady Winked: How the New York Times' Misreporting, Distortions and Fabrications Radically Alter History, wrote an article for UnHerd: 'Did the New York Times stifle lab leak debate?'
What an eye-opener it is. Excerpts follow, emphases mine.
Rindsberg has done a lot of research into the history of the paper, nicknamed The Gray Lady in the United States.
He says that the paper's relationship with China has been going on for over a decade and explores its dubious ties with totalitarian regimes of the 20th century:
Researching and writing my new book, I discovered that the Times has a dark history of inadvertently helping authoritarian regimes with its reporting, including the Nazis, the Soviet Union and Fidel Castro.
In the case of China, this appears true to an alarming degree. For over a decade, the Times has nurtured a special relationship with the CCP — though we can only speculate as to whether this influenced its editorial output. Still, the Times certainly appeared unconcerned about the appearance of impropriety as it took millions of dollars from Chinese propaganda outlets, most prominently China Daily. In exchange for this badly needed revenue, the Times has published hundreds of "advertorials" written by Chinese propaganda outlets, including China Daily, which promote CCP messaging on the most serious topics, such as a double-page spread on the hotly contested Diaoyu Islands brazenly titled: "Diaoyu Islands Belong to China".
But the paper's advertising relationship with Chinese state outlets is only the visible part of the iceberg. In 2012, seeking to capitalise on China's burgeoning middle and upper classes, the Times launched a Chinese edition of its daily paper followed by the launch of a luxury lifestyle magazine. "The appetite for New York Times journalism in Chinese has never been stronger," a company press release stated at the time.
In investing so heavily in China, the Times unintentionally handed the rapacious CCP an editorial lever to sway coverage. The Times learned this first-hand when, in 2012, the CCP blocked Chinese access to the Times online in retaliation for an unfavourable article on the family finances of China's outgoing premier, Wen Jiabao. The Times set out on a year-long "lobbying" effort to restore coverage that included meetings with Xinhua, the parent of China Daily.
In early 2020, the lab leak hypothesis was roundly condemned in Big Media, especially the NYT.
Rindsberg leads us through the timeline and the narrative:
Of course, over the past year newspapers across the world have fallen for the CCP's distorted Covid-19 narrative. And there is no evidence to suggest that the CCP did put pressure on the Times. But when it came to the lab leak debate, the Times was relentless. Starting in early 2020, when little was known about the virus — and nothing about its origins — the Times adopted a stridently anti-lab leak stance. In its first report on the topic, a February 17, 2020 article covering comments made by Sen. Tom Cotton, the Times stigmatised lab leak as a "fringe theory". Once the story was published, its reporter took to Twitter to describe it as "the kind of conspiracy once reserved for the tinfoil hatters".
Only one week prior, another outlet made strikingly similar claims. In an editorial, the CCP-owned China Daily thundered that Cotton's decision to spread "malicious rumors" shows "how irresponsible some are in their haste to attack China". The Times, echoing China Daily, also cast the lab leak hypothesis as a "rumor".
Over the months, the Times's coverage grew even more strident — and more in line with Chinese propaganda. In February 2020, it gave a platform to zoologist Peter Daszak, publishing an opinion piece by him which claimed that the pandemic was caused by "road-building, deforestation, land clearing and agricultural development". Daszak argued that "discovering and sequencing" viruses like Covid-19 in labs like the one in Wuhan should be a priority.
The Times, which used Daszak as a key source in over a dozen articles, has never mentioned that Daszak's organisation funded the Wuhan lab, in particular research into bats and coronaviruses, a flagrant conflict of interest. Crucially, there was no mention of this when a reporter interviewed Daszak this February, following his return from a heavily criticised WHO investigation into the virus's origins. (Danszak later recused himself from the investigation because of the conflict of interest.)
But the Times also never revealed that Daszak was a favoured source for another outlet: China Daily. The state-owned media organisation, along with Xinhua and sister outlet Global Times, repeatedly quoted Daszak to assure readers of China's full cooperation in the search for the virus's origins — and to discredit the possibility of a lab leak.
The NYT's coverage was so supportive of China that Chinese publications began quoting it:
In April 2020, for instance, the Times published an article claiming the Trump Administration's investigation into a lab leak "has echoes of the Bush administration's 2002 push for assessments saying that Iraq had weapons of mass of destruction." Within minutes, a China Daily columnist retweeted the story and parroted its central claim.
With more information coming out about a possible lab leak, the NYT has changed tack:
Today, however, just as the tide is turning on the lab leak debate, so too is the Times's approach to the subject. Last summer, the Times abruptly ended its advertising relationship with Chinese state media outlets and scrubbed all trace of the advertorials from its archive. And in recent months, it has published a handful of articles quoting scientists who believe we should take seriously the prospect of a lab leak.
But does this excuse the paper's behaviour at the start of the pandemic?
I do not think so. The NYT is one of the world's most influential newspapers. Everyone takes what it says as gospel truth. It is hard to disagree with Ashley Rindsberg on his conclusion:
Only time will tell whether the lab leak hypothesis is true or false. But whatever the result, what a tragedy it would be if the Times's coverage delayed that verdict.
Lab leak update
On Friday, September 10, 2021, UnHerd posted the latest on a possible lab leak in Ian Birrell's article, 'Is this proof of lab leak lies?' Birrell is an award-winning foreign reporter and columnist.
Over the past several years, the United States, Britain's Peter Daszak and France were all involved at some point with the Wuhan labs.
Birrell tells us:
… we do know one thing now beyond debate: speculative "gain-of-function" experiments on mutant bat viruses were taking place in Wuhan laboratories.
This research, carried out in labs that did not have maximum level of biosafety, was increasing the infectivity of laboratory-created diseases by constructing chimeric coronaviruses — despite strong denial of such practices by the key Chinese scientists. And the bio-engineering was being funded by United States taxpayers — channelled through a charity run by a British scientist — despite similar denials from America's most senior public health officials that they supported such science fiction activities in Chinese labs.
This information was uncovered via freedom of information requests made in the United States by The Intercept, which is devoted to investigative reporting:
The Intercept obtained 900 pages of documents detailing two research grants in 2014 and 2019 from the National Institutes of Health (NIH) to EcoHealth Alliance. This is the charity headed by Peter Daszak, the controversial Briton who led efforts to squash "conspiracy theories" about a possible lab incident after spending years hunting viruses with Shi Zhengli, the now-famous "Batwoman" expert at Wuhan Institute of Virology (WIV).
While some of this information was already circulating, The Intercept was able to obtain updates on the relevant projects:
… these documents include the original proposals along with project updates, so significantly flesh out what we knew. They highlight how US funding bodies outsourced risky gain-of-function research to China, even over a three-year period between 2014 and 2017 when it was banned in their own nation. They also show, with new clarity, the kind of work taking place in secretive Wuhan labs. These disclosures fuel the mystery over the pandemic origins, while also sparking fresh concerns over top scientists in both China and the West who sought to suppress inquiries into the lab leak hypothesis.
The NYT had a role to play here in defending the Wuhan Institute of Virology (WIV):
A $3.1m grant, according to the documents, was awarded to understand "the risk of bat coronavirus emergence" through screening thousands of samples collected from the nocturnal creatures. This included a chunk of funding worth $599,000 for WIV. Bear in mind that three months ago, Shi, director of its Centre for Emerging Infectious Diseases, angrily protested over the world "pouring filth on an innocent scientist" when emphatically refuting that they carried out gain-of-function work. "My lab has never conducted or co-operated in conducting GOF experiments that enhance the virulence of viruses" she told the New York Times.
Birrell gives us the NIH's definition for 'gain of function' (GOF):
the term gain-of-function research describes a type of research that modifies a biological agent so that it confers new or enhanced activity to that agent.
The following are real life examples of GOF:
Analysis of these papers show US funds supported construction of new chimeric Sars-related coronaviruses, which combined a spike gene from one with genetic material from another — and then showed the resulting creation could infect human cells and mice engineered to display human-type receptors on their cells.
One new virus had increased pathogenicity over the original virus and three new viruses increased viral load in lung tissues up to ten thousandfold, which is most definitely "enhanced activity." As scientists pointed out to me, these results demonstrated increased pathogenicity of SARSr-CoVs with different spike proteins in humanised mouse models. And similar construction work was proposed to be done with another type of deadly pathogen — the Middle Eastern Respiratory Syndrome coronavirus, which first flared up in Jordan nine years ago after spilling over from camels and has since cropped up in 27 countries, causing 858 deaths.
Dr Fauci is also involved:
Anthony Fauci, the US infectious diseases expert and presidential adviser, insisted earlier this year that his country "has not ever and does not now fund gain-of-function research in the Wuhan Institute of Virology". His stance led to a furious clash in Congress with Senator Rand Paul, who gleefully tweeted after The Intercept published its article on the papers: "Surprise surprise – Fauci lied again. And I was right about his agency funding novel coronavirus research at Wuhan."
Paul was backed by Richard Ebright, the bio-security expert and professor of chemical biology at Rutgers University, who has long been a fierce critic of such work since he argues that the risks of creating new diseases in laboratories vastly outweigh any potential benefits. "The documents make it clear that assertions by Anthony Fauci and the NIH Director, Francis Collins that the NIH did not support gain-of-function research or potential pandemic pathogen enhancement at WIV are untruthful," he said.
Birrell discusses France's involvement with Wuhan:
Buried in the documents are two more intriguing details. First, the experimental work creating mutant chimeric coronaviruses was carried out at WIV's biosafety level 2 lab and then the work analysing them in humanised mice performed at the biosafety level 3 Wuhan University Center for Animal Experiment, not at the new maximum level 4 WIV lab built with French assistance. The cluster of labs at the university hospital, incidentally, includes a breeding centre that created at least 1,000 types of genetically engineered animals from mice to monkeys. So this means the details in the papers accord with a previous statement by Shi that their coronavirus research is "conducted in BSL-2 or BSL-3 laboratories" — although a level 2 lab has, some say, barely higher safety standards than a dental clinic and certainly few safeguards against an lethal airborne virus.
As for Daszak, while he defended China, his charity warned about viral infections from animals encountered in fieldwork:
… while Daszak has been condemning supposed conspiracy theories and defending his friends in China with whom he has collected thousands of samples, his own charity was pointing out the major risk of accidental infection faced by researchers when collecting such specimens in a project he led. "Fieldwork involves the highest risk of exposure to SARS or other CoVs, while working in caves with high bat density overhead and the potential for fecal dust to be inhaled. There is also some risk of exposure to pathogens …while handling bats, civets, rodents or other animals, their blood samples or their excreta."
Accidental viral infection via animals was another point mentioned early last year which the media summarily dismissed.
The story of the origins of COVID-19 continues to unfold.
I look forward to reading more in future and covering it here.
By the way, that's Jersey as in the Channel Islands, not New Jersey.
The 200th anniversary of Napoleon's death was May 5, 2021.
A solemn commemoration was held at Les Invalides in Paris:
A number of Metro and railway stations in Paris are named after Napoleon's victories:
French president Emmanuel Macron was always a keen student of history, particularly Napoleon.
Britain's Prime Minister Boris Johnson is also a keen student of history, especially of battles that took place in antiquity.
Now we have a post-Brexit situation. France is upset that their fishing boats cannot go in Jersey's waters.
Sky News explains the new post-Brexit rules (emphases mine):
French fishing crews are demonstrating as part of a row over post-Brexit fishing rights.
Under the Brexit trade deal, which came into force on 1 January, EU fishermen continue to have some rights to fish in UK waters as part of a transition period until 2026.
However, under the new rules, EU boats wanting to fish within 12 miles of the UK coast need to be licensed and prove they have a history of fishing in those waters in order to carry on operating.
This includes submitting evidence of their past fishing activities.
Jersey has not granted licences to some of the boats that have applied to fish in its waters.
Ian Gorst, the island's external relations minister, said of the 41 boats which sought licences under the new rules last Friday, all but 17 had provided the evidence required.
"The trade deal is clear but I think there has been some confusion about how it needs to be implemented, because we absolutely respect the historic rights of French fishermen to fish in Jersey waters as they have been doing for centuries," he said.
"I do think a solution can be found. I am optimistic that we can provide extra time to allow this evidence to be provided."
The French government has also expressed its anger at what it said were unilaterally-imposed conditions on the fishing licences, including the time French fishing vessels could spend in Jersey's waters.
Jersey said it had issued permits in line with the terms of the post-Brexit trade deal.
The Jersey Evening Post reported:
Don Thompson, president of the Jersey Fisherman's Association, said Jersey had been 'quite generous' in its licensing scheme and described France's response as an 'over-reaction'.
He said: 'The EU have signed up to the [post-Brexit] Trade and Co-operation Agreement which states that Jersey must recognise the extent of previous fishing in our waters. The restrictions on the new licences cover what the French were already doing in our waters and are only preventing them from expanding their fishing efforts, which is needed if we are going to have sustainability in our waters.
'A point that is being missed is that Jersey boats do not have licences to fish in French waters – we are restricted to our own territorial waters while they can use ours, if any restrictions are placed on their own.'
Mr Thompson also highlighted how the approved 41 French vessels had been given a licence for free and urged Jersey's government not to give in to the French.
'Our boats would be charged £250,000 if they were to have something similar. Our advice to ministers is that they should not capitulate to these intimidation and bullying tactics that are being used,' he said.
'If we do capitulate now then they are just going to do the same thing every time we try to apply some form of management to make our waters sustainable.'
An oyster farmer from Jersey, mentioned in the headline, disagreed.
France threatened to cut off the electricity supply to Jersey. They have since backed down. Jersey Electricity said that customers did not have to worry:
On the evening of May 5, Guido Fawkes posted:
A reader responded:
These were the headlines on May 6:
They are armed fisheries protection vessels, or river class ships:
I wonder if the Royal Marines will use their new jetpack technology (videos here and here). It enables a Royal Marine to fly up to 12,000 feet in the air and up to 80mph:
As I write, these were the developments on Thursday, May 6. HMS Tamar, recently repainted with 'dazzle' camouflage, set sail for Jersey that morning:
We're in 2021 and not 1588 (sinking of the Spanish Armada), but, even so, there is a frisson of excitement about this:
France responded by sending two of their ships:
Guido Fawkes has more on France's reaction:
Guido's post says (emphases in the original here):
The head of the joint Normandy-Brittany sea authority has declared they are "ready for war" and "can bring Jersey to its knees" as tensions continue to ramp up between the UK and France over Jersey at a dizzying pace. War with France can only help Boris's 10 point poll lead…
Responding to two navy vessels being sent by Britain to patrol the situation last night, Macron has retaliated by sending one of his own military boats, to join 100 French fishing vessels blockading the harbour. A French minister has said the country "won't be intimidated" by British manoeuvres …
A military historian posted a thread about French fishermen protesting in Jersey:
This morning, a Jersey resident re-enacted an ancient battle with the French. He did this in safety, far from the port. Talk show host Jeremy Vine demonstrated how the blockade of the port was unfolding:
It's hard to disagree with this:
Negotiations are now taking place on Jersey between their government and the French fishermen:
The Jersey Evening Post reported:
External Relations Minister Ian Gorst, said: 'We are meeting with French fishing leaders this morning to listen to their concerns regarding fishing rights. There are continuing extensive political and operational efforts with both our local fishing community and French fishing associations, their regional representatives in France, and both the UK and French governments, in order to resolve the current dispute and resume previous good relations.'
A number of Islanders have turned up to watch and police are at the scene.
Although the crews have been setting off flares, the protest has so far remained peaceful.
One French fisherman complained that France has to go through the EU first for any resolution:
That could explain why Charles-Henri Gallois, president of Génération Frexit, is using this disagreement as an argument for France to leave the EU. He says: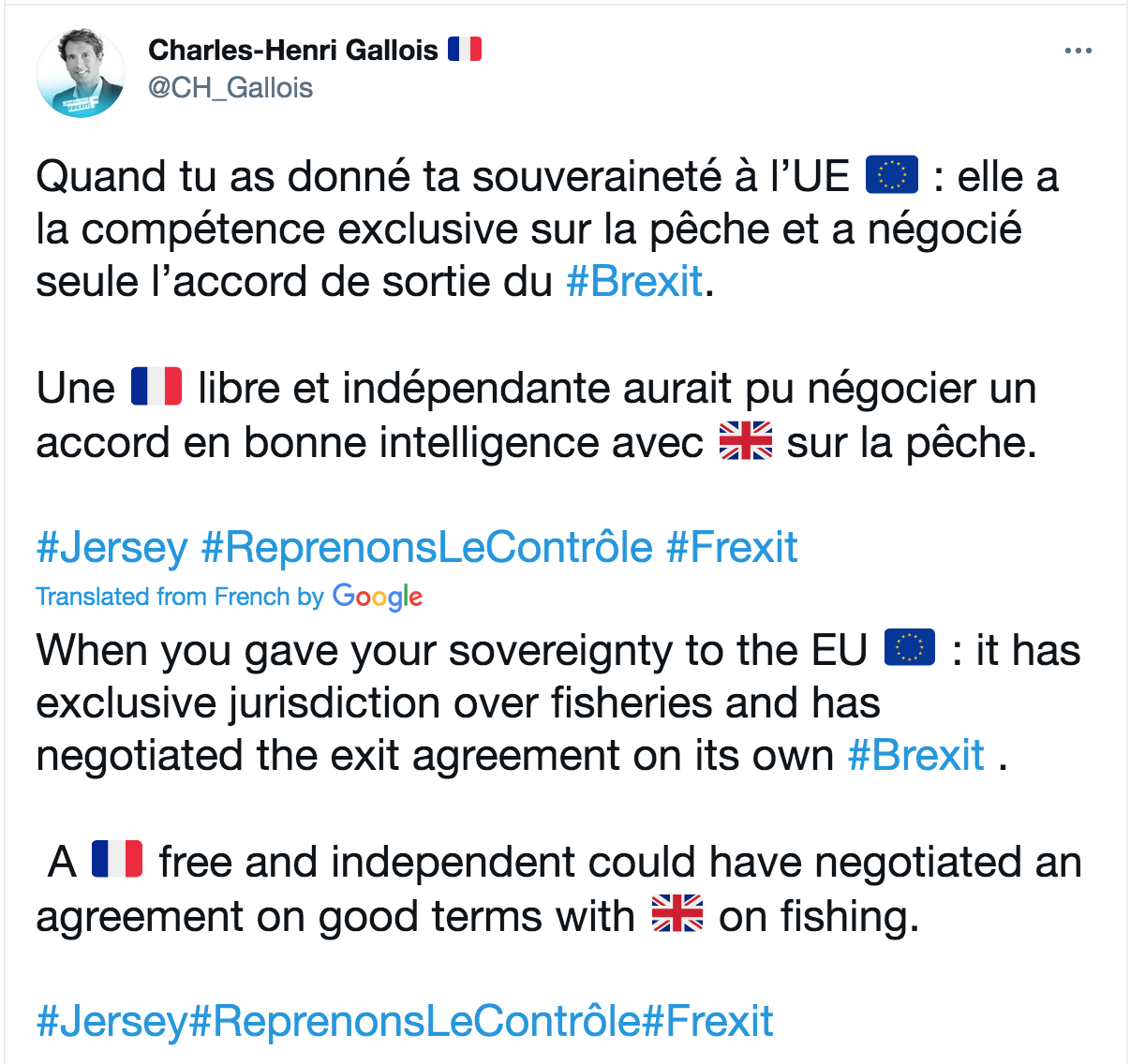 Here's his tweet, which met with an equally Frexit response:
Gallois also posted a link to an article in Les Echos, France's leading business newspaper, which says that the UK was able to handle their coronavirus vaccine rollout with 'great efficacy'. Gallois says that a free country which is independent is always more effective than one which is bureaucratic, slow and with divergent interests. He adds that, if one adds the totally antidemocratic aspect of the EU, one should not hesitate a single second to leave:
I wish Charles-Henri Gallois and Génération Frexit all the best in their pursuit of a France free from the EU.
Meanwhile, one wonders if the French are aware that today, Thursday, is England's local election day. As Guido says, this can only help Boris and the Conservatives.
UPDATE: IT ENDED BEFORE IT EVEN STARTED.
By dinnertime, the French fishermen had left Jersey:
Boris declared victory:
This is Guido Fawkes's version:
Guido reported:
The PM has hailed the end of the third battle of Jersey, understatedly calling the matter "resolved" after the 100 French fishing boats ran away earlier this afternoon.
The announcement comes as No. 10 says the two Royal Navy vessels will depart the island's waters in the coming hours, though will remain on standby in case Jersey once again finds itself in an hour of need. In the words of Maggie, just rejoice at that news, and congratulate our forces and the marines…
Many thanks to all involved in resolving this situation quickly. Even a small nuisance can be a lingering irritant if left to fester.
As we approach 2021, a growing number of Europeans are sceptical about our governments' respective responses to coronavirus.
My guess is that people are becoming suspicious about the loss of their civil liberties, which was only supposed to last for two to three weeks, yet continues to this day — nine months on.
There is no end in sight as we face the possibility of another sharp, nationwide lockdown early in the New Year.
France
This was a major topic of discussion on RMC's Les Grandes Gueules today.
Vaccinations have reached saturation point in France, even though the programme has barely started. Perhaps the government was too slow in obtaining more doses at the outset:
Regardless, in France, as well as everywhere else, even the vaccinated will need to continue to wear masks — possibly even after their second BioNtech/Pfizer jab:
Of course, mass vaccination is the only way that a nation's economy can once again flourish. Recall that for most age groups — up to the 70+ cohort — the average death rate is around 0.05%:
In the meantime, the question arose over whether future lockdowns should be national or regional. (We've tried both recently in England and Wales. It doesn't seem to make much difference.) This educator says that we can't stay locked down for the next ten years — 'I'm horrified. We're in a world of madness":
The lawyer on the panel disagreed, saying that we need lockdowns until we get the all clear. Someone responded to the tweet casting doubt on government statistics, saying that lies are a way of dramatising the situation — Project Fear:
Listeners rang in to say that they were sceptical about lockdowns and mandatory vaccines. The lockdowns don't seem to work and there aren't enough data yet to show that the vaccines are reliable and safe, especially if they operate like the flu vaccine, meaning that one is still susceptible to getting coronavirus, albeit a milder form of it.
Spain
The Spanish government is considering whether to develop a list of residents who do not take the vaccine then circulate those names to other countries to restrict their movements.
British talk show host Maajid Nawaz of LBC warned that this is a very dangerous step for a nation to take. He said that, years ago, he was a prisoner of conscience in Egypt and found out how far the state can go in controlling one's life. The response to his video is quite telling:
Someone else replying said that Spain would not be able to circulate the list because of personal privacy laws under the Europe-wide GDPR regulations. Hmm, I wonder:
England
Maajid Nawaz had another excellent commentary on the futility of lockdowns. He said that only one person in the UK has put together a cost benefit analysis for public consumption and that only the Times has published it. Apparently, 500,000 lives are adversely affected among the general population and they are not COVID-19 'cases' or inpatients. He added that Government ministers have a lot of data they refuse to reveal to the public. I would go further and say they are not even revealing it to MPs. Matt Hancock lets nothing out in Parliament, only more fear-mongering messages, then expects MPs to approve more restrictions:
Simon Dolan, a businessman who has sued the Government over lockdown, points out that lockdown relies on asymptomatic transmission being true. However, yet another study shows that there is no truth behind asymptomatic transmission:
The latest study, which the JAMA published, focusses on household transmission:
On lockdown, Simon Dolan posits:
Yes, most probably.
But what about the lorry drivers stranded at Dover because Emmanuel Macron didn't want them coming into Calais unless they were tested? Only a tiny number tested positive:
It's no wonder people are sceptical.
In closing, I have been waiting for an ecological impact assessment on masks. Here it is:
Does anyone else find it odd that, given the alarm over coronavirus, no country has any HAZMAT bins for used masks? Shouldn't worn masks be considered hazardous waste?
It makes one wonder …
More to come.
As some of my readers know, I listen to RMC's one-of-a-kind French talk radio shows during the weekdays.
They are also televised in France on the RMCStory channel.
On Friday, October 16, 2020, Les Grandes Gueules (The Big Mouths) had a cracking three-hour show. It was shouty, characteristic of a traditional French dinner party. People can disagree, but when they kiss each other goodbye, they remain firm friends.
Interested Francophones can find the podcast here (the two 'play' options can be tempermental, but one of them will work).
Most of the show revolved around old and new coronavirus measures.
Most of these are only for certain cities.
By way of background, unrelated to RMC, Philip Turle, a correspondent for France24, explains in English that nine complaints have been filed and are being investigated about French ministers' involvement in the decisions taken on coronavirus earlier this year. He said these accusations will be difficult to prove, as it is a question of what they knew and when:
The newest one is a 9 p.m. curfew in Paris and eight other cities. Incidentally, 'curfew' comes from the French 'couvre-feu' ('cover fire', or, as we might better understand it, 'lights out'). The word appears in some of the tweets below.
Alain Marschall and Olivier Truchot, who also feature on RMC's parent station BFM-TV, led a very lively discussion with regular panellists who come from the general public.
Friday's panel featured a teacher, Barbara Lefebvre; a lawyer, Charles Consigny and the former president of Toulon's rugby club (RC Toulonnais), Mourad Boudjellal:
The first topic was, 'Are the French too submissive [with regard to coronavirus]?' A national poll showed that 62% supported a curfew, with 38% opposed. (The survey can be seen in some of the videos below.)
The show took its own poll. Participants thought that the French have been too submissive. New measures stipulate only six at a dinner party, a 9 p.m. curfew (unless you have a good excuse and/or proof), further restrictions on public celebrations and weddings:
The lawyer, Charles Consigny, thinks that the French government have overstepped their bounds with regard to their nation's constitution. Someone replied, directing Consigny's attention to Emmanuel Macron's stepdaughter, also a lawyer, who says that people need to sacrifice their civil liberties for the common good. Oh, dear:
Never mind Macron's stepdaughter, Typhaine Auzière.
Consigny said that people living in big cities are the worst hit by COVID-19 restrictions. They have been cooped up for much of the year, with only a few months of reprieve. Many live in flats, often with other people. What they face when they leave their homes is a police presence with the power to impose fines starting at €135.
Consigny finds it unbelievable that the French are not more up in arms about this situation.
Barbara Lefebvre, the teacher, spoke next. She pointed out that neither French MPs nor the French Senate had a proper debate about coronavirus legislation; it was rushed through and passed into law. For that reason, she found it 'staggering' that few French people have objected to this legislation:
Someone commented with a Machiavelli quote: 'He who controls people's fears becomes the master of their souls'. How true:
Mourad Boudjellal, the former president of Toulon's rugby club, said that the regulations are absolutely stupid. He wants the sick and vulnerable to be able to get medical care and attention whilst leaving healthy individuals free to live their lives. He said that France's elites are completely disconnected from reality. They do not understand how the average person lives. He was also shocked by a national poll showing that 90% of people living in France were willing to go along with the curfew, no questions asked.
That morning, on Tele-Matin, a popular morning current events show, alarm bells were ringing that Paris's health care system could be imminently stretched to its maximum, although the man in charge of the capital's hospitals thought there was some hope that the worst case scenario would not happen. Project Fear (see the Machiavelli quote above):
Barbara Lefebvre said that, if these new measures do not work, it is likely that Macron will impose another full lockdown.
Charles Consigny said that he follows general health advice seriously: no alcohol, no smoking, nutritious food, no unnecessary risks. That said, he asked why anyone would want a totally hygienic, doctor-driven, 'sad' life. To support his argument, he added that has spoken with his physician friends who say that, long term, these measures are too onerous for everyday life:
The French government also recommends working from home two to three days a week. Will this nonsense ever end?
Boudjellal said that dinner in a restaurant is where most business transactions take place. He said that this will be difficult for the foreseeable future:
I felt very sorry for the young woman at university who rang in to say that staying in her tiny dorm room between 9 p.m. and 6 a.m. was unbearable. Outside of being a good student, the rest of university life revolves around congregating in each other's rooms or in a common area to chat, study and make friends. I knew many people who never went to bars or parties and stayed on campus:
Consigny remarked that France was moving towards a 'Soviet' way of life, where the government control every activity. It is hard to disagree:
The video below shows culture minister Roselyne Bachelot's quotes about special dispensation for people attending cultural events. They must keep their tickets to show to authorities if questioned.
Lefebvre said that, even during the Second World War, the French could go to the theatre and to the cinema. She called the new health measures 'a joke'; they must stop:
Consigny gave a yuge shout out to President Trump, whom he fully supports and hopes will be re-elected next month. Consigny really admires Trump rallies and 'dreams' of being able to attend one. He said that Trump 'could teach the French a lesson' about freedom:
Lefebvre was concerned that lockdown measures were creating a nation of 'geeks', breaking up everyone's social lives and friendships. Yep:
Boudjellal pointed out that coronavirus statistics need to be properly interpreted. He acknowledged that it is a fatal disease, however, it is hardly the greatest cause of deaths. Yet, 'We're taking measures as if it were the greatest cause of mortality in a century!' Agree:
The panel also pointed out that it's not only the businesses the French see — bars, restaurants, theatres — that are affected. There are millions of people working behind the scenes who are out of work or have limited hours: cleaners, linen companies, taxi drivers. The list goes on.
Please, someone, make this nonsense stop, not only in France, Britain and the US, but everywhere else that has a Western philosophy towards life and love.
Andrew Neil, veteran BBC journalist and chairman of The Spectator worldwide, hosted Episode 7 of The Week in 60 Minutes on Thursday, October 15, 2020:
A summary follows.
Not surprisingly, given events of the past week, coronavirus led the news.
Andrew Neil began with England's increasing number of regional lockdowns. It would seem that Prime Minister Boris Johnson is no longer following the science. The Labour and official Leader of the Opposition, Sir Keir Starmer, wants another national lockdown. The political editor of The Spectator, James Forsyth, said that, whatever coronavirus crisis measures Boris Johnson takes, he's 'damned if he does, damned if he doesn't' and has to deal with the damage of lockdowns.
Across the Channel in France, Emmanuel Macron has been following a similar strategy to that of Downing Street and is very concerned about COVID-19 in all respects. Neil asked about last week's contretemps in Ireland. Forsyth said that Ireland's dispute between their government and medical experts was played out in public; by contrast, in the UK, it was in private. In any event, he said that scientists are now in a position of 'negotiation'.
The magazine's deputy political editor, Katy Balls, was on next to discuss Labour's position on coronavirus. Labour MPs disagreed with Keir Starmer behind the scenes, a move which she said has united the Conservatives. That said, it seems England could well be heading towards a short 'circuit breaker', although that would be very difficult for Conservative MPs to stomach.
Forsyth said that this is a very dangerous time for the Government. Starmer could even emerge victorious. ('At some point', I might add, as Boris has a majority of 79 [from 80], and no general election is due before 2024.) At this stage, it's too soon to tell. He said that no one knows if a circuit breaker would actually work in England.
The Spectator's editor Fraser Nelson was up next. He said that Boris was pretty well on to the way to a national lockdown, adding that he lacks the way to fight off SAGE, having been  'outmanoeuvered'.
Neil asked about a recent poll showing approval for more coronavirus restrictions. Ben Page from IPSOS-Mori explained the polls, which showed that 62% of respondents thought that stricter measures should be taken. Page indicated that these were somewhat alarming results: 'quite astonishing in some ways … across the piece'.
Forsyth noted that 19% of Conservative voters in England oppose increased restrictions, which poses a problem for Boris because it creates a North-South divide. Ben Page countered that the polling support for Labour and Conservative has been fairly stable this year. Labour haven't been able to gain much ground since December 2019.
Jake Berry MP, a Conservative representing the northern constituency of Rossendale and Darwen in Lancashire, spoke next. He said that, although their regional lockdown had been relaxed recently, they are now on Tier 2. He said that people are largely ignoring the Government guidelines and will comply only with what they think is appropriate. He does not favour a national lockdown but supports a local circuit breaker 'based on the data', so that it becomes less political for the public. He believes that the Government could have 'handled the North better' and that recent weeks have proven a 'very dangerous moment for Parliament and the North'. That said, he added that Labour 'is in quite a lot of trouble over this as well' and said Starmer committed quite a big mistake this week when calling for a national circuit breaker.
Berry further advised that we need to give this new two-week regional lockdown the benefit of the doubt which might lead for in-and-out local lockdowns.
Neil then changed tack, moving across the Channel to France, with its local 10 p.m. coronavirus curfews (some of which are now at 9 p.m.) and a campaign against extremism.
Ayaan Hirsi Ali, speaking to the latter point, was the next guest. She was sceptical about any success against extremism. She said that extremists have convinced French immigrants they are living within another type of state to which they do not feel they naturally belong. She added that this is enough to subvert the French nation. She also said that the same narrative is going on in other Western nations, because leaders remain silent and refuse to admit what is really going on.
Talk then turned to Brexit arrangements, which were to have been concluded that day. James Forsyth said that the EU threw the ball into the UK's 'court'. That leaves the situation whereby Michel Barnier wants to carry on talks but neither side wants to back down.
Forsyth expects there will be a deal to be done 'but with a twist in the tail'. Fraser Nelson said that Boris and Macron communicate with each other quite closely and expected that Britain will budge over fishing rights. It will be, he predicted, one for revision: 'a process rather than an event'.
Forsyth said there could be a November deadline, even though neither side wants an early deadline because they do not want any changes to the deal. He predicted a last minute November 15 deal.
The last part of the programme concerned protecting the triple lock pension with Katy Balls affirming that Boris is 'committed to it'.
The panel noted Boris's 'unstrustworthiness' problem with voters. Questions from listeners followed for the last ten minutes. Ben Page said that the Labour Party is very unpopular even if Keir Starmer is popular in the polls.
Viewers are grateful to Charles Stanley Wealth Managers for sponsoring the programme.