You are currently browsing the tag archive for the 'France' tag.
My posts might be sporadic in the coming days. I hope to post every day, but I am heading into an onerous Spring clean which will involve a lot of time.
Part of my time in Easter Week 2023 has been devoted to clearing my backlog of magazines which began during lockdown. My hope at the time was to get on top of everything beginning in March 2020, but with more news coming out about coronavirus every day, followed by an onslaught of British politics and the Queen's death, the past three years have put me behind in my reading.
I began by reading 18 months' worth of Marianne magazines in two days. Marianne is a reputable publication, albeit a bit of a cult classic, among French newsweeklies. I began subscribing to it shortly after it first appeared in 1997.
As it is left-of-centre, I do not agree with everything it says, but, unlike other French publications, it offers articles and perspectives one cannot get elsewhere.
I did not have time to date and page every discovery about the similarities between France and the UK.
Suffice it to say that Brexit has nothing to do with the UK's woes, whatever they are. France — a nation firmly rooted in the EU — has the same problems.
Healthcare
France has the same healthcare shortages that the UK does. Doctors have retired over the past 30-40 years, leaving a lower number of younger physicians to pick up the workload. More foreign doctors from Africa are being recruited; there is no other alternative.
Physicians and nurses are suffering from increasing mental health problems, just like their British counterparts.
Social care for the elderly is also a problem. Some regions, such as the north of France, with its high number of elderly, are doing well. Others have yet to find a way to co-ordinate with hospitals and other health-oriented organisations on how to find that balance for more demand with a low number of available staff.
Inflation
Yes, everything costs more in France, just as it does in the UK. Families are having to scrimp and save in ways they never anticipated.
Fuel, both for transport and home use, is increasingly expensive. The same goes for electricity.
First-time home buyers are finding it difficult to get on the housing ladder, which is also true in Britain. To say that the French want to rent all their lives, as the left-wing UK politicians say, is wide of the mark. Most new French housing builds are not available to first-time buyers because they simply cannot afford it.
Consequently, the French have to put off starting a family, just as in the UK.
Furthermore, bakeries and restaurants have had to close because of the high cost of fuel and electricity.
Food security
Food costs are sky high. Tomatoes and cucumbers are also in short supply as I write.
Food security is an issue as is the quality of food production. Demand for meat, especially beef, outstrips supply, hence imported meat has become the mainstay in supermarkets as well as in schools and social care institutions.
The EU has also weakened food standards. Allegedly, in a bow to Germany, the EU has ruled that packaging labels can now say 'farm-grown' and 'field-reared' when no inspection of the kind takes place to ensure that such claims are met.
Incidentally, some generations-old wine producers in Bordeaux cannot afford to keep going, either. They can no longer afford it.
Much of the farm labour has to come from countries other than France, which even for them as an EU country is not always easy to arrange with regard to seasonal visas. Ergo, Britain is not unique — and Brexit is not the problem.
Immigration and employment
France is having problems deporting certain persons who arrive without their papers. In principle, they can deport someone within 90 days. In reality, it does not work to plan and there is a backlog forming. People lose their papers and it is difficult for the immigration authorities to determine who has a right to stay and who must leave. Untruths and difficult stories, including mental health problems, emerge which require further investigation.
Some who have been granted asylum go on to commit crimes. In the latter part of 2022, three men in Angers, which used to be a quiet city (Maine-et-Loire), were knifed to death by a Sudanese man who was granted asylum. It turns out he has severe mental health problems. The Frenchmen were defending two women whom the Sudanese was threatening with violence. There have been other serious criminal incidents involving those granted asylum.
The mental health problem among asylum seekers is an issue, one which authorities are continuing to investigate.
Mental health in general
Since lockdown in 2020, the mental health of French men and women has become an issue, especially among adolescents and young adults.
Performance at work and in schools as well as universities has deteriorated.
Education
Lockdown has also produced its problems among students in the secondary and tertiary education sectors. Teachers and professors have had to 'curve' grades, because the standards have decreased considerably.
Students have difficulties writing essays, partly because they can no longer write in longhand and also because they cannot put reasoned thoughts to paper. Fewer are entering the Bac with a Philosophy examination, formerly a mainstay of French secondary education.
Sexual assault
The French have also been shocked by reports of serious habitual sexual assault in families over the past few years.
Most of these involve a pater familias who skilfully drugs his wife and/or daughter for gang rape by himself and his friends.
That, admittedly, is not something rampant in the UK, although we have our own problems of another nature with regard to crimes of this type.
Family highly regarded, work less so
Young adults still give family and friends high priority in their lives — 91% and 90%, respectively.
The value of work ranks lower down the scale, in the 80-percentile range, with some young French employees saying they do enough to get by, and that's all their time is worth. They simply are not being paid enough.
That is certainly similar to what is happening in the UK, with many young people wondering what the point of work is if the pay is so low. It is hard to disagree with that, as a number of cynical British employers are purposely lowering salaries so that they do not have to pay much. They figure that someone in a low-paid position can get Universal Credit as a top-up to their salary.
France is 'Eurosceptic'
And, finally, a few Marianne articles said that France was the most Eurosceptic of the EU nations.
The French still do not trust the Germans. They also wonder why the EU is working against the individual nations in attempting to create a supranational structure, ignoring national cultures and borders.
Conclusion
It is unlikely that France is an outlier in the EU.
Having read Marianne's articles, from late 2021 to the present, I am convinced that Brexit was the right thing to do. Vox populi, vox Dei.
Brexit is more of a process rather than an event. We shall prevail, of that I am certain — just not tomorrow or next year.
Yesterday's post introduced Matt Hancock's hunger for absolute control during the coronavirus debacle.
The story, with excerpts from The Telegraph's The Lockdown Files, continues after a brief interlude.
Giles Coren: 'we all broke the rules'
On the afternoon of Wednesday, March 22, broadcaster and Times columnist Giles Coren, son of the late humourist and Punch editor Alan Coren, gave a radio interview in which he said that 'we all broke the rules', meaning during the pandemic.
The subject arose as former Prime Minister Boris Johnson was taking his place at the parliamentary Privileges Committee hearing to defend himself over Partygate.
As a result, Giles Coren trended on Twitter — and not in a good way:
A few of the cleaner tweets follow:
However, this next tweet nails it. Giles Coren doesn't mean average Britons. He's referring to the media class and other privileged oafs:
Which brings me neatly to Matt Hancock.
Hancock wants immunity over care home deaths
On March 4, 2023, Chronicle Live recapped an article from the Mirror about a talk that the former Health and Social Care Secretary gave to a group of top-flight London lawyers about who was to blame for care home deaths (emphases mine):
Matt Hancock told a gathering of city lawyers he should be immune from court action over Covid blunders, The Mirror reports – just days before shocking WhatsApp messages he sent during the pandemic were published.
Mr Hancock said he should not be held personally responsible for failings during the fight against Covid-19, such as the Department of Health and Social Care's failure to safeguard care home residents, simply because he was Secretary of State. Instead he said that "HMG" – the whole Government – should take the blame.
This comes even as prominent campaigners call for the ex-minister to be prosecuted.
He was heard saying that he believes lawyers pursuing him personally "were chasing tabloid headlines". He was speaking to lawyers from firm Mishcon de Reya in a talk over his book, Pandemic Diaries, coming just months after his stint in the I'm A Celebrity jungle.
Mr Hancock has furiously denied claims that his leaked WhatsApp messages show he ignored Chief Medical Officer Chris Whitty's advice to test all people going into care homes.
His department's policy of discharging untested patients into them from hospital was ruled unlawful by the High Court in April in a case brought by Dr Cathy Gardner, who lost her father. At the time of the ruling, union GMB said the department had shown a "callous disregard" for care homes.
The messages leaked to the Daily Telegraph this week by Isabel Oakeshott, journalist and the co-author of Mr Hancock's memoir, show he thought committing to testing people coming into care homes from the community – including staff – didn't "add anything" and "muddies the waters" …
And 12 days ago he held an online question and answer session with top lawyers from Mishcon de Reya and told them it was wrong that a Secretary of State of a department should be held legally responsible for failures and it should be "HMG" instead. Currently, the defendant in any judicial review against a Government department has to be the Secretary of State.
But Mr Hancock said: "I don't think it's an appropriate use of the courts to essentially go chasing tabloid headlines. You know, 'Hancock broke the law' – I didn't break the law." In the Q&A, Mr Hancock also claimed to have "banned alcohol" in his department to stop his team being "more social".
Some of the leaked WhatsApp messages reveal then-aide Gina Coladangelo – who is now his partner – telling him there were drinks in the fridge to celebrate hitting his testing target in May 2020. She wrote, adding a beer glasses emoji: "Drinks cold in fridge at DH. Feel free to open before we are back."
A spokesperson for Mr Hancock confirmed he did not introduce a booze ban until the next January. Mr Hancock also blasted criticism of the Tories' bungled PPE procurement as "offensive" in the Q&A and justified writing off £12billion of PPE, most of it unusable, saying: "I'd rather save lives."
… Meanwhile, activist Gina Miller, leader of the True and Fair Party and who took the Government to court over Brexit, has written to Met Police Chief Sir Mark Rowley calling for Mr Hancock to be prosecuted.
She wrote: "The threshold has been met to investigate Mr Hancock for gross negligence manslaughter… a common law offence that carries a maximum of life imprisonment."
'Mr Vaccine'
As 2020 dragged on for many of us, Hancock was keen for his moment of glory, as The Telegraph related in 'Inside Matt Hancock's desperate bid to be known as 'Mr Vaccine"'.
Emphases mine below:
Matt Hancock feared he would not get credit for the UK's vaccine success and described the speeding up of the jabs rollout as a "Hancock triumph".
The former health secretary's WhatsApp messages show he fought to be the face of Britain's vaccine campaign at the height of the pandemic and became furious if he thought others were getting the credit.
And he was told by his media advisers that fronting Britain's vaccine programme would allow the press and public to "forgive" him for imposing lockdowns and that "politically" he must balance the two. 
However, the Department of Health and Social Care had to work with the Department of Business, Energy and Industrial Strategy (BEIS) on the vaccine procurement.
Hancock was unhappy:
Mr Hancock had already battled with his Cabinet colleagues over who should have overall control of the procurement strategy, and struck an uneasy compromise between the Department of Health and Social Care and the Department of Business, Energy and Industrial Strategy.
The announcement of the Pfizer vaccine made things worse for him:
In November 2020, the Department of Health caught wind that Pfizer was planning an imminent announcement that its vaccine was more than 90 per cent effective against Covid-19.
The Pfizer vaccine was the first to report its interim trial data and went on to be the first to be administered to the public in the UK the following month …
On hearing that the news was about to break, Mr Hancock bemoaned he was not live on camera and worried he would be overshadowed by Alok Sharma, the then business secretary.
The article has a screenshot of the WhatsApps he exchanged with adviser Damon Poole:
Pity I'm not up in the Commons!
I should do a clip
We should pump out the NHS doc
Do No10 know?
When Poole answered in the affirmative, Hancock was eager to do the media round the next morning:
I should DEFINITELY do the round tmrw
Just to reinforce the point, he messaged Poole again:
It MUST NOT be Alok!
On December 8, Hancock appeared on ITV's breakfast show, Good Morning Britain (GMB), to watch the first Britons, a man and a woman, both elderly, get their 'jabs':
… Mr Hancock gave one of his most memorable interviews of the pandemic …
Wiping a tear from his eye, he told the programme it had "been such a tough year for so many people" and he was relieved that people could at last "get on with their lives".
The lady was Margaret Keenan, aged 90 at the time. She received her jab in Coventry.
The man's name was William 'Will' Shakespeare. He was 81 at the time and has since died (nothing to do with the vaccine). When the presenter announced his name, it was hard to know whether Hancock was laughing at it or crying about his step-grandfather who died of Covid (more here).
The frames extracted from that moment don't exactly make for comfortable viewing. Thank goodness someone online captured them for posterity. Don't miss the caption: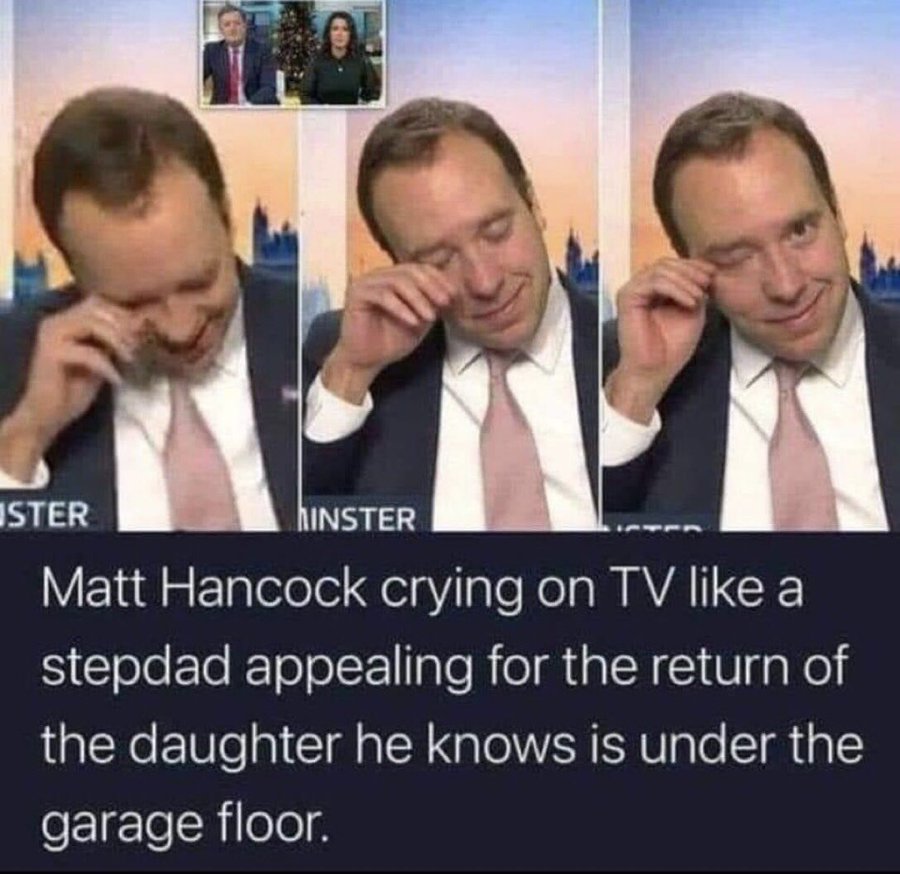 However, there was no immediate big media momentum for Hancock after those initial jabs, even though millions of people watch GMB.
On Boxing Day 2020, Damon Poole WhatsApped Hancock to ask if he had spoken with journalists from the Sunday papers. Poole did not like all the articles about the vaccine, which he called 'this vaccine spray'. As it was the day after Christmas, Hancock hadn't looked at the papers until he heard from Poole:
Now I've seen it. Sure it's not No10?
Poole replied:
I'm pretty sure it's them
MOS [Mail on Sunday]/Times/Tele[graph]
Hancock fired back:
The thing that p—–s me off is the Mail on Sunday links it to Rishi. What's that all about?
The first few days of 2021 proved no better for Hancock's desired media exposure. On January 7, Hancock asked Poole to send him the link to a Mail story with the headline 'Vaccine approval is finally cut from TWENTY days to five'. Poole sent him the link and added:
MHRA [Medicines and Healthcare Regulatory Agency] briefing [I'm] pretty sure
Hancock asked if that was true. Poole said he thought it was and sent him a link to a tweet of the Mail's front page:
Hancock replied:
I CALLED FOR THIS TWO MONTHS AGO. This is a Hancock triumph! And if it IS true we neeed [sic] to accelerate massively.
The Lockdown Files article continues:
The strategy of taking credit for the vaccine, and therefore the impact on lockdown restrictions, was eventually given its own slogan: "Own the exit."
The phrase is repeated several times between Mr Hancock and his aides in the months that followed.
Then, finally, there was success at last. On January 11:
… the day the official vaccine delivery plan was published, Mr Hancock sent Mr Poole screenshots of news articles about his announcement.
Hancock messaged Poole:
These shots are extraordinary. Positive coverage in the Sun AND Mail.
Poole replied:
Keep riding it through to spring – own the exit!
Well, Hancock owned his own exit that June. That's for sure.
'Headless chicken' over vaccines
Not everyone who worked with Hancock would call him 'Mr Vaccine'.
Clive Dix wrote a first-person article for The Telegraph about his experience, 'I worked with Matt Hancock on Covid vaccines – he's a headless chicken':
I worked with Matt Hancock the whole time I was at the Vaccine Taskforce and he was, without doubt, the most difficult of all the ministers because he didn't take time to understand anything.
He was all over the place, a bit like a headless chicken. He often made statements saying "we are going to do X and we want to let the world know about it", but we were dealing with an uncertain situation in bringing the vaccines forward.
The manufacturing process was brand new and any process like this is fraught with problems, which we need to fix as we go along, but normally you would spend two or three years stress-testing something like this.
Hancock was laying down timelines by saying things like "we will vaccinate the whole population", and these timelines drove his behaviour.
Hancock was upset when there was a problem with the AstraZeneca vaccine production:
When we said the AstraZeneca vaccine had manufacturing problems, that is when Hancock panicked. 
He didn't believe us. We were working night and day to make it work and he was turning around and saying: "I have said the UK population will all get vaccinated."
But we couldn't change the nature of the process and he didn't get that. He thought it was like procurement. That is where his behaviour came from. He panicked and that led to them going to India and taking vaccines that had been meant for the developing world.
I thought that ethically it was very wrong to take doses that it had been agreed would go to the developing world just to meet an arbitrary timeline. This is why I ended up resigning, because I could no longer advise a government that acted on these terms.
Nonetheless, the team pressed on with getting doses from India:
Here, we were taking 10 million doses from the developing world just to meet Hancock's timeline and it was a timeline that had just been plucked out of the air. We were still well ahead of the majority of the world, ministers should have been upfront and said that we can vaccinate everyone within a month, but we won't quite hit the timeline. They should have admitted that they were slightly wrong.
I couldn't stop them doing it, because it wasn't my job to make policy decisions about where we get the vaccine from. But I said if this is where you are, then I don't want to advise this government anymore. I didn't resign there and then, but I did resign in March 2021. I didn't want to disrupt the work.
It was all driven for the wrong reasons and then Hancock – rather than put his hands up – blamed the Vaccine Taskforce for stalling.
For him to be sending messages and saying Kate Bingham [head of the Vaccine Taskforce] was not reliable is appalling.
On October 4, 2020, Damon Poole WhatsApped Hancock a link to a Financial Times article: 'Less than half UK population to receive coronavirus vaccine, says task force head'.
Hancock replied that he didn't have a subscription to the paper, which is behind a paywall. He asked Poole:
… is that Kate?
When Poole responded in the affirmative, Hancock messaged back:
If so we absolutely need No10 to sit on her hard. She has view [sic] and a wacky way of expressing them & is totally unreliable. She regards anything that isn't her idea as political interference
Poole messaged back, agreeing, saying he'd had a 'blazing row' with her when he was working at No. 10.
Clive Dix resumes his story, alive with memories of Hancock:
We were working as hard as we could and he thought he could just come in and make a bold statement to the public and tell us that we have got to do it. I don't think he understood the process. He was a loose cannon.
Dix tells us more about how Health and Social Care worked with BEIS. Here, too, Hancock had to have his own way:
The taskforce sat in the Department for Business, Energy and Industrial Strategy (BEIS) and that is where the budget came from. We reported to Alok Sharma and then Nadhim Zahawi came in as vaccines minister. Hancock wanted to get involved and because he was secretary of state, Alok stepped aside.
He was using the vaccine to protect his reputation.
Dix, who was a volunteer, gives us an insight into the wider politics involved:
I had worked for nine months from 4am until midnight without any pay to do this.
It is certainly extraordinary to see how two-faced they are. They were all nice to me to my face but to see what they were saying to Boris Johnson was particularly unpleasant.
It reflects badly on Nadhim and all the civil servants who worked so hard to get this right. In my humble opinion, Hancock was actually the problem.
Hancock hoped to treat French Covid patients
Incredibly, during lockdown, Hancock wanted to appeal to French president Emmanuel Macron to allow his nation's coronavirus patients to be treated in the UK.
With the NHS under pressure, Hancock somehow thought he managed to find spare beds … for the French.
Don't get me wrong. I love the French as much as I love the British and the Americans, in no particular order. They're the three societies I know the best. But this was a step too far.
After all, the Government locked down the UK to save the NHS, right? So how was it that Hancock suddenly found spare beds, especially for patients from other countries?
Meanwhile, British patients with cancer, heart disease and other serious illnesses couldn't get a look in to a doctor, never mind a hospital.
The Telegraph's 'Matt Hancock's secret plan to import French Covid patients' says that, in November 2020:
Matt Hancock planned to bring French Covid patients to the UK for treatment during the second wave of the pandemic, despite national lockdown restrictions in force to protect the NHS.
Messages between the then health secretary, his advisers and Boris Johnson, then the prime minister, show he hoped to offer "spare" intensive care unit beds to Emmanuel Macron to help the French president deal with a major outbreak in his country in November 2020.
At that time, Britain was under a second national lockdown that was sold to the public as necessary to prevent the "medical and moral disaster" of an overwhelmed NHS.
But Downing Street and the Department of Health and Social Care created a secret plan to transfer Covid patients from the busiest French hospitals, bringing more cases of Covid to the UK.
However, that wasn't enough. Hancock also wanted to make the same offer to Italy. The article has screenshots of the relevant WhatsApp messages.
That aside, let's continue with France:
The plan is not thought to have ever been implemented, but Mr Hancock said: "We may need to make a similar offer to Italy," despite exponential increases in Britain's own case numbers.
On Nov 13, Mr Hancock shared with his top advisers a letter that he planned to send to Olivier Veran, the French health minister, offering to import French Covid patients to the UK for treatment.
"I have seen the pressure on your hospitals, and that some patients are being transferred abroad," the letter said. "We have our epidemic largely in the north of England, and some spare capacity in London and the south.
"We could provide some ICU beds to which you could transfer some patients. Would that be helpful to relieve pressure on your most affected regions? Our countries have always stood by each other in times of need."
By this point in the European second Covid wave, the UK was looking to Europe as case numbers exploded in France, Italy and Spain, with a second national lockdown imposed in an attempt to reduce transmission.
France had already been taken off the UK's travel corridor list, meaning that any person travelling to Britain from France was required to quarantine for 14 days or face a fine. By late November, France and Britain had similar rates of the virus, with around 275 cases per 100,000 people.
However, on October 31, Boris stated publicly that the UK had reached capacity:
In an address to the nation on Oct 31, Mr Johnson said that even in the south-west of England, where Mr Hancock had proposed housing French patients, "it is now clear that current projections mean they will run out of hospital capacity in a matter of weeks unless we act".
He said that if new measures were not imposed, the growth of Covid numbers would mean that "doctors and nurses would be forced to choose which patients to treat, who would get oxygen and who wouldn't", adding: "The overrunning of the NHS would be a medical and moral disaster beyond the raw loss of life.
"It is crucial to grasp that this general threat to public health comes not from focusing too much on Covid, but from not focusing enough, from failing to get it under control."
It should be noted that Hancock got this mad idea from a life peer and was immediately swept up by it:
An earlier WhatsApp conversation between Mr Hancock and Mr Johnson about the idea shows it originated with Lord Llewellyn of Steep, who was then serving as Britain's ambassador in Paris.
"I love this idea of Ed Llewellyn's to offer Macron (privately) to treat some of their cases where they have pressure on the health system," Mr Hancock wrote to Mr Johnson on Oct 2, 2020. "Because we have a regional problem we also have regional capacity in East Anglia (Cambridge?) or the SW."
Lord Llewellyn is now serving as the UK's ambassador to Italy. He is a former Downing Street chief of staff, serving in Number 10 under David Cameron.
The mind boggles.
That's enough Matt Hancock for one day.
Don't worry. There's more to come.
Soon.
January 31, 2023 marks the third anniversary of Brexit:
As I have written before, those parliamentary debates early in 2020 were splendid. Newly and re-elected Conservative MPs, giving the Government a majority of 80 thanks to Boris Johnson's 2019 'Get Brexit Done' campaign slogan, were full of optimism about how Britain could — and would — be transformed.
Unfortunately, the pandemic put paid to those dreams in mid-March. We couldn't move past it. Even now, we are still suffering financially from the decisions the Government made, forced to do so by Opposition MPs. If Boris had just not given into SAGE, we probably could have stuck to the Swedish policy of no lockdown and minimal restrictions, which would have saved us hundreds of billions of pounds. Then again, Boris got coronavirus and had to be hospitalised for a week in early April. He came back a different man. SAGE were able to exercise power over him.
Even in 2022, once England finally returned to normal, the Government seemed to be treading water. We had three Prime Ministers and four Chancellors of the Exchequer last year. Very little of the optimistic legislation from the 2019 manifesto got started. Instead, Net Zero seemed to take over. It was in the manifesto, but as the final point, not the main one. The Online Safety Bill is a piece of intrusive legislation. The Conservatives are only getting started on pushing legislation through to get rid of thousands of EU laws on our books. Taxes are at a 70-year high. We have tens of thousands of migrants crossing the Channel in small boats. The possibility of any real progress for the Brexit agenda between now and the end of 2024 or January 2025 looks dim.
That said, Guido Fawkes reminds us (emphases his):
… we've signed about 71 new trade deals, led the European response to Putin's war in Ukraine and saved countless British lives with an independent vaccine rollout. And that's without any politicians actually making a concerted effort to capitalise on independence…
Of course, there is always a dismal economic forecast with which to deal. We must remember that Brexit was never about the economy but taking back control of our own national destiny.
Still, here is the latest dismal economic forecast and the danger ahead for Brexit in late 2024 or early 2025:
… even today's IMF report on growth forecasts couldn't bring itself to attribute any faults in the UK economy to our decision to leave the bloc. Now preparations must be made to save Brexit from a Starmer-led Labour government…
Because the IMF is the IMF, its forecasts receive undue attention. It is important to look back on the IMF's track record. They did a terrible job in predicting 2022:
Guido points out:
The 'good' news is the IMF has upped its forecast for 2024, now predicting 0.9% growth from 0.6%. It is also worth bearing in mind the IMF's analysis isn't gospel; it underestimated 2021's growth by 2 points. Chancellor Jeremy Hunt is doing his best to remind everyone of that:
Short-term challenges should not obscure our long-term prospects — the U.K. outperformed many forecasts last year.
A number of these forecasts are shaped to comply with political narratives. One of Guido's readers commented (purple emphases mine):
Rather a lot of years ago, I worked with a fellow who had, in previous employment, worked at the Board of Trade. He told me that every month, their top guy would get together with some other top guy from the Treasury and they would concoct the monthly trade figures to broadcast to the media. T'was all mainly fiction, of course, depending on what political message was required. I doubt if anything much has changed in the intervening years.
Here is another forecast gone wrong: Germany's. Keep in mind that Germany is at the heart of the EU, so we cannot blame Brexit for their woes:
Going back to August 2022, Germany and France joined the UK in having either flat or negative GDP:
Opposition MPs of all flavours, except for Northern Ireland's DUP, tell us that if we were still an EU member country, we wouldn't have inflation.
Yet, on January 26, 2023, Euronews informed us that food prices continue to rise across the EU:
Food prices have continued to rise across Europe despite inflation dropping for a second consecutive month in December, according to data shared on Wednesday by Eurostat, the European statistics agency.
The inflation of food prices in the EU was 18.2 per cent, and 16.2 per cent in the eurozone in December, which is a slight decrease compared to November on average. But some basic food items like sugar, milk cheese and eggs, oils, and fats prices are still going up.
One month earlier, Euronews reported on the plight of French university students who were forced to use food banks:
20% of students in France live below the poverty line. Rising food prices and energy bills soaring are exacerbating their situation. And yet, France gives more financial aid to students than many other European countries …
The government has recently allocated 10 millions euros to support the associations that organise food distributions for students. A consultation between the governement and student unions on the reform of the student grant system is ongoing, but concrete change is not expected anytime soon.
Our Opposition MPs also tell us that if we were still part of the EU, we would not be experiencing the multi-sector strikes that have been plaguing us.
However, let us look at France. Today, January 31, Euronews reported:
A new wave of strikes on Tuesday to protest French government plans to raise the retirement age to 64 has already impacted transport links and electricity production. 
TotalEnegies says between 75% and 100% of workers at its refineries and fuel depots are on strike, while electricity supplier EDF said they're monitoring a drop in power to the national grid equivalent to three nuclear power plants. 
"Following the call for a strike, shipments of products from TotalEnergies sites are interrupted today but TotalEnergies will continue to ensure supplies to its service station network and its customers," the group's management said.
In EDF power stations, strikers reduced loads by "nearly 3,000 MW" on Monday night, but without causing any cuts, the company said.
Hundreds of thousands of workers are expected to take to the streets across France on Tuesday, for a second day of industrial action that unions hope will be even more massive than the first, earlier this month … 
The government had warned in advance of Tuesday's strike about likely disruption to France's transport network. 
In the Paris region the metro and local rail services are "very disrupted" say officials. Long distance TGV train services are also impacted, as are regional trains with intercity services almost at a standstill. 
Rail operator SNCF said only one in three high-speed TGV trains will operate on Tuesday while disruptions are also expected at French airports and on transnational rail services …
French doctors were on an extended strike on January 2: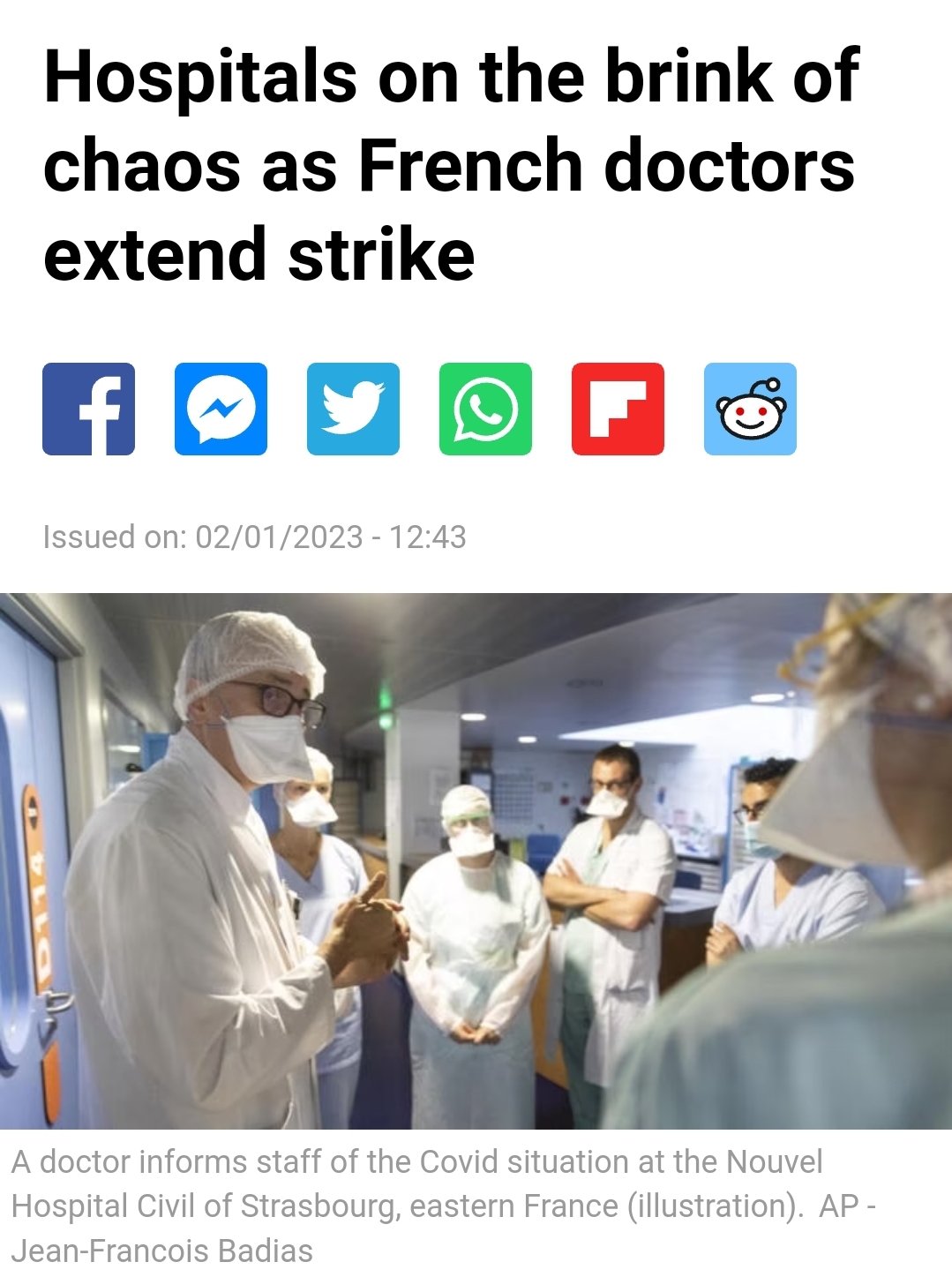 Then there is Ukraine. Nearly a year ago, Remainers told Leavers that Vladimir Putin would use Brexit to his advantage — an entirely erroneous talking point, as Boris was the first Western leader to champion Ukraine. If we had been part of the EU, he would not have been able to do so. By contrast, Germany was buying Russian gas and Italy was sending handbags to Russia:
Then there was the pandemic. In May 2022, the WHO published excess death statistics for 2020 and 2021. The UK had lower excess deaths than Spain, Italy and Germany, although France had fewer excess deaths than we did:
As for migration, France still has as much of a problem as we do, yet our Opposition MPs tell us that if we were still part of the EU, we would not have a Channel crossing issue.
On December 26, 2022, The Times reported that the French government opened the Château de Grignon to house them, which isn't too different to our policy, egregious as it is, of opening hotels to those coming nearly daily across the Channel:
A row has broken out in France over a government decision to shelter homeless families, notably migrants, on the estate of a Renaissance château …
Under a plan to provide shelter for the homeless during the winter, up to 200 people are to be housed in the château estate until March. The first 62, including 37 children, arrived this week.
Officially, they are classified as people of no fixed abode who have been sleeping rough. In practice, most are migrants unable to find shelter upon their arrival in France and often forced to live in squalid, makeshift camps around the Paris ring road.
In conclusion, EU nations share many of the major problems that the UK has.
Brexit has nothing to do with it. In fact, Brexit will probably help us get out of these issues more quickly than EU nations will.
Therefore, Happy Brexit Day! May many more follow!
Gosh, what a lot of news to cover in one post.
Admittedly, a few of these items are a bit old but fit in thematically.
Theresa May U-turns on support for Scottish gender reform legislation
I wrote yesterday about former Prime Minister Theresa May's support for Scotland's Gender Recognition Reform bill on Tuesday, December 27.
Within 24 hours she had made a U-turn, thankfully, although she did it through a spokeswoman.
On Wednesday, December 28, The Times reported (emphases mine):
In the wake of the interview the BBC issued a press release which stated: "On the subject of Scotland's proposed gender recognition laws, Ms May said she was disappointed the Westminster government wasn't supporting them."
Yesterday, however, a spokeswoman for the Maidenhead MP insisted that was not the case.
"As prime minister, Theresa launched a consultation looking at gender recognition laws with the aim of providing a more sensitive approach to transgender people, but she does not agree with Nicola Sturgeon's legislation and is particularly concerned about the consequences it could have for children in Scotland and across the UK," she said.
We can but hope that the Secretary of State for Scotland does not send the legislation for Royal Assent:
Immediately after MSPs voted in favour of the legislation Alister Jack, the Scottish secretary, threatened to invoke section 35 of the Scotland Act, which allows him to prevent the legislation from receiving royal assent.
Although gender recognition is devolved to Holyrood, the Equality Act — with which the new law will interact — is reserved to Westminster.
As nearly two-thirds of Scottish voters — even SNP supporters — think this legislation is a terrible idea, Westminster can show the 'Union dividend' in being 'better off together'.
Gas futures coming down
On Thursday, December 29, The Guardian had encouraging news about the price of natural gas futures in Europe:
European gas prices have dropped back to levels seen before the Ukraine war began in February, as fears of a gas crisis this winter ease.
The month-ahead European gas future contract dropped as low as €76.78 per megawatt hour yesterday — its lowest level in 10 months, data from Refinitiv shows.
As this chart shows, gas prices have fallen back from their surge in March, and again in the summer as European countries scrambled to fill their gas storage tanks.
Prices have dropped thanks to warmer-than-normal temperatures this winter, which have limited demand for gas, after the European Union successfully filled reserves to a peak of almost 96% in November.
Consumption reduction targets have also helped to limit demand, with the EU aiming to cut its gas consumption by 15%.
Earlier this week, 83.2% of EU gas storage was filled, data from industry body Gas Infrastructure Europe shows, still above the target of 80% set for the start of November.
Traders are confident that inventories will end winter at a very comfortable level with a very low risk of falling to critically low levels, says John Kemp, energy market analyst at Reuters.
UK gas prices have also dropped back from their highs earlier this year. The day-ahead gas price closed at 155p per therm yesterday, compared with 200p/therm at the start of 2022, and over 500p/therm in August.
The UK versus the EU
All year long in Parliament we've heard that the UK is 'broken' and that we should have stayed in the EU.
Polls have been published showing that Brexit voters have buyer's remorse. Well, they shouldn't have. We are much better off outside an unelected European Commission. Furthermore, EU countries are not doing substantially better than Blighty.
France
This week, I received the latest copy of Marianne, the French newsweekly. Part of its cover story headline, referring to the state of their nation, reads:
EN PANNE
meaning, 'out of order', 'not working'.
On Wednesday this week, The Spectator had an excellent article about our neighbour: 'All is not well in Macron's France':
In 2021, both World Bank and United Nations GDP (nominal) rankings have the UK at 5th and France 7th. International Monetary Fund estimates for 2022 show India overtaking the UK to claim the 5th spot for world GDP, but with France still 7th.
One may question the reliability of GDP as a comparator, but a host of other measures regularly show France worse off than the UK. Debt to GDP ratios show France at some 115 per cent, the UK 99.6 per cent. Meanwhile the Bank for International Settlements gives France's total public and private debt (non-financial) at 351 per cent; the UK at 271 per cent.
One can rightly point to France's present day lower inflation at 7.1 per cent (EU harmonised) compared to the UK's 10.7 per cent. But as French debt statistics above show, president Emmanuel Macron began forcing down domestic inflation by subsidising prices during his 2022 presidential election campaign. French unemployment at 7.4 per cent compares unfavourably with the UK's 3.4 per cent. Meanwhile France is the highest taxed OECD and EU state, leaving little margin for manoeuvre. Her balance of payments figures are as gloomy as the UK's, together with her flat economic growth.
While Britain's position is not rosy, France's is certainly no better. That is why recent predictions in a certain European press, not least in France, taken up by British elites, that the UK was descending into terminal decline has lost all proportion. If the French press enjoy a touch of schadenfreude at the expense of the old enemy, and French politicians are glad to distract from their own problems, the willingness of much of the British middle class to swallow the same view can only be explained by ingrained cultural habit aggravated by post-Brexit resentment. Today, with Macron utterly wedded to the EU project, France for British elites is ipso facto superior to Britain. Yet France's moral state is parlous.
Since the 2022 presidential and legislative elections Macron's centrist party has no overall majority. France is stalemated and drifting towards ever more radical politics. Macron's prime minister Élisabeth Borne, unable to command a majority in the National Assembly, struggles to get her business other than by the constitutional sleight of hand of article 49,3, which guillotines parliamentary debate. With the chamber split four ways the question remains as to whether Macron will eventually dissolve parliament. Opinion polls suggest this would be a gift to Marine Le Pen's party, already the single largest opposition party with 89 seats. France might then come to replicate the present radical right Italian government.
Socially and culturally French society is far from healthy. Other than worsening violence and lawlessness in the banlieues – conveniently out of sight of English elites' visits to France – the French model of assimilation and laïcité is being tested to destruction. Official Justice Ministry statistics for July 2021 show 24.6 per cent of the prison population as foreign (double the proportion in Britain).  The French Interior Minister publicly stated this summer that, although foreigners make up 7.4 per cent of the French population, they account for 19 per cent of all delinquency nationally, and that 48 per cent of arrested delinquents in Paris are foreigners, 55 per cent in Marseille, 39 per cent in Lyon.
… The general picture is of a France far from at ease with itself. The prospect of a member of France's ethnic minorities leading the country with no fuss in the near future, as has just happened in Britain, seems impossible.
And remember the cries of 'Brexit is bad' when the Paris stock exchange overtook London's in November?
I don't recall any mea culpas from the metropolitan elite once we resumed normal service ten days later:
Guido Fawkes posted (emphases his):
The London stock market has re-overtaken Paris's after falling behind for 10 days, with a lead of $63 billion. A 2.5% rally in the value of the pound led to the improvement, and morale booster, compared to a modest 0.7% improvement for the Euro …
Germany
While Remainers in Britain's metropolitan elite moan about food inflation, our friends in Germany have experienced similar price hikes.
On October 14, September figures for the UK showed that our grocery price inflation hit an all-time high of 13.9%.
Yet, JustFood reported that Germany's grocery price inflation also reached historic highs:
Inflation levels in Germany reached their highest levels in three decades in September with food prices rising 18.7% year on year, figures show.
In a continued squeeze on consumer pockets, inflation reached 10% – its highest level since the country's reunification in 1990, the federal statistical office said.
Consumers faced the sharpest rises in edible fats and oils, which were up by 49%. Dairy products and eggs increased by 29.1%, meat and meat products 19.5% and bread and cereals 18.5%.
Month-on-month comparisons show consumers paid 1.8% more for food in September than in August, with vegetables 3.9% more expensive and dairy products up by 2.2%.
The consumer price index for food in Germany, measured against a 2015 baseline of 100, stood at 135.4 year-on-year in September, compared to 121.1 overall.
The federal statistical office said the cost of energy was leading inflation but food also played a major role, with both contributing to an overall 10% rise in prices.
Without food and energy rises in the equation, the country's inflation rate is reduced by over half to 4.6%. The prices of all goods increased by 17.2% in September 2022 compared to 2021, but the prices of non-durable consumer goods, which include food and energy, increased by 23.3%.
We cannot blame German inflation on Brexit. As Conservative ministers rightly say at the despatch box, inflation is up all over Europe and the West.
UK to relax egg rules to line up with EU
Another thing we hear from Remainers, especially in the Houses of Parliament, is that British food regulations are weaker than the EU's!
Nothing could be further from the truth! Our food standards have been higher than the EU's for decades.
Anyone wanting up-to-date proof can read an article in Wednesday's Guardian — 'UK free-range egg rules could be relaxed in line with EU for avian flu outbreaks':
Free-range egg rules in the UK could be relaxed in response to the European Union preparing to overhaul regulations after the biggest avian flu outbreak on record.
Ministers are understood to be considering a change to the rules that would mean eggs laid by hens kept in barns for months on end could be classed as free range.
Currently, eggs cannot be classed as free range if birds are indoors for more than 16 weeks. Farmers have that grace period in both the EU and UK, which means eggs can still be labelled as free-range if a government-issued housing order for birds is in place up to 16 weeks.
Subsequently, labels need to be added to packaging making it clear that those are now classified as barn eggs.
Whitehall sources told the Daily Telegraph that the Department for Environment, Food and Rural Affairs (Defra) is considering changing the regulations in order to keep farmers competitive with Europe …
The European Commission put forward a proposal in September, which stated "where temporary restrictions have been imposed on the basis of EU legislation, eggs may be marketed as 'free-range' notwithstanding that restriction".
The proposal, which is awaiting approval by the European parliament, means eggs could be classed as free range even if hens are forced to spend months indoors due to government rulings.
In September, egg producers in the UK said it was essential that the government now followed suit to avoid British suppliers being undercut by EU imports.
Climate change
Climate change sceptics will be on the right side of history in time.
Guido Fawkes's readers posted about deforestation in this post.
One chap posted an article about the increasing need for balsa wood from Latin and South America for blades on wind farms. Apparently, indigenous communities have not been consulted: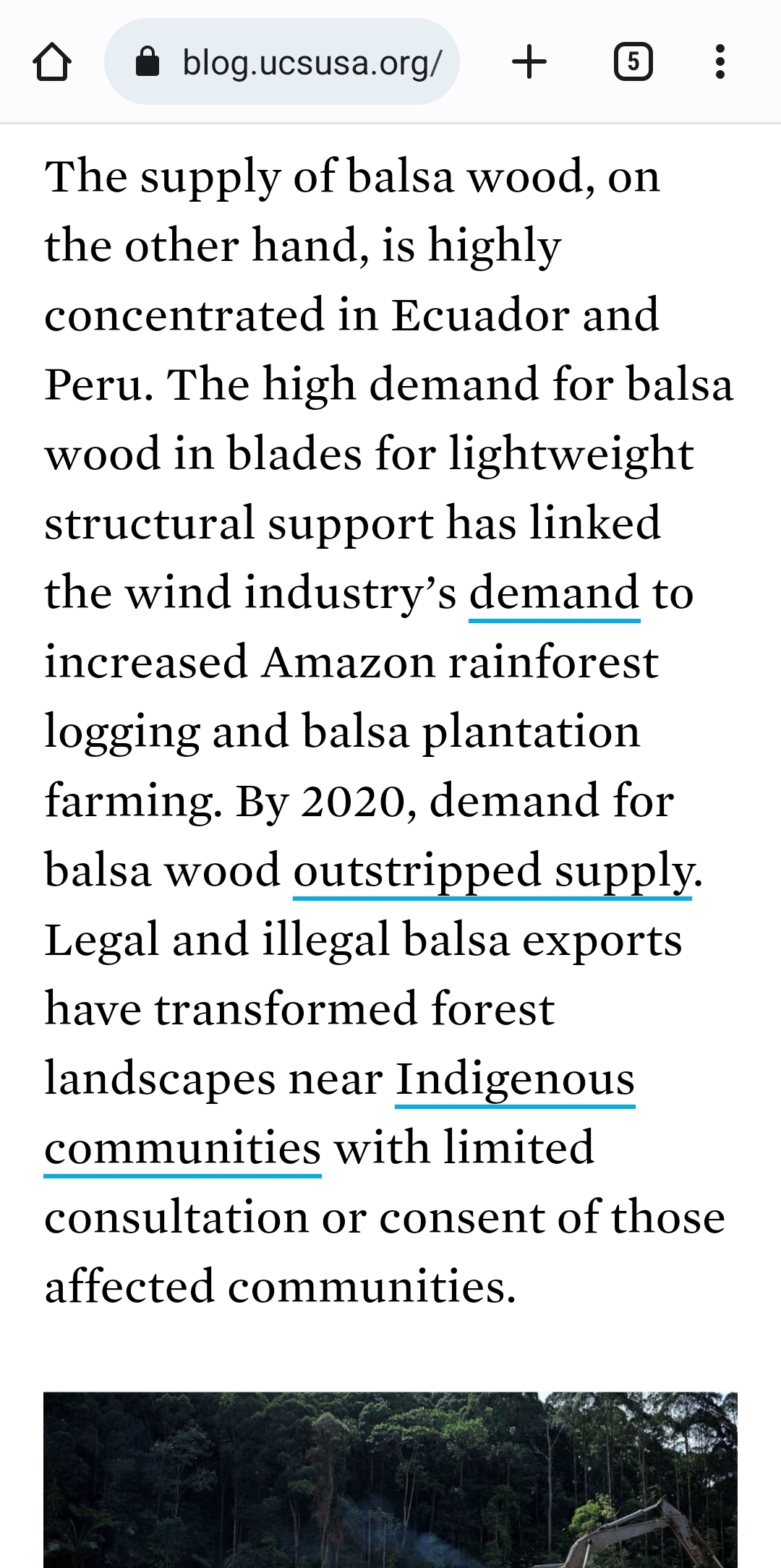 The article continues, stating that some companies are switching from balsa to oil byproducts, such as PET and PVC, or to cellulose: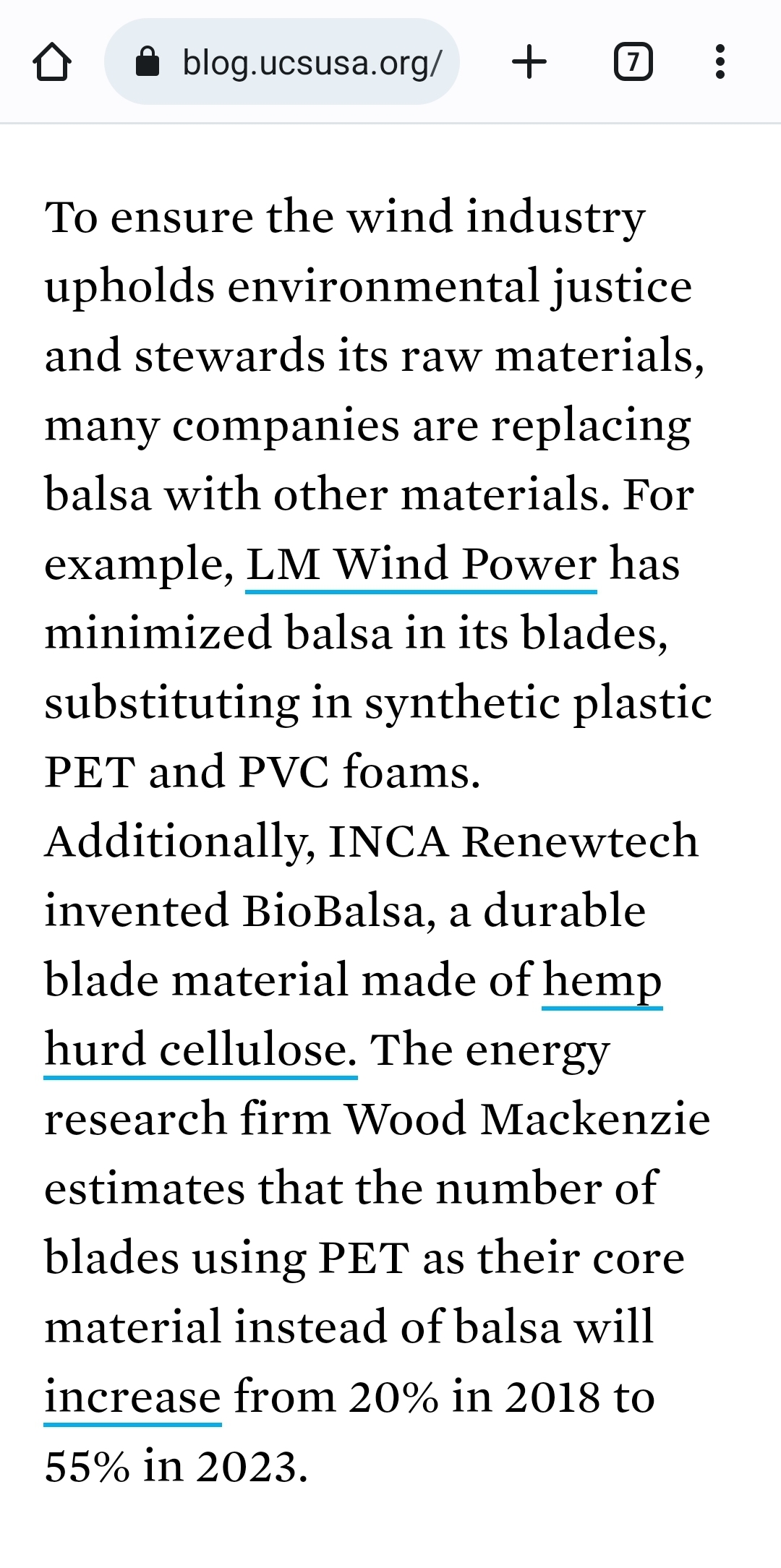 The man who posted the article pointed out:
BALSA is being replaced with PET and PVC (yep- crude oil) but are also experimenting with cellulose– which needs highly toxic chemicals to make.
Someone responded with this:
Synthetic PET usually uses food starch as a replacement for oil based derivatives. These divert food crops away from human and livestock consumption. They also encourage the use of GM crops and pesticides.
PVC production creates sodium chloride, which is a cause of acid rain.
The eco loons really didn't think this through.
Ultimately:
The eco l00ns NEVER think anything through.
And they hope we won't notice.
It's part of the reason why 'climate science is settled' and they refuse to debate.
You know how it goes.
Fracking bad – mining cobalt (even using young children) good.
You flying -bad- them flying- good.
On a similar note, an UnHerd article laments the loss of the hearth in 'Firewood will save the West'. The author, Paul Kingsnorth, lives in Ireland and has his firewood delivered to his home:
The Irish government is currently campaigning against households which burn turf or wood, the former on the grounds of CO2 emissions, and the latter on the grounds of air quality. As ever, the campaign is driven from Dublin, and mostly takes Dublin sensibilities into account. Rural households in Ireland have been burning turf and wood forever, with little significant impact on "air quality" — or at least, no impact comparable to that which Ireland's "Celtic Tiger" modernisation has had. Suddenly, though, the media is full of scientists armed with studies demonstrating how getting a fire going in your cottage in winter will lead to cancer and lung disease on a widespread scale.
That is nonsense. Until recently, Man had been surrounded by smoke for millennia.
Essentially, the Irish government, in line with other Western governments, wants to do away with fireplaces:
This new tilt against household fireplaces is not just an Irish phenomenon: it is suddenly popping up everywhere. Woodstoves are, curiously, becoming the number one air pollution villain. Never mind mass car use, accelerating air travel or industrial pollution. Never mind the emissions caused by the massive increase in Internet server farms, which within just a few years could be using up an astonishing 70% of this country's electricity. These days, if you want to demonstrate your social responsibility, you should be all aboard with the abolition of the traditional fireplace and its replacement with "green" alternatives.
He explains that the home hearth has been not only traditional but also atavistic throughout mankind's history. He cites the philosophical polymath John Michell (1933-2009):
The fireplace, whether our dessicated urban authorities know it or not, has a primal meaning, even in a world as divorced as ours from its roots and from the land.
In his short essay "Fireside Wisdom", the uncategorisable John Michell suggested that the "displacement of the hearth or fireplace" from the home was one of the many reasons for the craziness of the modern world which his life had been spent playfully exploring. The fireplace at the centre of the home, he wrote, was both an ancient practicality and a device of "cosmological significance" across cultures and time: "Conversation is directed into the fire while dreams and images are drawn out of it."
In the past, the act of sitting staring into the smoky fire with family or neighbours was the genesis of the folk tale and folk song which tied the culture together. Now we stare at digital fires hemmed into boxes manufactured by distant corporations who also tell us our stories. No song we can dream up around a real fireplace can compete with what these boxed fires can sell us. "Thus," wrote Michell, "the traditional cosmology is no longer represented by its domestic symbols, and a new, secular, restless, uncentred world-view has taken its place."
Focus, Michell explained, is "the Latin name for the central fireplace. The fire not only warms but, as a symbol, illuminates the corresponding images of a centre to each of our own beings and of a world-centre which is divine, eternal and unchanging." Lose your fires, and you literally lose your focus as a culture. In this context, a government spokesman telling his population, as one minister here recently did, that they should "get over" their "nostalgic" attachment to the hearth fire and install ground source heat pumps instead is more than just a nod to efficiency. It is an assault on what remains of the home and its meaning. It is an attack on the cultural — even the divine — centre.
Paul Kingsnorth posits that each move away from self-sufficiency, e.g. using one's own fireplace, puts us more under the control of government:
When you can no longer grow your own wood or cut your own turf to heat your own parlour, you are made that little bit more dependent on the matrix of government, technology and commerce that has sought to transmute self-sufficiency into bondage since the time of the Luddites. The justification for this attack on family and community sufficiency changes with the times — in 17th-century England, the enclosures were justified by the need for agricultural efficiency; today they are justified by the need for energy efficiency — but the attack is always of the same nature. Each blow struck against local self-sufficiency, pride and love of place weaves another thread into the pattern which has been developing for centuries, and which is almost complete now in most affluent countries …
In my lifetime, in my part of the world, the notion and meaning of "home" has steadily crumbled under external pressure until it is little more than a word. The ideal (post)modern home is a dormitory, probably owned by a landlord or a bank, in which two or more people of varying ages and degrees of biological relationship sleep when they're not out being employed by a corporation, or educated by the state in preparation for being employed by a corporation. The home's needs are met through pushing buttons, swiping screens or buying-in everything from food to furniture; for who has time for anything else, or has been taught the skills to do otherwise?
He refers to a 1980 manuscript, 'Family Work', by the American essayist Wendell Berry:
Like so much of Berry's work, it locates the centrepoint of human society in the home, and explains many of the failures of contemporary Western — specifically American — society as a neglect of that truth. The home, to Wendell Berry, is the place where the real stuff of life happens, or should: the coming-together of man and woman in partnership; the passing-down of skills and stories from elders; the raising and educating of children; the growing, cooking, storing and eating of food; the learning of practical skills, from construction to repair, tool-making to sewing; the conjuration of story and song around the fire …
Even back in 1980, Berry recognised that the home had become an "ideal" rather than a practical reality — precisely because the reality had been placed out of reach for many. What killed the home? Three things, said Berry: cars, mass media and public education. The first meant that both work and leisure could, for the first time in history, happen a long way from home. The second — "TV and other media" — have played a role, since the mid-20th century, in luring us all into a fantasy world of freedom from obligation, and a limitless, fun consumer lifestyle. "If you have a TV," writes Berry, "your children will be subjected almost from the cradle to an overwhelming insinuation that all worth experiencing is somewhere else and that all worth having must be bought." Finally, the school system is designed "to keep children away from the home as much as possible. Parents want their children kept out of their hair." Schools exist to train children to fit into individualistic, consumer societies; to internalise and normalise their ethics and goals, and to prepare for a life serving their needs.
I have to disagree with his disparagement of television, as my better half and I watch a lot of French programmes, food shows in particular. For us, it is a window into a culture we love very much. Were it not for television, we would have to visit France in person much more often. As it is, we can experience France from our sitting room and perfect our language skills while learning more about the world's finest cuisine.
Berry's solution is to make the home a welcoming, peaceful place for everyone living there:
… he suggested that we should "try to make our homes centres of attention and interest"; to make them as productive and nurturing as we can … you will see new possibilities begin to open up. You will see, in Berry's words, that "no life and no place is destitute; all have possibilities of productivity and pleasure, rest and work, solitude and conviviality that belong particularly to themselves", whether in the country, the city or the suburb. "All that is necessary," he suggests, is "the time and the inner quietness to look for them."
Television is a good thing
On the subject of television, a 104-year-old Australian woman told her grandson that it was probably the greatest development in her lifetime.
Lewis Isaacs wrote her story for The Guardian: 'My 104-year-old Nan's secret to a long life':
A life as long as hers can be hard to comprehend. Asked what the biggest change to the world she'd seen across her life was, Nan replied that it was television. Life when she grew up rarely extended past her suburb. Television connected the living room to the world.
How true! Well said, Nan!
The article has family photographs, too.
So what is Coral Isaacs's secret to longevity?
She says it comes down to genetics and finding the right partner. She was widowed more than 30 years ago and says the life she built with my Pop has supported her since. It helps to remember your pills, she adds, and to get up, shower and make your bed every day.
I suspect the truth about her endurance is something different though. Nan is determined to keep her eyes focused on the future. Even when the days are hard, she still looks forward.
I was hoping she would mention smoking a crafty cigarette or enjoying a daily digestif, but, sadly, no.
Churchill's cigar goes on sale
For a smoking story, we had to go to an auction house.
On Thursday, December 29, The Times reported that one of Winston Churchill's cigars is expected to fetch £3,000 at auction:
The former prime minister gave the Cuban cigar to an RAF doctor who helped him when he broke his leg in 1962.
The doctor's grandson has put the rare cigar up for sale with Hansons Auctioneers, which said it would be an "impressive item" for any Churchill collector. Charles Hanson, the owner, said: "We occasionally see Churchill cigar stubs that people have picked up after he dropped them. But to gain a whole cigar in such pristine condition, given as a gift in unusual circumstances, is special."
Churchill, who died in 1965 aged 90, was a lifelong smoker. While he was at boarding school, his mother learnt he had taken up smoking cigarettes and tried to bribe him to stop by promising him a pistol and a pony.
He switched to cigars after spending time in Cuba after his graduation from Sandhurst military academy, and friends, dealers and associates sent him regular deliveries of cigars from then on.
The circumstances are most Churchillian:
The auction house said the cigar under auction was given to an RAF squadron leader, Bertram AJ Barrow. Churchill fractured his femur while getting out of his bed at the Hotel de Paris in Monte Carlo, and was flown back to London on an RAF plane while in a waist-to-ankle plaster cast.
Barrow, the leader of the medical team, plucked up the courage to ask Churchill for one of his famous cigars.
For decades the treasured cigar was kept in a bedside drawer, but will now go under the hammer at on January 9 with an estimate of £2,000 to £3,000.
Barrow's grandson, Thomas Barrow, 33, an employment law adviser from London, said: "Bertram asked for a cigar as a keepsake, and Churchill advised that he could have 'one that he had been saving' — which was Cuban and still in its glass case."
What a story!
Conclusion
As my later grandmother-in-law, a lifelong Londoner, was fond of saying:
The old ways are the best.
I couldn't agree more.
Let's try to recapture them in 2023.
It amazes me that people still need to be told what constitutes a happy romantic relationship. Even worse is an emerging trend for ditching the marital bed.
Signs of love
On Wednesday, November 23, The Times published the results of a Costa Coffee-sponsored poll of 2,000 adults who gave ten key signs that a romantic relationship is a lasting one. The conclusion follows:
The top ten signs of love
1. Regularly asking if your partner is OK — 58% of respondents
2. Always having each other's back — 56%
3. Saying "I love you" daily — 53%
4. Making time for intimacy — 50%
5. Telling your partner they look nice — 50%
6. Being able to sit in silence without awkwardness — 49%
7. Holding hands — 47%
8. Knowing how the other feels, without having to ask — 46%
9. Regular banter — 40%
10. Never going to bed until an argument is resolved — 39%
The first sign — 'regularly asking if your partner is OK' — is off-putting. I would go barmy if I were asked that. Maybe I'm too old or have been married too long.
I also disagreed with two that, thankfully, didn't get enough votes to make the Top 10:
Amid the challenges of modern dating, allowing your partner access to your mobile phone was a sign of true love for less than 20 per cent of respondents, while only 11 per cent said that it was shown by liking each other's posts on social media.
Good grief. Allowing someone else access to one's mobile phone is like giving them access to one's email account. What are people thinking? And who cares about liking each other's posts on social media? Again, I'm too old for such fripperies.
For me, in the budding stages of a relationship, this one is the most important:
6. Being able to sit in silence without awkwardness — 49%
If one can do that early on, it will last for the rest of the relationship.
In a well-established relationship, this one is the most important:
10. Never going to bed until an argument is resolved — 39%
This one comes as a close second:
9. Regular banter — 40%
It was heartening to read this statistic:
The study of 2,000 Britons commissioned by Costa Coffee showed that eight in ten of those in happy relationships believed love was the most important thing in the world.
The Times then followed up with an antidote to the survey. Stuart Heritage wrote about what really matters — to him, anyway — in a relationship (emphases mine):
If you have the strength to drag yourself away from your phone for long enough to say good morning to the person you've chosen to spend your life with, you must be in love. With that in mind, here's an alternative, much more accurate list of love's definitive hallmarks.
Taking the bins out before they overflow

Remembering your anniversary (the date, not the number of years)

Hanging out with their awful friends without being too outwardly hostile

Telling them when yesterday's underwear is poking out of their trouser leg

Eating in the same room together

a minimum of once a week

Coming up with the perfect insult but being self-aware enough not to say it out loud

Taking the things that have deliberately been left on the stairs to the top of the stairs

Remembering not to put the cast-iron pan in the dishwasher again

Knowing when to take the children away for a few hours

Daily eye contact

Not talking all through the start of a movie, leaving you both unsure of what the movie is about

Agreeing on the optimum temperature of a room

, instead of passive-aggressively wrestling with the thermostat when the other one isn't looking

Having sex all the way through without checking your phone
There were several more, but you get the idea.
One thing he did not put on his list is daily touching — lips, shoulders, hands — which is just as important as daily eye contact.
Again, it must be a generational thing, but I cannot imagine being intimate with someone and checking one's phone at the same time.
Ditching the marital bed
Around the same time the British survey appeared, The Times posted a report from their Paris correspondent Charles Bremner about an Ifop poll — 'Couples opt for separate rooms and less ooh-la-la':
A recent study found that 10 per cent of cohabiting couples sleep in different rooms and a further 6 per cent would like to but fear the consequences.
Young people are increasingly eschewing the same room. More 20 per cent of couples aged 65 and over sleep in separate rooms, the Ifop study found. Contrary to what might be assumed, however, the pandemic and its lockdowns did not accelerate the decline in sleeping together, Ifop said.
The French blame the Catholic Church for the marital bed. I've never heard of a crazier thing. What about every other country and culture?
For centuries, French couples were told by the church that their duty was to sleep in the same bed. But as Christian practices decline, increasing numbers are opting for separate rooms, with the blessing of experts who say there is no reason to feel guilty …
The shift reflects the fading of the obligation that was imposed by church and society since Thomas Aquinas decreed in the 13th century that "the couple must have their bed and their bed-chamber". The duty of the single bed, never observed by French aristocracy and royalty, was in full bourgeois force when Honoré de Balzac wrote in the 19th century, "The bed is all of marriage".
Yes, I am aware of separate bedrooms. The Queen and Prince Philip had their own rooms, and Downton Abbey had them, too.
However, how can one not want to sleep with one's nearest and dearest, barring severe or chronic medical problems? Maybe I'm too much of a romantic.
Experts are telling French couples not to feel guilty if they have or want to have separate sleeping arrangements:
Couples are now being told that while physical intimacy may suffer, "la chambre à part" does not necessarily mean failure and can be healthy. "It is not so natural to sleep with another person," Pascal Anger, a psychotherapist, said. "When you ask people if they feel good at night, they shrug and say 'not as good as all that," he told RMC radio.
What's unnatural about sleeping with the one you love? This all sounds rather selfish:
François de Singly, a sociologist, said: "Modern individuals want more and more to retain their personal identity without giving up the company of the other." Damien Léger, head of the Sleep Centre at the Hôtel-Dieu university hospital in Paris, said the tradition of bed-sharing is cultural, not natural. "It's not obvious for a lot of people," he said.
It sounds like some of the devil's finest work, especially when explained like this:
Advice has been coming from Jean-Claude Kauffmann, a sociologist and author of "A Bed for Two: The tender war", a noted book on sharing lives, in or out of wedlock. "Fifty years ago, the roles were well defined. You began life as a couple with marriage which meant sharing the same place," he said. "We're now in an era when you don't want to disappear as an individual… This phenomenon is being embraced as a new way of being a couple," he told Le Parisien newspaper.
My feelings will be well and truly hurt if that ever happens to me.
Snoring, probably the most common complaint, can be easily solved by rolling up the bed pillow underneath one's neck before going to sleep. With a down pillow it's comfy, and one breathes properly.
The Times offered another perspective. Alice-Azania Jarvis suggested separate duvets, saying she could appreciate the survey results:
I can relate. Or, at least, I could. For years I, too, was separation-curious. In the small hours, after yet another tug of war over the duvet, nothing was more appealing . . . but in the cold light of day, full sleep divorce seemed a step too far. Never mind the lack of intimacy: we live in central London and just don't have the space.
I know, from conversations with friends, that I am not alone. Which is why I'd like to share what has proved a life-changing, no exaggeration, solution. It won't insulate you from snoring (that's what earplugs are for) but neither will it necessitate the addition of an extra wing, nor the requisitioning of your home office. Crucially, it is almost totally free from unsexy housemate vibes. It is this: separate bedding.
I promise, it is magic. My husband and I discovered this happy fact long before we were married, after a tip-off from another couple. I admit, I was sceptical, and reluctant to introduce any more laundry into our lives. But that first night was a revelation — the freedom to hog my own duvet, the luxury of a full cocoon. My husband loved it too: aggressively possessive in sleep, I've been known to kick, hard.
We've never looked back. Over the years, this arrangement has evolved to accommodate our individual preferences: a sheet or very light duvet for me (no overheating), the full marshmallowy shebang for him. It looks a little strange, but we have a pleasing bedspread, and an elaborate selection of scatter cushions, which cover the worst sins.
Now that's the sort of advice worth reading and following.
The Christmas widow
At the same time the aforementioned surveys appeared an 'Anonymous author' first-person story showed up in The Telegraph: 'How did I become a Christmas widow?'
Surely, if one is married, one of the highlights of the year is spending Christmas together, right?
Not so for one husband, who prefers to be away from his wife and children for most of the day. I wonder what their sleeping arrangements are like.
She writes:
For the last four years I have become a Christmas widow. I have my children, aged 17 and 12, to keep me company but my usually attentive husband is nowhere to be seen. My children and I will eat a Christmas lunch – turkey and all the trimmings – without him. We'll watch the King's speech wondering when he'll get back. We'll play charades with no dad jokes to laugh at. 
At around 4pm my husband will come in, all smiles and laughter, re-heat his Christmas dinner and sit with it on a tray on his lap on the sofa. From this position, he'll regale us with all the selfless things he's done that day. 
For the past four years my husband has volunteered every Christmas in a homeless shelter. He stands behind a counter in a pinny handing out lunches to those in need. It's supremely ironic that he finds such fulfilment in this, because he never lifts a finger in our kitchen at home. 
Hmm.
She must be kicking herself:
I married my husband because I loved his big heart and unquenchable kindness. In fact, it was me who introduced him to this homeless shelter through a friend who also volunteers there.
This is where selflessness can go wrong:
I was proud of him at first but over the years he's become a boastful virtue-signaller whose do-goodery turns my stomach every Christmas. He goes on and on about it for the rest of the day and most of the Christmas week, telling all our friends and visitors of who he met and their troubles. I roll my eyes at girlfriends and relatives hoping he'll shut up. To be honest, it all bores me. 
Originally, the idea was that his design company would help make signs and leaflets for this charity, but he became more and more chummy with the organisers and slowly started to get more and more personally involved until we got to where we are now: he a virtue-signalling bore and me a Christmas widow.
According to her, he wants to get the children involved:
This year it's got even worse, as he has started asking our children to go with him. The eldest would never be up in time anyway, but I put my foot down about the youngest. He deserves a Christmas he can enjoy and remember, opening his presents, not serving up gravy to people he's never met before and who I believe might well have a host or problems he is too young to understand and not equipped to deal with. 

I understand what she's saying:
I long to have a relaxed Christmas lie-in with him, to exchange gifts, and hold his hand as the children open up the presents we've carefully picked out for them, watch our favourite Christmas films and perhaps even get a bit of help serving lunch. It's really not the same toasting your 12-year-old while the 17-year-old stares at their mobile phone.
I may come across as heartless. I may come across as selfish, but is it so wrong to want my husband home, present and there for our one special day of the year as a family?
However, he might be one of those people who doesn't like the home rituals of Christmas very much.
As the article is behind a paywall, I cannot read the comments to it.
This one has me torn. I can appreciate both points of view.
What do you think? Feel free to comment below.
A number of recent news items popped up over the past week covering a variety of interesting topics.
Food
Food is always a favourite topic, and those who read the British papers last week will not have been disappointed.
Egg substitutes
In my post from Friday, November 18, I suggested eating more eggs, the world's most complete food.
On Wednesday, November 16, The Times helpfully brought to light several egg substitutes, relevant as the UK is apparently undergoing an egg shortage. I haven't noticed it, so it could be another short chapter in the everlasting narrative, Project Fear.
The paper tells us that Delia Smith, the doyenne of British home cooks, uses condensed milk:
in her egg-free prune and date cake from Delia's Cakes, which she says makes it "dark, sticky and moist".
By now, most of us have heard of aquafaba, which literally means chickpea water. In an episode of the UK version of MasterChef : The Professionals last year or the year before, top chef Monica Galetti whipped it to make a meringue-like substance. It came as news to me.
The Times says that aquafaba is a versatile ingredient (emphases mine):
Cooks only realised its potential in 2014, when a French vegan started experimenting in his kitchen and published his innovative recipes for chocolate mousse, floating islands and meringues online. Now TikTok abounds with home chefs sharing their trials and errors with the egg substitute.
As a general rule, 30ml of aquafaba is equivalent to one medium egg white, and 45ml to a whole egg.
As well as meringues, aquafaba can be used to make macarons, ice cream, fudge and marshmallows, and even the foamy top on a whisky sour.
"It's amazing for adding a fluffy texture to mousses and cakes once whipped," says the plant-based chef Niki Webster, founder of RebelRecipes (rebelrecipes.com). "It's also brilliant for making vegan mayonnaise as an emulsifier. Be patient. It works and tastes delicious."
The best, and cheapest, way to get it is by simply draining the liquid from a can of chickpeas via a sieve and whisking it using a balloon or electric whisk. You can also use the water from white beans, kidney beans, black beans, lentils or peas, although the consistency may vary — so chickpeas are your best bet.
You can now also buy it alone, without the chickpeas: London-based OGGS sells 200ml and 1 litre cartons of aquafaba from £1 in Waitrose, Sainsbury's, Asda and the Co-op.
Interestingly, powdered 'egg', which harks back to rationing from the Second World War, has also made a comeback:
Longer-lasting than a box of eggs and made from a variety of veggie ingredients (such as potato flour, bean flour, pea fibre and tapioca), all you have to do is add water.
Whisk according to your recipe.
Be careful to check whether the powder mimics whole eggs or just egg whites.
Food additives
Every so often, we get another Project Fear article about food additives.
Those who make their meals and desserts from scratch don't really have to worry about them. People who buy everything ready made off the supermarket shelf, however, probably do need to pay more attention.
On November 15, The Telegraph covered all the different types of food additives, from colourings to emulsifiers. Each one plays its own role in making food more appealing to the eye or better on the tongue.
Whilst not panicking over additives, I do wonder whether they are partly responsible for a rise in cancer rates over the past 50 years. The article does mention nitrates and nitrites in this regard, but that is old news.
The bigger issue is obesity, likely to be fuelled by ultra-processing. The gut has less to do and, consequently, we feel less full, therefore, we want more processed food.
The article concludes:
What should consumers do to avoid scary additives? These scientists were unanimous: avoid ultra-processed foods.
That means cooking from scratch, which brings me neatly on to the next article.
'Soaring' food prices
Food prices are always going up, and not just in the UK.
I remember going back to the US many years ago and was astounded to see that my favourite whole grain breakfast cereal had soared to $4.50 and was in a considerably smaller box.
In the UK today, Heinz tomato ketchup has gone up the most. In fact, my British readers will know that one of our supermarket chains temporarily took several Heinz products off its shelves in June. They are back now, but the supermarket wanted to send a message to Heinz that they were price gouging.
The Times reviewed a list of foods that have increased in price the most in 2022, according to consumer watchdog Which?'s analysis.
Note that most of them are ready made products:
The research found that Heinz tomato ketchup had the biggest average increase in price, going up by 53 per cent (91p) on average. The second biggest increase was for Dolmio lasagne sauce, which went up by 47 per cent (61p) on average. Batchelors Super Noodles, the student staple, went up by an average of 43 per cent to 82p.
Prices also went up on branded bread: a loaf of Hovis granary wholemeal increased by an average of 43 per cent to £1.97.
The increases compare with average food inflation of 14.6 per cent since this time last year, and 0.8 per cent during the preceding 12 months, suggesting that some manufacturers may have been taking the opportunity to increase profit margins. In June Tesco stopped stocking products from Heinz during a row about price rises that the US food maker was trying to impose.
The research found that branded butter had some of the biggest price increases in absolute terms. A 500g tub of Anchor Spreadable, for example, has gone up by £1.31 on average. The single biggest price rise was on a box of 100 Everyday tea bags by Twinings, which jumped by £2.33 at one supermarket.
Who buys Twinings for regular tea? I have it in my cupboard, but only when I fancy a cuppa, which isn't that often. For everyday tea breaks, PG Tips and Yorkshire Tea are perfectly good and cost a lot less.
Heinz Classic Cream Of Chicken Soup is another items which has gone up considerably.
The message here is to start making your own tomato sauces and soups as well as preparing dried noodles from scratch. A tin of supermarket own brand tomatoes costs 50p. Dried noodles are pretty cheap, as are the vegetables to add to them. Chicken is still cheap. YouTube must be full of videos with instructions on how to make cream of chicken soup.
Making one's own bread also saves a fortune. My brand of flour has not increased noticeably this year, so I would highly recommend tuning in to YouTube for tutorials.
Honestly, once you make your own meals, you'll never buy another ready made product again.
British cheese popular in France
It's been 30 years in the making, but British artisan cheese has finally found its place in France.
On November 15, The Telegraph reported:
Find yourself in a Parisian restaurant these days and chances are that alongside roquefort and comté you will see cheddar or stilton on the cheese board. In fact, having shaken off its reputation for wax-wrapped, mass-produced, tasteless blocks, British cheese is the hot new thing. 
Over the past decade, overall exports of British cheese have been growing. Wyke Farms, the large Somerset producer, now sends 6,000 tonnes of cheese per year to over 160 countries. According to the Agriculture and Horticulture Development Board, in the second quarter of 2022, exports to Europe were up 22 per cent on the same period the year before (although 2021 was hampered by Brexit uncertainties). 
Our neighbour across the Channel is emerging as a key market. In 2014, the artisan cheesemonger Neal's Yard Dairy exported €500,000 of British cheese to France; by 2021, the figure had jumped to €1 million, with France becoming the second-largest market after the United States. 
British cheese is en vogue. Artisan fromagerie Taka & Vermo, near the Gare du Nord in Paris, stocks cheddar and stilton. At restaurants like Frenchie and L'Entente, diners can end a meal with a British board featuring classics including stilton and cheddar and less well-known cheeses. Oliver Woodhead, the British owner of L'Entente, has even been on French TV to espouse British fromage. British cheese is no longer a joke. 
It comes as no surprise. There are around 150,000 French people in Britain, and many more in France who have lived here at some point and developed a taste for British food. As adventurous as anyone else, young French people are searching for new exciting foods to try. Most importantly, British cheese has improved dramatically over the past 40 years. Once the poor man of Europe, it's now up there with the best. 
Neal's Yard Dairy sales director Jason Hinds has done more than most to promote British cheese in France. When he started working for the London-based cheesemonger and wholesaler in the early 1990s, its exports to France totalled a big fat zero. "My goal was always to export the best British cheese to France," Hinds explains. "The perception of British food generally in the early 1990s was that, in culinary terms, we were savages. But while it seemed like a fanciful idea to some at the time, the cheese was good so I knew it could be done." 
Well done, everyone!
British cheese is every bit as good as French cheese, of which I eat a lot.
Champagne scion dies
While we're on the subject of France, I have two more stories to cover which concern that lovely country and our own sceptred isle.
The first is about Christian de Billy, who oversaw the Pol Roger Champagne house for decades. He died at the age of 93 on August 26, 2022. The Telegraph brought his demise to our attention on November 18.
The Pol Roger family have been involved in civic life for over a century as well as producing one of the world's finest Champagnes, which is one of my favourites:
Christian de Billy, who has died aged 93, was the great-grandson of Pol Roger, founder of the Champagne house which remains in independent family ownership to this day. Among the smaller of the great Champagne houses, Pol Roger is known for its wines of unimpeachable finesse, which have long attracted a following on this side of the Channel, where de Billy was a regular visitor and ebullient ambassador.
Christian de Billy devoted more than 70 years to the family business, joining in the company's centenary year (1949) under the watch of his redoubtable grandfather Maurice Pol-Roger, who had been Mayor of Epernay in the First World War, narrowly escaping execution under the German occupation and renowned for fighting one of the last recorded duels in France with the Préfet de la Marne, whom he had accused of deserting his post.
From an early apprenticeship in the cellars and offices on the Avenue de Champagne (whose No 44 was to be described by Pol Roger's most famous customer, Sir Winston Churchill, as "the world's most drinkable address") Christian de Billy rose to become Export Director in 1953 and President Directeur General in 1977, later forming a supervisory Conseil de Surveillance of which he remained President until his retirement in 2019, when he passed the reins to his daughter Véronique …
Today, his daughters Laurence, Evelyne and Véronique, together with his son Hubert and grandson Bastien, are all closely involved in the direction of the company.
The article has more about the family's friendship with Sir Winston Churchill and his descendants:
… it was Christian de Billy who took on the legacy of his glamorous aunt Odette Pol-Roger, who had so captivated Sir Winston Churchill at their first meeting at the British Embassy in Paris in the closing days of the Second World War, both maintaining and strengthening the friendship with successive generations of the Churchill family. 
Together with Christian Pol-Roger, he created, and received the family's blessing for, the Cuvée Sir Winston Churchill, which was launched at Blenheim Palace in 1984 and is now in its 20th edition …
It was also de Billy who oversaw the creation in 1990 of the British subsidiary, Pol Roger Ltd, which has become a successful presence on the company's leading export market.
Come to think of it, the first time I tried Pol Roger was in the UK in the early 1990s.
The article includes this video of the history of Pol Roger:
Christian de Billy had a wide variety of outside interests:
Appointed to the Légion d'honneur, he was as comfortable in the company of presidents (including General de Gaulle) and prime ministers (including Jacques Chirac) as he was with the remueurs in the Pol Roger cellars. His smallness of stature belied the generosity of spirit within, combining an innate warmth with a mischievous sense of humour. A bon vivant, Christian was a keen follower of the pleasures of the table and a long-standing member of the Académie des Gastronomes.
De Billy, like his grandfather, was a keen sportsman, presiding over extensive shoots in the forests of Boursault and Milan, near Reims. His large collection of wild boar models, pictures and other memorabilia testified to his love of the sport: at his funeral, his coffin was driven off to a lively serenade of hunting horns. A skilled fly-fisherman, he had a cherished beat on the Andelle, one of Normandy's finest chalk streams.
A life well lived. I'm delighted the family have maintained their business in Britain.
British veteran reunites with Frenchwoman
One week after Remembrance Day, The Telegraph related a moving Second World War story involving a young British Royal Engineer who shared his Army ration with a starving French girl.
By way of thanks, she wrote a note on the back of her First Communion photo and left it for him.
The two were reunited in 2022, 78 years later. Reg Pye is now 99 and Huguette is 92. They certainly don't look that old.
The Telegraph reported the story, complete with photos, including the one from Huguette's First Communion:
Reg Pye, from Burry Port, South Wales, served with the 224 Field Company, Royal Engineers, as a driver carrying sappers, mines and ammunitions, during the Battle of Normandy.
While moving through Normandy in June 1944, 14 days after D-Day, Mr Pye spotted a 14-year-old girl staring at him as he ate his evening meal – a slice of bread with jam and a tin of pilchards.
The then 21-year-old immediately gave the girl his bread with jam and she ran away to eat it.
When he woke the next morning, he found that she had half-filled his mess tin with milk and left a picture of herself with a written message on the back, which he kept in his wallet.
In November this year, the girl was identified as Huguette, now 92, and was reunited with Mr Pye in France where he showed her the picture he had held for 78 years, and gave her another jam sandwich.
When meeting Huguette, Mr Pye said: "Nice to see you again after such a long time. We got older but we're still the same."
One wonders if they drank Pol Roger:
They drank champagne with their extended families and a translator.
Incredibly, Reg Pye spent years trying to find Huguette:
Mr Pye said: "The memory of my very brief encounter with this young girl will stay with me forever.
"In the bleakest of times, this bit of human interaction made a huge mark on my life. I have carried her picture in my wallet for 78 years always hoping we might meet again."
Mr Pye went back to Normandy 20 years ago to try to find Huguette but was unsuccessful.
Taxi drivers helped the veteran find his erstwhile friend:
After hearing the story, volunteer Paul Cook, from the Taxi Charity for Military Veterans, an organisation run by London black taxi drivers which arranges free trips for veterans to the Netherlands, Belgium and France, started a social media campaign which eventually reunited the pair.
Mr Pye added: "I cannot believe that she has finally been found and I wish to thank everyone, including our friend Emma, our cab driver Paul and the Taxi Charity's French adviser Nathalie Varniere, who have helped to make my dream come true."
Mr Cook said: "There are no words to describe how elated I am that Reg has found Huguette, this is like a Hollywood blockbuster and I wouldn't be surprised if this beautiful story was made into a film."
I hope it is made into a film. It's a beautiful story.
Perseverance is always rewarded. Never give up on a dream.
Good taste 'nothing to do with money or class'
On November 15, The Telegraph's Melissa Twigg interviewed socialite India Hicks, who has featured in Tatler over the decades.
I was surprised to find that she is now 55. She still looks like a twenty-something.
Hicks has a proper pedigree. Some might have seen her mother, Lady Pamela Hicks, in television documentaries about the Royal Family.
Twigg tells us that India is:
the third child of Lady Pamela Hicks (whose parents were the Earl and Countess Mountbatten of Burma) and the late interior designer David Hicks. She is also the second cousin and goddaughter of King Charles – like him, she spent her teenage years in the no-nonsense Scottish boarding school of Gordonstoun. Her glamorous life is put somewhat in perspective when you realise that, aged 11, she was on holiday with her family in Ireland when her grandfather's fishing boat was blown up by the IRA. He died, as did her 14-year-old cousin, Nicholas, and this frightening period of British history was memorably dramatised in the fourth series of The Crown, with Mountbatten played by Charles Dance. I ask if she has seen it and she quickly says no. "We don't really get Netflix out here." 
I have no doubt that Hicks could watch the show if she wanted to – but I also understand why she doesn't want to discuss it. She has built a successful career in Britain and America from being stylish, beautiful and royal-adjacent; distant enough from the family to freely write books and launch clothing and interiors collections, but close enough to attend the funeral of Elizabeth II and be a patron of the Prince's Trust. 
"It was extraordinary being there for [Elizabeth II's] funeral," she says. "I was very relieved to find myself in England with my mother during that period. The Queen's death was a chapter closing for all of us, but for my mother [who was a bridesmaid and lady-in-waiting to the Queen] it was grief on a more personal level. I often wondered how she was and she kept using the word 'acceptance'." 
Here's the high point — on good taste:
… when I ask if her aristocratic roots have influenced her taste, she pauses. "I definitely shy away from the word 'class'," she says. "Good taste is everything, but in the end it has nothing to do with class. My father came from an ordinary background but he was anything but ordinary. He was a difficult father but a brilliant designer and made me realise good taste and design are by no means dependent on money." 
True!
Furthermore, this is my own observation: good taste offends no one and pleases nearly everyone.
I have a few more news stories to share on Thursday. I think you will like them.
On October 28, 2022, the Times featured an article on food prices from that day in 1922: 'Weekend food: a glut of turbot'.
I would love to experience a glut of turbot, the king of fish — and my favourite.
I was amazed to read that, already, the UK was importing food from other countries and continents. Even then they had Danish bacon. I wonder if it was as watery then as it is now.
Note that French poultry had returned for the first time since the First World War (emphases mine):
Perhaps the principal points of interest in the food market this weekend are the glut of turbot, which is selling at 9d a lb for the whole fish, and the arrival of the first French poulardes to reach these shores since 1914. West End chefs welcome the poularde's arrival on account of the bird's delicacy and tenderness. The price, however, is high, 2s 6d to 2s 8d a lb, and the birds weigh about 4lb each.
I will get to poulardes below.
Moving on to cheap Danish bacon:
Bacon may presently rise a little, as the stocks of cheap Danish bacon are expected to be exhausted in a week or two.
We discover more about the provenance of some butter and eggs, which is rather surprising:
Butter is cheap, and there is a certain amount of Australian butter selling at 1s 10d a lb. Eggs are going to be dearer, and the fivepenny and sixpenny egg may be expected at about Christmas. At present there is a large quantity of eggs coming from South Africa, but the "day old" new laid egg is almost impossible to obtain.
I remember my late grandmother asking our butcher in the United States for day old eggs.
I can't imagine shipping butter from Australia to the United Kingdom. One wonders how often the ice blocks would have to be replaced on the ship. It would not have been possible to fly long distances at that time. Air cargo didn't really take off, so to speak, until after the Second World War.
In 1922, Britain was already importing fruit from the United States:
Californian apples are also on sale at 8d a lb, or 2s, 2s 6d, and 3s a dozen.
As for domestic meats, we discover that chicken was half the price of its French counterpart. I was surprised to read that turkey was already available, which isn't the case now when whole birds go on sale from mid-November, if not the beginning of December. Also, beef was pricey that year; times have not changed. By contrast, lamb was a bargain:
The price of the ordinary English chicken is still about 1s 5d a lb. Rabbits were selling rapidly all the week at 1s 8d each. Pheasants are still dear from 7s 6d to 8s 6d, but should be cheaper soon. Turkeys, at 2s a lb, have been in good demand.
English and Scotch meat remains high in price, principally because there is not a great quantity on the market. As feeding stuffs are more plentiful, not so many animals are being killed. Chilled beef is cheaper; 10 1/2d a lb is being asked for sirloins and wing ribs. Canterbury lamb is 1s 5d a lb for legs and 1s 4d for shoulders.
Now on to poularde, which comes from Bresse and is expensive, even in France.
Today, poultry from Bresse has a protected food name specific to that area, with a Protected Designation of Origin (PDO).
In France, poultry from Bresse originally had an AOC, Appelation d'Origine Contrôlée, now replaced by the EU's PDO.
La Radio du Goût (Taste Radio) tells us that, in 1957, President René Coty personally conferred the AOC on Bresse poultry.
Breeding of these birds began in the 17th century. Although their meat is unsurpassed, their colour has also held a special place in France's heart: red comb, white plumage and blue feet.
The reason they received an AOC and, later, a PDO is because of the unique way they are reared in their specific location.
The AOC definition reads as follows:
The specificity of an AOC product is determined by the combination of a physical and biological environment with established production techniques transmitted within a human community that, together, give the product its distinctive qualities. These crucial technical and geographic factors are set forth in standards for each product, including wines, cheeses and meats. Other countries and the European Union have similar labeling systems. The European Union's protected designation of origin (PDO) system has now largely replaced France's AOC designations for all products except wine …
Can anyone say terroir?
The AOP certification of authenticity is granted to certain geographical indications for wines, cheeses, butters, and other agricultural products by the Institut national de l'origine et de la qualité (INAO). The certification system is designed to protect distinctive and traditional regional products, based on the upon the concept of terroir. Terroir refers to a given geographical area having specific environmental and human features that affect an agricultural product's key characteristics. These factors are meant to capture unique environmental features (e.g. type of soil, topology of the production environment, local climate) and farming and processing practices (e.g. the steps taken and inputs used in producing a specific type of cheese). Thus, it includes the traditional savoir-faire that goes into the production of AOC products. Taken together, these give the product its distinctive qualities.[1]
La Radio du Goût says that, although Bresse is a small area in eastern France, it has three borders: Burgundy, Franche-Comté and Rhône-Alpes.
The poultry there are free to roam, feeding not only on earthworms, insects and larvae but also on wheat and corn specific to that area.
In the weeks approaching their going to market, the Bresse chickens and capons are put in roomy, airy wooden cages where they are pampered to the point where they look forward to food and water as there is nothing else to do. Although the birds are not force fed, the more frequent feeds produce a tender and succulent meat. The finished chickens weigh around 5 lb.
The cooking method is a gentle one. La Radio du Goût says that birds from Bresse are best done in a Le Creuset pot (enameled) over very low heat with no additional butter or fat. They will render enough fat and juices as they gently brown. They require frequent turning over in the initial stage. Season with salt and pepper. The total cooking time is three hours. Although the article doesn't say, presumably one puts a lid on the pot after the meat is golden brown, checking on it every so often to turn it over.
When the meat is done and resting, one can sauté potatoes in the fatty juices. The recipe recommends a sauce of creamed mushrooms — morels, if one can find them — to accompany the poultry.
Another recipe comes from the legendary Bresse cook Elisa Blanc — la Mère Blanc — who was probably the first woman to obtain two Michelin stars in the 20th century.
Her grandson Georges, now an older man, took over her inn in Vonnas — L'Auberge de Vonnas — itself in the Bresse area, and owns most of that village complete with shops and a spa, if I'm not mistaken. He is richer than Croesus.
He also earned a third Michelin star.
Her recipe is for Bresse chicken in cream sauce.
She jointed her chicken into eight pieces and cooked it in a large, shallow pan with Bresse butter. She browned the pieces first in butter, then added a bit more butter, an onion studded with cloves, one garlic clove, a bay leaf, thyme sprigs and a small amount of water before putting a lid on the pan. She cooked the chicken over medium heat for 30 minutes, checking on it from time to time.
While the meat rested, she took a pot of Bresse cream, poured it into a bowl and whisked two egg yolks into it to make an emulsion. She poured the cream-egg combination into the pan in which she cooked the chicken and stirred the sauce over low heat until the eggs were emulsified. The sauce would have been glossy and unctuous, with body. She then strained it to remove any little egg lumps (ideally, there would have been very few), then poured it over the chicken to serve.
Many French families treat themselves to Bresse poultry before Christmas. La Radio du Goût suggests singing Christmas carols while the bird is cooking.
The festival called Les Glorieuses de Bresse runs for five days in mid-December in Bourg-en Bresse, Montrevel-en-Bresse, Louhans, et Pont-de-Vaux.
I do wonder if I could tell the difference between a Bresse chicken and the Tesco Finest from Northern Ireland that I buy. Hmm.
Nonetheless, the recipes should work for any kind of poultry, although some fat would need to be added for browning.
To our modern minds, the Victorian Era probably seems un-democratic.
Yet, it was a time of great transformation in the United Kingdom, from labour legislation to public transport  — and even food.
One man at the vanguard of improving basic nutrition and gustatory enjoyment for everyone during this time was none other than the French chef Alexis Soyer (1810-1858).
Soyer began his British career in London, cooking for the great and the good at the Reform Club, immortalised by Jules Verne in Around the World in Eighty Days. He then turned his attention to the culinary needs of the poor and of infantrymen.
Dr Marjie Bloy, Senior Research Fellow for the Victorian Web, tells us more about this remarkable man:
Alexis Benoît Soyer was born on 4 February 1810 at Meaux-en-Brie on the Marne in France. He was the youngest son of Emery Roch Alexis Soyer, a grocer, and his wife Marie Chamberlan. The couple had five sons: Alexis was the youngest. However two of the sons — Paul and Rene — died. When Alexis was born, Marie thought he was a blessing, therefore she wanted him to enter the Church. However, he did not choose that calling in life.
Early in his career he worked outside of Paris, near Versailles, then progressed to the capital. By the time he was 20 years old in 1830, he was second cook in the French Foreign Office.
He left France in June that year because of a second French revolution and moved to England where he worked for British nobility in and near London:
… in 1831 he accepted employment in the London kitchen of the Duke of Cambridge. Subsequently he worked for the Duke of Sutherland, the Marquis of Waterford, William Lloyd of Aston Hall, Oswestry, and the Marquis of Ailsa at Isleworth.
In 1837, he began working for the Reform Club in the heart of London. On the occasion of Queen Victoria's coronation, he prepared a breakfast for 2,000 guests at the Club.
In 1847, Soyer wrote several letters to the editor about the Irish Famine. Ireland was part of the United Kingdom at the time. The British government appointed him to go to Dublin:
where he built and opened kitchens from where he sold soup and meat at half the usual cost. While there, he published a sixpenny book, Soyer's Charitable Cookery, giving part of the proceeds to various charities.
In 1855, he wrote another budget recipe book, A Shilling Cookery Book for the People:
In 1849, he invented his 'magic stove', which he took to Crimea with him in 1855. The British Army used the 'Soyer Stove' until 1982:
The success of his portable stove and utensils prompted him to resign from the Reform Club in May 1850. At that time, his salary and fees amounted to a very healthy £1,000 per annum. In May 1851, he opened a restaurant in Gore House, Kensington. While he had many customers, especially during the Great Exhibition in Hyde Park, the restaurant closed with losses of £7,000.
On February 2, 1855, he wrote to The Times announcing that he was going to Crimea at his own expense to offer advice on cooking for the infantrymen fighting there (emphases mine):
He began by revising the diet sheets for the hospitals at Scutari and Constantinople. In two visits to Balaklava he, Florence Nightingale and the medical staff reorganised the provisioning of the hospitals; he also began to cook for the fourth division of the army.
When he returned to London, he shared what he learned in Crimea:
On 3 May 1857 he returned to London, and on 18 March 1858 he lectured at the United Service Institution on cooking for the army and navy. He also built a model kitchen at the Wellington Barracks, London.
He also wrote two cookery books for military use, one of which was published posthumously:
Soyer's Culinary Campaign (1857) and Instructions for Military Hospitals (1860).
Soyer devoted his adult life to the British and, as such, is buried in London:
He died on 5 August 1858 at St. John's Wood, London and was buried on 11 August in Kensal Green cemetery.
He certainly had a public relations touch. The subtitle to A Shilling Cookery Book for the People is:
Embracing an entirely new system of plain cookery and domestic economy.
Soyer was predeceased by his English wife, Elizabeth Emma Soyer, an oil painter whose interests included the abolition of slavery. She died while pregnant in 1842. Soyer erected a large memorial monument to her in Kensal Green Cemetery. Her paintings were displayed in London and in Paris, where her art was highly esteemed. Her portrait of her husband remains in the Reform Club's collection.
On Wednesday, August 10, 2022, Liz Truss appeared on GB News's The People's Forum to answer questions from residents of Leigh in Greater Manchester about her proposed policies:
The veteran newsreader and broadcaster Alistair Stewart ably moderated proceedings, allowing the audience to ask questions then reading viewers' questions and asking a few himself:
The programme was an hour long:
Brian Sheeran was first up to the microphone. Leigh, established in 1885, is a Red Wall constituency. They elected their first Conservative MP in 2019: James Grundy.
Sheeran asked why the people of Leigh should trust the Conservatives. Truss said that voters no longer could rely on Labour, because Labour never did anything for them:
She said that she would make sure that she started local projects as soon as possible, because people only trust a political party once they see tangible signs of improvements being made.
She also pledged to boost local businesses by rescinding EU laws that are still on the books post-Brexit.
She said that she would place a moratorium on the green levy on fuel and prepare an emergency budget as one of her first tasks as Prime Minister.
Not everything would happen straightaway. At least one measure would have to wait until April 2023 to be implemented because the Finance Act would require amending, a procedure that would require approval in both Houses of Parliament.
Another man asked what help Truss would give to working class families now, because the price of home energy has become crippling. He has had to take on a weekend job just to make ends meet:
Truss said that 'from day one', people would be able to keep more of what they earn.
He said that he needs help now, not at some point in the future. She said that she would look into all the options as soon as she becomes Prime Minister, should that happen.
Philip Orr asked about illegal immigration and was remarkably well informed on the statistics of our population increase over the past several years:
Truss summarised the situation of people trafficking across the Channel in dinghies. Criminal gangs are making big money. She hopes to make the Rwanda deportation policy work through Dominic Raab's proposed Bill of Rights. She also hopes to expand the number of countries who could take in these illegal migrants because they need more workers.
Orr suggested revoking French fishing licences if the French authorities continue to do nothing to stop the dinghies coming across the Channel.
In response, Truss said that she had had a 'tough' conversation with the French two weeks ago and that she would continue to be 'robust' in her negotiations. She cited the Northern Ireland Protocol Bill as proof that she could get things done.
She said that these migrants are in league with their lawyers before they make the trip over, enabling the lawyers to use ECHR laws to stop their deportation from the UK.
Finally, Orr asked why the UK couldn't use other countries' ports instead of being so reliant on France.
Orr called all of this 'sticking plaster politics', because nothing so far has been successful.
Jane Knight was the next to ask a question. She noted that the Government was not working. She asked what Truss's key strengths were and how she hoped to build a good Cabinet that would be ready to run on Day One:
Truss said that she has established a record of being able to get things done and has received backing from those Cabinet ministers, past and present, who have worked with her.
She said that she would be looking for three things in her Cabinet ministers: competence, the ability to stand up to civil servants in Whitehall and loyalty to her rather than to the media.
Knight said 'yes' to those but said there should be a certain amount of 'risk taking' and asked whether Kemi Badenoch, immensely popular among the people during her leadership campaign, would be able to have a Cabinet post, such as, perhaps, Foreign Secretary, Truss's current position:
Guido Fawkes has the dialogue (emphases his):
Jane Knight: I would like you to give some opportunity to maybe people that you might not know as well at the moment… certainly somebody who fired the imagination of the public was Kemi Badenoch and I'd really like to see her given a meaty role.
Truss: Do you have any ideas about what that role should be?
Knight: Oh well, Foreign Secretary! There might be a role going there!
Truss: Look, I don't want to get ahead of myself and this leadership campaign is still going on, but I can tell you that I will make sure the best players in the Conservative Party are on the pitch if I'm elected leader… Kemi – I've worked with her as Women & Equalities Minister – we've taken on a lot of the agenda of people who are trying to deny that women are women and so on, so I think she's absolutely brilliant and I would definitely want her as part of my team if I'm successful.
Knight also asked whether the Cabinet would be 'leaner, leaner, leaner', nodding for affirmation as she spoke those words.
Truss said that she could promise a 'leaner No. 10', which 'has become a bit too presidential' and she repeated her pledge to find a good post for Badenoch.
Knight said:
Ohhh, good answer.
Alistair Stewart brought up strikes at universities which prevent students from getting a full education. Some of these strikes are about changes in terms to lecturers' and professors' pensions because some universities took a 'pension holiday', not paying in continually to the pension pot. Other strikes, however, took place during the pandemic over health concerns. Either way, students are out of pocket, to the tune of £9,000 per year. They do not receive refunds for strike action.
Theo Murphin (?), a student, asked about this situation:
Truss said that she would hold universities to account to ensure that students get what they pay for.
In other strike areas, such as railways, she would ensure that industrial action would not overrun the network completely.
Theo also asked about the Online Safety Bill and the coming restrictions on freedom of speech. Truss said that her major focus of the bill would be to ensure that minors are not adversely affected by what they see online. With regard to adults, she said that one should be able to say the same things online as well as offline.
On the subject of strikes, Janice, a Daily Mail reader, wrote in with a question about the disruption of this year's strikes in various sectors across the country. Stewart asked her question for her.
Truss said she would legislate 'as soon as possible' to ensure that a minimum level of service is provided. She added that she is also concerned about activist organisations and mentioned Extinction Rebellion. She said that she would also take steps to ensure that they are dealt with, too, so as to not disrupt the daily circulation of people and goods.
Stewart brought up child grooming gangs (30:39), which seem to be everywhere in England now. He called Paul Eckersley to the microphone. Eckersley asked Truss what she planned to do about these gangs and 'bring criminals to justice':
Truss said that police should not be spending time patrolling tweets. Instead, she said, they should be fighting crime. She said that she wants to introduce police league tables on various forces' results.
Returning to the grooming gangs, she said that what has been going on has been 'absolutely repulsive'. She said that she wanted gang members to be held to account, 'but more than that' also the locals in authority — police, councillors and so forth — who did not do anything to stop them.
She received a round of applause for her answer.
Stewart then turned the subject to housing, especially getting young people on the housing ladder.
Jessica Buckthorpe, a cheerful and polite university student, asked whether Truss had any proposals to help young people in her situation, a student who works but cannot put together enough savings:
Truss proposes using young people's rental history of paying in full and on time to go on their mortgage applications, helping them to get a mortgage more easily.
Truss added that she also wanted to give more planning control to individual communities to plan for the housing they need. It is not unusual for young people to move away from where they grew up because they cannot afford the house prices.
Buckthorpe said that, while she appreciated these ideas, she said that the enormous actual mortgage deposit required is a 'pipe dream' not just for herself but for many other young adults.
Truss replied that using rental history would play an important part in enabling young adults to get a mortgage.
Truss said that it was important to keep in mind that our current inflationary period is temporary:
… we should not bake that into the future.
Stewart looked at Buckthorpe for her reaction:
There's a smile there.
A beaming Buckthorpe said:
Thank you very much.
The subject of war widows' pensions came up, especially those widows of veterans who subsequently remarried and lost their first husbands' pensions through subsequent rule changes. They are known as the WASPIs.
Stewart called on one woman who has a problem with her pension, Patricia Morgan, to ask her question. See the 2:40 point in this video:
Morgan said that, while she does not think she is getting the right amount of state pension because of a change in retirement dates, she cannot help but notice that money is going everywhere else, from coronavirus programmes to the war in Ukraine.
Truss said that she has met many such women in her own Norfolk constituency. The matter has also been addressed — unsatisfactorily, to many women — in Parliament. Truss said that she does not think that women have been looked after fairly in this regard. However, she said it would be very difficult to revisit the circumstances of the WASPIs and she apologised for that. She did, however, pledge to look at the tax system and see how it has an unfair impact on women in changing family circumstances.
Morgan politely countered by bringing up a parliamentary ombudsman's report which said that 'maladministration' had taken place. Truss said that she did not want to make promises that she could not keep. She could only address the future.
Stewart brought up the war widows' issue. Truss said she had already looked at that when she was in the Treasury. This issue, she said, she would look at again in more detail. Some 300+ women are affected.
Stewart then discussed the problems in the NHS.
Janine Ronaldson was the next person to approach the mic. She is a registered nurse with 31 years' experience, who works as a community nurse. She asked what Truss would do about the fact that nurses' salaries and benefits have decreased in recent years, resulting in many of them leaving the profession:
Truss said that nurses on the front line should be able to make more of their own decisions. She added that additional funding could come from existing funds and that the National Insurance tax rise was unnecessary. Some of this money can also go into social care, enabling hospital beds to be freed up for the elderly to go into a care home upon release from hospital. Currently, some patients have to stay in hospital because there is no satisfactory home situation for them to return to.
This, coupled with a huge post-pandemic backlog, is becoming a national problem.
Truss also pledged to look at the pension situation and talk to individuals to assess their concerns. She said that her incoming Health Secretary would also have to be committed to this.
Ronaldson said that it has been very difficult for her to see nurses leaving the profession and having to take on their workloads.
Stewart then asked for final questions on the topics that had been addressed.
One question came from Councillor Liam Billington, who asked about the child grooming problem. He said that Greater Manchester Council keep voting down motions to hold a public inquiry into what happened in Oldham. Truss responded that she would look into it and get back to him.
Johnny Riley (?) was next. He said that he had to give up his job to become a full-time carer for his wife. He receives only £70 a week from the Government in carer's allowance. He now has to use his life's savings to help them get by.
Truss thanked him for his devotion to his wife, who has cystic fibrosis. She said that her pledged review of the tax system should reveal how it works with the benefits system. She does not people like Johnny to be penalised for doing the right thing.
He said that he has paid into the system, so it's not about paying tax; it's about benefits, the least paid of all of them. Truss said that the whole system has to work, which is why she wants to look into it. She said she does not have a detailed answer. He said it was no wonder, because there has never been a detailed answer:
All we're asking for is a fair crack at the whip.
Trevor Bell asked how the Government can retain VAT on gas and electricity, when that is an EU law that should have gone once we left the European Union:
It was a Brexit promise … It should go now.
Truss reiterated that she would abolish the National Insurance tax rise and impose a temporary moratorium on the green energy levy. She also repeated that she would have an emergency budget early this autumn.
She said that the 70-year tax high is unacceptable but, right now, she cannot be more specific because the leadership contest is not yet over.
Truss said that getting rid of the green levy would save as much as getting rid of VAT.
The penultimate question came from Shelley Guest, who asked if Leigh could break away from Wigan Council and set up its own in order to use the tax receipts that it generates for its own needs (58:08). This is known as Lexit (!), something that Leigh's MP, James Grundy, also supports.
The room burst into applause.
Stewart told Truss that, while this seems like a local concern, it is also one that many other communities in England face.
Guest is concerned about rising council tax were Leigh to become independent.
Truss herself was once a local councillor. She appreciated Leigh's wish for independence and has spoken with James Grundy about it. She said she would consult the people of Leigh and appoint a Local Government Secretary to look into the matter with Grundy.
On a much lighter note, the final question came from a viewer who wanted to know about Truss's relationship with cats. Larry is the Downing Street moggie, and Liz remembered Palmerston, the Foreign Office's cat.
She replied that Larry frequently sidles up to her at Cabinet meetings, so she would like to develop her friendship with him. As for Palmerston, she said he left the Foreign Office during the pandemic and is now:
working from home. It's a true story!
She got a huge round of applause.
Some undecided voters there told Michelle Dewberry, who came on next with her show, that they really liked what Truss said.
They were a polite but hard-hitting group of real people who spoke frankly.
One wonders if Rishi Sunak would have the bottle to sit in a studio with their like. Would he or wouldn't he?
GB News has extended him an invitation to participate in his own People's Forum, so we'll see.
Speaking of Sunak, that day, a few other developments occurred.
Guido reported:
Away from the glare of the GB News cameras, Liz's team spent the day tearing chunks out of Camp Rishi on her behalf. After Rishi attacked Liz's cost of living plan for being "clear as mud", Team Truss went nuclear: "Rishi Sunak wouldn't know how people benefit from a tax cut because he has never cut a tax in his life.
People didn't vote for the Conservative Party to be subjected to old fashioned Gordon Brown style politics of envy." Team Rishi inevitably responded in kind – see below…
The mudslinging didn't stop there: Kwasi Kwarteng and Simon Clarke have an article in the Telegraph today in which they claim Rishi "dug his heels in" as Chancellor over post-Brexit reforms, particularly on plans to ditch the EU's Solvency II rule and reform the NI Protocol. You'd be forgiven for forgetting they're all in the same party. Team Rishi insist the claims in the article are "categorically untrue", and Sunak backed a muscular approach to Brussels all along…
Rishi didn't take kindly to Team Liz's attacks – it turns out being compared to Gordon Brown doesn't exactly flatter him. His team countered by claiming Liz's backtrack on regional pay boards last week was "a serious moral and political misjudgement affecting millions of people". This is the same Liz Truss whom Rishi has claimed he'll serve under in any Cabinet role.
His campaign also sent out a dubious press release claiming he'd cut taxes "16 times during and following the pandemic". One of those 'cuts' was reducing the Universal Credit taper rate, another is the promise to cut income tax by 1p in 2024 which, last time Guido checked, is two years away…
Instead of being with an average group of taxpayers, he chose to be interviewed one-on-one by the BBC's Nick Robinson:
He also promised to do more for households this winter beyond the package already announced, although didn't go into specific details on the basis that it was simply too early.

Although when asked whether it would cost "a few billion" or more than £10 billion, he said it would be "closer to the former than the latter"…
He gave Robinson an indication that he might lose the leadership contest:
He came the closest yet to admitting the race may well be over, claiming he'd always "stay true to [his] values" and he would rather lose than "win on a false promise".
It's interesting that Sunak chooses television formats that suit him rather than the electorate, even if, at present, they are Conservative Party members.
Sunak's non-participation in public fora other than Party hustings and closed interviews tells us something about the man.
Next week I will post on The Telegraph's hustings, held on Thursday, August 11.
In the autumn of 2021, a weeks-long protest by Insulate Britain, an offshoot of Extinction Rebellion, took place on Greater London's roads.
A bemused nation looked on as police a) did nothing, b) asked protesters if they needed anything and c) focused on members of the public who tried to remove human obstructions.
This was the scene on September 15:
Guido Fawkes wrote (emphases his):
The idiotic M25 Extinction Rebellion protestors are back this morning, once again bringing cars to a standstill, pumping out their fumes in an environmentally-friendly traffic jam. Pathetically, a solitary policeman is there and has been filmed asking them to kindly move on. In the most surprising news of the week, they didn't listen to him…
The next day, another sit-in took place on the M25 near the South Mimms services in Hertfordshire, just north of London.
Motorists took the law into their own hands. The police reacted quickly — against them, not the protesters:
And, yes, blocking a road, even part of it, is against the law:
On October 13, motorists continued to do battle with protesters, because the police certainly weren't. This took place in southeast London at the Dartford Crossing, going into Kent:
Guido wrote:
Insulate Britain has once again clashed with fed-up commuters this morning after blocking a road near the Dartford Crossing. The 40-something eco-activists prompting drivers to rip posters from the protestors and drag the insolent mob out the road. In other scenes, a lorry driver was filmed coming within inches of running a couple of them over.
On October 25, a man named Matthew, who was clearly old enough to know better, glued his head to an unspecified road. He expressed concern for his face:
Guido had more on the story:
The activist explained from his roadside position that he decided to glue his head to the road because the government is not treating the climate crisis as an "emergency", despite Insulate Britain admitting it was when they announced a pause in their campaigning a fortnight ag. When asked whether he'd "snipped himself" by the Mirror, a grimacing-in-pain Matthew said "…you'll find out if there's blood coming out." Someone clearly wasn't thinking with their head when they made this decision…
Interestingly, on the Continent, the police have no problem stepping in and restoring order.
On January 24, 2022, Extinction Rebellion Deutschland found that German police weren't nearly as kind and accommodating as their British counterparts:
Guido had the story:
German police demonstrated a no-nonsense approach to dealing with climate road-blockers this morning – the kind that's sorely lacking here in the UK. Dozens of protestors from "Aufstand der letzten generation" – which translates to "Last Generation Uprising", a branch of Extinction Rebellion Deutschland – blocked motorway exits in Berlin and demanded a new anti-food waste law, including "the implementation of measures for a sustainable agricultural turnaround by 2030″. Police quickly hauled them all off the road to inevitable accusations of police violence ("Polizeigewalt"). If only Germany were as willing to stand up to Putin with the same verve they do with eco-loons…
And, on Monday, June 27, French police didn't hesitate in ripping protesters' hands from tarmac in Paris. Don't worry. There's no blood, just pain:
The long-haired chap wailed. The young policeman told him, 'It's nothing. Stop making a drama out of it' ('Il n'y a rien. Ce n'est pas de cinéma').
Therefore, it's probably not a good idea to glue one's face to the road in France.
Why can't our police act with authority, the way they do with law-abiding citizens who want to get to work or drive their children to school?
The Extinction Rebellion protests stopped months ago in the UK, but our police need to get tougher with those who actively break the law by sitting in or gluing themselves to roads.