You are currently browsing the tag archive for the 'France' tag.
By the way, that's Jersey as in the Channel Islands, not New Jersey.
The 200th anniversary of Napoleon's death was May 5, 2021.
A solemn commemoration was held at Les Invalides in Paris:
A number of Metro and railway stations in Paris are named after Napoleon's victories:
French president Emmanuel Macron was always a keen student of history, particularly Napoleon.
Britain's Prime Minister Boris Johnson is also a keen student of history, especially of battles that took place in antiquity.
Now we have a post-Brexit situation. France is upset that their fishing boats cannot go in Jersey's waters.
Sky News explains the new post-Brexit rules (emphases mine):
French fishing crews are demonstrating as part of a row over post-Brexit fishing rights.
Under the Brexit trade deal, which came into force on 1 January, EU fishermen continue to have some rights to fish in UK waters as part of a transition period until 2026.
However, under the new rules, EU boats wanting to fish within 12 miles of the UK coast need to be licensed and prove they have a history of fishing in those waters in order to carry on operating.
This includes submitting evidence of their past fishing activities.
Jersey has not granted licences to some of the boats that have applied to fish in its waters.
Ian Gorst, the island's external relations minister, said of the 41 boats which sought licences under the new rules last Friday, all but 17 had provided the evidence required.
"The trade deal is clear but I think there has been some confusion about how it needs to be implemented, because we absolutely respect the historic rights of French fishermen to fish in Jersey waters as they have been doing for centuries," he said.
"I do think a solution can be found. I am optimistic that we can provide extra time to allow this evidence to be provided."
The French government has also expressed its anger at what it said were unilaterally-imposed conditions on the fishing licences, including the time French fishing vessels could spend in Jersey's waters.
Jersey said it had issued permits in line with the terms of the post-Brexit trade deal.
The Jersey Evening Post reported:
Don Thompson, president of the Jersey Fisherman's Association, said Jersey had been 'quite generous' in its licensing scheme and described France's response as an 'over-reaction'.
He said: 'The EU have signed up to the [post-Brexit] Trade and Co-operation Agreement which states that Jersey must recognise the extent of previous fishing in our waters. The restrictions on the new licences cover what the French were already doing in our waters and are only preventing them from expanding their fishing efforts, which is needed if we are going to have sustainability in our waters.
'A point that is being missed is that Jersey boats do not have licences to fish in French waters – we are restricted to our own territorial waters while they can use ours, if any restrictions are placed on their own.'
Mr Thompson also highlighted how the approved 41 French vessels had been given a licence for free and urged Jersey's government not to give in to the French.
'Our boats would be charged £250,000 if they were to have something similar. Our advice to ministers is that they should not capitulate to these intimidation and bullying tactics that are being used,' he said.
'If we do capitulate now then they are just going to do the same thing every time we try to apply some form of management to make our waters sustainable.'
An oyster farmer from Jersey, mentioned in the headline, disagreed.
France threatened to cut off the electricity supply to Jersey. They have since backed down. Jersey Electricity said that customers did not have to worry:
On the evening of May 5, Guido Fawkes posted:
A reader responded:
These were the headlines on May 6:
They are armed fisheries protection vessels, or river class ships:
I wonder if the Royal Marines will use their new jetpack technology (videos here and here). It enables a Royal Marine to fly up to 12,000 feet in the air and up to 80mph:
As I write, these were the developments on Thursday, May 6. HMS Tamar, recently repainted with 'dazzle' camouflage, set sail for Jersey that morning:
We're in 2021 and not 1588 (sinking of the Spanish Armada), but, even so, there is a frisson of excitement about this:
France responded by sending two of their ships:
Guido Fawkes has more on France's reaction:
Guido's post says (emphases in the original here):
The head of the joint Normandy-Brittany sea authority has declared they are "ready for war" and "can bring Jersey to its knees" as tensions continue to ramp up between the UK and France over Jersey at a dizzying pace. War with France can only help Boris's 10 point poll lead…
Responding to two navy vessels being sent by Britain to patrol the situation last night, Macron has retaliated by sending one of his own military boats, to join 100 French fishing vessels blockading the harbour. A French minister has said the country "won't be intimidated" by British manoeuvres …
A military historian posted a thread about French fishermen protesting in Jersey:
This morning, a Jersey resident re-enacted an ancient battle with the French. He did this in safety, far from the port. Talk show host Jeremy Vine demonstrated how the blockade of the port was unfolding:
It's hard to disagree with this:
Negotiations are now taking place on Jersey between their government and the French fishermen:
The Jersey Evening Post reported:
External Relations Minister Ian Gorst, said: 'We are meeting with French fishing leaders this morning to listen to their concerns regarding fishing rights. There are continuing extensive political and operational efforts with both our local fishing community and French fishing associations, their regional representatives in France, and both the UK and French governments, in order to resolve the current dispute and resume previous good relations.'
A number of Islanders have turned up to watch and police are at the scene.
Although the crews have been setting off flares, the protest has so far remained peaceful.
One French fisherman complained that France has to go through the EU first for any resolution:
That could explain why Charles-Henri Gallois, president of Génération Frexit, is using this disagreement as an argument for France to leave the EU. He says: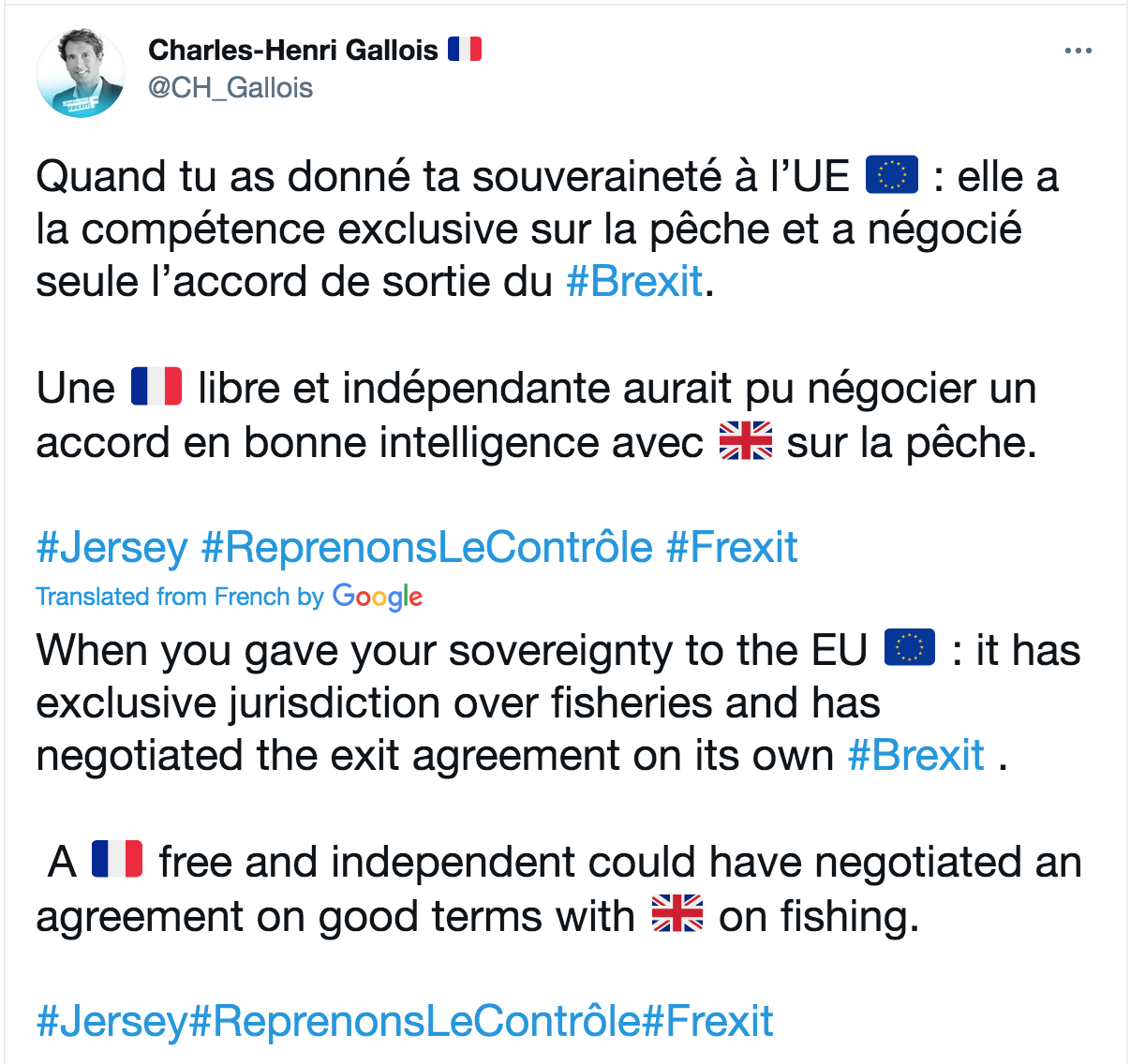 Here's his tweet, which met with an equally Frexit response:
Gallois also posted a link to an article in Les Echos, France's leading business newspaper, which says that the UK was able to handle their coronavirus vaccine rollout with 'great efficacy'. Gallois says that a free country which is independent is always more effective than one which is bureaucratic, slow and with divergent interests. He adds that, if one adds the totally antidemocratic aspect of the EU, one should not hesitate a single second to leave:
I wish Charles-Henri Gallois and Génération Frexit all the best in their pursuit of a France free from the EU.
Meanwhile, one wonders if the French are aware that today, Thursday, is England's local election day. As Guido says, this can only help Boris and the Conservatives.
UPDATE: IT ENDED BEFORE IT EVEN STARTED.
By dinnertime, the French fishermen had left Jersey:
Boris declared victory:
This is Guido Fawkes's version:
Guido reported:
The PM has hailed the end of the third battle of Jersey, understatedly calling the matter "resolved" after the 100 French fishing boats ran away earlier this afternoon.
The announcement comes as No. 10 says the two Royal Navy vessels will depart the island's waters in the coming hours, though will remain on standby in case Jersey once again finds itself in an hour of need. In the words of Maggie, just rejoice at that news, and congratulate our forces and the marines…
Many thanks to all involved in resolving this situation quickly. Even a small nuisance can be a lingering irritant if left to fester.
As we approach 2021, a growing number of Europeans are sceptical about our governments' respective responses to coronavirus.
My guess is that people are becoming suspicious about the loss of their civil liberties, which was only supposed to last for two to three weeks, yet continues to this day — nine months on.
There is no end in sight as we face the possibility of another sharp, nationwide lockdown early in the New Year.
France
This was a major topic of discussion on RMC's Les Grandes Gueules today.
Vaccinations have reached saturation point in France, even though the programme has barely started. Perhaps the government was too slow in obtaining more doses at the outset:
Regardless, in France, as well as everywhere else, even the vaccinated will need to continue to wear masks — possibly even after their second BioNtech/Pfizer jab:
Of course, mass vaccination is the only way that a nation's economy can once again flourish. Recall that for most age groups — up to the 70+ cohort — the average death rate is around 0.05%:
In the meantime, the question arose over whether future lockdowns should be national or regional. (We've tried both recently in England and Wales. It doesn't seem to make much difference.) This educator says that we can't stay locked down for the next ten years — 'I'm horrified. We're in a world of madness":
The lawyer on the panel disagreed, saying that we need lockdowns until we get the all clear. Someone responded to the tweet casting doubt on government statistics, saying that lies are a way of dramatising the situation — Project Fear:
Listeners rang in to say that they were sceptical about lockdowns and mandatory vaccines. The lockdowns don't seem to work and there aren't enough data yet to show that the vaccines are reliable and safe, especially if they operate like the flu vaccine, meaning that one is still susceptible to getting coronavirus, albeit a milder form of it.
Spain
The Spanish government is considering whether to develop a list of residents who do not take the vaccine then circulate those names to other countries to restrict their movements.
British talk show host Maajid Nawaz of LBC warned that this is a very dangerous step for a nation to take. He said that, years ago, he was a prisoner of conscience in Egypt and found out how far the state can go in controlling one's life. The response to his video is quite telling:
Someone else replying said that Spain would not be able to circulate the list because of personal privacy laws under the Europe-wide GDPR regulations. Hmm, I wonder:
England
Maajid Nawaz had another excellent commentary on the futility of lockdowns. He said that only one person in the UK has put together a cost benefit analysis for public consumption and that only the Times has published it. Apparently, 500,000 lives are adversely affected among the general population and they are not COVID-19 'cases' or inpatients. He added that Government ministers have a lot of data they refuse to reveal to the public. I would go further and say they are not even revealing it to MPs. Matt Hancock lets nothing out in Parliament, only more fear-mongering messages, then expects MPs to approve more restrictions:
Simon Dolan, a businessman who has sued the Government over lockdown, points out that lockdown relies on asymptomatic transmission being true. However, yet another study shows that there is no truth behind asymptomatic transmission:
The latest study, which the JAMA published, focusses on household transmission:
On lockdown, Simon Dolan posits:
Yes, most probably.
But what about the lorry drivers stranded at Dover because Emmanuel Macron didn't want them coming into Calais unless they were tested? Only a tiny number tested positive:
It's no wonder people are sceptical.
In closing, I have been waiting for an ecological impact assessment on masks. Here it is:
Does anyone else find it odd that, given the alarm over coronavirus, no country has any HAZMAT bins for used masks? Shouldn't worn masks be considered hazardous waste?
It makes one wonder …
More to come.
As some of my readers know, I listen to RMC's one-of-a-kind French talk radio shows during the weekdays.
They are also televised in France on the RMCStory channel.
On Friday, October 16, 2020, Les Grandes Gueules (The Big Mouths) had a cracking three-hour show. It was shouty, characteristic of a traditional French dinner party. People can disagree, but when they kiss each other goodbye, they remain firm friends.
Interested Francophones can find the podcast here (the two 'play' options can be tempermental, but one of them will work).
Most of the show revolved around old and new coronavirus measures.
Most of these are only for certain cities.
By way of background, unrelated to RMC, Philip Turle, a correspondent for France24, explains in English that nine complaints have been filed and are being investigated about French ministers' involvement in the decisions taken on coronavirus earlier this year. He said these accusations will be difficult to prove, as it is a question of what they knew and when:
The newest one is a 9 p.m. curfew in Paris and eight other cities. Incidentally, 'curfew' comes from the French 'couvre-feu' ('cover fire', or, as we might better understand it, 'lights out'). The word appears in some of the tweets below.
Alain Marschall and Olivier Truchot, who also feature on RMC's parent station BFM-TV, led a very lively discussion with regular panellists who come from the general public.
Friday's panel featured a teacher, Barbara Lefebvre; a lawyer, Charles Consigny and the former president of Toulon's rugby club (RC Toulonnais), Mourad Boudjellal:
The first topic was, 'Are the French too submissive [with regard to coronavirus]?' A national poll showed that 62% supported a curfew, with 38% opposed. (The survey can be seen in some of the videos below.)
The show took its own poll. Participants thought that the French have been too submissive. New measures stipulate only six at a dinner party, a 9 p.m. curfew (unless you have a good excuse and/or proof), further restrictions on public celebrations and weddings:
The lawyer, Charles Consigny, thinks that the French government have overstepped their bounds with regard to their nation's constitution. Someone replied, directing Consigny's attention to Emmanuel Macron's stepdaughter, also a lawyer, who says that people need to sacrifice their civil liberties for the common good. Oh, dear:
Never mind Macron's stepdaughter, Typhaine Auzière.
Consigny said that people living in big cities are the worst hit by COVID-19 restrictions. They have been cooped up for much of the year, with only a few months of reprieve. Many live in flats, often with other people. What they face when they leave their homes is a police presence with the power to impose fines starting at €135.
Consigny finds it unbelievable that the French are not more up in arms about this situation.
Barbara Lefebvre, the teacher, spoke next. She pointed out that neither French MPs nor the French Senate had a proper debate about coronavirus legislation; it was rushed through and passed into law. For that reason, she found it 'staggering' that few French people have objected to this legislation:
Someone commented with a Machiavelli quote: 'He who controls people's fears becomes the master of their souls'. How true:
Mourad Boudjellal, the former president of Toulon's rugby club, said that the regulations are absolutely stupid. He wants the sick and vulnerable to be able to get medical care and attention whilst leaving healthy individuals free to live their lives. He said that France's elites are completely disconnected from reality. They do not understand how the average person lives. He was also shocked by a national poll showing that 90% of people living in France were willing to go along with the curfew, no questions asked.
That morning, on Tele-Matin, a popular morning current events show, alarm bells were ringing that Paris's health care system could be imminently stretched to its maximum, although the man in charge of the capital's hospitals thought there was some hope that the worst case scenario would not happen. Project Fear (see the Machiavelli quote above):
Barbara Lefebvre said that, if these new measures do not work, it is likely that Macron will impose another full lockdown.
Charles Consigny said that he follows general health advice seriously: no alcohol, no smoking, nutritious food, no unnecessary risks. That said, he asked why anyone would want a totally hygienic, doctor-driven, 'sad' life. To support his argument, he added that has spoken with his physician friends who say that, long term, these measures are too onerous for everyday life:
The French government also recommends working from home two to three days a week. Will this nonsense ever end?
Boudjellal said that dinner in a restaurant is where most business transactions take place. He said that this will be difficult for the foreseeable future:
I felt very sorry for the young woman at university who rang in to say that staying in her tiny dorm room between 9 p.m. and 6 a.m. was unbearable. Outside of being a good student, the rest of university life revolves around congregating in each other's rooms or in a common area to chat, study and make friends. I knew many people who never went to bars or parties and stayed on campus:
Consigny remarked that France was moving towards a 'Soviet' way of life, where the government control every activity. It is hard to disagree:
The video below shows culture minister Roselyne Bachelot's quotes about special dispensation for people attending cultural events. They must keep their tickets to show to authorities if questioned.
Lefebvre said that, even during the Second World War, the French could go to the theatre and to the cinema. She called the new health measures 'a joke'; they must stop:
Consigny gave a yuge shout out to President Trump, whom he fully supports and hopes will be re-elected next month. Consigny really admires Trump rallies and 'dreams' of being able to attend one. He said that Trump 'could teach the French a lesson' about freedom:
Lefebvre was concerned that lockdown measures were creating a nation of 'geeks', breaking up everyone's social lives and friendships. Yep:
Boudjellal pointed out that coronavirus statistics need to be properly interpreted. He acknowledged that it is a fatal disease, however, it is hardly the greatest cause of deaths. Yet, 'We're taking measures as if it were the greatest cause of mortality in a century!' Agree:
The panel also pointed out that it's not only the businesses the French see — bars, restaurants, theatres — that are affected. There are millions of people working behind the scenes who are out of work or have limited hours: cleaners, linen companies, taxi drivers. The list goes on.
Please, someone, make this nonsense stop, not only in France, Britain and the US, but everywhere else that has a Western philosophy towards life and love.
Andrew Neil, veteran BBC journalist and chairman of The Spectator worldwide, hosted Episode 7 of The Week in 60 Minutes on Thursday, October 15, 2020:
A summary follows.
Not surprisingly, given events of the past week, coronavirus led the news.
Andrew Neil began with England's increasing number of regional lockdowns. It would seem that Prime Minister Boris Johnson is no longer following the science. The Labour and official Leader of the Opposition, Sir Keir Starmer, wants another national lockdown. The political editor of The Spectator, James Forsyth, said that, whatever coronavirus crisis measures Boris Johnson takes, he's 'damned if he does, damned if he doesn't' and has to deal with the damage of lockdowns.
Across the Channel in France, Emmanuel Macron has been following a similar strategy to that of Downing Street and is very concerned about COVID-19 in all respects. Neil asked about last week's contretemps in Ireland. Forsyth said that Ireland's dispute between their government and medical experts was played out in public; by contrast, in the UK, it was in private. In any event, he said that scientists are now in a position of 'negotiation'.
The magazine's deputy political editor, Katy Balls, was on next to discuss Labour's position on coronavirus. Labour MPs disagreed with Keir Starmer behind the scenes, a move which she said has united the Conservatives. That said, it seems England could well be heading towards a short 'circuit breaker', although that would be very difficult for Conservative MPs to stomach.
Forsyth said that this is a very dangerous time for the Government. Starmer could even emerge victorious. ('At some point', I might add, as Boris has a majority of 79 [from 80], and no general election is due before 2024.) At this stage, it's too soon to tell. He said that no one knows if a circuit breaker would actually work in England.
The Spectator's editor Fraser Nelson was up next. He said that Boris was pretty well on to the way to a national lockdown, adding that he lacks the way to fight off SAGE, having been  'outmanoeuvered'.
Neil asked about a recent poll showing approval for more coronavirus restrictions. Ben Page from IPSOS-Mori explained the polls, which showed that 62% of respondents thought that stricter measures should be taken. Page indicated that these were somewhat alarming results: 'quite astonishing in some ways … across the piece'.
Forsyth noted that 19% of Conservative voters in England oppose increased restrictions, which poses a problem for Boris because it creates a North-South divide. Ben Page countered that the polling support for Labour and Conservative has been fairly stable this year. Labour haven't been able to gain much ground since December 2019.
Jake Berry MP, a Conservative representing the northern constituency of Rossendale and Darwen in Lancashire, spoke next. He said that, although their regional lockdown had been relaxed recently, they are now on Tier 2. He said that people are largely ignoring the Government guidelines and will comply only with what they think is appropriate. He does not favour a national lockdown but supports a local circuit breaker 'based on the data', so that it becomes less political for the public. He believes that the Government could have 'handled the North better' and that recent weeks have proven a 'very dangerous moment for Parliament and the North'. That said, he added that Labour 'is in quite a lot of trouble over this as well' and said Starmer committed quite a big mistake this week when calling for a national circuit breaker.
Berry further advised that we need to give this new two-week regional lockdown the benefit of the doubt which might lead for in-and-out local lockdowns.
Neil then changed tack, moving across the Channel to France, with its local 10 p.m. coronavirus curfews (some of which are now at 9 p.m.) and a campaign against extremism.
Ayaan Hirsi Ali, speaking to the latter point, was the next guest. She was sceptical about any success against extremism. She said that extremists have convinced French immigrants they are living within another type of state to which they do not feel they naturally belong. She added that this is enough to subvert the French nation. She also said that the same narrative is going on in other Western nations, because leaders remain silent and refuse to admit what is really going on.
Talk then turned to Brexit arrangements, which were to have been concluded that day. James Forsyth said that the EU threw the ball into the UK's 'court'. That leaves the situation whereby Michel Barnier wants to carry on talks but neither side wants to back down.
Forsyth expects there will be a deal to be done 'but with a twist in the tail'. Fraser Nelson said that Boris and Macron communicate with each other quite closely and expected that Britain will budge over fishing rights. It will be, he predicted, one for revision: 'a process rather than an event'.
Forsyth said there could be a November deadline, even though neither side wants an early deadline because they do not want any changes to the deal. He predicted a last minute November 15 deal.
The last part of the programme concerned protecting the triple lock pension with Katy Balls affirming that Boris is 'committed to it'.
The panel noted Boris's 'unstrustworthiness' problem with voters. Questions from listeners followed for the last ten minutes. Ben Page said that the Labour Party is very unpopular even if Keir Starmer is popular in the polls.
Viewers are grateful to Charles Stanley Wealth Managers for sponsoring the programme.
This week, the UK government's scientific advisers and Prime Minister Boris Johnson said that new, stricter coronavirus measures would come into effect on Thursday, September 24.
On Monday morning, Chris Whitty and Sir Patrick Vallance presented their latest figures, which looked as if they must have come (once again) from Prof Neil Ferguson, they are that exaggerated. You can see the graph further down in my post:
This is utter madness, reminiscent of the WMD days when Tony Blair told us that a WMD could reach our shores within 45 minutes:
Their presentation, given against a No. 10 backdrop, had the purpose of preparing the public for Boris Johnson's announcements on Tuesday. They took no questions.
They showed graphs of where Spain and France are, with an uptick in 'cases'. Again, that means positive test results, most of which do not require hospitalisation.
Strangely enough, the Rule of Six only came in on Monday. Let's let it bed in for a few days, fellas, before taking more measures. They're doing exactly what they did in March, though. On March 16, new measures came in. On March 23, we had lockdown.
The Rule of Six is a Belgian tactic that SAGE thought would work in England. As such, they recommended it to the Government.
Perhaps this is the reason the two scientists did not mention Belgium once in their presentation:
I am glad someone will be tracking the progress of the projections over the next few weeks:
On Tuesday, Boris addressed Parliament and gave a short address that evening, televised to the nation.
In short:
– Pubs and restaurants must close by 10 p.m.
– They must offer table service only.
– All retail workers in hospitality settings must wear masks, along with customers, unless they are eating or drinking.
– Fines for breaking the Rule of Six or not wearing a face covering will result in an initial fine of £200, up from £100, for a first offence.
– Indoor five-a-side football matches have been banned.
– Wedding attendance has been reduced from 30 to 15; funeral attendance remains capped at 30.
– Police are allowed to call the military to fulfil office duties and/or to guard protected sites, leaving the police more capacity to fight crime.
– The plan to return a limited number of fans to sports stadia on October 1 is now postponed indefinitely.
The Daily Mail has a comprehensive article, including Boris's transcript, on the scathing reactions from police and business owners, particularly publicans. Sir Andrew Lloyd Webber said that this could sound the death knell for commercial theatre.
The Telegraph's Matt has this take on Army assistance:
The chances of that happening are very low:
The sad thing is that only five per cent of COVID-19 infections occur in a hospitality environment!
The Government and SAGE know this — yet they pressed on with restrictions!
The Daily Mail reported (emphases mine):
Public Health England data reveals that of the 729 outbreaks in the week to September 13, only five per cent occurred in food outlets such as restaurants and pubs – 45 per cent were in care homes, 21 per cent in schools and 18 per cent in places of work.
Wetherspoons founder Tim Martin said: 'The curfew doesn't even stand up to five minutes consideration by an intelligent person because if you look at the stats… there are relatively few transfers of infections in pubs.
Kate Nicholls, chief executive of trade body UK Hospitality, urged the Government to heed its own statistics because the curfew could take a sledgehammer to the industry which is already 'on its knees'.
She said this morning: 'People will think it's not that significant, but it really will have a big economic impact on jobs, not just on pubs, but also for cafes and restaurants.'   
Martin Wolstencroft, head of Arch Inspirations, which runs 17 bars and restaurants in Leeds, Manchester, York and Newcastle, said the curfew will not make it viable to open some of his venues.
Ironically, August was the month of discount lunches in Chancellor Rishi Sunak's successful initiative, Eat Out to Help Out, which the hospitality industry welcomed.
The Government's new restrictions will largely destroy any uplift participating restaurants received from it.
What on earth is going on?
Toby Young, who was at Oxford with Boris, says that something has changed — and not for the better. Note that Prince Charles approves of military intervention for climate change. Scary:
It's entirely possible that these ruinous measures have no basis in scientific fact, devastating people's livelihoods and families:
Conservative backbench MPs sounded off.
On Tuesday, Sir Desmond Swayne, who has commented both in and outside the House of Commons, tweeted:
His blog post states, in part:
Flu kills all year round – In the last weeks of July it killed 1000 of us (where Covid-19 killed only 200)- but it is seasonal: it certainly kills a lot more of us in the winter. Equally, we should stop talking about another wave of Covid-19 and instead, like flu, start expecting its annual season.
Having peaked in April Covid-19 abated over the summer. Inevitably it will get worse in winter. It may also be worse this winter than might otherwise have been the case. This is because we carried on with a number of restrictions on normal social life during the summer, reducing our ability to acquire and share herd immunity and wasting the opportunity provided by the weakest period for the virus.
My contention remains, as I have said many times over the last months, that our over-reaction to the disease has done much more lasting economic damage, and, counter-intuitively, even more damage to our health than the disease itself.
The current strategy merely kicks the can down the road. If the measures work and reduce the spread, the virus will simply reappear later.
Of course, we could be lucky and get a vaccine or a cure, or even 'moon-shot' daily tests to enable us to return to normality, but none of these are certain.
One day there may be a virus that threatens our whole way of life – but this isn't it, even if we are behaving as if it were.
Sir Desmond retweeted a neurologist's comment on the outrageous graph of projected 'cases' this autumn — in reality, positive tests:
Today, Sir Desmond gave an interview to the BBC about the continuing and questionable restrictions on civil liberties:
Richard Drax rightly predicted economic disaster, ruining the lives of millions:
Lucy Allan also spoke out on Twitter.
She tweeted Monday's graph from SAGE:
She rightly opposes putting everyone on restrictions when we should be protecting those most at risk:
She retweeted an open letter from Profs Sikora, Heneghan and several other leaders in British medicine:
She also called for the precise definition of a 'case':
That's probably why Whitty and Vallance didn't take questions.
Sir Edward Leigh also had a lot to say on this week's announcements:
He is rightly concerned about the blind faith we place in authority and the gradual erosion of civil liberties:
I couldn't agree more:
At least 1,000 people die in the UK every day.
Below are the causes of death per day in September.
Note where COVID-19 is: second from the bottom, dwarfed by heart disease and cancer.
There were nearly twice as many suicides than deaths from the Chi-vi: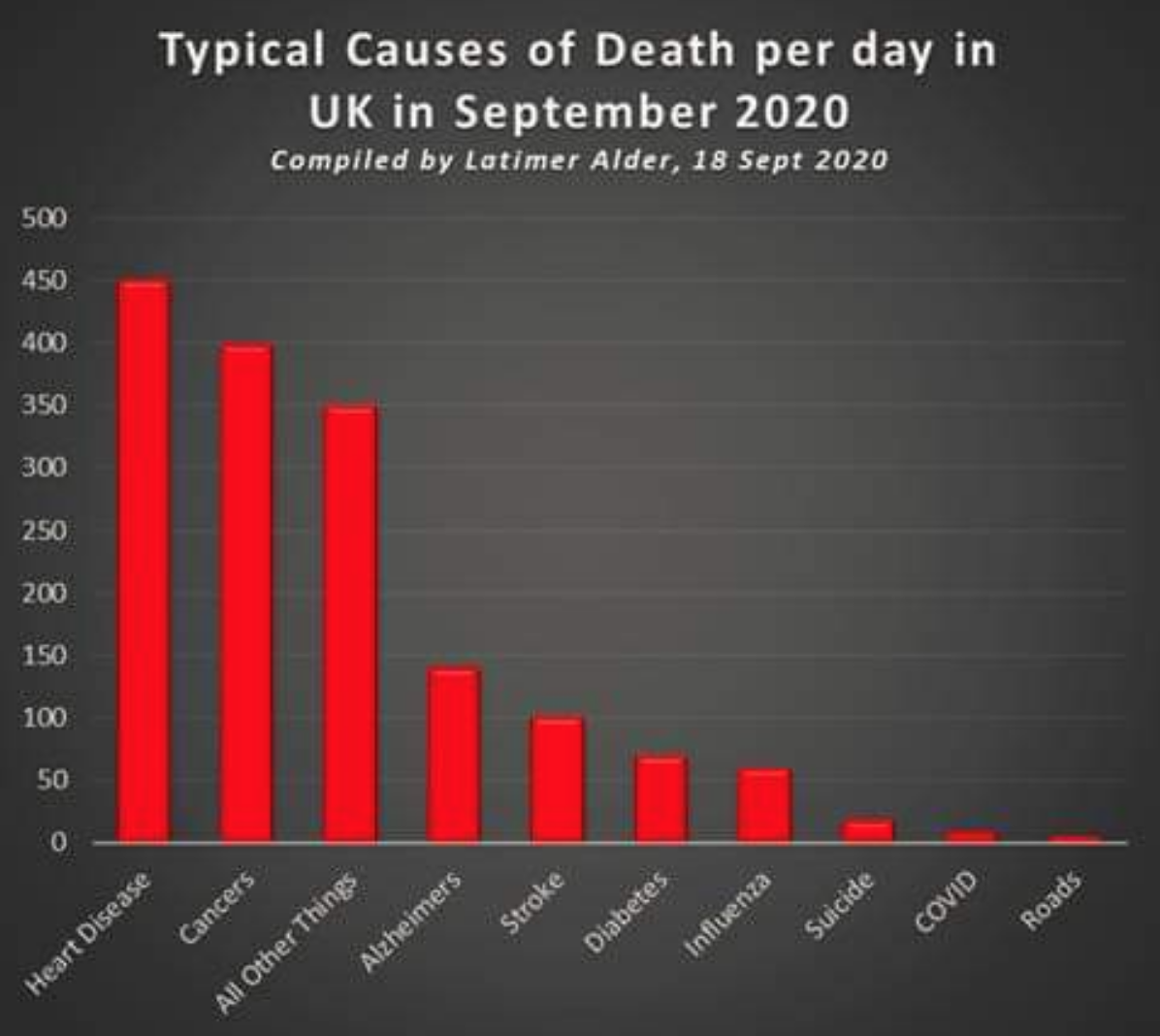 Steve Baker is also concerned about the restrictions bypassing Parliament:
Wow. Sir Graham Brady could pit a load of Tory rebels against the government. Good show:
The article from The Critic says:
Unless Matt Hancock finds a workable accommodation with Sir Graham Brady, the chairman of the 1922 Committee of Tory backbench MPs, the government faces the prospect of defeat next Wednesday when the Coronavirus Act 2020 comes up for its six-monthly renewal in the House of Commons.
The scale of backbench unhappiness is such that according to Steve Baker, who is working alongside Sir Graham, "the magic number was exceeded with 24 hours" of his beginning to canvas support for an insurrection among fellow Conservative MPs. Victory would require Labour and SNP MPs to seize on the opportunity to inflict a humiliating defeat on the government by voting with the Tory rebels. Indications increasingly suggest that this could happen. An increasingly dispirited Whips Office, which feels ignored and disrespected by Downing Street, is especially concerned at the sight of the former ERG "Spartans" leader, Baker, at Westminster furiously tapping away on his phone – a colliery canary of trouble ahead.
The government is equally concerned that the rebellion is being led by Sir Graham Brady, whose role as chairman of the 1992 Committee makes him the most authoritative channel of backbench opinion. In a sign of how seriously Downing Street management is taking the senior shop steward's challenge, on Monday evening the prime minister privately went to see the 1922's executive committee.
The primary complaint is that the government is using powers granted to it under the 1984 Public Health Act and 2020 Coronavirus Act to enact previously unconscionable measures without any prior debate in the Commons. Brady has condemned ministers who "have got into the habit of ruling by decree."
MPs were prepared to cede considerable authority to the government in March in a period of acute crisis when there appeared to be only weeks if not days to "flatten the sombrero" to save the NHS from being overwhelmed. But Boris Johnson's admission in his statement to Parliament today that the latest curtailments (which include further restrictions on hospitality opening hours and the number of people who can congregate at weddings, funerals and other public, private and sporting functions), would likely last at least six months has alerted MPs to the reality that government by decree may last until a vaccine is approved. If, indeed, a vaccine is approved. This is a war that will not be over by Christmas.
Far from persuading potential rebel MPs that a new crisis is looming, the performance of the government's chief medical and scientific officers, Chris Whitty and Sir Patrick Vallance, at their press conference yesterday has heightened consternation that the government is over-reliant on advice predicated upon worst case scenarios that is trumping competing economic and civil liberty considerations.
The likelihood of executive mission creep was foreseen back in March by David Davis and Steve Baker who pushed the government into adopting an amendment reducing from two years to six months the period in which the powers of the Coronavirus Act must be renewed by parliament. That renewal debate will now take place next Wednesday.
I remember that debate from March and also wondered if the Government were as good as their word.
Whilst they are unlikely to call for a wholesale repeal of the Coronavirus Act, Sir Graham Brady could call for a scrutiny clause appended to the Act so that every new statutory instrument connected to the legislation would have to go through Parliament first. To date, many of them have not. Therefore:
Rebels are pinning their hopes on this prospect. They may find a friend in the The Speaker, Sir Lindsay Hoyle, who has already made clear his intense irritation with Matt Hancock's disregard for informing parliament first of major legal changes like the "rule of six" and for the government's brusque imposition of restrictions in his own Chorley constituency …
The appeal of such a mechanism is obvious to Tory backbenchers concerned that laws are being made without scrutiny and are difficult to repeal. But there is no in-principle reason why Opposition parties need object to such a parliamentary safeguard either. Hence the likelihood of a rebellion having the numbers to succeed next Wednesday.
I can hardly wait.
Iain Duncan Smith is also airing his views. Note what he says and compare it to the death graph above:
Brexit better be more than BRINO, otherwise that prediction about the Conservatives could come true.
Former Brexit Party MEP and owner of England's greatest smoked salmon business, Forman's, said:
How true.
Unfortunately, at today's PMQs, Boris said that restrictions will continue until a vaccine is found! Dangerous.
During July, there were several British news items I did not have time to cover.
Without further ado, here they are …
St Swithin's Day
July 15 was St Swithin's Day, traditionally thought to successfully predict the weather for the next 40 days.
It was cool and cloudy.
So it is two weeks later.
The Mirror tried to debunk centuries of tradition that day by saying temps would reach 29° C that weekend. They never did, at least in the UK. We had a maximum of 24°.
Since then, it's been cool, cloudy and rainy — with a few hours of sunshine here and there.
The Mirror was wrong. As my late grandmother-in-law always said: 'The old ways are the best'.
This isn't the first year I've tracked the weather following St Swithin's Day.
Trust what happens on July 15 in the UK. That's the weather for the next six weeks.
Admittedly, we might get the odd, sunny, warm day, such as today — but, that might be a rarity during the month ahead.
Friday, July 17
This was the day when temps reached a maximum of 24°.
More importantly, Princess Beatrice was married at Windsor. Her father, Prince Andrew, stayed out of the photos.
The wedding was small, in keeping with coronavirus guidelines:
Another wonderful event took place that day at Windsor. Captain Tom Moore, 100, received a socially-distanced knighthood from the Queen:
Captain Sir Tom Moore raised tens of millions of £££ for the NHS during the height of the pandemic by walking around his garden 100 times on a zimmer frame (walker). I am sure that was not easy for him, yet he persevered.
Afterward, the Second World War veteran said:
It's been an absolutely outstanding day and you could never have believed I was never going to get such an honour as I have today. I really believed never ever would I be so privileged I could be so close to the Queen and speak to her, and that really was something absolutely outstanding.
Fantastic! May God continue to bless him abundantly.
Boris's first anniversary as PM
Thursday, July 23 marked Prime Minister Boris Johnson's first anniversary.
This delightful video shows clips of him promoting the 2010 Olympics when he was Mayor of London:
Although it's been a miserable year, he has achieved the impossible, as Guido Fawkes reminds us:
Defeated Corbyn

Delivered Brexit

Won an 80 seat Conservative Party majority
Boris listed many more achievements over the past year. He could not even list them all in two minutes:
But there was no time to rest, as Boris was busy planning for the best and the worst in the months ahead:
Conservatives are still happy with his performance:
Writing for UnHerd, Matthew Goodwin, professor of politics at the University of Kent, analysed Boris's appeal among his supporters (emphases mine):
To find a similar degree of constant and tribal support for the Conservative brand, you have to go all the way back to the spring of 1987 when Margaret Thatcher began a similar period of total dominance in the polls that lasted for around two years. Though even that is a little misleading — Thatcher might have had a lot going on, but she never had to grapple with a global pandemic and the shutdown of the entire economy …
… why have Johnson's voters stayed so loyal? …
The first thing to remember is how Boris Johnson achieved power. He pushed through what David Cameron had little interest in and Theresa May never really understood — the "realignment" of British politics. By organising around Brexit, which was itself an expression of a deeper fault line, Johnson was able to consolidate the Leave vote.
By doing so, he was able to anchor his party far more securely in a cross-class coalition of traditional "true blue" Tories and instinctively socially conservative blue-collar workers. By doing so, Johnson injected a greater degree of tribalism into his electorate and, by extension, a greater degree of "cultural polarisation" into the country. In a country where six in every ten constituencies broke for Brexit, this strategy makes sense. You might not like it but, electorally, strategically, it makes complete sense.
It also brings us to a point that many of his critics have failed to grasp. What unites Boris Johnson's voters is not so much their economic experience, as their values. They prioritise the nation and the national community. They prefer stability over change. And they favour continuity over disruption and discontinuity. This is why they cherish Britain's history, heritage and collective memory and are more sensitive to attempts to deconstruct them. And while they acknowledge that this history is complex, they believe that, on the whole, it was positive and that Britain has been a force for good in the world. In short, they believe in their country. They are proud of it. And they are proud of their fellow citizens …
… Johnson is offering a positive and forward-looking creed that is more interested in national renewal and salvation than decline and repudiation. He is proud of the country and its people. And until his opponents figure this out and change track, then I suspect that many of those voters will continue to stand behind him while keeping their distance from his critics.
Boris's war on fat
Boris has been on a diet since recovering from coronavirus. So far, he has lost a stone (14 pounds):
Now he wants all of us to lose weight — five pounds each — and save the NHS an estimated £100m. Hmm.
Guido Fawkes reported (emphases in the original):
Boris promises his health push will "not in an excessively bossy or nannying way, I hope" persuade Britons to lose a few pounds. Which is a curious line given the now-almost imminent, nonsensical ban on pre-watershed 'junk food' ads…
Agreed.
Last summer, London's mayor Sadiq Khan banned what he termed 'junk food' adverts across the capital. Last June, when Wimbledon was in full swing, Guido reported:
London's blanket ban on 'junk food' advertising is not only ineffective, inconsistent and impractical, it's going to cost a fortune too! Estimated at a whopping £35 million, it will deprive dilapidated public services of desperately needed investment. Who's decided that chicken burgers are not junk food but olive oil is? And no mince pies allowed at Xmas? No strawberries and cream for Wimbledon?
The simple truth is ad bans don't work – there's no proof they reduce childhood obesity. However, there is clear evidence that wide-ranging, collaborative and positive approaches are an effective solution. In Amsterdam, childhood obesity rates fell by 12% between 2012-15, through investment in positive lifestyle and education campaigns.
Telling people what they can do is much more effective than hectoring them about what they can't. Evidence-based solutions are more effective than political ones.
One year later, Boris thinks this is a great idea for television:
British artist David Hockney, who opposed the UK's smoking ban in 2007, was less than impressed:
I said to my far better half on Monday that they will probably target all the good foods, e.g. butter and meat.
The next day, I drank my morning coffee while waking up to this:
I love hummus! It's good for you, too.
Guido posted an extensive list of what falls under the category of junk food, based on UK government guidelines.
In addition to hummus and raisins we find butter (as I predicted), more than half of all meats (mm-hmm, also as predicted), margarine, pesto, tomato soup, nearly all cheese, most yoghurts and, strangely, the driest, blandest thing on the planet: cream crackers, which have no cream in them, by the way. Hell is a cream cracker.
Something's gone very wrong with this Conservative government. Most of us thought Boris was a libertarian.
Whatever the case, there must be a better way than another ban:
Maybe Boris is still frightened from his serious illness. I suspect it took him a long time to recuperate, judging from his appearance in the weeks that followed.
Cat contracts coronavirus
On Monday, July 27, Reuters reported:
The British environment ministry said "all available evidence" suggested the cat had contracted the coronavirus from its owners, who had both tested positive for COVID-19.
Both the cat and the humans made a full recovery and there was no transmission to any other animals or people in the household, the ministry said without identifying the individuals involved.
"This is the first case of a domestic cat testing positive for COVID-19 in the UK but should not be a cause for alarm," said Yvonne Doyle, medical director at Public Health England.
"The investigation into this case suggests that the infection was spread from humans to animal, and not the other way round," Doyle added.
The government said the infection was confirmed in lab tests on Wednesday, adding there was no evidence that cats could transmit the virus to humans.
The World Health Organisation (WHO) has said cats are the most susceptible animal species to the SARS-CoV-2 coronavirus and are able to transmit it to other cats.
Delays in getting stranded Britons home explained
When the pandemic broke, the Foreign Office pulled out all the stops to get stranded Britons back to the UK.
Arranging flights for some tourists overseas took longer than for others because hundreds were in remote places of the world.
Now it emerges there were other factors involved:
NHS relaxes self-isolation for patients entering hospital for treatment
Not so long ago, the NHS wanted all patients attending hospital for treatment or operations to self-isolate for 14 days beforehand.
Thankfully, as of Tuesday, July 28, that is no longer the case. The Daily Mail reported:
Updated guidance says strict social distancing and hand washing is enough to cut the risk of patients taking the virus into hospitals in England.
NHS patients will only need to self-isolate for a few days after taking a test in the run-up to them entering hospital, health bosses now say.  
Surgeons hope the relaxation of rules will help them to tackle the huge waiting lists that have built up during the Covid-19 crisis.
But they called for all patients to be given tests for the coronavirus before and after their operation to keep a lid on any potential outbreak.  
The change in advice was made because the virus is circulating at much lower levels than it was during the peak of the crisis in March and April.
Lewis Hamilton opines on a COVID-19 vaccine
Formula 1 champion Lewis Hamilton had to walk back a video and post he made on social media regarding a COVID-19 vaccine:
On Monday, July 27, The Guardian reported:
Hamilton has since deleted the video and published a statement saying he hadn't seen the comment attached to the clip, but wanted to show there is "uncertainty around side effects" of vaccines.
"I've noticed some comments on my earlier post about the coronavirus vaccine, and want to clarify my thoughts on it, as I understand why they might have been misinterpreted," he said.
"Firstly I hadn't actually seen the comment attached so that is totally my fault and I have a lot of respect for the charity work Bill Gates does.
"I also want to be clear that I am not against a vaccine and no doubt it will be important in the fight against coronavirus, and I'm hopeful for its development to save lives.
"However after watching the video, I felt it showed that there is still a lot of uncertainty about the side effects most importantly and how it is going to be funded. I may not always get my posting right. I'm only human but I'm learning as we go."
I agree with the highlighted bit 100%.
Holidays abroad
Whether it's a good idea or not right now, Britons want to enjoy a summer holiday in Europe.
Some made their reservations early in the year, before the pandemic arrived. Understandably, they want to get what they paid for.
Transport Secretary Grant Shapps and his family managed to arrive in Spain hours before the UK declared a quarantine for British travellers returning from that country. Shapps flew back to the UK on Wednesday, July 29:
He is returning early to get through a 10-day quarantine and, in the meantime, from home, to 'handle this situation'. The Foreign Office has advised against all non-essential travel to Spain.
Presumably, Europeans are travelling all across the continent.
The result is that coronavirus cases are rising again:
On July 28, RMC's Les Grandes Gueules (The Big Mouths) interviewed Dr Robert Sebbag, a specialist in infections who works at La Pitié Salpêtrière hospital in Paris. He said that, although the COVID-19 ward is seeing a small uptick in hospitalisations, no one is on a ventilator and most cases are 'mild' compared to what they were only a few months ago. If I understood correctly, the hospital has 24 patients in that particular ward. He said that the uptick in non-hospitalised cases points to those that can be treated safely whilst self-isolating at home.
Dr Sebbag wasn't too concerned and said that it was the normal progression of the cycle of a virus. The question remains, he said, whether or how COVID-19 will mutate.
For now, we will have to find ways of learning to live with the virus. Dr Sebbag does not see that herd immunity will become widespread. He estimates that only 6% to 10% of the French are immune.
Lockdown in the north west of England
As of Thursday, June 30, a lockdown is now in place in parts of the north west of England.
Matt Hancock should have announced it via a formal press conference. Instead, he did so via a pooled television interview, leaving it to Boris to do a coronavirus briefing from Downing Street on Friday to further explain the new measures.
Because of this new lockdown and rises in cases elsewhere, the proposed measures for reopening more facilities and close-contact beauty services are on hold for the foreseeable future.
Masks must now be worn in nearly all enclosed public spaces, not only in shops, but also in museums and houses of worship.
Boris also encouraged Britons to enjoy a staycation in the UK rather than abroad.
Brexit
Meanwhile, in Brexit news, the international trade secretary, Liz Truss, announced that she would like to get haggis with meat into the US as part of a trade deal:
Earlier this year, exports of Macsween's vegetarian haggis — branded as Scottish Veggie Crumble — were allowed into the US just in time for Burns Night on January 25. That was the first time in 49 years that any type of Scottish haggis was allowed in America.
And that concludes my roundup of the second half of July 2020.
Roll on August, come what may.
Today, Friday, July 24, 2020, face coverings became mandatory in shops in England.
Early in the pandemic, Dr Jenny Harries, the Deputy Chief Medical Officer for England, told Prime Minister Boris Johnson that masks were not necessary for the general population and could make people more vulnerable to COVID-19, because they would be adjusting them, thereby touching their faces, potentially spreading the virus. This video first appeared in March, if I remember rightly:
On Thursday, March 12, The Independent reported on what Dr Harries told BBC News (emphases mine):
Jenny Harries, deputy chief medical officer, said the masks could "actually trap the virus" and cause the person wearing it to breathe it in.
"For the average member of the public walking down a street, it is not a good idea" to wear a face mask in the hope of preventing infection, she added …
Asked about their effectiveness, Dr Harries told BBC News: "What tends to happen is people will have one mask. They won't wear it all the time, they will take it off when they get home, they will put it down on a surface they haven't cleaned.
"Or they will be out and they haven't washed their hands, they will have a cup of coffee somewhere, they half hook it off, they wipe something over it.
"In fact, you can actually trap the virus in the mask and start breathing it in."
Asked if people are putting themselves more at risk by wearing masks, Dr Harries added: "Because of these behavioural issues, people can adversely put themselves at more risk than less."
However, she said those who are advised to wear one by healthcare workers should follow their guidance.
Sir Patrick Vallance, the Chief Scientific Adviser to the Government of the United Kingdom, gave testimony on COVID-19 last week. When asked about the apparent change on face covering advice, he said that, early on, it made no sense for people to wear masks during lockdown because no one was on the streets. He said that the advice had never changed: masks provided some benefit. Now that lockdown has been lifting, he explained, it makes sense for people to wear them.
Of course, earlier this year, there was also a worldwide mask shortage, so it could also be that officials discouraged the general public from buying them because medical staff needed them badly.
This happened not only in England, but also in other countries.
In the United States, Surgeon General Dr Jerome Adams did an about-face on masks early in April. Since then, they have been mandatory in some states:
President Trump said the advice from the Center for Disease Control (CDC) was only an advisory, yet the public wondered how such a change could have come about in so little time, only a matter of weeks:
The same change in advice occurred in Germany:
Yet, at that time, Good Morning Britain's long-time, trusted Dr Hilary Jones stated that masks were a no-no for the public, citing the same reasons as Dr Jenny Harries did. On April 28, Metro reported:
If there is one thing Hilary has been consistent on, it is that the general public do not need to wear a mask.
He has previously explained how the particles of coronavirus are so small, they can easily pass through the fibres of a mask or scarf, making them completely useless to the average person.
'For healthy people who are doing their essential journey who are socially distancing, the use of masks is not effective,' he recently told Piers Morgan.
'Most masks have gaps in them to which the virus can drive a bus through. When you are inhaling in a mask the virus can come in.'
The GP added: 'It can do harm if you do wear a mask, you adjust it, it gets itchy and moist – which means you are putting your hand to your face more often.
'If the mask gets moist it traps the virus.'
A week later, Guido Fawkes reported that PPE items, including masks, were plentiful in Britain and available to medical as well as care home staff:
By the end of May, Good Morning Britain's Piers Morgan criticised London mayor Sadiq Khan for not mandating face coverings on the capital's public transport. The policy at the time left the option open to passengers, putting more emphasis on social distancing.
In England, masks became mandatory on all public transport on June 15.
On June 6, some in the NHS criticised Health Secretary Matt Hancock for giving them only a week to get all hospital staff to wear masks. The Daily Mail reported that NHS England had been apprised of the new rules before Hancock made a public announcement:
The Department of Health and Social Care said NHS England had known Mr Hancock was going to make the announcement, adding that hospitals still had more than a week to prepare.
On Monday, July 20, in France, masks became mandatory in all indoor spaces as well as some outdoor venues. Fines start at €135. The original date was August 1, but that was brought forward.
This is what one French shopping mall looks like since the requirement came into force:
Some people have been wearing them in the street and inside commercial premises.
This is what one observer has noted, proving what Dr Harries said earlier this year:
Dr Rashid Buttar has posted several videos to YouTube on the dangers of healthy people wearing masks. This is a short but instructive clip from one of them:
On April 7, the BMJ featured an article which said that, while masks might make members of the public more comfortable psychologically, face coverings can also help to spread the virus.
Excerpts from statistician Karla Hemmings's 'Covid-19: What is the evidence for cloth masks?' follow:
… the question of whether facemasks work is a question about whether they work in the real world, worn by real people, in real situations …
There is little doubt that masks works in controlled settings – they stop particulates penetrating the air [Leung 2020]. Facemasks also seem to prevent infection spreading when worn by people who are infected [Brainard 2020]. Yet, this doesn't tell us if they will work in the real world …
Systematic review of facemasks vs no mask [Brainard 2020]
There are three RCTs identified in this review where people wore masks to try to prevent other people becoming infected (primary prevention). The authors of the review interpret the evidence from these three RCTs as a small non-significant effect on influenza like illness. But, this is an incorrect interpretation of the result (RR=0.95, 95% CI: 0.75 to 1.19) as this result is compatible with both benefit and harm. The evidence from these three trials should therefore be interpreted as uninformative (or consistent with either benefit or harm). There are observational studies in this review, but these do not allow us to answer the question of whether the masks provide protection as they will be subject to confounding. The largest of the three RCTs was a pragmatic cluster trial in pilgrims [Alfelali 2020]. This is a well conducted pragmatic cluster randomized trial with low risk of bias, but suffered from low compliance. This found OR 1.35, 95% CI 0.88-2.07 which although non-significant, is more suggestive of harm than benefit.
Conclusion: The largest and most pragmatic trial (which informs on how facemasks will perform in the real world) assessing the benefit of facemasks vs no mask is suggestive of more harm than benefit.
Evidence from trials comparing different sorts of facemasks
(This is not based on a systematic review, so there may be other evidence that I am unaware of) …
Conclusion: The evidence from pragmatic trials (people wearing masks in everyday settings) suggests wearing of facemasks both induces risk compensation behavior and increased virus spreading from poor mask quality.
England's new rules on face coverings do not mandate actual masks. We can wear what we want, within reason.
I still believe all the advice from March and early April stated above.
Here — and no doubt elsewhere — this has been a political decision taken to get more people shopping and putting money into the economy and businesses.
On Tuesday, July 14, Matt Hancock made a statement in Parliament about mandatory face coverings, which included the following:
Local action is one way in which we can control the spread of the virus while minimising the economic and social costs. Another is to minimise the risk as we return more to normality. In recent weeks we have reopened retail and footfall is rising. We want to give people more confidence to shop safely and enhance protections for those who work in shops. Both of those can be done by the use of face coverings. Sadly, sales assistants, cashiers and security guards have suffered disproportionately in this crisis. The death rate of sales and retail assistants is 75% higher among men and 60% higher among women than in the general population. As we restore shopping, so we must keep our shopkeepers safe.
There is also evidence that face coverings increase confidence in people to shop. The British Retail Consortium has said that, together with other social distancing measures, face coverings can
"make shoppers feel even more confident about returning to the High Street."​
The chair of the Federation of Small Businesses has said:
"As mandatory face coverings are introduced, small firms know that they have a part to play in the nation's recovery both physically and financially, and I'm sure this will welcomed by them."
We have therefore come to the decision that face coverings should be mandatory in shops and supermarkets. Last month, we made face coverings mandatory on public transport and in NHS settings, and that has been successful in giving people more confidence to go on public transport and to a hospital setting when they need to, providing people with additional protection when they are not able to keep 2 metres from others, particularly people they do not normally come into contact with. Under the new rules, people who do not wear face coverings will face a fine of up to £100 in line with the sanction on public transport and, just as with public transport, children under 11 and those with certain disabilities will be exempt.
The liability for wearing a face covering lies with the individual. Should an individual without an exemption refuse to wear a face covering, a shop can refuse them entry and can call the police if people refuse to comply. The police have formal enforcement powers and can issue a fine. That is in line with how shops would normally manage their customers and enforcement is, of course, a last resort. We fully expect the public to comply with these rules, as they have done throughout the pandemic.
I want to give this message to everyone who has been making vital changes to their daily lives for the greater good. Wearing a face covering does not mean that we can ignore the other measures that have been so important in slowing the spread of this virus— washing our hands and following the rules on social distancing. Just as the British people have acted so selflessly throughout this pandemic, I have no doubt they will rise to this once more. As a nation, we have made huge strides in getting this virus, which has brought grief to so many, under control. We are not out of the woods yet, so let us all do our utmost to keep this virus cornered and enjoy our summer safely. I commend this statement to the House.
I agree that we need to stimulate the economy by shopping. I disagree that face coverings are the answer.
I also wonder about shop staff dying. I see the same smiling faces week after week in my local shops. I never heard anything on the BBC News about shopkeepers dying: it was front line medical staff and bus drivers.
This is purely a political decision. Purely political.
I had looked forward to visiting a garden centre. I now think I'll shop online for the plant pots I'd planned to buy.
On Monday, as I went out to run an errand, I saw that life appeared to be getting back to normal on our high (main) street, post-coronavirus.
The local cafés had opened to allow customers indoors for a sit-down service. The inviting aromas of hot lunches perfumed the air.
I silently rejoiced that, after three months, normality was finally returning to our streets.
I no sooner returned home when I learned through the media that Health Secretary Matt ('I'm from Newmarket') Hancock planned to announce an anti-normality measure on Tuesday, July 14, 2020 — mandatory face coverings effective July 24:
The nightly newscasts confirmed this — at 6 p.m. …
… and 10 p.m.:
Hancock was not alone in choosing July 14 to make that announcement. France's Health Minister Olivier Véran made a similar announcement that day: mandatory face coverings in all enclosed spaces effective August 1.
Returning to England, Matt Hancock made his announcement from the despatch box in the House of Commons early in the afternoon on Tuesday.
There were two dissensions.
The first came from Peter Bone MP (Conservative, Wellingborough and Rushden). He rightly asked why Hancock's department provided information to the media about the new mandate before the health secretary presented it to Parliament.
Hancock gave a brusque answer, replying that he (Hancock) was doing it right then.
One can assume only that Peter Bone approves of mandatory face coverings, as he retweeted a government video about it:
The second dissension came from the flamboyant Sir Desmond Swayne (Conservative, New Forest West). He said everything necessary:
Parliamentary sketch writer Michael Deacon filed this report for The Telegraph (emphases mine):
"Nothing would make me less likely to go shopping," erupted Sir Desmond, "than the thought of having to mask up!"
Too right.
Just when my far better half and I were ready to venture out to shops, including the garden centres, this mad rule comes in. We are now rethinking our long-anticipated sorties.
Swayne continued:
"Was this consultation with the police force," he fumed, "and in particular with the chief constable of Hampshire? For it is she who will have to enforce this monstrous imposition" – he spat out this phrase as if it were a maggot in a mouthful of apple – "this monstrous imposition against myself, and a number of outraged and reluctant constituents!"
I felt like applauding him as I watched him on BBC Parliament.
Hancock found this amusing. One wonders if he was bullied at school. He has made the most authoritarian pronouncements from his appearances in the government's daily coronavirus briefings to those at the despatch box in Parliament.
This was his reply:
Mr Hancock, meanwhile, told Sir Desmond that it had been "a difficult balance to strike" between the need to defeat the virus, and "the ancient liberty of a gentleman to go shopping". But in the end, said the Health Secretary, the Government had decided that this ancient liberty could be protected by "requiring the gentleman to wear a mask".
Pah.
Swayne was unimpressed:
To judge from his expression, Sir Desmond was neither persuaded nor amused. He was smouldering like a dragon's nostril.
Note that this is being brought in when England's coronavirus deaths are at their lowest point since the first week of March:
The original image — not mine — is here.
On Wednesday, Hancock reiterated his resolve (a favourite word of his). The Telegraph reported that we might have cover up until summer 2021:
Rules requiring members of the public to wear face masks in shops and on public transport could remain in place until next summer, Health Secretary Matt Hancock has admitted, as he warned they will be required for the "foreseeable future".
Asked whether the rules may be in place into next year, Mr Hancock refused to rule it out, instead insisting that the UK needs to "see how we are doing on getting a vaccine".
Oh, the vaccine, the vaccine! Words fail me.
But, wait. There could be more to come.
That Telegraph piece has this as a subhead:
Next stop, masks in offices
I would not doubt it.
Masks are known to cause hypoxia and hypercapnia. Healthy people can deprive themselves of oxygen by wearing unnecessary face coverings. Hypercapnia — having too much CO2 in one's blood — is another hazard that results from improper breathing because one's mouth is covered.
A small upside is that face coverings will become a means of self-expression.
Here is the svelte, slim health minister of Belgium. I wouldn't take her health advice on anything. Furthermore, her mask is unfortunate, to say the least:
On Monday night, I read a lot of readers' comments to the Telegraph articles concerning mandatory face coverings.
The hostility of the pro-mask people reminded me of that of Remainers' during the run-up to the Brexit referendum in 2016. Scary. All emotion, very little fact.
Anti-maskers, on the other hand, pointed to civil liberties and the likelihood that we will be objectifying each other in the coming months because we cannot see each others' faces.
Personally, I think crime will go up because of it. All it takes is a masked bandit or two robbing small shops.
There is also a Left-Right split on masks.
A left-wing organisation, Masks4All, is promoting homemade face coverings. Its founders include Greens and an Extinction Rebellion activist.
The University of Edinburgh's Linda Bauld is also a mandatory face covering advocate. Linda Bauld made her name in Tobacco Control.
Bauld disapproves of visors — allowing people to breathe under a transparent barrier — because they do not allow enough protection. On May 18, The Guardian quoted her:
Bauld said she was sceptical. "The reason for having a visor which would cover the upper half of your face would be if you're regularly coming into contact with the public at closer range, and you might be exposed to somebody who is emitting those small droplets that we're all aware are very efficient at carrying the virus," she said.
"So I could see how in some retail settings and other environments they wish to do that, but I don't think there's any strong evidence that they're something the public should be wearing on a routine basis. The key thing is to cover the mouth and the nose.
"The face coverings that people are being encouraged to use, for example, on public transport is not to protect the wearer, but to protect other people. Whereas the visor and harder material is clearly to protect the wearer from coming into contact with others at those droplets."
On July 13, she advocated the dreaded 'nudge':
Linda Bauld, Professor of Public Health at Edinburgh University, said: "Requiring it just gives that little extra nudge and it's much clearer for the public."
Anyone who wants people such as this controlling their lives — control being the operative word, as it has been with tobacco — can have at it. Smokers have said for years that Tobacco Control can use their blueprint for any other 'health' advocacy issue, from bans on salt and sugar to … well, we'd never have guessed it … mandatory face coverings.
We will just have to play by the rules rather than risk a police-enforceable £100 fine (half-off if one pays within 14 days).
If more people shop online than in the high street, I hope that Chancellor Rishi Sunak will bring that to Prime Minister Boris Johnson's attention. We need shops and personal discretion, not a useless policy from Matt Hancock, who, at the best of times, sounds like a second-rate headmaster.
I will have more on the dubious efficacy of masks soon.
Overnight, at the end of May, social distancing disappeared in big cities in the United States once the riots over George Floyd started.
Social distancing then disappeared in Paris and London the following week, as those cities had sympathy protests for the same cause.
It is a strange development:
This is how twisted the logic gets. Mark D Levine chairs the New York City Council health committee:
All of a sudden, it was acceptable for tens of thousands of protesters to gather together.
Yet, at the same time, a large family cannot share dinner together in a restaurant:
And it is against the law for more than ten people to attend a funeral:
These are the conversations taking place with regard to funerals versus protests. There is an unbelievable lack of empathy with this man, who is mourning the loss of his own mother:
Uh oh.
Reread the last sentence of that final tweet.
Online journalists, such as Mark Levin, also think that the coronavirus lockdown was a ruse, ginned up by the media:
Here is The Federalist's Sean Davis:
This is from an eye doctor, retinal specialist Dr Brian C Joondeph:
Dr Joondeph writes (emphases mine):
… these riots have unintentionally shown us that Trump rallies are safe and that the Chinese virus is no longer a serious threat. Mail in ballots are dead too since if people can leave their homes to loot and riot, they can leave their homes to vote.
Notice how quickly concern about cities and states opening too quickly has been forgotten as thousands take to the streets, in contradiction to everything the smart set has been advocating. This is lost, or willfully ignored by the media, now focused back on Trump's latest tweet.
Completely agree.
Social distancing is done and dusted:
Time now, whether in the US, England or France, to open everything up — pronto.
They might be small in number right now, but a growing number of doctors involved in the coronavirus outbreak are wondering about the wisdom of nationwide lockdowns.
In some countries, lockdown did not make much difference to the number of deaths.
On May 14, France's Prof Didier Raoult posted a study from Spain which showed that those who kept working outside the home were less at risk of falling victim to COVID-19. Replies follow:
Why we were told the world over to stay indoors, I do not understand. It runs counter to everything we've been taught over 120 years with regard to fighting epidemics:
This chart comes from another source and has more testimony about New York's lockdown:
A doctor from Paris can corroborate that households staying indoors did get COVID-19 more often than those who did not. People were already infected before lockdown and did not show symptoms until later on.
On Tuesday, May 26, RMC — France's talk radio station — interviewed Dr Robert Sebbag, a specialist in infectious diseases, who works at the famous Pitié-Salpêtrière hospital in Paris. The interview is a little over 19 minutes long.
Sebbag worked on the COVID-19 ward and said that if one family member was admitted to hospital with coronavirus, others from the same households were also infected days later.
He said that this led him and his colleagues to believe that general lockdowns are a bad idea. He explained that politicians were afraid of the number of deaths from this novel (new) coronavirus and decided to impose blanket lockdowns:
He said that the hospital, in the early days of the outbreak, was very gloomy indeed, with a seemingly endless number of COVID-19 patients being admitted. He, his colleagues and hospital staff were worried that they would be completely overwhelmed:
He thinks that an assessment needs to be done of how COVID-19 was handled in the first half of this year. While he personally thinks masks are a good idea, he objects to the restriction on nursing and care home visits, which he says are essential for patient well being, especially among the elderly:
Presumably, care home administrators can work out a system for visiting, perhaps requiring that healthy family members and friends make an appointment before visiting.
The greater question there surrounds infected patients being discharged from hospitals into care homes. This happened in the US, the UK, France and Germany. The very real pressure on the hospitals meant that they had to discharge elderly patients before they were fully recovered to make room for new COVID-19 patients. As such, care homes were overwhelmed with infection in some cases.
People rightly wonder if we will get a second wave. Some medical experts say no. Some say yes. Others say that we have to find a way of treating patients effectively so that coronavirus is no longer a fatal disease. The honest answer at this point is that we do not know whether there will be a second wave of infections.
As lockdowns are fully lifted in the coming weeks, we will all have to take greater responsibility for our own behaviour in a COVID-19 world. I dislike referring readers to the BBC, but they did have a good article on Sunday, May 24: Health Correspondent Nick Triggle's 'Coronavirus: How scared should we be?' It is well worth reading.
For a start, we do not live in a risk-free world:
Prof Devi Sridhar, chair of global public health at Edinburgh University, says the question we should be asking is whether we are "safe enough".
"There will never be no risk. In a world where Covid-19 remains present in the community it's about how we reduce that risk, just as we do with other kinds of daily dangers, like driving and cycling."
We might become more dependent on our 'least worst' options in managing that risk:
Statistician Prof Sir David Spiegelhalter, an expert in risk from Cambridge University and government adviser, says it has, in effect, become a game of "risk management" – and because of that we need to get a handle on the magnitude of risk we face.
There are two factors that influence the risk we face from coronavirus – our risk of becoming infected and, once infected, our risk of dying or becoming seriously ill.
We should also keep in mind that, for most people, coronavirus is relatively mild:
… only one in 20 people who shows symptoms is believed to need hospital treatment …
Think of it this way:
If your risk of dying was very low in the first place, it still remains very low.
As for children, the risk of dying from other things – cancer and accidents are the biggest cause of fatalities – is greater than their chance of dying if they are infected with coronavirus.
During the pandemic so far three under 15s have died. That compares to around 50 killed in road accidents every year.
In the months to come, there will likely be tests and tools, such as this one from University College London, that can help us assess our individual risk of catching this unpredictable and sometimes fatal disease.
The most important aspect, even more than the dreaded mask, is hand hygiene. Wash hands regularly and thoroughly with soap or soap gel, then dry them well. Damp or wet hands create a good atmosphere for viruses and bacteria.
Also keep hands away from the face, the best receptor for infections.