You are currently browsing the tag archive for the 'freedom' tag.
Over the weekend, I read two contrasting approaches to coronavirus, going from the sublime to the ridiculous.
El Salvador
This is the latest message from the government in El Salvador about coronavirus. It advocates exercise, achieving a normal weight, eating properly and getting enough sleep:
It is sublime. If only other governments had advocated the same thing over the past 22 months. Then again, there's no Big Pharma involvement, so this never could have happened in the West.
France
Now we move to the ridiculous.
Last summer, the French government mandated the vaccine passport, popularly called le pass sanitaire, when in reality it is le pass vaccinale.
In August 2021, the Minister for Work, Elisabeth Borne, said that anyone refusing to get a vaccine passport would be denied his/her salary or unemployment benefit. Someone replied to this tweet with a quote from February 2021 in which Borne said that, as a woman of the Left, fighting for social justice and equal opportunity were her two biggest objectives in life. Oh, the irony:
Initially, at least, vaccine passports were required even to go into a supermarket.
Here's a chap at Carrefour who could not get past the security guard on August 17 at Noisy le Grand, just outside of Paris:
Two more videos appeared on August 18. One was in the city of Pau in the south west of France. Police prevented angry shoppers from entering Leclerc:
The second confrontation took place at an Auchan in Marseille. Shoppers chanted 'Liberté, liberté':
I don't know what happened after that, but I haven't heard or seen any more about people being prevented from entering a supermarket.
I did see videos with police checking people sitting outdoors at cafés and bars for vax passport status.
Fast forwarding to January 2, 2022, Prime Minister Jean Castex said that food and drink can only be taken in bars and cafés sitting down. A bit like Wales and Scotland, then:
That same day, the education minister, Jean-Michel Blanquer, explained that every school would have a list of students showing their vaccination status, thereby violating the principle of privacy with regard to personal health records — a slippery slope:
The following day, the president of France's parliament, Richard Ferrand, got coronavirus. No one was allowed to ask questions, though, because it wasn't anyone's business. Circulez, il n'y a rien a voir. Keep moving, nothing to see here:
Incidentally, no vax passport is required in France's parliament. Typical:
On January 4, French president Emmanuel Macron said that he wanted to 'p— off' as many unvaccinated as possible. This means that the unvaccinated will not be able to go to sports fixtures, the cinema — or even restaurants, bars and cafés.
Contrast that with what he said on December 15, 2021: 'With some things I've said, I've hurt people. I won't do it again':
There is even an older statement from Macron from April 29, 2021, in which he pledged there would never be a mandatory vax passport in France:
Jean Castex refused to comment on Macron's pronouncement about p—ing off the unvaccinated:
Meanwhile, an anti-vax passport petition circulated online. It had over 1.2 million signatures as of January 5. The initiator of the petition was not allowed to present it to parliament. Police restrained him:
France's senate will be voting on further vax passport measures this week, postponed from last week:
Constitutionalists say that the vax passport measures are unconstitutional:
Here is a roadside hoarding (billboard) critical of Macron's vaccination policies:
The vaccine passport mandate was supposed to end on November 16, 2021. Yet, it is still in place.
On Saturday, January 8, many thousands of French citizens took to the streets to protest.
This was the scene in Aix-en-Provence:
Paris had the largest demonstration, despite the rain:
Here's another view:
Of course, the media, in this case BFMTV, reported 'only a few thousand' protesters. They would, wouldn't they?
On Monday, January 10, a French physician who works in ER called for the abolition of vaccine passports and urged the government to focus on treating the sick — 'Revenons au basique', or 'Back to basics':
Just before Christmas, a general practitioners' union pledged their support for the unvaccinated, a clear refutation of Macron's policy:
France's talk radio station, RMC, discussed the unvaccinated on Monday. Here's the segment from Les Grandes Gueules [The Big Mouths], for any interested Francophones.
A general practitioner who is a regular guest on the show said that anyone spreading 'disinformation' should be put in prison. Unbelievable:
One of the panellists complained about the constant testing of schoolchildren, which she thought was a waste of time and money:
Some time ago, when waffling on about the necessity for constitutional reform, Macron pledged that any petition with more than 1 million signatures would go to a referendum in order to give the French people a voice. As the anti-vax passport petition has 1.2 million signatures, will Macron prove good on his word?
Even during an election year, I wouldn't hold my breath.
Macron's voters are pro-vaccine and pro-vaccine passport people. Sadly, I think he will win another five-year mandate in May 2022.
Most of the British population has now had their two injections, myself included.
However, in terms of efficacy, the jury is out.
Since the summer, we have been told that boosters will be required as soon as this autumn.
This is what a Guido Fawkes reader had to say, referring to the implementation of vaccine passports in Scotland:
… the vaccine does not prevent infection, re-infection or onward transmission of those vaccinated, so is utterly futile as a warranty of safety for entering any type of premises. Indeed it gives a false warranty about those things. The lurgy may still be lurking.
Indeed.
Remember back in 2020 when Drs Fauci and Walensky told us that the vaccines are 100% effective and that vaccinated people do not carry the virus?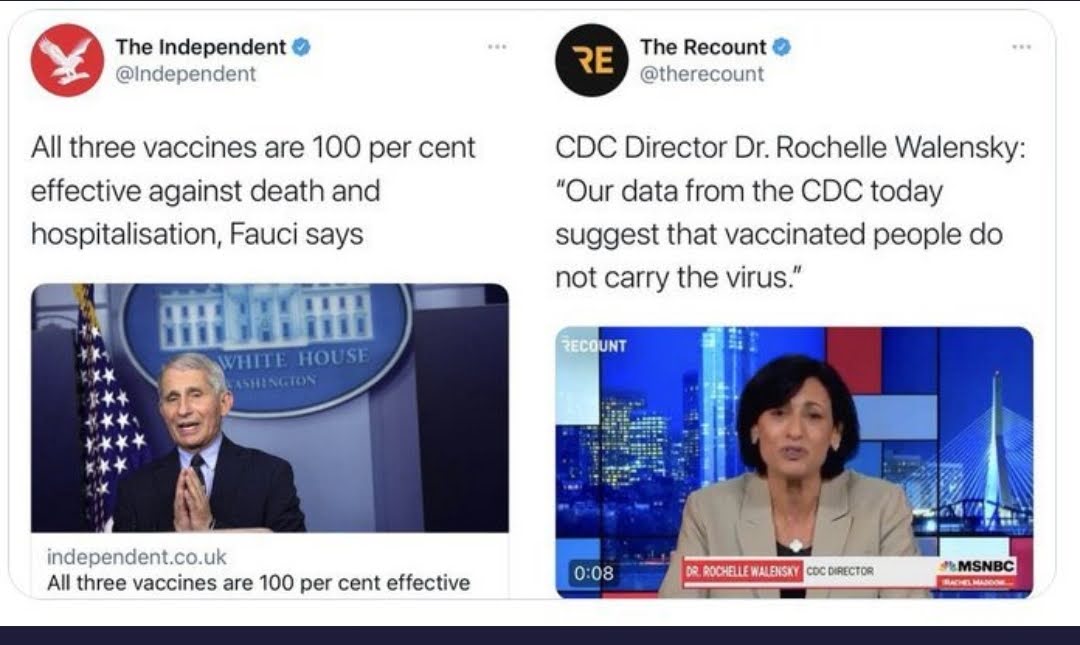 Not so, as we have discovered.
To make matters worse in this parlous state of affairs, the British public are now expected to help market vaccinations on social media. This campaign is called #ValuingVaccines: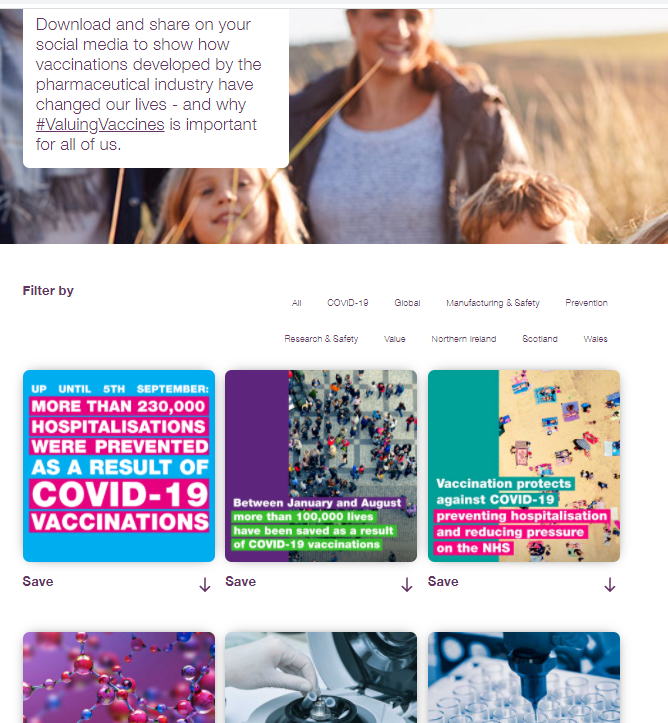 This is a photo of a letter to young Britons urging them to get vaccinated. What is missing from it? Any mention of health benefits: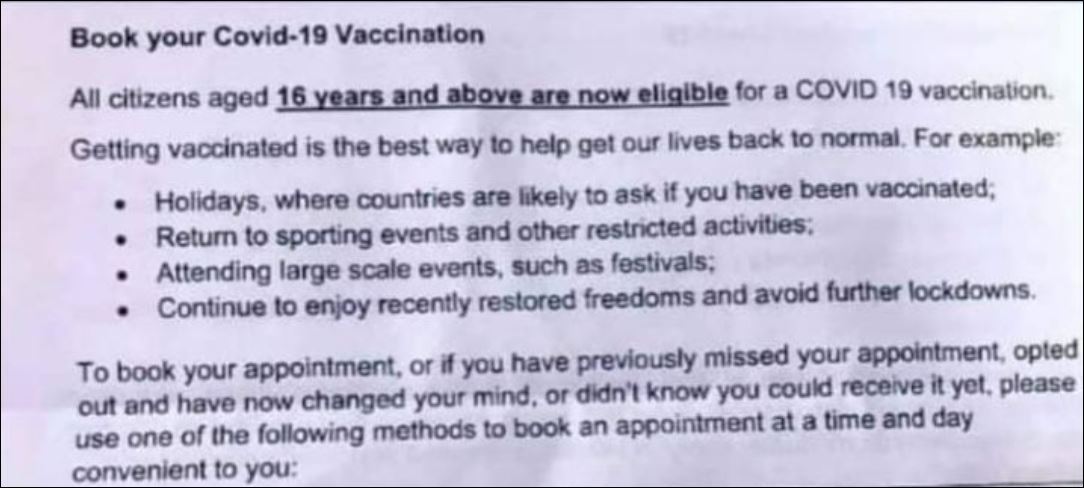 Note the mention of 'freedoms' in the last bullet point.
Here's a thought. Since when did our basic freedoms ever rely on getting a vaccine?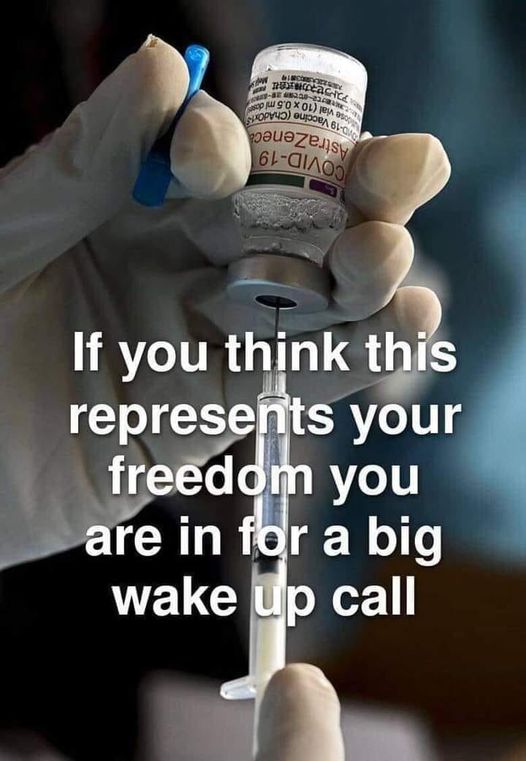 Also, minors eligible for the vaccine in the UK do not require their parents' consent. This is a mock-up of Chris Whitty, our chief medical officer. It's not far from the truth: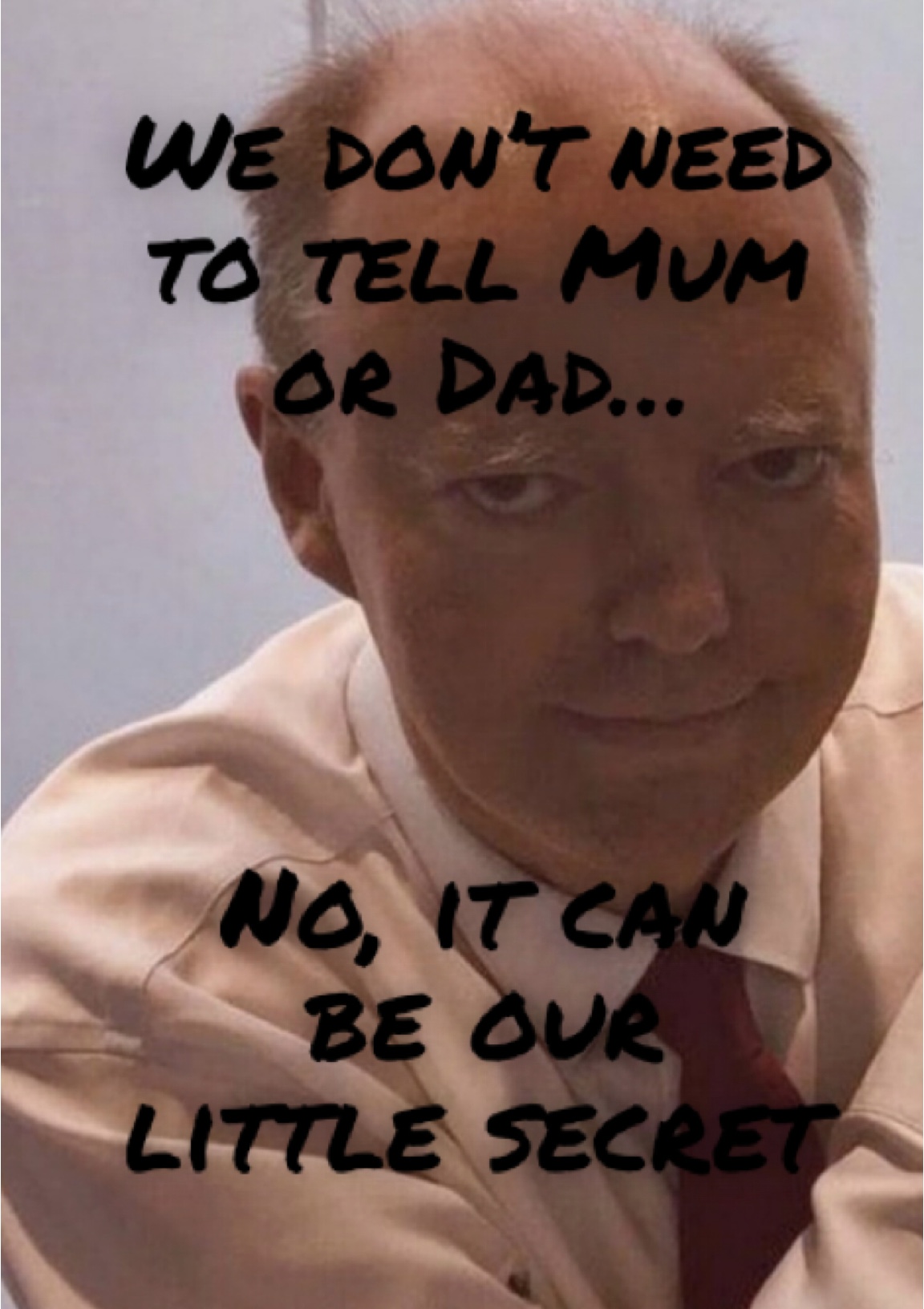 There are other issues with these notional vaccines.
One of them is the redefinition of the word 'vaccination', which has gone from disease prevention (I will always hold by the original and best) to producing immunity against a disease to the current protection from a disease. We've been had, folks, but most of my readers know that by now: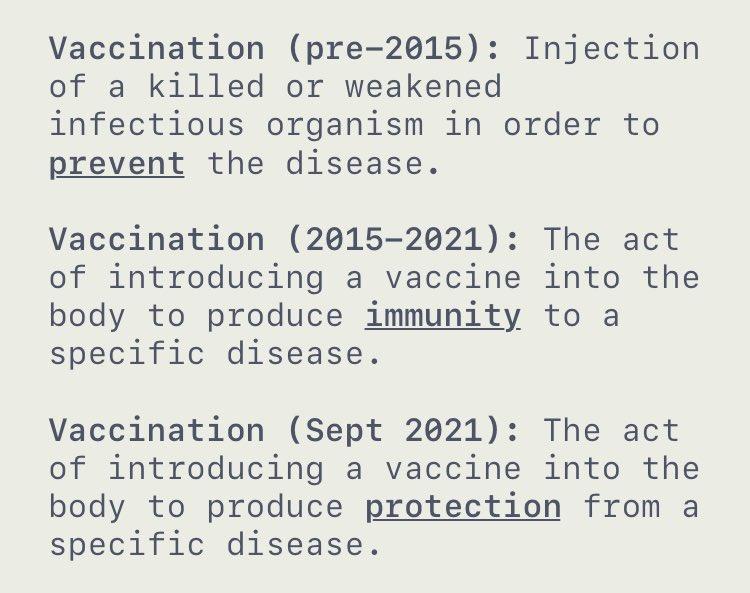 Now let's look at how long producing a vaccine has taken throughout history. With regard to coronavirus, we were told that vaccines take a lot less time these days. Perhaps. However, six months to market seems rather brief: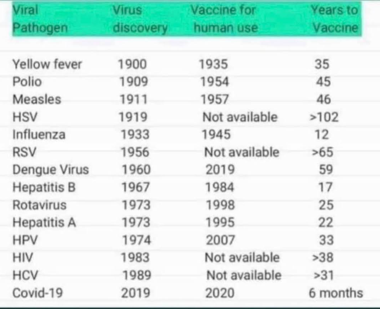 Now let's look at what six months to market has produced — a product that doesn't even work and could be injurious to one's health, if not fatal, depending on the individual. Some American youngsters have experienced heart problems after taking Pfizer or Moderna. The cure can be worse than the disease:

I am glad to see that 'vaccine' has quotation marks around it in this risk/benefit analysis: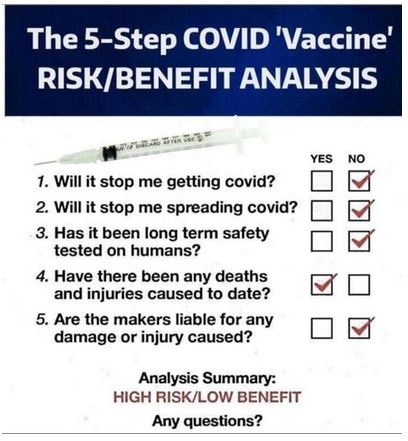 Our notional betters, including journalists, say that the unvaccinated are causing the vaccine to fail. Hmm. That's a new one: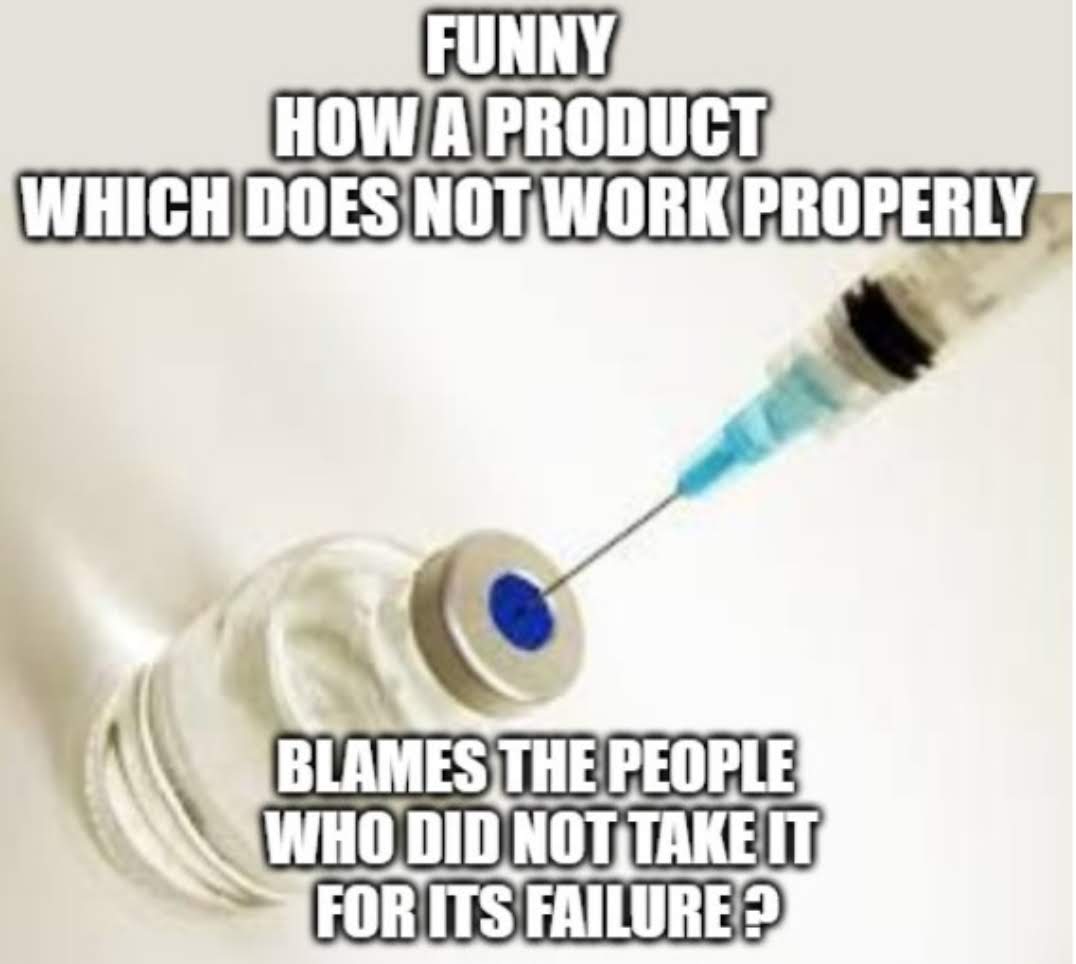 Now we have to worry about vaccine passports. France already requires them just to go to the supermarket. In other words, you cannot eat if you have not been vaxxed: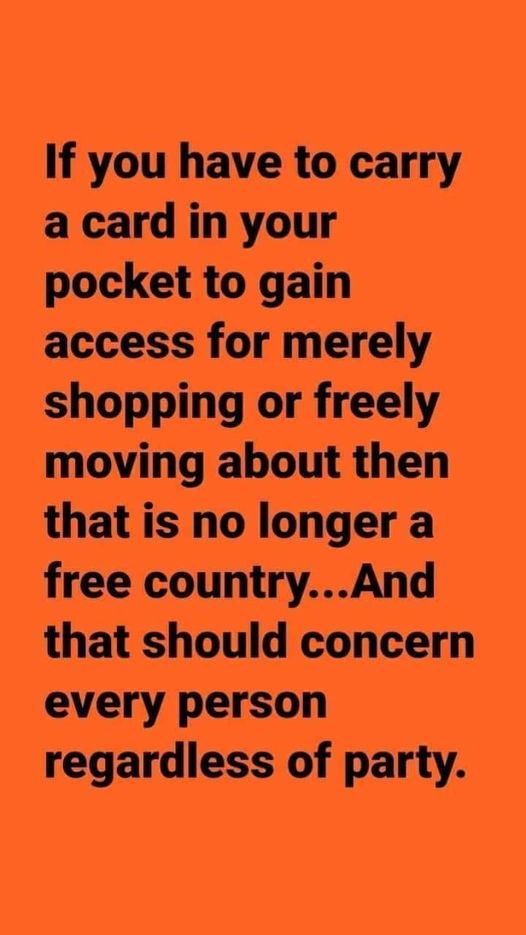 Speaking of supermarkets, here's Manchester mayor Andy Burnham, a former Labour MP, moaning about the lack of social distancing at Tesco. Yes, he named the chain. Yet, here's Burnham partying at Labour's conference this week as if it were the old days. The sheer hypocrisy of our leaders is mind-boggling:
But I digress.
Those are my thoughts on the coronavirus vaccines, a necessary evil if one wishes to go out again.
I would have liked to give credit to the people who created these images, which I found in various places online. My compliments to everyone involved.
There's time only for a short post today.
Here is a powerful, must-see video that is only just over a minute long:
Who said, 'Ordinary people are too small minded to govern their own affairs'?
It was not George Soros, from whom we get a short soundbite at the beginning of the video. He cannily said that global governance might or could happen, acting as if he did not know one way or the other.
The next person to appear is Obama. It was he who said:
Ordinary people are too small minded to govern their own affairs.
In fact, he says it not once, but twice.
He says that 'order and progress' (his words) will come only when:
individuals surrender their rights to an all-powerful sovereign.
But the real kicker comes in starting at the 45-second point with a man reading from a Communist book outlining how to discredit opposition: build up verbal attacks, then label person(s) 'fascist' or 'anti-Semitic', followed by open discreditation by leftist organisations. That part of the video was filmed in the 1950s or 1960s. The book from which he read was published in the United States.
Please circulate the tweet.
Sunday, June 6, 2021, was the 77th anniversary of D-Day, the Longest Day: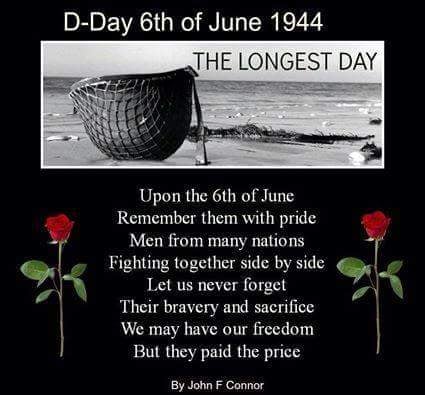 This map shows the landings in Normandy: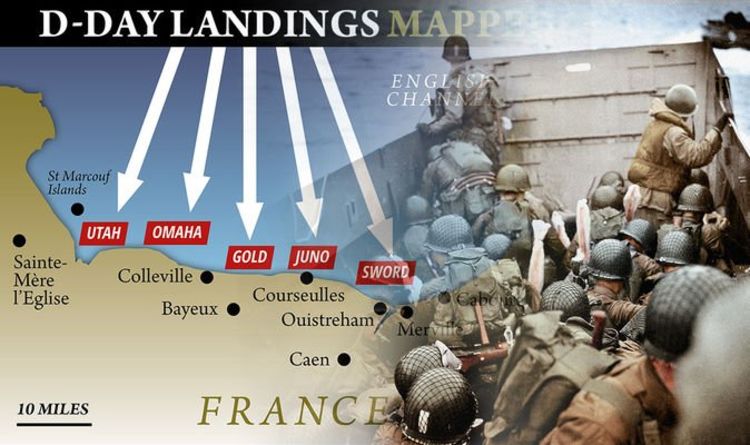 While preparing Sunday dinner, I listened to C-SPAN's Sunday morning show, broadcast on BBC Parliament. Sarah Rose, the author of D-Day Girls, was the guest. Her book is a novel, but she did a lot of historical research showing the intelligence work that women did behind the scenes as part of a carefully-managed international network.
The phone-in included many sons and daughters of Second World War veterans. Nearly all said that those veterans were, understandably, highly reluctant to talk about their war experiences. However, some said that their fathers or grandfathers opened up in their later years. One caller said that she has several hours of memories that she has recorded for posterity, particularly for younger family members.
With more and more of those veterans passing from this mortal coil, now is the time for children and grandchildren to record and catalogue those memories, if they can. One person who has done so is the author of Pacific Paratrooper, remembering Everett A Smith, their father. It's an excellent website, which also documents much history about the battles and conditions in the Pacific theatre. I am delighted to have the author as one of my regular readers.
We will always remember those heroic men and women:
Incidentally, the Houses of Parliament were bombed in 1941 and had to be reconstructed authentically in the 19th century manner. Both were faithfully restored. The next tweet shows the House of Commons:
Seventy-seven years later, we are still in the grip of the coronavirus crisis and a loss of freedom the troops involved in D-Day would have found unthinkable.
In Britain, former Prime Minister Tony Blair (Labour) appeared on The Andrew Marr Show to say that Britons who have had two vaccinations should be allowed greater freedoms, thereby creating a two-tier society:
If a Conservative had said that, Marr would have heaped criticism all over him or her.
It is mystifying that Tony Blair even gets airtime on this topic. He isn't in government, nor is his party.
It appears I am not alone, judging from the replies to this tweet:
On the topic of vaccines, Tony Blair has never said if his son Leo, born when he was in No. 10, had the MMR vaccine, which was highly controversial at the time. So, it was okay for him to refuse to give his son a vaccine that every other child born in Britain had/has to have. It is very difficult to get separate children's vaccines for measles, mumps and rubella. One imagines that Blair managed to get them for his son.
Tony Blair also wanted national ID cards. The debate raged for a few years in Parliament. Fortunately, nothing happened.
On Monday, Guido Fawkes's cartoonist Rich, recalling the ID card debate from the Blair years, posted this:
On the topic of vaccines, the Government is talking about giving them to children. Highly dangerous, one would have thought. The Telegraph's Bob Moran was moved to create this cartoon a week ago:
ITV's Good Morning Britain stoked the flames by asking whether the vaccinated should refuse to associate with the unvaccinated:
Fortunately, most Britons disagree with Good Morning Britain:
June 21 is supposed to be Freedom Day, according to the Government, with the caveat that full reopening of Britain will be based on data rather than dates.
It should come as no surprise that the Government could now backtrack on that date:
On June 1, we had no coronavirus deaths, but that did not make the news:
TalkRADIO host Julia Hartley-Brewer is fed up with the delays. In fact, as the chart below from Peston shows, the UK's actual coronavirus stats are much better than SAGE's models:
On June 3, Portugal, the only European country on the UK's green list for travel, was moved to the amber list, yet these charts tell a different story:
One suspects that it was only ever on the green list for the Champions League final in Porto:
Oddly, we had more freedom a year ago — with no masks and no vaccines — than we do now:
In Wales, First Minister Mark Drakeford (Labour) says that social distancing will not be disappearing any time soon:
Data for the UK should be available on June 14, at which point the Government will announce their decision regarding June 21:
The Government have paid for coronavirus advertising and COVID marshals, extending to 2022. Former London Assembly member David Kurten tweeted a reminder:
I, too, want my country back.
In Germany, scientists from Munich University say that lockdown had no effect on the virus spread:
Something is very wrong when, in a five-minute speech on television, a prime minister or a president can remove everyone's civil liberties at a stroke.
Monday, March 23, 2020, will be etched on my memory forever. That was the date of the UK's first lockdown.
D-Day. Freedom Day. What has happened to us — and for a 'pandemic' with fatality rates no worse than influenza? We are in a very bad way, not only in the UK, but also elsewhere in the West.
Retired Supreme Court Justice Lord Sumption has been a doughty opponent of lockdown since last year.
He has given many interviews during that time.
His most recent one was to Freddie Sayers of UnHerd, an excellent site which explores the world of ideas, history and current affairs.
I found out about Lord Sumption's interview via Guido Fawkes. On Friday, March 5, Guido posted an article about it as well as an ONS (Office for National Statistics) survey about over-80s breaking lockdown rules:
Guido's post says (emphases in the original):
Buried in the latest ONS data dump of Covid research is a remarkable – if logical – statistic. Just 33% of over 80s have not met with anyone indoors since having their jab, with 43% admitting to meeting with people other than their carers or support bubble after receiving the first dose. After two jabs, this explicit rule-breaking rises to 48%. Despite the widespread rulebreaking, hospitalisation and death rates amongst the age group are tumbling…
Cheeky octogenarians are not alone – spritely 72-year-old Lord Sumption yesterday made a splash by telling UnHerd that "sometimes the most public-spirited thing that you can do with despotic laws like these is to ignore them" – even claiming that a quiet campaign of "civil disobedience" has already begun …
With regard to the vaccine, most in this age group support it enthusiastically, despite the fact that 41% of the survey's participants experienced side effects after the first dose. Here are more ONS findings on that subject (emphases mine):
Of those who had experienced side effects and were still awaiting their second dose of a vaccine, 63% said the side effects would not affect their decision to get the second dose, and 35% were more likely to get the second dose.
Around 19 out of 20 over 80s (96%) would be very or somewhat likely to encourage others to get a COVID-19 vaccination.
Also:
Of over 80s who had received at least one dose of a COVID-19 vaccine, 49% reported that they had met someone who they do not live with, outdoors, since receiving their vaccination; 54% had left home to go shopping, and 45% had left home to participate in outdoor leisure activities.
In contrast, one in five (20%) people who had received at least one dose of a vaccine reported that they had not left home for any reason since receiving their vaccination.
The survey findings add background to what Lord Sumption, 72, told Freddie Sayers of UnHerd.
The video is 51 minutes long and requires concentration:
Note his tie, which has a motif of American flags from the Colonial era with 'We the People' printed on it. He also sits with his arms crossed much of the time to hide a physical ailment.
It looks as if they met in his office. Sayers must have been thrilled to resume in-person interviews, as he has had to do them remotely over most of the past year.
Many of the comments beneath the video are from Britons disappointed that Lord Sumption implied that the vaccine will be the only way forward at this point in returning to a normal life. To be fair to him, he did describe it as 'a regrettable step' and that 'people should be prepared to trust each other', instead (31:00-31:14). Also:
I recognise that most of my fellow citizens want coercive measures.
Unfortunately, I agree with him. There is no way out right now. It is doubtful that the vaccine will be made mandatory by law, but most adults won't be able to resume much of their prior lives without it. Many employers and businesses will require proof of vaccination. This is likely to also be true for package holidays and international travel.
Lord Sumption talked about how we arrived at this point. He said that the public were afraid of this pandemic and wanted protection from the government. The government protected the public and helped to reinforce the fear factor in their coronavirus briefings and other public statements. Hence, civil liberties went out the window. He said that once those are gone, it is very difficult to regain them, particularly as government ministers enjoy their new roles in controlling the population.
UnHerd has an article with notable quotes from the interview.
On the dangers of public fear, Lord Sumption said:
John Stuart Mill regarded public sentiment and public fear as the principal threat to a liberal democracy. The tendency would be for it to influence policies in a way that whittles away the island within which we are entitled to control our lives to next to nothing. That's what he regarded as the big danger. It didn't happen in his own lifetime; it has happened in many countries in the 20th century, and it's happening in Britain now.
He pointed out that the civil liberties we have taken for granted as being well established are, in fact, highly fragile. They can vanish at any time. To this end, he explained that democratic forms of government are but recent developments in the time line of history:
Democracy is inherently fragile. We have an idea that it's a very robust system. But democracies have existed for about 150 years. In this country, I think you could say that they existed from the second half of the of the 19th century — they are not the norm. Democracies were regarded in ancient times as inherently self-destructive ways of government. Because, said Aristotle, democracies naturally turn themselves into tyranny. Because the populace will always be a sucker for a demagogue who will turn himself into an absolute ruler…
Now, it is quite remarkable that Aristotle's gloomy predictions about the fate of democracies have been falsified by the experience of the West ever since the beginning of democracy. And I think one needs to ask why that is. In my view, the reason is this: Aristotle was basically right about the tendencies, but we have managed to avoid it by a shared political culture of restraint. And this culture of restraint, which because it depends on the collective mentality of our societies, is extremely fragile, quite easy to destroy and extremely difficult to recreate.
Allow me to add that this is why America's Founding Fathers established a republic, not a democracy. They feared eventual despotism. The establishment of the Electoral College was also intended to be a safeguard against demagoguery.
Freddie Sayers asked Lord Sumption how we got to the point where we consented to the government taking away our civil liberties when they had been held sacrosanct for so long.
Lord Sumption said that our stability as a society and as a nation relies on the support most citizens have towards national institutions. Once a large enough percentage of people begin to question those, everything is gradually thrown into doubt. Socio-political fissures develop and something or someone comes in to replace what citizens as a whole once respected and valued.
Sayers asked him how he became so outspoken on the government's coronavirus policies. He replied that no one else was stepping up to do so, therefore, he decided to speak up:
I would very much have preferred the kind of points that I have been consistently making for the last year to have been made by just about anybody else. Those colleagues or former colleagues who disapprove of what I've been doing have got a perfectly good point. But there are some issues which are so central to the dilemmas of our time, which are so important, where I think that you have to be prepared to stand up and be counted.
He reiterated his awareness that he is in a minority, however, that small minority from last year is now becoming a 'significant' minority.
He thinks the Coronavirus Act 2020 is an example of bad law. As such, he does not feel any moral obligation to obey it and advises each of us to do as we think best as individuals:
I feel sad that we have the kind of laws which public-spirited people may need to break. I have always taken a line on this, which is probably different from that of most of my former colleagues. I do not believe that there is a moral obligation to obey the law… You have to have a high degree of respect, both for the object that the law is trying to achieve, and for the way that it's been achieved. Some laws invite breach. I think this is one of them.
Politically, Lord Sumption describes himself as a 'small-l Liberal', which is classical liberalism — free market economy and small government — rather than what Americans define as 'liberal', meaning left-wing.  He served as a Justice of the Supreme Court under David Cameron's and Theresa May's Conservative governments.
He had this advice for Boris Johnson's government:
My first proposal is that governments should not treat information as a tool for manipulating public behaviour. They should be calmer than the majority of their citizens; they should be completely objective. My second lesson would be that governments dealing with scientific issues should not allow themselves to be influenced by a single caucus of scientists. They should always test what they are being told in a way that, for instance, judges test expert opinion by producing a counter expert, and working out which set of views stacks up best.
In other words, the government should stop ginning up fear and listen to scientists other than those on SAGE.
In closing, while watching the video and based on nothing at all, I had a recurring thought that Lord Sumption is an opera lover.
Afterwards, I looked up his Wikipedia entry. Amazingly, I found this:
An opera lover, he serves as a director of the English National Opera and as a governor of the Royal Academy of Music.[46]
I do wish Boris and Co. would meet with Lord Sumption, listen carefully to what he has to say, then act on his advice.
In closing, curtailment of civil liberties can extend to protests. There are the correct kind of protests, such as those in June 2020. Then there are the wrong type of protests.
This one was obviously in the latter category, because the organiser received a £10,000 fine:
Currently, the only places in the UK where a group of people can gather to discuss anything outside the home are the two Houses of Parliament.
An MP pointed that out last week.
As he said, that is wrong on so many levels.
The three-year Lectionary that many Catholics and Protestants hear in public worship gives us a great variety of Holy Scripture.
Yet, it doesn't tell the whole story.
My series Forbidden Bible Verses — ones the Lectionary editors and their clergy omit — examines the passages we do not hear in church. These missing verses are also Essential Bible Verses, ones we should study with care and attention. Often, we find that they carry difficult messages and warnings.
Today's reading is from the English Standard Version with commentary by Matthew Henry and John MacArthur.
20 Each one should remain in the condition in which he was called. 21 Were you a bondservant[a] when called? Do not be concerned about it. (But if you can gain your freedom, avail yourself of the opportunity.) 22 For he who was called in the Lord as a bondservant is a freedman of the Lord. Likewise he who was free when called is a bondservant of Christ. 23 You were bought with a price; do not become bondservants of men. 24 So, brothers,[b] in whatever condition each was called, there let him remain with God.
——————————————————————————————————————–
Last week's entry discussed Paul's words of comfort to Jewish and Gentile men converting to Christianity. There was no need for the Jew to fret that he had been circumcised as an infant. Similarly, there was no need for the Gentile convert to become circumcised.
These verses discuss the state of men and women converting to Christianity. Paul offers similar words of comfort, saying that God knows the circumstances in which we live and He accepts us all (verse 20). Christianity has to do with our spiritual rather than our physical state or social status.
John MacArthur explains (emphases mine):
The point is this: a relationship to Christ is compatible with any social status. You can be single, married, widowed, divorced. You can be a slave, a free man. You can be a Jew. You can be a Gentile. You can be a man. You can be a woman. You can live in any kind of society: democracy or total anarchy, or you can live in a dictatorship. You can be anywhere from America to Cuba to Red China to any place in the world, and Christianity is compatible with any social status. Why? Because it is internal, not external …
Paul's concern here is that the Christians realize that the primary business is being a Christian, not outward circumstances that are relatively or totally unimportant. Don't ever let outward things become a major importance.
You're saying, "This means you can't have any progress?"
No, he isn't saying that. He isn't saying you can't have a promotion, you can't advance in your business or your education, or seek a better life, or seek to increase your income or get a better job or change employment. No.
What he is saying is don't disrupt the social balance in the name of Christ. In other words, nobody should desire to change his status in life simply because he's a Christian, as if Christian was incompatible with certain kinds of social positions. It isn't. It's compatible with anything. It's well-suited to any man or any woman in any situation in life as long as that person realizes that the key thing is to keep the commandments of the Lord. Obedience is possible in any situation. Now you may pay a higher price for it in some than in others, but it's possible.
You see, when the Lord saved you, He didn't save you to change your earthly status; He saved you to change your soul and your eternal destiny.
Today's verses concern slavery, which was widespread throughout the ancient world. To be a bondservant meant that you had no property of your own and that you were essentially your master's property.
That's a bad state of affairs.
However, in the ancient world, slaves could a) purchase their freedom (e.g. by working long enough to pay off their financial debt to their master) or b) become free men during a census period or c) if master and slave arranged for freedom before a provincial official.
Depending on where one lived at that time, there were closed systems and open systems regarding freed men and women. A closed system still relegated a freed person to the bottom rungs of society with limited participation in it. An open system allowed freed persons to participate much more in society with certain rights guaranteed.
Whatever the case, the good news is that Paul wants slaves to know that their status is no bar to becoming a Christian. At the end of Romans, Paul speaks of various people he has encountered during his journeys and church planting. Some of those people were slaves and they were well respected Christians (see Romans 16:7-10 and Romans 16:14-16).
MacArthur continues:
You say, "John, did the Bible say slavery doesn't matter?"
No. No, the Bible doesn't say slavery doesn't matter; the Bible says if you were saved as a slave, don't worry about it. You can be a Christian as a slave. Can't you? You can be a Christian as an anything, socially speaking. I'm not talking about moral things, but social. Paul is not approving of slavery; he is merely saying that slavery is not an obstacle to Christian living.
We see in verse 21 that Paul encourages those slaves who can gain their freedom to do so.
Paul goes on to say that a slave on Earth is a free man as far as Christ is concerned (verse 22). We are all equal in His sight.
MacArthur says:
… what he's saying here is if you're saved a slave, don't worry about it. But if freedom comes along, grab it. And, you know, in Rome, there was the provision. In fact, many owners kept a nest egg, and they added money into it all the time, until finally it got to the place where the guy could buy his own freedom. So, the definition wasn't that, necessarily, oppressive. In some cases there were cruel masters, but you could be a slave. And it could be tolerable. Don't worry about it. But if you're freedom comes, use it. And this just means God's giving you that and taking you another step.
He then explains the story of the Book of Philemon, which concerns one of Philemon's slaves, Onesimus, who was on the run:
There's a good illustration of this in the little book of Philemon. Philemon is an interesting little book, right after Titus and before the book of Hebrews. And Philemon was a Christian man in Colossi. He had a slave, among other slaves. He was probably a very wealthy man. One of his slaves was named Onesimus. And Onesimus decided he wanted his freedom. So, Onesimus stole some stuff out of Philemon's house, packed his little bag, and hustled off to Rome. And what he was figuring, to lose himself in the mob at Rome.
And while he was mingling with the crowd at Rome, he ran into a very interesting man by the name of Paul, which began a very dramatic transformation in the life of Onesimus. In verse 10, Paul says, "I beseech you for my son Onesimus, whom I have begotten in my bonds." Now, we don't know how – Paul was undoubtedly a prisoner here, and somehow he got in connection with Onesimus, and led Onesimus to Christ.
Onesimus became a Christian, and oh, Paul loved him. In verse 11 he says, "This guy was profitable, and I really cared for him. And he was important to me."
But one day, Paul and Onesimus were kind of getting down to it, and they sat down, and Onesimus says, "Hey, Paul, I've got to tell you something. I don't know how this is going to go over, but I'm a runaway slave." Well, that must have really crushed Paul. What was he going to do?
"Well, who's your master?"
"Well, he's Philemon. You know, a Christian over at Colossi." That even made it worse.
"Oh." Well, what could Paul do? "Well, look, slavery's a rotten institution anyway. Just cool it, and I'll keep you here, and no one will ever know. That's one thing; we'll just hide you. The other one would be I'll send you back with a letter telling Philemon what I think of him as a slave owner." And Philemon could have been, "Dear Philemon, let all your slaves go. Slavery's a rotten institution."
Or Paul could have just said, "No, according to this society, we have a social status of masters and slaves. You're a slave. You disobeyed the rules of society. You have to go back and make it right."
And that's what he did. And he sent Onesimus back with a letter. And you know what the letter says? "Hey, Philemon, here comes your slave, and he's really been great to me, and I've led him to Jesus Christ. Would you accept him as a brother? Would you take him back in good graces as your good slave? I think he'll serve you better than he's ever served you."
And off hustles Onesimus with a letter. And, you know, he had a lot to risk, because slaves in those days, for running away, could be killed, or at best they could have a brand on their head. They put a big F on their head for fugitīvus which meant runaway. So, he could have paid a high price. But Onesimus, now in the bonds of Christ, goes back and gives the letter, and tradition tells us Philemon embraced him with open arms, and they were accepted as brothers together, even though he continued to be his servant and his slave.
Now, in all of Philemon, Paul says nothing about slavery. He doesn't condemn it. He doesn't tell Philemon to set Onesimus free. He just accepts the social status that Onesimus was in and knew he could go back and be a slave, and it wouldn't have any effect on his Christian life.
Slavery in the US and in former British colonies was in the news a lot last year. Marxists have long condemned the Church for not having done enough about it. They conveniently ignore the abolitionist movement, more about which below.
However, MacArthur offers a reason why there were no Christian revolutions about slavery in the New Testament era. It would have completely taken Jesus out of the equation. Jesus came to offer us salvation, not a socio-political revolution:
Now, some people have criticized Paul for not attacking the system of slavery. But the point is this, people, if Christianity had encouraged the ending of slavery, then Christianity would have been seen as a political revolution, and Christians would have been killed in a revolution.
And I would add another thing. If Christian slaves had started to disrupt society, then the major issue would have been lost: the issue of faith in Jesus Christ.
Now, you know what's happened in America. Every time 'Christianity' attaches itself to a social movement, the message of Christianity gets totally lost. Given the Christian faith, emancipation is bound to happen. At the time, it was not right. So, Paul says, don't concern yourself with your earthly state; don't concern yourself with a situation that is superficial. The major issue is internal.
Therefore, a slave can live as a slave and still be redeemed by Christ. To Christ, the slave is a free man (verse 22).
However, Paul adds in that verse that a free man becomes a slave to Christ upon his conversion:
All he's simply saying is, "You may be a slave physically, but you're a free man spiritually. And you may be a free man physically, but you're a slave spiritually."
In other words, he just kind of shows the fact that nothing really matters on the surface. It doesn't matter whether you're physically bound or free, it only matters that you're both spiritually bound and free in the paradox of Christianity. Do you understand that paradox? That as a Christian, you're the servant of Jesus Christ; and yet, as a Christian, you're free from the law, from sin, from Satan, from hell, from the curse. You understand that paradox? That's what he's saying.
Christ has totally set you free to be His servant. Don't worry about the superficial situation you're in.
MacArthur reminds us that the abolitionist movement in Britain and the United States came from Christians:
Did you know that the concentration of righteousness that was in Christianity really became the catalyst that ultimately abolished slavery in the world? Christianity has done that. The important thing, you see, is to serve God. And a slave shouldn't worry about the fact that he's a slave; he should just serve God. And as this whole righteous kind of life begins to penetrate and spread, the downfall of an enslaving system will occur.
Where does slavery exist today? Mostly in Asia. However, in Africa, it still exists in Mauritania, even if the government says it doesn't. It would be interesting for protesters from the US to go there and urge the Mauritanian government to get everyone to free their slaves. They could protest, riot and topple statues. One wonders what would happen.
In 2018, The Guardian published an article, 'The unspeakable truth about slavery in Mauritania', which begins as follows:
In 1981, Mauritania made slavery illegal, the last country in the world to do so. Nonetheless, tens of thousands of people – mostly from the minority Haratine or Afro-Mauritanian groups – still live as bonded labourers, domestic servants or child brides. Local rights groups estimate that up to 20% of the population is enslaved, with one in two Haratines forced to work on farms or in homes with no possibility of freedom, education or pay.
Slavery has a long history in this north African desert nation. For centuries, Arabic-speaking Moors raided African villages, resulting in a rigid caste system that still exists to this day, with darker-skinned inhabitants beholden to their lighter-skinned "masters". Slave status is passed down from mother to child, and anti-slavery activists are regularly tortured and detained. Yet the government routinely denies that slavery exists in Mauritania, instead praising itself for eradicating the practice.
On June 26, 2020, The Daily Caller published an article, 'An African Country Still Has Slavery — Obama Awarded Them Trade Benefits, Trump Reversed It':
There are currently an estimated 21 million to 45 million people trapped in slavery today, and an estimated 9.2 million of them are in Africa. Among these countries, the Islamic Republic of Mauritania is perhaps the only place in the world where people can still be born into slavery.
But I digress.
In verse 23, Paul reminds the Corinthians that Christ paid the price for their spiritual freedom by dying on the Cross.
Therefore, Christians should not worry about their temporal condition (verse 24).
Matthew Henry sums up these verses as follows:
Note, The special presence and favour of God are not limited to any outward condition or performance. He may enjoy it who is circumcised; and so may he who is uncircumcised. He who is bound may have it as well as he who is free. In this respect there is neither Greek nor Jew, circumcision nor uncircumcision, barbarian nor Scythian, bond nor free, Colossians 3:11. The favour of God is not bound.
God knows where we are in life. Similarly, our Lord Jesus knows. Christians can fulfil God's will by obeying the Commandments and be certain of the life of the world to come through salvation through Christ Jesus.
Next time — 1 Corinthians 7:25-28
Shortly after Joe Biden's inauguration, Fox News posted two interesting videos.
The first was one I never thought I would see. In fact, I hadn't even imagined it.
Laura Ingraham managed to get an interview with Glenn Greenwald, formerly of The Intercept, which he co-founded. Not so long ago, the publication told him to take a hike. They did not like that he opposed 'their' editorial line. Greenwald, although hardly a conservative, questioned current leftist narratives.
Glenn Greenwald is not a fan of Donald Trump, but even he can see that Big Media have clearly overstepped their bounds.
Laura Ingraham begins the segment with three minutes of Inauguration Day coverage contrasting 2021's with 2017's. Even Greenwald says he could barely stomach it:
He said that the media react in three ways: a) basic whining, b) complaining that the public can see through media lies and c) downright censorship.
Greenwald said that the public's
lack of trust will continue to worsen, undoubtedly.
Ingraham asked about the militarisation of Washington, DC. Greenwald posited that the media had to create a story that invoked fear — domestic terrorism — because talking about Joe Biden would have been too dull.
Ultimately, he said that the media want the people to be subservient to the elites and that is why they are
spinning these stories.
He also said that the Democrats want to bring in a
new War on Terror bill.
It would deal with what is perceived to be domestic terrorism:
all designed to entrench powers in their hands that we would otherwise agree they should never have.
Too true.
Tucker Carlson also discussed this on his show around the same time:
Glenn Greenwald said that Adam Schiff (D-California) has been trying to bring in a domestic terrorist threat bill since 2019.
Tucker Carlson introduced another Democrat legislator with the same intent in mind. His name is Rep. Brad Schneider (D-Illinois). No one outside of his constituency or state has ever heard of Brad Schneider. Tucker wonders who put Brad Schneider in charge of the First Amendment.
Tucker's video goes on with video clips of two other legislators who want to restrict the right to free speech and freedom of assembly, because Americans doing so — Americans with conservative values — are 'harming' other Americans.
Unbelievable.
Both videos are worth your time: 13 minutes in total.
Please watch and circulate.
Dems and their water carriers in the media do not have the Constitution in mind with these proposed laws.
Tucker, in particular, makes a valid and impassioned defence of the First Amendment. He read history at university, so he's not a 'media studies' kind of journalist.
America has always been the freest country in the world.
May the Great Republic always be so. May these censors and charlatans cease and desist from removing fundamental American rights from the people.
Yesterday's post introduced Neil Ferguson's interview with The Times, which the paper published on the evening of Christmas Day.
This was the biggest statement he made:
How Ferguson, he of the hopelessly outlandish — and false — predictions, could enter the fray on a worldwide pandemic using CCP methods beggars belief:
The other chilling statement made in the article was that lockdowns will be employed in future pandemics. That's because they worked so well, we had to have one long lockdown — under various guises — for the better part of nine months, not the promised two or three weeks:
Yet, Matt Hancock relies on what this man and SAGE members regurgitate every couple of weeks:
My prayer for 2021 is that divine providence shines a light on the evil that Ferguson, a NERVTAG member, SAGE and Matt Hancock have been perpetrating on the British people:
Thank heaven that Bosnia and Herzegovina ruled against an inhumane coronavirus programme. I hope that we do the same:
Someone also needs to have the guts to investigate Ferguson and the rest of them:
Let's look at The Times's article, which Science Editor Tom Whipple wrote: 'Professor Neil Ferguson: People don't agree with lockdown and try to undermine the scientists'.
Tom Whipple was absolutely gushing in his reporting, overlooking Ferguson's previous bogus predictions over the past 20 years of notional pandemics. Some of those predictions put a severe dent into British farming (emphases mine):
He moved from Oxford to Imperial as part of the country's leading infectious disease modelling group. They modelled the 2001 foot and mouth outbreak, as well as the 2009 swine flu outbreak, in which at one point, before better data came in, they estimated a "reasonable worst case scenario" of 65,000 deaths.
When he returned to advise the government once again, this projection, two orders of magnitude above the real total, was cited by his critics. So too was foot and mouth, where the cull of millions of cattle and sheep, partly on the basis of predictions about the disease, still causes deep bitterness among farmers.
Whipple at least calls lockdown 'a medieval intervention'. However, I would posit that, even in the Middle Ages, there were policies of sequestering the vulnerable and quarantining the sick, leaving the rest to work. People needed food and goods. Anyway, Ferguson describes how he embraced the CCP policy of overall lockdown:
In January, members of Sage, the government's scientific advisory group, had watched as China enacted this innovative intervention in pandemic control that was also a medieval intervention. "They claimed to have flattened the curve. I was sceptical at first. I thought it was a massive cover-up by the Chinese. But as the data accrued it became clear it was an effective policy."
Then, as infections seeded across the world, springing up like angry boils on the map, Sage debated whether, nevertheless, it would be effective here. "It's a communist one party state, we said. We couldn't get away with it in Europe, we thought." In February one of those boils raged just below the Alps. "And then Italy did it. And we realised we could."
Whipple gushed:
That realisation was a fulcrum in British history, and in the life of Professor Ferguson.
That 'fulcrum' meant poor health and/or imminent penury for millions of the rest of us.
This was Ferguson's outrageously erroneous prediction that prompted Britain's continuing lockdowns:
a quarter of a million Britons would die. If we wanted to stop that, he also projected, it would require extreme social distancing measures until a vaccine arrived.
Whipple's next sentence reads:
That was when he went from unknown epidemiologist to academic superstar.
That is incredibly disingenuous. Millions of Britons knew who he was from his previous predictions. Our celebrity astrologer Mystic Meg could have done better by staring into her crystal ball. She would not have advocated lockdown or masks, either.
Ferguson expressed his surprise that people would criticise him:
"It's bizarre," he says. "Particularly given that I've never been a public servant. We volunteer for scientific committees, we don't get paid anything." He says he has not read most of the coverage, but can't help hearing some of the criticism.
"Where it's been disappointing is if people start out from a viewpoint that they don't agree with lockdown, then try to undermine the science and scientists behind it. That hasn't been a pleasant experience."
Those statements puzzle me greatly.
His own track record speaks for itself, yet, his and SAGE's policies have been ruling all our lives for the better part of a year. He doesn't think people should criticise him because they are losing their livelihoods? Pure bunkum.
Whipple then goes into the assignation that Ferguson and his married mistress had during the springtime lockdown. The rest of us were holed up in our homes and she travelled across London for an afternoon's pleasure. My account of it is below. The title expressed my hope that this charlatan would be exposed and that we would be liberated. Alas, no:
Prof Neil Ferguson resigns: will coronavirus lockdown start ending in the UK now? (May 5)
Ferguson told Whipple that he had expected some sort of mercy, at least to be ignored. Why, oh why, did the media start digging into his private life? Oh, woe:
"I made some mistakes. I've been completely open in terms of saying they were mistakes. But, nevertheless, the fact that journalists were digging into my private life at that level of detail was not something I could ever imagine. That's not something you want to be on the end of.
"My wife and son and my partner had journalists on the doorstep. I was actually in my flat in London, they didn't know where I was. It was a very difficult time." He and Sir Patrick Vallance, the present chief scientific adviser, agreed he should step back from Sage work.
Unfortunately, NERVTAG — New and Emerging Respiratory Virus Threats Advisory Group — allowed him to stay, hence, his continuing participation in these illiberal restrictions upon our lives.
Returning to lockdown, this is a curious statement:
These days, lockdown feels inevitable. It was, he reminds me, anything but. "If China had not done it," he says, "the year would have been very different."
Yes, it would have gone on as normal, with Rishi Sunak's fantastic budget putting an end to austerity and giving us a better economy and hope for our post-Brexit transition future.
This month, the new variant — B.1.1.7, or B117, as it often appears — has caused more panic. Ferguson and his ilk have determined it is more infectious. However, it might also be less damaging to COVID-17 patients in hospital:
Nevertheless, Ferguson now wants even harsher measures:
he strongly implies that schools will have to shut in January, and even then the virus might evade lockdown.
Goodness knows what 'the virus might evade lockdown' might mean for Britons.
Whipple actually believes that Ferguson is some sort of scientific saviour. Good grief:
This is, I say, petrifying. It is also extremely interesting. Nowadays, it is orthodoxy that lockdown was right. In the next pandemic, we won't hesitate to use it. But as this new variant shows, lockdown does not always work.
However, it also seems as if our first lockdown, sold to us as 'flattening the sombrero', to borrow Boris Johnson's term, was done so on a false premise:
It was never guaranteed that lockdown would crush the curve. He is all too aware of this. "During late March, early April, we kept looking at the data as it came in. Was there any sign of hospital admissions and deaths hitting a peak? It was a very, very anxious time." We now know that when we got it to its lowest, R, the reproduction rate of the virus, hit 0.6. Lockdown worked. If the professor's modelling of the new variant is correct, it won't be so easy to control. In the same circumstances it could have a rate just over 1 and the pandemic would not have retreated.
Ferguson says to his critics:
It's clearly unfortunate that a minority of people almost don't like the idea that you can just have random bad things happen in the world, and want to attribute it to some malign plan.
Ferguson and his family are largely unscathed from the policies he helped to develop.
Two other sites that reported on this interview had pertinent insights.
NewsWars noted:
In the Christmas interview, the epidemiologist admitted "there is an enormous cost associated with" lockdowns, specifically the erosion of civil liberties.
However, thanks to the Chinese Communist Party's authoritarian measures, he said, "people's sense of what is possible in terms of control changed."
And how! A year ago, who could have imagined that the CCP would be indirectly controlling our health policy?
At UnHerd, Freddie Sayers wrote similarly (italics in the original):
He almost seems at pains to emphasise the Chinese derivation of the lockdown concept, returning to it later in the interview:
"These days, lockdown feels inevitable. It was, he reminds me, anything but. "If China had not done it," he says, "the year would have been very different.""
To those people who, still now, object to lockdowns on civil liberties principles, this will be a chilling reminder of the centrality of the authoritarian Chinese model in influencing global policy in this historic year.
Let us look at what Laura Perrins, ex-barrister and co-editor of Conservative Woman, a haven of common sense, has to say about said policies. Let's start with testing of schoolchildren, something likely to come in January, along with the current hue and cry to close schools again:
The Government, advised by SAGE, NERVTAG and other quangos — quasi-NGOs — have lied and lied and lied this year, culminating with Christmas:
In conclusion:
I could not agree more.
Pray that this scourge leaves us and other Western countries in 2021.
Freedom is never free.
Happy New Year.
As we approach 2021, a growing number of Europeans are sceptical about our governments' respective responses to coronavirus.
My guess is that people are becoming suspicious about the loss of their civil liberties, which was only supposed to last for two to three weeks, yet continues to this day — nine months on.
There is no end in sight as we face the possibility of another sharp, nationwide lockdown early in the New Year.
France
This was a major topic of discussion on RMC's Les Grandes Gueules today.
Vaccinations have reached saturation point in France, even though the programme has barely started. Perhaps the government was too slow in obtaining more doses at the outset:
Regardless, in France, as well as everywhere else, even the vaccinated will need to continue to wear masks — possibly even after their second BioNtech/Pfizer jab:
Of course, mass vaccination is the only way that a nation's economy can once again flourish. Recall that for most age groups — up to the 70+ cohort — the average death rate is around 0.05%:
In the meantime, the question arose over whether future lockdowns should be national or regional. (We've tried both recently in England and Wales. It doesn't seem to make much difference.) This educator says that we can't stay locked down for the next ten years — 'I'm horrified. We're in a world of madness":
The lawyer on the panel disagreed, saying that we need lockdowns until we get the all clear. Someone responded to the tweet casting doubt on government statistics, saying that lies are a way of dramatising the situation — Project Fear:
Listeners rang in to say that they were sceptical about lockdowns and mandatory vaccines. The lockdowns don't seem to work and there aren't enough data yet to show that the vaccines are reliable and safe, especially if they operate like the flu vaccine, meaning that one is still susceptible to getting coronavirus, albeit a milder form of it.
Spain
The Spanish government is considering whether to develop a list of residents who do not take the vaccine then circulate those names to other countries to restrict their movements.
British talk show host Maajid Nawaz of LBC warned that this is a very dangerous step for a nation to take. He said that, years ago, he was a prisoner of conscience in Egypt and found out how far the state can go in controlling one's life. The response to his video is quite telling:
Someone else replying said that Spain would not be able to circulate the list because of personal privacy laws under the Europe-wide GDPR regulations. Hmm, I wonder:
England
Maajid Nawaz had another excellent commentary on the futility of lockdowns. He said that only one person in the UK has put together a cost benefit analysis for public consumption and that only the Times has published it. Apparently, 500,000 lives are adversely affected among the general population and they are not COVID-19 'cases' or inpatients. He added that Government ministers have a lot of data they refuse to reveal to the public. I would go further and say they are not even revealing it to MPs. Matt Hancock lets nothing out in Parliament, only more fear-mongering messages, then expects MPs to approve more restrictions:
Simon Dolan, a businessman who has sued the Government over lockdown, points out that lockdown relies on asymptomatic transmission being true. However, yet another study shows that there is no truth behind asymptomatic transmission:
The latest study, which the JAMA published, focusses on household transmission:
On lockdown, Simon Dolan posits:
Yes, most probably.
But what about the lorry drivers stranded at Dover because Emmanuel Macron didn't want them coming into Calais unless they were tested? Only a tiny number tested positive:
It's no wonder people are sceptical.
In closing, I have been waiting for an ecological impact assessment on masks. Here it is:
Does anyone else find it odd that, given the alarm over coronavirus, no country has any HAZMAT bins for used masks? Shouldn't worn masks be considered hazardous waste?
It makes one wonder …
More to come.