You are currently browsing the tag archive for the 'freedom' tag.
Today's post concludes my three-part series on Mark Steyn's departure from GB News.
Find out why he left here. This post has more segments from his evening programme, which will be sorely missed.
What follows are clips from the best of the rest of his output for GB News.
Law and order
In 2021, the British public discovered that the police weren't much cop. They began being more interested in patrolling Twitter than investigating actual crime.
Over a year ago, on February 2, 2022, Steyn addressed this parlous state of affairs:
Nearly a week later, on February 8, Steyn pointed out that Labour's Sir Keir Starmer's record as Director of Public Prosecutions (DPP) wasn't exactly good. This editorial came on the back of then-Prime Minister Boris Johnson's accusation at the despatch box during PMQs that Starmer never did anything about BBC presenter Sir Jimmy Savile, since deceased, when two constabularies were investigating him for molesting minors. Labour took great offence at Boris's accusation. Nor did Starmer do anything about the grooming gang situation in Labour-controlled Rotherham when he was DPP:
On April 18, Steyn showed us the parlous police statistics for England and Wales. At the 51-second mark, we see that in less than 10% of cases was anyone charged or even summonsed. Meanwhile, London's Metropolitan Police were investigating Boris for get-togethers during lockdown. Steyn alleged that the Met were looking at each accusation of a party as a separate incident to boost their crime-solving figures. He was being semi-serious, but one can readily believe it:
On April 18, he informed us that, where some cases of multiple sexual assault by more than one person are concerned, the police now prefer something spurious called 'community resolution' to prosecution and sentencing. How would that apply to grooming gangs, one wonders. Dear, oh dear:
Channel migrants
On May 24, Steyn opened his editorial with all the notionally big political machinations going on: the investigation of Boris's partygate, the WEF at Davos and an ever-increasing 'big government'. He concluded that this was the 'death of democracy'. He then discussed the Home Office's plan to place 1,500 Channel migrants in a disused RAF base in tiny Linton-on-Ouse, pop. 700. Unbelievable.
The good people of this North Yorkshire village had been protesting the move for days. The migrants were scheduled to pole up on May 31. Steyn pointed out that the political class 'have everything' and 'you've got nowt':
Fortunately, the Home Office rode back on the decision. That wasn't Steyn's first mention of the village. It would be nice to think that his making it public forced the Government to backtrack.
On August 2, as tens of thousands of migrants had crossed the Channel in 2022 by that time, Steyn had a go at the Government's placing these undocumented people in decent hotels, rather than sending them back over the Channel:
Many of the arrivals from the Channel are Albanians. It seems that the UK is the only European country to admit Albanians crossing illegally. Other European countries refuse them entry. Albania is safe, so safe, in fact, that it is becoming a British tourist destination. Other GB News programmes reported last year that newly-arrived Albanians to the UK are quickly taking over the British drug trade.
On November 28, hundreds of Albanians blocked central London to celebrate Albanian Independence Day. The broadcast video was extraordinary. The Met did nothing, while a load of posh cars paraded in a convoy around the main streets near Parliament. Albanian women in their native dress danced around the cars. Traffic was at a standstill.
On November 29, Steyn said that he had to abandon the taxi he was in to walk to the GB News studio. He criticised MPs for doing nothing about the numbers of Albanians coming here illegally. They were at that time, the majority of the Channel crossers. He also criticised the police for closing a bridge near Parliament rather than breaking up the convoy. Steyn said:
The useless political class have wrecked your country, and they're not done yet.
Conservative Party
During the Conservative Party leadership campaign in July, Steyn interviewed Lord Frost, whom many want to renounce his peerage and throw his hat into the ring one day. (He would need to become an MP first or Party rules would need to be changed.) He is a proper Brexiteer and an unabashed Conservative in the best of ways.
Steyn interviewed the life peer on July 11:
Highlights follow.
Steyn said that the Party has lost its way. Frost and Steyn align on what should matter to true Conservatives:
Lord Frost said that stopping the Channel crossings was paramount:
Perhaps one day he will renounce his peerage and run as a Conservative candidate for Parliament:
Platinum Jubilee
On June 1 and 2, Steyn devoted parts of his show to the Queen's Platinum Jubilee.
Here's the full show. At 49 minutes in, he discusses Australia's new Prime Minister who installed an 'Assistant Minister for the Republic'. Not surprisingly, Steyn is critical, as is The Spectator's Australian editor Alexandra Marshall, who was appalled that the appointment was made just before Platinum Jubilee weekend. Marshall said that no mention of a republic was ever made during the general election and that most Australians are shocked by the move. She says that politicians 'do not deserve any more powers than the ones they already have':
Before that, Steyn interviewed The Conservative Woman's Laura Perrins. Although she has lived in England for many years, she is still Irish to her core and couldn't get excited about the Jubilee. Steyn was disappointed:
On June 2, Steyn paid a splendid tribute to the Queen in his editorial:
Social issues
On December 22, 2021, Steyn interviewed the Revd Will Pearson-Gee, an Anglican priest who said that, in the event of another lockdown, he would not be closing his church at Christmas:
I do not have that interview, but it does give me a chance to once again share the priest's passionate declaration that his church would remain open. In the event, he didn't have to worry about another lockdown, thanks to 101 rebel Conservative MPs:
That same evening, Steyn took exception to the 'man' who had a baby and refused to be called 'mother':
On April 6, 2022, Steyn criticised British politicians who refused to define a woman out of fear. Earlier that day, GB News's Ben Leo had interviewed several MPs on the subject. Some didn't answer. Others ran away. Well worth watching:
On April 27, Steyn had an excellent editorial on whether going to university is a good idea for everyone. Back in the 1990s, then-Prime Minister Tony Blair said that 50% of British students should go on to higher education. Currently, Steyn says, 53% now attend university. However, Blair said last year that 70% of Britons should now go to university. Steyn counters the argument by saying that, in the 20th century, the vast majority of Americans left school at the age of 13 and went on to achieve great things. Steyn poured cold water on the 'achievement' aspect of university, saying that so many are still students at the age of 28 and are working as baristas rather than in high-level employment. Furthermore, university now leaves British students in debt, so they are unable to get married and start families. As a result, British demography is suffering with an ageing population.
He is so right:
A Canadian lady, Yasmine Mohammed, appeared several times early in 2022. She discussed her time in al-Qaeda and deplored the fact that Western nations seem to bend over backward for radical philosophies. She concluded that radicals and Islamicists share the same goal, which is to bring down the West:
Dutch farmers
Until I watched Mark Steyn, I had no idea that the Dutch government wanted to seize farms in the Netherlands.
The legal philosopher, as she calls herself, Eva Vlaardingerbroek, appeared many times to keep Mark and his audience apprised of the situation.
On July 11, Eva explained why the Dutch farmers were actively protesting:
Dutch Prime Minister Mark Rutte says there is a nitrogen crisis exacerbated by farming. That idea came from the EU. Dutch farmers are some of the world's greenest in their innovations, but Rutte wants them to turn their farms over to the government.
On August 1, Eva pointed out the danger that such a move poses to individual freedom — the right to own property and to work productively as one wishes:
On December 14, for the first time, GB News's ratings overtook those of the BBC, with Sky News in third place!
Eva expressed her delight in being part of Mark Steyn's programme:
On February 6, 2023, she expressed her disgust at GB News for Steyn's departure. It should be noted that the channel's CEO has changed his own Twitter account to 'private':
Meanwhile, Eva continues campaigning for Dutch farmers.
Unfortunately for them, Mark Rutte's government is winning. This video is from February 3:
On February 8, she said in an interview that the government intends to purchase 3,000 farms by the end of the decade. Who will supply the food?
The next major farmers protest will take place on March 11 in the Hague. I wish these men and women well in their fight:
Mark Steyn update
On February 7, Press Gazette accused Steyn of launching a 'tirade' against Ofcom:
The telecoms regulator currently has two investigations open into GB News, both relating to claims around the safety of Covid-19 vaccines made on The Mark Steyn Show, which aired at 8pm on Mondays to Thursdays.
No fines have been levied against the broadcaster at present, nor any adverse rulings made against the television channel. (GB News Radio did breach a broadcast rule in March 2022 when it failed to give a full list of candidates standing in a by-election.)
Press Gazette understands Steyn has to date been presenting for GB News in a freelance capacity, and had been in negotiations for a permanent contract.
However, it appears the channel has struggled to get Steyn to comply with Ofcom's requirements under the Broadcasting Code.
In a video published to his website on Monday, Steyn referred to an instance in which, ten minutes before going on air, he had a back and forth with the channel's editorial compliance officer that ended with him calling them "Ofcom's bitch" …
It is unusual for a publisher to ask a staff member to accept the costs of a regulatory or legal sanction. It is unclear from the language in the clause whether Steyn would have automatically had to accept liability for the fines or if GB News was reserving the right to pass him costs.
Steyn said in the video: "I'm on the hook there for Ofcom fines – but, and this is the important point, I don't have any say in our defence against an Ofcom complaint. That's all done by GB News. So Ofcom's bitch, as I call the compliance officer, will be making the weedy, wimpy defence to Ofcom, and then I'm the one who has to pay the £40,000 fine or whatever it is."
Steyn went on to say "Ofcom is making a big move to take over the planet at the moment" in connection with the Online Safety Bill.
Asked about Steyn's accusations, a GB News spokesperson said: "GB News takes Ofcom compliance extremely seriously. All our presenters are expected to comply fully with the Broadcast Code and there are no exceptions.
"This does not impinge on our ability to ask tough questions, express strong opinions, and debate the issues that matter to the people of Britain."
Now comfortably back in Canada, Mark has relaunched his online show with his usual guests:
GB News viewers will miss the beauty of Eva Vlaardingerbroek, Alexandra Marshall and Leilani Dowding:
That episode can be found here.
Follow Mark Steyn and his shows here and here. He's also on Twitter.
Steyn's 'Stats Man' Jamie Jenkins will be watching — and contributing. Excellent:
In closing, The Conservative Woman's Laura Perrins is also dismayed by Steyn's departure:
She is not wrong.
GB News made a huge mistake. Let's hope they can limit the damage this will cause them.
End of series

Many GB News viewers will have been deeply disappointed that Mark Steyn has left GB News over the channel's alleged attempts to make him liable for any Ofcom fines resulting from his show for talking about coronavirus vaccines.
Yesterday's post discusses that and has a variety of Mark's output for the channel, with plenty on people who suffered adverse effects from said vaccines.
Today's post continues with more content from his excellent show.
Don't mention the vaccines (continued)
I covered a lot of Steyn's segments on the coronavirus vaccines yesterday.
Here are others I had bookmarked.
On June 16, 2022, Steyn rightly took issue with a Scottish Parliament member who sent a derisory tweet about people posing questions about the vaccines. Apparently, John Mason MSP has form:
Steyn was committed to covering the coronavirus vaccine issue because no other channel was. He discussed this with Dan Wootton on July 4:
In this clip from the same interview, he says that he isn't going anywhere because he enjoys the editorial freedom that GB News allows its presenters:
It's a shame that the channel seems to be changing tack. It would be disappointing indeed if its other presenters were muzzled accordingly. That said, Dan Wootton was the only other presenter to talk about the pandemic on a regular basis, and I haven't heard him do that for several months now.
On July 13, Steyn had a remarkable show about Britons who were either victims of the vaccine or whose relatives died from it. It was one of the best programmes I've seen in some time:
Here is the full hour-long video:
Highlights follow.
At the time, the British government was only just starting to pay out to vaccine victims. The Government only give £120,000 lump sum if the vaccine is the cause of death on the coroner's report or if a living person has been 60% disabled as a result. A Conservative MP, Sir Christopher Chope, was given an adjournment debate on the matter, because payouts were painfully slow.
It was a shame that the House of Commons benches were nearly empty when he spoke. Then again, nearly all MPs think the vaccines have been a godsend. This is why the Government have been suppressing any opposing views and monitoring prominent social media accounts, as Big Brother Watch uncovered last week. Accordingly, Ofcom are all over this on the airwaves, hence GB News's skittishness over broadcasting such stories, as Mark Steyn had been doing so fearlessly.
Mark began by celebrating the first person to receive Government compensation:
That person is Vikki Spit, whose fiancé died from the vaccine. They were a rock'n'roll duo who loved each other deeply:
The mother and wife of NHS doctor Stephen Wright mourned on air:
GB News presenter Neil 'the Coast guy' Oliver joined Mark. He's sitting on the right in the video:
Michelle Dewberry, whose weeknight show is on at 6 p.m., also joined Mark:
Dan Wootton, who was also interested in every aspect of the pandemic debacle at the time, thanked him on his show, which followed at 9 p.m.:
As the response to this tweet indicates, only GB News was covering this topic:
Now they have pretty much stopped, falling into line with every other news outlet.
As you can see in the following video, the victims were young — thirty-somethings:
On July 27, Professor Richard Ennos joined Mark to discuss the excess deaths from the beginning of the pandemic to the present. He said that the early deaths were comprised of elderly people. Increasingly, the age cohort has been decreasing to include much younger Britons:
On August 8, Steyn interviewed Alex Antic, Senator for South Australia, about the commonality of Western countries to link politics with science. So many nations did the same thing at the same time. No one is allowed to ask questions about pandemic policies:
On Tuesday, August 16, Mark welcomed Dr Aseem Malhotra to the show. Dr Malhotra, a cardiologist, was a big supporter of coronavirus vaccines in the beginning but changed his mind. Later in the year, his healthy father, a physician in his 70s, took the vaccine and died.
You can find the video at this GB News link. The accompanying article says, in part (emphases mine):
A leading consultant cardiologist who was one of the first people in the UK to take two doses of the Covid-19 vaccine and promote them on television has called for an end to all remaining vaccine mandates.
Dr Aseem Malhotra has written an open letter to Prime Minister Boris Johnson and US President Joe Biden calling for the immediate release of the raw data from Pfizer's original Covid-19 vaccine trial.
Speaking exclusively to GB News' Mark Steyn show, Dr Malhotra said: "When the vaccines were first released we were told they were 95% effective against infection.
"This is not true. This is based on relative risk reduction. In absolute terms, they provided 0.84 percent protection which means only one in 119 people would be protected from infection.
"This statistic was the pretence under which vaccine mandates were implemented.
"The latest data reveals that once infected there is no significant difference in transmission rates between the vaccinated and unvaccinated, which makes any scientific case for mandates illegitimate.
"As newer and thankfully, less lethal, mutated strains became dominant, any protection against infection at the very least became less effective and likely completely ineffective, even if there is some significant (as yet to be fully determined in absolute individual terms) protection against serious illness and death" …
Dr Malhotra also wrote: "Rather than encourage transparent debate about the true benefits and potential harms of the Covid vaccine as new evidence emerges, those that encourage more critical thinking and adding to the database of relevant knowledge are smeared."
This comes in light of investigative journalist Paul Thacker's investigation into Pfizer's trial data published in the British Medical Journal (BMJ) last year being branded "false information" by independent fact-checkers …
Dr Malhotra argues "global vaccine mandates for Covid-19 must stop until we have the full data on efficacy of all available vaccines."
Writing in praise of Dr Malhotra's findings, Dr Amir Hannan said "[Dr Malhotra] raises some important questions about the validity of the assertions made, asking for all data to be made available so that an in depth analysis can be developed and proper conclusions identified to help restore trust in doctors, the pharmaceutical industry, the research community, the regulatory bodies, the press and governments."
Dr Malhotra's letter has been published in the European Scientist.
Pfizer/BioNTech have been contacted for comment.
On September 2, Dr Matthew Sweet, who appears on the BBC, took issue with Steyn and proved to be a thorn in his side. Steyn mentioned him frequently in the autumn:
On October 4, feminist author Naomi Wolf, who received her doctorate from Oxford University, appeared on Steyn's show to say that she had been pointing out menstrual abnormalities from the vaccine since 2020:
On October 11, Mark interviewed Robert Roos MEP, Vice-Chair of the European Conservatives and Reformists group, one of the MEPs who questioned Pfizer directors about their vaccine. One of the directors intimated that they had no real data to say that the vaccines would stop transmission of the virus. Roos wants to know more, because in some EU countries, unvaccinated people could not go to the supermarket and people lost their jobs because the vaccine was mandated. Overall, the social cost was too great for an ineffective jab:
On Monday, February 6, 2023, Robert Roos voiced his concerns in the European Parliament, stating that, for the most part, parliamentary questions about the effect of pandemic measures on EU citizens were not posed, either in Brussels or in individual member countries' parliaments:
On October 29, 2022, The Conservative Woman's Kathy Gyngell, who was no stranger to the Steyn show, called our attention to his October 27 show, beginning at the 35-minute mark:
She went so far as to include a transcript, which can be found here.
The segment Kathy Gyngell points to is an interview with Mark Sharman, who, during his career, headed the News and Sport division at ITV as well as being the Director of News at Sky.
Sharman made a documentary about the vaccines, Safe and Effective: A Second Opinion. He posted it on YouTube.
Steyn said:
And so Mr Sharman's documentary has just been taken down at YouTube for the following reasons. Big exclamation – 'Medical Misinformation. YouTube doesn't allow claims about Covid-19 vaccinations that contradict expert consensus from local health authorities or the World Health Organisation.' Ooh! No contradicting the World Health Organisation. Mark Sharman joins me now. Mark, as I said, you've been in British broadcasting for a very long time. Have you ever just had a piece of work, such as your documentary, just – boom! – vaporise in the way that YouTube just did it to you?
Sharman replied:
MARK SHARMAN: No, not at all. Mark, I'm not surprised that it's been cut, but as an old-school journalist who believes in reporting both sides of a story, I'm dismayed about what's happening. You know, we are being controlled. The narrative on many, many things is being controlled, and the evidence is growing. I mean, the governments, the Big Pharma companies, Big Tech media companies, they've all decided what the line is and they're sticking to that line come what may. And as you showed earlier in the programme, there are more and more pieces of research from around the world which proves there is something seriously wrong with these vaccines, they're clearly not totally safe and effective. They're clearly not safe, and that don't appear to be effective. And all we're asking for, Mark, is some proper open scientific debate. You know, if there's something wrong, it should be looked at and stopped before more people are hurt …
Sharman echoed other findings exposed on Steyn's show:
You know, there have been 25,000 excess deaths in this country since April. Across Europe, the death rates, excess death rates, are running at 16 per cent higher than usual. And strangely, they're higher in the countries that have been most vaccinated. The authorities come up with all kinds of reasons, including lockdown and the heatwave and changing your bed or whatever. But they won't put the vaccine injury on the list. Now, any investigator worth his salt is going to look at every suspect, if only to rule them out. And there is absolutely no excuse whatsoever to not put vaccine injury on that list. And as I said before, I'm not on one side or the other, I would just love to see a proper open debate where somebody can look at what is happening to these vaccine-injured and deaths around the world. You know, there are other questions as well about the whole reproductive system, but that's another matter. But again, reports are coming in that should be causing concern to the authorities, but they resolutely won't listen, and won't debate it, and cut scientists off and have cut our film off. By the way, it was just about to hit a million views on YouTube alone. And it's interesting that it's been three weeks and not been touched.
More at the link.
On February 6, 2023, The Conservative Woman posted a brief notice about the demise of the Mark Steyn Show. They, too, found the news on Guido Fawkes, as had I:
This is more than 'a shame because he beat Piers Morgan', as Guido puts it. It is a terrible loss for us all and not just all at TCW, but for the country. It is a tragedy for free speech that his style of fearless, moral and uncompromising broadcasting has been brought to an abrupt end. For a year he threw light on dark, he ridiculed the shameless, for a year he raised our hopes that sanity, reason and truth might prevail. Now he is gone and it is shocking and sad. That is how we feel at TCW.
Hundreds of comments followed their post, nearly all of which lamented Steyn's departure.
Professor Norman Fenton was also very sorry to learn that one of GB News's best hosts had left:
However, there might be hope. Bev Turner, who hosts the channel's weekday mid-morning show, is also concerned about coronavirus vaccine safety.
On Monday, February 6, she interviewed a lady from UsForThem, which campaigns for the right of children not to have a vaccine mandate. Molly Kingsley says that the group has won a claim against Pfizer on marketing the vaccine without presenting the risks involved:
Grooming gangs
Another no-go area where only Steyn ventured in depth involved grooming gangs, which have been operating around England for decades.
Samantha Smith, a grooming gang victim who blossomed into an articulate young woman, lives in Telford, Shropshire. She appeared often on Steyn during the summer, then she got a visit from the police on July 6:
Although other channels might say that grooming gangs are in the past — e.g. Oldham, Rotherham — they are still taking advantage of young girls:
On July 11, she returned to London to speak with Mark about her ordeal with the police. The first tweet has an accompanying article:
Here is the full video:
Would that the police had been so interested when she was undergoing sexual abuse from local predators.
In July, the Conservative Party race to replace Boris as leader was in full flow. On July 13, Samantha tweeted that over 1,000 girls have been sexually abused and exploited in Telford alone — a more urgent matter:
On August 10, The Mail+ gave her a voice in a first-person article about her years of abuse:
An excerpt follows:
For years, between the ages of five and 14, I was abused by successive men who left a devastating legacy.
As my life fell apart, I found myself homeless by the age of 16, and there were many nights when I would lie there — racked by visceral self-loathing — wishing I would simply disappear.
How could I not hate myself?
Of course, I had tried to seek help. I eventually reported my abuse and was interviewed by a police child sexual exploitation team. But they did absolutely nothing to bring my abusers to justice.
In fact, I was made to feel unworthy of help or support, as though the abuse I experienced was my fault. My social workers even spelled it out. 'Your behaviour and actions have led you to where you are today,' they told me.
Isolated as I was, I had no idea that I was not alone, but one of more than a thousand children in Telford who had been sexually exploited over decades while the police and youth workers whose job it is to protect us not only failed to act but all too often blamed us as the architects of our own trauma.
Indeed, that's not just my opinion, but the conclusive judgment of a devastating independent report issued last month following an extensive three-year inquiry into sexual exploitation and abuse in my home town stretching back to the seventies.
The authors' verdict could not have been more damning, concluding that generations of children had been subjected to unnecessary suffering because of the abject failures of West Mercia Police, their wilful neglect damning children to years of unnecessary suffering and cruelty.
In some cases, like that of 16-year-old Lucy Lowe, victims were murdered by their abusers.
Echoing conclusions drawn by investigations into similar scandals in Rotherham, Rochdale and Oxford, the report laid bare the scale of systemic failures, highlighting how many perpetrators — predominantly Asian men — were not investigated because of nervousness about appearing racist.
Meanwhile the largely working-class white victims were treated as no-hope cases who were destined to fall into a life of crime, branded 'troublemakers' or even 'child prostitutes' by police. Teachers and social workers were found to have been actively dissuaded from reporting abuse, while offenders were 'emboldened' as police efforts to stop them were scaled down 'to virtual zero'.
It is little wonder the report has been greeted with widespread fury and disgust. My reaction was one of bittersweet vindication — and an anger that reduced me to tears.
Much of the inquiry focused on gang-related cases but many — as I experienced — were perpetrated by individual men.
And while my case was not one of those featured in the report, I am one of hundreds of victims of child sexual abuse and grooming in Telford whose suffering was brushed under the carpet as part of a deeply engrained cover-up culture.
Even now, it is hard to confront the scale of abuse in the leafy Shropshire town I once called home which — on the outside at least — is a world away from the former mining communities that have more commonly been associated with child sexual abuse scandals.
Statistics do not lie, however: while incidents of child sexual abuse number 7.9 per 10,000 nationwide, in Telford that figure jumps to 16.4.
Samantha also appeared on Steyn's October 27 show, just before the aforementioned documentary maker Mark Sharman appeared.
Sharman praised her eloquence when talking to Steyn:
You know, if there's something wrong, it should be looked at and stopped before more people are hurt. And interesting listening to Samantha talk previously – and by the way, what a wonderful spokesperson she is for victims of sexual abuse – but there are real parallels there. You know, the vaccine injured and the public in general don't seem to be as important as the authorities. They'd rather protect their own line and their own story than look at what's going on. You know, it just isn't right.
No, it isn't right.
Kudos to Mark Steyn for discussing this regularly. Until I saw Samantha, I had no idea that this had even been going on in Telford!
More to come
Steyn also had regular segments on other topics, which I shall cover on Friday.
Stay tuned …
Yesterday's post covered the early years of Benedict XVI's papacy, from 2005 to the beginning of 2010.
Today's post will cover a few more news items from 2009 before moving on to the remainder of this good man's time in the Vatican.
He certainly had his cross to bear between 2005 and 2013. For whatever reason, the world's media were dead set against him from the beginning. Many bishops and priests opposed his liberation, for lack of a better word, of the Tridentine — Latin — Mass so that it could be more widely celebrated. Pope Francis shut that down, but it is still possible to attend a Latin Mass in some churches, e.g. Cannes and Nice.
Furthermore, some Catholic traditionalists did not consider Benedict to be traditional enough. To an extent, I agree. Then again, it would have been impossible for him to do away with the Novus Ordo, what my mother and I called Modern Mass, and the other ill-judged reforms of Vatican II. For those reasons, I became a Protestant in the 1980s.
I read some years ago that, near the end of his papacy, Benedict was unable to go into parts of the Vatican without feeling as if he were under spiritual attack, not because he was a bad servant of God but because he was a good one and that Satan wanted his soul. Some months after I read that article, Benedict resigned. If what I read was true, who can blame him? He deserved temporal and spiritual peace. Now he rests with the Lord for eternity.
2009 Easter address
On April 12, 2009, Pope Benedict gave his Easter message, that year's Urbi Et Orbi. Excerpts follow, emphases mine:
Dear Brothers and Sisters in Rome and throughout the world,
From the depths of my heart, I wish all of you a blessed Easter.  To quote Saint Augustine, "Resurrectio Domini, spes nostra – the resurrection of the Lord is our hope" (Sermon 261:1).  With these words, the great Bishop explained to the faithful that Jesus rose again so that we, though destined to die, should not despair, worrying that with death life is completely finished; Christ is risen to give us hope (cf. ibid.). 
Indeed, one of the questions that most preoccupies men and women is this: what is there after death?  To this mystery today's solemnity allows us to respond that death does not have the last word, because Life will be victorious at the end.  This certainty of ours is based not on simple human reasoning, but on a historical fact of faith: Jesus Christ, crucified and  buried, is risen with his glorified body.  Jesus is risen so that we too, believing in him, may have eternal life. This proclamation is at the heart of the Gospel message.  As Saint Paul vigorously declares:  "If Christ has not been raised, our preaching is in vain and your faith is in vain."  He goes on to say: "If for this life only we have hoped in Christ, we are of all men most to be pitied" (1 Cor 15:14,19).  Ever since the dawn of Easter a new Spring of hope has filled the world; from that day forward our resurrection has begun, because Easter does not simply signal a moment in history, but the beginning of a new condition: Jesus is risen not because his memory remains alive in the hearts of his disciples, but because he himself lives in us, and in him we can already savour the joy of eternal life.
The resurrection, then, is not a theory, but a historical reality revealed by the man Jesus Christ by means of his "Passover", his "passage", that has opened a "new way" between heaven and earth (cf. Heb 10:20).  It is neither a myth nor a dream, it is not a vision or a utopia, it is not a fairy tale, but it is a singular and unrepeatable event: Jesus of Nazareth, son of Mary, who at dusk on Friday was taken down from the Cross and buried, has victoriously left the tomb.  In fact, at dawn on the first day after the Sabbath, Peter and John found the tomb empty.  Mary Magdalene and the other women encountered the risen Jesus.  On the way to Emmaus the two disciples recognized him at the breaking of the bread.  The Risen One appeared to the Apostles that evening in the Upper Room and then to many other disciples in Galilee. 
The proclamation of the Lord's Resurrection lightens up the dark regions of the world in which we live.  I am referring particularly to materialism and nihilism, to a vision of the world that is unable to move beyond what is scientifically verifiable, and retreats cheerlessly into a sense of emptiness which is thought to be the definitive destiny of human life.  It is a fact that if Christ had not risen, the "emptiness" would be set to prevail.  If we take away Christ and his resurrection, there is no escape for man, and every one of his hopes remains an illusion.  Yet today is the day when the proclamation of the Lord's resurrection vigorously bursts forth, and it is the answer to the recurring question of the sceptics, that we also find in the book of Ecclesiastes:  "Is there a thing of which it is said, 'See, this is new'?" (Ec 1:10).  We answer, yes:  on Easter morning, everything was renewed.  "Mors et vita, duello conflixere mirando:  dux vitae mortuus, regnat vivus – Death and life have come face to face in a tremendous duel:  the Lord of life was dead, but now he lives triumphant."  This is what is new!  A newness that changes the lives of those who accept it, as in the case of the saints.  This, for example, is what happened to Saint Paul …
Resurrectio Domini, spes nostra!  The resurrection of Christ is our hope!  This the Church proclaims today with joy.  She announces the hope that is now firm and invincible because God has raised Jesus Christ from the dead.  She communicates the hope that she carries in her heart and wishes to share with all people in every place, especially where Christians suffer persecution because of their faith and their commitment to justice and peace.  She invokes the hope that can call forth the courage to do good, even when it costs, especially when it costs.  Today the Church sings "the day that the Lord has made", and she summons people to joy …  To him, our victorious King, to him who is crucified and risen, we sing out with joy our Alleluia!
Five new saints
On Sunday, April 26, 2009, Benedict canonised five new saints.
Speaking in a packed St Peter's Square, the Pope praised each of the five as a model for the faithful, saying their lives and works were as relevant today as when they were alive.
The Pontiff singled out the Rev Arcangelo Tadini, who lived at the turn of the last century and founded an order of nuns to tend to factory workers – something of a scandal at the time, since factories were considered immoral and dangerous places. Tadini also created an association to provide emergency loans to workers experiencing financial difficulties.
"How prophetic was Don Tadini's charismatic intuition, and how current his example is today, in this time of grave economic crisis!" Benedict marvelled in his homily.
The only non-Italian canonised Sunday was Nuno Alvares Pereira, who helped secure Portugal's independence from the Spanish kingdom of Castile, leading Portuguese forces in the critical Battle of Aljubarrota in 1385.
After leaving the military, he entered religious life as a Carmelite and changed his name to Nuno de Santa Maria. He dedicated himself to the poor, never taking the privileges that would have been afforded to him as a former commander.
He is remembered as a national hero today in Portugal, with street signs named after him in many towns, but also as a humble man of great spirituality …
Also canonised on Sunday was Bernardo Tolomei, a nearly blind monk who founded the Benedictine Congregation of Santa Maria di Monte Oliveto in the 1340s. He died in 1348 along with 82 of his monks after leaving the safety of his monastery to tend to plague victims in Siena.
The Pope praised his dedication, saying he died "as an authentic martyr of charity."
The others canonised were Gertrude Comensoli and Caterina Volpicelli, 19th century Italian nuns who founded religious orders.
He has presided over a handful of canonisation ceremonies in his four-year pontificate, and has left it to other Vatican officials to officiate at beatification ceremonies …
Beatification is the first step to possible sainthood. The Vatican must certify one miracle attributed to the candidate's intercession for beatification, and a second miracle that occurred after beatification for the candidate to be declared a saint.
Address to the academic community in Prague
On September 27, 2009, Benedict addressed the academic community in Prague, reminding everyone of the true purpose of education — truth and reason:
Mr President,
Distinguished Rectors and Professors,
Dear Students and Friends,
The great changes which swept Czech society twenty years ago were precipitated not least by movements of reform which originated in university and student circles. That quest for freedom has continued to guide the work of scholars whose diakonia of truth is indispensable to any nation's well-being.
I address you as one who has been a professor, solicitous of the right to academic freedom and the responsibility for the authentic use of reason, and is now the Pope who, in his role as Shepherd, is recognized as a voice for the ethical reasoning of humanity. While some argue that the questions raised by religion, faith and ethics have no place within the purview of collective reason, that view is by no means axiomatic. The freedom that underlies the exercise of reason – be it in a university or in the Church – has a purpose: it is directed to the pursuit of truth, and as such gives expression to a tenet of Christianity which in fact gave rise to the university. Indeed, man's thirst for knowledge prompts every generation to broaden the concept of reason and to drink at the wellsprings of faith. It was precisely the rich heritage of classical wisdom, assimilated and placed at the service of the Gospel, which the first Christian missionaries brought to these lands and established as the basis of a spiritual and cultural unity which endures to this day. The same spirit led my predecessor Pope Clement VI to establish the famed Charles University in 1347, which continues to make an important contribution to wider European academic, religious and cultural circles.
The proper autonomy of a university, or indeed any educational institution, finds meaning in its accountability to the authority of truth. Nevertheless, that autonomy can be thwarted in a variety of ways. The great formative tradition, open to the transcendent, which stands at the base of universities across Europe, was in this land, and others, systematically subverted by the reductive ideology of materialism, the repression of religion and the suppression of the human spirit. In 1989, however, the world witnessed in dramatic ways the overthrow of a failed totalitarian ideology and the triumph of the human spirit. The yearning for freedom and truth is inalienably part of our common humanity. It can never be eliminated; and, as history has shown, it is denied at humanity's own peril. It is to this yearning that religious faith, the various arts, philosophy, theology and other scientific disciplines, each with its own method, seek to respond, both on the level of disciplined reflection and on the level of a sound praxis.
… From the time of Plato, education has been not merely the accumulation of knowledge or skills, but paideia, human formation in the treasures of an intellectual tradition directed to a virtuous life. While the great universities springing up throughout Europe during the middle ages aimed with confidence at the ideal of a synthesis of all knowledge, it was always in the service of an authentic humanitas, the perfection of the individual within the unity of a well-ordered society. And likewise today: once young people's understanding of the fullness and unity of truth has been awakened, they relish the discovery that the question of what they can know opens up the vast adventure of how they ought to be and what they ought to do.
The idea of an integrated education, based on the unity of knowledge grounded in truth, must be regained. It serves to counteract the tendency, so evident in contemporary society, towards a fragmentation of knowledge. With the massive growth in information and technology there comes the temptation to detach reason from the pursuit of truth. Sundered from the fundamental human orientation towards truth, however, reason begins to lose direction: it withers, either under the guise of modesty, resting content with the merely partial or provisional, or under the guise of certainty, insisting on capitulation to the demands of those who indiscriminately give equal value to practically everything. The relativism that ensues provides a dense camouflage behind which new threats to the autonomy of academic institutions can lurk. While the period of interference from political totalitarianism has passed, is it not the case that frequently, across the globe, the exercise of reason and academic research are – subtly and not so subtly – constrained to bow to the pressures of ideological interest groups and the lure of short-term utilitarian or pragmatic goals? What will happen if our culture builds itself only on fashionable arguments, with little reference to a genuine historical intellectual tradition, or on the viewpoints that are most vociferously promoted and most heavily funded? What will happen if in its anxiety to preserve a radical secularism, it detaches itself from its life-giving roots? Our societies will not become more reasonable or tolerant or adaptable but rather more brittle and less inclusive, and they will increasingly struggle to recognize what is true, noble and good …
An understanding of reason that is deaf to the divine and which relegates religions into the realm of subcultures, is incapable of entering into the dialogue of cultures that our world so urgently needs. In the end, "fidelity to man requires fidelity to the truth, which alone is the guarantee of freedom" (Caritas in Veritate, 9). This confidence in the human ability to seek truth, to find truth and to live by the truth led to the foundation of the great European universities. Surely we must reaffirm this today in order to bring courage to the intellectual forces necessary for the development of a future of authentic human flourishing, a future truly worthy of man …
Benedict extends welcome to disaffected Anglicans
On October 21, 2009, without notifying the Archbishop of Canterbury, Rowan Williams, Benedict extended a sincere welcome to disaffected Anglicans to join the Catholic Church, even granting them permission to use Anglican liturgies.
The Daily Mail reported:
The Pope paved the way for tens of thousands of disaffected Anglican worshippers to join the Roman Catholic Church while maintaining parts of their Protestant heritage. 
Those who convert could even be able to keep traditions including the Church of England's historic prayer book – a major concession …
But the Vatican offer, which would allow conservative Anglicans who do not accept women bishops or gay rights to cross to Rome under the leadership of their own bishops, deepened divisions within the Church of England last night.
Archbishop of Canterbury Dr Rowan Williams said it showed that relations between Anglicans and Roman Catholics were closer than ever.
However, evangelical traditionalists accused him of a lack of leadership.
The offer of an 'Apostolic Constitution' applies to all 70million Anglicans across the globe.
Anglican bishops would be called 'ordinaries' in the Roman Catholic Church. Anglican priests can already be accepted as Roman Catholic priests, even if married, but no married Anglican is allowed to become a Catholic bishop.
In a letter to Church of England bishops and primates of the Anglican Communion, Dr Williams said he was 'sorry' there had been no opportunity to alert them earlier to Rome's announcement.
Church of England authorities appear to have learned about the offer just before they offered their own concession to Anglo-Catholics earlier this month over plans for future women bishops …
The Pope's offer follows secret talks last year with the two Church of England 'flying bishops' – whose job is to minister to Anglo-Catholics who do not recognise women priests. Yesterday they admitted the meeting for the first time.
Bishop of Ebbsfleet Andrew Burnham and Bishop of Richborough Keith Newton said in a statement: 'We were becoming increasingly concerned that the various agendas of the Anglican Communion were driving Anglicans and Roman Catholics further apart. It was our task, we thought, to take the opportunity of quietly discussing these matters in Rome.'
Visit to the UK
Benedict visited the UK in 2010.
On March 17, the Mail posted his itinerary:
The Pontiff will use his visit to 'give guidance on the great moral issues of the day' and his itinerary includes a speech on civil society in Westminster Hall that is certain to reflect on controversies over religious freedom, different attitudes to homosexuality, and abortion …
The cost of the Pope's travels and organising his events will be £15million, which will be shared between the Government and the Church. The taxpayer will have to pick up the cost of policing including protecting the Pontiff from hostile demonstrators. This cost is not yet known.
Benedict's itinerary will include visiting the Queen at the Palace of Holyroodhouse in Edinburgh, conducting the beatification service for 19th century theologian Cardinal Newman in Coventry and praying with other church leaders at Westminster Abbey.
On April 26, the Mail reported that a young civil servant sent an offensive email about the Pope's upcoming visit stating, among other things, that he should open an abortion clinic. As this was a state visit, it nearly caused a diplomatic incident:
An Oxford graduate who sent a 'seriously offensive' email suggesting the Pope should open an abortion clinic ahead of the pontiff's visit to Britain will keep his job in the civil service, it emerged today.
Steven Mulvain, 23, who once listed 'drinking a lot' as a hobby, emailed the document, which also included the suggestion of launching a range of 'Benedict' condoms, to Downing Street and three Whitehall departments.
It is believed that Mr Mulvain … escaped punishment because he was given authorisation to send the memo by a more senior civil servant, who has since been 'transferred to other duties'.
However, the shock e-mail threatened to plunge the Pope's state visit into jeopardy with 'dark forces' within the Foreign Office casting a shadow over the trip, Vatican officials declared yesterday.
A well-placed aide in the Vatican said: 'This could have very severe repercussions and is embarrassing for the British Government – one has to question whether the action taken is enough. It is disgusting.'
However, when the Pope arrived in September, all went well. Even the media covered his visit in a respectful way. The Queen acknowledged the Holy See's help in resolving the Troubles in Northern Ireland.
In my post, I wrote:
The Mass at Westminster Cathedral on Saturday morning (September 18) was beautiful and dignified, with the Eucharistic Prayer and a few of the other prayers said or sung in Latin (1968 Novus Ordo), but the real highlight was when the Pope walked out of the cathedral to hundreds (probably thousands) of youngsters from every diocese in England. Wow — you would have thought they were glimpsing a rock star — screams of delight which brought real smiles to BXVI's face. His talk to them was the most spontaneous that I have heard him give on this trip. Although he had his speech typed up, he looked up from it most of the time, making eye contact with them. The kids were so energised, and I think that he was, too. He told them how important prayer was and to discern Christ's direction in their lives and careers. He told them how important it was to make time for daily prayer and — silence. So important.
Blessing the 2012 Olympics
On July 12, 2012, Benedict blessed the Olympic Games:
Let us pray that, according to God's will, the London Games are a true experience of fraternity among the people of the Earth.
I send greetings to the organizers, athletes and spectators alike, and I pray that, in the spirit of the Olympic Truce, the good will generated by this international sporting event may bear fruit, promoting peace and reconciliation throughout the world. Upon all those attending the London Olympic Games, I invoke the abundant blessings of Almighty God.
Benedict's resignation
On February 11, 2013, Benedict XVI announced his resignation, something a Pontiff had not done for 600 years, since Celestine V.
That evening, lightning hit the dome of St Peter's Basilica.
On February 12, USA Today reported:
An apparent photo of a lightning bolt striking St. Peter's Basilica in the Vatican Monday night (left) — the same day that Pope Benedict XVI announced his resignation, stunning the world — has gone viral.
Filippo Monteforte, a photographer with Agence France Press, told England's Daily Mirror that "I took the picture from St. Peter's Square while sheltered by the columns. It was icy cold and raining sheets. When the storm started, I thought that lightning might strike the rod, so I decided it was worth seeing whether – if it DID strike – I could get the shot at exactly the right moment."
Monteforte waited for more than two hours and was rewarded for his patience with not one but two bolts, the Mirror reported.
But could it be fake? One expert, AccuWeather meteorologist and lightning photographer Jesse Ferrell, thinks it's real. In addition to the account from Monteforte — a trusted and well-known photographer — Ferrell sees telltale signs of a genuine lightning strike.
"I believe the photo is plausible, and since it was taken by a professional, with potential video to back it up, I'd say that the photo is legitimate," Ferrell writes on his blog.
Also, he notes that thunderstorms were present in Rome Monday afternoon, according to several Facebook users.
The article closes with a video of the dramatic lightning strike, something to behold. With the second bolt, it looked as if the dome was going to explode.
Benedict's last official act was to address the College of Cardinals in the Vatican's Clementine Hall on February 28, 2013. That was the first day of his retirement. He became Pope Emeritus.
Traditionalists were appalled at the resignation and wondered what it meant for future Popes. Could they be pushed out of the way by senior clergy or by laypeople? In any event, Benedict seemed to have no regrets, and Francis clearly became flavour of the month to most people, including those in the media.
90th birthday
The Pope Emeritus celebrated his 90th birthday in Rome with fellow Bavarians.
April 16, 2017 also happened to be Easter Sunday.
Breitbart has an article and photos from the day, which shows him enjoying a stein of beer. His guests are dressed in traditional Bavarian clothing.
Benedict gave a rare speech inside the Vatican. He said:
My heart is filled with gratitude for the 90 years that the good God has given me.
There have also been trials and difficult times, but through it all He has always led me and pulled me through, so that I could continue on my path.
The article continued:
Surrounded by friends and well-wishers from his native Bavaria on his birthday, Benedict said he was full of thanks in a special way for his "beautiful homeland," adorned with "church towers, houses with balconies filled with flowers, and good people."
Bavaria is beautiful, Benedict reminisced, "because God is known there and people know that He has created the world and that we do well to build it up together with Him."
"I am glad that we were able to gather together under the beautiful blue Roman sky," he continued, "which with its white clouds also reminds us of the white and blue flag of Bavaria—it is always the same sky."
"I wish you all God's blessings," he said. "Carry my greetings home, as well as my gratitude to you. How I enjoy to continue living and walking about amidst our landscapes in my heart."
Church 'on the verge of collapsing'
Two months after his 90th birthday, on July 16, 2017, Benedict prepared a written message to be delivered by his personal secretary, Archbishop Georg Gänswein, in Cologne Cathedral at the funeral Mass of his close friend, Cardinal Joachim Meisner.
Breitbart reported:
In the text, Benedict said that Cardinal Meisner "found it difficult to leave his post, especially at a time in which the Church stands in particularly pressing need of convincing shepherds who can resist the dictatorship of the spirit of the age and who live and think the faith with determination."
What moved me all the more, Benedict said, was that, "in this last period of his life, he learned to let go and to live out of a deep conviction that the Lord does not abandon His Church, even when the boat has taken on so much water as to be on the verge of capsizing."
This appears to have been in response to Pope Francis lack of response to Cardinal Meisner's question, a dubio:
Notably, Cardinal Meisner was one of the four cardinals who presented a series of questions, or "dubia," to Pope Francis last September, asking him to clarify five serious doctrinal doubts proceeding from his 2016 apostolic exhortation Amoris Laetitia (The Joy of Love) concerning Holy Communion for the divorced and remarried, the indissolubility of marriage, and the proper role of conscience.
The other three prelates who submitted the questions to the Pope were Cardinal Raymond Burke, patron of the Sovereign Military Order of Malta; Carlo Caffarra, archbishop emeritus of Bologna; and Walter Brandmüller, president emeritus of the Pontifical Committee for Historical Sciences.
When Pope Francis failed to respond to the dubia, the four cardinals published their questions publicly last November.
"The Holy Father has decided not to respond," they wrote. "We have interpreted his sovereign decision as an invitation to continue the reflection and the discussion, calmly and with respect."
Final visit to brother, also a priest
On August 3, 2020, Sky News reported that Benedict had travelled to Germany to see his brother, the Revd Georg Ratzinger, for the final time.
Afterwards, he had a bout of shingles, although, fortunately, they were on his face rather than around his waistline:
Sky News reported on the visit between the two priestly brothers:
The 93-year-old retired pontiff has become very frail and his voice is barely audible, author Peter Seewald told German daily Passauer Neue Presse.
However, German-born Benedict met with Mr Seewald on Saturday and appeared optimistic, adding that he might pick up writing again if he regains his strength, according to the paper.
Benedict visited his native Bavaria in June to pay his ailing brother Reverend Georg Ratzinger a final visit.
Mr Ratzinger, aged 96, died shortly afterwards.
It was Benedict's first trip outside Italy since 2013, the year he resigned the papacy.
The retired pope has lived in a monastery in Vatican City since shortly after his retirement.
Spiritual testament
On August 29, 2006, Benedict XVI finalised his spiritual testament, which the Holy See released upon his death on December 31, 2022:
When, at this late hour of my life, I look back on the decades I have wandered through, I see first of all how much reason I have to give thanks. Above all, I thank God Himself, the giver of all good gifts, who has given me life and guided me through all kinds of confusion; who has always picked me up when I began to slip, who has always given me anew the light of his countenance. In retrospect, I see and understand that even the dark and arduous stretches of this path were for my salvation and that He guided me well in those very stretches.
I thank my parents, who gave me life in difficult times and prepared a wonderful home for me with their love, which shines through all my days as a bright light until today. My father's clear-sighted faith taught us brothers and sisters to believe and stood firm as a guide in the midst of all my scientific knowledge; my mother's heartfelt piety and great kindness remain a legacy for which I cannot thank her enough. My sister has served me selflessly and full of kind concern for decades; my brother has always paved the way for me with the clear-sightedness of his judgements, with his powerful determination, and with the cheerfulness of his heart; without this ever-new going ahead and going along, I would not have been able to find the right path.
I thank God from the bottom of my heart for the many friends, men and women, whom He has always placed at my side; for the co-workers at all stages of my path; for the teachers and students He has given me. I gratefully entrust them all to His goodness. And I would like to thank the Lord for my beautiful home in the Bavarian foothills of the Alps, in which I was able to see the splendour of the Creator Himself shining through time and again. I thank the people of my homeland for allowing me to experience the beauty of faith time and again. I pray that our country will remain a country of faith and I ask you, dear compatriots, not to let your faith be distracted. Finally, I thank God for all the beauty I was able to experience during the various stages of my journey, but especially in Rome and in Italy, which has become my second home.
I ask for forgiveness from the bottom of my heart from all those whom I have wronged in some way.
What I said earlier of my compatriots, I now say to all who were entrusted to my service in the Church: Stand firm in the faith! Do not be confused! Often it seems as if science – on the one hand, the natural sciences; on the other, historical research (especially the exegesis of the Holy Scriptures) – has irrefutable insights to offer that are contrary to the Catholic faith. I have witnessed from times long past the changes in natural science and have seen how apparent certainties against the faith vanished, proving themselves not to be science but philosophical interpretations only apparently belonging to science – just as, moreover, it is in dialogue with the natural sciences that faith has learned to understand the limits of the scope of its affirmations and thus its own specificity. For 60 years now, I have accompanied the path of theology, especially biblical studies, and have seen seemingly unshakeable theses collapse with the changing generations, which turned out to be mere hypotheses: the liberal generation (Harnack, Jülicher, etc.), the existentialist generation (Bultmann, etc.), the Marxist generation. I have seen, and see, how, out of the tangle of hypotheses, the reasonableness of faith has emerged and is emerging anew. Jesus Christ is truly the Way, the Truth, and the Life – and the Church, in all her shortcomings, is truly His Body.
Finally, I humbly ask: pray for me, so that the Lord may admit me to the eternal dwellings, despite all my sins and shortcomings. For all those entrusted to me, my heartfelt prayer goes out day after day.
Tomorrow's post will conclude with lesser-known facts about and insights into Benedict XVI.
Eternal rest grant unto your servant, O Lord, and let perpetual light shine upon him. May his soul and all the souls of the faithful departed, through the mercy of God, rest in peace. Amen.
Last weekend's big news stories concerned freedom of speech.
The world was horrified to learn of the bloody and debilitating assault on Sir Salman Rushdie, who might lose his sight in one eye. He was off his respirator early this week, thankfully, but, unfortunately, still has a long recovery awaiting him.
Then, here in Britain, on Saturday, August 13, we awoke to the news that raunchy comedian Jerry Sadowitz, 60, had his Edinburgh Fringe gig cancelled at the city's Pleasance Theatre.
Sadowitz gave only one performance before the Pleasance pulled the plug.
I've lived here as long as Sadowitz has been a comedian. For all that time, I have never met a man who liked his brand of comedy.
One could describe him as an equal-opportunity offender. He has appeared on television from time to time. I first saw him in the early 1990s on a comedy show. I couldn't see what was funny. His jokes were gratuitously offensive and filthy.
Nearly everyone in the UK knows about Sadowitz's humour, if one can call it that.
His show is not appropriate for a first date and certainly not for a blind date.
Being generous, I would say that, in terms of comedy, Jerry Sadowitz is the 21st century British version of Lenny Bruce.
Like Bruce, Sadowitz was born in the United States.
He moved to Scotland with his Glaswegian mother at the age of seven.
Let's look at the facts surrounding his cancellation, keeping in mind that the month-long Edinburgh Fringe is supposed to be the bastion of comedic free speech. Its whole purpose is to shock and provoke.
Another thing worth keeping in mind is that Sadowitz actually said what sort of material his show at the Pleasance would include.
The show was called 'Not for Anyone'.
That should have set people's expectations, but it did not.
On Saturday, I read Guido Fawkes:
Guido posted Sadowitz's tweet about how well he thought Friday night's show went:
Guido tied the news in with that of Salman Rushdie (emphases in the original):
Here's some news from the Edinburgh Fringe that Salman Rushdie might find amusing. In a statement announcing that they were cancelling further appearances by the comedian and magician Jerry Sadowitz, the venue said:
The Pleasance Theatre Trust have cancelled Jerry Sadowitz's second and final show at the Edinburgh Festival Fringe with immediate effect. In today's society, opinions such as those displayed on stage by Sadowitz are not acceptable and The Pleasance are not prepared to be associated with such material.
Anthony Alderson, Director of the Pleasance said:
The Pleasance is a venue that champions freedom of speech and we do not censor comedians' material. While we acknowledge that Jerry Sadowitz has often been controversial, the material presented at his first show is not acceptable and does not align with our values. This type of material has no place on the festival and the Pleasance will not be presenting his second and final show.
You couldn't make it up….
No, you couldn't.
Apparently, among other things, Sadowitz exposed himself to a woman in the front row.
The Scottish Daily Express reported (emphases mine):
Controversial Scots comedian Jerry Sadowitz has been cancelled by the Edinburgh Fringe after complaints from shocked audience members and venue staff.
The 60-year-old had two shows booked at the Pleasance called 'Jerry Sadowitz: Not for Anyone' which came with a warning of "strong language and themes some may find distressing" …
However, the decision sparked fury from fellow comics such as Leo Kearse, who said: "If the Islamic fundamentalists don't get you, the wokeists will."
He added that Sadowitz, who was born in the US and moved to Glasgow with his Scottish/Jewish mother at the age of seven, was the "only comedian worth seeing" at the Fringe this year.
Good grief. Yet, judging from this year's Edinburgh Fringe and Festival reviews in The Times, he's probably right.
Anyway:
The Pleasance said anyone who had booked a ticket for Saturday's gig would receive refunds for their tickets and that they "won't be working" with the entertainer again.
Meanwhile, Sadowitz was soon busy on Twitter promoting his run of 14 gigs at venues south of the Border later in the year.
How could the Pleasance not have known about Sadowitz's material when he'd performed there before?
On Sunday, the paper had an update:
The Pleasance has hit back at critics following the Jerry Sadowitz cancellation claiming the comedian made people "uncomfortable and unsafe" to remain in the theatre.
The Edinburgh Fringe venue slammed those who ripped into the "woke" decision as an attack on freedom of speech. The theatre claimed that Sadowitz crossed the line and that controversial comedians "need to be challenged" in a "changing world" …
Fans say his unique brand of black comedy has to be viewed in context and questioned why the venue booked him in the first place, as well as asking why people bought tickets to the show if they were so easily offended.
I completely agree.
Whereas Sadowitz tweeted that he didn't see anyone walk out, the Pleasance claimed that a number of people left during his act:
"A large number of people walked out of Jerry Sadowitz's show as they felt uncomfortable and unsafe to remain in the venue. We have received an unprecedented number of complaints that could not be ignored and we had a duty to respond. The subsequent abuse directed to our teams is also equally unacceptable …
"In a changing world, stories and language that were once accepted on stage, whether performed in character or not, need to be challenged. There is a line that we will not cross at the Pleasance, and it was our view that this line was crossed on this occasion.
"We don't vet the full content of acts in advance and while Jerry Sadowitz is a controversial comedian, we could not have known the specifics of his performance. The Pleasance has staged his work numerous times over the years, but as soon as we received complaints from those in the building which caused us great concern, we knew we could not allow the final performance to go ahead.
"The arts and comedy in particular have always pushed the boundaries of social norms but this boundary is always moving. Our industry has to move with it. However, this does not mean that we can allow such content to be on our stages."
I was heartened to read that a Scottish Conservative and a feminist were critical of The Pleasance:
Former Scots Tory strategy chief Eddie Barnes was among the critics of the decision. He tweeted: "The Pleasance's statement is totally contradictory. But it's that mealy-mouthed, morally vacuous phrase 'not acceptable' that really grates. To whom? And on what grounds? Who decided?"
Feminist campaigner Lucy Hunter Blackburn added: "I first came to the Fringe in 1986. The cancelling of Jerry Sadowitz (who I've never seen – not my bag, I strongly assume I'd not enjoy his material) feels like an important moment – something to stop and look at hard."
… While discussing the furore on GB News on Saturday night, Scots comedian Leo Kearse said: "The Edinburgh Fringe is over, the SNP have put a nail in it by restricting the amount of accommodation so there's not enough space for audiences and acts. Nobody wants to go and see woke comedy. It's like women's football, it gets written about by the Guardian but it's rubbish."
On Sunday evening, GB News's Andrew Doyle, a former teacher who went into stand up and created Titania McGrath, emphasised that what the audience sees is Sadowitz's 'persona', not the man himself. He added that while Sadowitz is lobbing his offensive material, he simultaneously performs magic tricks. (Sadowitz is accomplished at card tricks in particular. That's how he got his start.)
Doyle, who has seen Sadowitz's act, explains that the material is so out there that it makes people laugh:
He's an equal opportunities offender. Think of the worst thing in your head and then say it.
Leo Kearse and Josh Howie, another British comedian, joined Doyle in slamming the manager of The Pleasance, the Fringe's premier venue.
According to them, Sadowitz's material this year was nothing new. Doyle also confirmed that Sadowitz circulated a promo video in which he said what would be in the show.
Kearse said that the people complaining are probably the types who would be okay with Drag Queen Story Hour for children:
Why are we treating children like adults and adults like children?
Howie and Doyle were annoyed to see that some comedians at the Fringe supported The Pleasance. Howie said:
They're putting themselves out of a job.
Doyle added:
They're making a rod for their own backs.
Howie pointed out that Sadowitz is 'revered' on the comedy circuit and that he has inspired many newer comedians' material, which makes his cancellation a 'flash point'. Every new boundary push in comedy today has been thanks to him.
Doyle closed by saying that he had heard most of the complaints had come from members of staff at The Pleasance. Howie said that most venue employees are 'mostly students', ergo, likely to be offended and to 'feel unsafe'.
Doyle asked:
Why do people keep submitting to these brats?
Theirs is a great exchange about freedom of speech in comedy:
On Monday, August 15, BBC Scotland interviewed Russian emigré and free speech advocate Konstantin Kisin. Kisin, who hosts his own podcast, says that such censorship helps no one and that, ultimately, the Edinburgh Festival might become less appealing and lose its audience. The male BBC co-host implied that audience members went only so they could laugh at racism because they rarely get the chance to do so.
Kisin responded, beginning with:
If I were a mind reader like you …
and said:
I have more faith in human beings than you do …
The co-host doubled down:
I was there in the audience. You weren't …
Kisin asked him how he would assess what was going on in people's minds as they watched Sadowitz:
You can tell what someone thinks from their body language? … No, no, you did say that you knew from their body language. You said exactly that.
At which point, the co-host abruptly terminated the interview.
Here it is. I applaud GB News's Colin Brazier for his scathing remark about our being forced to pay for the BBC and their bias:
The same comedians had another go on Monday's Headliners show on GB News. By then, Sadowitz felt forced to explain his act, which disappointed Josh Howie. Sadowitz is also seeking an apology from The Pleasance. Nick Dixon, another comedian, said that today's big names in comedy (many of whom probably got where they are today thanks to Sadowitz) need to stand up for him. The owner of The Assembly Rooms, another top Fringe venue, has rightly criticised The Pleasance for cancelling the act:
Earlier that evening, Dan Wootton asked comedy veteran Jim Davidson, whose style is the exact opposite of Sadowitz's, for his opinion. Davidson got dragged into this because Sadowitz wrote 'I am not J** D*******, folks' and 'a lot of thought goes into my shows'. Davidson was generous in defending a comedian who does not wish to be compared to him. Davidson criticised The Pleasance, saying they knew 'exactly what act' Sadowitz was going to do.
Davidson thinks someone within the local council complained, which has happened before in England. He also pointed out that The Pleasance said that even performing material 'in character' should not be allowed:
Isn't every comedian in character?
Here's the video:
There is a huge gulf between the author of The Satanic Verses and obscene, offensive comedy, however, it is important to defend both.
James Marriott wrote about this conundrum for The Times on Wednesday, August 17: 'The grubby truth about freedom of speech'.
He gave an unintended plug for GB News. Remember that Murdoch owns The Times and TalkTV:
An honest defence of free speech acknowledges that it inflicts pain on vulnerable people, disperses power unequally and has no scientifically identifiable principles — but that it is precious nonetheless. It is a grubby, unfortunate truth.
Has there ever been a less glamorous time to support free speech? Because social media companies refuse to accept editorial responsibilities, the internet is overrun with the gory worst of what humans have to say.
The most vocal modern defenders of free speech are not artists or libertines but pimply "Enlightenment bros" and the talking heads of GB News. Of course, one's principles should never be formed in accordance with what is and isn't trendy. So we are left as the awkward, perhaps half-embarrassed, defenders of this unhappy, dysfunctional system which is nevertheless by far the best one we've yet devised.
That probably explains why GB News's ratings are way ahead of TalkTV's.
I'll leave the last word to The Telegraph's theatre critic Dominic Cavendish:
Though I've seen a number of his shows over the years, I didn't catch this one. His act – initiated in the 1980s, and bolstered since the 1990s by dexterous card tricks – is easy to summarise: misanthropic, unrelenting bile, awash with expletives and at war with political correctness. No one escapes his performative contempt, which springs from him, but qualifies too as an act.
His patter is knowingly extreme, and can be extremely funny, although the exhalation of laughter wars with the sharpest intakes of breath. His offence-giving once brought him celebrity but that has been on the wane – TV has barely touched him since the early 2000s. Sick-taste comedians have come up in his wake, most successfully Jimmy Carr and Frankie Boyle, yet he has admirers across the spectrum; even Stewart Lee, the darling of the progressive Left.
As Lee wrote in the New Statesman in 2013, "because Sadowitz is one of the most complete and perfect stand-ups in history, his exact political position is complicated. By accident or design, he appears to be socially, sexually, culturally, physically and economically at the bottom of the pile. This gives him licence to attack everything and everyone, like a drowning rat swimming desperately up the U-bend. And this tells us a lot about the essence of stand-up."
… It's impossible to justify every line of Sadowitz's sets but his worldview is to be suspicious of pleasantness and to detect phoneyness in progressivism. He confronts us with his viciousness and by extension, our own. Times have changed, have they? His pertinent thrust is that people haven't.
… The Pleasance can hardly say they didn't know who they were booking, this time around.
That they de-platformed Sadowitz just after Salman Rushdie was attacked felt doubly uncomfortable. There's a world of difference, of course, in being told that your show is cancelled, and being stabbed in the face. But how could the Pleasance feel on the right side of history? Though worlds apart in terms of finesse, and import – Rushdie is a highbrow culture hero, Sadowitz an increasing anachronism – are the two men not both flying the flag for freedom of expression?
Today, sure, cancel Sadowitz. But tomorrow? What about other less provocative but maybe also problematic acts? Take another fringe veteran, Arthur Smith, who gratuitously if comically has a naked woman walk across stage during his Pleasance show. Should he go next? The 2022 Fringe so far has been a sun-lit occasion – but dark clouds have gathered.
I don't like Jerry Sadowitz's comedy but I will defend his right to perform on stage.
Like him or loathe him, where freedom of speech is concerned, he's every bit as important as Salman Rushdie.
On Saturday, December 18, 2021, Lord Frost resigned as the UK Government's chief Brexit negotiator.
He cited his dissatisfaction with Boris Johnson's 'political direction':
Most Conservatives were in shock at the news. He was among the top-rated Cabinet members and was negotiating Brexit as well as could be expected, given the nature of the EU in Brussels:
Lord Frost had been in a Brexit negotiating post for two and a half years. He became a full Cabinet member on March 1, 2021, at which point he became Britain's chief negotiator, taking over from Michael Gove, who was then Chancellor of the Duchy of Lancaster.
Guido Fawkes has the text of Frost's acceptance of the Cabinet position:
I am hugely honoured to have been appointed Minister to take forward our relationship with the EU after Brexit. In doing so I stand on the shoulders of giants and particularly those of Michael Gove, who did an extraordinary job for this country in talks with EU over the past year.
Frost was sworn into the House of Lords on September 8 as Baron Frost of Allenton in the County of Derbyshire. Because of coronavirus, wearing ermine has been optional:
The most intractable part of Brexit has been — and continues to be — the EU's holding Northern Ireland hostage. Goods from Great Britain cannot get through, such as English oak trees, which the Province wants to plant for the Queen's Platinum Jubilee in 2022. British Christmas cards were taxed last year, according to EU rules. The transport of medicines is a much more serious problem.
Guido Fawkes has the full text of Lord Frost's resignation letter and Boris's reply.
This is the main highlight, wherein the peer mentions his 'concern about the current direction of travel', particularly with coronavirus lockdowns. Interestingly, he thinks that Brexit 'is now secure':
Although Lord Frost had tendered his resignation the week before, according to the Mail on Sunday, and had agreed to stay on until January, he changed his mind and left Government with immediate effect, after the Mail on Sunday leaked his impending departure a week before. See the end of the first paragraph of his letter below:
The story made the Mail on Sunday's front page on December 19. Frost also objected to, quite rightly, to tax hikes and green policies, neither of which is Conservative:
The article clearly worried some Conservative MPs. Sam Coates from Sky News tweeted a bit of their WhatsApp exchange.
Theresa Villiers wrote:
Very worrying that Lord Frost has gone.
Andrew Bridgen replied:
Worrying? It's a disaster. Lord Frost was concerned about the policy direction of the Gov. So are most of the Conservative backbenchers.
Marcus Fysh said, in part:
Frost is a hero and 100% right on this.
The day he resigned, The Spectator posted the text of Frost's speech to the Centre for Policy Studies, 'Britain needs low taxes and no vaccine passports'. Excerpts follow:
We can't carry on as we were before and if after Brexit all we do is import the European social model we will not succeed. We have not successfully rolled back the frontiers of the European Union from Britain with Brexit, only to import that European model after all this time …
It is all too easy to get captured by the interest groups and the lobbies. We don't have time for that. The world is not standing still. No-one owes us a living. Earning one is now fully in our own hands. The formula for success as a country is well known. Low taxes – I agree with the Chancellor, as he said in his Budget speech, our goal must be to reduce taxes.
Light-touch and proportionate regulation, whatever our policy objectives. Free trade – of course – simultaneously increasing consumer choice while reducing consumer costs. Ensuring competition stops complacency – keeping our economy fit and responsive to innovation and progress abroad.
And personal freedom and responsibility. Unavoidably, we have had a lot of state direction and control during the pandemic. That cannot and must not last for ever, and I am glad that it is not. I am very happy that free Britain, or at least merry England, is probably now the free-est country in the world as regards covid restrictions. No mask rules, no vaccine passports – and long may it remain so.
The Mail on Sunday's editorial explained why Frost's departure is a serious blow not only for the UK but also for Boris's premiership (emphases mine):
Lord Frost, the Brexit Minister, is the opposite of a career politician. He is a distinguished diplomat with a long record of skilled negotiation who gave his talents to Boris Johnson in the hope of getting Brexit done, successfully and to the benefit of this country.
He is a serious and substantial figure, a genuine patriot who believes in Britain …
He transformed the Brexit talks, symbolising a new, unapologetic and frankly patriotic approach by getting our negotiating team to wear Union Flag badges.
His approach was so unlike the feeble and defeatist attitudes of so much previous British contact with the EU that Brussels realised it was for once dealing with serious opponents, with an iron determination to stand up for ourselves …
But his departure is less to do with the continuing problems of sorting out the details of our new relationship with the Continent and more to do with the PM's conduct of the Covid crisis.
With his usual sharp perception, Lord Frost has decided that he has had enough of the Government's increasingly European-style approach to the pandemic.
Lord Frost has been among the strongest voices in Cabinet in favour of keeping the country open and for avoiding more legislative controls to deal with the disease. He is believed to have objected in principle to the idea of 'vaccine passports'. He is also thought to have been disillusioned by the latest resort to regulations.
This is all of a piece with his more general disenchantment with the whole policy direction of the Government in recent months – especially on tax rises and the green-driven preoccupation with the target of 'net zero' CO2 emissions.
This view meshes with his public statements, disagreeing with the European-style high- tax high-spend economic model recently embraced by the Chancellor. Lord Frost believes that such a policy, whatever the excuse for it may be, is unlikely to deliver the benefits of Brexit. These are serious objections from a serious man.
Boris Johnson, who understands very well the value of figures such as Lord Frost, needs to heed what he says, and soon. The Covid crisis has caused the Government to wander very far from the principles on which it was so decisively elected. And, while it is easy to read too much into bad by-election results, it would be very unwise for Mr Johnson to brush the North Shropshire defeat aside.
It is because he has failed to deliver what his supporters want that they are now prepared to shift their votes elsewhere. For the moment, protests of this kind are just a warning, as Lord Frost's departure is a warning.
But if these danger signals go unheeded in the year ahead, the Government will face a much more serious defection and its future could be in real danger.
The Sun's article was along the same lines, signposting danger for Boris, who was already sinking in the polls at the time:
Lord Frost's walk-out will intensify the pressure on Mr Johnson's faltering leadership — and will be particularly painful as he was his "Brexit brother in arms" …
A Downing Street source said: "This is a proper kick in the balls for Boris and the team.
"Frostie hated the Covid restrictions and higher taxes — but vaccine passports was the final straw."
The hammer blow came as Boris planned his fightback after his worst week in charge.
Senior allies have told him heads must roll if he is to cling on to power …
Cabinet big guns have said they will stand by the PM.
A source said yesterday: "We all need to pull together. We need the whips to make it clear that there is no other option than to stick with Boris."
The Spectator said that Frost's departure was worse for Boris than the recent Shropshire by-election loss, which saw the Liberal Democrats take over a long-standing Conservative constituency:
On December 19, Boris wasted no time in appointing Foreign Secretary Liz Truss as Frost's replacement:
Guido reported that Truss will be primarily responsible for the Northern Ireland Protocol negotiations and that Chris Heaton-Harris will become her deputy:
The Foreign Secretary is to become lead negotiator with the EU on the Northern Ireland Protocol, following the departure of Lord Frost.
Liz Truss will take over Ministerial responsibility for the UK's relationship with the European Union with immediate effect.
She will become the UK's co-chair of the Partnership Council and the Joint Committee, and will lead the ongoing negotiations to resolve the problems arising from the current operation of the Northern Ireland Protocol.
Chris Heaton-Harris will become Minister of State for Europe and will deputise for the Foreign Secretary as necessary on EU Exit and the Protocol.
Nikki da Costa, Former Director of Legislative Affairs at No 10, posted an incisive Twitter thread explaining how hard Lord Frost worked on Brexit negotiations, despite all the obstacles. He remained cool-headed and diplomatic throughout:
At that point, I will add that, having seen the Lords grill Lord Frost when he answered their questions, they gave him a very hard time. Not surprising, when most of them are Remainers, but he really did not need the extra aggravation.
Nikki da Costa concludes:
On December 20, The Spectator took a closer look at what Frost wanted out of negotiations concerning Northern Ireland. Henry Hill, who wrote the article and works for Conservative Home, concluded that the Government didn't have the nerve to go through with his plans:
Whether Frost speaks out or not, this speaks to a deeper political problem for the government. Frost could only ever be as muscular as Johnson was prepared to allow him. Thus, over the past couple of months, we have gone from a very robust line about triggering Article 16 — the mechanism that allows either side to suspend the Protocol — to the most recent news that actually, maybe the government's red line about the jurisdiction of the ECJ wasn't quite so red after all.
According to Dominic Cummings, Frost and his team did have a proper strategy for invoking Article 16 and using it to secure the reforms required to safeguard the integrity of the British state. But they knew the government didn't have the bottle for it. And following the departure of most of the rest of the Prime Minister's original Vote Leave team, they were also isolated within government.
Even accepting that Cummings has an axe to grind, that seems perfectly plausible. Johnson's overall approach to the Union has been wildly erratic. One might plausibly favour either a more conciliatory 'four nations' strategy or a more muscular approach to unionism. The government has instead lurched haphazardly between the two.
Boris's lurching, as the article puts it, seems to be affecting other areas of government policy:
It's the same story on pretty much every important area where the Tories should be pursuing structural change. Ambitious planning reform has been abandoned. Detailed proposals for reforming the courts have been sidelined in favour of disinterring David Cameron's 'British Bill of Rights'. I couldn't even tell you if this ministry has an education reform policy.
Time and again, Johnson has proven that his 'fight or flight' instinct is stuck on 'flight'. He's a talented campaigner with an uncommon knack for connecting with voters, at least until recently. But he isn't going to fight to the last for the things he believes in because neither fighting nor believing things are major parts of his political character.
That day, LBC (radio) interviewed Lord Frost, who said that being a Cabinet minister involves supporting Government policies, something he no longer felt he could do, hence his resignation (H/T Guido):
On January 8, 2022, the Mail reported that Lord Frost supports Boris as Prime Minister but thinks he has the wrong advisers. He also hit out at 'woke warriors', stifling public debate. How true — on both counts:
Boris Johnson must reset his Government along traditional Conservative lines if he is to avoid defeat at the next General Election, his former Cabinet Minister Lord Frost warns today.
In his first interview since his sensational resignation as Brexit Minister last month, Lord Frost calls on Mr Johnson to revitalise the country with 'free markets, free debate and low taxes' and to 'set the direction of travel' to appeal to ordinary voters.
He says that the course change is essential for the party 'if we're going to get out of this little trough and win the Election in a couple of years' time' …
Lord Frost makes clear he does not want Mr Johnson to stand down, but to change his policies – and the people around him.
'What I think we need to do is be clearer about the direction of travel, clearer about how we're going to get there. And I think the PM should trust his instincts a bit more,' he says, before criticising the No 10 operation.
'The PM has a right, when he wants something to happen, for the levers that he pulls to actually produce something. And he has the right to the best possible advice around him.
'So I think there needs to be machinery changes and there probably need to be some different voices around him to make sure that he gets the best possible advice.'
Setting out a manifesto for post-Brexit Britain, Lord Frost says: 'I think we need to focus on rebuilding the nation and be proud of our history.
'We need to get the country going economically again and that means free markets, free debate and low taxes. People need to look at this country and think, yes, something is changing here. You've got to set the direction of travel …
His intervention comes after Tory MPs were shaken by a poll in last week's Mail on Sunday showing a Labour lead of 16 per cent in the 'Red Wall' seats seized by Mr Johnson in the 2019 Election, which are critical to his chances of winning the next one.
Lord Frost says: 'I saw the polling and it doesn't look good. I don't think the Red Wall is so different to the rest of the country. What people want is their own lives to get better. They want control of their lives and to be prosperous' …
'It isn't about just, "Is this tax increase justifiable or not?" It's about the big-picture things we are trying to do and why.'
That includes the 'policing of people's opinions' by 'woke warriors' and mounting 'Twitter pile-ons' targeting those with opposing opinions.
'It really worries me it's becoming difficult to advocate certain positions that have been reasonable in public debate in the past,' Lord Frost says.
'All of Western history is about free debate, intellectual inquiry, the ability to take the conclusions where you find them.'
… Despite the many problems afflicting the Government, Lord Frost still believes that Mr Johnson will be Prime Minister this time next year, if he gets 'the right sort of support'.
Lord Frost refuses to name his preferred successor to Mr Johnson, although he believes that Brexit is safe in the hands of Ms Truss, who has taken over his portfolio …
How would he define 'Johnsonist Conservatism'?
'Good question. It's about a 'can do' attitude – he is relentlessly optimistic and positive about this country, which is a good thing, and he's right to be. I think his fundamental views about the world and politics are good ones.
'I look back to the speech he gave at party conference in 2018 about tax cuts.
'That was a good speech and I think we could get back to that.' 
Lord Frost expanded on his views in this January 21 interview with Mark Steyn on GB News, which is well worth watching:
With the controversy over Boris's Downing Street parties still a subject of daily debate, pending civil servant Sue Gray's report, on January 27, Frost said in The Sun that we should not condemn the Prime Minister until the facts are made available.
I am glad that he brought the PM's critics' hatred of Brexit into the mix, because that's what is really at the heart of the matter:
Sue Gray's report must be published and judgments must be made.
Her report may provide evidence to condemn the Prime Minister. 
Or it may turn out, as so often before, that his critics have allowed their dislike of Brexit, or of Boris Johnson personally, to blind them to the facts.
For my part, I think the Prime Minister of this country should have the right to be believed — unless there is clear contrary evidence. 
That is why the Gray report is so important. 
MPs will have to draw their own conclusions from it. 
On January 31, Lord Frost ruled out a return to Downing Street as an adviser.
The Telegraph's political editor tweeted:
Frost had tweeted:
I hope that Boris gets the message. He needs the proper help — and fast.
Over the weekend, I read two contrasting approaches to coronavirus, going from the sublime to the ridiculous.
El Salvador
This is the latest message from the government in El Salvador about coronavirus. It advocates exercise, achieving a normal weight, eating properly and getting enough sleep:
It is sublime. If only other governments had advocated the same thing over the past 22 months. Then again, there's no Big Pharma involvement, so this never could have happened in the West.
France
Now we move to the ridiculous.
Last summer, the French government mandated the vaccine passport, popularly called le pass sanitaire, when in reality it is le pass vaccinale.
In August 2021, the Minister for Work, Elisabeth Borne, said that anyone refusing to get a vaccine passport would be denied his/her salary or unemployment benefit. Someone replied to this tweet with a quote from February 2021 in which Borne said that, as a woman of the Left, fighting for social justice and equal opportunity were her two biggest objectives in life. Oh, the irony:
Initially, at least, vaccine passports were required even to go into a supermarket.
Here's a chap at Carrefour who could not get past the security guard on August 17 at Noisy le Grand, just outside of Paris:
Two more videos appeared on August 18. One was in the city of Pau in the south west of France. Police prevented angry shoppers from entering Leclerc:
The second confrontation took place at an Auchan in Marseille. Shoppers chanted 'Liberté, liberté':
I don't know what happened after that, but I haven't heard or seen any more about people being prevented from entering a supermarket.
I did see videos with police checking people sitting outdoors at cafés and bars for vax passport status.
Fast forwarding to January 2, 2022, Prime Minister Jean Castex said that food and drink can only be taken in bars and cafés sitting down. A bit like Wales and Scotland, then:
That same day, the education minister, Jean-Michel Blanquer, explained that every school would have a list of students showing their vaccination status, thereby violating the principle of privacy with regard to personal health records — a slippery slope:
The following day, the president of France's parliament, Richard Ferrand, got coronavirus. No one was allowed to ask questions, though, because it wasn't anyone's business. Circulez, il n'y a rien a voir. Keep moving, nothing to see here:
Incidentally, no vax passport is required in France's parliament. Typical:
On January 4, French president Emmanuel Macron said that he wanted to 'p— off' as many unvaccinated as possible. This means that the unvaccinated will not be able to go to sports fixtures, the cinema — or even restaurants, bars and cafés.
Contrast that with what he said on December 15, 2021: 'With some things I've said, I've hurt people. I won't do it again':
There is even an older statement from Macron from April 29, 2021, in which he pledged there would never be a mandatory vax passport in France:
Jean Castex refused to comment on Macron's pronouncement about p—ing off the unvaccinated:
Meanwhile, an anti-vax passport petition circulated online. It had over 1.2 million signatures as of January 5. The initiator of the petition was not allowed to present it to parliament. Police restrained him:
France's senate will be voting on further vax passport measures this week, postponed from last week:
Constitutionalists say that the vax passport measures are unconstitutional:
Here is a roadside hoarding (billboard) critical of Macron's vaccination policies:
The vaccine passport mandate was supposed to end on November 16, 2021. Yet, it is still in place.
On Saturday, January 8, many thousands of French citizens took to the streets to protest.
This was the scene in Aix-en-Provence:
Paris had the largest demonstration, despite the rain:
Here's another view:
Of course, the media, in this case BFMTV, reported 'only a few thousand' protesters. They would, wouldn't they?
On Monday, January 10, a French physician who works in ER called for the abolition of vaccine passports and urged the government to focus on treating the sick — 'Revenons au basique', or 'Back to basics':
Just before Christmas, a general practitioners' union pledged their support for the unvaccinated, a clear refutation of Macron's policy:
France's talk radio station, RMC, discussed the unvaccinated on Monday. Here's the segment from Les Grandes Gueules [The Big Mouths], for any interested Francophones.
A general practitioner who is a regular guest on the show said that anyone spreading 'disinformation' should be put in prison. Unbelievable:
One of the panellists complained about the constant testing of schoolchildren, which she thought was a waste of time and money:
Some time ago, when waffling on about the necessity for constitutional reform, Macron pledged that any petition with more than 1 million signatures would go to a referendum in order to give the French people a voice. As the anti-vax passport petition has 1.2 million signatures, will Macron prove good on his word?
Even during an election year, I wouldn't hold my breath.
Macron's voters are pro-vaccine and pro-vaccine passport people. Sadly, I think he will win another five-year mandate in May 2022.
Most of the British population has now had their two injections, myself included.
However, in terms of efficacy, the jury is out.
Since the summer, we have been told that boosters will be required as soon as this autumn.
This is what a Guido Fawkes reader had to say, referring to the implementation of vaccine passports in Scotland:
… the vaccine does not prevent infection, re-infection or onward transmission of those vaccinated, so is utterly futile as a warranty of safety for entering any type of premises. Indeed it gives a false warranty about those things. The lurgy may still be lurking.
Indeed.
Remember back in 2020 when Drs Fauci and Walensky told us that the vaccines are 100% effective and that vaccinated people do not carry the virus?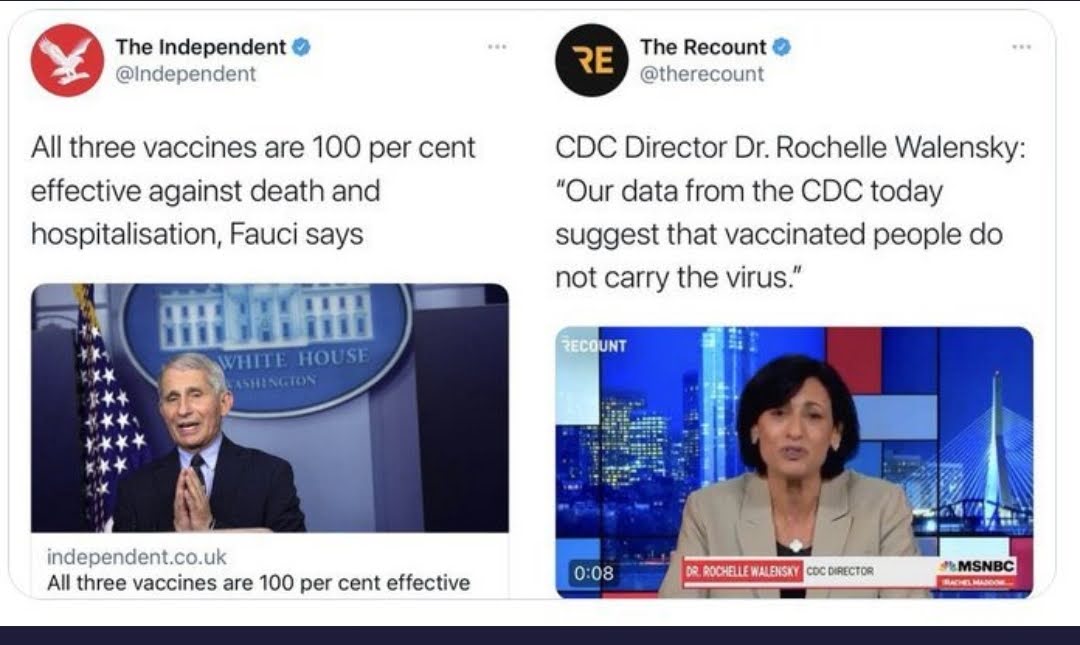 Not so, as we have discovered.
To make matters worse in this parlous state of affairs, the British public are now expected to help market vaccinations on social media. This campaign is called #ValuingVaccines: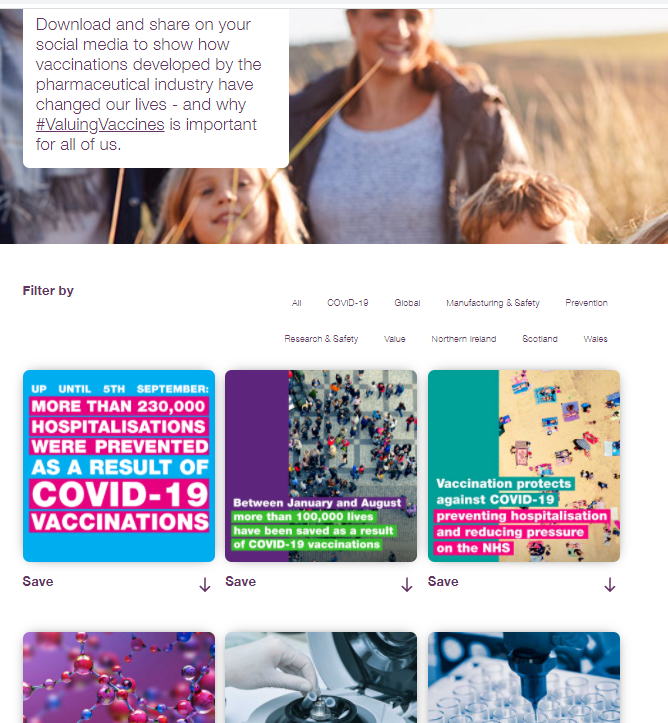 This is a photo of a letter to young Britons urging them to get vaccinated. What is missing from it? Any mention of health benefits: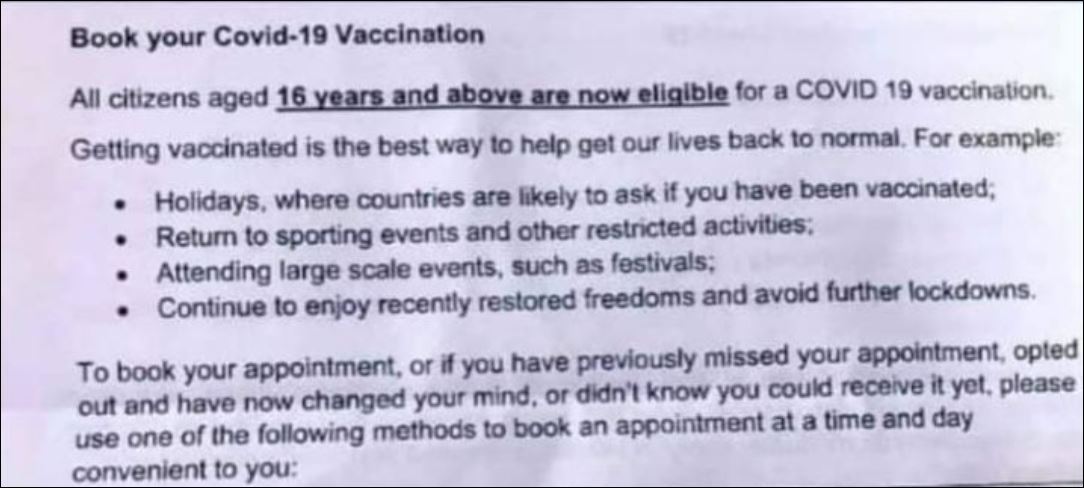 Note the mention of 'freedoms' in the last bullet point.
Here's a thought. Since when did our basic freedoms ever rely on getting a vaccine?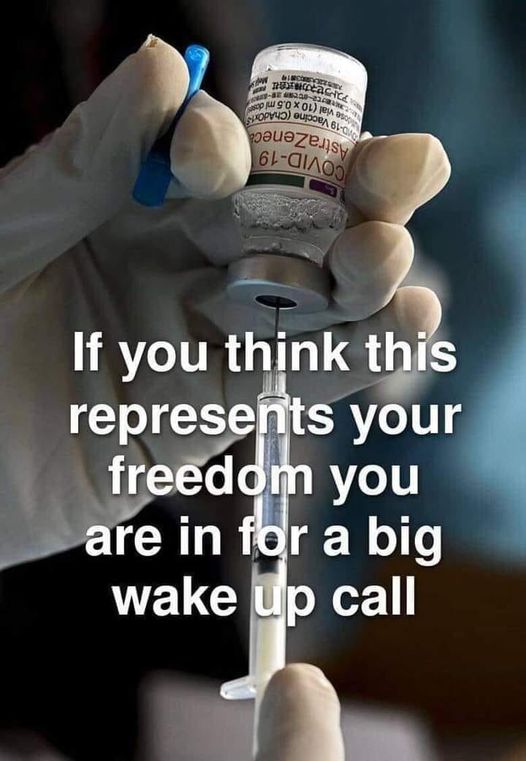 Also, minors eligible for the vaccine in the UK do not require their parents' consent. This is a mock-up of Chris Whitty, our chief medical officer. It's not far from the truth: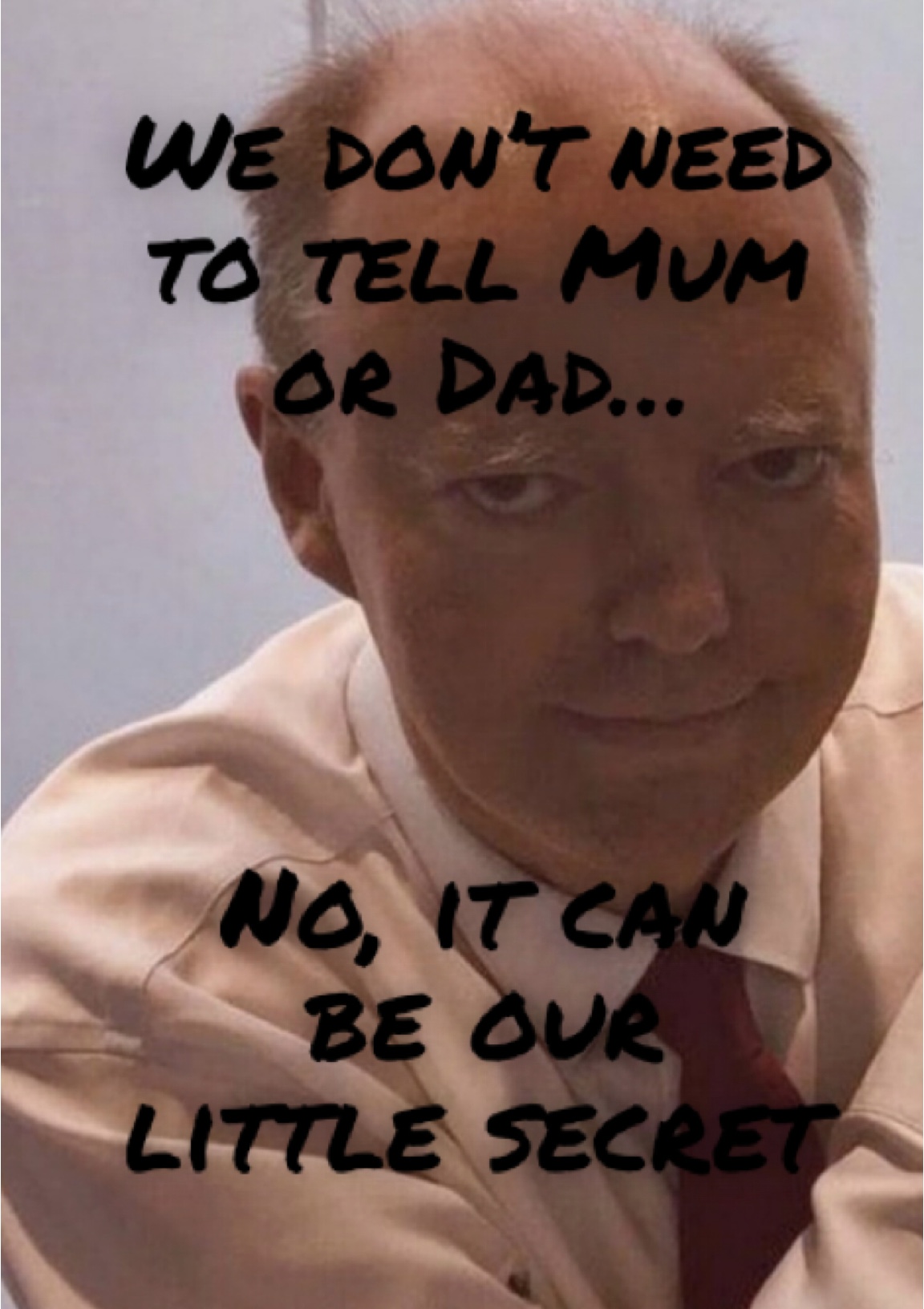 There are other issues with these notional vaccines.
One of them is the redefinition of the word 'vaccination', which has gone from disease prevention (I will always hold by the original and best) to producing immunity against a disease to the current protection from a disease. We've been had, folks, but most of my readers know that by now: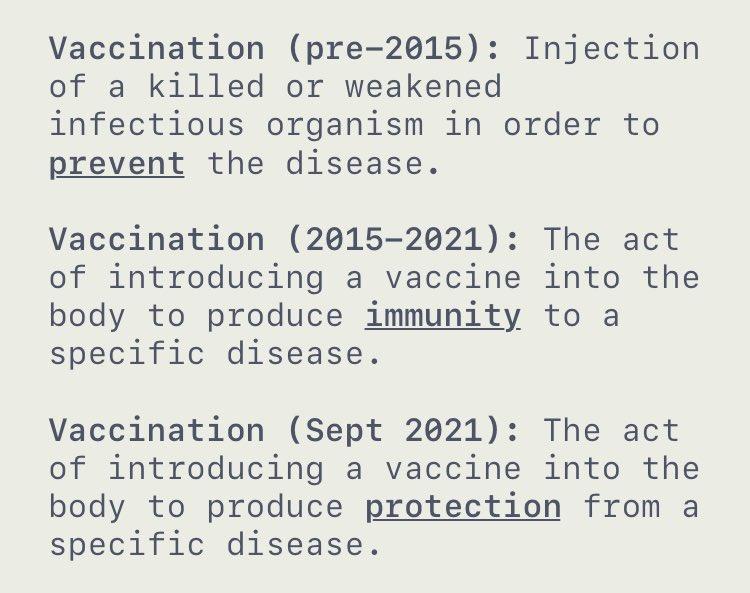 Now let's look at how long producing a vaccine has taken throughout history. With regard to coronavirus, we were told that vaccines take a lot less time these days. Perhaps. However, six months to market seems rather brief: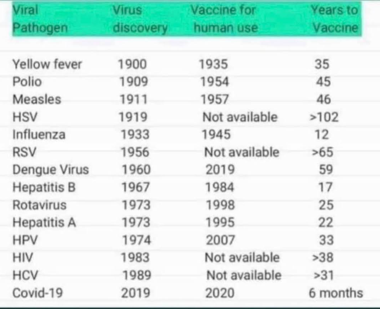 Now let's look at what six months to market has produced — a product that doesn't even work and could be injurious to one's health, if not fatal, depending on the individual. Some American youngsters have experienced heart problems after taking Pfizer or Moderna. The cure can be worse than the disease:

I am glad to see that 'vaccine' has quotation marks around it in this risk/benefit analysis: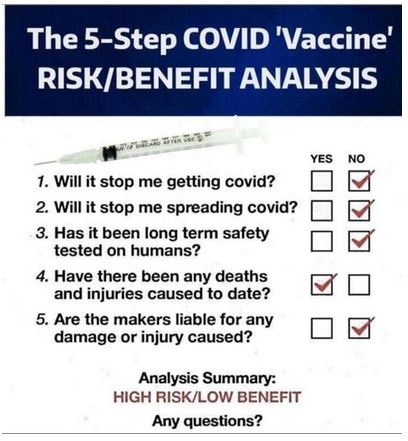 Our notional betters, including journalists, say that the unvaccinated are causing the vaccine to fail. Hmm. That's a new one: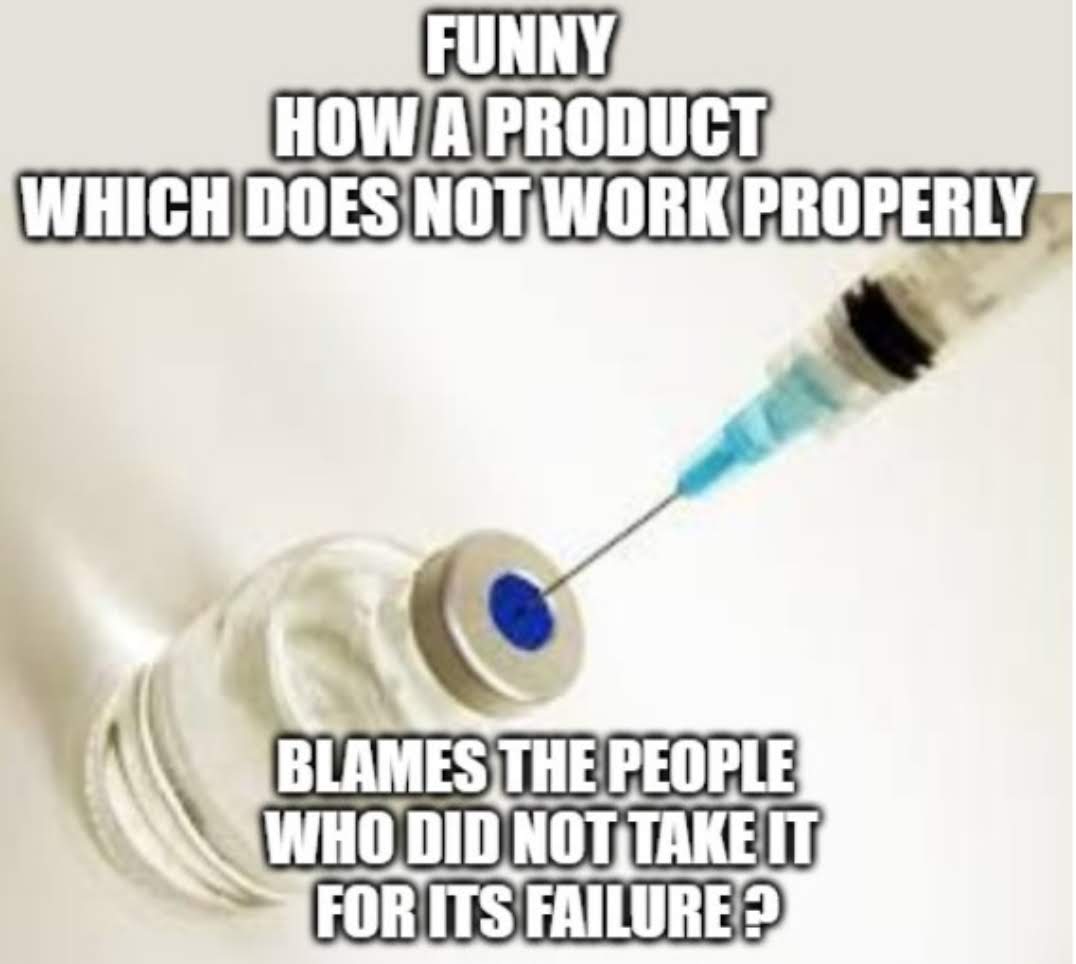 Now we have to worry about vaccine passports. France already requires them just to go to the supermarket. In other words, you cannot eat if you have not been vaxxed: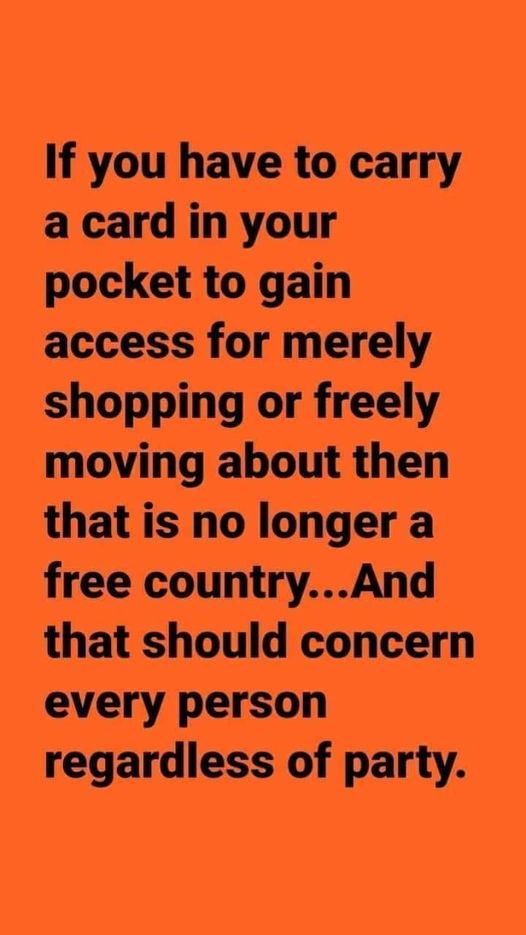 Speaking of supermarkets, here's Manchester mayor Andy Burnham, a former Labour MP, moaning about the lack of social distancing at Tesco. Yes, he named the chain. Yet, here's Burnham partying at Labour's conference this week as if it were the old days. The sheer hypocrisy of our leaders is mind-boggling:
But I digress.
Those are my thoughts on the coronavirus vaccines, a necessary evil if one wishes to go out again.
I would have liked to give credit to the people who created these images, which I found in various places online. My compliments to everyone involved.