You are currently browsing the tag archive for the 'George VI' tag.
Sadly, Prince Philip, the Duke of Edinburgh, died on Friday, April 9, 2021, exactly two months short of his 100th birthday:
The Queen has lost her best friend. My deepest sympathies to her for the unimaginable loss of her long-time husband and daily confidant. My condolences also go to the Royal Family in their grief.
Young love
The couple first met in 1934, and began corresponding when the Prince was 18 and a cadet in the Royal Navy. Princess Elizabeth was 13 at the time.
She was smitten with him from the start.
Prince Philip served with distinction during the Second World War in the Mediterranean and Pacific fleets.
After the war ended, he could have had a stellar career in the Royal Navy. His superiors praised his clear leadership skills.
However, love intervened and the rest was history.
Born Prince Philip of Greece and Denmark, he renounced his foreign titles and took British citizenship before he and Princess Elizabeth were engaged. He took the surname of his maternal grandparents: Mountbatten.
He and Princess Elizabeth were engaged in July 1947. They married on November 20 that year. Shortly before the wedding, George VI gave him the titles of Duke of Edinburgh (created for him), Earl of Merioneth and Baron Greenwich.
Prince Philip remained in the Royal Navy until July 1951. He retired with the rank of Commander.
Royal succession — and surname
In January 1952, he and the Queen began a tour of the Commonwealth countries. They were in Kenya when news reached them that the Queen's father, George VI, died on February 6 that year.
Although she became Queen immediately upon her father's death, her coronation took place in 1953, as it had to be planned meticulously.
On Coronation Day, he knelt before her, clasped her hands and swore an oath of allegiance to her:
He also had to touch her crown and kiss her on the cheek.
He never had a constitutional role, nor was he ever formally given the title of Royal Consort. The courtiers did not like him, nor did they trust him. They believed his personality to be brash and unbecoming of the Royal household. They shut him out of as much decision making as possible.
When Elizabeth became Queen, the question about her family name arose. Prince Philip suggested that the Royal Family be known as the House of Edinburgh. Upon discovering that suggestion, Queen Mary, Elizabeth's grandmother, wrote to Prime Minister Winston Churchill, who advised the young monarch to issue a royal proclamation saying that the Royal Family would continue to be known as the House of Windsor.
In his inimitable style, Prince Philip complained privately:
I am nothing but a bloody amoeba. I am the only man in the country not allowed to give his name to his own children. [57]
The Queen did nothing until eight years later, in 1960, 11 days before she gave birth to Prince Andrew. She issued an Order in Council declaring that the surname of her and her husband's male-line descendants who are not styled as Royal Highness or titled as prince or princess would be Mountbatten-Windsor.
Pater familias
Prince Philip had to carve a role out for himself. He became the pater familias and, through the years, his role expanded to cover not only his four children but his grandchildren. He listened to their concerns, shared their joys and gave them advice. He knew everything that went on in their lives.
Although the public knew him for speaking as he saw — rather bluntly, on occasion — behind closed doors Prince Philip was known to be a warm, loving man.
He also favoured a more transparent Royal Family. According to the BBC, it was he who encouraged the Queen to make a multi-episode documentary on their daily lives, including those of their four children. It was broadcast in the late 1960s. I remember seeing it in the United States.
When Princess Diana died on August 31, 1997, Prince Philip was the one who kept an eye on the public mood that fateful week. He, the Queen and Princes William and Harry were at Balmoral in Scotland for their summer holiday. When the young princes wanted to attend church, their grandparents took them to the Sunday service on the day of their mother's death. Later in the week, it was Prince Philip who encouraged the boys to walk behind the funeral procession the following Saturday. He said:
If you don't walk, I think you'll regret it later. If I walk, will you walk with me? [93]
One cannot imagine what he thought of Prince Harry's departure for the United States to live a life separate from his closely knit family. I did read that the Royal Family shielded information about the Oprah interview from him.
John F Kennedy's funeral
Prince Philip was in Washington for John F Kennedy's funeral in 1963.
He had a friendly encounter with John Jr, who was still a toddler and known as John-John at the time. The child wondered where his father was, as he had no one with whom to play. The Prince stepped in to fill that gap. In 1965, the British government gave an acre of land at Runnymede to the United States for use as a memorial to JFK:
Funeral arrangements
Prince Philip was self-effacing and did not like a fuss to be made over him.
Therefore, the funeral arrangements will respect his wishes, which is rather convenient, as coronavirus restrictions are still in place. Up to 30 people will be allowed at his funeral, in line with legislation across the nation:
The funeral is scheduled to take place on Saturday, April 17:
It is interesting that Prince Harry will be able to attend when we have a 10-day quarantine in place for arrivals into the UK under coronavirus regulations.
The Sunday Mirror reported on Prince Harry's return to the UK:
He could also be released from quarantine if he gets a negative private test on day five, under the Test to Release scheme.
Given his status as a member of the Royal Family travelling to support the Queen, Harry might be considered exempt from travel restrictions.
Wow. It's nice to know we have a two-tiered quarantine system in place /sarc.
A championship boxer remembers the Prince
Former WBC Heavyweight Champion Frank Bruno MBE posted his memories of meeting Prince Philip. He is at the top left in the following photo:
An Anglican priest remembers the Prince
The Revd Peter Mullen, an Anglican priest, recalled his encounters with Prince Philip for Conservative Woman on April 10 in 'A personal recollection'.
He first met the Prince during his schooldays:
The first time I met the Prince was in connection with his Duke of Edinburgh's Award Scheme which gave a leg up to youngsters from what would now be called the less privileged parts of the country. He paid a visit to the Leeds branch of the Church Lads' Brigade of which, aged fourteen, I was a member. We were in the church hall making things. My task was to make a table lamp. I was hopeless at it.
The Duke got hold of my half-finished creation, held it up to one eye and said, 'I suppose this hole is where the flex goes?'
'I think so, Sir.'
'You think so? I was never any good at this sort of thing either!'
And he was off . . . 
As an adult, Mullen met him on more than one occasion thanks to the Honourable Company of Air Pilots. The Prince was its Grand Master. Mullen served as chaplain.
He recalls:
The Company gave a lunch for him to mark his 80th birthday and I recall how jovial he was, making light of his years: 'I believe I have lasted so long because you people are always toasting my good health, but I don't want to live to be a hundred. Things are dropping off already!'
At another luncheon one of our Liverymen who had his own port wine business presented the prince with Bottle Number One, the first fruits, so to speak. As he left, the duke handed the bottle to me: 'You have this, Peter. Our house floats on the bloody stuff.'
'Well, Sir, now I don't know whether to drink it or frame it.'
'Gerrit down ya neck!'
Prince Philip on MPs
Guido Fawkes came up with a good quote from one of the Prince's trips to Ghana. It concerns MPs. His Ghanaian hosts told him the country had 200 MPs. Prince Philip replied:
That's about the right number. We have 650 and most of them are a complete bloody waste of time.
Incidentally, Parliament will be recalled one day early from Easter recess. On Monday, April 12, MPs and Lords paid tribute to the Prince in their respective Houses:
That afternoon, the House of Commons reconvened to pay their tribute — from 2:30 p.m. until 10 p.m. (good grief).
Speaker Sir Lindsay Hoyle spoke first:
Prime Minister Boris Johnson had this to say:
Boris Johnson, who was invited to the funeral but declined so that another member of the Royal Family can attend, said that he would forego a pint when pub gardens reopen on April 12, out of respect for the Prince. Guido Fawkes, however, thinks that the Duke of Edinburgh would have wanted us to toast his memory, especially at a pub that bears his title in Brixton, south London:
Guido had a second tweet on the subject with another quote from the Prince:
Agreed.
Prince Philip on Australia
This is too funny. For those who are unaware, Australia was established as a place where Britain could send convicts. That was a long time ago, but the nation's original purpose was to serve as a prison: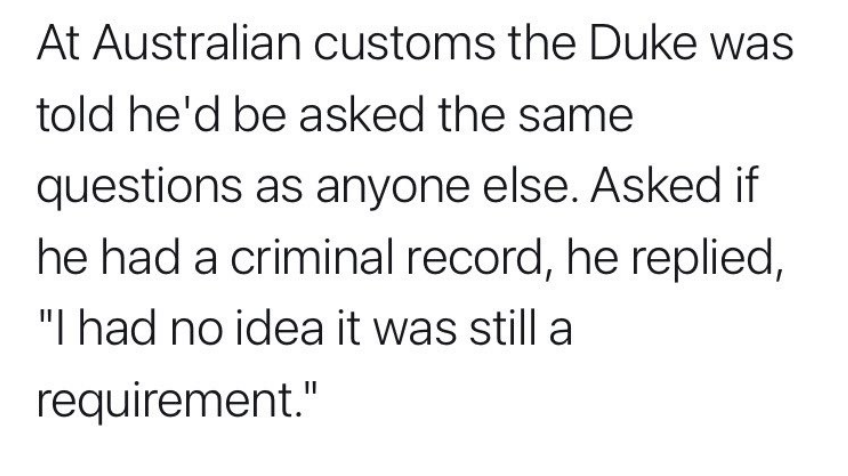 Prince Philip on civil liberties
On a serious note, the 12-minute interview below from 1984 is well worth watching, especially in the coronavirus era.
Prince Philip firmly supported the rights of the individual and believed that the state should serve the individual, not, as in our times, the other way around.
This is from a Thames Television programme originally broadcast on ITV:
I have posted the video below in case the tweets are deleted:
The Prince also said that certain subjects are out of bounds, such as the media and the NHS.
He said that the media are incapable of taking a joke about themselves and, as for the NHS, well, one cannot say anything against it. He didn't necessarily dislike the NHS but thought it was held in too high a regard. Nothing is perfect in this world.
We have been travelling a long road towards the point where we are at present: ruled by the media (they clamoured for coronavirus restrictions) and worship of the NHS. This is how Health Secretary Matt Hancock, Prime Minister Boris Johnson and SAGE have been able to rule our lives. It's been at least 40 years in the making.
BBC coverage on Friday
I was watching BBC Parliament early Friday afternoon, around 1:15, when the programme was interrupted by a broadcast from the BBC News Channel.
I checked the schedule an hour later, which said that the programme would last until 4 p.m. It was still going when I was preparing dinner at 5 p.m.
The final of MasterChef was to have been broadcast that night on BBC1. This was a clip from Thursday's programme:
Pictured are the hosts and judges, chef/restaurateur John Torode on the left and former greengrocer, now television presenter, Gregg Wallace on the right:
BUT:
The BBC News channel was simulcast all afternoon and all night long, not only on BBC Parliament but also on BBC1, to the dismay of MasterChef fans (myself included), and BBC2. BBC4 was suspended for the evening.
I read on social media that the BBC also broadcast continuous coverage of Prince Philip on their radio stations, including Radio 2, knocking out Steve Wright's drive-time show on Friday afternoon.
A friend of mine said that most of the BBC's employees were probably rubbing their hands with glee because it meant an early weekend for them. It's a cynical perspective that could well turn out to be true. We'll find out when someone writes his or her memoirs.
Everyone with a television set receives the BBC News channel. It comes into our homes at no extra charge. There was no need for the BBC to take over every channel for hours on end. By the way, if one had watched two hours of the Prince Philip coverage, as I did, one would have seen and heard everything in its entirety.
The BBC braced themselves for a plethora of complaints; they took the relevant page down on Sunday. Good. I am sure Prince Philip would have objected, too.
As much as I love the Queen, I hope they do not try this when her day comes. God willing, may it be long into the future.
Record-beating prince
Prince Philip established two records as consort to the Queen. He was the longest-serving royal consort in British history. He was also the longest-lived male member of the British royal family.
May he rest in eternal peace with his Maker.
May our gracious Lord grant the Queen, Defender of the Faith, His infinite peace and comfort in the months ahead. May He also bless the Royal Family during this difficult time.
Being a member of Britain's Royal Family requires special personal characteristics which, when combined, are as rare as hen's teeth:
– intestinal fortitude;
– a stiff upper lip;
– a perpetual sense of duty;
– the ability to keep one's mouth shut;
– control over one's personal life.
Many are called, but few are chosen — and even fewer succeed.
In recent memory, Sarah Ferguson didn't make the mark. Nor did Princess Diana. Nor has the Duchess of Sussex. Nor has her husband, Prince Harry.
It is not easy, and it is a constant obligation.
The Royal Family is not called The Firm for nothing.
In fact, in reality, it carries with it more obligations than a corporation.
People see formal dress, tiaras and crowns in sumptuous palaces and castles. The flip side is that one's life is never one's own. One serves Queen and country under the unsparing eye of the media and the British public.
Being a British Royal is one of the world's most difficult jobs imaginable.
For the most part, with the exception of those conferred at birth, one's titles are on loan.
It is important not to assign oneself a title one does not possess. Case in point, with reference to the Duchess of Sussex:
To be clear, she is NOT a Princess (unless you consider a future Disney voiceover role as one). She is a Duchess, and that can just as easily be taken from her as it was given.
Another important point is not to show disloyalty. It's bad enough offending the Queen, without casting shadows on the British public and expecting to get all the glory for no guts.
If you get a 'sensitive content' message about the second tweet, please ignore it and open it up. It's a parody letter:
The publicity surrounding the Sussexes was positive for at least two years. Note the 2018 headlines from their engagement and wedding in the second tweet below. They reflected the national mood:
Many of the Sussexes' pronouncements since then, including the secrecy surrounding their young son, made many members of the public feel as if they no longer wanted to be part of our nation.
It turns out we were not wrong.
An opinion piece on Spiked, a free-thinking, quasi-libertarian website, pulls no punches. This is from 'A woke Wallis Simpson' by Brendan O'Neill, a republican — not a monarchist. Yet, even he sees a problem with the Sussexes (emphases mine):
H&M, the most right-on royals in history, are breaking off so that they can foist even more woke bollocks on the plebs without having to worry about receiving a tutting phone-call from Her Maj's press secretary reminding them that they're royalty and not virtue-signalling Hollywood celebs.
Megxit, as this royal bombshell is wittily being called, is a striking sign of the times. What Harry and Meghan are doing is virtually unprecedented in the history of the royals. They are jacking in their jobs (I say jobs) as senior royals and pursuing a more 'financially independent' path that will allow them to earn, travel and – this is important – jabber on about their pet concerns and causes as much as they like.
This is also a major sticking point:
Even leaving aside the fact that they won't actually be financially independent – they'll still get wads of cash from the Duchy of Cornwall and will still stay in that Frogmore Cottage us British taxpayers just splashed 2.4million quid on – still their move is a startling and concerning one.
This is the difference between Meghan Markle and, say, Prince Charles:
What it fundamentally reveals is the incompatibility of the modern culture of narcissism with the values of duty, loyalty and self-negation traditionally associated with royal life. To someone like Meghan, who sprang from celebville, who sees herself as the embodiment of right-on goodness, and who loves nothing more than advertising her eco-virtue and performing her PC credentials, life in the British monarchy was never going to be a good fit.
Yes, the woke agenda Meghan expresses so well shares much in common with the old-world elitism of the monarchical system. Both obsess over inherited characteristics (the woke bang on about race and gender, the monarchy is all about bloodline). Both have a penchant for looking down their noses at the little people. And both have an instinctive loathing for modernity, from Charles' longstanding conservationism to H&M's humanity-bashing eco-hysteria.
But there's one big, irreconcilable difference: where the woke value the self over everything else, senior royals are meant, ostensibly at least, to be selfless, to submerge the self into the crown. It looks like this is a deal-breaker for the younger, more celebrity-oriented royals, especially newcomer Meghan but also Harry, too. Their unprecedented 'stepping back', and the fury this has allegedly caused in the Palace, suggests the cult of the self that Meghan and other showily virtuous celebs embody and promote, does not work within an institution whose ideal is the Queen: opinion-free, emotions hidden, dutiful, unquestioning and in it for the long haul.
Correct!
But wait, there's more. Their way of speaking about the Queen is also unprecedented:
Even more startling is the way they talk about the queen. They say they will 'continue to collaborate with Her Majesty The Queen'. Collaborate with? They sound more like Kendall Jenner talking about her adverts with Pepsi than individuals who are meant to devote themselves for life to royal duty and the preservation of the crown. I'm about as republican as it gets (abolish the monarchy is my view), but even I recognise that treating the queen as a kind of big business one temporarily 'collaborates with' is out of order. Meghan comes off like a woke Wallis Simpson, taking away a senior royal into a new life of PC globetrotting.
One of the readers' comments (second one, no hyperlink available) describes the contrast between the Sussexes and the Queen's parents during the Second World War:
The current situation should remind us all of the remarkable differences between generations. Winston Churchill was desperate to move the Royal family to Canada when hostilities commenced in WW2. The King refused and said that he wanted to stay with his people. In fact the Queen Mum said she was relieved when Buckingham Palace took a direct hit during the Blitz as she could then look the Eastenders in face thereafter. Princess Elizabeth herself served in the military as a mechanic and truck driver. The King, in fact, wanted to be part of the advanced landing parties on D-Day, fortunately he was talked out of it. The Royal family's sense of duty inspired the British people to see the crisis through even though at the beginning of hostilities it was touch and go for Britain. Running away to safety was not an option for them.
Harry and Meghan find Royal duties tedious and boring. It's not for them and they want to make lots of money instead. The Press have given them a hard time and some gutter types have written some nasty things about them. They would, it seems, prefer deference rather than criticism. The only option available to them is to escape to Canada.
Is it no small wonder that older people view the Millennials as mere snowflakes.
The first readers' comment is about personal dynamics between the Sussexes. This is another danger, namely for the Duke:
I have the feeling it is Meghan manipulating Harry as I think she is quite narcissistic. And she knows Harry has a problem with British press re: his mother. She may be exploiting that. I also think their marriage will therefore be in shambles in the not too far future …
There is a good article on narcissism relating to this, 'A Very Royal Narcissist — Part 9', excerpts from which follow.
Is it possible that this is what has been going on behind the scenes for the past several months? Emphasis in the original:
Smearing the family members ("They are trying to control you, I am just trying to help you see that.")
Exaggeration of Threat ("They do not want you to be happy, I do, that is why they see me as a threat.")
Projection (see the above comment).
Pity Play ("Your family do not like me." "This country has it in for me and I have tried so hard, you know, tried the stiff upper lip, but they just do not like me.")
Guilt ("If you loved me, you would move for me.")
Triangulation ("If we stay, it will end up the same for me as it was for your mother and you do not want that to happen do you?")
Use of The Victim´s Weaknesses Against Them …
Promised Gain ("If we live there, we can do our own thing and both be happy, you want that for us don't you?")
Remember, the narcissist will do this through unconscious manipulations. The narcissist genuinely believes that they are doing the right thing and cannot see, because of their narcissism, that they are actually being manipulative.
Such manipulations will have been used in isolating Prince Harry from his father, brother, grandparents, friends and extended family (save those who are viewed as supportive and therefore no threat to the control) and thus choosing water over blood.
The article on narcissism goes on to speculate as to what possibly happened at Sandringham on Monday, January 13, and the aftermath.
Whatever the outcome, the article concludes:
In the short term, Miss Markle will exert control in some form and in her "world" she will be winning. Of course, there is much more that is yet to happen with this ongoing saga of a Very Royal Narcissist.
I hope that means that this awful saga comes to an end, in favour of the Royal Family.
Tomorrow I will close a week of disroyalty with two more views about the Royal Family and the Sussexes.
The Queen's Chrismas Day message to the nation was as thought-provoking as ever:
The Express has a transcript. Note that the Queen says that 2020 is the start of a new decade — not 2021, as pedants say (emphases mine):
as we all look forward to the start of a new decade, it's worth remembering that it is often the small steps, not the giant leaps, that bring about the most lasting change.
The new decade, beginning in a few days' time, is further confirmed on Twitter:
Contrary to what the media has reported this month, she kept family issues out of the speech.
On Christmas Eve, the Mail's Richard Kay wrote:
After so many broadcasts the Queen, of course, is comfortably familiar in front of the camera, but even so this year she will quite possibly deliver her most difficult, her most painful and perhaps, from the monarchy's point of view, her most crucial Christmas message ever.
Sure.
In reality, the Queen focussed on the notable anniversaries in 2019:
As a child, I never imagined that one day a man would walk on the moon. Yet this year we marked the 50th anniversary of the famous Apollo 11 mission.
As those historic pictures were beamed back to Earth, millions of us sat transfixed to our television screens, as we watched Neil Armstrong taking a small step for man and a giant leap for mankind – and, indeed, for womankind. It's a reminder for us all that giant leaps often start with small steps.
This year we marked another important anniversary: D-Day. On 6th June 1944, some 156,000 British, Canadian and American forces landed in northern France. It was the largest ever seaborne invasion and was delayed due to bad weather …
Since the end of the Second World War, many charities, groups and organisations have worked to promote peace and unity around the world, bringing together those who have been on opposing sides.
On that subject, The Express reported her words and what lay behind them:
"It was the largest ever seabourne invasion and was delayed due to bad weather.
"I well remember the look of concern on my father's face.
"He knew the secret D-Day plans but could of course share that burden with no one."
This subtle nod to her father also seems to reflect on the burden of loneliness which wearing the crown can entail at times.
Mentions of family were happy ones:
Two hundred years on from the birth of my great, great grandmother, Queen Victoria, Prince Philip and I have been delighted to welcome our eighth great-grandchild into our family.
The broadcast included a clip of Prince George stirring up Christmas pudding:
As Defender of the Faith in the United Kingdom, the Queen always mentions the Reason for the Season, dispensing pragmatic wisdom when speaking of our Lord:
Of course, at the heart of the Christmas story lies the birth of a child: a seemingly small and insignificant step overlooked by many in Bethlehem.
But in time, through his teaching and by his example, Jesus Christ would show the world how small steps taken in faith and in hope can overcome long-held differences and deep-seated divisions to bring harmony and understanding.
Many of us already try to follow in his footsteps. The path, of course, is not always smooth, and may at times this year have felt quite bumpy, but small steps can make a world of difference.
As Christmas dawned, church congregations around the world joined in singing It Came Upon The Midnight Clear. Like many timeless carols, it speaks not just of the coming of Jesus Christ into a divided world, many years ago, but also of the relevance, even today, of the angel's message of peace and goodwill.
It's a timely reminder of what positive things can be achieved when people set aside past differences and come together in the spirit of friendship and reconciliation. And, as we all look forward to the start of a new decade, it's worth remembering that it is often the small steps, not the giant leaps, that bring about the most lasting change.
And so, I wish you all a very happy Christmas.
The broadcast, which airs at 3 p.m. GMT every year, closed with the choir at Windsor Castle singing the famous carol, accompanied by a military band.
I wonder if outgoing Labour leader Jeremy Corbyn saw the speech, which he said was broadcast in the morning:
On Christmas Day at Sandringham in Norfolk, the Royal Family look forward to a church service and family lunch.
Normally, the Royal children do not attend the service. However, Princess Charlotte and Prince George made their first appearance this year (top photo on the left in the second tweet):
I hope that the Queen's cousin, Princess Alexandra, had a very happy birthday:
This year's Christmas speech by the Queen proved the media wrong once again. Why do we lean on their every word?
Instead, let us heed her words about small steps being significant in creating great transformation.
On Tuesday, July 10, 2018, Britain's Royal Air Force (RAF) celebrated 100 years of defending the United Kingdom.
The most important part of the day was the RAF's receiving a new colour from the Queen at Buckingham Palace. The colour was consecrated at Westminster Abbey:
A Service of Thanksgiving, open to the public, was also held that morning at St Clement Danes in the Strand, the Central Church of the Royal Air Force. The church is unusual as it sits in the middle of the Strand.
Afterwards, the Presentation of the Colours was made at Buckingham Palace, where the RAF gathered in the forecourt. The centenary ceremony attracted a large number of spectators around the Palace and along the Mall, suitably decorated with Union flags and RAF flags:
The Presentation of Colours ended with a magnificent flypast of RAF planes from the Second World War to the present day. They flew in from various RAF bases around the country. It took months of work behind the scenes logistically to ensure that the planes — numbering 100 in total — arrived for the flypast on time and in position.
This is the Queen's relationship to the RAF:
Below are a series of tweets of the ceremony:
Afterwards:
Another reception took place on Horse Guards parade:
It was yet another occasion to make one feel proud to be British!
Profound thanks go to the RAF for all they have done — and continue to do — in defence of the nation!
May God continue to guide and bless the RAF over the next 100 years!