You are currently browsing the tag archive for the 'George VI' tag.
The weekend's events surrounding Remembrance Day and Remembrance Sunday entered a new era with King Charles.
First, however, November 14 is the King's birthday and his first one as monarch. He turned 74 on Monday:
Many happy returns, Your Majesty!
Remembrance Day
Last week, the King and Queen Consort paid their respects to those who died for our freedom:
On Thursday, November 10, the Telegraph reported (emphases mine):
The Queen Consort today paid tribute to Queen Elizabeth II at a plot created in her memory at Westminster Abbey's Field of Remembrance.
The plot features two black-and-white photographs of the late Queen taken at the Field of Remembrance in 2002, the year she lost both her mother and her sister.
In one, she stands, head bowed in silent contemplation alongside the Duke of Edinburgh.
In the other, she is bending down to place a small wooden cross amongst others in the ground.
A black wooden cross alongside the photographs reads "In Memorandum. Her Majesty Queen Elizabeth II. 1926 – 1922".
The Queen [Consort], who is patron of the Poppy Factory, was taking part in a ceremony to commemorate the nation's war dead, which takes place on the Thursday before Remembrance Sunday each year.
She placed her own wooden cross of remembrance, bearing her new cypher, amid a sea of poppies before bowing her head.
The ceremony had a large attendance:
More than 1,000 veterans gathered in the grounds of Westminster Abbey for the short ceremony, observing a two-minute silence as Big Ben chimed to mark 11am.
The Queen Consort then met Ben Wallace, the Defence Secretary, before being introduced to Poppy Factory staff and then reviewing the plots for regimental and other associations.
Before leaving, she was invited by the Dean of Westminster, The Very Reverend Dr David Hoyle, to review a plot honouring her late mother-in-law.
Camilla took over the patronage from Prince Harry in 2020, after he relinquished his royal duties:
The Queen took over at the event from the Duke of Sussex when he stepped down from royal duties in 2020. The ceremony marks a tradition, now in its 94th year, that was previously the responsibility of Prince Philip and Queen Elizabeth the Queen Mother.
Deirdre Mills, chief executive of The Poppy Factory, said:
Her Majesty's commitment to the ex-forces community has been unwavering. We are grateful to Her Majesty The Queen Consort for her continued support as we look to help hundreds more veterans overcome barriers on their journey towards employment.
Meanwhile, the Princess of Wales toured a children's centre in London, where she explained the importance of the poppy to a little boy and gave him hers to wear:
The Princess of Wales gave a three-year-old her poppy on Wednesday after he pointed it out on her coat.
She stopped to speak to the boy, called Akeem, during a visit to Colham Manor Children's Centre in Hillingdon, west London, after spending the morning chatting with mothers and health workers.
The two introduced themselves, then:
The Princess asked Akeem if he had a poppy, before adding: "It's very nice, would you like mine?"
"Yes," came the response, to giggles from onlookers. The Princess then carefully removed the poppy from her coat, saying, "there you go, you can have my poppy. Shall I see if I can get it out?"
As she fiddled with it, she asked the boy: "Do you know what this is for? It's for remembering all the soldiers who died in the war."
She said: "There you go, that's for you. Will you look after it?"
She gave the pin to his mother so she fasten it for him.
New monarch, new wreath
As we have a new monarch, a new memorial wreath appeared on Remembrance Sunday.
King Charles has his own design, with his own 'racing colours', displayed in an elegant ribbon and bow extending across the centre.
Its poppies are mounted on an arrangement of black leaves, as per tradition for the sovereign, while its ribbon bears the King's racing colours; scarlet, purple and gold.
The racing colours were also incorporated into the wreaths of King George V, King George VI and the late Queen.
Unfortunately, the King's wreath had no white in it, which, as I recall, the Queen's did. In fact, I don't remember the black in her wreath, only the white.
White symbolises resurrection and eternal life, which we hope the Glorious Dead experience.
The Queen Consort also had a wreath laid at the Cenotaph on Sunday, as the Queen Mother — the previous Queen Consort — had when she was alive:
For the first time, a wreath will be laid on her behalf, by an equerry, and will bear her own family's racing colours, inherited from her grandfather.
Remembrance Sunday
It was heartening to see that, although the survivors of the Great War have long gone to their rest and that those from the Second World War are, too, Remembrance Sunday still attracts 20,000 people.
The Sunday Times reported that 10,000 took place in the march past the Cenotaph in Whitehall. They were mainly Royal British Legion veterans representing 300 Armed Forces organisations. The other participants were from civilian organisations connected with previous wars and conflicts. War widows also marched past. Cadet organisations representing the respective armed forces also marched past.
The Sunday Times estimated that 10,000 spectators watched from the sidelines.
The march past began and ended at Horse Guards Parade, where Trooping the Colour takes place every June. At the Cenotaph in Whitehall, one person from each organisation handed over a large poppy wreath to lay at the foot of the monument.
Mobility issues are catered for …
… and age is no barrier:
This year marked the 40th anniversary of the Falklands War (see the second tweet):
This retired soldier is from Royal Hospital Chelsea, which Charles II founded in 1682, at the suggestion of his mistress Nell Gwyn. It is a retirement home with a state-of-the-art infirmary.
Those lucky few men and women who live there are known as Chelsea Pensioners. On ceremonial days and when they leave the Hospital, they wear their red jackets and tricorne hats, also designed by Charles II. See the gentleman in the second tweet:
The ceremony revolves around the Cenotaph, with its inscription:
THE GLORIOUS DEAD
The commemoration began in 1920 to remember all those who gave their lives in the Great War, the First World War. George V, whom the late Queen affectionately called Grandfather England, was the first monarch to lay a wreath. Note that there was quite a bit of white in his (top right photo) compared with Charles's. George VI is pictured on the lower left:
Here is a close-up of George V from 1924:
Other working Royals also laid their wreaths. Note that William's is that of the Prince of Wales now. The Queen Consort and Princess of Wales watched from the balcony at the Foreign, Commonwealth and Development Office (FCDO):
Other members of the Royal Family also watched from the FCDO balcony: The Countess of Wessex, The Duke and Duchess of Gloucester, The Duke of Kent and Sir Tim Laurence (Princess Anne's husband).
The Chiefs of Staff of the Armed Forces and leaders of the UK's political parties also laid wreaths. This will be the last time we see EIIR cyphers:
A short Christian service followed the two-minute silence at 11:00 a.m. The Right Revd Dame Sarah Mullally, the Bishop of London, led it:
The march past took place afterwards.
The morning was poignant, solemn, dignified and, if I may say so, beautiful as always.
The Telegraph quoted Chief of the Defence Staff Admiral Sir Tony Radakin, who summed up the 2022 ceremony well:
In an interview broadcast on Sky's Sophy Ridge on Sunday programme, he said: "I think Remembrance Sunday is always poignant.
"I think it's poignant for the whole nation, this special moment when we pause to reflect on the sacrifice and commitment of others to provide our freedom today.
"I think there's a special poignancy this year with both the loss of Her Majesty, another loss of a Second World War veteran.
"I also think it's poignant when we have once again the spectre of war in Europe and all that that entails, and a country that's been invaded and is fighting for its freedom."
On Sunday night, the Elizabeth Tower, which Big Ben adorns, had a splendid illumination for Remembrance Sunday, which also remembered the late Queen, for whom the tower is named:
My better half and I watch the ceremony every year. Each time, I see something new upon which to reflect privately in the days that follow. This year was no different. Long may those reflections continue.
Yesterday's post discussed Charles III's proposed pared down coronation, scheduled for Saturday, May 6, 2023.
No bank holiday?
It is curious, given that it will have been over 70 years since our last coronation, the King seems to have ruled out a bank holiday.
May has two bank holidays, bookmarking the month.
This year, the second bank holiday, traditionally known as Whitsun (Pentecost) Bank Holiday, was moved one week later, taking place at the beginning of June to accommodate Platinum Jubilee festivities.
The Times reports that Parliament is all for a celebratory bank holiday weekend (emphases mine):
There have been calls from some MPs for the May 1 bank holiday to be moved or for an additional bank holiday to be announced …
Labour backed moving the May bank holiday to coincide with the King's coronation. Sir Keir Starmer's spokesman said: "That would certainly be a good way for the country to be able to celebrate the coronation."
David Jones, a cabinet minister under David Cameron, told the Daily Mail that combining the May bank holiday with the coronation would be welcomed "by the entire nation". He said: "It would make a very special memory for all of us." Tobias Ellwood, another Tory former minister, said: "A bank holiday would help strengthen our transition to a new era."
Khalid Mahmood, a former Labour frontbencher, said: "We can move the holiday back to the coronation weekend. We have a unique system with the monarchy and an independent parliament; I would back Britons having a three-day weekend to mark the occasion."
Royal sources have said that any decision about whether to move the bank holiday or create a new one will be up to the government.
No. 10 is open to the idea:
In response the prime minister's spokesman said: "Obviously this will be a historic event. We are carefully considering our plans. All options remain on the table."
Personally, I don't think this is as much the Prime Minister's reluctance as it is the King's.
The diamond
It was thought that Camilla Queen Consort would be crowned with the crown the late Queen Mother wore, the one with the incomparable Koh-i-noor diamond.
Suddenly, that prospect appears to be in doubt.
On October 13, The Telegraph reported:
The crown was thought to be a front runner among the options for Queen Camilla to wear for next year's Coronation, and has been under discussion at the palace for as long as it has been understood she will join the King for the ceremony.
One source last night suggested that the jewel had not, until recently, been treated as "problematic".
Charges of colonialism have now been raised with regard to the Koh-i-noor:
In Britain, it has been used in the crowning of Queens for generations with pomp, ceremony but little noticeable fuss, mounted on successive crowns worn by Queen Alexandra, Queen Mary and Queen Elizabeth [the Queen Mother] …
The Koh-i-Noor diamond, which has been part of the Crown Jewels for more than 150 years, is at the centre of renewed calls for its return – with India the most diplomatically-critical country making a claim to it …
The diamond, which is often said to have been "given" to Britain in 1849, is currently set in the crown worn by Queen Elizabeth, later the Queen Mother, in her own 1937 coronation.
Experts on colonialism have spoken out:
William Dalrymple, co-author of a book describing the Koh-i-Noor as "the world's most infamous diamond" said its ownership was "not a small sensitive issue in the eyes of India" but a "massive diplomatic grenade".
Jyoti Atwal, associate professor at Jawaharlal Nehru University, explained the diamond's significance, telling The Telegraph how it travelled around the medieval world as a "prized possession" and in 1851, after British annexation, "went to the United Kingdom via a treaty with an 11-year-old King in Punjab".
"In the colonial discourse it was seen as a gift from India, although it has a chequered history of being owned by different kingdoms across South Asia and West Asia," she said. "It was one of the biggest signifiers of victory for Britain over the subcontinent and since India's independence in 1947, there have been demands of bringing it back.
"It has always been at the centre of political restoration and restoring Indian pride, and doing away with this blot in history" …

Saurav Dutt, an author and political commentator born in Kolkata and raised in the UK, said: "Ensuring the Koh-i-noor remains front and centre in the public eye in this way flies in the face of any attempt by the Royal family and political orthodoxies to draw a line under the dispossession, prejudice, plunder and exploitation that imperialism revelled in.
"Such a position is at odds with the modern, egalitarian stance the royals seek to present themselves within a world that seeks to move on from the ugliest chapters of history that they benefited from."
If this was historically known to be the case, why didn't anyone complain in 2002, when it was the crown resting on the Queen Mother's coffin at Westminster Hall where she lay in state?
No one said anything then, and even BBC commentators talked about what a splendid jewel in the crown it is.
It appears that, 20 years on, social media, which did not exist in 2002, could partly be to blame.
Jyoti Atwal said:
A resurgence of interest in "bringing it back" was now "very visible" among a new generation on social media …
There also seems to be a potential vulnerability about Charles III that indicates he might well cave in:
Lauren Kiehna, a royal jewellery expert who writes a blog under the name of The Court Jeweller, last week predicted that the creation of a new crown for Queen Camilla was unlikely but called the inclusion of the Koh-i-Noor diamond a "real, serious sticking point".
"I would imagine that Charles and Camilla would be keen to avoid additional criticism when possible, and Charles particularly has always seemed sensitive to the fact that jewels can carry significant symbolism," she wrote.
This is how Britain acquired the diamond in 1849, during Queen Victoria's reign:
… the Koh-i-Noor was signed over to the British East India Company in 1849 along with vast areas of land in the Treaty of Lahore.
It is described by the Royal Collection Trust as being "surrendered" to Queen Victoria "by the Maharaja Duleep Singh in 1849".
At the time, the maharajah of the Punjab was 11 years old.
The jewel was brought back to Britain for presentation to Queen Victoria a year later, and put on display to the public at the Great Exhibition.
Afterwards, it was cut by Garrard & Co and turned into a brooch worn by Victoria.
In 1902, it was mounted on a crown for Queen Alexandra's coronation, and in 1911 transferred to that of Queen Mary.
In the modern era, it is best known for being worn by the Queen Mother, and was placed on top of her coffin in 2002.
Another Telegraph article on the diamond states:
The thousand-year-old, 105.6 carat diamond is the subject of international dispute, with India, Afghanistan and Iran among the countries laying claim to it.
Again, why is this coming up only now? Why did it not come up in the past?
Unfortunately, the controversy is coming as a diplomatic row has taken place between the British government and India:
Our new Home Secretary, Suella Braverman, is of Goan descent.
Recently, she complained about migration from India at the time the Government is trying to put a trade deal with that nation:
Debate over the [coronation] ceremony comes amid heightened tensions between Britain and India over post-Brexit trade.
Liz Truss's trade deal with India is said to be on the "verge of collapse" after Suella Braverman, the Home Secretary, said she had "concerns" about it, adding that "the largest group of people who overstay are Indian migrants".
Indian government sources said the "disrespectful" remarks meant the "relationship has taken a step back". Plans for Narendra Modi, the Indian prime minister, to visit the UK to seal a trade deal have been shelved, according to reports.
On Wednesday, the Bharatiya Janata Party [BJP] told The Telegraph a choice for Queen Camilla to continue the tradition of consorts wearing a crown containing the Koh-i-Noor would hark back to the days of Empire.
A BJP spokesman said:
Most Indians have very little memory of the oppressive past.
He added that the United Kingdom was not the only country that ruled over India:
Five to six generations of Indians suffered under multiple foreign rules for over five centuries.
He said that the Queen's death revived memories of Empire:
Recent occasions, like Queen Elizabeth II's death, the coronation of the new Queen Camilla and the use of the Koh-i-Noor do transport a few Indians back to the days of the British Empire in India.
Hmm.
The British government declared the Partition of India in 1947. George VI was King and his wife Elizabeth was Queen Consort at the time.
In short, India and Pakistan became independent nations:
The partition was outlined in the Indian Independence Act 1947 and resulted in the dissolution of the British Raj, i.e., Crown rule in India. The two self-governing independent Dominions of India and Pakistan legally came into existence at midnight on 14–15 August 1947.
Maharaja Duleep Singh
It is also worth noting what happened to the young Maharaja Duleep Singh who gave the diamond to the British government.
He became a member of Queen Victoria's court.
Wikipedia has a synopsis of the aforementioned William Dalrymple's book, Koh-i-noor: The History of the World's Most Infamous Diamond, which he co-authored with Anita Anand.
The maharaja's story begins sadly and ends sadly, but also included is the privileged and rather lengthy middle of his story from the second half of the book, 'The Jewel in the Crown'. A summary follows.
It was unclear what the boy's father, Ranjit Singh, also known as the Lion of Punjab, intended to do with the diamond.
When the Second Anglo-Sikh War ended in 1849, his young son gave the gem to the colonial administrator Lord Dalhousie in the context of the Treaty of Lahore. The boy's mother, the regent Jind Kaur, had been taken away from him.
John Spencer Login, a diplomat living in India, adopted the boy to live with him and his family. Meanwhile, Jind Kaur was exiled to Nepal.
Then, a few years later:
After requesting to travel to England Duleep Singh joined Queen Victoria's court. When he was 15 he repeated the ceremony of giving the Koh-i-Noor, in this instance to Victoria.
When Duleep Singh turned 21, he:
began to express a great longing for his mother and more distance from the people with whom he lived in the court.
The following year, he was reunited with his mother:
At age 22 he traveled to meet her at Spence's Hotel in Calcutta then brought her back to England.
Unfortunately, things unravelled for him for a few years:
From this point his life went into chaos with him no longer behaving like his peers in British society and spending huge sums of money.
However, his biography on Wikipedia tells us that, even as an adolescent, he lived a charmed life. Before he was reunited with his mother, he began receiving an immense annual pension from the East India Company and spent a few years in a Scottish castle.
He arrived in England in 1854:
He was a member of the Photographic Society, later the Royal Photographic Society, from 1855 until his death.[15]
On his return from Continental Europe in 1855 he was given an annual pension of £25,000 a year[16] (approximately £2,500,000 in today's value) provided he "remain obedient to the British Government," and was officially under ward of Sir John Spencer Login and Lady Login, who leased Castle Menzies in Perthshire, Scotland, for him. He spent the rest of his teens there, but at 19 he demanded to be in charge of his household. Eventually, he was given this and an increase in his annual pension.
In 1859 Lt Col James Oliphant was installed as Equerry to the Maharaja at the recommendation of Sir John Login. Oliphant was to be a possible replacement should anything happen to the Maharaja's most trusted friend Sir John Login (who did indeed die four years later in 1863).[17]
In the 1860s, Singh moved from Castle Menzies to Grandtully Castle.[18]
Between 1858 and 1862, he also rented Mulgrave Castle, near Whitby.
When his mother moved to Britain, she lived with him for a time in Perthshire.
In June 1861, he became Maharaja Duleep Singh and either acquired or was given Elveden Hall on the border between Norfolk and Suffolk.
Singh not only transformed the estate into a farm with hunting grounds, becoming the fourth best shot in England, but he also restored the nearby church, school and cottages bordering the delightful town of Thetford.
His mother and adoptive father Sir John Login both died in 1863.
The Maharaja's wife, Maharani Bamba
In 1864, with permission from the East India Company, which financed him, Singh was able to go to India to place his mother's ashes in a memorial monument in Bombay.
On his way back to England in February 1864, he stopped off in Cairo to visit a Christian mission in the city. At the American Presbyterian Missionary school, he met a student, Bamba Müller, the illegitimate daughter of wealthy German banker Ludwig Müller and his Abyssinian (Ethiopian) mistress, Sofia. Müller had a wife and children, so he left young Bamba in the care of the missionaries, where she became a devout Presbyterian. Müller paid for her lodging and schooling.
In March that year, he wrote to the missionaries, asking them for advice on finding a suitable wife. Although Queen Victoria suggested that Singh marry an Indian princess, he wanted someone less worldly. Details are scant, but it was decided that Bamba was the candidate. The missionaries asked Ludwig Müller about it and he left the decision to his daughter. Bamba had wanted to teach in a missionary school, so she prayed hard about what she should do, eventually deciding that it was God's will that she marry Singh.
There was only one problem: a language barrier. Bamba spoke Arabic and Singh's only second language was English. An interpreter facilitated the proposal. Singh gave the school a donation of £1,000, a substantial sum. The couple married on June 7, 1864 at the British Consulate in Alexandria. Singh made his vows in English. His bride made hers in Arabic.
The couple sailed back to England and settled at Elveden Hall. Bamba gave birth to a son in 1885; sadly, he lived only one day. She gave birth to the first of six children in 1866: three sons and three daughters. All of the daughters became suffragettes. One was a debutante who was presented at court, and another married a Scottish doctor and moved to Lahore.
Two of the sons went to Eton before joining the British Army. A memorial to both sons is in the school. The third son died at the age of 13.
All the Singh children had the titles of either Prince or Princess, as Sikh royalty.
Later life
As the years passed, despite his privileged lifestyle, Singh became increasingly discouraged with the British and longed for his homeland.
In 1884, Singh's cousin Sardar Thakar arrived in England with his two sons and a Sikh granthi (priest). Thakar brought with him a list of properties that Singh owned in India. Naturally, he wanted to return and to re-embrace Sikhism.
In 1886, the British government formally objected to Singh's proposed return to India for a visit as well as a reversion to Sikhism. Nevertheless, Singh set sail for India on March 30 that year.
The Government intercepted him at Aden in today's Yemen. Officials probably feared that if he reached India, there would be massive unrest. Aden was where the Viceroy of India's rule began, so it was the first point at which he could be legally stopped.
Although Singh had to abandon his voyage, while he was in Aden, he reverted to Sikhism in a cermony performed by emissaries that his cousin Sardar Thakar sent.
In 1887, Bamba died:
The cause of death was reported as "comprehensive renal failure brought on by an acute case of diabetes, made worse by her drinking (of alcohol)".[1]
Interestingly, Singh appeared not to have returned to England from Aden. He ended up in Paris:
upon being stopped in Aden by the British authorities he abandoned his family and moved to Paris.
He had met his future second wife, Ada Douglas Wetherill, sometime before he attempted to sail to India:
Wetherill had been Duleep's mistress before he decided to return to India.
When Singh moved to Paris, Wetherill joined him.
They married and had two daughters, also Princesses in line with Sikh royalty.
Before he died, Singh resolved his differences with Queen Victoria, who refused to receive his second wife:
whom she suspected had been involved with the Maharaja before Maharani Bamba's death in 1887.[38]
In 1893, at the age of 55, Maharaja Duleep Singh died in Paris. His body was brought back to England.
His request to be buried in India was refused on grounds that it might create unrest, as the Indians were growing increasingly upset over British rule.
Instead, Singh was given a Christian burial:
in Elveden Church beside the grave of his wife Maharani Bamba, and his son Prince Edward Albert Duleep Singh. The graves are located on the west side of the Church.
Elveden Hall had to be sold after his death to pay his debts. The First Earl of Iveagh bought it in 1894 and it remains the home of his successors, who are part of the Guinness brewing family.
All eight of Singh's children died without legitimate issue, thus ending the direct line of Sikh royalty.
Conclusion
It seems that the lavish life the Maharaja was given in Britain and in Paris was compensation for the Koh-i-noor diamond.
Queen Victoria and the East India Company gave Duleep Singh everything he could ever ask for, except a permanent return to India.
On that basis, there seems no good reason why Camilla Queen Consort cannot wear the Queen Mother's crown next year.
The Telegraph says that King Charles enjoys a good relationship with India:
He has recently had a warm relationship with India, meeting Mr Modi on several occasions in the last few years.
As for the crown:
The King, now Head of Commonwealth, and his advisers are understood to be mindful of the "issues around today", with decisions about the coronation likely to be confirmed only at the last minute.
One suspects that those asking for the diamond's return do not know about the final Maharaja's history.
A new biography of Elizabeth the Queen Mother is out just in time for Christmas.
It is Gareth Russell's Do Let's Have Another Drink.
Subtitles differ. One says:
The Singular Wit and Double Measures of Queen Elizabeth the Queen Mother
Another reads:
The Dry Wit and Fizzy Life of Queen Elizabeth the Queen Mother.
Most British adults connect the Queen's mother with her favourite tipple: gin and Dubonnet.
The Times reviewed the new book on October 11, 2022. Excerpts from the article follow, emphases mine.
N.B.: This is not the usual fairy tale Royal story, so expect real life to creep in now and then.
Belief in ghosts
It appears that the Queen Mother's belief in ghosts gave her resilience. Hmm:
If the Queen Mother did have an inner core of steel, it isn't hard to see where it came from. Her childhood in Glamis Castle, one of Scotland's most rambling and supposedly haunted piles, didn't just give her a lifelong belief in ghosts (she attended her last exorcism at the age of 99, when she persuaded a local priest to shoo away the unquiet spirit of George VI, or maybe Diana, from a bedroom in Sandringham), but also a group of male friends who were mostly killed in the First World War before she was 18. "I think of my 20 best friends in 1914," she reminisced, decades later. "Only five came back."
Among those who died was one of her brothers. Three other brothers suffered for years with what was then called shell-shock — post-traumatic stress disorder. Russell's account of those years occupies very little of his book, but it's by far the most compelling part. And it explains a lot about this most misunderstood of national matriarchs. She may have been an old soak, but she put the backbone into a royal family that was floundering when she joined it.
Suitors and courtship
When Elizabeth Bowes-Lyon was born in England in 1900, royal families were meant to intermarry.
Although she came from nobility — being the daughter of Claude Bowes-Lyon, Lord Glamis (pron. 'Glahms') and, later, the 14th Earl of Strathmore and Kinghorne in the Peerage of Scotland — she was not considered suitable to marry a future king.
At least one European royal made her bias known towards the noble's daughter in the early 20th century:
When her brother-in-law, the Duke of Kent, married Princess Marina of Greece, for instance, Marina (descended from the Russian and Greek royal families) made little attempt to hide her disdain for Elizabeth, a mere Scottish earl's daughter whom she took to describing as a "common little Scotch tart".
Elizabeth was an adorable girl who grew up to be a fetching young woman.
She had a few serious suitors when she grew up and she rejected Prince Albert, Duke of York, who wanted to make her his wife:
She certainly turned down two proposals of marriage from Bertie. That, however, was more because she was dallying between another prince (the King of Serbia's nephew, Prince Paul of Yugoslavia) and such eligible British bachelors as Henry "Chips" Channon …
UGH! A book of Channon's letters was released earlier this year. Talk about sex addicts:
… (who, oddly enough, had slept with Prince Paul when both were at Oxford) and the dashing Captain James Stuart, who had won the Military Cross in the First World War.
The story of how Bertie — the future George VI — and Elizabeth became engaged is a bit more nuanced than we would have thought.
The book says that Bertie's mother, Queen Mary of Teck, rearranged Elizabeth's love life accordingly:
George V's wife, the indomitable Queen Mary, had decided that the gregarious, charming Elizabeth would be perfect for introverted, stammering Bertie, and simply wouldn't take no for an answer, even if her son did. Somehow, she fixed it so that the dashing Captain Stuart received an offer of an extraordinarily well-paid job with an oil company in Oklahoma, requiring him to sail for America immediately.
Amazing.
Stuart apparently knew it, too:
According to Russell, he later told friends: "That bitch Queen Mary ruined my life."
Wikipedia says that Queen Mary visited Glamis Castle to meet the girl who stole his son's heart:
Prince Albert, Duke of York—"Bertie" to the family—was the second son of King George V. He initially proposed to Elizabeth in 1921, but she turned him down, being "afraid never, never again to be free to think, speak and act as I feel I really ought to".[18] When he declared he would marry no other, his mother, Queen Mary, visited Glamis to see for herself the girl who had stolen her son's heart. She became convinced that Elizabeth was "the one girl who could make Bertie happy", but nevertheless refused to interfere.[19] At the same time, Elizabeth was courted by James Stuart, Albert's equerry, until he left the Prince's service for a better-paid job in the American oil business.[20]
It seems that Queen Mary had no objection to Bertie marrying what would have been known as 'a commoner', although Elizabeth appeared to have reservations about entering Royal life:
Eventually, in January 1923, Elizabeth agreed to marry Albert, despite her misgivings about royal life.[23] Albert's freedom in choosing Elizabeth, not a member of a royal family, though the daughter of a peer, was considered a gesture in favour of political modernisation; previously, princes were expected to marry princesses from other royal families.[24] They selected a platinum engagement ring featuring a Kashmir sapphire with two diamonds adorning its sides.[25]
The couple were married at Westminster Abbey and Elizabeth, who became the Duchess of York, became ill during the Scottish leg of their honeymoon:
They married on 26 April 1923, at Westminster Abbey. Unexpectedly,[26] Elizabeth laid her bouquet at the Tomb of the Unknown Warrior on her way into the abbey,[27] in memory of her brother Fergus.[28] Elizabeth became styled Her Royal Highness The Duchess of York.[29] Following a wedding breakfast at Buckingham Palace prepared by chef Gabriel Tschumi, the new Duchess and her husband honeymooned at Polesden Lacey, a manor house in Surrey owned by the wealthy socialite and friend Margaret Greville. They then went to Scotland, where she caught "unromantic" whooping cough.[30]
Tenacity
Elizabeth was certainly tenacious.
Russell's book purports that Edward VIII — David — said that Elizabeth really wanted to marry him, not Bertie, and, as a result, held a grudge against Wallis Simpson:
… the great feud of Elizabeth's life – with Wallis Simpson and her husband David, who was briefly King Edward VIII before abdicating, having given his brother Bertie, Elizabeth's husband (and henceforth King George VI), just 72 hours' notice of his intentions. Those who take Elizabeth's side say that her anger was due to the unbearable pressure this placed on the already insecure Bertie. However, according to David (later the Duke of Windsor, spewing bile from his lavish exile in France), Elizabeth's anger was entirely down to her having wanted to marry him, not Bertie.
He would have said that, wouldn't he?
In 1936, with Edward VIII's abdication, Elizabeth became Queen Consort, a title she held until George VI died. She also became the first and last Empress Consort of India, a title she held until 1947, when Partition took place.
Russell's book says that the Queen Consort — and later, the Queen Mother — the public saw was not the same person behind closed doors:
Russell's book — a "life told through 101 anecdotes", as he calls it (one for each year of his subject's life) — paints an entertaining and, one feels, mostly honest picture of a woman who divided opinion more than is often realised by those who knew her only as "the nation's granny". She was definitely a granny (and before that a wife and mother) with claws. The socialite Stephen Tennant, who knew her when she was plain Elizabeth Bowes-Lyon, wrote that "she looked everything she was not . . . Behind the veil, she schemed and vacillated, hard as nails." Even Russell, who bends over backwards to be fair, admits that she possessed "an Olympian ability to hold a grudge".
Russell writes that the Queen Mother used Queen Mary's tactics to despatch Princess Margaret's divorced lover, Peter Townsend, in the 1950s:
… she colluded in sending Group Captain Townsend to a pointless job in Brussels to get him out of Princess Margaret's life.
There might have been more tenacity on display, as the Queen Mother once said she managed to get rid of written evidence of John Brown's relationship with Queen Victoria:
the Queen Mother once told friends that she had burnt documentary evidence of Queen Victoria not only having an affair with her Scottish servant John Brown, but also secretly marrying him …
… since Russell's book derives its title and subtitle ("The Singular Wit and Double Measures of Queen Elizabeth the Queen Mother"), plus a considerable amount of its content, from the Queen Mother's legendary ability to consume industrial quantities of alcohol, you do wonder whether she really did apply the paraffin and Swan Vestas to Victoria's private papers one dark night in Balmoral. Or was it just the gin and Dubonnet talking?
We'll never know, just as we'll never know what happened to Brown's diary, which was never located after Victoria's death.
There is obviously something to this John Brown story. After Queen Elizabeth II died, I pointed out the two portraits of him at Balmoral, only one of which features one of Victoria's husband Prince Albert. Osborne House on the Isle of Wight, which was another of Victoria's residences and the one Prince Albert designed, also has a prominent portrait of Brown and Victoria, which you can see in this Telegraph article.
What other sources say
Other illuminating pieces of the puzzle of the Queen Mother's personality have come to light over the years.
Influencing King Charles III
It's hard to imagine that King Charles III's views on certain things might have come from his grandmother, but a recent documentary says she had a big part to play in his early life.
In 2021, The Express featured an article on the influence the Queen Mother exercised over King Charles III's life as discussed in a documentary, The Queen Mother, which aired that year:
The Queen Mother's influence in Prince Charles' early life "created an antipathy" with his parents, according to royal commentators. Queen Elizabeth II and Prince Philip's plans for their son were reportedly repeatedly "undermined" by the older royal. Channel 5 documentary, 'The Queen Mother', discussed how her close relationship with her grandson drove a wedge between the prince and his mother and father.
Lady Colin Campbell told viewers: "The word in the family is that she undermined the relationship between Charles and his parents in a rather destructive way.
"She would always encourage him in his hypersensitivities.
"While the Queen and Prince Philip were trying to toughen him up for what the future held.
"This created an antipathy."
Historical biographer Sarah Gristwood explained: "Maybe there was a sense that the Queen Mother wanted to pass on to the future king the vision of monarchy that she felt she and her husband had developed.
"So I guess she would have had a particular eye on the forming of the future king."
Royal experts think this would have started in his early childhood when Princess Elizabeth lived with Prince Philip in Malta, where he was stationed with the Royal Navy:
Royal commentator Wesley Kerr added: "She would spend a lot of time in his nursery when Princess Elizabeth was away, not least in Malta with her husband.
"I think that's a really powerful relationship for him through his whole life and a very powerful influence."
The Queen Mother also tried to influence where young Charles would attend school:
Prince Philip had chosen Gordonstoun, an austere boarding school in Scotland, for his son.
According to biographer Angela Levin, the Queen Mother tried to persuade her daughter and son-in-law to send Charles to Eton, but they refused.
I should have watched that documentary.
Criticism after Diana's death 'upset' the Queen Mother
In 2009, 12 years after Princess Diana's death and seven years after the Queen Mother's death, friends of the latter said that criticism of her daughter 'hugely upset' her.
Keep in mind that the Queen and Prince Philip were minding Princes William and Harry at Balmoral while their mother was on holiday in August 1997. When news broke of Diana's tragic death, the Royal couple initially decided to protect the boys by keeping them in Scotland, safe and out of the public eye.
They were right to have that instinct. Central London, where I worked, was one great cesspool of emotion, the first the nation had ever seen. It was alarming, because some of these mourners were full of rage and did not hide their feelings about the accident being 'the Royals' fault'. I kept my head down on the Tube going in and, at night, returning home to outer London. It was awful.
The Sunday Telegraph featured an article on the subject, published on September 26, 2009:
Friends of Queen Elizabeth have … revealed her shock at the public outpouring of grief over the Princess' death.
Sir Michael Oswald and his wife Lady Angela Oswald said Queen Elizabeth felt angry and defensive that her elder daughter was so widely criticised for her actions in the aftermath of the Princess's fatal car crash in Paris in the summer of 1997 …
… Lady Angela said: "The Queen was criticised for two things. One was taking the boys [Princes William and Harry] to church [on the day the Princess died]. But they wanted to go to church. If you are a Christian and your mother has been killed, it is a comfort going to church.
"The other thing was that people expected the Queen to abandon her two grandsons – whose mother had just been killed – and go to London to mourn with people who had never even met the Princess.
"If you stand back and think about it, it is an extraordinarily selfish attitude. Queen Elizabeth was hugely upset by the criticism of her daughter because she has always admired her so much. It was such a cruel criticism and it was unfair."
Sir Michael, now 75, an Old Etonian and former manager of the Royal Studs, was Queen Elizabeth's racing manager from 1970 to her death in 2002 aged 101. His wife, the daughter of the 5th Marquess of Exeter, was one of her ladies in waiting for 21 years from 1981.
… following the publication of William Shawcross's official biography of Queen Elizabeth, Sir Michael and Lady Angela spoke exclusively to The Sunday Telegraph – with the knowledge of Buckingham Palace – about their decades of royal service. Even though they both unfailing called her "ma'am" out of respect, they clearly considered Queen Elizabeth a close and loyal friend.
Sadness over Charles's divorce
The couple said that the Queen Mother was devastated to learn of Charles's and Diana's divorce.
Lady Angela said:
"The one time I remember her losing her smile for any length of time was for a fortnight in 1991, or 1992, at Birkhall [her Scottish home] after she had been informed that the marriage of the Prince and Princess of Wales was effectively over.
"Normally with the bad things in life, she managed to pass by on the other side and not notice. But she had been made aware what unhappiness there was in the marriage. She was so sad, so tense and so obviously unhappy in herself.
"There was a very close bond between Queen Elizabeth and the Prince of Wales. She was of a generation that felt that anything that went on in a marriage was private between the couple. So it is certainly fair to say that she would have been deeply shocked when private feelings and thoughts were broadcast worldwide" [a reference to Diana, Princess of Wales's Panorama interview in 1995, in which she claimed the marriage was "crowded" because of her husband's affair with the then Camilla Parker Bowles].
Drinking habits exaggerated
The Queen Mother's drinking habits were often featured in the press or joked about.
Here is a 1987 photo of her at a pub in London's East End:
One case in point was in 2019, when Nigel Farage visited Australia. The Guardian reported him as joking about it then, 17 years after her death:
The Brexit party leader was laudatory about the Queen – "an amazing, awe-inspiring woman, we're bloody lucky to have her" – but abused her son, grandson and mother.
"When it comes to her son, when it comes to Charlie Boy and climate change, oh dear, oh dear, oh dear. Her mother, Her Royal Highness the Queen's mother was a slightly overweight, chain-smoking gin drinker who lived to 101 years old. All I can say is Charlie Boy is now in his 70s … may the Queen live a very, very long time."
I don't recall that the Queen Mother smoked. Maybe she did, but, if so, she likely gave it up. After all, her husband, George VI, died of lung cancer.
The aformentioned Oswalds told The Sunday Telegraph that the Queen Mother had a daily routine but never overindulged:
Queen Elizabeth, they insist, was never a heavy drinker, usually enjoying a single gin and Dubonnet before lunch, a single Martini before dinner and wine with her meal. Far from drinking too much, they said she was constantly alert and that her memory for people and stories was incredible.
She lived to 101. That's a good enough secret of longevity for me.
As for the horses:
Although Queen Elizabeth loved horse racing, she never had a bet.
Lady Angela said that the Queen Mother the public saw was the lady she knew:
Her life was full of laughter and sparkle.
I feel so privileged to have spent so much time with her. When I was with her at a reception, I sometimes 'lost' her because of her lack of height. But I could always tell quickly where she was because of the joyful expressions of the people who were talking to her. They looked different because they were so thrilled to be speaking to her. The wave of affection was tangible – and it went both ways. People loved Queen Elizabeth and she really did love them.
Conclusion
As with anyone else, the Queen Mother was complex. She was far from a caricature, and it is rather sad that many people still think of her as such.
We would do well to remember that she and George VI never left London during the Second World War. Their daughters went only as far as Windsor Castle during those years. They remained on our shores.
The family stayed together with the British people through thick and thin.
That is how and why Queen Elizabeth II had such an abiding sense of service and duty to the United Kingdom and the Commonwealth.
After Queen Elizabeth II died earlier this month on Thursday, September 8, 2022, Royal historians and experts said that we would never find out the actual time of her death.
On Thursday, September 29, however, her death certificate showed up on news broadcasts. I saw it on GB News in the late afternoon.
Guido Fawkes was right once again. His slogan is, 'You're either in front of Guido or behind', meaning that most political pundits are behind.
At 3:07 p.m. that day, he tweeted that the Queen had died, then removed the tweet after getting a lot of flak for it.
However, the late Queen's death certificate says that she died at 3:10 p.m. on September 8. Princess Anne oversaw the document's contents.
Once again, Guido was correct.
One of the late monarch's favourite pastimes was horse racing.
George V, whom she referred to affectionately as Grandfather England, got her interested in riding as a little girl.
On September 10, The Times reported:
When she was a child, her grandfather, George V, would lower himself to his hands and knees so that the young princess could lead him forward by his beard, as though he were a horse. She had her first riding lesson aged three; the following year she was bequeathed her first pony, Peggy, and that was that — she was still riding a pony at 90.
As a teenager, she became interested in horse breeding (emphases mine):
Her infatuation with the sport spawned from her inaugural visit, aged 16, to the Beckhampton stable of Fred Darling, who trained for her father. It was May 1942 and two of the King's horses, Big Game and Sun Chariot, had recently won the season's opening classics at Newmarket. Having run her palm down the silken coats of each racehorse, the young princess would not wash her hands for the rest of the day.
When she married Prince Philip in 1947:
She could barely conceal her excitement when she received a thoroughbred filly foal as a wedding present from the Aga Khan III. As it transpired, however, Astrakhan had troublesome knees, although she did manage to win an ordinary race in 1950.
When George VI died in 1952:
She inherited the Royal Studs at Sandringham in 1952 and became fascinated by the inexact science of breeding thoroughbreds. She immersed herself so intensely in this quest that royal historians declared her to be better informed than any of her antecedents …
The Royal Studs are the oldest thoroughbred breeding establishment in the world, and by any measure, Her Majesty's tenure enhanced them. Of the five classic races run annually in Britain, the only one to elude her was the Derby. She was the leading flat owner in Britain in 1954 and 1957, while Estimate's triumph in the 2013 Gold Cup, Royal Ascot's signature race, was the first posted by a British monarch in the 200-year history of the race …
The Queen took as much pleasure from winning ordinary races with moderate horses as from a winner at Royal Ascot, where her horses won 23 races. And she bankrolled her own success: not a penny from the public purse was spent on the Royal Studs.
Horses that did not make the grade were deployed elsewhere:
For all the triumphs, notably the brace of classics won by Dunfermline in the silver jubilee year of 1977, the Queen was more concerned that each of her racehorses was given the opportunity to maximise its inherent ability. Conversely, those failing to make the grade were found new homes from which to pursue other equine disciplines.
The Queen was interested in treating horses with kindness:
Her primary concern was for her horses' welfare. She espoused the virtues of kindness over brute strength, never more so than in her approach to breaking in young horses.
To that end, she employed the man known as The Horse Whisperer and had a bit part to play in his future fame by encouraging him to write a book:
She had heard of the extraordinary deeds of a self-styled "Californian cowboy" who would rise to global acclaim under another sobriquet, "the Horse Whisperer". Monty Roberts was invited to Windsor to demonstrate his "Join-Up" techniques in 1989, and the repercussions were instant.
The Queen quickly adopted Roberts's non-confrontational approach to breaking in young horses. His methods were revolutionary; so much so that the Queen insisted he should write a book to spread the gospel. To date, The Man Who Listens to Horses has sold more than 5 million copies worldwide.
The Royal Canadian Mounted Police (RCMP) gave the Queen more than one horse as a gift during her reign. The most famous of them was Burmese:
… Burmese, was given to her by the Royal Canadian Mounted Police in 1969. Burmese earned her place in the royal heart after the monarch rode her for 18 consecutive years at Trooping the Colour. The black mare came to greater public prominence in 1981, when a teenager at the ceremony fired blanks from a gun that startled Burmese but failed to ruffle her accomplished rider.
The Queen got Princess Anne interested in riding. In 1971, aged 21, the Princess Royal won the European Eventing Championship and was voted the BBC Sports Personality of the Year. She became an Olympian in 1976 at Montreal, riding in the British team's Eventing challenge on the Queen's horse, Goodwill. She continued to be involved in international riding events until 1994, her final year as president of the Fédération Équestre Internationale.
The Queen's presence at so many prominent race meetings encouraged the presence of Middle Eastern potentates to also participate:
Her totemic presence on racecourses acted like a magnet, drawing wealthy Middle Eastern potentates to race their own horses in Britain, in the process ensuring that Britain remains pre-eminent in the global racing hierarchy.
It is unclear who will take the Queen's place at the races in the years to come:
it is daunting to contemplate how flat racing will evolve in the Queen's absence.
On September 10, The Telegraph featured an article on the Queen's love of the sport, 'Revealed: How racehorse-loving Queen Elizabeth spoke to trainer just two days before her death'.
This happened on Tuesday, September 6, as the Queen waited for Boris Johnson and Liz Truss to make their separate visits to her at Balmoral:
Clive Cox, who trained the final winner of the monarch's career on Tuesday, described her as "sharp as a tack" during their telephone call.
The Queen's horse raced at Goodwood that afternoon and the Queen awaited a briefing as to the horse's — Love Affair's — condition before the event:
The two-year-old won convincingly at Goodwood later that day, bringing to an end an owning and breeding career that saw her win some of the biggest prizes in the sport.
Clive Cox did not expect to speak with the monarch that day:
Cox, who trains several of her string, said: "Every time I have had a runner for Her Majesty I have spoken to her on the morning of the race.
"Those conversations have been the greatest privilege of my life but when I called on Tuesday I was told that the Queen was quite busy, which was understandable.
"But at 10 o'clock the phone rang and it was Her Majesty on the line."
The racing community mourned the Queen's death. Some surmise that, had she not been Head of State, she would have made an excellent trainer, or at least go to race courses more often:
Nicky Henderson, the former champion jumps trainer who handled many of her National Hunt horses, described her as "racing's patron saint" and "racing's best friend", saying: "I bet she would have loved to go racing every day, but her diary was a bit different to most people's."
Traditionally committed to flat racing, Queen Elizabeth inherited the Queen Mother's string of jump horses upon her death in 2002.
Henderson said training a winner for her during the Platinum Jubilee celebrations this summer at Worcester had been a "huge thrill".
The Queen's excitement at watching racing on television once brought her security detail running, Henderson says:
I remember once having a winner for her and she told me she'd been watching it in the sitting room. The horse led over the last, but it was a tight finish so she stood up and screamed it home.
With that, she said the security guards burst open the door thinking there had been some ghastly drama, but found her shouting at the television rather than an intruder! That always tickled me.
Legendary jockey Frankie Dettori rode many of the Queen's horses:
Frankie Dettori, who rode more than 50 winners for Queen Elizabeth, said racing had lost its greatest friend.
"She was an incredible lady. I have been riding for the Queen for the last 30 years. She was such a special person and such a great sense of humour.
"Her knowledge of racing was incredible and her dedication to horses was plain for everyone to see.
"She loved her horses and loved the breeding side. She knew the families inside out."
On September 14, the Daily Mail posted an article with a short video from 1991 showing the Queen's excitement at winning a race at the Derby that June.
The video was part of a 1992 BBC documentary on the Queen's life.
Apparently, the Queen bet on horses only when she was in the family box at the Derby. She did not own this horse, by the way:
Appearing on the 1992 BBC documentary Elizabeth R, the Queen and other members of the Royal Family are seen at Epsom for the 1991 Derby, taking part in the grand racing tradition of a low-money sweepstakes.
Even at Epsom, she watched on the television:
Her Majesty draws Generous from the hat in the sweep, and stands inside in the box to watch the 2420-metre race on the television.
As the horses turn onto the straight, Generous emerges with a handy lead.
Here's what happened next — the Queen in an unusual burst of spontanaiety:
She dashed in to stand by the Queen Mother:
The Queen runs through the room with binoculars in hand to watch the three-year-old stallion get over the line from the balcony, which is opposite the finishing post. 
'That's my horse, isn't it? That's my horse!' the Queen said while turning to her mother as she looks at Generous. 
'Oh my god, Mother! We won!'
After the monarch watched the winning horse and trainer come back to parade in front of the excited crowd, an aide presented her with her winnings.
'What do I get?' Her Majesty asked, with the aide replying: 'Well, you get 16, Ma'am.' 
'Sixteen pounds! Oh!' she exclaimed.
It is believed the Queen never made bets aside from the Royal Family's annual sweepstake at the Epsom Derby. 
She also told the Queen Mother how lovely it was to be at a race meeting in person. Normally, she attended only Ascot and the Derby.
The Mail says that the Queen was interested in even the smallest minutiae of horse breeding:
At the time of her death, she'd won 534 races from 3,205 runs as a racehorse owner and it is thought she made $13.1million from her hobby over the last 31 years.
Biographer Ben Pimlott quoted a horse-world confidante in his book, The Queen, when he described her passion for the animals and the sport.
'She is very interested in stable management — and happiest with the minutiae of the feed, the quality of the wood chipping and so forth,' he wrote.
There was no bluffing the Queen when it came to horses:
Top trainer Richard Hannon Senior said Her Majesty's horse knowledge put many highly credentialed trainers to shame.
'I always had to do my homework when I ran one of Her Majesty's horses or when she came to visit our stables,' he said.
'She knows all the pedigrees of her horses inside out. There's no small talk when discussing her horses. She knows all the bloodlines going back decades.
'She also used to say to me after a stable tour, 'It's nice to come to a place that doesn't smell of fresh paint'.' 
It was a view shared by her racing adviser John Warren. 
'If the Queen wasn't the Queen, she would have made a wonderful trainer. She has such an affinity with her horses and is so perceptive,' Warren once said.
The British Horseracing Authority paid tribute to the much-loved monarch as it suspended race meetings when news of her death broke. 
'All of British Racing is in mourning today following the passing of Her Majesty The Queen. Her passion for racing and the racehorse shone brightly throughout her life,' the authority said in a statement. 
The Queen leaves yet another legacy — her love of breeding horses.
As with so many other things she championed, who will pick up where she left off?
The Queen's corgis truly led a dog's life.
While they annoyed most others in the Royal household, the Queen showed them her unstinting affection.
On Saturday, September 10, 2022, The Times had an inspired article from Kate Williams, 'The Queen and her corgis: Love me, love my yapping, snapping, pampered dogs'.
Many envied the corgis:
Oh, to be a corgi! Princess Diana called them a "moving carpet", they knocked her butler Paul Burrell unconscious, and they snapped at courtiers with terrifying energy. But the Queen, tough and disciplined with staff and family, was as soft as butter with her pooches.
They got the best of everything (emphases mine):
Her corgis, along with her "dorgis" (crossbreeds of dachshund and corgi), would have the run of the palace apartments, tucking into food cooked by the HM chefs, and enjoying the everlasting confidence of their mistress.
During the Queen's seven-decade reign, many were photographed and filmed with her:
Over the years the Queen owned more than 30 dogs, and corgis firmly established themselves as a symbol of her reign; in 2012 the trio of Monty, Willow and Holly even featured alongside her and Daniel Craig in the James Bond sketch she filmed for the London Olympics.
George VI started his daughter's love of the short-legged pooches:
The short, squat-legged, floppy-eared Welsh breed had been beloved by the Queen ever since her father bought a male named Dookie in 1933 when she was six. Many corgis have a sweet, if yappish, temperament. Not so Dookie. He snapped at everybody except Elizabeth and her mother. At least one politician left the royal presence bleeding from a bite to the hand.
The article has a 1936 photo of the then-Princess Elizabeth with Dookie and a second addition, Jane.
This film, newly revealed in 2022, was made in the late 1930s. It shows Princesses Elizabeth and Margaret in Scotland with George VI and the corgis at Loch Muick, on the Balmoral Estate. The Queen narrated it for the BBC as part of her Platinum Jubilee celebrations:
George VI gave Princess Elizabeth another corgi when she turned 18:
When the Queen turned 18, she received her own corgi — Susan, a present from her father. Susan went everywhere with her — even on honeymoon. As Philip found out, he had married the corgis as well as the girl.
Wow.
However, Prince Philip was unimpressed with his wife's pets:
The Duke of Edinburgh complained about the "bloody dogs".
This was a typical day for the corgis. Talk about a dog's life:
A role as a royal corgi is probably as good as it gets, in canine terms. Their day would start with a walk with a footman. When the Queen woke, they would dash into her room, then accompany her to breakfast, where they jumped about the table as she fed them toast and marmalade. In the afternoon she put on a headscarf to take them for walks in the gardens of Buckingham Palace.
They never had tinned dog food, only the freshest ingredients, which had to be carefully prepared:
One of the most important tasks of a palace footman was to pamper the corgis. Their menu was pinned on the wall of the royal kitchens and one of the chefs prepared their evening meal — freshly cooked steak, liver, rabbit and chicken, topped off with gravy and boiled cabbage. The food always had to be fresh — there was a scandal in Balmoral a few years back when the Queen came to suspect that some of the food in the royal dog bowls might once have been frozen.
The Queen often put their dinner into their polished silver bowls, forking in the pieces of dog biscuit.
She kept a gimlet eye on the canine's meals:
Her passion was not always shared by her family and staff. A footman was demoted for adding gin and whisky to the dogs' food.
At nightfall:
… it was time for bed in the special corgi room, their wicker baskets raised to cushion them from draughts. Very occasionally, they were allowed to sleep in the royal bedroom.
Christmas was a special time:
At Christmas, the corgis, all descended from Susan, received their own stockings, full of chocolate drops and toys.
Burials were important, too:
When they died they were buried in royal grounds with headstones.
Eventually, the Queen decided she did not want any new canines:
Holly died at Balmoral in 2016. Monty died in 2012 and in 2015 it was revealed that the Queen had decided to have no new corgis.
The two surviving corgis are in the care of Prince Andrew and his ex-wife-companion Sarah (Fergie).
It seems that the long-lived corgi tradition disappeared with the Queen.
The King has other ideas:
He much prefers Labradors.
However, what is it like for a commoner to own a corgi?
On September 27, The Telegraph's Nicola Shulman wrote an insider account, 'We all want a Royal puppy — but think carefully before spending £6,000 on a corgi'.
Until I read this, I could not fathom why George VI bought one.
However, Shulman told us of their appeal as puppies:
When I decided to get a dog, I only knew one thing: I didn't want a corgi … Nasty, yappy bitey things with short legs, that was my opinion.
This had to be made clear from the outset, because I had a son who wanted us to get a corgi. He said nothing, but unleashed a silent campaign in which he sent me photographs and videos of corgi puppies every day. Have you ever seen a corgi puppy? Their enormous paws! Their floppy ears! Their freckled tummies! After a fortnight of this, a desire to possess a corgi took hold of me like a demonic possession.
It turns out that Shulman's son is a young man, not a little boy. She searched high and low in Britain for a corgi. They are in high demand and cost around £6,000 apiece.
Finally, she found one at a corgi show in Leicester:
I went to Leicester in the snow and threw myself on the mercy of the breeders. The more the owners told me it was impossible, the more I gabbled, handing out cards, that I was the perfect prospective owner. I had the time. I had a garden. My children were grown up. I had come all the way to Leicester. The more I was disappointed, the more I beamed, hoping to look rueful-but-undeterred in the hope that this would recommend me as the sort of person who deserved a corgi. By the time I was halfway round the room, a puppy had materialised.
"He" was Mishka. A Pembroke Welsh Corgi boy, red and white, 11 weeks old, and with ears so big that they had been taped into special rolls that stuck out on either side of his head, in an attempt to make them stand up properly, making him look like an Ewok from Star Wars. It was all in vain: only one ear went up permanently, resulting in the flag-eared appearance that we consider his particular charm.
As Shulman found out, Corgis are not for most would-be dog owners:
… I often returned to the reasons I had wanted a dog. So that someone could look pleased to see me when I came home, a companion on my travels, a loyal friend who would stay with me through the bad times and good. If these are also the reasons you want a dog, get a golden retriever.
The corgi's natural environment is on a farm. It likes to be kept busy:
Their job is to watch the farm and herd the cattle. They like to be where stuff is happening and are easily bored. A day lying in your room where you are bedridden with, say, Covid, looking adoring and occasionally giving you an encouraging lick, is not their idea of a good time.
His favourite spot in the house isn't with us at all, but lying sentry at a window on the stairs, scanning our London street in order to save us from visitors and foxes.
Corgis are food-obsessed:
Where he is like all corgis is in being what the dog books call "food led". He wakes in the morning thinking of food, thinks of food all day and deploys his famous corgi intelligence principally to discover who in the vicinity has food. While often deaf to exhortations such as "walkies" and "that's enough barking", the sound of a fridge door opening three floors away will bring him scrabbling in with a hopeful expression.
Such an obsession requires a budget to match:
In principle, they are not expensive to feed: they only need two small meals a day. But a corgi would say, with King Lear, "reason not the need". In reality, the expense of feeding them can vary dramatically, depending on what you are eating and how much of it they can get off you.
Walks in town can take much longer than expected, because a corgi has to investigate everything:
Corgis are relaxing country dogs. As herders, they never run off: you are their herd and their job is to keep an eye on you. On a lead in town, not so much, as it is a corgi imperative to sniff pointlessly every bicycle and rubbish bin en route.
It can take 40 minutes to go three streets, and I am constantly trying to establish the difference between a walk for him and a walk actually to go somewhere. Their reputation for barking at everything and nothing is well-earned.
Other dogs, she says, can bring out a corgi's aggression.
Shulman also points out that they shed a lot, especially in spring and autumn.
Despite this, like our late Queen, she is still smitten:
Luckily, you discover none of this until they are about two years old, and by then it is too late. You – like the late Queen and I – are enslaved.
The only caveat I would add is that good first aid skills and a nearby A&E department are recommended in case of bites, something Shulman has not experienced — fortunately — but other owners might do so.
The British royals were not always at the top of the league table when it came to pageantry.
In fact, in the 18th and 19th centuries, Britain was probably near the bottom.
The Guardian's 2017 article about Operation London Bridge, about which I wrote yesterday, says (emphases mine):
For a long time, the art of royal spectacle was for other, weaker peoples: Italians, Russians, and Habsburgs. British ritual occasions were a mess. At the funeral of Princess Charlotte, in 1817, the undertakers were drunk. Ten years later, St George's Chapel was so cold during the burial of the Duke of York that George Canning, the foreign secretary, contracted rheumatic fever and the bishop of London died. "We never saw so motley, so rude, so ill-managed a body of persons," reported the Times on the funeral of George IV, in 1830. Victoria's coronation a few years later was nothing to write home about. The clergy got lost in the words; the singing was awful; and the royal jewellers made the coronation ring for the wrong finger. "Some nations have a gift for ceremonial," the Marquess of Salisbury wrote in 1860. "In England the case is exactly the reverse."
Near the end of Queen Victoria's reign, courtiers and constitutionalists became concerned about the public perception of the monarchy during her latter years and death.
Something would have to be done:
Courtiers, politicians and constitutional theorists such as Walter Bagehot worried about the dismal sight of the Empress of India trooping around Windsor in her donkey cart. If the crown was going to give up its executive authority, it would have to inspire loyalty and awe by other means – and theatre was part of the answer. "The more democratic we get," wrote Bagehot in 1867, "the more we shall get to like state and show."
It was Edward VII — historians add his son George V here, too — who transformed embarrassing displays into sheer pageantry.
Victoria never trusted Edward VII to be a reliable heir. Many think she lived so long in an effort to prevent him from succeeding her. As I have mentioned before, there is a parallel between the two of them and the late Queen and Charles III.
Yet, Edward VII's ten-year reign was considered to be a good one.
He is the one who started codifying and defining what royal pageantry should be, in life and in death:
Obsessed by death, Victoria planned her own funeral with some style. But it was her son, Edward VII, who is largely responsible for reviving royal display. One courtier praised his "curious power of visualising a pageant". He turned the state opening of parliament and military drills, like the Trooping of the Colour, into full fancy-dress occasions, and at his own passing, resurrected the medieval ritual of lying in state. Hundreds of thousands of subjects filed past his coffin in Westminster Hall in 1910, granting a new sense of intimacy to the body of the sovereign.
That said, one German still did not think the Brits were up to scratch with military processions:
In 1909, Kaiser Wilhelm II boasted about the quality of German martial processions: "The English cannot come up to us in this sort of thing." Now we all know that no one else quite does it like the British.
George V, whom the then-Princess Elizabeth referred to as Grandfather England, carried on his father's vision of pageantry and brought the Royal Family closer to his subjects via the wireless:
By 1932, George V was a national father figure, giving the first royal Christmas speech to the nation – a tradition that persists today – in a radio address written for him by Rudyard Kipling.
In The Times's article, 'Modern-day royal funerals trace their traditions to Victoria', Valentine Low, the author of Courtiers, tells us about the funerals of Edward VII and George V.
Before going into her son's and grandson's deaths, he says that Victoria's funeral broke two previous conventions:
For the previous 200 years the funerals of sovereigns had been held in the evening: hers was the first to be held in the daytime. It was also the first to be filmed.
Edward VII's Highland terrier, Caesar, was the star of his funeral, much to the annoyance of those attending the service. They knew how ill-behaved the dog could be. Only the King had a fondness for him. Royal historians who spoke on GB News said that the dog was in the funeral procession in St George's Chapel, Windsor.
Low says:
Caesar immediately captured the public imagination, and became a cult figure. His "memoirs", entitled "Where's Master?" were a popular Christmas present that year.
Low also says that the King's favourite horse was in the outdoor procession in London:
At the funeral of Edward VII — who had insisted his obsequies, unlike those of his mother, were planned well in advance — his favourite charger, Kildare, walked behind the coffin in the procession from Westminster to Paddington, her master's boots reversed in the stirrups. Behind her, led by a Highlander, trotted Caesar, the late King's rough-haired terrier.
From Paddington Station, the Royal train transported the King's coffin to Windsor.
George V's death in 1936 was the first occurrence of the Vigil of the Princes at Westminster Hall. It was private:
When George V lay in state in Westminster Hall, on the evening of the fourth day King Edward VIII and his three brothers decided to pay a last tribute to their father by standing around the coffin in full-dress uniform, stationing themselves between the officers already on vigil.
He wrote later: "I doubt whether many recognised the King's four sons among the motionless uniformed figures bent over swords reversed. We stood there for 20 minutes in the dim candlelight and the great silence. I felt close to my father and all that he stood for."
On the day of his funeral, radio listeners were able to hear the funeral procession as it happened:
For all the expressions of public grief, and the growing involvement of the media — the funeral of George V was the first to have radio microphones placed along the processional route so that the world could listen to the tramp of feet and the thump of muffled drums — it should not be forgotten that royal funerals are also moments of private grief for the families themselves.
George VI never expected to become king. However, his older brother Edward VIII abdicated, and he had to step up. Continuing his father's Christmas broadcasts proved to be difficult, and he had to get the help of a speech therapist, the Australian Lionel Logue, in order to overcome his stammer. The film, The King's Speech, is a moving account of that story.
George VI and the Queen Mother never left England, even at the height of the Second World War. The princesses, Elizabeth and Margaret, lived in Windsor Castle for much of the war.
When he died in 1952, the whole country mourned:
Immense crowds lined the streets for the funeral procession of George VI, the shy, simple, devoted king who had seen the country through the Second World War. As two minutes' silence was observed around the country, miners in South Wales knelt at the coalface, heads bowed, their helmets on their knees.
Not many Britons had television sets at that time, yet his funeral was the first to be televised, setting a new marker for the visibility of the Royal Family:
Of all the modern royal funerals it was that of George VI that saw one of the most poignant moments of private royal grief. His funeral was the first to be televised, but what the cameras were unable to capture was how, too frail to attend the funeral of her son, Queen Mary watched the procession from the window of Marlborough House.
Her friend and lady-in-waiting Lady Airlie, who sat with her, wrote: "As the cortège wound slowly along the Queen whispered in a broken voice, 'Here he is,' and I knew that her dry eyes were seeing beyond the coffin a little boy in a sailor suit. She was past weeping, wrapped in the effable solitude of grief. I could not speak to comfort her. My tears choked me.
"The words I wanted to say would not come. We held each other's hand in silence."
Another relatively recent development in monarchs' deaths is the known role of their personal physicians in their final hours.
In the case of George V, his doctor's role was revealed long after his death:
Half a century after George V's death it emerged that his life had been ended prematurely by his doctor, Lord Dawson, who hastened his journey to the next world so that it could meet the deadlines of the respectable morning newspapers, in particular The Times.
"The King's life is moving peacefully towards its close," was the final notice issued by Dawson at 9.30pm on the night of January 20, 1936. Not long afterwards he injected the king with 750mg of morphine and a gram of cocaine — enough to kill him twice over — in order to ease the monarch's suffering. However he had another motive, too, as revealed in a 1986 biography by the historian Francis Watson. Dawson wrote in his notes: "The determination of the time of death of the King's body had another object in view, viz, of the importance of the death receiving its first announcement in the morning papers rather than the less appropriate field of the evening journals."
In the case of Elizabeth II, we knew that her physician was Professor Sir Huw Thomas, 64, and read of her final hours.
The Guardian's 2017 article stated:
In these last hours, the Queen's senior doctor, a gastroenterologist named Professor Huw Thomas, will be in charge. He will look after his patient, control access to her room and consider what information should be made public.
On Friday, September 9, 2022, the day after her death, The Times reported:
The doctor overseeing the Queen's medical care had been in charge of her health for the past eight years, during which time she became increasingly frail but insisted on continuing with her royal duties.
Professor Sir Huw Thomas, 64, is head of the medical household and was physician to the Queen. He was appointed a physician to the royal household in 2005 and promoted to the most senior role in July 2014.
The details about the Queen's health provided by Buckingham Palace yesterday were sparse, but the language hinted at the severity of the situation. Doctors were "concerned" and the Queen remained "under medical supervision". The latter phrase was likely to mean that her health problems were serious enough that they required active monitoring by doctors.
Thomas oversaw the Queen's care during the coronavirus pandemic and advised her to reduce her workload after she underwent preliminary tests and spent a night at King Edward VII's Hospital in west London last October.
He said during an interview about being knighted for his royal duties: "It's been a busy couple of years in this role . . . You very much become part of that organisation and become the personal doctor to the principal people in it, who are patients just like other patients."
The royal doctors at Balmoral might have needed to be involved in anything from interpreting vital signs to prescribing medication that could ensure, as the palace statement added, that the Queen "remained comfortable".
Those of us who admire the  British royals have much for which to thank Edward VII and George V. They gave us the transparency and majesty we have come to expect today.
To commemorate Queen Elizabeth's Accession Day on Sunday, February 6, The Telegraph republished its front page of Thursday, February 7, 1952:
The text of the lead article in the left hand column reads as follows:
HIS MAJESTY KING GEORGE VI DIED IN HIS SLEEP AT SANDRINGHAM HOUSE IN THE EARLY HOURS OF YESTERDAY MORNING. A SERVANT FOUND HIM DEAD IN BED AT 7:30 A.M. AN ANNOUNCEMENT FROM SANDRINGHAM REPEATED IN A SPECIAL EDITION OF THE LONDON GAZETTE LAST NIGHT, SAID:
The King, who retired last night in his usual health, passed peacefully away in his sleep early this morning.
Princess Elizabeth, who immediately became Queen, was informed of her father's death while she was at the Royal hunting lodge near Nyeri in Kenya. A thunderstorm delayed for two hours the departure of the plane which is to bring her to London, where she is expected at 4:30 p.m. to-day.
The Accession Council, which consists of members of the Privy Council summoned with others, "notables of the Realm" such as the Lord Mayor of London, to act on the demise of the Crown, met at 5 p.m. yesterday to decide on the accession proclamation. This will be read at 11 a.m. tomorrow at St. James's Palace, at Temple Bar and on the steps of the Royal Exchange in the City.
The Queen, who is 25, is expected to take the Royal oath before a second meeting of the Council to-day. She was proclaimed Queen Elizabeth II in Ottawa yesterday. Prince Charles automatically becomes Duke of Cornwall.
Mr. Churchill will broadcast on all B.B.C. wavelengths at 9 o'clock to-night for 15 minutes.
OUT SHOOTING ON PREVIOUS DAY
The King, who was 56 and in the 14th year of his reign, was born at Sandringham. During what proved to be his last stay there he was out shooting on Tuesday morning and afternoon, and appeared to be in good health. In the evening, he walked in the grounds.
The Queen-Mother and Princess Margaret accompanied him when he went to Sandringham last Friday. On the previous day he had gone to London Airport to see his elder daughter and the Duke of Edinburgh leave for Nairobi.
Queen Mary was informed at Marlborough House of her son's death. The Duke of Gloucester, who was at his home in Barnwell Manor, Northants, went to Sandringham on hearing the news. The Princess Royal was told at St. James's Palace. The Duchess of Kent returned from Germany last night and the Duke of Windsor leaves New York in the Queen Mary to-day.
The Prime Minister and Sir David Maxwell Fyfe, Home Secretary, were given the news by telephone. A Cabinet meeting was held. The House of Commons and the House of Lords met formally for two minutes and adjourned until after the Accession Council, when M.P.s and Peers began to take the Oath of Allegiance to the new monarch. The two Chambers are expected to meet on Monday for addresses of condolence and then adjourn until Feb. 19.
Subject to the wishes of the new Queen, the body of King George will lie in state in Westminster Hall from Monday until the funeral, the date for which has not been fixed. Carpenters at Sandringham finished midday the coffin of oak from the estate last night. 
CINEMAS AND THEATRES CLOSED
The effect of the news from Sandringham was felt immediately throughout the nation. All cinemas were closed and the Lord Chamberlain directed that theatres should be shut for the day and also on the day of the funeral of the King. B.B.C. programmes were cancelled except for news bulletins. There will be a restricted programme from to-day until after the funeral. The Stock Exchange and Lloyd's closed, courts adjourned and a number of public dinners and other functions were postponed. Flags in every town were at half-mast.
All sport stopped except for the four Football Association Cup ties. Saturday's Rugby Union International between England and Ireland at Twickenham has been postponed. Football League and Rugby League fixtures will be played as arranged. National Hunt racing was suspended.
As soon as the news became known a crowd began to gather outside Buckingham Palace and was there until late at night. Ambassadors were calling throughout the day to sign the visitors' book as an official expression of their sorrow, and messages of sympathy flowed in from every quarter.
Mr. Churchill issued a statement from 10, Downing Street last night, asking that there should be no public gathering at London Airport when the Queen arrives from Kenya.
A few historical notes follow:
– London Airport became Heathrow Airport in 1966.
– The Lord Chamberlain is the most senior officer of the Royal Household.
– The Duke of Gloucester at the time was Prince Henry, the King's brother; he, too, was born at Sandringham.
– The BBC programmes at the time were exclusively on the radio — or wireless, as the British say.
The Telegraph's article about their front page from 1952 has a lot of photos and more news items from the days before and after the King's death. History lovers will find them fascinating.
Prince Charles and Princess Anne were young children at the time; the family lived at Clarence House:
On 31 January 1952, 25-year-old Princess Elizabeth bid farewell to her children, Prince Charles and Princess Anne, at Clarence House as she departed for a tour of the Commonwealth that was planned to include visits to South Africa, Australia and New Zealand.
Princess Elizabeth and her consort were standing in for her father, who had been in poor health from lung cancer:
The couple were standing in for the King, who had been battling illness for some time as they aimed to strengthen the relationship between the Commonwealth. Little did they know that they would not meet him again …
Final farewell: Against medical advice King George VI – along with Princess Margaret and the Queen Mother – sees off the young princess on her first royal tour of the Commonwealth. The Telegraph reports that the "King looks well."
The Commonwealth tour began in Nairobi and ended in Kenya:
Greetings from England: The young Princess – in a mauve, blue and pink calf-length frock – greets citizens of Nairobi alongside the Duke of Edinburgh at a garden party on the first afternoon of the Commonwealth tour.
Calm Before the Storm: The couple explores the grounds of the lodge, gifted to them from the people of Kenya. The day's highlights include seeing a herd of 30 elephants.
Winston Churchill said that the Queen was 'just a child':
A face that reflects the nation: Churchill in top hat returns from the Accession Council at St James' Palace, summoned automatically on the death of the monarch. The Prime Minister was brought to tears upon the news of the King's passing, remarking that the new Queen was "just a child".
I read elsewhere that he was sceptical about meeting regularly with her to discuss affairs of state but was pleasantly surprised at her mastery of the subject matter.
Churchill, his deputy Prime Minister (and eventual successor) Anthony Eden and the previous Prime Minister Clement Attlee met the Queen at London Airport:
Left a Princess, returns a Queen: Queen Elizabeth II lands at London (Heathrow) airport at 4:30pm, greeted by Churchill, Eden and Attlee, among others. The Queen was brought suitable mourning clothes by an aide before alighting from the plane.
The Royal couple returned briefly to Clarence House before leaving for Sandringham:
Returning to Clarence House: The Queen is met by silent crowds as she travels from the Mall to her residence with her husband. The royal standard is unfurled for the first time over Clarence House as she approaches her home …
Through the gates: The Queen and Duke of Edinburgh are saluted by a policeman as they arrive at the Jubilee Gate of Sandringham House, two days after the King's death. After greeting her mother and sister, she and the Duke head to the room where her father lay.
This is how the King's coffin was transported to London:
Taken to the church: George VI's body, guarded by keepers from his estate, lies in the Church of St Mary Magdalene in the grounds of Sandringham. He was taken from the House at dusk with his family following in procession.
Final journey begins: Five days after arriving in Sandringham, Elizabeth makes her way to Wolferton Station to take the King's body to London. Crowds gather to watch the new Queen and her sister pass by.
Last stop: People line the streets in the rain to see the coffin in the capital. George's body is carried from the train at King's Cross Station and taken on a three-mile journey to Westminster Hall. On the coffin rests the Imperial State Crown and a wreath from the Queen Mother …
Lying in state: George VI lies in Westminster Hall. Over the next few days, 300,000 people would come to pay their respects, braving the February snow and a queue that backed up to Vauxhall Bridge.
Westminster Hall is the oldest part of the Palace of Westminster and is attached to the main building which houses both chambers of Parliament.
The Queen Mother lay in state there; I was one of 200,000 Britons who paid their respects in 2002.
The Queen, the Queen Mother and Princess Margaret went to Buckingham Palace:
Day of mourning: The Queen, the Queen Mother and Princess Margaret, clad in veils, travel down from Sandringham. They watch the procession at King's Cross Station, before ending their journey at Buckingham Palace.
London's streets were lined with mourners:
Packed London streets: Members of the public pay their respects as the procession bearing George VI's coffin enters New Palace Yard from Parliament Square. The coffin was carried on a gun-carriage by the Royal Horse Artillery.
Three hundred thousand people paid their respects at Westminster Hall:
Lying in state: George VI lies in Westminster Hall. Over the next few days, 300,000 people would come to pay their respects, braving the February snow and a queue that backed up to Vauxhall Bridge.
The King's funeral was held in Windsor. The funeral train left from Paddington Station.
The funeral service was brief:
Three Queens in mourning: Wearing black veils, Queen Elizabeth II, Queen Mary and The Queen Mother … at the King's funeral. The service took place at St George's Chapel in the walls of Windsor Castle, lasting less than half an hour.
George VI lies buried beneath St George's Chapel:
Homecoming: The funeral procession arrives at Windsor Castle. Around 1,400 people were present to watch George's coffin descend into the Royal Vaults beneath St George's Chapel.
That concludes the story of the death of the Queen's father, much loved by his subjects.
I am grateful to The Telegraph for that walk through history.
Sadly, Prince Philip, the Duke of Edinburgh, died on Friday, April 9, 2021, exactly two months short of his 100th birthday:
The Queen has lost her best friend. My deepest sympathies to her for the unimaginable loss of her long-time husband and daily confidant. My condolences also go to the Royal Family in their grief.
Young love
The couple first met in 1934, and began corresponding when the Prince was 18 and a cadet in the Royal Navy. Princess Elizabeth was 13 at the time.
She was smitten with him from the start.
Prince Philip served with distinction during the Second World War in the Mediterranean and Pacific fleets.
After the war ended, he could have had a stellar career in the Royal Navy. His superiors praised his clear leadership skills.
However, love intervened and the rest was history.
Born Prince Philip of Greece and Denmark, he renounced his foreign titles and took British citizenship before he and Princess Elizabeth were engaged. He took the surname of his maternal grandparents: Mountbatten.
He and Princess Elizabeth were engaged in July 1947. They married on November 20 that year. Shortly before the wedding, George VI gave him the titles of Duke of Edinburgh (created for him), Earl of Merioneth and Baron Greenwich.
Prince Philip remained in the Royal Navy until July 1951. He retired with the rank of Commander.
Royal succession — and surname
In January 1952, he and the Queen began a tour of the Commonwealth countries. They were in Kenya when news reached them that the Queen's father, George VI, died on February 6 that year.
Although she became Queen immediately upon her father's death, her coronation took place in 1953, as it had to be planned meticulously.
On Coronation Day, he knelt before her, clasped her hands and swore an oath of allegiance to her:
He also had to touch her crown and kiss her on the cheek.
He never had a constitutional role, nor was he ever formally given the title of Royal Consort. The courtiers did not like him, nor did they trust him. They believed his personality to be brash and unbecoming of the Royal household. They shut him out of as much decision making as possible.
When Elizabeth became Queen, the question about her family name arose. Prince Philip suggested that the Royal Family be known as the House of Edinburgh. Upon discovering that suggestion, Queen Mary, Elizabeth's grandmother, wrote to Prime Minister Winston Churchill, who advised the young monarch to issue a royal proclamation saying that the Royal Family would continue to be known as the House of Windsor.
In his inimitable style, Prince Philip complained privately:
I am nothing but a bloody amoeba. I am the only man in the country not allowed to give his name to his own children. [57]
The Queen did nothing until eight years later, in 1960, 11 days before she gave birth to Prince Andrew. She issued an Order in Council declaring that the surname of her and her husband's male-line descendants who are not styled as Royal Highness or titled as prince or princess would be Mountbatten-Windsor.
Pater familias
Prince Philip had to carve a role out for himself. He became the pater familias and, through the years, his role expanded to cover not only his four children but his grandchildren. He listened to their concerns, shared their joys and gave them advice. He knew everything that went on in their lives.
Although the public knew him for speaking as he saw — rather bluntly, on occasion — behind closed doors Prince Philip was known to be a warm, loving man.
He also favoured a more transparent Royal Family. According to the BBC, it was he who encouraged the Queen to make a multi-episode documentary on their daily lives, including those of their four children. It was broadcast in the late 1960s. I remember seeing it in the United States.
When Princess Diana died on August 31, 1997, Prince Philip was the one who kept an eye on the public mood that fateful week. He, the Queen and Princes William and Harry were at Balmoral in Scotland for their summer holiday. When the young princes wanted to attend church, their grandparents took them to the Sunday service on the day of their mother's death. Later in the week, it was Prince Philip who encouraged the boys to walk behind the funeral procession the following Saturday. He said:
If you don't walk, I think you'll regret it later. If I walk, will you walk with me? [93]
One cannot imagine what he thought of Prince Harry's departure for the United States to live a life separate from his closely knit family. I did read that the Royal Family shielded information about the Oprah interview from him.
John F Kennedy's funeral
Prince Philip was in Washington for John F Kennedy's funeral in 1963.
He had a friendly encounter with John Jr, who was still a toddler and known as John-John at the time. The child wondered where his father was, as he had no one with whom to play. The Prince stepped in to fill that gap. In 1965, the British government gave an acre of land at Runnymede to the United States for use as a memorial to JFK:
Funeral arrangements
Prince Philip was self-effacing and did not like a fuss to be made over him.
Therefore, the funeral arrangements will respect his wishes, which is rather convenient, as coronavirus restrictions are still in place. Up to 30 people will be allowed at his funeral, in line with legislation across the nation:
The funeral is scheduled to take place on Saturday, April 17:
It is interesting that Prince Harry will be able to attend when we have a 10-day quarantine in place for arrivals into the UK under coronavirus regulations.
The Sunday Mirror reported on Prince Harry's return to the UK:
He could also be released from quarantine if he gets a negative private test on day five, under the Test to Release scheme.
Given his status as a member of the Royal Family travelling to support the Queen, Harry might be considered exempt from travel restrictions.
Wow. It's nice to know we have a two-tiered quarantine system in place /sarc.
A championship boxer remembers the Prince
Former WBC Heavyweight Champion Frank Bruno MBE posted his memories of meeting Prince Philip. He is at the top left in the following photo:
An Anglican priest remembers the Prince
The Revd Peter Mullen, an Anglican priest, recalled his encounters with Prince Philip for Conservative Woman on April 10 in 'A personal recollection'.
He first met the Prince during his schooldays:
The first time I met the Prince was in connection with his Duke of Edinburgh's Award Scheme which gave a leg up to youngsters from what would now be called the less privileged parts of the country. He paid a visit to the Leeds branch of the Church Lads' Brigade of which, aged fourteen, I was a member. We were in the church hall making things. My task was to make a table lamp. I was hopeless at it.
The Duke got hold of my half-finished creation, held it up to one eye and said, 'I suppose this hole is where the flex goes?'
'I think so, Sir.'
'You think so? I was never any good at this sort of thing either!'
And he was off . . . 
As an adult, Mullen met him on more than one occasion thanks to the Honourable Company of Air Pilots. The Prince was its Grand Master. Mullen served as chaplain.
He recalls:
The Company gave a lunch for him to mark his 80th birthday and I recall how jovial he was, making light of his years: 'I believe I have lasted so long because you people are always toasting my good health, but I don't want to live to be a hundred. Things are dropping off already!'
At another luncheon one of our Liverymen who had his own port wine business presented the prince with Bottle Number One, the first fruits, so to speak. As he left, the duke handed the bottle to me: 'You have this, Peter. Our house floats on the bloody stuff.'
'Well, Sir, now I don't know whether to drink it or frame it.'
'Gerrit down ya neck!'
Prince Philip on MPs
Guido Fawkes came up with a good quote from one of the Prince's trips to Ghana. It concerns MPs. His Ghanaian hosts told him the country had 200 MPs. Prince Philip replied:
That's about the right number. We have 650 and most of them are a complete bloody waste of time.
Incidentally, Parliament will be recalled one day early from Easter recess. On Monday, April 12, MPs and Lords paid tribute to the Prince in their respective Houses:
That afternoon, the House of Commons reconvened to pay their tribute — from 2:30 p.m. until 10 p.m. (good grief).
Speaker Sir Lindsay Hoyle spoke first:
Prime Minister Boris Johnson had this to say:
Boris Johnson, who was invited to the funeral but declined so that another member of the Royal Family can attend, said that he would forego a pint when pub gardens reopen on April 12, out of respect for the Prince. Guido Fawkes, however, thinks that the Duke of Edinburgh would have wanted us to toast his memory, especially at a pub that bears his title in Brixton, south London:
Guido had a second tweet on the subject with another quote from the Prince:
Agreed.
Prince Philip on Australia
This is too funny. For those who are unaware, Australia was established as a place where Britain could send convicts. That was a long time ago, but the nation's original purpose was to serve as a prison: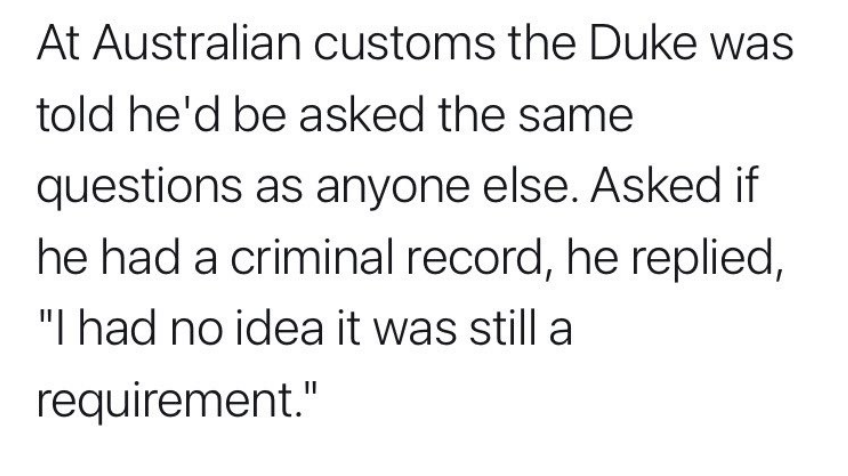 Prince Philip on civil liberties
On a serious note, the 12-minute interview below from 1984 is well worth watching, especially in the coronavirus era.
Prince Philip firmly supported the rights of the individual and believed that the state should serve the individual, not, as in our times, the other way around.
This is from a Thames Television programme originally broadcast on ITV:
I have posted the video below in case the tweets are deleted:
The Prince also said that certain subjects are out of bounds, such as the media and the NHS.
He said that the media are incapable of taking a joke about themselves and, as for the NHS, well, one cannot say anything against it. He didn't necessarily dislike the NHS but thought it was held in too high a regard. Nothing is perfect in this world.
We have been travelling a long road towards the point where we are at present: ruled by the media (they clamoured for coronavirus restrictions) and worship of the NHS. This is how Health Secretary Matt Hancock, Prime Minister Boris Johnson and SAGE have been able to rule our lives. It's been at least 40 years in the making.
BBC coverage on Friday
I was watching BBC Parliament early Friday afternoon, around 1:15, when the programme was interrupted by a broadcast from the BBC News Channel.
I checked the schedule an hour later, which said that the programme would last until 4 p.m. It was still going when I was preparing dinner at 5 p.m.
The final of MasterChef was to have been broadcast that night on BBC1. This was a clip from Thursday's programme:
Pictured are the hosts and judges, chef/restaurateur John Torode on the left and former greengrocer, now television presenter, Gregg Wallace on the right:
BUT:
The BBC News channel was simulcast all afternoon and all night long, not only on BBC Parliament but also on BBC1, to the dismay of MasterChef fans (myself included), and BBC2. BBC4 was suspended for the evening.
I read on social media that the BBC also broadcast continuous coverage of Prince Philip on their radio stations, including Radio 2, knocking out Steve Wright's drive-time show on Friday afternoon.
A friend of mine said that most of the BBC's employees were probably rubbing their hands with glee because it meant an early weekend for them. It's a cynical perspective that could well turn out to be true. We'll find out when someone writes his or her memoirs.
Everyone with a television set receives the BBC News channel. It comes into our homes at no extra charge. There was no need for the BBC to take over every channel for hours on end. By the way, if one had watched two hours of the Prince Philip coverage, as I did, one would have seen and heard everything in its entirety.
The BBC braced themselves for a plethora of complaints; they took the relevant page down on Sunday. Good. I am sure Prince Philip would have objected, too.
As much as I love the Queen, I hope they do not try this when her day comes. God willing, may it be long into the future.
Record-beating prince
Prince Philip established two records as consort to the Queen. He was the longest-serving royal consort in British history. He was also the longest-lived male member of the British royal family.
May he rest in eternal peace with his Maker.
May our gracious Lord grant the Queen, Defender of the Faith, His infinite peace and comfort in the months ahead. May He also bless the Royal Family during this difficult time.
Being a member of Britain's Royal Family requires special personal characteristics which, when combined, are as rare as hen's teeth:
– intestinal fortitude;
– a stiff upper lip;
– a perpetual sense of duty;
– the ability to keep one's mouth shut;
– control over one's personal life.
Many are called, but few are chosen — and even fewer succeed.
In recent memory, Sarah Ferguson didn't make the mark. Nor did Princess Diana. Nor has the Duchess of Sussex. Nor has her husband, Prince Harry.
It is not easy, and it is a constant obligation.
The Royal Family is not called The Firm for nothing.
In fact, in reality, it carries with it more obligations than a corporation.
People see formal dress, tiaras and crowns in sumptuous palaces and castles. The flip side is that one's life is never one's own. One serves Queen and country under the unsparing eye of the media and the British public.
Being a British Royal is one of the world's most difficult jobs imaginable.
For the most part, with the exception of those conferred at birth, one's titles are on loan.
It is important not to assign oneself a title one does not possess. Case in point, with reference to the Duchess of Sussex:
To be clear, she is NOT a Princess (unless you consider a future Disney voiceover role as one). She is a Duchess, and that can just as easily be taken from her as it was given.
Another important point is not to show disloyalty. It's bad enough offending the Queen, without casting shadows on the British public and expecting to get all the glory for no guts.
If you get a 'sensitive content' message about the second tweet, please ignore it and open it up. It's a parody letter:
The publicity surrounding the Sussexes was positive for at least two years. Note the 2018 headlines from their engagement and wedding in the second tweet below. They reflected the national mood:
Many of the Sussexes' pronouncements since then, including the secrecy surrounding their young son, made many members of the public feel as if they no longer wanted to be part of our nation.
It turns out we were not wrong.
An opinion piece on Spiked, a free-thinking, quasi-libertarian website, pulls no punches. This is from 'A woke Wallis Simpson' by Brendan O'Neill, a republican — not a monarchist. Yet, even he sees a problem with the Sussexes (emphases mine):
H&M, the most right-on royals in history, are breaking off so that they can foist even more woke bollocks on the plebs without having to worry about receiving a tutting phone-call from Her Maj's press secretary reminding them that they're royalty and not virtue-signalling Hollywood celebs.
Megxit, as this royal bombshell is wittily being called, is a striking sign of the times. What Harry and Meghan are doing is virtually unprecedented in the history of the royals. They are jacking in their jobs (I say jobs) as senior royals and pursuing a more 'financially independent' path that will allow them to earn, travel and – this is important – jabber on about their pet concerns and causes as much as they like.
This is also a major sticking point:
Even leaving aside the fact that they won't actually be financially independent – they'll still get wads of cash from the Duchy of Cornwall and will still stay in that Frogmore Cottage us British taxpayers just splashed 2.4million quid on – still their move is a startling and concerning one.
This is the difference between Meghan Markle and, say, Prince Charles:
What it fundamentally reveals is the incompatibility of the modern culture of narcissism with the values of duty, loyalty and self-negation traditionally associated with royal life. To someone like Meghan, who sprang from celebville, who sees herself as the embodiment of right-on goodness, and who loves nothing more than advertising her eco-virtue and performing her PC credentials, life in the British monarchy was never going to be a good fit.
Yes, the woke agenda Meghan expresses so well shares much in common with the old-world elitism of the monarchical system. Both obsess over inherited characteristics (the woke bang on about race and gender, the monarchy is all about bloodline). Both have a penchant for looking down their noses at the little people. And both have an instinctive loathing for modernity, from Charles' longstanding conservationism to H&M's humanity-bashing eco-hysteria.
But there's one big, irreconcilable difference: where the woke value the self over everything else, senior royals are meant, ostensibly at least, to be selfless, to submerge the self into the crown. It looks like this is a deal-breaker for the younger, more celebrity-oriented royals, especially newcomer Meghan but also Harry, too. Their unprecedented 'stepping back', and the fury this has allegedly caused in the Palace, suggests the cult of the self that Meghan and other showily virtuous celebs embody and promote, does not work within an institution whose ideal is the Queen: opinion-free, emotions hidden, dutiful, unquestioning and in it for the long haul.
Correct!
But wait, there's more. Their way of speaking about the Queen is also unprecedented:
Even more startling is the way they talk about the queen. They say they will 'continue to collaborate with Her Majesty The Queen'. Collaborate with? They sound more like Kendall Jenner talking about her adverts with Pepsi than individuals who are meant to devote themselves for life to royal duty and the preservation of the crown. I'm about as republican as it gets (abolish the monarchy is my view), but even I recognise that treating the queen as a kind of big business one temporarily 'collaborates with' is out of order. Meghan comes off like a woke Wallis Simpson, taking away a senior royal into a new life of PC globetrotting.
One of the readers' comments (second one, no hyperlink available) describes the contrast between the Sussexes and the Queen's parents during the Second World War:
The current situation should remind us all of the remarkable differences between generations. Winston Churchill was desperate to move the Royal family to Canada when hostilities commenced in WW2. The King refused and said that he wanted to stay with his people. In fact the Queen Mum said she was relieved when Buckingham Palace took a direct hit during the Blitz as she could then look the Eastenders in face thereafter. Princess Elizabeth herself served in the military as a mechanic and truck driver. The King, in fact, wanted to be part of the advanced landing parties on D-Day, fortunately he was talked out of it. The Royal family's sense of duty inspired the British people to see the crisis through even though at the beginning of hostilities it was touch and go for Britain. Running away to safety was not an option for them.
Harry and Meghan find Royal duties tedious and boring. It's not for them and they want to make lots of money instead. The Press have given them a hard time and some gutter types have written some nasty things about them. They would, it seems, prefer deference rather than criticism. The only option available to them is to escape to Canada.
Is it no small wonder that older people view the Millennials as mere snowflakes.
The first readers' comment is about personal dynamics between the Sussexes. This is another danger, namely for the Duke:
I have the feeling it is Meghan manipulating Harry as I think she is quite narcissistic. And she knows Harry has a problem with British press re: his mother. She may be exploiting that. I also think their marriage will therefore be in shambles in the not too far future …
There is a good article on narcissism relating to this, 'A Very Royal Narcissist — Part 9', excerpts from which follow.
Is it possible that this is what has been going on behind the scenes for the past several months? Emphasis in the original:
Smearing the family members ("They are trying to control you, I am just trying to help you see that.")
Exaggeration of Threat ("They do not want you to be happy, I do, that is why they see me as a threat.")
Projection (see the above comment).
Pity Play ("Your family do not like me." "This country has it in for me and I have tried so hard, you know, tried the stiff upper lip, but they just do not like me.")
Guilt ("If you loved me, you would move for me.")
Triangulation ("If we stay, it will end up the same for me as it was for your mother and you do not want that to happen do you?")
Use of The Victim´s Weaknesses Against Them …
Promised Gain ("If we live there, we can do our own thing and both be happy, you want that for us don't you?")
Remember, the narcissist will do this through unconscious manipulations. The narcissist genuinely believes that they are doing the right thing and cannot see, because of their narcissism, that they are actually being manipulative.
Such manipulations will have been used in isolating Prince Harry from his father, brother, grandparents, friends and extended family (save those who are viewed as supportive and therefore no threat to the control) and thus choosing water over blood.
The article on narcissism goes on to speculate as to what possibly happened at Sandringham on Monday, January 13, and the aftermath.
Whatever the outcome, the article concludes:
In the short term, Miss Markle will exert control in some form and in her "world" she will be winning. Of course, there is much more that is yet to happen with this ongoing saga of a Very Royal Narcissist.
I hope that means that this awful saga comes to an end, in favour of the Royal Family.
Tomorrow I will close a week of disroyalty with two more views about the Royal Family and the Sussexes.
The Queen's Chrismas Day message to the nation was as thought-provoking as ever:
The Express has a transcript. Note that the Queen says that 2020 is the start of a new decade — not 2021, as pedants say (emphases mine):
as we all look forward to the start of a new decade, it's worth remembering that it is often the small steps, not the giant leaps, that bring about the most lasting change.
The new decade, beginning in a few days' time, is further confirmed on Twitter:
Contrary to what the media has reported this month, she kept family issues out of the speech.
On Christmas Eve, the Mail's Richard Kay wrote:
After so many broadcasts the Queen, of course, is comfortably familiar in front of the camera, but even so this year she will quite possibly deliver her most difficult, her most painful and perhaps, from the monarchy's point of view, her most crucial Christmas message ever.
Sure.
In reality, the Queen focussed on the notable anniversaries in 2019:
As a child, I never imagined that one day a man would walk on the moon. Yet this year we marked the 50th anniversary of the famous Apollo 11 mission.
As those historic pictures were beamed back to Earth, millions of us sat transfixed to our television screens, as we watched Neil Armstrong taking a small step for man and a giant leap for mankind – and, indeed, for womankind. It's a reminder for us all that giant leaps often start with small steps.
This year we marked another important anniversary: D-Day. On 6th June 1944, some 156,000 British, Canadian and American forces landed in northern France. It was the largest ever seaborne invasion and was delayed due to bad weather …
Since the end of the Second World War, many charities, groups and organisations have worked to promote peace and unity around the world, bringing together those who have been on opposing sides.
On that subject, The Express reported her words and what lay behind them:
"It was the largest ever seabourne invasion and was delayed due to bad weather.
"I well remember the look of concern on my father's face.
"He knew the secret D-Day plans but could of course share that burden with no one."
This subtle nod to her father also seems to reflect on the burden of loneliness which wearing the crown can entail at times.
Mentions of family were happy ones:
Two hundred years on from the birth of my great, great grandmother, Queen Victoria, Prince Philip and I have been delighted to welcome our eighth great-grandchild into our family.
The broadcast included a clip of Prince George stirring up Christmas pudding:
As Defender of the Faith in the United Kingdom, the Queen always mentions the Reason for the Season, dispensing pragmatic wisdom when speaking of our Lord:
Of course, at the heart of the Christmas story lies the birth of a child: a seemingly small and insignificant step overlooked by many in Bethlehem.
But in time, through his teaching and by his example, Jesus Christ would show the world how small steps taken in faith and in hope can overcome long-held differences and deep-seated divisions to bring harmony and understanding.
Many of us already try to follow in his footsteps. The path, of course, is not always smooth, and may at times this year have felt quite bumpy, but small steps can make a world of difference.
As Christmas dawned, church congregations around the world joined in singing It Came Upon The Midnight Clear. Like many timeless carols, it speaks not just of the coming of Jesus Christ into a divided world, many years ago, but also of the relevance, even today, of the angel's message of peace and goodwill.
It's a timely reminder of what positive things can be achieved when people set aside past differences and come together in the spirit of friendship and reconciliation. And, as we all look forward to the start of a new decade, it's worth remembering that it is often the small steps, not the giant leaps, that bring about the most lasting change.
And so, I wish you all a very happy Christmas.
The broadcast, which airs at 3 p.m. GMT every year, closed with the choir at Windsor Castle singing the famous carol, accompanied by a military band.
I wonder if outgoing Labour leader Jeremy Corbyn saw the speech, which he said was broadcast in the morning:
On Christmas Day at Sandringham in Norfolk, the Royal Family look forward to a church service and family lunch.
Normally, the Royal children do not attend the service. However, Princess Charlotte and Prince George made their first appearance this year (top photo on the left in the second tweet):
I hope that the Queen's cousin, Princess Alexandra, had a very happy birthday:
This year's Christmas speech by the Queen proved the media wrong once again. Why do we lean on their every word?
Instead, let us heed her words about small steps being significant in creating great transformation.