You are currently browsing the tag archive for the 'Georgia' tag.
On April 6, President Trump gave a 21-minute interview to Newsmax's Heather Childers:
He begins by deploring the decision by Major League Baseball (MLB) to move the All-Star Game from Atlanta to Denver, Colorado, because of Georgia's new voter law. Trump said that Atlanta's bill which was passed is a watered down version of the original. He said that former gubernatorial Democrat candidate Stacey Abrams put pressure on the state to remove certain provisions, including voter ID signature matching. The final legislation, he said, is nowhere near what it was at the outset. As such, he found little justification for MLB to move the All-Star game in protest. He pointed out that Colorado has a much stricter voting law than Georgia. Oh, the irony.
He also had much to say about large corporations aligning themselves with every new social cause. He said it was right for conservative Americans to boycott these companies by refusing to buy their products.
Trump said that the Republicans in the Senate were weak and named Mitch McConnell specifically. This is what Trump posted about the 2020 election a week later on his Gab account (emphases mine):
Wouldn't it be ironic if the Supreme Court of the United States, after showing that they didn't have the courage to do what they should have done on the Great Presidential Election Fraud of 2020, was PACKED by the same people, the Radical Left Democrats (who they are so afraid of!), that they so pathetically defended in not hearing the Election Fraud case. Now there is a very good chance they will be diluted (and moved throughout the court system so that they can see how the lower courts work), with many new Justices added to the Court, far more than has been reported. There is also a good chance that they will be term-limited. We had 19 states go before the Supreme Court who were, shockingly, not allowed to be heard. Believe it or not, the President of the United States was not allowed to be heard based on "no standing," not based on the FACTS. The Court wouldn't rule on the merits of the great Election Fraud, including the fact that local politicians and judges, not State Legislatures, made major changes to the Election—which is in total violation of the United States Constitution. Our politically correct Supreme Court will get what they deserve—an unconstitutionally elected group of Radical Left Democrats who are destroying our Country. With leaders like Mitch McConnell, they are helpless to fight. He didn't fight for the Presidency, and he won't fight for the Court. If and when this happens, I hope the Justices remember the day they didn't have courage to do what they should have done for America.
Heather Childers then asked the former president about Joe Biden's performance. Trump replied that he hoped that the current White House occupant was in good health physically — and mentally. Trump said he had his doubts during the one presidential debate that took place last year. She asked him if he thought someone was pulling strings behind the scenes. He said that he would not be surprised but that, ultimately, he did not know.
He was satisfied that the Biden administration will see through the completion of the border wall. Trump said that, when he left the White House, the border was in good order, then Biden began reversing his policies.
Trump is really disappointed that foreign relations have been going downhill since late January and said that this was another area he had left in a good state for his successor. Trump said that, currently, America is 'getting no respect'. He said that officials from China and Russia never said the types of things to him that they recently said to Biden.
This interview took place around the time he was planning a private fundraiser for the Republicans. He said that a lot of 2022 candidates wanted his endorsement, but those will come in good time:
Former Georgia Democrat Congressman Vernon Jones — now a Republican — was at Trump's fundraiser:
Finally, he said that a new social media platform of his might come to fruition. However, for now, his website has all of his announcements, which 'millions' see every day. He said the current arrangement is working well for him, moreso than Twitter.
President Trump has given three interviews in mid-March. More on those below.
Americans clearly miss him and his clear-cut, sensible policies. Joe Biden's administration is reversing many of them. Remember the manufacturing plants that were going to stay in the United States? Ford has now reneged and is going back to its original plan of moving one of its plants from Ohio to Mexico:
In other news, it took more than two months for the media, led by the original source, the Washington Post, to retract the story about Trump's phone conversation with Georgia's secretary of state about the election. WaPo finally retracted their false quotes attributed to the former president on Tuesday, March 16:
RedState has an excellent article about this further example of fake news (emphases mine below):
The alleged contents of this conversation had been part of the national conversation ever since January 9 when Washington Post reporter Amy Gardner published a story claiming, based on a single anonymous source, that President Trump had attempted to pressure Ms. Watson into creating evidence of fraud where all right-thinking people know that all voting in Georgia, especially in Fulton County, was totally on the up-and-up. The story blew up. It slid neatly into the Pantheon of Evil Acts By Trump worshiped by the left, the media, and NeverTrump. Through the miracle of journalisming, something we lay folks can't be expected to understand, the anonymously sourced story was quickly and independently confirmed by NBC, ABC, USA Today, PBS, and CNN.
When President Trump was impeached after leaving office for giving a speech on the National Mall on January 6, this unsourced, though now multiply "corroborated," allegation found its way into the "impeachment brief" submitted by the House "impeachment managers," see page 10 if you care to wade through this dross. And, they, relying upon that integrity and sense of fair play for which progressives are famous, even used it in their impeachment arguments …
One final note. If the Daily Caller or Free Beacon or even the Washington Examiner had pulled a bullsh** stunt like this, they would be out of business (read The Washington Post Doesn't Deserve to Exist After Making up Trump Quotes to Own the Orange Man). Facebook and Twitter would have de-platformed them by now (read Based on Brian Stelter's Own Arguments, CNN and Washington Post Should Be Deplatformed). They would be ritually sacrificing staffers to try to keep advertisers from fleeing, and they would still fail. The Washington Post and Amy Gardner will simply move ahead. They will continue to sling wild conspiracy theories based on uncorroborated single sources, and they will continue to be treated as though they are serious newsgathering organizations.
Trump quickly compiled quotes from all the journalists condemning WaPo — including one from Glenn Greenwald, not a fan of his by any stretch of the imagination. When clicking that Telegram link, click on 'Context' to view in its entirety. It is easier just to visit his website's announcement with all the quotes.
On Saturday, March 20, at Mar-a-Lago, he made reference to Joe Biden's tripping on the airplane stairs and quickly added that he himself won the election by more than 75 million votes:
That Trump won is very likely to be true. On March 19, Howie Carr interviewed Jonathan Allen, one of the authors of Lucky: How Joe Biden Barely Won The Presidency. At the 8 minute point of the interview, Allen tells Carr that Trump lost within 43,000+ votes in three states. Peter Navarro, who wrote three reports for Trump on the 2020 election results, maintained that only six counties needed recounts, yet the swampy advisers around Trump said not to pursue the matter. After all, they have careers to preserve.
Former Democrat — now proud Republican — Georgia state congressman Vernon Jones was a guest of President Trump's at Mar-a-Lago twice in one week:
On Monday, March 22, Harris Faulkner of Fox News interviewed Trump. They discussed the border situation and Biden's reversal of his policies:
Trump is clearly concerned about the Second Amendment (guns), packing the Supreme Court and the weakness of Mitch McConnell, now the Senate Minority Leader.
There was also this:
On Tuesday, March 23, Trump gave an interview to Greg Kelly of Newsmax, wherein he discussed the 'gross incompetence' of the border situation, Operation WarpSpeed and more:
Biden's fall also came up for discussion. Trump said he had 'expected it':
James O'Keefe of Project Veritas was Trump's guest at Mar-a-Lago on March 23:
Rep. Madison Cawthorn (R-North Carolina), elected in 2020, was Trump's guest the following day:
And, finally, on Thursday, March 25, Laura Ingraham of Fox News interviewed him. This interview, which is 26 minutes long, is excellent. It covers the recent policy changes that have happened since Biden took office, including his first press conference that day, and ends with a discussion about Trump's social media plans. Trump seems less sure about a new social media platform, saying that it would be rather complicated and that he enjoys his current communication streams on his website and Telegram.
The former president says he has been relaxing, yet keeping busy. It certainly looks like it.
On Monday, December 14, while the London area worried about moving into severe coronavirus tiers on Wednesday, electors from the 50 US states voted for the next leader of the free world.
Joe Biden won the Electoral College vote 306-232 with no faithless electors, however, the vote still has to be ratified on January 6, 2021, by the new Congress.
Biden gave an acceptance speech, riffing Margaret Thatcher's of many years ago which featured the Prayer of St Francis:
Guido Fawkes reported that Senate Majority Leader Mitch McConnell (R-Kentucky) acknowledged Biden's December 14 win:
Our country has officially a President-elect & a Vice President-elect… The Electoral College has spoken… Today, I want to congratulate President-elect Joe Biden.
Newsmax, the new network for disgruntled Fox News viewers, will now refer to the Democrat as President-elect Biden, even though reporters and presenters will continue to cover Team Trump's election battles.
It will be interesting to see what happens on January 6:
That is what the Trump supporters' Stop the Steal coalition hopes will happen. They said as much in their press conference after the electors voted and Mitch McConnell announced his congratulations to Biden and Harris:
McConnell doesn't want any Republicans countering the Electoral College result:
However, Rep. Mo Brooks (R-Alabama) is ready:
Brooks explained his position as follows:
I'm quite confident that if we only counted lawful votes cast by eligible American citizens, Donald Trump won the Electoral College, and we should not be counting illegal votes and putting in an illegitimate President of the United States.
President Trump is not wrong:
Would Mike Pence be ready to defend the Republic on January 6? He has that power, if he chooses to use it:
But, let's go back to Monday. A lot happened.
Earlier that day …
President Trump's adviser and speech writer Stephen Miller (with the dark tie below) spoke about an 'alternative slate' of electors:
Miller probably meant this:
I do not know if this would work or not, but former New York City police commissioner Bernard Kerik says:
The New York Times has a map that shows the result from each state.
In Nevada, Georgia and Pennsylvania, the electors' votes went to Biden.
However, Right Side Broadcasting (RSBN) showed a different result for Nevada:
Gateway Pundit reported that Georgia and Pennsylvania — much larger votes — also voted for the incumbent (emphases mine):
Electors in Georgia and Pennsylvania also cast procedural ballots for Trump while the states continue to be contested.
Procedural ballots are cast in states where the result is contested.
Yet, as I mentioned above, the NYT map shows that Biden won those states.
Trouble for Michigan's Republican electors
Meanwhile, appointed Republican — GOP — electors in Michigan were not allowed to vote. They could not even get in the building.
Gateway Pundit reported and included tweets:
A group of GOP electors on Monday arrived at the Michigan State Capitol to cast their votes for President Trump …
The police would not allow the Republicans in:
'The electors are already here, they've been checked in,' the police said as they blocked access to the Capitol.
The police told the Republican electors:
If you have a problem, you can contact the Governor's office.
Gateway Pundit stated that a Trump elector asked for the Sergeant at Arms. The police replied that he was in a meeting.
With that, the police directed the electors to Governor Gretchen Whitmer's office. She's a Democrat, by the way:
The Republican electors explained that they wanted to vote because Michigan's result is in dispute and under investigation (see below):
Meanwhile — Michigan: audit of Antrim County voting equipment
However, other big news took place in Michigan that day. A state judge, Kevin J Elsenheimer, ordered the release of the results of the December 4 audit of Dominion voting machines in Antrim County. (If you've ever visited Traverse City, famed for its annual Cherry Festival held in July, you've been in Antrim County.)
This is a big victory for Team Trump. As The Election Wizard explains:
The results had been shielded by a protective order, but this morning, Judge Elsensheimer removed that order, clearing the way for the audit results to go public.
The judge further ordered that the case move to the discovery phase and mentioned the case could go to trial by April of 2021.
The hearing was conducted by ZOOM and streamed live on YouTube this morning.
The release of the report is a major victory for President Trump and his supporters, who have called into question the Dominion machines.
However, the journey from December 4 to the 14th was an uneasy one for Constitutional Attorney Matthew DePerno of the DePerno Law Firm, who represented William Bailey, a member of the team who audited the county's voting equipment.
Gateway Pundit reported that Bailey and his team looked at everything:
the 16 Dominion voting machines, tabulators, thumb drives, related software and the Clerk's 'master tabulator' used in the November elections in Antrim County, MI.
The audit — inspection — resulted in a 'collection' and took eight hours:
With 16 CF cards (similar to SIM cards), 16 thumb drives, and forensic images of the Dominion voting machines in hand, the IT team was escorted to the local Antrim County Airport by two Antrim County Sheriff vehicles, where they boarded their jet plane with evidence in hand.
On the morning of December 5 — the following day — Matthew DePerno received a worrying phone call about a previous legal case about which he'd never had a complaint:
Mr. DePerno received a call from the MI State Bar warning him that they have opened an investigation into a case he tried over a year ago in Lapeer, MI.
In case anyone wonders if Lapeer is near Antrim County, it is in the opposite direction: south east central. Antrim County is in the north west.
The caller told DePerno that the State Bar of Michigan had requested 6,000 pages of documents related to the case that had never had a single complaint filed about it. DePerno told Gateway Pundit that the call might have been 'an act of intimidation' on the part of Michigan's Attorney General, Dana Nessel.
On December 9, DePerno and his client William Bailey awaited the forensic results from the election equipment inspection. While they awaited the outcome, DePerno discovered that he was named in a legal motion regarding Antrim County. It was a protection order filed by AG Dana Nessel to prevent the results of the investigation being made public.
The following day, DePerno filed an emergency order with the aforementioned state judge, Kevin J Elsenheimer, to lift the protection order, which the judge granted on Monday, December 14.
What an ordeal.
Here's a tweet with a summary of the findings:
Also, on the same topic:
One can only hope that Team Trump can use this information in their legal pursuits.
Georgia Dems gear up for January state run-off
Democrats in Georgia are gearing up for the state senate run-off in early January 2021.
On December 14, Newsmax reported that failed gubernatorial candidate Stacey Abrams was ready:
Former Georgia gubernatorial candidate Stacey Abrams, now the founder of the voting rights organization Fair Fight, said that Democrats are prepared to win the Senate runoff race in January, and that 1.2 million absentee ballots have already been requested.  
"We know from the numbers that we're in a good place; 1.2 million absentee ballots have been requested thus far," Abrams told CNN's Jake Tapper on "State of the Union." "Just to put that into context, 1.3 million were requested for all of the general election."
It is so sad that the United States has sunk this low. I never would have expected it.
Ongoing violence has its part to play
Political violence has been part of America's urban life since the summer. Granted, it hasn't been taking place everywhere, but it's been endemic in Portland, Oregon, and Seattle, Washington. Other sporadic outbursts of violence have occurred in other American cities, including Washington, DC, and towns, such as Kenosha, Wisconsin.
A former Democrat, who is a retired lawyer, commented on this year's violence on a website for ex-Dems, ex-Hillary supporters. While I disagree with most of it, the first two lines reminded me of what the Bolsheviks must have thought a little over a century ago:
For violence solves nothing, so they say.
But it does change the status quo, in ways words never can…
Think about that, then consider one possibility why the Supreme Court might not want anything to do with defending President Trump. This tweet comes from someone who seems to have an inside track on the election:
However, there is no need to be as senior as a Supreme Court Justice to receive threats:
Therefore, it seemed almost natural that the election would have gone to Joe Biden, because those committing the violence are like so many neighbourhood bullies. Sadly, they are much more serious.
Conclusion
For nearly a century, there has been a saying in Europe:
When America sneezes, the rest of the world catches a cold.
Good grief, please keep this corruption away from our shores. Thank goodness we have handwritten paper ballots and far fewer mail-in ballots.
Millions of us support President Trump even if we are thousands of miles away.
Just to keep everyone updated: President Donald Trump has not conceded.
On Friday, December 4, Sean Hannity spoke with former New York City mayor Rudy 'America's Mayor' Giuliani about vote discrepancies in the contested states, beginning with Nevada:
Giuliani said that when someone brings a civil lawsuit, the judge assumes that the allegations are 'true and correct', yet 'the judge' — US state unspecified — 'did just the opposite' (emphases mine):
Now, we can get it reversed but he's accomplished what he wants to accomplish.
He's delayed things, and, I'm sorry to say, he's a Democrat. And you can't tell me he's made this decision based his on legal knowledge unless he really didn't go to law school.
On a motion to dismiss, you have to assume that every allegation we make is true, and then say it doesn't violate the law.
Later on, you get to make a motion for summary judgement … we get a chance for a hearing.
The reason I went to the state legislatures, Sean, is because I saw what the courts were doing, and I wanted to go around them …
The Georgia court wouldn't have allowed those courts to put those witnesses up. The legislature did. In Michigan, the same thing.
We had two Democrat judges and they weren't allowing us to put witnesses up. But, I was able to get some of the witnesses up there because I went to the legislature.
Now, the simple fact is, we don't need courts.
The United States Constitution gives sole power to the state legislatures to decide presidential elections.
In fact, if we go back to the Founding Fathers, they would tell us that we're making a mistake.
This should be thrown right back to the House of Representatives and to the Senate — in each state — and they should hold hearings, they should make factual determinations, and they should decide what the right voter count is.
President Trump sounded off against Governor Kemp of Georgia:
Giuliani had a photo of the suitcases full of ballots in Georgia; I posted a video on Friday:
In Wisconsin, the state's supreme court threw out a Trump lawsuit: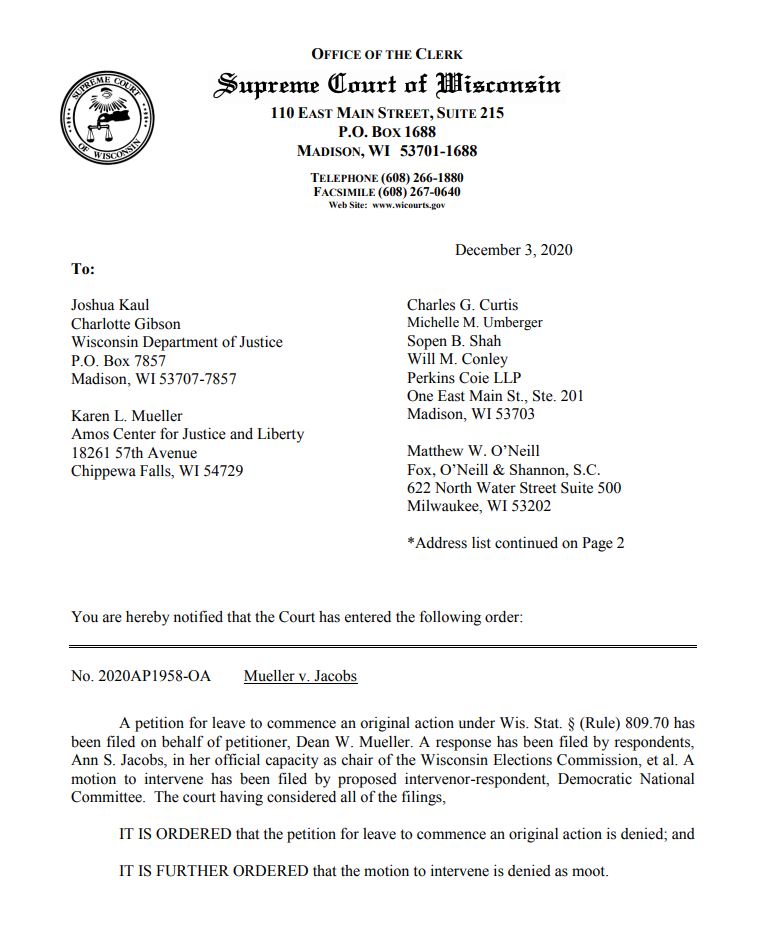 On Friday, December 4, the Daily Mail reported:
A divided Wisconsin Supreme Court on Thursday refused to hear President Donald Trump's lawsuit attempting to overturn his loss to Democrat Joe Biden in the battleground state, sidestepping a decision on the merits of the claims and instead ruling that the case must first wind its way through lower courts.
In another blow to Trump, two dissenting conservative justices questioned whether disqualifying more than 221,000 ballots as Trump wanted would be the proper remedy to the errors he alleged.
The defeat on a 4-3 ruling was the latest in a string of losses for Trump's post-election lawsuits. Judges in multiple battleground states have rejected his claims of fraud or irregularities.
Trump asked the Wisconsin Supreme Court to disqualify more than 221,000 ballots in the state's two biggest Democratic counties, alleging irregularities in the way absentee ballots were administered. His lawsuit echoed claims that were earlier rejected by election officials in those counties during a recount that barely affected Biden's winning margin of about 20,700 votes.
Trump's attorney Jim Troupis said he would immediately file the case in circuit court and expected to be back before the Supreme Court 'very soon.'
However, a hearing will take place in Wisconsin on December 11.
The Gateway Pundit reported:
Wisconsin Republicans will convene a public hearing on the 2020 election irregularities on December 11th. 'Mil' below is Milwaukee County:
Who would have ever thought voter fraud could take place in the land of touristy 'Food, Cheese, Gifts' (a ginormous sign I saw in my youth on trips to Wisconsin)?
Meanwhile, in Arizona, the state's Speaker of the House declined requests to overturn the certification of the vote count. In short:
It's so much easier to do nothing at all. However, doing nothing at all against the Democrats will have severe repercussions for the Great Republic:
It gets worse. Gateway Pundit continues to produce evidence that C h i n a was printing bogus ballots for the election. They have been following this story since November 28.
On December 5, they reported about a video, which has been properly translated into English (emphases in the original):
In the video a caller is heard requesting a bulk order of ballots to ship to the United States.
Here is the video with the translation.
FYI- Our Mandarin speaker confirmed the translation is accurate.
The order was reportedly for 5 million votes.
Two readers noticed that at the 0.54 second mark you can see "Charlotte County Florida" on the ballots …
Here are templates of the Mississippi counterfeit ballots printed in China.
Gateway Pundit have been talking to a former insider, Vinness A. Ollervides, the source for their information:
Here is the video:
On Saturday, President Trump held a successful afternoon rally in Valdosta, Georgia, for the Republican candidates in the state's run-off election early in January 2021. You can read more about it here. The candidates spoke briefly, while the audience voiced their support for the president with cries of 'Fight for Trump':
Elsewhere, President Trump's supporters are also fighting for him:
The battle continues, so, as my late grandfather used to say, 'Don't give up the ship!'
Last week I posted about lawyer L Lin Wood Jr's fight for voting justice in Georgia following the 2020 election in the United States.
A longtime reader of mine, Truth Unites And Divides, sent in an update, an article from Law & Crime: 'Trump-Appointed Judge Rejects Lin Wood's Georgia Lawsuit'.
Excerpts follow, emphases in purple mine.
On November 19, Judge Grimberg found that Wood had no standing to sue the state as an individual voter or suing about how votes have been tallied since the 2020 primaries in Georgia:
While Wood sued in his capacity as an average Georgia voter, the judge made clear that this did not give the lawyer a basis to sue.
"There is no doubt that the right to vote, even an individual's right to vote is sacrosanct," Judge Grimberg added, adding that this "doesn't mean that individual voters have the right to dictate" the manner in which that vote is counted.
On the surface of his lawsuit, Wood claims that Georgia's Republican Secretary of State Brad Raffensperger harmed him as a voter by agreeing to a March settlement agreement on signature matching in ballots. The lawyer waited eight months and three election cycles to challenge it on Nov. 13, when it became clear that President-elect Joe Biden had won.
On Friday, November 20:
The day after ruling from the bench during oral arguments, Judge Grimberg issued his written opinion reiterating his remarks from the bench.
"The Court finds that the threatened injury to Defendants as state officials and the public at large far outweigh any minimal burden on Wood," Grimberg wrote in the conclusion of his 38-page order. "To reiterate, Wood seeks an extraordinary remedy: to prevent Georgia's certification of the votes cast in the General Election, after millions of people had lawfully cast their ballots. To interfere with the result of an election that has already concluded would be unprecedented and harm the public in countless ways."
That is assuming the votes were legitimate. More on that below.
Lin Wood disagrees with Judge Grimberg's decision:
Lin Wood will appeal. Good for him:
Things are very strange in Georgia at the moment.
Something isn't right:
Last week, a recount and an audit took place in that state.
Early Friday evening:
One hour later:
The Georgia Secretary of State issued a correction Friday afternoon, saying this state is still completing the certification process, despite an earlier announcement that the state had certified an electoral victory for Joe Biden.
Meanwhile, something suspicious was taking place:
That night, voters from across Georgia went to the governor's mansion to protest:
Last Thursday, voting machines were dumped outside of Savannah. Why would they have been on the roadside? Why were they not disposed of properly?
Lin Wood has a petition requesting that a special session of the Georgia state legislature be convened:
Any American voter can sign it. Georgia's outcome will have an impact on the national result:
He has also filed a motion to preserve the ballots and voting machines:
At the weekend, the New York Times did a hit piece on him:
As I posted yesterday, Judge Jeanine Pirro interviewed Wood on Saturday, November 21:
Wood explained to Judge Jeanine that many Georgia legislators did not know that the voting law had been changed in March, in time for the primaries.
This is why he filed his own lawsuit only recently.
He plans to file for an emergency hearing, if necessary a district court, after his case was dismissed on Friday.
Fortunately, Lin Wood never gives up and is aware of what lies ahead — and not only for him. He calls for those of similar spirit to join him:
The saga continues. As it does, let's remember to keep Lin Wood, Sidney Powell, Rudy Giuliani and others in our prayers for their stamina, health and safety.
More in due course.
The investigation into President Trump's vote count in the US election continues.
Several avenues appear to be closed at this point, e.g. in Pennsylvania.
However, the state of Georgia is still under the spotlight.
One of the lawyers helping out Team Trump is Lin Wood, who, earlier this year helped 18-year-old Nicholas Sandmann win a huge lawsuit against the Washington Post. Nicholas Sandmann was the high school student in Covington, Kentucky who was verbally attacked after the 2019 March for Life in Washington, DC. The media had a field day and accused the student of provoking the verbal attacker, who turned out to be an activist.
The story was on television and in the newspapers for days. Those reports carried many false statements about Sandmann, which put him, his family and his school in potential danger for some time.
In the end, on July 24, 2020, Nicholas Sandmann thanked Lin Wood and fellow lawyer Todd McMurtry for the wildly successful result:
Lin Wood tweeted:
When he is not practising law, Lucian Lincoln Wood Jr goes on gator patrol in Georgia, where he lives.
He also owns four dogs:
Three weeks before the election, he asked:
After the election, Wood began casting his gimlet eye on the questionable results in Georgia, which has a Republican governor.
He says he has reason to believe there in Chinese influence at the state's uppermost echelon.
He pressed on with the alleged irregularities, concluding:
Wood began to focus on the voting machines used in Georgia and 32 other US states:
Those machines are not used in Texas:
Wood had more (also see this):
Two days later, on Wednesday, November 11, he tweeted the following, also featured in Gateway Pundit:
He also warned of an online disinformation campaign.
He remembered American veterans and their fallen comrades:
He also renewed a call to the state's governor to take action by convening the state legislature:
That afternoon, he appeared on the popular radio programme, syndicated nationwide, The Howie Carr Show (start at 22 minutes at the audio link). He spoke with Howie at length about the election. Gateway Pundit has excerpts of their conversation (emphases in the original):
Attorney Lin Wood: Time and effort I've been putting into this but really it reflects almost round the clock efforts by members of the legal profession and ordinary people. People of this country that are all determined and not only uncovered the truth but exposed the truth. And when all is known I'm 100% confident that Donald Trump will be President of the United States for four more years. And I'm just this confident that Joe Biden and the people like him that been trying to steal this election and committed crimes for years they will all go to jail.
Howie Carr: What leads you to be so optimistic? There's time but we are coming up on dates of voter certification.
Lin Wood: I believe in We the People. This was a well planned, almost for two decades attack to overthrow our government. Was it well done in the sense to hide the fraud? Sure. But it was too massive!… The process will show that they themselves killed several people in this country.
These are other tweets highlighting other points which he mentioned to Howie Carr:
Early the next day, he posted one of his uplifting messages:
He posted more, blaming China. Gateway Pundit has the following tweet and more:
He also tweeted an agreement between the Democrats and Georgia's Secretary of State, also a Republican. Hmm:
Early on Saturday, November 14, he had this to say about the raid on a server facility in Germany, related to the implicated voting machines. The included tweet is from Republican congressman Louis Gohmert from Texas:
On that subject, he had this to say about the 2016 and 2018 elections:
He had positive thoughts:
He reiterated what he thinks Georgia's governor should do:
Wood spoke again with Howie Carr on Monday, November 16. Howie asked him how positive he was compared with last week.
Wood responded that he was 100% the week before (November 11) and was 105% positive this week (audio here, which includes a separate interview with another lawyer, former US Attorney Joe DiGenova, who is also investigating voter fraud for Team Trump):
On Tuesday, November 17, he tweeted a link to an article on Doug Ross's website:
Doug Ross studied graphs from the New York Times showing Pennsylvania's and Georgia's ballot tabulation. Ross says (highlights in purple mine):
The charts below are derived from The New York Times' real-time election feeds (e.g., here). They show "DNA-level" evidence of vote fraud that was systematically used to overcome massive Trump leads with "vote flips" to Biden.
The twin charts below depict the shifts in votes starting on election day. The X-axis is the date/time and the Y-axis represents the change in votes (positive values denote shifts for Trump, negative values represent shifts for Biden, in hundreds).
Notice the similarities in PA and GA? How the right sides of the graph show virtually no movement for Trump; and very predictable vote movements to Biden. How predictable?
Below are excerpts of spreadsheets that show what was happening on the right side of each chart. Vote flips in the same-sized bundles (6,000 in PA and 4,800 in GA) were injected into the system to overcome Trump's lead in both states. You can click either image above to see all of the data.
The highlighted cells show where the vote counts — stunningly obvious in retrospect — were manipulated to benefit Biden.
Note the vote flips, represented by the highlighted cells, that occurred in both PA and GA. In PA, late vote flips in bundles of around 6,000 were clear anomalies to slowly overcome Trump's lead. In GA, the bundles were in 4,800 vote swaps.
Again, these are just excerpts. You can see the workbooks for yourself here: just click for Pennsylvania and Georgia.
Scroll down until you start hitting the highlighted cells.
Sorry, Democrats: this is what we call DNA-level statistical proof of fraud.
L Lin Wood Jr is still receiving correspondence from voters and poll watchers in Georgia:
He also doubts whether Georgia's recount, which is supposed to include an audit, is progressing as it should:
While he continues to investigate, he has a message for Trump supporters:
I hope Lin Wood wins for President Trump and all Americans, the same way he did for Nicholas Sandmann.
May God bless him and his endeavours for the truth.
On Monday, September 11, 2017, I listened to the Howie Carr Show, broadcast from Boston.
Howie's poll question was about media coverage of Irma. Fifty-nine per cent of his listeners thought it was overkill. Forty-one per cent thought it was just right.
Howie, whose property in West Palm Beach is fine, lamented that the 41% who were interested in Irma either a) had homes in Florida, b) visited the state or c) knew people there. I fit two out of three categories — not a), I hasten to add.
I very much appreciate getting updates, so please feel free to comment. Thank you to my two readers who have sent in reports!
If this had been the worst case scenario, the US would have had an historic humanitarian disaster on its hands. As it is, there is still much clean up and restoration to be done.
I have heard and read that there is much criticism for the 'lack of response' in the Caribbean by the British and French governments in British territories and Saint Martin, respectively.
Amazingly, one of the lefty panellists on RMC (talk radio) yesterday said he was sick and tired of hearing about it. He said that the French government was doing what it could to help. This man blamed naive people visiting the island during hurricane season. He also said that French people who moved there have a responsibility to know how to deal with hurricanes. He was annoyed that people expected the government to do everything for them.
South central Florida
I have been reading Sundance's updates on The Conservative Treehouse. He has lived in southwest Florida for many years and goes out to help with aid and rescue after hurricanes. The media are covering only the west coast cities and Keys. Less has been said about the east coast, which suffered worse damage, and central Florida, parts of which are also flooded.
Sundance said that Lake Okeechobee (the big 'O' lake visible in the southern end of the state) burst its banks and is flowing into the Peace River near Arcadia. This is part of his ground report:
En route to the coast we got a ham radio call, well, more of a desperate plea for help on U.S. 17 for a group of families stuck between Wachula and Arcadia. By the time we got there… yikes, desperate homeowners and families trying to salvage anything amid chest high water actually flowing on US 17.
We were able to get about 5 families and their pets, and a few belongings, relocated about 2 miles away and called for the United Way to get there and help. It was like something out of a farm movie. These people are suffering, and they didn't have much to start with; and they are so thankful …
The center of Florida is rural, farming, working class, and also lots of poor people. The coasts are more well-off. I think all the attention is going to the coasts. The center of the state is of Florida is FUBAR. Truth. Really bad. Those fine God-loving people didn't have much and now they have less.
As he wrote last week, getting any kind of fuel continues to be a major problem. He thinks he will probably be restricted to helping in local cleanups for now.
This is more of what he saw yesterday near the Peace River after rescuing the families:
By the time we got them to safety, we couldn't get back to where we came from.  We had to drive 20 miles north; to head West toward I-75 near Bradenton; to head South. On the way across SR64 there were people stuck with the Peace River flowing down the streets and driveways.  We helped who we could amid widespread downed power lines; broken power poles snapped like twigs (East to West wind); and trees as thick as cars that were blown over (North to South wind).
It took us 4 hours to cut through the trees blocking the road just to clear enough roadway to get to I-75 (West coast).  There's massive power outages all over; made worse by flooding, that, as far as I can tell, the radio news media seemed to be overlooking.
Cell phone service is poor to non-existent. Out of frustration our team split up to check on our own situations before we lost light …
I'm writing this from a phone hotspot, which is the only source of internet access (probably because cables are down all over) and using the fuel remaining in the generator. to power up the drained laptop. I haven't seen a second of TV (and don't care to) and have no idea what media is saying about storm. However, if radio talk is any indicator, these pontificating doofuses are stuck in their Vichy boxes not looking past the coastal metropolitan areas.
If the media are covering only certain Irma stories round the clock, it is no wonder Americans are tired of hearing about it. Why can't these news channels come up with additional reporting, which, surely, they could get from other networks' local affiliates?
What follows are more videos and images I did not have the space to post yesterday. I will also give an update on Irma's aftermath as experienced in other southern states on Monday.
Current forecast
This was the forecast late on September 11:
Later:
The NHC Atlantic Ops attention is now on Jose's path.
Here is a map of Florida to help with the updates below. By the way:
Orlando
Dangerous creatures are lurking, even inland:
Disney World and Universal Studios reopened on Tuesday.
East coast
In the north, Jacksonville was hit in a major way:
A Pizza Hut manager in the city is in trouble for telling employees they could not evacuate early:
"We absolutely do not have a policy that dictates when team members can leave or return from a disaster, and the manager who posted this letter did not follow company guidelines," the company said in a statement.
The company added that all stores in Irma's path had been shuttered and wouldn't reopen "until local authorities deem the area safe."
These pictures were taken near St Augustine:
Going south, here's Daytona Beach:
There was also flooding:
Going further south towards Palm Beach, here are the cities of Stuart:
And Fort Pierce:
Jupiter residents were advised to stay off the roads:
Moving south past Palm Beach, this was the scene in Fort Lauderdale on Saturday, September 9 (another view of the tornado here):
On Sunday, Irma uprooted at least one tree:
Three huge construction cranes fell. The first two were in Miami and the third was in Fort Lauderdale. Fortunately, no one was injured.
Not far south from Fort Lauderdale lie Miami and Biscayne Bay.
This is what it was like on Saturday night:
The flooding from storm surge is unbelievable:
Biscayne Bay flooding:
The Keys
The Keys lie south of the Florida peninsula.
As was forecast, Irma ravaged large parts of this area, from Key Largo westward to Key West:
Residents who evacuated and want to return will have a long wait (another photo here):
Key Largo is now open. Another two opened on Tuesday:
This man says that he saw a lot of mobile homes tipped over:
Marco Island
Irma hit the mainland on Marco Island on Sunday, September 10:
How awful:
Animal rescues
Many animals were rescued during and after Irma:
South Carolina
Irma reached South Carolina as a tropical storm on Monday:
There were also tornado warnings.
North Carolina
As forecasted, Irma made it to the western part of North Carolina:
Georgia
Irma also went north from Florida into neighbouring Georgia:
Atlanta felt Irma's wrath:
Uber suspended service Monday afternoon. Air transport posed a similar problem in tropical storm force winds.
There were also tornado warnings.
Alabama
Much of Alabama was cool on Monday. Irma brought heavy rain.
There were also strong winds in places:
There were 20,000 power outages.
Yet, other parts of the state near the Gulf were warm and sunny.
Mobile Bay had the phenomenon of its water being sucked out:
Anyone interested in tracking Irma's final gasps can follow the NOAA satellite image which, as I write in the afternoon UK time, is showing the storm moving into Louisiana and Oklahoma and as far north as Illinois, Indiana, Ohio and Pennsylvania. The Conus (Continental US) image from the National Weather Service is a great Doppler image worth checking out.
In other news, as Mexico is cleaning up and rescuing people after its earthquake, it will discontinue helping Texas post-Harvey:
And finally, September 11 is the anniversary of another severe hurricane — Iniki, which struck the Hawaiian island of Kaua'i in 1992.
Wow. What a time of acts of God, from Harvey to Mexico's earthquake to Irma. We will remember 2017 for some time to come.
After the Russian Civil War of 1918, Georgia became an independent republic.
Lenin was happy with that — and he was the man in charge. However, Stalin wanted Georgia to become part of a Transcaucasian Federation of republics (Young Stalin, Simon Sebag Montefiore, p. 383).
In 1921, Stalin and another Bolshevik, Grigory 'Sergo' Ordzhonikidze engineered an invasion of Georgia. Sergo, who was ruthless and mercurial, rode into Tiflis (today's Tbilisi) on a white horse. The Georgians soon began calling him Stalin's Ass; he was brutal, no doubt because many Georgians remained Menshevik, favouring a more measured approach to Marxism. They also hadn't forgotten their long struggle to regain their independence.
Two leading Georgian Bolsheviks were adamant that Georgia retain its new independence. A heated discussion ensued. Sergo punched one of the Georgian Bolsheviks.
When word reached Lenin — who supported the Georgians — Stalin, still furious, insulted Lenin's wife.
Afterward, Lenin wrote in his Testament that Stalin must be relieved of his post as General Secretary of the Party.
By then, Lenin was near the end of his life. He died of a stroke in 1924.
Stalin went on to succeed him.
But what happened to Lenin's Testament? Wikipedia says that it was posted to the Central Committee to be read aloud, except that:
the ruling troika—Stalin, Kamenev, Zinoviev—suppressed Lenin's Testament; it was not published until 1925, in the United States, by the American intellectual Max Eastman. In that year, Trotsky published an article minimising the importance of Lenin's Testament, saying that Lenin's notes should not be perceived as a will, that it had been neither concealed, nor violated;[203] yet he did invoke it in later anti-Stalin polemics.[204][205]
Josef Stalin's parents married in 1874 in Gori, Georgia (Caucasus region, not the US state).
To give you a backdrop to the cultural power of Georgia to its inhabitants, what follows is a very potted history of the region.
This area was part of Caucasian Iberia, not to be confused with the Spanish peninsula, also known as Iberia. The most plausible meaning of 'Iberia' is 'the country on the other side of the mountain' — the Caucasus Mountains. (That description would also fit the Spanish peninsula, which is on the other side of the Pyrenees.)
In ancient times, Caucasian Iberia was populated by various tribes. Early written history assumed a legendary character, which has determined the mindset of the people of Georgia and surrounding regions to the present day.
Later, some parts of Caucasian Iberia were conquered by neighbouring Armenia, also a lasting influence in the region. During the Roman Empire, Pompey and successive emperors tried to conquer the region, with greater and lesser success, depending on the period. However, Persian rulers also managed to convince Iberian rulers to help them to defeat Rome.
Although the Iberian rulers adopted Christianity in 317 AD, by the middle of the 5th century, Zoroastrianism was also adopted as a second official religion because of pressure from Persian kings.
In 653, an Arab emir took power in Tbilisi. Later, in the 9th century, his rule was overturned by the first of a great Georgian dynasty, the Bagrationi, also known as the Bagratid or the Bagrations. By the end of the 10th and beginning of the 11th century, Bagrat III united various principalities to form a united Georgian state.
Over the centuries, the Bagrationi rulers evolved a fanciful family history, encompassing not only pagan gods but also the biblical House of David. Although today's historians discount this geneaology, it has influenced Georgians to the present day.
Georgians would claim the Bagrationi to be the oldest royal family in Europe. Historians, however, cite other European nations as having older dynasties.
The Bagrationi spent centuries focussing on defeating or placating various neigbouring rulers from Persia and Armenia. They also did battle with the Mongols. This is because Georgia is along the historic trade route to Asia. Even in Stalin and his parents' day, Tiflis — modern day Tbilisi — was an amalgamation of Georgians, Muslims and Armenians.
The Bagrationi had various family lines. Simon Sebag Montefiore's Young Stalin describes the nobles who had fallen on hard times but lived harmoniously with the middle class and poorer people in Gori, the town where Stalin's parents were married. It is possible that these nobles had some relationship to the Bagrationi.
When the Russian Revolution began, most of the Bagrationi fled Georgia for other European countries, notably Spain. However, a few stayed behind. One spent all his life in Tbilisi — Tiflis — and became a theatre director. Another joined the Red Army.
After the fall of the USSR in 1991, some younger family members moved back to Georgia. In 2009, a wedding took place between members of the Gruzinsky and Mukhrani branches, thereby uniting that part of the Bagrationi. Princess Ana and Prince David married in Tbilisi and drew a crowd of 3,000 spectators, not to mention the fanfare of Georgian media.
The point of this shows the lasting strength that history and legend have on a people. This was not lost on Stalin, who used it to his advantage when he came to power in the Soviet Union.
When Vissarion 'Beso' Djugashvili (the 'Dj' is pronounced as 'Y' [e.g. same sound as in 'you']) took Ekaterina 'Keke' Geladze to be his bride in 1874, Tsarist Russian troops had been fighting the neighbouring Persians as well as Turkey. By the time Josef — Soso — was born in 1878, several Georgian territories were under Russian rule.
The Georgians saw the Tsar as domineering and resisted his efforts to reform and bring their regions closer to Russian influence, culture and language. However, some of the Georgian nobility were more than happy to throw off the Islamic influence which had weighed upon them for generations. Yet, the Russian desire to abolish serfdom was a sensitive area. Serfs were akin to untouchables. Most of them were starving — somewhat like sharecroppers in the United States during the Depression — and to reform this system might also anger the noblemen who were dependent upon their labour.
By the time Stalin's parents married, a resistance movement was in full swing. Although some serfs benefited, the noblemen saw a loss of their own privileges and wealth. Furthermore, religious Georgians resented the Russian influence over the Georgian Orthodox Church. Prince Ilia Chavchavadze spearheaded a nationalist movement. A year before Stalin was born he founded a newspaper called Iveria which, once again, brought to the fore all the great Georgian history and legends from past to present. It galvanised popular Georgian opinion.
Now onto Stalin's parents, Keke (mother) and Beso (father). According to Keke's memoirs — which Stalin loathed because she did not appreciate his becoming an autocrat instead of a priest — she was the prettiest girl in her milieu. Beso was the most handsome young man and, according to her, every girl wanted to marry him. The wedding was conducted in an Orthodox church and everyone was resplendent in Georgian finery.
Beso had two best men, the principal of whom was Yakov 'Koba' Egnatashvili, well-esteemed but also a fearsome wrestler — physical prowess was indispensable for Georgian men — and a wealthy merchant.
Interestingly, Keke described Egnatashvili as someone who always tried to help them in 'the creation' of their family. Hmm. Well, his wife certainly wet-nursed young Stalin. Remember the family name if you can; it will recur in subsequent posts.
Another family friend whose name is worth remembering is that of Father Christopher Charkviani who sang at the wedding, most admirably, according to accounts.
Both Keke's and Beso's parents had been serfs. Tsarist interventions served them well, as both families were 'liberated' under Alexander II in the 1860s (p. 19, Young Stalin, paperback version published by Phoenix).
Prior to liberation, Keke's father had served a local grandee, Prince Amilakhvari. Keke's father then worked as a potter before he was employed by an Armenian, Zakhar Gambarov, for whom he worked as a gardener. The family lived just outside of Gori. When Keke's father died, her mother moved the family to Gori. Keke was amazed and enthralled by the numbers of people she encountered every day as well as the contrast between the gaiety and savagery she witnessed.
Gori, and, for that matter, Tiflis — Tbilisi — were like the Wild West and nearly as lawless.
Beso and his parents were from South Ossetia, just north of Georgia. The Georgians did not generally accept Ossetians into their society because the latter were a poorly educated mountain people who came from a pagan tradition. Conversely, most Ossetians had nothing to do with Georgians if they could help it. They, too, were — and are — a fiercely independent group. Even when he was near death, the hospital record of Beso, who had spent most of his adult life in Georgia, still had him registered as Ossetian.
Beso's grandfather, although Ossetian, sided with the Georgians in the first part of the 19th century. He joined Prince Elizbar Eristavi's uprising against Russia. He moved from the village of Geri, near Gori, to a town outside of Tiflis (Tbilisi). There he worked as a serf for Prince Badur Machabeli. His son Vaso — Beso's father — tended the prince's vineyards. Beso's brother Giorgi was murdered by bandits.
Beso pursued a career as a cobbler in Tiflis, which served him well for a time. He worked at the local shoe factory earning a decent income. Afterward, he moved to Gori to work for an Armenian businessman making boots for the Russian garrison there. Hence his marriage in Gori.
It wasn't long before Beso opened his own business as a cobbler. Although lacking in formal education, he could speak four languages — Georgian, Russian, Turkish and Armenian — which showed that he was enterprising and willing to learn. However, his wife Keke saw another side to him, given to dark periods of gloom. She would become his victim in time.
Keke remembered that their first years of marriage were blissful. They lived much better than the average family in Gori. Beso also had a reliable benefactor in Egnatashvili, who bought him his cobbler's tools when he went independent.
On Valentine's Day 1875, Keke gave birth to a son. Strangely, her memoirs record that Egnatashvili had 'helped' them in this regard. Keke and Beso named Egnatashvili little Mikeil's godfather. Unfortunately, the baby died two months later.
The couple's hopes were revived when Keke became pregnant again soon afterward. Giorgi was born on December 24, 1876. Again, Egnatashvili was the godfather. Sadly, Giorgi caught the measles and died in June 1877.
As much as Keke and Beso valued Egnatashvili's deep friendship and loyal patronage, they wondered if he was somehow a curse on their children. Beso turned to drink — homemade wine — which was a common form of payment for services and goods rendered. Meanwhile, Keke and her mother sought spiritual alternatives. Her mother consulted fortune tellers whilst Keke went on local pilgrimages and brought religious icons into the house which the family thought could resolve their misfortune.
Keke prayed a lot and resolved that if she became pregnant again, she would go on a pilgrimage to Geri — Beso's hometown — to give thanks for a miracle of St George.
On December 6, 1878 she gave birth to Josef, whom they nicknamed Soso (p. 22). In his young adulthood, Stalin changed his birthdate to December 21, 1879, to avoid conscription. (He needn't have worried; he was too infirm to fight.) In 1925, he had the December 21 birthdate declared as his official birthday. Those who share that day of birth need not be preoccupied about turning into Stalin — that date was his fabrication. Still, it is a bit disappointing that he was born on the Western Christian feast of St Nicholas.
Gori, by the way, has become a money-spinner for its inhabitants thanks to their favourite son.  The small city — now five times the size since Stalin was born — has a huge Stalin Museum, a controversial statue of him in front of their town hall and a Stalin Boulevard. Montefiore says that the hovel in Stalin Boulevard was his first home. The statue was removed in 2010 as part of de-Sovietisation. However, in 2012, the local council voted to reinstate it.
How sad that such a monster has turned into such a source of income for a materialistic people. Where your treasure is, there shall your heart be also (Matthew 6:21, Luke 12:34).
More on the young Djugashvili family tomorrow.
Meanwhile, if you're wondering where Sochi is on the map, look for the Abkhazia region in pink, just northwest of Georgia.
In light of heightened interest in Chechnya since the Boston Marathon bombings which took place on Monday, April 15, 2013, a comment left on a Prison Planet post adds background to the evolution of Islam in the Chechen-Georgian region.
This isn't one's grandfather's brand of Islam.
The comment concerns the Pankisi Gorge, which is a Georgian valley bordering Chechnya. Anonymous writes (emphases and paragraph breaks mine):
Islam in the Pankisi Gorge. Anthropologists studying the area paid special attention to religion, and it is from them that I derived my information.
The Kist population which was there long ago had folk religious practices combining Islam, Christianity and paganism. They considered themselves Muslims, however. As in many Muslim areas, Sufism provided the means by which pagan and Christian practices were accommodated within Islam.
When the Kisty went to Chechnya in 1991–94, they encountered the many-faceted revival of interest in Islam going on there. As a result, the valley is now in religious ferment. New Mosques have been built, or converted from abandoned Christian churches, in several valleys. There are now "Wahhabis," as in Chechnya and Daghestan. They number, according to Lia Mellikishvili, 50–100, mainly Chechen refugees proper. I did not talk with any Wahhabis while in the valley.
Wahhabis wear beards, Daghestani-style skullcaps, and other details of clothing different from their Muslim neighbors. This is a strict kind of Islam, with no visits to (formerly pagan) shrines, seclusion of women, avoiding the cinema. This is precisely the ideological trend in Islam that tends to reinforce the hatred of America of Osama ben Laden and other Muslim extremists.
But Pankisi's "Wahhabism" breaks with most Muslim tradition, and particularly with Chechen culture, in not reverencing elders. As a consequence, there is an acute sense of generational conflict.
The version of "Wahhabism" spread in the Caucasus, like Osama bin Laden's, allows other Muslims to be considered polytheists, who can be robbed and killed. While this conception of Jihad has not been implemented by the valley's Wahhabis, relations are extremely tense.
Contrary to most Muslim practice, the Wahhabis are building their own Mosque in the large village of Duisi. In turn they are excluded from the mosques of the ordinary Muslims. It is said that they are paid $100 a month "from the Saudis" to become Wahhabis. They have also been given arms by their co-religionists. Many refugees prefer the aid given by the "Wahhabi" charity "Djamaat" to that of the more established humanitarian assistance organizations.
Perhaps because there is more money in it? This is another warning for us to not be taken in by 'free stuff'. There is usually a string or two attached which benefits the donor, not the recipient.
Regardless, the historic religious angle is a line of enquiry which would be useful if expanded and studied more closely. It's interesting that the anthropologists placed such emphasis on the religious history and syncretic practice of the people in this region. (Syncretism combines practices of more than one religion.)
As this post appears on St George's Day and looks briefly at Georgia, it seems apposite to cite Wikipedia's entry on the Kists:
The early history of the Kist people is not well known and there are few sources mentioning their traditions, culture and history. The only historical sources available about the ethnic Kists in the area of Pankisi are found in the Georgian press, dated in the 1880s by E.Gugushvili, Zakaria Gulisashvili, Ivane Bukurauli, and Mate Albutashvili (ethnic Kist).
One of the greatest Georgian poets Vazha-Pshavela dedicated his epic Aluda Ketelauri and The Host and the Guest to the story of Kist-Khevsur conflict which occurred in the 18th and 19th centuries. Based on religious and cultural difference, both Caucasian nations were engaged in fierce fighting. Vazha-Pshavela celebrates heroism of both nations and underlines the nonsense of their conflict.
During the Second Chechen War, the Kists gave shelter [to] about 7,000 refugees from Chechnya. Some of them have crossed the mountainous passes to join Chechen fighters against the Russians, leading to the Pankisi crisis in the early 2000s.
Majority of Kists are Sunni Muslim, [h]owever, there are still remaining small pockets of Christian Kists in Pankisi, Tusheti and Kakheti. To this day, the Kists worship the Khevsur sacred places (jvari) and make sacrifices to the Anatori jvari near the Khevsureti village of Shatili, which is located at the Georgian-Chechnyan border. The Anatori jvari was also considered sacred by Chechens in Maisti and Melkhisti. Highlanders from both the northern Caucasus and Georgia participated together in religious celebrations. Although today the Kists pray in the mosque in the village of Duisi, they also pray at the sites of old, now-ruined Christian sanctuaries. They also pray in Saint George church in the village of Joqolo and attend the religious celebration Alaverdoba in the Alaverdi Monastery of Kakheti. Finally, the Kists celebrate also Tetri Giorgoba, a local variation of St George's Day.
The position of Islam strengthened among the Kists in the Soviet period, in part because "wandering" mullahs continued to proselytize and managed to persuade many to convert to Islam, a process that continued into the 1970s. In sum, over the years considerable numbers of Kists became Christian, but most of those who did later reconverted to Islam. Even so, until around 1970, a considerable part of the villagers of Jokolo, Omalo, and Birkiani were Christian, and a Christian chapel was built in Omalo in the 1960s. In the 1970s, however, many Christians in Jokolo and Omalo returned to the Islam faith. As noted earlier, only Birkiani has a majority Christian population today. There is also a small community of Kists in Kakheti (a region of Georgia bordering on the Gorge), mainly in the city of Telavi, who consider themselves Georgians and Orthodox Christians. As with most Georgians, Christian and Muslim alike, religion has as much a national meaning for many Kists as it does spiritual. Those who are Christian tend to identify themselves as Georgians.[2]
As for Boston, it would be surprising if we ever get to the truth. It is unclear whether the two young Chechen refugees acted 'alone', and we might never know. If — if — they were part of a network, it could be far wider than we imagine and include unexpected elements. Therefore, as far as MSM reports go, accept but verify.