You are currently browsing the tag archive for the 'Germany' tag.
More Americans are walking away from Big Media, whether its mainstream news or printed periodicals.
Those Americans are going online and reading or viewing alternative media, which, at least, seem to be doing a good job of investigation.
This is one small example of why traditional media outlets are losing their grip:
Now a Harvard study of media outlets covering President Donald Trump has proven Americans are correct in their perceptions of bias.
The study, 'News Coverage of Donald Trump's First 100 Days', shows the extent of anti-Trump coverage.
American coverage
This chart gives us a summary of the findings from the Harvard Kennedy School's Shorenstein Center on Media, Politics and Public Policy:
It is also worth remembering the 2016 campaign and the many journalists who were in the tank for Hillary Clinton. The Democrats held a few get-togethers for them, which the Podesta WikiLeaks revealed:
European media
Three European media sources were also included: Britain's Financial Times (FT) and the BBC as well as Germany's ARD.
Of the European sources, ARD was the worst offender, giving Trump astoundingly negative coverage 98% of the time.
The FT came next with 84% negative coverage. The BBC's output was negative 74% of the time.
Basic findings
A summary of and excerpts from the study follow. Emphases mine below.
Trump was the star of the news during his first 100 days.
In the United States:
Trump was the topic of 41 percent of all news stories—three times the usual amount.[15] It was also the case that Trump did most of the talking (see Figure 1). He was the featured speaker in nearly two-thirds (65 percent) of his coverage. Members of the administration, including his press secretary, accounted for 11 percent of the sound bites. Other Republicans, including Mitch McConnell and Paul Ryan, accounted for 4 percent. Altogether, Republicans, inside and outside the administration, accounted for 80 percent of what newsmakers said about the Trump presidency.
Trump supporters were unhappy about the lack of coverage given to violent leftist protests against the president. The Left accused them of being cry babies. However, was Trump's base right or wrong? They were right. With regard to news coverage:
Participants in anti-Trump protests and demonstrations accounted for … 3 percent.
On the other hand, television coverage did not give the Russian hacking scandal as much time as many of us might have thought:
Immigration was the most heavily covered topic, accounting for 17 percent of Trump's coverage.[19] Health care ranked second (12 percent), followed by the terrorism threat (9 percent), and Russia's involvement in the 2016 election (6 percent). Presidential appointments, global trade, Trump's family and personal life, and the economy were the other topics that received 4 percent or more of the coverage.
Even though they loathe the president, cable news channels know he's good for their ratings:
News ratings were slumping until Trump entered the arena.  Said one network executive, "[Trump] may not be good for America, but [he's] damn good for [us]."[18]
In Europe, media coverage focussed on international issues but not on Russia:
Although, like their American counterparts, immigration was at the top of the agenda, they gave relatively more space to international trade, military, and foreign policy issues, a reflection of the extent to which Europe is affected by U.S. policies in these areas. On the other hand, Russia's interference in the U.S. election received considerably less attention in the European media than in the U.S. media.[1]
The three European outlets also discussed Trump's fitness for office much more than their American counterparts did:
Only 3 percent of Trump's U.S. coverage explicitly explored the issue of Trump's fitness for office. European journalists were less restrained with the exception of BBC journalists, who are governed by impartiality rules that prohibit such reporting.[21] Journalists at ARD, Germany's main public broadcasting outlet, are not governed by the same rules, and Trump's suitability for the presidency was ARD's leading topic in January, accounting for a full fifth (20 percent) of its Trump coverage. ARD stayed on the issue in its February coverage, when it consumed 18 percent of its Trump coverage. In March and April, Trump's fitness for office got less attention from ARD, but it nonetheless accounted for about 10 percent of ARD's coverage. Even that reduced amount exceeded the level of any of our seven U.S. outlets in any month. And ARD's journalists were unequivocal in their judgment—98 percent of their evaluations of Trump's fitness for office were negative, only 2 percent were positive.
Historical perspective
The Harvard study provides history about news coverage of American presidents.
Until the early 1960s, television news gave equal time to stories about Congress and the president.
In 1963, television news expanded to half-hour broadcasts on each of the three networks (CBS, ABC and NBC). This new type of news programme facilitated the hiring of the correspondents and camera crews needed to produce picture-driven news.
This resulted in an increased coverage of the president:
who, in any case, was easier than Congress to capture on camera. Newspapers followed suit and, ever since, the president has received more coverage in the national press than all 535 members of Congress combined.[12] The White House's dominance has been such that, on national television, the president typically accounts for roughly one-eighth of all news coverage.[13]
The study points out that the president is not only the focus of media but also their target:
Although journalists are accused of having a liberal bias, their real bias is a preference for the negative.[22] News reporting turned sour during the Vietnam and Watergate era and has stayed that way.[23] Journalists' incentives, everything from getting their stories on the air to acquiring a reputation as a hard-hitting reporter, encourage journalists to focus on what's wrong with politicians rather than what's right.[24]
Furthermore, the traditional honeymoon period no longer exists:
That era is now decades in the past. Today's presidents can expect rough treatment at the hands of the press, and Donald Trump is no exception (see Figure 4). Of the past four presidents, only Barack Obama received favorable coverage during his first 100 days, after which the press reverted to form. During his second 100 days, Obama's coverage was 57 percent negative to 43 percent positive.[26]
Even so, television news coverage of Trump hit a new low in negativity:
Of news reports with a clear tone, negative reports outpaced positive ones by 80 percent to 20 percent. Trump's coverage was unsparing. In no week did the coverage drop below 70 percent negative and it reached 90 percent negative at its peak … The best period for Trump was week 12 of his presidency, when he ordered a cruise missile strike on a Syrian airbase in retaliation for the Assad regime's use of nerve gas on civilians. That week, his coverage divided 70 percent negative to 30 percent positive. Trump's worst periods were weeks 3 and 4 (a combined 87 percent negative) when federal judges struck down his first executive order banning Muslim immigrants, and weeks 9 and 10 (a combined 88 percent negative) when the House of Representatives was struggling without success to muster the votes to pass a "repeal and replace" health care bill.
No wonder Trump is unhappy with the media
When Trump rails against the media, he has fact on his side:
Trump's coverage during his first 100 days was not merely negative in overall terms. It was unfavorable on every dimension. There was not a single major topic where Trump's coverage was more positive than negative …
Trump haters have been spending too much time watching and reading Big Media. Wake up, folks! The Harvard study has news for you:
Research has found that familiarity with a claim increases the likelihood people will believe it, whether it's true or not. The more they hear of something, the more likely they are to believe it.[34]
Here is the Harvard breakdown of print and television media negativity:
Trump's attacks on the press have been aimed at what he calls the "mainstream media." Six of the seven U.S. outlets in our study—CBS, CNN, NBC, The New York Times, The Wall Street Journal, and The Washington Post—are among those he's attacked by name. All six portrayed Trump's first 100 days in highly unfavorable terms … CNN and NBC's coverage was the most unrelenting—negative stories about Trump outpaced positive ones by 13-to-1 on the two networks. Trump's coverage on CBS also exceeded the 90 percent mark. Trump's coverage exceeded the 80 percent level in The New York Times (87 percent negative) and The Washington Post (83 percent negative). The Wall Street Journal came in below that level (70 percent negative), a difference largely attributable to the Journal's more frequent and more favorable economic coverage.
There was no relief.
Looking at this another way:
Studies of earlier presidents found nothing comparable to the level of unfavorable coverage afforded Trump. Should it continue, it would exceed even that received by Bill Clinton. There was not a single quarter during any year of Clinton's presidency where his positive coverage exceeded his negative coverage, a dubious record no president before or since has matched.[29] Trump can't top that string of bad news but he could take it to a new level. During his first 100 days, Clinton's coverage was 3-to-2 negative over positive.[30] Trump's first 100 days were 4-to-1 negative over positive.
Interestingly:
Media failing the American people
Although this was not its only conclusion, the study said that the media need to step up and report more about Americans:
Journalists would also do well to spend less time in Washington and more time in places where policy intersects with people's lives. If they had done so during the presidential campaign, they would not have missed the story that keyed Trump's victory—the fading of the American Dream for millions of ordinary people. Nor do all such narratives have to be a tale of woe. America at the moment is a divided society in some respects, but it's not a broken society and the divisions in Washington are deeper than those beyond the Beltway.
True. This is what a Michigan supporter had to say on Friday, May 19. He doesn't mention the media, but he has a positive message for the president and his fellow supporters:
The man interviewed said that he supported Donald Trump from the beginning. He canvassed door-to-door for him. He got verbally attacked by … family and friends. People on whose doors he knocked sometimes physically assaulted him.
Big Media bear much of the blame for that gentleman's abuse.
They don't care about that man. They don't care about Americans. They do not care one iota about you.
This is what lies ahead, less than a month from now:
The media will fuel the flames then not report on it, just as they ignored the riots earlier this year.
Tune out. Cancel the newspaper subscription. You can read the obituaries online.
If you want to know what's really happening at the White House, follow the Twitter feed.
The Anheuser-Busch commercial for the Superbowl this year, scheduled to air on February 5, has kicked up a storm and is viewed by a number of Americans as pro-immigration advertising.
It comes a week after President Donald Trump initiated a 90-day immigration ban on seven countries which have majority Muslim populations. These selected countries lack the means for sufficient background checks on their own citizens. (More about this in a future post.)
See if you think this is political commentary:
I have two problems with it. First, by the time Adolphus Busch arrived in the United States in 1857, Germans had been emigrating there for a century, at least. They were well established in society. Secondly, it was unclear to me that the final scene was the famous 'when Anheuser met Busch' moment. I thought he was a random guy in a bar until I saw a YouTube from Mark Dice explaining it in the first minute or so:
Budweiser, owned by InBev — a Belgian corporation — denies it is commenting on Trump policy or an anti-immigration climate.
However, I cannot help but wonder if Adolphus Busch would have wanted to be portrayed in that way. Most immigrants wanted to assimilate straightaway. They were not going to dwell on the voyage over, their processing time at Ellis Island or their early years getting established. Everything was about becoming an American.
If you doubt this, then, please be aware that his Wikipedia entry states (emphases mine):
His wealthy family ran a wholesale business of winery and brewery supplies. Busch and his brothers all received quality educations, and he graduated from the notable Collegiate Institute of Belgium in Brussels.[2]
Another German immigrant came to America in the 19th century. His name was Friedrich Trump, pictured at left (courtesy of Wikipedia). He was a Lutheran and came from Kallstadt in Bavaria. He managed to make a fortune within three years. He went everywhere, from New York to the Yukon. Nary a complaint. Even the most recent Channel 4 documentary by anti-Trump Matt Frei on his grandson — shown in late January 2017 — painted Friedrich as a clever, enterprising businessman. That makes me think Adolphus Busch was of the same entrepreneurial mindset.
You didn't go to the US as a victim then, that's for sure.
Incidentally, Friedrich returned to Kallstadt after three years only to go through a series of legal hurdles regarding his German nationality! He found out it had been revoked, possibly because he went to the US around the time he was to do his military service. So, back to America he went and the rest is history. According to Matt Frei's documentary, Friedrich quietly enjoyed his life a lot but died in the Influenza Epidemic of 1918. His widow, Elizabeth — also from Kallstadt — set up a real estate company for her middle son Fred, the president's father. It was called Elizabeth Trump & Son. Fred was still a minor at the time, even though he was precocious enough to follow in his father's footsteps and get small houses built.
I recommend that we need to watch these adverts with a gimlet eye and research the immigrant mindset of the 19th and early 20th centuries, very much oriented to assimilating into American society — as future Americans.
Whilst it is wise to refrain from labelling an attack 'terrorist' until we have the facts, the media are distorting and denying various aspects of the recent attacks in Europe, particularly Germany.
Foreign Secretary Boris Johnson came under attack from The Guardian and Liberal Democrat foreign affairs spokesman Tom Brake for saying that the recent Munich mall attack on Friday, July 22, was related to terrorism.
In fact, this is what he said from New York where he met with US Secretary of State John Kerry (emphases mine):
If, as seems very likely, this is another terrorist incident, then I think it proves once again that we have a global phenomenon and a global sickness that we have to tackle both at the source – in the areas where the cancer is being incubated in the Middle East – and also of course around the world.
That quote comes from the same Guardian article that accuses Johnson of jumping the gun in labelling the Munich incident as terror-related. Nine people died. The attacker, an 18-year-old German of Iranian extraction, then killed himself.
Since then, the name of the attacker — Ali Sonboly — has been distorted to David Ali Sonboly. That is a BBC link, but I have also seen it on other news outlets where it sometimes appears as Ali David Sonboly. Thankfully, a BBC viewer tweeted in response that the perpetrator's name is, in fact, Ali Davood Sonboly.
Note the progression from Ali Sonboly to David Ali Sonboly or Ali David Sonboly, when his real name was Ali Davood Sonboly.
You know, we cannot call this what it is or call the attackers by their right names because people might be offended.
The result will be that low info viewers, of which the BBC have many, will be under the impression that this lad was someone he wasn't. These viewers take the BBC at their word.
I know a lot of people who believe that BBC reports are completely trustworthy because they were 40 or 50 years ago. Folks, the BBC have moved on since then, ever leftward, ever economical with the truth. Their report on Debbie Wasserman Schultz's resignation on Sunday, July 24, was but another example.
On July 18, three days before Sonboly's attack in Munich, another adolescent — an 'unaccompanied' 17-year-old Afghan asylum seeker who had been living with a foster family in Germany — went on a rampage on a train in northern Bavaria. He took an axe and a knife to 20 passengers. Three were seriously hurt and one sustained 'light injuries'. All four were from the same family — tourists from Hong Kong who had been enjoying a delightful holiday prior to the attack, including the wedding of an immediate family member in Britain.
The '17-year old' (he looked older), whom police shot dead soon afterwards, was reported to have shouted:
"Allahu Akbar" before the attack and investigators believed he had a become 'self-radicalised' Muslim.
The same report, from The Mirror, has a video of him wherein IS claimed responsibility:
The teenage ISIS terrorist who launched the terrifying axe attack has been named by Bild as Riaz Khan Ahmadzai, also known as Muhammad Riyad, and he left a suicide note revealing chilling details of his plot, it was reported …
Although police have yet to confirm his identity, a video released by ISIS claims to show him delivering a speech in Pashto to the camera while holding a knife.
The video calls him 'a soldier of the Islamic State who carried out the Wurzburg attack'.
The video appears to show Riyad saying he would 'slaughter infidels' with the knife he holds up to the camera.
He says: "I am a soldier of the caliphate and I am going to carry out an suicide attack in Germany.
"O Kufar, the time has passed when you would come to our homeland and kill our men, our women and our children. And your apostate rulers were silent about these massacres …
The rest of the quote is at the link. A Shanghai paper has more information with links to other media reports.
On Sunday, July 24, a 21-year-old Syrian refugee killed a 45-year-old pregnant Polish lady with a machete in southern Germany. He argued with her around 4:30 p.m. then hacked her to death. He also injured two other people. German authorities imply it was a lone wolf attack, nothing more. They also said that others in the vicinity should not feel threatened. The man is in police custody. Deutsche Presse-Agentur reported on Monday that the two were colleagues and worked in a restaurant. Authorities are unclear when the man arrived in Germany. This was the third act of violence in Germany within 10 days.
The fourth took place that evening. A 27-year old Syrian who had been refused asylum in Germany — and admission to a music festival because he had no ticket — lashed out in the Bavarian town of Ansbach. He had a rucksack with metal items in it used in 'wood manufacturing', as authorities put it. He blew himself up outside a local wine bar, the impact of which injured 12 people, three of whom are in serious condition. Few in authority wish to comment further as I write on Monday, although Bavarian interior minister, Joachim Herrmann, said (emphasis in the original):
it was likely the attack was the work of an "Islamist" suicide bomber.
Yet (emphases mine):
Bavarian police said it was unclear if the attacker was Islamist.
The attacker was due to be deported to Bulgaria and had received two deportation orders, the most recent of which was on July 13. Bulgaria was his first safe country of entry.
Patrons of the wine bar were initially told the explosion was caused by a gas leak!
Pity Bavaria, which has had to take in so many refugees and migrants, particularly during the past year.
On Thursday, July 21, the day before the Munich attack, Konstantin Richter wrote a guest post for The Guardian. He gave more information about the train attacker and migration to Germany in general. Excerpts follow:
There are almost 70,000 unaccompanied children living in Germany, and he happened to be one of them. For two weeks prior to the attack he'd been staying with a foster family. He had also started an internship at a local bakery. In the best of all possible worlds, he would have gone from intern to trainee and then to certified German baker. He could have been a role model …
When Germany's Willkommenskultur (welcome culture) was still in full swing, its advocates argued that Isis would not dare to target a nation that generously opened its borders to those in need. They also thought refugees coming to Germany would feel such enormous gratitude that they couldn't possibly turn against their host country. Truth be told, I thought so too, but it doesn't sound right any more.
The refugees who entered Germany had high hopes. Smugglers told them they'd prosper and find jobs instantly. Now they are languishing in asylum-seeker centres and struggling with bureaucracy, uncertain whether they can stay at all. Many of them are young men who are homesick, angry and frustrated, and extremists are deliberately visiting their homes because they know they are fertile ground for recruiting.
… advocates of Willkommenskultur have been on the losing side of the public debate since the events that unfolded in Cologne on New Year's Eve. They'd be well advised to acknowledge that the open-door asylum policy was overly idealistic, and that they underestimated some of the challenges posed by mass migration.
Meanwhile in France, a policewoman in Nice is at loggerheads with the French government over a report a central government department asked her to prepare concerning the attack on Bastille Day, July 14.
In an interview to a Sunday newspaper, Sandra Bertin said she was in charge of the CCTV room that night. She did not see any national police on duty where the lorry entered the Promenade des Anglais, where the attack with the lorry took place. Local police were unarmed. Bertin says that had they been better armed — like the national police — they would have had a decent chance at stopping the lorry by shooting at the tyres.
National police were stationed further along and were able to stop the lorry by shooting at the windscreen. By then, for 84 people, it was too late.
The next day — Friday — Bertin filed a report, by request, to the CSU (Centre for Urban Supervision), a department of the Interior Ministry but not that of the Interior Minister himself, Bernard Cazeneuve.
She had a difficult telephone conversation with someone who 'harrassed' her for an hour asking for specific details of the scene, including the position of the national police. Eventually, Bertin was able to get permission to compile a written report:
"I told her I would only write what I had seen. Perhaps the national police were there, but I didn't see them on the cameras," Bertin said.
Bertin, who, incidentally, is secretary general of a Nice public servants union, sent her report electronically.
A few days later, the antiterrorist branch visited her office requesting that she destroy the CCTV tapes she had from that night. She said in her newspaper interview that was because they feared the public might see the tapes.
Officials in Nice have refused to destroy them.
Paris public prosecutor François Molins, whose office is overseeing the investigation, says that the officials visiting Bertin's office only wanted to see the evidence for themselves.
Interior Minister Cazeneuve said he and his office had no direct involvement in these events. Bertin might be asked to submit to questioning by him or a representative. Even worse, he is suing her for defamation over 'serious accusations' she allegedly made against him.
There is a party-political aspect to this. The administration is Socialist. The Agglomeration of Nice is run by the right-of-centre Les Républicains, led locally by Nice's long-time mayor Christian Estrosi.
From the off, Estrosi said the police protection was woefully inadequate on July 14.
On Tuesday, July 26, a Catholic Mass was brutally interrupted in a town near Rouen in Normandy. Two men, armed with knives, entered the church at Saint-Etienne-du-Rouvray shouting 'Daesh!' A subsequent report said, 'Allah akbar!' One man had a beard, the other was wearing a prayer cap. They took five people hostage and slit the throat of the priest celebrating morning Mass. He died. A nun, Sister Danielle, was able to slip out of the church and call police. Security forces arrived quickly and fatally shot the two men. The article from l'Internaute (linked to above) said this was 'very likely' a 'terrorist attack'. (It is the sort of attack that takes place on churches in Muslim-majority countries.)
Honest reporting. It will be interesting to see what the major French newspapers say. Let's hope they do not name the attackers 'Antoine' and 'Jean-Pierre'.
Except if it is Maxime, as in Maxime Hauchard, now Abu Abdullah al-Faransi, who — possibly still in Syria since 2013, according to The Mirror — indirectly collaborated in this gruesome act with Adel Kermiche, according to the Daily Mail.
L'Internaute had a live column of what happened in the immediate aftermath. The priest was 86-year-old Revd Jacques Hamel, ordained in 1958. Someone would have to be pathological to murder an elderly priest, especially in such a horrifying manner. A nun who was helping him at the altar was seriously injured. Some of the other hostages also required medical treatment. Police told those living in the immediate vicinity to stay indoors.
Word of the attack soon reached those at the Catholic World Youth Day events being held in Krakow. The Pope, who is in in the Polish city, expressed his 'pain and horror'. Archbishop LeBrun of Rouen returned to France and his Vicar General took his place in Krakow. The Vicar General went to the scene of the attack immediately. François Hollande and Bernard Cazeneuve arrived shortly afterwards.
The live report states that this church was on the target list of Sid Ahmed Ghlam, 24, the extremist who intended to murder Catholics coming out of Sunday Mass in April 2015 in suburban Paris. Instead, he murdered fitness instructor Aurélie Châtelain who was in her car consulting her computer in Villejuif, just outside Paris. Then Ghlam ran into a spot of bother. He accidentally shot himself in the leg and was bleeding profusely. He drove his own car for some distance, before ringing the emergency services! Police arrived on the scene and arrested him.
Hamel was an active participant in the regional Christian-Muslim dialogue efforts. Mohammed Karabila, president of the regional Muslim organisation, said he was 'alarmed' to hear the news of his Christian friend, someone who gave his life serving others: 'We are all dumbfounded at the mosque. Our prayers go to his family and to the Catholic community.'
I wrote this shortly after the attack. More news has emerged, notably that one of the attackers, who wore an electronic tag, was allowed to roam freely on weekday mornings. The tag was switched off as usual before he left his parents' home the day of the attack. The Telegraph has a live column, and other news outlets around the world have rightly given this story the attention it deserves.
————————————————————————
These issues with the media and state security forces affect more countries than Germany and France. Belgium's security police and intelligence departments also have their problems.
The media, however, would do well by telling people the truth.
It has been just under four weeks since the UK voted to leave the EU.
Theresa May has been our PM for one week.
She has done quite a lot of housecleaning in that time with many new appointments to the Cabinet, making it her own, and has created a department for Brexit.
It is unfortunate that the Nice attack took away our initial enjoyment of May's premiership. I have much to write on her appointment and the lady herself.
For now, a few brief observations follow.
The Conservative Party — best for women
The Conservative Party is the best political party for women in Britain.
Within 26 years, they have given us two female Prime Ministers, redoubtable women both.
By contrast, the right-on, progressive Labour Party has never had a female leader.
Around the time May was entering Downing Street last week, Angela Eagle — a contender for Labour leadership — said that it was high time they had a woman at the top. What Ms Eagle misses is that the Conservatives chose Margaret Thatcher and Theresa May not because of their gender but because of their competence.
I remember watching Andrew Neil's Sunday Politics (BBC) in 2015 prior to the general election. Several Labour women MPs told Neil week after week that the Conservatives should have more women in Cabinet.
Ho hum. Which party has two female Prime Ministers? The Conservative Party. Which party just happened to have an all-women shortlist for party leadership with Theresa May and Andrea Leadsom just ten days ago? The Conservative Party.
Enough said.
First PMQs an absolute blinder
On Wednesday, July 20, Theresa May held her first Prime Minister's Questions in the House of Commons.
She played an absolute blinder; she was confident, competent and concise. She answered every question with historical data and/or departmental updates. She took questions on housing, Brexit, 'honour' killings and the NHS, to mention a few.
Afterwards, I watched Daily Politics (BBC2) with Jo Coburn and her panel, most of whom, like Coburn herself, are very much left-of-centre. All said that May did very well indeed. Veteran reporter John Pienaar said she was much better than Margaret Thatcher in her early days of PMQs.
Meeting Merkel
May will be travelling to Berlin on July 20 to meet with Angela Merkel over a working dinner. (I will have an update in a subsequent post.)
Brexit is likely to dominate the dinner discussions. Terrorism and the recent attempted Turkish coup are also probable topics.
This is an historic occasion, as both Britain and Germany have female leaders at the same time.
The two seem similar in several respects: both their fathers were clergymen, neither has children, both have a penchant for improving society and they have strong personalities.
Expect mutual respect and honest discussions. It will be interesting to see if, once she meets May, Merkel is willing to engage in some sort of negotiations prior to our invoking Article 50 of the Treaty of Rome.
May will be meeting with France's François Hollande on July 21. Calais and terrorism are sure to be on the agenda along with Brexit.
Brexit
On July 19, May held her first Cabinet meeting.
She reiterated her commitment to Brexit and will personally oversee that new department as well as those for the economy and social reform.
May has wisely appointed three Leavers to key positions involving Britain's future outside the EU. Longtime MP David Davis is in charge of the Brexit unit as the Secretary of State for Exiting the European Union. Boris Johnson, MP and former two-term Mayor of London, is Secretary of State for Foreign and International Affairs. Liam Fox is the Secretary of State for International Trade.
Keeping a close eye on Brexit, the economy and social reform ties together May's overall agenda for her administration:
we will not allow the country to be defined by Brexit; but instead build the education, skills, and social mobility to allow everyone to prosper from the opportunities of leaving the EU.
I hope she continues to make progress in these areas. I'm beginning to like her a lot.
On July 6, 2016, I wrote about the high church Anglican quiz 'How "spikey" are YOU?'
One of my readers, Boetie, a Catholic living in Germany, sent in a thoughtful comment by way of response. He has kindly given me permission to use it as a guest post on the differences between Catholic and Anglican worship.
What he says closely parallels my own experience in the early 1980s and caused me to convert to the Episcopal Church and continue worshipping in the UK as an Anglican. I should emphasise that my conversion came through low church, which also had quite a lot of ritual, rather than high church. That said, I have occasionally enjoyed the freedom and the opportunity to revisit ancient traditions and vestments.
Without further ado, Boetie discusses his results and his own worship journey:
I came out "top of the flame" – not that I was in the least surprised, though. But this liturgical and at the same time humorous approach is what first attracted me to the Anglican Church in her High Church / Anglo-Catholic tradition ever since I was an 11 or 12 year old lad from Germany coming to Britain for the first time in the very early 1970s. Quite visibly the Anglican Church had not been through the devastations Vatican II had brought about in my own church (I'm a "Roman"
). Sadly, the Anglican Church has more than made up leeway since.
But for the first time in my life I saw priests who looked like priests with their dog collars and their cassocks/soutanes, who spoke like priests and who acted like priests. Our own RC priests at the time had opted for the "social worker" chic, loathed to be addressed as "Father" and were delighted when you told them: "I would never have guessed you were a priest".
And, of course, in England I gained an insight into what "liturgy" meant – while in Germany they had already come up with that brilliant idea of happy-clappy services with do-gooder homilies. I had never heard e.g. an "Angelus" prayer in my home parish – the first in my life was in an Anglican church in Hertfordshire.
So, for many years in my youth, the Anglican Church shaped my own Catholic faith.
I noticed differences though, even at an early age.
Right from day one I was impressed by the style of hearty hymn singing – as opposed to many RC churches where people often can't be bothered and where the singing is lacklustre. Also, I found traditional Anglican services solemn but ultimately more serene than traditional RC Masses. And the difference of the quality of style and language was stunning: introducing the vernacular after Vatican II into RC services didn't work well: e.g. in Germany it was modern day German while in the Anglican Church the wonderful traditional English had been retained. (Doing away with Prayer Book English I regard as a a major flaw in today's Anglican worship.) Not least of all, to this day I appreciate the humour that is never far from the surface with High Church priests – which makes it a pleasure to listen to their sermons and homilies.
The demise of the Anglican Church (namely the CofE) I find deeply saddening and I wonder whether the Catholic faith in her Anglican tradition will have a future within the Anglican Communion or whether in the long run it will be just "catholic" in name and maybe ritual but no longer in essence – with lesbians and feminists in fiddleback chasubles and birettas swinging the thurible – during a same sex marriage.
But I do not want to end on a sombre note. If you appreciate the type of humour of the quiz I am sure you will also like the cartoon figure of "Father Jolly" created years ago by the American Anglican priest Fr. Tom Janikowski during his formative years in the seminary. He is now Rector of Trinity Anglican Church in Rock Island, Illinois (an ACNA parish). Unfortunately there are only few of his cartoons on the net: the first 4 pictures here:
https://www.google.de/search?q=father+jolly&client=firefox-b-ab&biw=1370&bih=938&source=lnms&tbm=isch&sa=X&ved=0ahUKEwiK2-ie_uDNAhVCbRQKHReiBVEQ_AUIBigB
Here is another one: http://www.thescp.org/documents/jollylovejoy.jpg
Should you come across more in the vein of that quiz – please let us know in your blog. I am sure I'd be not the only one to appreciate this.
You can bet I will, brother!
Thank you very much, Boetie, for your excellent contribution and for the witty (and realistic) Father Jolly cartoons.
It would be edifying if others sharing the same experience as Boetie's and mine would kindly comment below.
In the early 21st the worldwide migration situation has produced Church-related anomalies in Europe, including the UK.
One of these has been the marriage of convenience, as a Workpermit.com post from 2006 describes. In 2005, a set of rules was introduced in the UK to put an end to this practice designed:
to get around immigration controls and require immigrants to obtain a special certificate of approval, or COA before they can wed in the UK.
However, Mr Justice Silber overturned these laws in 2006 because they violated the European Convention on Human Rights. Consequently:
The overturning of the marriage laws due to unfair discrimination against immigrants on religious grounds leaves the door open for hundreds of people from overseas getting married in the UK.
The test case involved in overturning by Mr Justice Silber, involved a foreign national from Algeria and an EEA national who was legally living in the UK. Once Mahmaud Baiai and Izabella Trzanska from Poland were refused permission to marry, they launched the challenge.
Mr Justice Silber said the case raised issues under Article 12 of the European Convention on Human Rights, which protects the right to marry and found a family.
"The rules were incompatible because they discriminated against immigrants rights subject to immigration control on grounds of religion and nationality," he declared.
Oddly, the rules overturned did not apply to Church of England members:
even if they are illegally in the UK.
This meant that the Anglican Church could conduct marriages of convenience. By 2008, as The Telegraph reported (emphases mine):
the number of bogus weddings performed by Anglican priests has risen by as much as 400 per cent in some dioceses over the last four years.
Foreign nationals have turned to the Church because it is exempt from rules that require all foreign nationals from outside the European Union to obtain a Home Office certificate of approval to marry in a register office.
That year, Church of England bishops warned their clergy to be vigilant when evaluating immigrants wishing to marry in an Anglican ceremony:
the Rt Rev Tom Butler, Bishop of Southwark, urged priests to be wary of migrants looking to get married who have obtained a common licence – a preliminary for church weddings involving foreign nationls.
"The new regime does not apply to marriages by banns, common licence or special licence, which probably explains the substantial increase in demand for bishops' common licenses," he writes.
"It is hard to avoid the conclusion that there is significant abuse of the availability of Church of England marriage in order to try to gain some immigration advantage."
The Rt Rev Richard Chartres, the Bishop of London, has also written to churches in his diocese with guidance on how to tighten measures.
The diocese of Southwark, which covers Greater London south of the Thames, has seen the number of applications for common licences rise from 90 in 2004 to 493 last year.
In 2013 the Coalition government (Conservative/Liberal Democrat) produced new rules to end marriages of convenience. From page 4 of the PDF:
Notices of marriage following civil preliminaries or civil partnership in England and Wales involving a non-EEA national who could benefit from it in immigration terms will be referred to the Home Office for a decision as to whether to investigate whether the marriage or civil partnership is a sham. Non-EEA nationals will only be able to marry in the Church of England or the Church in Wales following civil preliminaries, except in limited circumstances.
Perhaps something similar should be done in the case of conversions by refugees to Christianity.
On June 5, The Guardian reported that the Catholic bishops in Austria are suspicious of the number of sudden converts to Christianity among refugees from war-torn countries. The paper reported in 2014 that the same phenomenon is going on in the Lutheran Church in Germany.
Clergy with a rosy view of the world will say that this is a tremendous opportunity to revive the Church in Europe.
The Austrian bishops view the situation differently. In 2015:
the Austrian bishops' conference published new guidelines for priests, warning that some refugees may seek baptism in the hope of improving their chances of obtaining asylum.
"Admitting persons for baptism who are during the official procedure classified as 'not credible' leads to a loss in the church's credibility across the whole of Austria," the new guidelines say.
A spokesperson for the Archdiocese of Vienna explained:
There has to be a noticeable interest in the faith that extends beyond merely the wish to obtain a piece of paper.
Austrian priests now informally evaluate potential refugee converts during their one-year 'preparation period'. The Archdiocese of Vienna has recorded that 5% to 10% of potential converts drop out of the process prior to baptism.
In England, however, Anglican clergy are eager to not only ask no questions but to combine the conversion process with helping to ease the refugee application process.
The Guardian interviewed the Revd Mohammad Eghtedarian, an Iranian refugee and convert who was later ordained. He is a curate at Liverpool's Anglican cathedral. Eghtedarian says that refugee status and religious affiliation are intertwined.
Liverpool Cathedral has a process which involves registering refugee attendance, which helps their asylum applications. A candidate for Baptism must attend the five preparatory classes. A baptised refugee seeking Confirmation must attend a dozen courses.
Hmm. It sounds very minimal.
The Guardian asked Eghtedarian about the sincerity of those candidates. Even he acknowledged that 'plenty of people' were converting for convenience!
In large part, only a cursory examination exists. The Cathedral will also provide a 'letter of attendance' to immigration authorities, if requested.
The article said that the Church of England does not record conversions, regardless of background, because it could be a 'sensitive' issue.
It seems the Austrian Catholic bishops have approached the conversions of convenience issue more sensibly than the German Lutherans, who resent that immigration court judges ask refugees to discuss their newly-found beliefs in detail in order to assess their sincerity.
It is the responsibility of clergy to do a thorough examination of heart and mind during the conversion process rather than let false converts through the doors for Baptism and Confirmation.
Church of England clergy should pray for divine guidance on the matter rather than deceive fellow Christians, other citizens of our country and our government.
Admittedly, some of these converts are sincere. However, if 'plenty of people' are not, then the whole thing is a sham.
If marriages of convenience rightly rang Anglican bishops' alarm bells, then conversions of convenience should, too.
This week, the regional minister of the interior of North Rhine-Westphalia made public the statistics surrounding Cologne's New Year's Eve nightmare.
Nationality
An article from Le Monde on April 5, 2016, states the nationality and refugee status of the 153 'suspected of committing assault' as follows:
4 Germans
103 Moroccans and Algerians
47 nationality unknown (e.g. no papers)
Twenty-four suspects are still in 'preventive custody'.
Of those arrested:
68 are asylum seekers
18 are illegal immigrants
On February 17, Le Monde published an article on the refugee status of the assailants wherein Ulrich Bremer, Cologne's chief prosecutor, said:
The overwhelming majority arrived in 2015.
The foreign defendants, in a very, very great majority, arrived in Germany during 2015, whether they arrived illegally in this country or whether they are asylum seekers. It would not be accurate to say that we're talking about people who have lived in Germany for a long time.
So, there you have it. Consider that quote emboldened in triplicate and highlighted in all the colours of the rainbow.
Number of reports
Police in Cologne:
Received 1,527 official complaints
Have a list of 1,218 victims
Recorded 626 sexual assaults
One Le Monde reader wrote on April 8 that Cologne police said 2,000 individuals were involved in assaults on New Year's Eve. Interesting. What happened to the overwhelming majority of them?
Other unanswered questions remain. We still don't know what happened to the defendants who are no longer in custody. Were they convicted of anything? Do they have pending court cases? Are they on the loose, perhaps even out of the country by now?
For now, at least we have some statistics.
Lyin' media
It's not nice to call people liars, but, in this case, the accusation fits.
Remember when the media suppressed this story? It only came to worldwide attention through independent sites such as Breitbart. Social media trended on it and the MSM had no choice but to report it. The MSM were hoping they would not have to publish the raw truth. Withholding the truth is as big a lie as a deliberate distortion of the facts.
Left-wing handwringers were worried that publicising it would cast aspersions on refugees. In fact, refugees cast aspersions on themselves through these heinous crimes against women from their host country.
Le Monde's readers react
When the April 5 article appeared, investigations were still going on into cases of sexual assault by French soldiers in Central Africa. Readers were careful to mention that.
Most comments concerned the Moroccans and Algerians. Four follow:
Having lived in Morocco for a year and having come to an appreciation of the kindness of the population, unfortunately, I have to mention the lack of consideration of their men towards women. The firm police stance and rigorous morals result in outbursts. Left in a tolerant European country where women don't hide themselves, a minority [of men] behave like animals. Therefore, this is a problem of cultural inadaptation and has nothing to do with sociology, as intellectuals and do-gooders would have you believe.
It's better to talk about refugees rather than state the facts!
Appalling. How can Moroccans and Algerians be refugees? Furthermore, 47 have no clear status. Finally, these 153 haven't committed 1,200 sexual assaults, so we're missing a number of non-identified [suspects]! Therefore, we cannot draw any definitive conclusions except to note that there is certainly a real problem … It was deliberately premeditated and poses a serious problem with regard to cultural differences.
The political and educational systems as well as society in Morocco and Algeria over the past 25-30 years have created two tiers of youths: those who do well in their studies, their work and the business world and those who are marginalised and excluded from the system who become either delinquents or radicals.
Since the events of New Year's Eve, the German government has made it policy to return Moroccans and Algerians who have entered the country illegally back home. It is unclear how well that will work in practice.
Refugee situation in Europe
Onto the larger question of refugees, without papers, it is unclear who Germany is accommodating within its borders. Legitimate refugees have ways of applying for asylum via legitimate channels, aided by equally legitimate human rights organisations and procedures. Those people will not show up by boat or by a 1,000-mile land crossing. Germans and other Europeans need to think more logically and less emotionally about this problem.
It is unclear how the agreement with Turkey on refugee resettlement will work. On April 8, The Guardian stated that this was the second day of implementing the agreement:
The deal is designed to send back all migrants and refugees who enter Greece illegally, including Syrians, in return for the EU taking in thousands of Syrian refugees directly from Turkey and rewarding it with more money, early visa-free travel and progress in its EU membership negotiations.
Hmm. What happens once or if Turkey becomes part of the EU in a few years' time? We will be back to square one.
In September 2015, Germany began taking in a regular stream of migrants, some of whom displaced native Germans from their homes by order of local or state councils.
Well intentioned families took in migrants for short stays until long-term housing was arranged.
Journalist Konstantin Richter, who writes for Die Welt and contributes to the European edition of Politico, was one of these kind-hearted people.
Recently, Richter wrote about his and his wife's experience for The Guardian. Most of those who lodged with them were young men. They did not say much, if anything. They could not even manage a 'thank you'. One refugee felt sorry for the Richters because they have no sons, only daughters. Another asked Richter if his wife was Jewish. This is out of bounds behaviour for a guest in someone's home.
The Richters went on a 'long trip abroad' late last year. They returned to Germany to find a divided nation. One group of Germans points to New Year's Eve in Cologne. Another side wants an open border policy. A group in the centre supports limited entry of refugees. The open border folks call anyone not supporting their position racist.
Richter has no regrets about taking in refugees. He explains that, at the time, he assumed Angela Merkel had a workable plan because everything in Germany runs like clockwork. If her Plan A did not work, then, surely, she had a Plan B. But, no. Furthermore, as of March 2016, Germany has 400,000 newcomers who have not yet applied for asylum:
Which means we have no idea who they are or where they are from. It wasn't supposed to happen like that.
Another difficulty is the educational level of actual refugees. They're not brain surgeons or rocket scientists, as we were told last year. Richter explains:
… the experiences of companies that hired refugees as trainees have been disheartening. Most people they took on lack even the basics of a high-school education.
He concludes:
What now? The EU's borders are pretty much closed, at least for the time being. We don't have people calling any more asking us to host refugees. And if we did get another call, I'm not sure I'd happily say, "OK then, why not?" That doesn't mean we've turned into barbarians.
Getting the refugee thing right will be Germany's biggest challenge in coming years, and we want to make a contribution. But the spirit of the Willkommenskultur – taking in people randomly, exuberantly, without getting to know them and establishing a meaningful relationship – doesn't feel right any more.
Millions of us could have told the Germans this last September as we watched events unfold. The sexual assaults and mayhem in Cologne on New Year's Eve were shocking but not surprising. Nor is it surprising that 400,000 notional refugees have not applied for asylum. Where are these men? What are they doing? How do they survive?
German voters expressed their discontent in regional elections a fortnight ago. However, that still does not solve the problem of 1 million newcomers in their country. A widespread integration into the general population and culture looks increasingly unlikely. Good intentions and all that …
Today's news has more on the migration crisis, including an update on Alexandra Mezher, who was fatally stabbed in Mölndal, Sweden, earlier this week.
United Kingdom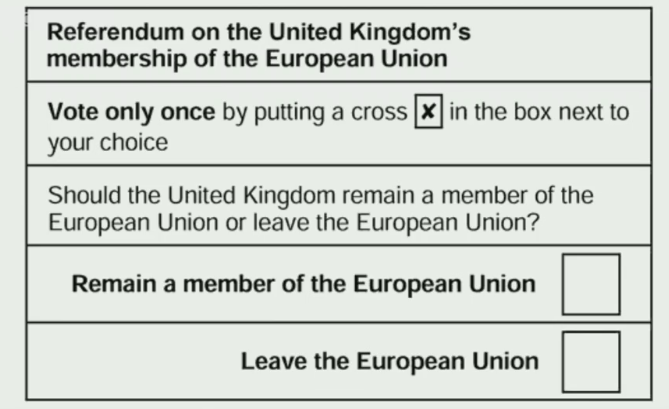 Whilst more than a few of us were relieved to read that our longed-for referendum on EU membership will be held in 143 days, we have other hurdles to overcome before then.
(Photo credit: Mike Smithson, PoliticalBetting.com Twitter feed)
I mentioned on January 25 that the question of bringing in refugee 'children' troubles some British teachers and social workers who are already working with those who arrived last year. They say that some refugee 'children' are of majority age, yet are in contact — whether in the classroom or in care homes — with minors. Children are therefore at risk in these situations by being in close proximity to young adult males.
The post also explained that, a week ago, a British QC (Queen's Counsel) ruled that Britain will have to accept three teenagers and a mentally-ill 26-year-old from Syria currently in Calais whilst their case for asylum is being decided.
Today, Thursday, January 28, the Express reported that 'unaccompanied child refugees' could be arriving in the UK soon.
The Save the Children charity have pleaded with the British government to accept 3,000 children. This number would be on top of the 20,000 refugees the UK has pledged to take in between now and 2020.
The scheme would involve taking the children directly from refugee camps near Syria, with input from the Office of the United Nations High Commissioner for Refugees (UNHCR).
On top of this, the Express tells us that 'unaccompanied child refugees' currently elsewhere in Europe will be allowed to come to Britain if they have relatives here.
Sweden
The age of 'unaccompanied child refugees' should concern us.
Today, via the Daily Mail, the Express reported that Chiméne Mezher, mother of brutally murdered Alexandra, who died on Monday, January 25, said some these 'children' at the refugee youth home where her daughter worked are actually adults (emphases mine):
Alexandra knew how to handle children including violent ones. But those she was working with were big powerful guys – she could see it in their eyes and their bodies. 
A few were maybe under 18, but the rest were older, maybe 23 or 24.
The article went on to say that Alexandra was on duty alone the night she died. Working night shifts alone has been standard practice at the youth home.
A colleague had rung Alexandra a few hours before she left home for work to say that one of the centre's kitchen knives was missing.
Mrs Mezher said that the employees did not report the missing knife because they were afraid of their superiors.
To date, the head of the company Alexandra worked for has not visited the Mezher family to express sympathy and discuss the tragedy.
Alexandra was stabbed in the back and thigh by a 15-year-old resident shortly before 8 a.m. on January 25.
Mrs Mezher is wondering where her family's future lies:
We left Lebanon [25 years ago] to escape the civil war, the violence and the danger. We came to Sweden where it was safe, to start our family. But it is not safe any more.
It is not surprising she has come to that conclusion:
The family has criticised politicians for the rise in immigration in Mölndal, a suburb of Gothenburg, where 8,000 migrants have arrived in less than a year. 
4,000 of the migrants are unaccompanied children.
Let us hope the British government does not put their citizens in a similar situation.
In other news
The Netherlands: Last week, a violent clash took place in the town of Geldermalsen over a proposed refugee centre. Townspeople planned a peaceful demonstration against plans to house 1,500 asylum seekers in the community of 27,000 people. The quiet protest was soon hijacked by violent outsiders, police said. However, on January 22, Geldermalsen's mayor cancelled plans for the centre, admitting that she should have consulted with residents first and that she had acted too quickly.
Germany: Assyrian Christian asylum seekers now living in the town of Saarlouis informed the police of a jihadi whom one recognised as a man who terrorised his neighbourhood in Syria. The Christian said the man stopped him several times at the local checkpoint when the two were still in Syria. The man also has an active Facebook page. The Christians duly informed the police. However, under German law, no arrest can be made until the man commits an offence. Some of the Christians now want to leave Germany, because, in the event of an IS attack there, they will be the first to be targeted.
Denmark: Whilst the Geldermalsen storm was brewing, the Danish council in Randers made pork a mandatory menu offering in day care centres and schools. The councillors said this is to preserve 'food traditions' and continue to put pork at the forefront of the Danish diet. However, halal meat, vegetarian dishes and foods for diabetics will continue to be available.
One wonders whether the events in Cologne on the last evening of 2015 would have seen the light of day around the world had they not been reported on independent socio-political websites.
Although a Cologne newspaper and German media outlets covered the evening to some degree at the New Year, elsewhere, it took until January 4 or 5 for the story to emerge in mainstream media.
What happened?
The BBC's coverage is dated January 5. It provides a good overview of what happened, although it does not explain why German men were unable to fight back or defend their women. Excerpts follow, emphases mine:
The scale of the attacks on women at the city's central railway station has shocked Germany. About 1,000 drunk and aggressive young men were involved.
City police chief Wolfgang Albers called it "a completely new dimension of crime". The men were of Arab or North African appearance, he said.
Women were also targeted in Hamburg.
But the Cologne assaults – near the city's iconic cathedral – were the most serious, German media report. At least one woman was raped, and many were groped.
Most of the crimes reported to police were robberies. A volunteer policewoman was among those sexually molested.
The page has a video where:
One woman described how a firecracker put in her hood has left her scarred for life.
Also:
One man described how his partner and 15-year-old daughter were surrounded by an enormous crowd outside the station and he was unable to help. "The attackers grabbed her and my partner's breasts and groped them between their legs."
A British woman visiting Cologne said fireworks had been thrown at her group by men who spoke neither German nor English. "They were trying to hug us, kiss us. One man stole my friend's bag," she told the BBC. "Another tried to get us into his 'private taxi'. I've been in scary and even life-threatening situations and I've never experienced anything like that."
What the report leaves out about the man unable to help is that some of these men were also set upon by groups of men who assaulted and robbed them.
To date, according to The Guardian, 838 people have filed criminal complaints. These include 497 of these being from women alleging sexual assault, however, some women jointly filed a complaint. This means that, in total:
the number of alleged crimes stands at 766, of which 381 are sexual offences, including three rapes.
As of January 18, only 21 suspects have been arrested. These include three Algerian asylum seekers. One of them is charged with sexual assault and the other two with robbery. Eighteen other people have been accused of committing crime on New Year's Eve. Eight of them are currently in custody.
On Monday, Angela Merkel's Christian Democratic Union (CDU) agreed to declare Morocco, Algeria and Tunisia safe countries. This means that anyone from there would be very unlikely to be able to claim asylum. Finally.
More on the story
Russia Today has a very good 27-minute report on what took place in Cologne:
The British reporter interviewed a local bouncer — a martial arts champion — who was on duty at a 5-star hotel in the same square as the cathedral and the railway station. He figured it would be a quiet but festive night, as only people aged 40 and over could afford to spend a few hundred euros to attend the New Year's Eve event at the hotel.
He tells the interviewer (approximately 2:00 into the video) that between 9 and 10 p.m., a stabbing took place in the square. Police and ambulances rushed to the scene. From that point, he said that things 'escalated' (subtitles from the video, caps below in the original):
these people that we welcomed just 3 months ago, with teddy bears and water bottles on the Munich main railway station, they started shooting at the dome [Cologne Cathedral], started shooting at the police, which then had to come equipped with helmets onto the dome platform, to brake that potential for violence.
Well, seasoned police officers then confessed to me, that they never saw [any]thing like this in their entire life. They called it quote 'A CIVIL WAR LIKE SITUATION'.
He deplores the lack of thorough press coverage of the evening, especially as:
again and again female persons came to me and asked if they could just stand next to me, so I could look after them — still didn't quite know what that was all about — and said, 'We are being chased by these and [those] guys. Well, these guys that chased them, then really tried to attack me. I beat 'em all up, I have to tell you honestly … [B]ecause I never witnessed [any]thing like this, I always thought this stuff was some 'right wing propaganda' but this was all REAL.
Later that evening, more rampages happened. They beat the sh*t out of the head from a guy that was lying on the ground, they then jumped on his head, riot police came on site and we also started to react.
After that, the bouncer says, things were quieter for the next 90 minutes. The suspects were rounded up but, as all police transport vehicles were occupied, none came to take the men away. And, even if they had, Cologne's jail cells were already full. As a result, police had to release these men they had arrested and detained. They, in turn, began yelling obscenities at the police and spat on the windscreens of the police cars. There was nothing the police could do in those circumstances.
The bouncer went on to say:
I never witnessed anything like this before and I'm sure it will escalate further — by Carnival [pre-Lenten celebrations] at the latest in Cologne … It will really explode here!
And I hope, well, you do know that I'm no right wing person or something along those lines … I always stayed out of that stuff … No, folks, this was REAL! …
They attacked the hotel guests, they sp[a]t at the hotel guests, they sp[a]t at the police …
A number of assailants carried a small piece of paper with a list of several obscenities in German with Arabic translations. You can still see a large version of it here on a German media site.
Elsewhere in Germany
The Telegraph has a list of other German cities — and towns — where similar events took place that same night. Sexual or indecent assault was the common denominator in all cases. Near the town of Weil am Rhein on the Swiss-German border, two girls aged 14 and 15 were held captive for several hours and allegedly gang raped by a 21-year old man and two 14-year-old boys.
In the days that followed
The Telegraph reported that Bild and Der Spiegel leaked police reports of interviews with the unrepentant suspects allegedly saying there was nothing police could do to them:
… one of those involved told officers: "I am Syrian. You have to treat me kindly. Mrs Merkel invited me."
Another tore up his residence permit before the eyes of police, and told them: "You can't do anything to me, I can get a new one tomorrow."
On January 8, Wolfgang Albers was removed as Cologne's police chief. He is currently suspended from duty. The Telegraph told us:
Wolfang Albers was told he was being suspended from duty as allegations continue to mount of a police cover-up of asylum-seekers' involvement in the attacks.
Ralf Jäger,the interior minister of North Rhine-Westphalia state, said his decision to suspend Mr Albers was "necessary to regain the public's trust".
"The Cologne police now have the vital task of investigating the events of New Year's Eve. People rightly want to know what happened, who the perpetrators were and how such incidents can be prevents in the future," Mr Jäger said.
The new mayor of Cologne, Henriette Reker, about whom I wrote in October 2015, was equally reprehensible in insinuating that the assaults were the fault of the women victims.
I'll get to that in a moment.
However, prior to her election last October, she had been the head of Cologne's social integration department for five years. Just days before the mayoral elections, a 44-year-old German said to have been opposed to further immigration stabbed her in the neck. He also lightly injured three other people with her at the time.
After New Year's Eve, Reker advised women to adopt a new 'code of conduct' to keep themselves safe. This also involved 'keeping men at arm's length'. The Telegraph's Alison Pearson unpacks this for us:
It soon became impossible to ignore the gravity of what had happened. Even then, the authorities' default position was denial. On Tuesday, Henriette Reker, the Mayor of Cologne, made a statement which I sincerely hope will haunt her till her dying day. Asked how women were supposed to cope with this menace, the mayor proposed a new "code of conduct" for young women and girls "so that such things do not happen to them". In particular, she suggested that women maintain an arm's length from strangers. This caused a storm of sarcasm on Twitter where the German for arm's length – #einearmlange – was soon trending. The idea that a woman ambushed by a Moroccan gang should inform them, politely and Germanically, that she was staying at arm's length to avoid sexual harassment would have been a joke, had the threat not been so real and frightening. Meanwhile, reports of similar attacks were coming in from Hamburg, Dusseldorf and Stuttgart.
She concludes:
if anyone needs a "code of conduct" it is not German women, but men from conservative societies who must learn sharpish what our values entail, or return from whence they came.
I hope that I am wrong, but I fear that the grotesque mass attack on women in Cologne was not an isolated incident, but the first of many battles in a clash of civilisations.
Taharrush gamea
A new term entered Western vocabulary which explains what happened on New Year's Eve not only in Germany but also in a few other European countries, including Finland.
This Arabic term is taharrush gamea, or taharrush jamaʿi, which, is, as Wikipedia explains:
a type of sexual harassment and sexual assault of women by groups of men on the street that may involve rape, beating and name-calling, groping, sexual invitations[1] and robbery. The assault usually happens under the protective cover provided by large gatherings or crowds,[2][3] typically mass events, including protests, rallies, concerts, and public festivals.[4]
American reporter Lara Logan was the unfortunate victim of taharrush gamea in Egypt during Arab Spring. Whilst such brutality shocked Westerners, to a segment of Egyptian men, it was perfectly normal. In fact, Eid — a holy but joyful religious day for Muslims — is also a time for sexual assaults in Egypt, namely in 2006.
Wikipedia goes on to say:
Early on Egyptian security forces were blamed for using sexual harassment on female activists and participants of public demonstrations and rallies. The behavior then spread and was used by crowds of young men to harass women in public spaces. According to Farhana Mayer, senior researcher at the Quilliam Foundation, theology department, Taharrush is a symptom of misogynous ideology in which women are punished for being in public.[6]
What now?
Since the Paris attacks in November, those who were previously more or less indifferent to migrants — the vast majority of whom are young, healthy men — are now beginning to examine the situation more closely.
The events in Cologne have only added to this. Spiegel Online has an excellent analysis in English.
An article in The Week explains that several things could happen in 2016 that would see the European immigration ideal turned on its head. Hungary and Poland have moved towards more conservative politics, and Slovakian politicians have said that recent migrants are unlikely to be integrated into broader society.
Elsewhere, questions are now being asked about the wisdom of Angela Merkel's policies.
In the UK, we should be having a referendum on our membership of the EU this year.
May wise leadership — and voting — prevail.