You are currently browsing the tag archive for the 'gift idea' tag.
2015 was the year I first tried Pinkster Gin — interestingly, at a wine tasting.
My friend and I had two samples each, neat.
Neither of us has forgotten the subtle yet distinctive flavour resulting from a marriage of raspberry with juniper.
As the label says, Pinkster is an 'agreeably British gin'. It makes a perfect holiday or host(ess) gift.
Pinkster's founder, Stephen Marsh, says that his doctor advised him to give up drinking wine and beer as they no longer agreed with him. After two years, his doctor said he could have vodka or gin only. Any self-respecting Englishman prefers gin.
Stephen Marsh tells his story and that of Pinkster in this video:
Marsh, who was a keen maker of liqueurs at home, wanted to create a gin that would go well with food. As juniper is the dominant aromatic in gin, it has to be tamed for it to accompany anything other than game. He began experimenting with fruit. The Pinkster website has more about his final choice of raspberry:
A keen maker of sloe liqueurs and other concoctions, he turned his attention to gin and started experimenting at home, mashing assorted fruits with different spirit strengths.
He wasn't intentionally creating a pink drink, it's just that after working his way through an entire fruit bowl, raspberry delivered the best flavour.
With the recipe developed, pals started encouraging him to go commercial.
The rest is history. Marsh, a former accountant working in London, was able to now make raspberry gin on a large scale:
G&J, one of the country's oldest distillers, was recruited to the cause. They produce the core spirit with five botanicals to our original recipe.
We then macerate with a further three botanicals, including fresh, plump raspberries grown nearby our rural base outside Cambridge.
Marsh is still involved on a day-to-day basis:
Stephen still personally oversees the production, ensuring consistency from batch to batch of fresh fruit.
Ironically, being told to quit wine was the best advice he's ever received.
I did not know about his health condition or that Pinkster goes well with food. It makes a cracking good gin and tonic.
Pinkster also has some splendid personalities when they appear at tasting venues. My friend and I will long remember the chap who poured us our samples that evening in 2015: traditionally jovial, he had us in stitches.
Pinkster's marketing is also splendid, the best in the UK gin world to my mind. Have a look at a few of their tweets:
Indeed not!
Here is the scene of a recent tasting:
Pinkster makes a delightful gift all year around, but especially at Christmas:
Visit the Pinkster online shop for more gift ideas, including Christmas crackers, all beautifully packaged.
If the English aren't enjoying a decent pint of ale or wine in the evenings, they'll often be found drinking gin.
Two niche gins I can recommend come from Silent Pool Distillery in Surrey — not too far from London — which also offers tours.
Silent Pool produces several types of gin as well as tasting (Copa) glasses. One of their bottles or a boxed set makes a distinctive holiday or host(ess) gift.
Whilst I haven't visited the distillery — 96% of Trip Advisor comments rate the tours positively — I have tried two of their gins: Silent Pool and Admiral Collingwood Navy Strength Hand Crafted Gin.
Silent Pool (£37, 70 cl, 43% ABV) comes in a pleasingly decorated green glass bottle with a snug fitting glass stopper. It has twice as many botanicals as the average upmarket gin. It is slightly cloudy when mixed with tonic and is characterised by light citrus and spice notes. The description reads:
Our signature gin, with 24 botanicals carefully chosen for their uniqueness. All the botanicals work together in unison to afford a romantic, complex flavour. Fresh floral and clarifying citrus notes are grounded by earthy and spicy cassia bark and cubeb. The smooth finish is achieved with the help of local honey. Refreshingly individual, intricately realised gin at an ABV of 43%. Recommended serve is with a generous handful of ice, a dash of tonic, and a twist of orange peel to garnish.
Admiral Collingwood (£32, 50 cl, 57% ABV) packs a punch. One friend said that it not only put hairs on but also removed them. The flavours are bold, reminiscent of herbs and spices:
The higher proof of this product allows a bold, robust flavour packed with rich juniper, floral angelica and bright citrus a hint of cardamom and nutmeg. It is a classic flavour profile which will stand up to any gin drink, enjoy in a G&T with a twist of lemon.
There are historical reasons why Navy gin was strong:
The gin was shipped at 57% ABV because if it happened to spill on the gunpowder at this strength, the powder would still light. It is also likely space saving might have had something to do with it….
Also:
Navy strength gins originate from the olden days when sailors used be paid in part with booze.
For the tasting, I enjoyed both gins neat, even though I was offered tonic water. A small sip of gin — a thimbleful, as my mother used to say — is best sampled that way.
I have since dipped into Silent Pool with tonic before dinner. Admiral Collingwood will be for the holidays, enjoyed as a treat which should last throughout the Twelve Days of Christmas.
I will be going to a general gin tasting in a few weeks' time and am very much looking forward to it. Perhaps Silent Pool will be there.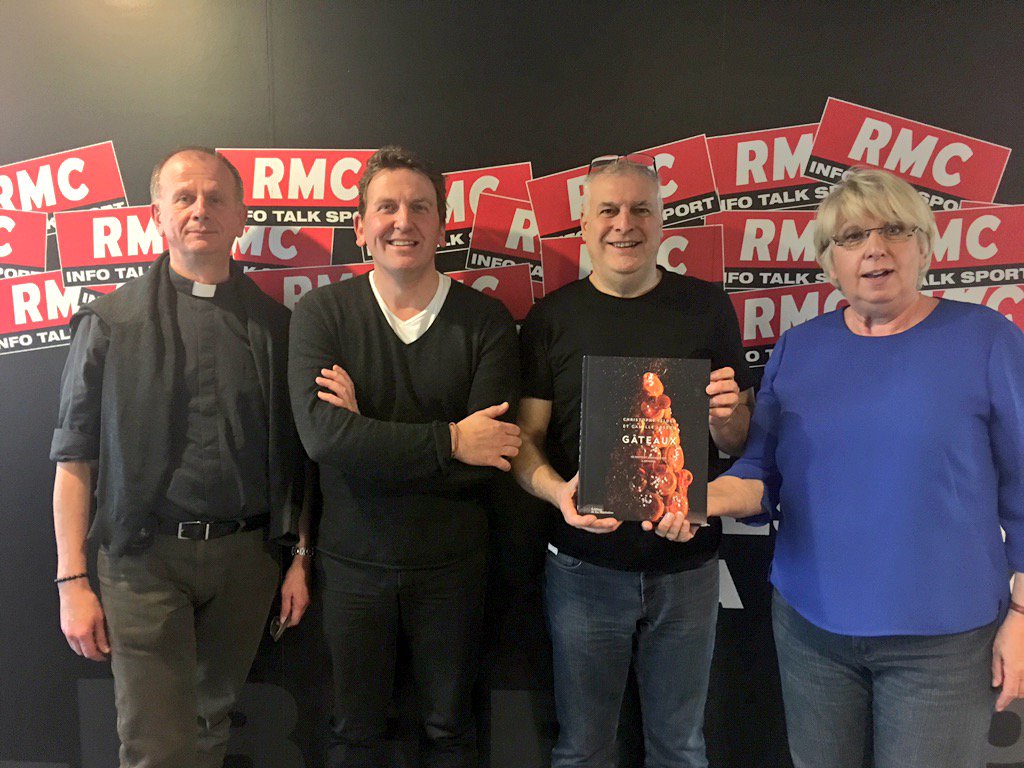 As a maître pâtissier, Christophe Felder is Alsace's pastry king.
On Christmas Eve 2015, he was the special guest on RMC's Les Grandes Gueules (Les GG), a three-hour radio news and current affairs talk show with a group of regulars from social workers to cheese makers to judges. The panellists change daily, yet, after a while, one feels as if one knows them well.
Felder is in the v-neck in the photo from Les GG's Twitter feed. Around him are panellists Père Patrice Gourrier, educator Etienne Liebig (holding Felder's latest book Gâteaux ['Cakes']) and businesswoman Claire O'Petit. The hosts, Alain Marschall and Olivier Truchot, are not in frame.
Les GG are in the process of interviewing famous French chefs. On New Year's Eve, Philippe Conticini appeared on the show. Like Conticini, Felder baked a cake. Or is that, 'Felder baked a cake and Conticini did, too'? (I'm moving backward with the interviews.)
Felder wrote one of my favourite books, Patisserie: Mastering the Fundamentals of French Pastry. If anything approximates a 'bible' of desserts, with each step of every recipe accompanied by a colour photograph, this is it.
SpouseMouse bought our copy in 2013 from Amazon.co.uk, however, it appears now that only Amazon in the US has it. If you are living in Britain, you can sign on to Amazon UK, then go through to the US site and order it — provided the seller ships to Britain. If you are ordering it as a gift, have it sent directly to the recipient, otherwise, postage is going to cost a fortune. (Photo credit: Amazon.com)
I have tried several of the recipes and each one worked the very first time! You will be able to make all your favourite French cakes, tarts, biscuits, macarons and chocolates — including decorations and glazes — in no time. Recipes are grouped by category — types of pastry, cakes, macarons — and so on. Each category's set of recipes is ranked from easy to difficult. You can comfortably work your way through each chapter and progress as you go. The book is very heavy and one should handle it with care, because the paper and cardboard binding is not the best.
It makes a perfect gift for a family member or friend who wants to be able to bake what they see in French pastry shop windows. The lucky recipient will never need another dessert cookbook.
Now on to the show! (Translations mine below.)
Rants galore
During the first segment the panellists ranted about all their pastry pet peeves. I got the impression the hosts were a bit embarrassed, but that's the nature of the show.
That said, everything kicked off very early.
No sooner had they introduced Felder and the gloves were off, not against him but the French pastry situation in general.
Etienne Liebig was angry that so many small shops no longer make their own croissants and macarons but buy them from large companies that make these items on an industrial scale. He does not like paying '€1.30 for something that costs 30 cents' and isn't even made on the premises.
Felder countered that the same thing happens in a restaurant. How many buy cash-and-carry desserts? How many make their own ice cream? Much of it is bought elsewhere. This is why I ask for a cheese plate or, where available in the UK, a savoury.
Claire O'Petit said she is a competent cook when it comes to savoury dishes, which she can easily adjust for taste and texture, but when it comes to dessert, she feels frustrated, as if she has no chance of success. She later said that Felder's recipes look achievable and that she wouldn't need to 'waste an hour of reading' to understand them.
Père Gourrier announced that he is gluten intolerant:
So, what's out there for me? Everything has flour in it. I can't eat it.
Felder suggested a dacquoise, made with ground almonds and (left unsaid) meringue.
Gourrier was unimpressed:
I'm not about to start making meringues.
He then asked:
When is someone going to come out with a gluten-free croissant?
The break and the cake
Then there was a commercial break and everyone, except the priest, tucked into the cake.
By the time the next segment started, O'Petit was very quiet. One of the hosts remarked on it and asked if she was enjoying every mouthful.
Gourrier interjected:
I'm having a fine time just sitting here watching all of you tuck in.
Felder's advice to young hopefuls
Like Conticini, Felder was accustomed to the food trade. Conticini's parents ran a Michelin-starred restaurant. Felder's father was a successful baker in Alsace.
Unlike Conticini, who believes that young people should pass their baccalauréat, Felder says that any adolescent who is serious about baking or pastry should become an apprentice at the age of 15.
He believes that is a good age because romantic attachments haven't yet formed:
Later on, they're reluctant to move 300 kilometres away for a career. They have a girlfriend and get too attached.
(Most pastry apprentices and chefs are men, hence the girlfriend reference.)
Felder had worked for his father by the age of 14 and, the following year, 1979, he was apprenticed to the Litzer-Vogel pâtissiers in Strasbourg, where the head pâtissier was very elderly yet went to work every day.
He told les GG that, unlike cookery school, this work — which includes training — doesn't cost parents anything. Furthermore, as an added bonus, their children can bring earned money home.
Also:
By the age of 17, they're quite good.
And so it proved in Felder's case. At that tender age, he had won his first gold medal at the Foire européenne de Strasbourg.
Felder's trajectory
Felder moved to Paris where he worked for Fauchon, makers of luxury breads and pastries near the church of La Madeleine in the 8th arrondissement. He then worked for Guy Savoy, who ran a Michelin-starred restaurant in the upmarket 16th arrondissement. (By 2002, Savoy had earned his third Michelin star, which he still retains today. He has since opened his own restaurants in Las Vegas and Singapore.)
In 1988, Felder began working at the prestigious Hotel Crillon as a pastry chef. He stayed there for 15 years.
Incidentally, when he first started, there was no air conditioning in the Crillon's pastry kitchen. He described the near impossibility and frustration of making croissants with butter melting in front of him. (Butter needs to be firm for puff pastry, the stuff of which these delights are made.)
Return to Alsace
These days, Felder is based in Alsace.
He prefers it, especially for his young apprentices. He and his staff train and mentor them. Having families nearby makes it easier for everyone:
In Paris, you can feel a bit lost. You need money for rent, you don't really know anyone and it can be a bit overwhelming.
In Alsace, our apprentices live nearby and can work more flexible hours. They can come in early and go home late.
It's also helpful to get to know their parents. We have discussions with them. Some say, 'My child is a bit excitable'. Such conversations help us to manage a situation and guide the apprentices.
Hard work
Felder spoke a lot about hard work in the pastry kitchen.
He cited a young apprentice of his who asked why Felder was 'punishing' him. Felder replied that there was no punishment — that was the nature of the job:
Sure, there are a great many shared moments, but there is also a lot of pressure every day.
And not everyone can handle that pressure.
Dessert evolution
The panel asked about the continuous change in French desserts.
Felder explained that, in the old days, sugar and fat were used as preservatives. These days, with near-universal refrigeration and modern cooking methods, we can buy products with much more fresh fruit as well as less fat and sugar.
In addition to owning his own business, Felder also works for a firm in Japan, which is interested in anticipating the next dessert trends. The Japanese are fascinated to find that French techniques remain classic yet move with the times. Felder helps this company determine how that is done and develop new recipes accordingly.
Conclusion
Most of us — younger or older — are not fit for a pastry kitchen.
As Felder says, you're on your feet all day. The atmosphere is demanding. It requires a lot of stamina, self-discipline and patience.
Working in a pastry kitchen will be unsuitable for many, but most pastry chefs want — and feel obliged to — pass knowledge on to the next generation and to the general public.
Christophe Felder is one of them.
For that, many of us are grateful.
Until recently, SpouseMouse and I have always disagreed about grappa.
SpouseMouse saw no point to it — 'rough discards' — whereas I had always heard great things about it.
In 2013, we were lucky enough to be invited to a wine and spirits tasting the evening before my birthday in the run-up to Christmas.
On offer was Nardini Grappa Bianca Classic. Oh, my. Oh, my. Oh, my. What a revelation.
(Photo credit: Nardini)
The Bianca Classic has strong chocolate overtones with a suggestion of licorice. I told the Frenchman running the tasting that it was worth sousing my chocolate Yule log with a spoonful or two of it. He was horrified. He couldn't taste the chocolate, which surprised me.
SpouseMouse kindly bought me a bottle for my birthday. I finished it, somewhat late, on my birthday this year. Even then, after having had only one glass, I could still smell and taste chocolate the next day.
There are other fine grappas, but I think I'll stick with this one for now. Fortunately, we have another bottle for another birthday!
The Italians are right to insist on enjoying grappa with coffee and after dinner chocolate. It provides a fantastic finish.
Rome File says:
Grappa is a wonderful way to end a meal, drunk either as a shot on its own or added to an espresso (in which case it's known in Italy as a caffè coretto, or a "corrected coffee"). The Instituto Nazionale Grappa, the body that represents most of the grappa producers in Italy, recommends serving shots in small tulip-shaped glasses with open rims, rather than balloons or narrow glasses.
Many Italian households serve grappa straight from the freezer, giving it an icy, crisp taste, while the Instituto Nazionale Grappa recommends serving young grappa at between 9 and 13 degrees Celsius, and riserva at around 17 degrees. Freezing can affect the flavour of a good grappa, but it's a perfectly acceptable way to enjoy the drink. As Nick Hopewell-Smith says, 'you take something away when you chill it, but if it makes it more accessible to people and people are more likely to try it and enjoy it, then why not?'
I've not had it frozen. To me, the Bianca Classic is perfect at room temperature.
The Italians also believe that grappa is an excellent digestif, aiding the digestion process.
A few words of advice about grappa:
1/ Serve in a small liqueur or port glass if you do not have grappa glasses. Purists still prefer shot glasses.
2/ It is perfectly acceptable to sip and savour it, rather than downing it in one.
3/ One or two glasses will do. It has a high alcohol content.
4/ Outside of Italy, it is expensive — think tax. Treat yourself and those closest to you on high days and holidays — Christmas, New Year, Easter and birthdays. Once you open a bottle, finish it within a year to enjoy grappa at its best.
5/ Be discerning about whom you serve it to. This is a special drink which should provide beautiful gustatory memories months or years later.
Above all, avoid cheap grappa!
Grappa, Italy's aquavit, is made from pomace — the grape skins, pulp, seeds, and stems left over from wine pressing. Grappa is the product of steam-distilled pomace with no added water. It can only be made in Italy, the tiny republic of San Marino and the Italian part of Switzerland.
Bortolo Nardini began making grappa in 1779, when he bought an inn near the wooden covered bridge, Bassano, on the Brenta River. The bridge features on Nardini labels.
Nardini's inn and his grappa became popular with Venetians, travellers and businessmen. He served it in a shot glass.
Venice was Nardini's first principal market. Over the centuries, the company continued to expand. Today, the firm also ships to China, Australia, Japan and the United States.
It is better to save up for a bottle of good grappa rather than to waste money on an inferior, rough product. Buy the best and you'll have no regrets.
And if you're looking for an unusual gift, a bottle of fine grappa is ideal. Of course, there are other grappa producers equal to Nardini. You might have a favourite of your own. If so, please share in the comments below, including details about the flavour profile.
Every home cook — whether 13 or 83 — loves a selection of special ingredients he or she cannot readily obtain.
When you're stuck for gift ideas for foodies, get them something they will appreciate — and use.
I would much rather that my friends went to the supermarket and chose small, lightweight products I have a hard time finding than forking out, as it were, on a single more expensive item.
A giftwrapped box full of individually wrapped ingredients and baking products will be a cook's treasure for the year to come — possibly longer.
Any links cited below are for reference purposes; I have no commercial connection with any of them. Please note that not all suggestions will be available in every country or continent.
Here are some gift ideas certain to please foodies in your circle:
– Truffle paste: You can get small jars or tubes of black (winter) or white (summer) truffle paste for approximately £6. They look small but you can get a lot of mileage out of them. One jar will take care of two or three dinner parties. Each has about 20 to 30 servings, which are really a tip of a teaspoon per person. Mix a bit into a gravy or sauce — start with a teaspoon (it is strong stuff) or carefully sprinkle a small dab onto nearly everything from macaroni and cheese to prawns to roast goose. The only things that don't seem to go too well are salmon and lamb. Other than that, truffle paste will open up a new world of flavour for family and friends. N.B.: Once opened, they will last from two (white) to three (black) weeks in the refrigerator.
– Truffle oil: The same caveats and wonder of truffle paste apply here. A drop or two will do. N.B.: Keep stored in a cupboard away from the light.
– Old Bay: This versatile seasoning will be especially appreciated by cooks who live outside of the United States. Whilst it is in every American supermarket nowadays, those of us living abroad have a hard time finding it.
– Umami paste: The Japanese describe umami as the fifth taste, after sweet, salty, sour and bitter. Umami paste tastes like a combination of anchovies, tomatoes and olives. Some people prefer to use a combination of those instead, but instead of having three tubes or jars, why not just use one? This is the ingredient to use in soups and stews when they 'need a little something'.
– Bisto: Every British cook knows how Bisto adds body with a slight bit of thickening to any homemade sauce reduction, what we in the UK call gravy. Make the cook in your life happy with this marvellous shortcut to great meat sauces. It's simply magic. You only need to use a spoonful or two to obtain a restaurant-perfect sauce once your meat juices and water (or stock) are reduced and still hot. No flour or corn starch needed.
– Silpat or Teflon baking liner mat: You can use these for cookies, tuiles and macarons. They come in a box the same size as that of aluminium foil. I have a thin Teflon liner mat which, like a Silpat sheet, goes flat onto a baking tray. No grease or flour is needed. My macarons lifted off the liner perfectly. Just wash them off by sponging them lightly with a touch of washing-up liquid (e.g. Dawn, Fairy) and water. Carefully towel dry flat to avoid making creases and they're good to go for the next batch of baked delicacies. They roll up and fit back into the box beautifully.
– Miniature baking tins or silicone moulds: These are great for the budding or even experienced home cook. Some are a marquise shape, others are rectangular and there are always moulds for small cakes such as madeleines.
– A good pepper mill: Need I say more? Every kitchen needs one and even the most reliable one will go kaput after several years of regular use. See next item.
– Mixed — rainbow — peppercorns: See 'A good pepper mill' above. Just as every kitchen needs a good pepper mill, there is also the need for mixed, or rainbow, peppercorns to fill it. I cannot tell you how flavour-enhancing they are and how much they add to a savoury dish. Since I've started using mixed peppercorns, I've been using much more pepper and have received more compliments on my starters (appetizers) and main courses.
– Fleur de sel: This is carefully harvested sea salt, taken from the choicest top of the salt mounds. Not only does fleur de sel — 'flower of salt' — taste less salty than granulated table salt, it dissolves quickly in sauces or on food to give the finest saltiness. And because it contains sea minerals, it's very good nutritionally. It comes not only from France but also many other countries around the world. Go for a container with a cork lid which will last a very long time, indeed.
– Formaticum: This special, French-manufactured paper for the eponymous Brooklyn, NY, company allows you to wrap and store cheese the way it was meant to be done. Get a boxed roll (same size as one for aluminium foil) or buy several sheets of it. This paper is the business for cheese; it extends fridge life by several days to a fortnight. A friend of mine got me several sheets for Christmas last year and there's nothing better.
– Cheese of the Month Club: And, speaking of cheese, why not consider giving a foodie friend or relative a subscription to Cheese of the Month Club which will bring a small selection of cheeses from around the world to their door all year round. Any macaroni and cheese aficionado knows that you need three different types of cheese to make a good one!
– Lemon zester: This is an invaluable little tool which prevents the cook's knuckles from being scraped by a box grater. I use mine quite a lot. This one by Oxo has a larger hole on the side for long spirals of zest to put in cocktails or add a dramatic look to a syllabub or mousse.
– Miniature cookbooks: The same friend who sent me the Formaticum (see above) also gives me one or two miniature cookbooks every year. These are inexpensive items which are handy for people who don't have much space. A small box of these can provide a library's worth of recipes. This Amish-Mennonite series has one each for cookies, breads and meat.
Gift giving doesn't have to cost the earth and, in these straitened times, we want to spend as wisely as we can.
So, make a foodie happy by thinking outside the box!
When you're stuck for a gift idea and are short of cash, an inexpensive gift of white deep pasta dishes are an unusual idea.
Yes, we see them regularly on television and in restaurants, but rarely do we give them to loved ones on special occasions.
Ideally, they should be 10″ to 11″ (approximately 25 – 27 cm) inches in diameter with a good 2″ to 2.5″ (4 – 5 cm) rim for that professional look. The diameter of the centre of the plate should be 8″ (20 cm) with a depth of 1″ (2.5cm).
With a proper depth, these white plates can accommodate main course soups and salads, making them the most versatile dinnerware anyone can have.
If they are made of well-fired porcelain, such as the one illustrated, so much the better. That means you can warm them in a moderate oven without worrying about breakage; everyone appreciates warm plates during the cooler months.
A newlywed couple or singleton would no doubt enjoy having a set of four. Ikea has a very reasonably priced plate, pictured above. More upmarket shops, such as Williams-Sonoma (which now ship internationally), have a slightly pricier range. Should you wish to get a larger set at the most reasonable price, restaurant suppliers usually have a low-low price for a case of 12.
Whilst I'm not advocating any of these particular shops or websites, the range in price can make all the difference as to how many and what you can afford to give. Why not go in as a family? One person can order the desired quantity and individual friends and/or family members can give a plate. Younger children can buy a plate together as a gift.
I hadn't realised how much these types of plates meant to SpouseMouse and me until I accidentally broke one — an Apilco (French make) plate — a few months ago. They are not all that easy to find, which is part of the reason I'm offering this as a gift idea now.
The worst thing is to give a single plate, which leaves a couple wondering whether to eat a due off the same vessel (possibly romantic — probably not) or look at it admiringly the rest of the year as it sits gathering dust.
Why not make a decision to chip in, let one person buy them all then split the cost accordingly? These plates are a gift which will accommodate many daily dinners for several years to come.
You might make a special relative — or a couple — very happy indeed, especially if they are foodies.
If you are stuck for new ideas for a novel hostess present, why not consider a phalaenopsis [pron. 'fay-lee-uh-NOP-sis'] — supermarket orchid?
The proliferation of phals, as they are popularly called, makes orchids accessible to the average person. (Photo credit: Orchid Flasks UK, Phal Taisuco Kaaladian x Cygnus x Morning Moon)
When I was growing up, orchids were the province of wealthy men who cultivated them in their spare time. These multi-millionaires enjoyed collecting obscure varieties from Southeast Asia (e.g. Borneo) and South America (e.g. Amazon rainforest).
During the past few years supermarkets and do-it-yourself big box chains have featured a variety of beautiful phals for sale at relatively reasonable prices. Phals may be at the bottom of the food chain of the orchid hierarchy, but they give the same pleasure that a rare specie will.
SpouseMouse and I received our first a few years ago as a hostess present, accompanied by a bottle of wine. I was terrified. Our guests told us that we didn't need to do anything with the phal other than a) leave it alone on a windowsill and b) water it every seven to ten days.
Initially, SpouseMouse didn't care much for the plant. Now, we have three. Two are in flower and one has divided itself and I'm expecting a new flower in a few months' time, all being well. SpouseMouse is now intrigued by the growth, flowering and rest cycles.
What to look for
1/ If you're buying a hostess present, look for one in a decorative pot. They will cost a bit more, but that leaves your hostess free to display the plant immediately without having to put it in another pot.
2/ Visible roots should be plump, green and healthy looking. However, if you've been attracted to the colours in the flowers, you can remedy a root problem (see below), provided only a few of the roots are shrivelled.
3/ If you can, look at the clear plastic pot to see the planted roots. They should look healthy and insect-free. I've never had a problem with bad root systems or pests, although some American buyers have.
4/ Prices vary, however, in a decorative pot a phal might cost between £15 and £20 ($20 or $30). A plant in a clear plastic pot will cost half that. Shops in the UK have special offers from time to time and might cost even less. My readers from the Far East and South America can no doubt often find phals for much less at their local markets, however, those are grown locally and are native to the region.
General notes
1/ Although pure phals exist, nurseries often create and cultivate hybrids. The phal in the photo above is a cross of three varieties: Taisuco Kaaladian, Cygnus and Morning Moon.
2/ It is unlikely that you will find out what the exact hybrid is of the phals on sale in large shops. The most you are likely to get is a label saying phalaenopsis with a few basic care instructions.
3/ Nurseries cultivate phals in gigantic perspex flasks. These are several feet long and two feet high. Each flask can hold a few dozen phals.
4/ Phals have often been excluded from local horticultural exhibitions because most have no traceability. This is why sites such as Orchid Flasks UK tell you what varieties have been crossed. They will sell you a smaller flask with several plants in it which you can then repot later. This is for a more advanced orchid grower. (Disclaimer: I have no financial or personal interest in the company and am using it as an example.) However, lately, more floral exhibitions are beginning to include phals, identified or not, as a special category apart from pure orchid varieties.
Caring for a phal
1/ Phals are rather Garboesque: they like being left alone!
2/ Place them on a windowsill with indirect sunlight. As they grow naturally in rainforests, they do not react well to strong, direct sunlight. Leaves should range from a deep apple green to a dark green, depending on the variety. If the leaves begin turning red, the light is too much; move them to another spot.
3/ Water sparingly once every seven to ten days or only if the centre of the pot is dry. Water more sparingly in winter than the rest of the year. I sometimes water only fortnightly during the winter.
4/ Leave the plant in the clear pot in which it comes. Generally, nurseries use a combination of sphagnum moss and bark as a growing medium. There is rarely any reason to disturb this medium. Phals are accustomed to having their roots compacted. In their natural habitat, they grow in the trunks of trees (see YouTube videos below).
5/ It is normal for a number of roots to grow outside the pot. This is how a phal grows in nature (see videos below).
6/ Use a dedicated pair of secateurs (clippers) to trim old, dry roots and old flower stems. If you don't have them, please buy a pair. This will avoid contaminating your phal with plant matter or bacteria from other plants.
7/ From time to time, you will need to cut dry roots and old stems, possibly old leaves (see step 6).  I bought a phal which, other than the flowers and stem, was suffering. The leaves looked somewhat wrinkly; they needed water. A few of the roots were shrivelling and not the green or silvery green they should have been. I cut these to the base and watered the plant. It's been fine ever since. Old flower stems will not blossom again; cut them down at the base once the last flower has dried and fallen off. Over time, some leaves at the bottom of the phal serve their purpose and die. Cut them as close to the base as possible once they turn yellow.
8/ Flowers should last several weeks, possibly even a few months. When you buy a phal, some flowers will be open and the rest of the stem will have green bulbous buds. Once ready, a flower can open within 24 hours. You might look at it at breakfast and see it start to blossom. By dinnertime, it might well be fully open. Flowers dry and fall off naturally. More buds will open at the furthest tip of the stem. Once all the flowers have fallen off a stem with one spike of flowers, cut the stem as near to the base as possible. If you have a stem with multiple spikes, you can cut an old stem off just above the next spike to flower.
9/ 'Nectar' on buds is a good thing; leave it alone. One of my phals occasionally has a bit of clear moisture on the buds. I have read that this is a sign that the plant is happy. I have also read of people who do not like this nectar (I'm sure there's a name for it!) and start wiping it off. This makes the plant produce more, sometimes to the point where it drips onto the leaves. Left alone, the phal will produce just what it needs and this secretion will not drip.
10/ Phals do not need feeding. Contrary to what some phal owners say, I practically never feed mine. I have fed only one, the oldest, after two years — and that was only once. It made little difference. The phal instructions I received with my plants allow the use of normal plant food. However, some phals need orchid food, so read the instructions to find out what sort of food yours needs. When you feed, make sure you water the plant the day before so that the root system is hydrated when you feed it (diluting with water according to instructions).
11/ With regard to flowering cycles, phals require patience. After flowering, phals need a period of rest. Some phals need only a few months; others might need three to five years. Sometimes the larger flowered varieties start blooming sooner than those with smaller blossoms. As long as the plant is healthy as it rests — green leaves and plump green or silvery-green roots — leave it be. It will flower when it's ready. This is why many phal growers have more than one plant; others will flower in the meantime. Another point to bear in mind is that the flowers might grow back a bit smaller or fewer in number or paler in colour. Remember that the nursery has grown them in optimum condition. Your conditions might not match these.
12/ Keep the sticks which come with the plant where they are, if you can. The nursery has placed the support sticks where they are not disturbing the interior root system. Also be careful when attaching the plastic grips to the flower stem. Never try to secure the grip to the stem from a distance. It's best done with the plant near you as the grips are rather tight; you can't be too careful in securing the stem to the support. The stem can break or become damaged.
13/ Avoid poking, prodding and touching. People say that orchids — phals included — are difficult to grow. That is more the fault of the grower than the plant! Some people take a healthy plant out of the clear pot straightaway, poke at the root system, repot it and the plant dies. Leave it alone! Also, refrain from touching the leaves, roots and flowers. When you water it, handle it by the pot and make sure that the plants do not touch each other or any adjacent objects.
Phals in their natural habitat
The Malaysian blogger at Sarawak Lens has written about and photographed phals in the Sarawak region in their natural habitat. Readers interested in phals will enjoy seeing what he has to say. You will see a photo of phals growing in the side of a fig tree as well as other specimens which are in full bloom. Some are delicately scented. One of his captions reads:
A swamp deep in the jungle and far from human disturbance is a perfect place for a Phalaenopsis orchid.
He also has a very short YouTube video which shows the phals close up. Note how much of the root system is outside the tree and how long the exterior roots are:
The following video, by someone else, shows a close-up of phals growing on a tree in a Borneo swamp:
This video by Jerry Fischer shows a phal proliferating outdoors. Wow!
I hope that you decide to buy a few phals — for gifts and for yourselves. You'll really enjoy them!
Phals truly are the gift that keeps on giving!