You are currently browsing the tag archive for the 'Gordon Brown' tag.
On Friday, September 23, 2022, just four days after the Queen's funeral, Chancellor Kwasi Kwarteng delivered a 'fiscal event' designed to kick start the British economy.
In the days leading up to the fiscal event, so-called because it wasn't a full budget, the media and Labour were clamouring for it. However, the nation was in mourning for the late monarch and, accordingly, Parliament was in recess.
Conservative critics — i.e. Brexit critics — asked, 'Where's Liz? Where's the Chancellor? Something must be done!'
Parliament reconvened on that Friday to hear Kwarteng deliver a big, bold and beautiful economic plan, which included the abolition of the 45% upper tax rate.
Even Nigel Farage approved, going back in history to Margaret Thatcher's time as PM:
What happened? The same critics blasted Kwarteng and Prime Minister Liz Truss for their rather Thatcherite plan, designed to reverse the nation's economic course since the Labour days of the early Millennium under Gordon Brown to the present Conservative government:
Small-c conservatives hoped that Boris Johnson would have done this, but it was too big to take on. With the flak Truss and Kwarteng caught, it now appears that Johnson probably feared it would dent his popularity. That's only my guess, but it makes sense.
Mortgage rate fears
I went to a small local event on Saturday, September 24. Before it began, one woman of pensionable age asked, 'Has anybody seen the news today? I didn't have time to look. Has the economy crashed yet?' It was clear she was angry. Other people in attendance responded with jokes about supply-side economics.
Throughout the week, it was nothing but doom and gloom, even on GB News, which offered few correctives. The Labour Party conference took place last week, which did not help.
I went to the shops on Wednesday, September 28. On my walk, I overheard an estate agent talking to an older couple about their mortgage rate fears as a result of the fiscal event. The media had sent out ominous messages about rising interest rates. The estate agent told the couple that the turbulence would be short term and that it was taking place all over Europe — which is true.
On Thursday, September 29, the BBC's Question Time aired. One young woman stoked fears about a hike in interest rates on mortgages, claiming — claiming — that hers was going up to over 10%: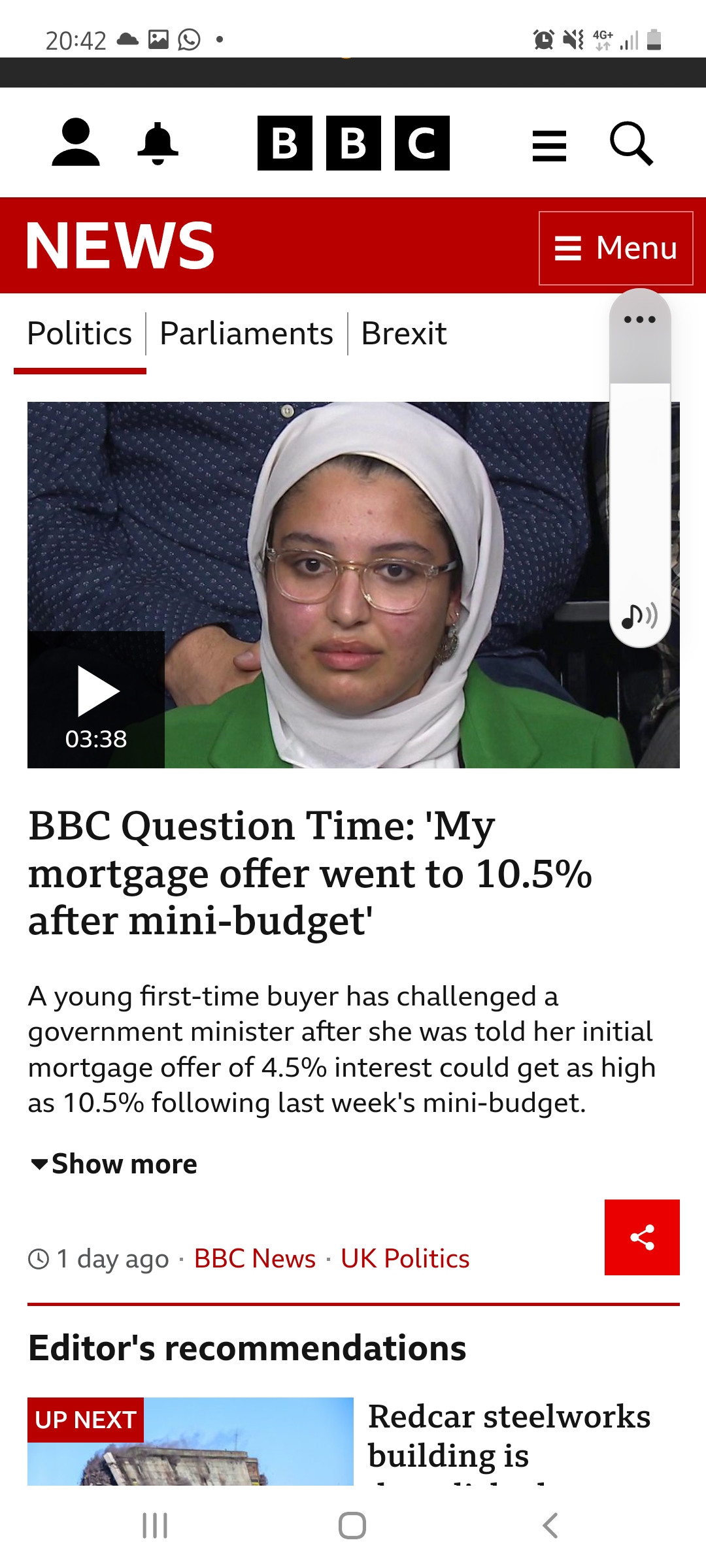 But was this claim true?
Apparently, the claim is false: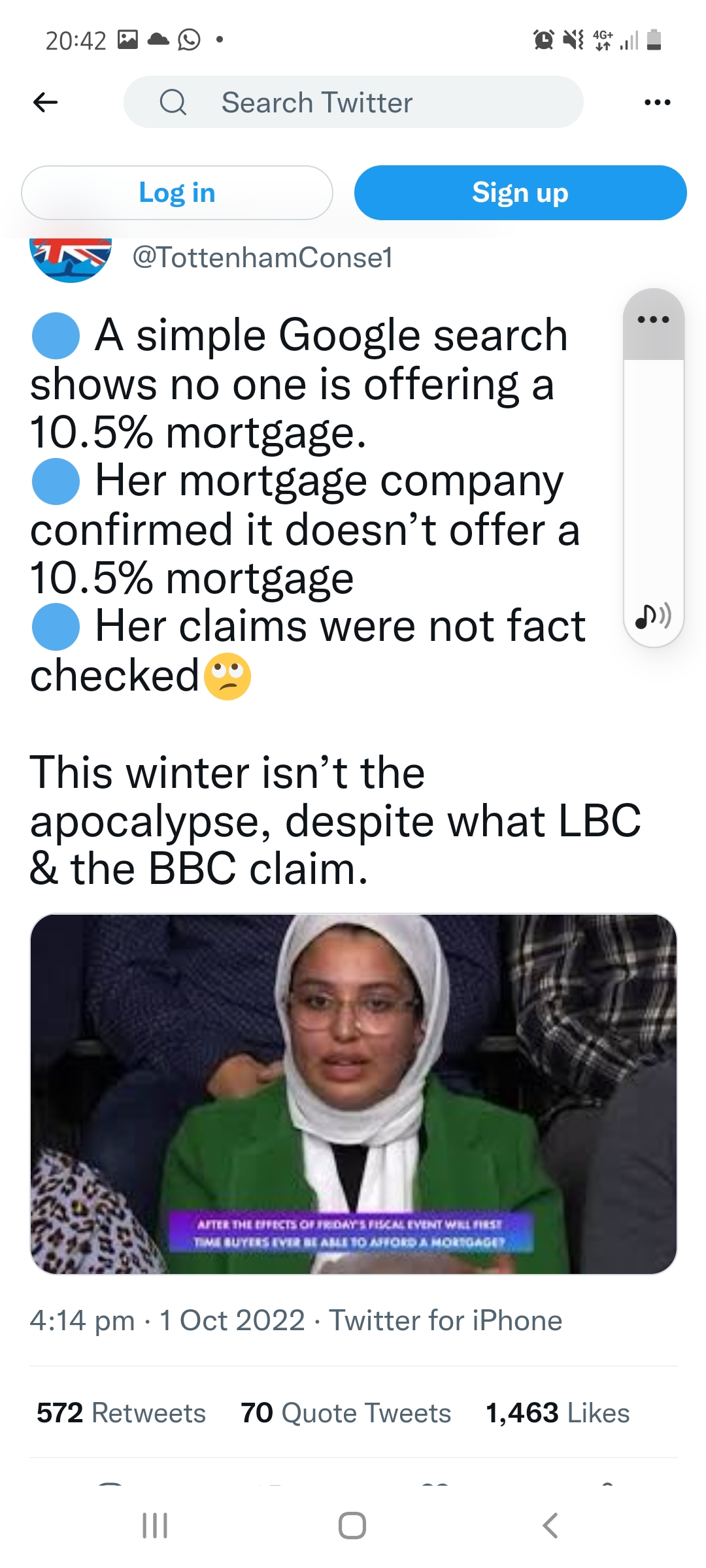 Skipton Building Society said they had not offered a 10%+ mortgage rate for many years: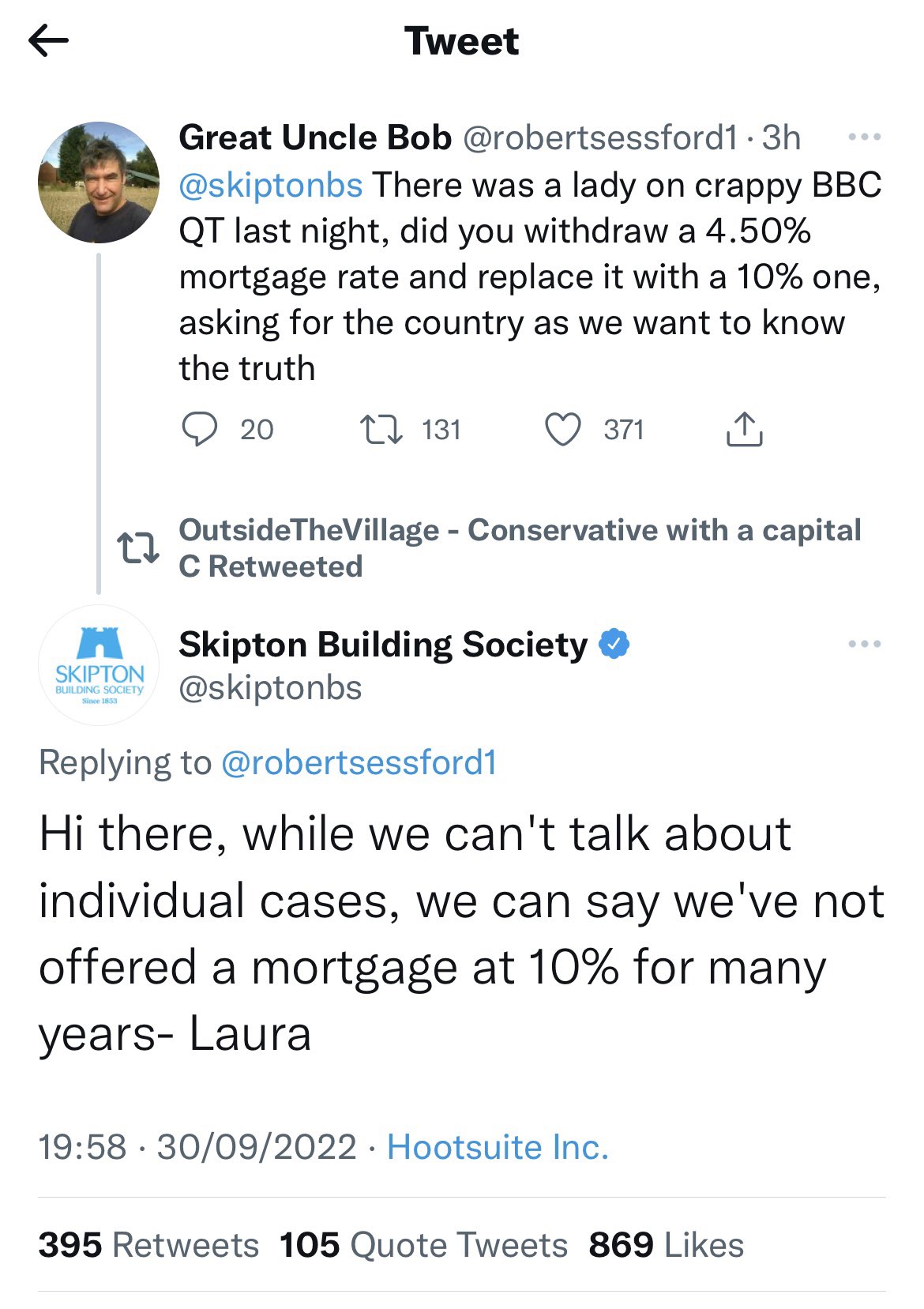 Once again, the Left — including the media — took charge of the Conservative narrative. They're still at it.
Conservative Party conference opens
On Sunday, October 2, the Conservative Party conference began in the UK's Second City, Birmingham, once our industrial capital:
Penny Mordaunt MP, Leader of the House of Commons, paid an excellent tribute to our late Queen, which was followed by a minute's silence and the singing of the National Anthem.
Having seen the first few speeches on GB News, the mood from the MPs speaking was upbeat. However, the mood in the conference hall was sombre.
Rishi Sunak and several of his supporters, prominent MPs, did not attend. Sunak said he wanted to be absent so that Truss 'could own the moment'. Ouch.
Boris Johnson also sent in his regrets.
Earlier that day, Truss appeared on Laura Kuenssberg's Sunday show on BBC1.
Kuenssberg asked her about the abolition of the 45% tax rate. Truss said that was Kwarteng's decision. Oh, dear. Guido Fawkes has the video:
Because the fiscal event had to be done quickly, Truss and Kwarteng did not consult other Cabinet members.
Also, because it was such a departure from the norm, it appeared shocking to Britons expecting more of the same. Truss told Kuenssberg that she and the Chancellor could have communicated it better (see video):
Truss rightly pointed out that 'optics' — rather than reality — dominated the fiscal event:
In the video, Kuenssberg ended by saying that optics were terribly important, implying that they make just as much of an honest representation as does reality. Oh, my days!
Returning to the Conservative Party conference opening day, Michael Gove stuck his oar in, saying that tax cuts are not conservative.
Whaaat?
Former Conservative MP Michael Portillo explained on his GB News show that Gove became an MP during David Cameron's time as Prime Minister and, therefore, has a different take on economics.
The economy wasn't the only issue on MPs' minds. Other of Truss's leadership rivals in this summer's contest for PM were not happy.
As is common with party conferences, smaller events took place outside of the main venue.
Last week, Truss said she would like to see more immigration, something that won't please folks who voted Conservative for the first time in 2019.
On Sunday evening, Trade Secretary Kemi Badenoch — the MP whom conservatives deeply admire — attacked Truss's immigration plans:
Guido has the story, which reveals rifts in the Party (emphases his):
If Liz Truss thought the furore over the 45p rate would distract attention from MPs rebelling on other policy areas, Guido's sorry to disappoint her. At the IEA/TPA DrinkTanks reception last night, guest of honour Kemi Badenoch openly rebuked the PM's plans to let in more immigrants to boost growth. The Trade Secretary ignored any sense of collective responsibility as she told the assembled free marketeers:
Simply taking in numbers to boost GDP while GDP per capita falls is not the right way to do that. We need to look again at resolving our productivity issues and that means using capital better, not just getting cheaper and cheaper labour.
Kemi's brazen and deliberate speech last night all but confirmed The Times' article on Sunday reporting major Cabinet divisions over the plan, with Kemi and Suella Braverman at odds with the PM's preferred free market solution. Like Liz, Guido doesn't have a problem with skilled, legal immigration, it is the illegal immigration which is concerning. It seems Tory Cabinet ministers aren't even pretending to play happy families anymore…
Also that evening, Leader of the House Penny Mordaunt spoke at a small gathering to complain — rightly — about poor Conservative communication over policy making:
She made her views known at an event called 'Conservatives in Communication'.
Sadly, Guido points out:
… host Adam Honeysett-Watts had to tell the crowd to shut up and listen. Unfortunately, most of the attendees were far more interested in guzzling free booze and chatting to each other.
Meanwhile, Truss addressed a group of Conservatives, explaining the need for growth — now. She, too, said that Party communications are lacking:
She is not wrong, and she has to make up for the past two years, consumed by dealing with the pandemic.
The second day of conference brings U-turn on 45% tax rate
Did Michael Gove, the Scot who wants to become PM, exercise his influence once again?
Nothing against Scots, but their politicians do seem to think that people need to be micro-managed, which Gove does, and that we should continue a globalist agenda in, well, nearly everything.
For the first time in years, Gove is not in Cabinet.
That said, he has never supported PMs he has served, going all the way back to David Cameron. This comment comes from one of Guido's readers (purple emphases mine):
Cameron, don't forget Cameron. Gove mortally wounded him too with Brexit. I don't disagree with Gove supporting Brexit obviously but the way he went about it was like a serpent to someone who called him his friend. His whole front line career has been poisonous towards the sitting leader.
At 7:17 a.m., Guido tweeted that Truss and Kwarteng were backing down on abolishing the 45% tax rate:
Kwarteng said he would still be going ahead with the rest of the fiscal event policy.
That U-turn will empower Gove and the Left — again, media included — to control the narrative even more.
Baroness Thatcher would have been so disappointed:
And I know what Thatcher would have done with Gove: withdrawn the Party whip.
Guido says that the reversal came about on Sunday evening and that The Sun had the exclusive:
After The Sun broke the exclusive of conference late last night, the Lobby's just been informed that the government will now not be going ahead with the 45p rate abolition, with a u-turn expected to be announced within the next hour. Just yesterday the press were briefed that Kwasi was to tell conference "We must stay the course. I am confident our plan is the right one."
This morning the course has not been stayed – it has been re-directed in another direction altogether. Kwasi's statement:
From supporting British business to lowering the tax burden for the lowest paid, our Growth Plan sets out a new approach to build a more prosperous economy. However, it is clear that the abolition of the 45p tax rate has become a distraction from our overriding mission to tackle the challenges facing our country. As a result, I'm announcing we are not proceeding with the abolition of the 45p tax rate. We get it, and we have listened. This will allow us to focus on delivering the major parts of our growth package. First, our Energy Price Guarantee, which will support households and businesses with their energy bills. Second, cutting taxes to put money back in the pockets of 30 million hard-working people and grow our economy. Third, driving supply side reforms – including accelerating major infrastructure projects – to get Britain moving.
The move came after crisis talks yesterday between the PM and Chancellor; their hands forced by Tory MPs continuing to state on the record they couldn't vote for the plans, despite an open warning from [new Party chairman, MP] Jake Berry that they'd lose the whip. Gove was at the forefront of the rebellion…
Guido's cartoonist came up with this:
It is unclear how much of this has to come up for a vote in Parliament in order to proceed.
However, it is becoming apparent that a significant number of MPs have not united behind Liz Truss:
If enough Conservative MPs rebel in a vote, the Government could collapse. A collapse could trigger an imminent general election (GE). With the way things are, Labour could win and form a coalition with the other Opposition parties. That would be a disaster, particularly in voting reform if they push through a vote for 16-year-olds and immigrants to vote in a GE. Furthermore, they would probably also want some type of proportional representation to replace the centuries-old first-past-the-post.
Of course, the alternative is that Conservative MPs have another leadership contest, but that would look as if they were incompetent. One MP suggested that Conservative Party members be locked out of that vote altogether, which would anger them deeply.
An hour after Kwarteng announced the U-turn, he was on BBC Radio 4 with Conservative-loathing Nick Robinson. This is so sad:
Then Kwarteng went on Nick Ferrari's LBC breakfast show. Ferrari pressed him to say 'no more U-turns' but the Chancellor repeated, 'I've said what I've said'. Guido has the video:
As a result of the U-turn, the markets were no longer predicting a 6% rise in interest rates, but something slightly lower — 5.5% and 5.75%. Guido is right in saying this is an emotional response:
Sterling was also slightly up, but not hugely:
In closing, let's return to Gordon Brown, who succeeded Tony Blair as PM — without an election, I might add.
Conservative MP Gillian Keegan put the blame squarely on Brown in an interview with Times Radio on Monday morning.
Guido has the story:
Foreign Office Minister Gillian Keegan was spot on when she told Times Radio this morning that the top rate of tax was a political time bomb left behind by Gordon Brown:
I always knew that it was going to be a political problem. I mean, let's be honest, this was a political trap that was set by Gordon Brown in the dying days of his role as PM, right. And I paid the 50% tax. I was in business then. And I remember how devastating it was because actually, it meant you were paying about 65% tax. And there's something in your mind, which is like, really, you know, only 35% for me? And I'm doing all these hours. I was a business person, then it was set as a political trap…. In theory it [the top rate of tax] should never have been there.
There is something immoral about the government taking the majority of your income in tax. It is also a disheartening disincentive; reversing this spiteful tax is the correct policy, though this might perhaps be the wrong time. Getting rid of a political tax that was only set up by Gordon Brown when he knew he was likely to be ousted –to hurt the Tories rather than raise revenue – was the right thing to do. Even the IFS' Paul Johnson thinks in revenue terms "It might plausibly cost nothing at all". The tax was not about raising revenue – it was about political positioning.
Back in Fife, Brown will be rocking in his chair laughing that his tax booby trap, announced only weeks before he left office, and which was expected to cause problems for his successor David Cameron, has finally exploded in the face of a Tory Chancellor. The fuse wire on Brown's time bomb turned out to be 12 years long…
Truss and Kwarteng have learned a lot in the past month.
I do hope that they have learned something from their baptism by fire, especially Truss, for whom I have the greatest empathy. The Queen's death delayed her getting off the ground running. Then when she was finally able to do something, the media attacked her even more for it. Now the Party's MPs are angry with her. Some have already submitted no confidence letters to Sir Graham Brady of the 1922 Committee. The polls have been tanking. Two show voters giving Labour a 30% lead in the polls, something not seen for decades.
No one has even given Truss or the Chancellor a chance.
I will continue to pray for hers and Kwarteng's success against all odds.
They are doing the right thing …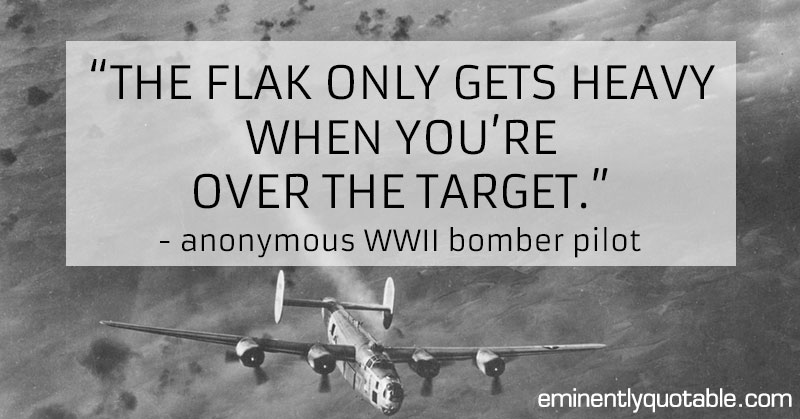 … which is why they are being attacked mercilessly.
For me, the Conservative Party leadership contest is over.
I could be wrong, but it looks as if Liz Truss will be measuring curtains for No. 10 in a few weeks' time.
Barring anything unforeseen, this will be my last report on the contest until early September.
Telegraph hustings at Cheltenham
On Thursday, August 11, The Telegraph presented a Conservative Party hustings at the Cheltenham racecourse in Gloucestershire.
The paper's Camilla Tominey moderated the event.
She asked Liz Truss about her barbed exchange with TalkTV's Tom Newton Dunn earlier last week:
Camilla: Are you happy with the press this week? Because you've had a bit of a go at us.
Liz: Well, I had a go at Tom Newton Dunn, but you're asking much sounder questions Camilla.
Camilla: Thank you!
Guido has the video, in which Liz tells Camilla that she would like more questions about trade deals:
Here is the video of the hustings in full:
Viewers were given the opportunity to vote for their preferred candidate online in a poll for the paper. It appeared that people could vote more than once:
Even before the hustings began, Rishi was in the lead. Hmm:
The Telegraph featured an article highlighting readers' opinions.
It is a shame that so many Britons have forgotten the comparative 'more'. There were only two candidates, therefore, saying 'most' — implying three or more — was clearly wrong.
One of Rishi's supporters thought he could beat Labour:
Having just watched both candidates, it's not too difficult to accept that Rishi Sunak was the most inspiring. Indeed, in contrast to his wooden adversary, he gave a rousing speech. I wonder how many members watched and are open-minded enough to ditch Liz Truss? She would lose to Labour in two years' time. Sunak at least gives us a chance.
Another said Liz was 'weak':
Liz Truss's yes and no round showed her to be very weak: no dramatic reform of the BBC, no cap on immigration, keeping net zero, no dramatic reduction to the size of government. She is no Tory candidate.
Another branded her 'useless':
Liz Truss cannot answer a question properly. She is useless. At least Rishi Sunak is willing to tell some home truths even if people don't want to hear it.
However, Liz's supporters thought that she offered a fresh approach.
One said (emphases mine):
I'm beginning to like Liz Truss more and more. She's a radical democrat determined to confront the anti-democratic 'establishment'. If she wins, hers will be a revolution supported by the democratic majority in the UK.
Another said she has foresight:
Whoever wins the leadership contest, one thing is for certain – Rishi Sunak will lose the next general election. Liz Truss at least has a better chance of seeing off Labour and the Lib Dems. She has more foresight than Rishi Sunak, where he is telling the Tory members more of the same is right, where at least Liz Truss is offering a choice of something different. Time will tell if she's right.
Another said that Rishi looked too managerial:
Watching this debate reminded me of a typical departmental meeting. Rishi Sunak is the over-keen middle manager trying to impress the boss and climb the greasy pole. Liz Truss is the experienced old hand who just gets on with the job.
Yes, interesting comment, that. Who is Rishi's boss? His Infosys father-in-law?
Telegraph columnists weighed in with their verdicts.
Seasoned veteran Janet Daley noted that, while the candidates differed on strategy, they are both committed to Conservative values:
The substantive disagreement came through as clearly as I have ever heard it. Rishi believes that inflation is the greatest danger and that our primary obligation is to pay down the national debt to create a sound economy. 
Liz insists that the more serious threat is impending recession which would be made more likely by increasing taxes which would depress investment and entrepreneurialism. That's it. This was an argument about strategy rather than outcome.
Apart from that, their philosophies and values were remarkably similar. They are both sincere in their commitment to post-Thatcher Conservative values which they defined in almost identical ways: pride in the country and its values, the importance of education in providing opportunity and equality and, above all, creating the possibility for aspiration and social mobility. For all the supposed acrimony in this contest, they could certainly serve in each other's Cabinets.
She said that the candidates' ease of presentation depended on the format:
The opening statement went to Rishi who was rather manically charismatic but charming, where Liz looked uncomfortable and stiff.
But in the conversational mode with Camilla Tominey, Liz came through as relatable and convincingly thoughtful. She looked much happier talking to a person than to a large audience. Rishi seemed perfectly at home with a crowd, turning round repeatedly to make sure to address the whole room. It made him appear confident – perhaps too much so.
There was something of the conceited sixth former about him – as there has been all along.
Tim Stanley thought that Camilla Tominey came out on top.
He picked up on Liz's line about wheat fields being turned into solar farms:
Fields that should be stuffed with wheat, she said, are now planted with solar panels – and "it's one of the most depressing sights in Britain".
Oh, I can think of far worse. Such as an email from British Gas.
He prefers Rishi's stage presence but says that Liz's policies are more interesting:
The curious thing is that Rishi still looks like the frontrunner. He's got the best ad, energy and endorsers: Hague, Lilley, Lawson and the ghost of Lord Salisbury. But it's Liz who with every appearance gets more interesting. No election before 2024, she said; no windfall taxes because profit is a good thing.
In the end:
For my money, the winner of this one was The Telegraph, because it had the best presenter thus far. Camilla for PM.
Ross Clark thought that Rishi was losing ground:
He couldn't understand, he told us, why he was perceived not to be 'Brexity' enough. Both claims fell flat. No-one clapped or cheered when he tried to establish his Brexit credentials.
Moreover, Sunak's strongest suit – his warmth as a public speaker – no longer seemed quite the asset it was in earlier debates. He tried to up the tempo – with the result that he began to lose gravitas …
Clark said that Liz is developing policies as she gradually moves through the hustings:
For her part, Truss concentrated on trying to resolve the policy weaknesses which led, for example, to last week's embarrassment over regional pay boards. It was a strategy that seemed to pay off in Cheltenham. She came across as someone who is thinking carefully on policy – even though she is still lacking many answers.
Her biggest weakness was failing to answer what immediate steps she would take to help people with energy bills over the next few months; she sketched over the issue and rushed ahead onto longer-term policies such as fracking – which might be right but are not going to help people over the next few months.
In the one-to-one section of the hustings it became clear that Rishi's team is better at filling to front rows of these events with his own cheering supporters. But you sense that the rest of the audience are more interested in what Truss has to say, because she remains by far the most likely victor.
Patrick O'Flynn said that Liz's ideas for defeating the Liberal Democrats, who have been winning Conservative by-elections, topped Rishi's style over substance:
Her pledge about bringing back a special unit in CCHQ to mastermind a fightback against the Yellow Peril – the Lib Dems, with whom she enjoyed a youthful infatuation – may not have raised the roof but certainly had the wise owls in the crowd nodding sagely. Her claim that she could best beat the Liberals because she knew all about their old tricks was stretching things a bit, but then so was Sunak's attempt to be passionate about having funded "the dualling of the A417".
If this were a knife-edge contest then Sunak's slick display and his whooping fans could have conjured the illusion of him being the candidate with most momentum. And fair play to him for insisting again that he will not quit the contest prematurely. But he is so far behind on points that he would have needed a knockout blow to revive his chances and he came nowhere near that.
The paper also reported that, although things looked normal on stage, once the cameras were off:
things were frostier, with the candidates clearly avoiding crossing one another's path as they walked off stage towards their dressing rooms.
The Guardian's political editor, Toby Helm, was also in Cheltenham to assess the mood before and after the hustings:
As Conservative party members filed into the latest leadership hustings at a baking hot Cheltenham racecourse, very few among this important electorate seemed enthused by the two-way race.
Neither of the runners – foreign secretary Liz Truss nor ex-chancellor Rishi Sunak – excited much Tory passion, nor seemed the subject of heavy betting. Some of those who attended, and who will decide the identity of the new prime minister, suggested they had come along out of duty, to choose the least worst option on offer …
Lucy Coxall, a project manager for a London design company, who had travelled from Wiltshire, said she was genuinely undecided and irritated at media reports that Truss had it in the bag already. "It is ridiculous to suggest it is already over. I really want to hear what the candidates have to say," she said.
Caroline Baldwin, who runs a property business with her husband, said she was leaning to Truss but not firmly, while Jude Walker, who used to vote Labour, but had switched to the Tories a few years ago because she liked Boris Johnson, seemed to wish the dethroned PM could carry on, as she arrived to assess the qualities of his potential successors.
Ned Bowron, who runs an outside events business and is deputy chair of membership and fundraising for Stroud Conservatives, said he too was leaning in the Truss direction but was open to persuasion by Sunak, while Bob Griffin, who runs an export business, preferred Truss on the evidence thus far.
Two hours of speeches and interrogation later, many views had changed. Some undecideds had made up their minds, some decideds had switched allegiances, while others had just hardened their opinions in the direction they were already leaning. Strikingly, the movement was by no means all – or even predominantly – towards the hot favourite Truss.
The previously agnostic Coxall had decided to plump decisively for Sunak on the basis of what she had seen and heard. "I was much more convinced by Rishi and thought he had an answer for everything on the economy," she said afterwards. "He presented himself with energy. He sounded so much more progressive and had so much more of a vision for the future. Everything from Liz was short-term thinking." If Truss were to become prime minister, Coxall believes the Tories will have less chance of victory at the next general election.
Griffin, on the other hand, had become more convinced that Truss was the right choice after the meeting: "What she was trying to sell me was a genuine 'to do list' while what he was selling was 'Rishi Sunak for prime minister'."
Both Bowron and Baldwin, however, had gone from preferring Truss to thinking better of Sunak than they had before. "Liz's financial plans seemed, well, rather unbudgeted and rather worrying," said Bowron. "I am pretty sure I will vote for Rishi now. I think he is a safer pair of hands. Liz doesn't seem to understand that those who most need help don't pay tax and yet she is going on about tax cuts." Baldwin was also concerned that Truss's tax plans would not help the most needy. "I was leaning to her but now I am not sure," she said.
Boris
Boris returned from his holiday early last week and is now house-hunting.
On Monday, August 15, the Mail reported that he is looking for an abode in Dulwich Village, south London:
Boris Johnson appears to be taking notes from a former Prime Minister, as he looks to buy a house in the same south London suburb Margaret Thatcher moved to after she left No 10 Downing Street.
The outgoing Prime Minister, 58, will be leaving his role next month and has started house-hunting for a new marital home in Dulwich Village with wife Carrie, 34, and the couple's two children.
Before moving into Number 10 in 2019, Mr and Mrs Johnson bought a property overlooking Brunswick Park in Camberwell, south London.
That townhouse is now listed for sale for £1.6million, £400,000 more than they paid for it.
Not short of cash, the couple's reported budget of £3million should be more than sufficient, as properties in the leafy village have sold £1,820,887 on average in the past year, according to Zoopla.
Margaret Thatcher, however, did not stay in Dulwich Village for long:
Margaret Thatcher moved to Dulwich Village after being ousted in 1990, buying a house with her husband Dennis for £400,000.
However the Iron Lady lasted just a year in the village before moving back to a more central location in London.
Discussions on GB News at the weekend showed that Boris was still popular with the public, especially among newly-minted Red Wall Conservatives.
They liked the spark and verve he brought to the 2019 general election. They appreciated the attention he gave them.
They said that neither Truss nor Sunak seemed to be in touch with ordinary people.
The irony is that Boris isn't anymore in touch with them than either of the two leadership candidates. He just knows how to speak to people — and fire up their imaginations. He's the best campaigner the Conservative Party will have for decades.
There hasn't been any more mention of whether a special ballot will go out to Conservative members with his name on it. The petition, with nearly 20,000 signatories, was a great idea but it didn't go anywhere at CCHQ, which would have had to change the rules.
On Tuesday, August 9, one of the petition's campaigners, David Bannerman, a former Conservative MEP, told Nigel Farage that he was supporting Liz Truss:
Farage, as one would expect, presented the Conservatives as losers, saying that the public would never forgive them for the cost of living crisis.
Boris, in his detractors' minds, is somehow supposed to take care of the crisis when everyone who is anyone is on holiday at the moment.
On Monday, August 8, Scotland's Westminster leader, Ian Blackford (SNP), demanded that Boris 'come out of hiding' and recall Parliament:
Interestingly, Ian Blackford was on holiday in the western United States at the time, enjoying sights such as the Grand Canyon. Guido Fawkes has his full itinerary. Blackford did not fly home until August 6, at the earliest.
Also interesting is that, by the time Blackford issued his demand, Boris had already returned to London:
Here's Tony Blair's spinmeister Alastair Campbell also baying for Boris and saying that former Labour PM Gordon Brown should be in charge:
Voters will not care what Campbell or Blackford think. Gordon Brown piped up, too, but a lot of conservatives and Conservatives still back the former Party leader.
On Sunday, August 14, The Guardian reported:
This weekend, with less than three weeks to go before voting ends, Truss is way ahead of Sunak, according to opinion polls of the Tory membership.
Today's survey of 570 Conservative members, by Opinium, for the Observer, gives Truss a 22-point lead. She is on 61% to Sunak's 39% ….
Where this latest poll is perhaps most intriguing is in the lack of enthusiasm it shows for either Truss or Sunak among those who must choose the next leader of the party and country after September 5. This is evident when those with a vote in the contest are offered the choice of either Truss or Sunak, against the theoretical option of Johnson remaining leader and prime minister. Asked who they would prefer in No 10 – Johnson or Truss – 63% of Conservative members said they would prefer to keep Johnson while only 22% would rather have Truss. When the offer is Johnson staying on, versus Sunak taking over, 68% say Johnson and just 19% Sunak. Chris Curtis of Opinium says sellers' remorse is setting in as far as Johnson is concerned. "It could be down to people forgetting how bad things got, or a lack of appetite for the replacements," he said.
But it is hardly encouraging for the eventual winner to know that three times as many of their party's own voters would now prefer to have the previous leader than either of them to fight for a fifth consecutive Tory win at the next general election. Inside the hustings at Cheltenham, there were cheers for Truss and Sunak in equal measure. But there was deep uncertainty – and plenty who were unimpressed.
On Saturday, August 13, Jacob Rees-Mogg, former Leader of the house and current minister for Brexit opportunities and government efficiency, told MPs Esther McVey and Philip Davies, her husband, that Boris would not be returning to Downing Street.
The Telegraph reported that Rees-Mogg, a Boris loyalist, said:
life just isn't like that.
Despite Boris's hints at a return during his final PMOs …
… Rees-Mogg told the two MPs:
that it was not "realistic" to think that Mr Johnson could make a return to Downing Street …
"Nobody's come back having lost the leadership of the party since Gladstone," Mr Rees-Mogg replied. "And I just don't think in modern politics, the chance of coming back is realistic.
"Lots of people think they're going to be called back by a grateful nation which is why Harold MacMillan waited 20 years before accepting his peerage… Life just isn't like that."
It's time to let Boris get on with the rest of his life after September 5.
We won't have seen the last of him, but it will be in a different guise.
This week, I hope to write about the events that led to Boris's downfall.
On Thursday afternoon and evening, I watched GB News's wall-to-wall commentary on the Queen's Platinum Jubilee. It has been excellent.
GB News is available worldwide, live and on video.
Nigel Farage was in London for Trooping the Colour and said that the parade and the enthusiasm of everyone he met elsewhere was very moving, indeed:
Retired Royal correspondent Michael Cole, who had watched the Coronation in 1953 as a little boy on his family's brand new television set, told Farage that he felt the same way:
Continuing on from Thursday's post on the Platinum Jubilee, likely to be a one-off event in British history, here is the marvellous flypast that took place after Trooping the Colour:
That evening, the Queen symbolically set off the beacon lighting around the UK and Commonwealth nations:
This video shows how the lighting unfolded at Windsor Castle …
… and here we can see them lit up around the world:
On Friday morning, June 3, a Service of Thanksgiving for the Queen's 70-year reign took place at St Paul's Cathedral in the City of London.
The evening before, Buckingham Palace announced that the Queen would not be attending, having suffered 'discomfort' after Trooping the Colour. She made a second appearance on the balcony to acknowledge the military personnel and officers participating.
However, the BBC commentators told us that she was watching the broadcast as it unfolded on television.
Interestingly, Queen Victoria arrived for her Diamond Jubilee at St Paul's Cathedral in 1897 only to find out that she could not exit her carriage because of ill health. When everyone inside found out, they all — clergy included — went outside to conduct the service there:
The Times's Valentine Low wrote the following about Elizabeth II:
The Queen may not have been able to take part in the Trooping the Colour ceremony on Horse Guards, but she takes her role as Colonel-in-Chief very seriously. Her decision to make that extra appearance was prompted by the same motivation that saw her make a last-minute appearance at the opening of the Elizabeth line: her unwavering sense of duty.
The Queen will be extremely disappointed at not going to St Paul's. She has a sincere religious belief, and takes her role as head of the Church of England seriously too …
For the moment, the jubilee remains all about the Queen: wherever she is.
Personally, I would have had the Service of Thanksgiving at St George's Chapel at Windsor Castle. The Queen returned to the castle after lunch with the Royal Family following Trooping the Colour.
The Sussexes attended the lunch at Buckingham Palace. They did not appear on the balcony as they are not working members of the Royal Family.
However, once at Windsor, where Archie and Lilibet stayed while their parents were in London, the Queen finally got to meet her newest great-grandchild:
The Daily Mail article has the order of the Service of Thanksgiving, which was traditional and dignified in all the best Church of England ways. Why can't more C of E services be like that?
St Paul's Cathedral also has the Order of Service as it was printed for those attending:
Crowds had gathered outside by 6 a.m. in the limited space Paternoster (Our Father) Square affords:
Attending these services as invited guests or military guard requires a bladder of steel and optimum decorum. Waiting for everyone to arrive takes longer than the actual service.
Today's service welcomed as guests the charity sector, military cadets, Girl Guides, Boy Scouts, Commonwealth dignitaries, the military, politicians past and present as well as the extended Royal Family.
The public sector were there, too:
Outside were a military guard as well as military representatives from the Commonwealth nations. They had to stand perfectly still as the guests filed into the cathedral.
Here is another set of guards inside:
Musicians played traditional music. The Royal Marines provided the brass accompaniment. The Royal Air Force played the closing fanfare introducing the National Anthem, which concluded the service. Everyone sang his/her heart out. I've never heard anything like it:
Former Prime Ministers were in attendance: Sir John Major, Tony Blair, Gordon Brown and David Cameron. Brown and Cameron brought their respective wives, Sarah and Samantha.
Members of the Cabinet, including Defence Secretary Ben Wallace, Foreign Secretary Liz Truss and Home Secretary Priti Patel, attended.
Opposition leaders Sir Keir Starmer and Sir Ed Davey were there, along with Scotland's First Minister Nicola Sturgeon and her husband.
London Mayor Sadiq Khan and his wife also attended.
Prime Minister Boris Johnson got a huge and prolonged cheer when he arrived at the cathedral, accompanied by wife Carrie.
These photos show Boris and Carrie in the main photo. On the top right are the Camerons and on the bottom right are the Blairs, Tony and Cherie:
The only others who got louder cheers were the Sussexes …
… and the Cambridges:
I have read media reports that the Johnsons and the Sussexes were booed. I watched the proceedings on television. What I heard were most definitely cheers for both couples.
A royal expert commenting on the service said that, where the Queen is concerned:
nothing happens by chance.
Therefore, we can conclude that the fact that the Sussexes arrived by private car and got their own mini-procession down the aisle of St Paul's was an instruction from the Queen (see second tweet):
The couple sat near the front, next to Princesses Beatrice and Eugenie, who were with their husbands.
The minor Royals arrived in a large black coach (bus). It took ages for them to file in, as they shook hands with a long line of Anglican clergy, including the Bishop of London, the Right Revd and Right Hon Dame Sarah Mulally, who had a lucrative career prior to entering the priesthood.
The clergy wore elaborate crimson and gold copes which were created for George V's Silver Jubilee service in 1935. Most of them looked as good as new.
Yeoman Warders (Beefeaters) from the Tower of London stood behind them. They were on official duty guarding those inside the cathedral.
You can see both below:
Prince Edward and the Duchess of Wessex brought along their children. I really like Sophie. So does the Queen:
Prince Charles and the Duchess of Cornwall were the last to arrive:
By now, readers might be wondering who the gentleman wearing ermine is.
He is the Lord Mayor of London — the City of London, that is. This is a rotating one-year position and the new Lord Mayor assumes his responsibilities beginning every autumn at the Lord Mayor's Show, a parade in the City, which is the oldest part of London and still serves as the financial district.
The Lord Mayor of London is in charge of the City and, in that district, is second in power only to the Queen. Therefore, Prince Charles is subordinate to him while within those boundaries.
For centuries, until the Great Fire of 1666, that part of London was the capital, outside of Westminster, which was some distance away.
Everyone lived and worked there unless they had responsibilities at the heart of government in Westminster, which was most easily accessed by boat along the Thames.
Everywhere else that is now very much a part of the capital was a rural suburb until a few hundred years ago.
From that, we can better understand the importance of the Lord Mayor of London's historical role.
The Lord Mayor has several swords, now ceremonial, that he uses. However, each sword has its own role. Today's was the sword of state. If the Queen had been in attendance, he would have worn his most important sword.
The Lord Mayor's assistant also carries a sword and wears a mink hat for ceremonial occasions:
You can see him outside the cathedral, hands resting on the sword, just immediately to the left of the main entrance:
Returning to the service, these chairs were for Prince Charles and the Duchess of Cornwall:
Prince William and the Duchess of Cambridge sat right next to them in ordinary chairs:
Here is a view of what the congregation saw — the main altar, the choirmaster and the men and boys choir:
Boris Johnson delivered the New Testament reading, Philippians 4:4-9, which one can imagine that the Queen selected personally, as it truly gave us a message about our present circumstances and the transition of the monarchy. We are to think on higher things — and not worry:
Rejoice in the Lord always; again I will say, Rejoice. Let your gentleness be known to everyone. The Lord is near. Do not worry about anything, but in everything by prayer and supplication with thanksgiving let your requests be made known to God. And the peace of God, which surpasses all understanding, will guard your hearts and your minds in Christ Jesus. Finally, beloved, whatever is true, whatever is honourable, whatever is just, whatever is pure, whatever is pleasing, whatever is commendable, if there is any excellence and if there is anything worthy of praise, think about these things. Keep on doing the things that you have learned and received and heard and seen in me, and the God of peace will be with you.
The Archbishop of York, the Right Revd Stephen Cottrell, gave the sermon, as the Archbishop of Canterbury has coronavirus, along with Prince Andrew.
The Archbishop of York's sermon began with a brief discourse on how seriously the Queen took her Christian duties and ended on a lighter note with references to her favourite pastime, horse racing, particularly apposite as the Derby is on Saturday. Her Majesty is not expected to attend:
Children from the Commonwealth took turns in giving the prayer intercessions.
After the service, guests went to the Guildhall for lunch:
Meanwhile, Britons up and down the land gathered for street parties:
Thankfully, it was another reasonable day in London, dry and partly cloudy.
On Saturday evening, another spectacular concert in the style of those for the Golden and Diamond Jubilees will take place in front of Buckingham Palace.
On Sunday, a celebratory pageant will take place in the same location.
I plan to have more posts next week on the importance of the Queen's 70-year reign as well as the many social and political changes during that time.
Happy New Year!
Happy new decade!
I enjoy, albeit with trepidation at times, looking back at the decades I've lived through and charting the change from beginning to end.
O tempora, o mores!
1960s
In 1960, growing up in the United States, I remember that things were still quite formal. Most people took care in the way they spoke and in their appearance. They were careful to conduct their households in a respectable manner. By the middle of the decade, that began to change but not too noticeably.
By 1968, a social revolution was underway, including sexually. What was once private became public. Attire reflected that. Women began wearing skirts above the knee. Men's clothes became more form-fitting.
Sloppiness and drugs became fashionable with the advent of hippies. Even though they were a small minority, they received a lot of media coverage. A slogan connected with them — 'If it feels good, do it' — began to pervade society at large.
Cinema and television reflected this change.
At home, Americans moved from watching westerns to tuning into a zany comedy hour. In 1960, Gunsmoke was the most viewed programme. In 1969, it was Rowan and Martin's Laugh-In. Gunsmoke had moved to sixth place in the Nielsen ratings.
Film genres and themes also shifted. In 1960, the great epics were popular, with Spartacus the highest grossing film and Exodus coming third. Psycho was second. In 1969, while Butch Cassidy and the Sundance Kid was in the top slot, Midnight Cowboy was at No. 3, Bob & Carol & Ted & Alice was No. 6 and an X-rated movie, I Am Curious (Yellow) was No. 12. It would have been unthinkable in 1960 that an urban drama about homosexuality, a movie about swingers and one that was pornographic would have been so popular nine years later.
1970s
The cultural shift continued in the 1970s. American magazines and newspapers devoted many column inches to social drop-outs experimenting with communal living. Swingers were becoming popular in suburbia. Again, those were two small sub-groups of society, but everyone — even the most respectable — knew about these two phenomena.
Pop music got bolder, more sexualised. I remember in high school that we talked a lot about sex and could hardly wait to start dating so that we could experiment. Our parents wondered what was wrong with us. The idea of sin and the forbidden went out the window. 'If it feels good, do it' had spread to the middle classes. Previously forbidden carnal acts were encouraged as being completely 'natural'. This furthered the evolution of a shame-free society. Today, I read that some teenagers don't kiss on a first date; instead they engage in oral sex.
Interestingly, one of the most suggestive singers of the decade, Eric Carmen of the Raspberries, laments where this has led today:
I remember neighbours of ours getting divorced. The wife said that she could earn her own living now, thank you very much. The husband was heartbroken. We felt sorry for their two children. Until then, my family and I personally did not know any couples who got divorced. It just didn't happen to everyday individuals. However, divorce rates continued to rise and, these days, no one bats an eyelid.
More women started working. What began as a liberating elective would turn out to be a mandatory means of survival in marriage in the years that followed. Few of us knew that then, though.
Returning to music, it was a great decade for youngsters. FM radio produced rather excellent stations devoted to little known genres that never reached Top 40 AM stations. Through them, we discovered prog rock from Britain: Yes, Rick Wakeman, and Emerson, Lake and Palmer, to name but three musical greats. There were many more, too numerous to mention here.
Near the end of the decade we had disco. Saturday Night Fever was a huge box office hit and propelled John Travolta from television (Welcome Back Kotter) to cinema fame.
The most popular television sitcoms, such as Welcome Back Kotter, were all set in metropolitan areas. In terms of television in general, The Waltons was probably the only show with a rural setting.
Halfway through the decade, I spent a year in France, which was much quieter than the US socially and still quite formal, even though the more leftist state university students were generally unkempt and unwashed. In many respects, the country was a bridge between the 1960s and the 1970s in the nicest possible way.
1980s
Leaving university, I recall that many of my friends latched onto the Reagan zeitgeist and became conservatives.
They turned into their parents and lost the fun-loving verve they once had. I stayed single the longest, so was more acutely aware of a shift into respectability and suburban living.
I lived in a major US city then, earning my own way in life. For relaxation, I used to go to matinees at the weekend. The price of admission was cheaper and the cinemas were nearly empty, giving me the impression I had the big screen all to myself.
I saw a lot of world films in the first part of that decade, some from Brazil and Australia but mostly Britain and France. French film became a passion. Even one of the UHF television channels showed French films from the 1950s. Bliss.
As far as music was concerned, my favourite FM station played British and European singles apart from reggae on Sunday afternoons. More bliss.
Then, around 1986, something began to change. Although my favourite radio station stayed the same, the movie theatres weren't showing as many foreign films. Within a couple of years, they stopped showing them altogether. One of my lifelines had vanished, sadly. The American films that replaced them were not very good, either, so I stopped going to the cinema.
Everything became very one-dimensional. America, somehow, had lost the link with the zeitgeist of European culture, which it never recovered. It used to be that people in the 1960s and early 1970s made a two- or three-week trip to western Europe to see the historic sites they learned about in school. It was what we today would call a bucket list item.
Fortunately, by the end of the decade, employment events intervened — and further improved — for me.
1990s
Living in England, I realised that I had an insatiable appetite for history and politics. I learned a lot about both thanks to a gift subscription to The Spectator, which I had read about in English lit class in high school. It's been around since 1828.
In 1990s, my in-laws told me that Margaret Thatcher's time was up. She had become too full of herself. We had high hopes for John Major.
I remember the 1992 election, which Major won handily. I could not understand the rage of my female colleagues who expected Neil Kinnock to win. They stayed up all night drinking, waiting for a Labour government that never came. The next day, at work, they were hungover, tearful — and, above all, angry. Why did they think he stood a chance? Perhaps I had been reading too much of The Spectator, but I had no doubt that Major would continue as Prime Minister.
By 1997, most of us felt change was needed. The Conservative MPs on the front bench seemed like tired, bloated bureaucrats. None of them had an original idea. Most seemed to be lining their own pockets. I was most consterned by Health Secretary Virginia Bottomley, who started closing A&E (Accident and Emergency) services at local hospitals. What was she thinking?
When Tony Blair became Prime Minister in 1997, nearly everyone I knew rejoiced. Change was coming.
And how …
2000s
The first few years of Labour were fine. I was enjoying my work too much to pay any attention.
By 2005, I longed for a Conservative government, especially when Gordon Brown became PM with no general election.
After that, Labour became unbearable, banging on about people's personal lives and habits. The smoking ban came into force in the summer of 2007. Ministers assured us in television interviews that private members clubs and hotels would be exempt. No, not at all. It was a blanket ban everywhere.
It was during this decade that London elected its first mayor, Ken Livingstone. He served two terms and introduced the city-wide congestion charge for motor vehicles, which we called the Kengestion Charge. My colleagues at the time reminded me that, as head of the old GLA (Greater London Authority), he was known as Red Ken.
Boris Johnson succeeded him, also serving two terms. His administration made the streets tidy again and also lowered crime.
By 2006, I started looking more closely at the EU and the unelected bureaucrats in Brussels who seemed to rule our lives. I agreed with those disgruntled Britons who wanted a referendum on our membership.
Most of all, however, I was sick and tired of Labour, to the point of despair.
I also asked my far better half to cancel my gift subscription to the The Spectator, as it had changed its editorial line considerably after Boris Johnson left as editor. Although more people now read it, it is a former shadow of itself. I would not call it neither conservative nor traditional at all any more.
2010s
Hope came in the May 2010 general election.
The Conservatives had to form a coalition government with the Liberal Democrats. It was the David Cameron and Nick Clegg Show, but at least Labour were out of the picture after 13 years.
David Cameron referred to himself as the 'heir to Blair'. It took me some time to see it, but he was not wrong.
He set out to reform the Conservative Party and alienated older, faithful members in their local associations. CCHQ suddenly did not need their help.
On a broader level, Cameron will probably be best remembered for opening up marriage to same-sex couples and for offering us the EU referendum, billed by all parties as a 'once in a lifetime' choice which they all pledged to implement.
A number of televised debates took place in 2016. I watched them all. Some of my friends were less than convinced by the Leave proposition. The one clincher was Brexit The Movie, which is an hour-long eye-opener about the Brussels gravy train and better than any of the debates, no matter how good:
I stayed up until the early hours of the morning of Friday, June 24, 2016 to watch the result. When it was clear that Leave had won, I went to bed. The next day, my far better half and I woke up to Cameron resigning because he did not like the result. We had a celebratory lunch in London and went to a party that evening that had been planned months earlier. I remember the apprehension we both felt about sounding out the other party guests as to their views on the EU. We later discovered that were not alone. Finally, someone there broke the ice upon his arrival by exclaiming:
Is everybody HAPPY? I certainly am!
At that point, we were free to talk about Brexit.
Theresa May became Prime Minister later that summer.
Across the pond, another sea change was happening: Donald Trump's candidacy. It was even more of a shock when he won. A startled nation awoke to find that Hillary Clinton was not their president.
The conflicts about Brexit and Trump continue today. Opponents to both have grown ever more vehement.
On September 20, 2019, the British website Spiked issued a thought-provoking documentary on Trump and Brexit. It's 26-minutes long and well worth watching. To cover Brexit, their reporters interviewed residents of Southend-on-Sea in Essex. To cover the Trump phenomenon, they interviewed Pennsylvania journalist Salena Zito and residents of Erie, which was once a major industrial powerhouse in that state. It has fallen on very hard times, indeed:
The major theme running through both is, as they put it, 'change', which I believe they should have called 'self determination' and 'recovering the aspirational dream'.
One thing that struck me was the interview with the owner of a gym in Erie. He said that his father raised seven children on a janitor's salary:
You couldn't do that now.
Too right. Both parents now have to work — unlike in the 1960s — and few households can support more than two or three children.
People in Britain and the United States want to work and save more of their hard-earned cash. They also want good job opportunities for their children.
A fisherman in Southend said that, because of EU rules, he is restricted to an ever-smaller part of waters in which to fish. The number of fishing boats has continued to decline, he added, and the number of fisherman has also dropped dramatically. That is why he, and many others in Southend, voted Leave in 2016.
The decade closed with Boris Johnson's landslide victory on December 12. Historian David Starkey explores what this means for the nation in this 57-minute documentary from The Sun, ably conducted by a young reporter:
Starkey explores the evolution of Parliament since Victorian times, when it became the institution we know today. As many Northern constituencies flipped from Labour to Conservative, Starkey says that Boris's pledge to revitalise the North will mean little unless he espouses their values of patriotism, which, he says, has been a dirty word for many years.
He says that Boris could well become a figure like Charles II, who restored the monarchy beginning in 1660. Many of their personality traits are similar, he notes, particularly their penchant for bringing a nation together and reforming it at the same time. It is well worth watching when you have the opportunity.
There is much more to Starkey's interview than summarised here. He talks about the people of the North, Labour, Jeremy Corbyn, David Cameron, Tony Blair and, significantly, Benjamin Disraeli. Starkey hopes that the PM will study his Victorian predecessor's successes closely.
With that, I must close for now. There are many developments over the past 60 years that I have not mentioned. This is merely to give an idea about the direction that Western society took as the decades rolled on.
Welcome to 2020. Let's hope it brings many good tidings. I wish all of us the very best.
Today, British Prime Minister Gordon Brown packed his bags. Late this afternoon London's Evening Standard reported:
The Labour leader's final desperate attempt to cling on to power with a Lib-Lab deal crumbled amid a rebellion on his own side and policy disagreements with Liberal Democrat leader Nick Clegg.
This afternoon he retreated to No 10 to discuss his situation with senior ministers, friends and wife Sarah.
Mr Brown had planned to stay in power until the summer if the deal had worked, earning himself a place in history as the man who won a historic fourth term for Labour.
However, Labour MPs and ministers reacted with anger to the attempted deal, saying they would prefer to be in opposition than in government with the Lib-Dems.
A friend of the Prime Minister said: "The deal with Clegg was just not do-able."
Talks with Mr Clegg's team took place this morning but lasted less than two hours. Mr Clegg then reopened talks with the Conservatives, amid speculation that a Lib-Con deal was imminent.
Yet, yesterday, Labour tried to spin their 'victory' on Rupert Murdoch's Sky News.  (They also spun on the BBC, but that's a given, bearing in mind their obvious partiality towards Labour.  It's a pity the British are legally bound to pay a licence fee for such a service.)  Labour insiders used Alinsky's Rules for Radicals against Sky's political editor Adam Boulton twice in the space of a few hours: 'Pick a target and polarise it'. 
Former Labour spin doctor Alastair Campbell pushed Mr Boulton's buttons around dinnertime:
Later that evening Exeter MP (Member of Parliament) Ben Bradshaw managed the same and spun exquisitely, practically denying that the Tories clearly have the most seats (306 to Labour's 258 to the LibDems' 57):
A fair number of the British public are taken in by politicians and pundits promoting this line which, along with the push for voting reform, came out of nowhere to gain remarkable currency in the past few days.
A number of leftist activists are trying to create a big lie by saying that Sky News is the British equivalent of Fox News.  Other than the fact that they have the same proprietor, nothing could be further from the truth.  Sky's reporters and commentators, including Mr Boulton, were not exactly on Mr Cameron's side in the run-up to the election, although they did give him more coverage than the BBC did.  By 'more', I mean equal to that given to Messrs Brown and Clegg. 
The left would do well to remember that Mr Boulton was particularly fawning in his admiration of President Obama and presented a well-publicised report of his first 100 days in office last year.  They might also keep in mind that Mr Boulton is married to a former Labour public relations adviser Anji Hunter, who was prominent in Tony Blair's government.  
Have the scales finally dropped from Mr Boulton's eyes?  It would be nice to think so.  In any event, many appreciate his speaking out on behalf of the British public.  It's time someone in television media did.
The lesson here is that we must scrutinise — yes, discern — what our leaders and media are telling us.  Regular readers will know that my suggestion is for every household to have someone who is capable of reading and viewing a variety of news output from the political spectrum and filter it to their families through a prism of truth.   
A second and perhaps more important lesson is the following: David Cameron moved into No. 10 Downing Street because he played with a straight bat.  He kept his own counsel, followed the rules and did the right thing.  May Providence continue to guide him in the weeks and months ahead.
I leave you with this Fox News video of his first speech as Prime Minister:
May right-thinking people now appropriate the term 'progressive alliance'?
Okay, so this is a bit late but the topic will be playing in polls and punditry this weekend.  The UK's political party leaders debated for the first time ever on live television.  (I hope The Spectator and the Conservative Party don't mind my borrowing their graphic.)
This idea was originally mooted back in 1964.  The Independent says that party leaders generally believed televised debates to be too risky. Even so, having watched them in the US, they always seemed like a great idea for the UK.  Finally, my wish came true on Thursday, April 15, 2010 on ITV1.  Newsreader Alastair Stewart moderated the first debate in Manchester featuring Gordon Brown (Labour), David Cameron (Conservatives) and Nick Clegg (Liberal Democrats).  DigitalSpy says that 10.3m people in Britain watched this historic event.
I spent a fair amount of time today reading and digesting online commentary about the debate.  All significant polls showed that Nick Clegg performed the best.  Most polls showed David Cameron finishing over Gordon Brown. (That said, I see throughout the day that some polls which were thought to have been finalised have since changed, showing Cameron coming last in the debate.  Please be alert to psy-ops.  Very few in the media want a Tory win.)  Three comments here: firstly, Nick Clegg's party have no recent history in power — they have not won an election for a century (Liberal Party);  secondly, David Cameron has to be careful how he presents himself with the left-wing media bias;  thirdly, Gordon Brown just isn't very telegenic and really shouldn't smile.
What did the expert political bloggers think? 
– The Spectator's Coffee House blogger Peter Hoskin writes in 'So what's changed?': 'Nick Clegg may now be recognised by more that one-third of the nation.  His party will probably come under greater scrutiny from the media and his opponents.  And the leaders' debate is here to stay; a defining feature of this election which will become a standard feature of future contests.'    
– In 'Does this make a hung Parliament LESS likely?' Mike Smithson for PoliticalBetting.com says: '… a resurgent Lib Dem party could seriously hurt Labour, in its effort to stop the Tories in LAB-CON marginals. For in these seats Labour have been looking to Lib Dem tactical voters to help them hang on. On top of that there is the real danger that yellow tactical voters at previous elections might return to the allegiance further eating into the Labour vote.' 
– Tim Montgomerie in conservativehome's Tory Diary 'Live blog of the ITV Leaders' debate' concludes: 'My verdict: No gaffes. Clegg used his time in the sun well. Brown survived. Cameron best on immigration, cancer but wasn't hard enough v Brown. But, overall, unlikely to be a gamechanger.'
– Iain Dale in 'My Verdict on the Leaders' Debate' writes: 'But the thing that won it for Nick Clegg was the way he interacted with the viewer – not the audience, the viewer. He spent most of his time looking directly into the camera. He also did well to address the questioner directly, as did David Cameron. He also smiled more than the other two and you can get away with a lot on TV just by dint of a smile. David Cameron needed to smile more. Gordon Brown just shouldn't ever smile because it always looks false.'
For a good overview of what Britons think about the debate and main parties' policies, see ITV1's Twitter feed from the debate and DigitalSpy's forum thread, both done during the broadcast. 
If you missed the debate and want to read summaries of what was said by whom when, check out Peter Hoskin's 'Leaders' debate – live blog', conservativehome's Tory Diary 'Live blog of the ITV Leaders' debate' and Iain Dale's 'Leaders' Debate Open Thread/Live Blog'.  Each has readers' comments following the post.
Remember that the next debate will be on SkyNews next Thursday (repeated on BBC2, I believe, at 11:30) and the final one will be on Thursday, April 29 on BBC1.
Not everyone will watch all three.  Some may pick up impressions from the first that will translate into votes on May 6.  Others may have a different opinion, depending on whether they watch one or both of the other two debates.  It's interesting to read from ITV1's Twitter feed and the DigitalSpy thread just what people think and how easily a debate can help shape their voting intentions. 
As always, read a summary of the party platforms and think about them carefully.  The decision you make on polling day will be one you have to live with for the next five years.  Unless it's a hung Parliament, in which case expect a Labour leader change (my guess is David Milliband) and another election later this year. 
If  you're disenchanted with the Tories and want to vote UKIP, please think twice.  To me, they're a spoiler party.  We saw what happened in the US when Ralph Nader siphoned votes from those leaning towards Al Gore in 2000.  That's how America got George W Bush elected, albeit by the slimmest (and most controversial) of margins.
This is not the election in which to take chances.  If this were a French election, with two ballots a week apart, sure, I'd advise voting the way you want in the first ballot and voting for the party you can live with in the second.  But, this isn't France, this is Britain's first past the post system we're talking about. 
And to find out everything you always (or never) wanted to know about Nick Clegg, see his life story as told to the Daily Mail last year.  If you're thinking think about voting Lib Dem, please read it.  Not all that glisters is gold.