You are currently browsing the tag archive for the 'government' tag.
Many GB News viewers will have been deeply disappointed that Mark Steyn has left GB News over the channel's alleged attempts to make him liable for any Ofcom fines resulting from his show for talking about coronavirus vaccines.
Yesterday's post discusses that and has a variety of Mark's output for the channel, with plenty on people who suffered adverse effects from said vaccines.
Today's post continues with more content from his excellent show.
Don't mention the vaccines (continued)
I covered a lot of Steyn's segments on the coronavirus vaccines yesterday.
Here are others I had bookmarked.
On June 16, 2022, Steyn rightly took issue with a Scottish Parliament member who sent a derisory tweet about people posing questions about the vaccines. Apparently, John Mason MSP has form:
Steyn was committed to covering the coronavirus vaccine issue because no other channel was. He discussed this with Dan Wootton on July 4:
In this clip from the same interview, he says that he isn't going anywhere because he enjoys the editorial freedom that GB News allows its presenters:
It's a shame that the channel seems to be changing tack. It would be disappointing indeed if its other presenters were muzzled accordingly. That said, Dan Wootton was the only other presenter to talk about the pandemic on a regular basis, and I haven't heard him do that for several months now.
On July 13, Steyn had a remarkable show about Britons who were either victims of the vaccine or whose relatives died from it. It was one of the best programmes I've seen in some time:
Here is the full hour-long video:
Highlights follow.
At the time, the British government was only just starting to pay out to vaccine victims. The Government only give £120,000 lump sum if the vaccine is the cause of death on the coroner's report or if a living person has been 60% disabled as a result. A Conservative MP, Sir Christopher Chope, was given an adjournment debate on the matter, because payouts were painfully slow.
It was a shame that the House of Commons benches were nearly empty when he spoke. Then again, nearly all MPs think the vaccines have been a godsend. This is why the Government have been suppressing any opposing views and monitoring prominent social media accounts, as Big Brother Watch uncovered last week. Accordingly, Ofcom are all over this on the airwaves, hence GB News's skittishness over broadcasting such stories, as Mark Steyn had been doing so fearlessly.
Mark began by celebrating the first person to receive Government compensation:
That person is Vikki Spit, whose fiancé died from the vaccine. They were a rock'n'roll duo who loved each other deeply:
The mother and wife of NHS doctor Stephen Wright mourned on air:
GB News presenter Neil 'the Coast guy' Oliver joined Mark. He's sitting on the right in the video:
Michelle Dewberry, whose weeknight show is on at 6 p.m., also joined Mark:
Dan Wootton, who was also interested in every aspect of the pandemic debacle at the time, thanked him on his show, which followed at 9 p.m.:
As the response to this tweet indicates, only GB News was covering this topic:
Now they have pretty much stopped, falling into line with every other news outlet.
As you can see in the following video, the victims were young — thirty-somethings:
On July 27, Professor Richard Ennos joined Mark to discuss the excess deaths from the beginning of the pandemic to the present. He said that the early deaths were comprised of elderly people. Increasingly, the age cohort has been decreasing to include much younger Britons:
On August 8, Steyn interviewed Alex Antic, Senator for South Australia, about the commonality of Western countries to link politics with science. So many nations did the same thing at the same time. No one is allowed to ask questions about pandemic policies:
On Tuesday, August 16, Mark welcomed Dr Aseem Malhotra to the show. Dr Malhotra, a cardiologist, was a big supporter of coronavirus vaccines in the beginning but changed his mind. Later in the year, his healthy father, a physician in his 70s, took the vaccine and died.
You can find the video at this GB News link. The accompanying article says, in part (emphases mine):
A leading consultant cardiologist who was one of the first people in the UK to take two doses of the Covid-19 vaccine and promote them on television has called for an end to all remaining vaccine mandates.
Dr Aseem Malhotra has written an open letter to Prime Minister Boris Johnson and US President Joe Biden calling for the immediate release of the raw data from Pfizer's original Covid-19 vaccine trial.
Speaking exclusively to GB News' Mark Steyn show, Dr Malhotra said: "When the vaccines were first released we were told they were 95% effective against infection.
"This is not true. This is based on relative risk reduction. In absolute terms, they provided 0.84 percent protection which means only one in 119 people would be protected from infection.
"This statistic was the pretence under which vaccine mandates were implemented.
"The latest data reveals that once infected there is no significant difference in transmission rates between the vaccinated and unvaccinated, which makes any scientific case for mandates illegitimate.
"As newer and thankfully, less lethal, mutated strains became dominant, any protection against infection at the very least became less effective and likely completely ineffective, even if there is some significant (as yet to be fully determined in absolute individual terms) protection against serious illness and death" …
Dr Malhotra also wrote: "Rather than encourage transparent debate about the true benefits and potential harms of the Covid vaccine as new evidence emerges, those that encourage more critical thinking and adding to the database of relevant knowledge are smeared."
This comes in light of investigative journalist Paul Thacker's investigation into Pfizer's trial data published in the British Medical Journal (BMJ) last year being branded "false information" by independent fact-checkers …
Dr Malhotra argues "global vaccine mandates for Covid-19 must stop until we have the full data on efficacy of all available vaccines."
Writing in praise of Dr Malhotra's findings, Dr Amir Hannan said "[Dr Malhotra] raises some important questions about the validity of the assertions made, asking for all data to be made available so that an in depth analysis can be developed and proper conclusions identified to help restore trust in doctors, the pharmaceutical industry, the research community, the regulatory bodies, the press and governments."
Dr Malhotra's letter has been published in the European Scientist.
Pfizer/BioNTech have been contacted for comment.
On September 2, Dr Matthew Sweet, who appears on the BBC, took issue with Steyn and proved to be a thorn in his side. Steyn mentioned him frequently in the autumn:
On October 4, feminist author Naomi Wolf, who received her doctorate from Oxford University, appeared on Steyn's show to say that she had been pointing out menstrual abnormalities from the vaccine since 2020:
On October 11, Mark interviewed Robert Roos MEP, Vice-Chair of the European Conservatives and Reformists group, one of the MEPs who questioned Pfizer directors about their vaccine. One of the directors intimated that they had no real data to say that the vaccines would stop transmission of the virus. Roos wants to know more, because in some EU countries, unvaccinated people could not go to the supermarket and people lost their jobs because the vaccine was mandated. Overall, the social cost was too great for an ineffective jab:
On Monday, February 6, 2023, Robert Roos voiced his concerns in the European Parliament, stating that, for the most part, parliamentary questions about the effect of pandemic measures on EU citizens were not posed, either in Brussels or in individual member countries' parliaments:
On October 29, 2022, The Conservative Woman's Kathy Gyngell, who was no stranger to the Steyn show, called our attention to his October 27 show, beginning at the 35-minute mark:
She went so far as to include a transcript, which can be found here.
The segment Kathy Gyngell points to is an interview with Mark Sharman, who, during his career, headed the News and Sport division at ITV as well as being the Director of News at Sky.
Sharman made a documentary about the vaccines, Safe and Effective: A Second Opinion. He posted it on YouTube.
Steyn said:
And so Mr Sharman's documentary has just been taken down at YouTube for the following reasons. Big exclamation – 'Medical Misinformation. YouTube doesn't allow claims about Covid-19 vaccinations that contradict expert consensus from local health authorities or the World Health Organisation.' Ooh! No contradicting the World Health Organisation. Mark Sharman joins me now. Mark, as I said, you've been in British broadcasting for a very long time. Have you ever just had a piece of work, such as your documentary, just – boom! – vaporise in the way that YouTube just did it to you?
Sharman replied:
MARK SHARMAN: No, not at all. Mark, I'm not surprised that it's been cut, but as an old-school journalist who believes in reporting both sides of a story, I'm dismayed about what's happening. You know, we are being controlled. The narrative on many, many things is being controlled, and the evidence is growing. I mean, the governments, the Big Pharma companies, Big Tech media companies, they've all decided what the line is and they're sticking to that line come what may. And as you showed earlier in the programme, there are more and more pieces of research from around the world which proves there is something seriously wrong with these vaccines, they're clearly not totally safe and effective. They're clearly not safe, and that don't appear to be effective. And all we're asking for, Mark, is some proper open scientific debate. You know, if there's something wrong, it should be looked at and stopped before more people are hurt …
Sharman echoed other findings exposed on Steyn's show:
You know, there have been 25,000 excess deaths in this country since April. Across Europe, the death rates, excess death rates, are running at 16 per cent higher than usual. And strangely, they're higher in the countries that have been most vaccinated. The authorities come up with all kinds of reasons, including lockdown and the heatwave and changing your bed or whatever. But they won't put the vaccine injury on the list. Now, any investigator worth his salt is going to look at every suspect, if only to rule them out. And there is absolutely no excuse whatsoever to not put vaccine injury on that list. And as I said before, I'm not on one side or the other, I would just love to see a proper open debate where somebody can look at what is happening to these vaccine-injured and deaths around the world. You know, there are other questions as well about the whole reproductive system, but that's another matter. But again, reports are coming in that should be causing concern to the authorities, but they resolutely won't listen, and won't debate it, and cut scientists off and have cut our film off. By the way, it was just about to hit a million views on YouTube alone. And it's interesting that it's been three weeks and not been touched.
More at the link.
On February 6, 2023, The Conservative Woman posted a brief notice about the demise of the Mark Steyn Show. They, too, found the news on Guido Fawkes, as had I:
This is more than 'a shame because he beat Piers Morgan', as Guido puts it. It is a terrible loss for us all and not just all at TCW, but for the country. It is a tragedy for free speech that his style of fearless, moral and uncompromising broadcasting has been brought to an abrupt end. For a year he threw light on dark, he ridiculed the shameless, for a year he raised our hopes that sanity, reason and truth might prevail. Now he is gone and it is shocking and sad. That is how we feel at TCW.
Hundreds of comments followed their post, nearly all of which lamented Steyn's departure.
Professor Norman Fenton was also very sorry to learn that one of GB News's best hosts had left:
However, there might be hope. Bev Turner, who hosts the channel's weekday mid-morning show, is also concerned about coronavirus vaccine safety.
On Monday, February 6, she interviewed a lady from UsForThem, which campaigns for the right of children not to have a vaccine mandate. Molly Kingsley says that the group has won a claim against Pfizer on marketing the vaccine without presenting the risks involved:
Grooming gangs
Another no-go area where only Steyn ventured in depth involved grooming gangs, which have been operating around England for decades.
Samantha Smith, a grooming gang victim who blossomed into an articulate young woman, lives in Telford, Shropshire. She appeared often on Steyn during the summer, then she got a visit from the police on July 6:
Although other channels might say that grooming gangs are in the past — e.g. Oldham, Rotherham — they are still taking advantage of young girls:
On July 11, she returned to London to speak with Mark about her ordeal with the police. The first tweet has an accompanying article:
Here is the full video:
Would that the police had been so interested when she was undergoing sexual abuse from local predators.
In July, the Conservative Party race to replace Boris as leader was in full flow. On July 13, Samantha tweeted that over 1,000 girls have been sexually abused and exploited in Telford alone — a more urgent matter:
On August 10, The Mail+ gave her a voice in a first-person article about her years of abuse:
An excerpt follows:
For years, between the ages of five and 14, I was abused by successive men who left a devastating legacy.
As my life fell apart, I found myself homeless by the age of 16, and there were many nights when I would lie there — racked by visceral self-loathing — wishing I would simply disappear.
How could I not hate myself?
Of course, I had tried to seek help. I eventually reported my abuse and was interviewed by a police child sexual exploitation team. But they did absolutely nothing to bring my abusers to justice.
In fact, I was made to feel unworthy of help or support, as though the abuse I experienced was my fault. My social workers even spelled it out. 'Your behaviour and actions have led you to where you are today,' they told me.
Isolated as I was, I had no idea that I was not alone, but one of more than a thousand children in Telford who had been sexually exploited over decades while the police and youth workers whose job it is to protect us not only failed to act but all too often blamed us as the architects of our own trauma.
Indeed, that's not just my opinion, but the conclusive judgment of a devastating independent report issued last month following an extensive three-year inquiry into sexual exploitation and abuse in my home town stretching back to the seventies.
The authors' verdict could not have been more damning, concluding that generations of children had been subjected to unnecessary suffering because of the abject failures of West Mercia Police, their wilful neglect damning children to years of unnecessary suffering and cruelty.
In some cases, like that of 16-year-old Lucy Lowe, victims were murdered by their abusers.
Echoing conclusions drawn by investigations into similar scandals in Rotherham, Rochdale and Oxford, the report laid bare the scale of systemic failures, highlighting how many perpetrators — predominantly Asian men — were not investigated because of nervousness about appearing racist.
Meanwhile the largely working-class white victims were treated as no-hope cases who were destined to fall into a life of crime, branded 'troublemakers' or even 'child prostitutes' by police. Teachers and social workers were found to have been actively dissuaded from reporting abuse, while offenders were 'emboldened' as police efforts to stop them were scaled down 'to virtual zero'.
It is little wonder the report has been greeted with widespread fury and disgust. My reaction was one of bittersweet vindication — and an anger that reduced me to tears.
Much of the inquiry focused on gang-related cases but many — as I experienced — were perpetrated by individual men.
And while my case was not one of those featured in the report, I am one of hundreds of victims of child sexual abuse and grooming in Telford whose suffering was brushed under the carpet as part of a deeply engrained cover-up culture.
Even now, it is hard to confront the scale of abuse in the leafy Shropshire town I once called home which — on the outside at least — is a world away from the former mining communities that have more commonly been associated with child sexual abuse scandals.
Statistics do not lie, however: while incidents of child sexual abuse number 7.9 per 10,000 nationwide, in Telford that figure jumps to 16.4.
Samantha also appeared on Steyn's October 27 show, just before the aforementioned documentary maker Mark Sharman appeared.
Sharman praised her eloquence when talking to Steyn:
You know, if there's something wrong, it should be looked at and stopped before more people are hurt. And interesting listening to Samantha talk previously – and by the way, what a wonderful spokesperson she is for victims of sexual abuse – but there are real parallels there. You know, the vaccine injured and the public in general don't seem to be as important as the authorities. They'd rather protect their own line and their own story than look at what's going on. You know, it just isn't right.
No, it isn't right.
Kudos to Mark Steyn for discussing this regularly. Until I saw Samantha, I had no idea that this had even been going on in Telford!
More to come
Steyn also had regular segments on other topics, which I shall cover on Friday.
Stay tuned …
This week, Big Brother Watch's Ministry of Truth exposé states how UK Government agencies tracked social media accounts of certain well-known Britons during the coronavirus pandemic to monitor opinions.
One of the Twitter accounts involved belongs to a publican who had not yet begun appearing on television.
2020: online dissent, abuses of power

Before going into that story, here are bookmarks I had filed under 'Ministry of Truth'. It would seem that the name relates to a Twitter account which has since been renamed. This person has nothing to do with the aforementioned exposé, but the tweets reflect what was already on people's minds.
Interestingly, all of these relate to the pandemic.
Looking back to April 2020, three weeks after the UK locked down, people were already discussing the egregious nature of lockdown and suspicion about any vaccine.
This is an informal poll asking what percentage of global deaths justifies a lockdown:
Nearly 80% of people did not wish to take a coronavirus vaccine, should one be developed:
By April 13, police were already entering people's properties. In this case, there was no party going on, but the abuse of power was shocking:
The video went viral:
On April 24, 2020, Tony Blair's Institute for Global Change suggested that state surveillance was 'a price worth paying' to stop coronavirus. Shocking:
By the end of April, we discovered that the WHO had coined the expression 'New Normal' on June 7, 2019:
In June 2020, despite lockdown in force, protests took place. In London, Metropolitan Police officers ran away from protesters after being pelted with objects:
2023: Ministry of Truth
On Saturday, January 28, 2023, Big Brother Watch sent an advance copy of their report to the Mail, which reported (emphases mine):
A shadowy Army unit secretly spied on British citizens who criticised the Government's Covid lockdown policies, The Mail on Sunday can reveal.
Military operatives in the UK's 'information warfare' brigade were part of a sinister operation that targeted politicians and high-profile journalists who raised doubts about the official pandemic response.
They compiled dossiers on public figures such as ex-Minister David Davis, who questioned the modelling behind alarming death toll predictions, as well as journalists such as Peter Hitchens and Toby Young. Their dissenting views were then reported back to No 10.
Documents obtained by the civil liberties group Big Brother Watch, and shared exclusively with this newspaper, exposed the work of Government cells such as the Counter Disinformation Unit, based in the Department for Digital, Culture, Media and Sport, and the Rapid Response Unit in the Cabinet Office.
But the most secretive is the MoD's 77th Brigade, which deploys 'non-lethal engagement and legitimate non-military levers as a means to adapt behaviours of adversaries'.
According to a whistleblower who worked for the brigade during the lockdowns, the unit strayed far beyond its remit of targeting foreign powers. 
They said that British citizens' social media accounts were scrutinised – a sinister activity that the Ministry of Defence, in public, repeatedly denied doing.
Papers show the outfits were tasked with countering 'disinformation' and 'harmful narratives… from purported experts', with civil servants and artificial intelligence deployed to 'scrape' social media for keywords such as 'ventilators' that would have been of interest.
The information was then used to orchestrate Government responses to criticisms of policies such as the stay-at-home order, when police were given power to issue fines and break up gatherings. 
It also allowed Ministers to push social media platforms to remove posts and promote Government-approved lines.
The Army whistleblower said: 'It is quite obvious that our activities resulted in the monitoring of the UK population… monitoring the social media posts of ordinary, scared people. These posts did not contain information that was untrue or co-ordinated – it was simply fear.'
Last night, former Cabinet Minister Mr Davis, a member of the Privy Council, said: 'It's outrageous that people questioning the Government's policies were subject to covert surveillance' – and questioned the waste of public money.
Mail on Sunday journalist Mr Hitchens was monitored after sharing an article, based on leaked NHS papers, which claimed data used to publicly justify lockdown was incomplete. An internal Rapid Response Unit email said Mr Hitchens wanted to 'further [an] anti-lockdown agenda and influence the Commons vote'. 
Writing today, Mr Hitchens questions if he was 'shadow-banned' over his criticisms, with his views effectively censored by being downgraded in search results. 
He says: 'The most astonishing thing about the great Covid panic was how many attacks the state managed to make on basic freedoms without anyone much even caring, let alone protesting. 
Now is the time to demand a full and powerful investigation into the dark material Big Brother Watch has bravely uncovered.'
The whistleblower from 77 Brigade, which uses both regular and reserve troops, said: 'I developed the impression the Government were more interested in protecting the success of their policies than uncovering any potential foreign interference, and I regret that I was a part of it. Frankly, the work I was doing should never have happened.'
The source also suggested that the Government was so focused on monitoring critics it may have missed genuine Chinese-led prolockdown campaigns.
Silkie Carlo, of Big Brother Watch, said: 'This is an alarming case of mission creep, where public money and military power have been misused to monitor academics, journalists, campaigners and MPs who criticised the Government, particularly during the pandemic.
'The fact that this political monitoring happened under the guise of 'countering misinformation' highlights how, without serious safeguards, the concept of 'wrong information' is open to abuse and has become a blank cheque the Government uses in an attempt to control narratives online.
'Contrary to their stated aims, these Government truth units are secretive and harmful to our democracy. The Counter Disinformation Unit should be suspended immediately and subject to a full investigation.'
A Downing Street source last night said the units had scaled back their work significantly since the end of the lockdowns.
The Mail's article also has the 77th Brigade member's full disclosure as well as Peter Hitchens's first-hand experience from that time.
It is ironic that a Conservative MP, Tobias Ellwood, is part of the 77th Brigade, which monitored another Conservative MP, David Davis:
Toby Young, also monitored, featured the Mail's articles on his website in 'The 77th Brigade Spied on Lockdown Sceptics, Including Me'.
He pointed us to a Twitter thread from Dr Jay Bhattacharya, one of the signatories of the Great Barrington Declaration, which the Establishment panned worldwide:
On Sunday, January 29, Spiked had a tongue-in-cheek title to their article on the exposé, 'Warning: sharing a spiked article could get you in trouble with the government':
Today, a report by Big Brother Watch has revealed the alarming lengths the UK government went to in order to hush up its critics. We now know that three government bodies, including a shady Ministry of Defence unit tasked with fighting 'information warfare', surveilled and monitored UK citizens, public figures and media outlets who criticised the lockdown – and spiked was caught up in that net.
This mini Ministry of Truth was composed of the Rapid Response Unit (RRU) in the Cabinet Office, the Counter Disinformation Unit (CDU) in the Department for Culture, Media and Sport and the army's 77th Brigade. The 77th Brigade exists to monitor and counter so-called disinformation being spread by adversarial foreign powers. But, as a whistleblower from the unit told Big Brother Watch, 'the banner of disinformation was a guise under which the British military was being deployed to monitor and flag our own concerned citizens'. The other bodies worked together to monitor 'harmful narratives online' and to push back on them, by promoting government lines in the press and by flagging posts to social-media companies in order to have them removed.
The public figures targeted by these shadowy units included Conservative MP David Davis, Lockdown Sceptics founder Toby Young, talkRADIO's Julia Hartley-Brewer and Mail on Sunday columnist Peter Hitchens. All of whom had warned about the consequences of lockdown and had raised questions about the UK government's alarmist modelling of the virus.
Documents obtained by Big Brother Watch, using subject-access requests, reveal that Peter Hitchens was flagged for, among other things, sharing a spiked article. A cross-Whitehall disinformation report from the RRU in June 2020 notes that, 'The spiked article was shared on Twitter by Peter Hitchens, which led to renewed engagement on that specific platform'. The RRU also monitored the level of public agreement, noting that 'some highly engaged comments' agreed with the article, while others were critical …
We desperately need a reckoning with lockdown, and with the lockdown on dissent that accompanied it.
Big Brother Watch announced their report with a summary of highlights, 'Inside Whitehall's Ministry of Truth — How secretive "anti-information" teams conducted mass political monitoring'.
Read that if you do not have time to peruse their full report.
Guido Fawkes also summarised the report on Monday, January 30:
Millions of pounds of taxpayer's money went into this egregious surveillance. Imagine inadvertently paying to have yourself monitored by the state:
Unbelievable.
Will anything come of this? I certainly hope so, but I doubt it.
On Thursday, February 2, David Davis asked about Peter Hitchens during Cabinet Office questions:
David Davis: In 2020 we have evidence that the Cabinet Office monitored the journalist Peter Hitchens' social media posts in relation to the pandemic. In an internal email the Cabinet Office accused him of pursuing an anti-lockdown agenda. He then appears to have been shadow- banned on social media. Will the Minister confirm that his Department did nothing to interfere with Hitchens' communications, either through discussion with social media platforms or by any other mechanism? If he cannot confirm that today, will he write to me immediately in the future to do so? (903428)
Mr Speaker: Who wants that one?
Jeremy Quin (Cabinet Office Minister): It is a pleasure to take it, Mr Speaker. I thank my right hon. Friend for his question. He referred to the rapid response unit; what it was doing during the course of the pandemic was entirely sensible—trawling the whole of what is available publicly on social media to make certain we as the Government could identify areas of concern particularly regarding disinformation so that correct information could be placed into the public domain to reassure the public. I think that was an entirely reasonable and appropriate thing to do. I do not know about the specifics that my right hon. Friend asks about; I would rather not answer at the Dispatch Box, but my right hon. Friend has asked me to write to him and I certainly will.
They have an answer for everything.
Let no one think that Labour would have done anything differently. Labour fully supported the Government on everything coronavirus-related and said they would have gone further.
Thursday, November 17 is a historic day, because the UK will be seeing a return to high taxes, this under a 'Conservative' government.
I'm writing this before Chancellor Jeremy Hunt gives his budget, or 'statement', but Guido Fawkes has a preview, which includes this:
Cutting capital gains tax allowance from £12,300 to £6,000;
Raising dividend tax rate across all three bands and cutting tax-free allowance to £1,000.
Shocking.
On the other hand, we have this:
Raising benefits in line with inflation;
Protecting the triple lock on pensions.
Liz: 'No new taxes'
Let us cast our minds back to Liz Truss, who did not want to penalise ordinary Britons:
Clearly, she was the wrong person for Prime Minister.
Since Rishi became PM, I have read very little criticism of him in the media, recalling that, for whatever reason, they all wanted him in No. 10.
And, now that he is in No. 10, everything has been rolled back to a very Establishment Government, including the Treasury. There is no criticism of Jeremy Hunt, either, even though his budget will have a deleterious impact on Britain's middle class.
Rishi's Cabinet is more of the same old, same old, as I wrote yesterday. The media don't criticise him for it, either.
Liz's refreshing Cabinet
Liz made some splendid Cabinet appointments, some of which I covered yesterday.
Two others included Jacob Rees-Mogg as Business, Energy and Industrial Strategy Secretary and Simon Clarke as Levelling Up Secretary.
Out were Boris's chaps, including Steve Barclay …
… Grant Shapps …
… and Dominic Raab, whose departure was also warmly welcomed. Note the warning in the reply tweet:
Interestingly, she kept Kit Malthouse, transferring him from Policing to Education. I, too, would have preferred Kemi Badenoch in that post:
Liz gave Tom Tugendhat, one of the summer's Conservative Party leadership candidates, his first Cabinet role, one which he holds on to today under Rishi Sunak — that of Security Minister.
The Times noted that there was no longer a Minister for Women in Cabinet, which is a good thing. This is a hangover from Tony Blair's time:
Liz Truss will not have a cabinet-level minister for women, having handed the equalities brief to a man.
Truss was minister for women and equalities in conjunction with her role as foreign secretary before she became prime minister on Tuesday.
The ministerial post, which Truss had held since February 2020, means taking charge of the government equalities office (GEO), which was created in 2007. This oversees government policy on women, sexual orientation, transgender rights and related issues.
Truss has appointed Nadhim Zahawi, the new chancellor of the Duchy of Lancaster, to succeed her in the position. Because he is a man, it was decided his title would be minister for equalities. But No 10 confirmed yesterday that his job was the same as when Truss held it …
The title of minister for women was created by Tony Blair in 1997, before the GEO was set up …
With regard to education and diversity, Liz's Cabinet was a testament to opportunity in the United Kingdom.
On Thursday, September 8, The Times told us that she had the most privately-educated Cabinet since John Major's time (1990-1997):
The new prime minister's cabinet are more than nine times more likely to have gone to an independent school than the general population, according to analysis by the Sutton Trust, a social mobility charity.
It found that 68 per cent of the cabinet were educated at fee-charging schools, while 19 per cent went to a comprehensive and 10 per cent attended a grammar school. This compares with around 7 per cent of the wider population.
Under Boris Johnson's first cabinet, 64 per cent of members were alumni of private schools and the proportion is more than twice that of Theresa May's 2016 cabinet, of which 30 per cent were privately educated.
David Cameron — who like Johnson attended Eton — appointed 50 per cent alumni of private schools in his first cabinet and for the 2010 coalition cabinet the proportion was 62 per cent …
The article noted that Liz herself attended a private secondary school:
Roundhay School in Leeds. She was criticised during her leadership campaign for suggesting the outstanding school, in an affluent suburb, had low expectations and a lack of opportunity.
Margaret Thatcher and John Major had higher percentages of privately educated Cabinet members:
John Major (71 per cent in 1992) and Margaret Thatcher (91 per cent in 1979).
The Sutton Trust disapproved of Liz having such a high proportion of privately educated Cabinet members, but, considering how diverse everyone was, it was a positive optic.
Thankfully, on Sunday, September 11, The Sunday Times pointed out 'Cabinet heavyweights crown the success of post-colonial African migrants'. Why hadn't the Sutton Trust done a press release on that?
The article said:
The sound of glass ceilings cracking could be heard all over Whitehall last week, as Liz Truss announced her first cabinet. With the elevation of Kwasi Kwarteng to chancellor of the exchequer, Suella Braverman to home secretary, James Cleverly to foreign secretary and Kemi Badenoch to trade secretary, Truss's cabinet represents the most diverse ruling cadre ever appointed in Britain. At least when it comes to ethnicity.
The arrival of these individuals into the great offices of the British state also represents the culmination of an extraordinary and underplayed success story: post-colonial African migration into the UK. All four are children of parents who arrived in the waves of late 20th century migration that followed the retreat of the British empire.
Kwarteng's parents came from Ghana in the 1960s. Although Braverman's parents are of Indian ethnicity, they lived in Kenya and Mauritius before emigrating to the United Kingdom in the 1960s. Cleverly's mother emigrated from Sierra Leone in that decade. Badenoch's parents both come from Lagos, Nigeria. Although Badenoch is British, she spent much of her childhood there.
Furthermore, previous Cabinet members at the time also had parents who emigrated from Africa:
Two recently departed cabinet heavyweights, Priti Patel and Rishi Sunak, also have parents who migrated to Britain from east Africa: Uganda in Patel's case, Kenya and Tanzania in Sunak's. Each individual story is different of course, and all faced a variety of economic and social hurdles to success in Britain. But taken together, they reflect a journey from post-imperial Africa to the very heart of the British establishment, over the course of just two generations.
And, they are all Conservatives!
Jimi Famurewa, food critic for the Evening Standard and author of a new book, Settlers, about African migration to Britain, told The Sunday Times that private education for African immigrants was very important:
My family and a lot of families from west African countries that came here in the 1980s were very aspirational middle class. There's a huge culture around the importance of education, across the African diaspora. It's drummed into you that that's your route to success.
It was really important to my parents that if they were in any way able to send us to private schools, that's something they would do.
Education was seen as the silver bullet to advance socially and professionally. You can see reverberations of that in people like Kemi and Kwasi.
He was not surprised they are Conservative rather than Labour MPs:
Given their generally middle-class background and private education, it is perhaps no coincidence that many of the first black or Asian figures to hold the great offices of state are Conservative MPs. "It doesn't hugely surprise me that they are all Conservatives," said Famurewa. "By and large west African families are quite socially conservative in their beliefs."
On a lighter note, the previous Leader of the House, Mark Spencer, received a food brief as Minister of State for the Department for Environment, Food and Rural Affairs (DEFRA).
Someone on Twitter did a play on words with Marks & Spencer's advert, including their brand Simply Food:
Thérèse Coffey's plan for the NHS
Yesterday, I mentioned Liz's Secretary for Health and Social Care, Thérèse Coffey. I neglected to mention that Coffey was also her Deputy Prime Minister.
Coffey is shown here at a 2015 Spectator summer party. Yes, she enjoys cigars:
The photo shocked those on social media:
On Wednesday, September 7, the Mail's Andrew Pierce told us that Coffey, whom Liz refers to as Tiz, is her long-time confidante:
Truss knows she owes a large part of her victory to her ever-faithful parliamentary companion. She has rewarded her lavishly – appointing her as Deputy Prime Minister and Health Secretary.
In a cut-throat political world, Coffey has shown absolute loyalty to her new boss over many years. She not only ran Truss's successful campaign against Rishi Sunak for the leadership, but wisely persuaded her not to stand against Boris Johnson in the 2019 leadership contest – paving the way for her to become his successor instead.
The two have been friends since their student politics days more than 25 years ago and are known by some colleagues as 'Yin and Yang'. Truss refers to Coffey affectionately as 'Tiz'.
Interestingly, they started out as rivals, running against one another to be the Tory parliamentary candidate in South West Norfolk in 2007. It was Truss who triumphed.
She then took Coffey under her wing, coaching her on how to raise her game in selection meetings. Coffey was duly chosen for the neighbouring Suffolk Coastal constituency in 2010.
The two share a love of karaoke – which has got them into trouble in the past. Their regular karaoke evenings on the ministerial corridor in the Commons have on occasion become so boisterous that they were ticked off by Parliamentary authorities.
Coffey herself has had her own problems with karaoke – and they were nothing to do with how tuneful she is. During the 2021 Tory conference in Manchester, the then Work and Pensions Secretary was filmed at 1am belting out the classic song from the film Dirty Dancing, (I've Had) The Time Of My Life.
Alas, only one hour earlier, her department had withdrawn the £20 weekly increase in universal credit for benefit claimants introduced during the pandemic. Coffey was upbraided over her lack of tact and her insensitive choice of song. She now prefers singing Queen's Don't Stop Me Now.
However, Coffey has never lived down a picture taken at a Spectator magazine party in 2015 at which she was snapped puffing away on a large cigar and clutching a glass of champagne.
'I do enjoy a cigar. I hadn't realised I had spilt something on my top. I looked very odd. You'll never see me smoke a cigar in front of anyone again,' she said later. 'It's not a photograph I'm proud of.'
But despite all her faux pas, she is generally regarded as a safe pair of hands who avoids controversy …
Both campaigned for Remain in the 2016 referendum and both backed Boris Johnson in the 2019 leadership contest. Truss was made Foreign Secretary, while Coffey entered the Cabinet as Work and Pensions Secretary.
A proud Scouser, Therese Anne Coffey was brought up in Liverpool. The daughter of two teachers, George and Alice, who worked in state schools, she was privately educated at St Mary's College boarding school in North Wales and remains a practising Catholic to this day.
After sixth form at St Edward's College in Liverpool (a grammar school that has since turned independent) Coffey read chemistry at Somerville College, Oxford – the same degree course at the same college as her political heroine Margaret Thatcher.
It was Thatcher's battle with Militant Tendency, a Marxist group that had infiltrated Liverpool's council and driven the city to the edge of bankruptcy in 1985, that converted Coffey to Conservative politics. She was only 14 when she joined the Young Conservatives.
By the time Mrs Thatcher visited Somerville College in 1994, the Tories were languishing in the polls behind Labour's telegenic leader Tony Blair and many students had to be dragooned into a line-up to greet her. But one student – Coffey – broke ranks and ran noisily across the concourse to shake Mrs Thatcher's hand.
After university she qualified as a chartered accountant, serving as finance director for Mars and as a finance manager at the BBC – one parallel with Truss, a chartered accountant who became economic director at Cable & Wireless.
Coffey's Roman Catholicism defines her worldview, says Andrew Pierce. She has never married — and she is Liz's next door neighbour in Greenwich. Kwasi Kwarteng lives nearby.
In 2018, Coffey became gravely ill because of an ear infection, which spread to her brain. She was diagnosed with meningitis and required hospitalisation as well as an operation. She was in hospital for one month:
At times, she had difficulty forming sentences and suffered memory loss. When her sister Clare, who runs her parliamentary office, came to visit, she said: 'I have forgotten what these things on my feet are called.' She was pointing at her slippers.
She later said she felt she'd had a 'near miss' and her recovery had made her enjoy life, adding: 'You realise that you can be gone tomorrow. Cherish what you have.'
Liz was a regular visitor while her friend was in hospital – and again when she was recuperating at home.
On Thursday, September 8, The Times told us about Coffey's plan for greater efficiency in the NHS:
Thérèse Coffey has demanded to know why all GPs and hospitals cannot match the best performers as she attempts to fulfil Liz Truss's promise of enabling people to see a doctor easily.
The new health secretary said she wanted to set out "clear expectations" for the NHS after Truss said that dealing with the dire state of the health service would be a priority for her government. Coffey acknowledged yesterday she was not a "role model" after being criticised on social media about her weight and smoking …
Coffey has said her "A-B-C-D" priorities will involve focusing on ambulances, backlogs of routine treatment, care, doctors and dentistry.
She is due to set out her plan for the NHS next week but is understood not to have yet finalised specific actions. However, Coffey has asked for detail on "unwarranted variation" in the NHS, including ideas on how this could be used for performance management of hospitals and GPs …
The MP for Suffolk Coastal added: "My focus is on how we deliver for patients and I appreciate I may not be the role model but I am sure the chief medical officer and others will continue to be role models in that regard and I will do my best as well."
Coffey had to take an early morning newsround, the first of the new premiership. LBC listeners discovered that the 50-year-old enjoys rap music, too:
"I've just realised my alarm is going off on my phone, I apologise," Coffey said. "You're getting a bit of Dr Dre. It's just an eight o'clock alarm."
The song was Still D.R.E., a 1999 track by Dr Dre, the American rapper, featuring Snoop Dogg. Dre, 57, whose real name is Andre Young, was a member of the rap group N.W.A. before becoming a solo artist and producer. Coffey is known as Dr Coffey thanks to her doctorate in chemistry from UCL.
No. 10 advisers
Liz also cleared out Boris's advisers from No. 10.
On Tuesday, September 6, The Telegraph reported (emphases mine):
Liz Truss has appointed a new chief economic adviser who previously warned against heavy-handed green energy measures and wrote a book on how to shrink the state.
Matthew Sinclair – described by former colleagues as a "safe pair of hands" – has been appointed as the country faces an unprecedented rise in energy costs amid Russia's war in Ukraine.
He will enter Downing Street as part of an inexperienced top team under the new Prime Minister, after she ordered a mass clear out of officials who had served under Boris Johnson.
Ms Truss wielded the axe shortly after taking power on Tuesday, with even … Mr Johnson's deputy chief of staff David Canzini, who had been tipped to stay on at No 10 – failing to survive the cull.
Mr Sinclair has held a number of roles in the private sector, most recently at the accounting firm Deloitte, where he led its work on the digital economy. He has also worked on projects for the UK and European Parliaments.
The 38-year-old previously rose through the ranks of the Taxpayers' Alliance, joining as a policy analyst but rising to chief executive in 2012. During this time, he made the case for small government, low taxes and ensuring British families get value for money.
Matthew Elliott, founder of the Taxpayers' Alliance, who hired Mr Sinclair, said: "He is very much an ideas person, but he's able to deliver the detail in spades. That's going to prove very useful in government" …
He has also spoken out in favour of clear tax and spending rules, with fiscal targets and a system that prizes simplicity, as well as abolishing unnecessary quangos, maintaining a lean civil service, and decentralising power.
Mr Sinclair has also criticised MPs for using "climate change as an excuse to take your money".
Clearly, supporting the public would turn out to be too good to be true. This could not last.
Matthew Sinclair's former boss, Andrew Lilico, wrote a glowing recommendation for The Telegraph:
Liz Truss's new chief economic adviser is Matthew Sinclair. In the Westminster world, Matthew is probably best-known for his stint as Chief Executive of the Taxpayers' Alliance, arguing vigorously for all kinds of cuts to public expenditure, against tax rises and for greater transparency in taxes (including the campaign to get beer duty reported on till receipts and the end of the "fuel duty escalator"). He went on from there to work for me at Europe Economics as an economics consultant, doing hard-core economics projects for bodies such as the European Parliament on the sharing economy, the Department for Business on theories of competition in online platforms, and the Woodland Trust on the economic value of trees. He moved on from us to Deloitte, where until now he has been a Director in the Economic Advisory team, leading its work on the digital economy …
He was a keen Brexiteer when the moment came, but having worked on projects for the EU agencies, he understands why they function as they do and their strengths as well as their weaknesses. His Italian wife also offers him an additional European perspective. No caricatured anti-European he. As well as wanting to diverge from the EU he will be keen that policy should learn from them where what they do is good.
Unafraid to look at the world squarely and challenge his own points of view, he likes to consider what would make his beliefs and recommendations prove to be wrong, after the event, as well as what might prove them to be right. Politically pragmatic and savvy, we can expect him to be closely interested in whether enough MPs might support this or that measure to get it through, as well as whether it would be right in an ideal world.
On Wednesday, September 7, the Mail told us more about Liz's other advisers:
Mark Fullbrook, a former business partner of the Tory strategist Sir Lynton Crosby is set to become Miss Truss's chief of staff, despite initially running the campaign for her rival Nadhim Zahawi.
Jason Stein, who worked with the new Prime Minister when she was chief secretary to the Treasury and helped her leadership campaign, will come on as a senior adviser with Ruth Porter, who worked with Miss Truss when she was justice secretary.
Adam Jones, who ran Miss Truss's communications operation during her leadership campaign will be political director of communications. John Bew, Boris Johnson's foreign policy adviser, is the only one to stay on with Miss Truss, having worked with her when she was foreign secretary.
Some of the 40 roles that Mr Johnson had in his team will not be filled as Miss Truss attempts to shrink the size of the Downing Street operation in a bid to set an example to the rest of Whitehall.
Miss Truss had said she will wage war on Whitehall waste and make billions of pounds of cuts. It is believed Mr Sinclair will be a key ally in helping her achieve her aims.
In 2012, Mr Sinclair set out a six-point plan to cut Whitehall spending.
His first idea was to abolish the Equality and Human Rights Commission to save £48.9million in funding. Even a decade ago, he complained that the EHRC had taken on 'a campaigning role that is inappropriate for a public sector body'.
This drive for efficiency could not last, could it?
No, it could not. Nor would it.
Shaky perception
The prospect of Liz Truss as Prime Minister had not moved the polls at the end of August, as YouGov demonstrated:
Guido Fawkes wrote (emphases his):
Labour leads the Tories by 15 points, 43% to 28%. It is a big mountain to climb before the next election. Good luck…
On September 6, The Telegraph's Allison Pearson analysed Truss's victory and the criticism she received:
Few believe that Truss is the cat's whiskers. Not even on her own side. Of the 172,437 Tory party members who were eligible to vote, 30,712 didn't bother at all and 60,399 voted for Rishi Sunak. It's the narrowest margin of victory since members were allowed to decide. A YouGov poll suggested that only 21 per cent of the public like Truss and, of those who voted Conservative at the last general election, 50 per cent don't trust her.
Even before she was declared the winner, the brickbats were coming thick and fast. I don't use the word misogyny lightly, but I have been shocked by the hateful abuse hurled at Liz Truss by lofty male commentators. "The worst PM ever," suggested one …
Although Truss ended up reading PPE, I'm told by one of her contemporaries that she got into Merton College to read maths. A girl from a Northern comprehensive does not win a mathematics place at Oxford without being seriously clever.
If anything, I reckon it is a slight spoddy tendency, inherited from her maths-lecturer father, which inhibits Truss's ability to communicate with feeling. A deficiency in expressiveness and verbal felicity doesn't mean a lack of thinking power. Quite the contrary. Wiffly, wordy arts graduates have had their turn running the country; time to let the numbers girl have a go.
Pearson was referring to Boris in that sentence.
Also:
Shame on those backbench Tory MPs who are rumoured to be murmuring about confidence votes and slyly manoeuvring against their new leader before she's even got her feet under the desk. Have we really reached a point of such decadence, after 12 years in power, that Conservatives prefer to devote their energies to undermining a loyal friend than smiting the enemy? If so, electoral wipeout in 2024 will be richly deserved – even welcome.
This was a typical anti-Liz comment:
The outspoken Labour MP Chris Bryant who, somehow, had won the Civility in Politics award, said this:
It feels like pretty much anyone with a brain, a conscience and a work ethic has been purged from government either by Johnson or Truss. It's an empty vessel of a government – loud, noisy but dangerously vacuous.
By contrast, when he accepted the award, he said:
Politics doesn't have to be brutal. Our opponents are human and nobody has a monopoly on truth, so I try to be polite, civil and empathetic in every engagement… Manners maketh humanity.
Queen postpones Privy Council meeting
Bad news arrived on Wednesday, September 7, when the Queen postponed a virtual meeting of the Privy Council.
The Queen has postponed a meeting of the Privy Council on the advice of her doctors, Buckingham Palace said today …
"After a full day yesterday, Her Majesty has this afternoon accepted doctors' advice to rest," a spokesman said. "This means that the Privy Council meeting that had been due to take place this evening will be rearranged."
A royal source said that there would be "no running commentary" on the Queen's health.
The meeting was necessary in order for Elizabeth Truss to become First Lord of the Treasury, a title that goes to the Prime Minister. The Mail said:
During the proceedings, Ms Truss would have taken her oath as First Lord of the Treasury and new cabinet ministers would have been sworn into their roles, and also made privy counsellors if not already appointed as one in past.
The Privy Council is a formal body of advisers to the Sovereign of the United Kingdom. As of last month, there were 719 members on the council, with membership lasting for life.
It is composed of politicians, civil servants, judges, members of the clergy as well as Prince Charles and the Duke of Cambridge. 
There is no constitutional issue with the delay to the proceedings, the palace said.
King Charles held the meeting the weekend after his mother died.
On Thursday, September 8, the world was shocked to learn of Her Majesty's death. Earlier that afternoon, the extraordinary news that she was unwell filtered to the House of Commons, where Liz was outlining her energy support plan.
On Saturday, September 10, The Times reported that Liz had a lot on her plate, beginning with her energy statement, knowing that the Queen was dying:
Truss had got to her feet knowing the Queen's death was "imminent". She was with her team in her House of Commons office preparing for the energy statement when she heard …
If Truss is prime minister for a decade she may never have a bigger day than Thursday: a head of government less than two days into the job making an even bigger economic intervention than the pandemic furlough scheme, battling to finalise her ministerial team and facing the death of a beloved head of state whose final public act was to make her prime minister.
However, Liz and her team were beginning what they hoped would be a new era of reform:
The Queen's death robbed the government of media coverage to publicise details of its help for families at a time when the public wants to know how they will deal with soaring inflation. As these problems piled up, the new team began, under the radar, one of the most radical shake-ups of how government is run that anyone can remember. It has left Conservative MPs wondering if Truss has bitten off more than she can chew.
One of the big ructions earlier that week involved Chancellor Kwasi Kwarteng sacking Gordon Brown's Chief of Staff, Sir Tom Scholar, who, inexpicably, had been made Permanent Secretary to the Treasury and served under no fewer than five Conservative Chancellors between 2016 and 2022. Before that, he was the Prime Minister's Adviser for Europe and Global Issues to David Cameron.
Many conservatives were delighted, but, in the Blob (our equivalent of the Swamp), the news did not go down well:
At the start of the week, it looked like officials were being sidelined. Dozens of civil servants in Downing Street received a peremptory email on Tuesday telling them to leave No 10. Sir Tom Scholar, the permanent secretary at the Treasury, was told he was no longer required in his first meeting with Kwasi Kwarteng, the new chancellor. The mood in the civil service was "sulphurous". One official phoned a friend in the Labour Party and said: "They're making a real rod for their own backs."
Liz's ambition for a leaner structure in Downing Street also upset the Blob:
… when photos of Truss's first cabinet emerged on Wednesday morning MPs were surprised to see that not one of her spin doctors or political aides, from chief of staff Mark Fullbrook down, was present. Only Truss's closest civil service aide, Nick Catsaras, her new principal private secretary, was there. One politico from a previous Downing Street regime remarked drily: "The irony was that those people had to be in cabinet when she was a secretary of state as you had to deal with all her leaks."
… "Liz doesn't want a presidential style No 10," an aide said. "She wants it to be lean, professional and relentlessly focused on delivery — policymaking and legislating. You'll see fewer prime ministerial visits, fewer events in No 10, and in its place more meetings on the economy, on energy and the things people really care about."
Ironically, although the Blob were complaining, she was actually giving some among them more power than ever before:
… in this she has handed huge power to the civil servants. One close ally explained: "The good ones will be deeply empowered by her. The civil service are always in the ascendancy with Liz as long as they actually do their job."
When she announced the outline of her energy support plan, she had no details:
Key details of how the plan will work were left unexplained in her statement to parliament on Thursday, not least the estimated cost. Aides argued that this depends on the price of gas. "If I knew what that was going to be in a year's time I would be working for a hedge fund, not the government," one said.
As for a leaner No. 10, some were sceptical it could work. Others remained positive:
Scepticism remains about whether a slimmed-down No 10 can really deal with the challenges it faces. A former No 10 aide said: "PMs always go in with some great new structure that will streamline things and then discover they've just handed away power before spending 12 months scrabbling to get it back" …
… from their point of view, the new team has been tested early, something that will stand them in good stead through the turbulence ahead. "Officials have described it as the busiest week in No 10 in living memory," an aide said. "We had no idea when we wrote the line 'Together we can get through the storm' into Liz's Downing Street speech how apposite it would come to feel."
In policy areas, Liz was keen on fracking and, towards that end, sacked the eco-friendly Lord Goldsmith in his DEFRA ministerial post in the House of Lords.
On Friday, September 16, Guido reported:
Despite the reshuffle being formally paused until after the Queen's funeral, Liz Truss has ploughed on with sacking Tory tree-hugger-in-chief Zac Goldsmith from his DEFRA ministerial post. While the government is still paying lip service to the Net Zero target, they've signalled climate and animal welfare issues could be de-prioritised over the coming months. The Guardian speculates that the Animal Welfare Bill could be first up for slaughter. The PM's next royal audience should be interesting… 
The news comes as The Guardian reports Liz is planning to follow through on her leadership election pledge and lift the ban on fracking as soon as possible, with first licences set to be issued as early as next week. This will no doubt come as welcome relief as energy bills continue to rise during winter. The decision comes despite the paper's ominous quote from a forthcoming report that forecasting fracking-induced earthquakes "remains a significant challenge". In August 2019 Caudrilla halted work after recording the UK's "biggest fracking tremor". The tremor in question was 1.55ML on the Richter scale, "which it likened to 'a large bag of shopping dropping to the floor'"…
Former Labour adviser John McTernan wrote an article for UnHerd, saying that Liz's policy strategy could unhinge Labour:
The abandonment of the sugar tax, and possibly the entire government anti-obesity strategy has been floated. As has ending the cap on bonuses in the City. These give the flavour of what the 100 Days Plan must have looked like. Sir Lynton Crosby famously talks of "getting rid of the barnacles": that before a government can campaign effectively, it needs to rid itself of unnecessary distractions. These could be unpopular policies, ungrasped nettles, or unresolved disputes, but the Queen's death has prevented this, disrupting the Government's momentum.
… The Prime Minister wants to govern as she campaigned for the leadership. Directly, clearly and simply. She has said she wants a smaller state, and Labour have taken the bait. Without waiting to see any government policy, some Labour frontbenchers have immediately attacked Truss as a Thatcherite intent on cutting public spending. That's hard to argue in the face of the energy price cap — one of the biggest unfunded public spending commitments ever made by a UK government.
Worse, it showed that some in Labour haven't been listening to Truss, or taking her seriously. There's more than one way to shrink the state — and getting out of people's lives is an effective and popular one. One of the greatest weaknesses of progressive politics is the belief that what the country is crying out for is "more government". A large part of the fuel that drives the campaign against political correctness is the sense that government is over-reaching, interfering in bits of life where it has no place. Liz Truss wants to tap into that. She instinctively knows that most people want to look after themselves, their families and their communities without government interference.
The other headline announcement — uncapping City bonuses — has trapped Labour too. Missing the wood for the trees, opposition frontbenchers have spluttered in outrage at policies that would benefit fat-cat bankers rather than the general public. The point, of course, is what David Cameron's team used to call the politics of "aroma". It is not the specific policy detail that matters; it is the sense of the overall direction. "Hugging a husky" showed a greener, more compassionate, modern Conservative party. Uncapping City bonuses shows a government committed to Go For Growth — no old-fashioned prejudices or well-meaning sacred cows will be allowed to stand in the way. The point is to grow the pie, not, as Labour want, to talk about tax and redistribution of the proceeds of growth.
Note what he says about Rishi Sunak:
Is this a risky approach? Yes. Is it a clear one? Absolutely. The trap for Labour is that they adopt the Sunak Strategy. Liz Truss's ideas are simplified not simplistic; and as Rishi Sunak's defeat showed, treating the new PM as a simpleton won't win votes. Truss may not have the right answers, but she has asked the right question. Growth is the only game in town. If Truss manages to keep it on The Grid when parliament returns next month, her lost 100 days might not be fatal.
Unfortunately, for the British people, it was the beginning of the end, with all roads leading to Rishi.
To be continued tomorrow.
At midday on Wednesday, October 20, 2022, Liz Truss did a good job at Prime Minister's Questions (PMQs).
She looked normal and bouncy, like the woman we saw in the Conservative Party leadership hustings only a few weeks ago. She was good at the despatch box, including against the leader of the Opposition, Labour's Keir Starmer.
Afterwards, I thought, 'Phew. Looks like a drama-free day for once'.
By mid-afternoon, all hell broke loose and continued into the evening.
Suella Braverman
Suella Braverman was doing a great job as Home Secretary.
Liz Truss appointed her on September 6.
Many outsiders do not know that Braverman is of mixed race, born to parents of Kenyan and Mauritian heritage.
On September 7, ice cream moguls Ben & Jerry were quick to criticise her plans to stem immigration:
The Telegraph reported (purple emphases mine):
Ice cream company Ben & Jerry's is facing criticism for publishing a to-do list for Suella Braverman, the new Home Secretary, suggesting she should "scrap the Rwanda plan" and take dessert breaks.
The firm's UK Twitter account tweeted a message of congratulations to Ms Braverman, accompanied with the image of a list including various objectives for her first day in the role on September 7, such as to "introduce safe routes to the UK for people seeking asylum" and "lift the ban and give people seeking asylum the right to work" …
It came as Ms Braverman made her first speech to Home Office staff on Wednesday, after which it was suggested that she could seek joint beach patrols with the French to help prevent Channel migrant crossings as part of any deal to continue UK funding …
On Wednesday in an address to a packed out atrium of Home Office staff, Ms Braverman said that tackling the Channel migrant crisis was going to be one of her "clear priorities" as she told them she was going to "develop some obsessions."
"This is not just a manifesto pledge, people are dying," she said, as she promised to take a "firmer line" against people traffickers. It was one of three priorities alongside making streets safer through a back-to-basics approach to crime with the extra 20,000 officers and counter-terrorism …
Braverman, who is a barrister, has a brilliant mind but takes time out for mindless entertainment:
Asked on Wednesday by Home Office staff what she does to unwind, she said that other than spending time with her family, it's "trash TV" and singles out Married at First Sight, Love Island and First Dates.
Home Office officials appeared relaxed about Braverman's appointment, with one source in the department telling the journalist Nicola Kelly: "Anyone — Suella included — would be better than what we've had."
Braverman became the first practising Buddhist to be appointed to the Cabinet and took her oath of office when appointed an MP on the Dhammapada, one of the best known Buddhist scriptures.
The new home secretary, born Sue-Ellen Cassiana Fernandes to a mother from Mauritius and a father from Kenya, married Rael Braverman in 2018 in a ceremony in the House of Commons.
He said that she invited him to the Houses of Parliament as their first date and the couple have told how their shared love of politics is what "allowed their romance to blossom".
They have two children, aged three and one, and Braverman became the first cabinet minister to go on maternity leave.
It was a huge deal. I remember watching her in Parliament on the day before she went on maternity leave. She was grateful for that opportunity:
As Attorney General, she banned diversity training in her department when she returned from maternity leave.
On August 4, 2022, the Mail reported:
Mrs Braverman, the Government's chief legal adviser, has scrapped diversity and inclusion training in her department having discovered that hundreds of her lawyers spent 1,900 hours on the woke lectures last year.
Speaking to Talk TV yesterday, she said: 'I looked at the training materials and I was very sad at what very intelligent, fair-minded, professional people were being taught.
'This training stuff was based on a premise that someone like me, an Asian woman from a working-class background, must necessarily be a victim, must necessarily be oppressed, must necessarily be a victim of white privilege and white fragility.'
She said that rather than uniting people, it divides them by cohorts 'based on different kinds of grievances'.
'I don't think it's the right way to spend taxpayers' money, I don't think it's the right way to use vital civil service resource when we've got a Passport Office that needs to work harder on delivering passports and we've got a DVLA that needs to be quicker at issuing driving licences,' she added.
Her first achievement was to be in post during the Queen's funeral events, which went superbly.
Her second was to order an urgent enquiry into why June's scheduled flight to Rwanda had to be abandoned.
On October 15, The Telegraph told us of the results:
A company owned by a lawyer who helped block the Government's Rwanda deportation flight was given taxpayers' money to train immigration advisers, The Telegraph can disclose.
More than £100,000 was awarded to HJT Training – a firm run by two barristers at the chambers which grounded a flight to the African country in June.
A Home Office source said Suella Braverman, the Home Secretary, had instructed civil servants to undertake an "urgent review" of the contract, amid claims from Tory MPs the quango responsible for overseeing immigration advice could have been hijacked by activism.
HJT Training and the quango – the Office for the Immigration Services Commissioner (OISC) – both denied there was any conflict of interest and they are not accused of any wrongdoing …
Two of HJT Training's four directors – Mark Symes and David Jones – are barristers at Garden Court Chambers.
On June 14, the chambers secured injunctions at an emergency hearing before the Court of Appeal which prevented a plane from removing asylum seekers to Rwanda.
Mr Symes, who is listed on Companies House as having a "significant control" in HJT Training, was a member of the team.
Mr Jones did not act in the case. Garden Court Chambers said the asylum seekers they were representing all "had strong cases for asylum in the UK" and their stories demonstrated the "inhumanity in the Rwanda policy".
Her third achievement was deporting 11 Albanians shortly after they crossed the Channel in small vessels.
On October 18, The Guardian reported concerns from human rights groups, but this is the nub of the story:
The Albanians are thought to have arrived in the UK last week and were taken from Manston in Ramsgate where the Home Office processes small boat arrivals, to Stansted airport from where they were put on a plane back to Albania on Wednesday. It is thought to be the first time small boat arrivals have been put on a plane directly from Manston.
Her fourth achievement was seeing the Public Order Bill debated and passed in the Commons that day:
Her closing remarks in that debate will be remembered for some time to come:
When I was the Attorney General, I went to court to establish that it is not a human right to commit criminal damage. The Court of Appeal agreed with me in the Colston statue case that serious and violent disorder crosses a line when it comes to freedom of expression. That is common sense to the law-abiding majority.
Since 1 October alone, the Metropolitan police have made over 450 arrests linked to Just Stop Oil, and I welcome this, but more must be done. That is why I welcome the fact that, today, Transport for London has succeeded in securing an injunction to protect key parts of the London roads network. That is an important step forward in the fight against extremists. However, these resources are vital and precious, and this has drained approximately 2,000 officer days at the Met already. Those are resources that are not dealing with knife crime and are not dealing with violence against women and girls.
I am afraid to say—and I will come to a close soon—that that is why it was a central purpose of the Police, Crime, Sentencing and Courts Bill, now an Act, to properly empower the police in face of the protests, yet Opposition Members voted against it. Had Opposition Members in the other place not blocked these measures when they were in the Police, Crime, Sentencing and Courts Bill, the police would have already had many of the powers in this Bill and the British people would not have been put through this grief. Yes, I am afraid that it is the Labour party, the Lib Dems, the coalition of chaos, the Guardian-reading, tofu-eating wokerati and, dare I say, the anti-growth coalition that we have to thank for the disruption we are seeing on our roads today. I urge Opposition MPs and Members of the other place to take this second chance, do the right thing, respect the rights of the law-abiding majority and support this Bill.
The bill passed: 283 to 234.
The next day, Wednesday, I tuned in to GB News late that afternoon to find out that Braverman had resigned or been sacked:
As such, Braverman holds the record for being the shortest-serving Home Secretary at 43 days.
The next shortest-serving was fellow Conservative Donald Somervell at 62 days, says The Guardian:
Somervell held the post from May to July 1945 in Winston Churchill's caretaker government before it was defeated in a general election.
Truss will have the shortest record as a serving Prime Minister when she leaves next week.
Grant Shapps, former Transport Secretary, replaced Braverman as Home Secretary. It is hard to imagine that he could do the job.
Nigel Farage said that this was a coup:
You could not make this up.
Guido Fawkes reported, alluding to her Public Order Bill closing speech (emphases his):
The Guardian gets the scoop that Suella Braverman is out as Home Secretary "at the behest of the Chancellor".
Sources claimed the move was at the behest of the new chancellor, Jeremy Hunt, who has taken over control of the government's economic response following Truss's disastrous mini-budget, but who they claimed was now "pulling the strings".
A major victory for tofu lovers everywhere…
UPDATE: Reports suggesting she was fired for breaching the ministerial code, after handling sensitive documents on a private phone. Chaos…
Anyone wondering if they are part of what Braverman called the 'tofu wokerati' can take a Times quiz and find out for sure.
Not surprisingly, I came in the middle with mostly 'B' answers to the multiple-choice questions:
Borderline. You know, in your heart, that the wokerati are a real and dangerous thing and definitely not some made-up term chucked about by a desperate home secretary. Come on! You know tofu is bad, nicely crisped or not. You're just too wrapped up in seeming "reasonable" and with "seeing both sides of things". Yes, your monthly mortgage repayments have gone up so much that you've had to sell one of your children … Come on. Time to get off the fence.
Braverman quickly posted her letter of resignation online:
Patrick Christys analysed it on GB News, pointing out the fourth paragraph, particularly the second sentence:
It is obvious to everyone that we are going through a tumultuous time. I have concerns about the direction of this government. Not only have we broken key pledges that were promised to our voters, but I have had serious concerns about this Government's commitment to honouring manifesto commitments, such as reducing overall migration numbers and stopping illegal migration, particularly the small boat crossings.
While Braverman went on to speak at a Diwali reception sponsored by the India Global Forum that evening, the political animals among us were dissecting what really happened:
Boris Johnson's former adviser Dominic Cummings said that what Braverman did was not a sacking offence. 'OFF-SEN' is shorthand for Official-Sensitive and 'CABOFF' is Cabinet Office:
Former Conservative MP Anne Widdecombe told Dan Wootton the same thing that evening:
The Guardian dissected Braverman's letter paragraph by paragraph; excerpts follow, bold emphases theirs:
What she said
Earlier today, I sent an official document from my personal email to a trusted parliamentary colleague as part of policy engagement, and with the aim of garnering support for government policy on migration. This constitutes a technical infringement of the rules … nevertheless it is right for me to go.
What she meant
Braverman devoted the top two paragraphs of her letter – less than half – to addressing the issue she said she was resigning over, making clear she realised she had broken the ministerial code by storing government documents on a personal device and sending those to a "trusted parliamentary colleague". She left herself little wriggle-room and wholly accepted the mistake. It means in the future she will be able to say she stepped down swiftly and try to brush away suggestions about her being unfit to rejoin the government.
What she said
Pretending we haven't made mistakes, carrying on as if everyone can't see that we have made them, and hoping that things will magically come right is not serious politics. I have made a mistake; I accept responsibility; I resign.
What she meant
Not hard to work out what she is referring to here. The parallel between Braverman taking responsibility for her mistake and Truss being accused of refusing to acknowledge the pain caused by her mini-budget is plain to see. Truss has recently said she takes responsibility for the chaos caused. If she were to follow the logic set out by the former home secretary in this paragraph, she would need to resign.
The analysis also addressed Truss's brief letter of acknowledgement:
Liz Truss's reply
I accept your resignation and respect the decision you have made. It is important that the ministerial code is upheld, and that Cabinet confidentiality is respected.
What she meant

Significantly shorter in length and far from gushing about Braverman's performance as home secretary, Truss ensures that it is known the home secretary is stepping down squarely because of her breach of the ministerial code. Given she still has no ethics adviser, this is a quick decision the prime minister must have come to but she is keen to make sure there is no ambiguity.
Readers will be left with the impression there is no love lost between the two women.
The Telegraph reported that there was more to the story than a breach of the ministerial code. The two women had a row over immigration on Tuesday night, with Jeremy Hunt on hand.
Note that the Office for Budget Responsibility wants more migration, which isn't surprising, as they are left-leaning:
The fuse for Suella Braverman's resignation was lit on Tuesday night when she had a heated face-to-face row with Liz Truss and Jeremy Hunt, her new Chancellor, over their demands to soften her stance on bringing down immigration.
Friends said the Home Secretary was appalled that they wanted her to announce a liberalisation of immigration to make it easier for the Office for Budget Responsibility (OBR) to say the Government would hit its growth targets – a key plank in Mr Hunt's strategy to restore market confidence.
"Suella said, this is insane, why are we trying to appease the OBR? Is everything getting thrown out the window?" said one of her allies …
Within 24 hours of her "fiery" 90-minute meeting with the Prime Minister and Mr Hunt, Ms Braverman had been forced to resign after being accused of breaching the ministerial code on two counts for sending official documents to another MP from her personal email …
It now poses a threat to the future of the Prime Minister after Ms Braverman used her resignation letter to say she had "concerns" about the direction of the Government and the breaches of its manifesto commitments on immigration.
However, the most incendiary was a coded attack on Ms Truss's integrity in which the Prime Minister's former leadership rival said "the business of government relies upon people accepting responsibility for their mistakes" …
It had been intended at the start of the week that Ms Braverman would set out the new immigration policy on Thursday with a meeting of the Cabinet's home affairs committee, with Mr Hunt, Therese Coffey, the Deputy Prime Minister, and other senior ministers due to finalise the plans on Wednesday lunchtime.
However, Mrs Braverman never attended the meeting after sending an email on Wednesday morning intended for Sir John Hayes, the chairman of the Common Sense group of Tory MPs, containing Government documents about immigration.
The Home Secretary accidentally clicked on the wrong drop-down tab on her email and sent the document from her personal email address to a staffer who works for Tory MP Andrew Percy.
Mr Percy then complained to Wendy Morton, the Government's Chief Whip, who reported the leak to the Cabinet Office, before Prime Minister's Questions on Wednesday.
Simon Case, the Cabinet Secretary, investigated and rapidly concluded Ms Braverman had broken the ministerial code on two counts.
One was on part 2.14 of the code, the "security of government business". That section says "ministers have an important role to play in maintaining the security of Government business".
The other was 2.3, "collective responsibility". That states "the internal process through which a decision has been made, or the level of Committee by which it was taken should not be disclosed".
Ms Truss then confronted Ms Braverman with the findings. She made clear what should follow from ministerial rule breaches, according to allies, leaving Ms Braverman to resign.
There is a dispute over the nature of the documents that she emailed. Ms Braverman maintains it was a draft written ministerial statement (WMS), due for publication imminently and much of which had already been briefed to MPs.
Downing Street sources were, however, incensed by the claim that it was only a WMS which was made public. Instead, the sources said it was the contents of a sensitive internal policy document that Ms Braverman had passed on.
Allies of Ms Braverman said she was told by Ms Truss that if the Government defended her, it would be at risk of "salami slicing" by critics trying to pick off ministers.
"Liz says: 'If you stay, we'll have to defend you and it will salami slice our credibility. For your own sake you should go'," said one ally.
"Suella thought 'are you serious, you're not even going to defend anyone over anything?' She said: 'Fine, if you won't stand up for me, I'll go'."
The row meant that Ms Truss had to pull out of a visit to a venue near London. Ministers briefed privately that she was detained on a "national security issue".
Within two hours Ms Braverman had quit …
Allies of Ms Braverman said she was in a minority in Cabinet in her attempts to resist liberalising migration to boost growth and the arrival of Mr Hunt as Chancellor appeared to reinforce that majority. In his leadership bid in 2019, he vowed to abandon Mrs May's immigration target of tens of thousands …
Ms Braverman's refusal to accept an "open borders migration policy" with India proved one flashpoint – and was blamed by critics for delaying efforts to secure a trade deal with the second most populous nation in the world …
Migration has already hit a new high as more than one million foreign nationals were allowed to live, work or study in the UK in a year for the first time.
Wendy Morton
As if Braverman's departure wasn't enough during the day, there was more to come with Labour's motion in the Commons that evening, Ban on Fracking for Shale Gas Bill.
Although the debate was about banning fracking, the results of the vote were one of confidence in Liz Truss's premiership. As such, Conservative MPs were told there was a three-line whip. There are Conservative MPs who would love a fracking ban.
The Commons was noisy on both sides of the chamber during the debate. I watched the last hour or so.
At the end, Graham Stuart, the Minister for Climate, responded on behalf of the Government. He sowed doubt as to whether this was a whipping matter for Conservatives:
It is a great pleasure to wind up this debate, to which there have been so many excellent contributions from across the House. Perhaps not for the first time, the right hon. Member for Doncaster North (Edward Miliband)—he is an extremely clever man, for whom I have a great deal of respect—has been a little bit too clever by half. Perhaps if more drafting had gone into this, instead of seizing the Order Paper we could have had a different style—[Interruption.] It was an attempt to seize the Order Paper. Quite clearly, this is not a confidence vote—[Interruption.] Obviously, this is not a confidence vote; it is an attempt—[Interruption.]
Conservative MP Andrew Percy intervened:
The Minister is absolutely right about the green revolution, in which our region in the Humber is playing such a big part. I ask him to reflect on the speeches that have been made today. If this was a clear vote on whether or not we should have fracking, I would be in the Lobby with the Opposition …
Labour's Ed Miliband, who was leading his party's motion, then asked for clarification:
For the guidance of the House, the Minister said something very important from the Dispatch Box: he said that this is not a confidence motion. I think Conservative Members want to know, because if he confirms that statement, they can vote for our motion in the safe knowledge that they can be confident in the current Prime Minister. Will he confirm that?
Stuart said he had already given the answer more than once. Another Labour MP intervened to ask for clarification.
Then another Conservative MP, Ruth Edwards, intervened:
I really need to press the Minister on this question of a confidence vote. Many of us have been told today by our Whips that if we vote for, or abstain from voting against, this motion, we will lose the Whip. Will he please confirm whether that is the case?
Stuart replied:
That is a matter for party managers, and I am not a party manager.
… the deregulatory side of the growth package is under threat, with Tory MPs wary of relaxing planning laws and seeking solid guarantees that fracking has local support before going ahead. Ms Truss's difficulty is that on all these issues she could face rebellions and her beleaguered position makes it harder to persuade her party to support government policy.
Tonight's Labour procedural vote on fracking, which was originally said to be a confidence matter, was a case in point. Although the Government won, the chaos surrounding the vote only reinforced the sense of a parliamentary party now edging towards open mutiny.
The division — the vote — went on for longer than usual. Madam Deputy Speaker, Dame Eleanor Laing, asked the Serjeant at Arms to investigate the No lobby.
After the results were read, showing that the Government's stance on fracking only with local approval prevailed, the Shadow Leader of the House, Thangham Debbonaire, raised a point of order:
On a point of order, Madam Deputy Speaker. There are very strong rumours that the Government Chief Whip has apparently resigned. I wonder if it is possible to get some clarity—[Interruption.] More than rumours—[Interruption.] Well, if Government Front Benchers want to say no. I seek your guidance, Madam Deputy Speaker, on whether or not that can be confirmed, given that this is a matter of parliamentary discipline?
Laing said she had not been informed of any Government resignations.
Then Liberal Democrat MP Tim Farron asked whether this was actually a vote of confidence:
On a point of order, Madam Deputy Speaker. I wonder whether you could clarify that the Minister closing the debate we have just had from the Dispatch Box informed his colleagues that it was not a vote of confidence, when we saw earlier, in writing from the Government Deputy Chief Whip, that it was. Could it be possible that Government Members voted in the Division just now without any clarity on what it was actually they were voting for?
Laing replied:
I thank the hon. Gentleman for his point, which of course is not a point of order for the Chair. My concern is that what is said on the Order Paper is correct and accurate, and it is. I thank the hon. Gentleman for the point he raises, but it is not one on which I can judge. Ministers are responsible for their own words.
Then Labour's Chris Bryant raised a point of order:
On a point of order, Madam Deputy Speaker. I urge you to launch an investigation into the scenes outside the entrance to the No Lobby earlier. As you know, Members are expected to be able to vote without fear or favour and the behaviour code, which is agreed by the whole House, says that there shall never be bullying or harassment of Members. I saw Members being physically manhandled into another Lobby and being bullied. If we want to stand up against bullying in this House of our staff, we have to stop bullying in this Chamber as well, don't we? [Interruption.]
Laing replied:
Order. We are talking about behaviour. We will have a little bit of good behaviour for a moment on both sides of the House.
The hon. Gentleman raises an important matter about behaviour. He knows better than anyone else that we have an extremely good system for investigating allegations of bullying, intimidation or bad behaviour. If the hon. Gentleman cares to bring evidence and facts to me, I will make sure that the matter is properly investigated. Of course, we must have decorous behaviour at all times, so we will now proceed quietly and politely.
Later that evening, The Guardian reported:
Amid chaotic scenes in the Commons, it was reported that Wendy Morton, the chief whip, and her deputy, Craig Whittaker, had left the government. However, after hours of confusion Downing Street released a statement saying the two "remain in post" …
The change of personnel in the second of the four great offices of state came on a frantic day which also saw a series of Tory MPs, including Truss's net zero tsar, rebel in a fracking vote, another U-turn over the pensions triple lock, and a mauling from Keir Starmer at prime minister's questions.
After the government won a vote to defeat a Labour motion to ban fracking, the Labour MP Chris Bryant told the Commons in a point of order that he had seen some Tory members "physically manhandled" by ministers into voting for the government.
Just after midnight on Thursday morning, The Telegraph reported on the chaos around the No lobby.
Things did not look good for the Prime Minister:
The Chief Whip was forced out of Government and then reinstated on Wednesday night, capping off a day of chaos for Liz Truss after a confidence vote descended into allegations of backbenchers being manhandled through the lobby. 
It had been reported earlier in the evening that Wendy Morton, one of Liz Truss's closest allies, had been ousted and that her deputy, Craig Whittaker, quit in protest at her treatment.
But hours later the position was reversed, with a No 10 spokesman issuing a statement to say that the "chief and deputy chief whip remain in post".
Downing Street sources insisted Ms Morton resigned, but some MPs claimed that she marched out of the Chamber during the vote on fracking before being sacked by Ms Truss.
Meanwhile, Jacob Rees-Mogg, the Business Secertary, insisted that "this is a Government that is functioning well."
It came at the end of a day of high drama in Westminster, which saw confusion reign over whether or not Conservative MPs would lose the whip for rebelling over a Labour opposition day debate on fracking.
The motion, which was defeated, would have guaranteed Commons time to debate a new law to ban fracking once and for all.
The vote meant that Ms Truss faced a showdown with rebellious MPs, many of whom have openly expressed their opposition to her plans to lift the moratorium on fracking.
But the Prime Minister ordered backbenchers to support the contentious policy – a high risk strategy given the already mutinous mood within the party.
On Wednesday morning, Tory MPs were told by the whips' office that the vote was a "100 per cent hard three line whip".
The message from Mr Whittaker went on to say: "This is not a motion on fracking. This is a confidence motion in the Government.
"I know this is difficult for some colleagues, but we simply cannot allow this. We are voting no and I reiterate, this is a hard three line whip with all slips withdrawn."
If a vote is being treated as a matter of confidence in the Government, it usually means that MPs who vote against it would be expelled from the Conservative Party and have to sit as independent candidates.
Throughout the afternoon, a string of senior Tory MPs broke ranks to declare that they would be prepared to "face the consequences" of voting against the Government.
Truss's Net Zero tsar, Chris Skidmore, said he would rebel:
Several other Conservative MPs echoed his sentiment.
When it came time to vote on the motion:
Tory backbenchers remained completely in the dark as to whether they would lose the whip for voting against the Government or not.
The scenes must have been unbelievable:
It was at this point that the mayhem appeared to reach boiling point, with Labour's Chris Bryant claiming that Tories were "physically manhandled" into the "no" lobby.
Ms Truss was reportedly yelled at by rebel MPs as she went through the lobby. Meanwhile, Mr Whittaker was reportedly overheard saying: "I am f***ing furious and I don't give a f*** any more."
According to some reports, Ms Morton resigned and left the Chamber as the voting was taking place, with Ms Truss grabbing her arm in an attempt to persuade her to reconsider. The Prime Minister then left the lobby trailing behind Ms Morton, and in the chaos, did not manage to vote herself.
While the Government won the vote, there were no fewer than 40 Tory abstentions – including Kwasi Kwarteng, who was sacked as chancellor on Friday, Theresa May, former prime minister, and Ms Truss herself.
I saw a later report that said that Truss voted but her pass card did not work, which was why her vote did not immediately show.
Chris Bryant alleged that Cabinet members were involved in the chaos:
It was unclear how many of the 40 abstentions were because MPs were unavoidably away from Parliament – Boris Johnson, for example, is currently on holiday – or because they were abstaining as a point of principle.
Mr Bryant told Sky News that Cabinet ministers Therese Coffey and Mr Rees-Mogg were among a group of senior Tories who were putting pressure on Conservative MPs to vote against the Labour motion on fracking.
"There was a bunch of Conservative Members obviously completely uncertain whether they were allowed to vote with the Labour or against it," he said.
"There was a group including several Cabinet ministers who were basically shouting at them. At least one member was physically pulled through the door into the voting lobby. That is completely out of order.
"I know that Therese Coffey was in the group. I know that Jacob Rees-Mogg was in the group and there were others as well. The group all moved forward with one member."
Other MPs were also upset at the lack of clarity:
One furious MP said they felt the Government had deliberately tried to trick backbenchers into supporting it with the mix-up over whether the vote was a confidence matter. They said this amounted to a "breach of trust" between No 10 and MPs that would be almost impossible to repair.
Another senior Tory MP put the confusion down to a "cock up" between No 10 and the whips office and said the confidence vote was in fact meant to be attached to the Government's motion, and not the one tabled by Labour …
One senior Tory MP appeared to sum up the mood in the party and said the past 24 hours had been "beyond comedy", adding: "You couldn't make it up if you spent 20 years trying to write this. The greatest author in the world couldn't make it up."
Business Secretary Jacob Rees-Mogg attempted to shed light on the situation:
Speaking to Sky News after the vote had ended, Mr Rees Mogg said he did not know whether Ms Morton was still in post or not, saying: "I am not entirely clear on what the situation is with the Chief Whip."
He explained that the confusion arose over whether the Commons vote on fracking was a confidence vote because of a message sent by a "junior official in 10 Downing Street", suggesting they did not have the authority to do so.
Asked whether the Government "blinked" and U-turned on the confidence vote over fears of losing it, he told Sky News: "I don't think that's a fair way of looking at it. I think what happened was that, late in the day, a junior official at 10 Downing Street sent a message through to the front bench that it was not a vote of confidence and nobody else was aware of that.
"The whips were not aware of that, I was not aware of that and most members thought that it was a vote of confidence. It was simply one of those unfortunate miscommunications that occasionally happens."
He added: "It's one of the issues you always face in government that people say they speak for Downing Street without having actually ever bothered to get the authority of the Prime Minister and unfortunately on this occasion it fed through immediately to the floor of the house."
The conversation about the vote continued on Thursday, culminating in Liz Truss's resignation.
More about this debacle will follow in my post on Monday.
After the gloomy opening of the Conservative Party Conference this year, dominated by U-turns, rebels and division, I promised good news.
Liz Truss's closing speech
Prime Minister Liz Truss gave an excellent closing speech and, despite the train strike that day, the conference hall in Birmingham appeared to be filled.
Her speech is 36 minutes long, but it went by very quickly indeed:
I watched a bit of GB News on Wednesday afternoon. One of their reporters interviewed Party members leaving conference. Nearly all said that they were 'pleasantly surprised' and reassured by what the new Prime Minister had to say.
Writing for The Telegraph, veteran journalist Patrick O'Flynn concluded, 'Liz Truss might just have rescued her premiership' (emphases in purple mine):
Strip away the depressing context surrounding Ms Truss's speech, of backbench rebellions and media pile-ons, and what we heard and saw was a well-crafted address that attempted to place her culturally on the side of "normal working people" – especially in the private sector. More notably, she has positioned herself firmly against an "anti-growth coalition" whose members she characterised as being driven from north London town houses to BBC studios to preach "more tax, more regulation, more meddling".
"They don't understand the British people. They don't understand aspiration," she said, adding: "The real heroes are the people who go out to work, take responsibility and aspire to a better life for themselves and their families and I am on their side."
This was an attempt to glue back together an old alliance between a female prime minister and her natural supporters: that which existed between Margaret Thatcher and "our people". So was a key message towards the end of the speech. Not the grandiose "the lady is not for turning" which had after all been made untenable by the U-turn on top rate tax, but the more sober phrase "we must stay the course".
Guido Fawkes has the transcript, excerpted below.
Truss began by thanking Andy Street, the Conservative mayor of Birmingham, which is the United Kingdom's second largest city. She praised Teesside's mayor, Ben Houchen, as he transforms the North East of England.
She acknowledged that we are in difficult days:
Together, we have mourned the death of Queen Elizabeth II, the rock on which modern Britain was built.
We are now in a new era under King Charles III.
We are dealing with the global economic crisis caused by Covid and by Putin's appalling war in Ukraine.
In these tough times, we need to step up.
I am determined to get Britain moving, to get us through the tempest and put us on a stronger footing as a nation.
I am driven in this mission by my firm belief in the British people.
She said she would not meddle in our personal affairs but resolve the concerns that unite us:
… I'm not going to tell you what to do, or what to think or how to live your life.
I'm not interested in how many two-for-one offers you buy at the supermarket, how you spend your spare time, or in virtue signalling.
I'm not interested in just talking about things, but actually in doing things.
What I'm interested in is your hopes and fears that you feel every day.
Can you get a good job locally?
Is it safe to walk down the high street late at night?
Can you get a doctor's appointment?
I know how you feel because I have the same hopes and fears.
I want what you want.
I have fought to get where I am today.
I have fought to get jobs, to get pay rises and get on the housing ladder.
I have juggled my career with raising two wonderful daughters.
I know how it feels to have your potential dismissed by those who think they know better.
She then related an anecdote from her childhood, which may over-40s will recognise:
I remember as a young girl being presented on a plane with a "Junior Air Hostess" badge.
Meanwhile, my brothers were given "Junior Pilot" badges.
It wasn't the only time in my life that I have been treated differently for being female or for not fitting in.
It made me angry and it made me determined.
Determined to change things so other people didn't feel the same way.
This I did not know:
I stand here today as the first Prime Minister of our country to have gone to a comprehensive school.
She gently reminded her audience that the Government has already addressed the fuel price crisis. The cap is £2,500:
Let's remember where we were when I entered Downing Street.
Average energy bills were predicted to soar above £6,000 a year.
We faced the highest tax burden that our country had had for 70 years.
And we were told that we could do nothing about it.
I did not accept that things had to be this way.
Around that point, two protesters waved a Greenpeace banner (Guido has the video):
They would have had to sign up to be Party members in order to get in, just as the protesters did who infiltrated the Party leadership hustings in July and August.
Conservative men quickly took the banner away. The women had a spare to unfurl. That too, was swifly removed.
Truss quipped:
Now later on in my speech my friends I am going to talk about the anti-growth coalition.
But I think they arrived in the hall a bit too early, they were meant to come later on.
We will get onto them in a few minutes.
She paused while security removed the women from the conference hall.
She concluded on the fuel price cap:
We made sure that the typical household energy bill shouldn't be more than around £2,500 a year this winter and next.
We followed up with immediate action to support businesses over the winter.
We are determined to shield people from astronomically high bills.
So much so, that we are doing more in this country to protect people from the energy crisis than any other country in Europe.
Our response to the energy crisis was the biggest part of the mini-Budget.
Later, she borrowed one of Michelle Obama's phrases from the 2008 presidential campaign:
We need to fund the furthest behind first.
And for too long, the political debate has been dominated by the argument about how we distribute a limited economic pie.
Instead, we need to grow the pie so that everyone gets a bigger slice.
That is why I am determined to take a new approach and break us out of this high-tax, low-growth cycle.
She also used John McCain's 'my friends' in addressing the audience, more than the transcript references. That, too, came from the 2008 presidential campaign:
When the government plays too big a role, people feel smaller.
High taxes mean you feel it's less worthwhile working that extra hour, going for a better job or setting up your own business.
That, my friends, is why we are cutting taxes.
We have already cut Stamp Duty, helping people on the housing ladder – especially first-time buyers.
We are reversing the increase in National Insurance from next month.
We are keeping corporation tax at 19%, the lowest in the G20.
We are helping 31 million working people by cutting the basic rate of income tax …
The fact is that the abolition of the 45p tax rate became a distraction from the major parts of our growth plan.
That is why we are no longer proceeding with it.
I get it and I have listened.
She reiterated pledges for post-Brexit and post-pandemic Britain.
She made a good point about Western complacency, something I have been saying for years:
One of the reasons we are facing this global crisis is because collectively the West did not do enough.
We became complacent.
We did not spend enough on defence.
We became too dependent on authoritarian regimes for cheap goods and energy.
And we did not stand up to Russia early enough.
We will make sure this never happens again.
She pledged continued support for Ukraine, which earned her a standing ovation.
Then it was time for her to talk about the anti-growth coalition — the metropolitan elite — which was lengthy. This was her opening:
I will not allow the anti-growth coalition to hold us back.
Labour, the Lib Dems and the SNP…
…The militant unions, the vested interests dressed up as think-tanks…
…The talking heads, the Brexit deniers and Extinction Rebellion and some of the people we had in the hall earlier.
The fact is they prefer protesting to doing.
They prefer talking on Twitter to taking tough decisions.
They taxi from North London townhouses to the BBC studio to dismiss anyone challenging the status quo.
From broadcast to podcast, they peddle the same old answers.
It's always more taxes, more regulation and more meddling.
Wrong, wrong, wrong.
Guido has the video:
She praised our unsung heroes:
My friends, does this anti-growth coalition have any idea who pays their wages?
It's the people who make things in factories across our country.
It's the people who get up at the crack of dawn to go to work.
It's the commuters who get trains into towns and cities across our country.
I'm thinking of the white van drivers, the hairdressers, the plumbers, the accountants, the IT workers and millions of others up and down the UK.
The anti-growth coalition just doesn't get it.
This is because they don't face the same challenges as normal working people.
She concluded:
We cannot give in to those who say Britain can't grow faster.
We cannot give in to those who say we can't do better.
We must stay the course.
We are the only party with a clear plan to get Britain moving.
We are the only party with the determination to deliver.
Together, we can unleash the full potential of our great country.
That is how we will build a new Britain for a new era.
A strong cross-party coalition, helped powerfully by the media, is clearly trying to do away with Truss's premiership.
These were her YouGov ratings before her speech:
Keep in mind that YouGov was founded by former Chancellor, Nadhim Zahawi, who was caretaker during the leadership contest over the summer.
Guido wrote:
If memory serves Guido correctly, [former Labour leader] Jeremy Corbyn managed a minus 60 net approval rating at his worst. Liz has a net approval rating of minus 59. Guido is told it is the lowest rating ever recorded of a Conservative Party leader. Her speech today needs to be the beginning of a turnaround.
Borrowing from the 1960s protest tune: all we are say-ing, is give Truss a chance …
Truss, with the help of Party whips, has finally been able to complete the rest of her parliamentary appointments.
Guido said:
The Government's reshuffle is finally coming to a close, as appointments to a number of Parliamentary Private Secretary (PPS) positions gave been confirmed. Co-conspirators will recall the whips had been experiencing some difficulty in recruiting enough parliamentary bag-carriers, though they have now managed to fill each position. Even if the vast majority are eager 2019ers…
The Government also seems to have granted whips greater individual responsibility for departments, with specific roles also listed. If recent trends are anything to go by, the government could use all the help to party discipline it can muster.
Having mustard keen 2019 MPs in on the act can only be a good thing. Most of them are from Red Wall seats, so their minds will be focused on growth and other Truss objectives, many of which dovetail with their own.
Other high points — Foreign Secretary Cleverly and Home Secretary Braverman
Other well-received speeches came from Foreign Secretary James Cleverly and Home Secretary Suella Braverman, both of whom appeared on Tuesday, October 4.
Here is a short clip from James Cleverly's speech:
Cleverly's speech is at the 2:05:00 mark in this video. Braverman's comes before, beginning at 1:35:00:
Suella Braverman said many of the same things that her predecessor Priti Patel did as Home Secretary. We can but wait and see what happens.
One of the big problems in processing migrants without papers, such as those who come across the Channel in dinghies, is that they are hard to trace to their true countries of origin.
Another issue is that many in the civil service who are assigned to the Home Office are pro-immigration. Patel tried her best to counter them, but they stood firm, citing EU laws under which we are still beholden. The Brexit process continues. There wasn't enough time to renegotiate everything we should have, e.g. the Dublin Agreement. As we are no longer in the EU, we are no longer subject to that agreement whereby migrants have to apply for asylum in the first safe country they are in — in our case, France. We have to draw up a new agreement along the same lines, which will require EU co-operation.
On top of that, during Theresa May's time as PM, a modern slavery law came into force in the UK. In short, anyone claiming to have been a modern slave is automatically allowed to stay here. No proof is required.
With that burden, we can also add human rights charities and their lawyers who effectively scuppered the first UK flight to Rwanda last summer. It never happened. Everyone's case was challenged before take-off, leaving an empty aircraft.
Euronews reported on that part of Braverman's speech:
In a Tuesday evening speech at the Conservative Party's autumn conference in Birmingham, immigration minister Suella Braverman said that people who arrive by unauthorised means should not be allowed to claim asylum in the UK and she doubled down on contentious plans to send some asylum-seekers on a one-way trip to Rwanda.
However, Braverman acknowledged that a legal challenge to the policy means it's unlikely anyone will be deported to the east African country this year. 
"We need to find a way to make the Rwanda scheme work," said Braverman.
"We cannot allow a foreign court to undermine the sovereignty of our borders," she continued, to cheers and applause from the audience.
"A few months ago the European Court of Human Rights in Strasbourg did just that. By a closed process, with an unnamed judge, and without any representation by the UK. A European Court overruled our Supreme Court. And as a result our first flight to Rwanda was grounded. We need to take back control."
She didn't say how the government intends to 'take back control'. The European Court of Human Rights is not part of the EU, and membership is not affected by Brexit …
Braverman said many migrants were "leaving a safe country like France and abusing our asylum system," adding that she wanted to work more closely with French authorities "to get more out of our partnership."
"We've got to stop the boats crossing the Channel," she said, to more applause.
So far this year, 30,000 migrants have crossed the Channel:
The one advantage that Braverman has over Patel is that she is a lawyer, so she will be finely attuned to legal turns of phrase.
Those interested can read more of her views in this article from The Telegraph.
Quentin Letts, The Times's political sketchwriter, concluded:
the day belonged to Braverman. As bids for popularity go, it wasn't particularly subtle or cerebral. Effective, though.
Proper membership cards make comeback
In an eco-friendly move under Boris Johnson, the Conservative Party began issuing paper certificates instead of plastic membership cards.
Thankfully, those days are over, for lifetime Party members at least:
Guido reports:
Tory party Chair Jake Berry has just confirmed the return of plastic membership cards for lifetime Tory members, replacing the much-maligned 'membership certificates' introduced by Amanda Milling back in 2020. At the time, Milling introduced the paper certificates to save the environment, or something like that. Even MPs were upset; Michael Fabricant complained the certificate wouldn't fit in his trinket box of membership cards and hair clips. Jane Stevenson pointed out they could just be made of card instead. Now the debate has been put to rest – Berry's bringing the real deal back, having just revealed the move at a fringe event this morning. Expect to see the cards' triumphant return from January.
That ends the positive conference news.
Kwarteng's U-turn U-turn U-turn
Chancellor Kwasi Kwarteng did a third U-turn on bringing forward his more detailed fiscal event plans.
It appears that he will be going ahead with presenting them to Parliament on November 23 after all:
Or is it October 23?
Mel Stride, who supported Rishi Sunak in the leadership contest and heads the Treasury Select Committee, says that it will be October 23. So did the Financial Times, apparently. They, too, supported Sunak.
Hmm. I sense mischief making.
Guido reports:
Except Kwasi later insisted on GB News that it definitely wasn't moving:
'Shortly' is the 23rd. People are reading the runes […] it's going to be the 23rd.
"People reading the runes" in this case including the Chair of the Treasury Select Committee. Liz herself later said it's coming in November, and Treasury Civil Servants were told in a team meeting this morning that anything to the contrary was just "press speculation". Guido understands, however, that the people reading the runes are onto something: the Treasury is still considering adjusting the date after all…
Kwasi must stick to his guns and stop the U-turns.
Rebel, rebel …
The rebels were active throughout the conference.
Michael Gove
On Wednesday's Dan Wootton Tonight show on GB News, panellists were split on whether Sunak-supporting Michael Gove should have the whip removed.
The Daily Express's Carole Malone said that Truss should have given Gove a Cabinet post so that he would have made less mischief. However, Wootton countered by saying that Gove always undermines the Prime Ministers he has worked for in Cabinet.
Someone who wasn't on the show and thinks Gove should have the whip removed is Nigel Farage. I fully agree with him. We saw the trouble that rebel Conservatives made for Theresa May and Boris Johnson in 2019 over Brexit. David Gauke was one of them. Boris had the whip removed and we did not see him again after the 2019 general election; his Conservative association deselected him:
Grant Shapps
Grant Shapps, another Sunak supporter, has been working in tandem with Michael Gove to thwart Truss's leadership.
He has made no secret of his threat to go to Sir Graham Brady, chairman of the 1922 Committee, with a letter of no confidence — not only from himself but other MPs:
On Tuesday, October 4, he told Times Radio:
I want Liz to succeed. So I'm hoping that she can turn us around, I think there is a window of opportunity for her to do it. I'm cheering her on, if you like, to succeed. Y'know, in the end I don't think members of parliament, Conservatives, if they see the polls continue as they are, are going to sit on their hands. A way would be found to make that change. You know, it's important, not for members of parliament, but for the country, still two years to go to another election, that we have good, stable, sensible, smart government in place doing things that are required for the people in this country. So of course that could happen. In the meantime, I hope Liz can turn this around.
'A way would be found' means urging Brady to change the rules whereby a PM could be ousted sooner than 12 months of assuming the Party leadership.
Shapps had the gall to suggest Truss had ten days to turn around her leadership!
Nadine Dorries
Nadine Dorries was the Secretary of State for Digital, Culture, Media and Sport while Boris was PM.
When he stood down as party leader, she was gutted. She had at least one defender:
She stayed loyal beyond the end of his premiership, perhaps embarrassingly so: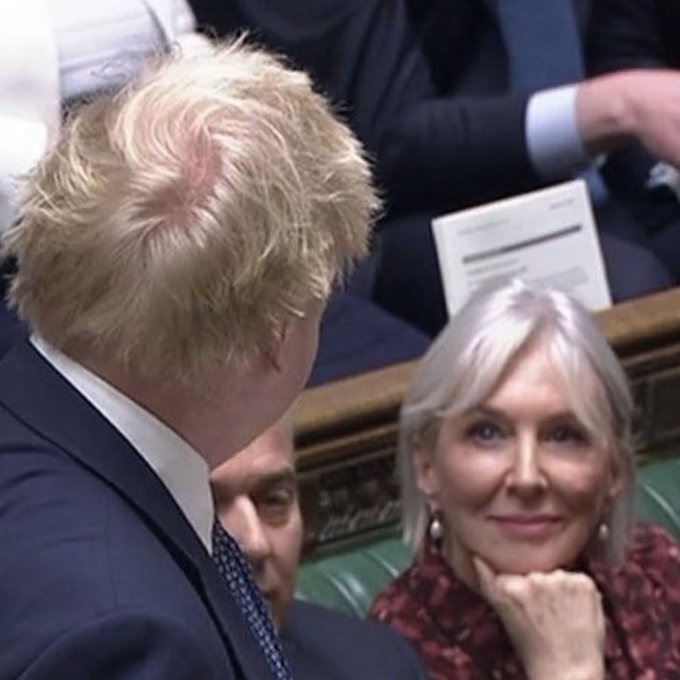 She had a lot to say when he stood down as Party leader:
In the end, she didn't run for Party leadership:
Dorries resigned from Cabinet on Tuesday, September 6. Boris was in his final hours as PM that day, when he and Truss flew separately to Balmoral to see the Queen.
Guido posted Dorries's letter to Boris, commenting:
She added that while Liz had offered her the chance to continue, she's stepping down anyway.
She is now unhappy that her Online Safety Bill might be kicked into the long grass. Millions of us certainly hope so. It is deeply embedded in censorship, principally the 'legal but harmful' clause.
On Monday, October 3, Dorries said that Truss should hold a general election. Utter madness, all because her censorship legislation is up for cancellation. Even madder is the fact that she was a Truss supporter.
The Spectator had the story:
To inspire one Nadine Dorries tweet may be regarded as a misfortune, to inspire two looks like carelessness. Less than 24 hours after the former Culture Secretary criticised Truss for appearing to blame her Chancellor for the 45p tax debacle, she's back at it again. Frustrated by Truss's decision to junk much of the Johnson agenda from 2019, the high priestess of online harms took to her favourite medium of Twitter to write:
Widespread dismay at the fact that 3 years of work has effectively been put on hold. No one asked for this. C4 sale, online safety, BBC licence fee review – all signed off by cabinet all ready to go, all stopped. If Liz wants a whole new mandate, she must take to the country.
The repeated criticisms are all the more interesting, given the importance of Dorries and other Johnson loyalists in ensuring that Truss made the final two earlier this summer. Dorries was something of an unruly attack dog, savaging Truss's opponent Rishi Sunak at ever opportunity …
Guido posted Dorries's tweet …
and wrote:
We appear to be at the "everybody losing their mind" stage of Conservative Party conference a day early.
The next day, she seemed to walk back what she said by citing Boris's support of Truss. This is a clip of her interview with LBC radio's Iain Dale:
Embarrassing.
Benefits rebels
Truss-backer Sir Iain Duncan Smith is now opposing her in wanting benefits increased in line with inflation:
Guido has the video:
Iain Duncan Smith has added his voice to the chorus of rebels piling on Liz to raise benefits with inflation. Speaking at a ConservativeHome fringe the former Work and Pensions Secretary argued giving to the poorest was a more efficient way of going for growth, as they would spend it quicker. He's had a quick change in tune since backing Liz for leader…
That sounds very cynical, indeed.
Kemi Badenoch
Trade Secretary Kemi Badenoch, the popular Party leadership candidate for British voters, openly opposed Truss's bid for even more migration.
It is hard to disagree with Badenoch. Even so, as a Cabinet minister, perhaps she should have held back from expressing them publicly.
She aired her views on Sunday evening:
At the IEA/TPA DrinkTanks reception last night, guest of honour Kemi Badenoch openly rebuked the PM's plans to let in more immigrants to boost growth. The Trade Secretary ignored any sense of collective responsibility as she told the assembled free marketeers:
Simply taking in numbers to boost GDP while GDP per capita falls is not the right way to do that. We need to look again at resolving our productivity issues and that means using capital better, not just getting cheaper and cheaper labour.
Kemi's brazen and deliberate speech last night all but confirmed The Times' article on Sunday reporting major Cabinet divisions over the plan, with Kemi and Suella Braverman at odds with the PM's preferred free market solution. Like Liz, Guido doesn't have a problem with skilled, legal immigration, it is the illegal immigration which is concerning. It seems Tory Cabinet ministers aren't even pretending to play happy families anymore…
45% tax rate rebels
Prominent Conservative Cabinet members disagree with Truss and Kwarteng over their Sunday night U-turn on abolishing the 45% upper tax rate.
Home Secretary Suella Braverman seemed to accuse Conservative MPs of forcing the change in plan, going so far as to claim it was 'a coup':
Guido has a photo of Braverman, along with Jacob Rees-Mogg and Simon Clarke, two other Cabinet members who want the upper rate abolished:
Simon Clarke agrees with Braverman's assessment of 'a coup':
Guido has more:
Jacob Rees-Mogg was also quick to voice his disappointment at the scrapped cut at a fringe event this afternoon, although he claimed to recognise the politics of the move. This all comes in the context of public cabinet battles over benefits, and Penny Mordaunt's attacks on government comms. Meanwhile backbench agitators continue briefing out plans to rebel, with some now even claiming they're holding "crisis" talks about Liz's leadership. Truss has been PM for 28 days. Not quite the honeymoon period she would've hoped for…
Wow. For Jacob Rees-Mogg to speak out about his disappointment is surprising. He is normally respectful of parliamentary boundaries and procedure.
There is a way to get rid of this tax rate. I will have more on that next week.
James Cleverly warns Cabinet rebels to 'shut up'
In much the same way that Welsh Secretary Robert Buckland did, Foreign Secretary James Cleverly warned Cabinet rebels to 'shut up':
On Wednesday, October 5, Guido reported:
James Cleverly has diplomatically warned Cabinet colleagues to shut up after yesterday's day of chaos, in which collective responsibility broke down on everything including the 45p u-turn, immigration numbers and uprating benefits in line with inflation. Speaking on the BBC this morning ahead of Liz's big speech, the foreign secretary warned:
All Cabinet colleagues ultimately are going to have to abide by collective responsibility… I think it's always better and easier to feed ideas, particularly when you're in government and have access to the Chancellor and the PM, feed your ideas directly into the centre of the system…
On TimesRadio he also implied yesterday's comments from Braverman, Mordaunt and Clarke – among others – were inappropriate. Guido hears Cleverly's speechwriter had to edit a swear word out of the Foreign Secretary's speech earlier this week; we can only imagine how many expletives Cleverly wanted to use in response to yesterday's farce…
Conclusion
Here endeth the news about the Conservative Party Conference.
MPs must give Truss a chance. She has gone through the hardest beginning to her premiership of any PM in known history.
She deserves time to lead us. With everyone against her, she must be doing something right.
She is representing British voters' interests. That is only right and fair.
On Friday, September 23, 2022, just four days after the Queen's funeral, Chancellor Kwasi Kwarteng delivered a 'fiscal event' designed to kick start the British economy.
In the days leading up to the fiscal event, so-called because it wasn't a full budget, the media and Labour were clamouring for it. However, the nation was in mourning for the late monarch and, accordingly, Parliament was in recess.
Conservative critics — i.e. Brexit critics — asked, 'Where's Liz? Where's the Chancellor? Something must be done!'
Parliament reconvened on that Friday to hear Kwarteng deliver a big, bold and beautiful economic plan, which included the abolition of the 45% upper tax rate.
Even Nigel Farage approved, going back in history to Margaret Thatcher's time as PM:
What happened? The same critics blasted Kwarteng and Prime Minister Liz Truss for their rather Thatcherite plan, designed to reverse the nation's economic course since the Labour days of the early Millennium under Gordon Brown to the present Conservative government:
Small-c conservatives hoped that Boris Johnson would have done this, but it was too big to take on. With the flak Truss and Kwarteng caught, it now appears that Johnson probably feared it would dent his popularity. That's only my guess, but it makes sense.
Mortgage rate fears
I went to a small local event on Saturday, September 24. Before it began, one woman of pensionable age asked, 'Has anybody seen the news today? I didn't have time to look. Has the economy crashed yet?' It was clear she was angry. Other people in attendance responded with jokes about supply-side economics.
Throughout the week, it was nothing but doom and gloom, even on GB News, which offered few correctives. The Labour Party conference took place last week, which did not help.
I went to the shops on Wednesday, September 28. On my walk, I overheard an estate agent talking to an older couple about their mortgage rate fears as a result of the fiscal event. The media had sent out ominous messages about rising interest rates. The estate agent told the couple that the turbulence would be short term and that it was taking place all over Europe — which is true.
On Thursday, September 29, the BBC's Question Time aired. One young woman stoked fears about a hike in interest rates on mortgages, claiming — claiming — that hers was going up to over 10%: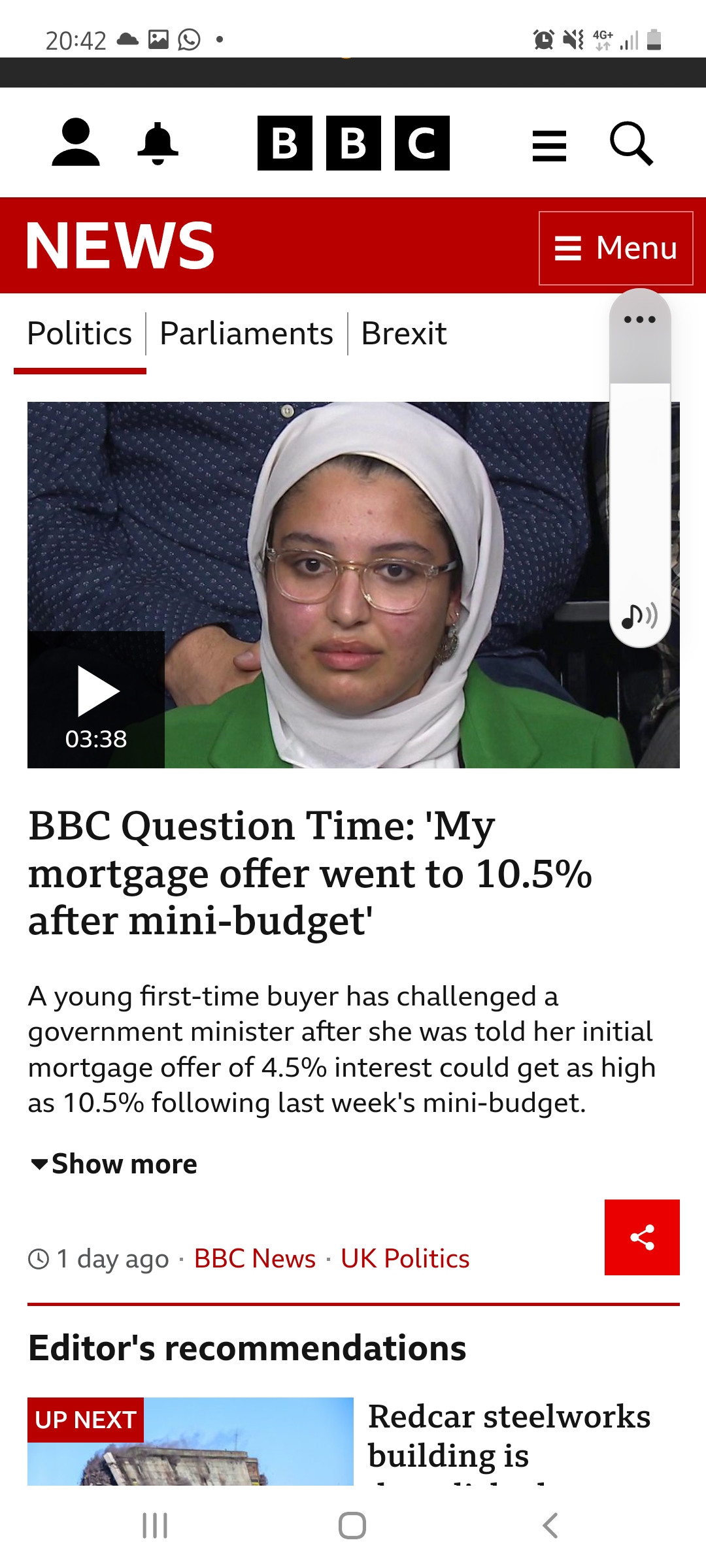 But was this claim true?
Apparently, the claim is false: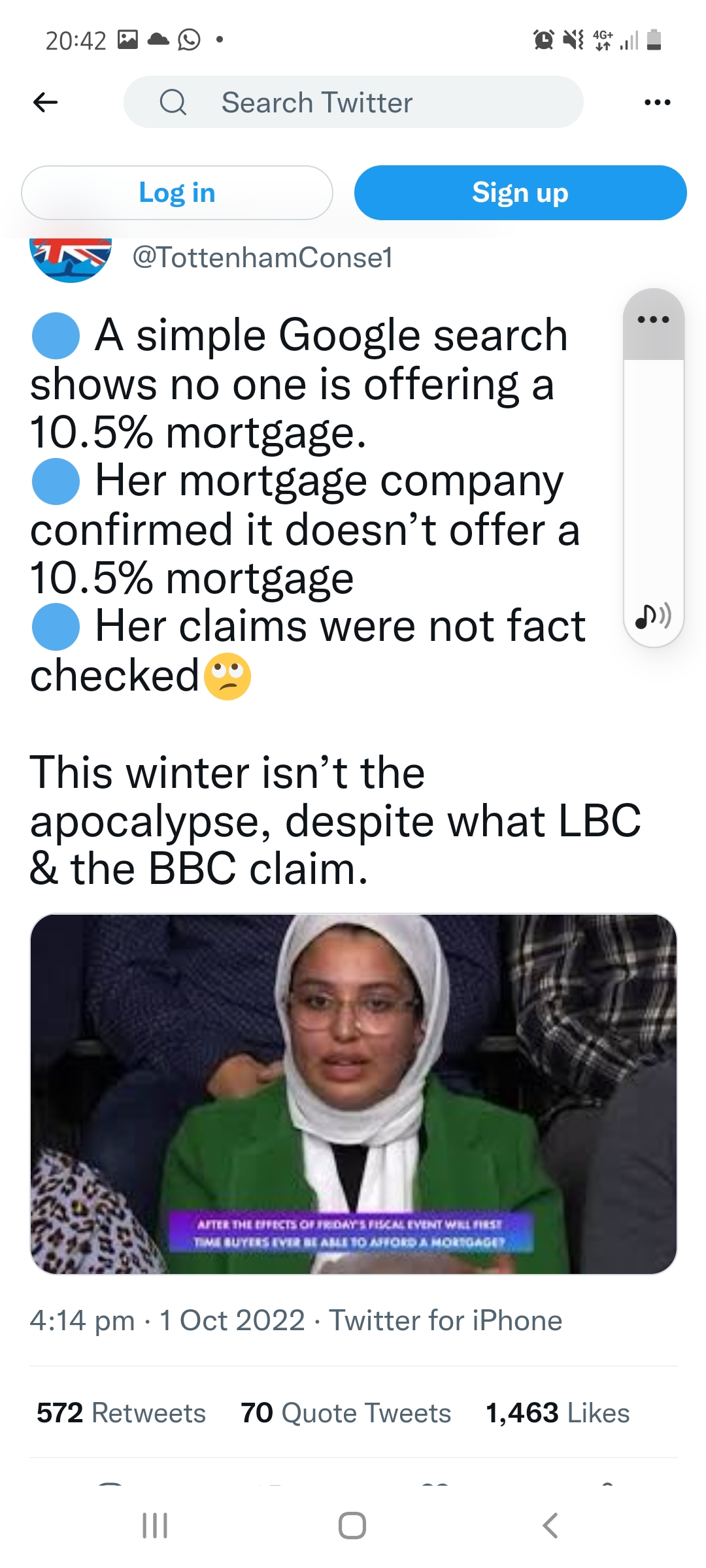 Skipton Building Society said they had not offered a 10%+ mortgage rate for many years: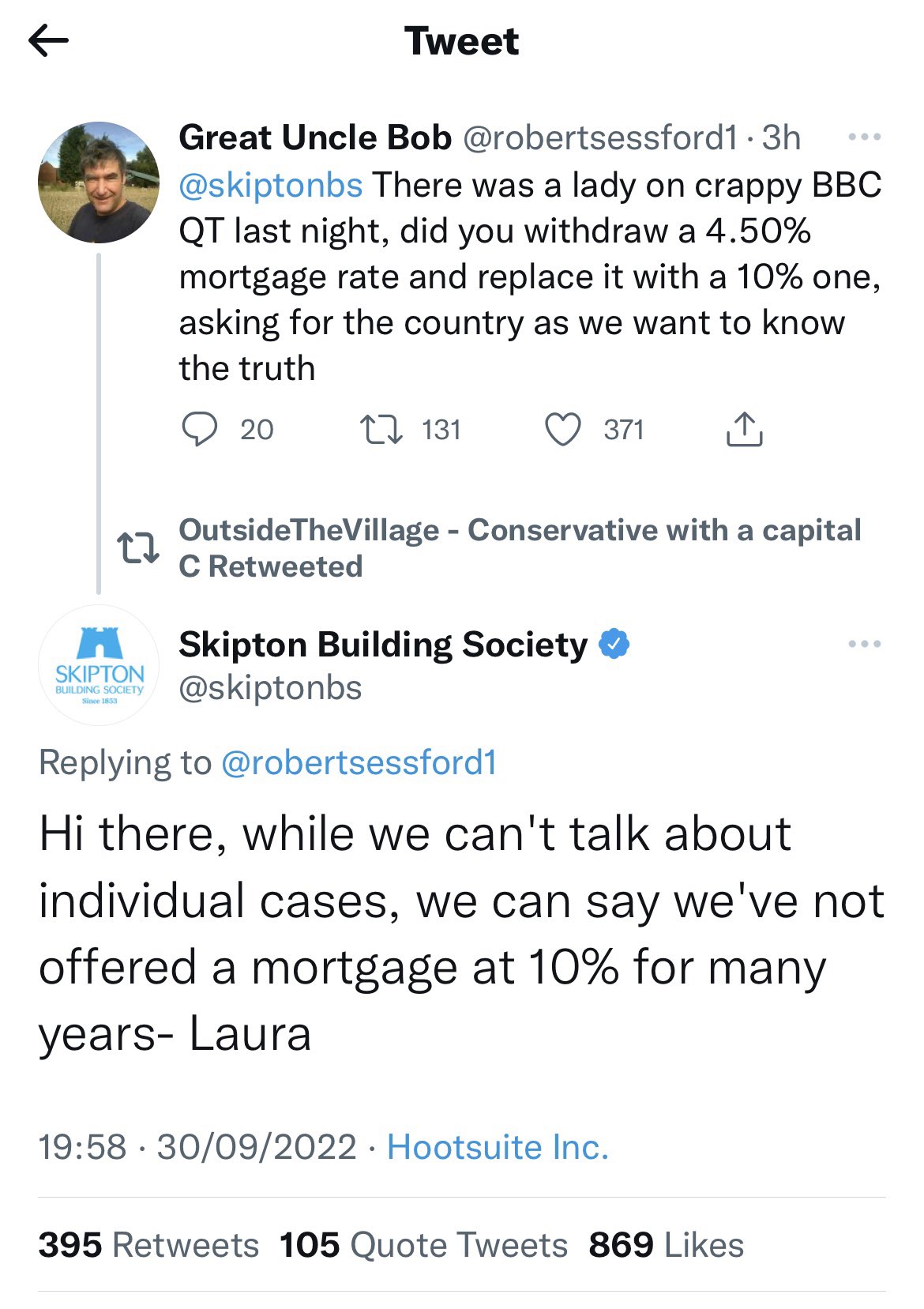 Once again, the Left — including the media — took charge of the Conservative narrative. They're still at it.
Conservative Party conference opens
On Sunday, October 2, the Conservative Party conference began in the UK's Second City, Birmingham, once our industrial capital:
Penny Mordaunt MP, Leader of the House of Commons, paid an excellent tribute to our late Queen, which was followed by a minute's silence and the singing of the National Anthem.
Having seen the first few speeches on GB News, the mood from the MPs speaking was upbeat. However, the mood in the conference hall was sombre.
Rishi Sunak and several of his supporters, prominent MPs, did not attend. Sunak said he wanted to be absent so that Truss 'could own the moment'. Ouch.
Boris Johnson also sent in his regrets.
Earlier that day, Truss appeared on Laura Kuenssberg's Sunday show on BBC1.
Kuenssberg asked her about the abolition of the 45% tax rate. Truss said that was Kwarteng's decision. Oh, dear. Guido Fawkes has the video:
Because the fiscal event had to be done quickly, Truss and Kwarteng did not consult other Cabinet members.
Also, because it was such a departure from the norm, it appeared shocking to Britons expecting more of the same. Truss told Kuenssberg that she and the Chancellor could have communicated it better (see video):
Truss rightly pointed out that 'optics' — rather than reality — dominated the fiscal event:
In the video, Kuenssberg ended by saying that optics were terribly important, implying that they make just as much of an honest representation as does reality. Oh, my days!
Returning to the Conservative Party conference opening day, Michael Gove stuck his oar in, saying that tax cuts are not conservative.
Whaaat?
Former Conservative MP Michael Portillo explained on his GB News show that Gove became an MP during David Cameron's time as Prime Minister and, therefore, has a different take on economics.
The economy wasn't the only issue on MPs' minds. Other of Truss's leadership rivals in this summer's contest for PM were not happy.
As is common with party conferences, smaller events took place outside of the main venue.
Last week, Truss said she would like to see more immigration, something that won't please folks who voted Conservative for the first time in 2019.
On Sunday evening, Trade Secretary Kemi Badenoch — the MP whom conservatives deeply admire — attacked Truss's immigration plans:
Guido has the story, which reveals rifts in the Party (emphases his):
If Liz Truss thought the furore over the 45p rate would distract attention from MPs rebelling on other policy areas, Guido's sorry to disappoint her. At the IEA/TPA DrinkTanks reception last night, guest of honour Kemi Badenoch openly rebuked the PM's plans to let in more immigrants to boost growth. The Trade Secretary ignored any sense of collective responsibility as she told the assembled free marketeers:
Simply taking in numbers to boost GDP while GDP per capita falls is not the right way to do that. We need to look again at resolving our productivity issues and that means using capital better, not just getting cheaper and cheaper labour.
Kemi's brazen and deliberate speech last night all but confirmed The Times' article on Sunday reporting major Cabinet divisions over the plan, with Kemi and Suella Braverman at odds with the PM's preferred free market solution. Like Liz, Guido doesn't have a problem with skilled, legal immigration, it is the illegal immigration which is concerning. It seems Tory Cabinet ministers aren't even pretending to play happy families anymore…
Also that evening, Leader of the House Penny Mordaunt spoke at a small gathering to complain — rightly — about poor Conservative communication over policy making:
She made her views known at an event called 'Conservatives in Communication'.
Sadly, Guido points out:
… host Adam Honeysett-Watts had to tell the crowd to shut up and listen. Unfortunately, most of the attendees were far more interested in guzzling free booze and chatting to each other.
Meanwhile, Truss addressed a group of Conservatives, explaining the need for growth — now. She, too, said that Party communications are lacking:
She is not wrong, and she has to make up for the past two years, consumed by dealing with the pandemic.
The second day of conference brings U-turn on 45% tax rate
Did Michael Gove, the Scot who wants to become PM, exercise his influence once again?
Nothing against Scots, but their politicians do seem to think that people need to be micro-managed, which Gove does, and that we should continue a globalist agenda in, well, nearly everything.
For the first time in years, Gove is not in Cabinet.
That said, he has never supported PMs he has served, going all the way back to David Cameron. This comment comes from one of Guido's readers (purple emphases mine):
Cameron, don't forget Cameron. Gove mortally wounded him too with Brexit. I don't disagree with Gove supporting Brexit obviously but the way he went about it was like a serpent to someone who called him his friend. His whole front line career has been poisonous towards the sitting leader.
At 7:17 a.m., Guido tweeted that Truss and Kwarteng were backing down on abolishing the 45% tax rate:
Kwarteng said he would still be going ahead with the rest of the fiscal event policy.
That U-turn will empower Gove and the Left — again, media included — to control the narrative even more.
Baroness Thatcher would have been so disappointed:
And I know what Thatcher would have done with Gove: withdrawn the Party whip.
Guido says that the reversal came about on Sunday evening and that The Sun had the exclusive:
After The Sun broke the exclusive of conference late last night, the Lobby's just been informed that the government will now not be going ahead with the 45p rate abolition, with a u-turn expected to be announced within the next hour. Just yesterday the press were briefed that Kwasi was to tell conference "We must stay the course. I am confident our plan is the right one."
This morning the course has not been stayed – it has been re-directed in another direction altogether. Kwasi's statement:
From supporting British business to lowering the tax burden for the lowest paid, our Growth Plan sets out a new approach to build a more prosperous economy. However, it is clear that the abolition of the 45p tax rate has become a distraction from our overriding mission to tackle the challenges facing our country. As a result, I'm announcing we are not proceeding with the abolition of the 45p tax rate. We get it, and we have listened. This will allow us to focus on delivering the major parts of our growth package. First, our Energy Price Guarantee, which will support households and businesses with their energy bills. Second, cutting taxes to put money back in the pockets of 30 million hard-working people and grow our economy. Third, driving supply side reforms – including accelerating major infrastructure projects – to get Britain moving.
The move came after crisis talks yesterday between the PM and Chancellor; their hands forced by Tory MPs continuing to state on the record they couldn't vote for the plans, despite an open warning from [new Party chairman, MP] Jake Berry that they'd lose the whip. Gove was at the forefront of the rebellion…
Guido's cartoonist came up with this:
It is unclear how much of this has to come up for a vote in Parliament in order to proceed.
However, it is becoming apparent that a significant number of MPs have not united behind Liz Truss:
If enough Conservative MPs rebel in a vote, the Government could collapse. A collapse could trigger an imminent general election (GE). With the way things are, Labour could win and form a coalition with the other Opposition parties. That would be a disaster, particularly in voting reform if they push through a vote for 16-year-olds and immigrants to vote in a GE. Furthermore, they would probably also want some type of proportional representation to replace the centuries-old first-past-the-post.
Of course, the alternative is that Conservative MPs have another leadership contest, but that would look as if they were incompetent. One MP suggested that Conservative Party members be locked out of that vote altogether, which would anger them deeply.
An hour after Kwarteng announced the U-turn, he was on BBC Radio 4 with Conservative-loathing Nick Robinson. This is so sad:
Then Kwarteng went on Nick Ferrari's LBC breakfast show. Ferrari pressed him to say 'no more U-turns' but the Chancellor repeated, 'I've said what I've said'. Guido has the video:
As a result of the U-turn, the markets were no longer predicting a 6% rise in interest rates, but something slightly lower — 5.5% and 5.75%. Guido is right in saying this is an emotional response:
Sterling was also slightly up, but not hugely:
In closing, let's return to Gordon Brown, who succeeded Tony Blair as PM — without an election, I might add.
Conservative MP Gillian Keegan put the blame squarely on Brown in an interview with Times Radio on Monday morning.
Guido has the story:
Foreign Office Minister Gillian Keegan was spot on when she told Times Radio this morning that the top rate of tax was a political time bomb left behind by Gordon Brown:
I always knew that it was going to be a political problem. I mean, let's be honest, this was a political trap that was set by Gordon Brown in the dying days of his role as PM, right. And I paid the 50% tax. I was in business then. And I remember how devastating it was because actually, it meant you were paying about 65% tax. And there's something in your mind, which is like, really, you know, only 35% for me? And I'm doing all these hours. I was a business person, then it was set as a political trap…. In theory it [the top rate of tax] should never have been there.
There is something immoral about the government taking the majority of your income in tax. It is also a disheartening disincentive; reversing this spiteful tax is the correct policy, though this might perhaps be the wrong time. Getting rid of a political tax that was only set up by Gordon Brown when he knew he was likely to be ousted –to hurt the Tories rather than raise revenue – was the right thing to do. Even the IFS' Paul Johnson thinks in revenue terms "It might plausibly cost nothing at all". The tax was not about raising revenue – it was about political positioning.
Back in Fife, Brown will be rocking in his chair laughing that his tax booby trap, announced only weeks before he left office, and which was expected to cause problems for his successor David Cameron, has finally exploded in the face of a Tory Chancellor. The fuse wire on Brown's time bomb turned out to be 12 years long…
Truss and Kwarteng have learned a lot in the past month.
I do hope that they have learned something from their baptism by fire, especially Truss, for whom I have the greatest empathy. The Queen's death delayed her getting off the ground running. Then when she was finally able to do something, the media attacked her even more for it. Now the Party's MPs are angry with her. Some have already submitted no confidence letters to Sir Graham Brady of the 1922 Committee. The polls have been tanking. Two show voters giving Labour a 30% lead in the polls, something not seen for decades.
No one has even given Truss or the Chancellor a chance.
I will continue to pray for hers and Kwarteng's success against all odds.
They are doing the right thing …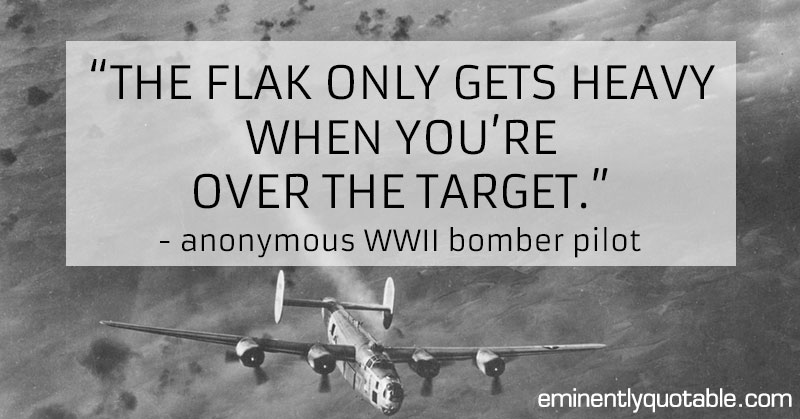 … which is why they are being attacked mercilessly.
In 2017, The Guardian posted a long article: '"London Bridge is down": the secret plan for the days after the Queen's death'.
Halfway through, it says (emphases mine):
The reporting for this article involved dozens of interviews with broadcasters, government officials, and departed palace staff, several of whom have worked on London Bridge directly. Almost all insisted on complete secrecy. "This meeting never happened," I was told after one conversation in a gentleman's club on Pall Mall. Buckingham Palace, meanwhile, has a policy of not commenting on funeral arrangements for members of the royal family.
Royal funeral plans are top secret, which makes the article even more amazing. I don't know how the journalist, Sam Knight, managed it.
Queen Victoria's death
Until Queen Elizabeth II, Queen Victoria was the United Kingdom's longest reigning monarch.
A monarch's death is preceded by an announcement about illness, signifying that the end is near:
"The Queen is suffering from great physical prostration, accompanied by symptoms which cause much anxiety," announced Sir James Reid, Queen Victoria's physician, two days before her death in 1901.
Her longevity produced a shockwave of reaction, particularly as she did not perceive her heir, Edward VII, to be worthy of succession. This suggests a parallel between the Queen and Charles III:
It is not unusual for a country to succumb to a state of denial as a long chapter in its history is about to end. When it became public that Queen Victoria was dying, at the age of 82, a widow for half her life, "astonished grief … swept the country", wrote her biographer, Lytton Strachey. In the minds of her subjects, the queen's mortality had become unimaginable; and with her demise, everything was suddenly at risk, placed in the hands of an elderly and untrusted heir, Edward VII. "The wild waters are upon us now," wrote the American Henry James, who had moved to London 30 years before.
The parallels with the unease that we will feel at the death of Elizabeth II are obvious, but without the consolation of Britain's status in 1901 as the world's most successful country. "We have to have narratives for royal events," the historian told me. "In the Victorian reign, everything got better and better, and bigger and bigger. We certainly can't tell that story today."
George V's death
In a well run monarchical system, a symbiosis exists between monarchs and their subjects:
The bond between sovereign and subjects is a strange and mostly unknowable thing. A nation's life becomes a person's, and then the string must break …
This is what happened when the Queen's grandfather died. Note how George V's physician thought it was important for the news to make the morning rather than the evening newspapers:
"The King's life is moving peacefully towards its close," was the final notice issued by George V's doctor, Lord Dawson, at 9.30pm on the night of 20 January 1936. Not long afterwards, Dawson injected the king with 750mg of morphine and a gram of cocaine – enough to kill him twice over – in order to ease the monarch's suffering, and to have him expire in time for the printing presses of the Times, which rolled at midnight …
"For a little while," wrote Edward VIII, of the days between his father's death and funeral, "I had the uneasy sensation of being left alone on a vast stage."
Other Royal deaths
Sometimes, Royal deaths are unexpected events, leading to differences in who finds out first:
On 6 February 1952, George VI was found by his valet at Sandringham at 7.30am. The BBC did not broadcast the news until 11.15am, almost four hours later …
"It is with the greatest sorrow that we make the following announcement," said John Snagge, the BBC presenter who informed the world of the death of George VI. (The news was repeated seven times, every 15 minutes, and then the BBC went silent for five hours).
Also:
When Princess Diana died at 4am local time at the Pitié-Salpêtrière hospital in Paris on 31 August 1997, journalists accompanying the former foreign secretary, Robin Cook, on a visit to the Philippines knew within 15 minutes.
I do remember watching BBC1's Peter Sissons on the Saturday evening when the Queen Mother died in 2002:
On the BBC, Peter Sissons, the veteran anchor, was criticised for wearing a maroon tie. Sissons was the victim of a BBC policy change, issued after the September 11 attacks, to moderate its coverage and reduce the number of "category one" royals eligible for the full obituary procedure. The last words in Sissons's ear before going on air were: "Don't go overboard. She's a very old woman who had to go some time."
I thought his maroon tie was disrespectful, as was the way he read out that bit of news. It was as if he did not care. That started my dislike of the BBC's treatment of current affairs, which only escalated afterwards.
The Duke of Norfolk
As the Royal Family has been Anglican for centuries, it is ironic that the person they entrust with their funerals and coronations is the highest ranking Catholic layman of the realm, the Duke of Norfolk.
Dukes of Norfolk have been organising these events since 1672:
The 18th Duke of Norfolk, the Earl Marshal, will be in charge. Norfolks have overseen royal funerals since 1672. During the 20th century, a set of offices in St James's Palace was always earmarked for their use.
The current Duke is Edward William Fitzalan-Howard, 65. In April 2022, he ran a red light while talking on his mobile phone. He was found guilty of these traffic violations on September 26 and pleaded not to have his driving licence revoked for six months. His request was refused.
On his role as Earl Marshal, the Daily Mail reports:
Edward William Fitzalan-Howard, 65, became England's most senior peer and the 18th duke following the death of his father Miles in 2002.
For more than 350 years, his ancestors have passed down the ancient office of Earl Marshal – meaning that they are responsible for overseeing funerals for members of the Royal Family, the coronations of Britain's monarchs, and even state openings of parliament. 
And because the office is hereditary, it meant that the peer's grandfather Bernard Fitzalan-Howard, the 16th Duke of Norfolk, was responsible for organising Elizabeth II's Coronation in 1953, the state funeral of Winston Churchill in 1965 and the investiture of Charles as the Prince of Wales in 1969.
Eddie, as he is known to his friends, oversaw the planning and execution of the most majesty send-off of a Sovereign in living memory – as 2,000 VIPs including King Charles and the British royal family emperors, kings and queens, prime ministers, presidents, and members of the public including decorated war heroes, members of the Armed Forces and NHS staff who worked tirelessly during the pandemic attended Westminster Abbey for the state funeral …
… an overwhelming majority of Britons (86%) believe that the Duke of Norfolk did a 'good job' of commemorating the late Monarch. 
The duke began planning the Queen's funeral the week of his father's death 20 years ago, though plans for the service – codenamed Operation London Bridge – have been in place since the 1960s. Eddie held annual meetings in the throne room of Buckingham Palace, working closely with Lieutenant Colonel Anthony Mather, a long-serving member of the royal household who commanded the bearer party at Churchill's funeral, for the first 10 years. In the two decades which followed, the number of people involved swelled from just 20 to 280 in April this year.
Just days before the funeral, the peer explained that the funeral was being held in Westminster Abbey for the first time in more than 200 years – since George II in 1760 – so that 2,000 guests could attend. He also revealed that he extended the Queen's lying in state at Westminster Hall for an extra day 'to allow an additional 85,000 people to file past the coffin'. 
His niece Lady Kinvara Balfour told Tatler magazine: 'In organising the Queen's funeral (and the coronation to come), Uncle Eddie has done a truly outstanding job. What a show of elegance, efficiency and rare precision he has produced for our nation, and the world – just like the late Queen Elizabeth II herself did. He is an incredible father of five, a grandfather too'. 
As for the guilty verdict on his traffic violations:
His Grace The Duke of Norfolk, Edward William Fitzalan-Howard, 65, appeared at Lavender Hill Magistrates Court after being caught by the officers who told the court he appeared to run a red light while not paying attention.
The Duke pleaded guilty to one count of driving his six year-old blue three-litre diesel BMW while using a hand-held device in Battersea Park Road, south-west London on April 7.
The Oxford-educated father of five, who is a descendant of Elizabeth I, was also fined £800, with £350 costs and ordered to pay an £80 victim surcharge.
His Grace received six penalty points for using his mobile phone.
'That means, as you know, you will be disqualified for six months because you have more than twelve points on your licence,' magistrate Judith Way told him.
'We have been advised of the test for exceptional hardship and it is the burden of the defendant to show exceptional hardship,' announced magistrate Judith Way.
Before the ruling was handed down, his Grace had tried to argue it was necessary for him to keep his licence.
The highest-ranking duke in England argued he would suffer 'exceptional hardship' if he was disqualified, highlighting his official duties along with his conservation work to prevent 'nature's complete collapse' and 'the end of mankind'. 
In his hereditary role as Earl Marshal he told the court he is in charge of the coronation of King Charles III and asked for part of the hearing to be held in private in the interests of 'national security', while his legal team told the court he needed to be able to drive to ensure the organisation went smoothly.
His Grace, of Arundel Castle, Arundel, Sussex already has nine penalty points on his driving licence for two speeding offences and this latest conviction means he has been subjected to the minimum six-month ban under totting rules.
Dismissing The Duke's application to keep his licence, Ms Way said: 'We have heard sworn evidence from the defendant.
'We accept this is a unique case because of the defendant's role in society and his role in the King's coronation and even though inconvenience may be caused we do not find exceptional hardship.
'We know the need for security clearance for any driver and we do not think this is insurmountable for his high-profile role.
'We believe the defendant has the means to employ a driver.'
Indeed he does.
Managing the Queen's death rituals
Keeping in mind that The Guardian's article was written in 2017, this was true in the event:
During London Bridge, the Lord Chamberlain's office in the palace will be the centre of operations … The government's team – coordinating the police, security, transport and armed forces – will assemble at the Department of Culture, Media and Sport.
Michelle Donelan, formerly of the Department for Education, is the new Secretary of State for Digital, Culture, Media and Sport.
Someone in that group of officials also had the job of printing tickets for various events:
for invited guests, the first of which will be required for the proclamation of King Charles in about 24 hours time.
Everyone on the conference calls and around the table will know each other. For a narrow stratum of the British aristocracy and civil service, the art of planning major funerals – the solemnity, the excessive detail – is an expression of a certain national competence. Thirty-one people gathered for the first meeting to plan Churchill's funeral, "Operation Hope Not", in June 1959, six years before his death. Those working on London Bridge (and Tay Bridge and Forth Bridge, the Duke of Edinburgh's funeral) will have corresponded for years in a language of bureaucratic euphemism, about "a possible future ceremony"; "a future problem"; "some inevitable occasion, the timing of which, however, is quite uncertain".
Operation London Bridge had been in place for well over 50 years and was regularly updated from then until this month:
The first plans for London Bridge date back to the 1960s, before being refined in detail at the turn of the century. Since then, there have been meetings two or three times a year for the various actors involved (around a dozen government departments, the police, army, broadcasters and the Royal Parks) in Church House, Westminster, the Palace, or elsewhere in Whitehall. Participants described them to me as deeply civil and methodical. "Everyone around the world is looking to us to do this again perfectly," said one, "and we will." Plans are updated and old versions are destroyed. Arcane and highly specific knowledge is shared … The coffin must have a false lid, to hold the crown jewels, with a rim at least three inches high.
Processions were also carefully timed.
After the Queen died, the military personnel involved rehearsed day and night to get everything exactly right.
King Charles III was also involved:
… in the hours after the Queen has gone, there will be details that only Charles can decide. "Everything has to be signed off by the Duke of Norfolk and the King," one official told me … In recent years, much of the work on London Bridge has focused on the precise choreography of Charles's accession. "There are really two things happening," as one of his advisers told me. "There is the demise of a sovereign and then there is the making of a king." Charles is scheduled to make his first address as head of state on the evening of his mother's death.
In the event, he made it the following evening at 6 p.m.
The Throne Room at Buckingham Palace was the site for the Queen's lying at rest before going to Westminster Hall:
In every scenario, the Queen's body returns to the throne room in Buckingham Palace, which overlooks the north-west corner of the Quadrangle, its interior courtyard. There will be an altar, the pall, the royal standard, and four Grenadier Guards, their bearskin hats inclined, their rifles pointing to the floor, standing watch. In the corridors, staff employed by the Queen for more than 50 years will pass, following procedures they know by heart.
It is ironic that The Guardian published an article waxing incandescent over staff redundancies — lay-offs — because this piece makes it abundantly clear that they knew the King would bring in his own staff:
"Your professionalism takes over because there is a job to be done," said one veteran of royal funerals. There will be no time for sadness, or to worry about what happens next. Charles will bring in many of his own staff when he accedes. "Bear in mind," the courtier said, "everybody who works in the palace is actually on borrowed time."
Dying in Scotland
Although the article does not mention it, the Queen's death in Scotland activated Operation Unicorn.
However, that operation dovetailed with London Bridge:
The most elaborate plans are for what happens if she passes away at Balmoral, where she spends three months of the year. This will trigger an initial wave of Scottish ritual. First, the Queen's body will lie at rest in her smallest palace, at Holyroodhouse, in Edinburgh, where she is traditionally guarded by the Royal Company of Archers, who wear eagle feathers in their bonnets. Then the coffin will be carried up the Royal Mile to St Giles's cathedral, for a service of reception …
Thankfully, her coffin was flown back to London. According to this, a train journey would have been difficult to organise if she had travelled by rail:
put on board the Royal Train at Waverley station for a sad progress down the east coast mainline. Crowds are expected at level crossings and on station platforms the length of the country – from Musselburgh and Thirsk in the north, to Peterborough and Hatfield in the south – to throw flowers on the passing train. (Another locomotive will follow behind, to clear debris from the tracks.) "It's actually very complicated," one transport official told me.
Coming by plane also enabled an extra day of viewing at Westminster Hall.
How the media probably found out
Informing the media is also a big part of Royal deaths, especially the Queen's.
Radio and television channels had — and have — their response plans ready.
In the case of the Queen, the following more or less happened:
For many years the BBC was told about royal deaths first, but its monopoly on broadcasting to the empire has gone now. When the Queen dies, the announcement will go out as a newsflash to the Press Association and the rest of the world's media simultaneously. At the same instant, a footman in mourning clothes will emerge from a door at Buckingham Palace, cross the dull pink gravel and pin a black-edged notice to the gates …
The BBC has a special, secret transmission system, RATS:
At the BBC, the "radio alert transmission system" (Rats), will be activated – a cold war-era alarm designed to withstand an attack on the nation's infrastructure. Rats, which is also sometimes referred to as "royal about to snuff it", is a near mythical part of the intricate architecture of ritual and rehearsals for the death of major royal personalities that the BBC has maintained since the 1930s. Most staff have only ever seen it work in tests; many have never seen it work at all. "Whenever there is a strange noise in the newsroom, someone always asks, 'Is that the Rats?' Because we don't know what it sounds like," one regional reporter told me.
Royal experts were at the ready because they were pre-booked a long time ago. Media outlets have had obituaries ready to go, with only minor updates for the death to be added:
All news organisations will scramble to get films on air and obituaries online. At the Guardian, the deputy editor has a list of prepared stories pinned to his wall. The Times is said to have 11 days of coverage ready to go. At Sky News and ITN, which for years rehearsed the death of the Queen substituting the name "Mrs Robinson", calls will go out to royal experts who have already signed contracts to speak exclusively on those channels. "I am going to be sitting outside the doors of the Abbey on a hugely enlarged trestle table commentating to 300 million Americans about this," one told me.
Radio stations were also prepared with suitable music:
For people stuck in traffic, or with Heart FM on in the background, there will only be the subtlest of indications, at first, that something is going on. Britain's commercial radio stations have a network of blue "obit lights", which is tested once a week and supposed to light up in the event of a national catastrophe. When the news breaks, these lights will start flashing, to alert DJs to switch to the news in the next few minutes and to play inoffensive music in the meantime. Every station, down to hospital radio, has prepared music lists made up of "Mood 2" (sad) or "Mood 1" (saddest) songs to reach for in times of sudden mourning. "If you ever hear Haunted Dancehall (Nursery Remix) by Sabres of Paradise on daytime Radio 1, turn the TV on," wrote Chris Price, a BBC radio producer, for the Huffington Post in 2011. "Something terrible has just happened."
Incredibly, all television presenters wore black immediately:
… there will be no extemporising with the Queen. The newsreaders will wear black suits and black ties. Category one was made for her. Programmes will stop. Networks will merge. BBC 1, 2 and 4 will be interrupted and revert silently to their respective idents – an exercise class in a village hall, a swan waiting on a pond – before coming together for the news. Listeners to Radio 4 and Radio 5 live will hear a specific formulation of words, "This is the BBC from London," which, intentionally or not, will summon a spirit of national emergency …
According to one former head of BBC news … The rehearsals for her are different to the other members of the family, he explained. People become upset, and contemplate the unthinkable oddness of her absence. "She is the only monarch that most of us have ever known," he said. The royal standard will appear on the screen. The national anthem will play. You will remember where you were …
The passing of the Queen will be monumental by comparison. It may not be as nakedly emotional, but its reach will be wider, and its implications more dramatic. "It will be quite fundamental," as one former courtier told me.
And so it turned out to be.
Media broadcasts
I'm still wrapping my head around 12 days of continuous news coverage focusing on the Queen.
Somehow, it never got boring.
That is because there were seven decades of historic reign to cover, as well as the years between 1926 — the year of the Queen's birth — and 1952, when she succeeded George VI:
… there will be an almighty psychological reckoning for the kingdom that she leaves behind. The Queen is Britain's last living link with our former greatness – the nation's id, its problematic self-regard – which is still defined by our victory in the second world war. One leading historian, who like most people I interviewed for this article declined to be named, stressed that the farewell for this country's longest-serving monarch will be magnificent. "Oh, she will get everything," he said. "We were all told that the funeral of Churchill was the requiem for Britain as a great power. But actually it will really be over when she goes."
… The second Elizabethan age is likely to be remembered as a reign of uninterrupted national decline, and even, if she lives long enough and Scotland departs the union, as one of disintegration. Life and politics at the end of her rule will be unrecognisable from their grandeur and innocence at its beginning. "We don't blame her for it," Philip Ziegler, the historian and royal biographer, told me. "We have declined with her, so to speak."
The obituary films will remind us what a different country she inherited. One piece of footage will be played again and again: from her 21st birthday, in 1947, when Princess Elizabeth was on holiday with her parents in Cape Town. She was 6,000 miles from home and comfortably within the pale of the British Empire. The princess sits at a table with a microphone. The shadow of a tree plays on her shoulder. The camera adjusts three or four times as she talks, and on each occasion, she twitches momentarily, betraying tiny flashes of aristocratic irritation. "I declare before you all that my whole life, whether it be long or short, shall be devoted to your service, and the service of our great imperial family to which we all belong," she says, enunciating vowels and a conception of the world that have both vanished.
Conclusion
In summary:
London Bridge is the Queen's exit plan. "It's history," as one of her courtiers said. It will be 10 days of sorrow and spectacle in which, rather like the dazzling mirror of the monarchy itself, we will revel in who we were and avoid the question of what we have become.
It was an incredible time which galvanised the United Kingdom:
"I have to be seen to be believed," is said to be one of her catchphrases. And there is no reason to doubt that her funeral rites will evoke a rush of collective feeling. "I think there will be a huge and very genuine outpouring of deep emotion," said Andrew Roberts, the historian. It will be all about her, and it will really be about us. There will be an urge to stand in the street, to see it with your own eyes, to be part of a multitude. The cumulative effect will be conservative. "I suspect the Queen's death will intensify patriotic feelings," one constitutional thinker told me, "and therefore fit the Brexit mood, if you like, and intensify the feeling that there is nothing to learn from foreigners."
That is quite true. The conclusion that most of us drew from television coverage was that no one does monarchy and ritual quite like Britain. We are still the greatest in that regard.
On Monday, September 19, four million television viewers tuning in from around the world to pay their respects agreed.
My far better half and I never miss a Neil Oliver editorial during his Saturday evening GB News shows.
His topic is the changing fabric of the Western world post-pandemic, whether it be through farming prohibitions, climate change or the ongoing revelations about coronavirus policies.
Here is the transcript and the video from his August 13 editorial:
Excerpts follow, emphases mine:
It is hard to think the unthinkable – but there comes a time when there's nothing else for it. People raised to trust the powers that be – who have assumed, like I once did, that the State, regardless of its political flavour at any given moment, is essentially benevolent and well-meaning – will naturally try and keep that assumption of benevolence in mind when trying to make sense of what is going on around them.
People like us, you and me, raised in the understanding that we are free, that we have inalienable rights, and that the institutions of this country have our best interests at heart, will tend to tie ourselves in knots rather than contemplate the idea those authorities might actually be working against us now. I took that thought of benevolent, well-meaning authority for granted for most of my life, God help me. Not to put too fine a point on it, I was as gullible as the next chump.
A couple of years ago, however, I began to think the unthinkable and with every passing day it becomes more and more obvious to me that we are no longer being treated as individuals entitled to try and make the most of our lives – but as a barn full of battery hens, just another product to be bought and sold – sold down the river …
Once the scales fall from a person's eyes, the resultant clarity of sight is briefly overwhelming. Or it is like being handed a skeleton key that opens every locked door, or access to a Rosetta Stone that translates every word into a language instantly understood.
Take the energy crisis: If you've felt the blood drain from your face at the prospect of bills rising from hundreds to several thousands of pounds while reading about energy companies doubling their profits overnight while being commanded to subsidise so-called renewables that are anything but Green while listening to this politician or that renew their vows to the ruinous fantasies of Net Zero and Agenda 2030 while knowing that the electricity for electric cars comes, in the main and most reliably, from fossil fuels if you can't make sense of it all and just know that it adds up to a future in which you might have to choose between eating and heating then treat yourself to the gift of understanding that the powers that be fully intend that we should have less heat and less fuel and that in the planned future only the rich will have cars anyway. The plan is not to fix it.
The plan is to break it, and leave it broken. If you struggle to think the best of the world's richest – vacuous, self-obsessed A-list celebrities among them – endlessly circling the planet on private jets and super yachts, so as to attend get-togethers where they might pontificate to us lowly proles about how we must give up our cars and occasional holiday flights – even meat on the dinner table … if you wonder how they have the unmitigated gall … then isn't it easier simply to accept that their honestly declared and advertised intention is that their luxurious and pampered lives will continue as before while we are left hungry, cold and mostly unwashed in our unheated homes.
Here's the thing: if any leader or celeb honestly meant a word of their sermons about CO2 and the rest, then they would obviously lead by example. They would be first of all of us willingly to give up international travel altogether … they would downsize to modest homes warmed by heat pumps. They would eschew all energy but that from the sun and the wind. They would eat, with relish, bugs and plants. They would resort to walking, bicycles and public transport. If Net Zero and the rest was about the good of the planet – and not about clearing the skies and the beaches of scum like us – don't you think those sainted politicians and A-listers would be lighting the way for us by their own example? If the way of life they preach to us was worth living, wouldn't they be living it already? Perhaps you heard Bill Gates say private jets are his guilty pleasure.
And how about food – and more particularly the predicted shortage of it: the suits and CEOs blame it all on Vladimir Putin. But if the countries of the world are truly running out of food, why is our government offering farmers hundreds of thousands of pounds to get out of the industry and sell their land to transnational corporations for use, or disuse unknown? Why aren't we, as a society, doing what our parents and grandparents did during WWII and digging for victory? Why is the government intent on turning a third of our fertile soil over to re-wilding schemes that make life better only for the beavers? Why aren't we looking across the North Sea towards the Netherlands where a WEF-infected administration is bullying farmers off their land altogether, forcing them to cull half the national herd …
Why do you think it matters so much, to the government of the second most productive population of farmers in the world, to gut and fillet that industry? Why? Why have similar protests, in countries all across Europe and the wider world, been largely ignored by the mainstream media – a media that would have crawled on its hands and knees over broken glass just to report on a BLM protester opening a bag of non-binary crisps. Why the silence on the attack on farming? …
Isn't the simple obvious answer … the answer that makes most sense and that is staring us in our trusting faces … that power for the power-hungry has always rested most effectively upon control of food and its supply? Why are the powers that be attributing this to a cost of living crisis when everyone with two brain cells to rub together can see it's a cost of lockdown crisis – the inevitable consequence of shutting down the whole country – indeed the whole world – for the best part of two years. Soaring inflation, rising interest rates, disrupted supply chains …
Rather than dismiss as yet another conspiracy theory the idea of cash being ultimately replaced with transactions based on the exchange of what amount to glorified food stamps that will only be accepted if our social credit score demonstrates that we've been obedient girls or boys … how about taking the leap and focussing on the blatantly obvious … that if we are not free to buy whatever and whenever we please, free of the surveillance and snooping of governments and the banks that run them, then we have absolutely no freedom at all. And while we're on the subject of money and banks, why not pause to notice something else that is glaringly obvious – which is to say that the currencies of the West are teetering on the abyss, and that one bank after another is revealed, to those who are bothering to watch, as being as close to bankruptcy as its possible to be without actually falling over the edge.
Then there's the so-called vaccines for Covid – I deliberately say "so-called" because by now it should be clear to all but the wilfully blind that those injections do not work as advertised. You can still contract the virus, still transmit the virus, still get sick and still die. Denmark has dropped their use on under-18s. All across the world, every day, more evidence emerges – however grudgingly, however much the various complicit authorities and Big-Pharma companies might hate to admit it – of countless deaths and injuries caused by those medical procedures …
Now I ask myself on a daily basis how I ignored the stench for so long. Across the Atlantic, the Biden White House sent the FBI to raid the home of former president Donald Trump. Meanwhile Joe Biden and his son Hunter – he of the laptop full of the most appalling and incriminating content – fly together on Air Force 1. No raids planned on the Obamas, nor on the Clintons. Speaker of the House Nancy Pelosi flew to Taiwan and onwards to China. Her son Paul, an investor in a Chinese tech firm and with seats on the board of companies dealing in lithium, was along for the ride, into that part of the world where three quarters of the world's lithium batteries are made. Taiwan leads in that technology.
It is hard to think the unthinkable. It's hard to think that all of it, all the misery, all the suffering of the past and to come might just be about money, greed and power. It is hard to tell yourself you've been taken for a fool and taken for a ride. It's hard, but the view from the other side is worth the effort and the pain. Open your eyes and see.
In the middle of last week, Rishi Sunak gave an interview to Fraser Nelson, editor of The Spectator, about his view on the Government's coronavirus policy and SAGE, their medical and scientific advisory team.
Excerpts from 'The lockdown files: Rishi Sunak on what we weren't told' follow:
When we meet at the office he has rented for his leadership campaign, soon to enter its final week, he says at the outset that he's not interested in pointing the finger at the fiercest proponents of lockdown. No one knew anything at the start, he says: lockdown was, by necessity, a gamble. Chris Whitty and Patrick Vallance, the chief medical officer and chief scientific adviser, would openly admit that lockdown could do more harm than good. But when the evidence started to roll in, a strange silence grew in government: dissenting voices were filtered out and a see-no-evil policy was applied.
Sunak's story starts with the first Covid meeting, where ministers were shown an A3 poster from scientific advisers explaining the options. 'I wish I'd kept it because it listed things that had no impact: banning live events and all that,' he says. 'It was saying: you should be careful not to do this stuff too early, because being able to sustain it is very hard in a modern society.' So the scientific advice was, initially, to reject or at least delay lockdown.
This all changed when Neil Ferguson and his team at Imperial College published their famous 'Report 9', which argued that Covid casualties could hit 500,000 if no action was taken – but the figure could be below 20,000 if Britain locked down. That, of course, turned out to be a vast exaggeration of lockdown's ability to curb Covid deaths …
A cost-benefit calculation – a basic requirement for pretty much every public health intervention – was never made. 'I wasn't allowed to talk about the trade-off,' says Sunak. Ministers were briefed by No. 10 on how to handle questions about the side-effects of lockdown. 'The script was not to ever acknowledge them. The script was: oh, there's no trade-off, because doing this for our health is good for the economy.'
… When he did try to raise concerns, he met a brick wall. 'Those meetings were literally me around that table, just fighting. It was incredibly uncomfortable every single time.' He recalls one meeting where he raised education. 'I was very emotional about it. I was like: "Forget about the economy. Surely we can all agree that kids not being in school is a major nightmare" or something like that. There was a big silence afterwards. It was the first time someone had said it. I was so furious.'
One of Sunak's big concerns was about the fear messaging, which his Treasury team worried could have long-lasting effects. 'In every brief, we tried to say: let's stop the "fear" narrative. It was always wrong from the beginning. I constantly said it was wrong.' The posters showing Covid patients on ventilators, he said, were the worst. 'It was wrong to scare people like that.' The closest he came to defying this was in a September 2020 speech saying that it was time to learn to 'live without fear' – a direct response to the Cabinet Office's messaging. 'They were very upset about that.'
… Lockdown – closing schools and much of the economy while sending the police after people who sat on park benches – was the most draconian policy introduced in peacetime. No. 10 wanted to present it as 'following the science' rather than a political decision, and this had implications for the wiring of government decision-making. It meant elevating Sage, a sprawling group of scientific advisers, into a committee that had the power to decide whether the country would lock down or not. There was no socioeconomic equivalent to Sage; no forum where other questions would be asked.
So whoever wrote the minutes for the Sage meetings – condensing its discussions into guidance for government – would set the policy of the nation. No one, not even cabinet members, would know how these decisions were reached.
In the early days, Sunak had an advantage. 'The Sage people didn't realise for a very long time that there was a Treasury person on all their calls. A lovely lady. She was great because it meant that she was sitting there, listening to their discussions.'
… But his victories were few and far between. One, he says, came in May 2020 when the first plans were being drawn to move out of lockdown in summer. 'There's some language in there that you will see because I fought for it,' he says. 'It talked about non-Covid health impact.' Just a few sentences, he says, but he views the fact that lockdown side-effects were recognised at all at that point as a triumph.
He doesn't name Matt Hancock, who presided over all of this as health secretary, or Liz Truss, who was silent throughout. As he said at the outset, he doesn't want to name names but rather to speak plainly about what the public was not told – and the process that led to this. Typically, he said, ministers would be shown Sage analysis pointing to horrifying 'scenarios' that would come to pass if Britain did not impose or extend lockdown. But even he, as chancellor, could not find out how these all-important scenarios had been calculated.
Liz Truss was not part of the 'quad', though, the four Cabinet ministers who determined policy. If I remember rightly, the 'quad' were Boris, Hancock, Michael Gove and Rishi. Truss claimed that she didn't speak up because she was told that the decisions were a fait accompli. Nelson verifies that below.
Returning to Rishi:
'I was like: "Summarise for me the key assumptions, on one page, with a bunch of sensitivities and rationale for each one",' Sunak says. 'In the first year I could never get this.' The Treasury, he says, would never recommend policy based on unexplained modelling: he regarded this as a matter of basic competence. But for a year, UK government policy – and the fate of millions –was being decided by half-explained graphs cooked up by outside academics.
'This is the problem,' he says. 'If you empower all these independent people, you're screwed.' Sir Gus O'Donnell, the former cabinet secretary, has suggested that Sage should have been asked to report to a higher committee, which would have considered the social and economic aspects of locking down. Sunak agrees. But having been anointed from the start, Sage retained its power until the rebellion that came last Christmas.
In December 2021, at the time JP Morgan's lockdown analysis appeared:
He flew back early from a trip to California. By this time JP Morgan's lockdown analysis was being emailed around among cabinet ministers like a samizdat paper, and they were ready to rebel. Sunak met Johnson. 'I just told him it's not right: we shouldn't do this.' He did not threaten to resign if there was another lockdown, 'but I used the closest formulation of words that I could' to imply that threat. Sunak then rang around other ministers and compared notes.
Normally, cabinet members were not kept in the loop as Covid-related decisions were being made – Johnson's No. 10 informed them after the event, rather than consulting them. Sunak says he urged the PM to pass the decision to cabinet so that his colleagues could give him political cover for rejecting the advice of Sage. 'I remember telling him: have the cabinet meeting. You'll see. Every-one will be completely behind you… You don't have to worry. I will be standing next to you, as will every other member of the cabinet, bar probably Michael [Gove] and Saj [Javid].' As it was to prove.
Nelson claims that Rishi is telling the truth:
For what it's worth, his account squares with what I picked up from his critics in government: that the money-obsessed Sunak was on a one-man mission to torpedo lockdown. And perhaps the Prime Minister as well. 'Everything I did was seen through the prism of: "You're trying to be difficult, trying to be leader,"' he says. He tried not to challenge the Prime Minister in public, or leave a paper trail. 'I'd say a lot of stuff to him in private,' he says. 'There's some written record of everything. In general, people leak it – and it causes problems.'
Rishi said why he did not resign at the time:
To quit in that way during a pandemic, he says, would have been irresponsible. And to go public, or let his misgivings become known, would have been seen as a direct attack on the PM.
At the time, No. 10's strategy was to create the impression that lockdown was a scientifically created policy which only crackpots dared question …
David Cameron employed the same strategy with the Brexit referendum in 2016. He said that the only people supporting Leave were 'swivel-eyed loons'.
Rishi explained why he waited until now to speak out:
He is opening up not just because he is running to be prime minister, he says, but because there are important lessons in all of this. Not who did what wrong, but how it came to pass that such important questions about lockdown's profound knock-on effects – issues that will probably dominate politics for years to come – were never properly explored …
And the other lessons of lockdown? 'We shouldn't have empowered the scientists in the way we did,' he says. 'And you have to acknowledge trade-offs from the beginning. If we'd done all of that, we could be in a very different place.' How different? 'We'd probably have made different decisions on things like schools, for example.' Could a more frank discussion have helped Britain avoid lockdown entirely, as Sweden did? 'I don't know, but it could have been shorter. Different. Quicker.'
Even now, Sunak doesn't argue that lockdown was a mistake – just that the many downsides in health, the economy and society in general could have been mitigated if they had been openly discussed. An official inquiry has begun, but Sunak says there are lessons to learn now …
To Sunak, this was the problem at the heart of the government's Covid response: a lack of candour. There was a failure to raise difficult questions about where all this might lead – and a tendency to use fear messaging to stifle debate, instead of encouraging discussion. So in a sentence, how would he have handled the pandemic differently? 'I would just have had a more grown-up conversation with the country.'
Hmm.
On Thursday, August 25, Fraser Nelson wrote an article about it for The Telegraph: 'Rishi Sunak is just the start. The great lockdown scandal is about to unravel':
For some time, I've been trying to persuade Rishi Sunak to go on the record about what really happened in lockdown. Only a handful of people really know what took place then, because most ministers – including members of the Cabinet – were kept in the dark. Government was often reduced to a "quad" of ministers deciding on Britain's future and the then chancellor of the exchequer was one of them. I'd heard rumours that Sunak was horrified at much of what he saw, but was keeping quiet. In which case, lessons would never be learnt.
His speaking out now confirms much of what many suspected. That the culture of fear, seen in the Orwellian advertising campaign that sought to terrify the country, applied inside Government. Questioning lockdown, even in ministerial meetings, was seen as an attack on the Prime Minister's authority. To ask even basic questions – about how many extra cancer deaths there might be, for example – was to risk being portrayed as one the crackpots, the "Cov-idiots", people who wanted to "let the virus rip". Hysteria had taken hold in the heart of Whitehall …
Chris Whitty and Patrick Vallance began by advising ministers not to lock down, saying public events were fine, and that face masks were pointless. They were talking about herd immunity as the way out. Then they flipped entirely. But this reveals something crucial: lockdown never was backed by science. It was about models and suppositions, educated guesswork. It was driven by moods, emotion, fear – and, worst of all, politics masquerading as science.
This is part of Sunak's point. He doesn't say locking down was wrong. Just that it somehow went from being a daft idea, rubbished by scientists, to a national imperative whose necessity was unquestionable scientific truth. So we need to ask: was the fear messaging really necessary? Why were No 10 outriders sent out to savage dissenting scientists? Why was Sunak made to feel, as he told me, that he was being seen – even inside government – as a callous money-grabber when he raised even basic concerns?
The disclosures should start a great unravelling of the lockdown myth, its pseudo-scientific sheen stripped away and the shocking political malfeasance left to stand exposed. Were Sage minutes manipulated, with dissent airbrushed out? If Sage "scenarios" were cooked up on fundamentally wrong assumptions we need to know, because that will mean lockdowns were imposed or extended upon a false premise. A premise that could have been exposed as false, had there been basic transparency or proper scrutiny.
This isn't just about a virus. An autocratic streak took hold of the Government and overpowered a weak Prime Minister – and did so because our democratic safeguards failed. It should have been impossible for policies of such huge consequence to be passed without the most rigorous scrutiny. So many lives were at risk that every single lockdown assumption should have been pulled apart to see if it was correct. It should have been impossible for government to suspend such scrutiny for more than a few weeks.
I suspect that this authoritarian reflex lies embedded in our system, ready to twitch again. Life, after all, is easier without opposition so if tools exist to suspend it, we can expect them to be grabbed …
Sunak doesn't speak like a man expecting to end up in No 10. He said earlier this week that he would rather lose having been honest with people than win by telling half-truths. Opening up on lockdown may not save, or even help, his campaign. But his candour has offered important insights into one of the most important stories of our times – and one that is only beginning to be told.
As the then-Chancellor, he was the most powerful man in Government after Prime Minister Boris Johnson. Rishi held the nation's purse strings and could have said 'no' at any point to the policies. But he didn't.
It was difficult to know exactly what Rishi's motives were in giving such an interview. Perhaps he was trying to glean votes from sceptical Conservative Party members in a last ditch attempt to save his candidacy.
Whatever his reason, one outcome was that it got Covid sceptics talking again, with some indirect support from him.
On Friday, August 26, one of those sceptics, Bev Turner, delivered a guest host editorial on GB News.
She was not happy with Rishi's silence over Government policy:
Now, Rishi Sunak says that lockdowns "could have been shorter. Different. Quicker. We could be in a very different place", he says now with the benefit of hindsight that some of us never needed… Apparently, as the economy tanks, he regrets the Government's Covid strategy, stating that the scientists at Sage should never have been put in charge of the country's response.
Well…who knew?…thanks for that, Rishi. Now I can sleep at night….except of course I can't. And I won't until there are arrests over the despotic, unscientific measures of the scamdemic and the perverted profits sucked up by vampirical pharma companies aided and abetted by a media paid off to the tune of £300m. Paid for, by Rishi Sunak's department with our tax payers money!
"If you empower all these independent people, you're screwed," he now says in reference to Sage, "We shouldn't have empowered the scientists in the way we did."
She brought up Susan Michie, who is now — or who soon will be — working for the WHO:
a leading member of Sage is a life-long member of the Communist Party and might just have enjoyed the frisson of power.
She wondered why Rishi didn't do more in his position of power:
… Rishi's wrong, you can empower scientists – except that as with any medical decision – the consequences of which could be life-changing, you seek a second opinion.
Are you telling us, Rishi Sunak, that you didn't have the chance, at one of your Sage meetings to ask your colleagues to read The Great Barrington Declaration for instance? That statement written in October 2020 by some of the world's top epidemiologists and public health scientists in which they expressed their grave concerns about the damaging physical and mental health impacts of your policies, instead recommending more Focused Protection for the vulnerable. They were publicly discredited as 'fringe' according to leaked emails and denounced as quacks. You should have had the gumption, Rishi Sunak, to insist to your team that there might have been a different way.
Rishi acknowledged that there was no cost-benefit analysis of the lockdowns. I remember a handful of  Conservative MPs asking for them in Parliament. Answer there came none.
Bev discussed her own demonisation during the pandemic:
Is he FINALLY referencing the necessity of a cost-benefit analysis of lockdowns?
Let me tell you, after making such statements on TV I was vilified by the press, demonised on social media and written off by former employers as a selfish granny-killer…
But it was so obvious if you chose to look. You didn't need to be the Chancellor to see what was coming. You just needed to switch off the BBC; seek out people who were looking at facts rather than trilling with emotion.
It wasn't easy taking a public stance for the poor, the old, the young, and anyone who was going to suffer harms from Covid theatre. But I did it anyway. Because it was the right thing to do.
She finds it hard to support Rishi's stance:
In my opinion, Sunak's words paint a picture of a man who lacked the spine to publicly call-out what he now says he knew were policy mistakes. How dare you, Rishi Sunak, How dare you …
… He wasn't a passenger when, long after we had a clear picture of the infection fatality rate, said nothing to stop confused, 98-year-old care-home residents having to mouth "I love you" through windows when all they wanted was to hold someone's hand.
Sunak wasn't a passenger when schools closed; when the decades-old pandemic response plan was mysteriously ripped up in favour of a Chinese style quarantine-the-healthy strategy. He wasn't a passenger when the Chief Medical Officers took to their lecterns with baffling figures seemingly obfuscated to maintain the fear.
He was a driver, one of a handful up front at the wheel, map in hand as he helped drive the country into a brick wall with businesses closed, families destroyed, mental health problems exacerbated and some educational achievements lost forever.
He was in on the meetings that decided the NHS must be solely obsessed with a disease that was involved in the deaths of those averaging 82 years of age. Thanks to the growing treatment backlog he was well aware of, we are now deep in a period of excess weekly mortality in the relatively young which dwarfs anything that Covid-19 managed …
"In every brief, we tried to stop the fear narrative," he now says. "I constantly said it was wrong."
No, you did not. If you had genuinely believed that you would have resigned noisily and defiantly with the backing of so many British people who could also see the Covid pantomime for what it was. You could have taken a temporary step off your own political career ladder and ironically – you could have eventually come back free from the stains of the Covid oil slick in which this country is now drowning.
You say, Rishi, that you were ticked off by the Cabinet Office after saying it was time to 'live without fear'. So tell us – who didn't want to hear that message? Name names now and put your money where your mouth is.
It's actually hard to know who Sunak is aiming this about-turn at: those of us who stuck our own necks out to question the non-scientific policy, whether that was on TV or even just round a family dinner table are not ready to forgive those who were in power.
Sunak has even said that minutes from Sage meetings were edited to omit dissenting voices from final drafts.
This has caused lawyer Francis Hoar to tweet: "This is absolutely shocking. If this is true then those responsible – and it is reasonable to suppose that Whitty and Vallance were at least aware – should face a criminal investigation for misconduct in public office."
Quite right.
Sunak has thrown the scientists under the bus. They will now blame the politicians who took the decisions. The inevitable infighting will be bloody and brutal and it will finally allow us to see behind the curtain and find out WHY in my opinion insanity was allowed to run riot. I will have my popcorn ready.
The next day, Neil Oliver delivered another great editorial.
This one is spectacular:
He advised us not to be taken in by Sunak, although he admits that the ex-Chancellor's revelations have brought the coronavirus policy narrative to the fore.
Excerpts follow:
Don't be fooled into thinking this disaster movie is coming to an end.
Rishi Sunak was quick off the mark last week with his pitiful, self-serving claims about having known the lockdowns were a bad thing but that despite him drumming his tiny fists on the table until they were a little bit sore no one would listen to him.
He said his heroic efforts to avert disaster were deleted from the official records of meetings he attended.
If that's true – if minutes of meetings affecting government policy were doctored – then Sunak's claims demand criminal investigation and jail time for those responsible – including big wigs with letters after their names, who presumably knew the truth of it as well and kept their mouths shut while people needlessly died miserable deaths, endured miserable lives and the country was driven off a cliff.
Sunak squeaks that he was on the right side of history but powerless. What absolute twaddle. He was arguably the second most powerful figure in government. By his own admission, he went along with all that was done to us. If it had ever been about principles, he would have resigned the first time his dissent was ignored and erased. He would have made his way hot foot to a television studio and there delivered an honest statement about how doing the right thing was more important than keeping his job. He did none of those things.
For all that, there's excitement in the air. The mere fact the former chancellor and would-be prime minister have broken ranks – basically opting for the tried and trusted playground tactic of claiming a big boy did it and ran away means many are scenting blood in the water.
I'm hearing a lot of people, desperate and hopeful that the whole truth will finally come out, saying things like, "the narrative is finally falling apart."
It might be and it might not. But the Covid and lockdown double-act is expendable. They've wrung all the juice they're ever going to get out of that rotten fruit and now it's ready to be cast aside. Or maybe it will just go on the back burner while other, fresher concoctions are brought forward. Either way, someone, somewhere seems to have decided it's time to move on.
Just don't be fooled into thinking that stuff about saving Granny and the NHS was ever the point, far less the main event. I've said before and I'll say it again:
"It's never about what they say it's about."
Thousands of grannies and grandpas died anyway and the NHS is a vast money pit that sucks in billions and now shuts its doors against people dying of cancer. I don't believe the last two years was ever about public health …
The good ship Pandemic is holed below the waterline and all the rats are scuttling towards the life rafts. All the lies about Covid, all the lies about vaccines, more and more exposed every day.
On the other side of the Atlantic, micro megalomaniac Antony Fauci is making for dry land as fast as his little paws will propel him. There are so many rats on that sinking ship, however, that they know there won't be enough rafts. They are aboard the Titanic and many won't make it. Here's hoping.
Now that some of the great and the good are changing their tune … now that more and more of the mainstream media are pirouetting like ballerinas and finally contemplating questions some of us have been asking, shouting indeed, on a desperate loop, for months and years, there's a narrow window of opportunity for getting some other stuff out into the open. And so now seems like the right time to think more of the unthinkable and say more of the unsayable.
Things are unfolding now exactly as the so-called conspiracy theorists, us with the tin hats on, said they would. And while everyone else – those who poured scorn, and ridiculed and hated – surely have to face the fact that we, the outcasts who lost work and reputations and much else besides – were right all along about the unforgivable damage of locking down, about harms to children, about being determined to refuse the Covid injections – in this brief moment while those who had nothing to offer but spite, and vitriol and undisguised loathing for those of us who first suspected we were being sold a pup – and who felt something wrong in our guts and so bothered to do our own reading and learned we were absolutely right and so spoke out and kept speaking out – right now before those smug smarty pants regroup behind the next line trotted out by the establishment, we can state some more of the blindingly obvious.
Let me, on behalf of my fellow conspiracy theorists, put more of the truth out there. After all, in a few months' time it's what those same smarty pants will be saying they knew all along as well.
Here's what I make of the bigger picture – and what some of us so-called Covidiots, anti-vaxxers, Putin-apologists, fascist, far-right extremist swivel-eyed loons want to talk about next.
… The horror show in the Ukraine is being exploited.
Here at home last week, Boris implied that while only lesser mortals are fretting selfishly about heat and food, his attentions are focused on the lofty heights of saving the world. The little people of Britain must endure cold and hunger for … guess what … the greater good.
Anyone with even the faintest grasp on, at least an interest in, geopolitics knowns it is utterly bogus and he is a fraud – along with Biden, Trudeau, Macron, Von der Leyen and the rest of a list so long I don't have time to read it out.
The imminent cold and hunger were made inevitable not by Putin in 2022, but years ago by the adoption of ruinous, ideologically-driven nonsense presented as world-saving environmental policies that only denied us any hope of energy independence, the profitable exploitation of all the resources beneath our feet and seas, and condemned much of Europe to dependence on Russia.
What we are paying is the cost of going Green, when those polices are not green at all but predicated upon some of the most destructive and toxic practices and technologies ever conceived.
Wind and solar will never provide the energy we need to keep thriving as societies, to grow and flourish. The situation is so insane I find it easiest to conclude we are simply meant to do without.
Stop thinking we're all going to have cars, and international travel, and warm homes – just different than before. What seems obvious is that we are being groomed to live small lives, to make way for the grandiose expectations and entitlements of the elites that are working so effectively to hoover up the last of the wealth …
Energy prices will keep going up. This will obviously hurt the poorest countries and poorest people first and worst. What is obvious about the Green warriors making war on affordable, reliable energy is that they care not a jot about the poor – at least not the actual poor alive in the world today. Those real flesh and blood people are to be sacrificed, by the millions, utterly denied the energy that might have lifted them out of poverty, so that imaginary people as yet unborn might thrive in a Utopia that exists only in the imaginations of pampered protesters. China will just burn more coal to compensate and seize more control but, shh, best not mention it.
That corrupted thinking comes from Communism – or perhaps Communism's idiot cousin Socialism. Green warriors don't care about the poor, in the same way socialists don't care about the poor … they just hate the rich.
Which is ironic, given that with their infantile protests they are doing the work of the very richest for them.
Ukraine produces a fifth of the wheat crop, required by the poorest. Not this year though. Whatever has been grown will be hard to store and harder to export – so that hunger and full-blown famine becomes a looming threat for hundreds of millions of the world's hungriest people.
In richer countries, life is being made deliberately impossible for farmers. Spiking costs of fertilisers and fuel are one thing but governments in the Netherlands, across Europe, in Canada and elsewhere around the world are persecuting those who grow our food. Farmers are being made to endure restrictions that destroy their businesses, being driven off their land altogether. They will have to watch as fields they have known and cared for over generations are hoovered up by transnational organisations with other ideas about what that land might be used for.
If you think mass migration and immigration are difficult problems now, wait until the unavoidable famines cause a haemorrhage of humanity out of the poorest countries of Africa and the Middle East. Perhaps hundreds of millions of people with nothing more to lose. Where do you think they'll go?
And here's another inconvenient truth: money and weapons keep flowing into Ukraine, but despite months of war and sanctions, the Russian rouble remains strong and an end to hostilities seems as far away as ever. Maybe no one wants that war to end. Wars don't determine who's right anyway; wars determine who's left.
Ultimately this is all about wealth and power. Not money, remember. Money is to wealth as a menu is to a steak. One's a worthless bit of paper, the other something that will keep you alive. This is about actual wealth and its acquisition. It's about the already super-rich getting hold of even more of the real things. Land, buildings, natural resources, gold. While we are supposed to be frightened out of our wits, squabbling among ourselves, and just hoping that one day it will all be over, a relative handful of others are hoovering up all the wealth, as planned …
Don't be fooled by Sunak and the rest and their about face – their pretence that they were with us all along. Covid and lockdown carried them only so far – but they plan to go much further. Disease, War, Famine, Death – the same people always ride on the same four horses. Now is not the time to take our eyes off the ball. Not by a long chalk. Keep watching the usual suspects.
On Sunday, August 28, Scottish comedian Leo Kearse guest hosted Mark Dolan's GB News show.
He gave an excellent editorial about eco-warriors. This is a five-minute video you won't regret seeing, full of fact with a generous scoop of wit:
He points out that Green pressure on Government has made us back away from energy independence over the years. The result? We are now dependent upon Putin for gas. He says that eco-warriors are helping Putin to win the war in Ukraine. Meanwhile, the rest of us will be cutting back on fuel we need to heat our homes this winter.
He concludes that Green policies are a nonsense, especially when the Scottish Green leader Patrick Harvie says that only right-wing extremists advocate energy independence.
He gives President Trump credit for telling Germany to become energy independent, even if the German delegation listening laughed in his face. He asks when Germany will ever be on the right side in a war.
I cannot help but agree.
Returning to Rishi's coronavirus revelations, I will have more on that tomorrow, as there was fallout over the weekend. Bev Turner was not wrong. They're turning on each other.
Those who missed the first instalment of Boris Johnson's downfall can read it here.
The Queen's Platinum Jubilee weekend at the beginning of June cannot have been an easy one for the Prime Minister, who turned up with his wife Carrie at the public events.
Pressure was mounting for a vote of confidence by Conservative backbenchers.
On the morning of Sunday, June 5, the last day of the Jubilee weekend, Transport Secretary Grant Shapps told the BBC that there would be no such vote, but even if one took place, Boris would win it (video):
By the time the Queen had celebrated her historic jubilee that weekend, Sir Graham Brady, chair of the Conservative 1922 Committee, had received the requisite number of letters from the Party's backbench MPs to trigger such a vote.
The vote took place on Monday, June 6. Shapps was correct in saying that Boris would win it. Shapps went on to run for the Party leadership himself in July.
Unfortunately, after the confidence vote, more events occurred making Boris's position as Party leader untenable.
Earlier, in May, the Conservatives had taken a drubbing in the local elections.
Then came the two by-elections on Thursday, June 23.
One was for Neil Parish's seat of Tiverton and Honiton in Devon. The farmer had stood down on April 30 after two fellow Conservative MPs saw him viewing tractor porn on his phone in the Palace of Westminster. Liberal Democrat Richard Foord won handily.
The second was further north, in Wakefield, where another disgraced Conservative-then-Independent MP, Imran Ahmad Khan, had to stand down for being convicted on April 11 of assault on a 15-year-old boy in 2008. On May 23, Khan was sentenced to 18 months in prison. The West Yorkshire seat reverted to Labour, with the election of Simon Lightwood.
Then came the Chris Pincher groping scandal. Pincher was Deputy Chief Whip but resigned on Thursday, June 30, after a lubricious episode at the Carlton Club in St James. The Carlton is a private club for Conservatives. Pincher had allegedly groped two men at an event there.
Boris had to sign off on Pincher's appointment as Deputy Chief Whip. However, even if Boris had objected, the Chief Whip could have appointed Pincher, anyway. As I explained on July 6, whoever the Chief Whip wants for a deputy, the Chief Whip gets.
However, the Party whip had not been withdrawn from Pincher, and MPs were incandescent.
On Friday, July 1, an article appeared in The Telegraph: 'The "disturbing" call about Chris Pincher's lurid behaviour that forced Boris Johnson to act'.
GB News interviewed Neil Parish, who was furious.
The Telegraph article says:
The low point of yet another chaotic 24 hours for Boris Johnson came when disgraced "tractor porn MP" Neil Parish popped up on the airwaves to give him a lecture on moral standards in government.  
As the Prime Minister and his aides were holed up in Number 10 deciding how to respond to the growing Chris Pincher scandal, the "very cross" former backbencher was giving them both barrels on television. 
"I can't believe they haven't done it," he said incredulously, when asked why the whip had not been removed. Referring to his own punishment for watching pornography in the House of Commons, he added: "It's double standards. Come on, let's be fair."
His righteous outrage encapsulated how untenable Downing Street's insistence that Mr Pincher would be able to remain a Conservative MP, despite accusations he drunkenly groped two men, had become.
Someone must have been watching GB News that afternoon or the fury from MPs must have increased to the extent that the Chief Whip, Chris Heaton-Harris, withdrew the Party whip:
Just over two hours later, Chris Heaton-Harris, the Chief Whip, put out a statement reversing that decision, following a day of growing anger amongst backbench Tories at the Prime Minister's failure to act. 
However, there was a problem in that, the day before, Boris did not think things needed to go that far. He thought that Pincher's resignation from the Deputy Chief Whip role sufficed (emphases mine):
Downing Street was bullish as the news broke at 8pm, with a Tory source insisting: "The PM thinks he's done the decent thing by resigning. There is no need for an investigation and no need to suspend the whip."
Even into Friday afternoon, Boris's stance had not changed:
… at noon, No 10 still remained defiant – with the Prime Minister's spokesman telling reporters he considered the matter closed, since Mr Pincher had resigned and that there was no investigation into his conduct.
Heaton-Harris and Boris received pushback for their inaction.
Finally, later on Friday Pincher became an Independent MP:
Early in the evening Downing Street was eventually forced to act and announced it had stripped Mr Pincher of the whip, given that a formal complaint had been made to Parliament's harassment watchdog.
The question was how much did Boris know about Pincher — past and present — and when did he know it?
Regarding the Carlton Club:
The Prime Minister had also been "troubled" by a "disturbing" call from one of the MPs who witnessed the incident and relayed to him a detailed account of what had happened, according to a source close to him.
The article has the details of what happened with Pincher at the club.
One MP was so unnerved that he rang Heaton-Harris at 3 a.m.:
One Tory MP who was present at the scene told The Telegraph how they "threw out" a "very drunk" Mr Pincher after being told about one of the two sexual assaults and then called the chief whip at 3am to inform him.
Another waited until daylight to inform him:
A second MP who witnessed at least one of the groping incidents also informed Mr Heaton-Harris the following morning. "This is not something that should be brushed over," the MP told The Telegraph.
That MP says Pincher's reputation was known, and it is true that he did have to stand down from another post when Theresa May was Prime Minister:
"Given the nature of the behaviour and the seniority of the role he held, it was highly inappropriate behaviour. This is not the first time there have been conversations about this person either. Many of us were surprised when that appointment was made."
It is the second time that Mr Pincher has been forced to resign from the whips' office over allegations of sexual impropriety. In 2017, he quit a more junior position after being accused by a former Tory candidate of trying to chat him up.
Returning to Boris:
"Boris has set the level and now everyone else is trying to imitate him, it is a constant drip drip. It all adds up, doesn't look good," one former minister told The Telegraph.
"The worrying thing is this is beginning to shape up so much like sleaze in the 90s under Major, where it was a whole series of inappropriate and pretty seedy actions by ministers and Tory MPs that completely undermined him."
Lord Hague, the former Conservative leader, said the Prime Minister had been too slow to act, with a "whole day of everybody speculating and talking". He added: "These things need dealing with decisively."
That day, The Telegraph had a related article, 'Boris Johnson v John Major: How Tory sleaze scandals under the two leaders stack up'. The scores are pretty even. I remember reading it and thinking that things did not look good for Boris.
There were two other things that did not bode well for him that week: a proposed treehouse for his son and an upcoming investigation by the Privileges Committee over Partygate.
Let's look at the treehouse first. Labour MPs were apoplectic that Boris wanted to have one built at Chequers for young Wilf.
Guido Fawkes has the story (emphases his):
Eyebrows were raised in Downing Street over the weekend after the publication of a story in The Sunday Times that Boris had looked into having a £150,000 treehouse built for son Wilf at Chequers. The story – undisputed since publication – goes he had once again entered into discussions about Lord Brownlow forking out for the cost, however plans were eventually scuppered by police security concerns given the house would be visible from the road. Despite the design including bulletproof glass, which raised the cost significantly…
Guido was amused to learn that Downing Street's eyebrows weren't raised by the Sunday Times's story, instead by Labour MPs' attacking the plans on the grounds of Boris being out of touch. Vauxhall's Florence Eshalomi, Rhondda's Chris Bryant, Wallasey's Angela Eagle, and Hull's Karl Turner were all among those laying into the PM.
Guido points out Labour's hypocrisy, because it was Tony Blair who had a tennis court complex installed at the Prime Minister's weekend retreat (purple emphases mine):
No. 10 sources wryly note, however, that it wasn't that long ago when it was a Labour PM splashing huge wads of cash to renovate Chequers – without a whimper of controversy. In 1999, one Tony Blair added a luxury tennis court complex to the PM's Buckinghamshire residence, something since enjoyed by successive MPs including David Cameron and Boris Johnson. Sources in the know tell Guido that the courts weren't built using public cash, nor did they come out of the Chequers Trust, implying the extortionate costs either came out of Blair's personal pocket, or a private donor. Given Guido unfortunately can't make it to Blair's big centrist jamboree today, perhaps an on-hand hack might like to raise the question of who paid for the courts…
Labour: it's okay when they do it.
The Privileges Committee are investigating Boris for Partygate, specifically on whether he deliberately lied to the House of Commons in saying he was unaware any coronavirus rules were breached. That was before he received his fine.
Labour's Harriet Harman is leading the investigation. Labour's Chris Bryant recused himself from that responsibility because he has made no secret of his dislike for Boris.
However, as Guido pointed out on June 17, Harman is hardly impartial:
It's now emerged his replacement, Harman, has not been neutral on the question up until this point either. She has tweeted her views relating to allegations around the PM's truthfulness, with one saying "If PM and CX admit guilt, accepting that police right that they breached regs, then they are also admitting that they misled the House of Commons". You wouldn't favour your chances going to trial if the judge was on the record with such levels of preconceived bias…
Conservative MPs are also aware of her bias:
Yesterday in the Commons, Andrew Murrison asked Michael Ellis whether he agreed "that those placed in a position of judgment over others must not have a previously stated position on the matter in question". The Cabinet Office minister replied:
It is, of course, an age-old principle of natural justice that no person should be a judge in their own court.
Where an individual has given a view on the guilt or innocence of any person, they ought not to then sit in judgment on that person. I know that point he is referring to, and I have no doubt that the right honourable lady will consider that.
It seems to be yet another own goal by Labour, mind-made-up Harman's appointment totally undermines the impartiality of the privileges committee investigation…
The investigation formally began on June 29:
The problem with this investigation is that it has to prove intent on Boris's part to mislead the House. How will Harman prove it?
If Boris is found guilty of deliberately misleading the House, it will have severe ramifications for parliamentary proceedings. Ministers might fear expanding on certain subjects in case they get a figure or another type of detail wrong.
We should find out the result in September.
What Labour are trying to do with this process is ensure that Boris loses his parliamentary seat for good, which is what will happen if he's guilty. That way, he can never be an MP again.
Meanwhile, some Conservative MPs were disgruntled that Boris had won the confidence vote in June. Under the current 1922 Committee rules another one cannot be held until 12 months have elapsed. They wanted Sir Graham Brady to change the rules to allow another vote before then.
On Monday, July 4, Mail+ said that Boris was 'still the best man to lead Britain':
THE Prime Minister returns to his desk today after an impressive display of statesmanship on the world stage.
Following a Commonwealth conference in Rwanda aimed at building a common future, he returned to Europe to galvanise Nato and a wavering G7 into hardening their support for Ukraine.
Sadly, though, his achievements were overshadowed by yet another Tory sleaze row, leading to inevitable further attacks on his leadership. There are even reports that rebel backbenchers are plotting another attempt at regicide – just a month after the last one failed.
When will this self-mutilation end? Yes, the Chris Pincher affair is ghastly and should have been handled better. But there are far bigger issues at stake.
There's a painful cost of living crunch, war in Europe and a migration crisis. Meanwhile, Tony Blair and his embittered Remainer chums are on a renewed mission to strangle Brexit.
Instead of dissipating energy on brainless infighting, the parliamentary Conservative Party needs to focus on the problems its constituents actually care about. They can only do that by getting behind their leader.
For all his recent troubles – some self-inflicted – this paper unequivocally believes Boris Johnson is the right man to lead the party and the country.
None of the potential replacements has his almost unique ability to connect with voters across the social and political spectrum. Crucially, he is the only one capable of winning the next election …
That Mail+ editorial has its finger on the pulse of the nation. I will come back to what voters think in a future post.
On Tuesday, July 5, Chris Pincher was in the news again after Baron McDonald of Salford — Simon McDonald — the Permanent Under-Secretary to the Foreign and Commonwealth Office between 2015 and 2020, wrote about the MP's past and what he thought Boris knew to Kathryn Stone OBE, the Parliamentary Commissioner for Standards for the House of Commons.
I wrote about this at length on July 6, concluding that there was bad blood between the life peer and Boris. Boris sacked him when the Foreign Office was merged with the Department for International Development. To soften the blow, Boris elevated him to the House of Lords. It should be noted that Baron McDonald is also a Remainer.
Wikipedia has a summary of Pincher's parliamentary history of appointments under Theresa May and Boris Johnson:
Pincher served as an Assistant Whip and Comptroller of the Household in 2017, before he resigned after being implicated in the 2017 Westminster sexual misconduct allegations, having been accused of sexual misconduct by Tom Blenkinsop and Alex Story. Two months later, in January 2018, he was appointed by Theresa May as Government Deputy Chief Whip and Treasurer of the Household. After Boris Johnson became Prime Minister in July 2019, Pincher was appointed Minister of State for Europe and the Americas. In the February 2020 reshuffle, he was appointed Minister of State for Housing. In February 2022, he returned to his former role of Government Deputy Chief Whip and Treasurer of the Household.
As to what the peer alleges Boris knew about Pincher, here are two possibilities:
The matter was discussed on that morning's Today show on BBC Radio Four.
Guido has the dialogue, with Deputy Prime Minister Dominic Raab responding for the Government. Raab said:
Aside from the Westminster rumour mill, any allegation that had resulted in formal disciplinary action… whilst there was inappropriate behaviour [from Pincher], it didn't trip the wire into disciplinary action… the individual who made the complaint did not want formal disciplinary action taken.
McDonald was on next. He said:
I disagree with that, and I dispute the use of the word 'resolved'… the complaint was upheld… Number 10 have had five full days to get the story correct, and that still has not happened… it's sort of telling the truth and crossing your fingers at the same time and hoping people aren't too forensic in their subsequent questioning.
Guido said:
In a matter of hours, the line has gone from "it's not true" to "the PM didn't know of any formal complaints". Chaos.
The Paymaster General, Michael Ellis, addressed the matter in Parliament, intimating that Boris forgot a prior briefing on Pincher:
From that point, the spiral turned ever downward.
That day, Sajid Javid resigned as Health and Social Care Secretary.
Shortly afterwards, Rishi Sunak resigned as Chancellor.
That evening, an article by Lord Frost appeared in The Telegraph: 'It is time for Boris Johnson to go':
No one is more downhearted than me at the events of the last few days. Over the years, I have worked as closely as anyone with Boris Johnson. I know, therefore, that he is a remarkable man and a remarkable politician. Only he could have cut through the mess left by Theresa May and delivered on the verdict of the people in the Brexit referendum. He took the country with him through the pandemic and has shown huge leadership on policy towards Ukraine.
But this country now faces formidable challenges. Facing them requires not just the ability to talk about a vision but the determination and steeliness to establish a credible pathway to it. It requires a leader who knows where he wants to take the country and can set out how he intends to get there, in a way that is consistent with the traditional Conservative vision.
I had hoped Boris Johnson could be that person, but I have realised that despite his undoubted skills he simply can't be. As I have often said, his Government has drifted far too much to the Left on economic matters, not only on tax and spend but by being too quick to regulate and too willing to get captured by fashionable trivia. It is tax-raising while claiming to be tax-cutting, regulatory while claiming to be deregulatory. It purports to be Conservative while too often going along with the fashionable nostrums of the London Left …
… I can't honestly see what this Prime Minister's economic philosophy is, beyond the content-free concept of "levelling up", and accordingly I no longer believe we will ever see a consistent drive towards low taxation, low spending, attractiveness to investment, and deregulation on the scale needed. 
But even more than that I have become worried by the style of government. The whole partygate affair could have been dealt with more straightforwardly and honestly by setting out right from the start what had gone wrong in No 10, taking responsibility, and explaining why it would not happen again. By the time those things had been said, they seemed to have been dragged unwillingly from the Prime Minister rather than genuinely meant. Accordingly they lacked credibility …
The Pincher affair then showed in a real-life case study that [reform of Downing Street] was not going to happen. Confronted with a problem which appeared to reflect badly on the Prime Minister's judgment, we saw once again the instinct was to cover up, to conceal, to avoid confronting the reality of the situation. Once again that instinct, not the issue itself, has become the story and the problem. Worse, this time round, ministers have been sent out repeatedly to defend suspect positions that came apart under closer examination. This is no way to run a government …
Boris Johnson's place in history is secure. He will be one of the past century's most consequential prime ministers. If he leaves now, before chaos descends, that reputation is what will be remembered. If he hangs on, he risks taking the party and the Government down with him. That's why it is time for him to go. If he does, he can still hand on to a new team, one that is determined to defend and seek the opportunities of Brexit, one that is able to win the next election convincingly. That is in the Conservative Party's interest, in Leave voters' interest, and in the national interest. It needs to happen.
On Wednesday, July 6, all hell broke loose.
The prime minister's authority over his party is crumbling as three more ministers plus two parliamentary aides resigned this morning and a string of previously loyal MPs turned on his leadership.
Rebel MPs believe that a routine meeting of the executive of the 1922 Committee of Conservative backbenchers this afternoon could be the trigger point for changing the rules that at present mean Johnson cannot be ousted for another 11 months.
Sir Graham Brady, the 1922 Committee chairman, has told the 16 members of the executive to arrive promptly for the meeting, an instruction being taken by some of those on the executive as a sign that he wants to discuss options for ousting Johnson …
At midday he will take prime minister's questions knowing that about half — perhaps more — of the Conservative MPs on the benches behind him want him gone …
Rebel Conservatives have been contacting Brady today to demand a rule change that would allow Johnson to be ousted as soon as possible. "It is being made very clear to Graham that this needs to happen sooner rather than later," said one …
One former minister said that there was a very strong feeling amongst MPs that the issue needed to be brought to a conclusion. "Boris has made very clear that it will take a forklift truck to get him out of Downing Street. So it's now up to us to assemble the forklift truck."
The article goes on to list the resignations which came in by 11:30 a.m. that day. More followed in the afternoon.
To make matters worse, Boris got a grilling during his appearance at the Liaison Committee, comprised of the heads of the Commons select committees.
That evening during a telephone call, Boris sacked Michael Gove, who was the Levelling-up Secretary.
Gove had contacted Boris that morning to tell him he should resign before PMQs at noon.
Somehow, the news reached the media.
Gove's allies claimed it was Downing Street that had briefed the media that Gove had told Johnson to resign. They said it was an attempt to make him look disloyal and distract attention from the wider revolt.
"It did not come from us," one said. "They want to paint Michael as the villain trying to orchestrate a revolt against the PM. Nothing could be further from the truth." They added that the sacking had then come out of the blue in a call from Downing Street. "He just told Michael that given their conversation in the morning he had no choice but to sack him," the ally said.
I wonder. Gove is incredibly untrustworthy and, according to the article, he and Boris have had a difficult relationship since their days at Oxford.
Before Boris sacked Gove, a number of Cabinet ministers had urged him to stand down, including Priti Patel and Kit Malthouse, who had worked with Boris during his time as Mayor of London:
Patel's intervention was striking because of her longstanding support of Johnson, having been home secretary throughout his time as prime minister.
In a one-to-one meeting in No 10 she is understood to have conveyed to him the overwhelming views of the parliamentary party. She said there was no way he could continue to govern without the support of his party.
A similar message was conveyed by Malthouse, her deputy, who was also one of Johnson's deputies when he was mayor of London.
[Brandon] Lewis travelled back from Belfast to tell the prime minister that he believed he should resign. On his flight a passenger heckled him, telling him: "You are complicit in the betrayal of this country by Boris Johnson," the BBC said.
[Grant] Shapps told the prime minister that he stood little chance of commanding a majority in a second confidence vote. [Kwasi] Kwarteng told Chris Heaton-Harris, the chief whip, that Johnson should resign for the good of the country.
I will have more on the resignations tomorrow.
At the weekend, it seemed as if more and more people began waking up to the fact that coronavirus policies of lockdowns and forced 'vaccines' did more harm than good.
Sweden was right
First, let's go back to the end of July 2022 to an article in City Journal: 'The WHO Doesn't Deserve the Nobel Peace Prize'.
Its author, John Tierney, says that if anyone merits the Nobel it's Anders Tegnell, the state epidemiologist of Sweden.
Excerpts follow, emphases mine:
While the WHO and the rest of the world panicked, he kept calm. While leaders elsewhere crippled their societies, he kept Sweden free and open. While public-health officials ignored their own pre-Covid plans for a pandemic—and the reams of reports warning that lockdowns, school closures, and masks would accomplish little or nothing—Tegnell actually stuck to the plan and heeded the scientific evidence.
Journalists pilloried him for not joining in the hysteria, but he has been proven right. In Sweden, the overall rate of excess mortality—a measure of the number of deaths more than normal from all causes—during the pandemic is one of the lowest in Europe. Swedish children kept going to school and did not suffer the learning loss so common elsewhere. Swedish children and adults went on with their lives, following Tegnell's advice not to wear masks as they continued going to schools, stores, churches, playgrounds, gyms, and restaurants. And fewer of them died than in most of the American states and European countries that delayed medical treatments, bankrupted businesses, impoverished workers, stunted children's emotional and cognitive growth, and stripped their citizens of fundamental liberties.
If it hadn't been for Tegnell and a few other heretics in places like Florida, we would not have clear evidence to prevent a similar catastrophe when the next virus arrives …
Tegnell was aided by another worthy candidate to share the Nobel, Johan Giesecke, who had formerly held Tegnell's job and served during the pandemic as an advisor to the Swedish public health agency. Decades earlier, he had recruited Tegnell to the agency because he admired the young doctor's willingness to speak his mind regardless of political consequences …
Politicians in Sweden were ready to close schools, too, but Tegnell and Giesecke insisted on weighing costs and benefits, as Tegnell had done in a 2009 article reviewing studies of school closures during pandemics. The article had warned that the closures might have little or no effect on viral spread and would cause enormous economic damage, disproportionately harm students and workers in low-income families, and create staff shortages in the health-care system by forcing parents to stay home with young children. Given all those dangers, plus early Covid data showing that schoolchildren were not dangerously spreading the virus, Tegnell and Giesecke successfully fought to keep elementary schools and junior high schools open—without masks, plastic partitions, social distancing, or regular Covid tests for students …
The virus would eventually spread to other countries despite their lockdowns and mask mandates, Tegnell warned in July 2020 as he advised his colleagues and critics to take the long view. "After next summer," he said, "then I think we can more fairly judge what has been good in some countries and bad in other countries."
Sure enough, by summer 2021, Sweden was a different sort of "cautionary tale." Without closing schools or locking down or mandating masks, it had done better than most European countries according to the most meaningful scorecard: the cumulative rate of excess mortality. Critics of Tegnell's strategy were reduced to arguing that Sweden's rate was higher than that of several other nearby countries, but this was a weak form of cherry-picking because two of those countries—Norway and Finland—had also avoided mask mandates and followed policies similar to Sweden's after their lockdowns early in the pandemic …
With the possible exception of the Great Depression, the lockdowns were the costliest public-policy mistake ever made during peacetime in the United States. The worst consequences of lockdowns have been endured by people in the poorest countries, which have seen devastating increases in poverty, hunger, and disease. Yet the WHO has refused to acknowledge these errors and wants to change its pandemic planning to promote more lockdowns in the future. It has even proposed a new global treaty giving it the power to enforce its policies around the world—thereby preventing a country like Sweden from demonstrating that the policies don't work.
The last thing the WHO deserves is encouragement from the Nobel jurors. The prize should reward those who protected the lives and liberties of millions of citizens during this pandemic, and whose work can help protect the rest of the world during the next pandemic …
Now let's move on to last weekend's news and views.
Lockdown and excess deaths
On Friday, August 19, The Telegraph's Camilla Tominey discussed lockdown, the effective closure of the NHS and excess British deaths in 'Lockdown fanatics can't escape blame for this scandal'.
She began with the story of Lisa King, a bereaved widow whose husband died an agonising death at home because he was not allowed to see his GP:
The father of two, 62, did not catch coronavirus. He died on October 9, 2020 because he was repeatedly denied a face-to-face GP appointment during the pandemic – only to be told that an urgent operation to remove his gallbladder had been delayed because of spiralling NHS waiting lists.
His sudden death, in agonising pain, was completely avoidable.
As Mrs King told me at the time: "To the decision makers, he is nothing more than 'collateral damage', but to me, he is the love of my life."
Tominey points out that several doctors and journalists in the UK opposed lockdown but were told in no uncertain terms how hateful they were:
… we were accused of being mercenary murderers intent on prioritising the economy ahead of saving lives.
Scientists who dared to question the severity of the restrictions were, as Lord Sumption put it at the time, "persecuted like Galileo". Falsely branded "Covid deniers" simply for questioning some of the "science" that was slavishly followed, they were subjected to appalling online abuse by a bunch of armchair experts who claimed to know better.
Two years later, those who objected to lockdowns and an effective closure of the NHS, all the way down to GP practices, have been proven right:
… they were right to raise their concerns in the face of pseudo-socialist Sage groupthink.
Official data now suggests that the effects of lockdown may be killing more people than are currently dying of Covid.
An analysis by the Daily Telegraph's brilliant science editor Sarah Knapton (another figure who was pilloried for questioning the pro-lockdown orthodoxy) has found that about 1,000 more people than usual are dying each week from conditions other than coronavirus.
Figures released by the Office for National Statistics (ONS) on Tuesday showed that excess deaths are 14.4 per cent higher than the five-year average, equating to 1,350 more deaths than usual in the week ending August 5. Although 469 deaths were linked to Covid, the remaining 881 have not been explained. Since the start of June, the ONS has recorded almost 10,000 more deaths than the five-year average – about 1,086 a week – none of them linked to coronavirus. This figure is more than three times the number of people who died because of Covid over the same period – 2,811.
The Department of Health and Social Care (DHSC) has asked for an investigation into the data amid concern that the deaths are linked to delays and deferment of treatment for conditions such as cancer, diabetes, and heart disease …
The horror stories are everywhere you look: from people dying needlessly at home like Mr King, to elderly patients waiting 40 hours for ambulances, to cancer sufferers now dying because they didn't get appointments during lockdown, or didn't want to be a burden.
It's tempting to blame this on the NHS being in urgent need of reform – and that's surely part of the explanation. We all know how staff shortages – again, exacerbated by the pandemic – are crippling the system.
But this isn't simply a result of a lack of resources. Healthcare spending has risen sharply as a percentage of GDP in recent years.
The nettle that needs to be grasped is that these figures suggest that the country is facing a growing health crisis that has been caused by our overzealous response to the pandemic – scaremongering policies that kept people indoors, scared them away from hospitals and deprived them of treatment.
These excess deaths may well turn out to be a direct consequence of the decision to lock down the country in order to control a virus that was only ever a serious threat to the old and the vulnerable.
Had a more proportionate approach been taken, akin to Sweden's, then would we be in this mess right now? Perhaps only a government inquiry will be able definitively to answer that question, but what's certain now is the debate over the severity of lockdown was never about the economy versus lives – as pro-shutdown fanatics would have it – but over lives versus lives …
Lest we forget that in the last quarter of 2020, the mean age of those dying with and of Covid was estimated to be 82.4 years, while the risk of dying of it if you were under 60 was less than 0.5 per cent. Who wouldn't now take those odds compared to being diagnosed with cancer, circulatory or cardiovascular related conditions and being made to wait months for post-pandemic treatment?
None of this has come as a surprise to those running organisations like the British Heart Foundation or the Stroke Foundation, which had predicted a sharp rise in deaths because "people haven't been having their routine appointments for the past few years now" …
The World Health Organisation said at the time that the Great Barrington Declaration "lacked scientific basis", but nearly three years on from the start of the pandemic there has been precious little analysis of whether the raft of Covid restrictions either served the collective good – or actually saved lives in the round – compared with the lives that are now being lost as a result.
These numbers aren't just statistics – they are people's husbands, wives, brothers, sisters, daughters and sons. The appalling truth is that a lot of these people would probably still be here today were it not for the lockdowns; lockdowns which seemingly did little to stop tens of thousands of people dying of Covid in the UK.
We stayed at home to "protect the NHS". It turns out the NHS isn't there now to protect us.
The ambulance waits are a horrorshow. This is going on throughout the UK. Scotland and Wales experienced long waiting times before England did.
This photo shows a recurring scene outside a London hospital and explains the situation. Ambulances are backed up because the patients inside cannot be accommodated in the hospital:
Here's a chart of the UK's excess deaths this year:
Blame belongs on both sides of political spectrum
Who can forget how the media, especially the BBC, ramped up Project Fear over the past two years?
Although the media don't legislate, judging from the response to the pandemic, they heavily influence what our MPs do.
So, who is to blame?
Someone thinks it is Michael Gove, who was the Chancellor of the Duchy of Lancaster from 2019 until September 2021. He was also a Minister for the Cabinet Office at the same time.
talkRADIO host Julia Hartley-Brewer says Gove bears a lot of the blame for coronavirus policy. Interesting:
What about the Left? Labour's Keir Starmer held Wales's First Minister Mark Drakeford as a paragon of wisdom during the pandemic. Drakeford's government made 'non-essential' shops close and supermarkets put tape over the aisles the Welsh were forbidden to shop in. That meant they could not buy greeting cards, party favours, toys, books or shoes. That's only a partial list, by the way. That lasted for a few months.
Following Drakeford's example, Keir Starmer wanted earlier and longer lockdowns in England. So did other Labour MPs.
They voted for every Government restriction in Westminster. Boris must have been relieved.
However, this brings up the definition of 'liberal'. How I wish that we had not adopted this American perversion of the word. 'Liberal' in its original definition is akin to 'libertarian'. It certainly isn't 'leftist'.
Rapper and podcast host Zuby brought up the subject last Saturday:
Here comes the conflict of blaming, because both sides of the House of Commons voted in unison on pandemic policy:
Vaccine harm
Then there is the vaccine harm done to young hearts via myocarditis.
Dr Aseem Malhotra is opposed to vaccines being given to children. Here he links to a study from Thailand about the adverse effect a second Pfizer dose can have on one in six teenagers:
Apparently, the Thailand study did not get much publicity at home:
Neil Oliver's editorial on coronavirus
On Saturday, Neil Oliver delivered an excellent opening editorial on pandemic policy, which he said should be a sacking or resigning offence:
He rightly pointed out that those responsible feel no remorse.
Dan Wootton's coronavirus hour
Dan Wootton had a blockbuster coronavirus hour in the first half of his GB News show on Monday, August 22. It was marvellous:
His opening Digest was brilliant:
The transcript is here:
The damage, both to our health, our economy and our future way of life, has been obvious to me since the first national lockdown was imposed in March 2020, following the playbook of communist China.
My overarching mission on this show has been to have the important conversations about the most damaging public health policy of all time, which the vast majority of the media, the establishment and our so-called leaders want to avoid at almost any cost.
This was my opening night monologue on the first night of this channel in June 2021 that, at the time, sparked total outrage from all the usual suspects, who campaigned to see me reprimanded by Ofcom for daring to question the efficacy of lockdowns on a national news channel.
I said then: "Lockdowns are a crude measure. Mark my words, in the years to come we will discover they have caused far more deaths and devastation than the Government has ever admitted.
"They should be wiped from the public health playbook forever more. But, tragically, the doomsday scientists and public health officials have taken control.
"They're addicted to the power and the Government are satisfied its 15-month-long never-ending scare campaign has suitably terrified the public into supporting lockdowns.
"But if we don't fight back against this madness, some of the damage will be irreversible."
It was always going to take some time to get the devastating statistics to back-up the idea that a policy of lockdowns was catastrophically wrong – but it was obvious to me what was just around the corner.
Those statistics are now coming in thick and fast; the conclusions are unavoidable and undeniable.
This striking front page of the Daily Telegraph, suggesting the effects of lockdown may now be killing more people than are dying of Covid, should be leading every news bulletin in the country.
Here's the front page to which he refers:
He discussed the statistics I cited above and rightly pointed out that The Telegraph is the only media outlet (besides GB News) talking about it:
Instead, our dramatic excess death toll is virtually ignored by the BBC, ITV News and Sly News, which used to trumpet Covid death figures on an almost hourly basis …
The officials who terrified the public on a daily basis, backed up by a crazed media and gutless politicians, have blood on their hands.
A small group of honourable folk – many of whom now appear regularly on this show, like Professor Karol Sikora – shouted from the rooftops that delays and deferment of treatment for a host of conditions like cancer, strokes, diabetes and heart disease were going to be responsible for thousands upon thousands of deaths in years to come.
We tried to warn people and wake up the rest of the population, while being dismissed as Covidiots, deniers and the anti-vaxx brigade.
And yet, there's still no apology. Still no acceptance of a gigantic error.
In fact, the same irresponsible and evil idiots who got us into this mess want lockdowns, mass vaccination and muzzling to return this winter.
We cannot and will not rest until the true damage of lockdowns is exposed and accepted so we learn the mistakes of our recent history.
A panel discussion followed:
Cardiologist Karl Sikora gave his view and found it astonishing that health experts, including former SAGE member, behaviourist Susan Michie, whom they did not name, want everlasting masks and lockdowns:
Susan Michie, by the way, has just taken up a plum job with the WHO. Says it all, really.
Neil Oliver told Wootton that he was not optimistic about no future lockdowns, which is one of Liz Truss's proposed policies:
And, finally, the Fairbrass brothers from Right Said Fred presented their scepticism over coronavirus policies. They've lost a few gigs because of it but also picked up a new set of fans:
Conclusion
This past weekend really gave me a lot of encouragement about examining coronavirus policies more closely.
For once, it seemed as if a lot of news items and editorials hit at the same time.
I do hope this augurs well for the future.