You are currently browsing the tag archive for the 'government' tag.
My far better half and I never miss a Neil Oliver editorial during his Saturday evening GB News shows.
His topic is the changing fabric of the Western world post-pandemic, whether it be through farming prohibitions, climate change or the ongoing revelations about coronavirus policies.
Here is the transcript and the video from his August 13 editorial:
Excerpts follow, emphases mine:
It is hard to think the unthinkable – but there comes a time when there's nothing else for it. People raised to trust the powers that be – who have assumed, like I once did, that the State, regardless of its political flavour at any given moment, is essentially benevolent and well-meaning – will naturally try and keep that assumption of benevolence in mind when trying to make sense of what is going on around them.
People like us, you and me, raised in the understanding that we are free, that we have inalienable rights, and that the institutions of this country have our best interests at heart, will tend to tie ourselves in knots rather than contemplate the idea those authorities might actually be working against us now. I took that thought of benevolent, well-meaning authority for granted for most of my life, God help me. Not to put too fine a point on it, I was as gullible as the next chump.
A couple of years ago, however, I began to think the unthinkable and with every passing day it becomes more and more obvious to me that we are no longer being treated as individuals entitled to try and make the most of our lives – but as a barn full of battery hens, just another product to be bought and sold – sold down the river …
Once the scales fall from a person's eyes, the resultant clarity of sight is briefly overwhelming. Or it is like being handed a skeleton key that opens every locked door, or access to a Rosetta Stone that translates every word into a language instantly understood.
Take the energy crisis: If you've felt the blood drain from your face at the prospect of bills rising from hundreds to several thousands of pounds while reading about energy companies doubling their profits overnight while being commanded to subsidise so-called renewables that are anything but Green while listening to this politician or that renew their vows to the ruinous fantasies of Net Zero and Agenda 2030 while knowing that the electricity for electric cars comes, in the main and most reliably, from fossil fuels if you can't make sense of it all and just know that it adds up to a future in which you might have to choose between eating and heating then treat yourself to the gift of understanding that the powers that be fully intend that we should have less heat and less fuel and that in the planned future only the rich will have cars anyway. The plan is not to fix it.
The plan is to break it, and leave it broken. If you struggle to think the best of the world's richest – vacuous, self-obsessed A-list celebrities among them – endlessly circling the planet on private jets and super yachts, so as to attend get-togethers where they might pontificate to us lowly proles about how we must give up our cars and occasional holiday flights – even meat on the dinner table … if you wonder how they have the unmitigated gall … then isn't it easier simply to accept that their honestly declared and advertised intention is that their luxurious and pampered lives will continue as before while we are left hungry, cold and mostly unwashed in our unheated homes.
Here's the thing: if any leader or celeb honestly meant a word of their sermons about CO2 and the rest, then they would obviously lead by example. They would be first of all of us willingly to give up international travel altogether … they would downsize to modest homes warmed by heat pumps. They would eschew all energy but that from the sun and the wind. They would eat, with relish, bugs and plants. They would resort to walking, bicycles and public transport. If Net Zero and the rest was about the good of the planet – and not about clearing the skies and the beaches of scum like us – don't you think those sainted politicians and A-listers would be lighting the way for us by their own example? If the way of life they preach to us was worth living, wouldn't they be living it already? Perhaps you heard Bill Gates say private jets are his guilty pleasure.
And how about food – and more particularly the predicted shortage of it: the suits and CEOs blame it all on Vladimir Putin. But if the countries of the world are truly running out of food, why is our government offering farmers hundreds of thousands of pounds to get out of the industry and sell their land to transnational corporations for use, or disuse unknown? Why aren't we, as a society, doing what our parents and grandparents did during WWII and digging for victory? Why is the government intent on turning a third of our fertile soil over to re-wilding schemes that make life better only for the beavers? Why aren't we looking across the North Sea towards the Netherlands where a WEF-infected administration is bullying farmers off their land altogether, forcing them to cull half the national herd …
Why do you think it matters so much, to the government of the second most productive population of farmers in the world, to gut and fillet that industry? Why? Why have similar protests, in countries all across Europe and the wider world, been largely ignored by the mainstream media – a media that would have crawled on its hands and knees over broken glass just to report on a BLM protester opening a bag of non-binary crisps. Why the silence on the attack on farming? …
Isn't the simple obvious answer … the answer that makes most sense and that is staring us in our trusting faces … that power for the power-hungry has always rested most effectively upon control of food and its supply? Why are the powers that be attributing this to a cost of living crisis when everyone with two brain cells to rub together can see it's a cost of lockdown crisis – the inevitable consequence of shutting down the whole country – indeed the whole world – for the best part of two years. Soaring inflation, rising interest rates, disrupted supply chains …
Rather than dismiss as yet another conspiracy theory the idea of cash being ultimately replaced with transactions based on the exchange of what amount to glorified food stamps that will only be accepted if our social credit score demonstrates that we've been obedient girls or boys … how about taking the leap and focussing on the blatantly obvious … that if we are not free to buy whatever and whenever we please, free of the surveillance and snooping of governments and the banks that run them, then we have absolutely no freedom at all. And while we're on the subject of money and banks, why not pause to notice something else that is glaringly obvious – which is to say that the currencies of the West are teetering on the abyss, and that one bank after another is revealed, to those who are bothering to watch, as being as close to bankruptcy as its possible to be without actually falling over the edge.
Then there's the so-called vaccines for Covid – I deliberately say "so-called" because by now it should be clear to all but the wilfully blind that those injections do not work as advertised. You can still contract the virus, still transmit the virus, still get sick and still die. Denmark has dropped their use on under-18s. All across the world, every day, more evidence emerges – however grudgingly, however much the various complicit authorities and Big-Pharma companies might hate to admit it – of countless deaths and injuries caused by those medical procedures …
Now I ask myself on a daily basis how I ignored the stench for so long. Across the Atlantic, the Biden White House sent the FBI to raid the home of former president Donald Trump. Meanwhile Joe Biden and his son Hunter – he of the laptop full of the most appalling and incriminating content – fly together on Air Force 1. No raids planned on the Obamas, nor on the Clintons. Speaker of the House Nancy Pelosi flew to Taiwan and onwards to China. Her son Paul, an investor in a Chinese tech firm and with seats on the board of companies dealing in lithium, was along for the ride, into that part of the world where three quarters of the world's lithium batteries are made. Taiwan leads in that technology.
It is hard to think the unthinkable. It's hard to think that all of it, all the misery, all the suffering of the past and to come might just be about money, greed and power. It is hard to tell yourself you've been taken for a fool and taken for a ride. It's hard, but the view from the other side is worth the effort and the pain. Open your eyes and see.
In the middle of last week, Rishi Sunak gave an interview to Fraser Nelson, editor of The Spectator, about his view on the Government's coronavirus policy and SAGE, their medical and scientific advisory team.
Excerpts from 'The lockdown files: Rishi Sunak on what we weren't told' follow:
When we meet at the office he has rented for his leadership campaign, soon to enter its final week, he says at the outset that he's not interested in pointing the finger at the fiercest proponents of lockdown. No one knew anything at the start, he says: lockdown was, by necessity, a gamble. Chris Whitty and Patrick Vallance, the chief medical officer and chief scientific adviser, would openly admit that lockdown could do more harm than good. But when the evidence started to roll in, a strange silence grew in government: dissenting voices were filtered out and a see-no-evil policy was applied.
Sunak's story starts with the first Covid meeting, where ministers were shown an A3 poster from scientific advisers explaining the options. 'I wish I'd kept it because it listed things that had no impact: banning live events and all that,' he says. 'It was saying: you should be careful not to do this stuff too early, because being able to sustain it is very hard in a modern society.' So the scientific advice was, initially, to reject or at least delay lockdown.
This all changed when Neil Ferguson and his team at Imperial College published their famous 'Report 9', which argued that Covid casualties could hit 500,000 if no action was taken – but the figure could be below 20,000 if Britain locked down. That, of course, turned out to be a vast exaggeration of lockdown's ability to curb Covid deaths …
A cost-benefit calculation – a basic requirement for pretty much every public health intervention – was never made. 'I wasn't allowed to talk about the trade-off,' says Sunak. Ministers were briefed by No. 10 on how to handle questions about the side-effects of lockdown. 'The script was not to ever acknowledge them. The script was: oh, there's no trade-off, because doing this for our health is good for the economy.'
… When he did try to raise concerns, he met a brick wall. 'Those meetings were literally me around that table, just fighting. It was incredibly uncomfortable every single time.' He recalls one meeting where he raised education. 'I was very emotional about it. I was like: "Forget about the economy. Surely we can all agree that kids not being in school is a major nightmare" or something like that. There was a big silence afterwards. It was the first time someone had said it. I was so furious.'
One of Sunak's big concerns was about the fear messaging, which his Treasury team worried could have long-lasting effects. 'In every brief, we tried to say: let's stop the "fear" narrative. It was always wrong from the beginning. I constantly said it was wrong.' The posters showing Covid patients on ventilators, he said, were the worst. 'It was wrong to scare people like that.' The closest he came to defying this was in a September 2020 speech saying that it was time to learn to 'live without fear' – a direct response to the Cabinet Office's messaging. 'They were very upset about that.'
… Lockdown – closing schools and much of the economy while sending the police after people who sat on park benches – was the most draconian policy introduced in peacetime. No. 10 wanted to present it as 'following the science' rather than a political decision, and this had implications for the wiring of government decision-making. It meant elevating Sage, a sprawling group of scientific advisers, into a committee that had the power to decide whether the country would lock down or not. There was no socioeconomic equivalent to Sage; no forum where other questions would be asked.
So whoever wrote the minutes for the Sage meetings – condensing its discussions into guidance for government – would set the policy of the nation. No one, not even cabinet members, would know how these decisions were reached.
In the early days, Sunak had an advantage. 'The Sage people didn't realise for a very long time that there was a Treasury person on all their calls. A lovely lady. She was great because it meant that she was sitting there, listening to their discussions.'
… But his victories were few and far between. One, he says, came in May 2020 when the first plans were being drawn to move out of lockdown in summer. 'There's some language in there that you will see because I fought for it,' he says. 'It talked about non-Covid health impact.' Just a few sentences, he says, but he views the fact that lockdown side-effects were recognised at all at that point as a triumph.
He doesn't name Matt Hancock, who presided over all of this as health secretary, or Liz Truss, who was silent throughout. As he said at the outset, he doesn't want to name names but rather to speak plainly about what the public was not told – and the process that led to this. Typically, he said, ministers would be shown Sage analysis pointing to horrifying 'scenarios' that would come to pass if Britain did not impose or extend lockdown. But even he, as chancellor, could not find out how these all-important scenarios had been calculated.
Liz Truss was not part of the 'quad', though, the four Cabinet ministers who determined policy. If I remember rightly, the 'quad' were Boris, Hancock, Michael Gove and Rishi. Truss claimed that she didn't speak up because she was told that the decisions were a fait accompli. Nelson verifies that below.
Returning to Rishi:
'I was like: "Summarise for me the key assumptions, on one page, with a bunch of sensitivities and rationale for each one",' Sunak says. 'In the first year I could never get this.' The Treasury, he says, would never recommend policy based on unexplained modelling: he regarded this as a matter of basic competence. But for a year, UK government policy – and the fate of millions –was being decided by half-explained graphs cooked up by outside academics.
'This is the problem,' he says. 'If you empower all these independent people, you're screwed.' Sir Gus O'Donnell, the former cabinet secretary, has suggested that Sage should have been asked to report to a higher committee, which would have considered the social and economic aspects of locking down. Sunak agrees. But having been anointed from the start, Sage retained its power until the rebellion that came last Christmas.
In December 2021, at the time JP Morgan's lockdown analysis appeared:
He flew back early from a trip to California. By this time JP Morgan's lockdown analysis was being emailed around among cabinet ministers like a samizdat paper, and they were ready to rebel. Sunak met Johnson. 'I just told him it's not right: we shouldn't do this.' He did not threaten to resign if there was another lockdown, 'but I used the closest formulation of words that I could' to imply that threat. Sunak then rang around other ministers and compared notes.
Normally, cabinet members were not kept in the loop as Covid-related decisions were being made – Johnson's No. 10 informed them after the event, rather than consulting them. Sunak says he urged the PM to pass the decision to cabinet so that his colleagues could give him political cover for rejecting the advice of Sage. 'I remember telling him: have the cabinet meeting. You'll see. Every-one will be completely behind you… You don't have to worry. I will be standing next to you, as will every other member of the cabinet, bar probably Michael [Gove] and Saj [Javid].' As it was to prove.
Nelson claims that Rishi is telling the truth:
For what it's worth, his account squares with what I picked up from his critics in government: that the money-obsessed Sunak was on a one-man mission to torpedo lockdown. And perhaps the Prime Minister as well. 'Everything I did was seen through the prism of: "You're trying to be difficult, trying to be leader,"' he says. He tried not to challenge the Prime Minister in public, or leave a paper trail. 'I'd say a lot of stuff to him in private,' he says. 'There's some written record of everything. In general, people leak it – and it causes problems.'
Rishi said why he did not resign at the time:
To quit in that way during a pandemic, he says, would have been irresponsible. And to go public, or let his misgivings become known, would have been seen as a direct attack on the PM.
At the time, No. 10's strategy was to create the impression that lockdown was a scientifically created policy which only crackpots dared question …
David Cameron employed the same strategy with the Brexit referendum in 2016. He said that the only people supporting Leave were 'swivel-eyed loons'.
Rishi explained why he waited until now to speak out:
He is opening up not just because he is running to be prime minister, he says, but because there are important lessons in all of this. Not who did what wrong, but how it came to pass that such important questions about lockdown's profound knock-on effects – issues that will probably dominate politics for years to come – were never properly explored …
And the other lessons of lockdown? 'We shouldn't have empowered the scientists in the way we did,' he says. 'And you have to acknowledge trade-offs from the beginning. If we'd done all of that, we could be in a very different place.' How different? 'We'd probably have made different decisions on things like schools, for example.' Could a more frank discussion have helped Britain avoid lockdown entirely, as Sweden did? 'I don't know, but it could have been shorter. Different. Quicker.'
Even now, Sunak doesn't argue that lockdown was a mistake – just that the many downsides in health, the economy and society in general could have been mitigated if they had been openly discussed. An official inquiry has begun, but Sunak says there are lessons to learn now …
To Sunak, this was the problem at the heart of the government's Covid response: a lack of candour. There was a failure to raise difficult questions about where all this might lead – and a tendency to use fear messaging to stifle debate, instead of encouraging discussion. So in a sentence, how would he have handled the pandemic differently? 'I would just have had a more grown-up conversation with the country.'
Hmm.
On Thursday, August 25, Fraser Nelson wrote an article about it for The Telegraph: 'Rishi Sunak is just the start. The great lockdown scandal is about to unravel':
For some time, I've been trying to persuade Rishi Sunak to go on the record about what really happened in lockdown. Only a handful of people really know what took place then, because most ministers – including members of the Cabinet – were kept in the dark. Government was often reduced to a "quad" of ministers deciding on Britain's future and the then chancellor of the exchequer was one of them. I'd heard rumours that Sunak was horrified at much of what he saw, but was keeping quiet. In which case, lessons would never be learnt.
His speaking out now confirms much of what many suspected. That the culture of fear, seen in the Orwellian advertising campaign that sought to terrify the country, applied inside Government. Questioning lockdown, even in ministerial meetings, was seen as an attack on the Prime Minister's authority. To ask even basic questions – about how many extra cancer deaths there might be, for example – was to risk being portrayed as one the crackpots, the "Cov-idiots", people who wanted to "let the virus rip". Hysteria had taken hold in the heart of Whitehall …
Chris Whitty and Patrick Vallance began by advising ministers not to lock down, saying public events were fine, and that face masks were pointless. They were talking about herd immunity as the way out. Then they flipped entirely. But this reveals something crucial: lockdown never was backed by science. It was about models and suppositions, educated guesswork. It was driven by moods, emotion, fear – and, worst of all, politics masquerading as science.
This is part of Sunak's point. He doesn't say locking down was wrong. Just that it somehow went from being a daft idea, rubbished by scientists, to a national imperative whose necessity was unquestionable scientific truth. So we need to ask: was the fear messaging really necessary? Why were No 10 outriders sent out to savage dissenting scientists? Why was Sunak made to feel, as he told me, that he was being seen – even inside government – as a callous money-grabber when he raised even basic concerns?
The disclosures should start a great unravelling of the lockdown myth, its pseudo-scientific sheen stripped away and the shocking political malfeasance left to stand exposed. Were Sage minutes manipulated, with dissent airbrushed out? If Sage "scenarios" were cooked up on fundamentally wrong assumptions we need to know, because that will mean lockdowns were imposed or extended upon a false premise. A premise that could have been exposed as false, had there been basic transparency or proper scrutiny.
This isn't just about a virus. An autocratic streak took hold of the Government and overpowered a weak Prime Minister – and did so because our democratic safeguards failed. It should have been impossible for policies of such huge consequence to be passed without the most rigorous scrutiny. So many lives were at risk that every single lockdown assumption should have been pulled apart to see if it was correct. It should have been impossible for government to suspend such scrutiny for more than a few weeks.
I suspect that this authoritarian reflex lies embedded in our system, ready to twitch again. Life, after all, is easier without opposition so if tools exist to suspend it, we can expect them to be grabbed …
Sunak doesn't speak like a man expecting to end up in No 10. He said earlier this week that he would rather lose having been honest with people than win by telling half-truths. Opening up on lockdown may not save, or even help, his campaign. But his candour has offered important insights into one of the most important stories of our times – and one that is only beginning to be told.
As the then-Chancellor, he was the most powerful man in Government after Prime Minister Boris Johnson. Rishi held the nation's purse strings and could have said 'no' at any point to the policies. But he didn't.
It was difficult to know exactly what Rishi's motives were in giving such an interview. Perhaps he was trying to glean votes from sceptical Conservative Party members in a last ditch attempt to save his candidacy.
Whatever his reason, one outcome was that it got Covid sceptics talking again, with some indirect support from him.
On Friday, August 26, one of those sceptics, Bev Turner, delivered a guest host editorial on GB News.
She was not happy with Rishi's silence over Government policy:
Now, Rishi Sunak says that lockdowns "could have been shorter. Different. Quicker. We could be in a very different place", he says now with the benefit of hindsight that some of us never needed… Apparently, as the economy tanks, he regrets the Government's Covid strategy, stating that the scientists at Sage should never have been put in charge of the country's response.
Well…who knew?…thanks for that, Rishi. Now I can sleep at night….except of course I can't. And I won't until there are arrests over the despotic, unscientific measures of the scamdemic and the perverted profits sucked up by vampirical pharma companies aided and abetted by a media paid off to the tune of £300m. Paid for, by Rishi Sunak's department with our tax payers money!
"If you empower all these independent people, you're screwed," he now says in reference to Sage, "We shouldn't have empowered the scientists in the way we did."
She brought up Susan Michie, who is now — or who soon will be — working for the WHO:
a leading member of Sage is a life-long member of the Communist Party and might just have enjoyed the frisson of power.
She wondered why Rishi didn't do more in his position of power:
… Rishi's wrong, you can empower scientists – except that as with any medical decision – the consequences of which could be life-changing, you seek a second opinion.
Are you telling us, Rishi Sunak, that you didn't have the chance, at one of your Sage meetings to ask your colleagues to read The Great Barrington Declaration for instance? That statement written in October 2020 by some of the world's top epidemiologists and public health scientists in which they expressed their grave concerns about the damaging physical and mental health impacts of your policies, instead recommending more Focused Protection for the vulnerable. They were publicly discredited as 'fringe' according to leaked emails and denounced as quacks. You should have had the gumption, Rishi Sunak, to insist to your team that there might have been a different way.
Rishi acknowledged that there was no cost-benefit analysis of the lockdowns. I remember a handful of  Conservative MPs asking for them in Parliament. Answer there came none.
Bev discussed her own demonisation during the pandemic:
Is he FINALLY referencing the necessity of a cost-benefit analysis of lockdowns?
Let me tell you, after making such statements on TV I was vilified by the press, demonised on social media and written off by former employers as a selfish granny-killer…
But it was so obvious if you chose to look. You didn't need to be the Chancellor to see what was coming. You just needed to switch off the BBC; seek out people who were looking at facts rather than trilling with emotion.
It wasn't easy taking a public stance for the poor, the old, the young, and anyone who was going to suffer harms from Covid theatre. But I did it anyway. Because it was the right thing to do.
She finds it hard to support Rishi's stance:
In my opinion, Sunak's words paint a picture of a man who lacked the spine to publicly call-out what he now says he knew were policy mistakes. How dare you, Rishi Sunak, How dare you …
… He wasn't a passenger when, long after we had a clear picture of the infection fatality rate, said nothing to stop confused, 98-year-old care-home residents having to mouth "I love you" through windows when all they wanted was to hold someone's hand.
Sunak wasn't a passenger when schools closed; when the decades-old pandemic response plan was mysteriously ripped up in favour of a Chinese style quarantine-the-healthy strategy. He wasn't a passenger when the Chief Medical Officers took to their lecterns with baffling figures seemingly obfuscated to maintain the fear.
He was a driver, one of a handful up front at the wheel, map in hand as he helped drive the country into a brick wall with businesses closed, families destroyed, mental health problems exacerbated and some educational achievements lost forever.
He was in on the meetings that decided the NHS must be solely obsessed with a disease that was involved in the deaths of those averaging 82 years of age. Thanks to the growing treatment backlog he was well aware of, we are now deep in a period of excess weekly mortality in the relatively young which dwarfs anything that Covid-19 managed …
"In every brief, we tried to stop the fear narrative," he now says. "I constantly said it was wrong."
No, you did not. If you had genuinely believed that you would have resigned noisily and defiantly with the backing of so many British people who could also see the Covid pantomime for what it was. You could have taken a temporary step off your own political career ladder and ironically – you could have eventually come back free from the stains of the Covid oil slick in which this country is now drowning.
You say, Rishi, that you were ticked off by the Cabinet Office after saying it was time to 'live without fear'. So tell us – who didn't want to hear that message? Name names now and put your money where your mouth is.
It's actually hard to know who Sunak is aiming this about-turn at: those of us who stuck our own necks out to question the non-scientific policy, whether that was on TV or even just round a family dinner table are not ready to forgive those who were in power.
Sunak has even said that minutes from Sage meetings were edited to omit dissenting voices from final drafts.
This has caused lawyer Francis Hoar to tweet: "This is absolutely shocking. If this is true then those responsible – and it is reasonable to suppose that Whitty and Vallance were at least aware – should face a criminal investigation for misconduct in public office."
Quite right.
Sunak has thrown the scientists under the bus. They will now blame the politicians who took the decisions. The inevitable infighting will be bloody and brutal and it will finally allow us to see behind the curtain and find out WHY in my opinion insanity was allowed to run riot. I will have my popcorn ready.
The next day, Neil Oliver delivered another great editorial.
This one is spectacular:
He advised us not to be taken in by Sunak, although he admits that the ex-Chancellor's revelations have brought the coronavirus policy narrative to the fore.
Excerpts follow:
Don't be fooled into thinking this disaster movie is coming to an end.
Rishi Sunak was quick off the mark last week with his pitiful, self-serving claims about having known the lockdowns were a bad thing but that despite him drumming his tiny fists on the table until they were a little bit sore no one would listen to him.
He said his heroic efforts to avert disaster were deleted from the official records of meetings he attended.
If that's true – if minutes of meetings affecting government policy were doctored – then Sunak's claims demand criminal investigation and jail time for those responsible – including big wigs with letters after their names, who presumably knew the truth of it as well and kept their mouths shut while people needlessly died miserable deaths, endured miserable lives and the country was driven off a cliff.
Sunak squeaks that he was on the right side of history but powerless. What absolute twaddle. He was arguably the second most powerful figure in government. By his own admission, he went along with all that was done to us. If it had ever been about principles, he would have resigned the first time his dissent was ignored and erased. He would have made his way hot foot to a television studio and there delivered an honest statement about how doing the right thing was more important than keeping his job. He did none of those things.
For all that, there's excitement in the air. The mere fact the former chancellor and would-be prime minister have broken ranks – basically opting for the tried and trusted playground tactic of claiming a big boy did it and ran away means many are scenting blood in the water.
I'm hearing a lot of people, desperate and hopeful that the whole truth will finally come out, saying things like, "the narrative is finally falling apart."
It might be and it might not. But the Covid and lockdown double-act is expendable. They've wrung all the juice they're ever going to get out of that rotten fruit and now it's ready to be cast aside. Or maybe it will just go on the back burner while other, fresher concoctions are brought forward. Either way, someone, somewhere seems to have decided it's time to move on.
Just don't be fooled into thinking that stuff about saving Granny and the NHS was ever the point, far less the main event. I've said before and I'll say it again:
"It's never about what they say it's about."
Thousands of grannies and grandpas died anyway and the NHS is a vast money pit that sucks in billions and now shuts its doors against people dying of cancer. I don't believe the last two years was ever about public health …
The good ship Pandemic is holed below the waterline and all the rats are scuttling towards the life rafts. All the lies about Covid, all the lies about vaccines, more and more exposed every day.
On the other side of the Atlantic, micro megalomaniac Antony Fauci is making for dry land as fast as his little paws will propel him. There are so many rats on that sinking ship, however, that they know there won't be enough rafts. They are aboard the Titanic and many won't make it. Here's hoping.
Now that some of the great and the good are changing their tune … now that more and more of the mainstream media are pirouetting like ballerinas and finally contemplating questions some of us have been asking, shouting indeed, on a desperate loop, for months and years, there's a narrow window of opportunity for getting some other stuff out into the open. And so now seems like the right time to think more of the unthinkable and say more of the unsayable.
Things are unfolding now exactly as the so-called conspiracy theorists, us with the tin hats on, said they would. And while everyone else – those who poured scorn, and ridiculed and hated – surely have to face the fact that we, the outcasts who lost work and reputations and much else besides – were right all along about the unforgivable damage of locking down, about harms to children, about being determined to refuse the Covid injections – in this brief moment while those who had nothing to offer but spite, and vitriol and undisguised loathing for those of us who first suspected we were being sold a pup – and who felt something wrong in our guts and so bothered to do our own reading and learned we were absolutely right and so spoke out and kept speaking out – right now before those smug smarty pants regroup behind the next line trotted out by the establishment, we can state some more of the blindingly obvious.
Let me, on behalf of my fellow conspiracy theorists, put more of the truth out there. After all, in a few months' time it's what those same smarty pants will be saying they knew all along as well.
Here's what I make of the bigger picture – and what some of us so-called Covidiots, anti-vaxxers, Putin-apologists, fascist, far-right extremist swivel-eyed loons want to talk about next.
… The horror show in the Ukraine is being exploited.
Here at home last week, Boris implied that while only lesser mortals are fretting selfishly about heat and food, his attentions are focused on the lofty heights of saving the world. The little people of Britain must endure cold and hunger for … guess what … the greater good.
Anyone with even the faintest grasp on, at least an interest in, geopolitics knowns it is utterly bogus and he is a fraud – along with Biden, Trudeau, Macron, Von der Leyen and the rest of a list so long I don't have time to read it out.
The imminent cold and hunger were made inevitable not by Putin in 2022, but years ago by the adoption of ruinous, ideologically-driven nonsense presented as world-saving environmental policies that only denied us any hope of energy independence, the profitable exploitation of all the resources beneath our feet and seas, and condemned much of Europe to dependence on Russia.
What we are paying is the cost of going Green, when those polices are not green at all but predicated upon some of the most destructive and toxic practices and technologies ever conceived.
Wind and solar will never provide the energy we need to keep thriving as societies, to grow and flourish. The situation is so insane I find it easiest to conclude we are simply meant to do without.
Stop thinking we're all going to have cars, and international travel, and warm homes – just different than before. What seems obvious is that we are being groomed to live small lives, to make way for the grandiose expectations and entitlements of the elites that are working so effectively to hoover up the last of the wealth …
Energy prices will keep going up. This will obviously hurt the poorest countries and poorest people first and worst. What is obvious about the Green warriors making war on affordable, reliable energy is that they care not a jot about the poor – at least not the actual poor alive in the world today. Those real flesh and blood people are to be sacrificed, by the millions, utterly denied the energy that might have lifted them out of poverty, so that imaginary people as yet unborn might thrive in a Utopia that exists only in the imaginations of pampered protesters. China will just burn more coal to compensate and seize more control but, shh, best not mention it.
That corrupted thinking comes from Communism – or perhaps Communism's idiot cousin Socialism. Green warriors don't care about the poor, in the same way socialists don't care about the poor … they just hate the rich.
Which is ironic, given that with their infantile protests they are doing the work of the very richest for them.
Ukraine produces a fifth of the wheat crop, required by the poorest. Not this year though. Whatever has been grown will be hard to store and harder to export – so that hunger and full-blown famine becomes a looming threat for hundreds of millions of the world's hungriest people.
In richer countries, life is being made deliberately impossible for farmers. Spiking costs of fertilisers and fuel are one thing but governments in the Netherlands, across Europe, in Canada and elsewhere around the world are persecuting those who grow our food. Farmers are being made to endure restrictions that destroy their businesses, being driven off their land altogether. They will have to watch as fields they have known and cared for over generations are hoovered up by transnational organisations with other ideas about what that land might be used for.
If you think mass migration and immigration are difficult problems now, wait until the unavoidable famines cause a haemorrhage of humanity out of the poorest countries of Africa and the Middle East. Perhaps hundreds of millions of people with nothing more to lose. Where do you think they'll go?
And here's another inconvenient truth: money and weapons keep flowing into Ukraine, but despite months of war and sanctions, the Russian rouble remains strong and an end to hostilities seems as far away as ever. Maybe no one wants that war to end. Wars don't determine who's right anyway; wars determine who's left.
Ultimately this is all about wealth and power. Not money, remember. Money is to wealth as a menu is to a steak. One's a worthless bit of paper, the other something that will keep you alive. This is about actual wealth and its acquisition. It's about the already super-rich getting hold of even more of the real things. Land, buildings, natural resources, gold. While we are supposed to be frightened out of our wits, squabbling among ourselves, and just hoping that one day it will all be over, a relative handful of others are hoovering up all the wealth, as planned …
Don't be fooled by Sunak and the rest and their about face – their pretence that they were with us all along. Covid and lockdown carried them only so far – but they plan to go much further. Disease, War, Famine, Death – the same people always ride on the same four horses. Now is not the time to take our eyes off the ball. Not by a long chalk. Keep watching the usual suspects.
On Sunday, August 28, Scottish comedian Leo Kearse guest hosted Mark Dolan's GB News show.
He gave an excellent editorial about eco-warriors. This is a five-minute video you won't regret seeing, full of fact with a generous scoop of wit:
He points out that Green pressure on Government has made us back away from energy independence over the years. The result? We are now dependent upon Putin for gas. He says that eco-warriors are helping Putin to win the war in Ukraine. Meanwhile, the rest of us will be cutting back on fuel we need to heat our homes this winter.
He concludes that Green policies are a nonsense, especially when the Scottish Green leader Patrick Harvie says that only right-wing extremists advocate energy independence.
He gives President Trump credit for telling Germany to become energy independent, even if the German delegation listening laughed in his face. He asks when Germany will ever be on the right side in a war.
I cannot help but agree.
Returning to Rishi's coronavirus revelations, I will have more on that tomorrow, as there was fallout over the weekend. Bev Turner was not wrong. They're turning on each other.
Those who missed the first instalment of Boris Johnson's downfall can read it here.
The Queen's Platinum Jubilee weekend at the beginning of June cannot have been an easy one for the Prime Minister, who turned up with his wife Carrie at the public events.
Pressure was mounting for a vote of confidence by Conservative backbenchers.
On the morning of Sunday, June 5, the last day of the Jubilee weekend, Transport Secretary Grant Shapps told the BBC that there would be no such vote, but even if one took place, Boris would win it (video):
By the time the Queen had celebrated her historic jubilee that weekend, Sir Graham Brady, chair of the Conservative 1922 Committee, had received the requisite number of letters from the Party's backbench MPs to trigger such a vote.
The vote took place on Monday, June 6. Shapps was correct in saying that Boris would win it. Shapps went on to run for the Party leadership himself in July.
Unfortunately, after the confidence vote, more events occurred making Boris's position as Party leader untenable.
Earlier, in May, the Conservatives had taken a drubbing in the local elections.
Then came the two by-elections on Thursday, June 23.
One was for Neil Parish's seat of Tiverton and Honiton in Devon. The farmer had stood down on April 30 after two fellow Conservative MPs saw him viewing tractor porn on his phone in the Palace of Westminster. Liberal Democrat Richard Foord won handily.
The second was further north, in Wakefield, where another disgraced Conservative-then-Independent MP, Imran Ahmad Khan, had to stand down for being convicted on April 11 of assault on a 15-year-old boy in 2008. On May 23, Khan was sentenced to 18 months in prison. The West Yorkshire seat reverted to Labour, with the election of Simon Lightwood.
Then came the Chris Pincher groping scandal. Pincher was Deputy Chief Whip but resigned on Thursday, June 30, after a lubricious episode at the Carlton Club in St James. The Carlton is a private club for Conservatives. Pincher had allegedly groped two men at an event there.
Boris had to sign off on Pincher's appointment as Deputy Chief Whip. However, even if Boris had objected, the Chief Whip could have appointed Pincher, anyway. As I explained on July 6, whoever the Chief Whip wants for a deputy, the Chief Whip gets.
However, the Party whip had not been withdrawn from Pincher, and MPs were incandescent.
On Friday, July 1, an article appeared in The Telegraph: 'The "disturbing" call about Chris Pincher's lurid behaviour that forced Boris Johnson to act'.
GB News interviewed Neil Parish, who was furious.
The Telegraph article says:
The low point of yet another chaotic 24 hours for Boris Johnson came when disgraced "tractor porn MP" Neil Parish popped up on the airwaves to give him a lecture on moral standards in government.  
As the Prime Minister and his aides were holed up in Number 10 deciding how to respond to the growing Chris Pincher scandal, the "very cross" former backbencher was giving them both barrels on television. 
"I can't believe they haven't done it," he said incredulously, when asked why the whip had not been removed. Referring to his own punishment for watching pornography in the House of Commons, he added: "It's double standards. Come on, let's be fair."
His righteous outrage encapsulated how untenable Downing Street's insistence that Mr Pincher would be able to remain a Conservative MP, despite accusations he drunkenly groped two men, had become.
Someone must have been watching GB News that afternoon or the fury from MPs must have increased to the extent that the Chief Whip, Chris Heaton-Harris, withdrew the Party whip:
Just over two hours later, Chris Heaton-Harris, the Chief Whip, put out a statement reversing that decision, following a day of growing anger amongst backbench Tories at the Prime Minister's failure to act. 
However, there was a problem in that, the day before, Boris did not think things needed to go that far. He thought that Pincher's resignation from the Deputy Chief Whip role sufficed (emphases mine):
Downing Street was bullish as the news broke at 8pm, with a Tory source insisting: "The PM thinks he's done the decent thing by resigning. There is no need for an investigation and no need to suspend the whip."
Even into Friday afternoon, Boris's stance had not changed:
… at noon, No 10 still remained defiant – with the Prime Minister's spokesman telling reporters he considered the matter closed, since Mr Pincher had resigned and that there was no investigation into his conduct.
Heaton-Harris and Boris received pushback for their inaction.
Finally, later on Friday Pincher became an Independent MP:
Early in the evening Downing Street was eventually forced to act and announced it had stripped Mr Pincher of the whip, given that a formal complaint had been made to Parliament's harassment watchdog.
The question was how much did Boris know about Pincher — past and present — and when did he know it?
Regarding the Carlton Club:
The Prime Minister had also been "troubled" by a "disturbing" call from one of the MPs who witnessed the incident and relayed to him a detailed account of what had happened, according to a source close to him.
The article has the details of what happened with Pincher at the club.
One MP was so unnerved that he rang Heaton-Harris at 3 a.m.:
One Tory MP who was present at the scene told The Telegraph how they "threw out" a "very drunk" Mr Pincher after being told about one of the two sexual assaults and then called the chief whip at 3am to inform him.
Another waited until daylight to inform him:
A second MP who witnessed at least one of the groping incidents also informed Mr Heaton-Harris the following morning. "This is not something that should be brushed over," the MP told The Telegraph.
That MP says Pincher's reputation was known, and it is true that he did have to stand down from another post when Theresa May was Prime Minister:
"Given the nature of the behaviour and the seniority of the role he held, it was highly inappropriate behaviour. This is not the first time there have been conversations about this person either. Many of us were surprised when that appointment was made."
It is the second time that Mr Pincher has been forced to resign from the whips' office over allegations of sexual impropriety. In 2017, he quit a more junior position after being accused by a former Tory candidate of trying to chat him up.
Returning to Boris:
"Boris has set the level and now everyone else is trying to imitate him, it is a constant drip drip. It all adds up, doesn't look good," one former minister told The Telegraph.
"The worrying thing is this is beginning to shape up so much like sleaze in the 90s under Major, where it was a whole series of inappropriate and pretty seedy actions by ministers and Tory MPs that completely undermined him."
Lord Hague, the former Conservative leader, said the Prime Minister had been too slow to act, with a "whole day of everybody speculating and talking". He added: "These things need dealing with decisively."
That day, The Telegraph had a related article, 'Boris Johnson v John Major: How Tory sleaze scandals under the two leaders stack up'. The scores are pretty even. I remember reading it and thinking that things did not look good for Boris.
There were two other things that did not bode well for him that week: a proposed treehouse for his son and an upcoming investigation by the Privileges Committee over Partygate.
Let's look at the treehouse first. Labour MPs were apoplectic that Boris wanted to have one built at Chequers for young Wilf.
Guido Fawkes has the story (emphases his):
Eyebrows were raised in Downing Street over the weekend after the publication of a story in The Sunday Times that Boris had looked into having a £150,000 treehouse built for son Wilf at Chequers. The story – undisputed since publication – goes he had once again entered into discussions about Lord Brownlow forking out for the cost, however plans were eventually scuppered by police security concerns given the house would be visible from the road. Despite the design including bulletproof glass, which raised the cost significantly…
Guido was amused to learn that Downing Street's eyebrows weren't raised by the Sunday Times's story, instead by Labour MPs' attacking the plans on the grounds of Boris being out of touch. Vauxhall's Florence Eshalomi, Rhondda's Chris Bryant, Wallasey's Angela Eagle, and Hull's Karl Turner were all among those laying into the PM.
Guido points out Labour's hypocrisy, because it was Tony Blair who had a tennis court complex installed at the Prime Minister's weekend retreat (purple emphases mine):
No. 10 sources wryly note, however, that it wasn't that long ago when it was a Labour PM splashing huge wads of cash to renovate Chequers – without a whimper of controversy. In 1999, one Tony Blair added a luxury tennis court complex to the PM's Buckinghamshire residence, something since enjoyed by successive MPs including David Cameron and Boris Johnson. Sources in the know tell Guido that the courts weren't built using public cash, nor did they come out of the Chequers Trust, implying the extortionate costs either came out of Blair's personal pocket, or a private donor. Given Guido unfortunately can't make it to Blair's big centrist jamboree today, perhaps an on-hand hack might like to raise the question of who paid for the courts…
Labour: it's okay when they do it.
The Privileges Committee are investigating Boris for Partygate, specifically on whether he deliberately lied to the House of Commons in saying he was unaware any coronavirus rules were breached. That was before he received his fine.
Labour's Harriet Harman is leading the investigation. Labour's Chris Bryant recused himself from that responsibility because he has made no secret of his dislike for Boris.
However, as Guido pointed out on June 17, Harman is hardly impartial:
It's now emerged his replacement, Harman, has not been neutral on the question up until this point either. She has tweeted her views relating to allegations around the PM's truthfulness, with one saying "If PM and CX admit guilt, accepting that police right that they breached regs, then they are also admitting that they misled the House of Commons". You wouldn't favour your chances going to trial if the judge was on the record with such levels of preconceived bias…
Conservative MPs are also aware of her bias:
Yesterday in the Commons, Andrew Murrison asked Michael Ellis whether he agreed "that those placed in a position of judgment over others must not have a previously stated position on the matter in question". The Cabinet Office minister replied:
It is, of course, an age-old principle of natural justice that no person should be a judge in their own court.
Where an individual has given a view on the guilt or innocence of any person, they ought not to then sit in judgment on that person. I know that point he is referring to, and I have no doubt that the right honourable lady will consider that.
It seems to be yet another own goal by Labour, mind-made-up Harman's appointment totally undermines the impartiality of the privileges committee investigation…
The investigation formally began on June 29:
The problem with this investigation is that it has to prove intent on Boris's part to mislead the House. How will Harman prove it?
If Boris is found guilty of deliberately misleading the House, it will have severe ramifications for parliamentary proceedings. Ministers might fear expanding on certain subjects in case they get a figure or another type of detail wrong.
We should find out the result in September.
What Labour are trying to do with this process is ensure that Boris loses his parliamentary seat for good, which is what will happen if he's guilty. That way, he can never be an MP again.
Meanwhile, some Conservative MPs were disgruntled that Boris had won the confidence vote in June. Under the current 1922 Committee rules another one cannot be held until 12 months have elapsed. They wanted Sir Graham Brady to change the rules to allow another vote before then.
On Monday, July 4, Mail+ said that Boris was 'still the best man to lead Britain':
THE Prime Minister returns to his desk today after an impressive display of statesmanship on the world stage.
Following a Commonwealth conference in Rwanda aimed at building a common future, he returned to Europe to galvanise Nato and a wavering G7 into hardening their support for Ukraine.
Sadly, though, his achievements were overshadowed by yet another Tory sleaze row, leading to inevitable further attacks on his leadership. There are even reports that rebel backbenchers are plotting another attempt at regicide – just a month after the last one failed.
When will this self-mutilation end? Yes, the Chris Pincher affair is ghastly and should have been handled better. But there are far bigger issues at stake.
There's a painful cost of living crunch, war in Europe and a migration crisis. Meanwhile, Tony Blair and his embittered Remainer chums are on a renewed mission to strangle Brexit.
Instead of dissipating energy on brainless infighting, the parliamentary Conservative Party needs to focus on the problems its constituents actually care about. They can only do that by getting behind their leader.
For all his recent troubles – some self-inflicted – this paper unequivocally believes Boris Johnson is the right man to lead the party and the country.
None of the potential replacements has his almost unique ability to connect with voters across the social and political spectrum. Crucially, he is the only one capable of winning the next election …
That Mail+ editorial has its finger on the pulse of the nation. I will come back to what voters think in a future post.
On Tuesday, July 5, Chris Pincher was in the news again after Baron McDonald of Salford — Simon McDonald — the Permanent Under-Secretary to the Foreign and Commonwealth Office between 2015 and 2020, wrote about the MP's past and what he thought Boris knew to Kathryn Stone OBE, the Parliamentary Commissioner for Standards for the House of Commons.
I wrote about this at length on July 6, concluding that there was bad blood between the life peer and Boris. Boris sacked him when the Foreign Office was merged with the Department for International Development. To soften the blow, Boris elevated him to the House of Lords. It should be noted that Baron McDonald is also a Remainer.
Wikipedia has a summary of Pincher's parliamentary history of appointments under Theresa May and Boris Johnson:
Pincher served as an Assistant Whip and Comptroller of the Household in 2017, before he resigned after being implicated in the 2017 Westminster sexual misconduct allegations, having been accused of sexual misconduct by Tom Blenkinsop and Alex Story. Two months later, in January 2018, he was appointed by Theresa May as Government Deputy Chief Whip and Treasurer of the Household. After Boris Johnson became Prime Minister in July 2019, Pincher was appointed Minister of State for Europe and the Americas. In the February 2020 reshuffle, he was appointed Minister of State for Housing. In February 2022, he returned to his former role of Government Deputy Chief Whip and Treasurer of the Household.
As to what the peer alleges Boris knew about Pincher, here are two possibilities:
The matter was discussed on that morning's Today show on BBC Radio Four.
Guido has the dialogue, with Deputy Prime Minister Dominic Raab responding for the Government. Raab said:
Aside from the Westminster rumour mill, any allegation that had resulted in formal disciplinary action… whilst there was inappropriate behaviour [from Pincher], it didn't trip the wire into disciplinary action… the individual who made the complaint did not want formal disciplinary action taken.
McDonald was on next. He said:
I disagree with that, and I dispute the use of the word 'resolved'… the complaint was upheld… Number 10 have had five full days to get the story correct, and that still has not happened… it's sort of telling the truth and crossing your fingers at the same time and hoping people aren't too forensic in their subsequent questioning.
Guido said:
In a matter of hours, the line has gone from "it's not true" to "the PM didn't know of any formal complaints". Chaos.
The Paymaster General, Michael Ellis, addressed the matter in Parliament, intimating that Boris forgot a prior briefing on Pincher:
From that point, the spiral turned ever downward.
That day, Sajid Javid resigned as Health and Social Care Secretary.
Shortly afterwards, Rishi Sunak resigned as Chancellor.
That evening, an article by Lord Frost appeared in The Telegraph: 'It is time for Boris Johnson to go':
No one is more downhearted than me at the events of the last few days. Over the years, I have worked as closely as anyone with Boris Johnson. I know, therefore, that he is a remarkable man and a remarkable politician. Only he could have cut through the mess left by Theresa May and delivered on the verdict of the people in the Brexit referendum. He took the country with him through the pandemic and has shown huge leadership on policy towards Ukraine.
But this country now faces formidable challenges. Facing them requires not just the ability to talk about a vision but the determination and steeliness to establish a credible pathway to it. It requires a leader who knows where he wants to take the country and can set out how he intends to get there, in a way that is consistent with the traditional Conservative vision.
I had hoped Boris Johnson could be that person, but I have realised that despite his undoubted skills he simply can't be. As I have often said, his Government has drifted far too much to the Left on economic matters, not only on tax and spend but by being too quick to regulate and too willing to get captured by fashionable trivia. It is tax-raising while claiming to be tax-cutting, regulatory while claiming to be deregulatory. It purports to be Conservative while too often going along with the fashionable nostrums of the London Left …
… I can't honestly see what this Prime Minister's economic philosophy is, beyond the content-free concept of "levelling up", and accordingly I no longer believe we will ever see a consistent drive towards low taxation, low spending, attractiveness to investment, and deregulation on the scale needed. 
But even more than that I have become worried by the style of government. The whole partygate affair could have been dealt with more straightforwardly and honestly by setting out right from the start what had gone wrong in No 10, taking responsibility, and explaining why it would not happen again. By the time those things had been said, they seemed to have been dragged unwillingly from the Prime Minister rather than genuinely meant. Accordingly they lacked credibility …
The Pincher affair then showed in a real-life case study that [reform of Downing Street] was not going to happen. Confronted with a problem which appeared to reflect badly on the Prime Minister's judgment, we saw once again the instinct was to cover up, to conceal, to avoid confronting the reality of the situation. Once again that instinct, not the issue itself, has become the story and the problem. Worse, this time round, ministers have been sent out repeatedly to defend suspect positions that came apart under closer examination. This is no way to run a government …
Boris Johnson's place in history is secure. He will be one of the past century's most consequential prime ministers. If he leaves now, before chaos descends, that reputation is what will be remembered. If he hangs on, he risks taking the party and the Government down with him. That's why it is time for him to go. If he does, he can still hand on to a new team, one that is determined to defend and seek the opportunities of Brexit, one that is able to win the next election convincingly. That is in the Conservative Party's interest, in Leave voters' interest, and in the national interest. It needs to happen.
On Wednesday, July 6, all hell broke loose.
The prime minister's authority over his party is crumbling as three more ministers plus two parliamentary aides resigned this morning and a string of previously loyal MPs turned on his leadership.
Rebel MPs believe that a routine meeting of the executive of the 1922 Committee of Conservative backbenchers this afternoon could be the trigger point for changing the rules that at present mean Johnson cannot be ousted for another 11 months.
Sir Graham Brady, the 1922 Committee chairman, has told the 16 members of the executive to arrive promptly for the meeting, an instruction being taken by some of those on the executive as a sign that he wants to discuss options for ousting Johnson …
At midday he will take prime minister's questions knowing that about half — perhaps more — of the Conservative MPs on the benches behind him want him gone …
Rebel Conservatives have been contacting Brady today to demand a rule change that would allow Johnson to be ousted as soon as possible. "It is being made very clear to Graham that this needs to happen sooner rather than later," said one …
One former minister said that there was a very strong feeling amongst MPs that the issue needed to be brought to a conclusion. "Boris has made very clear that it will take a forklift truck to get him out of Downing Street. So it's now up to us to assemble the forklift truck."
The article goes on to list the resignations which came in by 11:30 a.m. that day. More followed in the afternoon.
To make matters worse, Boris got a grilling during his appearance at the Liaison Committee, comprised of the heads of the Commons select committees.
That evening during a telephone call, Boris sacked Michael Gove, who was the Levelling-up Secretary.
Gove had contacted Boris that morning to tell him he should resign before PMQs at noon.
Somehow, the news reached the media.
Gove's allies claimed it was Downing Street that had briefed the media that Gove had told Johnson to resign. They said it was an attempt to make him look disloyal and distract attention from the wider revolt.
"It did not come from us," one said. "They want to paint Michael as the villain trying to orchestrate a revolt against the PM. Nothing could be further from the truth." They added that the sacking had then come out of the blue in a call from Downing Street. "He just told Michael that given their conversation in the morning he had no choice but to sack him," the ally said.
I wonder. Gove is incredibly untrustworthy and, according to the article, he and Boris have had a difficult relationship since their days at Oxford.
Before Boris sacked Gove, a number of Cabinet ministers had urged him to stand down, including Priti Patel and Kit Malthouse, who had worked with Boris during his time as Mayor of London:
Patel's intervention was striking because of her longstanding support of Johnson, having been home secretary throughout his time as prime minister.
In a one-to-one meeting in No 10 she is understood to have conveyed to him the overwhelming views of the parliamentary party. She said there was no way he could continue to govern without the support of his party.
A similar message was conveyed by Malthouse, her deputy, who was also one of Johnson's deputies when he was mayor of London.
[Brandon] Lewis travelled back from Belfast to tell the prime minister that he believed he should resign. On his flight a passenger heckled him, telling him: "You are complicit in the betrayal of this country by Boris Johnson," the BBC said.
[Grant] Shapps told the prime minister that he stood little chance of commanding a majority in a second confidence vote. [Kwasi] Kwarteng told Chris Heaton-Harris, the chief whip, that Johnson should resign for the good of the country.
I will have more on the resignations tomorrow.
At the weekend, it seemed as if more and more people began waking up to the fact that coronavirus policies of lockdowns and forced 'vaccines' did more harm than good.
Sweden was right
First, let's go back to the end of July 2022 to an article in City Journal: 'The WHO Doesn't Deserve the Nobel Peace Prize'.
Its author, John Tierney, says that if anyone merits the Nobel it's Anders Tegnell, the state epidemiologist of Sweden.
Excerpts follow, emphases mine:
While the WHO and the rest of the world panicked, he kept calm. While leaders elsewhere crippled their societies, he kept Sweden free and open. While public-health officials ignored their own pre-Covid plans for a pandemic—and the reams of reports warning that lockdowns, school closures, and masks would accomplish little or nothing—Tegnell actually stuck to the plan and heeded the scientific evidence.
Journalists pilloried him for not joining in the hysteria, but he has been proven right. In Sweden, the overall rate of excess mortality—a measure of the number of deaths more than normal from all causes—during the pandemic is one of the lowest in Europe. Swedish children kept going to school and did not suffer the learning loss so common elsewhere. Swedish children and adults went on with their lives, following Tegnell's advice not to wear masks as they continued going to schools, stores, churches, playgrounds, gyms, and restaurants. And fewer of them died than in most of the American states and European countries that delayed medical treatments, bankrupted businesses, impoverished workers, stunted children's emotional and cognitive growth, and stripped their citizens of fundamental liberties.
If it hadn't been for Tegnell and a few other heretics in places like Florida, we would not have clear evidence to prevent a similar catastrophe when the next virus arrives …
Tegnell was aided by another worthy candidate to share the Nobel, Johan Giesecke, who had formerly held Tegnell's job and served during the pandemic as an advisor to the Swedish public health agency. Decades earlier, he had recruited Tegnell to the agency because he admired the young doctor's willingness to speak his mind regardless of political consequences …
Politicians in Sweden were ready to close schools, too, but Tegnell and Giesecke insisted on weighing costs and benefits, as Tegnell had done in a 2009 article reviewing studies of school closures during pandemics. The article had warned that the closures might have little or no effect on viral spread and would cause enormous economic damage, disproportionately harm students and workers in low-income families, and create staff shortages in the health-care system by forcing parents to stay home with young children. Given all those dangers, plus early Covid data showing that schoolchildren were not dangerously spreading the virus, Tegnell and Giesecke successfully fought to keep elementary schools and junior high schools open—without masks, plastic partitions, social distancing, or regular Covid tests for students …
The virus would eventually spread to other countries despite their lockdowns and mask mandates, Tegnell warned in July 2020 as he advised his colleagues and critics to take the long view. "After next summer," he said, "then I think we can more fairly judge what has been good in some countries and bad in other countries."
Sure enough, by summer 2021, Sweden was a different sort of "cautionary tale." Without closing schools or locking down or mandating masks, it had done better than most European countries according to the most meaningful scorecard: the cumulative rate of excess mortality. Critics of Tegnell's strategy were reduced to arguing that Sweden's rate was higher than that of several other nearby countries, but this was a weak form of cherry-picking because two of those countries—Norway and Finland—had also avoided mask mandates and followed policies similar to Sweden's after their lockdowns early in the pandemic …
With the possible exception of the Great Depression, the lockdowns were the costliest public-policy mistake ever made during peacetime in the United States. The worst consequences of lockdowns have been endured by people in the poorest countries, which have seen devastating increases in poverty, hunger, and disease. Yet the WHO has refused to acknowledge these errors and wants to change its pandemic planning to promote more lockdowns in the future. It has even proposed a new global treaty giving it the power to enforce its policies around the world—thereby preventing a country like Sweden from demonstrating that the policies don't work.
The last thing the WHO deserves is encouragement from the Nobel jurors. The prize should reward those who protected the lives and liberties of millions of citizens during this pandemic, and whose work can help protect the rest of the world during the next pandemic …
Now let's move on to last weekend's news and views.
Lockdown and excess deaths
On Friday, August 19, The Telegraph's Camilla Tominey discussed lockdown, the effective closure of the NHS and excess British deaths in 'Lockdown fanatics can't escape blame for this scandal'.
She began with the story of Lisa King, a bereaved widow whose husband died an agonising death at home because he was not allowed to see his GP:
The father of two, 62, did not catch coronavirus. He died on October 9, 2020 because he was repeatedly denied a face-to-face GP appointment during the pandemic – only to be told that an urgent operation to remove his gallbladder had been delayed because of spiralling NHS waiting lists.
His sudden death, in agonising pain, was completely avoidable.
As Mrs King told me at the time: "To the decision makers, he is nothing more than 'collateral damage', but to me, he is the love of my life."
Tominey points out that several doctors and journalists in the UK opposed lockdown but were told in no uncertain terms how hateful they were:
… we were accused of being mercenary murderers intent on prioritising the economy ahead of saving lives.
Scientists who dared to question the severity of the restrictions were, as Lord Sumption put it at the time, "persecuted like Galileo". Falsely branded "Covid deniers" simply for questioning some of the "science" that was slavishly followed, they were subjected to appalling online abuse by a bunch of armchair experts who claimed to know better.
Two years later, those who objected to lockdowns and an effective closure of the NHS, all the way down to GP practices, have been proven right:
… they were right to raise their concerns in the face of pseudo-socialist Sage groupthink.
Official data now suggests that the effects of lockdown may be killing more people than are currently dying of Covid.
An analysis by the Daily Telegraph's brilliant science editor Sarah Knapton (another figure who was pilloried for questioning the pro-lockdown orthodoxy) has found that about 1,000 more people than usual are dying each week from conditions other than coronavirus.
Figures released by the Office for National Statistics (ONS) on Tuesday showed that excess deaths are 14.4 per cent higher than the five-year average, equating to 1,350 more deaths than usual in the week ending August 5. Although 469 deaths were linked to Covid, the remaining 881 have not been explained. Since the start of June, the ONS has recorded almost 10,000 more deaths than the five-year average – about 1,086 a week – none of them linked to coronavirus. This figure is more than three times the number of people who died because of Covid over the same period – 2,811.
The Department of Health and Social Care (DHSC) has asked for an investigation into the data amid concern that the deaths are linked to delays and deferment of treatment for conditions such as cancer, diabetes, and heart disease …
The horror stories are everywhere you look: from people dying needlessly at home like Mr King, to elderly patients waiting 40 hours for ambulances, to cancer sufferers now dying because they didn't get appointments during lockdown, or didn't want to be a burden.
It's tempting to blame this on the NHS being in urgent need of reform – and that's surely part of the explanation. We all know how staff shortages – again, exacerbated by the pandemic – are crippling the system.
But this isn't simply a result of a lack of resources. Healthcare spending has risen sharply as a percentage of GDP in recent years.
The nettle that needs to be grasped is that these figures suggest that the country is facing a growing health crisis that has been caused by our overzealous response to the pandemic – scaremongering policies that kept people indoors, scared them away from hospitals and deprived them of treatment.
These excess deaths may well turn out to be a direct consequence of the decision to lock down the country in order to control a virus that was only ever a serious threat to the old and the vulnerable.
Had a more proportionate approach been taken, akin to Sweden's, then would we be in this mess right now? Perhaps only a government inquiry will be able definitively to answer that question, but what's certain now is the debate over the severity of lockdown was never about the economy versus lives – as pro-shutdown fanatics would have it – but over lives versus lives …
Lest we forget that in the last quarter of 2020, the mean age of those dying with and of Covid was estimated to be 82.4 years, while the risk of dying of it if you were under 60 was less than 0.5 per cent. Who wouldn't now take those odds compared to being diagnosed with cancer, circulatory or cardiovascular related conditions and being made to wait months for post-pandemic treatment?
None of this has come as a surprise to those running organisations like the British Heart Foundation or the Stroke Foundation, which had predicted a sharp rise in deaths because "people haven't been having their routine appointments for the past few years now" …
The World Health Organisation said at the time that the Great Barrington Declaration "lacked scientific basis", but nearly three years on from the start of the pandemic there has been precious little analysis of whether the raft of Covid restrictions either served the collective good – or actually saved lives in the round – compared with the lives that are now being lost as a result.
These numbers aren't just statistics – they are people's husbands, wives, brothers, sisters, daughters and sons. The appalling truth is that a lot of these people would probably still be here today were it not for the lockdowns; lockdowns which seemingly did little to stop tens of thousands of people dying of Covid in the UK.
We stayed at home to "protect the NHS". It turns out the NHS isn't there now to protect us.
The ambulance waits are a horrorshow. This is going on throughout the UK. Scotland and Wales experienced long waiting times before England did.
This photo shows a recurring scene outside a London hospital and explains the situation. Ambulances are backed up because the patients inside cannot be accommodated in the hospital:
Here's a chart of the UK's excess deaths this year:
Blame belongs on both sides of political spectrum
Who can forget how the media, especially the BBC, ramped up Project Fear over the past two years?
Although the media don't legislate, judging from the response to the pandemic, they heavily influence what our MPs do.
So, who is to blame?
Someone thinks it is Michael Gove, who was the Chancellor of the Duchy of Lancaster from 2019 until September 2021. He was also a Minister for the Cabinet Office at the same time.
talkRADIO host Julia Hartley-Brewer says Gove bears a lot of the blame for coronavirus policy. Interesting:
What about the Left? Labour's Keir Starmer held Wales's First Minister Mark Drakeford as a paragon of wisdom during the pandemic. Drakeford's government made 'non-essential' shops close and supermarkets put tape over the aisles the Welsh were forbidden to shop in. That meant they could not buy greeting cards, party favours, toys, books or shoes. That's only a partial list, by the way. That lasted for a few months.
Following Drakeford's example, Keir Starmer wanted earlier and longer lockdowns in England. So did other Labour MPs.
They voted for every Government restriction in Westminster. Boris must have been relieved.
However, this brings up the definition of 'liberal'. How I wish that we had not adopted this American perversion of the word. 'Liberal' in its original definition is akin to 'libertarian'. It certainly isn't 'leftist'.
Rapper and podcast host Zuby brought up the subject last Saturday:
Here comes the conflict of blaming, because both sides of the House of Commons voted in unison on pandemic policy:
Vaccine harm
Then there is the vaccine harm done to young hearts via myocarditis.
Dr Aseem Malhotra is opposed to vaccines being given to children. Here he links to a study from Thailand about the adverse effect a second Pfizer dose can have on one in six teenagers:
Apparently, the Thailand study did not get much publicity at home:
Neil Oliver's editorial on coronavirus
On Saturday, Neil Oliver delivered an excellent opening editorial on pandemic policy, which he said should be a sacking or resigning offence:
He rightly pointed out that those responsible feel no remorse.
Dan Wootton's coronavirus hour
Dan Wootton had a blockbuster coronavirus hour in the first half of his GB News show on Monday, August 22. It was marvellous:
His opening Digest was brilliant:
The transcript is here:
The damage, both to our health, our economy and our future way of life, has been obvious to me since the first national lockdown was imposed in March 2020, following the playbook of communist China.
My overarching mission on this show has been to have the important conversations about the most damaging public health policy of all time, which the vast majority of the media, the establishment and our so-called leaders want to avoid at almost any cost.
This was my opening night monologue on the first night of this channel in June 2021 that, at the time, sparked total outrage from all the usual suspects, who campaigned to see me reprimanded by Ofcom for daring to question the efficacy of lockdowns on a national news channel.
I said then: "Lockdowns are a crude measure. Mark my words, in the years to come we will discover they have caused far more deaths and devastation than the Government has ever admitted.
"They should be wiped from the public health playbook forever more. But, tragically, the doomsday scientists and public health officials have taken control.
"They're addicted to the power and the Government are satisfied its 15-month-long never-ending scare campaign has suitably terrified the public into supporting lockdowns.
"But if we don't fight back against this madness, some of the damage will be irreversible."
It was always going to take some time to get the devastating statistics to back-up the idea that a policy of lockdowns was catastrophically wrong – but it was obvious to me what was just around the corner.
Those statistics are now coming in thick and fast; the conclusions are unavoidable and undeniable.
This striking front page of the Daily Telegraph, suggesting the effects of lockdown may now be killing more people than are dying of Covid, should be leading every news bulletin in the country.
Here's the front page to which he refers:
He discussed the statistics I cited above and rightly pointed out that The Telegraph is the only media outlet (besides GB News) talking about it:
Instead, our dramatic excess death toll is virtually ignored by the BBC, ITV News and Sly News, which used to trumpet Covid death figures on an almost hourly basis …
The officials who terrified the public on a daily basis, backed up by a crazed media and gutless politicians, have blood on their hands.
A small group of honourable folk – many of whom now appear regularly on this show, like Professor Karol Sikora – shouted from the rooftops that delays and deferment of treatment for a host of conditions like cancer, strokes, diabetes and heart disease were going to be responsible for thousands upon thousands of deaths in years to come.
We tried to warn people and wake up the rest of the population, while being dismissed as Covidiots, deniers and the anti-vaxx brigade.
And yet, there's still no apology. Still no acceptance of a gigantic error.
In fact, the same irresponsible and evil idiots who got us into this mess want lockdowns, mass vaccination and muzzling to return this winter.
We cannot and will not rest until the true damage of lockdowns is exposed and accepted so we learn the mistakes of our recent history.
A panel discussion followed:
Cardiologist Karl Sikora gave his view and found it astonishing that health experts, including former SAGE member, behaviourist Susan Michie, whom they did not name, want everlasting masks and lockdowns:
Susan Michie, by the way, has just taken up a plum job with the WHO. Says it all, really.
Neil Oliver told Wootton that he was not optimistic about no future lockdowns, which is one of Liz Truss's proposed policies:
And, finally, the Fairbrass brothers from Right Said Fred presented their scepticism over coronavirus policies. They've lost a few gigs because of it but also picked up a new set of fans:
Conclusion
This past weekend really gave me a lot of encouragement about examining coronavirus policies more closely.
For once, it seemed as if a lot of news items and editorials hit at the same time.
I do hope this augurs well for the future.
On the first Thursday in May 2022, the UK will hold local elections.
It is unclear how well the Conservative Party will do, given sudden cost of living increases across the board, all of which occurred on April 1. Oh, were that this an April Fool joke. Sadly, it is all too real.
On April 3, Tim Stanley recapped the Conservatives' self-inflicted wounds for The Telegraph: 'The nannying Tories face oblivion if they refuse to get their priorities straight'.
Excerpts follow, emphases mine, except for Guido Fawkes's posts below:
The same day the gas bill doubled, it snowed. Oh, and restaurants were mandated to list calorie counts on menus. After 12 years in office, the Tories have gone from trying to fix the state to trying to fix us, so we'll be less of a shivery, fat burden on the bureaucrats. Don't eat, they advise; don't fly, don't drive, avoid using the heating. In fact, it would be helpful if we could stop existing altogether. The NHS would look good on paper if no one used it, and we'd have a zero per cent failure rate in schools if no one ever sat an exam.
As MPs take a break from Parliament this week, the Tories need to dwell on what they have actually done and what there is to do. This all hinges upon the question of who they truly represent. Considering they were elected to clear up the economic mess left by Labour, it's a bummer to note that debt is higher than under Gordon Brown, the tax burden rising and living standards crashing. We cannot blame ministers for a pandemic or a war, it's true, but the Conservative Party's solutions are near-indistinguishable from New Labour's, and the alternatives rarely aired. Last week, I sat in on the Treasury Committee's "grilling" of Rishi Sunak and the two points I never heard made were "you are spending too much" and "how dare you take my constituents' money to do it". The anger is not there. No party in Westminster stands for the consumer.
It was heartening to see that Stanley shares my impressions of parliamentary debate — virtue signalling, for the most part, including from Conservative benches:
This is not merely a crisis of philosophy, it is undemocratic. MPs are supposedly elected to do what their constituents want, but too many of them, as soon as they arrive in Westminster, are absorbed into a culture that has a uniform idea of what voters need, a total plan for life that runs from reducing carbon to dropping enough weight to fit into a size six dress (even better if you're a fella!). Half the debates are toe-curlingly pious nonsense that does the electorate no benefit except to reassure them that their MP is spectacularly compassionate – and the more laws you pass, goes the logic, the more money we splash, the more compassionate they appear to be. Ergo, the most important metric for success in 2022 is how much the Treasury is spending, not the results.
It's maddening to contemplate that nothing is ever done about situations past and present that affect many Britons:
Where to begin? The Ockenden report has stated that more than 200 babies and nine mothers might have survived were it not for failings at the Shrewsbury and Telford Hospital Trust. During the lockdown, the Government allocated around £37 billion for the deeply inefficient Test and Trace project. It lost £4.9 billion in loan fraud. Not one police officer has been sacked in relation to the Rotherham child abuse scandal. And the same Home Office that struggles to kick out foreign-born criminals finds it strangely difficult to let in Ukrainian women and children.
And we're paying for this incompetence, while an independent body that Labour created years ago just gave all MPs a 2.7% pay rise:
You are paying for all this, and likely paying more thanks, despite [Rishi] Sunak's tinkering, to a combination of National Insurance changes and inflation dragging people into ever higher tax bands. The Chancellor, in his munificence, says he plans to cut income tax in 2024, which means the British government is now handing out IOUs. At the same time, he is also bunging us £200 to help with the electricity bills, a sum that the state will reclaim at a later date, which means it's also entered the habit of writing "UOMes". MPs are getting a wee grant of their own. Their salaries will rise by 2.7 per cent, or £2,212.
The Government has become more intrusive and we have less money in our pockets:
… thanks to Covid, the public sector has been calling the shots since 2020, while the burden of wealth and power has shifted decisively away from the individual. Does this feel like a freer society than 12 years ago? Or a happier one? Paranoia and suspicion are not only widespread but encouraged (adverts on the London Underground now warn against "staring"), and privacy is dead. I can remember when we were told to protect our data. Now, just to take a train to Belgium, I have to prove my vaccine status by downloading the NHS app, send it a photo of my driving licence and record a video of my face reciting a series of numbers. Do I trust the NHS will delete all this information once used? Bless you. I'd sooner invite a rabid fox to babysit the chickens …
Voters, in the eyes of far too many, are spreaders of disease or pollution (in the opinion of some of the old ladies who glue themselves to roads, we ought even to stop breeding), and pockets of money waiting to be tapped.
What is a truly conservative concept of government?
… the old-fashioned principle of offering us the best possible service at the lowest possible price …
Small government doesn't mean "no government" but more efficient government – more effective precisely because it limits itself to a narrower range of tasks at which it can excel. Drawing a line under the Trimalchio's feast of a Spring Statement, the Tories must spend the time they have before the next election peeling back the bureaucracy where it is not needed, passing the benefits on to the people who have been robbed to pay for it, and coming up with creative ways to encourage the private sphere to revive. I don't just mean conjuring up new markets in insurance or energy, but also unleashing culture and technology, faith and family, the very things that make life worth living.
Bravo!
Ultimately, Stanley says:
The paradoxical goal of conservative politics is to make politics less important in everyday life, and while it might sound hopelessly idealistic to expect powerful people to surrender power, unless the Tories try to reduce the state, they will eventually lose office altogether. The time will come when voters finally snap, and take it away.
Let us look at a few more news items on this subject.
A week or two ago, someone sent in a letter to The Telegraph illustrating how much the Government is taking in tax. This is an alarming practical example: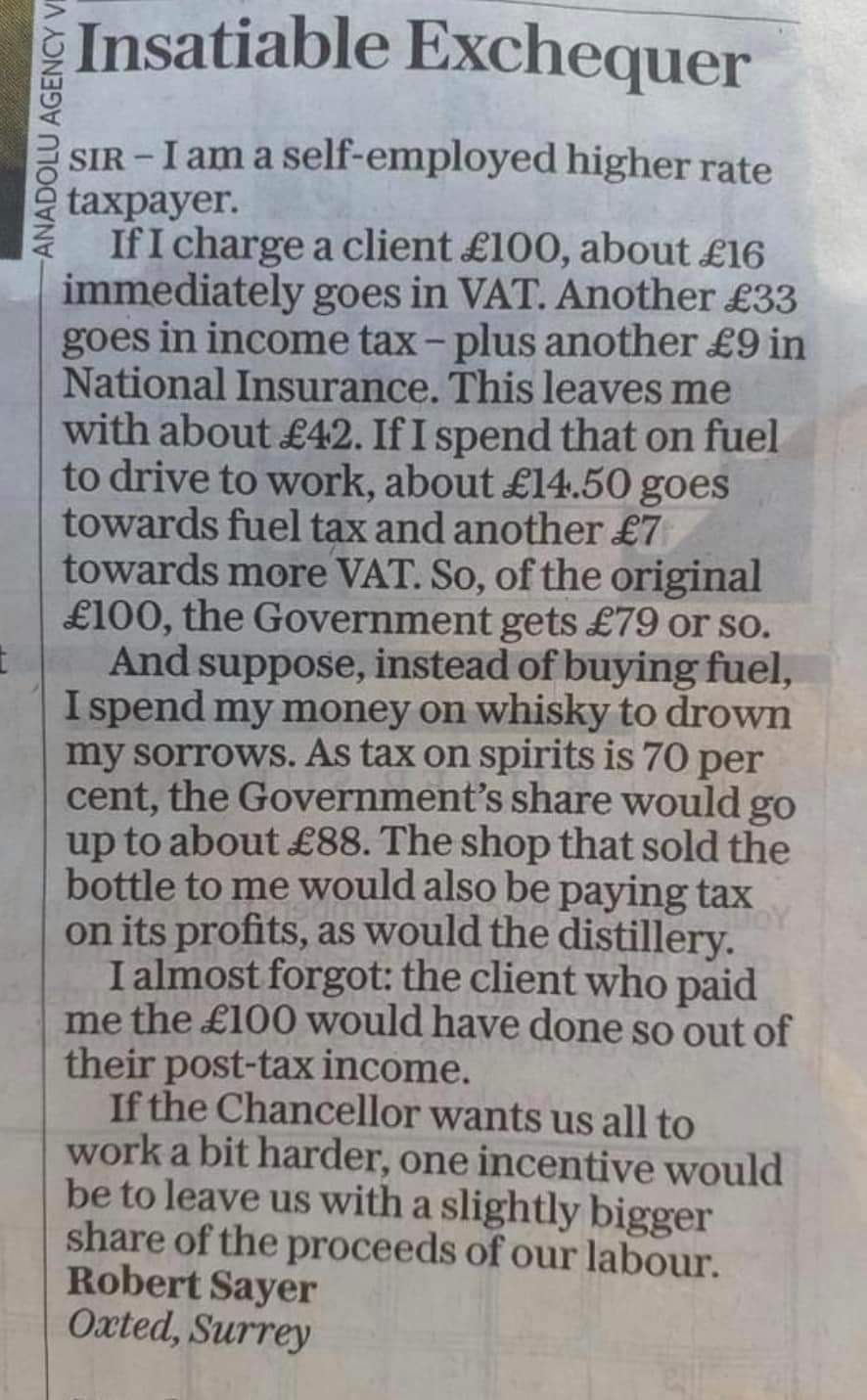 Now let's look at Net Zero, the Government's pet project, initiated by then-Prime Minister Theresa May.
This is a practical illustration of the folly of electric cars, written by conservative columnist and broadcaster Iain Dale for The Telegraph:
Back in November, I acquired an electric car, something I never thought I would do … I calculated it would save me thousands of pounds every year … 
On Friday night, I was invited to speak to Beverley and Holderness Conservatives. The main difference when you drive an electric car on a long journey is that you have to plan. In my old car, I could drive 600 miles without filling the tank, but if I ever nearly ran out of diesel there was always a petrol station around the corner.
The equivalent is not true if you have an electric car. You have to plan your journey using apps such as Zap-Map, which tell you where the charging points are, and whether they're being used, or working. I got to Beverley OK, having recharged the car at Donington Park services on the M1, which has a few charging points. Some motorway services don't have any.
The return journey proved to be a disaster. I left Beverley at 9am and arrived home in Kent at 7.45pm. A journey that should have taken four hours lasted an astonishing 10¾. It was a day completely wasted. The problem was that the three fast chargers in Beverley were either in use or didn't work. So I had to use slow chargers to get to the next fast charger, which was 50 miles away. Range anxiety is a real phenomenon. The whole time you're looking at the screen in front of you, wondering if you will run out of charge before you reach the next charger. And then what?
This week, [Transport Secretary] Grant Shapps announced a target of 300,000 more chargers across the country by 2030, the year when the Government says it will ban the sale of new petrol and diesel powered cars. Fatally, he's left it to local authorities to make sure the roll-out happens. Mark my words, it won't. Not without national direction.
My advice is this. If you only do relatively short journeys, then buying an electric car is a good decision. If you regularly travel more than 150 miles, it isn't. In my experience, the car manufacturers lie about the expected range. My electric car is supposed to do 298 miles. The reality is that it does 206, or 215 if the weather is warm. Caveat emptor.
In other news, the price of milk is set to rise by 50%. The Telegraph reports that crisis talks with EU and British dairy farmers took place in Brussels last week:
Rocketing costs from feed, fertiliser and fuel have stoked fears in the industry of a surge in milk prices not seen in decades.
The cost of four pints of milk will jump from around £1.15 to between £1.60 and £1.70, an increase of up to 50pc, according to Kite Consulting, the UK's leading adviser to dairy farmers.
Michael Oakes, the dairy board chair of the National Farmers' Union, agreed that milk prices will likely rise by as much as 50pc.
John Allen at Kite said a 30-year period of low milk price rises is "coming to an end now" as costs surge on multiple fronts. He expects a typical pack of butter to rise from £1.55 to more than £2.
He said: "What is of concern at present is processors are getting inflationary costs as well and also we are short of milk around the world."
Dairy industry bosses from the UK and elsewhere in Europe flew into Brussels at the end of last week with talks led by Eucolait, the continent's leading dairy industry group. Dairy processors, which act as a link between farmers and shops, are said to be deeply concerned about soaring costs both at farm level and further up the supply chain, as the war in Ukraine lifts key input costs …
UK dairy industry bosses have raised concerns over their costs to the Government, but officials at the Department for Environment, Food and Rural Affairs (Defra) are said to be merely in "listening mode" …
Mr Oakes, who is also a farmer, said: "I was paying about £7,000 for an artic [articulated lorry] load of fertiliser, and this year it's £28,000. It would have been a little bit less before Ukraine happened, but it made another big jump because we'd already seen higher gas prices, which have implications for fertiliser costs …
He added that feed costs have risen 60pc.
As if all that isn't enough to worry voters, we have the Online Safety Bill passing through Parliament. Guido Fawkes tells us what is happening as Ofcom, the communications regulator, prepares for the not-so-distant future:
Scary.
Guido's accompanying post says, in part:
According to Melanie Dawes, the newly-appointed CEO of Ofcom, the quango will increase headcount by 400 staff ahead of new powers to police the internet in the Online Safety Bill, which will be voted on in Parliament after Easter. That's a lot of censors…
Ofcom will have Putin-style powers to block websites from being seen in the UK if those sites fail to uphold their new legal duty of care to remove "harmful content". The definition of "harmful content", of course, will be a political question. Will questioning hurtling towards net-zero whilst millions are in energy poverty be deemed harmful content? …
Ofcom's Melanie Dawes told Times Radio:
We've got some tough and strong tools in our toolkit as a result of this legislation. And I think we need those. …These very strict and somewhat draconian kinds of sanctions are really only the sort of thing that you would expect to use as a serious last resort.
If you don't accept self-censorship and comply, your website will be blocked. Chilling.
Then we found out at the weekend that the civil servant in charge of ethics was at a lockdown party.
The Times's Patrick Maguire reported:
Were this a plot point in a satire, it would feel much too lazy for any self-respecting reader to get behind. But here we are: the official who was then in charge of ethics on Whitehall has been fined for her attendance at a lockdown-busting karaoke party.
As the first major name to have been revealed to have received a fixed penalty notice, Helen Macnamara — then the government's head of propriety and ethics, now in the business of neither as director of policy and corporate affairs at the Premier League — is surely a sign of things to come.
For confirmation of her attendance at a leaving do in the Cabinet Office in June 2020 — at a cost of £50 — is a sign that it wasn't just the junior, nameless and faceless who breached Covid restrictions at the heart of government over that fateful period, as Boris Johnson would much prefer to be the case.
Meanwhile, Scotland Yard is also said to have told people who attended a No 10 party on April 16 last year, the day before Philip's funeral, that they would be given fixed penalty notices: conclusive proof at last that the law was broken in Downing Street itself.
The PM did not attend either do, but the slow burn of revelations from the Met's investigation is hardly ideal, particularly with elections just over a month away.
"I have 65,000 constituents in west Wales, where I represent, and they are not shy in coming forward and expressing a view about this and a number of other subjects," Simon Hart, the Welsh secretary, told Sky News this morning.
"And throughout all of this saga of the Downing Street parties they have said one thing very clearly, and in a vast majority they say they want contrition and they want an apology, but they don't want a resignation."
The bigger risk, looking at the polls, is that they don't want to vote Tory…
However, there are two bright rays of sunlight in an otherwise cloudy day.
The first is that London's position as the second most important financial centre in the world is holding steady, as The Telegraph reported on Monday, April 4:
London remains Europe's dominant financial centre based on factors such as (relative) political stability, labour market flexibility, quality of life, infrastructure and innovation, a ranking by think tank Z/Yen Group found last week. It was ranked second only to New York globally, while Paris came in at 11th place.
The second is that Volodymyr Zelenskyy still appreciates all of Boris Johnson's efforts for Ukraine. He is contemptuous of Emmanuel Macron and Angela Merkel, as Guido reports:
Guido has the video of Zelenskyy praising Boris:
Zelenskyy's said the UK has "agreed on new defensive support for Ukraine. New package. Very, very tangible support," adding "Thank you Boris for the leadership! Historical leadership. I'm sure of it". 
It's too bad that Zelenskyy cannot campaign for Boris's Conservatives. They could use his help.
It is always good to know of broadcasters who balance their programming with another point of view.
In the UK, that broadcaster is GB News.
On Wednesday, March 23, 2022 — the second anniversary of the UK's lockdown — Mark Steyn interviewed Dr Guy Hatchard, who talked about the new studies emerging from Poland and Germany about the adverse effects of the vaccines:
Dr Hatchard, a physician from New Zealand, lamented that governments and the media were ignoring these studies.
Younger and middle aged people have been dying in larger numbers after taking the vaccines.
In New Zealand, he said that younger men are experiencing cardiac problems after getting the vaccine. However, media reports are minimising the gravity of the phenomenon, dubbing it the 'Warne effect' after the 52-year-old legendary cricketer Shane Warne, an Australian who died a few weeks ago from a sudden cardiac event. The media say that the vaccine is not a problem, rather, men of a similar age are suffering from anxiety about having heart problems. That, in my view, is preposterous — and dangerous.
Hatchard says the vaccines do not actually work, but, of course, governments cannot admit that. Furthermore, they have also swept adverse reactions and resulting deaths under the carpet.
Hatchard says that each vaccine dose weakens our natural immune systems. However, he says that pharmaceutical companies are 'plumbed into' governments and regulatory agencies as well as media, so we are not getting the full picture.
He says that biotechnology is seen as the future for the economy, therefore, no one in a position of influence will oppose it, beginning with these vaccines. That means, none of the rest of us can even talk about adverse effects or scrutinise them. Hatchard said that he tried to raise his vaccine doubts with the government but they ended their conversation with him.
Hatchard says that 99% of our state of health depends on what we eat and how we live our lives. In other words, vaccines cannot help that. Nor can biotechnology.
He also said that politicians and other elites are 'playing God' with the vaccines. They see it, he said, as a reality television show.
On Monday, March 21, Sir Christopher Chope MP (Conservative) appeared on Dan Wootton's show to talk about the UK's Vaccine Damage Payments Act 1979:
Wootton asked him to confirm that the BBC, Sky News or ITV have not invited him on to discuss adverse effects from vaccines. Chope shook his head.
Chope had been granted an adjournment debate in the House of Commons on Wednesday, March 2, on vaccine damage payments. Someone put a copy of it on YouTube, but YouTube took it down.
He said that the UK Government have not presented vaccines correctly. He says they should have urged people to get vaccinated because, for most people, they are safe. The Government should have also said that, in case of side effects, citizens would be reimbursed for their illness 'because they did the right thing' by being vaccinated. He said those messages are the crux of the 1979 vaccine payments legislation.
The Act is in force today, but no payouts have been issued to those who have fallen ill from the coronavirus vaccines. In fact, the Government has only started processing the 1,000 claims they have received thus far. He noted the Government's 'tremendous resistance' in this matter.
The amount anyone could receive would be around £120,000, which Chope rightly pointed out should be increased to £155,000, as the original sum was last reviewed in 2015. He added that if this involved any other circumstance of injury or death, the payout would have been not only swift but also in the millions of pounds.
He says that this is a big issue for the Government, which chose to indemnify the vaccine manufacturers from the start. The vaccine manufacturers did not want to risk being sued because:
the vaccines hadn't been tested to the extent that most vaccines are.
But now, it has to face up to the consequences and recognise that there are people, a significant minority of people, who have suffered as a result …
More recently, the message has changed: the vaccines are safe for the majority.
My question is: what about those who are not in the majority? What is being done to help them?
Wootton said that transparency is needed, because Health Secretary Sajid Javid has been talking about a second booster — a fourth shot — being needed sometime later this year. Wootton, who has had coronavirus twice as well as his three shots, said he is unhappy about having a fourth, especially as he is still a young man.
Sir Christopher said he could appreciate people of his own age being given another booster, but not for those who are younger, e.g. Wootton's age, and certainly not children.
Wootton said that people his age and younger, including children, experience most of the harmful side effects.
Following his adjournment debate (well worth reading), Sir Christopher said that he and another MP went to meet with the Secretary of State (Sajid Javid):
and, frankly, it was a big disappointment.
We had ten minutes and he said that he would look into this issue, that he would ensure that the questions I asked him would receive answers. I should have had those answers already, but I haven't. 
He was full of platitudes, frankly, about how most people had benefited. That's not in dispute. But, actually, what we need to do is ensure that people who haven't benefited from the vaccine are looked after by the State because they did the right thing by the State and, now, the State needs to reciprocate. 
Chope said that at least 2,000 Britons have died following the vaccine and that 500,000 yellow cards have been raised. He has received communications from several people who have had adverse reactions, some of which he discussed in his adjournment debate.
He wants to know why, if coroners have listed the cause of death as the coronavirus vaccine, the Government is hesitating in compensating their families:
What else needs to be proven? …
There have been a whole series of these cases. In a lot of them, they have been in the prime of their life, married with children, breadwinners, with all the consequences which flow from that.
I am glad that Sir Christopher Chope is on the case, so to speak. He's an old-school Englishman who dots every i and crosses every t in making his principled points.
I wish him every success in his campaign for compensation. This is one case where we can use the word 'justice' in a traditional way: compensation where it is due.
That is the least these individuals who acted in good faith deserve.
Isn't it interesting that the media narrative has changed from wall-to-wall coronavirus coverage to Ukraine?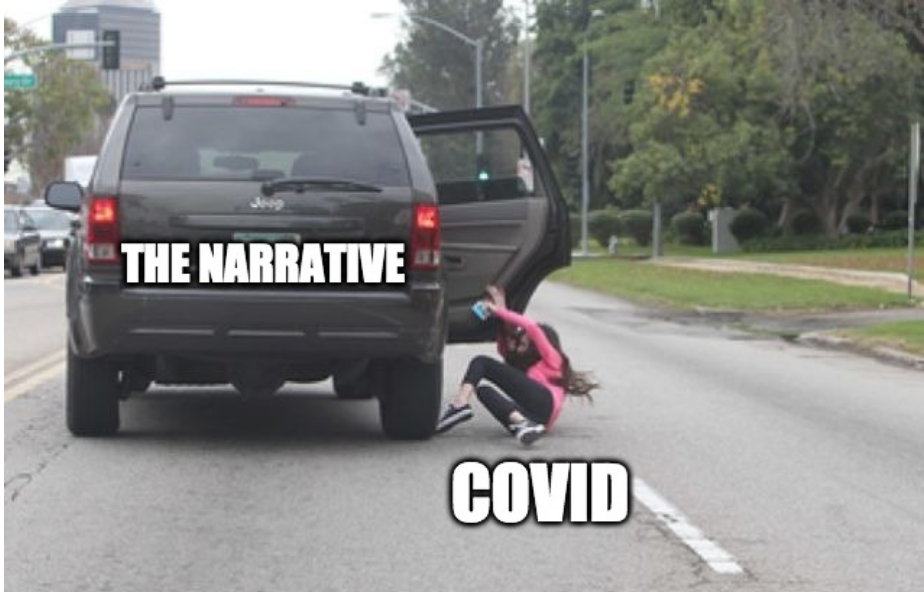 It seems that there is never room for more than one media narrative at a time. Sadly, this is now true even on GB News.
Fortunately, I have a few coronavirus gems from last month.
We must never forget what our notional betters did to us over the past two years.
The UK will hold a formal inquiry, although we do not know when it will start.
On Saturday, February 5, GB News's Neil Oliver delivered a five-star editorial on coronavirus measures in Scotland and other Western nations:
This was the theme:
Well, the narrative certainly changed by the end of the month.
Nonetheless, even as I write, coronavirus measures are still a thing in Scotland. First Minister Nicola Sturgeon has lifted some, with others to go this month. However, it might be some months before all of them disappear north of the border.
This was the state of play in Scotland in early February:
Somehow, Covid still manages to be in our faces – suffocating us bit by bit and all the time.
My children are still required to wear masks at school all day every day – rebreathing their own exhaust fumes for hours at a time.
In Scotland last week, first minister Nicola Sturgeon said her devolved assembly would spend hundreds of thousands of taxpayers' pounds cutting the bottoms off classroom doors so as to improve air flow in schools.
Seriously – that's what she said. Get this: she actually said there's a worry about how much CO2 children are inhaling in improperly ventilated classrooms.
They have to keep the masks on – so that they exist in a permanent cloud of their own, self-generated CO2, held over their mouths and noses like a smothering hand, but rather than let them take off those masks and breathe air like free people should, Sturgeon's proposed solution is to take a saw to the bottom of the classroom doors.
To say you couldn't make it up is an insult to made up things.
The fact that you can open a door to increase ventilation, on account of its hinges, the fact that doors exist in schools at least in part to inhibit the spread of smoke and flames in the event of fire, significantly more of a threat to the lives of children and staff than Covid ever was, has apparently passed Sturgeon by.
But, hey-ho, if there's one thing we've learned after two years, it's that everything is all and only about Covid.
Some days it feels like it always will be.
Covid could and should be behind us, as I have already said, but the powers that be keep pulling it back around until it's front and centre.
[Boris] Johnson announced some sort of an end to restrictions, but still, that air of lives limited, lives controlled, prevails, like the smirking grin that remains after the Cheshire Cat has otherwise disappeared.
And do you want to know why? Because after these two years like no others in our history, Covid is all they've got to explain and to justify everything else.
He took issue with Western governments:
Governments need Covid, and desperately …
All the money we ever had and most of the money we might ever dream of having – they blew the lot on Covid.
And since Covid is all the Governments have got now, by God they're determined to keep it.
Covid, as it turns out, is like a sort of Swiss Army knife, equipped with all sorts of useful little tools for all sorts of jobs, large and small. And meanwhile the evidence of manmade disaster is all around us.
He referred to the Johns Hopkins study that came out a few days beforehand:
A recently published study from the world-renowned Johns Hopkins University, in Baltimore, found lockdowns had had little to zero public health benefits and instead imposed enormous economic and social costs.
Like we didn't know that already, having been there while it was actually happening – but anyway, let's hear it again.
Researchers found lockdowns in Europe and the US lessened the Covid-19 mortality rate by just 0.2 percent.
The authors concluded that lockdown policies are ill founded and should be rejected in future.
Everywhere they were applied – everywhere – lockdowns caused enormous economic and social costs.
He went on to discuss how our various governments 'blew it':
Allow me to summarise those findings even more: Our governments blew it.
Faced with what they told us was the greatest threat to our civilisation in our lifetimes, for a hundred years or more, our governments took a bad thing and, through over-confidence, monumental incompetence and with the dull-eyed stubbornness of mules made it massively worse.
More importantly, when they must have known they were making it worse, they did it again. And again.
Now, rather than take responsibility and own up to their catastrophic failures – maybe say sorry for all the lives ended, lives ruined, lives compromised, a generation of children used like sandbags to protect the vulnerable from a flood, like stab vests worn on the chests of adults – they keep holding up the tattered rags of Covid, like the remnants of a curtain to stop us seeing the reality that lies behind it.
What lies behind that shabby curtain are consequences, and even now those powers that be don't want us looking at them, far less talking about them and thereby understanding the crippling reality of them.
Isn't it convenient that the TPTB now have Ukraine with which to distract us? Thanks, Putin. The news overkill on that is the ultimate distraction.
Oliver then talked about the horrors of quantitative easing:
What they did with money – your money, my money, everybody's money – during the pandemic is what the banks have been doing with money for decades now, and it's largely to blame for the bigger mess we're in now.
Quantitative Easing, they called it – printing money, to you and me.
For decades the tactic applied by the banks, with governments in cahoots, was to print uncountable, unthinkable amounts of money.
"We don't have any money left."
"Well print more, then."
"How much?"
"As much as you like – and keep it coming, I need another super yacht, and so does my mum. No one'll notice. And if they do, say it was Covid."
Imagine a glass of orange squash – a little bit of concentrate, topped up with water.
Tastes like orange, you know how it goes.
Then imagine tipping that glass-full into an empty swimming pool and turning on the taps.
By the time the pool is filled up with water, any orange in the mix is so diluted as to be utterly undetectable.
That, more or less, is what has happened to our money.
The value of our money has been so diluted it is quite literally not worth the paper it's printed on – which probably explains why they don't seem to want to actually print it on paper anymore.
They just add more zeros on their computer screens instead. Look at what they did with some of that pretend money: trillions of pounds worth of debt that will never, ever be repaid.
Billions blown on dodgy PPE, billions handed over as 'Bounce Back Loans' to companies that didn't even exist. Gone.
Those gazillions are gone – and the truly troubling point is that in every way that matters, they didn't really exist in the first place.
Rishi Sunak and Boris Johnson and the like have the gall to say they've got a way to fix the mess.
They might as well try to put out a factory fire by blowing on it.
On account of all that funny money, and then their use of Covid as a hammer to flatten business after business, the economic and financial model we've taken for granted for the last 50 years or more is finally done.
He looked at Covid measures in various countries:
Much of Europe is an interesting watch, to say the least. Austria is a police state now, in all but name, thanks to Covid.
Papers, please! Italy and Germany are much the same.
France would likely go the same way – except President Macron is too properly scared of too many of his own people to go all the way to vaccine mandates.
Instead, he remains committed to making the lives of the unvaccinated as miserable as possible. In Western Australia unvaccinated parents are barred from the hospitals where their children lie sick, dying.
In Canada the GoFundMe organisation has withheld millions of dollars raised in good faith, in support of the truckers protesting vaccine mandates.
What will become of that money, donated by hundreds of thousands of ordinary Canadians, remains unclear.
More and more questions are being asked about the vaccines, all around the world.
Questions about efficacy, about safety, and yet governments like the US, Canada and Australia, as well as here and just about everywhere else continue to dig in, more and more determined to get a needle into every arm on the planet.
Israel is beavering away with injection number four – and the positive cases are spiking in what looks, on the graphs, like a vertical line pointed into space.
With the Covid narrative in tatters now, new weapons of mass distraction are being deployed to stop us thinking too much about the mess.
Enter Putin with his invasion of Ukraine. How timely. In early February, we knew it was coming:
I'd like to say, Don't Mention the War, but of course there's Russia and Ukraine to look forward to as well.
Oliver brought up non-Covid health issues:
There was a GP on the telly last week saying the stress of lockdown is causing heart attacks and strokes.
Well, I never.
He brought up the irony about the silence surrounding all the plastic face masks being dumped into the environment:
Climate crisis and environmental meltdown are back to the fore again – never mind the fact we've dumped trillions of filthy face masks, and Covid tests into that environment, that doesn't seem to matter.
He concluded:
Weapons of mass distraction or not, there'll be no hiding the fuel bills due in a few weeks' time.
People forced to choose between eating and heating tend to behave differently than before.
Energy black hole, Net Zero and its consequences and only pretend money with which to pay for it all.
How much longer can our dear leaders hide behind Covid?
We do a lot of weather forecasting on this channel. I tell you this – there's a storm coming.
Oliver then had Benjamin Loughnane (pron. 'Loknayn') from The Bow Group think tank to discuss the Johns Hopkins study about lockdown. This was also a very good segment:
Richard Tice from the Reform Party also appeared to talk about our leaders' mistakes:
You can see the full show below. Almost all of it concerns coronavirus:
Later in the evening, Mark Dolan presented an excellent editorial on how the media and Government handled the pandemic:
The replies to the tweets were worthwhile, such as this one:
Some of us knew from the beginning that most of the coronavirus measures in Western countries were bogus, but anyone who mentioned that PCRs were picking up old viruses was dismissed as a crank.
Lo, it emerged last month that the intrusive PCR testing was proven to be ineffective in accurately diagnosing coronavirus.
Dolan said (emphases mine):
A major new study confirms that PCR tests are horribly inaccurate. There's a surprise.
According to researchers at the University of Oxford, if you've heard of it, a third of people who tested positive for coronavirus via PCR tests were not contagious and did not need to self-isolate.
The study found that many laboratories are setting the positivity bar very low, meaning they're picking up people, who are – quotes – "a danger to no one".
Hand sanitising is also inconclusive:
Do you remember our blistered skin, in March 2020?
Sing happy birthday twice, as you wash your hands? After which a couple of scientists with half a brain cell, pointed out that the virus is transmitted through the air, via aerosols. No sugar, Sherlock.
Perspex screens in shops — or, in cars, as was the case in France — might not have been a good idea, either:
A report came out in August of last year, suggesting those environmentally catastrophic Perspex screens you see in shops, offices and on TV, may make matters worse.
The Environmental Modelling Group, a panel of 16 SAGE experts, said "There is some epidemiological and mechanistic evidence, that suggests screens could increase risks of aerosol transmission, due to blocking/changing airflow patterns or creating zones of poor air circulation behind screens.
Well done everyone.
The best masks couldn't stop the rise in contagion:
Even where countries have demanded better N95 masks, like Austria, cases have sky rocketed nonetheless.
There was no evidence that vaccine passports stopped the spread:
What about vaccine passports? We're saving lives aren't we?
Except that cases have continued to soar in countries that have implemented these divisive measures, which link your medical status to certain basic rights, freedoms and privileges, including in particular in France and Italy.
The same held true for closing nightclubs:
What about closing nightclubs?
The Welsh first Minister Mark Drakeford, who likes a boogie himself, was able to demonstrate no evidence that closing nightclubs would have an impact on spread.
After two years, our health service is on backlog overload and probably will be until the end of the decade.
Some people's lives are in ruins: closed businesses, relatives' suicides, nervous breakdowns, missed diagnoses of terminal illness. I could go on.
Dolan said:
Two years in which we have incarcerated the healthy, stopped people from going out to work and making a living, closed once viable businesses, wrecked mental health and ignored worse diseases like cancer.
The Telegraph are reporting that up to 87,000 cancer diagnoses may have been missed. And the rest.
If you think Covid is worse than cancer, there is something wrong with you.
But that's been the message of the pandemic response.
'If it's not Covid, they don't care' is something I've heard from so many of you over the last two years.
The famously deadly disease of cancer, that affects all age groups, has been relegated in importance for two years, with tragic consequences that will be with us for years to come, with cases like young mothers who didn't get that lump checked or weren't able to. Well done everyone.
There will be a day of reckoning for what Professor Jay Bhattacharya, one of the most respected medics in the world, has called the biggest public health mistake in history. He's being polite.
Dolan rightly took issue with governments, modellers and the media:
So who's to blame?
Well, weak politicians who panicked in March 2020 and discarded decades of pandemic planning …
I blame the modellers like the randy professor, Professor Pants Down himself, Neil Ferguson, who predicted half a million deaths at the start of the pandemic, which spooked ministers into taking this ruinous path.
Some government scientific advisors predicted 6000 deaths a day if we didn't cancel Christmas …
I blame Sage, who failed to equate economic damage with death.
The University of Bristol have told me that half a million people will die as a result of creating the biggest recession in 300 years. And what about wrecked lives?
It's a question no one has ever been able to answer me. Why is it okay to wreck lives? Of course, it isn't. But wreck them we did. And it's most reprehensible when you think of the needless impact on young people and children, who face vanishing threats from the virus. So who else do I blame?
Well I blame the media …
… I blame the media for offering just one narrative. Lockdowns work, masks work and absolutely everybody's got to have the vaccine.
Now these views are valid, arguably the majority of people and perhaps most scientific professionals think exactly that. No problem. Let's hope you're right, because that's the hell you've put us through.
As data come in from around the world, based upon different approaches, with no obvious difference from where I'm standing, I have my doubts. But remember those press conferences – the Beeb, Sky, ITV – why are we not locking down longer, tougher, harder?
By offering such one-sided coverage of the pandemic, by betting everything on the words of SAGE, and freezing out other scientific voices like Sunetra Guptha, Carl Henegan, Martin Kulldorf and Jay Bhattacharya, the media let us down.
To say that the media have lied to you is a bit strong. But they have not provided the full picture.
And any lawyer will tell you concealing information is tantamount, in its own way, to an untruth.
Shall we be polite and just call it government propaganda? I think that'll do.
I shouldn't name names, but I will. The Mail and the Telegraph are the only papers I can think of that have consistently balanced their reporting and have dared to offer a critique about these debatable lockdowns.
The Guardian is a paper I've always admired and read every day.
But where was their coverage of the Johns Hopkins University report, a meta analysis of 24 studies into lockdown, suggesting the measures saved 0.2% of lives, whilst of course exacting colossal harm.
Not peer reviewed and the study has been done by economists, but worth reporting?
I'd say so.
Sweden got it right. That was something that many of us were criticised for saying offline.
Dolan said:
Sweden have seen a fraction of the economic damage, the societal damage and have had fewer per capita deaths than so many countries that locked down hard.
He concluded:
In the end I think the media have got this wrong – they've backed the wrong horse and they are on the wrong side of history.
So there will be a day of reckoning for their one-sided coverage. But will we ever get an admission of guilt, or dare I say it, an apology? I doubt it.
There will be no contrition. And for all of those well paid and high profile figures in the media – we know who they are – the relentless cheerleaders for these disastrous and, in my view, failed measures, sorry seems to be the hardest word.
Now to the present day.
On Wednesday, March 2, the House of Commons Science and Technology Select Committee gathered oral evidence on coronavirus in a session called 'UK Science, Research and Technology Capability and Influence in Global Disease Outbreaks'. Greg Clark (Conservative) chaired the session.
You can watch it here.
After the first hour, Prof Graham Medley — who exchanged tweets late last year with The Spectator's Fraser Nelson on modelling — gave his oral evidence on SPI-M's modelling of the pandemic. He is SPI-M's chair.
Sorry seemed to be the hardest word for him, too, as he saw no need to apologise for Prof Neil Ferguson's mad models which the Swedes described as 'hysterical'.
Medley told MPs that SPI-M 'didn't have the time' (his words) to calculate the probability or feasibility of their overblown scenarios. They plugged garbage in, and, lo, garbage came out. However, he defended everything. He had no regrets.
Three MPs gently took him to task for the modelling. Labour's Graham Stringer came right out and said that he doesn't trust modelling at all, none of it.
One of the MPs tried to press him on the Twitter exchange with Fraser Nelson. Medley replied:
I wish you wouldn't do that.
In the end, he managed to get himself out of any controversy.
Most of the other MPs wanted to question the person from the behavioural part of SAGE, SPI-B. This person was to have sat along side Medley. However, the SPI-B representative cancelled. How convenient.
Dr Camilla Holten-Møller appeared in the final segment. She is the Chair of the Expert Group for Mathematical Modelling at Statens Serum Institut (SSI) in Denmark. What a breath of fresh air she was.
She admitted that SSI did get one of their models woefully wrong, so they quickly regrouped, studied their mistakes and liaised more closely with university research and clinical groups who provide them with data.
It would be nice if Medley had showed the same candour. As it was, he didn't even look bothered.
I can hardly wait for the formal coronavirus inquiry in the UK. The Science and Technology Select Committee will write a report on this evidence session, as they have with others, and submit it to the Government. The reports will be part of the inquiry process.
Continuing on from yesterday's post on Lord Frost's resignation in December 2021, another peer resigned on Monday, January 24, 2022.
Lord Agnew of Oulton, Treasury and Cabinet Office minister, said that the Government has a 'lamentable track record' on its coronavirus grant fraud. The Government unknowingly lent tens of billions of taxpayer money to fraudsters. The Government has said it has no intention of trying to reclaim the lost billions. Yet, the same taxpayers are scheduled to start paying more in National Insurance to prop up the Care system:
Hmm. It would seem that reclaiming the stolen billions could avoid the National Insurance hike.
Lord Agnew resigned at the despatch box in the House of Lords, a highly unusual step:
After doing so, he left the chamber, at which point the Lords could ask no more Treasury questions. Business proceeded to the next scheduled topic:
The Lords applauded the peer, another unusual move. Three Lords Spiritual, dressed in clerical garments, are on the centre right of the photo:
In his statement, Lord Agnew made it clear that his resignation was not about Prime Minister Boris Johnson but about others resulting in a loss of £29 billion a year:
Sebastian Payne of the Financial Times has more:
Lord Agnew's complaint is with the Department for Business, Energy & Industrial Strategy, or BEIS (pron. 'bays'):
Agnew said that BEIS had only two counter-fraud officials, neither of whom he thought had the relevant experience for the job. Furthermore, he alleges that they did not wish to work with the Cabinet Office's counter-fraud team:
Furthermore, the peer alleges that officials and lenders made 'schoolboy errors' in approving bounce back loans. One of the conditions was that companies had to be operating before the pandemic. Agnew said that over 1,000 companies receiving these loans began operating afterwards:
Lord Agnew has been critical of civil servants in the past, and rightly so:
The full video of Lord Agnew's resignation follows:
Early on he alleges that some civil servants have no knowledge of and are not interested in the implications of their actions on society. He then discusses the inexperienced counter-fraud consultants. He says that he tried to do what he could but could go no further. He says that duplicate loans were lent and that some of the money is still recoverable (emphases mine):
Why won't they do it?
Agnew says that, as the Minister for Counter-Fraud, the current state of affairs is unacceptable and that he cannot do his job properly, hence his resignation.
He ends by making it clear that this has nothing to do with other controversies surrounding the Prime Minister. He says that the situation is rectifiable but:
a combination of arrogance, indolence and ignorance freezes the Government machine.
Action taken today would give the Government a sporting chance of cutting income tax before a likely May 2024 election.
He closes by thanking the Lords, including the Shadow (Labour) minister.
The Chancellor of the Exchequer, Rishi Sunak, thanked Lord Agnew for his service:
Now Rishi has to get the civil servants responsible to recover the missing billions. The civil servants are just as responsible as the fraudsters. One wonders if working from home for so many months caused them to prioritise private life rather than public responsibility.
Yesterday's post discussed the first three days of the Conservative Party Conference.
Today's entry will look at Prime Minister Boris Johnson's speech on Wednesday, October 6, 2021.
It was still content-light, but at least he explained what 'levelling up' is. More on that below.
But first, let's look at what happened the night before, the last opportunity for MPs and the party faithful to get together on the dance floor.
Tuesday, October 5, after hours
Pensions minister Thérèse Coffey had a great time as the temporary £20 Universal Credit boost came to an end.
A cold fish at the despatch box at the best of times, Coffey showed us a different side of herself as she, a chemist by training, belted out 'Time of My Life' from Dirty Dancing (video credit to the Daily Mail):
The Mail reported (emphases mine):
The cabinet minister in charge of Universal Credit was slammed today for belting out Time of My Life at a boozy Conservative party Conference karaoke bash hours before cutting payments to six million people.
Work and Pensions Secretary Therese Coffey enthusiastically belted out the 1987 power ballad from the film Dirty Dancing in a duet with fellow Will Quince – a former welfare minister.
It came as a £20-per-week Covid uplift payment was removed from UC for families across the UK.
The Government has pressed ahead with the cut despite concerns – including from Tory backbenchers – that hundreds of thousands of people will be plunged into poverty.
From today, no assessments will include the uplift, meaning that from October 13 – a week later – no payments will be received that include the extra money.
I don't know what I think about removal of the £20 uplift. The Government always said in Parliament that it was temporary and stated months ago that it would end in October 2021. I feel for those families. On the other hand, the last thing I want to see is Universal Basic Income, and if this £20 were maintained, it would have been a slippery slope along that road.
Furthermore, there are plenty of job vacancies and salaries are going up. Note the decrease in people clicking on the vacancies, however. Hmm:
Two other MPs, Levelling Up minister Michael Gove, in the process of divorcing his wife, and Tom Tugendhat, danced together. Guido referred to this season's Strictly Come Dancing:
It was only a few weeks ago that Gove spent the early hours of one morning dancing in a nightclub in Aberdeen, his home town.
The Mail reported:
Michael Gove has been spotted rocking the dance floor again – this time busting moves to Whitney Houston's I Wanna Dance With Somebody and belting out Bonnie Tyler's Total Eclipse Of The Heart at the Tory party conference. 
One hilarious clip shows the Levelling Up Secretary, 54, arm in arm with Tom Tugendhat as he throws his finest shapes to a cover of the 1987 hit while wearing a suit and tie – just a month after his infamous night out in Aberdeen.  
Newly-single Mr Gove, and Mr Tugendhat, MP for Tonbridge and Malling, are seen taking turns to spin each other as they go all out at the gathering – which is not usually known as a hotbed of hedonism. 
In a second clip shared by The Sun, Gove can be seen passionately singing along to Bonnie Tyler's hit 1983 anthem with his mouth wide open, hands interlocked with an unidentified woman in front of him.
Meanwhile, at another Conference party event, Liz Truss danced to Beyonce (video credit to Guido Fawkes):
Wednesday, October 6
Wednesday was Boris's big day.
He abandoned his diet temporarily:
Guido Fawkes has the calorific coffee order:
Sat in the conference exhibition hall ahead of Boris's speech Guido was astonished to overhear the Speccie's Katy Balls being told by a barista that Boris's aides turned up at his stall yesterday to fetch the boss a coffee. The coffee order in question was a stomach-churning triple shot flat white, with extra caramel syrup with three sugars – an astonishing departure from the diet Carrie supposedly put him on after his Covid hospital trip.
Later, an appreciative crowd gave their Party leader a standing ovation:
Guido has the full text of Boris's speech, which was not much shorter than Keir Starmer's last week but was delivered in half the time: 45 minutes compared with 90.
Before going into Boris's speech, Keir Starmer's speechwriter dived in to say that his went on 'absolutely' too long:
Guido reported that Philip Collins, Starmer's speechwriter (and Tony Blair's), said the policy sections were 'a bit baggy' (red emphases in the original, purple one mine):
Philip Collins, the man who drafted Sir Keir's epic 90-minute address at Labour Conference last week, has admitted the speech "absolutely" went on too long – and even claimed the sections on policy (such that they were) were "a little bit baggy" and yes, "boring". This is a speech he wrote only a week ago…
Speaking on Politico's Westminster Insider Podcast, Collins said:
"It's always the same bits […] the policy bits are very, very difficult to bring to life. If you don't include them, everybody will write that you have nothing to say, that you're empty […] those bits, if I'm critical, could have been tighter, could have been more compressed. I think they were a bit long, a little bit baggy."
Which in view of criticisms of Boris that his conference speech was light on policy detail, suggests he made the right call. Collins, who was also Tony Blair's wordsmith, goes on to say that while he thought Starmer handled the inevitable heckles well, the interruptions and subsequent applause ("people enjoyed it far too much!") contributed to the running time, claiming Starmer "was getting standing ovations for things that were just basically boring lines that were meant to just take you to the next stage of the speech". "It got ridiculous", Collins said…
Returning to Boris, Guido also has videos of his speech.
It was clear that Boris, a former journalist, penned the words himself.
He opened with an amusing put-down of former Labour leader Jeremy Corbyn, recalling the 2019 election:
Isn't it amazing to be here in person, the first time we have met since you defied the sceptics by winning councils and communities that Conservatives have never won in before – such as Hartlepool. In fact it's the first time since the general election of 2019 when we finally sent the corduroyed communist cosmonaut into orbit where he belongs …
Then he threw in a joke about Michael Gove:
The Mail was on hand to give us Gove's reaction:
Prime Minister Boris Johnson later referenced Mr Gove's disco moves at his conference speech today, branding him 'Jon Bon Govi' – prompting the minister to turn bright red.
Here's Guido's video:
Boris said:
… for months we have had one of the most open economies and societies and on July 19 we decided to open every single theatre and every concert hall and night club in England and we knew that some people would still be anxious, so we sent top government representatives to our sweatiest boîtes de nuit to show that anyone could dance perfectly safely and wasn't he brilliant my friends? Let's hear it for Jon Bon Govi, living proof that we, you all, represent the most jiving, hip, happening and generally funkapolitan party in the world.
Tom Harwood, a Guido alum now working for GB News, gives us tweeted highlights.
Despite the rise in National Insurance tax, Boris insisted that Britain would move towards a low-tax economy:
Boris then had a go at Labour:
He then went on to slam Insulate Britain, which had blocked the roads for ten consecutive days at that point (12 as I write):
He discussed immigration from Afghanistan and Hong Kong …
… adding:
We are doing the right and responsible thing and, speaking as the great grandson of a Turk who fled in fear of his life, I know that this country is a beacon of light and hope for people around the world, provided they come here legally, provided we understand who they are and what they want to contribute, and that is why we took back control of our borders and will pass the borders bill, because we believe there must be a distinction between someone who comes here legally and someone who doesn't, and, though I have every sympathy with people genuinely in fear of their lives, I have no sympathy whatever with the people traffickers who take thousands of pounds to send children to sea in frail and dangerous craft. And we must end this lethal trade. We must break the gangsters' business model.
He made reference to 2022's general election in France and the newly-conservative outlook on the EU and immigration from our Brexit negotiator:
And is it not a sublime irony that even in French politics there is now a leading centre right politician calling for a referendum on the EU. Who is now calling for France to reprendre le controle?? It's good old Michel Barnier. That's what happens if you spend a year trying to argue with Lord Frost, the greatest frost since the great frost of 1709.
Boris then illustrated what he means by 'levelling up'. Different areas of England will get solutions to their specific needs:
I will tell you what levelling up is. A few years ago they started a school not far from the Olympic park, a new school that anyone could send their kids to in an area that has for decades been one of the most disadvantaged in London. That school is Brampton Manor academy and it now sends more kids to Oxbridge than Eton. And if you want proof of what I mean by unleashing potential and by levelling up, look at Brampton Manor, and we can do it.
There is absolutely no reason why the kids of this country should lag behind, or why so many should be unable to read and write or do basic mathematics at the age of 11. And to level up – on top of the extra £14 bn we're putting into education and on top of the increase that means every teacher starts with a salary of £30k – we are announcing a levelling up premium of up to £3000 to send the best maths and science teachers to the places that need them most.
And above all we are investing in our skills, skills, folks. Our universities are world beating. I owe everything to my tutors and they are one of the great glories of our economy, but we all know that some of the most brilliant and imaginative and creative people in Britain – and some of the best paid people in Britain – did not go to university. And to level up you need to give people the options, the skills that are right for them. And to make the most of those skills and knowledge and to level up you need urgently to plug all the other the gaps in our infrastructure that are still holding people and communities back.
As I've been saying over this wonderful conference to you when I became leader of this party, there were only, can you remember, what percentage of households had gigabit broadband when you were so kind as to make me leader? 7 percent, only 7 percent, and by the new year that will be up to 68 per cent. Thanks to Rishi's super-deduction the pace is now accelerating massively as companies thrust the fibre-optic vermicelli in the most hard to reach places.
On that topic, he had a witty go at Scotland's Ian Blackford MP, a multi-millionaire who gives the impression he has nothing. This bit is about the remote video connections Parliament had during the pandemic:
It's wonderful, for years SNP leader Ian Blackford has been telling the Commons that he is nothing but a humble crofter on the Isle of Skye. Well, now we have fibre optic broadband of very high quality that we can inspect the library or is it perhaps the billiard room of Ian Blackford's croft. And that is levelling up in action.
Boris wants to get Britons back in the office:
And my friends it is not good enough just to rely on Zoom. After decades of ducked decisions, our national infrastructure is way behind some of our key competitors.
It is a disgrace that you still can't swiftly cross the Pennines by rail, a disgrace that Leeds is the largest city in Europe with no proper metro system, a waste of human potential that so many places are not served by decent bus routes. Transport is one of the supreme leveller-uppers and we are making the big generational changes shirked by previous governments.
We will do Northern Powerhouse rail. We will link up the cities of the Midlands and the North. We will restore those sinews of the union that have been allowed to atrophy: the A1 north of Berwick and on into Scotland, the A75 in Scotland that is so vital for the links with Northern Ireland and the rest of the country, the North Wales corridor. And we will invest in our roads, unblocking those coagulated roundabouts and steering-wheel-bending traffic lights, putting on 4000 more clean green buses made in this country, some of them running on hydrogen.
And as we come out of Covid, our towns and cities are again going to be buzzing with life because we know that a productive workforce needs that spur that only comes with face to face meetings and water cooler gossip.
If young people are to learn on the job in the way that they always have and must, we will and must see people back in the office. And that is why we are building back better with a once in an a century £640bn pound programme of investment.
And by making neighbourhoods safer, by putting in the gigabit broadband, by putting in the roads and the schools and the healthcare, we will enable more and more young people everywhere to share the dream of home ownership, the great ambition of the human race that the left always privately share but publicly disparage.
And we can do it.
He discussed rewilding Britain:
We are going to re-wild parts of the country and consecrate a total of 30 per cent to nature. We are planting tens of millions of trees.
Otters are returning to rivers from which they have been absent for decades. Beavers that have not been seen on some rivers since Tudor times, massacred for their pelts, and now back. And if that isn't conservatism, my friends I don't know what is.
Build back beaver.
And though the beavers may sometimes build without local authority permission, you can also see how much room there is to build the homes that young families need in this country.
He talked about the housing crisis and the importance of home ownership, especially for the young:
He praised the success of the coronavirus vaccine rollout and the contribution of private enterprise:
He wittily criticised Labour's reluctance to accept the Government's pandemic strategy:
Boris discussed the Labour Party conference and Sir Keir Starmer. This is classic Boris:
Did you see them last week, did you watch them last week in Brighton? Hopelessly divided I thought they looked.
Their leader looked like a seriously rattled bus conductor, pushed this way and that by, not that they have bus conductors any more, unfortunately, like a seriously rattled bus conductor pushed this way and that by a Corbynista mob of Sellotape-spectacled sans-culottes or the skipper of a cruise liner that has been captured by Somali pirates desperately trying to negotiate a change of course and then changing his mind.
He discussed getting a trade deal with the United States, especially our export of British beef:
He touched on AUKUS …
… and Labour's opposition to that alliance:
He also addressed political correctness, which, frankly, has only worsened under this Government. He really does need to tackle it, so I hope he means what he says here. On a lighter note, he mentioned Michael Gove again:
We are led by our values, by the things we stand for. And we should never forget that people around the world admire this country for its history and its traditions. They love the groovy new architecture and the fashion and the music and the chance of meeting Michael in the disco. But they like the way it emerges organically from a vast inherited conglomerate of culture and tradition. And we Conservatives understand the need for both and how each nourishes the other. And we attack and deny our history at our peril. And when they began to attack Churchill as a racist I was minded to ignore them. It is only 20 years ago since BBC audiences overwhelmingly voted him the greatest Briton of all time, because he helped defeat a regime after all that was defined by one of the most vicious racisms the world has ever seen.
But as time has gone by it has become clear to me that this isn't just a joke. They really do want to re-write our national story starting with Hereward the Woke. We really are at risk of a kind of know-nothing cancel culture, know-nothing iconoclasm. And so we Conservatives will defend our history and cultural inheritance, not because we are proud of everything, but because trying to edit it now is as dishonest as a celebrity trying furtively to change his entry in Wikipedia, and its a betrayal of our children's education.
He closed by paying tribute to England footballers, Emma Radacanu and Team GB's Olympians and our Paralympians, who did so well this year:
The spirit of our Olympians. It is an incredible thing to come yet again in the top four, a formidable effort for a country that has only 0.8 per cent of the world's population … but when we come second in the Paralympics as well – that shows our values, not only the achievement of those elite athletes but a country that is proud to be a trailblazer.
To judge people not by where they come from but by their spirit and by what is inside them.
That is the spirit that is the same across this country, in every town and village and city that can be found. That can be found in the hearts and minds of kids growing up everywhere.
And that is the spirit we are going to unleash.
The crowd loved every minute:
Tom Harwood interviewed party members afterwards, all of whom gave Boris's speech rave reviews:
I could go into the pundits' analyses, but why bother? So many are disgruntled Remainers, still licking their wounds over Brexit, which means that they will attack any Conservative policy.
As a former boss of mine used to say: 'Onwards and upwards!'
The Conservative Party Conference took place in Manchester from Sunday, October 3 through Wednesday, October 6, 2021.
It was the first one since 2019, which was two months before their victory in the December 12 election that year.
UK in crisis
This year's conference took place during the ongoing petrol supply problems and shock record-breaking hikes in gas futures on Tuesday and Wednesday:
On top of that, on Wednesday, Reuters reported that the UK's petroleum regulator rejected Shell's plans to redevelop the Jackdaw gasfield in the North Sea (emphases in purple mine):
"We're disappointed by the decision and are considering the implications," a Shell spokesperson said.
It was unclear on what grounds the Offshore Petroleum Regulator for Environment and Decommissioning (OPRED) refused to approve the environmental statement for the field's development.
The Department for Business, Energy and Industrial Strategy, under whose umbrella OPRED operates, did not immediately reply to a request for comment.
Maddening.
The supply chain crisis for food continues. On Wednesday, The Times reported The National Pig Association warned retailers that 120,000 pigs would have to be slaughtered because of a lack of butchers. Some pig farmers are closing down altogether.
Some supermarkets are also suffering from empty shelves. Tesco, however, is bucking the trend. The Times reported that the supermarket chain is:
often highest up the pecking order when it comes to suppliers committing to make the business a priority …
Good for them.
Conference theme disappointing
The conference theme was … Build Back Better.
How awful.
Here it is draped across Central Station Manchester:
The Conservatives riffed on this in a Bake Off-style event. Pictured with Prime Minister Boris Johnson is Home Secretary Priti Patel:
Having listened to some of the speeches and read excerpts from others, they were all light in content. Most of them were pep rally or visionary statements rather than what plans Cabinet ministers have for the nation.
As The Telegraph's Madeline Grant wrote:
Never at a Tory Conference has so little been said, by so many, to so few.
Sunday, October 3
As the conference opened, rumours circulated about three unnamed Labour MPs thinking of crossing the aisle to the Conservatives, as the Mail on Sunday reported:
Guido Fawkes had more on the story (emphases in red Guido's):
… this is due to disillusionment with Starmer's leadership, with the MPs already having opened up "lines of communication" with Tory whips. In related news, a senior Labour MP was spotted by a co-conspirator chatting with two Mail on Sunday hacks and three senior Tory advisors at a conference bar last night…
The day's big event, according to The Spectator, was the drinks party that the 1922 Committee of backbenchers held, sponsored by ConservativeHome. Interestingly, a long-time Labour MP for north-west London — Barry Gardiner — was in attendance:
… the main focus of the night was the 1922 drinks with ConservativeHome in a room stuffed full of parliamentary talent and, for some reason, Barry Gardiner.
Strangely, Boris did not appear, leaving a gap which Chancellor of the Exchequer Rishi Sunak ably filled (video):
While Johnson was not scheduled to make an appearance here, Prime Ministers have traditionally done so in the past to pay tribute to their colleagues. His 'disappointing' absence – in the words of one disgruntled backbencher – left a vacuum for Sunak to fill, in a room full of MPs who will presumably one day decide who Johnson's successor should be.
The Chancellor leapt to the stage to tell fellow Tories about what he was most looking forward too at conference: Michael Gove dancing, the PM running in a full suit (not just a shirt) and 'machine like message discipline from every single one of you – and that means you too Cabinet.' He added that 'I've got your back' to anxious MPs in the room and that 'for the record I too am a low tax conservative' – welcome words for those party donors who Mr S[teerpike, columnist] understands attended a 'tense' meeting earlier at the Midland, amid considerable unease at the recent NI [National Insurance] hike.
In such circumstances, perhaps it's understandable that Boris would stay away.
According to The Telegraph, senior Conservatives have warned Boris not to dream up any more future tax hikes:
Earlier that day, Boris gesticulated wildly at the BBC's Andrew Marr, saying, 'You have no fiercer opponent to tax rises than me'. This probably means more tax rises are on the way:
The Spectator has more on the interview.
On tax hikes, Sir Desmond Swayne MP told talkRADIO's Julia Hartley-Brewer the raw truth. He added that lower taxes will enable greater economic growth:
Another event that Boris avoided was the one by the Tory Reform Group (TRG), which wants the Conservatives to move closer to the centre politically. They are Remainers. The Spectator reported:
Theresa May's former deputy Damian Green welcomed attendees …
Green, a mainstay of various causes on the left-ish wing of the party over the past two decades, told activists that it was their task to 'make sure that the voice of moderate conservatism, centre-right conservatism is as strong as possible within the party' – a job 'never more important than today because there are times when I slightly feel that it is only people like us that stop this party drifting back to being seen as the nasty party.' A tacit rejoinder to Priti Patel perhaps?
But then it was time for the speaker and the great white hope of Tory moderation. Tom Tugendhat, the chairman of the Foreign Affairs Select Committee, took to the stage to ecstatic applause and, like Green, was under no illusions about the awesome responsibility he and his One Nation caucus members share – to keep the Conservative party effectively sane …
There was also ample time for several potshots at the current Tory leader Boris Johnson, with whom Tugendhat is said to enjoy a wary relationship.
Foreign Secretary Liz Truss, tipped to be a future Party leader, also made the rounds that day (video):
The fringes were packed last night as Tory ministers did the rounds. Liz Truss, the darling of the free market think tanks, appeared at the Think Tent equipped with a magnificent blow dry and an applause-winning speech which castigated cancel culture as 'fundamentally wrong.' That and other jibes at identity politics in her conference address lead the Daily Mail this morning to ask whether she is in fact the new Mrs Thatcher.
Several reporters wrote about her new hairdo, which, to me, didn't look much different from the old one.
Returning to the mysterious Labour people who might want to change parties, here's Manchester mayor Andy Burnham, a former Labour MP, heaping praise on Michael Gove, the minister in charge of Boris's levelling up programme. Burnham spoke to Trevor Phillips on Sky News that morning. Hmm:
Neither Andy Burnham nor Barry Gardiner is a Conservative. Crossing the aisle for ideals they don't believe in seems a rather rash way of getting their own back at Keir Starmer.
Boris made four appearances at conference that day, including one for the Scottish Conservatives. Guido captured his wit along with audio:
The PM warned of a "crackpot coalition" between the SNP and Labour – "the only way they could" kick the Tories out.
He described the Labour conference as "a total rabble", saying it had the air to him of "a seriously rattled bus conductor" facing an "insurrection on the top deck of the bus", or the "captain of a Mediterranean cruise ship facing insurrection by a bunch of Somali pirates".
Douglas Ross MP/MSP also addressed Scottish Conservatives. As party leader in Scotland, he wants to position the party as that of the nation's working class. It's a good move, as The Spectator reported:
Like all good fables, Douglas Ross's speech at Tory conference had a beginning, middle and end. Act One detailed the many iniquities of the SNP, from their dysfunctional vaccine passport scheme to their Hate Crime Act, and most of all their agitation for Scotland to break away from the UK. Act Two took the sword to Labour, bemoaned its abandonment of working-class voters and its internal divisions over the constitution. Theirs was not the party to take on the SNP. Only one party was and it was the subject of Act Three, in which Ross deepened a theme begun under Ruth Davidson's leadership: the Scottish Conservatives as the party of the Scottish working-class.
He hit all the familiar notes about the SNP's failings in government, the ones that never seem to stick longer than two or three news cycles and are invariably forgotten about by the next election. He also hinted at an interesting theme that, if teased out carefully, could come into greater play. It is the perception, no longer wholly limited to unionists, that Nicola Sturgeon is a bit… off. Out of touch. Superior. Maybe even a bit of a snob.
In other news, last week, Labour's Angela Rayner called Conservatives 'Tory scum'. Feisty Dehenna Davison MP, representing Bishop Auckland as the constituency's first Conservative, had 'Tory Scum' badges made.
This harks back to 1948, when Aneurin 'Nye' Bevan said the Conservatives were 'lower than vermin'. Following that, the Conservatives formed the Vermin Club. Club member Margaret Roberts — who would become Margaret Thatcher — also had 'Tory Vermin' badges made, as Nigel Farage told Dehenna Davison on GB News:
Party chairman Oliver Dowden pledged that the Conservatives would do away with ugly new housing developments by strengthening planning laws.
He also assured the public that they would have turkeys for Christmas, referring to ongoing supply chain problems.
Monday, October 4
Monday opened with the latest ConservativeHome popularity poll.
Liz Truss is at the top. Other MPs pictured are (left to right) Defence Secretary Ben Wallace, Leader of the House Jacob Rees-Mogg, Chancellor Rishi Sunak and Education Secretary Nadhim Zahawi:
Guido analysed the results, excerpted below:
The turn round in her fortunes from last year when she was being tipped to be sacked from the Cabinet is quite something. Liz is one of the increasingly rare consistently free market voices around the Cabinet table…
Rishi Sunak is down by some 10 points and moves from second to fifth place. Rishi's tax hikes have clearly taken the gloss off him with the true blue believers. 
Grant Shapps [Transport] and Priti Patel are bumping along the bottom in barely positive approval territory. Shapps has been doing fairly well with the incredibly difficult transport brief. Patel is suffering because she has failed to do the seemingly impossible – stop the cross channel migrants. Tory activists are unforgiving, they don't want excuses, they want results.
It was the turn of Rishi Sunak to address the party faithful.
A rise in council tax would not go down well. Meanwhile, protesters pelted Sir Iain Duncan Smith MP with a traffic cone:
Some at conference are disappointed with Sunak, whose budget comes up in a few weeks' time. Steve Baker MP is pictured in the second tweet:
Boris was out and about in Greater Manchester. He spoke to an interviewer about policing and said that the Government needs to change its culture, which has become misogynistic, particularly in light of the Sarah Everard murder earlier this year, committed by … a policeman, who recently received a life sentence.
In other news, Justice Secretary Dominic Raab plans to reform UK human rights legislation and do away with the ties to EU human rights legislation we are still under.
With regard to the Labour mystery, Manchester's mayor, Andy Burnham, had a conversation with Levelling Up minister Michael Gove, whom he had praised the day before. The Mail reported that Burnham was also due to address Conservatives at a fringe event sponsored by Transport for the North the following day. Hmm.
The cervix question that appeared at Labour's conference was also brought up with Conservatives. Dominic Raab responded by bringing up both misogyny and misandry in a highly confused way (video):
Two MPs decided to have a bit of fun with the issue as they drove to Manchester together:
Guido recapped their amusing exchange:
Health-conscious Conservative MPs Marco Longhi and Lee Anderson don't want to fanny about when it comes to their well-being. Marco, according to their road-trip video, made sure to receive a cervix exam before heading to conference this week. Always better to be safe than sorry…
Why is it that no one ever asks if women have a prostate gland?
On the subject of health, Desmond Swayne told Julia Hartley-Brewer why he is firmly against vaccine passports:
Lord Frost (pictured on the right) threatened the EU over the post-Brexit trade issues with Northern Ireland. Outside of the conference, pig farmers protested over the inability to get their stock to market. Boris had said that government cannot solve every issue, referring to the supply chain problem. He also told British businesses to hike staff salaries, which did not go down well, either:
I think they should give the meat away. A lot of poor families would appreciate it.
Tuesday, October 5
Boris began the day with an interview to LBC's Nick Ferrari. Extinction Rebellion offshoot Insulate Britain had blocked some of Britain's roads for the ninth consecutive day.
Despite injunctions from Priti Patel's Home Office, their human blockades continue.
Boris told Ferrari they are 'irresponsible crusties' (video). The question remains whether Extinction Rebellion gets any Government funding:
Dominic Raab confirmed in his speech that he would be reform the Human Rights Act to free it from EU hackles.
Guido's post includes a quote and this summary:
They will detach it from the ECHR, enabling quicker deportations of convicted criminals and swifter action on domestic abusers …
Raab's successor at the Foreign Office, Liz Truss, confirmed a trip to India later this month, ahead of COP26 in Glasgow in November.
Guido had a chat with her:
Among other topics, the foreign secretary confided in Guido she was finding the new department's mandarins to be "a bit 'Yes, Minister'"…
Rishi Sunak addressed the Northern Powerhouse Leaders' Lunch.
Guido says:
Sunak claimed that there is a "new age of optimism" in the north thanks to Red Wall Tories, and heaped them with praise for "helping to change our party and change our country". "In me, you have a Chancellor who is going to be with you every step of the way," he added.
See? I told you these speeches were content-free.
Later in the day, he appeared at a fringe event where he was asked about the cost of Net Zero. This was his alarming answer:
Health Secretary Sajid Javid promised another reform of the NHS, which mostly involves digitisation. I can think of more pressing NHS concerns and agree with Guido:
… pouring in taxpayers' money without checking how it's being spent isn't enough. That cash needs to be put to good use. Reviewing the eye-watering pay packets of some NHS diversity managers would be a start…
The Telegraph's Christopher Hope interviewed Oliver Dowden, who is thinking about resurrecting the singing of the National Anthem at conference, calling it a 'splendid idea'.
Hope also took the opportunity to present Dowden with a 'Tory Scum' badge, which he put on and said he would wear for the duration of the interview. Hope suggested he wear it until the end of conference.
This video shows the badge exchange. Hope gives us more information on the aforementioned Vermin Club:
Guido says that the badges were most popular. Dehenna Davison had to order more:
Many conference-goers have spent the last couple of days asking Davison for one of her badges, only to be disappointed upon being told she'd run out. Good news however, after Davison put in an emergency order for 400 more given their popularity…
The most outrageous session of the day — and a British first — was an address by the Prime Minister's wife to Party faithful. No Prime Minister's spouse — we've had two husbands in that role — has ever made a party political address until now:
Never mind the subject matter: was it the right thing for Carrie Johnson to do — even if she is a very good public speaker? Boris watched from a distance.
Polling stable
I'll review Boris's closing speech in tomorrow's post.
Post-conference polling is stable. YouGov's was taken on Tuesday and Wednesday:
Sir Desmond Swayne explained to Julia Hartley-Brewer that Boris's popularity and the lack of ideas from the Opposition have buoyed the Conservatives:
What Government should do next
Health Secretary Sajid Javid needs to keep a gimlet eye on NHS spending, especially on things like this:
Guido says:
The NHS is recruiting a supplier to deliver "compassionate conversations training" to 14,000 front facing NHS staff in a publicly funded contract worth a mind-boggling £3 million. The contract tender, which was published yesterday and closes on 5 November 2021, says the aim is to equip NHS staff with "the skills they need to handle challenging situations with compassion whilst ensuring they feel able to look after their own wellbeing if needed". Guido assumed that doctors were already taught about the importance of a good bedside manner…
It's almost ludicrous to think that this weekend Javid promised a forensic review of the NHS's management and leadership whilst the NHS continues to recklessly splash cash on diversity roles. Just six months ago Guido revealed that the NHS was hiring eight more 'diversity, equality and inclusion managers' across the country, with salaries up to as much as a whopping £62,000. If Javid is going to cut down those waiting list times he needs to focus taxpayers' money on the clinical front line, not nonsense make-work contracts and diversity roles…
Guido says it is also time for Boris to reconsider the current Government moratorium on fracking:
If Boris wants to energise Britain, domestic gas production should be part of that mix; it would provide energy security when Britain's energy needs are being threatened by the Russians and the the French. Boris is now in a position to do something glorious, to stop pussy-footing around and leave no stone unturned or unfracked. So get on with it…
This is what Boris had to say on the subject while he was Mayor of London:
I won't be holding my breath on either of those propositions.
Tomorrow: Boris's keynote speech
This was a big week for Britain's Good Law Project, as they were able to persuade a court to scrutinise former Health Secretary Matt Hancock and former health minister Lord Bethell on their handling of coronavirus contracts in 2020.
Matt Hancock resigned in June 2021 and Lord Bethell was removed from his ministerial post in the House of Lords at last week's reshuffle.
The Good Law Project doesn't always win their cases, but this will be one to watch.
I do not often agree with their views but, in this case, I wish them well.
Lord Bethell
Having seen enough proceedings in the Lords, I thought that Lord Bethell was doing a competent job representing the Government.
However, during the summer, questions were asked about the mobile phone he was using last year when the pandemic was raging. Bethell gave various answers as to the whereabouts of the phone:
He allegedly used WhatsApp to communicate with potential suppliers:
His phone was taxpayer funded. As such, it seems he should have returned it to Procurement:
The accompanying article from the Good Law Project states (emphases in purple mine):
You will recall in our hearing in July Government admitted that some of Health Minister Lord Bethell's dealings in relation to the controversial £87.5 million testing contracts to Abingdon Health had been conducted via WhatsApp or text message, and were held only on his private mobile phone.
We wrote to Government to ask for the messages to be retrieved and preserved.
We were stunned to receive this response from Government in which Health Minister Lord Bethell changes his story, again, on why he can't hand over the texts and What's App messages. 
This is now the Minister's third different version of events:
First, he claimed his phone was "lost" so he couldn't hand it over. 
Then, a few weeks later he abandoned his tale that the phone had been "lost" and provided an entirely new explanation as to why he was no longer using it, claiming the phone was "broken".
Now, unbelievably, he says the phone isn't lost. Or broken. He actually passed the phone on to a family member … 
It's far from clear that personal phones used extensively for Government business can safely be handed over to family members – one assumes children. What steps did Lord Bethell take, for example, to ensure that highly sensitive material couldn't be retrieved by a specialist? And if he did delete it, did he ensure he'd passed on all the relevant information to the Department of Health before doing so? 
And the extraordinary change of story doesn't stop there. 
Back in June, No 10 issued a blanket denial that Ministers ever used private email accounts for Government business. But now their own lawyers have confirmed searches of Lord Bethell's three private email addresses using keywords relating to Covid contracts turned up hits of between 18,000 and 36,000 separate documents that may be relevant to the case. 
How on earth do we move from a blanket denial by No 10 that Ministers were using private email accounts for Government business, to an admission that a single Minister may in fact have used his private email for tens of thousands of official emails? Do they ever tell the truth?
We are fighting to get our hands on these messages. We will be able to reveal further twists in this extraordinary tale soon.
On Tuesday, September 21, the Good Law Project was in court to pursue the case:
The Government conceded that Bethell would have to provide a witness statement. The court hearing was to stipulate the content of that statement:
The accompanying article from crowdjustice gives more information on what happened in 2020:
The Government suppressed an official report that proved there were issues with rapid antibody tests purchased by the Department of Health. Leaked emails reveal the Government blocked Public Health England from publishing their findings until after they could make an announcement that they had purchased one million antibody tests from Abingdon Health.
The purchase of one million antibody tests from Abingdon Health has been shrouded in mystery, but what we do know lays bare serious failings in Government procurement.
The Government supported the creation of the UK Rapid Test Consortium (UK-RTC) back in April. The idea was that the companies and institutions involved, including Abingdon Health, would create a rapid antibody test. On 2nd June, Government awarded a contract worth £10million to Abingdon Health for the materials needed to produce the test. On 14th August, they handed Abingdon Health another contract worth a staggering £75million.
Despite these huge sums of money, Government seems to have ignored widely held concerns that these tests were not fit for purpose. So a £75million contract was awarded without competition, on the basis of profoundly flawed research. And when confronted with evidence of these flaws Government tried to suppress publication of that evidence.
These are serious charges and we have set out the publicly available evidence in this chronology, which we will update as more evidence is published.
Judge agrees
The judge hearing the case on September 21 agreed with the Good Law Project:
The Good Law Project's article says:
… Yesterday we took Government to Court to fight for this evidence – and we had a good day. 
The Judge ordered the search of Matt Hancock's WhatsApp messages and personal email accounts. We believe this is the first time a Judge has ordered a Minister, or ex-minister, to hand over their personal WhatsApps and text messages.
In fact, the Judge seemed to share our view more generally that Government's explanations for why they haven't recovered information from Ministers' devices simply do not stack up, and he ruled as follows:
Lord Bethell must provide a Witness Statement to the Court to explain – once and for all – what happened to his phone

.

Government needs to provide a Witness Statement to the Court explaining how they are going to ensure they recover all the necessary data from Bethell's phone

.
In addition to coughing up Lord Bethell's private emails,

Government must also trawl Matt Hancock's personal emails and WhatsApps for relevant information as to how these contracts came to be awarded with no competition

. 
We will now get to see previously hidden messages from the Ministers involved in awarding these lucrative contracts. We will also issue an application against Professor Sir John Bell in respect of his documents (to cover WhatsApp, University of Oxford emails and personal emails). He has previously refused to share any of his records, despite his hugely significant role in the contract awards. 
Matt Hancock
Following this announcement, the story received quite a lot of coverage in the media, with photos of Matt Hancock splashed all over Twitter.
The London Economic had this:
Their article said:
Former health secretary Matt Hancock will have his personal WhatsApp and emails searched as part of a High Court battle over millions of pounds' worth of antibody test contracts.
The Good Law Project has brought legal action against the Department of Health and Social Care (DHSC), claiming that more than £80 million in contracts for antibody tests were awarded unlawfully.
The bid covers three contracts awarded to Abingdon Health which the group claims were given in April, June and August 2020 but were not published until October 2020.
"The contracts were awarded directly, and secretly, without any advertisement or competition," the Good Law Project's barrister Joseph Barrett said in written arguments.
The group also argues that the contracts "comprise very substantial unlawful public subsidies".
The Daily Mail had more:
Claiming Mr Hancock was the "ultimate decision-maker" in awarding the contract to Abingdon Health, Mr Barrett told the court that Mr Hancock had used multiple non-government emails for Government business. However, no searches had been conducted and no documents had been disclosed.
Mr Barrett alleged that DHSC had "either destroyed or otherwise put beyond recovery or refused to search or disclose almost all of the repositories and documents of the four most senior and important individuals in the case".
Philip Moser QC, for DHSC which is contesting the claim, argued Mr Hancock had a "limited" role in the contracts.
"There is no reasonable basis on which to seek such disclosure, because Mr Hancock's involvement in the matters which are in issue in these proceedings was limited and, in any event, any communications from the then Secretary of State would have been caught by the existing disclosure exercise," he said.
Mr Justice Fraser ordered that both Mr Hancock's Government and non-Government communications that were used for Government business should be searched for relevant material.
The judge said: "It seems to me that even though his involvement has been described as 'limited', 'limited' can still be quite significant."
CityA.M.'s coverage says that Lord Bethell's phone is now with 'disclosure consultants':
Government lawyers previously said the old phone had been "broken" six months ago and that data held on it was not contained on the replacement.
The lost information was reported to have included WhatsApp and SMS messages.
The court also heard that Lord Bethell's phone is currently with "disclosure consultants" to determine whether his WhatsApp messages can be retrieved.
A spokesperson for the former health secretary said: "Hancock had no involvement in the awarding of this contract, or indeed any other contracts. They were all awarded through formal processes, as the National Audit Office has confirmed.
"At the time, everyone in the Department of Health and Social Care was working every hour to respond to the pandemic and boost testing capacity. Any suggestion of wrongdoing is completely false."
The full trial is due to take place from December 6.
Scotland's The National reported on the to-ing and fro-ing between the judge and the Government's legal counsel, Philip Moser QC:
Philip Moser QC, for DHSC which is contesting the claim, argued Hancock had a "limited" role in the contracts.
"There is no reasonable basis on which to seek such disclosure, because Mr Hancock's involvement in the matters which are in issue in these proceedings was limited and, in any event, any communications from the then Secretary of State would have been caught by the existing disclosure exercise," he said.
Justice Fraser ordered that both Hancock's Government and non-Government communications that were used for Government business should be searched for relevant material.
On the topic of disclosure, The Mirror's tweet alleges that the Department for Health and Social Care (DHSC) had previously refused to pursue it:
And there's more
The Government has always claimed that there were no fast-track routes to winning a contract.
However, on Thursday, September 23, The Guardian reported about emails referring to a 'VIP route' for coronavirus testing contracts:
The Guardian reported:
… internal emails between DHSC civil servants, discussing the Rapid Testing Consortium (RTC), a group of companies led by York-based Abingdon Health, which was awarded huge government contracts without a competitive tender, did describe the process as "the VIP route". The then health minister, Lord Bethell, was described by officials as a "sponsor" of the consortium.
The DHSC disclosed the June 2020 emails during a legal challenge brought by the Good Law Project (GLP), which argues there was "apparent bias" in the award of the contracts to Abingdon Health, and that the government "failed to undertake any transparent or lawful process". The DHSC is defending the case, arguing that the emergency of the pandemic justified it making direct contract awards.
In the email exchanges, one civil servant, discussing how to process the RTC companies, said a person in authority, whose name is redacted, "would like them to go through the VIP route". The official asked: "Who should they name as their sponsor?"
A colleague replied: "Are the sponsors usually ministers? I would imagine RTC can name Lord Bethell?"
In a further email referring to the RTC, another official wrote: "This is usually for the VIP route which comes via ministers."
Asked by the Guardian about these references to a VIP route, the DHSC did not maintain its previous denial. Instead a government spokesperson said: "All offers of testing supplies that were evaluated by DHSC went through the same clinical evaluation process. Every application went through robust assessment checks, and decisions were based on merit."
As for Abingdon Health, founded in 2008:
The company has emphasised that it and its directors did not have Conservative party membership or connections, that the government asked them to contribute to the Covid response, and they were not aware if there was a fast track process.
Having been first contacted on 22 March 2020 by an adviser to Public Health England, Abingdon said they were asked to email the general DHSC and NHS Covid testing and research email addresses. On 1 April, the company was contacted by Prof John Bell, a senior government adviser on testing, and on the same day asked to join a conference call with the then health secretary, Matt Hancock. Following discussions with Bethell and other senior government figures, Abingdon then formed the RTC and were initially given a £3m research contract.
The other contracts followed on from there.
It is fortuitous for the Government that Parliament is in conference recess from 5 p.m. today until late October. Otherwise, a few Urgent Questions would probably have been scheduled.
As they say in journalism: 'The case continues'.
The full trial starts on December 6.