You are currently browsing the tag archive for the 'Graham Medley' tag.
Yesterday's post, 'The Western world is changing, from coronavirus to climate change', discussed the outrage that Britons felt on reading Rishi Sunak's revelations in The Spectator about the UK's coronavirus policy:
Rishi, Liz Truss's rival in the Conservative Party leadership contest, did not do himself any favours. If he hoped to garner votes from the Party's coronavirus sceptics, he was mistaken.
From March 2020 to the present, any sceptics voicing an opinion were thrown under the bus, such as Bev Turner, who featured in yesterday's post.
On Thursday, August 25, the day that the ex-Chancellor's revelations were published, another sceptic, GB News's Dan Wootton, aired his views:
Wootton rightly took issue with Rishi's claim that the wrongful promotion of the SAGE scientists to an all-powerful level was wrong and that he should have changed it.
After all, next to Prime Minister Boris Johnson, the Chancellor is the next most powerful position in the Government. Yet, Rishi stayed quiet — for two years. Only now has he said anything.
He did nothing. Yes, he could have changed the course of events but did not:
At the end of that night's show, the Union Jackass nominees — prominent names in the news cycle for dumb things — were Boris Johnson for flying to Ukraine again instead of visiting the Channel to see migrants being escorted in, Nicola Sturgeon for saying she will always be British in spite of pushing for a second Scottish independence referendum and Rishi Sunak for not resigning or doing anything about our damaging coronavirus policy. Wootton chose Rishi Sunak:
Another coronavirus sceptic, Robert Taylor, wrote for The Telegraph about his own experience over the past two years and Rishi's revelations (purple emphases mine):
 … Take a bow, Rishi Sunak.
I had to do a double take when I saw the reports. For those long lockdown months, nobody in government, let alone the Cabinet, was prepared to say any such thing. It was left to a few courageous journalists and scientists to take on the overwhelming force of the lockdown fanatics, with police fining people for sitting on park benches and neighbours eagerly shopping each other like this was some authoritarian country.
The brave few kept the flag of personal freedom alive. That really is no exaggeration. And they paid heavily for it. On social media the abuse was intense. You don't care about lives! they snarled. You're murderers! they claimed. And in the mainstream, things weren't much better. You're a "small, disproportionately influential faction," moaned a Guardian Leader, that "denies the virulence of the virus". Thanks for that.
One MP, Neil O'Brien, took it upon himself to publicly discredit any sceptic, declaring "they have a hell of a lot to answer for". No, you do Mr O'Brien, for stifling free debate, along with certain mainstream news outlets for failing over a two-year period to examine whether lockdown might cause more harm than good …
But while I welcome and applaud Sunak's intervention, I also have a question. He was second only to the Prime Minister for power and influence, and lockdown was the most consequential, freedom-destroying government initiative since the war. He had severe doubts about it. So why didn't he resign? Yes, it would have been another headache for Boris. But given the massive consequences of the wrong strategy, didn't he owe it to the British people?
It's tragedy upon tragedy. Okay, it's a relief to hear that someone in the heart of government had the guts to challenge the dangerous group-think. But it's cold comfort to millions of children whose schooling was irreparably damaged along with their long-term prospects, and to patients who only discover now that they have cancer, diabetes or heart disease, and to those who were denied the chance simply to hug lonely, dying relatives.
For all these lockdown victims, Sunak's words come two years too late.
Publican Adam Brooks tweeted the article, which didn't get any replies in support of the former Chancellor:
However, earlier that day, two former Government advisers weighed in against Rishi: Dominic Cummings and Lee Cain.
Cummings blasted Rishi. The trolley in the tweet is Cummings's symbol for Boris, who veers off in all directions like a supermarket trolley:
Then he had a go at The Spectator's editor Fraser Nelson who conducted the interview with Rishi. Recall that Cummings's wife, Mary Wakefield, writes for the magazine:
Guido had a post on Cummings and Cain:
But, wait. Wasn't Rishi a friend of Cummings?
Guido's post says, in part (emphases his):
Whilst many sources disagree with some of Rishi's more lockdown-sceptic policy views, his criticism of the decision-making process by which those policies were reached are more widely supported. Lee Cain and Dominic Cummings, however, are not playing ball…
Former comms director Lee Cain argues that whilst he is a "huge admirer" of Rishi, "his position on lockdown is simply wrong. It would have been morally irresponsible of the govt not to implement lockdown in spring 2020."
Dominic Cummings is, characteristically, less diplomatic. Taking on Twitter he says, "the Sunak interview is dangerous rubbish, reads like a man whose epicly bad campaign has melted his brain & he's about to quit politics. Also pins blame *unfairly* on
 & others". A very rare defence of Boris. He ominously promises more blogging on the topic later…
I checked Cummings's Twitter account, but he hasn't posted anything more on the subject.
He defends his former boss here because he, too, wanted lockdown, even though he sneaked off to County Durham with his family one weekend during the first one in Spring 2020. He got rumbled, and, as penance, Boris made him give an agonising televised press conference about it. Cummings left Downing Street later in November that year.
Professor John Edmunds, a prominent SAGE member, pointed out that it was not SAGE's remit to do a cost-benefit analysis of lockdown. That would have been the responsibility of the Chancellor and the Treasury:
So, Conservative Party members should elect Rishi Sunak as their next leader when he couldn't be bothered to do a cost-benefit analysis during the pandemic? The Treasury has a lot of civil servants. That would have been part of their job. If only someone had asked them to do it:
GB News had a good article with reaction from Government advisers, including scientists:
Boris Johnson's former communications chief, Lee Cain, dismissed Mr Sunak's assessment of the situation, saying he is "simply wrong" …
He said No 10, the Treasury and Department of Health and Social Care "met multiple times daily and discussed the trade-offs".
Mr Cain added: "We all knew lockdown was a blunt instrument that had many downsides but in a world without vaccinations it was the best option available."
… A No 10 spokesman said: "At every point, ministers made collective decisions which considered a wide range of expert advice available at the time in order to protect public health."
Prof Graham Medley, a member of Sage, said: "Government have the power, so if one member of Cabinet thinks that scientific advice was too 'empowered' then it is a criticism of their colleagues rather than the scientists.
"The Sage meetings were about the science, not the policy options, and the minutes reflect the scientific consensus at the time."
… Another scientist who contributed advice to the Government during the pandemic said Mr Sunak's comments "are very misleading as they suggest that he was alone in thinking about the wider impact of lockdown on schools and other social impacts".
The source said the SPI-B group, which investigated behavioural impacts, and other advisers spent a lot of time examining the issues around school closures.
"If the former chancellor was arguing against school closures he would have found plenty of evidence to support his case from the very group of scientists he now appears to be criticising," the source said.
On Friday, August 26, Prime Minister Boris Johnson gave an interview in which he discussed the controversy. GB News reported:
Boris Johnson said he is "very confident" the Government made the "right" decisions about lockdowns.
The Prime Minister was asked to address the comments made by his former chancellor during a visit to South West London Elective Orthopaedic Centre in Surrey …
Speaking to broadcasters at the orthopaedic centre , Mr Johnson said if the Government did not lock the country down during the pandemic, "the delays for cardiac, the delays for hips, the delays for cancer treatment, or the other procedures that people care about" would have been "even greater".
He added: "I'm just giving you my view, which is that the… about the decision to try to stop the spread of Covid, and with all the things that we did.
"Of course, the inquiry will have to look at those decisions. I'm very confident that they were the right ones. I just want to remind people of the logic because I think there's a bit of… it all gets turned upside down.
"People say, 'Oh, well, it was because of the lockdowns that people's health was impaired'. Actually, the purpose of using those methods, imperfect though they were, to restrict the spread of Covid, was to reduce the huge numbers in the NHS.
"Forty-thousand people at one stage occupying beds in the NHS because of Covid, and therefore, to reduce the numbers of patients with other complaints, other sicknesses, other needs, who were displaced by Covid, and are now coming back into the NHS. That was the purpose of what we were doing."
Unfortunately, lockdown has made the NHS worse. We still cannot see a GP. The A&E wards are full, even early in the evenings on a weekday. Six million patients are awaiting various medical procedures.
Lockdown was the worst thing we could have done. I know the UK is not in an isolated position here, but we should have been better at this.
Rishi Sunak could have come up with a cost-benefit analysis during those two years, yet he never did.
And he's running to be our next Prime Minister?
It turns out that Conservative Party members are asking the same question. On Saturday, August 27, The Telegraph featured an article: 'The moment Rishi Sunak knew his leadership dream was over'.
It had nothing to do with The Spectator interview, but with remarks he made earlier in the month during the hustings in Eastbourne, on the south coast:
It was when Rishi Sunak mentioned California for the third time in less than 10 minutes that his campaign team realised it was all over.
On stage at the Conservative leadership hustings in Eastbourne on Aug 5, Mr Sunak answered a question about the career he would choose as a young graduate by reflecting on the "culture" of enterprise he saw while living on the West Coast between 2004 and 2006.
"I think it's incredibly inspiring and empowering," he said. "If I was a young person, I'd want to go and do something like that."
But back at his campaign headquarters in Holborn, Central London, his strategists were far from inspired.
Staff felt his focus on California showed he was out of touch and summed up his failure to win over grassroots Tory members as polls showed members backing Liz Truss by more than two to one.
"People started to say that it wasn't going to happen now and he wasn't connecting with voters in the room," a source on the campaign told The Telegraph.
"He kept talking about California and tech. It became an open secret within the campaign that he wasn't going to win. That hustings was the point things really took a turn as everyone started to realise that."
Just as well, really.
All this talk of California? He must be wondering how he'll get his Green Card back.
Knowing Rishi and his in-laws' connections, he'll find a way.
Isn't it interesting that the media narrative has changed from wall-to-wall coronavirus coverage to Ukraine?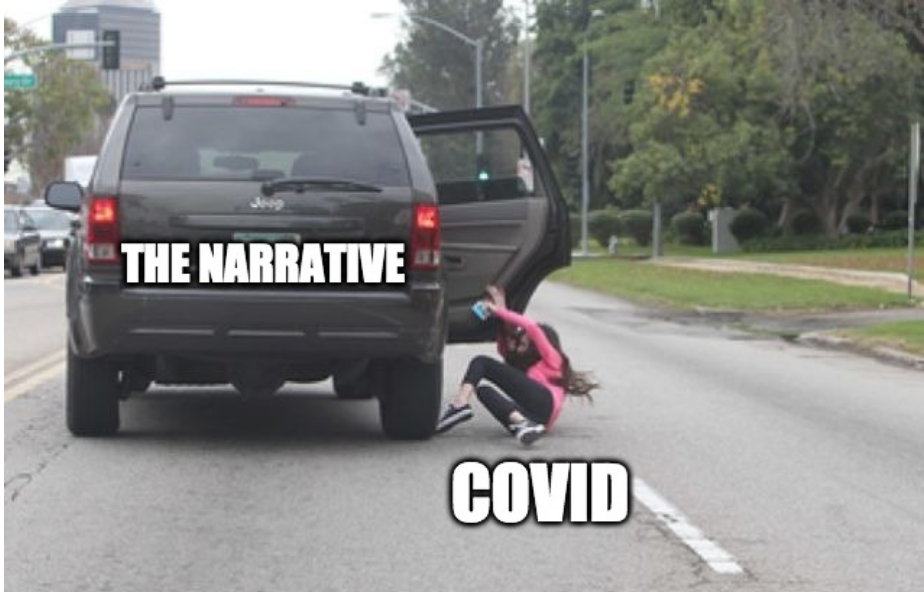 It seems that there is never room for more than one media narrative at a time. Sadly, this is now true even on GB News.
Fortunately, I have a few coronavirus gems from last month.
We must never forget what our notional betters did to us over the past two years.
The UK will hold a formal inquiry, although we do not know when it will start.
On Saturday, February 5, GB News's Neil Oliver delivered a five-star editorial on coronavirus measures in Scotland and other Western nations:
This was the theme:
Well, the narrative certainly changed by the end of the month.
Nonetheless, even as I write, coronavirus measures are still a thing in Scotland. First Minister Nicola Sturgeon has lifted some, with others to go this month. However, it might be some months before all of them disappear north of the border.
This was the state of play in Scotland in early February:
Somehow, Covid still manages to be in our faces – suffocating us bit by bit and all the time.
My children are still required to wear masks at school all day every day – rebreathing their own exhaust fumes for hours at a time.
In Scotland last week, first minister Nicola Sturgeon said her devolved assembly would spend hundreds of thousands of taxpayers' pounds cutting the bottoms off classroom doors so as to improve air flow in schools.
Seriously – that's what she said. Get this: she actually said there's a worry about how much CO2 children are inhaling in improperly ventilated classrooms.
They have to keep the masks on – so that they exist in a permanent cloud of their own, self-generated CO2, held over their mouths and noses like a smothering hand, but rather than let them take off those masks and breathe air like free people should, Sturgeon's proposed solution is to take a saw to the bottom of the classroom doors.
To say you couldn't make it up is an insult to made up things.
The fact that you can open a door to increase ventilation, on account of its hinges, the fact that doors exist in schools at least in part to inhibit the spread of smoke and flames in the event of fire, significantly more of a threat to the lives of children and staff than Covid ever was, has apparently passed Sturgeon by.
But, hey-ho, if there's one thing we've learned after two years, it's that everything is all and only about Covid.
Some days it feels like it always will be.
Covid could and should be behind us, as I have already said, but the powers that be keep pulling it back around until it's front and centre.
[Boris] Johnson announced some sort of an end to restrictions, but still, that air of lives limited, lives controlled, prevails, like the smirking grin that remains after the Cheshire Cat has otherwise disappeared.
And do you want to know why? Because after these two years like no others in our history, Covid is all they've got to explain and to justify everything else.
He took issue with Western governments:
Governments need Covid, and desperately …
All the money we ever had and most of the money we might ever dream of having – they blew the lot on Covid.
And since Covid is all the Governments have got now, by God they're determined to keep it.
Covid, as it turns out, is like a sort of Swiss Army knife, equipped with all sorts of useful little tools for all sorts of jobs, large and small. And meanwhile the evidence of manmade disaster is all around us.
He referred to the Johns Hopkins study that came out a few days beforehand:
A recently published study from the world-renowned Johns Hopkins University, in Baltimore, found lockdowns had had little to zero public health benefits and instead imposed enormous economic and social costs.
Like we didn't know that already, having been there while it was actually happening – but anyway, let's hear it again.
Researchers found lockdowns in Europe and the US lessened the Covid-19 mortality rate by just 0.2 percent.
The authors concluded that lockdown policies are ill founded and should be rejected in future.
Everywhere they were applied – everywhere – lockdowns caused enormous economic and social costs.
He went on to discuss how our various governments 'blew it':
Allow me to summarise those findings even more: Our governments blew it.
Faced with what they told us was the greatest threat to our civilisation in our lifetimes, for a hundred years or more, our governments took a bad thing and, through over-confidence, monumental incompetence and with the dull-eyed stubbornness of mules made it massively worse.
More importantly, when they must have known they were making it worse, they did it again. And again.
Now, rather than take responsibility and own up to their catastrophic failures – maybe say sorry for all the lives ended, lives ruined, lives compromised, a generation of children used like sandbags to protect the vulnerable from a flood, like stab vests worn on the chests of adults – they keep holding up the tattered rags of Covid, like the remnants of a curtain to stop us seeing the reality that lies behind it.
What lies behind that shabby curtain are consequences, and even now those powers that be don't want us looking at them, far less talking about them and thereby understanding the crippling reality of them.
Isn't it convenient that the TPTB now have Ukraine with which to distract us? Thanks, Putin. The news overkill on that is the ultimate distraction.
Oliver then talked about the horrors of quantitative easing:
What they did with money – your money, my money, everybody's money – during the pandemic is what the banks have been doing with money for decades now, and it's largely to blame for the bigger mess we're in now.
Quantitative Easing, they called it – printing money, to you and me.
For decades the tactic applied by the banks, with governments in cahoots, was to print uncountable, unthinkable amounts of money.
"We don't have any money left."
"Well print more, then."
"How much?"
"As much as you like – and keep it coming, I need another super yacht, and so does my mum. No one'll notice. And if they do, say it was Covid."
Imagine a glass of orange squash – a little bit of concentrate, topped up with water.
Tastes like orange, you know how it goes.
Then imagine tipping that glass-full into an empty swimming pool and turning on the taps.
By the time the pool is filled up with water, any orange in the mix is so diluted as to be utterly undetectable.
That, more or less, is what has happened to our money.
The value of our money has been so diluted it is quite literally not worth the paper it's printed on – which probably explains why they don't seem to want to actually print it on paper anymore.
They just add more zeros on their computer screens instead. Look at what they did with some of that pretend money: trillions of pounds worth of debt that will never, ever be repaid.
Billions blown on dodgy PPE, billions handed over as 'Bounce Back Loans' to companies that didn't even exist. Gone.
Those gazillions are gone – and the truly troubling point is that in every way that matters, they didn't really exist in the first place.
Rishi Sunak and Boris Johnson and the like have the gall to say they've got a way to fix the mess.
They might as well try to put out a factory fire by blowing on it.
On account of all that funny money, and then their use of Covid as a hammer to flatten business after business, the economic and financial model we've taken for granted for the last 50 years or more is finally done.
He looked at Covid measures in various countries:
Much of Europe is an interesting watch, to say the least. Austria is a police state now, in all but name, thanks to Covid.
Papers, please! Italy and Germany are much the same.
France would likely go the same way – except President Macron is too properly scared of too many of his own people to go all the way to vaccine mandates.
Instead, he remains committed to making the lives of the unvaccinated as miserable as possible. In Western Australia unvaccinated parents are barred from the hospitals where their children lie sick, dying.
In Canada the GoFundMe organisation has withheld millions of dollars raised in good faith, in support of the truckers protesting vaccine mandates.
What will become of that money, donated by hundreds of thousands of ordinary Canadians, remains unclear.
More and more questions are being asked about the vaccines, all around the world.
Questions about efficacy, about safety, and yet governments like the US, Canada and Australia, as well as here and just about everywhere else continue to dig in, more and more determined to get a needle into every arm on the planet.
Israel is beavering away with injection number four – and the positive cases are spiking in what looks, on the graphs, like a vertical line pointed into space.
With the Covid narrative in tatters now, new weapons of mass distraction are being deployed to stop us thinking too much about the mess.
Enter Putin with his invasion of Ukraine. How timely. In early February, we knew it was coming:
I'd like to say, Don't Mention the War, but of course there's Russia and Ukraine to look forward to as well.
Oliver brought up non-Covid health issues:
There was a GP on the telly last week saying the stress of lockdown is causing heart attacks and strokes.
Well, I never.
He brought up the irony about the silence surrounding all the plastic face masks being dumped into the environment:
Climate crisis and environmental meltdown are back to the fore again – never mind the fact we've dumped trillions of filthy face masks, and Covid tests into that environment, that doesn't seem to matter.
He concluded:
Weapons of mass distraction or not, there'll be no hiding the fuel bills due in a few weeks' time.
People forced to choose between eating and heating tend to behave differently than before.
Energy black hole, Net Zero and its consequences and only pretend money with which to pay for it all.
How much longer can our dear leaders hide behind Covid?
We do a lot of weather forecasting on this channel. I tell you this – there's a storm coming.
Oliver then had Benjamin Loughnane (pron. 'Loknayn') from The Bow Group think tank to discuss the Johns Hopkins study about lockdown. This was also a very good segment:
Richard Tice from the Reform Party also appeared to talk about our leaders' mistakes:
You can see the full show below. Almost all of it concerns coronavirus:
Later in the evening, Mark Dolan presented an excellent editorial on how the media and Government handled the pandemic:
The replies to the tweets were worthwhile, such as this one:
Some of us knew from the beginning that most of the coronavirus measures in Western countries were bogus, but anyone who mentioned that PCRs were picking up old viruses was dismissed as a crank.
Lo, it emerged last month that the intrusive PCR testing was proven to be ineffective in accurately diagnosing coronavirus.
Dolan said (emphases mine):
A major new study confirms that PCR tests are horribly inaccurate. There's a surprise.
According to researchers at the University of Oxford, if you've heard of it, a third of people who tested positive for coronavirus via PCR tests were not contagious and did not need to self-isolate.
The study found that many laboratories are setting the positivity bar very low, meaning they're picking up people, who are – quotes – "a danger to no one".
Hand sanitising is also inconclusive:
Do you remember our blistered skin, in March 2020?
Sing happy birthday twice, as you wash your hands? After which a couple of scientists with half a brain cell, pointed out that the virus is transmitted through the air, via aerosols. No sugar, Sherlock.
Perspex screens in shops — or, in cars, as was the case in France — might not have been a good idea, either:
A report came out in August of last year, suggesting those environmentally catastrophic Perspex screens you see in shops, offices and on TV, may make matters worse.
The Environmental Modelling Group, a panel of 16 SAGE experts, said "There is some epidemiological and mechanistic evidence, that suggests screens could increase risks of aerosol transmission, due to blocking/changing airflow patterns or creating zones of poor air circulation behind screens.
Well done everyone.
The best masks couldn't stop the rise in contagion:
Even where countries have demanded better N95 masks, like Austria, cases have sky rocketed nonetheless.
There was no evidence that vaccine passports stopped the spread:
What about vaccine passports? We're saving lives aren't we?
Except that cases have continued to soar in countries that have implemented these divisive measures, which link your medical status to certain basic rights, freedoms and privileges, including in particular in France and Italy.
The same held true for closing nightclubs:
What about closing nightclubs?
The Welsh first Minister Mark Drakeford, who likes a boogie himself, was able to demonstrate no evidence that closing nightclubs would have an impact on spread.
After two years, our health service is on backlog overload and probably will be until the end of the decade.
Some people's lives are in ruins: closed businesses, relatives' suicides, nervous breakdowns, missed diagnoses of terminal illness. I could go on.
Dolan said:
Two years in which we have incarcerated the healthy, stopped people from going out to work and making a living, closed once viable businesses, wrecked mental health and ignored worse diseases like cancer.
The Telegraph are reporting that up to 87,000 cancer diagnoses may have been missed. And the rest.
If you think Covid is worse than cancer, there is something wrong with you.
But that's been the message of the pandemic response.
'If it's not Covid, they don't care' is something I've heard from so many of you over the last two years.
The famously deadly disease of cancer, that affects all age groups, has been relegated in importance for two years, with tragic consequences that will be with us for years to come, with cases like young mothers who didn't get that lump checked or weren't able to. Well done everyone.
There will be a day of reckoning for what Professor Jay Bhattacharya, one of the most respected medics in the world, has called the biggest public health mistake in history. He's being polite.
Dolan rightly took issue with governments, modellers and the media:
So who's to blame?
Well, weak politicians who panicked in March 2020 and discarded decades of pandemic planning …
I blame the modellers like the randy professor, Professor Pants Down himself, Neil Ferguson, who predicted half a million deaths at the start of the pandemic, which spooked ministers into taking this ruinous path.
Some government scientific advisors predicted 6000 deaths a day if we didn't cancel Christmas …
I blame Sage, who failed to equate economic damage with death.
The University of Bristol have told me that half a million people will die as a result of creating the biggest recession in 300 years. And what about wrecked lives?
It's a question no one has ever been able to answer me. Why is it okay to wreck lives? Of course, it isn't. But wreck them we did. And it's most reprehensible when you think of the needless impact on young people and children, who face vanishing threats from the virus. So who else do I blame?
Well I blame the media …
… I blame the media for offering just one narrative. Lockdowns work, masks work and absolutely everybody's got to have the vaccine.
Now these views are valid, arguably the majority of people and perhaps most scientific professionals think exactly that. No problem. Let's hope you're right, because that's the hell you've put us through.
As data come in from around the world, based upon different approaches, with no obvious difference from where I'm standing, I have my doubts. But remember those press conferences – the Beeb, Sky, ITV – why are we not locking down longer, tougher, harder?
By offering such one-sided coverage of the pandemic, by betting everything on the words of SAGE, and freezing out other scientific voices like Sunetra Guptha, Carl Henegan, Martin Kulldorf and Jay Bhattacharya, the media let us down.
To say that the media have lied to you is a bit strong. But they have not provided the full picture.
And any lawyer will tell you concealing information is tantamount, in its own way, to an untruth.
Shall we be polite and just call it government propaganda? I think that'll do.
I shouldn't name names, but I will. The Mail and the Telegraph are the only papers I can think of that have consistently balanced their reporting and have dared to offer a critique about these debatable lockdowns.
The Guardian is a paper I've always admired and read every day.
But where was their coverage of the Johns Hopkins University report, a meta analysis of 24 studies into lockdown, suggesting the measures saved 0.2% of lives, whilst of course exacting colossal harm.
Not peer reviewed and the study has been done by economists, but worth reporting?
I'd say so.
Sweden got it right. That was something that many of us were criticised for saying offline.
Dolan said:
Sweden have seen a fraction of the economic damage, the societal damage and have had fewer per capita deaths than so many countries that locked down hard.
He concluded:
In the end I think the media have got this wrong – they've backed the wrong horse and they are on the wrong side of history.
So there will be a day of reckoning for their one-sided coverage. But will we ever get an admission of guilt, or dare I say it, an apology? I doubt it.
There will be no contrition. And for all of those well paid and high profile figures in the media – we know who they are – the relentless cheerleaders for these disastrous and, in my view, failed measures, sorry seems to be the hardest word.
Now to the present day.
On Wednesday, March 2, the House of Commons Science and Technology Select Committee gathered oral evidence on coronavirus in a session called 'UK Science, Research and Technology Capability and Influence in Global Disease Outbreaks'. Greg Clark (Conservative) chaired the session.
You can watch it here.
After the first hour, Prof Graham Medley — who exchanged tweets late last year with The Spectator's Fraser Nelson on modelling — gave his oral evidence on SPI-M's modelling of the pandemic. He is SPI-M's chair.
Sorry seemed to be the hardest word for him, too, as he saw no need to apologise for Prof Neil Ferguson's mad models which the Swedes described as 'hysterical'.
Medley told MPs that SPI-M 'didn't have the time' (his words) to calculate the probability or feasibility of their overblown scenarios. They plugged garbage in, and, lo, garbage came out. However, he defended everything. He had no regrets.
Three MPs gently took him to task for the modelling. Labour's Graham Stringer came right out and said that he doesn't trust modelling at all, none of it.
One of the MPs tried to press him on the Twitter exchange with Fraser Nelson. Medley replied:
I wish you wouldn't do that.
In the end, he managed to get himself out of any controversy.
Most of the other MPs wanted to question the person from the behavioural part of SAGE, SPI-B. This person was to have sat along side Medley. However, the SPI-B representative cancelled. How convenient.
Dr Camilla Holten-Møller appeared in the final segment. She is the Chair of the Expert Group for Mathematical Modelling at Statens Serum Institut (SSI) in Denmark. What a breath of fresh air she was.
She admitted that SSI did get one of their models woefully wrong, so they quickly regrouped, studied their mistakes and liaised more closely with university research and clinical groups who provide them with data.
It would be nice if Medley had showed the same candour. As it was, he didn't even look bothered.
I can hardly wait for the formal coronavirus inquiry in the UK. The Science and Technology Select Committee will write a report on this evidence session, as they have with others, and submit it to the Government. The reports will be part of the inquiry process.
The UK had another big weekend of news, which, as I said last week, is unusual, given that Christmas is just around the corner.
One of the big scoops was The Spectator's revelation as to why every SAGE scenario is based on a worst-case outcome.
Fraser Nelson, the magazine's editor, had an online exchange with Graham Medley from SAGE, which can be seen in his article, 'My Twitter conversation with the chairman of the Sage Covid modelling committee', which is a must-read.
Excerpts follow, emphases mine.
Medley is a professor at London School of Hygiene & Tropical Medicine (LSHTM). Last week, LSHTM published another alarming set of figures for the Omicron variant that, naturally, make the case for more lockdowns.
By contrast, JP Morgan came up with a different conclusion after looking at LSHTM's data:
JP Morgan had a close look at this study and spotted something big: all the way through, LSHTM assumes that the Omicron variant is just as deadly as Delta. 'But evidence from South Africa suggests that Omicron infections are milder,' JP Morgan pointed out in a note to clients.
JP Morgan concluded:
Bed occupancy by Covid-19 patients at the end of January would be 33% of the peak seen in January 2021. This would be manageable without further restrictions.
Fraser Nelson says:
So JP Morgan had shown that, if you tweak one assumption (on severity) then – suddenly – no need for lockdown.
Nelson went online to find out why LSHTM didn't do the same thing:
Medley seems to imply that the Government wants the worst case scenario:
Nelson says:
Note how careful he is to stay vague on whether any of the various scenarios in the Sage document are likely or even plausible. What happened to the original system of presenting a 'reasonable worse-case scenario' together with a central scenario? And what's the point of modelling if it doesn't say how likely any these scenarios are?
From what Prof Medley says, it's unclear that the most-likely scenario is even being presented to ministers this time around. So how are they supposed to make good decisions? I highly doubt that Sajid Javid is only asking to churn out models that make the case for lockdown. That instruction, if it is being issued, will have come from somewhere else.
He concludes that there is an ethical issue with SAGE's pronouncements:
Prof. Robert Dingwall, until recently a JCVI [Joint Committee on Vaccines and Immunisation] expert, has said that Medley's candour reveals "a fundamental problem of scientific ethics in Sage" – ie, a hardwired negativity bias. "The unquestioning response to the brief is very like that of SPI-B's behavioural scientists," he says and suggests that the Covid inquiry looks into all this.
At a time when we have just been given a new set of 'scenarios' for a new year lockdown it might be good if someone – if not Prof Medley – would clear up what assumptions lie behind the new 6,000-a-day-dead scenario, and if emerging information from South Africa about Omicron and its virulence have been taken into account. And how probable it is that a double-jabbed and increasingly boosted nation (with 95 per cent antibody coverage) could see this worst-case scenario come to pass.
In my view, this raises serious questions not just about Sage but about the quality of the advice used to make UK lockdown decisions. And the lack of transparency and scrutiny of that advice. The lives of millions of people rests on the quality of decisions, so the calibre of information supplied matters rather a lot – to all of us.
Too right.
I haven't believed SAGE at all, from the beginning. I am also still angry about how much taxpayers' money has been pumped in for a pandemic that needed a common sense solution in March 2020, such as, 'There are a lot of unknowns here. We will provide updates. However, we advise that anyone who feels sick to get a test then isolate at home for 10 days. Keep your distance from those outside your household. Keep your hands clean. Above all: use the same precautions you would in any potentially contagious environment.'
That's it in a nutshell. Not a lot more needed to be said.
But no.
We plebs couldn't have that. We cannot be trusted.
Chief Medical Officer Prof Chris Whitty implied that we do not know what we are talking about.
This video is from Whitty's appearance before a parliamentary Select Committee on Thursday, December 16. Dean Russell MP (Conservative) asked him whether the NHS risks prioritising the virus over cancer. While it might not be Dean Russell's view, this is a prevailing opinion among many members of the public.
Whitty wasted no time in shooting that down, saying that we do not understand 'health' and insisting that lockdowns helped to save the NHS, which would have collapsed otherwise. Along with Prof Gordon Wishart, I also beg to differ, but here is the exchange:
People are frustrated:
General practitioners are wrapped up in this, too:
Coronavirus has overtaken their surgeries. It was already nearly impossible to get an online appointment, never mind one in person. As of last week, GPs' priority from the Government is to dispense boosters:
No, pandemics are not a regular occurrence, but the NHS should be prepared to deal with one.
On Monday, December 20, Boris convened the Cabinet for a two-hour meeting to discuss the possibility of imposing a Christmas lockdown in England. Sir Patrick Vallance presented a doom-and-gloom scenario.
Bear in mind that Boris is skating on thin ice at the moment politically. A lockdown might have caused some of them to resign their Cabinet positions.
In the end, they decided not to go for a lockdown in England, at least over Christmas weekend:
Well, five of them did, at least.
Foreign Secretary Liz Truss had to leave early:

Guido Fawkes has more (red emphasis his, the purple one mine):
The Times and Telegraph have the most comprehensive write-ups, reporting Rishi, Steve Barclay and Grant Shapps were those leading the sceptics' charge. The Times reports Jacob Rees-Mogg had a prolonged argument with Vallance about their modelling, telling Boris to trust the people rather than the scientists. Truss, Kwarteng, Alister Jack, Nadhim Zahawi and Nigel Adams are all also reportedly sceptical about the threat of Omicron…
On the other side of the divide backing restrictions, according to The Telegraph, are (unsurprisingly) Javid and Gove; Nadine Dorries and Chief secretary to the Treasury Simon Clarke. We can only presume the PM also errs towards this group. There's set to be one more Cabinet before Christmas day that could still decide to recall MPs before New Year.
Katy Balls of The Spectator reports that this is the first time in ages that the Cabinet has been consulted on coronavirus policy:
So what happened in that meeting? 'Boris did a great job and encouraged a proper discussion and respected other views,' says one minister. 'He had quite a lot humility'. Michael Gove was, as usual, leading the arguments for more lockdown. But this was based on Sage forecasts of what might happen which have lost some credibility in the eyes of Cabinet members who were — for the first time in a while — genuinely being consulted.
Boris knows he's in trouble:
Several members of Johnson's Cabinet are vocally opposed to new restrictions. They argue that there needs to be clearer data before any restrictions are brought in – with whispers of resignations if Johnson pressed on without this. These members of government hope that more time will offer clarity that could show omicron is milder than previous variants.
Behind the scenes, the Chancellor is understood to have played a key role warning against rushing into decisions that could cost billions. Other ministers keen to see more modelling include Commons leader Jacob Rees-Mogg and Transport Secretary Grant Shapps ("although it was never quite clear what he was saying," I'm told.) Other ministers have been pressing on Johnson the idea of limiting any new measures to guidance.
But when Johnson emerged talking about the need to observe the data, and questions about Omicron's severity, he was using the language of those who opposed lockdown. They argue, in effect, that Sage models cannot be trusted as they are composed of hypotheticals – and that we need to wait for real-world data. The next few days of hospital data, it's argued, will tell us much about how severe Omicron is and if lockdown is needed. Data is emerging not just from South Africa (where cases now seem to be falling) but Denmark where Omicron has been found to be significantly less likely to put patients in hospital. At least some Sage modellers produced figures on the assumption that Omicron is no less likely to hospitalise or kill: one scenario talks about deaths peaking a day …
Johnson faces a parliamentary party filled with MPs vehemently opposed to any new restrictions and who could question his ability to lead as a result. When the Whips office sent a note around this afternoon telling MPs that the parliamentary away day has been cancelled, one messaged me to say:
'It's probably for the best. If we were all in one place for a few days, we could work out a successor'
But there are Tory MPs who believe action is required. One senior Tory concludes:
'This is a Prime Minister paralysed between science and his backbenchers. It's depressing.'
The Times reports on Leader of the House Jacob Rees-Mogg's words of wisdom. He, too, read Fraser Nelson's article. Good man:
Jacob Rees-Mogg, leader of the Commons, said the government should trust people to do the right thing rather than introduce further restrictions. He said many people had voluntarily changed their behaviour as the threat posed by Omicron became clear.
The prime minister said Rees-Mogg's argument was interesting but asked how he would justify his approach at a press conference. He said that as prime minister he had to look after everyone's health. Rees-Mogg is understood to have responded: "I would stand up and say I respect them for doing the right thing." The prime minister is said to have suggested that this would not be enough if the NHS were at risk of being overwhelmed.
Rees-Mogg is also understood to have criticised official modelling suggesting that without further action 3,000 Omicron patients a day could need a hospital bed. He asked if Johnson had read an article by Fraser Nelson, editor of The Spectator, questioning the assumptions behind the data.
Sir Patrick Vallance, the chief scientific adviser, is said to have responded directly to Rees-Mogg that the modelling had included scenarios where the Omicron variant was deemed less severe than the Delta variant.
If so, why did Vallance not present those data?
Boris made a brief announcement after the Cabinet meeting, saying that he is still keeping all options open after Christmas:
On Wednesday, December 22, Health minister Gillian Keegan told LBC's Nick Ferrari not make firm plans for New Year's parties because of ongoing 'uncertainty':
As people have been cancelling dinner reservations and reneging on trips to the pub, Chancellor Rishi Sunak has had to come up with a £1bn compensation plan for the hospitality sector, which amounts to £6000 per business. A nightclub owner says it's 'insulting'. I agree with the person replying — just drop any remaining restrictions:
When is this going to end?
Oh, well. At least we're not in the socialist nations of Scotland or Wales, where things have been far worse and continue so to be.