You are currently browsing the tag archive for the 'Grant Shapps' tag.
Candidates for the Conservative Party leadership race began putting their hats in the ring last weekend.
Many of those MPs are promising everything, and pundits are having a field day in the press:
While it is true to say that a lot of them are alike — yet not all — in policies, let us look at the diversity among the original 11 candidates:
Among those original 11, we had five women and six minority candidates.
No one can say today, as Theresa May did many years ago, that the Conservatives are the 'nasty party':
The Conservatives had no quotas. These MPs merely had to come forward and declare their interest in the leadership contest.
As I write in the early afternoon of Wednesday, July 13, we now have eight candidates.
Four are women and four are from racial minorities:
Brexit Leaver and former Labour MP Kate Hoey, now an unaffiliated Baroness in the House of Lords, told Mark Steyn of GB News how pleased she is that the Conservatives managed to accomplish what Labour only talk about:
How the winner is chosen
Late on Monday, Sir Graham Brady, chairman of the 1922 Committee of backbench MPs, announced the Conservative Party leadership rules. The loud voice heard in the background is none other than the daily disrupter, Steve Bray:
Darren McCaffrey of GB News has more:
The goal is to have a new Prime Minister in place by September 5, when Parliament returns from summer recess.
Conservative MPs will participate in a series of voting rounds between now and July 21, when Parliament goes into summer recess. The final two MPs on the list will then spend the next several weeks going around the country to campaign to Conservative Party members.
Party members will receive a ballot with the final two names and vote for their choice.
GB News has more on how the voting will proceed, beginning on Wednesday, July 13:
Sir Graham said the first ballot will be conducted on Wednesday with candidates required to obtain backing from a minimum of 20 MPs.
In the second ballot, on Thursday, MPs are required to obtain support from 30 MPs in order to progress to the next round, accelerating to the final two as soon as possible.
Disillusionment and a wish for Boris to return
Conservative voters, including those who are not Party members, are disillusioned about this contest.
Many wish that Boris Johnson's name were on the ballot. This petition to 'reinstate' him 'as Prime Minister' has garnered 15,000 signatures in only a few days. However, Boris is still Prime Minister, just not the leader of the Conservative Party.
Neil Oliver, not a Boris supporter, by the way, tweeted that the leadership decision has already been made:
It is rumoured that Bill Gates arrived in England just before Boris resigned. If true, that would not come as a surprise:
Bob Moran, the former Telegraph cartoonist, hit the nail on the head as he expressed the sentiment of many of those who voted Conservative in 2019. We also need an outsider to win so that we have some fresh thinking in Downing Street:
A number of the candidates have ties with the World Economic Forum. One is known to be friends with Bill Gates. Ideally, we would have transparency in this area:
Former Chancellor Rishi Sunak has been in the lead since the contest began. He was one of the first two main Cabinet members to announce his resignation last week. Former Health Secretary Sajid Javid was the first.
It has come to light that the photo of the Downing Street drinks party held during lockdown in 2020 was taken from No. 11, where Rishi Sunak worked. Some people think that Boris's then-adviser Dominic Cummings played a part in getting those photos released to the press. Did Rishi know?
Sajid Javid declared his candidacy, possibly taking a pop at Rishi Sunak's slick candidacy operation.
On Monday, July 11, GB News reported:
Former Health Secretary Sajid Javid addressed media gathered at Westminster this afternoon, outlining his leadership bid.
Mr Javid said "I don't have a ready made logo or slick video ready to go", adding: "I have a passion and desire to get Britain on the right course."
Acknowledging his resignation last week, Mr Javid said "Five days ago I stood up in Parliament and I spoke from the heart and I believe I spoke in the national interest."
Former Prime Minister Boris Johnson endured a series of scandals throughout his premiership, most recently Partygate and the allegations against Chris Pincher.
Addressing the ongoing investigations, the former Health Secretary said: "We need a leader who makes credible promises."
He added that "our party has lost its way".
Javid bowed out late on Tuesday. No one was disappointed:
Rishi, on the other hand, seems to have had his candidacy in mind for some time, since 2020. Interesting:
Note his professional campaign logo in the upper left hand corner of this tweet:
Guido Fawkes has a critique of the various logos, some of which have been rushed to market, as it were.
To make matters worse, rumours have circulated about infighting and dirty tricks among Conservative MPs. The public have taken note:
The Sun's political editor, Harry Cole, tweeted:
On that note, is it possible that Conservative Party members might not even get a vote should one of the final two winners concede to the other? That is what happened in 2016, when Theresa May became PM. Andrew Bridgen MP thinks this is a possibility:
Voting records
This graphic (credit here) shows how the candidates have voted in Parliament on various issues:
Candidates who bowed out
Let us look at the candidates who have bowed out thus far.
Sajid Javid
Conservative voters thought that Sajid Javid was a safe pair of hands as Health Secretary until he started laying out his coronavirus wish list. Only last month, Desmond Swayne MP pointed out the online job advert for a national manager of coronavirus passports:
On July 10, Javid appeared on a Sunday news programme.
He promised tax cuts. No surprise there. It was also unconvincing, considering the tax burden we have been under the past several months, possibly higher than we would have had under Labour's Jeremy Corbyn:
Javid also discussed his non-dom status, which is curious, as he was born in Rochdale:
On Tuesday, July 12, broadcasting from Northern Ireland, Mark Steyn said this about Javid's bowing out of the race:
Rehman Chishti
Rehman Chishti had an even more lacklustre campaign.
He was still on the fence last Saturday, proving that dithering gets one nowhere quick:
He declared on Sunday. Unfortunately, the photo is not a good one:
He dropped out on Tuesday:
Grant Shapps
Transport Secretary Grant Shapps declared his candidacy on Saturday, making much of his loyalty to Boris (Nadhim Zahawi is pictured below):
He appeared on Sky News on Sunday morning.
Meanwhile, viewers and voters rooted round to find out more about Shapps's parliamentary career.
Cabinet of Horrors has a fascinating profile of him, the first half of which follows (emphases mine):
Grant Shapps resigned as a minister in 2015 following revelations of his involvement with a bullying scandal that had led to a young Conservative Party activist taking their own life. Few would have imagined he could ever be reappointed to cabinet, still less to a more senior role. But in July 2019 Boris Johnson replaced the hapless and incompetent Chris Grayling as Transport Minister with someone even more discredited: Grant Shapps.
Then again, Shapps is no stranger to the art of reinvention. Indeed, he has proved remarkably inventive with his own identity.
In 2012, one of his constituents noticed that, while working as an MP, Shapps had also been peddling get-rich-quick-schemes online under the assumed names 'Michael Green' and 'Sebastian Fox'. The schemes, marketed by Shapps' company How To Corp under such titles as 'Stinking Rich 3', promised unwary punters that they could make large amounts of money very rapidly if they followed 'Michael Green's' instructions.  These included the instruction to recruit more punters to sell get-rich-quick schemes to the public – a classic feature of pyramid-selling schemes.
Shapps at first attempted to deny this, saying: 'Let me get this absolutely clear… I don't have a second job and have never had a second job while being an MP. End of story.' He also threatened to sue the constituent who had uncovered what he had been up to. Days later, he was forced to admit the truth, though he did this in a characteristically slippery manner, saying that he had 'over-firmly denied' the story.
One might think that being exposed as a liar, a huckster and a bully would have led to an immediate end to Shapps' career in politics. Instead, he was demoted from cabinet but handed a more junior ministerial portfolio and allowed to continue as co-chair of the Conservative Party.
On Sky News's Sunday news programme, Shapps presented his credentials.
He was squeaky clean. Hmm:
He took credit for Boris's resignation as party leader. Really?
He promised a tax cut:
He said he was relaxed about identity issues:
And he was sure he had the numbers:
Then, suddenly, he didn't.
Oh, well. Too bad.
Conservative Party voters name their candidates
Since the weekend, various polls have been conducted of rank and file Party members.
The results go against the MPs' wishes.
This is where MPs are as voting opens on Wednesday afternoon. I'll post results tomorrow:
A Conservative Home poll (image credit here) shows that Party members want either Penny Mordaunt or Kemi Badenoch to win. Rishi Sunak is a distant third on 12.1% support:
The next poll shows the wishes of Conservative members in Mrs Thatcher's birthplace of Grantham, part of the Grantham and Stamford constuency. They are not fans of Rishi Sunak, either:
However, Rishi does top another poll of Conservative and other voters. Note the Don't Know (read Boris?) percentage:
Some dispute the results. However, as someone points out, this could have to do with name recognition from news programmes and the papers:
I'll have more on today's vote tomorrow.
'No one is remotely indispensable'.
So were the words of Boris Johnson as he stood in front of Downing Street in the early afternoon of Thursday, July 7, 2022, to announce that he was standing down as Conservative leader. He said that he planned to stay on as Prime Minister until a new leader is chosen.
Boris's resignation speech
The Prime Minister's speech is just over six minutes long:
Knowing how quickly the leadership contests moved in 2016 (David Cameron to Theresa May) and in 2019 (May to Johnson), we are likely to see a new party leader in place before Parliament's summer recess. Regardless of what news outlets say, it no longer takes two or three months. The timing — i.e. summer resignations in all three cases — will accelerate because of recess.
Guido has the transcript of Boris's speech, excerpts of which follow (I've put in punctuation, paragraphs and emphases):
It is now clearly the will of the parliamentary Conservative party that there should be a new leader of that party and, therefore, a new Prime Minister and I have agreed with Sir Graham Brady, the chairman of our backbench MPs [the 1922 Committee], that the process of choosing that new leader should begin now and the timetable will be announced next week.
And I have today appointed a cabinet to serve – as I will – until a new leader is in place.
So I want to say to the millions of people who voted for us in 2019 – many of them voting Conservative for the first time — thank you for that incredible mandate, the biggest Conservative majority since 1987, the biggest share of the vote since 1979.
And the reason I have fought so hard for the last few days to continue to deliver that mandate in person was not just because I wanted to do so but because I felt it was my job, my duty, my obligation to you to continue to do what we promised in 2019, and of course I am immensely proud of the achievements of this government …
He went on to list Brexit, the coronavirus vaccine rollout, coming out of lockdown the earliest of any other Western nation and showing leadership with regard to Ukraine.
He clearly regretted that he had to stand down:
If I have one insight into human beings it is that genius and talent and enthusiasm and imagination are evenly distributed throughout the population but opportunity is not, and that is why we need to keep levelling up, keep unleashing the potential of every part of the United Kingdom. And if we can do that in this country, we will be the most prosperous in Europe.
And in the last few days I have tried to persuade my colleagues that it would be eccentric to change governments when we are delivering so much and when we have such a vast mandate and when we are actually only a handful of points behind in the polls, even in mid term after quite a few months of pretty unrelenting sledging, and when the economic scene is so difficult domestically and internationally. And I regret not to have been successful in those arguments and, of course, it is painful not to be able to see through so many ideas and projects myself.
But as we've seen at Westminster, the herd is powerful and when the herd moves, it moves and,
my friends, in politics no one is remotely indispensable.
And our brilliant and Darwinian system will produce another leader equally committed to taking this country forward through tough times, not just helping families to get through it but changing and improving our systems, cutting burdens on businesses and families and – yes – cutting taxes, because that is the way to generate the growth and the income we need to pay for great public services.
And to that new leader I say, whoever he or she may be, I will give you as much support as I can and, to you the British people, I know that there will be many who are relieved but perhaps quite a few who will be disappointed. And I want you to know how sad I am to give up the best job in the world, but them's the breaks.
I want to thank Carrie and our children, to all the members of my family who have had to put up with so much for so long. I want to thank the peerless British civil service for all the help and support that you have given, our police, our emergency services and, of course, our NHS who at a critical moment helped to extend my own period in office, as well as our armed services and our agencies that are so admired around the world and our indefatigable Conservative Party members and supporters whose selfless campaigning makes our democracy possible.
I want to thank the wonderful staff here at Number Ten and, of course, at Chequers and our fantastic protforce detectives – the one group, by the way, who never leak.
And, above all, I want to thank you the British public for the immense privilege you have given me.
And I want you to know that from now until the new Prime Minister is in place, your interests will be served and the government of the country will be carried on.
Being Prime Minister is an education in itself. I have travelled to every part of the United Kingdom and, in addition to the beauty of our natural world, I have found so many people possessed of such boundless British originality and so willing to tackle old problems in new ways that I know that even if things can sometimes seem dark now, our future together is golden.
Thank you all very much.
Boris delivered his speech in a normal, matter-of-fact way, which was good, especially given the circumstances.
Now that he has resigned from the Conservative leadership, some ministers are willing to come back into Government for the interim period.
As such, Boris held a Cabinet meeting at 3 p.m. today:
Those who read my post from yesterday will recall that I had not expected to cover this development until next week at the earliest.
However, yesterday afternoon into this morning was pure political carnage.
Wednesday, July 6
Junior ministerial resignations continued to pour in throughout the day, into the night.
Mid-afternoon, Boris held a second online meeting with Conservative MPs:
Guido has the story (emphases in red his):
In a sign of a continuing effort to hold on to his job, the PM has held a second meeting of Tory MPs in his parliamentary office, just 19 hours after his last meeting. Last night's turnout was said to be around 80 – today's turnout is said to have fallen to around 30. A loyalist MP spins that the PM was in a "buoyant mood and keen to get on with the job". Presumably he was just happy his PMQs slagging was over and done with…
Boris apparently pointed to polls narrowing to "about five points" and left his reduced coterie of supporters under no doubt that "he's going nowhere… no chance of stepping aside". We'll see what the 1922 Committee has to say about that this evening…
Guido's mole concluded that "Basically the current challenge is all about personality and not policy. It's a coup attempt before recess" The timetable observation is, at least, objectively correct…
At 3 p.m., Boris appeared for 90 minutes before the Liaison Committee, which is comprised of all the MPs who head Select Committees.
They grilled him on his performance and whether he would resign.
I've never seen anything like it. You can watch the proceedings using the link below:
These were the topics of discussion and the names of the MPs questioning him. Sir Bernard Jenkin chaired the session. Conservative MPs Tobias Ellwood and Jeremy Hunt might have their eyes on the leadership. Boris defeated Hunt in the 2019 contest:
All were brusque, including Bernard Jenkin, sadly.
That said, in May, Jenkin did write to the Leader of the House, Mark Spencer, to express his disappointment that some Government ministers were not appearing as scheduled before Select Committees:
The Liaison Committee were vipers. They were on the attack relentlessly.
Boris stood his ground. He reminded one MP that, in 2019, he had more than doubled the number of sitting Conservative MPs:
He also stated that he did not want another unnecessary general election when he had a clear mandate from the electorate to carry out. You can see how nasty Bernard Jenkin got in this short exchange:
Huw Merriman went so far as to send Sir Graham Brady, Chair of the 1922 Committee, a letter of no confidence during the session:
Meanwhile, Guido Fawkes and his team were busy updating Wednesday's list of resignations.
The 1922 Committee was — perhaps still is — considering a rule change allowing for more than a 12-month gap between votes of confidence in a Prime Minister. Pathetic.
Guido has the story (purple emphases mine):
There are some reports that the 1922 Committee may move in the next 24 hours-or-so to dispose of the PM. Bloomberg is reporting that "The Tory backbench 1922 Committee will meet at 5 p.m. Wednesday and will discuss changing the rules to allow another party-leadership ballot. If there is a majority opinion in favor, a ballot could be held as soon as next week." James Forsyth of the Spectator reports rule change or not, a senior committee member tells him "they now favour a delegation going to Johnson to tell him that it is over and that they will change the rules to allow another vote if he doesn't quit".
Guido's post has a list the 1922's executive members and whether or not they favour this rule change.
Later on, the 1922 decided not to change the rules — for now — because they will be holding their executive election on Monday, July 11:
Guido reported:
Surprisingly the 1922 executive has decided against changing the rules to allow a second vote of no confidence in the PM. Instead executive elections will go ahead on Monday, 2pm to 4pm. 
Critics of the prime minister are organising a slate of candidates who are expected to win a majority of places, given most backbenchers voted to oust Johnson in last month's vote. They are then expected to endorse a rule change.
During the afternoon, it was rumoured that the Chief Whip, Chris Heaton-Harris, was going to tell Boris that time was up.
Boris was hemhorrhaging support. The resignations were coming thick and fast from junior ministers. This is how it is done. The same thing happened when Labour wanted rid of Jeremy Corbyn as leader:
I used to like most of the Conservative MPs. Given what happened yesterday, I am not so sure anymore.
Those who have gone down in my estimation include former Equalities Minister Kemi Badenoch; Lee Rowley; Liam Fox; Red Wall MPs Dehenna Davison, Jacob Young and Jo Gideon; Ed Argar and former Welsh Secretary Simon Hart.
And that's not counting the rest of them that Guido has named, including those from Tuesday.
The only one I'm willing to give a pass to is Lee Anderson.
The hubris and hypocrisy got worse.
Attorney General Suella Braverman appeared on Robert Peston's show on ITV that night to announce her withdrawal of support for Boris. I really had expected better of her, especially as Peston has been anti-Boris for years. To add insult to injury, she went on to announce on his show that she would be running for leader:
Cabinet members visit Boris
Just before 5 p.m. a small Cabinet delegation visited Boris in Downing Street.
Guido wrote:
A Cabinet delegation of Nadhim Zahawi, Grant Shapps, Brandon Lewis, Simon Hart and Michelle Donelan are currently waiting in Downing Street to tell Boris the jig is up, and it's time for him to step down. Kwasi Kwarteng has also reportedly lost confidence. Beginning of the end…
Note Michelle Donelan's name in that list. Boris had just made her Education Secretary after Nadhim Zahawi moved into the Chancellor's role.
What did Michelle Donelan do? She resigned after 36 hours in the role:
Yes, of course, she got a pay out — one of £16,876.25:
The others got pay outs, too. I read that the total for ministers who resigned is over £120,000.
That's not a Conservative plan, by the way.
That's how the system works.
The caboose
Just before midnight, the final resignation of the day rolled in, that of Gareth Davies, making him the 35th that day. There were ten more from Monday as well as Michael Gove, summarily sacked. It's hard to disagree with the person comparing this to Trump:
Michael Gove
It was time for this duplicitous man to go. I never trusted him and never will.
When he turned from supporting Boris in the 2016 leadership campaign to start his own before supporting Theresa May, he stabbed him in both the front and the back.
One thing we have learned during Boris's premiership is that he — Boris — is one to forgive.
He made Gove part of his Cabinet in various high profile roles.
On Wednesday, Gove decided to tell Boris to resign:
Gove, most recently the Levelling Up minister, was conspicuous by his absence in the House of Commons. He missed Prime Minister's Questions:
News emerged at 9:30 that Boris sacked Gove — via a telephone call:
I will be very disappointed if Gove returns to a Government role. He is a Scot who, in my opinion, is too young at the age of 54 to appreciate the Union fully, and he does not have the Englishman's best interests at heart.
I've never heard him say anything about England other than to do away with English Votes for English Laws (EVEL) in 2021. As the then-Chancellor of the Duchy of Lancaster, he deemed it unnecessary in Parliament. It was a quick, quiet moment in the Commons. I do wonder why it went unchallenged by English MPs.
Yet, the English are the ones who have been overlooked the most over the past 25 years, beginning with Tony Blair, a quasi-Scot who pumped our Government and media full of many more Scots, e.g. Gordon Brown, to name but one. My apologies to Scottish readers, whom I admire greatly, but it is true.
Christian Calgie from Guido's team explains that Boris might have sacked Gove because, unlike the Cabinet secretaries who had descended upon him earlier, Gove allegedly told Boris to resign:
By the end of Wednesday, it became clear that Boris was not about to leave:
Guido reported:
Guido has had it confirmed by a PM ultra loyalist that Boris Johnson is not resigning tonight, and is understood to be planning a reshuffle. The news will spark further senior cabinet resignations…
According to reports, Boris sat down individual members of the Cabinet – including those involved in the coup – and cited his 2019 mandate, as well as the belief the government needs to spend the summer focusing on the economy and not a leadership election …
I watched four hours of analysis on GB News on Wednesday, beginning with Nigel Farage …
… and concluding with Dan Wootton, who had a great interview with Boris's father Stanley Johnson (see the 1 hour 15 mark, or, if the GB News clock shows, 10:21). Stanley is a big supporter of his son, which was heartening to see:
Thursday, July 7
Conservative ministers continued to resign en masse on Thursday morning, July 7.
Guido has a timeline of resignations and other events of the day.
Just before 9 a.m., Chancellor Nadhim Zahawi sent Boris a formal letter requesting his resignation.
Just after 9 a.m., Defence Secretary Ben Wallace — also thought to be a candidate for Conservative leader — tweeted MPs to say that they should make use of the 1922 Committee to get rid of Boris:
At 9:07 a.m., news emerged that Boris agreed to resign as Conservative Party leader. I agree that the next demand from the braying hypocrite hyenas in the media will be a call for a general election. Disgusting:
Guido reported:
Chris Mason has been told the PM has agreed with Graham Brady that he will resign, allowing a Tory leadership race to take place ahead of the Tory Party conference in October. A letter has been written. He'll quit as Tory leader today. Guido's frankly not sure how Boris can stay on for the summer with so many ministerial holes in his government…
Perhaps we can get by with fewer ministers, as someone said in Parliament this morning.
I hope that Boris's Cabinet meeting at 3 p.m. went well.
Not everyone has been happy with the coup so far. Former Conservative Prime Minister John Major is fuming. It's interesting he never reacted like that about David Cameron or Theresa May:
In brighter news, Boris's loyal friend from Ukraine rang him with his condolences and thanks:
1457: PM has spoken to Zelensky on the phone. Finished the call by praising him: "You're a hero, everybody loves you."
Yes, well, I wished our MPs loved Boris as much as President Zelenskyy does.
Ladies and gentlemen, this was a coup.
It was for a ridiculous reason, too: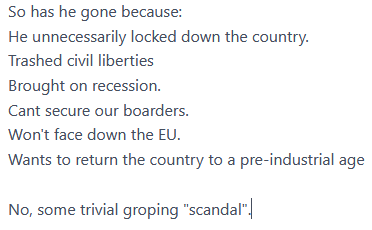 Don't forget: this was ALL ABOUT BREXIT.
More to follow next week.
On the first Thursday in May 2022, the UK will hold local elections.
It is unclear how well the Conservative Party will do, given sudden cost of living increases across the board, all of which occurred on April 1. Oh, were that this an April Fool joke. Sadly, it is all too real.
On April 3, Tim Stanley recapped the Conservatives' self-inflicted wounds for The Telegraph: 'The nannying Tories face oblivion if they refuse to get their priorities straight'.
Excerpts follow, emphases mine, except for Guido Fawkes's posts below:
The same day the gas bill doubled, it snowed. Oh, and restaurants were mandated to list calorie counts on menus. After 12 years in office, the Tories have gone from trying to fix the state to trying to fix us, so we'll be less of a shivery, fat burden on the bureaucrats. Don't eat, they advise; don't fly, don't drive, avoid using the heating. In fact, it would be helpful if we could stop existing altogether. The NHS would look good on paper if no one used it, and we'd have a zero per cent failure rate in schools if no one ever sat an exam.
As MPs take a break from Parliament this week, the Tories need to dwell on what they have actually done and what there is to do. This all hinges upon the question of who they truly represent. Considering they were elected to clear up the economic mess left by Labour, it's a bummer to note that debt is higher than under Gordon Brown, the tax burden rising and living standards crashing. We cannot blame ministers for a pandemic or a war, it's true, but the Conservative Party's solutions are near-indistinguishable from New Labour's, and the alternatives rarely aired. Last week, I sat in on the Treasury Committee's "grilling" of Rishi Sunak and the two points I never heard made were "you are spending too much" and "how dare you take my constituents' money to do it". The anger is not there. No party in Westminster stands for the consumer.
It was heartening to see that Stanley shares my impressions of parliamentary debate — virtue signalling, for the most part, including from Conservative benches:
This is not merely a crisis of philosophy, it is undemocratic. MPs are supposedly elected to do what their constituents want, but too many of them, as soon as they arrive in Westminster, are absorbed into a culture that has a uniform idea of what voters need, a total plan for life that runs from reducing carbon to dropping enough weight to fit into a size six dress (even better if you're a fella!). Half the debates are toe-curlingly pious nonsense that does the electorate no benefit except to reassure them that their MP is spectacularly compassionate – and the more laws you pass, goes the logic, the more money we splash, the more compassionate they appear to be. Ergo, the most important metric for success in 2022 is how much the Treasury is spending, not the results.
It's maddening to contemplate that nothing is ever done about situations past and present that affect many Britons:
Where to begin? The Ockenden report has stated that more than 200 babies and nine mothers might have survived were it not for failings at the Shrewsbury and Telford Hospital Trust. During the lockdown, the Government allocated around £37 billion for the deeply inefficient Test and Trace project. It lost £4.9 billion in loan fraud. Not one police officer has been sacked in relation to the Rotherham child abuse scandal. And the same Home Office that struggles to kick out foreign-born criminals finds it strangely difficult to let in Ukrainian women and children.
And we're paying for this incompetence, while an independent body that Labour created years ago just gave all MPs a 2.7% pay rise:
You are paying for all this, and likely paying more thanks, despite [Rishi] Sunak's tinkering, to a combination of National Insurance changes and inflation dragging people into ever higher tax bands. The Chancellor, in his munificence, says he plans to cut income tax in 2024, which means the British government is now handing out IOUs. At the same time, he is also bunging us £200 to help with the electricity bills, a sum that the state will reclaim at a later date, which means it's also entered the habit of writing "UOMes". MPs are getting a wee grant of their own. Their salaries will rise by 2.7 per cent, or £2,212.
The Government has become more intrusive and we have less money in our pockets:
… thanks to Covid, the public sector has been calling the shots since 2020, while the burden of wealth and power has shifted decisively away from the individual. Does this feel like a freer society than 12 years ago? Or a happier one? Paranoia and suspicion are not only widespread but encouraged (adverts on the London Underground now warn against "staring"), and privacy is dead. I can remember when we were told to protect our data. Now, just to take a train to Belgium, I have to prove my vaccine status by downloading the NHS app, send it a photo of my driving licence and record a video of my face reciting a series of numbers. Do I trust the NHS will delete all this information once used? Bless you. I'd sooner invite a rabid fox to babysit the chickens …
Voters, in the eyes of far too many, are spreaders of disease or pollution (in the opinion of some of the old ladies who glue themselves to roads, we ought even to stop breeding), and pockets of money waiting to be tapped.
What is a truly conservative concept of government?
… the old-fashioned principle of offering us the best possible service at the lowest possible price …
Small government doesn't mean "no government" but more efficient government – more effective precisely because it limits itself to a narrower range of tasks at which it can excel. Drawing a line under the Trimalchio's feast of a Spring Statement, the Tories must spend the time they have before the next election peeling back the bureaucracy where it is not needed, passing the benefits on to the people who have been robbed to pay for it, and coming up with creative ways to encourage the private sphere to revive. I don't just mean conjuring up new markets in insurance or energy, but also unleashing culture and technology, faith and family, the very things that make life worth living.
Bravo!
Ultimately, Stanley says:
The paradoxical goal of conservative politics is to make politics less important in everyday life, and while it might sound hopelessly idealistic to expect powerful people to surrender power, unless the Tories try to reduce the state, they will eventually lose office altogether. The time will come when voters finally snap, and take it away.
Let us look at a few more news items on this subject.
A week or two ago, someone sent in a letter to The Telegraph illustrating how much the Government is taking in tax. This is an alarming practical example: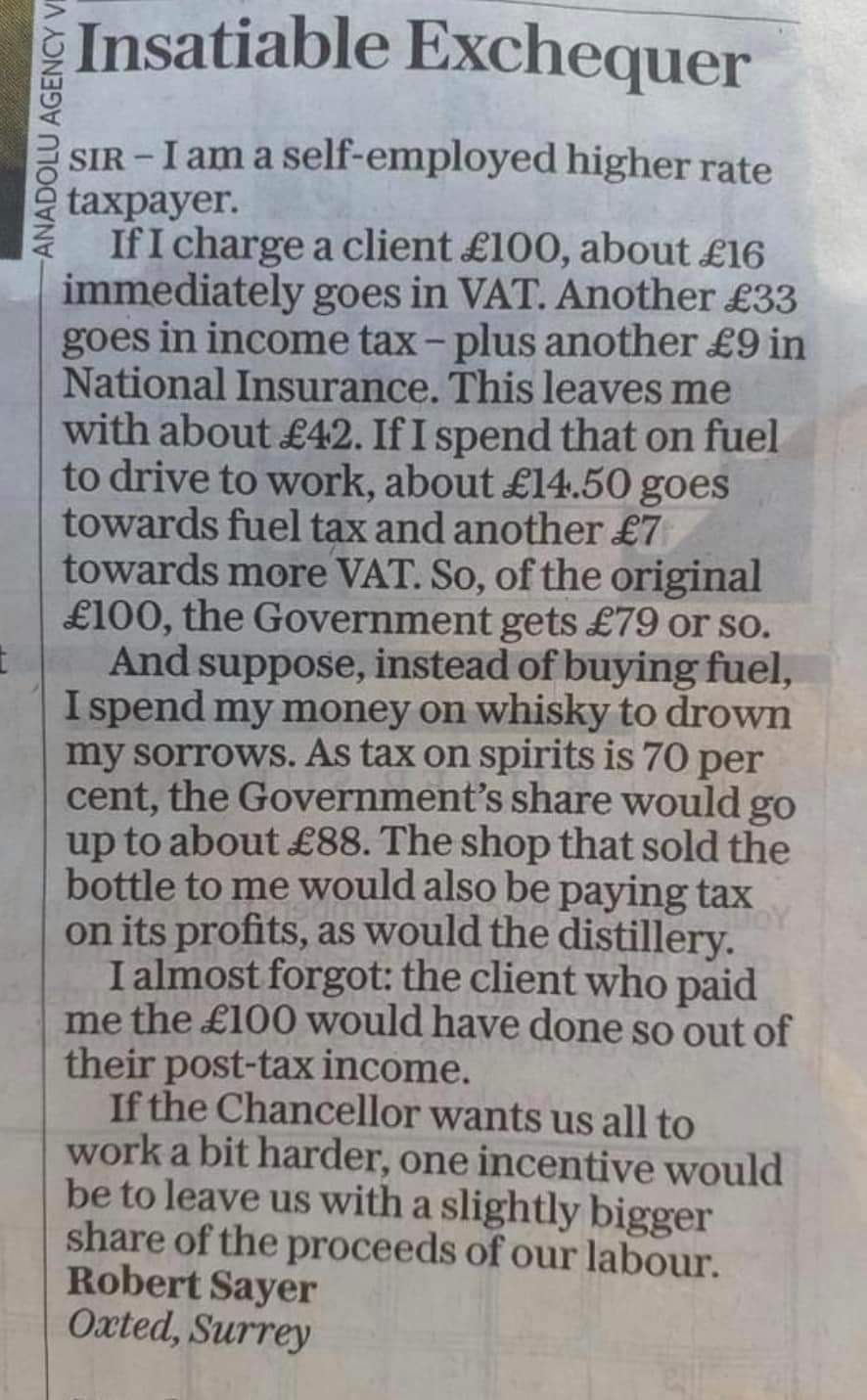 Now let's look at Net Zero, the Government's pet project, initiated by then-Prime Minister Theresa May.
This is a practical illustration of the folly of electric cars, written by conservative columnist and broadcaster Iain Dale for The Telegraph:
Back in November, I acquired an electric car, something I never thought I would do … I calculated it would save me thousands of pounds every year … 
On Friday night, I was invited to speak to Beverley and Holderness Conservatives. The main difference when you drive an electric car on a long journey is that you have to plan. In my old car, I could drive 600 miles without filling the tank, but if I ever nearly ran out of diesel there was always a petrol station around the corner.
The equivalent is not true if you have an electric car. You have to plan your journey using apps such as Zap-Map, which tell you where the charging points are, and whether they're being used, or working. I got to Beverley OK, having recharged the car at Donington Park services on the M1, which has a few charging points. Some motorway services don't have any.
The return journey proved to be a disaster. I left Beverley at 9am and arrived home in Kent at 7.45pm. A journey that should have taken four hours lasted an astonishing 10¾. It was a day completely wasted. The problem was that the three fast chargers in Beverley were either in use or didn't work. So I had to use slow chargers to get to the next fast charger, which was 50 miles away. Range anxiety is a real phenomenon. The whole time you're looking at the screen in front of you, wondering if you will run out of charge before you reach the next charger. And then what?
This week, [Transport Secretary] Grant Shapps announced a target of 300,000 more chargers across the country by 2030, the year when the Government says it will ban the sale of new petrol and diesel powered cars. Fatally, he's left it to local authorities to make sure the roll-out happens. Mark my words, it won't. Not without national direction.
My advice is this. If you only do relatively short journeys, then buying an electric car is a good decision. If you regularly travel more than 150 miles, it isn't. In my experience, the car manufacturers lie about the expected range. My electric car is supposed to do 298 miles. The reality is that it does 206, or 215 if the weather is warm. Caveat emptor.
In other news, the price of milk is set to rise by 50%. The Telegraph reports that crisis talks with EU and British dairy farmers took place in Brussels last week:
Rocketing costs from feed, fertiliser and fuel have stoked fears in the industry of a surge in milk prices not seen in decades.
The cost of four pints of milk will jump from around £1.15 to between £1.60 and £1.70, an increase of up to 50pc, according to Kite Consulting, the UK's leading adviser to dairy farmers.
Michael Oakes, the dairy board chair of the National Farmers' Union, agreed that milk prices will likely rise by as much as 50pc.
John Allen at Kite said a 30-year period of low milk price rises is "coming to an end now" as costs surge on multiple fronts. He expects a typical pack of butter to rise from £1.55 to more than £2.
He said: "What is of concern at present is processors are getting inflationary costs as well and also we are short of milk around the world."
Dairy industry bosses from the UK and elsewhere in Europe flew into Brussels at the end of last week with talks led by Eucolait, the continent's leading dairy industry group. Dairy processors, which act as a link between farmers and shops, are said to be deeply concerned about soaring costs both at farm level and further up the supply chain, as the war in Ukraine lifts key input costs …
UK dairy industry bosses have raised concerns over their costs to the Government, but officials at the Department for Environment, Food and Rural Affairs (Defra) are said to be merely in "listening mode" …
Mr Oakes, who is also a farmer, said: "I was paying about £7,000 for an artic [articulated lorry] load of fertiliser, and this year it's £28,000. It would have been a little bit less before Ukraine happened, but it made another big jump because we'd already seen higher gas prices, which have implications for fertiliser costs …
He added that feed costs have risen 60pc.
As if all that isn't enough to worry voters, we have the Online Safety Bill passing through Parliament. Guido Fawkes tells us what is happening as Ofcom, the communications regulator, prepares for the not-so-distant future:
Scary.
Guido's accompanying post says, in part:
According to Melanie Dawes, the newly-appointed CEO of Ofcom, the quango will increase headcount by 400 staff ahead of new powers to police the internet in the Online Safety Bill, which will be voted on in Parliament after Easter. That's a lot of censors…
Ofcom will have Putin-style powers to block websites from being seen in the UK if those sites fail to uphold their new legal duty of care to remove "harmful content". The definition of "harmful content", of course, will be a political question. Will questioning hurtling towards net-zero whilst millions are in energy poverty be deemed harmful content? …
Ofcom's Melanie Dawes told Times Radio:
We've got some tough and strong tools in our toolkit as a result of this legislation. And I think we need those. …These very strict and somewhat draconian kinds of sanctions are really only the sort of thing that you would expect to use as a serious last resort.
If you don't accept self-censorship and comply, your website will be blocked. Chilling.
Then we found out at the weekend that the civil servant in charge of ethics was at a lockdown party.
The Times's Patrick Maguire reported:
Were this a plot point in a satire, it would feel much too lazy for any self-respecting reader to get behind. But here we are: the official who was then in charge of ethics on Whitehall has been fined for her attendance at a lockdown-busting karaoke party.
As the first major name to have been revealed to have received a fixed penalty notice, Helen Macnamara — then the government's head of propriety and ethics, now in the business of neither as director of policy and corporate affairs at the Premier League — is surely a sign of things to come.
For confirmation of her attendance at a leaving do in the Cabinet Office in June 2020 — at a cost of £50 — is a sign that it wasn't just the junior, nameless and faceless who breached Covid restrictions at the heart of government over that fateful period, as Boris Johnson would much prefer to be the case.
Meanwhile, Scotland Yard is also said to have told people who attended a No 10 party on April 16 last year, the day before Philip's funeral, that they would be given fixed penalty notices: conclusive proof at last that the law was broken in Downing Street itself.
The PM did not attend either do, but the slow burn of revelations from the Met's investigation is hardly ideal, particularly with elections just over a month away.
"I have 65,000 constituents in west Wales, where I represent, and they are not shy in coming forward and expressing a view about this and a number of other subjects," Simon Hart, the Welsh secretary, told Sky News this morning.
"And throughout all of this saga of the Downing Street parties they have said one thing very clearly, and in a vast majority they say they want contrition and they want an apology, but they don't want a resignation."
The bigger risk, looking at the polls, is that they don't want to vote Tory…
However, there are two bright rays of sunlight in an otherwise cloudy day.
The first is that London's position as the second most important financial centre in the world is holding steady, as The Telegraph reported on Monday, April 4:
London remains Europe's dominant financial centre based on factors such as (relative) political stability, labour market flexibility, quality of life, infrastructure and innovation, a ranking by think tank Z/Yen Group found last week. It was ranked second only to New York globally, while Paris came in at 11th place.
The second is that Volodymyr Zelenskyy still appreciates all of Boris Johnson's efforts for Ukraine. He is contemptuous of Emmanuel Macron and Angela Merkel, as Guido reports:
Guido has the video of Zelenskyy praising Boris:
Zelenskyy's said the UK has "agreed on new defensive support for Ukraine. New package. Very, very tangible support," adding "Thank you Boris for the leadership! Historical leadership. I'm sure of it". 
It's too bad that Zelenskyy cannot campaign for Boris's Conservatives. They could use his help.
This is the final instalment of my long-running series, the Brexit Chronicles.
My previous post discussed the December 30 vote on the EU Future Relationship Bill which passed both Houses of Parliament and received Royal Assent in the early hours of the final day of Brexmas, December 31, 2020.
New Year's Eve was a quiet affair in Britain, as we were in lockdown.
One week earlier, Boris said that he would not be dictating to Britons how they should celebrate our exit from the EU, which was a bit rich, because he had already put us into lockdown before Christmas:
What UK independence from the EU means for Boris
The UK negotiating team did some star turns with this agreement, which polished Prime Minister Boris Johnson's political reputation.
Boris's ratings had taken an understandable hit during a year of coronavirus, which included a lot of flip-flopping on his part, however the trade agreement improved things considerably. Liz Truss, who has been negotiating our trade deals with more than 50 countries, deserves her place at the top:
According to an Opinium poll, an overwhelming majority of Britons — even Remainers — wanted MPs and the Lords to pass the deal:
Troublingly for the anti-deal SNP, the poll's sub sample of Scottish voters shows that by 47% to 19%, Scots want their MPs to vote for the deal too…
The Norwegians said that the UK had negotiated a better deal with the EU than they had:
Guido Fawkes thinks that this could give Norway the impetus to renegotiate their terms with the EU. I hope so (emphases in the original):
Marit Arnstad, parliamentary leader of Norway's Centre Party, argues that the UK deal is better than the Norwegian deal her country has as a member of the European Economic Area (EEA). "The UK has now reached an agreement that gives them more freedom and more independence" she tells Klassekampen, Norway's answer to the Guardian, "the British have a better agreement than the EEA. They get access to the internal market and the common trade that is desirable, but they do not have to be part of a dynamic regulatory development that places strong ties on the individual countries' national policies. …The most difficult thing for Norway is that we are bound in areas that are national policy, and that it happens in more and more areas. The British have now taken back this authority, and it is extremely interesting".
Arnstad is not the only politician complaining, the leader of the Norwegian Socialist Party's EEA committee, Heming Olaussen, also believes that the British agreement with the EU is better than the EEA, "because the British escape the European Court of Justice. Then they are no longer subject to EU supremacy and must not accept any EU legislation in the future as we must. This agreement is qualitatively different and safeguards national sovereignty in a better way than the EEA does for us".
Could we soon see Norway and the other EEA countries try to renegotiate their terms?
Prime Minister Boris Johnson made sure that he got everything possible arranged by the end of the day, including Gibraltar. The first tweet has a statement from Foreign Secretary Dominic Raab:
Remainers constantly brought up the future of the Nissan car plant in Sunderland. They can silence themselves now.
Chronicle Live reported:
Automotive giant Nissan has welcomed the UK's post-Brexit trade deal with the EU, which appears to have safeguarded the future of its Sunderland plant.
The plant has been at the centre of the Brexit debate over the last decade, with both Remain and Leave campaigners using it to back up their respective arguments.
A number of global Nissan executives have used visits to Sunderland to warn that its future was threatened by a no-deal Brexit, and two models either being made or due to be made at the plant have been cancelled since the 2016 referendum.
But the Christmas Eve agreement of a deal that appears to allow tariff-free access to EU markets for British-made goods has been welcomed by the company.
On Boxing Day, The Telegraph — Boris's former employer — published an interview with him, excerpts of which follow (emphases mine):
"I think it has been a long intellectual odyssey for many people of this country," he said, casting back to 1988, shortly before he, an up-and-coming journalist at The Telegraph, was dispatched to Brussels to report on the European Commission.
"The whole country has been divided about this issue, because we are European, but on the other hand we don't necessarily want to feel that we're committed to the ideology of the European Union.
"That's been the problem and I think it is absolutely true that Margaret Thatcher … she did begin this period of questioning. Her Bruges speech was very, very important."
Mr Johnson is referring to a speech that, to many Eurosceptics, formed the foundations of the bitter and protracted political struggle against ever closer union that ultimately set Britain on the path to Brexit.
At the height of her power and railing against Jacques Delors' latest move towards deeper integration, in 1988 Baroness Thatcher urged the Commission to abandon aspirations of a "European super-state" which would infringe on the "different traditions, parliamentary powers and sense of national pride in one's own country".
Her warning went unheeded, however, and just four years later the UK signed up to the Maastricht Treaty and with it the creation of the European Union as it is constituted today.
And yet, even after she was toppled and replaced by John Major, an ardent Europhile, the seeds of discontent and the desire to reclaim British sovereignty had been sown in Bruges.
He explained that we will always be European, just not part of the huge project that seems to continually move the goalposts of membership obligations:
"I think this gives us a basis for a new friendship and partnership that should attract people who love Europe and want to have a great relationship with it, who want to feel close to it.
"But it should also be something that is welcome to people who see the advantages of economic and political independence. I think the country as a whole has got itself into a new and more stable footing. It's a better relationship and a healthier relationship."
… The tariff and quota-free deal covers £660bn worth of trade a year, which Mr Johnson said will still be "smooth" but with new customs procedures and paperwork which will mean things are "different and there will be things that businesses have to do".
In particular, he is keen to stress that the UK will be free to diverge from EU standards.
This is particularly gratifying for Mr Johnson, who said that after being accused of "cakeism for so many years," he has achieved what his critics said was impossible: "That you could do free trade with the EU without being drawn into their regulatory or legislative orbit."
Boris enjoys his 'cakeism' references. He made one on Christmas Eve upon the announcement of the deal and he made yet another on January 1, which was Guido Fawkes's Quote of the Day:
I hope I can be forgiven for reminding the world that many people used to insist that you couldn't do both: you couldn't have unfettered free trade with the EU, we were assured, without conforming to EU laws. You couldn't have your cake and eat it, we were told. Maybe it would be unduly provocative to say that this is a cake-ist treaty; but it is certainly from the patisserie department.
The Spectator had an excellent article on the new treaty, 'The small print of Boris's Brexit deal makes for reassuring reading'. Brief excerpts follow. The article has much more:
The Brexit deal takes things back to where they were before Maastricht. The EU is limited now in any meddling to very specific areas indeed. It ends the oddity where because circa seven per cent of UK business trade with the EU, 100 per cent have their laws made by the EU (although that is a bit more blurred in supply chains) …
There are parts of the deal that mean that, should Britain wish to diverge, then UK committees will have to talk to EU committees. Requiring the UK to 'consult' on implementation and change of the agreement etc. But how this is done in practice is left free and thus pretty non-enforceable and limited in scope. It is diplomacy now, not law …
While there is a lot of hot air in the treaty, it does not go beyond that. Lord Frost and his team seem to have seen off the (no doubt many) attempts to get EU regulation in through the back door. The UK is leaving the European Union and the lunar orbit of its regulations. It depends on your politics whether you approve of concessions over fish and some aspects of trade. But the legal question – to take back control – has been accomplished.
In The Atlantic, Tom McTague, a balanced journalist, looked at Brexit from the Conservatives' 2019 manifesto policy of 'levelling up' all parts of the United Kingdom:
… at root, Brexit was a rejection of the economic status quo, which too many had concluded was benefiting the country's urban centers at the expense of its more rural regions. And not without evidence: Britain is the most unequal economy in Europe, combining a supercharged global hub as its capital with areas a three-hour drive away that are as poor as some of the least-developed parts of the continent.
Brexit was not solely a vote of the "left behind"—much of the wealthy and suburban elite also voted to leave. But Brexit was a rejection of the direction the country was taking, a desire to place perceived national interests above wider European ones that too many Britons did not believe were also theirs. Is this entirely unreasonable?
The Revd Giles Fraser, rector of the south London church of St Mary's, Newington — and co-founder of UnHerd — wrote an excellent article on Boris, Brexit and old Christmas traditions involving seasonal games of chaos and fools. He also delves into the Bible. 'Why chaos is good for Boris — and Brexit' is worth reading in full.
You will want to see the photo he includes in his article, which begins as follows:
Back in early December, after a dinner between the British negotiating team and their EU counterparts, a photograph was released that, it was said, "sums everything up". A characteristically dishevelled Boris Johnson was unflatteringly contrasted with the smartly dressed Michel Barnier. "Johnson's loose tie, shapeless suit and messy hair alongside Frost's errant collar stood out somewhat beside an immaculately turned out Ursula von der Leyen and chief EU negotiator Michel Barnier" reported the Huffington Post, while reproducing a series of damning twitter observations …
Fraser points out that Brexit is charting a new course. The old rules no longer apply. Boris seems to be the king of chaos, perhaps a 'fool':
The problem with an orderly approach to things such as Brexit is that most problems, especially the large ones, are always going to be imperfectly and incompletely specified. In such a context, it is not always a straightforward matter to argue in a linear way from problem to solution. Indeed, when situations seem to require some sort of paradigm shift, the rules of the old order present a block on the emergence of the new. Things will always seem chaotic when change does not travel according to pre-established ideas of how one thing follows from another.
In his fascinating book Obliquity, the economist John Kay describes the shortcomings of turning decision making within a complex environment into some sort of algebra. Often, he argues, "complex outcomes are achieved without knowledge of an overall purpose". The importance of rational consistency is exaggerated. Some values are incommensurable, not plottable on a single system of reference. In such situations, neatness is overrated, distorting even.
That, I take it, is partly why Boris Johnson remains ahead in the polls, even now. Yes his shambolic manner, strongly contrasted with Keir Starmer's orderly, lawyerly disposition, speaks to a refusal of some imposed authority. It's a kind of trick, perhaps, given that he is the authority. And Old Etonians are not typically chosen as "the lowly" who are lifted up as per the Magnificat.
But the importance of Johnson "the fool" exceeds the fact that he has become an unlikely poster-boy of some unspecified insurgency against the established European rules based system of governance. The fool understands something the rationally wise does not. "Man plans, God laughs" goes an old Jewish proverb. Much to the deep frustration of its proponents, order can never be finally imposed upon chaos. And those who are comfortable with this, celebrate it even, are often better able to negotiate the complexities of life. Being chaotic might just turn out to be Johnson's unlikely super-power.
Boris certainly has had a good track record over the past 12 years. The coronavirus crisis is the only obstacle remaining:
What independence from the EU means for Britons
The BBC website has a short but practical guide to changes that came into effect on January 1.
In addition, UK drivers licences will be recognised in EU member countries as they were before:
With regard to students and foreign study, we will no longer be part of the EU-centric Erasmus study programme beginning in September 2021. The UK government is developing the worldwide Turing programme, named for Alan Turing:
… Unlike the Erasmus programme, which was founded in 1987 "to promote a sense of European identity* and citizenship among its participants", the new scheme will have a global outlook, targeting students from disadvantaged backgrounds and areas boosting students' skills and prospects, benefitting UK employers. It will be life changing for the student participants.
A year of Erasmus-funded reading of Sartre at the Sorbonne in Paris, or a year of Turing-funded study of Nano-engineering at the Indian Institute of Technology in Madras? It is a no-brainer to choose the exciting future that is beyond Little Europe.
*The EC in latter years funded a post-graduate exchange programme that offered opportunities outside Europe. Some 95% of the budget still focuses on Europe.
Women will be pleased that the EU tax — VAT — on sanitary products is no more.
How we celebrated, despite lockdown
On New Year's Eve, I was cheered to see an article by The Guardian's economics editor Larry Elliott, 'The left must stop mourning Brexit — and start seeing its huge potential'. YES! Every Labour, Lib Dem and SNP MP should read it.
He, too — like the aforementioned Tom McTague of The Atlantic — sees Brexit as an upending of the status quo. He tells his readers on the Left that they should be happy about this (emphases mine):
Many in the UK, especially on the left, are in despair that this moment has arrived. For them, this can never be the journey to somewhere better: instead it is the equivalent of the last helicopter leaving the roof of the US embassy in Saigon in 1975.
… It marked the rejection of a status quo that was only delivering for the better off by those who demanded their voice was heard. Far from being a reactionary spasm, Brexit was democracy in action.
Now the UK has a choice. It can continue to mourn or it can take advantage of the opportunities that Brexit has provided. For a number of reasons, it makes sense to adopt the latter course.
For a start, it is clear that the UK has deep, structural economic problems despite – and in some cases because of – almost half a century of EU membership. Since 1973, the manufacturing base has shrivelled, the trade balance has been in permanent deficit, and the north-south divide has widened. Free movement of labour has helped entrench Britain's reputation as a low-investment, low-productivity economy. Brexit means that those farmers who want their fruit harvested will now have to do things that the left ought to want: pay higher wages or invest in new machinery.
The part of the economy that has done best out of EU membership has been the bit that needed least help: the City of London. Each country in the EU has tended to specialise: the Germans do the high-quality manufactured goods; France does the food and drink; the UK does the money. Yet the mass exodus of banks and other financial institutions that has been predicted since June 2016 has not materialised, because London is a global as well as a European financial centre. The City will continue to thrive.
If there are problems with the UK economy, it is equally obvious there are big problems with the EU as well: slow growth, high levels of unemployment, a rapidly ageing population. The single currency – which Britain fortunately never joined – has failed to deliver the promised benefits. Instead of convergence between member states there has been divergence; instead of closing the gap in living standards with the US, the eurozone nations have fallen further behind.
I was especially pleased that he pointed out the coronavirus vaccine. We were the first in the world to approve one and get it rolled out:
The Covid-19 crisis has demonstrated the importance of nation states and the limitations of the EU. Britain's economic response to the pandemic was speedy and coordinated: the Bank of England cut interest rates and boosted the money supply while the Treasury pumped billions into the NHS and the furlough scheme. It has taken months and months of wrangling for the eurozone to come up with the same sort of joined-up approach.
Earlier in the year, there was criticism of the government when it decided to opt out of the EU vaccine procurement programme, but this now looks to have been a smart move. Brussels has been slow to place orders for drugs that are effective, in part because it has bowed to internal political pressure to spread the budget around member states – and its regulator has been slower to give approval for treatments. Big does not always mean better.
Later on — at 11 p.m. GMT, midnight Continental time — millions of us in Britain were only too happy to toast each other, confined in our own homes, and say:
Free at last!
Here's Nigel Farage:
Baroness Hoey — formerly Kate Hoey, Labour MP — worked tirelessly for Leave in 2016.
She had a message for her late mother …
… and for Guy Verhofstadt, who is shown below a few years ago in London with the Liberal Democrats campaigning against Brexit:
In the days that followed …
On New Year's Day, Labour leader Sir Keir Starmer gave an optimistic message for 2021 — 'the UK's best years lie ahead':
The Sun's political editor, Harry Cole, urged all of us to unite behind a new Britain:
Boris Johnson's father, Stanley, continues to pursue his quest for French citizenship, having researched his family tree.
Nigel Farage's new campaign will be against dependence on China:
Our ports have been problem-free:
On that cheery note, after four and a half years, this completes my Brexit Chronicles! Onwards and upwards!
As most of England is now in either Tier 2 or Tier 3, including London (in the latter), some scientists are clamouring for previously approved Christmas gatherings to be cancelled.
This is the exchange that took place on Wednesday, December 16, the day when London and surrounding areas entered Tier 3. Communist Susan Michie, a member of SAGE and independent SAGE, told Good Morning Britain that we should cancel Christmas this year and replace it with extra 'bank holidays' next year. She's a smooth talker. Laura Perrins, an ex-barrister who co-edits Conservative Woman, saw right through this:
Well, London mayor Sadiq Khan has cancelled the capital's New Year fireworks. The Tube will also stop running at 12:30 a.m. this year.
Laura Perrins had a lot to tweet on Wednesday from her article that day, 'Matt Hancock wants to ruin your Christmas. It's sheer cruelty'. Excerpts follow, emphases mine:
YOU'RE making your list, you're checking it twice and Matt Hancock is deciding whether you've been naughty or nice. Yes, once again the government have decided to inflict more psychological damage on the population by putting in doubt the Christmas relaxation of rules which will 'allow' you to spend some time with your family. The anxiety that this causes, the dread, the cruelty: that is the point of this latest government move. 
At the time of writing it looks as if (for once) Boris Johnson will hold his nerve and not hand over complete control to Matt Hancock and the 'scientists' who seem to run the country. All this anxiety has been triggered because the BMJ published an editorial saying that the rules 'allowing' you to see your family at Christmas are a 'major error' which would cause the health service to be overwhelmed. As usual you have to sacrifice your basic freedoms so that the NHS can do the job you pay them a great deal to do. All must be sacrificed, it seems, for 'our' NHS. 
Even if Johnson does hold his nerve this time, it should be said every day that Matt Hancock is a dangerous man who has set out to destroy this country. Some people think I am too strong in my language. I am not. 
What the government are doing is evil. You need to understand that. They are destroying thousands of businesses, thousands of jobs in arts and culture, they have closed pubs and restaurants as a way of crushing your spirit. Meeting your friends down the pub is uniquely British, speaking to them in the flesh, arguing with them over a pint; these are the small joys that ordinary people look forward to. This is something that the elite in the media and politics, and certainly the scientists, simply do not understand. They're all right, Jack. What's a trip to the pub anyway – that's for the little people. 
This tweet from Camilla Tominey caught my eye yesterday. 
She is right – this landlord has had his business wiped out 'in the blink of an eye'. Destroying the livelihoods of so many in the blink of an eye is something that used to happen only in communist Russia. It is not quite a knock on the door in the middle of the night, but it is not far off. Oh, but don't worry, they will get compensation from the government, you tell me. That is not the point. This landlord runs a business, he wants to provide this service, I have no doubt he takes pride in providing this service, it's not just the money he wants. It's his sense of dignity in a job well done.
This is why I believe that any future legal cases should claim this entire Covid government strategy is a breach Article 3 of the Human Rights Act which states that no one shall be subjected to torture or to inhuman or degrading treatment or punishment.
Perrins ended her article with thoughts on Dickens's A Christmas Carol:
In the great Christian story of redemption, A Christmas Carol, Scrooge famously did not observe Christmas. In addition, he hated anyone who did. He refused a generous invite to share the Christmas meal from his nephew. This was rightly seen as cruel, mean, mean-spirited and immoral. Scrooge was incapable of any joy or love. Matt Hancock wants to ruin your Christmas. He wants you to uninvite the relations you have invited to share your Christmas meal. Hancock, like Scrooge, is mean, mean-spirited and cruel. Ignore him. Keep Christmas as you will.
I wish you and yours every comfort and joy this Christmas. Know in the New Year that we at TCW will not rest until every last mask is burnt and 2m sign is peeled off the pavement. Anything less is defeat. 
Excellent!
On Tuesday, December 15, she opined on the type of people who love lockdown. Someone from Scotland responds:
In case anyone thinks Labour would be any better on Christmas celebrations, their party leader Sir Keir Starmer also wants celebrations on the feast day of Christ's birth scrapped:
This came up at Wednesday's PMQs (Prime Minister's Questions).
Fortunately, Prime Minister Boris Johnson echoed the words of one of his cabinet ministers, Chief Secretary to the Treasury Steve Barclay:
Guido Fawkes reported Steve Barclay told Radio 4's Today programme on Tuesday that Britons should (emphases in the original):
"try and minimise their contacts" in the week before Christmas. Yet still sticking to the four nation, five day relaxation. For now…
Barclay also advised that when families gather they do so "in a way that isn't the maximum of what the rules require but the minimum that they as a family need to do."
That means that Transport Secretary Grant Shapps's subsidy of public transport is still on …
… and Conservative rebel MP Mark Harper — one of the good guys — can rest easy:
Returning to public transport, anyone travelling to London will be greeted with Christmas cheer:
Bob Moran has been doing some great political cartoons for the Telegraph mocking lockdown. He's found a fan in Daily Mail columnist Peter Hitchens:
I hope that Bob Moran — and Peter Hitchens — have a happy Christmas.
Here's Bob at work:
Here are the Models, mocking Chief Medical Officer Prof Chris Whitty and Chief Scientific Officer Sir Patrick Vallance:
Jokes aside — and as necessary as they are right now — it is alarming to think about how a three-week lockdown turned into one that lasted over nine months.
I wrote a few weeks ago here that this is the wildest conspiracy ever. We've moved beyond 'theory'. We're living it:
As regular readers of mine know, my principal worry is the economy.
Here's Klaus 'Great Reset' Schwab, the Founder and Executive Chairman of the World Economic Forum, discussing the COVID-19 group that will address — and, in his mind, solve — all the problems of coronavirus and the world in general. Business, he says, will be a big part of this. Be afraid, be very afraid. This is what he's actually saying:
In closing, let's return to London.
Deaths are normal for this year. This is a five-year chart:
London's hospitals are not overly burdened either, especially compared with 2018 and 2019:
And why do we not receive any information from the Department for Health and Social Care about a prophylaxis for COVID-19? Instead, we're pushed into taking a vaccine with messenger RNA. Revolutionary, for sure, but can we be certain it will work and is safe?
One wonders what will happen next year.
During July, there were several British news items I did not have time to cover.
Without further ado, here they are …
St Swithin's Day
July 15 was St Swithin's Day, traditionally thought to successfully predict the weather for the next 40 days.
It was cool and cloudy.
So it is two weeks later.
The Mirror tried to debunk centuries of tradition that day by saying temps would reach 29° C that weekend. They never did, at least in the UK. We had a maximum of 24°.
Since then, it's been cool, cloudy and rainy — with a few hours of sunshine here and there.
The Mirror was wrong. As my late grandmother-in-law always said: 'The old ways are the best'.
This isn't the first year I've tracked the weather following St Swithin's Day.
Trust what happens on July 15 in the UK. That's the weather for the next six weeks.
Admittedly, we might get the odd, sunny, warm day, such as today — but, that might be a rarity during the month ahead.
Friday, July 17
This was the day when temps reached a maximum of 24°.
More importantly, Princess Beatrice was married at Windsor. Her father, Prince Andrew, stayed out of the photos.
The wedding was small, in keeping with coronavirus guidelines:
Another wonderful event took place that day at Windsor. Captain Tom Moore, 100, received a socially-distanced knighthood from the Queen:
Captain Sir Tom Moore raised tens of millions of £££ for the NHS during the height of the pandemic by walking around his garden 100 times on a zimmer frame (walker). I am sure that was not easy for him, yet he persevered.
Afterward, the Second World War veteran said:
It's been an absolutely outstanding day and you could never have believed I was never going to get such an honour as I have today. I really believed never ever would I be so privileged I could be so close to the Queen and speak to her, and that really was something absolutely outstanding.
Fantastic! May God continue to bless him abundantly.
Boris's first anniversary as PM
Thursday, July 23 marked Prime Minister Boris Johnson's first anniversary.
This delightful video shows clips of him promoting the 2010 Olympics when he was Mayor of London:
Although it's been a miserable year, he has achieved the impossible, as Guido Fawkes reminds us:
Defeated Corbyn

Delivered Brexit

Won an 80 seat Conservative Party majority
Boris listed many more achievements over the past year. He could not even list them all in two minutes:
But there was no time to rest, as Boris was busy planning for the best and the worst in the months ahead:
Conservatives are still happy with his performance:
Writing for UnHerd, Matthew Goodwin, professor of politics at the University of Kent, analysed Boris's appeal among his supporters (emphases mine):
To find a similar degree of constant and tribal support for the Conservative brand, you have to go all the way back to the spring of 1987 when Margaret Thatcher began a similar period of total dominance in the polls that lasted for around two years. Though even that is a little misleading — Thatcher might have had a lot going on, but she never had to grapple with a global pandemic and the shutdown of the entire economy …
… why have Johnson's voters stayed so loyal? …
The first thing to remember is how Boris Johnson achieved power. He pushed through what David Cameron had little interest in and Theresa May never really understood — the "realignment" of British politics. By organising around Brexit, which was itself an expression of a deeper fault line, Johnson was able to consolidate the Leave vote.
By doing so, he was able to anchor his party far more securely in a cross-class coalition of traditional "true blue" Tories and instinctively socially conservative blue-collar workers. By doing so, Johnson injected a greater degree of tribalism into his electorate and, by extension, a greater degree of "cultural polarisation" into the country. In a country where six in every ten constituencies broke for Brexit, this strategy makes sense. You might not like it but, electorally, strategically, it makes complete sense.
It also brings us to a point that many of his critics have failed to grasp. What unites Boris Johnson's voters is not so much their economic experience, as their values. They prioritise the nation and the national community. They prefer stability over change. And they favour continuity over disruption and discontinuity. This is why they cherish Britain's history, heritage and collective memory and are more sensitive to attempts to deconstruct them. And while they acknowledge that this history is complex, they believe that, on the whole, it was positive and that Britain has been a force for good in the world. In short, they believe in their country. They are proud of it. And they are proud of their fellow citizens …
… Johnson is offering a positive and forward-looking creed that is more interested in national renewal and salvation than decline and repudiation. He is proud of the country and its people. And until his opponents figure this out and change track, then I suspect that many of those voters will continue to stand behind him while keeping their distance from his critics.
Boris's war on fat
Boris has been on a diet since recovering from coronavirus. So far, he has lost a stone (14 pounds):
Now he wants all of us to lose weight — five pounds each — and save the NHS an estimated £100m. Hmm.
Guido Fawkes reported (emphases in the original):
Boris promises his health push will "not in an excessively bossy or nannying way, I hope" persuade Britons to lose a few pounds. Which is a curious line given the now-almost imminent, nonsensical ban on pre-watershed 'junk food' ads…
Agreed.
Last summer, London's mayor Sadiq Khan banned what he termed 'junk food' adverts across the capital. Last June, when Wimbledon was in full swing, Guido reported:
London's blanket ban on 'junk food' advertising is not only ineffective, inconsistent and impractical, it's going to cost a fortune too! Estimated at a whopping £35 million, it will deprive dilapidated public services of desperately needed investment. Who's decided that chicken burgers are not junk food but olive oil is? And no mince pies allowed at Xmas? No strawberries and cream for Wimbledon?
The simple truth is ad bans don't work – there's no proof they reduce childhood obesity. However, there is clear evidence that wide-ranging, collaborative and positive approaches are an effective solution. In Amsterdam, childhood obesity rates fell by 12% between 2012-15, through investment in positive lifestyle and education campaigns.
Telling people what they can do is much more effective than hectoring them about what they can't. Evidence-based solutions are more effective than political ones.
One year later, Boris thinks this is a great idea for television:
British artist David Hockney, who opposed the UK's smoking ban in 2007, was less than impressed:
I said to my far better half on Monday that they will probably target all the good foods, e.g. butter and meat.
The next day, I drank my morning coffee while waking up to this:
I love hummus! It's good for you, too.
Guido posted an extensive list of what falls under the category of junk food, based on UK government guidelines.
In addition to hummus and raisins we find butter (as I predicted), more than half of all meats (mm-hmm, also as predicted), margarine, pesto, tomato soup, nearly all cheese, most yoghurts and, strangely, the driest, blandest thing on the planet: cream crackers, which have no cream in them, by the way. Hell is a cream cracker.
Something's gone very wrong with this Conservative government. Most of us thought Boris was a libertarian.
Whatever the case, there must be a better way than another ban:
Maybe Boris is still frightened from his serious illness. I suspect it took him a long time to recuperate, judging from his appearance in the weeks that followed.
Cat contracts coronavirus
On Monday, July 27, Reuters reported:
The British environment ministry said "all available evidence" suggested the cat had contracted the coronavirus from its owners, who had both tested positive for COVID-19.
Both the cat and the humans made a full recovery and there was no transmission to any other animals or people in the household, the ministry said without identifying the individuals involved.
"This is the first case of a domestic cat testing positive for COVID-19 in the UK but should not be a cause for alarm," said Yvonne Doyle, medical director at Public Health England.
"The investigation into this case suggests that the infection was spread from humans to animal, and not the other way round," Doyle added.
The government said the infection was confirmed in lab tests on Wednesday, adding there was no evidence that cats could transmit the virus to humans.
The World Health Organisation (WHO) has said cats are the most susceptible animal species to the SARS-CoV-2 coronavirus and are able to transmit it to other cats.
Delays in getting stranded Britons home explained
When the pandemic broke, the Foreign Office pulled out all the stops to get stranded Britons back to the UK.
Arranging flights for some tourists overseas took longer than for others because hundreds were in remote places of the world.
Now it emerges there were other factors involved:
NHS relaxes self-isolation for patients entering hospital for treatment
Not so long ago, the NHS wanted all patients attending hospital for treatment or operations to self-isolate for 14 days beforehand.
Thankfully, as of Tuesday, July 28, that is no longer the case. The Daily Mail reported:
Updated guidance says strict social distancing and hand washing is enough to cut the risk of patients taking the virus into hospitals in England.
NHS patients will only need to self-isolate for a few days after taking a test in the run-up to them entering hospital, health bosses now say.  
Surgeons hope the relaxation of rules will help them to tackle the huge waiting lists that have built up during the Covid-19 crisis.
But they called for all patients to be given tests for the coronavirus before and after their operation to keep a lid on any potential outbreak.  
The change in advice was made because the virus is circulating at much lower levels than it was during the peak of the crisis in March and April.
Lewis Hamilton opines on a COVID-19 vaccine
Formula 1 champion Lewis Hamilton had to walk back a video and post he made on social media regarding a COVID-19 vaccine:
On Monday, July 27, The Guardian reported:
Hamilton has since deleted the video and published a statement saying he hadn't seen the comment attached to the clip, but wanted to show there is "uncertainty around side effects" of vaccines.
"I've noticed some comments on my earlier post about the coronavirus vaccine, and want to clarify my thoughts on it, as I understand why they might have been misinterpreted," he said.
"Firstly I hadn't actually seen the comment attached so that is totally my fault and I have a lot of respect for the charity work Bill Gates does.
"I also want to be clear that I am not against a vaccine and no doubt it will be important in the fight against coronavirus, and I'm hopeful for its development to save lives.
"However after watching the video, I felt it showed that there is still a lot of uncertainty about the side effects most importantly and how it is going to be funded. I may not always get my posting right. I'm only human but I'm learning as we go."
I agree with the highlighted bit 100%.
Holidays abroad
Whether it's a good idea or not right now, Britons want to enjoy a summer holiday in Europe.
Some made their reservations early in the year, before the pandemic arrived. Understandably, they want to get what they paid for.
Transport Secretary Grant Shapps and his family managed to arrive in Spain hours before the UK declared a quarantine for British travellers returning from that country. Shapps flew back to the UK on Wednesday, July 29:
He is returning early to get through a 10-day quarantine and, in the meantime, from home, to 'handle this situation'. The Foreign Office has advised against all non-essential travel to Spain.
Presumably, Europeans are travelling all across the continent.
The result is that coronavirus cases are rising again:
On July 28, RMC's Les Grandes Gueules (The Big Mouths) interviewed Dr Robert Sebbag, a specialist in infections who works at La Pitié Salpêtrière hospital in Paris. He said that, although the COVID-19 ward is seeing a small uptick in hospitalisations, no one is on a ventilator and most cases are 'mild' compared to what they were only a few months ago. If I understood correctly, the hospital has 24 patients in that particular ward. He said that the uptick in non-hospitalised cases points to those that can be treated safely whilst self-isolating at home.
Dr Sebbag wasn't too concerned and said that it was the normal progression of the cycle of a virus. The question remains, he said, whether or how COVID-19 will mutate.
For now, we will have to find ways of learning to live with the virus. Dr Sebbag does not see that herd immunity will become widespread. He estimates that only 6% to 10% of the French are immune.
Lockdown in the north west of England
As of Thursday, June 30, a lockdown is now in place in parts of the north west of England.
Matt Hancock should have announced it via a formal press conference. Instead, he did so via a pooled television interview, leaving it to Boris to do a coronavirus briefing from Downing Street on Friday to further explain the new measures.
Because of this new lockdown and rises in cases elsewhere, the proposed measures for reopening more facilities and close-contact beauty services are on hold for the foreseeable future.
Masks must now be worn in nearly all enclosed public spaces, not only in shops, but also in museums and houses of worship.
Boris also encouraged Britons to enjoy a staycation in the UK rather than abroad.
Brexit
Meanwhile, in Brexit news, the international trade secretary, Liz Truss, announced that she would like to get haggis with meat into the US as part of a trade deal:
Earlier this year, exports of Macsween's vegetarian haggis — branded as Scottish Veggie Crumble — were allowed into the US just in time for Burns Night on January 25. That was the first time in 49 years that any type of Scottish haggis was allowed in America.
And that concludes my roundup of the second half of July 2020.
Roll on August, come what may.
See Part 1 in this series about the anger in Britain over lockdown.
One or two tweets below might have salty language. The rest do not.
There is much anger by a proportion of the population at the government:
MPs, except for one, are largely silent on the subject. Luckily, John Redwood has been an MP for decades. He might be our only hope:
Most are like Conservative MP Nadine Dorries, however. She was one of the first MPs to get coronavirus. Her aged mother, who also had it, helped her recover. I was sorry to see her tweet this:
Yesterday, I left off on masks. On Thursday, June 4, Transport Secretary Grant Shapps said they would be mandatory on all public transport in England. Health Secretary Matt Hancock repeated the order the following day:
Someone in the know saw this coming in April (never mind the reply):
This is so irrational. Earlier this year, the WHO advised against it:
Exactly.
I'm looking forward to the first lawsuit when someone is unable to breathe on public transport:
The above advice applies to England.
Wales, Northern Ireland and Scotland are on their own track.
However, Scotland is no better:
This is what they are doing in Singapore. Simon Dolan, incidentally, is suing the British government over lockdown. Good man:
It seems masks are only the beginning. In the UK, we haven't fully got off the ground with the track-and-trace app.
More from Simon Dolan about Singapore:
Track-and-trace is also getting up people's noses:
Then there's the R rate that SAGE and Chief Medical Officer Chris Whitty discuss daily on the coronavirus briefings:
But that's nothing compared to the wacky modelling from Imperial College's Prof Neil Ferguson which brought about lockdown:
Yet, at least one London hospital is ignoring masks and social distancing:
Shouldn't only the vulnerable be sheltered?
Picking up on the railway platform, here's the latest on international transport …
… and the latest on public conveniences:
Why doesn't any of this make sense?
Similar madness holds true for local buses:
Meanwhile, unlike protestors around the world complaining during coronavirus about the death of an American ex-convict thousands of miles away, when you're Piers Corbyn (pictured with the policewoman in a mask), an eccentric weather forecaster as well as the brother of the last Labour leader, and say that climate change is caused by the sun's activity and you're protesting lockdown with like-minded people, you can be arrested twice at Hyde Park in London:
The sheer hypocrisy of it all is mind boggling.
More tomorrow.