You are currently browsing the tag archive for the 'Grant Shapps' tag.
My most recent post on Liz Truss left off with the beginning of the end in her final week as Conservative Party leader.
Friday, October 14
Her sacking of Kwasi Kwarteng and installation of Jeremy Hunt as Chancellor on Friday, October 14, meant only one thing — her end was nigh:
Liz Truss's first Chancellor Kwasi Kwarteng: what he expected, what he got instead (October 13, 14)
Liz Truss and Kwasi Kwarteng illustrate that one DAY is a long time in politics (October 13, 14)
The Times's headline on the morning of the 14th said that Conservative MPs were already plotting to install Rishi Sunak and Penny Mordaunt in Truss's place. One of them would be Prime Minister and the other would be Chancellor or Foreign Secretary:
The article also said (purple emphases mine):
Truss and Kwasi Kwarteng, the chancellor, are expected within days to make a humiliating climbdown over corporation tax in an effort to calm the markets and see off a mounting revolt.
Indeed, that is what Truss announced at her disastrous press conference that afternoon. By then, Jeremy Hunt was already Chancellor:
It was hard to believe, especially as Ireland's corporation tax is half that: 12.5%. What is to stop businesses in Northern Ireland from moving south of the border?
Liz prefaced the announcement with:
This is difficult.
Guido Fawkes has the video and another quote preceding her announcement about corporation tax:
It is clear that parts of our mini-Budget went further and faster than markets were expecting… so the way we are delivering has to change…
He concluded (emphases his):
The mother of all U-turns…
Later in the afternoon, Wendy Morton, the Chief Whip, summoned Conservative MPs to an online call with the Deputy Prime Minister Thérèse Coffey.
One hundred of them dialled in. Coffey allegedly kept staring at her notes:
Saturday, October 15
Saturday's papers were scathing.
The Daily Mail asked, 'How much more can she (and the rest of us) take?'
The i paper led with 'Tory MPs tell Truss: "It's over"':
The Telegraph's Tom Harris wrote about the symbiotic relationship between the Prime Minister and the Chancellor from Margaret Thatcher's time to Truss's.
When that relationship goes wrong in a big way, it's nearly always bad news for the PM, although there are exceptions:
When a prime minister loses a long-serving chancellor and ally – as Margaret Thatcher did when Nigel Lawson walked out of her government in 1989 – the political ramifications are enormous. In Thatcher's case, that event signalled the beginning of her long defeat. When a prime minister loses a friend too, it becomes, as Liz Truss stated in her press conference, "not an easy" personal moment. 
Their closeness also makes it impossible for Truss to distance herself from the mess left at the Treasury. It is not clear which policy Kwarteng implemented that the prime minister was so unhappy with that she had to fire him. In 1989, Lawson resigned over his objection to the prime minister's reliance on her economic adviser, Sir Alan Walters, but there were already disagreements between Numbers 10 and 11 over whether Britain should join the European Exchange Rate Mechanism. 
[John Major's Norman] Lamont was fired over his handling of Britain's departure from the same institution. Javid resigned over personnel issues. Rishi Sunak's reasons for resigning were similar, though in his case the personnel issue involved the then prime minister himself.
In Jeremy Hunt, Liz Truss might be given a chance to form the kind of reassuring, mutually supportive – and, crucially, stable – relationship with her chancellor that good government demands. It would be foolish, however, to assume that when such a relationship breaks down, it is always the chancellor who is next to go.
The Telegraph's Camilla Tominey looked at the backbench Conservative MPs, wondering how Conservative they actually were. I was glad to see that she mentioned Alicia Kearns, who does not seem very Conservative to me.
Tominey's article shows that a significant number of Conservative backbenchers do not hold traditional Conservative Party values:
Never underestimate the Conservative Party's unparalleled ability to turn the gun on itself when coming under enemy fire. As the pot shots continued to rain thick and fast on Liz Truss's troubled premiership, what did the Tories decide to do? With Labour's help, they elected Alicia Kearns as chair of the Foreign Affairs Select Committee.
For those unfamiliar with Ms Kearns, she is the former Amnesty International activist who led the so-called "Pork Pie Plot" to oust Boris Johnson over partygate. Despite having been an MP for all of five minutes, the 34-year-old, who won the safe seat of Rutland and Melton in 2019 (hence the pork pie theme) decided that the Conservatives' wisest move was to remove the man who secured the party's biggest election win since 1987. Well, dip me in jellied pork stock and cover me in hot-crust pastry, that went swimmingly!
Having declared last year that she came into Parliament with "one legislative change I wanted to deliver, which was to ban conversion therapy", inexperienced Kearns now occupies one of the most influential posts in the House of Commons.
Her first intervention? Following hot on the heels of her fellow chair, Mel Stride, of outspoken Treasury select committee fame, she used a radio interview on Thursday night to urge the Prime Minister to reverse the tax-cutting measures in the mini-Budget.
I've got nothing personally against Ms Kearns – she is clearly a thoughtful and intelligent woman. But if she isn't for cutting tax, then what on earth is she doing in the Tory party, let alone now apparently in the running to enter a future Conservative Cabinet?
One former minister was this week quoted as saying: "Everything [the Government] are doing is everything that I don't believe in." Why, then, is that senior politician – apparently so opposed to spending controls and economic growth – not currently residing on Sir Keir Starmer's shadow front bench or drinking Remaineraid with Sir Ed Davey?
As former Brexit negotiator Lord Frost put it on Thursday: "There are too many … social democrats operating under Conservative cover."
It is one thing to be a broad church, but the Tories are currently taking on the mantle of a Blue Labour cult.
Not only are many of them perfectly comfortable with taxing people more, despite the tax burden being at its highest in 70 years, but they are also apparently as opposed to fracking as Ed Miliband. They seem to love the status quo and appear happy to watch Britain slowly sink into decline – along with their own party.
Tominey says that Liz Truss's platform was clasically Conservative, and so was the one upon which Alicia Kearns was elected.
These are the MPs who will determine the outcome of Brexit and the next election. Both are in peril.
Tominey rightly lays the blame at the feet of former PM David Cameron, a wet who wanted a different type of Conservative MP:
David Cameron's decision to introduce open primaries in the late 2000s, which saw wannabe MPs selected by non-members as well as members, was perhaps the most obvious mistake. The Conservatives ended up with "yellow" Tories in its ranks, such as Sarah Wollaston, who later defected to the Liberal Democrats.
Funnily enough, Sarah Wollaston is no longer an MP. Others like her, most of whom had the whip removed, were defeated or chose not to run in 2019.
This is the issue:
But more broadly, by inviting people with no background in Conservative politics to stand for Parliament, they ended up with people with no Tory backbone either. Holding successive snap elections only made the selection process less rigorous and open to people high on ambition and low on ideology.
This is a problem for the next general election. GEs depend upon local activists — party members — who are willing to canvass door-to-door:
We now have the Sunak squadders, calling for people to keep less of their wages, for businesses to pay more in corporation tax and for benefits to be linked to inflation, Corbyn-style …
Conservatives have become so detached from reality that they actually believe this will help them to win the next general election – even though it promises to prompt a mass walkout by the very grass-roots activists they rely on to run a campaign.
However, Tominey says that Rishi Sunak's coronavirus handouts have also altered the public perception of the role of the state. We can but see how this will play in 2024 or early 2025 when the next GE comes along.
Monday, October 17
On Monday, October 17, Leader of the House Penny Mordaunt had to stand in for Truss during a debate. Opposition MPs accused Truss of hiding under a desk.
Mordaunt had to deny that more than once, saying that Truss had a 'very genuine reason' for not being present.
I don't often feel sorry for Penny Mordaunt, but I did that day:
However, one Labour MP, Andrew Gwynne, tweeted that Liz Truss was the victim of a 'coup' — his word — and that Jeremy Hunt was the acting PM: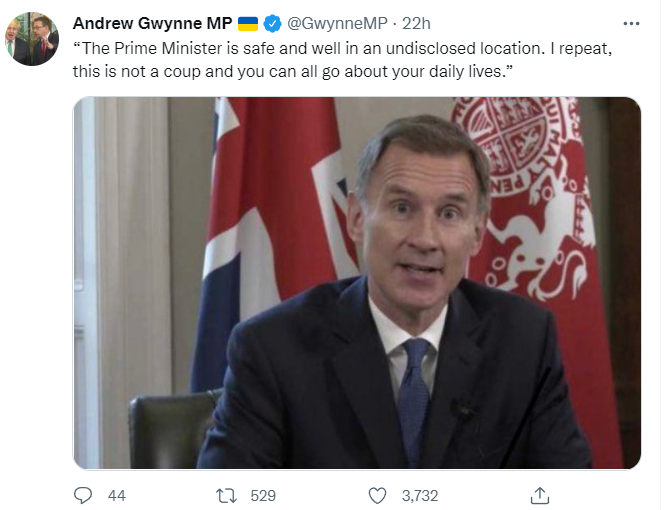 On Tuesday, October 18, The Times explained why Truss did not turn up at the despatch box the day before:
For much of the day Truss was conspicuous by her absence. She refused to respond to a question by Sir Keir Starmer in the Commons, prompting accusations from Labour that she was "frit". Penny Mordaunt, the leader of the Commons, answered questions in her stead. She said that the prime minister had "a very good reason" for her absence but refused to explain further, prompting misplaced speculation that Truss had resigned.
That reason for her absence turned out to be a meeting with Sir Graham Brady, the chairman of the backbench 1922 Committee. Sources said that the meeting was routine and had been arranged before Kwarteng's dismissal. But the issue of her leadership, and a potential revolt by Tory MPs, was said to have been discussed.
One source on the committee said there were a "number of views" on the way ahead but that there were concerns that an immediate move to defenestrate the prime minister could further destabilise the markets.
"The question is whether it is more damaging to create further uncertainty by getting rid of the prime minister when the chancellor [Hunt] appears to have settled the markets," said an MP on the committee.
Some Tory MPs believe that with the unravelling of her tax-cutting agenda and signature energy policy she is finished politically. Sir Charles Walker became the fifth Conservative MP to publicly call for her to go, saying her position was "untenable".
A senior Conservative source added: "It's the biggest unforced humiliation for a British government since Suez. Eden did the decent thing and resigned."
"The trouble is there is no consensus for who should replace her," said one former backer of Rishi Sunak. "And the last thing we need now is to be seen to be causing more uncertainty on the financial markets."
Monday night was grim.
On the subject of a coup, Nigel Farage agreed that Jeremy Hunt was in charge, and that this was a 'globalist coup':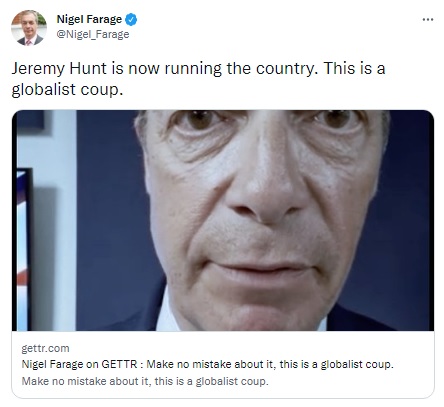 On his GB News show that night, Dan Wootton also said that there had been a coup. He agreed that the unpopular Hunt was in charge and that no one liked him, except for the Establishment. He said that if the Conservatives allowed this to continue, then they deserve to lose the next GE:

Truss surfaced to give an interview to the BBC's Chris Mason, wherein she apologised for the mini-budget. She said:
First of all, I do want to accept responsibility and say sorry for the mistakes that have been made. I wanted to act, to help people with their energy bills, to deal with the issue of high taxes, but we went too far and too fast. I have acknowledged that.
Tuesday, October 18
Tuesday's headlines were deeply discouraging for her. Nearly all had photos of her alongside Hunt:
The new biography of Truss, Out of the Blue, was not even ready for publication. Someone photoshopped the cover with a remainder sticker on it, saying, 'Reduced for quick sale — please just take it':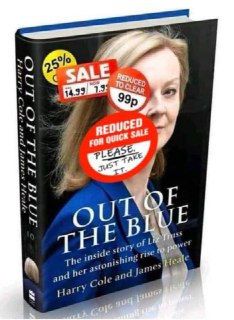 The Sun's political editor, Harry Cole, one of the book's co-authors, posted an article about the MPs plotting against her:
TORY plotters dubbed the "Balti Bandits" carved up Liz Truss's future last night over a korma and bhuna feast, The Sun reveals.
Leading rebel Mel Stride hosted more than a dozen "miserable" Conservative MPs in his large House of Commons office for an Indian takeaway – with the PM's fate also on the table.
Ex-Ministers John Glen, Nick Gibb, Mark Garnier and Shailesh Vara tucked into "lashings of curry and naan" ordered in by Mr Stride, alongside outspoken backbencher Simon Hoare. 
2019 intake MPs Angela Richardson and Simon Baynes were also said to have joined the "poppadum plot" – but sources say the meeting ended with "no credible solution" to their woes …
Contenders include ex-Chancellor Rishi Sunak, Defence Secretary Ben Wallace, new Chancellor Jeremy Hunt and Commons Leader Penny Mordaunt – but given the party is deeply split, the plotters admitted the chances of a rapid "coronation" of a new PM were "almost zero."
One attendee told The Sun: "the vast majority of attendees were Rishi Sunak supporters, but there were Penny people too. It was not a Rishi thing." 
On Tuesday evening, Truss had another group angry with her — her own supporters in the European Research Group, the pro-Brexit group of backbench Conservative MPs.
The Telegraph's Tim Stanley wrote about it, as he was there in the corridor for Truss's meeting with them:
Liz Truss launched her fightback at 6pm in Committee Room 11. The meeting was actually set for 5pm; Commons voting ran late so Mark Francois advised us hacks to go away and come back later, but I hung around on the suspicion that the moment we left, Liz would slip out of her hiding place in the roof of the lift and jog, unseen, into the Room …
These are the true believers: if they're angry at Liz for anything, it's for not keeping the mini-Budget …
What we saw of her on TV on Monday night, interviewed by Chris Mason, did not spark confidence as she uttered that dread word "sorry", thus accepting personal responsibility for blunders past and future. It is the mark of an "honest politician", she said, to admit mistakes. That's true, but it's also a dead giveaway for a not-very-good one, trying to turn a repeated error into a display of moral virtue. As Samuel Johnson might have said, "Honesty is the last refuge of the incompetent".
… She bobbed into view in a dark blue dress and black tights – fresh-faced, one suspects, from a good night's sleep. Instinctively, I stood: she might be a PM, but she's still a lady. I earnt a cheeky nod. Those who can't fathom the rise of Ms Truss haven't met her. She has a way of compromising you, of making you think you're on her side, and it's the most fun side of the room to be on.
The ERG roared as she entered. She entertained them behind a closed door for about 45 minutes. Then she left, followed by Mr Francois who told us it was "a very positive meeting".
The PM evidently spoke about Northern Ireland and her commitment to raising defence spending by the end of the decade, which is ambitious for a woman who could be out of office by Friday. And he noted that David Canzini, the clever political operative, was with her, an eminence so grise, none of us had noticed he'd gone in.
No 10 confirmed it: he was hired as of that morning.
Too little too late. That might have been Canzini's shortest job.
Wednesday, October 19
On Wednesday, October 19, Guido Fawkes posted that the Reform Party — formerly the Brexit Party — was climbing in the polls. The photo shows their chairman, businessman Richard Tice:
Guido's post said, in part:
Guido can reveal that in the 48 hours before close of play yesterday afternoon, the old Brexit Party received almost 1000 new £25 membership sign-ups. That new five-figure cash boost was joined by 300 members registering a new interest in standing as a party candidate at the next election. The first time the Tories dipped below Labour in the polls – September 2021 – Reform saw one in 10 Tory voters switching to them. Can they continue capitalising on Liz's woes? …

It's not just Reform benefitting from the dire state of No. 10. Last night the LibDems revealed five new donors, each giving £50,000 to the party, one of whom is a former Tory donor. While the last 36 hours have been calmer for Truss, it does feel like the ship has sprung one too many leaks to be repaired by a strong PMQs performance…
Wednesday was another fateful day. Home Secretary Suella Braverman resigned, then a confusing scene took place in the voting lobby over a division (vote) on fracking, which resulted in more chaos when it was unclear whether Wendy Morton had resigned as Chief Whip:
Liz Truss's final 24 hours: Suella Braverman's resignation, question over Whips' resignations (October 19)
Truss appointed Grant Shapps, former Transport Secretary, in Braverman's place:
Holy mole, guacamole!
Nigel Farage repeated 'coup' in his tweet about the news:
As with Hunt, Truss had to scrape the barrel.
The Telegraph reported that, like Hunt, Shapps was not a Truss supporter:
It is a remarkable turnaround for Mr Shapps, the transport secretary under Boris Johnson who went on to become a prominent supporter of Ms Truss's leadership rival Rishi Sunak.
Only on Monday night, Mr Shapps was telling a theatre audience that he believed Ms Truss had a "Mount Everest to climb" to remain in power.
"I don't think there's any secret she has a mountain, a Mount Everest to climb," he told Matt Forde's podcast. "What she needs to do is like threading the eye of a needle with the lights off."
Now he is one of her most senior ministers – and another example of the way a weakened Ms Truss is being forced to offer olive branches to the Sunak supporters she had previously shunned.
Not only was Mr Shapps questioning her chances of success until as early as this week – he was working proactively to get rid of her.
Mr Shapps has been viewed in Westminster as one of the leaders of the opposition to Truss's libertarian policies.
He spoke up at the Tory party conference in Birmingham earlier this month against her plans to scrap the 45p rate of income tax, and warned that Ms Truss had "10 days" to turn things around or MPs "might as well roll the dice and elect a new leader".
This is what the aforementioned Camilla Tominey was lamenting in Conservative MPs. Some of the recent ones have no appreciation of or allegiance to Conservative values. Shapps was a Cameronian MP.
The article also discussed Shapps's famous spreadsheets which appear to work as well as the 1922 Committee in making or breaking a Prime Minister:
The veteran MP – known by some as the "Duracell Bunny" for his enthusiasm – is also well-known for his "Star Wars" spreadsheet, with which he has spent the past few weeks recording the views of MPs on Ms Truss and her plans.
Mr Shapps used an earlier version of his famous spreadsheet to lead a rebellion against Theresa May, and also utilised its information to help guide Boris Johnson into Downing Street.
The spreadsheet is said to contain more than 6,000 historical "data points" from previous conversations with MPs.
It was rumoured that he had been in contact with Mr Johnson and Mr Sunak to see if they would join an effort to oust Ms Truss. And some rebel MPs claimed he had even offered himself up as a caretaker prime minister.
Let us not forget that Shapps himself is hardly a paragon of virtue:
… unfortunately for Mr Shapps, some elements of his past may make a shot at No 10 less than likely – not least the Michael Green saga.
This was an alter-ego he employed to enable him to run a series of get-rich-quick schemes on the internet while he was an MP.
Mr Shapps originally denied he had a second job, and threatened legal action against a constituent who said he had. But he was forced to admit practising business under a pseudonym in March 2015.
All this happened while he was Tory chairman, in charge of David Cameron's efforts to win the 2015 election.
He was demoted soon after to aid minister, and resigned from that role after claims he had ignored repeated allegations of bullying involving the Tories' youth organiser. It was said the alleged bullying, which took place on the party's RoadTrip 2015 campaign, may have caused one party member to commit suicide.
On Wednesday evening, Camilla Tominey reprised her warning about un-Conservative MPs and their takeover of the Government. She, too, used the word 'coup':
… the departure of Suella Braverman as home secretary speaks to a bigger problem for Liz Truss than sheer optics.
In sacking two key allies on the Right, only for them to be replaced by opponents more to the Left of the party, the Prime Minister is increasingly looking like the victim of a Conservative coup.
It is certainly ironic that the former home secretary, in post for just 43 days, first used that word to describe those who plotted against Ms Truss's original plan to link benefit to wages rather than inflation. 
With that, and most of her mini-Budget up in flames thanks to a rebellion by the moderates, Jeremy Hunt now appears to be the de facto Prime Minister.
He will now be joined by his fellow Sunakite Grant Shapps, who despite being rejected from Ms Truss's original cabinet, has now been appointed to replace Mrs Braverman at the Home Office.
Braverman, at one point, had headed the aforementioned European Research Group:
… her swift exit from one of the highest posts in public office will anger her European Research Group supporters.
It was only on Tuesday evening that Ms Truss was said to have charmed the backbench group of Eurosceptics with her honest, straight-talking approach.
They are unlikely to take kindly to their former chairman, a darling of the grassroots, being ejected in such unseemly fashion.
Mrs Braverman, a Conservative leadership candidate herself over the summer, received the longest standing ovation at the Tory Party conference two weeks ago.
Fortunately, Rishi Sunak re-appointed Braverman as Home Secretary. He probably realised he had to, in order to keep Party members on side.
Returning to Wednesday, October 19, The Telegraph posted an article stating that Conservative backbenchers were asking Labour for help in ousting Truss. Unbelievable:
Rebel Tories have been asking Labour MPs to help them overthrow Liz Truss, The Telegraph has been told.
Conservative backbenchers are growing increasingly frustrated with the Prime Minister's leadership, but currently lack any mechanisms to remove her given the one-year immunity she has from a no confidence vote.
As things stand, the only way to oust Ms Truss would be to change the rules – which is a decision that only the executive of the 1922 committee of backbenchers can make – or if she resigns of her own volition.
One Labour MP told The Telegraph: "Tories are speaking to us saying 'this is a complete nightmare and there is no way out'. We are being asked 'can't you do something about her?'"
The MP, who said their colleagues have reported similar experiences, said they were approached by one Red Wall MP whose constituency was in the north and another MP who is a member of the One Nation group of moderates …
A Labour source said: "There is very little Labour can do. Even a vote of no confidence doesn't have the constitutional standing that it used to. The Tory party are the ones that elected her, they need to get rid of her."
The paper's Michael Deacon wrote that Conservative MPs were entirely to blame for the mess. Furthermore, he said, they risked angering Party members, the campaigning activists, if they pushed ahead with a rule change saying that the members would no longer be able to vote for future Party leaders. The members elected Truss over Sunak in August:
This week, The Telegraph reported that Tory MPs want to bar members from voting in future leadership elections. Supposedly the reason is to speed up the process of choosing a leader. But this is blatantly a smokescreen. Quite plainly, MPs just want to prevent the members from landing them with another turkey like Truss.
Many members are appalled by this suggestion. And so they should be. Such a plan is not just arrogant and undemocratic, it's delusional. Because party members aren't to blame for the current mess.
Tory MPs are.
After all, who put Truss on the ballot paper in the first place? Tory MPs. No fewer than 113 of them, in fact. A third of the parliamentary party. Out of an initial field of 11 candidates for the leadership, Truss was the MPs' second favourite.
Unlike the MPs, however, the party members weren't allowed to choose between the initial field of 11. If they had been, it's extremely unlikely that they would have chosen Truss. They'd have been far more likely to choose Penny Mordaunt or Kemi Badenoch, to name just two. In fact, if the MPs had deigned to ask them, I suspect that the greatest number of members would have wanted their leader to be Boris Johnson – the person they chose to be leader in the first place.
The truth is, the members voted for Truss simply because they didn't want to vote for Rishi Sunak. In leadership contests, they're only ever given two candidates to choose from. And why? Because Tory MPs don't trust them. They fear that, if presented with a wide-open field, party members will choose the "wrong" candidate. Funny how things turn out.
All things considered, then, it seems clear that, if anyone should be barred from voting in leadership contests, it should be Tory MPs. In future, just leave it to the wiser judgment of the members instead.
That night, The Telegraph posted an article by Lord Frost saying that the Party was moving towards a status quo, if not anti-Brexit, stance, going all the way back to David Cameron's time as Prime Minister, with George Osborne as Chancellor and Philip Hammond in the same post under Theresa May:
… the Government is implementing neither the programme Liz Truss originally advocated nor the 2019 manifesto. It is going in a completely different direction. We are back to Osbornomics, the continuity Hammond view of the world. There is no shred of a mandate for this. It's only happening because the Truss Government messed things up more badly than anyone could have imagined, and enabled a hostile takeover by its opponents …
… the correct account of the past few weeks is the simplest. Truss tried to deliver worthwhile reforms and set the country onto a much-needed new direction. I supported this policy direction and still do. But it was rushed and bungled. The markets were spooked. The mistakes were opportunistically seized on by her opponents to undermine her leadership, to blame Brexit, and to stop the party getting out of the social democratic tractor beam of the past few years. And now, under pressure, the Prime Minister has reversed tack completely.
The risk now is that we lose for a generation the opportunity to do anything better. Every time the PM defends her approach, she denounces the policies on which she was chosen. The danger is that necessary and correct reforms are discredited.
Frost held that Truss was ultimately responsible for her own downfall.
As such, she had to go:
We are where we are. I am very sorry about it, because I had such high hopes. Whatever happens to her ministers or the stability of the Government in the next few days, Truss just can't stay in office for one very obvious reason: she campaigned against the policies she is now implementing. However masterfully she now implements them – and it doesn't seem that it will be very masterfully – it just won't do. She said she wouldn't U-turn, and then she did. Her fate is to be the Henry VI of modern politics – a weak figurehead, unable to control the forces around her, occasionally humiliated, and disposed of when she has become inconvenient. Better to go now.
As for her successor and the Party:
Then the party must do two things: avoid making the economic situation even worse by repeating the policies of the Cameron government in totally different circumstances; and recover some political legitimacy for carrying on – because in our system legitimacy does matter.
Thursday, October 20
After 44 days, Liz Truss resigned as Conservative Party leader on Thursday, October 20.
She served as Prime Minister for 50 days, beating George Canning's record of 118 days. Also a Conservative, he died of tuberculosis in 1827.
She remained PM until Rishi Sunak succeeded her:
Liz Truss's final 24 hours: Suella Braverman's resignation, question over Whips' resignations (October 19)
Liz Truss's final 24 hours: fallout over Braverman and Morton, no tears in exit speech (October 19, 20)
Rishi Sunak becomes Prime Minister: a momentous morning of historic significance (October 24, 25)
How Rishi Sunak won the Conservative Party leadership contest — part 1 (October 20, 21, 25)
How Rishi Sunak won the Conservative Party leadership contest — part 2 (October 21, 26, 27)
How Rishi Sunak won the Conservative Party leadership contest — part 3 (October 22-24, 27, 28)
On Thursday morning, The Telegraph posted a Planet Normal podcast in which Lord Frost said he could see Brexit being reversed:
In the wide-ranging discussion, Lord Frost also said that he could see a future where Brexit is reversed. 
"Brexit was about giving us the power to do things ourselves and to give responsibility back to British ministers, British governments. And they've shown that many of them are not up to the job in the last year or two."
"I can easily see a situation where Keir Starmer gets in. We drift back closer into the single market and go back into the Customs Union. And then everyone says why are we in these things where we don't get a say in them? Wouldn't it be better to be a member? So I can easily see how it could happen. And the way you stop it happening is to prove, while we have the levers of power, that we can do things differently and better. And at the moment we're not making a very good job of that, unfortunately."
Little did Truss know that, the day before, she had stood at the despatch box for her last PMQs:
She resigned early on Thursday afternoon. Thankfully, she didn't cry, unlike Theresa May, who broke down at the podium (Guido has the video):
Sterling began surging the second Truss finished her announcement:
In less than 24 hours, the Conservative Party website deleted her presence from their home page (Guido has the before and after screenshots):
It was a sad ending to a sad episode of British parliamentary history.
Next week, I will look at who, besides Truss herself, was also responsible for it.
Truss is currently spending time in her own constituency and has not yet appeared on the backbenches, an alien place for someone who had been a minister of state for most of her career.
As I write, the latest Conservative Party leadership contest came to a close at 2 p.m. on Monday, October 24, 2022.
Once he meets with the King, Rishi Sunak, the new Party leader, becomes the next Prime Minister.
The other candidate, Penny Mordaunt, pulled out of the race earlier today. She had far fewer MPs backing her than did Sunak. Boris Johnson declined to run last night, even though he had the numbers. I'll write about the contest in another post.
Picking up from last Friday's post, Liz Truss's last day as Conservative Party leader started with a storm over the fracking vote and the resignation of Suella Braverman as Home Secretary.
Both events took place within hours on Wednesday, October 19, 2022.
Sir Charles Walker MP
On Wednesday night, the Conservative MP Sir Charles Walker gave an explosive interview in the Palace of Westminster on the dire state of the Government under Liz Truss.
It should be noted that on February 2, he stated that he would not be standing for re-election in his constituency, Broxbourne. The BBC reported (emphases in purple mine):
He will remain an MP until the next general election, due in May 2024.
Speaking on Channel 4, Sir Charles said that after 17 years as an MP he was "juiced out".
"It's just very difficult, the public are demanding and they're becoming more demanding," he said,
"They're becoming quite angry, some of them cross the line and at times I feel like it's a pretty toxic environment."
On March 26, in a debate on extending coronavirus laws for another six months, he said he would protest by carrying around a milk bottle to show his displeasure. To this day, many of us have no idea what he was talking about, but you can read more in The Independent.
In May, Walker said he was wrong for thinking Boris could survive Partygate:
He only had to wait another several weeks.
On July 28, after Boris Johnson resigned as Conservative Party leader, he said that Party members should not be able to vote for Boris's successor. The Times reported:
About 180,000 Tory members will choose between Rishi Sunak and Liz Truss over the summer, before casting their votes over who will lead the party and therefore the country …
Sir Charles Walker, a former vice-chairman of the 1922 Committee of backbench MPs, which sets the rules of the race, said that the electorate should be narrowed to just allow fellow politicians to vote to prevent the bitter blue-on-blue attacks seen so far.
He told The Guardian that the contest "should have got nowhere near" the members, adding: "It's a view shared by many of my colleagues privately who wouldn't dare say it publicly."
He added: "MPs should be left to pick party leaders because we know the strength and weaknesses of the candidates far better than the membership because we serve and work with them every day in Westminster."
On October 11, Walker became a member of two select committees, the one for Standards and the one for Privileges. Both focus on MPs' conduct:
That brings us up to his explosive interview of October 19, when Walker announced he'd 'had enough':
He said he was angry with his colleagues, but, watching it, I wonder if he was angrier at Party members for electing Liz Truss over Rishi Sunak.
I was completely put off when he said that he was worried for his fellow MPs paying off their mortgages. They're in a much better position to do so than their constituents are. Good grief. That says a lot about the man:
You can see the full version here:
He was angry that Liz Truss was Prime Minister:
Speaking to reporters on BBC News, the Tory MP said: 'To all those people that put Liz Truss in number 10, I hope it was worth it to sit round the cabinet table'. He went on to say, 'the damage they have done to our party is extraordinary', admitting he was 'livid' and 'furious'.
Although he was presumably talking about his fellow MPs, he was probably also angry with Conservative Party members for getting Truss into No. 10. It bears repeating.
The Telegraph had more:
Charles Walker branded the Truss Government "an absolute disgrace" and her ministers a group of "talentless people" on Wednesday night …
"I've had enough, I've had enough of talentless people putting their tick in the right box, not because it's in the national interest but because it's in their own personal interest to achieve ministerial position. And I know I speak for hundreds of backbenchers who right now are worrying for their constituents all the time but are now worrying for their own personal circumstances because there is nothing as ex as an ex-MP" …

"A lot of my colleagues are wondering, as many of their constituents are wondering, how they are going to pay their mortgages if this comes to an end soon," he added …
"But unless we get our act together and behave like grown-ups I'm afraid many hundreds of my colleagues, perhaps 200, will be leaving at the behest of their electorate.
"Patience reached the limit."
The Guardian has another quote, relating to Suella Braverman:
Speaking to BBC Radio 4's The World Tonight, he added: "Let's not beat around the bush here. And I expect the prime minister to resign very soon because she's not up to her job either … I will shed no tears for either of them."
When asked when Truss should quit, he replied: "Well, I hope, by tomorrow … She needs to go. She shouldn't have been made prime minister."
Walker got his wish.
Wendy Morton
As I wrote on Friday, the vote on Labour's motion on fracking was a complete disaster in the No lobby, where Conservative MPs were expected to vote.
After the vote, as I said, Labour's Chris Bryant alleged that bullying occurred there.
At the opening of the Commons session on the morning of Thursday, October 20, Speaker of the House Sir Lindsay Hoyle opened with this statement:
I wish to say something about the reports of behaviour in the Division Lobbies last night. I have asked the Serjeant at Arms and other senior officials to investigate the incident and report back to me. I will then update the House.
I remind Members that the behaviour code applies to them as well as to other members of our parliamentary community. This gives me another opportunity to talk about the kind of House that I want to see, and that I believe the vast majority of MPs also want to see. I want this to be a House in which—while we might have very strong political disagreements—we treat each other courteously and with respect, and we should show the same courtesy and respect to those who work with and for us. To that end, I will be meeting senior party representatives to seek an agreed position that behaviour such as that described last night is unacceptable in all circumstances.
Earlier that morning, photographs of the situation outside the No lobby had appeared online.
No photographs are allowed in the voting lobbies, yet here they were.
Chris Bryant had appeared on Sky News. He tweeted a still of himself from the interview, with the comment:
Yesterday was utter chaos!
Someone replied with a photo of Conservative MPs all over one of their own. A professional photographer, so it would appear, took a photo of them and someone else took a photo of that scene: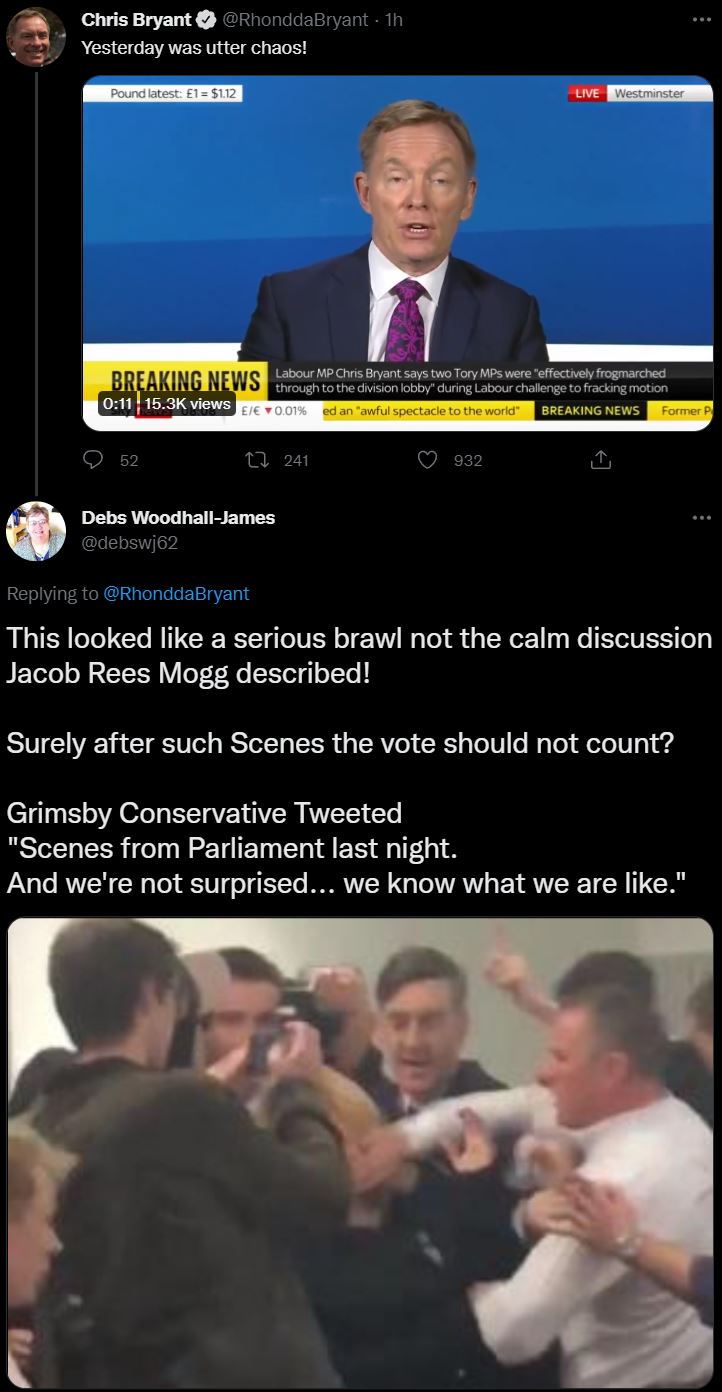 Here is another photo with Conservatives clustered in the middle of the room outside the voting lobbies. Labour MPs are standing off to the right. The No lobby is off to the left: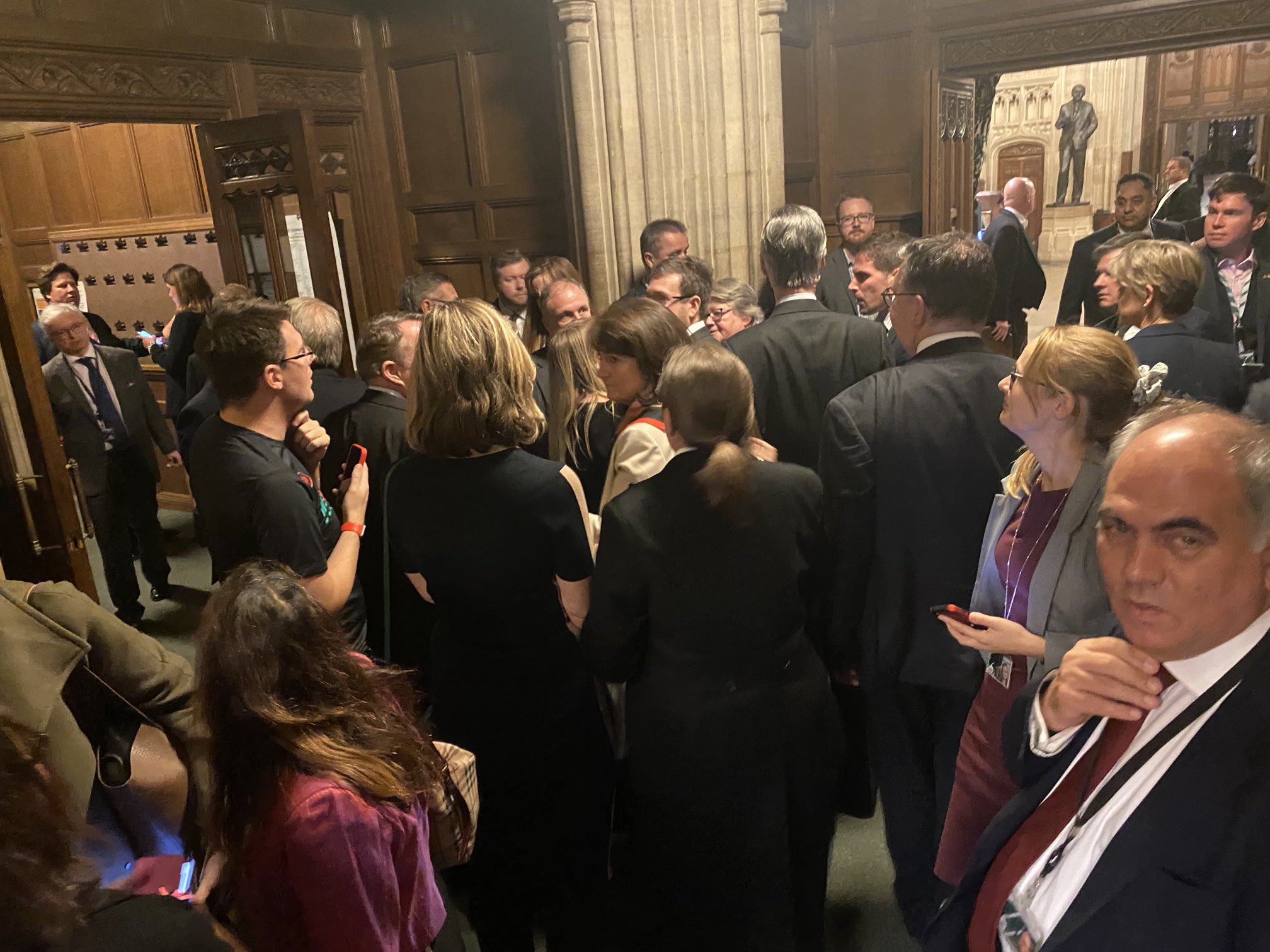 Business Secretary Jacob Rees-Mogg, tall with spectacles, is in the middle of both photographs. Deputy Prime Minister and Health Secretary Thérèse Coffey is the woman in front of Rees-Mogg's left shoulder.
Returning to the Speaker's statement, which I watched on BBC Parliament, Chris Bryant said that he had taken the photographs as evidence. Although Hansard does not record any responses to the Speaker, Bryant asked if photographs could be allowed in order to document these incidents in future. The Speaker said that it would be a matter for the House to decide together.
Confusion still reigned on the Conservative benches, particularly as some of their MPs strongly object to fracking.
And was Wendy Morton still Chief Whip at the time the vote took place? It was all a mystery, including to Conservative MP Ruth Edwards:
Edwards wrote about her experience in the voting lobby for ConservativeHome: 'Ruth Edwards: Why I am now calling on the Prime Minister to quit'.
Excerpts follow:
Shouting, confusion, allegations of bullying. Last night chaos reigned in the Commons. Anyone watching from the outside must have wondered what on earth was going on. It wasn't much clearer for those of us in the chamber either, but here is one bit-player's view from the benches.
Labour had tabled an Opposition Day motion that linked a bill to ban fracking to what was supposedly a confidence motion in the Government. If it passed it would have allowed the Labour party to take control of Parliamentary business in Government time. Like many colleagues, I don't think we should be reneging on our manifesto commitment to lift the moratorium on fracking. Why? Because I think it's poor energy policy and because I believe that manifesto commitments are there to be kept unless there is no other choice.
Edwards is against fracking. However, she did not want to vote with Labour, yet, this was supposed to be a three-line whip vote on Liz Truss's premiership:
None of us wanted to vote with Labour last night but some of us did want to abstain …
All day we were told by the whips that this was not just a strong three-line whip but a confidence vote. Voting against the government or abstaining would result in the whip being removed. That was very clear from the message sent to all Conservative MPs by the Deputy Chief Whip and confirmed by my whip when I messaged him to check.
That's why colleagues were in tears in the division lobbies and their offices. We were being told we had to choose between voting to lose the whip or voting against a manifesto commitment we believed in. For the front bench to allow the Opposition to put their MPs in this position is a special type of incompetence. But the tactic worked. The vast majority of colleagues, even the disillusioned and distressed, were prepared to go through the Government lobby.
I cited Edwards in my Friday post. In the debate wind up by the Government minister, she asked for clarification of a whipped vote after he said that it wasn't:
… the Minister lobbed a verbal hand grenade into the assembled crowd. By announcing at the despatch box that it wasn't in fact a confidence vote after-all. There was a sharp intake of breath. No one could believe what they had just heard. Surely he had misspoken?
So I bobbed up and down, asking him to 'give way'. That's the Parliamentary equivalent of putting your hand up in class to ask a question. After repeated efforts and a chorus of support from equally perplexed colleagues, he did so. But was unable to give a clear answer to my question.
That's when the chaos descended, because we now had no idea about the basis of the vote. MPs gathered in groups asking each other 'what are you going to do?'
Edwards spotted Chief Whip Wendy Morton in the lobbies and approached her:
I walked up to the Chief Whip to try and clarify what was going on. She cut me off mid-sentence 'I don't have to talk to you, I've resigned'.
The Deputy came through the lobby reiterating that it was a confidence vote and that the Minister would do a Point of Order to confirm that. So, eventually, we swiped our cards and shuffled back to the chamber. But no Point of Order came. Why is this even important? Because if you want to maintain trust and a good working relationship with your Parliamentary party, you can't lie to your MPs about the terms on which they are voting.
So what happened? It was still unclear:
I believe the whips office did act in good faith. I saw their faces as the Minister announced that it wasn't a confidence vote. One of them looked like she wanted to clobber him with the mace.
To be fair to the Minister I have it on good authority that he was relaying a message which had just come in from Number 10. This morning we are being asked to believe [by Jacob Rees-Mogg] it was a misunderstanding caused by a junior official. Anyone who believes that must be smoking something rather exotic.
Edwards had decided that Liz Truss should go and conveyed her sentiments formally to Sir Graham Brady, head of the 1922 Committee of Conservative backbenchers:
The trust between the Parliamentary Party and the Prime Minister no longer exists. You can only pull a stunt like that once. And you can't work as a team if the foot soldiers are treated with contempt by the general.
On Monday night the Prime Minister stood in front of the One Nation Caucus and promised to improve the communication between Number 10 and the party. Last night showed how deeply disingenuous that commitment was. I made my views known to Sir Graham Brady earlier this week. The Prime Minister has shown breath-taking economic and political incompetence during her short tenure in office. It is not responsible for the party to allow her to remain in power. Not when her actions can have such detrimental consequences for our constituents. So I add my small voice to the groundswell of others. Step aside, go, and let someone who is up to the task take on the great privilege and responsibility of leading our great country and party.
On October 20, The Sun's Political Editor Harry Cole wrote:
Within hours the government went into freefall as an extraordinary night of Commons drama saw claims that tearful Tory MPs were being physically manhandled by party enforcers.
During the carnage Chief Whip Wendy Morton threatened to resign – only to un-resign in a chaotic few hours where No10 could not confirm if she was in post.
Ms Truss could only watch on ashen-faced as she saw her authority drain away and more Tory MPs break cover calling for her to quit.
On Wednesday [at PMQs] Truss had insisted "I'm a fighter, not a quitter", but after scenes of Commons carnage that night after a botched confidence vote, it was clear her administration was on life support.
The Telegraph had much more:
The motion, which was defeated, would have guaranteed Commons time to debate a new law to ban fracking once and for all.
The vote meant that Ms Truss faced a showdown with rebellious MPs, many of whom have openly expressed their opposition to her plans to lift the moratorium on fracking …
On Wednesday morning, Tory MPs were told by the whips' office that the vote was a "100 per cent hard three line whip".
The message from Mr [Craig] Whittaker [Deputy Chief Whip] went on to say: "This is not a motion on fracking. This is a confidence motion in the Government.
"I know this is difficult for some colleagues, but we simply cannot allow this. We are voting no and I reiterate, this is a hard three line whip with all slips withdrawn."
If a vote is being treated as a matter of confidence in the Government, it usually means that MPs who vote against it would be expelled from the Conservative Party and have to sit as independent candidates …
But by Wednesday evening, the Government's position appeared to have changed. As the debate on fracking drew to a close, Graham Stuart, the climate minister, told the Commons that it was, in fact, "not a confidence vote".
Asked by Tory MPs whether they would lose the whip if they abstain, he said that it was a "matter for party managers".
Truss went to vote:
Ms Truss was reportedly yelled at by rebel MPs as she went through the lobby. Meanwhile, Mr Whittaker was reportedly overheard saying: "I am f***ing furious and I don't give a f*** any more."
According to some reports, Ms Morton resigned and left the Chamber as the voting was taking place, with Ms Truss grabbing her arm in an attempt to persuade her to reconsider …
What an unholy mess.
The Government won the vote, but:
It was unclear how many of the 40 abstentions were because MPs were unavoidably away from Parliament – Boris Johnson, for example, is currently on holiday – or because they were abstaining as a point of principle.
The Telegraph mentioned Bryant's Sky News interview implicating Rees-Mogg and Truss's confidante Thérèse Coffey:
Mr Bryant told Sky News that Cabinet ministers Therese Coffey and Mr Rees-Mogg were among a group of senior Tories who were putting pressure on Conservative MPs to vote against the Labour motion on fracking.
"There was a bunch of Conservative Members obviously completely uncertain whether they were allowed to vote with the Labour or against it," he said.
"There was a group including several Cabinet ministers who were basically shouting at them. At least one member was physically pulled through the door into the voting lobby. That is completely out of order.
"I know that Therese Coffey was in the group. I know that Jacob Rees-Mogg was in the group and there were others as well. The group all moved forward with one member."
One furious MP said they felt the Government had deliberately tried to trick backbenchers into supporting it with the mix-up over whether the vote was a confidence matter. They said this amounted to a "breach of trust" between No 10 and MPs that would be almost impossible to repair.
Another senior Tory MP put the confusion down to a "cock up" between No 10 and the whips office and said the confidence vote was in fact meant to be attached to the Government's motion, and not the one tabled by Labour.
Speaking to Sky News after the vote had ended, Mr Rees Mogg said he did not know whether Ms Morton was still in post or not, saying: "I am not entirely clear on what the situation is with the Chief Whip."
He explained that the confusion arose over whether the Commons vote on fracking was a confidence vote because of a message sent by a "junior official in 10 Downing Street", suggesting they did not have the authority to do so.
As for the two main whips, The Guardian reported:
Amid chaotic scenes in the Commons, it was reported that Wendy Morton, the chief whip, and her deputy, Craig Whittaker, had left the government. However, after hours of confusion Downing Street released a statement saying the two "remain in post".
The Mail+ reported that Truss had always wanted Coffey to be Chief Whip, but Coffey wanted to be able to stand up to the media for her friend:
A source said: 'We also had trouble finding a Chief Whip. Therese [Coffey] turned it down because she wanted to be free to defend the PM in the media, so we ended up with Wendy [Morton]. The whole thing became an absolute mess, Downing Street was cobbled together on compromise.'
Suella Braverman
At 10:30 a.m. on Thursday, an Urgent Question (UQ) was raised about the circumstances of Home Secretary Suella Braverman's departure the preceding day:
Shadow Home Secretary Yvette Cooper (Labour) raised the question.
Ably answering and clearly staying within his boundaries as Parliamentary Secretary, Cabinet Office was the brilliant Brendan Clarke-Smith.
He replied, beginning with this:
I thank the right hon. Lady for her question. My right hon. and learned Friend the Member for Fareham (Suella Braverman) resigned yesterday, following a contravention of the ministerial code relating to a breach of Cabinet confidentiality and the rules relating to the security of Government business. The Prime Minister has made clear the importance of maintaining high standards in public life, and her expectation that Ministers should uphold those standards, as set out in the ministerial code. All Ministers are personally responsible for deciding how to act and conduct themselves in the light of the code, and for justifying their actions and conduct to Parliament and the public. However, Ministers remain in office only so long as they retain the confidence of the Prime Minister. She is the ultimate judge of the standards of behaviour expected of a Minister, and the appropriate consequences of a breach of those standards. My right hon. and learned Friend has explained her decision to resign, and to be clear, the information that was circulated was subject to Cabinet confidentiality and under live discussion within the Government. In the light of that, it would not be appropriate to discuss the specifics of the matter further in the House, but the Prime Minister is clear that the security of Government business is paramount, as is Cabinet responsibility.
Cooper was unhappy with Clarke-Smith's answer, referencing Braverman's statement of 'tofu-eating wokerati' from her Tuesday debate and the Star's front page campaign of comparing Truss to a lettuce, implying a short shelf life:
… We have a third Home Secretary in seven weeks. The Cabinet was appointed only six weeks ago, but the Home Secretary was sacked, the Chancellor was sacked and the Chief Whip was sacked and then unsacked. We then had the unedifying scenes last night of Conservative MPs fighting like rats in a sack. This is a disgrace …
Has a check been made of whether she sent other documents through personal emails, putting security at risk? Was there a 90-minute row about policy between the Prime Minister and the former Home Secretary? Given the huge disagreements we have seen in the last few weeks between the Prime Minister and the former Home Secretary on drugs policy, Rwanda, the India trade deal, seasonal agriculture, small boats—and with a bit of tofu thrown in over the lettuce for good measure—is anything about home affairs agreed on in the Cabinet?
… who is taking decisions on our national security? It is not the Prime Minister, nor the past or current Home Secretaries. Borders, security and policing are too important for that instability, just as people's livelihoods are too important for the economic instability that the Conservative party has created. It is not fair on people. To quote the former Home Secretary, this is indeed a total "coalition of chaos". Why should the country have to put up with this for a single extra day?
Clarke-Smith replied:
I am mindful that it is not usual policy to comment in detail on such matters, but, if some background would be helpful—I appreciate that much of this is already in the public domain—the documents in question contained draft Government policy, which remained subject to Cabinet Committee agreement. Having such documents on a personal email account and sharing them outside of Government constituted clear breaches of the code—under sections 2.14 and 2.3, if that is helpful to look at. The Prime Minister is clear that the security of Government business is paramount, as is Cabinet responsibility, and Ministers must be held to the highest standards.
He took questions from other MPs, mostly from the Opposition. He did not cave in.
Guido Fawkes's sketch writer Simon had high praise for Clarke-Smith and was still hopeful at that point that Truss could survive:
The Home Secretary had been fired for infringing the ministerial code. The ministerial code was the responsibility of the Cabinet Office. He was from the Cabinet Office and had no view on migrants, boats, flights to Rwanda or pigs' ears, come to that.
It was a rare display of governmental competence. They managed to say nothing of interest, and say it convincingly. It's a low bar but they cleared it comfortably. Is this the start of a Conservative revival? There's a wee way to go, if it is. 
Liz Truss resigns
On Wednesday night, The Sun's Harry Cole said:
We are watching a hostile takeover of the government.
A short while later, the new Home Secretary — formerly the Transport Secretary until Truss sacked him — Grant Shapps said in an interview that Truss's chances of leaving Downing Street were high:
Guido reported that Shapps said, in part (emphases in the original, with the full quote here):
… I think the 80% [chance of failure] is closer to where we've got to… she needs to thread the eye of a needle with the lights off …

For weeks, the Star had been running with their lettuce campaign, showing a photo of Truss next to an iceberg lettuce on the front page. They had also a webpage.
On Wednesday, The Telegraph's Madeline Grant wrote, 'The Liz Truss lettuce lives to wilt another day':
Contrary to any number of rumours, where Westminster gets its kicks is the scent of blood – and most of all when there's a resignation in the air. The Tory WhatsApp groups pinged mutinously. Hastily-assembled spreadsheets did the rounds, detailing who'd called for the PM to resign, and when. The Daily Star outdid the competition; hosting a live stream of a lettuce to see if it outlives Liz Truss's premiership.
Then came Suella Braverman's resignation and the lettuce claimed its first victim …
… For now, the lettuce lives to wilt another day.
But only one more day.
The Mail+ had an insightful piece on October 22 about what went on with the Prime Minister between Wednesday night and Thursday afternoon. The article also recaps how disastrous Truss's choices were from the beginning of her brief tenure:
WHEN LIZ Truss finally accepted that her Premiership was over, late on Wednesday evening, she went to the fridge in the No10 flat and pulled out a bottle of sauvignon blanc to share with her husband, Hugh …
As she nibbled on a pork pie, the couple agreed that it was now a matter of when, not if, she resigned. One of the main considerations was the impact of the growing turmoil on their two teenage daughters.
Ms Truss then slept fitfully until 4.30am, when she started messaging aides for advice. Later that morning, No10 asked Sir Graham Brady, the chairman of the 1922 Committee of backbench Tory MPs, to come in to see the Prime Minister.
When she asked him if the situation was retrievable, he replied: 'I don't think so Prime Minister.' The game was up.
As she delivered her resignation statement, her former No10 consigliere, Jason Stein, was watching the live feed on his phone at a table in The Ivy in London's Marylebone …
Until his suspension on Wednesday pending an investigation by the Government's Propriety and Ethics Team over claims of unauthorised briefings against colleagues, Mr Stein had been at the centre of the doomed Truss premiership as an all-purpose fixer and adviser.
He has told friends that the Downing Street operation was 'dysfunctional from the outset', and blames 'muddled lines of command' for the single greatest error – the mini-Budget which even the Prime Minister herself now privately describes as 'a colossal f***-up'.
Sources also describe fractious meetings in the run-up to the mini-Budget, which led to the sacking of her Chancellor Kwasi Kwarteng and the reversal of the vast majority of its measures, with Ms Truss being so enraged by one member of her staff on one occasion that she talked about 'stabbing him in the leg'.
The sources are scathing about the role played by Ms Truss's Chief of Staff Mark Fullbrook, describing his appointment as 'a disaster'.
One said: 'Liz offered that job around everywhere, but no one would take it. We were left with no option but to give it to Fullbrook. He was part of a secret meeting in the Downing Street flat on September 13, during the official mourning period for the Queen, when the Budget was drawn up behind the back of Kwasi.
'It was just Liz, Fullbrook and a couple of other aides eating sushi takeaways and coming up with that brilliant plan to cut the top 45p rate of tax.
'The Treasury and the Cabinet Secretary [Simon Case] warned against it' …
The sources also claimed that Mr Stein had warned Ms Truss against appointing Mr Fullbrook in August, describing him as 'a trickster', but that Ms Truss had 'gone ballistic' at him in return.
Another source claimed that Ms Truss had regretted appointing Matthew Sinclair, the former chief executive of The TaxPayers' Alliance think-tank, as her Chief Economic Adviser, adding: 'He was always talking over her in meetings and "mansplaining". She said on one occasion that if he kept it up she would stab him in the leg. He never shut up' …
It would appear that Truss lacked a close coterie of people she could trust:
Another source also claimed that Mr Case had been concerned about Ms Truss's morale, telling colleagues that 'while all Prime Minister's end up lonely in office, it has happened at warp speed to Liz.
'He grew very, very concerned,' the source said.
On Thursday, she reportedly felt relieved she was leaving:
Downing Street staff were in tears as Ms Truss prepared her resignation, but she reassured them, 'Don't worry, I'm relieved it's over,' before adding, 'At least I've been Prime Minister.'
At least her staff were in tears, meaning that she must have been nice to them, which is vital.
Guido kept us apprised of the morning's events, beginning with Graham Brady's arrival:
Guido said there were different versions of who called the meeting:
Graham Brady has just been escorted into the back door of No. 10, with Downing Street confirming that he's meeting the Prime Minister. The Telegraph reports there was no meeting planned in her diary. The meeting of the two comes as ITV's Paul Brand reports One Nation Tory MPs have been meeting this morning "to try and coalesce around a single candidate to replace Liz Truss." May just be a lot more noise without any movement. Eyebrow-raising nonetheless…
UPDATE: Downing Street saying Truss requested the meeting herself…
UPDATE 12:25 – Therese Coffey enters Downing Street
UPDATE 12:49 – Jake Berry [MP, chairman of the Conservative Party] enters Downing Street
Just after 1:15 came the news that Truss would make a statement:
And then, at 1:25 p.m., Truss announced her resignation as leader of the Conservative Party (video here):
It was brief and to the point. Her husband was out of shot by a front window.
Thankfully, there were no tears as there were with Theresa May who broke down while giving her speech in 2019.
Because it is an afternoon newspaper, London's Evening Standard was the first out of the traps with the historic headline:
Let's have a look at the victorious lettuce:
It's hard to know whether to laugh or to cry.
Truss remains Prime Minister until Rishi Sunak meets with the King. In her final message on Monday, October 24, she sent her wishes for a happy Diwali, celebrating the triumph of light over darkness. We certainly could do with that. More importantly, what a memorable Diwali it will be for the Sunaks — and Rishi's in-laws:
I wish Liz Truss and her family all the very best for the future.
I had so much hope for her, but that's all gone by the wayside.
More analysis on the leadership contest and what happens next will follow this week.
At midday on Wednesday, October 20, 2022, Liz Truss did a good job at Prime Minister's Questions (PMQs).
She looked normal and bouncy, like the woman we saw in the Conservative Party leadership hustings only a few weeks ago. She was good at the despatch box, including against the leader of the Opposition, Labour's Keir Starmer.
Afterwards, I thought, 'Phew. Looks like a drama-free day for once'.
By mid-afternoon, all hell broke loose and continued into the evening.
Suella Braverman
Suella Braverman was doing a great job as Home Secretary.
Liz Truss appointed her on September 6.
Many outsiders do not know that Braverman is of mixed race, born to parents of Kenyan and Mauritian heritage.
On September 7, ice cream moguls Ben & Jerry were quick to criticise her plans to stem immigration:
The Telegraph reported (purple emphases mine):
Ice cream company Ben & Jerry's is facing criticism for publishing a to-do list for Suella Braverman, the new Home Secretary, suggesting she should "scrap the Rwanda plan" and take dessert breaks.
The firm's UK Twitter account tweeted a message of congratulations to Ms Braverman, accompanied with the image of a list including various objectives for her first day in the role on September 7, such as to "introduce safe routes to the UK for people seeking asylum" and "lift the ban and give people seeking asylum the right to work" …
It came as Ms Braverman made her first speech to Home Office staff on Wednesday, after which it was suggested that she could seek joint beach patrols with the French to help prevent Channel migrant crossings as part of any deal to continue UK funding …
On Wednesday in an address to a packed out atrium of Home Office staff, Ms Braverman said that tackling the Channel migrant crisis was going to be one of her "clear priorities" as she told them she was going to "develop some obsessions."
"This is not just a manifesto pledge, people are dying," she said, as she promised to take a "firmer line" against people traffickers. It was one of three priorities alongside making streets safer through a back-to-basics approach to crime with the extra 20,000 officers and counter-terrorism …
Braverman, who is a barrister, has a brilliant mind but takes time out for mindless entertainment:
Asked on Wednesday by Home Office staff what she does to unwind, she said that other than spending time with her family, it's "trash TV" and singles out Married at First Sight, Love Island and First Dates.
Home Office officials appeared relaxed about Braverman's appointment, with one source in the department telling the journalist Nicola Kelly: "Anyone — Suella included — would be better than what we've had."
Braverman became the first practising Buddhist to be appointed to the Cabinet and took her oath of office when appointed an MP on the Dhammapada, one of the best known Buddhist scriptures.
The new home secretary, born Sue-Ellen Cassiana Fernandes to a mother from Mauritius and a father from Kenya, married Rael Braverman in 2018 in a ceremony in the House of Commons.
He said that she invited him to the Houses of Parliament as their first date and the couple have told how their shared love of politics is what "allowed their romance to blossom".
They have two children, aged three and one, and Braverman became the first cabinet minister to go on maternity leave.
It was a huge deal. I remember watching her in Parliament on the day before she went on maternity leave. She was grateful for that opportunity:
As Attorney General, she banned diversity training in her department when she returned from maternity leave.
On August 4, 2022, the Mail reported:
Mrs Braverman, the Government's chief legal adviser, has scrapped diversity and inclusion training in her department having discovered that hundreds of her lawyers spent 1,900 hours on the woke lectures last year.
Speaking to Talk TV yesterday, she said: 'I looked at the training materials and I was very sad at what very intelligent, fair-minded, professional people were being taught.
'This training stuff was based on a premise that someone like me, an Asian woman from a working-class background, must necessarily be a victim, must necessarily be oppressed, must necessarily be a victim of white privilege and white fragility.'
She said that rather than uniting people, it divides them by cohorts 'based on different kinds of grievances'.
'I don't think it's the right way to spend taxpayers' money, I don't think it's the right way to use vital civil service resource when we've got a Passport Office that needs to work harder on delivering passports and we've got a DVLA that needs to be quicker at issuing driving licences,' she added.
Her first achievement was to be in post during the Queen's funeral events, which went superbly.
Her second was to order an urgent enquiry into why June's scheduled flight to Rwanda had to be abandoned.
On October 15, The Telegraph told us of the results:
A company owned by a lawyer who helped block the Government's Rwanda deportation flight was given taxpayers' money to train immigration advisers, The Telegraph can disclose.
More than £100,000 was awarded to HJT Training – a firm run by two barristers at the chambers which grounded a flight to the African country in June.
A Home Office source said Suella Braverman, the Home Secretary, had instructed civil servants to undertake an "urgent review" of the contract, amid claims from Tory MPs the quango responsible for overseeing immigration advice could have been hijacked by activism.
HJT Training and the quango – the Office for the Immigration Services Commissioner (OISC) – both denied there was any conflict of interest and they are not accused of any wrongdoing …
Two of HJT Training's four directors – Mark Symes and David Jones – are barristers at Garden Court Chambers.
On June 14, the chambers secured injunctions at an emergency hearing before the Court of Appeal which prevented a plane from removing asylum seekers to Rwanda.
Mr Symes, who is listed on Companies House as having a "significant control" in HJT Training, was a member of the team.
Mr Jones did not act in the case. Garden Court Chambers said the asylum seekers they were representing all "had strong cases for asylum in the UK" and their stories demonstrated the "inhumanity in the Rwanda policy".
Her third achievement was deporting 11 Albanians shortly after they crossed the Channel in small vessels.
On October 18, The Guardian reported concerns from human rights groups, but this is the nub of the story:
The Albanians are thought to have arrived in the UK last week and were taken from Manston in Ramsgate where the Home Office processes small boat arrivals, to Stansted airport from where they were put on a plane back to Albania on Wednesday. It is thought to be the first time small boat arrivals have been put on a plane directly from Manston.
Her fourth achievement was seeing the Public Order Bill debated and passed in the Commons that day:
Her closing remarks in that debate will be remembered for some time to come:
When I was the Attorney General, I went to court to establish that it is not a human right to commit criminal damage. The Court of Appeal agreed with me in the Colston statue case that serious and violent disorder crosses a line when it comes to freedom of expression. That is common sense to the law-abiding majority.
Since 1 October alone, the Metropolitan police have made over 450 arrests linked to Just Stop Oil, and I welcome this, but more must be done. That is why I welcome the fact that, today, Transport for London has succeeded in securing an injunction to protect key parts of the London roads network. That is an important step forward in the fight against extremists. However, these resources are vital and precious, and this has drained approximately 2,000 officer days at the Met already. Those are resources that are not dealing with knife crime and are not dealing with violence against women and girls.
I am afraid to say—and I will come to a close soon—that that is why it was a central purpose of the Police, Crime, Sentencing and Courts Bill, now an Act, to properly empower the police in face of the protests, yet Opposition Members voted against it. Had Opposition Members in the other place not blocked these measures when they were in the Police, Crime, Sentencing and Courts Bill, the police would have already had many of the powers in this Bill and the British people would not have been put through this grief. Yes, I am afraid that it is the Labour party, the Lib Dems, the coalition of chaos, the Guardian-reading, tofu-eating wokerati and, dare I say, the anti-growth coalition that we have to thank for the disruption we are seeing on our roads today. I urge Opposition MPs and Members of the other place to take this second chance, do the right thing, respect the rights of the law-abiding majority and support this Bill.
The bill passed: 283 to 234.
The next day, Wednesday, I tuned in to GB News late that afternoon to find out that Braverman had resigned or been sacked:
As such, Braverman holds the record for being the shortest-serving Home Secretary at 43 days.
The next shortest-serving was fellow Conservative Donald Somervell at 62 days, says The Guardian:
Somervell held the post from May to July 1945 in Winston Churchill's caretaker government before it was defeated in a general election.
Truss will have the shortest record as a serving Prime Minister when she leaves next week.
Grant Shapps, former Transport Secretary, replaced Braverman as Home Secretary. It is hard to imagine that he could do the job.
Nigel Farage said that this was a coup:
You could not make this up.
Guido Fawkes reported, alluding to her Public Order Bill closing speech (emphases his):
The Guardian gets the scoop that Suella Braverman is out as Home Secretary "at the behest of the Chancellor".
Sources claimed the move was at the behest of the new chancellor, Jeremy Hunt, who has taken over control of the government's economic response following Truss's disastrous mini-budget, but who they claimed was now "pulling the strings".
A major victory for tofu lovers everywhere…
UPDATE: Reports suggesting she was fired for breaching the ministerial code, after handling sensitive documents on a private phone. Chaos…
Anyone wondering if they are part of what Braverman called the 'tofu wokerati' can take a Times quiz and find out for sure.
Not surprisingly, I came in the middle with mostly 'B' answers to the multiple-choice questions:
Borderline. You know, in your heart, that the wokerati are a real and dangerous thing and definitely not some made-up term chucked about by a desperate home secretary. Come on! You know tofu is bad, nicely crisped or not. You're just too wrapped up in seeming "reasonable" and with "seeing both sides of things". Yes, your monthly mortgage repayments have gone up so much that you've had to sell one of your children … Come on. Time to get off the fence.
Braverman quickly posted her letter of resignation online:
Patrick Christys analysed it on GB News, pointing out the fourth paragraph, particularly the second sentence:
It is obvious to everyone that we are going through a tumultuous time. I have concerns about the direction of this government. Not only have we broken key pledges that were promised to our voters, but I have had serious concerns about this Government's commitment to honouring manifesto commitments, such as reducing overall migration numbers and stopping illegal migration, particularly the small boat crossings.
While Braverman went on to speak at a Diwali reception sponsored by the India Global Forum that evening, the political animals among us were dissecting what really happened:
Boris Johnson's former adviser Dominic Cummings said that what Braverman did was not a sacking offence. 'OFF-SEN' is shorthand for Official-Sensitive and 'CABOFF' is Cabinet Office:
Former Conservative MP Anne Widdecombe told Dan Wootton the same thing that evening:
The Guardian dissected Braverman's letter paragraph by paragraph; excerpts follow, bold emphases theirs:
What she said
Earlier today, I sent an official document from my personal email to a trusted parliamentary colleague as part of policy engagement, and with the aim of garnering support for government policy on migration. This constitutes a technical infringement of the rules … nevertheless it is right for me to go.
What she meant
Braverman devoted the top two paragraphs of her letter – less than half – to addressing the issue she said she was resigning over, making clear she realised she had broken the ministerial code by storing government documents on a personal device and sending those to a "trusted parliamentary colleague". She left herself little wriggle-room and wholly accepted the mistake. It means in the future she will be able to say she stepped down swiftly and try to brush away suggestions about her being unfit to rejoin the government.
What she said
Pretending we haven't made mistakes, carrying on as if everyone can't see that we have made them, and hoping that things will magically come right is not serious politics. I have made a mistake; I accept responsibility; I resign.
What she meant
Not hard to work out what she is referring to here. The parallel between Braverman taking responsibility for her mistake and Truss being accused of refusing to acknowledge the pain caused by her mini-budget is plain to see. Truss has recently said she takes responsibility for the chaos caused. If she were to follow the logic set out by the former home secretary in this paragraph, she would need to resign.
The analysis also addressed Truss's brief letter of acknowledgement:
Liz Truss's reply
I accept your resignation and respect the decision you have made. It is important that the ministerial code is upheld, and that Cabinet confidentiality is respected.
What she meant

Significantly shorter in length and far from gushing about Braverman's performance as home secretary, Truss ensures that it is known the home secretary is stepping down squarely because of her breach of the ministerial code. Given she still has no ethics adviser, this is a quick decision the prime minister must have come to but she is keen to make sure there is no ambiguity.
Readers will be left with the impression there is no love lost between the two women.
The Telegraph reported that there was more to the story than a breach of the ministerial code. The two women had a row over immigration on Tuesday night, with Jeremy Hunt on hand.
Note that the Office for Budget Responsibility wants more migration, which isn't surprising, as they are left-leaning:
The fuse for Suella Braverman's resignation was lit on Tuesday night when she had a heated face-to-face row with Liz Truss and Jeremy Hunt, her new Chancellor, over their demands to soften her stance on bringing down immigration.
Friends said the Home Secretary was appalled that they wanted her to announce a liberalisation of immigration to make it easier for the Office for Budget Responsibility (OBR) to say the Government would hit its growth targets – a key plank in Mr Hunt's strategy to restore market confidence.
"Suella said, this is insane, why are we trying to appease the OBR? Is everything getting thrown out the window?" said one of her allies …
Within 24 hours of her "fiery" 90-minute meeting with the Prime Minister and Mr Hunt, Ms Braverman had been forced to resign after being accused of breaching the ministerial code on two counts for sending official documents to another MP from her personal email …
It now poses a threat to the future of the Prime Minister after Ms Braverman used her resignation letter to say she had "concerns" about the direction of the Government and the breaches of its manifesto commitments on immigration.
However, the most incendiary was a coded attack on Ms Truss's integrity in which the Prime Minister's former leadership rival said "the business of government relies upon people accepting responsibility for their mistakes" …
It had been intended at the start of the week that Ms Braverman would set out the new immigration policy on Thursday with a meeting of the Cabinet's home affairs committee, with Mr Hunt, Therese Coffey, the Deputy Prime Minister, and other senior ministers due to finalise the plans on Wednesday lunchtime.
However, Mrs Braverman never attended the meeting after sending an email on Wednesday morning intended for Sir John Hayes, the chairman of the Common Sense group of Tory MPs, containing Government documents about immigration.
The Home Secretary accidentally clicked on the wrong drop-down tab on her email and sent the document from her personal email address to a staffer who works for Tory MP Andrew Percy.
Mr Percy then complained to Wendy Morton, the Government's Chief Whip, who reported the leak to the Cabinet Office, before Prime Minister's Questions on Wednesday.
Simon Case, the Cabinet Secretary, investigated and rapidly concluded Ms Braverman had broken the ministerial code on two counts.
One was on part 2.14 of the code, the "security of government business". That section says "ministers have an important role to play in maintaining the security of Government business".
The other was 2.3, "collective responsibility". That states "the internal process through which a decision has been made, or the level of Committee by which it was taken should not be disclosed".
Ms Truss then confronted Ms Braverman with the findings. She made clear what should follow from ministerial rule breaches, according to allies, leaving Ms Braverman to resign.
There is a dispute over the nature of the documents that she emailed. Ms Braverman maintains it was a draft written ministerial statement (WMS), due for publication imminently and much of which had already been briefed to MPs.
Downing Street sources were, however, incensed by the claim that it was only a WMS which was made public. Instead, the sources said it was the contents of a sensitive internal policy document that Ms Braverman had passed on.
Allies of Ms Braverman said she was told by Ms Truss that if the Government defended her, it would be at risk of "salami slicing" by critics trying to pick off ministers.
"Liz says: 'If you stay, we'll have to defend you and it will salami slice our credibility. For your own sake you should go'," said one ally.
"Suella thought 'are you serious, you're not even going to defend anyone over anything?' She said: 'Fine, if you won't stand up for me, I'll go'."
The row meant that Ms Truss had to pull out of a visit to a venue near London. Ministers briefed privately that she was detained on a "national security issue".
Within two hours Ms Braverman had quit …
Allies of Ms Braverman said she was in a minority in Cabinet in her attempts to resist liberalising migration to boost growth and the arrival of Mr Hunt as Chancellor appeared to reinforce that majority. In his leadership bid in 2019, he vowed to abandon Mrs May's immigration target of tens of thousands …
Ms Braverman's refusal to accept an "open borders migration policy" with India proved one flashpoint – and was blamed by critics for delaying efforts to secure a trade deal with the second most populous nation in the world …
Migration has already hit a new high as more than one million foreign nationals were allowed to live, work or study in the UK in a year for the first time.
Wendy Morton
As if Braverman's departure wasn't enough during the day, there was more to come with Labour's motion in the Commons that evening, Ban on Fracking for Shale Gas Bill.
Although the debate was about banning fracking, the results of the vote were one of confidence in Liz Truss's premiership. As such, Conservative MPs were told there was a three-line whip. There are Conservative MPs who would love a fracking ban.
The Commons was noisy on both sides of the chamber during the debate. I watched the last hour or so.
At the end, Graham Stuart, the Minister for Climate, responded on behalf of the Government. He sowed doubt as to whether this was a whipping matter for Conservatives:
It is a great pleasure to wind up this debate, to which there have been so many excellent contributions from across the House. Perhaps not for the first time, the right hon. Member for Doncaster North (Edward Miliband)—he is an extremely clever man, for whom I have a great deal of respect—has been a little bit too clever by half. Perhaps if more drafting had gone into this, instead of seizing the Order Paper we could have had a different style—[Interruption.] It was an attempt to seize the Order Paper. Quite clearly, this is not a confidence vote—[Interruption.] Obviously, this is not a confidence vote; it is an attempt—[Interruption.]
Conservative MP Andrew Percy intervened:
The Minister is absolutely right about the green revolution, in which our region in the Humber is playing such a big part. I ask him to reflect on the speeches that have been made today. If this was a clear vote on whether or not we should have fracking, I would be in the Lobby with the Opposition …
Labour's Ed Miliband, who was leading his party's motion, then asked for clarification:
For the guidance of the House, the Minister said something very important from the Dispatch Box: he said that this is not a confidence motion. I think Conservative Members want to know, because if he confirms that statement, they can vote for our motion in the safe knowledge that they can be confident in the current Prime Minister. Will he confirm that?
Stuart said he had already given the answer more than once. Another Labour MP intervened to ask for clarification.
Then another Conservative MP, Ruth Edwards, intervened:
I really need to press the Minister on this question of a confidence vote. Many of us have been told today by our Whips that if we vote for, or abstain from voting against, this motion, we will lose the Whip. Will he please confirm whether that is the case?
Stuart replied:
That is a matter for party managers, and I am not a party manager.
… the deregulatory side of the growth package is under threat, with Tory MPs wary of relaxing planning laws and seeking solid guarantees that fracking has local support before going ahead. Ms Truss's difficulty is that on all these issues she could face rebellions and her beleaguered position makes it harder to persuade her party to support government policy.
Tonight's Labour procedural vote on fracking, which was originally said to be a confidence matter, was a case in point. Although the Government won, the chaos surrounding the vote only reinforced the sense of a parliamentary party now edging towards open mutiny.
The division — the vote — went on for longer than usual. Madam Deputy Speaker, Dame Eleanor Laing, asked the Serjeant at Arms to investigate the No lobby.
After the results were read, showing that the Government's stance on fracking only with local approval prevailed, the Shadow Leader of the House, Thangham Debbonaire, raised a point of order:
On a point of order, Madam Deputy Speaker. There are very strong rumours that the Government Chief Whip has apparently resigned. I wonder if it is possible to get some clarity—[Interruption.] More than rumours—[Interruption.] Well, if Government Front Benchers want to say no. I seek your guidance, Madam Deputy Speaker, on whether or not that can be confirmed, given that this is a matter of parliamentary discipline?
Laing said she had not been informed of any Government resignations.
Then Liberal Democrat MP Tim Farron asked whether this was actually a vote of confidence:
On a point of order, Madam Deputy Speaker. I wonder whether you could clarify that the Minister closing the debate we have just had from the Dispatch Box informed his colleagues that it was not a vote of confidence, when we saw earlier, in writing from the Government Deputy Chief Whip, that it was. Could it be possible that Government Members voted in the Division just now without any clarity on what it was actually they were voting for?
Laing replied:
I thank the hon. Gentleman for his point, which of course is not a point of order for the Chair. My concern is that what is said on the Order Paper is correct and accurate, and it is. I thank the hon. Gentleman for the point he raises, but it is not one on which I can judge. Ministers are responsible for their own words.
Then Labour's Chris Bryant raised a point of order:
On a point of order, Madam Deputy Speaker. I urge you to launch an investigation into the scenes outside the entrance to the No Lobby earlier. As you know, Members are expected to be able to vote without fear or favour and the behaviour code, which is agreed by the whole House, says that there shall never be bullying or harassment of Members. I saw Members being physically manhandled into another Lobby and being bullied. If we want to stand up against bullying in this House of our staff, we have to stop bullying in this Chamber as well, don't we? [Interruption.]
Laing replied:
Order. We are talking about behaviour. We will have a little bit of good behaviour for a moment on both sides of the House.
The hon. Gentleman raises an important matter about behaviour. He knows better than anyone else that we have an extremely good system for investigating allegations of bullying, intimidation or bad behaviour. If the hon. Gentleman cares to bring evidence and facts to me, I will make sure that the matter is properly investigated. Of course, we must have decorous behaviour at all times, so we will now proceed quietly and politely.
Later that evening, The Guardian reported:
Amid chaotic scenes in the Commons, it was reported that Wendy Morton, the chief whip, and her deputy, Craig Whittaker, had left the government. However, after hours of confusion Downing Street released a statement saying the two "remain in post" …
The change of personnel in the second of the four great offices of state came on a frantic day which also saw a series of Tory MPs, including Truss's net zero tsar, rebel in a fracking vote, another U-turn over the pensions triple lock, and a mauling from Keir Starmer at prime minister's questions.
After the government won a vote to defeat a Labour motion to ban fracking, the Labour MP Chris Bryant told the Commons in a point of order that he had seen some Tory members "physically manhandled" by ministers into voting for the government.
Just after midnight on Thursday morning, The Telegraph reported on the chaos around the No lobby.
Things did not look good for the Prime Minister:
The Chief Whip was forced out of Government and then reinstated on Wednesday night, capping off a day of chaos for Liz Truss after a confidence vote descended into allegations of backbenchers being manhandled through the lobby. 
It had been reported earlier in the evening that Wendy Morton, one of Liz Truss's closest allies, had been ousted and that her deputy, Craig Whittaker, quit in protest at her treatment.
But hours later the position was reversed, with a No 10 spokesman issuing a statement to say that the "chief and deputy chief whip remain in post".
Downing Street sources insisted Ms Morton resigned, but some MPs claimed that she marched out of the Chamber during the vote on fracking before being sacked by Ms Truss.
Meanwhile, Jacob Rees-Mogg, the Business Secertary, insisted that "this is a Government that is functioning well."
It came at the end of a day of high drama in Westminster, which saw confusion reign over whether or not Conservative MPs would lose the whip for rebelling over a Labour opposition day debate on fracking.
The motion, which was defeated, would have guaranteed Commons time to debate a new law to ban fracking once and for all.
The vote meant that Ms Truss faced a showdown with rebellious MPs, many of whom have openly expressed their opposition to her plans to lift the moratorium on fracking.
But the Prime Minister ordered backbenchers to support the contentious policy – a high risk strategy given the already mutinous mood within the party.
On Wednesday morning, Tory MPs were told by the whips' office that the vote was a "100 per cent hard three line whip".
The message from Mr Whittaker went on to say: "This is not a motion on fracking. This is a confidence motion in the Government.
"I know this is difficult for some colleagues, but we simply cannot allow this. We are voting no and I reiterate, this is a hard three line whip with all slips withdrawn."
If a vote is being treated as a matter of confidence in the Government, it usually means that MPs who vote against it would be expelled from the Conservative Party and have to sit as independent candidates.
Throughout the afternoon, a string of senior Tory MPs broke ranks to declare that they would be prepared to "face the consequences" of voting against the Government.
Truss's Net Zero tsar, Chris Skidmore, said he would rebel:
Several other Conservative MPs echoed his sentiment.
When it came time to vote on the motion:
Tory backbenchers remained completely in the dark as to whether they would lose the whip for voting against the Government or not.
The scenes must have been unbelievable:
It was at this point that the mayhem appeared to reach boiling point, with Labour's Chris Bryant claiming that Tories were "physically manhandled" into the "no" lobby.
Ms Truss was reportedly yelled at by rebel MPs as she went through the lobby. Meanwhile, Mr Whittaker was reportedly overheard saying: "I am f***ing furious and I don't give a f*** any more."
According to some reports, Ms Morton resigned and left the Chamber as the voting was taking place, with Ms Truss grabbing her arm in an attempt to persuade her to reconsider. The Prime Minister then left the lobby trailing behind Ms Morton, and in the chaos, did not manage to vote herself.
While the Government won the vote, there were no fewer than 40 Tory abstentions – including Kwasi Kwarteng, who was sacked as chancellor on Friday, Theresa May, former prime minister, and Ms Truss herself.
I saw a later report that said that Truss voted but her pass card did not work, which was why her vote did not immediately show.
Chris Bryant alleged that Cabinet members were involved in the chaos:
It was unclear how many of the 40 abstentions were because MPs were unavoidably away from Parliament – Boris Johnson, for example, is currently on holiday – or because they were abstaining as a point of principle.
Mr Bryant told Sky News that Cabinet ministers Therese Coffey and Mr Rees-Mogg were among a group of senior Tories who were putting pressure on Conservative MPs to vote against the Labour motion on fracking.
"There was a bunch of Conservative Members obviously completely uncertain whether they were allowed to vote with the Labour or against it," he said.
"There was a group including several Cabinet ministers who were basically shouting at them. At least one member was physically pulled through the door into the voting lobby. That is completely out of order.
"I know that Therese Coffey was in the group. I know that Jacob Rees-Mogg was in the group and there were others as well. The group all moved forward with one member."
Other MPs were also upset at the lack of clarity:
One furious MP said they felt the Government had deliberately tried to trick backbenchers into supporting it with the mix-up over whether the vote was a confidence matter. They said this amounted to a "breach of trust" between No 10 and MPs that would be almost impossible to repair.
Another senior Tory MP put the confusion down to a "cock up" between No 10 and the whips office and said the confidence vote was in fact meant to be attached to the Government's motion, and not the one tabled by Labour …
One senior Tory MP appeared to sum up the mood in the party and said the past 24 hours had been "beyond comedy", adding: "You couldn't make it up if you spent 20 years trying to write this. The greatest author in the world couldn't make it up."
Business Secretary Jacob Rees-Mogg attempted to shed light on the situation:
Speaking to Sky News after the vote had ended, Mr Rees Mogg said he did not know whether Ms Morton was still in post or not, saying: "I am not entirely clear on what the situation is with the Chief Whip."
He explained that the confusion arose over whether the Commons vote on fracking was a confidence vote because of a message sent by a "junior official in 10 Downing Street", suggesting they did not have the authority to do so.
Asked whether the Government "blinked" and U-turned on the confidence vote over fears of losing it, he told Sky News: "I don't think that's a fair way of looking at it. I think what happened was that, late in the day, a junior official at 10 Downing Street sent a message through to the front bench that it was not a vote of confidence and nobody else was aware of that.
"The whips were not aware of that, I was not aware of that and most members thought that it was a vote of confidence. It was simply one of those unfortunate miscommunications that occasionally happens."
He added: "It's one of the issues you always face in government that people say they speak for Downing Street without having actually ever bothered to get the authority of the Prime Minister and unfortunately on this occasion it fed through immediately to the floor of the house."
The conversation about the vote continued on Thursday, culminating in Liz Truss's resignation.
More about this debacle will follow in my post on Monday.
After the gloomy opening of the Conservative Party Conference this year, dominated by U-turns, rebels and division, I promised good news.
Liz Truss's closing speech
Prime Minister Liz Truss gave an excellent closing speech and, despite the train strike that day, the conference hall in Birmingham appeared to be filled.
Her speech is 36 minutes long, but it went by very quickly indeed:
I watched a bit of GB News on Wednesday afternoon. One of their reporters interviewed Party members leaving conference. Nearly all said that they were 'pleasantly surprised' and reassured by what the new Prime Minister had to say.
Writing for The Telegraph, veteran journalist Patrick O'Flynn concluded, 'Liz Truss might just have rescued her premiership' (emphases in purple mine):
Strip away the depressing context surrounding Ms Truss's speech, of backbench rebellions and media pile-ons, and what we heard and saw was a well-crafted address that attempted to place her culturally on the side of "normal working people" – especially in the private sector. More notably, she has positioned herself firmly against an "anti-growth coalition" whose members she characterised as being driven from north London town houses to BBC studios to preach "more tax, more regulation, more meddling".
"They don't understand the British people. They don't understand aspiration," she said, adding: "The real heroes are the people who go out to work, take responsibility and aspire to a better life for themselves and their families and I am on their side."
This was an attempt to glue back together an old alliance between a female prime minister and her natural supporters: that which existed between Margaret Thatcher and "our people". So was a key message towards the end of the speech. Not the grandiose "the lady is not for turning" which had after all been made untenable by the U-turn on top rate tax, but the more sober phrase "we must stay the course".
Guido Fawkes has the transcript, excerpted below.
Truss began by thanking Andy Street, the Conservative mayor of Birmingham, which is the United Kingdom's second largest city. She praised Teesside's mayor, Ben Houchen, as he transforms the North East of England.
She acknowledged that we are in difficult days:
Together, we have mourned the death of Queen Elizabeth II, the rock on which modern Britain was built.
We are now in a new era under King Charles III.
We are dealing with the global economic crisis caused by Covid and by Putin's appalling war in Ukraine.
In these tough times, we need to step up.
I am determined to get Britain moving, to get us through the tempest and put us on a stronger footing as a nation.
I am driven in this mission by my firm belief in the British people.
She said she would not meddle in our personal affairs but resolve the concerns that unite us:
… I'm not going to tell you what to do, or what to think or how to live your life.
I'm not interested in how many two-for-one offers you buy at the supermarket, how you spend your spare time, or in virtue signalling.
I'm not interested in just talking about things, but actually in doing things.
What I'm interested in is your hopes and fears that you feel every day.
Can you get a good job locally?
Is it safe to walk down the high street late at night?
Can you get a doctor's appointment?
I know how you feel because I have the same hopes and fears.
I want what you want.
I have fought to get where I am today.
I have fought to get jobs, to get pay rises and get on the housing ladder.
I have juggled my career with raising two wonderful daughters.
I know how it feels to have your potential dismissed by those who think they know better.
She then related an anecdote from her childhood, which may over-40s will recognise:
I remember as a young girl being presented on a plane with a "Junior Air Hostess" badge.
Meanwhile, my brothers were given "Junior Pilot" badges.
It wasn't the only time in my life that I have been treated differently for being female or for not fitting in.
It made me angry and it made me determined.
Determined to change things so other people didn't feel the same way.
This I did not know:
I stand here today as the first Prime Minister of our country to have gone to a comprehensive school.
She gently reminded her audience that the Government has already addressed the fuel price crisis. The cap is £2,500:
Let's remember where we were when I entered Downing Street.
Average energy bills were predicted to soar above £6,000 a year.
We faced the highest tax burden that our country had had for 70 years.
And we were told that we could do nothing about it.
I did not accept that things had to be this way.
Around that point, two protesters waved a Greenpeace banner (Guido has the video):
They would have had to sign up to be Party members in order to get in, just as the protesters did who infiltrated the Party leadership hustings in July and August.
Conservative men quickly took the banner away. The women had a spare to unfurl. That too, was swifly removed.
Truss quipped:
Now later on in my speech my friends I am going to talk about the anti-growth coalition.
But I think they arrived in the hall a bit too early, they were meant to come later on.
We will get onto them in a few minutes.
She paused while security removed the women from the conference hall.
She concluded on the fuel price cap:
We made sure that the typical household energy bill shouldn't be more than around £2,500 a year this winter and next.
We followed up with immediate action to support businesses over the winter.
We are determined to shield people from astronomically high bills.
So much so, that we are doing more in this country to protect people from the energy crisis than any other country in Europe.
Our response to the energy crisis was the biggest part of the mini-Budget.
Later, she borrowed one of Michelle Obama's phrases from the 2008 presidential campaign:
We need to fund the furthest behind first.
And for too long, the political debate has been dominated by the argument about how we distribute a limited economic pie.
Instead, we need to grow the pie so that everyone gets a bigger slice.
That is why I am determined to take a new approach and break us out of this high-tax, low-growth cycle.
She also used John McCain's 'my friends' in addressing the audience, more than the transcript references. That, too, came from the 2008 presidential campaign:
When the government plays too big a role, people feel smaller.
High taxes mean you feel it's less worthwhile working that extra hour, going for a better job or setting up your own business.
That, my friends, is why we are cutting taxes.
We have already cut Stamp Duty, helping people on the housing ladder – especially first-time buyers.
We are reversing the increase in National Insurance from next month.
We are keeping corporation tax at 19%, the lowest in the G20.
We are helping 31 million working people by cutting the basic rate of income tax …
The fact is that the abolition of the 45p tax rate became a distraction from the major parts of our growth plan.
That is why we are no longer proceeding with it.
I get it and I have listened.
She reiterated pledges for post-Brexit and post-pandemic Britain.
She made a good point about Western complacency, something I have been saying for years:
One of the reasons we are facing this global crisis is because collectively the West did not do enough.
We became complacent.
We did not spend enough on defence.
We became too dependent on authoritarian regimes for cheap goods and energy.
And we did not stand up to Russia early enough.
We will make sure this never happens again.
She pledged continued support for Ukraine, which earned her a standing ovation.
Then it was time for her to talk about the anti-growth coalition — the metropolitan elite — which was lengthy. This was her opening:
I will not allow the anti-growth coalition to hold us back.
Labour, the Lib Dems and the SNP…
…The militant unions, the vested interests dressed up as think-tanks…
…The talking heads, the Brexit deniers and Extinction Rebellion and some of the people we had in the hall earlier.
The fact is they prefer protesting to doing.
They prefer talking on Twitter to taking tough decisions.
They taxi from North London townhouses to the BBC studio to dismiss anyone challenging the status quo.
From broadcast to podcast, they peddle the same old answers.
It's always more taxes, more regulation and more meddling.
Wrong, wrong, wrong.
Guido has the video:
She praised our unsung heroes:
My friends, does this anti-growth coalition have any idea who pays their wages?
It's the people who make things in factories across our country.
It's the people who get up at the crack of dawn to go to work.
It's the commuters who get trains into towns and cities across our country.
I'm thinking of the white van drivers, the hairdressers, the plumbers, the accountants, the IT workers and millions of others up and down the UK.
The anti-growth coalition just doesn't get it.
This is because they don't face the same challenges as normal working people.
She concluded:
We cannot give in to those who say Britain can't grow faster.
We cannot give in to those who say we can't do better.
We must stay the course.
We are the only party with a clear plan to get Britain moving.
We are the only party with the determination to deliver.
Together, we can unleash the full potential of our great country.
That is how we will build a new Britain for a new era.
A strong cross-party coalition, helped powerfully by the media, is clearly trying to do away with Truss's premiership.
These were her YouGov ratings before her speech:
Keep in mind that YouGov was founded by former Chancellor, Nadhim Zahawi, who was caretaker during the leadership contest over the summer.
Guido wrote:
If memory serves Guido correctly, [former Labour leader] Jeremy Corbyn managed a minus 60 net approval rating at his worst. Liz has a net approval rating of minus 59. Guido is told it is the lowest rating ever recorded of a Conservative Party leader. Her speech today needs to be the beginning of a turnaround.
Borrowing from the 1960s protest tune: all we are say-ing, is give Truss a chance …
Truss, with the help of Party whips, has finally been able to complete the rest of her parliamentary appointments.
Guido said:
The Government's reshuffle is finally coming to a close, as appointments to a number of Parliamentary Private Secretary (PPS) positions gave been confirmed. Co-conspirators will recall the whips had been experiencing some difficulty in recruiting enough parliamentary bag-carriers, though they have now managed to fill each position. Even if the vast majority are eager 2019ers…
The Government also seems to have granted whips greater individual responsibility for departments, with specific roles also listed. If recent trends are anything to go by, the government could use all the help to party discipline it can muster.
Having mustard keen 2019 MPs in on the act can only be a good thing. Most of them are from Red Wall seats, so their minds will be focused on growth and other Truss objectives, many of which dovetail with their own.
Other high points — Foreign Secretary Cleverly and Home Secretary Braverman
Other well-received speeches came from Foreign Secretary James Cleverly and Home Secretary Suella Braverman, both of whom appeared on Tuesday, October 4.
Here is a short clip from James Cleverly's speech:
Cleverly's speech is at the 2:05:00 mark in this video. Braverman's comes before, beginning at 1:35:00:
Suella Braverman said many of the same things that her predecessor Priti Patel did as Home Secretary. We can but wait and see what happens.
One of the big problems in processing migrants without papers, such as those who come across the Channel in dinghies, is that they are hard to trace to their true countries of origin.
Another issue is that many in the civil service who are assigned to the Home Office are pro-immigration. Patel tried her best to counter them, but they stood firm, citing EU laws under which we are still beholden. The Brexit process continues. There wasn't enough time to renegotiate everything we should have, e.g. the Dublin Agreement. As we are no longer in the EU, we are no longer subject to that agreement whereby migrants have to apply for asylum in the first safe country they are in — in our case, France. We have to draw up a new agreement along the same lines, which will require EU co-operation.
On top of that, during Theresa May's time as PM, a modern slavery law came into force in the UK. In short, anyone claiming to have been a modern slave is automatically allowed to stay here. No proof is required.
With that burden, we can also add human rights charities and their lawyers who effectively scuppered the first UK flight to Rwanda last summer. It never happened. Everyone's case was challenged before take-off, leaving an empty aircraft.
Euronews reported on that part of Braverman's speech:
In a Tuesday evening speech at the Conservative Party's autumn conference in Birmingham, immigration minister Suella Braverman said that people who arrive by unauthorised means should not be allowed to claim asylum in the UK and she doubled down on contentious plans to send some asylum-seekers on a one-way trip to Rwanda.
However, Braverman acknowledged that a legal challenge to the policy means it's unlikely anyone will be deported to the east African country this year. 
"We need to find a way to make the Rwanda scheme work," said Braverman.
"We cannot allow a foreign court to undermine the sovereignty of our borders," she continued, to cheers and applause from the audience.
"A few months ago the European Court of Human Rights in Strasbourg did just that. By a closed process, with an unnamed judge, and without any representation by the UK. A European Court overruled our Supreme Court. And as a result our first flight to Rwanda was grounded. We need to take back control."
She didn't say how the government intends to 'take back control'. The European Court of Human Rights is not part of the EU, and membership is not affected by Brexit …
Braverman said many migrants were "leaving a safe country like France and abusing our asylum system," adding that she wanted to work more closely with French authorities "to get more out of our partnership."
"We've got to stop the boats crossing the Channel," she said, to more applause.
So far this year, 30,000 migrants have crossed the Channel:
The one advantage that Braverman has over Patel is that she is a lawyer, so she will be finely attuned to legal turns of phrase.
Those interested can read more of her views in this article from The Telegraph.
Quentin Letts, The Times's political sketchwriter, concluded:
the day belonged to Braverman. As bids for popularity go, it wasn't particularly subtle or cerebral. Effective, though.
Proper membership cards make comeback
In an eco-friendly move under Boris Johnson, the Conservative Party began issuing paper certificates instead of plastic membership cards.
Thankfully, those days are over, for lifetime Party members at least:
Guido reports:
Tory party Chair Jake Berry has just confirmed the return of plastic membership cards for lifetime Tory members, replacing the much-maligned 'membership certificates' introduced by Amanda Milling back in 2020. At the time, Milling introduced the paper certificates to save the environment, or something like that. Even MPs were upset; Michael Fabricant complained the certificate wouldn't fit in his trinket box of membership cards and hair clips. Jane Stevenson pointed out they could just be made of card instead. Now the debate has been put to rest – Berry's bringing the real deal back, having just revealed the move at a fringe event this morning. Expect to see the cards' triumphant return from January.
That ends the positive conference news.
Kwarteng's U-turn U-turn U-turn
Chancellor Kwasi Kwarteng did a third U-turn on bringing forward his more detailed fiscal event plans.
It appears that he will be going ahead with presenting them to Parliament on November 23 after all:
Or is it October 23?
Mel Stride, who supported Rishi Sunak in the leadership contest and heads the Treasury Select Committee, says that it will be October 23. So did the Financial Times, apparently. They, too, supported Sunak.
Hmm. I sense mischief making.
Guido reports:
Except Kwasi later insisted on GB News that it definitely wasn't moving:
'Shortly' is the 23rd. People are reading the runes […] it's going to be the 23rd.
"People reading the runes" in this case including the Chair of the Treasury Select Committee. Liz herself later said it's coming in November, and Treasury Civil Servants were told in a team meeting this morning that anything to the contrary was just "press speculation". Guido understands, however, that the people reading the runes are onto something: the Treasury is still considering adjusting the date after all…
Kwasi must stick to his guns and stop the U-turns.
Rebel, rebel …
The rebels were active throughout the conference.
Michael Gove
On Wednesday's Dan Wootton Tonight show on GB News, panellists were split on whether Sunak-supporting Michael Gove should have the whip removed.
The Daily Express's Carole Malone said that Truss should have given Gove a Cabinet post so that he would have made less mischief. However, Wootton countered by saying that Gove always undermines the Prime Ministers he has worked for in Cabinet.
Someone who wasn't on the show and thinks Gove should have the whip removed is Nigel Farage. I fully agree with him. We saw the trouble that rebel Conservatives made for Theresa May and Boris Johnson in 2019 over Brexit. David Gauke was one of them. Boris had the whip removed and we did not see him again after the 2019 general election; his Conservative association deselected him:
Grant Shapps
Grant Shapps, another Sunak supporter, has been working in tandem with Michael Gove to thwart Truss's leadership.
He has made no secret of his threat to go to Sir Graham Brady, chairman of the 1922 Committee, with a letter of no confidence — not only from himself but other MPs:
On Tuesday, October 4, he told Times Radio:
I want Liz to succeed. So I'm hoping that she can turn us around, I think there is a window of opportunity for her to do it. I'm cheering her on, if you like, to succeed. Y'know, in the end I don't think members of parliament, Conservatives, if they see the polls continue as they are, are going to sit on their hands. A way would be found to make that change. You know, it's important, not for members of parliament, but for the country, still two years to go to another election, that we have good, stable, sensible, smart government in place doing things that are required for the people in this country. So of course that could happen. In the meantime, I hope Liz can turn this around.
'A way would be found' means urging Brady to change the rules whereby a PM could be ousted sooner than 12 months of assuming the Party leadership.
Shapps had the gall to suggest Truss had ten days to turn around her leadership!
Nadine Dorries
Nadine Dorries was the Secretary of State for Digital, Culture, Media and Sport while Boris was PM.
When he stood down as party leader, she was gutted. She had at least one defender:
She stayed loyal beyond the end of his premiership, perhaps embarrassingly so: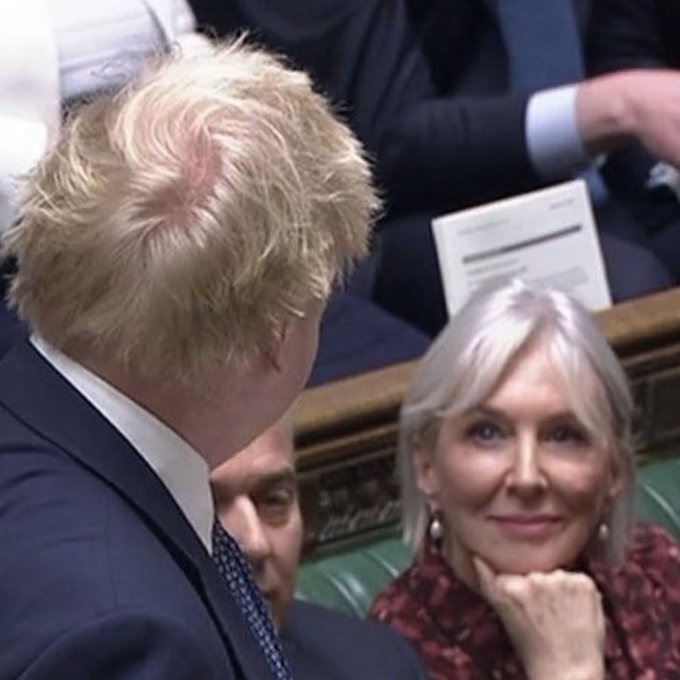 She had a lot to say when he stood down as Party leader:
In the end, she didn't run for Party leadership:
Dorries resigned from Cabinet on Tuesday, September 6. Boris was in his final hours as PM that day, when he and Truss flew separately to Balmoral to see the Queen.
Guido posted Dorries's letter to Boris, commenting:
She added that while Liz had offered her the chance to continue, she's stepping down anyway.
She is now unhappy that her Online Safety Bill might be kicked into the long grass. Millions of us certainly hope so. It is deeply embedded in censorship, principally the 'legal but harmful' clause.
On Monday, October 3, Dorries said that Truss should hold a general election. Utter madness, all because her censorship legislation is up for cancellation. Even madder is the fact that she was a Truss supporter.
The Spectator had the story:
To inspire one Nadine Dorries tweet may be regarded as a misfortune, to inspire two looks like carelessness. Less than 24 hours after the former Culture Secretary criticised Truss for appearing to blame her Chancellor for the 45p tax debacle, she's back at it again. Frustrated by Truss's decision to junk much of the Johnson agenda from 2019, the high priestess of online harms took to her favourite medium of Twitter to write:
Widespread dismay at the fact that 3 years of work has effectively been put on hold. No one asked for this. C4 sale, online safety, BBC licence fee review – all signed off by cabinet all ready to go, all stopped. If Liz wants a whole new mandate, she must take to the country.
The repeated criticisms are all the more interesting, given the importance of Dorries and other Johnson loyalists in ensuring that Truss made the final two earlier this summer. Dorries was something of an unruly attack dog, savaging Truss's opponent Rishi Sunak at ever opportunity …
Guido posted Dorries's tweet …
and wrote:
We appear to be at the "everybody losing their mind" stage of Conservative Party conference a day early.
The next day, she seemed to walk back what she said by citing Boris's support of Truss. This is a clip of her interview with LBC radio's Iain Dale:
Embarrassing.
Benefits rebels
Truss-backer Sir Iain Duncan Smith is now opposing her in wanting benefits increased in line with inflation:
Guido has the video:
Iain Duncan Smith has added his voice to the chorus of rebels piling on Liz to raise benefits with inflation. Speaking at a ConservativeHome fringe the former Work and Pensions Secretary argued giving to the poorest was a more efficient way of going for growth, as they would spend it quicker. He's had a quick change in tune since backing Liz for leader…
That sounds very cynical, indeed.
Kemi Badenoch
Trade Secretary Kemi Badenoch, the popular Party leadership candidate for British voters, openly opposed Truss's bid for even more migration.
It is hard to disagree with Badenoch. Even so, as a Cabinet minister, perhaps she should have held back from expressing them publicly.
She aired her views on Sunday evening:
At the IEA/TPA DrinkTanks reception last night, guest of honour Kemi Badenoch openly rebuked the PM's plans to let in more immigrants to boost growth. The Trade Secretary ignored any sense of collective responsibility as she told the assembled free marketeers:
Simply taking in numbers to boost GDP while GDP per capita falls is not the right way to do that. We need to look again at resolving our productivity issues and that means using capital better, not just getting cheaper and cheaper labour.
Kemi's brazen and deliberate speech last night all but confirmed The Times' article on Sunday reporting major Cabinet divisions over the plan, with Kemi and Suella Braverman at odds with the PM's preferred free market solution. Like Liz, Guido doesn't have a problem with skilled, legal immigration, it is the illegal immigration which is concerning. It seems Tory Cabinet ministers aren't even pretending to play happy families anymore…
45% tax rate rebels
Prominent Conservative Cabinet members disagree with Truss and Kwarteng over their Sunday night U-turn on abolishing the 45% upper tax rate.
Home Secretary Suella Braverman seemed to accuse Conservative MPs of forcing the change in plan, going so far as to claim it was 'a coup':
Guido has a photo of Braverman, along with Jacob Rees-Mogg and Simon Clarke, two other Cabinet members who want the upper rate abolished:
Simon Clarke agrees with Braverman's assessment of 'a coup':
Guido has more:
Jacob Rees-Mogg was also quick to voice his disappointment at the scrapped cut at a fringe event this afternoon, although he claimed to recognise the politics of the move. This all comes in the context of public cabinet battles over benefits, and Penny Mordaunt's attacks on government comms. Meanwhile backbench agitators continue briefing out plans to rebel, with some now even claiming they're holding "crisis" talks about Liz's leadership. Truss has been PM for 28 days. Not quite the honeymoon period she would've hoped for…
Wow. For Jacob Rees-Mogg to speak out about his disappointment is surprising. He is normally respectful of parliamentary boundaries and procedure.
There is a way to get rid of this tax rate. I will have more on that next week.
James Cleverly warns Cabinet rebels to 'shut up'
In much the same way that Welsh Secretary Robert Buckland did, Foreign Secretary James Cleverly warned Cabinet rebels to 'shut up':
On Wednesday, October 5, Guido reported:
James Cleverly has diplomatically warned Cabinet colleagues to shut up after yesterday's day of chaos, in which collective responsibility broke down on everything including the 45p u-turn, immigration numbers and uprating benefits in line with inflation. Speaking on the BBC this morning ahead of Liz's big speech, the foreign secretary warned:
All Cabinet colleagues ultimately are going to have to abide by collective responsibility… I think it's always better and easier to feed ideas, particularly when you're in government and have access to the Chancellor and the PM, feed your ideas directly into the centre of the system…
On TimesRadio he also implied yesterday's comments from Braverman, Mordaunt and Clarke – among others – were inappropriate. Guido hears Cleverly's speechwriter had to edit a swear word out of the Foreign Secretary's speech earlier this week; we can only imagine how many expletives Cleverly wanted to use in response to yesterday's farce…
Conclusion
Here endeth the news about the Conservative Party Conference.
MPs must give Truss a chance. She has gone through the hardest beginning to her premiership of any PM in known history.
She deserves time to lead us. With everyone against her, she must be doing something right.
She is representing British voters' interests. That is only right and fair.
Poor Liz Truss.
My post yesterday about her and Chancellor Kwasi Kwarteng's U-turn on the abolition of the 45% tax rate showed how much the media were running Truss's premiership.
Cracks are showing
Unfortunately, the Conservative Party conference in Birmingham has revealed the factions among Conservative MPs opposed to either Truss or her policies.
This indicates that the cracks in the parliamentary Conservative Party likely began during the mourning period for Queen Elizabeth II in the same way that anti-Boris Conservative MPs sent their no-confidence letters to Sir Graham Brady of the 1922 Committee during the monarch's Platinum Jubilee bank holiday weekend at the beginning of June.
No sooner had Parliament reconvened on the first Monday in June than Conservative MPs held a confidence vote on Boris Johnson's premiership.
One name has been brought up in the overall rebellion against Liz Truss: Michael Gove.
Gove 'a natural plotter'
On Monday evening, The Spectator's Isabel Hardman asked, 'What does Michael Gove want?'
As I wrote yesterday, Gove even turned against the Prime Ministers under whom he served in Cabinet, beginning with his first PM, David Cameron. That was over Brexit. The victory went to Gove.
He worked against Boris Johnson's leadership campaign in 2016, after Leave won the Brexit referendum on June 23. He told Boris he would lead his campaign then pulled out just before Boris was to have announced his candidacy.
It's no surprise that, when Boris became PM in July 2019, he gave Gove Cabinet positions in a 'Keep your enemies closer' move. Those lasted until this past summer.
After the 2022 leadership contest, Gove said he would take a back seat. But did he?
He currently seems to be involved in stirring the pot with regard to benefits — welfare — increases involving the new Work and Pensions Secretary Chloe Smith, who said at conference earlier this week:
protecting the most vulnerable is a big priority for me.
Isabel Hardman points out (emphases mine):
It sounds quite anodyne, but given one of the big battles of the autumn is going to be over whether benefits are raised in line with inflation, it was a clear marker that Smith doesn't think that trying to get some savings this way is the right thing to do. She's not a noisy cabinet minister and is much more likely to make her arguments behind closed doors. But she does also have a very helpful backbench campaign led by someone who loves a public fight: Michael Gove.
Hardman says that Gove is busy at work, doing the rounds at the conference's fringe events:
What is Gove's endgame? He hasn't packed up his bags since Kwarteng U-turned on the 45p: instead, he was still touring the fringe this evening. He has made clear that the benefit rise must go ahead, and many of his colleagues have made the same point to Kwarteng themselves.
Gove could decide to use Trade Secretary Kemi Badenoch in his manoeuvres. He backed her in the summer leadership contest until she lost, at which point he backed Rishi Sunak:
But even if it does, that's not going to be the former minister's last battle. Tory MPs are fascinated by where he wants this to end. Is he still hoping that Kemi Badenoch, who he initially backed for leader, could yet take over from Truss? Badenoch had a really good stint on the conference stage in the most lively session of the [Monday] afternoon programme. She had members eating out of her hand as she talked about taking pride in Britain, about immigration, and about culture wars. Perhaps Gove might want her star to rise further. Or perhaps he is still holding out for Rishi Sunak, who he later backed, and who is staying away from the conference to allow Liz Truss to 'own the moment'.
In any event:
there is a lot of bad feeling among MPs about the way some parts of his [Sunak's] campaign operated. Then again, there's just a lot of bad feeling and mistrust in the party now. The one thing Truss has managed to unite her party on is that MPs in every faction are now annoyed with her.
This year's conference meeting schedule, centred more around fringe events than the main speeches, is likely to deepen these rifts:
Tory conference has long been more stage-managed than other party meetings, but this year the official speeches from ministers have also been condensed into a very strange late afternoon slot lasting just two hours. The rest of the time is free for fringe meetings and plotting.
The main addresses are supposed to be content-light this year, which is unlikely to please Party members:
Ministers and their aides have been told they have to keep their addresses to the hall announcement-lite, which makes those two hours feel largely pointless.
Kwarteng not only had to do a U-turn on abolishing the 45% tax rate, he also was forced into bringing forward his medium-term fiscal plan. That's two U-turns by the second day of conference:
Kwasi Kwarteng didn't announce very much at all, even though his two U-turns have dominated the day's agenda. This morning, the Chancellor dropped the plan to abolish the 45p rate of tax, and this evening it has emerged that he is also bringing forward his medium-term fiscal plan from 23 November – something ministers had been asked to hold the line on.
Work and Pensions Secretary Chloe Smith held up a script at a fringe event to show that what appears to be spontaneous is actually scripted in advance:
A clue to the next potential U-turn came not in one of the speeches but in one of the considerably more-scripted and stage-managed 'discussions'. These have been going on for years at Conservative conference: a minister or two is relegated from a formal speaking slot to a cosy and allegedly informal sit-down with someone who is often a very nice and slightly nervous small business owner, charity pioneer or environmental campaigner. The chit-chats involve a suspiciously large sheaf of notes: indeed, in this particular 'discussion', Work and Pensions Secretary Chloe Smith largely abandoned the pretence that this was spontaneous and held her script up so she could read from it verbatim. But within that script, Smith had a line that she may well end up using against her ministerial colleagues such as Kwarteng in future. She told the hall that 'we know that people are struggling with some of the costs that are rising', adding: 'That's why protecting the most vulnerable is a big priority for me.'
Former Conservative MP Anne Widdecombe, who switched her allegiance to the Brexit Party and served as one of their MEPs in Brussels before the UK left the EU said that the Conservatives are in a dire state.
On Monday, she told GB News's Bev Turner that the removal of the 45% tax band would have cost £2 billion at most, in contrast to the £150 billion bail out in order to help Britons with their energy bills.
She said that Truss and Kwarteng should have held their nerve and not caved in over their fiscal event plans from Friday, September 23. She surmises that they were worried about how the conference would go if they had stuck to their guns. Widdecombe said that they were aware of divisions in the Party but the tax rate U-turn, she said, would not win them any votes.
Turner said that removing the cap on bankers bonuses, also announced on September 23, would seem to be a more controversial move. Widdecombe, however, disagreed, explaining that the EU put a cap on bankers bonuses in place so that London would not be able to compete as well against Frankfurt and Paris in the financial services market. Removing the cap, she added, was part of the Brexit plan and, although it doesn't seem so to ordinary people, will actually help the UK's finances in the long term.
Bev Turner then turned Widdecombe's thoughts to Michael Gove and Grant Shapps's manoeuvres behind the scenes at conference. These included the objection to removing the 45% tax rate.
Widdecombe said:
Michael Gove is extremely dangerous. He spends all his time conspiring and plotting … I've known him for years … What he is not is a good colleague. He gets bees in his bonnet and sets out to destroy everything in his path. He's done it with Boris … He is a plotter. He is a natural plotter. Can't help himself. 
She said that Truss cannot have the whip removed from Gove, as Kwarteng has already U-turned on the 45% tax rate issue. For Truss to remove the whip after the fact, she said, would be useless. So, Truss can't do anything to or about him for now.
Here's the video, which is five-and-a-half minutes long:
How the U-turn came about
On Monday, October 3, The Sun's political editor Harry Cole got the scoop about how Truss and Kwarteng's U-turn came about late on Sunday:
This is an incredible news story, revealing that Cabinet ministers did not know about the U-turn until they saw The Sun's website:
… our story, revealed at 12.20am, came as a shock to some of the most senior members of the government.
Four Cabinet ministers were enjoying a late-night drink when our story broke — leaving them speechless.
No one from No 10 had given them any warning.
After a brutal day of maulings from big beasts of the Tory party and dire warnings her mini-Budget would be voted down by MPs, the newbie PM was forced into a humiliating climbdown.
Gove and Shapps, along with other Rishi Sunak supporters, worked behind the scenes on Sunday:
Ex-Cabinet Ministers Grant Shapps, Julian Smith, Michael Gove, Mel Stride and Damian Green — all of whom backed Rishi Sunak — had spent the day stirring up rebellion and were confident that more than 40 MPs backed their concerns.
Was that why Sunak did not show up? He did say he wanted Truss 'to own the moment'.
Graham Brady contacted Truss early on Sunday evening:
Sir Graham Brady, the chairman of the powerful 1922 Committee of Tory backbenchers, had been to see a worried Ms Truss at 7pm to warn her she did not have the numbers to ram her tax cut plans through Parliament — despite a majority of 71.
Meanwhile, Kwarteng was in Birmingham's lively city centre, planning on tucking into a curry dinner. My commiserations go to him. Birmingham is home to some of the nation's finest Indian restaurants:
… her screeching about-turn would come as a shock to the Chancellor, who had been about to tuck into a beef curry at an upmarket restaurant across town.
He left his dinner before his main course turned up, rushing back for crisis talks with Truss, who told him: "It's time to rip off the plaster."
Kwarteng agreed to the U-turn, sensing trouble ahead:
Once on board, Mr Kwarteng was told he would have to be the face of the surrender the next day.
But it was a painful blow as he had already trailed his big speech to the conference into the next day's papers, insisting there would be no U-turns and saying: "We must stay the course."
Taking to the stage on Monday afternoon for that speech, an exasperated Chancellor said: "What a day."
The divisions are many and deep:
The mood among some Cabinet ministers is one of despair at the state of the Tory party, which is at risk of becoming unmanageable.
And that, in turn, will leave the Government unable to actually govern, leaving the country adrift at the worst possible time.
There are potential mutineers everywhere Truss turns.
After 12 years of Tory rule, there are more than 50 sacked and embittered ex-ministers who do not have much to lose.
This is a group that includes MPs who served under Theresa May and continue to be enraged by her Brexit downfall.
Then there are supporters of Rishi Sunak, who are enjoying the "I told you so" moment.
Some still think it's possible to kill Truss now and have Rishi anointed in a coronation.
Throw in the still-ongoing Brexit wars — Truss, having converted from Remain, is firmly in the Remainiac crosshairs — and it's a poisonous, chaotic mix.
One Cabinet minister said: "They've taken the bat off Boris, broken it into pieces and given chunks to the different warring sides to beat each other with. It's like Lord of the Flies."
However, a week is a long time in politics:
"All's not lost yet", one minister said.
"A week is a long time. We have two years to turn this around. We might not win the next election — but we can at least make ourselves competitive".
City AM's Andy Silvester doesn't hold out much hope, though:
What the public think
It's difficult for those of us who are not economists to know what to believe about the upper tax rate U-turn.
And we trust journalists even less than ourselves. We are doing better researching the matter online through independent sites rather than the mainstream media.
The media told us that abolishing the upper rate of tax would affect Sterling. Hmm. On Tuesday morning, it was holding steady after the Bank of England's intervention at the end of last week:
Did the U-turn have anything to do with exchange rates, though?
One Guido Fawkes reader said that it did not:
Good job Kwasi dropped the 45p tax cut, which, according to the MSM, affected the pound. Anyone knows it did not but he can use it to his advantage: if I borrow more for benefits, giving away money, it will damage the pound and interest rates causing more financial hardship to working tax payers.
So I would love to help but need to get inflation down.
Again being run by all the MSM at the same time to affect the government its disgusting.
He blames Michael Gove and, possibly, Boris's former adviser Dominic Cummings:
Gove and likely helped by Cummings … maybe Truss could ask Boris come out against him that he is damaging the party first him now Truss. Truss did stay loyal to Boris. Gove destroying his own party does not make him a formidable politician …

Another commenter cannot understand what the rebels hope to achieve:
What on earth are the rebels trying to achieve? Collapse the government and shoo-in Labour? If not- what's the end-game? Parachute in Sunak against the expressed wishes of the grassroots party membership? That'll end well. Ultimately- Truss was chosen by the members on the basis of pursuing a pro-business, pro-growth agenda. She is now trying to do exactly that and is being undermined by people who offer no viable alternative.
Someone else said the anti-Truss movement is reminiscent of the anti-Brexit rebellion Theresa May had to endure in 2019:
It's looking very much like this is going to be a repeat of the debacle over Brexit.
Mr Gove should have the good grace to accept the wishes of all Conservative Party members, who voted for Liz Truss, and not the legislative agenda of a few disaffected Blairite "Conservative" MPs, who bizarrrely seem to think that more of the same is going to free us from the social and financial quagmire such policy has led us to in the last 25 years.
I give the current government about 6 months.
Another said that Gove is firmly to blame:
One Cabinet Secretary telling the Daily Express they weren't surprised by Mr Gove's actions because he is a "disloyal ****". When told about Mr Gove's remarks another senior Cabinet Minister used the same four-letter expletive.
The next battle will be over how much to increase benefits: average salary rates or the inflation rate:
Chief whip needs to get a grip and threaten deselection to all those publicly declaring their duplicity and treachery. Removing the whip from Gove would be a good start. No rise in benefits when there are mass vacancies to be filled and when there is no pay rise for the private sector. Too many different factions in the Tories so no chance of collective responsibility.
More on that tomorrow.
My series on Boris Johnson's downfall continues.
Those who missed them can catch up on Parts 1, 2, 3 and 4.
Also of interest are:
Developing news: how long can Boris last as PM? (July 5-6)
Boris stays as PM for now but stands down as Conservative leader: 'When the herd moves, it moves' (July 6-7)
On July 8, Bloomberg had an interesting article: 'Boris Johnson's Downfall: The Inside Story of How His Government Collapsed'.
It states:
This account of how the Johnson administration unraveled is based on conversations with senior members of his inner circle, cabinet ministers, political advisers, civil servants and Tory MPs who were present at the key moments and spoke to Bloomberg News on condition of anonymity.
The journalists who wrote it say (emphases mine):
… the man that Johnson's inner circle blame for his downfall is Rishi Sunak, the former chancellor, who triggered that final, frantic act that ultimately forced the prime minister to quit.
Boris, being a survivor, stayed true to character. He survived a Conservative MP vote of confidence held the Monday after the Queen's Platinum Jubilee celebrations the first weekend in June 2022. Then the Chris Pincher groping scandal broke, but he was not worried. In early July:
Johnson had spent last weekend largely ignoring the latest scandal raging around him.
There was another slew of allegations in the newspapers, this time related to what Johnson had known about the claims of sexual harassment against an MP who the prime minister had promoted to a senior party post. 
But Johnson had grown accustomed to riding out controversy, from his efforts in November to extricate an ally who breached lobbying rules, to the lockdown parties, the investigation into whether he misled Parliament and the resignation of his own ethics adviser.
His judgment, and that of his No. 10 team, was that revelations relating to his former chief whip Chris Pincher, damaging and unseemly though they were, did not pose an existential threat. 
That Sunday evening, July 3, Boris headed next door:
to Sunak's flat in No. 11 Downing Street for one of their regular weekend dinners.
Johnson's team had been wary of a potential leadership challenge from Sunak for months and suspected that he would already have moved against the prime minister if he hadn't been fined over lockdown parties himself.
That night was businesslike, focused on plans for a new economic strategy and a joint speech. Sunak briefly mentioned his unease at the handling of the Pincher situation, but people close to both men said the meeting was good-natured and there was no hint of the coming storm.
Meanwhile:
Elsewhere in London though, Health Secretary Sajid Javid was discussing his own concerns about the Pincher case with his own advisers and starting to think he might decide to resign.
The week began normally:
No. 10 remained bullish throughout Monday despite the growing furor as Javid watched and waited.
On Tuesday, a Cabinet meeting took place (Bloomberg has a photo of it). There were signs that things could unravel quickly:
… there were ashen faces around the Cabinet table on Tuesday morning as ministers gathered to discuss Sunak's plans for tackling rampant inflation. Johnson uber-loyalist [and Culture Secretary] Nadine Dorries told the room that the "dogs of hell" would be unleashed if Johnson was removed.
One Cabinet minister who spoke to Bloomberg that day warned that Johnson might be in real trouble. He had had an unspoken contract with the Conservative Party since surviving a confidence vote among his own MPs in early June, the minister said: he could remain in place only if the scandals stopped.
That compact had lasted barely a month.
Later that day:
Around 5 p.m., at a meeting in the prime minister's office in Parliament, Javid told Johnson he was resigning. Johnson felt the announcement an hour later could be weathered by appointing a strong replacement.
But nine minutes after Javid published his resignation, Sunak also quit. And this blow came without warning.
Suddenly, Johnson was facing a rout.
A person with knowledge of Javid's plans said that his team had had no meaningful contact with Sunak's advisers before the double resignation, but they suspect that the then-chancellor got wind of what was coming and accelerated his own plans. A person with knowledge of Sunak's thinking said there had been no collusion.
Sunak had worked in the Treasury for Javid when the latter was Chancellor from 2019 to February 2020. They were good friends.
The resignations became a game of whack-a-mole:
As the prime minister rushed to replace two key ministers, a wave of more junior officials announced that they too were abandoning his government.
Nadhim Zahawi became the new Chancellor and Steve Barclay succeeded Javid as Health Secretary:
Nadhim Zahawi and Steve Barclay were recruited late on Tuesday to solve the most immediate problem and Johnson's advisers believed that both men were determined to take their jobs seriously. They understood that they had buy-in from Zahawi, the chancellor, for a new tax-cutting agenda to be announced imminently, though a person close to Zahawi says he made no such commitment.
All the same, as Johnson and his advisers surveyed the damage on Wednesday morning, they could tell that the situation was critical. 
That's when [Levelling-Up Secretary Michael] Gove demanded his meeting. To Johnson's aides, the timing seemed designed to inflict maximum pain.
Boris sacked Gove later on Wednesday, the only firing he made. He did it via a telephone call.
At that point:
the number of officials quitting his government climbed past 50.
That evening must have been a long one for Boris:
He returned to No. 10 after 6 p.m. for a series of meetings with his senior ministers.
Chief Whip Chris Heaton Harris advised Johnson that he no longer had the numbers to prevent Tory MPs from removing him, but that he would remain loyal. Trade Secretary Anne-Marie Trevalyan and arch Brexiteer Jacob Rees-Mogg also made clear they would stay supportive. Deputy Prime Minister Dominic Raab told Johnson he would not resign, changing for a formal white-tie event and then leaving via a side entrance.
Other meetings were more difficult.
Home Secretary Priti Patel had an emotional and teary meeting with the premier where she told him he had to go. A spokesman for Patel wasn't able to comment on the details of the conversation. 
Transport Secretary Grant Shapps, who kept a spreadsheet of Johnson supporters, agreed that the numbers were against them. Policing minister Kit Malthouse delivered a long monologue about how it was over. An exasperated Johnson told Malthouse that if he was going to resign, he should just do it. 
Malthouse had worked for Boris ever since the latter was Mayor of London.
Also:
Welsh Secretary Simon Hart was the only one who threatened to quit, handing Johnson a resignation letter and telling him that if he was not gone by the morning it would be published.
The most difficult meeting was with Zahawi who looked visibly awkward, according to one witness, as he told the prime minister that he too thought he should quit. The meeting left Johnson's aides suspecting that Zahawi had simply been preparing for his own tilt at the top job.
Correct. Zahawi did not get far with his campaign.
The meetings lasted into the night:
Towards the end of the night, Johnson gathered his closest aides in his office to assess the damage.
No. 10 policy chief Andrew Griffith was the most determined to battle on, along with Nigel Adams, a minister and old friend of Johnson. Heaton Harris, the party enforcer, had accepted the situation but was staying in the bunker to the end.
Together they rehearsed arguments for and against resigning, as they briefed the media that he would not quit and appoint a new Cabinet. The reality was that no one was accepting jobs.
Political commentators, eager for Boris to go, compared him with Donald Trump:
Johnson told his team that he didn't want to spark a constitutional crisis by clinging to office.
"I can't do this," he told them. "It's all too ghastly. It's not me."
Eventually, he went to the Downing Street flat to see his wife and retire for the night:
As he went up the stairs to his Downing Street flat to see his wife, Carrie, the decision was becoming clear in his mind. Carrie did not advise him either way and insisted it had to be his own decision, according to a person with knowledge of the conversation.
On Thursday, July 7:
Johnson woke early on Thursday and drafted a resignation speech to read out to his staff at their 7.30 a.m. meeting.
He announced his resignation in front of No. 10 early that afternoon.
That evening, The Spectator team held their annual garden party, a major highlight of the political year. Something always happens and this one was no different:
Johnson's communications chief Guto Harri got into a blazing and public row with Gove adviser Josh Grimstone, who accused Harri of briefing against his boss.
A Sunak aide spotted Harri and went over for a hug. According to people present, a smiling Sunak, standing next to her, asked Harri: "Don't I get one?"
"You want a hug?" Harri said in disbelief, knowing that the former chancellor had made no contact with Johnson since his shock resignation. Harri had spent his week fighting to save the prime minister, Sunak was aiming to replace him, and in front of London's political elite, the two men shared an awkward embrace.
Guido Fawkes has more (Guto Harri is on the right and the magazine's Katy Balls is in the background):
His post says the argument went all the way back to Gove's desertion of Boris in the 2016 leadership election, leaving Boris out of the race that year (emphases in the original):
… Leadership candidates Rishi Sunak, Nadhim Zahawi and Tom Tugendhat worked the crowd. Later in the evening as things were winding down the Spectator's Katy Balls mischeviously introduced Josh Grimstone, the newly unemployed former Special Adviser to Michael Gove, to soon-to-be unemployed Guto Harri, the Prime Minister's Director of Communications. Josh definitely had something to communicate to Guto about Gove's late night sacking the night before…
Josh firmly protested that his boss had been loyal to the PM, that he personally loved Boris and that both Gove and himself had been nothing but loyal. He accused Guto of sacking Gove out of spite and attempting, unfairly, to make it look like Gove had been sacked for disloyalty. Guto was sceptical about Josh's protestations of innocence and insistence that his boss had been loyal. The toing and froing went on in front of a silently listening audience that included Guido, Tim Shipman and Steve Swinford. Neither of the protagonists backed down from their position. Grimstone said Guto's behaviour was a "f***ing disgrace".
Guto eventually retorted that it was Gove's fault that in 2016, when he betrayed Boris, the country was as a result put into 3 years of dismal turmoil under Theresa May. Guto's stance seemed to be that even if it was true that he had been loyal of late, Gove had it coming to him for the 2016 trauma that he inflicted on the party and country. Unresolved and unreconciled Grimstone broke off leaving hushed onlookers uncertain that the summary justice of last night was entirely justified by recent events. Guto seemed relaxed and satisfied that it was amends for the sin of the past. 
But that wasn't the only verbal dust-up that evening.
On the BBC's Question Time, Tony Blair's spin doctor Alastair Campbell and The Telegraph's Tim Stanley, who once ran for MP as a Labour candidate, argued about who was worse in terms of being economical with the truth, Tony Blair for the illegal war in Iraq or Boris Johnson with a piece of cake during lockdown. Campbell is on the left in the photo:
Guido has the video:
A few days later on July 11, Stanley wrote an article about it for The Telegraph: 'My TV encounter showed everything that is wrong with the Left':
I'm not a friend of Boris Johnson: my most recent contact was a Christmas card that I'm sure was signed by someone else. This didn't stop Alastair Campbell from calling me part of the same "corrupt class" on Question Time, a grim experience I didn't enjoy but my editor says I've got to address.
Around the five-minute mark, I was invited to give my take on Boris's resignation – and Campbell butted in with the first of many attacks on my profession and character. Afterwards, a producer said: "How long have you known Alastair?" I replied: "I've never met him before." Given how he spoke to me, many people assumed we had a feud going back decades.
No, he was just horrible, and the nastiness was camera ready. Campbell was nice as pie before the recording; he gave me a cheery goodbye after. My conclusion is that he's an act. When he launched his on-air assault, I was shocked and considered walking off; I couldn't take a whole hour of this. Instead, I pulled a one-liner out of the bag, noting that the Blair government took us into a war that cost thousands of lives, while Boris ate some cake.
The point was that Boris might have been chaotic, but it's often the best organised regimes that make the biggest mistakes.
The line was hardly Oscar Wilde; the audience was furious that I appeared to make light of the Downing Street parties. I thought my career was over, and was wondering if Lidl might be hiring. But what I couldn't see till I watched the show back was that Campbell shrugged away the reference to Iraq as if it were mundane. It was an ugly moment. By not bursting into tears, I think I came out better.
What irritates me about some people on the Left is that they talk about mental health and kindness yet they treat their opponents like dirt, not giving a damn how it might make them feel – and if a Conservative hits back, they act like we have crossed a line that doesn't apply to them …
And I wasn't trying to defend Boris on Question Time, just explain his thinking. I have my own views, of course; but in that format I try to put both sides of a story, so the audience can make up its mind. I often find that Left-wing panellists can't process this. They claim to be empathetic yet have zero interest in how other people think. It will be the Tory party that will produce the first non-white prime minister and how will the Left respond? They'll call them a "racist".
That night on Dan Wootton's GB News show, opinions about Boris's successor flew in thick and fast.
Former Conservative Home Secretary and later Brexit Party MEP Anne Widdecombe was adamant that the next Party leader be firmly committed to completing the Brexit process. We still have the Northern Ireland Protocol and French fishing difficulties to deal with:
Opinions swirled around the time it should take Boris to vacate Downing Street.
Someone in the know told the Daily Mail that Theresa May — a Remainer — should be caretaker PM. GB News reported:
While Mr Johnson is expected to stay on until Prime Minister, he could choose to relinquish his duties with immediate effect.
In which case an interim Tory leader would be appointed, who would in turn also become the caretaker Prime Minister.
And former Prime Minister Ms May, who held office between 2016 and 2019, could reportedly make a dramatic return to No.10.
A report in the Daily Mail said: "She knows the ropes and the security stuff, she's a party woman through and through, she's definitely not interested in standing for it herself and would be credible.
"She is uniquely placed."
Thank goodness that didn't happen.
Another Remainer, former Conservative Prime Minister John Major, apparently told the 1922 Committee, headed by Sir Graham Brady, to get rid of Boris pronto. Edwina Currie, a former MP who served with him in Parliament at the same time and who was Major's mistress between 1984 and 1988, said that the former PM was being 'a bit of a prat':
The 2021 Conservative candidate for Mayor of London, Shaun Bailey, agreed. He would have made a great mayor, by the way:
However, biographer Tom Bower explained that Boris and Carrie had no other home, therefore, he would stay at Downing Street until such time as the couple buy a house:
And what about Carrie?
A lot of conservatives blame her for Boris going off the boil with a libertarian-Conservative manifesto to focus on damagingly expensive Net Zero policies, never mind the gaudy refurbishment of the Downing Street flat, allegedly paid for by a Party donor.
The day Boris resigned, The Telegraph's Celia Walden wrote 'The Carrie conundrum: What next for the Prime Minister's wife?'
Over the past two years and 11 months our outgoing First Lady has certainly garnered criticism – some unfair, some fair. And already commentators are saying that Carrie "helped blow it for Boris". But it is surely her husband's sociopathic behaviour over the past few days, weeks and months – and what has been described not as Boris's downfall but his "clownfall" – that will have been most brand-damaging. So how easy will it be for Carrie to rid herself of that toxicity, and what next for the Prime Minister's wife? …
Before Carrie became involved with Boris, and his special brand of bedlam, the daughter of Matthew Symonds, co-founder of the The Independent, and lawyer Josephine McAfee was described as "controlled" and "confident".
Politics may have seemed a world away from the creative fields she immersed herself in at the University of Warwick – where she studied theatre and art history – but after a stint working for Zac Goldsmith, who was MP for Richmond at the time, Carrie moved on to the Conservative party's press office, where she quickly rose through the ranks, working on her future husband's re-election campaign, when he ran for Mayor of London in 2012, before becoming the youngest director of communications for the party at just 29.
That a woman who forged a career in the business of public perception – and was credited with taking charge of the Prime Minister's image (and weight) after they first got together in 2019 – could go on to make the series of missteps Carrie made at No 10 remains baffling today.
It may always have been strenuously denied that the PM's wife played any part in the prioritising of dogs over humans for evacuation from Afghanistan, but it was without a doubt the First Lady who oversaw No 10's controversial maximalist redesign. It was she who picked out the infamous gaudy wallpaper estimated to cost £840 a roll and, as I write, Twitter is alive with memes about the one "burning question" that remains: "Now that the Prime Minister has finally resigned what happens to Carrie's gold wallpaper?"
Because of this, reports that the Johnsons planned to build a £150,000 treehouse for their son at Chequers (but were stopped when police raised security concerns) prompted some to interpret this as "yet more Carrie". Which might have been unfair. But then there was Carrie's involvement in partygate.
The Sue Gray inquiry was told that it was she who was keen to throw a party during the first lockdown and "offered to bring cake" – so these cannot be written off as "sexist", "misogynistic" slurs along with the rest. And while other First Wives have been busy out in Ukraine, shaking Zelensky's hand, Carrie has been notably low profile in recent months, presumably acting on advice from spin doctors.
… according to Craig Oliver, former director of politics and communications for David Cameron: "Leaving No 10 could be the making of Carrie. She's an intelligent woman, interested in a lot of issues. Being the PM's wife has an inevitable chilling effect on what you can do and say. She'll now be free to speak her mind." 
Lord Ashcroft, whose biography, First Lady: Intrigue at the Court of Carrie and Boris Johnson, was published in March, describes Carrie as "an impressive person – with a high-level career in politics and a record of campaigning on animal rights and the environment". Another political writer, meanwhile, assures me that any toxicity will be shrugged off with characteristic ease both by Boris and his wife. "He will be a very successful ex-Prime Minister. His star quality is shoulders above any of the others and he will become very rich on the back of it. So very shortly, everything will settle down, and she will be glad to have left the fishbowl."
… although Carrie is clearly a political animal, it seems likely that she'll choose to concentrate next on animal rights campaigning, perhaps deepening her involvement with The Aspinall Foundation, for whom she has worked as head of communications since 2021 – which in itself is in a period of transition. Every PR knows that charity work is the best "brand rehab" there is, and her passion for the cause isn't in doubt.
We can but see.
There was more to come with Mr and Mrs Johnson: their belated wedding celebration, which they weren't able to have earlier because of the pandemic.
More to come tomorrow.
Those who missed the first instalment of Boris Johnson's downfall can read it here.
The Queen's Platinum Jubilee weekend at the beginning of June cannot have been an easy one for the Prime Minister, who turned up with his wife Carrie at the public events.
Pressure was mounting for a vote of confidence by Conservative backbenchers.
On the morning of Sunday, June 5, the last day of the Jubilee weekend, Transport Secretary Grant Shapps told the BBC that there would be no such vote, but even if one took place, Boris would win it (video):
By the time the Queen had celebrated her historic jubilee that weekend, Sir Graham Brady, chair of the Conservative 1922 Committee, had received the requisite number of letters from the Party's backbench MPs to trigger such a vote.
The vote took place on Monday, June 6. Shapps was correct in saying that Boris would win it. Shapps went on to run for the Party leadership himself in July.
Unfortunately, after the confidence vote, more events occurred making Boris's position as Party leader untenable.
Earlier, in May, the Conservatives had taken a drubbing in the local elections.
Then came the two by-elections on Thursday, June 23.
One was for Neil Parish's seat of Tiverton and Honiton in Devon. The farmer had stood down on April 30 after two fellow Conservative MPs saw him viewing tractor porn on his phone in the Palace of Westminster. Liberal Democrat Richard Foord won handily.
The second was further north, in Wakefield, where another disgraced Conservative-then-Independent MP, Imran Ahmad Khan, had to stand down for being convicted on April 11 of assault on a 15-year-old boy in 2008. On May 23, Khan was sentenced to 18 months in prison. The West Yorkshire seat reverted to Labour, with the election of Simon Lightwood.
Then came the Chris Pincher groping scandal. Pincher was Deputy Chief Whip but resigned on Thursday, June 30, after a lubricious episode at the Carlton Club in St James. The Carlton is a private club for Conservatives. Pincher had allegedly groped two men at an event there.
Boris had to sign off on Pincher's appointment as Deputy Chief Whip. However, even if Boris had objected, the Chief Whip could have appointed Pincher, anyway. As I explained on July 6, whoever the Chief Whip wants for a deputy, the Chief Whip gets.
However, the Party whip had not been withdrawn from Pincher, and MPs were incandescent.
On Friday, July 1, an article appeared in The Telegraph: 'The "disturbing" call about Chris Pincher's lurid behaviour that forced Boris Johnson to act'.
GB News interviewed Neil Parish, who was furious.
The Telegraph article says:
The low point of yet another chaotic 24 hours for Boris Johnson came when disgraced "tractor porn MP" Neil Parish popped up on the airwaves to give him a lecture on moral standards in government.  
As the Prime Minister and his aides were holed up in Number 10 deciding how to respond to the growing Chris Pincher scandal, the "very cross" former backbencher was giving them both barrels on television. 
"I can't believe they haven't done it," he said incredulously, when asked why the whip had not been removed. Referring to his own punishment for watching pornography in the House of Commons, he added: "It's double standards. Come on, let's be fair."
His righteous outrage encapsulated how untenable Downing Street's insistence that Mr Pincher would be able to remain a Conservative MP, despite accusations he drunkenly groped two men, had become.
Someone must have been watching GB News that afternoon or the fury from MPs must have increased to the extent that the Chief Whip, Chris Heaton-Harris, withdrew the Party whip:
Just over two hours later, Chris Heaton-Harris, the Chief Whip, put out a statement reversing that decision, following a day of growing anger amongst backbench Tories at the Prime Minister's failure to act. 
However, there was a problem in that, the day before, Boris did not think things needed to go that far. He thought that Pincher's resignation from the Deputy Chief Whip role sufficed (emphases mine):
Downing Street was bullish as the news broke at 8pm, with a Tory source insisting: "The PM thinks he's done the decent thing by resigning. There is no need for an investigation and no need to suspend the whip."
Even into Friday afternoon, Boris's stance had not changed:
… at noon, No 10 still remained defiant – with the Prime Minister's spokesman telling reporters he considered the matter closed, since Mr Pincher had resigned and that there was no investigation into his conduct.
Heaton-Harris and Boris received pushback for their inaction.
Finally, later on Friday Pincher became an Independent MP:
Early in the evening Downing Street was eventually forced to act and announced it had stripped Mr Pincher of the whip, given that a formal complaint had been made to Parliament's harassment watchdog.
The question was how much did Boris know about Pincher — past and present — and when did he know it?
Regarding the Carlton Club:
The Prime Minister had also been "troubled" by a "disturbing" call from one of the MPs who witnessed the incident and relayed to him a detailed account of what had happened, according to a source close to him.
The article has the details of what happened with Pincher at the club.
One MP was so unnerved that he rang Heaton-Harris at 3 a.m.:
One Tory MP who was present at the scene told The Telegraph how they "threw out" a "very drunk" Mr Pincher after being told about one of the two sexual assaults and then called the chief whip at 3am to inform him.
Another waited until daylight to inform him:
A second MP who witnessed at least one of the groping incidents also informed Mr Heaton-Harris the following morning. "This is not something that should be brushed over," the MP told The Telegraph.
That MP says Pincher's reputation was known, and it is true that he did have to stand down from another post when Theresa May was Prime Minister:
"Given the nature of the behaviour and the seniority of the role he held, it was highly inappropriate behaviour. This is not the first time there have been conversations about this person either. Many of us were surprised when that appointment was made."
It is the second time that Mr Pincher has been forced to resign from the whips' office over allegations of sexual impropriety. In 2017, he quit a more junior position after being accused by a former Tory candidate of trying to chat him up.
Returning to Boris:
"Boris has set the level and now everyone else is trying to imitate him, it is a constant drip drip. It all adds up, doesn't look good," one former minister told The Telegraph.
"The worrying thing is this is beginning to shape up so much like sleaze in the 90s under Major, where it was a whole series of inappropriate and pretty seedy actions by ministers and Tory MPs that completely undermined him."
Lord Hague, the former Conservative leader, said the Prime Minister had been too slow to act, with a "whole day of everybody speculating and talking". He added: "These things need dealing with decisively."
That day, The Telegraph had a related article, 'Boris Johnson v John Major: How Tory sleaze scandals under the two leaders stack up'. The scores are pretty even. I remember reading it and thinking that things did not look good for Boris.
There were two other things that did not bode well for him that week: a proposed treehouse for his son and an upcoming investigation by the Privileges Committee over Partygate.
Let's look at the treehouse first. Labour MPs were apoplectic that Boris wanted to have one built at Chequers for young Wilf.
Guido Fawkes has the story (emphases his):
Eyebrows were raised in Downing Street over the weekend after the publication of a story in The Sunday Times that Boris had looked into having a £150,000 treehouse built for son Wilf at Chequers. The story – undisputed since publication – goes he had once again entered into discussions about Lord Brownlow forking out for the cost, however plans were eventually scuppered by police security concerns given the house would be visible from the road. Despite the design including bulletproof glass, which raised the cost significantly…
Guido was amused to learn that Downing Street's eyebrows weren't raised by the Sunday Times's story, instead by Labour MPs' attacking the plans on the grounds of Boris being out of touch. Vauxhall's Florence Eshalomi, Rhondda's Chris Bryant, Wallasey's Angela Eagle, and Hull's Karl Turner were all among those laying into the PM.
Guido points out Labour's hypocrisy, because it was Tony Blair who had a tennis court complex installed at the Prime Minister's weekend retreat (purple emphases mine):
No. 10 sources wryly note, however, that it wasn't that long ago when it was a Labour PM splashing huge wads of cash to renovate Chequers – without a whimper of controversy. In 1999, one Tony Blair added a luxury tennis court complex to the PM's Buckinghamshire residence, something since enjoyed by successive MPs including David Cameron and Boris Johnson. Sources in the know tell Guido that the courts weren't built using public cash, nor did they come out of the Chequers Trust, implying the extortionate costs either came out of Blair's personal pocket, or a private donor. Given Guido unfortunately can't make it to Blair's big centrist jamboree today, perhaps an on-hand hack might like to raise the question of who paid for the courts…
Labour: it's okay when they do it.
The Privileges Committee are investigating Boris for Partygate, specifically on whether he deliberately lied to the House of Commons in saying he was unaware any coronavirus rules were breached. That was before he received his fine.
Labour's Harriet Harman is leading the investigation. Labour's Chris Bryant recused himself from that responsibility because he has made no secret of his dislike for Boris.
However, as Guido pointed out on June 17, Harman is hardly impartial:
It's now emerged his replacement, Harman, has not been neutral on the question up until this point either. She has tweeted her views relating to allegations around the PM's truthfulness, with one saying "If PM and CX admit guilt, accepting that police right that they breached regs, then they are also admitting that they misled the House of Commons". You wouldn't favour your chances going to trial if the judge was on the record with such levels of preconceived bias…
Conservative MPs are also aware of her bias:
Yesterday in the Commons, Andrew Murrison asked Michael Ellis whether he agreed "that those placed in a position of judgment over others must not have a previously stated position on the matter in question". The Cabinet Office minister replied:
It is, of course, an age-old principle of natural justice that no person should be a judge in their own court.
Where an individual has given a view on the guilt or innocence of any person, they ought not to then sit in judgment on that person. I know that point he is referring to, and I have no doubt that the right honourable lady will consider that.
It seems to be yet another own goal by Labour, mind-made-up Harman's appointment totally undermines the impartiality of the privileges committee investigation…
The investigation formally began on June 29:
The problem with this investigation is that it has to prove intent on Boris's part to mislead the House. How will Harman prove it?
If Boris is found guilty of deliberately misleading the House, it will have severe ramifications for parliamentary proceedings. Ministers might fear expanding on certain subjects in case they get a figure or another type of detail wrong.
We should find out the result in September.
What Labour are trying to do with this process is ensure that Boris loses his parliamentary seat for good, which is what will happen if he's guilty. That way, he can never be an MP again.
Meanwhile, some Conservative MPs were disgruntled that Boris had won the confidence vote in June. Under the current 1922 Committee rules another one cannot be held until 12 months have elapsed. They wanted Sir Graham Brady to change the rules to allow another vote before then.
On Monday, July 4, Mail+ said that Boris was 'still the best man to lead Britain':
THE Prime Minister returns to his desk today after an impressive display of statesmanship on the world stage.
Following a Commonwealth conference in Rwanda aimed at building a common future, he returned to Europe to galvanise Nato and a wavering G7 into hardening their support for Ukraine.
Sadly, though, his achievements were overshadowed by yet another Tory sleaze row, leading to inevitable further attacks on his leadership. There are even reports that rebel backbenchers are plotting another attempt at regicide – just a month after the last one failed.
When will this self-mutilation end? Yes, the Chris Pincher affair is ghastly and should have been handled better. But there are far bigger issues at stake.
There's a painful cost of living crunch, war in Europe and a migration crisis. Meanwhile, Tony Blair and his embittered Remainer chums are on a renewed mission to strangle Brexit.
Instead of dissipating energy on brainless infighting, the parliamentary Conservative Party needs to focus on the problems its constituents actually care about. They can only do that by getting behind their leader.
For all his recent troubles – some self-inflicted – this paper unequivocally believes Boris Johnson is the right man to lead the party and the country.
None of the potential replacements has his almost unique ability to connect with voters across the social and political spectrum. Crucially, he is the only one capable of winning the next election …
That Mail+ editorial has its finger on the pulse of the nation. I will come back to what voters think in a future post.
On Tuesday, July 5, Chris Pincher was in the news again after Baron McDonald of Salford — Simon McDonald — the Permanent Under-Secretary to the Foreign and Commonwealth Office between 2015 and 2020, wrote about the MP's past and what he thought Boris knew to Kathryn Stone OBE, the Parliamentary Commissioner for Standards for the House of Commons.
I wrote about this at length on July 6, concluding that there was bad blood between the life peer and Boris. Boris sacked him when the Foreign Office was merged with the Department for International Development. To soften the blow, Boris elevated him to the House of Lords. It should be noted that Baron McDonald is also a Remainer.
Wikipedia has a summary of Pincher's parliamentary history of appointments under Theresa May and Boris Johnson:
Pincher served as an Assistant Whip and Comptroller of the Household in 2017, before he resigned after being implicated in the 2017 Westminster sexual misconduct allegations, having been accused of sexual misconduct by Tom Blenkinsop and Alex Story. Two months later, in January 2018, he was appointed by Theresa May as Government Deputy Chief Whip and Treasurer of the Household. After Boris Johnson became Prime Minister in July 2019, Pincher was appointed Minister of State for Europe and the Americas. In the February 2020 reshuffle, he was appointed Minister of State for Housing. In February 2022, he returned to his former role of Government Deputy Chief Whip and Treasurer of the Household.
As to what the peer alleges Boris knew about Pincher, here are two possibilities:
The matter was discussed on that morning's Today show on BBC Radio Four.
Guido has the dialogue, with Deputy Prime Minister Dominic Raab responding for the Government. Raab said:
Aside from the Westminster rumour mill, any allegation that had resulted in formal disciplinary action… whilst there was inappropriate behaviour [from Pincher], it didn't trip the wire into disciplinary action… the individual who made the complaint did not want formal disciplinary action taken.
McDonald was on next. He said:
I disagree with that, and I dispute the use of the word 'resolved'… the complaint was upheld… Number 10 have had five full days to get the story correct, and that still has not happened… it's sort of telling the truth and crossing your fingers at the same time and hoping people aren't too forensic in their subsequent questioning.
Guido said:
In a matter of hours, the line has gone from "it's not true" to "the PM didn't know of any formal complaints". Chaos.
The Paymaster General, Michael Ellis, addressed the matter in Parliament, intimating that Boris forgot a prior briefing on Pincher:
From that point, the spiral turned ever downward.
That day, Sajid Javid resigned as Health and Social Care Secretary.
Shortly afterwards, Rishi Sunak resigned as Chancellor.
That evening, an article by Lord Frost appeared in The Telegraph: 'It is time for Boris Johnson to go':
No one is more downhearted than me at the events of the last few days. Over the years, I have worked as closely as anyone with Boris Johnson. I know, therefore, that he is a remarkable man and a remarkable politician. Only he could have cut through the mess left by Theresa May and delivered on the verdict of the people in the Brexit referendum. He took the country with him through the pandemic and has shown huge leadership on policy towards Ukraine.
But this country now faces formidable challenges. Facing them requires not just the ability to talk about a vision but the determination and steeliness to establish a credible pathway to it. It requires a leader who knows where he wants to take the country and can set out how he intends to get there, in a way that is consistent with the traditional Conservative vision.
I had hoped Boris Johnson could be that person, but I have realised that despite his undoubted skills he simply can't be. As I have often said, his Government has drifted far too much to the Left on economic matters, not only on tax and spend but by being too quick to regulate and too willing to get captured by fashionable trivia. It is tax-raising while claiming to be tax-cutting, regulatory while claiming to be deregulatory. It purports to be Conservative while too often going along with the fashionable nostrums of the London Left …
… I can't honestly see what this Prime Minister's economic philosophy is, beyond the content-free concept of "levelling up", and accordingly I no longer believe we will ever see a consistent drive towards low taxation, low spending, attractiveness to investment, and deregulation on the scale needed. 
But even more than that I have become worried by the style of government. The whole partygate affair could have been dealt with more straightforwardly and honestly by setting out right from the start what had gone wrong in No 10, taking responsibility, and explaining why it would not happen again. By the time those things had been said, they seemed to have been dragged unwillingly from the Prime Minister rather than genuinely meant. Accordingly they lacked credibility …
The Pincher affair then showed in a real-life case study that [reform of Downing Street] was not going to happen. Confronted with a problem which appeared to reflect badly on the Prime Minister's judgment, we saw once again the instinct was to cover up, to conceal, to avoid confronting the reality of the situation. Once again that instinct, not the issue itself, has become the story and the problem. Worse, this time round, ministers have been sent out repeatedly to defend suspect positions that came apart under closer examination. This is no way to run a government …
Boris Johnson's place in history is secure. He will be one of the past century's most consequential prime ministers. If he leaves now, before chaos descends, that reputation is what will be remembered. If he hangs on, he risks taking the party and the Government down with him. That's why it is time for him to go. If he does, he can still hand on to a new team, one that is determined to defend and seek the opportunities of Brexit, one that is able to win the next election convincingly. That is in the Conservative Party's interest, in Leave voters' interest, and in the national interest. It needs to happen.
On Wednesday, July 6, all hell broke loose.
The prime minister's authority over his party is crumbling as three more ministers plus two parliamentary aides resigned this morning and a string of previously loyal MPs turned on his leadership.
Rebel MPs believe that a routine meeting of the executive of the 1922 Committee of Conservative backbenchers this afternoon could be the trigger point for changing the rules that at present mean Johnson cannot be ousted for another 11 months.
Sir Graham Brady, the 1922 Committee chairman, has told the 16 members of the executive to arrive promptly for the meeting, an instruction being taken by some of those on the executive as a sign that he wants to discuss options for ousting Johnson …
At midday he will take prime minister's questions knowing that about half — perhaps more — of the Conservative MPs on the benches behind him want him gone …
Rebel Conservatives have been contacting Brady today to demand a rule change that would allow Johnson to be ousted as soon as possible. "It is being made very clear to Graham that this needs to happen sooner rather than later," said one …
One former minister said that there was a very strong feeling amongst MPs that the issue needed to be brought to a conclusion. "Boris has made very clear that it will take a forklift truck to get him out of Downing Street. So it's now up to us to assemble the forklift truck."
The article goes on to list the resignations which came in by 11:30 a.m. that day. More followed in the afternoon.
To make matters worse, Boris got a grilling during his appearance at the Liaison Committee, comprised of the heads of the Commons select committees.
That evening during a telephone call, Boris sacked Michael Gove, who was the Levelling-up Secretary.
Gove had contacted Boris that morning to tell him he should resign before PMQs at noon.
Somehow, the news reached the media.
Gove's allies claimed it was Downing Street that had briefed the media that Gove had told Johnson to resign. They said it was an attempt to make him look disloyal and distract attention from the wider revolt.
"It did not come from us," one said. "They want to paint Michael as the villain trying to orchestrate a revolt against the PM. Nothing could be further from the truth." They added that the sacking had then come out of the blue in a call from Downing Street. "He just told Michael that given their conversation in the morning he had no choice but to sack him," the ally said.
I wonder. Gove is incredibly untrustworthy and, according to the article, he and Boris have had a difficult relationship since their days at Oxford.
Before Boris sacked Gove, a number of Cabinet ministers had urged him to stand down, including Priti Patel and Kit Malthouse, who had worked with Boris during his time as Mayor of London:
Patel's intervention was striking because of her longstanding support of Johnson, having been home secretary throughout his time as prime minister.
In a one-to-one meeting in No 10 she is understood to have conveyed to him the overwhelming views of the parliamentary party. She said there was no way he could continue to govern without the support of his party.
A similar message was conveyed by Malthouse, her deputy, who was also one of Johnson's deputies when he was mayor of London.
[Brandon] Lewis travelled back from Belfast to tell the prime minister that he believed he should resign. On his flight a passenger heckled him, telling him: "You are complicit in the betrayal of this country by Boris Johnson," the BBC said.
[Grant] Shapps told the prime minister that he stood little chance of commanding a majority in a second confidence vote. [Kwasi] Kwarteng told Chris Heaton-Harris, the chief whip, that Johnson should resign for the good of the country.
I will have more on the resignations tomorrow.
Candidates for the Conservative Party leadership race began putting their hats in the ring last weekend.
Many of those MPs are promising everything, and pundits are having a field day in the press:
While it is true to say that a lot of them are alike — yet not all — in policies, let us look at the diversity among the original 11 candidates:
Among those original 11, we had five women and six minority candidates.
No one can say today, as Theresa May did many years ago, that the Conservatives are the 'nasty party':
The Conservatives had no quotas. These MPs merely had to come forward and declare their interest in the leadership contest.
As I write in the early afternoon of Wednesday, July 13, we now have eight candidates.
Four are women and four are from racial minorities:
Brexit Leaver and former Labour MP Kate Hoey, now an unaffiliated Baroness in the House of Lords, told Mark Steyn of GB News how pleased she is that the Conservatives managed to accomplish what Labour only talk about:
How the winner is chosen
Late on Monday, Sir Graham Brady, chairman of the 1922 Committee of backbench MPs, announced the Conservative Party leadership rules. The loud voice heard in the background is none other than the daily disrupter, Steve Bray:
Darren McCaffrey of GB News has more:
The goal is to have a new Prime Minister in place by September 5, when Parliament returns from summer recess.
Conservative MPs will participate in a series of voting rounds between now and July 21, when Parliament goes into summer recess. The final two MPs on the list will then spend the next several weeks going around the country to campaign to Conservative Party members.
Party members will receive a ballot with the final two names and vote for their choice.
GB News has more on how the voting will proceed, beginning on Wednesday, July 13:
Sir Graham said the first ballot will be conducted on Wednesday with candidates required to obtain backing from a minimum of 20 MPs.
In the second ballot, on Thursday, MPs are required to obtain support from 30 MPs in order to progress to the next round, accelerating to the final two as soon as possible.
Disillusionment and a wish for Boris to return
Conservative voters, including those who are not Party members, are disillusioned about this contest.
Many wish that Boris Johnson's name were on the ballot. This petition to 'reinstate' him 'as Prime Minister' has garnered 15,000 signatures in only a few days. However, Boris is still Prime Minister, just not the leader of the Conservative Party.
Neil Oliver, not a Boris supporter, by the way, tweeted that the leadership decision has already been made:
It is rumoured that Bill Gates arrived in England just before Boris resigned. If true, that would not come as a surprise:
Bob Moran, the former Telegraph cartoonist, hit the nail on the head as he expressed the sentiment of many of those who voted Conservative in 2019. We also need an outsider to win so that we have some fresh thinking in Downing Street:
A number of the candidates have ties with the World Economic Forum. One is known to be friends with Bill Gates. Ideally, we would have transparency in this area:
Former Chancellor Rishi Sunak has been in the lead since the contest began. He was one of the first two main Cabinet members to announce his resignation last week. Former Health Secretary Sajid Javid was the first.
It has come to light that the photo of the Downing Street drinks party held during lockdown in 2020 was taken from No. 11, where Rishi Sunak worked. Some people think that Boris's then-adviser Dominic Cummings played a part in getting those photos released to the press. Did Rishi know?
Sajid Javid declared his candidacy, possibly taking a pop at Rishi Sunak's slick candidacy operation.
On Monday, July 11, GB News reported:
Former Health Secretary Sajid Javid addressed media gathered at Westminster this afternoon, outlining his leadership bid.
Mr Javid said "I don't have a ready made logo or slick video ready to go", adding: "I have a passion and desire to get Britain on the right course."
Acknowledging his resignation last week, Mr Javid said "Five days ago I stood up in Parliament and I spoke from the heart and I believe I spoke in the national interest."
Former Prime Minister Boris Johnson endured a series of scandals throughout his premiership, most recently Partygate and the allegations against Chris Pincher.
Addressing the ongoing investigations, the former Health Secretary said: "We need a leader who makes credible promises."
He added that "our party has lost its way".
Javid bowed out late on Tuesday. No one was disappointed:
Rishi, on the other hand, seems to have had his candidacy in mind for some time, since 2020. Interesting:
Note his professional campaign logo in the upper left hand corner of this tweet:
Guido Fawkes has a critique of the various logos, some of which have been rushed to market, as it were.
To make matters worse, rumours have circulated about infighting and dirty tricks among Conservative MPs. The public have taken note:
The Sun's political editor, Harry Cole, tweeted:
On that note, is it possible that Conservative Party members might not even get a vote should one of the final two winners concede to the other? That is what happened in 2016, when Theresa May became PM. Andrew Bridgen MP thinks this is a possibility:
Voting records
This graphic (credit here) shows how the candidates have voted in Parliament on various issues:
Candidates who bowed out
Let us look at the candidates who have bowed out thus far.
Sajid Javid
Conservative voters thought that Sajid Javid was a safe pair of hands as Health Secretary until he started laying out his coronavirus wish list. Only last month, Desmond Swayne MP pointed out the online job advert for a national manager of coronavirus passports:
On July 10, Javid appeared on a Sunday news programme.
He promised tax cuts. No surprise there. It was also unconvincing, considering the tax burden we have been under the past several months, possibly higher than we would have had under Labour's Jeremy Corbyn:
Javid also discussed his non-dom status, which is curious, as he was born in Rochdale:
On Tuesday, July 12, broadcasting from Northern Ireland, Mark Steyn said this about Javid's bowing out of the race:
Rehman Chishti
Rehman Chishti had an even more lacklustre campaign.
He was still on the fence last Saturday, proving that dithering gets one nowhere quick:
He declared on Sunday. Unfortunately, the photo is not a good one:
He dropped out on Tuesday:
Grant Shapps
Transport Secretary Grant Shapps declared his candidacy on Saturday, making much of his loyalty to Boris (Nadhim Zahawi is pictured below):
He appeared on Sky News on Sunday morning.
Meanwhile, viewers and voters rooted round to find out more about Shapps's parliamentary career.
Cabinet of Horrors has a fascinating profile of him, the first half of which follows (emphases mine):
Grant Shapps resigned as a minister in 2015 following revelations of his involvement with a bullying scandal that had led to a young Conservative Party activist taking their own life. Few would have imagined he could ever be reappointed to cabinet, still less to a more senior role. But in July 2019 Boris Johnson replaced the hapless and incompetent Chris Grayling as Transport Minister with someone even more discredited: Grant Shapps.
Then again, Shapps is no stranger to the art of reinvention. Indeed, he has proved remarkably inventive with his own identity.
In 2012, one of his constituents noticed that, while working as an MP, Shapps had also been peddling get-rich-quick-schemes online under the assumed names 'Michael Green' and 'Sebastian Fox'. The schemes, marketed by Shapps' company How To Corp under such titles as 'Stinking Rich 3', promised unwary punters that they could make large amounts of money very rapidly if they followed 'Michael Green's' instructions.  These included the instruction to recruit more punters to sell get-rich-quick schemes to the public – a classic feature of pyramid-selling schemes.
Shapps at first attempted to deny this, saying: 'Let me get this absolutely clear… I don't have a second job and have never had a second job while being an MP. End of story.' He also threatened to sue the constituent who had uncovered what he had been up to. Days later, he was forced to admit the truth, though he did this in a characteristically slippery manner, saying that he had 'over-firmly denied' the story.
One might think that being exposed as a liar, a huckster and a bully would have led to an immediate end to Shapps' career in politics. Instead, he was demoted from cabinet but handed a more junior ministerial portfolio and allowed to continue as co-chair of the Conservative Party.
On Sky News's Sunday news programme, Shapps presented his credentials.
He was squeaky clean. Hmm:
He took credit for Boris's resignation as party leader. Really?
He promised a tax cut:
He said he was relaxed about identity issues:
And he was sure he had the numbers:
Then, suddenly, he didn't.
Oh, well. Too bad.
Conservative Party voters name their candidates
Since the weekend, various polls have been conducted of rank and file Party members.
The results go against the MPs' wishes.
This is where MPs are as voting opens on Wednesday afternoon. I'll post results tomorrow:
A Conservative Home poll (image credit here) shows that Party members want either Penny Mordaunt or Kemi Badenoch to win. Rishi Sunak is a distant third on 12.1% support:
The next poll shows the wishes of Conservative members in Mrs Thatcher's birthplace of Grantham, part of the Grantham and Stamford constuency. They are not fans of Rishi Sunak, either:
However, Rishi does top another poll of Conservative and other voters. Note the Don't Know (read Boris?) percentage:
Some dispute the results. However, as someone points out, this could have to do with name recognition from news programmes and the papers:
I'll have more on today's vote tomorrow.
'No one is remotely indispensable'.
So were the words of Boris Johnson as he stood in front of Downing Street in the early afternoon of Thursday, July 7, 2022, to announce that he was standing down as Conservative leader. He said that he planned to stay on as Prime Minister until a new leader is chosen.
Boris's resignation speech
The Prime Minister's speech is just over six minutes long:
Knowing how quickly the leadership contests moved in 2016 (David Cameron to Theresa May) and in 2019 (May to Johnson), we are likely to see a new party leader in place before Parliament's summer recess. Regardless of what news outlets say, it no longer takes two or three months. The timing — i.e. summer resignations in all three cases — will accelerate because of recess.
Guido has the transcript of Boris's speech, excerpts of which follow (I've put in punctuation, paragraphs and emphases):
It is now clearly the will of the parliamentary Conservative party that there should be a new leader of that party and, therefore, a new Prime Minister and I have agreed with Sir Graham Brady, the chairman of our backbench MPs [the 1922 Committee], that the process of choosing that new leader should begin now and the timetable will be announced next week.
And I have today appointed a cabinet to serve – as I will – until a new leader is in place.
So I want to say to the millions of people who voted for us in 2019 – many of them voting Conservative for the first time — thank you for that incredible mandate, the biggest Conservative majority since 1987, the biggest share of the vote since 1979.
And the reason I have fought so hard for the last few days to continue to deliver that mandate in person was not just because I wanted to do so but because I felt it was my job, my duty, my obligation to you to continue to do what we promised in 2019, and of course I am immensely proud of the achievements of this government …
He went on to list Brexit, the coronavirus vaccine rollout, coming out of lockdown the earliest of any other Western nation and showing leadership with regard to Ukraine.
He clearly regretted that he had to stand down:
If I have one insight into human beings it is that genius and talent and enthusiasm and imagination are evenly distributed throughout the population but opportunity is not, and that is why we need to keep levelling up, keep unleashing the potential of every part of the United Kingdom. And if we can do that in this country, we will be the most prosperous in Europe.
And in the last few days I have tried to persuade my colleagues that it would be eccentric to change governments when we are delivering so much and when we have such a vast mandate and when we are actually only a handful of points behind in the polls, even in mid term after quite a few months of pretty unrelenting sledging, and when the economic scene is so difficult domestically and internationally. And I regret not to have been successful in those arguments and, of course, it is painful not to be able to see through so many ideas and projects myself.
But as we've seen at Westminster, the herd is powerful and when the herd moves, it moves and,
my friends, in politics no one is remotely indispensable.
And our brilliant and Darwinian system will produce another leader equally committed to taking this country forward through tough times, not just helping families to get through it but changing and improving our systems, cutting burdens on businesses and families and – yes – cutting taxes, because that is the way to generate the growth and the income we need to pay for great public services.
And to that new leader I say, whoever he or she may be, I will give you as much support as I can and, to you the British people, I know that there will be many who are relieved but perhaps quite a few who will be disappointed. And I want you to know how sad I am to give up the best job in the world, but them's the breaks.
I want to thank Carrie and our children, to all the members of my family who have had to put up with so much for so long. I want to thank the peerless British civil service for all the help and support that you have given, our police, our emergency services and, of course, our NHS who at a critical moment helped to extend my own period in office, as well as our armed services and our agencies that are so admired around the world and our indefatigable Conservative Party members and supporters whose selfless campaigning makes our democracy possible.
I want to thank the wonderful staff here at Number Ten and, of course, at Chequers and our fantastic protforce detectives – the one group, by the way, who never leak.
And, above all, I want to thank you the British public for the immense privilege you have given me.
And I want you to know that from now until the new Prime Minister is in place, your interests will be served and the government of the country will be carried on.
Being Prime Minister is an education in itself. I have travelled to every part of the United Kingdom and, in addition to the beauty of our natural world, I have found so many people possessed of such boundless British originality and so willing to tackle old problems in new ways that I know that even if things can sometimes seem dark now, our future together is golden.
Thank you all very much.
Boris delivered his speech in a normal, matter-of-fact way, which was good, especially given the circumstances.
Now that he has resigned from the Conservative leadership, some ministers are willing to come back into Government for the interim period.
As such, Boris held a Cabinet meeting at 3 p.m. today:
Those who read my post from yesterday will recall that I had not expected to cover this development until next week at the earliest.
However, yesterday afternoon into this morning was pure political carnage.
Wednesday, July 6
Junior ministerial resignations continued to pour in throughout the day, into the night.
Mid-afternoon, Boris held a second online meeting with Conservative MPs:
Guido has the story (emphases in red his):
In a sign of a continuing effort to hold on to his job, the PM has held a second meeting of Tory MPs in his parliamentary office, just 19 hours after his last meeting. Last night's turnout was said to be around 80 – today's turnout is said to have fallen to around 30. A loyalist MP spins that the PM was in a "buoyant mood and keen to get on with the job". Presumably he was just happy his PMQs slagging was over and done with…
Boris apparently pointed to polls narrowing to "about five points" and left his reduced coterie of supporters under no doubt that "he's going nowhere… no chance of stepping aside". We'll see what the 1922 Committee has to say about that this evening…
Guido's mole concluded that "Basically the current challenge is all about personality and not policy. It's a coup attempt before recess" The timetable observation is, at least, objectively correct…
At 3 p.m., Boris appeared for 90 minutes before the Liaison Committee, which is comprised of all the MPs who head Select Committees.
They grilled him on his performance and whether he would resign.
I've never seen anything like it. You can watch the proceedings using the link below:
These were the topics of discussion and the names of the MPs questioning him. Sir Bernard Jenkin chaired the session. Conservative MPs Tobias Ellwood and Jeremy Hunt might have their eyes on the leadership. Boris defeated Hunt in the 2019 contest:
All were brusque, including Bernard Jenkin, sadly.
That said, in May, Jenkin did write to the Leader of the House, Mark Spencer, to express his disappointment that some Government ministers were not appearing as scheduled before Select Committees:
The Liaison Committee were vipers. They were on the attack relentlessly.
Boris stood his ground. He reminded one MP that, in 2019, he had more than doubled the number of sitting Conservative MPs:
He also stated that he did not want another unnecessary general election when he had a clear mandate from the electorate to carry out. You can see how nasty Bernard Jenkin got in this short exchange:
Huw Merriman went so far as to send Sir Graham Brady, Chair of the 1922 Committee, a letter of no confidence during the session:
Meanwhile, Guido Fawkes and his team were busy updating Wednesday's list of resignations.
The 1922 Committee was — perhaps still is — considering a rule change allowing for more than a 12-month gap between votes of confidence in a Prime Minister. Pathetic.
Guido has the story (purple emphases mine):
There are some reports that the 1922 Committee may move in the next 24 hours-or-so to dispose of the PM. Bloomberg is reporting that "The Tory backbench 1922 Committee will meet at 5 p.m. Wednesday and will discuss changing the rules to allow another party-leadership ballot. If there is a majority opinion in favor, a ballot could be held as soon as next week." James Forsyth of the Spectator reports rule change or not, a senior committee member tells him "they now favour a delegation going to Johnson to tell him that it is over and that they will change the rules to allow another vote if he doesn't quit".
Guido's post has a list the 1922's executive members and whether or not they favour this rule change.
Later on, the 1922 decided not to change the rules — for now — because they will be holding their executive election on Monday, July 11:
Guido reported:
Surprisingly the 1922 executive has decided against changing the rules to allow a second vote of no confidence in the PM. Instead executive elections will go ahead on Monday, 2pm to 4pm. 
Critics of the prime minister are organising a slate of candidates who are expected to win a majority of places, given most backbenchers voted to oust Johnson in last month's vote. They are then expected to endorse a rule change.
During the afternoon, it was rumoured that the Chief Whip, Chris Heaton-Harris, was going to tell Boris that time was up.
Boris was hemhorrhaging support. The resignations were coming thick and fast from junior ministers. This is how it is done. The same thing happened when Labour wanted rid of Jeremy Corbyn as leader:
I used to like most of the Conservative MPs. Given what happened yesterday, I am not so sure anymore.
Those who have gone down in my estimation include former Equalities Minister Kemi Badenoch; Lee Rowley; Liam Fox; Red Wall MPs Dehenna Davison, Jacob Young and Jo Gideon; Ed Argar and former Welsh Secretary Simon Hart.
And that's not counting the rest of them that Guido has named, including those from Tuesday.
The only one I'm willing to give a pass to is Lee Anderson.
The hubris and hypocrisy got worse.
Attorney General Suella Braverman appeared on Robert Peston's show on ITV that night to announce her withdrawal of support for Boris. I really had expected better of her, especially as Peston has been anti-Boris for years. To add insult to injury, she went on to announce on his show that she would be running for leader:
Cabinet members visit Boris
Just before 5 p.m. a small Cabinet delegation visited Boris in Downing Street.
Guido wrote:
A Cabinet delegation of Nadhim Zahawi, Grant Shapps, Brandon Lewis, Simon Hart and Michelle Donelan are currently waiting in Downing Street to tell Boris the jig is up, and it's time for him to step down. Kwasi Kwarteng has also reportedly lost confidence. Beginning of the end…
Note Michelle Donelan's name in that list. Boris had just made her Education Secretary after Nadhim Zahawi moved into the Chancellor's role.
What did Michelle Donelan do? She resigned after 36 hours in the role:
Yes, of course, she got a pay out — one of £16,876.25:
The others got pay outs, too. I read that the total for ministers who resigned is over £120,000.
That's not a Conservative plan, by the way.
That's how the system works.
The caboose
Just before midnight, the final resignation of the day rolled in, that of Gareth Davies, making him the 35th that day. There were ten more from Monday as well as Michael Gove, summarily sacked. It's hard to disagree with the person comparing this to Trump:
Michael Gove
It was time for this duplicitous man to go. I never trusted him and never will.
When he turned from supporting Boris in the 2016 leadership campaign to start his own before supporting Theresa May, he stabbed him in both the front and the back.
One thing we have learned during Boris's premiership is that he — Boris — is one to forgive.
He made Gove part of his Cabinet in various high profile roles.
On Wednesday, Gove decided to tell Boris to resign:
Gove, most recently the Levelling Up minister, was conspicuous by his absence in the House of Commons. He missed Prime Minister's Questions:
News emerged at 9:30 that Boris sacked Gove — via a telephone call:
I will be very disappointed if Gove returns to a Government role. He is a Scot who, in my opinion, is too young at the age of 54 to appreciate the Union fully, and he does not have the Englishman's best interests at heart.
I've never heard him say anything about England other than to do away with English Votes for English Laws (EVEL) in 2021. As the then-Chancellor of the Duchy of Lancaster, he deemed it unnecessary in Parliament. It was a quick, quiet moment in the Commons. I do wonder why it went unchallenged by English MPs.
Yet, the English are the ones who have been overlooked the most over the past 25 years, beginning with Tony Blair, a quasi-Scot who pumped our Government and media full of many more Scots, e.g. Gordon Brown, to name but one. My apologies to Scottish readers, whom I admire greatly, but it is true.
Christian Calgie from Guido's team explains that Boris might have sacked Gove because, unlike the Cabinet secretaries who had descended upon him earlier, Gove allegedly told Boris to resign:
By the end of Wednesday, it became clear that Boris was not about to leave:
Guido reported:
Guido has had it confirmed by a PM ultra loyalist that Boris Johnson is not resigning tonight, and is understood to be planning a reshuffle. The news will spark further senior cabinet resignations…
According to reports, Boris sat down individual members of the Cabinet – including those involved in the coup – and cited his 2019 mandate, as well as the belief the government needs to spend the summer focusing on the economy and not a leadership election …
I watched four hours of analysis on GB News on Wednesday, beginning with Nigel Farage …
… and concluding with Dan Wootton, who had a great interview with Boris's father Stanley Johnson (see the 1 hour 15 mark, or, if the GB News clock shows, 10:21). Stanley is a big supporter of his son, which was heartening to see:
Thursday, July 7
Conservative ministers continued to resign en masse on Thursday morning, July 7.
Guido has a timeline of resignations and other events of the day.
Just before 9 a.m., Chancellor Nadhim Zahawi sent Boris a formal letter requesting his resignation.
Just after 9 a.m., Defence Secretary Ben Wallace — also thought to be a candidate for Conservative leader — tweeted MPs to say that they should make use of the 1922 Committee to get rid of Boris:
At 9:07 a.m., news emerged that Boris agreed to resign as Conservative Party leader. I agree that the next demand from the braying hypocrite hyenas in the media will be a call for a general election. Disgusting:
Guido reported:
Chris Mason has been told the PM has agreed with Graham Brady that he will resign, allowing a Tory leadership race to take place ahead of the Tory Party conference in October. A letter has been written. He'll quit as Tory leader today. Guido's frankly not sure how Boris can stay on for the summer with so many ministerial holes in his government…
Perhaps we can get by with fewer ministers, as someone said in Parliament this morning.
I hope that Boris's Cabinet meeting at 3 p.m. went well.
Not everyone has been happy with the coup so far. Former Conservative Prime Minister John Major is fuming. It's interesting he never reacted like that about David Cameron or Theresa May:
In brighter news, Boris's loyal friend from Ukraine rang him with his condolences and thanks:
1457: PM has spoken to Zelensky on the phone. Finished the call by praising him: "You're a hero, everybody loves you."
Yes, well, I wished our MPs loved Boris as much as President Zelenskyy does.
Ladies and gentlemen, this was a coup.
It was for a ridiculous reason, too: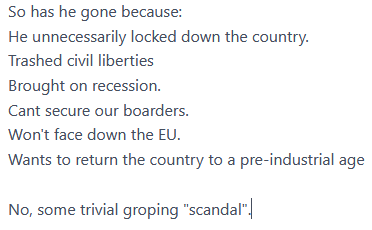 Don't forget: this was ALL ABOUT BREXIT.
More to follow next week.
On the first Thursday in May 2022, the UK will hold local elections.
It is unclear how well the Conservative Party will do, given sudden cost of living increases across the board, all of which occurred on April 1. Oh, were that this an April Fool joke. Sadly, it is all too real.
On April 3, Tim Stanley recapped the Conservatives' self-inflicted wounds for The Telegraph: 'The nannying Tories face oblivion if they refuse to get their priorities straight'.
Excerpts follow, emphases mine, except for Guido Fawkes's posts below:
The same day the gas bill doubled, it snowed. Oh, and restaurants were mandated to list calorie counts on menus. After 12 years in office, the Tories have gone from trying to fix the state to trying to fix us, so we'll be less of a shivery, fat burden on the bureaucrats. Don't eat, they advise; don't fly, don't drive, avoid using the heating. In fact, it would be helpful if we could stop existing altogether. The NHS would look good on paper if no one used it, and we'd have a zero per cent failure rate in schools if no one ever sat an exam.
As MPs take a break from Parliament this week, the Tories need to dwell on what they have actually done and what there is to do. This all hinges upon the question of who they truly represent. Considering they were elected to clear up the economic mess left by Labour, it's a bummer to note that debt is higher than under Gordon Brown, the tax burden rising and living standards crashing. We cannot blame ministers for a pandemic or a war, it's true, but the Conservative Party's solutions are near-indistinguishable from New Labour's, and the alternatives rarely aired. Last week, I sat in on the Treasury Committee's "grilling" of Rishi Sunak and the two points I never heard made were "you are spending too much" and "how dare you take my constituents' money to do it". The anger is not there. No party in Westminster stands for the consumer.
It was heartening to see that Stanley shares my impressions of parliamentary debate — virtue signalling, for the most part, including from Conservative benches:
This is not merely a crisis of philosophy, it is undemocratic. MPs are supposedly elected to do what their constituents want, but too many of them, as soon as they arrive in Westminster, are absorbed into a culture that has a uniform idea of what voters need, a total plan for life that runs from reducing carbon to dropping enough weight to fit into a size six dress (even better if you're a fella!). Half the debates are toe-curlingly pious nonsense that does the electorate no benefit except to reassure them that their MP is spectacularly compassionate – and the more laws you pass, goes the logic, the more money we splash, the more compassionate they appear to be. Ergo, the most important metric for success in 2022 is how much the Treasury is spending, not the results.
It's maddening to contemplate that nothing is ever done about situations past and present that affect many Britons:
Where to begin? The Ockenden report has stated that more than 200 babies and nine mothers might have survived were it not for failings at the Shrewsbury and Telford Hospital Trust. During the lockdown, the Government allocated around £37 billion for the deeply inefficient Test and Trace project. It lost £4.9 billion in loan fraud. Not one police officer has been sacked in relation to the Rotherham child abuse scandal. And the same Home Office that struggles to kick out foreign-born criminals finds it strangely difficult to let in Ukrainian women and children.
And we're paying for this incompetence, while an independent body that Labour created years ago just gave all MPs a 2.7% pay rise:
You are paying for all this, and likely paying more thanks, despite [Rishi] Sunak's tinkering, to a combination of National Insurance changes and inflation dragging people into ever higher tax bands. The Chancellor, in his munificence, says he plans to cut income tax in 2024, which means the British government is now handing out IOUs. At the same time, he is also bunging us £200 to help with the electricity bills, a sum that the state will reclaim at a later date, which means it's also entered the habit of writing "UOMes". MPs are getting a wee grant of their own. Their salaries will rise by 2.7 per cent, or £2,212.
The Government has become more intrusive and we have less money in our pockets:
… thanks to Covid, the public sector has been calling the shots since 2020, while the burden of wealth and power has shifted decisively away from the individual. Does this feel like a freer society than 12 years ago? Or a happier one? Paranoia and suspicion are not only widespread but encouraged (adverts on the London Underground now warn against "staring"), and privacy is dead. I can remember when we were told to protect our data. Now, just to take a train to Belgium, I have to prove my vaccine status by downloading the NHS app, send it a photo of my driving licence and record a video of my face reciting a series of numbers. Do I trust the NHS will delete all this information once used? Bless you. I'd sooner invite a rabid fox to babysit the chickens …
Voters, in the eyes of far too many, are spreaders of disease or pollution (in the opinion of some of the old ladies who glue themselves to roads, we ought even to stop breeding), and pockets of money waiting to be tapped.
What is a truly conservative concept of government?
… the old-fashioned principle of offering us the best possible service at the lowest possible price …
Small government doesn't mean "no government" but more efficient government – more effective precisely because it limits itself to a narrower range of tasks at which it can excel. Drawing a line under the Trimalchio's feast of a Spring Statement, the Tories must spend the time they have before the next election peeling back the bureaucracy where it is not needed, passing the benefits on to the people who have been robbed to pay for it, and coming up with creative ways to encourage the private sphere to revive. I don't just mean conjuring up new markets in insurance or energy, but also unleashing culture and technology, faith and family, the very things that make life worth living.
Bravo!
Ultimately, Stanley says:
The paradoxical goal of conservative politics is to make politics less important in everyday life, and while it might sound hopelessly idealistic to expect powerful people to surrender power, unless the Tories try to reduce the state, they will eventually lose office altogether. The time will come when voters finally snap, and take it away.
Let us look at a few more news items on this subject.
A week or two ago, someone sent in a letter to The Telegraph illustrating how much the Government is taking in tax. This is an alarming practical example: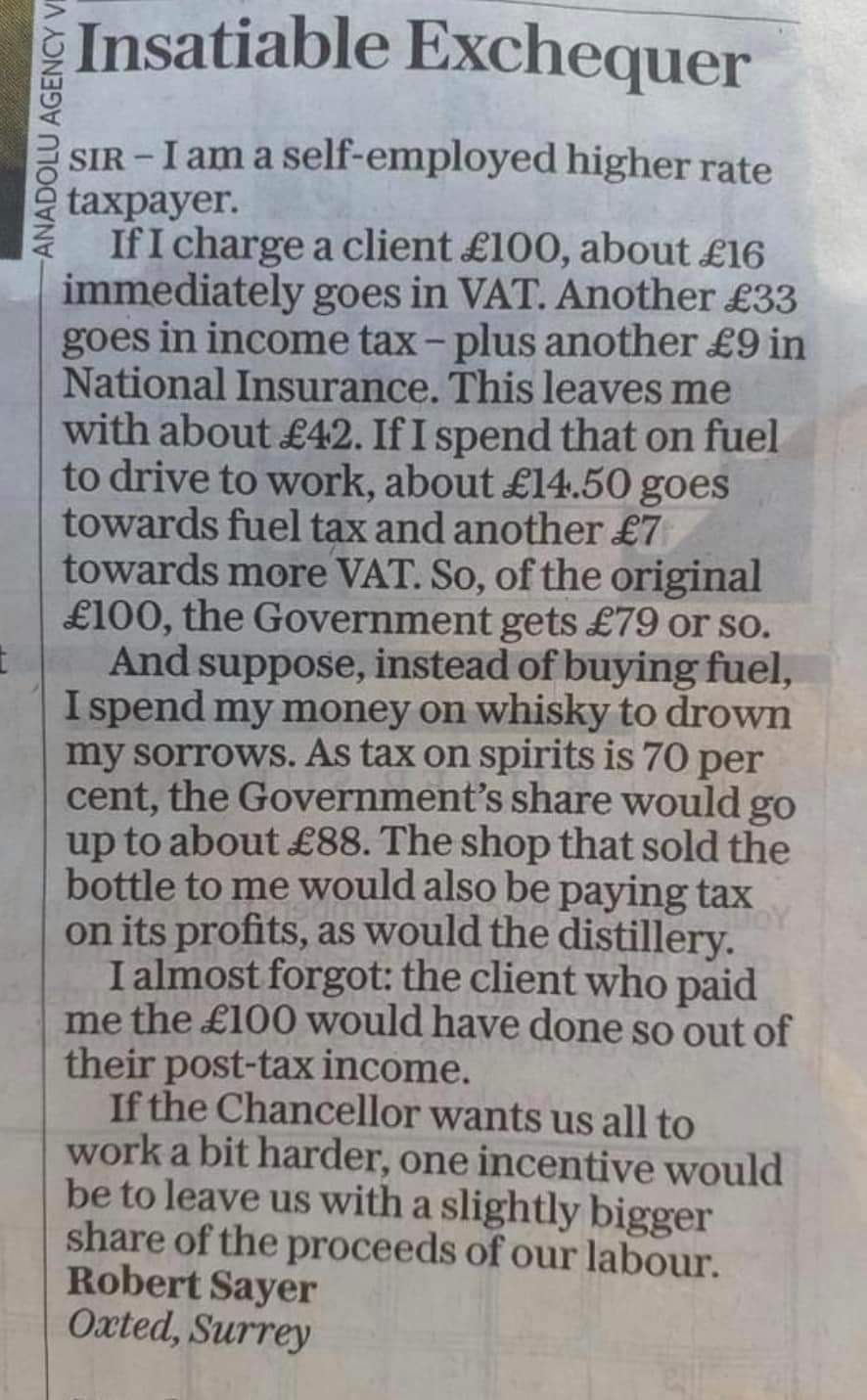 Now let's look at Net Zero, the Government's pet project, initiated by then-Prime Minister Theresa May.
This is a practical illustration of the folly of electric cars, written by conservative columnist and broadcaster Iain Dale for The Telegraph:
Back in November, I acquired an electric car, something I never thought I would do … I calculated it would save me thousands of pounds every year … 
On Friday night, I was invited to speak to Beverley and Holderness Conservatives. The main difference when you drive an electric car on a long journey is that you have to plan. In my old car, I could drive 600 miles without filling the tank, but if I ever nearly ran out of diesel there was always a petrol station around the corner.
The equivalent is not true if you have an electric car. You have to plan your journey using apps such as Zap-Map, which tell you where the charging points are, and whether they're being used, or working. I got to Beverley OK, having recharged the car at Donington Park services on the M1, which has a few charging points. Some motorway services don't have any.
The return journey proved to be a disaster. I left Beverley at 9am and arrived home in Kent at 7.45pm. A journey that should have taken four hours lasted an astonishing 10¾. It was a day completely wasted. The problem was that the three fast chargers in Beverley were either in use or didn't work. So I had to use slow chargers to get to the next fast charger, which was 50 miles away. Range anxiety is a real phenomenon. The whole time you're looking at the screen in front of you, wondering if you will run out of charge before you reach the next charger. And then what?
This week, [Transport Secretary] Grant Shapps announced a target of 300,000 more chargers across the country by 2030, the year when the Government says it will ban the sale of new petrol and diesel powered cars. Fatally, he's left it to local authorities to make sure the roll-out happens. Mark my words, it won't. Not without national direction.
My advice is this. If you only do relatively short journeys, then buying an electric car is a good decision. If you regularly travel more than 150 miles, it isn't. In my experience, the car manufacturers lie about the expected range. My electric car is supposed to do 298 miles. The reality is that it does 206, or 215 if the weather is warm. Caveat emptor.
In other news, the price of milk is set to rise by 50%. The Telegraph reports that crisis talks with EU and British dairy farmers took place in Brussels last week:
Rocketing costs from feed, fertiliser and fuel have stoked fears in the industry of a surge in milk prices not seen in decades.
The cost of four pints of milk will jump from around £1.15 to between £1.60 and £1.70, an increase of up to 50pc, according to Kite Consulting, the UK's leading adviser to dairy farmers.
Michael Oakes, the dairy board chair of the National Farmers' Union, agreed that milk prices will likely rise by as much as 50pc.
John Allen at Kite said a 30-year period of low milk price rises is "coming to an end now" as costs surge on multiple fronts. He expects a typical pack of butter to rise from £1.55 to more than £2.
He said: "What is of concern at present is processors are getting inflationary costs as well and also we are short of milk around the world."
Dairy industry bosses from the UK and elsewhere in Europe flew into Brussels at the end of last week with talks led by Eucolait, the continent's leading dairy industry group. Dairy processors, which act as a link between farmers and shops, are said to be deeply concerned about soaring costs both at farm level and further up the supply chain, as the war in Ukraine lifts key input costs …
UK dairy industry bosses have raised concerns over their costs to the Government, but officials at the Department for Environment, Food and Rural Affairs (Defra) are said to be merely in "listening mode" …
Mr Oakes, who is also a farmer, said: "I was paying about £7,000 for an artic [articulated lorry] load of fertiliser, and this year it's £28,000. It would have been a little bit less before Ukraine happened, but it made another big jump because we'd already seen higher gas prices, which have implications for fertiliser costs …
He added that feed costs have risen 60pc.
As if all that isn't enough to worry voters, we have the Online Safety Bill passing through Parliament. Guido Fawkes tells us what is happening as Ofcom, the communications regulator, prepares for the not-so-distant future:
Scary.
Guido's accompanying post says, in part:
According to Melanie Dawes, the newly-appointed CEO of Ofcom, the quango will increase headcount by 400 staff ahead of new powers to police the internet in the Online Safety Bill, which will be voted on in Parliament after Easter. That's a lot of censors…
Ofcom will have Putin-style powers to block websites from being seen in the UK if those sites fail to uphold their new legal duty of care to remove "harmful content". The definition of "harmful content", of course, will be a political question. Will questioning hurtling towards net-zero whilst millions are in energy poverty be deemed harmful content? …
Ofcom's Melanie Dawes told Times Radio:
We've got some tough and strong tools in our toolkit as a result of this legislation. And I think we need those. …These very strict and somewhat draconian kinds of sanctions are really only the sort of thing that you would expect to use as a serious last resort.
If you don't accept self-censorship and comply, your website will be blocked. Chilling.
Then we found out at the weekend that the civil servant in charge of ethics was at a lockdown party.
The Times's Patrick Maguire reported:
Were this a plot point in a satire, it would feel much too lazy for any self-respecting reader to get behind. But here we are: the official who was then in charge of ethics on Whitehall has been fined for her attendance at a lockdown-busting karaoke party.
As the first major name to have been revealed to have received a fixed penalty notice, Helen Macnamara — then the government's head of propriety and ethics, now in the business of neither as director of policy and corporate affairs at the Premier League — is surely a sign of things to come.
For confirmation of her attendance at a leaving do in the Cabinet Office in June 2020 — at a cost of £50 — is a sign that it wasn't just the junior, nameless and faceless who breached Covid restrictions at the heart of government over that fateful period, as Boris Johnson would much prefer to be the case.
Meanwhile, Scotland Yard is also said to have told people who attended a No 10 party on April 16 last year, the day before Philip's funeral, that they would be given fixed penalty notices: conclusive proof at last that the law was broken in Downing Street itself.
The PM did not attend either do, but the slow burn of revelations from the Met's investigation is hardly ideal, particularly with elections just over a month away.
"I have 65,000 constituents in west Wales, where I represent, and they are not shy in coming forward and expressing a view about this and a number of other subjects," Simon Hart, the Welsh secretary, told Sky News this morning.
"And throughout all of this saga of the Downing Street parties they have said one thing very clearly, and in a vast majority they say they want contrition and they want an apology, but they don't want a resignation."
The bigger risk, looking at the polls, is that they don't want to vote Tory…
However, there are two bright rays of sunlight in an otherwise cloudy day.
The first is that London's position as the second most important financial centre in the world is holding steady, as The Telegraph reported on Monday, April 4:
London remains Europe's dominant financial centre based on factors such as (relative) political stability, labour market flexibility, quality of life, infrastructure and innovation, a ranking by think tank Z/Yen Group found last week. It was ranked second only to New York globally, while Paris came in at 11th place.
The second is that Volodymyr Zelenskyy still appreciates all of Boris Johnson's efforts for Ukraine. He is contemptuous of Emmanuel Macron and Angela Merkel, as Guido reports:
Guido has the video of Zelenskyy praising Boris:
Zelenskyy's said the UK has "agreed on new defensive support for Ukraine. New package. Very, very tangible support," adding "Thank you Boris for the leadership! Historical leadership. I'm sure of it". 
It's too bad that Zelenskyy cannot campaign for Boris's Conservatives. They could use his help.