You are currently browsing the tag archive for the 'Guido Fawkes' tag.
Sadly, Prince Philip, the Duke of Edinburgh, died on Friday, April 9, 2021, exactly two months short of his 100th birthday:
The Queen has lost her best friend. My deepest sympathies to her for the unimaginable loss of her long-time husband and daily confidant. My condolences also go to the Royal Family in their grief.
Young love
The couple first met in 1934, and began corresponding when the Prince was 18 and a cadet in the Royal Navy. Princess Elizabeth was 13 at the time.
She was smitten with him from the start.
Prince Philip served with distinction during the Second World War in the Mediterranean and Pacific fleets.
After the war ended, he could have had a stellar career in the Royal Navy. His superiors praised his clear leadership skills.
However, love intervened and the rest was history.
Born Prince Philip of Greece and Denmark, he renounced his foreign titles and took British citizenship before he and Princess Elizabeth were engaged. He took the surname of his maternal grandparents: Mountbatten.
He and Princess Elizabeth were engaged in July 1947. They married on November 20 that year. Shortly before the wedding, George VI gave him the titles of Duke of Edinburgh (created for him), Earl of Merioneth and Baron Greenwich.
Prince Philip remained in the Royal Navy until July 1951. He retired with the rank of Commander.
Royal succession — and surname
In January 1952, he and the Queen began a tour of the Commonwealth countries. They were in Kenya when news reached them that the Queen's father, George VI, died on February 6 that year.
Although she became Queen immediately upon her father's death, her coronation took place in 1953, as it had to be planned meticulously.
On Coronation Day, he knelt before her, clasped her hands and swore an oath of allegiance to her:
He also had to touch her crown and kiss her on the cheek.
He never had a constitutional role, nor was he ever formally given the title of Royal Consort. The courtiers did not like him, nor did they trust him. They believed his personality to be brash and unbecoming of the Royal household. They shut him out of as much decision making as possible.
When Elizabeth became Queen, the question about her family name arose. Prince Philip suggested that the Royal Family be known as the House of Edinburgh. Upon discovering that suggestion, Queen Mary, Elizabeth's grandmother, wrote to Prime Minister Winston Churchill, who advised the young monarch to issue a royal proclamation saying that the Royal Family would continue to be known as the House of Windsor.
In his inimitable style, Prince Philip complained privately:
I am nothing but a bloody amoeba. I am the only man in the country not allowed to give his name to his own children. [57]
The Queen did nothing until eight years later, in 1960, 11 days before she gave birth to Prince Andrew. She issued an Order in Council declaring that the surname of her and her husband's male-line descendants who are not styled as Royal Highness or titled as prince or princess would be Mountbatten-Windsor.
Pater familias
Prince Philip had to carve a role out for himself. He became the pater familias and, through the years, his role expanded to cover not only his four children but his grandchildren. He listened to their concerns, shared their joys and gave them advice. He knew everything that went on in their lives.
Although the public knew him for speaking as he saw — rather bluntly, on occasion — behind closed doors Prince Philip was known to be a warm, loving man.
He also favoured a more transparent Royal Family. According to the BBC, it was he who encouraged the Queen to make a multi-episode documentary on their daily lives, including those of their four children. It was broadcast in the late 1960s. I remember seeing it in the United States.
When Princess Diana died on August 31, 1997, Prince Philip was the one who kept an eye on the public mood that fateful week. He, the Queen and Princes William and Harry were at Balmoral in Scotland for their summer holiday. When the young princes wanted to attend church, their grandparents took them to the Sunday service on the day of their mother's death. Later in the week, it was Prince Philip who encouraged the boys to walk behind the funeral procession the following Saturday. He said:
If you don't walk, I think you'll regret it later. If I walk, will you walk with me? [93]
One cannot imagine what he thought of Prince Harry's departure for the United States to live a life separate from his closely knit family. I did read that the Royal Family shielded information about the Oprah interview from him.
John F Kennedy's funeral
Prince Philip was in Washington for John F Kennedy's funeral in 1963.
He had a friendly encounter with John Jr, who was still a toddler and known as John-John at the time. The child wondered where his father was, as he had no one with whom to play. The Prince stepped in to fill that gap. In 1965, the British government gave an acre of land at Runnymede to the United States for use as a memorial to JFK:
Funeral arrangements
Prince Philip was self-effacing and did not like a fuss to be made over him.
Therefore, the funeral arrangements will respect his wishes, which is rather convenient, as coronavirus restrictions are still in place. Up to 30 people will be allowed at his funeral, in line with legislation across the nation:
The funeral is scheduled to take place on Saturday, April 17:
It is interesting that Prince Harry will be able to attend when we have a 10-day quarantine in place for arrivals into the UK under coronavirus regulations.
The Sunday Mirror reported on Prince Harry's return to the UK:
He could also be released from quarantine if he gets a negative private test on day five, under the Test to Release scheme.
Given his status as a member of the Royal Family travelling to support the Queen, Harry might be considered exempt from travel restrictions.
Wow. It's nice to know we have a two-tiered quarantine system in place /sarc.
A championship boxer remembers the Prince
Former WBC Heavyweight Champion Frank Bruno MBE posted his memories of meeting Prince Philip. He is at the top left in the following photo:
An Anglican priest remembers the Prince
The Revd Peter Mullen, an Anglican priest, recalled his encounters with Prince Philip for Conservative Woman on April 10 in 'A personal recollection'.
He first met the Prince during his schooldays:
The first time I met the Prince was in connection with his Duke of Edinburgh's Award Scheme which gave a leg up to youngsters from what would now be called the less privileged parts of the country. He paid a visit to the Leeds branch of the Church Lads' Brigade of which, aged fourteen, I was a member. We were in the church hall making things. My task was to make a table lamp. I was hopeless at it.
The Duke got hold of my half-finished creation, held it up to one eye and said, 'I suppose this hole is where the flex goes?'
'I think so, Sir.'
'You think so? I was never any good at this sort of thing either!'
And he was off . . . 
As an adult, Mullen met him on more than one occasion thanks to the Honourable Company of Air Pilots. The Prince was its Grand Master. Mullen served as chaplain.
He recalls:
The Company gave a lunch for him to mark his 80th birthday and I recall how jovial he was, making light of his years: 'I believe I have lasted so long because you people are always toasting my good health, but I don't want to live to be a hundred. Things are dropping off already!'
At another luncheon one of our Liverymen who had his own port wine business presented the prince with Bottle Number One, the first fruits, so to speak. As he left, the duke handed the bottle to me: 'You have this, Peter. Our house floats on the bloody stuff.'
'Well, Sir, now I don't know whether to drink it or frame it.'
'Gerrit down ya neck!'
Prince Philip on MPs
Guido Fawkes came up with a good quote from one of the Prince's trips to Ghana. It concerns MPs. His Ghanaian hosts told him the country had 200 MPs. Prince Philip replied:
That's about the right number. We have 650 and most of them are a complete bloody waste of time.
Incidentally, Parliament will be recalled one day early from Easter recess. On Monday, April 12, MPs and Lords paid tribute to the Prince in their respective Houses:
That afternoon, the House of Commons reconvened to pay their tribute — from 2:30 p.m. until 10 p.m. (good grief).
Speaker Sir Lindsay Hoyle spoke first:
Prime Minister Boris Johnson had this to say:
Boris Johnson, who was invited to the funeral but declined so that another member of the Royal Family can attend, said that he would forego a pint when pub gardens reopen on April 12, out of respect for the Prince. Guido Fawkes, however, thinks that the Duke of Edinburgh would have wanted us to toast his memory, especially at a pub that bears his title in Brixton, south London:
Guido had a second tweet on the subject with another quote from the Prince:
Agreed.
Prince Philip on Australia
This is too funny. For those who are unaware, Australia was established as a place where Britain could send convicts. That was a long time ago, but the nation's original purpose was to serve as a prison: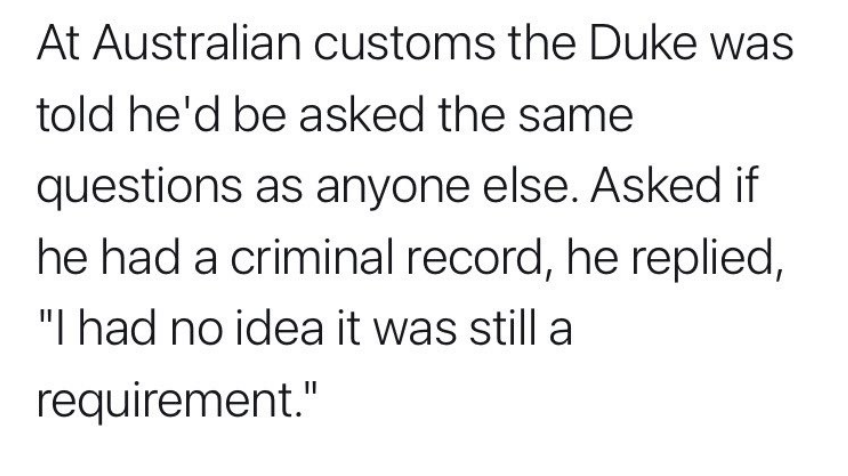 Prince Philip on civil liberties
On a serious note, the 12-minute interview below from 1984 is well worth watching, especially in the coronavirus era.
Prince Philip firmly supported the rights of the individual and believed that the state should serve the individual, not, as in our times, the other way around.
This is from a Thames Television programme originally broadcast on ITV:
I have posted the video below in case the tweets are deleted:
The Prince also said that certain subjects are out of bounds, such as the media and the NHS.
He said that the media are incapable of taking a joke about themselves and, as for the NHS, well, one cannot say anything against it. He didn't necessarily dislike the NHS but thought it was held in too high a regard. Nothing is perfect in this world.
We have been travelling a long road towards the point where we are at present: ruled by the media (they clamoured for coronavirus restrictions) and worship of the NHS. This is how Health Secretary Matt Hancock, Prime Minister Boris Johnson and SAGE have been able to rule our lives. It's been at least 40 years in the making.
BBC coverage on Friday
I was watching BBC Parliament early Friday afternoon, around 1:15, when the programme was interrupted by a broadcast from the BBC News Channel.
I checked the schedule an hour later, which said that the programme would last until 4 p.m. It was still going when I was preparing dinner at 5 p.m.
The final of MasterChef was to have been broadcast that night on BBC1. This was a clip from Thursday's programme:
Pictured are the hosts and judges, chef/restaurateur John Torode on the left and former greengrocer, now television presenter, Gregg Wallace on the right:
BUT:
The BBC News channel was simulcast all afternoon and all night long, not only on BBC Parliament but also on BBC1, to the dismay of MasterChef fans (myself included), and BBC2. BBC4 was suspended for the evening.
I read on social media that the BBC also broadcast continuous coverage of Prince Philip on their radio stations, including Radio 2, knocking out Steve Wright's drive-time show on Friday afternoon.
A friend of mine said that most of the BBC's employees were probably rubbing their hands with glee because it meant an early weekend for them. It's a cynical perspective that could well turn out to be true. We'll find out when someone writes his or her memoirs.
Everyone with a television set receives the BBC News channel. It comes into our homes at no extra charge. There was no need for the BBC to take over every channel for hours on end. By the way, if one had watched two hours of the Prince Philip coverage, as I did, one would have seen and heard everything in its entirety.
The BBC braced themselves for a plethora of complaints; they took the relevant page down on Sunday. Good. I am sure Prince Philip would have objected, too.
As much as I love the Queen, I hope they do not try this when her day comes. God willing, may it be long into the future.
Record-beating prince
Prince Philip established two records as consort to the Queen. He was the longest-serving royal consort in British history. He was also the longest-lived male member of the British royal family.
May he rest in eternal peace with his Maker.
May our gracious Lord grant the Queen, Defender of the Faith, His infinite peace and comfort in the months ahead. May He also bless the Royal Family during this difficult time.
Retired Supreme Court Justice Lord Sumption has been a doughty opponent of lockdown since last year.
He has given many interviews during that time.
His most recent one was to Freddie Sayers of UnHerd, an excellent site which explores the world of ideas, history and current affairs.
I found out about Lord Sumption's interview via Guido Fawkes. On Friday, March 5, Guido posted an article about it as well as an ONS (Office for National Statistics) survey about over-80s breaking lockdown rules:
Guido's post says (emphases in the original):
Buried in the latest ONS data dump of Covid research is a remarkable – if logical – statistic. Just 33% of over 80s have not met with anyone indoors since having their jab, with 43% admitting to meeting with people other than their carers or support bubble after receiving the first dose. After two jabs, this explicit rule-breaking rises to 48%. Despite the widespread rulebreaking, hospitalisation and death rates amongst the age group are tumbling…
Cheeky octogenarians are not alone – spritely 72-year-old Lord Sumption yesterday made a splash by telling UnHerd that "sometimes the most public-spirited thing that you can do with despotic laws like these is to ignore them" – even claiming that a quiet campaign of "civil disobedience" has already begun …
With regard to the vaccine, most in this age group support it enthusiastically, despite the fact that 41% of the survey's participants experienced side effects after the first dose. Here are more ONS findings on that subject (emphases mine):
Of those who had experienced side effects and were still awaiting their second dose of a vaccine, 63% said the side effects would not affect their decision to get the second dose, and 35% were more likely to get the second dose.
Around 19 out of 20 over 80s (96%) would be very or somewhat likely to encourage others to get a COVID-19 vaccination.
Also:
Of over 80s who had received at least one dose of a COVID-19 vaccine, 49% reported that they had met someone who they do not live with, outdoors, since receiving their vaccination; 54% had left home to go shopping, and 45% had left home to participate in outdoor leisure activities.
In contrast, one in five (20%) people who had received at least one dose of a vaccine reported that they had not left home for any reason since receiving their vaccination.
The survey findings add background to what Lord Sumption, 72, told Freddie Sayers of UnHerd.
The video is 51 minutes long and requires concentration:
Note his tie, which has a motif of American flags from the Colonial era with 'We the People' printed on it. He also sits with his arms crossed much of the time to hide a physical ailment.
It looks as if they met in his office. Sayers must have been thrilled to resume in-person interviews, as he has had to do them remotely over most of the past year.
Many of the comments beneath the video are from Britons disappointed that Lord Sumption implied that the vaccine will be the only way forward at this point in returning to a normal life. To be fair to him, he did describe it as 'a regrettable step' and that 'people should be prepared to trust each other', instead (31:00-31:14). Also:
I recognise that most of my fellow citizens want coercive measures.
Unfortunately, I agree with him. There is no way out right now. It is doubtful that the vaccine will be made mandatory by law, but most adults won't be able to resume much of their prior lives without it. Many employers and businesses will require proof of vaccination. This is likely to also be true for package holidays and international travel.
Lord Sumption talked about how we arrived at this point. He said that the public were afraid of this pandemic and wanted protection from the government. The government protected the public and helped to reinforce the fear factor in their coronavirus briefings and other public statements. Hence, civil liberties went out the window. He said that once those are gone, it is very difficult to regain them, particularly as government ministers enjoy their new roles in controlling the population.
UnHerd has an article with notable quotes from the interview.
On the dangers of public fear, Lord Sumption said:
John Stuart Mill regarded public sentiment and public fear as the principal threat to a liberal democracy. The tendency would be for it to influence policies in a way that whittles away the island within which we are entitled to control our lives to next to nothing. That's what he regarded as the big danger. It didn't happen in his own lifetime; it has happened in many countries in the 20th century, and it's happening in Britain now.
He pointed out that the civil liberties we have taken for granted as being well established are, in fact, highly fragile. They can vanish at any time. To this end, he explained that democratic forms of government are but recent developments in the time line of history:
Democracy is inherently fragile. We have an idea that it's a very robust system. But democracies have existed for about 150 years. In this country, I think you could say that they existed from the second half of the of the 19th century — they are not the norm. Democracies were regarded in ancient times as inherently self-destructive ways of government. Because, said Aristotle, democracies naturally turn themselves into tyranny. Because the populace will always be a sucker for a demagogue who will turn himself into an absolute ruler…
Now, it is quite remarkable that Aristotle's gloomy predictions about the fate of democracies have been falsified by the experience of the West ever since the beginning of democracy. And I think one needs to ask why that is. In my view, the reason is this: Aristotle was basically right about the tendencies, but we have managed to avoid it by a shared political culture of restraint. And this culture of restraint, which because it depends on the collective mentality of our societies, is extremely fragile, quite easy to destroy and extremely difficult to recreate.
Allow me to add that this is why America's Founding Fathers established a republic, not a democracy. They feared eventual despotism. The establishment of the Electoral College was also intended to be a safeguard against demagoguery.
Freddie Sayers asked Lord Sumption how we got to the point where we consented to the government taking away our civil liberties when they had been held sacrosanct for so long.
Lord Sumption said that our stability as a society and as a nation relies on the support most citizens have towards national institutions. Once a large enough percentage of people begin to question those, everything is gradually thrown into doubt. Socio-political fissures develop and something or someone comes in to replace what citizens as a whole once respected and valued.
Sayers asked him how he became so outspoken on the government's coronavirus policies. He replied that no one else was stepping up to do so, therefore, he decided to speak up:
I would very much have preferred the kind of points that I have been consistently making for the last year to have been made by just about anybody else. Those colleagues or former colleagues who disapprove of what I've been doing have got a perfectly good point. But there are some issues which are so central to the dilemmas of our time, which are so important, where I think that you have to be prepared to stand up and be counted.
He reiterated his awareness that he is in a minority, however, that small minority from last year is now becoming a 'significant' minority.
He thinks the Coronavirus Act 2020 is an example of bad law. As such, he does not feel any moral obligation to obey it and advises each of us to do as we think best as individuals:
I feel sad that we have the kind of laws which public-spirited people may need to break. I have always taken a line on this, which is probably different from that of most of my former colleagues. I do not believe that there is a moral obligation to obey the law… You have to have a high degree of respect, both for the object that the law is trying to achieve, and for the way that it's been achieved. Some laws invite breach. I think this is one of them.
Politically, Lord Sumption describes himself as a 'small-l Liberal', which is classical liberalism — free market economy and small government — rather than what Americans define as 'liberal', meaning left-wing.  He served as a Justice of the Supreme Court under David Cameron's and Theresa May's Conservative governments.
He had this advice for Boris Johnson's government:
My first proposal is that governments should not treat information as a tool for manipulating public behaviour. They should be calmer than the majority of their citizens; they should be completely objective. My second lesson would be that governments dealing with scientific issues should not allow themselves to be influenced by a single caucus of scientists. They should always test what they are being told in a way that, for instance, judges test expert opinion by producing a counter expert, and working out which set of views stacks up best.
In other words, the government should stop ginning up fear and listen to scientists other than those on SAGE.
In closing, while watching the video and based on nothing at all, I had a recurring thought that Lord Sumption is an opera lover.
Afterwards, I looked up his Wikipedia entry. Amazingly, I found this:
An opera lover, he serves as a director of the English National Opera and as a governor of the Royal Academy of Music.[46]
I do wish Boris and Co. would meet with Lord Sumption, listen carefully to what he has to say, then act on his advice.
In closing, curtailment of civil liberties can extend to protests. There are the correct kind of protests, such as those in June 2020. Then there are the wrong type of protests.
This one was obviously in the latter category, because the organiser received a £10,000 fine:
Currently, the only places in the UK where a group of people can gather to discuss anything outside the home are the two Houses of Parliament.
An MP pointed that out last week.
As he said, that is wrong on so many levels.
My series on minority MPs in the Conservative Party continues.
In case you've missed the earlier posts in this series, here they are: parts 1, 2, 3, 4 and 5.
Today's post covers the two minority MPs who were elected during Theresa May's snap general election of June 2017.
Bim Afolami (Hitchin and Harpenden)
Bim Afolami represents the leafy Hertfordshire constituency of Hitchin and Harpenden, far enough from London to be in the countryside yet a close enough for a daily commute to and from the capital.
I always enjoy hearing what Afolami has to say in Parliament. He speeches are eloquent, considered and, above all, sensible.
Afolami was born in the Home County of Berkshire to a Nigerian father, employed as a consultant physician for the NHS. His mother works as a pharmacist.
Afolami attended Eton College and University College, Oxford, where he read Modern History. While at Oxford, he worked as a librarian for the Oxford Union Society and played football for the university team.
He worked as a lawyer prior to entering politics. His employers included the prestigious law firm Freshfields and the banking corporation HSBC.
In 2017, Hitchin and Harpenden's MP Peter Lilley stood down. Afolami was selected as the Conservative candidate.
Afolami was a Remainer, however, during his time in Parliament, he voted the Brexit line most of the time.
He has been a member of several parliamentary committees.
He has also had positions as Parliamentary Private Secretary in the Department of Transport, International Development, International Trade and the Department for Work and Pensions.
Currently, he chairs the All-Party Parliamentary Group on Credit Unions and is a Commissioner for the Financial Inclusion Commission.
Afolami is married with three children.
He describes Winston Churchill as his 'biggest hero'.
Kemi Badenoch (Saffron Walden)
Kemi Badenoch also reveres Winston Churchill, along with Margaret Thatcher.
She, too, has Nigerian roots and spent her formative years there before returning to England.
She represents the constituency of Saffron Walden in Essex, which, not surprisingly, includes the ancient town of the same name. The town of Saffron Walden was known not only for its wool production but also for its cultivation of saffron in the 16th and 17th centuries. That happy combination of industry enabled the town to develop dyes as well as provide the condiment for use in food.
Olukemi Olufunto Adegoke was born in Wimbledon, London. Her father is a GP and her mother a professor of physiology. As her mother obtained teaching positions overseas, Kemi lived in both the United States and Nigeria. She returned to England at the age of 16 to complete her A levels and attend university.
She has worked in computing for most of her career. She obtained a law degree in 2009 and went on to work as an associate director of private bank and wealth manager Coutts and was a director for The Spectator.
Kemi joined the Conservative Party in 2005.
In 2012, she married Hamish Badenoch and took his surname.
In 2015, she served on the London Assembly after Suella Fernandes Braverman had to give up her seat, since she had just been elected to Parliament.
In 2017, Kemi Badenoch succeeded Sir Alan Haslehurst as MP for Saffron Walden with a healthy majority.
In her maiden speech, she explained how she became a conservative: failing nationalised electricity and water provision during her years in Nigeria. Wow.
She also said that Brexit was the 'greatest vote ever'.
If you want to feel uplifted about Britain and conservatism, this video is definitely worth five-and-a-half minutes of your time:
She currently holds two positions, to which Prime Minister Boris Johnson appointed her in 2020: Exchequer Secretary to the Treasury and Parliamentary Under Secretary of State (Minister for Equalities) in the Department for International Trade.
The latter position has seen her come up against stiff opposition from the Opposition benches last year when it emerged that minorities were more affected by coronavirus. The protests in June exacerbated the issue.
On June 4, an SNP MP, Alison Thewliss, had the gall to intimate that Badenoch had little understanding of the black community.
Badenoch politely responded that she objected to Thewliss's 'confected outrage'.
As former Labour MP — now Baroness Hoey in the House of Lords — put it:
Guido Fawkes posted a video of the exchange and commented (emphasis in the original):
Today's BAME Urgent Question was never going to be one Parliament's more tranquil sessions given the ongoing Black Lives Matter protests. Kemi Badenoch gave a feisty performance, scolding left-wing white MPs for telling her how to feel as a black person. Her slap down of SNP MP Alison Thewliss, who conflated all black Britons with recent immigrants, is worth a watch…
The BBC also attacked her response.
On June 6, Badenoch wrote an article for the Daily Mail, which said, in part (emphases mine):
The disproportionate impact of the Covid-19 pandemic on black and minority ethnic people has been one of the most troubling aspects of the pandemic – and the Government was right to seek the expert guidance of Professor Kevin Fenton, an eminent black physician at Public Health England, to examine the issue. 
So when, as Equalities Minister, I stood up in the Commons to discuss his review and its conclusions, I expected tough questions. 
This, after all, has been a week of heightened emotion about racial divisions. Unfortunately, clumsy attempts at scrutiny by some MPs and commentators unintentionally risk inflaming racial tensions. 
Updating Parliament on the review, Labour MPs repeated racially charged claims such as: 'Being black is a death sentence.' 
One SNP MP conflated all black people with recent immigrants. This language does nothing to calm tensions at a time when politicians need to set an example. 
Far more irresponsible though, was the BBC's coverage of the debate – with the headline: 'Minister rejects systemic racism claims'. I did no such thing. 
In fact, the phrase 'systemic racism' was not used once in the debate. The BBC report was shared on social media thousands of times and believed because it was from a trusted source. This is incredibly harmful. 
By implying that a black Minister has, out of hand, rejected racism as a factor, the hard work done by many ethnic minorities in Government, the NHS and Public Health England is discredited, trust is lost and race relations become worse. 
Yes, there are gaps in PHE's review. By its nature, it highlights what we don't know and must investigate further. 
We will build on this work, engaging with individuals and organisations within communities, to protect lives in this pandemic … 
We need to be more circumspect; we need real journalism, not campaigning. 
We must address prejudice but this is impossible if our national broadcaster, politicians and commentators play a social media game to achieve outrage rather than enlightenment. 
We must combat the real inequities in society, but we do everyone a disservice if we give in to culture warriors whose relevance depends on inflaming tensions. 
By hijacking the Government's work to improve the lives of BAME people, those spoiling for a fight are sacrificing the hope of so many young people for little more than clicks, likes and retweets. 
In October, Badenoch volunteered to take part in a vaccine trial:
Moving to the present day — February 2021 — issues have arisen with minorities reluctant to get vaccinated when the time comes. Personally, I do not blame them. There is a lot we do not know about their long-term effects, particularly the mRNA vaccines. So that minorities would feel more reassured, the Government appointed Nadhim Zahawi MP to oversee vaccine rollout in the UK. His brief includes visiting minority communities to encourage uptake:
In January, minority MPs from both sides of the aisle took part in a video to promote the vaccine programme.
Badenoch was criticised for not having taken part. She said it was because she was participating in the aforementioned vaccine trial:
Let's return to last year.
In October 2020, Badenoch spoke in Parliament about Black History Month in the UK. She said that she was taken aback by something her daughter said:
That month, she participated in a Spectator discussion debunking various socio-political left-wing theories and promoting conservatism.
This triggered a severe reaction from the Left in November.
Several radical left-wing academics took issue with what she said:
Guido Fawkes provided the exhaustive list along with the radical positions of each academic, explaining the background (red emphases in the original, those in purple mine):
Equalities minister Kemi Badenoch sent Twitter's wokesters and academia's race baiters into meltdown a fortnight ago when her savaging of "Critical Race Theory" (CRT) went viral, with 2.4 million views. Guido's since picked up on an open letter doing the rounds in nutty left-wing academic circles, who – unable to take on the substance of what Badenoch argues – have chosen instead to misrepresent her words. Aside from their attacks on the substance of Kemi's words – incorrectly claiming she wants "the banning of certain ideas or schools of thought" and that she misunderstands history and CRT – the mostly former-polytechnic-based academics now claim CRT has "scientific principles" behind their ideology. Eugenicists, phrenologists and Marxists have argued the same for decades...
Looks like Kemi's on pretty sound ideological ground…
I wish Kemi Badenoch all the very best in holding her ground so consistently.
Tomorrow's post concludes this series.
Yesterday's post looked at the beginning of today's modern Conservative Party in the late 20th and early 21st century, including Boris Johnson's diverse family history.
Since 2010, the Conservatives have added to their number of accomplished MPs, people who have really achieved something in their lives before they entered Parliament.
The list of MPs whose immediate ancestry includes parents from Asia and Africa continues below.
The Cameron years: May 2010 – June 2016
In the 2010 election, when David Cameron became Prime Minister, several more Conservative MPs of colour took their places in Parliament.
Most are still serving today, listed below.
Rehman Chishti (Gillingham and Rainham)
Rehman Chishti was born in Pakistan on October 4, 1978.
At the time, his father, Abdul Rehman Chishti, was Federal Adviser on religious affairs to the Prime Minister of Azad Kashmir, the region where the Chishtis lived. This was during the time when Zulfikar Ali Bhutto was Pakistan's prime minister. In 1978, Chishti's father left Pakistan for the UK, where he became an imam. Shortly afterwards, a military coup overthrew the Bhutto government. General Zia-uk-Haq led the coup and later executed Bhutto.
It was not until 1984 that Mrs Chishti was able to join her husband in Kent, taking with her their elder daughter and young Rehman. From that point, life resumed a sense of normality for the family. Rehman Chisti attended local schools, then read law at University of Wales Aberystwyth. He supplemented his income by working summer jobs in retail in Kent.
In 2001, he became a barrister, having been called to the Bar of England and Wales by Lincoln's Inn in London. He prosecuted and defended cases in Magistrates' and Crown courts.
During the years when Labour was in power, he worked as an advisor for Zulfikar Ali Bhutto's daughter, Benazir Bhutto, after her tumultuous term as Pakistan's prime minister had ended. Chishti held this position between 1999 and 2007.
In 2006, he decided to switch his affiliation from Labour to Conservative and served as advisor on diversity to Francis Maude, who led the Conservatives at that time.
He won his first election as MP for Gillingham and Rainham in 2010, having been lauded by both Labour and Conservative publications as being a rising star in Parliament.
Since then, he has held three notable appointments: Vice Chairman of the Conservative Party for Communities (2018), Prime Ministerial Trade Envoy to Pakistan (2017-2018) and Prime Minister's Special Envoy for Freedom of Religion or Belief (2019-2020).
Helen Grant (Maidstone and The Weald)
Another MP serving Kent is Helen Grant.
Helen Grant was born in Willesden (London) in 1961. Her mother is English and her father a Nigerian, an orthopaedic surgeon.
Helen's parents split up when she was a young child. Her father later emigrated to the United States. Helen and her mother moved to Carlisle, in the north-West of England, where she was raised by her mother, her grandmother and her great-grandmother. They lived on a council estate.
She excelled in sports at secondary school and decided to read law at university. She later opened her own law practice, Grants Solicitors, which specialises in family law.
She was a member of the Labour Party between 2004 and 2006, but quickly grew disillusioned:
It was almost looking in the biscuit barrel, not liking the look of the biscuits, and slamming the lid shut.[6]
In 2006, she joined the Conservative Party. That year, she helped the Conservatives devise a policy on family breakdown, co-authoring the Social Justice Policy Group Report 'State of the Nation – Fractured Families' published in December 2006, and the follow-up solutions report 'Breakthrough Britain' published in July 2007.[8]
Grant became the first mixed-race/black female MP, succeeding the formidable Anne Widdecombe, who stood down for the 2010 election.
Helen Grant married her husband Simon in 1991. They have two sons, one of whom served in the Royal Marines.
Kwasi Kwarteng (Spelthorne)
Kwasi Kwarteng, who represents Spelthorne in Surrey, is familiar to anyone who has followed Brexit and the Government department BEIS (Business, Energy and Industrial Strategy).
Kwasi Kwarteng's parents emigrated from Ghana in the 1960s when both of them were students. His mother became a barrister and his father an economist in the Commonwealth Secretariat.
Kwarteng was a brilliant student. As a boy, he attended Colet Court, the feeder school for St Paul's School. Kwarteng went one better. He attended Eton.
At Eton, he was a King's Scholar and received the school's most prestigious award: the Newcastle Scholarship. He read classics and history at Trinity College, Cambridge, earning a First in both subjects.
During his time at Cambridge, he appeared on University Challenge during the first season when the BBC resurrected the show in 1994. I saw it. The episode that he was on aired in 1995 and raised eyebrows. Kwarteng pressed the buzzer to answer the question, then forgot the answer. Exasperated, he spontaneously uttered the 'f-word'. The production team was unable to censor it in time.
Guido Fawkes has the details:
This photo of a resulting newspaper article comes from Guido. Moderator Jeremy Paxman is pictured:
After earning his degree at Cambridge, Kwarteng was awarded a Kennedy Scholarship from Harvard. After studying there, he returned to Cambridge to earn a PhD in economic history.
He then had a busy career, combining work with journalism. He was a columnist for The Daily Telegraph and worked at investment banks, among them JPMorgan Chase. He also wrote and co-authored books on history and business.
At the time he won his first election as MP for Spelthorne, a local paper described him as a:
black Boris.
Kwarteng was an ardent supporter of Brexit and Boris Johnson. He also thinks that Britain's welfare state needs to be pared back.
Kwarteng has held a variety of positions in Government and is the first black MP — and the first Conservative MP — to be appointed as a Secretary of State.
He is also a member of the Privy Council.
Priti Patel (Witham)
Priti Patel has been Home Secretary since Boris Johnson became Prime Minister in 2019.
She held various Government posts prior to that appointment.
Priti Patel was born in London in 1972. Her paternal grandparents were from Gujurat, India, then emigrated to Uganda. They owned a shop in Kampala.
In the 1960s, the Patels' son and his wife — Priti's parents — emigrated to England, settling in Hertfordshire, where they built up a successful chain of newsagents. The family are Hindu.
Unlike a few of the other MPs profiled above, Priti never flirted with the Labour Party. She was a firm fan of Margaret Thatcher, who, in her words:
had a unique ability to understand what made people tick, households tick and businesses tick. Managing the economy, balancing the books and making decisions—not purchasing things the country couldn't afford".[8]
Patel was always interested in politics. After completing her degree in economics at Keele University in Staffordshire, she studied British government and politics at the University of Essex.
She began her career working in the Conservative Central Office. As she was interested in seeing the UK leave the EU, she left for two years to head the office of the Referendum Party, headed by the late tycoon Sir James Goldsmith. That was between 1995 and 1997. Goldsmith's party did not win many votes. We still have the campaign video tape, which Goldsmith's campaigners sent to certain constituencies he had hoped to carry. Goldsmith died two months after the election.
Patel returned to the Conservatives, working for party leader William Hague in his press office.
In 2006, she became the Prospective Parliamentary Candidate for the staunchly Conservative constituency of Witham in Essex. By 2010, she was well known and won election handily.
She became part of the 'class of 2010', also known as 'the new Right'. She and her fellow 'classmates' Kwasi Kwarteng, Liz Truss, Dominic Raab and Chris Skidmore co-authored Britannia Unchained, which took strong exception to the welfare state. One of the book's more controversial statements is:
once they enter the workplace, the British are among the worst idlers in the world.
I don't fully agree with that, but I do worry about the effect that lockdown and furlough are having on our collective psyche in that regard.
Priti Patel is married and has one child, a son.
Alok Sharma (Reading West)
In 2010, Alok Sharma won Reading West with a majority of 6,004 after Labour MP, Martin Salter retired.
Alok Sharma was born to a Hindu family in Agra, India, in 1967. Five years later, he and his parents settled in Reading, Berkshire, where Alok's father became very involved in Conservative Party politics and helped to establish the Conservative Parliamentary Friends of India.
The Sharmas sent their son to local schools, including the well-respected Reading Blue Coat School in Sonning, Berkshire. Alok moved to the north-West for university, earning a BSc in Applied Physics with Electronics in 1988.
However, Alok's interests extended beyond science. He later qualified as a chartered accountant with Deloitte, Haskins & Sells in Manchester. He went on to work as a corporate financial advisor for other firms, leading to posts not only on London but also in Stockholm and Frankfurt. He advised clients on cross-border mergers and acquisitions, listings and restructurings.[8]
Sharma has held several posts as Minister of State and Secretary of State.
He is currently the President for the climate change conference COP26, which the UK will host in 2021. Sharma is currently a full member of Boris Johnson's Cabinet Office.
Sharma married a Swedish lady, with whom he has two daughters.
Nadhim Zahawi (Stratford-on-Avon)
Nadhim Zahawi is best known for his current post as Parliamentary Under-Secretary for COVID-19 Vaccine Deployment in the UK.
He is second-best known for co-founding the international polling company YouGov with Stephan Shakespeare. Zahawi served as YouGov's CEO from 2005 to 2010.
Zahawi was born to Iraqi Kurdish parents in Bagdad in 1967. In 1976, when Saddam Hussein began his rule over Iraq, the Zahawis moved to London, where Nadhim attended independent day schools.
Nadhim earned a BSc in Chemical Engineering from the University of London.
However, immediately after university, Zahawi's interests lay with the Kurds. He worked on their behalf from 1991 to 1994.
In 1994, he was elected as a local Conservative councillor for Putney in south-West London. He held that post until 2006.
In 2010, he gained the attention of the local Conservative association in Stratford-on-Avon and became their prospective parliamentary candidate. He has been re-elected three times since: 2015, 2017 and 2019.
Zadawi has held two Parliamentary Under-Secretary of State posts, the first for Children and Families and the second for Business and Industry.
Zadawi and his wife are keen horse riders. They co-own a riding school. Their children attend university in the United States.
Sajid Javid
Sajid Javid was also among the 2010 intake. I will cover his life story this week, as it is worth a separate post.
Conclusion
Had I not been watching BBC Parliament so often, I would not have read the life experiences of many of our MPs.
I had watched the maiden speeches of those who entered Parliament in 2019, however, I had missed those of the MPs who came before them.
One can imagine that Boris, given that his paternal great-grandfather was lynched in Turkey, would appreciate every element of life experience and intelligence that this intake of MPs brings to the House of Commons.
So far, Israel, the UK and the United States (President Trump) have had the greatest success in procuring and distributing coronavirus vaccines.
This must have been painful for a German newspaper to publish:
Guido Fawkes has more from the article that appeared in Bild and additional commentary about Germany (emphases in the original):
The loss of German confidence was not helped when the first German vaccinated was vaccinated in England. This humiliation is reconfirmed in the breathless copy of Peter Wilke, Bild's UK reporter, exclaiming that whilst he had not received a vaccination appointment in his home town of Mühlheim, he was shocked to get an SMS text from the NHS, "Suddenly I got a vaccination appointment in England!"
Guido has not seen any British media reporting of the Kremlin's statement that on a call this week between Putin and Merkel "Cooperation in the fight against the coronavirus pandemic was discussed , with particular attention to the possible prospects for joint vaccine production".  Desperate times make allies of necessity…
Here's the message that the Bild's journalist received for a vaccination (and a response):
Absolutely. Couldn't agree more.
Kelsall, by the way, is in Cheshire, in the north-West of England.
United States
President Trump's business acumen and America First policies made vaccine procurement and distribution to individual states a given.
Unfortunately, not all states are rolling out their vaccines as quickly as they should be. Massachusetts, despite its Republican governor Charlie Baker, is among them. Baker, incidentally, is an anti-Trump RINO, which explains a myriad of things, including his lockdown and mask policies.
Never let it be said that President Trump did not do the right thing. From the beginning of the coronavirus crisis, he made sure states had funding and equipment as soon as it was available. Every nation suffered from a PPE shortage until after the first wave. After that, it was — rightly — up to the governors to make sure their states used the distributions responsibly and promptly.
Israel
Israel also puts its own people first, and rightly so.
Last week, Prime Minister Benjamin Netanyahu shared his vaccine strategy with those attending Davos virtually:
Netanyahu adopted practical policies, including telling his 'bureaucrats' (his word) to 'cut the c—' (which he was at pains to leave unspoken) and get on with it. Pricing, supply, efficacy and payment were all part of what has turned out to be a truly world-beating strategy:
As Guido Fawkes commented:
Essentially, pay up, move fast. Whereas the EU haggled about the price, moved slow and did not sign contracts. Political vanity which will cost European lives…
Guido is referring to the EU, which is now trying to interfere with the UK's long-agreed upon supplies from Belgium, although a Belgian lawyer disputes that move:
Fernand Keuleneer, Brussels attorney, tweets…
"From the published contract between the EU Commission and AstraZeneca I cannot conclude that the Commission has the contract and therefore the right on its side. Rather the opposite."
More here, from Guido.
United Kingdom
Being halfway out the door of the EU in 2020 made a huge difference to the United Kingdom's ability to procure and distribute vaccines.
Although I am deeply dismayed with Boris Johnson's and Matt Hancock's handling of coronavirus restrictions, one cannot fault the Conservatives for seizing the opportunity to be independent of EU policies and become self-sufficient.
James Forsyth, political editor of The Spectator, wrote an excellent article for The Times, dated January 28: 'Covid has taught the UK the importance of self sufficiency'.
An excerpt about the British strategy towards coronavirus follows (emphases mine):
The last year has shown that even in this globalised age the nation state trumps the market. You could see this in the scramble for personal protective equipment (PPE) last spring when countries stopped firms from honouring contracts until they were sure their domestic needs had been met. The same dynamic is beginning to assert itself on vaccines.
Just look at how the German government is pushing for EU export controls on vaccines. Today the EU will set out how companies must provide notification before exporting vaccine out of the bloc. It is expected that these rules will allow exports to be blocked in certain, supposedly rare circumstances. The British government remains confident there will still be vaccine deliveries from the Pfizer factory in Belgium.
These new headwinds pose a particular risk for Brexit Britain, a country stuck between two large economies with protectionist tendencies, the United States and the European Union.
When Oxford came to the government last year to make sure it was happy with arrangements for production of its vaccine, Whitehall said it wanted the NHS to have first access. But when ministers saw Oxford's proposed contract with a non-UK pharmaceutical firm they saw it went little further than promising best efforts. Alok Sharma, the business secretary, and Matt Hancock, the health secretary, insisted on a legally binding promise to serve Britain first. They eventually received such a pledge from the UK-headquartered AstraZeneca.
Hancock's worry was over waiting for imports, which raised the prospect of delay, even expropriation. There was particular concern about Trump invoking the Defence Production Act to secure all the vaccine supply for the US. This was why billions were spent helping various British-based companies to buy the facilities needed to mass-produce vaccines.
There are only a few dozen large-scale bioreactors in the world. Six are now based here, which is what is allowing vaccines to be made at such pace.
At the time it was a bet: huge sums were being spent on a vaccine that had not been approved. Even more was being spent to protect Britain against the theoretical risk of vaccine nationalism. But both bets paid off.
Too often in modern British history industrial strategy has meant trying to keep a dying industry or company going for a few more years. Even in this crisis the government's attempt to develop a contact tracing app that didn't use Google or Apple technology failed spectacularly.
Nor has the £22 billion test and trace scheme been a resounding success. But the vaccine was an example of the government successfully bringing together academia and business and using taxpayers' money to help seed a new industry in Britain.
In the same way that the Second World War left politicians with a desire for food security, the Covid crisis has prompted a desire for self-sufficiency in medical supplies. Already around two thirds of PPE is being manufactured domestically; a dramatic change from the situation pre-pandemic when only 1 per cent was produced here.
And another UK vaccine is on its way, albeit somewhat delayed. Nonetheless, there is every reason to be happy:
Guido Fawkes has more:
A clearly delighted Kate Bingham, chair of the UK's vaccine task force, appeared on the Today programme this morning following last night's brilliant news of a new vaccine from Novavax showing 90% efficacy against the new Kent variant; the UK having ordered 60 million doses, all of which will be made in Teesside.
While there's lots to be excited about, government sources emphasised to Guido last night that the jab will not roll out until the latter half of the year, with MHRA approval set to take weeks. Bingham explained to Today listeners that scale-up is already underway in Teesside and going well "but it just takes time, we are growing up mammalian cells from low volumes up to the high thousand-litre volumes and it's very complicated".
Novavax, a single-dose vaccine, is made by America's Johnson & Johnson in the US, but Janssen handles European production in Belgium. The UK has already purchased doses:
Furthermore, Livingston, Scotland, has opened a new vaccine production facility for the international pharmaceutical company Valneva that Boris visited on January 29 (start at 1:08):
Conclusion
Self sufficiency is the way forward.
No nation — including an EU nation — can fully rely on another to supply its needs in a time of crisis.
Well done to the three countries who put their own people first. Long may it continue.
After a slow news period post-'inauguration', everything accelerated again to the point where there is too much to cover in one week.
At the end of January 2021, the EU tried to block the UK's coronavirus vaccine supply, specifically to the AstraZeneca vaccine developed in Oxford!
The EU poked at the softest, most vulnerable part of the UK-EU agreement post-Brexit: not to create division between Northern Ireland and the Republic of Ireland, covered by Article 16.
However, the EU, being short of coronavirus vaccines, briefly invoked the sacrosanct Article 16 on Friday, January 29, 2021, despite Jean-Claude Juncker's old commitment to Ireland that there would be no hard border with a post-Brexit EU-UK trade agreement. This debate in the Irish parliament took place long before coronavirus. What a sloppy dress code:
Then, just less than a month after the UK made a full Brexit with a trade agreement, the EU did this:
On Friday, January 29, Guido Fawkes reported (emphases in the original):
As part of its plot to block vaccine exports to the UK, the EU has invoked Article 16 of the Northern Ireland Protocol. This has effectively removed Northern Ireland from the EU's customs. In plain English, Article 16, the so-called safeguard clause, allows both the EU and the UK to unilaterally suspend part of the Northern Ireland Protocol (which keeps Northern Ireland in the EU's customs territory) in specific circumstances.
Most discussion around this particular article had been how or whether the UK would use it. The fact that the EU has implemented it less than a month after coming into effect could set a big precedent.
Practically this new EU-imposed hard border won't make a huge difference as Northern Ireland will receive their jabs via Great Britain, but this political move is extraordinary, after a week of terrible news for the Union. After years of arguing to keep Northern Ireland in its customs territory, the EU has just merrily kicked it out.
However, such an action threatened the long-standing peace agreement between North and South.
EU Commission president Ursula von der Leyen's action managed to unite Britain's — and Ireland's — Right and Left for the first time in years:
Guido's article says of the centre-right Democratic Unionist Party:
UPDATE: The DUP have, not unsurprisingly, slammed the EU's decision as "an incredible act of hostility". Arlene Foster says:
"This is an incredible act of hostility. By triggering Article 16 in this manner, the European Union has once again shown it is prepared to use Northern Ireland when it suits their interests but in the most despicable manner — over the provision of a vaccine which is designed to save lives.
At the first opportunity the EU has placed a hard border between Northern Ireland and the Republic of Ireland over the supply chain of the Coronavirus vaccine.
With the European Union using Article 16 in such an aggressive and most shameful way, it is now time for our Government to step up. I will be urging the Prime Minister to act and use robust measures including Article 16 to advance the interests of Northern Ireland and the rest of the United Kingdom."
As for Labour:
UPDATE II: Labour join in with the EU condemnation: Louise Haigh MP, Labour's Shadow Northern Ireland Secretary, commenting on the European Union's decision to invoke Article 16 of the Northern Ireland Protocol:
"This move is deeply destabilising and undermines the huge efforts being made to make the Protocol work.
Unilateral actions like this do nothing to aid the stability in Northern Ireland which the Protocol was designed to preserve.
The European Union must remember the Protocol depends on joint working and they share a responsibility to uphold that. They must think again, and revoke this action."
Later that day, Guido recapped the previous five days of hassle for AstraZeneca and vaccine supply. CEO Pascal Soriot insisted that the company never made a hard and fast commitment to the EU. AstraZeneca made what are contractually known as best reasonable efforts to supply to the EU. Guido's article has a copy of the contract, which you can read at the link:
AstraZeneca has committed to use its Best Reasonable Efforts (as defined below) to build capacity to manufacture 300 million Doses of the Vaccine, at no profit and no loss to AstraZeneca, at the total cost currently estimated to be [REDACTED] Euros for distribution within the EU [REDACTED] (the "Initial Europe Doses"), with an option for the Commission, acting on behalf of the Participating Member States, to order an additional 100 million Doses (the "Optional Doses").
The ball was then in von der Leyen's court:
Guido reported von der Leyen's response:
No. There are binding orders and the contract is crystal-clear. AstraZeneca has expressly assured us in this contract that no other obligations will stand in the way of fulfilling the contract.
However, Guido explained:
The key obligation in the agreement is in Section 5.1, which "silos" production for the doses to go to the EU, making clear that the AZ obligation is only to use best reasonable efforts to manufacture the initial doses within the EU. If they are manufacturing doses outside the EU that's irrelevant to that obligation. Has the EU just shot itself in the foot?
Guido's founder Paul Staines is based in Waterford, Ireland. He thinks that, for the good of relations between North and South, the UK should share their AstraZeneca doses with the Republic:
He was not alone. The Scotland editor for The Spectator agreed:
Fine. Let's make sure that Britons get their share first. That's why the deal was set up in the first place.
By the end of last Friday, right, left, centre and the Church of England opposed the EU action:
The Archbishop's intervention seemed to have a huge impact in Britain, which is surprising for such an atheistic nation:
The strange thing about Article 16 is that the British EU-lovers assumed that the UK Government would implement it first against the EU. That was the big stink around the Internal Market Bill, which gives the UK leeway to back out of parts of the trade agreement if the EU becomes threatening.
In the end:
Late that evening, the EU president conceded:
Boris made no mention of it on his Twitter feed.
More on the UK's coronavirus vaccine success will follow on Monday.
For now, here's the next EU-UK drama, which also started on Friday, January 29 — international travel:
Macron's probably upset because the Institut Pasteur vaccine failed this week. Because of that failure, he rubbished the AstraZeneca vaccine:
As Guido said:
The French haven't been able to produce a vaccine, and the Germans couldn't do it without American corporate help. No wonder voices in the EU were so keen to hit out, falsely, at the success of Brexit Britain's Oxford vaccine. Poor Little EU.
Oh, boy. Politics, politics.
2021 will be a doozy of a year.
The annual World Economic Forum Davos summit was virtual this year.
However, that didn't inhibit eyebrow-raising pronouncements, such as one from Angela Merkel, who cannot seem to tell the difference between the United States and China.
Hmm. Who is behind this statement of hers?
Guido Fawkes has the story (emphases in the original, the one in purple mine):
Following a line laid out by the Chinese Communist Party's Xi Jinping on Monday urging the EU to avoid building of blocs, Merkel said:
"I don't think it would do justice to many societies if we were to say this is the United States and over there is China and we are grouping around either the one or the other. This is not my understanding of how things ought to be."
If you think there is moral equivalence between a genocidal communist state and a free democracy then you have a problem. Thank God the EU no longer controls UK trade policy…
The United States is actually a constitutional republic, but one takes Guido's point.
That said, based on Joe Biden's first week, the US is quickly sliding into the quagmire, as one of my readers, Katherine, pointed out last Friday:
A less unifying first week in office could hardly be imagined. Thirty-three Executive Orders were issued. Most were radical-left agenda items strongly opposed by half the country; many will be challenged in courts. Jobs have been destroyed; the murder of innocent babies with federal money has been approved, and the categories of "male" and "female" have been declared inoperative. He can't treat half the country with contempt and then expect "unity."
One can only hope that something or someone puts an end to America's off-the-cliff decline. This cannot be allowed to continue.
This is the final instalment of my long-running series, the Brexit Chronicles.
My previous post discussed the December 30 vote on the EU Future Relationship Bill which passed both Houses of Parliament and received Royal Assent in the early hours of the final day of Brexmas, December 31, 2020.
New Year's Eve was a quiet affair in Britain, as we were in lockdown.
One week earlier, Boris said that he would not be dictating to Britons how they should celebrate our exit from the EU, which was a bit rich, because he had already put us into lockdown before Christmas:
What UK independence from the EU means for Boris
The UK negotiating team did some star turns with this agreement, which polished Prime Minister Boris Johnson's political reputation.
Boris's ratings had taken an understandable hit during a year of coronavirus, which included a lot of flip-flopping on his part, however the trade agreement improved things considerably. Liz Truss, who has been negotiating our trade deals with more than 50 countries, deserves her place at the top:
According to an Opinium poll, an overwhelming majority of Britons — even Remainers — wanted MPs and the Lords to pass the deal:
Troublingly for the anti-deal SNP, the poll's sub sample of Scottish voters shows that by 47% to 19%, Scots want their MPs to vote for the deal too…
The Norwegians said that the UK had negotiated a better deal with the EU than they had:
Guido Fawkes thinks that this could give Norway the impetus to renegotiate their terms with the EU. I hope so (emphases in the original):
Marit Arnstad, parliamentary leader of Norway's Centre Party, argues that the UK deal is better than the Norwegian deal her country has as a member of the European Economic Area (EEA). "The UK has now reached an agreement that gives them more freedom and more independence" she tells Klassekampen, Norway's answer to the Guardian, "the British have a better agreement than the EEA. They get access to the internal market and the common trade that is desirable, but they do not have to be part of a dynamic regulatory development that places strong ties on the individual countries' national policies. …The most difficult thing for Norway is that we are bound in areas that are national policy, and that it happens in more and more areas. The British have now taken back this authority, and it is extremely interesting".
Arnstad is not the only politician complaining, the leader of the Norwegian Socialist Party's EEA committee, Heming Olaussen, also believes that the British agreement with the EU is better than the EEA, "because the British escape the European Court of Justice. Then they are no longer subject to EU supremacy and must not accept any EU legislation in the future as we must. This agreement is qualitatively different and safeguards national sovereignty in a better way than the EEA does for us".
Could we soon see Norway and the other EEA countries try to renegotiate their terms?
Prime Minister Boris Johnson made sure that he got everything possible arranged by the end of the day, including Gibraltar. The first tweet has a statement from Foreign Secretary Dominic Raab:
Remainers constantly brought up the future of the Nissan car plant in Sunderland. They can silence themselves now.
Chronicle Live reported:
Automotive giant Nissan has welcomed the UK's post-Brexit trade deal with the EU, which appears to have safeguarded the future of its Sunderland plant.
The plant has been at the centre of the Brexit debate over the last decade, with both Remain and Leave campaigners using it to back up their respective arguments.
A number of global Nissan executives have used visits to Sunderland to warn that its future was threatened by a no-deal Brexit, and two models either being made or due to be made at the plant have been cancelled since the 2016 referendum.
But the Christmas Eve agreement of a deal that appears to allow tariff-free access to EU markets for British-made goods has been welcomed by the company.
On Boxing Day, The Telegraph — Boris's former employer — published an interview with him, excerpts of which follow (emphases mine):
"I think it has been a long intellectual odyssey for many people of this country," he said, casting back to 1988, shortly before he, an up-and-coming journalist at The Telegraph, was dispatched to Brussels to report on the European Commission.
"The whole country has been divided about this issue, because we are European, but on the other hand we don't necessarily want to feel that we're committed to the ideology of the European Union.
"That's been the problem and I think it is absolutely true that Margaret Thatcher … she did begin this period of questioning. Her Bruges speech was very, very important."
Mr Johnson is referring to a speech that, to many Eurosceptics, formed the foundations of the bitter and protracted political struggle against ever closer union that ultimately set Britain on the path to Brexit.
At the height of her power and railing against Jacques Delors' latest move towards deeper integration, in 1988 Baroness Thatcher urged the Commission to abandon aspirations of a "European super-state" which would infringe on the "different traditions, parliamentary powers and sense of national pride in one's own country".
Her warning went unheeded, however, and just four years later the UK signed up to the Maastricht Treaty and with it the creation of the European Union as it is constituted today.
And yet, even after she was toppled and replaced by John Major, an ardent Europhile, the seeds of discontent and the desire to reclaim British sovereignty had been sown in Bruges.
He explained that we will always be European, just not part of the huge project that seems to continually move the goalposts of membership obligations:
"I think this gives us a basis for a new friendship and partnership that should attract people who love Europe and want to have a great relationship with it, who want to feel close to it.
"But it should also be something that is welcome to people who see the advantages of economic and political independence. I think the country as a whole has got itself into a new and more stable footing. It's a better relationship and a healthier relationship."
… The tariff and quota-free deal covers £660bn worth of trade a year, which Mr Johnson said will still be "smooth" but with new customs procedures and paperwork which will mean things are "different and there will be things that businesses have to do".
In particular, he is keen to stress that the UK will be free to diverge from EU standards.
This is particularly gratifying for Mr Johnson, who said that after being accused of "cakeism for so many years," he has achieved what his critics said was impossible: "That you could do free trade with the EU without being drawn into their regulatory or legislative orbit."
Boris enjoys his 'cakeism' references. He made one on Christmas Eve upon the announcement of the deal and he made yet another on January 1, which was Guido Fawkes's Quote of the Day:
I hope I can be forgiven for reminding the world that many people used to insist that you couldn't do both: you couldn't have unfettered free trade with the EU, we were assured, without conforming to EU laws. You couldn't have your cake and eat it, we were told. Maybe it would be unduly provocative to say that this is a cake-ist treaty; but it is certainly from the patisserie department.
The Spectator had an excellent article on the new treaty, 'The small print of Boris's Brexit deal makes for reassuring reading'. Brief excerpts follow. The article has much more:
The Brexit deal takes things back to where they were before Maastricht. The EU is limited now in any meddling to very specific areas indeed. It ends the oddity where because circa seven per cent of UK business trade with the EU, 100 per cent have their laws made by the EU (although that is a bit more blurred in supply chains) …
There are parts of the deal that mean that, should Britain wish to diverge, then UK committees will have to talk to EU committees. Requiring the UK to 'consult' on implementation and change of the agreement etc. But how this is done in practice is left free and thus pretty non-enforceable and limited in scope. It is diplomacy now, not law …
While there is a lot of hot air in the treaty, it does not go beyond that. Lord Frost and his team seem to have seen off the (no doubt many) attempts to get EU regulation in through the back door. The UK is leaving the European Union and the lunar orbit of its regulations. It depends on your politics whether you approve of concessions over fish and some aspects of trade. But the legal question – to take back control – has been accomplished.
In The Atlantic, Tom McTague, a balanced journalist, looked at Brexit from the Conservatives' 2019 manifesto policy of 'levelling up' all parts of the United Kingdom:
… at root, Brexit was a rejection of the economic status quo, which too many had concluded was benefiting the country's urban centers at the expense of its more rural regions. And not without evidence: Britain is the most unequal economy in Europe, combining a supercharged global hub as its capital with areas a three-hour drive away that are as poor as some of the least-developed parts of the continent.
Brexit was not solely a vote of the "left behind"—much of the wealthy and suburban elite also voted to leave. But Brexit was a rejection of the direction the country was taking, a desire to place perceived national interests above wider European ones that too many Britons did not believe were also theirs. Is this entirely unreasonable?
The Revd Giles Fraser, rector of the south London church of St Mary's, Newington — and co-founder of UnHerd — wrote an excellent article on Boris, Brexit and old Christmas traditions involving seasonal games of chaos and fools. He also delves into the Bible. 'Why chaos is good for Boris — and Brexit' is worth reading in full.
You will want to see the photo he includes in his article, which begins as follows:
Back in early December, after a dinner between the British negotiating team and their EU counterparts, a photograph was released that, it was said, "sums everything up". A characteristically dishevelled Boris Johnson was unflatteringly contrasted with the smartly dressed Michel Barnier. "Johnson's loose tie, shapeless suit and messy hair alongside Frost's errant collar stood out somewhat beside an immaculately turned out Ursula von der Leyen and chief EU negotiator Michel Barnier" reported the Huffington Post, while reproducing a series of damning twitter observations …
Fraser points out that Brexit is charting a new course. The old rules no longer apply. Boris seems to be the king of chaos, perhaps a 'fool':
The problem with an orderly approach to things such as Brexit is that most problems, especially the large ones, are always going to be imperfectly and incompletely specified. In such a context, it is not always a straightforward matter to argue in a linear way from problem to solution. Indeed, when situations seem to require some sort of paradigm shift, the rules of the old order present a block on the emergence of the new. Things will always seem chaotic when change does not travel according to pre-established ideas of how one thing follows from another.
In his fascinating book Obliquity, the economist John Kay describes the shortcomings of turning decision making within a complex environment into some sort of algebra. Often, he argues, "complex outcomes are achieved without knowledge of an overall purpose". The importance of rational consistency is exaggerated. Some values are incommensurable, not plottable on a single system of reference. In such situations, neatness is overrated, distorting even.
That, I take it, is partly why Boris Johnson remains ahead in the polls, even now. Yes his shambolic manner, strongly contrasted with Keir Starmer's orderly, lawyerly disposition, speaks to a refusal of some imposed authority. It's a kind of trick, perhaps, given that he is the authority. And Old Etonians are not typically chosen as "the lowly" who are lifted up as per the Magnificat.
But the importance of Johnson "the fool" exceeds the fact that he has become an unlikely poster-boy of some unspecified insurgency against the established European rules based system of governance. The fool understands something the rationally wise does not. "Man plans, God laughs" goes an old Jewish proverb. Much to the deep frustration of its proponents, order can never be finally imposed upon chaos. And those who are comfortable with this, celebrate it even, are often better able to negotiate the complexities of life. Being chaotic might just turn out to be Johnson's unlikely super-power.
Boris certainly has had a good track record over the past 12 years. The coronavirus crisis is the only obstacle remaining:
What independence from the EU means for Britons
The BBC website has a short but practical guide to changes that came into effect on January 1.
In addition, UK drivers licences will be recognised in EU member countries as they were before:
With regard to students and foreign study, we will no longer be part of the EU-centric Erasmus study programme beginning in September 2021. The UK government is developing the worldwide Turing programme, named for Alan Turing:
… Unlike the Erasmus programme, which was founded in 1987 "to promote a sense of European identity* and citizenship among its participants", the new scheme will have a global outlook, targeting students from disadvantaged backgrounds and areas boosting students' skills and prospects, benefitting UK employers. It will be life changing for the student participants.
A year of Erasmus-funded reading of Sartre at the Sorbonne in Paris, or a year of Turing-funded study of Nano-engineering at the Indian Institute of Technology in Madras? It is a no-brainer to choose the exciting future that is beyond Little Europe.
*The EC in latter years funded a post-graduate exchange programme that offered opportunities outside Europe. Some 95% of the budget still focuses on Europe.
Women will be pleased that the EU tax — VAT — on sanitary products is no more.
How we celebrated, despite lockdown
On New Year's Eve, I was cheered to see an article by The Guardian's economics editor Larry Elliott, 'The left must stop mourning Brexit — and start seeing its huge potential'. YES! Every Labour, Lib Dem and SNP MP should read it.
He, too — like the aforementioned Tom McTague of The Atlantic — sees Brexit as an upending of the status quo. He tells his readers on the Left that they should be happy about this (emphases mine):
Many in the UK, especially on the left, are in despair that this moment has arrived. For them, this can never be the journey to somewhere better: instead it is the equivalent of the last helicopter leaving the roof of the US embassy in Saigon in 1975.
… It marked the rejection of a status quo that was only delivering for the better off by those who demanded their voice was heard. Far from being a reactionary spasm, Brexit was democracy in action.
Now the UK has a choice. It can continue to mourn or it can take advantage of the opportunities that Brexit has provided. For a number of reasons, it makes sense to adopt the latter course.
For a start, it is clear that the UK has deep, structural economic problems despite – and in some cases because of – almost half a century of EU membership. Since 1973, the manufacturing base has shrivelled, the trade balance has been in permanent deficit, and the north-south divide has widened. Free movement of labour has helped entrench Britain's reputation as a low-investment, low-productivity economy. Brexit means that those farmers who want their fruit harvested will now have to do things that the left ought to want: pay higher wages or invest in new machinery.
The part of the economy that has done best out of EU membership has been the bit that needed least help: the City of London. Each country in the EU has tended to specialise: the Germans do the high-quality manufactured goods; France does the food and drink; the UK does the money. Yet the mass exodus of banks and other financial institutions that has been predicted since June 2016 has not materialised, because London is a global as well as a European financial centre. The City will continue to thrive.
If there are problems with the UK economy, it is equally obvious there are big problems with the EU as well: slow growth, high levels of unemployment, a rapidly ageing population. The single currency – which Britain fortunately never joined – has failed to deliver the promised benefits. Instead of convergence between member states there has been divergence; instead of closing the gap in living standards with the US, the eurozone nations have fallen further behind.
I was especially pleased that he pointed out the coronavirus vaccine. We were the first in the world to approve one and get it rolled out:
The Covid-19 crisis has demonstrated the importance of nation states and the limitations of the EU. Britain's economic response to the pandemic was speedy and coordinated: the Bank of England cut interest rates and boosted the money supply while the Treasury pumped billions into the NHS and the furlough scheme. It has taken months and months of wrangling for the eurozone to come up with the same sort of joined-up approach.
Earlier in the year, there was criticism of the government when it decided to opt out of the EU vaccine procurement programme, but this now looks to have been a smart move. Brussels has been slow to place orders for drugs that are effective, in part because it has bowed to internal political pressure to spread the budget around member states – and its regulator has been slower to give approval for treatments. Big does not always mean better.
Later on — at 11 p.m. GMT, midnight Continental time — millions of us in Britain were only too happy to toast each other, confined in our own homes, and say:
Free at last!
Here's Nigel Farage:
Baroness Hoey — formerly Kate Hoey, Labour MP — worked tirelessly for Leave in 2016.
She had a message for her late mother …
… and for Guy Verhofstadt, who is shown below a few years ago in London with the Liberal Democrats campaigning against Brexit:
In the days that followed …
On New Year's Day, Labour leader Sir Keir Starmer gave an optimistic message for 2021 — 'the UK's best years lie ahead':
The Sun's political editor, Harry Cole, urged all of us to unite behind a new Britain:
Boris Johnson's father, Stanley, continues to pursue his quest for French citizenship, having researched his family tree.
Nigel Farage's new campaign will be against dependence on China:
Our ports have been problem-free:
On that cheery note, after four and a half years, this completes my Brexit Chronicles! Onwards and upwards!
Yesterday's post detailed the first day of Brexmas — Christmas Eve 2020 — when the UK and the EU signed the deal to end the transition period and move on to a future outside of EU control.
MPs and the Lords were preparing to vote on the deal on Wednesday, December 30, in a special recall of both Houses of Parliament.
The Brexit referendum in 2016 attracted more voters and two of the largest campaign donations in British history.
The days between Christmas and December 30 seemed like a long wait. We were in lockdown, to various extents, at the time. However, Leavers were able to get an idea of how MPs thought about the new trade agreement, which is a treaty. A summary of practical considerations for Britons can be found here.
We also garnered snippets from journalists on some of the deal/treaty provisions.
Natasha Clark, who writes about politics for The Sun, tweeted:
Some pointed out a few downsides. There are concerns about British financial services operating overseas, the performing arts and, equally important, international security:
That said, Sir John Redwood MP was optimistic:
Even better, the hardline Brexit group, the European Research Group (ERG), was all in for the deal:
The ERG issued a three-page statement of support on Tuesday, December 29, concluding:
Our overall conclusion is that the Agreement preserves the UK's sovereignty as a matter of law and fully respects the norms of international sovereign-to-sovereign treaties. The "level playing field" clauses go further than in comparable trade agreements, but their impact on the practical exercise of sovereignty is likely to be limited if addressed by a robust government. In any event they do not prevent the UK from changing its laws as it sees fit at a risk of tariff countermeasures, and if those were unacceptable the Agreement could be terminated on 12 months' notice.
Even Labour — and Opposition — leader Sir Keir Starmer said that he would back the deal (starting at 1:30):
Sixty per cent of Conservative Home readers considered the deal a win.
On the morning of December 30, Graham Stringer, a Labour MP, said that Parliament should support the deal:
However, MPs from Northern Ireland thought differently. They have to abide by the EU rules because they border the Republic of Ireland. MSN Money published a fuller statement from the DUP (Democratic Unionist Party), which reads in part (emphases mine):
Whilst we accept that this agreement does bring about zero tariff and quota arrangements between the United Kingdom and the European Union thus removing many goods from attracting tariffs between Great Britain and Northern Ireland, the fact remains that this agreement does not assist Northern Ireland in the context of having to operate under the Northern Ireland Protocol.
When Parliament is recalled on Wednesday we will vote against this agreement. We will do so as a point of principle and not because we supported a no deal option. A free trade deal is better than no deal but for Northern Ireland this deal does not undo the detrimental aspects of the Protocol.
Understandably many in Great Britain will be able to support these arrangements as applied to Great Britain but sadly for Northern Ireland we will be governed by the arrangements in the Protocol. While Northern Ireland will remain in the UK customs territory and we are out of the Common Agricultural Policy and the Common Fisheries Policy we will be aligned with the EU for manufactured goods and food and animal products alongside other EU imposed restraints.
The removal of a so-called cliff edge on 1 January will be welcomed but more work will be required to ensure that we can maintain free flowing business supply lines from Great Britain into Northern Ireland. To that end we will continue to work with the Government to mitigate against those damaging practical outcomes flowing from the Protocol.
It was a long day in the House of Commons. When bringing in the motion, Speaker of the House, Sir Lindsay Hoyle, mistakenly referred to the Chancellor of the Duchy of Lancaster, Michael Gove, by his first name:
Leader of the Opposition Starmer said that not voting for the agreement was akin to voting 'no deal':
Prime Minister Boris Johnson introduced the new legislation. Scotland's SNP Westminster leader Ian Blackford stuck his oar in, but Boris wasn't having it:
Even the Speaker of the House told Blackford to not intervene — not once, but twice — as time was short. However, Blackford, as always, persisted in interrupting with the same broken record he always plays. I enjoyed when Boris called Blackford's party the Scottish Nationalist Party. It's Scottish National Party, but Boris knew and said 'nationalist … with a small "n"':
Blackford persisted, causing the Speaker to ask him a third time to stop intervening:
Not surprisingly, Scotland's SNP voted against the agreement, the subject of the EU Future Relationship Bill. Gove, also a Scot, called them out in his summation speech before the vote. This is one for the archives. It was pointed yet witty. This was Gove at his best (even though I don't trust the man):
The SNP's Ian Blackford and Stuart O'Grady are on the far right in the video:
Going back to Boris's introduction of the bill. After he spoke, Keir Starmer gave his response as Leader of the Opposition. When he urged his MPs to vote for the agreement, an indignant Theresa May rose to speak her mind. Labour and the other Opposition parties had opposed her deal throughout 2019, leading to her resignation as PM.
The second clip below — 'May's finest moment' — is from 2019. Labour MP Rupa Huq had accused her of 'parliamentary ejaculation'. May said that if Huq 'looked more closely' she would find that she (May) was incapable of such a thing:
On December 30, May was upset with Starmer for not having voted for her deal in 2019. Starmer had called Boris's agreement 'thin' — meaning not enough integration with the EU. May pointed out that if he had voted for her deal the previous year, he would not have had that complaint, 'so I will take no lectures from the Leader of the Opposition on this deal':
When it came time for the vote, 37 Labour MPs rebelled, with three having to resign their shadow front bench posts. One of them, Helen Hayes, is pictured below:
The Mirror reported:
Moments after the result of the vote was declared, frontbencher Helen Hayes announced she had quit her role.
She tweeted: "I'm grateful to all who've contacted me on the EU Future Relationship Bill.
"I can't vote for this damaging deal & have abstained today.
"With much sadness & regret I've offered my resignation as Shadow Cabinet Office Minister. It's been a privilege to serve."
MP for Gower, South Wales, Tonia Antoniazzi said it was "with the deepest regret" she was resigning as a parliamentary aide to the Shadow Scotland and Work and Pensions teams …
Florence Eshalomi, MP for Vauxhall, South London, quit as a whip – a frontbencher responsible for enforcing the leader's power.
She said: "This Bill was rushed and a 'no deal' is the worst outcome for the country but I cannot support the bill and I have abstained.
"I have offered my resignation as an Opposition Whip."
The resignations are a blow for Mr Starmer's bid to reposition the party.
He ordered Labour MPs to back the agreement, believing Labour needed to show voters in its traditional heartlands – most of which overwhelmingly backed Leave in the 2016 referendum – that it has heeded the result.
Urging MPs to back the deal, Mr Starmer told the Commons: "This is a simple vote with a simple choice – do we leave the transition period with the treaty negotiated with the EU or do we leave with no deal?
"Labour will vote to implement this treaty today to avoid no-deal and to put in place a floor from which we can build a strong future relationship with the EU."
It didn't matter much in the end, because the EU Future Relationship Bill passed with 'a stonking majority', as Guido Fawkes put it:
AYES 521
NOES 73
The vote lists aren't out yet, however we can assume around 40 rebels abstained.
PARLY had a further breakdown:
The Conservatives must have been relieved to be able to tweet this — after four and a half years:
The bill was quickly rushed to the House of Lords, which had to debate and vote on it.
Nigel Farage watched the proceedings on BBC Parliament:
A vast majority of the Lords are Remainers.
However, I hope that Farage did not miss Kate Hoey's — Baroness Hoey of Lylehill and Rathlin in the County of Antrim's — tribute to him in the Lords. I saw it and couldn't believe she mentioned him in the Valley of the Remainers, but she did. I was delighted:
The Lords debated for the rest of the night, then voted.
The Queen's Royal Assent was the final step.
One reporter had a very long day:
Royal Assent was granted shortly after midnight on New Year's Eve:
Shortly afterwards, the Daily Mail carried a report with rare, behind-the-scenes photos:
Boris Johnson has heralded a 'new beginning in our country's history' after his Brexit trade deal was signed into law, setting the stage for a smooth divorce from the EU tonight.
The Prime Minister thanked MPs and peers for rushing the Bill through Parliament in just one day so it could take effect at exactly 11pm this evening when the UK's transition period ends.  
At 12.25am, Commons Speaker Sir Lindsay Hoyle told MPs that the EU (Future Relationship) Act 2020, had been granted royal assent by the Queen. 
It enshrines in legislation the trade agreement finally negotiated between London and Brussels last week following more than four years of wrangling since the referendum. 
Shortly before Her Majesty gave the Act her seal of approval, a bullish Mr Johnson marked out a new chapter for Britain, which first joined the bloc in 1973.
He said in a statement: 'I want to thank my fellow MPs and peers for passing this historic Bill and would like to express my gratitude to all of the staff here in Parliament and across Government who have made today possible.
'The destiny of this great country now resides firmly in our hands.
'We take on this duty with a sense of purpose and with the interests of the British public at the heart of everything we do.
'11pm on December 31 marks a new beginning in our country's history and a new relationship with the EU as their biggest ally. This moment is finally upon us and now is the time to seize it.'
More on that and what it means for Boris Johnson's premiership tomorrow.