You are currently browsing the tag archive for the 'Guido Fawkes' tag.
Although the late comedian Jackie Mason thought that the UK's House of Commons was akin to a 'sanitarium', there are inviolable rules for suspension from the Chamber.
Criminal charges or sexual harassment will do the trick. Often, the party whip is removed from the MP in question, rendering them Independent unless the whip is restored.
Here are two other ways that MPs can be suspended.
Grabbing the mace
When the Commons is in session, the mace sits atop the desk in front of the Speaker.
Only the Serjeant at Arms is allowed to handle it. He/She puts it in place before the session and removes it afterwards.
On Wednesday, December 16, 2020, the SNP's Drew Hendry was vexed about the Internal Market Bill, which is part of the post-Brexit legislation.
He claimed that it would interfere with Scottish devolution because Parliament would be taking decisions he believed the Scottish government should take.
Excerpts of his speech and the debate follow, emphases mine (unless otherwise stated):
Westminster Ministers will still have the right to impose lower food, environmental and other devolved standards on Scotland, regardless of the view of Holyrood. This Bill is the biggest assault on devolution in the history of the Scottish Parliament. It undermines devolved policy making, grabs spending powers, and removes state aid from being a devolved responsibility. The Scottish Parliament and the Welsh Assembly refused to give this Bill consent, and it is outrageous that the UK Government are once again ignoring the wishes of the people of Scotland as well as Wales …
The only reason for this Bill as it now stands is to demolish devolution. If the Government take this Bill forward today, as they obviously will, that is what they will be doing. Any pretence thereafter by the Scottish Tory MPs that they respect the democratic rights of the people of Scotland will be blown apart if they support this today. In fact, they have already supported it, because it seems that it will go through. They have done nothing to protect the democratic rights of the Scottish people.
People in Scotland are watching. People in Scotland, when they see the effects of this Bill, will be angry about the fact that their rights are being taken away by these Tory Ministers, aided by their Labour bedfellows. They will be furious about the fact that their rights are being stripped from them. They are listening, they are watching, and they are seeing developments in this place. They are understanding, now, that the only way to protect their Parliament, their rights and their democracy in Scotland is to go forward as an independent nation—and they will be voting for that, I am sure, in due course.
Yet another SNP rant about rights, democracy and independence.
The debate went on for some time. At the end, the presiding minister responding for the Government — Conservative MP, Paul Scully — concluded:
I welcome the contributions and the constructive discussions that we have had in recent days with Opposition Members in both Houses that have got us to this place. We have had some passionate debates on the Bill, because of the importance of the issues. However, the Bill will ensure that UK businesses can trade across the four parts of the UK in a way that helps them to invest and create jobs, just as they have for hundreds of years. I am therefore delighted to ask the House to agree to the amendments, and to complete our scrutiny and consideration of the Bill.
At that point, Drew Hendry stood up and walked towards the centre of the Chamber, a big no-no. Then he grabbed the mace:
Dame Rosie Winterton was the Deputy Speaker for the debate.
This was the exchange between her and Hendry:
Hendry: This is an outrage to Scotland. It is not acceptable.
Winterton: Order. The hon. Gentleman must resume his seat, and he knows that. [Interruption.] This is just showing off. He should resume his seat, otherwise I will name him and order him to leave. [Interruption.] Does he want to be named? Is that what is happening? [Interruption.] If that is what is happening, we can do it. [Interruption.] Okay—I will name him. I know what he is doing. [Interruption.] Oh, for goodness' sake! Very childish.
Hansard records that the suspension took place under Standing Order No. 44:
Drew Hendry, Member for Inverness, Nairn, Badenoch and Strathspey, was named by the Deputy Speaker for disregarding the authority of the Chair (Standing Order No. 44).
Motion made, and Question put forthwith (Standing Order No. 44),
That Drew Hendry be suspended from the service of the House.—(David T. C. Davies.)
Question agreed to.
The Deputy Speaker directed Drew Hendry to withdraw from the House, and the Member withdrew accordingly.
Guido Fawkes posted the BBC video the next day. His readers were appalled:
It was a costly move on Hendry's part. One of Guido's readers recalled that Labour MP Lloyd Russell-Moyle also grabbed the mace. That was on December 18, 2018, also in a Brexit-related debate; he was suspended only for the rest of the day:
Guido's report explained the £7,000 (emphases in the original):
SNP MP Drew Hendry made a bit of a fool of himself last night, shouting to disrupt proceedings and then seizing the mace – all over the passage of the Internal Market Bill. As a result of his actions he was officially 'named' and suspended from the House for five working days. Despite some news outlets claiming the suspension is just 24 hours, Guido's well placed source says they have got it wrong.
Two aspects of the suspension that have gone unreported are that; firstly it is without pay and secondly it covers five working days. Meaning that after today and tomorrow, the House will have to sit for three more days before Hendry can be paid again. Even if the Commons returns for an extraordinary day or two to ratify a potential Brexit deal, it is unlikely there will be a third sitting day until well into January. It's possible therefore that Hendry's five sitting days suspension could end up lasting for a calendar month – costing the MP almost £7,000 in lost salary. A very expensive mace grab.
It's hard to know what happened in the end, but a £7,000 penalty would have been fitting.
Accusing an MP of lying
Another way of getting suspended from the Commons is to accuse an MP of lying, which is what Labour's Dawn Butler did on the final day before this year's summer recess.
On Thursday, July 22, 2021, in the Summer Adjournment debate, she said, in part:
While the NHS was coping with 130,000 people dying from the pandemic, the Prime Minister was making his mates rich. Cronyism is rife and old chums are given jobs regardless of their skillset—some a little bit on the side. This has been one big experiment for this corrupt, authoritarian, racism-laden Government, and I am not scared of saying it like it is …
Poor people in our country have paid with their lives because the Prime Minister spent the last 18 months misleading this House and the country.
Peter Stefanovic from the Communication Workers Union has a video with more than 27 million views online. In it he highlights that the Prime Minister says: that the economy has grown by 73%—it is just not true; that he has reinstated nursing bursaries—just not true; that there is not a covid app working anywhere in the world—just not true; and that the Tories invested £34 billion in the NHS—not true. The Prime Minister said
"we have severed the link between infection and serious disease and death."
Not only is that not true but it is dangerous.
It is dangerous to lie during a pandemic, and I am disappointed that the Prime Minister has not come to the House to correct the record and correct the fact that he has lied to this House and the country over and over again.
Having watched enough of these debates and all of Boris's coronavirus briefings, he did not say any of those things.
Judith Cummins MP (Lab) was Deputy Speaker while Dame Rosie Winterton was self-isolating with the virus. She did a great job in handling the situation:
Cummins: Order. I am sure the hon. Lady will reflect on her words and perhaps correct the record.
Butler: What would you rather, Madam Deputy Speaker, a weakened leg or a severed leg? At the end of the day, the Prime Minister has lied to this House time and time again. It is funny that we get in trouble in this place for calling out the lie rather than for lying.
Cummins: Order. Can you please reflect on your words and withdraw your remarks?
Butler: Madam Deputy Speaker, I have reflected on my words. Somebody needs to tell the truth in this House that the Prime Minister has lied.
Standing Order No. 43 was invoked:
The Deputy Speaker ordered Dawn Butler, Member for Brent Central, to withdraw immediately from the House during the remainder of the day's sitting (Standing Order No. 43), and the Member withdrew accordingly.
Guido's team posted the video:
The accompanying post had this sentence (highlight in the original):
This attention-seeking stunt will work as desired…
Unfortunately, Butler left the Commons at 3:49 p.m., and summer recess began around 5 p.m., so any salary deductions were minimal.
Even so, the left-leaning PARLYappteam thought Judith Cummins did the right thing:
But there was more. Stuart Andrew MP responded to the debate on behalf of the Government. I really like him. He came from humble circumstances and is now the Treasurer of Her Majesty's Household.
Of Dawn Butler, he said:
I cannot ignore the disappointing tone of the hon. Member for Brent Central (Dawn Butler). It was disappointing to hear the constant accusation of cronyism and corruption. I took particular offence at being described as a member of a racism-enabling Government. I have faced prejudice in my life, and I have ended up in hospital, as did my father, because of my sexuality. I took offence at being told that I do not believe in the NHS, as I spent most of my working life working for the hospice movement, and at being told that we do not care about poorer families, as my dad spent a lot of time in unemployment—I had to have free school meals. I take exception to such accusations.
I will stand up to anyone who discriminates against any single person for who or what they are, or for who they love. I will defend the NHS for as long as I am alive. I believe that the best way to help our poorest families is to give them the opportunity to have a job that pays well, because being able to support themselves is their best opportunity for a better life.
PARLY picked up on it:
Later that afternoon, Butler tweeted:
She tweeted again that evening with another video:
In between those tweets, The Independent's Chief Political Commentator, veteran journalist John Rentoul, hardly a conservative, appeared on GB News to say that Butler's actions were 'a cheap political stunt'. Someone replied with a news story about Butler from 2012:
John Rentoul — and Guido — were correct.
On Friday, July 23, Guido reported on the great social media results for the MP:
Dawn Butler's Commons hissy fit yesterday went exactly as planned: her own Twitter clip is currently on 1.4 million views, though she's retweeted various other uploads of the clip which total 6.3 million in about half a day. She even had a speedily filmed and produced Byline TV interview out on the strop stunt…
The monetary fine was negligible:
It turns out Dawn's stunt came very close to backfiring. Thankfully for her she was only suspended for the remainder of the day's sitting – if she'd been thrown out using a similar standing order, and been suspended until the next sitting day, she would have remained a suspended MP going into the Summer recess, thereby being unable to draw a salary for over six weeks. Six weeks of an MP's salary would have come to £9453. Commons sources suggest Dawn's dodging of this unlucky outcome was unlikely to have been deliberate after a careful reading of Parliamentary procedure…
There is much more to write about her, but that will have to wait for another day.
On Monday, July 12, the day after the Euro 2020 final, GB News presenter Guto Harri took the knee in solidarity with the cause.
His co-presenter, Mercy Muroki, looked on, silently embarrassed for him:
Fallout
That was the last the channel's viewers saw of Guto Harri, a Welshman who used to work at the BBC and also advised Boris Johnson when he was Mayor of London.
On July 13, Harri defended his gesture:
On Thursday, July 15, GB News tweeted:
That evening, The Guardian posted an article about the channel's tanking ratings after the Harri incident (emphases mine, unless stated otherwise):
GB News attracted zero viewers during some of its broadcasts this week, according to official television audience figures produced by rating agency Barb, after a viewer boycott prompted by one of its presenters taking the knee in solidarity with the England football team …
Business editor Liam Halligan and former Labour MP Gloria De Piero attracted no measurable audience to their show between 1pm and 1.30pm on Wednesday afternoon. During the same timeslot the BBC News channel attracted 62,000 viewers, while Sky News had 50,000 people watching.
GB News' audience again briefly dipped to zero at 5pm, during a late-afternoon programme co-hosted by ex-BBC presenter Simon McCoy and former Ukip spokesperson Alex Phillips.
The Guardian also acknowledged GB News's aforementioned tweets.
On July 16, Guido Fawkes wrote that no one was sure whether Harri had been suspended for a time or whether he was fired.
In any event, Harri's Twitter bio no longer mentions GB News.
Programming director quits
That same day, the channel's programming director, John McAndrew, quit, something that management confirmed only on July 28:
Guido wrote that McAndrew was second in command and disagreed about the channel's focus:
Apparently McAndrew had been in favour of more local reporting and open discussions rather than the Wootton-style culture war rants.
To be fair, the local reporters appear on the daytime shows. The evening programmes, such as Dan Wootton's, discuss socio-political issues.
The channel was quick to implement schedule changes last weekend:
TalkRADIO's Mark Dolan hired
Mark Dolan's Saturday night show aired for the first time on July 24. Nana Akua, the former presenter in that slot, has been moved to a daytime show.
Nana Akua has no time for wokery, as her last show in the Saturday night slot proved. The Express had the story on Sunday:
A GB News clash erupted last night after host Nana Akua urged Meghan Markle and Prince Harry to "just stop talking please". This prompted a defence from Tonight Live guests Nicola McLean and Martin Offiah, who argued that Meghan and Harry "were connecting with people". The trio had discussed reports of new details about Prince William's rift with his brother Harry.
Mark Dolan was a top-rated host on talkRADIO. The Express reported:
Mark is best known for hosting his own Drivetime show on TalkRadio for the past two years but he is jumping ship to join GB News from Friday, July 23, 2021. With 20 years of broadcasting experience behind him, he will be taking Nana's Friday and Saturday night slots to oversee proceedings on his chat show, Late Night Live. It will run from 9pm until 12am and he will speak to numerous guests about topical matters making the headlines.
On joining the network, Mark said: "I've had a wonderful time at TalkRadio but the opportunity to shake up the current affairs broadcasting with GB News is just too good to miss.
"My show will tackle the issues that really matter to people across the United Kingdom in a stimulating, informative but entertaining way.
"My one promise is that I won't be boring," he concluded …
He certainly was not boring. His is a good show.
Nigel Farage to the rescue — five days a week
The biggest catch of all is Nigel Farage, who is now on GB News five days a week: Monday through Thursday at 7 p.m. and Sunday mornings:
Farage had the Sunday morning show since GB News launched, but the addition of the 7 p.m. slot, which premiered on Monday, July 19, has been a real fillip for the channel's ratings.
On July 19, Freedom Day, an anti-lockdown protest took place outside of Downing Street. Political correspondent Tom Harwood, who used to work for Guido Fawkes, tried to file a report but Nigel had to cut him off because of all the obscenities being shouted at him. The Express reported:
Spotting the difficulties in the broadcast, Nigel quickly took action and decided to end Tom's report there.
Cutting him off, Nigel said: "Okay, Tom, I'm sorry, I don't want to cut you off, I really don't."
The camera then cut to Nigel in the studio as he continued: "11 people have been arrested so far,
"But you can see, talk about don't shoot the messenger, there's Tom Harwood reporting for us and there are obscenities being shouted at Tom because he's a member, he's part of the media … "
One of the big features of Farage's weeknight show is the 'Talking Pints' segment.
He has had an eclectic assortment of guests in that slot, beginning with Sir Graham Brady MP, who heads the 1922 Committee of Conservative backbenchers:
On Tuesday, July 27, former Conservative MP, Brexit Party MEP and devout Catholic, Ann Widdecombe, who was drinking cola, as she is teetotal. She disparaged Boris as PM but said that he is still '100 times stronger' than Labour leader Sir Keir Starmer. I always look to see how much drink both host and guest consume. In this episode, Farage downed the most ever — half a pint:
By Monday, July 26, Farage's show was climbing in the ratings, beating Sky News's show in the 7 p.m. slot:
Guido has the ratings from Monday-Thursday last week. Farage's show beat Sky News Tonight every evening.
On Tuesday, July 27, Farage's ratings took over the BBC's in that slot (emphases in the original):
UPDATE 28.07: Nige beat both the BBC and Sky News last night –
Farage – 90.8k

Sky News Tonight – 55.1k

BBC Outside Source – 89.1k
Congratulations…
It happened again on Wednesday, with an even greater figure — 107.7k to 93.3k:
Well done, Nigel!
Digital ratings
Rebecca Hutson, Head of Digital and occasional co-presenter, is keen to target younger audiences via Facebook, Twitter, YouTube, Instagram and — incredibly — TikTok. GB News is the only British broadcasting channel to use the Chinese-owned social media video platform.
On July 21, Hutson explained her strategy to Press Gazette:
… the fledgling brand said social media engagement figures show it is resonating with younger audiences to a perhaps surprising extent.
Head of digital and presenter Rebecca Hutson … said GB News is really a "digital media business that has a TV channel attached" …
Hutson told Press Gazette: "We know that traditional linear consumption has really changed. People don't sit at home for three hours and watch a show. Instead they want to snack on the best bits for them on the platforms that they're already using.
"So that's why we publish natively across Facebook, Twitter, Instagram, YouTube, TikTok and we tailor the content specifically for the platform that it's on so we're pretty agnostic in terms of how the content looks and feels across the different destinations that we have and the website."
For example, she added, the brand is more likely to put an eight-minute monologue on YouTube and short snippets on Twitter which is a "much quicker platform".
"Rather than trying to turn all of our platforms into a homogenous output, we spend a lot of time looking at the analytics and amending how the content appears on there and that's really paying off," Hutson said …
TikTok has been useful in attracting younger viewers:
On TikTok GB News has had 24,500 likes and more than 350,000 views across 30 videos and 4,000 followers so far.
Hutson said the numbers may be "quite surprising for people who would maybe think that we don't have relevance or resonance to that younger audience when we clearly do".
Hutson said explainer videos decoding the news are proving to work best for TikTok. The most-watched GB News TikTok so far explains who Sajid Javid is after he replaced Matt Hancock as Health Secretary …
Almost a third (31%) of 18 to 24-year-olds use TikTok, and 9% get news on it.
As for demographics:
On TV only, excluding the likes of TikTok and Instagram, almost a third (32%) of GB News' audience is aged between 18 and 34. Some 39% are aged 55 and above.
Some 62% of the TV audience is in the middle class ABC1 demographic – a drop from the 82% ABC1 demographic thought to have tuned in for Andrew Neil's opening show on 13 June.
The new shows, higher ratings and digital strategy are welcome developments for GB News, which is an excellent channel. Now that Parliament is in summer recess, I have been watching quite a lot of their output. The shows present alternative viewpoints, from libertarian to left-wing: a good thing.
Time is short today, so here are a few brief takes on coronavirus.
The young
I was appalled to see this video of an infant undergoing a PCR test. What are parents and medical staff thinking?
Why would a tiny baby need to undergo such a test? Yes, I agree that the procedure could cause an infection or, worse, damage. The barrier between the brain and back of the nose must be extremely delicate in such a young child.
The old
Allegedly, last October, Prime Minister Boris Johnson sent the following message expressing scepticism about a winter lockdown in England. I agree with all of what he says. Barrister Francis Hoar makes a valid point about deaths of/with coronavirus. At the time Boris made this statement, our PCR cycle threshold was >35, thereby picking up anything and everything:
It is true that, in England, at least, the average age for the elderly dying from the virus is greater than the average life expectancy.
I do wish Boris had had the nerve to 'recalibrate' and avoid a winter-to-spring lockdown. He resisted, but, as usual, SAGE got to him, it would seem.
This topic came up in the comments to an article on Conservative Home about Boris.
One reader wrote (emphases mine):
A reply to the comment pointed out the truth about winter respiratory diseases:
I am 82 years old. Pneumonia was always called "the old man's friend."
Vaccine passports
Despite the Government denying it for the past seven months, it looks as if coronavirus passports are coming to England.
There is speculation that they will be required at the annual Conservative Party conference this coming autumn in Manchester at the Midland Hotel:
Guido Fawkes says:
The Mail reports the Tories' September conference in Manchester is set to require Covid passports, in a blow to any libertarian MPs hoping to attend. While most of conference is quite far away from nightclubbing scenes, no doubt photos of a packed Midland's bar would attract online ire …
Yesterday the Telegraph reported one prominent Tory rebel MP said he suspects if Boris does force them "significant numbers of Conservative MPs and activists will refuse to attend."
I hope libertarian-minded Conservatives do boycott this. This policy would set a dangerous precedent for civil liberties. It's a narrow step from a vax passport to a digital ID.
The Mail's article reports that the insider said:
'Some MPs might not like it, but all the polling suggests the public are quite strongly in favour of Covid passports,' they said.
'That looks to be truer for the older generations who are more at risk, and might be wanting to come along.'
On their heads be it.
Appalling.
On Monday, July 5, 2021, Richard Madeley, an occasional co-presenter on ITV's Good Morning Britain (GMB), asked SAGE member Susan Michie if her avowed Communism affects her coronavirus recommendations to the general public:
It must have come as a surprise to a number of GMB's viewers who probably did not suspect that a card-carrying Communist works for the Government.
Michie, a psychologist who is also a professor at University College London, works on the SPI-B — behavioural — committee of SAGE which has been driving public behaviour during the pandemic. She appears most frequently on the BBC but also on other television channels.
She was also a speaker at the UN's Psychology Day in 2020. The Division of Health Psychology of the British Psychological Society, of which she is a member, tweeted:
I've written about Michie three times before, twice in the run-up to Christmas (here and here) and once in June.
Before I get to Richard Madeley's interview with Prof Michie, the tweets below show what Communist health policy looks like. We've been living under such rules for 16 months and counting.
2018 Daily Mail article
But first, here is a brief retrospective from the time when Jeremy Corbyn was Labour leader.
In 2018, the Daily Mail posted an extensive article about her support of Corbyn and her praise of Communism. Excerpts follow, emphases mine.
This is her family background. Much of the £52 million she inherited from her mother was in a Picasso, which she and another family member sold:
Susan Fiona Dorinthea Michie is the granddaughter of Henry McLaren, the 2nd Baron Aberconway, an Eton-educated Edwardian industrialist and Liberal MP. 
He inherited major interests in coal, iron, steel and engineering conglomerates, and created the sumptuous gardens at Bodnant House, a stately home set in 5,000 acres near Snowdonia.
Her mother, Dame Anne McLaren, was born at Aberconway House, the family's imposing 2,800-square-metre second residence in London's Mayfair, and was one of the world's leading biologists. When she died in 2007, aged 80, she left £52million in her will.
Ms Michie's father, meanwhile, was an eminent computer scientist who was the son of a wealthy banker whose photo is among the National Portrait Gallery's collection.
Despite these moneyed roots, the blue-blooded Susan, 62, marches to the beat of her own drum.
She stretches her every sinew in pursuance of a class war as a member of the Communist Party of Britain.
The article then described the speech she gave in early March 2018:
On Monday night, she addressed a meeting of about 40 true believers at the Marx Memorial Library in London's Clerkenwell.
She delivered her speech while standing beneath a portrait of Cuban dictator Fidel Castro, a bronze of Lenin and an array of Soviet flags. 
Seemingly oblivious to the irony, this lifelong beneficiary of inherited wealth began by saying: 'We, the working class.'
During the course of a two-hour talk, Ms Michie (whose day-job is as a university academic) made a comment that broke almost a century of hard-Left tradition. 
Britain's Communist Party, she said, is urging its members to work 'full tilt' to help get a Labour prime minister.
This development — after decades of Communists and Labour operating on very separate lines — is a direct result of Labour's lurch to the hard Left under Jeremy Corbyn.
Already, there have been signs of this change of policy with the Communists deciding last year not to split the Left-wing vote by fielding their own candidates at the General Election.
With the two parties increasingly in harmony (Ms Michie declared it 'a really good situation to work much more closely than we have in the past'), the Communists — by way of a 'priority' — are advising their comrades to actively campaign on Corbyn's behalf.
In the general election of December 2019, Labour suffered its worst result since 1935.
Sir Keir Starmer eventually replaced Jeremy Corbyn as Labour leader.
Now on to Michie's activity as a SAGE member.
Regular media appearances
By May 2020, Michie was already becoming a regular guest on various news programmes:
As Guido Fawkes explained, Michie is not only a member of SAGE but also Independent SAGE, a breakaway group (emphases in the original, those in purple mine):
Susan Michie is a Marxist campaigner who has managed to get herself on not only the activist dominated fake SAGE, she is also on the official SAGE. Quite an achievement and evidence of the time and effort she is dedicating to the cause…
Michie is Professor of Health Psychology and Director of the Centre for Behaviour Change at UCL, so prima facie she has the credentials to be a scientific advisor. What is never mentioned at any point to give context to her many media appearances, in which she usually launches a tirade at the government, is that she has for 40 years been a member of of the Communist Party of Britain.
All this has not precluded her from using family wealth to financially support the Labour Party under the Corbyn leadership. In March 2018, it was Michie who said that the Communist Party would no longer stand against Labour in general elections and she should be "working full tilt" for the election of Corbyn as PM. Hardly surprising given her daughter was appointed under him to Labour HQ and her ex-husband was Corbyn's close adviser. That illustrates the level of her dedication to far-left politics.
Two days later, the Father of the House, Peter Bottomley MP (Con), appeared on Radio 4's Broadcasting House programme to lambaste the BBC for not revealing her political philosophy and connections:
He said (audio in Guido's post):
If one of your previous contributors has been a member of a far left party for decades, donated more to the Labour Party under Corbyn than I've given to the Tory Party in forty years, was the wife of a former Labour Party special adviser and mother of Labour's head of complaints, that might have been better than just saying she's a member of SAGE.
The BBC called Bottomley's remarks an:
ad hominem attack.
Prof Stephen Reicher, who teaches at St Andrews in Scotland, is another SAGE member who works on SPI-B. He took issue with Prime Minister Boris Johnson for not sacking his then-special adviser Dominic Cummings after his fateful trip to County Durham during lockdown. Michie agreed:
She is clearly not a Boris fan, nor is The Guardian's Carole Cadwalladr:
Lockdown and mask fan
In May, it was becoming clear to a segment of the British population that Michie favoured a Chinese-style handling of the pandemic. An Anglican clergyman tweeted:
The accompanying article from Michie in The Psychologist is a mild one about directing the public's response to the pandemic. Notable is this sentence (emphases mine below):
If these behaviours changed across the population (as seatbelt use and smoking in public places have), the Covid-19 pandemic would extinguish.
In July 2020, masks had been compulsory on public transport since mid-June, but were not yet mandatory elsewhere. Michie told LBC's Andrew Castle that they must be required:
By November, more Britons were finding out the truth about Michie:
When Boris banned Christmas, lockdown sceptic Dick Delingpole tweeted:
Michie started 2021 by asking why people were not complying with the mask mandate:
In April, mainstream journalists were finally beginning to reveal Michie's political persuasion:
Guido Fawkes reminded his readers that he had unearthed the information in May 2020:
In June, despite Boris's stellar rollout of the vaccine programme — still the best in Europe — Michie, laughing, told Channel 5 News that we would have to wear masks 'forever' (00:57 – 1:05):
A week later, she complained to Freddie Sayers of UnHerd that she had been misquoted (video at the link):
I actually used four words [in that interview with Channel 5], and only one of them was reported. The full words I used were "forever to some extent". What I mean by this is that, sadly, this isn't going to be the last pandemic. For as long as humans are around viruses are going to be around …
In reality, as you can see in the Channel 5 video above, her first answer was 'Forever'. When the interviewer expressed her astonishment, Michie gave the longer response.
She told Sayers that she wanted a delay to Freedom Day, which was to have been on June 21. She must be happy:
I don't think there's really any alternative other than delaying for four weeks and seeing what's happening. It's a very tricky situation… I think [Boris] is right — I think the question is: is it going to be sufficient?
She probably opposes the possible July 19 Freedom Day, too.
She clearly did not want to discuss her communist beliefs with Sayers:
My politics are not anything to do with my scientific advice. And I've never discussed my politics with people like yourself, so nor am I going to now. And the important thing is that when one gives scientific advice, one does so using the expertise one has — not going beyond the expertise, being transparent about what expertise you provide. And I think that the kind of articles you refer to are a really disturbing kind of McCarthyite witch hunting, which I don't think should have any place in a liberal tolerant society.
Richard Madeley's interview
This brings me neatly to Richard Madeley's interview from Monday morning, July 5.
Guido Fawkes broke the story, along with the video (emphases in the original):
Guido commends Richard Madeley for being the first TV host in the country to invite "Independent" SAGE's Susan Michie on to their show and finally confront her about her hard-left politics. Madeley rightly points out that activist expert Michie's love of national Covid restrictions may not be born from her concern for the nation's health, rather the default policy position of a hard-core, state-loving communist. It looked like Susan didn't appreciate this line of questioning…
Lockdown Sceptics has the transcript (emphases in purple mine):
Richard Madeley: There's a point I really have to put to you and you'll be aware of this because there's been a lot of commentary about this in the British media about you and it's to do with your politics and you know what I'm going to ask you. You've been a member of the Communist Party for about 40 years now, you're still a member, and we know that they're statist. We look at Communist countries around the world and we see that they are tremendously top down dominant and controlled societies that they rule over. I just wonder – and I'm putting this question on behalf of those who wonder about your politics – if your politics actually informs your sense of control? It's not just the medical arguments, but you have a kind of a political bent to want the state to tell people what to do?
Susan Michie: I've come on your programme as a scientist, as do all people who come on to your programme as scientists. They come on to talk about the evidence, relevant theories, how we approach our scientific disciplines, and you don't ask other scientists about politics so I'm very happy to speak about science which is what my job is and to limit it to that.
RM: So you're saying that your politics doesn't inform your opinion on this subject?
SM: I'm saying that I agreed to come on this programme as a scientist and I'm very happy to talk to you about the issues that you're raising as a scientist which is the same for other scientists that you invite on to the programme.
Michie has a large house in a leafy part of London, but the video clip says Berkshire for her location. So, she must be one of those privileged people with two homes. Could one call her Berkshire place a dacha?
If Michie thought her interview with Richard Madeley was a one-off, she was wrong.
On Tuesday, July 6, Times journalist Matthew Syed brought up her Communism in his interview with the BBC's Jo Coburn on Politics Live:
Syed mentioned Michie by name and said that it would be wrong for a political agenda to determine a pandemic response:
Guido Fawkes provided this analysis of what Syed said:
On Politics Live earlier Matthew Syed succinctly made the point that Richard Madeley was inching towards yesterday – the issue of the card-carrying communist Susan Michie, of the self-appointed "Independent" SAGE, being given frequent media platforms to smuggle in her political agenda under the guise of "science". Michie is a committed Marxist ideologue, and central committee member of the British Communist Party. This is relevant.
Marxist analysis understands socialism itself to be a scientific method for understanding and predicting social, economic and material phenomena to derive probable outcomes and probable future developments. Her life-long ideology feeds into her work as director of UCL's Centre for Behaviour Change. That theoretical underpinning to her ideas on behavioural change and social compliance has gone unexplored even as she has been given a position advising the government in these matters. She has spoken approvingly of the Chinese Communist dictatorship's authoritarian methods and of her belief that restrictions in Britain should continue "forever, to some extent." Her whole mindset is one of top-down control and diktat that is incompatible with a free and open society.
Before anyone claims that Syed is a misogynist or a right-wing Murdoch lackey – he has a very readable intellectual column in the Sunday Times – Guido would remind them that he stood as the Labour candidate in the 2001 UK general election. At the very least it is fair to discount Michie's advice in the light of her ideological activism.
However, as the aforementioned Lockdown Sceptics article says, complete with a tweet, one woman accused Good Morning Britain of misogyny and asked people to stop watching the programme in protest.
Toby Young, who wrote the article, says that her sex had nothing to do with Madeley's question. It was her politics (emphases mine):
I really don't get why it was "misogynistic" of Madeley to ask Susan Michie whether her hard left politics have affected her position on mask mandates. Of course they have! After all, forcing people to wear masks as a condition of participating in certain activities is a flagrant breach of their liberty and the reason Michie doesn't care about that and thinks public health concerns should take priority (even though there's precious little evidence that masks reduce transmission of the virus) must in part be because she's a communist, who famously don't put much value on individual freedom. And the reason Madeley hasn't put the same question to other members of SAGE is not because Michie's a woman, but because she's the only one who's been a member of the Communist Party for the past 40 years.
True.
However, by July 8, Ofcom, the media watchdog, received 145 complaints about Madeley's interview:
Guido reported that one of the 145 complainants was Michie herself (emphases in the original):
Ofcom are unlikely to rule against Madeley for asking a question Michie did not want to answer; that's an editorial judgement way outside Ofcom's remit. Yet apparently for 145 viewers, it was all too much. Of course, amongst those complaining was Michie herself, who took to Twitter to write:
"A complaint has been submitted and a public apology requested".
If Michie and 144 other pearl-clutching viewers were upset by Madeley, Guido has to wonder what they thought of Matthew Syed's comments on Politics Live yesterday…
What concerns me is that Susan Michie might not be the only Communist in SAGE.
If only we could find out more about the political proclivities of the other members.
Matt Hancock, Secretary of State for Health and Social Care, could well experience the worst weekend of his life.
The Queen has her say
On Thursday, June 24, The Times featured an article on its front page about Prime Minister Boris Johnson meeting the Queen in person for their weekly meeting for the first time since lockdown in March 2020.
It says (emphases mine):
Matt Hancock has had a difficult few weeks. And while his line manager may have contributed to his woes, his ultimate boss has seemingly taken pity on him.
The Queen told Boris Johnson, at their first in-person meeting in 15 months: "I've just been talking to your secretary of state for health — poor man. He came to privy council. He's full of . . ."
"Full of beans!" the prime minister interjected, in the clip filmed by broadcasters in the private audience room at Buckingham Palace yesterday.
"He thinks that things are getting better," said the Queen, to which Johnson responded: "They are."
… In a 1992 documentary to mark her 40th year on the throne she said that by meeting prime ministers she helped to take a weight off their shoulders. "They unburden themselves or tell me what is going on . . . and sometimes I can help in some way as well," she said.
The media were allowed to film the first few minutes of their meeting. This was shown on BBC Breakfast:
It's telling that the Queen chose to say that on camera.
Hancock's affair
On Friday, The Sun featured a worldwide exclusive featuring Hancock, husband and father of three:
Normally, I would not comment on extramarital affairs, however, Hancock has left us in lockdown for 16 months and counting. Yet, here he is violating his own rules. For thee, but not for me.
The Sun's political editor Harry Cole broke the story:
Excerpts from Cole's article follow:
He cheated on his wife with Gina Coladangelo, 43, who he hired last year with taxpayers' money, as Covid gripped Britain.
Mr Hancock, 42, and millionaire lobbyist Gina were caught on camera in a steamy clinch at his Whitehall office.
Whistleblowers revealed the Health Secretary had been ­spotted cheating on his wife of 15 years with married Ms ­Coladangelo.
He was seen kissing her at the Department of Health's London HQ during office hours last month as the mutant strain began spreading.
And today, Mr Hancock apologised for his actions, saying: "I accept that I breached the social distancing guidance in these circumstances.
"I have let people down and am very sorry.
Is Hancock going to resign? No, he is not:
I remain focused on working to get the country out of this pandemic, and would be grateful for privacy for my family on this personal matter.
There should be no mercy shown for this egregious hypocrisy.
A year ago, Prof Neil 'Dodgy Modelling' Ferguson entertained his mistress, who travelled across London to spend an afternoon with him at the height of the pandemic. Ferguson resigned from SAGE, although he has been readmitted as a member.
At the time of Ferguson's resignation, Hancock said that it was the right thing to do:
Guido Fawkes has the dialogue from Hancock's interview with Kay Burley of Sky News. She, too, was a coronavirus restrictions violator and was suspended from Sky News for several months:
Matt Hancock: "I think he took the right decision to resign"
Kay Burley: "You wouldn't have fought to keep him?"
Hancock: "That's just not possible in these circumstances"
Guido also said that Hancock supported a police investigation:
Guido notes that when government Covid advisor Neil Ferguson broke the government's social distancing rules to hook up at the start of lockdown, Hancock said he was both right to resign, and backed any police action necessary.
Returning to Harry Cole's article:
Last night, a friend of the Health Secretary said: "He has no comment on personal matters. No rules have been broken."
Mr Hancock was pictured embracing his aide. The image was from just after 3pm on May 6 — as the rest of Westminster was engrossed by the local elections.
We did not yet have a relaxation on hugging at that time. That happened 13 days later.
A whistleblower tipped off Cole. Hancock:
is seen in his distinctive ninth-floor office inside the sprawling Department of Health building, which is a stone's throw from the Houses of Parliament.
During the pandemic, the office has provided the backdrop to his Zoom appearances on TV — including the Andrew Marr Show.
Mr Hancock is seen checking the corridor is clear before closing the door and then leaning on it to ensure he cannot be disturbed.
Ms Coladangelo then walks towards him and the pair begin their passionate embrace.
According to a whistleblower, who used to work at the department, the pair have regularly been caught in clinches together.
The source said: "They have tried to keep it a secret but everyone knows what goes on inside a building like that …
"I'm just amazed he was so brazen about it as he was the Secretary of State.
"It has also shocked people because he put her in such an important, publicly-funded role and this is what they get up to in office hours when everyone else is working hard."
The office where the tryst happened is where Mr Hancock famously hangs his Damien Hirst portrait of the Queen.
Unfortunately, the Government is defending Hancock:
The lunchtime press briefing on Friday indicated that Boris:
considers the matter closed.
By the way, Hancock has an Instagram account. This was one of his posts:
You couldn't make it up:
One wonders if this woman has any involvement in keeping us in restrictions:
It also emerged she had accompanied Mr Hancock to confidential meetings with civil servants and visited No10. Sunday Times sources revealed at the time: "Before Matt does anything big, he'll speak to Gina. She knows everything."
She began working for the Department of Health and Social Care (DHSC) in September 2020:
In September, Mr Hancock appointed her as a non-executive director at DHSC, making her a powerful member of the department's oversight board.
It hit the headlines as there was no public record of the appointment, which was set to see her earn at least £15,000 of taxpayers' money, potentially rising by a further £5,000.
The role makes her responsible for "overseeing and monitoring performance" — in effect, scrutinising matters of concern to Mr Hancock.
A DHSC spokesman said the appointment was "made in the usual way and followed correct procedure".
It is also understood that since April, she has had a parliamentary pass, giving her unregulated access to the Palace of Westminster.
It bears her husband's surname, which she does not use professionally, and is sponsored by Lord Bethell, the hereditary peer, health minister and former lobbyist.
I am sorry to read about Lord Bethell's involvement. Until now, I respected him. I hope the House of Lords asks questions of him next week.
However, she also worked for Hancock in the early stages of the pandemic:
Mr Hancock secretly appointed her to his department as an unpaid adviser on a six-month contract in March last year.
It appears that, six months later, her appointment became official.
Both the woman and Hancock studied together at Oxford, where they read PPE (Philosophy, Politics and Economics):
The pair first met at Oxford University in the early 2000s but Mr Hancock went on to wed Martha Hoyer Millar in 2006.
Chumocracy
There is an interesting history behind the associations Hancock has in this affair.
Many call it 'chumocracy'.
Hancock
This is a biography from Hancock's website:
Before entering politics he worked as an economist at the Bank of England, and for his family tech industry.
Matt is married to Martha and has three young children. He is the first MP in modern times to win a horse race, having raced to victory at the Newmarket July Course in August 2012. He is an avid cricketer and plays for the Lords & Commons Cricket team. Matt once played the most northerly game of cricket on record, and succumbed to frostbite en route to the Pole. He retains all his fingers.
He certainly has retained all of his fingers.
A lengthy article in the Daily Mail tells us about his formative years:
Mr Hancock was born in Chester where he went to the exclusive private school the King's School.
He did his A-levels in maths, physics, computing and economics before doing computing at West Cheshire College.
Like numerous Conservative MPs before him, he studied PPE at Exeter College, Oxford – where he graduated with a first.
It was at the elite university that he realised he had dyslexia, which he only opened up about in recent years.
He later did an MPhil in economics at Christ's College, Cambridge, before turning to politics in 1999 when he joined the Tories.
Hancock's woman and her husband
The Sun's article says:
Mother-of-three Ms Coladangelo is communications director at Oliver Bonas, the fashion and lifestyle store founded by her husband Oliver Tress.
She is also a director and major shareholder at lobbying firm Luther Pendragon, which offers clients a "deep understanding of the mechanics of government".
The Daily Mail has more:
Mr Bonas opened his first store on London's Fulham Road in 1993 with handbags and jewellery he had brought from Hong Kong where his parents lived.
Speaking to the Independent in September 2015, he said: 'I'd been bringing presents back for friends and they were really popular so I thought, 'I wonder if I can make a go of this?' And to my amazement it just worked.' Bonas was the surname of his then girlfriend Anna Bonas, who is the cousin of Prince Harry's former girlfriend Cressida Bonas, and he told how 'she very kindly hasn't demanded that I changed it'.
Hancock's wife
Mrs Hancock's family history is one of privilege:
Mrs Hancock works as an osteopath and is believed to practice at a clinic in Notting Hill, West London.
She is the granddaughter of Frederick Millar, 1st Baron Inchyra – a British diplomat and Ambassador to West Germany.
Mrs Hancock is also the great granddaughter of the 1st Viscount Camrose, a Welsh newspaper publisher.
Her father, Alastair Millar, was Secretary of The Pilgrim Trust between 1980 and 1996.
The trust is responsible for supplying grants, predominately to preservation projects for historically significant buildings or artifacts. Nowadays, around £2million is divvied out by the trust each year.
Conclusion
Matt Hancock has annoyed me greatly for the past 16 months.
This parody of his testing regime is not far from the truth: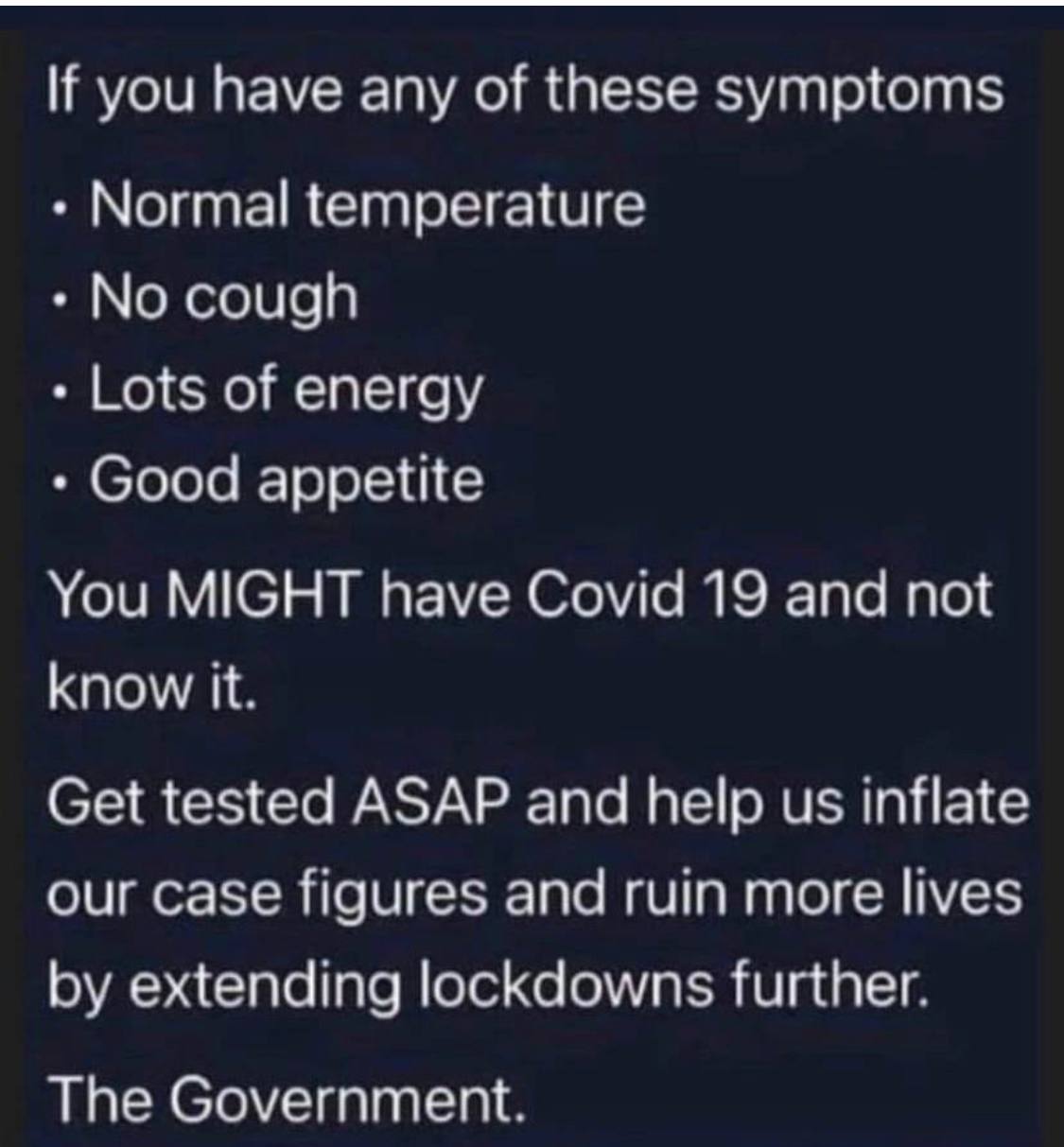 In England, we have lost billions of days of our normal lives:
This was the daily death total for June 23, 2021 (Chief Medical Officer Prof Chris Whitty is pictured):
Here are the death statistics from the past 16 months. Note that most coronavirus deaths are not 'from' the virus but 'with' it:
1. Heart Disease 205,000 (0.31% of the population)
2. Cancer 182,000 (0.25%)
3. Covid 128,000 (0.18%)
4. Dementia 82,000 (0.12%)
5. Stroke 46,000 (0.07%)
6. Diabetes 32,000 (0.05%)
An article on Reaction — 'Hypocritical Hancock: Don't hug your granny but you can hug Gina' — makes the following points about the Secretary of State's affair:
We don't know if anyone was taking morality lessons from Hancock back in September. But the question raises itself once again – is it one rule for you, Matt Hancock, and another for everyone else?
The government has been using its draconian Covid social distancing and travel restrictions to restrict and police morality. While the public may well overlook his private relationships as none of their business, voters are unlikely to stomach hypocrisy.
Number 10 is, so far, silent on the Hancock scandal. The Prime Minister hates morality plays and the invasion of private lives. That's not what this is about though. It's about a leading figure in the government imposing extraordinary restrictions on the rest of us while carrying on inside the Department of Health.
I look forward to an Urgent Question or two in the House of Commons next week.
This week, Prime Minister Boris Johnson postponed Freedom Day from June 21 to July 19, 2021.
Although a vote on this passed comfortably on Wednesday, June 16 — 489 to 60 — the number of rebel MPs, mostly Conservative, increased compared with previous votes on coronavirus restrictions. This page shows who voted No.
Boris and Matt Hancock might want to rethink their dependence on the lefty scientists of SAGE, but will they?
SAGE are effectively running this nation … into the ground.
Chesham & Amersham by-election upset
In addition, on Thursday, June 17, the Conservatives lost a by-election in Chesham & Amersham in leafy Buckinghamshire, not far from London. It had been a safe Conservative seat since the 1970s. A journalist from the Financial Times tweeted that he was sure they would win it once again:
In reality, it was a hat made out of fabric. Jim Pickard took three small bites of it, washed down with water. Sensible, as it could have been made in the world's largest manufacturing country (no prizes for guessing correctly). H/T Guido Fawkes:
Now they have a Liberal Democrat MP, the lady pictured below standing next to party leader Ed Davey MP. The reply to the tweet blames the win on local opposition to a high speed railway (HS2) and to extending lockdown:
However, the Lib Dems never really opposed HS2:
The by-election took place because Dame Cheryl Gillan MP died on April 4. Despite a long term illness, she was an active participant in parliamentary debates until the end.
According to a Guido Fawkes reader, this was the vote tally on Thursday compared with 2019's general election:
2019 results:
Conservative 30,850
Lib Dems 14,627
Labour 7,166
2021 Votes:
Conservative 13,489
Lib Dems 21,517
Labour 622
The only consolation is that the Labour vote sank like a stone:
Coronavirus cases rise in Cornwall after G7 summit
The virus lives and is on the rise in Cornwall:
In addition to the G7 and half term, another factor could be the warm weather last Sunday, attracting people to beaches.
Guido Fawkes has maps and the figures (emphasis in the original):
Last week, both St. Ives and the Carbis Bay area had two positive cases respectively. Now, St. Ives has 36 cases, and Carbis Bay has 15. That's a 1,700% increase in the former, and a 650% rise in the latter…
One of Guido's readers replied that a hotel and university are responsible (emphases mine below):
Tosh. The rise in St Ives/Carbis Bay happened before G7 kicked off and was down to the staff in one hotel and is linked back to the plastic University at the top of Penryn.
Cases, however, are only positive tests. Not all should require hospitalisation.
Wednesday's vote in Parliament
On Wednesday, June 16, Matt Hancock opened the debate on coronaivirus restrictions in the House of Commons.
He said, in part:
Thanks to the protection of the vaccination programme, huge advances in treatments like dexamethasone, which was discovered a year ago today, and the resolve of the British people in following the rules that this House has laid down, we have been able to take the first three steps on our road map, removing restrictions and restoring colour to the nation, but we have always said that we would take each step at a time and look at the data and our four tests before deciding whether to proceed. The regulations before the House today put into effect our decision to pause step 4 on our roadmap until 19 July. Before outlining the regulations that will put this into effect, I would like to set out why we made this difficult but essential decision.
Unfortunately, there has been a significant change since we started on our journey down the road map in February. A new variant has given the virus extra legs, both because it spreads more easily and because there is some evidence that the risk of hospitalisation is higher than for the alpha variant, which was, of course, previously dominant in this country. The delta variant now accounts for 96% of new cases. The number of cases is rising and hospitalisations are starting to rise, too—they are up 48% over the past week. The number of deaths in England is thankfully not rising and remains very low, but, as I told the House on Monday, we do not yet know the extent to which the link between hospitalisations and deaths has been broken, so we propose to give the NHS a few more crucial weeks to get those remaining jabs into the arms of those who need them.
Mark Harper (Con) intervened:
Can I just ask my right hon. Friend what we expect to achieve in the four weeks? I think I am right in saying that there are 1.3 million people in priority groups one to nine who have yet to have a second dose of the vaccination. The good point is that that means we have vaccinated 96% of people in those groups, but I just wonder—after four weeks, I doubt that we will get to 100%, so there will still be a significant number of people in those groups not vaccinated with two doses, and at that point, there is still going to be some risk. My worry, and the worry of others, is that we are going to get to this point in four weeks' time and we will just be back here all over again extending the restrictions. That is what we are concerned about.
Hancock said he was sure that four weeks would be sufficient. He's said that before.
Steve Baker (Con) also intervened:
Is not the problem with the two-week checkpoint that it creates another moment of hope for people who still feel even these restrictions very acutely, and that if we create hope and then shift the goalposts again, people will continue to deepen their despair? What will he say to those people?
Hancock said the public understood the reasons for the delay.
After Hancock finished speaking, it was the turn of the Shadow Health Secretary Jonathan Ashworth (Lab) to respond.
Ashworth largely agreed with the Government's extension to Freedom Day, but he rightly posed questions, such as this one:
Will we continue wearing masks?
At which point, Desmond Swayne (Con), who wears a silk scarf instead of a mask, shouted:
No!
Steve Brine (Con), former Public Health minister, intervened, recalling a bad flu year:
The right hon. Gentleman is right: we had a battle royal with influenza in the first year that I was in the job, but the difference was that we did not have any non-pharmaceutical interventions. Our interventions were about the take-up of the vaccine—yes, for children as well as for adults, especially the vulnerable. One of our chief advisers, the deputy chief medical officer then, one Professor Chris Whitty, never suggested masks, let alone closing schools—just a really good roll-out of the flu vaccine. We lost 22,000 people that year. Never were those numbers rolled on BBC News; never did we know the R number, but there was a point where we accepted an element of risk in society. I guess that was the point of my earlier intervention on the hon. Gentleman: what element of risk is he prepared to accept? Because that is what it comes down to—our own mortality is part of the human condition.
Ashworth replied, in part:
I do not want to see it done by some of the wider restrictions and lockdowns that we have heard about. That is why I would be interested to know whether the Department has developed plans for restrictions this winter and whether the Secretary of State has been discussing that with Whitehall colleagues.
Mark Harper intervened again:
On the point about the restrictions, I know that those discussions are going on because I have seen documents from within Government with very detailed suggestions about what measures may continue. I asked the Secretary of State about this when he was in the Commons earlier this week, and he did not rule out bringing in restrictions this winter. That is partly why some Conservative Members are very concerned and why we are not going to vote for these regulations today. However, I want to take the right hon. Gentleman back to his comments on what Chris Hopson said about the fact that the NHS is very busy at the moment. There is a danger here. I am very sympathetic to colleagues who work in the NHS, who have done a fantastic job, but we cannot get to a point where we restrict and manage society in order to manage NHS waiting lists. That is not the right way round. The NHS is there to serve society. If we need to enable it to do that, we have to think of a way of doing it other than putting restrictions on the rest of society. That is not a sustainable or a desirable position, but it is the logical consequence of what Chris Hopson was saying earlier this month.
Here's the video, which begins with Ashworth sitting down to give way to Harper:
Ashworth replied, beginning with this:
Even though we will find ourselves in different Lobbies this evening, I think there is more in common between us than perhaps one might expect. I do not want restrictions to remain in place for any longer than they need to. I want to move to a system where we are trying to push down covid infection rates by, yes, rolling out vaccination as far and as fast as possible to everybody, but also putting in place the proper framework so that those who are ill or a contact of someone who has been ill with covid is able to isolate themselves.
He took more interventions from Conservative MPs, then concluded:
The House is being asked to extend these restrictions, but there are a number of pressing issues. First, many of us have been contacted by business people in our constituencies who are deeply concerned about the extension of these restrictions. For my constituency in Leicester, which has been living under a form of restrictions more severe than other parts of the country, other than perhaps parts of Greater Manchester, this has been particularly devastating. I hope that the Government will be putting in place full support for businesses such as mine in Leicester and Greater Manchester and elsewhere.
The second issue, which we have touched on a little bit, is whether these restrictions will ever end, or whether the Prime Minister has trapped us in Hotel California, where we can never leave. He has talked about 19 July as the terminus date, but the explanatory notes themselves say that the four tests will apply on 19 July, and that these four weeks will be used to gather more data.
Hancock said later on that July 19 is still the terminus date and that data would be examined in two weeks' time.
The general debate took off from there, with Sir Desmond Swayne (Con), the original rebel, the first to speak. He criticised SAGE and one of its members, Susan Michie, the Communist:
I never believed that it was proportionate, even from the outset, for Ministers to take such liberties with our liberty. I always thought that it was wrong for them to take our freedoms, even though they believed that they were acting in our best interests in an emergency, but by any measure that emergency has now passed and yet freedoms are still withheld and the Government will not allow us to assess for ourselves the risks that we are prepared to encounter in our ordinary, everyday lives. The Government do not trust the people whom they govern.
Many members of SAGE—a misnomer if ever there was one—have been out busily undermining public morale. One of them even shared her dystopian vision that we must all remain masked and distanced in perpetuity—a shocking, horrible prospect. The fact is that once the consequences of this virus in terms of their financial and health impacts have long been addressed, the moral impact will remain. The Government have set a disastrous precedent in terms of the future of liberty on these islands. I could understand it if we were a communist party, but this is the party that inherited the true wisdom of the Whig tradition. This is the party of Margaret Thatcher, who said that liberty was indivisible. This is the party that only recently elected a leader whom we believed was a libertarian. There is much on which we are going to have to reflect.
Here is the video of his remarks:
Smoking also came up in the debate:
Sir Charles Walker (Con), another early rebel, spoke. He wants a reform of SAGE. Excerpts follow:
I wish to try to be constructive about how we can improve SAGE. As you know, Mr Deputy Speaker, SAGE has huge power over our lives. It has power over whom we hug and hold. It has power over which businesses open and which businesses close. In essence, it has power over who keeps their job and who loses their job. We, too, in this place have great power, but our power is matched by accountability.
Accountability is very important in the exercising of power, so I want to suggest some reforms to SAGE—some quite technical reforms. First, there is a need for greater financial transparency from members of SAGE in line with that expected of Members of Parliament. For example, I think when we look at SAGE members, we should be able to see what their annual income is—not only from their substantive job, but from their pensions accrued or the pensions they might well be in receipt of. This is something that is freely available for all Members of Parliament. I think we should also know and constituents should know if they have any significant shareholdings in companies, in the same way that our constituents know if we have significant shareholdings in companies. We could also look at whether they get other forms of income—from rent, for example …
… in the case of young people, many SAGE experts say that young people should be working from home. We know that young people are now tied to their small kitchen table or in their bedroom in miserable environments—the new dark satanic mills—and working endless hours in appalling circumstances, because people with nice gardens and comfortable homes think that is what they should be doing.
There should also be far greater personal accountability. There should be no more, "Here is Sir Mark Walport—of SAGE, but here in a personal capacity". Nonsense! He is there because he is a member of SAGE. We should also have elections to SAGE, so we could see Sir Mark Walport, Professor Susan Michie, John Edmunds and regular talking heads in our TV studios challenged by people with a different perspective—people such as Professor Karol Sikora, Professor Paul Dolan, who is an expert on human behaviour and quality of life, and Professor Ellen Townsend, who has a huge interest in the welfare of children and adolescents who are now being plagued by anxiety and eating disorders …
So here it is: full financial disclosure from members of SAGE and full elections, or they advise the Government, and if they do not want to do that, but want to advise TV studios, they do that, but they do not do both.
Here is the video of his speech in full:
Graham Stringer (Lab), also a rebel, spoke next. He rightly said that MPs do not have enough scientific data to make an informed decision about restrictions. Excerpts follow:
As ever, it is an honour to follow the hon. Member for Broxbourne (Sir Charles Walker). On his interesting point about SAGE, we could do with full disclosure from the Government about all the facts that they have available to them on covid. In the Science and Technology Committee this morning, we were told that vaccinations have saved 14,000 lives. I have no doubt that that is an accurate figure, but there are many figures that have not been given. As we said the last time we debated this issue, only one side of the equation is given. Let me ask this question: how many lives have been lost in order to save capacity in the NHS? When it comes to looking at people untested and untreated for cancer, heart disease and other diseases, we will find that the figures are of a similar, if not greater, magnitude than the number of people who have died from covid …
There is a great deal more information that we require in order to make a rational decision about whether the lockdown should continue. I agree with the right hon. Member for New Forest West (Sir Desmond Swayne) that what we have here is the Government asking for emergency powers when there is no longer an emergency …
The Government have refused on a number of occasions to give out that information. They have run a campaign to scare people into accepting their decisions …
One of the things that has annoyed me most in the last 15 months is when the Prime Minister and the Secretary of State for Health and Social Care say, "We instruct you"—meaning the population—"to do various things," when there is nothing in the legislation that would give the Secretary of State or the Prime Minister the ability to instruct individuals. We live in a liberal democracy in which we pass laws that are enforced by the police, and then the courts make a decision if there is a prosecution, not one in which the Secretary of State acts like some kind of uniformed Minister of the Interior.
I will vote against the regulations today. We need a more direct debate on the issue and we need what Members have searched for—a straightforward comparison, with real statistics, of what risks everybody faces.
Steve Baker (Con) agreed with Mark Harper about society and the NHS:
I refer the House to the declarations that I have made relating to the Covid Recovery Group.
No one can deny the brilliance of the Government's—the NHS's—vaccination programme. By mid-April, the over-50s and the vulnerable had had their first vaccination, and overwhelmingly they have now had their second. That is reflected in the Office for National Statistics antibody data, which shows extraordinary levels for anyone over 50. Antibodies are there in that population, which is vulnerable to the disease.
That brings me to the best case that the Government could make for the regulations before the House, which is that the ability of the NHS to provide other healthcare could be compromised by admissions from a younger population, because a small percentage of a big number is still a big number. But the huge problem with that is that it concedes the point that our liberties can be used to manage the capacity of the NHS. I cannot concede that. As my right hon. Friend the Member for Forest of Dean (Mr Harper) said, that is not the way in which we should be going as a society. If the restrictions that we are extending had been proposed for that purpose in the past, we would never have accepted them.
In Wycombe, people have of course been dutifully washing their hands, covering their faces and keeping social distancing rules, yet early in this pandemic, I remember one dear, sweet, older lady was beside herself with anxiety at the thought of having to go about her ordinary life with her face covered, and look at us now, taking it for granted. This is not normal. This is the dystopia that I stood here and forecast on the day we went into lockdown …
One of the most important things that we have learned from Mr Cummings' leaked WhatsApp messages is that it seems that the Government have been significantly influenced by polling. I fear we have had a real doom loop here between polling and policy making, which has driven us into a disastrous position. We now must not tolerate lockdowns being perpetually on the table. We must not tolerate a situation going on where we and the police are unclear about what the law is and how it should be applied. Imagine that you can hug but not dance—what madness is this? We cannot tolerate a situation any more in which a Government social scientist told the author of the book "A State of Fear" that the Government had used unethical techniques of behavioural science to deliver a policy which he said, in his own words, "smacks of totalitarianism".
We have transformed this society for the worst. We have it put in place a culture and habits that will take years to shake off and that distance people from one another and diminish their quality of life and the quality of relationships that they have with one another. High streets are in danger of becoming haunted alleyways. We are in danger of hollowing out and destroying the entertainment industry—much of what makes life worth living. Today's vote will go through—it is a foregone conclusion—but as my right hon. Friend the Member for New Forest West (Sir Desmond Swayne) implied, if the Conservative party does not stand for freedom under the rule of law, in my view, it stands for nothing. We have got to have a turning point. We have got to recapture a spirit of freedom.
Mark Harper spoke later on, at which point the Labour benches were empty. It is important for Britons reading this post to look at what he has uncovered. The Government continue to be dishonest not only with MPs but also the public:
Well said!
Please also note the following about winter. Meanwhile, Democrat-run New York and California are now open:
May our merciful God help the UK out of this unholy mess.
On Monday, June 14, 2021, I posted about the launch of GB News, a channel that offers balanced content.
On June 15, Guido Fawkes posted the new channel's preliminary ratings demographics — 70% male viewers and 62% middle and upper middle class viewers:
Guido wrote (emphasis in the original):
According to BARB figures for the first full day on air, GB News averaged over the 18-hour day 74,000 viewers, just behind Sky News' 78,000. BBC News was well ahead with 138,000. Andrew Neil's show drew 150,000 for his hour, down from Sunday's opening 262,000.  Let's see how things settles down in a few weeks. Today the audio technical problems were noticeably fewer… 
GB News has been taking some flak over the past few days. It must be over the target.
Someone in the media sniped at Andrew Neil, the channel's chairman, who has a weekday evening news roundup:
Unfortunately, advertisers are beginning to withdraw their sponsorship, claiming they had no idea their adverts were being shown on GB News. How can that be?
Kopparberg Cider (never heard of it) was the first:
Guido's post says that Koppaberg pulled their ads because of an appearance by Nigel Farage on Dan Wootton's first nightly show:
In a bizarre business move, Swedish cider company Kopparberg has suspended all their GB News advertising after a left-wing Twitter user complained they'd hosted Nigel Farage as a guest. Guido has no doubt Kopparberg will also be suspending ads for … ITV and Sky, who have all interviewed Nige' on numerous occasions… 
Nivea is another former sponsor:
Nivea has also apparently announced a boycott, though Guido's altogether less familiar with brands of moisturiser. Imperial Leather moisturiser seems an appropriate alternative brand…
Guido has contacted Kopparberg for comment.
Then came Ovo Energy:
The thread received this reply:
ITV News must have been rubbing their hands with glee. It's hard to discount the possibility that the main channels want GB News to fail:
ITV's article listed more former sponsors (emphases mine):
An Ikea spokesperson told iNews the company "has not knowingly advertised on GB News" and has suspended all paid display advertising while it investigates."We have safeguards in place to prevent our advertising from appearing on platforms that are not in line with our humanistic values and vision to side with the many people," they added.
"We are in the process of investigating how this may have occurred to ensure it won't happen again in future, and have suspended paid display advertising in the meantime."
Beer producer Grolsch said in response to a message from a campaigner it would "do everything we possibly can" to stop its adverts appearing on the channel.
The controversy comes from the channel's aims to fight "cancel culture" and present news to audiences that in their view are not reflected in the current British broadcast media landscape.
ITV says that a left-wing campaigning organisation is behind the boycott:
Stop Funding Hate, which has been campaigning to get businesses to pull adverts from GB News said OVO Energy, Ikea, Nivea, the Open University and Grolsh have also all reportedly stopped working with the channel.
Andrew Neil had a go at Ikea, as did one of his followers:
What is wrong with the content and 'values' of GB News?
Did advertisers object to the Who's Roger Daltrey's take on today's culture?
Were they upset with Andrew Neil's 'Woke Watch' which explored the new culture at the National Trust?
Neil did take issue with the anti-lockdown protesters who chased the BBC's Nick Watt in London on Monday afternoon:
The following are Wednesday's stories on GB News. What is objectionable?
There is a story on council tax hitting those in northern England more than those in London:
A Labour MP criticised the Home Secretary Priti Patel for not helping legal immigrants more:
Liz Truss MP talked about Britain's new trade deal with Australia:
Sajid Javid MP, former Chancellor of the Exchequer and former Home Secretary, explained why he would like to see the increase of the legal marriage age to 18:
Where is the problem?
Guido Fawkes alleges that an ex-BBC producer could be behind the advertising boycott:
Her company has allegedly created a website, Boycott GB News.
Guido's post says:
The website BoycottGBNews.org, which has spent the last 24 hours celebrating various corporate boycotts, says it is a "campaigning website from Ripples". A quick search of Companies House shows Ripples Campaigning was co-founded, and is run, by Louise Wikstrom. Louise, who appears to be their only employee, was a senior content producer at BBC Worldwide for three years.
He included a photo from her Facebook page indicating that she is a supporter of the former Labour leader Jeremy Corbyn.
Guido adds (emphases in the original):
Co-conspirators may have theories as to why someone closely linked to the BBC's commercial arm might want GB News to fail?
… Whilst Guido hadn't heard of Ripples, it's clearly a petition site exclusively for left-wingers and FBPEers. They laughably claim that due to their petitions, they prevented: a cut to universal credit; MPs receiving a £3,000 pay rise; an extension of the furlough scheme; and preventing the government from "breaking international law" on Brexit. These past claims are clearly absurd. Their latest busy-bodying attempt is far more malicious…
In closing, I have bought print advertising in the past. There is no way that anyone buying advertising doesn't know what is going on. It isn't done independently. I was told what publication to contact for my employer's ad and how to negotiate the price.
It is disingenuous for these sponsors to say that advertising was placed without their permission. That cannot happen. Yet, if you read their statements, they all claim they did not know they were advertising on GB News. 
No doubt Andrew Neil will know how to deal with this. I wish him all the best.
On Sunday evening, June 13, 2021, Andrew Neil's GB News channel (Freeview 236) launched in the UK.
Andrew Neil has had a long career in broadcast and print journalism, having helped launch Sky News in the UK. He presented political programmes for the BBC for many years and is also chairman of The Spectator.
The satirical magazine Private Eye refers to him as Brillo because of his hair.
The channel began broadcasting at 8 p.m., with a one-hour introduction from Neil laying out the agenda and introducing the viewing audience to its presenters and regional reporters:
Neil was broadcasting from London, rather than his home in the south of France, as he has done during the pandemic for Spectator TV.
My far better half and I watched this and one hour of Dan Wootton's show, which followed at 9 p.m.:
Dan Wootton's show had a few glitches, with guests' online connections dropping and a synch problem between video and audio.
Nonetheless, the channel's first night ratings were good:
Their audience share was treble that of Sky News:
Guido Fawkes posted a summary of the reviews in the press. Incidentally, Guido's Tom Harwood resigned a few months ago to become the Westminster correspondent for GB News.
Guido's post says, in part (emphases in the original):
It's all systems go for GB News. Opening with a one hour mission statement from Chairman Brillo (from a tiny, under-lit set which someone on Twitter described as looking like "the inside of a PlayStation"), the fledging news channel finally started broadcasting at 8pm last night. Inevitably, there were teething problems: dodgy cuts, out of sync audio, odd camera angles etc etc. Dark clothes against a dark set just doesn't work visually. Television is hard.
The aesthetic problems will undoubtedly be ironed out over time. For now, the initial reaction from social media and the punditry went about as you'd expect; Owen Jones tried to dunk on it, the Telegraph gave it four stars. Here's the full round-up:
The Guardian wasted no time in writing it off. No doubt reviewer Stuart Jeffries beamed ear-to-ear as he called it "utterly deadly stuff", and declared he "give[s] it a year" before it's taken off-air. He gave it one star, obviously.
The Times were

more generous

: three stars for a channel which "may yet bite", though marking it down for the obvious technical shortcomings. A running theme amongst most reviews…
The Telegraph's four star review praised its "no sneering" attitude, and that in spite of the glitches, "GB News is already speaking [the] language" of those frustrated by lockdown. They also made the point that opening with Dan Wootton was probably a mistake, given his opening diatribe about lockdown: "What the channel cried out for was the firmest hand on the tiller from the go. If you were unsure about GB News's claims of impartiality, you needed Brazier or McCoy to take your hand on the first night. Wootton will have scared a few nervous horses" …
GB News were pleased to say launch night saw them average 164,400 viewers with Sky News garnering only 57,000 viewers. Can they surpass Sky News regularly?
I hope so. My better half thought it was too amateurish. As Guido says, 'Television is hard', especially on launch night. I will definitely be tuning in when BBC Parliament is showing a rerun.
Speaking of Parliament, Conservative MP David Jones liked it:
The channel also has half-hourly weather forecasts from the Met Office:
A live stream is on their website. Selected videos are posted there and on YouTube.
GB News took well over a year to reach its launch:
Their signature tune came first:
Investors had to be found:
Britons were eager for a news channel that represents their interests:
On January 28, 2021, Dan Wooton left talkRADIO for GB News.
A week later, people were attempting to boycott a channel that hadn't even launched, including Jolyon Maugham, director of the Good Law Project:
This was Andrew Neil's response:
At that time, Neil wrote an article for The Express explaining why he was launching a new channel (emphases mine):
I'm proud to be the chairman of GB News and, as you may have read, I have left the BBC after 25 years to host a nightly programme on the channel.
I'm doing it because I believe the direction of news debate in Britain is increasingly woke and out of touch with the majority of its people.
I believe our national conversation has become too metropolitan, too southern and too middle-class.
Some journalists and commentators seem too confident that their liberal-left assumptions must surely be shared by every sensible person in the land.
But many of those same sensible people are fed up.
They feel left out and unheard.
There's a restlessness, a sense that they're being talked down to; that much of the media no longer reflects their values or shares their concerns.
GB News is aimed squarely at those people.
The Mail's Michael Crick empathised and had a go at Jolyon Maugham:
The channel began attracting broadcasting talent: Sky News's Colin Brazier, Channel 4's Liam Halligan, the BBC's Simon McCoy, conservative commentator Mercy Muroki and Times Radio's Gloria De Piero (also a former Labour MP and presenter on an ITV breakfast show).
By April 27, Rupert Murdoch decided not to launch a similar rival channel, News UK:
At least one journalist is rankled that GB News has overseas funding:
On May 21, Press Gazette revealed more about GB News:
The channel's director of news, John McAndrew, is a 25-year industry veteran who has worked for the BBC, Sky News, ITN and NBC.
Interviewed by Press Gazette three days ahead of the channel's launch, he said: "My view of our channel, and certainly how it's going to be, is that it will be a very warm, inclusive channel where disagreements will be had, tough subjects will absolutely be taken on, but they'll be taken on in a classy and courteous fashion.
"What this won't be is a hate-filled divisive shout-fest that some people seem to have characterised it as, which is 180 degrees away from where we want to be."
Speaking to the FT Future of News conference Neil revealed that GB News plans to launch in other countries after the UK and has been looking at Spain and Eastern Europe. He said: "They will be distinctive news channels for distinctive markets. We still believe news is national."
On May 25, Ryan Bourne from the Cato Institute wrote a column for Conservative Home about the channel:
… it's perfectly within the Ofcom rules to build a news channel that will run different stories or perspectives – and Neil wants to run "good news" stories and shift away from assuming every problem has a government solution. You are allowed to hire, as GB News has, card-carrying conservatives, ex-Labour MPs or people from outside of London with very different assumptions in thinking about what news is important. And, yes, you are free to have colourful presenters with attitude to liven up discussions, provided you still showcase various perspectives.
Why, then, are some on the left so afraid of this pluralism? Maybe they don't accept biases exist on other news channels (Channel 4 News, really?), and so think any stated attempt to counter them is retrogressive. Perhaps they simply fear a politically strengthened conservatism. For others, no doubt, there is a concern that the Government's mooted appointment of Paul Dacre to Ofcom is a precursor to watering down impartiality rules as well.
But given that no such policy has been signalled, and we have not yet seen GB News in action, we must judge them at their word. Neil himself thinks, rightly, that a "British Fox" riding roughshod over Ofcom rules just wouldn't be successful. "Overwhelmingly, Brits value impartiality and accuracy and, during recent years, in fact, the proportion of Brits thinking the BBC and ITV provide an impartial service has fallen." GB News is keen to harness that particular audience, yes. But having spoken to numerous staffers, they are determined to avoid political bias, and to be robust in providing respectful disagreement more broadly too.
The Evening Standard's Insider posted an in-depth article on June 10. Susannah Butter's piece covers a lot of ground, including on the channel's investors.
This seems to have been the initial title (h/t Guido Fawkes reader who posted it):

Susannah Butter interviewed Andrew Neil, who had returned from France and was quarantining:
Neil is speaking to me from quarantine in West London, having recently returned from his house in the Cote d'Azur where he has been for the past year with his wife, Swedish engineer and communications executive Susan Nilsson, 52. They married in 2015 and Neil has 14 godchildren but no children of his own. He is straight-talking if occasionally gently cantankerous, saying he only agreed to speak because I "caught him at a weak moment" – and he wants to get one thing clear: GB News is not the British Fox News. "That is an easy, inaccurate shorthand for what we are trying to do. In terms of format we are like Fox but we won't be like Fox in that they come from a hard right disinformation fake news conspiracy agenda. I have worked too long and hard to build up a journalistic reputation to consider going down that route." There is a "strong editorial charter written into everybody's contracts saying that if they spread fake news and conspiracy theories they will face disciplinary action". Neil's hope is not to destroy the other channels, more to provide variety and raise the bar. "We are in a competitive environment they know that. I suspect [our rival TV channels] will up their game, that's fine, the only winner is the viewer."
This is how the channel began:
GB News was not Neil's idea – the founders are Andrew Cole and Mark Schneider who both come from a business background – but Neil has been wanting to do something like this for a long time …
Cole and Schneider contacted Neil last summer when he was "in the middle of rather, err, meandering negotiations with the BBC". His interview show had been cancelled and Politics Live was taken off air; he has said that "what [the BBC] did was unnecessary and I left with a heavy heart… but what's done is done." By September he was convinced because he "rather liked the idea of being chairman as well as prime time presenter. At The Spectator, my pride and joy, I have a business angle too, as chairman".
Early hires include former Associate Editor of The Sun Dan Wootton and The Apprentice's Michelle Dewberry, who was a vocal Brexit supporter.
Piers Morgan will not be joining the GB News lineup, at least for now:
"It would be nice to have him," says Neil who is in discussions with Morgan about joining and adds diplomatically: "But he's got his own idea of what he is worth and we have a slightly different idea of what he's worth. He is in a lucky situation because ITV are continuing to pay him a tonne of money so he doesn't have to do anything in the short run. I don't think he's going to go anywhere else in the UK. If he has a huge American offer that's a different matter. No one in the UK can compete with that but if he's going to do more UK news TV I hope it will be with us."
The channel will have a regular five-minute feature called 'Woke Watch':
Neil enjoys its alliterative title and says while he is "poking fun", he is seriously concerned about its implications. "Cancel culture is insidious, it stands against everything we have stood for since the enlightenment onwards and that is why it is serious," he says. "The original meaning of woke was somebody who was aware of social justice issues and who can complain about that? But it is not about social justice anymore, it is about conformity of thinking and it exists in many of our elite institutions from NGOs to the National Trust and parts of our media. Of course it is making huge inroads into our places of higher education. It is not the view of the British people but if it is the view of all these elites in favour of it could become very powerful."
… He takes a breath. "Look this is a five minute segment in an hour long show but it will be an important part of the output. Humour is a good weapon especially when you are up against po-faced people who take themselves too seriously."
The channel's output will target those living outside Britain's metropolitan areas:
GB News aims to attract two kinds of viewers, people who already watch the news and "may be a bit unhappy with the existing channels" and people who have stopped watching or don't. "GB News will be more non-metropolitan than existing channels, more provincial which is a good thing. The provincial voice has not been powerful enough in Britain. We are for people who think the existing channels don't quite represent how they see things."
Neil discussed the channel's investors:
Neil says they were overwhelmed with offers of funding but were selective about which ones they accepted. He wants to talk about their leading investor, the Discovery Channel, but money has also come from Sir Paul Marshall, a Brexiteer hedge fund manager and founder of the Right-leaning opinion site UnHerd, and Legatum, a Dubai-based investment firm. Legatum's chairman Christopher Chandler, a New Zealand-born billionaire and international financier, is a partner of Legatum Group, a funder of the separate Legatum Institute, a Mayfair-based think tank which is dedicated to finding "pathways to prosperity" and was one of the most prominent advocates for a hard Brexit.
Neil will only say that he "didn't want any sovereign wealth fund money". "I didn't want stuff from Abu Dhabi or Qatar. I said I'd take Norwegian wealth fund money because I don't think we would be worrying about them but they weren't offering. And I was reluctant to take money from investors who see themselves as the next Rupert Murdoch because I have already had one Rupert Murdoch in my life. That ended 26 years ago and I have never seen him since. At this stage in my life I am not having another one."
Neil, quite rightly, does not understand why people would object to the name GB News:
"I am not sure why calling it GB News would be awkward," he says, responding to those who have objected to the name. "We are British, I am British; I don't think there is any embarrassment in it. Indeed it is the opposite, we are proud to be British. We will be fair and accurate but we won't start out from that default position among the incumbents that whatever Britain does must be useless. That was heightened by the Brexit debate and we don't want to reflect that. We will report all the faults and weaknesses of this country but we also take a certain pride in being British and our successes, the vaccine rollout being one example."
All this patriotism is well and good but doesn't Neil now live mainly in France? "This is my country, just because I don't live here full time anymore doesn't mean I don't care," he says.
Neil's regular one-hour show will also have a segment called 'Media Watch':
"All journalists get things wrong and it is important that we move to put them right quickly and put our hands up and apologise. We have a go at politicians for not admitting their mistakes and then we do the same thing." GB News will not be immune from Media Watch.
The channel will not be featuring a blockbuster interview immediately:
They have actually decided against launching with a big interview, "because then the story becomes the interview and I would much rather the story becomes the channel, we will get to the interview". "Times Radio launched with a big interview with Boris Johnson. We've decided not to go down that route."
Neil is not yet ready to retire:
It all sounds like a lot of work – does Neil ever want to retire? "You are right. Lockdown has made me appreciate the virtues of retirement or at least semi-retirement more than I thought I might. I thought I had one more big gig in me and this is it. If we can make a success of GB News that's when I'll declare victory and go home." I doubt he would disappear though. He says: "I would continue to do the odd bit of TV and writing and I certainly want to keep going with The Spectator. It's quite good at some stage to get to a situation where you can do whatever you want to do from wherever you want to be."
I ask Neil, one of the best interviewers in the business, if I have left anything out? "I think you know more than enough," he says. "Can I go now?"
Although Neil very much enjoyed his 25 years at the BBC and was particularly grateful to the help and support from the staffers there, he has objected to some of the recent programming output. On May 30, The Express reported:
Mr Neil has never shied away from controversy on or off screen during his time at the broadcaster.
Never was this more clear than when he called the BBC out – while working for the broadcaster – for airing a specially crafted version of Horrible Histories, using archive episodes to create a song to mark the day the UK left the EU …
Mr Neil commented: "This is anti-British drivel of a high order.
"Was any of the licence fee used to produce something purely designed to demean us?"
On June 11, Simon McCoy discussed his departure from the BBC and revealed that he voted Leave in the 2016 Brexit referendum. The Telegraph reported:
"People had whiplash by 2 o'clock. Because for three hours it was: 'Oh, he's leaving, the A4 Royal watcher, how sad.' And then, 'The b—–'s going to GB News! What a right-wing gammon.'" He gives a mock sigh. "I was rather enjoying a couple of hours of adulation."
Some valiantly tried to give McCoy the benefit of the doubt, but hang on: "I think it's interesting that people think: 'He's gone to GB News to balance it out because he's a leftie BBC journalist.' I'm certainly not." He's even willing to lay his cards on the table: yes, Simon McCoy voted Leave …
When he talks about Brexit, it's in measured tones. "We're a Brexit country. I do think we need to embrace it and, for all its faults, we've got to make it work."
He joined GB News partly because he fancied the challenge: "I loved the BBC; the job was great, but I just thought, 'Here I am, nearly 60 – do I want to stay here, probably not getting any further? Or do I want to try something new?'"
And he also has a conviction, after 15 years at Sky News and 17 years at the BBC, that those news providers are focusing on the wrong things. "If you watch other bulletins you'll know very much what's happening in Idlib or Tel Aviv or Washington. This is about the UK," he says.
"Rather than obsessing with what's happening abroad, let's just look at what's happening within the UK. While I don't want to sound jingoistic or insular or Little Englander, I think we could all benefit from just knowing about our own country a little more."
Neil Oliver, a Scot who presents television programmes on archaeology, is fiercely pro-Union and a vocal critic of the SNP's First Minister Nicola Sturgeon. He will have his own GB News show. The Express carried the story:
Last month, the BBC's veteran presenter of a string of history shows, Mr Oliver, was announced as having joined the lineup.
The archaeologist and historian has become a central voice in Scottish politics and, like Andrew Neil who he will work alongside, is a fierce critic of Nicola Sturgeon.
He has previously accused the Scottish First Minister of "making a fool of Scotland" and said she had made him "sick to my stomach"…
He talked of history being viewed as the lifetime of a person, and that people today are the children of this person, in this case, the British Isles.
This was vital to understanding how interwoven the devolved nations are, he argued, and explained: "More and more we dare to patronise the place, treat the person like a doddery old soul who cannot cope alone, who might even need to be taken into care.
"To me, the truth is altogether different. This place, these islands have taken care of us since a time beyond the reach of memory. Treated properly, they will continue to do so …
"The story of the British Isles is one every single one of us should know and give thanks for."
On June 2, The Express reported:
The freelance archaeologist will host a new weekly current affairs and interview programme. Mr Oliver's show will focus on "the people from all walks of life who make Britain great", according to the announcement put out by the broadcaster …
Commenting on joining GB News, Mr Oliver said: "My career has always been driven by my fascination with people, whether it's trying to understand ancient people through archaeology or living ones through journalism.
"Debate in this country has been stifled for so long that GB News feels like opening a window and letting some fresh air, fresh perspectives and fresh voices.
"I never imagined my career would take this turn but I'm hugely excited that it has" …

Before the 2014 independence referendum, Mr Oliver stated in an interview with The Herald, that he was "proud of Britain".
He also noted his dislike of the forthcoming referendum, saying he found "this kind of internecine squabbling puts my teeth on edge. I would rather that it would just go away – or that it had never happened".
He went on to say that he "liked the status quo".
As a result of his comments, when he was appointed President of the National Trust for Scotland, thousands signed petitions calling on him to resign.
In December 2020, Mr Oliver reasserted his apparent personal opposition to Scottish independence, describing the uncertainty caused by the prospect of a second referendum as a "cancerous presence".
Neil Oliver appeared on Sunday:
On the launch day of GB News, The Express reported that a spokesman for the channel alleged that the BBC was trying to restrict their access to news footage:
Britain's public service broadcaster was attempting to "ambush" and "damage" Sunday's launch of the right-leaning television channel, a spokesperson for GB News has claimed. A GB News spokesman said: "This is an ambush by the BBC designed to damage the launch of GB News. It is an attempt to protect their dominance of UK news broadcasting.
"We will fight it.
"And our launch continues."
This has happened before when the Press Association said in 2010 it was unable to access footage from "single-camera assignments" that were categorised as coming under the ownership of the UK Broadcast Pool.
The UK Broadcast Pool comprises the BBC, Sky News and ITN.
The launch was successful.
True to their pledge, GB News is focusing on what matters to Britons, such as this lady from Birmingham:
In closing, Tom Harwood says that GB News are aware of enhancements that need to be made, including the addition of a live stream on YouTube:
I'm thrilled to bits for GB News and do intend to become a regular viewer.
Yesterday's post discussed Prime Minister Boris Johnson's third marriage and Catholic Canon Law.
Today's post looks at the way Boris and Carrie Symonds — now Carrie Johnson — were able to keep their plans secret, which is not easy in No. 10, well known for its leaks.
Although his former special adviser Dominic Cummings gave scathing testimony about Boris and Carrie to a parliamentary Select Committee on Wednesday, May 26, by the end of the week, the Prime Minister's fortunes had improved.
Although we are not that happy with aspects of Boris's handling of the pandemic, more of us trust him than we do Cummings:
On Friday, the Independent Advisor on Ministerial Interests Lord Geidt concluded that Boris's renovations on his Downing Street flat did not break the ministerial code:
That day, he was also photographed running for a train. When was the last time any Prime Minister in living memory ran for a train? Scenes like these endear Boris to the British public:
He even waved to a woman who called out, 'Hi, Boris':
Guido Fawkes posted the video. One of Guido's readers responded with a lyric from My Fair Lady:
"Girls come and kiss me, say that you'll miss me
But get me to the church on time"
Little did anyone know how true that was.
Saturday, May 29, began with a good poll, in spite of Cummings's testimony:
Downing Street confirmed wedding day after it happened
There were no announcements from Downing Street of the wedding on Saturday, May 29.
On Sunday, the BBC's political correspondent Nick Eardley wrote (emphases mine):
It can't have been easy to keep yesterday's wedding – between a former journalist and someone who works in public relations – under wraps.
But it seems to have taken almost everyone in Westminster by surprise.
Such was the desire to keep it quiet, Downing Street only officially confirmed it had happened on Sunday morning – the day after the wedding.
The accompanying article stated:
The marriage took place in a "small ceremony" on Saturday afternoon, a Downing Street spokesman said.
The spokesman added that the couple would celebrate again with family and friends next summer, with their honeymoon also delayed until then …
Downing Street did not reveal any details of who was invited and whether any of Mr Johnson's Cabinet colleagues were among the guests …
Musicians were pictured leaving No 10 on Saturday night.
At Westminster Cathedral that day, visitors were asked to leave in the early afternoon:
Members of the public were asked to leave Westminster Cathedral just after 13:30 BST, the Sun reported.
shortly after 1.30pm, confused tourists were ushered out of the building on the basis that it was going into lockdown.
This is a photo of the Johnsons at Downing Street afterwards (another made the front page of The Telegraph). Look at Boris's tie:
Guido Fawkes wrote 'Amoris Laetitia' in his post. This is Latin for 'The Joy of Love' and the title of Pope Francis's exhortation on love in family life.
How events unfolded at Westminster Cathedral
The Telegraph reported that, around 2 p.m. on Saturday:
Miss Symonds, who has since taken her husband's name, swept into the piazza in front of the cathedral in a limousine, wearing a £2,870 embroidered tulle gown but no veil.
Close friends and family and the couple's one-year-old son, Wilfred, were in attendance as they were married by Father Daniel Humphreys, the head of the cathedral.
He was the priest who had baptised their son six months earlier in the same Lady Chapel, an ornately decorated room which hosts morning and evening prayer.
The couple had been instructed by him to ensure that they were both prepared for the marriage "over many months", sources told the Telegraph.
After the ceremony, the guests – understood to include Mr Johnson's siblings Rachel, Jo and Leo Johnson, his father, Stanley, and half-sister Julia – were whisked back to Downing Street.
The first official photograph was released on Sunday morning and showed the couple embracing in the garden. Mr Johnson even appeared to have brushed his famously unruly hair for the occasion, though his tie remained askew.
They opted to hire an external photographer, Rebecca Fulton, rather than using Andrew Parsons, a special adviser who takes pictures of Mr Johnson on official visits. Her prices begin at around £2,300 for a day's wedding shoot – although it is possible the Prime Minister received a bargain rate as the ceremony was so short.
Downing Street reception
The same Telegraph article says that a marquee was already in the Downing Street garden for a prior event:
It had been used days earlier to host a meeting between the Prime Minister and small businesses that had made a net zero commitment.
The atmosphere was relaxed:
the garden decked out with lanterns, bunting and hay bales, which it appeared were being used as seats as well as table legs to hold up a tray of drinks.
Also:
After much speculation about their nuptials, and a save-the-date for July 30, 2022 card sent just six days before they married, people were expecting an elaborate affair. But in the end Mr Johnson's third marriage was a low-key celebration which saw guests dancing to Don McLean's American Pie played by a wandering acoustic fiddle band.
Top secret
The article says that Saturday's wedding took six months of secret planning:
The event was planned in secret over the last six months, and even the small number of guests allowed under Covid restrictions were only told at the last moment, it is understood.
The Daily Mail reported:
The premier is understood to have picked his closest brother Leo – co-presenter of Radio 4 series Future Proofing –to stand by his side as his best man and provide moral support on his big day. 
Fellow Johnson siblings Jo, Julia and Rachel were also in attendance at the small wedding, the premier's third.
Both the bride and groom's mothers joined the summer festival-themed party in the Downing Street garden, but Carrie's father Matthew Symonds was not present. It is not known if he was invited by the couple.
It is also thought that none of Mr Johnson's four grown-up children from his second marriage to the QC Marina Wheeler were there to see their father remarry.
No Cabinet ministers or Tory MPs were thought to have been invited to the top-secret wedding either, the Sun reports.
The couple were expected to spend the rest of the Bank Holiday weekend at Chequers, the Prime Minister's country retreat in Buckinghamshire.
They have chosen to delay their honeymoon until summer 2022, when they will also hold a bigger wedding celebration, according to the Telegraph.
The article says that Carrie rented her dress:
The bride, who hired her £2,870 wedding dress by designer Christos Costarellos for just £45 from MyWardrobeHQ for the day, said she was 'very, very happy'.
In order to keep arrangements low-key, she hired three decoy dresses. The Daily Mail describes her plan:
Carrie Symonds hired three decoy dresses to throw snoops off the scent before her secret marriage to Boris Johnson. 
Prime Minister Boris Johnson's new blushing bride hired the dresses from eco fashion business My Wardrobe HQ and returned the one she settled on for £45 today from Greek designer Christos Costarellos …  
The new Mrs Johnson, 33, often orders clothes to the couple's Downing Street home so wanted to throw snoops off the scent by hiring three other bridal frocks.   
The company she ordered the dresses from only found out they had supplied the wedding dress for the UK's first lady when they saw pictures of the secret wedding. 
Co-founder Sacha Newall told The Times: 'We didn't know what it was for. We were just asked to supply some items. Then we saw what happened this weekend. It was all a bit of a surprise.'
They revealed that Mrs Johnson has asked for four dresses in a variety of shades.  
And it's not the first time Mrs Johnson has worked with the company – she used their services when she was finding a dress to meet the Queen at Balmoral in 2019. 
Ms Newall added that while Carrie isn't particularly into fashion she is making an effort to take an interest. 
She said: 'There is an awareness that as the prime minister's wife she needs to be dressed in a certain way… She doesn't want to feel that she is letting the side down.'  
And the first time Carrie was spotted standing next to Mr Johnson on the steps of Downing Street in her iconic pink Ghost dress, she had rented the frock from My Wardrobe HQ.  
My Wardrobe HQ's business will be going through the roof now. I wish them every success.
How Boris met Carrie
It wasn't only the wedding that was kept under wraps. Even the development of their relationship is rather private.
The first the public had heard of Carrie Symonds was in the summer of 2019, when she and Boris had a row at her home in London, more about which below.
The Telegraph reported that the two have known each other since 2012:
For a relationship that began under the shroud of rumour and has been conducted largely in private, it was only fitting that the marriage of Boris Johnson and Carrie Symonds included the element of secrecy.
The world now knows that the Johnsons' wedding anniversary will forever be May 29 2021. But precisely when their relationship started is a little harder to pin down.
Miss Symonds, a Warwick University graduate who instantly progressed through the ranks of the Conservative Party, is thought to have got to know Mr Johnson when she worked on the 2012 Back Boris campaign for his re-election to become mayor of London. After that experience, she developed a habit of praising his speeches on social media.
It was six years later, in 2018, when Mr Johnson was serving as foreign secretary and Miss Symonds as the party's head of communications, when whispers about their escalating friendship emerged. In February of that year, a ruddy-faced Mr Johnson, then 51, was photographed chatting playfully with a glamorous-looking Miss Symonds, then 29, outside the Tories' Black and White Ball at the Natural History Museum.
A week later, it was reported that the pair enjoyed a Valentine's Day meal at one of Mr Johnson's favourite haunts, Rules, in Covent Garden. The next month there were cocked eyebrows all around Westminster when social media chatter revealed that Mr Johnson, Michael Gove and Sajid Javid, at that time all Cabinet heavyweights, were spotted gyrating to Abba in a room full of drunk millennials at Miss Symonds's 30th birthday party in north London.
"The feeling inside Number 10 at the time was very much along the lines of: 'What on earth were they doing there?'" one former Downing Street aide told The Telegraph later that year …
Another source cattily remarked that, "Carrie is not what you'd describe as a girly girl. She's more of a man's woman. And by that I mean an older man's woman." Yet of the three older, married Cabinet ministers at the party, the rumour mill was only concerned with one.
By September, both Mr Johnson and Miss Symonds moved on from their respective roles – she took up a role with a conservation organisation, while he resigned from the Cabinet in protest at Theresa May's handling of Brexit – and Mr Johnson had announced his divorce from his second wife, Marina Wheeler, after 25 years of marriage.
By now, that rumour mill was churning wildly, and given grist in the form of one particularly juicy morsel of Westminster chatter suggesting Mr Johnson sent a car to collect Miss Symonds from a colleague's wedding when he was still foreign secretary.
The car, it was said, brought her to his grace-and-favour residence, Chevening, and to top it off, the wedding was held at Penshurst Place, Kent, which used to play host to King Henry VIII while he secretly courted his mistress, Anne Boleyn.
Despite an almost 24-year age gap, the burgeoning relationship appeared to make some sense: both were metropolitan and sociable, both had backgrounds in the media (in Miss Symonds's case it was in the family – her estranged father is Matthew Symonds, the co-founder of The Independent; her mother is Josephine Mcaffee, once one of the paper's lawyers), both were on the green side of the Tory party with their mutual friend Zac Goldsmith, and both were undeniably ambitious.
Just how they managed – and still manage – to keep their relationship so private puzzled some observers. But Miss Symonds was well-positioned to ensure discretion: she has friends and connections all over Fleet Street, as well as countless powerful Tory allies.
In 2019, Symonds began getting closer to Boris and his father:
The drip-feed of gossip continued to find its way into the public domain, however. That Miss Symonds had been showing friends mischievous texts she'd received from Mr Johnson. That she called him "Bozzie Bear", and he called her his "otter". That his photograph was her phone screensaver. That Stanley Johnson, Boris's father, joining Miss Symonds on an anti-whaling march in January 2019 was proof things were serious. That Mr Johnson was losing weight and keeping his hair trim not for the electorate but for her. That he and Miss Symonds were "very much in love", and had moved in together in her flat in Camberwell, south London …
Locals in Camberwell, who weren't overcome with joy at the news, remember seeing "the unmistakable, hunched blonde figure of Boris" cycling to and from Miss Symonds' home each day.
They were rarely seen together at public events, however:
The closest thing to an official confirmation, in fact, was Miss Symonds' appearance at Mr Johnson's campaign launch for Conservative leader in June 2019. In a deep red Karen Millen dress, Miss Symonds entered the public eye just months before her partner was favourite to become prime minister.
I read at the time that the dress sold out immediately.
Then came the row:
The pressure clearly told. A few weeks later, police were called to the Camberwell flat after neighbours heard an argument taking place. Helpfully, they had recorded the row and told a newspaper that Miss Symonds could be heard telling Mr Johnson: "You just don't care for anything because you're spoilt. You have no care for money or anything."
However, that blew over quickly.
Shortly afterwards, she moved into Downing Street with him. I have no objection to people living together except when it involves a high-profile person in a high-profile setting. Call me old-fashioned, but it is just wrong. Unfortunately, Boris has now set a precedent:
When Mr Johnson secured the keys to 10 Downing Street, Miss Symonds joined him. Not literally – she stood watching his victory speech on the other side of the camera, rather than just behind him, as Philip May and most other prime ministers' spouses had – but she moved in, and quickly gained a reputation as an influential figure in the Prime Minister's inner circle.
As if to mark the start of a new family, Mr Johnson and Miss Symonds adopted Dilyn, a Jack Russell cross, shortly after taking residence in Downing Street.
Carrie became pregnant. Weeks before she was due to deliver, Boris was hospitalised with coronavirus. He was close to death:
It was to prove not only a national crisis for the Prime Minister, but also a terrifying personal battle. After testing positive for Covid-19, Mr Johnson was taken to intensive care at St Thomas's Hospital, London, in April 2020.
Afterwards, stories circulated about Boris's affair with an American during the 2010 Olympics held in London. Then came Wallpaper-gate. And, now, the couple have married. Carrie Symonds is now officially Carrie Johnson.
History in the making
The last Prime Minister to get married while in office was also a Conservative: Robert Banks Jenkinson — Lord Liverpool. He remarried in 1822.
The Daily Mail stated:
Mr Johnson is the first premier to marry in office in 199 years. He follows in the footsteps of Lord Liverpool, who married Mary Chester in 1822 and was prime minister for 15 years.
Mary Chester was a close friend of his wife Louisa, who died at the age of 54.
One wonders if Boris's original date of July 30, 2022 was planned to deliberately coincide with this 200-year anniversary.
The British are a sensible, pragmatic people.
A recent poll from Ipsos MORI shows that most Britons are far more concerned with coronavirus, the economy and our post-Brexit future than they are about climate change:
This year, the global climate conference, COP26, will be held in Glasgow, but it is a low priority for most of us.
In fact, climate change is a luxury worry, as Guido Fawkes explains, after reading the accompanying breakdown of polling figures (emphases in bold mine):
According to Ipsos-MORI's regular monthly polling, the little rising concern that there is about the environment and climate change is being driven by specific demographic subgroups within the wider population:
"It is a big issue for almost three in ten of those in social grades AB (28%), double the level of concern among social grade C2DE (13%)… Those living in the south of England and Scotland are more likely to mention these issues than those in the Midlands and north of England."
There are no significant differences in environmental concern between Britons of different ages. Party strategists obsessed with voters in the Red Wall seats should note that they are the least interested in climate issues. Red Wall voters are primarily concerned about the pandemic, the economy, Brexit, and the NHS ahead of green issues.  It is a small minority of mostly better-off Southern voters who will vote to put up their electricity bills and force people to buy expensive electric cars.
Conservative MPs are in the tank for climate change initiatives. However, as Guido warns, the former Labour voters they are wooing have more practical concerns on their minds. MPs live in their own leafy world while the rest of us cope with more pressing issues of the day.