You are currently browsing the tag archive for the 'Guido Fawkes' tag.
My series on the Red Wall MP Miriam Cates concludes today.
Those who missed my previous posts on the Conservative MP for Penistone and Stocksbridge in South Yorkshire can find them here and here.
On October 27, 2021, Miriam Cates revealed to GB News that she and her family had to move out of their home for a time when she got doxxed. YorkshireLive has the story:
The MP for Penistone and Stocksbridge told GB News she has felt frightened by her previous experiences.
She said: "I have had an experience where someone was trying to incite Twitter users to share my address online.
"I had to move my family out of the family home while the police got involved."
But she claims her colleagues have faced even worse issues, saying some have "got harrowing stories."
The Conservative MP also said her parliamentary role was an adjustment from her previous position as a school teacher.
Online Safety Bill
Cates supports the Online Safety Bill, which is with the House of Lords at the moment.
The proposed legislation has captured the hearts and minds of nearly every MP.
On the evening of Tuesday, January 17, 2023, in the Bill's last day in the Commons, Sir Bill Cash rose to put forward his new Clause 2 (emphases mine):
In a nutshell, we must be able to threaten tech bosses with jail. There is precedent for that—jail sentences for senior managers are commonplace for breaches of duties across a great range of UK legislation. That is absolutely and completely clear, and as a former shadow Attorney General, I know exactly what the law is on this subject. I can say this: we must protect our children and grandchildren from predatory platforms operating for financial gain on the internet. It is endemic throughout the world and in the UK, inducing suicide, self-harm and sexual abuse, and it is an assault on the minds of our young children and on those who are affected by it, including the families and such people as Ian Russell. He has shown great courage in coming out with the tragedy of his small child of 14 years old committing suicide as a result of such activities, as the coroner made clear. It is unthinkable that we will not deal with that. We are dealing with it now, and I thank the Secretary of State and the Minister for responding with constructive dialogue in the short space of time since we have got to grips with this issue …
The Irish have come up with something that includes similar severe penalties. It can be done. But this is our legislation in this House. We will do it the way that we want to do it to protect our children and families. I am just about fed up with listening to the mealy-mouthed remarks from those who say, "You can't do it. It's not quite appropriate." To hell with that. We are talking about our children.
On past record, which I just mentioned, in 1977-78, a great friend of mine, Cyril Townsend, the Member for Bexleyheath, introduced the first Protection of Children Bill. He asked me to help him, and I did. We got it through. That was incredibly difficult at the time. You have no idea, Mr Deputy Speaker, how much resistance was put up by certain Members of this House, including Ministers. I spoke to Jim Callaghan—I have been in this House so long that I was here with him after he had been Prime Minister—and asked, "How did you give us so much time to get the Bill through?" He said, "It's very simple. I was sitting in bed with my wife in the flat upstairs at No. 10. She wasn't talking to me. I said, 'What's wrong, darling?' She replied, 'If you don't get that Protection of Children Bill through, I won't speak to you for six months.'" And it went through, so there you go. There is a message there for all Secretaries of State, and even Prime Ministers.
Cates was next:
I too rise to speak to new clause 2, which seeks to introduce senior manager criminal liability to the Bill. As my hon. Friend the Member for Stone (Sir William Cash) set out, we will not push it to a vote as a result of the very welcome commitments that the Minister has made to introduce a similar amendment in the other place [House of Lords].
Protecting children is not just the role of parents but the responsibility of the whole of society, including our institutions and businesses that wish to trade here. That is the primary aim of this Bill, which I wholeheartedly support: to keep children safe online from horrendous and unspeakable harms, many of which were mentioned by my right hon. Friend the Member for South Northamptonshire (Dame Andrea Leadsom) …
Only personal criminal liability will drive proactive change, and we have seen this in other areas such as the financial services industry and the construction industry. I am delighted that the Government have recognised the necessity of senior manager liability for tech bosses, after much campaigning across the House, and committed to introducing it in the other place. I thank the Secretary of State and her team for the very constructive and positive way in which they have engaged with supporters of this measure …
I offer my sincere thanks to the NSPCC, especially Rich Collard, and the outstanding Charles Hymas of The Telegraph, who have so effectively supported this campaign. I also pay tribute to my hon. Friend the Member for Stone (Sir William Cash); without his determination, knowledge and experience, it would not have been possible to achieve this change. He has been known as Mr Brexit, but as he said, even before he was Mr Brexit, he was Mr Child Protection, having been involved with the Protection of Children Act 1978. It is certainly advantageous in negotiations to work with someone who knows vastly more about legislation than pretty much anyone else involved. He sat through the debate in December on the amendment tabled by the right hon. Member for Barking (Dame Margaret Hodge), and while the vote was taking place, he said, "I think we can do this." He spent the next week in the Public Bill Office and most of his recess buried in legislation. I pay tribute to him for his outstanding work. Once again, I thank the Secretary of State for her commitment to this, and I think this will continue our Parliament's proud history of protecting children.
Many members of the public, however, are concerned that this will go far beyond child safety. We shall see.
Gender Recognition Reform (Scotland) Bill: Section 35
Before Christmas 2022, I wrote about the Gender Recognition Reform (Scotland) Bill, which the Scottish Parliament (Assembly) passed in breathtaking haste.
The Secretary of State for Scotland, Alister Jack MP, invoked Section 35 to block it. It was an unprecedented move, because Westminster has never before used Section 35 to block Scottish legislation.
The Commons debated the move on the afternoon of Tuesday, January 17, 2023.
No one could have imagined that all hell would break loose.
Miriam Cates said:
I rise to support the Government's decision to use their section 35 powers with regard to the Gender Recognition Reform (Scotland) Bill …
In paragraph 27, the Government point out that the Bill does not create "sufficient safeguards". They are right to be concerned about "fraudulent and/or malign applications" because of the implications for child safeguarding. This morning, the Education Committee heard from Professor Alexis Jay, who chaired the inquiry into institutional child sexual abuse. It was harrowing to hear the stories of decades of child sexual abuse throughout institutions across the country. One key feature of such abuse is that predators will exploit any loophole that they can find to get access to children, and I am afraid that that is what will happen with the Bill.
We should not be asking how easy it is for someone who is uncomfortable with their sex to obtain a GRC [Gender Recognition Certificate]; we should be asking how easy it is for a predator to get access to children. The Bill would make it vastly easier for a predator to get access to children by changing their gender with an eye to exploiting loopholes to access children and women in particular …
… Changing legal gender, with a potential route to long-term changes to fertility, sexual function and health, is not suitable for 16-year-olds and is a huge safeguarding risk.
Paragraphs 30 and 48 mention membership on the grounds of sex and single-sex spaces. Sex Matters recently did a report that looked at the impact on single-sex spaces of men's ability to access them by changing their gender. Women say, "I never went back to that swimming pool," or, "I never went back to that counselling class," because for many of them, the dignity of having a women-only space and knowing that there will be no men there is important. We will see a chilling effect on important single-sex rights if the Bill passes. As a woman, I fully understand the threats to dignity and safety that the Bill poses, because it will change the social contract. In this country, we recognise that in toilets, changing rooms and public spaces, there are areas where only women are allowed.
In a restaurant recently, I had an experience where a man dressed as a woman walked into the toilets where I was on my own. He stood behind me and stared at me in the mirror, looking me in the eye. I have no idea whether he intended me any harm, but my evolved instinct as a woman was to be frightened, because unlike in almost any other species, women are far less powerful than men and we cannot defend ourselves. [Interruption.] No, it is a fact. The difference in strength between men and women is phenomenal, which is why we have separate sex categories for sport. Women are evolved to be wary of men in intimate spaces, which is why we have single-sex spaces and why they must continue to exist for the safety and privacy of women. The Bill threatens that social contract.
Finally, this threatens the understanding of our law, which should be based on fact, and someone cannot change their sex any more than they can change their place of birth or who their parents are. I fully understand the complex arguments involved and we should treat this with compassion, but if the law is not based on fact, then how can we trust the law? That is why the Government are absolutely right to serve this notice.
The Labour bench was quite noisy.
Madam Deputy Speaker Rosie Winterton called the House to order.
Labour's Lloyd Russell-Moyle (Brighton, Kemptown) rose:
Goodness me, that speech was probably one of the worst transphobic dog-whistle speeches I have heard in an awfully long time. Linking the Bill with predators is, frankly, disgusting, and you [Cates] should be ashamed.
The Deputy Speaker said:
Order. No—calm down!
Somewhere at this point — I didn't see it on BBC Parliament, but I might have looked away — Russell-Moyle, who has form for playing up in Parliament having been suspended for a day for picking up the mace, crossed over to the Conservative benches to sit near Cates.
You can see it here, starting at 1:51. It was part of GB News's Mark Dolan's editorial asking if Labour have a women problem:
Conservative MP Paul Bristow moved down a row or two to sit next to Cates. Father of the House Peter Bottomley is sitting in front of her. Bristow made a Point of Order about Russell-Moyle's behaviour a few days later. More on that in a moment. Here is Conservative MP Laura Farris's tweet of the scene:
Cates spoke:
Will the hon. Gentleman give way?
Russell-Moyle replied:
No, I will not give way to you, or anyone else. [Interruption.] I mean to the hon. Member.
On the substance of this, ignoring that horrible speech we have just heard—
The Father of the House [longest serving male MP] Sir Peter Bottomley, a Conservative, intervened:
On a point of order, Madam Deputy Speaker. Did you hear anything transphobic in the previous speech?
Madam Deputy Speaker responded:
I have to say to the Father of the House that different Members of this House will interpret speeches in different ways. I suggest that we move on quickly, and I think the hon. Member for Brighton, Kemptown (Lloyd Russell-Moyle) needs to calm down, moderate his language and move on to the substance of the debate, otherwise I will ask him to resume his seat.
Russell-Moyle said:
Thank you, Madam Deputy Speaker. It is difficult when we are talking about these emotional matters.
The reality of this is that this section 35 is the new Tories' section 28. It is their continuation of a war against a group of people—their culture war—that they want to pursue, and they think it will advantage them in the polls. That is what the Australian Conservatives thought as well and what the Republicans in the US thought, but I trust it will not, because the people do not like the bigotry that we hear from the other side.
Another Conservative MP, Alicia Kearns, intervened:
I recognise that the hon. Gentleman feels very strongly about this, but I would ask him to use caution about labelling a party as solely one thing, because it is Conservative party colleagues who led for the conversion therapy ban that has been announced today. When I was elected, no other MP talked about it for seven months, and we have delivered it today. I caution him to please not label all Members on certain sides of the House as transphobic or homophobic, and I also challenge anyone being labelled that in this House.
Russell-Moyle then spoke, acknowledged Alicia Kearns's point then said, in part:
What this report says in reality is that there is no amendment this Government would accept or allow to pass. What this flimsy piece of paper indicates is that the only Bill they would accept is the current UK law, and anything that deviates from it would be blocked. I am afraid that is an undermining of the very concept of devolution. The Government should just be honest, and say that they want to remove the devolved competences in this area from the Scottish Parliament and return them back to Westminster. At least that would be an honest debate, rather than this dog-whistle debate about the safety of children, which, frankly, is not correct.
… Let us see how this Bill rolls out in Scotland. We could then see the flaws that might come from it, and the Scottish Parliament could have amended it and taken action, because all Bills are living, practical documents.
I say this as a gay man who loves all-male spaces sometimes and finds that the liberation of having such spaces is important—and I am sure that many women feel that the safety of all-women spaces is important to them—but this Bill does not change that law one bit. GRCs exist at the moment, and we already have a system for people to change their passport and their driving licence without a GRC. Going into a toilet, a public facility or a refuge is not contingent on a certificate at all, so all those arguments are bogus, and to continue a bogus argument knowing that it is bogus is, I am afraid, a form of bigotry.
Afterwards, Conservative MP Craig Mackinley lightened the mood by discussing what one can and cannot do at the age of 16, excerpted below:
I am rather concerned that the hon. Member for Brighton, Kemptown (Lloyd Russell-Moyle) might have a seizure at the end of my speech, but we will do our best to keep him calm …
I do have issues with the whole concept of this—I am not going to stray into that too much, but I find the provision on the age of 16 scarcely believable. Even in Scotland a 16-year-old cannot drive or buy alcohol or cigarettes.
I was going to cover the things that people can do at 16. I understand that in education in Scotland, access for the armed forces to encourage a future and a career in the armed forces is actively discouraged, which is taking a lot of people away from credible and superb future employment. In Scotland—I always like to give the sunbed rule—someone cannot even go on a sunbed, and they cannot contract, yet here we are—[Interruption.] We all wanted to do lots of things aged 16. I rather wanted a tattoo and an earring, but here I am aged 56, and I am damn pleased I did not go down that route. It means that when I lie on beaches, most people sort of point at me say, "Look at that. There's a guy without a tattoo on this beach."
The other safeguards I am concerned about regard sex offenders. Are we really so naive as to think that those who are so minded will not exploit some of these rules to do things that we know they want to do? Are we so naive as to think that people will do the right thing in all circumstances? I am an absolute libertarian Conservative and I have no interest in how people want to live—that is a matter for them. I have completely no interest, and I do not bring my opinions on it to this place for legislation. That is not my interest or concern. I steadfastly say that—people can do exactly as they please …
I am concerned that the process for obtaining a GRC would be much easier and much reduced under the Bill, as opposed to what I think has been a well debated, well rehearsed, and settled argument across the UK up to this date. The settled will has been that a GRC can be obtained where someone has lived as a different sex for two years, had some medical advice and intervention and guaranteed that they shall live in that way for the rest of their days. I think that is sensible; I am fully in agreement with that.
As I said, I am a libertarian Conservative, so I really do not mind what people want to do, but this is an issue about section 35 of the Scotland Act. The Bill would change the Equality Act 2010 and change how we live. I support the Government.
People responding to Laura Farris's aforementioned tweet complained about Madam Deputy Speaker and Lloyd Russell-Moyle:
She should have expelled him, but, then again, she's a Labour MP.
Labour leader Sir Keir Starmer, who wasn't there, didn't say anything, either.
Imagine if a Conservative MP had done that: immediate suspension with the video making the news for weeks!
On Sunday, January 22, The Express reported that Russell-Moyle apologised to Cates:
It is understood that Mr Russell-Moyle has written to Ms Cates, calling the tone of his remarks "a mistake".
Also apologising to the Deputy Speaker on Wednesday, Mr Russell-Moyle said, "I should have expressed my deep disagreement on what I believe is an abhorrent view in a more appropriate way."
On Monday, January 23, Guido Fawkes had a further update. Paul Bristow had raised a Point of Order about the incident:
Guido's post says (red emphases his):
Tory MP Paul Bristow just made a point of order in the Commons rightly condemning the behaviour of Lloyd Russell-Moyle on the green benches last week. While Russell-Moyle has already apologised for failing to control his "passion" during his screed at Miriam Cates last week, his decision to then sit directly next to her on the Tory benches has also sparked outrage. Surely just a coincidence… 
Deputy Speaker Dame Rosie Winterton also responded, although hedged her bets a bit by claiming "it is very difficult for me to know what was in the honourable gentleman's [Russell-Moyle's] mind" when he sat a yard away from the woman he'd just screamed at. Doesn't seem that difficult to Guido…
This morning, Lloyd tweeted:
It is not uncommon at the end of a debate for people to sit at different seats while waiting to enter the chamber or the lobbies.
I had no concept that this was making any member feel awkward and would never do anything to deliberately intimidate anyone in or out of the chamber.
Guido will let observers decide whether Russell-Moyle's seating decision was a mere coincidence…
That statement of Russell-Moyle's is quite something. For a start, this was not at the end of the debate. It was during the debate. As such, no one was waiting to enter or leave the chamber.
His second sentence is absolutely breathtaking. He would have seen Paul Bristow move next to Miriam Cates. She had just related an experience in which she felt intimidated, then Russell-Moyle crossed the aisle to move near her when her expectations would have been for him to remain in his seat across the chamber.
Disgusting.
I do not know if Miriam Cates has been re-selected by her local Conservative Association for 2024. She seems a determined lady and, no doubt, she is a good constituency MP. We need more like her.
More profiles on Red Wall MPs will follow after Easter.
The past week was a newsy one in the UK.
We had Boris's hearing before the Privileges Committee and Matt Hancock being stung by a fake consultancy.
However, it all began on Monday, March 20, and continued on Wednesday with the approval of the Stormont Brake Statutory Instrument of the Windsor Framework for Northern Ireland.
The Windsor Framework replaces the Brexit Northern Ireland Protocol, which everyone knew was imperfect and this new framework replaces it. According to the Government, it renders the Northern Ireland Protocol Bill unnecessary.
However, it seems to Northern Ireland's Democratic Unionist Party (DUP) that it goes too far in favouring the EU. Who can forget the beaming smile on Ursula von der Leyen's face when she signed it alongside Rishi Sunak at the end of February? She knew she had the cat by the tail. Unfortunately, Rishi is still in the dark, as is most of Parliament:
The only vote on it in Parliament was on Wednesday, March 22, 2023. It should be emphasised that was not a vote on the Framework as a whole but only on one statutory instrument (SI) of it, the Stormont Brake.
Rishi overly promoted the Stormont Brake, which, in principle, grants a veto to the Northern Ireland Assembly via the UK Government of new EU acts or rules that it disagrees with.
I cannot see it working as smoothly as specified below. The EU holds the better hand of cards here.
This Twitter thread comes via Jess Sargeant, senior researcher at the Institute for Government, beginning with the flowchart:
The Northern Ireland Assembly, once it reconvenes (the DUP are resisting for the time being), will have a new Windsor Framework Democratic Scrutiny Committee to inform MLAs' (assembly members') decisions on pulling the Brake:
The Brake can be triggered by 30 MLAs from two parties. The Secretary of State (SoS) for Northern Ireland, who sits in Parliament, then reviews the proposed trigger. If the SoS finds it valid, he then liaises with the EU:
In principle, any resolution must have 'cross-community' support in Northern Ireland before being implemented, unless there are exceptional circumstances:
The DUP oppose it as do members of the ERG (Parliament's European Research Group), but it has majority support among MPs:
On Tuesday, March 21, the ERG interviewed the SoS for Northern Ireland, Chris Heaton-Harris MP, a 90-minute session available on parliamentlive.tv. Heaton-Harris could barely look the MPs in the eye as he maintained that voting on the SI (Stormont Brake) was but one of many votes. Perhaps inconveniently for him, a civil servant sitting next to him said that Downing Street would consider a majority vote on the SI proof that MPs approved of the Windsor Framework.
Here is some background on that session from Monday, March 20. Heaton-Harris is on the left of the photo with the ERG's Sir Bill Cash MP on the right:
Guido Fawkes tells us that the ERG wanted to interview Rishi Sunak rather than Heaton-Harris (emphases in the original):
Northern Ireland Secretary Chris Heaton-Harris will appear in front of the European Scrutiny Committee tomorrow afternoon, just a day before MPs vote on the Stormont Brake element of the Windsor Framework Brexit deal in the House of Commons. The Committee's chair, Sir Bill Cash, had previously invited Rishi Sunak, with Cash accusing the PM of dodging scrutiny by repeatedly skipped the invitation. As a compromise, he's sent Heaton-Harris as his loyal lieutenant… 
With the DUP voting against the deal, and the ERG expected to announce their own verdict tomorrow – also not looking positive – it won't be smooth sailing for wise-cracking Heaton-Harris. Stay tuned…
More background from the morning of Tuesday, March 21 follows. The ERG session with Heaton-Harris took place in the afternoon.
A small but vocal opposition bloc was building. Pictured below are Sir Bill Cash, DUP leader Sir Jeffrey Donaldson and Rishi:
Guido's post said, in part:
Tory MPs speaking to Guido say they nonetheless expect the Tory rebellion to be "soft", and "they'll have to have uncovered something pretty bad for a lot of people to vote against it". The Telegraph has heard similarly, with one MP saying the group were "genuinely torn"…
The ERG's Legal Advisory Committee's review of the Windsor Framework can be found here. Although it is 137 pages long, the first 28 pages are the immediately relevant ones. As opponents of the Windsor Framework point out, the Green (customs) lane won't become greener as Rishi said, but rather pinker, as the report states on page 13 (purple emphases mine):
Before coming to the specifics of how the "green lane" would operate as regards movements of goods which would fall within it, it should first be pointed out that there will continue to be many goods moving from Great Britain to Northern Ireland which will fall outside the scope of the "green lane" arrangements and will therefore be subject to the full panoply of EU external border checks, even though those goods are not going to be exported into the Republic or elsewhere in the EU. Businesses within Northern Ireland acquiring goods from Great Britain which intend to sell their products within Northern Ireland, elsewhere in the United Kingdom or to the rest of the world will continue to be damaged by these controls and duties while receiving no conceivable benefit from the NI Protocol arrangements.
The general position will remain that, outside the specific accommodations, EU customs laws will apply to the movement of goods from Great Britain to Northern Ireland (this internal movement is treated as an "importation"26) and to importations of goods from the rest of the world. In other words, there is a customs border, within UK territory, across the Irish Sea, and the EU's rather than the UK's external customs duties will apply to imports from the rest of the world. Importantly, goods which are to be used by businesses in Northern Ireland for "commercial processing" will be subject to EU customs duties, unless the business or the type of processing falls within a specific exemption.
This is why, since Brexit, most British businesses will not ship to Northern Ireland. Big corporations, such as supermarkets, do and will continue to do so, but even British retail chains (e.g. department stores) are not willing to put up with the paperwork and specific knowledge required to ship to Northern Ireland. It's just too much hassle.
For that and many other reasons, the ERG chair Mark Francois called the Framework's Stormont Brake 'practically useless':
Commercial Chancery Barrister Steven Barrett explains why the Stormont Brake could result in 'huge and ongoing fines' for the UK:
The EU can calculate any perceived industry losses if the Brake is applied:
The fines could extend from year to year:
Therefore, the Brake might never be applied:
The ERG's Mark Francois stated:
The star chamber's [the aforementioned report's] principal findings are: that EU law will still be supreme in Northern Ireland; the rights of its people under the 1800 Act of Union are not restored; the green lane is not really a green lane at all; the Stormont brake is practically useless and the framework itself has no exit, other than through a highly complex legal process.'
Thought so.
That evening, another prominent Brexit supporter, Jacob Rees-Mogg, said on his GB News show that he would not be supporting the Government in the vote on the Stormont Brake on the afternoon of Wednesday, March 22:
This was his Moggologue that evening, and the transcript:
Rees-Mogg said that the Government's view, based on a very short summary of the Framework, differs to the ERG's report, which comes much closer to the EU-focused reality:
… everybody has to look through it in detail and that's what's been done by the committee set up by Mark Francois, the chairman of the European Research Group, which went to really strong legal advisers to see.
What was actually happening and what they came up with was not the same as the view given by His Majesty's government.
Indeed, it was closer to the view that was in fact given by the European Commission.
So the Government claimed that 1700 pages of EU laws are disapplied.
The report found no EU laws will be disapplied or removed from Northern Ireland.
We were told that the jurisdiction of the European Court would be disapplied.
The report found Northern Ireland will remain subject to the European Commission and the European Court of Justice, as was said to me by a very senior member of the DUP, European Union law remains a major part of Northern Ireland's settlement and in certain areas outranks UK law.
So we were told that the deal would restore Northern Ireland's place in the Union and safeguard sovereignty. Because this is what it's about. We voted to leave as one United Kingdom, not as Great Britain, and then separately.
Northern Ireland and we are one people.
Under the Act of Union of 1800, we were told that there would be green lanes and you know what a green lane is.
When you come back from your holidays, you go through a green lane and nobody stops you.
But the green lane to Northern Ireland requires 21 pieces of information to be given.
So what was it at that line in Macbeth that may apply to the Windsor framework, the multitudinous Irish Sea and Canadine?
The green one is made red. And last of all, the Stormont brake, which is what we're actually voting on tomorrow, is said to be hard to use.
But even then we've been told that though the vote technically is on the brake, we're actually voting on the whole of the protocol. So even if the brake is good, we're being asked to vote on the bits that are not good.
And the Guardian angels of unionism, the DUP, have said that it's not good enough. So that's the position we're in. We are facing a vote tomorrow.
I will not find it possible to support His Majesty's Government in this vote …
Rees-Mogg then interviewed a KC (King's Counsel) who is a specialist in EU law. He said much the same thing …
… as did former Conservative Home Secretary and former Brexit Party MEP Anne Widdecombe:
On the morning of Wednesday, March 22, The Telegraph reported that Boris Johnson MP would vote against the Stormont Brake SI:
The former prime minister said in a statement to this newspaper that the proposals would keep the province "captured by the EU legal order" and were "not acceptable".
Mr Johnson is expected to interrupt his appearance during the House of Commons Privileges Committee hearing on partygate to vote when the division bell rings …
Mr Johnson told The Telegraph: "The proposed arrangements would mean either that Northern Ireland remained captured by the EU legal order – and was increasingly divergent from the rest of the UK – or they would mean that the whole of the UK was unable properly to diverge and take advantage of Brexit.
"That is not acceptable. I will be voting against the proposed arrangements today. Instead, the best course of action is to proceed with the Northern Ireland Protocol Bill, and make sure that we take back control."
The decision sees Mr Johnson reprise the role he adopted during the final year of Theresa May's premiership, when he put himself at the front of a group of Tory MPs voting against her Brexit proposals. 
A few hours later, Liz Truss said she would also be voting against the SI:
That afternoon, MPs divided — voted — on the SI, which won over nearly all of the Commons. Only 29 MPs voted No, among them the nine DUP MPs:
MPs had very little time to consider the Windsor Framework. There was Rishi's speech to Parliament after it had been agreed, so, 90 minutes. Then there was the 90-minute debate about the SI, which, in reality, was Downing Street's way of approving the whole Framework. Ergo, three hours of discussion about our national sovereignty with regard to Northern Ireland.
On Thursday, March 23, former DUP leader, Arlene — now Baroness — Foster wrote about this parlous state of affairs for The Express:
The Prime Minister promised a vote on the Windsor Framework deal, and this was it – all 90 minutes of it.
The Stormont brake is the central selling point of the agreement between the Government and the European Union to remedy the defects of the NI Protocol.
The idea is that if the Assembly activates the Stormont Brake, then the Government will decide whether to veto whichever new European law has been foisted on the people of Northern Ireland without their say so.
The chances of the Government actually vetoing new European law is next to negligible. As pointed out by the legal opinion of the ERG the Stormont brake is worse than useless because the bar has been set so high and there must be a willingness by the Government to actually trigger the veto – not likely on current experience.
The Government has shown itself in fear of the European Union starting a trade war regardless of how unlikely that is and so they continue to appease the EU's outrageous demands.
It is plain as the nose on your face that the Windsor Agreement was oversold as something it was not.
It was an improvement on the NI protocol, I absolutely acknowledge that, but it falls short of dealing with all the problems. And the Prime Minister and his cheerleaders would have been far better suited to have been honest with us all instead of trying to spin us into the willing suspension of disbelief.
We were told by the PM that the Irish sea border has gone – it clearly hasn't – but this claim in the latest Government infographic has been downgraded to… wait for it… " removes any sense of a border in the Irish sea"… You really couldn't make it up.
How refreshing it would have been if the Prime Minister had announced his deal by saying, "I have moved the negotiations forward, I have made some wins. I recognise it doesn't deal with all the problems, but I will keep working with European colleagues to monitor the issues".
Instead we were treated to spin on a scale not seen since the justification of the Iraq war!
Let's have a look at the reality of the deal:
Firstly, the Stormont Brake is not a veto, no matter what the hapless NI Secretary of State says. The current version is an attempt to put a veneer of consent on the fact that European law will still apply in my part of the United Kingdom.
The mechanism could be strengthened by the Government, because after all Parliament is sovereign, but my guess is that they will not want to upset Brussels.
The Windsor Framework does not deal with the recent decision of the Supreme Court which stated that the Protocol suspended the internal UK trade element of the Acts of Union.
Again, the Government could remedy this element by passing a simple piece of legislation as the later law will take precedence – will they do that? – it would go a long way to dealing with the constitutional aspects of the Protocol.
Another of the elements of the Windsor Framework was the construction of green lanes and red lanes. Sounds good you may think – anything going to NI for final destination from GB will go through the green lane and anything transiting through to the Republic of Ireland will go through the red lane.
However, it is not that simple as there are still forms to be completed to go through the green lane and there is still not full clarity about what goes through the green lanes.
One of the hauliers in NI has described the green lane under the Windsor Framework as not really green but pink, i.e. a lighter version of the red lane!
And what about those manufacturers in NI who only serve the UK market – do they have to abide by EU rules even though their goods are not going to the EU?
As you can see there are many important questions still to be answered and dealt with, but it appears the Prime Minister just wants to push on and prioritise good relations in Europe over internal constitutional issues.
Many who supported Brexit see this Framework as a gateway back into the EU.
Alex Story explained in his article for The Express, 'Sunak capitulated — this is step one to UK's craven re-joining of the EU':
Sunak's Windsor Framework breaks up the United Kingdom. It creates a border that did not exist and that no one wanted.
In effect, Sunak chose subjugation and humiliation.
He didn't kick the can into the long grass so much as build a framework for our eventual and full capitulation.
Accepting no divergence between the United Kingdom and a sclerotic European Union is tantamount to climbing back onto the Titanic to hear the band strike up a tune one last time.
A country unable to pass her own laws to serve her own people according to their needs is not sovereign.
In the short term, given the mess that is the Conservative Party and the duplicity of the Labour Party, there is little doubt that the Government will get its way – by hook or by crook.
Accepting humiliation once, however, is a sure way of guaranteeing we will suffer more indignities at ever decreasing time intervals until, in the end, our heads bowed, we will be forced to re-join on extraordinarily onerous terms. The French will have it no other way.
By choosing short term expediency instead of solid principles, the Government is telling us that our country no longer matters to it.
If this sounds like an exaggeration, it is worth remembering that beyond the empty rhetoric and the torrent of dishonesties we hear daily lies a graveyard of broken promises and discarded pledges.
The jam is always promised for tomorrow.
Our borders are none existent; Our children are under attack in their schools and in their towns; Our police are no longer concerned about real crimes such as burglaries, assaults, and grooming.
Our Government no longer knows how to govern and is desperate to delegate the arduous task to a non-democratic body beyond our shores …
And a country unable to govern itself cannot long survive …
Sunak, to his very small electorate, promised competence.
From the point of view of a marketing exercise, the Windsor Framework and the deception it carried had a certain panache.
But, what the big print giveth, the small print taketh.
In this case, the small print points to one of the greatest acts of abject surrender to a foreign power we have ever witnessed.
Sunak is ensuring the constant interference of the European Union into our internal affairs.
And, lo, so he has.
On Friday, March 24, Foreign Secretary James Cleverly and European Commission Vice President Maros Sefcovic formally adopted the Windsor Framework:
Guido's post says:
Sefcovic is in London today to formally adopt the agreement, after MPs voted in favour of the Stormont Brake element on Wednesday. The one and only time they'll get to do so…
Speaking just before rubberstamping the deal, Cleverly said:
By formally approving the Windsor Framework, we are delivering on our commitment to provide stability and certainty for Northern Ireland. The Framework is the best deal for Northern Ireland, safeguarding its place in the Union and protecting the Belfast (Good Friday) Agreement. I look forward to further effective cooperation with the EU on key issues, such as security and energy.
DUP leader Sir Jeffrey Donaldson is still vowing not to return to power-sharing in Northern Ireland though…
Good for him and the DUP.
This will end up being as divisive as Brexit, because the other main parties in Stormont are ready to resume power-sharing.
The Telegraph stopped publishing their Lockdown Files series earlier this month.
However, I still have quite a few bookmarks to get through from the series.
Simon Case: 'Mr Killjoy'
On March 10, I left off with the top civil servant, Cabinet Secretary Simon Case, rumoured to be considering his career options, more about which below:
Guido Fawkes points out that Case strangely never got a fine (fixed penalty notice) for No. 10 get-togethers during lockdown, even though a Prime Minister (Boris) and a Chancellor (Rishi) did:
On March 7, 2023, The Telegraph reported that, in 2020, Case called himself 'Mr Killjoy' (emphases mine below):
Britain's most senior civil servant said he was "Mr Killjoy" in meetings with "bouncing Boris J" because the former prime minister was too optimistic about the economy during the Covid pandemic.
Simon Case, hired by Mr Johnson from the Duke and Duchess of Cambridge's office to work on the pandemic, was later promoted to Cabinet Secretary and remains in post serving Rishi Sunak.
WhatsApp messages leaked to The Telegraph and published in The Lockdown Files investigation show him complaining about Mr Johnson in June 2020.
In a morning conversation with Matt Hancock, then the health secretary, Mr Case said a strategy meeting later that day would be "even more all over the shop than usual" …
The Telegraph has screenshots of Case's WhatsApp exchanges with Hancock. Case wrote:
We got stuck with PM enthusing about how there were great opportunities ahead for the UK economy …
He ended the message with a forehead slap emoji.
Hancock responded:
He's right. There are. Did you mention there are also some challenges?
Case replied:
Yes — I am becoming Mr Killjoy in meetings with Bouncing Boris J
The article then discusses Case in the present. The Lockdown Files have not done him any favours:
… he has served three prime ministers during his time in office, having occupied the role in September 2020 under Mr Johnson and throughout Liz Truss's tenure in Downing Street.
In recent days, he is understood to have been privately criticised by senior civil servants, including the permanent secretaries of a number of government departments.
"The general feeling among perm secs is that his leadership has been relatively weak. Lots of perm secs will tell you that attacks on the Civil Service have increased in the last few years," a senior Whitehall source told The Telegraph.
"His instinct is more to tuck away and get things done through other routes and back channels rather than stick his head above the parapet. All of that feeds into that criticism of Simon where some have described him as being a bit spineless."
Sources close to Mr Case suggested he was considering resigning and expected him to pursue a new career in academia.
"I think that when he joined the Civil Service in 2006, it was that or academia," said one friend. "I think that the academic world is something he makes no bones about, that he's always admired. It wouldn't surprise me if he did embrace an academic career once he retires."
Another source said Mr Case would be unlikely to follow in the footsteps of his predecessor and take a peerage, adding: "I just don't see the Lords as something he'd be interested in. I think an academic route would be a much more attractive option."
Mr Case's allies in Government were fighting back on Tuesday, insisting he had no intention of resigning and was pushing ahead with plans. The Cabinet Secretary is scheduled to be in York this Friday, meeting civil servants, and in Glasgow next week, with a speech engagement at a Civil Service conference due in July.
A senior Cabinet Office source told The Telegraph: "He is not about to resign this week, next week, or any time soon. He is cracking on with the job."
It is understood Mr Case had conversations with some of Mr Sunak's senior advisers in the wake of the revelations in The Lockdown Files and was assured over his position.
On that subject, another Telegraph article appeared that day, 'Rishi Sunak refuses to say Simon Case should stay in post after WhatsApp backlash':
Rishi Sunak has refused three times to say he has confidence that Simon Case will remain the Cabinet Secretary until the next election, amid a growing backlash to his pandemic-era WhatsApp messages.
The Prime Minister was on Tuesday night asked to comment on speculation that Britain's most senior civil servant was preparing to stand down, but initially said only that he "continues to support the government's agenda," including on small boat crossings.
It came as Labour sources said Sir Keir Starmer would sack Mr Case if he w[ere] to win the next election and The Telegraph revealed new WhatsApp messages in which he criticised "bouncing Boris" Johnson for being too optimistic about the economy during the pandemic.
The 44-year-old mandarin has been accused of "naivety" after a tranche of messages obtained by this newspaper showed he mocked people forced to quarantine in hotels during the pandemic and described Mr Sunak as "bonkers" …
Asked for a third time about the controversy in a press conference on Tuesday, Mr Sunak said he looked forward to working with Mr Case "for a very long time to come" but declined to say whether he thought he would still be in post by the next election.
Cabinet Secretaries typically remain in post in the period before and after a general election to oversee the transition between administrations, leading to speculation in Whitehall that this is a "natural moment for him to do it" …
A spokesman for Sir Keir denied that he had already decided to sack Mr Case if Labour wins the next election.
In a briefing with reporters and press conference on Tuesday Mr Sunak was asked three times whether he believed Mr Case would remain in post and refused to address the issue directly, claiming he had "hadn't actually seen any of the messages".
Cabinet Office sources pointed to the end of his third answer, where he praised Mr Case's record in government, adding: "I'm very grateful to him for that and I look forward to working with him for a very long time to come, quite frankly."
The lockdown sex ban
The Lockdown Files also told us how the ban on sex was arrived at during the first lockdown in the Spring of 2020:
Professor Sir Chris Whitty [Chief Medical Officer (CMO) at the time] warned against imposing the lockdown "sex ban" because the public was not "likely to listen" to an order not to see their partners, The Telegraph can disclose.
England's Chief Medical Officer said the Government should use a "bit of realism" and stop short of an outright ban, instead encouraging couples not living together to avoid contact "if they can", leaked WhatsApp messages show.
Sir Chris's warning came on March 24 2020 – the day after Boris Johnson, then the prime minister, gave the first order that the public should "stay at home" and avoid contact with people living in other households.
For couples living separately, it became an effective sex ban because the public was not allowed to meet up in houses that were not their own …
James Slack, then Mr Johnson's official spokesman, asked Sir Chris and Sir Patrick Vallance, the Government's Chief Scientific Adviser, whether couples could see each other and warned that the Government could be entering "choppy waters" by separating them.
"Sorry for this, but the biggest Q of the day for our finest political journalists is: can I see my boyfriend or girlfriend if we don't live in the same household?" he asked a group WhatsApp conversation containing the two men, Downing Street officials, Mr Johnson and Matt Hancock, the then health secretary.
Sir Patrick replied that the "aim is to break contacts between households so the strict answer is that they shouldn't meet or should bunker down in the same house. But Chris can give the official CMO love advice".
But Sir Chris said the rules should be relaxed to encourage public compliance.
"I think a bit of realism will be needed," he said.
"If it's a regular partner I don't think people are likely to listen to advice not to see them for 3 weeks or maybe more.
"We could say; if they can avoid seeing one another they should, and if either of them has an older or vulnerable person in the house they must."
But in a press conference later that day, Dr Jenny Harries, Sir Chris's deputy, and Mr Hancock said couples should either decide to move in together or remain apart for the duration of lockdown.
"If the two halves of a couple are currently in separate households, ideally they should stay in separate households," said Dr Harries.
"The alternative might be that, for quite a significant period going forwards, they should test the strength of their relationship and decide whether one wishes to be permanently resident in another household."
Mr Hancock added: "There you go. Make your choice and stick with it."
The most high-profile breach of the guidance on couples living separately was by Prof Neil Ferguson, a scientist on the Government's Scientific Advisory Group for Emergencies (Sage).
He resigned from his post after The Telegraph revealed he had invited his married lover to his home on at least two occasions.
He was reinstated several months later.
The article continues:
The guidance for non-cohabiting couples remained in place for two months, until June 1, when it was strengthened with legislation that meant that anyone breaching them could be prosecuted.
The legal rules banned gatherings of two or more people from different households indoors, although couples were free to meet outside.
The rule became known colloquially as the Government's "sex ban" …
The ban was lifted for some couples in England on June 13, 11 weeks after it was first imposed, when the Government introduced "support bubbles" to alleviate loneliness and isolation.
The new rules allowed people living alone to "bubble" with another household and stay overnight.
How lockdown became a reality
Never mind the sex ban, 'The messages that reveal how Britain was plunged into lockdown' is much more intriguing.
In January 2020, Boris was Prime Minister with an 80-seat majority, and we were in our transition year of fully leaving the EU with remaining negotiations underway. For conservative Britons, the world looked bright.
However, a few weeks before, on December 30, China issued a public health alert after a cluster of patients in Wuhan province had respiratory problems.
Here in the UK:
… ministers and officials were discussing the possibility of the outbreak spreading to Europe and possibly the UK.
As the weeks passed, there was mounting frustration over Downing Street's reluctance to engage. Number 10 was buoyed by the UK's recent departure from the EU and did not want Boris Johnson, the then prime minister, making gloomy proclamations about diseases.
On January 23, exactly two months before Boris announced lockdown:
Gina Coladangelo, Mr Hancock's aide and now his partner … was part of a group chat involving the then health secretary and his special advisers …
She WhatsApped a link to a Daily Mail story about passengers arriving at Heathrow receiving advice to ring the NHS 111 number if they got ill. She asked:
I am assuming PHE [Public Health England] have this already under control…??
Emma Dean, a Spad (special adviser) in the Department of Health replied:
Completely.
That day, a civil servant messaged Hancock's media Spad Jamie Njoku-Goodwin:
Should I be worried? About this virus
Njoku-Goodwin quipped:
You might want to cancel you [sic] romantic holiday to Wuhan…
On February 8, Coladangelo sent a link to a Sky News story about a Briton being among five people in France with coronavirus. The following day she sent another link about a Briton infected in Mallorca.
Lord Bethell, the then-minister representing the Department of Health and Social Care in the House of Lords, joked:
Mallorca! Damn, there goes the fallback plan.
By the end of the month, Hancock was busy talking with the devolved nations — Wales, Scotland and Northern — about an 'action plan'.
On February 29, Dominic Cummings tweeted a link to a Mail story about an Israeli vaccine which, according to the paper, was 'just WEEKS away'. The Chief Scientific Adviser, Sir Patrick Vallance replied, in part, that it would take:
many months at the very and most optimistic best.
Chris Whitty replied, in part:
For a disease with a low (for the sake of argument 1%) mortality a vaccine has to be very safe so the safety studies can't be shortcut. So important for the long run.
So they already knew the mortality rate was low. Interesting.
Six minutes later, Vallance replied again:
… existing drugs best things to try for this outbreak. Accelerate vaccine testing where we have good candidates for future, and prepare for manufacturing capacity for longer term.
Existing drugs were never allowed. I would like to see the detail behind that.
On March 1, Boris's adviser James Slack put forward the press briefing format, which he ran by Dominic Cummings.
That evening, Cummings proposed a Singapore-style response to the virus, because:
My impression is media do not expect china [sic] style response nor do they think it possible …
The following day, James Slack asked for advice on whether people should stop shaking hands, as the subject had come up on BBC Radio 4's Today programme that morning.
Cummings, ever in the zeitgeist, responded:
I've stopped!
By March 5:
There were also highly sensitive discussions about what to do if the NHS ran out of staff and beds. If push came to shove, could unqualified volunteers help in intensive care units? Could families be shown how to care for their own sick and dying?
Day by day, the disaster moved closer to home. Terrifying scenes in Italy, where hospitals were overwhelmed by gasping Covid victims and distraught doctors were having to turn away the dying patients were fuelling a sense of impending doom in the UK.
Rumours swirled that Parliament might be forced to close for up to five months. A nervous public was beginning to stay away from restaurants, pubs and theatres – the start of a disastrous hiatus for the hospitality industry.
Warning that insurance would rapidly become a problem, Mr Cummings told Mr Hancock that businesses were "starting to scream" about cancellations. The Department of Health hastily registered Covid as a "notifiable disease", making it easier for companies to claim compensation.
On March 6:
As people began to panic buy, the Government started talking to supermarkets about how to maintain supplies. Officials wondered whether the Government was being seen to do enough.
On March 7, the Government began thinking about a possible ventilator shortage.
On March 8, Hancock messaged Slack about France:
FYI France has just banned gatherings of over 1000 and said no kissing or handshakes. I imagine we will get some questions over why that's different to our approach
Slack replied:
I think we're heading towards general pressure over why our measures are relatively light touch compared to other countries. Also why we aren't isolating/screening people coming back from Italy. We'll need to explain very calmly that we're doing what actually works.
Oh, if they had only left it there, but they didn't.
On March 9, discussions took place about prioritising life-saving healthcare.
On March 10, the Cheltenham Festival (horse racing) opened and would last through March 13:
The first split was over mass gatherings. In England, Sage continued to advise against cancelling big sporting events. On March 10-13, the Cheltenham Festival went ahead. The Scottish government took a different view. As the pandemic progressed, an increasingly vocal Nicola Sturgeon was a persistent source of anxiety for Number 10 …
Slack sent out a message. Note that the media appear in it:
For the first time, it feels as if we're under sustained pressure today over why we aren't doing more. A split with Scotland would be particularly difficult.
We are also in a bad place on Italy. To the media mind, we're asking UK nationals to self isolate and saying no one should travel to Italy, but Italians arriving in the U.K. are free to ignore our advice, hop on the Tube and visit tourist hotspots.
On March 11, the then-Digital Culture Media Sports Secretary Nadine Dorries was the first MP to get Covid:
Amid speculation over who else she might have infected, Downing Street was being asked whether Mr Johnson was at risk.
Hancock replied, in part:
PM was not in close contact with Nadine. You have to be within 2m of someone to pass it on, which he tells me he was not. CMO content with this
James Slack asked for an answer on the policy about Italy. Hancock responded:
Because of the level of risk in Italy
Hmm.
Patrick Vallance sent a message, the first part of which reads:
Not correct that the test does not work on people with no symptoms. It does and that's why we contact trace.
Hmm.
Hancock responded to Vallance's message, in part:
… Patrick what you've said is not right.
The clinical advice I've had is that the test is NOT reliable on people without symptoms.
I thought so, even at the time.
He ended with this:
Can the scientists please clear this up urgently
The article continues:
Inside Downing Street and the Department of Health, senior figures were fixated by growing calls from the media for more action. Anxious to retain control of the narrative, they fretted that Mr Johnson was being too cautious about imposing restrictions, and discussed how best to change his mind …
Cummings sent a long message reflecting his frustration. At that point, the Government advised frequent and lengthy handwashing. Cummings wanted social distancing measures, citing the new CDC policy in the United States and imagining what the British media and/or the public would say:
*'WHY WAIT 5 DAYS WHY NOT MOVE NOW AND FLATTEN CURVE EARLIER??'*
Slack replied, excerpted:
Agree with all of this. We're at a tipping point in the media cycle … The Times and The Telegraph leader columns today point to the growing disquiet …
On March 14, the Cheltenham Festival was over. It was blamed for an uptick in cases. Meanwhile:
All over the world, politicians wrestled with the moral and practical implications of letting the virus run its course, allowing populations to build up "herd immunity".
It was a source of much heated debate in government, but "letting it rip" was never UK Government policy. Mr Hancock was furious when Sir Patrick publicly suggested otherwise …
The article has screenshots of the many WhatsApp conversations that took place about testing, the media and schools.
On the evening of Monday, March 16:
Mr Johnson addressed the nation and warned that, without drastic action, the virus would spiral out of control.
The next day:
The elderly and vulnerable were told to stay at home for 12 weeks. Schools would remain open – but not for long. Ministers rushed through legislation giving the Government unprecedented new power to take control of essential services and restrict individual freedoms. Some hospitals were already beginning to struggle because of staff absence …
On March 19:
As the nation headed inexorably towards its first-ever national lockdown, some voices, notably those in the Treasury including Liam Booth-Smith, the then chancellor Rishi Sunak's special adviser, were trying to present the alternative argument …
Booth-Smith asked, quite rightly:
… so how much additional benefit does 'locking down' actually get you?
Cummings, a lockdown zealot — even though he would violate the policy himself by driving his wife and young child to County Durham — replied:
All stop using lockdown it's confusing
We're trying to stop all non essential social contact. The problem is defining non essential
By Friday, March 20, Rishi's optimistic budget of March 11 had died a death:
Mr Sunak, who had already announced billions of pounds worth of Covid loans and grants, unveiled his furlough scheme, under which the Government undertook to pay 80 per cent of workers' salaries. 
All pubs and hospitality were ordered to close from midnight that night. Then came the problems with personal protective equipment …
On the evening of Monday, March 23, at 8:00 p.m.:
the UK went into full lockdown with Mr Johnson's order to "stay at home". It was the first of three national lockdowns [in England, anyway], the last of which would only be lifted more than 12 months after the first had begun.
WhatsApp auto-delete now active

In the wake of The Lockdown Files, The Telegraph reported that some in government were changing their WhatsApp settings: 'Ministers activating auto-delete on their WhatsApp messages':
Cabinet ministers are using technology that automatically deletes WhatsApp messages, raising fears they are circumventing the Government's transparency rules.
Some frontbench figures have switched on a function offered by the social media service that effectively means messages self-destruct after a short time period, such as a day.
It calls into question whether ministers are fully following guidance that electronic messages about government policy should be stored for possible Freedom of Information requests.
Some political advisers have even switched on the technology in the wake of The Lockdown Files, which revealed some of the 100,000 WhatsApp messages involving Matt Hancock.
Opposition MPs called for the practice to be stopped on Tuesday, questioning why government ministers would choose to automatically delete some messages …
Such discussions are theoretically covered by the Government's existing transparency rules but they rely on ministers deciding which messages are relevant and storing them.
The Cabinet Office has guidance on the use of private emails which also applies to "other forms of communications and records which deal with departmental business", such as WhatsApp messages.
The guidance reads: "The responsibility for deciding whether emails should be retained rests with the originator and recipient.
"In general terms, a record need only be retained if it is needed for substantive discussions or decisions in the course of conducting official business."
How many ministers are using the automatic deletion tool on WhatsApp and for how many interactions is unclear.
Similarly it is not known how often ministers pass on WhatsApp messages about detailed policy discussions to the civil service to be stored.
However, the fact that some ministers are using the automatic deletion mechanism has prompted some MPs to raise concerns that not enough information is being stored …
A Cabinet Office spokesman said: "In the modern age, ministers will use a variety of communication channels for discussions so appropriate arrangements are in place for the management of electronic communications."
Who else is among those who have set WhatsApp to auto-delete? None other than Simon Case, as The New Statesman reported on March 17. Their scoop comes from Boris's sister Rachel Johnson:
Props to Rachel Johnson, the journalist and sister of the former prime minister, Boris. She provided great value for money for attendees of the Society of Editors' Media Freedom Conference in London on Wednesday, 15 March.
Chairing a panel discussion on the press, politics and police, Johnson provided her audience of journalists with something of a scoop on Simon Case, the Cabinet Secretary, who has come under pressure over leaked WhatsApp messages that have come to light in the Telegraph's Lockdown Files. (One message showed Case saying it was "hilarious" that holidaymakers were being "locked up" in quarantine hotels.)
"I had to be in contact with Simon Case about something a month or so ago," said Johnson. "And when I was WhatsApping him, my WhatsApps disappeared because he's now set his phone so that all his WhatsApps disappear immediately." She added: "I think they disappear within hours, even. You know, so there's no record of all the things he's said to me."
(Without wishing to overcomplicate this story, the Chatterer would note as well that, in January, Johnson said Case had questions to answer in the row over whether the BBC chairman Richard Sharp played a role in a loan-guarantee arrangement between Boris Johnson and the former PM's distant cousin Sam Blyth.)
Who'd a thunk it?
More on The Lockdown Files tomorrow.
Before David Cameron became Prime Minister in May 2010, Conservatives used to encourage marriage and the family.
Very few Conservatives these days speak highly of either institution in or out of Parliament.
Two debates in the House of Commons within a week of each other demonstrate the low regard the Conservative Government has for families.
Education
On Wednesday, March 8, 2023, at Prime Minister's Questions (PMQs), Conservative MP Miriam Cates, who represents Penistone and Stockbridge (a Red Wall constituency), expressed her concern to Rishi Sunak over the adult — not to mention deviant — nature of the sex education curricula offered in schools in England.
The Telegraph reported (emphases mine):
Rishi Sunak has ordered an urgent review of sex education after The Telegraph exposed evidence of the widespread teaching of "age inappropriate" materials in schools.
MPs have welcomed the news, but warned that the review must be independent as the Department for Education (DfE) has produced "confusing" guidance.
This week, nearly 50 Conservative MPs wrote to the Prime Minister urging him to launch an independent inquiry into "age inappropriate" sex education following evidence that graphic sexual content and gender ideology was being widely taught in schools.
The letter, co-ordinated by Miriam Cates, the MP for Penistone and Stockbridge, was signed by Priti Patel, the former home secretary; Simon Clarke, the former levelling up secretary; and Jonathan Gullis, Andrea Jenkyns, Brendan Clarke-Smith and Kelly Tolhurst, all former Cabinet ministers.
It came after The Telegraph revealed last week that some 13-year-old pupils have been taught there are 100 genders, while in some schools children as young as 12 have been asked how they feel about oral and anal sex.
On Wednesday, Mr Sunak told the Commons that he would now bring forward a review into sex education …
In the Commons, Mrs Cates said: "Graphic lessons on oral sex. How to choke your partner safely, and 72 genders. This is what passes for relationships and sex education in British schools.
"Across the country, children are being subjected to lessons that are age inappropriate, extreme, sexualising and inaccurate, often using resources from unregulated organisations that are actively campaigning to undermine parents.
"This is not a victory for equality. It is a catastrophe for childhood."
In theory, parents are supposed to be able to see the teachers' materials for these lessons. However, in reality, some parents have been denied access to them. Others can see only a broad outline of the curriculum, which does not include specific lesson content.
This has been allowed to go on since 2019, with input from sex equality charities and their activists.
One teachers' union blamed the Government. No surprise there:
James Bowen, the director of policy at the NAHT school leaders' union, said it was hard " to be anything other than deeply concerned by this announcement".
"The overwhelming majority of schools are doing nothing more than following the Government's own statutory guidance when it comes to relationships and sex education," he said.
"It is worth remembering that the current curriculum was subject to extensive consultation before it was introduced. We have seen no evidence to suggest there is a widespread problem with pupils being presented with age-inappropriate materials and if this were the situation, we would expect it to have been picked up on a case-by-case basis.
"There is a real concern that this is a politically motivated review, rather than one based on the reality of what is happening in the vast majority of schools up and down the country.
"Our appeal to [the] Government is to ensure this review is now handled with the care, sensitivity and impartiality it requires and to listen carefully to the voices of education professionals and pupils."
Notice that he omits the voice of parents.
Jeremy Hunt's budget
On Wednesday, March 15, Chancellor Jeremy Hunt presented his budget. It is rather Blairite in many ways. Most people will find it 'middle of the road'. Upon closer inspection, there is no plan for growth through tax cuts. Furthermore, corporation tax will rise to 25%. There is much more that one could criticise. Not mentioned in Hunt's speech is the drastic reduction of capital gains allowance this year and next year.
This is what Hunt had to say about working mothers (see Column 846):
For many women, a career break becomes a career end. Our female participation rate is higher than average for OECD economies, but we trail top performers, such as Denmark and the Netherlands. If we matched Dutch levels of participation, there would be more than 1 million additional women working. And we can do that.
So today I announce a series of reforms that start that journey. I begin with the supply of childcare. We have seen a significant decline in childminders over recent years— down 9% in England in just one year. But childminders are a vital way to deliver affordable and flexible care, and we need more of them. I have listened to representations from my hon. Friend the Member for Stroud (Siobhan Baillie) and decided to address this by piloting incentive payments of £600 for childminders who sign up to the profession, rising to £1,200 for those who join through an agency.
I have also heard many concerns about cost pressures facing the sector. We know that is making it hard to hire staff and raising prices for parents, with around two thirds of childcare providers increasing fees last year alone. So we will increase the funding paid to nurseries providing free childcare under the hours offer by £204 million from this September, rising to £288 million next year. That is an average of a 30% increase in the two-year-old rate this year, just as the sector has requested.
I will also offer providers more flexibility in how they operate in line with other parts of the UK. So alongside that additional funding, we will change minimum staff-to-child ratios from 1:4 to 1:5 for two-year-olds in England as happens in Scotland, although the new ratios will remain optional with no obligation on either childminders or parents to adopt them.
I want to help the 700,000 parents on universal credit who, until the reforms I announced today, had limited requirements to look for work. Many remain out of work because they cannot afford the upfront payment necessary to access subsidised childcare. So for any parents who are moving into work or want to increase their hours, we will pay their childcare costs upfront. And we will increase the maximum they can claim to £951 for one child and £1,630 for two children, an increase of almost 50%.
I turn now to parents of school-age children, who often face barriers to working because of the limited availability of wraparound care. One third of primary schools do not offer childcare at both ends of the school day, even though for many people a job requires it to be available before and after school. To address this, we will fund schools and local authorities to increase the supply of wraparound care so that all parents of school-age children can drop their children off between 8 am and 6 pm. Our ambition is that all schools will start to offer a full wraparound offer, either on their own or in partnership with other schools, by September 2026.
Today's childcare reforms will increase the availability of childcare, reduce costs and increase the number of parents able to use it. Taken together with earlier Conservative reforms, they amount to the most significant improvements to childcare provision in a decade. But if we really want to remove the barriers to work, we need to go further for parents who have a child under 3. For them childcare remains just too expensive.
In 2010, there was barely any free childcare for under-fives. A Conservative-led Government changed that, with free childcare for three and four-year-olds in England. It was a landmark reform, but not a complete one. I do not want any parent with a child under five to be prevented from working if they want to, because it is damaging to our economy and unfair, mainly to women, so today I announce that in eligible households in which all adults are working at least 16 hours, we will introduce 30 hours of free childcare not just for three and four-year-olds, but for every single child over the age of nine months.
The 30 hours offer will now start from the moment maternity or paternity leave ends. It is a package worth on average £6,500 every year for a family with a two-year- old child using 35 hours of childcare every week, and it reduces their childcare costs by nearly 60%. Because it is such a large reform, we will introduce it in stages to ensure that there is enough supply in the market. Working parents of two-year-olds will be able to access 15 hours of free care from April 2024, helping about half a million parents. From September 2024, that 15 hours will be extended to all children from nine months up, meaning that a total of nearly 1 million parents will be eligible. From September 2025, every single working parent of under-fives will have access to 30 hours of free childcare per week.
Here, too, Miriam Cates spoke out, saying that Hunt's plan did not offer parental choice:
Jacob Rees-Mogg, a father of six, had Cates on his show last night:
Guido Fawkes has the story (emphases his):
Miriam Cates has added her name to the list of those criticising the Chancellor's £4 billion childcare handouts which, as Guido pointed out yesterday, restrict choice. Speaking to an approving Jacob Rees-Mogg on GB News, Cates joined a growing list of Conservatives, including Ranil Jayawardena and Kit Malthouse, speaking out against the policy. She got to the heart of the matter:
It doesn't provide choice… many mothers do want to go back to work, but many mothers don't. And they want to look after their own children, particularly babies under two and I very much question if this is the right policy for children and families.
At least some in the Conservatives are intent on playing happy families…
I would not have thought that the Centre for Social Justice and a Conservative MP would be natural allies, but the think tank applauded her and showed a video of her testimony at Westminster Hall in a side debate:
Most other European countries lower taxes for parents. I have seen the French advert showing the mother cradling her newborn and advising that she contact her tax office as soon as practicable to let them know she has just had a child. Note that British working class voters would rather provide child care themselves were money not an object:
Conservative MP Andrea Leadsom has spoken several times over the past few years in favour of 1000 Days, a programme that promotes babies' development in the first three years of life. The CSJ refers to it below and rightly recommends the resurrection of the Marriage Allowance, a Conservative policy that disappeared some years ago:
I fully agree that any tax scheme should discourage abuse from people who are already receiving benefit, but encouraging more mothers to stay at home in those precious early years at least would effectively ward off influences from outside the home:
Guido Fawkes also supports the aforementioned French policy of tax relief:
Guido says that his wife decided to give up work to care for their children:
Other mothers agreed:
Guido has a post on the French policy and on Conservative MPs who support a family-friendly policy for parents:
Guido would suggest borrowing from our esteemed European neighbours. As Madeline Grant points out, in France, parents of two children only hit the top tax bracket when household income reaches €250,000, while the childless hit it at under €100,000. French family taxation is based on the number of adults and children within the household, rather than on the parents individually. Policy Exchange say that "at an annual income of £30,000, a UK household currently pays £3,250 in tax with an actual tax rate (ATR) of 11%. Under the French principle of quotient familial, that same household would pay no tax (an ATR of 0%)". Making babies tax deductible is a sexy policy.
If a UK household earns £70,000, they currently pay £15,500 in annual tax with an ATR of 22%. Applying the French principle would save the same family £9,000. Even in the US, Obama gave parents a $1,000 tax break per child in 2010. This would also benefit stay-at-home mums (or dads) who choose to look after their own children rather than to farm them out to strangers in order to boost GDP. Childcare policy in the UK is framed in terms of what is good for the economy rather than what is good for children and family life. Tax deductible children would please the squeezed middle-classes during tough economic times… who knows they might even vote for a party that puts it in the manifesto.
Kit Malthouse, a former Cabinet member:
had an article in The Times on same theme this morning:
If we are serious about supporting people to have children and get back into work, a major childcare overhaul is clearly the right place to start. Here is how we start.

We need to begin with the tax system. I have often wondered why we recognise children in the welfare system but not through our taxes. In that sense, they're treated like a burden that needs offsetting rather than a cause for celebration and an economic bonus. To fix that, we could abolish child benefit and simply gave parents a tax-free income allowance of, say, £15,000 per child up to 11 years old. If you are a couple on £30,000 each with two children, for instance, this would mean that with your existing personal allowance, you could jointly earn £55,140 before you paid a penny to the government …

So rather than collecting money from families in taxation, losing some of it in administration and then returning it to them as childcare, we could simply leave more of it in their pockets to do with as they see fit.
Another Conservative, Ranil Jaywardena, spoke out in favour of a flexible taxation system for families:
He said (see Column 783):
… I welcome the Chancellor's commitment to helping families with the cost of childcare specifically. It is a great starter for 10. Finding ways to keep down the cost of childcare for parents is important, but we must not lose sight of keeping down the cost of childcare for the taxpayer too. It is extraordinary to see some on the Opposition Benches and elsewhere attack the alignment of the system in England with the system in Scotland, increasing the ratio from 1:4 to 1:5, but what is missing is choice. For 25 years, the consensus has been that everyone should go to work, and the state will provide ever more free childcare, except that it is not free—taxes are at a 70-year high—and I contend that choice is missing from the equation.
Instead of a one-size-fits-all system from Whitehall, families should be able to decide what works for them. Instead of the Government dictating how many hours of free childcare and from who in the years ahead, how about moving to a system of tax reliefs, so that parents can pay for the childcare they want, and from whom they want? Indeed—a radical thought—one parent could even choose to stay at home, allowing the other to work extra hours, if that is what they want to do.
I therefore urge the Treasury to consider reigniting the review into family taxation. Things may have changed since 2019, but I recall that in 2019 single people without a family paid 8% less tax than the OECD average, but a single-earner couple, with two children, paid 26% more. There is an injustice in this that I hope the Government will address in the not-too-distant future by commissioning a family tax review.
That tax review should reflect the fact that familial support not only for childcare but for elderly relatives provides about £1 trillion of unpaid care in this country, which people could decide to pass to the state. I do not believe that is desirable, and I believe that the state should in turn provide the environment that allows people to take responsibility for themselves.
On wraparound childcare, this is an excellent step to help working parents and for them not to have to worry about what happens after school time, but I urge the Government to ensure that we give that money directly to schools and academies to do what is right, providing a co-curricular offer that is suitable for their particular community and their children, who they know best, rather than any Government Department, or indeed any local authority.
We cannot pay for any of this without strong British businesses, and I welcome the full expensing of the business investment …
Is there any chance that Jeremy Hunt will listen to these sensible suggestions?
I doubt it. They are not statist enough for him or most Conservative MPs, sadly.
Interestingly, as I close this post on Thursday afternoon, Conservative MP George Eustice, another former Cabinet member, is on the side of his colleagues quoted above. Eustice said in Parliament this afternoon that our society no longer values motherhood and considers the term 'stay-at-home mother' to be derogatory.
How right he is.
As for David Cameron, Eustice said in his speech that the former Prime Minister was the greatest supporter of marriage and family ever but that 'bean counters in the Treasury ground him down' over tax relief.
There must be some way to discourage more welfare claims for motherhood and a way to encourage two-parent families and marriage tax allowances.
It is an interesting coincidence that family policies are being debated just days before Mothering Sunday, March 19.
On Wednesday, March 8, I went out for a leisurely lunch.
I thought I could avoid the parliamentary debate, which inevitably becomes party political. As it did … on Thursday afternoon, while I was preparing dinner.
Looking back at Wednesday, Guido Fawkes's Christian Calgie gallantly wished British women a happy day. Pictured are all the British political parties that, at one time or another, have had an elected female leader. All, that is, except for — wait for it — Labour:
Guido's post says (emphases his):
On today's International Women's Day, Guido thought it was time to celebrate the first female leaders of significant political parties in the UK. The timeline of trailblazers is:
Conservative Party,

Margaret Thatcher, 1975

Green Party,

Jean Lambert, 1992

Welsh Nationalists,

Leanne Wood, 2012

Scottish Nationalists,

Nicola Sturgeon, 2014

Democratic Unionist Party,

Arlene Foster, 2015

UKIP,

Diane James, 2016

Liberal Democrats,

Jo Swinson, 2019

[

Labour Party

,

NA, NA]
Unless Sir Keir has a big announcement to make, sadly the Labour Party can't yet properly participate in this list…
Guido and his team reinforced the message about Labour's lack of elected lady leaders:
A Labour group later tweeted about diversity on this day. Look closely at the photos. What do you see?
A cross-dressing career comedian who hopes to be a Labour candidate in the next election is pictured in the second row from the bottom, second photo from the right. His name is Eddie Izzard. This week, he declared that he would like to be known as Suzy.
Labour make themselves out to be the progressive choice. Yet, one of their MPs, Lloyd Russell-Moyle, did a bit of mansplaining to a doctor on the BBC's Politics Live about the importance of using gender-neutral language when describing medical conditions that women have. Recently, he tried to intimidate a female Conservative MP during a debate in the Commons:
The Shadow Health Minister, Labour's Wes Streeting, has form when it comes to names for women:
Perhaps he has since repented. After all, the tweets Guido captured (more here) are well over 10 years old.
Before marking the next general election ballot for Labour, British women might want to imagine themselves in a hospital bed and having Mr Streeting visit their bedside as Secretary of State for Health and Social Care in a few years' time. What would he call them: 'old bag', 'cow' or 'tart'?
Elsewhere, a Conservative MP, Theresa Villiers, appeared on GB News and sent Guido a photo of the channel's gender-neutral loos:
Guido tells us that GB News has nothing to do with the loos. They come with the building:
Chipping Barnet MP Theresa Villiers was on GB News and sent Guido this picture of the gender-neutral toilets at their Paddington studio – she was most disconcerted to find men coming in whilst she was touching-up her make-up. Opining that "This doesn't seem entirely consistent with their apparent enthusiasm for fighting culture wars" …
The private sector seems to be solving the fellas-in-frocks in the same washroom as teenage girls problem with single cubicle washrooms. It is obviously more expensive to build single-person washrooms, the higher costs are less controversial than the alternative. Expect to see more of these in the future…
Returning to Labour, Shadow Chancellor Rachel Reeves gave the Evening Standard an incredible piece of misinformation on Wednesday:
Ms Reeves began her career at the Bank of England, where the court of directors has 13 men and just three women …
"I want it to change," Ms Reeves told the Standard.
"I have worked at some of those institutions. The Bank has never had a female governor. There has never been a woman chancellor in 800 years. I want to see change.
"When I started at the Bank of England my graduate intake was 37 and only six of us women."
Ms Reeves began at the Bank 23 years ago, in the same graduate intake as former Health Secretary Matt Hancock.
She's right, but she's also very wrong. An MP should know better.
I read that article on the train home from lunch yesterday and nearly went ballistic.
Here's why.
Every now and then, a photographer manages to get the part of the door to No. 10 on which there is a brass plate above the doorknob that reads:
FIRST LORD OF THE TREASURY
Perhaps Ms Reeves needs to look at more photos of that famous door.
The First Lord of the Treasury is a title that the Prime Minister holds.
To whom does the Chancellor report? The Prime Minister.
We have had three female First Lords of the Treasury — thanks to the Conservatives. They are Margaret Thatcher, Theresa May and Liz Truss. The inscription is just above the letterbox slot:
That's three more female Party leaders and Prime Ministers than Labour have had.
The UK is doing well as far as women in leadership positions go. Well done, Conservatives.
Yesterday's post covered Nicola Sturgeon's resignation as First Minister of Scotland on February 15 and the reasons for it.
The story continues.
More reaction
When Jacinda Ardern stood down in New Zealand, British conservatives wondered if Sturgeon would follow suit.
After all, the metropolitan elite adored both female 'saints', mothers of their respective nations.
On Thursday, February 16, The Telegraph's Jenny Hjul pointed out (emphases mine):
In her eight-plus years as Scotland's First Minister, Sturgeon has been loved and loathed in equal measure at home, something she acknowledged in her press conference. But beyond her domain, she has been regarded in many circles as an almost saintly presence, a pioneer of progressive causes, and a beacon of pure, strong leadership.
To the frustration of her critics in Scotland, she has been able to pull the wool over the eyes of London liberals in particular and garnered a good press over her botched handling of everything from Covid to the fall-out from Brexit.
In her parting, parallels will no doubt be drawn with that other recent quitter, and Sturgeon idol, Jacinda Ardern. Like the former premier of New Zealand, the SNP leader's attempt to portray her departure as an honourable exit will be taken at face value by those who understand little of the domestic politics that have made her position untenable in the long-term.
Sturgeon, like Ardern, banged on about running out of steam, about the pressures of the job and the constant scrutiny. And she flagged up what she saw as her achievements ("Scotland is a fairer country"), while regretting that she could not bring more rationality to politics. "If all parties were to take this opportunity to try to de-polarise public debate just a bit," she pleaded.
This is rich indeed from a politician who has thrived not just on driving divisions between Scotland and the rest of the UK but on polarising opinion north of the border.
Far from being democracy's champion, her party has shut down dissenting voices while claiming to represent the whole of Scotland. Under her tenure, Scotland has become all but a one-party state, with many public bodies, and civic and cultural organisations captured by SNP groupthink.
Sturgeon said her decision to stand down had crystallised over the past few weeks, perhaps since Ardern's resignation showed that even great (by their own reckoning) leaders have their limits. But more likely it is because her grip has gone – over her party, which is divided and growing rebellious, and her country, which is further away than ever from voting Yes …
To her wider fan club, she may have relinquished her crown with grace, but to those who know her better it is her final face-saving gesture.
The Gender Recognition Reform Bill, which the British government vetoed by using Section 35 provisions for the first time, has caused a split within the Scottish National Party. On Thursday, February 16, The Times reported that Party members' views are divided on the legislation:
The Scottish government has until April 17 to decide whether to appeal against the UK government's veto of the legislation, which would allow people to self-identify their gender and lower the age of transition to 16.
The SNP's ruling national executive committee will meet tonight to decide the rules and timetable for the leadership contest, raising the prospect that there may not be a new first minister in place before the key call has to be made …
"I think it dies in its current form," a senior SNP source said. "The sensible approach would be [for the new leader] to get round the table [with the UK government] and find a compromise on the bill."
The party is split on the bill, meaning whatever happens it will be controversial. Opening talks with Conservative ministers will anger those who lobbied for the bill to be pushed through with little compromise.
However, there is a significant number of elected representatives and grassroots members who are concerned about fighting a court case when a recent poll found that 50 per cent of voters in Scotland back the UK government's position …
Mixed reactions
When Liz Truss was Prime Minister, she labelled Nicola Sturgeon an 'attention seeker' and, as such, someone to be ignored. She never contacted Sturgeon.
Rishi Sunak was different and got in touch soon after he entered No. 10. He was rather gushing on her departure:
President Trump, on the other hand, viewed Sturgeon differently:
The day she resigned, he posted a statement on his 2024 campaign website:
Good riddance to failed woke extremist Nicola Sturgeon of Scotland! This crazed leftist symbolizes everything wrong with identity politics. Sturgeon thought it was OK to put a biological man in a women's prison, and if that wasn't bad enough, Sturgeon fought for a "Gender Recognition Reform Bill" that would have allowed 16-year-old children to change their gender without medical advice. I built the greatest Golf properties in the World in Scotland, but she fought me all the way, making my job much more difficult. The wonderful people of Scotland are much better off without Sturgeon in office!
Catalogue of failures
Is Trump right?
While he is no fan of the former US president, Scottish Conservatives leader Douglas Ross would agree with those sentiments.
On the morning of February 15, the sun was shining in the north east of Scotland, where Ross, an MP and MSP, was campaigning for candidates in an upcoming by-election. The sun was shining:
That was at 9:46. In just over an hour, the sun would shine even brighter with the unexpected news of Sturgeon's resignation.
The following tweet represents the political disconnect among the Scottish public between those who thought Sturgeon was a disaster and those who thought she was a saint:
I will certainly miss First Minister's Questions which always began with a Sturgeon-Ross face-off. In the last two sessions, Sturgeon was unable to answer Ross's question about sexual identity — 12 times, no less.
The evening that she resigned, Ross wrote in The Telegraph about her catalogue of failures:
She is, rightly, regarded as a formidable politician. But equally, it's hard to dispute that, by obsessing over independence, she has always governed in the nationalist interest, rather than the national interest.
Any rational analysis of her record as First Minister would have to conclude that it's one of failure.
On education, the policy area she asked to be judged on, it's dismal. Scotland tumbled so far down the international league tables that we were withdrawn from them to save face.
For a self-avowed "progressive", Nicola Sturgeon's abject failure to eradicate the poverty-related attainment gap, as promised, is a damning indictment of her reign.
Then, there's the increased violence in our classrooms and the first teacher strikes in almost 40 years.
On her watch, Scotland's NHS is on its knees with record waiting times for treatment and burnt-out, exhausted staff. The root cause is dismal workforce planning by successive SNP health secretaries, including Nicola Sturgeon who cut the number of funded places for homegrown medical students at Scottish universities.
Similarly, on transport, the ledger is grim. The ferries scandal is the most egregious case of wasteful public spending in the devolution era, with the latest cost estimates (£450 million) showing it's set to overtake the Scottish Parliament building as a money pit.
But it's about so much more than taxpayers' cash being squandered. It bears two other hallmarks of the Sturgeon government: remote Scotland being an afterthought and secrecy.
Meanwhile, the death toll on two of Scotland's vital trunk roads, the A9 and A96, continues to rise while the SNP, in thrall to the anti-car Greens, drag their heels on long-standing promises to expand the dual carriageways, and our trains remain over-priced and unreliable under nationalised ScotRail.
The First Minister has grown increasingly out of touch with the public mood in recent months, leaving her successor with dilemmas over whether to ditch or amend flawed policies, such as the National Care Service, the Deposit Return Scheme and, of course, gender self-ID.
By tying herself in knots over the latter, she was left in the absurd position of being unable to refer to a double rapist as a man.
That, coupled with her dismissal – indeed, smearing – of those who warned that her Gender Recognition Reform (Scotland) Bill threatened women and girls' safety betrayed her "I know best" arrogance.
Arguably, Nicola Sturgeon's greatest failing is Scotland's drug death epidemic, which has mushroomed to such an extent under her that fatality rates are now the worst in Europe by an enormous margin.
"We took our eye off the ball" was her slip-of-the-tongue mea culpa for those appalling statistics. But it could, and should, serve as her wider epitaph.
Coronavirus measures
Ross did not mention, or perhaps he agreed with, Sturgeon's draconian coronavirus policies.
From the start, she did things more radically than Boris Johnson. For whatever reason, the BBC televised her lengthy lunchtime coronavirus press conferences throughout the UK, when her policies pertained only to Scotland.
Her right-hand woman was Devi Sridhar, an American public health researcher who is the chair of global public health at the University of Edinburgh. The BBC frequently interviewed Sridhar for all the UK to see and hear, a subtle attempt to get every other Briton on board with Scotland's draconian policies.
In April 2020, the SNP's then-Westminster leader Ian Blackford MP wrote to Boris to delay full Brexit because of the pandemic.
On Sunday, April 5, The Express reported:
In his letter, Mr Blackford urges Mr Johnson to seek an extension to the current transition period in a bid to focus resources and efforts on tackling the pandemic – claiming failure to do would be "beyond reckless". He added: "We are not asking you to change your views on Brexit – we are simply asking you to recognise reality."
"This isn't about fighting old battles or rehearsing old arguments – it's about recognising the needs of people right now."
Fortunately, Boris ignored him.
However, that same day proved that the SNP was not whiter than white. Sturgeon's chief medical officer Dr Catherine Calderwood had already broken lockdown restrictions twice by travelling to her weekend home from Edinburgh.
Sturgeon did not act and even initially refused Calderwood's resignation.
If she had stayed then Ms Sturgeon and, probably the British government too, would have had to face the fact that for many politicians, the media and for huge sections of a terrified and angry general public, it will be this doctor – and not the nation's battle against a killer virus – who would have become the main issue. Dr Calderwood would have been the story, not coronavirus. And in the harsh world of politics, that's what ultimately counts.
She admitted that not once but twice she drove the 40-odd miles to her second home at a time when she is on our TV screens and in our newspapers constantly urging the rest of the population to stay at home and not to go off on non-essential trips to the countryside.
Whichever way you cut it, and although the First Minister insisted that she still depended on this lady's medical support, her foolish actions threatened to drive a coach and horses through the official advice – advice that Dr Calderwood helped draw up – on which the nation depends to beat this virus.
Ms Sturgeon was extraordinarily generous in refusing initially to accept Dr Calderwood's offer to resign and for insisting, somewhat ingenuously, that everyone makes mistakes. That is true, of course, but the reality is that for this senior official, this was no ordinary slip-up.
On the contrary, on two successive weekends Dr Calderwood decided to get into her car and do what she's been telling the rest of us not to do – and take a non-essential trip away from the city of Edinburgh to her holiday home in the Fife seaside village of Earlsferry. Trips that earned her an official and extraordinary warning from the police …
Moreover, what is already sticking in the craw of many people is that this is someone who has been a firm advocate of the severe restrictions imposed on the rest of the population who has decided to ignore them to visit her second home.
That this second home is in one of Scotland's most expensive seaside villages, much favoured by Edinburgh's better-off classes, will also not be lost on her critics.
SNP politicians said the doctor had to go, at which point Sturgeon relented:
She hoped that would have enabled the doctor to hang onto her position albeit in a backroom role but I'm certain that this experienced politician would have known that it was a hopeless situation.
That view was magnified by the ferocious level of protests she received from leading SNP politicians who said they were reflecting serious unease amongst the party faithful about Dr Calderwood's behaviour.
The hypocrisy of it all!
That month, an allegation surfaced that England was stealing Scotland's PPE supplies, a claim which Sturgeon retracted mid-month but, according to one Conservative MSP, allowed to continue spreading north of the border. On April 15, The Express reported (with a video of one of her press conferences):
At Ms Sturgeon's daily briefing, she promised to seek urgent clarity on reports that Scottish care homes were being given a lower priority for supplies of personal protective equipment. Claims of PPE priority for England surfaced on Monday and came from Donald Macaskill, the head of Scottish Care, which is the body representing private care homes in Scotland. He told BBC Radio Scotland the UK's four largest suppliers had said they were not sending to Scotland and instead prioritising "England, the English NHS and then English social care providers".
Andrew Neil mocked the First Minister of Scotland and tweeted: "Nicola Sturgeon told GMB [Good Morning Britain] that she accepts assurances that NHS England did not demand PPE suppliers give preference over Scotland …"
Jamie Greene, Scottish Conservative MSP for West Scotland tweeted: "They're still spouting the story, contrary to the language now being used by the FM, Health Secretary, and Clinical Director.
"If you're going to manufacture a grievance, at least coordinate it. Even their target audience is boring of the needless (dangerous) scaremongering."
UK Health Secretary Matt Hancock spoke to health ministers from different UK nations on Tuesday afternoon and insisted it had not instructed any company to prioritise PPE for one nation over the others.
Sturgeon often wanted to appear to be ahead of the curve as a means of scoring political points targeting Boris's policies for England. Unfortunately, he caved in all too often and followed suit.
On April 23, The Mail reported:
Ms Sturgeon has repeatedly gazumped Number 10 during the coronavirus crisis as she has moved on key issues before ministers in London. 
Previous examples include announcing a ban on large social gatherings, closing schools and saying that the original three week lockdown would be extended. 
That article laid out Sturgeon's plans to reopen Scotland soon.
Three days later, she was unable to give any further clarity, despite her announcement. As the reply says, when Boris hesitated, he was accused of obfuscation while Sturgeon was praised for her notional transparency:
Incredibly, on May 5, Sturgeon was pictured shaking hands with Bill Gates. It was okay for them, when no one else was allowed to do so. And look how close they were to each other. More hypocrisy:
Then it emerged that, like Boris, who at least had the excuse of attending Brexit transition meetings, Sturgeon also missed COBRA meetings about the pandemic. In fact, she missed six of them. This came from one of the Scottish papers: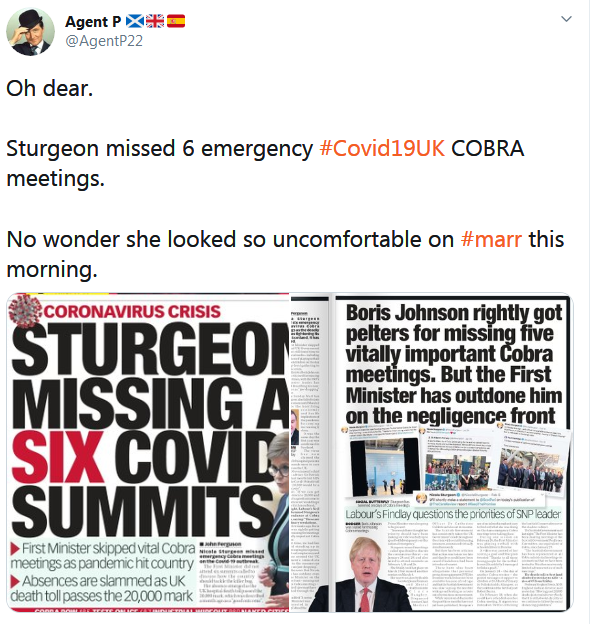 England and Wales effectively re-opened by early July, although with masks, social distancing and some visiting restrictions in place. Scotland lagged behind.
Already on July 10, it was becoming clear that Scotland's coronavirus policies were not working, as Tom Harwood wrote in The Telegraph:
Looking at Nicola Sturgeon's polling popularity it's easy to forget that the Scottish First Minister presided over a care home coronavirus death rate double that of England. It's easy to miss the fact that Scotland has been significantly behind England when it comes to the rate of testing too. As Labour's Shadow Scottish Secretary Ian Murray told a private zoom meeting at the end of May, "all of these things in Scotland are in a lot of instances worse than what's happening in England but Boris gets the blame and not Nicola Sturgeon."
How then has she managed to get away with it all so unscathed?
One answer is simple. The Westminster media bubble is so often so busy naval gazing that politicians elsewhere in the country escape the scrutiny placed on No 10. Few in the Westminster village are concerned with what's going on 400 miles north in Holyrood. This obviously allows much Scottish scandal to slide under the radar when it comes to national attention. But this explanation is to downplay the cunning strategy of the SNP Government, and its not so secret weapon. Nationalism.
Sure enough, on July 12, Sturgeon announced she was considering a mandatory quarantine of all English visitors to Scotland. Guido has the video:
On July 23, The Spectator published 'Nicola Sturgeon's care homes catastrophe':
Nicola Sturgeon is fond of telling Scots that the prevalence of Covid-19 is 'five times lower' in Scotland than in England. Or at least she was, until the Office for Statistics Regulation released a statement calling her data source 'unclear' and adding that 'we do not yet have evidence to support the validity of these comparisons'. The SNP has been retailing the notion that Sturgeon's response to the pandemic far outstrips that of Boris Johnson. The public may be on her side, but the facts are not.
… In England and Wales, deaths in care homes have accounted for 28 per cent of all fatalities involving coronavirus. In Scotland, the figure is 47 per cent. English and Welsh homes have lost 3.7 per cent of their residents to the virus while homes in Scotland have lost 5.6 per cent. This is all the more remarkable since the care home population south of the border is almost 12 times the size of that in Scotland.
One explanation is the SNP government's hive-like mentality. Dissenting views were pushed aside or ignored altogether …
Far from supplying an exemplar for others to follow, the Scottish Government has demonstrated the consequences of wrong-headed policy-making, spurning of expert counsel, and a failure to be transparent. The case for a public inquiry into what went wrong in Scotland's care homes, and in the decision-making at the top of government, is surely undeniable. With Covid-19 apparently under control at present, now is the optimal time to review policies and processes in case a second wave is looming down the line.
On July 31, Sturgeon announced a travel ban between Scotland and the north west of England:
She announced on the BBC:
I am today advising, strongly advising, people in Scotland to avoid travel to the areas affected in England… and also to ask people from these areas from these areas not to travel to Scotland.
Guido noted:
1,892 years on, Hadrian would be delighted she's picking up where he left off…
On August 5, Sturgeon effectively locked down the City of Aberdeen, although she did allow people to go to work and educational institutions. According to one person, this was because one bar was not following the rules:
On October 1, Sturgeon was slow to act on then-SNP MP Margaret Ferrier (now an Independent), who travelled by train from London to Scotland and back again, even though she knew she had the virus. By the time this appeared, Ian Blackford had suspended the whip:
The whole of the UK knew about Margaret Ferrier, who remains an Independent to this day. People were angry:
On October 7, Sturgeon announced a semi-lockdown, although she said schools would remain open and adults could leave the house:
On October 11, Sturgeon's government was failing to use its full testing capacity. It was only using half:
While hospitality establishments in England and Wales had been serving alcohol indoors since the summer and, later in 2020, with food only, Scotland opted to ban strong drink altogether until October 27 that year. Devi Sridhar probably played a role in that, too:
On November 23, Sturgeon closed the Scottish border to the rest of the UK.
Guido told us:
This weekend, in what must have been a dream come true to nationalists, Scotland closed its border to the rest of the UK. The move came as the most densely populated parts of Scotland moved into 'Tier 4' – lockdown in all but name. It is currently illegal for anyone from the rest of the UK to enter the country without a reasonable excuse. Scots are also forbidden from traveling to other parts of the UK. A dream come true for the more extreme SNP supporters.
People who enter or leave Scotland illegally are now being hit with £60 fines. Travel within Scotland is also restricted, with those living in Nicola's Tier 3 or 4 areas prohibited from leaving their local authority without a reasonable excuse. Guido gets the feeling some political tribes are secretly enjoying this pandemic…
On December 17, Sturgeon got stroppy with the Scottish Mail's political editor Mike Blackley for asking whether the self-isolation time could be cut, as was planned in the rest of the UK.
Sturgeon shot back:
Yeah, because that'd really help 'cause that would spread infections even further and that would not be doing any favours to businesses.
Guido has the video:
On December 22, Sturgeon was photographed maskless chatting to two women at a pub. They did not have masks, either, but at least they were eating, so had an excuse. Sturgeon apologised only because she was sorry she got caught:
The story caused quite a stir:
The following day, Sturgeon apologised in Holyrood:
She said she was kicking herself harder than her worst critic would:
The author of the Scottish blog Lily of St Leonards pointed out the hypocrisy not only of the mask violation but, more importantly, Sturgeon's criticism of Boris's continuation of Brexit negotiations:
Sturgeon is not merely a hypocrite about masks, she is also a hypocrite about transition periods.
Imagine if Sturgeon had been given her wish and there had been an independence referendum in 2018 and she had won it. There would have been a transition period. Let's say it was due to end in March 2020. Scottish Independence Day would have been April the First. Would Sturgeon have really extended the transition period because of the Covid outbreak? But what if she had extended it and Scotland had continued to receive money from the Treasury? When would the transition period end? When we no longer needed the money? It's another word for never.
While condemning the British Government for not extending the transition period with the EU due to Covid, Sturgeon is still planning an independence referendum for 2021. If we must extend the transition period because of Covid, why does she suppose it is sensible to have a referendum on breaking up Britain? We have had four years to prepare for leaving the EU. Sturgeon doesn't even have a plan for independence that takes into account the economic damage of 2020.
Brexit is massively easier to achieve than Scottish separatism. It doesn't involve setting up a new state. It merely involves us returning to what we had been for centuries until the early 1970s.
The winter saw a resumption of semi-lockdowns throughout the UK, in England as well as in the devolved nations.
Schools had to close just as pupils and students returned from Chrismas holidays in January.
It was thought that President Trump, having lost to Joe Biden, would be taking a golfing trip in Scotland in order to avoid handing over the presidency to him. Sturgeon put her foot down.
On January 5, NPR reported:
Scotland First Minister Nicola Sturgeon says President Trump wouldn't be allowed to visit Scotland to golf during its pandemic lockdown, responding to speculation that Trump might travel to a Scottish golf resort rather than attend President-elect Joe Biden's inauguration.
"We are not allowing people to come in to Scotland without an essential purpose right now and that would apply to him, just as it applies to anybody else," Sturgeon said after being asked about Trump on Tuesday. "Coming to play golf is not what I would consider to be an essential purpose."
Sturgeon was responding to questions spurred by a report in the Scottish newspaper The Sunday Post, which cited a source at Prestwick Airport as saying the facility has been told a U.S. military Boeing 757 aircraft will arrive on Jan. 19, the day before Trump's term expires and Biden is inaugurated …
As for the chance that Trump might use an international trip to one of his golf resorts to avoid the handover of power, Sturgeon said she has not been told of any of Trump's travel plans.
In the event, the whole world knows that Trump stayed in Washington …
Also on January 5, Scotland had not decreased the required number of days for self-isolation, as Guido reminded us:
On 22nd December, England's Covid rules changed so infected individuals can stop isolating after seven days rather than ten, so long as they test negative on day six and seven. Six days ago Wales followed suit, and a day later Northern Ireland copied the change. Leaving one obvious outlier…
It now looks like Sturgeon will confirm the cut, with a statement expected later today and her deputy John Swinney saying yesterday that their administration is "actively considering" reducing the self-isolation period.
Meanwhile, the vaccine rollout began.
On January 28, The Mail reported that Sturgeon sided with the EU in saying that the UK had too many vaccine doses and the EU too few:
Nicola Sturgeon was accused of taking the EU's side in the bitter vaccine row today as she vowed to publish details of the UK's supplies despite Boris Johnson ordering her to keep them secret.
In an extraordinary move, the First Minister risked undermining Britain's position, with Brussels heaping pressure on firms to give the bloc a bigger share of the stocks. 
Despite the PM warning that the information must be confidential to protect the rollout, Ms Sturgeon told Holyrood she will release it from next week 'regardless of what they say'. 
The timing of Ms Sturgeon's intervention was particularly provocative given that it came as Mr Johnson was on an official visit to Scotland to make the case for the Union. 
Tory MPs vented fury at Ms Sturgeon – who wants Scotland to be independent and rejoin the bloc – saying she is 'obviously more inclined to help the EU than she is the UK'. 
Tory MP Peter Bone told MailOnline: 'The simple truth is she has a tendency to support the EU rather than the United Kingdom.
'It is wrong, her behaviour. I would have thought she would praise the success of the UK because Scotland shares in that. If she was in the EU and not part of the UK she would still be waiting for her vaccines. Get behind the UK government and stop playing petty politics.' 
The row erupted as tensions between Britain and Brussels over vaccine supplies escalated again as the EU warned drug companies it will use all legal means to block the export of jabs from the continent unless manufacturers deliver the shots they have promised.
The EU's vaccination rollout continues to lag far behind the UK's, with the bloc now desperately scrambling to boost supplies – but deliveries have slowed due to production problems.
Brussels has publicly slammed AstraZeneca for failing to deliver on its contract with the bloc and has even asked the firm to divert jabs from Britain. 
Now it has emerged that European Council President Charles Michel has said in a letter to four EU leaders that the EU should explore legal means to ensure it receives the jabs it has bought.
On March 9, the Scottish Sun reported that Sturgeon was relaxing social gatherings — provided they were small, outdoors and close to home:
NICOLA Sturgeon has confirmed plans to allow four adults from two households to meet outdoors from Friday.
The First Minister also revealed older children can mix again in groups …
"And, in addition, we will make clear in our guidance that this will allow for social and recreational purposes, as well as essential exercise.
"Meeting will be possible in any outdoor space, including private gardens.
"But please, do stick to the new rules. Gatherings must be a maximum of four people, from two households. And you should only go indoors if that is essential in order to reach a back garden, or to use the toilet.
"And, for now, please stay as close to home as possible.
"We hope to be in a position to relax – at least to some extent – travel restrictions within Scotland in the weeks ahead, but it is not safe to do so just yet."
By April 2021, with the UK's schools still closed, Sturgeon was planning a phased re-opening in Scotland. In 2020, there were problems in marking exams with so much of the school year out the window. To be fair, other UK nations implemented similar policies with similar disastrous results. In 2021, Sturgeon stipulated that no exams were to be set. Understandable, but teachers needed some sort of assessment for pupils and came up with something called the Alternative Certification Model, which allowed teachers to mark pupils on what they observed in class. Sturgeon did not like the proposal and offered no alternative solution, leaving head teachers to come up with their own plans while trying to avoid the word 'exam':
At that time, booze and most hospitality was once again off the menu. Although Sturgeon followed Wales's Prif Weinidog (First Minister) in relaxing some restrictions, hospitality was not one of them:
This was less than a month before local and national elections (for Wales, Scotland and Northern Ireland) took place.
On April 13, Guido Fawkes noted that Scottish hospitality was suffering badly (red emphases his):
Sadly for Scotland's hospitality sector, Guido's tip-off that the Scottish government was to bring forward its unlocking of hospitality didn't materialise. Last night, Scotland's hospitality sector was warning the two-week lag north of the border would cost up to £20 million…
While Sturgeon often boasted at her televised briefings that Scotland had the best plan and the lowest infection rate as a result, it turned out that she was wrong.
On April 30, Guido posted that Scotland had the highest infection rates per capita in the UK:
Guido told us:
Statistics from the ONS this afternoon reveal Scotland is lagging significantly behind England, Wales and Northern Ireland in their Covid prevalence rate. Wales has the lowest rates by far, with one case per 1,570; followed by England's 1,010; and Northern Ireland's 940. Scotland, however, is well behind the rest of the country's progress, at one in every 640. Sturgeon's so-called 'good pandemic' has always been a smokescreen of spin, rather than epidemiological success…
On May 21, Sturgeon forgot to be politically correct and call the Indian variant by another name:
Guido observed:
A rule which apparently never applied to the Kent variant in the first place…
The Spectator thought along the same lines:
… newly appointed health secretary Hamza Yousaf was on hand to claim that 'a reason why we are calling it the April-02' variant is because it is 'important for us not to allow this virus to divide us as communities and people.'
Clearly the SNP feel no such qualms about doing so with the people of Kent.
On May 27, Boris's former adviser Dominic Cummings explained to a parliamentary select committee how Sturgeon sabotaged UK-wide coronavirus COBRA meetings.
Nicola Sturgeon undermined the UK's four-nations approach to tackling the coronavirus crisis by "babbling" about high-level meetings, Dominic Cummings has claimed.
Boris Johnson's former senior adviser accused the first minister of undermining meetings of Cobra, the disasters committee, by announcing the outcome of discussions at media briefings.
Sturgeon held her televised briefings daily at 12.15pm during the pandemic, so they were often directly after a UK-wide crisis meeting.
Cummings told the Westminster science and technology committee and health and social care committee that the online Cobra meetings became shams because other participants feared what Sturgeon would say on TV. This resulted in decisions not being made because of distrust, he added.
"The last Cobra meeting I can even remember downstairs in the Cobra room was essentially a Potemkin [fake] meeting because it was with the DAs [devolved administrations] and what happened was, as soon as we had these meetings, Nicola Sturgeon would just go straight out and announce what she wanted," Cummings said.
"So you had these completely Potemkin meetings without anyone actually digging into the reality in detail, because everybody thought, as soon as the meeting is finished, everyone's going to just pop up on TV and start babbling."
On June 1, Sturgeon said that the scheduled reopening of Scotland could be delayed because not enough people had been vaccinated. Once these people get hold of maximum control, they don't give it up easily:
On June 9, Sturgeon backed out of a Scotland-specific coronavirus inquiry, as did Mark Drakeford for Wales. A UK-wide inquiry would go ahead instead:
Guido pointed out that the SNP's May 2021 local/devolved election manifesto had promised one (because of the high rates of care home deaths):
Both Mark Drakeford and Nicola Sturgeon are facing backlash after seemingly cowering out of conducting their own, nation-specific Covid inquiries. Despite it being in the SNP manifesto, Sturgeon is now being warned not to break the pledge after backtracking away from the commitment. The SNP manifesto promised a Scotland-specific inquiry "as soon as possible after the election", however the first minister's spokesman told the press on Sunday that the government "was yet to decide whether Scotland needed an inquiry at all, insisting she would first wait to see the terms of reference of a proposed UK-wide probe instead." As slippery as a Sturgeon…
In Wales, Mark Drakeford didn't commit to an inquiry in his election manifesto, and is sticking to his refusal. Being pressed during first minister's questions yesterday, he told Tory leader Andrew RT Davies that the UK-wide inquiry being set up by the PM would be sufficient.
On June 29, Sturgeon had another travel ban in place between Scotland and the north west of England. Manchester's mayor Andy Burnham forced her to overturn it. She never consulted him on the matter.
Burnham called the ban hypocritical:
Guido explained:
… Health secretary Humza Yousaf confirmed in Holyrood today that the ban between Scotland and Manchester, Bolton and Salford will lift tomorrow. Sturgeon brought in the ban without approaching Burnham and without consultation. Mad with power…
Yousaf claims the restrictions are being removed "due to changes in the epidemiological position for those areas." The ban on travel between Scotland and Blackburn will remain in place, however. Guido imagines locals in Blackburn won't be too keen to travel to Scotland anyhow, given it's experiencing its largest Covid wave since the start of the pandemic…
On August 3, Sturgeon began lifting restrictions throughout Scotland. However, as Guido reported, some would stay in place for quite a while:
… the "number of mitigation measures" include
Mask mandates

which Sturgeon expects will 'likely (…) be mandated in law for some time to come."

An ongoing requirement for indoor hospitality venues to collect the contact details of customers.
Sturgeon added:
It is important to be clear that it does not signal the end of the pandemic or a return to life exactly as we knew it before Covid struck.
On August 25, Sturgeon announced that Scotland would be conducting its own coronavirus inquiry, independent of the UK-wide one. A change of heart from what she said earlier.
Nicola Sturgeon has said Scotland will launch its own judge-led public inquiry into the handling of the pandemic by the end of the year …
One of its central aims will be to investigate "events causing public concern" — specifically the excessive death rate in Scottish care homes.
Sturgeon and Jeane Freeman, the former health secretary, have both admitted that discharging 1,300 elderly people from hospitals into care homes without robust testing at the start of the pandemic had been a mistake. More than 3,000 people died in care homes, a third of all the deaths in Scotland …
Sturgeon said the Scottish government would continue to liaise with the UK government about its own inquiry.
Did that ever take place? I don't know. Certainly, no questions that I've heard have been asked in Holyrood.
Eventually, Scotland re-opened, long after England and some time after Wales.
Conclusion
From this litany of errors, including nationalism, hypocrisy and power-grabbing, we can see that Nicola Sturgeon was — and is — no saint.
More to follow on her other mistakes next week.
Wednesday, February 15, 2023, was a busy day in Britain.
The day began with Labour leader Sir Keir Starmer announcing that the former Party leader Jeremy Corbyn, would not be allowed to run for re-election under Labour. Corbyn had the Party whip removed some time ago and is an Independent MP, representing Islington.
At 11:00 a.m., Nicola Sturgeon announced her resignation as Scotland's First Minister, although she will remain an MSP (Member of the Scottish Parliament) until the next election:
Two big news events in one day caused some political reporters to race from a London airport to Edinburgh to cover both stories.
This was Metro's take on the day:
I watched most of the press conference, which, as one has come to expect from Sturgeon, was three times longer than it should have been.
She really didn't talk much about Scotland or the Scots, either, only herself:
Sturgeon said that she would remain in politics and defend women's rights, something she said she had always done.
One wonders.
Gender Recognition Reform Bill and independence sticking points
Since the Scottish Parliament passed their Gender Recognition Reform (GRR) Bill several weeks ago, regular protests for women's rights have been taking place in Glasgow's George Square. The Secretary of State for Scotland in Westminster is blocking its passage to Royal Assent by enforcing Section 35. This is the first time the UK parliament has vetoed Scottish legislation.
Scottish Labour joined the SNP and Greens in pushing the legislation through with no safeguarding amendments, as tabled by the Scottish Conservatives and duly rejected. These would have required more than a man's self-identification as a woman on his own assertion. Since then, news has emerged of a rapist dressed as a woman who was serving time in a female prison. There are other examples of male criminals claiming to be women. One such man recently abducted a little girl for 27 hours. This has not impressed Scots, especially as MSPs supporting the recent legislation said that these things never happen.
On February 9, 2023, Scotland's Daily Record reported that 30000 SNP (Scottish National Party) members have cancelled their membership (purple emphases mine):
Up to 30,000 people are said to have ­cancelled their SNP membership in response to Nicola Sturgeon's gender reforms and the ­stalling of independence.
The First Minister is under rising pressure to ­abandon her Gender Recognition Reform (GRR) Bill altogether in a bid to halt the meltdown. Polls have also shown public support for the SNP and ­independence has plunged after it emerged double rapist Isla Bryson had spent time in a women's prison.
Dozens of SNP supporters have taken to social media to say they have binned their membership cards. One said: "I cancelled my membership. Rejection of ­reasonable amendments to GRR the final straw… the ­Scottish Government look like zealots."
Another said: ­"Membership cancelled. I never signed up for regressive identity politics."
GRR, or grr, indeed.
Scottish independence also emerged as an issue for those cancelling SNP membership. Many think it's going nowhere:
Yet another added: "I am for ­independence. I don't see the SNP getting us there and have cancelled my ­membership. I believe this issue, women's rights and the need for single sex protections to be important in its own right."
Polls show that the appetite for independence has been falling recently. The GRR has probably helped that, as people think more of that type of legislation would come if Scotland withdrew from the United Kingdom.
As one commenter on a Guido Fawkes post put it:
People, in general, are happy to ignore politicians until they do something that affects them. They hadn't thought about the ramifications of "trans women are women", because it hadn't directly affected them.
Well, by putting a rapist into a women's prison, they noticed and they saw how dangerously stupid the idea of self id was. What brought her down was her inability to row back after she had painted all the people who warned this would happen as bigots.
Sturgeon also got herself tied up in knots at a press conference about the rapist in the women's prison by mixing the convict's genders, which brought more grilling by interested reporters.
The Daily Record article continues:
Support for the SNP as well as support for ­independence, has dropped, according to a YouGov poll out last week. It fell to 44 per cent from 50 per cent in December in the Holyrood constituency vote and from 40 per cent to 36 per cent in the regional list. SNP support at Westminster dropped from 43 per cent to 42 per cent while backing for ­independence dropped from 53 per cent to 47 per cent.
Sturgeon said she plans to run the next UK election as a "de facto referendum" in the hope of achieving a majority of votes north of the Border and ­securing negotiations on ­independence. The SNP does not publish membership numbers but a party source said: "This is a real and deepening crisis for the SNP and Sturgeon ­personally".
Only last month, Sturgeon was confident that she had 'plenty left in the tank' to lead Scotland to independence:
Now not so much.
Interestingly, a February 1 article in the Scottish Daily Express said that Sturgeon was due to resign soon:
David Griffiths, a former Holyrood candidate for the Alliance 4 Unity party, told the Scottish Express that sources close the SNP leadership have the First Minster's days numbered.
He caused a stir on social media on Tuesday by tweeting: "I'm told Nicola Sturgeon will shortly announce her decision to stand down as SNP leader before the next UK General Election" …
Asked for more details, he said: "Let's just say I'm acquainted with someone who is close to some of the SNP hierarchy and they've said they are hearing that she might have decided that she's had enough."
Commenting on car crash interview with Ms Sturgeon where she branded opponents to her gender policy "misogynistic, homophobic, and racist" he said: "It was just the most staggering thing I've ever heard from a senior politician in Scotland."
Someone commenting on a Wings Over Scotland post ('The Ship That Died of Shame', February 15) said a friend had heard about the upcoming resignation the evening before:
I was told last night she was going. A friend had a load of SNP big wigs in his taxi and they were talking aboout her resignation. So its come to pass. Hoepfully she's not destroyed the dream of an Independant Scotland. Now we must get the best people.
Poor polling
In recent weeks, it has come to light that the Scottish Parliament's views do not reflect those of Britons as a whole.
On February 10, UnHerd commissioned a poll conducted by FocalData about GRR based on four questions.
General statements, such as being allowed to change one's gender received broad agreement, but more specific ones, such as transgender women using women-only spaces and participating in women-only sports showed more opposition.
UnHerd has an accompanying map showing the nuanced areas of response by parliamentary constituency:
Once you start asking about specific policies and impacts, the results move in a decidedly more sceptical direction. Asked whether "transgender women should be allowed to use spaces reserved for women, such as women's toilets or changing rooms", 33% agree and 42% disagree. Most of the 53 constituencies that support the idea contain city centres and student towns, while all but one of the top 10 most opposed constituencies are in Scotland.
Whereas taken as a whole population, Scotland is only slightly more trans-sceptical than England and Wales (31% of Scottish people strongly disagree with the proposition about women-only spaces, compared with 28% in Wales and 27% in England), those areas in strongest disagreement are almost all in Scotland. In total, 45% of Scottish voters oppose the idea compared with 32% who support it. The result in Scotland underscores the political risk to First Minister Nicola Sturgeon of her Gender Recognition Bill …
Taken as a whole, there seems to be a majority of voters coming to a nuanced position on this issue: supportive of people who wish to identify as a different gender, but sharply defensive of women-only spaces and sports. And on the evidence of Scotland, the more they are exposed to the arguments the clearer that view becomes.
On February 14, The Revd Stu Campbell, founder of Wings Over Scotland, published results of a poll they commissioned from Panelbase in 'Confirmation Bias For Beginners':
He says the results show that most MSPs are not representing the views of their constituents:
… we just asked directly if people felt their MSPs were doing their jobs.
Ouch. By well over 2 to 1, respondents felt that they were being let down by the people who are supposed to speak for them. (Excluding DKs the margin is just shy of 70/30, very similar to the margin by which people in polls oppose self-ID generally.)
But it's when you drill down into the detail that it gets a bit disturbing.
Because remember, we're not asking for people's views on gender reform itself here. We're simply asking if they think the Parliament is in step with the public. And for voters of the Tories, Labour and Lib Dems, that's an easy answer.
Even though the latter two supported the GRR, their voters are clear that they did so against the wishes of the public, by margins of 14:1 (Tories), almost 4:1 (Labour) and 3:1 (Lib Dems). And that's perfectly rational, since countless polls all show the same.
SNP voters, however, are split down the middle in a statistical tie of 36-35. But far more said they didn't know than voters of the other parties, which means that barely over a third of even SNP voters think Parliament is speaking for the people …
But more than that, what they tell us is that Parliament is letting the whole of Scotland down with its dogged, pig-headed determination to force through law that nobody wants. And the people know it.
Those 'in the know' know nothing
Returning to the GRR bill, a number of MPs, pundits in London and at least one civil servant thought that enforcing Section 35 would boost Sturgeon's popularity.
Guido Fawkes posted an excellent summary of the predictions they made only a few weeks ago:
He tells us:
Following weeks of scrutiny over her controversial transgender reform bill and stance on trans rapist prisoners, Nicola Sturgeon resigned this morning. This came as a surprise to Guido – for weeks pundits were warning the government's decision to block Scotland's Gender Reform Bill was a victory for Nicola and the independence cause. Instead it's seen unionism boon and Sturgeon quit. Even Reuters is now reporting that Rishi "outmanoeuvred" the First Minister. 
Behind the scenes Sue Gray, the powerful Second Permanent Secretary to Cabinet Office, went out on a limb in Whitehall leading the mandarin's efforts to block the block. She was hyperactive behind the scenes trying to stop Alister Jack using Section 35, claiming it would be terrible for the union and boost Nicola. Her expertise on the union has been found wanting…
The Guardian's political editor Pippa Crerar's judgement was likewise shown up, as her analysis described how the SNP might weaponise a court battle, which could prove a "gift to the independence cause". Whilst New European columnist James Ball said the government's invocation of Section 35 was "every one of Sturgeon's Christmases at once". He went on to add it was "total idiocy".
The were plenty of Tories who made the same, demonstrably wrong, argument. Senior Scottish Tory MSP Jamie Greene voted for the bill on those grounds. Penny Mordaunt too warned it could backfire. Theresa May displayed her characteristically statesman-like political acumen as she came out in favour of the bill. A fair number of Tory wets were left high and dry, as they piled on to criticise the government's decision to block the move. Whilst the Tory Reform Group called UK Government intervention a "deeply concerning development" which "played into the hands of those who seek to break our Union". A reminder – "Yes" is now 12% behind in the polls.
How little those in the know actually know.
Missing money
However, there is another reason why Sturgeon might have chosen this very moment to resign: the missing sum of £600,000 from the SNP's coffers which was supposed to have been, in the Party's words, 'ring-fenced' for the independence cause.
Guido explains:
In recent days Police Scotland were finally given permission to formally interview a number of SNP and ex-SNP figures about the disappearance of £600,000 that had been donated by activists and ring-fenced as a Scottish Independence fund.
Despite the ring-fencing, when the SNP published their 2019 accounts it was noticed they had just £96,000 in the bank.
More intriguingly, it later emerged that Sturgeon's husband, Peter Murrell, loaned the party over £100,000 in June 2021, a move that Scottish Tory chairman Craig Hoy described as "beyond odd for the SNP chief executive – and Nicola Sturgeon's husband – to be lending his employer a six-figure sum of money".
Imagine if the First Minister had been a Conservative:
Guido reckons the Lobby would have spent much more time scrutinising this were she a Tory First Minister…
The missing money was old news when I first read about it in 2021. Most of the sum was comprised of Party members' contributions rather than those of big donors. Those people want to know what happened to it.
One donor on a Wings over Scotland post says:
… the missing money is, I think, the thing lurking in the shadows. I'll admit I gave money as I assumed (wrongly) we'd be getting a massive push towards a referendum and independence. I didn't expect it to vanish into a black hole where Sturgeon and her husband look iffy and now with the police getting involved, it looks as if fraud is suspected.
There will be no de facto referendum this year. Whoever takes over from Sturgeon will hang onto their position til the Westminster elections next year because that short money needs to come in. Of course, if the police do find that Sturgeon or her husband are guilty of fraud then the effects of that are going to be felt for the new FM.
I do feel there's a lot happening which hasn't spilled over into the public domain as yet, but we're seeing hints here and there … which suggest to me that something else is coming down the line.
The Revd Stu Campbell from Wings over Scotland mulled over Sturgeon's timing and the money issue:
Nicola Sturgeon told Scotland's press this morning that despite her weariness, she could have managed a few more months or even a year as First Minister, which would at least have got her halfway to keeping her promise to serve a full term if she was elected in 2021.
Which just makes her timing all the harder to explain.
Because it's hard to imagine how much less appropriate it could have been.
Firstly, the party was completely unprepared. We've spoken to several current SNP elected representatives today and none of them had had any advance warning – not even the slightest hint – of the resignation. Incredibly, the first they knew was reading about it on social media this morning. Wings knew before SNP MPs and MSPs did.
And secondly because it leaves the SNP in total chaos. Just four weeks from now it's due to have arguably the most important conference in its history, at which it'll decide how to deliver to the people of Scotland the say in their future that they've been promised since 2016.
Campbell points out that, according to SNP rules, it takes 133 days to elect a new Party leader, so Sturgeon will be with us for several months yet, unless the National Secretary amends the process. He has a screenshot of the rules in his post.
He continues:
So why the sudden rush out the door?
There is simply no rational explanation for the timing of Sturgeon's exit to be found anywhere in her resignation speech/conference, except for the last 16 seconds of it. It is an astonishing betrayal of those still loyal to her (she betrayed everyone else long ago, of course) to hand them such a short-fused fizzing timebomb and run for her life.
So if anyone can come up with a convincing alternative to the idea that she just didn't want to be actually sitting at her desk when her husband and/or herself were arrested for defrauding her own supporters out of £600,000 of their hard-earned cash, we're all ears. But it better be really, really good.
On this subject but elsewhere in the ether, someone made a mock-up of Sturgeon's perspex podium: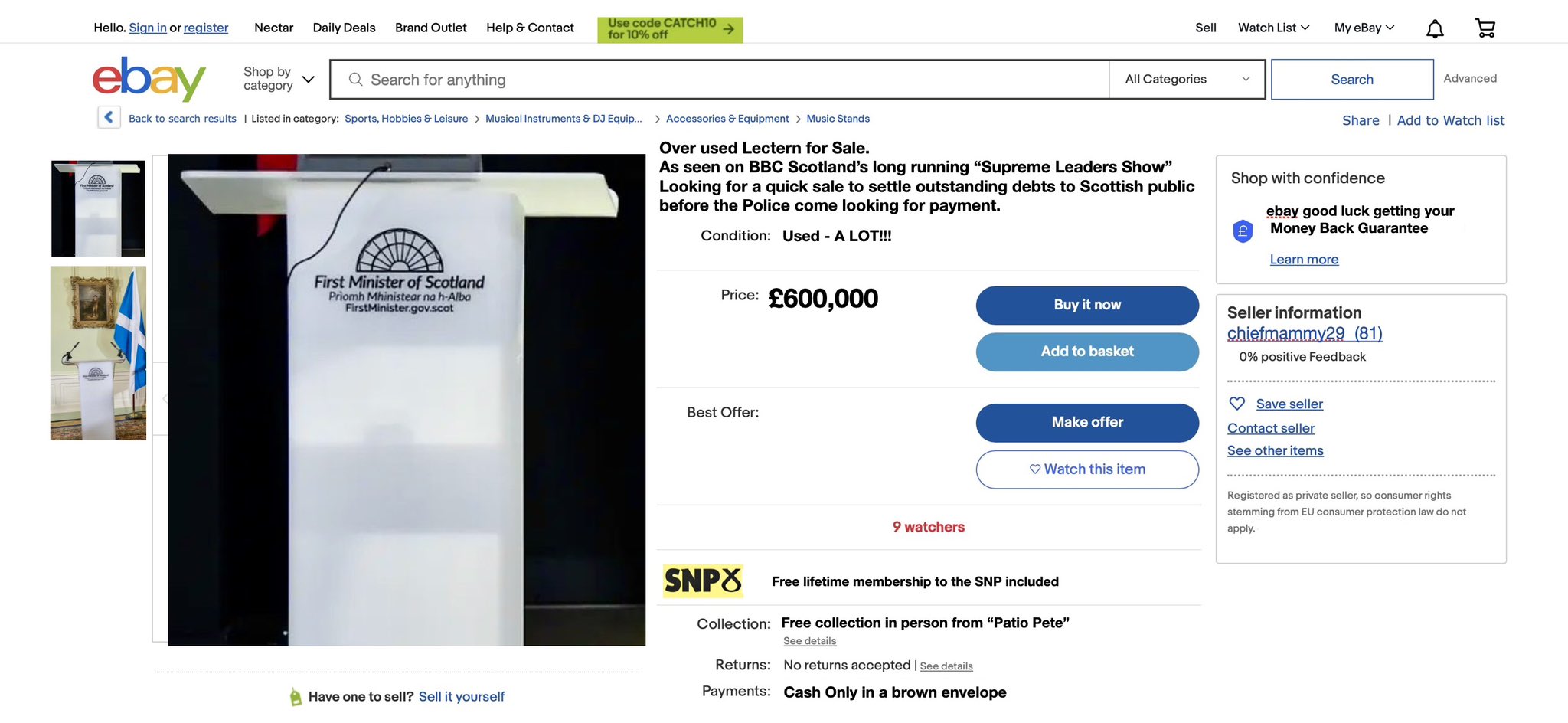 People wonder why Police Scotland hadn't stepped up to the plate over the £600,000 years ago.
Scottish law is different to that of other nations in the UK, but three comments on one of Guido's posts might go some way in explaining the delay:
If there is a criminal investigation, the police shouldn't need "permission" to interview anybody. The fact that in Scotland apparently they do tells us all rather a lot about how the SNP have been governing Scotland. I really wish the UK government would conduct a real probe into what has been going on north of the border. That might sound the death knell for devolution at last. And Brown wants to extend the whole fiasco by breaking England up into lots more individual fiefdoms as if London hasn't already shown the idea up as nonsense.
Police Scotland had to get permission from the Crown Office (their CPS) to question Sturgeon and Murrell. The head of the Crown Office also being a government adviser had absolutely nothing to do with the delay in permission being granted………
They had to wait until they could be confident their careers and/or pensions wouldn't be harmed by investigating the no-longer-golden 'girl'.
No obvious successor
Finding a successor will be interesting.
A commenter on another of Guido's posts thinks old but deep internal SNP issues will re-emerge:
The next few months will also see some very ugly wounds that have not healed … burst wide open … Whoever takes her place will be fighting several fires that have gone one for a very long time, with several pretty much out of control now. This is a very precarious time for that party, and they could very easily implode.
Despite Sturgeon saying that:
the SNP is awash with talented individuals
Guido begs to differ (see link in tweet):
It seems SNP MPs disagree – one told The Scotsman that the talent pool is a "shallow well"…
Guido recapped the top runners and riders. In the middle is Deputy First Minister John Swinney and on the right is Cabinet Secretary for Finance and the Economy Kate Forbes, currently on maternity leave:
Guido has based his profiles on the results of a Panelbase poll for The Sunday Times which shows that of all possible candidates, Don't Know wins by a whopping 69%:
Nicola Sturgeon has resigned as First Minister, brought down by her own absurd gender reform bill and crashing support for independence. As ever, Guido brings you the runners and riders for who might step up to replace her. The latest polling from Panelbase, published last week in The Sunday Times, paints a grim picture for the SNP; virtually none of the potential candidates have any name recognition or support base. Still, here's how things stand…
Kate Forbes – Scotland's current Cabinet Secretary for Finance and the Economy. By a narrow margin, the most 'popular' choice to win, although only in the loosest sense of the word – she got 7% in the Panelbase poll. At 32 years old, she'd be the youngest political leader in the UK by quite a margin. Hasn't ruled out standing, according to "a source close to her" in the Times. Crucially, she's been sceptical of Sturgeon's gender policies. Currently on maternity leave…
John Swinney – Current Deputy First Minister. Got 6% in the Panelbase poll. Loyal to Sturgeon and an experienced operator, although recently caused upset amongst the party's MSPs after he allegedly assured them they could "vote with their conscience" on the Gender Reform Bill… only to then apply a three-line whip. Was accused of withholding evidence during the Salmond Inquiry, and survived the Scottish Tories' subsequent vote of no confidence.
… With a whopping 69% in the Panelbase polling, however, was notorious political heavyweight… "Don't Know". Definitely one to watch…
John Swinney has too much past political baggage to be First Minister.
Kate Forbes would be a safe pair of hands, especially for women. She is also a devout Christian.
Outlook for Labour and Conservatives
Pundits say that Sturgeon's resignation could provide a lift for Scottish Labour. However, what those pundits aren't saying is that Labour MSPs voted overwhelmingly for GRR.
Scottish Conservatives, in my view, are better placed, provided they stop standing in the shadows. Their MSPs were the only ones who had useful safeguarding amendments to the GRR. Furthermore, only three Conservative MSPs voted for GRR.
Therefore, currently, Scottish Conservatives hold the moral high ground, even if Scots, for whatever reason, have historically loathed them.
This will be interesting to watch.
In December 2022, the then-GB News presenter Mark Steyn suffered two heart attacks within days of each other.
The first one he ignored, because he had never suffered a heart attack and didn't recognise the symptoms.
The second occurred when he and a female friend were in France. Fortunately, he got to the hospital just in time. Fifteen minutes more and he would have died.
While he recuperated in France — there was no chance of his returning to Canada, doctors said — some of GB News's sharpest hosts stepped in to sub for him between 8 and 9 p.m. They told viewers that Mark was on the mend, until the end of January, at which point they mentioned him no more.
Don't mention the vaccines
Then, late on Monday, February 6, 2023, Guido Fawkes posted that Mark would not be returning to GB News. The news channel's CEO wanted to make Steyn liable for any Ofcom fines they received over his segments that criticised the coronavirus vaccine:
Guido tells us, complete with the relevant video clip (emphases in red his):
Mark Steyn has quit GB News on fairly bad terms after a protracted leave of absence owing to his health. A few weeks ago Guido picked up that the channel had been trying to formalise Steyn's contract, having operated on a fairly ad hoc basis since starting his show. Part of trying to get him on board as a properly contracted presenter was also an attempt to rein in his output, given that in a rather short space of time he'd managed to spark two separate Ofcom investigations into claims made on his show.
GBN offered him a new contract to sign, otherwise he'd face termination. It now looks like Steyn is declining to sign the new contract, so he's out.
In a video put out on his website today, Mark doesn't hold back on his opinion of the channel's CEO Angelos Frangopoulos, ranting about the terms of the new contract that would have made him financially liable for any fines imposed on GB News by Ofcom because of his show's output. He also calls Frangopoulos an "habitual liar". Shame – Steyn managed to consistently beat Piers's view count…
After a few months, Mark Steyn Show regularly trounced Piers Morgan's TalkTV show Monday through Thursday in the same time slot.
GB News has been scrupulous about offering both sides of any story on their shows in order to avoid censure from Ofcom. This entails having a left-wing guest oppose the host's centrist or conservative perspective.
In 2022, Press Gazette reported on the channel's potential Ofcom violations. I'll start with the story from August 8, with the communications regulator's examination of two segments, one on Nigel Farage's evening show and one from a morning show with Patrick Christys, who now hosts a three-hour afternoon slot Monday through Friday:
The first two investigations by broadcast regulator Ofcom into GB News have ended with no rebukes, keeping the TV channel's record clean as it enters its 15th month.
Critics feared the opinion-led news channel would rub up poorly against the UK's strict impartiality rules, a problem not faced by broadcasters in the US such as Fox News.
But by balancing views from presenters and guests across its schedule, GB News has avoid any Ofcom rebukes despite airing some strident views on Covid-19 lockdowns and vaccines. Two Ofcom investigations into GB News TV and radio broadcasts remain ongoing.
In October 2022, complaints about Mark Steyn's show were still ongoing:
Ofcom has opened an investigation into an episode of Mark Steyn's 4 October programme on GB News after it received 411 complaints from viewers about comments made by author and journalist Dr Naomi Wolf in relation to Covid-19 vaccines.
Ofcom said: "Specifically, our investigation will consider whether this programme broke our rules designed to protect viewers from harmful material."
Wolf was banned from Twitter last year for spreading unfounded theories about vaccines.
Ofcom is already investigating Steyn's show for a potential breach of standards on 21 April when he claimed people who had a Covid-19 booster vaccine were three times more likely to die than those who had two doses or fewer.
Press Gazette says that the April 21 episode was removed from YouTube:
In a monologue that day, Steyn said: "Why aren't we talking about this? It seems, if the booster shot is making it thrice as likely that you're going to be deadsville, that they're going to carrying you out by the handles, why aren't we talking about that?"
Fact-checking charity Full Fact said the figures used by Steyn were "broadly accurate" but that he was "wrong to claim the booster 'increases your chances of hospitalisation and death'".
Interestingly:
No Ofcom investigations have yet been started into rival TalkTV, which Rupert Murdoch's News UK launched in April.
The Guardian had more, especially about Dr Matthew Sweet, who was interviewed on the BBC and had been monitoring Steyn's show for soundbites that criticised the vaccines. Steyn often mentioned Sweet:
The latest investigation relates to an interview with the author Naomi Wolf in which she claimed women were being harmed by Covid-19 vaccines as part of an effort to "to destroy British civil society".
Ofcom said it would investigate whether the programme broke "rules designed to protect viewers from harmful material" after receiving more than 400 complaints from members of the public.
In the interview, which was originally broadcast on 4 October, Wolf also compared doctors' support for the vaccine rollout to the behaviour of the medical profession in Nazi Germany and described herself as the "last remaining independent journalist" willing to question this.
She was being interviewed on the Mark Steyn Show, which has repeatedly raised doubts over the safety of vaccines. Steyn's claims that the jabs cause "every conceivable kind of damage" have been disputed by factchecking websites. He is already the subject of a separate Ofcom investigation over previous comments about vaccination.
Wolf began as a prominent feminist writer but in recent years her career has taken a hit after she wrote a book partly based on a misunderstanding of English court records. Since then she has veered into the world of conspiracy theories about the impact of 5G telephone masts and the coronavirus vaccine.
Presenter Matthew Sweet, whose BBC interview exposed the flaw in Wolf's book, has since kept tabs on her work and GB News's coverage of the pandemic and accused the channel of repeatedly "broadcasting misinformation about vaccines and presenting conspiracy theorists as legitimate experts on medical matters".
In a letter to Sweet tweeted last month, GB News insisted that at no point had Steyn's programme adopted an "anti-vax" approach. Instead it said he was conducting probing journalism in the face of people who want GB News to be "more supportive of government policy".
As I wrote in my post last week on Big Brother Watch's exposé of Government departments' surveillance of politicians' and journalists' Twitter accounts during the pandemic, the one thing one cannot do is criticise the vaccines.
The best of Mark Steyn's GB News output
Having watched nearly every Mark Steyn show once he began broadcasting weeknights in January 2022, I bookmarked the most notable ones.
Any interested readers should view the videos sooner rather than later. YouTube have already removed some of Steyn's GB News output.
Ratings
It took a while for people to tune into Steyn, which was no fault of his. He did a memorable series in March 2022 in Ukraine and told us that he was partly of Ukranian descent. He hoped to return when the war was over. You can read more about those programmes here.
At the end of that month, he had a special edition on the second anniversary of the first coronavirus lockdown, March 23, 2020. It's a good thing I described the content, because YouTube removed the video for the usual reasons.
Then on Monday, May 16, Mark hit the jackpot, beating TalkTV's Piers Morgan for the first time in the 8 to 9 p.m. slot. Mark wasn't the only ratings star that night — all the GB News evening shows beat TalkTV's:
The following day, Guido wrote:
The slow motion collapse in ratings of Talk TV is astounding. Until now, Piers Morgan has always held his lead in his slot against Mark Steyn on GB News. Last night Steyn beat Morgan for the first time…
And it would not be the last time, either. In fact, it became a regular occurrence.
Coronavirus
On Wednesday, January 12, 2022, Steyn interviewed Lord Ridley — Matt Ridley — about the coronavirus lab leak (30:00 – 40:00):
In February, he covered the Canadian truckers' protest in Ottawa against mandated vaccines:
He also interviewed a Canadian policewoman about the protests:
On April 21, he cited UK government data which said that people over 50 who had three jabs were five times more likely to get the virus: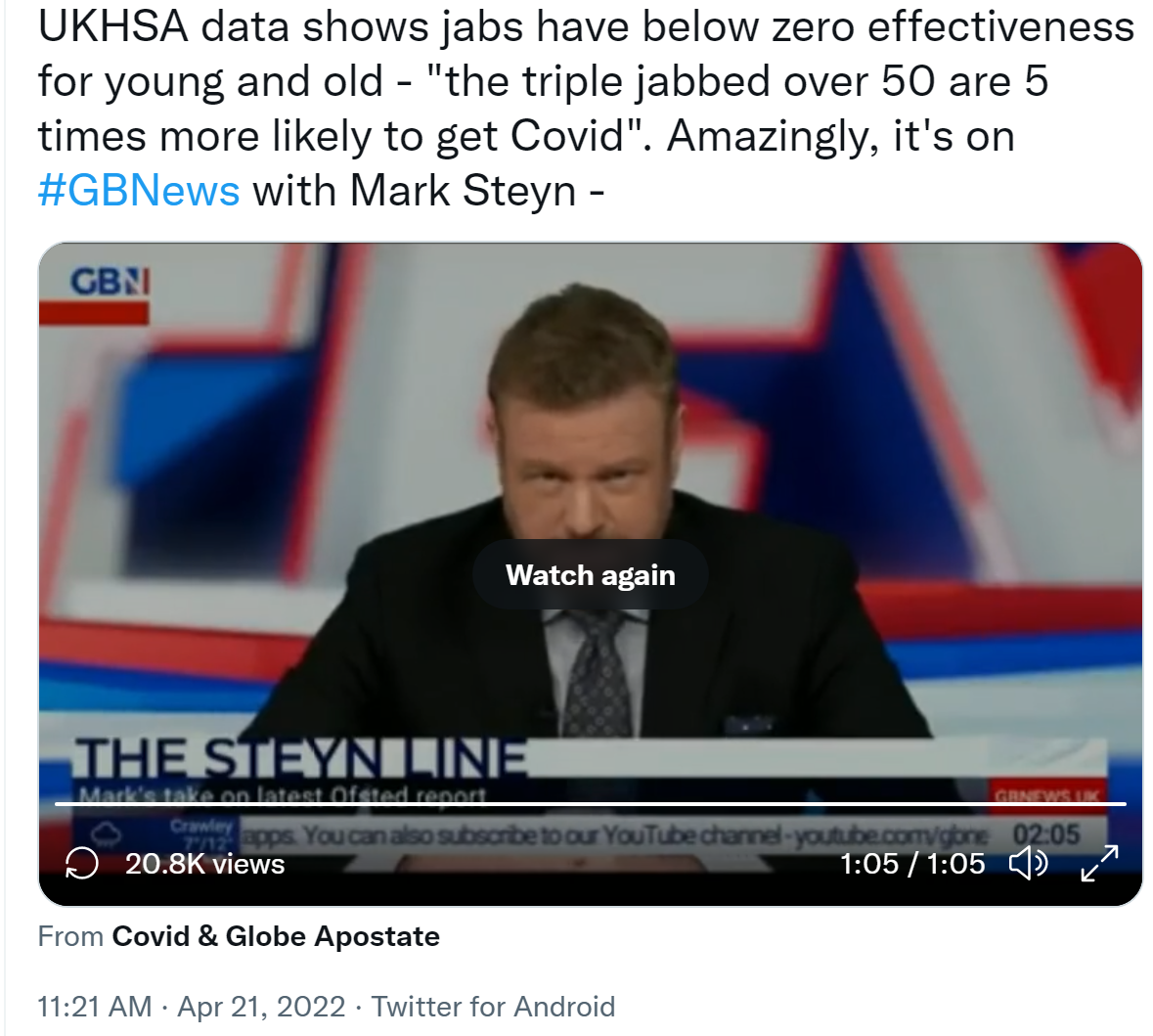 On Monday, May 9, he interviewed vaccine victims:
On May 11, he interviewed people who became seriously ill after taking the Astra Zeneca vaccine. No wonder it's no longer on the Government's vaccine list.
This man got a blood clot on the brain:
This lady suffered blood clots on her liver and lungs:
That day, Laura Perrins from The Conservative Woman waxed lyrical about Steyn's show. I, too, was a bit ambivalent about him many years ago, but as she pointed out:
It is true that a few decades ago he was considered an Establishment journalist; he has written for all your mainstream Right-wing publications. But he had long left that scene by the time I had my political awakening.
Anyway, somehow I stumbled across him, Praise be the Lord. The more I started listening, the more I read, I thought: 'Goodness gracious, hold the phone, shut the front door, this guy is the Real Deal.' This guy knows that we are being had by the political and media establishment and he is not afraid to say it …
Not only is Steyn the best-dressed, most-polished, most-sophisticated of all the presenters on TV, he says what you are thinking. For the last week or two he has been giving a voice to those the MSM have shamefully ignored – families who have lost loved ones through the 'safe and effective' non-vaccine vaccine.
… While Piers 'Lock Me Down Harder, Daddy' Morgan is interviewing Bruce Jenner, Steyn is pointing out that the lockdown has caused economic damage and inflation that the MPs like to ignore.
He also points out that when the Conservatives tell you they are getting a hold on illegal immigration, they are lying to you, they are lying to your face, dear reader.
So, do yourself a favour and watch Mark Steyn, Monday-Thursday, 8pm on GB News.
You can also catch up on YouTube when they haven't censored him for 'disinformation'. This is not a man who could ever be bought or sold for any price. I say again, Mark Steyn is the Real Deal.
The following day, news emerged that the WHO wanted nations to sign up to their pandemic treaty which would supercede national sovereignty. Unbelievable. Steyn said, 'The permanent abnormal staggers on':
On Tuesday, May 17, he talked about the WHO's involvement in the pandemic:
One week later, he interviewed a fellow broadcaster, Andrew Griffiths, who experienced serious side effects after getting the vaccine:
The Powers That Be tried to stir up fear over what is now called MPOX. On May 25, Steyn discussed Natalie Winters' findings for the National Pulse about an alleged link to the Wuhan lab:
Steyn had more on that and other topics on June 1, calling it 'the controlled demolition of the free world':
That was an exceptional show. Former ONS statistician Jamie Jenkins, one of Mark's regulars, alleged that the UK government had not collected any official statistics on vaccine injuries:
Claire Hibbs returned to discuss her injuries and the lack of compensation from the Government:
On June 16, he discussed the disastrous economic results of lockdown with Leilani Dowding:
Other Steyn broadcasts of note
In May 2022, he tapped into Canada's Rebel News output on Davos: excellent and entertaining.
On July 12, he was the only broadcaster to cover the July 12 celebrations in Northern Ireland in a non-confrontational way.
He interviewed Baroness Hoey — former Labour MP Kate Hoey — on her love for Northern Ireland and the United Kingdom:
He also spoke at length with the former leader of the Democratic Unionist Party, now-Baroness, Dame Arlene Foster:
These are just tasters. More to follow tomorrow.
No stranger to controversy
Mark Steyn has never been a stranger to controversy. Thank goodness.
Going way back in my Mark Steyn bookmarks, in 2004, he reviewed Mel Gibson's The Passion of the Christ, an incredible but much-criticised film, for The Spectator (full text here):
… Those who believe in Christ the Redeemer are booming, and Mel Gibson has made a movie for them. If Hollywood was as savvy as it thinks it is, it would have beaten him to it. But it isn't so it didn't. And as most studio execs have never seen an evangelical Christian except in films where they turn out to be paedophiles or serial killers, it's no wonder they're baffled by The Passion's success …
… Mel Gibson was driven by his own passion to make a movie that speaks to millions of people. As I said a couple of weeks back, if it's not the Jesus movie you'd have made, then go make your own. I saw it on a Monday night full house – a rare event in itself – and the crowd was rapt and eerily hushed, except for the occasional sob. It's true that if you don't believe that Christ's death on the cross is the central event in His time on earth then Mel's telling won't convince you and the film will look, as it does to Christopher Hitchens, like an S&M flayfest. One can regard this as a criticism of Gibson. On the other hand, all manner of movies – Star Wars, X-Men – leave you cold if you're not already a devotee. For millions of people, Mel Gibson shows them their Jesus and their salvation.
In 2009, Steyn wrote an article for Canada's Macleans about the danger that political correctness and censorship (i.e. 'hate speech') pose to human lives — the Fort Hood massacre (full text here):
… the old refrain echoes through the corridors of power: vigorous honest free speech will lead to mass murder unless we subject it to "reasonable limits."
Actually, the opposite is true: a constrained and regulated culture policed by politically correct enforcers leads to slaughter. I'm not being speculative here, as Commissar Lynch [Jennifer Lynch, Q.C., Canada's censor at the time] is about my murderous prose style. It's already happened, just a couple of weeks back. Thirteen men and women plus an unborn baby were gunned down at Fort Hood by a major in the U.S. Army. Nidal Hasan was the perpetrator, but political correctness was his enabler, every step of the way. In the days that followed, the near parodically absurd revelations piled up like an overripe satire …

Instead, asked "Who ya gonna believe—The Celebrate Diversity Handbook or your lyin' eyes?", more and more of us plump for the former, if only for a quiet life. Commissar Lynch has it exactly backwards: it's the craven submission to political correctness, the willingness to leave your marbles with the Diversity Café hat-check girl, that leads to death—real death, with real corpses, from Texas to Ontario.
It's amazing that the hot topics really have not changed since the Millennium. It's been the same-old, same-old for over 20 years now.
To be continued tomorrow
On Wednesday, January 11, 2023, the outspoken Conservative MP Andrew Bridgen had the whip removed for remarks he tweeted about the coronavirus vaccines.
He now sits as an Independent.
Before going into that news, let us look at Bridgen's past history in Parliament.
Watchdog
Bridgen, who has represented North West Leicestershire since 2010, has always been a watchdog, in and out of Parliament.
Holding his own on Brexit
On April 8, 2019, when Theresa May and Parliament were at loggerheads on how to proceed with Brexit, Bridgen appeared on the BBC's Politics Live to say that most voters would prefer No Deal. He was the only Leave supporter on a panel of four. Everyone else was a Remainer, including the host, Jo Coburn. They piled in on Bridgen, but the MP was correct. He had cited a poll from YouGov which said that 44% of Britons preferred No Deal. By contrast 42% wanted to remain in the EU.
One month later, he rightly objected to MPs who wanted to have a customs union with the EU instead of a full exit:
The impasse in the House of Commons worsened as the months dragged on. On September 10, Bridgen supported Boris's prorogation, which ended up being overturned. He talked with talkRADIO's Julia Hartley-Brewer just before that prorogation:
In late November, The Sun tweeted an excellent video of Bridgen canvassing North West Leicestershire voters before the general election on December 12 that year. They had strong opinions on Brexit, Labour and Boris. Incidentally, North West Leicestershire is the happiest place to live in the East Midlands:
Pointing out 'modern slavery' in Leicester
In January 2020, Bridgen called to the Government's attention the working conditions at certain women's garment factories in Leicester. They would be considered sweatshops in the United States.
The city of Leicester is not in Bridgen's constituency, but he was concerned enough to call the companies out, directing a question to Kelly Tolhurst MP, the then-BEIS (Department for Business, Energy and Industrial Strategy) in Parliament:
Will the Minister agree to meet me to discuss the situation in Leicester, where I believe that approximately 10,000 people in the clothing industry are being paid £3 to £4 an hour in conditions of modern slavery?
Guido Fawkes reported that nothing was done until July that year, when Leicester showed unusually high rates of coronavirus (emphases in the original):
What happened at the meeting months ago?
The Labour Behind the Label campaign has a report out alleging there is evidence which indicates that conditions in Leicester's factories, primarily producing for Boohoo, are putting workers at risk of COVID-19 infection. Grim reading…
Leicester's rates remained high throughout the rest of 2020. By contrast, North West Leicestershire — Bridgen's constitutency — had the lowest rates in Leicestershire. On October 12, he debated the knotty problem of full lockdowns with talkRADIO's Julia Hartley-Brewer, who advocated sequestration of the vulnerable only:
Calling out West Midlands mayoral candidate
In the week before the 2021 local elections in England, he asked IPSA (the Independent Parliamentary Standards Authority) to investigate Labour MP Liam Byrne's alleged use of parliamentary expenses to fund his campaign for the mayoralty of the West Midlands. Byrne fired back that Bridgen put his own London accommodation on expenses, which is what every other MP, including Byrne, does. Then Byrne accused Bridgen of having one of the worst voting attendance records in Parliament. Byrne was wrong there, too, as records show that Bridgen voted 88% of the time, whereas Byrne voted only 63% of the time between 2010 and 2019.
Calling out the BBC
On May 21, 2021, Bridgen complained about the BBC in a tweet, saying that Britons are forced to pay for it, while the organisation shows inadequate accountability in the face of broadcasting scandals it hid under the carpet.
Objecting to coronavirus vaccine passports
On July 22, 2021, Bridgen told GB News that showing a vaccine passport upon entry to various places was 'unworkable', saying that most people were already vaccinated and that it would take too much extra time to check everyone's vaccine status:
2022 signalled big trouble ahead
In 2022, Andrew Bridgen became known as an MP with a reputation.
Initially, his letters of no confidence in previous Prime Ministers became clear, all the way from David Cameron's time through to Liz Truss:
However, later on, his relationship with his family's potato business would begin to bring matters to a head, affecting his standing as a Conservative MP.
On September 3, The Times reported (purple emphases mine):
A Conservative MP branded "dishonest" by a judge has been ordered to pay £800,000 and evicted from his luxurious country home after a dispute involving his family potato business.
Andrew Bridgen, 57, has spent years suing his family business, AB Produce, which supplies potatoes and other vegetables to catering companies and supermarkets.
In March, a High Court judge ruled that he "lied" under oath, behaved in an "abusive", "arrogant" and "aggressive" way, and was so dishonest that nothing he said about the dispute could be taken at face value.
The North West Leicestershire MP had accused the firm of forcing him out of a £93,000-a-year second job, which required him to attend a monthly board meeting. The judge found that, rather than being bullied out of the job as he alleged, Bridgen resigned in order to reduce the amount he might owe his first wife, Jackie, in divorce proceedings.
Judge Brian Rawlings also found that Bridgen pressured the police inspector in his parliamentary constituency to launch a costly one-year investigation into vexatious allegations against his estranged younger brother, Paul Bridgen, 55, who runs AB Produce, which is based in Derbyshire.
In a later judgment in June, which came to light only last week, the MP has been forced by the judge to vacate the Old Vicarage, a five-room property reportedly valued at about £1.5 million. He was given a final deadline of August 24 and Bridgen, his wife and their child complied with the deadline. It is not known where they now live …
Bridgen and his second wife, Nevena, 42, a Serbian blogger and former opera singer, had lived in the restored 18th-century home without charge since 2015. During this period, it is understood that he refused to pay rent, or bills for water and electricity, according to court filings.
Bridgen was told to pay in excess of £800,000 in legal costs to three shareholders at his family's firm, of which one is his brother, Paul, after bringing claims of unfair treatment. He could yet be ordered to pay £244,000 in rent arrears.
It is understood that Bridgen, who earns a basic salary of £84,144 as an MP, has paid the money he already owes, although the source of the funds is unknown and is likely to come under scrutiny …
Parliamentary rules stipulate that MPs who are declared bankrupt must step down if a bankruptcy restrictions order is made against them. He is also vulnerable to another referral to the parliamentary commissioner for standards as he failed to declare AB Produce as the entity paying his rent and utility bills.
According to the guide to the rules relating to the MPs' code of conduct, MPs must declare "taxable expenses, allowances and benefits such as company cars", as well as "financial support and sponsorship" and "gifts of property".
On November 3, Guido reported that the Commons Committee on Standards recommended that Bridgen be suspended from Parliament for five sitting days for the aforementioned controversy:
They also describe an email he sent to the Standards Commissioner Kathryn Stone as "completely unacceptable behaviour" as he 'sought assurance' about a rumour that Stone was shortly to be ennobled provided she arrived "at the 'right' outcomes when conducting parliamentary standards investigation[s]".
The full list of aggravating factors are as follows:
Mr Bridgen breached the rules of the House on registration, declaration and paid lobbying on multiple occasions and in multiple ways. (The Committee noted that each of these breaches could have led it to recommend a suspension from the service of the House);
Mr Bridgen has demonstrated a very cavalier attitude to the rules on registration and declaration of interests, including repeatedly saying that he did not check his own entry in the register;
Mr Bridgen is an established Member of the House, having been elected in 2010;
Mr Bridgen's email to the Commissioner called her integrity into question on the basis of wholly unsubstantiated and false allegations, and attempted improperly to influence the House's standards processes …
For Andrew's clarification, no you cannot submit a letter of no confidence in the Standards Committee…
But, by then, Bridgen had already turned his attention to the coronavirus vaccines, saying that, if there is an investigation in the EU Commission, there should be one in the UK, too:
On Tuesday, December 13, Bridgen was granted an adjournment debate in which he criticised the vaccines and cited Dr Aseem Malhotra, a cardiologist who saw his own father, a healthy man, die of unusual heart problems after taking one of the vaccines. Bridgen, like Malhotra, wanted the mRNA vaccines stopped and offered evidence as to why. As I wrote on December 22, Maria Caulfield, the Government minister and a practising nurse, did not approve of Bridgen's speech. Danny Kruger, another Conservative MP, supported Bridgen's statements, but Caulfield reiterated the Government's line on vaccines.
On Wednesday, December 28, the British Heart Foundation disparaged Bridgen's claims in the adjournment debate, which I also wrote about the following day.
2023 can make or break Bridgen
On Monday, January 9, 2023, Bridgen began the day by tweeting the link to a discussion about alleged lies told during the pandemic and the response to coronavirus:
Later that day, The Guardian reported that Bridgen had been suspended for five working days for lobbying and undeclared interests, matters unrelated to coronavirus:
The MP for north-west Leicestershire was found to have repeatedly broken the MPs' code of conduct by a cross-party committee, which endorsed findings from Kathryn Stone, the parliamentary commissioner for standards.
He was unsuccessful in an attempt to overturn the recommendation in December and a motion was approved by parliament on Monday.
The suspension is due to start on Tuesday 10 January, and will run for five sitting days.
Bridgen was found to have approached ministers and officials on behalf of a forestry company, Mere Plantations, that had given him a donation, a visit to Ghana and the offer of an advisory contract, a role that ended up being unpaid.
Two of the days were recommended by the committee for the breaches of rules on advocacy and interests. The other three days of suspension were advised in response to what the committee said was a "completely unacceptable" attempt by Bridgen to put pressure on Stone.
Bridgen attempted to appeal against the decision, criticising the investigation as "flawed" and arguing that it had not fully considered the motivations of the person who had made the initial complaint.
He argued that he was just helping a local company that worked with Mere, and that it was thus simply a "constituency interest" that brought him no personal benefits. The committee disagreed with this, saying the MP had breached lobbying rules.
The committee, chaired by the Labour MP Chris Bryant, found that Bridgen breached the rules "on multiple occasions and in multiple ways".
Meanwhile, Bridgen continued to sound the alarm about coronavirus vaccines.
On Tuesday afternoon, January 10, he tweeted a Project Veritas interview with a Pfizer scientist who alleges that they were aware that their vaccine was responsible for the unusual spike in cases of myocarditis. This is short, subtitled and well worth watching:
That afternoon, Bridgen tweeted a video featuring Dr Peter McCullough, who alleges that the vaccines are responsible for myocarditis cases and deaths. This, too, is a short video well worth watching:
On the morning of Wednesday, January 11, Bridgen retweeted a message from Dr Malhotra which included a video of Tucker Carlson and vaccine watchdog Robert F Kennedy Jr discussing the omerta on coronavirus vaccines:
Bridgen followed up with his own tweet about the alleged dangers of the vaccines, including a quote from Robert F Kennedy Jr:
Worse news than a five-day suspension came later that morning, after Bridgen had tweeted a cardiologist's comment that the global rollout of coronavirus vaccines will have been the worst human rights violation since the Holocaust. Bridgen later deleted the tweet, but other MPs saw it and strongly objected to it. Pictured along with Bridgen is Conservative MP Simon Clarke:
It then came to the attention of the Conservative Chief Whip Simon Hart, who withdrew the whip from the MP:
On Wednesday morning, Guido reported what Simon Hart had said in defending his decision:
Andrew Bridgen has crossed a line, causing great offence in the process. As a nation we should be very proud of what has been achieved through the vaccine programme. The vaccine is the best defence against Covid that we have. Misinformation about the vaccine causes harm and costs lives. I am therefore removing the Whip from Andrew Bridgen with immediate effect, pending a formal investigation.
However, that afternoon, the Daily Sceptic reported that a Jewish academic in Israel came to Bridgen's defence:
Andrew Bridgen, the British politician suspended as a Conservative MP over allegations of being anti-Semitic in a tweet criticising the Covid vaccines, has been defended by the Jewish Israeli academic whose article he linked to in the tweet in question.
Dr. Josh Guetzkow, a senior lecturer in criminology and sociology at the Hebrew University of Jerusalem, told the Daily Sceptic that as a Jew living in Israel he was "surprised" by the accusations against Mr. Bridgen, because "there is nothing at all anti-Semitic about his statement" …
John Mann, the Government's independent anti-Semitism adviser, was unequivocal, saying: "There is no possibility that Bridgen can be allowed to stand at the next election. He cannot claim that he didn't realise the level of offence that his remarks cause."
Prime Minister Rishi Sunak said that he "completely condemn[ed] those types of comments in the strongest possible terms".
"Obviously it is utterly unacceptable to make linkages and use language like that and I'm determined that the scourge of antisemitism is eradicated," he told the Commons on Wednesday …
However, Dr. Guetzkow, whose tweeted article details the alarming, recently-released analysis of vaccine adverse event data from the U.S. CDC, said this is a "tempest in a teapot".
"The hollow accusations against him only distract from genuine examples of anti-Semitism and ultimately hinder attempts to draw attention to them, much like the boy who cried wolf," he said.
It is clear from the statement by the Chief Whip that Mr. Bridgen's chief sin is to have criticised the vaccines. Mr. Hart's statement notably does not mention anti-Semitism, but rather says that Mr. Bridgen is having the whip removed for "misinformation about the vaccine", which "causes harm and costs lives", adding only that he had caused "great offence in process".
The allegations of anti-Semitism therefore appear to be just the opportunity party chiefs needed to mete out the punishment to the vaccine heretic …
Stop Press: Dr. Guetzkow has pointed out that Holocaust survivor Vera Sharav has been drawing parallels between the extreme and discriminatory public health measures during the pandemic and the Holocaust throughout the the last three years.
Rishi Sunak's comment came up during Wednesday's PMQs (Prime Minister's Questions), the first of 2023, which I watched on BBC Parliament.
One might well ask who asked the question.
None other than Matt Hancock, who has just returned from a short holiday in Turkey, which seemed to involve shopping.
The Daily Sceptic reported:
Matt Hancock, the disgraced lockdown Health Secretary, hit out at Mr. Bridgen's "disgusting, antisemitic, anti-vax conspiracy theories" at Prime Minister's Questions on Wednesday. He said the comments were "deeply offensive" and "have no place in this House or in our wider society".
Prime Minister Rishi Sunak replied that he joined Mr Hancock in "completely condemning those types of comments in the strongest possible terms".
In closing, the Daily Sceptic calls to readers' attentions Andrew Bridgen's qualifications:
Mr. Bridgen, who has a science background, has become Parliament's most vocal critic of the Covid vaccines. He thus made himself a big target for the pro-vaccine zealots who will have been looking for an excuse to punish and cancel him, and who have predictably leapt on the first 'offensive' thing they could find.
Wikipedia states that Bridgen studied genetics and behaviour at the University of Nottingham and graduated with a degree in biological sciences.
The Government does not want their big achievement of the past three years — the vaccine rollout, Europe's first — to be tainted in any way.
However, judging from the comments, Daily Sceptic readers are supportive of Andrew Bridgen and look forward to hearing more from him on the vaccines this year, which is more than can be said of Matt Hancock, who, as of December 28, was still searching for a celebrity agent to kickstart his new career in reality television.
—————————————————————————————————-
UPDATE — Guido Fawkes has reported Andrew Bridgen's statement on having lost the Conservative whip, complete with video:
The fact I have been suspended over this matter says a lot about the current state of our democracy, the right to free speech, and the apparent suspension of scientific method of analysis of medicines being administered to billions of people.