You are currently browsing the tag archive for the 'Harry Cole' tag.
Yesterday's post discussed Liz Truss's dogged determination.
Today's entry looks at how determined she was to bring a refreshing libertarianism to Government.
On September 28, 2022, Jeremy Cliffe wrote a fascinating profile of Truss's love of free markets in the New Statesman: 'Liz Truss and the rise of the libertarian right'.
Of Kwasi Kwarteng's mini-budget of September 23, Cliffe points out (emphases mine):
… nothing in Truss's past was fundamentally incompatible with her proclaimed ideological commitment to a small-state, free-market model. And now, just three weeks into her tenure in No 10, it has been comprehensively buried. The unofficial Budget from her like-minded Chancellor, Kwasi Kwarteng, on 23 September, removed any remaining doubt by ushering in the biggest package of tax cuts since the Conservative chancellor Anthony Barber's expansionary "dash for growth" in 1972, and by targeting the benefit of those cuts overwhelmingly on the richest.
Far from popularity-chasing opportunism, this amounts to a huge experiment that, as the Conservative commentator Tim Montgomerie has put it, effectively treats Britain as a giant "laboratory" for economically libertarian ideas. The success or failure of that experiment will make or break Truss's government. Say what you like about the wisdom of this approach – and the markets have had their say – but it is absolutely not the method of a flip-flopper. Rather, it is that of a convinced member of a deep-rooted network of ideas, institutions and thinkers born on the shores of Lake Geneva over 75 years ago. It is impossible to understand the ideological zeal with which Truss and Kwarteng are pushing Britain towards the economic brink without understanding that network.
Cliffe goes on to present a summary of Friedrich Hayek's economic vision. I learned a lot, so am sharing that below.
Hayek and the Mont Pelerin Society
Over the centuries, many wonderful things originated in Switzerland. Libertarianism was no exception.
In 1947, in the aftermath of the Second World War, Friedrich Hayek invited a group of 39 economists, historians and philosophers to promote classical liberalism, which has nothing to do with left wing politics. In fact, what became the Mont Pelerin Society was — and is — actively opposed to Marxist and Keynesian economic policies promoted globally at that time.
The group met at the Hotel du Parc, now the Pelerin Palace, in the village of Le Mont-Pèlerin, which overlooks Lake Geneva. I have been to that part of the world, and it is sublime.
The Mont Pelerin Society still meets regularly, annually for regional meetings and every two years for a general meeting. In 1997, they met at the village's stunning Le Mirador Resort and Spa. In October 2022, they met in Oslo.
Cliffe describes the Society's goal:
Inspired by Hayek's warnings of a "road to serfdom" – as set forth in his 1944 book of that name – they were united in concern at the apparent march of international collectivism, in both its totalitarian (Soviet) and democratic (social democrat and New Deal) forms.
Afterwards, libertarian think tanks were founded in the United Kingdom and the United States which influenced the thinking of Margaret Thatcher and Ronald Reagan:
Over the subsequent decades members and associates of this group established successive generations of influential think tanks advancing anti-collectivist economics. In 1955, Antony Fisher founded the Institute of Economic Affairs in London (IEA). This would help inspire a second wave in the 1970s, including the Cato Institute and the Heritage Foundation in Washington DC and, in London, the Centre for Policy Studies (CPS) and the Adam Smith Institute (ASI). As the historian Daniel Stedman Jones puts it in his book Masters of the Universe: Hayek, Friedman, and the Birth of Neoliberal Politics, these transatlantic "ideological entrepreneurs" provided both a long-term incubator for such ideas and a bridge from high economic theory to applied policy practice. Both Reaganomics and Thatcherism would have been unthinkable without them.
Not all of these think tanks think alike. Some are socially conservative, while others are not. Some are geared towards academia, others towards politics. However, they agree on economic policy:
From the 1980s to the early 2000s came the next wave of more public-facing bodies such as Americans for Tax Reform and the TaxPayers' Alliance (TPA). Matthew Elliott, who worked at the former before returning to his native UK to found the latter in 2004, would also go on to help establish and lead the Vote Leave campaign in the run-up to the 2016 Brexit referendum.
These bodies are not homogeneous. Cato, for example, is classically libertarian on social issues like LGBT+ rights, whereas Heritage is hard-line conservative. There are also differences of approach. Mark Littlewood, the director of the IEA [Institute of Economic Affairs], who has known Truss since their student days – they both attended Oxford in the 1990s – differentiates between more "upstream" think tanks like his own, which are closer to academia and concentrate on disseminating ideas among opinion-forming elites, and more "downstream" organisations, which are focused on government policymaking (like the CPS) and shaping debate in the mass media (like the TPA).
One of Truss's tutors at Oxford, Marc Stears, says:
"Hayek's ideas are really important because of the underlying spirit that animates them: that there is no such thing as collective intelligence; the state does not know things and only individuals can really know things. That faith in the wisdom of the crowd, as expressed in price mechanisms, is very deeply ingrained."
He also points to a shared tendency to be patient, citing the Marxist philosopher GA Cohen's observation that the supply-side right has succeeded at "keeping the fires burning" even through periods in the political wilderness.
Stears himself leads a libertarian think tank:
Marc Stears tutored Truss when she was a PPE student at Oxford and today leads the Policy Lab at University College London. He notes that the more theoretical "upstream" parts of the libertarian think-tank spectrum have grown in significance as academia has tilted leftwards. "There are fewer centres in the big universities where these thinkers cluster," he told me. "So that makes the role of think tanks more important."
Cliffe points out the geographical proximity of think tanks in London and Washington DC:
The majority of these think tanks are clustered around Tufton Street, a Georgian terrace in Westminster, and Massachusetts Avenue, a long boulevard in Washington DC (a distinction being that "Mass Ave" is also home to think tanks of various other intellectual outlooks).
These two worlds have long been linked by transatlantic personalities criss-crossing between them. Prominent examples include Fisher (who founded the Atlas Network, a Washington-based umbrella organisation of international free-market think tanks), Edwin Feulner (a former IEA intern who co-founded Heritage) and Eamonn Butler (an ally of Feulner's who co-founded the ASI in London). Today they number Ryan Bourne – a Truss ally, formerly of the IEA and now at Cato; Daniel Hannan – a Brexiteer former MEP and founder of the Initiative for Free Trade (IFT); and Nile Gardiner – head of the Margaret Thatcher Center for Freedom at Heritage.
Today's economic libertarianism
The current Conservative government, whether under Boris Johnson, Liz Truss or Rishi Sunak, has some commitment to economic libertarianism. Sunak promoted freeports in 2019, which are slowly coming to fruition. Truss advocated investment zones, which are still going ahead, although they will be more focused on research.
Cliffe says:
Ideologically, the institutions and thinkers of this world share a common commitment to a low-tax, low-regulation, Anglo-Saxon social model, distinct from the social democratic "European" one. They tend to favour mechanisms for advancing that model, such as free-trade deals, "levelling down" state intervention, and demarcated zones pioneering extremely small-state government (variously referred to as "freeports", "investment zones" or "charter cities"). They instinctively prefer market-led solutions to collective problems, such as climate change, over state-led ones. Perhaps not unrelatedly, many of them draw on opaque funding from big private-sector interests. Cato, for instance, has received backing from corporations such as FedEx and Google, and, in the past, from the tobacco industry – which has also been a source of funding for both the IEA and ASI.
In the Britain of 2022 these instincts express themselves in a particular analysis of the state of the country. This, as Truss-ite thinkers explain, starts from the argument that British governments since Margaret Thatcher – Conservative as well as Labour – have become much too sentimental about the distribution and moral character of growth, and too little focused on raising the overall growth level. As Bourne puts it: "Liz Truss would not consider it a failure if she got the growth rate up significantly but not equally across regions."
It is not a politics of pursuing what is popular per se, but of letting "what works" (defined as whatever lifts the growth rate) speak for itself. "They won't be transactional about policies," Bourne says of Truss and Kwarteng. "It's the whole string of things. Incrementally, the patient might not like the medicine, but overall they will feel healthier and revived."
Truss's brand of libertarianism
I had no idea that Truss worked for a British think tank or that she had speaking engagements at the American ones.
Her interest began at Oxford, then continued in London:
Even during her student years in Oxford, recalls Marc Stears, Truss prided herself on defying intellectual convention. "Her primary characteristic was a love of controversy, quirkiness and idiosyncrasy… Her thinking was always intriguing and contrarian, if not always fully worked through." A brief flirtation with the Lib Dems is not entirely inconsistent with right-wing libertarianism (the party's Orange Book tendency has links with this world  too, and as a student Truss was also a member of the Hayek Society). "She definitely sat outside the prevailing social democratic orthodoxy even then," Stears says.
Truss worked in think-tank land herself before her election to parliament, serving as deputy director of Reform from 2008 to 2010, a period when the organisation was laying some of the intellectual foundations of the spending cuts and market-led approach to public services that would be introduced under David Cameron and George Osborne. "Cameron and Osborne may have been more Thatcherite where Truss is more Reaganite," notes Tim Bale of Queen Mary University of London, a historian of the Conservative Party. "But they shared the basic belief that the market should be the main force in economic life, the state as small as possible and the individual as large as possible."
Truss's Thatcherite tendencies became more apparent once she entered Parliament in 2010. However, Thatcherism means different things to different people:
Shared beliefs, yes, but with different degrees of intensity. In 2010, Truss typified a romantically Thatcherite intake of new Tory MPs who thought Cameron and Osborne were being too cautious about slashing the state.
"When you think that people's politicisation tends to take place in their teens and early twenties, it is perfectly understandable that MPs who had come of age around 1997 would equate past Conservative election victories with what they saw as Margaret Thatcher's uncompromising free-market ideology, rather than her more compromising reality," Bale says.
Truss rapidly became a figurehead for this generation. "Liz was the first convenor of the Free Enterprise Group," recalls Littlewood, referring to the establishment in 2011 of a cluster of like-minded Conservative MPs – which was effectively the IEA's parliamentary branch. "And Kwasi Kwarteng was the second."
Cliffe says there are other Conservative MPs committed to the free market, Priti Patel and Dominic Raab among them.
In 2017, Truss became Chief Secretary to the Treasury.
The following year, she began giving speeches in the United States:
A particularly notable speech was delivered at the Cato Institute in Washington in 2018. In it, Truss called for a new, small-state "Anglo-American dream" driven by an emergent generation of "market millennials" used to the freedoms of the app economy – "Uber-riding, Airbnb-ing, Deliveroo-eating freedom fighters", as she put it elsewhere. "Free enterprise is a hymn to individuality and non-conformity," she proclaimed to her Cato audience. "It's what allows the young to flower and the anti-establishment to flourish."
Bourne helped set up the speech. I put it to him that her argument ignores strong youth support for the likes of Jeremy Corbyn and Bernie Sanders. "It's a case of stated preference versus revealed preference," he said. "Liz's essential argument is that, in their actions, young people in both countries are very entrepreneurial, independent, and enjoy the fruits of a liberal, dynamic economy. She thinks there is a latent enthusiasm for markets if we can reform things in a direction that enables these people to fulfil their wants and needs, like starting companies and buying homes."
Her visits to the US engaged her interest in the Reagan years:
It was around this time that she became engrossed in books by the American historian Rick Perlstein on the making of the Reagan revolution.
Fast-forwarding to her appointment as Foreign Secretary in 2021, her commitment to libertarian ideals ran deeply:
… her ideology, rooted in the school of thought founded at Mont Pelerin, was long-established. "Her ideological disposition is towards the likes of Robert Mundell, Alan Reynolds and Arthur Laffer," says Bourne, "the original supply-side thinkers in the US who influenced the underpinnings of the Reagan administration. The basic idea is that monetary policy deals with inflation and that fiscal and especially tax policy has to deliver incentives for long-run growth."
Another inspiration is "Rogernomics" in 1980s New Zealand, when the Labour government's finance minister Roger Douglas slashed trade tariffs and non-tariff barriers and pioneered monetary policy targeting. (The legacy of that neoliberal experiment remains deeply divisive on the New Zealand left.)
Liz's libertarian allies
Cliffe discusses Prime Minister Truss's Cabinet and think tank allies:
… now she is Prime Minister, the supposed free-market outriders are finding themselves being outridden by the sitting government. Littlewood of the IEA marvels at the scope of the unofficial Budget. "I have long tried to fine-tune out criticism of Conservative governments for not being radical enough; now they're being more radical than even we are requesting." He cites the government's commitment to scrap all remaining EU law as an example. Even when the IEA and Truss disagreed, the closeness was evident; its criticism of her energy price cap promptly elicited an explanatory call from No 10.
Old Tuftonians hold many of the senior jobs in her government. "Matt Sinclair is the standout example," says Littlewood of Truss's chief economic adviser, formerly of the TPA. "He is steeped in this world." Ruth Porter, deputy chief of staff, is an IEA alumna. Sophie Jarvis, No 10's political secretary, was formerly at the ASI. "She will have hired and appointed people who are on board with her ideologically," agrees Bourne. With Kwarteng as Chancellor, as well as James Cleverly as Foreign Secretary and Jacob Rees-Mogg as Business Secretary, the major cabinet roles are held by true believers.
Free-market think tanks, like the IEA, that have long considered themselves to be outside the broad British consensus have used provocation and controversy to catch attention, shake things up and try to shift debates. Truss, observes Marc Stears of his former student, is now bringing that approach into government. "She loves this idea that the action is in the reaction, prodding and provoking people. The unofficial Budget was like going to a slightly mad libertarian think-tank report launch."
Stears said that Truss:
"actually wants to destabilise things. She thinks the prevailing order is wrong and there is a need to break things to rebuild."
Ryan Bourne and Mark Littlewood say that she would have wanted to increase personal freedoms by reducing the nanny state:
Bourne cites childcare, infrastructure, energy and housing (street votes on city planning decisions, for example) as possible focuses, as well as farming ("where there might be a quid pro quo where they scale back government support but relax regulations"). "And I expect this philosophy to apply to lifestyle freedoms, too," adds Littlewood. "Deregulating ads for sugary drinks, McDonald's advertising on the London Underground, that sort of thing."
Oh, if only she'd been allowed to do all those things.
Bourne had more to say:
"Her broad view is 'We have to show, not tell'," says Bourne. "We have to get on with free-market reforms and when they create results they create a baseline, and that wins hearts and minds." There are echoes of the Prime Minister's vision of "market millennials" here: that young people will come to recognise their small-state instincts when they feel the benefit of such politics put into action.
Cliffe has a message for his Labourite New Statesman readers and suggests how Labour can oppose Truss's ideas:
So far, her environment policies seem designed to serve the interests of big polluters rather than market insurgents in the green-energy sector; her deregulation push appears tailored to the interests of existing market insiders with big lobbying budgets; and her proposed tax cuts will certainly benefit the already rich, rather than the worst off. None of this is a "hymn to individuality and non-conformity". It is corporatism.
The challenge now for Liz Truss's opponents, both inside the Conservative family and on the left, is to engage with these tensions and use them to expose the contradictions of the great unruly experiment being rolled out from Downing Street. Because to do so is to contest what is really driving it; to have a chance of changing the public debate and building a solid foundation for a different and better national project. Bad ideas make a much more obvious and persuasive target than bad intentions.
I would say that has already been done. Sunak's government is very different to Truss's, especially with Chancellor Jeremy Hunt as de facto Prime Minister.
'Weird' Liz Truss
Shortly after Truss resigned as Prime Minister, The Guardian had an excellent profile of her: 'From fighter to quitter: the "weird" rise and fall of Liz Truss'.
Truth telling?
It would appear that Truss was somewhat economical with the truth about her education and that of previous Prime Ministers:
At her recent party conference, she spoke of herself as "the first prime minister of our country to have gone to a comprehensive school". The claim has been disproved by those who note that both Gordon Brown and Theresa May went to comprehensive schools. In any case, Truss has said that Roundhay School in Leeds "let down" children by teaching them "about racism and sexism" with "too little time spent making sure everybody could read and write".
Again, the notion that Roundhay, a consistently "outstanding" school, was unacademic has been strenuously contested, as has Truss's claim that her comfortable middle-class neighbourhood in Leeds was "at the heart of the red wall". Truss is not the first politician to massage her biography but she's unusual in attempting to establish her rightwing credentials by making her formative years seem more underprivileged than they were.
Political 'dynamo' at Oxford
The IEA's Mark Littlewood was complimentary about her commitment to politics at Oxford:
She became president of the university Liberal Democrats, and a member of the national executive committee of the party's youth and student wing. Also at Oxford and another Lib Dem activist was Mark Littlewood, now director general of the free market thinktank most associated with Truss's political outlook, the Institute for Economic Affairs (IEA). He remembers her as a "dynamo who exploded on to the political scene" …
"If you spent any more than three minutes in her company, you had no doubt at all about what she thought of the particular topic you might be discussing," Littlewood says.
Unlike her U-turning days as PM, she was sure of her convictions as a student:
For others, like Neil Fawcett, a fellow committee member of the Lib Dems' student national executive, this trait of certitude came across as dogmatic and unbending. "She always had very strong views on everything," he recalls. "Sometimes they were based on knowledge or experience but quite often they weren't. My main memory is that if she came up with something that simply wasn't going to work, and I was in a position where I had the experience to know that it wasn't going to work, she would still argue the case anyway.
"She was absolutely not for turning, whatever the evidence. I thought of that when I read about Treasury civil servants who have been completely ignored because she knew better."
She was more interested in debating and protesting than in canvassing:
She was more concerned to make a splash, he says, than to get things done. Littlewood suggests, in her defence, that Truss was not much interested in "delivering leaflets". Instead she spoke out against the monarchy at a Lib Dem conference, and protested against the BNP in Tower Hamlets.
Mark Littlewood says that Truss found the Liberal Democrats of the 1990s more libertarian than the Conservatives of that era:
Littlewood insists that the Lib Dems made more sense at the time to Truss because the Conservatives were authoritarian on civil liberties and Truss was primarily interested in personal freedom. This, he says, has been the constant in her political career.
"People say she was a Liberal Democrat and now she's a Tory. She was a remainer and became a Brexiter. She was a republican and she's a monarchist. But actually her overarching view of the world has always been a classical liberal one, that the state is too big and interfering in our lives," he says.
She joined the Conservatives in 1996 – when the "back to basics" morality campaign was still alive, if not very well – and 13 years later, it was her local Tory party that wanted to interfere in her life.
That would have been after her affair with a fellow sitting MP at the time. Some local Conservative association members wanted her deselected from her rural Norfolk seat, although that did not happen:
Several constituency association members, dubbed the "Turnip Taliban", objected, arguing that Truss had not disclosed the extramarital affair she had had with the Conservative MP Mark Field. A motion to cancel her candidature was defeated after the then-leader David Cameron came to Truss's aid.
'Weird'
Some of Truss's detractors told The Guardian that her interpersonal skills are 'weird':
The knowledge of the affair with Field has hung around Truss in a way that it probably would not have done with a male politician. There is a welter of parliamentary gossip and tall stories concerning Truss that MPs routinely refer to, off-the-record, although no one can ever name a source or witness. "She flirted with every man she comes across," says one (female) former Tory minister. "She almost even flirted with women." At the same time, so many of her colleagues and former colleagues – including the one who speaks of her flirting – report that she was unapproachable and, as another put it, "she doesn't have great interpersonal skills".
What most MPs agree that she has always had is ambition. Four years after entering parliament in 2010, she joined the cabinet as environment secretary. The most attention she received in the post came with a bizarrely emphatic speech she gave to the Tory party conference.
"We import two-thirds of our cheese," she told a bemused hall, "that is a disgrace." She spoke the last half of the sentence as if there were full-stops between each word, an oratorical choice that cemented the "weird" reputation.
When Theresa May became leader, she replaced Michael Gove with Truss as justice secretary and Lord Chancellor, making her the first woman to hold either post. One insider says that it was obvious that "she was an entirely unsuitable appointment for the job" …
Also:
When asked to describe Truss, two former Conservative government ministers both used the same word: weird. "She doesn't have any friends. She's just weird," one said. "She sits far too close to you," said another. "And when she talks to you, she keeps repeating your name. It's weird."
As Prime Minister:
While Truss may appear to possess an unshakeable self-confidence, many of her appointments spoke of insecurity, as well as debts that required paying. "Never forget that only 50 MPs voted for her in the first round of the leadership election," says one former minister, who puts Truss's ultimate triumph down to the fact that "she wasn't Rishi Sunak" …
"Oh, she's very clever," the former minister acknowledges, admonishing those who think otherwise. "She may not be great at understanding nuance, and her political antenna is not very good, but her political skill is in being a survivor."
A libertarian perspective: 'shambolic'
The IEA's Mark Littlewood did not seem to approve of the Truss-Kwarteng mini-budget:
Whatever is said of Truss, there can be no doubt that she inherited a difficult political and economic situation, with a cost of living crisis, the war in Ukraine, a huge national debt following the pandemic, and the forecast of a major recession.
But, says Littlewood, she played a bad hand badly. He remains bewildered about why she staked so much political capital on reducing the top rate of income tax. "Why select that as the hill you want to die on?"
Similarly, he doesn't understand why, if she was looking for tax reductions, she didn't cut VAT, which he argues would have been counter-inflationary and broadly progressive. He puts her undoing down to her tendency to rely on just a handful of trusted advisers, which may have worked when she was trade secretary, but not as PM. "That's when you need squadrons of very senior and experienced people advising you," he says.
Of course, squadrons of experienced people did advise her not to cut taxes – perhaps that's why she didn't consult them.
"I was utterly amazed by the complete inability to politically execute anything," Littlewood adds. "It was totally shambolic."
It makes you wonder what went on in all those IEA meetings, if Littlewood was taken so thoroughly by surprise.
The article notes the irony in a free-marketeer being brought down by market forces:
Whatever unfolds from here, hers has been a tale of almost classical hubris. In thrall for so many years to free enterprise, she seemed to expect as prime minister that the compliment would be repaid. Instead, she received from the hedge fund managers and bond traders she lionised an ignominious lesson in the most basic rule of capitalism: you can't buck the market.
'Weird' and friendless
According to Harry Cole and James Heale's Truss biography Out of the Blue, even she admitted that she was lacking.
On November 1, The Telegraph's Tim Stanley got a look at the book as it was a month ago, before publication:
… Harry Cole, political editor of the Sun, and James Heale, diary editor of the Spectator, have proven that hacks do our best work under pressure, adding two chapters on her 44-day premiership and cleverly turning a story of surprise victory into a well-researched tragedy of warnings ignored.
Even Ms Truss had her doubts about her suitability for No 10. I think I'd make a great PM, she once told a visitor to her office, the only problems are: "I am weird and I don't have any friends."
Others agreed with that assessment:
One special advisor recalled her "weird manner, where she has a glint in her eye and she thinks she's being edgy or naughty".
At the end of her premiership, she was pragmatic. And she does have some friends, after all:
"Politics is a blood sport," she told friends, "and I am the fox."
The 'pork markets' speech
In The Times, on Saturday, November 5, Cole and Heale gave us a preview of the book by discussing Truss's pork markets speech, which went viral this year, even though it didn't raise any eyebrows at the time. David Cameron was Prime Minister back then:
While Liz Truss was becoming more astute in Whitehall management, there is no escaping that her early days at Defra — the Department for Environment, Food and Rural Affairs — will be remembered for one thing only: the speech about apples, pork markets and cheese. The 2014 Conservative Party conference in Birmingham was the last chance for the faithful to gather before the widely expected election the following year.
With the polls pointing to a hung parliament, and fears of years more of coalition, it was red meat galore. George Osborne put the £100 billion annual benefits bill on notice, while David Cameron basked in some rare warmth from the membership after seeing off Alex Salmond and co in September's Scottish referendum. That week Truss picked a fight on two fronts. First, she declared war on the Hunting Act, and then she turned fire on her least favourite pudding: Angel Delight.
… it was the 1970s dessert that drew the minister's ire in a bizarre pre-conference intervention, most notably in The Times where she blamed the "new-fangled" instant pudding for the decline of Britain's orchards. "Apples are a symbol of a wider failure to take pride in and cultivate our own food," she wrote. Citing the fact that two thirds of UK orchards had been "ripped up in the past 60 years" and that Britain was importing "65 per cent of the apples we eat", Truss was on the warpath: "Consumers reach for easily made, new-fangled products such as Angel Delight or Instant Whip rather than make an apple crumble."
She continued the crusade from the podium in Birmingham, in her first speech to a conference as a cabinet minister: "At the moment, we import two-thirds of all of our apples. We import nine tenths of all of our pears. We import two thirds of our cheese." She continued, with now infamous emphasis: "That . . . is . . . a . . . dis . . . grace! From the apples that dropped on Isaac Newton's head to the orchards of nursery rhymes, this fruit has always been part of Britain, it's been part of our country. I want our children to grow up knowing the taste of a British apple, of Cornish sardines, of Herefordshire pears, of Norfolk turkey, of Melton Mowbray pork pies and, of course, of black pudding . . . I will not rest until the British apple is back at the top of the tree."
With only a few newspaper mentions, her speech went largely unnoticed.
However, she also mentioned 'pork markets', at which point her face strangely lit up, suggesting something more that wasn't there. By the end of the week, the BBC's satirical quiz show, Have I Got News For You (HIGNIFY), picked up the video:
Jennifer Saunders, the programme's host, mocked the environment secretary's facial gestures; responding to Truss's promise that, "In December, I'll be in Beijing opening up new pork markets", Paul Merton quipped: "She likes to enjoy herself on holiday, doesn't she?" Truss's least radical conference speech would become her most famous — as a meme and as a gif — and "that is a disgrace" a punchline of political jokes for years to come.
Recently, Truss said:
To be honest I didn't think it would get that much attention. So basically I hammed it up a bit too much.
Those who knew her at the time said that Truss's awkward delivery was a product of media training gone wrong:
Truss's friends would later confess she had been on a crash course for "corporate management presentational training" shortly before the speech. Reflecting on it eight years later, Kirsty Buchanan, a former adviser to Truss, told the BBC such training "plays into the worst elements of Liz's communication because it makes her more stilted — over-pronunciation and pausing is not her problem, it's the exact opposite. You need to loosen her up in speeches and get her to relax. In private when she's relaxed, she's articulate, sharp, witty, funny, engaging. Put her in front of a camera, until recently when she's grown in terms of confidence, she kind of clams up."
According to Matt Kilcoyne of the Adam Smith Institute think tank: "At the time in CCHQ [Conservative campaign headquarters] and No 10, they were doing training for ministers, trying to train them in a certain way. You saw that with the weird stance that they all took, standing with their legs apart."
A leading Tory sympathetic to Truss notes the difficulty in delivering a modern conference speech: "Addressing a conference hall while being told to address a headshot camera and speak to viewers at home: it's a difficult balancing act to get right, with speakers attempting to build a rapport with delegates while trying to deliver carefully crafted lines more suited to a party political broadcast or social media clip."
Nevertheless:
The reference to "pork markets" nevertheless raised eyebrows. One special adviser then working in another department says: "I think she was trying to be suggestive, it's all part of the whole naughty and weird act. I think because I've seen her be suggestive so many times, I assumed it was deliberate but it might just have been accidental."
Following the speech, allies admit Truss undertook more training to avoid a repeat of the mockery. Buchanan says: "There has clearly been a lot more work done on bringing the voice down and slowing down the pace of delivery."
Kwasi Kwarteng said:
I think it was a bit unfair . . . it was weird, the delivery people thought was a bit strange. The point she made was a fair point. But again she bounced back. She's totally resilient, totally focused and she learnt from Defra, she learnt from that experience.
She didn't let poor delivery deter her:
Undaunted, Truss threw herself back into her departmental work. An aide recalls: "There's a sort of delightfully Terminator quality to her: she just keeps going. And you know if you combine that with a very thick skin this will lead to this almost relentless optimism. It's quite a powerful force in politics."
Truss can laugh at 'pork markets' now:
One cabinet colleague notes that Truss can at least laugh about the speech: "The number of times that I've been in meetings with her and she's gone, 'That is a disgrace' and everyone chuckles because we all know what the reference is and she laughs along with us like, 'What the f*** was I doing?'" Truss says: "My daughter loves it, though, she plays it all the time."
Scottish Secretary helped Truss become PM
Perhaps one of the biggest revelations of Out of the Blue is that Alister Jack, the Scottish Secretary, helped Truss become PM.
On November 13, The Sunday Times featured a synopsis of how Jack dissuaded Truss from resigning as a Cabinet minister in September 2021.
Truss found out about a rise in National Insurance and told Boris Johnson about it. Then a newspaper report about the rise appeared from an unnamed Cabinet minister. The article quoted the minister as saying the rise would be:
morally, economically and politically wrong.
Boris did not want Truss to resign, so he enlisted Alister Jack's support in keeping her in place:
As a result one of the authors argues that she was able to spend a year at a senior level of the government positioned as the alternative to Rishi Sunak if Johnson lost his job …
Jack had become increasingly close to Johnson and was advising him on a cabinet reshuffle. The book says the Scottish MP contacted Truss to tip her off that she was in line for a significant promotion.
Jack told her to keep quiet about the National Insurance rise:
Jack called her and said: "Look Liz you're gonna get a massive job in two weeks' time, a massive job. You would be well advised to shut the f*** up."
Despite going on to raise concerns in cabinet, she did not comment publicly and, according to a Downing Street official "then sucked it up".
Truss then became Foreign Secretary:
With Truss duly being promoted shortly afterwards to the prestigious foreign secretary post, the authors say: "Perhaps Alister Jack's plan had worked after all; Truss did not resign."
Cole told The Sunday Times: "For fans of alternative history, the role Alister Jack played in the rise of Liz Truss is fascinating.
"Had he not convinced her to temper her attacks on Johnson and Sunak's national insurance rise in September 2021, perhaps she would have resigned. Or perhaps Boris would never have promoted her to foreign secretary to clip Sunak's wings and set up the battle to replace him a year later. Keeping her on board made her a contender as she spent a year basically being the alternative to Rishi if Boris did go down so it was clearly a key milestone in her tilt for the top job — and all that followed."
Currently, rumours have been circulating that Alister Jack will be in line for a peerage, perhaps from Liz Truss. Every Prime Minister is allowed a list of nominees for the House of Lords and Truss is no exception.
The end
After Truss resigned, Harry Cole gave an interview to Times Radio, summarising Truss's final week as Prime Minister. Too many things had gone wrong. She had to go. He ended by saying she was remarkably 'zen' about it all:
That fateful Wednesday of Suella Braverman's resignation coupled with the bungled vote on fracking and no Chief Whip brought Truss and her husband to a serious conversation that night, as the October 23 edition of the Mail on Sunday reported:
When Liz Truss finally accepted that her premiership was over, late on Wednesday evening, she went to the fridge in the No 10 flat and pulled out a bottle of sauvignon blanc to share with her husband Hugh.
She had just endured a torrid night in the Commons, where more than 40 of her MPs had failed to back her in a vote on fracking – leading to the astonishing sight of ministers pulling wavering Tories into the voting lobbies.
As she nibbled on a pork pie, the couple agreed that it was a matter of when, not if, she resigned.
One of the main considerations was the impact of the growing turmoil on their two teenage daughters.
Ms Truss then slept fitfully until 4.30am, when she started messaging aides for advice.
Later that morning, No 10 asked Sir Graham Brady, chairman of the 1922 Committee, to come in to see the Prime Minister.
When she asked if the situation was retrievable, he replied: 'I don't think so, Prime Minister.' The game was up …
Downing Street staff were in tears as Ms Truss prepared her resignation but she reassured them: 'Don't worry, I'm relieved it's over,' before adding, 'At least I've been Prime Minister.'
While newspaper reporters were putting together Truss stories, she was spending her final weekend as Prime Minister at Chequers, in leafy Buckinghamshire.
The Sunday Times reported that she held back-to-back parties:
Truss, 47, held a farewell party for ministers last night, and will thank close aides and their partners tonight …
Prime ministers are required to cover the cost of any private entertainment or party business they host at the residence.
A Times2 article told us what she allegedly served to guests:
One of Liz Truss's many leaving parties at Chequers this weekend featured a menu including bruschetta, pigs in blankets and smoked salmon pinwheels and that, right there, sums up this whole sorry mess.
Anyone who inflicts canapé carnage like that is quite obviously unfit for high office. Smoked salmon followed by a mini sausage followed by bruschetta is a recipe for digestive disaster.
It sounds pretty good to me.
The Mail on Sunday reported more Truss controversy to come involving:
a row over whether Ms Truss should be entitled to the annual £115,000 allowance afforded to ex-PMs after her stint in office lasted only six weeks.
She is also due to receive a £18,860 pay-out for her historically short time in office.
Her aforementioned adviser Kirsty Buchanan stuck the knife in:
Kirsty Buchanan, who was a special adviser to Ms Truss at the Ministry of Justice and who also worked in Downing Street under Theresa May, claimed the PM's reputation was 'in tatters'.
'The seeds of destruction were sown early as she shut out all but her closest allies and cocooned herself with those who shared her views,' Ms Buchanan wrote in the Sunday Times.
'With experience and institutional knowledge gone, dangerous groupthink and staggering naivety took hold at No 10.
'Hubris went unchecked when humility was required from an administration that did not earn its majority but inherited it.
'Politics was baked in a Petri dish, away from the political reality of the world outside.'
Ms Truss's former aide said it would take 'every ounce of her famed resilience' for the PM to 'bounce back from this humiliation'.
'I suspect, though, that it will be the humbling in the eyes of her daughters, of whom she is fiercely proud, which may hit Truss hardest,' she added.
Oh, dear. I hope Ms Buchanan was not one of Truss's guests at Chequers.
I still think that, had Truss been male, most people in power would have tolerated her mistakes and been supportive.
Tomorrow's post looks at the role the Bank of England and the media played in her downfall.
My most recent post on Liz Truss explored the background to her final week in office as Conservative Party leader for 44 days.
She remained Prime Minister until Rishi Sunak took over and was in post for 50 days.
The book
On Thursday, November 24, 2022, Out of the Blue, the biography of Liz Truss by The Sun's Harry Cole (right) and The Spectator's James Heale (left), went on sale:
They had to frantically rewrite parts of it and add the sad denouement:
The Guardian's Gaby Hinsliff gave it a good review, considering that The Sun and The Spectator are not aligned with the paper's politics:
More excerpts from Hinsliff's review follow (emphases mine):
… Liz Truss was also the first [Prime Minister] to unravel almost faster than a biographer can type. She quit eight days before the Sun's political editor Harry Cole and Spectator diarist James Heale were due to deliver a portrait already being written at breakneck speed, and for a book to emerge at all in the circumstances arguably represents something of a heroic technical achievement. True, the writing is clunky in places. But nobody is going to be buying this book for its literary elegance; the point is to rubberneck at what remains of the crash site, and if that isn't what Cole, Heale or most of their interviewees originally intended to deliver – well, life comes at you fast in British politics nowadays.
Then comes the bit in the tweet about the book being of two parts.
The review introduces tantalizing details into Liz's life, past and present, that are in the book:
Most of the clues as to what went wrong however lie in the first part, a very readable gallop through Truss's childhood as the daughter of Guardian-reading, mildly eccentric leftwing parents, via her political awakening at university – first as a free market Lib Dem, then as libertarian Conservative – right the way through to her stint as foreign secretary, careering round the world in pursuit of the perfect Instagram shot. (It was during this stage that her ministerial "rider" was said to include multiple espressos in a flat white-sized cup and a bottle of sauvignon blanc chilling at every overnight stay.)
I was intrigued by Truss's mother, Priscilla, who briefly moved to eastern Europe in the 1970s to "try out life under the communists", took her children on Greenham Common protests and made herself a bright yellow banana costume in which to promote fair trade back home in Leeds. When Truss recalls schoolmates shouting "saw your mum in Tesco's dressed as a banana again", other 70s children of free-thinking parents may understand her seeming obliviousness to criticism a little better. You don't grow up with a banana-clad mother, I suspect, without developing a certain sturdiness.
The book shows Truss's self-belief from the time she entered Parliament in 2010, when David Cameron became Prime Minister:
Obliviousness isn't always a blessing in politics however, as becomes clear in her first job as early years minister under David Cameron. Truss had hatched a plan to cut childcare costs by slashing the number of adults required to supervise children, which unsurprisingly proved controversial. Instead of patiently trying to build public and political support for it, she simply put her head down and charged – much as she would a decade later with her mini-budget, and about as successfully. All young politicians make mistakes. What's unusual about Truss is that the lesson she seemingly took from hers was to believe in herself even more, and listen to others even less …
But it's perhaps significant too that she had got away with so much in the past, leading to an overconfidence about her ability to wing it – as she did even in the early days of her leadership campaign.
Interestingly, a Conservative plan to expand the number of adults who can care for children was debated earlier this month. It would allow people to mind children in their own homes rather than at a day care centre.
As with anyone else, there are darker sides to Truss, most of which will never be fully known. Cole and Heale were unable to interview her a third time for the book:
The authors recount sympathetically the well-trodden story of how an earlier extramarital affair with the married former Tory MP Mark Field nearly wrecked Truss's search for a parliamentary seat, rightly noting the double standard that it never seemed to damage Field. But they also touch on some of the more explosive smears circulated about her during the leadership contest – including claims of an affair with an aide, allegations of predatory behaviour towards staff, and even one wild suggestion that there might be a sex tape of her in circulation. The authors interviewed her twice but their planned third session was canned when she resigned, so perhaps they simply never got to put these to her.
As to how things went wrong, perhaps she should have listened a bit more to others:
Despite his professional closeness to Truss, Cole and his co-author strive to put some distance between them in their final reflections on where it all went wrong. Putting aside her own fear, reportedly expressed to a visitor to the Foreign Office, that "I am weird and I don't have any friends", plausible theories for her implosion include that vaulting self-belief (even in her post-resignation speech to staff, she was still insisting she'd been on the right track) and determination to put the wrong people in cabinet.
How to read the books on Boris and Liz
In addition to a book on Truss, there is also one about Boris Johnson, by the Financial Times's Sebastian Payne.
How can one read both in chronological order?
Harry Cole says to read the first ten chapters of Out of the Blue, then Payne's biography of Boris, then end with the final four chapters of Liz's biography:
An MP writes
Recently, Simon Clarke, the Conservative MP for Middlesbrough South and East Cleveland who served as Secretary of State for Levelling Up, Housing and Communities in Liz Truss's Government, and before that as Chief Secretary to the Treasury under Boris Johnson, wrote an article for the December 2022/January 2023 edition of The Critic on Truss's premiership: 'How did it all go so wrong for Liz Truss?'
Simon Clarke is one of the better Conservatives, in my estimation. He is diligent, good at the despatch box and is self-effacing. He is also very tall and, as such, when pictured with Rishi Sunak, walked some distance behind him so as not to accentuate the difference in height between the two of them.
Clarke begins his article with a weekend at Chevening, the Foreign Secretary's country residence, and concludes with Truss's last one at Chequers, as she closed out her premiership:
From Chevening to Chequers. For me, two weekends, eight weeks apart, will forever bookend my friend Liz Truss's time as prime minister. The first, a wash of August Bank Holiday sunshine over the Kent countryside. Walking the grounds of the Foreign Secretary's home with her on one of the last days of a leadership contest she had already won, listening as she outlined her vision for government, stalking ahead impatiently through the yellowing grass.
The second, an October Sunday in Buckinghamshire, an afternoon of bruised clouds and close heat foreshadowing the storm which broke as we dispersed. A small circle of family, ministers and aides, gathered in the Great Hall to say goodbye. A day defined by the quiet dignity and absence of self-pity of its principal protagonist, entirely typical of our host.
These memories are appropriate, because so much of what happened in between was decided at Chevening in the dog days of August.
Clarke has read Out of the Blue, which he liked, calling it:
a brisk and insightful canter through Liz's career and the forces that shaped her …
In four breathless chapters at the close of their book, Heale and Cole do a good job of unpicking what went wrong, and why.
However, Clarke is disappointed they did not reach the conclusion he did — that Truss was right all along:
they largely decline to address an inconvenient truth — a truth perceived by those much-maligned Tory members all summer. Namely that in her diagnosis of the situation at home and abroad and what should be done about it, Liz Truss was fundamentally and importantly right. 
He goes through the failed mini-budget from September but points out that some of the fallout would have happened anyway:
In the eyes of millions of British voters, the fallout from the mini-budget meant the Government alone took responsibility for sharp spikes in both interest and mortgage rates, even though the majority of those increases were already in motion independently. 
He admits his error in the mini-budget but adds that Truss had a different economic plan during the summer:
The whole package was an exercise in Reaganomics without, fatally, the support of a reserve currency. Indeed, it was launched at the very moment when the strength of the dollar left sterling desperately exposed. As one of her Cabinet ministers, I take my share of the responsibility. But it is important to note that for much of the summer, there was a different plan. 
In July, in the days following Boris Johnson's resignation, I spoke with Liz about how best to implement her vision for a higher growth, lower tax economy. The role of Chief Secretary to the Treasury is to be a voice of caution, and speaking as the incumbent to a predecessor, I highlighted the need for credible savings options to accompany her tax cuts, warning that without these we would be monstered. She agreed.
We settled on a new spending review, the exercise by which departmental budgets and priorities are determined in conjunction with Number 10 and the Treasury. Events in Ukraine meant the review conducted in September 2021 now strays close to being a fiction: the world has changed. It was time for a reassessment.
We discussed the relative merits of requiring five and ten per cent reductions in expenditure, achievable given how far spending has soared in recent years, and capable of being cushioned by the size of so many Whitehall departments' Covid-driven underspends. 
Her only caveat, quite reasonably, was that it would be better to identify specific saving plans in the run-up to a budget once safely in office, as opposed to in the heat of a brutal campaign. But the overall approach of securing those savings was not, I believed, in any doubt. 
There was, therefore, a conscious and spectacular change in her policy from mid-July to the end of August. The latter two weeks of August seem to have been pivotal. With an unassailable polling lead and most votes already safely cast by party members, Liz settled in at Chevening for a blizzard of meetings. Here her distaste for "abacus economics", always present, won out over caution. 
She was well within her rights to point out that the guardians of Treasury orthodoxy are bad at conducting dynamic modelling of the positive impact of both lower taxes and supply side reforms. But this was not the time to try to test that weakness.
Clarke thinks that Truss should have brought on board some of Sunak's people. Personally, I do not think they would have helped. Perhaps they would have if she were a man:
As the storm broke from the mini- budget, so a second fundamental error of the Chevening days was laid bare: Liz's choice of personnel. It was a mistake to have excluded from government so many of those who had backed Rishi Sunak. Her administration had too few allies when its momentum faltered, while a pared-back Downing Street operation found itself fighting on too many fronts.
The opposition was real and it was destructive:
What Heale and Cole could acknowledge more clearly is that there was a sizeable group of MPs who were unpersuadable from the beginning. From those who shivered at the thought of making the case for lowering the top rate of income tax back to the level at which it had stood at for all but the last six weeks of New Labour's 13 years in office, even if it would raise more revenue, to those who did little to hide their desire for revenge for the summer's reversal, the kindling was dry. 
Clarke says it is now important for Conservatives to look ahead to the next general election or face a Labour government:
And so we return to the fundamental point: that for all the brickbats, the platform on which Liz was elected PM remains important and urgent, and still needs to be delivered …
Who can dispute the need for a plan for growth, at a time of flagging living standards when the Bank of England is forecasting a two-year recession? Taxes are at a 70-year high, and she was right to ease the burden by cutting National Insurance.
The opportunity for further tax cuts may have passed with the mini-budget, but supply-side reform is now more important, not less. Growth since the 2008 crash has been sluggish, and some of the principal reasons for this are the result of policy challenges that a Conservative government with a majority of 70 ought to confront.
I disagree with his plan to build more houses on the green belt but agree that the Conservatives need to maximise Brexit opportunities:
Productivity matters. We need to curb the culture of judicial review that ensures major infrastructure projects take years longer to deliver than they should. We also need to grasp the opportunities of Brexit, rather than just talk about them. Reform of EU rules such as Solvency II, proceeding with painful slowness, desperately needs to be accelerated if the City is to succeed. 
Liz saw this with total clarity and planned a series of interventions this autumn. If we are to get our economy moving, it is essential that we should act. None of these problems will resolve themselves of their own accord.
If her instinct for action on the home front was sound, it was doubly so abroad. The Northern Ireland Protocol legislation, so vital to ensuring that all parts of our country get to leave the EU, is very much Liz's legacy from her time as Foreign Secretary. She understood better than almost anyone in the senior ranks of Government that Brexit cannot be a partial or half-hearted endeavour. Delivering this will be a central test for the new Government. 
And then there's China:
With regard to China, Liz again rose to the level of events. Too many in British and European politics still cling to the German dream of Wandel durch Handel, or inspiring change through trade. Liz did indeed aim to deliver change through trade, but of a different kind. In one of the boldest policies of recent years, she had set out plans to build a democratic alternative to the Chinese "Belt and Road" initiative, not least by championing UK membership of the CPTPP trading bloc.
When she fell, she was poised to designate China officially as a threat to the UK. From the suppression of democracy in Hong Kong to the genocide being perpetrated against the Uighurs, we should be in no doubt as to the true nature of Xi's regime. The West will only be able to resist this challenge if we readopt the Cold War trinity of moral confidence, economic dynamism and military strength, and Liz instinctively recognised this.
He concludes:
It was precisely because Liz's sense of the kind of country we ought to be was so compelling that the Conservative party gave her their decisive backing this summer. It is her tragedy that the mistakes made at Chevening risk diminishing the vision she set out of a more successful Britain, walking tall abroad and better able to offer opportunity and dignity to her citizens at home …
In words which could be the epitaph for her short, extraordinary time as our prime minister, she reflected: "I think I could have gone out and done a better defence, and got on the front foot. On the other hand there is no point in doing these jobs unless you stand up for what you believe in." 
Rishi laughs, but should he?
At last week's Spectator Awards, everyone was there except Liz Truss.
The notional great and the good, politicians and journalists, gathered together. Pictured on the left is Grant Shapps MP and ex-BBC presenter Emily Maitlis:
Those who received awards and/or gave speeches, included witticisms:
Defence Secretary Ben Wallace won Minister of the Year:
As we had four Chancellors this year, it must have been hard for the magazine to choose, so they opted for Labour's Rachel Reeves for Chancellor of the Year:
Labour leader Sir Keir Starmer won Politician of the Year:
Ukraine's Volodymyr Zelenskyy won Parliamentarian of the Year. It looks like Transport Secretary Mark Harper gave the speech on his behalf:
During this annual starry schmoozefest, Prime Minister Rishi Sunak felt free to get a dig or two in about Liz Truss and the book:
Sunak quipped that the BBC turned down a request to make a television series about Cole and Heale's book, because 'it is hard to work with just one episode'. How they laughed:
Except things aren't so funny for Rishi.
He had no honeymoon as Prime Minister and, within a month, Conservative backbenchers began rebelling.
On Wednesday, November 23, the aforementioned MP, Simon Clarke, tabled an amendment to relax the ban on onshore wind farms in England:
Late on Thursday, November 24, The Telegraph reported that Clarke's proposed amendment was gaining traction. Furthermore, it had support from none other than Boris Johnson and Liz Truss:
Boris Johnson and Liz Truss have launched a challenge to Rishi Sunak's authority by joining a Tory rebellion backing wind farms to tackle the energy crisis.
In their first major interventions since leaving Downing Street, the two former prime ministers have demanded an end to the ban on new onshore wind farms.
They both signed an amendment to the Government's Levelling Up and Regeneration Bill, just days after Mr Sunak's government was derailed by a separate Tory revolt on the same legislation.
The bill is designed to speed up housebuilding, which is crucial to Mr Sunak's growth agenda.
The two former prime ministers have had tense relationships with Mr Sunak.
Mr Johnson's supporters view Mr Sunak as having dealt the fatal blow to his premiership by resigning as chancellor.
Ms Truss and Mr Sunak clashed repeatedly during the leadership race.
It is unusual for former leaders to oppose their successors, with Theresa May choosing the issue of partygate to make a rare criticism of Mr Johnson. 
Mr Johnson signed the pro-onshore wind amendment, tabled by Simon Clarke, who was levelling up secretary under Ms Truss – even though he supported the ban, which has been in place since 2015, during his three years in office.
Ms Truss said she wanted to end the ban when she was in Number 10, because she believes the energy crisis means Britain needs more energy independence …
The onshore wind revolt is the second blow to Mr Sunak's bill. 
On Tuesday night, more than 50 Conservative MPs rebelled against his plans to impose centrally-dictated housebuilding targets – forcing the Prime Minister to delay the votes until December.
That revolt risked the prospect of Mr Sunak only being able to get the measure through with Labour support.
The latest rebellion looks set to be even more serious – not only because it has attracted the support of two former prime ministers, but because it is considered more likely that Labour would back measures to promote onshore wind.
By Thursday night, a total of 18 Conservative MPs had signed the amendment.
It demands that Michael Gove, the present Levelling Up Secretary, revises the National Planning Policy Framework to allow councils to grant new onshore wind applications.
The amendment would also force the Town and Country Planning Act to be amended to allow the installation of "new onshore wind sites not previously used for generating wind energy or for repowering existing onshore wind applications".
On Monday, November 28, The Guardian reported that Sunak was likely to give in to Clarke, Boris, Liz and the other Conservative rebels:
Good morning. Rishi Sunak has only been prime minister for about a month, but already he is learning that a large part of his job consists of playing Whac-a-Mole with Tory party rebellions.
All party leaders face backbench rebellions from time to time but, with its poll ratings still in landslide defeat territory and MPs rushing for the post-parliament lifeboats, the Conservative party is more ungovernable than usual.
Sunak has had to postpone votes on the levelling up and regeneration bill (originally scheduled for today) because of two rebellions on it. One group of Tory MPs (the anti-growth coalition, as Liz Truss would call them), want to amend the bill to ban mandatory housebuilding targets, while another group of Tories (from the pro-growth coalition) are backing an amendment tabled by Simon Clarke, the former levelling up secretary, that would lift the ban on onshore windfarms. Although only 25 Tories have signed the Clarke amendment (less than half the number backing the one on housebuilding targets), Clarke's is more dangerous because it has Labour backing.
This morning Grant Shapps, the business secretary, was doing the morning interview round and he signalled that the Whac-a-Mole mallet is coming down on the Clarke rebellion. As my colleague Peter Walker reports, Shapps hinted that the government will avert the onshore windfarm rebellion by giving in.
In immigration news that morning, Conservative backbencher David Davis told Sky News that the easiest way to stop the influx of Albanians via the English Channel is to send them back home. Albania is classified as a safe country, therefore, claiming asylum should be discounted. Davis has the backing of 50 other Conservative MPs. He said:
[Legislation] would go through and basically we would say to the Albanian population, anybody else who comes across the Channel will be sent back. When that starts to happen, there is no bigger deterrent … than if somebody in your village pays thousands of pounds to a human trafficker and then ends up back in the village three weeks later.
We shall see what happens on both wind farms and immigration.
For now, the Conservatives will have to make the best of Sunak's premiership, as they cannot reasonably have any more Prime Ministers before the general election, which, all being well, is some time away, either near the end of 2024 or early in 2025.
Returning to Liz Truss, there was no question that she had insurmountable enemies, a subject I will explore later this week. In some respects, if she were a man, she would have been allowed to remain in office. Perhaps men deal with contrarian men better than contrarian women.
Tomorrow's post looks at Liz Truss's life.
My most recent post on Liz Truss left off with the beginning of the end in her final week as Conservative Party leader.
Friday, October 14
Her sacking of Kwasi Kwarteng and installation of Jeremy Hunt as Chancellor on Friday, October 14, meant only one thing — her end was nigh:
Liz Truss's first Chancellor Kwasi Kwarteng: what he expected, what he got instead (October 13, 14)
Liz Truss and Kwasi Kwarteng illustrate that one DAY is a long time in politics (October 13, 14)
The Times's headline on the morning of the 14th said that Conservative MPs were already plotting to install Rishi Sunak and Penny Mordaunt in Truss's place. One of them would be Prime Minister and the other would be Chancellor or Foreign Secretary:
The article also said (purple emphases mine):
Truss and Kwasi Kwarteng, the chancellor, are expected within days to make a humiliating climbdown over corporation tax in an effort to calm the markets and see off a mounting revolt.
Indeed, that is what Truss announced at her disastrous press conference that afternoon. By then, Jeremy Hunt was already Chancellor:
It was hard to believe, especially as Ireland's corporation tax is half that: 12.5%. What is to stop businesses in Northern Ireland from moving south of the border?
Liz prefaced the announcement with:
This is difficult.
Guido Fawkes has the video and another quote preceding her announcement about corporation tax:
It is clear that parts of our mini-Budget went further and faster than markets were expecting… so the way we are delivering has to change…
He concluded (emphases his):
The mother of all U-turns…
Later in the afternoon, Wendy Morton, the Chief Whip, summoned Conservative MPs to an online call with the Deputy Prime Minister Thérèse Coffey.
One hundred of them dialled in. Coffey allegedly kept staring at her notes:
Saturday, October 15
Saturday's papers were scathing.
The Daily Mail asked, 'How much more can she (and the rest of us) take?'
The i paper led with 'Tory MPs tell Truss: "It's over"':
The Telegraph's Tom Harris wrote about the symbiotic relationship between the Prime Minister and the Chancellor from Margaret Thatcher's time to Truss's.
When that relationship goes wrong in a big way, it's nearly always bad news for the PM, although there are exceptions:
When a prime minister loses a long-serving chancellor and ally – as Margaret Thatcher did when Nigel Lawson walked out of her government in 1989 – the political ramifications are enormous. In Thatcher's case, that event signalled the beginning of her long defeat. When a prime minister loses a friend too, it becomes, as Liz Truss stated in her press conference, "not an easy" personal moment. 
Their closeness also makes it impossible for Truss to distance herself from the mess left at the Treasury. It is not clear which policy Kwarteng implemented that the prime minister was so unhappy with that she had to fire him. In 1989, Lawson resigned over his objection to the prime minister's reliance on her economic adviser, Sir Alan Walters, but there were already disagreements between Numbers 10 and 11 over whether Britain should join the European Exchange Rate Mechanism. 
[John Major's Norman] Lamont was fired over his handling of Britain's departure from the same institution. Javid resigned over personnel issues. Rishi Sunak's reasons for resigning were similar, though in his case the personnel issue involved the then prime minister himself.
In Jeremy Hunt, Liz Truss might be given a chance to form the kind of reassuring, mutually supportive – and, crucially, stable – relationship with her chancellor that good government demands. It would be foolish, however, to assume that when such a relationship breaks down, it is always the chancellor who is next to go.
The Telegraph's Camilla Tominey looked at the backbench Conservative MPs, wondering how Conservative they actually were. I was glad to see that she mentioned Alicia Kearns, who does not seem very Conservative to me.
Tominey's article shows that a significant number of Conservative backbenchers do not hold traditional Conservative Party values:
Never underestimate the Conservative Party's unparalleled ability to turn the gun on itself when coming under enemy fire. As the pot shots continued to rain thick and fast on Liz Truss's troubled premiership, what did the Tories decide to do? With Labour's help, they elected Alicia Kearns as chair of the Foreign Affairs Select Committee.
For those unfamiliar with Ms Kearns, she is the former Amnesty International activist who led the so-called "Pork Pie Plot" to oust Boris Johnson over partygate. Despite having been an MP for all of five minutes, the 34-year-old, who won the safe seat of Rutland and Melton in 2019 (hence the pork pie theme) decided that the Conservatives' wisest move was to remove the man who secured the party's biggest election win since 1987. Well, dip me in jellied pork stock and cover me in hot-crust pastry, that went swimmingly!
Having declared last year that she came into Parliament with "one legislative change I wanted to deliver, which was to ban conversion therapy", inexperienced Kearns now occupies one of the most influential posts in the House of Commons.
Her first intervention? Following hot on the heels of her fellow chair, Mel Stride, of outspoken Treasury select committee fame, she used a radio interview on Thursday night to urge the Prime Minister to reverse the tax-cutting measures in the mini-Budget.
I've got nothing personally against Ms Kearns – she is clearly a thoughtful and intelligent woman. But if she isn't for cutting tax, then what on earth is she doing in the Tory party, let alone now apparently in the running to enter a future Conservative Cabinet?
One former minister was this week quoted as saying: "Everything [the Government] are doing is everything that I don't believe in." Why, then, is that senior politician – apparently so opposed to spending controls and economic growth – not currently residing on Sir Keir Starmer's shadow front bench or drinking Remaineraid with Sir Ed Davey?
As former Brexit negotiator Lord Frost put it on Thursday: "There are too many … social democrats operating under Conservative cover."
It is one thing to be a broad church, but the Tories are currently taking on the mantle of a Blue Labour cult.
Not only are many of them perfectly comfortable with taxing people more, despite the tax burden being at its highest in 70 years, but they are also apparently as opposed to fracking as Ed Miliband. They seem to love the status quo and appear happy to watch Britain slowly sink into decline – along with their own party.
Tominey says that Liz Truss's platform was clasically Conservative, and so was the one upon which Alicia Kearns was elected.
These are the MPs who will determine the outcome of Brexit and the next election. Both are in peril.
Tominey rightly lays the blame at the feet of former PM David Cameron, a wet who wanted a different type of Conservative MP:
David Cameron's decision to introduce open primaries in the late 2000s, which saw wannabe MPs selected by non-members as well as members, was perhaps the most obvious mistake. The Conservatives ended up with "yellow" Tories in its ranks, such as Sarah Wollaston, who later defected to the Liberal Democrats.
Funnily enough, Sarah Wollaston is no longer an MP. Others like her, most of whom had the whip removed, were defeated or chose not to run in 2019.
This is the issue:
But more broadly, by inviting people with no background in Conservative politics to stand for Parliament, they ended up with people with no Tory backbone either. Holding successive snap elections only made the selection process less rigorous and open to people high on ambition and low on ideology.
This is a problem for the next general election. GEs depend upon local activists — party members — who are willing to canvass door-to-door:
We now have the Sunak squadders, calling for people to keep less of their wages, for businesses to pay more in corporation tax and for benefits to be linked to inflation, Corbyn-style …
Conservatives have become so detached from reality that they actually believe this will help them to win the next general election – even though it promises to prompt a mass walkout by the very grass-roots activists they rely on to run a campaign.
However, Tominey says that Rishi Sunak's coronavirus handouts have also altered the public perception of the role of the state. We can but see how this will play in 2024 or early 2025 when the next GE comes along.
Monday, October 17
On Monday, October 17, Leader of the House Penny Mordaunt had to stand in for Truss during a debate. Opposition MPs accused Truss of hiding under a desk.
Mordaunt had to deny that more than once, saying that Truss had a 'very genuine reason' for not being present.
I don't often feel sorry for Penny Mordaunt, but I did that day:
However, one Labour MP, Andrew Gwynne, tweeted that Liz Truss was the victim of a 'coup' — his word — and that Jeremy Hunt was the acting PM: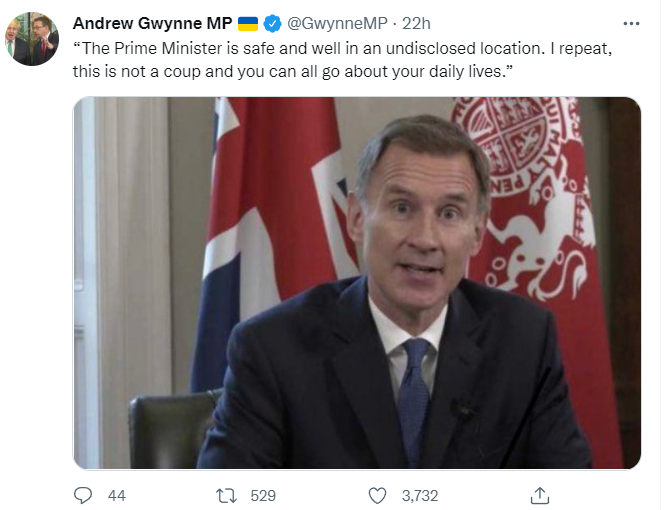 On Tuesday, October 18, The Times explained why Truss did not turn up at the despatch box the day before:
For much of the day Truss was conspicuous by her absence. She refused to respond to a question by Sir Keir Starmer in the Commons, prompting accusations from Labour that she was "frit". Penny Mordaunt, the leader of the Commons, answered questions in her stead. She said that the prime minister had "a very good reason" for her absence but refused to explain further, prompting misplaced speculation that Truss had resigned.
That reason for her absence turned out to be a meeting with Sir Graham Brady, the chairman of the backbench 1922 Committee. Sources said that the meeting was routine and had been arranged before Kwarteng's dismissal. But the issue of her leadership, and a potential revolt by Tory MPs, was said to have been discussed.
One source on the committee said there were a "number of views" on the way ahead but that there were concerns that an immediate move to defenestrate the prime minister could further destabilise the markets.
"The question is whether it is more damaging to create further uncertainty by getting rid of the prime minister when the chancellor [Hunt] appears to have settled the markets," said an MP on the committee.
Some Tory MPs believe that with the unravelling of her tax-cutting agenda and signature energy policy she is finished politically. Sir Charles Walker became the fifth Conservative MP to publicly call for her to go, saying her position was "untenable".
A senior Conservative source added: "It's the biggest unforced humiliation for a British government since Suez. Eden did the decent thing and resigned."
"The trouble is there is no consensus for who should replace her," said one former backer of Rishi Sunak. "And the last thing we need now is to be seen to be causing more uncertainty on the financial markets."
Monday night was grim.
On the subject of a coup, Nigel Farage agreed that Jeremy Hunt was in charge, and that this was a 'globalist coup':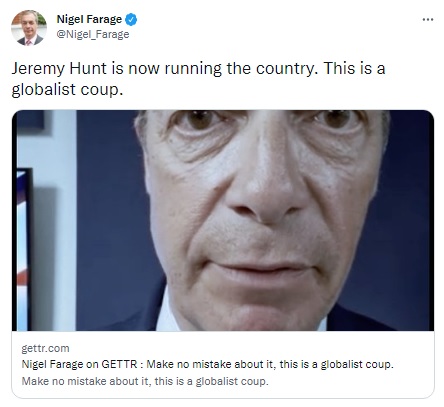 On his GB News show that night, Dan Wootton also said that there had been a coup. He agreed that the unpopular Hunt was in charge and that no one liked him, except for the Establishment. He said that if the Conservatives allowed this to continue, then they deserve to lose the next GE:

Truss surfaced to give an interview to the BBC's Chris Mason, wherein she apologised for the mini-budget. She said:
First of all, I do want to accept responsibility and say sorry for the mistakes that have been made. I wanted to act, to help people with their energy bills, to deal with the issue of high taxes, but we went too far and too fast. I have acknowledged that.
Tuesday, October 18
Tuesday's headlines were deeply discouraging for her. Nearly all had photos of her alongside Hunt:
The new biography of Truss, Out of the Blue, was not even ready for publication. Someone photoshopped the cover with a remainder sticker on it, saying, 'Reduced for quick sale — please just take it':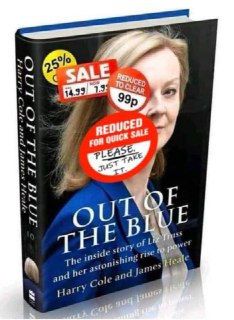 The Sun's political editor, Harry Cole, one of the book's co-authors, posted an article about the MPs plotting against her:
TORY plotters dubbed the "Balti Bandits" carved up Liz Truss's future last night over a korma and bhuna feast, The Sun reveals.
Leading rebel Mel Stride hosted more than a dozen "miserable" Conservative MPs in his large House of Commons office for an Indian takeaway – with the PM's fate also on the table.
Ex-Ministers John Glen, Nick Gibb, Mark Garnier and Shailesh Vara tucked into "lashings of curry and naan" ordered in by Mr Stride, alongside outspoken backbencher Simon Hoare. 
2019 intake MPs Angela Richardson and Simon Baynes were also said to have joined the "poppadum plot" – but sources say the meeting ended with "no credible solution" to their woes …
Contenders include ex-Chancellor Rishi Sunak, Defence Secretary Ben Wallace, new Chancellor Jeremy Hunt and Commons Leader Penny Mordaunt – but given the party is deeply split, the plotters admitted the chances of a rapid "coronation" of a new PM were "almost zero."
One attendee told The Sun: "the vast majority of attendees were Rishi Sunak supporters, but there were Penny people too. It was not a Rishi thing." 
On Tuesday evening, Truss had another group angry with her — her own supporters in the European Research Group, the pro-Brexit group of backbench Conservative MPs.
The Telegraph's Tim Stanley wrote about it, as he was there in the corridor for Truss's meeting with them:
Liz Truss launched her fightback at 6pm in Committee Room 11. The meeting was actually set for 5pm; Commons voting ran late so Mark Francois advised us hacks to go away and come back later, but I hung around on the suspicion that the moment we left, Liz would slip out of her hiding place in the roof of the lift and jog, unseen, into the Room …
These are the true believers: if they're angry at Liz for anything, it's for not keeping the mini-Budget …
What we saw of her on TV on Monday night, interviewed by Chris Mason, did not spark confidence as she uttered that dread word "sorry", thus accepting personal responsibility for blunders past and future. It is the mark of an "honest politician", she said, to admit mistakes. That's true, but it's also a dead giveaway for a not-very-good one, trying to turn a repeated error into a display of moral virtue. As Samuel Johnson might have said, "Honesty is the last refuge of the incompetent".
… She bobbed into view in a dark blue dress and black tights – fresh-faced, one suspects, from a good night's sleep. Instinctively, I stood: she might be a PM, but she's still a lady. I earnt a cheeky nod. Those who can't fathom the rise of Ms Truss haven't met her. She has a way of compromising you, of making you think you're on her side, and it's the most fun side of the room to be on.
The ERG roared as she entered. She entertained them behind a closed door for about 45 minutes. Then she left, followed by Mr Francois who told us it was "a very positive meeting".
The PM evidently spoke about Northern Ireland and her commitment to raising defence spending by the end of the decade, which is ambitious for a woman who could be out of office by Friday. And he noted that David Canzini, the clever political operative, was with her, an eminence so grise, none of us had noticed he'd gone in.
No 10 confirmed it: he was hired as of that morning.
Too little too late. That might have been Canzini's shortest job.
Wednesday, October 19
On Wednesday, October 19, Guido Fawkes posted that the Reform Party — formerly the Brexit Party — was climbing in the polls. The photo shows their chairman, businessman Richard Tice:
Guido's post said, in part:
Guido can reveal that in the 48 hours before close of play yesterday afternoon, the old Brexit Party received almost 1000 new £25 membership sign-ups. That new five-figure cash boost was joined by 300 members registering a new interest in standing as a party candidate at the next election. The first time the Tories dipped below Labour in the polls – September 2021 – Reform saw one in 10 Tory voters switching to them. Can they continue capitalising on Liz's woes? …

It's not just Reform benefitting from the dire state of No. 10. Last night the LibDems revealed five new donors, each giving £50,000 to the party, one of whom is a former Tory donor. While the last 36 hours have been calmer for Truss, it does feel like the ship has sprung one too many leaks to be repaired by a strong PMQs performance…
Wednesday was another fateful day. Home Secretary Suella Braverman resigned, then a confusing scene took place in the voting lobby over a division (vote) on fracking, which resulted in more chaos when it was unclear whether Wendy Morton had resigned as Chief Whip:
Liz Truss's final 24 hours: Suella Braverman's resignation, question over Whips' resignations (October 19)
Truss appointed Grant Shapps, former Transport Secretary, in Braverman's place:
Holy mole, guacamole!
Nigel Farage repeated 'coup' in his tweet about the news:
As with Hunt, Truss had to scrape the barrel.
The Telegraph reported that, like Hunt, Shapps was not a Truss supporter:
It is a remarkable turnaround for Mr Shapps, the transport secretary under Boris Johnson who went on to become a prominent supporter of Ms Truss's leadership rival Rishi Sunak.
Only on Monday night, Mr Shapps was telling a theatre audience that he believed Ms Truss had a "Mount Everest to climb" to remain in power.
"I don't think there's any secret she has a mountain, a Mount Everest to climb," he told Matt Forde's podcast. "What she needs to do is like threading the eye of a needle with the lights off."
Now he is one of her most senior ministers – and another example of the way a weakened Ms Truss is being forced to offer olive branches to the Sunak supporters she had previously shunned.
Not only was Mr Shapps questioning her chances of success until as early as this week – he was working proactively to get rid of her.
Mr Shapps has been viewed in Westminster as one of the leaders of the opposition to Truss's libertarian policies.
He spoke up at the Tory party conference in Birmingham earlier this month against her plans to scrap the 45p rate of income tax, and warned that Ms Truss had "10 days" to turn things around or MPs "might as well roll the dice and elect a new leader".
This is what the aforementioned Camilla Tominey was lamenting in Conservative MPs. Some of the recent ones have no appreciation of or allegiance to Conservative values. Shapps was a Cameronian MP.
The article also discussed Shapps's famous spreadsheets which appear to work as well as the 1922 Committee in making or breaking a Prime Minister:
The veteran MP – known by some as the "Duracell Bunny" for his enthusiasm – is also well-known for his "Star Wars" spreadsheet, with which he has spent the past few weeks recording the views of MPs on Ms Truss and her plans.
Mr Shapps used an earlier version of his famous spreadsheet to lead a rebellion against Theresa May, and also utilised its information to help guide Boris Johnson into Downing Street.
The spreadsheet is said to contain more than 6,000 historical "data points" from previous conversations with MPs.
It was rumoured that he had been in contact with Mr Johnson and Mr Sunak to see if they would join an effort to oust Ms Truss. And some rebel MPs claimed he had even offered himself up as a caretaker prime minister.
Let us not forget that Shapps himself is hardly a paragon of virtue:
… unfortunately for Mr Shapps, some elements of his past may make a shot at No 10 less than likely – not least the Michael Green saga.
This was an alter-ego he employed to enable him to run a series of get-rich-quick schemes on the internet while he was an MP.
Mr Shapps originally denied he had a second job, and threatened legal action against a constituent who said he had. But he was forced to admit practising business under a pseudonym in March 2015.
All this happened while he was Tory chairman, in charge of David Cameron's efforts to win the 2015 election.
He was demoted soon after to aid minister, and resigned from that role after claims he had ignored repeated allegations of bullying involving the Tories' youth organiser. It was said the alleged bullying, which took place on the party's RoadTrip 2015 campaign, may have caused one party member to commit suicide.
On Wednesday evening, Camilla Tominey reprised her warning about un-Conservative MPs and their takeover of the Government. She, too, used the word 'coup':
… the departure of Suella Braverman as home secretary speaks to a bigger problem for Liz Truss than sheer optics.
In sacking two key allies on the Right, only for them to be replaced by opponents more to the Left of the party, the Prime Minister is increasingly looking like the victim of a Conservative coup.
It is certainly ironic that the former home secretary, in post for just 43 days, first used that word to describe those who plotted against Ms Truss's original plan to link benefit to wages rather than inflation. 
With that, and most of her mini-Budget up in flames thanks to a rebellion by the moderates, Jeremy Hunt now appears to be the de facto Prime Minister.
He will now be joined by his fellow Sunakite Grant Shapps, who despite being rejected from Ms Truss's original cabinet, has now been appointed to replace Mrs Braverman at the Home Office.
Braverman, at one point, had headed the aforementioned European Research Group:
… her swift exit from one of the highest posts in public office will anger her European Research Group supporters.
It was only on Tuesday evening that Ms Truss was said to have charmed the backbench group of Eurosceptics with her honest, straight-talking approach.
They are unlikely to take kindly to their former chairman, a darling of the grassroots, being ejected in such unseemly fashion.
Mrs Braverman, a Conservative leadership candidate herself over the summer, received the longest standing ovation at the Tory Party conference two weeks ago.
Fortunately, Rishi Sunak re-appointed Braverman as Home Secretary. He probably realised he had to, in order to keep Party members on side.
Returning to Wednesday, October 19, The Telegraph posted an article stating that Conservative backbenchers were asking Labour for help in ousting Truss. Unbelievable:
Rebel Tories have been asking Labour MPs to help them overthrow Liz Truss, The Telegraph has been told.
Conservative backbenchers are growing increasingly frustrated with the Prime Minister's leadership, but currently lack any mechanisms to remove her given the one-year immunity she has from a no confidence vote.
As things stand, the only way to oust Ms Truss would be to change the rules – which is a decision that only the executive of the 1922 committee of backbenchers can make – or if she resigns of her own volition.
One Labour MP told The Telegraph: "Tories are speaking to us saying 'this is a complete nightmare and there is no way out'. We are being asked 'can't you do something about her?'"
The MP, who said their colleagues have reported similar experiences, said they were approached by one Red Wall MP whose constituency was in the north and another MP who is a member of the One Nation group of moderates …
A Labour source said: "There is very little Labour can do. Even a vote of no confidence doesn't have the constitutional standing that it used to. The Tory party are the ones that elected her, they need to get rid of her."
The paper's Michael Deacon wrote that Conservative MPs were entirely to blame for the mess. Furthermore, he said, they risked angering Party members, the campaigning activists, if they pushed ahead with a rule change saying that the members would no longer be able to vote for future Party leaders. The members elected Truss over Sunak in August:
This week, The Telegraph reported that Tory MPs want to bar members from voting in future leadership elections. Supposedly the reason is to speed up the process of choosing a leader. But this is blatantly a smokescreen. Quite plainly, MPs just want to prevent the members from landing them with another turkey like Truss.
Many members are appalled by this suggestion. And so they should be. Such a plan is not just arrogant and undemocratic, it's delusional. Because party members aren't to blame for the current mess.
Tory MPs are.
After all, who put Truss on the ballot paper in the first place? Tory MPs. No fewer than 113 of them, in fact. A third of the parliamentary party. Out of an initial field of 11 candidates for the leadership, Truss was the MPs' second favourite.
Unlike the MPs, however, the party members weren't allowed to choose between the initial field of 11. If they had been, it's extremely unlikely that they would have chosen Truss. They'd have been far more likely to choose Penny Mordaunt or Kemi Badenoch, to name just two. In fact, if the MPs had deigned to ask them, I suspect that the greatest number of members would have wanted their leader to be Boris Johnson – the person they chose to be leader in the first place.
The truth is, the members voted for Truss simply because they didn't want to vote for Rishi Sunak. In leadership contests, they're only ever given two candidates to choose from. And why? Because Tory MPs don't trust them. They fear that, if presented with a wide-open field, party members will choose the "wrong" candidate. Funny how things turn out.
All things considered, then, it seems clear that, if anyone should be barred from voting in leadership contests, it should be Tory MPs. In future, just leave it to the wiser judgment of the members instead.
That night, The Telegraph posted an article by Lord Frost saying that the Party was moving towards a status quo, if not anti-Brexit, stance, going all the way back to David Cameron's time as Prime Minister, with George Osborne as Chancellor and Philip Hammond in the same post under Theresa May:
… the Government is implementing neither the programme Liz Truss originally advocated nor the 2019 manifesto. It is going in a completely different direction. We are back to Osbornomics, the continuity Hammond view of the world. There is no shred of a mandate for this. It's only happening because the Truss Government messed things up more badly than anyone could have imagined, and enabled a hostile takeover by its opponents …
… the correct account of the past few weeks is the simplest. Truss tried to deliver worthwhile reforms and set the country onto a much-needed new direction. I supported this policy direction and still do. But it was rushed and bungled. The markets were spooked. The mistakes were opportunistically seized on by her opponents to undermine her leadership, to blame Brexit, and to stop the party getting out of the social democratic tractor beam of the past few years. And now, under pressure, the Prime Minister has reversed tack completely.
The risk now is that we lose for a generation the opportunity to do anything better. Every time the PM defends her approach, she denounces the policies on which she was chosen. The danger is that necessary and correct reforms are discredited.
Frost held that Truss was ultimately responsible for her own downfall.
As such, she had to go:
We are where we are. I am very sorry about it, because I had such high hopes. Whatever happens to her ministers or the stability of the Government in the next few days, Truss just can't stay in office for one very obvious reason: she campaigned against the policies she is now implementing. However masterfully she now implements them – and it doesn't seem that it will be very masterfully – it just won't do. She said she wouldn't U-turn, and then she did. Her fate is to be the Henry VI of modern politics – a weak figurehead, unable to control the forces around her, occasionally humiliated, and disposed of when she has become inconvenient. Better to go now.
As for her successor and the Party:
Then the party must do two things: avoid making the economic situation even worse by repeating the policies of the Cameron government in totally different circumstances; and recover some political legitimacy for carrying on – because in our system legitimacy does matter.
Thursday, October 20
After 44 days, Liz Truss resigned as Conservative Party leader on Thursday, October 20.
She served as Prime Minister for 50 days, beating George Canning's record of 118 days. Also a Conservative, he died of tuberculosis in 1827.
She remained PM until Rishi Sunak succeeded her:
Liz Truss's final 24 hours: Suella Braverman's resignation, question over Whips' resignations (October 19)
Liz Truss's final 24 hours: fallout over Braverman and Morton, no tears in exit speech (October 19, 20)
Rishi Sunak becomes Prime Minister: a momentous morning of historic significance (October 24, 25)
How Rishi Sunak won the Conservative Party leadership contest — part 1 (October 20, 21, 25)
How Rishi Sunak won the Conservative Party leadership contest — part 2 (October 21, 26, 27)
How Rishi Sunak won the Conservative Party leadership contest — part 3 (October 22-24, 27, 28)
On Thursday morning, The Telegraph posted a Planet Normal podcast in which Lord Frost said he could see Brexit being reversed:
In the wide-ranging discussion, Lord Frost also said that he could see a future where Brexit is reversed. 
"Brexit was about giving us the power to do things ourselves and to give responsibility back to British ministers, British governments. And they've shown that many of them are not up to the job in the last year or two."
"I can easily see a situation where Keir Starmer gets in. We drift back closer into the single market and go back into the Customs Union. And then everyone says why are we in these things where we don't get a say in them? Wouldn't it be better to be a member? So I can easily see how it could happen. And the way you stop it happening is to prove, while we have the levers of power, that we can do things differently and better. And at the moment we're not making a very good job of that, unfortunately."
Little did Truss know that, the day before, she had stood at the despatch box for her last PMQs:
She resigned early on Thursday afternoon. Thankfully, she didn't cry, unlike Theresa May, who broke down at the podium (Guido has the video):
Sterling began surging the second Truss finished her announcement:
In less than 24 hours, the Conservative Party website deleted her presence from their home page (Guido has the before and after screenshots):
It was a sad ending to a sad episode of British parliamentary history.
Next week, I will look at who, besides Truss herself, was also responsible for it.
Truss is currently spending time in her own constituency and has not yet appeared on the backbenches, an alien place for someone who had been a minister of state for most of her career.
This post concludes the story of how Rishi Sunak became Prime Minister.
Those who missed them might find parts 1 and 2 of interest.
Before concluding, an important anniversary took place this week.
On October 26, 2012, UKIP MP Douglas Carswell introduced a private member's bill, 'The People's EU Withdrawal Bill'.
The groundswell of support from Guido Fawkes's readers helped bring it to the Commons:
Guido has the video and a brief comment (emphases his):
Today history was made as the first-ever crowd-sourced Bill was debated in Parliament. The majority of 5,000 readers of this website voted for Douglas Carswell to propose Britain to withdraw from the European Union, and today Carswell stood up in the House to argue the case for the People's Bill. The debate can be watched at length here. 
Here is a short video of proceedings:
A few years later, then-Prime Minister David Cameron, frightened by the overwhelming support for UKIP in the European election, decided to give the British people a referendum. It ended up being the largest plebiscite in the history of the United Kingdom. On Thursday, June 23, 2016, in pouring rain, voters said they wanted the UK to leave the EU: 52% to 48%.
In current news, during Rishi Sunak's first week as PM, as I wrote yesterday, questions were being asked in the Commons and the Lords about Suella Braverman's reappointment as Home Secretary.
The Telegraph's Madeline Grant called Braverman 'Houdini' for not showing up for an Urgent Question in the Commons about the horrifying state of the Manston processing centre in Kent, which is turning from a short-stay to a longer-term residence for Channel migrants (emphases in purple mine):
At a second Home Office UQ, this time courtesy of Labour's Diana Johnson, the Home Secretary was a no-show again …
In truth, there were unhappy campers on both sides of the House; enough to populate Butlins, if not quite Calais …
Deputising for Houdini was Robert Jenrick – a junior Home Office minister and close ally of the PM who, some say, was appointed to keep a watchful eye on Braverman and prevent her from doing anything too mad …
Yet Jenrick's arguments were more true-blue, or at least Red Wall. He had little sympathy with illegal migrants, and the diversion of resources away from their legal counterparts, and seized eagerly on Priti Patel's pet phrase, "evil people-smuggling gangs". Reinforcements soon began to arrive from the Tory backbenches. What gave Labour the right to complain, wondered Steve Double, the MP for St Austell, when they'd voted against Patel's Nationality and Borders Bill. Lee Anderson and Richard Graham warned of Britain's imminent inundation by Albanian men.
Christopher Chope reminded the Commons that whatever the state of the Manston processing centre, conditions were a darn sight worse in the Calais Jungle. Labour MPs looked scandalised, but Jenrick agreed wholeheartedly.
When asked why he was deputising for Braverman:
Jenrick, in the spirit of Sunak, came back with an answer that was simultaneously boring and unimpeachable. "Because I'm the Minister of State for Immigration" …
It is estimated that from 1% to 2% of Albanian men are in the UK. They have places to go to once they arrive. The Albanian drug trade is the latest development in our migration story.
The situation in Dover is intensifying. The Times reported the story of the week: '"Desperate" new arrivals drive Dover into taking up arms'. Sledgehammers, more like, as firearms are largely illegal here:
Sue Doyle, 59, was sitting in her living room sipping a cup of coffee on Sunday morning when a 16-year-old Albanian migrant got in through the back door, which she had left open for her dog.
"All of a sudden he was there standing in my front room," she told The Times. "He didn't seem very friendly. He kept saying: 'no police, no police'."
Doyle, a full-time carer for her mother, said she was made to her lock her dog in a bedroom and that the teenager then asked her to drive him to Manchester. When she refused he demanded her mobile phone and used it to arrange to be picked up by a contact.
… Doyle managed to sneak out of the front door and alert a neighbour, who contacted the police and confronted the young migrant.
The neighbour, Louise Monger, 36, said she became more sympathetic when she realised his age and tried to assist him. Police arrived and he was detained before the driver arrived, she said …
The teenager who was arrested was said to be in tears as he was driven away in a police car …
A few doors down from Doyle, Kerry Jones, 45, a mother of a young autistic girl, said she now sleeps with a sledgehammer next to her bed after a migrant tried to enter her home through the back door in August …
The residents complained that not enough was being done by the council, police and border force to deal with the problem. Many spoke of seeing migrants running through the streets and residential areas or "hiding in bushes" in local parks …
When a Times reporter arrived at Dover Priory station yesterday a Syrian mother and her young child approached and asked for help getting to an "army base" where their money and belongings were.
The mother, Nur Taha, 27, said she and her son, Mohammad Salu, six, arrived in Dover ten days ago in an overcrowded dinghy that was rescued on the water and were separated from her partner Akram Salu, 49, who was detained by military police, and their possessions …
When a reporter called Kent Police to request assistance for the mother and son, he was told that no officers were available as they had more pressing priorities. The advice given was to let them roam in Dover and hope that they were safe.
In a statement on Doyle's report, the force said it received a call at about 10.45am on Sunday that a man had entered "an insecure door at a property in Dover and was seeking the use of a phone".
The force added: "He was initially arrested, then de-arrested at the scene once the circumstances had been established by speaking to both parties. The man was then detained on behalf of immigration officers."
In Nur Taha's case, it is understood she and Mohammad had been processed by Border Force officers …
The council was approached for comment.
Mass migration started during Tony Blair's government and has only become worse, as the backlog of cases is through the roof.
Twenty years on, the Home Office again needs more information on those arriving, as well as stronger co-operation with France to stem the flow. Officials often have little information on claimants, whose lack of identification may be a deliberate ploy — case workers have little choice but to believe them: 75 per cent of asylum seekers were given the right to stay in the 12 months to March, the highest rate since 1990.
Meanwhile, claims are taking longer to assess, having climbed to an average of 480 days for an initial decision to be reached.
Some in the Home Office have suggested there is a deliberate policy of slowing down the processing of claims given the high rate of people granted asylum. A six-month target for assessing claims has been ditched and the rate of cases completed in that time has fallen from 80 per cent in 2015 to 17 per cent. But this looks set to change, given the soaring cost of housing those waiting for their claim to be assessed in hotels, which now stands at £6.8 million per day.
This month, the idea of erecting tent cities in London's parks was mooted, something Paris has tried with shocking effect. Most Parisian women living near one of these tent cities can no longer go out at night. Drugs, violence and noise prevail once it turns dark.
The same Times article reported that London tent cities are unlikely to come to fruition:
The idea was raised by civil servants in meetings with leaders of London councils this month, sources said.
It was considered after efforts to persuade London boroughs and local authorities in other parts of the country to accommodate more asylum seekers failed. The Home Office had issued an emergency appeal to councils for more places earlier this year as officials struggled to cope with the growing numbers of migrants crossing the Channel.
Council leaders in the meeting dismissed the prospect of installing marquees in parks in the capital and instead urged the Home Office to lift the ban on asylum seekers being able to get a job …
The Home Office made clear last night that the plans to erect tents in London parks were no longer under consideration. It said: "It is categorically untrue to suggest that the Home Office is planning to erect tents to house asylum seekers in London parks."
The idea arose during discussions on how to deal with overcrowding at the temporary asylum processing site at Manston Airport, which is only designed to hold Channel migrants for up to 24 hours.
It is unclear what Rishi Sunak has planned for Suella Braverman.
On the one hand, Sunak's people say everything is in hand, and MI5 say they have no problem working with the Home Secretary, the Times revealed:
A former Conservative minister in the Home Office told The Times: "You can't even have the vague notion that you might leak because then all the security services will clam up on you — which is not what you need."
However, responding to claims that MI5 could withhold information from Braverman, a security source said: "This is completely untrue. The home secretary and MI5 have a strong and trusted working relationship. She will continue to receive regular intelligence briefings, as was the case when the home secretary was in post previously and with other home secretaries."
Rishi Sunak's spokesman insisted that Braverman had "strong relationships" with the security services and the prime minister's full confidence.
Oh, dear: 'the prime minister's full confidence'. Those are dangerous words, dating back from the 1990s. That means a resignation or a sacking could be coming soon.
The Star wasted no time in putting 'Leeky Sue' on their Friday front page:
On the other hand, the Times said that Sunak's allies are waiting for Braverman to go, possibly so that Jenrick can step in. He wouldn't be very good, I don't think, but that seems to be charactistic of Sunak's government — business as usual, nothing gets done:
Sunak's close ally and Braverman's deputy in the Home Office, Robert Jenrick, responded to an urgent question on crossings yesterday in her place. The sole hope now, Sunak allies have whispered, is that Braverman makes a further error and goes for good, leaving Sunak and Jenrick to press on peacefully in her absence.
That doesn't surprise me in the slightest.
The Guardian continued to cast shade on Braverman:
London's Evening Standard, however, went with the story about Cabinet minister Nadhim Zahawi's defence of the Home Secretary at the bottom of their front page:
One good thing that Rishi has done is to decline going to COP27:
A new poll shows that the Conservatives are doing better than Labour, but still have a huge hill to climb:
I disagree with Guido's assessment here. The poll decline started with Boris and Partygate nearly a year ago:
That said, Guido rightly sees this as an uphill battle:
Add to that the impending storm of budget cuts, Rishi certainly faces an uphill battle.
The poll also strengthens Reform UK's claims of a resurgence, with their support at 6% and growing representing a relatively strong showing. The Conservatives face challenges from all sides…
Finally, there's the idiocy of America's Trevor Noah calling Britain racist towards Rishi Sunak. I haven't read one negative comment about his heritage from conservatives, ever. Labour — our equivalent of the Democrats — are the ones making the racist remarks.
Rishi Sunak does not believe Britain is a racist country, a Downing Street spokesman said, following claims by Trevor Noah that there was a "backlash" after he became the UK's first British-Asian Prime Minister …
"But you heard the words in the House [of Commons] on Wednesday with regard to the [appointment of the] Prime Minister," the spokesman said. When asked whether Mr Sunak believes Britain is a racist country, the spokesman said: "No he doesn't."
His words were echoed by Sajid Javid, the former chancellor and health secretary, who said Noah was "detached from reality" when he claimed Mr Sunak's appointment provoked a racist "backlash".
… Tom Holland, a popular historian and podcaster, wrote:
—————————————————————————————————————–
Now back to the leadership contest, where we pick up on the events of Saturday, October 22, 2022.
Boris returns to the UK
The Sun's Harry Cole told TalkTV that Boris and Rishi could come up with a plan to save the country:
Sky News's Mark Stone was tracking Boris's progress back to the UK:
Sky News interviewed Chris Heaton-Harris MP, who said that Boris definitely had 100 backers (see video):
Guido was eager to confirm, as Boris's numbers were far behind Rishi's at that point:
Boris landed at Gatwick mid-morning:
Guido was hopeful for his prospects:
One German newspaper, however, was less than enthusiastic, asking, 'Seriously?':
Former Home Secretary and Boris loyalist Priti Patel declared her support:
However, the never-Boris MP, Sir Roger Gale, did not mince words in an interview with LBC:
Scottish Conservatives would agree. The Telegraph's Alan Cochrane wrote:
Just when an air of undisguised relief began to filter through the higher reaches of the Scottish Tories at the resignation of Prime Minister Liz Truss, along came Boris Johnson to dampen their ardour.
They may not have been the greatest fans of Ms Truss and were glad to see the back of her. But their view of Boris bordered on the certain belief that he was a major electoral liability north of the border. And as the news emerged that the former PM aims to stand again for the top job, one former senior minister commented: "It will destroy the Conservative Party if he does."
At lunchtime, Harry Cole produced a poll for the Sun saying that Boris still topped the charts. That must have been in England, then:
However, Lord Frost thought that Rishi was the right man for the job:
One Twitter user reminded us that Boris plucked David GH Frost from obscurity and elevated him to the House of Lords:
However, the BBC's Laura Kuenssberg and ITV News's Anushka Asthana spotted a trend. Former Boris supporters, such as Lord Frost, who also supported Liz Truss, now preferred Rishi Sunak:
That afternoon, Boris's father Stanley appeared again on GB News, saying he would vote for his son if the contest went to Party members:
Just before 3 p.m., Boris backers told the BBC's Chris Mason that the former PM had the numbers:
However, the Evening Standard's Nicholas Cecil sounded a note of caution — Boris's MPs did not want their names made public:
A Mail+ report couldn't shed much more light on the names, either:
On Saturday morning, former Home Secretary Priti Patel said she was backing Mr Johnson in the leadership race because he had a 'proven track record'. Ms Truss, Defence Secretary Ben Wallace and former Home Secretary Suella Braverman are also in Mr Johnson's camp, while former No10 chief of staff Steve Barclay and ex Brexit Minister Lord Frost have publicly backed rival Rishi Sunak.
Just before 3 p.m., another Twitter user provided this analysis, saying that Rishi had the momentum and numbers:
Just after 3 p.m., Guido's spreadsheet showed that Rishi was on 120 MPs with Boris on 71:
Red Wall MP Lee Anderson declared his support for Boris after 3:30:
That was about it for Boris's afternoon.
Shortly after 6 p.m., Guido described how he and his team were compiling their spreadsheet. The following points stood out:
Here is some insight into what has happened in the last few days: the Rishi campaign has decided in their wisdom to freeze Guido out – no briefing, no contact, effectively pretending we don't exist as a fact of political life. Petulantly putting us in the penalty box for giving Rishi a hard time in the last leadership campaign. We started reporting and publicly recording the support of MPs for Boris on Thursday, and by yesterday evening the Rishi campaign was instructing their supporting MPs to contact us to confirm their support for him. As our records showed support for Rishi catching up with and then pulling ahead of Boris, his campaign reminded supporters to confirm their pledges to us. All can now see the relative strength of candidates' support.
… MPs who have not pledged can be seen by all sides. They are either genuinely undecided – waiting to see which way the wind blows – or biding their time for Machiavellian reasons, or simply ransoming their vote for the highest bid or best favour. What MPs can't do is double pledge any more. If they tell a campaign they are backing their candidate the campaign expects them to go public. If they don't go public, they are suspect.
Yesterday the site was visited three quarters of a million times, such was the demand for data.* This kind of transparency is now a fact of political life, the game has changed. Changed for the better…
*Team Rishi's strategy of ignoring the website read by so much of the membership doesn't bode well for their success if the contest goes to the membership.
Penny who?
Meanwhile, Penny Mordaunt's leadership bid wasn't the best.
Although this was strictly for MPs, The Guardian went to her Portsmouth North constituency to find out what the public thought:
Penny Mordaunt may have been the MP for Portsmouth North for 12 years, and could perhaps be the next prime minister, but some of her constituents were perplexed when hearing her name on Friday.
"Who's she? I don't know nothing about her," said James McLeish, who added he would not recognise her if she passed him on the street. "Never seen her, don't even know what she stands for."
McLeish's bemusement came hours before Mordaunt formally announced she was standing to replace Liz Truss – stealing a march on her presumed rivals Rishi Sunak and Boris Johnson.
Speaking in Cosham High Street, which runs through the centre of a suburb to the north of the port city, McLeish, 82, had a much clearer view on Truss's resignation after a disastrous 45 days in office.
The Telegraph's Tim Stanley gave us a tongue-in-cheek profile of the Leader of the House:
What about Penny Mordaunt, bringing up the rear? She was the first candidate to declare – and she surprised everyone last time by how far she went. The Tory grassroots appear besotted with this lady, thanks to her naval career and taste for innuendo; she exudes an impression of authority that was bolstered during the accession of Charles III when she managed to read aloud from an official document clearly and without error. That's all it takes nowadays. If only she were in Parliament, Angela Rippon would be a shoe-in.
Ms Mordaunt has reportedly told Jeremy Hunt that if she wins, he can write economic policy. And Mr Hunt, no doubt, rang the Bank of England and said, "If Penny wins, you can write economic policy." The Bank rang the IMF… and on it went all the way to Joe Biden, who put a call through to his wife, even though she was lying next to him, and said, "Honey, if Penny Farthing is made Queen of England, you can write economic policy."
Stanley spoke with Conservative Party members:
What do the members think? I've put out feelers. They want Boris.
They know he's not Jesus. He might have spent 40 days in the desert, but if the Devil tried to tempt him, he'd give in on every occasion. Yet they voted for Truss, the suits kicked her out – so now they want the good times back with BoJo. He likes pina coladas and dancing in the rain. And if they want him, and assuming he can find his passport – last seen in a swimming pool locker – he'll be right with us.
Harry Cole said that Penny's backers during the Liz Truss contest during the summer were now plumping for Boris or Rishi this time around:
Deal? No deal
Boris and Rishi met on Saturday evening. The meeting lasted three hours. The Times reported it took place at Boris's office in Millbank Tower. I've been to Millbank Tower. It has lovely offices and a spectacular view of the Thames.
The Sun put the talks on its front page on Sunday, October 23:
The paper's Harry Cole tweeted when the meeting ended, which was after 11 p.m.:
On Sunday, Cole said that Boris's backers did not want to make themselves public until they were sure there was no deal:
There was no deal.
The Mail on Sunday reported that Suella Braverman was backing Rishi:
She wrote in the Telegraph: 'I have backed Boris from the start. From running alongside him in London in 2012, to supporting him to be our leader in 2019 and willing him to succeed throughout the travails of this year. His resignation in July was a loss for our country.
'But we are in dire straits now. We need unity, stability and efficiency. Rishi is the only candidate that fits the bill and I am proud to support him.'
The article gave us scant information on the meeting between Boris and Rishi:
Last night's crunch summit between Mr Johnson and Mr Sunak, which is believed to have ended shortly before 11.20pm, comes ahead of tomorrow's deadline for Tory leadership hopefuls to secure the backing of 100 MPs.
The headline banners read:
Ex-Chancellor fomally confirms candidacy for Tory leadership after late-night talks with Boris Johnson

It was claimed this morning that no agreement was struck between the pair in their three-hour negotiations

Some had been hoping for a power-sharing pact between the pair in order to avoid a divisive battle
Sunday's hope would not last
The day began well, but with Boris's numbers stagnant, reality began to set in.
That morning, Redfield & Wilton Strategies released a positive poll for Boris, taken on October 20 and 21:
Guido showed us the Mail on Sunday poll, which also showed that Boris had the best chance of stemming a Labour majority were a general election to take place that day. Guido meant 'Tory' not 'Toy', by the way:
Liz Truss's Business Secretary Jacob Rees-Mogg told Laura Kuenssberg that Boris had the numbers (video):
Rees-Mogg also defended Boris's record (video):
Later that morning, Guido said that some MPs were sounding out their constituents:
Just before 2 p.m., Foreign Secretary James Cleverly tweeted that he was backing Boris:
Meanwhile, Rishi already had 150 MPs signed up to vote for him, including names:
The Mail on Sunday reported that Boris allegedly contacted Penny Mordaunt to ask her to stand aside. The sign of a desperate man:
Penny Mordaunt, who officially declared her leadership bid on Friday, was claimed to have rebuffed Mr Johnson's attempts to get her to drop out of the Tory leadership race in a phone call this afternoon.
He was reported to have told the ex-PM that, even if she did quit, most of her supporters would switch to Mr Sunak and not Mr Johnson. 
'I'm in this to win it,' the Leader of the House of Commons declared, despite signs she is struggling to win backers.
Boris bows out
Around 9 p.m., Boris announced that he was withdrawing from the contest. The time was not right for him to return, he said.
Afterwards, the Telegraph recapped the past 24 hours and said the meeting between him and Rishi on Saturday night lasted only one hour:
It was as he sat with Rishi Sunak, face-to-face for 60 minutes with no one else in the room, that Boris Johnson rolled the dice for the last time …
Barely a word had been passed between Mr Sunak and Mr Johnson since their relationship imploded in July.
Yet on Saturday night, the two biggest names in Tory politics agreed to down tools and meet, with the keys to Number 10 the prize on the table …
But the truth was that he believed a joint ticket between the two men, with him back as prime minister, was his route back to Downing Street.
The meeting was called at the behest of Mr Johnson, not Mr Sunak.
It was also, according to one figure who was in touch with one of the two candidates on Sunday, a surprisingly convivial affair. "It was perfectly pleasant," said the source.
But Mr Johnson had been forced into a meeting with his old foe in an attempt to regain control of the corridors of power.
Above all, it was no Granita pact [one between Tony Blair as PM and Gordon Brown as Chancellor, done in a London restaurant of the same name] because of one simple reality – there was no deal. Mr Sunak did not agree to stand aside. Nor did Mr Johnson. They parted ways unresolved.
On Sunday morning, Boris rang his supporters:
His gamble to take control of Mr Sunak's bigger list of backers had failed.
That much became clear at 8am on Sunday, when Mr Johnson gathered his supporters on a video call and informed them no agreement had been reached.
We found out more about his appeal to Penny to stand aside:
Ms Mordaunt gave him short shrift. The Commons Leader, who remembers being ejected from the Cabinet by Mr Johnson on his first day in office in July 2019, told him most of her MP supporters would prefer to back Mr Sunak – and that he should consider dropping out of the race and leave her to face him alone. Her offer was refused.
On Saturday, Boris's aides even said he would keep Jeremy Hunt as Chancellor:
Searching, perhaps, to persuade MPs he had credibility as a "unity candidate", Mr Johnson's aides let it be known he would keep Jeremy Hunt in post as Chancellor if he won the contest.
Little did he know that at that moment, Mr Hunt was preparing to make his first public declaration of the leadership race since ruling himself out – by backing Mr Sunak in an article for The Telegraph.
King Charles would have said, 'Dear, oh dear'.
On Sunday, around 9 p.m., Boris threw in the towel:
By 9pm, the answer was clear.
Writing to his supporters on a WhatsApp group, Mr Johnson himself conceded defeat – but claimed he had the numbers all along.
Telling friends he had been "overwhelmed" by support from MPs, he maintained that he was "uniquely placed to avert a general election".
Stressing that he had cleared the "high hurdle" of 102 nominations including a proposer and a seconder, he said he was confident he could be "back in Downing Street on Friday".
But it appeared the concern among Tory MPs about the return of their former leader had rattled Mr Johnson.
Confirming he had "reached out" to Mr Sunak and Ms Mordaunt in an attempt to strike a deal, his message concluded: "I am afraid that the best thing is that I do not allow my nomination to go forward and commit my support to whoever succeeds."
… As he told MPs on Sunday night: "I believe I have much to offer but I am afraid this is simply not the right time."
One of Boris's main supporters, Sir James Duddridge MP, was nonplussed:
An hour later, he changed his support from Boris to Rishi:
Jonathan Gullis, a Red Wall MP, didn't wait that long:
Braverman pivotal to Rishi's support
On Monday, October 24, the Times had two articles about the importance of Suella Braverman backing Rishi.
The European Research Group of Eurosceptic backbenchers [Brexit supporters], which in previous leadership contests has acted as a bloc, is increasingly fractured.
Suella Braverman, the former home secretary who was once one of Johnson's most ardent supporters, came out for Sunak. The party, she said, could not afford to indulge in "parochial or nativist fantasies" given the "dire straits" it was in now. The world was "fundamentally different" from when Johnson was elected in 2019.
Braverman's endorsement of Sunak surprised even some of her allies, with one speculating about whether she had been offered the chance to return as home secretary. "She wouldn't have settled for much less," said one.
Braverman's support was not just a blow to Johnson, it also allowed Sunak to make the case to wavering MPs that he could command support across the party. As well as Braverman, Sunak won the backing of other former ERG stalwarts such as Steve Baker and Theresa Villiers. He has even persuaded MPs who had joined a "Back Boris 22" WhatsApp group to jump ship, including Chris Loder, MP for West Dorset.
It suggests that Sunak has made assurances to the ERG on policy and jobs, given that senior ERG figures were briefing on Friday that they would seek "guarantees" before endorsing candidates, which ranged from no concessions on the Northern Ireland protocol, reaffirming the manifesto commitment to reduce immigration and senior cabinet roles for their members.
Braverman suggested as much, saying in an article for The Telegraph website that the party needed to "move beyond Leaver or Remainer; One Nation or ERG; right of the party or left of the party; wets or Thatcherites," adding: "One person can build that team: Rishi Sunak."
The other said that Boris's team had approached her for support on Saturday but was rebuffed:
Johnson's team had made a "big pitch" to her yesterday in the hope that winning her over would persuade fellow right-wing MPs to back him. She is a former head of the European Research Group of Brexiteer MPs. It is a further sign that the ERG is split down the middle between Sunak and Johnson …
Her endorsement will deliver a big blow to Johnson's efforts to attract the remaining MPs on the right of the party, as she is seen as one of their flag-bearers and rising stars.
She is the latest figure on the right to endorse Sunak following Kemi Badenoch, the trade secretary, and Lord Frost.
Braverman also signalled that Sunak had agreed to continue with reforms she had begun working on during her short spell as home secretary, including a new law to prevent the European Convention on Human Rights allowing migrants and criminals to avoid deportation. It also suggests that Sunak has agreed to press ahead with the government's controversial Rwanda policy.
I hope that all works out for her.
Unfortunately for James Duddridge, the Boris loyalist, even though he voted for Rishi, he was sacked as Trade minister on Wednesday:
Jacob Rees-Mogg also got the sack this week and has returned to the backbenches.
Rishi's 'coronation'
On Monday morning, October 24, the outspoken Lee Anderson refused to back Rishi, swapping his vote from Boris to Penny. Interesting, to say the least:
Just before 1 p.m., Rishi had over 200 backers, double of what he needed:
At 2 p.m., the all-powerful 1922 Committee assembled at Conservative Party headquarters (CCHQ) to announce the results.
They had to meet at CCHQ, because while Rishi was the new Party leader, he was not yet Prime Minister and would not be able to enter No. 10 until he met with the King, who would grant him permission to form a government. The monarch returned to London on Tuesday, at which time Rishi's premiership was formalised.
According to the 1922 Committee, Boris had real numbers behind him — and had passed the threshold:
Guido reported:
For the historical record Nigel Adams says he met this morning with Bob Blackman, Joint Secretary of the 1922 Committee.
He has independently verified the nomination paperwork and confirmed to me that Rt Hon Boris Johnson MP was above the threshold required to stand for the Conservative Party leadership in this leadership election. Therefore Mr Johnson could have proceeded to the ballot had he chosen to do so.
The nominations process is confidential and it is up to individual MPs whether they wish to publicly announce who they back in leadership elections – Bob Blackman is verifying nominations today for the remaining candidates in this leadership election. Those still suffering from Boris Derangement Syndrome may need to seek help…
At the very last minute, Penny Mordaunt withdrew from the contest.
That meant Rishi had his 'coronation' as the only candidate left.
As such, the vote did not need to go to the Party members.
Conservative MPs were happy as Larry as they rejoiced that they finally got their man in office at last.
That evening, GB News reported that the Party's phone lines and website could not handle the amount of calls and clicks from members trying to cancel their membership.
They weren't angry at Rishi as much as they were the MPs who denied them a say.
End of series
Before going into Rishi's win in last weekend's leadership contest, a few items of current news follow.
Wednesday, October 26 saw Rishi at the despatch box for PMQs, which he handled well. Labour's Sir Keir Starmer was still going around in circles with his six questions, achieving nothing, as usual.
Home Secretary Suella Braverman's security breach dominated PMQs and Shadow Home Secretary Yvette Cooper asked an Urgent Question about it.
This morning's Telegraph editorial said (purple emphases mine):
There is something about Mrs Braverman that seems to drive the Left borderline hysterical. Her robust views on issues such as controlling the borders and tackling crime put her in the mainstream of public opinion. Somehow that is enough to earn her the sobriquet "hard-Right" among her Leftist critics.
In the Commons, Mr Sunak defended Mrs Braverman's return to the Home Office, saying that she had made an error of judgment but that she had recognised that and accepted her mistake. Her resignation last week also took place amid a row within government over immigration levels: Mrs Braverman is a firm advocate of cutting numbers.
Many Conservative voters will be reassured that she is back in office. Mrs Braverman has the right political instincts, taking a hard line for instance on the need to clamp down on disruptive climate protesters. In her previous roles, she has shown that she has the ability to master the details of complex policy areas, including on sensitive matters such as transgender rights. Now, she should be given the time and space to get on with the job.
A retired Squadron Leader wrote the Telegraph to say:
SIR – Congratulations to the new Prime Minister and to Suella Braverman on her return as the Home Secretary.
… The situation in the English Channel, with migrants entering Britain with impunity and without permission, at a cost of millions of pounds a day for hotel accommodation alone, cannot go on.
In 2021, 28,526 migrants landed in Britain without permission. This year, more than 38,000 migrants have arrived so far, with a projection of up to 50,000 by the new year.
Mrs Braverman would seem to have the answers to this problem. One can only hope that her return to the Home Office will make a difference, and quickly.
Another issue Braverman will have to deal with are alleged Chinese 'police stations' in two Glasgow restaurants.
Today — Thursday — the Times reported:
Ministers have been called on to intervene after China was accused of operating a "shadowy and chilling" secret police hub in the heart of Glasgow.
A report compiled by a human rights organisation claims that the Chinese government is operating a global network of undeclared "police stations", which are being used to intimidate and silence dissidents.
The Home Office said the claims were "very concerning" and would be taken "extremely seriously". A spokesman said: "Any foreign country operating on UK soil must abide by UK law. The protection of people in the UK is of the utmost importance and any attempt to illegally repatriate any individual will not be tolerated."
Safeguard Defenders, a Madrid-based civil liberties group, alleges one of the outposts is running from 417 Sauchiehall Street in central Glasgow, alongside two others in London. The address houses the premises of Loon Fung, one of the city's oldest and best-known Chinese restaurants …
A spokesman for Safeguard Defenders:
claimed the Scottish Fujian Chamber of Commerce, registered at the premises of Sichuan House, another Chinese restaurant based on Sauchiehall Street, also had links to the Chinese state.
The Times attempted to confirm the allegations:
The Chinese consulate in Edinburgh did not respond to a request for comment …
Loon Fung has strongly denied any involvement. "There's no secret police here," a spokesman said. Sichuan House did not respond to a request to comment. A man who answered a mobile number published online as being the contact for the Scottish Fujian Chamber of Commerce hung up when The Times introduced itself.
Returning to Braverman, on Wednesday night, Sir Jake Berry MP, the short-lived chairman of the Conservative Party under Liz Truss, gave an interview on TalkTV's Piers Morgan Uncensored, on which Nadine Dorries MP was a guest host, Morgan being on holiday.
The Times reported what Berry said, in part:
From my own knowledge, there were multiple breaches of the ministerial code …
That seems a really serious breach. The cabinet secretary had his say at the time. I doubt he's changed his mind in the last six days but that's a matter for the prime minister.
Also:
Asked whether Braverman had rapidly owned up to the mistake as she claimed, Berry replied: "I wasn't in the meeting but as I understand it the evidence was put to her and she accepted the evidence rather than the other way around" …

Berry's comments are likely to prompt further questions about the circumstances of Braverman's re-appointment as Sunak completes a reshuffle of the government's junior ranks.
Hmm. Interesting.
Berry's interview was up for discussion this morning in the House of Lords. Labour peer Baroness Smith of Basildon, leader of the Opposition, asked an Urgent Question about it. Baroness Neville-Rolfe, responding for the Government, gave a brief statement in support of the Prime Minister and the Home Secretary, which was met with audible groans from many of the peers. Several of them, including a Lord Spiritual (Anglican bishop), asked questions for several minutes.
Labour will continue to press this issue, it seems.
Guido Fawkes caught up with Sir Keir Starmer on Wednesday:
Guido wrote (emphases his):
Finding himself behind Keir Starmer in a coffee-queue this afternoon, Guido took the opportunity to ask the Leader of the Opposition about his future attack lines on the Government. The case of Suella Braverman, the Labour leader said, "wasn't going away."
It was a relatively inconspicuous item in his PMQs: "Have officials raised concerns about his decision to appoint her?" It caused a frisson among those who know how important process is, and how deadly the advice given by officials can be …
Obviously no PM is going to answer such questions, nor will he willingly surrender written advice given in ministerial confidence. However, there is a route to get it. By a Humble Address (a procedural device resurrected from ancient obscurity by the previous Speaker, John Bercow), documents of all sorts, including electronic, can be demanded by an Opposition Motion.
Labour has had next week's Opposition Day nicked by the SNP. But the issue will probably fructify rather than decay over time. It may be a little early in the new administration for 35 Tories to defy the Whip and vote for the  documents to be revealed – but if recent history is anything to go by …
Questions about Braverman continued in the House of Commons on Thursday during Cabinet Office Questions and, later, Business Questions to Leader of the House Penny Mordaunt.
A Telegraph article by Gordon Rayner said that recent Home Secretaries ended up doomed from the start:
Almost as soon as Rishi Sunak reappointed Mrs Braverman as Home Secretary, the civil service was letting it be known that there were "concerns" about whether she could be trusted with sensitive information. Simon Case, the Cabinet Secretary and head of the Civil Service, was "livid" about her appointment, sources said.
If the ultimate goal of the poisonous briefings by civil servants was to suggest the department cannot function with Mrs Braverman in charge, it will be a familiar scenario to previous holders of the post.
Priti Patel only just survived a concerted campaign to force her out by civil servants who accused her of bullying. Amber Rudd lasted two years before she was forced to resign for misleading a Commons committee, having been wrongly briefed by her department on deportation targets. As far back as 2006 Labour's John Reid declared the department "not fit for purpose".
In 2006, Labour was in power, by the way.
Gordon Rayner rightly includes Braverman's allies in his analysis:
Allies of Mrs Braverman say that her enemies in the Home Office, and on the Left, have used a technical breach of the ministerial code as a convenient excuse to attack a woman with whom their true battle lies over immigration.
Conservative Party members are likely to support Braverman:
As the current "queen of the Right" in the Government, every carping comment from a Labour MP or BBC commentator simply reinforces her popularity with Conservative Party members and a significant chunk of MPs.
Rishi Sunak reinstated her at the Home Office because he knows that to stand any chance of uniting his party, he needs a figurehead of the Right in a senior position, and in Mrs Braverman he has a former chairman of the European Research Group of Right-wing Eurosceptic Tories.
It is significant that Braverman backed Rishi last weekend:
If, as has been suggested, a return to the Home Office was the price she demanded for backing his leadership bid (and effectively killing off Boris Johnson's attempted resurrection) it simply proves the clout she now has within the Party.
Other news from Wednesday included a confirmed ban on fracking, overturning Liz Truss's decision to allow fracking in communities that overwhelmingly allow it.
——————————————————————————————————————
Now back to the leadership contest.
In the early hours of Friday, October 21, Boris Johnson was leading Rishi Sunak and Penny Mordaunt:
I left off yesterday with Stanley Johnson saying that morning that his son Boris was 'on a plane'.
Meanwhile, Liz Truss made a brief return to Downing Street, probably to collect something. The Guardian's photos show her in sportswear, a heretofore unseen Liz.
'Bring Back Boris'
Express readers opened their Friday paper to find an article by one of Boris's main backers, Sir James Duddridge MP, a champion of the Bring Back Boris, or BBB, campaign:
I was his Parliamentary Private Secretary and stayed with him right until the end. It was a mistake to force him out but now is the time to bring him back.
He is the only one who can unite the party after the turbulent last few weeks and I trust him to right the ship …
He always remained hugely popular with the party's grassroots and with large parts of the country.
There will always be socialists and angry Twitter mobs who rail against him but he is an election winner, twice in London as well as nationally.
My constituents regularly tell me they want Boris back and he still has a mandate from the country …
He has the star quality and inspirational leadership the country needs during the challenging months ahead.
It's time to Bring Back Boris.
Jacob Rees-Mogg, Truss's Business Secretary, declared his support for the former Prime Minister — 'Boris or Bust':
Pollster Matt Goodwin pointed out that while Rishi is more popular overall with British voters, Boris still leads those who voted in the 2019 election:
The video from 2012 showing Boris, who was then Mayor of London and promoting the Olympics that year, went viral: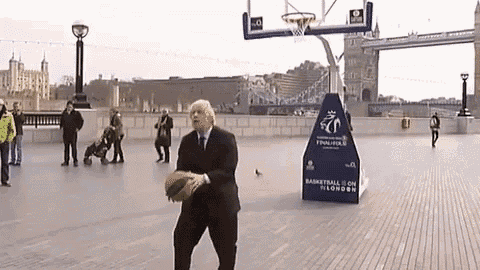 However, The Sun's Harry Cole reminded everyone that Boris still had the upcoming Privileges Committee investigation to deal with. If it goes badly, he might have to resign as an MP:
Conservative MPs could schedule a motion to cancel the investigation. That would have to be approved by the Commons, but as the Conservatives have a current majority of 71, it could still be overturned. This Sun reporter thinks it is unlikely, however:
Truss's Deputy Chief Whip Craig Whittaker requested that his name be removed from Guido's list of Boris supporters. His post requires impartiality:
Emily Maitlis, formerly of the BBC, reacted characteristically to news that Boris was running in the leadership contest:
Guido has the audio and reported:
Emily Maitlis meanwhile learnt the Boris news live on her News Agents podcast. You'll never guess her reaction…
Shouldn't hurt Boris's chances…
Rishi takes the lead
Maitlis needn't have worried.
By 11 a.m. on Friday, Rishi had just edged past Boris:
A half hour later, Rishi's momentum was beginning to build:
Boris backers hadn't lost hope, however. The fact that Ben Wallace, the Defence Secretary, supported him was an added fillip:
That afternoon, Opinium posted their snap poll on who the public supported. Rishi was the clear winner. Even Penny beat Boris:
Boris gained support from more of the Red Wall. Teesside mayor Ben Houchen is a Party member and not an MP. Simon Clarke was Truss's Levelling Up Secretary:
Guido excerpted their letter to the Telegraph …
Boris is the person we need to lead our country and our party. 
He won the greatest election victory for years on a mandate to unite and level up the UK, and inspired millions of people who had never voted Conservative before to get behind a generous, optimistic vision of what Britain can be.  
People on Teesside love Boris because he recognised that while talent is evenly distributed across the country, opportunity is not. Boris gave us that opportunity. 
…
Teesside has had difficult times and is now levelling up because of Boris. We know that for us, like Boris, the comeback will be greater than the setback.
… adding:
Houchen is a real loss for Rishi…
By 3:45, Rishi was well on his way to 100 backers. Boris was now lagging behind, and Penny was stuck:
In the early evening, an MP from the 2019 intake, Antony Higginbotham, representing the traditionally Labour constituency of Burnley, came out for Boris:
Two hours later, veteran MP Bill Cash also announced his support for Boris:
It seemed that most Boris backers were traditional Conservatives and Red Wall MPs.
Guido pointed out the Red Wall loyalty:
By contrast, Matt Hancock felt the need to produce a lengthy statement explaining why he was supporting Rishi:
Saturday's papers
Saturday's papers were a mixed bag.
Not surprisingly, the Financial Times said that investors were alarmed at the prospect of Boris's return:
The Telegraph reported that Rishi was expected to pass the threshold of 100 MPs:
The Star came up with an aubergine motif for Boris and couldn't resist featuring Lettuce Liz again:
Their Thought for the Day was:
Haven't we all suffered enough?
The lead paragraph reads:
Just when you thought all salad-based puns had been exhausted, posh aubergine Bozo Johnson has emerged as one of the favourites to replace Lettuce Liz as PM.
Rumours began circulating about joint talks between Rishi and Boris:
Two papers played to Boris supporters — the Express …
… and the Sun:
The paper's veteran Trevor Kavanagh explored both sides of the Boris equation in 'Boris Johnson is a political Humpty Dumpty with a giant ego who had such a great fall — but if he runs for PM, he'll win':
… Boris Johnson, the political Joker who makes half the nation smile while the rest are spitting chips, is gearing up for another pitch at the premiership.
He needs 100 MPs' votes and may well get more.
If he runs, he wins — that's my prediction for what it's worth in this tumultuous here-today, gone-tomorrow blur of Tory leaders, challengers and assassins.
And even if he doesn't win, what a pleasure to hear the screams of fury from Labour, Lib Dems and Scot Nats — amplified through the impartial BBC's 100-decibel speakers …
These puce-faced wets don't seem to realise they are fuelling the pro-Boris momentum which might propel him back into Downing Street and even produce another sensational election win.
Happily, their moans are drowned out by cheers from Red Wall Tory MPs who credit Boris with winning their seats in Parliament.
They want Boris back and so do millions of voters across the land.
It may be deeply irresponsible to say so, but this is diamond-studded 24-carat political entertainment and I for one am enjoying the ride.
Don't get me wrong — I am not ­watching BoJo: The Movie through rose-coloured glasses, or even suggesting that it makes sense.
Boris Johnson must take much of the blame for the catastrophic mess the country is in, politically and economically.
But he won his 2019 80-seat landslide majority fair and square.
It was an almost entirely personal achievement beyond the reach of any other politician.
He used that majority to achieve great things, ramming Brexit through Parliament, the Covid vaccination triumph and leading global support for Ukraine.
He also blew it as the "Greased Piglet" PM who believes rules are for little people, not him …
It was such casual conduct that handed Labour grounds for a kangaroo court trial for lying to Parliament — a hurdle still to be cleared.
But for such careless affronts to good governance, Boris Johnson would still be Prime Minister right now.
The Pound would be steady, mortgages manageable, inflation past its peak.
We would not have seen the eye- popping political convulsions which turned Britain into a global laughing stock.
The soap opera is not over yet.
Whoever wins next week must choose a new Cabinet and pick a way through the ruins.
If it is Boris, it should at least end the clamour — choreographed yesterday across all BBC networks — for a snap General Election.
Boris won't have to face the tricky ­question: "Who Voted for You?" …
Without Boris, the Conservative Party faces certain defeat by 2025.
Boris has the magical Heineken ability to reach voters other politicians cannot reach.
It's a gamble, a glitterball Who Dares Wins test of luck and daring.
Even Netflix couldn't make it up.
But for the Tories, it is the only game in town.
For the next 24 hours I had hope.
More on the contest will follow tomorrow.
Before analysing the latest Conservative Party leadership contest last weekend, I am pleased to report that …
Rishi Sunak reappointed Suella Braverman as Home Secretary.
Braverman resumed work late in the afternoon on Tuesday, October 25, on Rishi's first day as Prime Minister.
More about Braverman follows later in this series.
1922 Committee changes rules
On Thursday, October 20, no sooner had Liz Truss resigned as Party leader than Sir Graham Brady, the chairman of the 1922 Committee representing Conservative backbenchers and Jake Berry MP, the then-chairman of the Conservative Party, devised a rule change for the election of the next leader.
Late that afternoon, The Sun's Harry Cole tweeted:
NEW: Brady and Berry about to announce 100 threshold for nominations… means maximum of 3 candidates will go to vote of MPs. That will happen Monday then likely online voting by membership – with result announced next Friday.
Guido Fawkes had more. Jake Berry said there would be a Party members vote only if there were two final candidates:
Brady is pictured on the left of this photo, with Berry on the right:
Guido's post announced the timeline (emphases his):
If there's one candidate, the UK will get its new PM on Monday, if two we'll know on Friday.
There is one interesting aspect to those rules. They were designed to eliminate Boris Johnson, who had been in Colorado giving a speech and, at the time the contest was announced, was enjoying a holiday in the Dominican Republic.
The chairman — so far, it has always been a man — of the 1922 Committee is one of the most powerful men in the UK.
The committee forced out the formidable Margaret Thatcher in 1990 and made her cry. She called them 'the men in the grey suits'.
When Conservative MPs want a new Party leader, they write to the chairman of the Committee. The chairman may choose to let the Party leader know that opposition is gathering against him or her.
One thing that the chairman never reveals, however, is the number of no-confidence letters he has received.
During Liz Truss's last week in office, she and Sir Graham Brady spoke every day.
She knew the men in the grey suits were on their way when she sacked Kwasi Kwarteng the week before:
Shortly before her resignation last Thursday, Harry Cole wondered if their meeting that day would be their last. He had heard that Truss asked to see Brady, rather than the other way around:
Perhaps Truss had seen the column that her fellow Conservative Robert Largan (High Peak) had written for the Glossop Chronicle on Tuesday, October 18: 'Warning of the danger of dumpster fires'. Excerpts follow, emphases mine:
I've spent a lot of my time issuing warnings this year.
Back in January, I first highlighted the danger of rising energy bills …
In July, I started warning about the precarious economic situation and the Government's limited fiscal room for manoeuvre, urging politicians to resist the temptation of unfunded tax cuts or unfunded spending commitments.
The subject of this week's column, however, concerns warning about another important and oft overlooked phenomenon: dumpster fires.
Fire and rescue services attend around 300 significant fires at waste sites each year. The two most common causes of these fires are spontaneous combustion and arson.
Without action, dumpster fires can rage on for long periods of time, spreading quickly and causing major structural damage.
For some, watching these fires rage elicits a grim fascination and the chance to speculate about just how long it will continue to burn.
Extinguishing a dumpster fire is risky business and likely to be messy …
I am deeply committed to protecting our environment and our beautiful country. I firmly believe that we need to tackle dumpster fires when they occur, regardless of how messy or unappealing this may be.
Indeed, the act of extinguishing the flames could well be the end of the skip they originated in. But urgent action is necessary nevertheless.
Guido Fawkes posted a link to the article that day, interpreting it as a dog whistle about Liz Truss:
Guido's post read:
Chapeau to Red Wall Tory MP Robert Largan who has used a local campaign to warn about the state of the Tory party. His weekly column focuses on the clear and present danger of dumpster fires. Beyond the otherwise ironic headline, it reads like a normal campaigning piece from a constituency MP. Up until the final sentence:
Indeed, the act of extinguishing the flames could well be the end of the skip they originated in. But urgent action is necessary nevertheless.
Quite…
The Telegraph also picked up on Largan's article on Wednesday, October 19:
… He wrote: "The longer the fire is left to rage, the greater the danger to the integrity of the skip, as the metal starts to warp and twist out of shape, beyond all recognition, eventually becoming completely unusable."
The piece was viewed in Westminster as a not-very-subtle shot across the bows of the Government.
His Tory MP colleague, William Wragg, has now said he agrees with Mr Largan's assessment of the situation.
Wragg is a vice-chairman of the 1922 Committee.
Last Thursday morning, hours before Truss resigned, The Times reported:
Liz Truss's government is teetering on the brink after a day of chaos for the Tory party.
Members of the 1922 Committee, in charge of running Conservative Party leadership contests, are set to meet later today to discuss the escalating crisis.
Speculation is growing that Sir Graham Brady, the committee's chairman, has already received more than 54 letters calling for a no-confidence vote in the prime minister — the threshold for triggering one if Truss was not in the 12 months' grace period for new leaders.
Last night senior Conservative MPs warned that Truss's departure may be accelerated. "We could be talking days, not weeks," they added.
It was early that afternoon:
Polls slipping since November
The Conservative Party's slide in the polls began when Boris Johnson's involvement in Partygate was revealed late in November 2021.
Labour's rise accelerated during the summer. On Friday, October 21, their lead increased to a historic 35 points in this People Polling poll commissioned by GB News, 'the People's Channel':
Guido's post includes two other polls:
Polling since Liz Truss's resignation paints one of the bleakest pictures ever for the party. People Polling puts Labour on 53%, with the Conservatives on a miserable 14%. The Liberal Democrats are just 3 points behind. Pollster Matt Goodwin points out it is the lowest level of support for the Tories in British polling history.  He adds the party is "on life support".
This isn't the only psephological headache for the Conservatives. A poll from Omnisis, conducted after the resignation, gives Labour a stonking 57% with the Conservatives on 22%. The 35-point lead is an increase of 14 on Omnisis' previous poll.
Meanwhile, according to YouGov's Daily Question, 63% of the public, and 38% of Conservative voters, want a general election.
Call for Boris
Most MPs, regardless of party, think that their voters are stupid.
However, it was hard for voters to dismiss what had happened in one week.
On October 19, Toby Young, founder of the Daily Sceptic, wrote 'Are We Witnessing a Globalist Coup?':
As listeners to my London Calling podcast will know, I'm deeply sceptical about conspiracy theories …
But my scepticism has been sorely tested by the events of the last few days. The reaction of the bond markets and the currency markets to the mini-budget, the U-turn over cutting the top rate of tax, Kwasi Kwarteng's defenestration, his replacement by arch-Remainer and Zero Covid zealot Jeremy Hunt and now the sudden departure of sound-as-a-pound Suella Braverman and the elevation of Grant Shapps … it all seems like a globalist coup. Indeed, Suella used the word 'coup' to describe the attempts to discredit the mini-budget at the Conservative Party Conference.
Liz Truss, when she gave her press conference on the steps of Downing Street last Friday, looked as though someone had kidnapped her children and she was reciting from a script the kidnapper had handed her. And now Suella has gone too. It seems every genuinely conservative, pro-Brexit member of the Government is being picked off, one by one. Suella might have actually done something about the boats crossing the channel. She'd already spoken up about the police acting like the paramilitary wing of the Guardian and she is a steadfast Brexiteer who did some work on dismantling the Northern Irish Protocol as Attorney General. Was she really forced out because of what looked like a very minor security breach? Or have her children been kidnapped, too?
… it's getting increasingly hard to persuade the conspiracy theorists they're wrong.
That morning, Foreign Secretary James Cleverly had the unenviable task of doing the morning news round. The Telegraph summarised what he said:
James Cleverly has suggested the same Tory MPs who ousted Boris Johnson are now working to do the same to Liz Truss. 
The Foreign Secretary said it is "many of the same people" who "defenestrated Boris" who are now criticising the new Prime Minister.
Mr Cleverly argued that none of the challenges facing the UK would be solved by "removing another prime minister" as he said the Government must focus on delivery if it wants to reverse dire opinion polls.
Told that a poll of Tory members found 55 per cent want Ms Truss to resign, Mr Cleverly said: "We have gone through quite recently a situation where lots of people were saying Boris has got to resign and at the time I said okay, you might not be happy, but what is your plan for what happens next?
"For those people who defenestrated Boris, they didn't have a plan for what's happening next, they are now criticising the new Prime Minister, many of the same people, and I just say again, look, what we need at this point is we need to get focused on delivery, delivering those minimum service agreements so communities can get to work, delivering the infrastructure so that we can grow the economy, deliver calm, confidence to the markets. I don't think any of those things would be served by removing another prime minister."
The next day, Thursday, Toby Young wrote, 'It's Got to be Boris':
I can see a lot of readers balking at that headline …
But my gut says that Rishi would be worse …
It's true that the Tory Party will look absurd if it makes Boris leader again six weeks after defenestrating him. But it's going to look absurd whatever it does. Would it be any less ridiculous to appoint a third leader in as many years? …
Suppose you think Rishi would be preferable to Boris. Maybe so, but would Keir Starmer be preferable to Boris? On lockdowns, vaccine passports and Net Zero he's even more of a zealot than BoJo, and with Rishi at the helm Labour's victory at the next General Election is almost inevitable.
Finally, just think of how angry all the Boris-haters will be. As I've written about before, the reason Boris is so unpopular with the Establishment – the reason he brings certain members of the ruling class out in hives – is because he's the embodiment of Merrie England. They detest his devil-may-care attitude, his disregard for conventional morality, the fact that he has three wives and god knows how many children. He's Sid James and Falstaff and Benny Hill rolled into one. He's a saucy seaside postcard come to life … It would be like the restoration of Charles II, except the Interregnum will only have lasted six weeks.
I'm sure many people are unconvinced and Boris hasn't even said he's going to run yet. But I expect he will and if he does I'll be holding my nose and backing him.
That afternoon, Guido tweeted a YouGov poll from that week showing most Conservative Party members thought that Boris should be the next leader:
Guido added that, if Boris became leader again, Labour would have no grounds on which to demand a general election:
A short time later, Guido heard Boris was returning to the UK:
The news also circulated from other sources.
At 4 p.m., Boris loyalist and Red Wall MP Marco Longhi tweeted, showing the Black Country flag from his part of the Midlands:
Fifteen minutes later, The Telegraph's Ben Riley-Smith tweeted the names of Longhi and seven other loyal MPs who were backing Boris, who, it should be noted, had not officially declared:
Shortly afterwards, one of them, Brendan Clarke-Smith, made an articulate case as to why Boris should be the next leader. Guido has the video:
Guido and his team started a new leadership contest spreadsheet, which the BBC referenced that evening. The Boris backers had a clear lead, with Penny Mordaunt in third:
Some Boris backers also came from the 1922 Committee, rather surprisingly. That said, many of the MPs wished to remain anonymous:
An Opinium poll showed that Boris in charge would save the most Conservative seats were a general election held. It is worth noting that, in this contest, only Rishi, Penny and Boris were in the running. Suella Braverman and Kemi Badenoch were not:
Conservative Party members began contacting their MPs with 'strongly worded' pro-Boris emails:
Millions of British voters rejoiced at the prospect of Boris's return:
The Sun put the news on Friday's front page:
The Telegraph reported it, too:
The BBC's Newsnight referenced Guido's spreadsheet in their coverage that night:
The morning of Friday, October 21, a fishmonger in Birmingham told a BBC Breakfast reporter that Boris needed to succeed Liz Truss. Look at her facial expression:
Guido mentioned the interview as well as another pro-Boris one from the evening before, in Rushcliffe, also on the BBC:
Stanley Johnson told Good Morning Britain that he thought his son was on a plane:
The enthusiasm for Boris was palpable.
Friday saw more developments, which I will go into tomorrow.
Prime Minister Liz Truss resigned early in the afternoon of Thursday, October 20, 2022.
She will remain Prime Minister until a new Conservative Party leader is elected — details to be announced — in a week's time.
She will have seen the shortest tenure of any British Prime Minister. If she serves another week, that will be a total of 52 days.
More to follow next week.
She met the King this afternoon to tender her resignation. It is, after all, His Majesty's Government.
Her penultimate meeting with him was last Thursday, immortalised here:
———————————————————————
Yesterday's post discussed Liz Truss's sacking of Kwasi Kwarteng as Chancellor on Friday, October 14, 2022.
A day is a long time in politics
Kwarteng's defenestration illustrates that one day is a long time in politics, never mind a week.
However, days are eras in Truss's government, if one can call it that.
On Wednesday, October 19, Home Secretary Suella Braverman was out and, by the end of the evening, the Speaker of the House decided to investigate an unrelated incident at a Commons vote on fracking, during which it was unclear whether the Conservative Whip and Deputy Whip had resigned. More about that in another post.
Returning to Kwarteng, on Thursday, October 13, he said he would be going nowhere. This was The Telegraph's headline on the morning of Friday, October 14:
By the time that headline appeared, Kwarteng was on his way back to London on a red eye flight from the annual IMF meeting in Washington DC.
Shortly after 11:00 a.m., by which time Kwarteng would have returned to London, Guido Fawkes tweeted that Truss would be holding a press conference that afternoon:
An hour later, Guido followed up with a tweet saying Kwarteng was about to be sacked:
Guido's post said (emphases his):
Kwasi has just arrived at No.10 for a showdown with Liz Truss. The FT, the Times, the Spectator and the Sun are all reporting he's about to be sacked. A Boris-era insider texts Guido to say "It's just getting silly now." Liz is up in front of the cameras at 2pm. Will she have a new Chancellor by her side?
Just before 12:30, he tweeted that Kwasi was out …
… commenting:
Kwasi Departeng…
Twenty minutes later, Guido posted runners and riders for Chancellor:
His post had eight names with a summary about each candidate. Personally, I would have liked to see one of these two:
Simon Clarke: A key and prominent supporter of Liz. Chief Secretary to the Treasury under Rishi, though with some major disagreements with the former Chancellor reported during his time there. A very likely candidate.
Steve Barclay: Widely reported to have been Rishi's choice for Chancellor had he won the leadership contest.
In the event, we got Jeremy Hunt, as I stated yesterday:
Jeremy Hunt: The centrist, 'party unity' candidate that may placate backbench opponents. Would be an admission that the Truss economic programme is DOA. Currently out of the country.
At 1:05 p.m., Guido posted Kwarteng's gracious resignation letter:
Guido has a better copy here. Kwarteng was most gentlemanly:
You have asked me to stand aside as your Chancellor. I have accepted.
… your vision of optimism, growth and change was right.
As I have said many times in the past weeks, following the status quo was simply not an option.
… I look forward to supporting you and my successor to achieve that from the backbenches.
We have been colleagues and friends for many years … I believe your vision is the right one. It has been an honour to serve as your first Chancellor.
Your success is this country's success and I wish you well.
This was Friday afternoon's headline from London's Evening Standard:
Kwarteng had been Chancellor for 39 days, the second shortest in British parliamentary history.
Iain Macleod lasted one month, before dying of a heart attack in 1970. The Prime Minister at the time was Ted Heath.
What happened behind the scenes
On Friday evening, The Sun's Political Editor Harry Cole posted 'Inside story of Liz Truss' first 40 days in power that ended in biggest political meltdown for 300 years'.
Excerpts follow, purple emphases mine:
Caught between the rock of mercenary traders in the City and the hard place of mutinous Tory MPs in Westminster, it began to dawn on the Prime Minister that her sticking to her plans risked her becoming the shortest ever serving PM.
But it was an email from the Office of Budget Responsibility to the Chancellor last Friday set in motion the most spectacular collapse in Government authority in modern political history.
The independent scrutineers of tax and spending were brutal in their assessment: A £60billion black hole in the nation's finances was the direct result of Ms Truss and Kwasi Kwarteng's mini-Budget.
The scale of the spending cuts that would be needed just to stop debt interest bankrupting the country were not just eye-watering but politically impossible to even a strong government.
But having junked the 45p rate, Truss was barely treading water as PM, let along one strong enough to take a toxic axe to the size of the state.
The extra £18billion Britain will be paying in interest on government borrowing alone was more than the entire Home Office budget …
And when she claimed at PMQs on Wednesday there would be no cut to public spending, the clock was ticking on a spectacular U-turn.
Even as she told the MPs that a rise to corporation tax "would be wrong at a time when we are trying to attract investment into our country", privately work was underway to do just that.
The PM began to make preparations to climb down on Wednesday evening, as her Chancellor — her closest friend and ally in politics — flew to Washington to meet global financial watchdog the IMF.
While he was there they openly criticised the Government's plans in a humiliating dressing down on the world stage.
With inflation rampant, the global experts held up Britain as an example of how not to handle it.
"We were becoming a laughing stock," one minister admits …
With Kwarteng out of the country, Simon Case the Cabinet Secretary and James Bowler, the new head of the Treasury, turned the screw on Ms Truss to jettison the plans.
And the news was grim from political advisers, too.
This was the second time that Sir Graham Brady from the 1922 Committee had to step in over Kwarteng's and Truss's economic plan. The first was Sunday, October 2, during the Conservative Party conference, which caused a U-turn on scrapping the 45% tax rate.
Cole tells us:
Away on holiday, the all-powerful boss of the backbench 1922 Committee, Sir Graham Brady, made his disquiet known in a number of calls with Ms Truss on Wednesday and Thursday.
Just as he came to visit Truss during Tory conference to warn the 45p rate had to be scrapped if she wanted to survive, Sir Graham warned the PM the knives were out for the Chancellor and Kwarteng may need to be offered up as a sacrifice if her administration were to remain in any way credible.
However, Truss's other good friend and Cabinet member, the Deputy Prime Minister (and Health Secretary) was also allegedly on manoeuvres against Kwarteng:
Deputy PM Therese Coffey was also "determined to get Kwasi" according to one senior Government source.
"She put the knife through his shoulder blades while he was still in the departure lounge."
It seems that Truss wanted to deal with her Chief Whip first:
Ms Truss also briefly considered firing the Chief Whip Wendy Morton, who MPs consider a lightweight totally unable to herd the various factions of the Tory MPs publicly machine gunning each other.
Hmm. Wendy Morton was part of the reason for the chaos at the aforementioned fracking motion vote.
Moving on:
… the PM wanted to sleep on the decision to finally fire Kwarteng …
"He had an inkling it was coming and didn't put up much of a fight", one source said.
But it is hard to overstate just what a serious blow to Truss and her entire project the decision was.
Her closest friend in politics, this was their budget written together, at times in secret, away from advisers, aides and spin doctors.
When she U-turned on the 45p rate, she misleadingly blamed it on a "decision the Chancellor had made."
Now in U-turning on Corporation Tax she has thrown that fireguard away – leaving the PM the only target left now.
The Telegraph told us more about Kwarteng's visit to Washington last Thursday:
… the outgoing Chancellor tried to put a brave face on things. Even when he knew his time in Number 11 was up, he didn't show it.
On the night he departed for London, Kwarteng continued to work the room of bankers and officials at the British Embassy in Washington DC. Rubbing shoulders with the likes of Shriti Vadera, once a Labour minister and now chairman of Prudential; Sir Danny Alexander, vice president of the Asian Infrastructure Investment Bank and former chief secretary to the Treasury; and Axel Weber, chairman of the Institute for International Finance, he stopped for quick chats, and even addressed the crowd.
But while to some it seemed like the troubles 3,500 miles away in Westminster were far away, others said he seemed distracted.
He had reasons to be. At first, the British Airways flight out of Washington Dulles at 10.40pm was full and he struggled to get on board. While he and his special adviser managed to find seats eventually, it was an uncomfortable journey home.
In Kwarteng's own words, his 38 days as Chancellor were a "baptism of fire". Investors had already delivered the verdict on his policies, but some of the starkest criticism came from Britain's strongest allies …
But for many observers, it was Kwarteng's steadfast attitude that surprised. Germany has also been criticised for its €200bn (£174bn) energy bailout. But while their finance minister Christian Lindner adopted a more contrite approach in meetings, saying the spending might not be popular with markets but was nonetheless vital, the Chancellor stuck to his message that the Government was unapologetically pro-growth.
"He just didn't seem to understand that you can't just do lots of tax and spending giveaways when the economy is unstable, prices are soaring and borrowing costs are rising," said one member of the US delegation …
One banker who attended the drinks with Kwarteng said: "We just don't know what's coming next from the UK. Which policies are staying? Which are going? Who is staying? Who is going? There's no certainty any more" …
There was more love for Andrew Bailey, the Governor of the Bank of England, who found friends among the financial establishment in Washington DC. Many have known him for several years. "I just hope they don't try to hang him out to dry too," said one US banker.
The Times suggested that Kwarteng had little idea he was about to be dismissed. Yet, motions were in play even during the Conservative Party conference at the beginning of October:
In his suite in the Hyatt Regency hotel at the Conservative Party conference in Birmingham, he told allies: "The idea that a prime minister is going to bullet her chancellor and survive, I just don't think is feasible."
Unknown to Kwarteng, his long-term friend had already been sounding out at least one former cabinet minister about the prospect of replacing him.
Intermediaries had begun reaching out to allies of Sajid Javid, the former chancellor, to gauge his appetite for a return to the Treasury in case Kwarteng was forced to fall on his sword. The prime minister's emissaries asked Javid to name his price but had not bargained on his conditions being too much for Truss to accept.
"Sajid would have only done it if he had complete control," one ally of Javid's said …
It is unclear whether more horse trading took place but by Thursday last week, Javid was no longer in the running, with Truss's allies instead pivoting to another big beast as their preferred replacement for the chancellor.
Just hours after Kwarteng left the UK for Washington to defend the prime minister's fiscal plans to his foreign counterparts at the annual meetings of the International Monetary Fund, senior Truss allies had made contact with Jeremy Hunt, the former foreign and health secretary, who only a month beforehand had backed her rival, Rishi Sunak, for the top job.
Hunt insisted yesterday that when he heard that a "Liz Truss" wanted to talk to him on Friday, he assumed it was a prank call. The twice-failed leadership candidate then cut short a family holiday in Belgium to take charge of the Treasury. By last night — after Hunt's extensive media round, during which he tore up much of the mini-budget — it felt to many Westminster observers that Hunt, not Truss, was now running Britain. Wiser heads note that the Conservatives appear increasingly to resemble a political death cult, having burnt through four prime ministers in six years and four chancellors in the space of a barely believable four months …
Truss arrived at No 10 without a ringing endorsement and faced a faction-driven Westminster.
Last night, a No 10 source denied that Javid had ever been considered for the role now filled by Hunt. "The prime minister laughed out loud at the suggestion," they said …
By Thursday afternoon, Kwarteng knew that his political future might be in jeopardy, despite being 3,700 miles away across the Atlantic. He spent most of his time at the IMF gathering skipping meetings to hold talks with No 10 and his aides in London.
Kwarteng eventually cut short his trip by two days and booked the last overnight flight back to London. By then, however, at least one of his closest allies had already guessed that the game was up. "It wasn't a massive shock," they said. "There was nothing to come back for, no major meeting or announcement. The only reason he was coming back was to be sacked."
If Kwarteng suspected on Thursday evening, as he addressed a room of 200 bankers in Washington at the Institute of International Finance, that the axe was about to fall on his cabinet career, he gave no indication.
He told them there were three important things to sort out: the energy package, growth, and keeping the Bank of England independent …
Confirmation that Kwarteng was receiving his marching orders came the next morning. When he arrived at Downing Street after his red-eye flight, he was informed by Truss that she needed to restart her premiership with a "clean slate" — something that would be impossible with him as chancellor. The two had "a warm meeting" in the Cabinet Room.
"The PM felt deep personal sadness at the decision but made peace with it," an aide said. "Senior party figures had encouraged her to move the chancellor on" …
… Truss's decision to demote Kwarteng's No 2, Chris Philp, who had already been blamed for the policy to abolish the additional rate of income tax, has left some moderate MPs incandescent.
"The most disgusting thing she has done is sack Chris Philp," one said. "He's got his faults, he makes mistakes, but he's a good person and the person she needs around her and they just f***ed him around completely. They used him, sucked the blood dry and then spat him out. They are a real bunch of bastards."
According to a source in Kwarteng's constituency of Spelthorne, Surrey, the former chancellor experienced his first taste of the public's dissatisfaction during a walkabout on his local high street shortly after the mini-budget on September 23. Although his pledge to cut stamp duty had been expected to provide a welcome boost to the housing market, Kwarteng was left in no doubt about the views of a local estate agent who, on being waved at through the shop window, responded with a rude hand gesture.
There were signs the wheels were falling off the Truss bandwagon on Tuesday, when she reiterated her commitment to cutting taxes in a speech at a Conservative fundraising dinner for which guests paid £1,500 a seat. Truss, whose speech was described as "a worse version of the one she gave at conference", was denied a standing ovation.
"It was embarrassing," one guest said. "I can't think of another PM who hasn't received a standing ovation after addressing the same event — not even Theresa May at the height of her Brexit battles. The only topic of conversation was how the party could get rid of her."
Tory donors are also understood to have snubbed the PM. "Aides came to our table and asked our host, a prominent Tory donor, if he wanted to speak to the PM, as is customary. He told them bluntly that he would rather not."
Several miles away, at a separate dinner organised by Mel Stride, a leading Sunak supporter, those present were unanimous in their view that Truss should be replaced.
"The major discussions are no longer about her removal but how to do it," said one of those present. "It was mainstream, moderate MPs. I've never been to a dinner like it in my life. The whole room was discussing how to remove the prime minister."
On Wednesday, Truss faced the wrath of MPs at the 1922 Committee. The No 10 team have privately pointed the finger of blame at the whips for not preparing a proper operation beforehand. Truss was described as "incandescent" that she addressed the back-benchers without Sir Graham Brady, the committee chairman, leading the meeting. "She was stitched up," an ally said. "It was the same public schoolboy men attacking her at the 1922 who then went out to tweet about how good her tax cuts were."
Truss appears to have anticipated that calls for her removal would only grow after Kwarteng's sacking. Within minutes of the prime minister's disastrous eight-minute press conference on Friday afternoon, Thérèse Coffey, the deputy prime minister and health secretary, held a phone call with dozens of ministers in an attempt to shore up Truss's support. Looking "very upset", according to one person on the call, Coffey acknowledged the government had gone "too far and too fast" in the mini-budget but insisted, despite the severe setbacks, that No 10 was determined to prove the "flipping" Office for Budget Responsibility wrong …
Later, Coffey held a second call with backbench MPs, but it did not take long for the mood to sour. Laurence Robertson, a loyalist, told Coffey that Truss's supporters had been made to "look like fools", while Johnny Mercer, Andrew Percy and Steve Double are said to have claimed that the party was hurtling towards "disaster."
… There are reports that as many as 100 letters expressing no confidence in Truss have been submitted to the 1922 Committee, which some backbenchers believe would give Brady a mandate to change the rules and get rid of the year's grace a new prime minister usually has before a leadership challenge can be launched … 
"I've never been more depressed by what has happened in my entire time as an MP," one former minister said. "She sacked Kwasi out of survival but it actually made it worse for her. I think she will be gone by the end of the week" …
Although many of the party are unified in their desire to remove Truss, there is no agreement on who could replace her …
Truss's dire press conference
Truss's press conference last Friday was one for the history books.
She looked white as a sheet and visibly shaken, as if she were a hostage reading a pre-prepared note in front of a camera.
The Naked Emperor's Substack post from October 17 might give us an indication of what went on (bold emphasis his):
Alfred Kammer, head of the IMF's European department said he praised the UK's "strong institutions" but that the IMF would only deliver its verdict once policymakers' "process of recalibrating" the policies had been completed.
It sounds like Kwasi was sent to Washington DC to be assessed but he failed miserably. He was asked to change his mind but when he stuck to his guns, the message was sent back to London that this guy must be removed.
With the message received loud and clear back in London, a new Chancellor needed to be chosen. Once again, Liz Truss thought she was in charge and looked to replace Kwasi with Sajid Javid. However, once more, the powers that be had other ideas and she was told to appoint Jeremy Hunt.
But the main question remains – where was Jeremy Hunt? Why was he not by the Prime Minister's side when she announced his appointment?
The answer is that he was nowhere to be seen because Mr. Hunt had been in Brussels for three days. What was he doing there? Who was he meeting with? Was he being given his orders in case Kwasi couldn't be turned?
Clearly Liz and Kwasi didn't want to reverse course. Her extraordinarily short press conference … looked more like a hostage video.
Without further ado, here's the eight-minute press conference, which includes four questions from the media — Ben Riley-Smith from The Telegraph, Harry Cole from The Sun, Robert Peston from ITV News and a fourth whom I've forgotten. It starts a little after the 36:00 point:
It took Truss ages to choose the appropriate reporter:
Umm … ahh … let's see …
She chose The Telegraph and The Sun first, because those would be the most favourable towards her plight, but it did not turn out like that.
This was The Telegraph's front page on Saturday:
On Saturday, Harry Cole wrote:
Weakened and defenceless, when I asked the PM at yesterday's disastrous press conference why she should remain in office, she could barely muster an answer.
After taking just four questions from reporters, she rushed for the exit – barely eight minutes in.
Last night No10 were scrambling to simply survive in office.
"Tax cuts were meant to be the easy part", a minister claims.
Here is a clip of him asking his question and Truss's answer, which is about her taking 'difficult decisions':
After Truss took the fourth question, she walked away. That was it.
Cole is in the centre of the next video, looking bemused:
You could not have made this up — any of it.
Truth is stranger than fiction.
More to follow on Friday and early next week.
Yesterday's post introduced the sad saga of Prime Minister Liz Truss and her first Chancellor Kwasi Kwarteng over their fateful fiscal event of Friday, September 23, 2022.
My post ended with the market turmoil and negativity up to Friday, September 30.
Many of us hoped that his plan would work. After all, the market turmoil is global, for different reasons in different Western countries.
What motivates Kwarteng
On Wednesday, September 28, Rachel Sylvester wrote an interesting profile of Kwarteng for The Times, complete with photos of him and Truss from their earlier days as MPs. One from 2013 shows them together at a book awards event and another from 2018 has them enjoying a picnic at that year's Hay literary festival.
Excerpts follow, emphases mine.
Kwarteng was pleased with his fiscal event and believed the market's jitters were temporary:
So sure was he of his plan that he smiled as he announced that he was abolishing the cap on bankers' bonuses introduced by David Cameron in 2014.
Within hours the pound had tanked, but Kwarteng doubled down, promising that he had "more to come". As the markets reacted to the UK's biggest tax cuts in 50 years, the pound fell to a record low against the dollar. One senior figure in the City described the fiscal statement to me as "economically reckless". Yet the chancellor did not blink, with an ally suggesting that this was just "the City boys playing fast and loose with the economy" and insisting, "It will settle."
Although it is unclear what Kwarteng thinks today, he and Truss were allies dating back at least a decade:
At 47, Kwarteng is the same age as Liz Truss and is one of her closest political allies. Earlier this year, he moved into a house just down the road from her in Greenwich and now they are neighbours in Downing Street. His appointment as chancellor was one of the first decisions she made when it became clear that she was likely to win the Tory leadership contest. Truss and Kwarteng have been working for weeks on their "shock and awe" shake-up of taxes, including changes to stamp duty and the abolition of the top 45p rate of income tax. The blueprint has been in their dreams for years …
His allies say his politics have also evolved. In 2012 the chancellor was one of a group of free marketeers – including Truss – who published a pamphlet called Britannia Unchained, which described British workers as "among the worst idlers in the world" and railed against a "bloated state, high taxes and excessive regulation". He has since distanced himself from the controversial text.
His parents arrived in England from Ghana. Both received a first-class education and had top-flight careers:
An only child, Akwasi Addo Alfred Kwarteng was born in Waltham Forest, northeast London, in 1975. His parents had come to Britain as students in the Sixties. His father, Alfred, an economist for the Commonwealth Secretariat, was educated in Ghana at an Anglican school with a Winchester-educated English headmaster. His mother, Charlotte, a successful barrister, was an admirer of Margaret Thatcher. "It was a self-reliance thing," Kwarteng once explained. She instilled in her son a ferocious work ethic and education was of fundamental importance to the family.
When his father was posted to Switzerland, Kwasi was sent at the age of eight to board at the fee-paying Colet Court – now St Paul's Juniors – in southwest London. He admits it was probably too young to be separated from his parents but he not only survived, he thrived. He won a scholarship to Eton where friends recall a "lanky malcoordinated" but hard-working teenager who was determined to make the most of the opportunity he had been given.
Like Boris Johnson, Kwarteng played the wall game – a brutal mixture of football and rugby. "He's so tall that he was a great addition to any team," one fellow pupil recalls.
Kwarteng is not attracted to identity politics:
Kwarteng never expressed his desire to be "world king" in the way that Johnson did. "I was slightly surprised when he went into politics," says a contemporary from Eton and Cambridge. "He wasn't in a political activist circle at university. People sometimes think one Etonian is just like another, but Boris and Kwasi are very different. Boris wants to rule the world; Kwasi wants to solve problems, rather than just being in power for the sake of it. He's not going to go out there to break rules. Kwasi does listen to people and wants to discuss ideas" …

Kwarteng's 2011 book Ghosts of Empire is a far more nuanced analysis than the rose-tinted version of British history favoured by Tory traditionalists. He rejects the "sterile debate" over whether "empire was a good or bad thing" and concludes, "Much of the instability in the world is a product of its legacy of individualism and haphazard policymaking." According to those who know him well, the chancellor is uncomfortable with "culture war" politics and describes his own philosophy as "relentless pragmatism". One aide insists, "He is sometimes lazily pigeonholed as a ruthless, black and white free market ideologue. It is true that he is a low-tax Conservative. He's a free marketeer, but there are occasions when the state does need to intervene." In 2019, the chancellor told a Tory party conference event: "There's nothing [better] to convert someone from being a radical free marketeer to seeing the virtues of government action than making them an energy minister."
He focused on his studies at Trinity College, Cambridge:
"As a student he was charismatic and a bit chaotic," says a friend from that time. "He was scholarly. The everyday run of things didn't worry him. He would be immersed in his books."
He began meeting the great and the good in the Conservative Party:
… the future chancellor was spotted by Dr John Casey, an English fellow and legendary figure among Conservative thinkers, who invited him to his dining club, the Michael Oakeshott Society. There Kwarteng met Tory politicians and journalists such as Norman Lamont, Geoffrey Howe, Norman Tebbit and Charles Moore. Casey insists it was never a political society: "It is devoted to intelligent conversation and strong views don't go with that.
"He has a first-rate mind and a first-rate personality," Casey continues. "He is intellectually and personally equipped to be chancellor. He's a cultured man, an intellectual – there are very few in politics. He's not like anybody else; he's himself."
After Cambridge, Kwarteng won a Kennedy scholarship to Harvard. When he finished his time there, he returned to Cambridge to earn a doctorate in economic history, after which the City of London beckoned:
He then worked as a fund manager at the bank JP Morgan and at Odey Asset Management, run by the Brexit-backing investor Crispin Odey, as well as chairing the Bow Group, a conservative think tank.
His political career began afterwards:
In 2005 he stood as the Conservative candidate for Brent East, coming third, before being elected as MP for the safe Tory seat of Spelthorne in Surrey in 2010, the same year as Truss entered politics. He spent several years on the back benches after criticising coalition policies including the help-to-buy scheme. "He's genuinely clever, with a very strong academic, scholarly mind," one old friend says. "But that academic, scholarly mind meant he was happy to speak out against David Cameron and George Osborne and didn't really worry about the consequences."
Kwarteng understands the importance of a Prime Minister and Chancellor working closely together:
For now, Kwarteng and Truss are united on economic policy. The chancellor tells colleagues that his role is to support the PM, explaining: "I will facilitate; I won't emasculate." One ally says, "Kwasi was completely disillusioned with the battles between No 10 and No 11 under Rishi and Boris. When No 10 and No 11 are at war, nothing works. Kwasi will deliver what the prime minister wants. She is the first lord of the treasury, Kwasi is the second lord of the treasury. That will change the entire mood and approach of government. The institutions will try to break No 10 and No 11 apart, but they underestimate the strength of the relationship between Kwasi and Liz."
Hmm. Interesting.
British public gaslit
The last week of September was one of news about unfunded tax cuts, the Bank of England stepping in to calm the UK markets, how Kwarteng and Truss didn't bother to communicate their economic plan and how awful everything was.
On Friday, September 30, Tom Harwood, GB News's political correspondent and Guido Fawkes alum, put things into perspective, rightly saying that the media were gaslighting Britons:
That day, The Telegraph's Matthew Lynn wrote, 'There's no such thing as unfunded tax cuts — it's our money':
It is hard to imagine that three simple words could be quite so lethal. But over the last few days "unfunded tax cuts" have been held responsible for the potential destruction of the British economy, and, come to think of it, the global financial system as well.
We are told that the Government's £45bn package of cuts announced last week have crashed the currency markets, sent mortgage rates soaring, and left the stock market to keel over and die. Any government crazy enough to even attempt unfunded tax cuts can expect to be evicted from office within days if not hours. 
Tosh. Although the phrase has become ubiquitous, we should be a lot more cautious about how we use it. In reality, tax cuts don't need to be funded, for the same reason that staying home instead of going out to dinner doesn't need to be 'funded', and nor does opting to spend Christmas with your parents rather than flying off to Mauritius need to be 'funded' either.
It isn't spending. It is simply taking less of your citizen's money. It is state spending that needs to be 'funded', and not its opposite – and until we get that straight, and change the language we use, we will never be able to have a grown-up debate about how to manage our economy.
If Kwasi Kwarteng had a grand for every time our broadcasters, newspapers, a think tank, or indeed a growing legion of City analysts, used the term "unfunded tax cuts", or UTCs as we should probably call them, he'd have enough money to wade into the markets and send sterling back over the two dollar mark. The phrase probably has its own emoji by now, just to make it easier to discuss on WhatsApp (some sort of variant of the scowling face, I'd imagine).
Ever since the pound started falling modestly against the dollar on Monday – because after all "crashing" seems a slightly extreme term for a downwards correction of less than 10pc – the phrase has dominated the headlines.
According to just about every think tank, constant broadcasts from the BBC, dozens of newspaper analysts, the IMF, and just about every major City bank, not to mention a small army of retired central bankers, it was the Chancellor's decision to cut a few taxes without announcing accompanying decisions on reducing spending that led immediately to a dramatic sell-off in sterling and a rise in bond yields that could only be controlled by emergency intervention by the Bank of England. 
A quick Google search yields 28,000 mentions of the phrase, and that is without even counting social media. According to the credit ratings agency Moody's "large unfunded tax cuts are credit negative" while according to the former Bank Governor Mark Carney "the message of financial markets is that there is a limit to unfunded spending and unfunded tax cuts in this environment."
And yet, in reality, we should be a lot more careful about the language we use. We can leave aside the point that the "unfunded" parts of last Friday's fiscal package amount to no more than a few billion pounds, a trivial sum give the size of state spending, and that by far the largest part of it was made up of the energy support package that all sides of the political spectrum had been calling for. The more important point is this: we shouldn't ever describe tax cuts as "unfunded".
By definition a tax cut is not spending any money. It is simply a decision to take less from a particular group of people in one particular way …
Next, the term ignores the possibility that tax cuts might pay for themselves …
Finally, and perhaps most importantly, it concedes the argument before it has even begun. "Unfunded" is a boo word, and even more so when you put the inevitable "reckless" in front of it. The language deliberately skews opinion against a reform of the tax system. Even worse, it is used by banks and broadcasters who pretend they are staying neutral – when in reality they are anything but. 
… fundamentally it is only state spending that needs to be funded – not leaving more money in the pockets of long-suffering taxpayers. If we could be a little clearer about that we might be able to have a slightly more sane debate about how much tax the government should be raising and how – instead of hysterical catastrophizing about UTCs.
On Saturday, October 1, The Sun rightly defended the Truss-Kwarteng plan, citing other Western economies' woes: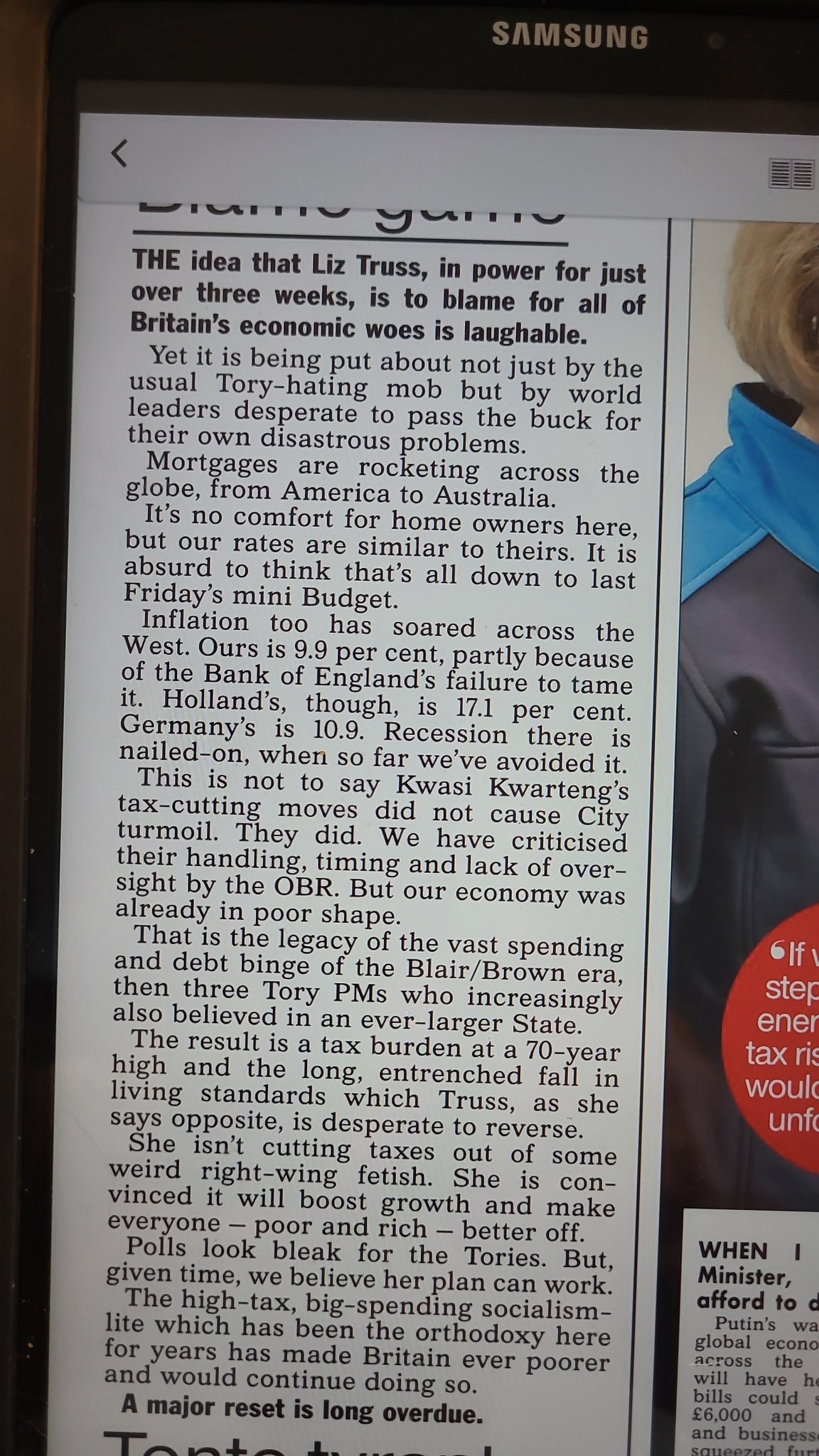 On Sunday, October 2, GB News's and The Telegraph's Liam Halligan, formerly of Channel 4 News, was on the money when he said that the market meltdown was the fault of quantitative easing (QE):
… This week of financial turmoil has left millions frightened and angry.
While Kwarteng's statement sparked last week's alarming debt repricing, it was by no means the underlying cause. There are far bigger forces at play …
… what we saw last week was just the beginning of a long-term shift away from over a decade of ultra-low interest rates and quantitative easing. We've indulged in ultra-loose monetary policy since the 2008/09 financial crisis – a necessary emergency measure, which ossified into a lifestyle choice.
And now, the obvious excesses, dangers – and crass stupidity – of this policy, are coming home to roost.
Since that financial crisis, the Bank of England has created hundreds of billions of pounds of QE money, as have similarly aligned central banks, which have blown huge asset price bubbles in stocks, bonds and property.
QE has helped governments borrow cheaply, while making the rich even richer – which is why, having begun as a £50 billion temporary measure to inject liquidity into bombed-out banks, it has morphed, thirteen years on, into an £895 billion monster.
The early tranches of QE stayed largely within the financial system – so didn't cause serious inflation. But the Covid-era variant, funding furlough and an avalanche of business support loans, has fed directly into the real economy – helping to explain today's inflation predicament.
This is an inconvenient truth that no-one wants to admit – certainly not the likes of the International Monetary Fund and central bankers who oversaw QE. Better to blame an incoming Tory government ­– one led by a politically vulnerable Prime Minister, with only lukewarm support from her own MPs.
… the idea that this "unfunded cut crashed the pound" is preposterous. Yet that is now the accepted political narrative – that a greed-driven Tory policy collapsed sterling and sent 10-year gilt yield surging as fears swirled of government insolvency, sending higher borrowing costs rippling across the economy, damaging hard-working families and firms.
What I suspect happened is that global currency traders, understanding the top tax cut was politically tin-eared, could see ministers were in for a kicking. With the Government introducing a potentially expensive energy price cap, the moment seemed right to start shorting – that is, betting against – the pound, knowing the media would pile in.
When that happened on Asian markets on Monday, and we woke to a plunging currency, I was astonished that ministers fell silent – given the strength of the arguments on their side …
For now, the Bank of England's intervention on Wednesday – buying gilts to rein in borrowing costs – seems to have worked. By Friday, the pound was back where it was pre-statement, the 10-year yield having retreated from over 4.5pc to around 4.0pc.
But the City and Wall Street moneymen, having loaded pension schemes with billions of pounds of debt, yet again have the upper hand – effectively forcing the UK authorities to restart the QE asset-boosting machine. This cannot end well.
"Tory tax cuts". It's such an easy and convenient scapegoat. The truth is we're in for a sustained period of painful adjustment – one which our political and media class must urgently start to explain.
The Times's Robert Colvile pointed out the global aspects of market turmoil, driven in part by the United States:
The markets were already primed to punish the UK, he [Albert Edwards of Société Générale] argues, because of the Bank of England's decision the previous day to raise rates at a slower rate than the US and to keep trying to dispose of the assets accumulated under quantitative easing. So Kwasi Kwarteng's decision to throw in a few more tax cuts just gave an extra push to a boulder that was already rolling …
Admittedly, the attempts of some in government to blame last week's rout in the markets entirely on global factors strained credulity. But they did have the core of a point. A year ago the Bank of England believed interest rates would stay below 1 per cent. A month ago they were set to top out at 3 per cent. By the time Kwarteng got to his feet, the expected peak had risen to 5 per cent — soaring over 6 per cent at the height of last week's panic.
Now, some of that rise in September was probably due to anxieties about the new government. But it was also driven, yes, by global factors — in particular decisions made in Washington. Even if Kwarteng had replaced his planned statement with a lusty rendition of the Marseillaise, mortgage-holders would still be facing eye-popping jumps in interest rates. For example, at that 6 per cent rate a typical UK mortgage would, according to the Resolution Foundation, cost an excruciating £4,800 a year extra — but £3,800 of that was already on the way before Friday's speech. The age of cheap money is over not just for Britain but for everyone.
Over the past three years, a number of conservatives must have wondered why Boris Johnson never delved deeper into economic policy. A letter to The Telegraph gives a possible explanation — global forces at work:
SIR – It takes great strength of character and conviction to stand up and face a baying mob, especially a political one. Liz Truss and Kwasi Kwarteng have my admiration.
I always wondered why Boris Johnson did not attempt to enact some of his early policies after Brexit, for which he had great public support. Perhaps he understood how the pro-EU and socialist contingents in Parliament and the wider political world would react, and was fully aware of the force that would be against him.
I wish Ms Truss and Mr Kwarteng good luck. They have shown enough courage in their beliefs to see this challenge through.
Conservative Party Conference
The Conservative Party Conference opened on Sunday, October 3, in Birmingham.
That day, The Times reported that Kwarteng had requested Cabinet ministers to cut expenditure in their respective departments:
Kwasi Kwarteng has told ministers to make cuts in their departments and warned them "we have a duty to live within our means".
The chancellor has asked cabinet ministers to send him their "proposals to support growth" by the end of the month.
He is also launching a reprioritisation, efficiency and productivity review across the public sector, which will re-examine "existing spending commitments" and repurpose budgets to deliver the government's "core priorities", including growth.
I wrote about the conference, including Truss's and Kwarteng's U-turn on abolishing the 45% tax rate, the prominent Conservative MPs in disarray, the rebels and Truss's closing speech.
On Monday, October 3, the duo pulled out of a fringe event, which cost £3,000 a ticket:
Nigel Farage, looking on from the outside, predicted a Labour rout in the next general election:
Meanwhile, Guido Fawkes kept us apprised of market movements, which weren't nearly as alarming as expected that week:
He rightly criticised Labour's shadow chancellor Rachel Reeves for stirring the pot unnecessarily:
On Wednesday, October 5, as the conference closed, Guido wrote (emphases his):
The Bank of England has been easing off its interventions in the gilt market, leaving Rachel Reeves's hyperbolic attack lines exposed for their inaccuracies. Julian Jessop points out the fact the Bank did not have to buy any gilts again today, leaving total purchases stable at £3.66 billion. A tad short of the £65 billion she repeatedly claims. This is a further sign market jitters have been effectively mitigated, far from Labour's claims of an "economic crash". As a trained economist and former Bank of England employee, Rachel really must know better. Her sums were out by a factor of 17…
At the weekend, while anti-Conservative pundits were still banging on about the 45% tax rate, which Truss and Kwarteng did a U-turn on …
… The Telegraph's Ambrose Evans-Pritchard pointed out that gas prices were already falling, indicating that 'Liz Truss may be winning her gamble on the energy price cap after all':
Plummeting global gas prices have slashed the cost of the UK's energy price cap and may ultimately reduce the monthly subsidy to zero, greatly alleviating the strain on Government borrowing.
NatWest Markets estimates that the price guarantee would cost approximately £30bn over the first six months based on current futures contracts, half the £60bn figure assumed by the Treasury and the rating agencies …
While NatWest remains wary of gilts after the mini-budget and the bond shock last month, it said pessimism over the UK's public finances may have gone too far. Gilts may no longer be a one-way bet for traders …
Goldman Sachs thinks European wholesale prices may fall a further 40pc by late winter. Average energy bills in the UK would in that case fall to £2,000 or less.
The Government could put its cheque book back in the drawer.
Douglas McWilliams, from the Centre of Economics and Business Research, says that the public finances are in better shape than widely-supposed.
An odd week that began well
By Monday, October 10, things appeared to be looking up for Truss and Kwarteng.
Mel Stride MP, chairman of the Treasury Select Committee and not one of their best friends, was satisfied that the then-Chancellor agreed to review his economic plan on Halloween rather than in November:
Tuesday, October 11, was a red-letter day.
The head of JP Morgan said that Truss deserved a chance:
Guido wrote:
… Speaking last night from London with US broadcaster CNBC, Dimon backed Liz's tax plans and hammered home the need for laser-like focus on growth – adding he'd "love to hear that out of their mouth every time a president or prime minister speaks"…
It'll take time to execute the policies and kind of drive growth and what's important … [but] there's a lot of things the UK has going for it and proper strategies to get it growing faster … then it can accomplish some of the other objectives it wants to accomplish too […] I would like to see the new Prime Minister, the new Chancellor, be successful […] I think every government should be focusing on growth. I would love to hear that out of their mouth every time a president or prime minister speaks.
Another proud member of the Pro-Growth Coalition. Although he did warn the US will likely tip into recession in about 6 months…
The IMF did an about-face, as The Telegraph reported:
Kwasi Kwarteng's tax cutting mini-Budget will help Britain to be the fastest growing major economy this year at the cost of higher long-term inflation, the International Monetary Fund (IMF) has said.
Strong momentum at the end of 2021 means UK economic growth will outpace the rest of the G7 this year. Tax cuts announced in the mini-Budget are expected to lift it even higher than the IMF's current forecast of 3.6pc, which was published on Tuesday but finalised before the Chancellor announced his plans …
The paper's Ambrose Evans-Pritchard wrote, 'Rejoice: we may be very close to Fed capitulation':
Not only is the Fed rushing through jumbo rises of 75 points each meeting, it is also draining global dollar liquidity with $95bn a month of quantitative tightening (QT). It has never done the two together before. And it does not understand how QE/QT actually works, as admitted cheerfully by one Ben Bernanke, Nobel Prize laureate as of yesterday …
Ben Bernanke flagged the dangers of a strong dollar and the capital exodus from emerging markets yesterday. Without naming the British gilt market, he said financial stress in the international system was building up and posed a threat. "We really have to pay close attention," he said. 
On Wednesday, October 12, it was noted that a Federal Reserve hike in interest rates took place before Kwarteng's economic statement:
Furthermore, the US was also experiencing an unusual increase in mortgage rates, meaning that the UK was not the only country with that problem:
On Thursday, October 13, Truss had her weekly meeting with King Charles, who greeted her with 'Dear, oh dear' while the press were there:
What did he know?
He would have heard Foreign Secretary James Cleverly defend Truss and Kwarteng on that day's news round. The poor man.
The Telegraph has a running diary of what went on that morning. This is the summary:
James Cleverly has warned it would be a "disastrously bad idea" to replace Liz Truss as Prime Minister.
Ms Truss is under intense pressure from some of her own MPs to abandon her economic plan following a market backlash to the measures set out in the mini-Budget.
The Prime Minister's leadership is being questioned after little more than a month in the job, with some Tory MPs already considering who could replace her.
ConservativeHome's editor Paul Goodman was also on the airwaves. He told BBC Radio 4 that some Conservative MPs had suggestions for Truss's and Kwarteng's replacement:
The former Tory MP told BBC Radio 4's Today Programme: "All sorts of different people are talking about all sorts of different things because the Conservative backbenchers are casting around for a possible replacement for Kwasi Kwarteng, even for a possible replacement for Liz Truss.
"All sorts of names are being thrown about, Rishi Sunak, even Boris Johnson, Kit Malthouse, Sajid Javid.
"But one idea doing the rounds is that Penny Mordaunt and Rishi Sunak, who, after all, between them got pretty much two-thirds of the votes of MPs, come to some kind of arrangement and essentially take over."
The King probably also knew that Truss and Kwarteng were going to do a U-turn on corporation tax, which they planned to lower to 19%, as it is in Ireland:
On Wednesday, at PMQs, Truss stood by the cut:
What we are doing is simply NOT putting up corporation tax. It's not a tax cut, we're just not raising corporation tax. And I feel that it would be wrong, in a time when we are trying to attract investment into our country, at a time of global economic slowdown, to be raising taxes. Because it will bring less revenue in.  And the way that we are going to get the money to fund our National Health Service… is by having a strong economy with companies investing and creating jobs.
On Thursday, October 13, Guido wrote:
What a difference 24 hours makes: this lunchtime The Sun broke the news that Truss "is considering raising Corporation Tax next year in spectacular mini-Budget U-turn". A source tells Harry Cole that while the U-turn is being seriously considered, it wouldn't be back up to the 25% proposed by Rishi before leaving the Treasury.
An unpleasant surprise for Kwarteng
Meanwhile, Kwarteng was in Washington at the annual IMF meeting.
Guido's post had an update:
Channel 4 doorstepped him on his way in, where he said "I'll be coming out with a statement on 31st October and I'm not going to pre-empt that." As The Speccie's James Forsyth points out, if the markets are now pricing in a U-turn, and the government decides against one, they'll likely be in a worse position than they were 24 hours ago…
On Friday, October 14, we woke up to the news that Kwarteng was summoned back to London, under the guise that emergency budget negotiations had to take place. The IMF meeting was to last into the weekend:
This could mean only one thing — that his time as Chancellor was over.
Guido reported that Mel Stride was happy that Kwarteng's economic package was about to be shot to bits:
… one source quoted in the Financial Times claims "Almost everything in the Budget is now up for grabs" …
For those who enjoyed the excitement of tracking Priti Patel's flight back to the UK ahead of her sacking by Theresa May, you can follow Kwasi's flight in real time here …
Mel Stride, Chair of the Treasury Select Committee, spoke on the Today Programme and welcomed a U-Turn. He called it a "powerful" signal to markets and added the government's "fiscal credibility is now firmly back on the table". He added the Conservative party should give the government "more time" and space to "rest". How generous…
Sterling and bond markets had rallied following the first reports of a U-turn, which only adds on the pressure for more reversals. Elsewhere in the markets, today is the final day of the Bank of England's gilt operations. Although gilt markets appeared steady this morning, the real test will come on Monday…
A Downing Street source tried to downplay Kwarteng's return:
Kwarteng had scrambled to take the last commercial flight from Dulles Airport to Heathrow:
The next bit of news was that Truss was going to hold a press conference that afternoon.
Guido wrote:
Liz is set to U-turn on the corporation tax freeze at 2pm this afternoon. It's rumoured she'll whack it all the way up to 25% in the spring. Kwasi won't be appearing alongside her…
Speculation began on who the new Chancellor would be. The Sun's political editor Harry Cole tweeted the following in the hours before the press conference, indicating Jeremy Hunt:
Cabinet members were correct about Jeremy Hunt:
King Charles approved the following appointments from Truss:
Nigel Farage was rightly furious about a Remainer assuming the post of Chancellor:
Harry Cole got a copy of Truss's letter to Kwarteng, thanking him for his hard work:
The nation now had a new dream team. This seconds-long video is a must-see. The UK is doomed:
I'll go into Truss's press conference tomorrow.
In short, it was absolutely dire and lasted only eight minutes, which included four questions, one of which was from Harry Cole. His face is a picture:
I'll have more tomorrow on how shocked Kwarteng must have been as well as what this means for Truss's premiership.
Poor Liz Truss.
My post yesterday about her and Chancellor Kwasi Kwarteng's U-turn on the abolition of the 45% tax rate showed how much the media were running Truss's premiership.
Cracks are showing
Unfortunately, the Conservative Party conference in Birmingham has revealed the factions among Conservative MPs opposed to either Truss or her policies.
This indicates that the cracks in the parliamentary Conservative Party likely began during the mourning period for Queen Elizabeth II in the same way that anti-Boris Conservative MPs sent their no-confidence letters to Sir Graham Brady of the 1922 Committee during the monarch's Platinum Jubilee bank holiday weekend at the beginning of June.
No sooner had Parliament reconvened on the first Monday in June than Conservative MPs held a confidence vote on Boris Johnson's premiership.
One name has been brought up in the overall rebellion against Liz Truss: Michael Gove.
Gove 'a natural plotter'
On Monday evening, The Spectator's Isabel Hardman asked, 'What does Michael Gove want?'
As I wrote yesterday, Gove even turned against the Prime Ministers under whom he served in Cabinet, beginning with his first PM, David Cameron. That was over Brexit. The victory went to Gove.
He worked against Boris Johnson's leadership campaign in 2016, after Leave won the Brexit referendum on June 23. He told Boris he would lead his campaign then pulled out just before Boris was to have announced his candidacy.
It's no surprise that, when Boris became PM in July 2019, he gave Gove Cabinet positions in a 'Keep your enemies closer' move. Those lasted until this past summer.
After the 2022 leadership contest, Gove said he would take a back seat. But did he?
He currently seems to be involved in stirring the pot with regard to benefits — welfare — increases involving the new Work and Pensions Secretary Chloe Smith, who said at conference earlier this week:
protecting the most vulnerable is a big priority for me.
Isabel Hardman points out (emphases mine):
It sounds quite anodyne, but given one of the big battles of the autumn is going to be over whether benefits are raised in line with inflation, it was a clear marker that Smith doesn't think that trying to get some savings this way is the right thing to do. She's not a noisy cabinet minister and is much more likely to make her arguments behind closed doors. But she does also have a very helpful backbench campaign led by someone who loves a public fight: Michael Gove.
Hardman says that Gove is busy at work, doing the rounds at the conference's fringe events:
What is Gove's endgame? He hasn't packed up his bags since Kwarteng U-turned on the 45p: instead, he was still touring the fringe this evening. He has made clear that the benefit rise must go ahead, and many of his colleagues have made the same point to Kwarteng themselves.
Gove could decide to use Trade Secretary Kemi Badenoch in his manoeuvres. He backed her in the summer leadership contest until she lost, at which point he backed Rishi Sunak:
But even if it does, that's not going to be the former minister's last battle. Tory MPs are fascinated by where he wants this to end. Is he still hoping that Kemi Badenoch, who he initially backed for leader, could yet take over from Truss? Badenoch had a really good stint on the conference stage in the most lively session of the [Monday] afternoon programme. She had members eating out of her hand as she talked about taking pride in Britain, about immigration, and about culture wars. Perhaps Gove might want her star to rise further. Or perhaps he is still holding out for Rishi Sunak, who he later backed, and who is staying away from the conference to allow Liz Truss to 'own the moment'.
In any event:
there is a lot of bad feeling among MPs about the way some parts of his [Sunak's] campaign operated. Then again, there's just a lot of bad feeling and mistrust in the party now. The one thing Truss has managed to unite her party on is that MPs in every faction are now annoyed with her.
This year's conference meeting schedule, centred more around fringe events than the main speeches, is likely to deepen these rifts:
Tory conference has long been more stage-managed than other party meetings, but this year the official speeches from ministers have also been condensed into a very strange late afternoon slot lasting just two hours. The rest of the time is free for fringe meetings and plotting.
The main addresses are supposed to be content-light this year, which is unlikely to please Party members:
Ministers and their aides have been told they have to keep their addresses to the hall announcement-lite, which makes those two hours feel largely pointless.
Kwarteng not only had to do a U-turn on abolishing the 45% tax rate, he also was forced into bringing forward his medium-term fiscal plan. That's two U-turns by the second day of conference:
Kwasi Kwarteng didn't announce very much at all, even though his two U-turns have dominated the day's agenda. This morning, the Chancellor dropped the plan to abolish the 45p rate of tax, and this evening it has emerged that he is also bringing forward his medium-term fiscal plan from 23 November – something ministers had been asked to hold the line on.
Work and Pensions Secretary Chloe Smith held up a script at a fringe event to show that what appears to be spontaneous is actually scripted in advance:
A clue to the next potential U-turn came not in one of the speeches but in one of the considerably more-scripted and stage-managed 'discussions'. These have been going on for years at Conservative conference: a minister or two is relegated from a formal speaking slot to a cosy and allegedly informal sit-down with someone who is often a very nice and slightly nervous small business owner, charity pioneer or environmental campaigner. The chit-chats involve a suspiciously large sheaf of notes: indeed, in this particular 'discussion', Work and Pensions Secretary Chloe Smith largely abandoned the pretence that this was spontaneous and held her script up so she could read from it verbatim. But within that script, Smith had a line that she may well end up using against her ministerial colleagues such as Kwarteng in future. She told the hall that 'we know that people are struggling with some of the costs that are rising', adding: 'That's why protecting the most vulnerable is a big priority for me.'
Former Conservative MP Anne Widdecombe, who switched her allegiance to the Brexit Party and served as one of their MEPs in Brussels before the UK left the EU said that the Conservatives are in a dire state.
On Monday, she told GB News's Bev Turner that the removal of the 45% tax band would have cost £2 billion at most, in contrast to the £150 billion bail out in order to help Britons with their energy bills.
She said that Truss and Kwarteng should have held their nerve and not caved in over their fiscal event plans from Friday, September 23. She surmises that they were worried about how the conference would go if they had stuck to their guns. Widdecombe said that they were aware of divisions in the Party but the tax rate U-turn, she said, would not win them any votes.
Turner said that removing the cap on bankers bonuses, also announced on September 23, would seem to be a more controversial move. Widdecombe, however, disagreed, explaining that the EU put a cap on bankers bonuses in place so that London would not be able to compete as well against Frankfurt and Paris in the financial services market. Removing the cap, she added, was part of the Brexit plan and, although it doesn't seem so to ordinary people, will actually help the UK's finances in the long term.
Bev Turner then turned Widdecombe's thoughts to Michael Gove and Grant Shapps's manoeuvres behind the scenes at conference. These included the objection to removing the 45% tax rate.
Widdecombe said:
Michael Gove is extremely dangerous. He spends all his time conspiring and plotting … I've known him for years … What he is not is a good colleague. He gets bees in his bonnet and sets out to destroy everything in his path. He's done it with Boris … He is a plotter. He is a natural plotter. Can't help himself. 
She said that Truss cannot have the whip removed from Gove, as Kwarteng has already U-turned on the 45% tax rate issue. For Truss to remove the whip after the fact, she said, would be useless. So, Truss can't do anything to or about him for now.
Here's the video, which is five-and-a-half minutes long:
How the U-turn came about
On Monday, October 3, The Sun's political editor Harry Cole got the scoop about how Truss and Kwarteng's U-turn came about late on Sunday:
This is an incredible news story, revealing that Cabinet ministers did not know about the U-turn until they saw The Sun's website:
… our story, revealed at 12.20am, came as a shock to some of the most senior members of the government.
Four Cabinet ministers were enjoying a late-night drink when our story broke — leaving them speechless.
No one from No 10 had given them any warning.
After a brutal day of maulings from big beasts of the Tory party and dire warnings her mini-Budget would be voted down by MPs, the newbie PM was forced into a humiliating climbdown.
Gove and Shapps, along with other Rishi Sunak supporters, worked behind the scenes on Sunday:
Ex-Cabinet Ministers Grant Shapps, Julian Smith, Michael Gove, Mel Stride and Damian Green — all of whom backed Rishi Sunak — had spent the day stirring up rebellion and were confident that more than 40 MPs backed their concerns.
Was that why Sunak did not show up? He did say he wanted Truss 'to own the moment'.
Graham Brady contacted Truss early on Sunday evening:
Sir Graham Brady, the chairman of the powerful 1922 Committee of Tory backbenchers, had been to see a worried Ms Truss at 7pm to warn her she did not have the numbers to ram her tax cut plans through Parliament — despite a majority of 71.
Meanwhile, Kwarteng was in Birmingham's lively city centre, planning on tucking into a curry dinner. My commiserations go to him. Birmingham is home to some of the nation's finest Indian restaurants:
… her screeching about-turn would come as a shock to the Chancellor, who had been about to tuck into a beef curry at an upmarket restaurant across town.
He left his dinner before his main course turned up, rushing back for crisis talks with Truss, who told him: "It's time to rip off the plaster."
Kwarteng agreed to the U-turn, sensing trouble ahead:
Once on board, Mr Kwarteng was told he would have to be the face of the surrender the next day.
But it was a painful blow as he had already trailed his big speech to the conference into the next day's papers, insisting there would be no U-turns and saying: "We must stay the course."
Taking to the stage on Monday afternoon for that speech, an exasperated Chancellor said: "What a day."
The divisions are many and deep:
The mood among some Cabinet ministers is one of despair at the state of the Tory party, which is at risk of becoming unmanageable.
And that, in turn, will leave the Government unable to actually govern, leaving the country adrift at the worst possible time.
There are potential mutineers everywhere Truss turns.
After 12 years of Tory rule, there are more than 50 sacked and embittered ex-ministers who do not have much to lose.
This is a group that includes MPs who served under Theresa May and continue to be enraged by her Brexit downfall.
Then there are supporters of Rishi Sunak, who are enjoying the "I told you so" moment.
Some still think it's possible to kill Truss now and have Rishi anointed in a coronation.
Throw in the still-ongoing Brexit wars — Truss, having converted from Remain, is firmly in the Remainiac crosshairs — and it's a poisonous, chaotic mix.
One Cabinet minister said: "They've taken the bat off Boris, broken it into pieces and given chunks to the different warring sides to beat each other with. It's like Lord of the Flies."
However, a week is a long time in politics:
"All's not lost yet", one minister said.
"A week is a long time. We have two years to turn this around. We might not win the next election — but we can at least make ourselves competitive".
City AM's Andy Silvester doesn't hold out much hope, though:
What the public think
It's difficult for those of us who are not economists to know what to believe about the upper tax rate U-turn.
And we trust journalists even less than ourselves. We are doing better researching the matter online through independent sites rather than the mainstream media.
The media told us that abolishing the upper rate of tax would affect Sterling. Hmm. On Tuesday morning, it was holding steady after the Bank of England's intervention at the end of last week:
Did the U-turn have anything to do with exchange rates, though?
One Guido Fawkes reader said that it did not:
Good job Kwasi dropped the 45p tax cut, which, according to the MSM, affected the pound. Anyone knows it did not but he can use it to his advantage: if I borrow more for benefits, giving away money, it will damage the pound and interest rates causing more financial hardship to working tax payers.
So I would love to help but need to get inflation down.
Again being run by all the MSM at the same time to affect the government its disgusting.
He blames Michael Gove and, possibly, Boris's former adviser Dominic Cummings:
Gove and likely helped by Cummings … maybe Truss could ask Boris come out against him that he is damaging the party first him now Truss. Truss did stay loyal to Boris. Gove destroying his own party does not make him a formidable politician …

Another commenter cannot understand what the rebels hope to achieve:
What on earth are the rebels trying to achieve? Collapse the government and shoo-in Labour? If not- what's the end-game? Parachute in Sunak against the expressed wishes of the grassroots party membership? That'll end well. Ultimately- Truss was chosen by the members on the basis of pursuing a pro-business, pro-growth agenda. She is now trying to do exactly that and is being undermined by people who offer no viable alternative.
Someone else said the anti-Truss movement is reminiscent of the anti-Brexit rebellion Theresa May had to endure in 2019:
It's looking very much like this is going to be a repeat of the debacle over Brexit.
Mr Gove should have the good grace to accept the wishes of all Conservative Party members, who voted for Liz Truss, and not the legislative agenda of a few disaffected Blairite "Conservative" MPs, who bizarrrely seem to think that more of the same is going to free us from the social and financial quagmire such policy has led us to in the last 25 years.
I give the current government about 6 months.
Another said that Gove is firmly to blame:
One Cabinet Secretary telling the Daily Express they weren't surprised by Mr Gove's actions because he is a "disloyal ****". When told about Mr Gove's remarks another senior Cabinet Minister used the same four-letter expletive.
The next battle will be over how much to increase benefits: average salary rates or the inflation rate:
Chief whip needs to get a grip and threaten deselection to all those publicly declaring their duplicity and treachery. Removing the whip from Gove would be a good start. No rise in benefits when there are mass vacancies to be filled and when there is no pay rise for the private sector. Too many different factions in the Tories so no chance of collective responsibility.
More on that tomorrow.