You are currently browsing the tag archive for the 'history' tag.
May this be the only time the State Opening of Parliament has to be so pared down.
In December 2019, the last time this ceremony took place, everything was normal, with peers, MPs and distinguished guests filling every available space.
My post from that year explains how the ceremony and the Queen's Speech — written by the Government — unfolds and concludes.
Tuesday, May 11, 2021, was the 67th occasion on which the Queen has opened Parliament. This was her first formal engagement since the death of Prince Philip:
Steeped in tradition, the State Opening brings together all three parts of Parliament: the House of Commons, the House of Lords and the Monarch.
Prince Charles accompanied the Queen, as he did in 2019. This was the first year that the Duchess of Cornwall attended.
Prince Charles and the Duchess of Cornwall, who are at Clarence House in St James, arrived by car at the Monarch's Entrance to the Palace of Westminster.
The Queen left Buckingham Palace by car and arrived a short time later.
Inside the House of Lords, the throne for the Queen's Consort — Prince Philip — had been removed and is in safekeeping. There was one throne and, off to the side, two plush chairs for Prince Charles and the Duchess of Cornwall.
Once the Queen enters the Palace of Westminster, the Union flag on top of the building is lowered and her standard is raised. Upon her departure, her standard is lowered and removed and the Union flag raised.
The Queen entered the House of Lords with Prince Charles. The Duchess of Cornwall walked behind them, socially distanced.
This video might be geo-localised, however, for those fortunate enough to see it, it has the whole ceremony. The Lords must wear their formal robes (a sign language version is also available):
Other participants must also wear ceremonial dress or robes for their office, including the Speakers of the Commons and the Lords:
These are the robes the Lords Spiritual — Church of England bishops — wear:
Here is the Speaker of the House of Commons along with his deputy speakers:
Yeoman warders from the Tower of London are part of the ceremony:
They are shown below in the Royal Gallery, which leads to the House of Lords:
On Tuesday, socially distanced MPs sat on one side and Lords on the other. Those who wished to attend submitted their names, and the requisite number of persons was chosen by lottery:
The Queen makes her entrance to the House of Lords via the Royal Gallery and exits in the same manner:
Here she is prior to giving her speech, awaiting the arrival of members of the House of Commons, summoned by Black Rod:
Normally, the speech is handed to her, but because of health restrictions, it was already sitting on the table next to her.
The transcript is available online:
To allow for flexibility, allowance is made for any additional legislation that might arise. One example of this from the previous parliamentary year was the infamous Coronavirus Act 2020, which is still in effect:
The Queen ends her speech with a blessing:
This is a summary of the new legislation:
In addition, there will be legislation on repealing the Fixed Term Parliament Act so that elections can be more easily called (rather than every five years), an anti-hate speech online law (Online Harms Bill) and a measure to introduce voter ID. Why we need voter ID, I have no idea; we receive electoral roll cards prior to every election. Those work perfectly well. There was only ONE case of voter fraud in 2019. Postal voting is a bigger cause of any electoral fraud.
Only a small number of MPs were allowed to be in the Lords chamber for the speech: Commons Speaker Sir Lindsay Hoyle, Prime Minister Boris Johnson, Leader of the House of Commons Jacob Rees-Mogg, Labour Leader Sir Keir Starmer and the party whips. Any other MPs showing up in person had to remain in the Commons chamber.
A new Lord Speaker was in attendance, Lord McFall (Labour) who succeeds the recently retired Lord Speaker, Lord Fowler, who returns to the Conservative bench in the chamber:
After the Queen delivers her speech and leaves, parliamentary business can begin.
Both Houses debate the contents — proposed legislation — of the Queen's Speech. The debate is called the Humble Address:
Once back in the House of Commons, the Serjeant at Arms replaces the mace and a new set of debates on future legislation can begin. The next two tweets explain the relationship between the Commons — the locus of legislation — and the Lords, who debate the proposed laws and suggest changes — amendments — before the various bills return to the Commons:
There is also the ceremonial matter in the Commons of the 'release' of an MP who, traditionally, is held at Buckingham Palace while the Queen's Speech takes place. This year it was Marcus Jones (Conservative), who is also Vice Chamberlain to Her Majesty's Household:
In addition to new legislation, there are three upcoming by-elections:
The SNP MP for Airdrie and Shotts, Neil Gray, has been elected to the Scottish Parliament. The Conservative MP for Chesham and Amersham died a few weeks ago; Cheryl Gillan had participated regularly in Commons debates until just before her death. Labour MP Tracy Brabin has just been elected as the first Mayor of West Yorkshire.
Speaking of by-elections, Tuesday was the day when Harlepool's new MP, Jill Mortimer (Conservative), took her oath of office:
She is probably the only MP in living memory who could not shake the Speaker's hand. However, depending on how long coronavirus restrictions are in place, she might not be the last:
Both Houses have changed their typeface for their call lists. Why? The old version is on the right — and has more gravitas:
Commons Speaker Sir Lindsay Hoyle has instituted a flag representing the House of Commons, which made its debut today and will fly every day when the House is in session. Hmmm:
In closing, today marks the sad anniversary of a Prime Minister who was assassinated in 1820:
Thank goodness such events have been rarities in Britain. Long may they remain so.
May the Lord guide both Houses through the new parliamentary year.
The English, Welsh and Scottish election results from Thursday, May 6, were mostly complete on Saturday, May 8.
Brief analyses of results
Various pundits gave analyses of the results.
However, before going into those, this is the change in voting among NHS and other health workers from Labour to Conservative. I've never seen anything like it:
Guido Fawkes says that Labour no longer represents the working class:
Andrew Neil of The Spectator summarised a Wall Street Journal article about the elections:
Andrew Neil himself says this is a 'watershed' moment:
Mark Wallace of Conservative Home says that, locally, even Labour councillors acknowledge that voters are bullish on Boris:
Dan Hodges interviewed several people in various towns in the North East. Most were bullish on Boris and the Conservatives. In Middlesbrough (emphases mine):
It's here that one of the nation's largest vaccination centres has been established, and the local residents filing out into car park E after receiving their jabs have a different perspective to the Prime Minister's critics.
'Boris is doing what he could,' Louisa tells me. 'It's a very difficult situation. He's been fantastic.' 
Victoria Newell agrees: 'I think he's done a fantastic job. The whole vaccination programme has been really well managed.'
Some Labour strategists have been pointing to the vaccination success as the primary reason for Tory buoyancy in the polls. 
One Shadow Minister told me: 'People are getting their jabs, the sun's out and the pubs are open again. They're going to do well.'
Dan Hodges visited Redcar, which used to have a huge steelworks, long gone. He then went to other parts of the Tees Valley:
The Redcar works may be gone but, as you head towards Stockton, the giant cooling towers of the Billingham manufacturing works punch up through the skyline, while the drive out of Darlington brings you face to face with the monolithic new Amazon warehouse that employs more than 1,000 staff. 
And this is what Boris – and [Tees Valley mayor Andy] Houchen – are betting their political lives on. That they can turn around decades of 'managed decline' under Labour and get the nation's economic engine room motoring again.
Back in Hartlepool, the voters have started delivering their verdict. And again, another fashionable Westminster 'narrative' is running head-first into the British people.
You can't currently buy a pint inside The Rossmere Pub on Balmoral Road, but you can cast a ballot.
And builder Geoff Rollinson is planning to deliver his for Boris. 'He's been amazing. I love him,' he tells me. 'What have Labour done for this town in over 50 years? Boris has pumped billions into furlough, he's given people here a wage. Labour would never have done that.'
Outside Mill House Leisure Centre, Mark Robinson delivers the same message. 'I voted Conservative,' the charity worker tells me. 'Boris is trying to get the job done.'
What about the furore over sleaze and bodies? 'I wouldn't want to be in his shoes with Covid and all the stuff he's had to deal with. I think he's doing his best.'
English council wrap-up
Most of the English county council results were tabulated by Saturday night. There were big gains for the Conservatives:
The biggest news was the loss of a Labour majority of Durham County Council — the first in over a century:
English mayoral elections
I'm of two minds about regional mayors, a relatively recent development using up more taxpayer money.
Former Labour MP Andy Burnham won a comfortable re-election in Manchester.
In the Tees Valley, Conservative Ben Houchen also won a decisive re-election:
Houchen told The Spectator in March that he was eager to rebuild the steel industry in the region but is finding a certain UK Government department difficult:
'I've said to Boris himself, I've said to No. 10 and Rishi and the five new colleagues that I've got in Westminster: there's nowhere left to hide now,' he explains. 'It's a strong Tory government. Loads of Tory MPs in the region, a regional Tory mayor (at least for a couple of months), so there's no one left to blame any more. We either really deliver something different in the next four years, or people will go back to voting for other parties.'
… His re-election campaign is based on a new project: to 'bring steelmaking back to Teesside' with electric arc furnace technology. It's seen in America and elsewhere as the future of the steel industry, he says — but not in Westminster, where he regards the Theresa May-created department of Business, Energy and Industrial Strategy (BEIS) as part of the problem, since it clings to the declinist view of the steel industry.
'The biggest problem with the steel industry in the UK is Whitehall,' he says. 'The UK steel policy and the BEIS team are absolutely useless.' Successive governments, he says, have failed British steelmaking for 40 years. 'It has become a sticking plaster. Oh, British Steel's fallen over, how do we rescue it? Oh, now south Wales is in trouble, how do we rescue it?' There's too much worrying about failure, he says, and not enough planning for success. 'It's never: what do we want the steel industry to look like? What can we do as a developed nation when we're having to compete with places like China?'
… He admits that his various schemes have 'raised eyebrows' but puts it in part down to Teesside Tories being a slightly different breed. 'This isn't a one-size fits all,' he says. 'I would say Conservatives in this region are much more practical. I don't remember having a discussion with any Tory in Teesside about free market economics and right-wing politics. It's very much pragmatic.'
In the West Midlands, his Conservative counterpart Andy Street also won a second term, defeating former Labour MP Liam Byrne by 54% to 46%:
In London, Labour's Sadiq Khan was re-elected for a second term, but by a narrower margin than expected. His first preference votes were down by 130,000 from 2016:
Given the fact that the Conservative candidate Shaun Bailey got so little media coverage — and, oddly, no support from his own party — he did remarkably well, winning boroughs in the South West of the capital along with Labour-dominated Brent & Harrow as well as Ealing & Hillingdon (see map) in the North West. (In 2016, Khan won Brent & Harrow comfortably.) Bailey also won Croydon and Sutton to the South:
Bailey arrived at City Hall for the final count on Saturday evening:
Labour still dominate the London Assembly. Bailey will retain his seat there:
London is beginning to vote Conservative again because of the high crime rates under Sadiq Khan's leadership. On the day the results were announced, there was a stabbing at Selfridges in Oxford Street. Unthinkable:
In Cambridgeshire and Peterborough, Labour defeated the Conservatives:
Labour held on to Bristol, with Greens in second place:
Labour MP Tracy Brabin has been elected as the first mayor of West Yorkshire. I hope that she will have to resign her Parliamentary seat as a result.
Scotland
Scotland's SNP are just one seat of an overall majority.
Nicola Sturgeon has been re-elected to Holyrood and remains First Minister.
Independence referendum redux
Naturally, the Sunday news shows raised the matter of a second independence referendum with UK Cabinet minister Michael Gove, who has the rather grand political title of Chancellor of the Duchy of Lancaster. He plainly told Sophy Ridge of Sky News:
Gove, himself a Scot and being interviewed in Glasgow, rightly pointed out that, when the first independence referendum was held — the one that was supposed to be 'once in a generation' — the SNP had an overall majority in Holyrood under Alex Salmond:
Over to the east coast of Scotland, in Edinburgh, Nicola Sturgeon, having campaigned this year on no second independence referendum because of coronavirus, is now game for one:
One of Guido Fawkes's readers, someone with a Scottish surname, laid out his plan for the next independence referendum. This is excellent, especially the bit about stopping the Barnett formula three years before the referendum. Enough English financing of Scotland, especially as it was supposed to be a temporary measure — in 1979:
I would allow a referendum. On the date of my choosing. Voters must be over 18 and resident in Scotland for the previous 5 years. Why on earth Boris allowed Wales and Scotland to extend their franchises beats me, children vote, students vote TWICE. My referendum will be in 3 years time and to help voters decide I'm stopping the Barnett formula at midnight tonight and any English infrastructure spending in Scotland so they get a clear idea of their economic muscle. Scotland will leave the union with all the SNO's own debts and 10% of the UK National debt. Scottish 'ministers' and council leaders will not be allowed to travel overseas or Zoom with foreign politicians without permission of my Secretary of State. English, Welsh and N Irish students will no longer qualify for grants or loans to attend Scottish universities and Scottish students will pay foreign student fees to study outside Scotland. The NHS in England and Wales will be closed to Scottish residents. Etc. Etc. Three years. Then Orkney and Shetland will be offered the chance to be UK dependant territories with tax haven and Freeport status. Etc. Etc.
Even the BBC's Andrew Marr, himself a Scot, knows that England helps to finance Scotland. Sturgeon refused to admit it on Sunday morning:
Apparently, now that the election is over, the SNP plan to put their case for independence forward in foreign capitals. I hope they will not be using Barnett consequentials to finance their flights:
Scottish blogger Effie Deans wonders how well other countries will receive Scotland's plan for secession. It did not work well for Catalonia:
The UK Government has a plan to counteract the SNP's independence goal — give money directly from London (Westminster) to Scottish councils, bypassing Holyrood:
There have been complaints of coronavirus funds going from Westminster to Scotland and not being allocated locally to ease the damage done by the pandemic. Furthermore, nearly £600,000 seems to be unaccounted for in SNP funds, as can be seen in the Private Eye article below:
Results
Now on to the results. The SNP needed 65 seats for a majority:
One of the regional BBC shows in Wales or Northern Ireland said on Sunday that this was the SNP's 'best ever result', but it is not:
The fly in the ointment was Aberdeen West (see Balmoral below), which the Scottish Conservatives managed to hold on to with an increased majority from 900 to 3,000, probably thanks to George Galloway's new All for Unity Party:
They were pleased with their wins, which also included re-election in constituencies along the border with England:
And what happened to Alex Salmond's brand new Alba Party? There was no predicted 'supermajority'. Alba won no seats:
Interestingly, a poll in the SNP's favoured newspaper, The National, polled readers on May 4. Alba was mentioned favourably more than once in the polling. Forty-nine per cent of those polled were planning on voting for Alba on their list (peach coloured) ballot. Alex Salmond was also the most impressive independence campaigner next to Nicola Sturgeon (43% to 46%).
Wales
Last, but not least, is Wales, which everyone knew would largely vote Labour, as is their wont.
Prif Weinidog (First Minister) Mark Drakeford won re-election.
Like the Scots, they are 1 seat short of a majority.
This is their Senedd (Senate) result:
That said, Labour's vote share is up, and so is the Conservatives', as predicted on Election Day:
Guido Fawkes has a summary.
It is unlikely Wales will push for independence any time soon.
Houses of Parliament
On Tuesday, the formal reopening of the Houses of Parliament will take place.
Her Majesty the Queen will give her speech which outlines the Government's agenda in the House of Commons for the coming months.
More on that this week.
The major results of England's local election — and Hartlepool's by-election — are in.
The Conservatives had a few historic victories. The Greens won control of a few councils. Labour held steady in their strongholds but also lost a few of their lonstanding councils.
Highlights follow.
Hartlepool by-election
The other day, I wrote about Hartlepool in the North East of England. In that post was a poll from Survation, which turned out to be spot on.
Hartlepool ended up voting overwhelmingly for the Conservative candidate Jill Mortimer, overthrowing decades of Labour representation in that constituency since its creation in 1974. Prior to that, the constituency was known as The Hartlepools, and Conservatives won the seat once, in 1959.
Survation's numbers were very accurate.
Here's the poll from May 4 …
… and the actual result:
I watched Sky News into the early hours of the morning. They went back and forth to Labour MP Jim McMahon, who conceded Hartlepool before the results were known:
Congratulations to cattle farmer Jill Mortimer:
She said:
I look forward to her making her maiden speech in Parliament.
Sky's Beth Rigby — back at work since being suspended for coronavirus violations — interviewed Boris, who had made three visits to Hartlepool, and now a fourth. The Guardian had a summary of the interview:
Johnson says people voted Tory in 2019 to get Brexit done. They have seen the government did get Brexit done. Now they want it to get on with other things.
He says he wants to move from "jabs, jabs, jabs to jobs, jobs, jobs".
And he stresses his commitment to levelling up. No government in the past has been as serious about it, he claims.
It's hardly a 'claim'. It's a fact.
Boris's interview is in the next tweet. New MP Jill Mortimer is on the right:
This is what he said to the BBC:
By the way, Labour always complain about the shortage of women in the House of Commons. In reality, the Commons is well represented by women. Jill Mortimer will add to their number:
Voters do not care about Boris's curtains
I caught the end of Sky's coverage on Friday morning.
They interviewed Professor Tony Travers from the London School of Economics. He said that voters do not care about Prime Minister Boris Johnson's Downing Street flat refurbishment. He ended by saying that Boris Johnson is a 'lucky' politician.
I disagree that Boris is 'lucky'. Boris is the type who, when told he cannot do something, will go ahead and achieve it.
The Opposition benches — from Labour to the Lib Dems to the SNP — told him that he could not get a Brexit deal and get us out of the European Union. Yet, he did.
The Opposition also said that Boris should have signed an agreement with the EU's drugs agency during coronavirus. Thank goodness, he ignored them. We were able to be the first nation in the world to start rolling out the vaccines in December 2020. The EU nations are lagging behind, woefully.
On Election Day, Guido Fawkes reported on a YouGov poll about Boris's refurb which shows the same lack of interest:
It seemed like an opportunistic pre-election play by Labour and the media to shrink Conservative votes. It did not work. People saw through it.
Oddly, the same people making a big deal out of the Downing Street flat never once asked why Tony Blair and later Gordon Brown — both Labour PMs — spent so much money on it over a period of years from 1997 to 2010. By the way, The Independent's John Rentoul is hardly a Boris supporter:
Local councils: notable big wins for Conservatives
The Conservatives have scored notable wins in England.
Not all the council elections are in yet. Counting continues over the weekend. However, we have a few results.
West Midlands
The Guardian reported on the West Midlands:
Early council results showed Labour losing a string of seats, among them 12 seats to the Conservatives in Dudley, giving the Tories control of the council. Of the first 14 seats declared for Nuneaton and Bedworth in Warwickshire, the Conservatives took 13, winning back control of the council from Labour.
In Redditch in Worcestershire, the first nine seats declared all went to the Conservatives, seven being taken from Labour, including Labour's former council leader and deputy leader.
North East
The Conservatives took control of Northumberland council from no overall control.
South East
The Conservatives also won Harlow Council in Essex, not far from London.
The Guardian said:
A number of Conservative gains were aided by the party acquiring what was a significant Ukip vote from the last time they were contested, in 2016 or 2017, illustrating the scale of the long-term, structural issues facing Labour.
The UKIP factor had mostly to do with the fact that the party had no candidate in those elections. Therefore, there was no one to siphon away Conservative votes.
However, there is more to it than UKIP in the West Midlands and parts of the North. A number of Conservative MPs were elected to represent constituencies in those regions in 2019. They are local and they are serving the people of those areas on the ground and in Parliament. Two Conservative regional mayors, Andy Street of the West Midlands and Ben Houchen of Teesside, have been doing a great job in working with the UK Government on various local projects to revitalise those areas. 
Ultimately, via MPs and regional mayors, the Conservatives hope to build a solid voting base in previous Labour strongholds. Labour and the media said that the 2019 victories for the Conservatives were a one-off. I beg to differ. These election results are proving them wrong.
North West
An example of that is in the Audley and Queens' Park ward of the unitary council of Blackburn with Darwen in the North West. It now has a Conservative councillor, a laudable result, for Tiger Patel (more here):
There was also a big Conservative win in the Royton North ward of Oldham Council in Lancashire:
Questions for Labour's Starmer
Sir Keir Starmer has been Labour leader only for a short period of time.
It would be easy, though unfair, to lay all the blame at his feet.
For 20 years, the small 'c' conservative working class has viewed Labour as a party of the big cities: London, Birmingham, Manchester, Liverpool and Newcastle.
Labour does not speak for the working class in the rest of the nation. More voters are deserting the party with each election:
The Guardian has an interview with several prominent Labour Party members talking about 'change' and Starmer's failure to 'change' quickly enough. However, Labour put their stake in the ground 20 years ago. Anyone watching BBC Parliament can see how radical some of their MPs are, especially the women. Several of those elected in 2019 gave their maiden speeches mentioning how much they believed in 'socialism'. One went so far as to mention 'Marxist ideals'. No one outside a major city is going to vote for a candidate like that.
It's not Starmer's fault Labour lost so many council seats, even if a number of those councils are still Labour controlled. The fact of the matter is that fewer voters like Labour. Labour don't make it easy for themselves.
No cabinet reshuffle can fix their problem — radicalism:
Conclusion
The English are not a radical people.
They want to be able to work and bring up children in prosperity and safety.
They will vote for candidates best able to provide those conditions for them. This accounts for the gradual shift away from Labour towards the Conservatives.
More election news will follow next week, all being well.
By the way, that's Jersey as in the Channel Islands, not New Jersey.
The 200th anniversary of Napoleon's death was May 5, 2021.
A solemn commemoration was held at Les Invalides in Paris:
A number of Metro and railway stations in Paris are named after Napoleon's victories:
French president Emmanuel Macron was always a keen student of history, particularly Napoleon.
Britain's Prime Minister Boris Johnson is also a keen student of history, especially of battles that took place in antiquity.
Now we have a post-Brexit situation. France is upset that their fishing boats cannot go in Jersey's waters.
Sky News explains the new post-Brexit rules (emphases mine):
French fishing crews are demonstrating as part of a row over post-Brexit fishing rights.
Under the Brexit trade deal, which came into force on 1 January, EU fishermen continue to have some rights to fish in UK waters as part of a transition period until 2026.
However, under the new rules, EU boats wanting to fish within 12 miles of the UK coast need to be licensed and prove they have a history of fishing in those waters in order to carry on operating.
This includes submitting evidence of their past fishing activities.
Jersey has not granted licences to some of the boats that have applied to fish in its waters.
Ian Gorst, the island's external relations minister, said of the 41 boats which sought licences under the new rules last Friday, all but 17 had provided the evidence required.
"The trade deal is clear but I think there has been some confusion about how it needs to be implemented, because we absolutely respect the historic rights of French fishermen to fish in Jersey waters as they have been doing for centuries," he said.
"I do think a solution can be found. I am optimistic that we can provide extra time to allow this evidence to be provided."
The French government has also expressed its anger at what it said were unilaterally-imposed conditions on the fishing licences, including the time French fishing vessels could spend in Jersey's waters.
Jersey said it had issued permits in line with the terms of the post-Brexit trade deal.
The Jersey Evening Post reported:
Don Thompson, president of the Jersey Fisherman's Association, said Jersey had been 'quite generous' in its licensing scheme and described France's response as an 'over-reaction'.
He said: 'The EU have signed up to the [post-Brexit] Trade and Co-operation Agreement which states that Jersey must recognise the extent of previous fishing in our waters. The restrictions on the new licences cover what the French were already doing in our waters and are only preventing them from expanding their fishing efforts, which is needed if we are going to have sustainability in our waters.
'A point that is being missed is that Jersey boats do not have licences to fish in French waters – we are restricted to our own territorial waters while they can use ours, if any restrictions are placed on their own.'
Mr Thompson also highlighted how the approved 41 French vessels had been given a licence for free and urged Jersey's government not to give in to the French.
'Our boats would be charged £250,000 if they were to have something similar. Our advice to ministers is that they should not capitulate to these intimidation and bullying tactics that are being used,' he said.
'If we do capitulate now then they are just going to do the same thing every time we try to apply some form of management to make our waters sustainable.'
An oyster farmer from Jersey, mentioned in the headline, disagreed.
France threatened to cut off the electricity supply to Jersey. They have since backed down. Jersey Electricity said that customers did not have to worry:
On the evening of May 5, Guido Fawkes posted:
A reader responded:
These were the headlines on May 6:
They are armed fisheries protection vessels, or river class ships:
I wonder if the Royal Marines will use their new jetpack technology (videos here and here). It enables a Royal Marine to fly up to 12,000 feet in the air and up to 80mph:
As I write, these were the developments on Thursday, May 6. HMS Tamar, recently repainted with 'dazzle' camouflage, set sail for Jersey that morning:
We're in 2021 and not 1588 (sinking of the Spanish Armada), but, even so, there is a frisson of excitement about this:
France responded by sending two of their ships:
Guido Fawkes has more on France's reaction:
Guido's post says (emphases in the original here):
The head of the joint Normandy-Brittany sea authority has declared they are "ready for war" and "can bring Jersey to its knees" as tensions continue to ramp up between the UK and France over Jersey at a dizzying pace. War with France can only help Boris's 10 point poll lead…
Responding to two navy vessels being sent by Britain to patrol the situation last night, Macron has retaliated by sending one of his own military boats, to join 100 French fishing vessels blockading the harbour. A French minister has said the country "won't be intimidated" by British manoeuvres …
A military historian posted a thread about French fishermen protesting in Jersey:
This morning, a Jersey resident re-enacted an ancient battle with the French. He did this in safety, far from the port. Talk show host Jeremy Vine demonstrated how the blockade of the port was unfolding:
It's hard to disagree with this:
Negotiations are now taking place on Jersey between their government and the French fishermen:
The Jersey Evening Post reported:
External Relations Minister Ian Gorst, said: 'We are meeting with French fishing leaders this morning to listen to their concerns regarding fishing rights. There are continuing extensive political and operational efforts with both our local fishing community and French fishing associations, their regional representatives in France, and both the UK and French governments, in order to resolve the current dispute and resume previous good relations.'
A number of Islanders have turned up to watch and police are at the scene.
Although the crews have been setting off flares, the protest has so far remained peaceful.
One French fisherman complained that France has to go through the EU first for any resolution:
That could explain why Charles-Henri Gallois, president of Génération Frexit, is using this disagreement as an argument for France to leave the EU. He says: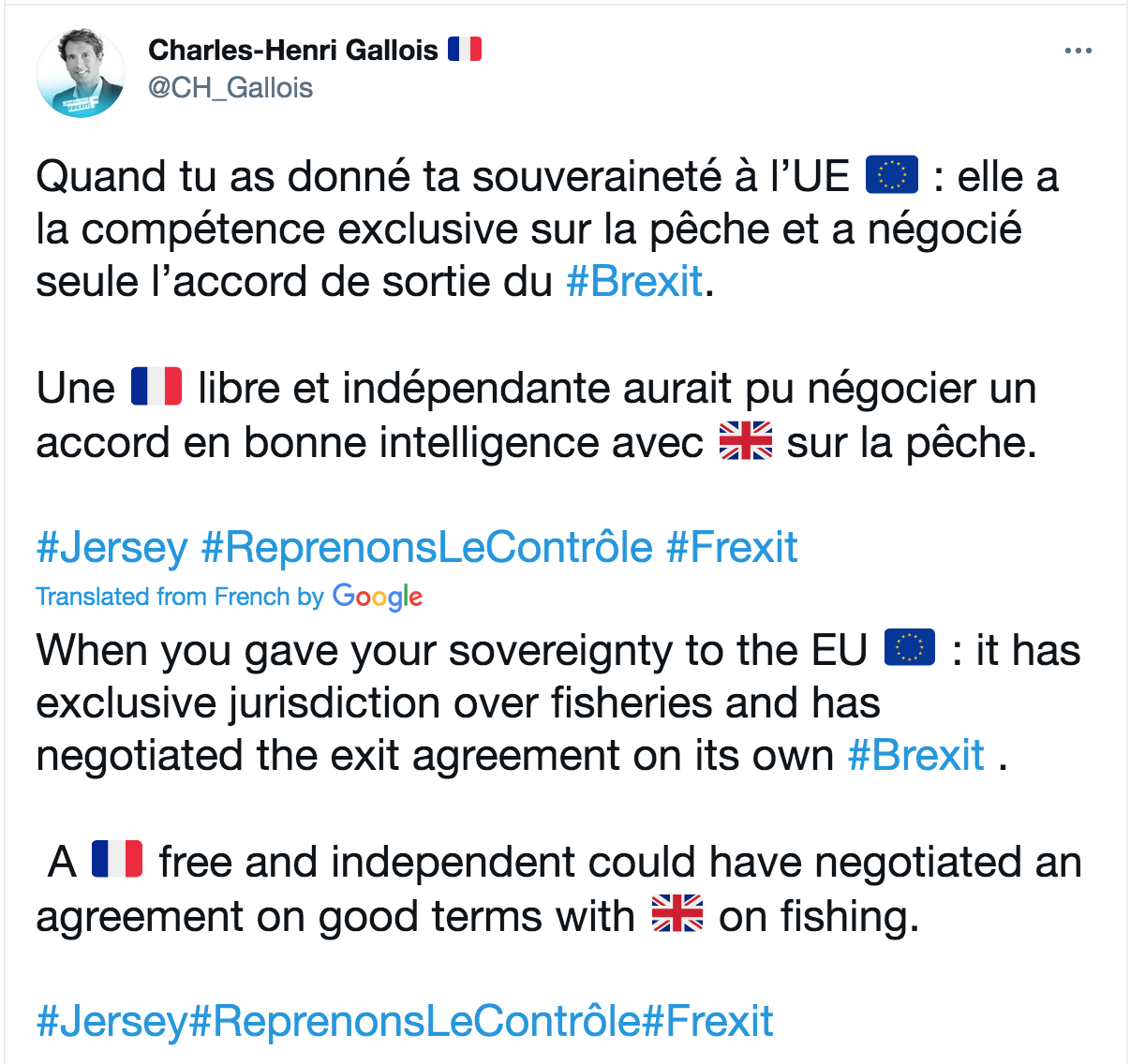 Here's his tweet, which met with an equally Frexit response:
Gallois also posted a link to an article in Les Echos, France's leading business newspaper, which says that the UK was able to handle their coronavirus vaccine rollout with 'great efficacy'. Gallois says that a free country which is independent is always more effective than one which is bureaucratic, slow and with divergent interests. He adds that, if one adds the totally antidemocratic aspect of the EU, one should not hesitate a single second to leave:
I wish Charles-Henri Gallois and Génération Frexit all the best in their pursuit of a France free from the EU.
Meanwhile, one wonders if the French are aware that today, Thursday, is England's local election day. As Guido says, this can only help Boris and the Conservatives.
UPDATE: IT ENDED BEFORE IT EVEN STARTED.
By dinnertime, the French fishermen had left Jersey:
Boris declared victory:
This is Guido Fawkes's version:
Guido reported:
The PM has hailed the end of the third battle of Jersey, understatedly calling the matter "resolved" after the 100 French fishing boats ran away earlier this afternoon.
The announcement comes as No. 10 says the two Royal Navy vessels will depart the island's waters in the coming hours, though will remain on standby in case Jersey once again finds itself in an hour of need. In the words of Maggie, just rejoice at that news, and congratulate our forces and the marines…
Many thanks to all involved in resolving this situation quickly. Even a small nuisance can be a lingering irritant if left to fester.
Thursday, May 6, 2021, could be a historic day for the constituency of Hartlepool in the North East of England.
Labour MP Mike Hill had to stand down earlier this year because of allegations of sexual harassment and victimisation. Voters will elect his replacement on Thursday.
The by-election is principally between an NHS physician, Dr Paul Williams (Labour), and Jill Mortimer (Conservative), a cattle farmer who lives in the North East but not in Hartlepool, something of which the media make much ado. Dr Williams is a former MP for nearby Stockton South (2017-2019) and lost his 2019 bid to Matt Vickers, a Conservative. He was also the CEO of the Hartlepool and Stockton Health GP Federation, which oversees 37 practices in Hartlepool and Stockton.
Hartlepool would be a significant, and one of the last, bricks in the Red Wall (historically Labour constituencies in the North) to fall to the Conservatives since the 2019 general election. The Conservative MPs representing the former Red Wall constituencies are from the North, know the issues and are willing to fight for the people they represent. In Parliament, they are no-nonsense, feisty and spiky. They do not hesitate to call out Labour on their lies.
Furthermore, Teesside, where Hartlepool is located, has a popular Conservative mayor, Ben Houchen, more about whom below.
Everyone wonders whether the constituency's new MP will be a Conservative, ending decades of consecutive Labour victories:
On May 3, this is what polling showed over time once Hill stood down:
Guido Fawkes reported (emphases in the original):
Expectations management by both Labour and the Tories sees them both privately spinning that it is on a knife edge that they fear they could lose or expect to lose respectively. Betting markets were neck and neck until a few weeks ago. Punters seem to think the Tories could steal it. A second visit to Hartlepool by the PM does suggest he is happy to own the outcome…
UPDATE: A recount shows this is the PM's third trip. Despite No. 10 doing expectation management, it sounds like Tories on the ground are gaining confidence …
Boris is being careful
Prime Minister Boris Johnson has been careful to manage Conservatives' expectations and to maintain the campaign momentum on the ground:
It was difficult for Liz Truss MP to contain herself in an interview with ITV News today:
What locals say
Guido Fawkes's readers have been giving their views of what has been happening in Hartlepool over the years.
One says (emphases mine):
Labour have done nothing for the north east especially Teesside. Remember when that slimeball Mandelson was parachuted in to Hartlepool to give him a safe seat? Great example of how Labour took their voters for granted (holding them in contempt more like) and no wonder they lost the red wall. The Tories are much more likely to deliver for this area and the locals know it. Boris has many faults but he realizes that the future of the Conservative Party rests in places like Hartlepool. Credit to him for recognizing this.
Another says:
This comment explains why the town voted Leave in the Brexit referendum:
… Hartlepool's trawler fleet devastated by the much bigger French and Spanish boats that destroyed our fisheries when we joined the EU, and the EU Commissioner NEIL KINNOCK [Labour] who refused to allow the government to supply British steel with cheap or free energy for the blast furnaces, and, of course, the EU edict that ordered the closure of the Tees shipyards in order to address over capacity in Europe, with the Labour party at the time saying the closures were the price we had to pay for European harmonisation.
That's why Hartlepool voted LEAVE, because the EU, not the Tories, ruined the region.
Tanya Gold went to Hartlepool for UnHerd and filed a report: 'How the Left lost Hartlepool'.
Incidentally, Hartlepool once made ships; it had 43 ship-owning companies in 1913. Now it has nothing.

She talked to the locals, one of whom is a pub landlord and an independent councillor. He said that the local council election is just as important as the parliamentary by-election:
There are two Hartlepools: the Headland ("The Heugh"), an ancient fishing village, and the newer West Hartlepool (Hartlepool means "stag pool"). I go to the Headland. There is a fabulous Norman church, St Hilda's, built on the site of a 7th century abbey, named for the patron saint of poetry. Its bells cannot be rung, due to weakness of the tower. What a metaphor! There are fine Georgian and Victorian houses on the sea, but they are crumbling, and in the gaps when others have fallen, modern housing: a history of English architecture, in mistakes …
I eat roast beef in the Cosmopolitan pub — the name is a gag — on the Headland, and I meet the landlord, the independent councillor Tim Fleming. Fleming says: "We've had enough of people just getting dumped on us, 'oh that's a safe seat, put him there'. It's the London Labour Party where it [the rot] started."
For Fleming, some voters have passed beyond despair to cynicism. "If you have a Tory up as mayor in Teesside [Ben Houchen] and a Tory in Hartlepool — all the Tories in all the towns they've took over — they might do [something] because they might be looking to build a new power base that's longer lasting than the one they've had. They've never had anything in the North so who knows? If he [Houchen] gets re-elected, there'll be nothing if we have a Labour MP and a Labour council in Hartlepool. No money will come here, never has done".
2019 election result
The Independent's John Rentoul points out that a Conservative victory on Thursday might be a logical eventuality. Note the number of their votes and the number of Brexit Party votes in 2019, when Labour's Mike Hill was elected:
Labour leader Sir Keir Starmer looked a bit worried in this interview with Sky News:
Mayoral election
The Conservatives have two popular mayors running for re-election on Thursday. Andy Street represents the West Midlands and, as mentioned above, Ben Houchen represents the Tees Valley. Their polling results look healthy:
On May 4, The Financial Times featured a profile of Ben Houchen: 'Tories' red wall shows no signs of crumbling on Teesside'. He is young, dynamic and gets things done in a part of England that has lost much of its proud industry: shipbuilding, steel making and fishing, to name but a few.
Excerpts follow:
As a close ally of Boris Johnson, Houchen's plans were unlocked when Johnson became prime minister in 2019. After freeport status was granted in the Budget in March, GE announced a new wind turbine factory on Teesside, creating 1,000 new roles. Although economists question the value of freeports, Houchen believes the status is vital for the area.
"People can talk about displacement, they can talk about additionality, GE were going to expand their factory in France if we didn't get the freeport . . . it has cost the exchequer nothing," he said. "If we can do what we want to deliver on that site, as well as across Teesside, you are getting dozens and dozens, if not hundreds, of new employers."
Houchen is up for re-election on May 6, when the 34-year-old hopes to gain a second term representing a conurbation of several of England's post-industrial towns. From Stockton to Middlesbrough, this corner of England once had deep connections to the opposition Labour party — ties that were cut when the region's heavy manufacturing industries entered inexorable decline.
In 2017, he delivered an electoral shock by winning the Tees Valley mayoralty for the Conservatives. His victory represented the first brick to be chipped out of the so-called "red wall": Labour's traditional heartland areas of England which have defected to the Tories over Brexit. Now he hopes to prove that the victory was not a one-off.
In 2017, he made an incredible campaign promise, which he kept:
His election pitch then was unconventional for a Tory: Houchen pledged to renationalise the small Teesside airport and reinstate more flights. If the plan failed, he would sell off the land to recoup the costs. It now has 18 flights a day, compared to two before, and with 1.4m passengers passing through its doors, is on track to turn a profit within a decade.
As part of the Conservatives' 'levelling up' agenda for the North, the Government has sent a lot of money to that part of England:
Chancellor Rishi Sunak chose the former railway town of Darlington in Tees Valley to be home for the Treasury's new northern economic campus. The government has also granted £52m for a carbon capture project as part of Teesside's burgeoning renewable sector.
Even Houchen's opponent, Labour's Jessie Joe Jacobs sounded discouraged, a situation not helped by the fact that she got coronavirus during the final days of the campaign:
Struck down with coronavirus in the final 10 days before polling day, Jacobs acknowledged the campaign has been difficult for Labour, given its wider decline in Teesside, and described the fight with Houchen as a "David and Goliath scenario".
The FT reporter went to Darlington to interview people there. One was particularly bullish on Boris:
Tony Law, a taxi driver waiting for customers, predicted Houchen would "win by a landslide" and praised his improvements to the area. He voted for him in 2017 and would back him again. "He's done a hell of a lot to change the area. He's clearly had an impact," he said.
Law felt the recent row about Johnson's use of donations to redecorate the Downing Street flat was irrelevant. "He deserves nice curtains given what he's been through with Covid. Boris has done a great job, especially with the vaccines."
The article ended with the Hartlepool by-election:
As well as the mayoralty, Tees Valley will be especially important on May 6 because of the Hartlepool by-election in the region. The town was such a Labour stronghold that the Conservatives did not target it in the 2019 election.
Were the Tories able to take it for the first time in 62 years, it would add credence to the view that a realignment among England's working class is taking place. According to a new YouGov poll this week, the Conservatives have a 19 point lead among working class voters.
The biggest danger for Labour is what one red wall Tory MP described as the "Houchen factor": voters will double tick to re-elect the mayor and Jill Mortimer to be Hartlepool's first Conservative MP. One of Labour's shadow cabinet ministers who has visited the seat cautioned that "it's not looking good".
It's hard to recall a local election as exciting as this one, especially with the Hartlepool by-election. I hope to have more later this week or early next week after the results are in and analysed.
One wonders if Labour leader Sir Keir Starmer has Conservatives on his PR team.
He certainly has not had a good campaign for his party's candidates in the run up to England's local elections on Thursday, May 6.
On Monday, April 19, he got off to a rocky start with a visit to a pub in Bath in the West Country, shortly after pubs were allowed to reopen for outdoor service after our winter lockdown. Publican — and Labour voter — Rod Humphris of The Raven gave Starmer a piece of his mind, saying that he did a lousy job of opposing the Government's coronavirus restrictions:
I have been a Labour voter my entire life. You have failed to be the Opposition … You have failed this country.
Pub customers must remain outdoors unless they need to use the loo. Humphris and other publicans could be doing better business if they were allowed to have customers indoors. He showed Starmer a chart with ONS statistics showing coronavirus is no longer the threat it was a year ago. He also gave the Labour leader a brief talk about other statistics on the harm lockdown has done to Britain, from children to the economy.
Starmer dismissed it and told Humphris he did not need any 'lectures' from him — then proceeded to enter the pub.
The nerve of Starmer. He knows the rules.
Humphris tried to push Starmer's security man away from the door but failed. The burly security man held on to Humphris on the staircase. Shouting about being assaulted, Humphris tried to break free. Meanwhile, Starmer was having a look around the pub's interior.
Humphris shouted:
Get out of my pub!
Somewhere along the line, Humphris's spectacles fell off. Starmer had them in his hand. On his way out the door, he quietly returned them to Humphris. Starmer and his two security men then left, telling people to get out of their way, adding a stern 'please'.
This is the electioneering video of the year — and the full version:
I've watched that video several times and would encourage others to see it at least once.
It paints a perfect portrait of what another Labour government would be like, barging in wherever they like with burly security detail.
Heaven forfend.
Rule No. 1 of pubgoing: the publican is in charge of his/her public house — 'My gaff, my rules'.
Here is the late Barbara Windsor as Peggy Mitchell, the publican on BBC's EastEnders, ordering customers to 'get out of my pub':
Meanwhile, elsewhere in England that day, Prime Minister Boris Johnson had a pleasant conversation with two pubgoers:
As questions mounted about Boris's Downing Street flat refurbishment, Starmer paid a visit to a John Lewis store to look at wallpaper last Thursday:
Guido Fawkes wrote (emphases in the original):
Guido's interested to see Starmer arrive at John Lewis this afternoon for a smug photoshoot amid flat-gate. It's undoubtedly a smirk-raising photo-op, though it's undermined by Starmer's own words at PMQs yesterday, who ranted at Boris:
This is a Prime Minister who, during the pandemic, was nipping out of meetings to choose wallpaper
Now the Tories are able to accuse Starmer of playing party politics, and doing so during a pandemic.
On Friday, May 30, the former Director of Public Prosecutions found himself trolled by a young Conservative in Manchester:
Guido Fawkes had the story:
He may have thought a trip to Labour's Manchester heartland would have been a safe choice after his infamous Bristol pub confrontation, however Sir Keir was once again caught out. Posing with Twitter user Jordan Hutchinson he smiled and gave a thumbs-up, only to have Hutchinson tell viewers "Vote Conservative". It's appropriate Starmer spent yesterday in John Lewis's home furnishings section, as it's looking curtains for him…
Jordan Peterson's video amused James Cleverly MP, Minister for Middle East & North Africa in the Foreign, Commonwealth & Development Office. A member of the public replied to say that Labour have only themselves to blame:
Starmer ended the week with a visit to a gym. Oh, dear. The late Margaret Thatcher was more adept with a handbag:
Actor and musician Laurence Fox of the libertarian Reclaim Party is running for Mayor of London. He posted an interesting video on May 1 showing Starmer and other Labour Party members, including at least one other MP, enjoying drinks together indoors, something we are not allowed to do at present because of the pandemic:
Laurence Fox stands by the video and his tweet:
Starmer's Labour seems to be all about rules for 'thee but not for me'. Who would want that, even at a local level?
When former SNP leader and long-serving Westminster MP Alex Salmond launched the ALBA Party, founded by journalist Laurie Flynn, on Friday, March 26, 2021, I watched the video with interest:
Unfortunately, they had several technical difficulties during the first 30 minutes and I stopped watching.
SNP MP Pete 'Runrig' Wishart was annoyed that Salmond pronounced 'Alba' with two syllables rather than three:
Two days later, there was also a data leak of 'thousands of names' of Scots who signed up to the party. Around 4,000 names were visible on their website. Allegedly, the list included prominent SNP names.
Salmond and Alba supporters see the party as a way of creating a supermajority for independence. Their website says:
Almost one of two pro-independence votes go to waste because of the Additional Member System (AMS) used in Scottish elections.
The #Supermajority strategy creates the opportunity to secure over one million additional votes for independence.
Their Supermajority page has more about the overall voting strategy — each voter receives a constituency and a list ballot — beginning with this (emphases mine below):
The more success a party has on the constituency vote, the less well it does on the regional list vote. That's why in 2016 #BothVotesSNP led to 1 million wasted pro-independence list votes.
Voting Alba Party on May 6th will make sure no pro-independence vote goes to waste by securing a #Supermajority for independence.
Let's tip the balance in Scotland's favour.
By Sunday, March 28, two SNP MPs serving in Westminster, Kenny MacAskill and Neale Hanvey, defected to Alba.
Kenny MacAskill wrote a letter to his constituents explaining why he was leading the Lothian list. It says, in part:
My office will continue operating for constituents and I will continue serving as MP. Along with other colleagues in Alba I will work with the SNP Group in Westminster in opposing the harm that's being done to our land by the UK Government.
Neale Hanvey will stand as a candidate in the Mid Scotland and Fife region.
This all looked quite threatening to First Minister Nicola Sturgeon. She was Deputy First Minister for Scotland when Alex Salmond was First Minister:
That day, the BBC reported:
Alba now has more MPs than Scottish Labour who only have Edinburgh South MP Ian Murray.
Also:
With Neale Hanvey and former SNP councillors Lynne Anderson and Caroline McAllister joining today, Alba also appears to be a home for those who fear that gender self-identification for trans people poses a threat to women's rights.
I will come back to gender recognition issues in another post. It is a big deal in Scotland, especially with the nation's new Hate Crime legislation.
Regarding Scottish MPs running for Holyrood seats in the May 6 local elections, some voters think that should trigger a by-election. After all, the SNP's Neil Gray resigned his seat in Westminster before running for a seat in Holyrood. Others, however, point out that not resigning as MPs is an insurance policy should they lose next week:
With regard to independence, a number of SNP supporters do not think Nicola Sturgeon has done enough during her time in Holyrood. As such, they find the Alba Party a welcome development, as this journalist for the Herald Scotland says:
The Greens appeared to be threatened. A new face, that of Lorna Slater — a Canadian — popped up on television when viewers expected to see the Scottish Green leader Patrick Harvie:
Lorna Slater has appeared on more television programmes since then.
The euphoria surrounding the Alba Party vanished quickly. On Monday, March 29, a BBC Scotland spokesperson said that Alex Salmond would not feature in an upcoming election debate of party leaders:
On Tuesday, the Herald Scotland criticised the calibre of one Alba candidate:
The Herald reported that the candidate, a former boxer, also voiced his opinions about some of the homeless in Edinburgh and came out against coronavirus vaccines.
The paper also reported that Neale Hanvey said that a 'supermajority for independence' would not reflect voters' wishes:
Neale Hanvey, who defected from the SNP, said such an outcome would be "representative of the electoral system that exists in Scotland", rather than its people.
He told BBC Radio Scotland that was down to Westminster devising Holyrood's elections.
He said: "I didn't design the system. If anyone… needs to answer to the electoral system that's been put in place in Scotland it's certainly not me."
In an interview with the Daily Record today, Nicola Sturgeon was scathing about the supermajority plan.
She said: "At the end of the day, we've got to win independence fair and square. We can't game, or cheat, our way to that."
Mr Hanvey also said SNP MPs had "very little influence" on policy at Westminster, and that they would be "more than welcome" to defect to Alba.
On the other hand, the Rev. Stu Campbell of Wings Over Scotland painted a fuller picture of Alba candidates in 'Rallying to the Banner'. He listed all of them and wrote about the party's diversity:
The new party's new members/candidates are impressively diverse, despite the lack of any crude and/or illegal gerrymandered selection tactics to impose that diversity. They feature a range of ages from 20s to 60s, from all class backgrounds, six of the 12 are women, Eva Comrie is disabled (and we mean actually disabled, with an artificial leg, rather than just bad at spelling) and Irshad Ahmed of Scots Asians For Independence is the first high-profile BAME defector from the SNP to Alba.
They've joined for a variety of reasons, from delivering a supermajority (Hanvey) to the SNP's dire weakness on women's rights (Anderson, McAllister, Comrie), to its lack of serious commitment to a second indyref (Bews and Wilson), and the parlous, corrupt state of the SNP's internal democracy (Ahmed, who told Wings last night that party HQ had bizarrely refused to let him see the results of the recent list elections until the COVID-19 crisis was over).
The increasingly panicky attempts of Unionists, bitter media columnists and woke SNP activists to paint Alba as some sort of last redoubt for old white men look more and more ridiculous with every passing day. We look forward to continuing developments.
One of Alba's candidates is Scotland's longest serving SNP councillor:
By the end of March, Alba was polling at 3% for list votes:
Another poll showed promise for Alba:
However, on April 8, Guido Fawkes, citing a third poll, by Opinium, said that optimism about Alba was misplaced (emphases in the original):
Guido suspects the disastrous polling numbers for the Alba Party are most likely to bring a smile to Nicola Sturgeon's face. According to Opinium, Salmond's new pet project is unlikely to gain a single seat in Holyrood next month, polling at just 2% in the regional vote. It looks like the declining support for Labour and the Tories has fallen in Sturgeon's favour – not Salmond's…
It's clear Scottish voters just don't trust Alex Salmond. A poll by Savanta Comres yesterday showed the former First Minister's net favourability rating stuck in the gutter at -51% (lower than Boris Johnson's), and today's data bears that out. Over 63% of Scots take an unfavourable view of a coalition between Alba and the SNP…
Alba supporters were undeterred. Alex Salmond gave an interview the day before that attracted much favourable comment:
Meanwhile, Alba launched a two-week crowdfunder which they completed successfully on April 16:
On 16th April 2021 we successfully raised £54,100 with 1257 supporters in 14 days
What chances does Alba have next Thursday? At the end of March, Policy Exchange summed it up this way, alluding to the way Nicola Sturgeon's SNP tried to smear him (emphases mine):
Will anyone listen? That is where Mr Salmond comes in. For all that he is a much-diminished figure, and for all the fact he is now entirely ostracised by Nicola Sturgeon and her coterie, polls suggest that around a third of SNP voters still approve of him. He is still seen by many as the man who nearly led Scotland to independence and who – in the eyes of many Nationalist supporters – has been the victim of a conspiracy to wreck his reputation. So it's to be expected that plenty of these voters will be attracted to his latest ruse. A scenario which sees Mr Salmond's party win around 10-12% of the party list vote – enough to win up to 2 seats in each of Scotland's 8 regions – is therefore possible. And while some of these would come from the pro-independence Greens, the majority would be at the expense of the Conservatives, Labour and the Liberal Democrats.
That is the worst case scenario for the Unionist cause. The more optimistic take would see the pro-independence movement descending into chaos over the next four weeks of the campaign, with splits and divisions dominating coverage. It would also see cautious soft-SNP voters who have been won over by Nicola Sturgeon's approach taking fright and either declining to vote, or switching back to Labour.
True to form, Mr Salmond has decided to roll the dice and find out. There is impeccable and calculated method in his latest move. We're now set to find out whether he remains as good a judge of Scotland's mood as he once was.
Last week, Alba published their manifesto, along with a video. The manifesto includes a proposal for a written constitution for an independent Scotland (point 5) and a new Scottish currency in the case of independence (point 9):
Wings Over Scotland said:
Had we formed our own party it's pretty much the manifesto we'd have written …
On Sunday, April 25, a new poll appeared. The Alba Party remained stuck on 3%:
At this stage, it does not appear as if Alba has much traction with voters. This article from an Edinburgh blogger says that the BBC strictly controls what hits the airwaves during election campaigns.
It looks as if there will be another SNP/Green sweep. The Greens' votes have helped the SNP pass legislation in the past. This is likely to continue:
However, I would bet against a motion on Scottish independence for the foreseeable future.
Many moons ago last century, I spent three happy holidays in Scotland.
My first was during my time at university, when I was studying on the Continent. I bought a souvenir, a dark green lambswool pullover from the Edinburgh Woollen Mill which was then located in the Royal Mile. Unfortunately, I had to throw it out recently, just weeks short of its 43rd birthday.
The Scots I met were hospitable and interesting, regardless of what they did for a living. On my trip in 1978, when a group of us were at a pub in Edinburgh, I asked them what they thought of the Queen. They all liked her. Did they ever want independence? No.
There was a long hiatus before I returned. In those intervening years, I contented myself by keeping abreast of their music in the 1980s. Fortunately, the radio station I listened to in the US played British music most of the time. Their other offering was reggae. Radio heaven.
In my humble opinion, 1983 was a banner year for Scottish bands.
My all time favourite has to be Aztec Camera, led by the highly talented and, at the time, a very young Roddy Frame, who has lived in London since the 1980s.
Their 1983 album High Land, Hard Rain is hard to fault. I have a few favourite tracks from that album, but my all-time favourite is 'Oblivious'. Roddy Frame's Spanish guitar riffs are superb. The best thing is that one can listen to this any time of day or night and enjoy it:
The band performed this live at Aston University, Birmingham, on 13 December 1983. This was broadcast on the BBC's Whistle Test On The Road on 16 December 1983.
Frame wrote the melody and the lyrics, which begin with this:
From the mountain tops
Down to the sunny street
A different drum is playing a different kind of beat …

Then there was Big Country, who, in 1983, had one Top 40 hit in the United States, 'In a Big Country', a rousing example of Celtic-influenced rock, complete with bagpipe riffs. This video comes from BBC's Top of the Pops:
Their attire reminds me of that of the schoolboys I saw on public transport every day when going to work: pullovers and baggy wide-wale corduroys. It was a nice look for an American city.
Then there was Runrig. Their 1983 hit was the anthem for Scottish independence, 'Alba' (pron. 'Al-i-ba'). The lyrics are in Scottish Gaelic, but this video has English subtitles:
This was filmed in Edinburgh: on Calton Hill and Arthur's Seat (or so it looks).
On my return trips to Scotland in the late 1980s, I bought three Runrig albums.
Now I am sorry I did.
One of their number, Pete Wishart, who plays keyboard in the video, is the longest serving SNP MP in Westminster. He was first elected MP in 2001.
I watch a lot more BBC Parliament than listen to music these days. Watching Wishart sneer in the House of Commons is too much. Whether it is for show or whether he really does dislike the English as much as it appears, I have no idea. Whatever the case, it vexes me that, even in a small way, I helped to put money in his pocket and bread on his table.
This brings me to the larger question of the SNP and their drive for Scottish independence, particularly as the UK has local elections coming up on Thursday, May 6, 2021.
On my stays along the east coast of Scotland, I never did meet anyone who supported independence.
Yet, the Scottish National Party, which was founded in 1934, has grown in popularity over the past two decades to become the largest Scottish political party in both Holyrood (Scotland's assembly in Edinburgh) and in Westminster (London, seat of the UK Parliament). In London, they have 44 MPs. By contrast, the Liberal Democrats have only 11.
Only Scottish voters can cast a ballot for the SNP.
The current SNP leader and First Minister is Nicola Sturgeon.
Before her, it was Alex Salmond, who served as an MP for 30 years, from 1987 to 2017.
Once I moved to the UK, I began watching Channel 4 News every night. I broke that habit many years ago. That said, they invariably had a news item on or interview with Alex Salmond. For whatever reason, he became quite the globetrotter, visiting China, the United States and Qatar. He also spoke at a UN Climate Change Conference in Copenhagen.
I could never understand how an MP whose party was not in government could be allowed to make all those trips. He was hardly a hanger-on, either. He met very powerful people, as one can see from the photos on his Wikipedia page.
His downfall came with the Scottish independence referendum in 2014. On September 18 that year, voters living in Scotland went to the polls. Disappointingly for the SNP, 55% voted to stay in the UK. It was a big deal at the time and, although the SNP deny it today, it was billed as a once-in-a-generation referendum. Salmond stood down as First Minister. His deputy was Nicola Sturgeon. She succeeded him.
Wikipedia summarises the referendum as follows (emphases mine):
Prominent issues raised during the referendum included what currency an independent Scotland would use, public expenditure, EU membership, and North Sea oil. An exit poll revealed that retention of the pound sterling was the deciding factor for those who voted No, while "disaffection with Westminster politics" was the deciding factor for those who voted Yes.[3]
For the past few years in the Commons, SNP MPs have been railing against 'this UK government' and have been talking a lot about a second referendum.
Few specifics have been published on a concrete plan for independence. One would think that, having failed to win in 2014, a solid proposition regarding currency, a central bank and trade is critical. However, none exists.
Alex Salmond, who is leading the new — and tiny — rival independence party Alba (pron. 'Al-i-ba'), is the only one who has even a rough outline of a plan involving a Scottish currency.
For the purposes of this election, however, the SNP are banking on a platform of coming out of the coronavirus crisis. Based on First Minister Nicola Sturgeon's track record so far — a steep decline in Scottish education standards and the most drug deaths of any European nation — it does not inspire confidence:
This pamphlet says that another independence referendum will be held once the coronavirus crisis is over:
That could be years away.
Others mention independence without adding 'after the crisis', such as this one:
There are two votes to be had in this election, which, in Scotland, are counted in a system of proportional representation, the D'Hondt method. There is a constituency ballot and a list ballot. I'll discuss this on another day. For now, it explains why the leaflets advise voting SNP on both ballots:
Here is another two-vote plea:
Then there are 'free stuff' policies such as these for bicycles. Given the parlous state of Scotland's rural roads, one hopes there will be a lot of money in this particular pot:
A universal basic income is also part of the SNP platform. For my readers who do not live in the UK, it is worth noting that taxpayers living in England forfeit some public money through the Barnett formula to help finance Scotland, Wales and Northern Ireland. There are also top-ups for certain expenditures, e.g. coronavirus programmes, which are called Barnett consequentials. This is a sore point for English taxpayers. A universal basic income — 'Minimum Income Guarantee' — at this stage is beyond the pale:
The SNP were very much against Brexit. Most Scots voted against it in the 2016 referendum. As such, the SNP would like for Scotland to join the EU as an independent nation. To some south of the border, the logic appears baffling (not my illustration):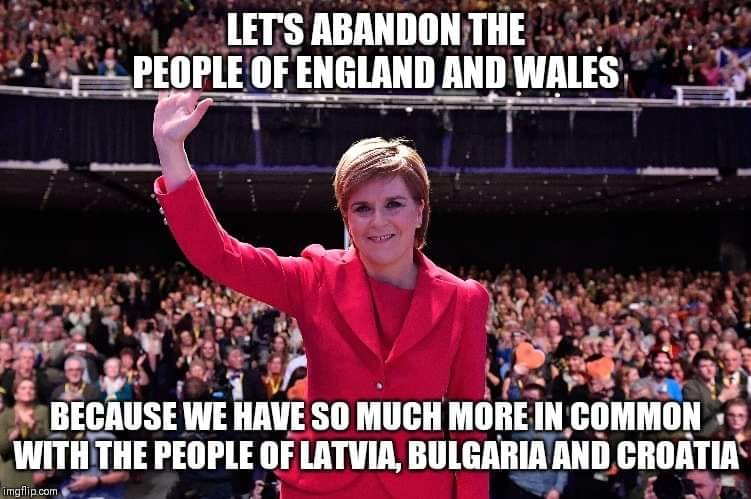 Even today, most regions of Scotland would still vote against independence. I was surprised to see that the Highlands, where one would expect independence fervour to be great, is still, albeit just, a majority No. The only Yes areas — the green ones — are around Glasgow and further east in Dundee. I picked this map up online today: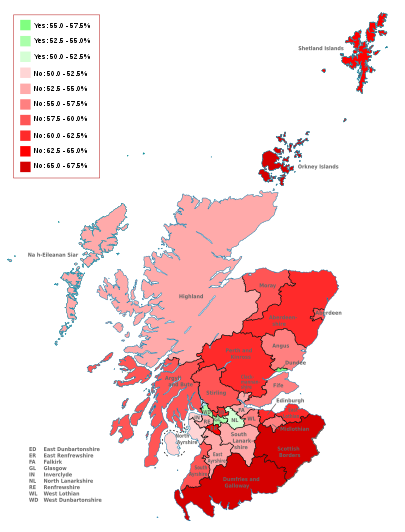 I am very much looking forward to the results of Scotland's election, which will not be available until May 7 or 8.
Meanwhile, a number of voters committed to independence are walking away from the SNP.
More about that in a future post.
The Queen's 95th birthday was Wednesday, April 21, 2021.
Twitter was alive with fond memories of her previous birthdays, celebrated in springtime colour.
Sadly, this was her first birthday in 73 years without her husband by her side:
The Queen issued a statement of thanks to those who sent her messages of condolence and comfort:
She also thanked the public for their good wishes on her birthday:
A photo not previously shared with the public was published:
Traditionally, the Queen has kept her birthday free of public engagements:
She has spent many birthdays at Windsor Castle:
She has celebrated with family and friends:
In her later years, more public celebrations took place:
St Paul's Cathedral remembered the service of thanksgiving on her 90th birthday in 2016:
This video has a compilation of the marvellous birthday cakes she has received over the years:
This retrospective shows the Queen through the years, from the days when she was Princess Elizabeth:
Various organisations paid tribute to her last Wednesday, from the Women's Institute …
… to the Girl Guides and the Scouts:
An award winning photographer posted his magnificent portrait of the Queen:
Vogue has more stunning photographic portraits:
Not many of us know the Queen was born in central London, when her father was still Duke of York. Her uncle, who later abdicated, was Prince of Wales at the time:
Interestingly, several members of the Royal Family, especially the new generation, have birthdays at this time of year:
May the Queen's quiet, dutiful leadership be an example to them all for many years to come.
Earlier this week, Sean Hannity was granted an in-person interview with President Trump at Mar-a-Lago.
This is the first in-person interview the former president has given since he left the White House.
YouTube is trying to stop people from viewing both of the following videos. Just click on their warning, if it shows, and you'll see each video.
In the first part, the two discussed Joe Biden's health and foreign relations:
Trump said that age is not necessarily a factor in Joe Biden's behaviour. He said he knows many 78-year-olds who are physically strong and mentally healthy.
As he did in the Newsmax interview, he repeated that he was not disrespected by leaders from either China or Russia. Strength commands respect.
On the border, Trump says that the United States has never before experienced such a crisis as they have with Biden. He is concerned about the drug and human trafficking that is part of the influx, as well as the murderers and rapists. Another aspect are people, some of whom are allegedly from Yemen, who cannot fly into the US, so they cross the border on foot.
Trump said he left office with a secure border:
All he had to do was leave it alone.
In the second part, Trump discusses his aspirations for 2022 and 2024:
He thinks there is a good chance that the Republicans can gain control of the House and regain control of the Senate in 2022. He thinks Mitch McConnell will either stand down or lose his next election.
Trump really likes Wisconsin's Sen. Ron Johnson, whose popularity continues to increase.
Trump said:
We're all in.
He said that meant there will be rallies, if there is a need for them.
What he misses most about not being in the White House is being unable to:
help people. And I've helped them more than any president.
He acknowledged that he is waiting to see what his legal status will be in seeking a second term.
He's most proud of his tax cuts, rebuilding the military, creating Space Force and achieving record-breaking employment numbers along with the greatest economy in history.
Hannity asked about 2024. Trump said it's still a long way away, but notes his continuing popularity:
I am looking it seriously, very seriously.
He deplored the fact that he has been fighting off 'corrupt' accusations since the day he walked down the escalator at Trump Tower in 2015. He remembered being asked about Russia during his 2016 campaign and says he could not understand why. Then, he says he later discovered it was a 'phony' campaign, 'created by Hillary Clinton'.
He is pleased with the way he dealt with Russia, North Korea and China. He said that America's farmers did really well thanks to the tariffs he imposed on China.
Equally important is the fact that President Trump was the first American president in generations who did not start any wars.