You are currently browsing the tag archive for the 'history' tag.
Continuing my series on Red Wall MPs and, most recently, Lee Anderson, this post gives his positions on various topics in British life.
Those who missed previous instalments can read about his adventures and opinions in Parts 1, 2, 3 and 4.
Rail strikes
This week, England has been crippled by a series of rail strikes, one every other day, which means that on the days there are no strikes, it is still fruitless trying to travel by rail.
On Monday, June 20, 2022, the House of Commons held a debate, Industrial Action on the Railway.
Lee Anderson was the last MP called to speak. He asked the following question of Grant Shapps, Transport Secretary (emphases mine):
This strike is a real kick in the teeth for hard-working taxpayers, who have dug deep over the past 18 months to keep this industry alive. Does my right hon. Friend agree that the Labour party—the spineless party opposite—should grow a backbone and condemn these strikes?
Grant Shapps replied:
That is an appropriate place to end. My hon. Friend is absolutely right. People have dug deep—that is exactly what they have done; it was £600 per household. People are furious. They paid out that money to make sure that nobody lost their jobs, and what thanks have they got? Where is the reward? Where is the "thank you" for keeping the railway going? It is a strike that will put people out of pay and hit people's pockets once again, and Labour Members cannot even find their way to say, "We condemn the strikes." It is a disgrace.
Immigration
On Wednesday, June 15, Home Secretary Priti Patel made a statement about the fact that the June 14 flight to Rwanda with scheduled deportees never took off. There were originally 37 people who were to be deported. Because of last minute legal delays, only a handful boarded the charter flight and, by 11 p.m., even they were taken off.
The Opposition parties hate the idea of sending illegals to Rwanda for processing. Strange that, as it is called the Switzerland of Africa.
Labour, the Lib Dems and Scotland's SNP have all said during debates about illegal migration that people can legitimately come to the UK from France. Such a statement implies that France is not a safe country.
In the June 15 debate, Migration and Economic Development Partnership with Rwanda, Lee Anderson asked Priti Patel:
Just when you think this place cannot get any dafter, you turn up and listen to the rubbish that the Opposition are coming out with today. Is the Home Secretary aware of the sniggering, smugness and delight shown on the out-of-touch Opposition Benches about the cancelled Rwanda flight? Will she please advise me? I need some travel advice—I am going away this summer. Is France a safe country to go to?
Priti Patel replied:
For the benefit of the British people, the public, I have in my hand just four pages with a list of Opposition Members making exactly that point with glee—basically wanting the policy to fail, condemning it and saying all sorts of things without coming up with alternative solutions.
My hon. Friend is absolutely right about France as a safe country. This is a fundamental principle of working with our colleagues more broadly—[Interruption.] Those on the Opposition Front Bench have already had their chance to speak. These are safe countries and there are people who are effectively picking to come to the UK. That is something we have to stop by going after the people smugglers and breaking up their business model.
Moral failings of Tony Blair versus Boris Johnson
Also on June 15, Boris Johnson lost his latest ethics adviser, Lord Geidt, who suddenly resigned.
This month, for whatever reason, Tony Blair became a member of the prestigious Order of the Garter, an honour the Queen decides independently.
On GB News, Patrick Christys asked a panel who was less ethical, Boris or Blair. Lee Anderson was one of the participants. He said that he had canvassed his constituents in Ashfield, Northamptonshire, and all said that Blair was less ethical. Anderson said there is no comparison between a Prime Minister being presented with cake and one who got us into a highly costly war in Iraq. The second tweet shows Blair with his spin doctor Alastair Campbell at the time:
The full discussion follows:
Labour
Anderson was a member of the Labour Party until 2018, when he switched to the Conservatives.
He has no praise for Labour MPs, especially Deputy Leader Angela Rayner. On May 22, she was angry with Chancellor Rishi Sunak for giving more aid to Ukraine.
The Daily Mail reported:
The party's deputy leader sparked outrage after she told the Chancellor on Twitter to 'do one' – a slang insult meaning 'get lost'.
The message was posted in response to a weekly No 11 newsletter from Mr Sunak, in which he detailed an additional £40 million of aid for Ukraine.
It is not the first time the senior Labour figure has landed herself in hot water for her remarks about those on the other side of the Commons. The former care worker resorted to calling senior Conservatives 'a bunch of scum, homophobic, racist, misogynistic, absolute pile of… banana republic… Etonian … piece of scum' in a foul-mouthed tirade at last year's Labour party conference.
Lee Anderson made his views known:
Lee Anderson, Tory MP for Ashfield, accused Ms Rayner of behaving pathetically after the latest controversial outburst.
He said: 'I don't know what it is about Angela Rayner and the Left that have it in for successful people running the country, surely it's much better for successful people who are successes in business to hold the purse strings of the country rather than somebody whose only claim to fame is dishing out insults.
'She is someone throughout her career who has made childish insults against Conservative politicians and now she's having a go at Rishi, who by the way is one of the most polite politicians you'll ever wish to meet. He's a real gentleman, regardless of your politics.'
Green energy policies
As is the case in most European countries, the prices of home fuel and petrol have gone through the roof.
On January 3, Nigel Farage asked Anderson for his views on what the UK should do. Anderson said that while it was imperative that we leave the planet in better shape for the next generation, he and his Ashfield constituents think that some of Boris's Net Zero policies need to be wound back. Furthermore, he wants us, rightly, to use our own energy sources during our transition period to Net Zero:
Two months later, Anderson appeared on Farage's Talking Pints segment of his show. They discussed the necessity of energy independence, which the UK can easily achieve. Instead, the Government prefers a policy of importing coal and gas from Russia:
You can see the full interview here, where Anderson says:
We should be selling gas to the rest of Europe!
The BBC
Anderson remains a firm supporter of Boris Johnson and wants him to be allowed to get on with his job. He accuses the BBC of conducting a witch hunt against the Prime Minister.
This interview took place the day after Boris survived a Conservative vote of confidence. Anderson laid his dislike of the BBC's tactics on the line. This is short, sharp and to the point:
Guido Fawkes wrote (emphases in the original):
Lee Anderson provided daytime fireworks as he confronted the BBC over anti-Boris bias live on the channel. He also called them "quite sad" over their refusal to let the Boris leadership question drop, accusing them of spearheading a witchhunt. Agree or not, it was great TV…
Not surprisingly, it was Guido's most popular post that day:
That night, the question of a BBC witch hunt popped up on Dan Wootton's GB News show:
Wootton invited Anderson on to discuss the issue with left-wing pundit Nina Myskow, who defended the BBC. Anderson said that his constituents supported Boris. He invited Myskow to speak with his constituents to hear their views. She replied, although not in this clip, that she never travels north of Selfridges:
Russia
On April 27, Anderson was disappointed not to have made the list of 287 MPs that Russia sanctioned.
He wrote a letter to the Russian ambassador to the UK to ask that his name be added to the list:
Crime
Lee Anderson has been outspoken against crime. I posted some of his perspectives last week.
During his candidacy in the autumn of 2019, he proposed creating forced labour camps for noisy council tenants:
After Winston Churchill's statue was desecrated in June 2020, during the pandemic and 'mostly peaceful' protests, Anderson gave a brief interview to a young independent reporter. He ended by saying:
You wouldn't be stood here today, young man, talking to me if it wasn't for Churchill.
On March 16, 2021, Anderson participated in the Crime Bill debate. Highlights follow:
Here's another, courtesy of Guido:
Ashfield's straight-talking MP Lee Anderson gave the Labour Party both barrels last night in the Crime Bill debate. Effusively supporting the Bill, no-nonsense Anderson took aim at what he sees as Labour's hypocritical positions:
I find it strange that Labour are talking about tougher sentences for crimes against women, yet in December they were trying to stop us deporting foreign rapists. One Labour MP said we should not deport these criminals in December as it was too close to Christmas. I disagree. I thought it was a great Christmas present.
Guido is fairly sure that the residents of Ashfield will be in overwhelming agreement. For such a short speech, many shots were fired – rounding off on some Labour politicians' attitude to the law…
Seven months later, his fellow Conservative MP Robbie Moore led a debate on the sexual exploitation of young girls by a certain demographic. Sadly, the 'grooming gang' phenomenon is growing to the extent that it is said to be present in every town in the UK.
Moore focused his attention on Bradford.
Guido points out that none of the three Labour MPs for Bradford bothered to show up for the debate.
Anderson contributed and, as one would expect, has strong views on what should happen to such politicians:
Away from the noise of the Budget, earlier this week Conservative MP Robbie Moore led a Commons debate on child sexual exploitation across Bradford, calling for a "Rotherham-style inquiry" into the scandal and claiming it had been "swept under the carpet" by the local authorities. Although the debate only attracted small number of MPs – none of the three Labour MPs for Bradford bothered to appear, despite two previously claiming they would – there was one booming voice lending his support to Moore's campaign: the Honourable Member for Ashfield, Lee Anderson. Asking Moore to give way twice so he could give the Chamber a piece of his mind, Anderson said:
The only way that we know the full scale of these vile crimes in Bradford is for a full Rotherham-style… investigation, and would he also agree with me that certain local politicians on the council, and the mayor, should hang their heads in shame.
Once this inquiry takes place, and we get to the bottom of this, and these grooming gangs are put away where they rightly belong in prison, then the next call will be these lazy politicians – and they need locking up too.
Even Moore sounded a bit surprised by Lee's fury…
Guido has the video:
Anderson's no-nonsense speech might have been partly due to his appointment to the Women and Equalities Committee in May 2021:
Guido wrote:
Guido learns that parliament's wokest committee – the Women and Equalities Committee – is to welcome two new, perhaps unexpected, members: Philip Davies and Lee Anderson. Philip Davies is making a, no doubt, welcome return after having served on it in 2016 – where he made headlines calling for the word "women" to be removed from the Committee's name. Lee Anderson is a co-conspirator favourite: from saying nuisance tenants should be forced to live in tents; to recently ranting that he's torn up his licence fee. Confirming the appointment, Lee told Guido:
The great women of Ashfield have been the backbone of my community for hundreds of years with barely any recognition.
Yes the men have worked down the pits and gone off to war but its our women that have kept everything together.
The women in communities like Ashfield need a voice in Parliament and anyone who knows me will tell you that I am a firm believer in better rights for women. I am a modern man with a modern outlook who is keen to speak up for the women in my community.
They deserve to be on a level playing field with us men which is not always the case. I will still open doors for women and give up my seat on public transport as I am a gentleman first and a politician second, but you can be assured that I will be fighting on all fronts for the women of Ashfield.
Both men will no doubt relish the appointments, which they richly deserve. Guido sends his warmest congratulations to the pair. Chapeau to the 1922 Committee on the wit and wisdom of their appointments.
Returning to politicians, on November 9, he had a go at convicted Labour MPs and recommended that they should work as a condition of their licence:
This morning in Parliament, straight-talking Lee Anderson told Deputy Prime Minister Dominic Raab exactly how he thinks the government should solve labour shortages:
Prisoners and ex-offenders out on licence should help fill the labour shortage and […] on release, all prisoners – including ex-Labour MPs – should be ready for work and starting work should be a condition of their licence.
Guido has the video:
Nutritious meals on the cheap
As I wrote in my third post on Lee Anderson, he took a lot of unnecessary stick in May 2022 for saying that people can make nutritious meals for only 30 pence per portion.
He revealed that he, too, had been a single parent for many years and lived scrimping and saving. He still got pilloried.
On May 26, however, the Mail profiled a partnered mother of three who makes meals for 29 pence a portion.
Was there any criticism of her from other media outlets, such as the BBC? No, there was not.
Such double standards. Such hypocrisy.
Conclusion
Regrettably, I have run out of Lee Anderson anecdotes.
He is my favourite MP. I would love to see him as the next Conservative leader, if not Prime Minister.
Sadly, that will not happen. He is not Establishment enough and never will be.
I hope that he is re-elected as MP for Ashfield and wish him all the best in his Parliamentary career.
We need more MPs like him.
A profile of another Red Wall MP will appear next week.
Incredibly, some police forces now see fit to issue Summer Solstice greetings.
I picked this up online, creator unknown. Northamptonshire is nowhere near Stonehenge, either: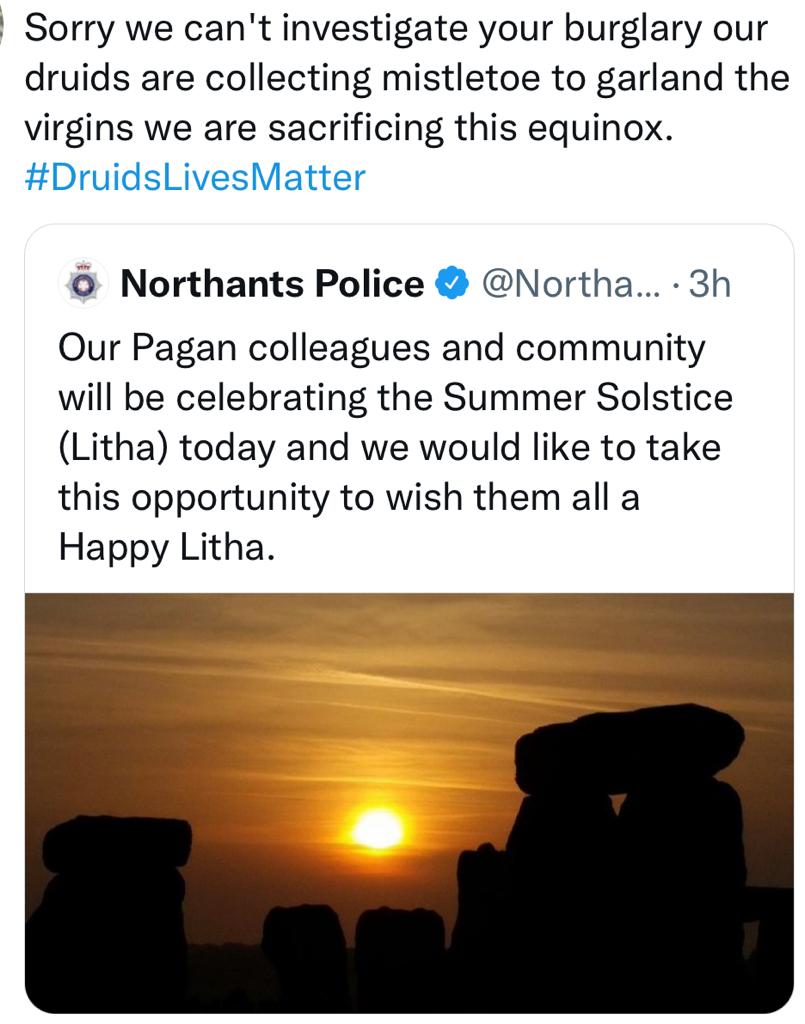 The following day, Wednesday, June 22, 2022, Justice Secretary and Deputy Prime Minister Dominic Raab announced the UK Government's publication of a nationwide Bill of Rights.
This is in response to the European Court of Human Rights (ECHR), based in Strasbourg, which put a stop to the June 14 deportation flight to Rwanda. Passenger numbers quickly went from 37 to 0. On the day, only a handful actually boarded the charter flight, because lawyers and human rights organisations had already filed successful petitions for delays.
Raab introduced the proposed Bill of Rights as follows (emphases mine):
With your permission, Mr Speaker, I will make a statement on the publication and introduction of a UK Bill of Rights as we take the next steps to fulfil our manifesto commitment and deliver human rights reform across the country.
We have a proud tradition of freedom under the rule of law in this country, and I remind hon. Members on both sides of the House that it dates back centuries to Magna Carta, not just to 1998. This Bill of Rights, published today, is the next chapter in the evolution and strengthening of our human rights framework, and it is available online and in the Vote Office.
If we look back to the original Bill of Rights from 1688, the year of the not-too-bloody Glorious Revolution, we see that it is lengthy.
This sentence, in particular, stands out:
I doe declare That noe Forreigne Prince Person Prelate, State or Potentate hath or ought to have any Jurisdiction Power Superiority Preeminence or Authoritie Ecclesiasticall or Spirituall within this Realme Soe helpe me God.
Yet, the ECHR is foreign, never mind that Winston Churchill was one of the people who established it after the Second World War. The reasons then were obvious. Its purpose has grown since then to reach beyond human rights for Europeans and now encompasses those of anyone seeking refuge.
As a Guido Fawkes reader explained (H/T to him or her for the above quotation from the 1688 Bill of Rights):
New or old Bill of Rights, it will make no difference if lawmakers continue to deny that we have a constitution which is set out in different constitutional documents that define our constitutional principles.
Guido's reader then cited the quotation, which is found in the Supremacy section. He/She then went on to say that the extension of human rights began during the Tony Blair era:
Yet they have signed us up to the EU and since the late 1990's have accepted that ECHR ruling are binding on us (Protocol 11). Labour's Human Rights Act 1998 even makes our own courts have to consider 'any judgment, decision, declaration or advisory opinion of the European Court of Human Rights'.
The only part of the Bill of Rights 1688 they have seemed interested in has been the section "That the Freedome of Speech and Debates or Proceedings in Parlyament ought not to be impeached or questioned in any Court or Place out of Parlyament."
True.
Dominic Raab's announcement was largely a waste of time. He never mentioned the 1688 Bill of Rights. Furthermore, I do not understand exactly how a new Bill of Rights will circumvent the ECHR.
Going back to the unsuccessful flight to Rwanda, British courts ruled that the flight policy is legal and that the one from June 14 could proceed. Then the Government caved into the ECHR decision that followed. I don't understand that, nor do I understand how the Government can prevent that from happening in future, new Bill of Rights or not, especially since the Government says that it has no intention of withdrawing from the ECHR.
In 2010, I wrote about the Glorious Revolution, which opposed James II's efforts to take Britain back to the Catholic Church. As a result, we got William of Orange and his wife Mary as our King and Queen. Both were Protestants. The Bill of Rights came forth during their reign.
After the long list of rights and liberties, the Supremacy section also states:
… the Rights and Liberties asserted and claimed in the said Declaration are the true auntient and indubitable Rights and Liberties of the People of this Kingdome and soe shall be esteemed allowed adjudged deemed and taken to be and that all and every the particulars aforesaid shall be firmly and strictly holden and observed as they are expressed in the said Declaration And all Officers and Ministers whatsoever shall serve their Majestyes and their Successors according to the same in all times to come.
Well, as we can see, that no longer happens. The Home Office caved into the ECHR. It was not the first time in the past 20+ years, and it will not be the last.
I have no solution other than to suggest that Dominic Raab and other MPs read the original Bill of Rights and decide whether it should prevail.
We do not need a new Bill of Rights. We already have one. For the most part, it is perfectly adequate as it is.
On Monday, June 20, 2022, the Telegraph's columnist Tim Stanley went back in time to explain how the rot set in the Church of England.
This happened early in the Queen's reign. While she has nothing to do with the appointment of Archbishops of Canterbury, as the Prime Minister has this privileged responsibility, the decay is nearly 70 years old.
When I moved here decades ago, everyone said that the Church of England is the Tory (Conservative) Party at prayer.
Even at that time, our church — as did many other Anglican congregations in England — had non-liturgical services, disproving that trope.
The early morning service I attend probably could be described as mostly Conservative. Even then, I'm not sure, and, as only a handful of us are there week after week we are, therefore, hardly representative. The more widely attended mid-morning service certainly could be described as having adherents in the Liberal Democrats and Labour.
Stanley's article, 'How the Church of England became the Labour Party at prayer', discusses two Archbishops of Canterbury, the Right Revds Geoffrey Fisher and Michael Ramsey.
Excerpts follow, emphases mine.
Geoffrey Fisher
Geoffrey Fisher was the Archbishop of Canterbury when the Queen acceded the throne.
Like many Anglican clergy, he was a bit of an oxymoron.
On the one hand:
Fisher, a former headmaster, is rumoured to have talked Princess Margaret out of marrying a divorcee …
On the other hand:
in his diary, long ago in 1957, [Conservative Prime Minister] Harold Macmillan wrote that he dreaded his meetings with the Archbishop of Canterbury, Geoffrey Fisher. "I try to talk to him about religion, but he seems to be quite uninterested and reverts all the time to politics."
Then there was the strange middle ground. Fisher:
opined of the nuclear bomb that "the very worst" it could do "is to sweep a vast number of people from this world into the next, into which they must all go anyway." Yet he was also against Suez and the premium bond, the latter a lottery cooked up by Macmillan that Fisher regarded as ungodly.
The premium bond is great. It is one of the best investments that one can make these days. I 'win' at least one bond worth £25 nearly every month. I don't need to lift a finger; the draw takes place automatically. This is a much better appreciation in capital than a standard savings account will provide these days.
Fisher got shirty with Macmillan when it came time to select his successor:
Macmillan was as mischievous when it came to clerical appointments. He suggested to Fisher that the best choice for his successor at Canterbury might be Michael Ramsey, the liberal-minded Archbishop of York. "Dr Ramsey is a theologian, a scholar and a man of prayer," Fisher is supposed to have said. "Therefore he is entirely unsuitable as Archbishop of Canterbury." He knew this, he explained, because he had been his headmaster. "Well, you may have been Dr Ramsey's headmaster," retorted Macmillan, "but you are not mine" – and, one likes to imagine, picked Ramsey for the job in a fit of obstinacy, ushering in the Swinging Sixties.
Michael Ramsey
Again, we have a contradiction in terms if Ramsey was indeed 'a theologian, a scholar and a man of prayer', because it was during his tenure, according to Tim Stanley, that the C of E embraced the prevailing culture of the Swinging Sixties:
Under Fisher, the mission was to confirm an ancient Christian identity, but by 1960, it was obvious that England was changing fast. Rather than resist, Ramsey&Co sought to negotiate a new role as the nation's conscience, not to block legislation, such as on divorce or abortion, but to shape it (so compassionate and forensic was Ramsey's contribution to parliamentary debate on the legalisation of homosexual acts that one peer accused him of turning Hansard into pornography).
As clerics became dynamic commentators on the state of the nation, it might have seemed as if the gamble were paying off. But they were running on the fumes of the Fifties. It was Fisher-style conservatism that gave them the air of authority that they leant to causes that, in turn, made them sound not like they were trying to transform the world but allowing the world to transform them, that they had become dedicated disciples of fashion. Once, when asked what he thought about a trend for girls in London to walk about topless, Ramsey said, "We must just accept the fact that young people express themselves in new methods of dress that may seem queer to the older among us."
Political shifts also took place during this time. Ramsey became Archbishop of Canterbury under a Conservative Prime Minister. In the middle of his tenure, Labour's Harold Wilson took the helm. Edward 'Ted' Heath, a wet Conservative, succeeded him.
Harold Wilson ran into problems over immigration legislation with Ramsey:
One of the new archbishop's interests was immigration. Ramsey called the Conservatives' 1962 bill, which for the first time limited arrivals from the Commonwealth, "deplorable". Labour, keen to co-opt the church, made him chair of a committee on race relations, though in 1968 Harold Wilson limited Asian immigration from Kenya and Ramsey condemned that bill, too.
Present day
Over the past seven decades, it has been easier for Archbishops of Canterbury to visit war zones in other parts of the world, but, as Tim Stanley points out, it is often the local vicar who encounters the impact of displaced persons:
Archbishops of Canterbury are part of a global communion: they have visited warzones and dictatorships and seen the horrors that compel people to flee, and when these unfortunates turn up in Britain, it is often the parish clergy who encounter them first. A vicar friend walked into his church one day to discover a Nigerian exile had broken into the children's creche and was sound asleep in the Wendy house.
Immigration is a bigger issue than ever, especially as the Government is adamant over its plan to send illegals to Rwanda for processing, despite the fact that the June 14 charter flight lost all of its 37 passengers to legal challenges:
Its hierarchy has completely become the Labour Party at prayer … and so, in a bid to find relevance among those who don't believe in God, the CofE frequently finds itself alienating those who do. It has probably irritated a few Rwandans along the way.
It is still hard for me to believe that most Anglicans voted for Brexit, but I stand corrected. Maybe they no longer go to church? Stanley says:
the one part of the population that has remained steadfastly loyal to the church is Conservative voters (two-thirds of English Anglicans voted for Brexit) …
Most importantly, while most, though not all, C of E clergy are clearly on the Left, they are attempting to court God-fearing Africans, who do not share their social views:
Archbishop Laurent Mbanda, head of the Rwandan Anglicans, has said he supports asylum seekers being sent to his country: he is also one of three African church leaders boycotting the upcoming Lambeth conference over the CofE's tolerance of homosexuality. Here is the final twist. The Church that bent over backwards to ally with the post-colonial world has, in the process, embraced a liberal theology that now puts it at odds with much of the post-colonial world.
How Anglican clergy will reconcile that conundrum is anyone's guess.
Would that the clergy concentrate on our souls and the promise of salvation instead.
Perhaps we need more African bishops serving in England. They know what the point of the Church is — and it isn't politics.
My series on Red Wall MP Lee Anderson from Ashfield continues.
Those who missed the previous three instalments of his profile can read them here, here and here.
Lee Anderson nearly always has something useful to contribute to debates in the House of Commons.
He is also no stranger to controversy, either.
Ian Lavery MP
He has a particular dislike for Labour MP Ian Lavery, who used to head the National Union of Mineworkers (NUM), of which Anderson was once a member.
In Part 1, I introduced Anderson's animosity towards Lavery, which has to do with £165,000 that the Labour MP received years ago from the NUM. Anderson, like other NUM members, believes that Lavery should return the money to the miners.
On Wednesday, June 15, Anderson raised the matter of the money again during the debate about the upcoming nationwide rail strike.
Guido Fawkes has the story and the video:
It was Guido's most read and shared story of June 16:
Guido wrote (emphases in the original):
Another vintage Commons clash last night between Lee Anderson and Ian Lavery, with Anderson once again accusing Lavery of "stealing money" from the miners, and Lavery getting so upset he actually asked Deputy Speaker Nigel Evans to "protect" him from Anderson. Not a demand Evans took to kindly…
Anderson: Does he think that any Opposition Member who has received a donation from the RMT should put that money in a pot to help people who suffer during next week's rail strike? Does he also think that other MPs who have stolen money from the mineworkers—165 grand in the case of the hon. Member for Wansbeck (Ian Lavery) —should pay it back?
After eventually convincing Anderson to withdraw the remark, Evans turned his attention to Lavery:
Lavery: On a point of order, Mr Deputy Speaker. You have been in the Chair three times when the hon. Member for Ashfield (Lee Anderson) has made allegations. He withdraws his ridiculous remark and consistently comes back to say it again. As Deputy Speaker, you are not protecting the likes of myself. I need your protection.
Evans: Order. Do not make allegations against the Chair, ever. You saw how I treated Mr Anderson. You just leave it with me—I don't need lectures on how to do my job.
All this happening in the mother of all parliaments, rather than the school playground. At least it was entertaining…
Earlier this year, in the February 8 debate, Cost of Living and Food Insecurity, Anderson tried unsuccessfully to intervene in Lavery's contribution. One wonders if he was going to ask about Lavery's NUM money:
Lavery: I want to put some human context into this debate. I saw on social media this weekend a comment by a single parent. She said:
"It's difficult to imagine without experiencing it is how tiring being skint is. How you're so utterly consumed by financial hardship that it affects every decision you make on a daily basis. It takes up every thought and you can't escape. No wonder there is a mental health crisis".
Anderson: Will the hon. Gentleman give way?
Lavery: That comes from a single parent and it sets the tone for this debate. The country is badly fractured and, sadly, broken. Kids cannot eat and pensioners cannot eat, yet sales of luxury yachts have gone through the roof.
Anderson: Will the hon. Gentleman give way?
Lavery: And then we look at the other end of the political spectrum, where we see 14 million people in this country, the sixth richest economy on this planet, living in poverty.
Anderson: Will the hon. Gentleman give way?
Lavery: UK wages are at the lowest they have been and they are a 15-year standstill. Wages are gone and energy bills are going through the roof—I will come on to that. Poverty is a political choice. Hunger is a political choice. I am sick and tired of debates in this place where people from all parts are basically reducing hungry and cold families and individuals to mere balance sheet statistics—count them as human beings. The debate often gets dragged into whether this is absolute poverty or relative poverty.
Anderson: Will the hon. Gentleman give way?
Lavery: That does not matter to people who are suffering greatly in our communities. If they are sitting at the table with nothing to eat in the morning or at teatime at night, they are not aware of whether they are in abject poverty, absolute poverty, relative poverty or overall poverty. They might not even know that they are in poverty, but they know they are hungry. I think we will all probably have experienced being behind the person in the local newsagent who has the key to put £5 on their electricity bill—
Anderson: Will the hon. Gentleman give way?
Then things kicked off:
Deputy Speaker Nigel Evans: Order. I do not believe Mr Lavery is going to give way, so please save your voice for the rest of the speech. [Interruption.]
Order. What did the Member say?
Other MPs: He said, "Coward."
Deputy Speaker: Please withdraw that word.
Anderson: Mr Deputy Speaker, I am sure that the hon. Member is not a coward.
Deputy Speaker: Thank you.
Lavery: Mr Deputy Speaker, that has taken out a minute and a half of my time, but thank you very much for allowing me to continue. I am far from a coward, by the way …
Lavery finished his speech. Later in the debate, however, he raised a point of order about Anderson (emphases mine):
Lavery: On a point of order, Mr Deputy Speaker. I would like your advice about the intimidation that I seem to be getting from the Member for Ashfield (Lee Anderson). The last couple of times I have been in the Chamber, there have been some absolutely terrible remarks. I am sure you remember, Mr Deputy Speaker, the last time he had to return and apologise. How can this be stopped? How can we tackle it? If Members do not want to give way, they do not have to, but they should not suffer abuse as a result.
Deputy Speaker: I thank the hon. Gentleman for his point of order. I was in the Chair the very last time this happened. That is why I intervened to say that the hon. Gentleman was not giving way. I could not hear what the hon. Member for Ashfield said, because I was talking when he said it, and he then withdrew it. However, Mr Speaker made it absolutely clear at the beginning of today's sitting, after what happened on the streets of London yesterday, that we must all be temperate in the language we use, not only in the Chamber but outside it. I hope that all right hon. and hon. Members will take that on board before they stand up, and even when they make sedentary interventions, and that they are very temperate in the language they use.
Anderson then directed his interventions towards other Labour MPs.
One recommended collective bargaining. Anderson, who was a Labour Party member until 2018, intervened:
The hon. Gentleman mentions collective bargaining, but will he say how successful that was in the 1970s, when the lights were out?
True!
Another Labour MP recommended more nuclear power. Anderson said:
My hon. Friend talks about nuclear power. It is quite interesting, actually, because I wonder if he can recall that, in 1997, the Labour manifesto said, "We can see no economic case for the building of any new nuclear power stations." Does he think now, moving on 20-odd years, that they regret that?
Crime
Lee Anderson is, to paraphrase Tony Blair, 'tough on crime, tough on the causes of crime'.
On June 8, 2021, during the Police, Crime Sentencing and Courts Bill debate, he spoke frankly about the travelling community:
We have a big problem in Ashfield with the travelling community. They come two or three times a year. I did my own poll of about 2,000 constituents, and 95% agreed with me that the Travellers were creating a massive problem—crime was going up, pets were going missing, antisocial behaviour was going through the roof and properties were getting broken into. My constituents do not want them in our area anymore. That was a survey of 2,000 people, and that was the response from 95% of them. That evidence from my area is a bit more compelling than the petition the hon. Gentleman mentioned, which has probably been signed by 100,000 Travellers.
A Labour MP, Bambos Charalambous, said the problems in Ashfield arose because of inadequate housing provision.
Later on, Anderson said:
We have already established that in places where Traveller communities set up, such as Ashfield, crime goes up; we know that there is a direct correlation between Travellers being in the area and crime going up. Does the hon. Gentleman think that crime will come down if we have a permanent site in Ashfield?
Undeterred by the throwaway answers he was receiving, Anderson intervened once again in Charalambous's speech:
At the beginning, the hon. Gentleman made an interesting point about Romani Gypsies coming here more than 500 years ago, but the Gypsy encampments that we are talking about in places such as Ashfield are not the traditional, old-fashioned Gypsies sat there playing the mandolin, flogging lucky heather and telling fortunes. The Travellers I am talking about are more likely to be seen leaving your garden shed at 3 o'clock in the morning, probably with your lawnmower and half of your tools. That happens every single time they come to Ashfield. Does he agree that there is some confusion on the Opposition side as to who these people actually are?
Charalambous replied that there were many misconceptions about the various traveller communities, which were unhelpful.
Anderson made his final intervention a short time afterwards:
About five years ago, we had Travellers come to a car park in my village and they left a load of rubbish there, which cost the council over £1,000 to clean up. A few weeks later, they came back again, left another load of rubbish that cost another £1,000. I got that fed up with the local council that I hired a JCB and put two concrete blocks there, to stop the Travellers coming back and to keep the beauty spot tidy, and I got a £100 fixed penalty notice from my local Labour authority. Does the hon. Gentleman think that that was the right course of action?
Charalambous said that it was the local council's responsibility to take action, not individuals.
On May 11, 2022, after this year's Queen's Speech, MPs discussed the subject again in the Preventing Crime and Delivering Justice debate. The plan to send migrants to Rwanda was also announced that day.
Anderson delivered a speech on public protests, which have gone out of control over the past few years. At times, the police looked as if they are aiding and abetting the protesters:
Nobody should feel unsafe on the streets or in their home, which is why preventing crime is probably the most important part of this Queen's Speech. Each time we debate the subject in this place, the Labour party seems to side with the criminals. I am not sure why that is, but it seems to happen every single time. The Queen's Speech serves as a reminder to everyone that the Conservatives are the only party that is serious about law and order in the UK.
The vast majority of decent, hard-working people in this country will welcome the new public order Bill. Every week we see mindless people who have nothing better to do than wreak havoc on our streets, motorways and petrol stations. Frankly, the hard-working people of this country are fed up to the back teeth of these people disrupting lives and destroying property.
When I have been out and about, I have seen people gluing themselves to property, digging up lawns, throwing paint and performing zombie-like dances in the middle of the road with no regard for the decent, hard-working people of this country. [Interruption.] … These people have no regard for the decent, hard-working people of this country, and their guerrilla tactics are disrupting emergency workers and putting lives at risk. The public have had enough.
We were pretty good at handing out fines during lockdown. We dished out big fines, some justified and some not, and I hope the Government will consider handing out bigger fines to these public nuisances who think it is a good idea to damage petrol stations. I suggest a £10,000 fine, going up to 20 grand. That will teach them. Going back to their mum and dad with a 10 grand fine might be the deterrent they need.
Let us remind ourselves of what the Conservative party has been up to in government. We are recruiting 20,000 new police officers, and there are already more than 13,000 new police officers on our streets, making our streets safer. We have enshrined the Police, Crime, Sentencing and Courts Act 2022 in law, giving the police extra powers to prevent crime and keep dangerous criminals off our streets. The Act stops the automatic early release of dangerous, violent and sexual offenders, widens the scope of police powers such as stop and search, and places a legal duty on local authorities to work together with fire and rescue services, the police and criminal justice agencies. Labour voted against the Act, and I will tell the House what else Labour voted against: everything in the Act.
In Ashfield we are really benefiting from a Conservative Government. We have just had £550,000 from the safer streets fund, with which we are putting up CCTV in some really dodgy areas of my town. This will make women and young girls feel safe. There will be safe hotspots where they can reach out for help. It is wonderful news for one of the most deprived areas of my constituency. We are using the fund to put up new security gates to secure alleyways, which are antisocial behaviour hotspots. The funding is making residents feel safe in their own home. It is real action. On top of that, we have new police officers in the Operation Reacher teams in Eastwood and Ashfield, which are going out to take the most undesirable people off our streets and lock them up.
The police had always been a little frustrated that the sentencing has not been enough for these criminals, but we have sorted that with the 2022 Act. People will be locked up for longer, and so they should be. It makes people in Ashfield and Eastwood feel safer, it makes me feel safer and it makes my family feel safer. When these criminals are arrested and taken through the court system, it is only right that they should be put away for as long as possible to make us all feel safe.
Labour also has no ideas about the illegal crossings by dinghies and boats coming over the channel. Labour Members seem to be confused, as they do not know the difference between an economic migrant and a genuine asylum seeker, which is a shame. My constituents in Ashfield would put them right. If Labour Members come up to my Wetherspoons in Kirkby, my constituents will tell them the difference—they are pretty good at it.
An SNP MP intervened to say that the Home Office considers most of those coming illegally over the Channel as refugees.
Anderson replied:
I thank the hon. Lady for her intervention and I think that what she describes is the fault of the old, failing asylum system; when people get here, they know how to fill the forms out and they have these lefty lawyers who say, "Put this, this and this." So they fill the forms out and, hey presto, about 80% get asylum status, and it is wrong. It is a burden on the taxpayer, these people are abusing the system. It is a bit like some benefit cheats—they do it, don't they? They abuse the system, saying that they are disabled when they are not. [Interruption.] Yes, they do. Come on, let's be right about it.
Make no mistake: if that lot on the Opposition Benches got in power, perish the thought, this Rwanda plan would be scrapped within five minutes. They want to see open borders. They want to let anybody in. [Interruption.] However, I welcome the sensible comments on food bank use made by the hon. Member for St Helens North (Conor McGinn), who is not in his place. I would welcome any Opposition Member coming to visit my local food bank in Ashfield, where I help out on a regular basis. We have a great project in place at the moment.
You can read more about Anderson's food bank controversy in Part 3.
Free speech at universities
Last week, on July 12, Anderson participated in the debate on the Higher Education (Freedom of Speech) Bill. He rightly took strong exception to the metropolitan elite:
Now then, if we control what students in universities can listen to, we are controlling what they can think and the type of person they will become. That may work in places such as North Korea and, possibly, within the Labour party, but it has no place in our society. The Bill will strengthen free speech and academic freedom at universities. It is not the job of the Labour party or anybody else to control who we listen to. The champagne socialists, the Islington elite and the trade unions may agree with the Labour party, but most of the country do not. We fought and won a war to protect our freedoms, and freedom of speech, to my mind, is the most important freedom that we have.
Let us not forget that universities are there to supply our great country with scientists, mathematicians, doctors, lawyers, school teachers, nurses and so on, not to provide us with state-sponsored political activists who have only one opinion or one goal in life. Our young people should be able to flourish at university and be open to all kinds of debate. Let them make their own mistakes, form their own opinions and ask their own questions. We should not dictate who they can and cannot listen to.
By voting against this Bill, Labour is saying that our university students are not capable of making up their own minds. It is a bit like the Brexit debate when it told my residents in Ashfield and Eastwood that they were thick, they were stupid, they were racist and they did not know what they were voting for. Well, that ended well! It ended up with my standing here tonight.
We know that free speech is being shut down in universities in this country. Professor Jo Phoenix was due to give a talk at Essex University about placing transgender women in women's prisons. Students threatened to barricade the hall. They complained that Ms Phoenix was a transphobe who was likely to engage in hate speech. A flyer with an image of a gun and text reading "Shut the **** up" was circulated. The university told Ms Phoenix and the event was postponed.
What about the human rights lawyer Rosa Freedman, a radical feminist law professor, whose event was cancelled amid allegations of transphobia? She received a passive aggressive email from a University of Reading student who called her views on gender politics "problematic" and warned her to "choose her words carefully". Selina Todd, an Oxford University professor, had her invitation to a conference celebrating women withdrawn owing to pressure from trans activists who had threatened to disrupt the event.
It is a real shame that we have to legislate to allow free speech, but the biggest shame is that Labour Members will vote against the Bill and subsequently vote against free speech. Perhaps they should all come off Twitter, throw their Guardian newspapers away, leave the Tea Room, and get out there and speak to the millions of voters they lost at the last election. Let us have some free speech on the doorstep and perhaps that lot on the Opposition Benches will finally realise that they have nothing in common with the very people they expect to vote for them. Thank you very much, Mr Deputy Speaker; that is me done.
The next MP to speak was from Labour. That MP disliked being told he was against free speech. He ended by saying:
If this legislation were needed, I would support it, but I do not think that it is needed, because, as has already been said, the legislation is already in place. We know the reason why, because we have had it explained. We just had a great example of it from the hon. Member for Ashfield. This is actually about trying to use the so-called woke agenda in a political manner. It is amplifying the message, so we get a situation where anyone who dares to question what happens or who votes against this Bill tonight is said to be against freedom of speech.
Anderson intervened to say:
I thank the right hon. Gentleman for the important points that he is making in the Chamber tonight, but the most important thing I want to thank him for is mentioning the word "Ashfield". That is the first time ever in this Chamber that a Labour politician has mentioned the word "Ashfield", so I thank him for that.
Immigration
Lee Anderson likes hard-working immigrants but, along with most other Britons, objects to people coming to the UK illegally then complaining about living in three-star hotels with three square meals a day.
On July 19, 2021, during a Nationality and Borders Bill debate, he related the story of a man he once knew, Janis Bite, who came to the UK from Latvia:
Now then, Janis Bite was 13 years old and living in Latvia at the start of World War Two. Two years later, the Nazis came. Their request was simple: one male member from each family to go and fight the Russians. It was either Janis, his dad or his younger brother, so Janis went to the Russian front and witnessed the horrors of war in temperatures of minus 40.
When the war ended in 1945, Janis was classed as a displaced person—a refugee. Imagine that. He could not go back to Latvia, because he had been sent straight to Siberia and that is where they sent his dad, so Janis was given two more choices: the US or the UK. So he came to the UK to a small village in Derbyshire, where he and other refugees were housed in Nissen huts in army barracks. He did not complain or whinge or moan about the barracks or set fire to the barracks or make TikTok videos. In fact, they were so grateful to the UK that they all volunteered to work in the fields at local farms picking potatoes and other seasonal vegetables for no pay. Janis met a girl in the village, he fell in love and he later married. He worked hard all his life and had three sons, one of them being Alan in Ashfield. Janis loved his football. He became a British citizen and loved this country. He even went on to meet our Queen. Janis is no longer with us, but his story makes me feel incredibly proud of our great country and its willingness to help people from all over the world.
A Conservative MP asked Anderson if Janis Bite would have been affronted by the misguided, generous way the Home Office treats illegal immigrants.
Anderson responded:
I thank my right hon. Friend for his comments. That is absolutely right. I spoke to Janis's family last week in Ashfield, and they made exactly that point. I will feed that back to them when I get back to Ashfield this weekend.
We have always been a welcoming and tolerant country that has reached out to genuine refugees from all over the world, but just like Janis's family in Ashfield, most people in the UK do not accept that people travelling here from France in dinghies are genuine asylum seekers—[Interruption.] They are not genuine asylum seekers. We know that many of them have been trafficked with a clear instruction on how to claim asylum once they get here. That is because our asylum system is not fit for purpose, and this Bill stops that.
The Labour party and the Opposition want to bring back free movement. They dislike our points-based immigration system, and now they are going to vote against a Bill that protects our borders and helps us deport foreign murderers and rapists. They will always vote against the British people. This new Bill will ensure that people in genuine need, like Janis all those years ago, get the help they need, and the greedy lawyers and the human traffickers will be told, "No more." We owe it to people such as Janis who are suffering today to ensure that we have a fairer system that offers genuine refugees a safe haven. This Bill does that.
We have nothing to be ashamed of in this country. We are a kind, tolerant and welcoming country. That is proven by the number of people who risk their lives every single day to get here. If Janis's family can see that the current situation is unacceptable, surely the Opposition should see that too.
I give a massive thanks to the Home Secretary, who has stuck to her guns. She has listened to the British people and delivered. Opposition MPs want to travel into reality. I will offer this opportunity to all of you now sitting there now with those glazed expressions on your face: come down to Ashfield, come speak to some real people in my towns and villages, and the message you will get will be completely different from the message you are feeding into this House. I am here because of you lot and the attitudes you had in 2019. We are getting tough on crime, we are getting tough on immigration and we are getting tough on law and order.
Well said!
I'm still not finished with Lee Anderson's policy stances. More to come next week.
Last week, I posted the first part of my defence of a constitutional monarchy.
Today's post concludes that defence of the UK's system of government, the Queen being our Head of State.
Longest reigning monarch?
Since I wrote the first part of this series, the Queen became one of the world's longest-serving monarchs.
On June 12, 2022, the Mail on Sunday reported (emphases mine):
The Queen has reached an incredible new milestone after becoming the world's second longest reigning monarch.
Her Majesty, 96, will overtake Thailand's King Bhumibol Adulyadej, who reigned for 70 years and 126 days between 1946 and 2016, from today.
Earlier this month, the Queen surpassed Johan II of Liechtenstein, who reigned for 70 years and 91 days, until his death in February 1929. 
Louis XIV of France remains the longest-reigning monarch, with a 72-year and 110-day reign from 1643 until 1715, while the Queen's stint on the throne now stands at 70 years and 126 days, equal to King Bhumibol Adulyadej's.
The milestone comes as Her Majesty celebrated her Platinum Jubilee last week, with four days of parades, street parties, and other events, after officially reaching the milestone on February 6 this year.
But — and it's a BIG BUT — two days later, on June 14, the Daily Mail posted an article proclaiming, 'Queen is the world's longest actively reigning monarch, royal expert claims':
Although it's widely reported she holds little interest in breaking records, her astonishing reign would only be beaten in length by King Louis XIV of France.
Known as Louis the Great, the French ruler became king at the tender age of four following the death of his father Louis XIII, and he ruled from 14 May 1643 to 1 September 1715.
According to the record books, only Louis XIV, or 'The Sun King', ruled for longer than the Queen.
But royal biographer Hugo Vickers says Her Majesty may be able to lay claim to being the world's longest actively serving monarch by virtue of the fact the French monarch did not fully ascend the throne when he was aged four.
Although he was crowned King Louis XIV from May 1643, he technically served under his mother Queen Anne's regency for eight years, owing to his tender age. 
In a letter sent to the Times, Mr Vickers writes: 'In Louis XIV's reign, there was a regency between May 14, 1643, and September 7, 1651, until he reached the age of 13.
'Hence, while he may have been king the longest, our Queen is unquestionably the longest actively reigning monarch in the world.'
Sour republicanism
Republicans, i.e. anti-monarchists, are a dour lot.
Cromwell had Charles I beheaded and banned Christmas celebrations, so it was a relief when, after England's Civil War, Charles II ascended the throne in 1660. That period in British history is called the Restoration.
The anniversary of the Restoration is on May 29:
Maypoles, music and gaiety were also banned. The Calvinistic Puritans were the Taliban of their time.
Like the Taliban, they ruled for the people's 'own good':
The article that barrister Francis Hoar cites says, in part:
The seventeenth century Puritans did not impose their austere rules purely for the sake of it … Their banning of Maypoles and Christmas and football was ultimately about top-down, rationalistic social control to the end of spiritual and ethical purity, an attempt to eliminate anything untidy, spontaneous, and in particular to impose their own (extremely unpopular) ideas within the cultural and social vacuum thereby created.
Moving to the present day, in 1977, pundits predicted that few in Britain cared about the Queen's Silver Jubilee, especially with the Sex Pistols' caustic God Save the Queen being banned from the airwaves but purchased in record stores such that the single sold out.
Columnist Rod Liddle remembered the mood well. That year, he, too, was caught up in punk and republicanism. On June 5, 2022, he wrote an article for The Sunday Times: 'As a teenage punk, I sneered at the Queen. Sadly, the music is almost over':
I enjoyed the Queen's Silver Jubilee immensely, shouting out horrible things about our monarch on stage with my punk band at a "Stuff the Jubilee" gig in a pleasant suburb of Middlesbrough. We were in a tent, erected with great magnanimity by the organisers slap bang in the middle of the proper, official Silver Jubilee celebration, with its stalls of cakes and beer wagons and plates bearing pictures of her Maj.
It may have been HM's Silver Jubilee, but 1977 was also the year of punk, even if its impact on the charts was marginal. It is often suggested that punk was a left-wing phenomenon, but in truth it was far from it — even if one or two of the bands, such as the Clash, later proclaimed their left-wing credentials for the benefit of the very liberal hippy music press. In truth, punk at its core was energetically poujadist. It was lower-middle-class kids who were tired of, or bored with, the sclerotic institutions in our country — the big record companies, the civil service, the BBC, the aristocracy and so on.
It was individualistic, not communitarian. It had no great quarrel with capitalism, only with capitalism done badly. It saw Great Britain as stagnating and it wanted change. It had no time for the unions either — it was the unions that boycotted the pressing of the Sex Pistols' second single, God Save the Queen.
The Queen represented continuity, much as did Jim Callaghan's hobbled government. We didn't want that and nor did the newish leader of the opposition [Margaret Thatcher], who was also lower middle class, despised outdated institutions such as the trade unions and the BBC, and was for individualism …
As for 2022, with age, Liddle has had a change of heart:
This weekend's celebrations are very different. Never before have we craved continuity quite as much as we do now, faced with an array of existential threats from which you can take your pick as to which is the most pressing: newly belligerent Russia, China's quest for world domination, radical Islam, climate change, weird viruses …
Under a lesser monarch our disaffection with the royal institution — and, as a corollary, with our own history as a nation — might have spilt over long before. But she ruled with a dignity, duty and dexterity that precluded such an eventuality.
I wish I'd remembered, while standing on stage in that tent 45 years ago, the words of an old hippy: "Don't it always seem to go that you don't know what you've got 'til it's gone."
Returning to 1977, in a retrospective for the Queen's Platinum Jubilee, The Telegraph pointed out that people turned out in the millions to celebrate her Silver Jubilee, proving that republicanism was as unpopular then as it is now:
Elizabeth II has demonstrated that, in fact, the monarchs do possess a power: an unactivated power, one that a partisan, career-politician president would hastily trigger – and divide us – but which the Queen handles judiciously. She uses the authority of her office to carry out and promote public duty. And, refreshingly, she simply gets on with things – no grumbling, no complaint.
When the country celebrated her Silver Jubilee, in 1977, the cynics predicted a washout: what was the relevance of royalty in an age of strikes and national decline, they asked? In the end, one republican rally, on Blackheath, attracted just five people and was cancelled. Millions turned out to celebrate the Queen, with such passion that it surprised even her: I had "no idea", she told a lady in waiting, that the people valued her so much.
On May 30, 2022, the left-wing New Statesman tried to rally its readers around republicanism, but the magazine's Twitter thread was unimpressive:
The magazine suggests eco-warrior David Attenborough as someone around whom we could all rally — heaven forfend! Ugh!
There can never be a charismatic republican leader, because that is an oxymoron.
And, no, we can't have Boris, either. Although he's probably not much of a republican, when he was a boy, he announced to his family:
he would be "world king" one day. 
On Friday, June 3, some broadcasters picked up booing outside of St Paul's Cathedral as he and his wife arrived for the Queen's Service of Thanksgiving:
Boris was booed only on one side of the cathedral's exterior. This is why the BBC did not pick up the sound on the day, whereas some other networks did. It depended on where their film and sound crews were located:
The culprit was a Frenchman:
I do hope that M. Jacquemin did not have the bad grace to take advantage of Boris's Special Status scheme, granting — to as many EU citizens as cared to apply — official leave to remain in the United Kingdom post-Brexit.
Finally, let none of us think that doing away with the British monarchy will resolve child poverty — or even pay for the NHS:
All we would get would be President Blair — UGH:
How awful that would be.
Ireland loves our Queen
Given Britain's fractious relationship over the centuries which caused the Emerald Isle to achieve independence in 1921, one would expect that the Irish would want no further reminders of the monarch.
In another retrospective for the Platinum Jubilee, The Times published a series of historic milestones about the Queen.
Regarding an independent Ireland, the article says:
Northern Ireland has been a key feature of her reign, during which the Troubles have erupted, calmed and simmered. This conflict hit close to home in 1979 with the IRA's murder of her cousin, Earl Mountbatten of Burma. Time heals many wounds but forgiveness is a choice. So it was, in 2012, she shook the hand of Martin McGuinness, the former IRA man who was then deputy first minister in the province. Queen or not, it was an act of which many would not have been capable.
It came as a direct consequence of her successful state visit to Ireland the year before, the first by a reigning British monarch since independence. The events were examples of where she has perhaps done her greatest work: as a stateswoman.
The Irish were indeed delighted to have the Queen visit in 2011. A 2010 article from the Irish Independent reported that many towns and villages requested that she pay them a visit:
THE British Ambassador to Ireland has revealed he has received dozens of letters from towns and villages across the country inviting Queen Elizabeth to various events.
As speculation grows over a visit by the British monarch, the ambassador Julian King said his government was committed to a visit.
He said he was encouraged by the response among Irish people. Mr King was speaking to reporters in Muckross House during a visit to Killarney, Co Kerry, after accepting an invitation from the chairman of the board of trustees, Marcus Treacy.
Her popularity in Ireland continues. On her Platinum Jubilee weekend, an Irish poll showed that the Queen was more popular than past or present Irish presidents. The Queen scored a 50% approval rating compared to everyone else who scored 40+ per cent or lower.
Unfortunately, this clip from Mark Steyn's GB News show doesn't show the poll graphic, but the aforementioned Royal expert Hugo Vickers explained the Queen's enduring popularity and the hope he has for her successor:
The enduring Commonwealth
The Queen is credited for creating the Commonwealth of Nations affiliated with Britain and/or the Crown.
Any of these nations can pull out of the Commonwealth voluntarily. Neither the Queen nor the British Government can forbid them from doing so.
Australia is once again considering renouncing the Queen as their Head of State. However, we must remember that they have important ties with China that might be persuading them in that direction. The same is happening in the West Indies. Money talks.
Similarly, a nation that has not been part of the British Empire may apply successfully to become a member of the Commonwealth. Rwanda is one such country. It was originally a Belgian trust territory that had been a German colony until the First World War.
A nation can also leave the Commonwealth and rejoin at a later date. The Gambia left in 2013 and rejoined in 2018.
In November 2021, Barbados removed the Queen as its head of state but remains a Commonwealth member.
A Forbes article from December 2021 explains the permutations of this group of nations:
… Queen Elizabeth II currently serves as the Head of State of Antigua and Barbuda, Australia, Bahamas, Belize, Canada, Grenada, Jamaica, New Zealand, Papua New Guinea, Saint Kitts and Nevis, Saint Lucia, Saint Vincent and the Grenadines, Solomon Islands and Tuvalu.
These Queen-led nations are known as "Commonwealth Realms," which are distinct from the broader 54-nation Commonwealth of nations that have some connection to Great Britain, but do not necessarily have the Queen as Head of State.
The Queen's role as Head of State is largely ceremonial, and she is represented in each country by a governor-general who carries out the Queen's day-to-day duties.
In addition to Barbados:
The last country to remove the Queen as Head of State was Mauritius in 1992, and other Caribbean countries that have removed the Queen are Guyana, Trinidad and Tobago and Dominica, which all removed the Queen in the 1970s.
Participation in the Commonwealth is voluntary, and in response to Barbados's decision to remove the Queen, Buckingham Palace said in a statement: "This is a matter for the government and people of Barbados."
Monarchy — an eminently sensible way forward
The Revd Marcus Walker, whose thoughts have graced my 'What's on Anglican priests' minds' series, wrote a thoughtful piece for The Critic this month.
In it, he points to the great strengths of the British monarchy:
He begins by giving us the sour republican narrative:
The State Opening of Parliament last month saw three narratives promulgated at the same time by very different people, all of which (deliberately or not) betray a fundamental lack of understanding of monarchy.
The first, by the Left, saw an attempt to heap ridicule on the rituals of the ceremony: of the procession of the Imperial State Crown, of the uniforms worn by those involved.
The second, by a more centrist kind of commentator, asked whether it was fair or just to have as our Head of State a woman of 96 who is no longer able physically to take part in major ceremonies.
The third, by the pro-Putin end of the Right, saw continued attacks on Prince Charles, whom they seem to have anathematised because he likes the environment. The political categorisation is a tad crude, and I'm sure you've seen overt and covert republicans using all of these lines over the last few years.
He explains why those narratives are so misguided:
What's interesting about these attacks is that they unintentionally highlight the strength of monarchy, not its weakness. The ritual is not meaningless; it unveils layers of history. The Commons slamming the door in the face of Black Rod tells of the struggles between Parliament and the King which have been settled in our constitutional framework of the Crown in Parliament.
The Crown has the history of the nation woven into it, bearing within its frame St Edward the Confessor's sapphire, the Black Prince's ruby, the Stuart sapphire, and the Cullinan diamond.
Each tells a little bit of the past that brought us to today. In the chamber we have elected parliamentarians, peers, senior judges, bishops: an interweaving of the different perspectives and professions which collectively set the political culture. This will change over the years as the nation changes, and this too will be good.
Ritual is not empty; it tells a story, and all nations have their rituals and their stories. If you are embarrassed by monarchical ritual, I caution you not to cross the Channel and find yourself in Paris for Bastille Day or Moscow for Victory Day. Losing your monarch does not remove your need for ritual and story. What you lose, though, is an embodiment of that story.
He asks us to consider the life cycle that the monarchy represents. A life cycle is something all of us can understand and appreciate:
The human realities of life, death, love, marriage, childbirth (and betrayal, hurt, and divorce) are at the core of the strength of monarchy. They are experiences we all share.
Monarchy, no matter how set-up in trappings of ritual, is a profoundly human institution. Its rhythms are human, as are its failings …
So why not be rid of the Crown and its rituals? Because they hold the space at the centre of our national life, preventing it from being held by a politician. No Trumps for us, no preening Macrons, no sour-faced Putins, no German Steinmeier with his terrible legacy of appeasing Russia. The centre holds, while the political world swirls around it.
Over this month we will be celebrating the Queen's personal achievements across her 70-year reign, but we will also be celebrating the institution which she has embodied these many years, and doing so by marking in great state that most natural and human of all things: the passing of time.
I will have more on how society has changed over the past 70 years next week and how the Queen has adapted to those changes during her marvellous reign.
On Tuesday, June 14, 2022, Nigel Farage interviewed a 102-year-old D-Day American veteran in London.
This must-watch exchange took place on Farage's Talking Pints segment of his GB News show:
Steve Melnikoff took a Cunard cruise to the UK, accompanied by a younger man who helps him out on a daily basis.
Melnikoff said that, on the cruise ship, he spent his evenings ballroom dancing and had the photos to prove it.
It was amazing to see how young this man looks at 102. He's just days away from his 103rd birthday. He has no age spots and his skin is remarkably smooth.
Despite all the major things going wrong in the Western world today, older people look decades younger than they used to.
When I was growing up, people aged 50 and over definitely looked over the hill, no matter what their social class. We can no doubt ascribe better health care as a contributing factor to prolonged youth.
Another example of prolonged youth are the three Carry On female stars who reunited at a London restaurant on Sunday, June 12. The Daily Mail has a photo of them and reports:
The films were known for their saucy innuendos and drew millions of fans to cinemas in their heyday.
But former Carry On stars Jacki Piper, Valerie Leon and Anita Harris played it straight as they got together for a night out. The trio shared memories as they were pictured in a restaurant by their friend Barry Langford.
Miss Piper, 75, held onto 78-year-old Miss Leon's arm as they posed alongside Miss Harris, 80. Miss Leon and Miss Piper starred in 1970's Carry On Up The Jungle while Miss Harris played a nurse in 1967's Carry On Doctor.
They look fabulous, not a day over 55.
But I digress.
Returning to Steve Melnikoff, he said that the first thing he noticed in landing on Omaha Beach was the cold weather. Farage pressed him on what he really thought. Melnikoff replied that he might have been afraid, but he couldn't remember exactly.
Melnikoff said that he never talked about the war until decades later. It was the same with the soldiers with whom he served. He explained that, after the war, Americans were too busy working in factories in post-war rebuilding efforts.
Melnikoff was shot in the throat by Germans. Luckily, the shot missed his larynx. His comrade was fatally wounded and he managed to dress his friend's wound as best he could while waiting for help. Melnikoff was flown to England to recuperate in hospital. He has a big love for Britain as a result.
Farage asked Melnikoff what his greatest achievement was. Interestingly, he said that taking advantage of the GI Bill, through which he earned a bachelor's degree, improved the next three generations of his direct descendants, all of whom have university degrees. Well done!
He began returning to Omaha Beach around the Millennium and has made a few trips since. As for war memories, in the 1980s, he reunited with the man who was his sergeant. They met once a week for lunch and remembering their service together. The lunches stopped only when the sergeant died.
Melnikoff said that his secret to ageing was to always have a purpose in life and something to do. He said that he has a good genetic makeup and a positive outlook. His favourite pastime is golf. During his working life, he owned his own business.
Listening to him, one realises that he is sharp as a tack, unlike Joe Biden, whom he did not discuss.
Unlike Biden, one thing Melnikoff cannot be accused of is showing signs of dementia:
One thing that does concern Melnikoff is Russia's invasion of Ukraine, which he says reminds him of events in 1939 that led to the Second World War. This shorter clip is especially worth watching:
I wish Steve Melnikoff a happy 103rd birthday — and many happy returns!
As I was preparing yesterday's post on what Anglican priests think of the 1662 Book of Common Prayer, a lot more material came to the fore.
Trinity Sunday
As regular readers and churchgoers know, June 12, 2022 was Trinity Sunday.
At the Priory Church of St Bartholomew in London, it was also Confirmation Day for a blessed handful of the congregation.
The Revd Marcus Walker, St Bartholomew's vicar, is on the right of the photo below. The Bishop of London, the Right Revd Sarah Mulally, is in the centre:
Did you ever wonder why mitres are shaped with a point?
Our vicar told us on Pentecost Sunday — the week before Trinity — that mitres are shaped that way to suggest the tongues of fire that descended on the heads of the faithful on the first Pentecost, signifying the arrival of the Holy Spirit.
It is a pity that the Bishop chose to preach on The Shack in her sermon. Oh dear, oh dear, oh dear — no!
Not surprisingly, those preaching on Trinity Sunday dread it because it requires in some measure explaining the holy mystery of the Triune God. It is not unusual for a vicar to assign the sermon to an ordinand — trainee priest — who is a member of his congregation.
St Patrick used a shamrock. However, a Lutheran pastor in the United States uses an egg, which, in some ways, is even better. His sister, whom I cited in my post, wrote on another website (emphases mine below):
He set out 3 small bowls. He cracked an egg, separated the white from the yolk, placed them in 2 of the bowls, and the shell in the third. He then asked the children which was the egg (which of course brought out all kinds of interesting responses). He used this illustration to explain the Trinity. I think even the adults in the congregation were enlightened by his talk. The children certainly learned something that day.
Returning to St Bartholomew's, Marcus Walker exchanges thoughts with a Catholic in the Twitter below:
Walker is absolutely right.
The Revd Matthew Cashmore is the vicar of St Anselm's in Hayes, Middlesex, near Heathrow Airport. For centuries, it was a rural area. Now it is very much a part of Greater London. Its growth as an industrial suburb began in the mid-19th century with the arrival of the railway. In the 20th century, it was home to many industries, including player pianos, vinyl records, caravans, food manufacturing and aviation companies. Today, it is known for food, aviation and a number of Heathrow's hotels.
St Mary the Virgin Church is the oldest house of worship in Hayes, dating back to the 13th century.
St Anselm's was built in the 20th century but its name references the history of St Mary the Virgin, as Wikipedia explains:
St Anselm's Church was completed in 1929 to the design of architect Hubert Christian Corlette. Noted designer MacDonald Gill was responsible for the panelled ceiling. The church's foundation stone was laid on 13 May 1927 by Sir John Eldon Bankes. The east window is by James Powell and Sons of Whitefriars, London. The church was Grade II listed in November 2019.[58] St Anselm's is so-named because William Rufus (1056 – 1100) sent Archbishop (later Saint) Anselm of Canterbury (c.1033 – 1109) to stay in the manor house of St Mary's Church, as it was the nearest of the Archbishop's manors to Windsor, where William Rufus resided.[59][60]
William Rufus was the third son of William the Conqueror.
On to the present day, and Matthew Cashmore, like many other vicars, preached on the mystery of the Trinity. This is an excerpt from St Anselm's Trinity Sunday pew leaflet:
To try to figure out HOW this trinity of God works. We are human and modern humans attempt to understand the world through the lens of science and 'reason'.
The issue of course is that creation is rather more complex and difficult than we can understand.
We are not God and we are reaching and trying as hard as we can to understand things that He created and put into place.
It's just not possible.
This is not to say that we shouldn't try – that we shouldn't engage in trying to understand the the universe through science and 'reason'; but rather to accept that there are things that we can not neatly fit into categories of science that are central to how we exist in the universe.
We are not God.
Sometimes we need to accept that it is wiser to exist and simply appreciate and give thanks for what God has made – and our part in it.
Wise words indeed.
Mission work
I found out about St Anselm's via a tweet from a vicar whose tweets I posted yesterday.
The Revd Sarah Hancock, from Cheadle Hulme, Cheshire, posted the church's brilliant advert for a Mission Priest:
I can see why they have passed a Resolution. Going into rough pubs is probably not the sort of thing even today's women priests are up for.
Mission work also appeared in Cashmore's Trinity Sunday sermon, as he exhorted the congregation to think about ways in which they, too, can bring the Gospel to the unchurched. Excerpts follow:
In the name of the Father of the Son and of the Holy Spirit – Amen.
Today, as I'm sure you're all aware is Trinity Sunday. It's a day we call to mind the Holy Trinity and what that means to us today.
Trinity Sunday is an annual reminder of the simple command to live within the love and commandments of the Father, Son and Holy Spirit – and Jesus tells us how we discern how to do that …
… our faith is a felt faith. It is a faith that exists as much in our hearts and our stomachs as it does in our brains. The moment we forget that we lose the awesome breadth of what God has in store for us – we lose the ability to engage with what Jesus taught us – and we lose sight of what the Holy Spirit wants us to do in this life.
Now, I'm not saying we should leave our brains at the door when we come to church. What I am saying is that academic and intellectual exploration has to work alongside that gut feeling we all experience when we see the work of the Holy Spirit and that gentle warming of our heart we feel when we see the love of Jesus in action.
Our faith is a broad, complex and wonderful thing. It interacts with the world in a myriad of ways and people interact with us – and the faith they see in us – in a myriad of ways. 
We should be open to all those possibilities. 
The fact that somebody may want to talk to us about where the Trinity appears in scripture for example, is an opportunity to engage people about their faith. For us to crack open the Bible and talk them through the gospel of John and its rich description of the workings of the Father, Son & Holy Spirit. (so I suggest you take your pew sheet home and read around these chapters!)
Or it may be that people want to know what the practical outworking of the Trinity in our day to day lives is … or they may want to understand how our love of God the Father, Son & Holy Spirit makes us feel.
We need to be prepared to answer these questions in the real world. 
There are three things that I think any Christian should be ready to answer in the street.
How does God make you feel?

How does the Holy Spirit guide your daily life?

How has Jesus taught you to live a life more pleasing to God?
These questions form the heart of what we talk about in the world when we bring people to the love of Jesus – and in so doing – to the love of God and the Holy Spirit.
They are true because we experience them across the breadth of our lives and because we see them in scripture – the test of truth …
Our faith is an experienced faith.
It has to be lived out to be understood …
When we talk to people about God … We engage them with the truth of what we have seen, what we have learnt, what we have experienced in our day-to-day life with Jesus.
And we should be more prepared for it.
We should, each morning as we cross ourselves and say the Our Father – think with our brains, feel with our stomach, experience the joy of love in our heart, and ask ourselves – how can I go into the world today and bring somebody to Jesus.
How can we bring people to this church, this place and bring them to baptism – to a relationship that is earth shatteringly life changing with God the Father, God the Son, God the Holy Spirit?
It is up to each one of us to figure that out. Each one of us will bring a different gift, each one of us will bring different experiences and feelings, each one of us will have engaged with scripture in different ways and each one of us will reach somebody that another person cannot.
Nobody is beyond the love of God the Father, Son & Holy Sprit.
So, go out into the world my brothers and sisters and bring people to baptism, to this place, to a relationship with the Holy Trinity – because the only way to understand the Trinity – is to live inside its love.
Amen.
St Anselm's is a High Anglican church, therefore, it adopts some Catholic practices and pre-Vatican II vestments, such as this fiddleback chasuble in gold and blue:
I wish Fr Matthew all the best with his parish work and finding a Mission Priest.
Those interested in reading or watching more of his sermons can find them here.
I can also recommend the one for Pentecost Sunday, another inspiring call to mission:
Another vicar, the Revd Sam Charles Norton, is also concerned about spreading the Good News in the Church of England. He begins by going back to basics, with the Bible, writings of the early Church Fathers as well as Anglican clergy who helped to develop the Church of England in the 16th and 17th centuries when it was theologically at its best:
He says we have replaced doctrine with culture:
People should visit our churches if only for their beauty, as close to a glimpse of heaven as we have in this life:
Who knows where a church visit might lead?
Trivia
In closing, new members were installed into the Order of the Garter on Monday, June 13. This ceremony takes place every June.
This year, the Bishop of Worcester's brother was one of the newest members of this ancient Royal order. Tony Blair, unfortunately, was, too.
However, the interesting thing is that both the Bishop of Worcester — the Right Revd John Inge — and his brother, who is a Field Marshal, are the sons of butchers. Let no one say that modest parentage prohibits great achievements:
The Bishop is the Lord High Almoner, in charge of distributing alms to the poor. The office dates from 1103 and is a post in the Royal Households of the United Kingdom.
The last Lord High Almoner who was the son of a butcher was Cardinal Wolsey (1473-1530):
How marvellous to be parents of sons who went into the military and the Church!
Of all the Red Wall MPs, Lee Anderson's star shines the brightest among true conservatives.
Those who missed the first two instalments of his profile can read them here and here.
Anderson-Bray latest
I left off with Anderson's exchanges with Steve Bray, who lives up to his surname. For years, he has been on the open spaces around Parliament, e.g. College Green, braying against Brexit. He appears to be crowdfunded. He is very loud and the police won't move him along. As for MPs taking action, not enough witnesses will come forward to corroborate his disturbances with them or with employees on the estate. After six or so years, he should really find a proper job.
The latest instalment in Bray-Anderson story took place on June 9, 2022:
Guido Fawkes has the story and the video (red emphases in the original):
The ongoing war of words between Red Wall Rottweiler Lee Anderson and Professional Loiterer Steve Bray has taken another dramatic turn. Yesterday, after Bray once again tried to confront Anderson on College Green, Lee bit back by asking "why haven't you been sectioned yet?". This, according to the London Economic, "sparked outrage"…
So much outrage that Shadow Mental Health Minister Rosena Allin-Khan demanded an immediate apology, claiming "MPs should not use mental health tropes when responding to criticism."
Now, following Allin-Khan's intervention, Anderson has offered a heartfelt apology. He tells Guido:
I will be apologising to the good people of London as it would appear Lord Bray has slipped through the net and quite clearly should be getting help.
Don't count on it…
No doubt, the story will run and run.
Food banks
One story the whole nation knows about is Lee Anderson's views on home cooking in light of food bank use.
One month ago, on Wednesday, May 11, a week after local elections, Anderson, who participates at his local food bank, said in Parliament:
There's not this massive use for food banks in this country. We've got generation after generation who cannot cook properly, they can't cook a meal from scratch, they cannot budget.
Guido has the video of his part in the Commons debate. Anderson invited any MP who wished to take him up on it an invitation to his local food bank in Ashfield. His food bank has a scheme whereby anyone who comes for food has to sign up to a budgeting course and a lesson in how to cook from scratch.
He rightly criticised the Labour MPs opposite for being out of touch and, fortunately, he said, out of power. Guido borrowed the motif from a popular BBC programme, Eat Well for Less:
Remember that, until 2018, Anderson was a card-carrying member of the Labour Party. He joined the Conservatives that year.
It is also worth saying that Anderson was hardly born with a silver spoon in his mouth. He grew up in a mining family and said in another parliamentary speech that Labour's poor education policies prevented him and his classmates from progressing in life. They all ended up working in the local mine when they left school.
Michelle Dewberry invited him on her show that evening to allow him to elaborate on his views. He told her that his mother and grandmother cooked from scratch every night.
In an interview with Dan Wootton (see below), he said that, for many years, he was a single parent, and also cooked fresh meals daily for his children.
Dewberry's segment is worth watching:
Anderson and other food bank staff brought in a local, award-winning chef to do a cook off. He participated in it. He said that people can make a batch of meals for only 30p a portion. I can believe it.
He described it to Michelle Dewberry (emphases mine):
We did a small project where we took some school children and we spent £50, we filled a trolley up, we had a local chef, an award-winning chef.
We went back to the college and invited four other MPs and we had a bake off, like a cook off.
We prepared I think it was about 1700 meals and we put them in a container and froze them, now that's enough to feed a family of five for about £50.
Now they're not massive piles that people get at the local carvery, but they were enough, they were nutritious, good value meals.
He also told her:
My position is, yes, we have to support some people but, in the meantime, instead of throwing money at everything, let's try and help people.
I couldn't agree more. It's not just food bank users who cannot — or won't — cook, it's also a lot of ordinary middle-class women. I'm nodding at the women who live on either side of me. There are countless more who rely on a) ready meals, especially the pricey ones from Marks & Spencer, and b) weekend roast lunches at the local carvery.
For a family of four — parents and two children — the sums add up pretty quickly, week after week.
The front pages from Thursday, May 12, were expectedly execrable, shouting that he was just another out of touch Conservative.
Metro is the free newspaper, available to all metropolitan commuters:
This was the headline from Labour's house organ, The Mirror:
The story made GB News shows again that evening.
Colin Brazier invited left-wing Tom Pollard and conservative Benjamin Loughnane to debate what Anderson said in Parliament:
Pollard, not surprisingly, said that the poor are going through some really rough times. True, but one of the cheapest ways of saving a bit more of dole money is by getting smart by cooking at home. There's nothing shameful about a hot dinner of a baked potato topped with hot baked beans. The potato can be done in the microwave and crisped up for 15 minutes in the oven. The beans can be poured out of the tin into a microwave-proof dish.
Loughnane said that he thought what Anderson said was well-intentioned and 'not malicious'. He agreed that there were other ways to help people rather than monetarily. He said that the controversial element was that a Conservative MP had said it. However, Loughnane said that Conservative policies haven't helped anyone's cost of living very much, especially the poor.
Later that evening, Dan Wootton used the Anderson controversy for his lead editorial. He featured clips from all the televisual media — ITV, BBC, Sky — and said that their left-wing claims were false. Wootton said that Anderson made a practical point about the lack of cooking and budgeting skills in today's households. He also played the full exchange from Parliament and explained that Anderson was a regular volunteer at the Ashfield food bank. He said that Anderson himself fed his two sons for 17 years by cooking from scratch:
Wootton interviewed Anderson later in the show:
Anderson said that there were also a lot of:
rich people who can't cook, either, and that's my whole point.
Wootton then went into Anderson's background. The MP said:
I did struggle. I had to sell my car and walk everywhere. I've been that single parent.
As for what he said in Parliament:
What I alluded to … is common sense. The media have just run amok with it, really.
He said that it is better for him, as someone who has experienced living on the edge, to say what he did rather than some of his colleagues 'who have been to Eton'.
Anderson said that food banks should be considered as a safety net not as a regular fixture in their lives. He supports people who are on hand to ask if those getting food parcels have problems with debt or money in general.
He added that he'd worked in his Citizen's Advice Bureau and was used to encountering these types of issues from the people he helped.
I still have more on Lee Anderson to come next week.
He's a no-nonsense, common-sense man who would make a great Prime Minister. It's just a shame that he would never get that chance in the current political climate of Islington, the London borough that rules Westminster.
The metropolitan elites have done this country no favours at all. Lee Anderson and other Conservative MPs from modest backgrounds are trying their best to reset the balance.
As one would have expected, the Queen's Platinum Jubilee brought out a number of snide republicans — anti-monarchists — on social media.
However, there is a reason why a constitutional monarchy is still a relevant form of government today.
On June 1, 2022, writing for The Telegraph, veteran columnist Allister Heath explained (emphases mine):
The 1,136 years of Royal continuity since Alfred the Great have been a remarkable story of evolution, a shift from absolutism to rule by consent, from feudalism to a form of capitalism, from Catholicism to a multi-faith society, from Anglo-Saxon kingdom to empire to Brexit. The monarchy, paradoxically, given what it was prior to Magna Carta and the Bill of Rights, now protects the people against power. The monarch serves as a reminder to politicians that they are not, ultimately, in total control: there are forces and institutions above them.
Other methods exist to protect nations against extremism or tyranny, such as the division of powers at the heart of the US constitution. But the downside for America is constant paralysis and an inability to reform institutions that are broken. Thanks to our constitutional monarchy, we are able to evolve when necessary; others must raze everything if they are to change. This is no naive paean to a Whiggish view of history: plenty of the changes made to this country over time have been bad, with botched devolutions a case in point. But we can cope with and absorb damaging ideas or ideological revolutions without losing our souls; the French and Russians and even Americans cannot.
It used to be argued by republicans that meritocracy was incompatible with a monarchy: the huge changes of the past few decades, Big Bang in the City, the drastic progress made by the working classes in the 1980s and by minorities in the 2010s, has shown this not to be true. Anybody in Britain today can be prime minister or a billionaire.
Crucially, the monarchy's central role in British life moderates our politics and society. It drastically reduces the threat of extremism, violence or ideological overreach, a quality that the rest of the world values hugely about Britain.
A monarchy, with its titles, palaces, carriages and servants, is obviously not compatible with communism, although it can coexist with pretty radical Left-wing governments. The Royal family is inherently internationalist, as is the Commonwealth: autarky or complete isolationism would be psychologically difficult. When military personnel sign up to the Armed Forces they swear an Oath of Allegiance not to the prime minister, but to the Queen: the threat of a coup organised by some hothead demagogue is vanishingly small …
Monarchies' time horizons are extremely long, a useful counterpoint to a social media-addled age where attention spans are diminishing, where senior roles turn over too quickly in the public and private sectors, where ministers come and go every year, and where wisdom and experience are undervalued. Western societies also tend to downplay the importance of the family: nepotism is rightly taboo in educational institutions, big firms and the public sector. But in the private sphere, in the real world, the family and blood ties matter, and often more than anything else. The Royal family reminds us of the continuity between the generations, even when there are tensions, disagreements and scandals. When millions are battling atomism, a demographic implosion, loneliness and a quest for meaning, anything that rebalances our perceptions of the good life is surely welcome …
The monarchy has become a unifying focal point around which every group can coalesce without degenerating into identity politics: all can feel pride. It is an institution that reminds us of our unique history, of the extension of rights, individual and political freedoms and immense economic opportunity that has characterised British history. No honest reading of the past 1,000 years can remotely claim that we are uniquely bad – for all our flaws, all our mistakes, we have long been a beacon among nations, improving and developing before others and tackling injustices more quickly.
… Ephraim Mirvis, the Chief Rabbi, perfectly captured Her Majesty's remarkable qualities and dedication in his special Jubilee prayer: "Her crown is honour and majesty; her sceptre, law and morality. Her concern has been for welfare, freedom and unity, and in the lands of her dominion, she has sustained justice and liberty for all races, tongues and creeds."
The monarchy, and the Queen in particular, have provided us with an in-built advantage in contending with the destabilising forces battering Western democracies. For that, and for everything else Her Majesty has given us during her 70 extraordinary years on the throne, we should be eternally grateful.
On April 21, 2021, the Queen's real birthday, Mary Harrington, a contributing editor to UnHerd, also put forward the historical case for preserving the constitutional monarchy. This was just days after the Queen attended Prince Philip's funeral.
Harrington wrote:
I was reminded of her iron self-control and bird-like fragility watching our Queen enter St George's Chapel for the funeral of Prince Philip on Saturday. She stumbled momentarily as she approached the chapel door; inside, she sat alone. Born 12 years after my grandmother, she has been our Queen since 1952 and remains so today, her 95th birthday.
And yet despite the dignified pathos of last Saturday, we can be sure that some will celebrate the Queen's birthday by calling for her deposition. For many progressives view the Queen as an unacceptable relic of the past. Never mind personal travails; monarchy, they say, is undemocratic, even if the Queen never wields her power. We should have an elected head of state.
But far from being a relic of despotism, constitutional monarchy is our best protection against its reappearance. The story we like to recall traces a thousand years of royal continuity — the same deep history which progressives say demonstrates the obsolescence of our monarchy. But in truth this story skates over a profound rupture: the end of absolute kingship …
Just as the Reformation represented England's secession from spiritual absolutism, the Glorious Revolution represented something similar in the political sphere. Having got rid of one absolute monarch, the statesmen who defenestrated James II set about making sure their new monarch, William, knew his place. A 1689 Bill of Rights set out constitutional principles we have to this day, including regular Parliaments, open elections and freedom of speech. The Bill also limited and specified the monarch's powers.
The Reformation and Glorious Revolution produced an England in which both spiritual and temporal rule had the same figurehead: a head of both Church and Parliament. The change was subtle but profound, as the authority of England's priest-kings now theoretically extended across moral and political domains. But in practice, they wielded no direct power.
This homeopathic dilution of theocratic tyranny proved exceptionally liberating. The new settlement drove the emergence of our parliamentary system, our two main political parties, and — as the monarchy sought a new role — many of the High Victorian institutions such as the Royal Societies, whose grand buildings form the majestic backbone of London today …
Two world wars, one collapsed empire and a de-industrialised North later, things look rather different. Today, younger adults widely believe the world has been getting worse throughout their lives, and are pessimistic about the capacity of science, government or their own agency to change this. In parallel, the freedom of speech first guaranteed in the 1689 Bill of Rights is increasingly regarded as a stalking-horse for hatred. Growing numbers believe that what's right and wrong — especially where it concerns the rights of marginalised groups — are sufficiently self-evident they shouldn't be up for debate.
But who decides on the exceptions to our post-Glorious Revolution norm of debate? It's been nearly half a millennium since Henry VIII ended England's official embrace of the Pope in this role. Progressives have yet to offer a clear alternative to either the Pope or the Defender of the Faith, though many assert that no hereditary ruler should be allowed such spiritual clout.
Unsurprisingly, then, progressives (such as Jeremy Corbyn) who support abolishing the monarchy, often also argue for disestablishment of the Church of England. Meanwhile a growing chorus of other progressive voices calls for a lengthening list of often self-contradictory articles of faith to be excluded from legitimate debate — a move that bears comparison with the religious ordinances of England's Catholic and Anglican eras.
But what if the progressives are wrong and power can never truly be democratised? This was the argument advanced by political theorist Carl Schmitt. Schmitt argued that democracy is always compromised by absolutism, because no matter how flawless a set of rules you devise, and no matter how fair your electoral system, sooner or later a situation will crop up that doesn't fit the rules.
When that happens, you have to break the rules: a situation Schmitt called the "state of exception". Coronavirus lockdowns are a good example: of the past year, countless ordinary freedoms were abruptly suspended in the name of virus control. Schmitt argued that you can tell who's really in charge by who gets to implement such a state: "Sovereign is he who decides the exception".
Carl Schmitt was, of course, a Nazi. For him, exposing the traces of arbitrary rule that persist even in democratic government was part of a wider argument in favour of strongman rule …
… It wasn't the Queen who decided to suspend our ordinary liberties for the pandemic, but Parliament, which is made up of our elected representatives.
The role of our Queen is to symbolise that tyrannical twitch we can't wholly eradicate even in democracies, lest such twitches break out more regularly among our elected leaders. And she must do so without availing herself of actual power. As such, she acts as a kind of inoculation against real tyranny.
Our Queen has two birthdays: her actual birthdate, which is today, and her "official" birthday on the second weekend in June. This aptly reflects her double existence. On the one hand she's a human individual with a family, a birthday and a recent, terrible bereavement. On the other, she's an interchangeable cipher, a part not just replaceable but designed to be replaced by her heir apparent when the time comes. Her role is to act, with total self-effacement, as the fulcrum between tyranny and democracy. It's a position that, once understood, is rightly seen as profoundly sacred.
On the topic of coronavirus, The Telegraph's French correspondent, Anne-Elisabeth Moutet, wrote of her fellow countrymen's envy when the Queen addressed the United Kingdom on Sunday, April 5, 2020. It was a planned address but was aired — coincidentally — shortly before Prime Minister Boris Johnson was admitted to hospital with coronavirus. Talk about serendipity.
Moutet wrote of French leftists who praised the Queen:
Three weeks into le confinement, the complete lockdown French authorities have imposed on the nation, TV viewers here tuned into the Queen's address yesterday more out of curiosity than to find any kind of succour.
The nation is exhausted. A good deal of Emmanuel Macron's response to the Covid-19 crisis has been deemed flawed. The President and the country's health authorities simultaneously decreeing that masks were unnecessary for the general public and pledging to buy millions as soon as they could be sourced was rightly seen as inconsistent. So was the failure of the French health ministry's bureaucracy, for weeks, to greenlight promising antiviral therapies while deaths rose by the thousands. Trust is at its lowest.
And yet, after a four minutes and thirteen seconds speech broadcast on all our news channels, France, a country that has forgotten neither Waterloo no Mers-el-Kébir, had been utterly won over. "Queen Elizabeth II Would Make Me a Monarchist," Marion Van Renterghem, a seasoned former Le Monde reporter, who now writes for both L'Express and the Guardian, tweeted. "A model Chief of State. A class act" …
"The entire world has just been given a masterly political communication lesson in a crisis by a 93-year-old grande dame," tweeted one of France's foremost spin doctors (and a professor at Sciences Po, Paris' answer to Oxford's PPE), Philippe Moreau-Chevrolet.
In a country where, since the day of Charles de Gaulle, the President has simultaneously tried to symbolise the Republic and manage current affairs hands-on, the Queen's address has reminded everyone that there's a lot to be said for an uncontested head of state, completely detached from the fluctuations of day-to-day politics — and from politicians' vagaries. Most of Emmanuel Macron's speeches here have been too long: in time (rarely less than 20 minutes); on posturing ("We're at war," repeated 6 times in an awkward televised speech three weeks ago); on insincere technocratic babble …
"It was moving; it was subtle; it carried weight because instead of trying to instrumentalise war parallels, the Queen never even said the word, but let us all remember her and her father's history. She had grace, she had authority, she had compassion," says Moreau-Chevrolet.
That direct link between the sovereign and her people, above politics, has often been mocked in Britain as in France; but faced with it, we all recognise it. A politician who had to campaign for the job, and has to look to his numbers the following days — Blair, Sarkozy, Macron — simply can't manufacture that.
Even more notable: patriotism, a word too often used pejoratively, came spontaneously to describe the strange experience of hearing Britain's great-grandmother praising and encouraging her people in adversity. We were, to be honest, more than a little envious.
The day the Queen delivered her coronavirus message to millions of Britons …
… Tony Blair's odious spin doctor, Alastair Campbell, wrote an editorial for The Telegraph, 'From her sense of humour to sense of duty, The Queen is the most remarkable person on earth'.
I am hardly a fan of Campbell's, but he explains how he shifted from being a republican to becoming a monarchist. The Queen's example showed him the way:
My first political row, aged six or seven, was about The Queen, when my mother said I had to sit with her and the rest of the family to watch the traditional Christmas message. 'Why?' I protested. 'Why should I care what some rich woman says, just because she lives in a big posh house, wears a crown and has a silly voice?'
That was more than half a century ago, and the beginnings of fairly persistent Republicanism. My mother, born in the same year as the Queen, and with the same first name, Elizabeth, is alas no longer with us. The Queen, very much, is. How I wish my mother was here to see me write this: that in common with millions around the world, I was keen to see and hear The Queen as soon as it was announced she would be broadcasting a special message to the nation about the coronavirus crisis.
I would go further… I think it is possible to make the case that The Queen is one of, if not the, most remarkable people on the planet. Below are just ten among many reasons.
Campbell praised Her Majesty's longevity:
She has 'done the same job' for almost 70 years … 70 years; there is nobody else, in any other walk of life, who has done that.
He praised her 'enduring excellence':
… her standing with the public has never been below 60 per cent approval in the polls, and often in the 80s and 90s, because of the way she has performed her role.
He pointed to her universal fame:
Her face is perhaps the most reproduced image in the world (300 billion stamps and counting, hundreds of millions of coins and banknotes throughout the Commonwealth.) She is universally known, and near universally admired. Say 'The Queen' in conversation anywhere in the world, and she, the Monarch of all Monarchs, is the one people assume you are talking about. Her death, when it comes, will be one of the defining moments of our times, globally.
He praised her humility:
Despite that fame, and the authority that comes with her constitutional position, she wears both lightly. As one of her advisers once explained to me, 'she knows that she did nothing to deserve the privileged position she holds. She was just plonked there, an accident of birth.' Not for one second, he said, does she ever forget that.
He recalled her ability to handle a crisis, specifically Princess Diana's horrible death on August 31, 1997. Princes William and Harry were with the Queen and Prince Philip at Balmoral at the time. Tony Blair was Prime Minister then, and Campbell was working for him:
… There was considerable reluctance among many at the Palace, her included, to lowering the flag at Buckingham Palace, to returning from Balmoral, to the Queen speaking to the nation. But when she and Prince Philip decided it all needed to be done, it was all systems go, and her walkabout outside the Palace, as I recorded in my diary at the time, dramatically changed the public mood, instantly. 'The Queen,' says historian Tristram Hunt, 'will become a business-school case study in the management technique of rebooting.'
Campbell recalled her resilience when Windsor Castle caught fire in 1992, the same year when Charles and Diana's marriage was breaking down:
There have been periods when the Republican movement has felt wind in its sails, and sensed the possibility of the whole Royal edifice crumbling. She has survived them all. Her annus horribilis, 1992, amid the grisly soap opera her family had become, with the Windsor Castle fire the tipping point to tears, was the only time her courtiers feared she was losing her capacity to endure whatever life threw at her. From that too though, she emerged stronger.
He admired her humanity:
I have met a fair few of her staff, at various levels, and have yet to meet one who doesn't like as well as respect her … Another of her advisers told me that the reason she loves horses so much is that when she rides, 'she feels like an ordinary human being, not a Head of State.' 
He said she has a sense of humour, citing a quip of hers from 2002:
At the time of her Golden Jubilee, Tony Blair hosted a dinner for The Queen and all surviving Prime Ministers at Downing Street – Blair, John Major, Margaret Thatcher and Jim Callaghan – and descendants of the Prime Ministers who had died. As they all gathered somewhat nervously, she said: 'Isn't it just marvellous not to have to be introduced to anyone?'
On the subject of Prime Ministers, Campbell said the Queen has a certain mystique:
Even those who see her regularly, like her fourteen Prime Ministers with their weekly audiences, do not really know what she thinks about many of the major issues they discuss. She never puts a foot wrong on the political front, and though she is one of the most written about people on earth, we don't really know much about her beyond what we see.
He praised the Queen's sense of duty, performing the same rituals time and time again:
This defines her, really. She would not be human, if she did not occasionally think, 'oh no, not another garden party/investiture/State opening/Trooping the Colour/regional visit/Commonwealth trip/State banquet for me to read platitudes drafted by the Foreign Office.' Whatever it is, she just does it, again and again and again. Because it is her duty …
Campbell ended by noting the change through which the Queen has lived. Yet she remains a constant presence in our lives:
She has seen so much change, and helped to drive change too. But she just is; 'show not tell' at its best. The Queen of 1953 would not have had a rock star like Brian May playing the national anthem on the roof of Buckingham Palace, as happened at the Golden Jubilee. The Queen of 2002 would not have appeared in a film for an Olympic and Paralympic Games opening ceremony, with Daniel Craig as James Bond, and a Queen lookalike jumping from a helicopter, as she did in 2012.
There is so much change in those different scenarios, but the only thing different about her is her clothing, and the colour of her hair. She just is, that's it, and her latest broadcast, just being The Queen, will further add to the legend, and the history, of a truly remarkable human being.
That is the one time when Alastair Campbell and I have agreed on something.
That said, the year before, in September 2019, The New York Post published the results of a Sunday Times poll on Labourites' — Campbell's fellow travellers' — views of the Queen. Who knew there were so many republicans among their number?
Only 29% of party members polled believe in keeping the British monarchy, the Sunday Times of London reported. And only one in five would be "happy" or "proud" to sing the national anthem, "God Save the Queen" …

Even more shocking in a country that's in the midst of leaving the European Union in part because of immigration issues, almost half of the poll's respondents agreed that nations "should remove borders and people should decide where they want to live."
I had forgotten about that poll, but everything remains true today. Few Labour MPs attended the Commons debate on the upcoming Platinum Jubilee. Furthermore, with regard to illegal immigration, most of them say that there is no such thing. In other words: come one, come all, no matter how.
Speaking of Labour, in 2005, Keir Starmer had just been made a Queen's Counsel (QC). This was before he was made Director for Public Prosecutions (DPP) in 2008.
Guido Fawkes unearthed this video, in which Starmer said he was against the monarchy:
Guido posted the video on February 3, 2021.
This begs the question: as the current leader of the Labour Party and desperate to appear as a safe pair of hands, is Starmer still a republican?
Guido offered this analysis about Sir Keir, as he now is (red emphasis in the original):
The 2005 interview … shows Sir Keir smugly boasting about his long-held republican views. Sir Keir, reflecting modestly on his other achievements, brags "I also got made a Queen's Counsel, which is odd since I often used to propose the abolition of the monarchy" before smirking …
UPDATE: Owen Jones et al [more leftists] are blabbering on about the past tense of "I often used to propose the abolition of the monarchy". That strictly reads as he used to propose the abolition, now he does not. Doesn't necessarily mean Starmer has changed his mind, just his campaigning priorities. As he embarks on his patriotic makeover, it is reasonable to ask; is that a tactical change or has he truly converted to the merits of a constitutional monarchy? If so, what was it about becoming a knight of the realm that converted him?
I have much more to write about the merits of a constitutional monarchy and the Queen's role within it.
For now, I will close with the thoughts of Alexandra Marshall, an Australian who contributes to that country's edition of The Spectator.
Marshall was on Mark Steyn's GB News show prior to the Platinum Jubilee celebrations and made a solid case for a constitutional monarchy, which she also summed up in a tweet:
Precisely.
Paradoxically, today's monarchies safeguard their citizens from tyranny.
More to come on this topic next week.
One can only hope that the UK remembers the Queen's Platinum Jubilee for many years to come.
It is unlikely that we will see another Jubilee for decades, unless our gracious Monarch lives another ten years, which is possible. As I said yesterday, the Queen Mother died just days short of her 102nd birthday.
Her Majesty could not have imagined in 1952 that she would still be reigning today:
The icing on the cake was her third balcony appearance, speculated upon all weekend long. Many were surprised and everyone was gratified that the Queen travelled from Windsor Castle to appear at Buckingham Palace following the Platinum Jubilee Pageant on Sunday, June 5:
The Queen expressed her thanks within the hour:
The Telegraph said that the letter truly characterised the Queen's service to the United Kingdom and to the Commonwealth:
While her advancing years may be limiting her mobility, the Queen made it clear that her determination to do her duty remains undimmed, with a renewed pledge to serve her country "to the best of my ability" …
The message recalled the promise she made on her 21st birthday to committing her whole life to service. She has been as good as her word.
For those who prefer not to read a Twitter image, the letter reads as follows:
When it comes to how to mark 70 years as your Queen, there is no guidebook to follow. It really is a first.
But I have been humbled and deeply touched that so many people have taken to the streets to celebrate my Platinum Jubilee.
While I may not have attended every event in person, my heart has been with you all and I remain committed to serving you to the best of my ability, supported by my family.
I have been inspired by the kindness, joy and kinship that has been so evident in recent days, and I hope this renewed sense of togetherness will be felt for many years to come.
I thank you most sincerely for your good wishes and for the part you have all played in these happy celebrations.
The Telegraph went on to say that the Queen preferred to use Prince Philip's walking stick rather than a crook that the Army presented her representatives with on Thursday:
Her balcony appearance not only provided a perfect ending to the celebrations but was also laden with symbolism and poignancy.
The late Prince Philip was represented by the walking stick the Queen clutched tightly – chosen over a crook gifted to her last week – which had belonged to the man who was her "strength and stay".
It was also clear that she wanted to accustom us to the future of the Royal Family with four generations represented on the balcony:
The Telegraph article said:
And after four days of reflecting on the past, Her Majesty gave Britain a vision of its future as its next three kings stood by her side. Princes Charles, William and George shared the moment, representing a confidence that the monarchy will outlast almost everyone who witnessed the moment.
The Queen was sincere in her appreciation of the weekend's events and the endless crowds:
As she stepped out onto the balcony for an appearance that lasted just under three minutes, the Queen described the scene in front of her as "fabulous", telling her family: "Oh my goodness, oh look at this."
After the crowd sang the National Anthem to her and red, white and blue smoke was fired into the air, she turned to Prince George and said: "Wow! Did you expect that?"
It was a shame that the weather was not good enough for the RAF's Red Arrows to do a second flypast.
The Queen was grateful as were those of us watching the weekend's events, whether in person or at home. She appreciated us and we appreciated her — pure symbiosis:
Another Telegraph article pointed out:
Even if physical impairment meant she was not seen as often as she no doubt would have liked over the long weekend, hers was nonetheless a constant presence as it has been throughout her reign.
Her loyal service over 70 years is remarkable, and the enthusiasm with which the Jubilee was celebrated was the country's way of demonstrating how much her devotion and hard work is appreciated and the affection in which she is held …
As Her Majesty said in a statement marking the end of the celebrations, "When it comes to how to mark 70 years as your Queen, there is no guidebook to follow." Yet her appearance on the Palace balcony before a vast crowd was a truly poignant and historic moment. The likelihood of there ever being another Platinum Jubilee is sufficiently minuscule for everyone to know that we have been involved in an event that will live long in the national memory.
David Suchet, the actor who played Hercule Poirot for so many years, was honoured to have been part of the BBC's coverage of Friday's Service of Thanksgiving at St Paul's Cathedral:
The Times told us that the Platinum Jubilee weekend was 'a party like no other'. How true. Emphases mine below:
This was a party like no other. It has not happened before and it will not happen again, as so many of those thronging the Mall, festooning their villages with bunting and sharing their festive cakes and sandwiches at street parties told television cameras from around the world. It was a rare occasion on which it did not seem old-fashioned to be patriotic or openly proud of the nation's heritage. It was a time when the values of friendship, good humour and neighbourliness were on full display in a shared celebration of nationhood.
Above all, the jubilee succeeded because it was planned and arranged with a professionalism and meticulous attention to detail that also left room for spontaneity, surprising all those who had not expected much from the occasion but rapidly became caught up in the excitement. The fly-past spelling an elegant 70 was a demonstration of remarkable skill. The drones that lit up the evening sky with their heraldic devices and symbols of royalty made the most of today's technology. The beacons that flashed out electronically harked back to ancient days when danger had to be signalled by fire across the country. The ceremonies at Cardiff Castle and elsewhere made this a national, not London-centric, tribute. And the colourful contribution of Britain's vibrant ethnic minorities underlined the ethnic and cultural transformation of Britain during the Queen's very long reign.
The editorial also stated that taxpayers did not have to foot an enormous bill for the events:
The outpouring of affection and respect for a monarch who must now rate as one of the greatest to sit on the throne was the focus of the jubilee. As important, however, was the relief of so many people to escape from the daily headlines of war, economic gloom, inflation, travel chaos and domestic political turmoil. If foreign holidays are now blighted by nightmare journeys, at least there was a chance to have some fun and respite at home. Thanks to generous sponsors, there won't be a huge bill for taxpayers to pick up later. And it was a relief to be able to have parties of as many as wanted to come without the threat of police fines.
It also defended the importance of celebrating jubilees:
All jubilees are artificial constructs. The nation could give thanks to the Queen on any day. But they serve as punctuation marks in British history, and are used as occasions to look forward as well as back.

With that in mind, let's look at some of the unsung heroes who made last weekend's events possible.
Thousands of them worked behind the scenes. We'll never know who they were, but they did an excellent job, as a letter writer to the Telegraph said:
SIR – The hard work, dedication, imagination and superb logistical skill of those who organised the Platinum Party at the Palace contrast greatly with the idleness and inefficiency of the people who run our lives.
What a change there could be if the organisers were put in charge of airlines, railways, the Civil Service, local government and many industries and businesses.
Hear, hear.
The late William F Buckley Jr once said that one could get better American government by choosing the first 400 people listed in the Boston phone book.
The same holds true in the UK. Choose London, Birmingham, Edinburgh or Belfast. We the people could govern better.
Let's look at the team of people who organised the magnificent — and oh so clever — drone display for Saturday's Platinum Party at the Palace.
The team behind the drone display that lit up the sky above Buckingham Palace had to rehearse in an off-grid location to keep it under wraps.
Audiences on Saturday night were awed by a light show featuring 400 illuminated drones that drew shapes including a giant corgi, a cup of tea, the Queen's handbag and a postage stamp bearing her profile.
It was developed by the light show company Skymagic, which was also behind the impressive displays that have lit up London as part of the last two New Year's Eve celebrations.
The Platinum Jubilee project took about six months to develop and the Skymagic crew had to rehearse in a secret location far from the capital, away from prying eyes. Ordinarily the team of six would have time for several dress rehearsals on site, but due to the high security and secrecy of the Jubilee celebrations, last night was the first time they carried out the display at Buckingham Palace.
Patrick O'Mahony, the company director who led the display from the front, said: "Seeing it in situation for the first time the moment it lit up in front of the palace — being broadcast globally and with a live audience under the threat of rain — it was an intense eight minutes that's for sure" …

"In this case, very much like New Year's Eve, we were keen not to give the secret away beforehand so couldn't rehearse the whole show onsite," O'Mahoney said. "The images are 200 metres high and 200 metres wide so can't really be hidden in central London. We rehearse offsite at an off-grid space near our studios in Leeds where we tested the file to make sure it's correct."
Things move quickly when the performances are going on, so the team watch it in full afterwards:
O'Mahony said he was only now able to reflect on the Jubilee performance. "When it's actually flying, things are a bit of a blur, caught up with checking systems and making sure everything is right," he said.
"We often operate internationally, the vast majority of our shows are abroad, so to do a show of this kind in central London at the palace was amazing. It's nice now to be able to rewatch it and see what it was actually like. It all goes by very quickly and you're glad when the fleet is back on the ground."
The Mail had more photos and a video of the magnificent drone configurations as well as more from Skymagic's O'Mahony on how his company developed them:
The performance was created in the six months up to the event, with the SKYMAGIC team working with the BBC and the palace on designs.
Once a finished storyboard had been agreed, including the much-loved corgi, the design was animated by the team using specialist software.
They then assign 'individual way points' to each drone so that they can carry out their 'own mission' on the night …
The battery-powered drones have two geo fences surrounding them, meaning that if anything went wrong and the drone reached the fence, it would carefully lower to the ground.
As for the marvellous designs:
He said that his team had a lot of 'creative freedom' over the light show's contents, working with the BBC and the palace to create a spectacular performance.
'It started with a brainstorm and pencil sketches, going back and forth to agree a storyboard,' he said.
'We are big advocates for anything character-led, so we proposed the corgi and the teapot.
'If you create a loveable character, people warm to it. We were keen to adopt a playful tone, with the second half more a homage to the Queen.' 
The drones were marvellous and every bit as good as fireworks, if not better, because of the images.
The other high-tech feature worth exploring were the hologram images used to create the illusion that the Queen was in her Gold State Carriage waving to us on Sunday during the Platinum Jubilee Pageant.
Here is The Telegraph's video of the pageant in full:
Although the Gold State Carriage looks as if it came straight out of a fairy tale, it is highly uncomfortable for modern monarchs. This is because of its lack of suspension, making the ride highly bumpy. The Queen last rode in it for her Golden Jubilee in 2002.
After all, it was completed in 1762. George IV was the first to use it at his coronation.
The carriage had to be refurbished several years ago and only makes rare appearances now.
The images of a youthful Queen waving on her Coronation Day came from the London-based company, Treatment Studio.
Helped by Buckingham Palace conservators, its team assembled digital screens featuring holograms of the young Queen on to a custom-made steel framework that sits inside the coach.
"Very little of the original footage was suitable for what we needed so we had to create 'new' content of our own. By compositing and manipulating footage from multiple sources, we were able to create believable images of the young queen as she was at her coronation," Willie Williams, the founder of Treatment Studio, said. You can read more here.
It was a work of genius.
Considering all these things over the past few days made me realise that the Queen cannot exist in a vacuum. Nor can royalist subjects exist without her.
She truly is someone who has transcended time, providing a constant presence, even if we do not see her that often anymore.
There is a symbiotic relationship that exists between Her Majesty and those of us who are loyal to her.
Whether we will see that level of dedication and service with her successor remains to be seen.
Knowing that makes us even more appreciative of her presence while she continues to reign graciously and quietly.