You are currently browsing the tag archive for the 'history' tag.
The other day I wrote about Seth Rich, a DNC employee who was murdered in mysterious circumstances on July 10, 2016 in Washington, DC.
Yesterday, I provided the source for the beginning of the Russian narrative used against President Donald Trump.
Both are WikiLeaks related.
Today, those who do not already know will find out what Hillary Clinton's campaign had in store for leakers.
That, too, is related to WikiLeaks.
The Podesta WikiLeaks revealed that Hillary's campaign team and advisers wanted to make 'an example' out of 'leakers', even if nothing could be proven.
WikiLeaks released this tweet on October 30, 2016:
The source is Podesta WikiLeaks email no. 36082 from February 21, 2015.
That day, the Washington Post printed a story about Hillary Clinton's campaign branding. Two of the people interviewed were involved with her presidential campaign in 2015:
Ahead of her campaign launch, Clinton has tapped some of the Democratic Party's star strategists as well as two of corporate America's branding wizards: Wendy Clark, who specializes in marketing age-old brands such as Coca-Cola to younger and more diverse customers; and Roy Spence, a ­decades-long Clinton friend who dreamed up the "Don't Mess With Texas" anti-littering slogan as well as flashy ad campaigns for Southwest Airlines and Wal-Mart.
Clark took an unpaid leave in January from Coca-Cola, where she is president of brands and strategic marketing for carbon­ated beverages in North America, to help Clinton in what Clark called "a passion project." Spence is co-founder and chairman of GSD&M, an Austin-based corporate ad firm, and has experience in politics, including with Clinton's 2008 campaign.
John Podesta, Clinton's campaign chairman, and political operative Joel Benenson discussed their displeasure with the article and with those two people for talking to the press without consulting the campaign managers first.
Podesta wrote (emphases mine below):
… we need a strategy on this that goes beyond internal discipline. This story could have been written without any of these big mouths blabbing …
Benenson agreed:
I think we have to make examples now of people who have violated the trust of HRC and the rest of the team. People going forward need to know there are stiff consequences for leaking, self-promotion, unauthorized talking with the press. No one – literally no one talked to the press in either Obama campaign without clearing it with campaign brass.
Podesta replied in a curious way:
I'm definitely for making an example of a suspected leaker whether or not we have any real basis for it.
Campaign manager Robby Mook, who was copied on the exchange, agreed:
I would love an example being made.
How far did this go in reality?
No one knows, but many suspect — rightly or wrongly — that Seth Rich's alleged leak of 40,000+ emails to WikiLeaks — the DNC WikiLeaks — might well have led to his death in July 2016.
On Tuesday, May 16, the torchpaper was lit. As Fox News ran with the Rich story, bringing it to the attention of the general public, three new Twitter hastags were busy: #HisNameWasSethRich, #SethRichCoverUp and #SethRich.
Some leftists did take note, primarily those employed at David Brock's Media Matters, who now realise they've been paid to circulate 'lies' online and said so on 4chan.org/pol/. Let's hope that they do resign now that they know the truth.
Other Americans also doubt the Russian narrative.
With all the law enforcement silence around Rich's murder and little information to go on over the past ten months, people are naturally suspicious details are being covered up or that nothing is being done:
People following the case since last year do not believe that Rich had no involvement in the DNC WikiLeaks:
Equally, they are disappointed that so much wasted energy is being spent on the Russian narrative and James Comey:
This could be why:
Incidentally, Seth Rich was not the only man to die mysteriously in the summer of 2016:
Pray that the truth comes out about these four men, all of whom had a relationship with the Democrats.
My intention last year was to write about the WikiLeaks emails from the Democrats.
Because of all the hubbub surrounding the 2016 presidential campaign, I never got around to it. I still have all the bookmarks of the emails themselves and related analyses from The_Donald. They are a revelation.
I hope that some people will be wondering how and where the Russian narrative used against President Donald Trump started.
Look no further than Hillary Clinton's campaign supremo John Podesta and a journalist, Brent Budowsky, who writes for The Hill.
Much of the Podesta WikiLeaks email no. 25651, dated December 21, 2015, concerns Hillary Clinton's stance on ISIS and Syria. There is also a mention of campaign advertising and getting out the vote.
However, the key to this is the Democrats' strategy against Trump, primarily this one from Brent Budowsky (emphases mine below):
Best approach is to slaughter Donald for his bromance with Putin …

Budowsky was also interested in finding and releasing incriminating tapes of Trump to help Hillary, whom they knew even then was not doing well in the polls:
I suspect her negative trust ratings are locked in through election day. If there is a Trump ISIS video the campaign release it. If not, her untrustworthy numbers will remain further locked at high levels. These trust problems are self-induced and keep occurring.
Budowsky became more insistent:
Re the Trump ISIS video, if we don't have the proof campaign should assign 100 people to look for it ASAP, there is probably something on tape somewhere.
With regard to campaign adverts, Budowsky already noted that Trump was not running them:
It is no coincidence that this year Trump runs no ads, while Jeb and Hillary run the most ads with little effect. Voter registration by contrast creates real voters and changes—and improves—the playing field itself. There is no ad on earth that will increase her trust ratings or the enthusiasm of her voters the way a mega-registration project will increase her support on election day.
They knew then that Hillary was scuppered. Based on the context, they also seemed to discern that Trump was going to be Hillary's opponent in 2016.
In June 2016 — one month before the Republican National Convention declared Trump the GOP presidential candidate — Trump Derangement Syndrome was flying high in the Democrat camp. Obama's campaign manager from 2008, later a senior adviser, tweeted:
On November 9, 2016 — the day after the election — Hillary's campaign heads decided to run hard with the Russian narrative:
The quote in blue comes from an investigative book about the Clinton campaign, Shattered, which came out earlier this year.
On April 21, Breitbart included the quote in their report, which began:
The blistering behind-the-scenes book, by Jonathan Allen and Amie Parnes, illustrates how Hillary Clinton furiously blamed her defeat on the FBI investigation into her private emails, Russian interference, and Trump's supposed support from "white nationalists" …
Also:
The Clinton camp settled on a two-pronged plan — pushing the press to cover how "Russian hacking was the major unreported story of the campaign, overshadowed by the contents of stolen e-mails and Hillary's own private-server imbroglio," while "hammering the media for focusing so intently on the investigation into her e-mail, which had created a cloud over her candidacy," the authors wrote.
And so the Russian narrative survives, alive and well, to this day.
The Democrats and the media have been displaying abject contempt for the people of the United States ever since.
Anyone who still thinks either camp cares about them is sorely mistaken.
Over the past few months I have been running a series of posts on Percy Dearmer's 1912 volume, Everyman's History of the Prayer Book, published by Mowbray.
These are the previous posts in the series:
Percy Dearmer on the Anglican Thirty-nine Articles of Religion
Percy Dearmer on the title page of the Book of Common Prayer
Percy Dearmer on the title page of the Book of Common Prayer – part 1
Percy Dearmer on the title page of the Book of Common Prayer – part 2
Percy Dearmer on the earliest church service manuscripts
Percy Dearmer's interpretation of St Paul on prophecy and tongues
Percy Dearmer on elements of worship in the New Testament
Percy Dearmer: how several prayer books became one liturgical book
Percy Dearmer on Reformation, royalty and the Book of Common Prayer
The last entry explained the political and ecclesiastical turmoil going on during Edward VI's reign. Archbishop Thomas Cranmer's first Prayer Book, which was approved for lawful use in the Church of England in January 1549, pleased neither some congregants nor some clergy, especially Reformers from the Continent who had settled in England. Among the Reformers were Martin Bucer and Peter Martyr.
As Dearmer noted of June 1549 (emphases mine below):
June 10th. Armed rebellions against the Act begin, especially in the West of England. The insurgents demand the old ceremonies— Holy water, Images, Ashes, Palms, etc., and the service in Latin. They are suppressed by foreign mercenaries.
Churchgoers thought the Prayer Book too Protestant. Continental Reformers thought it was too Catholic.
Another aspect which made the Church of England's foray into Protestantism contentious was the fact that Edward VI was a boy king. He died at the age of 15. That meant there were powerful men behind him trying to further their own agendas.
First Prayer Book 'too fair-minded'
In Chapter 6 of his book, Dearmer wrote that Cranmer's First Prayer Book was 'too fair-minded' for such a violent era. Interestingly, subsequent revisions after the Second Prayer Book of 1552 incorporated more of the First Prayer Book of 1549 (pictured at left, courtesy of Wikipedia).
Dearmer describes what made the First Prayer Book so exceptional for public worship and administration of the sacraments. Indeed, it exemplifies the best characteristics of the English people:
It is indeed throughout an examplar of what we proudly claim as one of the best elements in the English character: alike in ritual, that is, in the wording of the services, and in ceremonial, it endeavours to avoid the extremes of bigots and fanatics, seeking to establish what is true and right without regard to prejudices, reactions, and the cruel generalizations so characteristic of the period. Catholic conservatism there is, but it is the conservatism which is not afraid of new ideas ; Protestantism there is, but it is the Protestantism that will not throw away the gold with the dross compromise there is, but it is the compromise which honestly accepts truth from both sides. It is positive, constructive, practical ;
The Second Prayer Book was nothing like it, which later generations of clergy recognised, as they returned to the First for subsequent revisions:
and we may safely say that, ever since it was so roughly altered at the end of Edward VI's reign, the opinion of the whole Anglican Communion has been steadily coming back to the principles of the First Prayer Book, and that every subsequent revision has restored something which the Second Book took away. In fact, as is stated in the very Act which substituted the Second Book for it, the First Prayer Book was "a very godly order for common prayer and administration of the sacraments, . . . agreeable to the word of God and the primitive Church"; but there had "arisen in the use and exercise . . . divers doubts for the fashion and manner of the ministration of same, rather by curiosity of the minister, and mistakers, than of any other worthy cause."
Ultimately:
The First Prayer Book was indeed too fair-minded for the violent and bitter spirit of the age.
Wikipedia explains that the tumult surrounding the First Prayer Book and the call for a Second Prayer Book were influenced by Reformers, both Continental and British, who wanted no semblance of Catholicism in the services, particularly that for Holy Communion:
The new changes were also a response to criticism from such reformers as John Hooper, Bishop of Gloucester, and the Scot John Knox, who was employed as a minister in Newcastle upon Tyne under the Duke of Northumberland and whose preaching at court prompted the king to oppose kneeling at communion.[132] Cranmer was also influenced by the views of the continental reformer Martin Bucer, who died in England in 1551, by Peter Martyr, who was teaching at Oxford, and by other foreign theologians.[133] The progress of the Reformation was further speeded by the consecration of more reformers as bishops.[134] In the winter of 1551–52, Cranmer rewrote the Book of Common Prayer in less ambiguous reformist terms, revised canon law, and prepared a doctrinal statement, the Forty-two Articles, to clarify the practice of the reformed religion, particularly in the divisive matter of the communion service.[135] Cranmer's formulation of the reformed religion, finally divesting the communion service of any notion of the real presence of God in the bread and the wine, effectively abolished the mass.[136] According to Elton, the publication of Cranmer's revised prayer book in 1552, supported by a second Act of Uniformity, "marked the arrival of the English Church at protestantism".[137] The prayer book of 1552 remains the foundation of the Church of England's services.[138] However, Cranmer was unable to implement all these reforms once it became clear in spring 1553 that King Edward, upon whom the whole Reformation in England depended, was dying.[139]
I disagree that the Prayer Book of 1552 remains the foundation of Church of England services, as Dearmer, closer to the matter, says there was a return to the First Prayer Book. Furthermore, we have only Thirty-Nine, not Forty-Two, Articles of Religion. We also kneel for Communion and many parts of the later 1662 service, still in occasional use today. Therefore, the 1552 Second Prayer Book did not have much staying power.
Note that Edward VI was dying in 1553. Succession was controversial. Edward was firmly committed to the Protestant religion. He did not want his Catholic half-sister Mary to succeed him. Nor did his advisers want that.
Edward considered Mary and his other half-sister Elizabeth to be illegitimate daughters of their father Henry VIII, and as Edward had no children of his own, he designated that his first cousin once removed, Lady Jane Grey, succeed him.
Edward was very ill for the first six months of 1553. He had a severe fever in January and, as the months progressed, coughed up blood and sputum. By the end, his legs had swollen to such an extent that he could only feel comfortable lying down. Even today, no one is sure exactly what ailed Edward, as his symptoms were so diverse. He died on July 6 but was not buried until August 8. Archbishop Cranmer performed the burial rite.
At the time, conspiracy theories abounded as to the real cause of his death. Some people thought the unpopular Duke of Northumberland had the young king poisoned. Others suspected Mary had him poisoned so that she could restore the Catholic religion to England.
Lady Jane Grey became Queen of England on July 10, 1553. She, too, was only an adolescent, two or three years Edward's senior. Her last day as queen was July 19. She was executed in the Tower of London on February 12, 1554, on charges of treason for usurping the throne.
During Jane's brief reign, Mary started her trip from Hunsdon in Hertfordshire and travelled to East Anglia where she gathered her supporters as reinforcements in case of battle. The Duke of Northumberland set out from London with troops for the same reason. In Northumberland's absence, the privy council shifted their allegiance from Jane to Mary.
The privy council proclaimed Mary queen on July 19, but she did not make a public appearance in London until August 3. She had the Duke of Northumberland executed on August 22, 1553.
Of course, a Catholic queen was bad news for the Reformers — and for Archbishop Cranmer (pictured at left, courtesy of Wikipedia). On the day of Edward VI's funeral, he told his friends from the Continent, including Peter Martyr, to return home. A few weeks later, on September 14, 1553, he was sent to the Tower of London along with his fellow English theologians, Bishops Hugh Latimer and Nicholas Ridley on charges of treason. Martyr was still in England. Cranmer and he bade each other farewell that day. Martyr left for Strasbourg.
On March 8, 1554, Cranmer, Latimer and Ridley were also charged with heresy. They were sent to Bocardo Prison in Oxford to await trial. Latimer and Ridley were burnt at the stake on October 15, 1555. Cranmer was forced to watch from a nearby tower.
In December 1555, Cranmer was transferred out of prison to the house of the Dean of Christ Church, Oxford. There, a Dominican friar, Juan de Villagarcia, and perhaps other clergy persuaded Cranmer to recant the Protestant religion. By February 1556, he had done so, but it meant being defrocked and returned to Bocardo Prison to await execution.
According to Canon Law, Cranmer should have been spared execution because he recanted. However, Queen Mary wanted to make 'an example' out of him.
Cranmer was buried at the stake on March 21, 1556, in the same spot as Latimer and Ridley met their deaths. Interestingly, he was given the final opportunity to make a further public recantation of the Protestant religion. He did no such thing. In the end, he recanted his recantations and declared the pope to be 'Christ's enemy and Antichrist'.
John Foxe wrote about the three in his 1563 volume Book of Martyrs. Since then, Cranmer, Latimer and Ridley have been known as the Oxford Martyrs.
I got ahead of myself here, however, this is to further illustrate what a tumultuous and violent period in history this was.
Next time, with the aid of Percy Dearmer's text, I would like to return to Edward VI's reign and demonstrate that, possibly without his knowledge, it was even more destructive than his father Henry VIII's ransacking of the monasteries.
Bruce Bawer — an American who has lived in Europe for nearly two decades — wrote an excellent essay for PJ Media, 'What Happened in France?'
It offers a post-mortem of Emmanuel Macron's victory on Sunday, May 7, 2017 and explains how it happened.
With an upcoming parliamentary election taking place in Britain on Thursday, June 8, it seems apposite to look at voting patterns in the two countries.
Before I excerpt Bawer's editorial, I, too, have noticed a certain voting behaviour in France and the UK, two countries I know well. I live in the UK and see that voters are reluctant not so much to go to the polls as they are to actually vote in a way that reverses globalism. People in other parts of Europe, e.g. France, are similarly skittish.
The hive mind is a powerful thing in Europe. The globalists created it through politically correct thinking and make jolly good use of it via the media and pollsters.
Two recent British shockers were David Cameron's victory in May 2015 and the referendum vote for Brexit in 2016. Both results surprised everyone. This is because we were under constant onslaught by print and broadcast media to vote against the Conservatives and Brexit.
Even now that Theresa May is the occupant of No. 10, politics remains a touchy subject. As I've said many times before, it's not something I discuss much with people I know, even with fellow Conservatives, some of whom are quite wet — squishy, for my American readers — about Brexit. They think voters should have gone for Remain last June.
However — and this is something Bruce Bawer did not mention in his piece — Europeans do not have a well developed online alternative media universe comprising independent journalists, citizen journalists and political fora. This, to me, is the principal difference between the UK and Europe.
Bawer's article is well worth reading and passing along to friends. I'll try to excerpt as little as possible, because it probably took him a long time to write.
Americans are probably still scratching their heads over 2017 election results, not only in France but in the Netherlands. Both resulted in preserving a self-destructive status quo, one that increases terror and diminishes national identity.
Bawer says that Europeans feel a collective guilt about their former colonies and political movements. Therefore, they feel the need for perpetual atonement (emphases mine below):
One way of trying to answer it is to look at countries one by one. For example, the Brits and French feel guilty about their imperial histories, and hence find it difficult to rein in the descendants of subject peoples. The Germans feel guilty about their Nazi past – and the Swedes feel guilty about cozying up to Nazis – and thus feel compelled to lay out the welcome mat for, well, just about anybody. The Dutch, similarly, are intensely aware that during the Nazi occupation they helped ship off a larger percentage of their Jews to the death camps than any other Western European country, and feel a deep need to atone.
Then there's postmodernism:
According to postmodern thinking, no culture is better than any other – and it's racist to say otherwise. No, scratch that – other cultures are, in fact, better than Western culture. Whites, by definition, are oppressors, imperialists, and colonialists, while "people of color" are victims.
We are in denial about terrorist attacks:
The plainer the truth got, in fact, the more fiercely they resisted it. And as skilled propagandists began to represent Muslims as the mother of all victim groups, many Westerners were quick to buy into it all …
But – and this is a fact that some of us are thoroughly incapable of identifying with, and thus almost thoroughly incapable of grasping – some people don't want to know the truth. And if they do know the truth, they want to un-know it.
These are not intellectuals or socio-political elites, but ordinary people of various income groups and educational levels:
I'm talking about people who, in everyday life, come across as thoroughly good and decent – but who, when push comes to shove, just don't want to rock the boat. That's a lot of people. Maybe most. People who are nice so long as it's easy to be nice …
There are kind people who, the minute there's any hint of trouble – which means, way before the death-camp round-up begins – prefer to lie low. Their highest value isn't truth or virtue or beauty or even long-term security for them and their families but the ability to buy another day without major trouble.
You'd think they'd be able to look forward at least some distance into the future and dwell on that grim prospect. Able to see their children, their grandchildren, and so forth, living under sharia law. If, indeed, lucky to be living at all.
But I think it needs to be recognized that for some people, seeing that far into the future is just beyond their intellectual grasp. Or beyond what they dare to envision …
Bawer posits that a lot of these people can see what is actually happening to Europe but they are 'terrified' to do anything about it, even at the ballot box.
This is why a Conservative victory in 2015 and Brexit victory in 2016 were so significant for Britain. I had hoped our continental neighbours would follow suit this year, but, alas, it was not meant to be. The Germans are likely to see Angela Merkel continue her chancellorship later this year.
Bawer says that Europeans are now so cowed into submission, even a private vote can't help:
You might think that, once in the voting booth, these people would be able – and not just able but eager, desperate even – to stand up against the powers above them that have turned their countries upside down and assert their power as citizens. But everything around them has conspired all their lives to render them incapable of feeling that power – or, perhaps, has rendered them incapable of feeling that they have the moral right to exercise that power in the way that their gut is begging them to.
That still, quiet voice in their heads, which I would describe as a voice of plain reason and common sense, is up against the resounding voices of all the higher-ups shouting in unison – the leading voices of politics, business, the academia, the media, and so on – that they've been bred from infancy to respect and take seriously. To, indeed, obey …
So it is that even in a secret ballot, it takes European voters a remarkable amount of nerve to resist the thunderous chorus of voices from above urging them to vote against their own interests; it feels like nothing less than an act of treason to heed the meek little voices in their own heads begging them to do the opposite – to do what's actually best for themselves and their loved ones.
Bawer nails it perfectly in his next sentence:
They've been psychologically manipulated to the point where they truly believe, on some level, at least in some Orwellian doublethink kind of way, that acting in clear defense of their own existence, their own culture, their own values, and their own posterity, is an act of ugly prejudice.
Yes — that's it in a nutshell.
I see it here in the elderly — people old enough to know better — and I see it in the middle-aged and the young.
Europeans must wake up and vote for what is right and good.
I sincerely hope that Britain will do so again on June 8.
Yesterday's post related how Emmanuel Macron met Brigitte Trogneux, his wife and former teacher.
Today's post describes a bit more about his youth and Brigitte's involvement.
When he was a little boy, Macron often went to his maternal grandmother's house. Germaine, who died in 2013, was a retired schoolteacher. She instilled in her grandson a love of books and education. She was also keen for him to become a politician. She died in 2013. However, from the beginning, he was accustomed to being around older people.
When Macron was 15, he was a student at the Jesuit-run La Providence school in Amiens. Trogneux, then Mme Auzière — a mother of three, married to André-Louis Auzière — taught French and drama. The first lady of France told an interviewer before her husband became president that when the young Macron auditioned for the school play:
'I just found him incredible. He had such presence.'
She went on: 'Without doubt he wasn't like the others. He was always with the teachers. He simply wasn't an adolescent.'
The Daily Mail has photos of this particular production, including her giving him a congratulatory kiss at the end.
She was close to her 40th birthday at the time.
The Mail researched several of her interviews with French media, one of which had this:
'At the age of 17, Emmanuel said to me, 'Whatever you do, I will marry you!',' Miss Trogneux told Paris Match magazine last year.
Macron's parents were less than pleased. Heavy has 5 Fast Facts about Trogneux, including a description of how things unfolded at home in 1993 (emphases mine below):
According to the book Emmanuel Macron: A Perfect Young Man by Anne Fulda, Macron's parents told Trogneux to stay away from their son, at least until he was 18.
As Vogue notes, Macron's parents tried to split them up by sending Macron to Paris to finish his studies, but that didn't work.
"I cannot promise you anything," Trogneux told his parents, Fulda writes, notes Reuters. Their relationship continued and they married in 2007, after Trogneux and her husband divorced.
Macron's parents told Fulda that they believed their son was actually going after the heart of Trogneux's daughter. They were stunned to hear that this wasn't the case.
"We couldn't believe it. What is clear is that when Emmanuel met Brigitte we couldn't just say: 'That's great,'" Macron's mother told Fulda.
Then there was the possibility of Macron not having his own children. Starting one's own family is a top priority in France. Macron's mother had words for her son's teacher:
She is quoted as telling Trogneux, "Don't you see. You've had your life. But he won't have children with you."
This came true. Macron stated the reasons why:
During a BMFTV interview in April, Macron made it clear that he and his wife have decided not to have any children, Gala notes. He's already the step-grandfather of seven children.
"We have chosen not to have children. A choice that was not selfish for me," he told BMFTV. "It is a choice that has been assumed, which I had to make very young given the age difference …"
As the years passed, time healed the wounds between Macron's parents and the May-December couple:
Although Fulda did interview Macron and Trogneux, Macron's spokesman said he was disappointed that she didn't ask about his parents' approval of the relationship.
And, yes, the middle-aged teacher probably had broken the law, however:
"Emmanuel's parents were keen on emphasizing that they did not lodge a complaint against Brigitte Auziere (Trogneux's married name) for corruption of a minor," Macron's spokesman said, reports Reuters.
Even today, years later, she said:
"Nobody will ever know at what moment our story became a love story. That belongs to us. That is our secret," Trogneux is quoted as saying in the book.
Macron, 39, is two years younger than his step-son. He is the same age as his elder step-daughter and was a classmate of hers. He is only nine years older than Brigitte's youngest child, Tiphaine Auzière.
Tiphaine, a lawyer, worked on Macron's campaign.
Brigitte is very close to her second husband. The couple firmly expect that she will have an important role to play in his presidency.
One wonders whether she will have the family chocolates in the Elysée Palace. Heavy points out:
Trogneux's parents were Jean Trogneux and Simone Pujol. They had six children, with Trogneux as the youngest, according to Geneanet.org.
L'Express notes that Trogneux's family is well-known in the north of France for their chocolates. Her nephew, Jean-Alexandre Trogneux, leads the family business, which made four million euros in 2013 alone.
The Jean Trogneux website has a full list of merchandise. The chocolates and other specialities are very pricey.
There's a joke here, because the company makes the famous Macaron d'Amiens, which Catherine de Medici introduced in the 16th century:
The company's best-known product are their macaroons, or Mac[a]rons d'Amiens. In 2014, a local jokingly told Le Parisien that, "We already had the macaroon from Amiens. Now we also have the Macron d'Amiens!"
Such an unusual marriage cannot be without rumour:
Macron's unconventional marriage has led some to speculate that he's secretly gay. Back in February, he laughed off rumors that he was having an affair with Radio France CEO Mathieu Gallet … The Telegraph reports.
The NATO meeting and G7 summit last week put Brigitte Trogneux in the world spotlight. One French report said that Trogneux has the world at her feet (see the first 1:51 minutes):
Not everyone commenting on the video agreed (translation mine below):
It's more like Melania Trump who has the world at her feet!
Trogneux, 64, has teenage legs, to be sure. However, she doesn't need to show them off so much at every opportunity.
Here's another video of her attire contrasted with Melania Trump's:
In closing, below are links with photos of Macron's family from his inauguration ceremony.
The senior Macrons have been divorced for several years. However, Jean-Michel and Françoise Nogues-Macron were photographed together at the Elysée. Macron's mother is a retired physician and his father is a professor of neurology at the University Hospital in Amiens. Macron's brother Laurent, a radiologist in the Paris region, is two years younger than the president and was at the ceremony, although no one in the media knows what he looks like. Their younger sister Estelle, a kidney specialist near Toulouse, did not attend.
One cannot help but wonder whether Macron, too, would have gone into medicine if his secondary school years hadn't changed him so much.
In any event, I'm still thinking about a husband cuckolded by a 15-year-old and a set of very shocked parents. It's disgusting.
What follows is the background to Brigitte Trogneux and Emmanuel Macron's past.
The following tweets say:
'It's true that sleeping with students of 15 years of age is completely gross, borderline predatory, but it's a woman, so it's okay'. (Sarcasm alert there.)
'When journalists put romance in a story of corruption of a minor by a person in authority. Beauty in what is ugly.'
My translation of the article follows:
When she met Emmanuel Macron, then aged 15, Brigitte Trogneux was married to a certain André-Louis Auzière. A portrait of her first husband and the father of her three children.
Brigitte Macron never leaves Emmanuel Macron's side: an important source of support that the presidential candidate never missed emphasising during his numerous speeches and regular meetings. It has to be said that the couple are very closely knit, despite their significant age difference. The two lovebirds met in 1993 in a context more academic than romantic. At the time, Brigitte Trogneux was a French and drama teacher in the city of Amiens and very much married …
Coming from the comfortable middle class in Amiens, the young Brigitte Trogneux married André-Louis Auzière, two years her senior, although she was only 21 at the time. The ceremony took place in Le Touquet in June 1974. The son of an accountant in the public sector, André-Louis Auzière worked in a bank, the Crédit du Nord, and lived in Paris. He was born in the small town of Éséka, situated in northwestern Cameroon, as his father worked as a civil servant in this former French colony.
Emmanuel Macron born the same year as his step-daughter
The year after their marriage, André-Louis was transferred to Strasbourg. The couple began a new adventure in Alsace, soon followed by the birth of their son Sébastien that same year. Two years later, little Laurence arrived on the scene. She was born in the same year as Emmanuel Macron: 1977. André-Louis and Brigitte returned to live in Amiens, where, in 1984, they welcomed the arrival of their third and last child, Tiphaine. As she reached the age of 40, Brigitte seemed, for all intents and purposes, happy … however.
During a theatre workshop, she met young Emmanuel Macron, then 15 years old. She rapidly fell under his spell, intelligence and ardour. Anne Fulda, author of the book Emmanuel Macron, un jeune homme si parfait ('Such a perfect young man'), wrote in the biography, 'She spoke little of André-Louis Auzière. […] Because there were things she did not want to, or could not, say? In any event, he certainly was not making her very happy'.
Romantic encounters in Paris
The teacher and student began seeing each other outside of school … and were soon noticed by the residents of Amiens. On the one hand, those close to Emmanuel Macron opposed this romance taking place while her marriage was foundering more and more. The teacher finally left to work in Paris, where she met up with her young lover who [by then] was studying at Henri IV high school. In 2006, the Grand Tribunal in Amiens granted a divorce to Brigitte and André-Louis Auzière. One year later, she married Emmanuel Macron in Le Touquet for the continuation of an enduring love story.
Ugh!
I have more on this to come, but, to clarify: Macron's parents pulled him out of La Providence, the Jesuit school in Amiens where Trogneux was teaching, and sent him to Paris to Henri IV, a secondary school in the Latin Quarter that, despite its motto 'A Home for All', prepares its students for admission into the most elite institutions of higher education. Little did the Macrons know that Brigitte was fully prepared to follow their son to the capital.
In closing, two geographical notes: Amiens is a cathedral city in the north of France and Le Touquet is a popular upmarket resort not too far away on the coast. It is also known as a place for lovers, so it comes as no surprise that people go there to get married.
For all his words during the presidential campaign lauding diversity, Emmanuel Macron has a remarkably un-diverse cabinet.
I normally wouldn't say anything, but back in February, Teen Vogue — increasingly political and left-wing — took President Donald Trump apart for his lack of cabinet diversity:
President Donald Trump just shared a photo on Twitter late Thursday night from the @POTUS account that features the president sitting at his Oval Office desk surrounded by 12 others … And because nothing gets by the good people of the Internet, many immediately pointed out how much the photo is lacking in diversity: Everyone in the photo appears to be white, and there is only one woman included.
This was the offending tweet:
On May 8, Bloomberg speculated on who would be in Macron's cabinet. The article oohs and ahhs over the people coming in from the elite Sciences-Po and ENA (École Nationale d'Administration). Macron attended both, by the way:
The following tweet shows Macron's staff:
What would Teen Vogue say? Probably nothing. It's too inconvenient a truth.
After President Donald Trump's successful visits to Saudi Arabia and Israel, he and First Lady Melania Trump went to Europe.
I covered their visit to Vatican City in the comments on the Israel post.
The next stop was Brussels.
The first item of business on Thursday, May 25, 2017 was to address the leaks that had emerged from US intelligence or law enforcement about confidential aspects of the suicide bombing that had taken place on Monday, May 22.
British Prime Minister Theresa May was furious that the US had leaked sensitive information. From the BBC:
Details about Abedi's identity had already emerged in the US media less than 24 hours after the explosion and against the UK's wishes.
Home Secretary Amber Rudd said she was "irritated" by the disclosure of Abedi's identity and had warned Washington "it should not happen again".
However, the pictures of debris – which appear to show bloodstained fragments from the bomb and the backpack used to conceal it – were subsequently leaked to the New York Times, prompting a furious response from within Whitehall and from UK police chiefs.
BBC security correspondent Gordon Corera says UK officials believe that US law enforcement rather than the White House is the likely culprit for the leaks.
Trump issued an official statement, which reads in part:
I am asking the Department of Justice and other relevant agencies to launch a complete review of this matter, and if appropriate, the culprit should be prosecuted to the fullest extent of the law.   
There is no relationship we cherish more than the Special Relationship between the United States and the United Kingdom.
The Daily Caller provided Attorney General Jeff Sessions's comments:
I share the president's deep concern and talked to Home Secretary Rudd yesterday about this matter. These leaks cannot be tolerated and we will make every effort to put an end to it. We have already initiated appropriate steps to address these rampant leaks that undermine our national security.
This was a temporary situation which the two nations quickly resolved:
However, Trump is unlikely to be in a good mood once he returns to the White House. Next week's news cycle should be interesting.
This graphic describes Trump's mood in Brussels (courtesy of a contributor to The Conservative Treehouse):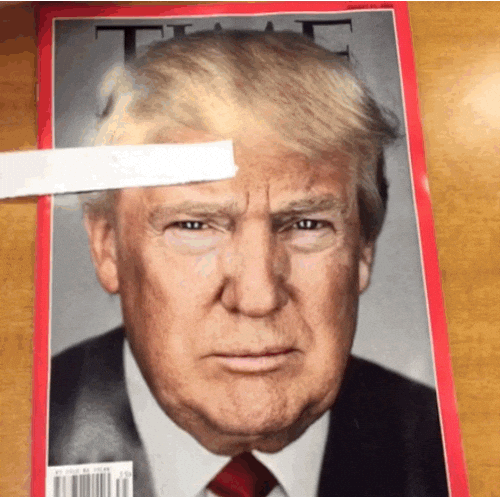 Unbelievably, French President Emmanuel Macron posted this video of Trump strongarming him into a handshake. Seconds earlier, Macron walked straight towards Trump before snubbing him for Angela Merkel:
Despite the smiles and hand gestures, their brief photo op and statements looked chilly:
In another group shot of NATO leaders, the following video makes it look as if the American president forced his way to the forefront:
A Washington Post reporter who lists her American allegiance last, tweeted:
In reality, Prime Minister Dusko Markovic of Montenegro had accidentally stepped on Trump's foot.
A contributor at The_Donald couldn't help but react:
Trump visited members of NATO today, and while walking with several members, is seen moving PM Dusko Markovic aside. The corrupt and fake media took this video clip and spun it completely into FAKE NEWS territory by saying:
"DONALD TRUMP SHOVES A MEMBER ASIDE IN ORDER TO REMAIN IN FRONT OF THE GROUP"
… You can CLEARLY see he winced in pain after his foot was apparently stepped on, and he moves the Prime Minister aside to get him off his foot. Even the PM reacts the moment he steps on Trump's foot, knowing he caused him pain.
Here's the clip in slow motion:
A ceremony took place for the new NATO headquarters and a memorial which included a metal remnant the 9/11 attack in 2001 and a chunk of the Berlin Wall from 1989. In his address, Trump said:
I want to extend my appreciation to the 9/11 Memorial and Museum in New York for contributing this remnant of the North Tower, as well as to Chancellor Merkel and the German people for donating this portion of the Berlin Wall.  It is truly fitting that these two artifacts now reside here so close together at the new NATO Headquarters.  And I never asked once what the new NATO Headquarters cost.  I refuse to do that.  But it is beautiful.
Each one marks a pivotal event in the history of this Alliance and in the eternal battle between good and evil.  On one side, a testament to the triumph of our ideals over a totalitarian Communist ideology bent on the oppression of millions and millions of people; on the other, a painful reminder of the barbaric evil that still exists in the world and that we must confront and defeat together as a group, as a world.
This twisted mass of metal reminds us not only of what we have lost, but also what forever endures — the courage of our people, the strength of our resolve, and the commitments that bind us together as one.
We will never forget the lives that were lost.  We will never forsake the friends who stood by our side.  And we will never waiver in our determination to defeat terrorism and to achieve lasting security, prosperity and peace.
Thank you very much.  It's a great honor to be here.  Thank you.
However, it's what he said before that really matters:
The following graphic from a contributor at The Conservative Treehouse explains Trump's objections. Out of each nation's GDP, the percentages reflect how much goes towards defence, NATO and otherwise:
We pay 4% to NATO defense budget.
We will pay 36% for our defense overall.
They pay less than 2% of their GNP for practically their entire defense overall.
NATO ally flags were raised cermonially:
The flypast:
Whereas Trump diplomatically summarised the meeting as being one of united interests:
Emmanuel Macron made it a Europeans-only occasion:
Fortunately, the NATO spouses and partners seemed to get on better. Melania Trump was buddied with Brigitte Trogneux, Macron's wife and his former high school teacher.
The group went on a tour of the Magritte Museum (Magritte misspelled below):
The Daily Mail, with excellent photos, reported on the visit to the royal palace:
Melania and Brigitte, who met while touring the Magritte Museum in Brussels earlier in the day, posed for pictures alongside the royal [Queen Mathilde] and the other spouses at the royal residence
Mrs Trump also had her own engagements that day:
The next and final stage of the trip is the G7 conference in Taormina, Sicily.
The Trumps left Brussels on Thursday, flying to Italy, then onto Taormina. Watch the Italian guard at 43 seconds in sneak a brief smile to the Trumps:
Trump tweeted:
Taormina is a beautiful ancient city:
This was the schedule and list of participants for Friday, May 26:
The 43rd G7 summit is taking place in Taormina, Sicily, between May 26-27. Attendees will include the leaders of the Group of Seven member states, as well as representatives of the European Union.
The summit is set to be the first for British Prime Minister Theresa May, French President Emmanuel Macron, Italian Prime Minister Paolo Gentiloni, and US President Donald Trump.
Other participants include German Chancellor Angela Merkel, Canadian Prime Minister Justin Trudeau and his Japanese counterpart Shinzo Abe. The EU will be represented by European Commission President Jean-Claude Juncker and European Council President Donald Tusk.
COVERAGE SCHEDULE:
06:00-08:00 GMT – Arrivals from Sigonella airbase.
08:00-09:00 GMT – Jean-Claude Juncker and Donald Tusk press conference.
09:30-10:30 GMT – Welcome cerimony and family photos at Greek Theatre.
10:00-10:30 GMT – Moving to Hotel San Domenico.
10:45-11:30 GMT – Arrivals at Hotel San Domenico. Tour de Table.
17:00-18:00 GMT – Concert for the opening of the G7 Summit at Greek Theatre.
18:15-18:45 GMT – Welcome ceremony and family photo at Hotel Timeo. Official dinner hosted by Italian President Sergio Mattarella.
A concert by La Scala Philharmonic Orchestra and dinner with President Mattarella followed.
Foreign Policy reported that Trump has an important American objective at the G7:
President Donald Trump's controversial senior advisor and speechwriter, Stephen Miller, has led White House efforts to undercut an initiative by Italy to place the migration crisis at the center of this week's Group of Seven major summit meeting starting Friday in Sicily.
For Italy, the summit in Taormina, Sicily, was to provide a poignant opportunity to raise awareness of the plight of hundred of thousands of refugees who cross the Mediterranean Sea to Italy's shores each year, and to reach agreement on a plan to find them permanent homes.
But the Donald Trump White House has largely blocked its Italian host from putting forward an initiative addressing the need to resettle millions of refugees and migrants who have poured into Europe on rickety boats or crossed borders on foot over the past decade. Instead, the United States has pressed the leaders to cap the session with a stern declaration on the need to fight terrorism, a cause that gained added urgency following a grisly suicide bombing at an Ariana Grande concert in Manchester.
The rearguard action was led by the 31-year-old Miller, who has exercised outside influence over the summit's response to the worst refugee crisis since World War II.  In line with President Trump's pledge to build a wall to keep Mexicans out of the United States, the White House has been pressing the G-7 leaders to focus more attention on the need to prevent illegal immigrants from crossing borders than on finding migrants who make the journey a permanent home.
Trump also intends to push back on other G7 preoccupations:
including climate change, trade, and migration that until recently aligned closely with President Obama's foreign-policy vision.
This G7 summit should prove to be a delicate one to be navigated diplomatically. The summit concludes on Saturday, May 27.
On Monday, May 15, President Donald Trump's final cabinet choice was sworn in, Robert Lighthizer as US Trade Representative:
That day, buoyant housing market results were released (emphases mine):
New home sales have been one of this year's best surprises and home builders are reporting strong activity this month and see even better times ahead. The housing market index topped expectations in May, rising 2 points to 70. Current sales are also up 2 points to 76 with 6-month sales up 4 points to a very strong 79. And traffic, in a key reading, is at 51 and over breakeven 50 for the 5th time in the last six months. The West leads the regions with a 3-month composite score of 80 with the Northeast trailing at 50.
Even though traffic is nearly 30 points behind sales, it is still the highlight of the report. This is its best run by far of the expansion and offers a hopeful hint that first-time buyers, who have been priced out of the new home market, may begin to be a factor. Today's report is a plus heading into tomorrow's housing starts report where similar strength is expected.
Returning to cabinet choices, it has taken Trump an eternity to get his nominees approved.
Although past presidents in living memory also faced one or two significant delays, a useful chart from CNBC shows that nearly all — from Jimmy Carter to Barack Obama — had the bulk of their appointments confirmed within 60 days, generally sooner.
During the Obama presidency, there were only two major delays. His choice of Gary Locke for Commerce did not receive confirmation until April 2009. Kathleen Sebelius did not receive confirmation to Obama's cabinet until May that year.
Outside of those exceptions, however, it actually has taken a record amount of time for President Trump to get his nominees confirmed.
At least his cabinet is now in place.
The title of the United States Trade Representative is Ambassador, by the way. Lighthizer is the 18th person to take on that role:
At the time he was chosen by President Trump to serve as USTR, Ambassador Lighthizer was a partner at the law firm Skadden, Arps, Slate, Meagher & Flom LLP (Skadden), where he practiced international trade law for over 30 years. His work there on behalf of American workers and businesses in the heavy manufacturing, agricultural, high-tech, and financial services industries opened markets to U.S. exports and defended U.S. industries from unfair trade practices. He was lead counsel for scores of trade enforcement cases and was a well-known advocate for the type of "America First" trade policies supported by President Trump.
Before joining Skadden, Ambassador Lighthizer served as Deputy USTR for President Ronald Reagan. During his tenure, Ambassador Lighthizer negotiated over two dozen bilateral international agreements, including agreements on steel, automobiles, and agricultural products.  As Deputy USTR, he also served as Vice Chairman of the Board of the Overseas Private Investment Corporation.
Prior to becoming Deputy USTR, Ambassador Lighthizer was Chief of Staff of the United States Senate Committee on Finance for Chairman Bob Dole.  In this position, he was a key player in enacting the Economic Recovery Tax Act of 1981, which was the most significant tax reform in decades, as well as the other basic elements of the Reagan economic program.
Ambassador Lighthizer earned a Bachelor's degree at Georgetown University and his Juris Doctor from Georgetown University Law Center. He is a native of Ashtabula, Ohio and has two children. 
He looks too young to have all that experience behind him. He will bring a wealth of knowledge to the role. Check for further news on Twitter.
In other news, Trump's overseas trip has given him a boost in US presidential popularity, at least with Rasmussen. Bear in mind that most polling companies have not been honest in their polling methods, e.g. favouring Democrats over Independents and Republicans. Matt Drudge tweeted:
OK. Trump approval pops to 48% today… Obama Averaged 47.9% Job Approval as President.. http://www.rasmussenreports.com/public_content/politics/trump_administration/prez_track_may24 …
The Rasmussen link says, in summary, that the visits to Saudi Arabia and Israel, particularly when the Manchester bombing took place on Monday, got voters thinking more about the dangers of terrorism. Voters tend to agree with Trump that the Saudis need to do more to fight terror. They also think that a good relationship with Israel is essential to the prospect of peace in the Middle East.