You are currently browsing the tag archive for the 'House of Commons' tag.
It's hard to know where to begin with this year's Christmas news, much of which is disappointing, to say the least.
That said, there is a bright Christmas message here, so please read on.
Scotland legislation latest
On Thursday, December 22, the Scottish Parliament — or Assembly, as I still call it — passed legislation for Gender Recognition Reform, specifically to grant Gender Recognition Certificates (GRCs).
The bill passed in the SNP-controlled government 86-39 with no abstentions. Only two Conservative MSPs voted for it. The rest were SNP (Scottish National Party), Scottish Greens (SNP coalition partners), Scottish Labour and Scottish Liberal Democrat MSPs.
The final contributions were largely made on the basis of feelings. Wednesday's transcript shows that every Conservative motion proposing greater controls over who can apply for a GRC and under what conditions was defeated. Debate had also taken place on Tuesday in an attempt to rush this through before Christmas break.
The Scottish Parliament thought this so important that it even cancelled their annual Christmas carol service, which, this year, was to feature Ukrainian refugees living just outside of Edinburgh.
A pro-independence — though not a pro-SNP — Scot who lives in England, the Revd Stuart Campbell, summed up the legislation in one of his Wings Over Scotland posts, 'On the hush-hush' (emphases mine):
The last few days have been perhaps the most turbulent in the entire history of the modern Scottish Parliament. Proceedings have been suspended repeatedly, members of the public thrown out and threatened with arrest, filibusters attempted, carol services cancelled, tempers frayed and sittings going on until the wee small hours.
All of this has happened in the service of the policy that the SNP has made its flagship priority for the last two years and more – the destruction not only of women's rights, but of the very CONCEPT of a woman …
So you'd imagine the party would have been tweeting about it constantly, keeping its supporters informed about all the dramatic events and the progress of the bill, if only to reassure them that they were determined to get it passed before the Christmas break come what may …
But there wasn't one solitary word about the thing it just spent three solid days forcing into law. And since it was a thing that most of its own voters, and indeed a huge majority of all Scots, were opposed to, readers might be forgiven for thinking that they just wanted it all kept as quiet as possible, as if they were ashamed.
We suspect, and very much hope, that their wish may not be granted.
The Revd Mr Campbell means that the Secretary of State for Scotland in Westminster might refuse to present the Bill for King's Assent. Let's hope so.
Another Wings over Scotland post explains what the Bill actually does:
… one of the most regressive, dangerous and frankly absurd pieces of legislation the modern world has ever seen. Last week, [First Minister Nicola Sturgeon's] government successfully managed to get the word 'woman' redefined from an adult human female to anyone to who has a piece of paper that says they are one.
Should obtaining this piece of paper involve a rigorous, measured process that takes psychological and criminal history into serious consideration and prioritises the safety of women and children, this would be permissible to the socially liberal. Alas though, the new GRA has shamelessly scrapped all safeguarding measures. For a man to legally become a woman now – and be entitled to access all female-only facilities, be it changing rooms or prisons, all he has to do is 'live as' a woman (whatever the hell that means) for three months followed by a three-month 'reflection period'.
TRA-adjacent politicians have nowhere to hide with this now. They can no longer deny that sex-based rights will be grievously compromised and that predators and fetishists now have ease of access to women (and children's) spaces, from bathrooms to sports teams.
In another post, Campbell linked to Tuesday's proceedings where a Conservative MSP tried to raise an amendment calling for greater scrutiny of sex offenders wishing to change gender. Unfortunately, 64 SNP/Green/Lib Dem MSPs voted it down. In 'The Disgraces of Scotland', Campbell wrote:
The events marked simply and unquestionably the most shameful and contemptible moment in the history of the Scottish Parliament since 1707.
1707 was the year when the Act of Union was established between England and Scotland.
He also pointed out that voting down the amendment resulted in:
ceding the moral high ground to the Scottish Conservatives …
Anyone who knows the Scots knows that anything Conservative is unpopular there. That said, the Scottish Conservatives are the official opposition party in Edinburgh.
It should be noted that anyone aged 16 1/2 and over can apply for a GRC. It would appear that no formal medical diagnosis will be required with this new legislation.
Campbell's readers have much to say on the matter. Some say this is a deleterious influence from American pressure groups. Others say that women will be in great danger.
Both are likely possibilities.
None of the MSPs supporting the Bill thinks that women will have any problem with sex offenders or deviants. However, a British substack begs to differ. 'This Never Happens' is a lengthy catalogue of gender-changers around the world who have committed horrific crimes, many of a sexual nature. Another site with a similar catalogue can be found here.
It is ironic that a woman is in charge of Scotland and she has overseen this legislation. In fact, she has supported it from beginning to end.
Scotland, like Canada, was such a beautiful country once upon a time. When I say 'beautiful', I'm referring to people. Another spirit — the devil — is moving through both nations.
One positive outcome is that the Scottish Conservatives can use this legislation to their advantage during the next election cycle. Unlike the SNP, Scottish Labour and Scottish Lib Dems, they alone voted en masse against it, showing that they are the true defenders of women and girls.
An UnHerd columnist, Joan Smith, says that this will come soon to England, should Labour win the next general election:
The man sitting next to you on a tram in Edinburgh, or turning up for a women-only swimming session, may self-identify as a woman — and the law will support him every step of the way. Centuries-old assumptions about what is real, about what people see in front of them, are being overturned. And it's coming to Westminster as well, if Sir Keir Starmer follows through on his proposal to 'update' the 2004 Gender Recognition Act.
We have less than two years before a Labour government comes to power, weighed down by promises to import the idiocy (I'm being polite here) of self-ID to the rest of the UK. Two years, in other words, to watch what happens when politicians reject biology, common sense and the imperative to protect women against male violence. 
In the meantime, prisons, hospitals and refuges outside Scotland will face the headache of what to do when a man with a Scottish Gender Recognition Certificate (GRC) — obtained with far fewer safeguards than elsewhere in the UK — demands access to women-only spaces. The prospect of expensive litigation is terrifying, but women's organisations on both sides of the border are already preparing for the fight of their lives.
So crazed are MSPs by this ideology that on Tuesday evening they voted down an amendment that would have placed barriers in the way of convicted sex offenders who seek to apply for a GRC, complete with a new female name. They even rejected an amendment — proposed by Michelle Thomson, an SNP MSP who has waived anonymity to reveal her own experience of being raped when she was fourteen years old — that would have paused the process of acquiring a certificate for men charged with sexual offences.
This is an extremely troubling development. Let's not forget that the SNP-Green government has pressed ahead with the legislation even after Lady Haldane's judgment established last week that a GRC changes someone's legal sex for the purposes of the 2010 Equality Act. Scottish women are now expected to accept that any man standing in front of them, waving a piece of paper, is a woman — even if they're in court and the man is accused of raping them. 
It's clear that a bill that was supposedly purely administrative has hugely expanded the number of individuals who can apply for a GRC, with catastrophic effects on women's rights.
The rest of the UK is about to find out what it's like living alongside a country in which observable sex no longer has any meaning. Welcome to Scotland, where the word 'woman' will now soon include any man who fancies it.
Conservatives in England and Wales can take heart from this for the general election in two years' time, pointing to their colleagues north of the border. Who are the great defenders of women and girls? It certainly won't be Labour.
Woman arrested for silent prayer
On December 6, a pro-life supporter from Worcestershire was arrested for praying silently in Birmingham in an exclusion zone around an abortion clinic.
Here is the video of her arrest:
A fundraiser is open for her:
BirminghamLive filed their report on Tuesday, December 20:
A woman has been charged with breaching an exclusion zone outside a Birmingham abortion clinic. Isabel Vaughan-Spruce, aged 45, from Malvern in Worcestershire, was arrested near the BPAS Robert Clinic in Kings Norton on December 6.
She was later charged with breaking a Public Space Protection Order, said by Birmingham City Council to have been introduced to ensure "people visiting and working there have clear access without fear of confrontation". Vaughan-Spruce will appear at Birmingham Magistrates' Court on February 2 next year.
A West Midlands Police spokesperson said: "Isabel Vaughan-Spruce, aged 45 from Geraldine Road, Malvern, was arrested on December 6 and subsequently charged on December 15 with four counts of failing to comply with a Public Space Protection Order (PSPO). She was bailed to appear at Birmingham Magistrates Court on February 2 2023."
The police must feel threatened by prayer, especially that of the silent sort.
On Friday, December 23, UnHerd 's Mary Harrington gave her thoughts on the arrest:
It's customary in these situations to decry the breach of liberal norms involved in arresting someone not for doing something wrong but merely thinking. But if, as I've suggested elsewhere, all politics is now post-liberal, that means it's once again explicitly the case that state power is aligned with a widely-shared moral order. 
This is a drum I've been banging for a little while, for contra the fond imaginings of some liberals we never really stopped ordering power to sacred values. After all, it's not really possible to have a functioning polity otherwise. This, I argued shortly before the pandemic, is why hate crime laws appeared a scant few years after the abolition of blasphemy laws: they are blasphemy laws. We've just updated what we considered blasphemous …
…  Vaughan-Spruce's arrest makes it clear that the zone surrounding an abortion centre is treated as sacred in a way that's evidently no longer meaningfully the case (at least as far as the European court is concerned) of a church. She is an activist and director of March for Life UK, and has been previously arrested for protesting against abortion. But this in no way diminishes the growing sense that the activity being protected is also increasingly treated as sacred …
We have sacralised autonomy to such an extent that laws uphold women's right to it, even at the cost of another radically dependent life. And the issue is growing ever more moralised, as evidenced by the fact that even thinking disapproving thoughts about this radical commitment to individual autonomy is now treated as blasphemous, in zones where its most extreme sacrifices are made. 
Wherever you stand on the practical issues surrounding abortion, this is indisputably a profound statement on the relative values we accord to freedom, care and dependency — one with profound ramifications for how we see the weak and helpless in any context. That the practice is taking on sacramental colouring, for a religion of atomisation, should give us all pause.
Indeed.
House of Lords Archbishop of Canterbury debate on asylum
On December 9, the House of Lords gave the Archbishop of Canterbury his annual debate. This year, the subject was the UK's asylum and refugee policy.
I hope that readers will understand if I do not excerpt his speech here. They are free to read it for themselves.
We have taken in a record annual number of illegal migrants crossing the Channel this year, expected to be over 50,000.
We have also taken in large numbers of legitimate refugees and asylum seekers. We have also given visas to many thousands of legal migrants this year, particularly from Africa and Asia, namely India and Hong Kong.
UnHerd had a good analysis of what Welby said and our current predicament:
The Archbishop says he aims to support action that would "prevent small boats from crossing the channel", but he also stresses that the UK is not taking many refugees and should take many more. 
Astonishingly, he dismisses the provision our country has made to welcome Hong Kong residents — well over 100,000 to date and many more to come — by saying "and that, by the way, is not asylum but financial visas". It may not involve an application for asylum as such, but it clearly involves flight from oppression. Welby also draws the wrong conclusion from the fact that developing countries host many more refugees than developed countries. This is much cheaper than settlement in the West and makes return more likely. Developed countries should help pay the costs, and the UK leads the way in this regard.
The control Welby claims to support does not presently exist. The small boats cannot safely be turned around in the Channel and France will not accept their immediate return. The Rwanda plan is a rational (if imperfect) attempt to address the problem, removing asylum-seekers to a safe third country, where they will be protected, yet the Archbishop decries the plan on the grounds that it outsources our responsibilities. This makes no sense, for the UK not only accepts that Rwanda must comply with international standards, but also commits to funding the protection of those who prove to be refugees. Welby asserts that the plan has failed to deter. Indeed, because it has not yet been tried at all. 
The UK has good reason to resettle in safe third countries those who enter unlawfully on small boats, which would discourage others from (dangerous) unlawful entry and restore control of our borders. The historic tradition on which the Archbishop relies is alive and well in the provision our government has made, with wide public support, for temporary protection for Ukrainians escaping Russian aggression and for resettlement of the new Huguenots, the Hong Kong residents seeking to escape the oppressive reach of the Chinese Communist state. 
Lord Lilley — former Conservative MP Peter Lilley — posed the conundrum of loving one's neighbour and not being able to accommodate everyone, especially those who arrive under false pretences:
This issue raises very difficult dilemmas for Christians. Being a very inadequate Christian myself, I take up the challenge from the most reverend Primate the Archbishop with trepidation: to try to formulate principles for governing our policy on asylum and migration. Not having direct access to the mind of God like the most reverend Primate the Archbishop, I seek those principles in the Bible.
I recall that our Lord said that the essence of Christianity is to love God and love our neighbour as ourselves. When asked who our neighbour is, he gave the parable of the good Samaritan, when a Samaritan helps a Jew—from which I deduce that our neighbour is not just the person next door to us and not necessarily a member of our own nation; it can be anyone. The first principle I therefore deduce is that, although charity begins at home, as a lot of my constituents used to tell me, it does not necessarily end at home. I am at one with the most reverend Primate the Archbishop on that.
Secondly, the Samaritan did what he practically could. We may be called on to help anyone we practically can, but we cannot help everyone. Again, the most reverend Primate the Archbishop recognised that and it is important that we recognise that our responsibilities are finite, in this respect.
Thirdly, when the Levite and the Jewish priest reached their destination, I have no doubt that they deplored how, owing to years of austerity, there had been insufficient spending on police and the health service to prevent the problem arising in the first place or to treat the person, instead of leaving it to the passing Samaritan. Therefore, my third principle is that, to be a good Samaritan, you have to give care, help and so on at your expense. We, as politicians, may have to take decisions on behalf of others but, in doing so, we should have consideration for the impact we are having on others and not imagine we are being virtuous when we do good at their expense.
The first principle is that charity begins at home, in how we treat people who have come to settle here. When I was a child, mass immigration into this country was just beginning. The parish in which I lived asked each family to link up with a migrant family, many of whom were lonely, isolated and, at worst, facing hostility. My family was linked up to a delightful Mauritian couple, whom we would invite to supper every few weeks. We became good friends. That was done by parishes across south London. I would love to hear from Bishops who have not yet spoken about what the churches are doing today to help integrate those who are here in our society and to be the good Samaritans to our neighbours from abroad.
But charity does not end at home. I pay tribute to those tens of thousands of people who opened their homes to families fleeing the bombing in Ukraine, while their menfolk remained to fight for their country. We should not imagine we are sharing in being good Samaritans if we throw open the doors of our country to everybody because, if we do that, we are doing good at others' expense. We are, in effect, saying that migrants, be they legal or illegal, asylum seekers or otherwise, through housing benefit and social housing, will have access to rented and social homes. We all have our own homes, so we will not be affected. Therefore, more young people will have to wait at home or live in cramp bed-sitters for longer, because of what we, as legislators, think we are doing generously, without taking the impact on others into account.
The second principle is that our neighbour can be anyone, but it cannot be everyone. Millions of people want to come here. Look at the impact of the green card system the Americans operate, when they make 30,000 visas to the US available to certain countries and say, "Anyone can apply; there is a ballot." Some 9% of the population of Albania applied when they heard about that being offered to them, as did 11% of the Armenian and 14% of the Liberian populations. These were only the people who heard about it and responded. The potential number who would like to come to America or Europe, if we open these so-called direct routes, would be enormous. Will we say to those who apply, at an embassy or some place abroad, that they would have the same legal rights, and opportunities to appeal or for judicial review if things are turned down? If so, potentially millions of people would join the queue. It would not shorten but lengthen it, so we have to restrict and to prioritise.
I submit to noble Lords that the priority should not be the boat people. They are not coming by boat from Basra, Somalia or Eritrea; they are coming from France, Belgium and Germany. Why are they coming here rather than staying in those safe countries? They are three or four times as likely to be rejected there. France, in the last year before the pandemic, forcibly repatriated 34,000 people. I find some strange double standards being applied here. There are no criticisms of France for being much stricter than us or of us for being much laxer than them, but one or the other must be the case.
I am coming to an end. If it is morally and legally right for the French to try to prevent people leaving their shores, and for us to pay and support the French in so doing, it should be morally and legally right for us to return them. If they cannot be returned, it is reasonable to try to deter them by saying, "If you come here, you will go to Rwanda. You always have the opportunity to stay in France." I submit that we do not always consider these opportunities.
Later on, the Archbishop of York, the Right Revd Stephen Cottrell, spoke, an excerpt of which follows. The transcript hardly does his indignation justice. He ripped right into Lord Lilley:
I say to the noble Lord, Lord Lilley, that everyone is our neighbour. Of course, we cannot take everybody, but that makes it even more important that we have a fair system for everyone.
Dehumanising language promotes fear. Threat of destitution is used as a deterrent. Children are treated as if they are adults. Yet in our own country, among our own people, in our churches, other faith groups and communities, some things have gone well, such as the Homes for Ukraine scheme, where many people have found a home, other family members have joined them, and people have been able to get work. This is really good.
But why has our response to people fleeing other conflicts been different? Currently, the definition of family in our asylum system would not allow someone to join their sibling even if they were the last remaining relative, and being able to work and contribute is a long way off. The tragedy of our system lies in its exceptionalism, meaning that people receive differential treatment usually because of their country of origin. That underpins the Nationality and Borders Act, and I fear that further legislative action will be the same.
But we could learn from what is happening in our communities. The noble Lord, Lord Lilley, asked us directly about integration. I do not know where to begin. In hundreds of parishes and schools, and in other faith communities up and down our country, that is what we are doing—in English language classes, in befriending and in teaching people. I would be the first to admit that there are lots of things about the Church of England that could be better, but that is something that we are doing, alongside others, and it shows the best of British.
We need a system that will simply provide safe and legal routes for everyone to have equal opportunities to apply for asylum. All I am saying is that I think that would be good for us, as well as for the people who are fleeing unimaginable conflict and evil.
Finally, when it comes to being able to work, the Church of England, alongside the Refugee Council and the Government's own Migration Advisory Committee, is a long-standing supporter of the Lift the Ban campaign.
I say all this—like many of us, I would wish to say more, but the most reverend Primate the Archbishop of Canterbury said most of it—as winter arrives, and it is cold, and a cost of living crisis will inevitably affect the British people's capacity to be hospitable. I say simply that a functioning asylum system is not a threat to our social cohesion as some fear or predict, but a dysfunctional, unfair one is.
As every small child knows at this time of the year, as the noble Lord, Lord Cormack, mentioned, Mary and Joseph came looking for somewhere to stay, but there was no room at the inn. Saying no, accusing those who are being hospitable of being naive, or passing the buck are easy, but saying yes, with a fair and equal system for everyone, opens up blessings for everyone.
A week later, Cottrell featured in an article in The Telegraph: 'Forgive my "predictable leftie rant" on asylum, says Archbishop of York'.
It seems he knew he was out of order with Lord Lilley, who deserved the same courtesy as the peers agreeing with the Archbishop. It was good for Lord Lilley to speak politely on behalf of the British public.
Britons are paying upwards of £7 million a day just to house those crossing the Channel.
GB News's Mark Steyn and his guest hosts have been covering the topic nearly every night:
Taxpayers are deeply upset, especially during our cost of living crisis, which is causing many to choose between food and fuel.
Combine that with taxpayers' personal expenses for Net Zero, and we are heading for disaster:
Red Wall Conservative MP Jonathan Gullis tried unsuccessfully to raise a Private Member's Bill to get illegal migrants to Rwanda sooner rather than later:
Hotels across England are being taken over by companies working for the Home Office to house the Channel-crossers:
Hospitality workers in those hotels are losing their jobs as the aforementioned companies install their own staff to manage them:
The December 22 show also featured the seemingly intractable problem:
Former Sun editor Kelvin MacKenzie then swung by to weigh in on how much migrants are costing Britons.
The Home Office — read 'civil servants' — must do something now.
It's obvious people are watching GB News, because they beat BBC News for the first time ever on December 14:
Onwards and upwards!
House of Commons recess debate
On Tuesday, December 20, the House of Commons held its Christmas recess debate.
Normally, these are rather jolly affairs where MPs air wish lists for their constituencies for the New Year. However, this year's contributions were rather grim, including those from Conservative MPs.
Once again, providentially, I tuned in at the right time to hear the member for Don Valley, Conservative MP Nick Fletcher. He closed his speech saying the following, the first part of which came as news to me:
Finally, Christian friends across the House tried to secure a Backbench debate on Christmas and Christianity, but by all accounts we were not successful. While I have this moment, I want to remind those in this place, and anyone who cares to watch, that although Christmas is celebrated in many ways across the world, the real reason is the birth of our saviour, Jesus Christ. He was sent as a saviour, and with the promise that whoever believes in him will have eternal life. I do not want anyone ever to forget that. Merry Christmas everybody.
Jim Shannon, a Democratic Unionist Party MP (i.e. from Northern Ireland), was one of the last MPs to speak. A devout Anglican — yes, they still exist — he gave a beautiful speech on the meaning of the season, most of which follows:
It is no secret that I love this time of year—I may have mentioned that a time or three in this House. There are so many things to love about Christmas: time with family; good food; fellowship; and, for me, the singing of an old Christmas carol as we gather in church. But the most wonderful thing about Christmas for me is the hope that it holds. I wish to speak this year about the Christ in Christmas, because, too often, we miss that. It would be good this year to focus on what Christmas is really all about. I ask Members to stick with me on this one.
The message of Christmas is not simply the nativity scene that is so beautifully portrayed in schools and churches throughout this country, but rather the hope that lies in the fact that the baby was born to provide a better future for each one of us in this House and across the world. What a message of hope that is; it is a message that each one of us needs. No matter who we are in the UK, life is tough. The past three years have been really, really tough—for those who wonder how to heat their homes; for those who have received bad news from their doctor; for those whose children have not caught up from the covid school closures; for those who mourn the loss of a loved one; for those who mourn the breakdown of a family unit; and for those who are alone and isolated. This life is not easy, and yet there is hope. That is because of the Christmas story. It is because Christ came to this world and took on the form of man so that redemption's plan could be fulfilled. There is hope for each one of us to have that personal relationship with Christ that enables us to read the scriptures in the Bible and understand that the creator, God, stands by his promises.
I want to quote, if I may, from four Bible texts. To know that
"my God will meet all your needs according to the riches of his glory in Christ Jesus."
That is from Philippians 4:19.
To trust that
"I am the Lord that heals you."
To believe that
"all things are possible."
That is Matthew 17:20.
We can be comforted by Psalm 147:3:
"He heals the brokenhearted, And binds up their wounds."
Isaiah 41:10 says:
"So do not fear, for I am with you; do not be dismayed, for I am your God. I will strengthen you and help you; I will uphold you with my righteous right hand."
The strength for today and bright hope for tomorrow come only when we understand who Christ is. One of my favourite Christmas passages is actually not the account of his birth, but the promise of who he is. We all know this:
"For to us a Child shall be born, to us a Son shall be given; And the government shall be upon His shoulder, And His name shall be called Wonderful Counsellor, Mighty God, Everlasting Father, Prince of Peace."
In a world where our very foundation seems to be shifting, how awesome it is to know that this our God is only a prayer away. A group of people come to the House of Commons two or three times a week, and pray for Parliament. I have to say how important it is to have those prayers.
As we think of this passing year—something that many of us do—we think about what has happened and perhaps look forward to 2023 with renewed hope for the future. I think we should look forward with hope; we have to do that. We should always try to be positive. In this passing year, my mind goes to the loss of Her Majesty the Queen. Many of us felt that so deeply, and yet her passing also carried the message of hope, because of Christ. I quoted this when we had the tributes to Her Majesty. It is important, I think, to put it on the record again.
The wonderful message that the Queen gave in one of her cherished Christmas messages—this one was in 2014—was crystal clear:
"For me, the life of Jesus Christ, the prince of peace, whose birth we celebrate today, is an inspiration and an anchor in my life."
That was Her Majesty talking.
"A role model of reconciliation and forgiveness, he stretched out his hands in love, acceptance and healing. Christ's example has taught me to seek to respect and value all people of whatever faith or none."
It is my firm belief that this true message of Christmas is what can bring hope and healing to a nation that can seem so fractured. When I look at the headlines, I sometimes despair, but that is also when I most enjoy my constituency work, and getting to see glimpses of community spirit and goodness that are done daily and yet are rarely reported. Her Majesty's speech in 2016 reflected that, when she said:
"Billions of people now follow Christ's teaching and find in him the guiding light for their lives. I am one of them because Christ's example helps me to see the value of doing small things with great love, whoever does them and whatever they themselves believe."
At that point, Conservative MP John Hayes intervened:
It is heart-warming and refreshing to hear the hon. Gentleman's plain and confident affirmation of his faith, and our faith too. By the way he speaks, he encourages all of us to reflect on the Judeo-Christian foundations on which our society and our civilisation are built, and I just wanted to thank him for that.
Jim Shannon thanked John Hayes before continuing:
The right hon. Gentleman is most kind. I am giving just a slight reminder of what Christmas is about. I think we all realise that, but sometimes it is good to remind ourselves of it. The example of Christ is one of humility, coming to the earth as a vulnerable baby, and of purpose, as we see the gold given that symbolises royalty, the frankincense to highlight his deity and myrrh to symbolise his purposeful death to redeem us all.
I am a strong advocate in this House for freedom of religion or belief, as the Leader of the House knows. She is always very kind; every week, when I suggest something that should be highlighted, she always takes those things back to the Ministers responsible. I appreciate that very much, as do others in this House. I am proud to be associated with that wonderful cause, and as long as God spares me I will speak for the downtrodden of my own faith and others. I speak for all faiths, because that is who I am, and so do others in this House with the same belief.
At the same time, however, like Her late Majesty, I am proud to be a follower of Christ. At this time of year I simply want the House to know the hope that can be found in Christ, not simply at Christmas, but for a lifetime. The babe of Bethlehem was Christ on the cross and our redeemer at the resurrection, and that gives me hope and offers hope for those who accept him and it.
From the bottom of my heart, Mr Deputy Speaker, I thank you in particular, since you have presided over this speech and the past few hours. I thank Mr Speaker and all the other Deputy Speakers, with all the things that are happening to them, the Clerks and every staff member in this place for the tremendous job they do and the graceful spirit in which everything has been carried out in the last year. I thank right hon. and hon. Members, who are friends all—I say that honestly to everyone.
I thank my long-suffering wife, who is definitely long-suffering, and my mum—
At that point, Shannon broke down in tears.
Leader of the House Penny Mordaunt stepped in quickly and graciously while Shannon composed himself:
The hon. Gentleman has often summed up how people feel, particularly at this time of year. I know he has had losses over the past few years, and he always manages to sum up the feeling of this House. Many Members in this debate have spoken about constituents or family they have lost, and we appreciate his bringing up these issues, as I appreciate all Members' doing so. There will be some people thinking about spending Christmas apart from family they are not able to see, or having suffered those losses. I thank him and we are all willing him strength as he continues his speech.
After a pause, Shannon resumed and concluded:
I thank the Leader of the House for that. I mentioned my long-suffering wife; we have been married 34 years, so she is very long-suffering, and that is probably a good thing, because we are still together. My mum is 91 years old and I suspect she is sitting watching the Parliament channel right now to see what her eldest son is up to and what he is saying, so again that is something.
I also thank my staff members. I told one of my Opposition colleagues last week that I live in a woman's world, because I have six girls in my office who look after me and make sure I am right …
Lastly, I thank my Strangford constituents, who have stuck by me as a councillor, as a Member of the Legislative Assembly and as a Member of Parliament in this House. This is my 30th year of service in local government and elsewhere. They have been tremendously kind to me and I appreciate them. I want to put on record what a privilege it is to serve them in this House and to do my best for them.
I wish everyone a happy Christmas, and may everyone have a prosperous, peaceful and blessed new year, as we take the example of Christ and act with humility and purpose in this place to effect the change that we all want and that is so needed in our nation—this great United Kingdom of Great Britain and Northern Ireland, always better together.
Mr Deputy Speaker Nigel Evans said:
Your mother and wife will be as proud of you as we all are, Jim. [Hon. Members: "Hear, hear!] As a person of faith, I thank you very much for putting the Christ back into Christmas in your speech. We come now to the wind-ups.
When acknowledging MPs' contributions in the debate, Penny Mordaunt said:
The hon. Member for Strangford (Jim Shannon) should never have to apologise for mentioning Christ in this place—especially at Christmas. We are in a place where the architecture is designed to turn our faces to God. I thank him for his Christmas message.
And, finally — best Christmas wishes to Mark Steyn
In closing, hearty Christmas wishes to Mark Steyn who is recovering from two successive heart attacks:
He is recovering in France but told viewers more on December 19. Incredibly, the first heart attack happened before he presented one of his nightly shows on the self-styled People's Channel. He presented it anyway. Wow:
The GB News host suffered the first one "without recognising" the symptoms, before hosting his show on The People's Channel.
Speaking on his current absence from GB News, Steyn said: "I'm too medicated to manage artful evasions.
"I had two heart attacks. Because I didn't recognise the first one, as such, the second one was rather more severe."
The experienced broadcaster spoke about the shocking ordeal, saying he "doesn't look right", looking back at images of himself presenting the Mark Steyn show during the first heart attack.
Speaking on SteynOnline, he said: "The good news is that the first one occurred when I was in London. If you get a chance to see that day's Mark Steyn Show, with hindsight, I don't look quite right in close-ups.
"By not recognising it as a heart attack, I deftly avoided being one of those stories we feature on the show every couple of nights about people in the UK calling emergency and being left in the street for 15 hours before an ambulance shows up.
"I had a second heart attack in France. With Audrey [his wife?] helping me in the ambulance, she told me I was 15 minutes from death."
The presenter also revealed he would remain in France over Christmas and New Year as he is unable to leave medical care and return to New Hampshire.
GB News viewers will be sending Mark every best wish for a speedy recovery — and a healthy, happy New Year! We look forward to seeing him on the airwaves soon!
Before going into Rishi's win in last weekend's leadership contest, a few items of current news follow.
Wednesday, October 26 saw Rishi at the despatch box for PMQs, which he handled well. Labour's Sir Keir Starmer was still going around in circles with his six questions, achieving nothing, as usual.
Home Secretary Suella Braverman's security breach dominated PMQs and Shadow Home Secretary Yvette Cooper asked an Urgent Question about it.
This morning's Telegraph editorial said (purple emphases mine):
There is something about Mrs Braverman that seems to drive the Left borderline hysterical. Her robust views on issues such as controlling the borders and tackling crime put her in the mainstream of public opinion. Somehow that is enough to earn her the sobriquet "hard-Right" among her Leftist critics.
In the Commons, Mr Sunak defended Mrs Braverman's return to the Home Office, saying that she had made an error of judgment but that she had recognised that and accepted her mistake. Her resignation last week also took place amid a row within government over immigration levels: Mrs Braverman is a firm advocate of cutting numbers.
Many Conservative voters will be reassured that she is back in office. Mrs Braverman has the right political instincts, taking a hard line for instance on the need to clamp down on disruptive climate protesters. In her previous roles, she has shown that she has the ability to master the details of complex policy areas, including on sensitive matters such as transgender rights. Now, she should be given the time and space to get on with the job.
A retired Squadron Leader wrote the Telegraph to say:
SIR – Congratulations to the new Prime Minister and to Suella Braverman on her return as the Home Secretary.
… The situation in the English Channel, with migrants entering Britain with impunity and without permission, at a cost of millions of pounds a day for hotel accommodation alone, cannot go on.
In 2021, 28,526 migrants landed in Britain without permission. This year, more than 38,000 migrants have arrived so far, with a projection of up to 50,000 by the new year.
Mrs Braverman would seem to have the answers to this problem. One can only hope that her return to the Home Office will make a difference, and quickly.
Another issue Braverman will have to deal with are alleged Chinese 'police stations' in two Glasgow restaurants.
Today — Thursday — the Times reported:
Ministers have been called on to intervene after China was accused of operating a "shadowy and chilling" secret police hub in the heart of Glasgow.
A report compiled by a human rights organisation claims that the Chinese government is operating a global network of undeclared "police stations", which are being used to intimidate and silence dissidents.
The Home Office said the claims were "very concerning" and would be taken "extremely seriously". A spokesman said: "Any foreign country operating on UK soil must abide by UK law. The protection of people in the UK is of the utmost importance and any attempt to illegally repatriate any individual will not be tolerated."
Safeguard Defenders, a Madrid-based civil liberties group, alleges one of the outposts is running from 417 Sauchiehall Street in central Glasgow, alongside two others in London. The address houses the premises of Loon Fung, one of the city's oldest and best-known Chinese restaurants …
A spokesman for Safeguard Defenders:
claimed the Scottish Fujian Chamber of Commerce, registered at the premises of Sichuan House, another Chinese restaurant based on Sauchiehall Street, also had links to the Chinese state.
The Times attempted to confirm the allegations:
The Chinese consulate in Edinburgh did not respond to a request for comment …
Loon Fung has strongly denied any involvement. "There's no secret police here," a spokesman said. Sichuan House did not respond to a request to comment. A man who answered a mobile number published online as being the contact for the Scottish Fujian Chamber of Commerce hung up when The Times introduced itself.
Returning to Braverman, on Wednesday night, Sir Jake Berry MP, the short-lived chairman of the Conservative Party under Liz Truss, gave an interview on TalkTV's Piers Morgan Uncensored, on which Nadine Dorries MP was a guest host, Morgan being on holiday.
The Times reported what Berry said, in part:
From my own knowledge, there were multiple breaches of the ministerial code …
That seems a really serious breach. The cabinet secretary had his say at the time. I doubt he's changed his mind in the last six days but that's a matter for the prime minister.
Also:
Asked whether Braverman had rapidly owned up to the mistake as she claimed, Berry replied: "I wasn't in the meeting but as I understand it the evidence was put to her and she accepted the evidence rather than the other way around" …

Berry's comments are likely to prompt further questions about the circumstances of Braverman's re-appointment as Sunak completes a reshuffle of the government's junior ranks.
Hmm. Interesting.
Berry's interview was up for discussion this morning in the House of Lords. Labour peer Baroness Smith of Basildon, leader of the Opposition, asked an Urgent Question about it. Baroness Neville-Rolfe, responding for the Government, gave a brief statement in support of the Prime Minister and the Home Secretary, which was met with audible groans from many of the peers. Several of them, including a Lord Spiritual (Anglican bishop), asked questions for several minutes.
Labour will continue to press this issue, it seems.
Guido Fawkes caught up with Sir Keir Starmer on Wednesday:
Guido wrote (emphases his):
Finding himself behind Keir Starmer in a coffee-queue this afternoon, Guido took the opportunity to ask the Leader of the Opposition about his future attack lines on the Government. The case of Suella Braverman, the Labour leader said, "wasn't going away."
It was a relatively inconspicuous item in his PMQs: "Have officials raised concerns about his decision to appoint her?" It caused a frisson among those who know how important process is, and how deadly the advice given by officials can be …
Obviously no PM is going to answer such questions, nor will he willingly surrender written advice given in ministerial confidence. However, there is a route to get it. By a Humble Address (a procedural device resurrected from ancient obscurity by the previous Speaker, John Bercow), documents of all sorts, including electronic, can be demanded by an Opposition Motion.
Labour has had next week's Opposition Day nicked by the SNP. But the issue will probably fructify rather than decay over time. It may be a little early in the new administration for 35 Tories to defy the Whip and vote for the  documents to be revealed – but if recent history is anything to go by …
Questions about Braverman continued in the House of Commons on Thursday during Cabinet Office Questions and, later, Business Questions to Leader of the House Penny Mordaunt.
A Telegraph article by Gordon Rayner said that recent Home Secretaries ended up doomed from the start:
Almost as soon as Rishi Sunak reappointed Mrs Braverman as Home Secretary, the civil service was letting it be known that there were "concerns" about whether she could be trusted with sensitive information. Simon Case, the Cabinet Secretary and head of the Civil Service, was "livid" about her appointment, sources said.
If the ultimate goal of the poisonous briefings by civil servants was to suggest the department cannot function with Mrs Braverman in charge, it will be a familiar scenario to previous holders of the post.
Priti Patel only just survived a concerted campaign to force her out by civil servants who accused her of bullying. Amber Rudd lasted two years before she was forced to resign for misleading a Commons committee, having been wrongly briefed by her department on deportation targets. As far back as 2006 Labour's John Reid declared the department "not fit for purpose".
In 2006, Labour was in power, by the way.
Gordon Rayner rightly includes Braverman's allies in his analysis:
Allies of Mrs Braverman say that her enemies in the Home Office, and on the Left, have used a technical breach of the ministerial code as a convenient excuse to attack a woman with whom their true battle lies over immigration.
Conservative Party members are likely to support Braverman:
As the current "queen of the Right" in the Government, every carping comment from a Labour MP or BBC commentator simply reinforces her popularity with Conservative Party members and a significant chunk of MPs.
Rishi Sunak reinstated her at the Home Office because he knows that to stand any chance of uniting his party, he needs a figurehead of the Right in a senior position, and in Mrs Braverman he has a former chairman of the European Research Group of Right-wing Eurosceptic Tories.
It is significant that Braverman backed Rishi last weekend:
If, as has been suggested, a return to the Home Office was the price she demanded for backing his leadership bid (and effectively killing off Boris Johnson's attempted resurrection) it simply proves the clout she now has within the Party.
Other news from Wednesday included a confirmed ban on fracking, overturning Liz Truss's decision to allow fracking in communities that overwhelmingly allow it.
——————————————————————————————————————
Now back to the leadership contest.
In the early hours of Friday, October 21, Boris Johnson was leading Rishi Sunak and Penny Mordaunt:
I left off yesterday with Stanley Johnson saying that morning that his son Boris was 'on a plane'.
Meanwhile, Liz Truss made a brief return to Downing Street, probably to collect something. The Guardian's photos show her in sportswear, a heretofore unseen Liz.
'Bring Back Boris'
Express readers opened their Friday paper to find an article by one of Boris's main backers, Sir James Duddridge MP, a champion of the Bring Back Boris, or BBB, campaign:
I was his Parliamentary Private Secretary and stayed with him right until the end. It was a mistake to force him out but now is the time to bring him back.
He is the only one who can unite the party after the turbulent last few weeks and I trust him to right the ship …
He always remained hugely popular with the party's grassroots and with large parts of the country.
There will always be socialists and angry Twitter mobs who rail against him but he is an election winner, twice in London as well as nationally.
My constituents regularly tell me they want Boris back and he still has a mandate from the country …
He has the star quality and inspirational leadership the country needs during the challenging months ahead.
It's time to Bring Back Boris.
Jacob Rees-Mogg, Truss's Business Secretary, declared his support for the former Prime Minister — 'Boris or Bust':
Pollster Matt Goodwin pointed out that while Rishi is more popular overall with British voters, Boris still leads those who voted in the 2019 election:
The video from 2012 showing Boris, who was then Mayor of London and promoting the Olympics that year, went viral: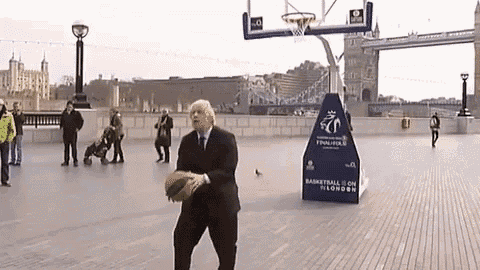 However, The Sun's Harry Cole reminded everyone that Boris still had the upcoming Privileges Committee investigation to deal with. If it goes badly, he might have to resign as an MP:
Conservative MPs could schedule a motion to cancel the investigation. That would have to be approved by the Commons, but as the Conservatives have a current majority of 71, it could still be overturned. This Sun reporter thinks it is unlikely, however:
Truss's Deputy Chief Whip Craig Whittaker requested that his name be removed from Guido's list of Boris supporters. His post requires impartiality:
Emily Maitlis, formerly of the BBC, reacted characteristically to news that Boris was running in the leadership contest:
Guido has the audio and reported:
Emily Maitlis meanwhile learnt the Boris news live on her News Agents podcast. You'll never guess her reaction…
Shouldn't hurt Boris's chances…
Rishi takes the lead
Maitlis needn't have worried.
By 11 a.m. on Friday, Rishi had just edged past Boris:
A half hour later, Rishi's momentum was beginning to build:
Boris backers hadn't lost hope, however. The fact that Ben Wallace, the Defence Secretary, supported him was an added fillip:
That afternoon, Opinium posted their snap poll on who the public supported. Rishi was the clear winner. Even Penny beat Boris:
Boris gained support from more of the Red Wall. Teesside mayor Ben Houchen is a Party member and not an MP. Simon Clarke was Truss's Levelling Up Secretary:
Guido excerpted their letter to the Telegraph …
Boris is the person we need to lead our country and our party. 
He won the greatest election victory for years on a mandate to unite and level up the UK, and inspired millions of people who had never voted Conservative before to get behind a generous, optimistic vision of what Britain can be.  
People on Teesside love Boris because he recognised that while talent is evenly distributed across the country, opportunity is not. Boris gave us that opportunity. 
…
Teesside has had difficult times and is now levelling up because of Boris. We know that for us, like Boris, the comeback will be greater than the setback.
… adding:
Houchen is a real loss for Rishi…
By 3:45, Rishi was well on his way to 100 backers. Boris was now lagging behind, and Penny was stuck:
In the early evening, an MP from the 2019 intake, Antony Higginbotham, representing the traditionally Labour constituency of Burnley, came out for Boris:
Two hours later, veteran MP Bill Cash also announced his support for Boris:
It seemed that most Boris backers were traditional Conservatives and Red Wall MPs.
Guido pointed out the Red Wall loyalty:
By contrast, Matt Hancock felt the need to produce a lengthy statement explaining why he was supporting Rishi:
Saturday's papers
Saturday's papers were a mixed bag.
Not surprisingly, the Financial Times said that investors were alarmed at the prospect of Boris's return:
The Telegraph reported that Rishi was expected to pass the threshold of 100 MPs:
The Star came up with an aubergine motif for Boris and couldn't resist featuring Lettuce Liz again:
Their Thought for the Day was:
Haven't we all suffered enough?
The lead paragraph reads:
Just when you thought all salad-based puns had been exhausted, posh aubergine Bozo Johnson has emerged as one of the favourites to replace Lettuce Liz as PM.
Rumours began circulating about joint talks between Rishi and Boris:
Two papers played to Boris supporters — the Express …
… and the Sun:
The paper's veteran Trevor Kavanagh explored both sides of the Boris equation in 'Boris Johnson is a political Humpty Dumpty with a giant ego who had such a great fall — but if he runs for PM, he'll win':
… Boris Johnson, the political Joker who makes half the nation smile while the rest are spitting chips, is gearing up for another pitch at the premiership.
He needs 100 MPs' votes and may well get more.
If he runs, he wins — that's my prediction for what it's worth in this tumultuous here-today, gone-tomorrow blur of Tory leaders, challengers and assassins.
And even if he doesn't win, what a pleasure to hear the screams of fury from Labour, Lib Dems and Scot Nats — amplified through the impartial BBC's 100-decibel speakers …
These puce-faced wets don't seem to realise they are fuelling the pro-Boris momentum which might propel him back into Downing Street and even produce another sensational election win.
Happily, their moans are drowned out by cheers from Red Wall Tory MPs who credit Boris with winning their seats in Parliament.
They want Boris back and so do millions of voters across the land.
It may be deeply irresponsible to say so, but this is diamond-studded 24-carat political entertainment and I for one am enjoying the ride.
Don't get me wrong — I am not ­watching BoJo: The Movie through rose-coloured glasses, or even suggesting that it makes sense.
Boris Johnson must take much of the blame for the catastrophic mess the country is in, politically and economically.
But he won his 2019 80-seat landslide majority fair and square.
It was an almost entirely personal achievement beyond the reach of any other politician.
He used that majority to achieve great things, ramming Brexit through Parliament, the Covid vaccination triumph and leading global support for Ukraine.
He also blew it as the "Greased Piglet" PM who believes rules are for little people, not him …
It was such casual conduct that handed Labour grounds for a kangaroo court trial for lying to Parliament — a hurdle still to be cleared.
But for such careless affronts to good governance, Boris Johnson would still be Prime Minister right now.
The Pound would be steady, mortgages manageable, inflation past its peak.
We would not have seen the eye- popping political convulsions which turned Britain into a global laughing stock.
The soap opera is not over yet.
Whoever wins next week must choose a new Cabinet and pick a way through the ruins.
If it is Boris, it should at least end the clamour — choreographed yesterday across all BBC networks — for a snap General Election.
Boris won't have to face the tricky ­question: "Who Voted for You?" …
Without Boris, the Conservative Party faces certain defeat by 2025.
Boris has the magical Heineken ability to reach voters other politicians cannot reach.
It's a gamble, a glitterball Who Dares Wins test of luck and daring.
Even Netflix couldn't make it up.
But for the Tories, it is the only game in town.
For the next 24 hours I had hope.
More on the contest will follow tomorrow.
May this be the only time the State Opening of Parliament has to be so pared down.
In December 2019, the last time this ceremony took place, everything was normal, with peers, MPs and distinguished guests filling every available space.
My post from that year explains how the ceremony and the Queen's Speech — written by the Government — unfolds and concludes.
Tuesday, May 11, 2021, was the 67th occasion on which the Queen has opened Parliament. This was her first formal engagement since the death of Prince Philip:
Steeped in tradition, the State Opening brings together all three parts of Parliament: the House of Commons, the House of Lords and the Monarch.
Prince Charles accompanied the Queen, as he did in 2019. This was the first year that the Duchess of Cornwall attended.
Prince Charles and the Duchess of Cornwall, who are at Clarence House in St James, arrived by car at the Monarch's Entrance to the Palace of Westminster.
The Queen left Buckingham Palace by car and arrived a short time later.
Inside the House of Lords, the throne for the Queen's Consort — Prince Philip — had been removed and is in safekeeping. There was one throne and, off to the side, two plush chairs for Prince Charles and the Duchess of Cornwall.
Once the Queen enters the Palace of Westminster, the Union flag on top of the building is lowered and her standard is raised. Upon her departure, her standard is lowered and removed and the Union flag raised.
The Queen entered the House of Lords with Prince Charles. The Duchess of Cornwall walked behind them, socially distanced.
This video might be geo-localised, however, for those fortunate enough to see it, it has the whole ceremony. The Lords must wear their formal robes (a sign language version is also available):
Other participants must also wear ceremonial dress or robes for their office, including the Speakers of the Commons and the Lords:
These are the robes the Lords Spiritual — Church of England bishops — wear:
Here is the Speaker of the House of Commons along with his deputy speakers:
Yeoman warders from the Tower of London are part of the ceremony:
They are shown below in the Royal Gallery, which leads to the House of Lords:
On Tuesday, socially distanced MPs sat on one side and Lords on the other. Those who wished to attend submitted their names, and the requisite number of persons was chosen by lottery:
The Queen makes her entrance to the House of Lords via the Royal Gallery and exits in the same manner:
Here she is prior to giving her speech, awaiting the arrival of members of the House of Commons, summoned by Black Rod:
Normally, the speech is handed to her, but because of health restrictions, it was already sitting on the table next to her.
The transcript is available online:
To allow for flexibility, allowance is made for any additional legislation that might arise. One example of this from the previous parliamentary year was the infamous Coronavirus Act 2020, which is still in effect:
The Queen ends her speech with a blessing:
This is a summary of the new legislation:
In addition, there will be legislation on repealing the Fixed Term Parliament Act so that elections can be more easily called (rather than every five years), an anti-hate speech online law (Online Harms Bill) and a measure to introduce voter ID. Why we need voter ID, I have no idea; we receive electoral roll cards prior to every election. Those work perfectly well. There was only ONE case of voter fraud in 2019. Postal voting is a bigger cause of any electoral fraud.
Only a small number of MPs were allowed to be in the Lords chamber for the speech: Commons Speaker Sir Lindsay Hoyle, Prime Minister Boris Johnson, Leader of the House of Commons Jacob Rees-Mogg, Labour Leader Sir Keir Starmer and the party whips. Any other MPs showing up in person had to remain in the Commons chamber.
A new Lord Speaker was in attendance, Lord McFall (Labour) who succeeds the recently retired Lord Speaker, Lord Fowler, who returns to the Conservative bench in the chamber:
After the Queen delivers her speech and leaves, parliamentary business can begin.
Both Houses debate the contents — proposed legislation — of the Queen's Speech. The debate is called the Humble Address:
Once back in the House of Commons, the Serjeant at Arms replaces the mace and a new set of debates on future legislation can begin. The next two tweets explain the relationship between the Commons — the locus of legislation — and the Lords, who debate the proposed laws and suggest changes — amendments — before the various bills return to the Commons:
There is also the ceremonial matter in the Commons of the 'release' of an MP who, traditionally, is held at Buckingham Palace while the Queen's Speech takes place. This year it was Marcus Jones (Conservative), who is also Vice Chamberlain to Her Majesty's Household:
In addition to new legislation, there are three upcoming by-elections:
The SNP MP for Airdrie and Shotts, Neil Gray, has been elected to the Scottish Parliament. The Conservative MP for Chesham and Amersham died a few weeks ago; Cheryl Gillan had participated regularly in Commons debates until just before her death. Labour MP Tracy Brabin has just been elected as the first Mayor of West Yorkshire.
Speaking of by-elections, Tuesday was the day when Harlepool's new MP, Jill Mortimer (Conservative), took her oath of office:
She is probably the only MP in living memory who could not shake the Speaker's hand. However, depending on how long coronavirus restrictions are in place, she might not be the last:
Both Houses have changed their typeface for their call lists. Why? The old version is on the right — and has more gravitas:
Commons Speaker Sir Lindsay Hoyle has instituted a flag representing the House of Commons, which made its debut today and will fly every day when the House is in session. Hmmm:
In closing, today marks the sad anniversary of a Prime Minister who was assassinated in 1820:
Thank goodness such events have been rarities in Britain. Long may they remain so.
May the Lord guide both Houses through the new parliamentary year.
Parliament is entering Easter recess on Thursday, March 25, 2021.
A few notable news items follow from both Houses — and the Scottish Parliament.
Scottish Parliament — MSPs standing down
A number of MSPs are standing down from their seats in Holyrood. Scots will elect new MSPs in May.
The Scotsman has a useful list, complete with photos, cited below. Emphases mine:
While all 129 of Holyrood's seats will be contested at this year's ballot, more than a quarter of the current crop of MSPs are standing down – including high profile figures like Ruth Davidson, Iain Gray and Jeane Freeman.
Highlights follow.
Independent
I will miss Ken Macintosh, who was a faultless convener presiding over fractious debates during the past year:
Ken Macintosh has been an MSP since the opening of the parliament in 1999, before unsuccessfully seeking the Labour leadership twice. He was elected as the parliament's fifth presiding officer in 2016, but announced in September that he would not be seeking re-election as an MSP.
Scottish Conservatives
Ruth Davidson will be elevated to the House of Lords:
The former Scottish Tories leader took over the party's reins at Holyrood once more when MP Douglas Ross was elected as the new leader last year. Ms Davidson will now take up a seat in the House of Lords.
Scottish Labour
Iain Gray is ending a long career as an MSP:
Former Scottish Labour leader Iain Gray was first elected to the Scottish Parliament in 1999 and is currently Labour's education spokesman at Holyrood.
SNP
Here is the list of SNP MSPs who are standing down. Many have been in Holyrood for a number of years:
Jeane Freeman was in charge of health during the coronavirus crisis. Many residents of Scottish care homes died during that time.
One wonders what she will do next:
Health Secretary Jeane Freeman confirmed she will not seek re-election. The Carrick, Cumnock and Doon Valley MSP said she had "more she wanted to do" outside of politics.
The Scotsman has an interesting article from 2018 about her career history at that time:
Jeane Freeman, for it was she, has moved on to greater things as Health Minister in the Scottish Government. In the first half of this decade, she was a useful cog in the SNP machine as a former Labour apparatchik who, when the wind changed, discovered she was really a Nationalist.
Long a habituée of the quango circuit, Ms Freeman's new appointments included the disastrous Scottish Police Authority. In her peak year of 2013-14, she pulled in £57,000 from that source alone. There were a couple of NHS roles, not forgetting the Judicial Appointments Board.
All this added up to 376 paid days in the financial year. One might have thought the Scottish Commissioner for Public Appointments (for such a person exists) might have done the arithmetic and asked questions but that is to over-estimate the vigilance of our non-barking watchdogs.
At the same time, Ms Freeman fronted "Women for Independence" and ran a lobbying firm which targeted the public sector. When a member of the public tabled a Freedom of Information request in 2015 about her business meetings with Scottish Ministers and officials, he was given the classic brush-off – the question would cost too much to answer.
Not unreasonably, he then wondered how lobbying activity could be monitored if ministers refused to provide information about their contacts on such implausible grounds. Another of our civic protectors, the Freedom of Information Commissioner, dismissed his complaint. Scotland really is a village …
There are still individuals floating around the Scottish quango circuit who were being put up for every chairmanship that occurred 20 years ago. The qualifications are that they challenge nothing, remain anonymous and nod their heads when directed by ministers. Political influence is as prevalent as it ever was – just much less transparent. Ask Ms Freeman.
This all fits into the wider pattern of centralisation which has systematically downgraded every other centre of influence within Scotland – public bodies, local government, police boards, funding-dependent third sector organisations – in order to create a closely integrated structure which brooks no challenge.
There is a powerful political agenda waiting to be created around the need to restore diversity and scrutiny within Scotland in order to challenge the power of the centre. Some might see that requirement as a paradoxical outcome of devolution while others recognise it as depressing – but largely predictable.
Linda Fabiani was the convener for the Holyrood inquiry examining the way Alex Salmond's case was conducted. Hmm. Interestingly, The Scotsman makes no mention of this:
Ms Fabiani was first elected to the Scottish Parliament in 1999 as an MSP for Central Scotland, but since 2011 she has represented East Kilbride.
Then there's Mark McDonald:
The Aberdeen Donside MSP resigned from the SNP after sending a woman an inappropriate text message which referenced a sex act.
House of Commons news
Historic Westminster by-election in Scotland
A historic by-election will be taking place in Scotland as the SNP's Neil Gray announced he would be standing down. He made his final speech in Westminster — the mother of all Parliaments — on Tuesday, March 23:
An arcane parliamentary point needs to be explained:
Although the actual Manor of Northstead in Yorkshire no longer exists, the estate has been redeveloped as a park.
In political terms, this is a temporary position for MPs who have resigned and is given out at the pleasure of the Chancellor of the Exchequer. Wikipedia explains:
By virtue of the fact that it became and was retained as a Lordship of the Crown beyond the sale and eventual disappearance of the estate, since the nineteenth century the post of Crown Steward and Bailiff of the Manor of Northstead has played a role in the procedure for effecting resignation from the British House of Commons by Members of Parliament (MPs). While no longer having any actual role or responsibility, it remains a nominal paid office of the Crown, a sort of sinecure, appointment to which is one of the things that by law disqualify an MP from the House. This principle goes back to the Act of Settlement 1701, and is now regulated by the House of Commons Disqualification Act 1975. Since 1624, MPs have not been permitted to resign their seats directly. While several such offices have been used for this purpose in the past, in the present day only two are used: the Northstead post and that of Crown Steward and Bailiff of the three Chiltern Hundreds of Stoke, Desborough and Burnham.[1][2]
… Appointments to the posts are made by the Chancellor of the Exchequer. Using two posts allows more than one MP to resign simultaneously, although more commonly, single resignations are effected by alternating appointments to the Northstead and Chiltern Hundreds offices. One of the most recent MPs to be appointed to the Northstead office was former Prime Minister David Cameron, who announced his decision to resign from his Parliamentary seat of Witney on 12 September 2016.[5]
Neil Gray was praised again in the House of Commons today during Business Questions, including by Leader of the House Jacob Rees-Mogg. Here are more compliments from Tuesday:
This means there will be a by-election in Gray's former constituency of Airdrie and Shotts:
This is the first time there will be a Commons by-election in an SNP-held seat:
Boris reasserts his position as Prime Minister
On March 24, Prime Minister Boris Johnson appeared before the Liason Committee, comprised of heads of the parliamentary Select Committees.
The session lasted around 90 minutes and covered several topics, one of which was devolution.
Scotland and Wales are trying to whittle away the significance of the UK government.
Stephen Crabb (Conservative, Preseli Pembrokeshire) asked Boris how he saw his position. He confirmed that he is the Prime Minister of Scotland as well as the United Kingdom:
Part of the answer is to employ civil servants with the ability to accommodate the interests of the United Kingdom as well as those of the devolved nations:
House of Lords news
Two notable things happened in the House of Lords this week.
Unusual tie vote
The Lords voted on an amendment to a Government bill, only to find the result was tied. As such, the amendment failed, meaning that the Government won that round:
Hereditary peer says old biscuits perfectly edible
The House of Lords still has 90 hereditary peers.
One of them is Lord Palmer, whose family part owns the famous biscuit manufacturing firm Huntley and Palmers Ltd.
If anyone in the Lords should know when a biscuit is past its best, it would be he.
I'm bookmarking this for future reference:
With Parliament in recess, I'll be able to do some springtime projects around the house. If I find a stale biscuit, I'll let you know.
The State Opening of Parliament on Thursday, December 19, 2019 is the last we will see for a while.
We had a State Opening of Parliament on Monday, October 14, after the last prorogation.
Two State Openings in one year — and so close together — is a highly unusual situation.
I watched both on television. The symbols and pageantry are tremendous.
Parliament's website states:
The Queen's Speech sets out the government's agenda for the next session of Parliament and outlines proposed policies and laws …
State Opening is the main ceremonial event of the parliamentary calendar, drawing a significant audience online, on television and in person.
In the days preceding the State Opening, both Houses of Parliament — the Lords as well as the Commons — swore in all members individually for this new session following the General Election of Thursday, December 12:
Once complete, the State Opening could take place.
It is the only time the three elements of British government are brought together in one place, in the Palace of Westminster, home to the Houses of Commons and the Lords:
Yeoman warders from the Tower of London do a symbolic inspection — centuries ago, it was a real inspection — to ensure there are no saboteurs or explosives lurking:
This recalls the Gunpowder Plot of 1605, involving a handful of rebellious Catholics, the most famous of which was Guy (Guido) Fawkes, although Robert Catesby was their leader. They attempted to blow up the House of Lords. The explosives were already there.
Today, after the inspection, each of the Yeoman Warders ('Beefeaters') is rewarded with half a pint of port.
Meanwhile, the Queen prepares to leave Buckingham Palace for the short ride to the Palace of Westminster. Prince Charles accompanied his mother for both State Openings this year, as Prince Philip has retired from public duties:
October's State Opening was much more formal. The Queen wore a crown and was dressed in a full length white gown with an ermine cape:
This time, she wore a dressy coat and a hat. Her mode of transport was a Bentley rather than a carriage. The photo on the left shows her walking with Prince Charles in the Royal Gallery in the Palace of Westminster, eventually into the House of Lords to deliver her speech, written by her government:
While the Queen is preparing to give the speech, Black Rod walks from the House of Lords to the House of Commons to summon MPs to the Lords to hear the monarch. We have seen quite a lot of Sally Clarke, the first female Black Rod, this year.
This video explains Black Rod's duties, which are more than ceremonial:
When Black Rod arrives at the House of Commons, the door is slammed in her face. This symbolises:
the Commons' independence from the monarchy. Black Rod then strikes the door loudly three times with his ebony staff, or rod, before it is opened, and the 250 Members of the House of Commons follow him back to the Lords Chamber, to stand at the opposite end to The Queen's Throne.
The video in the second tweet shows the route MPs take to the House of Lords, with Black Rod leading them. The first video dispels the myth that the Lords wear their ceremonial robes every time they meet:
MPs stand in the back of the House of Lords to listen to the Queen's Speech, which the Lord Chancellor presents to her in a special silk pouch.
During the State Opening, one MP is 'held hostage' at Buckingham Palace. I do not know who the two MPs were this year:
Afterwards, MPs return to the Commons:
When the Queen leaves, a new parliamentary session starts and Parliament gets back to work. Members of both Houses debate the content of the speech and agree a reply, known as the 'Address in Reply to Her Majesty's Gracious Speech'.
Each House continues to debate the planned legislative programme for several days, looking at different subject areas. The Queen's Speech is voted on by the Commons, but no vote is taken in the Lords.
Friday, December 20, was MPs' last day in session before Christmas recess. Brexit was at the top of the agenda.
They approved the second reading of Prime Minister Boris Johnson's deal from October:
They also approved the timetable — programme motion — for the second reading:
They meet again on Tuesday, January 7, 2020:
We have much to look forward to in the New Year.
On the evening of Tuesday, October 8, a second prorogation of Parliament took place:
Prorogation proceeded as normal, unlike the first one on September 10, which Baroness Hale and the Supreme Court declared unlawful.
Not illegal, unlawful: done for political reasons.
Apparently, Baroness Hale has eyes into Prime Minister Boris Johnson's soul. Could it be the spider brooch what done it?
It has been said that Spiderwoman took down the Hulk with that decision. She isn't denying it.
The Baroness spoke to the Association of State Girls' Schools, covered by TES (Times Educational Supplement) event on October 4. Clearly, she took exception to Boris's use several weeks ago of the phrase 'girly swot'. He once referred to former PM David Cameron as a 'girly swot'. The anti-Boris/anti-Brexit brigade are still running with it.
It is unclear whether the slide below came from the Association or the Baroness herself:
Now on to the orderly prorogation that took place on Tuesday evening:
This is what happened:
People were sympathetic towards Black Rod, remembering the events of September with Speaker Bercow and Labour MP Dennis Skinner (language alert):
Norman French is still used as part of this ceremony — 'The Queen wishes it':
Unlike last time, all of the MPs filed out of the chamber to walk to the House of Lords:
The same clerk from the Lords read out the lengthy achievements of the government and Parliament in terms of legislation:
The government writes the clerk's speech, which is presented on the Queen's behalf, hence the usage of 'my government':
In the photo at the top right, you can see Black Rod (Sarah Clarke) on the left and the Speaker of the House (John Bercow) next to her:
After the clerk finished the long list of accomplishments, she announced the prorogation of the House of Commons, required before a Queen's Speech, which will take place on Monday:
The 'zombie Parliament' is over …
… although the same MPs will convene on Monday.
At the end:
The MPs then returned to the House of Commons for a few minutes:
Then everyone left and the chamber was locked.
On Monday, it will be interesting to see if MPs reject the content of the Queen's Speech. They vote on it:
Even if they vote to approve it, the Lords — most of whom are life peers, not hereditary — can vote against subsequent legislation, e.g. Brexit. As the Twitter user below points out, Remainer Lords did not show up for September's prorogation:
The last PM to have a Queen's Speech rejected was Stanley Baldwin in 1924:
The last time this happened was in January 1924 to Conservative Prime Minister Stanley Baldwin after he proceeded with a King's Speech, under George V, despite having lost his majority in the previous month's general election.
Mr Baldwin subsequently resigned and a minority Labour government took over.
Oh, my. The circumstances, minus the general election, sound very similar to Boris Johnson's. That said, Boris, being a keen student of history, already knows that.
He won't resign. If MPs vote against the Queen's Speech, all he has to say is that opposition MPs turned down his two previous motions for a general election. This is why Labour and the Lib Dems don't want one:
More next week.