You are currently browsing the tag archive for the 'Howie Carr' tag.
On Monday, May 17, 2021, a number of interesting news items appeared.
World Economic Forum cancels 2021 meeting
The World Economic Forum, the brainchild of Klaus 'The Great Reset' Schwab, is cancelling their 2021 meeting in Singapore:
MoneyControl reports:
With COVID-19 cases surging across the globe, World Economic Forum on May 17 announced the cancellation of its annual meeting in Singapore.
The World Economic Forum has been preparing a Special Annual Meeting in Singapore, which was supposed to take place just three months from now. The next Annual Meeting will instead take place in the first half of 2022. Though final location and date will be determined based on an assessment of the situation later this summer …
"It was a difficult decision, particularly in view of the great interest of our partners to come together not just virtually but in person, and to contribute to a more resilient, more inclusive and more sustainable world. But ultimately the health and safety of everyone concerned is our highest priority," WEF Founder and Executive Chairman Professor Klaus Schwab said.
The WEF event had already been rescheduled twice and had been moved to Singapore from its usual location of Davos, Switzerland. The event brings together politicians and business leaders from around the world.
Good news.
California can no longer lock down churches during coronavirus crisis
There's more good news, this time from California. Governor Newsom can no longer issue coronavirus — and other — diktats preventing church worship:
LifeNews reports that:
a California District Court entered an order approving Liberty Counsel's settlement of the lawsuit on behalf of Harvest Rock Church and Harvest International Ministry against California Gov. Gavin Newsom. The full and final settlement was approved today the District Court and thus is the first state-wide permanent injunction in the country against COVID restrictions on churches and places of worship.
Once entered by the District Court, this full settlement will be the first state-wide permanent injunction in the country against COVID restrictions on churches and places of worship. Under the agreed state-wide permanent injunction, all California churches may hold worship without discriminatory restrictions.
Under the settlement, California may no longer impose discriminatory restrictions upon houses of worship. The governor must also pay Liberty Counsel $1,350,000 to reimburse attorney's fees and costs.
The settlement references several Supreme Court opinions, including Harvest Rock Church v. Newsom, that include a long list of similar nonreligious activity the High Court set forth as comparable gatherings. These include grocery stores, warehouses, big box stores, transportation, infrastructure, telecommunications, and much more. In other words, churches and places of worship may never again have discriminatory restrictions placed on them that are not equally applied to a long list of "critical infrastructure" or "essential services" as outlined in several Supreme Court precedents cited in the settlement agreement.
Excellent result.
Diner owner posts COVID-19 snitch list
Diner owner Craig Kenady of Washington State got tired of lockdown and decided to reopen his business, That One Place.
It wasn't long before concerned Karens began complaining on Washington's snitch site about the reopening. Kenady decided to print the list of complaints, complete with names, and post it at the entrance to his diner.
The town where he lives, Port Orchard, has a population of 13,000. Most people know each other.
PJ Media has the story, complete with photos, including the snitch list of complaints.
They also have excerpts of his interview with Seattle's KIRO 7. He said:
The only motivation was is that I feel if they're going to call and complain about us, then their neighbors deserve to know. We all, in our small community, deserve to know who we can trust or not.
That's what started it. We felt that it was the right thing.
On Monday afternoon, Howie Carr interviewed him. Well worth a listen. Kenady has no regrets whatsoever.
Oxford University says imperial measurements must be 'decolonised'
The Daily Mail reported that, in the aftermath of American-inspired protests last summer, Oxford University is in the process of decolonising certain aspects of its curriculum, including imperial measurements:
The University has suggested imperial measurements, including the mile, inch, pound and ounce, should be 'decolonised' due to its links to the British Empire.
Decolonising plans by Oxford's maths, physics and life sciences departments suggest the teaching of the measurements in the curriculum may change, according to The Telegraph.
It comes after a pledge from Oxford's vice-chancellor Louise Richardson to embed teaching on colonialism and the Empire into courses and 'diversify' the maths and life sciences curriculum.
The UK had these measurements long before it had an empire.
The libertarian site Spiked responded with this (emphases mine):
What British colonialism has to do with policing in 21st-century America is anyone's guess. But this rage against imperial measurements is even more confusing. Imperial measurements, like all measurements, are simply a way of assessing distance, weight and height.
Just because they are called 'imperial' and were used in the British Empire doesn't mean they are stained forever by racism. As one tweeter pointed out, the metric system is hardly without fault either in this regard, given it was spread around the world thanks to Napoleon's imperial expansion.
The decolonisation movement presents itself as a serious intellectual and political endeavour. It isn't. It is a project of historical offence-taking that is apparently without end. As the goings on at Oxford demonstrate, if you give these activists an inch they will take a mile.
Prince Harry deplores America's First Amendment
Fox News carried a story about Prince Harry (great meme here) and his dislike of freedom of expression in the United States.
The article says:
Prince Harry is facing a wave of backlash after calling the First Amendment of the U.S. Constitution "bonkers" during a podcast appearance last week. 
The Duke of Sussex made the comments on an episode of Dax Shepard and Monica Padman's "Armchair Expert" podcast … 
He specifically took issue with the paparazzi.
"I don't want to start sort of going down the First Amendment route because that's a huge subject and one in which I don't understand because I've only been here a short period of time," Harry said. "But, you can find a loophole in anything. And you can capitalize or exploit what's not said rather than uphold what is said."
"I've got so much I want to say about the First Amendment as I sort of understand it, but it is bonkers," he continued.
Harry's comments ignited a wave of criticism online.
Fox News also included tweets about his interview.
Rep. Dan Crenshaw (R-Texas) tweeted:
Nigel Farage rightly warned the prince about criticising America in an ill-advised way:
That's true.
After Larry King retired from CNN, Piers Morgan took over his slot.
Once Piers Morgan began criticising the Second Amendment, his ratings tanked and the show was cancelled. Newsweek has the story, written after he was ousted from Good Morning Britain earlier this year:
The presenter hosted a CNN talk show from 2011 to 2014. In Piers Morgan Live (formerly known as Piers Morgan Tonight), he interviewed politicians, celebrities and members of the public.
His first guest in the prime-time slot—which was previously occupied by broadcasting giant Larry King, who died in January—was Winfrey.
Morgan's show was canceled on February 23, 2014, after a run of disappointing ratings, which he blamed on his stance on divisive issues such as gun control.
"It's been a painful period and lately we have taken a bath in the ratings," Morgan told The New York Times at the time.
"Look, I am a British guy debating American cultural issues, including guns, which has been very polarising, and there is no doubt that there are many in the audience who are tired of me banging on about it," he added. "That's run its course."
In the U.K. Morgan is also well known for being embroiled in a phone-hacking investigation—and for being sacked as editor of the Daily Mirror in 2004 over the publication of hoax pictures claiming to show British soldiers abusing an Iraqi prisoner.
He was interviewed by U.K. police officers investigating hacking in December 2013. CNN said this had no impact on its move two months later to axe his show.
The Sun reports the same:
While the show started off with respectable ratings, audience figures soon dropped, with some media outlets reporting that the British host failed to connect with an American audience.
Morgan struggled to match the ratings garnered by his predecessor, the Guardian reported.
By February 2014, viewership dropped to the lowest seen since he took over from King …
CNN's Allison Gollust said: "The decision had nothing to do with the hacking interview – not at all."
The final episode of Piers Morgan Live aired on March 28, 2014.
Piers Morgan is still derided in both countries.
Prince Harry, take note.
President Trump has given three interviews in mid-March. More on those below.
Americans clearly miss him and his clear-cut, sensible policies. Joe Biden's administration is reversing many of them. Remember the manufacturing plants that were going to stay in the United States? Ford has now reneged and is going back to its original plan of moving one of its plants from Ohio to Mexico:
In other news, it took more than two months for the media, led by the original source, the Washington Post, to retract the story about Trump's phone conversation with Georgia's secretary of state about the election. WaPo finally retracted their false quotes attributed to the former president on Tuesday, March 16:
RedState has an excellent article about this further example of fake news (emphases mine below):
The alleged contents of this conversation had been part of the national conversation ever since January 9 when Washington Post reporter Amy Gardner published a story claiming, based on a single anonymous source, that President Trump had attempted to pressure Ms. Watson into creating evidence of fraud where all right-thinking people know that all voting in Georgia, especially in Fulton County, was totally on the up-and-up. The story blew up. It slid neatly into the Pantheon of Evil Acts By Trump worshiped by the left, the media, and NeverTrump. Through the miracle of journalisming, something we lay folks can't be expected to understand, the anonymously sourced story was quickly and independently confirmed by NBC, ABC, USA Today, PBS, and CNN.
When President Trump was impeached after leaving office for giving a speech on the National Mall on January 6, this unsourced, though now multiply "corroborated," allegation found its way into the "impeachment brief" submitted by the House "impeachment managers," see page 10 if you care to wade through this dross. And, they, relying upon that integrity and sense of fair play for which progressives are famous, even used it in their impeachment arguments …
One final note. If the Daily Caller or Free Beacon or even the Washington Examiner had pulled a bullsh** stunt like this, they would be out of business (read The Washington Post Doesn't Deserve to Exist After Making up Trump Quotes to Own the Orange Man). Facebook and Twitter would have de-platformed them by now (read Based on Brian Stelter's Own Arguments, CNN and Washington Post Should Be Deplatformed). They would be ritually sacrificing staffers to try to keep advertisers from fleeing, and they would still fail. The Washington Post and Amy Gardner will simply move ahead. They will continue to sling wild conspiracy theories based on uncorroborated single sources, and they will continue to be treated as though they are serious newsgathering organizations.
Trump quickly compiled quotes from all the journalists condemning WaPo — including one from Glenn Greenwald, not a fan of his by any stretch of the imagination. When clicking that Telegram link, click on 'Context' to view in its entirety. It is easier just to visit his website's announcement with all the quotes.
On Saturday, March 20, at Mar-a-Lago, he made reference to Joe Biden's tripping on the airplane stairs and quickly added that he himself won the election by more than 75 million votes:
That Trump won is very likely to be true. On March 19, Howie Carr interviewed Jonathan Allen, one of the authors of Lucky: How Joe Biden Barely Won The Presidency. At the 8 minute point of the interview, Allen tells Carr that Trump lost within 43,000+ votes in three states. Peter Navarro, who wrote three reports for Trump on the 2020 election results, maintained that only six counties needed recounts, yet the swampy advisers around Trump said not to pursue the matter. After all, they have careers to preserve.
Former Democrat — now proud Republican — Georgia state congressman Vernon Jones was a guest of President Trump's at Mar-a-Lago twice in one week:
On Monday, March 22, Harris Faulkner of Fox News interviewed Trump. They discussed the border situation and Biden's reversal of his policies:
Trump is clearly concerned about the Second Amendment (guns), packing the Supreme Court and the weakness of Mitch McConnell, now the Senate Minority Leader.
There was also this:
On Tuesday, March 23, Trump gave an interview to Greg Kelly of Newsmax, wherein he discussed the 'gross incompetence' of the border situation, Operation WarpSpeed and more:
Biden's fall also came up for discussion. Trump said he had 'expected it':
James O'Keefe of Project Veritas was Trump's guest at Mar-a-Lago on March 23:
Rep. Madison Cawthorn (R-North Carolina), elected in 2020, was Trump's guest the following day:
And, finally, on Thursday, March 25, Laura Ingraham of Fox News interviewed him. This interview, which is 26 minutes long, is excellent. It covers the recent policy changes that have happened since Biden took office, including his first press conference that day, and ends with a discussion about Trump's social media plans. Trump seems less sure about a new social media platform, saying that it would be rather complicated and that he enjoys his current communication streams on his website and Telegram.
The former president says he has been relaxing, yet keeping busy. It certainly looks like it.
Those of us who read about former President Trump's impeachment trial hope that his lawyer Michael van der Veen is having better days.
I'll recap later in this post.
He did a great job for his client and had a gimlet eye on the facts.
He had to correct Rep. Joaquin Castro (D-Texas) for misquoting Trump:
His closing argument was excellent.
In one of these clips, he says that House impeachment managers sent him evidence on the first day of the trial, rather than before. Proceedings had already started by the time they sent van der Veen the email with the evidence.
Trump's accusers did not make reference to any laws or the US Constitution:
Van der Veen spoke about the six months of civil unrest that preceded what took place at the Capitol on Wednesday, January 6. Last year's unrest was actually encouraged by a number of Democrats:
He rightly condemned all the unrest, from last year to January 6, but asked how the United States could find itself in such a position:
He concluded that President Trump said nothing that could have incited a riot on January 6:
In fact, the mêlée had already started before Trump encouraged his rally goers to walk to the Capitol. With so many people in the nation's capital that day, it would have taken about a half hour to walk to the Capitol building from the Ellipse, where Trump was speaking.
In any event, Trump was acquitted.
That was partly because someone on the impeachment managers' team doctored the evidence. Two pieces of tampering that emerged in the news were 1) a tweet which was doctored so that 2020 read 2021 and 2) a blue tick mark added to a Twitter user's account.
Van der Veen said there was more falsified evidence.
A CBS News interviewer, Lana Zak, was mystified that van der Veen would find falsified Twitter evidence egregious and unethical.
He was clearly displeased with her reaction and told her so (start at 2 minutes in):
Howie Carr made some excellent observations about this on Monday, February 15 (emphases mine):
What set van der Veen off was when this anchor cupcake by the name of Lana Zak (never heard of her before, how about you?) tried to pooh-pooh the falsification of evidence by the so-called House managers.
In case you missed it, and you probably did, they put blue check marks on Twitter accounts that didn't have them (to somehow add credibility to meaningless, stupid comments). They also changed the dates on various postings, and they doctored video.
In other words, the Democrats falsified evidence, just as the FBI did on Carter Page in the application for search warrants in the secret FISA court.
And the Democrats (including of course See BS News) act like it's no big deal, to try to frame somebody. I get it, it wasn't a criminal trial so technically you don't have to worry about niceties like due process, hearsay, Sixth Amendment rights to confront accusers etc. But still, is it proper to falsify evidence, and then, when you get busted red-handed, shrug it off because you were only doing it to a Republican?
Whatever happened to the American Civil Liberties Union?
Unfortunately, things were hotting up at the van der Veen residence that same day.
How horrible:
Fox News asked the lawyer about it during a post-acquittal interview that Saturday. He said that he didn't want to talk about it. His office was also 'under siege', as he put it. The Gateway Pundit has more on the story, along with the video from Fox News.
I hope things have calmed down for him and his family.
What an appalling state of affairs.
The Left, including the media, should be ashamed of themselves. 'Shame', however, is a word and a concept unknown to them.
President Trump appears relaxed at home in Palm Beach, Florida.
At Mar-a-Lago, someone spotted him doing what he does brilliantly — handing out tips to his staff.
Here he is, flanked by his Secret Service detail, early in February 2021:
On Friday, February 12, the day before his second impeachment acquittal, radio talk show host Howie Carr took his wife — 'the mailroom manager' — and a guest, Joe Piantedosi from the Piantedosi Baking Co. in Malden, Massachusetts, to the resort for dinner. Howie is a member of the club, which is conveniently located, as he now lives in Palm Beach, having moved from Massachusetts a few months ago.
On Presidents Day, February 15, Howie wrote and talked about his dinner. His article includes a photo.
In 'Monday Musings: President Trump's getting back to his old self', he says:
I spoke with President Trump Friday night at Mar-a-Lago. He seemed like he's in a better mood, and this was even before the ridiculous impeachment "trial" ended Saturday with his acquittal, and his lawyer demolishing the media in a liveshot with See BS News (more below).
After my radio show Friday night, Joe Piantedosi and I drove back to Palm Beach from Boca and met the mailroom manager at Mar-a-Lago. Our table for dinner was right next to POTUS', and he came down at about 8 with Corey Lewandowski, Dave Bossie and Pam Bondi, the former AG of Florida who also worked as one of his lawyers.
Dave Bossie was Trump's deputy campaign manager in 2016. Corey Lewandowski was his campaign manager in early 2016, then made way for Paul Manafort so that the latter could mastermind the delegate debacle and win the Republican nomination for Trump.
Howie continues:
As POTUS entered, the dining room, Joe, the mailroom manager and I all stood up and said hello. I extended my hand to shake and POTUS said, "No, we'll get in trouble!" So I shook Corey's hand.
Anyway, an hour or so later, we had finished dinner and were leaving.
How can anyone go out to eat and finish dinner in an hour? It's evident that Howie's stomach op for weight control is still working.
The Trumps' table is always cordoned off:
Usually, I look over his way and wave goodbye, and if he wants to talk, he calls me over. He was looking away, so we just walked on. I don't want to impose myself on him (or anybody else).
So we were walking out through the lobby when I heard a voice behind me: "Mr. Carr, Mr. Trump would to speak with you."
Trump, understandably, was still preoccupied by the election:
The mailroom manager was ahead of us, so Joe Piantedosi and I walked back into the dining room. One of the waiters moved the rope so we could walk into the private area. The president looked up and said, "Do you think I won New Hampshire, Howie?"
"Absolutely!" I said.
He thinks a lot about New Hampshire, about what happened both in 2016 and last year. In 2016, he blamed the "buses from Massachusetts," but I think it was more the same-day registrations in the college towns. If you subtract the impossibly high turnouts in Durham, Hanover, Keene, Plymouth, etc., instead of losing by 3700 or so votes he wins the state, and so does Sen. Kelly Ayotte, for sure.
The reason POTUS asks me about this is that he associates me with New Hampshire. He was on my show, I was at his rallies. I was the host of the town hall in Sandown which was his dress rehearsal for the one in St. Louis where he cleaned Hillary's clock.
To POTUS, I'm not so much the guy from Boston, or the guy who was born in Portland. I'm the guy who's on seven radio stations in New Hampshire.
So I told him, how could you have lost when the NH GOP took over the legislature in Concord in absolute landslides – 67 House seats, 4 Senate seats. He knows this, I'm sure, so I asked him, did you hear what just happened in Windham?
"What happened in Windham?" he asked. I really had his attention now.
I told him – the town just did a hand recount, after all this time, of the legislative races in Rockingham House District 7. The four Republican candidates were each undercounted on the machines – in the hand recounts each GOP candidate picked up, respectively, 297, 299, 303 and 298 votes.
Isn't that peculiar, how each Republican was undercounted by almost the exact same number?
"Has this been reported anywhere?" Trump asked, looking over at Corey Lewandowski, who lives in Windham.
"Not in the Union Leader," I said. "At least I haven't seen it."
Corey looked at him. "I'll get you the numbers," he said.
The Union Leader reported on the story by the time Howie's show aired on Presidents Day. One of the Republican candidates was sure she received more votes — and she had. The discrepancy, however, did not affect the final outcome. The Gateway Pundit and The Daily Fodder have more on the story.
Talk turned briefly to Trump's impeachment trial in the Senate:
The president briefly mentioned the trial – "I thought it was a good day," he said, and no one said much of anything in response, because, let's face it, it was such a ridiculous kangaroo-court farce that who wanted to waste time watching and getting pissed off about it, even if you're headed to Mar-a-Lago for dinner.
Finally, Trump asked how dinner was:
and that was like the old days, before he was even running, when during dinner he'd move from table to table like a super maître d'.
"I had the lobster risotto," I told him. "It was great."
Howie concludes:
It was great to see him in such a positive mood, and I can only imagine how pleased he must have been the next day when the travesty came to its pitiful end, and then his lawyer Michael van der Veen demolished some bimbo on See BS News.
I will have more on that and the impeachment trial next week.
Although Trump's acquittal is well known, a few rather interesting events and analyses did not make mainstream news.
Wednesday, February 17, 2021, was a sad day for American conservatives.
Radio host Rush Limbaugh died of lung cancer.
His weekday radio show, broadcast all over the United States, gave a voice to independents and Republicans who support American values and common sense.
Why millions mourn
Although Limbaugh spent nearly all his career in broadcasting, he became a household word during the Clinton administration. Adults listened to him intently. They encouraged their children to listen to him also, whether at home or on the road.
Limbaugh spoke the truth in a witty, humourous way that kept the syndication of his show on the rise.
The man with the golden microphone influenced millions of Americans, young and old, in a tie that he designed himself. He had a series of these ties, of varying designs of his own which were made in pure silk and produced in the 1990s. They sold like hotcakes:
His broadcasting company was called EIB: Excellence in Broadcasting.
Florida governor Ron DeSantis gave one of the state's two most famous residents — the other would be President Trump — a proper tribute, including an excellent potted biography. Click on the image in the tweet to see more:
Former US Secretary of State Mike Pompeo used one of Rush's invented terms for those who agreed with him: 'ditto heads'. As I recall, in order to help pace calls from listeners, he encouraged them to say 'ditto' if they agreed with him. In time, he affectionately called them ditto heads:
Trump supporters and commentators Diamond and Silk also sent their condolences:
Limbaugh's many millions of fans knew that he was gravely ill.
Nevertheless, he helped President Trump out by having him do a two-hour rally on air last October. As many states were on coronavirus lockdown, it seemed a sensible way to reach listeners all across the country, which it duly did. Dan Scavino's tweet includes a link to the transcript and to the video:
On October 19, he provided his audience with an update on his health. An excerpt follows:
I just don't like to talk about it often 'cause I don't want to be a cancer patient on the radio.
And there's another thing too. Folks, it's an up and down thing. It really is a day-to-day thing. And so what I tell you one day could very well be true. And then the next day, oops, setback, oops, then I gotta go back, "Folks, what I told you yesterday, forget it. It's not true today." I don't want to put you through that. I don't want to put myself through it. But I know you're concerned. So, it is time. I do want to provide you with a brief and honest update.
In a nutshell, there are lots of ups and downs in this particular illness. And it can feel like a roller coaster at times that you can't get off of. And again, I want to stress here that I know countless numbers of you are experiencing the same thing. If it isn't lung cancer, it's some kind of cancer. If it isn't you, it's somebody really close to you. If it isn't an illness, it's something. We're all going through challenges. Mine are no better and mine are no different and mine are no more special than anybody else. But it can feel like a roller coaster.
On Christmas Eve, his audience wasn't sure whether he would make it back for the New Year. Thankfully, he did, for a while:
On the day of his demise, his widow Kathryn introduced the show with aplomb. All credit to her. She did a brilliant job at what must have been one of the most difficult moments in her life:
No doubt the show's producer, Bo Snerdley, helped her with a highly professional announcement:
Speaking of family, this is David Limbaugh's tribute. Rush was his brother:
Career success
Part of the reason Rush Limbaugh retained such great listener loyalty was that he could make boring or contentious subjects funny.
One of his early radio heroes was Larry Lujack, known during the 1970s as Chicago's 'superjock' when he was employed by WLS. Lujack's ratings were enormous, even for a top-40 station.
Another one of Limbaugh's favourites was William F Buckley Jr, who founded National Review and hosted PBS's Firing Line for many years.
Limbaugh came from a family of lawyers and judges, so the admiration of Buckley is understandable.
However, Limbaugh was not one for legal or serious academics, and, as a boy in Cape Girardeau, Missouri, he gravitated towards American football and radio.
Little did Rush Limbaugh know that he would be able to surpass his 'mentors' during his career and become one of the most famous men in the United States.
He borrowed heavily from both.
Radio
Having a career in radio is very difficult.
You get hired and fired in quick order. Even a superjock like Larry Lujack had his ups and downs before finding ratings success at WLS.
Interestingly, this is how he did it. And Rush Limbaugh did something similar during the early days of his career.
WLS used to carry farm reports before it became a Top-40 music station. When Lujack started, the station was still receiving farming magazines, so, instead of reading the grain reports with a formal farming report, he began relating stories from the farming magazines. These eventually became a regular feature on his show and were called Animal Stories.
Similarly, in 1971, when Lujack was at his height in the disc jockey ratings, Limbaugh was working at a Pittsburgh radio station which also had farm reports. Fox News has an article on Limbaugh's career and relates how he got around farm reports:
"The last thing that the audience of my show cares about is farm news. If farm news came on, bam! They pushed the button and go somewhere else. So, we had to figure out, 'Okay, how do we do this and protect the license?' So I turned the farm news every day into a funny bit with farm sound effects and the roosters crowing and so forth, and I'd make fun of the stockyard feed prices or whatever it was, so that we could say, 'We're doing barn news,' agriculture news. There was all kinds of things like that," Limbaugh told listeners.
The tidbit offered a glimpse into Limbaugh's early days, proving that he was a master of keeping audiences engaged from a young age.
Veteran talk radio host and Boston Herald columnist Howie Carr wrote a warm and detailed tribute to Limbaugh, which shows just how he mastered radio. Excerpts follow:
Thanks for being the absolute best lead-in any other radio-talk show host could have ever dream of having.
Thank you for all the great nicknames from old Top 40 songs, including for local Massachusetts politicians Mike Dukakis ("Nowhere Man"), Ted Kennedy ("The Philanderer") and Barney Frank ("My Boy Lollipop") …
Thank you for teaching all of us other hosts how to properly utilize sound cuts, even before the digital era, when it became so easy to pull up audio clips.
Thank for those unforgettable shorthand descriptions of, say, John Kerry ("who, you may not have heard, served in Vietnam"), not to mention such memorable phrases as "the drive-by media," "talent on loan from God," and "random acts of journalism."
Thanks for your unfailingly good humor, and the fact that you were "up" every afternoon at noon, no matter how you may have felt inside …
Thank you being, as you used to say, America's anchorman, not to mention, providing show prep for the rest of the media …
Thank you for driving President Bill Clinton so crazy that one morning on Air Force One, speaking to the morning hosts on KMOX, the blowtorch station in Rush's home state of Missouri, he whined and said something like, "It's so hard to compete against a guy like Limbaugh who has three hours a day."
In other words, Clinton was complaining that a journeyman radio guy had a bigger bully pulpit than the president of the United States.
Thank you for giving me, and a hundred others, brand-new careers, that I might add paid so much better than newspapers or spinning 45's on a dying Top 40 station.
One of my listeners, Jay from Chelsea, texted me yesterday afternoon:
"Forget Buddy Holly and the Big Bopper, TODAY is the day the music died." Vaya con Dios, Rush. Go with God.
Well said.
Howie also said more than once on his show that day that Rush Limbaugh was renowned as being a big tipper in restaurants.
Conservative analysis
In addition to absorbing conservative thought, particularly by William F Buckley Jr, Limbaugh took a number of trips across Europe and Asia. The Fox News article says:
Limbaugh has said he realized America was the "greatest country ever" when taking trips to Europe and Asia in his late 20s and early 30s, an experience that helped shape his political views.
Like Buckley, Limbaugh was careful to do his research before every show. Rather than conduct a continuous call-in, he gave his own views based on the news, interviews and books he had read. When he took calls, which he did daily, he engaged the listeners in conversation.
Of Buckley, Limbaugh said:
He single-handedly is responsible for my learning to form and frame my beliefs and express them verbally in a concise and understandable way.
The interesting thing is that, as was true with Buckley, both could predict things that came true several months later. That requires analysis of facts and trends. Limbaugh was able to replay clips of his previous programmes when those times came.
Dan Bongino compiled 'The 20 Greatest Quotes From Rush Limbaugh'. Four follow. My favourite is the 17th (emphases mine):
19) "For government to give, it must first take away."
17) "Now, what is the left's worldview in general? What is it? If you had to attach not a philosophy but an attitude to a leftist worldview, it's one of pessimism and darkness, sadness. They're never happy, are they? They're always angry about something. No matter what they get, they're always angry."
2) "You know why there's a Second Amendment? In case the government fails to follow the first one."
1) "What about feeling sorry for those…who pay the taxes? Those are the people NO ONE ever feels sorry for. They are asked to give and give until they have no more to give. And when they say 'Enough!' they are called selfish."
Courtesy
Rush Limbaugh never lorded himself over his audience and was very courteous to his callers.
On Wednesday, Howie Carr, who knew Limbaugh peripherally, said that, even when Limbaugh became mostly deaf, he could sense the tone of a caller's voice. If they were worried, he reassured them. When they were happy, he laughed along with them.
Howie Carr says that during the last ten years or so of Limbaugh's show, he employed a transcriber who could type as quickly as a caller spoke. This further enabled him to engage with those phoning in to the show, which he broadcast from a custom-built studio at his home in Palm Beach.
The show's future
Howie Carr said that, for now, The Rush Limbaugh Show will continue with retrospective audio clips on various topics, of which there are many. He thinks there will be a presenter to oversee the show and introduce various archived pieces.
WXJB-FM, a station that carries The Rush Limbaugh Show, issued a statement on Wednesday, which reads in part:
All of Rush's audio has been extensively archived and catalogued by subject, topic and opinion.  Given how timeless and insightful Rush's commentary is his producers will be able to pull segments that are relevant for each day's news cycle and allow us to feature the best of Rush for the full three hours of the program.
The familiar voices of the programs' guest hosts will be used in the show when needed to guide Rush's audio from one topic to another, but Rush will be the predominant voice heard for the three-hour Monday-Friday show, the AM Daily Update and The Week in Review three-hour show.
Please note that we will continue with this transitional programming until the audience is prepared to say good-bye. The long-term plan will be shared with you in the upcoming weeks.
We will mourn together in a respectful way and celebrate the incredible life of Rush with his millions of loyal listeners.  Today, a three hour tribute will air in Rush's regular time slot.  Follow-up information will be posted on www.rushlimbaugh.com.
Thank goodness.
President Trump's tribute
Fox News interviewed President Trump on Wednesday. This 12-minute video is very interesting, definitely worth a watch:
Here is a shorter excerpt from that interview:
President Trump said that he did not know Limbaugh until shortly after he began his presidential campaign in 2015 at Trump Tower. Sometime afterwards, a mutual friend got in touch with candidate Trump to say that he had a fan in Limbaugh.
Trump then began listening to Limbaugh's shows. The radio host mentioned him and his candidacy frequently. Finally, the two men met. As they both had homes in Palm Beach, Florida, it was convenient. When time permitted, they shared a game of golf. Trump praised Limbaugh's strong swing.
He also had high praise for his wife Kathryn Limbaugh and credits Rush's ability to survive for the last few months to her good care as well as to the radio host's indomitable spirit.
When it came time to present the Presidential Medal of Freedom at the State of the Union Address in 2020, Limbaugh was receiving treatment in a Boston hospital. Trump wanted to keep the medal a surprise but could not do so, because allowing Limbaugh out of hospital required details of why he had to be temporarily discharged. Further complicating matters was the fact that Limbaugh was incapacitated for the most part and had to use a wheelchair. The video has a clip of the presentation. I remember it from last year. It was very moving, indeed.
Fortunately, Newsmax also has a clip. Kathryn Limbaugh is on the left of the screen. First Lady Melania Trump presented the honour:
Much applause and a standing ovation from Republicans followed:
The last time the US president spoke to the ailing radio host was a few days before his death. He called to check in on his friend, who, by then, was very ill indeed.
President Trump said that Rush Limbaugh truly loved America. He also said that America's most famous radio host was also religious, which is why he was able to be philosophical about his illness.
Tens of millions of us can believe it.
The word most often used this week to describe him is 'irreplaceable'. Tens of millions of us can believe that, too:
May Rush Limbaugh rest in eternal peace with perpetual light forever shining upon him.
My prayers go to his widow Kathryn, his brother David, the rest of his family and all his friends.
Rush Limbaugh was one of the last people who exemplify Americana in all its greatness.
Thanks to James O'Keefe's Project Veritas, Michael Beller, who was at the time Principal Counsel — head lawyer — for the partly publicly funded PBS network in the United States, freely aired his views about America and Donald Trump supporters.
This video was filmed before the November 3, 2020 general election. Gosh:
One of his statements was particularly snobbish. Beller is grateful for being able to live in Washington, DC, because (emphases mine):
Could you imagine if you lived in one of these other towns or states where everybody's just … stupid?
An aghast Howie Carr, who hails from Maine, Boston and Palm Beach, played that clip on his talk radio show on Tuesday, January 12.
Beller thinks the only solution for Trump supporters is to confiscate their children and put them in re-education camps.
You cannot make this up.
He also advocated circling the White House and throwing Molotov cocktails in the event that Trump stays in office:
Good grief.
Beller has no respect for those who partly fund the PBS network:
Americans are so f**king dumb. You know? Most people are dumb …
That was nice (not).
James O'Keefe managed to track Beller down in DC earlier this week. Before Beller slipped into a restaurant, he claimed that his reference to Molotov cocktails meant a new 'drink'. Sure, pull the other one. We all know what they are:
Fortunately, shortly after Project Veritas released their videos, Michael Beller lost his job:
Well, I hope so for America's sake.
James O'Keefe said that this was the quickest reaction ever to a Project Veritas exposé.
Well done, PBS:
The news made the Associated Press:
I wish Project Veritas many more successes as the year unfolds.
On Monday, January 11, 2021, I listened to the Howie Carr Show to find out the latest on President Trump.
Howie didn't have much news on that score, only wishes from callers hopeful that the US president could rescue his re-election bid.
However, in the final segment, one man from Cape Cod in Massachusetts — a regular summer advertiser on Howie's show and someone whom Howie knows personally — rang in to say that his life has been a shambles since the Washington DC event on January 6.
This successful Massachusetts businessman had rung Howie last week to say that the DC rally had been a wonderful celebration of all things American: tradition, patriotism and friendliness.
This man and the many thousands he was with were not anywhere near the Capitol building. They were some distance away.
Last week, he rang in to tell Howie his story of what a grand day out it was.
Since then, he has been attacked on social media and called every name in the book for having gone to DC last Wednesday.
He told Howie that his wife — 'my beautiful bride' —  has been in tears much of the time and his young daughter has also been severely affected by the verbal attacks by members of the general public.
At one point, uncharacteristically, he broke down in tears. He was unsure for the future of his business, even though his ancestors have lived on the Cape for at least three generations. Everyone knows the family name as being honourable and reputable.
Yet, now, that has all come to an end.
I do not want to mention this man's name for fear of further abuse towards him and his family. Regular listeners of the Howie Carr Show will know this man, even if only by the adverts for his establishment.
He said that money this year is not the problem. It is his reputation.
He has been falsely smeared. He did not know what had been going on at the Capitol that day, yet, his good name — and that of his wife and daughter, who were not in DC — have been besmirched.
May I suggest to everyone who is condemning those who attended last week's Trump rally to step back, take a deep breath and stop accusing everyone — hundreds of thousands of people — of tearing up the Capitol building.
In closing, this is a photo (no source given) of Trump supporters in the Rotunda of the Capitol last Wednesday. In case anyone is wondering, the general public are permitted to see parts of the building. I was in it many decades ago: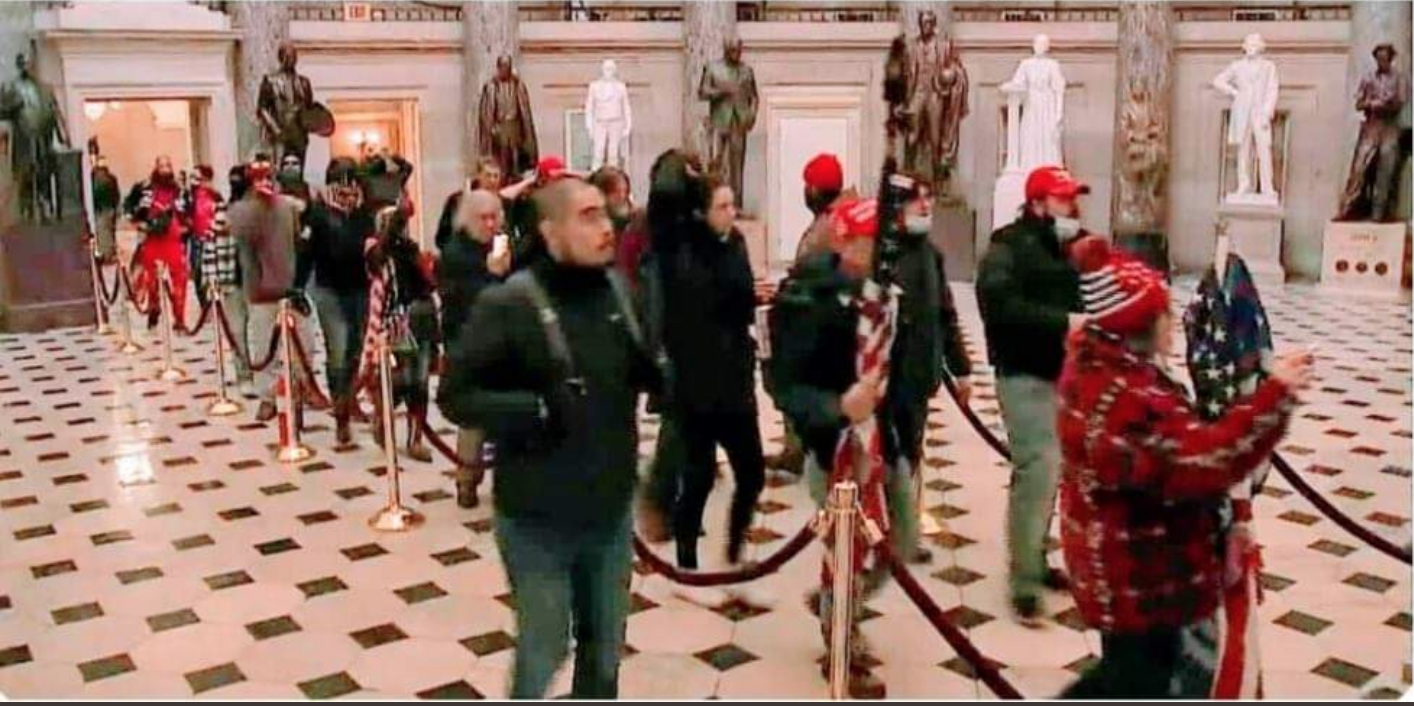 They look pretty lawless, don't they?
If I had a more secular blog, my words would be much stronger.
In conclusion: I hope Trump/Republican detractors stop the hate. Leave people alone. The vast majority went in good faith to support President Trump in his final days in office.
If this businessman's experience is but a snapshot in time, I dread to think what the next four years will bring.
The announcement from President Trump's campaign legal team from November 22 shocked many Sidney Powell supporters.
Many Trump and Powell supporters think that the US president's case for election redress is sunk.
Here is what is happening. My post from Monday, November 23, offers background, including the Trump team's announcement.
What Sidney Powell said
Sidney Powell issued her own statement afterwards. Her work is about 'We the People', as is L Lin Wood Jr's.
Powell's statement is as follows (emphasis in the original, those in purple mine):
I agree with the campaign's statement that I am not part of the campaign's legal team. I never signed a retainer agreement or sent the President or the campaign a bill for my expenses or fees.
My intent has always been to expose all the fraud I could find and let the chips fall where they may–whether it be upon Republicans or Democrats.
The evidence I'm compiling is overwhelming that this software tool was used to shift millions of votes from President Trump and other Republican candidates to Biden and other Democrat candidates.  We are proceeding to prepare our lawsuit and plan to file it this week.  It will be epic.
We will not allow this great Republic to be stolen by communists from without and within or our votes altered or manipulated by foreign actors in Hong Kong, Iran, Venezuela, or Serbia, for example, who have neither regard for human life nor the people who are the engine of this exceptional country.
#WeThePeople elected Donald Trump and other Republican candidates to restore the vision of America as a place of life, liberty and the pursuit of happiness.
You may assist this effort by making a non tax-deductible contribution to www.DefendingTheRepublic.org.  #KrakenOnSteroids"
Sidney Powell
What Trump's campaign lawyers are working on and what Sidney Powell is perfecting are two different issues.
The Trump realm cannot easily enter the Powell realm because that would complicate things unnecessarily.
REX, whom I've quoted before, albeit not recently, has this analysis as to why there is a pincer movement going on:
This is also a useful analysis. I am unfamiliar with the author, but what he says makes sense:
Rush Limbaugh and Howie Carr want more action
On Monday, November 23, Rush Limbaugh was disappointed that nothing was happening yet from either Team Trump or Sidney Powell.
The Daily Caller carried portions of the transcript from his show (emphases mine):
"You call a gigantic press conference like that, one that lasts an hour. And you announce massive bombshells, then you better have some bombshells, there better be something at that press conference other than what we got," he explained.
Limbaugh went on to say that a witness — even one whose identity was disguised — would have gone a long way toward bolstering the claims made by the president's team.
"But you don't — you can't — I talked to so many people who were blown away by it, by the very nature of the press conference," Limbaugh continued. "They promised blockbuster stuff, and then nothing happened. And that's just, that's not — well, it's not good. If you're going to promise blockbuster stuff like that, then there has — now, I understand. Look, I'm the one that's been telling everybody, this stuff doesn't happen at warp speed, light speed, the way cases are made for presentation in court. But if you're going to do a press conference like that, with the promise of blockbusters, then — then there has to be something more than what that press conference delivered."
Limbaugh concluded by saying that if the Trump team was going to make a case, it needed to be done quickly. "Time, of course is of the essence now, as it is speedily vanishing. So they're going to have to act fast," he said.
The Howie Carr Show, now a Newsmax programme, came on in the afternoon.
Howie couldn't get hold of Sidney Powell for another interview, but he did speak with Boris Epshteyn and Joe diGenova. The next few paragraphs are my potted summary of what they told Howie.
Boris Epstein, part of Trump's campaign legal team spoke to Howie. Epstein said ALL the states in question are still in play. He appeared during Howie's Newsmax hour. (Howie wears a jacket and tie during that portion of his broadcast.)
Epstein said they are tracking things very closely and said he wanted to reassure Newsmax viewers that everything is in hand and progressing as planned.
Joe diGenova was on Howie Carr's Newsmax hour after Boris Epshteyn. Joe diGenova said that there IS a two-pronged strategy in play. He said that Sidney Powell doesn't have any problem pursuing the voting machines angle while Team Trump pursues what went on in the polling stations with no Republican observers admitted or placed so far away that they couldn't see anything.
He confirmed what Boris Epshteyn said: ALL the questionable states were still in play that day (and this week).
Is President Trump worried about paying for recounts and/or audits in individual states? Based on 2016 and the four years of lefty turmoil that followed, his team were prepared and set money aside, especially as mail-in ballots were heavily promoted in all Democratic-controlled states or cities.
Trump knew his campaign would need to pay for recounts. That's $3 – 7 million per state. They have that covered.
For those who think Trump should take Al Gore's advice and concede, in 2000, when the hanging chad contest in Florida was in dispute, Gore didn't concede until December.
But I digress.
Back to Howie Carr. As an organised crime reporter for the Boston Herald for many years, he knows how the legal system can be manipulated. On Monday's show he asked whether Sidney Powell's legal standing would be questioned. On whose behalf could she credibly make her case? (After all, L Lin Wood Jr's case in Georgia got thrown out last week for lack of standing. He is going to appeal the decision.)
It turns out that Sidney Powell is a military lawyer. As today is still Thanksgiving Day, the ultimate American feast, here's the retweet:
Now for the original tweet:
She has been representing Gen Michael Flynn.
She has also put the frighteners on certain people involved with the voting machines:
Patience required — more information emerging
An American Thinker article by Andrea Widburg puts the election legal fight into perspective:
Currently, I believe that this election was marked by epic fraud.  You cannot convince me that Biden, who got five or six people to his rallies, as opposed to the 52,000 or so at Trump's rallies in Pennsylvania, ended with more votes than Obama.
Nobody ever said proving this fraud would be easy (or, sadly, even possible).  I'm treating its unfolding like an epic novel with a surprise ending …

So should the rest of us.
Imagine if we were on the legal team. We wouldn't have time to sleep — or contemplate our annual turkey dinner with all the trimmings.
For Team Trump, there is much to challenge. RedState has an article with dizzying detail about Georgia alone.
There are also these items:
Yet another witness has come out in Michigan, describing the same scenario as in Georgia:
This is in addition to the legal challenges going on not only in these states but a handful of others which produced dubious results.
As for Sidney Powell, more information emerges for her, including this:
I really hope this isn't true (a must see/read thread about Republicans and the voting machines).
Conclusion
Meanwhile, Donald Trump is:
Prayers continue for everyone involved in this historic battle for the future of the Great Republic.
Happy Thanksgiving to all my American readers … 
… wherever you might be experiencing lockdown.
I wish all of you a good day, however different it might be in 2020.
Lately, I've been watching Howie Carr every weekday on YouTube to find out how the election results are going.
Even now, Joe Biden is not yet president-elect. For the media, he is more like the president-select (all credit to Howie).
President Trump still occupies that spot, at least until January 2021, at least.
As I wrote this post, he rightly had a go at General 'Mad Dog' Mattis:
He highlighted Wisconsin's suspicious election results …
… and pointed out a fact about the 27 House races that notional experts said Republicans would lose. Republicans won all 27:
He rightly celebrated the Dow Jones Industrial Average reaching 30,000 for the first time in history. Never let it be said that this was Joe Biden's doing. It was Donald Trump's policies that made this beautiful record landmark possible.
This is the ninth stock market record in 2020 and the 48th of the Trump administration:
President Trump pardoned the Thanksgiving turkey, a tradition that began in the 1860s during Abraham Lincoln's administration when his son made friends with a turkey the Lincolns were planning to eat for Thanksgiving.
This year, a beautiful bird, Corn, came from Ames, Iowa, with his friend Cob — Corn and Cob, corncob — for the ceremony. They returned to Ames afterwards with the farmer who bred them:
Now back to Howie Carr, who also covers the latest coronavirus news on a daily basis.
Pity Americans who have to put up with Dr Anthony Fauci. Even Britons roll their eyes at his advice.
A disgusted English friend of mine scorned Fauci's 'don't kill Granny' advice. I shook my head at 'a quarter of a million deaths', which were revised downward drastically during the summer as being deaths with COVID and not of COVID. There's a big difference:
Back to the 'killing Granny' narrative — this is the other side of the story for many elderly with younger family members:
Too right.
Here's another choice morsel from Fauci:
I would love to know what Fauci is doing for Thanksgiving, but he doesn't have a Twitter account and it is too painful listening to his idiocy.
As I write on Tuesday, Howie has been reading out the American resistance to lockdowns and restrictions from news articles. These detail how the great and the good have been dictating, sometimes under penalty of law, how people like you and me should live our lives with an illness that has the same fatality rates as the flu. Note that this does not mean coronavirus is synonymous with flu.
Never mind Fauci. American governors have become more brazen and authoritarian with every passing day, no more so than at one of the sacrosanct, inviolable national holidays: Thanksgiving Day, which is celebrated this year on Thursday, November 26.
Let us make the rounds, coast to coast, to see what these governors have been doing, starting on what used to be known as the Eastern seaboard.
Massachusetts
Republican — actually, RINO — governor Charlie Baker (Joe Biden calls him Charlie Parker) has been issuing various prohibitions for ages.
This is his advice to the Commonwealth of Massachusetts (as it is officially known) for Thanksgiving, the kick-off to the holiday season, which ends in the US on New Year's Day. I enjoyed the response to Baker's advice — well said:
New York
Let's move somewhat south to New York State.
Howie Carr plays the best clips of Governor Andrew Cuomo.
Cuomo's monologues sound as if they are clips from horror movies until Howie says that they're the governor's pronouncements. Scary.
I don't have any of those audio clips, but Cuomo's tweets about Thanksgiving are unintentionally amusing.
Before I go there, however, let's look back to the beginning of the month, two days before the election on Tuesday, November 3.
There was a massive Trump car rally on the bridge named for his father, Mario Cuomo.
As far as I am concerned, the Governor Mario M Cuomo Bridge will always be the TAPPAN ZEE BRIDGE.
This was held in the rain. I embraced the enthusiasm and wished I could have been there:
The current Gov Cuomo, a Dem, as was his father, does not like the fact that President Trump has been able to announce two coronavirus vaccines:
On Friday, November 20, a group of business owners in Buffalo, upstate near Canada, told sheriffs and one or more notional health inspectors to get lost.
Gateway Pundit reported, in part, that the business owners were in a gym. Gyms are/were currently closed because of the Chi-vi (emphases mine below):
Business owners in Buffalo, New York fed up with Cuomo's authoritarian Covid lockdown orders asserted their Constitutional rights and kicked out sheriffs and "health inspectors" on Friday night.
50 business owners gathered inside of a shuttered gym in Buffalo, New York Friday night when two sheriffs and a so-called 'health inspector' showed up to harass the group in response to an "anonymous tip."
The business owners shouted down and kicked out the health inspector and the told the sheriffs to come back with a warrant.
Well done!
The story comes from the Buffalo News.
This brings us to Thanksgiving.
Cuomo warned New Yorkers to stay at home within their own households, so much so that the New York Post reported that there are big window decals with a photo of Cuomo snooping in people's homes, accompanied by an image of a turkey.
Interestingly, the company that makes the decals is also located in Buffalo:
One upstate company wants Gov. Andrew Cuomo to be the biggest turkey at your Thanksgiving dinner this year.
The Buffalo-based design firm Custom 716 is selling stickers of the governor's face that can be put on a window to make it look like Cuomo is peering inside — presumably to make sure not too many people are there to celebrate the holiday this year.
The sticker is a clear way of ripping Cuomo for demanding that New York families avoid gathering in large groups for the holiday out of fears of spreading COVID-19.
"Great for all gatherings, sure to get laughs, great for your business or your home!" they write about the $10 sticker on their firm's website.
"$10 and I will mail it to you for free, or pick up is available. Located in North Tonawanda, NY," the description reads, offering a promo code allowing customers to bypass the $8.05 shipping and handling fee.
Cuomo has been begging New Yorkers to spend Turkey Day alone, warning the coronavirus's rapid spread has increased in part thanks to small, indoor gatherings in recent months as the weather has turned slightly chillier.
"It's your family, it's your home, it's your table — these are all environments where you feel safe and that's the beauty of Thanksgiving," he said during a phone conference briefing with reporters Thursday.
"Your safe zone is not a safe zone, your safe zone is dangerous this year."
When you hear the audio of him saying that (thanks to Howie), it sends chills down the spine.
Fortunately:
politicians and law enforcement agents across the state … argue it's nearly impossible to enforce caps on indoor, private gatherings.
At the time, Cuomo included himself in that diktat:
However, a few days later, Andrew Cuomo announced big plans for a family get together. Hmm, interesting:
Here's a tweet, including a photo of the snoop decal from Buffalo. Note the 'for thee, but not for me' response from someone living in Governor Pritzker's fiefdom of Illinois (see below):
Howie Carr said on Tuesday, November 24 that Cuomo got so much blow back from New Yorkers that his family's plans for a communal turkey dinner changed. One of his daughters would not be attending (H/T Gateway Pundit):
Aww.
Also:
His daughter, wearing a tee shirt with 'New York tough' emblazoned across it, tweeted:
The Rochester Democrat and Chronicle reported:
New York Gov. Andrew Cuomo abruptly canceled his Thanksgiving plans Monday, less than two hours after revealing he planned to spend the holiday with his mother and two of his daughters.
During a radio interview Monday around 3:45 p.m., Cuomo revealed his "current plan" for the holiday: His 89-year-old mother, Matilda, and two of his three daughters, Michaela and Cara, are planning on joining him in Albany.
…By 5:30 p.m., Cuomo nixed the gathering entirely.
Good.
Hypocrisy is most unbecoming.
New Jersey
Just west of New York, across the Hudson River, New Jersey's governor Phil Murphy was accosted by angry diners when he was eating out with his family and appearing without a mask. New Jersey has had a particularly arduous lockdown.
Remember, Phil Murphy won't have to worry about where his next meal is coming from. The taxpayers are footing his bill:
Murphy, who, Howie Carr says, attended the same high school and college as Massachusetts's Charlie Baker, is still trying to frighten his state's residents:
His wife is at it, too:
I couldn't agree more about the gaslighting.
North Carolina
Moving several hundred miles south, North Carolina's Governor Roy Cooper approves of business closures in Greensboro:
On Monday, November 23, he issued a Thanksgiving sermonette on the 'stay at home' theme, most of which follows. Like the UK, he has a colour-based 'tier' designation:
With that sort of warning, what North Carolina resident could possibly want to go through with (gasp) a family or friend oriented Thanksgiving dinner?
Amazingly, people in North Carolina have not been able to attend church — or any sort of celebration — for nine months. He has the nerve to tell them to keep it up 'just a bit longer' — for November 2021. Good grief:
Governor Cooper has even better news for the run-up to Christmas:
Excellent response.
Illinois
Let's travel around 1,000 miles northwest to Illinois.
Governor JB Pritzker comes from a family of real estate moguls. As one would expect, he can escape Illinois, lovely as it is, to take a break at family properties elsewhere.
Last summer, he defied his own executive order to take part in a protest in Chicago. Pritzker is the man in the blue and white checked shirt in the second photo below:
More recently, Howie Carr said that Pritzker's immediate family have been spotted at their Florida farm which has horses that his children can ride. Howie, now a Florida resident, lives in the vicinity.
Hmm.
A Republican congressman from Illinois called out Pritzker:
Someone replied:
Fortunately, Pritzker's and Illinois's directives, such as these …
… are being ignored. Just look at Chicago's O'Hare airport:
Well done!
Gee, 20 years on, the TSA still have their checkpoint. Why didn't President Trump ever repeal the Patriot Act? 'There's a there there', no doubt.
For those Illinois residents who will not be travelling for Thanksgiving, there is no absolution if you live in Chicago. On November 15, a spokeswoman from Mayor Lori Lightfoot's office said, 'You are the problem; you are putting everyone at risk' (see the 11-second mark):
Yet, anecdotally, the vast majority of Chicagoans are wearing masks:
Speaking of masks:
Chicago — the Windy City — which is also darned chilly at this time of year, is pushing OUTDOOR dining in a TWO-sided tent!
You could not make this advice up:
As for Thanksgiving dinners, Chicago mayor Lori Lightfoot has cancelled them. She is pictured in the photo above with Governor Pritzker at a June 2020 protest. Note that CNN has not shown the official US COVID-19 death count, which is still at 'with' + 'of', as it was last summer:
Interestingly, during lockdown in April, Madame Mayor felt compelled to get her hair cut when she had told ordinary Chicagoans that hairdressing was non-essential. See the Daily Mail report from April 12, complete with photo of her with her hairdresser, no social distancing required.
Washington
Let's leave the Midwest for the West Coast, starting in the most northern state, Washington, home to Seattle, the site of much summer mayhem.
Governor Jay Inslee, who did not oppose said summer mayhem, is now telling Washington residents not to get together for Thanksgiving. This advert is unbelievable:
COVID-19 can find you everywhere! Woo-oo!
Inslee thanks Washington residents for not celebrating one of America's two most historic holidays this year. The reply is excellent:
Oregon
The state immediately south of Washington is Oregon.
There Governor Kate Brown is all in for the deadly coronavirus narrative, especially at Thanksgiving:
On Monday, November 23, she asked for Oregonians to snitch on each other at Thanksgiving.
Hot Air has the story, first reported in the Washington Times. Reporter Jazz Shaw says:
I guess nobody told Oregon Governor Kate Brown about the old rule regarding snitches and stitches. With the holidays fast approaching and an increasing number of citizens growing tired of government mandates forbidding them from gathering with friends and family to celebrate, Brown is concerned that people may simply ignore her orders and gather around the feast table anyway. So what's an autocratic executive to do? The answer is as simple as pumpkin pie. She'd like people to keep an eye out for large gatherings in their neighborhood and call the police if they see any suspiciously large, turkey-related activity going on. That's an idea that's sure to put everyone in the holiday spirit, right? (Washington Times)
This must be one of the snottiest adverts about family ever made. See what you think. A photo of the governor follows (she's not the one with the pink gloves):
Let us not forget that Portland has had mayhem going on since June. Every doggone night for months on end:
California
The most blatant nose-thumbing has come from California's governor Gavin Newsom, who with the co-operation of mayors and county officials has kept the Golden State under lockdown for most of the year, with most counties at the top two highest tier levels during that time.
The status holds true, if not worse, even now:
Meanwhile, Governor Newsom has been releasing prisoners sporadically because they are in danger of catching COVID-19. Forget about law-abiding citizens:
One used to think California voters were being silly in continuing to vote in Democrats.
However, in recent years, a growing number of Americans think that Democrats have won so many elections because of voter fraud:
With regard to the curfew, at least one protest took place. This is from Huntington Beach:
Protests last summer in the state were acceptable to most, but the anti-lockdown and anti-curfew ones attract comment. Fortunately, some can discern the truth:
Newsom has seemingly bought into the mask narrative, even though that policy has not improved his state's figures:
Exactly. Probably more adjusted statistics. We have them in the UK, too.
However, right now, more Californians are interested in Newsom's social life during lockdown:
With regard to masks …
No one cares that the Newsom family is self-isolating for a fortnight:
The tweets kept coming and coming:
Newsom isn't alone, it seems, in rule breaking. Is this the California state legislature? Yes, it is:
By the way, masks are probably not a good conversational topic for Thanksgiving. See this brief exchange:
But I digress.
The three-star French Laundry in Yountville (Napa Valley) is one of the world's most famous restaurants.
In the 1920s, it was used as a French steam laundry, hence the name.
In the 1970s, the then-mayor of Yountville Don Schmitt and his wife Sally turned the building into a restaurant.
In 1994, the French chef Thomas Keller bought the restaurant and made it into the legend it is today.
Friends invited Gavin Newsom to the French Laundry for a birthday celebration on November 6 during California's lockdown.
Talk about 'for me, but not for thee'.
The Daily Caller reported:
Photos show the maskless governor of California dining indoors at one of the highest rated restaurants in the world despite his restrictive coronavirus guidelines for the citizens of California.
Democratic California Gov. Gavin Newsom can be seen dining at the Michelin-starred French Laundry on the evening of November 6, according to photos obtained by Fox LA. The restaurant, located in California's Napa Valley, is considered "the pinnacle of California dining" and has been ranked the best restaurant in the world numerous times, according to various outlets.
Newsom has said the restaurant was outdoors, but FoxLA reported that the room's glass sliding doors had been closed, making the dinner party indoors. Newsom's office did not immediately respond to a request for comment from the Daily Caller News Foundation.
The group was so loud that customers complained:
"While we were there we realized there was a very loud party going on in a room 20 feet from us," the woman who took the photos told FoxLA. "It was a bit annoying since you're spending hard-earned money to go there. It got louder and louder and so they had some sliding glass doors that they were able to close, so then it was a closed-off room but you could still hear them with how loud they were."
She continued: "I just happened to look over and realize hey is that Gavin Newsom, who is that? And I did ask one of the waitresses and she confirmed it was, so I was able to take a couple of photos, I was able to document this especially since nobody was wearing a mask. It was a very large group of people shoulder to shoulder, something that he's always telling us not to do so yeah it was a bit annoying for sure."
Newsom has urged California residents to wear face masks "in between bites" at restaurants and announced Monday that California is "pulling an emergency brake" and mandating the most restrictive tier of coronavirus restrictions for more than two dozen California counties …
The governor also warned that he would announce more COVID restrictions Friday ahead of Thanksgiving.
Newsom apologized Tuesday for attending the dinner party, calling it a "bad mistake" and saying that he became uncomfortable after arriving when he realized that the group was larger than he expected, according to FoxLA.
…
But the woman who took the photos said Newsom did not appear uncomfortable.
"I was surprised because it didn't look like he was uncomfortable being there until the very end until people were looking at him and staring at him as he was leaving the room," she told FoxLA.
Not surprisingly, the dinner made a splash in California's media:
A few days ago, the California IBank had the nerve to tweet this. I applaud the reply:
That is so true.
Words fail me.
On Thanksgiving, when in doubt, eat more and add more butter.
I hope that those celebrating Thanksgiving can enjoy their dinner the best they can — with hearty gratitude. (Things could always be worse.)
Hillary Clinton's new book, What Happened, is one of those tomes that will appeal only to her fans.
I heard Boston's Howie Carr discussing it this week on his radio show. He said she blames everyone but herself for her loss. He also suspects it was probably ghost-written.
Carr picked up heavily on her paternalistic accusations of male Trump supporters forcing women — daughters, employees, etc. — to vote for the Donald. Howie said he did not tell his daughters how to vote. They had already made up their minds to vote for Trump. He added that he did not tell his sidekick Grace Curley how to vote, either, which she duly confirmed. However, Grace did say that Howie put the frighteners on one of her female friends in the run-up to election day, predicting all sorts of terrible things with a Hillary victory.
Rob Crilly reviewed the book in The Telegraph on September 13. Excerpts follow (emphases mine below):
What happened, it turns out, was not that Mrs Clinton was a flawed candidate with an uninspiring campaign, but that she was the victim of a world that wasn't ready for her. And fake news, Rupert Murdoch, Vladimir Putin, Julian Assange, the New York Times and above all James Comey, the then FBI director, were "what happened".
Mr Comey, you remember, was in charge of probing the homebrew email server that Mrs Clinton had used as Secretary of State. Just 11 days before the election, he announced he was reopening the investigation ensuring a slew of negative headlines at a crucial moment. "Even if Comey caused just 0.6 percent of Election Day voters to change their votes, and even if that swing only occurred in the Rust Belt, it would have been enough to shift the Electoral College from me to Trump," writes Mrs Clinton.
We'll never know the impact but I'm happy to imagine the intervention would have caused a 0 percent shift if she and her media team had got out ahead of the controversy, instead of going into a defensive crouch for months beforehand and avoiding legitimate questions.
It all smacks of the entitled status that so turned off voters. Throughout the book are reminders of the Clintons' world: the hobnobbing in the Hamptons and the billionaire friends from the dotcom world.
Just so.
That is a big reason why a lot of Democrats turned to Trump.
Which reminds me:
And let's not forget:
The Telegraph has resumed allowing comments on some of their articles. Greatly appreciated. The one dated 13 Sep 2017 1:03PM is excellent:
Bill and Hillary signed up as a double act years ago to fleece the world and hoover up whatever power, influence and money they could obtain together.
So Bill's infidelities were just grist to the mill as long as the devious money making schemes from Whitewater to the Clinton Foundation continued to provide the lifestyle and influence which they felt was justly due to them AND they stayed together.
The only surprising aspect is that they both thought they could go on pulling the same strings and stunts for ever and the public would continue to be mesmerised by their 'charm' and political know how.
As they now know all good things must come to an end.
Exactly. Why it took so many decades for Americans to see that still mystifies me. And those who saw it during the 2008 election campaign — when she rolled over for Obama in order to get a place in his cabinet — dumped the Clintons for good. More realised how awful she was during the subsequent eight years.
This dissatisfaction with the Democrats is one of the reasons the US has had a significant increase in independent voters during the past few election cycles.
On the Trump side of the equation, the bright sparks at The_Donald are banding together to buy Trump's Great Again (formerly Crippled America) in order to topple Hillary from the No. 1 spot on Amazon. Trump's book was 16th on Tuesday, September 12 but No. 1 in the Movers and Shakers category.
One of The_Donald's commenters is going to send a copy of Great Again to Hillary at the Hillary for America address in New York.
The Daily Caller picked up on this:
Their article provides the excerpt:
"It was like quicksand: the more you struggle, the deeper you sink. At times, I thought I must be going crazy. Other times I was sure it was the world that had gone nuts," Clinton wrote. "Sometimes I snapped at my staff. I was tempted to make voodoo dolls of certain members of the press and Congress and stick them full of pins. Mostly, I was furious at myself."
And that was where the fury should have stayed. There should not have been a book, either, because Hillary has enough money.
And, in closing, to show how greedy she is, she is actually charging people to attend her book signings. Who does that? High-profile authors, it seems.
As if that weren't bad enough, she's charging in Canada as well.
On August 31, Fox News reported:
For $2,375.95 (or $3,000 in Canadian dollars), Clinton fans in Toronto can obtain a "VIP platinum ticket" for her Sept. 28 talk. That ticket includes two front-row seats, a photo with Clinton backstage and a signed book.
For the same price, VIP tickets are also available during Clinton's upcoming appearances in Montreal and Vancouver.
The steep ticket prices have not gone unnoticed in the publishing industry.
"It is standard for high profile authors to do book tours that sell tickets to events, but Clinton's tour takes it to a new level of greed," an industry source told Fox News.
I hope we get an update in a few months' time. It would be marvellous to discover that few people attended.