You are currently browsing the tag archive for the 'humour' tag.
A well known Catholic priest from Glasgow, the Revd James 'Big Jim' Doherty, died earlier this month.
On January 10, 2022, Tim Stanley, a Catholic and a columnist for The Telegraph, related one of his favourite anecdotes about Big Jim:
A tribute to another outspoken Catholic
Speaking of outspoken Catholics, I'd like to pay tribute to Fr James Doherty, AKA "Big Jim", a Glasgow priest who died last week, of whom the stories are legendary. On one occasion, a man appeared at the presbytery with a notepad that read: "I am homeless, deaf and dumb. Please help." The cleric had seen this trick before.
"Can you lip read?" asked Big Jim. The man nodded. "Well, I've nae money, honey, but if you'll come into the house, I'll make you a sandwich." Thank you, the man nodded.
As they walked past the huge gong the house keeper would use to summon the clergy to lunch, Jim whacked it so hard it rang like Big Ben. "Good God!" cried the homeless man, "What the Hell did you do that for?!"
"Oh, it's a double miracle!" said Big Jim. "Ye can hear and ye can speak!!"
"Aye well," replied the man, rubbing his ears, "you've got to work bloody hard to get any money out of people nowadays."
Jim made the man his sandwich.
That's one of the best anecdotes I've read in some time.
Lying does not pay, especially to a priest. Priests have heard or seen everything under the sun. They are not to be underestimated.
It was with sadness that I read of Jackie Mason's death at the weekend.
Still, he had a good innings. He was 93 years old.
The Daily Mail had an excellent obituary of one of the world's most consistently funny comics. Excerpts follow, emphases mine.
Life before comedy
I did not know that he was born in Wisconsin:
Mason was born in 1928 in Sheboygan, Wisconsin, as Yacov Moshe Maza to immigrant parents from Belarus.
In the early 1930s, the family moved to New York's Lower East Side. All the male relatives were rabbis and young Yacov was expected to follow in their footsteps:
'It was unheard-of to think of anything else,' Mason said. 'But I knew, from the time I'm 12, I had to plot to get out of this, because this is not my calling.'
However, there was no way out for many years. Mason earned a degree in English and Sociology at City College of New York then completed rabbinical studies at Yeshiva University, after which he became a practising rabbi. 
He served several congregations, including those in Weldon, North Carolina, and Latrobe, Pennsylvania.
Sometime in the 1950s, he began working summers in the Catskills, a mountain range in New York State, known for its resorts which attracted Jewish clientele. It is known as the Borscht Belt.
He wrote his own material, put comedy sets together and accustomed himself to being on stage.
Comedy career
It was only in 1959, after his father died, that the rabbi pursued a stand-up career full time and changed his name to Jackie Mason.
However, he did not leave his theological training behind. In 1988, he described his style of comedy to the New York Times:
'My humor — it's a man in a conversation, pointing things out to you,' 
'He's not better than you, he's just another guy,' he added. 'I see life with love — I'm your brother up there — but if I see you make a fool out of yourself, I owe it to you to point that out to you.'      
From the Catskills, he branched out into the big time, playing clubs in Miami and New York in 1960 after two television appearances on the iconic Steve Allen Show.
I am old enough to remember that Jackie Mason was on television a lot in the early 1960s.
In 1964, he appeared on another iconic programme, The Ed Sullivan Show, which aired on Sunday nights. I remember my mother got very worked up about what happened in one of his appearances, as she was a huge Ed Sullivan fan. We never missed a show. After this appearance she turned against Jackie Mason:
… after a terrible misunderstanding in 1964 between Sullivan and Mason involving a perceived obscene middle finger gesture, Jackie's career hit a major slump.
Sullivan canceled Mason's six-show contract, refusing to pay him for the performance. 
Mason eventually filed a lawsuit, and won.
Mason's career did not recover until the late 1970s:
… it would take him many years to find his momentum once again, with his comeback punctuated by well-received performances in 1979's Steve Martin film The Jerk, and Mel Brooks's History of the World: Part I two years later.
'People started to think I was some kind of sick maniac,' Mr. Mason told Look. 'It took 20 years to overcome what happened in that one minute.'
My mother would definitely have agreed with the 'sick maniac' description, unfounded though it was.
He hired a new manager Jyll Rosenfeld, whom he later married. She convinced him that there was an appetite for Borscht Belt humour beyond the Catskills. He launched a long-running show on Broadway in 1986:
Mason decided to bring his one-man comic shows The World According to Me!, to the Broadway stage in 1986.
The hit show ran for two years, and earned him a special Tony Award in 1987, followed by an Emmy for writing when HBO aired a version of the show.
From there, the legendary comedian put close to a dozen other one-man shows on Broadway, with the last being The Ultimate Jew in 2008.
Here is one of his performances from 1986:
Mason also enjoyed an on-screen appearance in Caddyshack II in 1988 and a voice-over as Rabbi Krustofsky in an early episode of The Simpsons in 1992, for which he won a second Primetime Emmy Award, for Outstanding Voice-Over Performance.
In the aforementioned New York Times interview from 1988, he was philosophical in the way only a rabbi can be:
'I've been doing this for a hundred thousand years, but it's like I was born last Thursday,' Mr. Mason told The New York Times in 1988. 
'They see me as today's comedian. Thank God I stunk for such a long time and was invisible, so I could be discovered.'
London appearances
For several years, Jackie Mason used to come to London once a year for a stand-up show that was often televised.
I was in stitches.
Guido Fawkes tweeted Mason's 2002 appearance, which was or was close to being his last over here:
Here's the video, which is just over 90 minutes long:
The next video is his 1999 performance at the London Palladium. It is just under 40 minutes long:
However, in 1992, Mason did a half-hour set at Oxford University, where he ribbed the students for their total lack of sartorial elegance and fondness of political correctness. He also made fun of the Jewish lifestyle which encompasses self-denial of Jewishness as well as certain material aspirations. The University asked him to do the set for free, something at which he also cavilled, in a humorous way:
This is his description of the video:
This is a clip from a lecture I gave at Oxford University back in 1992. They gave me an award and a fellowship in the Oxford Union Society. The first American comedian to receive such an honor. That's how they got me to work for nothing. Enjoy!
Here's the second part, which was a Q&A session:
He talked about his years as a rabbi where people didn't want the sermon and hoped for a few jokes. He said that Oxford students were very polite and he hadn't heard one four-letter word yet: 'I'm waiting, I'm waiting'.
Near the end, he said that England is the most polite society in the Western world with all the ubiquitous apologies one hears. The only exception, he noted, is in Parliament, where the raucous tone reminded him of a 'sanitarium'.
Politics and talk radio
In 1998, Mason's biography was published and he began a career in talk radio:
he published an autobiography, 'Jackie, Oy!' (written with Ken Gross), and discovered a new venture as an opinionated political commentator on talk radio.
Twenty years later, he issued a series of vlogs against then-candidate Barack Obama. I watched most of them. This one discusses the first presidential debate in September 2008:
His description of the Obama v McCain debate reads as follows:
Here are my thoughts on the first presidential debate. Although neither candidate had a clear victory Friday night, the media is saying Obama won because he didn't lose. He looked poised and presidential. Well he did look poised as he made no sense! And if looking Presidential is telling bold lies, the Hail to the Chief!
In 2016, Mason was an unabashed Trump supporter:
He was among the few well-known entertainers to support former President Donald Trump during his 2016 presidential campaign.
In October 2016, he appeared on Aaron Klein Investigative Radio, which airs in New York City and Philadelphia. Mason contrasted Trump's words about women to Bill Clinton's actual violence against his victims.
Breitbart had the story, reporting that Mason said:
What Trump ever did to women is that he called them a name because she gained too much weight so he said she got too fat and he called her a pig. Imagine if the worst thing Bill Clinton ever did was call a girl a name. He called them names after he raped them.
When he got through with them, Juanita Broaddrick wound up with a cut lip. And he had advised her to please go see a doctor. He was very compassionate about sending them to doctors. But he wasn't too concerned about beating them up in the first place. He was so busy punching them around that nobody knows if he made love to them or he just wanted to beat them up a little bit.
As for Hillary, he said:
He was really a violent, insane character. Now his wife, she had a job. Her job was to make sure that these women were never heard about it. Every time somebody threatened to talk about it she immediately went to work on destroying them. First he punched them around. Then it was her job to wipe them out altogether.
… And she's calling Trump a person who can't be trusted because of the way he treats women? This is like somebody who crossed a red light being compared to a murderer.
After Trump's election, Mason turned his attention towards the RINOs, especially the then-Speaker of the House Paul Ryan:
In March 2017, Breitbart reported:
In this week's exclusive clip for Breitbart News, Jackie weighs in on the GOP's failed healthcare bill, explaining that Republicans in Washington were focused on "repealing and replacing" the wrong thing.
"When they were talking about 'repeal and replace,' they were stupid," Jackie says. "They were talking about healthcare, they should have been talking about [House Speaker Paul] Ryan. If Ryan was repealed and replaced we would have had no problem today."
Jackie — who was born in Sheboygan, Wisconsin, in Ryan's home state — says he finds it odd that a Speaker of the House who is supposed to be some kind of "genius" can't count correctly.
"You know what Ryan should do if he wanted to save this whole country? Get another job," he says. "Find out something that you actually know. If there's nothing like that, sit in the House and don't bother anybody. Mind your own business, you'll save the country."
My deepest sympathies go to his widow and former manager Jyll Rosenfeld and his daughter Sheba Mason, from a former union with Ginger Reiter in the 1970s and 1980s.
For more Jackie Mason shows and interviews, visit TheUltimateJew channel on YouTube.
Yes Minister, which aired on BBC2 in the 1980s, is still as fresh as it was decades ago, a perfect satire of politics and the civil service.
In this short clip, which is under two minutes long, Sir Humphrey demonstrates how pollsters use a list of questions to get the end results they want. Amusing, accurate — and relevant:
Would that we had satirical sitcoms like this today, especially ones that didn't rely on four-letter words for laughs, such as The Thick of It, which didn't even come close to Yes Minister in terms of humour.
Sadly, Prince Philip, the Duke of Edinburgh, died on Friday, April 9, 2021, exactly two months short of his 100th birthday:
The Queen has lost her best friend. My deepest sympathies to her for the unimaginable loss of her long-time husband and daily confidant. My condolences also go to the Royal Family in their grief.
Young love
The couple first met in 1934, and began corresponding when the Prince was 18 and a cadet in the Royal Navy. Princess Elizabeth was 13 at the time.
She was smitten with him from the start.
Prince Philip served with distinction during the Second World War in the Mediterranean and Pacific fleets.
After the war ended, he could have had a stellar career in the Royal Navy. His superiors praised his clear leadership skills.
However, love intervened and the rest was history.
Born Prince Philip of Greece and Denmark, he renounced his foreign titles and took British citizenship before he and Princess Elizabeth were engaged. He took the surname of his maternal grandparents: Mountbatten.
He and Princess Elizabeth were engaged in July 1947. They married on November 20 that year. Shortly before the wedding, George VI gave him the titles of Duke of Edinburgh (created for him), Earl of Merioneth and Baron Greenwich.
Prince Philip remained in the Royal Navy until July 1951. He retired with the rank of Commander.
Royal succession — and surname
In January 1952, he and the Queen began a tour of the Commonwealth countries. They were in Kenya when news reached them that the Queen's father, George VI, died on February 6 that year.
Although she became Queen immediately upon her father's death, her coronation took place in 1953, as it had to be planned meticulously.
On Coronation Day, he knelt before her, clasped her hands and swore an oath of allegiance to her:
He also had to touch her crown and kiss her on the cheek.
He never had a constitutional role, nor was he ever formally given the title of Royal Consort. The courtiers did not like him, nor did they trust him. They believed his personality to be brash and unbecoming of the Royal household. They shut him out of as much decision making as possible.
When Elizabeth became Queen, the question about her family name arose. Prince Philip suggested that the Royal Family be known as the House of Edinburgh. Upon discovering that suggestion, Queen Mary, Elizabeth's grandmother, wrote to Prime Minister Winston Churchill, who advised the young monarch to issue a royal proclamation saying that the Royal Family would continue to be known as the House of Windsor.
In his inimitable style, Prince Philip complained privately:
I am nothing but a bloody amoeba. I am the only man in the country not allowed to give his name to his own children. [57]
The Queen did nothing until eight years later, in 1960, 11 days before she gave birth to Prince Andrew. She issued an Order in Council declaring that the surname of her and her husband's male-line descendants who are not styled as Royal Highness or titled as prince or princess would be Mountbatten-Windsor.
Pater familias
Prince Philip had to carve a role out for himself. He became the pater familias and, through the years, his role expanded to cover not only his four children but his grandchildren. He listened to their concerns, shared their joys and gave them advice. He knew everything that went on in their lives.
Although the public knew him for speaking as he saw — rather bluntly, on occasion — behind closed doors Prince Philip was known to be a warm, loving man.
He also favoured a more transparent Royal Family. According to the BBC, it was he who encouraged the Queen to make a multi-episode documentary on their daily lives, including those of their four children. It was broadcast in the late 1960s. I remember seeing it in the United States.
When Princess Diana died on August 31, 1997, Prince Philip was the one who kept an eye on the public mood that fateful week. He, the Queen and Princes William and Harry were at Balmoral in Scotland for their summer holiday. When the young princes wanted to attend church, their grandparents took them to the Sunday service on the day of their mother's death. Later in the week, it was Prince Philip who encouraged the boys to walk behind the funeral procession the following Saturday. He said:
If you don't walk, I think you'll regret it later. If I walk, will you walk with me? [93]
One cannot imagine what he thought of Prince Harry's departure for the United States to live a life separate from his closely knit family. I did read that the Royal Family shielded information about the Oprah interview from him.
John F Kennedy's funeral
Prince Philip was in Washington for John F Kennedy's funeral in 1963.
He had a friendly encounter with John Jr, who was still a toddler and known as John-John at the time. The child wondered where his father was, as he had no one with whom to play. The Prince stepped in to fill that gap. In 1965, the British government gave an acre of land at Runnymede to the United States for use as a memorial to JFK:
Funeral arrangements
Prince Philip was self-effacing and did not like a fuss to be made over him.
Therefore, the funeral arrangements will respect his wishes, which is rather convenient, as coronavirus restrictions are still in place. Up to 30 people will be allowed at his funeral, in line with legislation across the nation:
The funeral is scheduled to take place on Saturday, April 17:
It is interesting that Prince Harry will be able to attend when we have a 10-day quarantine in place for arrivals into the UK under coronavirus regulations.
The Sunday Mirror reported on Prince Harry's return to the UK:
He could also be released from quarantine if he gets a negative private test on day five, under the Test to Release scheme.
Given his status as a member of the Royal Family travelling to support the Queen, Harry might be considered exempt from travel restrictions.
Wow. It's nice to know we have a two-tiered quarantine system in place /sarc.
A championship boxer remembers the Prince
Former WBC Heavyweight Champion Frank Bruno MBE posted his memories of meeting Prince Philip. He is at the top left in the following photo:
An Anglican priest remembers the Prince
The Revd Peter Mullen, an Anglican priest, recalled his encounters with Prince Philip for Conservative Woman on April 10 in 'A personal recollection'.
He first met the Prince during his schooldays:
The first time I met the Prince was in connection with his Duke of Edinburgh's Award Scheme which gave a leg up to youngsters from what would now be called the less privileged parts of the country. He paid a visit to the Leeds branch of the Church Lads' Brigade of which, aged fourteen, I was a member. We were in the church hall making things. My task was to make a table lamp. I was hopeless at it.
The Duke got hold of my half-finished creation, held it up to one eye and said, 'I suppose this hole is where the flex goes?'
'I think so, Sir.'
'You think so? I was never any good at this sort of thing either!'
And he was off . . . 
As an adult, Mullen met him on more than one occasion thanks to the Honourable Company of Air Pilots. The Prince was its Grand Master. Mullen served as chaplain.
He recalls:
The Company gave a lunch for him to mark his 80th birthday and I recall how jovial he was, making light of his years: 'I believe I have lasted so long because you people are always toasting my good health, but I don't want to live to be a hundred. Things are dropping off already!'
At another luncheon one of our Liverymen who had his own port wine business presented the prince with Bottle Number One, the first fruits, so to speak. As he left, the duke handed the bottle to me: 'You have this, Peter. Our house floats on the bloody stuff.'
'Well, Sir, now I don't know whether to drink it or frame it.'
'Gerrit down ya neck!'
Prince Philip on MPs
Guido Fawkes came up with a good quote from one of the Prince's trips to Ghana. It concerns MPs. His Ghanaian hosts told him the country had 200 MPs. Prince Philip replied:
That's about the right number. We have 650 and most of them are a complete bloody waste of time.
Incidentally, Parliament will be recalled one day early from Easter recess. On Monday, April 12, MPs and Lords paid tribute to the Prince in their respective Houses:
That afternoon, the House of Commons reconvened to pay their tribute — from 2:30 p.m. until 10 p.m. (good grief).
Speaker Sir Lindsay Hoyle spoke first:
Prime Minister Boris Johnson had this to say:
Boris Johnson, who was invited to the funeral but declined so that another member of the Royal Family can attend, said that he would forego a pint when pub gardens reopen on April 12, out of respect for the Prince. Guido Fawkes, however, thinks that the Duke of Edinburgh would have wanted us to toast his memory, especially at a pub that bears his title in Brixton, south London:
Guido had a second tweet on the subject with another quote from the Prince:
Agreed.
Prince Philip on Australia
This is too funny. For those who are unaware, Australia was established as a place where Britain could send convicts. That was a long time ago, but the nation's original purpose was to serve as a prison: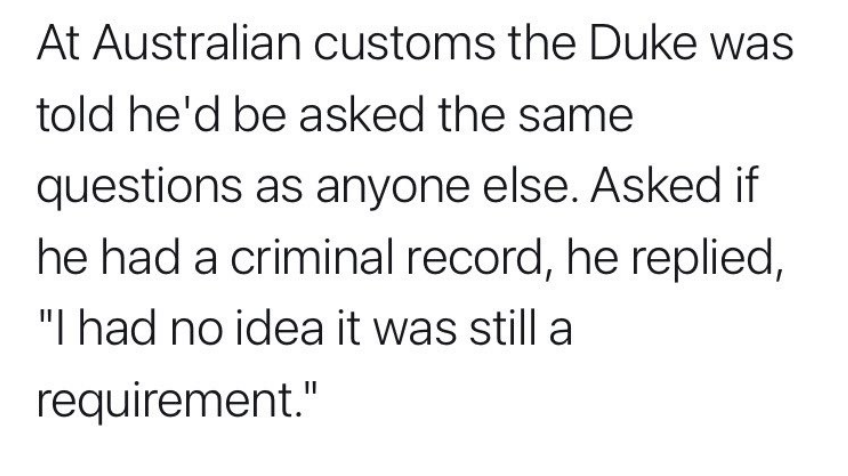 Prince Philip on civil liberties
On a serious note, the 12-minute interview below from 1984 is well worth watching, especially in the coronavirus era.
Prince Philip firmly supported the rights of the individual and believed that the state should serve the individual, not, as in our times, the other way around.
This is from a Thames Television programme originally broadcast on ITV:
I have posted the video below in case the tweets are deleted:
The Prince also said that certain subjects are out of bounds, such as the media and the NHS.
He said that the media are incapable of taking a joke about themselves and, as for the NHS, well, one cannot say anything against it. He didn't necessarily dislike the NHS but thought it was held in too high a regard. Nothing is perfect in this world.
We have been travelling a long road towards the point where we are at present: ruled by the media (they clamoured for coronavirus restrictions) and worship of the NHS. This is how Health Secretary Matt Hancock, Prime Minister Boris Johnson and SAGE have been able to rule our lives. It's been at least 40 years in the making.
BBC coverage on Friday
I was watching BBC Parliament early Friday afternoon, around 1:15, when the programme was interrupted by a broadcast from the BBC News Channel.
I checked the schedule an hour later, which said that the programme would last until 4 p.m. It was still going when I was preparing dinner at 5 p.m.
The final of MasterChef was to have been broadcast that night on BBC1. This was a clip from Thursday's programme:
Pictured are the hosts and judges, chef/restaurateur John Torode on the left and former greengrocer, now television presenter, Gregg Wallace on the right:
BUT:
The BBC News channel was simulcast all afternoon and all night long, not only on BBC Parliament but also on BBC1, to the dismay of MasterChef fans (myself included), and BBC2. BBC4 was suspended for the evening.
I read on social media that the BBC also broadcast continuous coverage of Prince Philip on their radio stations, including Radio 2, knocking out Steve Wright's drive-time show on Friday afternoon.
A friend of mine said that most of the BBC's employees were probably rubbing their hands with glee because it meant an early weekend for them. It's a cynical perspective that could well turn out to be true. We'll find out when someone writes his or her memoirs.
Everyone with a television set receives the BBC News channel. It comes into our homes at no extra charge. There was no need for the BBC to take over every channel for hours on end. By the way, if one had watched two hours of the Prince Philip coverage, as I did, one would have seen and heard everything in its entirety.
The BBC braced themselves for a plethora of complaints; they took the relevant page down on Sunday. Good. I am sure Prince Philip would have objected, too.
As much as I love the Queen, I hope they do not try this when her day comes. God willing, may it be long into the future.
Record-beating prince
Prince Philip established two records as consort to the Queen. He was the longest-serving royal consort in British history. He was also the longest-lived male member of the British royal family.
May he rest in eternal peace with his Maker.
May our gracious Lord grant the Queen, Defender of the Faith, His infinite peace and comfort in the months ahead. May He also bless the Royal Family during this difficult time.
The author and YouTube commentator Carl Vernon has been posting excellent short videos on the coronavirus crisis as experienced in England.
The first features gadgets, such as the Stay Safe substitute 'finger' of sorts that one can use instead of one's own. He also shows a Selecta vending machine which stocks masks and hand gel:
The next one intersperses Prime Minister Boris Johnson's 'Hands, Face, Space' mantra with examples of the new coronavirus etiquette in England. I almost spat out my drink when watching it:
The final one is about travelling at home and abroad. The Turkish Airlines video, which features a child in awe of all the new coronavirus technology is particularly shocking:
Note the couple returning from Spain who have had to wear masks everywhere outdoors. Hence the clown-like faces, where the masks have left a tan line.
You could not make this up.
Wow, who knew Bulldogs could master skateboards?
Yet, here we are with two examples, captured in video:
Fascinating.
Apparently, Bulldogs do not like walking.
That's probably not surprising, given their build: a lot of bulk on small legs.
Although they look rough and tough, the Bulldog is actually not only quite gentle but can also be prone to skin allergies and breathing problems, as this owner relates (emphases in the original):
Roughly around the age of 2, my English Bulldog developed skin allergies. One morning, she had broken out in hives all over her face and body…

… when my girl came walking up to me with a super puffy face, I jumped into action. I was so afraid the swelling would affect her ability to breathe, that I knew there was no time to waste.
English Bulldogs have a hard enough time breathing. Adding another layer of difficulty to the mix is just a disaster waiting to happen.
So I packed her up, and headed to the vet …
This initial vet visit resulted in a steroid shot, to reduce the inflammation. Going forward, my vet suggested we use over the counter allergy medication as needed.
They can also be prone to hip dysplasia, as Dog's Health explains, including a bit about the history of the English Bulldog (emphases mine):
Bulldogs are dependable, loyal and obedient. They have remarkable patience and tolerance and get along very well with other dogs and young children. One would assume that a breed of dog with such short legs would never be susceptible to hip dysplasia or arthritis. The truth is that hip dysplasia in Bulldogs is one of the most common health issues this breed is prone to.
This is the fascinating history of the English Bulldog:
Bulldogs were bred in England for hundreds of years and were originally used in the 17th century for bull baiting –a gambling sport in which dogs fought bulls in a ring.
When bull baiting was outlawed in 1835, Bulldog breeders began to breed dogs that were kinder, heavier, and more relaxed, making them more popular as pets.
They are loyal and friendly. While they do not make good guard dogs, they do tend to chew on your furniture:
Wrinkled faces, fierce and tough looking, friendly and loving, easy to train, mellow and easygoing, courageous and sturdy. This is the description of a Bulldog, the ultimate buddy and an affectionate companion to a single person or a family. Bulldogs may look tough as nails, but they make sweet and gentle pets.
Apartment dwellers and couch potatoes might find Bulldogs the perfect pet: They don't need too much space and are well-suited to living in apartments.
A pet Bulldog will hang out on the couch with you and watch hours of football or movie marathons. What you watch is of no concern to them, they simply want to be as close to you as possible and are very patient if you're a rabid channel surfer.
But be advised, they can be very persistent when trying to get your attention, and if you ignore their hints to play and cuddle, they will pester you until they get what they want. They also tend to snore and snort so you'll need to get used to their rude noises.
They are experts at forming close attachments with their owner or owners and sometimes this bond grows so strong, they'll stay inside the house until you insist they go out to take care of their biological functions.
Bulldogs are not a good choice for a guard dog though. They can easily intimidate strangers just by their appearance and steady gaze, but they're just as likely to cozy up and lick the hand of a stranger who acts friendly towards them.
Bulldogs like to chew on things. If you don't want your furniture and personal things chewed to shreds, be sure to have plenty of ruggedly constructed doggie toys so they don't start chewing your personal belongings.
That said, you probably want to know more about Bulldogs and skateboarding.
The Daily Wag! has a post about it. Excerpts follow.
Some Bulldogs are better suited than others for it. If a Bulldog has a problem with skateboarding, s/he might have an underlying health issue:
Bulldogs have been skateboarding for a long time and you might be wondering, can your Bulldog compete? Probably not, but you two can have fun training for it …
A Bulldog's center of gravity is low, which makes it easier for them to control their weight and balance on a skateboard. While some people train their dogs to go on skateboards, other dogs just step on and shred. Skateboarding Bulldogs became widely recognized once YouTube was accessible, but it had been happening for years before.
While a Bulldog doesn't know his skateboarding video has gone viral, he'll still notice the attention he is getting from his in-person viewers. An attention loving Bulldog might realize that when he is on the skateboard, everybody looks at him and gives him praise. This positive reinforcement will encourage this skateboarding habit to be repeated for years to come.
Exercising doesn't entice a Bulldog, but being outside, seeing, and smelling things are still enjoyable. When a dog is on a skateboard, he moves much faster and takes in a lot more smells than he would on his slow walk. He gets to see more of the street without having to walk and the breeze probably feels good, too. When dogs move at higher speeds, like in cars, their noses pick up so many different smells. It's probably not as fun as a car ride, but gliding down the sidewalk has its perks …
If you are determined to have a skateboarding dog but struggling to train your Bulldog to shred, consider visiting a trainer. The trainer can give you tips on teaching commands and integrate them into your daily routine for optimal effects. If you notice your dog is having persistent balance issues, either on or off the skateboard, call the vet as it may be a health problem. He may have a joint problem, infection, or other health problem that needs attention. A vet can diagnose and treat a problem. Unfortunately, not every dog can be a skateboarder. If you're trying to make a viral video, there are plenty of other tricks to try that don't require balance on a skateboard, but still get a great response.
I always thought that, if I were to get a pet, I would buy a Bulldog. It's a pity to discover that they are not good watchdogs.
That said, they are among Man's best friends.
After over two months — the evening of March 23, 2020, to be precise — Britain is gradually coming out of lockdown.
Since late March, very few of us have bothered with our personal appearance unless we're on video conference calls every day.
Even MPs, part of the population on such calls, have let themselves go with hair and beard growth.
However, the time is coming when as many Britons as can will have to return to work. For many, now's the time to clean up.
On Wednesday, May 20, the British brand, King of Shaves, recently trended on Twitter with #BringBackTheShave, which provided the nation with a chuckle or two.
Their 24-hour ad campaign, in association with the creative community One Minute Briefs, was a serious one, though, as the winning entrant received £250. Nothing to sneeze at in these difficult times:
These were my two favourites, both by creatives who work in the advertising industry:
I cannot speak of the King of Shaves product line personally, but they get rave reviews — and are 30% off to keyworkers and NHS staff:
They also have shave gel for ladies.
Well done!
Even better, their products are also made in Britain.
—————————————-
UPDATE:
There were two winners.
This entry:
And this one:
Well done to both!
May the clean-cut look survive well into the future!
It's hygienic — and looks sharp (unless you're in the Royal Navy or know how to properly maintain a beard).
The following British coronavirus version of Rudyard Kipling's If– (original full text here) with regard to coronavirus brought a smile. I hope it does the same for you.
It's a comment that Steven Brook left on a Spiked column by Brendan O'Neill: 'What Neil Ferguson's booty call tells us about modern politics'.
I've added a few grammatical edits to this witty take on the virus:
If – by Mr Kipling
If you can lose your head when all about you are losing theirs and blaming it on you for not panicking sooner.
If you can hide your doubt, judgement and perspective and put your faith in experts like Piers Morgan
If you make no allowance for other considerations, the economy or unintended consequences.
If you can wait and not be tired by waiting for a vaccine that is unlikely to turn up.
Or meekly accept being lied about, because the mainstream media don't deal in facts any more.
Or being hated, don't even think of cutting the public funding to the hatemongers.
And yet don't look too normal, nor talk too wise, just put your critical faculties on one side and show you care …
If you can dream of a multicultural paradise but ignore the reality of a fragmented rudderless society
If you can think, then, for God's sake, hide those thoughts, or you will look cold and heartless.
If you can meet with Triumph and Disaster, having beaten the virus but wrecked the economy.
And treat those two impostors just the same; who needs a healthy economy anyway?
If you can bear to hear the truth you've spoken
Twisted by the BBC to make a trap for fools, but you're too scared to deal with that nest of vipers.
Or watch the things you gave your life to, broken, the family, freedom of speech, education.
And stoop and failed to build 'em up because you imported third rate tools from China:
If you can make one heap of all our national wealth
And risk it on Prof Ferguson's model which forecast that 121% of the British population would be dead by Easter.
And lose, because Imperial College has a long history of getting things completely wrong and start again at the beginnings.
And never breathe a word about our loss because no one takes responsibility for previous panics (and, for goodness sake, don't publish the grooming report).
If you can force your heart and nerve and sinew not to strangle Robert Peston even though he richly deserves it.
To keep having press conferences long after they have become utterly pointless.
And so hold on when there is nothing in you
Except the Will which says to them: 'You do realise that Common Purpose runs the UK?'
If you can talk with the public while selling out your nation to the globalists
Or walk with the Davos crowd — but still pretend to have the common touch,
If neither foes nor loving friends can hurt you because you burnt the photos of you with the lady boy.
If all men count with you, but George Soros particularly;
If you can fill the unforgiving news cycle
With sixty seconds' worth of calm reassurance,
Yours is the Earth and everything that's in it, which, sadly, is a lot less than it used to be.
And—which is more—you'll be a modern politician, old chum.
It nicely sums up the past two (and a bit) months here in England.
As seen at Guido Fawkes — 'Coronavirus May Infect' — from commenter House of Cads on Sunday, April 20, 2020. Sorry, there's no hyperlink:
As it's Sunday, which in times past used to be the main day for religion, before the Church of NHS and the Thursday Adventists came along, maybe we should have a quick prayer.
————————————
Our NHS, which art the best health service in the world,
Hallowed be thy name, budget, staffing level and administrative structures.
Thy Police State come
Then it will be done
In the UK as it is in China.
Give us this day our daily bread, milk and just one form of exercise,
And forgive us our trespasses into the two metre social distancing zone;
as we forgive them that trespass against us, but only after a severe fine or imprisonment.
And lead us not into economic meltdown,
But deliver us from an unknown and unquantified peril,
For thine is the wisdom, informed by 100% accurate mathematical modelling
The power to make us worry
For ever and ever
Amen
As with all good satire, that's amusing and oh-so-true in equal measure.
Many governments have mandated that their citizens must practise social distancing during the coronavirus outbreak.
Here are a few photos of do-it-yourself social distancing barriers:
Creative, sometimes cumbersome.
I wonder what our descendants will say 100 years from now when they see photos such as these.