You are currently browsing the tag archive for the 'humour' tag.
The UK experienced a busy and historic weekend as Operations London Bridge and Unicorn became reality after the Queen's death on Thursday, September 8, 2022.
The nation is now in a 10-day period of mourning, which continues through Monday, September 19, the day of the Queen's funeral in Westminster Abbey. King Charles III has declared the day to be a bank holiday. The Royals, including their staff, will mourn for an additional week.
Before going into the weekend's events, I have a few items to add from the end of last week.
Wednesday and Thursday, September 7 and 8
Last Wednesday, possibly having been busy preparing for her parliamentary statement on the energy crisis on Thursday, Liz Truss's office cancelled the weekly update on Operation London Bridge, the funeral plans for Queen Elizabeth II. However, Simon Case, the civil servant who is Cabinet Secretary, informed the Prime Minister of the Queen's decline early on Thursday morning.
Former Metropolitan Police Chief Superintendent Parm Sandhu told GB News that Operation London Bridge was originally planned in the 1960s and has been regularly reviewed since.
The Duke of Edinburgh's — Prince Philip's — plans were Operation Forth Bridge, so named for the magnificent bridge that links the Scottish capital to Fife.
Operation Unicorn involves funeral plans for Scotland in the event the Queen died there.
As my post on Friday explained, the Prime Minister found out about the Queen's death during the energy debate in the Commons.
On Friday, September 9, Conservative MP Michael Fabricant told GB News that the note she received at lunchtime might well have said:
London Bridge is down.
At that point, the Queen was receiving medical attention and her closest family members were on their way to Balmoral.
The Times reported how Thursday afternoon's events unfolded (emphases mine):
The six hours that followed brought together a fractured royal family and seemed to unite a nation in apprehension. At 12.32pm, moments after the first signs in the Commons, a Buckingham Palace spokesman said: "Following further evaluation this morning, the Queen's doctors are concerned for Her Majesty's health and have recommended she remain under medical supervision."
It was immediately clear the news was more significant than previous announcements about the Queen's health. Newspaper websites swiftly reported the announcement …
… At 12.45pm the Duke and Duchess of Cornwall announced that they were travelling to Balmoral. They were already in Scotland after hosting a dinner at Dumfries House in Ayrshire the previous evening. A minute later the Duke of Cambridge, 40, announced that he would be travelling from London. It was now clear that the situation was grave.
The Duchess of Cambridge, 40, remained at their Windsor home and drove to collect Prince George, Princess Charlotte and Prince Louis following their first full day at their new school to tell them of the news. At 1.30pm the Duke of York, 62, who was stripped of his royal duties after the scandal surrounding Jeffrey Epstein, said that he would also be flying to Scotland. Six minutes later the Earl and Countess of Wessex confirmed that they would also be travelling to Balmoral.
The Princess Royal, 72, had been on the Isle of Raasay on Wednesday and stayed at Balmoral overnight. The Duke of Sussex, despite his long- running troubles with the monarchy, announced at 1.52pm that he was also travelling to Scotland, separately from other senior royals but "in co-ordination with other family members' plans". He arrived at Balmoral almost two hours after the announcement of his grandmother's death. He had flown into Aberdeen airport alone, and his wife remained in Windsor.
Prince Harry, 37, happened to be in the UK anyway, and had been due to attend a charity event in London last night.
The first signs of serious concerns about the Queen's health had emerged at 6pm on Wednesday, when it was announced that she had "accepted doctors' advice to rest" rather than attend a virtual meeting of the privy council that evening.
That would have been only an hour after I'd heard a long pealing of bells from Westminster Abbey on Wednesday, which I mentioned in my post on Friday.
More of the timeline continues, including the hour when the Queen's death was announced:
Soon after the announcement of concerns of the Queen's doctor, Charles, 73, was seen clutching a large briefcase as he boarded the royal helicopter from Dumfries House with Camilla, 75, for the journey to Balmoral.
The flight carrying William, Prince Andrew, Prince Edward and Sophie took off from RAF Northolt in northwest London at 2.39pm. Royal Air Force flight KRF23R landed at Aberdeen airport at 3.50pm. A short while later, at 4.30pm, the prime minister was informed of the Queen's death by Simon Case, the cabinet secretary, according to her official spokesman.
Meanwhile, the Duke of Cambridge was driving his two uncles the 40 miles from Aberdeen airport to Balmoral, arriving just after 5pm. William was behind the wheel of the Range Rover, with Andrew in the passenger seat and Edward, 58, and Sophie, 57, in the back …
The Palace said in a statement: "The Queen died peacefully at Balmoral this afternoon. The King and The Queen Consort will remain at Balmoral this evening and will return to London tomorrow."
Charles had acceded to the throne immediately.
The flags in Downing Street were lowered to half mast at 6.36pm. BBC One played the national anthem following the announcement of the monarch's death, showing a photograph of the Queen, followed by a royal crest on a black background and the words Queen Elizabeth II …
The double rainbow, which I also referenced on Friday, appeared as soon as the flags were lowered to half mast, not only in London but also in Windsor.
On Friday afternoon, The Telegraph reported that only Princess Anne and Prince Charles made it to Balmoral in time to see the Queen before she died:
The King and the Princess Royal were the only two senior members of the Royal family who made it to Balmoral before Queen Elizabeth II's death, it is understood …
As for Prince William and his uncles and aunt:
Royal Air Force flight KRF23R took off shortly after 2.30pm, according to flight tracking website Flightradar24.com, landing in Aberdeen at 3.50pm.
Prince William drove the quartet from the airport to Balmoral and they were pictured sweeping into the gates of the castle shortly after 5pm.
It is possible they had known they would not make it, perhaps even before their plane took off.
In the event, by the time they arrived, it was too late.
Prince Harry's flight was delayed and he did not arrive until 8 p.m.:
… he is believed to have been mid-air when Buckingham Palace announced at 6.30pm that the Queen had died, arriving at Balmoral an hour and a half later.
The Duke's Cessna had been due to land at 6.29pm, a minute before the historic statement. But it was 20 minutes late taking off at Luton Airport, meaning he did not land in Aberdeen until 6.46pm.
The grief-stricken Duke was photographed as he was driven into Balmoral Castle just before 8pm to join other members of his family.
That evening, France paid the Queen tribute by turning off the lights on the Eiffel Tower at midnight and on Friday, at 10 p.m.:

Friday, September 9
On Friday morning, the Telegraph article said that Prince Harry left Balmoral early:
Prince Harry was the first to leave Balmoral on Friday morning, driven out of the gates at 8.20am.
He had to take a commercial flight back to Windsor:
He later boarded a British Airways flight from Aberdeen to Heathrow and is thought to have returned to Frogmore Cottage, Windsor, where the Duchess of Sussex was waiting for him.
Later that morning, the RMT (Rail, Maritime and Transport Union) head, Mick Lynch, announced that the rail strikes planned for September 15 and 17 were cancelled.
Guido Fawkes said that a postal strike was also cancelled (emphases his):
The Communication Workers Union has also called off a planned Royal Mail strike, with General Secretary Dave Ward saying "Following the very sad news of the passing of the Queen, and out of respect for her service to the country and her family, the union has decided to call off tomorrow's planned strike action."
Fair play to both Lynch and Ward, whether they're genuinely in mourning or its cynical comms, they made the right call…
England's three main political parties suspended campaigning during the mourning period. This is fine, except that Parliament is adjourned until after the Queen's funeral, at which point it will continue to be adjourned for three weeks' worth of annual political party conferences.
If Liz is smart, she will find a way to get the Commons, at least, to reconvene during conference season. There is no justification, especially this year, for every MP to attend these rather superfluous events. Furthermore, the evening events are also times of revelry, which seems inappropriate at this time.
Guido's Friday post says:
With King Charles instituting 17 days of mourning, the death of Queen Elizabeth will certainly cast shadows over all three of the major parties' conferences. Guido understands the Tories are having conversations about how to proceed with their Birmingham gathering in light of the news. With politics grinding to a halt, it's going to be difficult for PM Truss to enjoy the full political dividend from yesterday's energy policy announcement…
Parliament is not due to reconvene until October 17. October is the month when the new energy 'price cap' — i.e. a dramatic increase — comes into effect. This will affect everyone and a policy really needs to be finalised before then. Conservative MP John Redwood tweeted:
As I write on Monday afternoon, GB News's Tom Harwood says that a 'fiscal event' — an energy policy announcement — could be made on one of the four consecutive days after mourning and before conference recess. He says that his sources tell him that separate legislation would not be required. Let's hope he is right.
Friday is not normally a day when either House of Parliament meets. However, both MPs and the Lords met to pay tribute to the Queen. The sessions, which also included taking the Oath of Loyalty to King Charles — optional, as the Oath includes successors — continued into Saturday. Every MP and Lord who wanted to speak was able to do so.
The Commons session on Friday afternoon began with a minute's silence:
Afterwards, the Prime Minister began the tributes:
Guido has the video and pulled out the key quote from her address:
The United Kingdom is the great country it is today because of her, the Commonwealth is the family of nations it is today because of her.
Hansard has the full transcript of Friday's and Saturday's tributes from MPs. I commend them to everyone, because many MPs mentioned that the Queen visited their respective constituencies more than once during her reign. Only a handful had never had met her. The contributions reflected a monarch with not only dignity but also good humour. Everyone who met her said that she knew how to put them at ease.
Truss pointed out other historical highlights in her address:
In the hours since last night's shocking news, we have witnessed the most heartfelt outpouring of grief at the loss of Her late Majesty the Queen. Crowds have gathered. Flags have been lowered to half-mast. Tributes have been sent from every continent around the world. On the death of her father, King George VI, Winston Churchill said the news had,
"stilled the clatter and traffic of twentieth-century life in many lands".
Now, 70 years later, in the tumult of the 21st century, life has paused again.
Her late Majesty Queen Elizabeth II was one of the greatest leaders the world has ever known. She was the rock on which modern Britain was built. She came to the throne aged just 25, in a country that was emerging from the shadow of war; she bequeaths a modern, dynamic nation that has grown and flourished under her reign. The United Kingdom is the great country it is today because of her. The Commonwealth is the family of nations it is today because of her. She was devoted to the Union of England, Scotland, Wales and Northern Ireland. She served 15 countries as Head of State, and she loved them all …
Her devotion to duty remains an example to us all. She carried out thousands of engagements, she took a red box every day, she gave her assent to countless pieces of legislation and she was at the heart of our national life for seven decades. As the Supreme Governor of the Church of England, she drew on her deep faith. She was the nation's greatest diplomat. Her visits to post-apartheid South Africa and to the Republic of Ireland showed a unique ability to transcend difference and heal division. In total, she visited well over 100 countries. She met more people than any other monarch in our history.
She gave counsel to Prime Ministers and Ministers across Government. I have personally greatly valued her wise advice. Only last October, I witnessed first hand how she charmed the world's leading investors at Windsor Castle. She was always so proud of Britain, and always embodied the spirit of our great country. She remained determined to carry out her duties even at the age of 96. It was just three days ago, at Balmoral, that she invited me to form a Government and become her 15th Prime Minister. Again, she generously shared with me her deep experience of government, even in those last days.
Everyone who met her will remember the moment. They will speak of it for the rest of their lives. Even for those who never met her, Her late Majesty's image is an icon for what Britain stands for as a nation, on our coins, on our stamps, and in portraits around the world. Her legacy will endure through the countless people she met, the global history she witnessed, and the lives that she touched. She was loved and admired by people across the United Kingdom and across the world.
One of the reasons for that affection was her sheer humanity. She reinvited monarchy for the modern age. She was a champion of freedom and democracy around the world. She was dignified but not distant. She was willing to have fun, whether on a mission with 007, or having tea with Paddington Bear. She brought the monarchy into people's lives and into people's homes.
During her first televised Christmas message in 1957, she said:
"Today we need a special kind of courage…so that we can show the world that we are not afraid of the future."
We need that courage now. In an instant yesterday, our lives changed forever. Today, we show the world that we do not fear what lies ahead. We send our deepest sympathy to all members of the royal family. We pay tribute to our late Queen, and we offer loyal service to our new King.
His Majesty King Charles III bears an awesome responsibility that he now carries for all of us. I was grateful to speak to His Majesty last night and offer my condolences. Even as he mourns, his sense of duty and service is clear. He has already made a profound contribution through his work on conservation and education, and his tireless diplomacy. We owe him our loyalty and devotion.
The British people, the Commonwealth and all of us in this House will support him as he takes our country forward to a new era of hope and progress: our new Carolean age. The Crown endures, our nation endures, and in that spirit, I say God save the King. [Hon. Members: "God save the King."]
Labour's Keir Starmer, Leader of the Loyal Opposition, spoke next. Guido has the video:
The highlight of his speech was this:
She did not simply reign over us, she lived alongside us. She shared in our hopes and our fears, our joy and our pain, our good times, and our bad.
Interestingly, when they were younger, both Starmer and Truss wanted to abolish the monarchy.
Boris Johnson spoke a short time later, declaring the Queen:
Elizabeth the Great.
Historian David Starkey would disagree and did so on GB News on Sunday, September 11. He said that 'the Great' has applied exclusively to monarchs who waged war, e.g. Peter the Great.
Guido has the video. Boris began by saying that the BBC contacted him recently to speak about the Queen in past tense:
I hope the House will not mind if I begin with a personal confession. A few months ago, the BBC came to see me to talk about Her Majesty the Queen. We sat down and the cameras started rolling, and they requested that I should talk about her in the past tense. I am afraid that I simply choked up and could not go on. I am really not easily moved to tears, but I was so overcome with sadness that I had to ask them to go away.
I know that, today, there are countless people in this country and around the world who have experienced the same sudden access of unexpected emotion, and I think millions of us are trying to understand why we are feeling this deep, personal and almost familial sense of loss. Perhaps it is partly that she has always been there:
a changeless human reference point in British life; the person who—all the surveys say—appears most often in our dreams; so unvarying in her pole-star radiance that we have perhaps been lulled into thinking that she might be in some way eternal.
But I think our shock is keener today because we are coming to understand, in her death, the full magnitude of what she did for us all. Think what we asked of that 25-year-old woman all those years ago: to be the person so globally trusted that her image should be on every unit of our currency, every postage stamp; the person in whose name all justice is dispensed in this country, every law passed, to whom every Minister of the Crown swears allegiance; and for whom every member of our armed services is pledged, if necessary, to lay down their lives.
Think what we asked of her in that moment: not just to be the living embodiment, in her DNA, of the history, continuity and unity of this country, but to be the figurehead of our entire system—the keystone in the vast arch of the British state, a role that only she could fulfil because, in the brilliant and durable bargain of the constitutional monarchy, only she could be trusted to be above any party political or commercial interest and to incarnate, impartially, the very concept and essence of the nation.
Think what we asked of her, and think what she gave. She showed the world not just how to reign over a people; she showed the world how to give, how to love and how to serve. As we look back at that vast arc of service, its sheer duration is almost impossible to take in. She was the last living person in British public life to have served in uniform in the Second World War. She was the first female member of the royal family in a thousand years to serve full time in the armed forces.
That impulse to do her duty carried her right through into her 10th decade to the very moment in Balmoral—as my right hon. Friend said—only three days ago, when she saw off her 14th Prime Minister and welcomed her 15th. I can tell you, in that audience she was as radiant and as knowledgeable and as fascinated by politics as ever I can remember, and as wise in her advice as anyone I know, if not wiser. Over that extraordinary span of public service, with her naturally retentive and inquiring mind, I think—and doubtless many of the 15 would agree—that she became the greatest statesman and diplomat of all.
She knew instinctively how to cheer up the nation, how to lead a celebration. I remember her innocent joy more than 10 years ago, after the opening ceremony of the London Olympics, when I told her that the leader of a friendly middle eastern country seemed actually to believe that she had jumped out of a helicopter in a pink dress and parachuted into the stadium. [Laughter.] I remember her equal pleasure on being told, just a few weeks ago, that she had been a smash hit in her performance with Paddington Bear.
Perhaps more importantly, she knew how to keep us going when times were toughest. In 1940, when this country and this democracy faced the real possibility of extinction, she gave a broadcast, aged only 14, that was intended to reassure the children of Britain. She said then:
"We know, every one of us, that in the end all will be well".
She was right …
… It was that indomitability, that humour, that work ethic and that sense of history that, together, made her Elizabeth the Great.
When I call her that, I should add one final quality, of course: her humility—her single-bar-electric-fire, Tupperware-using refusal to be grand. I can tell the House, as a direct eyewitness, that unlike us politicians, with our outriders and our armour-plated convoys, she drove herself in her own car, with no detectives and no bodyguard, bouncing at alarming speed over the Scottish landscape, to the total amazement of the ramblers and tourists we encountered.
It is that indomitable spirit with which she created the modern constitutional monarchy—an institution so strong, so happy and so well understood, not just in this country but in the Commonwealth and around the world, that the succession has already seamlessly taken place. I believe she would regard it as her own highest achievement that her son, Charles III, will clearly and amply follow her own extraordinary standards of duty and service. The fact that today we can say with such confidence, "God save the King" is a tribute to him but, above all, to Elizabeth the Great, who worked so hard for the good of her country not just now but for generations to come. That is why we mourn her so deeply, and it is in the depths of our grief that we understand why we loved her so much.
Theresa May's speech was the funniest. I do wish she had shown this side of herself as Prime Minister. Her comic timing was impeccable:
Guido has a video of most of her address:
Arguably one of May's most poignant speeches. Some needed light relief for the day...
Here's the best part:
This excerpt follows:
Of course, for those of us who had the honour to serve as one of her Prime Ministers, those meetings were more frequent, with the weekly audiences. These were not meetings with a high and mighty monarch, but a conversation with a woman of experience, knowledge and immense wisdom. They were also the one meeting I went to that I knew would not be briefed out to the media. [Laughter.] What made those audiences so special was the understanding the Queen had of issues, which came from the work she put into her red boxes, combined with her years of experience. She knew many of the world leaders—in some cases, she had known their fathers—and she was a wise and adroit judge of people.
The conversations at the audiences were special, but so were weekends at Balmoral, where the Queen wanted all her guests to enjoy themselves. She was a thoughtful hostess. She would take an interest in which books were put in your room and she did not always expect to be the centre of attention; she was quite happy sometimes to sit, playing her form of patience, while others were mingling around her, chatting to each other. My husband tells of the time he had a dream: he dreamt that he was sitting in the back of a Range Rover, being driven around the Balmoral estate; and the driver was Her Majesty the Queen and the passenger seat was occupied by his wife, the Prime Minister. And then he woke up and realised it was reality!
Her Majesty loved the countryside. She was down to earth and a woman of common sense. I remember one picnic at Balmoral that was taking place in one of the bothies on the estate. The hampers came from the castle, and we all mucked in to put the food and drink out on the table. I picked up some cheese, put it on a plate and was transferring it to the table. The cheese fell on the floor. I had a split-second decision to make: I picked up the cheese, put it on a plate and put the plate on the table. I turned round to see that my every move had been watched very carefully by Her Majesty the Queen. I looked at her, she looked at me and she just smiled. And the cheese remained on the table. [Laughter.]
This is indeed a sad day, but it is also a day of celebration for a life well spent in the service of others. There have been many words of tribute and superlatives used to describe Her late Majesty Queen Elizabeth II, but these are not hype; they are entirely justified. She was our longest-serving monarch. She was respected around the world. She united our nation in times of trouble. She joined in our celebrations with joy and a mischievous smile. She gave an example to us all of faith, of service, of duty, of dignity and of decency. She was remarkable, and I doubt we will ever see her like again. May she rest in peace and rise in glory.
Saturday's session in the Commons was another marathon.
Shortly after 1 p.m., Speaker Sir Lindsay Hoyle opened it with this:
I now invite the House to resume its tributes to Her late Majesty. I expect to conclude tributes at 10 o'clock, when I shall invite Ministers to move the motion for a Humble Address to His Majesty. A hundred and eighty-two Members contributed yesterday, and many want to contribute today. I hope Members will therefore keep to the informal time limit of three minutes.
An excerpt from John Redwood's speech follows.
On Friday, he pointed out how historically significant three of our Queens were in British history and for women:
On Saturday, he said:
What always came across to all of us was just how much she respected every person and every institution that she visited. She showed that respect by impeccable manners and great courtesy—always on time, always properly briefed, always appropriately dressed for the occasion.
But, as so many have said from their personal experiences, there was something so much more than that. She was not just the consummate professional at those public events: there was the warm spirit, the personality, and above all the understanding that everyone else at that event was terrified that something was going to go wrong, that they had not understood the protocol, or that there was some magic way of doing it—as my right hon. Friend the Member for Welwyn Hatfield (Grant Shapps) was explaining—that they had to get right. At those public events, the Queen always relaxed people and showed them that there was no right way, because she was there for the people; she was there for the institution; she was there for the event. That is what we can learn from.
Of course, she was also Our Majesty. She was the embodiment of the sovereignty of people and Parliament; she represented us so well abroad and represented us at home, knowing that as a constitutional monarch, she represented us when we were united. She spoke for those times when we were gloriously happy and celebrating, or she spoke for those times when there was misery and gloom and she had to deal with our grief and point to the better tomorrow. That was why she held that sovereignty so well and for so long—a constitutional monarch who did not exercise the power, but captured the public mood; who managed to deal with fractious and difficult Parliaments and different political leaders, but who was above the politics, which meant that our constitution was safe in her hands. I wish her son, the new King, every success in following that great lead as he has told us he will do, and I can, with others, say today—"God save the King."
Redwood later tweeted that he had omitted an important part of his speech:
Indeed.
The Queen attended only two of her former Prime Ministers' funerals, those of Winston Churchill and Margaret Thatcher.
These are links to Friday's (continued here) and Saturday's (continued here) tributes from the Lords, both Spiritual and Temporal.
On Sunday, our vicar said that the Church of England lost her greatest evangelist, the Queen.
I cannot disagree with that.
The Archbishop of Canterbury spoke earlier on Friday afternoon, excerpted below.
He recalled her deep faith, something I wish more CofE clergy had:
… What has been said already today has been extraordinarily eloquent. I do not intend to repeat it but to say something about the Queen's links to faith and to the Church of England. First is her assurance, her confidence, in the God who called her. At her coronation, so long ago, conducted by Archbishop Geoffrey Fisher—the first of seven Archbishops of Canterbury who had the privilege of serving her—the service began with her walking by herself past the Throne, where she would very shortly be seated, and kneeling by the high altar of Westminster Abbey. The order of service said, "She will kneel in private prayer"—and so she did, for some time. The next thing to happen was that homage was paid to her, starting with the Duke of Edinburgh. What that said about her understanding of her role was that she pledged her allegiance to God before others pledged their allegiance to her. She had this profound sense of who she was and by whom she was called.
Then there was her profound, deep and extraordinary theological vision. Many years ago now—seven or eight years ago—I was travelling abroad, and someone who had no knowledge of these things said, "Well, of course, she's not really got that much intellect, has she? I mean, private tutors and all this—what can she know?" Well, what ignorance. In 2012, she spoke at Lambeth Palace on the occasion of her Diamond Jubilee, and the speech she made there is one we return to very frequently, because she set out a vision for what an established Church should be. It was not a vision of comfort and privilege; it was to say, put very politely, "You are here as an umbrella for the whole people of this land". The subtext was, "If you are not that, you are nothing". That is a deep vision of what it is to be the Church—of what it is to be not an established Church but a Christian Church. That came from her deep understanding of faith. Every five years, at the inauguration of the Church of England's General Synod, she came with messages of encouragement and assurance of her prayers. In 2021, her message was,
"my hope is that you will be strengthened with the certainty of the love of God, as you work together and draw on the Church's tradition of unity in fellowship for the tasks ahead."
Publicly, Her late Majesty worshipped regularly and spoke of her faith in God, particularly in her Christmas broadcasts, with quiet, gentle confidence. Privately, she was an inspiring and helpful guide and questioner to me and to my predecessors. She had a dry sense of humour, as we have heard already, and the ability to spot the absurd—the Church of England was very capable of giving her material—but she never exercised that at the expense of others. When I last saw her in June, her memory was as sharp as it could ever have been. She remembered meetings from 40 or 50 years ago and drew on the lessons from those times to speak of today and what we needed to learn: assurance of the love of God in her call, and then humility. It would be easy as a monarch to be proud, but she was everything but that. It was her faith that gave her strength. She knew that, but she knew also her call to be a servant, the one whom she served, and the nation she served, the Commonwealth and the world. Over the last 24 hours, I have had so many messages from archbishops, bishops and other people around the world, within the Commonwealth and way beyond it—from China, Latin America and many other places—in a deep sense of loss.
It has been the privilege of those on these Benches to be intimately involved with momentous occasions so often throughout Her late Majesty's life. As has been said, she has been a presence for as long as we can remember. Jesus says in the Gospel of St Matthew:
"Blessed are those who mourn, for they shall be comforted".
May God comfort all those who grieve Her late Majesty's loss, and may God sustain His Majesty King Charles III in the enormous weight and challenges that he takes on immediately, at the same as he bears the burden of grief, and those around him in his family. May God hold Her late Majesty in His presence, firmly secured in the peace that passes far beyond our understanding.
The Archbishop of York, the Right Revd Stephen Cottrell, spoke in the first of Saturday's sessions in the Lords. He added some light relief:
My Lords, like most Bishops from these Benches, I have stories to tell; stories of doing jigsaws in Sandringham on Sunday evenings and of barbeques in the woods at Sandringham in the middle of January—I even have a slightly scurrilous story about healing the Queen's car. Perhaps I will tell it.
I had preached in Sandringham parish church. We were standing outside and the Bentley was there to get the Queen. It did not start. It made that throaty noise cars make in the middle of winter when they will not start, and everybody stood there doing nothing. I was expecting a policeman to intervene, but nothing happened. Enjoying the theatre of the moment, I stepped forward and made a large sign of the cross over the Queen's car, to the enjoyment of the crowd—there were hundreds of people there, as it was the Queen. I saw the Queen out of the corner of my eye looking rather stony-faced, and thought I had perhaps overstepped the mark. The driver tried the car again and, praise the Lord, it started. The Queen got in and went back to Sandringham, and I followed in another car. When I arrived, as I came into lunch, the Queen said with a beaming smile, "It's the Bishop—he healed my car". Two years later, when I greeted her at the west front of Chelmsford Cathedral, just as a very grand service was about to start and we were all dressed up to the nines, she took me to one side and said, "Bishop, nice to see you again; I think the car's all right today, but if I have any problems I'll know where to come."
When I became the 98th Archbishop of York, during Covid, I paid homage to the Queen by Zoom conference. I was in the Cabinet Office; everyone had forgotten to bring a Bible, including me, but there was one there—which is kind of reassuring. Just as the ceremony was about to begin, the fire alarm went off.
The Queen was at Windsor Castle, but we all trooped out of the Cabinet Office, on to the road, and were out there for about 20 minutes until they could check that it was a false alarm and we could go back in. When I went back into the room, there was the screen, with Her late Majesty waiting for things to begin again. I do not know why I find myself returning to that image of her, faithful watching and waiting through those very difficult times. That was a very small part of a life of astonishing service.
The other thing I have noticed in the last couple of days is that we are all telling our stories. Yesterday, I found myself sharing stories with somebody in the street. I at least had had the honour of meeting Her late Majesty; this person had never met her, but we were sharing stories. I said, "Isn't it strange how we need to tell our stories? It's not as if she was a member of our family." Except she was. That is the point. She served the household of a nation. For her, it was not a rule but an act of service, to this people and to all of us.
I remind us, again and again, that that came from somewhere: it came from her profound faith in the one who said,
"I am among you as one who serves."
The hallmark of leadership is service, watchfulness and waiting. It was her lived-in faith in Jesus Christ, day in and day out, which sustained, motivated and equipped her for that lifetime of service. How inspiring it was last night and this morning to see the baton pass to our new King, King Charles, in the same spirit of godly service to the people of a nation.
I had not thought of this, but the Archbishop of York pointed out the important feast day that coincided with the Queen's death, the Nativity of the Blessed Virgin Mary:
Her Majesty the Queen died on 8 September, the day on which the blessed Virgin Mary is remembered across the world and the Church. Another Elizabeth, the cousin of Mary, said of her when she knew she would be the mother of the Lord:
"Blessed is she who believed that the promises made to her would be fulfilled".
Shot through all our tributes in this House and another place, and across our nation, is that which we have seen, especially as it was only on Tuesday—I thank the noble Baroness, Lady Bull, for reminding us—that the Queen received a new Prime Minister. Can it really be possible? She served to the end—a life fulfilled.
I will finish with a handful of her words. This is what the Queen wrote in a book to mark her 90th birthday, reflecting on her faith in Jesus Christ in her life:
"I have indeed seen His faithfulness."
I am not supposed to call noble Lords "brothers and sisters", but dear friends, we have seen her faithfulness too, and we see it now in our new King. May Her late Majesty the Queen rest in peace and rise in glory. God save the King.
Friday, September 9
At 6 p.m. on Friday, two significant events occurred.
The first was an hour-long service of prayer and reflection held at St Paul's Cathedral:
This service was for people who work in the City of London along with a limited number of members of the public who could apply for wristbands — tickets — to attend. St Paul's posted a page on how to obtain a wristband and how to queue on Friday afternoon for admittance.
Cabinet members attended and sat in the choir stalls. Prime Minister Truss and her Cabinet Secretary Simon Case sat in the front row. On the opposite side were Labour's Keir Starmer and other Opposition MPs.
This was an excellent service. The Cathedral helpfully posted the Order of Service, which can be downloaded from the aforementioned webpage.
Truss read Romans 14:7-12:
We do not live to ourselves, and we do not die to ourselves. If we live, we live
to the Lord, and if we die, we die to the Lord; so then, whether we live or whether we die, we are the Lord's. For to this end Christ died and lived again, so that he might be Lord of both the dead and the living.
Why do you pass judgement on your brother or sister? Or you, why do you despise your brother or sister? For we will all stand before the judgement seat of God. For it is written,
'As I live, says the Lord, every knee shall bow to me, and every tongue shall give praise to God.'
So then, each of us will be accountable to God.
This prayer in memory of the Queen is beautiful:
Eternal Lord God,
you hold all souls in life;
send forth, we pray, upon your servant, Elizabeth,
and upon your whole Church in earth and heaven
the brightness of your light and peace;
and grant that we,
following the good example of those
who have faithfully served you here and are now at rest,
may at the last enter with them
into the fullness of eternal joy
in Jesus Christ our Saviour.
Amen.
Meanwhile, King Charles III addressed the nation for the first time as monarch:
He spoke for ten minutes, first discussing his late mother then pledging his service to the people of the United Kingdom.
He ended his address by saying that Prince William would become the new Prince of Wales and that he had much love for Prince Harry as he and Meghan continue building their life together overseas.
The Telegraph included the following blurb. The last line comes from Shakespeare:
The broadcast was recorded in the Blue Drawing Room of Buckingham Palace, after the King and Queen greeted crowds of mourners outside the gates.
In a final message to his mother, the King said: "To my darling Mama, as you begin your last great journey to join my dear late Papa, I want simply to say this: thank you.
"Thank you for your love and devotion to our family and to the family of nations you have served so diligently all these years.
"May 'flights of Angels sing thee to thy rest'."
The walkabout the paper refers to involved much emotion from members of the public, especially women. One lady kissed him on the cheek and another shook his hand. Historically, one does not touch the monarch. That also applied to the Queen, even if a few people did touch her.
Another similar walkabout by the new King and Queen Consort occurred on Saturday afternoon outside the Palace.
The Accession Ceremony took place on Saturday morning. More about that tomorrow.
Last weekend's big news stories concerned freedom of speech.
The world was horrified to learn of the bloody and debilitating assault on Sir Salman Rushdie, who might lose his sight in one eye. He was off his respirator early this week, thankfully, but, unfortunately, still has a long recovery awaiting him.
Then, here in Britain, on Saturday, August 13, we awoke to the news that raunchy comedian Jerry Sadowitz, 60, had his Edinburgh Fringe gig cancelled at the city's Pleasance Theatre.
Sadowitz gave only one performance before the Pleasance pulled the plug.
I've lived here as long as Sadowitz has been a comedian. For all that time, I have never met a man who liked his brand of comedy.
One could describe him as an equal-opportunity offender. He has appeared on television from time to time. I first saw him in the early 1990s on a comedy show. I couldn't see what was funny. His jokes were gratuitously offensive and filthy.
Nearly everyone in the UK knows about Sadowitz's humour, if one can call it that.
His show is not appropriate for a first date and certainly not for a blind date.
Being generous, I would say that, in terms of comedy, Jerry Sadowitz is the 21st century British version of Lenny Bruce.
Like Bruce, Sadowitz was born in the United States.
He moved to Scotland with his Glaswegian mother at the age of seven.
Let's look at the facts surrounding his cancellation, keeping in mind that the month-long Edinburgh Fringe is supposed to be the bastion of comedic free speech. Its whole purpose is to shock and provoke.
Another thing worth keeping in mind is that Sadowitz actually said what sort of material his show at the Pleasance would include.
The show was called 'Not for Anyone'.
That should have set people's expectations, but it did not.
On Saturday, I read Guido Fawkes:
Guido posted Sadowitz's tweet about how well he thought Friday night's show went:
Guido tied the news in with that of Salman Rushdie (emphases in the original):
Here's some news from the Edinburgh Fringe that Salman Rushdie might find amusing. In a statement announcing that they were cancelling further appearances by the comedian and magician Jerry Sadowitz, the venue said:
The Pleasance Theatre Trust have cancelled Jerry Sadowitz's second and final show at the Edinburgh Festival Fringe with immediate effect. In today's society, opinions such as those displayed on stage by Sadowitz are not acceptable and The Pleasance are not prepared to be associated with such material.
Anthony Alderson, Director of the Pleasance said:
The Pleasance is a venue that champions freedom of speech and we do not censor comedians' material. While we acknowledge that Jerry Sadowitz has often been controversial, the material presented at his first show is not acceptable and does not align with our values. This type of material has no place on the festival and the Pleasance will not be presenting his second and final show.
You couldn't make it up….
No, you couldn't.
Apparently, among other things, Sadowitz exposed himself to a woman in the front row.
The Scottish Daily Express reported (emphases mine):
Controversial Scots comedian Jerry Sadowitz has been cancelled by the Edinburgh Fringe after complaints from shocked audience members and venue staff.
The 60-year-old had two shows booked at the Pleasance called 'Jerry Sadowitz: Not for Anyone' which came with a warning of "strong language and themes some may find distressing" …
However, the decision sparked fury from fellow comics such as Leo Kearse, who said: "If the Islamic fundamentalists don't get you, the wokeists will."
He added that Sadowitz, who was born in the US and moved to Glasgow with his Scottish/Jewish mother at the age of seven, was the "only comedian worth seeing" at the Fringe this year.
Good grief. Yet, judging from this year's Edinburgh Fringe and Festival reviews in The Times, he's probably right.
Anyway:
The Pleasance said anyone who had booked a ticket for Saturday's gig would receive refunds for their tickets and that they "won't be working" with the entertainer again.
Meanwhile, Sadowitz was soon busy on Twitter promoting his run of 14 gigs at venues south of the Border later in the year.
How could the Pleasance not have known about Sadowitz's material when he'd performed there before?
On Sunday, the paper had an update:
The Pleasance has hit back at critics following the Jerry Sadowitz cancellation claiming the comedian made people "uncomfortable and unsafe" to remain in the theatre.
The Edinburgh Fringe venue slammed those who ripped into the "woke" decision as an attack on freedom of speech. The theatre claimed that Sadowitz crossed the line and that controversial comedians "need to be challenged" in a "changing world" …
Fans say his unique brand of black comedy has to be viewed in context and questioned why the venue booked him in the first place, as well as asking why people bought tickets to the show if they were so easily offended.
I completely agree.
Whereas Sadowitz tweeted that he didn't see anyone walk out, the Pleasance claimed that a number of people left during his act:
"A large number of people walked out of Jerry Sadowitz's show as they felt uncomfortable and unsafe to remain in the venue. We have received an unprecedented number of complaints that could not be ignored and we had a duty to respond. The subsequent abuse directed to our teams is also equally unacceptable …
"In a changing world, stories and language that were once accepted on stage, whether performed in character or not, need to be challenged. There is a line that we will not cross at the Pleasance, and it was our view that this line was crossed on this occasion.
"We don't vet the full content of acts in advance and while Jerry Sadowitz is a controversial comedian, we could not have known the specifics of his performance. The Pleasance has staged his work numerous times over the years, but as soon as we received complaints from those in the building which caused us great concern, we knew we could not allow the final performance to go ahead.
"The arts and comedy in particular have always pushed the boundaries of social norms but this boundary is always moving. Our industry has to move with it. However, this does not mean that we can allow such content to be on our stages."
I was heartened to read that a Scottish Conservative and a feminist were critical of The Pleasance:
Former Scots Tory strategy chief Eddie Barnes was among the critics of the decision. He tweeted: "The Pleasance's statement is totally contradictory. But it's that mealy-mouthed, morally vacuous phrase 'not acceptable' that really grates. To whom? And on what grounds? Who decided?"
Feminist campaigner Lucy Hunter Blackburn added: "I first came to the Fringe in 1986. The cancelling of Jerry Sadowitz (who I've never seen – not my bag, I strongly assume I'd not enjoy his material) feels like an important moment – something to stop and look at hard."
… While discussing the furore on GB News on Saturday night, Scots comedian Leo Kearse said: "The Edinburgh Fringe is over, the SNP have put a nail in it by restricting the amount of accommodation so there's not enough space for audiences and acts. Nobody wants to go and see woke comedy. It's like women's football, it gets written about by the Guardian but it's rubbish."
On Sunday evening, GB News's Andrew Doyle, a former teacher who went into stand up and created Titania McGrath, emphasised that what the audience sees is Sadowitz's 'persona', not the man himself. He added that while Sadowitz is lobbing his offensive material, he simultaneously performs magic tricks. (Sadowitz is accomplished at card tricks in particular. That's how he got his start.)
Doyle, who has seen Sadowitz's act, explains that the material is so out there that it makes people laugh:
He's an equal opportunities offender. Think of the worst thing in your head and then say it.
Leo Kearse and Josh Howie, another British comedian, joined Doyle in slamming the manager of The Pleasance, the Fringe's premier venue.
According to them, Sadowitz's material this year was nothing new. Doyle also confirmed that Sadowitz circulated a promo video in which he said what would be in the show.
Kearse said that the people complaining are probably the types who would be okay with Drag Queen Story Hour for children:
Why are we treating children like adults and adults like children?
Howie and Doyle were annoyed to see that some comedians at the Fringe supported The Pleasance. Howie said:
They're putting themselves out of a job.
Doyle added:
They're making a rod for their own backs.
Howie pointed out that Sadowitz is 'revered' on the comedy circuit and that he has inspired many newer comedians' material, which makes his cancellation a 'flash point'. Every new boundary push in comedy today has been thanks to him.
Doyle closed by saying that he had heard most of the complaints had come from members of staff at The Pleasance. Howie said that most venue employees are 'mostly students', ergo, likely to be offended and to 'feel unsafe'.
Doyle asked:
Why do people keep submitting to these brats?
Theirs is a great exchange about freedom of speech in comedy:
On Monday, August 15, BBC Scotland interviewed Russian emigré and free speech advocate Konstantin Kisin. Kisin, who hosts his own podcast, says that such censorship helps no one and that, ultimately, the Edinburgh Festival might become less appealing and lose its audience. The male BBC co-host implied that audience members went only so they could laugh at racism because they rarely get the chance to do so.
Kisin responded, beginning with:
If I were a mind reader like you …
and said:
I have more faith in human beings than you do …
The co-host doubled down:
I was there in the audience. You weren't …
Kisin asked him how he would assess what was going on in people's minds as they watched Sadowitz:
You can tell what someone thinks from their body language? … No, no, you did say that you knew from their body language. You said exactly that.
At which point, the co-host abruptly terminated the interview.
Here it is. I applaud GB News's Colin Brazier for his scathing remark about our being forced to pay for the BBC and their bias:
The same comedians had another go on Monday's Headliners show on GB News. By then, Sadowitz felt forced to explain his act, which disappointed Josh Howie. Sadowitz is also seeking an apology from The Pleasance. Nick Dixon, another comedian, said that today's big names in comedy (many of whom probably got where they are today thanks to Sadowitz) need to stand up for him. The owner of The Assembly Rooms, another top Fringe venue, has rightly criticised The Pleasance for cancelling the act:
Earlier that evening, Dan Wootton asked comedy veteran Jim Davidson, whose style is the exact opposite of Sadowitz's, for his opinion. Davidson got dragged into this because Sadowitz wrote 'I am not J** D*******, folks' and 'a lot of thought goes into my shows'. Davidson was generous in defending a comedian who does not wish to be compared to him. Davidson criticised The Pleasance, saying they knew 'exactly what act' Sadowitz was going to do.
Davidson thinks someone within the local council complained, which has happened before in England. He also pointed out that The Pleasance said that even performing material 'in character' should not be allowed:
Isn't every comedian in character?
Here's the video:
There is a huge gulf between the author of The Satanic Verses and obscene, offensive comedy, however, it is important to defend both.
James Marriott wrote about this conundrum for The Times on Wednesday, August 17: 'The grubby truth about freedom of speech'.
He gave an unintended plug for GB News. Remember that Murdoch owns The Times and TalkTV:
An honest defence of free speech acknowledges that it inflicts pain on vulnerable people, disperses power unequally and has no scientifically identifiable principles — but that it is precious nonetheless. It is a grubby, unfortunate truth.
Has there ever been a less glamorous time to support free speech? Because social media companies refuse to accept editorial responsibilities, the internet is overrun with the gory worst of what humans have to say.
The most vocal modern defenders of free speech are not artists or libertines but pimply "Enlightenment bros" and the talking heads of GB News. Of course, one's principles should never be formed in accordance with what is and isn't trendy. So we are left as the awkward, perhaps half-embarrassed, defenders of this unhappy, dysfunctional system which is nevertheless by far the best one we've yet devised.
That probably explains why GB News's ratings are way ahead of TalkTV's.
I'll leave the last word to The Telegraph's theatre critic Dominic Cavendish:
Though I've seen a number of his shows over the years, I didn't catch this one. His act – initiated in the 1980s, and bolstered since the 1990s by dexterous card tricks – is easy to summarise: misanthropic, unrelenting bile, awash with expletives and at war with political correctness. No one escapes his performative contempt, which springs from him, but qualifies too as an act.
His patter is knowingly extreme, and can be extremely funny, although the exhalation of laughter wars with the sharpest intakes of breath. His offence-giving once brought him celebrity but that has been on the wane – TV has barely touched him since the early 2000s. Sick-taste comedians have come up in his wake, most successfully Jimmy Carr and Frankie Boyle, yet he has admirers across the spectrum; even Stewart Lee, the darling of the progressive Left.
As Lee wrote in the New Statesman in 2013, "because Sadowitz is one of the most complete and perfect stand-ups in history, his exact political position is complicated. By accident or design, he appears to be socially, sexually, culturally, physically and economically at the bottom of the pile. This gives him licence to attack everything and everyone, like a drowning rat swimming desperately up the U-bend. And this tells us a lot about the essence of stand-up."
… It's impossible to justify every line of Sadowitz's sets but his worldview is to be suspicious of pleasantness and to detect phoneyness in progressivism. He confronts us with his viciousness and by extension, our own. Times have changed, have they? His pertinent thrust is that people haven't.
… The Pleasance can hardly say they didn't know who they were booking, this time around.
That they de-platformed Sadowitz just after Salman Rushdie was attacked felt doubly uncomfortable. There's a world of difference, of course, in being told that your show is cancelled, and being stabbed in the face. But how could the Pleasance feel on the right side of history? Though worlds apart in terms of finesse, and import – Rushdie is a highbrow culture hero, Sadowitz an increasing anachronism – are the two men not both flying the flag for freedom of expression?
Today, sure, cancel Sadowitz. But tomorrow? What about other less provocative but maybe also problematic acts? Take another fringe veteran, Arthur Smith, who gratuitously if comically has a naked woman walk across stage during his Pleasance show. Should he go next? The 2022 Fringe so far has been a sun-lit occasion – but dark clouds have gathered.
I don't like Jerry Sadowitz's comedy but I will defend his right to perform on stage.
Like him or loathe him, where freedom of speech is concerned, he's every bit as important as Salman Rushdie.
A well known Catholic priest from Glasgow, the Revd James 'Big Jim' Doherty, died earlier this month.
On January 10, 2022, Tim Stanley, a Catholic and a columnist for The Telegraph, related one of his favourite anecdotes about Big Jim:
A tribute to another outspoken Catholic
Speaking of outspoken Catholics, I'd like to pay tribute to Fr James Doherty, AKA "Big Jim", a Glasgow priest who died last week, of whom the stories are legendary. On one occasion, a man appeared at the presbytery with a notepad that read: "I am homeless, deaf and dumb. Please help." The cleric had seen this trick before.
"Can you lip read?" asked Big Jim. The man nodded. "Well, I've nae money, honey, but if you'll come into the house, I'll make you a sandwich." Thank you, the man nodded.
As they walked past the huge gong the house keeper would use to summon the clergy to lunch, Jim whacked it so hard it rang like Big Ben. "Good God!" cried the homeless man, "What the Hell did you do that for?!"
"Oh, it's a double miracle!" said Big Jim. "Ye can hear and ye can speak!!"
"Aye well," replied the man, rubbing his ears, "you've got to work bloody hard to get any money out of people nowadays."
Jim made the man his sandwich.
That's one of the best anecdotes I've read in some time.
Lying does not pay, especially to a priest. Priests have heard or seen everything under the sun. They are not to be underestimated.
It was with sadness that I read of Jackie Mason's death at the weekend.
Still, he had a good innings. He was 93 years old.
The Daily Mail had an excellent obituary of one of the world's most consistently funny comics. Excerpts follow, emphases mine.
Life before comedy
I did not know that he was born in Wisconsin:
Mason was born in 1928 in Sheboygan, Wisconsin, as Yacov Moshe Maza to immigrant parents from Belarus.
In the early 1930s, the family moved to New York's Lower East Side. All the male relatives were rabbis and young Yacov was expected to follow in their footsteps:
'It was unheard-of to think of anything else,' Mason said. 'But I knew, from the time I'm 12, I had to plot to get out of this, because this is not my calling.'
However, there was no way out for many years. Mason earned a degree in English and Sociology at City College of New York then completed rabbinical studies at Yeshiva University, after which he became a practising rabbi. 
He served several congregations, including those in Weldon, North Carolina, and Latrobe, Pennsylvania.
Sometime in the 1950s, he began working summers in the Catskills, a mountain range in New York State, known for its resorts which attracted Jewish clientele. It is known as the Borscht Belt.
He wrote his own material, put comedy sets together and accustomed himself to being on stage.
Comedy career
It was only in 1959, after his father died, that the rabbi pursued a stand-up career full time and changed his name to Jackie Mason.
However, he did not leave his theological training behind. In 1988, he described his style of comedy to the New York Times:
'My humor — it's a man in a conversation, pointing things out to you,' 
'He's not better than you, he's just another guy,' he added. 'I see life with love — I'm your brother up there — but if I see you make a fool out of yourself, I owe it to you to point that out to you.'      
From the Catskills, he branched out into the big time, playing clubs in Miami and New York in 1960 after two television appearances on the iconic Steve Allen Show.
I am old enough to remember that Jackie Mason was on television a lot in the early 1960s.
In 1964, he appeared on another iconic programme, The Ed Sullivan Show, which aired on Sunday nights. I remember my mother got very worked up about what happened in one of his appearances, as she was a huge Ed Sullivan fan. We never missed a show. After this appearance she turned against Jackie Mason:
… after a terrible misunderstanding in 1964 between Sullivan and Mason involving a perceived obscene middle finger gesture, Jackie's career hit a major slump.
Sullivan canceled Mason's six-show contract, refusing to pay him for the performance. 
Mason eventually filed a lawsuit, and won.
Mason's career did not recover until the late 1970s:
… it would take him many years to find his momentum once again, with his comeback punctuated by well-received performances in 1979's Steve Martin film The Jerk, and Mel Brooks's History of the World: Part I two years later.
'People started to think I was some kind of sick maniac,' Mr. Mason told Look. 'It took 20 years to overcome what happened in that one minute.'
My mother would definitely have agreed with the 'sick maniac' description, unfounded though it was.
He hired a new manager Jyll Rosenfeld, whom he later married. She convinced him that there was an appetite for Borscht Belt humour beyond the Catskills. He launched a long-running show on Broadway in 1986:
Mason decided to bring his one-man comic shows The World According to Me!, to the Broadway stage in 1986.
The hit show ran for two years, and earned him a special Tony Award in 1987, followed by an Emmy for writing when HBO aired a version of the show.
From there, the legendary comedian put close to a dozen other one-man shows on Broadway, with the last being The Ultimate Jew in 2008.
Here is one of his performances from 1986:
Mason also enjoyed an on-screen appearance in Caddyshack II in 1988 and a voice-over as Rabbi Krustofsky in an early episode of The Simpsons in 1992, for which he won a second Primetime Emmy Award, for Outstanding Voice-Over Performance.
In the aforementioned New York Times interview from 1988, he was philosophical in the way only a rabbi can be:
'I've been doing this for a hundred thousand years, but it's like I was born last Thursday,' Mr. Mason told The New York Times in 1988. 
'They see me as today's comedian. Thank God I stunk for such a long time and was invisible, so I could be discovered.'
London appearances
For several years, Jackie Mason used to come to London once a year for a stand-up show that was often televised.
I was in stitches.
Guido Fawkes tweeted Mason's 2002 appearance, which was or was close to being his last over here:
Here's the video, which is just over 90 minutes long:
The next video is his 1999 performance at the London Palladium. It is just under 40 minutes long:
However, in 1992, Mason did a half-hour set at Oxford University, where he ribbed the students for their total lack of sartorial elegance and fondness of political correctness. He also made fun of the Jewish lifestyle which encompasses self-denial of Jewishness as well as certain material aspirations. The University asked him to do the set for free, something at which he also cavilled, in a humorous way:
This is his description of the video:
This is a clip from a lecture I gave at Oxford University back in 1992. They gave me an award and a fellowship in the Oxford Union Society. The first American comedian to receive such an honor. That's how they got me to work for nothing. Enjoy!
Here's the second part, which was a Q&A session:
He talked about his years as a rabbi where people didn't want the sermon and hoped for a few jokes. He said that Oxford students were very polite and he hadn't heard one four-letter word yet: 'I'm waiting, I'm waiting'.
Near the end, he said that England is the most polite society in the Western world with all the ubiquitous apologies one hears. The only exception, he noted, is in Parliament, where the raucous tone reminded him of a 'sanitarium'.
Politics and talk radio
In 1998, Mason's biography was published and he began a career in talk radio:
he published an autobiography, 'Jackie, Oy!' (written with Ken Gross), and discovered a new venture as an opinionated political commentator on talk radio.
Twenty years later, he issued a series of vlogs against then-candidate Barack Obama. I watched most of them. This one discusses the first presidential debate in September 2008:
His description of the Obama v McCain debate reads as follows:
Here are my thoughts on the first presidential debate. Although neither candidate had a clear victory Friday night, the media is saying Obama won because he didn't lose. He looked poised and presidential. Well he did look poised as he made no sense! And if looking Presidential is telling bold lies, the Hail to the Chief!
In 2016, Mason was an unabashed Trump supporter:
He was among the few well-known entertainers to support former President Donald Trump during his 2016 presidential campaign.
In October 2016, he appeared on Aaron Klein Investigative Radio, which airs in New York City and Philadelphia. Mason contrasted Trump's words about women to Bill Clinton's actual violence against his victims.
Breitbart had the story, reporting that Mason said:
What Trump ever did to women is that he called them a name because she gained too much weight so he said she got too fat and he called her a pig. Imagine if the worst thing Bill Clinton ever did was call a girl a name. He called them names after he raped them.
When he got through with them, Juanita Broaddrick wound up with a cut lip. And he had advised her to please go see a doctor. He was very compassionate about sending them to doctors. But he wasn't too concerned about beating them up in the first place. He was so busy punching them around that nobody knows if he made love to them or he just wanted to beat them up a little bit.
As for Hillary, he said:
He was really a violent, insane character. Now his wife, she had a job. Her job was to make sure that these women were never heard about it. Every time somebody threatened to talk about it she immediately went to work on destroying them. First he punched them around. Then it was her job to wipe them out altogether.
… And she's calling Trump a person who can't be trusted because of the way he treats women? This is like somebody who crossed a red light being compared to a murderer.
After Trump's election, Mason turned his attention towards the RINOs, especially the then-Speaker of the House Paul Ryan:
In March 2017, Breitbart reported:
In this week's exclusive clip for Breitbart News, Jackie weighs in on the GOP's failed healthcare bill, explaining that Republicans in Washington were focused on "repealing and replacing" the wrong thing.
"When they were talking about 'repeal and replace,' they were stupid," Jackie says. "They were talking about healthcare, they should have been talking about [House Speaker Paul] Ryan. If Ryan was repealed and replaced we would have had no problem today."
Jackie — who was born in Sheboygan, Wisconsin, in Ryan's home state — says he finds it odd that a Speaker of the House who is supposed to be some kind of "genius" can't count correctly.
"You know what Ryan should do if he wanted to save this whole country? Get another job," he says. "Find out something that you actually know. If there's nothing like that, sit in the House and don't bother anybody. Mind your own business, you'll save the country."
My deepest sympathies go to his widow and former manager Jyll Rosenfeld and his daughter Sheba Mason, from a former union with Ginger Reiter in the 1970s and 1980s.
For more Jackie Mason shows and interviews, visit TheUltimateJew channel on YouTube.
Yes Minister, which aired on BBC2 in the 1980s, is still as fresh as it was decades ago, a perfect satire of politics and the civil service.
In this short clip, which is under two minutes long, Sir Humphrey demonstrates how pollsters use a list of questions to get the end results they want. Amusing, accurate — and relevant:
Would that we had satirical sitcoms like this today, especially ones that didn't rely on four-letter words for laughs, such as The Thick of It, which didn't even come close to Yes Minister in terms of humour.
Sadly, Prince Philip, the Duke of Edinburgh, died on Friday, April 9, 2021, exactly two months short of his 100th birthday:
The Queen has lost her best friend. My deepest sympathies to her for the unimaginable loss of her long-time husband and daily confidant. My condolences also go to the Royal Family in their grief.
Young love
The couple first met in 1934, and began corresponding when the Prince was 18 and a cadet in the Royal Navy. Princess Elizabeth was 13 at the time.
She was smitten with him from the start.
Prince Philip served with distinction during the Second World War in the Mediterranean and Pacific fleets.
After the war ended, he could have had a stellar career in the Royal Navy. His superiors praised his clear leadership skills.
However, love intervened and the rest was history.
Born Prince Philip of Greece and Denmark, he renounced his foreign titles and took British citizenship before he and Princess Elizabeth were engaged. He took the surname of his maternal grandparents: Mountbatten.
He and Princess Elizabeth were engaged in July 1947. They married on November 20 that year. Shortly before the wedding, George VI gave him the titles of Duke of Edinburgh (created for him), Earl of Merioneth and Baron Greenwich.
Prince Philip remained in the Royal Navy until July 1951. He retired with the rank of Commander.
Royal succession — and surname
In January 1952, he and the Queen began a tour of the Commonwealth countries. They were in Kenya when news reached them that the Queen's father, George VI, died on February 6 that year.
Although she became Queen immediately upon her father's death, her coronation took place in 1953, as it had to be planned meticulously.
On Coronation Day, he knelt before her, clasped her hands and swore an oath of allegiance to her:
He also had to touch her crown and kiss her on the cheek.
He never had a constitutional role, nor was he ever formally given the title of Royal Consort. The courtiers did not like him, nor did they trust him. They believed his personality to be brash and unbecoming of the Royal household. They shut him out of as much decision making as possible.
When Elizabeth became Queen, the question about her family name arose. Prince Philip suggested that the Royal Family be known as the House of Edinburgh. Upon discovering that suggestion, Queen Mary, Elizabeth's grandmother, wrote to Prime Minister Winston Churchill, who advised the young monarch to issue a royal proclamation saying that the Royal Family would continue to be known as the House of Windsor.
In his inimitable style, Prince Philip complained privately:
I am nothing but a bloody amoeba. I am the only man in the country not allowed to give his name to his own children. [57]
The Queen did nothing until eight years later, in 1960, 11 days before she gave birth to Prince Andrew. She issued an Order in Council declaring that the surname of her and her husband's male-line descendants who are not styled as Royal Highness or titled as prince or princess would be Mountbatten-Windsor.
Pater familias
Prince Philip had to carve a role out for himself. He became the pater familias and, through the years, his role expanded to cover not only his four children but his grandchildren. He listened to their concerns, shared their joys and gave them advice. He knew everything that went on in their lives.
Although the public knew him for speaking as he saw — rather bluntly, on occasion — behind closed doors Prince Philip was known to be a warm, loving man.
He also favoured a more transparent Royal Family. According to the BBC, it was he who encouraged the Queen to make a multi-episode documentary on their daily lives, including those of their four children. It was broadcast in the late 1960s. I remember seeing it in the United States.
When Princess Diana died on August 31, 1997, Prince Philip was the one who kept an eye on the public mood that fateful week. He, the Queen and Princes William and Harry were at Balmoral in Scotland for their summer holiday. When the young princes wanted to attend church, their grandparents took them to the Sunday service on the day of their mother's death. Later in the week, it was Prince Philip who encouraged the boys to walk behind the funeral procession the following Saturday. He said:
If you don't walk, I think you'll regret it later. If I walk, will you walk with me? [93]
One cannot imagine what he thought of Prince Harry's departure for the United States to live a life separate from his closely knit family. I did read that the Royal Family shielded information about the Oprah interview from him.
John F Kennedy's funeral
Prince Philip was in Washington for John F Kennedy's funeral in 1963.
He had a friendly encounter with John Jr, who was still a toddler and known as John-John at the time. The child wondered where his father was, as he had no one with whom to play. The Prince stepped in to fill that gap. In 1965, the British government gave an acre of land at Runnymede to the United States for use as a memorial to JFK:
Funeral arrangements
Prince Philip was self-effacing and did not like a fuss to be made over him.
Therefore, the funeral arrangements will respect his wishes, which is rather convenient, as coronavirus restrictions are still in place. Up to 30 people will be allowed at his funeral, in line with legislation across the nation:
The funeral is scheduled to take place on Saturday, April 17:
It is interesting that Prince Harry will be able to attend when we have a 10-day quarantine in place for arrivals into the UK under coronavirus regulations.
The Sunday Mirror reported on Prince Harry's return to the UK:
He could also be released from quarantine if he gets a negative private test on day five, under the Test to Release scheme.
Given his status as a member of the Royal Family travelling to support the Queen, Harry might be considered exempt from travel restrictions.
Wow. It's nice to know we have a two-tiered quarantine system in place /sarc.
A championship boxer remembers the Prince
Former WBC Heavyweight Champion Frank Bruno MBE posted his memories of meeting Prince Philip. He is at the top left in the following photo:
An Anglican priest remembers the Prince
The Revd Peter Mullen, an Anglican priest, recalled his encounters with Prince Philip for Conservative Woman on April 10 in 'A personal recollection'.
He first met the Prince during his schooldays:
The first time I met the Prince was in connection with his Duke of Edinburgh's Award Scheme which gave a leg up to youngsters from what would now be called the less privileged parts of the country. He paid a visit to the Leeds branch of the Church Lads' Brigade of which, aged fourteen, I was a member. We were in the church hall making things. My task was to make a table lamp. I was hopeless at it.
The Duke got hold of my half-finished creation, held it up to one eye and said, 'I suppose this hole is where the flex goes?'
'I think so, Sir.'
'You think so? I was never any good at this sort of thing either!'
And he was off . . . 
As an adult, Mullen met him on more than one occasion thanks to the Honourable Company of Air Pilots. The Prince was its Grand Master. Mullen served as chaplain.
He recalls:
The Company gave a lunch for him to mark his 80th birthday and I recall how jovial he was, making light of his years: 'I believe I have lasted so long because you people are always toasting my good health, but I don't want to live to be a hundred. Things are dropping off already!'
At another luncheon one of our Liverymen who had his own port wine business presented the prince with Bottle Number One, the first fruits, so to speak. As he left, the duke handed the bottle to me: 'You have this, Peter. Our house floats on the bloody stuff.'
'Well, Sir, now I don't know whether to drink it or frame it.'
'Gerrit down ya neck!'
Prince Philip on MPs
Guido Fawkes came up with a good quote from one of the Prince's trips to Ghana. It concerns MPs. His Ghanaian hosts told him the country had 200 MPs. Prince Philip replied:
That's about the right number. We have 650 and most of them are a complete bloody waste of time.
Incidentally, Parliament will be recalled one day early from Easter recess. On Monday, April 12, MPs and Lords paid tribute to the Prince in their respective Houses:
That afternoon, the House of Commons reconvened to pay their tribute — from 2:30 p.m. until 10 p.m. (good grief).
Speaker Sir Lindsay Hoyle spoke first:
Prime Minister Boris Johnson had this to say:
Boris Johnson, who was invited to the funeral but declined so that another member of the Royal Family can attend, said that he would forego a pint when pub gardens reopen on April 12, out of respect for the Prince. Guido Fawkes, however, thinks that the Duke of Edinburgh would have wanted us to toast his memory, especially at a pub that bears his title in Brixton, south London:
Guido had a second tweet on the subject with another quote from the Prince:
Agreed.
Prince Philip on Australia
This is too funny. For those who are unaware, Australia was established as a place where Britain could send convicts. That was a long time ago, but the nation's original purpose was to serve as a prison: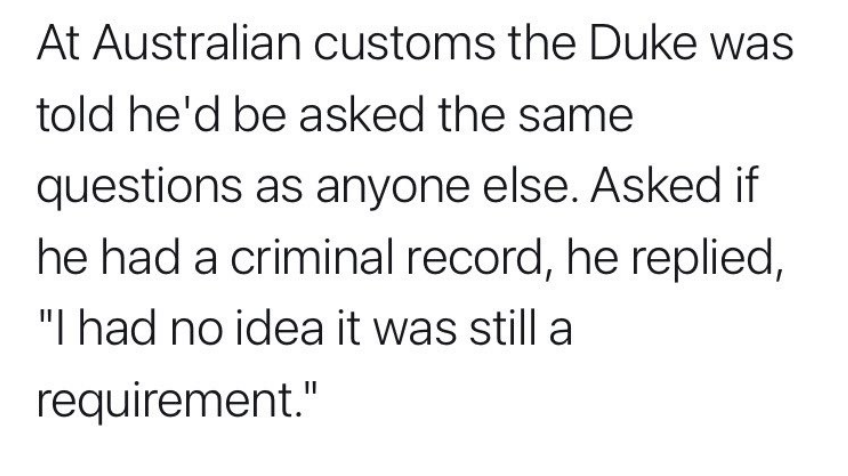 Prince Philip on civil liberties
On a serious note, the 12-minute interview below from 1984 is well worth watching, especially in the coronavirus era.
Prince Philip firmly supported the rights of the individual and believed that the state should serve the individual, not, as in our times, the other way around.
This is from a Thames Television programme originally broadcast on ITV:
I have posted the video below in case the tweets are deleted:
The Prince also said that certain subjects are out of bounds, such as the media and the NHS.
He said that the media are incapable of taking a joke about themselves and, as for the NHS, well, one cannot say anything against it. He didn't necessarily dislike the NHS but thought it was held in too high a regard. Nothing is perfect in this world.
We have been travelling a long road towards the point where we are at present: ruled by the media (they clamoured for coronavirus restrictions) and worship of the NHS. This is how Health Secretary Matt Hancock, Prime Minister Boris Johnson and SAGE have been able to rule our lives. It's been at least 40 years in the making.
BBC coverage on Friday
I was watching BBC Parliament early Friday afternoon, around 1:15, when the programme was interrupted by a broadcast from the BBC News Channel.
I checked the schedule an hour later, which said that the programme would last until 4 p.m. It was still going when I was preparing dinner at 5 p.m.
The final of MasterChef was to have been broadcast that night on BBC1. This was a clip from Thursday's programme:
Pictured are the hosts and judges, chef/restaurateur John Torode on the left and former greengrocer, now television presenter, Gregg Wallace on the right:
BUT:
The BBC News channel was simulcast all afternoon and all night long, not only on BBC Parliament but also on BBC1, to the dismay of MasterChef fans (myself included), and BBC2. BBC4 was suspended for the evening.
I read on social media that the BBC also broadcast continuous coverage of Prince Philip on their radio stations, including Radio 2, knocking out Steve Wright's drive-time show on Friday afternoon.
A friend of mine said that most of the BBC's employees were probably rubbing their hands with glee because it meant an early weekend for them. It's a cynical perspective that could well turn out to be true. We'll find out when someone writes his or her memoirs.
Everyone with a television set receives the BBC News channel. It comes into our homes at no extra charge. There was no need for the BBC to take over every channel for hours on end. By the way, if one had watched two hours of the Prince Philip coverage, as I did, one would have seen and heard everything in its entirety.
The BBC braced themselves for a plethora of complaints; they took the relevant page down on Sunday. Good. I am sure Prince Philip would have objected, too.
As much as I love the Queen, I hope they do not try this when her day comes. God willing, may it be long into the future.
Record-beating prince
Prince Philip established two records as consort to the Queen. He was the longest-serving royal consort in British history. He was also the longest-lived male member of the British royal family.
May he rest in eternal peace with his Maker.
May our gracious Lord grant the Queen, Defender of the Faith, His infinite peace and comfort in the months ahead. May He also bless the Royal Family during this difficult time.
The author and YouTube commentator Carl Vernon has been posting excellent short videos on the coronavirus crisis as experienced in England.
The first features gadgets, such as the Stay Safe substitute 'finger' of sorts that one can use instead of one's own. He also shows a Selecta vending machine which stocks masks and hand gel:
The next one intersperses Prime Minister Boris Johnson's 'Hands, Face, Space' mantra with examples of the new coronavirus etiquette in England. I almost spat out my drink when watching it:
The final one is about travelling at home and abroad. The Turkish Airlines video, which features a child in awe of all the new coronavirus technology is particularly shocking:
Note the couple returning from Spain who have had to wear masks everywhere outdoors. Hence the clown-like faces, where the masks have left a tan line.
You could not make this up.
Wow, who knew Bulldogs could master skateboards?
Yet, here we are with two examples, captured in video:
Fascinating.
Apparently, Bulldogs do not like walking.
That's probably not surprising, given their build: a lot of bulk on small legs.
Although they look rough and tough, the Bulldog is actually not only quite gentle but can also be prone to skin allergies and breathing problems, as this owner relates (emphases in the original):
Roughly around the age of 2, my English Bulldog developed skin allergies. One morning, she had broken out in hives all over her face and body…

… when my girl came walking up to me with a super puffy face, I jumped into action. I was so afraid the swelling would affect her ability to breathe, that I knew there was no time to waste.
English Bulldogs have a hard enough time breathing. Adding another layer of difficulty to the mix is just a disaster waiting to happen.
So I packed her up, and headed to the vet …
This initial vet visit resulted in a steroid shot, to reduce the inflammation. Going forward, my vet suggested we use over the counter allergy medication as needed.
They can also be prone to hip dysplasia, as Dog's Health explains, including a bit about the history of the English Bulldog (emphases mine):
Bulldogs are dependable, loyal and obedient. They have remarkable patience and tolerance and get along very well with other dogs and young children. One would assume that a breed of dog with such short legs would never be susceptible to hip dysplasia or arthritis. The truth is that hip dysplasia in Bulldogs is one of the most common health issues this breed is prone to.
This is the fascinating history of the English Bulldog:
Bulldogs were bred in England for hundreds of years and were originally used in the 17th century for bull baiting –a gambling sport in which dogs fought bulls in a ring.
When bull baiting was outlawed in 1835, Bulldog breeders began to breed dogs that were kinder, heavier, and more relaxed, making them more popular as pets.
They are loyal and friendly. While they do not make good guard dogs, they do tend to chew on your furniture:
Wrinkled faces, fierce and tough looking, friendly and loving, easy to train, mellow and easygoing, courageous and sturdy. This is the description of a Bulldog, the ultimate buddy and an affectionate companion to a single person or a family. Bulldogs may look tough as nails, but they make sweet and gentle pets.
Apartment dwellers and couch potatoes might find Bulldogs the perfect pet: They don't need too much space and are well-suited to living in apartments.
A pet Bulldog will hang out on the couch with you and watch hours of football or movie marathons. What you watch is of no concern to them, they simply want to be as close to you as possible and are very patient if you're a rabid channel surfer.
But be advised, they can be very persistent when trying to get your attention, and if you ignore their hints to play and cuddle, they will pester you until they get what they want. They also tend to snore and snort so you'll need to get used to their rude noises.
They are experts at forming close attachments with their owner or owners and sometimes this bond grows so strong, they'll stay inside the house until you insist they go out to take care of their biological functions.
Bulldogs are not a good choice for a guard dog though. They can easily intimidate strangers just by their appearance and steady gaze, but they're just as likely to cozy up and lick the hand of a stranger who acts friendly towards them.
Bulldogs like to chew on things. If you don't want your furniture and personal things chewed to shreds, be sure to have plenty of ruggedly constructed doggie toys so they don't start chewing your personal belongings.
That said, you probably want to know more about Bulldogs and skateboarding.
The Daily Wag! has a post about it. Excerpts follow.
Some Bulldogs are better suited than others for it. If a Bulldog has a problem with skateboarding, s/he might have an underlying health issue:
Bulldogs have been skateboarding for a long time and you might be wondering, can your Bulldog compete? Probably not, but you two can have fun training for it …
A Bulldog's center of gravity is low, which makes it easier for them to control their weight and balance on a skateboard. While some people train their dogs to go on skateboards, other dogs just step on and shred. Skateboarding Bulldogs became widely recognized once YouTube was accessible, but it had been happening for years before.
While a Bulldog doesn't know his skateboarding video has gone viral, he'll still notice the attention he is getting from his in-person viewers. An attention loving Bulldog might realize that when he is on the skateboard, everybody looks at him and gives him praise. This positive reinforcement will encourage this skateboarding habit to be repeated for years to come.
Exercising doesn't entice a Bulldog, but being outside, seeing, and smelling things are still enjoyable. When a dog is on a skateboard, he moves much faster and takes in a lot more smells than he would on his slow walk. He gets to see more of the street without having to walk and the breeze probably feels good, too. When dogs move at higher speeds, like in cars, their noses pick up so many different smells. It's probably not as fun as a car ride, but gliding down the sidewalk has its perks …
If you are determined to have a skateboarding dog but struggling to train your Bulldog to shred, consider visiting a trainer. The trainer can give you tips on teaching commands and integrate them into your daily routine for optimal effects. If you notice your dog is having persistent balance issues, either on or off the skateboard, call the vet as it may be a health problem. He may have a joint problem, infection, or other health problem that needs attention. A vet can diagnose and treat a problem. Unfortunately, not every dog can be a skateboarder. If you're trying to make a viral video, there are plenty of other tricks to try that don't require balance on a skateboard, but still get a great response.
I always thought that, if I were to get a pet, I would buy a Bulldog. It's a pity to discover that they are not good watchdogs.
That said, they are among Man's best friends.
After over two months — the evening of March 23, 2020, to be precise — Britain is gradually coming out of lockdown.
Since late March, very few of us have bothered with our personal appearance unless we're on video conference calls every day.
Even MPs, part of the population on such calls, have let themselves go with hair and beard growth.
However, the time is coming when as many Britons as can will have to return to work. For many, now's the time to clean up.
On Wednesday, May 20, the British brand, King of Shaves, recently trended on Twitter with #BringBackTheShave, which provided the nation with a chuckle or two.
Their 24-hour ad campaign, in association with the creative community One Minute Briefs, was a serious one, though, as the winning entrant received £250. Nothing to sneeze at in these difficult times:
These were my two favourites, both by creatives who work in the advertising industry:
I cannot speak of the King of Shaves product line personally, but they get rave reviews — and are 30% off to keyworkers and NHS staff:
They also have shave gel for ladies.
Well done!
Even better, their products are also made in Britain.
—————————————-
UPDATE:
There were two winners.
This entry:
And this one:
Well done to both!
May the clean-cut look survive well into the future!
It's hygienic — and looks sharp (unless you're in the Royal Navy or know how to properly maintain a beard).