You are currently browsing the tag archive for the 'hypocrisy' tag.
Two stories of interest today feature coronavirus.
The Lancet's U-turn on lab leak
With all the news from independent media outlets revealing more information about the possible origins of the coronavirus lab leak, The Lancet agreed to publish what it calls an 'alternative view'.
On September 19, the Mail on Sunday reported (emphases mine):
The Lancet medical journal has bowed to pressure over its heavily-criticised coverage of the disputed origins of the Covid pandemic by publishing an 'alternative view' from 16 scientists – calling for an 'objective, open and transparent debate' about whether the virus leaked from a Chinese laboratory …
The Lancet has agreed to publish an alternative commentary which discusses the possibility that laboratory research might have played a role in the emergence of the SARS-CoV-2 virus.
It also directly confronts the efforts of science journals to stifle debate by labelling such theories as 'misinformation'.
In the article, the authors argue that 'there is no direct support for the natural origin of SARS-CoV-2, and a laboratory-related accident is plausible'. 
They add that the February 2020 statement 'imparted a silencing effect on the wider scientific debate'.
And they say scientists, 'need to evaluate all hypotheses on a rational basis, and to weigh their likelihood based on facts and evidence, devoid of speculation concerning possible political impacts'.
Science itself, they go on, should 'embrace alternative hypotheses, contradictory arguments, verification, refutability, and controversy' and rather than congratulating China on its supposed 'transparency', they call on the secretive superpower to open up …
The new commentary, published in The Lancet on Friday, said: 'The world will remain mired in dispute without the full engagement of China, including open access to primary data, documents, and relevant stored material to enable a thorough, transparent and objective search for all relevant evidence.'
One of the signatories, Professor Nikolai Petrovsky of Flinders University in Adelaide, Australia, told The Mail on Sunday: 'It might seem small, but after 18 months of complete denial, the very act of [The] Lancet agreeing to publish this letter acknowledging the origins of Covid-19 remains an open verdict, is a very big deal.
'For a leading medical journal like Lancet to agree to finally open its doors to a letter from scientists highlighting the ongoing uncertain origins of Covid-19, indicates how far we have come in 18 months in requesting an open scientific debate on the topic, but also indicates just how far we still have to go'.
Good news, at last.
Matt Hancock on anti-vaxxers
Matt Hancock hasn't been Health Secretary since June, but that hasn't stopped him banging on about the virus.
On September 19, he wrote an opinion piece for the Mail on Sunday: 'MATT HANCOCK: In all my time, I have never come across a group so dangerous as anti-vaxxers'.
With a title like that, who needs the editorial?
He writes the way he talks:
While of course we need to be vigilant, we can start restoring what makes life worth living. Families are once again able to reunite with their loved ones. Weddings, christenings and family celebrations are back on. Businesses can open up again with more confidence. In fact, by some measures, Britain has the fastest economic recovery of all the major Western nations.
Then he goes off on a tangent:
However, almost unbelievably, there is still a persistent yet thankfully small and shrinking group of people determined to try to stop this progress. In all my time in public life, I have never come across a group so blinkered and dangerous as the anti-vaxxers …
Getting the jab isn't just about protecting yourself, but about protecting others. It's not just about you, it is a social and moral obligation.
Good grief. I am so glad that Sajid Javid is Health Secretary.
This is probably the nicest thing he says about people hesitant to get the vaccine:
I understand that some people are hesitant. It's ok to be unsure and ask questions.
He then trots out all the pro-vaccine statistics, including this old chestnut, which is highly dubious:
The vaccines protect you, with about 112,000 deaths prevented because of the vaccines.
Then he returns to excoriating people who don't want to get the vaccine:
The people I reserve my vitriol for are those who promote anti-vax lies. I find it hard to believe, but it's a shocking fact that there is a small number of aggressive, noisy, threatening people who think it is right and fair to try to stop others from getting vaccinated.
The lengths to which these people will go are extraordinary. They pump out scaremongering material and videos, with discredited arguments. They try to play on people's fear of the unknown. They create conspiracies and spread misinformation. They've even sent me death threats just because I played a prominent part in the vaccines rollout.
First of all, if anyone pushed fear and scaremongering, it was Matt Hancock in his coronavirus briefings.
Secondly, if any people went to extraordinary lengths over this 'pandemic', it was Matt Hancock and the British government with lockdowns, 'because they work', so we needed not one but four. I've lost count.
Thirdly, millions must be more than furious with the man who laid down the law about physical restrictions — no visits to the elderly, severely restricted funerals, damp squib weddings, no church — for months on end then shows his blatant hypocrisy by canoodling with his assistant. Thank goodness for security cameras and for The Sun publishing the photo on the front page a month later.
Finally, he never gave MPs the granular data that he was looking at. MPs asked him for the data on which he based his decisions, but he never produced the information. Yet, he expected them to vote based solely on what he told them. I do wish there had been more of a revolt, but Labour were quite happy to approve any and all restrictions. What a parlous state of affairs.
In other Hancock news, in late August, he and his girlfriend took a summer holiday together at a modest resort in the Swiss Alps. It's a pity she hasn't gone back to her husband, who seems like a nice guy.
On September 7, Hancock returned to the backbenches for the first time since 2012:
He's no doubt smarting from that and last week's reshuffle.
To think he was so confident that he would get another Cabinet post.
I do not think he will win re-election should he run again. His constituents are still irked with him for leaving his wife, whom they adored.
Yesterday's post covered former Health Secretary Matt Hancock's final 48 hours in that post.
Marital breakups
When Harry Cole's story broke in The Sun on Friday, Hancock asked for privacy because he wanted to spend time with his children.
Perhaps.
However, on Monday night, Cole reported (emphases mine):
The ousted Health Secretary quit on his wife Martha last week after 15 years and is now understood to be living with his lover.
Her husband is devastated:
Gina, 43, has called time on her own 12-year marriage with Oliver Tress after her affair was exposed.
Oliver, 54, the millionaire Oliver Bonas founder, is said to be "devastated" by the shock revelations, as family pals confirmed the split …
A neighbour in Wandsworth, South West London, said: "Gina and Matt are giving it a proper go and Olly was left reeling.
"They had lots of friends here so we are all trying to help look after Olly."
Hancock's relationship seems to have been developing for some time, as the Mail reported:
The aide who kissed Matt Hancock in CCTV footage which ended his marriage and Health Secretary career was 'asked two years ago if they were having an affair'.
Gina Coladangelo, 43, is said to have denied the existence of any romance between her and Mr Hancock when she was quizzed by one of his allies.
Friends said on Saturday night the affair had been going on for months, despite others only seeming to find out when the steamy minute-long clip of them emerged.
One wonders why they did not get married after graduating from Oxford. They both read PPE and worked on the student radio station. The Mail explains why:
Matt Hancock's mistress Gina Coladangelo was way out of the disgraced former Health Secretary's league while they were studying together at Oxford, a fellow alumnus revealed last night.
Broadcast journalist Maxie Allen, who worked alongside the pair at university radio station Oxygen FM in the late 1990s, recalled that men were desperate to date Miss Coladangelo while 'low profile' Mr Hancock cut 'an obscure figure' and was 'not someone you would mark out as destined for greatness'.
Speaking to the Sunday Mirror, Mr Allen told the Sunday Mirror: 'She struck me as someone who would get what they want. He's done well. This wouldn't have happened if he wasn't the Health Secretary and she wasn't lobbying, that is blatantly obvious to anyone who knew them back then.
'Gina was very glamorous, very nice and very good looking – all the young men held a candle for her. She was suave, composed and elegant. Most men would have given their right arm to go out with her.'
The former Health Secretary, who read sports for the radio station while he studied Politics, Philosophy and Economics, was regarded as 'low profile' and 'not someone you would mark out as destined for greatness'.  
He added: 'Hancock did the odd sports report but he wasn't well known. He was not the sort of person where he'd come into a room and everyone went, 'Oh, Matt Hancock's here'.
'He had a very slight presence, not someone you would mark out as destined for greatness. Whereas Gina was very well-known and high-profile and memorable. You never saw them talking to each other.'
Mr Allen recalled Miss Coladangelo's 21st birthday party at her parents' home in Royston, Hertfordshire, and remarked: 'It was a glamorous affair. They had a few bob. Gina is not the sort of person to get drunk and make a scene. She was very composed and elegant.'
Affair unfair to the public
The Mail's veteran columnist Richard Littlejohn put the affair into perspective for us in a time of lockdown:
Clearly this wasn't simply a 'moment of madness'. It's emerged that the affair has been the talk o' the steamie, as they say in Scotland, for months.
When wasn't it going on?
So all the time Hancock was ordering us — on pain of prosecution — to keep our distance, not to hug our grannies or make love to anyone outside our immediate household, he was getting hot and heavy with his old university flame — a woman he'd put on the public payroll so he could keep her in close proximity for whenever the fancy took him.
So it would seem. He personally appointed her to her post, which required only 15 days of actual work per year:
Cross constituents
In Newmarket, Suffolk — the heart of Hancock's constituency — people were unhappy with their MP. The Mail interviewed several of them on Sunday:
Today Newmarket locals said they were 'happy' that the MP for West Suffolk had resigned from the Cabinet as they accused him of 'hypocrisy and double standards' over coronavirus restrictions. 
Residents described how they had been prevented from visiting their grandchildren by Mr Hancock, while some admitted they only voted for him in 2019 to keep Labour out. Others were thrilled to hear that the minister whose regulations had kept their businesses shut had left the Government.
Graham Gladstone, 41, said: 'He should have resigned immediately. The defence from Boris Johnson shows a contempt towards British members of public who have followed the rules and NHS staff who have had to be involved in treating people and the consequences of the virus. 
'It seemed typical of Conservative ministers to see what the public reaction was rather than think about the consequences of what he did. Especially after he publicly denounced Neil Ferguson.' 
Hannah Grimwood, 32, who works at Argos and has lived in Newmarket for 10 years, said: 'I never liked him in the first place, I've been moaning about the man for years.  I feel sorry for Boris Johnson, he had too much on his plate and too many people telling him what he should and shouldn't do.'
Miss Grimwood's partner Gary Holliday, 42, added: 'If you make the rules you have to follow the rules. He's only human but when it's happening a couple of times or more then members of the public are going to think it's not fair.'
Cross Conservative MPs
Conservative MPs were also angry at Hancock's hypocrisy. No doubt their inboxes were filling up with complaints from constituents. A crucial by-election is also coming up in Batley and Spen on Thursday, July 1, which the Conservatives hope to win. More on that later this week.
The Telegraph's Christopher Hope had the story about Hancock's decision to resign on Saturday:
The Daily Telegraph understands that this view crystallised in a "fairly direct" conversation with Mark Spencer, the Government's chief whip, at lunchtime on Saturday, who told him that 80 Tory MPs had complained to the whips' office about him in the 24 hours after he refused to resign.
Mr Spencer fed back the concerns in a call to Mr Hancock at midday on Saturday. "There were 80 Tory MPs saying he should go at that time," a source said.
The number of complaints means that more than one in four of the party's 363 MPs complained about Mr Hancock.
Sky News interview about funerals
On Sunday morning, Trevor Phillips interviewed a Conservative Cabinet member, Brandon Lewis, about Hancock's hypocrisy.
On his Sky News show, Phillips related the story of his daughter who died during lockdown on May 11 this year, six days after Hancock's steamy clinch with his aide. Phillips's daughter did not have the virus. She was anorexic.
Here's the video:
The Evening Standard has the dialogue:
Mr Phillips told Mr Lewis he wanted "to do something I wouldn't normally do and put a personal, private, question to you".
He continued: "Over the past two days, every Cabinet minister, including you, has come out to essentially defend the Prime Minister and Matt Hancock.
"The pictures that we saw were of an encounter on May 6.
"On May 11, my family buried my daughter who had died not of Covid but during the lockdown.
"Three hundred of our family and friends turned up online but most of them were not allowed to be at the graveside, even though it is in the open air, because of the rule of 30.
"Because of the instruction by Mr Hancock."
Before allowing Mr Lewis the chance to respond, Mr Phillips finished by saying: "Now the next time one of you tells me what to do in my private life, explain to me why I shouldn't just tell you where to get off?"
Mr Lewis failed to acknowledge Mr Phillips' loss, and said: "Look I absolutely accept the frustration, even the anger, from people and the situations they've been through.
"I've lost friends whose funerals I've not been able to go to, that is such a tragic situation for any of us to be in, which is why it's so important for all of us to do what we can to keep ourselves and family members safe."
He again defended disgraced Mr Hancock, adding: "What Matt did was wrong and that's why he apologised and acknowledged that."
Mr Phillips is covering for Sophy Ridge on the channel's Sunday morning politics show.
More double standards
With regard to coronavirus restrictions, here is a video of Wimbledon from Monday, June 28. The stands are full. There are no masks nor is there any social distancing:
However, football matches are still restricted in audience numbers and require mask wearing:
And here we are, being told to wear masks in shops, when we are there for far less time than it takes to watch a day's worth of tennis at Wimbledon.
However, since the Hancock photos and video emerged, some shops are no longer asking for masks to be worn.
The Mail reported:
Together with growing exasperation at the never-ending cycle of lockdowns, people are taking matters into their own hands – with small retailers discouraging mask-wearing while massive anti-lockdown protests sweep through London calling for Mr Hancock's arrest. 
Shops in Thirsk, North Yorkshire, placed signs in windows showing Mr Hancock kissing Miss Coladangelo, who studied politics, philosophy and economics at Oxford at the same time as Mr Hancock in the 1990s and is married to Oliver Bonas founder Oliver Tress.  
The signs say: 'Welcome to House Interiors. Don't wear a mask if you don't want too (sic). Matt doesn't'. 
The article has a photo of the sign, which is as amusing as it is true.
Hancock's house was also targeted. It's a pity he was not there to see it:
Police were pictured removing a sticker put on Mr Hancock's London home, where his wife Martha and their children live. It says: 'Our forefathers gave their lives to keep this country free, and you're just going to sit back and let it become an authoritarian hellhole, over a virus with a 99.9% recovery rate?' 
Television presenter Kirstie Allsopp pointed out:
the incident showed how 'it was one rule for you, another for us', tweeting: 'I remember footage of Hancock whipping of his mask as he entered No 10, not even keeping it on in the corridors as school children were made to do, I knew then it was one rule for you, another for us.' 
Humour at Hancock's expense
On Monday, June 28, an amusing video went viral of a man enquiring of Hancock at the gates of Downing Street:
The Mail reported:
The clip, filmed by company boss Dan Wright on Monday afternoon, has gone viral and been viewed more than a million times already. 
In the video, Mr Wright asks the group of armed policemen: 'Is Matt allowed to play? Is Matt allowed to come out and play?' The smirking officer then responds: 'No, he's cleaning his locker out at the moment' – to roars of laughter from his colleagues.
Passerby Mr Wright, of Chelmsford, Essex, also bursts out laughing while a second armed police officer quips: 'He's had his play already.' 
Conclusion
It is to be hoped that the House of Commons will not forget the Hancock debacle any time soon.
Debates on coronavirus restrictions this week have been lively, even though Hancock was only the subject of one Urgent Question, which related to the security camera in his former office.
Julia Lopez, the Parliamentary Secretary for the Cabinet Office, also fielded questions from MPs about Hancock's use of his personal Gmail account for Health Department contracts.
More on those tomorrow.
Last Friday's post was about Matt Hancock's fall from grace as Health Secretary as featured on the front page of The Sun.
The Queen had lost confidence in him before then, as my post explains, covered in another front page feature, in The Times.
Hancock's final 48 hours as health secretary were pivotal, not only for his political but also his personal life.
Thursday, June 24
The Sun allegedly contacted Hancock to ask him if he had any comment before they published the compromising photo of him in a steamy embrace with a female aide.
Hancock went home that evening and dropped a life-changing bombshell on his wife and youngest child. 
On Sunday, the Mail reported (emphases mine):
Mother-of-three Martha was reportedly blissfully unaware of her husband's infidelity until he broke the news to her on Thursday night when it became clear the footage would be published the next day.  
And he reportedly even woke up the couple's youngest child, aged eight, to tell him he was leaving. 
How unspeakably cruel.
My commiserations to both — as well as to his two other children.
Apparently, Hancock is serious:
Friday, June 25
On Friday, YouGov and Savanta ComRes took snap polls to test public opinion on The Sun's revelations about Hancock.
It was clear that this representative portion of the public were deeply unhappy and thought he should resign.
These were YouGov's results:
Savanta ComRes found that 46% of Conservative voters thought Hancock should resign:
The full video of Hancock's illicit embrace became available online.
A number of newspaper columnists expressed their disgust with Hancock's hypocrisy.
The Telegraph's Emily Hill wrote:
Four days after Freedom Day failed to dawn, what fun it is for the masses who must continue to abide by the Minister's absurd rules to see this! Dancing inside at a wedding – verboten. Nightclubs – verboten. Standing at the bar in a pub talking to perfect strangers – verboten. It's as if they don't want the young and fit and healthy to mate anymore. Sex privileges, it seems, are reserved for middle-aged men in Westminster while the rest of us can only watch, helpless, wondering how much their cheating is costing the taxpayer.
… But it is now the afternoon and Hancock has merely cancelled his appearance at a vaccine centre while Grant Shapps [Secretary of State for Transport] was sent out to inform us: "First of all, I think the actual issue is entirely personal for Matt Hancock." Seconds later he stated: "whatever the rules are, the rules will have to be followed" in relation to the ministerial code. This makes hypocrites of much of the Government, not to mention every world leader who flouted social distancing rules so publicly at the G7 summit.
The Telegraph's Alison Pearson pointed out how much the British public has sacrificed in personal relationships over the past year and a bit because of Hancock's restrictions:
Thousands of people posted reactions on social media. Some were bitterly mocking the official mantras: "Hands, Face, Back to My Place". "Saving Lives, Shagging Wives".
Others were simply devastating: "I wasn't even allowed to kiss my dying father because of Hancock."
The anger and disbelief were palpable. Was this really the minister who told us on the 17th May that, after fourteen months of physical and emotional self-denial, we were free to hug our loved ones, when, a fortnight earlier, he'd been giving mouth-to-mouth to some glamorous chum he'd put on the public payroll? Knowing Hancock, he'd call it First Aide.
We are all humble sinners and a man or woman's private peccadillos shouldn't disqualify them from doing their job. But no such understanding or humanity – not a sliver of mercy – has been shown by the Secretary of State or this Government to members of the public who have broken often cruel and arbitrary rules. Remember how we watched in horror as police arrested a retired nurse as she tried to drive her 97-year-old mother away from a care home. Hundreds of thousands of people have departed this life without a last touch or kiss from their best beloveds because the restrictions forbade it so relatives sobbed in the carpark because Matt Hancock said it must be so. Almost 30,000 children have been put on anti-depressants yet just one positive test (without any Covid symptoms) can still send an entire year group home to self-isolate for ten lonely days. Parents know this is insanity, but they must suck it up because that prating popinjay Hancock tells them it's vital to keep us "safe"…
If I had a gasket left to blow it would have exploded when Culture and Sports minister John Whittingdale explained this week how up to 3,000 Uefa officials will be allowed to arrive in the UK, without quarantine, for the Euro semis and finals. "We've always said that for some people who are important…", said the hapless minister, accounting for the fact that normal people would be held to different standards.
"All animals are equal but some animals are more equal than others." I never ever thought George Orwell's satirical take in Animal Farm on an arrogant, unaccountable elite patronising the masses would apply in our country. More fool me. We're all in this together, eh, Matt? …

Trust me, it's not closed. There are millions of us, and we are raging now, and we will not allow it to be closed. If the Government permits one law for Hancock and "important people" and another for the rest of us then it is morally bankrupt. Boris must act this very day to restore the people's faith, to prove that we haven't been mugs.
Fraser Nelson, also writing for the Telegraph, pointed out how Hancock insisted on following his draconian rules, therefore, he should not expect privacy now:
Mr Hancock has always been one of the most emphatic for the rules. In internal government debates, he has invariably pushed for the toughest restrictions and wanted 10-year jail sentences as a penalty for trying to dodge draconian quarantine rules. "I make no apologies for the strength of these measures," he said: they'd target a "minority who don't want to follow the rules." Who, presumably, he thinks, deserve everything coming their way. When two women were fined by police for walking together, Mr Hancock was unforgiving. "Every time you try to flex the rules,' he said, "that could be fatal" …
This is the irony in his request on Friday for "privacy for my family on this personal matter" now. There is no doubt his family deserves it. But a great many other families would have been grateful for more privacy over the last 15 months. Instead, the Tory Government decided to legislate for what people do in their own homes. And in so doing, set up a system where people came to worry that they'd be reported to the police – perhaps by their neighbours – if they stretched the rules by inviting children over to play in their back gardens. Greater Manchester Police issued a statement boasting that they had raided a family home to break up a child's birthday party.
Sweden managed to fight back two Covid waves while respecting privacy and civil liberty. There are bans on mass gatherings, and a rule of eight for public places. But no rules would apply inside anyone's property, where they had sovereignty. Government would not come through your front door: in Sweden, your home is your castle. It wasn't so long ago when this respect for privacy summed up civic life in Britain.
When Mr Hancock started issuing advice on where we should hug (embracing outside, he said, was better than inside) alarm bells ought to have been ringing in Number 10. It was a sign that the Government machine had gone way out of control, losing any sense of its remit or boundaries. Number 10 should have stepped in, and perhaps asked for a study on the efficacy of the intrusions or work of Project Fear: the blood-curdling posters showing Covid victims on their deathbeds. If there was no proof that the campaign was making a difference, they could have been told to change tack …
Paul Waugh of HuffPost dug up a quote from April 2020 (and a 2021 photo), showing how dictatorial Hancock was:
Conservatives in Parliament began complaining about Hancock. Christopher Hope, writing for the Telegraph, reported:
Baroness Foster of Oxton, a Tory peer, accused Mr Hancock on Twitter of having "used emergency powers to impose these punitive restrictions leading to horrendous consequences across society without debate yet ignored them himself & at work!"
Backbench Conservative MPs contacted their whips about the Health Secretary. One texted: "You don't need me to tell you what I think." Another said that "children have missed out in so many ways" and that Mr Hancock's behaviour was "so hypocritical", while a third MP said the Government "is looking ridiculous now, I am sorry to say".
Oddly, the Shadow (Opposition) Health Minister Jonathan Ashworth was silent.
The day ended with The Sun's Harry Cole appearing on the BBC's Newsnight:
Saturday, June 26
The Telegraph had running live coverage of the Hancock debacle. Excerpts follow.
Coverage began at 9:01 a.m.:
Tory MPs urged Boris Johnson to "pull the plug" on Mr Hancock and expressed their frustration to party whips over the Health Secretary's "hypocritical" behaviour …
A senior government source said public reaction was being monitored and could determine Mr Hancock's fate.
At 9:30:
The Telegraph understands Mr Hancock had no idea the camera existed when it captured him kissing adviser Gina Coladangelo, and government sources said it was "unheard of" for cameras to be installed in ministers' offices.
It raises the possibility that the camera was deliberately placed by someone with access to his office with the intention of catching the pair cheating on their spouses and breaking Covid rules. It is the first time a Cabinet minister has been filmed in their own office without their knowledge.
In a further twist, the Department of Health and Social Care's offices use CCTV cameras made by the Chinese company Hikvision, which is banned in the US because of national security concerns.
At 10:20:
A healthcare company which employs as a senior director the brother of the aide Matt Hancock was pictured kissing has insisted it had never benefited from the connection to the Health Secretary.
Reports suggested Roberto Coladangelo, strategy director at Partnering Health Limited (PHL Group), was the brother of Gina Coladangelo, a familial connection later confirmed.
At 11:06:
The Health Secretary is under mounting political pressure this morning after a video was published of him hugging and embracing Gina Coladangelo, a non-executive director in his department, in early May.
At the time, hugging and socialising indoors with people outside one's household was banned.
But according to The Sun, they have been "all over each other" again this week in the same ninth-floor office of the Department of Health and Social Care.
At 11:19:
Duncan Baker, Conservative MP for North Norfolk, has called for Matt Hancock to resign.
Mr Baker, who was elected in 2019, is believed to be the first Tory MP to openly call for Mr Hancock to go and told his local newspaper the Eastern Daily Press: "In my view people in high public office and great positions of responsibility should act with the appropriate morals and ethics that come with that role …
"I will not in any shape condone this behaviour and I have in the strongest possible terms told the Government what I think."
Duncan Baker was not alone. Three other Conservative MPs spoke out against Hancock — Esther McVey, William Wragg and Sir Christopher Chope:
Sir Christopher told the Dorset paper, the Daily Echo:
"I think that he should resign rather than be sacked because this should actually be an issue for him and his conscience.
"One of the benefits of having been around for a long time is that I've seen this sort of thing before and the strength of feeling is such, within the party and outside,  that this will not simply go away. 
"The sooner he resigns the better so we can have a new secretary for health who commands public respect.
"Hancock is finished.
"The sooner he goes the sooner he can be rehabilitated."
That afternoon, Hancock and Prime Minister Boris Johnson had a conversation. Hancock wrote a letter of resignation. Boris responded with a written reply:
Around 6 p.m., Hancock announced his resignation via a personal video:
Shadow Health Secretary Jonathan Ashworth said that Boris should have sacked Hancock:
However, given Boris's philandering, that would have been hypocritical.
Also, Hancock will now return to the backbenches. Boris will want to keep him sweet. Even I can figure that out.
Around two hours later, it was announced that Sajid Javid would be Hancock's replacement. Javid has been Home Secretary and Chancellor of the Exchequer, so he will be comfortable with another post in the Cabinet.
This means that Boris's expected reshuffle will not now take place until perhaps later in the year. A smart move:
This thread summarises Javid's career. He is the son of a bus driver. His teachers told him that he should pursue television set repair as a career. Were they ever wrong:
Dominic Cummings was quick to react, blaming Boris's wife Carrie for the appointment. She had at one time worked for Javid. Cummings said he himself had 'tricked' Boris into firing Javid from Her Majesty's Treasury (HMT):
Sky News's Beth Rigby appeared outside of No. 10 late on Saturday:
Beth has some nerve. She was suspended from Sky News for a few months for having revelled in a non-coronavirus-compliant way at her colleague Kay Burley's 60th birthday party evening in central London:
Sunday, June 27
Newspaper editors must have been pulling out their hair in changing their front pages for Sunday.
The Sun went for a play on words (matt paint):
The Mirror had the same idea, adding that his aide has quit her job, too:
The Times had a front page article adding that Hancock used a personal Gmail account to conduct Department of Health business. Apparently it's done now, but any of those emails are subject to FOIA requests with regard to Government business. It also means that the Government might not be able to get a trail of all of his activity with regard to contracts:
The Express said that Conservative donors threatened to stop contributions if Hancock stayed in office:
I will stop there for now.
The Sunday articles and news programmes had much more to explore.
For now, it looks as if Sajid Javid has a more libertarian approach to handling the virus and wants restrictions lifted as soon as practicable.
Matt Hancock, Secretary of State for Health and Social Care, could well experience the worst weekend of his life.
The Queen has her say
On Thursday, June 24, The Times featured an article on its front page about Prime Minister Boris Johnson meeting the Queen in person for their weekly meeting for the first time since lockdown in March 2020.
It says (emphases mine):
Matt Hancock has had a difficult few weeks. And while his line manager may have contributed to his woes, his ultimate boss has seemingly taken pity on him.
The Queen told Boris Johnson, at their first in-person meeting in 15 months: "I've just been talking to your secretary of state for health — poor man. He came to privy council. He's full of . . ."
"Full of beans!" the prime minister interjected, in the clip filmed by broadcasters in the private audience room at Buckingham Palace yesterday.
"He thinks that things are getting better," said the Queen, to which Johnson responded: "They are."
… In a 1992 documentary to mark her 40th year on the throne she said that by meeting prime ministers she helped to take a weight off their shoulders. "They unburden themselves or tell me what is going on . . . and sometimes I can help in some way as well," she said.
The media were allowed to film the first few minutes of their meeting. This was shown on BBC Breakfast:
It's telling that the Queen chose to say that on camera.
Hancock's affair
On Friday, The Sun featured a worldwide exclusive featuring Hancock, husband and father of three:
Normally, I would not comment on extramarital affairs, however, Hancock has left us in lockdown for 16 months and counting. Yet, here he is violating his own rules. For thee, but not for me.
The Sun's political editor Harry Cole broke the story:
Excerpts from Cole's article follow:
He cheated on his wife with Gina Coladangelo, 43, who he hired last year with taxpayers' money, as Covid gripped Britain.
Mr Hancock, 42, and millionaire lobbyist Gina were caught on camera in a steamy clinch at his Whitehall office.
Whistleblowers revealed the Health Secretary had been ­spotted cheating on his wife of 15 years with married Ms ­Coladangelo.
He was seen kissing her at the Department of Health's London HQ during office hours last month as the mutant strain began spreading.
And today, Mr Hancock apologised for his actions, saying: "I accept that I breached the social distancing guidance in these circumstances.
"I have let people down and am very sorry.
Is Hancock going to resign? No, he is not:
I remain focused on working to get the country out of this pandemic, and would be grateful for privacy for my family on this personal matter.
There should be no mercy shown for this egregious hypocrisy.
A year ago, Prof Neil 'Dodgy Modelling' Ferguson entertained his mistress, who travelled across London to spend an afternoon with him at the height of the pandemic. Ferguson resigned from SAGE, although he has been readmitted as a member.
At the time of Ferguson's resignation, Hancock said that it was the right thing to do:
Guido Fawkes has the dialogue from Hancock's interview with Kay Burley of Sky News. She, too, was a coronavirus restrictions violator and was suspended from Sky News for several months:
Matt Hancock: "I think he took the right decision to resign"
Kay Burley: "You wouldn't have fought to keep him?"
Hancock: "That's just not possible in these circumstances"
Guido also said that Hancock supported a police investigation:
Guido notes that when government Covid advisor Neil Ferguson broke the government's social distancing rules to hook up at the start of lockdown, Hancock said he was both right to resign, and backed any police action necessary.
Returning to Harry Cole's article:
Last night, a friend of the Health Secretary said: "He has no comment on personal matters. No rules have been broken."
Mr Hancock was pictured embracing his aide. The image was from just after 3pm on May 6 — as the rest of Westminster was engrossed by the local elections.
We did not yet have a relaxation on hugging at that time. That happened 13 days later.
A whistleblower tipped off Cole. Hancock:
is seen in his distinctive ninth-floor office inside the sprawling Department of Health building, which is a stone's throw from the Houses of Parliament.
During the pandemic, the office has provided the backdrop to his Zoom appearances on TV — including the Andrew Marr Show.
Mr Hancock is seen checking the corridor is clear before closing the door and then leaning on it to ensure he cannot be disturbed.
Ms Coladangelo then walks towards him and the pair begin their passionate embrace.
According to a whistleblower, who used to work at the department, the pair have regularly been caught in clinches together.
The source said: "They have tried to keep it a secret but everyone knows what goes on inside a building like that …
"I'm just amazed he was so brazen about it as he was the Secretary of State.
"It has also shocked people because he put her in such an important, publicly-funded role and this is what they get up to in office hours when everyone else is working hard."
The office where the tryst happened is where Mr Hancock famously hangs his Damien Hirst portrait of the Queen.
Unfortunately, the Government is defending Hancock:
The lunchtime press briefing on Friday indicated that Boris:
considers the matter closed.
By the way, Hancock has an Instagram account. This was one of his posts:
You couldn't make it up:
One wonders if this woman has any involvement in keeping us in restrictions:
It also emerged she had accompanied Mr Hancock to confidential meetings with civil servants and visited No10. Sunday Times sources revealed at the time: "Before Matt does anything big, he'll speak to Gina. She knows everything."
She began working for the Department of Health and Social Care (DHSC) in September 2020:
In September, Mr Hancock appointed her as a non-executive director at DHSC, making her a powerful member of the department's oversight board.
It hit the headlines as there was no public record of the appointment, which was set to see her earn at least £15,000 of taxpayers' money, potentially rising by a further £5,000.
The role makes her responsible for "overseeing and monitoring performance" — in effect, scrutinising matters of concern to Mr Hancock.
A DHSC spokesman said the appointment was "made in the usual way and followed correct procedure".
It is also understood that since April, she has had a parliamentary pass, giving her unregulated access to the Palace of Westminster.
It bears her husband's surname, which she does not use professionally, and is sponsored by Lord Bethell, the hereditary peer, health minister and former lobbyist.
I am sorry to read about Lord Bethell's involvement. Until now, I respected him. I hope the House of Lords asks questions of him next week.
However, she also worked for Hancock in the early stages of the pandemic:
Mr Hancock secretly appointed her to his department as an unpaid adviser on a six-month contract in March last year.
It appears that, six months later, her appointment became official.
Both the woman and Hancock studied together at Oxford, where they read PPE (Philosophy, Politics and Economics):
The pair first met at Oxford University in the early 2000s but Mr Hancock went on to wed Martha Hoyer Millar in 2006.
Chumocracy
There is an interesting history behind the associations Hancock has in this affair.
Many call it 'chumocracy'.
Hancock
This is a biography from Hancock's website:
Before entering politics he worked as an economist at the Bank of England, and for his family tech industry.
Matt is married to Martha and has three young children. He is the first MP in modern times to win a horse race, having raced to victory at the Newmarket July Course in August 2012. He is an avid cricketer and plays for the Lords & Commons Cricket team. Matt once played the most northerly game of cricket on record, and succumbed to frostbite en route to the Pole. He retains all his fingers.
He certainly has retained all of his fingers.
A lengthy article in the Daily Mail tells us about his formative years:
Mr Hancock was born in Chester where he went to the exclusive private school the King's School.
He did his A-levels in maths, physics, computing and economics before doing computing at West Cheshire College.
Like numerous Conservative MPs before him, he studied PPE at Exeter College, Oxford – where he graduated with a first.
It was at the elite university that he realised he had dyslexia, which he only opened up about in recent years.
He later did an MPhil in economics at Christ's College, Cambridge, before turning to politics in 1999 when he joined the Tories.
Hancock's woman and her husband
The Sun's article says:
Mother-of-three Ms Coladangelo is communications director at Oliver Bonas, the fashion and lifestyle store founded by her husband Oliver Tress.
She is also a director and major shareholder at lobbying firm Luther Pendragon, which offers clients a "deep understanding of the mechanics of government".
The Daily Mail has more:
Mr Bonas opened his first store on London's Fulham Road in 1993 with handbags and jewellery he had brought from Hong Kong where his parents lived.
Speaking to the Independent in September 2015, he said: 'I'd been bringing presents back for friends and they were really popular so I thought, 'I wonder if I can make a go of this?' And to my amazement it just worked.' Bonas was the surname of his then girlfriend Anna Bonas, who is the cousin of Prince Harry's former girlfriend Cressida Bonas, and he told how 'she very kindly hasn't demanded that I changed it'.
Hancock's wife
Mrs Hancock's family history is one of privilege:
Mrs Hancock works as an osteopath and is believed to practice at a clinic in Notting Hill, West London.
She is the granddaughter of Frederick Millar, 1st Baron Inchyra – a British diplomat and Ambassador to West Germany.
Mrs Hancock is also the great granddaughter of the 1st Viscount Camrose, a Welsh newspaper publisher.
Her father, Alastair Millar, was Secretary of The Pilgrim Trust between 1980 and 1996.
The trust is responsible for supplying grants, predominately to preservation projects for historically significant buildings or artifacts. Nowadays, around £2million is divvied out by the trust each year.
Conclusion
Matt Hancock has annoyed me greatly for the past 16 months.
This parody of his testing regime is not far from the truth: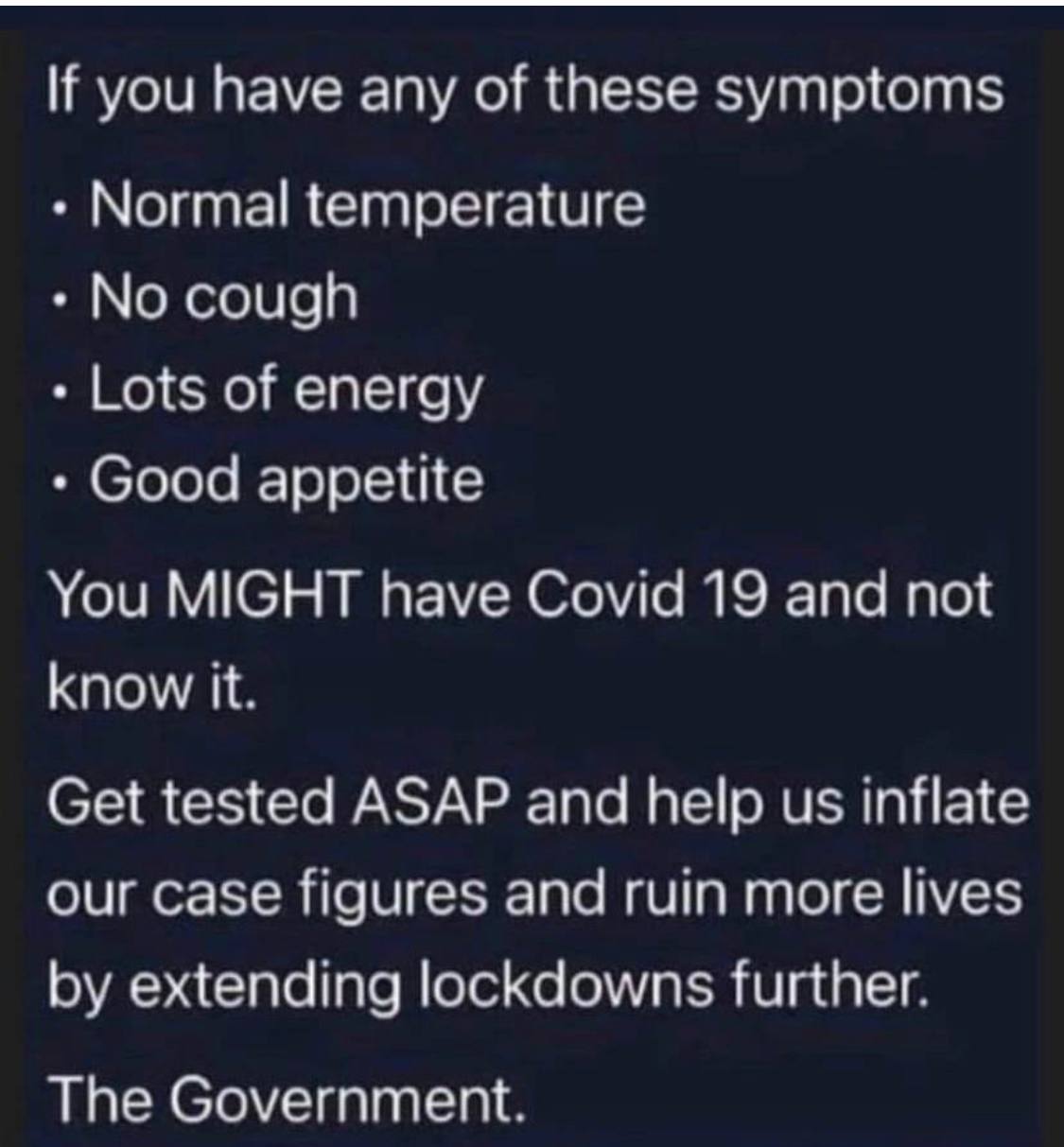 In England, we have lost billions of days of our normal lives:
This was the daily death total for June 23, 2021 (Chief Medical Officer Prof Chris Whitty is pictured):
Here are the death statistics from the past 16 months. Note that most coronavirus deaths are not 'from' the virus but 'with' it:
1. Heart Disease 205,000 (0.31% of the population)
2. Cancer 182,000 (0.25%)
3. Covid 128,000 (0.18%)
4. Dementia 82,000 (0.12%)
5. Stroke 46,000 (0.07%)
6. Diabetes 32,000 (0.05%)
An article on Reaction — 'Hypocritical Hancock: Don't hug your granny but you can hug Gina' — makes the following points about the Secretary of State's affair:
We don't know if anyone was taking morality lessons from Hancock back in September. But the question raises itself once again – is it one rule for you, Matt Hancock, and another for everyone else?
The government has been using its draconian Covid social distancing and travel restrictions to restrict and police morality. While the public may well overlook his private relationships as none of their business, voters are unlikely to stomach hypocrisy.
Number 10 is, so far, silent on the Hancock scandal. The Prime Minister hates morality plays and the invasion of private lives. That's not what this is about though. It's about a leading figure in the government imposing extraordinary restrictions on the rest of us while carrying on inside the Department of Health.
I look forward to an Urgent Question or two in the House of Commons next week.
What a week. It's been full of coronavirus news here in the UK.
Vaccine
The UK was the first country in the world to distribute a coronavirus vaccine.
A 90-year-old grandmother, Margaret Keenan, was the first person to receive the Pfizer/BioNtech vaccine.
Health Secretary Matt Hancock wept. He's never openly cried about those made unemployed and destitute during the coronavirus crisis for which he is largely responsible. Sickening:
Good Morning Britain's physician, Dr Hilary Jones, explained that Mrs Keenan could still get COVID-19 and transmit it:
It seems to work the way that a flu vaccine does. If one gets the virus, the effects won't be as bad as if one weren't vaccinated.
I wouldn't advise thinking about that too much, because it could lead down a rabbit hole:
The great scientists of SAGE also said life would not return to normal (see Select Committee section below). We are likely to be in the same situation well into next year, probably the autumn. This is what the ex-barrister and co-editor of Conservative Woman says:
Continuing down the rabbit hole re the vaccine:
Wales
Meanwhile, in Labour-controlled Wales, coronavirus hospitalisations are higher than they were early this year — despite a short, sharp lockdown, 'firebreak', that recently ended:
Guido Fawkes opined (emphases in the original):
Lockdowns, even short ones, evidently temporarily drop cases. Yet selling them on the promise that they enable more things to open once they end, as Welsh Labour did, appears to turbocharge case numbers far more than having simple, predictable and steady rules. The psychology of re-openings could well mean that in the long run, Wales' "short sharp firebreak lockdown" – modelled on Keir Starmer's demand – did more harm than good…
The Prif Weinidog — that's First Minister in Welsh — Mark Drakeford blamed his own countrymen for the failure of his 'firebreak':
I couldn't agree more. Lockdowns, firebreaks — whatever one calls them — do not work.
Why would anyone trust a government to dictate their lives? This is a photo of Grenfell Tower (public housing) in London, which burned in June 2017 because of faulty cladding:
And that brings me neatly to the next topic.
PCR versus Lateral Flow testing
The UK Government rejected a petition about PCR (swab) testing because they said they are not responsible for it. Hmm:
This is the nub of the problem. The Government absolves itself of responsibility. So do the scientists. People actually believe this guff.
Where do Government ministers get the idea for lockdown and excuse potentially faulty test results if it weren't for the scientists and health organisations working with them?
But I digress.
Returning to testing, a few weeks ago, nearly all of Liverpool's residents took the Lateral Flow test in a pilot programme. The Lateral Flow test works similarly to a pregnancy test and could be used on a daily basis as an 'all clear' strategy to give people more freedom and certainty to go about their lives. If successful, its use could allow visits to patients in care homes.
Very few of the Lateral Flow results were positive. If I remember rightly, the figure was 0.3%.
No doubt if those same people had taken the PCR test, the results would have been very different.
Therefore, this is interesting:
I'm just posting it to show there is a huge question over which test is more accurate.
PCR could work, provided the cycle thresholds were lowered from 40 to 35. But that is not happening.
The scientists of SAGE: Susan Michie

Anyone who reads Guido Fawkes regularly will know that SAGE has some questionable members, including this woman who appeared regularly on BBC News during the first lockdown. She might still be appearing on the BBC. I only watched between March and June to watch the spin they put on the Government's coronavirus briefings:
Michie's mother was worth a fortune:
The Daily Mail said the owners of the painting were a mystery, until all was revealed (emphases mine):
The painting was in fact sold by 30-year-old Ms Murray's mother, Professor Susan Michie. She and her two siblings had been left the picture by their mother, the celebrated IVF pioneer Dame Anne McLaren.
When she died in 2007 she left an estate valued at £52,105,910. The vast bulk of that sum represented the value of the painting.
In her will, the Mail can reveal, she stated that if her children chose to sell then 'if possible it should be sold to an art gallery or museum in the United Kingdom'.
According to a source, family members were 'disappointed' at the decision to put the painting on the market. While the sale attracted a tax bill of £20million, that would have left the trio about £10million each — more than enough to share around other members of their extended family.
Three SAGE members appear before Select Committee
Moving on to other SAGE members, Sir Patrick Vallance, Prof Chris Whitty and Dr Jenny Harries appeared once more before the Science and Technology Select Committee on Wednesday, December 9, for a year-end review of lessons learned during the pandemic. Greg Clark MP, who heads that Select Committee, and MPs from both Conservative and Opposition parties asked probing questions. You can watch the three-and-one-half hour session here.
Unfortunately, Vallance, Whitty and Harries were no clearer about lessons learned. In fact, they were vaguer than they were in earlier sessions:
– The vaccine will not be a fix for coronavirus. Not everyone will be able to take the Pfizer/BioNtech vaccine because it will not be suitable for them.
– Human behaviour (Harries's speciality) is very hard to predict. Harries admitted that.
– Hospitality has been the scapegoat because that is where alcohol can be consumed.
– Conclusions on BAME communities' susceptibility to the virus are unclear.
– Lockdown restrictions will be with us well into next year.
– The worst admission — and I have been saying this to my far better half for at least a month — was when Vallance said that self-isolation is better for the person who has a steady job and can work from home. Self-isolation, he said, is not suitable for someone in precarious employment who has to show up to work every day! (Who knew?) Good grief!
They have no real answers, yet they're still ruling our lives via the Government!
Sky News suspends newsreader
Kay Burley, one of Sky News's star newsreaders, celebrated her 60th birthday on Saturday, December 5, in London.
Unfortunately, the celebrations did not take place in an entirely COVID-compliant way.
Ms Burley was suspended until early January 2021. (See update below.)
Guido Fawkes has the story:
Some people won't see that as big news, but it is.
It points out the hypocrisy of the media, who were clamouring for a lockdown in March then flout the rules when we are still in one via the tier system. London is in Tier 2.
This was Kay Burley's apology:
The Guido Fawkes team delved deeper. This is what they discovered (emphases in the original). Guillaume Depoix (point 5 below) owns the Folie restaurant:
The trouble for Kay is that this statement does not address the whole story, and contradicts what the owner of the restaurant told Guido about the event yesterday. Either the restaurant owner was not telling the truth to Guido, or Kay has been fibbing…
Her party at the "Covid compliant" club was made up of ten people, split across two tables. Yet the 'Rule of Six' apples to social events like birthday parties inside or outside. The only other gatherings such as business meetings can exceed it...
Kay's statement presumes she walked all the way to the restaurant Folie to spend her penny. Despite it being not exactly next door to the club she came from.

Kay does not mention the other people who came with her into the second restaurant.

Yet the owner admitted to Guido yesterday that "several people" came in to the restaurant.
Guido was initially told by the restaurant owner that Kay and her friends had gone in to the second restaurant after curfew "to pay a bill, that was it". Not to go to the loo…
When Guido put to restaurant owner Guillaume Depoix that Kay and company had been in the restaurant for quite a while, "a couple of hours", this was not denied. Guido certainly got the impression the group were there for a considerable amount of time.
Kay does not mention the other people who came back to her home. Yet she didn't deny it.
Whilst Kay's statement tries to take all the blame, Guido has yet to hear what her Sky News colleagues and party guests Beth Rigby, Inzamam Rashid, and Sam Washington have to say …
On Tuesday, December 8, i reported (emphases mine):
Sky News presenter Kay Burley has been taken off air after she admitted to breaching coronavirus restrictions, i understands. She has been replaced on the breakfast show for her remaining shows this week and is already due on annual leave until 4 January …
The TV host is facing an internal inquiry for what she described as "an error of judgment".
Sources told i the presenter was called into Sky's headquarters in Osterley, west London, for an urgent meeting with bosses on Tuesday morning. The channel's most senior staff, John Riley, head of news, and Christina Nicoletti Squires, director of content, were seen entering the newsroom at the time the meeting was due to be held.
Burley will be replaced by early morning presenter Niall Paterson on Wednesday and other presenters will cover her programme for the remainder of the week. Burley was already set to be on annual leave from next Monday until 4 January 2021.
A source close to the presenter said she "doesn't have a leg to stand on" after breaking the Government's rules, while being employed to grill politicians over the need to follow guidelines.
It is not clear if she has been removed from air as part of formal disciplinary proceedings.
When the news of the breach broke on Monday night, Burley was in Coventry, where she was due to anchor the news channel as the first Covid vaccines were administered. She was hastily replaced and ordered back to London for Tuesday's meeting …
Too funny.
Burley, along with colleague and birthday guest Beth Rigby, were among the media stars who endlessly criticised Prime Minister Boris Johnson's advisor Dominic Cummings, who is staying on until the end of the year, for his lockdown breach during the first lockdown during the Spring:
Burley, who presents a daily breakfast show on Sky News, has grilled politicians on lockdown throughout the pandemic.
In May, she questioned cabinet minister Michael Gove on the controversy over Dominic Cummings' trip to Barnard Castle.
A Sky News spokesman said: "We place the highest importance on complying with the Government guidelines on Covid, and we expect all our people to comply.
"We were disappointed to learn that a small number of Sky News staff may have engaged in activity that breached the guidelines.
"Although this took place at a social event in personal time, we expect all our people to follow the rules that are in place for everyone. An internal process is under way to review the conduct of the people involved."
Sky News declined to comment on Burley being taken off air.
This tweet shows Beth Rigby having a go at Dominic Cummings in May during his press conference:
The Guardian had more on the story:
All of the Sky staff are facing a review of their conduct by their employer, which said it was "disappointed" by the incident.
Burley's usual 7am breakfast programme was presented from Coventry University hospital on Tuesday by Sarah Hewson. Burley is understood to have already been in the city, where the UK's first vaccine dose was administered, when the decision was made. There was no mention of the reason for Burley's absence when the show began …
Burley is understood to have blamed the situation on misunderstandings in planning and organising the event. But she did not address why a group of four people, including Rashid and former Sky News royal correspondent and Huawei PR executive Paul Harrison, returned to her home after the dinner, a claim that is not believed to be in dispute. Other Sky News staff are understood to be irritated by details of the event.
Under the tier 2 restrictions in London, indoor social gatherings of any kind are barred except among those who live together or have formed a support bubble. Groups of up to six can socialise outdoors. Police can impose fines of £200 for a first-time breach.
Under the rules, Burley's initial gathering would only have been allowed if the two tables remained separate throughout and sat outside. It is not clear how many of the group went to the second venue, but Burley's tweets suggested that the rules were broken during this part of the evening. A group of four gathering at her home would be against the rules unless they remained outside throughout.
Burley has been a stern interrogator of politicians who have been perceived as making excuses over lockdown breaches this year.
In May, she conducted a widely shared interview with the cabinet minister Michael Gove about the Dominic Cummings affair, repeatedly asking him to clarify what the government advice would be for a member of the public "struggling with Covid-19 and you think you've got a problem with your eyesight", in reference to Cummings' explanation of his trip to Barnard Castle.
She also interviewed the health secretary, Matt Hancock, after Prof Neil Ferguson was forced to resign as a government adviser and asked: "What did you think when you read it? Did you bang your head on the desk?"
Burley's colleague Adam Boulton, the other star of Sky News, was deeply unhappy with her. The Guardian told us all about it in 'Kay Burley row could undermine Sky News, warns Adam Boulton':
The Sky News presenter Adam Boulton has warned that the row over a breach of coronavirus restrictions by his colleague Kay Burley has raised concerns over "the credibility of our journalism".
With executives at the broadcaster weighing their decision over what sanctions are merited by the actions of Burley and three colleagues who attended her 60th birthday party last weekend, Boulton retweeted several posts about the story on Wednesday, including one that read: "Look at the state of Sky News. The morons spent all summer preaching to us and now look at them!"
Speaking to the Guardian, Boulton noted that his retweets did not necessarily constitute endorsements. But he went on: "That said, I retweet things because I think they're of public interest, and certainly my feed has reflected a lot of people who are very concerned about the credibility of Sky News, and that I think is the important issue: the credibility of our journalism."
The intervention from the station's editor-at-large and former political editor is the first significant comment on the situation from a senior broadcaster at Sky News, where executives have been considering how to deal with the fallout from Burley's celebrations since Monday.
Boulton said: "My view is that Sky has worked very hard during the whole Covid crisis and has taken a very clear line about public safety, and obviously something like this perhaps underlines [the importance of] that." And he noted that he believed the matter to be "of widespread concern" to colleagues at the station.
Since Guido Fawkes broke the story on Monday, December 7, Burley's fellow colleagues who celebrated her birthday have also been suspended:
Beth Rigby, Inzamam Rashid and Sam Washington have all been taken off air during discussions over what sanctions will be imposed. On Tuesday, Burley was withdrawn from consideration for a prestigious TV award, while two of the group signed non-disclosure agreements as Sky sought to limit damage from the row.
Other staff at Sky share Adam Boulton's consternation:
"The situation is just excruciating," one producer said. "The longer it goes on, the worse it gets and the harder it is to see this ending without serious punishment."
Boulton noted that he viewed Burley as a "remarkable" journalist who deserved her success on the station. And he added: "Whatever happens next is not my decision and obviously it's not up to me to criticise colleagues."
Nonetheless, his comments will be viewed with alarm by executives hoping to keep staff concerns under wraps until they reach a decision, which is expected to be this week.
It appears that Burley had a safari holiday booked:
Burley herself deleted a tweet saying she was going on holiday on Friday to go "sit with lions", adding: "They kill for food, not sport" – a possible reference to the media coverage of the situation.
Well, she can take her time and enjoy an extended safari holiday.
————————————
UPDATE: Early this evening, news emerged that Sky News has suspended Burley for six months! Excellent.
Furthermore, Beth Rigby has been suspended for three months; Sam Washington and Inzamam Rashid have also been suspended pending an internal Sky News enquiry. Result!
How pleased Kay and Beth were with themselves only a few days earlier …
————————————
It is a bit rich to defy coronavirus regulations then pole up to a hospital, especially one giving COVID-19 vaccinations:
I'm really glad this has come to light:
Agree. I don't understand why people give these hypocrites any credibility.
Sunlight is the best disinfectant.
Happy Thanksgiving to all my American readers … 
… wherever you might be experiencing lockdown.
I wish all of you a good day, however different it might be in 2020.
Lately, I've been watching Howie Carr every weekday on YouTube to find out how the election results are going.
Even now, Joe Biden is not yet president-elect. For the media, he is more like the president-select (all credit to Howie).
President Trump still occupies that spot, at least until January 2021, at least.
As I wrote this post, he rightly had a go at General 'Mad Dog' Mattis:
He highlighted Wisconsin's suspicious election results …
… and pointed out a fact about the 27 House races that notional experts said Republicans would lose. Republicans won all 27:
He rightly celebrated the Dow Jones Industrial Average reaching 30,000 for the first time in history. Never let it be said that this was Joe Biden's doing. It was Donald Trump's policies that made this beautiful record landmark possible.
This is the ninth stock market record in 2020 and the 48th of the Trump administration:
President Trump pardoned the Thanksgiving turkey, a tradition that began in the 1860s during Abraham Lincoln's administration when his son made friends with a turkey the Lincolns were planning to eat for Thanksgiving.
This year, a beautiful bird, Corn, came from Ames, Iowa, with his friend Cob — Corn and Cob, corncob — for the ceremony. They returned to Ames afterwards with the farmer who bred them:
Now back to Howie Carr, who also covers the latest coronavirus news on a daily basis.
Pity Americans who have to put up with Dr Anthony Fauci. Even Britons roll their eyes at his advice.
A disgusted English friend of mine scorned Fauci's 'don't kill Granny' advice. I shook my head at 'a quarter of a million deaths', which were revised downward drastically during the summer as being deaths with COVID and not of COVID. There's a big difference:
Back to the 'killing Granny' narrative — this is the other side of the story for many elderly with younger family members:
Too right.
Here's another choice morsel from Fauci:
I would love to know what Fauci is doing for Thanksgiving, but he doesn't have a Twitter account and it is too painful listening to his idiocy.
As I write on Tuesday, Howie has been reading out the American resistance to lockdowns and restrictions from news articles. These detail how the great and the good have been dictating, sometimes under penalty of law, how people like you and me should live our lives with an illness that has the same fatality rates as the flu. Note that this does not mean coronavirus is synonymous with flu.
Never mind Fauci. American governors have become more brazen and authoritarian with every passing day, no more so than at one of the sacrosanct, inviolable national holidays: Thanksgiving Day, which is celebrated this year on Thursday, November 26.
Let us make the rounds, coast to coast, to see what these governors have been doing, starting on what used to be known as the Eastern seaboard.
Massachusetts
Republican — actually, RINO — governor Charlie Baker (Joe Biden calls him Charlie Parker) has been issuing various prohibitions for ages.
This is his advice to the Commonwealth of Massachusetts (as it is officially known) for Thanksgiving, the kick-off to the holiday season, which ends in the US on New Year's Day. I enjoyed the response to Baker's advice — well said:
New York
Let's move somewhat south to New York State.
Howie Carr plays the best clips of Governor Andrew Cuomo.
Cuomo's monologues sound as if they are clips from horror movies until Howie says that they're the governor's pronouncements. Scary.
I don't have any of those audio clips, but Cuomo's tweets about Thanksgiving are unintentionally amusing.
Before I go there, however, let's look back to the beginning of the month, two days before the election on Tuesday, November 3.
There was a massive Trump car rally on the bridge named for his father, Mario Cuomo.
As far as I am concerned, the Governor Mario M Cuomo Bridge will always be the TAPPAN ZEE BRIDGE.
This was held in the rain. I embraced the enthusiasm and wished I could have been there:
The current Gov Cuomo, a Dem, as was his father, does not like the fact that President Trump has been able to announce two coronavirus vaccines:
On Friday, November 20, a group of business owners in Buffalo, upstate near Canada, told sheriffs and one or more notional health inspectors to get lost.
Gateway Pundit reported, in part, that the business owners were in a gym. Gyms are/were currently closed because of the Chi-vi (emphases mine below):
Business owners in Buffalo, New York fed up with Cuomo's authoritarian Covid lockdown orders asserted their Constitutional rights and kicked out sheriffs and "health inspectors" on Friday night.
50 business owners gathered inside of a shuttered gym in Buffalo, New York Friday night when two sheriffs and a so-called 'health inspector' showed up to harass the group in response to an "anonymous tip."
The business owners shouted down and kicked out the health inspector and the told the sheriffs to come back with a warrant.
Well done!
The story comes from the Buffalo News.
This brings us to Thanksgiving.
Cuomo warned New Yorkers to stay at home within their own households, so much so that the New York Post reported that there are big window decals with a photo of Cuomo snooping in people's homes, accompanied by an image of a turkey.
Interestingly, the company that makes the decals is also located in Buffalo:
One upstate company wants Gov. Andrew Cuomo to be the biggest turkey at your Thanksgiving dinner this year.
The Buffalo-based design firm Custom 716 is selling stickers of the governor's face that can be put on a window to make it look like Cuomo is peering inside — presumably to make sure not too many people are there to celebrate the holiday this year.
The sticker is a clear way of ripping Cuomo for demanding that New York families avoid gathering in large groups for the holiday out of fears of spreading COVID-19.
"Great for all gatherings, sure to get laughs, great for your business or your home!" they write about the $10 sticker on their firm's website.
"$10 and I will mail it to you for free, or pick up is available. Located in North Tonawanda, NY," the description reads, offering a promo code allowing customers to bypass the $8.05 shipping and handling fee.
Cuomo has been begging New Yorkers to spend Turkey Day alone, warning the coronavirus's rapid spread has increased in part thanks to small, indoor gatherings in recent months as the weather has turned slightly chillier.
"It's your family, it's your home, it's your table — these are all environments where you feel safe and that's the beauty of Thanksgiving," he said during a phone conference briefing with reporters Thursday.
"Your safe zone is not a safe zone, your safe zone is dangerous this year."
When you hear the audio of him saying that (thanks to Howie), it sends chills down the spine.
Fortunately:
politicians and law enforcement agents across the state … argue it's nearly impossible to enforce caps on indoor, private gatherings.
At the time, Cuomo included himself in that diktat:
However, a few days later, Andrew Cuomo announced big plans for a family get together. Hmm, interesting:
Here's a tweet, including a photo of the snoop decal from Buffalo. Note the 'for thee, but not for me' response from someone living in Governor Pritzker's fiefdom of Illinois (see below):
Howie Carr said on Tuesday, November 24 that Cuomo got so much blow back from New Yorkers that his family's plans for a communal turkey dinner changed. One of his daughters would not be attending (H/T Gateway Pundit):
Aww.
Also:
His daughter, wearing a tee shirt with 'New York tough' emblazoned across it, tweeted:
The Rochester Democrat and Chronicle reported:
New York Gov. Andrew Cuomo abruptly canceled his Thanksgiving plans Monday, less than two hours after revealing he planned to spend the holiday with his mother and two of his daughters.
During a radio interview Monday around 3:45 p.m., Cuomo revealed his "current plan" for the holiday: His 89-year-old mother, Matilda, and two of his three daughters, Michaela and Cara, are planning on joining him in Albany.
…By 5:30 p.m., Cuomo nixed the gathering entirely.
Good.
Hypocrisy is most unbecoming.
New Jersey
Just west of New York, across the Hudson River, New Jersey's governor Phil Murphy was accosted by angry diners when he was eating out with his family and appearing without a mask. New Jersey has had a particularly arduous lockdown.
Remember, Phil Murphy won't have to worry about where his next meal is coming from. The taxpayers are footing his bill:
Murphy, who, Howie Carr says, attended the same high school and college as Massachusetts's Charlie Baker, is still trying to frighten his state's residents:
His wife is at it, too:
I couldn't agree more about the gaslighting.
North Carolina
Moving several hundred miles south, North Carolina's Governor Roy Cooper approves of business closures in Greensboro:
On Monday, November 23, he issued a Thanksgiving sermonette on the 'stay at home' theme, most of which follows. Like the UK, he has a colour-based 'tier' designation:
With that sort of warning, what North Carolina resident could possibly want to go through with (gasp) a family or friend oriented Thanksgiving dinner?
Amazingly, people in North Carolina have not been able to attend church — or any sort of celebration — for nine months. He has the nerve to tell them to keep it up 'just a bit longer' — for November 2021. Good grief:
Governor Cooper has even better news for the run-up to Christmas:
Excellent response.
Illinois
Let's travel around 1,000 miles northwest to Illinois.
Governor JB Pritzker comes from a family of real estate moguls. As one would expect, he can escape Illinois, lovely as it is, to take a break at family properties elsewhere.
Last summer, he defied his own executive order to take part in a protest in Chicago. Pritzker is the man in the blue and white checked shirt in the second photo below:
More recently, Howie Carr said that Pritzker's immediate family have been spotted at their Florida farm which has horses that his children can ride. Howie, now a Florida resident, lives in the vicinity.
Hmm.
A Republican congressman from Illinois called out Pritzker:
Someone replied:
Fortunately, Pritzker's and Illinois's directives, such as these …
… are being ignored. Just look at Chicago's O'Hare airport:
Well done!
Gee, 20 years on, the TSA still have their checkpoint. Why didn't President Trump ever repeal the Patriot Act? 'There's a there there', no doubt.
For those Illinois residents who will not be travelling for Thanksgiving, there is no absolution if you live in Chicago. On November 15, a spokeswoman from Mayor Lori Lightfoot's office said, 'You are the problem; you are putting everyone at risk' (see the 11-second mark):
Yet, anecdotally, the vast majority of Chicagoans are wearing masks:
Speaking of masks:
Chicago — the Windy City — which is also darned chilly at this time of year, is pushing OUTDOOR dining in a TWO-sided tent!
You could not make this advice up:
As for Thanksgiving dinners, Chicago mayor Lori Lightfoot has cancelled them. She is pictured in the photo above with Governor Pritzker at a June 2020 protest. Note that CNN has not shown the official US COVID-19 death count, which is still at 'with' + 'of', as it was last summer:
Interestingly, during lockdown in April, Madame Mayor felt compelled to get her hair cut when she had told ordinary Chicagoans that hairdressing was non-essential. See the Daily Mail report from April 12, complete with photo of her with her hairdresser, no social distancing required.
Washington
Let's leave the Midwest for the West Coast, starting in the most northern state, Washington, home to Seattle, the site of much summer mayhem.
Governor Jay Inslee, who did not oppose said summer mayhem, is now telling Washington residents not to get together for Thanksgiving. This advert is unbelievable:
COVID-19 can find you everywhere! Woo-oo!
Inslee thanks Washington residents for not celebrating one of America's two most historic holidays this year. The reply is excellent:
Oregon
The state immediately south of Washington is Oregon.
There Governor Kate Brown is all in for the deadly coronavirus narrative, especially at Thanksgiving:
On Monday, November 23, she asked for Oregonians to snitch on each other at Thanksgiving.
Hot Air has the story, first reported in the Washington Times. Reporter Jazz Shaw says:
I guess nobody told Oregon Governor Kate Brown about the old rule regarding snitches and stitches. With the holidays fast approaching and an increasing number of citizens growing tired of government mandates forbidding them from gathering with friends and family to celebrate, Brown is concerned that people may simply ignore her orders and gather around the feast table anyway. So what's an autocratic executive to do? The answer is as simple as pumpkin pie. She'd like people to keep an eye out for large gatherings in their neighborhood and call the police if they see any suspiciously large, turkey-related activity going on. That's an idea that's sure to put everyone in the holiday spirit, right? (Washington Times)
This must be one of the snottiest adverts about family ever made. See what you think. A photo of the governor follows (she's not the one with the pink gloves):
Let us not forget that Portland has had mayhem going on since June. Every doggone night for months on end:
California
The most blatant nose-thumbing has come from California's governor Gavin Newsom, who with the co-operation of mayors and county officials has kept the Golden State under lockdown for most of the year, with most counties at the top two highest tier levels during that time.
The status holds true, if not worse, even now:
Meanwhile, Governor Newsom has been releasing prisoners sporadically because they are in danger of catching COVID-19. Forget about law-abiding citizens:
One used to think California voters were being silly in continuing to vote in Democrats.
However, in recent years, a growing number of Americans think that Democrats have won so many elections because of voter fraud:
With regard to the curfew, at least one protest took place. This is from Huntington Beach:
Protests last summer in the state were acceptable to most, but the anti-lockdown and anti-curfew ones attract comment. Fortunately, some can discern the truth:
Newsom has seemingly bought into the mask narrative, even though that policy has not improved his state's figures:
Exactly. Probably more adjusted statistics. We have them in the UK, too.
However, right now, more Californians are interested in Newsom's social life during lockdown:
With regard to masks …
No one cares that the Newsom family is self-isolating for a fortnight:
The tweets kept coming and coming:
Newsom isn't alone, it seems, in rule breaking. Is this the California state legislature? Yes, it is:
By the way, masks are probably not a good conversational topic for Thanksgiving. See this brief exchange:
But I digress.
The three-star French Laundry in Yountville (Napa Valley) is one of the world's most famous restaurants.
In the 1920s, it was used as a French steam laundry, hence the name.
In the 1970s, the then-mayor of Yountville Don Schmitt and his wife Sally turned the building into a restaurant.
In 1994, the French chef Thomas Keller bought the restaurant and made it into the legend it is today.
Friends invited Gavin Newsom to the French Laundry for a birthday celebration on November 6 during California's lockdown.
Talk about 'for me, but not for thee'.
The Daily Caller reported:
Photos show the maskless governor of California dining indoors at one of the highest rated restaurants in the world despite his restrictive coronavirus guidelines for the citizens of California.
Democratic California Gov. Gavin Newsom can be seen dining at the Michelin-starred French Laundry on the evening of November 6, according to photos obtained by Fox LA. The restaurant, located in California's Napa Valley, is considered "the pinnacle of California dining" and has been ranked the best restaurant in the world numerous times, according to various outlets.
Newsom has said the restaurant was outdoors, but FoxLA reported that the room's glass sliding doors had been closed, making the dinner party indoors. Newsom's office did not immediately respond to a request for comment from the Daily Caller News Foundation.
The group was so loud that customers complained:
"While we were there we realized there was a very loud party going on in a room 20 feet from us," the woman who took the photos told FoxLA. "It was a bit annoying since you're spending hard-earned money to go there. It got louder and louder and so they had some sliding glass doors that they were able to close, so then it was a closed-off room but you could still hear them with how loud they were."
She continued: "I just happened to look over and realize hey is that Gavin Newsom, who is that? And I did ask one of the waitresses and she confirmed it was, so I was able to take a couple of photos, I was able to document this especially since nobody was wearing a mask. It was a very large group of people shoulder to shoulder, something that he's always telling us not to do so yeah it was a bit annoying for sure."
Newsom has urged California residents to wear face masks "in between bites" at restaurants and announced Monday that California is "pulling an emergency brake" and mandating the most restrictive tier of coronavirus restrictions for more than two dozen California counties …
The governor also warned that he would announce more COVID restrictions Friday ahead of Thanksgiving.
Newsom apologized Tuesday for attending the dinner party, calling it a "bad mistake" and saying that he became uncomfortable after arriving when he realized that the group was larger than he expected, according to FoxLA.
…
But the woman who took the photos said Newsom did not appear uncomfortable.
"I was surprised because it didn't look like he was uncomfortable being there until the very end until people were looking at him and staring at him as he was leaving the room," she told FoxLA.
Not surprisingly, the dinner made a splash in California's media:
A few days ago, the California IBank had the nerve to tweet this. I applaud the reply:
That is so true.
Words fail me.
On Thanksgiving, when in doubt, eat more and add more butter.
I hope that those celebrating Thanksgiving can enjoy their dinner the best they can — with hearty gratitude. (Things could always be worse.)
In case anyone missed them, here are Parts 1, 2, 3 and 4 of this series about the British public's suspicion over the continuing coronavirus lockdown.
The June protests vexed Britons who were trying to do the right thing: staying at home and social distancing when outdoors.
All of a sudden, that flew out the window. Protesters had pride of place, yet, the rest of us still had to obey the social distancing guidelines.
That rankled, especially as we had been told we were selfish because we wanted to hug our loved ones who didn't live with us. Think of grandparents and grandchildren.
What about people who just needed to get outdoors in the fresh air by themselves?
What about children who longed to see their friends? This former barrister and co-editor of Conservative Woman nails it:
And what about the people who freaked out over a very limited reopening of schools on Monday, June 1?
What about the average law-abiding person?
Yes, those people are 'the problem'. We are made to feel guilty through no fault of our own.
The frustrating hypocrisy of it all:
Then we had Piers Morgan taking issue with Boris's top adviser for trying to care for his little boy and with Labour MP Barry Gardiner for attending the demonstrations. Yet, Piers applauded his own son for taking part in the protests:
But I digress.
There was no social distancing during the protests. In fact, some police officers in London were assaulted.
However, even though Health Secretary Matt Hancock advised that the rules be kept in place over the weekend of June 6 and 7:
… the lack of social distancing was acceptable:
It was for a cause.
Health 'experts' said so — 1,200 of them, in fact:
Tucker Carlson had an excellent editorial on this on Friday, June 5. Anyone complaining about social distancing and protests is 'the problem', not the protesters and rioters. Well worth a watch. You could not make this up:
But what about the people told to leave London parks because they were sunbathing by themselves? What about Piers Corbyn who was arrested twice for advocating against lockdown? Where were the Metropolitan Police during the protests? On hand, but either taking a knee or standing by doing nothing:
Boris didn't do anything, either. We have a Home Secretary. He could have got in touch with her.
This is what he issued on Saturday, June 6, the day of yet another protest in London over an American who died on home soil in Minneapolis, Minnesota:
'The evils of fascism'. Don't make me laugh, Prime Minister.
Things were no better in Northern Ireland …
… or Scotland, where thousands were expected to attend a protest on Glasgow Green:
The Labour leader, Sir Keir Starmer, was a bit slow on the riots. Didn't he know that American cities were being destroyed and shops across the country looted? President Trump never stopped peaceful assembly:
Anyway, there is some good news in all of this. More people in the public eye have noticed that continuing lockdown in the UK is a bad idea:
Unfortunately, a number of 'senior figures' from the NHS do not see it that way, primarily because of the close proximity of protesters in early June. That is not the fault of the British public and is likely to make them even angrier. They were not among the protesters. They are eager to get back to work.
In fact, said 'senior figures' will probably make the British public all the more suspicious about the protests. Were they timed to prevent lifting of lockdown? We'll never know.
In any event, this concludes this series with a few key points to keep in mind:
It's going to be a long, hot, tense summer here in the UK.
See Part 1 in this series about the anger in Britain over lockdown.
One or two tweets below might have salty language. The rest do not.
There is much anger by a proportion of the population at the government:
MPs, except for one, are largely silent on the subject. Luckily, John Redwood has been an MP for decades. He might be our only hope:
Most are like Conservative MP Nadine Dorries, however. She was one of the first MPs to get coronavirus. Her aged mother, who also had it, helped her recover. I was sorry to see her tweet this:
Yesterday, I left off on masks. On Thursday, June 4, Transport Secretary Grant Shapps said they would be mandatory on all public transport in England. Health Secretary Matt Hancock repeated the order the following day:
Someone in the know saw this coming in April (never mind the reply):
This is so irrational. Earlier this year, the WHO advised against it:
Exactly.
I'm looking forward to the first lawsuit when someone is unable to breathe on public transport:
The above advice applies to England.
Wales, Northern Ireland and Scotland are on their own track.
However, Scotland is no better:
This is what they are doing in Singapore. Simon Dolan, incidentally, is suing the British government over lockdown. Good man:
It seems masks are only the beginning. In the UK, we haven't fully got off the ground with the track-and-trace app.
More from Simon Dolan about Singapore:
Track-and-trace is also getting up people's noses:
Then there's the R rate that SAGE and Chief Medical Officer Chris Whitty discuss daily on the coronavirus briefings:
But that's nothing compared to the wacky modelling from Imperial College's Prof Neil Ferguson which brought about lockdown:
Yet, at least one London hospital is ignoring masks and social distancing:
Shouldn't only the vulnerable be sheltered?
Picking up on the railway platform, here's the latest on international transport …
… and the latest on public conveniences:
Why doesn't any of this make sense?
Similar madness holds true for local buses:
Meanwhile, unlike protestors around the world complaining during coronavirus about the death of an American ex-convict thousands of miles away, when you're Piers Corbyn (pictured with the policewoman in a mask), an eccentric weather forecaster as well as the brother of the last Labour leader, and say that climate change is caused by the sun's activity and you're protesting lockdown with like-minded people, you can be arrested twice at Hyde Park in London:
The sheer hypocrisy of it all is mind boggling.
More tomorrow.
What on earth is going on?
Until the deplorable death of George Floyd, most of us were told we must social distance because of coronavirus.
Now a few Western countries have been breaking that rule to protest by the thousands as well as set fires and loot.
The media have their role to play in this, too.
From former reporter Adam Housley and his Twitter followers:
Incredibly, some — not all — nurses are the common point in the Venn diagram of coronavirus and protests. Don't they have patients?
On the other end of the spectrum, we have General Mattis calling President Trump divisive because he wants to stop Washington DC from becoming an ashtray:
Remember the early days of the Trump administration? The Left didn't like Mattis. Now he's their best friend:
And what about the average guys and gals who aren't doing triage or serving in the military?
They're being told by their notional betters that they are wrong to want to hug their grandchildren, attend a funeral or go to church. Such people are called 'Grandma Killers'.
Protesting, rioting, setting streets alight and looting during a pandemic are perfectly acceptable alternatives to these people. Here's a great thread from journalist Drew Holden with a gimlet eye on his peers:
Drew Holden then brings in a few Dem governors before returning to journalists and political activists:
These are two of the replies he received. I fully agree with the sentiments:
Ian Miles Cheong, the managing editor of Human Events, is always worth a read.
Here's footage of 'peaceful' demonstrators in Seattle:
He came to this conclusion:
However, people are afraid to not support the protests, possibly like the aforementioned nurses.
Mollie Hemingway from The Federalist highlighted this poll from Emerson:
Tucker Carlson tells us not to surrender to the mob. True.
On the other hand, we need to be aware that some looters and vandals are being released from police custody:
Incredible.
Equally incredible is that churches cathedrals were vandalised across the nation. Some cathedrals now require extensive repair, as the Catholic News Agency reported on Monday, June 1 (emphases mine):
Catholic churches and cathedrals in several cities were among the buildings damaged in the protests and riots that occurred nationwide over the past week.
Church buildings in California, Minnesota, New York, Kentucky, Texas, and Colorado were attacked. Many of the defaced or damaged churches were cathedrals. The Cathedral Basilica of the Immaculate Conception in Denver sustained permanent damage.
Vandals repeatedly struck the Denver cathedral on multiple nights of the protests and riots over the weekend. The church building and rectory were spray painted with the slogans "Pedofiles" [sic], "God is dead," "There is no God," along with other anti-police, anarchist, and anti-religion phrases and symbols.
Gates surrounding the cathedral were damaged, and tear gas that was fired to disperse the protests leaked into the rectory. The doors to the cathedral are believed to have been permanently damaged by the vandalism and will reportedly need to be replaced.
Three bags of rocks were collected from the parking lot, but the cathedral's most valuable windows were unharmed. Other windows on the cathedral's campus were shattered.
St. Patrick's Cathedral in New York City was tagged with various graffiti, including profanities, "No justice, no peace," "BLM" (Black Lives Matter) "NYPDK." The name of George Floyd was also written on the stairs outside the cathedral …
Sickening.
One of the strangest journalistic twists was the invitation from the New York Times to Senator Tom Cotton (R-Arkansas) to write an editorial about the riots. He nails it:
Yes, they did apologise for it, in a way:
Ultimately:
The Federalist's Sean Davis had a go at their reporters. The responses are good, too:
In 2019, only 10 blacks died at the hands of the police. The United States has approximately 325 million people. Meanwhile, 48 police officers were fatally wounded, according to FBI data.
In 2015, under Obama's presidency, the number of blacks dying at the hands of the police was three times higher.
Tucker Carlson has the details of the ten deaths in the video below. The details of the cases come from the Washington Post. In only two of the cases, an officer was criminally charged. In the other cases, the suspects had attacked or assaulted police officers in various ways, including firing a taser and driving at full speed after them.
In 2018, over 7,000 blacks in America were murdered — no police involvement. So, that's one police murder for every 700 committed by civilians, often people they knew.
I would encourage everyone — especially those living outside of the United States — to watch Tucker run through the statistics and share them with their friends and family:
Bottom line: factually, there's no need to riot.
As a final thought, here are two great videos from a Trump supporter, who says it's time for Americans to put away their divisions and, together, embrace patriotism. Language warning, but well worth watching:
Yet, despite all this — coronavirus and riots — maybe America is poised for a swift economic recovery this year:
As the president is so fond of saying: 'The best is yet to come'.
I certainly hope so, for America's — and Donald Trump's — sake.