You are currently browsing the tag archive for the 'Iain Duncan Smith' tag.
So far, my series on Conservative MP and former Health Secretary Matt Hancock has covered a summary of his current activities as well as his actions during the coronavirus pandemic: parts 2 and 3.
Today's post reviews the events surrounding the pandemic between October and December 2020, mostly in England. Positive cases spiked in October that year, particularly in certain regions of England, causing the development of a tiered system of restrictions. Christmas ended up being cancelled, a great loss to the hospitality sector, which had been open since July 4.
There was one ray of hope to get everyone out of this: the vaccine.
Dissenters must be silenced
The Mail has been running excerpts from Hancock's Pandemic Diaries which he co-wrote with former Times journalist, Isabel Oakeshott.
One thing I have not found in the excerpts is any mention of dissent among the public or medics who were not on SAGE.
However, Isabel Oakeshott provides insight about the Government's view of dissenters in an overview of Pandemic Diaries that she wrote for The Spectator, posted on December 7, 2022. Emphases mine below:
As far as Hancock was concerned, anyone who fundamentally disagreed with his approach was mad and dangerous and needed to be shut down. His account shows how quickly the suppression of genuine medical misinformation – a worthy endeavour during a public health crisis – morphed into an aggressive government-driven campaign to smear and silence those who criticised the response. Aided by the Cabinet Office, the Department of Health harnessed the full power of the state to crush individuals and groups whose views were seen as a threat to public acceptance of official messages and policy. As early as January 2020, Hancock reveals that his special adviser was speaking to Twitter about 'tweaking their algorithms'. Later he personally texted his old coalition colleague Nick Clegg, now a big cheese at Facebook, to enlist his help. The former Lib Dem deputy prime minister was happy to oblige.
Such was the fear of 'anti-vaxxers' that the Cabinet Office used a team hitherto dedicated to tackling Isis propaganda to curb their influence. The zero-tolerance approach extended to dissenting doctors and academics. The eminent scientists behind the so-called Barrington Declaration, which argued that public health efforts should focus on protecting the most vulnerable while allowing the general population to build up natural immunity to the virus, were widely vilified: Hancock genuinely considered their views a threat to public health.
For his part, [Boris] Johnson occasionally fretted that they might have a point. In late September 2020, Hancock was horrified to discover that one of the architects of the Declaration, the Oxford epidemiologist Professor Sunetra Gupta, and her fellow signatory Professor Carl Heneghan, director of the University of Oxford's Centre for Evidence-Based Medicine, had been into Downing Street to see the prime minister. Anders Tegnell, who ran Sweden's light-touch approach to the pandemic, attended the same meeting. Hancock did not want them anywhere near Johnson, labelling their views 'absurd'.
Anti-lockdown protests were quickly banned. When, in September 2020, the Cabinet Office tried to exempt demonstrations from the 'rule of six', Hancock enlisted Michael Gove to 'kill it off', arguing that marches would 'undermine public confidence in social distancing'. Gove had no qualms about helping.
Keep in mind that, in June 2020, BLM protests took place in English cities. Police did nothing to stop them, even though we were not supposed to be gathering in the streets, particularly without social distancing. Members of the police responded by taking the knee in front of protesters. Talk about double standards!
Oakeshott had more dismal news emerging from Hancock's diaries.
Masks
Oakeshott says:
Hancock, [Chief Medical Officer Chris] Whitty and Johnson knew full well that non-medical face masks do very little to prevent transmission of the virus. People were made to wear them anyway because [Boris's top adviser] Dominic Cummings was fixated with them; because [Scotland's First Minister] Nicola Sturgeon liked them; and above all because they were symbolic of the public health emergency.
I do despair.
It was exactly as the sceptics said at the time: theatre designed to show the Government's power over the people.
Care homes
Even worse was — and, in some places, still is — the situation in care homes. Patients and their loved ones were separated for many months. There were no hugs, no kisses, no caresses. Instead, patients and family members met at a window, pressing their hands against glass, aligning them with those of their loved ones — just as one would do at a prison visit.
Oakeshott writes:
Hancock is more sensitive about this subject than any other. The accusation that he blithely discharged Covid-positive patients from hospitals into care homes, without thinking about how this might seed the virus among the frail elderly, or attempting to stop this happening, upsets and exasperates him. The evidence I have seen is broadly in his favour.
At the beginning of the pandemic, it was simply not possible to test everyone: neither the technology nor the capacity existed. Internal communications show that care homes were clearly instructed to isolate new arrivals. It later emerged that the primary source of new infection in these settings was in any case not hospital discharges, but the movement of staff between care homes. Politically, this was very inconvenient: Hancock knew he would be accused of 'blaming' hardworking staff if he emphasised the link (which is exactly what has now happened).
He is on less solid ground in relation to the treatment of isolated care-home residents and their increasingly desperate relatives. His absolute priority was to preserve life –however wretched the existence became. Behind the scenes, the then care home minister Helen Whately fought valiantly to persuade him to ease visiting restrictions to allow isolated residents some contact with their loved ones. She did not get very far. Internal communications reveal that the authorities expected to find cases of actual neglect of residents as a result of the suspension of routine care-home inspections.
October through December 2020
Pandemic Diaries entries for these months come from this instalment, unless otherwise indicated.
October
Saturday, October 3:
A day dominated by the discovery of a hideous blunder involving a week's worth of Covid data. Somehow or other we have failed to log around 16,000 cases, which all had to be piled into today's figures. We might as well just hang a giant neon sign above the Prof's 'next slide please' screen, saying 'See here: Spectacular Screw-Up.' [The Prof is the nickname for chief medical officer Chris Whitty.]
[Head of the Vaccine Taskforce] Kate [Bingham] has been telling the Financial Times we should only vaccinate the vulnerable. Except she has nothing to do with the deployment – only the buying. And what she's criticising is the Government's agreed policy. 
'We absolutely need No 10 to sit on her hard,' I told the spads [special advisers], adding that I consider her 'totally unreliable'.
Monday, October 5:
For reasons best known to themselves, No 10 are rowing back on tiers [putting areas of the country into tiers with different levels of restrictions depending on the Covid risk] and has pulled the planned announcement from this week's grid. They want tough action; then they don't want tough action; then someone gets to the PM and he changes his mind all over again. FFS.
The Economist has got wind of an old vaccine deployment plan. I instinctively asked my spads if Kate might be behind it. 'I have some evidence to suggest it might have been – ie the fact she had a meeting yesterday with the journalist who has the story,' came the reply. Who knows, but I wouldn't be surprised.
Saturday, October 10:
Boris has finally agreed to announce tiers on Monday.
Monday, October 12:
In the six weeks since I proposed the tiers system, there's been delay and watering down at every stage — while the virus has grown faster than the worst-case scenario. What's most frustrating is that I'm being portrayed as the one who's pushing for lockdown, whereas actually it's those with their heads in the sand who will lead us to a full-blown national lockdown.
Thursday, October 15:
Today I announced that London and a few other places are going into Tier 2. The original draft statement was quite bullish on vaccines, but No 10 freaked, ordering me to delete anything that made it sound as if we think vaccines are the way out.
This really annoyed me, because they are the way out. Since that's our strategy, it's ridiculous to be told I can't say it. I will not be blown off the vaccine drive by the sceptics — in No 10 or anywhere else.
This was a problem for Iain Duncan Smith MP, who pointed out that some London boroughs are relatively virus-free, therefore, it is wrong to impose the same restrictions on all of them. With a lot of umms and ahhs, Hancock said that it was only right that the same restrictions were imposed on all boroughs. Iain Duncan Smith looked as if he were about to blow a gasket — and rightly so:
Friday, October 16:
Boris has been studying what they did during the plague and messaged this morning about how tiering worked in the old days.
'In 1606, the Privy Council decreed that theatres should be closed if deaths from plague exceeded 30 per week,' he told us. 'Not sure about these fixed thresholds,' I replied warily. Thankfully this was the end of the history lesson.
Saturday, October 17:
Woke up to another briefing against me from No 10, this time in the i [newspaper]. Apparently 'Matt Hancock is the only person here who thinks there is actually going to be a vaccine . . . It's a running joke with other departments'.
If so, I'm happy to own it. Thank God I banned the team from talking to No 10 about the [vaccine] rollout. They'd just trash it.
Had a bit of a counselling session from Nadine [Dorries, mental health minister] this evening. 'You are too nice too often,' she told me.
Could labradors be our secret weapon against the pandemic? A bizarre and cheering morning watching disease-detecting dogs on the concourse at Paddington Station demonstrate what they can do on a crowd that included the Duchess of Cornwall.
Inside, I was panicking. I couldn't stop worrying that the mutts might pick out Camilla, or indeed me, as having the dreaded disease. 'Please, please, don't do that,' I willed silently.
Luckily, the labs correctly identified the man with the T-shirt that had been worn by an affected patient. I was impressed. 
These dogs can pick up the scent of Covid just like they pick up the scent of drugs. I want them at airports and train stations to sniff out super-spreaders.
The [Health] department's briefing was: 'Evidence base too thin.' It's absurd. Just because they aren't conventional tests, officialdom can't see the point.
I've pushed it and asked Jim [Bethell, a Health Minister in the Lords] to follow up.
Thursday, October 29:
We're putting so many new areas into Tier 3 that it'll soon be a national lockdown in all but name. Had we brought in tougher tiers three weeks ago, as the Prof and I were arguing for, we wouldn't be in this position. And for goodness' sake, why aren't we pushing harder on ventilation as well as masks? We have known since a Spanish study proved it in the summer that Covid spreads more like smoke than droplets — yet the comms is still geared to masks, which are less important than ventilation.
Friday, October 30:
This afternoon I was called to a meeting of Covid-S, the strategy group chaired by the PM. At the end: victory.
Boris grudgingly accepted the stark, painful facts: that cases, hospitalisations and deaths are all rising and the NHS will run out of space unless we act. The upshot is four weeks of lockdown then back to souped-up tiers.
Having won the lockdown argument, I was exhausted but elated and literally ran up the stairs to my office, stopping off to see the Prof, who'd fought hard alongside me via Zoom.
'Secretary of State, you've saved many lives with what you've done today,' he replied.
As I headed off to Suffolk [his constituency], I finally relaxed. We took the children for a curry at Montaz in Newmarket, where the staff seemed excited to see us. It was horrible to think they were going to have to close again on Thursday and I couldn't tell them.
I really, really wanted to forget the pandemic, just for half an hour, when [ITV political editor] Robert Peston's number flashed up on my phone. I almost choked on my chapati.
'I understand that this pm you, PM, Chancellor and [Michael Gove] met. Am told 99 per cent likely there will be a full national lockdown from next Wed or Thurs,' Peston said.
So the cat is out of the bag — already! Furious, I forwarded the message to my spads [special advisers] and No 10 comms. How the f*** had it leaked already? Only a handful of people knew!
By the time I got home, I had an enraged Boris on the phone saying his media people had told him hacks were pointing the finger at me.
'Whoever is telling you that is lying to you,' I replied furiously.
How had this happened? My money is firmly on Dominic Cummings via his acolytes. The agenda? To bounce the PM into announcing the lockdown sooner [rather] than later and stop him U-turning. If they got me sacked into the bargain, that would be a bonus.
I texted the PM to say that obviously the accusations against me were untrue and I could prove that if necessary. Half an hour later, he messaged asking me and [spad] Damon to bring our phones into Downing Street on Monday.
'With pleasure,' I replied coldly.
Peston wouldn't have texted me for confirmation if I was the source. Plus: it's not like I benefit from this information being out early.
'I'm taking a huge amount of flak to do the right thing and protecting you in the process,' I told Boris.
'Understood, everyone overwrought,' he replied soothingly, but with Dom dripping poison in his ear, I very much doubt that will be the end of it. So everything hangs in the balance. Either the PM has to rush into announcing the lockdown or there's such a backlash, especially from our truculent backbenchers, that he bottles it again.
'It's a f***ing disgrace,' I told [Cabinet Secretary] Simon Case. 'I hope you have a full inquiry.'
As lockdown approaches, I should be focused on testing, the vaccine and getting the new measures right to get us all out of this nightmare. Instead I'm fighting for my political life. This is no way to run a country.
Saturday, October 31:
I hardly slept. Consternation from friends about how it all came out. Jim [Lord Bethell, health minister in the Lords] described it as 'the fastest leak since Nick Clegg was on world-record form' — he was notorious when we were in coalition.
Nadine was raging, telling me the culprit 'needs putting in front of a firing squad'.
Thankfully, at the press conference the PM gave it his all, warning of thousands of deaths a day if we don't do more.
Lockdown will be a little lighter than last time because we've got better evidence about what works. After the s*** I've taken, I don't feel triumphant, but at least we've avoided a complete collapse in the NHS and those Lombardy scenes in our hospitals. For now at least.
November
Sunday, November 1:
Boris was still far from reconciled to the lockdown he'd so grudgingly authorised, continuing to fret that we'd be accused of 'blinking too soon'.
Meanwhile, Cummings is deliberately ignoring my calls and messages. Extraordinary. We're in the middle of a national crisis in which hundreds of people are dying every day and I'm in charge of the health service. Yet he won't talk to me. It's pathetic, petty and downright irresponsible.
Tuesday, November 3:
I think someone's trying to smear me. First, I'm falsely accused of being in a Commons bar after 10pm, then I'm falsely accused of leaking, and now The Sun wants to know if I went to have a haircut with Michael Gove at the weekend. Nothing to declare there.
One of my allies received a message from a journalist saying, 'We need to talk about who is framing Matt at some stage . . .' I think I can take an educated guess.
Tuesday, November 10:
After months of working it up in secret, today I presented the vaccine rollout plan to the PM. I've rarely seen him as enthusiastic. Finally I think he realises this really is going to happen.
'Can we go faster?' he boomed, banging the table.
As expected, the price of success is that No 10 has gone from not believing the vaccine will happen to getting completely carried away. Yesterday they started putting it out that 'ten million people' could get the jab before Christmas.
This was never the plan, is never going to happen, and [my spad] Damon spent half the day trying to kill it.
Friday, November 13:
Cummings has gone! I am elated and, more than anything, relieved for the sake of the vaccine and the country. He's been such a frightening, damaging, negative force for so long.
'Now we can actually build a government that works effectively,' I told Simon Case excitedly.
We talked about restoring proper processes and ensuring everything that should come to me does come to me, instead of being diverted to one of many random groups Cummings set up to interfere/cut me out of the loop/attempt to control everything.
My team — officials and advisers — are thrilled.
Sunday, November 15:
The Sunday Times thinks we've been dishing out multi-million-pound contracts to 'cronies'. Really? I'm absolutely fuming. I've not been involved in either the pricing or the decision-making behind who's been awarded government contracts.
With all my years of experience as a politician, would I seriously just bung millions of pounds' worth of deals to my mates, just kind of hoping nobody would notice? So galling.
Friday, November 20:
I met my Slovakian opposite number to talk about their government's super-ambitious 'let's make the entire population take a Covid test all on the same day' initiative. I have my reservations but Boris is super-keen.
Saturday, November 21:
The PM has been talking to the Slovakian PM and is incredibly eager to give it a go. Today's the day I had to get ministerial approval on the plan. It did not go well — bluntly, the Cabinet think it's crazy.
Doing my best to ignore the increasingly incredulous expressions on the faces of the Zoom attendees, I walked everyone through what would be required: nothing less than the entire military and every part of the NHS that could be harnessed to the cause. The price tag? A cool £1 billion.
Knowing this one came straight from the top, I gave it both barrels. [Environment Secretary] George Eustice dismissed it as ridiculous. The Treasury said they wouldn't pay for it. [Defence Secretary] Ben Wallace said the military was already deployed on other missions.
Afterwards, I picked up my phone to [spad] Emma. 'Well, that was a drive-by shooting if ever I've seen one. Shows the limit of the PM's powers, even in a pandemic. Cabinet government lives!' I said cheerfully.
Much too late, I realised I'd forgotten to press 'Leave Meeting' on Zoom. Around 20 ministers and officials were still on screen, listening to every word.
Sunday, November 22:
I'm under fire from The Observer over Gina [Coladangelo's] appointment to the [health department] board. They've described her as my 'closest friend from university' (true — one of) but are also making a song and dance of the fact that she's a 'director of a lobbying firm'.
The truth is she hasn't been actively engaged with that company for years and every aspect of her appointment [as adviser] to the department went through all the proper channels. She was appointed after she proved herself during her stint as a volunteer just trying to do her bit for the country.
December
Tuesday, December 1:
Jim [health minister in the Lords] came to tell me he'd just formally signed the Pfizer vaccine off. I walked into the Cabinet Room, where the PM was standing behind his chair with Rishi, Simon Case and a few others dotted around.
'We have a vaccine! It's been formally approved!' I announced as I walked in.
Boris danced a little jig, his jubilant moves giving every impression that he hadn't had much dance practice of late.
We were all elated. We know this is the only way out. So many people feared it would never happen. But here it is, the first in the world, in under a year.
On the way out of Downing Street I bumped into Rishi, who gave me a man-hug and thanked me for pulling off the vaccine. Tomorrow is going to be massive.
Wednesday, December 2:
The announcement to the markets was due at 7am sharp. From the privacy of a green room in the bowels of the BBC building, my first call was to my counterparts in the devolved administrations. Ridiculously, we'd had to keep them in the dark about the impending announcement because we were worried about leaks. Then moments after 7am, I was on air telling the world.
Unfortunately, Boris's good humour didn't last long. By mid-afternoon, I was just finishing answering questions in the Commons when I got a series of texts from an increasingly desperate-sounding Emma [spad], saying he was 'going mad'.
She said Boris wasn't happy that we're launching on Tuesday, not Monday; wasn't happy with the time frame for vaccinating care-home residents; wasn't happy about the way we're working with the devolved administrations; and had a bee in his bonnet about the use of wholesalers to get the vaccine to GPs.
'Oh FFS,' I replied. I wish he'd take a moment to congratulate the team and keep their morale up, not lose it like this.
Thursday, December 3:
A cloak-and-dagger operation to get the first 800,000 doses of the vaccine into the UK. We weren't taking any chances. Imagine if rogue actors or hostile states tried to hijack the vehicle or seize the goods?
At lunchtime, a drama: in hushed tones, officials told me that the team was switching route 'as a precaution' following a credible security threat. It was amazing work by our intelligence agencies and the private-sector company who first spotted it, and just goes to show that we were not being paranoid.
Then, mid-afternoon, came confirmation that all 800,000 doses were safely in the UK. Relief!
As news spreads, we're beginning to get sheepish requests from VIPs around the world. A Middle Eastern diplomat reached out to Nadhim Zahawi [vaccine deployment minister] asking if we'd be willing to send 400 shots for the royal household. Nadhim sounded embarrassed and assumed we'd have to find a polite way of saying no.
In fact, I'm up for these small diplomatic efforts — so long as the Foreign Office agrees, of course. Done appropriately, it pays dividends for international relations. Nadhim sounded relieved, saying that the king himself is asking.
That morning, Hancock told talkRADIO's Julia Hartley-Brewer that restrictions could be lifted once all of the most vulnerable people have received the vaccine, rather than waiting until everyone has been vaccinated:
Friday, December 4:
The first big setback: Pfizer say the vaccine isn't brewing as fast as they'd like. It means we're unlikely to get the ten million doses we're due to receive before the end of the year, and production estimates for early 2021 are being scaled back. Thank goodness we didn't let the plans go public.
Tuesday, December 8:
Shortly after 6am, I received confirmation that the first person had been inoculated, and I hurried off for the morning media round.
Gina and [spad] Damon accompanied me to the broadcast studios [ITV's Good Morning Britain]. 'You need to relax' was Gina's advice, by which she meant: 'Stop being so buttoned up.' What she did not mean was that I should lose it altogether, which unfortunately is exactly what happened.
I was on my own in a dark windowless booth, answering questions, when they played the video of [the first person] getting her jab. Suddenly I completely lost it, blubbing away, battling to regain my composure as tears streamed down my face. 'For Christ's sake, pull yourself together,' I told myself desperately. Then the camera was back on me, my microphone was live and my watery red eyes were there for all to see. When I tried to answer the next question, my voice came out in a weird sort of croak. Gina said at least I'd shown how I felt.
Much later, I was on my way to bed when my phone rang. Nobody rings at 11.43pm unless it's bad news, least of all the Prof [Whitty], whose number was flashing ominously. In that calm, professorial voice of his, he explained that three people had suffered a serious adverse reaction to the vaccine. One had nearly died.
We tried to calculate the statistical risk. If three out of 400 vaccinated today had a massive reaction, then that's 38,000 out of the whole population. And 38,000 is an awful lot of people.
'Jesus Christ,' I thought, feeling physically sick. We may well have to halt the entire vaccination rollout. 'Perhaps all three have a history of anaphylaxis?' I asked hopefully. Still feeling nauseous, I slumped into bed, knowing I wouldn't get a wink of sleep.
Wednesday, December 9:
At 5.30am my phone went. 'All three had a clinical history of anaphylaxis,' said Natasha [head of Hancock's private office].
'[Prof Whitty] recommends that anyone with a history shouldn't take this vaccine, that we introduce a 15-minute wait after vaccination to monitor people, restrict the rollout to hospitals for the next couple of days and get on with it,' she said.
I can't remember ever being so relieved in my life.
The following entries come from this extract in the Mail, unless otherwise stated.
Friday, December 11:
There's a new [more infectious] variant. This explains why the Covid numbers in Kent have been so stubbornly high.
Monday, December 14:
I announced the new variant in a statement to Parliament. Even normally reasonable MPs are going tonto [crazy]. Everyone can see Christmas falling apart, and judgment is going out of the window.
That day, Hancock announced a shorter self-isolation period, from 14 to ten days:
Thursday, December 17:
A grim day dominated by the announcement of new tiers, which effectively cancel Christmas. Worse for me, they also scupper [wife] Martha's birthday dinner tonight, which was set to be our first night out in months. I feel terrible about it.
I've come to hate the tiers: the boundaries are impossible to draw sensibly, and the whole thing doesn't keep us together as a country. I hadn't appreciated how important that is.
Later JVT [Jonathan Van-Tam, Deputy Chief Medical Officer] called. He and the Prof [nickname for Chief Medical Officer Chris Whitty] have worked out that since the first dose of the vaccine gives about four times the level of protection as the second dose, the best way to save lives might be to give the first dose to as many people as possible and then delay the second.
[Former Speaker of the House of Commons and former Labour MP] Betty Boothroyd called the office, asking if there's any way she can get her jab soon. She's 91 and very vulnerable. I called her back myself as I was in the car home.
I'd never met her, but she's something of a hero of mine. As Speaker, she was a real trailblazer for women in politics. I said yes, we can get you your jab — given her age, she's entitled to it — but the deal is you have to have it on camera.
She readily agreed. I gave her number to Nadhim Zahawi, who is going to fix it.
Friday, December 18:
Boris has reluctantly caved to the inevitable and agreed to cancel Christmas. Frankly, we'd have been far better off saying it would be a Zoom Christmas from the start.
That morning, Labour MP Graham Stringer — one of the good guys in the Opposition — criticised Hancock's maintaining Manchester in Tier 3, accusing him of 'playing silly schoolboy games':
Saturday, December 19:
There's no good time for Test and Trace to crumble, but this is literally the worst. There's a critical shortage of pipette tips. Our failure to get hold of these little bits of plastic has led to a backlog of 182,000 tests.
Meanwhile, various people, including vice-chairman of the 1922 Committee Charles Walker, are calling for my head over the Christmas farce. It's an irony, because I wasn't involved in the Christmas decision at all. Maybe I should have come in and played hardball over it right from the start — but I can't be Mr Miseryguts on everything.
On December 20, The Sun on Sunday's political editor could foresee the tiers extending well into 2021:
She was not wrong. Hancock appeared on LBC radio later that morning to say the same thing. He even acknowledged that the November lockdown did not help:
Someone parodied Hancock's Christmas card: 'In Tier 6, you will be eating your pets':
Retired Southampton footballer Matt Le Tissier, a sceptic from the start, conducted his own Twitter poll showing that 89.7% of respondents did not trust Matt Hancock to tell the truth:
We've finally started vaccinating care home residents. We're paying GPs £25 per resident, pretty nice money for something that only takes a few minutes.
The public were sceptical about Hancock's claims that the new variant, the South African one, was more transmissible. Here is Hancock's announcement from that afternoon:
A South African studying the data said there was no evidence to support that claim:
Hancock also announced that more parts of England would be in Tiers 3 and 4 from Boxing Day:
That same day, then-London Assembly member David Kurten (UKIP at the time) noted that the Nightingale hospitals were lying empty, rightly calling them a waste of money (see second tweet):
Thursday, December 24:
Boris has been fretting that America has now jabbed more people than we have [Churchmouse's note: thanks to President Trump]. I had to explain last night that, as a proportion, that means we're six times ahead. Very unhelpfully, there's a major Covid outbreak at the largest testing lab in the country, in Milton Keynes, adding to the backlog.
Friday, December 25:
Today is my first real day off since summer.
Monday, December 28:
There are now 20,426 people in hospital with the virus — more than at the peak of the first wave.
We've announced the plan to extend the interval between the first and second doses of the jab. Lo and behold, who pops up to claim credit? None other than Tony Blair!
That day, Hancock gave an interview to Mark Dolan, who was at talkRADIO at the time, saying he had no date as to when we could come out of restrictions, even with a vaccine:
That afternoon, the Mail reported that only 530,000 doses of the AstraZeneca (Oxford) vaccine were available, when the Government had claimed in May that 30 million would be available by December 2020:
Britain will only have 530,000 doses of the Oxford/AstraZeneca vaccine at its disposal from Monday, the Health Secretary Matt Hancock revealed today after the game-changing jab was approved by the UK medical regulator.
The initial doses fall significantly short of the number touted by the Government in recent months. In May, officials suggested 30million doses of Oxford's jab would be ready by the end of the year and last month the UK's vaccine tsar toned the estimate down to 4million, citing manufacturing problems. 
But the UK has ordered 100million doses in total and AstraZeneca has promised to deliver 2million a week by mid-January, raising hopes that 24million of the most vulnerable Britons could be immunised by Easter.
Vaccine or not, the public's patience was waning.
The first half of 2021 was dismal, beginning on January 4.
To be continued tomorrow.
After the gloomy opening of the Conservative Party Conference this year, dominated by U-turns, rebels and division, I promised good news.
Liz Truss's closing speech
Prime Minister Liz Truss gave an excellent closing speech and, despite the train strike that day, the conference hall in Birmingham appeared to be filled.
Her speech is 36 minutes long, but it went by very quickly indeed:
I watched a bit of GB News on Wednesday afternoon. One of their reporters interviewed Party members leaving conference. Nearly all said that they were 'pleasantly surprised' and reassured by what the new Prime Minister had to say.
Writing for The Telegraph, veteran journalist Patrick O'Flynn concluded, 'Liz Truss might just have rescued her premiership' (emphases in purple mine):
Strip away the depressing context surrounding Ms Truss's speech, of backbench rebellions and media pile-ons, and what we heard and saw was a well-crafted address that attempted to place her culturally on the side of "normal working people" – especially in the private sector. More notably, she has positioned herself firmly against an "anti-growth coalition" whose members she characterised as being driven from north London town houses to BBC studios to preach "more tax, more regulation, more meddling".
"They don't understand the British people. They don't understand aspiration," she said, adding: "The real heroes are the people who go out to work, take responsibility and aspire to a better life for themselves and their families and I am on their side."
This was an attempt to glue back together an old alliance between a female prime minister and her natural supporters: that which existed between Margaret Thatcher and "our people". So was a key message towards the end of the speech. Not the grandiose "the lady is not for turning" which had after all been made untenable by the U-turn on top rate tax, but the more sober phrase "we must stay the course".
Guido Fawkes has the transcript, excerpted below.
Truss began by thanking Andy Street, the Conservative mayor of Birmingham, which is the United Kingdom's second largest city. She praised Teesside's mayor, Ben Houchen, as he transforms the North East of England.
She acknowledged that we are in difficult days:
Together, we have mourned the death of Queen Elizabeth II, the rock on which modern Britain was built.
We are now in a new era under King Charles III.
We are dealing with the global economic crisis caused by Covid and by Putin's appalling war in Ukraine.
In these tough times, we need to step up.
I am determined to get Britain moving, to get us through the tempest and put us on a stronger footing as a nation.
I am driven in this mission by my firm belief in the British people.
She said she would not meddle in our personal affairs but resolve the concerns that unite us:
… I'm not going to tell you what to do, or what to think or how to live your life.
I'm not interested in how many two-for-one offers you buy at the supermarket, how you spend your spare time, or in virtue signalling.
I'm not interested in just talking about things, but actually in doing things.
What I'm interested in is your hopes and fears that you feel every day.
Can you get a good job locally?
Is it safe to walk down the high street late at night?
Can you get a doctor's appointment?
I know how you feel because I have the same hopes and fears.
I want what you want.
I have fought to get where I am today.
I have fought to get jobs, to get pay rises and get on the housing ladder.
I have juggled my career with raising two wonderful daughters.
I know how it feels to have your potential dismissed by those who think they know better.
She then related an anecdote from her childhood, which may over-40s will recognise:
I remember as a young girl being presented on a plane with a "Junior Air Hostess" badge.
Meanwhile, my brothers were given "Junior Pilot" badges.
It wasn't the only time in my life that I have been treated differently for being female or for not fitting in.
It made me angry and it made me determined.
Determined to change things so other people didn't feel the same way.
This I did not know:
I stand here today as the first Prime Minister of our country to have gone to a comprehensive school.
She gently reminded her audience that the Government has already addressed the fuel price crisis. The cap is £2,500:
Let's remember where we were when I entered Downing Street.
Average energy bills were predicted to soar above £6,000 a year.
We faced the highest tax burden that our country had had for 70 years.
And we were told that we could do nothing about it.
I did not accept that things had to be this way.
Around that point, two protesters waved a Greenpeace banner (Guido has the video):
They would have had to sign up to be Party members in order to get in, just as the protesters did who infiltrated the Party leadership hustings in July and August.
Conservative men quickly took the banner away. The women had a spare to unfurl. That too, was swifly removed.
Truss quipped:
Now later on in my speech my friends I am going to talk about the anti-growth coalition.
But I think they arrived in the hall a bit too early, they were meant to come later on.
We will get onto them in a few minutes.
She paused while security removed the women from the conference hall.
She concluded on the fuel price cap:
We made sure that the typical household energy bill shouldn't be more than around £2,500 a year this winter and next.
We followed up with immediate action to support businesses over the winter.
We are determined to shield people from astronomically high bills.
So much so, that we are doing more in this country to protect people from the energy crisis than any other country in Europe.
Our response to the energy crisis was the biggest part of the mini-Budget.
Later, she borrowed one of Michelle Obama's phrases from the 2008 presidential campaign:
We need to fund the furthest behind first.
And for too long, the political debate has been dominated by the argument about how we distribute a limited economic pie.
Instead, we need to grow the pie so that everyone gets a bigger slice.
That is why I am determined to take a new approach and break us out of this high-tax, low-growth cycle.
She also used John McCain's 'my friends' in addressing the audience, more than the transcript references. That, too, came from the 2008 presidential campaign:
When the government plays too big a role, people feel smaller.
High taxes mean you feel it's less worthwhile working that extra hour, going for a better job or setting up your own business.
That, my friends, is why we are cutting taxes.
We have already cut Stamp Duty, helping people on the housing ladder – especially first-time buyers.
We are reversing the increase in National Insurance from next month.
We are keeping corporation tax at 19%, the lowest in the G20.
We are helping 31 million working people by cutting the basic rate of income tax …
The fact is that the abolition of the 45p tax rate became a distraction from the major parts of our growth plan.
That is why we are no longer proceeding with it.
I get it and I have listened.
She reiterated pledges for post-Brexit and post-pandemic Britain.
She made a good point about Western complacency, something I have been saying for years:
One of the reasons we are facing this global crisis is because collectively the West did not do enough.
We became complacent.
We did not spend enough on defence.
We became too dependent on authoritarian regimes for cheap goods and energy.
And we did not stand up to Russia early enough.
We will make sure this never happens again.
She pledged continued support for Ukraine, which earned her a standing ovation.
Then it was time for her to talk about the anti-growth coalition — the metropolitan elite — which was lengthy. This was her opening:
I will not allow the anti-growth coalition to hold us back.
Labour, the Lib Dems and the SNP…
…The militant unions, the vested interests dressed up as think-tanks…
…The talking heads, the Brexit deniers and Extinction Rebellion and some of the people we had in the hall earlier.
The fact is they prefer protesting to doing.
They prefer talking on Twitter to taking tough decisions.
They taxi from North London townhouses to the BBC studio to dismiss anyone challenging the status quo.
From broadcast to podcast, they peddle the same old answers.
It's always more taxes, more regulation and more meddling.
Wrong, wrong, wrong.
Guido has the video:
She praised our unsung heroes:
My friends, does this anti-growth coalition have any idea who pays their wages?
It's the people who make things in factories across our country.
It's the people who get up at the crack of dawn to go to work.
It's the commuters who get trains into towns and cities across our country.
I'm thinking of the white van drivers, the hairdressers, the plumbers, the accountants, the IT workers and millions of others up and down the UK.
The anti-growth coalition just doesn't get it.
This is because they don't face the same challenges as normal working people.
She concluded:
We cannot give in to those who say Britain can't grow faster.
We cannot give in to those who say we can't do better.
We must stay the course.
We are the only party with a clear plan to get Britain moving.
We are the only party with the determination to deliver.
Together, we can unleash the full potential of our great country.
That is how we will build a new Britain for a new era.
A strong cross-party coalition, helped powerfully by the media, is clearly trying to do away with Truss's premiership.
These were her YouGov ratings before her speech:
Keep in mind that YouGov was founded by former Chancellor, Nadhim Zahawi, who was caretaker during the leadership contest over the summer.
Guido wrote:
If memory serves Guido correctly, [former Labour leader] Jeremy Corbyn managed a minus 60 net approval rating at his worst. Liz has a net approval rating of minus 59. Guido is told it is the lowest rating ever recorded of a Conservative Party leader. Her speech today needs to be the beginning of a turnaround.
Borrowing from the 1960s protest tune: all we are say-ing, is give Truss a chance …
Truss, with the help of Party whips, has finally been able to complete the rest of her parliamentary appointments.
Guido said:
The Government's reshuffle is finally coming to a close, as appointments to a number of Parliamentary Private Secretary (PPS) positions gave been confirmed. Co-conspirators will recall the whips had been experiencing some difficulty in recruiting enough parliamentary bag-carriers, though they have now managed to fill each position. Even if the vast majority are eager 2019ers…
The Government also seems to have granted whips greater individual responsibility for departments, with specific roles also listed. If recent trends are anything to go by, the government could use all the help to party discipline it can muster.
Having mustard keen 2019 MPs in on the act can only be a good thing. Most of them are from Red Wall seats, so their minds will be focused on growth and other Truss objectives, many of which dovetail with their own.
Other high points — Foreign Secretary Cleverly and Home Secretary Braverman
Other well-received speeches came from Foreign Secretary James Cleverly and Home Secretary Suella Braverman, both of whom appeared on Tuesday, October 4.
Here is a short clip from James Cleverly's speech:
Cleverly's speech is at the 2:05:00 mark in this video. Braverman's comes before, beginning at 1:35:00:
Suella Braverman said many of the same things that her predecessor Priti Patel did as Home Secretary. We can but wait and see what happens.
One of the big problems in processing migrants without papers, such as those who come across the Channel in dinghies, is that they are hard to trace to their true countries of origin.
Another issue is that many in the civil service who are assigned to the Home Office are pro-immigration. Patel tried her best to counter them, but they stood firm, citing EU laws under which we are still beholden. The Brexit process continues. There wasn't enough time to renegotiate everything we should have, e.g. the Dublin Agreement. As we are no longer in the EU, we are no longer subject to that agreement whereby migrants have to apply for asylum in the first safe country they are in — in our case, France. We have to draw up a new agreement along the same lines, which will require EU co-operation.
On top of that, during Theresa May's time as PM, a modern slavery law came into force in the UK. In short, anyone claiming to have been a modern slave is automatically allowed to stay here. No proof is required.
With that burden, we can also add human rights charities and their lawyers who effectively scuppered the first UK flight to Rwanda last summer. It never happened. Everyone's case was challenged before take-off, leaving an empty aircraft.
Euronews reported on that part of Braverman's speech:
In a Tuesday evening speech at the Conservative Party's autumn conference in Birmingham, immigration minister Suella Braverman said that people who arrive by unauthorised means should not be allowed to claim asylum in the UK and she doubled down on contentious plans to send some asylum-seekers on a one-way trip to Rwanda.
However, Braverman acknowledged that a legal challenge to the policy means it's unlikely anyone will be deported to the east African country this year. 
"We need to find a way to make the Rwanda scheme work," said Braverman.
"We cannot allow a foreign court to undermine the sovereignty of our borders," she continued, to cheers and applause from the audience.
"A few months ago the European Court of Human Rights in Strasbourg did just that. By a closed process, with an unnamed judge, and without any representation by the UK. A European Court overruled our Supreme Court. And as a result our first flight to Rwanda was grounded. We need to take back control."
She didn't say how the government intends to 'take back control'. The European Court of Human Rights is not part of the EU, and membership is not affected by Brexit …
Braverman said many migrants were "leaving a safe country like France and abusing our asylum system," adding that she wanted to work more closely with French authorities "to get more out of our partnership."
"We've got to stop the boats crossing the Channel," she said, to more applause.
So far this year, 30,000 migrants have crossed the Channel:
The one advantage that Braverman has over Patel is that she is a lawyer, so she will be finely attuned to legal turns of phrase.
Those interested can read more of her views in this article from The Telegraph.
Quentin Letts, The Times's political sketchwriter, concluded:
the day belonged to Braverman. As bids for popularity go, it wasn't particularly subtle or cerebral. Effective, though.
Proper membership cards make comeback
In an eco-friendly move under Boris Johnson, the Conservative Party began issuing paper certificates instead of plastic membership cards.
Thankfully, those days are over, for lifetime Party members at least:
Guido reports:
Tory party Chair Jake Berry has just confirmed the return of plastic membership cards for lifetime Tory members, replacing the much-maligned 'membership certificates' introduced by Amanda Milling back in 2020. At the time, Milling introduced the paper certificates to save the environment, or something like that. Even MPs were upset; Michael Fabricant complained the certificate wouldn't fit in his trinket box of membership cards and hair clips. Jane Stevenson pointed out they could just be made of card instead. Now the debate has been put to rest – Berry's bringing the real deal back, having just revealed the move at a fringe event this morning. Expect to see the cards' triumphant return from January.
That ends the positive conference news.
Kwarteng's U-turn U-turn U-turn
Chancellor Kwasi Kwarteng did a third U-turn on bringing forward his more detailed fiscal event plans.
It appears that he will be going ahead with presenting them to Parliament on November 23 after all:
Or is it October 23?
Mel Stride, who supported Rishi Sunak in the leadership contest and heads the Treasury Select Committee, says that it will be October 23. So did the Financial Times, apparently. They, too, supported Sunak.
Hmm. I sense mischief making.
Guido reports:
Except Kwasi later insisted on GB News that it definitely wasn't moving:
'Shortly' is the 23rd. People are reading the runes […] it's going to be the 23rd.
"People reading the runes" in this case including the Chair of the Treasury Select Committee. Liz herself later said it's coming in November, and Treasury Civil Servants were told in a team meeting this morning that anything to the contrary was just "press speculation". Guido understands, however, that the people reading the runes are onto something: the Treasury is still considering adjusting the date after all…
Kwasi must stick to his guns and stop the U-turns.
Rebel, rebel …
The rebels were active throughout the conference.
Michael Gove
On Wednesday's Dan Wootton Tonight show on GB News, panellists were split on whether Sunak-supporting Michael Gove should have the whip removed.
The Daily Express's Carole Malone said that Truss should have given Gove a Cabinet post so that he would have made less mischief. However, Wootton countered by saying that Gove always undermines the Prime Ministers he has worked for in Cabinet.
Someone who wasn't on the show and thinks Gove should have the whip removed is Nigel Farage. I fully agree with him. We saw the trouble that rebel Conservatives made for Theresa May and Boris Johnson in 2019 over Brexit. David Gauke was one of them. Boris had the whip removed and we did not see him again after the 2019 general election; his Conservative association deselected him:
Grant Shapps
Grant Shapps, another Sunak supporter, has been working in tandem with Michael Gove to thwart Truss's leadership.
He has made no secret of his threat to go to Sir Graham Brady, chairman of the 1922 Committee, with a letter of no confidence — not only from himself but other MPs:
On Tuesday, October 4, he told Times Radio:
I want Liz to succeed. So I'm hoping that she can turn us around, I think there is a window of opportunity for her to do it. I'm cheering her on, if you like, to succeed. Y'know, in the end I don't think members of parliament, Conservatives, if they see the polls continue as they are, are going to sit on their hands. A way would be found to make that change. You know, it's important, not for members of parliament, but for the country, still two years to go to another election, that we have good, stable, sensible, smart government in place doing things that are required for the people in this country. So of course that could happen. In the meantime, I hope Liz can turn this around.
'A way would be found' means urging Brady to change the rules whereby a PM could be ousted sooner than 12 months of assuming the Party leadership.
Shapps had the gall to suggest Truss had ten days to turn around her leadership!
Nadine Dorries
Nadine Dorries was the Secretary of State for Digital, Culture, Media and Sport while Boris was PM.
When he stood down as party leader, she was gutted. She had at least one defender:
She stayed loyal beyond the end of his premiership, perhaps embarrassingly so: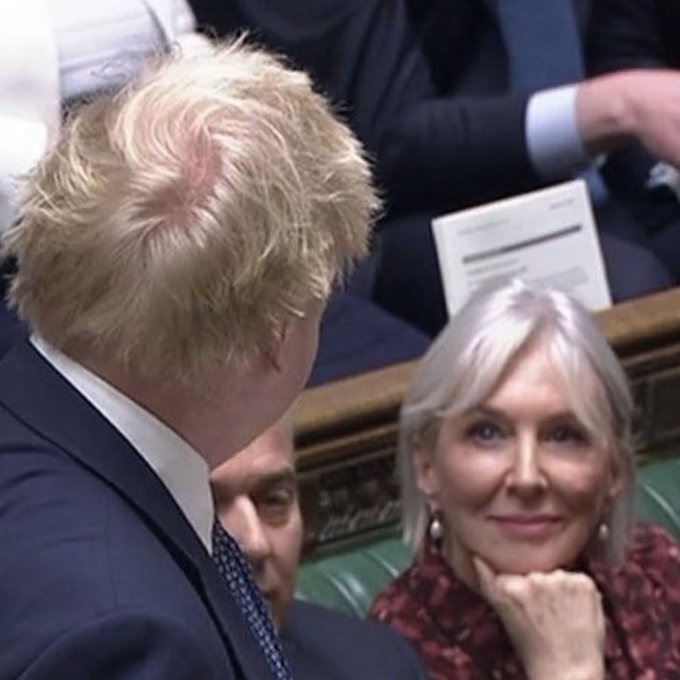 She had a lot to say when he stood down as Party leader:
In the end, she didn't run for Party leadership:
Dorries resigned from Cabinet on Tuesday, September 6. Boris was in his final hours as PM that day, when he and Truss flew separately to Balmoral to see the Queen.
Guido posted Dorries's letter to Boris, commenting:
She added that while Liz had offered her the chance to continue, she's stepping down anyway.
She is now unhappy that her Online Safety Bill might be kicked into the long grass. Millions of us certainly hope so. It is deeply embedded in censorship, principally the 'legal but harmful' clause.
On Monday, October 3, Dorries said that Truss should hold a general election. Utter madness, all because her censorship legislation is up for cancellation. Even madder is the fact that she was a Truss supporter.
The Spectator had the story:
To inspire one Nadine Dorries tweet may be regarded as a misfortune, to inspire two looks like carelessness. Less than 24 hours after the former Culture Secretary criticised Truss for appearing to blame her Chancellor for the 45p tax debacle, she's back at it again. Frustrated by Truss's decision to junk much of the Johnson agenda from 2019, the high priestess of online harms took to her favourite medium of Twitter to write:
Widespread dismay at the fact that 3 years of work has effectively been put on hold. No one asked for this. C4 sale, online safety, BBC licence fee review – all signed off by cabinet all ready to go, all stopped. If Liz wants a whole new mandate, she must take to the country.
The repeated criticisms are all the more interesting, given the importance of Dorries and other Johnson loyalists in ensuring that Truss made the final two earlier this summer. Dorries was something of an unruly attack dog, savaging Truss's opponent Rishi Sunak at ever opportunity …
Guido posted Dorries's tweet …
and wrote:
We appear to be at the "everybody losing their mind" stage of Conservative Party conference a day early.
The next day, she seemed to walk back what she said by citing Boris's support of Truss. This is a clip of her interview with LBC radio's Iain Dale:
Embarrassing.
Benefits rebels
Truss-backer Sir Iain Duncan Smith is now opposing her in wanting benefits increased in line with inflation:
Guido has the video:
Iain Duncan Smith has added his voice to the chorus of rebels piling on Liz to raise benefits with inflation. Speaking at a ConservativeHome fringe the former Work and Pensions Secretary argued giving to the poorest was a more efficient way of going for growth, as they would spend it quicker. He's had a quick change in tune since backing Liz for leader…
That sounds very cynical, indeed.
Kemi Badenoch
Trade Secretary Kemi Badenoch, the popular Party leadership candidate for British voters, openly opposed Truss's bid for even more migration.
It is hard to disagree with Badenoch. Even so, as a Cabinet minister, perhaps she should have held back from expressing them publicly.
She aired her views on Sunday evening:
At the IEA/TPA DrinkTanks reception last night, guest of honour Kemi Badenoch openly rebuked the PM's plans to let in more immigrants to boost growth. The Trade Secretary ignored any sense of collective responsibility as she told the assembled free marketeers:
Simply taking in numbers to boost GDP while GDP per capita falls is not the right way to do that. We need to look again at resolving our productivity issues and that means using capital better, not just getting cheaper and cheaper labour.
Kemi's brazen and deliberate speech last night all but confirmed The Times' article on Sunday reporting major Cabinet divisions over the plan, with Kemi and Suella Braverman at odds with the PM's preferred free market solution. Like Liz, Guido doesn't have a problem with skilled, legal immigration, it is the illegal immigration which is concerning. It seems Tory Cabinet ministers aren't even pretending to play happy families anymore…
45% tax rate rebels
Prominent Conservative Cabinet members disagree with Truss and Kwarteng over their Sunday night U-turn on abolishing the 45% upper tax rate.
Home Secretary Suella Braverman seemed to accuse Conservative MPs of forcing the change in plan, going so far as to claim it was 'a coup':
Guido has a photo of Braverman, along with Jacob Rees-Mogg and Simon Clarke, two other Cabinet members who want the upper rate abolished:
Simon Clarke agrees with Braverman's assessment of 'a coup':
Guido has more:
Jacob Rees-Mogg was also quick to voice his disappointment at the scrapped cut at a fringe event this afternoon, although he claimed to recognise the politics of the move. This all comes in the context of public cabinet battles over benefits, and Penny Mordaunt's attacks on government comms. Meanwhile backbench agitators continue briefing out plans to rebel, with some now even claiming they're holding "crisis" talks about Liz's leadership. Truss has been PM for 28 days. Not quite the honeymoon period she would've hoped for…
Wow. For Jacob Rees-Mogg to speak out about his disappointment is surprising. He is normally respectful of parliamentary boundaries and procedure.
There is a way to get rid of this tax rate. I will have more on that next week.
James Cleverly warns Cabinet rebels to 'shut up'
In much the same way that Welsh Secretary Robert Buckland did, Foreign Secretary James Cleverly warned Cabinet rebels to 'shut up':
On Wednesday, October 5, Guido reported:
James Cleverly has diplomatically warned Cabinet colleagues to shut up after yesterday's day of chaos, in which collective responsibility broke down on everything including the 45p u-turn, immigration numbers and uprating benefits in line with inflation. Speaking on the BBC this morning ahead of Liz's big speech, the foreign secretary warned:
All Cabinet colleagues ultimately are going to have to abide by collective responsibility… I think it's always better and easier to feed ideas, particularly when you're in government and have access to the Chancellor and the PM, feed your ideas directly into the centre of the system…
On TimesRadio he also implied yesterday's comments from Braverman, Mordaunt and Clarke – among others – were inappropriate. Guido hears Cleverly's speechwriter had to edit a swear word out of the Foreign Secretary's speech earlier this week; we can only imagine how many expletives Cleverly wanted to use in response to yesterday's farce…
Conclusion
Here endeth the news about the Conservative Party Conference.
MPs must give Truss a chance. She has gone through the hardest beginning to her premiership of any PM in known history.
She deserves time to lead us. With everyone against her, she must be doing something right.
She is representing British voters' interests. That is only right and fair.
So much happened in the UK this week that it is hard to find the time and the space to write about it all.
Conservative leadership contest
Liz Truss's campaign continues to motor ahead, gaining powerful MPs' backing.
On Wednesday, August 3, a new Conservative Home poll appeared, its results matching those of polling companies, e.g. YouGov. Liz is 32 points ahead:
Conservative Home's Paul Goodman analysed his site's results and YouGov's (emphases mine):
Granted, neither can be proved right or wrong: as our proprietor has it, a poll is a snapshot, not a prediction. If our survey is correct, all that follows is that Truss would win the contest, were it held now, by 32 points among those who have declared their hand.
However, if we and YouGov are right it is very hard to see how Sunak recovers in the month or so between the opening and closing of the poll. For even if during that time he won over that 16 per of undecideds and others, Truss would still beat him by 58 per cent to 42 per cent.
In short, if our survey is correct he would have to add to that 16 per cent of don't knows and others some nine per cent of Truss's supporters – i.e: persuade them to switch.
This seems most unlikely if YouGov's question about certainty of intention is taken into account. For it finds that 83 per cent of Truss voters and 70 per cent of Sunak voters have made their minds up.
What odds would you give on Sunak winning over all those don't knows and others (from our survey), and then adding to that pile over half of Truss's soft support (using YouGov's figure)? I would say that they are very long indeed …
Those interested in events slightly further back will recall that Boris Johnson beat Jeremy Hunt by 66 per cent to 34 per cent during the leadership election of 2019.  That's exactly the same margin as the Truss-Sunak forced choice I spell out above from our new survey.
One way of looking at Conservative leadership election as matters stand might be to forget the thrills and spills, hype and blunders – such as Truss's yesterday over regional public sector pay.
And stick instead to the simple thought that the Tory membership divides right-of-party-centre to left-of-party-centre by about two to one and so, all other things being equal, the leadership candidate perceived to be right-wing than the other will win by a margin about two to one.
Finally, Opinium promises a Conservative members poll next week, and it has tended recently to find better results for Sunak than ours or YouGovs.
The YouGov poll from August 3 showed that Britons believe Truss is better than Sunak on the main issues:
Liz gained another supporter in former Health Secretary Sajid Javid, who was also Boris Johnson's first Chancellor from the summer of 2019 through to February 2020, at which point Rishi Sunak took over.
Sunak worked for Javid when the latter was Chancellor. Javid mentored his younger MP friend:
However, the dynamic changed when Chancellor Sunak locked horns with Health Secretary Javid during the pandemic in 2021.
… those who know both men say there are more prescient personal and political reasons behind Javid's decision [to back Truss].
They say that tensions emerged after Javid was brought back into the government as health secretary. Sunak regarded the NHS as a bottomless drain on resources and was exasperated by what he saw as Javid's failure to spearhead fundamental reform of the health service.
Javid for his part was frustrated with the highhanded manner in which the Treasury dealt with the Department of Health and its refusal to countenance the type of spending he believed was necessary to tackle treatment backlogs coming out of the pandemic. He felt that Sunak had not shown the loyalty that he had when the power dynamics were reversed.
There are now significant policy differences as well. When Javid threw his hat in for the leadership he set out a tax-cutting agenda broadly similar to that proposed by Truss. He proposed cutting national insurance and reversing the planned corporation tax rise while Sunak stuck to his policies as chancellor.
One ally said Javid sincerely believes that only by kick-starting growth through tax cuts can public services be properly funded. They said it would have been "odd" if Javid had backed Sunak, given their different and genuinely held views on how to deal with Britain's economic uncertainties.
This is what Javid had to say about Truss in his article for The Times:
"I fought for strong fiscal rules in our last manifesto," he wrote. "But the circumstances we are in require a new approach. Over the long term, we are more likely to be fiscally sustainable by improving trend growth.
"Only by getting growth back to pre-financial crisis levels can we hope to support the high-quality public services people rightly expect."
In a direct attack on Sunak, he said: "Some claim that tax cuts can only come once we have growth. I believe the exact opposite — tax cuts are a prerequisite for growth. Tax cuts now are essential. There are no risk-free options in government. However, in my view, not cutting taxes carries an even greater risk."
He added: "With only two years before the next election, there has been a temptation to just 'get the barnacles off the boat' and avoid any short-term political pain for long-term national gain.
"We must reject that. As a nation we are sleepwalking into a big-state, high-tax, low-growth, social democratic style model which risks us becoming a middle-income economy by the 2030s with the loss of global influence and power" …
A senior Truss campaign source described Javid's endorsement as the "big one for us".
They added: "The bigger beasts of the party are uniting behind Liz because they believe in her vision for the economy. We can't have the Treasury orthodoxy and tired status quo. They believe she will turn things around in time for the next election by getting on and delivering quickly in No10."
On Wednesday, August 3, Truss and Sunak canvassed separately in Wales before meeting up for a televised hustings in Cardiff later in the day.
A Conservative Welsh Senedd (Senate) member, James Evans, changed his mind about Sunak and decided to support Truss instead. He got a lot of flak in response to his tweet:
Truss's former party, the Liberal Democrats, criticised her for taking a helicopter around Wales to get to the various Conservative associations there. Pictured is the Lib Dem leader Sir Ed Davey:
Guido Fawkes points out that the Lib Dems are suffering an attack of sour grapes — and hypocrisy (red emphases his):
… Rishi's been known to use them, so why should Liz be confined to the rail network…
i News were the ones to reveal Liz's chartering this afternoon, juxtaposing the decision against her backing of net-zero carbon emissions by 2050. The LibDems were only too happy to butt in, providing a quote for the copy that it "makes a complete mockery of her promises on Net Zero. It's clear that she is not serious on climate change." This quote came from Vera Hobhouse rather than Sir Ed Davey himself, who surely wouldn't mind the coverage…
Guido's sure Sir Ed's decision not to provide the comment has little to do with the fact that, in 2013 as Energy Secretary, he hitched a ride in the helicopter of EDF boss Henri Proglio, after handing him a nuclear deal at double the going rate for electricity. The decision raised objections from Friends of the Earth at the time, who said it "confirms how close the Big Six energy firms are to our decision-makers."  A source close to Liz Truss calls the political attack "the usual sanctimonious hypocrisy from the LibDems". Sir Ed may need to refuel his own spin machine…
While in Wales, Truss took the opportunity to have a go at First Minister Mark Drakeford (Labour), calling him:
the low energy version of Jeremy Corbyn.
Bullseye!
John McTernan, who advised Tony Blair between 2005 and 2007, wrote in UnHerd why Labour should be afraid of Truss.
I've seen John McTernan on GB News and he knows whereof he speaks.
He explains Truss's strengths:
One of her overlooked strengths is that she has been on a political journey. Changing your mind is often thought of as a weakness in politicians, whereas in reality an unchanging commitment to ideology is one of their most eccentric habits. In normal life, we change our minds frequently and without fuss. As economist Paul Samuelson said, in a line so good it is often attributed to Keynes: "Well when events change, I change my mind. What do you do?" In itself, changing their mind humanises a politician — a particular asset in a time of popular revolt against out-of-touch elites.
But, more than that, making a political journey shows character. Three of the most significant politicians of the Blair era — John Reid, Alan Milburn, and David Blunkett — were great New Labour reformers who had started on the hard Left. Their politics had been tempered and strengthened by their journey. Liz Truss was brought up on the Left and attended anti-nuclear peace camps with her mother. She then became a Liberal Democrat activist, famously demanding an end to the monarchy to Paddy Ashdown's discomfort. And when a Tory Cabinet minister she backed Remain not Leave, though she is now a passionate Brexiteer. Those surprised that Tory party members overwhelmingly see a former Remainer as the best defender of Brexit need to remember their New Testament: "There will be more rejoicing in heaven over one sinner who repents than over ninety-nine righteous persons who do not need to repent." The redemption narrative is one of our most powerful stories: she who once was blind, but now can see.
The fact Liz Truss has been on a political journey also makes her a powerful communicator. Some of the most persuasive arguments in politics are based on empathy rather than angry disagreement. Liz Truss knows why voters find progressive policies attractive, which can strengthen the persuasive power of her arguments for people to change their views. And her speaking style is clear and simple. The listener readily understands what she thinks and believes. Her opponents who too readily dismiss her as simplistic are missing the point. Politics is not a mathematical equation — a ten-point plan won't beat a five-point plan 10-5. The messages and policies that win are those that connect with the heart as much as the head.
The Truss agenda is straightforward. The educational system is failing kids. Grammar schools would identify and help some bright working-class and minority children. The cost-of-living crisis is hitting wallets and purses. A tax cut would give money back to the public. Energy prices are spiking. Pausing the green levy would reduce prices. Now, there are good arguments against each of these policies, but they are superficially strong one-liners. It takes time to explain how grammar schools distort the education of the vast majority of pupils who don't get into them, or to make the case that there is a danger that tax cuts lead to more inflation. The arguments against Liz Truss's policies are strong but they need to be explained. And, as the old political saying goes, "when you're explaining, you're losing".
… One of the best jokes in the US TV show Veep comes when Selina Myers uses the slogan "continuity with change" for her Presidential campaign. It works because it is bizarrely true — and it is true because that is what most voters want. They're not revolutionaries, they're realists.
The Truss offer is continuity with the spirit of Johnson and Brexit while meeting the demands of the voters who were, and are, angry with the status quo. That anger has been the fuel of politics since the Global Financial Crisis — it was there in Brexit, in the Scottish independence referendum, in the rise of Corbyn, and in Boris Johnson's 2019 landslide. The fact that such competing and conflicting political forces can harness that same anger signals that there is an underlying volatility in British politics that can be channelled in different directions by strong and intelligent leadership.
It is in leadership that Labour must contest most convincingly. Liz Truss will likely be undone by events. The cost-of-living crisis is of such a scale that it is hard to see any of her policies — or any of Rishi Sunak's — that will be more than a drop in the ocean. To win, Keir Starmer must learn from New Labour [Tony Blair's government]. Attack the new Prime Minister and her government, but don't nit-pick. The critique must be based on a vision of hope and a positive project that positions Labour once more as the "political wing of the British people". Otherwise, Keir Starmer risks being just one more man, in a long line of men, who have underestimated Liz Truss at their peril. After all, there are no accidental Prime Ministers, and like the rest, Truss has guile, will and talent.
Guido Fawkes adds another point:
… Truss will be the Tories' third female PM to Labour's big fat nought …
Exactly. And Conservatives didn't need to have all-women shortlists, either, unlike Labour.
For Conservative Party member Toby Young, General Secretary of the Free Speech Union, Truss's strength lies in opposing another lockdown, which she said 'No' to on Monday night in Exeter:
Also in Exeter, on Monday, Truss said that First Minister Nicola Sturgeon (SNP) was an 'attention seeker' who should be ignored. Again, I'm pretty sure Truss meant that with regard to appeals for a second independence referendum.
The Telegraph's Alan Cochrane, who lives in Scotland, said that some would sincerely welcome those words: 'Amen to that! Liz Truss finally puts the boot into Nicola Sturgeon':
It is easy to sympathise with Liz Truss's presumably exasperated and outspoken statement that the best way to deal with Nicola Sturgeon was to ignore her. 
After watching, listening and responding to this ambitious politician for more than 20 years, ignoring her is something I'd rather have been doing than countering every one of her largely lame-brained arguments for breaking up Britain.
Furthermore, the First Minister is every bit the "attention seeker" that the Foreign Secretary portrays her as – most especially when she dons her "Mother of Scotland" role and seeks to insist that she, and only she, speaks for the whole of Scotland. 
The truth, of course, is that she speaks only for her party and government, neither of which commands an overwhelming majority of Scottish opinion …
… while Ms Truss is being assailed for her choice of words by the Nationalists and those faint hearts who seek a peaceful political life, there will be more than a few who will shout "Amen to that!" when she talks of Ms Sturgeon's perpetual attention seeking.
Furthermore, a great deal more candour from Westminster in its dealings with the SNP is long overdue. Far too long. Successive UK administrations have bent over backwards not to be seen as provoking the cause of independence when the truth is that it is already on a life support system, with a fast declining appeal to the Scottish people.
The fact is that Ms Truss knows that she cannot just ignore the devolved Scottish Government and its leader. But she is to be commended for putting the boot in. It's about time someone did.
While Truss and Sunak were in Wales, Iain Duncan Smith MP was north of the border in Scotland.
He was at an event for Scottish Conservatives in Stirling, in Scotland's central belt.
The former work and pensions secretary backtracked on comments made by Truss that Nicola Sturgeon, the first minister, should be "ignored" as he criticised the UK government's approach towards the Union.
"I don't want to ignore her," he said. "What I want to do is to let the world know just exactly why Scotland is suffering so much under this incompetent regime at Holyrood. The truth is, it is a disaster: everything from health, the police, the railways — they can't even build ships sometimes on time and on budget."
He's not exaggerating. It's the raw truth.
The MP wants the next PM to have greater powers of scrutiny over the way Scotland's SNP government is run. They get billions from taxpayers in the Barnett Formula and waste it. No one, not even Scots, has any idea where the money goes.
He said:
I am desperate for greater powers for scrutiny. It is only scrutiny that unearths all this nonsense and … that the weaker scrutiny up here has allowed the Nationalists to get away with it. So I am going to take that straight back and talk to her about it and see what we could do.
Not surprisingly, the SNP were furious and, as usual, blamed Westminster:
Kirsten Oswald, the SNP deputy leader at Westminster, said: "This is an utterly ridiculous suggestion, showing that even the Tories are out of ideas for how to fix the broken Westminster system. It is not the SNP's job to explain why Westminster control is increasingly making life more difficult for the people of Scotland — even if the Tories are out of excuses.
"The job of SNP MPs in Westminster is to stand up for Scotland against a UK government choosing to ignore our interests at every turn. That is what they will continue to do."
Duncan Smith justified his desire for scrutiny saying that SNP MPs are part of the Scottish government, too:
… Duncan Smith said: "We need to turn the tables on them and start saying, 'Well, can we have a period of question time for you lot to talk about what you are doing in Scotland as the devolved administration?'
"And start examining some of this stuff because they're not just SNP protesters down in parliament, they are actually part of the government up here."
Meanwhile, Rishi Sunak told the audience in Cardiff that Truss was wrong about her public sector pay reform and tried to scare Welsh Conservatives into thinking that Truss was going to cut the pay of every single public sector worker in Wales:
However, Sunak got himself into a bit of hot water when he 'misspoke' on wind turbines at the event:
On Thursday, August 4, Guido reported:
Rishi's team has said he "misspoke" during the hustings last night when it appeared he'd u-turned on his opposition to new onshore wind. At the Wales' husting, Sunak was asked "will you be bold enough to scrap the embargo on onshore wind in England?", replying "So, yes, in a nutshell." This appeared totally contradictory to one of his previous policy announcements:
Wind energy will be an important part of our strategy, but I want to reassure communities that as prime minister I would scrap plans to relax the ban on onshore wind in England, instead focusing on building more turbines offshore,
Team Liz immediately leapt on his words as sign of yet another u-turn from Rishi, alleging it was his eleventh campaign u-turn.
This morning Team Rishi, asked to justify his words, bluntly replied "he misspoke". Much like Britain under Rishi's actual wind energy policy, he's losing fans rapidly…
Sunak is also being economical with the truth when he says that he personally came up with the idea of British freeports, which were first mooted in an early Margaret Thatcher manifesto for the Conservatives:
However, Rishi managed to get two notable endorsements, one from former Conservative Party leader Michael Howard and Nigel Lawson, who was Chancellor under Margaret Thatcher. He is also Nigella Lawson's father.
Guido has more:
Finally got an endorsement from Nigel Lawson himself, who writes in The Telegraph that Rishi is

"the only candidate who understands Thatcherite economics" …



Michael Howard opened for Rishi at Wales' Tory husting last night, saying he can provide the leadership needed "not only in this country, but across the wider western world"
Lawson must have felt obliged to endorse Sunak, given that the latter has a photo of him in his office.
Sunak was over the moon about Lawson's Telegraph article:
Boris looms large
Prime Minister Boris Johnson still looms large in the psyche of British voters.
Normally, we are all too happy when a Prime Minister stands down. When Margaret Thatcher's MPs booted her out, we breathed a sigh of relief. We'd had enough of Tony Blair when he left No. 10 to Gordon Brown. We didn't care too much about David Cameron's resignation, although we did think he was petty-minded for resigning the morning after the Brexit referendum result. And we were only too happy for Theresa May to go, although we did feel sorry for her as she cried at the Downing Street podium.
However, Boris is a different kettle of fish.
The August 3 YouGov poll showed that a) most Conservative Party members thought their MPs made a mistake in getting him to resign as Party leader and b) he would make a better PM than either Truss or Sunak:
In response to the aforementioned Welsh Senedd member's tweet, someone responded with this:
Incredibly, as ballots are currently being posted to Conservative Party members, Alex Story, the leader of the Bring Back Boris campaign, still thinks there is time to add Boris's name to the list of candidates.
He spoke to Nigel Farage on Wednesday, August 3:
He said that 14,000 members of the public wrote to Conservative Party headquarters after Boris stood down as leader.
He added that most Boris supporters knew he was economical with the truth, but they felt that his ouster was forced.
Nigel Farage countered by saying that 40% of Conservative voters wanted Boris to leave. Furthermore, he could no longer command the support of his MPs.
Story responded by saying that Boris will be like 'Lazarus [rising] from the dead … something romantic and quirky'.
That's one way of putting it, I suppose.
It is highly unlikely that Boris's name will be on the ballot, but … one cannot fault Story and Lord Cruddas for trying on the public's behalf.
More news next week.
Freedom Day — Monday, July 19 — in England is turning out to be a damp squib with the exception of nightclubs — for now.
Everyone's preoccupation now is vaccine passports, which France is already rolling out with a grace period of six weeks.
Here in England, vaccine passports are likely to be rolled out in September not only for nightclubs and music venues but anywhere else that can be deemed as a 'crowded space'.
Julia Hartley-Brewer interviewed the owner of a group of entertainment venues, who said that this is a 'very dangerous step' for the Government to take:
She also interviewed a spokesman for the Night Time Industries Association who says that random security guards will be checking people's health status, something that should be private information:
It is the thin end of a very nasty wedge, indeed.
Oxford's Prof Carl Heneghan rightly wonders if he will need a vaccine passport if he takes the Tube in London:
Here's Julia Hartley-Brewer's opening editorial on the danger such a policy presents:
She interviewed the Conservative MP, Sir Iain Duncan Smith. He is not one of my favourite politicians by a long shot, but he gave a considered 10-minute interview and said that we need a balance of risk, otherwise we could end up like China, where you cannot leave the house without the government knowing about it:
Lord Sumption wrote an editorial for The Telegraph on Monday. He says that Prime Minister Boris Johnson has no coronavirus plan:
We are squandering our vaccination success, which is the best in Europe. Lord Sumption concludes:
Vaccination is an impressive achievement. It represents the best that humanity can do about Covid. If it is not enough, then there are only two options. One is to impose total and permanent restrictions on human interaction, something which even governments realise is impossible. The other is to recognise defeat and allow their populations to live with Covid-19 – just as humanity had learned to live with worse pathogens for centuries before governments embarked on their current unprecedented and ill-advised experiment.
Bob Moran, a cartoonist for The Telegraph, has been concerned about coronavirus restrictions for a long time.
On Monday, July 12, he tweeted:
He had quite the Twitter thread on Tuesday. Politicians, he says, do not like solving difficult problems:
Yes, but Labour MPs, except for a handful, have actually voted with the Government on continuing coronavirus restrictions.
Moran has no love for Labour leader Sir Keir 'Keith' Starmer, either:
Bob Moran is genuinely concerned about what is happening:
Also:
If only we could remove the boot on our collective necks.
The next discussion point in England will be vaccinations for children. Even other conservatives, such as James Delingpole, are sounding the alarm:
I have no words for how awful this is.
Although I'm writing about England, Scotland and Wales are no better with their restrictions. I despair.
This week, a mini-rebellion erupted on the Conservative back benches over coronavirus.
More on that in a moment.
First, let's have a look at Friday's headlines.
As millions of Britons are worrying about their vanishing income, it is shameful that the Independent Parliamentary Standards Authority, an independent body which oversees the system of allowances and salaries for Members of Parliament, decided to give them a pay rise! Incidentally, a Labour MP is shown in the photograph below:
Unconscionable!
Although the economy was starting to recover earlier in the summer when lockdown was lifted, things are different today:
It's been a challenging year for Rishi Sunak, the Chancellor of the Exchequer, who replaced Sajid Javid in March, just a fortnight before lockdown. He delivered a brilliant budget for a bright year ahead, then coronavirus struck.
Sunak is one of the contrarians on coronavirus and is said to prefer letting Britons get back to work.
That said, he has given billions in financial aid to the nation and delivered a Winter Economic Plan. However, pressure is on now to not only find a way to boost the Treasury's coffers but also to provide extra financial support to the areas of the country which are under what seems to be permanent lockdown. The Huffington Post has more on today's new measures.
These are the highlights:
This is his latest tax plan:
Hmm:
It's a tough job, so I'm glad Rishi is in that post. He's doing the best he can.
Next door, at No. 10 Downing Street, Rishi's former aide Allegra Stratton has been named as Prime Minister Boris Johnson's new press secretary. Conservative men across the nation had hoped for a Kayleigh McEnany, but we will wish Ms Stratton well in her new job:
Note how media and politics intertwine. Stratton is connected not only to Nos. 10 and 11 Downing Street but also to top adviser Dominic Cummings as well as to The Spectator:
Guido Fawkes says (emphases in the original):
Widely anticipated and always the bookies favourite, Allegra Stratton has been confirmed as the new Downing Street Press Secretary. Her experience as a television reporter on Newsnight, ITV News and with Peston will stand her in good stead. 40 year-old Allegra is married to the Spectator's James Forsyth. They have one child. She has done a good job spinning for Rishi and he will miss her…
Bring on the briefings…
Stratton left ITV in April to work for Rishi:
I had bookmarked a tweet from ITV's political editor Robert Peston a few months ago when No. 10 announced its search for a press secretary. Unfortunately, I subsequently deleted it. Peston tweeted that he knew of a perfect candidate, someone who had worked for him and was now working for Rishi Sunak: Allegra Stratton.
And, lo, it came to pass.
Here's an interesting tweet from May, after Dominic Cummings had to give a press conference in the garden of No. 10 to apologise for his questionable trip up North to Barnard Castle (a town named for its castle) with his wife Mary Wakefield and their four-year-old son:
One of Cummings's goals was to clear out No. 10 of Remainers in senior positions. Cabinet Secretary Sir Mark Sedwill, the most senior Remainer and the man in charge of civil servants, resigned during the summer.
Sedwill's replacement is Simon Case, who used to work for Prince William:
Guido Fawkes has posted Case's email to civil servants, popularly referred to as 'mandarins', and says:
Simon Case, Sir Mark Sedwill's replacement as Cabinet Secretary, has got off to a strong start in the job by sending an email to all civil servants boasting of his 'profound sense of pride in our nation's history", telling Whitehall staff "We must maintain our dedication to honesty, integrity, impartiality and objectivity." Guido hopes counselling will be put in place for any distressed metropolitan mandarins at this time…
Now on to coronavirus.
Scotland's Nicola Sturgeon is putting much of that nation under a 16-day 'circuit-breaker' lockdown (pubs shut, no alcohol in restaurants, no visiting) during half-term (break for schools). Yet she is decommissioning the Nightingale hospital in Glasgow. Why?
In England and Wales, questions have been raised about the new contact-tracing app:
Today (Friday), the Telegraph's Chief Political Correspondent Christopher Hope interviewed the Conservative MP, Sir Iain Duncan Smith, who had a lot to say not only on coronavirus but also Brexit (he thinks large parts of the Withdrawal Agreement should be torn up if we want a Canada deal).
Excerpts follow (emphases mine):
Boris Johnson will never defeat the coronavirus pandemic, Sir Iain Duncan Smith has said, and instead must start to help Britons to learn to live with the disease.
The former Conservative leader told today's Chopper Politics podcast … : "'I've never been to a time like this where we have almost suspended all judgement on everything else as secondary to Covid.
"And the truth is that if we go on just trying to push these spikes down the whole time … then we could be in this for years because there are very few vaccines that have been completely effective against viruses."
Sir Iain said the focus on Covid meant that other risks were being completely ignored. He said that the problem was "we've lost the balance of risks. We now have only one risk. And if you think of only one risk, then you can damage everything around you".
He added that he thought the right course of action regarding coronavirus was "managing it but not expecting that, as people say, we can defeat this, because I honestly don't think we will actually."
YES!
The 30-minute podcast is here. Hope interviews other guests, too.
Conservative MPs are warning Boris not to take the votes of former Labour-supporting area lightly. Those areas, many of which now have Conservative MPs, are the ones most affected by semi-permanent lockdown:
Earlier in the week, the Government postponed a vote on the 10 p.m. curfew on pubs and restaurants in England. It has been rescheduled for next week:
Members of the public are understandably concerned. One summarised Boris's speech at the (virtual) Conservative Party conference this week:
But I digress.
The reason the Government are picking on the hospitality sector is because of this chart, which MPs on both sides of the aisle dispute:
Hospitality venues are at the top of the list.
Note that schools and workplaces are not mentioned.
This is the reality, and this is what dissenting MPs are going by. Hospitality is ranked at 4 per cent (see pie chart):
The hospitality sector had to put a lot of money into their businesses in order to reopen during the summer, yet the Government is targeting them. That is also true in France, but we'll stick with England for now:
I am very concerned about this eventuality:
Conservative MP Steve Baker talks a good game, but he voted with the Government this week to renew coronavirus restrictions.
ITV interviewed him yesterday:
ITV has excerpts of Baker's interview:
Speaking to the Acting Prime Minister podcast, the MP said the rule is "badly evidenced and appears to be counter-productive".
He said the rule, which forces pubs to close between 10pm and 5am, is "wrecking the hospitality industry, which we only just pumped lots of taxpayers money into through Eat Out to Help Out".
He claimed the "cost of lockdowns are worse than the cost of the disease" and suggested the PM is only imposing them because of hopes of a vaccine "turning up and solving all these problems".
He said he fears the UK is in "grave danger" of "jumping into a lobster pot here from which we can't emerge" if a vaccine is not forthcoming.
"The danger we're in at the moment is we'll destroy our economy," he told podcast host Paul Brand.
He said he supports Prime Minister Boris Johnson in his response to coronavirus, but questioned whether he is "betting the country on a vaccine turning up".
"If his strategy is based on a vaccine coming, I think there's going to be a problem," he said.
The Wycombe MP appeared to suggest the team around the prime minister was not allowing him to use his strengths …
Mr Baker, who was a prominent Brexit supporter, said he "deeply" regrets the way the UK divided over EU membership and said he can feel the same happening with coronavirus.
"I'm really worried that our society is polarising with hysterical arguments on both sides.
"What I am saying is I want us to have a radical spirit of concern for one another, a radical willingness to listen to one another and then be moderate in what we say and do to try and close all these, all these divides." 
I agree wholeheartedly with every word.
In closing, I really hope that Steve Baker and the other Conservative rebels vote against the Government on the hospitality curfew next week.
They won't win, but they will send a strong message to Boris and Matt Hancock.
This week, the UK government's scientific advisers and Prime Minister Boris Johnson said that new, stricter coronavirus measures would come into effect on Thursday, September 24.
On Monday morning, Chris Whitty and Sir Patrick Vallance presented their latest figures, which looked as if they must have come (once again) from Prof Neil Ferguson, they are that exaggerated. You can see the graph further down in my post:
This is utter madness, reminiscent of the WMD days when Tony Blair told us that a WMD could reach our shores within 45 minutes:
Their presentation, given against a No. 10 backdrop, had the purpose of preparing the public for Boris Johnson's announcements on Tuesday. They took no questions.
They showed graphs of where Spain and France are, with an uptick in 'cases'. Again, that means positive test results, most of which do not require hospitalisation.
Strangely enough, the Rule of Six only came in on Monday. Let's let it bed in for a few days, fellas, before taking more measures. They're doing exactly what they did in March, though. On March 16, new measures came in. On March 23, we had lockdown.
The Rule of Six is a Belgian tactic that SAGE thought would work in England. As such, they recommended it to the Government.
Perhaps this is the reason the two scientists did not mention Belgium once in their presentation:
I am glad someone will be tracking the progress of the projections over the next few weeks:
On Tuesday, Boris addressed Parliament and gave a short address that evening, televised to the nation.
In short:
– Pubs and restaurants must close by 10 p.m.
– They must offer table service only.
– All retail workers in hospitality settings must wear masks, along with customers, unless they are eating or drinking.
– Fines for breaking the Rule of Six or not wearing a face covering will result in an initial fine of £200, up from £100, for a first offence.
– Indoor five-a-side football matches have been banned.
– Wedding attendance has been reduced from 30 to 15; funeral attendance remains capped at 30.
– Police are allowed to call the military to fulfil office duties and/or to guard protected sites, leaving the police more capacity to fight crime.
– The plan to return a limited number of fans to sports stadia on October 1 is now postponed indefinitely.
The Daily Mail has a comprehensive article, including Boris's transcript, on the scathing reactions from police and business owners, particularly publicans. Sir Andrew Lloyd Webber said that this could sound the death knell for commercial theatre.
The Telegraph's Matt has this take on Army assistance:
The chances of that happening are very low:
The sad thing is that only five per cent of COVID-19 infections occur in a hospitality environment!
The Government and SAGE know this — yet they pressed on with restrictions!
The Daily Mail reported (emphases mine):
Public Health England data reveals that of the 729 outbreaks in the week to September 13, only five per cent occurred in food outlets such as restaurants and pubs – 45 per cent were in care homes, 21 per cent in schools and 18 per cent in places of work.
Wetherspoons founder Tim Martin said: 'The curfew doesn't even stand up to five minutes consideration by an intelligent person because if you look at the stats… there are relatively few transfers of infections in pubs.
Kate Nicholls, chief executive of trade body UK Hospitality, urged the Government to heed its own statistics because the curfew could take a sledgehammer to the industry which is already 'on its knees'.
She said this morning: 'People will think it's not that significant, but it really will have a big economic impact on jobs, not just on pubs, but also for cafes and restaurants.'   
Martin Wolstencroft, head of Arch Inspirations, which runs 17 bars and restaurants in Leeds, Manchester, York and Newcastle, said the curfew will not make it viable to open some of his venues.
Ironically, August was the month of discount lunches in Chancellor Rishi Sunak's successful initiative, Eat Out to Help Out, which the hospitality industry welcomed.
The Government's new restrictions will largely destroy any uplift participating restaurants received from it.
What on earth is going on?
Toby Young, who was at Oxford with Boris, says that something has changed — and not for the better. Note that Prince Charles approves of military intervention for climate change. Scary:
It's entirely possible that these ruinous measures have no basis in scientific fact, devastating people's livelihoods and families:
Conservative backbench MPs sounded off.
On Tuesday, Sir Desmond Swayne, who has commented both in and outside the House of Commons, tweeted:
His blog post states, in part:
Flu kills all year round – In the last weeks of July it killed 1000 of us (where Covid-19 killed only 200)- but it is seasonal: it certainly kills a lot more of us in the winter. Equally, we should stop talking about another wave of Covid-19 and instead, like flu, start expecting its annual season.
Having peaked in April Covid-19 abated over the summer. Inevitably it will get worse in winter. It may also be worse this winter than might otherwise have been the case. This is because we carried on with a number of restrictions on normal social life during the summer, reducing our ability to acquire and share herd immunity and wasting the opportunity provided by the weakest period for the virus.
My contention remains, as I have said many times over the last months, that our over-reaction to the disease has done much more lasting economic damage, and, counter-intuitively, even more damage to our health than the disease itself.
The current strategy merely kicks the can down the road. If the measures work and reduce the spread, the virus will simply reappear later.
Of course, we could be lucky and get a vaccine or a cure, or even 'moon-shot' daily tests to enable us to return to normality, but none of these are certain.
One day there may be a virus that threatens our whole way of life – but this isn't it, even if we are behaving as if it were.
Sir Desmond retweeted a neurologist's comment on the outrageous graph of projected 'cases' this autumn — in reality, positive tests:
Today, Sir Desmond gave an interview to the BBC about the continuing and questionable restrictions on civil liberties:
Richard Drax rightly predicted economic disaster, ruining the lives of millions:
Lucy Allan also spoke out on Twitter.
She tweeted Monday's graph from SAGE:
She rightly opposes putting everyone on restrictions when we should be protecting those most at risk:
She retweeted an open letter from Profs Sikora, Heneghan and several other leaders in British medicine:
She also called for the precise definition of a 'case':
That's probably why Whitty and Vallance didn't take questions.
Sir Edward Leigh also had a lot to say on this week's announcements:
He is rightly concerned about the blind faith we place in authority and the gradual erosion of civil liberties:
I couldn't agree more:
At least 1,000 people die in the UK every day.
Below are the causes of death per day in September.
Note where COVID-19 is: second from the bottom, dwarfed by heart disease and cancer.
There were nearly twice as many suicides than deaths from the Chi-vi: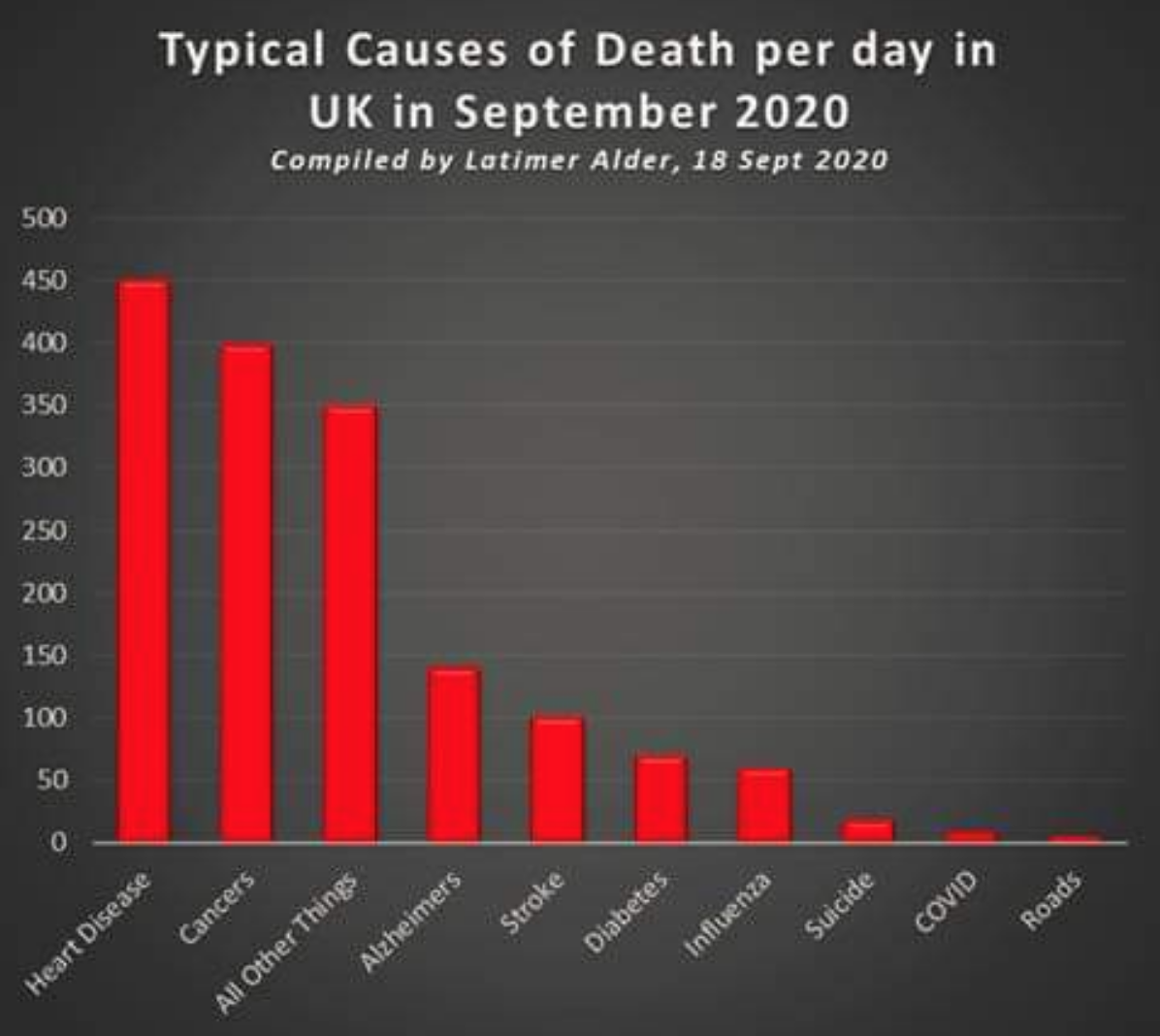 Steve Baker is also concerned about the restrictions bypassing Parliament:
Wow. Sir Graham Brady could pit a load of Tory rebels against the government. Good show:
The article from The Critic says:
Unless Matt Hancock finds a workable accommodation with Sir Graham Brady, the chairman of the 1922 Committee of Tory backbench MPs, the government faces the prospect of defeat next Wednesday when the Coronavirus Act 2020 comes up for its six-monthly renewal in the House of Commons.
The scale of backbench unhappiness is such that according to Steve Baker, who is working alongside Sir Graham, "the magic number was exceeded with 24 hours" of his beginning to canvas support for an insurrection among fellow Conservative MPs. Victory would require Labour and SNP MPs to seize on the opportunity to inflict a humiliating defeat on the government by voting with the Tory rebels. Indications increasingly suggest that this could happen. An increasingly dispirited Whips Office, which feels ignored and disrespected by Downing Street, is especially concerned at the sight of the former ERG "Spartans" leader, Baker, at Westminster furiously tapping away on his phone – a colliery canary of trouble ahead.
The government is equally concerned that the rebellion is being led by Sir Graham Brady, whose role as chairman of the 1992 Committee makes him the most authoritative channel of backbench opinion. In a sign of how seriously Downing Street management is taking the senior shop steward's challenge, on Monday evening the prime minister privately went to see the 1922's executive committee.
The primary complaint is that the government is using powers granted to it under the 1984 Public Health Act and 2020 Coronavirus Act to enact previously unconscionable measures without any prior debate in the Commons. Brady has condemned ministers who "have got into the habit of ruling by decree."
MPs were prepared to cede considerable authority to the government in March in a period of acute crisis when there appeared to be only weeks if not days to "flatten the sombrero" to save the NHS from being overwhelmed. But Boris Johnson's admission in his statement to Parliament today that the latest curtailments (which include further restrictions on hospitality opening hours and the number of people who can congregate at weddings, funerals and other public, private and sporting functions), would likely last at least six months has alerted MPs to the reality that government by decree may last until a vaccine is approved. If, indeed, a vaccine is approved. This is a war that will not be over by Christmas.
Far from persuading potential rebel MPs that a new crisis is looming, the performance of the government's chief medical and scientific officers, Chris Whitty and Sir Patrick Vallance, at their press conference yesterday has heightened consternation that the government is over-reliant on advice predicated upon worst case scenarios that is trumping competing economic and civil liberty considerations.
The likelihood of executive mission creep was foreseen back in March by David Davis and Steve Baker who pushed the government into adopting an amendment reducing from two years to six months the period in which the powers of the Coronavirus Act must be renewed by parliament. That renewal debate will now take place next Wednesday.
I remember that debate from March and also wondered if the Government were as good as their word.
Whilst they are unlikely to call for a wholesale repeal of the Coronavirus Act, Sir Graham Brady could call for a scrutiny clause appended to the Act so that every new statutory instrument connected to the legislation would have to go through Parliament first. To date, many of them have not. Therefore:
Rebels are pinning their hopes on this prospect. They may find a friend in the The Speaker, Sir Lindsay Hoyle, who has already made clear his intense irritation with Matt Hancock's disregard for informing parliament first of major legal changes like the "rule of six" and for the government's brusque imposition of restrictions in his own Chorley constituency …
The appeal of such a mechanism is obvious to Tory backbenchers concerned that laws are being made without scrutiny and are difficult to repeal. But there is no in-principle reason why Opposition parties need object to such a parliamentary safeguard either. Hence the likelihood of a rebellion having the numbers to succeed next Wednesday.
I can hardly wait.
Iain Duncan Smith is also airing his views. Note what he says and compare it to the death graph above:
Brexit better be more than BRINO, otherwise that prediction about the Conservatives could come true.
Former Brexit Party MEP and owner of England's greatest smoked salmon business, Forman's, said:
How true.
Unfortunately, at today's PMQs, Boris said that restrictions will continue until a vaccine is found! Dangerous.