You are currently browsing the tag archive for the 'identity politics' tag.
Gosh, what a lot of news to cover in one post.
Admittedly, a few of these items are a bit old but fit in thematically.
Theresa May U-turns on support for Scottish gender reform legislation
I wrote yesterday about former Prime Minister Theresa May's support for Scotland's Gender Recognition Reform bill on Tuesday, December 27.
Within 24 hours she had made a U-turn, thankfully, although she did it through a spokeswoman.
On Wednesday, December 28, The Times reported (emphases mine):
In the wake of the interview the BBC issued a press release which stated: "On the subject of Scotland's proposed gender recognition laws, Ms May said she was disappointed the Westminster government wasn't supporting them."
Yesterday, however, a spokeswoman for the Maidenhead MP insisted that was not the case.
"As prime minister, Theresa launched a consultation looking at gender recognition laws with the aim of providing a more sensitive approach to transgender people, but she does not agree with Nicola Sturgeon's legislation and is particularly concerned about the consequences it could have for children in Scotland and across the UK," she said.
We can but hope that the Secretary of State for Scotland does not send the legislation for Royal Assent:
Immediately after MSPs voted in favour of the legislation Alister Jack, the Scottish secretary, threatened to invoke section 35 of the Scotland Act, which allows him to prevent the legislation from receiving royal assent.
Although gender recognition is devolved to Holyrood, the Equality Act — with which the new law will interact — is reserved to Westminster.
As nearly two-thirds of Scottish voters — even SNP supporters — think this legislation is a terrible idea, Westminster can show the 'Union dividend' in being 'better off together'.
Gas futures coming down
On Thursday, December 29, The Guardian had encouraging news about the price of natural gas futures in Europe:
European gas prices have dropped back to levels seen before the Ukraine war began in February, as fears of a gas crisis this winter ease.
The month-ahead European gas future contract dropped as low as €76.78 per megawatt hour yesterday — its lowest level in 10 months, data from Refinitiv shows.
As this chart shows, gas prices have fallen back from their surge in March, and again in the summer as European countries scrambled to fill their gas storage tanks.
Prices have dropped thanks to warmer-than-normal temperatures this winter, which have limited demand for gas, after the European Union successfully filled reserves to a peak of almost 96% in November.
Consumption reduction targets have also helped to limit demand, with the EU aiming to cut its gas consumption by 15%.
Earlier this week, 83.2% of EU gas storage was filled, data from industry body Gas Infrastructure Europe shows, still above the target of 80% set for the start of November.
Traders are confident that inventories will end winter at a very comfortable level with a very low risk of falling to critically low levels, says John Kemp, energy market analyst at Reuters.
UK gas prices have also dropped back from their highs earlier this year. The day-ahead gas price closed at 155p per therm yesterday, compared with 200p/therm at the start of 2022, and over 500p/therm in August.
The UK versus the EU
All year long in Parliament we've heard that the UK is 'broken' and that we should have stayed in the EU.
Polls have been published showing that Brexit voters have buyer's remorse. Well, they shouldn't have. We are much better off outside an unelected European Commission. Furthermore, EU countries are not doing substantially better than Blighty.
France
This week, I received the latest copy of Marianne, the French newsweekly. Part of its cover story headline, referring to the state of their nation, reads:
EN PANNE
meaning, 'out of order', 'not working'.
On Wednesday this week, The Spectator had an excellent article about our neighbour: 'All is not well in Macron's France':
In 2021, both World Bank and United Nations GDP (nominal) rankings have the UK at 5th and France 7th. International Monetary Fund estimates for 2022 show India overtaking the UK to claim the 5th spot for world GDP, but with France still 7th.
One may question the reliability of GDP as a comparator, but a host of other measures regularly show France worse off than the UK. Debt to GDP ratios show France at some 115 per cent, the UK 99.6 per cent. Meanwhile the Bank for International Settlements gives France's total public and private debt (non-financial) at 351 per cent; the UK at 271 per cent.
One can rightly point to France's present day lower inflation at 7.1 per cent (EU harmonised) compared to the UK's 10.7 per cent. But as French debt statistics above show, president Emmanuel Macron began forcing down domestic inflation by subsidising prices during his 2022 presidential election campaign. French unemployment at 7.4 per cent compares unfavourably with the UK's 3.4 per cent. Meanwhile France is the highest taxed OECD and EU state, leaving little margin for manoeuvre. Her balance of payments figures are as gloomy as the UK's, together with her flat economic growth.
While Britain's position is not rosy, France's is certainly no better. That is why recent predictions in a certain European press, not least in France, taken up by British elites, that the UK was descending into terminal decline has lost all proportion. If the French press enjoy a touch of schadenfreude at the expense of the old enemy, and French politicians are glad to distract from their own problems, the willingness of much of the British middle class to swallow the same view can only be explained by ingrained cultural habit aggravated by post-Brexit resentment. Today, with Macron utterly wedded to the EU project, France for British elites is ipso facto superior to Britain. Yet France's moral state is parlous.
Since the 2022 presidential and legislative elections Macron's centrist party has no overall majority. France is stalemated and drifting towards ever more radical politics. Macron's prime minister Élisabeth Borne, unable to command a majority in the National Assembly, struggles to get her business other than by the constitutional sleight of hand of article 49,3, which guillotines parliamentary debate. With the chamber split four ways the question remains as to whether Macron will eventually dissolve parliament. Opinion polls suggest this would be a gift to Marine Le Pen's party, already the single largest opposition party with 89 seats. France might then come to replicate the present radical right Italian government.
Socially and culturally French society is far from healthy. Other than worsening violence and lawlessness in the banlieues – conveniently out of sight of English elites' visits to France – the French model of assimilation and laïcité is being tested to destruction. Official Justice Ministry statistics for July 2021 show 24.6 per cent of the prison population as foreign (double the proportion in Britain).  The French Interior Minister publicly stated this summer that, although foreigners make up 7.4 per cent of the French population, they account for 19 per cent of all delinquency nationally, and that 48 per cent of arrested delinquents in Paris are foreigners, 55 per cent in Marseille, 39 per cent in Lyon.
… The general picture is of a France far from at ease with itself. The prospect of a member of France's ethnic minorities leading the country with no fuss in the near future, as has just happened in Britain, seems impossible.
And remember the cries of 'Brexit is bad' when the Paris stock exchange overtook London's in November?
I don't recall any mea culpas from the metropolitan elite once we resumed normal service ten days later:
Guido Fawkes posted (emphases his):
The London stock market has re-overtaken Paris's after falling behind for 10 days, with a lead of $63 billion. A 2.5% rally in the value of the pound led to the improvement, and morale booster, compared to a modest 0.7% improvement for the Euro …
Germany
While Remainers in Britain's metropolitan elite moan about food inflation, our friends in Germany have experienced similar price hikes.
On October 14, September figures for the UK showed that our grocery price inflation hit an all-time high of 13.9%.
Yet, JustFood reported that Germany's grocery price inflation also reached historic highs:
Inflation levels in Germany reached their highest levels in three decades in September with food prices rising 18.7% year on year, figures show.
In a continued squeeze on consumer pockets, inflation reached 10% – its highest level since the country's reunification in 1990, the federal statistical office said.
Consumers faced the sharpest rises in edible fats and oils, which were up by 49%. Dairy products and eggs increased by 29.1%, meat and meat products 19.5% and bread and cereals 18.5%.
Month-on-month comparisons show consumers paid 1.8% more for food in September than in August, with vegetables 3.9% more expensive and dairy products up by 2.2%.
The consumer price index for food in Germany, measured against a 2015 baseline of 100, stood at 135.4 year-on-year in September, compared to 121.1 overall.
The federal statistical office said the cost of energy was leading inflation but food also played a major role, with both contributing to an overall 10% rise in prices.
Without food and energy rises in the equation, the country's inflation rate is reduced by over half to 4.6%. The prices of all goods increased by 17.2% in September 2022 compared to 2021, but the prices of non-durable consumer goods, which include food and energy, increased by 23.3%.
We cannot blame German inflation on Brexit. As Conservative ministers rightly say at the despatch box, inflation is up all over Europe and the West.
UK to relax egg rules to line up with EU
Another thing we hear from Remainers, especially in the Houses of Parliament, is that British food regulations are weaker than the EU's!
Nothing could be further from the truth! Our food standards have been higher than the EU's for decades.
Anyone wanting up-to-date proof can read an article in Wednesday's Guardian — 'UK free-range egg rules could be relaxed in line with EU for avian flu outbreaks':
Free-range egg rules in the UK could be relaxed in response to the European Union preparing to overhaul regulations after the biggest avian flu outbreak on record.
Ministers are understood to be considering a change to the rules that would mean eggs laid by hens kept in barns for months on end could be classed as free range.
Currently, eggs cannot be classed as free range if birds are indoors for more than 16 weeks. Farmers have that grace period in both the EU and UK, which means eggs can still be labelled as free-range if a government-issued housing order for birds is in place up to 16 weeks.
Subsequently, labels need to be added to packaging making it clear that those are now classified as barn eggs.
Whitehall sources told the Daily Telegraph that the Department for Environment, Food and Rural Affairs (Defra) is considering changing the regulations in order to keep farmers competitive with Europe …
The European Commission put forward a proposal in September, which stated "where temporary restrictions have been imposed on the basis of EU legislation, eggs may be marketed as 'free-range' notwithstanding that restriction".
The proposal, which is awaiting approval by the European parliament, means eggs could be classed as free range even if hens are forced to spend months indoors due to government rulings.
In September, egg producers in the UK said it was essential that the government now followed suit to avoid British suppliers being undercut by EU imports.
Climate change
Climate change sceptics will be on the right side of history in time.
Guido Fawkes's readers posted about deforestation in this post.
One chap posted an article about the increasing need for balsa wood from Latin and South America for blades on wind farms. Apparently, indigenous communities have not been consulted: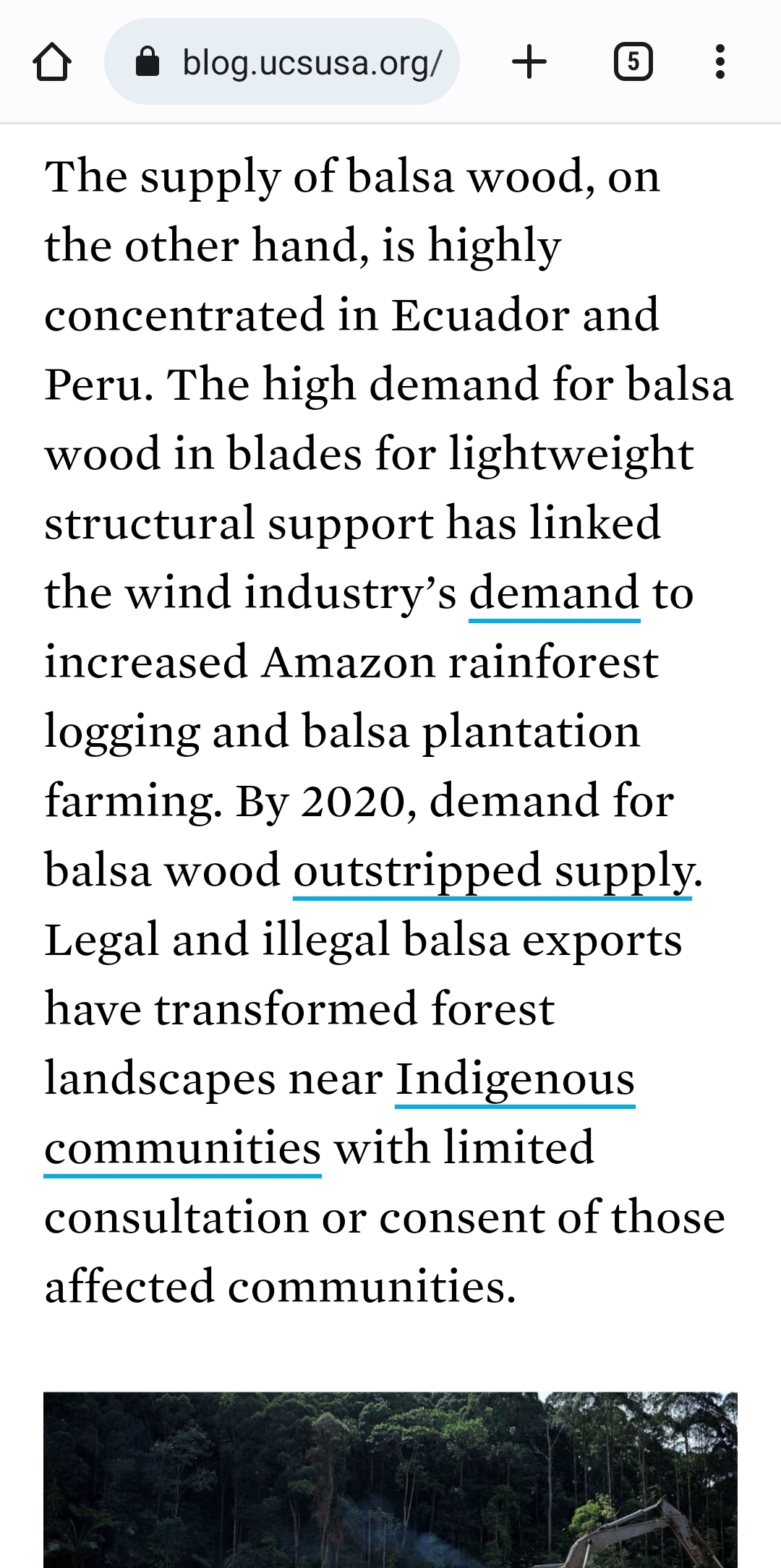 The article continues, stating that some companies are switching from balsa to oil byproducts, such as PET and PVC, or to cellulose: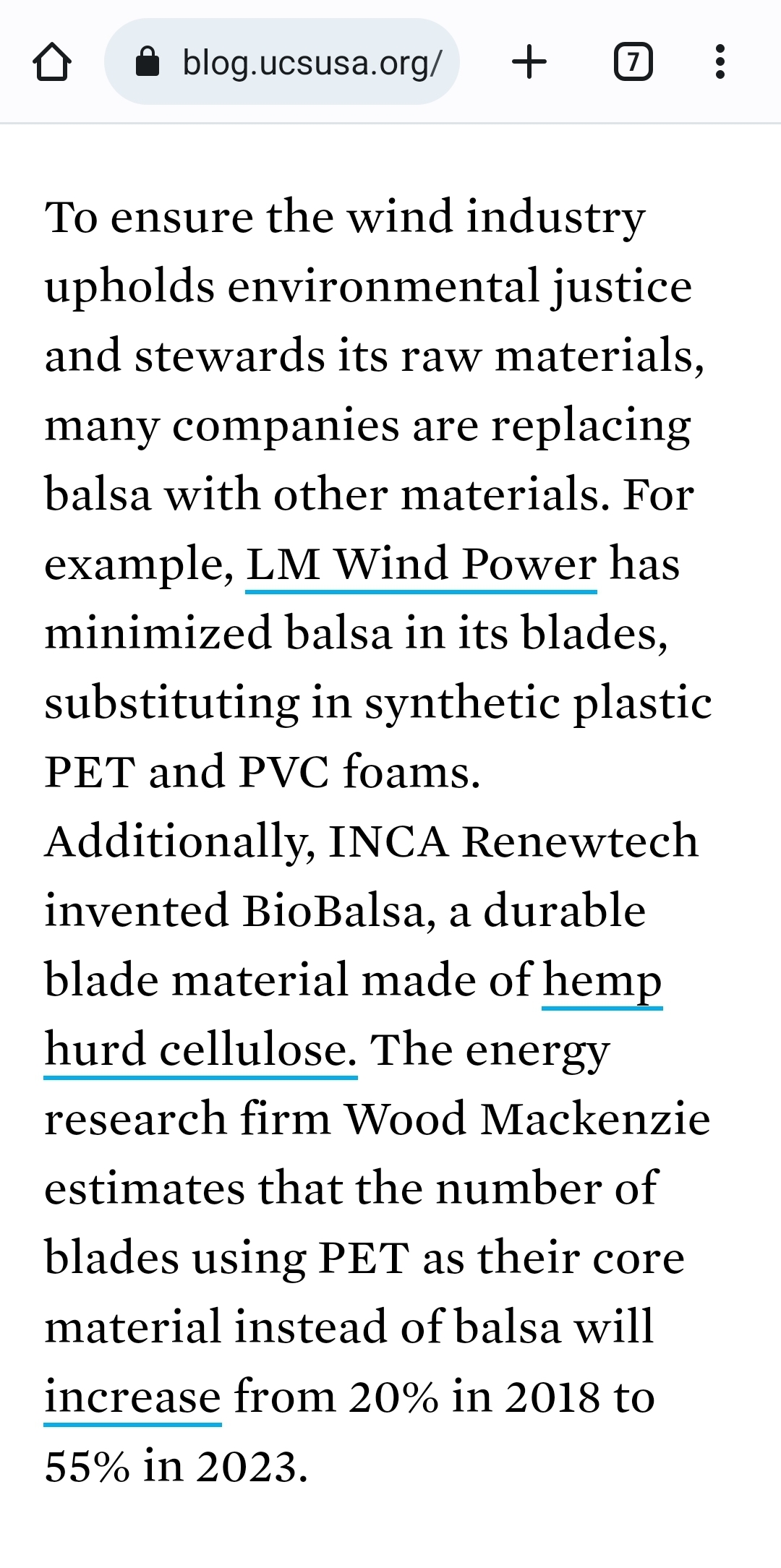 The man who posted the article pointed out:
BALSA is being replaced with PET and PVC (yep- crude oil) but are also experimenting with cellulose– which needs highly toxic chemicals to make.
Someone responded with this:
Synthetic PET usually uses food starch as a replacement for oil based derivatives. These divert food crops away from human and livestock consumption. They also encourage the use of GM crops and pesticides.
PVC production creates sodium chloride, which is a cause of acid rain.
The eco loons really didn't think this through.
Ultimately:
The eco l00ns NEVER think anything through.
And they hope we won't notice.
It's part of the reason why 'climate science is settled' and they refuse to debate.
You know how it goes.
Fracking bad – mining cobalt (even using young children) good.
You flying -bad- them flying- good.
On a similar note, an UnHerd article laments the loss of the hearth in 'Firewood will save the West'. The author, Paul Kingsnorth, lives in Ireland and has his firewood delivered to his home:
The Irish government is currently campaigning against households which burn turf or wood, the former on the grounds of CO2 emissions, and the latter on the grounds of air quality. As ever, the campaign is driven from Dublin, and mostly takes Dublin sensibilities into account. Rural households in Ireland have been burning turf and wood forever, with little significant impact on "air quality" — or at least, no impact comparable to that which Ireland's "Celtic Tiger" modernisation has had. Suddenly, though, the media is full of scientists armed with studies demonstrating how getting a fire going in your cottage in winter will lead to cancer and lung disease on a widespread scale.
That is nonsense. Until recently, Man had been surrounded by smoke for millennia.
Essentially, the Irish government, in line with other Western governments, wants to do away with fireplaces:
This new tilt against household fireplaces is not just an Irish phenomenon: it is suddenly popping up everywhere. Woodstoves are, curiously, becoming the number one air pollution villain. Never mind mass car use, accelerating air travel or industrial pollution. Never mind the emissions caused by the massive increase in Internet server farms, which within just a few years could be using up an astonishing 70% of this country's electricity. These days, if you want to demonstrate your social responsibility, you should be all aboard with the abolition of the traditional fireplace and its replacement with "green" alternatives.
He explains that the home hearth has been not only traditional but also atavistic throughout mankind's history. He cites the philosophical polymath John Michell (1933-2009):
The fireplace, whether our dessicated urban authorities know it or not, has a primal meaning, even in a world as divorced as ours from its roots and from the land.
In his short essay "Fireside Wisdom", the uncategorisable John Michell suggested that the "displacement of the hearth or fireplace" from the home was one of the many reasons for the craziness of the modern world which his life had been spent playfully exploring. The fireplace at the centre of the home, he wrote, was both an ancient practicality and a device of "cosmological significance" across cultures and time: "Conversation is directed into the fire while dreams and images are drawn out of it."
In the past, the act of sitting staring into the smoky fire with family or neighbours was the genesis of the folk tale and folk song which tied the culture together. Now we stare at digital fires hemmed into boxes manufactured by distant corporations who also tell us our stories. No song we can dream up around a real fireplace can compete with what these boxed fires can sell us. "Thus," wrote Michell, "the traditional cosmology is no longer represented by its domestic symbols, and a new, secular, restless, uncentred world-view has taken its place."
Focus, Michell explained, is "the Latin name for the central fireplace. The fire not only warms but, as a symbol, illuminates the corresponding images of a centre to each of our own beings and of a world-centre which is divine, eternal and unchanging." Lose your fires, and you literally lose your focus as a culture. In this context, a government spokesman telling his population, as one minister here recently did, that they should "get over" their "nostalgic" attachment to the hearth fire and install ground source heat pumps instead is more than just a nod to efficiency. It is an assault on what remains of the home and its meaning. It is an attack on the cultural — even the divine — centre.
Paul Kingsnorth posits that each move away from self-sufficiency, e.g. using one's own fireplace, puts us more under the control of government:
When you can no longer grow your own wood or cut your own turf to heat your own parlour, you are made that little bit more dependent on the matrix of government, technology and commerce that has sought to transmute self-sufficiency into bondage since the time of the Luddites. The justification for this attack on family and community sufficiency changes with the times — in 17th-century England, the enclosures were justified by the need for agricultural efficiency; today they are justified by the need for energy efficiency — but the attack is always of the same nature. Each blow struck against local self-sufficiency, pride and love of place weaves another thread into the pattern which has been developing for centuries, and which is almost complete now in most affluent countries …
In my lifetime, in my part of the world, the notion and meaning of "home" has steadily crumbled under external pressure until it is little more than a word. The ideal (post)modern home is a dormitory, probably owned by a landlord or a bank, in which two or more people of varying ages and degrees of biological relationship sleep when they're not out being employed by a corporation, or educated by the state in preparation for being employed by a corporation. The home's needs are met through pushing buttons, swiping screens or buying-in everything from food to furniture; for who has time for anything else, or has been taught the skills to do otherwise?
He refers to a 1980 manuscript, 'Family Work', by the American essayist Wendell Berry:
Like so much of Berry's work, it locates the centrepoint of human society in the home, and explains many of the failures of contemporary Western — specifically American — society as a neglect of that truth. The home, to Wendell Berry, is the place where the real stuff of life happens, or should: the coming-together of man and woman in partnership; the passing-down of skills and stories from elders; the raising and educating of children; the growing, cooking, storing and eating of food; the learning of practical skills, from construction to repair, tool-making to sewing; the conjuration of story and song around the fire …
Even back in 1980, Berry recognised that the home had become an "ideal" rather than a practical reality — precisely because the reality had been placed out of reach for many. What killed the home? Three things, said Berry: cars, mass media and public education. The first meant that both work and leisure could, for the first time in history, happen a long way from home. The second — "TV and other media" — have played a role, since the mid-20th century, in luring us all into a fantasy world of freedom from obligation, and a limitless, fun consumer lifestyle. "If you have a TV," writes Berry, "your children will be subjected almost from the cradle to an overwhelming insinuation that all worth experiencing is somewhere else and that all worth having must be bought." Finally, the school system is designed "to keep children away from the home as much as possible. Parents want their children kept out of their hair." Schools exist to train children to fit into individualistic, consumer societies; to internalise and normalise their ethics and goals, and to prepare for a life serving their needs.
I have to disagree with his disparagement of television, as my better half and I watch a lot of French programmes, food shows in particular. For us, it is a window into a culture we love very much. Were it not for television, we would have to visit France in person much more often. As it is, we can experience France from our sitting room and perfect our language skills while learning more about the world's finest cuisine.
Berry's solution is to make the home a welcoming, peaceful place for everyone living there:
… he suggested that we should "try to make our homes centres of attention and interest"; to make them as productive and nurturing as we can … you will see new possibilities begin to open up. You will see, in Berry's words, that "no life and no place is destitute; all have possibilities of productivity and pleasure, rest and work, solitude and conviviality that belong particularly to themselves", whether in the country, the city or the suburb. "All that is necessary," he suggests, is "the time and the inner quietness to look for them."
Television is a good thing
On the subject of television, a 104-year-old Australian woman told her grandson that it was probably the greatest development in her lifetime.
Lewis Isaacs wrote her story for The Guardian: 'My 104-year-old Nan's secret to a long life':
A life as long as hers can be hard to comprehend. Asked what the biggest change to the world she'd seen across her life was, Nan replied that it was television. Life when she grew up rarely extended past her suburb. Television connected the living room to the world.
How true! Well said, Nan!
The article has family photographs, too.
So what is Coral Isaacs's secret to longevity?
She says it comes down to genetics and finding the right partner. She was widowed more than 30 years ago and says the life she built with my Pop has supported her since. It helps to remember your pills, she adds, and to get up, shower and make your bed every day.
I suspect the truth about her endurance is something different though. Nan is determined to keep her eyes focused on the future. Even when the days are hard, she still looks forward.
I was hoping she would mention smoking a crafty cigarette or enjoying a daily digestif, but, sadly, no.
Churchill's cigar goes on sale
For a smoking story, we had to go to an auction house.
On Thursday, December 29, The Times reported that one of Winston Churchill's cigars is expected to fetch £3,000 at auction:
The former prime minister gave the Cuban cigar to an RAF doctor who helped him when he broke his leg in 1962.
The doctor's grandson has put the rare cigar up for sale with Hansons Auctioneers, which said it would be an "impressive item" for any Churchill collector. Charles Hanson, the owner, said: "We occasionally see Churchill cigar stubs that people have picked up after he dropped them. But to gain a whole cigar in such pristine condition, given as a gift in unusual circumstances, is special."
Churchill, who died in 1965 aged 90, was a lifelong smoker. While he was at boarding school, his mother learnt he had taken up smoking cigarettes and tried to bribe him to stop by promising him a pistol and a pony.
He switched to cigars after spending time in Cuba after his graduation from Sandhurst military academy, and friends, dealers and associates sent him regular deliveries of cigars from then on.
The circumstances are most Churchillian:
The auction house said the cigar under auction was given to an RAF squadron leader, Bertram AJ Barrow. Churchill fractured his femur while getting out of his bed at the Hotel de Paris in Monte Carlo, and was flown back to London on an RAF plane while in a waist-to-ankle plaster cast.
Barrow, the leader of the medical team, plucked up the courage to ask Churchill for one of his famous cigars.
For decades the treasured cigar was kept in a bedside drawer, but will now go under the hammer at on January 9 with an estimate of £2,000 to £3,000.
Barrow's grandson, Thomas Barrow, 33, an employment law adviser from London, said: "Bertram asked for a cigar as a keepsake, and Churchill advised that he could have 'one that he had been saving' — which was Cuban and still in its glass case."
What a story!
Conclusion
As my later grandmother-in-law, a lifelong Londoner, was fond of saying:
The old ways are the best.
I couldn't agree more.
Let's try to recapture them in 2023.
It's hard to know where to begin with this year's Christmas news, much of which is disappointing, to say the least.
That said, there is a bright Christmas message here, so please read on.
Scotland legislation latest
On Thursday, December 22, the Scottish Parliament — or Assembly, as I still call it — passed legislation for Gender Recognition Reform, specifically to grant Gender Recognition Certificates (GRCs).
The bill passed in the SNP-controlled government 86-39 with no abstentions. Only two Conservative MSPs voted for it. The rest were SNP (Scottish National Party), Scottish Greens (SNP coalition partners), Scottish Labour and Scottish Liberal Democrat MSPs.
The final contributions were largely made on the basis of feelings. Wednesday's transcript shows that every Conservative motion proposing greater controls over who can apply for a GRC and under what conditions was defeated. Debate had also taken place on Tuesday in an attempt to rush this through before Christmas break.
The Scottish Parliament thought this so important that it even cancelled their annual Christmas carol service, which, this year, was to feature Ukrainian refugees living just outside of Edinburgh.
A pro-independence — though not a pro-SNP — Scot who lives in England, the Revd Stuart Campbell, summed up the legislation in one of his Wings Over Scotland posts, 'On the hush-hush' (emphases mine):
The last few days have been perhaps the most turbulent in the entire history of the modern Scottish Parliament. Proceedings have been suspended repeatedly, members of the public thrown out and threatened with arrest, filibusters attempted, carol services cancelled, tempers frayed and sittings going on until the wee small hours.
All of this has happened in the service of the policy that the SNP has made its flagship priority for the last two years and more – the destruction not only of women's rights, but of the very CONCEPT of a woman …
So you'd imagine the party would have been tweeting about it constantly, keeping its supporters informed about all the dramatic events and the progress of the bill, if only to reassure them that they were determined to get it passed before the Christmas break come what may …
But there wasn't one solitary word about the thing it just spent three solid days forcing into law. And since it was a thing that most of its own voters, and indeed a huge majority of all Scots, were opposed to, readers might be forgiven for thinking that they just wanted it all kept as quiet as possible, as if they were ashamed.
We suspect, and very much hope, that their wish may not be granted.
The Revd Mr Campbell means that the Secretary of State for Scotland in Westminster might refuse to present the Bill for King's Assent. Let's hope so.
Another Wings over Scotland post explains what the Bill actually does:
… one of the most regressive, dangerous and frankly absurd pieces of legislation the modern world has ever seen. Last week, [First Minister Nicola Sturgeon's] government successfully managed to get the word 'woman' redefined from an adult human female to anyone to who has a piece of paper that says they are one.
Should obtaining this piece of paper involve a rigorous, measured process that takes psychological and criminal history into serious consideration and prioritises the safety of women and children, this would be permissible to the socially liberal. Alas though, the new GRA has shamelessly scrapped all safeguarding measures. For a man to legally become a woman now – and be entitled to access all female-only facilities, be it changing rooms or prisons, all he has to do is 'live as' a woman (whatever the hell that means) for three months followed by a three-month 'reflection period'.
TRA-adjacent politicians have nowhere to hide with this now. They can no longer deny that sex-based rights will be grievously compromised and that predators and fetishists now have ease of access to women (and children's) spaces, from bathrooms to sports teams.
In another post, Campbell linked to Tuesday's proceedings where a Conservative MSP tried to raise an amendment calling for greater scrutiny of sex offenders wishing to change gender. Unfortunately, 64 SNP/Green/Lib Dem MSPs voted it down. In 'The Disgraces of Scotland', Campbell wrote:
The events marked simply and unquestionably the most shameful and contemptible moment in the history of the Scottish Parliament since 1707.
1707 was the year when the Act of Union was established between England and Scotland.
He also pointed out that voting down the amendment resulted in:
ceding the moral high ground to the Scottish Conservatives …
Anyone who knows the Scots knows that anything Conservative is unpopular there. That said, the Scottish Conservatives are the official opposition party in Edinburgh.
It should be noted that anyone aged 16 1/2 and over can apply for a GRC. It would appear that no formal medical diagnosis will be required with this new legislation.
Campbell's readers have much to say on the matter. Some say this is a deleterious influence from American pressure groups. Others say that women will be in great danger.
Both are likely possibilities.
None of the MSPs supporting the Bill thinks that women will have any problem with sex offenders or deviants. However, a British substack begs to differ. 'This Never Happens' is a lengthy catalogue of gender-changers around the world who have committed horrific crimes, many of a sexual nature. Another site with a similar catalogue can be found here.
It is ironic that a woman is in charge of Scotland and she has overseen this legislation. In fact, she has supported it from beginning to end.
Scotland, like Canada, was such a beautiful country once upon a time. When I say 'beautiful', I'm referring to people. Another spirit — the devil — is moving through both nations.
One positive outcome is that the Scottish Conservatives can use this legislation to their advantage during the next election cycle. Unlike the SNP, Scottish Labour and Scottish Lib Dems, they alone voted en masse against it, showing that they are the true defenders of women and girls.
An UnHerd columnist, Joan Smith, says that this will come soon to England, should Labour win the next general election:
The man sitting next to you on a tram in Edinburgh, or turning up for a women-only swimming session, may self-identify as a woman — and the law will support him every step of the way. Centuries-old assumptions about what is real, about what people see in front of them, are being overturned. And it's coming to Westminster as well, if Sir Keir Starmer follows through on his proposal to 'update' the 2004 Gender Recognition Act.
We have less than two years before a Labour government comes to power, weighed down by promises to import the idiocy (I'm being polite here) of self-ID to the rest of the UK. Two years, in other words, to watch what happens when politicians reject biology, common sense and the imperative to protect women against male violence. 
In the meantime, prisons, hospitals and refuges outside Scotland will face the headache of what to do when a man with a Scottish Gender Recognition Certificate (GRC) — obtained with far fewer safeguards than elsewhere in the UK — demands access to women-only spaces. The prospect of expensive litigation is terrifying, but women's organisations on both sides of the border are already preparing for the fight of their lives.
So crazed are MSPs by this ideology that on Tuesday evening they voted down an amendment that would have placed barriers in the way of convicted sex offenders who seek to apply for a GRC, complete with a new female name. They even rejected an amendment — proposed by Michelle Thomson, an SNP MSP who has waived anonymity to reveal her own experience of being raped when she was fourteen years old — that would have paused the process of acquiring a certificate for men charged with sexual offences.
This is an extremely troubling development. Let's not forget that the SNP-Green government has pressed ahead with the legislation even after Lady Haldane's judgment established last week that a GRC changes someone's legal sex for the purposes of the 2010 Equality Act. Scottish women are now expected to accept that any man standing in front of them, waving a piece of paper, is a woman — even if they're in court and the man is accused of raping them. 
It's clear that a bill that was supposedly purely administrative has hugely expanded the number of individuals who can apply for a GRC, with catastrophic effects on women's rights.
The rest of the UK is about to find out what it's like living alongside a country in which observable sex no longer has any meaning. Welcome to Scotland, where the word 'woman' will now soon include any man who fancies it.
Conservatives in England and Wales can take heart from this for the general election in two years' time, pointing to their colleagues north of the border. Who are the great defenders of women and girls? It certainly won't be Labour.
Woman arrested for silent prayer
On December 6, a pro-life supporter from Worcestershire was arrested for praying silently in Birmingham in an exclusion zone around an abortion clinic.
Here is the video of her arrest:
A fundraiser is open for her:
BirminghamLive filed their report on Tuesday, December 20:
A woman has been charged with breaching an exclusion zone outside a Birmingham abortion clinic. Isabel Vaughan-Spruce, aged 45, from Malvern in Worcestershire, was arrested near the BPAS Robert Clinic in Kings Norton on December 6.
She was later charged with breaking a Public Space Protection Order, said by Birmingham City Council to have been introduced to ensure "people visiting and working there have clear access without fear of confrontation". Vaughan-Spruce will appear at Birmingham Magistrates' Court on February 2 next year.
A West Midlands Police spokesperson said: "Isabel Vaughan-Spruce, aged 45 from Geraldine Road, Malvern, was arrested on December 6 and subsequently charged on December 15 with four counts of failing to comply with a Public Space Protection Order (PSPO). She was bailed to appear at Birmingham Magistrates Court on February 2 2023."
The police must feel threatened by prayer, especially that of the silent sort.
On Friday, December 23, UnHerd 's Mary Harrington gave her thoughts on the arrest:
It's customary in these situations to decry the breach of liberal norms involved in arresting someone not for doing something wrong but merely thinking. But if, as I've suggested elsewhere, all politics is now post-liberal, that means it's once again explicitly the case that state power is aligned with a widely-shared moral order. 
This is a drum I've been banging for a little while, for contra the fond imaginings of some liberals we never really stopped ordering power to sacred values. After all, it's not really possible to have a functioning polity otherwise. This, I argued shortly before the pandemic, is why hate crime laws appeared a scant few years after the abolition of blasphemy laws: they are blasphemy laws. We've just updated what we considered blasphemous …
…  Vaughan-Spruce's arrest makes it clear that the zone surrounding an abortion centre is treated as sacred in a way that's evidently no longer meaningfully the case (at least as far as the European court is concerned) of a church. She is an activist and director of March for Life UK, and has been previously arrested for protesting against abortion. But this in no way diminishes the growing sense that the activity being protected is also increasingly treated as sacred …
We have sacralised autonomy to such an extent that laws uphold women's right to it, even at the cost of another radically dependent life. And the issue is growing ever more moralised, as evidenced by the fact that even thinking disapproving thoughts about this radical commitment to individual autonomy is now treated as blasphemous, in zones where its most extreme sacrifices are made. 
Wherever you stand on the practical issues surrounding abortion, this is indisputably a profound statement on the relative values we accord to freedom, care and dependency — one with profound ramifications for how we see the weak and helpless in any context. That the practice is taking on sacramental colouring, for a religion of atomisation, should give us all pause.
Indeed.
House of Lords Archbishop of Canterbury debate on asylum
On December 9, the House of Lords gave the Archbishop of Canterbury his annual debate. This year, the subject was the UK's asylum and refugee policy.
I hope that readers will understand if I do not excerpt his speech here. They are free to read it for themselves.
We have taken in a record annual number of illegal migrants crossing the Channel this year, expected to be over 50,000.
We have also taken in large numbers of legitimate refugees and asylum seekers. We have also given visas to many thousands of legal migrants this year, particularly from Africa and Asia, namely India and Hong Kong.
UnHerd had a good analysis of what Welby said and our current predicament:
The Archbishop says he aims to support action that would "prevent small boats from crossing the channel", but he also stresses that the UK is not taking many refugees and should take many more. 
Astonishingly, he dismisses the provision our country has made to welcome Hong Kong residents — well over 100,000 to date and many more to come — by saying "and that, by the way, is not asylum but financial visas". It may not involve an application for asylum as such, but it clearly involves flight from oppression. Welby also draws the wrong conclusion from the fact that developing countries host many more refugees than developed countries. This is much cheaper than settlement in the West and makes return more likely. Developed countries should help pay the costs, and the UK leads the way in this regard.
The control Welby claims to support does not presently exist. The small boats cannot safely be turned around in the Channel and France will not accept their immediate return. The Rwanda plan is a rational (if imperfect) attempt to address the problem, removing asylum-seekers to a safe third country, where they will be protected, yet the Archbishop decries the plan on the grounds that it outsources our responsibilities. This makes no sense, for the UK not only accepts that Rwanda must comply with international standards, but also commits to funding the protection of those who prove to be refugees. Welby asserts that the plan has failed to deter. Indeed, because it has not yet been tried at all. 
The UK has good reason to resettle in safe third countries those who enter unlawfully on small boats, which would discourage others from (dangerous) unlawful entry and restore control of our borders. The historic tradition on which the Archbishop relies is alive and well in the provision our government has made, with wide public support, for temporary protection for Ukrainians escaping Russian aggression and for resettlement of the new Huguenots, the Hong Kong residents seeking to escape the oppressive reach of the Chinese Communist state. 
Lord Lilley — former Conservative MP Peter Lilley — posed the conundrum of loving one's neighbour and not being able to accommodate everyone, especially those who arrive under false pretences:
This issue raises very difficult dilemmas for Christians. Being a very inadequate Christian myself, I take up the challenge from the most reverend Primate the Archbishop with trepidation: to try to formulate principles for governing our policy on asylum and migration. Not having direct access to the mind of God like the most reverend Primate the Archbishop, I seek those principles in the Bible.
I recall that our Lord said that the essence of Christianity is to love God and love our neighbour as ourselves. When asked who our neighbour is, he gave the parable of the good Samaritan, when a Samaritan helps a Jew—from which I deduce that our neighbour is not just the person next door to us and not necessarily a member of our own nation; it can be anyone. The first principle I therefore deduce is that, although charity begins at home, as a lot of my constituents used to tell me, it does not necessarily end at home. I am at one with the most reverend Primate the Archbishop on that.
Secondly, the Samaritan did what he practically could. We may be called on to help anyone we practically can, but we cannot help everyone. Again, the most reverend Primate the Archbishop recognised that and it is important that we recognise that our responsibilities are finite, in this respect.
Thirdly, when the Levite and the Jewish priest reached their destination, I have no doubt that they deplored how, owing to years of austerity, there had been insufficient spending on police and the health service to prevent the problem arising in the first place or to treat the person, instead of leaving it to the passing Samaritan. Therefore, my third principle is that, to be a good Samaritan, you have to give care, help and so on at your expense. We, as politicians, may have to take decisions on behalf of others but, in doing so, we should have consideration for the impact we are having on others and not imagine we are being virtuous when we do good at their expense.
The first principle is that charity begins at home, in how we treat people who have come to settle here. When I was a child, mass immigration into this country was just beginning. The parish in which I lived asked each family to link up with a migrant family, many of whom were lonely, isolated and, at worst, facing hostility. My family was linked up to a delightful Mauritian couple, whom we would invite to supper every few weeks. We became good friends. That was done by parishes across south London. I would love to hear from Bishops who have not yet spoken about what the churches are doing today to help integrate those who are here in our society and to be the good Samaritans to our neighbours from abroad.
But charity does not end at home. I pay tribute to those tens of thousands of people who opened their homes to families fleeing the bombing in Ukraine, while their menfolk remained to fight for their country. We should not imagine we are sharing in being good Samaritans if we throw open the doors of our country to everybody because, if we do that, we are doing good at others' expense. We are, in effect, saying that migrants, be they legal or illegal, asylum seekers or otherwise, through housing benefit and social housing, will have access to rented and social homes. We all have our own homes, so we will not be affected. Therefore, more young people will have to wait at home or live in cramp bed-sitters for longer, because of what we, as legislators, think we are doing generously, without taking the impact on others into account.
The second principle is that our neighbour can be anyone, but it cannot be everyone. Millions of people want to come here. Look at the impact of the green card system the Americans operate, when they make 30,000 visas to the US available to certain countries and say, "Anyone can apply; there is a ballot." Some 9% of the population of Albania applied when they heard about that being offered to them, as did 11% of the Armenian and 14% of the Liberian populations. These were only the people who heard about it and responded. The potential number who would like to come to America or Europe, if we open these so-called direct routes, would be enormous. Will we say to those who apply, at an embassy or some place abroad, that they would have the same legal rights, and opportunities to appeal or for judicial review if things are turned down? If so, potentially millions of people would join the queue. It would not shorten but lengthen it, so we have to restrict and to prioritise.
I submit to noble Lords that the priority should not be the boat people. They are not coming by boat from Basra, Somalia or Eritrea; they are coming from France, Belgium and Germany. Why are they coming here rather than staying in those safe countries? They are three or four times as likely to be rejected there. France, in the last year before the pandemic, forcibly repatriated 34,000 people. I find some strange double standards being applied here. There are no criticisms of France for being much stricter than us or of us for being much laxer than them, but one or the other must be the case.
I am coming to an end. If it is morally and legally right for the French to try to prevent people leaving their shores, and for us to pay and support the French in so doing, it should be morally and legally right for us to return them. If they cannot be returned, it is reasonable to try to deter them by saying, "If you come here, you will go to Rwanda. You always have the opportunity to stay in France." I submit that we do not always consider these opportunities.
Later on, the Archbishop of York, the Right Revd Stephen Cottrell, spoke, an excerpt of which follows. The transcript hardly does his indignation justice. He ripped right into Lord Lilley:
I say to the noble Lord, Lord Lilley, that everyone is our neighbour. Of course, we cannot take everybody, but that makes it even more important that we have a fair system for everyone.
Dehumanising language promotes fear. Threat of destitution is used as a deterrent. Children are treated as if they are adults. Yet in our own country, among our own people, in our churches, other faith groups and communities, some things have gone well, such as the Homes for Ukraine scheme, where many people have found a home, other family members have joined them, and people have been able to get work. This is really good.
But why has our response to people fleeing other conflicts been different? Currently, the definition of family in our asylum system would not allow someone to join their sibling even if they were the last remaining relative, and being able to work and contribute is a long way off. The tragedy of our system lies in its exceptionalism, meaning that people receive differential treatment usually because of their country of origin. That underpins the Nationality and Borders Act, and I fear that further legislative action will be the same.
But we could learn from what is happening in our communities. The noble Lord, Lord Lilley, asked us directly about integration. I do not know where to begin. In hundreds of parishes and schools, and in other faith communities up and down our country, that is what we are doing—in English language classes, in befriending and in teaching people. I would be the first to admit that there are lots of things about the Church of England that could be better, but that is something that we are doing, alongside others, and it shows the best of British.
We need a system that will simply provide safe and legal routes for everyone to have equal opportunities to apply for asylum. All I am saying is that I think that would be good for us, as well as for the people who are fleeing unimaginable conflict and evil.
Finally, when it comes to being able to work, the Church of England, alongside the Refugee Council and the Government's own Migration Advisory Committee, is a long-standing supporter of the Lift the Ban campaign.
I say all this—like many of us, I would wish to say more, but the most reverend Primate the Archbishop of Canterbury said most of it—as winter arrives, and it is cold, and a cost of living crisis will inevitably affect the British people's capacity to be hospitable. I say simply that a functioning asylum system is not a threat to our social cohesion as some fear or predict, but a dysfunctional, unfair one is.
As every small child knows at this time of the year, as the noble Lord, Lord Cormack, mentioned, Mary and Joseph came looking for somewhere to stay, but there was no room at the inn. Saying no, accusing those who are being hospitable of being naive, or passing the buck are easy, but saying yes, with a fair and equal system for everyone, opens up blessings for everyone.
A week later, Cottrell featured in an article in The Telegraph: 'Forgive my "predictable leftie rant" on asylum, says Archbishop of York'.
It seems he knew he was out of order with Lord Lilley, who deserved the same courtesy as the peers agreeing with the Archbishop. It was good for Lord Lilley to speak politely on behalf of the British public.
Britons are paying upwards of £7 million a day just to house those crossing the Channel.
GB News's Mark Steyn and his guest hosts have been covering the topic nearly every night:
Taxpayers are deeply upset, especially during our cost of living crisis, which is causing many to choose between food and fuel.
Combine that with taxpayers' personal expenses for Net Zero, and we are heading for disaster:
Red Wall Conservative MP Jonathan Gullis tried unsuccessfully to raise a Private Member's Bill to get illegal migrants to Rwanda sooner rather than later:
Hotels across England are being taken over by companies working for the Home Office to house the Channel-crossers:
Hospitality workers in those hotels are losing their jobs as the aforementioned companies install their own staff to manage them:
The December 22 show also featured the seemingly intractable problem:
Former Sun editor Kelvin MacKenzie then swung by to weigh in on how much migrants are costing Britons.
The Home Office — read 'civil servants' — must do something now.
It's obvious people are watching GB News, because they beat BBC News for the first time ever on December 14:
Onwards and upwards!
House of Commons recess debate
On Tuesday, December 20, the House of Commons held its Christmas recess debate.
Normally, these are rather jolly affairs where MPs air wish lists for their constituencies for the New Year. However, this year's contributions were rather grim, including those from Conservative MPs.
Once again, providentially, I tuned in at the right time to hear the member for Don Valley, Conservative MP Nick Fletcher. He closed his speech saying the following, the first part of which came as news to me:
Finally, Christian friends across the House tried to secure a Backbench debate on Christmas and Christianity, but by all accounts we were not successful. While I have this moment, I want to remind those in this place, and anyone who cares to watch, that although Christmas is celebrated in many ways across the world, the real reason is the birth of our saviour, Jesus Christ. He was sent as a saviour, and with the promise that whoever believes in him will have eternal life. I do not want anyone ever to forget that. Merry Christmas everybody.
Jim Shannon, a Democratic Unionist Party MP (i.e. from Northern Ireland), was one of the last MPs to speak. A devout Anglican — yes, they still exist — he gave a beautiful speech on the meaning of the season, most of which follows:
It is no secret that I love this time of year—I may have mentioned that a time or three in this House. There are so many things to love about Christmas: time with family; good food; fellowship; and, for me, the singing of an old Christmas carol as we gather in church. But the most wonderful thing about Christmas for me is the hope that it holds. I wish to speak this year about the Christ in Christmas, because, too often, we miss that. It would be good this year to focus on what Christmas is really all about. I ask Members to stick with me on this one.
The message of Christmas is not simply the nativity scene that is so beautifully portrayed in schools and churches throughout this country, but rather the hope that lies in the fact that the baby was born to provide a better future for each one of us in this House and across the world. What a message of hope that is; it is a message that each one of us needs. No matter who we are in the UK, life is tough. The past three years have been really, really tough—for those who wonder how to heat their homes; for those who have received bad news from their doctor; for those whose children have not caught up from the covid school closures; for those who mourn the loss of a loved one; for those who mourn the breakdown of a family unit; and for those who are alone and isolated. This life is not easy, and yet there is hope. That is because of the Christmas story. It is because Christ came to this world and took on the form of man so that redemption's plan could be fulfilled. There is hope for each one of us to have that personal relationship with Christ that enables us to read the scriptures in the Bible and understand that the creator, God, stands by his promises.
I want to quote, if I may, from four Bible texts. To know that
"my God will meet all your needs according to the riches of his glory in Christ Jesus."
That is from Philippians 4:19.
To trust that
"I am the Lord that heals you."
To believe that
"all things are possible."
That is Matthew 17:20.
We can be comforted by Psalm 147:3:
"He heals the brokenhearted, And binds up their wounds."
Isaiah 41:10 says:
"So do not fear, for I am with you; do not be dismayed, for I am your God. I will strengthen you and help you; I will uphold you with my righteous right hand."
The strength for today and bright hope for tomorrow come only when we understand who Christ is. One of my favourite Christmas passages is actually not the account of his birth, but the promise of who he is. We all know this:
"For to us a Child shall be born, to us a Son shall be given; And the government shall be upon His shoulder, And His name shall be called Wonderful Counsellor, Mighty God, Everlasting Father, Prince of Peace."
In a world where our very foundation seems to be shifting, how awesome it is to know that this our God is only a prayer away. A group of people come to the House of Commons two or three times a week, and pray for Parliament. I have to say how important it is to have those prayers.
As we think of this passing year—something that many of us do—we think about what has happened and perhaps look forward to 2023 with renewed hope for the future. I think we should look forward with hope; we have to do that. We should always try to be positive. In this passing year, my mind goes to the loss of Her Majesty the Queen. Many of us felt that so deeply, and yet her passing also carried the message of hope, because of Christ. I quoted this when we had the tributes to Her Majesty. It is important, I think, to put it on the record again.
The wonderful message that the Queen gave in one of her cherished Christmas messages—this one was in 2014—was crystal clear:
"For me, the life of Jesus Christ, the prince of peace, whose birth we celebrate today, is an inspiration and an anchor in my life."
That was Her Majesty talking.
"A role model of reconciliation and forgiveness, he stretched out his hands in love, acceptance and healing. Christ's example has taught me to seek to respect and value all people of whatever faith or none."
It is my firm belief that this true message of Christmas is what can bring hope and healing to a nation that can seem so fractured. When I look at the headlines, I sometimes despair, but that is also when I most enjoy my constituency work, and getting to see glimpses of community spirit and goodness that are done daily and yet are rarely reported. Her Majesty's speech in 2016 reflected that, when she said:
"Billions of people now follow Christ's teaching and find in him the guiding light for their lives. I am one of them because Christ's example helps me to see the value of doing small things with great love, whoever does them and whatever they themselves believe."
At that point, Conservative MP John Hayes intervened:
It is heart-warming and refreshing to hear the hon. Gentleman's plain and confident affirmation of his faith, and our faith too. By the way he speaks, he encourages all of us to reflect on the Judeo-Christian foundations on which our society and our civilisation are built, and I just wanted to thank him for that.
Jim Shannon thanked John Hayes before continuing:
The right hon. Gentleman is most kind. I am giving just a slight reminder of what Christmas is about. I think we all realise that, but sometimes it is good to remind ourselves of it. The example of Christ is one of humility, coming to the earth as a vulnerable baby, and of purpose, as we see the gold given that symbolises royalty, the frankincense to highlight his deity and myrrh to symbolise his purposeful death to redeem us all.
I am a strong advocate in this House for freedom of religion or belief, as the Leader of the House knows. She is always very kind; every week, when I suggest something that should be highlighted, she always takes those things back to the Ministers responsible. I appreciate that very much, as do others in this House. I am proud to be associated with that wonderful cause, and as long as God spares me I will speak for the downtrodden of my own faith and others. I speak for all faiths, because that is who I am, and so do others in this House with the same belief.
At the same time, however, like Her late Majesty, I am proud to be a follower of Christ. At this time of year I simply want the House to know the hope that can be found in Christ, not simply at Christmas, but for a lifetime. The babe of Bethlehem was Christ on the cross and our redeemer at the resurrection, and that gives me hope and offers hope for those who accept him and it.
From the bottom of my heart, Mr Deputy Speaker, I thank you in particular, since you have presided over this speech and the past few hours. I thank Mr Speaker and all the other Deputy Speakers, with all the things that are happening to them, the Clerks and every staff member in this place for the tremendous job they do and the graceful spirit in which everything has been carried out in the last year. I thank right hon. and hon. Members, who are friends all—I say that honestly to everyone.
I thank my long-suffering wife, who is definitely long-suffering, and my mum—
At that point, Shannon broke down in tears.
Leader of the House Penny Mordaunt stepped in quickly and graciously while Shannon composed himself:
The hon. Gentleman has often summed up how people feel, particularly at this time of year. I know he has had losses over the past few years, and he always manages to sum up the feeling of this House. Many Members in this debate have spoken about constituents or family they have lost, and we appreciate his bringing up these issues, as I appreciate all Members' doing so. There will be some people thinking about spending Christmas apart from family they are not able to see, or having suffered those losses. I thank him and we are all willing him strength as he continues his speech.
After a pause, Shannon resumed and concluded:
I thank the Leader of the House for that. I mentioned my long-suffering wife; we have been married 34 years, so she is very long-suffering, and that is probably a good thing, because we are still together. My mum is 91 years old and I suspect she is sitting watching the Parliament channel right now to see what her eldest son is up to and what he is saying, so again that is something.
I also thank my staff members. I told one of my Opposition colleagues last week that I live in a woman's world, because I have six girls in my office who look after me and make sure I am right …
Lastly, I thank my Strangford constituents, who have stuck by me as a councillor, as a Member of the Legislative Assembly and as a Member of Parliament in this House. This is my 30th year of service in local government and elsewhere. They have been tremendously kind to me and I appreciate them. I want to put on record what a privilege it is to serve them in this House and to do my best for them.
I wish everyone a happy Christmas, and may everyone have a prosperous, peaceful and blessed new year, as we take the example of Christ and act with humility and purpose in this place to effect the change that we all want and that is so needed in our nation—this great United Kingdom of Great Britain and Northern Ireland, always better together.
Mr Deputy Speaker Nigel Evans said:
Your mother and wife will be as proud of you as we all are, Jim. [Hon. Members: "Hear, hear!] As a person of faith, I thank you very much for putting the Christ back into Christmas in your speech. We come now to the wind-ups.
When acknowledging MPs' contributions in the debate, Penny Mordaunt said:
The hon. Member for Strangford (Jim Shannon) should never have to apologise for mentioning Christ in this place—especially at Christmas. We are in a place where the architecture is designed to turn our faces to God. I thank him for his Christmas message.
And, finally — best Christmas wishes to Mark Steyn
In closing, hearty Christmas wishes to Mark Steyn who is recovering from two successive heart attacks:
He is recovering in France but told viewers more on December 19. Incredibly, the first heart attack happened before he presented one of his nightly shows on the self-styled People's Channel. He presented it anyway. Wow:
The GB News host suffered the first one "without recognising" the symptoms, before hosting his show on The People's Channel.
Speaking on his current absence from GB News, Steyn said: "I'm too medicated to manage artful evasions.
"I had two heart attacks. Because I didn't recognise the first one, as such, the second one was rather more severe."
The experienced broadcaster spoke about the shocking ordeal, saying he "doesn't look right", looking back at images of himself presenting the Mark Steyn show during the first heart attack.
Speaking on SteynOnline, he said: "The good news is that the first one occurred when I was in London. If you get a chance to see that day's Mark Steyn Show, with hindsight, I don't look quite right in close-ups.
"By not recognising it as a heart attack, I deftly avoided being one of those stories we feature on the show every couple of nights about people in the UK calling emergency and being left in the street for 15 hours before an ambulance shows up.
"I had a second heart attack in France. With Audrey [his wife?] helping me in the ambulance, she told me I was 15 minutes from death."
The presenter also revealed he would remain in France over Christmas and New Year as he is unable to leave medical care and return to New Hampshire.
GB News viewers will be sending Mark every best wish for a speedy recovery — and a healthy, happy New Year! We look forward to seeing him on the airwaves soon!
Yesterday's post was an exegesis on the Epistle reading from Ephesians 1 for All Saints Day.
In it, I cited John MacArthur's sermons on Ephesians 1 from August 2021.
Two of those sermons have something more in them: a focus on Christ for the Church and MacArthur's premise that God has passed divine judgement on us, as Paul discussed in Romans 1.
MacArthur is not normally given to pronouncements of divine judgement in our current era. Nor does he take up socio-political causes, which makes 'Our Great Savior, Part 1' and 'Our Great Savior, Part 2' all the more interesting.
Let's look at the second half of Romans 1 (UKESV), emphases mine:
God's Wrath on Unrighteousness
18 For the wrath of God is revealed from heaven against all ungodliness and unrighteousness of men, who by their unrighteousness suppress the truth. 19 For what can be known about God is plain to them, because God has shown it to them. 20 For his invisible attributes, namely, his eternal power and divine nature, have been clearly perceived, ever since the creation of the world, in the things that have been made. So they are without excuse. 21 For although they knew God, they did not honour him as God or give thanks to him, but they became futile in their thinking, and their foolish hearts were darkened. 22 Claiming to be wise, they became fools, 23 and exchanged the glory of the immortal God for images resembling mortal man and birds and animals and creeping things.
24 Therefore God gave them up in the lusts of their hearts to impurity, to the dishonouring of their bodies among themselves, 25 because they exchanged the truth about God for a lie and worshipped and served the creature rather than the Creator, who is blessed for ever! Amen.
26 For this reason God gave them up to dishonourable passions. For their women exchanged natural relations for those that are contrary to nature; 27 and the men likewise gave up natural relations with women and were consumed with passion for one another, men committing shameless acts with men and receiving in themselves the due penalty for their error.
28 And since they did not see fit to acknowledge God, God gave them up to a debased mind to do what ought not to be done. 29 They were filled with all manner of unrighteousness, evil, covetousness, malice. They are full of envy, murder, strife, deceit, maliciousness. They are gossips, 30 slanderers, haters of God, insolent, haughty, boastful, inventors of evil, disobedient to parents, 31 foolish, faithless, heartless, ruthless. 32 Though they know God's decree that those who practise such things deserve to die, they not only do them but give approval to those who practise them.
I'm old enough to remember that the United States — the world as I knew it, and I was only a child at the time — began changing in the mid-1960s. Every year got stranger and stranger. By the end of the decade, protests took place at universities all over the nation and a particularly violent one occurred at the Democratic National Convention in Chicago in the summer of 1968.
The role of the Church
Interestingly, one of MacArthur's favourite books, an anthology on the Reformation, The Reformation of the Church, was published in 1964.
MacArthur points out that, as long ago as then, the Church was failing in its duty:
… in that anthology of those writers from the seventeenth century, Iain Murray wrote a forward, my dear friend Iain Murray. He wrote this in that same year, 1964—and listen to what he said; and I'm quoting, "At a time when the Christian faith is commanding so little influence on the nation, the church herself should be engaged with questions which affect her own life rather than the life of the masses of the people."
Wow.
Church has continued to become more worldly in a variety of ways, none of which need mentioning because we all know what they are:
When the church begins to focus on the masses of the people and what the people want, it loses its influence. It almost sounds counterintuitive. Church "experts" would tell you that if the church wants to reach the world, we have to find out what the world wants—when just the opposite is true. The Christian faith will always, always lose its influence when it tries to accommodate the world. You get the opposite results than what you hoped for.
The Church is not called to be worldly but to reveal Christ to the world:
In another statement, "It has become customary for us to act as though the gospel could progress on earth independently of the condition of the church." Great statement. We think that the character of the church plays apparently a minor role in reaching the world with the gospel. In fact there are so many, these days, so busy trying to find out what the world wants that it's a very popular notion that the worst thing a church can do, that wants to reach the world, is act like a church. That is the devil's lie. For the church to reach the world it must refuse to be like the world. It must refuse to define itself by what the world wants, what unbelievers want, what the unconverted desire. The church has one obligation, and that is to be what the Lord of the church commands—not focused on the culture but focused on Christ, not focused on passing social issues, the desires of the devil's children, but solely on the will of the Lord. Only when churches are what Christ wants them to be are they useful in the fulfillment of the Great Commission.
There is nothing in the Bible, in particular, the New Testament, that says the Church should conform itself to the world. Conforming to the world is one of the devil's best tricks. As I write from England now, I can see that the Anglican Church is on its knees. It is not alone:
Clearly, churches have little influence in the world because they are trying to give the world what it wants, rather than obey the Lord who is the head of the church. There is no text in the entire New Testament that commands the church to give lost sinners what they want; on the other hand the church is to obey the Lord Jesus Christ, to confront the culture as the church. There is nothing in the New Testament that calls the church to change social structures, to be engaged in political efforts, economic efforts. The church that effectively reaches the lost is the church that is relentlessly devoted to being what the Lord of the church commands His church to be. If a church has little influence in the world, don't ask what the world wants, ask what the Lord requires. Be the church. It has always been our passion here to obey and honor and exalt the Lord Jesus Christ. We have no interest in what the children of the devil want a church to be; that is irrelevant. And furthermore, beyond being irrelevant, it invites the devil in.
Paul's letter to the Ephesians is a blueprint for the Church and Christian behaviour. The first three chapters focus on the holy mystery of Christ's bride and the last three chapters tell us how we must act as His followers.
The Reformers, being well read in Scripture, devised the 'formal principle', which defines a true church:
The formal principle was simply what the Reformers identified as the truth: that the Word of God is the sole authority in the kingdom of God, and therefore in the church. So the church is to be whatever the Word of God tells it to be. That is the formal principle. We have only one divine revelation for the life of the church, and that is Holy Scripture. And when you get into the New Testament epistles like Ephesians and the rest of them, you find that they are designed to make sure that every subsequent generation of Christians and churches understands the will of the Lord for their life and conduct.
And that is true of the epistles in general, but particularly true of Ephesians. Early on in the ministry here, I wanted to dig into Ephesians because it's so absolutely definitive as to the life of the church. Here is heaven's instruction book for the church to be the church. There's not a word in it about what the world wants. Nothing about how to engage politically, socially, culturally. It's all about how to follow the Lord who is the head of the church, how to be consumed with Christ. That's why the epistle begins essentially in verse 3, "Blessed be the God and Father of our Lord Jesus Christ, who has blessed us with every spiritual blessing in the heavenly places in Christ."
Everything is in Christ, everything. It's all about our relationship to Christ. It's all about knowing Him, loving Him, adoring Him, declaring Him, and becoming like Him. That's what the church needs to be. The more it's like the world, the more it forfeits its influence. The more it tampers with the world, the more divisive it becomes, the more cantankerous it becomes, the more fractured it becomes, the more exposed its weakness becomes. It is a deadly danger for the church, any church anywhere, to be anything other than what the Lord of the church has designed the church to be. And we have all the information in the revelation of the New Testament.
So as we look at the book of Ephesians, we're going to notice that in the first three chapters the emphasis is on doctrine—that is what we believe. And the last three chapters is the practical section—how we behave. And how we behave is predicated by what we believe.
The memorable line in the film Field of Dreams was 'Build it and they will come'.
John MacArthur's Grace Church in southern California has been predicated on Scripture since its founding in the late 1960s. He never used gimmicks or church growth strategies. He didn't have to. Because he, his other pastors and elders focus on the Bible and on doctrine, the pews are filled for every service. They also have a thriving Spanish-speaking ministry. Thousands of people attend Grace Church every week.
Beyond that, MacArthur also has the Master's Seminary. Its graduates go on to plant churches around the world.
He says:
Paul's prayer is that the church would focus on fully understanding what is theirs in Christ. Every faithful pastor should be leading His church into the deep knowledge of Christ. Every faithful pastor must live in the constant expression of a desire to see the church filled with the wisdom and knowledge that comes with a deep revelation of Christ. This is the church being the church, being Christ-centered. Certainly this is my prayer for Grace Church.
God is answering that prayer, most assuredly.
Divine judgement?
Now we come to Romans 1. I placed it at the top, however, so that we could read it whilst contemplating what has happened to the Church and our world over the past six decades.
MacArthur believes that we are living out Romans 1 and that God has left the Western world to its own devices:
If there would ever be a nation of people who held the truth it would be certainly our nation, as well as most of the Western world. We have had the Bible. We've had the revelation of God. We all are very much aware that that has been rejected in our nation wholesale; and as a result of that, the wrath of God has been revealed. It is revealed against any society, any culture, any people, who hold the truth in unrighteousness, who turn from God; and that's exactly what our society has done. And Romans chapter 1 defines the wrath of God. It says this is what it is. God, when He judges a society for rejecting Him, turns them over to a sexual revolution. It's explicit. We have had that, 30 years ago I suppose, the sexual revolution; that was the first sign of divine judgment. He lets men go into sexual unrighteousness, pornography—really the death of any sense of biblical morality.
The final step is God's giving people a 'reprobate mind':
Reprobate mind is a nonfunctioning mind; and what that means is the final step in divine judgment is a kind of insanity, where nothing makes sense. And out of that, Paul in Romans chapter 1 lists a long list of every imaginable kind of wickedness and sin, that will literally flood and drown a society. In the middle of that list, of course, is deceit and the hatred of God.
So there's a reason why this country is in the insanity that it is in, and it is the judgment of God. God has allowed this nation that has rejected Him to go down the path of Romans 1 … to the point where there is an insanity that really makes no sense to any thinking person. It's a reprobate mind, it's a mind that does not function. And out of that mind that doesn't function comes every imaginable kind of evil.
It was John Calvin who made the interesting statement that when God judges a people He gives them wicked rulers. When God judges a people He gives them wicked rulers. So this judgment of God, that has sent us down this careening path of transgression, iniquity, and sin, is also aided and abetted by wicked rulers because they tend to be the architects of all of this—if not overtly, certainly covertly.
Mankind cannot 'fix' what God has divinely ordained:
So I just want to say that you have to look at this in the light of divine judgment. What is happening in our country—the chaos, the insanity, the nonsense, the things that you can't figure out, the confusion, the disorder, the disruption—is all part of divine judgment. And if you understand it that way you're going to realize that you can't fix it, you can't fix it. The next election will not fix it. No election will fix it. A new governor in California will not fix it. It cannot be fixed; it is divine judgment, and it is obviously unleashed on us, and we're in the final stage, the stage of insanity.
The folly of all follies in a situation like this is to think there's anything you can do in the human realm to stop the divine judgment of God. That's not possible. This is God judging, and He laid it out in detail. We are under judgment at a severe level, the most severe level revealed in Scripture, short of final, global judgment yet to come in the end of the age, and eternal judgment in hell. What is wrong in this country is not fixable; this is God bringing judgment.
However, MacArthur says that God will protect His faithful people:
The good news is that He protects His people in the judgment, that His cover is over us. We are in the shelter of His protection. We are saved from the wrath to come, and we are protected in the current judgment.
MacArthur says that we must have convictions — hills to die on — as we live through this era:
I was at camp this week with a thousand teenagers over in New Mexico, and the seniors from Grace Church got together and wanted to have a question and answer session. It was wonderful; I love doing it. And perhaps the most telling question came from—these are high school seniors—they said, "What do we need to know, facing university, facing college, going forward? What protections should we have?" And I said, "You need two things, two things, without which you will be a victim of the world. Number one: You need conviction. You need conviction. You have to have some non-negotiables, you have to have some hills you die on. And you have to know why, and you have to be able to substantiate those in the Word of God and in your own conscience. Without convictions you are a cork in the surf; you'll end up wherever they take you. You need convictions." And what a blessing to have been, for most of them, brought up in the influences of Grace Community Church where they have those convictions from those who surround them here; and for many of them, their own families. You have to have convictions.
Your convictions are the immovable pillars of your character. They're the structure. Because what they're going to want to do in the university is crush those convictions because they're biblical convictions, and they're true. And the world is ungodly, and the world is run by Satan, who's a liar. They're going to attack you with lies, and they're going to attack your convictions about God, about man, about sin, about righteousness, about conduct, about morality, about everything. You have to have convictions.
The second thing you have to have is critical thinking, critical thinking. And I think for this particular period of history, this is what is most under attack. And let me tell you how to look at that.
Universities these days—certainly in the humanities side of things, universities these days are concerned about ideologies. You hear a lot about that, an ideology. What do they mean by an ideology? It's just another word for a philosophy. But ideologies in the current climate are seductive and attractive to people because they are mindless, they are mindless.
Here's how an ideology works: "What's wrong in America? White privilege. What's wrong in America? Systemic racism. What's wrong in America? Abuse of women." They want you to buy into the fact that everything that's wrong in America can be explained by an ideology. They don't want you to think critically about it.
"What's wrong in America? Some people have money, and others don't. What's wrong in America? Corporations are getting rich, and people are being abused. What's wrong in America?" They can be reduced to an ideology, a simple, single idea. This is stupidity. And universities are really bent on teaching people to be stupid. This is infantile. You can't say, "What's wrong in America? Systemic racism," no matter what it is; if the bus doesn't show up on your corner on time, "Well it's systemic racism." If you have mold on your bread, "Well it's systemic racism." That's the stupidity of that oversimplification of everything—that is easy for people to suck up and be seduced by it because it's a one-size-fits-all answer to everything, and you can put your brain in a bag and bury it. You have to think critically. You have to understand.
Then MacArthur describes the pandemic and post-pandemic period. What an amazing analysis:
For example, I'll give you an illustration. In the United States 99.9 percent of the population survives COVID; that's a fact. You can't mesh that up with the behavior they're requiring. How about this one: "Get vaccinated." And you're saying to yourself, "Well let's see, they lied about Russia. The FBI lies. CIA lies. The National Health Organization lies. The World Health Organization lies. The CDC lies. The director of all of this lies, because he says something different every time he opens his mouth. The politicians lie. They lied about an incident in Chicago. They're just lies and lies and lies and lies and lies." And then they say to you, "Be vaccinated; it's good for you." I know why people aren't getting vaccinated—because people don't believe they're being told the truth. It's simple. It's just the old Aesop's fable about the boy who cried, "Wolf, wolf, wolf, wolf," there never was a wolf. And when there was a wolf, nobody showed up.
You can't keep lying and then expect people to believe you. You have to think critically and thoughtfully and carefully. You have to realize, CDC reports death rate from the normal flu last year was 99 percent lower. Oh, really. What happened to the flu? Where did it go? It went into the COVID statistic.
The chaos of deception and lies forces you, if you want to navigate the world in which you live, to think critically. Are there things wrong with capitalism? Capitalism can be abused, just like socialism is abused. Anything can be abused because sinners are engaged in it. Any kind of relationship, any kind of anything in human relationships is going to have good, bad, and indifferent. But what they want you to do is accept the—buy the package, and shut down alternative discussions. That's why they cancel culture, because they want you to buy the ideology, they don't want you to think critically. But we think critically because we think biblically, and we have the mind of Christ. First Corinthians 2:16, "You have the mind of Christ."
I don't want to get caught up in philosophy, which is another term for human wisdom. I don't want to get caught up in empty deception. I don't want to get caught up in something just passed down from person to person in tradition. And I certainly want to get above the stupid level of the ABCs. You can't reduce me to some simplistic moron. Human wisdom is infantile compared to divine wisdom.
So look at verse 9, Colossians 2. Look, we don't pay any attention to that, but we pay attention to Christ, "For in Him all the fullness of Deity dwells in bodily form, and in Him you have been made" —what? —"complete." Everything we need is in Christ. First Corinthians 2:16, "We have the mind of Christ." We have the mind of Christ.
That's what I told those high school students: convictions, critical thinking. Think like a Christian. Think like Christ. Think biblically. Don't be kidnapped by lies.
MacArthur says that the Church has a vital role to play during divine judgement:
I just want you to understand that the church has one great responsibility in the midst of this judgment. It's not to try to fix what's wrong in society. That same chapter, Romans 1, gives us our mandate. Paul says, "I am not ashamed of the gospel [of Christ], for it is the power of God unto salvation to everyone who believes, to the Jew and the Gentile." Our responsibility is to preach the gospel—not to be ashamed of the gospel but to preach the gospel, which is the only answer. The only hope is Christ, and the only appropriate response to Christ is to embrace Him as Lord and Savior, and to embrace His glorious gospel.
I guess what I'm saying to you is don't expect it to get better. But it raises the stakes for what we as believers in the world are called to do. And while so many churches, so many churches, ranging from the liberal churches to the even evangelical churches, are caught up in trying to fix what's wrong in the world—everything is a result of judgment, even the racial hostility, the insanity of teaching people to hate and living on vengeance and revenge. All of these kinds of things are part and parcel of what happens to a culture when God lets them go. They go to an insanity where nothing makes sense. That's where we are.
For us, we know the truth because we have the mind of Christ in the Word of God. And our responsibility is not somehow to figure out how to fix the world, but how to proclaim the gospel that can deliver people from the world, from the kingdom of darkness into the kingdom of God's dear Son. The church needs to focus on the person of Christ; and sadly it's all over the place on social issues, which cannot be fixed, first of all, because people are sinful. And what's wrong in the world, in society, is a reflection of sin. And secondly, because that sin is compounded when God removes normal, divine restraint, and it becomes a judgment. So the judgment is that sinners get what they want, and it gets worse and worse and worse …
You have to see those things for what they are. They're not fixable; they're a reflection of fallen sinfulness, a reflection of a nation that has abandoned God, and a reflection of divine judgment itself.
Ultimately, the Church must be a haven in times of judgement:
The church needs to become Christ-centered. For the church to reach the world, it has to stop trying to be like the world, because why would you want to identify with a society under judgment? Understand that what's going wrong in our society is divine judgment. We have to be the church. We have to be the haven; we have to be the eye of the hurricane; we have to be the safe place. We have to be the place where Christ is exalted and the Word of God is proclaimed, truth is known and believed and lived and taught. We have the mind of Christ, and it's in the pages of Scripture.
I will return to British politics in my next post. See if we are not under divine judgement, too, as our once great United Kingdom is in a state of collapse in so many ways. No matter what our politicians advocate and try, everything gets worse. It's unfixable for the time being.
On Monday, June 20, 2022, the Telegraph's columnist Tim Stanley went back in time to explain how the rot set in the Church of England.
This happened early in the Queen's reign. While she has nothing to do with the appointment of Archbishops of Canterbury, as the Prime Minister has this privileged responsibility, the decay is nearly 70 years old.
When I moved here decades ago, everyone said that the Church of England is the Tory (Conservative) Party at prayer.
Even at that time, our church — as did many other Anglican congregations in England — had non-liturgical services, disproving that trope.
The early morning service I attend probably could be described as mostly Conservative. Even then, I'm not sure, and, as only a handful of us are there week after week we are, therefore, hardly representative. The more widely attended mid-morning service certainly could be described as having adherents in the Liberal Democrats and Labour.
Stanley's article, 'How the Church of England became the Labour Party at prayer', discusses two Archbishops of Canterbury, the Right Revds Geoffrey Fisher and Michael Ramsey.
Excerpts follow, emphases mine.
Geoffrey Fisher
Geoffrey Fisher was the Archbishop of Canterbury when the Queen acceded the throne.
Like many Anglican clergy, he was a bit of an oxymoron.
On the one hand:
Fisher, a former headmaster, is rumoured to have talked Princess Margaret out of marrying a divorcee …
On the other hand:
in his diary, long ago in 1957, [Conservative Prime Minister] Harold Macmillan wrote that he dreaded his meetings with the Archbishop of Canterbury, Geoffrey Fisher. "I try to talk to him about religion, but he seems to be quite uninterested and reverts all the time to politics."
Then there was the strange middle ground. Fisher:
opined of the nuclear bomb that "the very worst" it could do "is to sweep a vast number of people from this world into the next, into which they must all go anyway." Yet he was also against Suez and the premium bond, the latter a lottery cooked up by Macmillan that Fisher regarded as ungodly.
The premium bond is great. It is one of the best investments that one can make these days. I 'win' at least one bond worth £25 nearly every month. I don't need to lift a finger; the draw takes place automatically. This is a much better appreciation in capital than a standard savings account will provide these days.
Fisher got shirty with Macmillan when it came time to select his successor:
Macmillan was as mischievous when it came to clerical appointments. He suggested to Fisher that the best choice for his successor at Canterbury might be Michael Ramsey, the liberal-minded Archbishop of York. "Dr Ramsey is a theologian, a scholar and a man of prayer," Fisher is supposed to have said. "Therefore he is entirely unsuitable as Archbishop of Canterbury." He knew this, he explained, because he had been his headmaster. "Well, you may have been Dr Ramsey's headmaster," retorted Macmillan, "but you are not mine" – and, one likes to imagine, picked Ramsey for the job in a fit of obstinacy, ushering in the Swinging Sixties.
Michael Ramsey
Again, we have a contradiction in terms if Ramsey was indeed 'a theologian, a scholar and a man of prayer', because it was during his tenure, according to Tim Stanley, that the C of E embraced the prevailing culture of the Swinging Sixties:
Under Fisher, the mission was to confirm an ancient Christian identity, but by 1960, it was obvious that England was changing fast. Rather than resist, Ramsey&Co sought to negotiate a new role as the nation's conscience, not to block legislation, such as on divorce or abortion, but to shape it (so compassionate and forensic was Ramsey's contribution to parliamentary debate on the legalisation of homosexual acts that one peer accused him of turning Hansard into pornography).
As clerics became dynamic commentators on the state of the nation, it might have seemed as if the gamble were paying off. But they were running on the fumes of the Fifties. It was Fisher-style conservatism that gave them the air of authority that they leant to causes that, in turn, made them sound not like they were trying to transform the world but allowing the world to transform them, that they had become dedicated disciples of fashion. Once, when asked what he thought about a trend for girls in London to walk about topless, Ramsey said, "We must just accept the fact that young people express themselves in new methods of dress that may seem queer to the older among us."
Political shifts also took place during this time. Ramsey became Archbishop of Canterbury under a Conservative Prime Minister. In the middle of his tenure, Labour's Harold Wilson took the helm. Edward 'Ted' Heath, a wet Conservative, succeeded him.
Harold Wilson ran into problems over immigration legislation with Ramsey:
One of the new archbishop's interests was immigration. Ramsey called the Conservatives' 1962 bill, which for the first time limited arrivals from the Commonwealth, "deplorable". Labour, keen to co-opt the church, made him chair of a committee on race relations, though in 1968 Harold Wilson limited Asian immigration from Kenya and Ramsey condemned that bill, too.
Present day
Over the past seven decades, it has been easier for Archbishops of Canterbury to visit war zones in other parts of the world, but, as Tim Stanley points out, it is often the local vicar who encounters the impact of displaced persons:
Archbishops of Canterbury are part of a global communion: they have visited warzones and dictatorships and seen the horrors that compel people to flee, and when these unfortunates turn up in Britain, it is often the parish clergy who encounter them first. A vicar friend walked into his church one day to discover a Nigerian exile had broken into the children's creche and was sound asleep in the Wendy house.
Immigration is a bigger issue than ever, especially as the Government is adamant over its plan to send illegals to Rwanda for processing, despite the fact that the June 14 charter flight lost all of its 37 passengers to legal challenges:
Its hierarchy has completely become the Labour Party at prayer … and so, in a bid to find relevance among those who don't believe in God, the CofE frequently finds itself alienating those who do. It has probably irritated a few Rwandans along the way.
It is still hard for me to believe that most Anglicans voted for Brexit, but I stand corrected. Maybe they no longer go to church? Stanley says:
the one part of the population that has remained steadfastly loyal to the church is Conservative voters (two-thirds of English Anglicans voted for Brexit) …
Most importantly, while most, though not all, C of E clergy are clearly on the Left, they are attempting to court God-fearing Africans, who do not share their social views:
Archbishop Laurent Mbanda, head of the Rwandan Anglicans, has said he supports asylum seekers being sent to his country: he is also one of three African church leaders boycotting the upcoming Lambeth conference over the CofE's tolerance of homosexuality. Here is the final twist. The Church that bent over backwards to ally with the post-colonial world has, in the process, embraced a liberal theology that now puts it at odds with much of the post-colonial world.
How Anglican clergy will reconcile that conundrum is anyone's guess.
Would that the clergy concentrate on our souls and the promise of salvation instead.
Perhaps we need more African bishops serving in England. They know what the point of the Church is — and it isn't politics.
Last weekend saw an Anglican news story make the papers: that of ordinand Calvin Robinson, who is effectively being prevented from taking Holy Orders in the Church of England.
Even though he is mixed-race black, he appears to be the 'wrong sort' of minority for the C of E: too biblical, too conservative, too traditional.
I wrote about him a month ago, when it was clear he was having problems securing a priestly placement, even though he had been offered one in central London at St Alban's in Holborn.
Background
In 2020, Calvin Robinson was a campaigner for Defund the BBC. Here he tells Dan Wootton, then a broadcaster on talkRADIO, that it was absurd for the BBC's Countryfile to suggest that people of colour would feel awkward in the countryside. Robinson said that he practically grew up in Sherwood Forest in Nottinghamshire:
He had more to say in September, when the BBC's A Question of Sport revamped its panel because of their skin colour. Robinson called for more diversity of thought and economic background instead, i.e. conservative working-class people:
Robinson worked as a schoolteacher and assistant principal before entering the seminary. He was also a school governor, so a well-rounded children's education remains important to him. On October 15, he took exception to radical 'theories' entering the British school system:
He had more to say a few days later when Parliament debated the subject. Kemi Badenoch MP is at the despatch box. The Opposition view her as the 'wrong sort' of minority woman:
He deplored the National Education Union's push for school closures early in 2021 because of the pandemic:
Shortly after he tweeted that, he had appeared on a BBC Sunday morning show, The Big Questions. His appearance brought reaction in the form of verbal insults from an activist and academic at Leeds Beckett University, more about whom below. On February 18, he wrote an article about it for the Mail:
… after I had appeared on the long-running BBC discussion show The Big Questions last Sunday morning, I saw a message on Twitter from Aysha Khanom, the founder and director of the Race Trust charity, which works with schools and universities and purports to promote 'racial equity'.
Aysha Khanom personally tweeted of me: 'Please somebody deal with this man!'
I found that menacing. I don't know exactly what she meant by it, but it echoes the sort of language that Tony Soprano would use when he wanted a rival rubbed out.
'Deal with' could easily be read as an incitement to violence.
But I shrugged it off. If I obsessed over every piece of abuse I receive through my phone, I would never think about anything else.
Shortly afterwards, though, the Race Trust Twitter account also attacked me — and this time it was less ambiguous.
'Calvin Robinson,' the tweet read, 'does it not shame you that most people see you as a house n****?'
I knew immediately that any decent person would find that language abhorrent. And sure enough, within 48 hours, Leeds Beckett University, which had worked closely in the past with the Race Trust, cut all ties and deleted Aysha Khanom's profile from its website.
For what it's worth, Race Trust now denies Aysha Khanom sent that second tweet. It claims it came from an anonymous employee without approval, and that this unnamed person has since been dismissed …
There was no apology to me for labelling me with a racist slur …
The sad truth is that many on the Left want to remove my freedom to speak independently.
To them, my skin colour means I am supposed to be part of a homogenous, faceless group, without a mind of my own.
But I am more than that. I am British, a Christian, a Midlander, a former computer programmer, a qualified teacher, a political adviser, a son and a brother.
I have many elements to my identity, and all these things have far more effect on how I see the world.
Above all, I believe in self-reliance and personal responsibility. I want to make the most of my life and refuse to see myself as oppressed or downtrodden …
After Oprah Winfrey's interview with the Sussexes aired, Robinson was dismayed that Meghan claimed the Archbishop of Canterbury married her and Harry privately in the garden when it was only a rehearsal. Robinson explains the C of E criteria for a wedding ceremony:
Robinson joined GB News as a panellist and presenter soon after its launch in the summer of 2021.
This appearance of his from August 2021 was excellent. In it, he defended traditional Christian values which have informed the UK's way of life for centuries:
Two weeks earlier, he reminded us that then-Health Secretary Matt Hancock resolutely said in November 2020 that the coronavirus vaccines would not be given to children. Robinson is opposed to children receiving the vaccine. Yet, by the time he posted this tweet, schoolchildren were receiving it. What a difference several months make:
On August 18, he was very generous in defending the free speech of the aforementioned academic at Leeds Beckett University who called him something offensive. He wrote an article for Spiked about her, saying:
It is for that reason that I haven't joined in the demands for academic Aysha Khanom to lose her job. Leeds Beckett University has cut ties with Khanom after an organisation she runs, the Race Trust, racially abused me on social media.
Earlier this year, I appeared on BBC One's The Big Questions to discuss the state of racism in the UK. I spoke about how I have been racially abused for not holding the 'correct' opinions. In response, the Race Trust tweeted: 'Does it not shame you that most people see you as a house negro?'
Khanom maintains that the 'house negro' tweet was not sent by her, though she accepts responsibility for it. Either she or someone at her organisation was clearly comfortable using such racist language in public. The good news is that the tweet was rightly challenged and 'ratioed' by the masses on Twitter …
In my eyes, what's most worrying about this incident is that Khanom's organisation was set up to promote this critical race theory view – or what it calls 'race literacy' – in schools and universities. Sadly, this is what passes for 'anti-racism' today. Is this really the kind of worldview we want to indoctrinate our young people into?
The rise of identitarian racism should definitely worry us, but we won't be able to challenge it openly if its defenders aren't free to express themselves.
On Remembrance Sunday last year, an asylum seeker attempted to bomb Liverpool Cathedral but set himself off at the nearby children's hospital instead. He had converted to Christianity. Pictured below is a man from his church who housed him for a while. Calvin voiced his opinion:
By early 2022, anyone not towing the media-Government line on coronavirus was anathema. Robinson was empathetic but frank with a university student who lost her friends because she dared to dissent:
Calvin Robinson anathema to C of E bishops
This brings us to the present, the past week, in fact.
On Friday, May 20, Robinson said on GB News that he had no choice but to leave the Church of England. He announced that he would be joining GAFCON, Global Anglican Future Conference, which is traditional in its teaching and practice.
The Mail on Sunday was already working on the story. A Mail+ article from Saturday, May 21, reported (emphases mine):
Internal emails obtained by The Mail on Sunday reveal that Archbishop of Canterbury Justin Welby asked to be shown examples of Mr Robinson's tweets amid mounting alarm within the Church over his criticism of 'bleeding-heart liberal vicars' and the Church's race policy.
In one, The Rt Rev Rob Wickham, Bishop of Edmonton, voiced his fears to senior church leaders after Mr Robinson insisted that Britain was not riven with racism. 'Calvin's comments concern me about denying institutional racism in this country,' he wrote.
Mr Robinson also claimed that the Bishop of London, the Rt Rev Sarah Mullally, lectured him about racism in the church, insisting that 'as a white woman I can tell you that the Church is institutionally racist'.
Mr Robinson, a former teacher who has trained for two years to become an ordained member of the clergy, has been told that plans for him to serve as a deacon at a parish in London have been axed.
Last night he described the decision as 'soul-destroying' and claimed it followed a 'sustained campaign' against him by the Bishop of Edmonton over his views, including on whether Britain and the Church were institutionally racist. 'These people are claiming they are institutionally racist, yet they are disregarding the opinion of an ethnic minority because it is not fitting their narrative,' he said.
In comments set to rock the Church's hierarchy, he questioned whether the Archbishop of Canterbury, who has claimed the Church is 'deeply institutionally racist', had a part in blocking his ordination.
'I would love to know how big a role the Archbishop had in it because he has certainly been a part of the conversation. He is the boss and the fact they have gone ahead and cancelled me suggests that he was happy with that.'
… The Church said last night there were only a few clergy positions in London and 'no suitable option' available in London for Mr Robinson, who became a trainee vicar – an ordinand – at St Stephen's House, a theological college at the University of Oxford, in October 2020.
Yet, Robinson had already been offered a post at St Alban's, Holborn.
I gave you his background above because that is what the bishops were examining:
The emails reveal that even before starting his studies, Mr Robinson's public comments were being scrutinised by church leaders. He claimed on ITV's Good Morning Britain in September 2020 that the Black Lives Matter movement was stoking racial tensions, adding: 'There are elements of racism in this country we need to stamp out, but while we are seeing everything as racist we are kind of undermining those racial issues we need to address.'
That day the Bishop of Edmonton emailed the Bishop of London, the Rt Rev Sarah Mullally, and a PR adviser to the Diocese of London to register 'concern' about Mr Robinson's denial of institutional racism in Britain. 'Calvin Robinson is not only a political commentator, but he's an ordinand and former teacher in this area,' he added. Despite the Church's view on racism, the Commission on Race and Ethnic Disparities concluded in March 2021 that Britain did not have a systemic racism problem. In November 2021 senior Church leaders received a complaint after Mr Robinson shared on social media a Daily Mail investigation that exposed how the Church gave official advice that being baptised could help failed asylum seekers stay in Britain.
It followed news that suicide bomber Enzo Almeni, who detonated a device at a hospital in Liverpool last year, was baptised there as a Christian in 2015. Mr Robinson, by then a GB News commentator, tweeted that 'misguided bleeding-heart liberal vicars could be complicit in recent terror attack', adding: 'Not to mention abuse of the Holy Sacrament of Baptism.'
Bishop Wickham criticised the 'highly irresponsible' comments in an email to Emma Ineson, assistant bishop to the Archbishops of Canterbury and York, and said they remained online after 27 migrants died in the English Channel. 'These are clear examples as to why, in my opinion, his ordination should be looked at very closely indeed,' he wrote. 'Calvin's Twitter feed is here. It is worth scrolling down.' He revealed the Archbishop of Canterbury had 'asked for examples of Calvin Robinson's tweets' and highlighted that Mr Robinson had also criticised the findings of the Church's anti-racism taskforce, which recommended quotas to boost the number of black and ethnic-minority senior clergy. Bishop Ineson said she would show the information to Archbishop Welby.
Mr Robinson was to be ordained as a deacon with a part-time role as assistant curate at St Alban's Church in Holborn, central London. But in February the Bishop of Fulham, the Rt Rev Jonathan Baker, told him the role was 'likely to prove problematic, and would not lead to a fruitful or happy formation for you in your early years in ordained ministry'. Mr Robinson offered to reduce his media work but was told he would still not be able to take up the proposed role because 'that moment had passed'.
The Bishop of London suggested he was stoking division:
At a meeting with Mr Robinson this month, Bishop Mullally insisted the decision was not about his politics, but because his 'presence' on social media and TV 'is often divisive and brings disunity'.
Robinson received support from a young Conservative MP, Tom Hunt:
Tory MP Tom Hunt backed Mr Robinson last night, saying: 'The message the Church seems comfortable to send out is that it's OK to propagate some political views but not others. Sadly, Church of England congregations will continue to decline as millions of Christians are alienated by its behaviour.'
The C of E prelates involved in deciding Robinson's fate as a future priest declined to comment:
The Archbishop of Canterbury and Bishops of Edmonton and London declined to comment. The Diocese of London said: 'We have a limited number of curacies available. In this instance, it is felt that there is no suitable option available that London can offer. We continue to be in conversation with Calvin, are willing to work with him to discern the right way forward, and we keep him in our prayers.'
The Mail on Sunday's article has this title: 'EXCLUSIVE: Not woke enough to be a vicar! Black political commentator Calvin Robinson who said Britain is NOT a racist country is BLOCKED from becoming a priest by a white bishop as a result'.
That title sums the situation up perfectly. Is not the bishops' attitude a racist one, as in 'We whites know better than you'?
Calvin tweeted the article:
The article is the same as Mail+'s, but it does include photos of the main players in this story.
The Mail kindly gave space for Robinson to respond beneath their article.
Excerpts follow:
Sitting in an ornate study in the Old Deanery – a 17th Century mansion house opposite St Paul's Cathedral – the Bishop of London put her hand on my arm and quietly said something that left me astounded.
'Calvin, as a white woman I can tell you that the Church IS institutionally racist,' the Rt Rev Sarah Mullally told me.
We had been discussing the Church's race policy, which I had been vocally objecting to for some time. The Bishop could not understand that as a black man, I simply did not share her – and the Church hierarchy's – view on this contentious issue.
The Archbishop of Canterbury, Justin Welby, has proclaimed that the Church of England is 'deeply institutionally racist' and called for 'radical and decisive' action. Last year an Anti-Racism Task Force recommended using quotas to boost the number of black and ethnic-minority senior clergy, introducing salaried 'racial justice officers' in all 42 dioceses and launching 'racial justice Sunday' once a year.
I fundamentally disagreed with this approach, which is based on a faith in divisive Left-wing Critical Race Theory, instead of the teachings of Christ. I believe it is divisive and offensive.
I have experienced plenty of racism in my life, but it has always been down to a minority of malicious individuals. I do not think the claim that either the Church, or wider society, is institutionally racist has ever been supported by robust evidence.
The Bishop of London's hushed condescension during our meeting made me realise that any dissent from the Church's ingrained view, which to me seems like nothing more than virtue-signalling, is not welcomed. The Church claims it wants to listen to the perspectives of minorities – well, I am one of them but it doesn't appear to want to hear my view because it also happens to be a conservative one.
For the past two years I have been training for ordination at St Stephen's House at the University of Oxford. I was due to begin a curacy at a lovely parish in Holborn, Central London, and within a year I hoped to be ordained a priest.
It takes a long time to acknowledge a call from God to serve as a priest, and it's a vocation that often involves the sacrifice of leaving behind a successful career. I gave up my career as an assistant headteacher and consultant for the Department for Education to throw myself into my theological studies.
He said that the role at St Alban's would have allowed him time to still appear on GB News and do other media work:
as an acknowledgment that I see my media work, which reaches a huge audience, as part of my calling and future ministry.
Another bishop was involved with deciding Robinson's fate, the Bishop of Fulham, also in London:
During a Zoom call, the Bishop of Fulham, the Rt Rev Jonathan Baker, told me that there had been 'a lot of turbulence' over some of the views I had expressed online and on TV. It was no secret that senior figures in the Church disliked me. I am after all a traditionalist – which means I do not believe in the ordination of women – and I have never been afraid to voice my criticism of the Church's drift away from what I, and many of its parishioners, think are its core values.
I did not expect everyone to agree with me, but what I did expect is the right to express my own opinions. I had always been taught that the Church of England was a broad church.
I later discovered that Church leaders in London appeared to have had deep misgivings about my ordination from the very beginning of my training – despite spending more than £20,000 of parishioners' money on sending me to study theology at Oxford.
Emails that I obtained via data-protection rules revealed that bishops at the very top of the Church had been closely scrutinising my public comments.
'His political agenda is I guess what you would call libertarian – anti-woke, anti-identity politics, Covid-sceptical,' the Bishop of Fulham wrote in one email. 'His tweets get him into trouble sometimes and there have been complaints to the Bishop of London that he shouldn't be ordained.'
Robinson rightly asks why, if the Church is institutionally racist, these white bishops have not tendered their resignations:
If the Church is institutionally racist, as the Archbishop of Canterbury insists, then why have he and other senior figures, including Stephen Cottrell, the Archbishop of York, and Sarah Mullally, the Bishop of London, not resigned? After all, they have all been bishops for years, which suggests they have been unable to solve the problem.
He warns that the C of E is entering apostasy. He is not wrong:
If you defend family values, the sanctity of marriage, all human life being sacred, or the fact that God made us male and female, you'll face opprobrium.
Something has gone wrong. The established Church is entering apostasy, and the faithful masses in the congregations and the hard-working clergy deserve better.
Fortunately, he has received much support from clergy and laity:
Since my ordination was blocked I've been contacted by clergymen and lay people up and down the country who have been sharing their stories of how they've been silenced by the Church for holding conservative views.
He confirmed that he will be joining GAFCON and explained why it is so heartbreaking for him to leave the C of E:
After becoming increasingly disillusioned, I recently decided to leave the Church of England and join a more orthodox institution, the Global Anglican Future Conference (GAFCON). Walking away from the Church of England has been heartbreaking.
People often quizzed me on why, if I was so troubled by its direction, I was also so determined to take holy orders in the Church of England. It was because, for me, the Church is the body of Christ and, perhaps naively, I thought I could help pull things back on track from within.
The Sunday Telegraph provided a few more details:
He had been training to become a priest at the University of Oxford for the past two years and was due to begin a curacy at a parish in Holborn, London, but was turned down for the role by the Bishop of Fulham, the Rt Rev Jonathan Baker, in February …
Mr Robinson submitted a subject access request (SAR) to the Church of England – asking the organisation for access to the personal information it held on him.
It was then that he discovered a series of internal emails between Church bosses raising concerns over his opinions on institutional racism in Britain …
In another email, the Bishop of Fulham writes: "I wanted a word about an ordinand, Calvin Robinson. You might be aware of him … "
Of the Bishop of London, he pointed out the irony of her insisting that the Church was institutionally racist:
Former teacher Mr Robinson added: "She was just ignorant. She accused me of being controversial so I said to her in a polite way that some of the things she says are controversial too – like the fact that she thinks the Church is institutionally racist. And then she turned around and said that.
"She was contradicting herself because in one instance she's saying the Church is racist and needs to listen to the lived experiences of ethnic minorities, but then she was refusing to listen to my lived experience as a black man because it didn't fit with her narrative."
On Sunday evening, he appeared on Mark Dolan's GB News show:
On Monday, May 23, The Times carried a report.
In it, we discovered that the Bishop of Edmonton's child or children attended the school where Robinson was an assistant principal:
Calvin Robinson has been blocked as a priest by the Church of England after the Right Rev Rob Wickham, the Bishop of Edmonton, privately warned church leaders against ordaining him. Robinson, a social commentator, was an assistant principal at a school where Wickham was a parent …
Robinson said that he was shocked to be told in February that his ordination was likely to be problematic. He applied under the Data Protection Act to see the information the church had on him.
He discovered that the Bishop of Edmonton had been reporting him to church leaders since he began his studies. Robinson went on Good Morning Britain in September 2020 to say that he was against Black Lives Matter because it was increasing racial tensions, and he believed that everyone in this country had an equal opportunity to succeed. The same day Wickham wrote to the Right Rev Sarah Mullally, the Bishop of London, to "bring it to your attention . . . Calvin Robinson is not only a political commentator, but he's an ordinand and former teacher in this area who has just started at St Stephen's House. Calvin's comments concern me about denying institutional racism in this country."
In December last year, Wickham wrote to the Right Rev Emma Ineson, Bishop to the Archbishop of Canterbury, and also to the Bishop of London. Wickham sent them some of Robinson's tweets, adding: "These are clear examples as to why his ordination should be looked at very closely."
Robinson said he felt "betrayed and a bit heartbroken" at Wickham's conduct. He said: "To hear that people are campaigning behind your back after you have given them all that you have got, I don't know how to put it into words."
Church sources said that Wickham's status as a parent at the school had no bearing on this matter.
Robinson rightly urges the C of E to return to the fundamentals of faith:
The TV pundit, who now works for GB News, accused the church of apostasy by "moving away from core tenets of the faith. They need to focus on scripture because that's the word of God."
He said that he had now joined the Global Anglican Future Conference and would be ordained to one of its parishes. "My hope is to attract all the people who feel the Church of England doesn't represent them because it is obsessed with woke issues."
The Diocese of London issued an updated statement:
A spokesman for the Diocese of London said: "We wish him well in the ministry he is now going to exercise."
On Monday evening, Douglas Murray's editorial for The Times appeared. It listed a modern litany of the C of E's preoccupation with race at the expense of everything else, including during the time when an African, the Right Revd John Sentamu, now retired, was Archbishop of York. Oh, the irony:
It is two years since Justin Welby, the Archbishop of Canterbury, gave a speech to the General Synod in which he apologised for the "institutional racism" of the Church of England. "I am sorry and ashamed," the archbishop said. "I'm ashamed of our history and I'm ashamed of our failure. There is no doubt when we look at our own church that we are still deeply institutionally racist."
It was a strange claim to make — not least because at the time the next most important bishop in the church was John Sentamu, the Archbishop of York.
Murray rightly points out the diversity among C of E clergy:
This fatal combination of ignorance and present-era preening seems to have become the tenor of the established church — and in no area so much as in the church's demands for clergy representation. As it happens, the Anglican communion has one of the most diverse bodies of clergy that any religious denomination could wish for. But the church has declared that it will continue to be racist until such a day as minority ethnic groups (or UKME as the acronym-laden C of E likes to call them) are over-represented among the clergy.
Even my church has had a minority vicar, who has since been promoted within the Church.
Murray then discussed Calvin Robinson's sad situation:
And in a way, here is revealed the modern Church of England's actual party political affiliation.
Having shut its doors throughout the Covid-19 crisis, the church now seems to be back with a new faith: an evangelical and dogmatic belief in its own iniquity and racism. Fail to go along with that belief and the church has no place for you.
So determined is the C of E about this new gospel that a church hierarchy of white people is even willing to bar a young black man from joining the clergy because he will not agree with their insistence that their own church is racist. It is a farce, certainly, but a tragedy, too — for a church that has need of talent, and an era that has need of institutions that are not principally intent on blowing themselves up.
On GB News Monday evening, presenter Dan Wootton chose the Bishop of Edmonton as his Union Jackass of the day. Good on the former Brexit Party MEP, the lady on the right, for nominating him:
Conclusion
Calvin Robinson is surely doing all the right things. That is why our pharisaical clergy have opposed his ordination.
May God continue to sustain Calvin with his grace. May our Lord Jesus continue to give him inner peace. And may the Holy Spirit continue to enhance his gifts of wisdom, fortitude and discernment.
I wish him all the best as he pursues a path to ordination.
The first part of this series was yesterday's post: … from the sublime John Donne.
Today's entry looks at the current Archbishop of Canterbury, Justin Welby, who has been in that post since 2013. He is the 105th Archbishop of Canterbury.
There could not be a greater contrast with John Donne, who was followed all over London by people who wanted to hear him preach.
It is unlikely that people would follow Welby around the capital.
In 2015, he told Michael Gove MP, who interviewed him for The Spectator's Christmas issue that year (emphases mine):
I suppose I struggle with a sense that I'm the wrong person for the job. An imposter syndrome, that's the phrase I'm looking for.
He was not concerned about the severe decline in Church of England (CofE) worship over the past few decades:
Church attendance in this country has fallen hugely both in absolute terms and as a proportion of the population. The number of Christians around the world has risen hugely since the nineteenth century and continues to rise at an extraordinary rate: it is over two billion now. So we're seeing a change in the pattern of where the church is: the Anglican Communion is essentially global, as much for a sub-Saharan woman and not just someone in a church in England.
You can find a vast range of churches in the Church of England with examples of growth and examples of decline. Sometimes it is simply circumstances: populations move. Sometimes it's that people feel the church is not welcoming, there is not an ethos which makes them look outwards to those around them. Where they grow it will usually be because they relate extraordinarily well to their communities and that the circumstances are there, there is a clear spirituality, there is a clear sense of what they are about.
Although Welby is pleased with the proliferation of the social gospel at the expense of evangelism, this is where he and others before him have been going wrong:
This is one of the most interesting changes from the 50s and 60s and 70s, where social gospel was for one part of the church and evangelism for another. The two are absolutely inextricable now.
Yes, and most Sunday sermons from CofE priests sound as if they came from The Guardian's op-ed pages. Therefore, why not simply stay in bed and read a newspaper? Oh, wait, they already do.
In 2022, he told the BBC's Michael Buerk in an interview for the Radio Times ('There's an end to darkness', 19-25 February 2022, pp 19-23):
'None of us want to see the thing go down on our watch', he says. He talks of 'bad moments' when he has a sense of 'oh, my goodness, am I going to be the one who they'll say finished the Church of England off?' He pauses. 'Then I realise it's God's problem, not mine.'
Wow. Welby, along with other clerics, will be held accountable on that fateful day of the Last Judgement. They are supposed to evangelise, as Jesus Himself instructed the Apostles in the Great Commission (Matthew 28:16-20):
The Great Commission
16 Then the eleven disciples went to Galilee, to the mountain where Jesus had told them to go. 17 When they saw him, they worshiped him; but some doubted. 18 Then Jesus came to them and said, "All authority in heaven and on earth has been given to me. 19 Therefore go and make disciples of all nations, baptizing them in the name of the Father and of the Son and of the Holy Spirit, 20 and teaching them to obey everything I have commanded you. And surely I am with you always, to the very end of the age."
Perhaps Welby thinks that applied only to the eleven remaining Apostles at that time. If so, how sad.
In December 2019, he gave an interview to the Big Issue before the general election that year, when Boris's 'Get Brexit done' slogan won an 80-seat majority for the Conservatives.
Days after the election, the BBC carried highlights from that interview. Welby said:
"I'm not saying we are in a crisis", he said. "I'm just saying the direction of travel is not what we want."
He batted away a question about Prince Andrew:
Archbishop Welby was also asked about the controversy involving the Duke of York's ties to Jeffrey Epstein.
He refused to comment on any particular member of the Royal Family, but said it was wrong to expect them to be "superhuman saints".
He intimated that those who voted Conservative were consumed by fear:
The interview – which was conducted before last Thursday's general election – concluded with the Archbishop quoting from the First Letter of John in the New Testament, which says that "perfect love casts out fear".
He said that people should reject fear and, instead, accept that love of God which – he said – "changes the world dramatically".
Brexit was largely a huge no-no for CofE clergy, from the top to the bottom. Pewsitters, on the other hand, wanted to leave the EU, as The Economist reported in April 2019:
Justin Welby's dilemma over Brexit is all the more difficult because he was a declared Remain voter in the June 2016 referendum, while 66% of self-identified Anglicans opted for Brexit.
Yet, there were still some clergy who wanted to part from Brussels, including a former Dean of St Paul's Cathedral, the Revd Giles Fraser:
Giles Fraser, an Anglican cleric who is a prominent figure on the religious and intellectual left, is a convinced supporter of leaving what he sees as the capitalist European club. "The emotional core of Brexit, and the reason I remain a passionate Brexiter, despite all its problems, is that it seeks to collapse the distance between power and ordinary people," he wrote recently.
True!
This was Welby's prayer as the UK exited the EU for good at the end of January 2020. I agree with the reply:
Yes, that's the eternal essential, not Brexit. However, the prayer shows where Welby's priorities lie. They do not appear to be with evangelism.
We had just left the EU when coronavirus hit.
This could have been a huge moment for the CofE. Had John Donne been Archbishop of Canterbury, no doubt he would have recognised this.
But Justin Welby thought otherwise and went along with the decision to close Anglican churches, a closure that even forbade priests from entering their own churches for a moment of private prayer or even cleaning for several weeks. Many vicars were distraught.
Welby issued the closure tweet one week before lockdown:
Welby told the Radio Times this year (p. 23):
If I had the time again, I would be more cautious about closing the churches. At the time, we were being told the virus can stay on surfaces for ages and that it could kill 30 per cent of the people who caught it.
It wasn't just me. It's not a dictatorship. I am not the Pope. But I had an influence and I'm not sure I got that right.
No, he definitely did not get that right. People were bereft. They would have loved to actually enter a church and worship in person, even if socially distanced and even without Communion. Morning Prayer services would have sufficed for the first few months. Masks were not mandated until the first lockdown was lifted.
Sure, there were Zoom services later in the Spring …
… when participants were erroneously told to consecrate their own piece of bread and sip of wine for Holy Communion. That is not a tenet of the CofE.
Welby could have called for a National Day of Prayer, but he didn't:
What happened in June 2020 was startling. It was as if the pandemic never happened. Here he was, responding to an American issue. Once more, I agree with the reply:
If Welby wants to feel guilty for physical characteristics that God gave him, then, by so doing, he disgraces God, who chose him to be created as he is.
On June 8, he wanted to create a collective sin, when what he accuses the majority of Britons of has been rare in recent decades. His job is to preach the Gospel, not identity politics:
At the end of June 2020, Welby pledged that the CofE would review its monuments in place at Canterbury Cathedral and Westminster Abbey. Readers will not be surprised to find that I agree with the replies:
The following day, Welby tweeted again. A layman has a better perspective than he does:
On June 28, The Telegraph's Nick Timothy wrote an excellent editorial on Welby's pronouncements, far more numerous than any he ever made on the pandemic, which was still very much a concern in Britain. Churches continued to be closed.
Nick Timothy shows he understands Christian theology better than Welby:
Nobody personifies the madness of our times, and the moral cowardice of our leaders, like the Archbishop of Canterbury.
On Friday, under pressure from precisely nobody, Justin Welby climbed atop his chosen pulpit – an interview on BBC Radio 4 – and announced a review of statues and commemorative names in Anglican churches and buildings. "Some will have to come down," he said, and "some names will have to change."
… Welby seems to believe Britain, and all white people, carry collective sin specific to them. He recently invited us to pray for "white Christians [to] repent of our own prejudices". On Friday, he said: "For this country and for this country in the world, there's got to be a generosity … there's got to be that new life which is always on offer." Britain, and specifically Britain, he believes, must repent its unique sins to be born again.
When a Black Lives Matter activist called for statues of Jesus to be pulled down because they portrayed Him as a white European, Welby had the chance to draw the line. Jesus is depicted in different ways the world over, the Archbishop explained. He might have gone on to say that the significance of Jesus is spiritual, not political or racial, that Jesus was God made flesh, and that we are all made in God's own image. Instead, he agreed that the depiction of Christ in Western countries should change and criticised the "sense that God is white". Jesus was "Middle Eastern, not white," he later reiterated, studiously avoiding the more accurate description that Jesus was a Jew. But then Middle Eastern Jews, or Israelis as we also call them, are these days an unfashionable minority to defend.
In this strange fusion between a belief in collective national or racial guilt and Christian forgiveness, Welby articulated a new – and utterly incoherent – account of forgiveness and mercy. "There can be forgiveness [of those from the past we commemorate]," he said, "but only if there's justice: if we change the way we behave now."
There is, of course, an unanswerable Christian case for treating all our fellow beings with respect and love. There is still racism in our society, and great disparities in the experiences of people from different ethnic backgrounds, just as there is for people from different class backgrounds. There is a Christian case for seeking to address all such disadvantages. But there is no such case for the conditional forgiveness he proposes.
The Bible tells us "a son will not bear the iniquity of the father, and a father will not bear the iniquity of the son." We are responsible before God for the trespasses we commit, but not for the trespasses of others. And just as God will forgive us, so we should forgive others. "Pardon, and you will be pardoned," Saint Luke tells us. There is no biblical justification for making the forgiveness of one generation conditional on the actions of another, just as there is no biblical justification for a presupposition of collective national or racial guilt.
Whether you are a Christian or not, this departure from scripture is profoundly worrying. Christianity's promise of redemption, and the idea that we are each accountable for our own sins, has shaped our civilisation. We are members of families and communities large and small, but we are more than just featureless components of some greater group identity. This is one reason why we have equal political and civil rights, and stand equal before the law.
Our Christian heritage – and our associated history of bloody religious conflict – also inspired another important Western principle. The realisation that clashes between different values, beliefs and interests are inevitable gave rise to the essential liberal idea of pluralism. We should accept and tolerate difference, while agreeing laws and processes to mediate clashes, guaranteeing rights for minorities, and protecting the norms, traditions and institutions that foster a common, unifying identity to build trust and reciprocity.
Now this principle is also under attack. The more our society boasts of diversity and inclusion, the more it becomes illiberal and intolerant. Businesses, public services, universities and other important institutions are engaged in an organised hypocrisy, closing down debate, sacking people with the wrong opinions, and participating knowingly in a politically correct doublethink …
Such nonsense and nihilism is possible because through ignorance and cowardice our leaders have allowed the pillars that support our society – built up through time by thinkers and statesmen upon foundations laid in part by Christianity – to crumble. Time will tell if we are worthy of our inheritance, but one thing we do know. A civilisation that ceases to believe in itself is doomed to self-destruction.
The next day, The Telegraph published several letters in which readers expressed their disapproval with Welby. The first three are from Scotland:
SIR – Nick Timothy (Comment, June 29) rightly points to the most recent example of the divisive leadership of the Archbishop of Canterbury, Justin Welby, in his response to the Black Lives Matter protests.
The Archbishop has often talked of "reconciliation", but his latest comments seem to continue a trend of the divisiveness of his leadership in a whole range of matters, from Brexit to Covid-19.
It's a terrible shame: the Church has missed a multitude of opportunities to be an institution that can unite the population.
———–
SIR – About 25 years ago, as a white, middle-aged, middle-class, mildly overweight woman, I had the supreme privilege of training for ordination under the authority of Archbishop Desmond Tutu.
I wish the Archbishop of Canterbury would seek advice from him about the kind of discourse that leads to real truth and reconciliation, and forgiveness and justice. Each life matters.
———–
SIR – Regarding church memorials, if we wiped from history everyone who has done great things but might have done something politically incorrect in the past, the list would have to include Moses (murder), Jacob (deceit), Rahab, an ancestor of Jesus (prostitution), and King David (adultery and murder).
———–
SIR – The Archbishop of Canterbury, instead of worrying about the colour of Jesus's skin, should perhaps be concerned about how Jesus would react to being charged £12 to enter Canterbury Cathedral, the House of God, and having to exit via the shop.
———–
SIR – In his haste to jump on a bandwagon, the Archbishop of Canterbury contradicts himself. He says the Church is guilty of portraying Jesus as a white European, but he celebrates his portrayal as black, Chinese, Middle Eastern and Fijian.
Is not the portrayal of Jesus as white in Europe the same kind of legitimate cultural contextualisation as his portrayal differently in other societies? Unless we confine ourselves to depicting Jesus as a first-century Middle Eastern Jew (whatever that might have been) we are bound to portray him in the various ways he has been throughout history. And it cannot be otherwise since he is the Saviour of people from all nations.
Later in 2020, the Government and scientific advisers put us on track for a winter lockdown, which started early in the New Year. This time, Welby proposed that churches be allowed to remain open, with coronavirus measures in place:
On February 27, 2022, Welby admitted he was not very good at attracting more worshippers to Anglican churches in Britain.
Now, John MacArthur considers unbelievers to be his 'mission field', which is very true. So, one would think that the spiritual head of a denomination with millions of members the world over would think the same.
Not so. The Daily Mail reported on Welby's interview with an atheist on Radio 4:
The Archbishop of Canterbury has accepted responsibility for failing to attract more worshippers into the Church of England, with numbers hitting record lows in recent years.
In a BBC radio interview being broadcast today, Justin Welby makes his admission to Dr Susan Blackmore, a psychologist and atheist, after she expressed doubts about whether she would ever convert to a faith.
The Most Rev Welby, 66, said: 'As you can tell from numbers in the Church of England, I don't persuade many people.'
He almost wears that admission as a badge of honour. It's ridiculous and heinous in equal measure.
He has an odd sense of his relationship with God:
The Archbishop also said there were times when even he questioned God.
He described one encounter with a warlord, whom he did not identify, as the only time he had come face to face with evil.
A warlord?
Anyway:
Asked how he coped with those situations, he said: 'I go back to the Psalms, the Psalms of protest and lament, and say to God, "This is all wrong. What do you think you are up to?"'
He told Michael Buerk more about his spirituality and devotions in the Radio Times interview.
He never mentioned Jesus Christ, not once.
He began speaking in tongues while he was at Eton (p. 23). Note that this is not the type of speaking in tongues that the Book of Acts describes — foreign languages understood not by the speaker but by listeners — just mere ululating:
… in what he describes as both a process and a moment of awareness, he says he opened his heart to a God he 'didn't even know existed'.
From that moment, Welby began speaking 'in tongues', producing a stream of sounds, often involuntarily, that have no obvious meaning, but which Pentecostalists, in particular, regard as a sign of the Holy Spirit.
The Archbishop continues to do so to this day, which has raised eyebrows in the more conservative ranks of his church. He plays it down. 'It's unduly controversial, and not really as interesting as it sounds.
'I get up very early in the morning and, after making a cup of tea, I go into my study, read the Bible, and speak in tongues. I don't pray in a language I know. I do it quietly — it's before six in the morning, remember — with no sense of ecstasy or excitement at all. I'd rather be in bed.
'It helps me focus', he says, perhaps defensively. 'It's not something that leads me dancing or clapping, or waving a tambourine.'
He gave few details on his journey from Eton to Cambridge to being an oil company executive to the Church, other than to say that his bishop at the time told him:
There's no place for you in the Church of England.
The bishop was not wrong.
Yet, Welby 'persisted' and, somehow, reached the heady heights of Lambeth Palace in London, the Archbishop of Canterbury's official residence:
I've been surprised to be here every single day of the nine years I have been doing the job.
So have millions of us.
Most of the interview has some political bent to it, and he told Michael Buerk that he allows Boris Johnson to jog in the Lambeth Palace garden, which is near Downing Street.
Buerk tried to press him on the matter:
'It's such a live party-political issue, it's not for me to step into it too much,' he maintains. I say I thought having a moral view on public life was what he was paid for. 'Not exactly,' he replies, a little sharply. 'I am paid to talk about God.'
Really? Interesting response. Where does talking about Jesus fit into his job description?
Strangely, perhaps, he is also on antidepressants. I still do not understand how so many clergy can be depressed.
I can appreciate that Welby is still grieving over the death of his seven-month-old daughter Johanna who was killed in a car crash in 1983, but, surely, over the years, a closer relationship with God would help him to reconcile that in his mind.
Welby told Buerk that consolation (p. 21):
eventually came from friends, which he regards as coming from God anyway, even if indirectly. 'There's an end to darkness. There's light but you might be surprised by how it comes,' he says.
Indeed, the Archbishop makes no secret of his lifelong battle with depression: 'Only last week, I really messed up something in a way that really left me down for several days.'
In the past, Welby says he would have denied it was a problem. But dark moods, which he likens to what Churchill called his 'Black Dog', made him feel 'hopeless'.
He's open about it now, though. 'I'm on daily antidepressants, which work quite well, but it is a struggle. Certain things trigger it, principally about myself, and sometimes it comes out of the blue. But it's a lot better than it used to be,' he says.
The other major disappointment for him was finding out that the man he thought was his father — Gavin Welby — wasn't (pp 21, 23):
DNA tests have shown that his biological father was actually Churchill's private secretary, Sir Anthony Montague Browne.
Welby's mother, Jane Portal, had been Churchill's personal secretary. She came from a long line of well-connected, prominent people.
I am sorry that Justin Welby is such a tortured soul. I'm even sorrier that he feels the need to project his insecurities on most of the Anglicans in Britain.
I hope that his relationship with God and Jesus Christ, in particular, improves.
May the Lord grant us a better Archbishop of Canterbury someday. We haven't had a good one in decades.
Recently, I've been writing about Red Wall MPs in England.
Mark Jenkinson, who represents the Workington constituency in the north west of Cumbria, is among their number.
The constituency was established in 1918.
Until Jenkinson's victory in December 2019's general election, Workington had only one Conservative MP, Richard Page, who, thanks to a by-election, held his seat between 1976 and 1979. In the 1979 general election, a Labour candidate reclaimed the seat.
Therefore, Mark Jenkinson is the first Conservative to represent Cumbria as the result of a general election. He defeated Labour's Shadow Environment Secretary Sue Hayman by a majority of 4,136 votes.
Jenkinson's campaign in 2019 saw the creation of a new name for working class voters turning Conservative: Workington man. Wikipedia explains:
Workington man describes the stereotypical swing voter who it was believed would determine the election result.[1][2] Their support of the Conservatives in the 2019 election helped the party break the Labour Party's Red Wall of safe seats.[2]
And:
Going into the 2019 general election, it was seen as a key marginal seat for the Conservatives to win from Labour. On a 9.7% swing, it fell to the Conservatives on election night, marking the first time the seat had elected a Conservative at a general election.
In his youth, Jenkinson attended a Catholic high school and, afterwards, an agricultural institution, Newton Rigg College in Penrith.
However, he joined British Steel as an apprentice. Before becoming an MP, he was a self-employed contractor in the nuclear supply chain.
Politically, Jenkinson is rather libertarian in outlook. He was the UKIP candidate in the 2015 general election.
He was a founding member of UKIP's West Cumbria branch but left in 2016, having been concerned about the party's approach to the EU referendum that year and what his Wikipedia profile describes as 'internal democracy'.
2019 was a big year for Jenkinson. Having joined the Conservative Party, he was elected to the Seaton and Northside Ward of Allerdale Borough Council, where he became deputy leader. In addition, he was the chairman of Seaton Parish Council, a position he relinquished after having been elected MP in December that year.
Jenkinson is married and has four children.
Despite Boris Johnson's troubles with lockdown parties, Jenkinson remains enthusiastic about the Prime Minister.
On January 13, 2022, he told GB News's Gloria De Piero, a television presenter and former Labour MP, that his constituents also like Boris and appreciate his upbeat messages. He says that he reads every email in his inbox. At that time — the height of Partygate, days before Boris's apology to the House of Commons — he said he received fewer messages about that than he did the Policing and Crime Bill which Parliament was debating.
However, he did say that both he and Boris promised a lot to Workington and there is now a shorter timeframe in which to make those promises a reality. Again, the pandemic put paid to quick action in short order:
De Piero asked Jenkinson about his Private Member's Bill on careers advice to school students. He said that, as a father of four, he was concerned about students receiving good advice on what to do with their lives, particularly when it comes to training and apprentice programmes. The reply to the following tweet goes to the heart of the issue:
This aspect of education does need to be strengthened, something on which all parties agree, as proved during the debate on Jenkinson's bill the following day.
I saw the debate, which was heartwarming, as all sorts of little details popped up, not all of which were germane to the proposed legislation.
Private Member's Bill days are held on a Friday, from mid-morning until 2:30 p.m. The atmosphere is a bit more relaxed and both sides of the House are able to agree on most of the legislation.
I will share some of Jenkinson's contributions made on January 14 then go into other heartwarming aspects.
Jenkinson said (emphases mine):
I am delighted to present the Bill to the House for its Third Reading. It heralds a sea change in how we prepare the next generation to meet the career challenges that lie ahead. It will serve to embed careers advice throughout the secondary phase of education through the provision of regular and ongoing support for students every step of the way. In short, it is designed to give our young people the best start and to maximise their opportunities.
I am delighted that, through the Bill, I will make a positive difference to the lives of young people in my Workington constituency and across England. As a father of four, it is an issue that is close to my heart. The changes that the Bill will help to bring about are important and overdue, and I have no doubt that its effects will be positive and far-reaching.
At present, the statutory duty to provide careers guidance falls on maintained schools, special schools and pupil referral units but not academies. The Bill seeks to address that anomaly by placing the same requirement on all types of state-funded secondary schools, which will help to create a level playing field. I hope that that will encourage a culture where young people, regardless of social background, can advance through merit and hard work.
It is essential that the advice available to our young people is consistent, of the highest quality and accessible to everyone. As a blue-collar Conservative from a working-class community, I am a staunch believer in the value of meritocracy. The standard of careers guidance should not be a postcode lottery—we cannot leave the education of the next generation to chance—and must be based on a set of clear principles that are clearly focused on the best interests of children.
It is also important to develop a more joined-up system in which careers advisers, education providers and employers work together to share information and signpost young people to the opportunities available. I know how frightening it can be for a young person to make momentous and life-changing decisions about his or her future career, and that process becomes even more stressful if they are not in possession of the information that they need to make the choices that work for them.
In previous stages of the Bill, I joked that I am 39 and remain undecided about what I want to be when I grow up. At the end of the month, I will hit the big four-o and I am even less decided than I was. On a more serious note, it is easy for young people to find themselves on the wrong path or facing the wrong direction, and without the proper guidance, the risk of that happening becomes even greater.
That is why it is important to give our young people the best careers advice we can at the earliest opportunity. Such a crucial decision cannot be determined on the basis of an occasional meeting, but must be part of a long-term process that is continually reviewed in the light of changes in the labour market and the child, and of the developing aspirations of the young people themselves.
He received support from the few Labour MPs who showed up for the debate.
Jenkinson recognised the existing problems plaguing young people. Coronavirus measures made these issues worse:
The Bill is particularly timely given the disruption and disorientation caused by covid-19. It is hardly surprising that young people are worried about their education and employment prospects in these unprecedented times. Uncertainty and change inevitably fuel anxiety, and covid-19 has forced many young people to reconsider their options and look again at their career paths …
In my constituency, as in others across England, there are pockets of deprivation, unemployment and sometimes, I have to say, hopelessness. I am acutely aware of the stark disadvantages faced by so many young people. They have so much to contribute, but so often they are written off too soon. If we are serious about "levelling up"—if it is to be more than just a slogan or a soundbite—giving all children access to good-quality careers advice is one of the most important weapons in our fight against poverty and despair. We must leave no child behind.
Providing this enhanced careers education and guidance makes economic sense too, as it will contribute to a high-skills and high-productivity recovery. The Bill will help all young people to develop the skills and attributes that will enable them to succeed in the workplace, and in some cases it will nurture the community leaders of the future.
He went on to discuss the work in this area being done nationally and in Cumbria:
… As a direct result of the Bill, approximately 650,000 year 7 pupils across England will become entitled to independent careers guidance, and we are bringing 2,700 academies into scope. The Bill puts into statute the Government's commitment in the "Skills for jobs" White Paper for the UK's post-pandemic recovery. It builds on the important work that is already being done nationally to develop a coherent and well-established careers system—a sector in which Cumbria is a leading light.
As Members will know, the Government are already committed to the national roll-out of careers hubs, and have taken action to support the careers of young people through schemes such as kickstart. As I said earlier, the Careers & Enterprise Company is increasing young people's exposure to the world of work, and helping schools and colleges to deliver world-class careers guidance for their students in line with the Gatsby benchmarks. The National Careers Service provides careers information, advice and guidance through a website and a telephone helpline. More than 3,300 business professionals are now working as enterprise advisers with schools and colleges, doing a lot of the face-to-face guidance that strengthens employer links with schools. The result is that 3.3 million young people are now having regular encounters with employers, up 70% in just two years.
Education providers, training providers and careers services in my Workington constituency continue to rise to the challenge in the face of often large socioeconomic challenges. The Cumbria careers hub was launched in January 2019 to deliver the Government's careers strategy for Cumbria after the local enterprise partnership's skills investment plan identified a significant challenge in developing skills in our county.
The process is accelerating, with 100% of schools in the hub matched with an enterprise adviser from a pool of senior business volunteers. It has been successfully replicated across the country, with 45% of secondary schools and colleges now in careers hubs. We are seeing rapid improvements in hubs, with disadvantaged areas among the best performers. The link between careers and career pathways is essential for developing and attracting talent to Cumbria, owing to the area's declining working-age population, and their success is to be celebrated.
It is therefore critical that we nurture homegrown talent by giving young people the skills and confidence they need to make the most of the opportunities within a forward-looking global Britain, to help close the skills gaps in areas like Cumbria and to attract investment. It is simply not enough to nurture talent; we must also work to retain it and attract it. Furthermore, careers advice, in line with the Gatsby benchmarks, must be tailored to the jobs market in a local area, which is why conversations and relationships between employers, schools and careers advisers are so important. This Bill ensures that those channels of communication are built upon. The Bill helps to ensure young people are aware of the opportunities that lie on their doorstep, as well as those that exist further afield. Young people often tell us that one of the biggest barriers is not knowing what careers exist …
Careers advice has to start at a young age, he said:
We need to start setting out to children, as soon as possible, the options that will be available to them—not just sixth form and university but further education, apprenticeships, T-levels and other technical education qualifications. The earlier our young people start to consider these options and receive the appropriate guidance, the greater their chance of making the best possible choice.
University technical colleges—I have a fantastic one in my constituency—form an important part of the offer, but that could mean changing schools at 14. This option should not be put in front of a child at 13. It should be talked about from a much earlier age. Although it is important that young people are aware of their options, the last thing we want is for them to get to year 9 and feel like options are being imposed on them or, worse still, are non-existent, which is why flexibility must also be built into the guidance.
Engaging with employers from an early age can inspire young people and help them relate to the career opportunities to which their circumstances, abilities and interests are suited. The Bill recognises and makes use of the work already undertaken as part of the national careers system and, more importantly, it continues to raise young people's aspirations through regular and meaningful engagement with employers and workplaces.
Having spoken in depth with education providers, parents and guardians, careers advisers, employers and, most importantly, young people themselves, I am more convinced than ever that this Bill will help to unlock the potential of generations to come. It is difficult to imagine a more worthy cause than to give our children the confidence and skills they need to be able to fulfil their dreams.
I am grateful to everyone who has worked on the Bill and helped to shape it. Their research, knowledge and observations have been invaluable and have created something that will serve our young people well. This Bill is about helping young people navigate through obstacles and avoid blind alleys, and it will prevent them from ending up in a career cul-de-sac.
Alex Burghart, the Parliamentary Under-Secretary of State for Education, replied on behalf of the Government:
What a pleasure it has been to take part in this debate. We have had some medieval history from me, some family history from my hon. Friend the Member for Hertford and Stortford (Julie Marson) and some personal and socialist history from Opposition Members—or the Opposition Member, I should say.
We all thank my hon. Friend the Member for Workington (Mark Jenkinson) for this excellent Bill, which will improve a lot of young people's lives. That is what we are all here to do. The Government are fully committed to education and to careers education and guidance, which is an essential underpinning of our reforms. It has been clear at every stage that the Bill has cross-party support and co-operation, and I genuinely thank the hon. Member for Chesterfield (Mr Perkins) for his party's support during the Bill's progress.
We are at an important juncture for skills reform in this country, and I thank my hon. Friends for supporting the Skills and Post-16 Education Bill, which will soon return to the House on Report. The careers work we are pleased to be doing with my hon. Friend the Member for Workington underpins a lot of that Bill, and it is wonderful to hear my hon. Friends cite great examples from their constituencies for us to dwell on.
My hon. Friend the Member for Beaconsfield (Joy Morrissey) made a powerful speech on what happens in alternative provision settings. These young people, on whom so much rests, have too often been forgotten. The most important piece of careers advice I ever heard was on a visit to an alternative provision setting in Wandsworth [south London] about 12 years ago. It was a fantastic setting in which the headteacher had created a number of studios for practical vocational education: a car mechanic's workshop; a hairdressing salon; a cookery school; and a bricklaying studio. The headteacher said to the gentleman who taught bricklaying, "Will you tell our visitor what your last job was? This is what you tell all the pupils." And the bricklayer said, "I was an armed robber. I earned £10,000 on my last job and now I earn nearly £30,000 a year working here." That was an extraordinarily valuable and inspiring careers lesson for young people to hear in such a setting.
We want to make sure that young people in all settings, regardless of their background, have access to high-quality careers education, which is what our reforms will do. We want to level up opportunity, and the reforms set out in our skills for jobs White Paper will give a genuine choice between high-quality technical and academic routes. It is vital that everyone has access to careers guidance of the highest standards so that they are well informed on what will happen afterwards.
We cannot overstate the importance of careers advice, and I thank all hon. Members for their contributions at this and previous stages. I congratulate my hon. Friend the Member for Workington again on bringing this Bill to the House.
Jenkinson responded by thanking all the MPs who supported his bill. He ended by quoting a famous Prime Minister from the 19th century:
It was Benjamin Disraeli who said:
"The greatest good you can do for another is not just to share your riches but to reveal to him his own."
This Bill is true to the spirit of those words.
Now to other heartwarming moments, beginning with ancient English history.
Sir Christopher Chope (Conservative) participated in the debate. He represents Christchurch constituency in Dorset.
Alex Burghart, the Government's Under-Secretary of State for Education, said earlier in the debate:
I often think of my hon. Friend when I am reading the Anglo-Saxon Chronicle, which is one of my favourite early medieval texts. As you will know well, Mr Speaker, after King Alfred the Great died, his nephew, a nobleman, tried to seize the throne. He did so by starting at Tweoxneam, which is the archaic name for Christchurch. Whenever I think of that noble rebel of old, my mind sometimes flits to my noble friend from Christchurch today.
We also had a workhouse story from another Conservative MP, Julie Marson:
I want to give a little bit of perspective from my own background. In my maiden speech, I referred to my family background as moving from workhouse to Westminster. My great grandmother was born in a workhouse in the east end of London. She was a foundling and she met my great grandfather in the Foundling Hospital, so they had very modest beginnings. The emphasis in the Foundling Hospital was not on a choice of careers but on set career paths. All the boys who were put into the Foundling Hospital were trained to become Army bandsmen, and all the girls were trained to become maternity nurses—midwives. They did not have a choice in that.
My great grandparents went on to have great careers, in the Army and as a midwife. They met each other in the hospital, and it absolutely changed their lives. They had rewarding careers and their own family, and—workhouse to Westminster—I managed to get here, for some reason. I think that shows the fundamental need for a career and a job to make our lives what we want them to be. That opportunity, which is fundamental to levelling up and everything that we stand for—
The Speaker of the House, Sir Lindsay Hoyle, cut her off at that point and asked her to stick to the legislation.
However, I'm glad it is on the record. Other MPs had equally moving examples of career development, so interested readers might be moved to skim through the debate.
Returning to Mark Jenkinson, his libertarian side came through when he said that he did not want to attend the 2021 Conservative Party Conference if vaccine passports were mandatory:
In the end, I recall that they were made optional.
In November 2021, he wrote an article for Conservative Home about his concerns regarding sexual identity, a hot topic at the time when the question of cervices came up: 'My Twitter monstering. I never thought that saying there are two biological sexes would cause such a stir'.
It's a long and considered article. A few excerpts follow:
I never considered that making a statement of indisputable scientific fact – that there are only two biological sexes, each with their own set of immutable characteristics – would cause such a stir. And then I see the Labour Party eating themselves alive over it, trying hard to lose the votes of the 51 per cent of the electorate that are female.
Gender Recognition Certificates, some based on self-identification, were a topic of discussion in Parliament last year:
I am an instinctive libertarian. Everyone should be free to live their lives, as fully as possible and in a way that makes them happy. Free to live with, sleep with and love whomever they wish. Neither the state or I have any business intervening, other than to stop serious harms. But when I see the direction we're sleepwalking in, I can no longer stay quiet …
As it is only this year that we'll start to track prisoners with GRCs, we don't know how many male-bodies there are in the female prison estate, where some of our most vulnerable women are housed.
We do know that at the latest datapoint in 2019, there were 129 males who identified as transgender held in the male estate, and that 57 per cent of them had at least one previous conviction for sexual offences, compared to 17 per cent of men and two per cent of women convicted of the same.
Despite exemptions for single sex spaces in the equality act, the NHS allows access to same-sex wards depending on how you present not your biological sex. Despite exemptions for necessarily same-sex services, hospital trusts are referring to 'birthing people' and 'cervix havers' – while also referring to only men having prostates.
The Scottish Government is set to introduce gender self-identification, significantly speeding up legal recognition of gender in all spheres while reducing to the age requirement to 16 – meaning those transgender prisoners can move more easily to the female estate.
Meanwhile, the UK government is toughening up on the recording of statistics around sex and gender, but is also seeking to ban conversion therapy, on the back of an unprecedentedly-short six week consultation.
As Conservatives, it's time we stopped staying silent because it's the nice thing to do: emotion cannot trump biological reality.
That debate will run and run.
In closing, Mark Jenkinson was pleased to host the Prime Minister along with four other Conservative MPs during the recent February recess. He took them on a quick tour of Workington and events around Cumberland on Valentine's Day. Judging from his tweet, all appeared to have had a grand day out.
That month, he was made a parliamentary private secretary for DEFRA, the Department for Environment, Food and Rural Affairs. DEFRA needs some common sense, so his appointment is most welcome.
It is good to have Red Wall MPs in the House. I wish Mark Jenkinson every success in his Parliamentary career.
The Conservative Party Conference took place in Manchester from Sunday, October 3 through Wednesday, October 6, 2021.
It was the first one since 2019, which was two months before their victory in the December 12 election that year.
UK in crisis
This year's conference took place during the ongoing petrol supply problems and shock record-breaking hikes in gas futures on Tuesday and Wednesday:
On top of that, on Wednesday, Reuters reported that the UK's petroleum regulator rejected Shell's plans to redevelop the Jackdaw gasfield in the North Sea (emphases in purple mine):
"We're disappointed by the decision and are considering the implications," a Shell spokesperson said.
It was unclear on what grounds the Offshore Petroleum Regulator for Environment and Decommissioning (OPRED) refused to approve the environmental statement for the field's development.
The Department for Business, Energy and Industrial Strategy, under whose umbrella OPRED operates, did not immediately reply to a request for comment.
Maddening.
The supply chain crisis for food continues. On Wednesday, The Times reported The National Pig Association warned retailers that 120,000 pigs would have to be slaughtered because of a lack of butchers. Some pig farmers are closing down altogether.
Some supermarkets are also suffering from empty shelves. Tesco, however, is bucking the trend. The Times reported that the supermarket chain is:
often highest up the pecking order when it comes to suppliers committing to make the business a priority …
Good for them.
Conference theme disappointing
The conference theme was … Build Back Better.
How awful.
Here it is draped across Central Station Manchester:
The Conservatives riffed on this in a Bake Off-style event. Pictured with Prime Minister Boris Johnson is Home Secretary Priti Patel:
Having listened to some of the speeches and read excerpts from others, they were all light in content. Most of them were pep rally or visionary statements rather than what plans Cabinet ministers have for the nation.
As The Telegraph's Madeline Grant wrote:
Never at a Tory Conference has so little been said, by so many, to so few.
Sunday, October 3
As the conference opened, rumours circulated about three unnamed Labour MPs thinking of crossing the aisle to the Conservatives, as the Mail on Sunday reported:
Guido Fawkes had more on the story (emphases in red Guido's):
… this is due to disillusionment with Starmer's leadership, with the MPs already having opened up "lines of communication" with Tory whips. In related news, a senior Labour MP was spotted by a co-conspirator chatting with two Mail on Sunday hacks and three senior Tory advisors at a conference bar last night…
The day's big event, according to The Spectator, was the drinks party that the 1922 Committee of backbenchers held, sponsored by ConservativeHome. Interestingly, a long-time Labour MP for north-west London — Barry Gardiner — was in attendance:
… the main focus of the night was the 1922 drinks with ConservativeHome in a room stuffed full of parliamentary talent and, for some reason, Barry Gardiner.
Strangely, Boris did not appear, leaving a gap which Chancellor of the Exchequer Rishi Sunak ably filled (video):
While Johnson was not scheduled to make an appearance here, Prime Ministers have traditionally done so in the past to pay tribute to their colleagues. His 'disappointing' absence – in the words of one disgruntled backbencher – left a vacuum for Sunak to fill, in a room full of MPs who will presumably one day decide who Johnson's successor should be.
The Chancellor leapt to the stage to tell fellow Tories about what he was most looking forward too at conference: Michael Gove dancing, the PM running in a full suit (not just a shirt) and 'machine like message discipline from every single one of you – and that means you too Cabinet.' He added that 'I've got your back' to anxious MPs in the room and that 'for the record I too am a low tax conservative' – welcome words for those party donors who Mr S[teerpike, columnist] understands attended a 'tense' meeting earlier at the Midland, amid considerable unease at the recent NI [National Insurance] hike.
In such circumstances, perhaps it's understandable that Boris would stay away.
According to The Telegraph, senior Conservatives have warned Boris not to dream up any more future tax hikes:
Earlier that day, Boris gesticulated wildly at the BBC's Andrew Marr, saying, 'You have no fiercer opponent to tax rises than me'. This probably means more tax rises are on the way:
The Spectator has more on the interview.
On tax hikes, Sir Desmond Swayne MP told talkRADIO's Julia Hartley-Brewer the raw truth. He added that lower taxes will enable greater economic growth:
Another event that Boris avoided was the one by the Tory Reform Group (TRG), which wants the Conservatives to move closer to the centre politically. They are Remainers. The Spectator reported:
Theresa May's former deputy Damian Green welcomed attendees …
Green, a mainstay of various causes on the left-ish wing of the party over the past two decades, told activists that it was their task to 'make sure that the voice of moderate conservatism, centre-right conservatism is as strong as possible within the party' – a job 'never more important than today because there are times when I slightly feel that it is only people like us that stop this party drifting back to being seen as the nasty party.' A tacit rejoinder to Priti Patel perhaps?
But then it was time for the speaker and the great white hope of Tory moderation. Tom Tugendhat, the chairman of the Foreign Affairs Select Committee, took to the stage to ecstatic applause and, like Green, was under no illusions about the awesome responsibility he and his One Nation caucus members share – to keep the Conservative party effectively sane …
There was also ample time for several potshots at the current Tory leader Boris Johnson, with whom Tugendhat is said to enjoy a wary relationship.
Foreign Secretary Liz Truss, tipped to be a future Party leader, also made the rounds that day (video):
The fringes were packed last night as Tory ministers did the rounds. Liz Truss, the darling of the free market think tanks, appeared at the Think Tent equipped with a magnificent blow dry and an applause-winning speech which castigated cancel culture as 'fundamentally wrong.' That and other jibes at identity politics in her conference address lead the Daily Mail this morning to ask whether she is in fact the new Mrs Thatcher.
Several reporters wrote about her new hairdo, which, to me, didn't look much different from the old one.
Returning to the mysterious Labour people who might want to change parties, here's Manchester mayor Andy Burnham, a former Labour MP, heaping praise on Michael Gove, the minister in charge of Boris's levelling up programme. Burnham spoke to Trevor Phillips on Sky News that morning. Hmm:
Neither Andy Burnham nor Barry Gardiner is a Conservative. Crossing the aisle for ideals they don't believe in seems a rather rash way of getting their own back at Keir Starmer.
Boris made four appearances at conference that day, including one for the Scottish Conservatives. Guido captured his wit along with audio:
The PM warned of a "crackpot coalition" between the SNP and Labour – "the only way they could" kick the Tories out.
He described the Labour conference as "a total rabble", saying it had the air to him of "a seriously rattled bus conductor" facing an "insurrection on the top deck of the bus", or the "captain of a Mediterranean cruise ship facing insurrection by a bunch of Somali pirates".
Douglas Ross MP/MSP also addressed Scottish Conservatives. As party leader in Scotland, he wants to position the party as that of the nation's working class. It's a good move, as The Spectator reported:
Like all good fables, Douglas Ross's speech at Tory conference had a beginning, middle and end. Act One detailed the many iniquities of the SNP, from their dysfunctional vaccine passport scheme to their Hate Crime Act, and most of all their agitation for Scotland to break away from the UK. Act Two took the sword to Labour, bemoaned its abandonment of working-class voters and its internal divisions over the constitution. Theirs was not the party to take on the SNP. Only one party was and it was the subject of Act Three, in which Ross deepened a theme begun under Ruth Davidson's leadership: the Scottish Conservatives as the party of the Scottish working-class.
He hit all the familiar notes about the SNP's failings in government, the ones that never seem to stick longer than two or three news cycles and are invariably forgotten about by the next election. He also hinted at an interesting theme that, if teased out carefully, could come into greater play. It is the perception, no longer wholly limited to unionists, that Nicola Sturgeon is a bit… off. Out of touch. Superior. Maybe even a bit of a snob.
In other news, last week, Labour's Angela Rayner called Conservatives 'Tory scum'. Feisty Dehenna Davison MP, representing Bishop Auckland as the constituency's first Conservative, had 'Tory Scum' badges made.
This harks back to 1948, when Aneurin 'Nye' Bevan said the Conservatives were 'lower than vermin'. Following that, the Conservatives formed the Vermin Club. Club member Margaret Roberts — who would become Margaret Thatcher — also had 'Tory Vermin' badges made, as Nigel Farage told Dehenna Davison on GB News:
Party chairman Oliver Dowden pledged that the Conservatives would do away with ugly new housing developments by strengthening planning laws.
He also assured the public that they would have turkeys for Christmas, referring to ongoing supply chain problems.
Monday, October 4
Monday opened with the latest ConservativeHome popularity poll.
Liz Truss is at the top. Other MPs pictured are (left to right) Defence Secretary Ben Wallace, Leader of the House Jacob Rees-Mogg, Chancellor Rishi Sunak and Education Secretary Nadhim Zahawi:
Guido analysed the results, excerpted below:
The turn round in her fortunes from last year when she was being tipped to be sacked from the Cabinet is quite something. Liz is one of the increasingly rare consistently free market voices around the Cabinet table…
Rishi Sunak is down by some 10 points and moves from second to fifth place. Rishi's tax hikes have clearly taken the gloss off him with the true blue believers. 
Grant Shapps [Transport] and Priti Patel are bumping along the bottom in barely positive approval territory. Shapps has been doing fairly well with the incredibly difficult transport brief. Patel is suffering because she has failed to do the seemingly impossible – stop the cross channel migrants. Tory activists are unforgiving, they don't want excuses, they want results.
It was the turn of Rishi Sunak to address the party faithful.
A rise in council tax would not go down well. Meanwhile, protesters pelted Sir Iain Duncan Smith MP with a traffic cone:
Some at conference are disappointed with Sunak, whose budget comes up in a few weeks' time. Steve Baker MP is pictured in the second tweet:
Boris was out and about in Greater Manchester. He spoke to an interviewer about policing and said that the Government needs to change its culture, which has become misogynistic, particularly in light of the Sarah Everard murder earlier this year, committed by … a policeman, who recently received a life sentence.
In other news, Justice Secretary Dominic Raab plans to reform UK human rights legislation and do away with the ties to EU human rights legislation we are still under.
With regard to the Labour mystery, Manchester's mayor, Andy Burnham, had a conversation with Levelling Up minister Michael Gove, whom he had praised the day before. The Mail reported that Burnham was also due to address Conservatives at a fringe event sponsored by Transport for the North the following day. Hmm.
The cervix question that appeared at Labour's conference was also brought up with Conservatives. Dominic Raab responded by bringing up both misogyny and misandry in a highly confused way (video):
Two MPs decided to have a bit of fun with the issue as they drove to Manchester together:
Guido recapped their amusing exchange:
Health-conscious Conservative MPs Marco Longhi and Lee Anderson don't want to fanny about when it comes to their well-being. Marco, according to their road-trip video, made sure to receive a cervix exam before heading to conference this week. Always better to be safe than sorry…
Why is it that no one ever asks if women have a prostate gland?
On the subject of health, Desmond Swayne told Julia Hartley-Brewer why he is firmly against vaccine passports:
Lord Frost (pictured on the right) threatened the EU over the post-Brexit trade issues with Northern Ireland. Outside of the conference, pig farmers protested over the inability to get their stock to market. Boris had said that government cannot solve every issue, referring to the supply chain problem. He also told British businesses to hike staff salaries, which did not go down well, either:
I think they should give the meat away. A lot of poor families would appreciate it.
Tuesday, October 5
Boris began the day with an interview to LBC's Nick Ferrari. Extinction Rebellion offshoot Insulate Britain had blocked some of Britain's roads for the ninth consecutive day.
Despite injunctions from Priti Patel's Home Office, their human blockades continue.
Boris told Ferrari they are 'irresponsible crusties' (video). The question remains whether Extinction Rebellion gets any Government funding:
Dominic Raab confirmed in his speech that he would be reform the Human Rights Act to free it from EU hackles.
Guido's post includes a quote and this summary:
They will detach it from the ECHR, enabling quicker deportations of convicted criminals and swifter action on domestic abusers …
Raab's successor at the Foreign Office, Liz Truss, confirmed a trip to India later this month, ahead of COP26 in Glasgow in November.
Guido had a chat with her:
Among other topics, the foreign secretary confided in Guido she was finding the new department's mandarins to be "a bit 'Yes, Minister'"…
Rishi Sunak addressed the Northern Powerhouse Leaders' Lunch.
Guido says:
Sunak claimed that there is a "new age of optimism" in the north thanks to Red Wall Tories, and heaped them with praise for "helping to change our party and change our country". "In me, you have a Chancellor who is going to be with you every step of the way," he added.
See? I told you these speeches were content-free.
Later in the day, he appeared at a fringe event where he was asked about the cost of Net Zero. This was his alarming answer:
Health Secretary Sajid Javid promised another reform of the NHS, which mostly involves digitisation. I can think of more pressing NHS concerns and agree with Guido:
… pouring in taxpayers' money without checking how it's being spent isn't enough. That cash needs to be put to good use. Reviewing the eye-watering pay packets of some NHS diversity managers would be a start…
The Telegraph's Christopher Hope interviewed Oliver Dowden, who is thinking about resurrecting the singing of the National Anthem at conference, calling it a 'splendid idea'.
Hope also took the opportunity to present Dowden with a 'Tory Scum' badge, which he put on and said he would wear for the duration of the interview. Hope suggested he wear it until the end of conference.
This video shows the badge exchange. Hope gives us more information on the aforementioned Vermin Club:
Guido says that the badges were most popular. Dehenna Davison had to order more:
Many conference-goers have spent the last couple of days asking Davison for one of her badges, only to be disappointed upon being told she'd run out. Good news however, after Davison put in an emergency order for 400 more given their popularity…
The most outrageous session of the day — and a British first — was an address by the Prime Minister's wife to Party faithful. No Prime Minister's spouse — we've had two husbands in that role — has ever made a party political address until now:
Never mind the subject matter: was it the right thing for Carrie Johnson to do — even if she is a very good public speaker? Boris watched from a distance.
Polling stable
I'll review Boris's closing speech in tomorrow's post.
Post-conference polling is stable. YouGov's was taken on Tuesday and Wednesday:
Sir Desmond Swayne explained to Julia Hartley-Brewer that Boris's popularity and the lack of ideas from the Opposition have buoyed the Conservatives:
What Government should do next
Health Secretary Sajid Javid needs to keep a gimlet eye on NHS spending, especially on things like this:
Guido says:
The NHS is recruiting a supplier to deliver "compassionate conversations training" to 14,000 front facing NHS staff in a publicly funded contract worth a mind-boggling £3 million. The contract tender, which was published yesterday and closes on 5 November 2021, says the aim is to equip NHS staff with "the skills they need to handle challenging situations with compassion whilst ensuring they feel able to look after their own wellbeing if needed". Guido assumed that doctors were already taught about the importance of a good bedside manner…
It's almost ludicrous to think that this weekend Javid promised a forensic review of the NHS's management and leadership whilst the NHS continues to recklessly splash cash on diversity roles. Just six months ago Guido revealed that the NHS was hiring eight more 'diversity, equality and inclusion managers' across the country, with salaries up to as much as a whopping £62,000. If Javid is going to cut down those waiting list times he needs to focus taxpayers' money on the clinical front line, not nonsense make-work contracts and diversity roles…
Guido says it is also time for Boris to reconsider the current Government moratorium on fracking:
If Boris wants to energise Britain, domestic gas production should be part of that mix; it would provide energy security when Britain's energy needs are being threatened by the Russians and the the French. Boris is now in a position to do something glorious, to stop pussy-footing around and leave no stone unturned or unfracked. So get on with it…
This is what Boris had to say on the subject while he was Mayor of London:
I won't be holding my breath on either of those propositions.
Tomorrow: Boris's keynote speech
On Saturday, September 4, The Telegraph's Christopher Hope reported that, in 2020, the National Trust closed many of their tea rooms, some permanently, and shed staff members.
This happened despite the charity's £400m in cash reserves.
Coronavirus restrictions are the obvious reasons for these measures.
However, this quintessentially British institution has been changing tack for a few years now:
I cancelled my membership a decade ago. The National Trust magazine started getting 'woke' before 'woke' was even an expression. After years of being informative about the historical sites it manages, it became a bit too preachy for my liking: less history, more left-wing social commentary.
Recently, the National Trust got rid of curators, surely necessary where great houses and rare collections are concerned. Their latest job offering is for a Complaints Handler. Note that the advert is in The Guardian, which tells one all one needs to know:
It used to be that a grand day out in England often involved visiting a National Trust property and enjoying a cream tea afterwards. No longer.
On June 18, 2020, Conservative Woman discussed the charity's changes (emphases mine below):
'WE are for everyone, for ever' enthuses the mantra of the National Trust. As a long-standing garden volunteer, to me this slogan has all the poignancy of a soggy scone and a cup of tepid tea.
The charity was founded in the 1890s to preserve the English landscape and adopted the conservation of country houses as one of its purposes 40 years later. Over the last few years it seems that the Trust is constantly apologising for this …
On her appointment in 2018, the Trust's director-general Hilary McGrady maintained that the organisation had to be radical but 'change shouldn't mean alienating current members', gushing that 'our core supporters are what makes this possible'. With the Trust's revenues taking a nosedive, it has appointed Dr Corinne Fowler as an adviser regarding its association with colonialism. Her research interests include rural racism and the slavery connections of the British country house. She has commented, somewhat menacingly, that she perceives the 'problem' as 'more about slavery than cream teas'. 
Is the Trust's mania to be 'on message' and signing up to a movement revelling in its neo-Marxist identity with various far-Left objectives really the way to encourage rational debate? The majority of the public are perfectly capable of making an informed and nuanced judgment. They have no wish to see the history of this country 'cancelled' at the behest of a charitable organisation engaged in a giant hand-wringing exercise to express solidarity with a pernicious movement that has created an institutional nervous breakdown by its self-indulgent, regressive, historically illiterate, myopic views beating the drum of 'white privilege' as a cover for perceived racial injustice.  
In its commendable diversity and inclusion policy, the National Trust has lost the plot. A fun family day out to help preserve the complicated cultural heritage of this country has become nothing more than a simplistic box-ticking exercise by those uninterested in social progress and fighting racial discrimination in all its forms, intent instead on dismantling capitalism with the disruption of the family structure. The country has been infected by the real virus of egregious identity politics of a dangerous political cult.
On November 11 last year, Heritage minister, Nigel Huddleston MP, criticised the charity for voicing support for a political organisation:
These tweets are in the replies:
On May 25, 2021, the Daily Mail reported that Tim Parker, the chairman of the National Trust, resigned:
after members launched a bid to depose him amid a growing row over the 'woke' direction the charity is taking.
Members are furious at its recent focus on politically correct issues, which has seen it link properties to colonialism and make staff wear rainbow 'gay pride' badges.
A motion of no confidence in Tim Parker was due to be tabled at this year's annual general meeting by a grassroots organisation called Restore Trust.
The group is also demanding that the charity's staff be treated 'with fairness' after many were let go during the pandemic, and for executives to rein in pay rises.
Members, ministers and MPs had grown increasingly frustrated with Mr Parker's chairmanship, which critics said he used to take the 126-year-old charity in a 'bourgeois' and 'politically correct' direction. 
Last September, the Trust published an sensational 115-page report which 'blacklisted' 93 of its estates over their alleged links to slavery – including Chartwell in Kent, home of Sir Winston Churchill. 
The Charity Commission subsequently opened a regulatory compliance case and the heritage minister told Parliament that the report was 'unfortunate' and the Trust should go back to its 'core functions'. 
Parker had been the National Trust's chairman since 2014. Interestingly, he is also chairman of the Post Office.
Parker's National Trust opponents from Restore Trust filed their motion at the AGM (Annual General Meeting):
According to the Telegraph, the rebel motion at the AGM said: 'It is the task of a chairman to see an organisation through a crisis. The pandemic has presented the National Trust with severe challenges, and meeting these while securing the future wellbeing of the charity should have been the absolute priority.
'Instead, the National Trust has been the subject of debates in Parliament and an investigation by the Charity Commission, which found that the charity published a report which generated strongly held and divided views without fully managing the risks to the reputation of the charity. 
'The director-general has admitted that the timing of the publication of the 'Interim Report on the Connections between Colonialism and Properties now in the Care of the National Trust, Including Links with Historic Slavery' was 'a mistake'.'
The motion continued: 'The National Trust leadership has frequently been out of step with its members and supporters over recent years. 
'Unnecessary controversies have threatened to undermine the charity's simple duty to promote public enjoyment of buildings, places and chattels under its protection.
'As a result, morale among volunteers and members is at an all-time low and the National Trust has suffered, both financially and reputationally. 
Actor and musician Laurence Fox, founder of The Reclaim Party, approved of Parker's resignation:
One of Restore Trust's members, Tony Adler, said that the organisation inaccurately linked slavery to Ham House in south-west London:
One of Restore Trust's members, Tony Adler, said: 'The plan is to change the whole ethos formally. And to get rid of the chairman. There has been a sea change in the Trust's philosophy and they have lost sight of their charter.' 
The charity was established in 1895 to 'promote the permanent preservation… of lands and buildings of beauty or historic interest'.
Mr Adler, a retired history lecturer and former volunteer at Ham House in south-west London, claims he was forced out of the charity after he pointed out inaccuracies over the stately home's supposed links to slavery.
In August, the National Trust dispensed with many volunteer education teams:
This year's National Trust AGM will take place on October 30. Existing members can vote on the proposals by post or online:
It will be interesting to find out what happens, especially as Restore Trust is rightly calling for the reinstatement of education volunteers.