You are currently browsing the tag archive for the 'immigration' tag.
On July 24, I wrote about the Gell-Mann Amnesia effect coined by the late Michael Crichton about our misplaced trust in Big Media.
There is a psychological condition that appears to affect some journalists in Big Media. It is called the Dunning-Kruger effect, which can be boiled down to this:
'Unskilled and Unaware of It: How Difficulties in Recognizing One's Own Incompetence Lead to Inflated Self-Assessments'
Psychologists David Dunning and Justin Kruger were intrigued by a crime report about a man who:
robbed two banks after covering his face with lemon juice in the mistaken belief that, because lemon juice is usable as invisible ink, it would prevent his face from being recorded on surveillance cameras.[3]   The authors noted that earlier studies suggested that ignorance of standards of performance lies behind a great deal of incorrect self-assessment of competence.
In 1999, they performed a series of experiments with the participation of Cornell University students as their subjects. The students performed a variety of tasks and were asked to assess their predicted and actual performance:
This pattern of over-estimating competence was seen in studies of skills as diverse as reading comprehension, practicing medicine, operating a motor vehicle, and playing games such as chess or tennis. Dunning and Kruger proposed that, for a given skill, incompetent people will:[4]
fail to recognize their own lack of skill

fail to recognize the extent of their inadequacy

fail to accurately gauge skill in others

recognize and acknowledge their own lack of skill only after they are exposed to training for that skill
Ultimately:
"If you're incompetent, you can't know you're incompetent.… [T]he skills you need to produce a right answer are exactly the skills you need to recognize what a right answer is."[5]
The Dunning-Kruger effect was in play at the White House press briefing on Wednesday, August 2, 2017.
Before I go into the story, the only person in the White House I trust 100% — other than President Donald Trump — is his senior policy adviser Stephen Miller, born to Democrats in California. He saw the truth about leftism as a high school student and became a conservative. He worked for then-Senator (now Attorney General) Jeff Sessions for several years prior to Sessions joining Trump's campaign team, at which point Miller joined his boss to develop policy for Trump's campaign. Miller appeared at several Trump rallies in 2016 and also writes the president's speeches. I know a Miller speech when I hear it. They are factual and rousing, a difficult combination to achieve.
On August 2, Miller explained to the media the Trump administration's latest endeavour, the RAISE Act, which is Green Card reform. Miller helped to produce it.
The following excerpts come from the White House transcript of the press briefing. Miller stated (emphases mine):
Every year we issue a million green cards to foreign nationals from all the countries of the world, but we do so without regard to whether that applicant has demonstrated the skill that can add to the U.S. economy, whether they can pay their own way or be reliant on welfare, or whether they'll displace or take a job from an American worker.
And as a result of this policy, in place now for many years, we've seen significant reductions in wages for blue collar workers, massive displacement of African American and Hispanic workers, as well as the displacement of immigrant workers from previous years who oftentimes compete directly against new arrivals who are being paid even less.
So it's a policy that's actually exacerbated wealth inequality in the country in a pretty significant way. So you've seen over time, as a result of this historic flow of unskilled immigration, a shift in wealth from the working class to wealthier corporations and businesses. And it's been very unfair for American workers, but especially for immigrant workers, African American workers, and Hispanic workers, and blue collar workers in general across the country.
At the same time, it has cost taxpayers enormously because roughly half of immigrant head of households in the United States receive some type of welfare benefit — which I know is a fact that many people might consider astonishing, but it's not surprising when you have an immigration system that doesn't look at questions like skill level or self-sufficiency.
And so this proposal has several major historic changes. First, it eliminates so-called chain migration. So right now, what does chain migration mean? It means that if you come into the United States on a green card — and just so we're all clear, a green card gives the recipient lifetime work authorization, the ability to bring in their family members. It gives them a fast track to U.S. citizenship and, with that, all the benefits that come with being an American citizen.
And so the individuals right now who are receiving green cards, they can bring in, say, an elderly relative who could immediately go on to public assistance if they become unable to support themselves financially. And then that person can bring in a relative who can bring in a relative who can bring in a relative, and that's why they call it chain migration. And over years, that has massively de-skilled the migrant flow into America and produced all of those effects I'm talking about.
So we're proposing to limit family-based migration to spouses and minor children. Additionally, we're establishing a new entry system that's points-based. Australia has a points-based system, Canada has a points-based system. And what will this system look at? It will look at: Does the applicant speak English? Can they support themselves and their families financially? Do they have a skill that will add to the U.S. economy? Are they being paid a high wage? …

And so that's a major historic change to U.S. immigration policy. The effect of this, switching to a skills-based system and ending unfettered chain migration, would be, over time, you would cut net migration in half, which polling shows is supported overwhelmingly by the American people in very large numbers.
Two reporters demonstrated the Dunning-Krueger effect: Glenn Thrush of the New York Times and Jim Acosta of CNN.
Glenn Thrush
Most people, Americans included, have no idea who Glenn Thrush is.
In 2015, Thrush was working for Politico, at which time he was fawning all over Hillary Clinton's campaign supremo John Podesta. Thanks to the Podesta WikiLeaks, we have proof in email 12681, which shows that Thrush willingly showed his copy in advance to Podesta:
On Apr 30, 2015 3:00 PM, "Glenn Thrush" <gthrush@politico.com> wrote:
No worries

Because I have become a hack I will send u the whole section that pertains

to u

Please don't share or tell anyone I did this

Tell me if I f[–]ked up anything
Thrush asked Miller two questions. The first doubted that immigration affected jobs for workers already in the United States and the second doubted that immigration was more important than infrastructure, another area that Trump wants to reform.
Miller refuted that immigration was more important and then went on to name the immigration studies the administration has looked at, from the Cuban Mariel boatlift in the 1970s to the present day. He then said:
But let's also use common sense here, folks. At the end of the day, why do special interests want to bring in more low-skilled workers? And why historically —
The following exchange ensued. Miller put Thrush in his place:
Q Stephen, I'm not asking for common sense. I'm asking for specific statistical data.
MR. MILLER: Well, I think it's very clear, Glenn, that you're not asking for common sense, but if I could just answer your question.
Q No, no, not common sense. Common sense is fungible. Statistics are not.
MR. MILLER: I named the studies, Glenn.
Q Let me just finish the question. Tell me the specific —
MR. MILLER: Glenn, Glenn, Glenn — I named the studies. I named the studies.
Q I asked you for a statistic. Can you tell me how many —
MR. MILLER: Glenn, maybe we'll make a carve-out in the bill that says the New York Times can hire all the low-skilled, less-paid workers they want from other countries, and see how you feel then about low-wage substitution. This is a reality that's happening in our country.
Q (Inaudible.)
MR. MILLER: Maybe it's time we had compassion, Glenn, for American workers. President Trump has met with American workers who have been replaced by foreign workers.
Q Oh, I understand. I'm not questioning any of that. I'm asking for —
MR. MILLER: And ask them — ask them how this has affected their lives.
Q I'm not asking them. I'm asking you for a number.
MR. MILLER: Look at — I just told you.
Q Give me the number of low-skilled jobs that Americans might otherwise have —
MR. MILLER: If you look at — first of all, if you look at the premise, Glenn, of bringing in low-skilled labor, it's based on the idea that there's a labor shortage for lower-skilled jobs. There isn't. The number of people living in the United States in the working ages who aren't working today is at a record high.
One in four Americans — or almost one in four Americans between the ages of 25 and 54 aren't even employed. For African American workers, their labor force participation rate who don't have a high school diploma — I guess, African American males without a high school diploma has plummeted some 40 percentage points since the mass wave of unskilled migration began.
The reality is that, if you just use common sense — and, yes, I will use common sense — the reason why some companies want to bring in more unskilled labor is because they know that it drives down wages and reduces labor costs.
Our question as a government is, to whom is our duty? Our duty is to U.S. citizens and U.S. workers to promote rising wages for them. If low-skilled immigration was an unalloyed good for the economy, then why have we been growing at 1.5 percent for the last 17 years at a time of unprecedented new low-wage arrivals? The facts speak for themselves. At some point, we're accountable to reality.
On the other hand, like I said, you have ultra-high-skilled workers who are at the back of the line, which makes no sense in the year 2017.
I put the figures in there to show that Miller answered Thrush's question in full — and to provide anti-Trumpers with the rationale behind the RAISE Act.
I doubt Thrush got what Miller was saying to him about low-wage substitution. (I'd be thrilled if that happened to these reporters as it has with sub-editors.) In fact, Thrush probably thinks he won that round.
Jim Acosta
Thrush is a media minnow compared to the mighty Jim Acosta of CNN.
He was upset when Sean Spicer, who has been relieved of his White House duties, no longer televised the press briefings.
Acosta often reminds everyone that he is the child of Cuban immigrants. Yes, he and millions of others are, but why continue to put so much emphasis on it? My Cuban immigrant friends from university days never did. They emphasised being American over being Cuban.
This was the exchange between Miller and Acosta. Acosta deliberately conflated the Statue of Liberty poem, the proposed wall between the US and Mexico and his father's own emigration from Cuba:
… since the last question is not on the subject at hand, I will take one actual last question on the subject at hand.
Yes.
Q What you're proposing, or what the President is proposing here does not sound like it's in keeping with American tradition when it comes to immigration. The Statue of Liberty says, "Give me your tired, your poor, your huddled masses yearning to breathe free." It doesn't say anything about speaking English or being able to be a computer programmer.
Aren't you trying to change what it means to be an immigrant coming into this country if you're telling them you have to speak English? Can't people learn how to speak English when they get here?
MR. MILLER: Well, first of all, right now it's a requirement that to be naturalized you have to speak English. So the notion that speaking English wouldn't be a part of our immigration system would be actually very ahistorical.
Secondly, I don't want to get off into a whole thing about history here, but the Statue of Liberty is a symbol of liberty and lighting the world. It's a symbol of American liberty lighting the world. The poem that you're referring to, that was added later, is not actually a part of the original Statue of Liberty.
But more fundamentally, the history —
Q You're saying that that does not represent what the country —
MR. MILLER: I'm saying that the notion —
Q — has always thought of as immigration coming into this country?
MR. MILLER: I'm saying the notion —
Q Stephen, I'm sorry, but that sounds like some —
MR. MILLER: Jim, let me ask you a question.
Q That sounds like some National Park revisionism. (Laughter.)
MR. MILLER: No. What I'm asking you is —
Q The Statue of Liberty has always been a beacon of hope to the world for people to send their people to this country —
MR. MILLER: Jim — Jim, do you believe —
Q — and they're not always going to speak English, Stephen. They're not always going to be highly skilled. They're not always going to be somebody who can go to work at Silicon Valley right away.
MR. MILLER: Jim, I appreciate your speech. So let's talk about this.
Q It was a modest and incremental speech.
MR. MILLER: Jim, let's talk about this. In 1970, when we let in 300,000 people a year, was that violating or not violating the Statue of Liberty law of the land? In the 1990s, when it was half-a-million a year, was it violating or not violating the Statue of Liberty law of the land?
Q Was it violating the Statue of Liberty and the —
MR. MILLER: No, tell me what years — tell me what years —
Q (Inaudible) call for a deportation force?
MR. MILLER: Tell me what years meet Jim Acosta's definition of the Statue of Liberty poem law of the land. So you're saying a million a year is the Statue of Liberty number? 900,000 violates it? 800,000 violates it?
Q You're sort of bringing a "press one for English" philosophy here to immigration, and that's never been what the United States has been about, Stephen. I mean, that's just the case —
Mr. MILLER: But your statement is also shockingly ahistorical in another respect, too — which is, if you look at the history of immigration, it's actually ebbed and flowed. You've had periods of very large waves, followed by periods of less immigration and more immigration. And during the —
Q We're in a low period of immigration right now. The President wants to build a wall and you want to bring about a sweeping change to the immigration system.
MR. MILLER: Surely, Jim, you don't actually think that a wall affects Green Card policy. You couldn't possibly believe that, or do you? Actually, the notion that you actually think immigration is at a historic lull — the foreign-born population in the United States today —
Q The President was just with the new Chief of Staff on Monday talking about how border crossings were way down.
MR. MILLER: I want to be serious, Jim. Do you really at CNN not know the difference between Green Card policy and illegal immigration? You really don't know the —
Q Sir, my father was a Cuban immigrant. He came to this country in 1962 right before the Cuban Missile Crisis and obtained a Green Card.
Yes, people who immigrate to this country can eventually — people who immigrate to this country not through Ellis Island, as your family may have, but in other ways, do obtain a Green Card at some point. They do it through a lot of hard work. And, yes, they may learn English as a second language later on in life. But this whole notion of "well, they have to learn English before they get to the United States," are we just going to bring in people from Great Britain and Australia?
MR. MILLER: Jim, it's actually — I have to honestly say I am shocked at your statement that you think that only people from Great Britain and Australia would know English. It's actually — it reveals your cosmopolitan bias to a shocking degree that in your mind —
Q Sir, it's not a cosmopolitan —
MR. MILLER: No, this is an amazing moment. This an amazing moment. That you think only people from Great Britain or Australia would speak English is so insulting to millions of hardworking immigrants who do speak English from all over the world.
Q My father came to this country not speaking any English.
MR. MILLER: Jim, have you honestly never met an immigrant from another country who speaks English outside of Great Britain and Australia? Is that your personal experience?
Q Of course, there are people who come into this country from other parts of the world.
MR. MILLER: But that's not what you said, and it shows your cosmopolitan bias. And I just want to say —
Q It just sounds like you're trying to engineer the racial and ethnic flow of people into this country through this policy.
MR. MILLER: Jim, that is one of the most outrageous, insulting, ignorant, and foolish things you've ever said, and for you that's still a really — the notion that you think that this is a racist bill is so wrong and so insulting.
Q I didn't say it was a racist bill.
MR. MILLER: Jim, the reality is, is that the foreign-born population into our country has quadrupled since 1970. That's a fact. It's been mostly driven by Green Card policy. Now, this bill allows for immediate nuclear family members to come into the country, much as they would today, and it adds an additional points-based system. The people who have been hurt the most —
Q You're saying that people have to be English speaking when they're naturalized. What is this English-speaking component that you've inserted into this? I don't understand.
MR. MILLER: The people who have been hurt the most by the policy you're advocating are —
Q What policy am I advocating?
MR. MILLER: Apparently, just unfettered, uncontrolled migration. The people who have been hurt the most by the policy —
Q (Inaudible) is for open borders. That's the same tired thing that —
MR. MILLER: The people who have been hurt the most by the policy you're advocating are immigrant workers and minority workers and African American workers and Hispanic workers.
No doubt Acosta thinks he won that round. And, of course, he was on television!
Disgruntled CNN viewers can always give their views via the online feedback form.
Conclusion
I reckon this particular press briefing's ratings — and replays online — were through the roof.
You can see the full video here (Thrush comes in around the 10:00 mark and Acosta at 26:00):
Both Thrush and Acosta have an overly inflated sense of their personal competency. They cannot — or wilfully refuse to — see when they are in the wrong: the Dunning-Kruger effect.
Tomorrow's post will look at what the Statue of Liberty and its associated poem are really about.
Oh, the hypocrisy!
George and Amal Clooney are leaving the UK because of this year's terror attacks in London and Manchester. Their English hideaway is in Sonning-on-Thames, Berkshire, which is safe as houses.
They are also selling their Lake Como house and will look for another property in Italy. A migrant camp is near their lakeside mansion. The Clooneys want a place which is 'less accessible'.
But, wait, the Clooneys are open border people. Furthermore, Amal Clooney is a human rights lawyer.
Only last year, both had plenty to say against Donald Trump.
In April 2016, Amal gave an interview to the BBC. Among other things (emphases mine):
the 38-year-old criticized "the leading candidate on the Republican side" for proposing "building walls" and a temporary pause on Muslim immigration into the United States.
She then paraphrased Trump and defended Muslims who she says are "not extremist or violent."
"If you actually look at what [Trump] specifically says in that now infamous speech about Muslims, he kept saying, 'They only want jihad; they don't believe in our way of life; they don't respect our system,'" she said.
She continued: "And when he says 'they'… And, you know, you watch the media coverage afterwards and people should've been saying, 'Do you mean the 1.5 billion people around the world who fit that description? Do you mean the people who are U.S. citizens, who are members of your military, the vast majority of whom are not extremist or violent in any way?'" Her mother is a Sunni Muslim.
Amal Clooney added she is "perplexed" by the success of Trump's campaign.
In March 2016, George Clooney, an active Hillary Clinton supporter, told The Guardian:
He's just an opportunist. Now he's a fascist; a xenophobic fascist …
With regard to refugees, the actor said:
Right now we are dealing so much with domestic politics that no one talks about real world issues. No one is talking about the Syrian refugee thing in the US – nobody. You might hear little snippets of it, five seconds on the news. It's a big worldwide issue, and it needs to be talked about. If the press covered it more, we would be more involved, and do more.
Therefore, some of us are perplexed that the couple do not wish to live alongside the migrant camp near Lake Como:
Instead, the Clooneys are moving away.
The English countryside, where the Clooneys have a home, is also no longer suitable, even though it is miles away from any terror target:
On June 30, Life&Style empathised with the Clooneys' plight:
"He doesn't feel like Amal and the twins are safe living in the English countryside," an insider says. "He's determined to move his family to LA, where he feels much more secure."
George's safety concerns had been growing for years. The Oscar winner "has been subject to very serious threats in the past," reveals the source, because of his humanitarian efforts in Darfur, Sudan. And Amal's work as an international human rights lawyer, along with her public pleas for foreign governments to prosecute terrorists, has made her a potential target.
Yes, one can understand. Or not:
On July 6, Westmonster reported:
The celebrity power couple have used their fame and fortune to push for open borders and even sat down with Angela Merkel herself to express their support for her refugee policy.
But now it seems, like all luvvies, they don't actually mean they support it for themselves …
Isn't that the truth.
Furthermore, the Clooneys don't even want Italians around them.
In 2015, Time reported:
The mayor of Laglio, Italy has warned that anyone who sets foot within 100 meters of George and Amal Clooney's twin luxury villas overlooking Lake Como will be fined up to €500 ($550.)
Robert Pozzi, mayor of the small picturesque village in northern Italy, issued the ordinance to protect Clooney, his wife Amal and their guests' privacy while they vacation in their glitzy properties, reports the Telegraph.
Anyone who leaves their car or boat within 100 meters of Clooney's Villa Oleandra and adjoining Villa Margherita will be liable to pay the hefty fine.
Fans and photographers were also a worry:
The Gravity and Oceans 11 star bought one of the exclusive villas in 2002, but after fans and paparazzi flooded the town and set up camp near his home, Clooney bought the adjoining property to ensure his privacy.
No walls — but clear borders, with fines attached.
With regard to migrants, makeshift camps near the Clooneys started appearing in July 2016. I empathise somewhat with the residents of Lake Como but not with the Clooneys.
It is difficult to empathise completely because most Lake Como residents ascribe to the 'for thee, but not for me' philosophy.
One wonders if the residents' voting patterns and general outlook will change as a result.
Regardless, the next time the Clooneys pontificate on socio-political issues, please remember this news story.
President Donald Trump's supporters are in a quandary these days.
Some — myself included — are bemused by the sudden neo-con foreign forays, wishing he had pursued 'America First' policies and left the overseas conflicts alone for the time being.
That said, many Americans approve of Trump's performance so far, as the Rasmussen Presidential Tracking Poll for Wednesday, April 19, 2017, indicates:
The Rasmussen Reports daily Presidential Tracking Poll for Wednesday shows that 48% of Likely U.S. Voters approve of President Trump's job performance. Fifty-two percent (52%) disapprove.
Other polling companies and polling aggregator sites consider Rasmussen to be too 'right wing'. To them, Rasmussen has this message:
The same pollsters who called the presidential election wrong last November show the president with a worse job approval rating than we do. We called it right in November, so you decide who's got it right now.
Reassuring those of us who thought he had gone soft on the domestic front, Trump tweeted:
Attorney General Jeff Sessions followed up on Tuesday, April 18, with his announcement regarding America's gangs, especially MS-13:
Sessions said, in part (emphases mine below):
In February, President Trump issued an executive order to us to interdict and dismantle transnational criminal organizations, and today we'll be proposing concrete ideas to follow through on President Trump's directive. 
 
So let me state this clearly. Under President Trump, the Justice Department has zero tolerance for gang violence. Transnational criminal organizations like MS-13 represent one of the gravest threats to American safety.  These organizations enrich themselves by pedaling poison in our communities, trafficking children for sexual exploitation and inflicting horrific violence in the communities where they operate.
MS-13 has become a symbol of this plague that has spread across our country and into our communities.  There are over 30,000 members abroad with their headquarters in the El Salvadoran prison system.  According to the National Gang Intelligence Center, MS-13 now has more than 10,000 members in at least 40 states in this country – up significantly from just a few years ago.  
Because of an open border and years of lax immigration enforcement, MS-13 has been sending both recruiters and members to regenerate gangs that previously had been decimated, and smuggling members across the border as unaccompanied minors.  They are not content to simply ruin the lives of adults – MS-13 recruits in our high schools, our middle schools and even our elementary schools.
Just a few days ago, law enforcement believes that members of MS-13 murdered four young men and dumped their bodies in a park on Long Island.  Last month, it was two teenage girls in Los Angeles who were killed with machetes and baseball bats.  A few weeks ago, the FBI added an MS-13 member to their Ten Most Wanted Fugitives List for a suspected brutal murder with a baseball bat and screwdriver – all purportedly to earn his MS-13 tattoo.  Violence is an initiation rite. They've killed mothers alongside their children and vice versa.  They have gang raped and trafficked girls as young as 12 years old.  
We cannot allow this to continue.  We will secure our border, expand immigration enforcement and choke-off supply lines.  If you are a gang member: We will find you.  We will devastate your networks. We will starve your revenue sources, deplete your ranks and seize your profits.  We will not concede a single block or street corner to your vicious tactics.
The Daily Mail has another MS-13 report dated March 2, wherein Houston gang members kidnapped two teenage girls and held them hostage for two weeks. The gang members shot and killed one of them. The other they plied with drugs and drink and took turns sexually assaulting her. They also forcibly tattooed her. The Mail has pictures of the young defendants, who are smiling and waving to the camera. The report states that they are illegal aliens from El Salvador with a deep interest in satanism.
Sessions spoke to Tucker Carlson on Fox News later that day:
Sessions explained that until 2009 — first year of the Obama administration — law enforcement authorities had made significant progress in stemming the growth of gangs such as MS-13. Since then, gang numbers have increased. He blamed this, as he said in his statement above, on lax border policies and sanctuary cities. He also cited the Obama administration's lax attitude to what are known as the Unaccompanied Alien Child (UAC).
A graph from the Center for Immigration Studies (CIS) shows that the number of UACs more than doubled between 2008 and 2009 alone, from under 10,000 to approximately 20,000. By 2014, that number had risen to 70,000. The administration took action to reduce the number to 40,000 in 2015, but, in 2016, the number soared once more to over 70,000.
The CIS report — from May 2016 — says:
The initial response of the Obama administration to the surge in 2014 was to present these minors as victims of human trafficking, covered by the Trafficking Victims Protection Reauthorization Act (TVPRA) of 2008, signed by President Bush and reauthorized during the Obama administration in 2013. TVPRA requires the screening of unaccompanied children as potential victims of human trafficking. The attempt, however, was quickly dropped and the case for smuggling upheld instead. It is true that the vast majority of UACs who are illegally entering the United States are smuggled and not trafficked. (Cases such as those forced to work on egg farms in and around Marion, Ohio, remain the exception.3) …
In July 2014, President Obama expressed his desire to set up a refugee/parole program in Central America.8 What the president suggested was screening children in their home countries to determine whether or not they qualify as refugee applicants, then flying those who do directly to the United States. These in-country screening programs are not common and were used as exceptional humanitarian recourses by the United States following, for instance, the Vietnam War and the 1990 Haiti earthquake …
As for humanitarian parole, parents in the United States need to prove they are able to financially support their child. The parolees are granted work authorization for two years (renewable).
The reason for this initiative's lack of success is rather simple, as we are reminded by MPI [Migration Policy Institute]: "The United States is home to an estimated 1.3 million Salvadoran, 902,000 Guatemalan, and 534,000 Honduran immigrants. A majority of these immigrants are unauthorized and unlawfully present and therefore could not meet the program's lawful presence requirements for parents." MPI also notes that under existing U.S. laws those parents legally present in the United States can (and probably already did) sponsor their children for immigrant visas instead of going through burdensome processes.
In 2016, the Obama administration decided to expand that refugee/parole programme:
Despite the fact that this new addition to the existing (and somewhat unpopular) CAM Refugee/Parole Program was mainly designed in response to the increasing number of unaccompanied children crossing into the United States illegally, this new setting could benefit every person — adults included ("vulnerable families and individuals") — from El Salvador, Guatemala, and Honduras who seeks asylum. The government's primary concern, however, is still focused on providing children from Central America with a safe alternative to crossing the border on their own.
However:
Whether Central American children meet the definition of refugees, however, raises serious doubts.
When asked to give his opinion as to why children from Central America were coming to the United States, Thomas Homan, executive associate director of Enforcement and Removal Operations within U.S. Immigration and Customs Enforcement (ICE), replied, "Based on my experience, I think there are some that are skipping fear, but I think there are many more that are taking advantage of the system."20
The Conservative Treehouse has pulled graphics showing where these UACs ended up (first graphic) and the top cities are for ICE arrests. Notice the pattern between the two.
What happens when UACs arrive in the United States? Whilst not wishing to say that all of the 227,149 who have entered between 2009 and 2015 — according to a Fox News report which cited US Border patrol numbers — are criminals or turn into criminals, their vulnerable status presents ripe fruit for the picking by gangs such as MS-13.
That Fox News article, from September 15, 2016, states:
They remain in federal custody until a sponsor can be located, at which time they are often sent to communities where they are ripe for recruitment by Latin gangs such as the infamous MS-13.
"Our safety standards have increased," Andrea Helling, spokeswoman for the U.S. Department of Health and Human Services, told FoxNews.com. "In the last few months screening procedures of children and sponsors has increased in their intensity which we hadn't done previously."
Even so:
Some observers say that, at the least, the process sends a steady stream of loosely supervised youths lacking in language and coping skills right into the waiting arms of criminal gangs. At worst, the unaccompanied minors were already initiated into the gangs before they arrived at the border.
Indeed. The CIS paper states that this is true in many cases:
a report published last year by the Migration Policy Institute on "In-Country Refugee Processing in Central America" concluded that, despite the fact that many of these Central American children are "threatened by gang violence and have clear protection needs, being forced to join a gang or experiencing violence do not generally qualify as a basis for refugee status or fall readily into one of the refugee definition categories."24
And MS-13 is rapidly expanding across the United States.
Fox News describes the Los Angeles gang's growth in New York state and, surprisingly, not in the New York City boroughs:
MS-13 is believed to be among the largest street gangs on New York's Long Island, and more than 250 members have been convicted on federal felony charges since 2003. Federal prosecutors there have pinned more than 20 murders on the violent gang.
The number of UACs in New York had grown rapidly by 2016:
Long Island has received 2,093 unaccompanied children, and between October 2013 and July 2016, all of New York received 12,478 children from Central America. The overwhelming majority of the kids are not criminals and likely have competent sponsors. But some are.
Just one or two miscreants can cause a lot of crime. Imagine adding to already existing criminal numbers in a particular town or county:
In June 2015, MS-13 members and El Salvadoran immigrants Jose Cornejo, 17, Bryan Larios, 18 and Joel Escobar, 17, all of Brentwood, N.Y. were charged with the brutal rape of a 16 year-old girl on a local golf course.
Earlier this week, Joshua Guzman, 15, was shot and killed in the Long Island city of Hempstead. While not an unaccompanied immigrant, the boy's father, Raul Guzman, told Newsday his son was under pressure to join a gang. Police believe his murder may be related.
Other American states are similarly affected by an influx of UACs and gang activity:
MS-13 has a foothold in numerous other communities, where unaccompanied minors are being sent. Texas, which has seen a spike in MS-13 crime has received 15,999 over the same period. The 2015 Texas Department of Public Safety Gang Threat Assessment found MS-13 boasts some 800 members, and authorities explicitly blamed the flood of unaccompanied children being placed in the state.
"The influx of illegal alien gang members crossing the border into Texas in 2014, along with reports of extremely violent murders committed by its members in the Houston area, positions the gang as one of the most significant gang threats in the state for this upcoming year," the report stated.
Other areas that have seen an influx in MS-13 crime are Maryland, Texas, and Virginia. Fairfax County, Va. has seen a 160 percent increase in MS-13 related incidents through April compared to the previous year.
From this, it would appear that some of these sponsors are gang members themselves. Also, it would be relatively easy to see where a UAC coming from a gang in Central America could lie and say he was victimised and would have to escape to the US. It would be a ruse to move up in the gang world, one which already would have been arranged by his home base in Central America and the recipient 'sponsor' in the United States.
Being in the US would offer greater prestige and richer pickings than staying south of the border. Consider it a promotion, if you will.
It is not beyond belief that we could find a gang network, particularly MS-13, funneling these boys to the US with sponsorship arrangements having been made in advance.
It will be interesting to see what transpires this year through Attorney General Sessions's efforts.
Tomorrow: the unlikely, yet true, story of MS-13
In opening remarks to his staff on March 6, 2017, the Secretary for Housing and Urban Development (HUD), Dr Ben Carson, commented on slaves, saying they were 'immigrants'.
The media and other 'experts' verbally ganged up on the retired brain surgeon, best known for his pioneering surgery on conjoined twins. Those outside the United States will be interested to know that Carson is black and grew up in Detroit.
Yet, Obama made the same comment in 2015, and no one said a word. Why is it that Carson was criticised but Obama was not?
The Daily Caller had an article on the media storm:
"That's what America is about, a land of dreams and opportunity," Carson said during a speech at HUD's offices.
"There were other immigrants who came here in the bottom of slave ships, worked even longer, even harder for less. But they too had a dream that one day their sons, daughters, grandsons, granddaughters, great-grandsons, great-granddaughters, might pursue prosperity and happiness in this land."
Liberal pundits blasted Carson's remarks, saying that it is insensitive to use the term "immigrant" to describe people taken to a new country against their will.
This is what Obama said two years ago at a naturalisation ceremony:
"Certainly, it wasn't easy for those of African heritage who had not come here voluntarily and yet in their own way were immigrants themselves," Obama said.
"There was discrimination and hardship and poverty. But, like you, they no doubt found inspiration in all those who had come before them. And they were able to muster faith that, here in America, they might build a better life and give their children something more."
That was not the only time. He spoke at an earlier naturalisation ceremony in 2012:
"We say it so often, we sometimes forget what it means — we are a nation of immigrants.  Unless you are one of the first Americans, a Native American, we are all descended from folks who came from someplace else — whether they arrived on the Mayflower or on a slave ship, whether they came through Ellis Island or crossed the Rio Grande," Obama said at the ceremony.
The Daily Caller looked for media mentions of the 2012 and 2015 speeches. There were none.
Everyone harping on about Carson is simply angry that he is a black Republican in the Trump administration. 'How dare he?' they think.
Of course, Carson had to issue a statement. He said this (emphases mine below):
"I think people need to actually look up the world 'immigrant,'" he said in an interview with Armstrong Williams. "Whether you're voluntary or involuntary, if you come from outside to the inside, you're an immigrant. Slaves came here as involuntary immigrants."
Obama's family and slavery
It is highly possible that both sides of Obama's family owned and sold slaves in the past.
In 2009, Cynthia Yockey, a former Democrat turned conservative, wrote 'Obama's Kenyan ancestors sold slaves', which is a remarkably well researched article not just on Obama's ancestors but also on the nature of the slave trade in general. It continues today and is a Muslim practice in certain countries. This is a good article to share with older children and summarise for younger members of the family.
Yockey wrote about the topic because, on July 12, 2009, Obama visited Ghana. She said that he had to:
hope no one in the state-run media would think to wonder why he didn't choose Kenya in East Africa, the land of his father and his father's tribe, the Luo, which also was a major slave-trading center.
She added:
One reason may be that New World blacks would be descended from West Africans. However, I am suspicious that another reason is that on both his mother's AND his father's side of the family, Obama is descended from people who owned and/or sold black African slaves. How ironic that Obama received almost universal support from blacks who are here because their ancestors were grabbed up and sold into slavery by other black Africans, including Obama's father's tribe.
Yockey notes that, in 2007, the Baltimore Sun fully researched the slavery angle involving Obama's white side of the family.
Having read the Baltimore Sun article, I want to point out to you this interesting bit near the end:
Author and essayist Debra J. Dickerson wrote in a January salon.com article that she had previously refrained from opining about the senator because "I didn't have the heart (or the stomach) to point out the obvious: Obama isn't black."
" 'Black,' in our political and social reality, means those descended from West African slaves," Dickerson said.
Back now to Cynthia Yockey's research. She saw that there was an article on About.com — no longer there in 2017 — which was reproduced elsewhere, called 'Obama's African Forebears Were Slave Traders'. It describes the thriving Muslim slave trade in Africa in the 18th century:
Muslims encouraged warring tribes, Obama Jr's Luo ancestors included, to capture "prisoners of war" and sell them into slavery.
Kenya tribe leaders, also exported slaves and ivory that had been exchanged by Africans from the interior for salt, cloth, beads, and metal goods. The slaves were then marched to the coast and shipped to Muslim Zanzibar (an island South of Kenya), to be traded again.
The British ended the practice by law in 1847.
However, Yockey reproduced other articles saying that African Muslims had traded slaves for centuries before that. Furthermore, European buyers had to go through a Muslim slaver to buy black slaves. They could not operate independently.
Yockey's research uncovered another important point: Muslim slavers from Kenya looked African but, in fact, were Arab, just like the Luo tribe of Obama's ancestors.
White indentured and enforced servitude
In the history of the United States, black slaves were not the only people who arrived involuntarily. White Britons did, too.
I don't know if history books still include indentured servitude in their coverage of Colonial history. If not, they should re-introduce it.
One of my best friends has ancestors who arrived in the US in the 17th century as indentured servants.
Indentured and enforced servitude were one up from slavery. However, sometimes slaves were treated better than indentured servants.
Indentured servitude involved someone in debt or other hardship becoming the temporary property of the person to whom he owed a debt or a better off person. The person who acquired them — the master — worked them for a certain number of years, after which the indentured servant became a free person.
However, it should be noted that there were also cases where men just wanted to leave their homeland for a new future in the colonies. They voluntarily sought and signed such agreements.
USHistory.com has an excellent article on indentured servitude, which came at a time of severe unemployment in England and a boom in the new colony of Virginia. These bonded servants worked in the tobacco fields or as house servants. A summary and excerpts follow.
Most indentured servants were men, however, women also signed these agreements. The master paid for their passage to the American colonies and provided them with food, clothing and shelter during the years of their servitude:
Perhaps as many as 300,000 workers migrated under the terms of these agreements. Most were males, generally in their late teens and early twenties, but thousands of women also entered into these agreements and often worked off their debts as domestic servants.
There was also enforced servitude, involving miscreants:
Vagrants, war prisoners, and minor criminals were shipped to America by English authorities, then sold into bondage.
The masters' treatment varied, just as it did with slavery:
In some areas, slaves were treated more humanely because they were regarded as lifetime investments, while the servant would be gone in a few years.
There were also terms and conditions the servant had to abide by:
The length of servitude could legally be lengthened in cases of bad behavior, especially for those workers who ran away or became pregnant …
Masters retained their right to prohibit their servants from marrying and had the authority to sell them to other masters at any time.
The only upside to indentured or enforced servitude was access to the courts and the possibility of owning property, provided one hadn't died from overwork.
Upon being given their freedom:
many workers were provided with their "freedom dues" — often consisting of new clothes, farm tools and seed; on rare occasions the worker would receive a small plot of land.
Some former servants could not find jobs after being given their freedom. Men in such a position often ventured westward, which, in the 17th century, would have been as far as Kentucky or Tennessee. (The big move to the West did not begin until the 19th century.)
Servitude, slavery and the law
Each colony — later, state — had their own laws governing indentured or enforced servitude and slavery.
The Law Library of Congress has a detailed and interesting article on how colonial and state law applied to indentured servants and to slaves. The article focusses mainly on Virginia but provides a useful overview. Excerpts and a summary follow.
Both practices ended on January 31, 1865 with the Emancipation Proclamation, however:
many laws and judicial precedents that had been established before that date would not be changed until the mid- or late-twentieth century.
Before that happened, most of the laws around these two groups of people involved women, illegitimate children and racial intermingling.
In 1662, Virginia:
passed two laws that pertained solely to women who were slaves or indentured servants and to their illegitimate children. Women servants who produced children by their masters could be punished by having to do two years of servitude with the churchwardens after the expiration of the term with their masters. The law reads, "that each woman servant gott with child by her master shall after her time by indenture or custome is expired be by the churchwardens of the parish where she lived when she was brought to bed of such bastard, sold for two years. . . ."37
The second law, which concerned the birthright of children born of "Negro" or mulatto women, would have a profound effect on the continuance of slavery, especially after the slave trade was abolished—and on the future descendants of these women. Great Britain had a very structured primogeniture system, under which children always claimed lineage through the father, even those born without the legitimacy of marriage. Virginia was one of the first colonies to legislate a change:
Act XII

Negro womens children to serve according to the condition of the mother.

WHEREAS some doubts have arrisen whether children got by any Englishman upon a Negro woman should be slave or free, Be it therefore enacted and declared by this present grand assembly, that all children borne in this country shalbe held bond or free only according to the condition of the mother, And that if any christian shall committ ffornication with a Negro man or woman, hee or shee soe offending shall pay double the ffines imposed by the former act.38
Because of this law, slave masters were keen to procreate with young female slaves, so they would have a steady supply of slaves to come:
There are a number of court cases concerning slave women who either killed their masters who forced them to have sexual relations or killed the children rather than have the children enslaved.39
Racial mixing, including sexual congress, was not unknown in that era. In 1691, Virginia amended their aforementioned 1692 birthright law, under which a child born to a white woman and a black man was free:
This amendment stated that a free white woman who had a bastard child by a Negro or mulatto man had to pay fifteen pounds sterling within one month of the birth. If she could not pay, she would become an indentured servant for five years. Whether or not the fine was paid, however, the child would be bound in service for thirty years.
Conclusion
Both slaves and indentured servants had a miserable life.
And, there was nothing that Ben Carson had to apologise for, especially as Obama had spoken similarly on two occasions during his time in office.
I hope this brief foray into American history, past and present, has helped to enlighten and fill in gaps on what was known as 'human chattel' and immigration, regardless of race or origin.
The Riverwalk has appropriate Bible readings for the Emancipation Proclamation — 152 years on — that we would do well to read and remember today.
At the weekend, ICE (U.S. Immigration and Customs Enforcement) raids occurred in several American cities.
This generated much hand-wringing in the United States.
However, as we know, President Donald Trump is a man of his word:
Combined with this are concerns about his long-term plans for a wall dividing the US and Mexico.
The most high-profile deportation involved Guadalupe García, 36, who had lived illegally in the United States for 22 years and is a mother of two. García is a convicted felon. She was arrested in 2009 for having a false Social Security card and was then convicted of identity theft, which is a felony. García was allowed to live freely, provided that she checked in with ICE agents in Phoenix every six months. When she went to see them last week, she was detained and deported to Mexico.
However, Americans who are worried for García and other illegal immigrants from south of the border should be comforted in knowing that those who might be rounded up for deportation will fight for their notional rights. In reality, they are fighting for a privilege which has not been given them.
On February 12, 2017, the Wall Street Journal reported that 49 out of 50 illegal aliens at a meeting in Phoenix, Arizona, would prefer to be detained in the United States than return to Mexico:
All but one of about 50 undocumented Mexican migrants at a meeting Saturday indicated they would rather risk detention and long court battles in the U.S. than return to Mexico voluntarily.
The majority of migrants at the meeting in Phoenix, which included Mexican officials, signaled in a show of hands that they were ready to fight deportation in U.S. courts.
"Even if that means detention for weeks?" asked former foreign minister Jorge Castaneda.
"Even if it takes months," shouted one woman. "Even if it takes years," another yelled. "We are here to fight."
The WSJ says that Castaneda hopes this will be the case, because:
the legal system would break down, bringing deportations to a halt.
The article says that Mexican legislators present at the Phoenix meeting were seeking ways to stop co-operation with the US, whether commercially or with regard to law enforcement. However:
not all legislators were on board with those calling for a tough negotiating posture. "If we bet on confrontation without first trying to convince, then we are making a big mistake," said Gabriela Cuevas Barron, from the opposition conservative National Action Party, who heads the Mexican Senate's foreign relations committee. 
About 80% of Mexico's exports go to the U.S., she said. "We should negotiate more forcefully, but we don't have a blank check," she said.
Interestingly, some illegal aliens at the gathering urged Mexico to provide more job opportunities and they would return (emphases mine):
they said they were forced to leave because its widespread corruption, violence and terrible education system killed economic opportunity.
"In Mexico, we don't have any opportunity, we don't have any education, and you can't get a job unless you have connections," said Maria, a woman who wouldn't give her last name. "Here my son graduated from university. If I lived in Mexico, I would be selling chewing gum in the street."
It's amazing that poor Mexicans still have to sell gum on the streets. I saw it non-stop — even into the early hours of the morning — in Acapulco in 1979. There were small children out in the streets with boxes of Chiclets. I used to pay for a whole box every day just to get a few of them them to go home. They all agreed but said:
That's not how it works. You're only supposed to buy a small box!
It blew my mind, I can tell you. But I digress.
Back on topic, one has to wonder about the legality of Mexicans holding an anti-US meeting with their own government officials on American soil. Americans are very forgiving people.
The readers' comments following the WSJ article ask many good questions. One, why would an illegal alien be able to obtain due process of law when they are not legally resident in the US? Two, who paid for Maria's son's education: the taxpayer? Three, why should illegal aliens expect state money, e.g. legal defence, when Americans are trying to keep their own heads above water?
Where they go
The WSJ has a helpful table showing where 11.1 million illegal immigrants settle.
In first place is New York City and northern New Jersey with 1.1m, followed by Los Angeles-Long Beach-Anaheim with 1m. After that, it's Houston with 575,000, Dallas/Fort Worth with 475,000, Miami-Fort Lauderdale-West Palm Beach with 450,000, Chicago-Naperville-Elgin with 425,000 and Washington, DC/Arlington/Alexandria with 400,000.
Other population centres follow, with significantly fewer illegals.
Mexican immigration law
Don't think that Mexico has a similarly lax application of immigration law.
A Washington Times article from 2010 discussed the Mexican opprobrium to a law that Arizona's governor Jan Brewer (R) signed, which allows state and local police to arrest illegal immigrants.
The article states that, ten years earlier — 2000 — Mexico enacted the Reglamento de la Ley General de Poblacion — the General Law on Population. These are its provisions:
Under the Mexican law, illegal immigration is a felony, punishable by up to two years in prison. Immigrants who are deported and attempt to re-enter can be imprisoned for 10 years. Visa violators can be sentenced to six-year terms. Mexicans who help illegal immigrants are considered criminals.
The law also says Mexico can deport foreigners who are deemed detrimental to "economic or national interests," violate Mexican law, are not "physically or mentally healthy" or lack the "necessary funds for their sustenance" and for their dependents.
It is fine — and correct — for Mexicans to restrict entry. However, it should be the same for the United States, which still has applicable laws on its books.
Those laws just haven't been enforced for many years. Why were there amnesties by presidents Reagan and Bush II? Because the people entering illegally were in violation of the law. See US Title 8 Code 1325. Illegal entry has been — and continues to be — an imprisonable offence.
Despite such a federal law, then-president Felipe Calderon called the Arizona law:
"racial discrimination" … and vowed to use all means at his disposal to defend Mexican nationals against a law he called a "violation of human rights."
Wow.
Fast track from countries south of Mexico to the US
In 2014, Dr Jerome Corsi, an investigative journalist and author, wrote an article for WND called, 'Mexico, Guatemala Fast-Track Delivery of Illegals to US'.
It concerns Mexico's Regional Visitor Card, which allows people — including unaccompanied minors — from other Central American countries to pass through Mexico legally for a limited amount of time so they can reach the US border.
When this policy was introduced, Greece's — yes, Greece's — former prime minister George Papandreou lectured the United States on its responsibility to take in these illegal aliens. Corsi tells us:
Papandreou encouraged the United States to extend the legal right to Central American immigrants to stay in the U.S., housing them in temporary shelters where they can receive secure and humane treatment while the United States creates for them a pathway to citizenship, as well as providing the right to seek employment and the opportunity to be reunited in the United States with their families.
In fact:
The flood of illegal alien immigrants from Central America, especially children, has spiked in recent months, with tens of thousands flooding into the United States. The U.S. government already is transporting them to multiple other locations to house them.
A wall along Mexico's southern border
Apparently, that did not work out too well, because two years later, in September 2016, the Daily Mail reported that Mexicans want a wall built along their country's southern border. The influx and criminality of incomers from other Central American countries is too great:
while Mexican President Enrique Peña Nieto has mocked Trump's plans, many Mexicans praised the concept of a border wall.
'Trump's idea of a border wall is a good one but it should be on the southern border with Central America in order to stop the flow of Central Americans from entering both countries,' the El Mañana board wrote in July.
The paper also called for proper immigration checkpoints on the southern border.
El Mañana even criticized Hillary Clinton for failing to raise the issue of border security.
The newspaper says that many illegal immigrants turn to crime as shelters can often only provide a few days of food and bedding.
'Many of these migrants when they are unable to find an honest way of life turn to robberies, kidnappings, extortion, and in the worst cases join the ranks of organized crime,' El Mañana's piece claimed.
It seems, however, that it's okay for illegal aliens to enter into the United States and put Americans at risk.
The Gateway Pundit covered the same news with the title, 'What Hypocrisy? Mexico Announces Plans for GREAT WALL on Southern Border with Central America'.
Mexico wants as few poor people as possible
Poor people are a drain, don't you know?
So, Mexico reasons, let's get our poor — and anyone transiting through — to the US. Let them take care of the poor.
Ironically — once in the US — Mexico's poor are assets to their home country.
The Mexican government knows that.
The aforementioned WSJ article states:
Mexico's government hasn't endorsed the strategy, but President Enrique Peña Nieto recently budgeted about $50 million to the country's 50 consulates to help pay the costs of defending migrants who are in the U.S. illegally and facing deportation.
There's a reason for that.
The Conservative Treehouse (CTH) has an excellent rundown of Peña Nieto's reasoning:
the dependency on the Mexican economy created by $25 billion in remittances sent home from Mexican nationals illegally living/working in the U.S. …

… the hidden scale, and almost unquantifiable scope, of the exfiltration of U.S. dollars -legal and illegal- into Mexico.
American taxpayers as voters have no idea of the scale for how much money flows out of the U.S. into Mexico.  The reason no-one knows about it, and the reason economists cannot discuss it, is because the answer reveals a politically inconvenient discussion.
If accurate quantification was ever given sunlight, Americans, or more accurately 'tax-paying Americans' would be able to see how much the United States actually subsidizes the nation of Mexico, and how much we've been ripped off.
Anyone unprepared for what follows should take a seat now and swallow any drink:
While the actual valuation of the outflow of dollars into Mexico is unknown, there are indicators it could be greater than our current economic trade deficit with China, $500+ billion.
Only a few indicators have ever reached visibility.  One such indicator being the outbound U.S. Western Union wire transfers, remittances, which now exceed the entire Mexican Energy Sector (oil and gas) combined.
An honest evaluation of all possible currency transfer streams puts the outflow well over several hundred billion per year. Well over.
CTH explains that Mexico is experiencing a lot of domestic turmoil right now: a depreciating peso, increased inflation and petrol prices that are higher in relative terms that America's.
Fox News reports that this has led to looting and unrest in the capital:
MEXICO CITY –  Sometimes-violent protests and looting over gasoline price hikes in Mexico are continuing and officials say that so far they've left one policeman dead and five injured, 300 stores looted and over 600 people arrested.
The country's business chambers says the combination of highway, port and terminal blockades and looting have forced many stores and businesses to close and threaten supplies of basic goods and fuel.
Trump's wall
CTH tells us that the Mexican government is angry about Trump's proposed wall.
But:
…. Do you still think that Mexico has leverage in the conversation about the Southern Border Security Wall.  Any leverage at all…?
The aforementioned Jorge Castaneda — a former foreign minister — told CNN that, if Trump pursues his plans, Mexico will unleash drug cartels on the US. Hasn't it done that already? In any case, how can a former foreign minister speak for the current government?
Furthermore, Castaneda:
openly admits Mexico could stop the border crossings if it wanted to, but instead chooses to use immigration as a weapon against the United States.
At least it's out in the open.
Conclusion
There is much more to come in this political and human drama.
None of this comes as news to Donald Trump. No doubt, this was one of the many reasons he ran for president.
However, expect this conflict to have many subplots. Stunning surprises will unfold this year. Stay tuned.
Over the course of the past few years, migrant camps have been springing up in and around Paris, some with the authorisation of the mayor's office.
Annie Hidalgo, the current mayor and a Socialist — as was her predecessor Bertrand Delanoë — has more planned.
The latest is said to be planned for an area in the 10th arrondissement between the Gare du Nord and the boulevard de la Chapelle (see bottom right hand centre of this map).
I last took the Eurostar in early 2002. The sidewalks outside the Gare du Nord were not a comfortable place to be then with panhandlers all over the place. I can only imagine how the situation has deteriorated since then and, even worse, what it will be like later this year once the new camp opens up.
At the end of June 2016, the City of Paris sent out a press release stating that the 'humanitarian centre' would be opening in that area. The mayor's office refuses to state exactly where it will be, in case the project is 'put in peril' as a result. The decision as to location, they say, has been taken with the consent of local humanitarian associations.
Last year, in the neighbouring 19th arrondissement to the northeast, left-wing extremists and migrants squatted in Lycée Jean-Quarré (a high school), which was closed for refurbishment. The City had hoped to complete the work over the summer. Instead, vandalism and violence broke out among the squatters. I have read about it in French media and seen the pictures. The damage was so bad that it was becoming unsafe for the trespassers. In late September, the school was finally evacuated and closed.
One of the local councillors Aurélie Solans (EELV — Green), gave an interview to Metronews at that time in which she explained (translation mine):
Every day there was tension about food. The over-population of the place made the situation harmful. Right now, the atmosphere is dangerous for everyone. From Saturday night into Sunday, there were 160 cases of food poisoning.
Food donations kept the squatters going, but Solans said that most of the foodstuffs required cooking, and there were not enough facilities for that.
That situation and others elsewhere in Paris have contributed to councillors' pleas for properly constructed centres in town. Everyone envisages only one or two.
Yet, in the 18th arrondissement immediately to the east of Lycée Jean-Quarré, residents are worried over their personal safety and health because of three camps there.
On June 30, 2016, the Nouvel Obs featured a story on one of the illegal camps which is in la Halle Pajol in the Esplanade Nathalie Sarraute, a residential area catering to hipster tourists. Incredibly, a migrant camp has popped up two summers running (see right hand centre of the map near Marx Dormoy station). It was cleared out once again at the end of last month, but not for long.
Nouvel Obs spoke with local residents to get their assessment. Everyone was apprehensive. Ibrahim, father of a six year old, said:
We'd heard there was tuberculosis in the area, making it impossible to walk past there. No one there asked anything of us, but it wasn't a place they could stay long term.
Several hundred migrants — mostly Eritreans, Sudanese and Afghanis — were evacuated by convoys of buses which required police patrols throughout.
Ibrahim told the reporter:
It wasn't this big last year, just some mattresses at the end of the street. This time, it really was a camp.
The article said that the residents are known for their tolerance (Socialist and Communist councillors), but even they were getting fed up.
Christel, a woman in her 50s, said:
It must have been 11 o'clock at night; we could hear noise. It was awful. They were beating each other up, pulling off branches from trees to beat each other with. There was a little 12-year-old in that camp. He was afraid. He was crying. It broke my heart.
She agreed with Ibrahim's assessment:
Last year, the neighbourhood gave clothing, food. The associations seemed to manage it better. This year, we felt more aggression towards us, which isn't normal. We can't have that every summer.
Rita closed her Cuban restaurant in the area when the camp reappeared this year. She wants the government to reimburse her for a loss of €500 per day.
The mayor of the 19th arrondissement — a Communist, incidentally — said he is 'powerless' to act and despite the 'anger' he shares, it's not his department. That's the city's problem.
The mayor's office, the article says, gave the same 'spiel' — someone else's problem. They did, however, acknowledge that complaints had risen sharply on the previous year and added:
Even people sympathetic to the plight of the migrants are finding that violence and squalor are occurring more rapidly.
Unfortunately for residents living near Halle Pujol, within days after the migrants were evacuated, they began returning little by little. Post-evacuation, they had been sent elsewhere in the city or suburbs. One charity worker said that one of the organised camps resembled a 'prison' and that a number of migrants were determined to find their way back to places such as Halle Pujol where they could live independently in tents.
Dominique Bordin, a spokesperson for the mayor's office, explained that some migrants are afraid and confused by being sent from one authorised reception centre to another:
It's difficult to explain the situation when, on a single bus, there are three or four different destinations. It looks to them like injustice.
The article went on to explain that migrants feel they have nothing to lose by taking chances with their housing situation. If a reception centre is full, they might get to stay in a gymnasium.
The unsuccessful evacuation of the Halle Pujol camp was the 25th in Paris. Government ministers are working with local officials to create another 3,000 places in centres for migrants by the end of September.
The obvious question is, will that be enough? Those close to the situation describe it as an 'endless cycle' of unauthorised camps followed by evacuation. Because there are not enough places in the government's reception centres, activists from associations and charities dealing with migrants encourage the pop-up camps.
This lack of communication and co-ordination with local officials produces a lack of safety and security in normally quiet neighbourhoods.
It is no wonder that residents get upset. They want to help but feel increasingly compromised, especially if they detect aggression. What about their quality of life?
There is no quick solution. There is, however, a lot of buck passing and obfuscation. The situation in Paris is likely to get worse.
It is hard to think of a worse place than an organised camp near the Gare du Nord, especially as it is relatively close to Halle Pujol and two other unauthorised settlements nearby. It's bad for residents as well as tourists.
In the early 21st the worldwide migration situation has produced Church-related anomalies in Europe, including the UK.
One of these has been the marriage of convenience, as a Workpermit.com post from 2006 describes. In 2005, a set of rules was introduced in the UK to put an end to this practice designed:
to get around immigration controls and require immigrants to obtain a special certificate of approval, or COA before they can wed in the UK.
However, Mr Justice Silber overturned these laws in 2006 because they violated the European Convention on Human Rights. Consequently:
The overturning of the marriage laws due to unfair discrimination against immigrants on religious grounds leaves the door open for hundreds of people from overseas getting married in the UK.
The test case involved in overturning by Mr Justice Silber, involved a foreign national from Algeria and an EEA national who was legally living in the UK. Once Mahmaud Baiai and Izabella Trzanska from Poland were refused permission to marry, they launched the challenge.
Mr Justice Silber said the case raised issues under Article 12 of the European Convention on Human Rights, which protects the right to marry and found a family.
"The rules were incompatible because they discriminated against immigrants rights subject to immigration control on grounds of religion and nationality," he declared.
Oddly, the rules overturned did not apply to Church of England members:
even if they are illegally in the UK.
This meant that the Anglican Church could conduct marriages of convenience. By 2008, as The Telegraph reported (emphases mine):
the number of bogus weddings performed by Anglican priests has risen by as much as 400 per cent in some dioceses over the last four years.
Foreign nationals have turned to the Church because it is exempt from rules that require all foreign nationals from outside the European Union to obtain a Home Office certificate of approval to marry in a register office.
That year, Church of England bishops warned their clergy to be vigilant when evaluating immigrants wishing to marry in an Anglican ceremony:
the Rt Rev Tom Butler, Bishop of Southwark, urged priests to be wary of migrants looking to get married who have obtained a common licence – a preliminary for church weddings involving foreign nationls.
"The new regime does not apply to marriages by banns, common licence or special licence, which probably explains the substantial increase in demand for bishops' common licenses," he writes.
"It is hard to avoid the conclusion that there is significant abuse of the availability of Church of England marriage in order to try to gain some immigration advantage."
The Rt Rev Richard Chartres, the Bishop of London, has also written to churches in his diocese with guidance on how to tighten measures.
The diocese of Southwark, which covers Greater London south of the Thames, has seen the number of applications for common licences rise from 90 in 2004 to 493 last year.
In 2013 the Coalition government (Conservative/Liberal Democrat) produced new rules to end marriages of convenience. From page 4 of the PDF:
Notices of marriage following civil preliminaries or civil partnership in England and Wales involving a non-EEA national who could benefit from it in immigration terms will be referred to the Home Office for a decision as to whether to investigate whether the marriage or civil partnership is a sham. Non-EEA nationals will only be able to marry in the Church of England or the Church in Wales following civil preliminaries, except in limited circumstances.
Perhaps something similar should be done in the case of conversions by refugees to Christianity.
On June 5, The Guardian reported that the Catholic bishops in Austria are suspicious of the number of sudden converts to Christianity among refugees from war-torn countries. The paper reported in 2014 that the same phenomenon is going on in the Lutheran Church in Germany.
Clergy with a rosy view of the world will say that this is a tremendous opportunity to revive the Church in Europe.
The Austrian bishops view the situation differently. In 2015:
the Austrian bishops' conference published new guidelines for priests, warning that some refugees may seek baptism in the hope of improving their chances of obtaining asylum.
"Admitting persons for baptism who are during the official procedure classified as 'not credible' leads to a loss in the church's credibility across the whole of Austria," the new guidelines say.
A spokesperson for the Archdiocese of Vienna explained:
There has to be a noticeable interest in the faith that extends beyond merely the wish to obtain a piece of paper.
Austrian priests now informally evaluate potential refugee converts during their one-year 'preparation period'. The Archdiocese of Vienna has recorded that 5% to 10% of potential converts drop out of the process prior to baptism.
In England, however, Anglican clergy are eager to not only ask no questions but to combine the conversion process with helping to ease the refugee application process.
The Guardian interviewed the Revd Mohammad Eghtedarian, an Iranian refugee and convert who was later ordained. He is a curate at Liverpool's Anglican cathedral. Eghtedarian says that refugee status and religious affiliation are intertwined.
Liverpool Cathedral has a process which involves registering refugee attendance, which helps their asylum applications. A candidate for Baptism must attend the five preparatory classes. A baptised refugee seeking Confirmation must attend a dozen courses.
Hmm. It sounds very minimal.
The Guardian asked Eghtedarian about the sincerity of those candidates. Even he acknowledged that 'plenty of people' were converting for convenience!
In large part, only a cursory examination exists. The Cathedral will also provide a 'letter of attendance' to immigration authorities, if requested.
The article said that the Church of England does not record conversions, regardless of background, because it could be a 'sensitive' issue.
It seems the Austrian Catholic bishops have approached the conversions of convenience issue more sensibly than the German Lutherans, who resent that immigration court judges ask refugees to discuss their newly-found beliefs in detail in order to assess their sincerity.
It is the responsibility of clergy to do a thorough examination of heart and mind during the conversion process rather than let false converts through the doors for Baptism and Confirmation.
Church of England clergy should pray for divine guidance on the matter rather than deceive fellow Christians, other citizens of our country and our government.
Admittedly, some of these converts are sincere. However, if 'plenty of people' are not, then the whole thing is a sham.
If marriages of convenience rightly rang Anglican bishops' alarm bells, then conversions of convenience should, too.
Today's news has more on the migration crisis, including an update on Alexandra Mezher, who was fatally stabbed in Mölndal, Sweden, earlier this week.
United Kingdom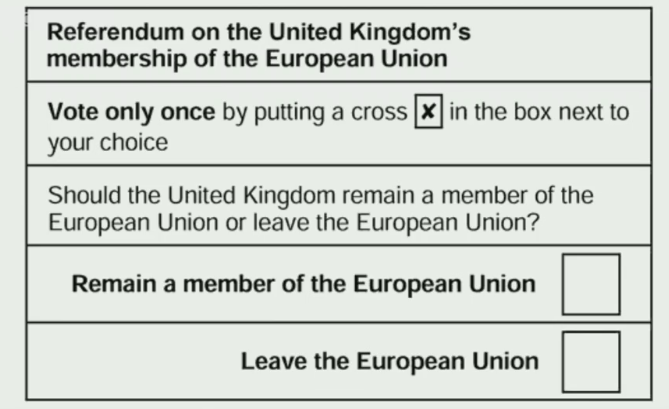 Whilst more than a few of us were relieved to read that our longed-for referendum on EU membership will be held in 143 days, we have other hurdles to overcome before then.
(Photo credit: Mike Smithson, PoliticalBetting.com Twitter feed)
I mentioned on January 25 that the question of bringing in refugee 'children' troubles some British teachers and social workers who are already working with those who arrived last year. They say that some refugee 'children' are of majority age, yet are in contact — whether in the classroom or in care homes — with minors. Children are therefore at risk in these situations by being in close proximity to young adult males.
The post also explained that, a week ago, a British QC (Queen's Counsel) ruled that Britain will have to accept three teenagers and a mentally-ill 26-year-old from Syria currently in Calais whilst their case for asylum is being decided.
Today, Thursday, January 28, the Express reported that 'unaccompanied child refugees' could be arriving in the UK soon.
The Save the Children charity have pleaded with the British government to accept 3,000 children. This number would be on top of the 20,000 refugees the UK has pledged to take in between now and 2020.
The scheme would involve taking the children directly from refugee camps near Syria, with input from the Office of the United Nations High Commissioner for Refugees (UNHCR).
On top of this, the Express tells us that 'unaccompanied child refugees' currently elsewhere in Europe will be allowed to come to Britain if they have relatives here.
Sweden
The age of 'unaccompanied child refugees' should concern us.
Today, via the Daily Mail, the Express reported that Chiméne Mezher, mother of brutally murdered Alexandra, who died on Monday, January 25, said some these 'children' at the refugee youth home where her daughter worked are actually adults (emphases mine):
Alexandra knew how to handle children including violent ones. But those she was working with were big powerful guys – she could see it in their eyes and their bodies. 
A few were maybe under 18, but the rest were older, maybe 23 or 24.
The article went on to say that Alexandra was on duty alone the night she died. Working night shifts alone has been standard practice at the youth home.
A colleague had rung Alexandra a few hours before she left home for work to say that one of the centre's kitchen knives was missing.
Mrs Mezher said that the employees did not report the missing knife because they were afraid of their superiors.
To date, the head of the company Alexandra worked for has not visited the Mezher family to express sympathy and discuss the tragedy.
Alexandra was stabbed in the back and thigh by a 15-year-old resident shortly before 8 a.m. on January 25.
Mrs Mezher is wondering where her family's future lies:
We left Lebanon [25 years ago] to escape the civil war, the violence and the danger. We came to Sweden where it was safe, to start our family. But it is not safe any more.
It is not surprising she has come to that conclusion:
The family has criticised politicians for the rise in immigration in Mölndal, a suburb of Gothenburg, where 8,000 migrants have arrived in less than a year. 
4,000 of the migrants are unaccompanied children.
Let us hope the British government does not put their citizens in a similar situation.
In other news
The Netherlands: Last week, a violent clash took place in the town of Geldermalsen over a proposed refugee centre. Townspeople planned a peaceful demonstration against plans to house 1,500 asylum seekers in the community of 27,000 people. The quiet protest was soon hijacked by violent outsiders, police said. However, on January 22, Geldermalsen's mayor cancelled plans for the centre, admitting that she should have consulted with residents first and that she had acted too quickly.
Germany: Assyrian Christian asylum seekers now living in the town of Saarlouis informed the police of a jihadi whom one recognised as a man who terrorised his neighbourhood in Syria. The Christian said the man stopped him several times at the local checkpoint when the two were still in Syria. The man also has an active Facebook page. The Christians duly informed the police. However, under German law, no arrest can be made until the man commits an offence. Some of the Christians now want to leave Germany, because, in the event of an IS attack there, they will be the first to be targeted.
Denmark: Whilst the Geldermalsen storm was brewing, the Danish council in Randers made pork a mandatory menu offering in day care centres and schools. The councillors said this is to preserve 'food traditions' and continue to put pork at the forefront of the Danish diet. However, halal meat, vegetarian dishes and foods for diabetics will continue to be available.
Europe's migration crisis — with more than 1 million newcomers arriving in 2015 — continues apace.
This is the largest migration in the world since 1907, outstripping the number of European immigrants to Ellis Island that year.
As ever, public opinion is divided. Although this article in The Guardian is from September, the thousands of readers' comments are as fresh today as they were at the time. Some wrote about migrants who went from a safe country to safe country in the Middle East before migrating to Europe. They were unhappy with conditions in each place. Will the EU satisfy them?
As an Englishwoman from London put it, she would like a better council house. She's living in Hounslow near Heathrow Airport. She'd much rather live in council housing in Mayfair:
maybe if I scream and shout, get the media to take photos of my plight, they'll all agree and I'll get a home in Mayfair …
That is what the situation looks like to many people.
In his Christmas message to the Czech Republic, President Milos Zeman told the nation that he is 'profoundly convinced' that the migration is 'an organised invasion', not a 'spontaneous movement of refugees'.
No doubt, his words were met with approval as 70% of Czechs are opposed to their country taking in migrants and refugees. Most of the newcomers have chosen to pass through the nation on their way to western Europe.
Statelessness has also become a problem. A Guardian article says that many Syrian women giving birth cannot confer Syrian nationality on their children because it must come from the father. If the father is missing or dead, the child is stateless. This can also happen if a couple is married 'informally', with no official paperwork proving their status.
However, statelessness is not limited to migrants and refugees. It also affects Europeans. In Latvia, 12% of the population — mostly people born in the country to Russian parents — are stateless. They can study for a nationality test and become Latvian citizens, but many stick with the identity papers they are given which allow them to earn a living. The nationality exam is notoriously difficult.
Illegal immigration from Africa also poses a problem. An orphan from the Ivory Coast who was trafficked to Senegal as an adolescent found his way illegally to the UK as an adult. Because he has no birth certificate and never knew his parents, he cannot claim Ivorian citizenship. The British government has given him a stateless travel document that will allow him to study and work.
Meanwhile, in Sweden, The Telegraph reports that staff at Riksgransan, a ski resort in the Arctic Circle have made no end of arrangements to accommodate a group of 200 Afghan and Syrian asylum seekers. Sven Kuldkepp, chief executive of Lapland Resorts, worked with his staff to make their stay as pleasant as possible. They have organised hikes for adults and every child has his own sledge for winter fun on the smaller slopes. Celebrations of the Afghan festival of the longest night — Yalda — were also held.
Residents are encouraged to use the gym. One refugee is giving English classes to the adults. Retired teachers from a nearby town are giving lessons in the Swedish language.
However, there is one problem: darkness. The days in the Arctic Circle are very short at this time of year. In fact, seasonal darkness has allowed staff at Riksgransan to house refugees. It is closed to skiers until mid-February. The lack of light has not gone unnoticed, and the Afghans are unhappy.
Some have complained to the Swedish Migration Agency.
Does Afghan education curriculum exclude the study of geography? Surely, most people are aware of the very short days in the Arctic Circle.
The Telegraph spoke to some of the refugees at the ski resort:
"The last time we saw the sun was a month and a half ago," complains Hakim Akbary, 31, who worked as a translator for international aid agencies before he fled Kabul.
Another objected to the cold and the food:
According to Marwan Arkawi, a 19-year-old Syrian, this is not unusual: the darkness and isolation has started to get to everyone. Even in this mild winter, the temperature is regularly 14F (-10C).
"Frankly I am imprisoned, I cannot go anywhere," he says. "It's like Hotel California but without a sun, and really, really bad food. We are all biologically depressed."
And:
The only people who go outside for fun any more are the Afghan children, he adds.
"I think they're built of iron or something. The Afghans are adjusting much faster because they're used to the weather."
Mr Akbary says that the last time he went out for a walk was 20 days ago, when he took a short hike to the Norwegian border.
"We are not used to this cold weather," he explains. "After 10 minutes outside we are shaking."
According to Mr Arkawi, arguments now break out continually over trivial matters, such as seats in the restaurant, or people jumping queues, or over the noise some residents make late into the night, having been turned seminocturnal by the lack of daylight.
Perhaps it is time for complainers to be grateful for safety, shelter, food and gentle amusement where it can be found.
Back in the UK, The Telegraph reports that the Charity Commission has warned that some aid workers who have gone to Syria or Iraq have been recruited by terrorist groups:
There are increasing fears that extremists are infiltrating Muslim charities in Britain in order to promote violence, recruit vulnerable young people for jihad, and steal money to fund terrorism.
Also:
The number of formal legal disclosures of information between the commission and the police and other agencies over charities caught up in alleged Islamist activities more than doubled between 2014 and 2015.
Officials from the watchdog also carried out 80 inspection visits of charities which were judged to be vulnerable to terrorists and extremism, either because they operated in Syria and other high-risk areas or because of their activities in Britain, such as inviting radical speakers to events.
It will be interesting to see how this situation develops in 2016. I expect it to get worse before it gets better.
A couple of years ago, Andrew Neather — an adviser to the Labour government — said that the Blair-Brown immigration policy was designed to 'rub the Right's nose in diversity'.
On May 14, 2013, Lord Mandelson — a former Labour cabinet minister — confirmed this policy. It was no one's imagination. It happened and the effects are becoming clearer-cut every day. Consequently, Labour's traditional working class voters have been distancing themselves from the party.
Party leader Ed Miliband recently said that Labour got it wrong yet he is still ambivalent about the influx of world populations to Britain. No surprise there.
Labour have always been in denial over their immigration policy, telling the English — because this is where we see its effects the most — that they are imagining things and are too stuck in their ways.
Now Mandy — as he is known by his detractors — says (emphases mine):
Labour sent out 'search parties' for immigrants to get them to come to the UK, Lord Mandelson has admitted.
In a stunning confirmation that the Blair and Brown governments deliberately engineered mass immigration, the former Cabinet Minister and spin doctor said New Labour sought out foreign workers.
He also conceded that the influx of arrivals meant the party's traditional supporters are now unable to find work …
Between 1997 and 2010, net migration to Britain totalled more than 2.2million, more than twice the population of Birmingham.
The annual net figure quadrupled under Labour from 48,000 people in 1997 to 198,000 by 2009 …
… at a rally for the Blairite think-tank Progress, Lord Mandelson said: 'In 2004 when as a Labour government, we were not only welcoming people to come into this country to work, we were sending out search parties for people and encouraging them, in some cases, to take up work in this country.' He said: 'The problem has grown during the period of economic stagnation over the last five, six years.'
When Labour encouraged new arrivals 'we were almost … a full employment economy' but, he admitted: 'The situation is different obviously now.
'We have to just realise… entry to the labour market of many people of non-British origin is hard for people who are finding it very difficult to find jobs, who find it hard to keep jobs.
'For these people immigration tends to loom large in their lives and in their worlds, now that is an inescapable fact, and we have to understand it, address it, engage with people in discussion about it.'
No, there just needs to be a turning back of immigration procedures to the way they were when Thatcher and Major served as Prime Minister. It was relatively simple. Your employer had to apply for a work permit for you. You had to be skilled and you couldn't come here unless there were no qualified Britons for the job. The Home Office occasionally rang up employers to discuss individual applications.
As for today's situation — which continues under the Conservatives — Britons wishing to marry Americans encounter many hurdles to bringing their spouses to this country. It is a shame, especially when those men and women are often well-educated and have much to contribute to British society, in and outside of work.
It is sad that the Conservative response to this has been the suggestion of an auction of visas to Britain in an attempt to get the brightest and best immigrants.
You can imagine how this could be abused.
Money has nothing to do with it. Many skilled people in their 20s and 30s — the aforementioned Americans and others — can contribute much to the future of this society. Their not having enough money to buy their way in has nothing to do with their excellent work ethic and good career prospects.