You are currently browsing the tag archive for the 'immigration' tag.
On Wednesday, August 10, 2022, Liz Truss appeared on GB News's The People's Forum to answer questions from residents of Leigh in Greater Manchester about her proposed policies:
The veteran newsreader and broadcaster Alistair Stewart ably moderated proceedings, allowing the audience to ask questions then reading viewers' questions and asking a few himself:
The programme was an hour long:
Brian Sheeran was first up to the microphone. Leigh, established in 1885, is a Red Wall constituency. They elected their first Conservative MP in 2019: James Grundy.
Sheeran asked why the people of Leigh should trust the Conservatives. Truss said that voters no longer could rely on Labour, because Labour never did anything for them:
She said that she would make sure that she started local projects as soon as possible, because people only trust a political party once they see tangible signs of improvements being made.
She also pledged to boost local businesses by rescinding EU laws that are still on the books post-Brexit.
She said that she would place a moratorium on the green levy on fuel and prepare an emergency budget as one of her first tasks as Prime Minister.
Not everything would happen straightaway. At least one measure would have to wait until April 2023 to be implemented because the Finance Act would require amending, a procedure that would require approval in both Houses of Parliament.
Another man asked what help Truss would give to working class families now, because the price of home energy has become crippling. He has had to take on a weekend job just to make ends meet:
Truss said that 'from day one', people would be able to keep more of what they earn.
He said that he needs help now, not at some point in the future. She said that she would look into all the options as soon as she becomes Prime Minister, should that happen.
Philip Orr asked about illegal immigration and was remarkably well informed on the statistics of our population increase over the past several years:
Truss summarised the situation of people trafficking across the Channel in dinghies. Criminal gangs are making big money. She hopes to make the Rwanda deportation policy work through Dominic Raab's proposed Bill of Rights. She also hopes to expand the number of countries who could take in these illegal migrants because they need more workers.
Orr suggested revoking French fishing licences if the French authorities continue to do nothing to stop the dinghies coming across the Channel.
In response, Truss said that she had had a 'tough' conversation with the French two weeks ago and that she would continue to be 'robust' in her negotiations. She cited the Northern Ireland Protocol Bill as proof that she could get things done.
She said that these migrants are in league with their lawyers before they make the trip over, enabling the lawyers to use ECHR laws to stop their deportation from the UK.
Finally, Orr asked why the UK couldn't use other countries' ports instead of being so reliant on France.
Orr called all of this 'sticking plaster politics', because nothing so far has been successful.
Jane Knight was the next to ask a question. She noted that the Government was not working. She asked what Truss's key strengths were and how she hoped to build a good Cabinet that would be ready to run on Day One:
Truss said that she has established a record of being able to get things done and has received backing from those Cabinet ministers, past and present, who have worked with her.
She said that she would be looking for three things in her Cabinet ministers: competence, the ability to stand up to civil servants in Whitehall and loyalty to her rather than to the media.
Knight said 'yes' to those but said there should be a certain amount of 'risk taking' and asked whether Kemi Badenoch, immensely popular among the people during her leadership campaign, would be able to have a Cabinet post, such as, perhaps, Foreign Secretary, Truss's current position:
Guido Fawkes has the dialogue (emphases his):
Jane Knight: I would like you to give some opportunity to maybe people that you might not know as well at the moment… certainly somebody who fired the imagination of the public was Kemi Badenoch and I'd really like to see her given a meaty role.
Truss: Do you have any ideas about what that role should be?
Knight: Oh well, Foreign Secretary! There might be a role going there!
Truss: Look, I don't want to get ahead of myself and this leadership campaign is still going on, but I can tell you that I will make sure the best players in the Conservative Party are on the pitch if I'm elected leader… Kemi – I've worked with her as Women & Equalities Minister – we've taken on a lot of the agenda of people who are trying to deny that women are women and so on, so I think she's absolutely brilliant and I would definitely want her as part of my team if I'm successful.
Knight also asked whether the Cabinet would be 'leaner, leaner, leaner', nodding for affirmation as she spoke those words.
Truss said that she could promise a 'leaner No. 10', which 'has become a bit too presidential' and she repeated her pledge to find a good post for Badenoch.
Knight said:
Ohhh, good answer.
Alistair Stewart brought up strikes at universities which prevent students from getting a full education. Some of these strikes are about changes in terms to lecturers' and professors' pensions because some universities took a 'pension holiday', not paying in continually to the pension pot. Other strikes, however, took place during the pandemic over health concerns. Either way, students are out of pocket, to the tune of £9,000 per year. They do not receive refunds for strike action.
Theo Murphin (?), a student, asked about this situation:
Truss said that she would hold universities to account to ensure that students get what they pay for.
In other strike areas, such as railways, she would ensure that industrial action would not overrun the network completely.
Theo also asked about the Online Safety Bill and the coming restrictions on freedom of speech. Truss said that her major focus of the bill would be to ensure that minors are not adversely affected by what they see online. With regard to adults, she said that one should be able to say the same things online as well as offline.
On the subject of strikes, Janice, a Daily Mail reader, wrote in with a question about the disruption of this year's strikes in various sectors across the country. Stewart asked her question for her.
Truss said she would legislate 'as soon as possible' to ensure that a minimum level of service is provided. She added that she is also concerned about activist organisations and mentioned Extinction Rebellion. She said that she would also take steps to ensure that they are dealt with, too, so as to not disrupt the daily circulation of people and goods.
Stewart brought up child grooming gangs (30:39), which seem to be everywhere in England now. He called Paul Eckersley to the microphone. Eckersley asked Truss what she planned to do about these gangs and 'bring criminals to justice':
Truss said that police should not be spending time patrolling tweets. Instead, she said, they should be fighting crime. She said that she wants to introduce police league tables on various forces' results.
Returning to the grooming gangs, she said that what has been going on has been 'absolutely repulsive'. She said that she wanted gang members to be held to account, 'but more than that' also the locals in authority — police, councillors and so forth — who did not do anything to stop them.
She received a round of applause for her answer.
Stewart then turned the subject to housing, especially getting young people on the housing ladder.
Jessica Buckthorpe, a cheerful and polite university student, asked whether Truss had any proposals to help young people in her situation, a student who works but cannot put together enough savings:
Truss proposes using young people's rental history of paying in full and on time to go on their mortgage applications, helping them to get a mortgage more easily.
Truss added that she also wanted to give more planning control to individual communities to plan for the housing they need. It is not unusual for young people to move away from where they grew up because they cannot afford the house prices.
Buckthorpe said that, while she appreciated these ideas, she said that the enormous actual mortgage deposit required is a 'pipe dream' not just for herself but for many other young adults.
Truss replied that using rental history would play an important part in enabling young adults to get a mortgage.
Truss said that it was important to keep in mind that our current inflationary period is temporary:
… we should not bake that into the future.
Stewart looked at Buckthorpe for her reaction:
There's a smile there.
A beaming Buckthorpe said:
Thank you very much.
The subject of war widows' pensions came up, especially those widows of veterans who subsequently remarried and lost their first husbands' pensions through subsequent rule changes. They are known as the WASPIs.
Stewart called on one woman who has a problem with her pension, Patricia Morgan, to ask her question. See the 2:40 point in this video:
Morgan said that, while she does not think she is getting the right amount of state pension because of a change in retirement dates, she cannot help but notice that money is going everywhere else, from coronavirus programmes to the war in Ukraine.
Truss said that she has met many such women in her own Norfolk constituency. The matter has also been addressed — unsatisfactorily, to many women — in Parliament. Truss said that she does not think that women have been looked after fairly in this regard. However, she said it would be very difficult to revisit the circumstances of the WASPIs and she apologised for that. She did, however, pledge to look at the tax system and see how it has an unfair impact on women in changing family circumstances.
Morgan politely countered by bringing up a parliamentary ombudsman's report which said that 'maladministration' had taken place. Truss said that she did not want to make promises that she could not keep. She could only address the future.
Stewart brought up the war widows' issue. Truss said she had already looked at that when she was in the Treasury. This issue, she said, she would look at again in more detail. Some 300+ women are affected.
Stewart then discussed the problems in the NHS.
Janine Ronaldson was the next person to approach the mic. She is a registered nurse with 31 years' experience, who works as a community nurse. She asked what Truss would do about the fact that nurses' salaries and benefits have decreased in recent years, resulting in many of them leaving the profession:
Truss said that nurses on the front line should be able to make more of their own decisions. She added that additional funding could come from existing funds and that the National Insurance tax rise was unnecessary. Some of this money can also go into social care, enabling hospital beds to be freed up for the elderly to go into a care home upon release from hospital. Currently, some patients have to stay in hospital because there is no satisfactory home situation for them to return to.
This, coupled with a huge post-pandemic backlog, is becoming a national problem.
Truss also pledged to look at the pension situation and talk to individuals to assess their concerns. She said that her incoming Health Secretary would also have to be committed to this.
Ronaldson said that it has been very difficult for her to see nurses leaving the profession and having to take on their workloads.
Stewart then asked for final questions on the topics that had been addressed.
One question came from Councillor Liam Billington, who asked about the child grooming problem. He said that Greater Manchester Council keep voting down motions to hold a public inquiry into what happened in Oldham. Truss responded that she would look into it and get back to him.
Johnny Riley (?) was next. He said that he had to give up his job to become a full-time carer for his wife. He receives only £70 a week from the Government in carer's allowance. He now has to use his life's savings to help them get by.
Truss thanked him for his devotion to his wife, who has cystic fibrosis. She said that her pledged review of the tax system should reveal how it works with the benefits system. She does not people like Johnny to be penalised for doing the right thing.
He said that he has paid into the system, so it's not about paying tax; it's about benefits, the least paid of all of them. Truss said that the whole system has to work, which is why she wants to look into it. She said she does not have a detailed answer. He said it was no wonder, because there has never been a detailed answer:
All we're asking for is a fair crack at the whip.
Trevor Bell asked how the Government can retain VAT on gas and electricity, when that is an EU law that should have gone once we left the European Union:
It was a Brexit promise … It should go now.
Truss reiterated that she would abolish the National Insurance tax rise and impose a temporary moratorium on the green energy levy. She also repeated that she would have an emergency budget early this autumn.
She said that the 70-year tax high is unacceptable but, right now, she cannot be more specific because the leadership contest is not yet over.
Truss said that getting rid of the green levy would save as much as getting rid of VAT.
The penultimate question came from Shelley Guest, who asked if Leigh could break away from Wigan Council and set up its own in order to use the tax receipts that it generates for its own needs (58:08). This is known as Lexit (!), something that Leigh's MP, James Grundy, also supports.
The room burst into applause.
Stewart told Truss that, while this seems like a local concern, it is also one that many other communities in England face.
Guest is concerned about rising council tax were Leigh to become independent.
Truss herself was once a local councillor. She appreciated Leigh's wish for independence and has spoken with James Grundy about it. She said she would consult the people of Leigh and appoint a Local Government Secretary to look into the matter with Grundy.
On a much lighter note, the final question came from a viewer who wanted to know about Truss's relationship with cats. Larry is the Downing Street moggie, and Liz remembered Palmerston, the Foreign Office's cat.
She replied that Larry frequently sidles up to her at Cabinet meetings, so she would like to develop her friendship with him. As for Palmerston, she said he left the Foreign Office during the pandemic and is now:
working from home. It's a true story!
She got a huge round of applause.
Some undecided voters there told Michelle Dewberry, who came on next with her show, that they really liked what Truss said.
They were a polite but hard-hitting group of real people who spoke frankly.
One wonders if Rishi Sunak would have the bottle to sit in a studio with their like. Would he or wouldn't he?
GB News has extended him an invitation to participate in his own People's Forum, so we'll see.
Speaking of Sunak, that day, a few other developments occurred.
Guido reported:
Away from the glare of the GB News cameras, Liz's team spent the day tearing chunks out of Camp Rishi on her behalf. After Rishi attacked Liz's cost of living plan for being "clear as mud", Team Truss went nuclear: "Rishi Sunak wouldn't know how people benefit from a tax cut because he has never cut a tax in his life.
People didn't vote for the Conservative Party to be subjected to old fashioned Gordon Brown style politics of envy." Team Rishi inevitably responded in kind – see below…
The mudslinging didn't stop there: Kwasi Kwarteng and Simon Clarke have an article in the Telegraph today in which they claim Rishi "dug his heels in" as Chancellor over post-Brexit reforms, particularly on plans to ditch the EU's Solvency II rule and reform the NI Protocol. You'd be forgiven for forgetting they're all in the same party. Team Rishi insist the claims in the article are "categorically untrue", and Sunak backed a muscular approach to Brussels all along…
Rishi didn't take kindly to Team Liz's attacks – it turns out being compared to Gordon Brown doesn't exactly flatter him. His team countered by claiming Liz's backtrack on regional pay boards last week was "a serious moral and political misjudgement affecting millions of people". This is the same Liz Truss whom Rishi has claimed he'll serve under in any Cabinet role.
His campaign also sent out a dubious press release claiming he'd cut taxes "16 times during and following the pandemic". One of those 'cuts' was reducing the Universal Credit taper rate, another is the promise to cut income tax by 1p in 2024 which, last time Guido checked, is two years away…
Instead of being with an average group of taxpayers, he chose to be interviewed one-on-one by the BBC's Nick Robinson:
He also promised to do more for households this winter beyond the package already announced, although didn't go into specific details on the basis that it was simply too early.

Although when asked whether it would cost "a few billion" or more than £10 billion, he said it would be "closer to the former than the latter"…
He gave Robinson an indication that he might lose the leadership contest:
He came the closest yet to admitting the race may well be over, claiming he'd always "stay true to [his] values" and he would rather lose than "win on a false promise".
It's interesting that Sunak chooses television formats that suit him rather than the electorate, even if, at present, they are Conservative Party members.
Sunak's non-participation in public fora other than Party hustings and closed interviews tells us something about the man.
Next week I will post on The Telegraph's hustings, held on Thursday, August 11.
After a few weeks' hiatus to cover the Conservative Party leadership contest, I am now able to conclude my series on Red Wall MP Marco Longhi, who represents Dudley North in the West Midlands.
Those who missed them might find Parts 1 and 2 of interest.
Boris tribute
Marco Longhi paid Boris Johnson a brief but heartfelt tribute during the Prime Minister's final PMQs on July 20, 2022:
A long time ago, when I trained as a pilot, I had the luxury of being able to fly around turbulent storms. I also had the ability to rely on a team who kept my aircraft airworthy. As the Prime Minister prepares his new flight plans, may I suggest that he resets his compass to true north and stops off in Dudley, where he will always be welcomed with open arms and sincere affection, and where he will be able to see his legacy?
Boris replied:
I thank my hon. Friend for that renewed invitation. I have spent many happy days with him in Dudley; let us hope that there are more to come.
The Archbishop of Canterbury on Rwanda
After the first scheduled deportation to Rwanda on June 14, 2022 proved to be a non-starter, the Archbishop of Canterbury made his views known yet again.
On June 15, The Express reported (emphases mine):
In a Tweet he wrote: "To reduce dangerous journeys to the UK we need safe routes: the church will continue to advocate for them.
"But deportations — and the potential forced return of asylum seekers to their home countries — are immoral and shame us as a nation."
This, rightly, elicited reaction from some Red Wall MPs:
Red Wall Conservative MPs were furious at the attack on Home Secretary Priti Patel and suggested that Welby give up his two palaces, which come with his Archbishopric, to house illegal migrants and use his personal wealth to pay for their needs.
Ashfield MP Lee Anderson said: "If the Archbishop of Canterbury truly believes that we should do more to keep illegal immigrants in this country and love thy neighbour as thyself then perhaps he should give up his two palaces and pay for all the accommodation costs.
"He can then instruct every Church in the UK that their vicarages should also be given up to illegal immigrants to stay in. These are practical measures he could take to assure the great British public that the Church is doing all it can during these difficult times."
The Archbishop's main residence is Lambeth Palace – south of the River Thames from the Houses of Parliament.
As well as numerous bedrooms the 800-year-old palace boasts extensive gardens, a large library, an atrium, "the pink drawing room" and a state dining room.
Meanwhile, his residence in Canterbury is the Old Palace or Archbishop's Palace, another grade I-listed 800-year-old building where one of the bedrooms was used by the Queen.
Marco Longhi echoed those sentiments:
In a personal message directed at the Archbishop, Dudley North MP Marco Longhi added: "Archbishop, as you appear to feel so strongly about this, will you give up two of your palaces for illegal migrants and pay for their accommodation?
"I note how it is the liberal privileged elite, unaffected by the impact of illegal immigration, whose moral outrage is loudest."
Well said.
Policing
When Boris won the December 2019 general election, increasing the numbers of police around England was a manifesto pledge.
On December 14, 2021, Longhi recognised the efforts the Government had made thus far in the West Midlands:
This Government value all our police officers. That is why, with our 11,053 extra police officers, we are not on target, but ahead of target to deliver our manifesto pledge of 20,000 new officers; there are 867 new officers already working in the West Midlands.
The financial settlement gave West Midlands police an inflation-busting 5.8% increase to its budget—a staggering £36 million. In addition, the rises in local tax that residents pay, together with council tax, put West Midlands police at the top of league tables across the country for precept increases; since 2012, a staggering increase of 79% has been imposed on people in Dudley North and across the West Midlands by the Labour police and crime commissioner.
Dudley people—and those across the West Midlands, I am certain—can see that effective policing is about more than just money. It is about local decision making and how that filters down from the chief constable and the police and crime commissioner.
Longhi was having a go at Labour for taxing West Midlands residents excessively but delivering little value for money with regards to policing. A Labour MP asked him to give way for an intervention, but he refused:
I would rather not, just now. The facts sadly speak for themselves. We need the right strategy for deploying all the new police officers we recruit, making the right decisions locally, and having the will and competence to deliver on them. The Labour police and crime commissioner has closed dozens of police stations, while spending more than £30 million on refurbishing plush offices at his headquarters in Lloyd House in Birmingham.
Another Labour MP asked to intervene, but Longhi refused to do so.
A commotion arose.
This took place in Westminster Hall, where niche debates take place rather than in the House of Commons. This one focused on West Midlands policing.
Sir Edward Leigh (Conservative) was the chair:
Order. Calm down. The hon. Gentleman does not have to give way if he does not want to.
Longhi continued, pointing out Labour's ability to rake in tax money then do nothing for local people:
Meanwhile, Dudley and Sedgley police stations have closed. Some hope was given to Dudley people when a new police station was promised in Dudley. It was hailed by my predecessor—the noble Lord Austin—as a new multimillion-pound station to replace the one in Brierley Hill. Several years later, we are still waiting for it. In 2019, it was announced that it would open in 2021, yet no detailed plans have been submitted by the police and crime commissioner to the council planning department.
Dudley is a major metropolitan town—I believe it is the largest town in the country that is not a city—and it has been without a central police station since late 2017. We are paying the price for no presence as a result of inaction and incompetence. Perhaps the Minister might inquire of the police and crime commissioner when Dudley people might see shovels in the ground and the promised new station.
I have great respect for a local police inspector in Dudley by the name of Pete Sandhu and his team. They are trying their utmost to make do with offices borrowed from Dudley Council that are, quite frankly, not fit for purpose. Inspector Pete Sandhu, the local police teams and PCSOs in Dudley town, the surrounding villages and those across the West Midlands not only deserve but need a station that is fit for purpose. Unfortunately, time and again, Labour police and crime commissioners have failed their constituents—including mine.
At the end of the debate, Kit Malthouse, the then-Minister of State for Crime and Policing, responded on behalf of the Government:
I have never shied away from those difficult financial decisions that have to be taken. Nevertheless, generations will pass, and maybe in 50 years the Labour party will stop talking about that period of austerity and talk about what is happening today. Today, I thought I was coming to a debate about the value of neighbourhood policing. However, it has become obvious that this is a pretty naked political manoeuvre in advance of some difficult financial decisions that the police and crime commissioner for the West Midlands will have to make as he moves towards setting his council tax. My hon. Friend the Member for Dudley North (Marco Longhi) has highlighted how significantly council tax has increased over the past few years …
… I find these debates a bit disheartening because of the lack of curiosity exhibited by Members about the performance in the West Midlands. For example, they never ask themselves why other police forces are doing better. Why is Liverpool doing better than the West Midlands? Why is Humberside doing better than the West Midlands? …
I will give way in a moment. Those Members are unwilling to acknowledge the reason, which is that decisions were made by the previous Labour police and crime commissioner that set the West Midlands back. They have to take responsibility for those decisions; they cannot, I am afraid, just come to this Chamber and keep saying that everything that goes wrong in the West Midlands is the Government's fault, and that everything that goes right is the Labour party's achievement. Nobody is buying that in Edgbaston, Selly Oak, or anywhere else in the West Midlands. They recognise that difficult decisions had to be made, and I urge the Labour party to acknowledge those difficult decisions.
David Jamieson was not all good, and he was not all bad. He had difficult things to do, and he made a set of choices that produced a particular outcome and a particular baseline in the West Midlands. I have no doubt that that was what he said in the elections that he won, and that the people of the West Midlands took him at his word and believed him. They have re-elected a Labour police and crime commissioner, so presumably they are happy with that performance, but complaining that everything that goes wrong is down to the Government seems a little naive to me.
Malthouse concluded:
… The West Midlands made a certain matrix of decisions that resulted in the outcome today. A number of forces around the country made different decisions. As a result, they will have more police officers than they had in 2010. That is something with which hon. Members will have to wrestle; I am afraid that is the plain truth.
On neighbourhood policing, I am pleased to hear that there is a thrust in the West Midlands to invest in neighbourhood policing, not least because the neighbouring Staffordshire force has been doing that for some years, to great effect. The police and crime commissioner and the former chief constable there took the decision to invest in neighbourhood policing and, interestingly, traffic policing, as the basic building blocks of an excellent delivery of service to their people. As a result, they saw significant reductions in neighbourhood crime. My hon. Friend the Member for Dudley North referred to the uplift number, which is 800-odd. I encourage exactly that kind of intervention. It is what lies behind our desire to expand the number of police officers in the country.
Fireworks
I strongly disagree with Marco Longhi's desire to see ordinary people banned from using fireworks.
It has only been in recent years that virtue signallers have made complaints about a splendid celebratory tradition that has been going on for centuries.
In England, at least, fireworks may be used only a few months during the year and, even then, only on certain days:
15 October to 10 November;
26 to 31 December;
3 days before Diwali and Chinese New Year.
However, not everyone obeys the rules. Furthermore, the rules are not enforced in equal measure.
So, Longhi took a survey of his constituents on the matter.
On November 8, 2021, a debate on fireworks took place in Westminster Hall. Although this debate has taken place often in recent years, this particular one was triggered by an online e-petition. The number of signatures required a parliamentary debate.
Longhi said:
There is no denying that access to fireworks in the UK is easy and that enforcement of existing legislation is poor. Although many of us have enjoyed firework displays over the last week to celebrate Diwali or to remember the foiled plot to blow up this House, many, if not more, are traumatised by fireworks. Last year, following scores of pieces of correspondence from constituents, I decided to open a public survey so that all my constituents could share their thoughts on fireworks and the impact they have. I received both positive and negative feedback, but I was truly shocked by the sheer volume of responses I received, many of which were overwhelmingly negative. Given the nature of the internet, the survey spread widely—some might say it went viral—and I found myself with well over 1 million hits on Facebook and well over a 100,000 survey returns.
We have heard about the trauma to pets and livestock. As we approach Remembrance Day, let us also spare a thought for our veterans and those suffering from PTSD, for whom loud and unexpected bangs and flashing lights can have a devastating effect on quality of life.
We have had many Australian influences on legislation over the years, and perhaps it is time for some more. At present in the UK, there is no legal requirement to have any form of licence or training in order to let off consumer fireworks. Fireworks can be sold at any time of the year and can be bought online. In Australia, it is illegal for someone to buy, possess or discharge fireworks unless they hold a pyrotechnician's licence or single-use licence. Authorities must be notified of all firework displays, and authorised events can be found using the authorities' fireworks display search.
One question that I would ask all Members in this room and those unable to join us today is this: should local authorities take the location of public displays into consideration when granting them a licence and should they require displays to be well publicised in the surrounding area? Furthermore, is it right to place greater restrictions on the sale, purchase and use of fireworks? If we agree, surely we can then find an agreeable compromise that protects those who are traumatised by fireworks.
I have already had discussions with my hon. Friend the Minister about this issue and I greatly appreciate his time, but it is time we had a wider debate and an honest discussion. This debate is had every year, but there are no real legislative changes. Surely the time is right for that to happen now.
Paul Scully, who was the Parliamentary Under-Secretary for Business, Energy and Industrial Strategy at the time, responded for the Government.
I agree with what he said:
… I am grateful to the members of the public who took the time to sign the e-petition that has brought us here to Westminster Hall to discuss this important matter, because it has received more than 300,000 signatures and calls on the Government to limit the sale of fireworks.
Therefore, I will take the time to outline and explain the Government's position on this matter, and to say, first of all, why we believe—although I understand that it is not the subject of this debate, as has been outlined—an outright ban on fireworks or an outright ban on their sale to the public is not the appropriate course of action.
We have concerns that banning fireworks in that way could have significant adverse and unintended consequences for public safety, particularly in leading to the emergence of a black market in illicit fireworks. There was a reason why there was not a 2019 debate on this issue. Yes, it was the year of a general election, but more importantly in 2019 the Petitions Committee conducted an inquiry on this issue, which I was a part of as a Member of the Committee, and the evidence given by interested parties aligned with the Government's current view. Those interested parties included both the National Police Chiefs' Council and the National Fire Chiefs Council.
The petition being debated today also highlights the concerns that some people have—understandably—about the impact of fireworks on vulnerable groups and animals. These are issues that I was only too pleased to discuss with my hon. Friend the Member for Dudley North (Marco Longhi) when we met back in July to discuss the fireworks survey that he had carried out in his constituency; as he said, it went somewhat viral. I really sympathise with those views, and I am always sorry to hear the stories of how some individuals and animals have been affected by fireworks. That is why the Government are committed to promoting the safe and considerate use of fireworks, and why we have been carrying out a programme of action on fireworks to ensure that those who use them do so safely and appropriately.
It is important to say that this is a highly regulated area, with a comprehensive regulatory framework already in place to control the sale, availability and use of fireworks. We believe that this framework strikes the right balance for people to enjoy fireworks while aiming to reduce risks and disturbances to people and animals. For example, current legislation sets an 11 pm curfew on the use of fireworks, with later exceptions only for the traditional firework periods of 5 November, Diwali, New Year's Eve and Chinese New Year.
A load of concerned Opposition MPs from Labour and the Scottish National Party piled on with interventions.
Scully replied on noise and trading standards questions:
There is a 120 dB noise limit on fireworks available to consumers. Retailers are restricted to only selling consumer fireworks during a limited period around each of the seasonal celebrations that I just referred to, and retailers may only supply fireworks to the public outside those periods if they obtain a licence from their local licensing authority. However, I fully appreciate that it is just as important to ensure that legislation is enforced effectively. We have heard of some issues where that has fallen short, but I will describe what powers and mechanisms are in place against the illegal sale and use of fireworks.
Local authority trading standards work with retailers to ensure that the fireworks that are sold are safe, and have powers to enforce against those who place non-compliant fireworks on the market. Trading standards and local fire and rescue authorities in metropolitan counties can also enforce against those selling fireworks without an appropriate licence—for example, outside of the normal selling period.
He also said, in response to Opposition MPs:
In our polling, the Government found that 11% of the population want a total ban on fireworks, 36% want a ban on the private sale of fireworks, and, from memory, 64% enjoy the use of fireworks and want to be able to enjoy them both privately and publicly. We came to similar conclusions from our evidence as were reached by the Petitions Committee in its 2019 inquiry. In the extensive report setting out its findings, the Committee concluded that introducing further restrictions on fireworks was not the appropriate course of action, due to the potential unintended consequences. That was just two years ago. We agree with that position.
We acknowledge the experience of people who believe that banning fireworks would push the market underground and make it more difficult to regulate and monitor. We also agree with the Committee's conclusion that such a ban would have a substantial economic effect on those who have built their livelihood in the fireworks industry. Restricting fireworks would probably also have dire consequences for community displays, which raise funds for good causes.
Due to those significant concerns, the Government believe that the most balanced course of action is to continue to pursue non-legislative measures on fireworks to complement existing legislation. That is the position we set out and committed to in our response to the Petition Committee's inquiry.
Leave our fireworks alone!
I've only ever bought sparklers, but I have no idea where my neighbours purchase their fireworks.
For years, our local superette used to have a large, locked counter filled with fireworks at the appropriate time of the year. They got rid of that over a decade ago.
Our neighbourhood's home displays of fireworks, which I used to be able to watch from the comfort of my living room and kitchen, have also decreased over the past few years.
I disagree with Longhi on this subject. However, it is good that he respected his constituents' wishes, conducted a survey and presented the results to the Government.
Business of the House questions
Marco Longhi and Lee Anderson seem to have struck up a friendship. I often see them sitting together in the Commons.
Perhaps Lee's Ashfield food bank brought them together.
This is from the Business Debate of November 25, 2021, when Jacob Rees-Mogg was still Leader of the House.
Anderson said:
Last Friday I was joined by my hon. Friends the Members for Stockton South (Matt Vickers), for Bassetlaw (Brendan Clarke-Smith) and for Dudley North (Marco Longhi) in a "Ready Steady Cook" event in Ashfield. With the help of the local food bank, the college and local top chef Dave Marshall, we were able to produce 175 meals for just 50 quid. This is our fight against food poverty. Does the Leader of the House agree that we need a debate in this place on food poverty, so we can help people to cook on a budget and feed the nation?
Rees-Mogg replied:
I commend my hon. Friend for his amazing achievement and his hard work. I have a friend who teaches people to cook on a budget and runs something called Bags of Taste, which is a very successful way of encouraging people to cook on a budget. My hon. Friend is leading by example.
In the same debate, Longhi raised a complaint about a group of Travellers who refused to move on when they should have:
Yesterday, I received a three-page letter from the leader of Dudley Council. A designated Traveller site in Dudley has been occupied by Travellers who have overstayed the terms of their licence. After due process was followed in the courts in co-operation with the police, the police commander refused to support the council to give cover to bailiffs, citing the European Convention on Human Rights, as Travellers may have rights.
Will the Leader of the House agree to look into the matter and arrange a statement from the relevant Minister? This sets a terrible precedent for councils across the country, which may find that they have wasted taxpayers' money by following legislation set out by this place to invest in designated sites. It can provide indefinite leave to stay illegally, with no protection for landowners. It implies that the police can "woke interpret" and choose to follow laws other than this country's and its courts' instructions. Does that not give further credence to the need to repeal the Human Rights Act, as I have been calling for for many months?
Rees-Mogg gave a theoretically correct reply on policing by consent, which, as we saw during the pandemic, no longer works as such.
He also seemed reluctant to condemn the European Convention on Human Rights, of which the UK is still a signatory:
My hon. Friend asks an excellent question. It is really important that we are all equal under the law, and it is fundamental that the law is carried out by the police. We police by consent; the police are us, and we are the police. For that to work, people have to have confidence that the law will be enforced. Having said that, I do not know the specific details of the case or the reasons for the police decision, but the Government are taking more action to deal specifically with the issues around illegal campsites and associated criminality. I will pass on my hon. Friend's comments to the Lord Chancellor, and I note with great interest what he has to say about the Human Rights Act.
A new Human Rights Act is making its way through the Commons, with the intention that it frees us from EU conventions. However, why we cannot use and enforce the original one, the 1688 Bill of Rights, puzzles me.
King Kong
To end on a lighter note, on January 28, 2022, the Cultural Objects (Protection from Seizure) Bill debate took place.
Suzanne Webb, the Conservative MP for Stourbridge, discussed little-known artefacts and the importance of taking good care of them.
This includes a replica of King Kong:
I now want to tell the tale of an artefact of great distinction and notoriety that resided in the Midlands: an 8 foot tall, 890 kg fibreglass statue commissioned for display in Birmingham in 1972, as part of the sculpture for public places scheme in partnership with the Arts Council of Great Britain. It was commissioned to make something city-oriented, and the sculptor chose King Kong—I do not know whether my hon. Friend the Member for Dudley North (Marco Longhi) remembers the King Kong that resided in Birmingham. I do not want hon. Members to do a quick Google now, as I will be told off by Mr Speaker, but when they leave the Chamber, they can see the incredible artefact that was in Birmingham and supposed to represent it. It was down to the sculptor's association with New York City, and he created it for their own petty reasons. It was displayed in the heart of the city for many years—imagine if it was actually seized! It was something of a notoriety, and I loved it as a child growing up. We used to drive round to look at it. Hon. Members will be pleased to hear that King Kong lives on, and is now retired in Penrith.
Longhi made no reference to King Kong in his speech, but commended the Bill as an important contribution to preserving our culture and history, good and bad:
It is a pleasure to follow my hon. Friend the Member for Vale of Clwyd (Dr Davies) and to speak about this straightforward and reasonable Bill, which has been designed in a specific and targeted way, and will only help to support a sector that, like so many others, has been affected during the pandemic.
Our museums and cultural institutions in the United Kingdom do an incredible job. They have the power to transcend barriers, to preserve and to educate. Our museums, galleries and cultural institutions teach us about the past—the good, the bad and the ugly. By learning about the past, we can be inspired for the future to do better or learn from past mistakes. They stimulate our brains and make us smarter.
My Dudley North constituents are lucky that we have many rich cultural institutions on our doorstep: the Black Country Living Museum, Dudley Zoo and Castle, the Wren's Nest site of special scientific interest, the Dudley Canal Tunnel Trust, nature reserves, our microbreweries and pubs, and our bowling greens and parks. The list really does go on.
——————————————————————–
I am pleased to say that Longhi supported Kemi Badenoch in the Conservative Party leadership contest.
All the best to him for a long and satisfying parliamentary career.
John Redwood certainly has a bee in his bonnet over former Chancellor Rishi Sunak.
Unusually, Redwood has been tweeting several times daily in Trumpian style over which candidate — Sunak or Liz Truss — is better as the future leader of the Conservative Party and our new Prime Minister.
He has also continued to keep his readers updated in his eponymous diary.
On July 20, 2022, the final day of Conservative MPs voting for leadership candidates, he tweeted:
Later that day, he wrote a brief diary entry, 'Then there were two':
I am delighted Liz Truss will be in the final with Rishi Sunak. I want a change of economic policy as readers of this site will know. Liz Truss will give us that change. Rishi has accepted Treasury and Bank advice which has given us a high inflation and if unaltered will give us a recession next year. We can do better.
Redwood has been an MP since Margaret Thatcher was Prime Minister. Not only does he understand her monetary policy but also the way Treasury and Bank of England forecasts have gone wrong over the past 40 years. He advised Thatcher in the middle years of her long premiership.
Boris Johnson also understands that the Treasury gets things wrong. In his final PMQs on Wednesday, July 20, he gave advice to his successor, saying (emphases mine):
I love the Treasury, but remember that if we had always listened to the Treasury, we would not have built the M25 or the Channel Tunnel.
That day, the OBR (Office for Budget Responsibility) came out with a revised forecast.
On July 21, Redwood wrote 'Some funny numbers from the Treasury and OBR':
The OBR has had to explain why it was so far out in its forecasts of the deficit and borrowings last year. They have written:
"Our latest forecast for (Central government borrowing) 2021-2 is £48.3bn below the October forecast and £131.2bn below our March 2021 forecast (the Budget)". They accept they underestimate tax revenues by a massive £77bn and overstated state spending by £48.7bn. It should be easier to forecast what you spend when you are running the spending controls.
We can all make mistakes. Forecasting is difficult. What is more difficult to forgive is that this was not the first time they have underestimated the revenues and overstated the deficit. Worse still is they used their precise forecasts of revenue and deficit to tell the Chancellor he needed to raise more taxes to reduce the gap between spending and taxing. It turns out they need not have asked him to do that as the numbers were so much better than the numbers they tried to create with tax rises.  So when I am asked how do we pay for the tax cuts, the first answer is we are so far ahead of plan there is no problem. The second answer is if you cut the right tax rates to a sensible amount you can end up with more growth and more revenue, not less.
The Treasury also needs to come clean about the debt interest. They have been using their current high figure of £83bn which includes index costs on the repayment of inflation linked debt which does not entail making any cash payments before redemption. They use this figure to scare politicians into accepting more austerity to control the debt interest. What they omit to point out is on their definition of debt interest they forecast a collapse in the cost of it to £46.7bn by 2024-5. That is a fall of £36.3bn or 44% in debt interest.
The Treasury has a tradition of overstating deficits when there is good growth and understating them in recession. There is also a danger their policy advice based on very wrong forecasts could drive us unnecessarily into recession.
Redwood tweeted that our current inflation is likely to be temporary:
As soon as Truss and Sunak were the final two contenders in the Conservative Party leadership contest, The Times endorsed Sunak.
Much of the media have also swung behind Sunak, except for the more conservative news outlets which feature more articles on Liz Truss's candidacy and Kemi Badenoch as the future of the Conservative Party, even though she was eliminated from the leadership contest.
Redwood tweeted:
True.
The Remainer media have attacked Truss's proposed policies. Sunak's softness on the EU are why the media back him. They want a return to the EU:
Sunak has been pushing the line that Margaret Thatcher had an initial high tax policy that worked well. Therefore, Sunak is high tax, in a Thatcherite mode. In reality, once Thatcher got new advisers, she began cutting taxes, which brought economic growth.
Redwood tweeted:
Redwood believes that Liz Truss has the Thatcherite economic policy in this contest:
Redwood had more to say about Sunak's performance while he was Chancellor:
I particularly enjoyed this next tweet, in which Redwood compares Sunak to Labour Chancellor Gordon Brown, who later became Prime Minister, succeeding Tony Blair:
Redwood said that he tried to advise Sunak on the economy, but to no avail:
On Friday, July 22, Redwood correctly predicted that Rishi would send a message of panic:
Sure enough, the next day, Rishi said he wanted to declare a state of national emergency:
We can only hope that Redwood is right in saying that panic puts off voters:
Sunak made the statement in Grantham, Margaret Thatcher's home-town. Redwood finds it curious that Sunak never mentioned an interest in Thatcher until this leadership contest:
As I write on Monday afternoon, I will look at that day's BBC debate between the two candidates in a separate post.
Before the debate, Redwood shared his thoughts:
In closing, Redwood reiterates why Liz Truss is the better candidate:
Even though I have no vote in this contest, Liz Truss has accomplished far more in trade deals and foreign policy than Rishi Sunak as Chancellor. His time in No. 11 was disappointing for the most part.
Conservative Party members will receive their ballots early in August, enabling them to vote by post or online. The deadline for them is August 2. A new Prime Minister should be in place by September 5.
Incredibly, some police forces now see fit to issue Summer Solstice greetings.
I picked this up online, creator unknown. Northamptonshire is nowhere near Stonehenge, either: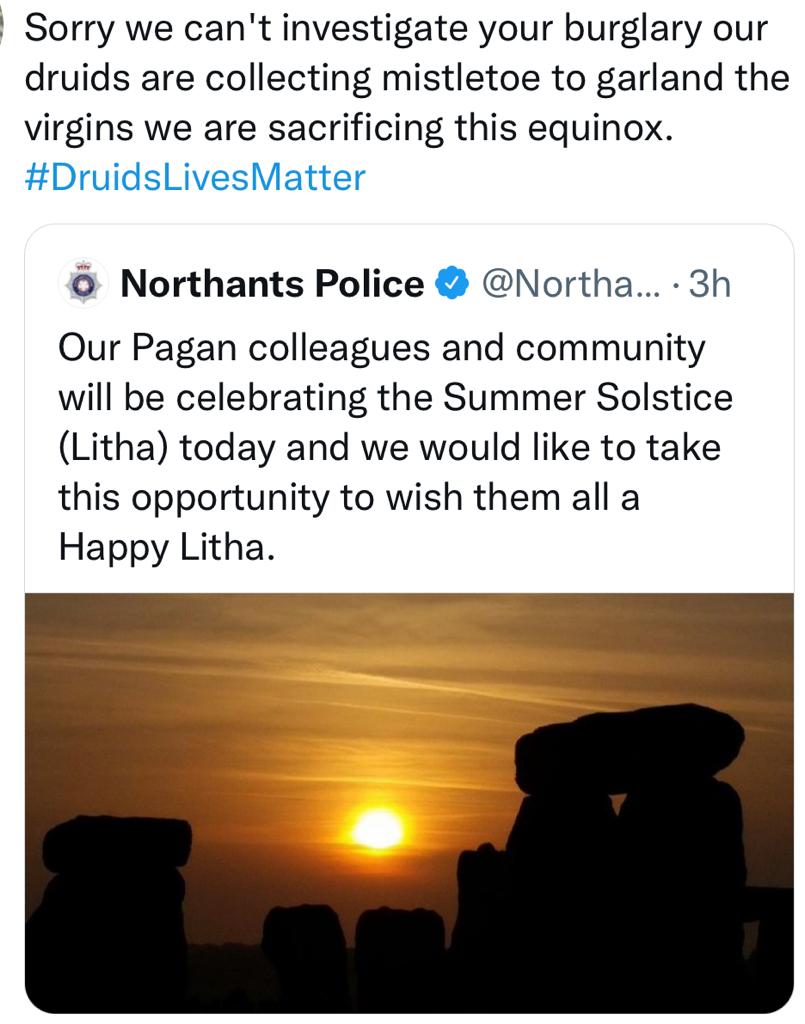 The following day, Wednesday, June 22, 2022, Justice Secretary and Deputy Prime Minister Dominic Raab announced the UK Government's publication of a nationwide Bill of Rights.
This is in response to the European Court of Human Rights (ECHR), based in Strasbourg, which put a stop to the June 14 deportation flight to Rwanda. Passenger numbers quickly went from 37 to 0. On the day, only a handful actually boarded the charter flight, because lawyers and human rights organisations had already filed successful petitions for delays.
Raab introduced the proposed Bill of Rights as follows (emphases mine):
With your permission, Mr Speaker, I will make a statement on the publication and introduction of a UK Bill of Rights as we take the next steps to fulfil our manifesto commitment and deliver human rights reform across the country.
We have a proud tradition of freedom under the rule of law in this country, and I remind hon. Members on both sides of the House that it dates back centuries to Magna Carta, not just to 1998. This Bill of Rights, published today, is the next chapter in the evolution and strengthening of our human rights framework, and it is available online and in the Vote Office.
If we look back to the original Bill of Rights from 1688, the year of the not-too-bloody Glorious Revolution, we see that it is lengthy.
This sentence, in particular, stands out:
I doe declare That noe Forreigne Prince Person Prelate, State or Potentate hath or ought to have any Jurisdiction Power Superiority Preeminence or Authoritie Ecclesiasticall or Spirituall within this Realme Soe helpe me God.
Yet, the ECHR is foreign, never mind that Winston Churchill was one of the people who established it after the Second World War. The reasons then were obvious. Its purpose has grown since then to reach beyond human rights for Europeans and now encompasses those of anyone seeking refuge.
As a Guido Fawkes reader explained (H/T to him or her for the above quotation from the 1688 Bill of Rights):
New or old Bill of Rights, it will make no difference if lawmakers continue to deny that we have a constitution which is set out in different constitutional documents that define our constitutional principles.
Guido's reader then cited the quotation, which is found in the Supremacy section. He/She then went on to say that the extension of human rights began during the Tony Blair era:
Yet they have signed us up to the EU and since the late 1990's have accepted that ECHR ruling are binding on us (Protocol 11). Labour's Human Rights Act 1998 even makes our own courts have to consider 'any judgment, decision, declaration or advisory opinion of the European Court of Human Rights'.
The only part of the Bill of Rights 1688 they have seemed interested in has been the section "That the Freedome of Speech and Debates or Proceedings in Parlyament ought not to be impeached or questioned in any Court or Place out of Parlyament."
True.
Dominic Raab's announcement was largely a waste of time. He never mentioned the 1688 Bill of Rights. Furthermore, I do not understand exactly how a new Bill of Rights will circumvent the ECHR.
Going back to the unsuccessful flight to Rwanda, British courts ruled that the flight policy is legal and that the one from June 14 could proceed. Then the Government caved into the ECHR decision that followed. I don't understand that, nor do I understand how the Government can prevent that from happening in future, new Bill of Rights or not, especially since the Government says that it has no intention of withdrawing from the ECHR.
In 2010, I wrote about the Glorious Revolution, which opposed James II's efforts to take Britain back to the Catholic Church. As a result, we got William of Orange and his wife Mary as our King and Queen. Both were Protestants. The Bill of Rights came forth during their reign.
After the long list of rights and liberties, the Supremacy section also states:
… the Rights and Liberties asserted and claimed in the said Declaration are the true auntient and indubitable Rights and Liberties of the People of this Kingdome and soe shall be esteemed allowed adjudged deemed and taken to be and that all and every the particulars aforesaid shall be firmly and strictly holden and observed as they are expressed in the said Declaration And all Officers and Ministers whatsoever shall serve their Majestyes and their Successors according to the same in all times to come.
Well, as we can see, that no longer happens. The Home Office caved into the ECHR. It was not the first time in the past 20+ years, and it will not be the last.
I have no solution other than to suggest that Dominic Raab and other MPs read the original Bill of Rights and decide whether it should prevail.
We do not need a new Bill of Rights. We already have one. For the most part, it is perfectly adequate as it is.
On Monday, June 20, 2022, the Telegraph's columnist Tim Stanley went back in time to explain how the rot set in the Church of England.
This happened early in the Queen's reign. While she has nothing to do with the appointment of Archbishops of Canterbury, as the Prime Minister has this privileged responsibility, the decay is nearly 70 years old.
When I moved here decades ago, everyone said that the Church of England is the Tory (Conservative) Party at prayer.
Even at that time, our church — as did many other Anglican congregations in England — had non-liturgical services, disproving that trope.
The early morning service I attend probably could be described as mostly Conservative. Even then, I'm not sure, and, as only a handful of us are there week after week we are, therefore, hardly representative. The more widely attended mid-morning service certainly could be described as having adherents in the Liberal Democrats and Labour.
Stanley's article, 'How the Church of England became the Labour Party at prayer', discusses two Archbishops of Canterbury, the Right Revds Geoffrey Fisher and Michael Ramsey.
Excerpts follow, emphases mine.
Geoffrey Fisher
Geoffrey Fisher was the Archbishop of Canterbury when the Queen acceded the throne.
Like many Anglican clergy, he was a bit of an oxymoron.
On the one hand:
Fisher, a former headmaster, is rumoured to have talked Princess Margaret out of marrying a divorcee …
On the other hand:
in his diary, long ago in 1957, [Conservative Prime Minister] Harold Macmillan wrote that he dreaded his meetings with the Archbishop of Canterbury, Geoffrey Fisher. "I try to talk to him about religion, but he seems to be quite uninterested and reverts all the time to politics."
Then there was the strange middle ground. Fisher:
opined of the nuclear bomb that "the very worst" it could do "is to sweep a vast number of people from this world into the next, into which they must all go anyway." Yet he was also against Suez and the premium bond, the latter a lottery cooked up by Macmillan that Fisher regarded as ungodly.
The premium bond is great. It is one of the best investments that one can make these days. I 'win' at least one bond worth £25 nearly every month. I don't need to lift a finger; the draw takes place automatically. This is a much better appreciation in capital than a standard savings account will provide these days.
Fisher got shirty with Macmillan when it came time to select his successor:
Macmillan was as mischievous when it came to clerical appointments. He suggested to Fisher that the best choice for his successor at Canterbury might be Michael Ramsey, the liberal-minded Archbishop of York. "Dr Ramsey is a theologian, a scholar and a man of prayer," Fisher is supposed to have said. "Therefore he is entirely unsuitable as Archbishop of Canterbury." He knew this, he explained, because he had been his headmaster. "Well, you may have been Dr Ramsey's headmaster," retorted Macmillan, "but you are not mine" – and, one likes to imagine, picked Ramsey for the job in a fit of obstinacy, ushering in the Swinging Sixties.
Michael Ramsey
Again, we have a contradiction in terms if Ramsey was indeed 'a theologian, a scholar and a man of prayer', because it was during his tenure, according to Tim Stanley, that the C of E embraced the prevailing culture of the Swinging Sixties:
Under Fisher, the mission was to confirm an ancient Christian identity, but by 1960, it was obvious that England was changing fast. Rather than resist, Ramsey&Co sought to negotiate a new role as the nation's conscience, not to block legislation, such as on divorce or abortion, but to shape it (so compassionate and forensic was Ramsey's contribution to parliamentary debate on the legalisation of homosexual acts that one peer accused him of turning Hansard into pornography).
As clerics became dynamic commentators on the state of the nation, it might have seemed as if the gamble were paying off. But they were running on the fumes of the Fifties. It was Fisher-style conservatism that gave them the air of authority that they leant to causes that, in turn, made them sound not like they were trying to transform the world but allowing the world to transform them, that they had become dedicated disciples of fashion. Once, when asked what he thought about a trend for girls in London to walk about topless, Ramsey said, "We must just accept the fact that young people express themselves in new methods of dress that may seem queer to the older among us."
Political shifts also took place during this time. Ramsey became Archbishop of Canterbury under a Conservative Prime Minister. In the middle of his tenure, Labour's Harold Wilson took the helm. Edward 'Ted' Heath, a wet Conservative, succeeded him.
Harold Wilson ran into problems over immigration legislation with Ramsey:
One of the new archbishop's interests was immigration. Ramsey called the Conservatives' 1962 bill, which for the first time limited arrivals from the Commonwealth, "deplorable". Labour, keen to co-opt the church, made him chair of a committee on race relations, though in 1968 Harold Wilson limited Asian immigration from Kenya and Ramsey condemned that bill, too.
Present day
Over the past seven decades, it has been easier for Archbishops of Canterbury to visit war zones in other parts of the world, but, as Tim Stanley points out, it is often the local vicar who encounters the impact of displaced persons:
Archbishops of Canterbury are part of a global communion: they have visited warzones and dictatorships and seen the horrors that compel people to flee, and when these unfortunates turn up in Britain, it is often the parish clergy who encounter them first. A vicar friend walked into his church one day to discover a Nigerian exile had broken into the children's creche and was sound asleep in the Wendy house.
Immigration is a bigger issue than ever, especially as the Government is adamant over its plan to send illegals to Rwanda for processing, despite the fact that the June 14 charter flight lost all of its 37 passengers to legal challenges:
Its hierarchy has completely become the Labour Party at prayer … and so, in a bid to find relevance among those who don't believe in God, the CofE frequently finds itself alienating those who do. It has probably irritated a few Rwandans along the way.
It is still hard for me to believe that most Anglicans voted for Brexit, but I stand corrected. Maybe they no longer go to church? Stanley says:
the one part of the population that has remained steadfastly loyal to the church is Conservative voters (two-thirds of English Anglicans voted for Brexit) …
Most importantly, while most, though not all, C of E clergy are clearly on the Left, they are attempting to court God-fearing Africans, who do not share their social views:
Archbishop Laurent Mbanda, head of the Rwandan Anglicans, has said he supports asylum seekers being sent to his country: he is also one of three African church leaders boycotting the upcoming Lambeth conference over the CofE's tolerance of homosexuality. Here is the final twist. The Church that bent over backwards to ally with the post-colonial world has, in the process, embraced a liberal theology that now puts it at odds with much of the post-colonial world.
How Anglican clergy will reconcile that conundrum is anyone's guess.
Would that the clergy concentrate on our souls and the promise of salvation instead.
Perhaps we need more African bishops serving in England. They know what the point of the Church is — and it isn't politics.
My series on Red Wall MP Lee Anderson from Ashfield continues.
Those who missed the previous three instalments of his profile can read them here, here and here.
Lee Anderson nearly always has something useful to contribute to debates in the House of Commons.
He is also no stranger to controversy, either.
Ian Lavery MP
He has a particular dislike for Labour MP Ian Lavery, who used to head the National Union of Mineworkers (NUM), of which Anderson was once a member.
In Part 1, I introduced Anderson's animosity towards Lavery, which has to do with £165,000 that the Labour MP received years ago from the NUM. Anderson, like other NUM members, believes that Lavery should return the money to the miners.
On Wednesday, June 15, Anderson raised the matter of the money again during the debate about the upcoming nationwide rail strike.
Guido Fawkes has the story and the video:
It was Guido's most read and shared story of June 16:
Guido wrote (emphases in the original):
Another vintage Commons clash last night between Lee Anderson and Ian Lavery, with Anderson once again accusing Lavery of "stealing money" from the miners, and Lavery getting so upset he actually asked Deputy Speaker Nigel Evans to "protect" him from Anderson. Not a demand Evans took to kindly…
Anderson: Does he think that any Opposition Member who has received a donation from the RMT should put that money in a pot to help people who suffer during next week's rail strike? Does he also think that other MPs who have stolen money from the mineworkers—165 grand in the case of the hon. Member for Wansbeck (Ian Lavery) —should pay it back?
After eventually convincing Anderson to withdraw the remark, Evans turned his attention to Lavery:
Lavery: On a point of order, Mr Deputy Speaker. You have been in the Chair three times when the hon. Member for Ashfield (Lee Anderson) has made allegations. He withdraws his ridiculous remark and consistently comes back to say it again. As Deputy Speaker, you are not protecting the likes of myself. I need your protection.
Evans: Order. Do not make allegations against the Chair, ever. You saw how I treated Mr Anderson. You just leave it with me—I don't need lectures on how to do my job.
All this happening in the mother of all parliaments, rather than the school playground. At least it was entertaining…
Earlier this year, in the February 8 debate, Cost of Living and Food Insecurity, Anderson tried unsuccessfully to intervene in Lavery's contribution. One wonders if he was going to ask about Lavery's NUM money:
Lavery: I want to put some human context into this debate. I saw on social media this weekend a comment by a single parent. She said:
"It's difficult to imagine without experiencing it is how tiring being skint is. How you're so utterly consumed by financial hardship that it affects every decision you make on a daily basis. It takes up every thought and you can't escape. No wonder there is a mental health crisis".
Anderson: Will the hon. Gentleman give way?
Lavery: That comes from a single parent and it sets the tone for this debate. The country is badly fractured and, sadly, broken. Kids cannot eat and pensioners cannot eat, yet sales of luxury yachts have gone through the roof.
Anderson: Will the hon. Gentleman give way?
Lavery: And then we look at the other end of the political spectrum, where we see 14 million people in this country, the sixth richest economy on this planet, living in poverty.
Anderson: Will the hon. Gentleman give way?
Lavery: UK wages are at the lowest they have been and they are a 15-year standstill. Wages are gone and energy bills are going through the roof—I will come on to that. Poverty is a political choice. Hunger is a political choice. I am sick and tired of debates in this place where people from all parts are basically reducing hungry and cold families and individuals to mere balance sheet statistics—count them as human beings. The debate often gets dragged into whether this is absolute poverty or relative poverty.
Anderson: Will the hon. Gentleman give way?
Lavery: That does not matter to people who are suffering greatly in our communities. If they are sitting at the table with nothing to eat in the morning or at teatime at night, they are not aware of whether they are in abject poverty, absolute poverty, relative poverty or overall poverty. They might not even know that they are in poverty, but they know they are hungry. I think we will all probably have experienced being behind the person in the local newsagent who has the key to put £5 on their electricity bill—
Anderson: Will the hon. Gentleman give way?
Then things kicked off:
Deputy Speaker Nigel Evans: Order. I do not believe Mr Lavery is going to give way, so please save your voice for the rest of the speech. [Interruption.]
Order. What did the Member say?
Other MPs: He said, "Coward."
Deputy Speaker: Please withdraw that word.
Anderson: Mr Deputy Speaker, I am sure that the hon. Member is not a coward.
Deputy Speaker: Thank you.
Lavery: Mr Deputy Speaker, that has taken out a minute and a half of my time, but thank you very much for allowing me to continue. I am far from a coward, by the way …
Lavery finished his speech. Later in the debate, however, he raised a point of order about Anderson (emphases mine):
Lavery: On a point of order, Mr Deputy Speaker. I would like your advice about the intimidation that I seem to be getting from the Member for Ashfield (Lee Anderson). The last couple of times I have been in the Chamber, there have been some absolutely terrible remarks. I am sure you remember, Mr Deputy Speaker, the last time he had to return and apologise. How can this be stopped? How can we tackle it? If Members do not want to give way, they do not have to, but they should not suffer abuse as a result.
Deputy Speaker: I thank the hon. Gentleman for his point of order. I was in the Chair the very last time this happened. That is why I intervened to say that the hon. Gentleman was not giving way. I could not hear what the hon. Member for Ashfield said, because I was talking when he said it, and he then withdrew it. However, Mr Speaker made it absolutely clear at the beginning of today's sitting, after what happened on the streets of London yesterday, that we must all be temperate in the language we use, not only in the Chamber but outside it. I hope that all right hon. and hon. Members will take that on board before they stand up, and even when they make sedentary interventions, and that they are very temperate in the language they use.
Anderson then directed his interventions towards other Labour MPs.
One recommended collective bargaining. Anderson, who was a Labour Party member until 2018, intervened:
The hon. Gentleman mentions collective bargaining, but will he say how successful that was in the 1970s, when the lights were out?
True!
Another Labour MP recommended more nuclear power. Anderson said:
My hon. Friend talks about nuclear power. It is quite interesting, actually, because I wonder if he can recall that, in 1997, the Labour manifesto said, "We can see no economic case for the building of any new nuclear power stations." Does he think now, moving on 20-odd years, that they regret that?
Crime
Lee Anderson is, to paraphrase Tony Blair, 'tough on crime, tough on the causes of crime'.
On June 8, 2021, during the Police, Crime Sentencing and Courts Bill debate, he spoke frankly about the travelling community:
We have a big problem in Ashfield with the travelling community. They come two or three times a year. I did my own poll of about 2,000 constituents, and 95% agreed with me that the Travellers were creating a massive problem—crime was going up, pets were going missing, antisocial behaviour was going through the roof and properties were getting broken into. My constituents do not want them in our area anymore. That was a survey of 2,000 people, and that was the response from 95% of them. That evidence from my area is a bit more compelling than the petition the hon. Gentleman mentioned, which has probably been signed by 100,000 Travellers.
A Labour MP, Bambos Charalambous, said the problems in Ashfield arose because of inadequate housing provision.
Later on, Anderson said:
We have already established that in places where Traveller communities set up, such as Ashfield, crime goes up; we know that there is a direct correlation between Travellers being in the area and crime going up. Does the hon. Gentleman think that crime will come down if we have a permanent site in Ashfield?
Undeterred by the throwaway answers he was receiving, Anderson intervened once again in Charalambous's speech:
At the beginning, the hon. Gentleman made an interesting point about Romani Gypsies coming here more than 500 years ago, but the Gypsy encampments that we are talking about in places such as Ashfield are not the traditional, old-fashioned Gypsies sat there playing the mandolin, flogging lucky heather and telling fortunes. The Travellers I am talking about are more likely to be seen leaving your garden shed at 3 o'clock in the morning, probably with your lawnmower and half of your tools. That happens every single time they come to Ashfield. Does he agree that there is some confusion on the Opposition side as to who these people actually are?
Charalambous replied that there were many misconceptions about the various traveller communities, which were unhelpful.
Anderson made his final intervention a short time afterwards:
About five years ago, we had Travellers come to a car park in my village and they left a load of rubbish there, which cost the council over £1,000 to clean up. A few weeks later, they came back again, left another load of rubbish that cost another £1,000. I got that fed up with the local council that I hired a JCB and put two concrete blocks there, to stop the Travellers coming back and to keep the beauty spot tidy, and I got a £100 fixed penalty notice from my local Labour authority. Does the hon. Gentleman think that that was the right course of action?
Charalambous said that it was the local council's responsibility to take action, not individuals.
On May 11, 2022, after this year's Queen's Speech, MPs discussed the subject again in the Preventing Crime and Delivering Justice debate. The plan to send migrants to Rwanda was also announced that day.
Anderson delivered a speech on public protests, which have gone out of control over the past few years. At times, the police looked as if they are aiding and abetting the protesters:
Nobody should feel unsafe on the streets or in their home, which is why preventing crime is probably the most important part of this Queen's Speech. Each time we debate the subject in this place, the Labour party seems to side with the criminals. I am not sure why that is, but it seems to happen every single time. The Queen's Speech serves as a reminder to everyone that the Conservatives are the only party that is serious about law and order in the UK.
The vast majority of decent, hard-working people in this country will welcome the new public order Bill. Every week we see mindless people who have nothing better to do than wreak havoc on our streets, motorways and petrol stations. Frankly, the hard-working people of this country are fed up to the back teeth of these people disrupting lives and destroying property.
When I have been out and about, I have seen people gluing themselves to property, digging up lawns, throwing paint and performing zombie-like dances in the middle of the road with no regard for the decent, hard-working people of this country. [Interruption.] … These people have no regard for the decent, hard-working people of this country, and their guerrilla tactics are disrupting emergency workers and putting lives at risk. The public have had enough.
We were pretty good at handing out fines during lockdown. We dished out big fines, some justified and some not, and I hope the Government will consider handing out bigger fines to these public nuisances who think it is a good idea to damage petrol stations. I suggest a £10,000 fine, going up to 20 grand. That will teach them. Going back to their mum and dad with a 10 grand fine might be the deterrent they need.
Let us remind ourselves of what the Conservative party has been up to in government. We are recruiting 20,000 new police officers, and there are already more than 13,000 new police officers on our streets, making our streets safer. We have enshrined the Police, Crime, Sentencing and Courts Act 2022 in law, giving the police extra powers to prevent crime and keep dangerous criminals off our streets. The Act stops the automatic early release of dangerous, violent and sexual offenders, widens the scope of police powers such as stop and search, and places a legal duty on local authorities to work together with fire and rescue services, the police and criminal justice agencies. Labour voted against the Act, and I will tell the House what else Labour voted against: everything in the Act.
In Ashfield we are really benefiting from a Conservative Government. We have just had £550,000 from the safer streets fund, with which we are putting up CCTV in some really dodgy areas of my town. This will make women and young girls feel safe. There will be safe hotspots where they can reach out for help. It is wonderful news for one of the most deprived areas of my constituency. We are using the fund to put up new security gates to secure alleyways, which are antisocial behaviour hotspots. The funding is making residents feel safe in their own home. It is real action. On top of that, we have new police officers in the Operation Reacher teams in Eastwood and Ashfield, which are going out to take the most undesirable people off our streets and lock them up.
The police had always been a little frustrated that the sentencing has not been enough for these criminals, but we have sorted that with the 2022 Act. People will be locked up for longer, and so they should be. It makes people in Ashfield and Eastwood feel safer, it makes me feel safer and it makes my family feel safer. When these criminals are arrested and taken through the court system, it is only right that they should be put away for as long as possible to make us all feel safe.
Labour also has no ideas about the illegal crossings by dinghies and boats coming over the channel. Labour Members seem to be confused, as they do not know the difference between an economic migrant and a genuine asylum seeker, which is a shame. My constituents in Ashfield would put them right. If Labour Members come up to my Wetherspoons in Kirkby, my constituents will tell them the difference—they are pretty good at it.
An SNP MP intervened to say that the Home Office considers most of those coming illegally over the Channel as refugees.
Anderson replied:
I thank the hon. Lady for her intervention and I think that what she describes is the fault of the old, failing asylum system; when people get here, they know how to fill the forms out and they have these lefty lawyers who say, "Put this, this and this." So they fill the forms out and, hey presto, about 80% get asylum status, and it is wrong. It is a burden on the taxpayer, these people are abusing the system. It is a bit like some benefit cheats—they do it, don't they? They abuse the system, saying that they are disabled when they are not. [Interruption.] Yes, they do. Come on, let's be right about it.
Make no mistake: if that lot on the Opposition Benches got in power, perish the thought, this Rwanda plan would be scrapped within five minutes. They want to see open borders. They want to let anybody in. [Interruption.] However, I welcome the sensible comments on food bank use made by the hon. Member for St Helens North (Conor McGinn), who is not in his place. I would welcome any Opposition Member coming to visit my local food bank in Ashfield, where I help out on a regular basis. We have a great project in place at the moment.
You can read more about Anderson's food bank controversy in Part 3.
Free speech at universities
Last week, on July 12, Anderson participated in the debate on the Higher Education (Freedom of Speech) Bill. He rightly took strong exception to the metropolitan elite:
Now then, if we control what students in universities can listen to, we are controlling what they can think and the type of person they will become. That may work in places such as North Korea and, possibly, within the Labour party, but it has no place in our society. The Bill will strengthen free speech and academic freedom at universities. It is not the job of the Labour party or anybody else to control who we listen to. The champagne socialists, the Islington elite and the trade unions may agree with the Labour party, but most of the country do not. We fought and won a war to protect our freedoms, and freedom of speech, to my mind, is the most important freedom that we have.
Let us not forget that universities are there to supply our great country with scientists, mathematicians, doctors, lawyers, school teachers, nurses and so on, not to provide us with state-sponsored political activists who have only one opinion or one goal in life. Our young people should be able to flourish at university and be open to all kinds of debate. Let them make their own mistakes, form their own opinions and ask their own questions. We should not dictate who they can and cannot listen to.
By voting against this Bill, Labour is saying that our university students are not capable of making up their own minds. It is a bit like the Brexit debate when it told my residents in Ashfield and Eastwood that they were thick, they were stupid, they were racist and they did not know what they were voting for. Well, that ended well! It ended up with my standing here tonight.
We know that free speech is being shut down in universities in this country. Professor Jo Phoenix was due to give a talk at Essex University about placing transgender women in women's prisons. Students threatened to barricade the hall. They complained that Ms Phoenix was a transphobe who was likely to engage in hate speech. A flyer with an image of a gun and text reading "Shut the **** up" was circulated. The university told Ms Phoenix and the event was postponed.
What about the human rights lawyer Rosa Freedman, a radical feminist law professor, whose event was cancelled amid allegations of transphobia? She received a passive aggressive email from a University of Reading student who called her views on gender politics "problematic" and warned her to "choose her words carefully". Selina Todd, an Oxford University professor, had her invitation to a conference celebrating women withdrawn owing to pressure from trans activists who had threatened to disrupt the event.
It is a real shame that we have to legislate to allow free speech, but the biggest shame is that Labour Members will vote against the Bill and subsequently vote against free speech. Perhaps they should all come off Twitter, throw their Guardian newspapers away, leave the Tea Room, and get out there and speak to the millions of voters they lost at the last election. Let us have some free speech on the doorstep and perhaps that lot on the Opposition Benches will finally realise that they have nothing in common with the very people they expect to vote for them. Thank you very much, Mr Deputy Speaker; that is me done.
The next MP to speak was from Labour. That MP disliked being told he was against free speech. He ended by saying:
If this legislation were needed, I would support it, but I do not think that it is needed, because, as has already been said, the legislation is already in place. We know the reason why, because we have had it explained. We just had a great example of it from the hon. Member for Ashfield. This is actually about trying to use the so-called woke agenda in a political manner. It is amplifying the message, so we get a situation where anyone who dares to question what happens or who votes against this Bill tonight is said to be against freedom of speech.
Anderson intervened to say:
I thank the right hon. Gentleman for the important points that he is making in the Chamber tonight, but the most important thing I want to thank him for is mentioning the word "Ashfield". That is the first time ever in this Chamber that a Labour politician has mentioned the word "Ashfield", so I thank him for that.
Immigration
Lee Anderson likes hard-working immigrants but, along with most other Britons, objects to people coming to the UK illegally then complaining about living in three-star hotels with three square meals a day.
On July 19, 2021, during a Nationality and Borders Bill debate, he related the story of a man he once knew, Janis Bite, who came to the UK from Latvia:
Now then, Janis Bite was 13 years old and living in Latvia at the start of World War Two. Two years later, the Nazis came. Their request was simple: one male member from each family to go and fight the Russians. It was either Janis, his dad or his younger brother, so Janis went to the Russian front and witnessed the horrors of war in temperatures of minus 40.
When the war ended in 1945, Janis was classed as a displaced person—a refugee. Imagine that. He could not go back to Latvia, because he had been sent straight to Siberia and that is where they sent his dad, so Janis was given two more choices: the US or the UK. So he came to the UK to a small village in Derbyshire, where he and other refugees were housed in Nissen huts in army barracks. He did not complain or whinge or moan about the barracks or set fire to the barracks or make TikTok videos. In fact, they were so grateful to the UK that they all volunteered to work in the fields at local farms picking potatoes and other seasonal vegetables for no pay. Janis met a girl in the village, he fell in love and he later married. He worked hard all his life and had three sons, one of them being Alan in Ashfield. Janis loved his football. He became a British citizen and loved this country. He even went on to meet our Queen. Janis is no longer with us, but his story makes me feel incredibly proud of our great country and its willingness to help people from all over the world.
A Conservative MP asked Anderson if Janis Bite would have been affronted by the misguided, generous way the Home Office treats illegal immigrants.
Anderson responded:
I thank my right hon. Friend for his comments. That is absolutely right. I spoke to Janis's family last week in Ashfield, and they made exactly that point. I will feed that back to them when I get back to Ashfield this weekend.
We have always been a welcoming and tolerant country that has reached out to genuine refugees from all over the world, but just like Janis's family in Ashfield, most people in the UK do not accept that people travelling here from France in dinghies are genuine asylum seekers—[Interruption.] They are not genuine asylum seekers. We know that many of them have been trafficked with a clear instruction on how to claim asylum once they get here. That is because our asylum system is not fit for purpose, and this Bill stops that.
The Labour party and the Opposition want to bring back free movement. They dislike our points-based immigration system, and now they are going to vote against a Bill that protects our borders and helps us deport foreign murderers and rapists. They will always vote against the British people. This new Bill will ensure that people in genuine need, like Janis all those years ago, get the help they need, and the greedy lawyers and the human traffickers will be told, "No more." We owe it to people such as Janis who are suffering today to ensure that we have a fairer system that offers genuine refugees a safe haven. This Bill does that.
We have nothing to be ashamed of in this country. We are a kind, tolerant and welcoming country. That is proven by the number of people who risk their lives every single day to get here. If Janis's family can see that the current situation is unacceptable, surely the Opposition should see that too.
I give a massive thanks to the Home Secretary, who has stuck to her guns. She has listened to the British people and delivered. Opposition MPs want to travel into reality. I will offer this opportunity to all of you now sitting there now with those glazed expressions on your face: come down to Ashfield, come speak to some real people in my towns and villages, and the message you will get will be completely different from the message you are feeding into this House. I am here because of you lot and the attitudes you had in 2019. We are getting tough on crime, we are getting tough on immigration and we are getting tough on law and order.
Well said!
I'm still not finished with Lee Anderson's policy stances. More to come next week.
Following on from yesterday's UK news in brief, the fallout continued into the weekend.
The Opposition
Some viewers of parliamentary proceedings thought that last Wednesday's PMQs was tense.
Guido Fawkes said that Boris looked 'rattled' as Keir Starmer asked Boris some difficult questions:
Boris came across rather rattled at PMQs today as a calm Keir Starmer attacked the PM on a number of topics, including why Allegra Stratton resigned, Rwanda and his reported comments about the BBC during last night's 1922 meeting.
When questioned by Labour's Keir Starmer, at one point, Boris said:
He must be out of his tiny mind!
Guido has the video:
The day before, in responding to Boris's second apology for the fine — for pedants, fixed penalty notice — for a Downing Street gathering, Starmer took the opportunity to mention a constituent of Michael Fabricant, the Conservative MP for Lichfield, who thought there should be a bar in Downing Street (see yesterday's post).
Guido Fawkes has the story.
This is what Starmer said (emphases mine throughout, except for Guido's in red):
This morning I spoke to John Robinson, a constituent of the hon. Member for Lichfield, and I want to tell the House his story.
When his wife died of covid, John and his family obeyed the Prime Minister's rules. He did not see her in hospital; he did not hold her hand as she died. Their daughters and grandchildren drove 100 miles up the motorway, clutching a letter from the funeral director in case they were questioned by the police. They did not have a service in church, and John's son-in-law stayed away because he would have been the forbidden seventh mourner. Does the Prime Minister not realise that John would have given the world to hold his dying wife's hand, even if it was just for nine minutes? But he did not, because he followed the Prime Minister's rules—rules that we now know the Prime Minister blithely, repeatedly and deliberately ignored. After months of insulting excuses, today's half-hearted apology will never be enough for John Robinson. If the Prime Minister had any respect for John, and the millions like him who sacrificed everything to follow the rules, he would resign. But he will not, because he does not respect John, and he does not respect the sacrifice of the British public. He is a man without shame.
When I heard that, I couldn't imagine what Starmer was going to say about Fabricant. Fortunately, he said nothing about the MP. Starmer used the constituent's story to make a point about Boris's breaking the rules during coronavirus restrictions.
However, it is not the done thing to interfere in or visit someone else's constituency without letting the relevant MP know.
Guido discovered that John Robinson had his unfortunate lockdown experience published in The Guardian's letters page on April 14. His letter reads much the way Starmer presented it to the Commons, although it ended with this:
Johnson flouted his own laws and rules. He partied his way through them. Am I angry? Anger doesn't even touch the sides of how I feel about this pathetic excuse for a man, and I suspect that the majority of us little people share my views, will never forget and will never forgive.
Even so, it seems to me that Starmer had some nerve to contact him.
Fabricant appeared on GB News on Wednesday, April 20. He said:
The saddest thing of all, I think, is the way Keir Starmer and other politicians have chosen to weaponise the personal tragedies endured by people like John Robinson and you know I would have thought, actually, that was pretty beneath them.
Me, too.
Imagine if a Conservative MP had done that. Labour would have banged on about it for weeks, if not months.
Migration and the Rwanda policy
The Archbishop of Canterbury used his Easter 2022 sermon to rail against the Home Office's plan to transfer illegal immigrants, especially those crossing the English Channel from France, to Rwanda for processing.
The Archbishop may also take issue with Denmark, which is pursuing the same policy. We pipped them to the post, but, apparently, Rwanda can capably deal with any number of migrants and for more than one country:
Guido reminded readers that the EU were also considering Rwanda as far back as 2019:
An awkward moment this morning for all the lefty hacks and opposition MPs who've turned their noses at the government's illegal migrant plans, as Denmark has announced it is also now outlining plans to send adult asylum seekers to Rwanda. The Archbishop of Canterbury will need to have a lie-down…
In a statement released this morning, Danish Immigration Minister Mattias Tesfaye confirmed the country has entered discussions with the Rwandan government:
Our dialogue with the Rwandan government includes a mechanism for the transfer of asylum seekers… [the deal will] ensure a more dignified approach than the criminal network of human traffickers that characterises migration across the Mediterranean today …
In 2019 then-European Commissioner Neven Mimica also announced a similar plan for the EU:
While in #Rwanda, happy to announce a 10M€ project to support efforts of the Government to receive and provide protection to about 1500 #refugees and asylum-seekers who are currently being held in detention centres in #Libya.
When the PM announced the Rwanda policy he predicted many other countries will soon follow suit – this is much sooner than expected though…
Our deal with Rwanda isn't due to start for another few weeks, but it's already had an effect on the Channel-crossers, as some Red Wall MPs have noticed:
Correct, but it's working before it's even started.
Bassetlaw's MP tweeted:
The Daily Mail article about migrant men in France is a must-read:
Standing beside a row of shabby, small shelters amid a hum from massive industrial units and passing lorries, Hamid Karimi, 34, sums it up: 'I'm not going to the UK if afterwards I'm sent to Rwanda. I'm staying here. I'm not going to Rwanda.'
Others in the group nod in agreement. Referring to the Prime Minister, one jokes: 'Johnson go to Rwanda!'
Boris Johnson has said the scheme drawn up by Home Secretary Priti Patel will serve as a 'very considerable deterrent' – and that appears to be the case here.
Announcing the Rwanda scheme on April 14, the PM said tens of thousands of asylum seekers who arrive in the UK by 'irregular routes', such as small boats or hiding in lorries, will be sent 4,000 miles to the African nation.
Arrivals will be processed and screened in the UK, with those deemed suitable flown to Rwanda on planes chartered by the Government. 
They will be then given accommodation and the opportunity to apply for asylum there – but cannot return to the UK. The change in tack from Hamid and his fellow Iranians is one adopted by many migrants in northern France since the announcement.
A few miles away, near another camp in Calais, a group of mostly Sudanese men told of their fear of being beaten or even killed if they are sent to Rwanda.
'We came from Africa – we don't want to go back,' said Mohammed Noor, 34. 'Nobody wants to go to Rwanda. If I go, I will finish my life. In Rwanda I won't get a good life. I have come here for Europe and for the UK.'
… The Government wants the first flights to leave next month. Channel crossings have continued in their hundreds since the announcement, but early indications show that numbers are in decline. On April 14, 562 crossed in small boats. On Tuesday, the figure was 263.
It is too early to say if the apparent decline is a result of the plan, but ministers will certainly hope so. They say the policy is intended to 'take back control of illegal immigration' and undermine people traffickers who profit from it. 
The decline continues:
Yes, it is possible that the weather — wind — could have been a factor, but the Mail's article supports the premise that the deterrent is working.
However, Home Secretary Priti Patel has run into trouble with civil servants — 'mandarins' — assigned to her department. They do not want to implement the Rwanda plan:
Guido has an exclusive on the 'rebellion', complete with screenshots of anonymous tweets from upset civil servants:
Home Office civil servants used an officially organised online consultation this afternoon to discuss the recently-announced Rwanda policy, asking how to potentially block the move, comparing themselves to Nazis "only obeying orders", proposed going on strike and questioned how to deal with their mental health in light of the policy. It shows conclusive evidence of the scale of left-wing opposition facing Patel and the government from within the civil service. It follows news from the weekend that Patel had to issue a ministerial direction to force the policy through …
This is the scale of opposition Priti Patel is facing at the moment from the enemies within, despite her and her fellow ministers being the only people in the department with democratic mandates. While Jacob Rees-Mogg and Simon Clarke are publicly promising to cull the number of civil servants, Guido can see a very obvious place the start…
On April 21, The Guardian reported that Matthew Rycroft, permanent secretary to the Home Office, attempted to reassure civil servants that they will not be breaking international law or be guilty of racism if they send migrants with unsuccessful refugee status claims to Rwanda:
Amid growing anger from the department's workforce, Matthew Rycroft, the permanent secretary, faced questions at an online staff meeting asking if the home secretary's policy of giving people a one-way ticket to Kigali was racist, while others demanded to know if the new policy was within international law.
Rycroft told staff they had to implement ministers' decisions, and reminded them of the civil service's neutral role, sources said.
The scheduled online meeting was held the day after it emerged that Home Office staff had threatened to strike and had drawn comparisons to working for the Third Reich over Patel's plan.
One source said Rycroft was "bullish" about the government's claim that the nationality and borders bill would not have to be passed into law before the policy could be implemented.
The article says that Rycroft did not sign off the plan initially, hence, as Guido wrote, Patel's ministerial direction to do so:
It emerged on Sunday that Rycroft had refused to sign off Patel's plans, claiming that he could not be sure it would provide value for money to the taxpayer. However, sources said he was "fully supportive" of the policy in the online meeting while flanked by other officials. He criticised leaks of the questions posed by staff, saying it was a breach of the civil service code.
This is the principal sentence from the ministerial direction:
I am therefore formally directing you as Accounting Officer to take forward this scheme with immediate effect, managing the identified risks as best you can.
Brendan Clarke-Smith, the Conservative MP for Bassetlaw, tweeted his empathy for the Home Secretary:
On Monday, April 26, during Home Office questions in Parliament, Marco Longhi, Conservative (and Red Wall) MP representing Dudley North, asked for the Rwanda plan to proceed. Tom Pursglove MP assured him that it would.
The human traffickers must be stopped. By the way, Labour have no alternative plan. They just don't like this one:
There is another wrinkle to this saga. Guido reports that the Home Office is fending off criticism that some journalists were not allowed to be part of the press corps on the Government's recent trip to Rwanda:
Guido's post says, in part:
Guardian, Mirror and Financial Times hacks are complaining in Press Gazette that they were "blocked" from attending Priti's Rwanda trip this month, with the Guardian going as far as to accuse the Home Office of trying to "avoid public scrutiny" …
Strangely, however, Guardian hacks were actually invited on the trip… their reporter just happened to fall ill right before leaving.
The Guardian put forward a substitute journalist, but the Home Office declined the offer.
Ultimately, only so many reporters can go:
Guido's departmental co-conspirator says the whole row is "silly", as they can't offer tickets to everyone, everywhere, at all times. They also point out how both the BBC and PA were on-hand throughout the entire trip – so those that couldn't attend could get straight wire copy. In fact, even the picture used in the Press Gazette report came from PA…
It's 'get Boris' time
It is becoming painfully obvious for those who voted Conservative in 2019 that the police are not applying the coronavirus rules equally.
As I have said before, Prime Minister Boris Johnson is the only government leader in the UK to receive a fixed penalty notice for his birthday 'party' — if you can call a 10-minute gathering of staff and a closed Tupperware container of cake a party.
Chancellor Rishi Sunak also received a fixed penalty notice for being at the same gathering.
Meanwhile, no one in Wales, Scotland or Northern Ireland has received anything more than a polite reminder from the police.
So, let's look at Labour.
In May 2021, we had a local election in England along with regional elections in Wales and Scotland. We will be having local elections this May as well, including a regional election in Northern Ireland.
Going back to last year, there were coronavirus-specific campaign requirements and restrictions. Pictured is Labour leader Keir Starmer at the Labour offices in Durham at the end of April 2021:
On May 1, 2021, The Sun reported on Starmer's visit:
LABOUR have dismissed an election 'booze row' after Sir Keir Starmer enjoyed a beer after a day on the campaign trail.
He was seen mixing with party workers in a constituency office in Durham on Friday night …
Tory co-chair Amanda Milling said: "Keir Starmer has continually and rightly called for people to follow the rules designed to keep us safe, but it's now in question whether he is following them himself.
"People will rightly be asking questions about this."
But a Labour source tonight said: "This is pathetic. The Tories' clearly haven't read their own rules."
The local police concluded that there was nothing to investigate. Last weekend, some people wondered whether Durham's Police and Crime Commissioner was present at the gathering:
Richard Holden, the Red Wall MP who represents Durham North, wrote to the Chief Constable of the Durham Constabulary to ask whether the coronavirus restrictions during the campaign had been followed in this particular instance:
Last Sunday morning, Starmer told the BBC's Sophie Raworth that he had nothing more to add about the gathering.
On Monday, April 25, Guido contacted the press officer for Durham Police and Crime Commissioner Joy Allen. The response he received did not put the matter to rest in his opinion:
Following Holden's letter, multiple social media users began questioning whether Durham Police and Crime Commissioner Joy Allen – a longstanding Starmer supporter – was at the event, and whether that could have played a role in the police force's decision to find in the Labour leader's favour. Following the rumours, Guido contacted her press office…
The Office of the Durham Police and Crime Commissioner has been informed that neither Joy Allen, the then candidate for Durham PCC, or Nigel Bryson, attended the event involving Kier [sic] Starmer during his visit to Durham at the last local election.
Leaving aside the phrase "has been informed" rather than a first-person denial, Guido's intrigued by the formal implication this is being considered a local election event, rather than a business meeting. As the rules stated at the time, campaigners could only go indoors "to meet the committee room organiser in order to collect election literature or drop off telling slips…"
It is against the law to meet socially indoors with anyone not in your household or support bubble.
Did Starmer's own Police and Crime Commissioner just accidentally dob him in?
Nothing more will happen. Apart from Richard Holden's constituency, Durham is Labour, through and through.
Meanwhile, Keir Starmer is deeply disappointed that London's Metropolitan Police will not issue further fixed penalty notices until after local elections in early May:
What does the average Briton think about what has been dubbed 'partygate'? A co-presenter of GB News's The Political Correction said on Sunday that people were tired of hearing about it:
If we're fed up with it, imagine the confusion in Ukraine where, believe it or not, a Times reporter asked a woman there what she thought about Boris's birthday party plight.
On Monday, April 25, Guido reported:
From today's Times:
The details of Carrie Johnson's birthday cake "ambush" were explained to them slowly, and when they understood the full extent of the scandal, they said they did not much care.
"Niet. niet." Raisa said. "I don't know about this birthday party. That seems to be normal human behaviour. But he was the first man who stood with us and helped us in our struggle. He is the best, I tell you, the best, the best, the best."
Conclusion
Opposition MPs have been railing against Boris since he became Prime Minister in 2019, generally attaching some superlative such as 'worst' to their opinions.
Veteran reporter and broadcaster Colin Brazier, who presents an excellent show on GB News, suggests that we could always have had a worse leader. What about Oliver Cromwell, who was born on April 25, 1599?
Local elections take place on Thursday, May 5. We'll see what the fallout looks like then.
Reaction to Justin Welby's Easter heavily politicised sermon last Sunday was strong.
We appreciate that he has no time for Boris Johnson or other Conservatives, but could he please put a sock in — sorry, stop to — it and start preaching about the Risen Christ, particularly during Eastertide?
An article in The Telegraph on Easter Monday noted:
The Archbishop's Easter sermon is the latest in a series of interventions by him over government policy.
The Telegraph's report is titled 'Stop your misguided moralising on Rwanda deal, MPs tell Archbishop of Canterbury'.
Here is the background (emphases mine below):
The Archbishop of Canterbury has been accused of "misguided moralising" after leading the Church of England's attack on the Government's Rwanda deal and "partygate".
The Most Rev Justin Welby was said to have undermined the role of the Church by using his Easter Sunday address to criticise the Prime Minister's plan to send asylum seekers to the landlocked east African nation.
On the same morning, the Archbishop of York questioned what kind of country people want Britain to be and suggested that public servants should lead by example when it comes to morality.
In what has been perceived as a veiled attack on Boris Johnson over the Downing Street parties scandal, the Most Rev Stephen Cottrell asked whether the UK wants to be known for being a country where "those in public life live to the highest standards, and where we can trust those who lead us to behave with integrity and honour".
Meanwhile, the Archbishop of Canterbury said on Sunday that the policy on sending illegal immigrants to Rwanda raises "serious ethical questions" and "cannot stand the judgment of God" or "carry the weight of our national responsibility as a country formed by Christian values" …
On Sunday night, the Archbishop was accused of hypocrisy after Whitehall sources pointed out he has warned four times about the problems of illegal immigration.
Conservative MPs were quick to react:
Priti Patel, the Home Secretary, appeared to hit back, writing in The Times: "We are taking bold and innovative steps and it's surprising that those institutions that criticise the plans, fail to offer their own solutions."
Jacob Rees-Mogg told The Telegraph that whilst the Church is "authoritative in all matters that pertain to God", the same cannot be said for "day-to-day practical solutions".
"This is not an unreasonable perspective for an Archbishop, he is completely entitled to it," he said. "But he has missed the effect of the policy. It is an informed and important opinion, but it is not revealed truth."
Tim Loughton, the Tory MP for East Worthing and Shoreham, and a member of the Commons home affairs select committee, said: "There is nothing ungodly about trying to come up with practical solutions to end the vile trade in human misery where criminal gangs daily put lives at risk to profit from trafficking people into the UK illegally, based on ability to pay rather the legitimacy of their claim.
"The people traffickers and those who turn a blind eye to ending this ungodly activity are the ones who should really be the target of the Archbishop's misguided moralising."
He went on to say that the Church of England's failure to distinguish between good and evil is "directly linked to its greatly diminishing influence in our country".
Ben Bradley, the Tory MP for Mansfield, said that the Archbishop is "way out of tune with public opinion", adding that "commenting on government policy is not Justin Welby's job".
He said: "Given that Welby has previously raised concerns about immigration overburdening communities, and the importance of recognising concerns about immigration, it's pretty hypocritical to now slate the Government for finding solutions to those issues."
Good on Ben Bradley for remembering what Welby has said in the past:
The Archbishop has previously warned about the problems of small-boat Channel crossings. He described the deaths of at least 27 migrants off the coast in France last November as a "devastating loss of human life", adding: "This cannot go on."
At the time, he said Britain needs a "better system based on safety, compassion, justice and co-operation across frontiers".
He also acknowledged that "we can't overburden communities, we have to be realistic about that" and called on states, religious groups and civil society to "come together in a spirit of pragmatism and compassion" to find a solution to immigration.
The article has more of the Archbishop's best hits.
So, we had no message about the Resurrection from him or his second in command, the Archbishop of York, who started well with this opening on BBC Radio 4:
The message of Easter is that stones are rolled away …
Yes, yes, go on:
… and barriers are broken down, and therefore it's truly appalling and distressing. I'm appalled at what's being proposed and I think we can do better than this."
Oh.
He added that:
the Government was "out of tune with British people" and those arriving on small boats are in "just as much need" as Ukrainians.
Hmm. Really?
Tens of thousands of able-bodied men under the age of 40 are crossing the Channel in droves. Ukrainian women and children in need of shelter and support are coming to the UK. Goodness knows what they've been through since the end of February while their partners or husbands fight for their country.
A Telegraph editorial tells us what else was in Welby's sermon:
Mr Welby's strictures were not confined to asylum policy. He also said families were "waking up in fear" because households were facing the "greatest cost-of-living crisis we have known in our lifetimes". They had "cold homes and empty stomachs" and the soaring cost of everyday life was the "first and overwhelming thought of the day" for most people, he added.
The paper sees an issue with Welby's never-ending pronouncements. He, much like the Labour Party, never has a solution:
Mr Welby sees it as his duty to speak out on behalf of the poor and dispossessed, though it is never clear what he wants to see happen as an alternative. The asylum policy is certainly radical, but is it the Church's position that anyone who makes it to the UK should be allowed to stay? What is the Church doing to look after and house them?
Mr Welby opposed the rise in National Insurance contributions to pay for more to be spent on the NHS. This newspaper also argued against it, but because we think people in general are overtaxed, whereas Mr Welby thinks the better-off should pay more. Is it really the Church's job to conduct a running political commentary in this way?
No.
On Easter Monday evening, I tuned into Nigel Farage on GB News.
Farage is Anglican. He accused Welby of deeply damaging the Church of England's reputation. I agree.
Here's a bit more from his editorial:
GB News presenter Nigel described the Archbishop's statement as a "big virtue signal".
The former Brexit Party Leader said: "He didn't mention anything about the criminal traffickers, he didn't mention anything about the drownings in the Channel, he didn't mention anything about those who come to this country and finish up effectively working in slave labour conditions."
He added: "It is true form as a left-wing archbishop who has done more to damage the reputation of the Church of England, to decrease the numbers turning up every Sunday than almost anybody who has ever lived."
You can watch it in full:
One of the former chaplains to the Queen, Dr Gavin Ashenden, who recently converted to Catholicism, discussed Welby's sermon. He said that the Archbishop has a religion:
but the religion isn't Christianity.
Ashenden said that a BBC Panorama programme warned some years ago that we would have a global problem with immigration from the equatorial countries northward:
Farage also interviewed Steve Valdez-Symonds from Amnesty International UK, who is a relatively frequent GB News guest:
This article has a partial transcript of their discussion:
Steve Valdez-Symonds, from Amnesty International UK, criticised the Home Secretary's proposal and said "the evidence doesn't suggest it can work."
"People on these journeys are on the whole not in the position to assess what's going to happen to them at the end," added Steve Valdez-Symonds in an exclusive interview with GB News.
Nigel Farage hit back at the Refugee & Asylum Rights Director's explanation: "Oh no, they are[;] otherwise they would stay in France. They come here because they see four-star hotels."
"They think we're treasure island. That's why they all want to come here, it's obvious isn't it?" said the GB News Presenter.
Mr Valdez-Symonds responded: "I think that's absolutely nonsense I'm afraid. If that were the case, why is it that France continues to receive so many of more people into its asylum system than do we?"
The former Brexit Party Leader said: "It's because they are on the Mediterranean. France isn't choosing to have large numbers of people to come in, but they're coming across the Med."
The dinghies continue to arrive:
France requires an 18-month wait before benefits can begin. The UK has a much shorter waiting time.
Furthermore, it is unlikely that France puts migrants in four-star hotels. But, as our MPs so often say in the House of Commons:
We're better than that.
Yes, we certainly are, for better or worse.
On the first Thursday in May 2022, the UK will hold local elections.
It is unclear how well the Conservative Party will do, given sudden cost of living increases across the board, all of which occurred on April 1. Oh, were that this an April Fool joke. Sadly, it is all too real.
On April 3, Tim Stanley recapped the Conservatives' self-inflicted wounds for The Telegraph: 'The nannying Tories face oblivion if they refuse to get their priorities straight'.
Excerpts follow, emphases mine, except for Guido Fawkes's posts below:
The same day the gas bill doubled, it snowed. Oh, and restaurants were mandated to list calorie counts on menus. After 12 years in office, the Tories have gone from trying to fix the state to trying to fix us, so we'll be less of a shivery, fat burden on the bureaucrats. Don't eat, they advise; don't fly, don't drive, avoid using the heating. In fact, it would be helpful if we could stop existing altogether. The NHS would look good on paper if no one used it, and we'd have a zero per cent failure rate in schools if no one ever sat an exam.
As MPs take a break from Parliament this week, the Tories need to dwell on what they have actually done and what there is to do. This all hinges upon the question of who they truly represent. Considering they were elected to clear up the economic mess left by Labour, it's a bummer to note that debt is higher than under Gordon Brown, the tax burden rising and living standards crashing. We cannot blame ministers for a pandemic or a war, it's true, but the Conservative Party's solutions are near-indistinguishable from New Labour's, and the alternatives rarely aired. Last week, I sat in on the Treasury Committee's "grilling" of Rishi Sunak and the two points I never heard made were "you are spending too much" and "how dare you take my constituents' money to do it". The anger is not there. No party in Westminster stands for the consumer.
It was heartening to see that Stanley shares my impressions of parliamentary debate — virtue signalling, for the most part, including from Conservative benches:
This is not merely a crisis of philosophy, it is undemocratic. MPs are supposedly elected to do what their constituents want, but too many of them, as soon as they arrive in Westminster, are absorbed into a culture that has a uniform idea of what voters need, a total plan for life that runs from reducing carbon to dropping enough weight to fit into a size six dress (even better if you're a fella!). Half the debates are toe-curlingly pious nonsense that does the electorate no benefit except to reassure them that their MP is spectacularly compassionate – and the more laws you pass, goes the logic, the more money we splash, the more compassionate they appear to be. Ergo, the most important metric for success in 2022 is how much the Treasury is spending, not the results.
It's maddening to contemplate that nothing is ever done about situations past and present that affect many Britons:
Where to begin? The Ockenden report has stated that more than 200 babies and nine mothers might have survived were it not for failings at the Shrewsbury and Telford Hospital Trust. During the lockdown, the Government allocated around £37 billion for the deeply inefficient Test and Trace project. It lost £4.9 billion in loan fraud. Not one police officer has been sacked in relation to the Rotherham child abuse scandal. And the same Home Office that struggles to kick out foreign-born criminals finds it strangely difficult to let in Ukrainian women and children.
And we're paying for this incompetence, while an independent body that Labour created years ago just gave all MPs a 2.7% pay rise:
You are paying for all this, and likely paying more thanks, despite [Rishi] Sunak's tinkering, to a combination of National Insurance changes and inflation dragging people into ever higher tax bands. The Chancellor, in his munificence, says he plans to cut income tax in 2024, which means the British government is now handing out IOUs. At the same time, he is also bunging us £200 to help with the electricity bills, a sum that the state will reclaim at a later date, which means it's also entered the habit of writing "UOMes". MPs are getting a wee grant of their own. Their salaries will rise by 2.7 per cent, or £2,212.
The Government has become more intrusive and we have less money in our pockets:
… thanks to Covid, the public sector has been calling the shots since 2020, while the burden of wealth and power has shifted decisively away from the individual. Does this feel like a freer society than 12 years ago? Or a happier one? Paranoia and suspicion are not only widespread but encouraged (adverts on the London Underground now warn against "staring"), and privacy is dead. I can remember when we were told to protect our data. Now, just to take a train to Belgium, I have to prove my vaccine status by downloading the NHS app, send it a photo of my driving licence and record a video of my face reciting a series of numbers. Do I trust the NHS will delete all this information once used? Bless you. I'd sooner invite a rabid fox to babysit the chickens …
Voters, in the eyes of far too many, are spreaders of disease or pollution (in the opinion of some of the old ladies who glue themselves to roads, we ought even to stop breeding), and pockets of money waiting to be tapped.
What is a truly conservative concept of government?
… the old-fashioned principle of offering us the best possible service at the lowest possible price …
Small government doesn't mean "no government" but more efficient government – more effective precisely because it limits itself to a narrower range of tasks at which it can excel. Drawing a line under the Trimalchio's feast of a Spring Statement, the Tories must spend the time they have before the next election peeling back the bureaucracy where it is not needed, passing the benefits on to the people who have been robbed to pay for it, and coming up with creative ways to encourage the private sphere to revive. I don't just mean conjuring up new markets in insurance or energy, but also unleashing culture and technology, faith and family, the very things that make life worth living.
Bravo!
Ultimately, Stanley says:
The paradoxical goal of conservative politics is to make politics less important in everyday life, and while it might sound hopelessly idealistic to expect powerful people to surrender power, unless the Tories try to reduce the state, they will eventually lose office altogether. The time will come when voters finally snap, and take it away.
Let us look at a few more news items on this subject.
A week or two ago, someone sent in a letter to The Telegraph illustrating how much the Government is taking in tax. This is an alarming practical example: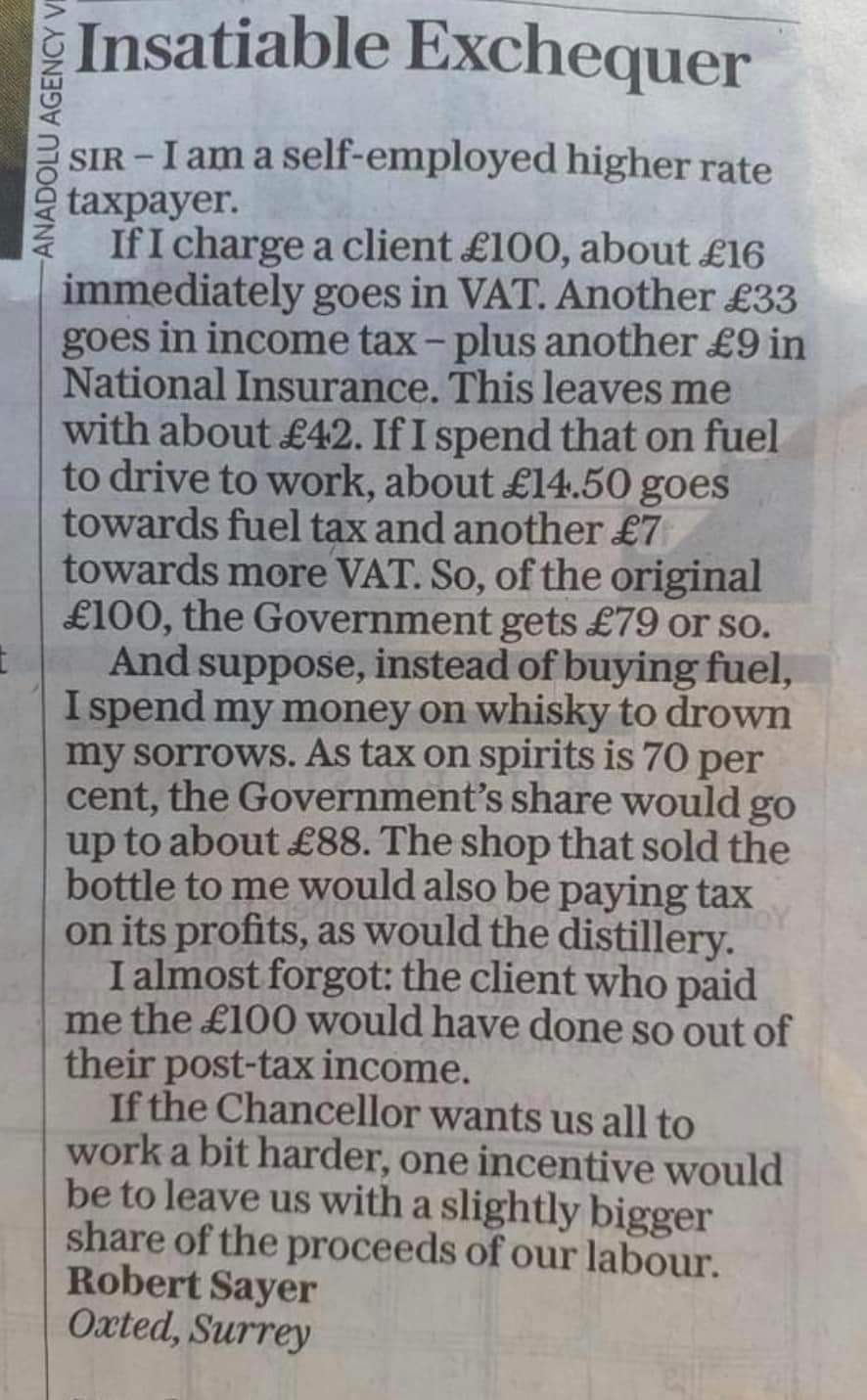 Now let's look at Net Zero, the Government's pet project, initiated by then-Prime Minister Theresa May.
This is a practical illustration of the folly of electric cars, written by conservative columnist and broadcaster Iain Dale for The Telegraph:
Back in November, I acquired an electric car, something I never thought I would do … I calculated it would save me thousands of pounds every year … 
On Friday night, I was invited to speak to Beverley and Holderness Conservatives. The main difference when you drive an electric car on a long journey is that you have to plan. In my old car, I could drive 600 miles without filling the tank, but if I ever nearly ran out of diesel there was always a petrol station around the corner.
The equivalent is not true if you have an electric car. You have to plan your journey using apps such as Zap-Map, which tell you where the charging points are, and whether they're being used, or working. I got to Beverley OK, having recharged the car at Donington Park services on the M1, which has a few charging points. Some motorway services don't have any.
The return journey proved to be a disaster. I left Beverley at 9am and arrived home in Kent at 7.45pm. A journey that should have taken four hours lasted an astonishing 10¾. It was a day completely wasted. The problem was that the three fast chargers in Beverley were either in use or didn't work. So I had to use slow chargers to get to the next fast charger, which was 50 miles away. Range anxiety is a real phenomenon. The whole time you're looking at the screen in front of you, wondering if you will run out of charge before you reach the next charger. And then what?
This week, [Transport Secretary] Grant Shapps announced a target of 300,000 more chargers across the country by 2030, the year when the Government says it will ban the sale of new petrol and diesel powered cars. Fatally, he's left it to local authorities to make sure the roll-out happens. Mark my words, it won't. Not without national direction.
My advice is this. If you only do relatively short journeys, then buying an electric car is a good decision. If you regularly travel more than 150 miles, it isn't. In my experience, the car manufacturers lie about the expected range. My electric car is supposed to do 298 miles. The reality is that it does 206, or 215 if the weather is warm. Caveat emptor.
In other news, the price of milk is set to rise by 50%. The Telegraph reports that crisis talks with EU and British dairy farmers took place in Brussels last week:
Rocketing costs from feed, fertiliser and fuel have stoked fears in the industry of a surge in milk prices not seen in decades.
The cost of four pints of milk will jump from around £1.15 to between £1.60 and £1.70, an increase of up to 50pc, according to Kite Consulting, the UK's leading adviser to dairy farmers.
Michael Oakes, the dairy board chair of the National Farmers' Union, agreed that milk prices will likely rise by as much as 50pc.
John Allen at Kite said a 30-year period of low milk price rises is "coming to an end now" as costs surge on multiple fronts. He expects a typical pack of butter to rise from £1.55 to more than £2.
He said: "What is of concern at present is processors are getting inflationary costs as well and also we are short of milk around the world."
Dairy industry bosses from the UK and elsewhere in Europe flew into Brussels at the end of last week with talks led by Eucolait, the continent's leading dairy industry group. Dairy processors, which act as a link between farmers and shops, are said to be deeply concerned about soaring costs both at farm level and further up the supply chain, as the war in Ukraine lifts key input costs …
UK dairy industry bosses have raised concerns over their costs to the Government, but officials at the Department for Environment, Food and Rural Affairs (Defra) are said to be merely in "listening mode" …
Mr Oakes, who is also a farmer, said: "I was paying about £7,000 for an artic [articulated lorry] load of fertiliser, and this year it's £28,000. It would have been a little bit less before Ukraine happened, but it made another big jump because we'd already seen higher gas prices, which have implications for fertiliser costs …
He added that feed costs have risen 60pc.
As if all that isn't enough to worry voters, we have the Online Safety Bill passing through Parliament. Guido Fawkes tells us what is happening as Ofcom, the communications regulator, prepares for the not-so-distant future:
Scary.
Guido's accompanying post says, in part:
According to Melanie Dawes, the newly-appointed CEO of Ofcom, the quango will increase headcount by 400 staff ahead of new powers to police the internet in the Online Safety Bill, which will be voted on in Parliament after Easter. That's a lot of censors…
Ofcom will have Putin-style powers to block websites from being seen in the UK if those sites fail to uphold their new legal duty of care to remove "harmful content". The definition of "harmful content", of course, will be a political question. Will questioning hurtling towards net-zero whilst millions are in energy poverty be deemed harmful content? …
Ofcom's Melanie Dawes told Times Radio:
We've got some tough and strong tools in our toolkit as a result of this legislation. And I think we need those. …These very strict and somewhat draconian kinds of sanctions are really only the sort of thing that you would expect to use as a serious last resort.
If you don't accept self-censorship and comply, your website will be blocked. Chilling.
Then we found out at the weekend that the civil servant in charge of ethics was at a lockdown party.
The Times's Patrick Maguire reported:
Were this a plot point in a satire, it would feel much too lazy for any self-respecting reader to get behind. But here we are: the official who was then in charge of ethics on Whitehall has been fined for her attendance at a lockdown-busting karaoke party.
As the first major name to have been revealed to have received a fixed penalty notice, Helen Macnamara — then the government's head of propriety and ethics, now in the business of neither as director of policy and corporate affairs at the Premier League — is surely a sign of things to come.
For confirmation of her attendance at a leaving do in the Cabinet Office in June 2020 — at a cost of £50 — is a sign that it wasn't just the junior, nameless and faceless who breached Covid restrictions at the heart of government over that fateful period, as Boris Johnson would much prefer to be the case.
Meanwhile, Scotland Yard is also said to have told people who attended a No 10 party on April 16 last year, the day before Philip's funeral, that they would be given fixed penalty notices: conclusive proof at last that the law was broken in Downing Street itself.
The PM did not attend either do, but the slow burn of revelations from the Met's investigation is hardly ideal, particularly with elections just over a month away.
"I have 65,000 constituents in west Wales, where I represent, and they are not shy in coming forward and expressing a view about this and a number of other subjects," Simon Hart, the Welsh secretary, told Sky News this morning.
"And throughout all of this saga of the Downing Street parties they have said one thing very clearly, and in a vast majority they say they want contrition and they want an apology, but they don't want a resignation."
The bigger risk, looking at the polls, is that they don't want to vote Tory…
However, there are two bright rays of sunlight in an otherwise cloudy day.
The first is that London's position as the second most important financial centre in the world is holding steady, as The Telegraph reported on Monday, April 4:
London remains Europe's dominant financial centre based on factors such as (relative) political stability, labour market flexibility, quality of life, infrastructure and innovation, a ranking by think tank Z/Yen Group found last week. It was ranked second only to New York globally, while Paris came in at 11th place.
The second is that Volodymyr Zelenskyy still appreciates all of Boris Johnson's efforts for Ukraine. He is contemptuous of Emmanuel Macron and Angela Merkel, as Guido reports:
Guido has the video of Zelenskyy praising Boris:
Zelenskyy's said the UK has "agreed on new defensive support for Ukraine. New package. Very, very tangible support," adding "Thank you Boris for the leadership! Historical leadership. I'm sure of it". 
It's too bad that Zelenskyy cannot campaign for Boris's Conservatives. They could use his help.
My series on Red Wall MPs continues.
Last week's post was about Mark Jenkinson, who represents Workington.
Today's is about North West Durham's MP, Richard Holden.
This is the first time ever that North West Durham has had a Conservative MP. The constituency has a long, albeit interrupted, history.
Between the years of 1885 and 1918, two Liberal MPs represented it. Liberals were very much about representing the people, focusing on mass appeal. Wikipedia says that this brand of politics:
was epitomised by David Lloyd George whose People's Budget in 1909 led to the supremacy of the House of Commons over the House of Lords in 1911, [and] national pensions under a basic welfare state (but without a National Health Service).
When the constituency was recreated in 1950, voters elected Labour MPs exclusively. Between 1964 and 2010, two members of the Armstrong family served as MPs: Ernest from 1964 to 1987, then his daughter Hilary, beginning in 1987.
Pat Glass represented North West Durham between 2010 and 2017.
Laura Pidcock was the last in the line of the constituency's Labour MPs, serving a short term between 2017 and 2019. She lost her seat to Richard Holden in 2019. He had a majority of 1,444, which was slim but significant.
On March 9, 2022, Guido Fawkes reported that Laura Pidcock will not be seeking a return to politics:
Guido has the content of her statement and additional commentary. She is on the far left of the Labour Party.
Guido concludes (red emphases in the original):
In 2015 Labour in her constituency had more than double the vote of the Tories, five years later Pidcock gifted Richard Holden a Tory majority. A stunning performance. The parliamentary road to socialism is not for her…
Richard Holden was born in 1985 and grew up in Lancashire. He attended the London School of Economics where he earned a BSc in Government and History in 2007. He worked in hospitality during his time at LSE.
He went to work at Conservative Campaign Headquarters in 2007 as a data entry officer. By the time he left in 2012, he had been in several other posts there, the last being Deputy Head of Press.
His first attempt at becoming an MP began in 2015, when he was the Conservative candidate for Preston, traditionally Labour. He lost to the present incumbent, Sir Mark Hendrick, who has been the city's MP since 2000.
After his election loss, he worked for Lord Privy Seal as an adviser, then Leader of the House of Lords Baroness Stowell of Beeston and Baroness Evans of Bowes Park.
In 2016, he worked on Theresa May's successful Conservative leadership campaign.
Afterwards, Holden worked for several MPs.  He was a special adviser to then-Secretary of State for Defence, Sir Michael Fallon. Then he worked in the same capacity for Chris Grayling, who was the Secretary of State for Transport. He worked on Boris Johnson's leadership campaign in 2019 and, before the election that year, he was a special adviser to Gavin Williamson, Secretary of State for Education at the time. Prior to his selection as Conservative candidate for North West Durham, Holden returned to CCHQ.
As an MP, Holden serves on several committees: the Public Accounts Committee, the European Statutory Instruments Committee, the Executive of the 1922 Committee and the All-Party Parliamentary Group on Gambling-Related Harm.
Holden also writes a fortnightly column for Conservative Home. On December 7, 2021, he expressed his disappointment in the slow recovery response following Storm Arwen, our first of the winter season. It hit the North of England badly. He wrote, in part (emphases mine):
The question being asked is: 'would this have happened in the Home Counties'? In some ways, that's a bit of an odd question to ask. Nowhere in the South East of England is as rural or as isolated in parts. Nor is it as hilly, as snowy, wet or cold. To put it in perspective, North West Durham and Bishop Auckland alone are roughly the same size in terms of land area as Greater London.
They're not the same. And it's true that people in our communities are more used to inclement weather; they are hardy and used to putting up with difficulties. But that's too easy a get-out.
It also doesn't explain how my constituents and those of my neighbours in Bishop Auckland, Hexham, Berwick and across the North East and Cumbria were left without power for not just a day or two, but for days on end. It doesn't explain why it took five days for the local council to declare a major incident, and another day to request military assistance. The complaint of "This wouldn't have happened down South" started to not just relate to the weather, but also the response from the authorities.
Storm Arwen hit hard – causing powerlines to be blown over on the coast or damaged by falling trees. In some inland areas – such as around St. John's Chapel – [causing] freezing rain to form on the powerlines, turning the normal thin cable into something four inches in diameter.
In these circumstances, each 80-metre span of wire between wooden pylons weighed half a ton per inch of ice. The pylons snapped like matchsticks. Over 400 are having to be replaced across the North. An unprecedented number.
Northern Powergrid declared an internal major incident on the Friday night, but didn't tell Durham County Council they'd done this until Wednesday. Five days after the storm. Would this have happened elsewhere? I doubt it. It's unforgivable – and we're lucky that people didn't die as a result of it.
In Parliament, he has supported increased drugs testing in prisons, the bill for which passed in 2021. He campaigned successfully for the reversal of the increase in vehicle excise duty on motorhomes in 2020. He was also successful in cutting the draught beer duty rate in 2021.
However, his big campaign has been for a ban of virginity testing and hymenoplasty, a subject he became interested in after hearing a radio report on BBC Radio 1. He has been working on this since he entered Parliament and, most recently, tabled two amendments to the Health and Social Care Bill in the current 2021-2022 session. He has overwhelming support not only from MPs across the house but also several charities as well as the Royal College of Obstetricians and Gynaecologists and the Royal College of Midwives. The Government has pledged to outlaw both practices.
Currently, Holden is working on the prohibition of allowing people without driving licences to purchase motor vehicles. This followed the tragic death of one of his constituents, Andrew Rowlands. Holden debated on this topic in January 2022, with members of the Rowlands family in the public gallery. He vows to continue the campaign until legislation is enacted and passed.
So far, so good.
However, it hasn't been all plain sailing for Richard Holden.
In July 2020, after the first wave of coronavirus — and Dominic Cummings's dubious trip to County Durham during lockdown — Holden was not allowed to become a Friend of the Durham Miners Gala. The tweets below discuss the impressions that people in Durham had of Cummings, whose family lives in the county:
Perhaps Durham's miners saw an early television appearance of Holden's from January 2020, wherein he pointed out that the Labour PM Harold Wilson closed the local mine in Consett in 1967; it was excluded from the renationalisation programme. Labour MP Thangam Debonnaire said that it was the Conservatives who closed the mine. Not so:
Guido Fawkes said (emphasis in purple mine):
New Conservative MP for North West Durham Ric Holden wiped the floor with Labour's Thangam Debbonaire on today's Politics Live. When she claimed Consett steel works were closed by the Tories, Holden explained that it was Harold Wilson's 1967 renationalisation plan that excluded Consett. For good measure he added more coal pits closed under Wilson's governments than Thatcher's. Sounds like Holden understands his area better the metropolitan Labour MPs who occasionally make the trip up for the gala…
In July 2020, Guido posted on the Durham Miners' snub regarding their gala. Excerpts follow:
A culture war of an entirely different kind is raging in the North East as new-intake Tory MP Richard Holden has been blocked from becoming a registered Friend of the Durham Miners' Gala after a personal intervention from the head of the organisation blocking his application. In rare socialist behaviour, he at least got his money back…
A few months ago, new-intake Durham MPs made headlines when they were told by Union Secretary Alan Marghum there was "no chance" they would be welcomed and he would "rather die in a ditch" than see them turn up. Difficult to enforce given there are now more Tory voters in County Durham than Labour…
Regardless, Holden applied to become a 'Marras' — a Friend — of the parade and sent in his £24 fee.
The Chair of the group wrote to Holden, refusing his application:
It is very much a 'by the people, for the people' event and has been since 1871 when the nascent Miners' Association held the first on in the City of Durham… It is on this point I write to you personally. It was felt that you should have the opportunity to fully acquaint yourself with the founding principles of the organisation … I am returning your £24 donation (cheque enclosed).
Holden posted his disappointment on Facebook, objecting to the Chair's
high-handed and patronising prose.
He requested that his application be reconsidered:
It appears that you fail to understand that I couldn't have been elected without the widespread support of both Trade Union members and their families.
Guido mentioned the aforementioned video about Harold Wilson closing the Consett mine:
After Holden dared point out more mines were closed under Labour than the Conservatives, Guido can understand why the left-wing jamboree might want to keep his heresy away from its remaining attendees…
Holden ruffled a few feathers on Twitter with his defence of the Immigration Bill in 2020. I'm of two minds about it, particularly the preferred salary levels and education qualifications:
Returning to Consett, on Tuesday, March 8, Holden had the Adjournment Debate, opposing a new waste incineration plant in the town. Stuart Andrew, responding for the Government, pointed out that local opposition continues, so there's still a chance that Holden and his constituents will succeed:
I know that an appeal against Durham County Council's refusal of planning permission for the scheme has been lodged with the Planning Inspectorate, and there will now be a public inquiry into the proposal overseen by an independent planning inspector.
I hope they win.
Best wishes to Richard Holden in his parliamentary career.