You are currently browsing the tag archive for the 'Ireland' tag.
My post last Friday was about Liz Truss's 4,000 word essay in The Telegraph, her 49-day premiership and the support her mandate for growth subsequently received.
There is still tension among conservative and Conservative voters about the direction of Rishi Sunak's premiership, especially with Jeremy Hunt installed as Chancellor in the last days of Truss's time in No. 10. Jeremy Hunt is a man no Conservative Party member ever wanted to see in either No. 10 or No. 11 Downing Street. Since October 2022, he seems to be running the country.
Even worse, Conservative Party members were denied a vote for Truss's successor. The Parliamentary Conservative Party elected Sunak and were delighted to crown their man without input from people they consider as plebs. That said, not every Conservative MP was happy with the new Prime Minister.
Public sentiment is not in Sunak's favour, as this poll from December 19 shows. Liz had far higher ratings in September:
Guido Fawkes wrote (red emphases his):
New polling from Ipsos MORI continues to show the dire state of Rishi Sunak's party. The poll puts Labour's lead at 26%, up 7% on November, with the Conservatives' trust on the economy falling. On public trust to secure economic growth specifically, Rishi's ratings are now significantly lower than Liz Truss managed. Liz had a lead of 15% over Labour, Rishi is level.
Economic statistics paint a similar picture. The economy outperformed other months in October, registering 0.5% growth in the one month Liz was PM. It seems the public had good reason to initially back Liz's pro-growth message.
This might seem like ancient history, but Jeremy Hunt's Spring Budget is due in March. He presented his Autumn statement in November.
On November 19, Liz Truss's favourite economist Patrick Minford wrote an analysis of Hunt's budget for The Telegraph. The opening and closing paragraphs follow:
Jeremy Hunt's Autumn Statement has presented us with big tax rises and spending cuts in order to avoid a large "fiscal hole" created by the need to have the debt-to-GDP ratio falling by 2027-28 – the new "fiscal rule". But it will worsen the recession and ironically will also wreck the public finances.
In short, the Autumn Statement is a wrecking ball – worsening recession, damaging growth, degrading the long-run public finances and even raising inflationary wage costs. Commons amendments are needed to restore sanity to these plans.
He had a much better critique for non-economists on November 5. While he disapproved of Truss's and Kwasi Kwarteng's mini-Budget delivery, he wrote (purple emphases mine):
The danger now is serious. Sunak and Hunt are set on a course that will turn a stagnant economy into a shrinking one, with unemployment rising, firms folding and the quality of public services declining even more.
The whole notion of a growth agenda has tragically been rendered toxic. The track we are now on – fiscal tightening (tax rises and spending cuts) plus monetary tightening (high interest and mortgage payments) – has been tried before and invariably leads us further on to the scorched earth of more tax rises, more spending cuts and a slump in living standards.
Politically, for the Conservatives, the outlook is grim. If Sunak and Hunt press ahead in the November 17 Autumn Statement with their triple whammy of tax rises, spending cuts and higher mortgage rates, the country is unlikely to forgive them.
That same day, The Telegraph released results of an Ipsos UK poll showing that voters were deeply unhappy with Hunt's tax increases:
Tory MPs have told The Telegraph that the decision by Jeremy Hunt, the Chancellor, to raise Britain's tax burden to the highest level since the Second World War on Thursday was the "economics of a madhouse" that has made the party "more Labour than Labour".
Polling conducted for The Telegraph by Ipsos UK shows the statement has also failed to reassure voters, with almost half of the public reporting they feel more concerned about the economy and their personal finances than they did beforehand …
In the wake of the Autumn Statement, three Conservative MPs told The Telegraph they had visited constituency associations and been met with hostility from members about the tax increases.
"I had an association dinner the day after the Kwasi and Liz mini-Budget – everybody was full of enthusiasm, they were excited again, they could see ­Conservative policies coming over the hill and they were cheering," said one backbencher. In contrast, the atmosphere at a dinner following Mr Hunt's statement was "unbelievably subdued", they said. 
Jacob Rees-Mogg, the former business secretary, said: "Conservative members are fretful, I think it's fair to say. They are loyal but fretful.
"They want to support Rishi [Sunak] and they want him to do well, but they are concerned about where we are on the economy."
Sir Bill Cash, the veteran Tory MP, said there was a "sense of bewilderment by some people at seeing things brought forward that are not at all Conservative economically or politically".
Another senior Tory MP said the ­party's supporters were "furious" about the statement, which they described as "the economics of a madhouse".
"Our voters feel as if frankly we've abandoned them and that we've become more Labour than Labour," they said.
On November 20, Liam Halligan, GB News's economics editor who also writes for The Telegraph, wrote, 'The Chancellor is taking us for fools with his cynical stealth budget':
This Autumn Statement was based on a false premise: that the UK is on the brink of fiscal implosion and set to be shut out of international bond markets.
As a result, Chancellor Hunt is imposing very substantial tax rises at precisely the wrong time, which risks driving an already shrinking economy deeper into recession and undermining our public finances even more.
Hours before Jeremy Hunt stood up in the House of Commons on Thursday, the 10-year gilt yield – the annual interest the Government must pay on a new decade-long loan – was 3.14pc.
Ahead of the now notorious mini-Budget in late September, that same yield was 3.49pc ­ – considerably higher.
It's not as if Britain is so much more indebted than other comparable countries. While our national debt stands at 97pc of GDP, the figures in France, Canada and the US are 115pc, 116pc and 132pc respectively. Across the G7, only Germany has less public debt than the UK.
But prior to the measures proposed by then Prime Minister Liz Truss and her Chancellor Kwasi Kwarteng, no-one was seriously questioning the UK Government's solvency. 
They weren't before this Autumn Statement either, as illustrated by the fact that – partly because of measures Hunt already implemented since becoming Chancellor – gilt yields had fallen by a third in little more than a month.
As such, was it really necessary, in the midst of a cost-of-living crisis, to drive the tax burden even higher? Government revenue as a share of GDP – 33.1pc as recently as 2019 – is now heading for 37.1pc, the highest sustained level since World War Two.
… no other major economy is imposing sharp tax rises in the face of a slowdown.
The UK is heading "into a storm", as Hunt said. But while he attempted to come across as humane – the word "compassion" appeared five times in a speech lasting less than an hour – the Chancellor came across as rather cynical …
It's as if he thinks we are fools and won't notice we're paying much more if most headline tax rates stay put.
When Nigel Lawson introduced the 40p rate of tax in 1988, it was paid by only the highest earning 1.7 million workers. Now, those paying income tax at 40pc or more will soon number almost 8 million – a fifth of the workforce …
This is the kind of fiscal management typically associated with Labour, not the Tories. And that could turn out to be ironic – given the voter anger that will be generated as this Autumn Statement sinks in.
Meanwhile, on another front, Rishi Sunak was undoing Truss's plan for a streamlined, more controlled No. 10. 'SpAds' below means 'special advisers'. I note that Sunak's welcome into No. 10 was much more muted than Liz Truss's:
Sunak also rejected Truss's plan for more affordable childcare.
On New Year's Day 2023, The Telegraph reported:
Rishi Sunak has shelved plans for a major overhaul of the childcare system aimed at saving parents money and helping them back into work.
Liz Truss had been looking at increasing free childcare support by 20 hours a week and ending mandated staff-child ratios in what her team described as a "big bang" shake-up of the system.
But The Telegraph understands that the policy drive has been postponed indefinitely, with the scale of reforms now being considered expected to be much smaller. Any proposed changes to the rules around childcare provision are not expected for months – a much later timescale than Ms Truss's push for announcements before Christmas …
The cost of childcare is often named by MPs as a major concern for constituents, with backers of reform arguing that better, cheaper provision would allow more parents to return to work, boosting the economy.
A stark drop in the number of facilities offering childcare has been a trend for years, with an overall fall of 10,600 providers since August 2019 in England – a 14 per cent drop.
Two days later, The Times reported, 'Don't ditch my childcare reforms, Liz Truss tells Rishi Sunak'.
Here we see Conservative MP Simon Clarke appearing. He will be a Trussite force with which to be reckoned this year. He was also a Treasury minister when Sunak was Chancellor:
Liz Truss has warned Rishi Sunak not to scrap her childcare reforms amid growing frustration from Tory MPs over the "unaffordable" costs facing parents …
Supporters of Truss, including Simon Clarke, the former levelling up secretary, are among those who have publicly criticised Sunak's plans.
Truss herself is understood to disapprove of the prime minister's reluctance to embrace significant reform.
A source close to Truss told The Times: "Excessive bureaucracy is making childcare in England increasingly unaffordable for many parents. The system needs to be reformed in order to boost growth and opportunity. Junking Liz's plans for this critical policy area seems economically and politically counterproductive."
Kit Malthouse, the education secretary under Truss, urged Sunak to "push the go button as soon as possible".
"The current system is a complicated Heath-Robinson affair that means no one, parents or providers, is happy. It's fundamental for economic growth that parents are supported in work and my team and I had formed up a 'Childcare Big Bang' plan to do just that," he said …
Amid concerns from Tory MPs over the spiralling costs of childcare, the education select committee will launch an inquiry into the problem.
On January 5, The Times's Katy Balls told us more about Simon Clarke's mobilisation of Trussite MPs:
Shortly before Christmas, in a darkly lit Chinese restaurant near the Home Office, a scene played out that would alarm any government whip. There, in a corner of Ma La Sichuan, was Liz Truss, dining with three of her allies. Simon Clarke, her one-time levelling up secretary, and Ranil Jayawardena, her environment secretary, were present. They were joined by her former parliamentary private secretary Rob Butler. None of them have prospered under Rishi Sunak.
… Clarke has already opened hostilities with Rishi Sunak, pushing to overturn the ban on new onshore wind farms. He's backed by Truss and Boris Johnson. He's also setting up a new group of Tories dedicated to that Trussite watchword: growth …
The less-than-edifying circumstances of Truss's ejection from Downing Street mean that both she and members of her cabinet have been keeping largely quiet …
But as the Trussites emerge from a period of reflection, they could pose the bigger threat in an ideological fight. They did, after all, triumph over Sunak in the argument with Tory members. "These MPs haven't suddenly changed their worldview," says a former adviser to Truss. As Clarke put it in an interview with The Spectator this week, "There is a real risk that with Liz's eclipse comes the wider rejection of an entire school of Tory thinking." He warns that "a battle for the soul of the Tory party is underway".
The good news for Sunak is that as things stand, a large chunk of these MPs don't want to throw another prime minister out of Downing Street. Free market Tories in marginal seats, such as Clarke and Jacob Rees-Mogg, will be nervous about more leader volatility ahead of the next election. But they also don't want to sit back and do nothing for two years. Instead, they want to see Sunak expand his ambitions for growth across housing, childcare and work …
Clarke's new outfit — Next Generation Tories — is aimed at bringing younger voters to the party, a cause few would disagree with. But it is ultimately free market with a focus on housebuilding and planning.
Truss could join the fray next. She has hired a press chief and there are talks about the possibility of her fronting or taking a role with a think tank. Not everyone thinks it is such a great idea. "I think silence is undervalued," says a former aide …
The Truss project didn't survive long enough for her to publish her growth plan, but a draft of the eight-page document offers a taste of the kind of policies this group is likely to advocate. They include mobile phone planning reform (relaxing planning regulations to extend 5G coverage across the country) which aides predicted would cause a parliamentary row over the digging required for new cabling. On childcare, easing restrictions for childminders; on farming, slowing cuts to subsidies to give the average farmer an extra £7,000 over two years; and on immigration, removing students and temporary workers from the net migration statistics as part of a looser policy to bolster the economy.
… while some MPs undoubtedly backed Truss for careerist reasons, plenty more regard her reform pitch as the right one. "If they pick their fight well, they'll start a debate on direction," says an MP who backed Sunak.
Katy Balls, who also writes for The Spectator, revealed Truss's growth plan in the magazine on February 9. It is eminently sensible and achievable. Truss planned for much of it to be achieved in 2023. Readers may peruse it at their leisure, as there are several tables to examine.
Returning to January 2023, the Financial Times took issue with Conservative efforts to reduce the deficit. They really have moved ever leftward over the years:
It also became clear that Truss wasn't such a bad PM after all. The UK's GDP results for November 2022 were better than expected:
On January 31, The Telegraph's Tim Stanley wrote that the IMF owes Liz Truss an apology. He reminded us of their previous critique in light of their new forecast:
Conservative Greg Clark made one very good point: this is only a forecast. The IMF has been known to get those wrong.
Moreover, it's the same clever-clogs IMF that advised us not to cut tax last year that now tells us our economy is in a nosedive because we raised taxes. Somebody owes Liz Truss an apology.
The Telegraph should apologise, too, for putting words in Truss's mouth when headlining her 4,000-word essay of February 4, their grand exclusive. The problem is that people who didn't read the essay, probably among them Andrew Neil, repeated the headline:
The day after Truss's essay appeared, her Conservative Party chairman, Red Wall MP Jake Berry, told the BBC that voters in the North had enough of the status quo and wanted a new way forward, i.e. Truss's policies. Guido Fawkes has the video:
That day, Grant Shapps told the BBC that Truss's instinct to lower taxes was correct in principle, but she collided with reality. A Twitter user pointed out Shapps's error. Truss's policies would have kept the UK second only to Germany in debt-to-GDP ratio of the G7 nations:
James Dyson, the vacuum cleaner mogul, would strongly disagree with Shapps. On January 19, The Guardian recapped an article he wrote for The Telegraph in which he criticised the lack of UK growth:
The founder of the eponymous vacuum cleaner firm said "growth has become a dirty word" under the current leadership and that on current trends, the average British family will be poorer than their Polish counterpart by 2030.
Dyson, a prominent supporter of Brexit, criticised the government's "ever higher tax bills" for the private sector and regulations, saying it is imposing "tax upon tax on companies in the belief that penalising the private sector is a free win at the ballot box".
"This is as shortsighted as it is stupid," Dyson wrote in the Telegraph on Thursday. "In the global economy, companies will simply choose to transfer jobs and invest elsewhere. Our country has an illustrious history of enterprise and innovation, born of a culture which we are in the process of extinguishing. We have got through the worst of Covid, but risk wasting the recovery."
Dyson said the government's failure to get workers back to the office after the pandemic had "badly damaged the country's work ethic", arguing face-to-face interaction was important, including for the training of new and young employees. He also claimed the growth of his business, which makes vacuum cleaners, fans and hairdryers, had happened largely "despite government, rather than because of it".
However, he concluded that "it is not too late for Britain to shake off its Covid inertia" if the government acts fast. "Starting with the spring budget in March, it must incentivise private innovation and demonstrate its ambition for growth," Dyson wrote.
The government is under pressure to reduce taxes for households and businesses in the spring budget to avoid a damaging and long-lasting recession.
On Sunday, February 12, John Redwood, who has been an MP since the Thatcher years, made an appeal on Sky News for more tax cuts, beginning with corporation tax (Guido has the video):
The following day, he wrote more about it in his online diary, pointing out that high corporation tax has caused AstraZeneca to renege on future expansion in the UK. Instead, the company will be moving to Ireland:
The decision by Astra Zeneca to put a major new investment  into Ireland where they charge 15% business tax compared to our new rate of 25% shows just how stupid our high tax policy is. Instead of getting 15% of a good stream of profits over many years alongside income tax and VAT on all the well paid ,jobs they bring, the UK has settled not to have any of it. 25%  of nothing is  nothing.
The same folly is evident in the North Sea. In a rush to get a bit more revenue this year with high and erratic windfall taxes, the government has delayed or lost important investments in new gas and oil fields. Instead of generating more well paid jobs and plenty of tax revenue on the output over the next decade or two, we opt to import and to pay huge taxes away to foreign governments on all the imports. Just one of the fields not currently going ahead would generate a gross £25bn over its life, with a lot of that passing directly to the Treasury in taxes.
Ireland makes my case perfectly. With a much lower rate of business tax than us Ireland enjoys a much higher proportion of its revenues from business tax because so many businesses go there to set up an HQ and to invest in plants and offices. Ireland  has a much higher per capita national income than us thanks to all the foreign investors congregating there to create jobs and spend money. The UK should copy them with a 15% tax rate as Jeremy Hunt himself proposed last summer. We too would get more revenue and have higher per capita average incomes. Enthusiasts for the EU are always urging us to align more with our Irish neighbours. This would be a great way of doing just that.
When Margaret Thatcher and her Chancellors cut higher rate income tax from 83% to 60% and then to 40% the amount of income tax paid by the better off rose in cash terms, rose in real terms, and rose as a proportion of total income tax. What's not to like for all involved? When George Osborne drove UK corporation tax down gradually to 19%, the take from company tax went up, not down. So why do OBR and Treasury models tell Ministers any cut in tax rates will lead to a reduction in tax revenue we cannot afford? History and modern experience suggests otherwise.
Last week, economic growth continued to be a hot topic. On February 24, The Telegraph published two letters from their readers on the subject.
One reads:
SIR – For many years we have believed that we live in a rich country – one that can afford top-class services such as the NHS, social support and good roads, railways and other infrastructure, and can buy whatever food it needs from abroad rather than growing it.
Sadly this is no longer the case. Britain does not generate enough wealth to support its needs, and has been borrowing ever more to make up the shortfall. Unless we make a fundamental change and start to grow our economy, we will not be able to afford the things we think we are entitled to.
The other says:
SIR – When will the Chancellor and Prime Minister remember that taxation discourages whatever it falls on, and that, in many cases, raising tax rates leads to lower overall receipts?
… we have ended in the grotesque chaos of a Conservative government – a Conservative government – scuttling around raising corporation tax at precisely the moment it should be lowering it in order to encourage businesses to set up and invest in our economy.
Meanwhile, the wagons have been circling from both the Sunak and the pro-Boris camps.
On the Sunak side, Lee Anderson is now the Deputy Chairman of the Conservative Party and, on February 21, another Red Wall MP, Brendan Clarke-Smith, was appointed to succeed Anderson as leader of the Blue Collar Conservatives. While both will do brilliantly, is it just a cynical move from Sunak to keep Red Wall voters onside with no policy changes from Downing Street?
On the pro-Boris/Liz side of the equation, David Campbell-Bannerman, a former Conservative MEP and head of the new Conservative Democratic Organisation, says that Conservative associations across England are prepared to de-select MPs who resigned when Boris was PM so that he was himself forced to stand down. They are also angry that they voted for Liz Truss and found her similarly deposed within a few weeks.
On February 23, The Telegraph's Christopher Hope reported:
Members are particularly irked that they chose both Mr Johnson and Ms Truss, only for MPs to force out both and eventually appoint Rishi Sunak as Prime Minister. During the Conservative leadership campaign last summer, members voted by 57.4 per cent to 42.6 per cent for Ms Truss over Mr Sunak.
Last weekend Damian Green, the former de facto deputy Prime Minister under Theresa May, was not selected to fight the Weald of Kent seat at the next general election. There were reports that this was because of anger at his criticism of Mr Johnson when he was prime minister, although this was disputed by friends of Mr Green.
Scores of MPs are facing votes on whether they will stand at the next election before July 23 – known as "vesting day" in Conservative Central Office – because of a shake-up of constituency boundaries.
There were suggestions in Westminster that Sir Richard Graham, who was critical of Mr Johnson, might not be readopted by his party at a meeting of local Tories in Gloucester on Friday. Sir Richard urged Conservative colleagues to focus on defeating Labour rather than party disunity …
Mr Campbell-Bannerman, a former Conservative MEP, told The Telegraph's Chopper's Politics podcast: "I get the feel of a reckoning – MPs being held to account. MPs have caused this chaos by bringing down Boris.
"There were about 60 MPs who signed letters or resigned or said Boris should go. There's more than that, maybe 150, who didn't want Boris. I'm not saying Boris was flawless. He certainly wasn't. But look at the disaster that has followed getting rid of him. Surely they should have toughed it out, got him to improve performance?"
He added that "potentially" dozens of these MPs could now find that they are not adopted as candidates by their local parties, adding: "A lot of MPs will be coming up for selection and they will be held to account.
"I'm not advocating it, but what I'm advocating is the members have the right and the power to do this. Central Office should back off and they should be allowed to make their decisions.
"We don't have a hit list or a target list. We're not operating like that. But we support members and I think we've empowered members to take back control, to say hang on, this isn't good enough. We're not getting a good enough choice here. We want to do it our way."
He said MPs were "being held to account for plunging the party into crisis", pointing out that the Tories had plummeted in the polls.
"We've really gone down badly, due to the chaos. And you can point fingers at Liz Truss, but Liz Truss would not have been there if they had kept Boris and Rishi wouldn't be there if they had kept Boris," he added.
Good! Well said!
Liz Truss stood by Boris all the way until the end. Her South West Norfolk Conservative association awarded her with reselection for the next general election:
An indirect compliment came Liz's way from Labour's Keir Starmer. Imitation is the sincerest form of flattery. He, too, is touting a growth-led economy — for now, at least:
An exciting year lies ahead, one that will make or break either the Conservatives or Labour ahead of 2024's general election.
Gosh, what a lot of news to cover in one post.
Admittedly, a few of these items are a bit old but fit in thematically.
Theresa May U-turns on support for Scottish gender reform legislation
I wrote yesterday about former Prime Minister Theresa May's support for Scotland's Gender Recognition Reform bill on Tuesday, December 27.
Within 24 hours she had made a U-turn, thankfully, although she did it through a spokeswoman.
On Wednesday, December 28, The Times reported (emphases mine):
In the wake of the interview the BBC issued a press release which stated: "On the subject of Scotland's proposed gender recognition laws, Ms May said she was disappointed the Westminster government wasn't supporting them."
Yesterday, however, a spokeswoman for the Maidenhead MP insisted that was not the case.
"As prime minister, Theresa launched a consultation looking at gender recognition laws with the aim of providing a more sensitive approach to transgender people, but she does not agree with Nicola Sturgeon's legislation and is particularly concerned about the consequences it could have for children in Scotland and across the UK," she said.
We can but hope that the Secretary of State for Scotland does not send the legislation for Royal Assent:
Immediately after MSPs voted in favour of the legislation Alister Jack, the Scottish secretary, threatened to invoke section 35 of the Scotland Act, which allows him to prevent the legislation from receiving royal assent.
Although gender recognition is devolved to Holyrood, the Equality Act — with which the new law will interact — is reserved to Westminster.
As nearly two-thirds of Scottish voters — even SNP supporters — think this legislation is a terrible idea, Westminster can show the 'Union dividend' in being 'better off together'.
Gas futures coming down
On Thursday, December 29, The Guardian had encouraging news about the price of natural gas futures in Europe:
European gas prices have dropped back to levels seen before the Ukraine war began in February, as fears of a gas crisis this winter ease.
The month-ahead European gas future contract dropped as low as €76.78 per megawatt hour yesterday — its lowest level in 10 months, data from Refinitiv shows.
As this chart shows, gas prices have fallen back from their surge in March, and again in the summer as European countries scrambled to fill their gas storage tanks.
Prices have dropped thanks to warmer-than-normal temperatures this winter, which have limited demand for gas, after the European Union successfully filled reserves to a peak of almost 96% in November.
Consumption reduction targets have also helped to limit demand, with the EU aiming to cut its gas consumption by 15%.
Earlier this week, 83.2% of EU gas storage was filled, data from industry body Gas Infrastructure Europe shows, still above the target of 80% set for the start of November.
Traders are confident that inventories will end winter at a very comfortable level with a very low risk of falling to critically low levels, says John Kemp, energy market analyst at Reuters.
UK gas prices have also dropped back from their highs earlier this year. The day-ahead gas price closed at 155p per therm yesterday, compared with 200p/therm at the start of 2022, and over 500p/therm in August.
The UK versus the EU
All year long in Parliament we've heard that the UK is 'broken' and that we should have stayed in the EU.
Polls have been published showing that Brexit voters have buyer's remorse. Well, they shouldn't have. We are much better off outside an unelected European Commission. Furthermore, EU countries are not doing substantially better than Blighty.
France
This week, I received the latest copy of Marianne, the French newsweekly. Part of its cover story headline, referring to the state of their nation, reads:
EN PANNE
meaning, 'out of order', 'not working'.
On Wednesday this week, The Spectator had an excellent article about our neighbour: 'All is not well in Macron's France':
In 2021, both World Bank and United Nations GDP (nominal) rankings have the UK at 5th and France 7th. International Monetary Fund estimates for 2022 show India overtaking the UK to claim the 5th spot for world GDP, but with France still 7th.
One may question the reliability of GDP as a comparator, but a host of other measures regularly show France worse off than the UK. Debt to GDP ratios show France at some 115 per cent, the UK 99.6 per cent. Meanwhile the Bank for International Settlements gives France's total public and private debt (non-financial) at 351 per cent; the UK at 271 per cent.
One can rightly point to France's present day lower inflation at 7.1 per cent (EU harmonised) compared to the UK's 10.7 per cent. But as French debt statistics above show, president Emmanuel Macron began forcing down domestic inflation by subsidising prices during his 2022 presidential election campaign. French unemployment at 7.4 per cent compares unfavourably with the UK's 3.4 per cent. Meanwhile France is the highest taxed OECD and EU state, leaving little margin for manoeuvre. Her balance of payments figures are as gloomy as the UK's, together with her flat economic growth.
While Britain's position is not rosy, France's is certainly no better. That is why recent predictions in a certain European press, not least in France, taken up by British elites, that the UK was descending into terminal decline has lost all proportion. If the French press enjoy a touch of schadenfreude at the expense of the old enemy, and French politicians are glad to distract from their own problems, the willingness of much of the British middle class to swallow the same view can only be explained by ingrained cultural habit aggravated by post-Brexit resentment. Today, with Macron utterly wedded to the EU project, France for British elites is ipso facto superior to Britain. Yet France's moral state is parlous.
Since the 2022 presidential and legislative elections Macron's centrist party has no overall majority. France is stalemated and drifting towards ever more radical politics. Macron's prime minister Élisabeth Borne, unable to command a majority in the National Assembly, struggles to get her business other than by the constitutional sleight of hand of article 49,3, which guillotines parliamentary debate. With the chamber split four ways the question remains as to whether Macron will eventually dissolve parliament. Opinion polls suggest this would be a gift to Marine Le Pen's party, already the single largest opposition party with 89 seats. France might then come to replicate the present radical right Italian government.
Socially and culturally French society is far from healthy. Other than worsening violence and lawlessness in the banlieues – conveniently out of sight of English elites' visits to France – the French model of assimilation and laïcité is being tested to destruction. Official Justice Ministry statistics for July 2021 show 24.6 per cent of the prison population as foreign (double the proportion in Britain).  The French Interior Minister publicly stated this summer that, although foreigners make up 7.4 per cent of the French population, they account for 19 per cent of all delinquency nationally, and that 48 per cent of arrested delinquents in Paris are foreigners, 55 per cent in Marseille, 39 per cent in Lyon.
… The general picture is of a France far from at ease with itself. The prospect of a member of France's ethnic minorities leading the country with no fuss in the near future, as has just happened in Britain, seems impossible.
And remember the cries of 'Brexit is bad' when the Paris stock exchange overtook London's in November?
I don't recall any mea culpas from the metropolitan elite once we resumed normal service ten days later:
Guido Fawkes posted (emphases his):
The London stock market has re-overtaken Paris's after falling behind for 10 days, with a lead of $63 billion. A 2.5% rally in the value of the pound led to the improvement, and morale booster, compared to a modest 0.7% improvement for the Euro …
Germany
While Remainers in Britain's metropolitan elite moan about food inflation, our friends in Germany have experienced similar price hikes.
On October 14, September figures for the UK showed that our grocery price inflation hit an all-time high of 13.9%.
Yet, JustFood reported that Germany's grocery price inflation also reached historic highs:
Inflation levels in Germany reached their highest levels in three decades in September with food prices rising 18.7% year on year, figures show.
In a continued squeeze on consumer pockets, inflation reached 10% – its highest level since the country's reunification in 1990, the federal statistical office said.
Consumers faced the sharpest rises in edible fats and oils, which were up by 49%. Dairy products and eggs increased by 29.1%, meat and meat products 19.5% and bread and cereals 18.5%.
Month-on-month comparisons show consumers paid 1.8% more for food in September than in August, with vegetables 3.9% more expensive and dairy products up by 2.2%.
The consumer price index for food in Germany, measured against a 2015 baseline of 100, stood at 135.4 year-on-year in September, compared to 121.1 overall.
The federal statistical office said the cost of energy was leading inflation but food also played a major role, with both contributing to an overall 10% rise in prices.
Without food and energy rises in the equation, the country's inflation rate is reduced by over half to 4.6%. The prices of all goods increased by 17.2% in September 2022 compared to 2021, but the prices of non-durable consumer goods, which include food and energy, increased by 23.3%.
We cannot blame German inflation on Brexit. As Conservative ministers rightly say at the despatch box, inflation is up all over Europe and the West.
UK to relax egg rules to line up with EU
Another thing we hear from Remainers, especially in the Houses of Parliament, is that British food regulations are weaker than the EU's!
Nothing could be further from the truth! Our food standards have been higher than the EU's for decades.
Anyone wanting up-to-date proof can read an article in Wednesday's Guardian — 'UK free-range egg rules could be relaxed in line with EU for avian flu outbreaks':
Free-range egg rules in the UK could be relaxed in response to the European Union preparing to overhaul regulations after the biggest avian flu outbreak on record.
Ministers are understood to be considering a change to the rules that would mean eggs laid by hens kept in barns for months on end could be classed as free range.
Currently, eggs cannot be classed as free range if birds are indoors for more than 16 weeks. Farmers have that grace period in both the EU and UK, which means eggs can still be labelled as free-range if a government-issued housing order for birds is in place up to 16 weeks.
Subsequently, labels need to be added to packaging making it clear that those are now classified as barn eggs.
Whitehall sources told the Daily Telegraph that the Department for Environment, Food and Rural Affairs (Defra) is considering changing the regulations in order to keep farmers competitive with Europe …
The European Commission put forward a proposal in September, which stated "where temporary restrictions have been imposed on the basis of EU legislation, eggs may be marketed as 'free-range' notwithstanding that restriction".
The proposal, which is awaiting approval by the European parliament, means eggs could be classed as free range even if hens are forced to spend months indoors due to government rulings.
In September, egg producers in the UK said it was essential that the government now followed suit to avoid British suppliers being undercut by EU imports.
Climate change
Climate change sceptics will be on the right side of history in time.
Guido Fawkes's readers posted about deforestation in this post.
One chap posted an article about the increasing need for balsa wood from Latin and South America for blades on wind farms. Apparently, indigenous communities have not been consulted: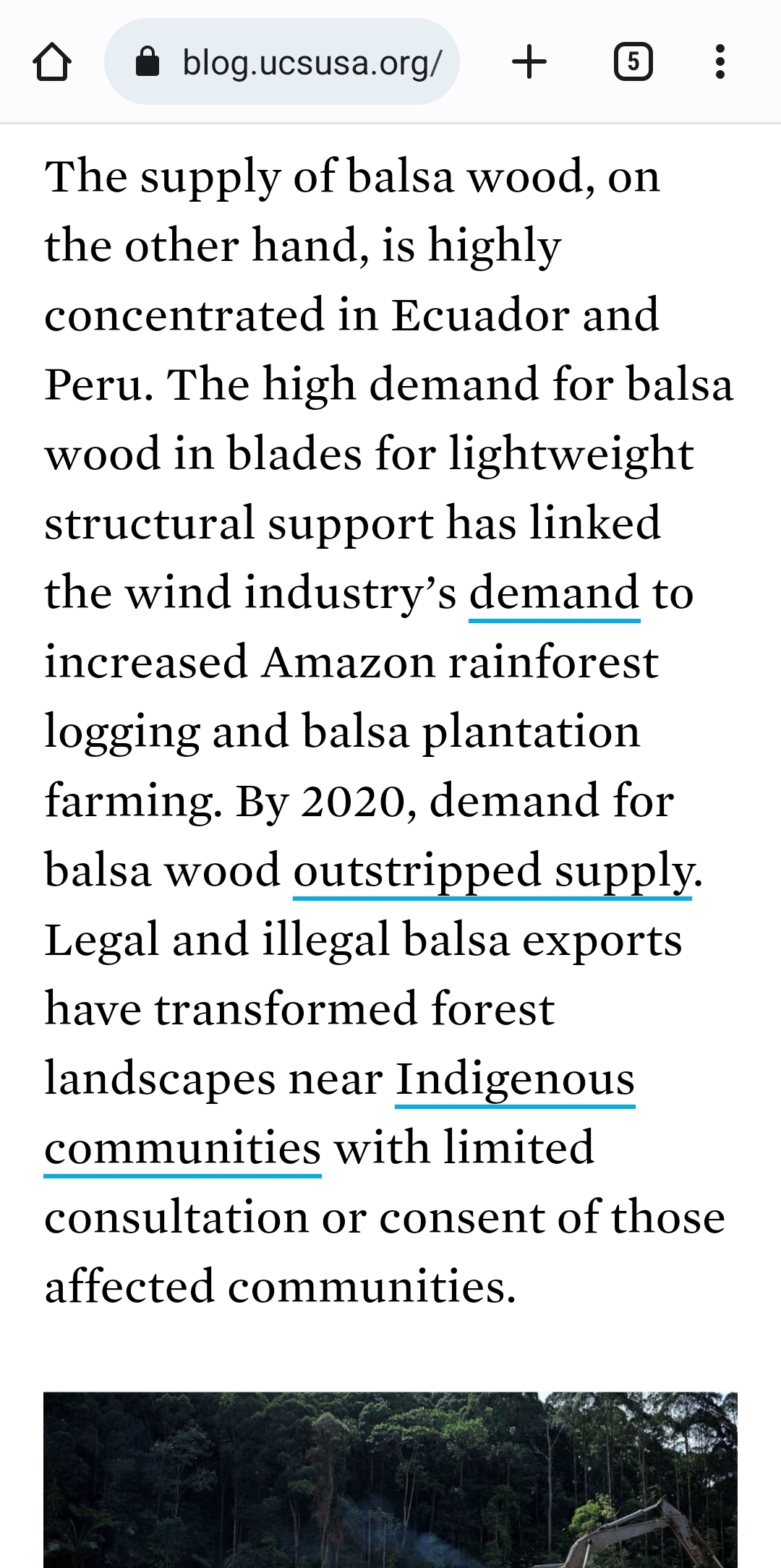 The article continues, stating that some companies are switching from balsa to oil byproducts, such as PET and PVC, or to cellulose: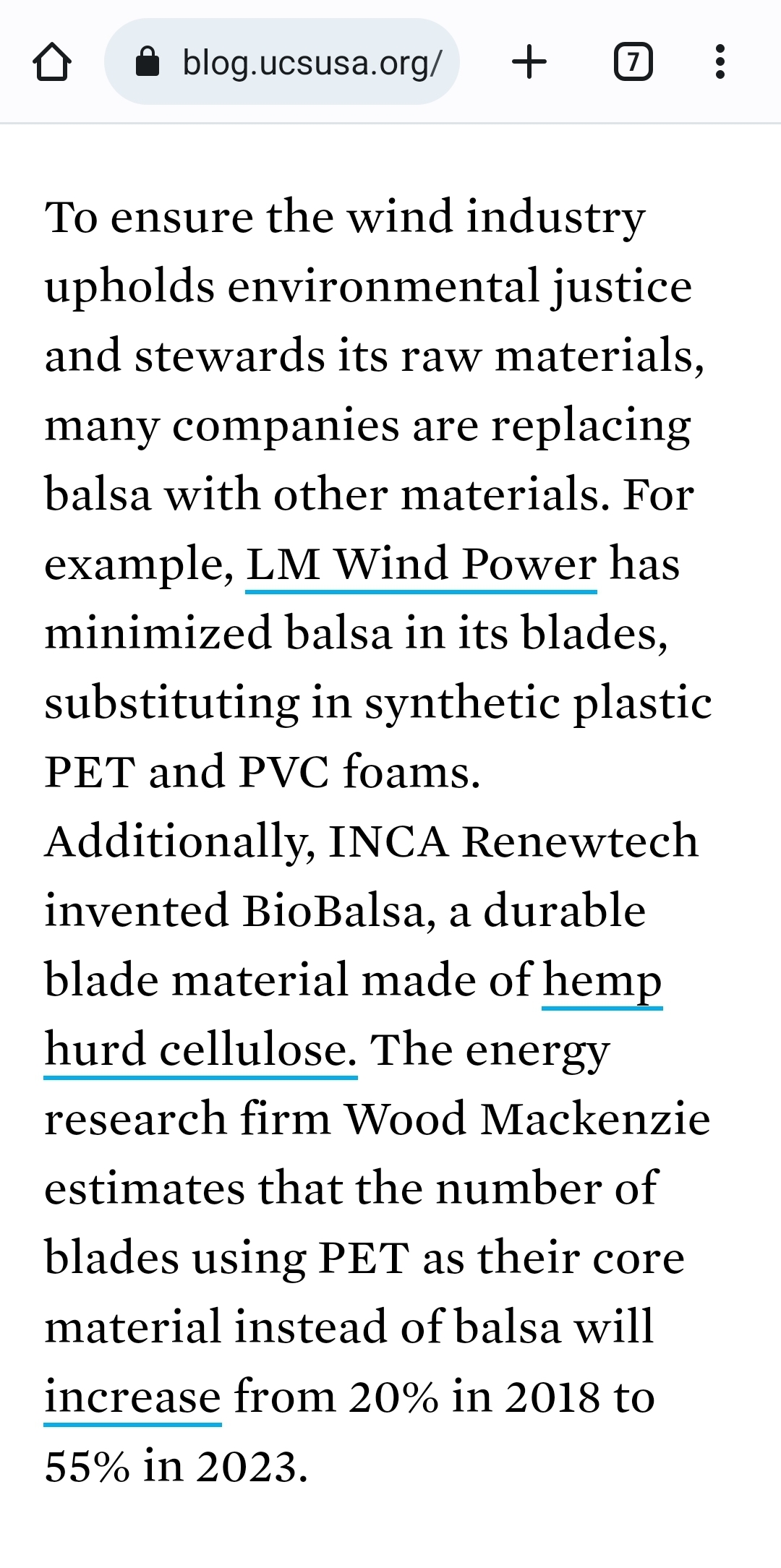 The man who posted the article pointed out:
BALSA is being replaced with PET and PVC (yep- crude oil) but are also experimenting with cellulose– which needs highly toxic chemicals to make.
Someone responded with this:
Synthetic PET usually uses food starch as a replacement for oil based derivatives. These divert food crops away from human and livestock consumption. They also encourage the use of GM crops and pesticides.
PVC production creates sodium chloride, which is a cause of acid rain.
The eco loons really didn't think this through.
Ultimately:
The eco l00ns NEVER think anything through.
And they hope we won't notice.
It's part of the reason why 'climate science is settled' and they refuse to debate.
You know how it goes.
Fracking bad – mining cobalt (even using young children) good.
You flying -bad- them flying- good.
On a similar note, an UnHerd article laments the loss of the hearth in 'Firewood will save the West'. The author, Paul Kingsnorth, lives in Ireland and has his firewood delivered to his home:
The Irish government is currently campaigning against households which burn turf or wood, the former on the grounds of CO2 emissions, and the latter on the grounds of air quality. As ever, the campaign is driven from Dublin, and mostly takes Dublin sensibilities into account. Rural households in Ireland have been burning turf and wood forever, with little significant impact on "air quality" — or at least, no impact comparable to that which Ireland's "Celtic Tiger" modernisation has had. Suddenly, though, the media is full of scientists armed with studies demonstrating how getting a fire going in your cottage in winter will lead to cancer and lung disease on a widespread scale.
That is nonsense. Until recently, Man had been surrounded by smoke for millennia.
Essentially, the Irish government, in line with other Western governments, wants to do away with fireplaces:
This new tilt against household fireplaces is not just an Irish phenomenon: it is suddenly popping up everywhere. Woodstoves are, curiously, becoming the number one air pollution villain. Never mind mass car use, accelerating air travel or industrial pollution. Never mind the emissions caused by the massive increase in Internet server farms, which within just a few years could be using up an astonishing 70% of this country's electricity. These days, if you want to demonstrate your social responsibility, you should be all aboard with the abolition of the traditional fireplace and its replacement with "green" alternatives.
He explains that the home hearth has been not only traditional but also atavistic throughout mankind's history. He cites the philosophical polymath John Michell (1933-2009):
The fireplace, whether our dessicated urban authorities know it or not, has a primal meaning, even in a world as divorced as ours from its roots and from the land.
In his short essay "Fireside Wisdom", the uncategorisable John Michell suggested that the "displacement of the hearth or fireplace" from the home was one of the many reasons for the craziness of the modern world which his life had been spent playfully exploring. The fireplace at the centre of the home, he wrote, was both an ancient practicality and a device of "cosmological significance" across cultures and time: "Conversation is directed into the fire while dreams and images are drawn out of it."
In the past, the act of sitting staring into the smoky fire with family or neighbours was the genesis of the folk tale and folk song which tied the culture together. Now we stare at digital fires hemmed into boxes manufactured by distant corporations who also tell us our stories. No song we can dream up around a real fireplace can compete with what these boxed fires can sell us. "Thus," wrote Michell, "the traditional cosmology is no longer represented by its domestic symbols, and a new, secular, restless, uncentred world-view has taken its place."
Focus, Michell explained, is "the Latin name for the central fireplace. The fire not only warms but, as a symbol, illuminates the corresponding images of a centre to each of our own beings and of a world-centre which is divine, eternal and unchanging." Lose your fires, and you literally lose your focus as a culture. In this context, a government spokesman telling his population, as one minister here recently did, that they should "get over" their "nostalgic" attachment to the hearth fire and install ground source heat pumps instead is more than just a nod to efficiency. It is an assault on what remains of the home and its meaning. It is an attack on the cultural — even the divine — centre.
Paul Kingsnorth posits that each move away from self-sufficiency, e.g. using one's own fireplace, puts us more under the control of government:
When you can no longer grow your own wood or cut your own turf to heat your own parlour, you are made that little bit more dependent on the matrix of government, technology and commerce that has sought to transmute self-sufficiency into bondage since the time of the Luddites. The justification for this attack on family and community sufficiency changes with the times — in 17th-century England, the enclosures were justified by the need for agricultural efficiency; today they are justified by the need for energy efficiency — but the attack is always of the same nature. Each blow struck against local self-sufficiency, pride and love of place weaves another thread into the pattern which has been developing for centuries, and which is almost complete now in most affluent countries …
In my lifetime, in my part of the world, the notion and meaning of "home" has steadily crumbled under external pressure until it is little more than a word. The ideal (post)modern home is a dormitory, probably owned by a landlord or a bank, in which two or more people of varying ages and degrees of biological relationship sleep when they're not out being employed by a corporation, or educated by the state in preparation for being employed by a corporation. The home's needs are met through pushing buttons, swiping screens or buying-in everything from food to furniture; for who has time for anything else, or has been taught the skills to do otherwise?
He refers to a 1980 manuscript, 'Family Work', by the American essayist Wendell Berry:
Like so much of Berry's work, it locates the centrepoint of human society in the home, and explains many of the failures of contemporary Western — specifically American — society as a neglect of that truth. The home, to Wendell Berry, is the place where the real stuff of life happens, or should: the coming-together of man and woman in partnership; the passing-down of skills and stories from elders; the raising and educating of children; the growing, cooking, storing and eating of food; the learning of practical skills, from construction to repair, tool-making to sewing; the conjuration of story and song around the fire …
Even back in 1980, Berry recognised that the home had become an "ideal" rather than a practical reality — precisely because the reality had been placed out of reach for many. What killed the home? Three things, said Berry: cars, mass media and public education. The first meant that both work and leisure could, for the first time in history, happen a long way from home. The second — "TV and other media" — have played a role, since the mid-20th century, in luring us all into a fantasy world of freedom from obligation, and a limitless, fun consumer lifestyle. "If you have a TV," writes Berry, "your children will be subjected almost from the cradle to an overwhelming insinuation that all worth experiencing is somewhere else and that all worth having must be bought." Finally, the school system is designed "to keep children away from the home as much as possible. Parents want their children kept out of their hair." Schools exist to train children to fit into individualistic, consumer societies; to internalise and normalise their ethics and goals, and to prepare for a life serving their needs.
I have to disagree with his disparagement of television, as my better half and I watch a lot of French programmes, food shows in particular. For us, it is a window into a culture we love very much. Were it not for television, we would have to visit France in person much more often. As it is, we can experience France from our sitting room and perfect our language skills while learning more about the world's finest cuisine.
Berry's solution is to make the home a welcoming, peaceful place for everyone living there:
… he suggested that we should "try to make our homes centres of attention and interest"; to make them as productive and nurturing as we can … you will see new possibilities begin to open up. You will see, in Berry's words, that "no life and no place is destitute; all have possibilities of productivity and pleasure, rest and work, solitude and conviviality that belong particularly to themselves", whether in the country, the city or the suburb. "All that is necessary," he suggests, is "the time and the inner quietness to look for them."
Television is a good thing
On the subject of television, a 104-year-old Australian woman told her grandson that it was probably the greatest development in her lifetime.
Lewis Isaacs wrote her story for The Guardian: 'My 104-year-old Nan's secret to a long life':
A life as long as hers can be hard to comprehend. Asked what the biggest change to the world she'd seen across her life was, Nan replied that it was television. Life when she grew up rarely extended past her suburb. Television connected the living room to the world.
How true! Well said, Nan!
The article has family photographs, too.
So what is Coral Isaacs's secret to longevity?
She says it comes down to genetics and finding the right partner. She was widowed more than 30 years ago and says the life she built with my Pop has supported her since. It helps to remember your pills, she adds, and to get up, shower and make your bed every day.
I suspect the truth about her endurance is something different though. Nan is determined to keep her eyes focused on the future. Even when the days are hard, she still looks forward.
I was hoping she would mention smoking a crafty cigarette or enjoying a daily digestif, but, sadly, no.
Churchill's cigar goes on sale
For a smoking story, we had to go to an auction house.
On Thursday, December 29, The Times reported that one of Winston Churchill's cigars is expected to fetch £3,000 at auction:
The former prime minister gave the Cuban cigar to an RAF doctor who helped him when he broke his leg in 1962.
The doctor's grandson has put the rare cigar up for sale with Hansons Auctioneers, which said it would be an "impressive item" for any Churchill collector. Charles Hanson, the owner, said: "We occasionally see Churchill cigar stubs that people have picked up after he dropped them. But to gain a whole cigar in such pristine condition, given as a gift in unusual circumstances, is special."
Churchill, who died in 1965 aged 90, was a lifelong smoker. While he was at boarding school, his mother learnt he had taken up smoking cigarettes and tried to bribe him to stop by promising him a pistol and a pony.
He switched to cigars after spending time in Cuba after his graduation from Sandhurst military academy, and friends, dealers and associates sent him regular deliveries of cigars from then on.
The circumstances are most Churchillian:
The auction house said the cigar under auction was given to an RAF squadron leader, Bertram AJ Barrow. Churchill fractured his femur while getting out of his bed at the Hotel de Paris in Monte Carlo, and was flown back to London on an RAF plane while in a waist-to-ankle plaster cast.
Barrow, the leader of the medical team, plucked up the courage to ask Churchill for one of his famous cigars.
For decades the treasured cigar was kept in a bedside drawer, but will now go under the hammer at on January 9 with an estimate of £2,000 to £3,000.
Barrow's grandson, Thomas Barrow, 33, an employment law adviser from London, said: "Bertram asked for a cigar as a keepsake, and Churchill advised that he could have 'one that he had been saving' — which was Cuban and still in its glass case."
What a story!
Conclusion
As my later grandmother-in-law, a lifelong Londoner, was fond of saying:
The old ways are the best.
I couldn't agree more.
Let's try to recapture them in 2023.
To our modern minds, the Victorian Era probably seems un-democratic.
Yet, it was a time of great transformation in the United Kingdom, from labour legislation to public transport  — and even food.
One man at the vanguard of improving basic nutrition and gustatory enjoyment for everyone during this time was none other than the French chef Alexis Soyer (1810-1858).
Soyer began his British career in London, cooking for the great and the good at the Reform Club, immortalised by Jules Verne in Around the World in Eighty Days. He then turned his attention to the culinary needs of the poor and of infantrymen.
Dr Marjie Bloy, Senior Research Fellow for the Victorian Web, tells us more about this remarkable man:
Alexis Benoît Soyer was born on 4 February 1810 at Meaux-en-Brie on the Marne in France. He was the youngest son of Emery Roch Alexis Soyer, a grocer, and his wife Marie Chamberlan. The couple had five sons: Alexis was the youngest. However two of the sons — Paul and Rene — died. When Alexis was born, Marie thought he was a blessing, therefore she wanted him to enter the Church. However, he did not choose that calling in life.
Early in his career he worked outside of Paris, near Versailles, then progressed to the capital. By the time he was 20 years old in 1830, he was second cook in the French Foreign Office.
He left France in June that year because of a second French revolution and moved to England where he worked for British nobility in and near London:
… in 1831 he accepted employment in the London kitchen of the Duke of Cambridge. Subsequently he worked for the Duke of Sutherland, the Marquis of Waterford, William Lloyd of Aston Hall, Oswestry, and the Marquis of Ailsa at Isleworth.
In 1837, he began working for the Reform Club in the heart of London. On the occasion of Queen Victoria's coronation, he prepared a breakfast for 2,000 guests at the Club.
In 1847, Soyer wrote several letters to the editor about the Irish Famine. Ireland was part of the United Kingdom at the time. The British government appointed him to go to Dublin:
where he built and opened kitchens from where he sold soup and meat at half the usual cost. While there, he published a sixpenny book, Soyer's Charitable Cookery, giving part of the proceeds to various charities.
In 1855, he wrote another budget recipe book, A Shilling Cookery Book for the People:
In 1849, he invented his 'magic stove', which he took to Crimea with him in 1855. The British Army used the 'Soyer Stove' until 1982:
The success of his portable stove and utensils prompted him to resign from the Reform Club in May 1850. At that time, his salary and fees amounted to a very healthy £1,000 per annum. In May 1851, he opened a restaurant in Gore House, Kensington. While he had many customers, especially during the Great Exhibition in Hyde Park, the restaurant closed with losses of £7,000.
On February 2, 1855, he wrote to The Times announcing that he was going to Crimea at his own expense to offer advice on cooking for the infantrymen fighting there (emphases mine):
He began by revising the diet sheets for the hospitals at Scutari and Constantinople. In two visits to Balaklava he, Florence Nightingale and the medical staff reorganised the provisioning of the hospitals; he also began to cook for the fourth division of the army.
When he returned to London, he shared what he learned in Crimea:
On 3 May 1857 he returned to London, and on 18 March 1858 he lectured at the United Service Institution on cooking for the army and navy. He also built a model kitchen at the Wellington Barracks, London.
He also wrote two cookery books for military use, one of which was published posthumously:
Soyer's Culinary Campaign (1857) and Instructions for Military Hospitals (1860).
Soyer devoted his adult life to the British and, as such, is buried in London:
He died on 5 August 1858 at St. John's Wood, London and was buried on 11 August in Kensal Green cemetery.
He certainly had a public relations touch. The subtitle to A Shilling Cookery Book for the People is:
Embracing an entirely new system of plain cookery and domestic economy.
Soyer was predeceased by his English wife, Elizabeth Emma Soyer, an oil painter whose interests included the abolition of slavery. She died while pregnant in 1842. Soyer erected a large memorial monument to her in Kensal Green Cemetery. Her paintings were displayed in London and in Paris, where her art was highly esteemed. Her portrait of her husband remains in the Reform Club's collection.
Last week, I posted the first part of my defence of a constitutional monarchy.
Today's post concludes that defence of the UK's system of government, the Queen being our Head of State.
Longest reigning monarch?
Since I wrote the first part of this series, the Queen became one of the world's longest-serving monarchs.
On June 12, 2022, the Mail on Sunday reported (emphases mine):
The Queen has reached an incredible new milestone after becoming the world's second longest reigning monarch.
Her Majesty, 96, will overtake Thailand's King Bhumibol Adulyadej, who reigned for 70 years and 126 days between 1946 and 2016, from today.
Earlier this month, the Queen surpassed Johan II of Liechtenstein, who reigned for 70 years and 91 days, until his death in February 1929. 
Louis XIV of France remains the longest-reigning monarch, with a 72-year and 110-day reign from 1643 until 1715, while the Queen's stint on the throne now stands at 70 years and 126 days, equal to King Bhumibol Adulyadej's.
The milestone comes as Her Majesty celebrated her Platinum Jubilee last week, with four days of parades, street parties, and other events, after officially reaching the milestone on February 6 this year.
But — and it's a BIG BUT — two days later, on June 14, the Daily Mail posted an article proclaiming, 'Queen is the world's longest actively reigning monarch, royal expert claims':
Although it's widely reported she holds little interest in breaking records, her astonishing reign would only be beaten in length by King Louis XIV of France.
Known as Louis the Great, the French ruler became king at the tender age of four following the death of his father Louis XIII, and he ruled from 14 May 1643 to 1 September 1715.
According to the record books, only Louis XIV, or 'The Sun King', ruled for longer than the Queen.
But royal biographer Hugo Vickers says Her Majesty may be able to lay claim to being the world's longest actively serving monarch by virtue of the fact the French monarch did not fully ascend the throne when he was aged four.
Although he was crowned King Louis XIV from May 1643, he technically served under his mother Queen Anne's regency for eight years, owing to his tender age. 
In a letter sent to the Times, Mr Vickers writes: 'In Louis XIV's reign, there was a regency between May 14, 1643, and September 7, 1651, until he reached the age of 13.
'Hence, while he may have been king the longest, our Queen is unquestionably the longest actively reigning monarch in the world.'
Sour republicanism
Republicans, i.e. anti-monarchists, are a dour lot.
Cromwell had Charles I beheaded and banned Christmas celebrations, so it was a relief when, after England's Civil War, Charles II ascended the throne in 1660. That period in British history is called the Restoration.
The anniversary of the Restoration is on May 29:
Maypoles, music and gaiety were also banned. The Calvinistic Puritans were the Taliban of their time.
Like the Taliban, they ruled for the people's 'own good':
The article that barrister Francis Hoar cites says, in part:
The seventeenth century Puritans did not impose their austere rules purely for the sake of it … Their banning of Maypoles and Christmas and football was ultimately about top-down, rationalistic social control to the end of spiritual and ethical purity, an attempt to eliminate anything untidy, spontaneous, and in particular to impose their own (extremely unpopular) ideas within the cultural and social vacuum thereby created.
Moving to the present day, in 1977, pundits predicted that few in Britain cared about the Queen's Silver Jubilee, especially with the Sex Pistols' caustic God Save the Queen being banned from the airwaves but purchased in record stores such that the single sold out.
Columnist Rod Liddle remembered the mood well. That year, he, too, was caught up in punk and republicanism. On June 5, 2022, he wrote an article for The Sunday Times: 'As a teenage punk, I sneered at the Queen. Sadly, the music is almost over':
I enjoyed the Queen's Silver Jubilee immensely, shouting out horrible things about our monarch on stage with my punk band at a "Stuff the Jubilee" gig in a pleasant suburb of Middlesbrough. We were in a tent, erected with great magnanimity by the organisers slap bang in the middle of the proper, official Silver Jubilee celebration, with its stalls of cakes and beer wagons and plates bearing pictures of her Maj.
It may have been HM's Silver Jubilee, but 1977 was also the year of punk, even if its impact on the charts was marginal. It is often suggested that punk was a left-wing phenomenon, but in truth it was far from it — even if one or two of the bands, such as the Clash, later proclaimed their left-wing credentials for the benefit of the very liberal hippy music press. In truth, punk at its core was energetically poujadist. It was lower-middle-class kids who were tired of, or bored with, the sclerotic institutions in our country — the big record companies, the civil service, the BBC, the aristocracy and so on.
It was individualistic, not communitarian. It had no great quarrel with capitalism, only with capitalism done badly. It saw Great Britain as stagnating and it wanted change. It had no time for the unions either — it was the unions that boycotted the pressing of the Sex Pistols' second single, God Save the Queen.
The Queen represented continuity, much as did Jim Callaghan's hobbled government. We didn't want that and nor did the newish leader of the opposition [Margaret Thatcher], who was also lower middle class, despised outdated institutions such as the trade unions and the BBC, and was for individualism …
As for 2022, with age, Liddle has had a change of heart:
This weekend's celebrations are very different. Never before have we craved continuity quite as much as we do now, faced with an array of existential threats from which you can take your pick as to which is the most pressing: newly belligerent Russia, China's quest for world domination, radical Islam, climate change, weird viruses …
Under a lesser monarch our disaffection with the royal institution — and, as a corollary, with our own history as a nation — might have spilt over long before. But she ruled with a dignity, duty and dexterity that precluded such an eventuality.
I wish I'd remembered, while standing on stage in that tent 45 years ago, the words of an old hippy: "Don't it always seem to go that you don't know what you've got 'til it's gone."
Returning to 1977, in a retrospective for the Queen's Platinum Jubilee, The Telegraph pointed out that people turned out in the millions to celebrate her Silver Jubilee, proving that republicanism was as unpopular then as it is now:
Elizabeth II has demonstrated that, in fact, the monarchs do possess a power: an unactivated power, one that a partisan, career-politician president would hastily trigger – and divide us – but which the Queen handles judiciously. She uses the authority of her office to carry out and promote public duty. And, refreshingly, she simply gets on with things – no grumbling, no complaint.
When the country celebrated her Silver Jubilee, in 1977, the cynics predicted a washout: what was the relevance of royalty in an age of strikes and national decline, they asked? In the end, one republican rally, on Blackheath, attracted just five people and was cancelled. Millions turned out to celebrate the Queen, with such passion that it surprised even her: I had "no idea", she told a lady in waiting, that the people valued her so much.
On May 30, 2022, the left-wing New Statesman tried to rally its readers around republicanism, but the magazine's Twitter thread was unimpressive:
The magazine suggests eco-warrior David Attenborough as someone around whom we could all rally — heaven forfend! Ugh!
There can never be a charismatic republican leader, because that is an oxymoron.
And, no, we can't have Boris, either. Although he's probably not much of a republican, when he was a boy, he announced to his family:
he would be "world king" one day. 
On Friday, June 3, some broadcasters picked up booing outside of St Paul's Cathedral as he and his wife arrived for the Queen's Service of Thanksgiving:
Boris was booed only on one side of the cathedral's exterior. This is why the BBC did not pick up the sound on the day, whereas some other networks did. It depended on where their film and sound crews were located:
The culprit was a Frenchman:
I do hope that M. Jacquemin did not have the bad grace to take advantage of Boris's Special Status scheme, granting — to as many EU citizens as cared to apply — official leave to remain in the United Kingdom post-Brexit.
Finally, let none of us think that doing away with the British monarchy will resolve child poverty — or even pay for the NHS:
All we would get would be President Blair — UGH:
How awful that would be.
Ireland loves our Queen
Given Britain's fractious relationship over the centuries which caused the Emerald Isle to achieve independence in 1921, one would expect that the Irish would want no further reminders of the monarch.
In another retrospective for the Platinum Jubilee, The Times published a series of historic milestones about the Queen.
Regarding an independent Ireland, the article says:
Northern Ireland has been a key feature of her reign, during which the Troubles have erupted, calmed and simmered. This conflict hit close to home in 1979 with the IRA's murder of her cousin, Earl Mountbatten of Burma. Time heals many wounds but forgiveness is a choice. So it was, in 2012, she shook the hand of Martin McGuinness, the former IRA man who was then deputy first minister in the province. Queen or not, it was an act of which many would not have been capable.
It came as a direct consequence of her successful state visit to Ireland the year before, the first by a reigning British monarch since independence. The events were examples of where she has perhaps done her greatest work: as a stateswoman.
The Irish were indeed delighted to have the Queen visit in 2011. A 2010 article from the Irish Independent reported that many towns and villages requested that she pay them a visit:
THE British Ambassador to Ireland has revealed he has received dozens of letters from towns and villages across the country inviting Queen Elizabeth to various events.
As speculation grows over a visit by the British monarch, the ambassador Julian King said his government was committed to a visit.
He said he was encouraged by the response among Irish people. Mr King was speaking to reporters in Muckross House during a visit to Killarney, Co Kerry, after accepting an invitation from the chairman of the board of trustees, Marcus Treacy.
Her popularity in Ireland continues. On her Platinum Jubilee weekend, an Irish poll showed that the Queen was more popular than past or present Irish presidents. The Queen scored a 50% approval rating compared to everyone else who scored 40+ per cent or lower.
Unfortunately, this clip from Mark Steyn's GB News show doesn't show the poll graphic, but the aforementioned Royal expert Hugo Vickers explained the Queen's enduring popularity and the hope he has for her successor:
The enduring Commonwealth
The Queen is credited for creating the Commonwealth of Nations affiliated with Britain and/or the Crown.
Any of these nations can pull out of the Commonwealth voluntarily. Neither the Queen nor the British Government can forbid them from doing so.
Australia is once again considering renouncing the Queen as their Head of State. However, we must remember that they have important ties with China that might be persuading them in that direction. The same is happening in the West Indies. Money talks.
Similarly, a nation that has not been part of the British Empire may apply successfully to become a member of the Commonwealth. Rwanda is one such country. It was originally a Belgian trust territory that had been a German colony until the First World War.
A nation can also leave the Commonwealth and rejoin at a later date. The Gambia left in 2013 and rejoined in 2018.
In November 2021, Barbados removed the Queen as its head of state but remains a Commonwealth member.
A Forbes article from December 2021 explains the permutations of this group of nations:
… Queen Elizabeth II currently serves as the Head of State of Antigua and Barbuda, Australia, Bahamas, Belize, Canada, Grenada, Jamaica, New Zealand, Papua New Guinea, Saint Kitts and Nevis, Saint Lucia, Saint Vincent and the Grenadines, Solomon Islands and Tuvalu.
These Queen-led nations are known as "Commonwealth Realms," which are distinct from the broader 54-nation Commonwealth of nations that have some connection to Great Britain, but do not necessarily have the Queen as Head of State.
The Queen's role as Head of State is largely ceremonial, and she is represented in each country by a governor-general who carries out the Queen's day-to-day duties.
In addition to Barbados:
The last country to remove the Queen as Head of State was Mauritius in 1992, and other Caribbean countries that have removed the Queen are Guyana, Trinidad and Tobago and Dominica, which all removed the Queen in the 1970s.
Participation in the Commonwealth is voluntary, and in response to Barbados's decision to remove the Queen, Buckingham Palace said in a statement: "This is a matter for the government and people of Barbados."
Monarchy — an eminently sensible way forward
The Revd Marcus Walker, whose thoughts have graced my 'What's on Anglican priests' minds' series, wrote a thoughtful piece for The Critic this month.
In it, he points to the great strengths of the British monarchy:
He begins by giving us the sour republican narrative:
The State Opening of Parliament last month saw three narratives promulgated at the same time by very different people, all of which (deliberately or not) betray a fundamental lack of understanding of monarchy.
The first, by the Left, saw an attempt to heap ridicule on the rituals of the ceremony: of the procession of the Imperial State Crown, of the uniforms worn by those involved.
The second, by a more centrist kind of commentator, asked whether it was fair or just to have as our Head of State a woman of 96 who is no longer able physically to take part in major ceremonies.
The third, by the pro-Putin end of the Right, saw continued attacks on Prince Charles, whom they seem to have anathematised because he likes the environment. The political categorisation is a tad crude, and I'm sure you've seen overt and covert republicans using all of these lines over the last few years.
He explains why those narratives are so misguided:
What's interesting about these attacks is that they unintentionally highlight the strength of monarchy, not its weakness. The ritual is not meaningless; it unveils layers of history. The Commons slamming the door in the face of Black Rod tells of the struggles between Parliament and the King which have been settled in our constitutional framework of the Crown in Parliament.
The Crown has the history of the nation woven into it, bearing within its frame St Edward the Confessor's sapphire, the Black Prince's ruby, the Stuart sapphire, and the Cullinan diamond.
Each tells a little bit of the past that brought us to today. In the chamber we have elected parliamentarians, peers, senior judges, bishops: an interweaving of the different perspectives and professions which collectively set the political culture. This will change over the years as the nation changes, and this too will be good.
Ritual is not empty; it tells a story, and all nations have their rituals and their stories. If you are embarrassed by monarchical ritual, I caution you not to cross the Channel and find yourself in Paris for Bastille Day or Moscow for Victory Day. Losing your monarch does not remove your need for ritual and story. What you lose, though, is an embodiment of that story.
He asks us to consider the life cycle that the monarchy represents. A life cycle is something all of us can understand and appreciate:
The human realities of life, death, love, marriage, childbirth (and betrayal, hurt, and divorce) are at the core of the strength of monarchy. They are experiences we all share.
Monarchy, no matter how set-up in trappings of ritual, is a profoundly human institution. Its rhythms are human, as are its failings …
So why not be rid of the Crown and its rituals? Because they hold the space at the centre of our national life, preventing it from being held by a politician. No Trumps for us, no preening Macrons, no sour-faced Putins, no German Steinmeier with his terrible legacy of appeasing Russia. The centre holds, while the political world swirls around it.
Over this month we will be celebrating the Queen's personal achievements across her 70-year reign, but we will also be celebrating the institution which she has embodied these many years, and doing so by marking in great state that most natural and human of all things: the passing of time.
I will have more on how society has changed over the past 70 years next week and how the Queen has adapted to those changes during her marvellous reign.
On Sunday, January 16, 2022, the Republic of Ireland commemorated its centenary:
The handover by the British to the Irish Provisional Government in 1922 was a low-key affair and not as portrayed in the film Michael Collins, as the Irish state broadcaster RTÉ explains (emphases mine):
In 1922, the handover took place barely a week after the Dáil [Parliament] voted to ratify the Anglo-Irish Treaty. It was a low-key procedure behind closed doors in Dublin Castle.
The popular image of the handover, as depicted in the film 'Michael Collins' – a formal ceremony in the Castle's Upper Yard, troops from both armies on parade as the Union Jack is lowered and the Tricolour raised, Michael Collins in uniform – is fiction. No such ceremony ever happened.
The British had no interest in providing images for the world's media of their withdrawal, and the Irish had too much to do to waste time and men on a formal ceremony.
Instead, what took place was far more mundane.
There was even uncertainty in the days immediately before the Handover, as to what, if anything, was planned at the Castle.
Members of the incoming Irish Provisional Government, led by its Chairman Michael Collins, left their base in the Mansion House early on the afternoon of Monday 16 January. Their schedule called for them to be back at the Mansion House for a full Cabinet meeting at 4pm.
They left for Dublin Castle in three taxis.
Crowds had gathered in anticipation of something happening. Barbed wire barricades were taken down by the British Army, the world's media filled the Lower Yard, alongside British Service personnel and the families of Castle officials.
The Irish party arrived ahead of schedule and went straight inside.
In the Privy Council Chamber, they were met by Lord FitzAlan, the Lord Lieutenant. He congratulated them, told them they were now duly installed as the Provisional Government, and the transfer of power would take place without delay.
A form of words was agreed to allow the new government begin work immediately, before the formal legal transfer of powers.
It was all over by 2.30pm. The new Irish Government Ministers returned to the Mansion House, for their scheduled Cabinet meeting. Which began exactly on time.
The Handover at Dublin Castle established two facts, that the British were on their way out of Ireland, and the Provisional Irish Government was now in power.
Congratulations to the Republic. Slainté for the next 100 years.
As I wrote last week, the fawning media coverage of Prince Philip's death, especially by the BBC, was appalling in its hypocrisy.
They were rarely nice and respectful to him during his long life. It was disgusting to see BBC reporters suddenly in black, notionally fighting back tears. For decades, they and other media outlets treated this man terribly, so much so that, for many years, I wondered why the Queen had married the Prince. No one I knew could explain why. Eventually, I had to do my own research to learn more about him.
Re media knavery, here's a case in point. In 2019, the BBC's veteran radio presenter and, more recently, host of Mastermind, John Humphreys told of his slanging match with Prince Philip in 1975 during a Royal visit to Mexico. There was a mix-up over what vehicle each was to have been travelling in. That's what he remembered about Prince Philip.
Humphreys then proceeded to voice his regret about not having an exclusive interview with the Queen. The Sun (link above) reported (emphases mine):
John, who left Radio 4's Today last month, was speaking to BBC colleague Justin Webb at an event organised by Intelligence Squared.
The retired newshound, famous for his tough grillings, also admitted he twice begged the Queen, 93, to do an interview — but said she replied: "Nope."
She also told him that if she was ever to do such a chat, it would "certainly not be with you".
John said: "I have wanted to sit there and say, 'With me this morning is Her Majesty The Queen.'
"She has probably met more powerful people than anyone else. And there's the gossip, you know what I mean?"
Good for the Queen for seeing through John Humphreys. Such an interview would have been all about him.
Last week, MPs and Peers in Westminster spent time remembering Prince Philip. So did representatives in the devolved assemblies in Scotland and Northern Ireland.
One young MLA from Northern Ireland said that she 'never really appreciated' Prince Philip until he died, at which point she discovered all sorts of interesting details about his life that she had never heard before.
Well, yes, the media hid all that from the British public.
The only time Prince Philip was in the news was when he made one of his famous 'gaffes' on a trip. News presenters would ask the royal reporters if said gaffes would cause a diplomatic incident or harm trade relations with the country in question.
The satirical magazine Private Eye referred to the Prince as Phil the Greek. One would expect that from a satirical magazine. However, the news media were no better.
Even on May 4, 2017, when the 95-year-old Prince announced he would be standing down from public life, coverage was lukewarm, including in The Telegraph.
These are the principal facts from the article, mixed in with the usual negatives:
The Duke of Edinburgh is Patron, President or a member of over 780 organisations, with which he will continue to be associated, although he will no longer play an active role by attending engagements …
The Duke of Edinburgh has spent 25 days so far this year carrying out public engagements – more than the Duke and Duchess of Cambridge and the Queen.
Philip's appearances out and about with the monarch in the public eye since the start of 2017 have ranged from feeding an elephant at ZSL Whipsnade Zoo to attending the unveiling of a national memorial on Horse Guards Parade.
Solo engagements by the 95-year-old also included opening the new Warner Stand at Lord's Cricket Ground in London on Wednesday and meeting actor Tom Cruise at a Buckingham Palace dinner to mark the 75th anniversary of the Outward Bound Trust in March.
The article also had a section called 'The Prince in numbers':
Here are some facts about Prince Philip:
Total number of solo engagements – 22,191
Total number of solo overseas visits – 637 (Commonwealth countries – 229 visits to 67 countries / other countries 408 visits to 76 countries)
Total number of speeches given – 5,493
Total number of patronages – 785 organisations
Presentation of colours – 54
Number of service appointments – 32
Number of books authored – 14
Oddly, the best tribute that day came from Jeremy Corbyn MP, who led the Labour Party at that time. Corbyn is hardly known for his royalist sentiments, but he recognised the Prince's service over so many decades:
I would like to pay tribute to Prince Philip following his decision to retire from public service.
He has dedicated his life to supporting the Queen and our country with a clear sense of public duty.
His Duke of Edinburgh's Award scheme has inspired young people for more than 60 years in over 140 nations.
We thank Prince Philip for his service to the country and wish him all the best in his well-earned retirement.
On July 8, 2020, CheatSheet listed the Prince's most famous 'gaffes' and pointed the finger at him for his globalist perspectives regarding overpopulation, complete with a video:
Back in 1988, the duke brought up overpopulation when speaking to the German news agency Deutsche Press Agentur about reincarnation.
"In the event that I am reincarnated, I would like to return as a deadly virus, to contribute something to solving overpopulation," The Telegraph quoted Philip saying at the time.
A few different versions of the quote have circulated during the coronavirus outbreak. Another published version claims the queen's husband said: "If I were reincarnated I would wish to be returned to earth as a killer virus to lower human population levels."
Prince Philip has never shied away from his feelings about overpopulation. In 2008, he said he believed it was one of the biggest challenges in conservation before offering his thoughts on what should be done about it.
And prior to that, the Duke of Edinburgh told People Magazine: "Human population growth is probably the single most serious long-term threat to survival. We're in for a major disaster if it isn't curbed–not just for the natural world, but for the human world. The more people there are, the more resources they'll consume, the more pollution they'll create, the more fighting they'll do…If it isn't controlled voluntarily, it will be controlled involuntarily by an increase in disease, starvation, and war."
It was left to ordinary people — not journalists — to tell the world about the Prince and his life. Did you know, for example, that Prince Philip held the Queen's hand while she gave birth to Prince Edward in 1964? Very, very few fathers did that in the 1960s.
This is an excellent Twitter thread about his life on the occasion of his 99th birthday last June:
Last Monday, a number of MPs said that they had participated in the Duke of Edinburgh's Award Scheme when they were young. A few of them said that the programme — comprised of arduous Bronze, Silver and Gold levels — gave them the confidence to run for public office. It also encouraged physical activity and spurred Lady (Tanni) Grey-Thomas to become an award-winning Paralympian — now a crossbench life peer in the House of Lords. She explains the programme in more detail in this short video:
The residents of the South Pacific island of Tanna must have been sad to know that the man whom they viewed as their messiah had departed this mortal coil. They believed that he would settle among them:
What we did not know was that Prince Philip, once he found out he was so revered, kept in touch with the islanders, sent them gifts and also met privately with a delegation of them at Windsor Castle.
On Sunday, April 18, The Telegraph reported on this unusual story, excerpted below:
In the Sixties, when Vanuatu was an Anglo-French colony known as the New Hebrides, it is believed that tribesmen would have set eyes on a portrait of Prince Philip alongside the Queen (whom he had married in 1947) hanging in various official buildings – and decided that this handsome young man in the Naval uniform was the very same ancestor of their god.
This belief that the Duke was a prodigal son of the island was reinforced when coincidentally he and the Queen made an official visit to the New Hebrides in 1974. A warrior named Chief Jack Naiva, who died in 2009, was one of the paddlers of a war canoe that greeted the Royal Yacht Britannia.
"I saw him standing on the deck in his white uniform," Chief Jack is on record as saying. "I knew then that he was the true messiah."
Ever since, villagers have prayed to the British monarch daily. They ask for his blessing on the banana and yam crops they grow in the fertile volcanic soil and have held on to the fervent belief that one day he will return to the island and unite the nations of England and Tanna …
Largely cut off from the world with limited electronic communications, the islanders were only made aware of the Duke of Edinburgh's death last Friday when a worker from a nearby spa resort made a journey on Saturday afternoon to break the news to them. It was reported that one tribeswoman immediately burst into tears, while the men fell silent as they tried to comfort their children.
When the Duke retired from public duties in May 2017, villagers only found out several days later after a visit by a Reuters journalist. The village chief Jack Malia said then that the islanders were still holding on to the hope that the Duke would visit.
"If he comes one day, the people will not be poor, there will be no sickness, no debt and the garden will be growing very well," he said through an interpreter at the local Nakamal – a traditional meeting place where the tribesman gather at night to swap stories and drink highly intoxicating kava.
The same drink was cracked open to celebrate the 89th birthday of the Duke of Edinburgh on June 10, 2010 – the date he was initially prophesied to return to the island and live alongside villagers in a straw hut, hunting the wild pigs that are abundant on the island and adopting the local traditional dress which, for males, is nothing but a large grass sheath …
Discovered in 1774 by Captain James Cook, in 1906 the islands became the New Hebrides, jointly administered by Britain and France until independence in 1980. Even after his visit in 1974, the Prince was not aware of the legend surrounding him until John Champion, the British Resident Commissioner in the New Hebrides, told him a few years later.
Ever since, he has always taken the esteem with which he is held by the people of Tanna extremely seriously. Over the years he has exchanged various gifts with the islanders. Tanna elders once sent Prince Philip a "nal nal" wooden hunting club. He in turn sent them back a photograph of himself holding the club – which has become a cherished religious icon on the island alongside other photographs of the Duke.
In 2007, a delegation of five islanders visited Britain in the hope of an audience with Prince Philip as part of a Channel 4 documentary called Meet the Natives. The filmmakers took the men to stay with Prince Philip's friend Sir Humphrey Wakefield at Chillingham castle in Northumberland. Sir Humphrey, whose daughter Mary Wakefield is married to Boris Johnson's former chief advisor Dominic Cummings, took the Tanna tribesmen on a hunting trip and invited them to various black tie dinners.
At one of the dinners where another friend of the Duke, Lord Haddington, was in attendance, he assured the visitors: "If he had a moment, he would love to meet you, I'm sure."
The Duke was good to his word and eventually hosted the men for a private reception at Windsor Castle, which the film crew was not invited to attend. Once they had returned to Tanna, the delegation relayed the somewhat cryptic message they said they had been given by the Duke of Edinburgh to their chief – "When it is warm, I will send a message. At the moment, it is cold in England."
… In 2018, the Prince of Wales followed in his father's footsteps and visited Vanuatu where he was made an honorary high chief. During the ceremony, he was presented with local gifts and garlands of flowers and took a sip of specially brewed Royal Kava, which had last been consumed when Prince Philip visited in 1974.
In the tradition of the Malvatumauri Council of Chiefs, the heir to the throne took part in a series of rituals before being given the high chief name of Mal Menaringmanu.
In closing, on April 18, the leader of Sinn Féin apologised for the IRA's assassination of Prince Philip's uncle, Lord Mountbatten, in 1979. He is shown on the left in this photo, standing next to his nephew:
The Independent reported that party leader Mary Lou McDonald told Times Radio:
My job, and I think that Prince Charles and others would absolutely appreciate this, my job is to lead from the front, now, in these times.
I believe it is all our jobs to ensure that no other child, no other family, no matter who they are, suffers the same trauma and heartbreak that was all too common on all sides of this island and beyond.
I have an absolute responsibility to make sure that no family faces that again and I am happy to reiterate that on the weekend that your Queen buried her beloved husband.
Better late than never, but not surprising in timing.
One does wonder if this apology — take it for what it is — would have been made sooner had media coverage of the Prince been more positive while he was alive.
Nonetheless, even left-leaning nationalists in the Stormont assembly in Northern Ireland praised the Queen and Prince Philip for their visits and for helping to reconcile both sides of the political aisle to bring peace to what is still a troubled nation.
Tomorrow's post, all being well, will cover the highlights of the Prince's funeral.
After a slow news period post-'inauguration', everything accelerated again to the point where there is too much to cover in one week.
At the end of January 2021, the EU tried to block the UK's coronavirus vaccine supply, specifically to the AstraZeneca vaccine developed in Oxford!
The EU poked at the softest, most vulnerable part of the UK-EU agreement post-Brexit: not to create division between Northern Ireland and the Republic of Ireland, covered by Article 16.
However, the EU, being short of coronavirus vaccines, briefly invoked the sacrosanct Article 16 on Friday, January 29, 2021, despite Jean-Claude Juncker's old commitment to Ireland that there would be no hard border with a post-Brexit EU-UK trade agreement. This debate in the Irish parliament took place long before coronavirus. What a sloppy dress code:
Then, just less than a month after the UK made a full Brexit with a trade agreement, the EU did this:
On Friday, January 29, Guido Fawkes reported (emphases in the original):
As part of its plot to block vaccine exports to the UK, the EU has invoked Article 16 of the Northern Ireland Protocol. This has effectively removed Northern Ireland from the EU's customs. In plain English, Article 16, the so-called safeguard clause, allows both the EU and the UK to unilaterally suspend part of the Northern Ireland Protocol (which keeps Northern Ireland in the EU's customs territory) in specific circumstances.
Most discussion around this particular article had been how or whether the UK would use it. The fact that the EU has implemented it less than a month after coming into effect could set a big precedent.
Practically this new EU-imposed hard border won't make a huge difference as Northern Ireland will receive their jabs via Great Britain, but this political move is extraordinary, after a week of terrible news for the Union. After years of arguing to keep Northern Ireland in its customs territory, the EU has just merrily kicked it out.
However, such an action threatened the long-standing peace agreement between North and South.
EU Commission president Ursula von der Leyen's action managed to unite Britain's — and Ireland's — Right and Left for the first time in years:
Guido's article says of the centre-right Democratic Unionist Party:
UPDATE: The DUP have, not unsurprisingly, slammed the EU's decision as "an incredible act of hostility". Arlene Foster says:
"This is an incredible act of hostility. By triggering Article 16 in this manner, the European Union has once again shown it is prepared to use Northern Ireland when it suits their interests but in the most despicable manner — over the provision of a vaccine which is designed to save lives.
At the first opportunity the EU has placed a hard border between Northern Ireland and the Republic of Ireland over the supply chain of the Coronavirus vaccine.
With the European Union using Article 16 in such an aggressive and most shameful way, it is now time for our Government to step up. I will be urging the Prime Minister to act and use robust measures including Article 16 to advance the interests of Northern Ireland and the rest of the United Kingdom."
As for Labour:
UPDATE II: Labour join in with the EU condemnation: Louise Haigh MP, Labour's Shadow Northern Ireland Secretary, commenting on the European Union's decision to invoke Article 16 of the Northern Ireland Protocol:
"This move is deeply destabilising and undermines the huge efforts being made to make the Protocol work.
Unilateral actions like this do nothing to aid the stability in Northern Ireland which the Protocol was designed to preserve.
The European Union must remember the Protocol depends on joint working and they share a responsibility to uphold that. They must think again, and revoke this action."
Later that day, Guido recapped the previous five days of hassle for AstraZeneca and vaccine supply. CEO Pascal Soriot insisted that the company never made a hard and fast commitment to the EU. AstraZeneca made what are contractually known as best reasonable efforts to supply to the EU. Guido's article has a copy of the contract, which you can read at the link:
AstraZeneca has committed to use its Best Reasonable Efforts (as defined below) to build capacity to manufacture 300 million Doses of the Vaccine, at no profit and no loss to AstraZeneca, at the total cost currently estimated to be [REDACTED] Euros for distribution within the EU [REDACTED] (the "Initial Europe Doses"), with an option for the Commission, acting on behalf of the Participating Member States, to order an additional 100 million Doses (the "Optional Doses").
The ball was then in von der Leyen's court:
Guido reported von der Leyen's response:
No. There are binding orders and the contract is crystal-clear. AstraZeneca has expressly assured us in this contract that no other obligations will stand in the way of fulfilling the contract.
However, Guido explained:
The key obligation in the agreement is in Section 5.1, which "silos" production for the doses to go to the EU, making clear that the AZ obligation is only to use best reasonable efforts to manufacture the initial doses within the EU. If they are manufacturing doses outside the EU that's irrelevant to that obligation. Has the EU just shot itself in the foot?
Guido's founder Paul Staines is based in Waterford, Ireland. He thinks that, for the good of relations between North and South, the UK should share their AstraZeneca doses with the Republic:
He was not alone. The Scotland editor for The Spectator agreed:
Fine. Let's make sure that Britons get their share first. That's why the deal was set up in the first place.
By the end of last Friday, right, left, centre and the Church of England opposed the EU action:
The Archbishop's intervention seemed to have a huge impact in Britain, which is surprising for such an atheistic nation:
The strange thing about Article 16 is that the British EU-lovers assumed that the UK Government would implement it first against the EU. That was the big stink around the Internal Market Bill, which gives the UK leeway to back out of parts of the trade agreement if the EU becomes threatening.
In the end:
Late that evening, the EU president conceded:
Boris made no mention of it on his Twitter feed.
More on the UK's coronavirus vaccine success will follow on Monday.
For now, here's the next EU-UK drama, which also started on Friday, January 29 — international travel:
Macron's probably upset because the Institut Pasteur vaccine failed this week. Because of that failure, he rubbished the AstraZeneca vaccine:
As Guido said:
The French haven't been able to produce a vaccine, and the Germans couldn't do it without American corporate help. No wonder voices in the EU were so keen to hit out, falsely, at the success of Brexit Britain's Oxford vaccine. Poor Little EU.
Oh, boy. Politics, politics.
2021 will be a doozy of a year.
I hope everyone had a good Christmas, despite the circumstances in various countries this year.
May I wish those who observe it in the UK and the Commonwealth a happy Boxing Day.
In Ireland, December 26 is observed as St Stephen's Day.
You can read a history of both Boxing Day and St Stephen's Day below:
St Stephen was the Church's first martyr. His trial and death comprise Acts 7. Some might be surprised to find in the first few verses of Acts 8 that Saul of Tarsus — later St Paul the Apostle — was instrumental in Stephen's death.
This post has two interesting videos about Stephen's life and the example he has set for all Christians:
The next post has expositions from Acts 7 and Acts 8:1-3 about Stephen's final hours. The post also explains the charity that made Boxing Day a long standing tradition. It ends with an exploration of the Christmas carol Good King Wenceslas about the Bohemian monarch's dispensing charity 'on the feast of Stephen' in severe winter weather as well as the his alarming martyrdom:
December 26 — St Stephen's Day, Boxing Day and more
I plan to post again on Christmas on Sunday. Monday is a public holiday here in the UK and Ireland because Boxing/St Stephen's Day falls on a Saturday. The last time this happened was in 2015. Being able to extend Christmas is always a bonus.
What follows are three stories the media won't have covered over the past week.
Call to prayer in the US — Revd Franklin Graham
Billy Graham's son, the Revd Franklin Graham has called for a national day of prayer and fasting in the US on Sunday, October 25:
This follows his Washington Prayer March, which took place on September 26.
May the Lord hear those who call on Him and guide the United States safely in the months ahead.
Censorship — new Project Veritas video
We know that Google and other social media outlets use algorithms to promote or suppress certain topics.
James O'Keefe's Project Veritas released another whistleblower film about Google. I'm posting the tweets, because YouTube might take down the video, which they have done before.
Ritesh Lakhar has worked for large corporations in the US. He has been a Google employee for several years and is Technical Program Manager.
He tells his story to Project Veritas:
Sounds like election interference to me.
Project Veritas posted an accompanying article which has much of the dialogue of the video along with two additional insights from Ritesh Lakhar.
First, here's what happened on November 9, 2016. I like the way he says 'When Trump won the first time', implying he will win again:
"When Trump won the first time, people were crying in the corridors of Google. There were protests, there were marches. I guess, group therapy sessions for employees–organized by HR," he said.
"There were days, like: 'Okay, don't come to work. We understand this is like a shocking event. Take some time off and cool off and we'll regather again to figure out our strategy,'" he said. "That kind of stuff–I'm like–are you serious, are you kidding me?"
The second is the contrast between Google and his previous employers — manufacturers (emphasis mine):
Lakhkar said he worked for other major industrial and medical companies, and none of them had the leftist culture he deals with at Google.
"When I worked for Caterpillar or Corning, politics didn't really matter," he said. "You just do your job and: 'Let's make tractors, let's make glass.'"
Coronavirus — doctors speak out
I have written about the German physician, Dr Heiko Schöning, before; he was arrested in London at an anti-lockdown rally in September and held without charge for 22 hours.
He and several other doctors and life scientists have formed a group called The World Doctors Alliance. They are speaking out against the way the coronavirus crisis has been handled internationally.
YouTube have removed their video, but two clips follow.
This clip is from the beginning, where some of the members, led by Dr Schöning, introduce themselves:
In the second clip, two members of the group speak:
A Dutch GP, Dr Elke De Klerk appears first. She says that there is no COVID-19 pandemic and says that it is a 'normal flu virus'. As such, she says they plan to sue The Netherlands. She says there is a 'really large group' of doctors and nurses who agree. She added that they have contact with '87,000 nurses that do not want the vaccine'. She said that the rights of people under the Dutch constitution cannot be violated for any medical reason. She said that the 'false positive' PCR tests are creating 'panic'. She said she was 'very happy' that Dutch media outlets are now questioning these tests.
Professor Dolores Cahill spoke next to say that, in Ireland, there have been only 100 actual deaths of, rather than with, coronavirus.
This is what she said in Ireland in September:
I haven't formed an opinion about this group, as I don't know too much.
At least they present an alternative perspective at a time when, increasingly, strategies and statistics just do not make sense.