You are currently browsing the tag archive for the 'ITV1' tag.
Friday's post provided the background to the current turmoil in Boris Johnson's Government.
This is where we left off — a GB News tweet from November 22, before further events occurred:
The Christmas party — or parties
Last week, news emerged of an alleged Christmas party held on December 18, 2020, at No. 10 Downing Street.
Somehow, it took most of 12 months for this news to appear.
It surfaced with a video of Allegra Stratton, who was rehearsing for her new — ultimately unfulfilled — role as a televised press secretary, although she did remain press secretary.
On Tuesday, December 7, ITV News was able to obtain this video of her rehearsing for a press conference involving a fictitious Christmas party. The press corps are senior No. 10 employees:
According to this rehearsal, which Stratton did not take too seriously, we are looking at a party that never took place.
However, when one watches the video, one wonders: did it or did it not happen?
Allegra Stratton laughed and slumped over the podium. Hardly a professional look.
The Sun reported (emphases mine):
Senior members of the PM's top team were filmed laughing and referring to "cheese and wine" in a mock press conference held by Allegra Stratton in the No9 briefing room …
In footage of the fake presser, obtained by ITV, one of the PM's advisers asked: "I've just seen reports on Twitter that there was a Downing Street Christmas party on Friday night, do you recognise those reports?"
Ms Stratton joked: "I went home!" before she paused to consider how to respond.
The aide added: "Would the prime minister condone having a Christmas party?"
Ms Stratton, who was due to lead daily political press briefings in the £2.5million press room before the plan was ditched earlier this year, laughed and replied: "what's the answer?"
Another No10 staffer popped up to say: "It wasn't a party, it was cheese and wine."
Ms Stratton added: "Is cheese and wine alright? It was a business meeting…"
Business meetings were allowed under the restrictions at that time, as The Times explains:
People were allowed to gather if it was reasonably necessary for work purposes, but that would not have included holding a party.
The government's advice from the time said: "Although there are exemptions for work purposes, you must not have a work Christmas lunch or party, where that is a primarily social activity and is not otherwise permitted by the rules in your tier."
The Telegraph's Christopher 'Chopper' Hope reported that Downing Street might have been exempt from the party rule because it was a Crown property. However, Guido Fawkes pointed out that the Queen wore a mask earlier this year at Prince Philip's funeral on the grounds of Windsor Castle:
No. 10 responded to the Christmas party allegations. ITV News's UK Editor Paul Brand tweeted:
By Thursday, December 9, 2021, The Times revealed a catalogue of seven Christmas parties allegedly taking place in or near Downing Street last year during a time when London was, for the most part, under lockdown.
Excerpts follow, emphases mine.
The Times reports:
Insiders said that the No 10 Christmas party on December 18 began early, with officials and political advisers gathering in the press office shortly after 6pm.
Over the course of the evening some people made speeches, enjoyed a cheese board, drank together and exchanged Secret Santa gifts. By the time it ended shortly before 2am, several of those present were said to be "rat-arsed".
A few rooms away Boris Johnson was working in his office, where after consulting once more with government scientists, he was coming to a critical realisation that Christmas, as planned, could no longer go ahead. Less than 24 hours later the prime minister broke the news that millions of people could not see friends and family over the festive period if they lived in other households …
At the time London was under Tier 3 restrictions, banning indoor mixing with a narrow exemption for people whose jobs required them to be at work in the office. Was Johnson aware of the event, which included some of his most senior aides and was held yards from his office? …
The Christmas party, however, was different. A source said it had been organised days in advance on WhatsApp and with a follow-up email.
Originally it was intended for members of the press office who work together in the same large room on the ground floor …
It was not, they said, a party that had been organised by senior members of staff or indeed political special advisers. But in the close world of Downing Street some members of Johnson's media team were also invited. The most senior members were understood to be involved in the preparations for the impending new Christmas restrictions.
Other parties were alleged to have taken place:
At another point in December, sources say, a Christmas quiz was held for officials and Conservative advisers working in Downing Street. Invitations were sent out by email, with people asked to organise themselves into teams of about six. Many wore novelty Christmas jumpers on the day. One source said that the quiz took place in the "control centre" established in 70 Whitehall by Dominic Cummings, who had left his role as one of Johnson's most senior advisers in November. Another source said that people stayed late drinking, and that there was much discussion the next day about the unexpectedly strong knowledge displayed by the victors.
No 10 sources were adamant that the quiz was "entirely virtual", and denied that it took place in 70 Whitehall, but conceded that some people may have participated from desks in communal offices …
One party allegedly took place at Conservative Party headquarters in central London:
Another event took place at CCHQ a few days before the Christmas party. At least two dozen party aides and volunteers, who had helped Shaun Bailey, the Tories' London mayoral candidate, held a "raucous" bash involving drinking, Christmas hats and dancing that went on late into the night. Things were said to have got so rowdy that a door was damaged. London was in Tier 2 restrictions, with a ban on indoor mixing and the rule of six applying outdoors.
Some parties allegedly took place in November 2020:
Government staff are also said to have held informal leaving dos in November, when England was in a full lockdown, to mark the departures of the senior Downing Street aides Lee Cain and Cleo Watson. Christmas parties were also held at the Cabinet Office and the Department for Education.
Those are the seven alleged parties.
The timing of this leak could not have been worse for the Government.
At PMQs on Wednesday, December 8, Boris insisted that the Cabinet Secretary Simon Case would investigate the alleged December 18 party, which was the only known one at the time.
This is how he responded to Labour's Sir Keir Starmer at the despatch box:
… I apologise for the impression that has been given that staff in Downing Street take this less than seriously. I am sickened myself and furious about that, but I repeat what I have said to him: I have been repeatedly assured that the rules were not broken …
I have asked the Cabinet Secretary to investigate exactly what happened, and I repeat that there will be consequences for those involved if the rules were broken.
I have been repeatedly assured that no rules were broken. I understand public anxiety about this and I understand public indignation, but there is a risk of doing a grave injustice to people who were, frankly, obeying the rules. That is why the Cabinet Secretary will be conducting an investigation and that is why there will be the requisite disciplinary action if necessary.
Starmer brought up the story of a woman who died in hospital over Christmas and her aggrieved daughter who was not allowed to see her because of coronavirus restrictions.
Boris responded:
The first thing to say is that, in common with everybody in this House, I extend my sympathies to Trisha and her family. I understand the pain of everybody who has suffered throughout this pandemic.
I know the implication that the right hon. and learned Gentleman is trying to draw: that the case that we are now investigating should somehow undermine public confidence in the measures that we are taking. I think that is the point he is trying to make, but I say to him that I think it is a great mistake to try to play politics with this issue, and I think that is what he is doing. I do not think the public do want to see confidence in the measures undermined. We are taking—[Interruption.] I think they can see the difference. We are taking the steps necessary to protect the public, above all by rolling out the vaccinations. Rather than focusing on the events of a year ago, that is what we are focusing on and that is what I think the public will understand.
On the one hand, one could say that this is still a sour grapes ploy to get Boris, who got Brexit done.
On the other hand, The Times reported that the news caused some Cabinet ministers and backbench Conservative MPs to distance themselves from the allegations, especially as they were not directly involved with the events:
On Tuesday Sajid Javid, the health secretary, volunteered to do a broadcast round the next day to push the booster campaign. After a video was leaked in which Allegra Stratton, then a spokeswoman for Johnson, joked about the party, Javid is said to have made clear he would not defend the No 10 position.
One minister told The Times that the talk in the Commons tea room was of more letters of no confidence in Johnson going into Sir Graham Brady, the leader of the 1922 Committee of backbench Conservative MPs. They said that the party looks "divided, hypocritical, out-of-control, out-of-touch and all the other things that voters despise" …
A succession of Conservatives went on the record with concerns. Douglas Ross, the leader of the Scottish Tories, suggested that Johnson should quit if it emerged that he knew about the party.
This is how some members of the public view the revelations. As seen last week by someone in England: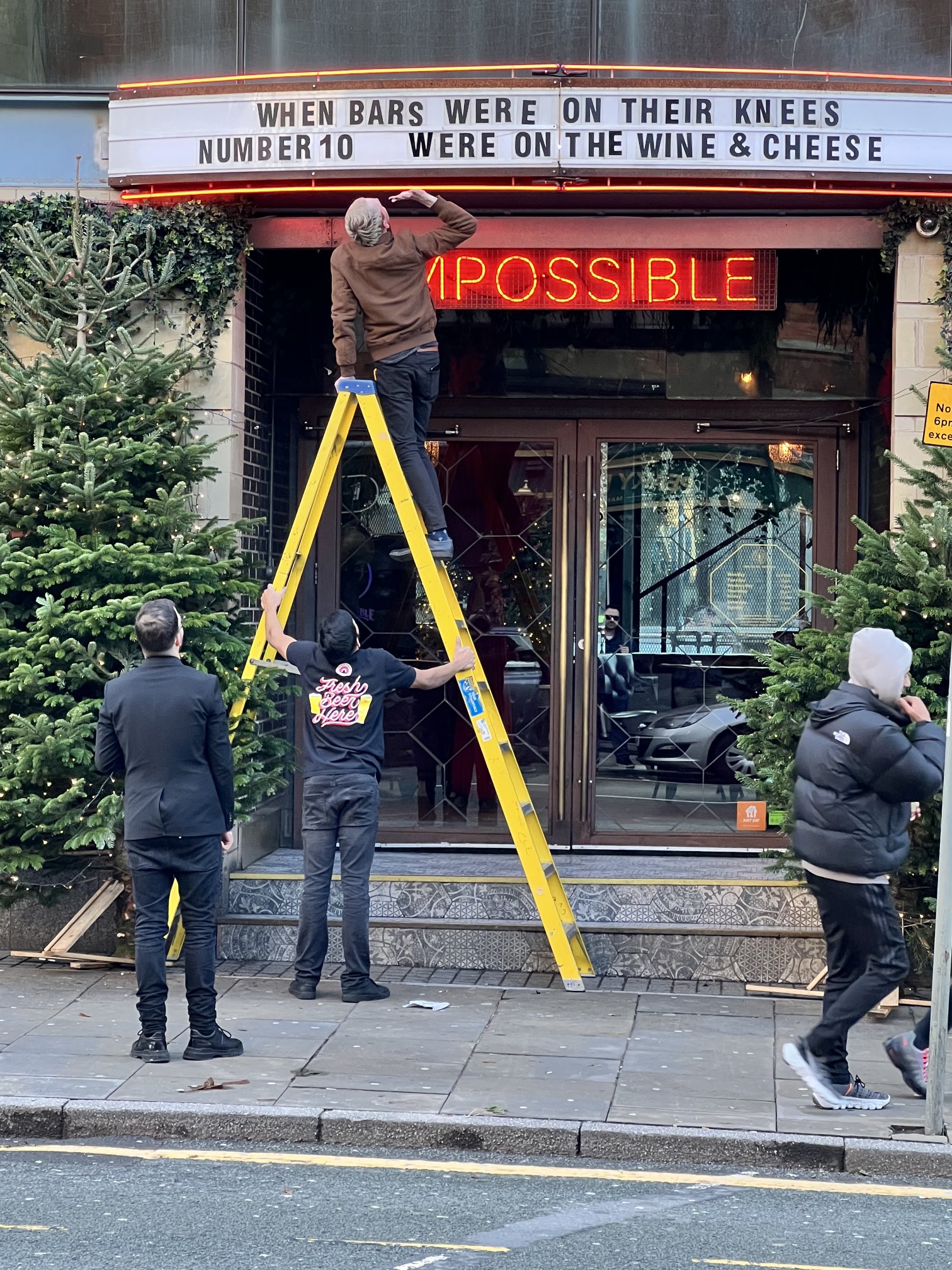 Allegra Stratton's resignation
Allegra Stratton, who appeared so insouciant a year earlier, tendered her resignation shortly after PMQs on Wednesday, December 8.
Tearful — or almost — she gave a brief statement to the press that afternoon:
Guido Fawkes quotes part of her statement:
My remarks seemed to make light of the rules, rules that people were doing everything to obey. That was never my intention. I will regret those remarks for the rest of my days and offer my profound apologies to all of you for them
[…]
To all of you who lost loved ones, endured intolerable loneliness and struggled with your business – I am truly sorry and this afternoon I have offered my resignation to Prime Minister.
This woman is media savvy and has a lot of important connections, shall we say. She'll get another job somewhere else by the New Year, most probably:
Allegra Stratton's televised daily press briefings, mimicking those of the White House, never saw the light of day. One wonders if someone informed on her after the aforementioned December 2020 dress rehearsal video:
She was never very good in No. 10, as our COP26 spokesperson, having explained at length why she didn't own an electric car and why people should join the Green Party! What planet is she on?
Further coronavirus restrictions for England
On the day of her resignation, the Daily Mail reported that No. 10 was desperately searching for the person who leaked Stratton's rehearsal video to ITV News.
But that was not all. Their article said that, in order to take the heat off the Christmas party story, Boris put England under Plan B — further coronavirus restrictions (masks, vaccine passports, travel quarantine) — in light of the Omicron variant, which he did on Wednesday, December 8, a few hours after PMQs and Allegra Stratton's resignation. What was — is — he thinking?
Within 24 hours of its broadcast, the toxic footage of No 10 staff giggling about a lockdown-busting party had detonated a bomb under the Government and led to the tearful resignation of its 'star' Allegra Stratton.
It also sparked an immediate hunt for the leaker, whose decision to pass the film to ITV News may even have prompted Boris Johnson to fast-track plans for tighter Covid restrictions.
So, Boris might have a Christmas party scandal on his hands from last year, therefore, in order to rectify that with the largest swathe of the British public — those living in England — he puts them under Plan B just before Christmas.
How is that a future vote winner?
Furthermore, Boris did not present the initiation of Plan B to Parliament first, which he should do. He had Health Secretary Sajid Javid present it to Parliament at the same time he was giving a press conference to the nation about it.
Wrong!
According to Parliamentary procedure, MPs must be allowed to debate and, if necessary, vote on these proposals before they are made public or enacted into law.
However, Boris has been doing this consistently since 2020 with coronavirus restrictions.
These restrictions will be in place by Monday, December 13. The Parliamentary debate and vote do not take place until Tuesday, December 14. Outrageous.
Omicron relatively weak, yet we have Plan B
As far as we know, Omicron is relatively mild:
Guido points out that the Government is going overboard about a variant whose symptoms resemble a common cold (emphasis in the original):
As the UK government hits the 'Plan B' button in a moment of epidemiological stringency, in the past 24 hours both the US Center for Disease Control and Prevention and the EU Medicine Agency have both said cases remain mild.
15 hours ago the CDC Chief said that of the more-than-40 people in the US have been infected with Omicron, "nearly all of them were only mildly ill" and the "the disease is mild". Just one person's been hospitalised.
… Meanwhile the UK government is preparing to hit the UK economy with a stay-at-home order, based on no hospitalisation or death data suggesting it's necessary.
In his press conference last Wednesday annoucing Plan B, to make things worse, Boris also said that we need to have 'a national conversation' as to whether the UK should implement mandatory vaccinations!
On December 9, The Telegraph's Andrew Lilico wrote (emphases mine):
… Omicron cases are currently doubling every two to two and a half days. Wearing a face mask in the cinema but not the pub isn't going to make a lot of difference to that.
If omicron is really going to grow as explosively as the Government suggests, Plan B isn't going to come remotely close to slowing it down or stopping it. Restricting people's lives in a way that makes no difference whatever to a problem is just as authoritarian as restricting people's lives when there is no problem at all. If the only point of restrictions is as a kind of virtual flag with "We're doing something" written on it, it'd be better not to restrict people's lives but instead to raise a literal physical flag saying that, outside 10 Downing Street …
There needs to be a high likelihood that some disaster will follow if restrictions are not imposed and a good chance that the restrictions would avert or at least mitigate that disaster.
The Government does not appear to believe it needs such a rationale. It seems to think that it's legitimate to restrict millions of people's lives on bases such as "on balance, that's wise" or "to reduce pressure on the NHS" (not to avoid its collapse – just to make life a bit easier). That is a serious departure that MPs of good conscience should vote against. Otherwise it would be legitimate to introduce a curfew every evening to "reduce pressure on the police" or restrictions every time a new flu strain is identified "just in case" it might lead to a pandemic …
We did our bit. We got vaccinated. That has meant that, since April, the infection fatality rate of Covid has only been perhaps 3 to 4 times that of flu. Covid will be with us forever, killing tens of thousands each year. But since April it has never again been possible for it to create the waves of 100,000 and more deaths at a time that we experienced last Winter and that would have been much worse had we not accepted restrictions from last Spring onwards.
… Everyone in the country was going to get delta over the next couple of years, as our immunity faded, unless we were willing to get boosters every few months forever. Why does it matter if we get omicron this Christmas instead? A vague sense that "Something must be done. This is Something. So let's do This." is not even close to an adequate basis on which to let Plan B proceed.
On Sunday evening, December 12, Boris gave a brief recorded address to those in the UK saying that there has been a 'surge' of hospital cases and that the coronavirus danger level has been ramped up to Stage 4 throughout the four nations. Again, he and his ministers just decided this with no input from MPs:
In a nutshell, this appears to be what is happening with Government policy and the media on Omicron:
That morning, Dr Susan Hopkins of the UK [England, actually] Health Security Agency was still among those experts waiting for something to happen with Omicron:
UPDATE — Monday, December 13: One patient in the UK has died 'with' Omicron.
Sadly, the Government and their scientists will consider that a success.
————————————————————————-
People living in England wonder whether Plan B will proceed to another full lockdown in 2022 as punishment for celebrating Christmas.
On Friday, December 10, The Telegraph's Julia Samuel said that, in light of the Christmas party allegations, the Government no longer has the moral authority to impose yet another lockdown:
It seems almost inconceivable and yet it's not. We could be headed for another lockdown, probably just after Christmas. No one really believes that the measures announced by Boris Johnson this week will stop the new Covid variant from spreading. The private reasoning of the officials recommending them and the ministers agreeing to them is that they need to prepare the public psychologically for the possibility of going back into lockdown …
They might tell us to stay at home, but they don't. They might have told us not to party, but Number 10 staffers clearly judged that since they had worked together in close quarters for weeks, a party couldn't really hurt. What stinks is not the logic of this decision; it's the rank hypocrisy of legislating for one thing and then doing another.
If the Government is considering another lockdown, then it needs to understand that it has exhausted consent for the type of policy it could enact before. It has no moral authority to ban fathers from being with their wives during childbirth or to confine people to their houses because an app says they shared a bus ride with a Covid case. If we are told to stay at home, it can only be conditional upon our nearest and dearest social obligations. If that makes enforcement difficult, so be it. Policing this mess fairly has been a fool's errand from the start …
With any luck, this will all end up with a dramatic anti-climax. Scientists are starting to sound increasingly confident that omicron hails Covid's transformation from a threat to a common cold.
By Christmas, we will know the score. But in the meantime, let's recognise the government's half-hearted and ineffective Covid measures for what they are: the start of a campaign to soften us up for another lockdown, if it's deemed necessary.
If that is what's coming down the track, we need to be clear: some things are too important to be sacrificed to Covid controls. The Government ought to recognise that and use the law sparingly.
But if it doesn't, people will have to use their own judgement and make decisions they can live with afterwards. We would only be following Number 10's example, after all.
Who can argue with that?
In Parliament, a rebellion has been brewing over the past week on coronavirus legislation. Although protest votes will not prevent Plan B from passing, they will send a signal to No. 10 that a growing number of Conservative backbench MPs are deeply unhappy.
More on that tomorrow.
On Monday, July 5, 2021, Richard Madeley, an occasional co-presenter on ITV's Good Morning Britain (GMB), asked SAGE member Susan Michie if her avowed Communism affects her coronavirus recommendations to the general public:
It must have come as a surprise to a number of GMB's viewers who probably did not suspect that a card-carrying Communist works for the Government.
Michie, a psychologist who is also a professor at University College London, works on the SPI-B — behavioural — committee of SAGE which has been driving public behaviour during the pandemic. She appears most frequently on the BBC but also on other television channels.
She was also a speaker at the UN's Psychology Day in 2020. The Division of Health Psychology of the British Psychological Society, of which she is a member, tweeted:
I've written about Michie three times before, twice in the run-up to Christmas (here and here) and once in June.
Before I get to Richard Madeley's interview with Prof Michie, the tweets below show what Communist health policy looks like. We've been living under such rules for 16 months and counting.
2018 Daily Mail article
But first, here is a brief retrospective from the time when Jeremy Corbyn was Labour leader.
In 2018, the Daily Mail posted an extensive article about her support of Corbyn and her praise of Communism. Excerpts follow, emphases mine.
This is her family background. Much of the £52 million she inherited from her mother was in a Picasso, which she and another family member sold:
Susan Fiona Dorinthea Michie is the granddaughter of Henry McLaren, the 2nd Baron Aberconway, an Eton-educated Edwardian industrialist and Liberal MP. 
He inherited major interests in coal, iron, steel and engineering conglomerates, and created the sumptuous gardens at Bodnant House, a stately home set in 5,000 acres near Snowdonia.
Her mother, Dame Anne McLaren, was born at Aberconway House, the family's imposing 2,800-square-metre second residence in London's Mayfair, and was one of the world's leading biologists. When she died in 2007, aged 80, she left £52million in her will.
Ms Michie's father, meanwhile, was an eminent computer scientist who was the son of a wealthy banker whose photo is among the National Portrait Gallery's collection.
Despite these moneyed roots, the blue-blooded Susan, 62, marches to the beat of her own drum.
She stretches her every sinew in pursuance of a class war as a member of the Communist Party of Britain.
The article then described the speech she gave in early March 2018:
On Monday night, she addressed a meeting of about 40 true believers at the Marx Memorial Library in London's Clerkenwell.
She delivered her speech while standing beneath a portrait of Cuban dictator Fidel Castro, a bronze of Lenin and an array of Soviet flags. 
Seemingly oblivious to the irony, this lifelong beneficiary of inherited wealth began by saying: 'We, the working class.'
During the course of a two-hour talk, Ms Michie (whose day-job is as a university academic) made a comment that broke almost a century of hard-Left tradition. 
Britain's Communist Party, she said, is urging its members to work 'full tilt' to help get a Labour prime minister.
This development — after decades of Communists and Labour operating on very separate lines — is a direct result of Labour's lurch to the hard Left under Jeremy Corbyn.
Already, there have been signs of this change of policy with the Communists deciding last year not to split the Left-wing vote by fielding their own candidates at the General Election.
With the two parties increasingly in harmony (Ms Michie declared it 'a really good situation to work much more closely than we have in the past'), the Communists — by way of a 'priority' — are advising their comrades to actively campaign on Corbyn's behalf.
In the general election of December 2019, Labour suffered its worst result since 1935.
Sir Keir Starmer eventually replaced Jeremy Corbyn as Labour leader.
Now on to Michie's activity as a SAGE member.
Regular media appearances
By May 2020, Michie was already becoming a regular guest on various news programmes:
As Guido Fawkes explained, Michie is not only a member of SAGE but also Independent SAGE, a breakaway group (emphases in the original, those in purple mine):
Susan Michie is a Marxist campaigner who has managed to get herself on not only the activist dominated fake SAGE, she is also on the official SAGE. Quite an achievement and evidence of the time and effort she is dedicating to the cause…
Michie is Professor of Health Psychology and Director of the Centre for Behaviour Change at UCL, so prima facie she has the credentials to be a scientific advisor. What is never mentioned at any point to give context to her many media appearances, in which she usually launches a tirade at the government, is that she has for 40 years been a member of of the Communist Party of Britain.
All this has not precluded her from using family wealth to financially support the Labour Party under the Corbyn leadership. In March 2018, it was Michie who said that the Communist Party would no longer stand against Labour in general elections and she should be "working full tilt" for the election of Corbyn as PM. Hardly surprising given her daughter was appointed under him to Labour HQ and her ex-husband was Corbyn's close adviser. That illustrates the level of her dedication to far-left politics.
Two days later, the Father of the House, Peter Bottomley MP (Con), appeared on Radio 4's Broadcasting House programme to lambaste the BBC for not revealing her political philosophy and connections:
He said (audio in Guido's post):
If one of your previous contributors has been a member of a far left party for decades, donated more to the Labour Party under Corbyn than I've given to the Tory Party in forty years, was the wife of a former Labour Party special adviser and mother of Labour's head of complaints, that might have been better than just saying she's a member of SAGE.
The BBC called Bottomley's remarks an:
ad hominem attack.
Prof Stephen Reicher, who teaches at St Andrews in Scotland, is another SAGE member who works on SPI-B. He took issue with Prime Minister Boris Johnson for not sacking his then-special adviser Dominic Cummings after his fateful trip to County Durham during lockdown. Michie agreed:
She is clearly not a Boris fan, nor is The Guardian's Carole Cadwalladr:
Lockdown and mask fan
In May, it was becoming clear to a segment of the British population that Michie favoured a Chinese-style handling of the pandemic. An Anglican clergyman tweeted:
The accompanying article from Michie in The Psychologist is a mild one about directing the public's response to the pandemic. Notable is this sentence (emphases mine below):
If these behaviours changed across the population (as seatbelt use and smoking in public places have), the Covid-19 pandemic would extinguish.
In July 2020, masks had been compulsory on public transport since mid-June, but were not yet mandatory elsewhere. Michie told LBC's Andrew Castle that they must be required:
By November, more Britons were finding out the truth about Michie:
When Boris banned Christmas, lockdown sceptic Dick Delingpole tweeted:
Michie started 2021 by asking why people were not complying with the mask mandate:
In April, mainstream journalists were finally beginning to reveal Michie's political persuasion:
Guido Fawkes reminded his readers that he had unearthed the information in May 2020:
In June, despite Boris's stellar rollout of the vaccine programme — still the best in Europe — Michie, laughing, told Channel 5 News that we would have to wear masks 'forever' (00:57 – 1:05):
A week later, she complained to Freddie Sayers of UnHerd that she had been misquoted (video at the link):
I actually used four words [in that interview with Channel 5], and only one of them was reported. The full words I used were "forever to some extent". What I mean by this is that, sadly, this isn't going to be the last pandemic. For as long as humans are around viruses are going to be around …
In reality, as you can see in the Channel 5 video above, her first answer was 'Forever'. When the interviewer expressed her astonishment, Michie gave the longer response.
She told Sayers that she wanted a delay to Freedom Day, which was to have been on June 21. She must be happy:
I don't think there's really any alternative other than delaying for four weeks and seeing what's happening. It's a very tricky situation… I think [Boris] is right — I think the question is: is it going to be sufficient?
She probably opposes the possible July 19 Freedom Day, too.
She clearly did not want to discuss her communist beliefs with Sayers:
My politics are not anything to do with my scientific advice. And I've never discussed my politics with people like yourself, so nor am I going to now. And the important thing is that when one gives scientific advice, one does so using the expertise one has — not going beyond the expertise, being transparent about what expertise you provide. And I think that the kind of articles you refer to are a really disturbing kind of McCarthyite witch hunting, which I don't think should have any place in a liberal tolerant society.
Richard Madeley's interview
This brings me neatly to Richard Madeley's interview from Monday morning, July 5.
Guido Fawkes broke the story, along with the video (emphases in the original):
Guido commends Richard Madeley for being the first TV host in the country to invite "Independent" SAGE's Susan Michie on to their show and finally confront her about her hard-left politics. Madeley rightly points out that activist expert Michie's love of national Covid restrictions may not be born from her concern for the nation's health, rather the default policy position of a hard-core, state-loving communist. It looked like Susan didn't appreciate this line of questioning…
Lockdown Sceptics has the transcript (emphases in purple mine):
Richard Madeley: There's a point I really have to put to you and you'll be aware of this because there's been a lot of commentary about this in the British media about you and it's to do with your politics and you know what I'm going to ask you. You've been a member of the Communist Party for about 40 years now, you're still a member, and we know that they're statist. We look at Communist countries around the world and we see that they are tremendously top down dominant and controlled societies that they rule over. I just wonder – and I'm putting this question on behalf of those who wonder about your politics – if your politics actually informs your sense of control? It's not just the medical arguments, but you have a kind of a political bent to want the state to tell people what to do?
Susan Michie: I've come on your programme as a scientist, as do all people who come on to your programme as scientists. They come on to talk about the evidence, relevant theories, how we approach our scientific disciplines, and you don't ask other scientists about politics so I'm very happy to speak about science which is what my job is and to limit it to that.
RM: So you're saying that your politics doesn't inform your opinion on this subject?
SM: I'm saying that I agreed to come on this programme as a scientist and I'm very happy to talk to you about the issues that you're raising as a scientist which is the same for other scientists that you invite on to the programme.
Michie has a large house in a leafy part of London, but the video clip says Berkshire for her location. So, she must be one of those privileged people with two homes. Could one call her Berkshire place a dacha?
If Michie thought her interview with Richard Madeley was a one-off, she was wrong.
On Tuesday, July 6, Times journalist Matthew Syed brought up her Communism in his interview with the BBC's Jo Coburn on Politics Live:
Syed mentioned Michie by name and said that it would be wrong for a political agenda to determine a pandemic response:
Guido Fawkes provided this analysis of what Syed said:
On Politics Live earlier Matthew Syed succinctly made the point that Richard Madeley was inching towards yesterday – the issue of the card-carrying communist Susan Michie, of the self-appointed "Independent" SAGE, being given frequent media platforms to smuggle in her political agenda under the guise of "science". Michie is a committed Marxist ideologue, and central committee member of the British Communist Party. This is relevant.
Marxist analysis understands socialism itself to be a scientific method for understanding and predicting social, economic and material phenomena to derive probable outcomes and probable future developments. Her life-long ideology feeds into her work as director of UCL's Centre for Behaviour Change. That theoretical underpinning to her ideas on behavioural change and social compliance has gone unexplored even as she has been given a position advising the government in these matters. She has spoken approvingly of the Chinese Communist dictatorship's authoritarian methods and of her belief that restrictions in Britain should continue "forever, to some extent." Her whole mindset is one of top-down control and diktat that is incompatible with a free and open society.
Before anyone claims that Syed is a misogynist or a right-wing Murdoch lackey – he has a very readable intellectual column in the Sunday Times – Guido would remind them that he stood as the Labour candidate in the 2001 UK general election. At the very least it is fair to discount Michie's advice in the light of her ideological activism.
However, as the aforementioned Lockdown Sceptics article says, complete with a tweet, one woman accused Good Morning Britain of misogyny and asked people to stop watching the programme in protest.
Toby Young, who wrote the article, says that her sex had nothing to do with Madeley's question. It was her politics (emphases mine):
I really don't get why it was "misogynistic" of Madeley to ask Susan Michie whether her hard left politics have affected her position on mask mandates. Of course they have! After all, forcing people to wear masks as a condition of participating in certain activities is a flagrant breach of their liberty and the reason Michie doesn't care about that and thinks public health concerns should take priority (even though there's precious little evidence that masks reduce transmission of the virus) must in part be because she's a communist, who famously don't put much value on individual freedom. And the reason Madeley hasn't put the same question to other members of SAGE is not because Michie's a woman, but because she's the only one who's been a member of the Communist Party for the past 40 years.
True.
However, by July 8, Ofcom, the media watchdog, received 145 complaints about Madeley's interview:
Guido reported that one of the 145 complainants was Michie herself (emphases in the original):
Ofcom are unlikely to rule against Madeley for asking a question Michie did not want to answer; that's an editorial judgement way outside Ofcom's remit. Yet apparently for 145 viewers, it was all too much. Of course, amongst those complaining was Michie herself, who took to Twitter to write:
"A complaint has been submitted and a public apology requested".
If Michie and 144 other pearl-clutching viewers were upset by Madeley, Guido has to wonder what they thought of Matthew Syed's comments on Politics Live yesterday…
What concerns me is that Susan Michie might not be the only Communist in SAGE.
If only we could find out more about the political proclivities of the other members.
Sunday, June 6, 2021, was the 77th anniversary of D-Day, the Longest Day: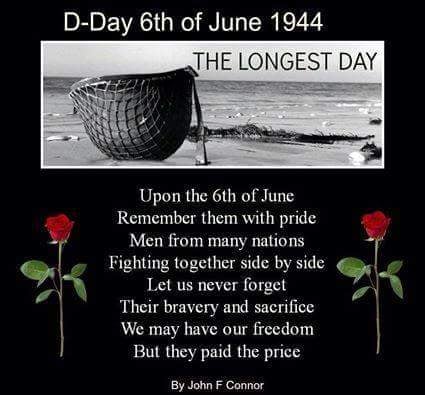 This map shows the landings in Normandy: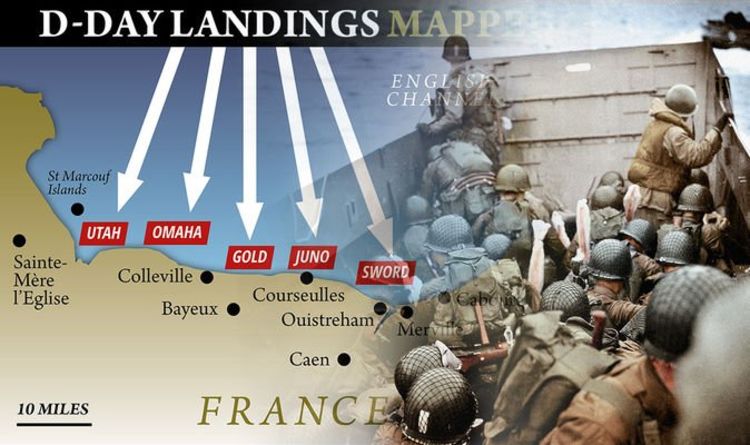 While preparing Sunday dinner, I listened to C-SPAN's Sunday morning show, broadcast on BBC Parliament. Sarah Rose, the author of D-Day Girls, was the guest. Her book is a novel, but she did a lot of historical research showing the intelligence work that women did behind the scenes as part of a carefully-managed international network.
The phone-in included many sons and daughters of Second World War veterans. Nearly all said that those veterans were, understandably, highly reluctant to talk about their war experiences. However, some said that their fathers or grandfathers opened up in their later years. One caller said that she has several hours of memories that she has recorded for posterity, particularly for younger family members.
With more and more of those veterans passing from this mortal coil, now is the time for children and grandchildren to record and catalogue those memories, if they can. One person who has done so is the author of Pacific Paratrooper, remembering Everett A Smith, their father. It's an excellent website, which also documents much history about the battles and conditions in the Pacific theatre. I am delighted to have the author as one of my regular readers.
We will always remember those heroic men and women:
Incidentally, the Houses of Parliament were bombed in 1941 and had to be reconstructed authentically in the 19th century manner. Both were faithfully restored. The next tweet shows the House of Commons:
Seventy-seven years later, we are still in the grip of the coronavirus crisis and a loss of freedom the troops involved in D-Day would have found unthinkable.
In Britain, former Prime Minister Tony Blair (Labour) appeared on The Andrew Marr Show to say that Britons who have had two vaccinations should be allowed greater freedoms, thereby creating a two-tier society:
If a Conservative had said that, Marr would have heaped criticism all over him or her.
It is mystifying that Tony Blair even gets airtime on this topic. He isn't in government, nor is his party.
It appears I am not alone, judging from the replies to this tweet:
On the topic of vaccines, Tony Blair has never said if his son Leo, born when he was in No. 10, had the MMR vaccine, which was highly controversial at the time. So, it was okay for him to refuse to give his son a vaccine that every other child born in Britain had/has to have. It is very difficult to get separate children's vaccines for measles, mumps and rubella. One imagines that Blair managed to get them for his son.
Tony Blair also wanted national ID cards. The debate raged for a few years in Parliament. Fortunately, nothing happened.
On Monday, Guido Fawkes's cartoonist Rich, recalling the ID card debate from the Blair years, posted this:
On the topic of vaccines, the Government is talking about giving them to children. Highly dangerous, one would have thought. The Telegraph's Bob Moran was moved to create this cartoon a week ago:
ITV's Good Morning Britain stoked the flames by asking whether the vaccinated should refuse to associate with the unvaccinated:
Fortunately, most Britons disagree with Good Morning Britain:
June 21 is supposed to be Freedom Day, according to the Government, with the caveat that full reopening of Britain will be based on data rather than dates.
It should come as no surprise that the Government could now backtrack on that date:
On June 1, we had no coronavirus deaths, but that did not make the news:
TalkRADIO host Julia Hartley-Brewer is fed up with the delays. In fact, as the chart below from Peston shows, the UK's actual coronavirus stats are much better than SAGE's models:
On June 3, Portugal, the only European country on the UK's green list for travel, was moved to the amber list, yet these charts tell a different story:
One suspects that it was only ever on the green list for the Champions League final in Porto:
Oddly, we had more freedom a year ago — with no masks and no vaccines — than we do now:
In Wales, First Minister Mark Drakeford (Labour) says that social distancing will not be disappearing any time soon:
Data for the UK should be available on June 14, at which point the Government will announce their decision regarding June 21:
The Government have paid for coronavirus advertising and COVID marshals, extending to 2022. Former London Assembly member David Kurten tweeted a reminder:
I, too, want my country back.
In Germany, scientists from Munich University say that lockdown had no effect on the virus spread:
Something is very wrong when, in a five-minute speech on television, a prime minister or a president can remove everyone's civil liberties at a stroke.
Monday, March 23, 2020, will be etched on my memory forever. That was the date of the UK's first lockdown.
D-Day. Freedom Day. What has happened to us — and for a 'pandemic' with fatality rates no worse than influenza? We are in a very bad way, not only in the UK, but also elsewhere in the West.
This week, a mini-rebellion erupted on the Conservative back benches over coronavirus.
More on that in a moment.
First, let's have a look at Friday's headlines.
As millions of Britons are worrying about their vanishing income, it is shameful that the Independent Parliamentary Standards Authority, an independent body which oversees the system of allowances and salaries for Members of Parliament, decided to give them a pay rise! Incidentally, a Labour MP is shown in the photograph below:
Unconscionable!
Although the economy was starting to recover earlier in the summer when lockdown was lifted, things are different today:
It's been a challenging year for Rishi Sunak, the Chancellor of the Exchequer, who replaced Sajid Javid in March, just a fortnight before lockdown. He delivered a brilliant budget for a bright year ahead, then coronavirus struck.
Sunak is one of the contrarians on coronavirus and is said to prefer letting Britons get back to work.
That said, he has given billions in financial aid to the nation and delivered a Winter Economic Plan. However, pressure is on now to not only find a way to boost the Treasury's coffers but also to provide extra financial support to the areas of the country which are under what seems to be permanent lockdown. The Huffington Post has more on today's new measures.
These are the highlights:
This is his latest tax plan:
Hmm:
It's a tough job, so I'm glad Rishi is in that post. He's doing the best he can.
Next door, at No. 10 Downing Street, Rishi's former aide Allegra Stratton has been named as Prime Minister Boris Johnson's new press secretary. Conservative men across the nation had hoped for a Kayleigh McEnany, but we will wish Ms Stratton well in her new job:
Note how media and politics intertwine. Stratton is connected not only to Nos. 10 and 11 Downing Street but also to top adviser Dominic Cummings as well as to The Spectator:
Guido Fawkes says (emphases in the original):
Widely anticipated and always the bookies favourite, Allegra Stratton has been confirmed as the new Downing Street Press Secretary. Her experience as a television reporter on Newsnight, ITV News and with Peston will stand her in good stead. 40 year-old Allegra is married to the Spectator's James Forsyth. They have one child. She has done a good job spinning for Rishi and he will miss her…
Bring on the briefings…
Stratton left ITV in April to work for Rishi:
I had bookmarked a tweet from ITV's political editor Robert Peston a few months ago when No. 10 announced its search for a press secretary. Unfortunately, I subsequently deleted it. Peston tweeted that he knew of a perfect candidate, someone who had worked for him and was now working for Rishi Sunak: Allegra Stratton.
And, lo, it came to pass.
Here's an interesting tweet from May, after Dominic Cummings had to give a press conference in the garden of No. 10 to apologise for his questionable trip up North to Barnard Castle (a town named for its castle) with his wife Mary Wakefield and their four-year-old son:
One of Cummings's goals was to clear out No. 10 of Remainers in senior positions. Cabinet Secretary Sir Mark Sedwill, the most senior Remainer and the man in charge of civil servants, resigned during the summer.
Sedwill's replacement is Simon Case, who used to work for Prince William:
Guido Fawkes has posted Case's email to civil servants, popularly referred to as 'mandarins', and says:
Simon Case, Sir Mark Sedwill's replacement as Cabinet Secretary, has got off to a strong start in the job by sending an email to all civil servants boasting of his 'profound sense of pride in our nation's history", telling Whitehall staff "We must maintain our dedication to honesty, integrity, impartiality and objectivity." Guido hopes counselling will be put in place for any distressed metropolitan mandarins at this time…
Now on to coronavirus.
Scotland's Nicola Sturgeon is putting much of that nation under a 16-day 'circuit-breaker' lockdown (pubs shut, no alcohol in restaurants, no visiting) during half-term (break for schools). Yet she is decommissioning the Nightingale hospital in Glasgow. Why?
In England and Wales, questions have been raised about the new contact-tracing app:
Today (Friday), the Telegraph's Chief Political Correspondent Christopher Hope interviewed the Conservative MP, Sir Iain Duncan Smith, who had a lot to say not only on coronavirus but also Brexit (he thinks large parts of the Withdrawal Agreement should be torn up if we want a Canada deal).
Excerpts follow (emphases mine):
Boris Johnson will never defeat the coronavirus pandemic, Sir Iain Duncan Smith has said, and instead must start to help Britons to learn to live with the disease.
The former Conservative leader told today's Chopper Politics podcast … : "'I've never been to a time like this where we have almost suspended all judgement on everything else as secondary to Covid.
"And the truth is that if we go on just trying to push these spikes down the whole time … then we could be in this for years because there are very few vaccines that have been completely effective against viruses."
Sir Iain said the focus on Covid meant that other risks were being completely ignored. He said that the problem was "we've lost the balance of risks. We now have only one risk. And if you think of only one risk, then you can damage everything around you".
He added that he thought the right course of action regarding coronavirus was "managing it but not expecting that, as people say, we can defeat this, because I honestly don't think we will actually."
YES!
The 30-minute podcast is here. Hope interviews other guests, too.
Conservative MPs are warning Boris not to take the votes of former Labour-supporting area lightly. Those areas, many of which now have Conservative MPs, are the ones most affected by semi-permanent lockdown:
Earlier in the week, the Government postponed a vote on the 10 p.m. curfew on pubs and restaurants in England. It has been rescheduled for next week:
Members of the public are understandably concerned. One summarised Boris's speech at the (virtual) Conservative Party conference this week:
But I digress.
The reason the Government are picking on the hospitality sector is because of this chart, which MPs on both sides of the aisle dispute:
Hospitality venues are at the top of the list.
Note that schools and workplaces are not mentioned.
This is the reality, and this is what dissenting MPs are going by. Hospitality is ranked at 4 per cent (see pie chart):
The hospitality sector had to put a lot of money into their businesses in order to reopen during the summer, yet the Government is targeting them. That is also true in France, but we'll stick with England for now:
I am very concerned about this eventuality:
Conservative MP Steve Baker talks a good game, but he voted with the Government this week to renew coronavirus restrictions.
ITV interviewed him yesterday:
ITV has excerpts of Baker's interview:
Speaking to the Acting Prime Minister podcast, the MP said the rule is "badly evidenced and appears to be counter-productive".
He said the rule, which forces pubs to close between 10pm and 5am, is "wrecking the hospitality industry, which we only just pumped lots of taxpayers money into through Eat Out to Help Out".
He claimed the "cost of lockdowns are worse than the cost of the disease" and suggested the PM is only imposing them because of hopes of a vaccine "turning up and solving all these problems".
He said he fears the UK is in "grave danger" of "jumping into a lobster pot here from which we can't emerge" if a vaccine is not forthcoming.
"The danger we're in at the moment is we'll destroy our economy," he told podcast host Paul Brand.
He said he supports Prime Minister Boris Johnson in his response to coronavirus, but questioned whether he is "betting the country on a vaccine turning up".
"If his strategy is based on a vaccine coming, I think there's going to be a problem," he said.
The Wycombe MP appeared to suggest the team around the prime minister was not allowing him to use his strengths …
Mr Baker, who was a prominent Brexit supporter, said he "deeply" regrets the way the UK divided over EU membership and said he can feel the same happening with coronavirus.
"I'm really worried that our society is polarising with hysterical arguments on both sides.
"What I am saying is I want us to have a radical spirit of concern for one another, a radical willingness to listen to one another and then be moderate in what we say and do to try and close all these, all these divides." 
I agree wholeheartedly with every word.
In closing, I really hope that Steve Baker and the other Conservative rebels vote against the Government on the hospitality curfew next week.
They won't win, but they will send a strong message to Boris and Matt Hancock.
There were so many insights on coronavirus last week that I couldn't fit them all in.
On Friday, I summarised Michael P Senger's article about China's role in the coronavirus crisis.
More information follows:
Rather sagely, a lady replied:
As did another:
The day before, there was the confession from a Facebook whistleblower about online political persuasion:
The article, dated September 14, features quotes from former Facebook data scientist Sophie Zhang.
The article states (emphases mine):
The 6,600-word memo, written by former Facebook data scientist Sophie Zhang, is filled with concrete examples of heads of government and political parties in Azerbaijan and Honduras using fake accounts or misrepresenting themselves to sway public opinion. In countries including India, Ukraine, Spain, Brazil, Bolivia, and Ecuador, she found evidence of coordinated campaigns of varying sizes to boost or hinder political candidates or outcomes, though she did not always conclude who was behind them.
"In the three years I've spent at Facebook, I've found multiple blatant attempts by foreign national governments to abuse our platform on vast scales to mislead their own citizenry, and caused international news on multiple occasions," wrote Zhang, who declined to talk to BuzzFeed News. Her LinkedIn profile said she "worked as the data scientist for the Facebook Site Integrity fake engagement team" and dealt with "bots influencing elections and the like."
She added:
I have personally made decisions that affected national presidents without oversight, and taken action to enforce against so many prominent politicians globally that I've lost count.
The BuzzFeed article continues:
The memo is a damning account of Facebook's failures. It's the story of Facebook abdicating responsibility for malign activities on its platform that could affect the political fate of nations outside the United States or Western Europe. It's also the story of a junior employee wielding extraordinary moderation powers that affected millions of people without any real institutional support, and the personal torment that followed.
"I know that I have blood on my hands by now," Zhang wrote.
According to the article, Facebook allegedly delayed taking action on the following:
It took Facebook's leaders nine months to act on a coordinated campaign "that used thousands of inauthentic assets to boost President Juan Orlando Hernandez of Honduras on a massive scale to mislead the Honduran people." Two weeks after Facebook took action against the perpetrators in July, they returned, leading to a game of "whack-a-mole" between Zhang and the operatives behind the fake accounts, which are still active.
In Azerbaijan, Zhang discovered the ruling political party "utilized thousands of inauthentic assets… to harass the opposition en masse." Facebook began looking into the issue a year after Zhang reported it. The investigation is ongoing.
Zhang and her colleagues removed "10.5 million fake reactions and fans from high-profile politicians in Brazil and the US in the 2018 elections."
In February 2019, a NATO researcher informed Facebook that "he'd obtained Russian inauthentic activity on a high-profile U.S. political figure that we didn't catch." Zhang removed the activity, "dousing the immediate fire," she wrote.
In Ukraine, Zhang "found inauthentic scripted activity" supporting both former prime minister Yulia Tymoshenko, a pro–European Union politician and former presidential candidate, as well as Volodymyr Groysman, a former prime minister and ally of former president Petro Poroshenko. "Volodymyr Zelensky and his faction was the only major group not affected," Zhang said of the current Ukrainian president.
Zhang discovered inauthentic activity — a Facebook term for engagement from bot accounts and coordinated manual accounts— in Bolivia and Ecuador but chose "not to prioritize it," due to her workload. The amount of power she had as a mid-level employee to make decisions about a country's political outcomes took a toll on her health.
After becoming aware of coordinated manipulation on the Spanish Health Ministry's Facebook page during the COVID-19 pandemic, Zhang helped find and remove 672,000 fake accounts "acting on similar targets globally" including in the US.
In India, she worked to remove "a politically-sophisticated network of more than a thousand actors working to influence" the local elections taking place in Delhi in February. Facebook never publicly disclosed this network or that it had taken it down.
The BuzzFeed article reports that Facebook's spokesperson Liz Bourgeois said:
It's highly involved work that these teams do as their full-time remit. Working against coordinated inauthentic behavior is our priority, but we're also addressing the problems of spam and fake engagement. We investigate each issue carefully, including those that Ms. Zhang raises, before we take action or go out and make claims publicly as a company.
BuzzFeed says that it did not reproduce Ms Zhang's full text because it contains personal information.
The article added:
In her post, Zhang said she did not want it to go public for fear of disrupting Facebook's efforts to prevent problems around the upcoming 2020 US presidential election, and due to concerns about her own safety. BuzzFeed News is publishing parts of her memo that are clearly in the public interest.
"I consider myself to have been put in an impossible spot – caught between my loyalties to the company and my loyalties to the world as a whole," she said. "The last thing I want to do is distract from our efforts for the upcoming U.S. elections, yet I know this post will likely do so internally."
Zhang said she turned down a $64,000 severance package from the company to avoid signing a nondisparagement agreement. Doing so allowed her to speak out internally, and she used that freedom to reckon with the power that she had to police political speech.
"There was so much violating behavior worldwide that it was left to my personal assessment of which cases to further investigate, to file tasks, and escalate for prioritization afterwards," she wrote.
That power contrasted with what she said seemed to be a lack of desire from senior leadership to protect democratic processes in smaller countries. Facebook, Zhang said, prioritized regions including the US and Western Europe, and often only acted when she repeatedly pressed the issue publicly in comments on Workplace, the company's internal, employee-only message board.
"With no oversight whatsoever, I was left in a situation where I was trusted with immense influence in my spare time," she wrote. "A manager on Strategic Response mused to myself that most of the world outside the West was effectively the Wild West with myself as the part-time dictator – he meant the statement as a compliment, but it illustrated the immense pressures upon me."
A former Facebook engineer who knew her told BuzzFeed News that Zhang was skilled at discovering fake account networks on the platform.
The second half of the article is also worth reading — and circulating.
Michael P Senger, the author of the article I cited on Friday, tweeted coronavirus-related news about Pennsylvania's continued lockdown:
Note that China was mentioned.
The title of Stacy Rudin's article for the American Institute for Economic Research (AIER) is 'Federal Court Holds "Stay at Home" Orders and Mandatory Business Closures Unconstitutional'.
Excerpts follow, emphases mine:
For six months, Americans in 43 states have lived under unprecedented executive orders restricting freedoms as basic as whether they can work, leave their homes, and expose their faces in public. These mandates are not duly enacted laws — they are orders issued by one of the three branches of government. They constitute a system of one-person rule — something none of us expected could ever happen in the United States — and no one, apart from the 43 newfound state dictators, is sure when it will expire.
Today, after six months of this, a Pennsylvania Federal Court in Butler County v. Wolf reviewed the indefinite "emergency" restrictions imposed by the executive branch of Pennsylvania government, declaring limitations on gathering size, "stay-at-home orders," and mandatory business closures unconstitutional. Refusing to accept the alleged need for a "new normal," the Court stated that an "independent judiciary [is needed] to serve as a check on the exercise of emergency government power."
About time. The Judicial Branch is coming to save us.
The article is worth circulating. It goes into American history, beginning with the Constitution in the 18th century and citing President Lincoln in the 19th.
The Pennslyvania Federal Court stated:
There is no question that our founders abhorred the concept of one-person rule. They decried government by fiat. Absent a robust system of checks and balances, the guarantees of liberty set forth in the Constitution are just ink on parchment.
Furthermore:
In times of crisis, even a vigilant public may let down its guard over its constitutional liberties only to find that liberties, once relinquished, are hard to recoup and that restrictions — while expedient in the face of an emergency situation — may persist long after immediate danger has passed.
The AIER article went on to say:
We cannot allow our freedom to become "ink on parchment." Many of our governors seek to do just that — they won't even designate an endpoint to their "emergency" powers. When does the "emergency" end? This should be easy to say — X number of deaths per million, X number of deaths over X number of weeks — yet they will not say it. They want us to live under the constant threat of house arrest and livelihood deprivation, even though all we ever agreed to was a two-week effort to "flatten the curve." We never agreed to an indefinite or permanent "new normal," or to do whatever our wise governor dreams up and declares necessary to "eliminate infections."
The article thanked Judge Stickman, speaking for the Pennsylvania Federal Court:
Thank you, Judge Stickman, for recognizing our predicament, and for taking the first step towards restoring our freedom today by reminding those with authoritarian leanings that "governors cannot be given carte blanche to disregard the Constitution for as long as the medical problem persists." The response to an emergency cannot undermine our system of constitutional liberties, or the system of checks and balances protecting those liberties. Liberty before "governor-guaranteed safety" — this is the American way, famously stated by Benjamin Franklin: "Those who would give up essential liberty, to purchase a little temporary safety, deserve neither liberty nor safety."
Pennsylvania's Governor Wolf appeared to back down (italics in the original):
Incredibly, Governor Wolf responded that his stay-at-home orders are "not actually orders at all, but merely recommendations," and that they are constitutional because they do not "shock the conscience."
Yet, the article's author says:
I'm willing to bet that Pennsylvania citizens would beg to differ.
The Court's decision stated that large populations were never quarantined (some local populations, e.g. St Louis, were during the Spanish Flu).
Not only that, the judges traced the origin of the virus to China:
In analyzing the constitutionality of "lockdowns," the Court first traced the origin of the concept to its source — Wuhan, China — and recognized that population-wide lockdowns are "unprecedented in American law." Even during the Spanish Flu, the deadliest pandemic in history by far, "nothing remotely approximating lockdowns were imposed." Although the United States has faced many epidemics and pandemics, "there have never previously been lockdowns of entire populations — much less for lengthy and indefinite periods of time." Quarantines are legally recognized, but refer to the isolation of sick people and those known to have been directly exposed to sick people. They are statutorily limited to the duration of the incubation period of the disease — a period which Governor Wolf's "lockdown" plainly exceeded.
Not only have lockdowns never been imposed in American history, but they are not even mentioned in recent pandemic management guidance offered by the Centers for Disease Control and Prevention ("CDC"). In its 2017 guidelines for managing pandemics, the CDC recommends numerous protective measures such as hand washing, limited-duration school closures, and cancellations of mass gatherings, but nothing "even approximating the imposition of statewide (or even community-wide) stay at home orders or the closure of all ['non-essential'] businesses." Even for pandemics of "Very High Severity," the CDC recommends only voluntary isolation of sick persons and their household members. "This is a far, far cry from a statewide lockdown such as the one imposed by [Governor Wolf's] stay-at-home order."
The article goes on to discuss small and medium business issues, which are of primary importance today. The court decided, in their own words (emphasis here in the original):
The Constitution cannot accept the concept of a 'new normal' where the basic liberties of the people can be subordinated to open-ended emergency mitigation measures. Rather, the Constitution sets certain lines that may not be crossed, even in an emergency. Actions taken by Defendants crossed those lines. It is the duty of the Court to declare those actions unconstitutional.
In related news Daniel Levitt, who works for tech firms in Silicon Valley, tweeted:
Ah, but increased testing is taking care of that issue. Hmm.
A podcast host from Ohio found that the WHO never stated that quarantine stopped influenza. Coronavirus is not influenza, yet it seems to share some of the same characteristics. Even more interesting is that, with the presence of COVID-19, influenza — the big worry of the cold weather season — seems to have disappeared south of the Equator.
Interesting:
It's all a bit of a mystery, but Kyle Lamb goes on to answer questions:
Does Kyle Lamb know more than our respective chief scientific officers? Perhaps. Perhaps not. In any event, he has gone further by probing the subject, which is more than our chief scientific officers have done.
Meanwhile, in the UK, an NHS GP pleads with Prime Minister Boris Johnson to change course on lockdowns. Here's yet another newspaper article mentioning a time period of a fortnight (yawn).
I pity the remaining vulnerable, especially the elderly. Click the image to see the article in full:
I could not agree more.
Message to the NHS: get on with it! You've had since May.

Since the summer, England's Nightingale Hospitals have been stood down for lack of use:
What will happen? A repeat of March and April?
My head is spinning at the prospect.
Once again, private care will turn out to be no better:
Good grief.
Then there is the matter of testing.
This thread is about the North East of England. The author is Professor of Industrial Economics Nottingham University Business School and states clearly that he is expressing his own views:
Sunderland is in the latest coronavirus hotspot area.
Understandably, residents are anxious to get PCR tests.
Yet, the queue was two miles long at the local testing centre:
The queues are for people who have booked a test:
It's the same in London, as per Tom Copley, the Deputy Mayor of London for Housing. Again, you need a code (obtained online) in order to get a test:
After all these months, this is unbelievable, especially from a notionally Conservative government.
As Tim Worstall said on September 17:
You've had 6 months to get testing sorted out. It's possible to do basic tests – basic note – for £1 a piece with reagent dosed paper hankies.
Also:
… seriously, why do we give, or have taken from us, 35% of everything to a structure that can't even manage this?
I could not agree more.
In closing, Dr Li-Meng Yan, a physician and virologist who also holds a PhD, is a Chinese whistleblower who worked at a WHO lab in Hong Kong. She is now out of the country in a secret location but has given at least two interviews in the past week.
The first was on Friday, September 11, on ITV's Loose Women, a lunchtime chat show in Britain:
She explained that she had access to a lot of secret information about COVID-19 and could no longer keep quiet, even if it meant losing her social credit score, which she did. She said she had been warned at the outset 'not to cross the line' because 'she could be disappeared'. She said that the Chinese government deleted everything about her that had appeared online. One wonders if her bank account was also frozen. It happens.
She told the show's panel that the virus was engineered in a lab and that it is not a natural virus.
She said that the Chinese government has downplayed her role in Hong Kong and is discrediting her.
The panel asked her why China would do such a thing and she replied that she had no insight into the government's 'evil thinking', then added that whatever they did 'worked': meaning — although she left this unstated — illness, death, panic, lockdown and economic damage.
I am glad that Loose Women interviewed her, because the show gets good ratings. Consequently, a lot of women in Britain will have found out more about the Chi-vi, as I call it.
On Tuesday, September 15, she appeared on Fox News's Tucker Carlson Tonight, to present the same details:
Tucker wasn't quite sure what to think. He acknowledged he does not have the scientific background to probe further.
A tip of the hat to my cyberfriend Wolf for the next part of this story.
Dr Yan, along with three other researchers, published a scientific paper on Monday, September 14: 'Unusual Features of the SARS-Cov-2 Genome Suggesting Sophisticated Laboratory Modification Rather Than Natural Evolution and Delineation of Its Probable Synthetic Route'.
This is the introduction (emphases mine):
Yan, Li-Meng; Kang, Shu; Guan, Jie; Hu, Shanchang
The COVID-19 pandemic caused by the novel coronavirus SARS-CoV-2 has led to over 910,000 deaths worldwide and unprecedented decimation of the global economy. Despite its tremendous impact, the origin of SARS-CoV-2 has remained mysterious and controversial. The natural origin theory, although widely accepted, lacks substantial support. The alternative theory that the virus may have come from a research laboratory is, however, strictly censored on peer-reviewed scientific journals. Nonetheless, SARS-CoV-2 shows biological characteristics that are inconsistent with a naturally occurring, zoonotic virus. In this report, we describe the genomic, structural, medical, and literature evidence, which, when considered together, strongly contradicts the natural origin theory. The evidence shows that SARS-CoV-2 should be a laboratory product created by using bat coronaviruses ZC45 and/or ZXC21 as a template and/or backbone. Building upon the evidence, we further postulate a synthetic route for SARS-CoV-2, demonstrating that the laboratory-creation of this coronavirus is convenient and can be accomplished in approximately six months. Our work emphasizes the need for an independent investigation into the relevant research laboratories. It also argues for a critical look into certain recently published data, which, albeit problematic, was used to support and claim a natural origin of SARS-CoV-2. From a public health perspective, these actions are necessary as knowledge of the origin of SARS-CoV-2 and of how the virus entered the human population are of pivotal importance in the fundamental control of the COVID-19 pandemic as well as in preventing similar, future pandemics.
ZeroHedge posted excerpts from the paper, which is way above my pay grade. The article ends with a reminder from ZeroHedge that they were suspended from Twitter months ago for alleging the same theory:
As a reminder, Zero Hedge was banned from Twitter on Jan 31 for making just this allegation, following a hit-piece written by an alleged pedophile (who was later fired for plagiarism) and countless so-called "scientists" screaming that our take was fake news and nothing but propaganda. Five months later Twitter admitted it had made a mistake, stating "we made an error in our enforcement action in this case."
Speaking of Twitter, on September 15, ZeroHedge also reported that Dr Yan's Twitter account was quickly suspended, days after she created it this month (emphases in the original):
On Sunday afternoon we asked how long before the twitter account of the "rogue" Chinese virologist, Dr. Li-Meng Yan, who yesterday "shocked" the world of establishment scientists and other China sycophants, by publishing a "smoking gun" scientific paper demonstrating that the Covid-19 virus was manmade, is "silenced."
We now have the answer: less than two days. A cursory check of Dr Yan's twitter page reveals that the account has been suspended as of this moment …
If Yan was wrong, why not just let other scientists respond in the open to the all too valid arguments presented in Dr. Yan's paper? Isn't that what "science" is all about? Why just shut her up?
Because if we have already crossed the tipping point when anyone who proposes an "inconvenient" explanation for an established "truth" has to be immediately censored, then there is little that can be done to salvage the disintegration of a society that once held freedom of speech as paramount …
We hope Twitter will provide a very reasonable and sensible explanation for this unprecedented censorship.
Indeed.
Back now to the contents of the paper that Dr Yan co-authored.
US Army Colonel Lawrence Sellin (Ret.) explained it in layman's terms for the Gateway Pundit: 'Dr. Lawrence Sellin: The Unequivocal Evidence Chinese Scientist Dr. Li-Meng Yan Provides Proof COVID-19 was Created by China's Military'.
Dr Sellin gives us the overview, which is still scientific (emphases in the original):
China has claimed that a bat coronavirus named RaTG13 is the closest relative to the COVID-19 virus, but RaTG13 is not actually a virus because no biological samples exist. It is only a genomic sequence of a virus for which there are now serious questions about its accuracy.
Dr. Yan suggests that RaTG13 may have been used to divert the world's attention away from the true source of the COVID-19 pandemic.
She claims that the COVID-19 virus originated in laboratories overseen by China's People's Liberation Army, using bat coronaviruses ZC45 and/or ZXC21 collected from Zhoushan, China and used as the viral "backbone" for genetic engineering.
Those bat coronaviruses were originally isolated and characterized between July 2015 and February 2017 under the supervision of the Third Military Medical University (Chongqing, China) and the Research Institute for Medicine of Nanjing Command (Nanjing, China).
The article goes on to explain how the receptor binding motif (RBM), which defines the coronavirus' ability to bind to the specific human angiotensin converting enzyme-2 receptor (ACE2) underwent genetic manipulation.
That critical segment of the COVID-19 virus is bounded by two "restriction sites" not found in any related bat coronaviruses, which allow researchers to easily splice, that is, cut and paste components of other viruses into the viral backbone.
The presence of those restriction sites is a known marker for genetic manipulation.
Furthermore, the COVID-19 virus contains a furin polybasic cleavage site with an amino acid sequence of proline-arginine-arginine-alanine or PRRA that facilitates membrane fusion between the virus and the human cell and widely known for its ability to enhance pathogenicity and transmissibility.
Such a sequence is not found in any other related bat coronavirus and, so far, there is no natural evolutionary pathway identified that could explain the appearance of that PRRA segment.
In contrast, techniques for the artificial insertion of such a furin polybasic cleavage site by genetic engineering have been used for over ten years.
Dr. Yan and her colleagues note that the two arginine amino acids in that PRRA segment are coded by the nucleotide sequence CGG-CGG, which rarely appears in tandem and strongly suggests that this furin cleavage site is the result of genetic engineering.
In addition, the presence of a "FauI" restriction site at the furin polybasic cleavage site is also an indication of genetic manipulation.
Goodness me. We have these scientific allegations and all the UK government is thinking of is a second lockdown.
It is sad that we will not be reading or hearing about this paper in the media. Once again, please circulate the links with family and friends. Thank you.
On the back of the highly successful televised daily coronavirus briefings, No. 10 Downing Street has taken the decision to broadcast weekday afternoon press briefings in October 2020.
At least 2 million people viewed the daily coronavirus briefings every day. Anyone who watched them regularly, as my far better half and I did, knew exactly what the latest on coronavirus was.
I used to tune into the BBC afterwards to get their 'spin' on the briefings. I felt as if I were living in a parallel universe, because the self-proclaimed 'nation's most trusted' broadcaster twisted all the main messages.
Therefore, it is no wonder that press briefings are sure to be a ratings winner. Britons at home will be able to see and hear the government's messages first hand without the spin.
Not surprisingly, the media do not want these briefings televised.
ITV's political editor Robert Peston is opposed:
Oh, having questions from the public would be great. They worked well on the coronavirus briefings.
Peston really loathes the idea of televised briefings:
Sky's Beth Rigby also made her opposition clear:
The Press Gazette does not seem to like the plans, either. On July 3, they posted an article, 'Televised press conference to permanently replace afternoon Downing Street press briefing'.
Excerpts follow, emphases mine:
The briefings will commence in October, be hosted by a political appointee who expected to be an experienced broadcaster, and will take place in a room at Number 9 Downing Street to be converted into a media suite …
Boris Johnson confirmed the news on LBC, saying people had liked hearing directly from the Government during the Covid-19 press briefings.
"People have liked a more direct, detailed information from the Government about what is going on – and I think that they've actually particularly liked our brilliant scientific and medical advisers, possibly more than the politicians to be frank," he said.
"We do think that people want direct engagement and want stuff from us, and so we're going to have a go at that." …
The Daily Mirror's Pippa Crerar, chair of the Parliamentary Press Gallery, and the Mail's Jason Groves, chair of the Lobby, said in a joint statement to Press Gazette that they hoped the changes weren't being made to reduce transparency and Lobby journalists' access to ministers …
See, they care only about themselves. They do not care about the general public.
There was more negativity:
Their comments were echoed by Huffpost's executive editor for politics Paul Waugh who said on Twitter that the success of the briefings would "depend on whether they lead to genuine scrutiny or propaganda/grandstanding".
The Society of Editors shared a similar warning that the Government must not make the briefings too "stage-managed" or pick and choose who is allowed to take part.
Executive director Ian Murray said: "If the aim of the televised briefings is to enable greater transparency then it will be important that they are of sufficient length and inclusive in nature to ensure a broad cross section of the media is able to question the government.
"It is vital that the government gives assurances that journalists or media providers out of favour with the administration will not be barred from such briefings and will also be given the opportunity to pose questions.
"Briefings that are too stage-managed and favour the few will not be in the best interests of the public as a whole."
Yeah, right.
The coronavirus briefings worked really well, so there is no reason to think these will be any different:
The daily Covid-19 press conferences often saw millions tune in to find out updates and see journalists from a wide range of publications grill ministers and scientists.
Guido Fawkes (Paul Staines) was the only one who championed the briefings. He is the UK's foremost political blogger. As early as January 9, he wrote 'Live Stream the "People's Briefings" from Downing Street'. He and his team used to report the highlights from the lobby briefings but perhaps coronavirus put an end to their attendance. In any event, this is what Guido said (red emphases in the original):
In a digital world where news happens in realtime, not to inky deadlines, it is time to just put the briefings out live, streamed to everyone on all platforms. During the election Boris livestreamed his "People's PMQs" on Facebook, demonstrating there is no technological reason why the briefings can't be broadcast via a free digital feed to everyone. Hacks will still get to ask the questions, they just won't be able to spin off-camera, privately delivered answers as they do now. 
The reality is that it isn't in the interests of hacks to open up the Lobby system or insist more often that quotes are on the public record. Intermediating allows them to more easily introduce their opinions into their new reports. Transparency will devalue their role because information scarcity makes their possession of a spokesman's phone number so much more valuable. A start to improving and opening up the system would be to put the people's briefings into the open, in realtime as it happens…
I couldn't agree more.
On July 2, Guido declared victory when No. 10 announced the news:
He wrote (red emphases in the original):
Guido has won a big victory against the Lobby today, breaking open the Lobby's preferred closed-style of briefings from Downing Street …
Boris Johnson has clearly listened to the argument for "a culture of transparency and openness'' in Westminster by backing the broadcasting of the afternoon press briefings and reducing the number of spin doctors across Whitehall. After the success of the televised Covid briefings, Lee Cain plans to continue the on-camera afternoon government briefings. The role will be filled by a political appointee…
Expect an experienced broadcaster to get the job. No 9 Downing Street – where off-camera press briefings are currently held – will be turned into a modern media studio for briefings. A Downing Street source says: "For too long we've been running an analogue system in a digital age. People want to hear directly what the government is doing and to see it being held to account…"
Get this next bit, though. Who knew we had 4,000 communications people employed by the government?
The whole of government communications is being overhauled by Alex Aiken, the Executive Director for Government Communications – it will see departments ordered to reduce the 4,000 spin doctors employed by the government. Aiken and Cain believe the changes will lead to smaller, more agile communications operation. Officials have also been told of plans to plans to drastically reduce the government's communications operation and the number of press officers across Whitehall. Guido's happy that a decade-long campaign for government briefings unfiltered by Lobby journalists has finally been won…
Me, too.
Veteran broadcaster and journalist Alastair Stewart wrote a good article on this for The Spectator: 'Boris's TV briefings could end the lobby pantomime'.
The term 'lobby' in this particular context refers to the media.
Pantomime — 'panto' — in Britain refers to a Christmas play based on popular old fairy tales, e.g. Puss in Boots. They are fun, noisy performances, often featuring famous television actors in crazy costumes.
One thing we learned from the coronavirus briefings is that the top journalists often ask the same question in an attempt to trap the government. From Monday through Thursday, these journalists were often Laura Kuenssberg (BBC), Robert Peston and Beth Rigby.
I used to watch Laura Kuenssberg afterwards for her spin, which always put an unfavourable light on the government, even when they had something positive to report.
Alastair Stewart says:
Political correspondents often asked the same questions, most seeking a 'gotcha' moment in relation to something that should have been done sooner, or better. On occasion they would also use the event to ask questions about non-coronavirus matters.
True, very true.
I was delighted when the government opened up briefing questions to the public. Normally, they had one short video and one written question every day. The public asked useful questions.
The regional press journalists also asked pertinent questions.
Both the public and the regional press were streets ahead of Kuenssberg, Peston and Rigby.
Alastair Stewart thinks so, too:
While the local and regional press were often better still at asking specific, trickier questions which people actually wanted to know the answer to. Most interesting of all perhaps were the members of the public, allowed into the secret society in the closing phase of this farce which inevitably always included some hapless person struggling with the 'mute' button.
He is right about referring to the lobby as a secret society:
I am not, and never have been, a member of 'the lobby' but it is a sort of Masonic gathering of the political hacks with the Downing Street spokesperson. It is almost as ritualistic: steeped in secrecy, they use the language of 'sources', 'unattributable' or 'off-the-record' and other linguistic mysteries of the game. And, like a St James Club, only members are allowed in.
And, yes, there is 'a line' that these guys and gals want to pursue for their anti-government narrative of the day:
When I was a member of the lowly Industrial Correspondents' lobby, we would gather after a briefing to discuss what 'the line' was. I understand a similar game is often played by the political corps, post the Number Ten gatherings. Johnson wants to bust this wide open by putting his man or woman in front of the camera, fielding questions from hacks who will doubtless be ready for their close-ups too.
I disagree with Stewart on the follow-up questions. They became irritating, because the most prominent reporters were grandstanding. He, however, sees it differently:
One precedent that surely will endure from the Covid-19 events will be the supplementary question. It was an error for Johnson to drop these when he was the host. Others, like [health secretary] Matt Hancock, often used them to great effect. What's more, they added to the public cut and thrust of an exchange between a reporter and a minister. It could be enlightening and, at times, entertaining.
As we do not know yet who will front these briefings on most days, Robert Peston has a suggestion:
Of course, occasionally, a government minister or Boris himself will be at the podium.
Stewart reminds us that past press secretaries had been journalists during their careers:
Churchill had his Brendan Bracken, an FT man. Wilson, Joe Haines, a Mirror man to his finger tips. Thatcher's Bernard Ingham served the Yorkshire Post and, ironically, the Guardian with distinction. TV has less of a role of honour today but the former Sky News man, the excellent Joey Jones, had a spell in May's Downing Street.
Who knows what effect this will have on today's journalism. It is likely to step up a notch. One hopes so, anyway.
In any event:
There is more merit in having a free and frank exchange between press and politicians, in the full glare of the TV lights, than in continuing with the semi-secretive pantomime of the lobby.
The public has a right to know what is really going on in government, without the filter of agenda-driven journalists who by definition oppose conservatives and Conservatives.
It's great that, post-coronavirus, Boris has resurrected the notion of the 'People's Government'.
Last week, a few British polling companies took the pulse of the nation with regard to coronavirus.
But first, let's look at an international poll from Morning Consult of G7 countries and their leaders' popularity during the pandemic. Congratulations, Boris Johnson — far above the others in popularity!
Returning to Britain, here are the results from a YouGov/Sky News poll. Keir Starmer, incidentally, is Labour's new leader:
This is the poll in more detail. Dr Chris Whitty is the UK's chief medical adviser; Sir Patrick Vallance is the chief scientific adviser; Dominic Raab, Secretary of State for Foreign and Commonwealth Affairs, is Boris's deputy; Matt Hancock is Secretary of State for Health and Social Care; Sir Keir Starmer is the new leader of the Labour Party:
The next one is Survation's poll on trusted sources of information during the coronavirus crisis. Note that the media come lowest, well below that of despised politicians and local government, regardless of the fact that most Britons get their information from broadcast and print media:
Here is a poll from YouGov for Reuters Institute and Oxford University:
Here's one from a Twitter user. Comments follow (DM is the Daily Mail):
One radio talk show host thinks the British public are too stupid to understand media. I try not to use the word delusional, but this is delusional:
The British government are actually doing a great job in managing the coronavirus outbreak. The NHS has not been overwhelmed.
Before the crisis started, according to the Global Health Security Index, the US was rated first in the world for handling a pandemic. The UK was rated second:
Have both the US and the UK been too scrupulous in recording deaths, as — according to some graphs — both countries have the world's highest fatalities? We shall see, once this is over.
Otherwise, sure, there have been ongoing issues with obtaining PPE, BUT is that the government's fault? Aren't NHS procurement managers in charge of that? Ditto care homes, which are either privately owned or council run.
Never mind that, though. Obtaining PPE has been a problem for nearly every nation during this pandemic.
Below are photos of German medics. The BBC often asks, 'Why can't the UK be like Germany?'
Hello, BBC. Germany has a PPE shortage, too:
Despite that and despite lockdown, the British support Boris and his team. This was as of April 21, published on April 26:
Regardless of the government's careful managing of this crisis, the media dig deep every day to report only bad news. Largely, they are still hurting over Brexit, which will no doubt dominate media narratives once coronavirus is over. The negative coronavirus stories are an extension of anti-Brexit narratives:
The BBC is the only channel to broadcast the government's daily coronavirus briefings. As is customary in other nations doing these daily updates, reporters from across the country are allowed to ask questions afterwards:
Health Secretary Matt Hancock, other government ministers and the medical officers have to face a lot of awful questions. Last week, the BBC's health editor Hugh Pym asked whether the government was 'ashamed' of its coronavirus response:
People like Pym, who smile and smirk simultaneously, are the lowest of the low. They use their gotcha questions on early evening newscasts:
On Monday, April 27, Hancock got fed up with ITV's political editor Robert Peston's continuous, verbose questions. Hancock replied with a terse 'No':
Here's the deal with Peston:
Here's another example, this time from the BBC:
And another:
And another. This is BBC Newsnight's Emily Maitlis with Labour's Peter Mandelson — Baron Mandelson — who held several cabinet positions under Tony Blair and Gordon Brown when they were Prime Minister:
But I digress. Back now to the daily coronavirus briefings.
On Monday, April 27, the government began taking at least one question a day from the general public:
Robert Peston does not like this:
Actually, Robert, the first question chosen and read out on April 27 was relevant to many Britons.
That day, the independent polling company the government uses to select the questions chose one from a grandmother who wanted to know how much longer she would have to wait to kiss and hug her grandchildren. Honestly, I nearly welled up. Much better than taking questions from Peston, Pym and the like.
On Tuesday, April 28, they had two enquiries from the public — one read out loud from another grandmother about childminding her grandchildren and a short video from a mother asking when her son on the coronavirus isolation list could return to school. The lad has cystic fibrosis and autism:
Unfortunately, Matt Hancock had to let all three ladies down gently. It was/is still too early to say.
Interestingly, Peston didn't ask a question on Tuesday. Perhaps he's miffed that Britons are getting their own very real concerns aired? As is said in the news trade: 'Developing …'
News emerged several days ago that human testing began at Oxford University on a vaccine for COVID-19. Suppose it succeeds, which we all hope it will. Will this be the sort of questioning the government will receive? Although humorous, it's not far off the mark. Click on image to enlarge:
Actually, something just as strange happened when the vaccine news was announced. A woman with a PhD, whom the media referred to as Doctor — implying a medic — appeared in the media. She said she would be ashamed if Oxford succeeded!
She was made to appear as if she were from the university, when, in fact, she's at what used to be the city's polytechnic, now called Oxford Brookes. They are two very different institutions:
It is not unusual for the BBC to interrupt any Conservative politician, whether on television or radio. On Friday, April 24, Matt Hancock appeared on Radio 4's Today programme:
The clip below shows ITV's Piers Morgan, co-host of Good Morning Britain, having a go at Matt Hancock, not even allowing him to finish a sentence. Breathtaking arrogance, and worth a watch:
Piers should clam up — and tone down his tweets. Good Morning Britain's ratings have been tanking during the coronavirus crisis (more here):
On April 16, during the daily coronavirus briefing, Channel 4's Alex Thomson asked if the government was trying to kill the elderly. Sitting at home viewing, my far better half and I were astonished. Guido Fawkes has the story:
At the more serious end of broadcasting, Channel 4 News' Alex Thomson last night was on a quest for culpability. His crass question at the Downing Street briefing basically accused Hancock and his advisers of choosing to kill off old people to prioritise protecting the young.
We stopped watching Channel 4 News years ago. It got too left-wing in its bias. Here's another example from Guido's article, involving Home Secretary Priti Patel (emphasis in the original):
Earlier in the week, Channel 4 News' reporter repeatedly demanded from Priti Patel an apology. This type of performance isn't holding power to account or about purely eliciting information. It is gotcha journalism and because journalists at the press conferences are asking their questions through the prism of establishing political culpability, they are getting defensive responses. It would be better to leave that to the opposition in parliament and leave the made-for-social-media infotainment to Piers. It might also arrest the dramatic drop in public confidence in the news media…
Therefore, is it any wonder that former Labour MP for Vauxhall in London tweeted:
Yes, there should be a root and branch review and reform of the alleged 'nation's most trusted' broadcaster. The annual licence fee per household is £145. It is a mandatory charge. As such, some Britons call it a tax.
I have a lot more to say about the media's handling of coronavirus. More to follow at some point.
One week ago on Friday, January 31, 2020, millions of Britons celebrated Brexit Day.
David Kurten, Brexit Party member of the Greater London Assembly, tweeted:
James Higham of Orphans of Liberty called our attention to the fact, that despite our celebrations, little has changed. We're merely in a transition period, not full Brexit. To those celebrating, he wrote:
That's the majority view, everyone on our side so wants it to be true, when it quite palpably is not:
# Still in the Customs Union
# Still in the Single Market
# Still only a small percentage of our fishing waters
# Still in the EU Army and no plans to leave
# Still paying the EU billions to prop them up to keep fighting us …
Agree fully on all points!
Still, it was worth celebrating getting even this far against the Remainers in our own country and in the EU:
On the morning of January 31, Nicola Sturgeon, leader of the Scottish National Party (SNP) gave a press conference in which she restated both her opposition to Brexit and her goal of holding another referendum for Scottish independence. The last one was held in 2014.
I fully agree with becabob's tweet below the Daily Record's front page and have often expressed the same thought to my friends:
EU leaders also made speeches to representatives from the media. David Sassoli, the Italian President of the EU Parliament, lamented the criticism heaped upon the European Union. He said that he was referring to people on the Continent — not the British — and said that could not understand it.
Sassoli went on to say that the EU 'rules' and 'regulations' were in place to prevent 'the strong' overtaking 'the weak'.
I wonder. Outside of MEPs, voters in EU member states have no voice over senior EU bureaucrats appointed to their various positions. They're an unelected elite who tell MEPs how to vote. The EU Parliament essentially rubber stamps whatever legislation they are told to approve.
Moving along, the EU removed the British flag from their premises in Brussels:
Hear the cheers in a British sports bar as it happened:
The EU's Guy Verhofstadt, an arch-enemy of Brexit, posted a video from the Alliance Party in Europe:
Meanwhile, television broadcasters were upset that Boris had a No. 10 team film his exit statement to the nation. Normally, that would have been done by one of the main channels, with permission given to the others to air it. On January 30, The Express reported:
The BBC has warned it might not air the message, which is understood to be a fireside chat.
A spokesman said: "There is a long-established process for recording statements by the Prime Minister at significant times where one broadcaster records it and shares the footage.
"The BBC and the other broadcasters are well used to following this usual process, which respects our independence as broadcasters.
"If Number 10 wants to supply its own footage we will judge it on its news value when deciding whether to broadcast it, as we would with any footage supplied to us by third parties."
Mr Johnson's address is one of a number of celebrations to mark Brexit day.
Government buildings in Whitehall will be lit up in red, white and blue, while Parliament Square and Pall Mall will be decorated with British flags.
On a happier note, the Prime Minister's girlfriend Carrie Symonds posted a photo of Dilyn, their rescue dog from Wales:
That evening, Russia Today was the only media outlet to film Brexit Night for four hours:
At 10 p.m. the BBC, Sky News and ITV broadcast news programmes which lasted until 11:15 p.m. I watched ITV, and I'm glad, because the BBC and Sky gave little coverage of Leavers and, instead, focussed on Remainers.
ITV showed Cabinet members approaching No. 10 for a quiet party that Prime Minister Boris Johnson was throwing for them, his staff and other friends of Brexit, e.g. former Labour Party MP Gisela Stuart.
Just as the newsreader was about to announce who was going in — around 10:06 p.m. — the television played up. It was time to retune the channels, which was aggravating, as we missed the next five minutes of coverage. This is an important detail, more about which below.
ITV showed us coverage of the big party at the rugby club in Morley, which is just outside of Leeds in West Yorkshire:
Happily, ITV showed the fireworks display on their rugby pitch. They were probably the only municipality to have one.
Andrea Jenkyns MP helped to organise the event, which was packed, and probably arranged for permission for the firework display. Fireworks are now officially banned for the year until November 5.
This was the scene in Morley earlier in the day (the Twitter thread has great tweets):
The BBC chose a different locale, Boston in Lincolnshire, for their coverage:
They sang Auld Lang Syne at 11 p.m.:
In the southeast — in Kent — this was the scene at 11:00 p.m. along the famous white cliffs of Dover. This is a lovely little video:
In Brussels, the buildings in the historic centre of the city were illuminated beautifully. Thank you:
In London's Parliament Square, thousands gathered for the countdown, including former Labour MP for Vauxhall Kate Hoey, an ardent supporter of Brexit:
Earlier, Kate Hoey gave an interview to Sky News:
Returning to Parliament Square, the chap in the middle has been campaigning in Parliament Square for the past few years. As far as I know, he did it without pay and, unlike his Remainer counterpart Steve Bray, never brayed about Brexit, but greeted passers-by instead. Anyone who wanted to talk about Brexit with him could do so:
Steve Bray, who continually ruined many live broadcasts from No. 10, says he will continue braying. Shameful. He was paid £80 a day, he said, to shout all the time. It's a wonder he has a voice box left:
Here's a nice 'pan' of those in Parliament Square:
This was the big moment in Parliament Square. Thanks to America's OANN for capturing the atmosphere in their video:
Brexit Party leader Nigel Farage was on hand to address the crowd:
The Houses of Parliament looked stunning:
The Department for Exiting the EU formally closed:
Steve Barclay MP formally resigned his position in that department:
Now on to No. 10 Downing Street, the scene of Boris's subdued party (click photo to read the full article):
Recall that, at the beginning of this post, I mentioned that the television required retuning. No one inside No. 10 was aware of that. Unfortunately, when the big moment came and Boris had intended for everyone to watch the countdown televisually, he had to make do with banging a small gong instead.
I don't know if any of the nation's broadcasters showed Boris's address to the nation at 10 p.m. that night. I tuned in to ITV around 10:05.
Here it is in full:
He aptly and congenially explains that a) he understands that not everyone supports Brexit, b) outlines the next 'act' in this continuing 'drama' and c) tells us why leaving the EU is the 'healthy and democratic' thing to do, referring to the referendum result from 2016.
I am really looking forward to the months ahead. I believe that Boris, flawed though he is (aren't we all?), will be making history in all the best ways for the United Kingdom of Great Britain and Northern Ireland.
On Tuesday, November 19, 2019, ITV showed the first debate of the election campaign.
Supporters of smaller political parties criticised ITV for inviting only Prime Minister Boris Johnson and Labour's Jeremy Corbyn, but, in reality, only one of the two will be Britain's next PM:
At that point, a week before Remembrance Day (hence the poppies), the Liberal Democrats' Jo Swinson was confident she had a real chance at becoming PM:
Although Conservatives believed Boris should have been harder hitting on Labour policies, he probably pulled back because a) this was early in the campaign and b) he wanted to help convince undecided or low-information voters that Conservatives have the better policies.
Afterwards, ITV News reported on the highlights (emphases mine):
In the opening exchanges, the prime minister warned the UK faced more "dither and delay" under a Labour government.
He said a vote for the Conservatives would be a vote to finally "get Brexit done".
"If you vote for us, we have a deal that is ready to go. Approved by every one of the 635 Conservatives candidates standing at this election," he said.
"As soon as we can get that deal through Parliament, as we can in the next few weeks, we can get on with the people's priorities."
But Mr Corbyn retorted that he could not deliver on what he was promising.
"That idea that the Prime Minister Boris Johnson' deal can be dealt with and finished by the end of January is such nonsense," he said.
"What he is proposing is a trade deal which will take at least seven years to negotiate whilst at the same time saying he will negotiate a special trade deal with the European Union.
"The two things are actually incompatible."
Also:
Mr Corbyn's shifted focus onto the NHS, claiming the service would be part of trade negotiations with the US.
Mr Corbyn accused the prime minister of conducting "secret meetings" with the US about the NHS and a future trade deal.
The Labour leader said: "What we know of what Mr Johnson has done is a series of secret meetings with the United States in which they were proposing to open up our NHS markets as they call them to American companies."
To this claim, Mr Johnson replied: "I'm amazed how often this comes up."
Mr Johnson insisted: "This is an absolute invention, it is completely untrue, there are no circumstances whatever that this Government or any Conservative Government would put the NHS on the table in any trade negotiations."
That was the week after Prince Andrew's disastrous interview on the BBC, which had aired the previous Saturday evening. Moderator Julie Etchingham asked the two leaders about the monarchy. I have highlighted what the PM said, because it has been often misquoted since:
Asked if the monarchy is fit for purpose, Mr Corbyn simply replied: "It needs a bit of improvement."
Mr Johnson answered: "The institution of the monarchy is beyond reproach,"
Ms Etchingham then asked if Prince Andrew is fit for purpose.
Mr Corbyn highlighted how sympathies should be with Jeffrey Epstein's victims, which Mr Johnson echoed.
Boris never said the monarchy was beyond reproach, meaning individual royals. He remarked on the institution itself.
Corbyn, who has been repeatedly accused of downplaying anti-Semitism in his party, which, oddly, has been rampant since he took over as leader in 2016, brought up Jeffrey Epstein. As everyone following the scandal knows, his surname is pronounced 'Ep-steen', but Corbyn deliberately pronounced it 'Ep-shtein', putting real emphasis on it.
The former editor-in-chief of The Independent, Simon Kelner, wrote an editorial about it for the i paper, 'Conscious or not, Jeremy Corbyn's mispronunciation of Jeffrey Epstein's name matters to British Jews'. Too right it does:
The question, which we can be sure will never be answered, is this: did Corbyn do it, consciously or unconsciously (they're both as bad as each other, by the way), to make Epstein sound just a little more sinister and foreign and, relevantly in the context, more Jewish? It's hard to come up with an answer that doesn't make the Labour leader appear either malevolent or incompetent. Given the wall-to-wall media coverage devoted to the scandal over recent days, it stretches credulity to suggest that Corbyn hadn't heard Epstein's name pronounced correctly multiple times.
… it was a very emphatic delivery – is something else entirely, and Corbyn had to go out of his way to summon up the mittel-European pronunciation …
I am more of a pedant than I am an anti-Semite hunter, but my synapses were twitching on both counts. I have a high threshold for anti-Semitism, and I have never thought that there was a prima facie case against Corbyn in this respect. In fact, I share some of his views on the politics of the Middle East. But this definitely pulled me up short. Having just watched his epically short-tempered interview with Krishnan Guru-Murthy on Channel 4, which was filmed in 2015 but went viral this week, it made me wonder whether Corbyn might just be, to borrow [the BBC's] Eddie Mair's epithet about Boris Johnson, a nasty piece of work.
While the mispronunciation of Epstein's name may not be viewed by the majority of viewers as overtly anti-Semitic, it definitely had a nasty edge. No one is offended on Epstein's behalf (that would be ludicrous), but if I found it offensive, many, many other Jewish people would have found it more so …
Whether I am reading too much into a slip of the tongue is open for debate. But what is not in question is that Jeremy Corbyn should be doing all he can to persuade Jewish voters that, on anti-Semitism, he doesn't just talk the talk. And what he did here was, apart from anything else, very bad politics.
More on this follows below.
Members of the audience were allowed to ask questions:
The debate ended with a hypothetical question from an audience member about what Christmas presents the two leaders would give each other:
Before their closing remarks, the prime ministerial hopefuls were asked what Christmas presents they would buy for each other.
Mr Corbyn said: "I know Mr Johnson likes a good read, so what I would probably leave under the tree for him would be A Christmas Carol by Charles Dickens and he could then understand how nasty Scrooge was."
Responding, Mr Johnson said: "I would probably leave a copy – since you want a literary reference – a copy of my brilliant Brexit deal."
Pressed by host Ms Etchingham to give a non-political answer, Mr Johnson said: "Mr Corbyn shares my love of plants and trees. I think maybe some damson jam," to which Mr Corbyn said: "I love damson jam."
At that point, Boris walked over to Corbyn and invited him to shake hands. It was a spontaneous moment, and it's a pity that ITV did not report on it. Viewers could see Corbyn backing away from Boris with his outstretched hand. After seconds of hesitation, he extended his own for a limp handshake. Boris's was much heartier.
What did the general public think? Interestingly, the result was similar to that for the Brexit referendum, which was 52% to 48%:
Leaders of the two main parties take part in debates like tonight's, in part, to try to win over undecided voters.
A YouGov snap poll suggested 51% of Britons believed Mr Johnson won the debate compared to 49% for Mr Corbyn.
Those who answered "don't know" were removed from the result, with YouGov adding the figures are so close as to be within the margin of error.
ITV's political editor Robert Peston told news presenter Alastair Stewart that Jeremy Corbyn needed this debate to present a positive game-changer for Labour, who were trailing in the polls then and continue to do so now. Peston said that it was a draw. People who want Brexit done will vote for Boris. People who are worried about the NHS will vote for Corbyn:
Tom Harwood, who works for Guido Fawkes, said that Labour missed a trick with their claim that the Conservatives would 'sell the NHS' to President Trump:
Interestingly, our EU negotiator for Brexit, Michel Barnier, noticed another of Harwood's tweets — and 'liked' it:
Dear me. Whatever next?
Well, the Labour-supporting newspaper, The Mirror, did not exactly go overboard in favour of Corbyn's performance. Then, again, Prince Andrew was still making the headlines:
At the weekend, the polls remained static. More than one person thought this was because of the anti-Semitism in the Labour Party. They are the only other political party other than the extreme British National Party to be investigated for it. Shameful:
One week later — Tuesday, November 26 — Corbyn appeared on the BBC for an evening interview with veteran broadcaster Andrew Neil. He looked tired, 'low energy' (to borrow a Trumpism) and cranky. Neil took him to town on anti-Semitism, forcing him to admit nearly everyone in Britain would be poorer under Labour as well as false claims about the Conservatives wanting to sell the NHS to Trump:
It was generally agreed that, only days after Prince Andrew managed to give one of the all-time worst interviews on television, Corbyn managed to rival him:
This is how bad it was:
These were some of the newspaper headlines on Wednesday:
Andrew Neil began by asking Corbyn if he thought a particular statement about 'Rothschild Zionists' was anti-Semitic. Corbyn refused to say, until after the fourth time Neil repeated it:
Guido Fawkes said (emphasis in the original):
Jeremy Corbyn had to be asked four times before admitting 'Rothchild Zionists run Israel and world governments' is an anti-Semitic trope. This'll undoubtedly put the minds of 80% of British Jews to rest…
Corbyn offered no apology for the anti-Semitism in sections of the Labour Party. This video is subtitled:
Andrew Neil grilled Corbyn on taxing everyone more, not just the wealthy:
Neil exposed the fact that Labour's costings make no sense. Where's the money coming from? The reply is not an actual Corbyn quote, by the way:
Labour supporters accused Neil of interrupting Corbyn, but:
The Sun has an excellent summary of the interview:
The next morning, ITV's Piers Morgan picked up Corbyn's daft comment on ISIS:
The interview got very good ratings:
With regard to the NHS, Neil scored points there, too.
Even Barry Gardiner, the erudite, effete veteran Labour MP — technically a Labour candidate, now that we are approaching the election — couldn't defend his leader to Andrew Neil with regard to his questionable statements about the Conservatives wanting to sell the NHS to the United States. This interview took place 24 hours later:
Guido Fawkes commented:
The second excruciating Andrew Neil interview Labour has had to go through took place last night, when Shadow Trade Secretary Barry Gardiner was shown up over Jeremy Corbyn's blatant fibs to the electorate. Labour are banking on people not being bothered to read the 451 pages they produced. Unfortunately for them, Guido has…
With this and snapping at a journalist for mentioning anti-Semitism, Gardiner has not been having a good media round…
Those interested can follow Guido's link in his first paragraph to see the documents in question.
Jeremy Corbyn is talking a lot of nonsense not only on the NHS but everything else his party proposes.
One thing is for certain: so far, he has been a gift to the Conservatives.