You are currently browsing the tag archive for the 'Jacob Rees-Mogg' tag.
Saturday and Sunday, June 4 and 5, 2022, were a time of fun and frolic, ending the four-day Platinum Jubilee holiday.
As delightful as it was, unfortunately, the first news item on Monday morning was that Prime Minister Boris Johnson would undergo a vote of confidence early that evening.
Sir Graham Brady, the chairman of the 1922 Committee, the Conservative group of backbench MPs, made the announcement at 8 a.m.:
He gave a short press conference outside the Palace of Westminster:
Brady had already received 54 letters from Conservative backbenchers, the minimum number of no confidence letters needed — 15% of Conservative MPs — in order to trigger the vote:
He had received most of them before the Platinum Jubilee celebrations started. He probably has more than 54 letters; someone on GB News said that he had received 83.
Sir Graham arranged a time for Boris to have right of reply to his party's MPs, scheduled for 4 p.m.
GB News interviewed a number of Conservative MPs during the day. Those supporting Boris said that MPs calling for him to stand down are either Remainers, those who never liked him, those who never received a Cabinet post and those who fell out with him and were reshuffled from Cabinet. Some of the MPs falling into the last three categories voted for Brexit.
It's a pity that Boris's premiership has been far from perfect, unlike the resplendent appearance of the Duchess of Cambridge:
Most of the viewers writing into GB News are Boris supporters. This was the result of Dan Wootton's Monday night poll on whether Boris should lead the Conservatives into the next election (2023 or, more likely, 2024):
Jacob Rees-Mogg, former Leader of the House and current Minister for Brexit Opportunities, tweeted that rebel MPs should remember that voters elected Conservative MPs, i.e. Boris, therefore, for MPs to depose him implies that people's votes do not count. As such, Conservatives could lose the next election largely for that reason:
UPDATE — The 1922 Committee announced the result of the vote at 9 p.m. Boris has won but not by as big a margin as John Major in the 1990s or Theresa May a few years ago:
Speaking after Sir Graham Brady announced the vote result, Boris said that the Government can move on and focus on the things that 'really matter':
Jacob Rees-Mogg, a monarchist, no doubt thoroughly enjoyed the Platinum Jubilee weekend and tweeted a Telegraph editorial which said that the Queen has increased the UK's love of the monarchy:
Interestingly, the editorial is dated June 1, the day before the long weekend.
However, it was spot on, because Jubilees have united the nation like nothing else, other than the Olympics and Paralympics. This is why (emphases mine):
Since we have no national day in the United Kingdom, the four significant jubilees of the Queen's reign have each served to reassert a patriotism that is always present but only occasionally allowed to flourish.
People need events such as these to feel a sense of belonging beyond our immediate family, neighbourhood or region. To manifest itself through the Queen, rather than a nebulous concept of nationhood, makes it more personal – a relationship that is never possible between citizens and an elected politician.
While a proportion of her subjects will recall the reign of her father, or even her uncle and maybe her grandfather, for the vast majority of the population the Queen is the only head of state we have known – a constant companion through our entire lives, the still point in an often turbulent world.
In a statement in February to mark her accession, the Queen signed off as "Your Servant", which is how she has always seen herself. As the heir-presumptive in 1947, still not expecting to take the throne for many years, she gave a radio broadcast to declare: "My whole life, whether it be long or short, shall be devoted to your service and the service of our great imperial family to which we all belong."
Mercifully, it has turned out to be a long life and Her Majesty has more than lived up to the pledge she gave then …
With that, let us look at the Jubilee events of Saturday, June 4.
The Queen did not attend one of her favourite racing events, the Epsom Derby. She watched it on television instead:
The Princess Royal, Princess Anne, represented her mother at Epsom. I do wish Anne could succeed her. She does so much unsung work for charity — and we have no idea what she thinks about climate change:
Forty jockeys wore the Queen's silks in honour of her 70-year reign. She has met some of them:
Princess Anne was not the only member of the Royal Family representing the Queen in the UK that day.
Prince Edward and Sophie, Countess of Wessex, travelled to Northern Ireland for official engagements:
The following video shows the Queen on her previous visits to the province also known as Ulster:
The Cambridges had an equally busy day, especially the children.
The Countess of Cambridge, better known as Kate, made cupcakes with the children for a Sunday street party in Cardiff:
The family also visited Cardiff on Saturday:
In the evening, they attended the concert, the Platinum Party at the Palace:
Earlier, while in Cardiff, they were able to meet performers and planners for the Welsh contribution to the concert:
As happened during the Diamond Jubilee, the concert was a true son et lumière — sound and light — experience:
There was a terrific light show with drones. This bit with a corgi dropping a bone is amusing:
Although the Queen was in absentia, she opened the show with a brilliant comedy sketch she secretly recorded in March with Paddington Bear.
The Sunday Times has the story:
At 96, the Queen showed she has lost none of her humour, starring in a surprise televised sketch with the fictional bear from darkest Peru. The skit opened the Platinum Party at the Palace, a live concert at Buckingham Palace broadcast by the BBC.
It echoed the James Bond spoof at the opening ceremony of the 2012 London Olympics, in which she and her corgis appeared with the actor Daniel Craig at the palace, and the Queen later appeared to jump out of a helicopter and parachute into the stadium.
During her encounter with Paddington in the crimson drawing room at Windsor Castle, the Queen laughed as the clumsy bear caused chaos, accidentally depriving her of a cup of tea, glugging directly from the spout of the teapot and spraying her footman with cream from a chocolate éclair.
As he showed Her Majesty the marmalade sandwiches he stores under his red hat, the Queen prised open her black Launer handbag, confiding, "I keep mine in here," before closing her bag and wryly observing: "For later."
Paddington, who is created with CGI and voiced by the actor Ben Whishaw, congratulated the Queen on her historic reign, wishing her a "happy jubilee, Ma'am" and adding: "And thank you. For everything." The Queen replied: "That's very kind."
The Queen has worn Launer handbags since 1968. She awarded them with a Royal Warrant many years ago and visited their factory in 1992. A Launer is hardly a handbag in which one would store marmalade sandwiches.
The sketch had to segue perfectly into Queen's — the band's — performance:
Rosie Alison, of Heyday Films, which produced the two Paddington films and is making a third this year, said: "Filming Her Majesty's tea party with Paddington Bear was such an emotional day for the entire crew. All of us were in awe of the Queen's wit, warmth and radiant aura as she patiently engaged with a polite, clumsy but very well-intentioned bear. Of course, she shone, and put all of us at ease."
Mark Sidaway, executive producer of the BBC's Platinum Party at the Palace, said: "We were thrilled and honoured when we learnt Her Majesty had agreed to run with this touching yet joyful idea the team had come up with — although it was slightly nerve-racking ensuring it all blended seamlessly with the live performance from Queen."
One of my readers, Sylvia, sent in the link to a Mail article which has a link to the full video and terrific concert photos. Many thanks, Sylvia!
This version has the addition of the Monarch and Paddington Bear tapping their tea cups to Queen's opening number. We also get a glimpse of the crowd as it was at that moment:
Here are more scenes from the concert, which featured much musical talent from past and present, including Rod Stewart, Elton John, Duran Duran and Diana Ross. The following video shows more of the drone light displays, which were amazing:
At the concert, Princes Charles and William paid tribute to the Queen.
What follows comes from The Sunday Times report.
William spoke first:
Earlier in the evening, Prince William, 39, an ardent environmentalist, used his tribute to hail his grandmother's calls over the years to protect the planet and spoke of his "pride" that "my grandfather and my father have been part of those efforts". Sir David Attenborough also gave a tribute praising the royal family's commitment to conservationism.
Before William appeared on stage, the German composer Hans Zimmer and an orchestra performed a specially arranged version of the Planet Earth II Suite, followed by a performance by the Royal Ballet, as words from the Queen's 1989 Christmas message, focusing on the environment, were broadcast: "The future of all life on Earth depends on how we behave towards one another and how we treat the plants and animals that share our world with us. We share the Earth as human beings. All of us. And together as the nations of the world will leave it to our children and children's children. We must be kind to it for their sake."
William called his grandmother the Queen 'of hope':
A clip from the Queen's message to COP26 last year was also shown.
Charles said, in part:
Taking to the stage in front of Buckingham Palace, which was illuminated with images of the Queen personally chosen by Charles, the prince was cheered by a crowd of more than 20,000 as he addressed his mother, who was watching on television from Windsor Castle.
"Your family now spans four generations. You are our head of state. And you are also our mother … Looking back, we think of the countless state occasions that are milestones along this nation's road. And you will think of red boxes, filled with government papers, at the end of the day … We think of all you have done to make the Commonwealth such an important force for good. You continue to make history" …

"I know what really gets my mother up in the morning is all of you, watching at home.
"You have met us and talked to us. You laugh and cry with us and, most importantly, you have been there for us, for these 70 years. You pledged to serve your whole life — you continue to deliver. That is why we are here. That is what we celebrate tonight. These pictures on your house are the story of your life — and ours. So, your Majesty, that is why we all say thank you."
He ended his tribute by calling for "three cheers for Her Majesty".
Here is the video:
Members of the Royal Family were out in force. The Sussexes did not attend, however.
Many politicians also attended, including Boris and his wife Carrie, Labour's Sir Keir Starmer, Scotland's First Minister Nicola Sturgeon and her husband, the Welsh First Minister Mark Drakeford and the Mayor of London Sadiq Khan.
The weather in London held out for Saturday. However, all changed overnight.
I'll cover Sunday's Platinum Jubilee Pageant tomorrow.
Yesterday's post reviewed events surrounding Labour leader Sir Keir Starmer and other MPs connected with 2021's campaign meeting, forbidden under that year's coronavirus rules:
Keir Starmer defended Labour's indoor beer and korma event by saying that no other venue was serving food.
Well, they were. However, the problem was that service was outdoors only at that time.
The hotel where Starmer was staying, the Radisson Blu, provided room service, but that would have precluded any other persons gathering in an individual's room.
On the evening of Election Day, Thursday 5, 2022, GB News's Dan Wootton interviewed Red Wall MP Richard Holden, who had written to Durham Constabulary about properly investigating the event:
Holden said that the students who took the videos and photos offered to give Durham police a statement, but their kind offer was refused.
Holden suggested that evidence was being suppressed. He also questioned the fact that people involved had forgotten their diary details for that day.
As for dining, Holden said that, in order to comply with the rules, he had been part of a group eating a fish and chips supper outdoors in Hartlepool in windy conditions.
On Friday, May 6, Durham Constabulary finally issued a statement saying they would investigate the event held on April 30, 2021:
Labour MP Emily Thornberry dismissed the news and said all would be 'fine':
The BBC reported that Durham Constabulary waited until after the election to make an announcement (emphases in purple mine):
The force initially decided that no offence had occurred on 30 April last year, but said it had since received "significant new information".
It added that it had delayed announcing the investigation until after Thursday's local elections.
Sir Keir said he was confident he hadn't broken any Covid rules.
He has faced criticism since he was filmed drinking a bottle of beer while in the constituency office of City of Durham MP Mary Foy.
Speaking to reporters on Friday, he said he had "stopped for something to eat" during meetings, and there was "no party".
"The police obviously have go their job to do – we should let them get on with it," he added.
Starmer took no questions on the matter:
Guido Fawkes resurrected a Starmer tweet from January 31:
Priceless:
The Telegraph's Madeline Grant made an eloquent observation …
… which received these replies:
Later that day, Guido posted about the concerns that Starmer's advisers had with the upcoming investigation:
Guido's post says that a journalist, Ava Evans, heard that Labour MPs would not be doing media rounds for a few days (emphases in the original):
Ava also reports that one Labour MP told her they would not be participating in any media interviews for the next few days, for fear of being asked to defend Sir Keir. His actions were "indefensible" she reports them as saying. Which explains why we are only seeing Emily Thornberry abasing herself in studios…
On Saturday morning, news emerged that Starmer was taking legal advice from Lord Falconer, Tony Blair's close friend who served as Lord Chancellor and Secretary of State for Justice from 2003 to 2007:
Guido reported on the development, an exclusive:
An extremely worried Keir Starmer has tasked Charlie Falconer with putting together a Beergate legal defence team. Labour lawyers have told Starmer that there is a 60% chance that he will escape a fine, however the fining of Sunak over a cake has spooked Starmer that he too could be fined over a beer and curry. The irony of the legal and political situation is exquisitely painful for the barrister politician.
Guido later added an update:
UPDATE: In another irony, Falconer has publicly opined on the situation of politicians breaching laws they voted for in the Guardian:
… true accountability means facing justice in a criminal court. But not in this case – a fixed penalty notice does not bring any sense of justice done to those who paid what was very often a high price for obeying the rules.
Which appears to be a demand that Boris be tried in court for his birthday cake….
One of Guido's readers wondered if Falconer's involvement presented a conflict of interest, given his strong opinions on the matter:
That isn't the only conflict of interest, either. There's also Durham's Police and Crime Commissioner, Joy Allen. Starmer campaigned for her and she won her election to that post:
The Mail on Sunday was able to obtain a leaked memo, Starmer's itinerary for April 30, 2021:
This was the paper's front page: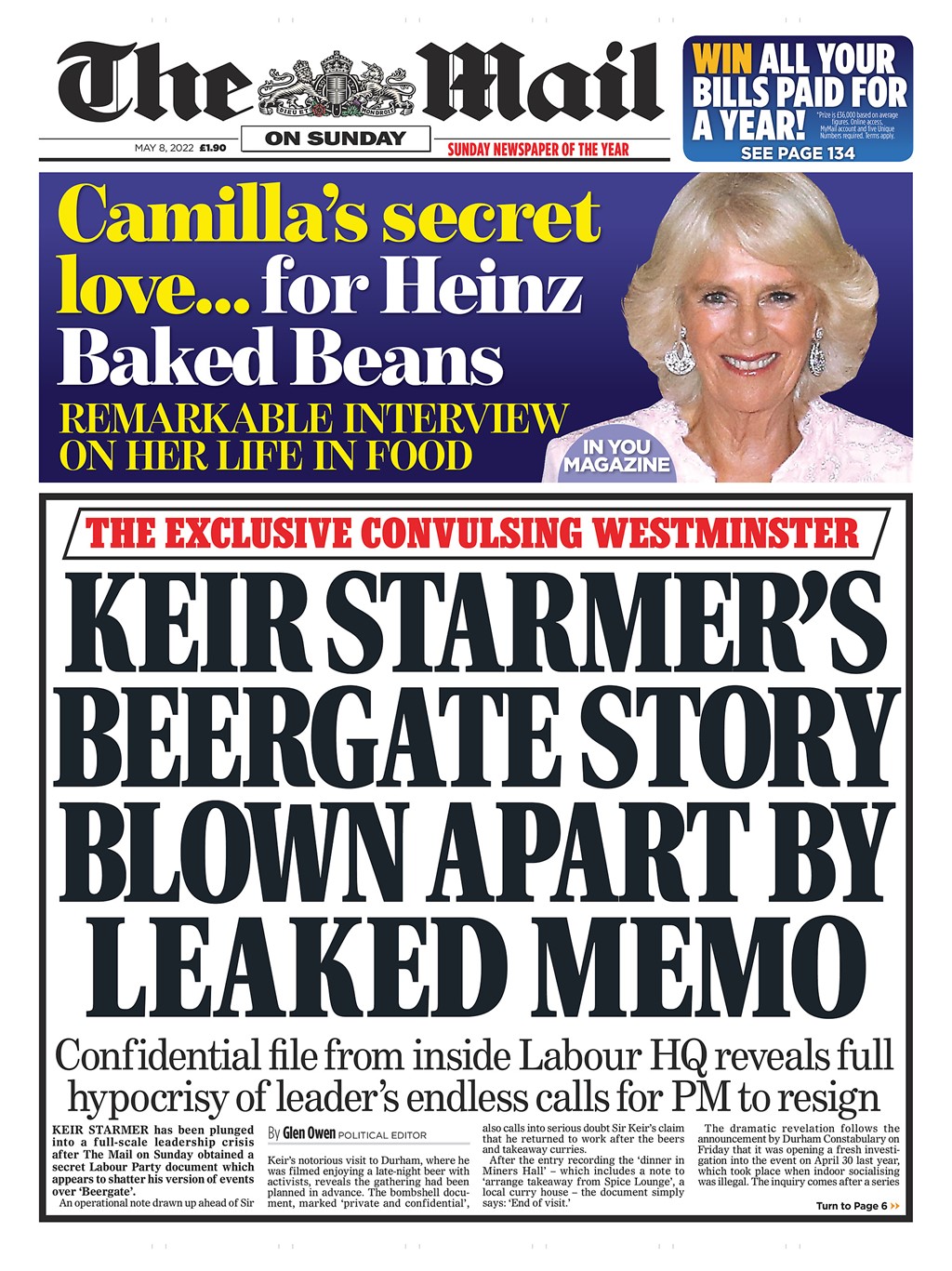 Glen Owen's exclusive for the MoS says:
The bombshell document, marked 'private and confidential', also calls into serious doubt Sir Keir's claim that he returned to work after the beers and takeaway curries.
After the entry recording the 'dinner in Miners Hall' – which includes a note to 'arrange takeaway from Spice Lounge', a local curry house – the document simply says: 'End of visit.'
Spice Lounge did not supply food for the event. Another curry house, The Capital, did.
The paper received the memo from a whistleblower. The itinerary reveals that Angela Rayner MP was scheduled to be present:
The memo – which was passed to this newspaper by a whistleblower – also further undermines Labour's claims that it made 'an honest mistake' when it denied that Deputy Leader Angela Rayner was at the event: it lists 'AR' alongside 'KS' as the two senior politicians anchoring the day's proceedings.
Labour had denied that this was a planned event, but the memo's existence proves that wrong:
… the note – a forward-planning logistics document which is referred to as an 'op note' – makes clear the beer and curries had been planned in advance.
The note says that after a day's campaigning in Hartlepool, Sir Keir's team were due to arrive at the Radisson Blu hotel in Durham at 6.31pm, leaving by 7pm to walk to the Miners Hall.
After recording clips for the media, the note says a 1hr 20mins slot was set aside for 'dinner in Miners Hall with Mary Foy', the local Durham MP. A side note reads: 'YS to arrange takeaway from Spice Lounge'. YS is the acronym for a member of Sir Keir's private office.
The Spice Lounge curry house was closed at the time, with callers being referred to the nearby Capital Indian restaurant. Last week, the Daily Mail spoke to one of the restaurant's delivery drivers, who said he had dropped off a 'big' order of food for at least 15 people, including four bags of curries, rice and naan bread …
The Mail on Sunday has established that the Radisson Blu was serving food when Sir Keir and his party checked in at 6.31pm and continued to do so until 9pm …
The document also refers to four members of the 'MPL' – Met Police Liaison – who were included in the trip, suggesting they are likely to have information useful to the investigation.
Also included on the op note is the line 'Covid Alert Level: National Lockdown', and 'important note: please maintain social distancing of 2m and wear face coverings whilst indoors at all time'.
The leaked document makes clear that Ms Rayner was to play a central role in the day's events …
A Labour source said: 'During a fast-moving campaign, the op note doesn't always keep up with events so it would be wrong to assume that activities occurred at the times originally planned. For example, it's been documented that the takeaway was late'.
This was Starmer's previous denial that the gathering had been planned:
The Sunday Times also had an incriminating article. A source told the paper that some staffers were there only to party and that no work was done afterwards. Pictured below is Mary Foy MP:
It is expected that the investigation will take between four and six weeks:
Allegedly, pictures from the event circulated on Twitter. Those have since been deleted.
Interesting, to say the least:
The aforementioned Sunday Times article said that the Durham Constabulary have opened a major incident room. Angela Rayner's presence appears to have triggered the investigation:
It was the discovery that Rayner had been at the event, despite Labour's original claims, that prompted Durham police to open their investigation. A source close to the force said: "It raises the question about what else we might not have been told the entire truth about."
Officers have set up a major incident room, and up to six detectives will spend the next four to six weeks looking at the potential lockdown breach. They are expected to use questionnaires — similar to the ones used by Scotland Yard to investigate Johnson and the Downing Street scandals — to interrogate those present at the event.
The force said, however, that it did not issue fines retrospectively. When Dominic Cummings was found to have made a 260-mile trip to Barnard Castle in 2020, the force said to take action against him would "amount to treating Mr Cummings differently from other members of the public".
It is unclear whether Scotland Yard's decision to issue retrospective fines over the Downing Street gatherings could force a change of stance.
Mary Foy said:
"Me and my team were working during a very busy period, including facilitating the leader's visit," she said. "I do not believe either I or my office broke any rules, and I will of course fully engage with any police investigation."
Dominic Raab, the Justice Secretary and Deputy Prime Minister, said:
"It's the rank double standards that drive people crazy," Raab told Sky News. "He needs to fess up and answer all of the holes in the account that he gave for that beer-and-curry event in Durham.
"Keir Starmer looks like, I'm afraid, someone who is engaged in complete hypocrisy, complete double standards and I don't think he is going to get past that until he gives a proper account of what happened in Durham."
Here's the video of Raab talking to Sky News:
Jacob Rees-Mogg MP, in charge of Brexit efficiency, told Channel 4's Andrew Neil that one should be extremely careful with hoisted petards:
He does have a way with words.
Guido took a look at what Lord Falconer might say in Starmer's defence:
That said, in February, The Mirror reported that Prime Minister Boris Johnson also hired lawyers over 'Partygate':
The Prime Minister has hired hot shot lawyers to deal with the Met's questions on Partygate.
The Mail reported that Starmer had cancelled his appearance on Monday, May 9, at an Institute for Government event in advance of the Queen's Speech on Tuesday.
Guido tweeted:
Guido's post says:
The public event was scheduled to have included questions from the press and public. This morning, when door-stepped outside his North London home by journalists, a grim faced Starmer refused to say anything and was bundled into a waiting Range Rover. Keir clearly realises that "the police have already investigated this matter and found nothing" will no longer work as a line.
The Institute for Government is funded by the billionaire David Sainsbury, a former Labour minister under Tony Blair, who has backed centrist Labour politicians financially in the past. A statement on the website says only that the event is cancelled, with no explanation given.
The cancellation made the front page of Monday's Daily Mail:
It was the start of another tense week for the Labour leader.
Meanwhile, Boris focused on the Queen's Speech and historic agreements between the UK, Sweden and Finland in case of Russian aggression as a knock-on effect of the Ukraine conflict.
More to follow tomorrow.
Reaction to Justin Welby's Easter heavily politicised sermon last Sunday was strong.
We appreciate that he has no time for Boris Johnson or other Conservatives, but could he please put a sock in — sorry, stop to — it and start preaching about the Risen Christ, particularly during Eastertide?
An article in The Telegraph on Easter Monday noted:
The Archbishop's Easter sermon is the latest in a series of interventions by him over government policy.
The Telegraph's report is titled 'Stop your misguided moralising on Rwanda deal, MPs tell Archbishop of Canterbury'.
Here is the background (emphases mine below):
The Archbishop of Canterbury has been accused of "misguided moralising" after leading the Church of England's attack on the Government's Rwanda deal and "partygate".
The Most Rev Justin Welby was said to have undermined the role of the Church by using his Easter Sunday address to criticise the Prime Minister's plan to send asylum seekers to the landlocked east African nation.
On the same morning, the Archbishop of York questioned what kind of country people want Britain to be and suggested that public servants should lead by example when it comes to morality.
In what has been perceived as a veiled attack on Boris Johnson over the Downing Street parties scandal, the Most Rev Stephen Cottrell asked whether the UK wants to be known for being a country where "those in public life live to the highest standards, and where we can trust those who lead us to behave with integrity and honour".
Meanwhile, the Archbishop of Canterbury said on Sunday that the policy on sending illegal immigrants to Rwanda raises "serious ethical questions" and "cannot stand the judgment of God" or "carry the weight of our national responsibility as a country formed by Christian values" …
On Sunday night, the Archbishop was accused of hypocrisy after Whitehall sources pointed out he has warned four times about the problems of illegal immigration.
Conservative MPs were quick to react:
Priti Patel, the Home Secretary, appeared to hit back, writing in The Times: "We are taking bold and innovative steps and it's surprising that those institutions that criticise the plans, fail to offer their own solutions."
Jacob Rees-Mogg told The Telegraph that whilst the Church is "authoritative in all matters that pertain to God", the same cannot be said for "day-to-day practical solutions".
"This is not an unreasonable perspective for an Archbishop, he is completely entitled to it," he said. "But he has missed the effect of the policy. It is an informed and important opinion, but it is not revealed truth."
Tim Loughton, the Tory MP for East Worthing and Shoreham, and a member of the Commons home affairs select committee, said: "There is nothing ungodly about trying to come up with practical solutions to end the vile trade in human misery where criminal gangs daily put lives at risk to profit from trafficking people into the UK illegally, based on ability to pay rather the legitimacy of their claim.
"The people traffickers and those who turn a blind eye to ending this ungodly activity are the ones who should really be the target of the Archbishop's misguided moralising."
He went on to say that the Church of England's failure to distinguish between good and evil is "directly linked to its greatly diminishing influence in our country".
Ben Bradley, the Tory MP for Mansfield, said that the Archbishop is "way out of tune with public opinion", adding that "commenting on government policy is not Justin Welby's job".
He said: "Given that Welby has previously raised concerns about immigration overburdening communities, and the importance of recognising concerns about immigration, it's pretty hypocritical to now slate the Government for finding solutions to those issues."
Good on Ben Bradley for remembering what Welby has said in the past:
The Archbishop has previously warned about the problems of small-boat Channel crossings. He described the deaths of at least 27 migrants off the coast in France last November as a "devastating loss of human life", adding: "This cannot go on."
At the time, he said Britain needs a "better system based on safety, compassion, justice and co-operation across frontiers".
He also acknowledged that "we can't overburden communities, we have to be realistic about that" and called on states, religious groups and civil society to "come together in a spirit of pragmatism and compassion" to find a solution to immigration.
The article has more of the Archbishop's best hits.
So, we had no message about the Resurrection from him or his second in command, the Archbishop of York, who started well with this opening on BBC Radio 4:
The message of Easter is that stones are rolled away …
Yes, yes, go on:
… and barriers are broken down, and therefore it's truly appalling and distressing. I'm appalled at what's being proposed and I think we can do better than this."
Oh.
He added that:
the Government was "out of tune with British people" and those arriving on small boats are in "just as much need" as Ukrainians.
Hmm. Really?
Tens of thousands of able-bodied men under the age of 40 are crossing the Channel in droves. Ukrainian women and children in need of shelter and support are coming to the UK. Goodness knows what they've been through since the end of February while their partners or husbands fight for their country.
A Telegraph editorial tells us what else was in Welby's sermon:
Mr Welby's strictures were not confined to asylum policy. He also said families were "waking up in fear" because households were facing the "greatest cost-of-living crisis we have known in our lifetimes". They had "cold homes and empty stomachs" and the soaring cost of everyday life was the "first and overwhelming thought of the day" for most people, he added.
The paper sees an issue with Welby's never-ending pronouncements. He, much like the Labour Party, never has a solution:
Mr Welby sees it as his duty to speak out on behalf of the poor and dispossessed, though it is never clear what he wants to see happen as an alternative. The asylum policy is certainly radical, but is it the Church's position that anyone who makes it to the UK should be allowed to stay? What is the Church doing to look after and house them?
Mr Welby opposed the rise in National Insurance contributions to pay for more to be spent on the NHS. This newspaper also argued against it, but because we think people in general are overtaxed, whereas Mr Welby thinks the better-off should pay more. Is it really the Church's job to conduct a running political commentary in this way?
No.
On Easter Monday evening, I tuned into Nigel Farage on GB News.
Farage is Anglican. He accused Welby of deeply damaging the Church of England's reputation. I agree.
Here's a bit more from his editorial:
GB News presenter Nigel described the Archbishop's statement as a "big virtue signal".
The former Brexit Party Leader said: "He didn't mention anything about the criminal traffickers, he didn't mention anything about the drownings in the Channel, he didn't mention anything about those who come to this country and finish up effectively working in slave labour conditions."
He added: "It is true form as a left-wing archbishop who has done more to damage the reputation of the Church of England, to decrease the numbers turning up every Sunday than almost anybody who has ever lived."
You can watch it in full:
One of the former chaplains to the Queen, Dr Gavin Ashenden, who recently converted to Catholicism, discussed Welby's sermon. He said that the Archbishop has a religion:
but the religion isn't Christianity.
Ashenden said that a BBC Panorama programme warned some years ago that we would have a global problem with immigration from the equatorial countries northward:
Farage also interviewed Steve Valdez-Symonds from Amnesty International UK, who is a relatively frequent GB News guest:
This article has a partial transcript of their discussion:
Steve Valdez-Symonds, from Amnesty International UK, criticised the Home Secretary's proposal and said "the evidence doesn't suggest it can work."
"People on these journeys are on the whole not in the position to assess what's going to happen to them at the end," added Steve Valdez-Symonds in an exclusive interview with GB News.
Nigel Farage hit back at the Refugee & Asylum Rights Director's explanation: "Oh no, they are[;] otherwise they would stay in France. They come here because they see four-star hotels."
"They think we're treasure island. That's why they all want to come here, it's obvious isn't it?" said the GB News Presenter.
Mr Valdez-Symonds responded: "I think that's absolutely nonsense I'm afraid. If that were the case, why is it that France continues to receive so many of more people into its asylum system than do we?"
The former Brexit Party Leader said: "It's because they are on the Mediterranean. France isn't choosing to have large numbers of people to come in, but they're coming across the Med."
The dinghies continue to arrive:
France requires an 18-month wait before benefits can begin. The UK has a much shorter waiting time.
Furthermore, it is unlikely that France puts migrants in four-star hotels. But, as our MPs so often say in the House of Commons:
We're better than that.
Yes, we certainly are, for better or worse.
Despite receiving more brickbats this week, Prime Minister Boris Johnson is still standing as Parliament enters its February recess.
Former PM John Major had a go at Boris about Brexit in a speech he gave to the Institute for Government this week. Like another former PM, Theresa May — still a serving MP — Major is a staunch Remainer.
Writing for The Spectator, historian Nigel Jones discussed the Blob (our Swamp) on Thursday, February 11, 2022 (emphases mine throughout except for Guido Fawkes's posts):
Still fighting their neverendum certain Blobbers, so used to having things go their way for the past half century, view the man who brought us Brexit as the one who betrayed the favourite cause of his caste. For that alone he must be punished. They seek not only Johnson's removal from office but his total humiliation …
The Mays and the Majors of this world, uniting with the legions of the left who have always loathed Johnson, cannot bear it that someone who sums up in his rumpled and hitherto popular persona all that they are not, is, after all the ordure that they have poured over him, like Elton John: still standing. After weeks of sustained bombardment with the most vicious projectiles his enemies can muster, the object of their righteous wrath is still withstanding the siege from the Downing Street bunker, even belting out 'I will survive!'
… And those such as Johnson's former editor Max Hastings, who has predicted the PM could be gone within weeks, could yet be proven wrong. But if Boris does go he will not have been brought down in a flood of booze but by the bile of 'the Blob' against the black sheep who dared, by accident or design, to stray from the flock.
The Spectator's Katy Balls says Boris is succeeding because he is buying himself time, putting forward his 'red meat' policies to win back MPs and those souls who voted Conservative in 2019:
After a difficult few weeks, Boris Johnson has made it to parliamentary recess. Given few expect a no confidence vote to be held during recess, time away from parliament gives the Prime Minister much-needed breathing space. After the seemingly never-ending parade of partygate stories, there have been times when MPs were sceptical he would make it this far.
Instead, the Prime Minister has succeeded in buying himself time — talking down would-be plotters and rushing out a string of red meat announcements to keep the right of his party on side. The announcement this week that all Covid restrictions could end a month early is a prime example of this. When MPs return from recess, Johnson will unveil his plan for living with the virus — which will include the guidance rather than law (self-isolation is expected to become just advice) and reduced access to tests.
Boris made his liberating announcement about lifting coronavirus restrictions to the House of Commons on Wednesday, February 9:
Guido Fawkes wrote:
Boris in the Chamber just now announcing that the final Covid restrictions, including the legal requirement to self-isolate after a positive test, are likely to be lifted after the February recess. The "living with Covid" plan will be revealed on 21st February. A full month ahead of schedule…
February 24 could be our third liberation day. We already had Independence Day on July 4, 2020, followed by Freedom Day on July 19, 2021 and now this. Let's hope it is permanent.
In any event, the announcement made two front pages on Thursday, February 10, with the Daily Mail being more positive about this world leading move than The Star. I can empathise with both:
When SAGE's scientists and the unions object, we know Boris is on the right track. Boris didn't even bother consulting the former, as The Mail reported:
Unions are already digging their heels in after Boris Johnson revealed he intends to ditch all remaining Covid laws within a fortnight as a poll revealed that three in four workers ground down by almost two years of lockdowns and restrictions want to continue with self-isolation.
Unison, Britain's largest union serving more than 1.3million members from swathes of the public sector, has accused the Prime Minister of going 'too far, too soon', insisting that the virus 'hasn't disappeared' — despite a raft of data suggesting the worst is now over.
SAGE scientists have also warned of the 'dangers' of the PM's plan to make England the first country in the world to scrap all Covid rules, after it emerged Mr Johnson had not discussed it with the committee which is now infamous for its gloomy predictions about the pandemic.
Boris appears to be placing more weight on what is actually happening rather than alarming data projections from SAGE:
The resistance comes despite Covid infections falling consistently, with even the gloomiest surveillance study now accepting that the country's outbreak has peaked — mirroring the official numbers.
The milder nature of Omicron, coupled with sky-high immunity, mean the NHS never came under the levels of pressure that No10's experts feared would happen, with hospitalisations and deaths both now in freefall.
People with fragile health should note that they will be free to continue self-isolating. That freedom is an individual choice rather than a mandate by law.
The same goes for masks.
Boris is no doubt trying to encourage the socialist governments in Wales and Scotland to do the same thing:
The announcement annoyed the devolved governments in Scotland and Wales – with Nicola Sturgeon's administration calling it a publicity stunt to divert from the Partygate scandal that has left the PM fighting for his job.
The First Minister did this afternoon pledge to ditch face masks in Scotland's classrooms from February 28 — keeping them in communal areas — but says she will wait for expert advice before following Boris's lead on any other rules.
The Scottish Government is unlikely to go as far as dropping all rules when it publishes its strategy for living with Covid in the months ahead on February 22. The plans will be debated by MSPs, meaning any changes could be several weeks behind England. The Scottish Government is even set to extend its Covid powers until September 24.
Conservatives applauded Boris's move:
Lord Frost, who dramatically quit Cabinet partly in protest at draconian curbs, was among the senior Tories praising the move. 'The PM's plan to end all Covid restrictions a month early is the right thing to do & is extremely welcome. I hope the government will also make clear we will not go down the road of coercive lockdowns ever again,' he tweeted.
Tory MPs last night insisted that lockdowns should never be deployed again. 'I am glad to see the emphasis on learning to live with Covid,' said Bob Seely, who represents the Isle of Wight …
David Jones, a former Cabinet minister, welcomed the 'very positive' news, adding: 'The PM deserves credit for this. We have locked down for too long and we now need a commitment that we will not lock down again, save for in the most exceptional of circumstances.'  
Steve Baker hit the nail on the head. The lifting of restrictions is meaningful only if Boris reforms the Public Health Act of 1984 — and, may I add, scraps the Coronavirus Act of 2020:
Former minister Steve Baker added: 'I welcome this announcement but we are not out of the woods until the Public Health Act has been reformed, we have new rules for better modelling, competitive, multi-disciplinary expert advice and wellbeing-based cost-benefit analysis covering the costs of lockdowns and restrictions. There is much to do!'
Earlier this week, Boris made another reshuffle involving the Cabinet Office and Downing Street, in line with the preliminary recommendations from Sue Gray's report on Boris's lockdown parties on January 31. Boris had met with Conservative MPs that evening:
Guido's accompanying post reads in part:
It could be "imminent".
Guido was also first to reveal the PM won over swathes of support from wavering MPs by promising to massively up their involvement in No. 10's policy-making, saying he liked Graham Brady's suggestion of 1922-organised MP policy committees.
In a sign of how the day had played out, in the evening Birmingham 2019 MP Gary Sambrook put out a gushing tweet about the PM:
Guido understands he's now withdrawn his letter of no confidence to Graham Brady. After the vaccine rollout and Brexit, the new shadow whipping operation has to be one of the most impressive things Boris's No. 10 has managed to organise…
On Tuesday, February 8, GB News gave us the details on the reshuffle:
Jacob Rees-Mogg will be the minister responsible for "Brexit opportunities" in the first move confirmed as part of Boris Johnson's reshuffle.
The shake-up of the ministerial team follows the appointment of Stephen Barclay as the Prime Minister's chief of staff and comes as Mr Johnson seeks to relaunch his administration following the partygate row.
Mr Rees-Mogg, previously the Leader of the House of Commons, will still sit at the Cabinet table in his new role as Minister for Brexit Opportunities and Government Efficiency …
Former Chief Whip Mark Spencer has been confirmed as the new Leader of the House of Commons to replace the vacant role left by Jacob Rees-Mogg.
Mark Spencer has been the MP for Sherwood since 2010 and has previously been Deputy Leader of the House of Commons.
Stuart Andrew has been appointed as Minister of State (Minister for Housing) in the Department for Levelling Up, Housing and Communities; he has been the MP for Pudsey since 2010, he has most recently been a deputy whip.
Chris Heaton-Harris has been confirmed as the Government's new Chief Whip; he has served as MP for Daventry since 2010, he had most recently been Minister of State for Europe and is famed in Westminster for his use of Twitter to post one-liner jokes.
James Cleverly MP will become Minister of State (Minister for Europe) in the Foreign, Commonwealth and Development Office as part of the shake-up of the Government frontbench, Downing Street said.
Wendy Morton MP to be a Minister of State in the Department for Transport.
Rt Hon Christopher Pincher MP to be Treasurer of HM Household (Deputy Chief Whip).
Samantha Jones, the Prime Minister's adviser on the NHS and social care, has been appointed as the new No 10 permanent secretary and chief operating officer, Downing Street said.
Samantha Jones, who is a civil servant, is a former NHS trust executive.
She helped develop the plan to reduce hospital waiting lists, but it did not go down well in Parliament this week when Health Secretary Sajid Javid announced it. Even Conservative MPs thought it was weak, especially as a record high of 6.1 million patients are awaiting surgery or other medical procedures.
Samantha Jones will be both an interim No 10 permanent secretary and its COO, both new posts, as The Telegraph reported on February 9:
Boris Johnson has appointed a former NHS trust executive who advises him on health policy to the newly created position of No 10 permanent secretary.
In the latest move to shake-up his inner circle, the Prime Minister announced that Samantha Jones will take the role for six months on an "interim" basis.
Ms Jones had been Mr Johnson's expert adviser on NHS transformation and social care, meaning she helped craft the newly announced plan to bring down NHS waiting lists.
The former nurse and NHS veteran will also hold the title of Chief Operating Officer for Downing Street as she helps shape the new civil service structure being created for the Prime Minister.
There was another appointment, that of Stuart Andrew MP as Levelling Up Minister:
Andrew Griffith, one of the MPs who was reshuffled in the first week of February, laid out his plans as Boris's new Director of Policy:
You would not know it from the media headlines, but families want to hear about our plans to grow employment, tackle the NHS backlog, control our borders, make their streets safer, bring down the cost of living and return rapidly to the point when we can cut taxes to let everyone keep more of their own money – all policies that are rooted in strong Conservative values.
As the Prime Minister's Director of Policy, these are my top priorities together with delivering the tangible opportunities from Brexit that will allow our economy to be more competitive and the reform of government to deliver better public services. Whilst the Policy Unit's remit is to advise the Prime Minister across the widest breadth of government policy, we will be unafraid to ruthlessly focus on the key issues. It is ultimately outputs that matter.
Elected in 2019, he is far from the Sir Bufton Tufton brand of Conservative MP and has been against the EU since John Major's time as PM:
From a comprehensive school in south-east London, I was the first in my family to go to university, where campaigning to keep the UK out of the Exchange Rate Mechanism turned me into a lifelong Conservative.
Jacob Rees-Mogg went further, asking Sun readers for suggestions on which EU regulations should be rolled back in the UK:
The opportunities in front of us are immense. Huge parts of our economy are no longer regulated by the EU.
Before Brexit, many of my constituents would write to me to complain about regulations that burdened them daily.
From farmers to electricians, on so many issues I had to tell them that even as an MP I could not help to solve their problems, as these rules were set by the EU, not the British Parliament.
Thanks to Brexit, that has all changed. Sun readers can hold their MPs accountable, as the buck truly stops with them …
You are the ones who know the red tape binds your hands, and to do my job I need your wisdom. Ronald Reagan rightly said: "The nine most terrifying words in the English language are, 'I'm from the Government, and I'm here to help'." This needs to be turned on its head: Britain needs The Sun readers' help instead.
I implore you all to write to me with the regulations you want abolished — those which make life harder for small businesses, which shut out competition, or simply increase the cost of operating. Through thousands of small changes, we can enact real economic change — which means The Sun's readers will feel a real Brexit bonus in their pockets and in their lives  every day.
WRITE TO ME: Jacob Rees-Mogg, House of Commons, London SW1A 0AA
EMAIL: jacob.reesmogg.mp@parliament.uk
In other news, the UK economy grew 7.5% in 2021:
Guido has the quote from the ONS:
 Darren Morgan, ONS: 
"Despite December's setback, GDP grew robustly across the fourth quarter as a whole with the NHS, couriers and employment agencies all helping to support the economy," he said.
"Overall, GDP in December was in line with its level in February 2020, before Covid-19 struck, while in the fourth quarter as a whole, it was slightly below that of the fourth quarter in 2019."
People are trying to cast shade on this achievement, but even The Spectator, hardly pro-Boris, has a compliment for his administration. Today, Katy Balls pointed out:
With prices soaring, interest rates rising and the cost of living crisis growing more acute by the day, we could do with some more positive news: and this morning's GDP update has played a small part in providing it.
Despite suffering the largest economic contraction in 300 years in 2020 – and taking the biggest economic hit in the G7 – Britain had the fastest growing economy in the G7 last year, boosting its GDP by 7.5 per cent.
It's still a mixed story: looking at where the UK economy is now compared with pre-pandemic levels, it ranks average within the G7. But with one of the steepest hills to climb back to recovery, the UK's relatively fast growth enabled the economy to get there several months before it was forecast to do so …
… while the economy did take a slight hit at the end of last year, it did not fall back below pre-pandemic levels. Britain can still boast that it made a full economic recovery – and hopefully recoup December's losses fairly quickly, given how quickly fears about Omicron's severity were put to bed.
Finally, with local elections coming up in May, Boris will be doing what he does best — campaigning around England (with one stop in Wales):
Guido notes that not all of Boris's destinations will be holding an election this Spring, but the PM needs to turn things around for the Conservatives:
Boris has spent a lot of time on the road recently. Almost every day he seems to show up at another school, building site, or hospital somewhere outside SW1 – in just the last 5 weeks, he's made 10 trips across the UK. Coincidentally, 7 of those trips happen to be in seats which are holding local elections in May …
With Labour and much of the media hammering away at Partygate since December inside the Westminster bubble, Boris obviously knows his best chance of turning things around is to get back into campaign mode. It is what he does best, after all…
Although Labour are still ahead in the polls, an amazing reversal that began when the Downing Street parties during lockdown came to light, a pollster from Savanta ComRes thinks that it will be easier for Boris to win his 2019 voters back than it will be for Starmer to encourage them to vote Labour:
This is what Savanta ComRes uncovered from their latest focus group — Starmer isn't capturing their collective imagination, so Boris is still in with a chance:
I will have more next week on Boris's attempt to survive at No. 10.
Sometimes things are not as they appear.
Badgering Boris Johnson to resign over the Downing Street parties during lockdown is an attempt to overturn Brexit.
It is also a sign of envy on the part of the journalists, most of whom are Remainers, attacking him verbally. What journalist — and Boris was one of them for many years — doesn't have an 'If I ruled the world' fantasy? Boris has achieved that dream. They have not.
Here is former Conservative MP Michael Heseltine, a prominent Remainer, saying that Boris's departure could reopen the possibility of re-entering the European Union:
It's misleading the house, it's misleading the people and it's misleading the whole country in a general election because if it were to be established that the PM has been lying then that is going to open a can of worms because very large numbers of people – now the majority of people – believe that the Brexit case was actually a pack of lies… now if he proves to be a liar – to the public, to parliament – what does that do for the very large numbers of people who think it is a catastrophic misjudgement to have severed our good relationships with our European neighbours.
Meanwhile, the general public doesn't care about the parties, especially his birthday party: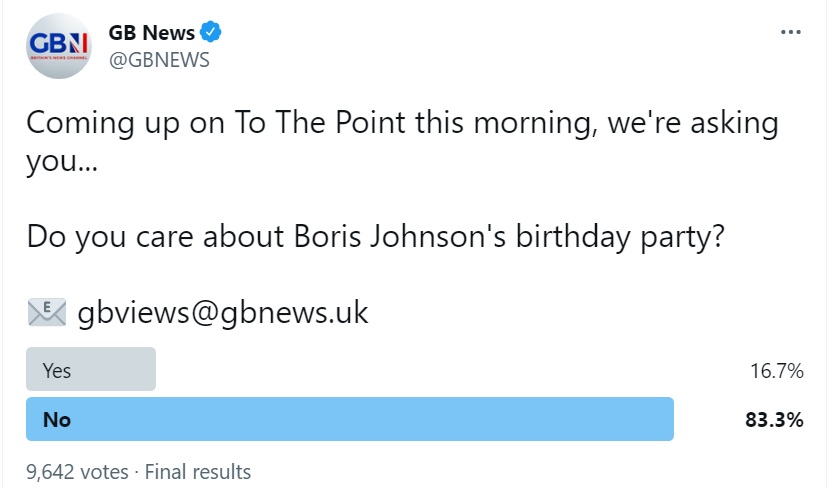 Police investigation
The eminent civil servant Sue Gray had been preparing a report on the Downing Street parties.
Then, the Metropolitan Police stepped in. On Tuesday, January 25, 2022, Commissioner Dame Cressida Dick told the London Assembly, headed by Mayor Sadiq Khan of the news. As such, the Met informed Sue Gray to issue only a summary report so as not to interfere with their own investigation.
GB News has a summary of the social events. Most but not all of them took place at Downing Street, nor did Boris attend all of them (emphases mine):
The Metropolitan Police will investigate a "number of events" alleged to have taken place in Downing Street, Commissioner Dame Cressida Dick has said.
Dame Cressida declined to say which alleged parties are being investigated, nor would she put a timeline on when officers could detail their findings.
The gatherings were already under investigation by senior official Sue Gray, and the Cabinet Office said her work continues.
Here is a list of the alleged gatherings, which in several cases have been admitted to.
– May 15 2020: Downing Street garden party …
– May 20 2020: BYOB garden party …
– June 19 2020: Birthday party for Boris Johnson …
– November 13 2020: Leaving party for senior aide …
– November 13 2020: Johnsons' flat party …
– November 25 2020: Treasury drinks …
– November 27 2020: Second staff leaving do …
– December 10 2020: Department for Education party …
– December 11 2020: Wine fridge delivered to Downing Street for staff's 'wine-time Fridays' …
Mr Johnson was said to have attended a "handful" of these gatherings.
– December 14 2020: Party featuring Tory London mayoral candidate Shaun Bailey and staff …
– December 15 2020: Downing Street quiz …
– December 16 2020: Department for Transport party …
– December 17 2020: Cabinet Office "Christmas party" …
– December 17 2020: Leaving drinks for former Covid Taskforce head …
– December 18 2020: Christmas party at Downing Street …
Mr Johnson's spokeswoman, Allegra Stratton, quit after being filmed joking about it with fellow aides at a mock press conference.
– Run-up to Christmas 2020 …
– April 16 2021: Drinks and dancing the night before the Duke of Edinburgh's funeral …
The Telegraph quoted a No 10 spokesman as saying Mr Johnson was not in Downing Street that day and is said to have been at Chequers.
Strangely, at the time, no one cared:
Now everyone does.
Downing Street has not helped. They are now denying there was a cake:
On January 25, the Paymaster General, Michael Ellis MP, drew the short straw and had to answer an Urgent Question (UQ) from Labour's deputy leader Angela Rayner (pictured in the top left photo):
This was the UQ:
To ask the Chancellor of the Duchy of Lancaster to make a statement on the status of the investigation into Downing Street parties following the statement from the Commissioner of the Metropolitan Police.
I felt very sorry for Ellis, who had to reply for the Chancellor of the Duchy of Lancaster, absent from the chamber. The transcript makes for grim reading.
Sir Edward Leigh, one of the first MPs to speak, tried to put things into perspective but to no avail:
When Europe stands on the brink of war and there is a cost of living crisis, can we please have a sense of proportion over the Prime Minister's being given a piece of cake in his own office by his own staff?
The verbal attacks were many and vicious.
Ellis was able to put one Scottish MP, Pete Wishart (SNP), in his place.
Wishart asked:
Does the Paymaster General not think that it would be a good idea to set up a police special operations unit room in No. 10 Downing Street, because, while the police are looking at this case, they could perhaps look at cash for honours, cash for access, personal protective equipment for pals, paid advocacy, breaking the ministerial code, and all the other general Tory badness?
Ellis responded:
I have to say that a quick Google analysis of the SNP would not be particularly edifying. Despite noises off, this Prime Minister is focused on what matters to the British people and it is right that those matters conclude in an orderly way.
On Friday, January 28, news emerged that the Met told Sue Gray not to publish her report in full:
That day, The Guardian reported that a comedian issued a fake Sue Gray report:
The comedian Joe Lycett, who apparently caused chaos and "mass panic" in government when he tweeted a fake version of Sue Gray's "partygate" report, has said his social media stunt was motivated by anger after the death of a close friend during the first lockdown.
Lycett tweeted a parody Gray report with a fake Cabinet Office letterhead, titled: "A summary of my main findings", captioning his tweet: "BREAKING: Leaked Sue Gray report reveals shocking abuse of rules. Hard to see how the PM can cling on after this."
He later shared a message that he said came "from someone who works for a cabinet minister. Source verified."
The message, purportedly from someone who works in parliament, read: "Your tweet this morning was read as an actual serious leak from Sue Gray's report. U had MP staff literally running around panicking from what it said. Panic dialling MPs like we need to discuss this right now."
On Saturday, January 29, Steven Swinford of The Times reported that Sue Gray was just putting the finishing touches on her report when the Metropolitan Police intervened.
Swinford's first sentence drew me in. It's hard not to like an article that begins with this:
Sue Gray had been looking forward to a holiday.
It is unclear why the Met intervened when they did:
The timing of her intervention is said to have surprised Gray and her team of investigators. She had been in discussions with the Met for weeks, sharing information as she went along. Yet the force had declined to get involved until the point when her report was almost completed and ready for publication …
"She's in a horrible position," a Whitehall source said. "The delay just creates an air of conspiracy. Sue's integrity is at risk here. If a partial report is produced it will look like she's been got at. She just wants a holiday, she feels like she's had enough of it. Very few people could do what she does but she just wants to be on the other side of this one."
Some think that the Met's intervention could be good news for Boris:
Johnson's critics and supporters agreed that the Met's intervention strengthened his position. One cabinet minister said: "Sue Gray cannot prejudice the Metropolitan Police's investigation. It would be insane if she went ahead and published the details. The longer this goes on, the more ridiculous it looks. The prime minister is out of the danger zone, the worst is over."
Or is he?
Sue Gray 'update'
On Monday, January 31, Sue Gray issued a summary — termed an 'update' — of her report.
Guido Fawkes has the update in full.
Gray concluded:
a number of these gatherings should not have been allowed to take place or to develop in the way that they did. There is significant learning to be drawn from these events which must be addressed immediately across Government. This does not need to wait for the police investigations to be concluded.
At 3:30, Boris addressed MPs (see full transcript of the session). He said that he was sorry and that changes would be made in Downing Street.
He concluded with this:
First, it is time to sort out what Sue Gray rightly calls the "fragmented and complicated" leadership structures of Downing Street, which she says
"have not evolved sufficiently to meet the demands"
of the expansion of No. 10. We will do that, including by creating an Office of the Prime Minister, with a permanent secretary to lead No. 10.
Secondly, it is clear from Sue Gray's report that it is time not just to review the civil service and special adviser codes of conduct, wherever necessary, to ensure that they take account of Sue Gray's recommendations, but to make sure that those codes are properly enforced. Thirdly, I will be saying more in the coming days about the steps we will take to improve the No. 10 operation and the work of the Cabinet Office, to strengthen Cabinet Government, and to improve the vital connection between No. 10 and Parliament.
Mr Speaker, I get it and I will fix it. I want to say to the people of this country: I know what the issue is. [Hon. Members: "No!"] Yes. [Hon. Members: "You!"] It is whether this Government can be trusted to deliver. And I say yes, we can be trusted—yes, we can be trusted to deliver. We said that we would get Brexit done, and we did. We are setting up freeports around the whole United Kingdom. I have been to one of them today that is creating tens of thousands of new jobs. We said we would get this country through covid, and we did. We delivered the fastest vaccine roll-out in Europe and the fastest booster programme of any major economy, so that we have been able to restore people's freedoms faster than any comparable economy. At the same time, we have been cutting crime by 14%, building 40 new hospitals and rolling out gigabit broadband, and delivering all the promises of our 2019 agenda, so that we have the fastest economic growth of the G7. We have shown that we have done things that people thought were impossible, and that we can deliver for the British people. [Interruption.] I remind those on the Opposition Benches that the reason we are coming out of covid so fast is partly because we doubled the speed of the booster roll-out.
I can tell the House and this country that we are going to bring the same energy and commitment to getting on with the job, to delivering for the British people, and to our mission to unite and level up across this country. I commend this statement to the House.
It did not go down well with the Opposition benches, nor some of the Conservative MPs.
Theresa May was deeply unhappy:
She said:
The covid regulations imposed significant restrictions on the freedoms of members of the public. They had a right to expect their Prime Minister to have read the rules, to understand the meaning of the rules—and, indeed, those around them him to have done so, too—and to set an example in following those rules. What the Gray report does show is that No. 10 Downing Street was not observing the regulations they had imposed on members of the public, so either my right hon. Friend had not read the rules, or did not understand what they meant—and others around him—or they did not think the rules applied to No. 10. Which was it?
The SNP's Westminster leader, Ian Blackford, followed the former Prime Minister. He cited two of Boris's contradictions and ended with this:
Nobody—nobody—believed him then, and nobody believes you now, Prime Minister. That is the crux. No ifs, no buts; he has wilfully misled Parliament.
Blackford broke two rules there. First, he said 'you'. Secondly, he said 'wilfully misled'.
The Speaker of the House, Sir Lindsay Hoyle, interrupted him:
Order. It would be acceptable to say "inadvertently misled the House", but "misled the House" is not acceptable. The right hon. Member must withdraw that comment.
Blackford doubled down, concluding:
… the public know that this is a man they can no longer trust. He is being investigated by the police. He misled the House. He must now resign.
The exchange between him and the Speaker continued for some time. Blackford refused to withdraw his remark.
At that point, the Speaker was ready to suspend him, but Blackford left voluntarily:
Order. Under the power given to me by Standing Order No. 43, I order the right hon. Member to withdraw immediately from the House—
Another MP said:
He has left anyway!
Here's the video:
Hoyle concluded:
It's all right; we do not need to bother. Let us move on.
Aaron Bell MP spoke later on. Although he is Conservative, he made a good point, asking if Boris was trying to make a fool of him for obeying the restrictions at a family funeral:
Not surprisingly, the Mirror (Labour) picked up on it:
Boris was at the despatch box for a little over two hours.
That evening, he met with a group of Conservative MPs, wherein he pledged to reform how Downing Street operates. Guido's colleague Christian Calgie said it went well:
Meanwhile, Labour MPs and the media hit the bar:
Incidentally, while Boris was giving his afternoon statement to Parliament, one of the bars there re-opened for business.
The next day, Mark Harper MP gave a good interview to Julia Hartley-Brewer at talkRADIO:
Labour's Chinese spy story ignored
In mid-January, news emerged that a Chinese operative had donated £500,000 over a period of several years to a Labour MP. Yet, apart from GB News, no one in the media was — or is — talking about that (Labour leader Sir Keir Starmer is pictured, not the MP involved):
Subplots
There are two important subplots running through this sorry saga: Boris's mention of Labour leader Keir Starmer's record as Director of Public Prosecutions (DPP) with regard to Jimmy Savile (a celebrity paedophile) and the revelation of ghastly text messages by members of London's Metropolitan Police, casting doubt on the force's investigation of the Downing Street parties.
Metropolitan Police
The Metropolitan Police are investigating the Downing Street parties, which is interesting, since the organisation said initially that they would not be doing so, as the events happened too long ago.
One wonders, however, how credible any investigation would be since Commissioner Dame Cressida Dick has come under fire for her leadership. Some constables in the Met have been texting violent and vicious messages that are misogynistic and hateful.
Although Dame Cressida cannot be expected to know everything that her constables are doing, these text messages could cast doubt on the credibility of the investigation.
Furthermore, it is interesting that Dame Cressida announced the Met's investigation of Downing Street at a meeting of the London Assembly, headed by the capital's mayor Sadiq Khan (Labour).
Sir Jimmy Savile
On Monday, January 31, Boris gave the House of Commons an update on Sue Gray's inquiry into the Downing Street parties.
The Metropolitan Police allowed the civil servant to write a summary report pending their own inquiry, which is still ongoing.
As such, there is no conclusion as to whether Boris should resign.
However, Labour and the other Opposition parties have been pushing for Boris to stand down for weeks now.
On Monday, in response to Boris's statement, Labour leader Sir Keir Starmer said:
Conservative Members can heap their reputation, the reputation of their party, and the reputation of this country on the bonfire that is the Prime Minister's leadership, or they can spare the country a Prime Minister totally unworthy of his responsibilities. It is their duty to do so. They know better than anyone how unsuitable he is for high office. Many of them knew in their hearts that we would inevitably come to this one day and they know that, as night follows day, continuing his leadership will mean further misconduct, cover-up and deceit. Only they can end this farce. The eyes of the country are upon them. They will be judged by the decisions they take now.
Boris replied:
There is a reason why the right hon. and learned Gentleman said absolutely nothing about the report that was presented by the Government and put in the Library of this House earlier today. That is because the report does absolutely nothing to substantiate the tissue of nonsense that he has just spoken—absolutely nothing. Instead, this Leader of the Opposition, a former Director of Public Prosecutions—although he spent most of his time prosecuting journalists and failing to prosecute Jimmy Savile, as far as I can make out—chose to use this moment continually to prejudge a police inquiry. That is what he chose to do. He has reached his conclusions about it. I am not going to reach any conclusions, and he would be entirely wrong to do so. I direct him again to what Sue Gray says in her report about the conclusions that can be drawn from her inquiry about what the police may or may not do. I have complete confidence in the police, and I hope that they will be allowed simply to get on with their job. I do not propose to offer any more commentary about it, and I do not believe that he should either.
The Speaker objected:
Boris's mention of Starmer's failure to get the Crown Prosecution Service (CPS) to investigate Savile ran all week long. Conservative MPs also objected to it. It is unclear why that is; after all these years, someone needed to speak up:
Boris's opponents call it a 'far-right conspiracy theory', although Starmer was in charge of the CPS at the time Savile's activities came to light. Starmer even issued an apology for the oversight at the time:
More recently, when Starmer ran for the Labour leadership, he said:
Hear me out: I had 8,000 staff for five years as the director of public prosecutions. And I acted, I hope, in the right way with them, which is when they had victories I celebrated victories on their behalf, I picked up awards on their behalves. When they made mistakes, I carried the can. I never turn on my staff and you should never turn on your staff… I will carry the can for mistakes of any organisation I lead.
Starmer's biography states he was responsible for all criminal prosecutions in England and Wales:
Leader of the House, Jacob Rees-Mogg rightly defended Boris's remark on Thursday, February 3:
In any event, that day, four Downing Street staffers resigned.
Munira Mirza, who had worked for Boris for 14 years — since he was Mayor of London — was the most prominent. The former policy chief said that she took strong objection to her boss's mention of Savile:
Guido posted part of Mirza's resignation letter:
I believe it was wrong for you to imply this week that Keir Starmer was personally responsible for allowing Jimmy Savile to escape justice. There was no fair or reasonable basis for that assertion. This was not the usual cut and thrust of politics; it was an inappropriate and partisan reference to a horrendous case of child sex abuse. You tried to clarify your position today but, despite my urging, you did not apologise for the misleading impression you gave.
In a second post, Guido said that Boris asked Mirza to hold off until he gave a briefing to the media. The briefing only caused her to confirm her resignation:
When the pool clip came without an apology, more of a clarification, she confirmed her resignation via an email which concluded:
Even now, I hope you find it in yourself to apologise for a grave error of judgement made under huge pressure. I appreciate that our political culture is not forgiving when people say sorry, but regardless, it is the right thing to do. It is not too late for you but, I'm sorry to say, it is too late for me.
The public do not understand what the problem is with the mention of Starmer's indirect failure to investigate Savile:
Furthermore, we all understand that Boris wasn't implying that Starmer was personally responsible. However, he was the head of the CPS, so he bore responsibility for it, as Boris told the media:
Let's be absolutely clear, I'm talking not about the Leader of the Opposition's personal record when he was DPP and I totally understand that he had nothing to do personally with those decisions. I was making a point about his responsibility for the organisation as a whole.
Too right.
One of Guido's readers summarised what Boris was saying in Parliament and to the press. It concerns double standards, wherein Starmer expects the Prime Minister to take responsibility for Downing Street activities but not for his own sins of omission at the CPS. This is a good get-out rationale from Guido's reader paraphrasing Boris:
I was not aware of event X being organised or taking place, and so while I apologise it happened under my watch and plan to change systems to avoid such events in future, it is not reasonable for me to resign over it. That is entirely consistent with the Leader of the Opposition's own behaviour while DPP over the Savile issue.
In any event, three more Downing Street staffers resigned after Mirza did, including Martin Reynolds, who issued the email about one of the parties, requesting that people bring their own alcoholic beverages:
It is unclear why the other three left. Some say that they are afraid of being investigated. Others say it was an excuse for Boris to clean house.
Of the three additional resignations, GB News reported:
Martin Reynolds is one of the most senior officials in No 10 but had largely avoided the limelight until the emergence of his email inviting colleagues to "socially-distanced drinks" during England's first coronavirus lockdown.
As Boris Johnson's principal private secretary, he played a key role advising the Prime Minister on a wide range of issues, but resigned from the role on Thursday alongside three other senior Downing Street aides …
Mr Johnson's former adviser Dominic Cummings previously said the influence wielded by the principal private secretary within Downing Street was not widely appreciated.
"The PPS exercises far more influence and actual power over many issues than Cabinet ministers," Mr Cummings said.
"He can nudge policy, he can nudge vital appointments (real power). He can and does walk into the PM's office and exclude all political people 'on security grounds'."
A leaked photograph of the Prime Minister and officials drinking in the No 10 garden on May 15 2020 – five days before the "bring your own booze" event that Mr Reynolds invited colleagues to – showed the PPS sitting at the same table as Mr Johnson …
Mr Reynolds offered his resignation on Thursday alongside Downing Street chief of staff Dan Rosenfield, hours after policy aide Munira Mirza and director of communications Jack Doyle both quit.
A No 10 spokeswoman said: "Dan Rosenfield offered his resignation to the Prime Minister earlier today, which has been accepted.
"Martin Reynolds also informed the Prime Minister of his intention to stand down from his role as principal private secretary and the Prime Minister has agreed to this.
"He has thanked them both for their significant contribution to government and No 10, including work on the pandemic response and economic recovery.
"They will continue in their roles while successors are appointed, and recruitment for both posts is under way."
As I write on Friday morning, an aide to Munira Mirza has also resigned:
Tom Harwood adds that Chancellor Rishi Sunak has been keeping his distance from the Prime Minister and did not defend the remark about Keir Starmer and the Jimmy Savile case.
One of the commenters makes an excellent point about civil servants finding the Savile remark more offensive than what happened to 60+ million people for … a virus:
Those people live in their own bubble.
Interestingly, Boris has appointed an MP rather than a civil servant to succeed Mirza. Andrew Griffith represents the Arundel constituency on the south coast of England. He seems to have a truly Conservative voting record.
Therefore, it seems as if Boris is cleaning house, which can only be a good thing for him. The civil servants do not seem to have been doing him many favours.
In more positive news for the Conservatives, Anna Firth won the by-election in Southend West, served by Sir David Amess until he was stabbed to death last October:
Because of the nature of Sir David's death, Labour and the Liberal Democrats did not put up candidates to run against Anna Firth, although minor political parties did.
Therefore, although she won 86% of the vote, only 24% of the electorate went to the polls.
The party debacle is far from over. This will run and run and run.
The UK had another big weekend of news, which, as I said last week, is unusual, given that Christmas is just around the corner.
One of the big scoops was The Spectator's revelation as to why every SAGE scenario is based on a worst-case outcome.
Fraser Nelson, the magazine's editor, had an online exchange with Graham Medley from SAGE, which can be seen in his article, 'My Twitter conversation with the chairman of the Sage Covid modelling committee', which is a must-read.
Excerpts follow, emphases mine.
Medley is a professor at London School of Hygiene & Tropical Medicine (LSHTM). Last week, LSHTM published another alarming set of figures for the Omicron variant that, naturally, make the case for more lockdowns.
By contrast, JP Morgan came up with a different conclusion after looking at LSHTM's data:
JP Morgan had a close look at this study and spotted something big: all the way through, LSHTM assumes that the Omicron variant is just as deadly as Delta. 'But evidence from South Africa suggests that Omicron infections are milder,' JP Morgan pointed out in a note to clients.
JP Morgan concluded:
Bed occupancy by Covid-19 patients at the end of January would be 33% of the peak seen in January 2021. This would be manageable without further restrictions.
Fraser Nelson says:
So JP Morgan had shown that, if you tweak one assumption (on severity) then – suddenly – no need for lockdown.
Nelson went online to find out why LSHTM didn't do the same thing:
Medley seems to imply that the Government wants the worst case scenario:
Nelson says:
Note how careful he is to stay vague on whether any of the various scenarios in the Sage document are likely or even plausible. What happened to the original system of presenting a 'reasonable worse-case scenario' together with a central scenario? And what's the point of modelling if it doesn't say how likely any these scenarios are?
From what Prof Medley says, it's unclear that the most-likely scenario is even being presented to ministers this time around. So how are they supposed to make good decisions? I highly doubt that Sajid Javid is only asking to churn out models that make the case for lockdown. That instruction, if it is being issued, will have come from somewhere else.
He concludes that there is an ethical issue with SAGE's pronouncements:
Prof. Robert Dingwall, until recently a JCVI [Joint Committee on Vaccines and Immunisation] expert, has said that Medley's candour reveals "a fundamental problem of scientific ethics in Sage" – ie, a hardwired negativity bias. "The unquestioning response to the brief is very like that of SPI-B's behavioural scientists," he says and suggests that the Covid inquiry looks into all this.
At a time when we have just been given a new set of 'scenarios' for a new year lockdown it might be good if someone – if not Prof Medley – would clear up what assumptions lie behind the new 6,000-a-day-dead scenario, and if emerging information from South Africa about Omicron and its virulence have been taken into account. And how probable it is that a double-jabbed and increasingly boosted nation (with 95 per cent antibody coverage) could see this worst-case scenario come to pass.
In my view, this raises serious questions not just about Sage but about the quality of the advice used to make UK lockdown decisions. And the lack of transparency and scrutiny of that advice. The lives of millions of people rests on the quality of decisions, so the calibre of information supplied matters rather a lot – to all of us.
Too right.
I haven't believed SAGE at all, from the beginning. I am also still angry about how much taxpayers' money has been pumped in for a pandemic that needed a common sense solution in March 2020, such as, 'There are a lot of unknowns here. We will provide updates. However, we advise that anyone who feels sick to get a test then isolate at home for 10 days. Keep your distance from those outside your household. Keep your hands clean. Above all: use the same precautions you would in any potentially contagious environment.'
That's it in a nutshell. Not a lot more needed to be said.
But no.
We plebs couldn't have that. We cannot be trusted.
Chief Medical Officer Prof Chris Whitty implied that we do not know what we are talking about.
This video is from Whitty's appearance before a parliamentary Select Committee on Thursday, December 16. Dean Russell MP (Conservative) asked him whether the NHS risks prioritising the virus over cancer. While it might not be Dean Russell's view, this is a prevailing opinion among many members of the public.
Whitty wasted no time in shooting that down, saying that we do not understand 'health' and insisting that lockdowns helped to save the NHS, which would have collapsed otherwise. Along with Prof Gordon Wishart, I also beg to differ, but here is the exchange:
People are frustrated:
General practitioners are wrapped up in this, too:
Coronavirus has overtaken their surgeries. It was already nearly impossible to get an online appointment, never mind one in person. As of last week, GPs' priority from the Government is to dispense boosters:
No, pandemics are not a regular occurrence, but the NHS should be prepared to deal with one.
On Monday, December 20, Boris convened the Cabinet for a two-hour meeting to discuss the possibility of imposing a Christmas lockdown in England. Sir Patrick Vallance presented a doom-and-gloom scenario.
Bear in mind that Boris is skating on thin ice at the moment politically. A lockdown might have caused some of them to resign their Cabinet positions.
In the end, they decided not to go for a lockdown in England, at least over Christmas weekend:
Well, five of them did, at least.
Foreign Secretary Liz Truss had to leave early:

Guido Fawkes has more (red emphasis his, the purple one mine):
The Times and Telegraph have the most comprehensive write-ups, reporting Rishi, Steve Barclay and Grant Shapps were those leading the sceptics' charge. The Times reports Jacob Rees-Mogg had a prolonged argument with Vallance about their modelling, telling Boris to trust the people rather than the scientists. Truss, Kwarteng, Alister Jack, Nadhim Zahawi and Nigel Adams are all also reportedly sceptical about the threat of Omicron…
On the other side of the divide backing restrictions, according to The Telegraph, are (unsurprisingly) Javid and Gove; Nadine Dorries and Chief secretary to the Treasury Simon Clarke. We can only presume the PM also errs towards this group. There's set to be one more Cabinet before Christmas day that could still decide to recall MPs before New Year.
Katy Balls of The Spectator reports that this is the first time in ages that the Cabinet has been consulted on coronavirus policy:
So what happened in that meeting? 'Boris did a great job and encouraged a proper discussion and respected other views,' says one minister. 'He had quite a lot humility'. Michael Gove was, as usual, leading the arguments for more lockdown. But this was based on Sage forecasts of what might happen which have lost some credibility in the eyes of Cabinet members who were — for the first time in a while — genuinely being consulted.
Boris knows he's in trouble:
Several members of Johnson's Cabinet are vocally opposed to new restrictions. They argue that there needs to be clearer data before any restrictions are brought in – with whispers of resignations if Johnson pressed on without this. These members of government hope that more time will offer clarity that could show omicron is milder than previous variants.
Behind the scenes, the Chancellor is understood to have played a key role warning against rushing into decisions that could cost billions. Other ministers keen to see more modelling include Commons leader Jacob Rees-Mogg and Transport Secretary Grant Shapps ("although it was never quite clear what he was saying," I'm told.) Other ministers have been pressing on Johnson the idea of limiting any new measures to guidance.
But when Johnson emerged talking about the need to observe the data, and questions about Omicron's severity, he was using the language of those who opposed lockdown. They argue, in effect, that Sage models cannot be trusted as they are composed of hypotheticals – and that we need to wait for real-world data. The next few days of hospital data, it's argued, will tell us much about how severe Omicron is and if lockdown is needed. Data is emerging not just from South Africa (where cases now seem to be falling) but Denmark where Omicron has been found to be significantly less likely to put patients in hospital. At least some Sage modellers produced figures on the assumption that Omicron is no less likely to hospitalise or kill: one scenario talks about deaths peaking a day …
Johnson faces a parliamentary party filled with MPs vehemently opposed to any new restrictions and who could question his ability to lead as a result. When the Whips office sent a note around this afternoon telling MPs that the parliamentary away day has been cancelled, one messaged me to say:
'It's probably for the best. If we were all in one place for a few days, we could work out a successor'
But there are Tory MPs who believe action is required. One senior Tory concludes:
'This is a Prime Minister paralysed between science and his backbenchers. It's depressing.'
The Times reports on Leader of the House Jacob Rees-Mogg's words of wisdom. He, too, read Fraser Nelson's article. Good man:
Jacob Rees-Mogg, leader of the Commons, said the government should trust people to do the right thing rather than introduce further restrictions. He said many people had voluntarily changed their behaviour as the threat posed by Omicron became clear.
The prime minister said Rees-Mogg's argument was interesting but asked how he would justify his approach at a press conference. He said that as prime minister he had to look after everyone's health. Rees-Mogg is understood to have responded: "I would stand up and say I respect them for doing the right thing." The prime minister is said to have suggested that this would not be enough if the NHS were at risk of being overwhelmed.
Rees-Mogg is also understood to have criticised official modelling suggesting that without further action 3,000 Omicron patients a day could need a hospital bed. He asked if Johnson had read an article by Fraser Nelson, editor of The Spectator, questioning the assumptions behind the data.
Sir Patrick Vallance, the chief scientific adviser, is said to have responded directly to Rees-Mogg that the modelling had included scenarios where the Omicron variant was deemed less severe than the Delta variant.
If so, why did Vallance not present those data?
Boris made a brief announcement after the Cabinet meeting, saying that he is still keeping all options open after Christmas:
On Wednesday, December 22, Health minister Gillian Keegan told LBC's Nick Ferrari not make firm plans for New Year's parties because of ongoing 'uncertainty':
As people have been cancelling dinner reservations and reneging on trips to the pub, Chancellor Rishi Sunak has had to come up with a £1bn compensation plan for the hospitality sector, which amounts to £6000 per business. A nightclub owner says it's 'insulting'. I agree with the person replying — just drop any remaining restrictions:
When is this going to end?
Oh, well. At least we're not in the socialist nations of Scotland or Wales, where things have been far worse and continue so to be.
This week was a bit of a barnstormer in the House of Commons: from Extinction Rebellion to coronavirus.
Last weekend, a man stabbed several people in Birmingham's city centre, killing one. A stabbing also occurred in Lewisham (South London). On Monday morning, a shooting occurred in a small town in Suffolk.
Extinction Rebellion (XR) disrupted the distribution of most national newspapers' weekend editions in England. They glued themselves to scaffolding outside some of the printing plants. Members of Extinction Rebellion also protested at a printing plant in Motherwell, Scotland. The Scottish protests were less severe.
Coronavirus testing has been problematic, with many people unable to find tests when they need them.
Big Christmas gatherings are likely to be cancelled because of new coronavirus legislation.
Grab yourself a cuppa and a sarnie. This week's Parliamentary debates and reaction were compelling.
Monday, September 7
Kit Malthouse, the Minister for Crime and Policing, delivered a statement about the Birmingham stabbings and the Extinction Rebellion direct action. A debate followed.
An excerpt from Malthouse's statement follows (emphases mine below):
On Friday night, Extinction Rebellion protesters used trucks and bamboo scaffolds to block roads outside the newsprinters works at Broxbourne, Hertfordshire and Knowsley, near Liverpool. These presses print The Sun, The Times, The Sun on Sunday and The Sunday Times, as well as The Daily Telegraph, The Sunday Telegraph, The Daily Mail, The Mail on Sunday and the London Evening Standard. The police reacted quickly on Friday night, arrested around 80 people nationally and worked throughout Saturday to clear the sites completely. In Broxbourne, approximately 100 protesters were reported in attendance. Assistance from neighbouring forces was required, with work long into the early hours to ease the disruption. Fifty one protesters were arrested for public nuisance and subsequently charged with obstruction of the highway. They were taken to three custody suites in Hertfordshire, Bedfordshire and London. Disruption concluded by midday on Saturday. All main roads remained open, including the nearby A10. However, there was disruption to the distribution of newspapers as well as for local businesses.
In Knowsley, a group of 30 protesters were reported in attendance alongside 10 observers, one legal adviser and one police liaison individual. Thirty protesters were arrested, with disruption concluding by 10.45 the next morning. These protesters were subsequently charged with aggravated trespass and bailed to appear before magistrates at a later date. Twenty four protesters also ​attended a print works in Motherwell, Lanarkshire in Scotland. In this instance there was no disruption caused and no arrests were made.
A free press is the cornerstone of a British society. The freedom to publish without fear or favour, to inform the public, to scrutinise our institutions and to stimulate debate on events that affect each and every one of us is indispensable. The actions of Extinction Rebellion were a direct challenge to this freedom and the values of liberty and tolerance that we hold dear. Extinction Rebellion claims to be an environmental campaign group, yet that worthy cause is undermined by its tactics. Its actions show that it is not interested in purely peaceful protest, dialogue and debate. Instead, it seeks to impose its view through this kind of direct action.
The right to peaceful protest is a fundamental tool of civic expression and will never be curtailed by the Government. Equally, it is unacceptable for groups such as XR to hide behind the guise of protest while committing criminal acts that prevent law-abiding citizens from going about their lives. All of us will remember the disruption caused last year as the group blocked roads and major transport routes. Police forces across the country were forced to divert resources away from tackling other crime in order to oversee those occupations. It is a terrible shame to see those counterproductive tactics revived in the midst of a pandemic, when we are only just recovering from the profound disruption of lockdown. Throughout the pandemic, our police officers have been on the streets every day working to keep the public safe and to stop the spread of coronavirus. In placing unnecessary pressure on our emergency services, the actions of the protesters are contemptuous not only of the police but of the public whom they seek to protect.
The irony is that the United Kingdom is already doing more to tackle climate change and decarbonise our economy than almost any other nation on earth. The UK is the first major economy to legislate to end our contribution to climate change by 2050. Since 2000, we have decarbonised our economy faster than any other G20 country. The Prime Minister has set up two Cabinet Committees focused on tackling climate change—one for strategy and another for implementation—discussing how Departments can go further and faster in meeting our legally binding 2050 net zero target. We are also hosting the next UN climate change conference, COP26, which will take place in November in Glasgow. It would be far more productive if, rather than plotting disruption and chaos, those behind Extinction Rebellion put their efforts into working with the Government to tackle climate change and build the green economy. While they persist in their current course, however, our message to those individuals is clear: if you plan to curtail our freedoms through criminal acts, be in no doubt that you will face the full force of the law. As a Government, we will not stand by and allow the livelihoods of hard-working people to be undermined by a minority using the pretence of tackling climate change to impose an extremist world view.
Extinction Rebellion's actions have shown how the tactics of disruptive protests are changing. The Home Office has been engaging with police chiefs to understand the challenges they face and to assess how they can facilitate peaceful protest while not causing significant disruption and infringing on the rights of others with differing views. The Home Secretary and I are committed ​to learning the lessons of recent protests and ensuring that the police have the powers required to deal with the disruption caused by groups such as XR. I will keep the tools available to tackle this behaviour under constant review. As always, our thanks go to the police for their tireless efforts to respond to all manner of incidents, and particularly at this time when so many have worked so hard during the pandemic. I hope that the leaders of Extinction Rebellion will issue an apology to them for actions that have been roundly condemned by all mainstream opinion in our country.
By its actions this weekend, XR has done nothing to bolster the cause of fighting climate change. Rather, it has reminded us of the value of a free press and free expression and made us think about what more we may need to do to protect those freedoms. I commend this statement to the House.
Sarah Jones (Croydon Central), responding for Labour, gave an excellent speech. An excerpt follows:
… all Members of the House will be deeply concerned about the wider rise in violent crime that we are seeing. As the former chair of the all-party parliamentary group on knife crime and violence reduction, I am all too aware of the seriousness of this issue. I know that West Midlands police, along with David Jamieson, the PCC, is taking this very seriously, and the violence reduction unit is doing some great preventive work in the west midlands. Does the Minister accept that over the past decade we have seen knife crime rise in every police force area in England and Wales, and ​that easing lockdown restrictions poses particular challenges? Does he further accept that rising violent crime must be urgently addressed?
Turning to the matter of Extinction Rebellion, I trust that the Minister will agree with me, rather than some members of his own party, in recognising that tackling climate change is the challenge of our generation. However, we also know that the free press is the cornerstone of democracy, and we must do all we can to protect it. As a result, actions that stop people being able to read what they choose are wrong. They will do nothing to tackle climate change. Those who break the law should be held to account. As the Leader of the Opposition said over the weekend, the actions of those who deliberately set out to break the law and stifle freedom of the press are completely unacceptable. Stopping people being able to buy the newspapers they choose and hitting small businesses in the process is hugely counterproductive. It does nothing to tackle the vital cause of tackling climate change. In fact, it sets it back.
On the policing response to the incidents, can the Minister confirm whether the authorities had any intelligence that these incidents might occur?
Today in the media, new laws have been mentioned by the Home Secretary. Can the Minister confirm what aspects of our current public order laws he believes are inadequate? Will he also confirm which aspects of the Coronavirus Act 2020 dealing with gatherings he believes leave gaps? Does he agree that we should not forget the many people who are concerned about climate change who wish to peacefully and lawfully protest, and that that right should be protected?
Malthouse did not answer her question about new legislation and said that the intelligence surrounding Extinction Rebellion's actions at the printing plants was unclear.
Bob Stewart (Beckenham, Conservative) suggested giving the protesters fixed-penalty notices (fines). Malthouse said that, as those were new during the coronavirus pandemic, there aren't enough data to measure their efficacy.
An SNP MP, Kenny MacAskill (East Lothian) downplayed the Extinction Rebellion incident. As SNP MPs always do, they think only of Scotland. If this doesn't spell out the SNP's sympathies with Marxism, I don't know what does:
The … group perpetrated no violence—random or otherwise—nor is it a criminal gang, terrorist ​group or a deranged individual. Any attempt to portray those people as that is wrong and a dangerous precedent in a democracy. The actions carried out by Extinction Rebellion, both in Scotland and in England, were a peaceful protest. That should not be forgotten, and that remains legitimate. It is a group of young people, although not always entirely young, who care about the environment. That is a legitimate position to take. This action was not an attempt to close down free speech, and to suggest otherwise is disingenuous. All they were seeking to do was to disrupt the outgoing of print for a period of time. There was no cessation of the print being published. Indeed, it appeared online and at most delivery was delayed to some shops.
Malthouse replied:
I am sorry that the hon. Gentleman has positioned the SNP outside mainstream opinion. [Interruption.] Well, you're all expressing consternation, and speaking, smiling and laughing. I do not know why me expressing concern is worthy of derision. In truth, the vast majority of people in this country, and all mainstream parties in this country, have expressed alarm at the tactics of Extinction Rebellion over the weekend and its stated aim of disrupting newspapers' ability to distribute their views and opinions because they do not agree with them. One of the first things that happens in extremist states and takeovers is an attempt to grip the television station, the radio station or the newspapers. Control of information is key so we need to take care with these things. I hope he will agree with me in time.
Antony Higginbotham (Burnley, Conservative) expressed concern at the cost of the Extinction Rebellion protest:
The unacceptable actions of Extinction Rebellion show a consistent disregard for the lives and livelihoods that they disrupt. Does my hon. Friend believe we should hold Extinction Rebellion to account, not just for the significant public sector costs that rack up with the action it undertakes, but for the significant lost income that businesses across the country have suffered as a result?
Malthouse said:
My hon. Friend raises a very important point. He is right that these protests are not costless. Aside from the costs to the businesses affected, there is a large overtime bill to be covered. Of all the costs, the most profound and alarming is the opportunity cost; those police officers who are spending time ungluing protesters and dismantling scaffolding are not spending time preventing knife crime, murder, rape or domestic violence. There are other much more vital activities that could be performed in the communities they serve.
Anthony Browne (South Cambridgshire, Conservative) pointed out that freer countries have fewer environmental issues:
I am a journalist and an environmentalist. I used to be environment editor of The Observer and The Times. I am currently chair of the all-party parliamentary group on the environment, and I have seen around the world that those countries that have a free press are far better at tackling environmental problems than those countries without a free press. Will my hon. Friend join me in condemning Extinction Rebellion's assault on the free press, and does he agree that such attacks on free speech will ultimately do more harm to the environmental cause than help it?
Malthouse responded:
I completely agree with my hon. Friend. Of course, the paradox, or even the tragedy, of the protests is that I understand that the edition of The Sun that was prevented from being distributed contained an op-ed from David Attenborough—no less—extolling the virtues of climate change action and urging Sun readers to do their bit on global warming. Ten years ago, nobody would have dreamt of that opinion appearing ​in that newspaper, and it shows how far the argument has been advanced by peaceful means. This protest runs the risk of setting the debate back rather than moving it forward.
Dr Julian Lewis, who is now Independent (having had the Conservative whip removed), pointed out the contradiction of fining anti-lockdown spokesman Piers Corbyn £10,000 when XR were free to glue themselves to scaffolding with no fine:
It is true that various brands of Corbynism are a little less popular these days, but does my hon. Friend agree that fining a climate change denier £10,000 for an anti-lockdown protest sets a benchmark which should equally apply to those who break the law in pursuit of more fashionable causes?
Malthouse replied:
As the right hon. Gentleman may know, a number of fixed penalty fines have been handed out over the past few days for all manner of contraventions of the coronavirus regulations. No doubt some may be disputed, but we shall see in the end where the courts decide.
The SNP's Patricia Gibson (North Ayrshire and Arran) asked if XR would be reclassified as a criminal group:
Does the Minister understand the genuine concerns about any plans to reclassify Extinction Rebellion as a ​criminal group and the implications that this may have for peaceful protest, especially given that last year the Prime Minister's own father addressed an Extinction Rebellion rally and said that he backed their methods?
Malthouse said that such groups are being watched and are under review.
Richard Burgon (Leeds East, Labour) claimed that direct action was part of democracy:
Direct action is a proud part of our history and democracy. Through it, the Chartists and suffragettes helped secure the right to vote and trade unions won the eight-hour working day and paid holidays, and it played a key part in securing legislation for gay rights and for women's and racial equality. If pursued, would not the Home Secretary's suggestion of defining Extinction Rebellion as a criminal gang be a betrayal of our proud tradition of civil liberties?
Malthouse said:
Direct action is not the same thing as a crime. If the hon. Gentleman is saying that there are certain crimes that he wishes to ignore, then I am afraid the Opposition are in a very difficult place. I am the Minister for policing and crime, and when, under our current law as approved through this House, somebody commits a crime, I have no choice other than to condemn it.
Lee Anderson (Ashfield, Conservative) would like for XR to be designated a criminal organisation:
The people of Ashfield see no benefit in protesters gluing their ears to the pavement, spraying red dye on our monuments or camping out in trees on Parliament Square. Extinction Rebellion is now public nuisance No. 1 because of the disruption it causes, as well as the massive cost to our emergency services when, frankly, they have better things to do. Does my hon. Friend agree that this group should be ​classified as a crime group and feel the full weight of the law if it continues to disrupt members of the public going about their daily business?
Malthouse repeated his earlier answer about such groups being under continuing review.
Martyn Day (Linlithgow and East Falkirk, SNP) did not want to see XR labelled as a criminal organisation:
Whatever we think about Extinction Rebellion's tactics, be they right or wrong, its actions were peaceful, and such civil disobedience methods have been used throughout history, so any branding of the activists as criminals is certainly not acceptable. Does not the Minister agree that two wrongs do not make a right?
Malthouse gave this wise reply:
Not all crimes are violent.
Only one MP dared to connect Marxism with XR — Imran Ahmad Khan (Wakefield, Conservative). Well done:
It is with regret that, since Extinction Rebellion's inception, we have witnessed it adopt increasingly radical measures, which masquerade upon an environmentalist platform. In truth, it is a considered ruse to gain support for its ​Marxist agenda, which attacks British values predicated on freedom and pluralism. Blocking ambulances and seeking to constrain press freedom are but two examples from a plethora of behaviours that demonstrate its devious agenda.
Her Majesty's Government were elected with a mighty mandate from the British people to restore their ancient rights and freedoms, whether threatened from Brussels or from the barricade. The fine people of my constituency of Wakefield expect us to deliver on that. Will the Minister outline what steps the Government will take to neutralise XR's disruptive and dangerous tactics?
Malthouse replied:
I am grateful for my hon. Friend's stentorian support. He is quite right that people want to see a sense of order in this country, and that is exactly what we will put in place and what we are beavering away to make happen across the country—in his constituency and elsewhere.
I certainly hope so.
Tuesday, September 8
Matt Hancock, Secretary of State for Health and Social Care, gave a statement updating MPs on coronavirus and the situation in Bolton. New laws, he said, would apply only to Bolton.
He was economical with the truth …
Wednesday, September 9
On Wednesday morning, Steve Baker (Wycombe, Conservative), tweeted:
No one raised this topic at Prime Minister's Questions (PMQs).
Meanwhile, Matt Hancock gave a morning interview (more here):
What does that even mean?
He explained his change of advice on testing to Sky News:
More on this follows below.
It was National Farmers Day, and many MPs wore ears of British wheat tied together with British wool. Labour's Angela Rayner wasn't the slightest bit interested:
Most of PMQs was about testing. Prime Minister Boris Johnson made this startling statement about daily coronavirus testing at home:
Just after PMQs, as Boris hurriedly scuttled out of the chamber, Sir Desmond Swayne (New Forest West, Conservative) raised a point of order about the coronavirus legislation.
I wonder if Boris knew about it in advance and got out of there as quickly as he could:
On a point of order, Mr Speaker. Had the Secretary of State for Health given notice of the Government's intention to further restrict our liberty to meet with one another in his statement yesterday, at least some of us would have been able to question him about it. What remedy is there for those of us who enthusiastically support the Prime Minister, but nevertheless want to restrain the Government's ability to govern by order without debate?
Speaker of the House Sir Lindsay Hoyle replied:
I thank the right hon. Member for giving me notice. I am very sympathetic to the main point he makes. I accept that decisions have been taken in a fast-moving situation, but timings for statements are known to Ministers. It is really not good enough for the Government to make decisions of this kind in a way that shows insufficient regard to the importance of major policy announcements being made first to this House and to Members of this House wherever possible. I have already sent a letter to the Secretary of State. I think the total disregard for this Chamber is not acceptable. I know that the Prime Minister is a Member of Parliament as well and that he will ensure that statements should be made here first, especially as this particular Secretary of State requests statements. To then ignore the major fact that he wanted to put to the country, and not put it before this House, is not acceptable and I hope he will apologise to Members.
Jonathan Ashworth (Leicester South, Labour Co-op) had more information:
Further to that point of order, Mr Speaker. Not only did we not get a convincing explanation yesterday from the Secretary of State on the ongoing testing fiasco, but in fact Mr Robert Peston of ITV wrote on Twitter, ahead of the Secretary of State's statement, that the Government were planning to shift the regulations down from 30 people to six. There was no reason why the Secretary of State could not have told the House yesterday that that was the Government's plan. Has the Secretary of State given you, Mr Speaker, notice that he is coming to the House to update MPs on that change in policy, or should we assume that Ministers do not know what they are doing from one day to the next?
Peston had tweeted this on Tuesday:
The Speaker was uncharacteristically incandescent:
What I would take on board is the fact that it was all over Twitter as this was going on. Obviously, somebody decided to tell the media rather than this House. What I would say is that I expect the Secretary of State to apologise to Members and make sure that this Chamber knows first. He was fully aware—fully aware—of what was going to be said later. Let me say that if this Minister wants to run this Chamber ragged, I can assure you now that I am sure an urgent question every day might just begin to run him ragged.
At 4 p.m., Boris gave a coronavirus press conference, announcing new coronavirus 'marshals' who will be appearing on our streets as of next week — so, not only in Bolton:
I agree 110% with this tweet:
Thursday, September 10
Leader of the House Jacob Rees-Mogg was unable to deliver his customary business statement to the Commons. One of his children developed coronavirus symptoms. Stuart Andrew, the Acting Leader, stood in for him:
Matt Hancock showed up to make a statement on new coronavirus regulations. He was taken to task over his confusing advice about getting a test. Earlier this year, he encouraged people to get tested. Now, with the system overwhelmed, he's backtracked:
Guido Fawkes has quotes from Hancock documenting his about-face on the matter and concludes (emphases in the original):
Was Hancock's advice wrong then or is it wrong now? The public will be getting pretty sick of the Department of Health's cock-ups being the responsibility of anyone other than Hancock.
UPDATE: A government source tells Guido "The guidance is clear. If you think you have symptoms you should get a test. Today's message is no different to that." Apparently people in doubt about whether they have symptoms should still get a test…
Simon Dolan, a businessman who is taking the Government to court over lockdown, tweeted:
The Speaker of the House introduced the debate:
Before I call the Secretary of State, I would like to say that he and I had a conversation in a meeting last night, and I think we have some new arrangements coming forward to help the House.
That means that Hancock will be obliged to show up to present these developments to the House for debate in future.
He's so disingenuous:
Thank you very much, Mr Speaker. Just to concur with what you have said, I do regard it as incredibly important to come to the House as often as possible. Sometimes these are fast-moving situations, and I will ensure that I give the House my full attention and, as I try to do, answer as many questions as fully as I can.
Excerpts follow:
… As the chief medical officer said yesterday, we must learn from the recent experience of countries such as Belgium that have successfully put in place measures to combat a similar rise in infections. So today, I would like to update the House on a number of new measures that will help us to get this virus under control and to make the rules clearer, simpler and more enforceable.
First, we are putting in place new rules on social contact … In England, from Monday, we are introducing the rule of six. Nobody should meet socially in groups of more than six, and if they do, they will be breaking the law. This will apply in any setting—indoors or outdoors, at home or in the pub. It replaces both the existing ban on gatherings of more than 30 and the current guidance on allowing two households to meet indoors.
There will be some exemptions. For example, if a single household or support bubble is larger than six, they can still gather.
Guido Fawkes was no doubt relieved:
Hancock continued:
Places of education and work are unaffected. Covid-secure weddings, wedding receptions and funerals can go ahead up to a limit of 30 people. Organised sport and exercise is exempt.
These are not measures that we take lightly. I understand that for many they will mean changing long-awaited plans or missing out on precious moments with loved ones, but this sacrifice is vital to control the virus for the long term and save lives, and I vow that we will not keep these rules in place for any longer than we have to.
Secondly, we are putting in place stronger enforcement. Hospitality venues will be legally required to request the contact details of every party. They will have to record and retain those details for 21 days and provide them to NHS Test and Trace without delay when required. This system is working well voluntarily, with minimal friction, and it is very effective, but it is not in place in all venues. It is only fair that it is followed by all. We are supporting ​local authorities to make greater use of their powers to close venues that are breaking rules and pose a risk to public health, and fines will be levied against hospitality venues that fail to ensure their premises are covid-secure.
Our goal, as much as possible, is to protect keeping schools and businesses open, while controlling the virus …
Our ability to test and trace on a large scale is fundamental to controlling the virus, as we have discussed in the House many times. The latest data show that we are doing more testing per head than other European countries such as Germany and Spain, and we have record capacity. We have increased capacity by more than 10,000 tests a day over the last fortnight. While there have been challenges in access to tests, the vast majority of people get their tests rapidly and close to home. The average distance travelled to a test site is 6.4 miles, and 90% of people who book a test travel 22 miles or less. We already have more than 400 testing sites in operation. We added 19 last week and plan 17 more this week.
However, as capacity has increased, we have seen an even faster rise in demand, including a significant increase from people who do not have symptoms and are not eligible for a test. That takes tests away from people who need them. If you have symptoms of coronavirus or are asked by a clinician or local authority to get a test, please apply, but if you do not have symptoms and have not been asked, you are not eligible for a test.
At the same time, we are developing new types of test that are simple, quick and scalable. They use swabs or saliva and can be turned round in 90 minutes or even 20 minutes. So-called Operation Moonshot, to deploy mass testing, will allow people to lead more normal lives and reduce the need for social distancing. For instance, it could mean that theatres and sports venues could test audience members on the day and let in those with a negative result, workplaces could be opened up to all those who test negative that morning, and anyone isolating because they are a contact or quarantining after travelling abroad could be tested and released. We are piloting that approach right now and verifying the new technology, and then it can be rolled out nationwide. [Laughter.] …
This will not meet well with a great swathe of people living in England (see the replies):
Simon Dolan tweeted:
Incidentally, the wait until Monday is partly because the St Leger Festival is being run through this weekend:
As the debate progressed, MPs from both sides of the House said that their constitutents were told to drive hundreds of miles away for tests. Here are two examples:
Rosie Cooper (West Lancashire) (Lab)
Will the Secretary of State please explain the lack of availability of home testing kits, which has dropped dramatically in my area of West Lancashire? In the absence of home testing kits, very ill pensioners are being offered tests 80 or 100 miles away. The confusing message in the assurance that he is trying to give is that there are too many getting tested, but that, if in doubt, people should get tested. How does that deal with the asymptomatic carriers or spreaders? This is a huge hidden danger. In the light of the Secretary of State's earlier comment, my constituents would genuinely love to get with the programme, get tested where necessary and stay safe—if only the Government's words met their actual experience of the system.
Lucy Allan (Telford) (Con)
I thank my right hon. Friend for his statement and very much welcome the exciting progress on developing saliva testing. Outstanding progress has already been made on expanding testing capacity, and he deserves our thanks for his tireless work. Inevitably, this is not without its challenges. On Tuesday evening, hundreds of cars from across the country—and I do mean hundreds—descended on Telford's testing site, as they were directed to do by the booking system. Tests quickly ran out, roads became blocked, people who had travelled from as far away as Cornwall, Stockport and London were turned away, and my constituents were no longer able to access tests in the area and so in turn were sent elsewhere. What assurances can he give that the error in the booking system that directed so many people to Telford has now been corrected, and does he agree that people should not be criss-crossing the country and travelling for many hours to secure a test?
Harriet Baldwin (West Worcestershire, Conservative) asked about the infringement on civil liberties and whether the Government were moving the goalposts. I won't bother with Hancock's response, because he did not answer her question. He merely repeated the same old waffle:
We accepted massive restrictions on our liberty in March because we wanted to protect the NHS from being overwhelmed, and we achieved that—indeed, not all the capacity was used. We are now imposing more restrictions on people's liberty. Does the Secretary of State's strategic goal for England continue to be to protect the NHS from being overwhelmed, or has he now gone further and is aiming for zero covid in England?
Friday, September 11
Unusually, the House of Commons convened on a Friday.
The Speaker of the House opened the session with this:
We meet today on the 19th anniversary of 9/11. We remember all those who lost their lives due to terrorism on that day and all those who were injured, as well as those who were bereaved.
Then, Sir Christopher Chope (Christchurch, Conservative) spoke, concerned about the new coronavirus rules coming in on Monday, September 14:
On a point of order, Mr Speaker. I have been looking at today's Order Paper and particularly at the remaining orders, where I had expected to see the statutory instrument that the Government must lay for the draconian new rules they are bringing in on Monday to be lawful. It does not appear to have been laid, despite the Prime Minister making an announcement about it on Wednesday and the Secretary of State for Health and Social Care having made a statement yesterday. I am very concerned about the lack of opportunity for the public to see the text of these new regulations and about the Government's continuing reluctance to give any opportunity to Members to debate this. Yesterday, my right hon. Friend the Member for New Forest West (Sir Desmond Swayne) asked when we could have a debate on it, and he was told that he could apply for a Backbench Business debate. That hardly fits in with the sense of urgency about all this. When my hon. Friend the Member for Altrincham and Sale West (Sir Graham Brady) then raised the matter with the Secretary of State yesterday, he was told that the Secretary of State would take it away and think about it. That is not satisfactory, as we are talking about the most draconian introduction of new restrictions on our liberty, with criminal sanctions. We need to be aware of what is happening and given the opportunity to debate it.
Mr Speaker replied:
May I say that I share your disappointment? I think that we should all be informed and the country should also know what is going on. The laying of this instrument is a matter for the Government, but I would say that you know and I know that other avenues could be taken on Monday to tickle this little item out, if required. So I will leave it with you to ponder what you want to do next. The Clerk has made a note, and we will come back with further information.
MPs debated the Co-operative and Community Benefit Societies (Environmentally Sustainable Investment) Bill.
Earlier that morning, Steve Baker was a guest on BBC Radio 4's Today. He spoke his mind about the Government's response to coronavirus:
Baker retweeted an item from Liberty's feed:
Good. Finally. I hope this results in a solid Left-Right grouping of credible people speaking out against this bill, hastily rushed through the Commons and the Lords in March.
Meanwhile, in Sweden:
Sweden continues to operate fairly normally. The British Government, on the other hand, follows the rest of the Western lemmings.
My apologies. This is a long but important post on the endgame for coronavirus, as things stand at present.
On Wednesday, September 2, 2020, the House of Commons' adjournment debate was about coronavirus measures in England.
Sir Christopher Chope MP (Conservative, Christchurch) voiced disapproval on behalf of his constituents.
Sir Christopher has a good track record for representing the people, such as in this heated debate on Brexit in March 2019:
Before Parliament reconvened on Tuesday, September 1, many English residents became concerned about the Government's response to coronavirus, particularly after lockdown began to be lifted early this summer. The following tweets reflect their concerns:
In the middle of August, The Human Unleashed Team posted an excellent article about two possible strategies the Government has. Excerpts from 'COVID: The Case Against the UK Government' follow, emphases in purple mine.
It begins as follows:
Has the U.K. Government acted in good faith over the COVID-19 crisis?
In this post, we'll examine the UK Government's actions around the COVID crisis alongside various data published by official sources. The goal is to get insight into whether the Government has acted honestly and in good faith.
For now let's put aside the science around whether the disease known as COVID-19 is caused by the novel coronavirus (SARS-CoV-2) and focus on the evidence as it emerged.
Let's keep two alternative possibilities in mind as we look at the facts.
The first, "Case A" is that the UK Government has conducted itself in good faith, in the genuine belief that this is a pandemic, and has done all it can to reverse it, so that the country can safely return to normal as soon as possible.
The second possibility, which we'll call "Case B", is the possibility that the UK Government knows that the pandemic is no longer present, but does not wish a swift return to normal, and is therefore continuing to push the pandemic narrative for some other reason.
The article is complete with graphs, such as the one charting talk about a second wave when the initial deaths from the first wave had only just appeared in March:
If Case A (the Government is acting in good faith), this really does not make sense. The public did not suddenly starting talking about it for no reason. Why would the key influencers (WHO, Government, and media) seed the idea of a second wave so soon?
It only makes any sense in Case B (the Government is knowingly rolling out a prepared agenda), where it could be argued that the idea of "second wave" is being implanted into the public's consciousness. Why? Is it to set expectations of a second wave that is already planned?
Talk of a vaccine started trending two weeks before that, at the end of February:
Considering that the public's interest is guided by the media narrative, it is interesting that the public's attention was guided to terms like "second wave" and "vaccine" so early in the lifecycle of this pandemic.
Once lockdown started (Monday evening, March 23) 'flatten the curve' disappeared quickly from the official narrative:
Why was "flatten the curve" hailed as the nation's priority in March, but then swiftly dropped even before the fatality curve peaked?
Furthermore (and this is a recurring theme), if flattening the curve was ever truly the goal, we would now be celebrating the fact that the curve has been flat for nearly two months. We are not. Neither the Government nor mainstream media have been cheering the fact that the COVID wave has, to all extents and purposes, ended and that the country can return to normal.
The death curve has been flat since the end of July:
Even in the hardest-hit groups (60 years and 80-plus), the curve is now objectively flat. Why are we not partying in the streets? (When it comes to younger age groups, the picture is even more ridiculous. The official NHS numbers show that only two people aged under forty have died in hospital in the past month related to COVID.)
If Case A were true, you would expect that the Government would be proudly announcing its success in halting COVID mortality. However, there have been no such announcements. On the contrary, the narrative from both Government and state news sources continue to stress the threat of another wave. Case A makes no sense.
It does all fit with the Case B scenario. If the Government's purpose involves perpetuating the fear level thus justifying continuing the increased level of control over the population's freedoms, then you can see why they would choose to ignore the simple fact that today there is no epidemic in the UK.
In fact, this summer, there were more fatalities from seasonal flu than there were from COVID-19:
You can see that, following a tremendous spike in death rates, since mid-June deaths linked to COVID have been significantly lower than flu/pneumonia deaths …
Again, if Case A were true, the Government would be wasting no time in announcing the end of the epidemic and delivering the good news that everything can now return to normal. Considering the incredible damage that has already been inflicted on the UK economy, you would imagine that the party in power would be anxious to lift the restrictions.
As none of that has happened, we must consider Case B. Not only has the Government resisted the clear opportunity to end all the restrictions, they have actually implemented new rules, including the requirement to wear face coverings in enclosed public spaces, backed up with the threat of a £100+ fine, since July 24th.
What can we conclude?
Think it through. If both diseases are the result of similar, communicable viruses, why are more people now dying every day from flu than from COVID-19?
One possible explanation that has been suggested could be that the virus that causes COVID-19 is far more contagious than the influenza virus. If that were the case, it would suggest the novel coronavirus spread like wildfire through the UK population, but killing the elderly almost exclusively. And if that were true, it would mean that we have already reached the fabled "herd immunity", suggesting that you could make an argument that the elderly and infirm should still be protected, but that the rest of the UK public could return to normal immediately.
So we must conclude that we have either achieved "herd immunity", which means there is no more pandemic and that the virus is no longer a high consequence infectious disease (which Public Health England in fact published back in March), or one or more of the above assertions are incorrect, suggesting that COVID-19 may not be caused by a communicable pathogen, in which case there is also no pandemic.
Over the summer, the Government's focus turned to 'cases', which has kept the psychological fear factor up among the general public:
If Case A is true, and the UK Government's priority is to protect the population and get through the COVID crisis as swiftly and as safely as possible, why would they stop talking about deaths and start talking "cases" as the death rate dropped towards zero?
Cases simply refer to positive test results. They do not mean that someone is sick, or at risk of dying. Yet testing has continued to grow week-on-week, now averaging over 150,000 tests being processed daily. Why would a Government whose priority is a rapid and safe return to normal keep increasing its efforts to find more "cases", instead of applauding the vanishing mortality numbers?
Again, only Case B makes logical sense. The Government's own actions show that it is continually pouring more resources into the search for "cases", which could have the effect of spreading fear and panic, and choosing not to report the good news that now almost nobody is dying of COVID-19, which of course would have the opposite effect.
Then there were the inflated death statistics that have now been corrected. England now has 5,000 fewer COVID deaths. Hospital admissions were also erroneously inflated:

Let us be clear. In the middle of a global disease pandemic, the Government's number one priority must be to evaluate the danger accurately. The responsibility falls on the Health Secretary, who completely failed to deliver. He had ONE JOB.
The article concludes as follows:
It is now clear, from observing its own actions, that the UK Government does not wish a timely return to normal life. If it did, it would be going to lengths to celebrate the practical eradication of the COVID pandemic in this country, and moving to reverse the extreme measures that limit the population's freedoms that have resulted in such catastrophic outcomes.
Instead, the sum of this Government's actions appear only to support the hypothesis that they wish to prolong the present restrictions by giving the impression that the pandemic is ongoing and far more serious than the data suggest.
The UK Government has some very, very serious questions to answer. This establishment must take responsibility for conspiring to extend the appearance of the alleged COVID pandemic, leading to disastrous economic outcomes for the country, but – even more importantly – the unimaginable health and emotional damage on the population of this country.
Keep all of that in mind as you read the excerpts from Sir Christopher Chope's speech and the response on behalf of the Government from Paul Scully MP (Conservative, Sutton and Cheam), who is the Parliamentary Under-Secretary of State for Business, Energy and Industrial Strategy.
Wikipedia says (emphases mine below, link added in the next sentence):
Scully's wife Emma is employed by Nudge Factory Ltd as an Office Manager and replaced her husband as 'a person with significant control' on 1 April 2018.[30][31]
The text from the adjournment debate can be found in Hansard: 'Regulatory Impact Assessments (Legislative Scrutiny)'. The crux of the debate was that the Government made emergency laws without properly assessing the impact they would have on small business owners. That said, masks also featured in the debate.
I promise that you will not be bored reading the following excerpts. Unbeknownst to me at the time, my far better half also watched the entirety of this debate in another room. Both of us were gripped.
Sir Christopher wasted no time in making his points. He expressed himself politely but with all guns blazing, so to speak. (Bold letters for MPs' names are in the Hansard document).
Sir Christopher Chope (Christchurch) (Con)
I shall start with some quotes from my constituents about the Government:
"The most inept and incompetent administration in my lifetime."
"Incoherent and indecisive." "Authoritarian and arrogant." "Inconsistent and incomprehensible." "Socialist in all but name." As these criticisms become increasingly difficult to rebut, it is indeed essential that the Prime Minister gets a grip. The constructive purpose of this debate is to remind the Government that one key tool to enable them to get a grip is to use regulatory impact assessments as part of the policy-making process.
A regulatory impact assessment is a well-established, internationally acclaimed toolkit for good policy making. It facilitates transparency and public accountability, promotes democratic discussion by enabling potential possible policy options to be evaluated and compared. It prevents the inconsistency that arises from knee-jerk reactions and policies being developed on the hoof.
It helps to ensure that sudden changes are the exception and are made in response to changes in hard evidence rather than in response to the chorus of a single-issue pressure group—and I think it is probably fair to say that the covid alarmists are the most successful pressure group in British history. If, for the past six months, the Government had been using this toolkit, it would not have been possible for commentators to observe, as one did on Sunday:
"Britain has become a paradise for those who like to answer questions with 'rules is rules'; even when they're clearly made up on the spot or nonsensical."
Allowing beard and eyebrow trimming for men but not eyebrow treatments for women was but one ridiculous example.
Most fair-minded observers supported the Government's initial response to the covid-19 pandemic. The Government had no option but to make their priority ensuring that our hospitals were able to treat all those seriously ill as a result of covid-19. Our NHS was not as well-prepared as it would have been if the recommendations of Exercise Cygnus had been implemented. Cygnus was a brilliant initiative to war-game a serious epidemic of respiratory illness in order to identify where investment was needed to fill the gaps and thereby ensure an effective response. Tragically, Public Health England did not learn the lessons identified and failed to put the recommended preparatory work in place. We, the public, have been denied access to the full results. It remains a mystery to me as to why the Government are so defensive about the whole matter—and have indeed been dodging parliamentary questions that I have put down on the subject.
… The purpose of this debate is to try to get some more assurance from the Government that they are going to apply these principles not just to covid-19 but to other regulatory measures that are, at the moment, being brought in with far too insufficient scrutiny.
Tomorrow it will be six months since the Department of Health and Social Care policy paper on coronavirus was published. This action plan, as it became, on which the Coronavirus Act 2020 was based, envisaged four phases: contain, delay, research and mitigate. The delay phase was to
"slow the spread in this country, if it does take hold, lowering the peak impact and pushing it away from the winter season".
Because of the emergency timetable, the legislation had the sketchiest of regulatory impact assessments, without any cost-benefit analysis. But who would have thought that none of the regulations being made under that primary legislation would be properly evaluated before implementation? I certainly hoped that that would happen, but it has not.
The basic steps in the RIA process should involve consultation and an assessment of the nature and extent of the problems to be addressed. There should be a clear statement of the policy objectives and goals of the regulatory proposal, which should include the enforcement regime and strategy for ensuring compliance. Alternative courses of action should be identified, including any non-regulatory approaches considered as potential solutions to the identified problem. There should also be a clear outline of the benefits and costs expected from the proposal and identified alternatives. The conclusion should not only identify the preferred solution but explain how it is superior to the other alternatives considered. Finally, there should be a monitoring and evaluation framework set out describing how performance will be measured.
Although the processes I have set out could not be embarked on in the immediate emergency of introducing lockdown, they should surely form an inherent part of the process of easing lockdown, and ensuring consistent and timely relaxations of the regulations. It is the failure to do this that has resulted in sudden and contradictory changes to the regulations.
This has also led to unacceptable mission creep, which increasingly embodies a gradual shift in objectives. Hon. and right hon. Members will remember that the original objective was to enable the NHS to provide the best care to all the victims of covid-19 who needed it. That clear mission has now widened into a mission to suppress the spread of covid-19 as an end in itself, regardless of the cost. The irony is that, in allowing the original objective to be blurred, the important subsidiary objective of preventing the virus peaking again in the winter is being put in jeopardy.​
The easing of lockdown has, sadly, become a veritable shambles. While the number of deaths from covid-19 has mercifully plummeted from its April peak, there has not been a corresponding relaxation of the emergency regulations. I shall refer later to the OECD principles of best practice for regulatory policy, but one of the key principles is:
"Proposed solutions should be appropriate to the risk posed, and costs identified and minimised."
In the statement he made yesterday to the House, the Secretary of State for Health [Matt Hancock] said that there are now
"60 patients in mechanical ventilator beds with coronavirus".—[Official Report, 1 September 2020; Vol. 679, c. 23.]
This compares with 3,300 at the peak of the epidemic, and he then said that the latest quoted number for reported deaths is two in one day. Today, The Sun newspaper has calculated from these figures that the odds of catching covid-19 in England are about 44 in 1 million per day. Economist Tim Harford, who presents what I think is one, if not the only, good programme on the BBC—the statistics programme, "More or Less"—has said:
"Covid-19 currently presents a background risk of a one in a million chance of death or lasting harm, every day."
While age, gender, geography, behaviour and other aspects affect the risk, it is now far lower than the risk of death or serious injury in a motor accident. On average, five people continue to be killed each day on our roads, yet I have not yet heard from the Government any proposals to ban people from driving because of the risks associated with so doing.
One sure way of ensuring consistency would be to impose the discipline of a regulatory impact assessment on each and every continuing restriction, so that the justification for loss of personal liberty could be evaluated against the alleged benefits. It is not too late for this to start, and I hope that the Minister, in responding to this debate, will provide an assurance that the forthcoming six-month review of the legislation will include a full regulatory impact assessment and an evaluation of the performance of the emergency regulations introduced.
The public would then be able to see the evidence about whether the decisions taken were correct. For example, was closing schools and setting back the education of the covid regeneration a proportionate and necessary measure? Was the postponement of 107,000 weddings across the United Kingdom justified? Could any of the 4,452 weddings which should have taken place last Saturday have been permitted? Why can people sit safely side by side with strangers on an aircraft, but not at a wedding breakfast or in a church, a theatre or a concert hall—or even in this Chamber?
Why was the World Health Organisation advice, which was originally that there should be 1 metre social distancing, not applied from the outset? We introduced a 2-metre or 6-foot rule, but that has now been modified with the 1 metre-plus rule, but at the same time the additional safeguards required for the 1 metre-plus situation are being applied to the 2-metre situation, which is creating all sorts of problems, conflicts and uncertainties for our constituents.
Is it protecting the NHS to create a situation where, as was revealed in The Times on 27 August, 15.3 million people are now on the hidden waiting list for treatment? ​Is it reasonable that we should try to prevent two deaths a day and keep 15.3 million people on waiting lists for treatment, with all the dire consequences that flow from that? Madam Deputy Speaker, I do not know whether you were listening to the Secretary of State for Health when he made his statement yesterday, but in my view his responses on the issue of NHS waiting lists were the weakest and least convincing parts of what he had to say.
Is the continuing economic cost of lockdown now disproportionate to the benefits? Well, let us have an exercise and see. Let us see the data presented, so that we can have a proper debate about it. I raised the importance of regulatory impact assessments in public policy making with the Leader of the House at business questions on 2 July. It was his response on that occasion which caused me to apply for this Adjournment debate, which I am delighted that we are having this evening. I said that we would be able to achieve much more consistency in Government advice with regulatory impact assessments. The Leader of the House [Jacob Rees-Mogg], however, argued that
"if we spend too long doing all this, by the time we have done it we have moved on to the next stage of the lockdown."
He accused me of "calling for bureaucratic folderol", which would inhibit moving
"at a pace to ensure that things happen in a timely manner".—[Official Report, 2 July 2020; Vol. 678, c. 534.]
Would that they were. But I must correct the Leader of the House, because, far from being the worthless trifles described in the expression "folderol", regulatory impact assessments are fundamental to ensuring that we make the right decisions as legislators.
It is incredible that, instead of lockdown continuing to be relaxed, new restrictions on freedom, such as mandatory face coverings, have been introduced. The consequence is that I detect a growing atmosphere of gloom and foreboding as we see winter approaching: no vaccine availability for many months; the economy in a worse state than most of our competitors; and the prospect of the resurgence of the pandemic coinciding with the flu season. I do not like the expression "waves" because it makes it seem as though we are talking about something equivalent to the Atlantic rollers so much enjoyed by our former Prime Minister and colleague, David Cameron. We are not talking about waves. We are talking about the potential resurgence of the pandemic—not everywhere, but in particular hotspots.
This scenario demands a rational evaluation of conflicting risks to the economy and public health, together with a cost-benefit analysis, and now is the time for the Government to reinstate the intellectual rigour of the regulatory impact assessment process. Sooner or later, the incredible economic cost of the Government's failure to remove lockdown restrictions in a timely and effective manner will become apparent. If that coincides with the Government asking their natural supporters to pay the price for their failure through higher taxes, the political consequences will indeed be dire. It is for that reason that I commend to the Government what the OECD says about regulatory impact analysis. It describes it as an
"important element of an evidence-based approach to policy-making…that…can underpin the capacity of governments to ensure that regulations are efficient and effective in a changing and complex world."​
I will not read from the whole OECD regulatory impact assessment report on best practice principles for regulatory policy, but it extends to about 40 or 50 pages and is extremely well researched and documented. As I understand it—the Minister will correct me if I am wrong—these principles are supported by the Government; the trouble is that they do not seem to be being implemented by the Government and by Government Departments. I hope that in his response the Minister will tell us what he is doing to try and put that right.
The Government should revert to following their own "better regulation framework" established under the Small Business, Enterprise and Employment Act 2015, which requires that
"A RIA should be prepared for all significant regulatory provisions as a standard of good policy making and where an appropriate RIA is expected by parliament and other stakeholders."
The interim guidance issued in March this year sets out a general threshold for independent scrutiny of regulatory impact assessments and post-implementation reviews, where the annual net direct cost to business is greater than £5 million. It calls on Government Departments to undertake proportionate cost-benefit analysis to inform decision making.
The trouble is that this is not being done, and I will give just one topical example, to which I referred in my brief comments in the previous debate. Under the Coronavirus Act 2020, there was specific primary legislation saying that residential tenancies should be protected from eviction until 20 September this year. On Friday last week—27 August—regulations were made extending that period from 20 September for another six months. The regulations came into force on 28 August, which was last Saturday, the very same day that they were laid before Parliament. Regulation 1(2) says:
"These Regulations come into force on the day after the day on which they are laid".
Those regulations have caused a storm of protest from residential landlords in my constituency; they are apoplectic about the fact that they are not going to be able to recover possession of their premises. Notwithstanding the contractual agreements they have entered into with their tenants, they are not going to be able to recover their premises until 31 March 2021.
It says in the explanatory notes to the regulations that they amend schedule 29 of the 2020 Act. This is primary legislation being amended by subordinate legislation subject only to the negative resolution procedure, and so one might have expected that there would be a regulatory impact assessment or something which would indicate to us, on behalf of our constituents, that the Government have thought this whole process through, but that is not there, and instead there is a little note which says:
"A full impact assessment has not been produced for this instrument due to the temporary nature of the provision" …

Bob Stewart [Conservative, Beckenham]

It makes us look like clowns.
Sir Christopher Chope
I hope that that is on the record—it makes us look like clowns. That is why I hope that we can persuade the Government to reform their ways. It is also extraordinary that the excuse should be put forward that this is a temporary arrangement and that is why there is no need for a regulatory impact assessment. That is not set out anywhere in any of the books on this, and it is a novel interpretation of what should be happening.
Switching away from the regulations directly related to coronavirus, I have received support for raising this issue from the Internet Association, which is the only trade association that exclusively represents leading global internet companies on matters of public policy. The organisation responded to the Government's invitation when they went out to consultation in June inquiring about the reforming regulation initiative. It said, "Regulation in the digital sector has a wide range of potential impacts which extend beyond traditional economic impact analysis. As a matter of course, the Internet Association recommends that Government Departments and regulators undertake a wider impact assessment of their proposals covering not only the economic impact, but also issues such as technological feasibility and impacts on freedom of expression and privacy." It goes on to say that "there have been a number of recent policy and regulatory initiatives in the digital sector where it has not been clear whether an impact assessment has been conducted and/or the impact assessment has not been published for external scrutiny." It gives an example of the Department for Digital, Culture, Media and Sport/Home Office online harms White Paper. The Internet Association believes that wider regulatory impact assessments, as specified, should be required for major digital policy and regulatory initiatives. Therefore, this extends into that field also, as it does to all legislative and Government policy making—or it should do—and I hope that we will be able to get ourselves back on track.
The interim guidance to which I refer, which was published in March this year, referred to the Government considering how best the better regulation framework can be delivered
"more effectively over the course of this Parliament".​
Now is the time, surely, to take some action. As their first step, the Government should promise that the six-monthly review of the Coronavirus Act 2020 will be accompanied by a full post-implementation review and that a full cost-benefit analysis of those emergency regulations that it recommends should be kept in place. I hope that the Minister will announce that he is going to do that tonight and thereby help to restore public confidence in the Government's decision making and the ability of Parliament to scrutinise it, because that is fundamental. I am grateful for the opportunity to put this point to the House.
This was the Government minister's response, which entailed further lively debate:
The Parliamentary Under-Secretary of State for Business, Energy and Industrial Strategy (Paul Scully)
… Our commitment to conducting such impact assessments remains strong. The analysis that goes into impact assessments ensures that Government consider the need for and likely impact of new regulations to support legislative change. They ensure that we consider how regulation will affect the operation of markets and best enable businesses to innovate, and, in line with the subject of this debate, they inform parliamentary decision making …
The Coronavirus Bill, introduced in March this year, provided powers needed to respond to the coronavirus pandemic. The powers enabled the Government to introduce temporary emergency legislation to respond to the pandemic. To allow the Government to deliver at the required pace, formal regulatory impact assessments are not required for better regulation purposes for the temporary measures put in place in response to the pandemic. Further flexibility in the approach to impact assessments is appropriate where permanent measures need to be enforced urgently.​
My hon. Friend mentioned some specific examples where we have assessed the impact in a different way. He is right to talk about the importance of regulatory impact assessments. Some of the guidelines that he mentioned fall within my area. The specific residential landlord and tenant issue that he mentioned falls to my colleagues in the Ministry of Housing, Communities and Local Government, but in terms of the commercial Landlord and Tenant Act 1954 changes, we found from listening and speaking to businesses over a period that some companies that were struggling to pay their rent were being wound up by some landlords, so we acted.
This is on the basis of detailed, long-standing conversation and engagement with businesses on both sides of the debate. In my short time as a Minister, I have had around 500 meetings with, I estimate, 3,000 to 4,000 businesses, so I think I have a reasonable handle on retail, hospitality, weddings and the beauticians who do eyebrows and beard trimming that my hon. Friend mentioned. It is a source of great regret that we are unable to allow wedding celebrations of more than 30 people to occur at the moment. I have seen at first hand and heard from people in the wedding sector, which is an enormous contributor to the UK economy, how badly they are suffering as a result …
At this point, the responses from Paul Scully became brittle and defensive. More importantly, Scully said that some changes will be permanent:
Sir Christopher Chope
May I present a challenge to the Minister? Will he publish for our benefit a regulatory impact assessment on the issue of not allowing larger weddings? That would bring into the open all the issues with which he is familiar but which have not yet been exposed to public debate and scrutiny. Is that not what it is all about? This has now been going on for six months, and people want to know where the future lies for the small organisations involved in weddings. Will he offer to do that for us, notwithstanding the fact that his Department is very busy? That would be really helpful.
While I have the Floor, let me also say that I am concerned that the Minister seemed to distance himself from what is happening to individual landlords. Although they may not be incorporated, they are small businesses.
Paul Scully
To answer my hon. Friend's last point, I am not distancing myself; I literally was not involved in that decision. I do not want to offer a line of thought on something that I was not involved in, but I understand his point.
On weddings and the public debate, my hon. Friend has clearly not been following my Twitter feed—totally understandably—which is full of such debates about the wedding sector. We are trying to work with the sector to make sure it can open. My primary concern is about ensuring we get our economy open again with a warm but safe welcome to people. The Government's first priority has always been to save and protect lives, but restoring livelihoods, protecting jobs and protecting businesses are right up there, for the reasons that my hon. Friend set out. If we do not get this kick-started now, the effect on the economy will be huge, so it is important that we work together to give people not just confidence but joy, so that when they come out to use services in their local high streets and city centres they enjoy the experience and come back time and time again.
A one-off hit to our economy is not good enough. We know it is not going to go back to how it was in February, and there are some permanent behaviour changes that seem to be kicking in. None the less, we need to work with the new normal, which means working with the virus, because we will be living with it. My hon. Friend talked about a second wave, or spike or whatever he wants to call it. If we learn to live with it, there may be a third and a fourth until we get a vaccine, but live with it we must. There will be a new reality of the permanent behaviour change.
Well-designed and effective regulation, which my hon. Friend wants to see in our legislation, and which we are championing, enables markets and business to flourish, grow and innovate. It can provide certainty for investors and protection for individuals and society. The use of impact assessments in informing regulatory design can help us to achieve those outcomes. Excessive or poorly designed regulation can impede innovation and create unnecessary barriers to trade, investment and economic efficiency. We have sought to limit that by ensuring that regulation changes in response to the pandemic are targeted and time-limited.
Bob Stewart
One of the biggest things that the Government have insisted on is facemasks, which we have mentioned already. I would be intrigued to know ​whether there is a regulatory impact assessment on why we all have to wear facemasks in public and various other places, because I have not seen it. If there is one that could be made public, perhaps it could be put in the House of Commons Library. There are growing numbers of people in my constituency of Beckenham who are rebelling against that idea.
Paul Scully
I thank my hon. Friend for his intervention. I get the train and the Underground into London each and every day, and the adherence of people to wearing face masks is, on the whole, good. Tube use, I am glad to say, is increasing substantially. London city centre—the central activity zone in London—is incredibly quiet. That is affecting the west end in particular, and the City.
The west end represents 3% of the entire UK economy—just the west end—so although we need to make sure that the whole country is able to restore the confidence and joy that I was talking about, it would be remiss of me, as Minister for London as well, not to showcase those areas that make up a massive amount of our capital city as a strategic and world city, so that it is ready for international travellers when they have the confidence to travel.
The Government's focus has been on improving design and proportionality in regulation. That is done through the Better Regulation Executive, which is responsible for embedding smarter, more cost-efficient and better regulation across Government, and which has recently introduced new guidance templates and training to improve the quality of impact assessments. As a result, impact assessments have clearer presentation of results, better planning for implementation and more quantification of costs and benefits.
The better regulation guidance represents the agreed Government policy on evidence and independent scrutiny, including when to seek independent scrutiny. It is clear that legislation should be accompanied by robust evidence and assessment of impact.
Bob Stewart
Forgive me. The Minister is a really good friend of mine, but he did not answer my question. I would really like to see the Government's justification, in writing, as to why so many people have to wear face masks. Can we know what that justification is in this House?
Paul Scully
There has been a long debate about the use of face masks, both on transport and in retail. There are arguments either side—whether it gives a false sense of security or whether people touch their face when they put on or take off their mask. None the less, we have a better understanding of the transmission of the virus and the aerosol nature of its transmission. That is why the World Health Organisation has changed its advice from the beginning, when it said people do not need to have masks or face coverings, to, "Yes, you do." Actually, we can learn from history. In the 19th century, cholera was assumed to be transmitted by air, but by greater understanding and by working through it—they did not need a regulatory impact assessment to figure it out— eventually people found that it was the water supply that was causing cholera, so they were able better to tackle that particular issue at that given time …​
By mentioning cholera (?!), Scully killed his own argument. He should read up on the 20th century instead, specifically, the 1918-19 influenza pandemic. In the early 1920s, medical experts concluded that masks did nothing to stop the contagion. However, I digress.
The debate continued:
Sir Christopher Chope
Is this body to which the Minister is referring going to look at the issue of face masks, or face coverings? In answer to my hon. Friend the Member for Beckenham (Bob Stewart) he has said that there are arguments on both sides of this. In those circumstances, why are the Government taking one side and criminalising behaviour instead of trusting people to reach their own decisions on the information provided by the Government?
Paul Scully
I am sure the necessary people will have heard my hon. Friend's call for that to be examined, but on the use of face masks, it is the same as self-isolation as a result of the test and trace system: the number of people who are having to self-isolate at any one time means that millions of us can go about our relatively normal lives by going to retail, hospitality or our places of work, which we were not able to do for so many months.
Those changes are evolving. I, like my hon. Friend, do not take any infringement of our civil liberties lightly, but this is a situation—I am not going to use the word "unprecedented" even though I just have; it has been used an unprecedented number of times—that we have never had to face before. No Government have ever had to face such a situation, so we are learning as we go along. We will not always get it right, but we have to make sure we are using the best engagement, listening to both sides of the argument, and working through as the science evolves and as we see what is in front of us in terms of human behaviour.
My hon. Friend the Member for Christchurch talked about the OECD, whose latest report acknowledged that better regulation is an area of strength in the UK. It notes that the UK has been a leader in regulatory policy in general, with the early adoption of the better regulation agenda. Our ambitious agenda is reflected in the results of the OECD's monitoring of regulatory management tools, as displayed in the "OECD Regulatory Policy Outlook 2018", with the UK displaying the highest composite indicator score for stakeholder engagement for primary laws. Our score for secondary legislation is also significantly above the OECD average. We also had the highest composite indicator score for regulatory impact assessments across the OECD. That includes strong formal regulatory impact assessment requirements in areas such as establishing a process to identify how the achievement of the regulation's goals will be evaluated; assessing a broad range of environmental and social impacts; and undertaking risk assessments as part of regulatory proposals. So we should be justifiably proud of our world-leading reputation in this area.
These assessments are valuable documents, and the Government should be applauded for encouraging their production and the transparent scrutiny of them, but, ​as with some individual impact assessments themselves, there is always room for improvement. As with the principles underpinning better regulation, we are always looking for ways to learn and improve our approach.
Sir Christopher Chope
Obviously, we are fortunate in having a bit of extra time this evening, which is great. Will the OECD be asked to opine on the effectiveness of the Government's regulatory response to the coronavirus epidemic? For example, will the OECD be able to comment on the distinction, which my hon. Friend has made, between rules on face coverings, for which there are lots of exemptions, and rules about isolation and quarantine, for which there are no exemptions. I am afraid that there is an anomaly there.
At that point, Scully could hardly wait to bring this important debate to a close, with no give on his part.
As you read the following (if you got this far), please note that the Government, not the requesting MP, is supposed to look into matters resulting from these debates:
Paul Scully
I am afraid I do not have the OECD on speed dial, but I am sure that my hon. Friend will be able to ask it to look into all these things. I am glad that we have extra time, because there is nothing I like more than to discuss regulatory impact assessments—I am afraid that Hansard does not detect sarcasm. Although I make light, it is good that we have parliamentary scrutiny of an important topic to cover.
As I say, there is a further cultural shift in Whitehall to make on such impact assessments across the board. We do have a responsibility to monitor the extent to which the laws we have passed are implemented as intended and have the expected impact. My hon. Friend ​is justified in raising this important issue, so that we can consider, learn and move forward together. The planning for monitoring and evaluating regulatory changes could be more effective. There is a risk that laws are passed that result in unexpected consequences or inappropriately stifle innovation. I have seen that at first hand as we have been changing and tweaking various support measures for businesses; we have had to change them so that they are supporting businesses as intended, rather than with an unintended consequence. Better planning for monitoring and evaluating will help to ensure that there is sufficient information to assess the actual state of a law's implementation and its effects.
In conclusion, regulatory impact assessments, in themselves, have evolved into an important and valuable component of the UK's better regulation system. The transparent publication of impact assessments has added accountability to the analytical dimensions to policy development, which has increased the amount of evidence presented alongside policy proposals, and the existence of the independent scrutiny has increased both the transparency of the process and the accountability of government. I thank my hon. Friend for raising this important issue.
Bravo, Sir Christopher. I hope that more of the old guard Conservative MPs continue along his line of debate. We, the people, need their support.
On the other side of the Pond, that same day — September 2 — Tucker Carlson had an excellent segment on the endgame of the coronavirus panic. According to the WHO's Dr Tedros, who is not a medical doctor, the plan is to ultimately bring in a worldwide reset to fight climate change. Bill Gates approves.
This is a short but highly instructive video:
Given all of the above, do Britons think that the UK government has been acting in good faith over coronavirus?
Boris Johnson promised us a 'people's government'. It certainly doesn't look like one at present.
Thank you, Sir Edward Leigh, for speaking out against mandatory face coverings.
Yesterday's post reported that Sir Desmond Swayne MP spoke out during Health Secretary Matt Hancock's announcement about masks on July 14.
On Thursday, July 16, 2020, Sir Edward Leigh MP (Conservative, Gainsborough) made a forceful statement during Leader of the House Jacob Rees-Mogg's Business Statement. Leigh said that mandatory masks in shops should have merited a debate in the Commons. It is no small step, especially for a Conservative government. No true Conservative cares what other countries do in this regard. This is England:
Rees-Mogg brushed Leigh's objections away with a reply that a debate will be held in 'due course', which means in September or October. Parliament's last day before summer recess is Wednesday, July 22:
One consolation for today's Commons schedule was the Second Reading of the Non-Domestic Rating (Public Lavatories) Bill. Many have closed over the past several years because local councils can no longer afford them. This bill is designed to help councils out in this regard by giving rate (property tax) relief:
Back now to masks.
Sir Edward Leigh received supportive replies to his tweet.
The first concerns Lincolnshire:
The others are more generalised:
The mask controversy extends to London, too.
The Telegraph's Head of Culture, Serena Davies, wrote about her and her daughter's experience at the National Gallery in Trafalgar Square: 'How "mask rage" ruined my trip to the National Gallery'.
She thought that, as few people would be out and about, now would be a good time to take her nine-year-old daughter to see some of the most important paintings in history.
They sanitised their hands upon entry. Ms Davies asked about masks, which the Gallery 'encourages' but does not yet make mandatory. She and her daughter went without.
They went through rooms with Renaissance art. Davies's daughter marvelled at seeing the paintings in person. As they continued, they stopped in front of Titian's Poesies. Then, things took a nasty turn (emphases mine):
A tall, skinny, crow-like man wearing a black mask that seemed to cover most of his head lurched well within two metres of our periphery just as we'd sat down on a bench.
"Is there a reason for that?" he spat (into his mask).
I thought he had a problem with us sitting down. "How do you mean?" I asked.
"Masks!" he growled.
Constance and I weren't wearing them. I'd checked with the guard on arrival, and she'd said that it was optional, if "encouraged". I conveyed this to the man, who had no riposte and stalked off to glare at us from Perseus and Andromeda.
But the damage was done. "Why was the man so cross?" asked Constance in front of the Tintorettos. "That man was really quite nasty wasn't he?" she said as we peered at a De Hooch.
I said some people just start off the day with a bit of horrid to get out, and the mask thing was only an excuse.
"Do you think the man might be cheered up by a yo-yo?" she asked in the shop. We bought a yo-yo – to cheer up Constance.
Poor girl:
The rooms of paintings were simply thrilling to see, and easier to enjoy than during any other point in my lifetime, yet the masked vigilante scared my child so much he ended our fun right there.
Nasty Man will get his way on July 24, at least with regard to shops.
Coronavirus has changed the way the Western world operates.
In London, commuter levels have been at unheard of lows in recent memory. On July 16, The Telegraph's business correspondent, Allister Heath, sounded a warning: 'The death of the commuter is an extinction-level event for London'.
This means fewer railway passengers. Until mid-March, commuter trains going in and out of the capital were jam packed. Much less so now, he says, including London Underground:
The Greater London Authority, and Transport for London, its main asset, are, in effect, bankrupt, with nearly empty Tubes meaning fare revenues are in freefall, reliant on handouts from the Government.
Heath paints us a picture of an empty capital city, even now that many attractions have reopened and people have been encouraged to return to their offices:
The private sector, for its part, is facing gargantuan structural losses: the economics of offices and retail is predicated on mass commuting and tourism. The former won't fully come back; the latter will take a year or two. The arts, luxury, fashion, transport, hospitality, restaurant and many service industries face decimation. It's a full-on biotic crisis: London's economic ecosystem is suffering an immense decline in diversity. Lower-paid jobs, in particular, are being culled; the population could fall, with tens of thousands returning to Europe.
No doubt London will recover. It always does.
However, this just shows how ill-advised Matt Hancock's decision to make masks mandatory in shops is.
We can only hope that Chancellor Rishi Sunak encourages him to reverse it in the months to come.
If people feel more comfortable with masks, they are welcome to wear them.
However, shops have gone to great expense to accommodate social distancing.
Let's encourage common sense instead.
And, where masks are optional, let's stop criticising each other if people choose not to wear them.
On May 29, I wrote about the end of the successful 'hybrid' model the UK's House of Commons used for several weeks during the coronavirus crisis.
The Commons allowed both in-person and remote participation. A few votes were even accomplished during that time, including remotely.
When the Commons reconvened on Tuesday, June 2, an amendment was proposed to resume the hybrid model. It is currently difficult for Northern Ireland's and Scotland's MPs to get to Westminster to work. With flight and other travel restrictions during the coronavirus setback, journeys can take up to 18 hours, one way.
Other MPs — including a few Conservatives — have absent themselves, as they are self-isolating, either for themselves or immediate family members.
The amendment failed.
A subsequent division — vote — took place on whether the Leader of the House, Jacob Rees-Mogg, should be allowed to determine the way Parliament works during the remainder of lockdown. That vote passed.
Therefore, MPs are expected to be in situ in the Palace of Westminster.
Both divisions made for compelling television viewing on BBC Parliament.
Despite the Speaker of the House, Sir Lindsay Hoyle, making clear what MPs were expected to do, many of them were unable to follow simple instructions. A schoolchild could have done better.
Apparently, the Speaker issued the instructions in writing before MPs reconvened. Then, before the first division, he announced that there would be two voting stations in front of the clerks: Aye and No. MPs were to announce their name at those voting stations, which were right in front of him, and their voting intention. They were allowed to voice votes for absent MPs in the same way.
Many BBC Parliament viewers were aghast at how many MPs, regardless of party affiliation, could not follow these simple instructions:
Guido Fawkes has the video in full. You could not make this up:
Not all 650 MPs were there to vote: over 400 were.
In order to abide by social distancing rules of two metres, they had to begin queueing across the street then progress to Westminster Hall, which is adjacent and connected to the Palace of Westminster, and, finally, to the Commons chamber.
The Telegraph has a photo of them queueing in Westminster Hall. They then had to be outdoors for a while. Fortunately, the weather in London was perfect that day.
Political sketchwriter Michael Deacon described the process, which MPs dubbed the Mogg Conga (emphases mine):
The queue to vote was almost a mile long. It snaked halfway round the parliamentary estate. Beginning inside Portcullis House, it tumbled down an escalator, spilled out into a courtyard, then ran up on to the New Palace Yard green – at which point, the line disintegrated into a mad squiggle, with bemused and/or irked MPs chatting in not at all socially distanced groups, and police officers trying helplessly to shepherd them in the right direction.
MPs did not appreciate having to queue for so long. Yet, that is what the rest of us have to do if we want to shop at the supermarket, DIY shops and garden centres. For thee, but not for me:
As the sun blazed down on exposed necks and scalps, consternation reigned. "Ridiculous!" harrumphed MPs.
I'm glad they could experience what their constituents do every day: queue and wait — for ages.
Once they reached the chamber, many stopped in their tracks. Why? The Speaker had to urge them on:
a despairing Speaker was gesticulating frantically and bawling, "Come on! COME ON! Let's keep it moving!", as if coaching a hapless primary school football team.
As the above video shows, that was only the beginning:
All each MP had to do was pass down either the right-hand side of the central table (if voting No), or the left-hand side (if voting Aye). They then had to pause, say their name, and add either "Aye" or "No". But even this was a mess. Numerous MPs forgot to say their name; others remembered their name, but forgot to say Aye or No; and some forgot to say anything at all, and had to be called back by a clerk.
From start to finish, this festival of absurdity lasted 45 minutes – and that was just for the first division. Another division was due straight afterwards. So they had to go back and do it all again. This time, Stephen Crabb (Con, Preseli Pembrokeshire) accidentally voted Aye on the No side – and then attempted to correct himself by voting No on the Aye side.
Even our brainy Chancellor of the Exchequer, Rishi Sunak, couldn't manage it.
They will have to vote in this way until the day when social distancing stops:
The most farcical thing of all, though, was that – on the order of the Tory whips – a majority of MPs actually voted to keep this hilarious new system. So now they'll have to do it all the time.
I wonder if this will hasten the end of social distancing. It could well do. Imagine standing outdoors in pouring rain.
Rees-Mogg said that a 'pairing' (proxy) vote system would be in place for those who cannot attend in person. It still doesn't seem right, although I can understand that the hybrid system did not allow for actual debates. Instead, MPs made statements about proposed legislation.
The New Statesman interviewed four MPs who are having difficulty attending Parliament.
Robert Halfon (Conservative, Harlow) explained his situation and his disappointment that Rees-Mogg, who has a home in Belgravia, within walking distance of Parliament, couldn't appreciate it:
Robert Halfon has a disability and is one of several MPs who have been shielding, on government advice, during the pandemic. He is considering travelling into parliament to vote in person in favour of an amendment to the legislation on parliament's return, which would allow online voting to continue. 
It would be taking on a big risk, and goes against the advice of his own government — and party — on shielding. But it's the only way he will have a say in the matter of his own disenfranchisement, and, by extension, the disenfranchisement of his constituents. 
"I've described it as my 'democratic hood' being snipped away," he says. "I'm in essence a parliamentary eunuch. If I can't vote, I don't have a choice to vote, I'm a parliamentary eunuch.
"It's wrong to have a vote on hybrid voting, and yet not allow MPs to have the vote online. At the very least, this vote should have been online to make it fair."
He continues: "I'm fascinated by a virtual parliament, by the technology, but that is another argument for another day. I'm very happy to return to the traditions that they want so much, if, temporarily, we can get the vote and not be disenfranchised.
"I've discussed it with Jacob Rees-Mogg, I've discussed it with the chief whip, and I've discussed it with my whip." The response? "Just parliament should be back, it's got to go back to normal, and to vote in parliament you've got to be there." 
"I don't think he [Rees-Mogg] understands why I feel so strongly about it. I want to do my duty, I want to have the choice whether to vote. I may not vote in everything, but I want to have the choice. Because I'll then have to explain to people why. Why do I have to go round explaining to residents why I'm not voting, when they look at my voting record? 
"There's no understanding when people like me have a disability. I try to be as independent as possible and not be a victim and not complain and moan. I just want to do my job."
The other MPs interviewed also have medical issues or are caring for those in their households.
On Thursday, June 4, Tuesday's vote came up during the Business session, which Rees-Mogg presides over as Leader.
Rees-Mogg defended the vote queue …
… making a good point:
A Liberal Democrat MP, Alistair Carmichael, responded with this:
Carmichael applied for an emergency debate on the matter, which was held Monday, June 8:
The arrangements became even more contentious when it looked as if Business Minister Alok Sharma, who had a difficult time at the despatch box last Wednesday, was suspected of having contracted coronavirus. His test turned out to be negative, fortunately, and he was back at work the following week, presiding over the daily coronavirus briefing today (June 9):
Pairing and proxy voting came up in Thursday's discussion, too. The arrangements are secret:
Conservative MP Gary Streeter was paired with a Labour MP:
I agree with him on abandoning the ability to vote remotely so soon. The virus is still active. Furthermore, technical staff put in days of work in order to create a viable system — a first in the Palace of Westminster:
Liberal Democrat MP Jamie Stone said there was no voting provision for carers who could not be present:
He is correct:
This means:
What a mess.
On Friday, June 5, the Speaker of the House sent a lengthy letter on future participation for those who cannot make it to the chamber in person. (Also see Parly's Twitter thread.) Those MPs had to let him know by the end of the day whether they wished to be at home. They can participate virtually in some proceedings but not debates. During the time they have applied to participate virtually, they cannot then come to the chamber in person.
On Monday, June 8, Alistair Carmichael presented his arguments in introducing his emergency debate on the matter. It was a lively, sometimes spiky, discussion.
I agree with MPs who want a proxy vote. As they explained, it's not just for them, it's to represent their constituents — voters.
I agree with Jacob Rees-Mogg in saying that those absent from the chamber cannot participate in certain debates, e.g. on legislation. It would be impractical, because of the nature of 'interventions' — interrupting an MP to present an additional or opposing argument.
It looks as if Carmichael might have won this argument:
Rees-Mogg is likely to extend proxy voting:
Oddly, on June 8, the House of Lords, considered to be fusty and musty, moved to a hybrid system, including future online voting.