You are currently browsing the tag archive for the 'Jacob Rees-Mogg' tag.
This post concludes the story of how Rishi Sunak became Prime Minister.
Those who missed them might find parts 1 and 2 of interest.
Before concluding, an important anniversary took place this week.
On October 26, 2012, UKIP MP Douglas Carswell introduced a private member's bill, 'The People's EU Withdrawal Bill'.
The groundswell of support from Guido Fawkes's readers helped bring it to the Commons:
Guido has the video and a brief comment (emphases his):
Today history was made as the first-ever crowd-sourced Bill was debated in Parliament. The majority of 5,000 readers of this website voted for Douglas Carswell to propose Britain to withdraw from the European Union, and today Carswell stood up in the House to argue the case for the People's Bill. The debate can be watched at length here. 
Here is a short video of proceedings:
A few years later, then-Prime Minister David Cameron, frightened by the overwhelming support for UKIP in the European election, decided to give the British people a referendum. It ended up being the largest plebiscite in the history of the United Kingdom. On Thursday, June 23, 2016, in pouring rain, voters said they wanted the UK to leave the EU: 52% to 48%.
In current news, during Rishi Sunak's first week as PM, as I wrote yesterday, questions were being asked in the Commons and the Lords about Suella Braverman's reappointment as Home Secretary.
The Telegraph's Madeline Grant called Braverman 'Houdini' for not showing up for an Urgent Question in the Commons about the horrifying state of the Manston processing centre in Kent, which is turning from a short-stay to a longer-term residence for Channel migrants (emphases in purple mine):
At a second Home Office UQ, this time courtesy of Labour's Diana Johnson, the Home Secretary was a no-show again …
In truth, there were unhappy campers on both sides of the House; enough to populate Butlins, if not quite Calais …
Deputising for Houdini was Robert Jenrick – a junior Home Office minister and close ally of the PM who, some say, was appointed to keep a watchful eye on Braverman and prevent her from doing anything too mad …
Yet Jenrick's arguments were more true-blue, or at least Red Wall. He had little sympathy with illegal migrants, and the diversion of resources away from their legal counterparts, and seized eagerly on Priti Patel's pet phrase, "evil people-smuggling gangs". Reinforcements soon began to arrive from the Tory backbenches. What gave Labour the right to complain, wondered Steve Double, the MP for St Austell, when they'd voted against Patel's Nationality and Borders Bill. Lee Anderson and Richard Graham warned of Britain's imminent inundation by Albanian men.
Christopher Chope reminded the Commons that whatever the state of the Manston processing centre, conditions were a darn sight worse in the Calais Jungle. Labour MPs looked scandalised, but Jenrick agreed wholeheartedly.
When asked why he was deputising for Braverman:
Jenrick, in the spirit of Sunak, came back with an answer that was simultaneously boring and unimpeachable. "Because I'm the Minister of State for Immigration" …
It is estimated that from 1% to 2% of Albanian men are in the UK. They have places to go to once they arrive. The Albanian drug trade is the latest development in our migration story.
The situation in Dover is intensifying. The Times reported the story of the week: '"Desperate" new arrivals drive Dover into taking up arms'. Sledgehammers, more like, as firearms are largely illegal here:
Sue Doyle, 59, was sitting in her living room sipping a cup of coffee on Sunday morning when a 16-year-old Albanian migrant got in through the back door, which she had left open for her dog.
"All of a sudden he was there standing in my front room," she told The Times. "He didn't seem very friendly. He kept saying: 'no police, no police'."
Doyle, a full-time carer for her mother, said she was made to her lock her dog in a bedroom and that the teenager then asked her to drive him to Manchester. When she refused he demanded her mobile phone and used it to arrange to be picked up by a contact.
… Doyle managed to sneak out of the front door and alert a neighbour, who contacted the police and confronted the young migrant.
The neighbour, Louise Monger, 36, said she became more sympathetic when she realised his age and tried to assist him. Police arrived and he was detained before the driver arrived, she said …
The teenager who was arrested was said to be in tears as he was driven away in a police car …
A few doors down from Doyle, Kerry Jones, 45, a mother of a young autistic girl, said she now sleeps with a sledgehammer next to her bed after a migrant tried to enter her home through the back door in August …
The residents complained that not enough was being done by the council, police and border force to deal with the problem. Many spoke of seeing migrants running through the streets and residential areas or "hiding in bushes" in local parks …
When a Times reporter arrived at Dover Priory station yesterday a Syrian mother and her young child approached and asked for help getting to an "army base" where their money and belongings were.
The mother, Nur Taha, 27, said she and her son, Mohammad Salu, six, arrived in Dover ten days ago in an overcrowded dinghy that was rescued on the water and were separated from her partner Akram Salu, 49, who was detained by military police, and their possessions …
When a reporter called Kent Police to request assistance for the mother and son, he was told that no officers were available as they had more pressing priorities. The advice given was to let them roam in Dover and hope that they were safe.
In a statement on Doyle's report, the force said it received a call at about 10.45am on Sunday that a man had entered "an insecure door at a property in Dover and was seeking the use of a phone".
The force added: "He was initially arrested, then de-arrested at the scene once the circumstances had been established by speaking to both parties. The man was then detained on behalf of immigration officers."
In Nur Taha's case, it is understood she and Mohammad had been processed by Border Force officers …
The council was approached for comment.
Mass migration started during Tony Blair's government and has only become worse, as the backlog of cases is through the roof.
Twenty years on, the Home Office again needs more information on those arriving, as well as stronger co-operation with France to stem the flow. Officials often have little information on claimants, whose lack of identification may be a deliberate ploy — case workers have little choice but to believe them: 75 per cent of asylum seekers were given the right to stay in the 12 months to March, the highest rate since 1990.
Meanwhile, claims are taking longer to assess, having climbed to an average of 480 days for an initial decision to be reached.
Some in the Home Office have suggested there is a deliberate policy of slowing down the processing of claims given the high rate of people granted asylum. A six-month target for assessing claims has been ditched and the rate of cases completed in that time has fallen from 80 per cent in 2015 to 17 per cent. But this looks set to change, given the soaring cost of housing those waiting for their claim to be assessed in hotels, which now stands at £6.8 million per day.
This month, the idea of erecting tent cities in London's parks was mooted, something Paris has tried with shocking effect. Most Parisian women living near one of these tent cities can no longer go out at night. Drugs, violence and noise prevail once it turns dark.
The same Times article reported that London tent cities are unlikely to come to fruition:
The idea was raised by civil servants in meetings with leaders of London councils this month, sources said.
It was considered after efforts to persuade London boroughs and local authorities in other parts of the country to accommodate more asylum seekers failed. The Home Office had issued an emergency appeal to councils for more places earlier this year as officials struggled to cope with the growing numbers of migrants crossing the Channel.
Council leaders in the meeting dismissed the prospect of installing marquees in parks in the capital and instead urged the Home Office to lift the ban on asylum seekers being able to get a job …
The Home Office made clear last night that the plans to erect tents in London parks were no longer under consideration. It said: "It is categorically untrue to suggest that the Home Office is planning to erect tents to house asylum seekers in London parks."
The idea arose during discussions on how to deal with overcrowding at the temporary asylum processing site at Manston Airport, which is only designed to hold Channel migrants for up to 24 hours.
It is unclear what Rishi Sunak has planned for Suella Braverman.
On the one hand, Sunak's people say everything is in hand, and MI5 say they have no problem working with the Home Secretary, the Times revealed:
A former Conservative minister in the Home Office told The Times: "You can't even have the vague notion that you might leak because then all the security services will clam up on you — which is not what you need."
However, responding to claims that MI5 could withhold information from Braverman, a security source said: "This is completely untrue. The home secretary and MI5 have a strong and trusted working relationship. She will continue to receive regular intelligence briefings, as was the case when the home secretary was in post previously and with other home secretaries."
Rishi Sunak's spokesman insisted that Braverman had "strong relationships" with the security services and the prime minister's full confidence.
Oh, dear: 'the prime minister's full confidence'. Those are dangerous words, dating back from the 1990s. That means a resignation or a sacking could be coming soon.
The Star wasted no time in putting 'Leeky Sue' on their Friday front page:
On the other hand, the Times said that Sunak's allies are waiting for Braverman to go, possibly so that Jenrick can step in. He wouldn't be very good, I don't think, but that seems to be charactistic of Sunak's government — business as usual, nothing gets done:
Sunak's close ally and Braverman's deputy in the Home Office, Robert Jenrick, responded to an urgent question on crossings yesterday in her place. The sole hope now, Sunak allies have whispered, is that Braverman makes a further error and goes for good, leaving Sunak and Jenrick to press on peacefully in her absence.
That doesn't surprise me in the slightest.
The Guardian continued to cast shade on Braverman:
London's Evening Standard, however, went with the story about Cabinet minister Nadhim Zahawi's defence of the Home Secretary at the bottom of their front page:
One good thing that Rishi has done is to decline going to COP27:
A new poll shows that the Conservatives are doing better than Labour, but still have a huge hill to climb:
I disagree with Guido's assessment here. The poll decline started with Boris and Partygate nearly a year ago:
That said, Guido rightly sees this as an uphill battle:
Add to that the impending storm of budget cuts, Rishi certainly faces an uphill battle.
The poll also strengthens Reform UK's claims of a resurgence, with their support at 6% and growing representing a relatively strong showing. The Conservatives face challenges from all sides…
Finally, there's the idiocy of America's Trevor Noah calling Britain racist towards Rishi Sunak. I haven't read one negative comment about his heritage from conservatives, ever. Labour — our equivalent of the Democrats — are the ones making the racist remarks.
Rishi Sunak does not believe Britain is a racist country, a Downing Street spokesman said, following claims by Trevor Noah that there was a "backlash" after he became the UK's first British-Asian Prime Minister …
"But you heard the words in the House [of Commons] on Wednesday with regard to the [appointment of the] Prime Minister," the spokesman said. When asked whether Mr Sunak believes Britain is a racist country, the spokesman said: "No he doesn't."
His words were echoed by Sajid Javid, the former chancellor and health secretary, who said Noah was "detached from reality" when he claimed Mr Sunak's appointment provoked a racist "backlash".
… Tom Holland, a popular historian and podcaster, wrote:
—————————————————————————————————————–
Now back to the leadership contest, where we pick up on the events of Saturday, October 22, 2022.
Boris returns to the UK
The Sun's Harry Cole told TalkTV that Boris and Rishi could come up with a plan to save the country:
Sky News's Mark Stone was tracking Boris's progress back to the UK:
Sky News interviewed Chris Heaton-Harris MP, who said that Boris definitely had 100 backers (see video):
Guido was eager to confirm, as Boris's numbers were far behind Rishi's at that point:
Boris landed at Gatwick mid-morning:
Guido was hopeful for his prospects:
One German newspaper, however, was less than enthusiastic, asking, 'Seriously?':
Former Home Secretary and Boris loyalist Priti Patel declared her support:
However, the never-Boris MP, Sir Roger Gale, did not mince words in an interview with LBC:
Scottish Conservatives would agree. The Telegraph's Alan Cochrane wrote:
Just when an air of undisguised relief began to filter through the higher reaches of the Scottish Tories at the resignation of Prime Minister Liz Truss, along came Boris Johnson to dampen their ardour.
They may not have been the greatest fans of Ms Truss and were glad to see the back of her. But their view of Boris bordered on the certain belief that he was a major electoral liability north of the border. And as the news emerged that the former PM aims to stand again for the top job, one former senior minister commented: "It will destroy the Conservative Party if he does."
At lunchtime, Harry Cole produced a poll for the Sun saying that Boris still topped the charts. That must have been in England, then:
However, Lord Frost thought that Rishi was the right man for the job:
One Twitter user reminded us that Boris plucked David GH Frost from obscurity and elevated him to the House of Lords:
However, the BBC's Laura Kuenssberg and ITV News's Anushka Asthana spotted a trend. Former Boris supporters, such as Lord Frost, who also supported Liz Truss, now preferred Rishi Sunak:
That afternoon, Boris's father Stanley appeared again on GB News, saying he would vote for his son if the contest went to Party members:
Just before 3 p.m., Boris backers told the BBC's Chris Mason that the former PM had the numbers:
However, the Evening Standard's Nicholas Cecil sounded a note of caution — Boris's MPs did not want their names made public:
A Mail+ report couldn't shed much more light on the names, either:
On Saturday morning, former Home Secretary Priti Patel said she was backing Mr Johnson in the leadership race because he had a 'proven track record'. Ms Truss, Defence Secretary Ben Wallace and former Home Secretary Suella Braverman are also in Mr Johnson's camp, while former No10 chief of staff Steve Barclay and ex Brexit Minister Lord Frost have publicly backed rival Rishi Sunak.
Just before 3 p.m., another Twitter user provided this analysis, saying that Rishi had the momentum and numbers:
Just after 3 p.m., Guido's spreadsheet showed that Rishi was on 120 MPs with Boris on 71:
Red Wall MP Lee Anderson declared his support for Boris after 3:30:
That was about it for Boris's afternoon.
Shortly after 6 p.m., Guido described how he and his team were compiling their spreadsheet. The following points stood out:
Here is some insight into what has happened in the last few days: the Rishi campaign has decided in their wisdom to freeze Guido out – no briefing, no contact, effectively pretending we don't exist as a fact of political life. Petulantly putting us in the penalty box for giving Rishi a hard time in the last leadership campaign. We started reporting and publicly recording the support of MPs for Boris on Thursday, and by yesterday evening the Rishi campaign was instructing their supporting MPs to contact us to confirm their support for him. As our records showed support for Rishi catching up with and then pulling ahead of Boris, his campaign reminded supporters to confirm their pledges to us. All can now see the relative strength of candidates' support.
… MPs who have not pledged can be seen by all sides. They are either genuinely undecided – waiting to see which way the wind blows – or biding their time for Machiavellian reasons, or simply ransoming their vote for the highest bid or best favour. What MPs can't do is double pledge any more. If they tell a campaign they are backing their candidate the campaign expects them to go public. If they don't go public, they are suspect.
Yesterday the site was visited three quarters of a million times, such was the demand for data.* This kind of transparency is now a fact of political life, the game has changed. Changed for the better…
*Team Rishi's strategy of ignoring the website read by so much of the membership doesn't bode well for their success if the contest goes to the membership.
Penny who?
Meanwhile, Penny Mordaunt's leadership bid wasn't the best.
Although this was strictly for MPs, The Guardian went to her Portsmouth North constituency to find out what the public thought:
Penny Mordaunt may have been the MP for Portsmouth North for 12 years, and could perhaps be the next prime minister, but some of her constituents were perplexed when hearing her name on Friday.
"Who's she? I don't know nothing about her," said James McLeish, who added he would not recognise her if she passed him on the street. "Never seen her, don't even know what she stands for."
McLeish's bemusement came hours before Mordaunt formally announced she was standing to replace Liz Truss – stealing a march on her presumed rivals Rishi Sunak and Boris Johnson.
Speaking in Cosham High Street, which runs through the centre of a suburb to the north of the port city, McLeish, 82, had a much clearer view on Truss's resignation after a disastrous 45 days in office.
The Telegraph's Tim Stanley gave us a tongue-in-cheek profile of the Leader of the House:
What about Penny Mordaunt, bringing up the rear? She was the first candidate to declare – and she surprised everyone last time by how far she went. The Tory grassroots appear besotted with this lady, thanks to her naval career and taste for innuendo; she exudes an impression of authority that was bolstered during the accession of Charles III when she managed to read aloud from an official document clearly and without error. That's all it takes nowadays. If only she were in Parliament, Angela Rippon would be a shoe-in.
Ms Mordaunt has reportedly told Jeremy Hunt that if she wins, he can write economic policy. And Mr Hunt, no doubt, rang the Bank of England and said, "If Penny wins, you can write economic policy." The Bank rang the IMF… and on it went all the way to Joe Biden, who put a call through to his wife, even though she was lying next to him, and said, "Honey, if Penny Farthing is made Queen of England, you can write economic policy."
Stanley spoke with Conservative Party members:
What do the members think? I've put out feelers. They want Boris.
They know he's not Jesus. He might have spent 40 days in the desert, but if the Devil tried to tempt him, he'd give in on every occasion. Yet they voted for Truss, the suits kicked her out – so now they want the good times back with BoJo. He likes pina coladas and dancing in the rain. And if they want him, and assuming he can find his passport – last seen in a swimming pool locker – he'll be right with us.
Harry Cole said that Penny's backers during the Liz Truss contest during the summer were now plumping for Boris or Rishi this time around:
Deal? No deal
Boris and Rishi met on Saturday evening. The meeting lasted three hours. The Times reported it took place at Boris's office in Millbank Tower. I've been to Millbank Tower. It has lovely offices and a spectacular view of the Thames.
The Sun put the talks on its front page on Sunday, October 23:
The paper's Harry Cole tweeted when the meeting ended, which was after 11 p.m.:
On Sunday, Cole said that Boris's backers did not want to make themselves public until they were sure there was no deal:
There was no deal.
The Mail on Sunday reported that Suella Braverman was backing Rishi:
She wrote in the Telegraph: 'I have backed Boris from the start. From running alongside him in London in 2012, to supporting him to be our leader in 2019 and willing him to succeed throughout the travails of this year. His resignation in July was a loss for our country.
'But we are in dire straits now. We need unity, stability and efficiency. Rishi is the only candidate that fits the bill and I am proud to support him.'
The article gave us scant information on the meeting between Boris and Rishi:
Last night's crunch summit between Mr Johnson and Mr Sunak, which is believed to have ended shortly before 11.20pm, comes ahead of tomorrow's deadline for Tory leadership hopefuls to secure the backing of 100 MPs.
The headline banners read:
Ex-Chancellor fomally confirms candidacy for Tory leadership after late-night talks with Boris Johnson

It was claimed this morning that no agreement was struck between the pair in their three-hour negotiations

Some had been hoping for a power-sharing pact between the pair in order to avoid a divisive battle
Sunday's hope would not last
The day began well, but with Boris's numbers stagnant, reality began to set in.
That morning, Redfield & Wilton Strategies released a positive poll for Boris, taken on October 20 and 21:
Guido showed us the Mail on Sunday poll, which also showed that Boris had the best chance of stemming a Labour majority were a general election to take place that day. Guido meant 'Tory' not 'Toy', by the way:
Liz Truss's Business Secretary Jacob Rees-Mogg told Laura Kuenssberg that Boris had the numbers (video):
Rees-Mogg also defended Boris's record (video):
Later that morning, Guido said that some MPs were sounding out their constituents:
Just before 2 p.m., Foreign Secretary James Cleverly tweeted that he was backing Boris:
Meanwhile, Rishi already had 150 MPs signed up to vote for him, including names:
The Mail on Sunday reported that Boris allegedly contacted Penny Mordaunt to ask her to stand aside. The sign of a desperate man:
Penny Mordaunt, who officially declared her leadership bid on Friday, was claimed to have rebuffed Mr Johnson's attempts to get her to drop out of the Tory leadership race in a phone call this afternoon.
He was reported to have told the ex-PM that, even if she did quit, most of her supporters would switch to Mr Sunak and not Mr Johnson. 
'I'm in this to win it,' the Leader of the House of Commons declared, despite signs she is struggling to win backers.
Boris bows out
Around 9 p.m., Boris announced that he was withdrawing from the contest. The time was not right for him to return, he said.
Afterwards, the Telegraph recapped the past 24 hours and said the meeting between him and Rishi on Saturday night lasted only one hour:
It was as he sat with Rishi Sunak, face-to-face for 60 minutes with no one else in the room, that Boris Johnson rolled the dice for the last time …
Barely a word had been passed between Mr Sunak and Mr Johnson since their relationship imploded in July.
Yet on Saturday night, the two biggest names in Tory politics agreed to down tools and meet, with the keys to Number 10 the prize on the table …
But the truth was that he believed a joint ticket between the two men, with him back as prime minister, was his route back to Downing Street.
The meeting was called at the behest of Mr Johnson, not Mr Sunak.
It was also, according to one figure who was in touch with one of the two candidates on Sunday, a surprisingly convivial affair. "It was perfectly pleasant," said the source.
But Mr Johnson had been forced into a meeting with his old foe in an attempt to regain control of the corridors of power.
Above all, it was no Granita pact [one between Tony Blair as PM and Gordon Brown as Chancellor, done in a London restaurant of the same name] because of one simple reality – there was no deal. Mr Sunak did not agree to stand aside. Nor did Mr Johnson. They parted ways unresolved.
On Sunday morning, Boris rang his supporters:
His gamble to take control of Mr Sunak's bigger list of backers had failed.
That much became clear at 8am on Sunday, when Mr Johnson gathered his supporters on a video call and informed them no agreement had been reached.
We found out more about his appeal to Penny to stand aside:
Ms Mordaunt gave him short shrift. The Commons Leader, who remembers being ejected from the Cabinet by Mr Johnson on his first day in office in July 2019, told him most of her MP supporters would prefer to back Mr Sunak – and that he should consider dropping out of the race and leave her to face him alone. Her offer was refused.
On Saturday, Boris's aides even said he would keep Jeremy Hunt as Chancellor:
Searching, perhaps, to persuade MPs he had credibility as a "unity candidate", Mr Johnson's aides let it be known he would keep Jeremy Hunt in post as Chancellor if he won the contest.
Little did he know that at that moment, Mr Hunt was preparing to make his first public declaration of the leadership race since ruling himself out – by backing Mr Sunak in an article for The Telegraph.
King Charles would have said, 'Dear, oh dear'.
On Sunday, around 9 p.m., Boris threw in the towel:
By 9pm, the answer was clear.
Writing to his supporters on a WhatsApp group, Mr Johnson himself conceded defeat – but claimed he had the numbers all along.
Telling friends he had been "overwhelmed" by support from MPs, he maintained that he was "uniquely placed to avert a general election".
Stressing that he had cleared the "high hurdle" of 102 nominations including a proposer and a seconder, he said he was confident he could be "back in Downing Street on Friday".
But it appeared the concern among Tory MPs about the return of their former leader had rattled Mr Johnson.
Confirming he had "reached out" to Mr Sunak and Ms Mordaunt in an attempt to strike a deal, his message concluded: "I am afraid that the best thing is that I do not allow my nomination to go forward and commit my support to whoever succeeds."
… As he told MPs on Sunday night: "I believe I have much to offer but I am afraid this is simply not the right time."
One of Boris's main supporters, Sir James Duddridge MP, was nonplussed:
An hour later, he changed his support from Boris to Rishi:
Jonathan Gullis, a Red Wall MP, didn't wait that long:
Braverman pivotal to Rishi's support
On Monday, October 24, the Times had two articles about the importance of Suella Braverman backing Rishi.
The European Research Group of Eurosceptic backbenchers [Brexit supporters], which in previous leadership contests has acted as a bloc, is increasingly fractured.
Suella Braverman, the former home secretary who was once one of Johnson's most ardent supporters, came out for Sunak. The party, she said, could not afford to indulge in "parochial or nativist fantasies" given the "dire straits" it was in now. The world was "fundamentally different" from when Johnson was elected in 2019.
Braverman's endorsement of Sunak surprised even some of her allies, with one speculating about whether she had been offered the chance to return as home secretary. "She wouldn't have settled for much less," said one.
Braverman's support was not just a blow to Johnson, it also allowed Sunak to make the case to wavering MPs that he could command support across the party. As well as Braverman, Sunak won the backing of other former ERG stalwarts such as Steve Baker and Theresa Villiers. He has even persuaded MPs who had joined a "Back Boris 22" WhatsApp group to jump ship, including Chris Loder, MP for West Dorset.
It suggests that Sunak has made assurances to the ERG on policy and jobs, given that senior ERG figures were briefing on Friday that they would seek "guarantees" before endorsing candidates, which ranged from no concessions on the Northern Ireland protocol, reaffirming the manifesto commitment to reduce immigration and senior cabinet roles for their members.
Braverman suggested as much, saying in an article for The Telegraph website that the party needed to "move beyond Leaver or Remainer; One Nation or ERG; right of the party or left of the party; wets or Thatcherites," adding: "One person can build that team: Rishi Sunak."
The other said that Boris's team had approached her for support on Saturday but was rebuffed:
Johnson's team had made a "big pitch" to her yesterday in the hope that winning her over would persuade fellow right-wing MPs to back him. She is a former head of the European Research Group of Brexiteer MPs. It is a further sign that the ERG is split down the middle between Sunak and Johnson …
Her endorsement will deliver a big blow to Johnson's efforts to attract the remaining MPs on the right of the party, as she is seen as one of their flag-bearers and rising stars.
She is the latest figure on the right to endorse Sunak following Kemi Badenoch, the trade secretary, and Lord Frost.
Braverman also signalled that Sunak had agreed to continue with reforms she had begun working on during her short spell as home secretary, including a new law to prevent the European Convention on Human Rights allowing migrants and criminals to avoid deportation. It also suggests that Sunak has agreed to press ahead with the government's controversial Rwanda policy.
I hope that all works out for her.
Unfortunately for James Duddridge, the Boris loyalist, even though he voted for Rishi, he was sacked as Trade minister on Wednesday:
Jacob Rees-Mogg also got the sack this week and has returned to the backbenches.
Rishi's 'coronation'
On Monday morning, October 24, the outspoken Lee Anderson refused to back Rishi, swapping his vote from Boris to Penny. Interesting, to say the least:
Just before 1 p.m., Rishi had over 200 backers, double of what he needed:
At 2 p.m., the all-powerful 1922 Committee assembled at Conservative Party headquarters (CCHQ) to announce the results.
They had to meet at CCHQ, because while Rishi was the new Party leader, he was not yet Prime Minister and would not be able to enter No. 10 until he met with the King, who would grant him permission to form a government. The monarch returned to London on Tuesday, at which time Rishi's premiership was formalised.
According to the 1922 Committee, Boris had real numbers behind him — and had passed the threshold:
Guido reported:
For the historical record Nigel Adams says he met this morning with Bob Blackman, Joint Secretary of the 1922 Committee.
He has independently verified the nomination paperwork and confirmed to me that Rt Hon Boris Johnson MP was above the threshold required to stand for the Conservative Party leadership in this leadership election. Therefore Mr Johnson could have proceeded to the ballot had he chosen to do so.
The nominations process is confidential and it is up to individual MPs whether they wish to publicly announce who they back in leadership elections – Bob Blackman is verifying nominations today for the remaining candidates in this leadership election. Those still suffering from Boris Derangement Syndrome may need to seek help…
At the very last minute, Penny Mordaunt withdrew from the contest.
That meant Rishi had his 'coronation' as the only candidate left.
As such, the vote did not need to go to the Party members.
Conservative MPs were happy as Larry as they rejoiced that they finally got their man in office at last.
That evening, GB News reported that the Party's phone lines and website could not handle the amount of calls and clicks from members trying to cancel their membership.
They weren't angry at Rishi as much as they were the MPs who denied them a say.
End of series
Before going into Rishi's win in last weekend's leadership contest, a few items of current news follow.
Wednesday, October 26 saw Rishi at the despatch box for PMQs, which he handled well. Labour's Sir Keir Starmer was still going around in circles with his six questions, achieving nothing, as usual.
Home Secretary Suella Braverman's security breach dominated PMQs and Shadow Home Secretary Yvette Cooper asked an Urgent Question about it.
This morning's Telegraph editorial said (purple emphases mine):
There is something about Mrs Braverman that seems to drive the Left borderline hysterical. Her robust views on issues such as controlling the borders and tackling crime put her in the mainstream of public opinion. Somehow that is enough to earn her the sobriquet "hard-Right" among her Leftist critics.
In the Commons, Mr Sunak defended Mrs Braverman's return to the Home Office, saying that she had made an error of judgment but that she had recognised that and accepted her mistake. Her resignation last week also took place amid a row within government over immigration levels: Mrs Braverman is a firm advocate of cutting numbers.
Many Conservative voters will be reassured that she is back in office. Mrs Braverman has the right political instincts, taking a hard line for instance on the need to clamp down on disruptive climate protesters. In her previous roles, she has shown that she has the ability to master the details of complex policy areas, including on sensitive matters such as transgender rights. Now, she should be given the time and space to get on with the job.
A retired Squadron Leader wrote the Telegraph to say:
SIR – Congratulations to the new Prime Minister and to Suella Braverman on her return as the Home Secretary.
… The situation in the English Channel, with migrants entering Britain with impunity and without permission, at a cost of millions of pounds a day for hotel accommodation alone, cannot go on.
In 2021, 28,526 migrants landed in Britain without permission. This year, more than 38,000 migrants have arrived so far, with a projection of up to 50,000 by the new year.
Mrs Braverman would seem to have the answers to this problem. One can only hope that her return to the Home Office will make a difference, and quickly.
Another issue Braverman will have to deal with are alleged Chinese 'police stations' in two Glasgow restaurants.
Today — Thursday — the Times reported:
Ministers have been called on to intervene after China was accused of operating a "shadowy and chilling" secret police hub in the heart of Glasgow.
A report compiled by a human rights organisation claims that the Chinese government is operating a global network of undeclared "police stations", which are being used to intimidate and silence dissidents.
The Home Office said the claims were "very concerning" and would be taken "extremely seriously". A spokesman said: "Any foreign country operating on UK soil must abide by UK law. The protection of people in the UK is of the utmost importance and any attempt to illegally repatriate any individual will not be tolerated."
Safeguard Defenders, a Madrid-based civil liberties group, alleges one of the outposts is running from 417 Sauchiehall Street in central Glasgow, alongside two others in London. The address houses the premises of Loon Fung, one of the city's oldest and best-known Chinese restaurants …
A spokesman for Safeguard Defenders:
claimed the Scottish Fujian Chamber of Commerce, registered at the premises of Sichuan House, another Chinese restaurant based on Sauchiehall Street, also had links to the Chinese state.
The Times attempted to confirm the allegations:
The Chinese consulate in Edinburgh did not respond to a request for comment …
Loon Fung has strongly denied any involvement. "There's no secret police here," a spokesman said. Sichuan House did not respond to a request to comment. A man who answered a mobile number published online as being the contact for the Scottish Fujian Chamber of Commerce hung up when The Times introduced itself.
Returning to Braverman, on Wednesday night, Sir Jake Berry MP, the short-lived chairman of the Conservative Party under Liz Truss, gave an interview on TalkTV's Piers Morgan Uncensored, on which Nadine Dorries MP was a guest host, Morgan being on holiday.
The Times reported what Berry said, in part:
From my own knowledge, there were multiple breaches of the ministerial code …
That seems a really serious breach. The cabinet secretary had his say at the time. I doubt he's changed his mind in the last six days but that's a matter for the prime minister.
Also:
Asked whether Braverman had rapidly owned up to the mistake as she claimed, Berry replied: "I wasn't in the meeting but as I understand it the evidence was put to her and she accepted the evidence rather than the other way around" …

Berry's comments are likely to prompt further questions about the circumstances of Braverman's re-appointment as Sunak completes a reshuffle of the government's junior ranks.
Hmm. Interesting.
Berry's interview was up for discussion this morning in the House of Lords. Labour peer Baroness Smith of Basildon, leader of the Opposition, asked an Urgent Question about it. Baroness Neville-Rolfe, responding for the Government, gave a brief statement in support of the Prime Minister and the Home Secretary, which was met with audible groans from many of the peers. Several of them, including a Lord Spiritual (Anglican bishop), asked questions for several minutes.
Labour will continue to press this issue, it seems.
Guido Fawkes caught up with Sir Keir Starmer on Wednesday:
Guido wrote (emphases his):
Finding himself behind Keir Starmer in a coffee-queue this afternoon, Guido took the opportunity to ask the Leader of the Opposition about his future attack lines on the Government. The case of Suella Braverman, the Labour leader said, "wasn't going away."
It was a relatively inconspicuous item in his PMQs: "Have officials raised concerns about his decision to appoint her?" It caused a frisson among those who know how important process is, and how deadly the advice given by officials can be …
Obviously no PM is going to answer such questions, nor will he willingly surrender written advice given in ministerial confidence. However, there is a route to get it. By a Humble Address (a procedural device resurrected from ancient obscurity by the previous Speaker, John Bercow), documents of all sorts, including electronic, can be demanded by an Opposition Motion.
Labour has had next week's Opposition Day nicked by the SNP. But the issue will probably fructify rather than decay over time. It may be a little early in the new administration for 35 Tories to defy the Whip and vote for the  documents to be revealed – but if recent history is anything to go by …
Questions about Braverman continued in the House of Commons on Thursday during Cabinet Office Questions and, later, Business Questions to Leader of the House Penny Mordaunt.
A Telegraph article by Gordon Rayner said that recent Home Secretaries ended up doomed from the start:
Almost as soon as Rishi Sunak reappointed Mrs Braverman as Home Secretary, the civil service was letting it be known that there were "concerns" about whether she could be trusted with sensitive information. Simon Case, the Cabinet Secretary and head of the Civil Service, was "livid" about her appointment, sources said.
If the ultimate goal of the poisonous briefings by civil servants was to suggest the department cannot function with Mrs Braverman in charge, it will be a familiar scenario to previous holders of the post.
Priti Patel only just survived a concerted campaign to force her out by civil servants who accused her of bullying. Amber Rudd lasted two years before she was forced to resign for misleading a Commons committee, having been wrongly briefed by her department on deportation targets. As far back as 2006 Labour's John Reid declared the department "not fit for purpose".
In 2006, Labour was in power, by the way.
Gordon Rayner rightly includes Braverman's allies in his analysis:
Allies of Mrs Braverman say that her enemies in the Home Office, and on the Left, have used a technical breach of the ministerial code as a convenient excuse to attack a woman with whom their true battle lies over immigration.
Conservative Party members are likely to support Braverman:
As the current "queen of the Right" in the Government, every carping comment from a Labour MP or BBC commentator simply reinforces her popularity with Conservative Party members and a significant chunk of MPs.
Rishi Sunak reinstated her at the Home Office because he knows that to stand any chance of uniting his party, he needs a figurehead of the Right in a senior position, and in Mrs Braverman he has a former chairman of the European Research Group of Right-wing Eurosceptic Tories.
It is significant that Braverman backed Rishi last weekend:
If, as has been suggested, a return to the Home Office was the price she demanded for backing his leadership bid (and effectively killing off Boris Johnson's attempted resurrection) it simply proves the clout she now has within the Party.
Other news from Wednesday included a confirmed ban on fracking, overturning Liz Truss's decision to allow fracking in communities that overwhelmingly allow it.
——————————————————————————————————————
Now back to the leadership contest.
In the early hours of Friday, October 21, Boris Johnson was leading Rishi Sunak and Penny Mordaunt:
I left off yesterday with Stanley Johnson saying that morning that his son Boris was 'on a plane'.
Meanwhile, Liz Truss made a brief return to Downing Street, probably to collect something. The Guardian's photos show her in sportswear, a heretofore unseen Liz.
'Bring Back Boris'
Express readers opened their Friday paper to find an article by one of Boris's main backers, Sir James Duddridge MP, a champion of the Bring Back Boris, or BBB, campaign:
I was his Parliamentary Private Secretary and stayed with him right until the end. It was a mistake to force him out but now is the time to bring him back.
He is the only one who can unite the party after the turbulent last few weeks and I trust him to right the ship …
He always remained hugely popular with the party's grassroots and with large parts of the country.
There will always be socialists and angry Twitter mobs who rail against him but he is an election winner, twice in London as well as nationally.
My constituents regularly tell me they want Boris back and he still has a mandate from the country …
He has the star quality and inspirational leadership the country needs during the challenging months ahead.
It's time to Bring Back Boris.
Jacob Rees-Mogg, Truss's Business Secretary, declared his support for the former Prime Minister — 'Boris or Bust':
Pollster Matt Goodwin pointed out that while Rishi is more popular overall with British voters, Boris still leads those who voted in the 2019 election:
The video from 2012 showing Boris, who was then Mayor of London and promoting the Olympics that year, went viral: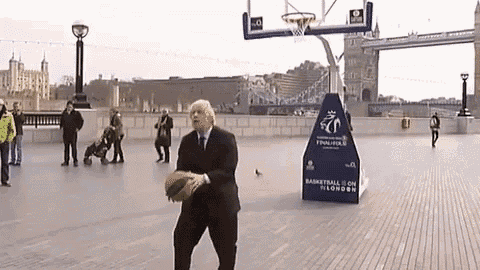 However, The Sun's Harry Cole reminded everyone that Boris still had the upcoming Privileges Committee investigation to deal with. If it goes badly, he might have to resign as an MP:
Conservative MPs could schedule a motion to cancel the investigation. That would have to be approved by the Commons, but as the Conservatives have a current majority of 71, it could still be overturned. This Sun reporter thinks it is unlikely, however:
Truss's Deputy Chief Whip Craig Whittaker requested that his name be removed from Guido's list of Boris supporters. His post requires impartiality:
Emily Maitlis, formerly of the BBC, reacted characteristically to news that Boris was running in the leadership contest:
Guido has the audio and reported:
Emily Maitlis meanwhile learnt the Boris news live on her News Agents podcast. You'll never guess her reaction…
Shouldn't hurt Boris's chances…
Rishi takes the lead
Maitlis needn't have worried.
By 11 a.m. on Friday, Rishi had just edged past Boris:
A half hour later, Rishi's momentum was beginning to build:
Boris backers hadn't lost hope, however. The fact that Ben Wallace, the Defence Secretary, supported him was an added fillip:
That afternoon, Opinium posted their snap poll on who the public supported. Rishi was the clear winner. Even Penny beat Boris:
Boris gained support from more of the Red Wall. Teesside mayor Ben Houchen is a Party member and not an MP. Simon Clarke was Truss's Levelling Up Secretary:
Guido excerpted their letter to the Telegraph …
Boris is the person we need to lead our country and our party. 
He won the greatest election victory for years on a mandate to unite and level up the UK, and inspired millions of people who had never voted Conservative before to get behind a generous, optimistic vision of what Britain can be.  
People on Teesside love Boris because he recognised that while talent is evenly distributed across the country, opportunity is not. Boris gave us that opportunity. 
…
Teesside has had difficult times and is now levelling up because of Boris. We know that for us, like Boris, the comeback will be greater than the setback.
… adding:
Houchen is a real loss for Rishi…
By 3:45, Rishi was well on his way to 100 backers. Boris was now lagging behind, and Penny was stuck:
In the early evening, an MP from the 2019 intake, Antony Higginbotham, representing the traditionally Labour constituency of Burnley, came out for Boris:
Two hours later, veteran MP Bill Cash also announced his support for Boris:
It seemed that most Boris backers were traditional Conservatives and Red Wall MPs.
Guido pointed out the Red Wall loyalty:
By contrast, Matt Hancock felt the need to produce a lengthy statement explaining why he was supporting Rishi:
Saturday's papers
Saturday's papers were a mixed bag.
Not surprisingly, the Financial Times said that investors were alarmed at the prospect of Boris's return:
The Telegraph reported that Rishi was expected to pass the threshold of 100 MPs:
The Star came up with an aubergine motif for Boris and couldn't resist featuring Lettuce Liz again:
Their Thought for the Day was:
Haven't we all suffered enough?
The lead paragraph reads:
Just when you thought all salad-based puns had been exhausted, posh aubergine Bozo Johnson has emerged as one of the favourites to replace Lettuce Liz as PM.
Rumours began circulating about joint talks between Rishi and Boris:
Two papers played to Boris supporters — the Express …
… and the Sun:
The paper's veteran Trevor Kavanagh explored both sides of the Boris equation in 'Boris Johnson is a political Humpty Dumpty with a giant ego who had such a great fall — but if he runs for PM, he'll win':
… Boris Johnson, the political Joker who makes half the nation smile while the rest are spitting chips, is gearing up for another pitch at the premiership.
He needs 100 MPs' votes and may well get more.
If he runs, he wins — that's my prediction for what it's worth in this tumultuous here-today, gone-tomorrow blur of Tory leaders, challengers and assassins.
And even if he doesn't win, what a pleasure to hear the screams of fury from Labour, Lib Dems and Scot Nats — amplified through the impartial BBC's 100-decibel speakers …
These puce-faced wets don't seem to realise they are fuelling the pro-Boris momentum which might propel him back into Downing Street and even produce another sensational election win.
Happily, their moans are drowned out by cheers from Red Wall Tory MPs who credit Boris with winning their seats in Parliament.
They want Boris back and so do millions of voters across the land.
It may be deeply irresponsible to say so, but this is diamond-studded 24-carat political entertainment and I for one am enjoying the ride.
Don't get me wrong — I am not ­watching BoJo: The Movie through rose-coloured glasses, or even suggesting that it makes sense.
Boris Johnson must take much of the blame for the catastrophic mess the country is in, politically and economically.
But he won his 2019 80-seat landslide majority fair and square.
It was an almost entirely personal achievement beyond the reach of any other politician.
He used that majority to achieve great things, ramming Brexit through Parliament, the Covid vaccination triumph and leading global support for Ukraine.
He also blew it as the "Greased Piglet" PM who believes rules are for little people, not him …
It was such casual conduct that handed Labour grounds for a kangaroo court trial for lying to Parliament — a hurdle still to be cleared.
But for such careless affronts to good governance, Boris Johnson would still be Prime Minister right now.
The Pound would be steady, mortgages manageable, inflation past its peak.
We would not have seen the eye- popping political convulsions which turned Britain into a global laughing stock.
The soap opera is not over yet.
Whoever wins next week must choose a new Cabinet and pick a way through the ruins.
If it is Boris, it should at least end the clamour — choreographed yesterday across all BBC networks — for a snap General Election.
Boris won't have to face the tricky ­question: "Who Voted for You?" …
Without Boris, the Conservative Party faces certain defeat by 2025.
Boris has the magical Heineken ability to reach voters other politicians cannot reach.
It's a gamble, a glitterball Who Dares Wins test of luck and daring.
Even Netflix couldn't make it up.
But for the Tories, it is the only game in town.
For the next 24 hours I had hope.
More on the contest will follow tomorrow.
Tuesday, October 25, 2022, was a historic day for the United Kingdom.
We have our first minority Prime Minister, Rishi Sunak — and, always remember, he is Conservative.
Labour, with all their waffling about equality and short-lists designed to produce the desired result, have not even come close to attaining what the Conservative Party has accomplished organically.
India cheers, on Diwali
When the 1922 Committee, which represents Conservative backbench MPs, announced on Monday, October 24, that Sunak was the winner of the leadership contest, India cheered.
Sunak's victory as the last man standing with an overwhelming amount of MPs' votes took place on Diwali.
The Times reported (emphases mine):
The prospect of Rishi Sunak being named as the UK's first British-Asian prime minister today has been headline news in India's media.
Newspapers and broadcasters pointed out that his likely victory in the Conservative leadership race would come on Diwali, the festival of lights marking the victory of light over darkness and the most important celebration in the Hindu religious calendar.
The former chancellor's mother and father are both Hindu Punjabis whose parents migrated from India to Tanzania and Kenya respectively before coming to the UK in the 1960s. But that has not stopped Indian journalists and commentators claiming him as one of their own.
India's press has not forgotten how then-Chancellor Sunak celebrated Diwali:
The Press Trust of India, a national news agency, noted that Sunak is a devout Hindu and a regular at the temple close to where he was born in Southampton. It reported that he had made history when he was the first chancellor of Indian origin by lighting Diwali lanterns at 11 Downing Street.
Sunak's rise to the premiership is important to India as it comes 75 years after the nation's independence in 1947:
The prominent Indian TV anchor Rajdeep Sardesai tweeted: "To think that on Diwali day, UK could have its first prime minister of Indian origin. That too in the 75th year of independence! Yeh hui na baat! [that's the spirit]" …

The former Bihar state government chief secretary MA Ibrahimi tweeted: "Revenge of history as well. Destiny." Another Twitter user, Ranjan Kumar, who described himself as a banker, joked: "Reverse colonisation."
Indian media also celebrated Sunak's wealth and billionaire in-laws:
Sunak is also married to Akshata Murty, the daughter of NR Narayana Murthy, the Indian billionaire and founder of Infosys, the information technology giant, who has a net worth of $3.2 billion. Many have noted that, through his family ties, Sunak is effectively richer than the King.
"Advantage Rishi Sunak: Narayana Murthy's son-in-law could be UK's next prime minister", read a headline in the Mint newspaper this morning.
Star adopts new motif: calendar PMs
The Star newspaper, having finished comparing Liz Truss's shelf life with that of a lettuce, put Sunak on the front page as their Prime Minister of the Month for October:
Their Tuesday Thought for the Day says:
Who'll be the PM for November? Stay tuned …
Liz Truss's final hours as Prime Minister
Although Liz Truss had not been Party leader after she resigned on Thursday, October 20, she did remain Prime Minister until she tendered her resignation to Charles III on Tuesday morning.
At 9 a.m., she held her final Cabinet meeting, as is customary on a Tuesday.
Meanwhile, a moving van arrived at No. 10 to remove the Truss family's belongings:
Most PMs use Bishop's Move removals company. Not so this time around. Liz Truss was always going to be different, and, if Harrow Green was her choice, it was further proof of her standing out in a crowd.
Various Cabinet members filed in through the front door of No. 10. It is likely that Chancellor Jeremy Hunt will keep his job under Sunak.
For the competent and calm Defence Secretary Ben Wallace, however, things could be different.
The Guardian's daily diary reported:
Wallace is very popular with Tory party members, but there is a good chance that he will be moved. In recent months people have been briefing papers on his behalf saying that he would resign if a new prime minister refused to stick to the plan to raise defence spending to 3% of GDP by the end of the decade. But Rishi Sunak is refusing to make that commitment.
The two also clashed when Sunak was chancellor, and in the summer Wallace publicly critcised Sunak's stance on defence spending. Wallace backed Liz Truss for the leadership.
Another capable MP, Welsh Secretary Robert Buckland, could be out, too:
In the summer leadership contest Buckland originally supported Sunak. But then, in a highly unusual move, he switched to backing Liz Truss. By that point she was the favourite, and Buckland's move raised a lot of eyebrows because MPs who pledge allegiance to one candidate almost never normally switch in public, because it makes them look inconsistent and opportunist.
Buckland kept his Welsh secretary job in Truss's first reshuffle (although if he was hoping for a return to his previous cabinet job, justice secretary, which was going to be vacant when Truss sacked Dominic Raab, he was disappointed). But this morning, Buckland may be thinking his summer Judas performance was not so wise after all.
Another MP who will probably be gone is the veteran Jacob Rees-Mogg, the current Business Secretary. Under Boris Johnson he was Leader of the House then the minister for Brexit efficiencies. He is very much a Boris loyalist:
Yesterday he said he would support Rishi Sunak as PM. But during the summer leadership contest he said he could never serve in a Sunak cabinet. He told Sky News in July:
I think as a chancellor, he made decisions that were of the left rather than on the right, that he was a tax increasing chancellor. I didn't support the decisions he made.
When asked whether he would serve in a Sunak government, he replied:
No, of course I wouldn't. I believe his behaviour towards Boris Johnson, his disloyalty means that I could not possibly support him. And he wouldn't want me in his cabinet anyway.
He will be sorely missed.
At 9:30, the Cabinet meeting ended.
Truss gave her final speech as Prime Minister at 10:15, before going to Buckingham Palace, to tell the King that she was standing down.
Her lectern appeared shortly before 10:00:
On GB News this morning, Darren McCaffrey explained that, starting 50 years ago, each Prime Minister has had his or her own podium. He showed us the various ones from Gordon Brown's to Truss's.
Liz Truss's has a terrible Zenga style to it, so I was relieved that McCaffrey said that Rishi Sunak would have his own lectern.
Truss's staff and closest MPs gathered off to one side of Downing Street:
At the appointed time, she left Downing Street for the final time, joined by her husband Hugh and daughters Frances and Liberty. The three stood off to one side of No. 10.
Truss approached the Zenga podium with a black folder.
On Monday, she pledged Sunak her full support:
However, her valedictory speech struck another tone, that her boldness and ideas were the correct ones.
This is the full transcript:
It has been a huge honour to be Prime Minister of this great country.
In particular, to lead the nation in mourning the death of Her Late Majesty The Queen after 70 years of service,
and welcoming the accession of His Majesty King Charles III.
In just a short period, this government has acted urgently and decisively on the side of hardworking families and businesses.
We reversed the National Insurance increase.
We helped millions of households with their energy bills and helped thousands of businesses avoid bankruptcy.
We are taking back our energy independence…
…so we are never again beholden to global market fluctuations or malign foreign powers.
From my time as Prime Minister, I am more convinced than ever we need to be bold and confront the challenges that we face.
As the Roman philosopher Seneca wrote: "It is not because things are difficult that we do not dare. It is because we do not dare that they are difficult."
We simply cannot afford to be a low growth country where the government takes up an increasing share of our national wealth…
and where there are huge divides between different parts of our country.
We need to take advantage of our Brexit freedoms to do things differently.
This means delivering more freedom for our own citizens and restoring power in democratic institutions.
It means lower taxes, so people keep more of the money they earn.
It means delivering growth that will lead to more job security, higher wages and greater opportunities for our children and grandchildren.
Democracies must be able to deliver for their own people…
We must be able to outcompete autocratic regimes, where power lies in the hands of a few.
And now more than ever we must support Ukraine in their brave fight against Putin's aggression.
Ukraine must prevail.
And we must continue to strengthen our nation's defences.
That is what I have been striving to achieve… and I wish Rishi Sunak every success, for the good of our country.
I want to thank Hugh, Frances, Liberty, my family and friends, and all the team at No10 for their love, friendship and support.
I also want to thank my protection team.
I look forward to spending more time in my constituency, and continuing to serve South West Norfolk from the backbenches.
Our country continues to battle through a storm.
But I believe in Britain.
I believe in the British people.
And I know that brighter days lie ahead.
Her speech was Johnsonian in so many ways. Like Boris, she had no apologies: good. After all, she'd made enough already. No backing down from her beliefs. Justification of her actions for her ideals. All good.
She was the first Prime Minister to thank her protection team: outstanding. More PMs should do so.
GB News criticised her for saying that brighter days lie ahead. It was her way of saying what President Lincoln did in the 1860s: 'This, too, shall pass'. In other words, don't give up hope.
As for Truss's future, being a backbench MP will be difficult for her, because she has had ministerial or Cabinet positions since the days of the Coalition government, dating from 2012. That's a decade ago. She began her Cabinet posts in 2014.
Perhaps she will find a continuing cause to champion:
Immediately after her speech, she and Hugh went in one vehicle and her daughters in another, escorted by police and special security detail to Buckingham Palace. Truss arrived shortly afterward.
At 10:56, GB News reported that Truss had tendered her resignation. At that point, King Charles was in charge of the UK, as we had no Government.
That sort of thing used to unnerve his mother, the late Queen, so she tried to make those time periods as brief as possible.
The King's conversation with Truss was lengthy.
After her motorcade left, it was time for Rishi Sunak to request the King's permission to form a new government.
The Queen received 15 Prime Ministers during her reign. King Charles, who ascended to the throne just days after Truss became Prime Minister, is already on his second.
Sunak's first hours as PM
Sunak's motorcade, also comprised of police and special security, arrived at the Palace immediately after Truss's left.
Sir Clive Alderton, principal private secretary to the king and queen consort, the monarch's equerry, Lt Col Jonny Thompson, and Sir Edward Young, joint principal private secretary to the king, PA Media reports.
Sunak also spent a long time with the King.
Just before 11:30, the monarch turned the Government over to Sunak. The King had been in charge of us for half an hour. With his mother, it was a matter of minutes. Fascinating.
Someone on GB News quipped that perhaps we should reconsider having an absolute monarchy.
Sunak was due to give his first speech at No. 10 at 11:35. In the event, it was closer to 11:50.
He and the King already know each other through a Prince's Trust event from a few years ago.
When Sunak arrived in Downing Street, he left his vehicle and immediately approached — thankfully — a new lectern.
There were no MPs around him. If there had, it would have been a phalanx, as he had the support of nearly half of them:
Sunak's speech lasted exactly five minutes.
It is possible that he knew what Truss had said in hers, because he wasted no time in blaming her for the mess he was about to land in:
I have just been to Buckingham Palace and accepted His Majesty The King's invitation to form a government in his name.
It is only right to explain why I am standing here as your new Prime Minister.
Right now our country is facing a profound economic crisis.
The aftermath of Covid still lingers.
Putin's war in Ukraine has destabilised energy markets and supply chains the world over.
I want to pay tribute to my predecessor Liz Truss.
She was not wrong to want to improve growth in this country. It is a noble aim.
And I admired her restlessness to create change.
But some mistakes were made.
Not borne of ill will or bad intentions. Quite the opposite, in fact. But mistakes nonetheless.
He warned of 'difficult decisions' to come:
And I have been elected as leader of my party, and your prime minister, in part, to fix [those mistakes – see 11.52am.].
And that work begins immediately.
I will place economic stability and confidence at the heart of this government's agenda.
This will mean difficult decisions to come.
But you saw me during Covid, doing everything I could, to protect people and businesses, with schemes like furlough.
There are always limits, more so now than ever, but I promise you this – I will bring that same compassion to the challenges we face today.
The government I lead will not leave the next generation – your children and grandchildren – with a debt to settle that we were too weak to pay ourselves.
I will unite our country, not with words, but with action.
I will work day in and day out to deliver for you.
This government will have integrity, professionalism and accountability at every level.
Trust is earned. And I will earn yours.
I hope so.
Then he paid tribute to Boris and said he would continue the 2019 manifesto:
I will always be grateful to Boris Johnson for his incredible achievements as prime minister, and I treasure his warmth and generosity of spirit.
And I know he would agree that the mandate my party earned in 2019 is not the sole property of any one individual. It is a mandate that belongs to and unites all of us.
And the heart of that mandate is our manifesto. I will deliver on its promise: a stronger NHS, better schools, safer streets, control of our borders, protecting our environment, supporting our armed forces, levelling up and building an economy that embraces the opportunities of Brexit, where businesses invest, innovate, and create jobs.
I understand how difficult this moment is. After the billions of pounds it cost us to combat Covid, after all the dislocation that caused in the midst of a terrible war that must be seen successfully to its conclusions, I fully appreciate how hard things are.
And I understand too that I have work to do to restore trust after all that has happened.
All I can say is that I am not daunted.
I know the high office I have accepted and I hope to live up to its demands.
But when the opportunity to serve comes along, you cannot question the moment, only your willingness.
So I stand here before you, ready to lead our country into the future.
To put your needs above politics.
To reach out and build a government that represents the very best traditions of my party.
Together we can achieve incredible things.
We will create a future worthy of the sacrifices so many have made and fill tomorrow, and every day thereafter with hope.
Hmm. That I will be interested to see.
Afterwards, Boris tweeted his congratulations. Better late than never:
He was just in time.
Emmanuel Macron tweeted his congratulations one minute later:
Cabinet resignations roll in
Afterwards, Sunak went to the Commons to meet with Cabinet members who he sacked or demoted.
The Guardian explains why this is not done in No. 10:
Prime ministers normally do the sacking element of the reshuffle in parliament because people losing their jobs can come and go without being photographed, or seen by journalists. Lobby journalists have access to some areas of parliament, but other parts are off limits and trying to doorstep the PM's office is definitely not allowed.
Sunak started from the lesser end of the spectrum and moved up the ladder:
According Sky's Beth Rigby, Wendy Morton, the chief whip, and Ranil Jayawarena, the environment secretary, have both been summoned. But were Truss acolytes who were seen as lightweight appointments to cabinet.
Chloe Smith was Truss's Work and Pensions Secretary:
Boris loyalist Kit Malthouse, who worked for him when he was Mayor of London, is out as Education Secretary. His brief stint at Education was under Truss. Prior to that, Malthouse was in charge of Policing:
It is customary for sacked MPs to write a resignation letter.
Jacob Rees-Mogg, a devout Catholic, dated his letter 'St Crispin's Day':
Here's Robert Buckland's:
Brandon Lewis pointed out that he had been one of the longest serving Cabinet members — under four Prime Ministers:
On a positive note, Suella Braverman could re-enter Cabinet:
The Guardian's Pippa Crerar has more news. Glad to see that Grant Shapps will not continue as Home Secretary. Business is better suited to him:
Commiserations to Jake Berry, a Red Wall MP and, however briefly, chairman of the Conservative Party. I wonder what Sunak has against Simon Clarke, though. He's been in the Treasury since Sunak was Chancellor. Hmm. Glad to see that James Cleverly, Ben Wallace and Thérèse Coffey could be staying. I hope that Coffey continues as Health Secretary:
Jake Berry tweeted:
For Foreign Secretary Cleverly, it looks like business as usual. If so, excellent:
With regard to Simon Clarke, it seems there's a bit of a back story there involving Liz Truss:
Simon Clarke has left his post as levelling up secretary. It is not clear from his tweet whether he was sacked, or whether he quit "voluntarily" to save face.
But it is no surprise that he has gone. He was one of Liz Truss's key allies, and during the Tory leadership contest in the summer he often criticised Rishi Sunak quite harshly on her behalf, at one point co-authoring an article accusing him of favouring "a Labour-lite economic policy".
On another point, he is very tall. When he walked with Rishi, he made sure he kept several paces behind so that no one would notice the difference in height.
ITV's political editor Robert Peston summed up the departures as follows:
Around 2:30, Sunak walked into Downing Street to applause. It is customary for staff to applaud the incoming Prime Minister.
New Cabinet appointments took place.
I'll leave it here — at 3:14 p.m.:
I'll have more tomorrow, particularly on the leadership contest that took place over the weekend.
As I write, the latest Conservative Party leadership contest came to a close at 2 p.m. on Monday, October 24, 2022.
Once he meets with the King, Rishi Sunak, the new Party leader, becomes the next Prime Minister.
The other candidate, Penny Mordaunt, pulled out of the race earlier today. She had far fewer MPs backing her than did Sunak. Boris Johnson declined to run last night, even though he had the numbers. I'll write about the contest in another post.
Picking up from last Friday's post, Liz Truss's last day as Conservative Party leader started with a storm over the fracking vote and the resignation of Suella Braverman as Home Secretary.
Both events took place within hours on Wednesday, October 19, 2022.
Sir Charles Walker MP
On Wednesday night, the Conservative MP Sir Charles Walker gave an explosive interview in the Palace of Westminster on the dire state of the Government under Liz Truss.
It should be noted that on February 2, he stated that he would not be standing for re-election in his constituency, Broxbourne. The BBC reported (emphases in purple mine):
He will remain an MP until the next general election, due in May 2024.
Speaking on Channel 4, Sir Charles said that after 17 years as an MP he was "juiced out".
"It's just very difficult, the public are demanding and they're becoming more demanding," he said,
"They're becoming quite angry, some of them cross the line and at times I feel like it's a pretty toxic environment."
On March 26, in a debate on extending coronavirus laws for another six months, he said he would protest by carrying around a milk bottle to show his displeasure. To this day, many of us have no idea what he was talking about, but you can read more in The Independent.
In May, Walker said he was wrong for thinking Boris could survive Partygate:
He only had to wait another several weeks.
On July 28, after Boris Johnson resigned as Conservative Party leader, he said that Party members should not be able to vote for Boris's successor. The Times reported:
About 180,000 Tory members will choose between Rishi Sunak and Liz Truss over the summer, before casting their votes over who will lead the party and therefore the country …
Sir Charles Walker, a former vice-chairman of the 1922 Committee of backbench MPs, which sets the rules of the race, said that the electorate should be narrowed to just allow fellow politicians to vote to prevent the bitter blue-on-blue attacks seen so far.
He told The Guardian that the contest "should have got nowhere near" the members, adding: "It's a view shared by many of my colleagues privately who wouldn't dare say it publicly."
He added: "MPs should be left to pick party leaders because we know the strength and weaknesses of the candidates far better than the membership because we serve and work with them every day in Westminster."
On October 11, Walker became a member of two select committees, the one for Standards and the one for Privileges. Both focus on MPs' conduct:
That brings us up to his explosive interview of October 19, when Walker announced he'd 'had enough':
He said he was angry with his colleagues, but, watching it, I wonder if he was angrier at Party members for electing Liz Truss over Rishi Sunak.
I was completely put off when he said that he was worried for his fellow MPs paying off their mortgages. They're in a much better position to do so than their constituents are. Good grief. That says a lot about the man:
You can see the full version here:
He was angry that Liz Truss was Prime Minister:
Speaking to reporters on BBC News, the Tory MP said: 'To all those people that put Liz Truss in number 10, I hope it was worth it to sit round the cabinet table'. He went on to say, 'the damage they have done to our party is extraordinary', admitting he was 'livid' and 'furious'.
Although he was presumably talking about his fellow MPs, he was probably also angry with Conservative Party members for getting Truss into No. 10. It bears repeating.
The Telegraph had more:
Charles Walker branded the Truss Government "an absolute disgrace" and her ministers a group of "talentless people" on Wednesday night …
"I've had enough, I've had enough of talentless people putting their tick in the right box, not because it's in the national interest but because it's in their own personal interest to achieve ministerial position. And I know I speak for hundreds of backbenchers who right now are worrying for their constituents all the time but are now worrying for their own personal circumstances because there is nothing as ex as an ex-MP" …

"A lot of my colleagues are wondering, as many of their constituents are wondering, how they are going to pay their mortgages if this comes to an end soon," he added …
"But unless we get our act together and behave like grown-ups I'm afraid many hundreds of my colleagues, perhaps 200, will be leaving at the behest of their electorate.
"Patience reached the limit."
The Guardian has another quote, relating to Suella Braverman:
Speaking to BBC Radio 4's The World Tonight, he added: "Let's not beat around the bush here. And I expect the prime minister to resign very soon because she's not up to her job either … I will shed no tears for either of them."
When asked when Truss should quit, he replied: "Well, I hope, by tomorrow … She needs to go. She shouldn't have been made prime minister."
Walker got his wish.
Wendy Morton
As I wrote on Friday, the vote on Labour's motion on fracking was a complete disaster in the No lobby, where Conservative MPs were expected to vote.
After the vote, as I said, Labour's Chris Bryant alleged that bullying occurred there.
At the opening of the Commons session on the morning of Thursday, October 20, Speaker of the House Sir Lindsay Hoyle opened with this statement:
I wish to say something about the reports of behaviour in the Division Lobbies last night. I have asked the Serjeant at Arms and other senior officials to investigate the incident and report back to me. I will then update the House.
I remind Members that the behaviour code applies to them as well as to other members of our parliamentary community. This gives me another opportunity to talk about the kind of House that I want to see, and that I believe the vast majority of MPs also want to see. I want this to be a House in which—while we might have very strong political disagreements—we treat each other courteously and with respect, and we should show the same courtesy and respect to those who work with and for us. To that end, I will be meeting senior party representatives to seek an agreed position that behaviour such as that described last night is unacceptable in all circumstances.
Earlier that morning, photographs of the situation outside the No lobby had appeared online.
No photographs are allowed in the voting lobbies, yet here they were.
Chris Bryant had appeared on Sky News. He tweeted a still of himself from the interview, with the comment:
Yesterday was utter chaos!
Someone replied with a photo of Conservative MPs all over one of their own. A professional photographer, so it would appear, took a photo of them and someone else took a photo of that scene: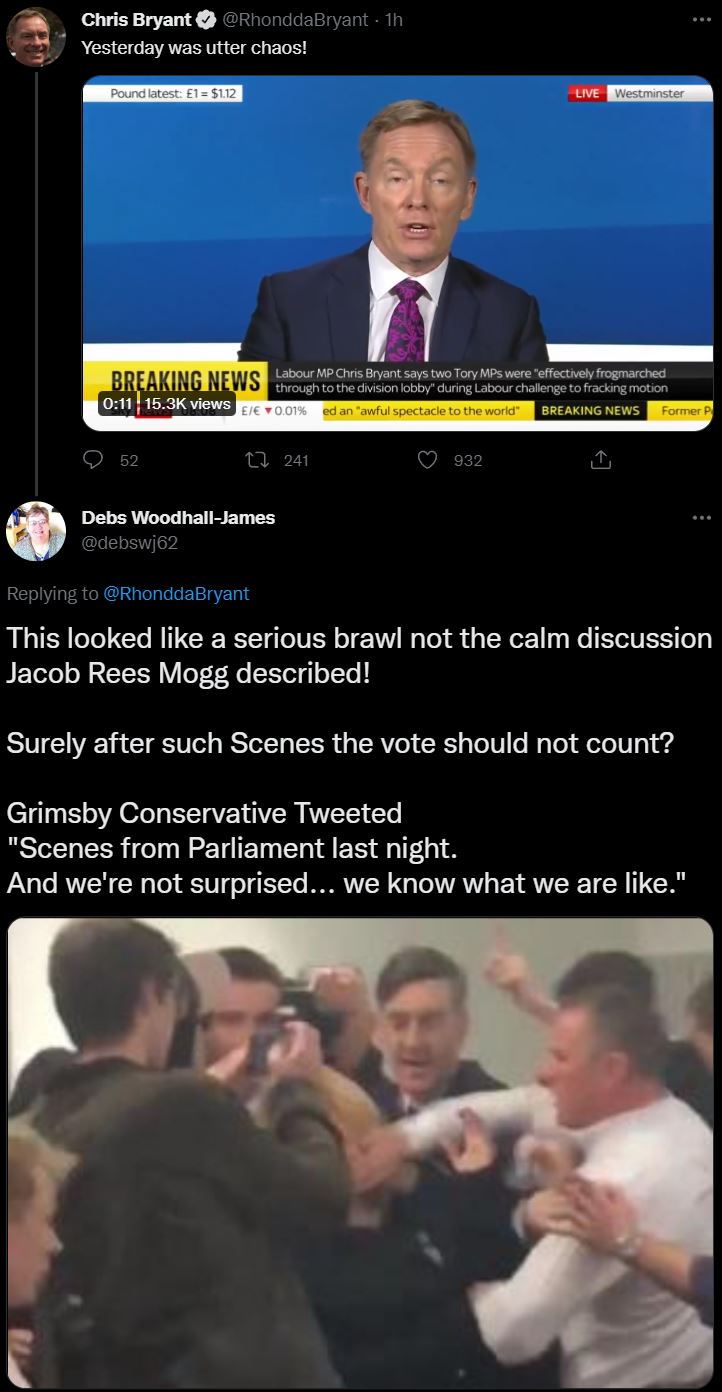 Here is another photo with Conservatives clustered in the middle of the room outside the voting lobbies. Labour MPs are standing off to the right. The No lobby is off to the left: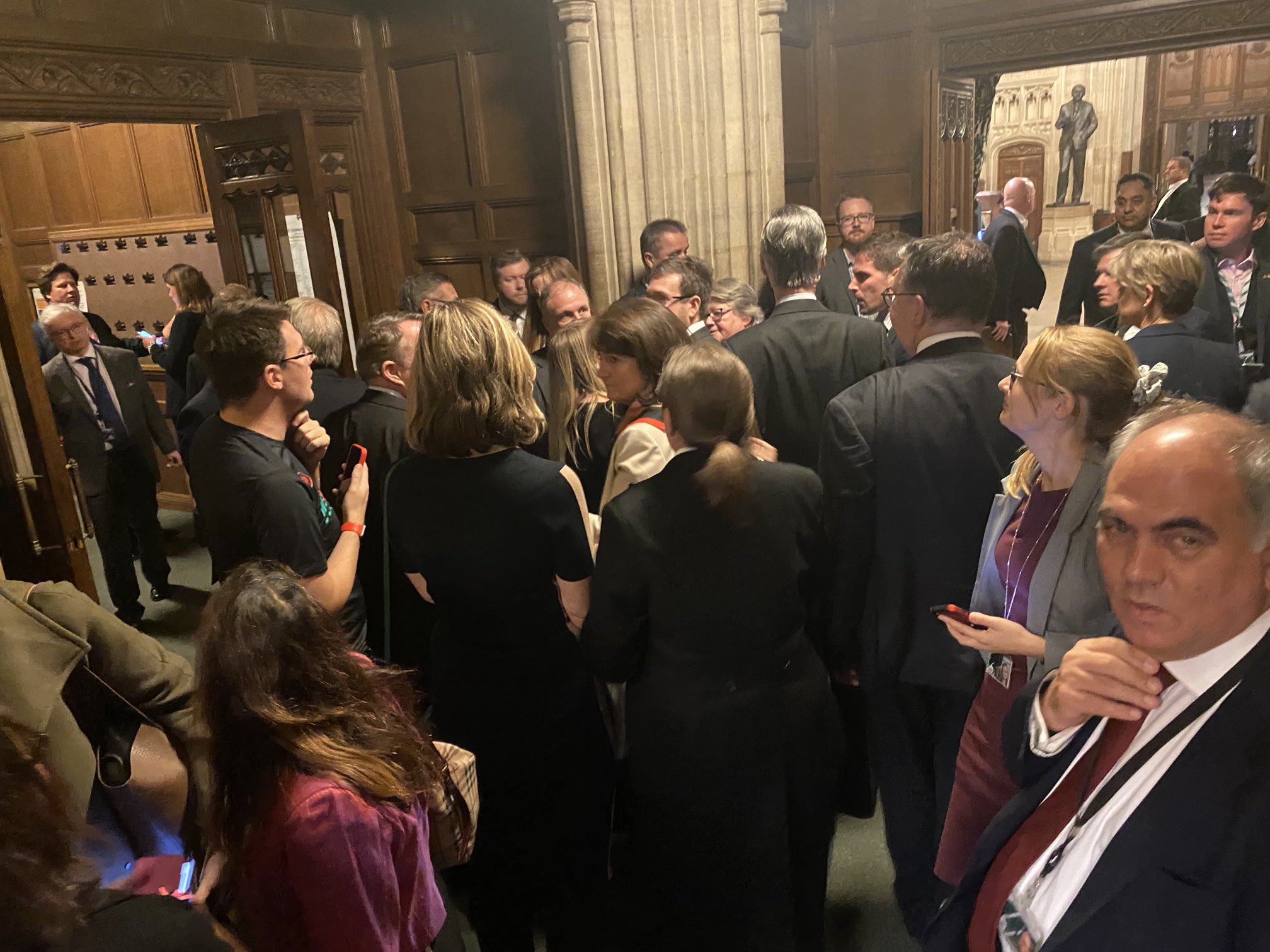 Business Secretary Jacob Rees-Mogg, tall with spectacles, is in the middle of both photographs. Deputy Prime Minister and Health Secretary Thérèse Coffey is the woman in front of Rees-Mogg's left shoulder.
Returning to the Speaker's statement, which I watched on BBC Parliament, Chris Bryant said that he had taken the photographs as evidence. Although Hansard does not record any responses to the Speaker, Bryant asked if photographs could be allowed in order to document these incidents in future. The Speaker said that it would be a matter for the House to decide together.
Confusion still reigned on the Conservative benches, particularly as some of their MPs strongly object to fracking.
And was Wendy Morton still Chief Whip at the time the vote took place? It was all a mystery, including to Conservative MP Ruth Edwards:
Edwards wrote about her experience in the voting lobby for ConservativeHome: 'Ruth Edwards: Why I am now calling on the Prime Minister to quit'.
Excerpts follow:
Shouting, confusion, allegations of bullying. Last night chaos reigned in the Commons. Anyone watching from the outside must have wondered what on earth was going on. It wasn't much clearer for those of us in the chamber either, but here is one bit-player's view from the benches.
Labour had tabled an Opposition Day motion that linked a bill to ban fracking to what was supposedly a confidence motion in the Government. If it passed it would have allowed the Labour party to take control of Parliamentary business in Government time. Like many colleagues, I don't think we should be reneging on our manifesto commitment to lift the moratorium on fracking. Why? Because I think it's poor energy policy and because I believe that manifesto commitments are there to be kept unless there is no other choice.
Edwards is against fracking. However, she did not want to vote with Labour, yet, this was supposed to be a three-line whip vote on Liz Truss's premiership:
None of us wanted to vote with Labour last night but some of us did want to abstain …
All day we were told by the whips that this was not just a strong three-line whip but a confidence vote. Voting against the government or abstaining would result in the whip being removed. That was very clear from the message sent to all Conservative MPs by the Deputy Chief Whip and confirmed by my whip when I messaged him to check.
That's why colleagues were in tears in the division lobbies and their offices. We were being told we had to choose between voting to lose the whip or voting against a manifesto commitment we believed in. For the front bench to allow the Opposition to put their MPs in this position is a special type of incompetence. But the tactic worked. The vast majority of colleagues, even the disillusioned and distressed, were prepared to go through the Government lobby.
I cited Edwards in my Friday post. In the debate wind up by the Government minister, she asked for clarification of a whipped vote after he said that it wasn't:
… the Minister lobbed a verbal hand grenade into the assembled crowd. By announcing at the despatch box that it wasn't in fact a confidence vote after-all. There was a sharp intake of breath. No one could believe what they had just heard. Surely he had misspoken?
So I bobbed up and down, asking him to 'give way'. That's the Parliamentary equivalent of putting your hand up in class to ask a question. After repeated efforts and a chorus of support from equally perplexed colleagues, he did so. But was unable to give a clear answer to my question.
That's when the chaos descended, because we now had no idea about the basis of the vote. MPs gathered in groups asking each other 'what are you going to do?'
Edwards spotted Chief Whip Wendy Morton in the lobbies and approached her:
I walked up to the Chief Whip to try and clarify what was going on. She cut me off mid-sentence 'I don't have to talk to you, I've resigned'.
The Deputy came through the lobby reiterating that it was a confidence vote and that the Minister would do a Point of Order to confirm that. So, eventually, we swiped our cards and shuffled back to the chamber. But no Point of Order came. Why is this even important? Because if you want to maintain trust and a good working relationship with your Parliamentary party, you can't lie to your MPs about the terms on which they are voting.
So what happened? It was still unclear:
I believe the whips office did act in good faith. I saw their faces as the Minister announced that it wasn't a confidence vote. One of them looked like she wanted to clobber him with the mace.
To be fair to the Minister I have it on good authority that he was relaying a message which had just come in from Number 10. This morning we are being asked to believe [by Jacob Rees-Mogg] it was a misunderstanding caused by a junior official. Anyone who believes that must be smoking something rather exotic.
Edwards had decided that Liz Truss should go and conveyed her sentiments formally to Sir Graham Brady, head of the 1922 Committee of Conservative backbenchers:
The trust between the Parliamentary Party and the Prime Minister no longer exists. You can only pull a stunt like that once. And you can't work as a team if the foot soldiers are treated with contempt by the general.
On Monday night the Prime Minister stood in front of the One Nation Caucus and promised to improve the communication between Number 10 and the party. Last night showed how deeply disingenuous that commitment was. I made my views known to Sir Graham Brady earlier this week. The Prime Minister has shown breath-taking economic and political incompetence during her short tenure in office. It is not responsible for the party to allow her to remain in power. Not when her actions can have such detrimental consequences for our constituents. So I add my small voice to the groundswell of others. Step aside, go, and let someone who is up to the task take on the great privilege and responsibility of leading our great country and party.
On October 20, The Sun's Political Editor Harry Cole wrote:
Within hours the government went into freefall as an extraordinary night of Commons drama saw claims that tearful Tory MPs were being physically manhandled by party enforcers.
During the carnage Chief Whip Wendy Morton threatened to resign – only to un-resign in a chaotic few hours where No10 could not confirm if she was in post.
Ms Truss could only watch on ashen-faced as she saw her authority drain away and more Tory MPs break cover calling for her to quit.
On Wednesday [at PMQs] Truss had insisted "I'm a fighter, not a quitter", but after scenes of Commons carnage that night after a botched confidence vote, it was clear her administration was on life support.
The Telegraph had much more:
The motion, which was defeated, would have guaranteed Commons time to debate a new law to ban fracking once and for all.
The vote meant that Ms Truss faced a showdown with rebellious MPs, many of whom have openly expressed their opposition to her plans to lift the moratorium on fracking …
On Wednesday morning, Tory MPs were told by the whips' office that the vote was a "100 per cent hard three line whip".
The message from Mr [Craig] Whittaker [Deputy Chief Whip] went on to say: "This is not a motion on fracking. This is a confidence motion in the Government.
"I know this is difficult for some colleagues, but we simply cannot allow this. We are voting no and I reiterate, this is a hard three line whip with all slips withdrawn."
If a vote is being treated as a matter of confidence in the Government, it usually means that MPs who vote against it would be expelled from the Conservative Party and have to sit as independent candidates …
But by Wednesday evening, the Government's position appeared to have changed. As the debate on fracking drew to a close, Graham Stuart, the climate minister, told the Commons that it was, in fact, "not a confidence vote".
Asked by Tory MPs whether they would lose the whip if they abstain, he said that it was a "matter for party managers".
Truss went to vote:
Ms Truss was reportedly yelled at by rebel MPs as she went through the lobby. Meanwhile, Mr Whittaker was reportedly overheard saying: "I am f***ing furious and I don't give a f*** any more."
According to some reports, Ms Morton resigned and left the Chamber as the voting was taking place, with Ms Truss grabbing her arm in an attempt to persuade her to reconsider …
What an unholy mess.
The Government won the vote, but:
It was unclear how many of the 40 abstentions were because MPs were unavoidably away from Parliament – Boris Johnson, for example, is currently on holiday – or because they were abstaining as a point of principle.
The Telegraph mentioned Bryant's Sky News interview implicating Rees-Mogg and Truss's confidante Thérèse Coffey:
Mr Bryant told Sky News that Cabinet ministers Therese Coffey and Mr Rees-Mogg were among a group of senior Tories who were putting pressure on Conservative MPs to vote against the Labour motion on fracking.
"There was a bunch of Conservative Members obviously completely uncertain whether they were allowed to vote with the Labour or against it," he said.
"There was a group including several Cabinet ministers who were basically shouting at them. At least one member was physically pulled through the door into the voting lobby. That is completely out of order.
"I know that Therese Coffey was in the group. I know that Jacob Rees-Mogg was in the group and there were others as well. The group all moved forward with one member."
One furious MP said they felt the Government had deliberately tried to trick backbenchers into supporting it with the mix-up over whether the vote was a confidence matter. They said this amounted to a "breach of trust" between No 10 and MPs that would be almost impossible to repair.
Another senior Tory MP put the confusion down to a "cock up" between No 10 and the whips office and said the confidence vote was in fact meant to be attached to the Government's motion, and not the one tabled by Labour.
Speaking to Sky News after the vote had ended, Mr Rees Mogg said he did not know whether Ms Morton was still in post or not, saying: "I am not entirely clear on what the situation is with the Chief Whip."
He explained that the confusion arose over whether the Commons vote on fracking was a confidence vote because of a message sent by a "junior official in 10 Downing Street", suggesting they did not have the authority to do so.
As for the two main whips, The Guardian reported:
Amid chaotic scenes in the Commons, it was reported that Wendy Morton, the chief whip, and her deputy, Craig Whittaker, had left the government. However, after hours of confusion Downing Street released a statement saying the two "remain in post".
The Mail+ reported that Truss had always wanted Coffey to be Chief Whip, but Coffey wanted to be able to stand up to the media for her friend:
A source said: 'We also had trouble finding a Chief Whip. Therese [Coffey] turned it down because she wanted to be free to defend the PM in the media, so we ended up with Wendy [Morton]. The whole thing became an absolute mess, Downing Street was cobbled together on compromise.'
Suella Braverman
At 10:30 a.m. on Thursday, an Urgent Question (UQ) was raised about the circumstances of Home Secretary Suella Braverman's departure the preceding day:
Shadow Home Secretary Yvette Cooper (Labour) raised the question.
Ably answering and clearly staying within his boundaries as Parliamentary Secretary, Cabinet Office was the brilliant Brendan Clarke-Smith.
He replied, beginning with this:
I thank the right hon. Lady for her question. My right hon. and learned Friend the Member for Fareham (Suella Braverman) resigned yesterday, following a contravention of the ministerial code relating to a breach of Cabinet confidentiality and the rules relating to the security of Government business. The Prime Minister has made clear the importance of maintaining high standards in public life, and her expectation that Ministers should uphold those standards, as set out in the ministerial code. All Ministers are personally responsible for deciding how to act and conduct themselves in the light of the code, and for justifying their actions and conduct to Parliament and the public. However, Ministers remain in office only so long as they retain the confidence of the Prime Minister. She is the ultimate judge of the standards of behaviour expected of a Minister, and the appropriate consequences of a breach of those standards. My right hon. and learned Friend has explained her decision to resign, and to be clear, the information that was circulated was subject to Cabinet confidentiality and under live discussion within the Government. In the light of that, it would not be appropriate to discuss the specifics of the matter further in the House, but the Prime Minister is clear that the security of Government business is paramount, as is Cabinet responsibility.
Cooper was unhappy with Clarke-Smith's answer, referencing Braverman's statement of 'tofu-eating wokerati' from her Tuesday debate and the Star's front page campaign of comparing Truss to a lettuce, implying a short shelf life:
… We have a third Home Secretary in seven weeks. The Cabinet was appointed only six weeks ago, but the Home Secretary was sacked, the Chancellor was sacked and the Chief Whip was sacked and then unsacked. We then had the unedifying scenes last night of Conservative MPs fighting like rats in a sack. This is a disgrace …
Has a check been made of whether she sent other documents through personal emails, putting security at risk? Was there a 90-minute row about policy between the Prime Minister and the former Home Secretary? Given the huge disagreements we have seen in the last few weeks between the Prime Minister and the former Home Secretary on drugs policy, Rwanda, the India trade deal, seasonal agriculture, small boats—and with a bit of tofu thrown in over the lettuce for good measure—is anything about home affairs agreed on in the Cabinet?
… who is taking decisions on our national security? It is not the Prime Minister, nor the past or current Home Secretaries. Borders, security and policing are too important for that instability, just as people's livelihoods are too important for the economic instability that the Conservative party has created. It is not fair on people. To quote the former Home Secretary, this is indeed a total "coalition of chaos". Why should the country have to put up with this for a single extra day?
Clarke-Smith replied:
I am mindful that it is not usual policy to comment in detail on such matters, but, if some background would be helpful—I appreciate that much of this is already in the public domain—the documents in question contained draft Government policy, which remained subject to Cabinet Committee agreement. Having such documents on a personal email account and sharing them outside of Government constituted clear breaches of the code—under sections 2.14 and 2.3, if that is helpful to look at. The Prime Minister is clear that the security of Government business is paramount, as is Cabinet responsibility, and Ministers must be held to the highest standards.
He took questions from other MPs, mostly from the Opposition. He did not cave in.
Guido Fawkes's sketch writer Simon had high praise for Clarke-Smith and was still hopeful at that point that Truss could survive:
The Home Secretary had been fired for infringing the ministerial code. The ministerial code was the responsibility of the Cabinet Office. He was from the Cabinet Office and had no view on migrants, boats, flights to Rwanda or pigs' ears, come to that.
It was a rare display of governmental competence. They managed to say nothing of interest, and say it convincingly. It's a low bar but they cleared it comfortably. Is this the start of a Conservative revival? There's a wee way to go, if it is. 
Liz Truss resigns
On Wednesday night, The Sun's Harry Cole said:
We are watching a hostile takeover of the government.
A short while later, the new Home Secretary — formerly the Transport Secretary until Truss sacked him — Grant Shapps said in an interview that Truss's chances of leaving Downing Street were high:
Guido reported that Shapps said, in part (emphases in the original, with the full quote here):
… I think the 80% [chance of failure] is closer to where we've got to… she needs to thread the eye of a needle with the lights off …

For weeks, the Star had been running with their lettuce campaign, showing a photo of Truss next to an iceberg lettuce on the front page. They had also a webpage.
On Wednesday, The Telegraph's Madeline Grant wrote, 'The Liz Truss lettuce lives to wilt another day':
Contrary to any number of rumours, where Westminster gets its kicks is the scent of blood – and most of all when there's a resignation in the air. The Tory WhatsApp groups pinged mutinously. Hastily-assembled spreadsheets did the rounds, detailing who'd called for the PM to resign, and when. The Daily Star outdid the competition; hosting a live stream of a lettuce to see if it outlives Liz Truss's premiership.
Then came Suella Braverman's resignation and the lettuce claimed its first victim …
… For now, the lettuce lives to wilt another day.
But only one more day.
The Mail+ had an insightful piece on October 22 about what went on with the Prime Minister between Wednesday night and Thursday afternoon. The article also recaps how disastrous Truss's choices were from the beginning of her brief tenure:
WHEN LIZ Truss finally accepted that her Premiership was over, late on Wednesday evening, she went to the fridge in the No10 flat and pulled out a bottle of sauvignon blanc to share with her husband, Hugh …
As she nibbled on a pork pie, the couple agreed that it was now a matter of when, not if, she resigned. One of the main considerations was the impact of the growing turmoil on their two teenage daughters.
Ms Truss then slept fitfully until 4.30am, when she started messaging aides for advice. Later that morning, No10 asked Sir Graham Brady, the chairman of the 1922 Committee of backbench Tory MPs, to come in to see the Prime Minister.
When she asked him if the situation was retrievable, he replied: 'I don't think so Prime Minister.' The game was up.
As she delivered her resignation statement, her former No10 consigliere, Jason Stein, was watching the live feed on his phone at a table in The Ivy in London's Marylebone …
Until his suspension on Wednesday pending an investigation by the Government's Propriety and Ethics Team over claims of unauthorised briefings against colleagues, Mr Stein had been at the centre of the doomed Truss premiership as an all-purpose fixer and adviser.
He has told friends that the Downing Street operation was 'dysfunctional from the outset', and blames 'muddled lines of command' for the single greatest error – the mini-Budget which even the Prime Minister herself now privately describes as 'a colossal f***-up'.
Sources also describe fractious meetings in the run-up to the mini-Budget, which led to the sacking of her Chancellor Kwasi Kwarteng and the reversal of the vast majority of its measures, with Ms Truss being so enraged by one member of her staff on one occasion that she talked about 'stabbing him in the leg'.
The sources are scathing about the role played by Ms Truss's Chief of Staff Mark Fullbrook, describing his appointment as 'a disaster'.
One said: 'Liz offered that job around everywhere, but no one would take it. We were left with no option but to give it to Fullbrook. He was part of a secret meeting in the Downing Street flat on September 13, during the official mourning period for the Queen, when the Budget was drawn up behind the back of Kwasi.
'It was just Liz, Fullbrook and a couple of other aides eating sushi takeaways and coming up with that brilliant plan to cut the top 45p rate of tax.
'The Treasury and the Cabinet Secretary [Simon Case] warned against it' …
The sources also claimed that Mr Stein had warned Ms Truss against appointing Mr Fullbrook in August, describing him as 'a trickster', but that Ms Truss had 'gone ballistic' at him in return.
Another source claimed that Ms Truss had regretted appointing Matthew Sinclair, the former chief executive of The TaxPayers' Alliance think-tank, as her Chief Economic Adviser, adding: 'He was always talking over her in meetings and "mansplaining". She said on one occasion that if he kept it up she would stab him in the leg. He never shut up' …
It would appear that Truss lacked a close coterie of people she could trust:
Another source also claimed that Mr Case had been concerned about Ms Truss's morale, telling colleagues that 'while all Prime Minister's end up lonely in office, it has happened at warp speed to Liz.
'He grew very, very concerned,' the source said.
On Thursday, she reportedly felt relieved she was leaving:
Downing Street staff were in tears as Ms Truss prepared her resignation, but she reassured them, 'Don't worry, I'm relieved it's over,' before adding, 'At least I've been Prime Minister.'
At least her staff were in tears, meaning that she must have been nice to them, which is vital.
Guido kept us apprised of the morning's events, beginning with Graham Brady's arrival:
Guido said there were different versions of who called the meeting:
Graham Brady has just been escorted into the back door of No. 10, with Downing Street confirming that he's meeting the Prime Minister. The Telegraph reports there was no meeting planned in her diary. The meeting of the two comes as ITV's Paul Brand reports One Nation Tory MPs have been meeting this morning "to try and coalesce around a single candidate to replace Liz Truss." May just be a lot more noise without any movement. Eyebrow-raising nonetheless…
UPDATE: Downing Street saying Truss requested the meeting herself…
UPDATE 12:25 – Therese Coffey enters Downing Street
UPDATE 12:49 – Jake Berry [MP, chairman of the Conservative Party] enters Downing Street
Just after 1:15 came the news that Truss would make a statement:
And then, at 1:25 p.m., Truss announced her resignation as leader of the Conservative Party (video here):
It was brief and to the point. Her husband was out of shot by a front window.
Thankfully, there were no tears as there were with Theresa May who broke down while giving her speech in 2019.
Because it is an afternoon newspaper, London's Evening Standard was the first out of the traps with the historic headline:
Let's have a look at the victorious lettuce:
It's hard to know whether to laugh or to cry.
Truss remains Prime Minister until Rishi Sunak meets with the King. In her final message on Monday, October 24, she sent her wishes for a happy Diwali, celebrating the triumph of light over darkness. We certainly could do with that. More importantly, what a memorable Diwali it will be for the Sunaks — and Rishi's in-laws:
I wish Liz Truss and her family all the very best for the future.
I had so much hope for her, but that's all gone by the wayside.
More analysis on the leadership contest and what happens next will follow this week.
At midday on Wednesday, October 20, 2022, Liz Truss did a good job at Prime Minister's Questions (PMQs).
She looked normal and bouncy, like the woman we saw in the Conservative Party leadership hustings only a few weeks ago. She was good at the despatch box, including against the leader of the Opposition, Labour's Keir Starmer.
Afterwards, I thought, 'Phew. Looks like a drama-free day for once'.
By mid-afternoon, all hell broke loose and continued into the evening.
Suella Braverman
Suella Braverman was doing a great job as Home Secretary.
Liz Truss appointed her on September 6.
Many outsiders do not know that Braverman is of mixed race, born to parents of Kenyan and Mauritian heritage.
On September 7, ice cream moguls Ben & Jerry were quick to criticise her plans to stem immigration:
The Telegraph reported (purple emphases mine):
Ice cream company Ben & Jerry's is facing criticism for publishing a to-do list for Suella Braverman, the new Home Secretary, suggesting she should "scrap the Rwanda plan" and take dessert breaks.
The firm's UK Twitter account tweeted a message of congratulations to Ms Braverman, accompanied with the image of a list including various objectives for her first day in the role on September 7, such as to "introduce safe routes to the UK for people seeking asylum" and "lift the ban and give people seeking asylum the right to work" …
It came as Ms Braverman made her first speech to Home Office staff on Wednesday, after which it was suggested that she could seek joint beach patrols with the French to help prevent Channel migrant crossings as part of any deal to continue UK funding …
On Wednesday in an address to a packed out atrium of Home Office staff, Ms Braverman said that tackling the Channel migrant crisis was going to be one of her "clear priorities" as she told them she was going to "develop some obsessions."
"This is not just a manifesto pledge, people are dying," she said, as she promised to take a "firmer line" against people traffickers. It was one of three priorities alongside making streets safer through a back-to-basics approach to crime with the extra 20,000 officers and counter-terrorism …
Braverman, who is a barrister, has a brilliant mind but takes time out for mindless entertainment:
Asked on Wednesday by Home Office staff what she does to unwind, she said that other than spending time with her family, it's "trash TV" and singles out Married at First Sight, Love Island and First Dates.
Home Office officials appeared relaxed about Braverman's appointment, with one source in the department telling the journalist Nicola Kelly: "Anyone — Suella included — would be better than what we've had."
Braverman became the first practising Buddhist to be appointed to the Cabinet and took her oath of office when appointed an MP on the Dhammapada, one of the best known Buddhist scriptures.
The new home secretary, born Sue-Ellen Cassiana Fernandes to a mother from Mauritius and a father from Kenya, married Rael Braverman in 2018 in a ceremony in the House of Commons.
He said that she invited him to the Houses of Parliament as their first date and the couple have told how their shared love of politics is what "allowed their romance to blossom".
They have two children, aged three and one, and Braverman became the first cabinet minister to go on maternity leave.
It was a huge deal. I remember watching her in Parliament on the day before she went on maternity leave. She was grateful for that opportunity:
As Attorney General, she banned diversity training in her department when she returned from maternity leave.
On August 4, 2022, the Mail reported:
Mrs Braverman, the Government's chief legal adviser, has scrapped diversity and inclusion training in her department having discovered that hundreds of her lawyers spent 1,900 hours on the woke lectures last year.
Speaking to Talk TV yesterday, she said: 'I looked at the training materials and I was very sad at what very intelligent, fair-minded, professional people were being taught.
'This training stuff was based on a premise that someone like me, an Asian woman from a working-class background, must necessarily be a victim, must necessarily be oppressed, must necessarily be a victim of white privilege and white fragility.'
She said that rather than uniting people, it divides them by cohorts 'based on different kinds of grievances'.
'I don't think it's the right way to spend taxpayers' money, I don't think it's the right way to use vital civil service resource when we've got a Passport Office that needs to work harder on delivering passports and we've got a DVLA that needs to be quicker at issuing driving licences,' she added.
Her first achievement was to be in post during the Queen's funeral events, which went superbly.
Her second was to order an urgent enquiry into why June's scheduled flight to Rwanda had to be abandoned.
On October 15, The Telegraph told us of the results:
A company owned by a lawyer who helped block the Government's Rwanda deportation flight was given taxpayers' money to train immigration advisers, The Telegraph can disclose.
More than £100,000 was awarded to HJT Training – a firm run by two barristers at the chambers which grounded a flight to the African country in June.
A Home Office source said Suella Braverman, the Home Secretary, had instructed civil servants to undertake an "urgent review" of the contract, amid claims from Tory MPs the quango responsible for overseeing immigration advice could have been hijacked by activism.
HJT Training and the quango – the Office for the Immigration Services Commissioner (OISC) – both denied there was any conflict of interest and they are not accused of any wrongdoing …
Two of HJT Training's four directors – Mark Symes and David Jones – are barristers at Garden Court Chambers.
On June 14, the chambers secured injunctions at an emergency hearing before the Court of Appeal which prevented a plane from removing asylum seekers to Rwanda.
Mr Symes, who is listed on Companies House as having a "significant control" in HJT Training, was a member of the team.
Mr Jones did not act in the case. Garden Court Chambers said the asylum seekers they were representing all "had strong cases for asylum in the UK" and their stories demonstrated the "inhumanity in the Rwanda policy".
Her third achievement was deporting 11 Albanians shortly after they crossed the Channel in small vessels.
On October 18, The Guardian reported concerns from human rights groups, but this is the nub of the story:
The Albanians are thought to have arrived in the UK last week and were taken from Manston in Ramsgate where the Home Office processes small boat arrivals, to Stansted airport from where they were put on a plane back to Albania on Wednesday. It is thought to be the first time small boat arrivals have been put on a plane directly from Manston.
Her fourth achievement was seeing the Public Order Bill debated and passed in the Commons that day:
Her closing remarks in that debate will be remembered for some time to come:
When I was the Attorney General, I went to court to establish that it is not a human right to commit criminal damage. The Court of Appeal agreed with me in the Colston statue case that serious and violent disorder crosses a line when it comes to freedom of expression. That is common sense to the law-abiding majority.
Since 1 October alone, the Metropolitan police have made over 450 arrests linked to Just Stop Oil, and I welcome this, but more must be done. That is why I welcome the fact that, today, Transport for London has succeeded in securing an injunction to protect key parts of the London roads network. That is an important step forward in the fight against extremists. However, these resources are vital and precious, and this has drained approximately 2,000 officer days at the Met already. Those are resources that are not dealing with knife crime and are not dealing with violence against women and girls.
I am afraid to say—and I will come to a close soon—that that is why it was a central purpose of the Police, Crime, Sentencing and Courts Bill, now an Act, to properly empower the police in face of the protests, yet Opposition Members voted against it. Had Opposition Members in the other place not blocked these measures when they were in the Police, Crime, Sentencing and Courts Bill, the police would have already had many of the powers in this Bill and the British people would not have been put through this grief. Yes, I am afraid that it is the Labour party, the Lib Dems, the coalition of chaos, the Guardian-reading, tofu-eating wokerati and, dare I say, the anti-growth coalition that we have to thank for the disruption we are seeing on our roads today. I urge Opposition MPs and Members of the other place to take this second chance, do the right thing, respect the rights of the law-abiding majority and support this Bill.
The bill passed: 283 to 234.
The next day, Wednesday, I tuned in to GB News late that afternoon to find out that Braverman had resigned or been sacked:
As such, Braverman holds the record for being the shortest-serving Home Secretary at 43 days.
The next shortest-serving was fellow Conservative Donald Somervell at 62 days, says The Guardian:
Somervell held the post from May to July 1945 in Winston Churchill's caretaker government before it was defeated in a general election.
Truss will have the shortest record as a serving Prime Minister when she leaves next week.
Grant Shapps, former Transport Secretary, replaced Braverman as Home Secretary. It is hard to imagine that he could do the job.
Nigel Farage said that this was a coup:
You could not make this up.
Guido Fawkes reported, alluding to her Public Order Bill closing speech (emphases his):
The Guardian gets the scoop that Suella Braverman is out as Home Secretary "at the behest of the Chancellor".
Sources claimed the move was at the behest of the new chancellor, Jeremy Hunt, who has taken over control of the government's economic response following Truss's disastrous mini-budget, but who they claimed was now "pulling the strings".
A major victory for tofu lovers everywhere…
UPDATE: Reports suggesting she was fired for breaching the ministerial code, after handling sensitive documents on a private phone. Chaos…
Anyone wondering if they are part of what Braverman called the 'tofu wokerati' can take a Times quiz and find out for sure.
Not surprisingly, I came in the middle with mostly 'B' answers to the multiple-choice questions:
Borderline. You know, in your heart, that the wokerati are a real and dangerous thing and definitely not some made-up term chucked about by a desperate home secretary. Come on! You know tofu is bad, nicely crisped or not. You're just too wrapped up in seeming "reasonable" and with "seeing both sides of things". Yes, your monthly mortgage repayments have gone up so much that you've had to sell one of your children … Come on. Time to get off the fence.
Braverman quickly posted her letter of resignation online:
Patrick Christys analysed it on GB News, pointing out the fourth paragraph, particularly the second sentence:
It is obvious to everyone that we are going through a tumultuous time. I have concerns about the direction of this government. Not only have we broken key pledges that were promised to our voters, but I have had serious concerns about this Government's commitment to honouring manifesto commitments, such as reducing overall migration numbers and stopping illegal migration, particularly the small boat crossings.
While Braverman went on to speak at a Diwali reception sponsored by the India Global Forum that evening, the political animals among us were dissecting what really happened:
Boris Johnson's former adviser Dominic Cummings said that what Braverman did was not a sacking offence. 'OFF-SEN' is shorthand for Official-Sensitive and 'CABOFF' is Cabinet Office:
Former Conservative MP Anne Widdecombe told Dan Wootton the same thing that evening:
The Guardian dissected Braverman's letter paragraph by paragraph; excerpts follow, bold emphases theirs:
What she said
Earlier today, I sent an official document from my personal email to a trusted parliamentary colleague as part of policy engagement, and with the aim of garnering support for government policy on migration. This constitutes a technical infringement of the rules … nevertheless it is right for me to go.
What she meant
Braverman devoted the top two paragraphs of her letter – less than half – to addressing the issue she said she was resigning over, making clear she realised she had broken the ministerial code by storing government documents on a personal device and sending those to a "trusted parliamentary colleague". She left herself little wriggle-room and wholly accepted the mistake. It means in the future she will be able to say she stepped down swiftly and try to brush away suggestions about her being unfit to rejoin the government.
What she said
Pretending we haven't made mistakes, carrying on as if everyone can't see that we have made them, and hoping that things will magically come right is not serious politics. I have made a mistake; I accept responsibility; I resign.
What she meant
Not hard to work out what she is referring to here. The parallel between Braverman taking responsibility for her mistake and Truss being accused of refusing to acknowledge the pain caused by her mini-budget is plain to see. Truss has recently said she takes responsibility for the chaos caused. If she were to follow the logic set out by the former home secretary in this paragraph, she would need to resign.
The analysis also addressed Truss's brief letter of acknowledgement:
Liz Truss's reply
I accept your resignation and respect the decision you have made. It is important that the ministerial code is upheld, and that Cabinet confidentiality is respected.
What she meant

Significantly shorter in length and far from gushing about Braverman's performance as home secretary, Truss ensures that it is known the home secretary is stepping down squarely because of her breach of the ministerial code. Given she still has no ethics adviser, this is a quick decision the prime minister must have come to but she is keen to make sure there is no ambiguity.
Readers will be left with the impression there is no love lost between the two women.
The Telegraph reported that there was more to the story than a breach of the ministerial code. The two women had a row over immigration on Tuesday night, with Jeremy Hunt on hand.
Note that the Office for Budget Responsibility wants more migration, which isn't surprising, as they are left-leaning:
The fuse for Suella Braverman's resignation was lit on Tuesday night when she had a heated face-to-face row with Liz Truss and Jeremy Hunt, her new Chancellor, over their demands to soften her stance on bringing down immigration.
Friends said the Home Secretary was appalled that they wanted her to announce a liberalisation of immigration to make it easier for the Office for Budget Responsibility (OBR) to say the Government would hit its growth targets – a key plank in Mr Hunt's strategy to restore market confidence.
"Suella said, this is insane, why are we trying to appease the OBR? Is everything getting thrown out the window?" said one of her allies …
Within 24 hours of her "fiery" 90-minute meeting with the Prime Minister and Mr Hunt, Ms Braverman had been forced to resign after being accused of breaching the ministerial code on two counts for sending official documents to another MP from her personal email …
It now poses a threat to the future of the Prime Minister after Ms Braverman used her resignation letter to say she had "concerns" about the direction of the Government and the breaches of its manifesto commitments on immigration.
However, the most incendiary was a coded attack on Ms Truss's integrity in which the Prime Minister's former leadership rival said "the business of government relies upon people accepting responsibility for their mistakes" …
It had been intended at the start of the week that Ms Braverman would set out the new immigration policy on Thursday with a meeting of the Cabinet's home affairs committee, with Mr Hunt, Therese Coffey, the Deputy Prime Minister, and other senior ministers due to finalise the plans on Wednesday lunchtime.
However, Mrs Braverman never attended the meeting after sending an email on Wednesday morning intended for Sir John Hayes, the chairman of the Common Sense group of Tory MPs, containing Government documents about immigration.
The Home Secretary accidentally clicked on the wrong drop-down tab on her email and sent the document from her personal email address to a staffer who works for Tory MP Andrew Percy.
Mr Percy then complained to Wendy Morton, the Government's Chief Whip, who reported the leak to the Cabinet Office, before Prime Minister's Questions on Wednesday.
Simon Case, the Cabinet Secretary, investigated and rapidly concluded Ms Braverman had broken the ministerial code on two counts.
One was on part 2.14 of the code, the "security of government business". That section says "ministers have an important role to play in maintaining the security of Government business".
The other was 2.3, "collective responsibility". That states "the internal process through which a decision has been made, or the level of Committee by which it was taken should not be disclosed".
Ms Truss then confronted Ms Braverman with the findings. She made clear what should follow from ministerial rule breaches, according to allies, leaving Ms Braverman to resign.
There is a dispute over the nature of the documents that she emailed. Ms Braverman maintains it was a draft written ministerial statement (WMS), due for publication imminently and much of which had already been briefed to MPs.
Downing Street sources were, however, incensed by the claim that it was only a WMS which was made public. Instead, the sources said it was the contents of a sensitive internal policy document that Ms Braverman had passed on.
Allies of Ms Braverman said she was told by Ms Truss that if the Government defended her, it would be at risk of "salami slicing" by critics trying to pick off ministers.
"Liz says: 'If you stay, we'll have to defend you and it will salami slice our credibility. For your own sake you should go'," said one ally.
"Suella thought 'are you serious, you're not even going to defend anyone over anything?' She said: 'Fine, if you won't stand up for me, I'll go'."
The row meant that Ms Truss had to pull out of a visit to a venue near London. Ministers briefed privately that she was detained on a "national security issue".
Within two hours Ms Braverman had quit …
Allies of Ms Braverman said she was in a minority in Cabinet in her attempts to resist liberalising migration to boost growth and the arrival of Mr Hunt as Chancellor appeared to reinforce that majority. In his leadership bid in 2019, he vowed to abandon Mrs May's immigration target of tens of thousands …
Ms Braverman's refusal to accept an "open borders migration policy" with India proved one flashpoint – and was blamed by critics for delaying efforts to secure a trade deal with the second most populous nation in the world …
Migration has already hit a new high as more than one million foreign nationals were allowed to live, work or study in the UK in a year for the first time.
Wendy Morton
As if Braverman's departure wasn't enough during the day, there was more to come with Labour's motion in the Commons that evening, Ban on Fracking for Shale Gas Bill.
Although the debate was about banning fracking, the results of the vote were one of confidence in Liz Truss's premiership. As such, Conservative MPs were told there was a three-line whip. There are Conservative MPs who would love a fracking ban.
The Commons was noisy on both sides of the chamber during the debate. I watched the last hour or so.
At the end, Graham Stuart, the Minister for Climate, responded on behalf of the Government. He sowed doubt as to whether this was a whipping matter for Conservatives:
It is a great pleasure to wind up this debate, to which there have been so many excellent contributions from across the House. Perhaps not for the first time, the right hon. Member for Doncaster North (Edward Miliband)—he is an extremely clever man, for whom I have a great deal of respect—has been a little bit too clever by half. Perhaps if more drafting had gone into this, instead of seizing the Order Paper we could have had a different style—[Interruption.] It was an attempt to seize the Order Paper. Quite clearly, this is not a confidence vote—[Interruption.] Obviously, this is not a confidence vote; it is an attempt—[Interruption.]
Conservative MP Andrew Percy intervened:
The Minister is absolutely right about the green revolution, in which our region in the Humber is playing such a big part. I ask him to reflect on the speeches that have been made today. If this was a clear vote on whether or not we should have fracking, I would be in the Lobby with the Opposition …
Labour's Ed Miliband, who was leading his party's motion, then asked for clarification:
For the guidance of the House, the Minister said something very important from the Dispatch Box: he said that this is not a confidence motion. I think Conservative Members want to know, because if he confirms that statement, they can vote for our motion in the safe knowledge that they can be confident in the current Prime Minister. Will he confirm that?
Stuart said he had already given the answer more than once. Another Labour MP intervened to ask for clarification.
Then another Conservative MP, Ruth Edwards, intervened:
I really need to press the Minister on this question of a confidence vote. Many of us have been told today by our Whips that if we vote for, or abstain from voting against, this motion, we will lose the Whip. Will he please confirm whether that is the case?
Stuart replied:
That is a matter for party managers, and I am not a party manager.
… the deregulatory side of the growth package is under threat, with Tory MPs wary of relaxing planning laws and seeking solid guarantees that fracking has local support before going ahead. Ms Truss's difficulty is that on all these issues she could face rebellions and her beleaguered position makes it harder to persuade her party to support government policy.
Tonight's Labour procedural vote on fracking, which was originally said to be a confidence matter, was a case in point. Although the Government won, the chaos surrounding the vote only reinforced the sense of a parliamentary party now edging towards open mutiny.
The division — the vote — went on for longer than usual. Madam Deputy Speaker, Dame Eleanor Laing, asked the Serjeant at Arms to investigate the No lobby.
After the results were read, showing that the Government's stance on fracking only with local approval prevailed, the Shadow Leader of the House, Thangham Debbonaire, raised a point of order:
On a point of order, Madam Deputy Speaker. There are very strong rumours that the Government Chief Whip has apparently resigned. I wonder if it is possible to get some clarity—[Interruption.] More than rumours—[Interruption.] Well, if Government Front Benchers want to say no. I seek your guidance, Madam Deputy Speaker, on whether or not that can be confirmed, given that this is a matter of parliamentary discipline?
Laing said she had not been informed of any Government resignations.
Then Liberal Democrat MP Tim Farron asked whether this was actually a vote of confidence:
On a point of order, Madam Deputy Speaker. I wonder whether you could clarify that the Minister closing the debate we have just had from the Dispatch Box informed his colleagues that it was not a vote of confidence, when we saw earlier, in writing from the Government Deputy Chief Whip, that it was. Could it be possible that Government Members voted in the Division just now without any clarity on what it was actually they were voting for?
Laing replied:
I thank the hon. Gentleman for his point, which of course is not a point of order for the Chair. My concern is that what is said on the Order Paper is correct and accurate, and it is. I thank the hon. Gentleman for the point he raises, but it is not one on which I can judge. Ministers are responsible for their own words.
Then Labour's Chris Bryant raised a point of order:
On a point of order, Madam Deputy Speaker. I urge you to launch an investigation into the scenes outside the entrance to the No Lobby earlier. As you know, Members are expected to be able to vote without fear or favour and the behaviour code, which is agreed by the whole House, says that there shall never be bullying or harassment of Members. I saw Members being physically manhandled into another Lobby and being bullied. If we want to stand up against bullying in this House of our staff, we have to stop bullying in this Chamber as well, don't we? [Interruption.]
Laing replied:
Order. We are talking about behaviour. We will have a little bit of good behaviour for a moment on both sides of the House.
The hon. Gentleman raises an important matter about behaviour. He knows better than anyone else that we have an extremely good system for investigating allegations of bullying, intimidation or bad behaviour. If the hon. Gentleman cares to bring evidence and facts to me, I will make sure that the matter is properly investigated. Of course, we must have decorous behaviour at all times, so we will now proceed quietly and politely.
Later that evening, The Guardian reported:
Amid chaotic scenes in the Commons, it was reported that Wendy Morton, the chief whip, and her deputy, Craig Whittaker, had left the government. However, after hours of confusion Downing Street released a statement saying the two "remain in post" …
The change of personnel in the second of the four great offices of state came on a frantic day which also saw a series of Tory MPs, including Truss's net zero tsar, rebel in a fracking vote, another U-turn over the pensions triple lock, and a mauling from Keir Starmer at prime minister's questions.
After the government won a vote to defeat a Labour motion to ban fracking, the Labour MP Chris Bryant told the Commons in a point of order that he had seen some Tory members "physically manhandled" by ministers into voting for the government.
Just after midnight on Thursday morning, The Telegraph reported on the chaos around the No lobby.
Things did not look good for the Prime Minister:
The Chief Whip was forced out of Government and then reinstated on Wednesday night, capping off a day of chaos for Liz Truss after a confidence vote descended into allegations of backbenchers being manhandled through the lobby. 
It had been reported earlier in the evening that Wendy Morton, one of Liz Truss's closest allies, had been ousted and that her deputy, Craig Whittaker, quit in protest at her treatment.
But hours later the position was reversed, with a No 10 spokesman issuing a statement to say that the "chief and deputy chief whip remain in post".
Downing Street sources insisted Ms Morton resigned, but some MPs claimed that she marched out of the Chamber during the vote on fracking before being sacked by Ms Truss.
Meanwhile, Jacob Rees-Mogg, the Business Secertary, insisted that "this is a Government that is functioning well."
It came at the end of a day of high drama in Westminster, which saw confusion reign over whether or not Conservative MPs would lose the whip for rebelling over a Labour opposition day debate on fracking.
The motion, which was defeated, would have guaranteed Commons time to debate a new law to ban fracking once and for all.
The vote meant that Ms Truss faced a showdown with rebellious MPs, many of whom have openly expressed their opposition to her plans to lift the moratorium on fracking.
But the Prime Minister ordered backbenchers to support the contentious policy – a high risk strategy given the already mutinous mood within the party.
On Wednesday morning, Tory MPs were told by the whips' office that the vote was a "100 per cent hard three line whip".
The message from Mr Whittaker went on to say: "This is not a motion on fracking. This is a confidence motion in the Government.
"I know this is difficult for some colleagues, but we simply cannot allow this. We are voting no and I reiterate, this is a hard three line whip with all slips withdrawn."
If a vote is being treated as a matter of confidence in the Government, it usually means that MPs who vote against it would be expelled from the Conservative Party and have to sit as independent candidates.
Throughout the afternoon, a string of senior Tory MPs broke ranks to declare that they would be prepared to "face the consequences" of voting against the Government.
Truss's Net Zero tsar, Chris Skidmore, said he would rebel:
Several other Conservative MPs echoed his sentiment.
When it came time to vote on the motion:
Tory backbenchers remained completely in the dark as to whether they would lose the whip for voting against the Government or not.
The scenes must have been unbelievable:
It was at this point that the mayhem appeared to reach boiling point, with Labour's Chris Bryant claiming that Tories were "physically manhandled" into the "no" lobby.
Ms Truss was reportedly yelled at by rebel MPs as she went through the lobby. Meanwhile, Mr Whittaker was reportedly overheard saying: "I am f***ing furious and I don't give a f*** any more."
According to some reports, Ms Morton resigned and left the Chamber as the voting was taking place, with Ms Truss grabbing her arm in an attempt to persuade her to reconsider. The Prime Minister then left the lobby trailing behind Ms Morton, and in the chaos, did not manage to vote herself.
While the Government won the vote, there were no fewer than 40 Tory abstentions – including Kwasi Kwarteng, who was sacked as chancellor on Friday, Theresa May, former prime minister, and Ms Truss herself.
I saw a later report that said that Truss voted but her pass card did not work, which was why her vote did not immediately show.
Chris Bryant alleged that Cabinet members were involved in the chaos:
It was unclear how many of the 40 abstentions were because MPs were unavoidably away from Parliament – Boris Johnson, for example, is currently on holiday – or because they were abstaining as a point of principle.
Mr Bryant told Sky News that Cabinet ministers Therese Coffey and Mr Rees-Mogg were among a group of senior Tories who were putting pressure on Conservative MPs to vote against the Labour motion on fracking.
"There was a bunch of Conservative Members obviously completely uncertain whether they were allowed to vote with the Labour or against it," he said.
"There was a group including several Cabinet ministers who were basically shouting at them. At least one member was physically pulled through the door into the voting lobby. That is completely out of order.
"I know that Therese Coffey was in the group. I know that Jacob Rees-Mogg was in the group and there were others as well. The group all moved forward with one member."
Other MPs were also upset at the lack of clarity:
One furious MP said they felt the Government had deliberately tried to trick backbenchers into supporting it with the mix-up over whether the vote was a confidence matter. They said this amounted to a "breach of trust" between No 10 and MPs that would be almost impossible to repair.
Another senior Tory MP put the confusion down to a "cock up" between No 10 and the whips office and said the confidence vote was in fact meant to be attached to the Government's motion, and not the one tabled by Labour …
One senior Tory MP appeared to sum up the mood in the party and said the past 24 hours had been "beyond comedy", adding: "You couldn't make it up if you spent 20 years trying to write this. The greatest author in the world couldn't make it up."
Business Secretary Jacob Rees-Mogg attempted to shed light on the situation:
Speaking to Sky News after the vote had ended, Mr Rees Mogg said he did not know whether Ms Morton was still in post or not, saying: "I am not entirely clear on what the situation is with the Chief Whip."
He explained that the confusion arose over whether the Commons vote on fracking was a confidence vote because of a message sent by a "junior official in 10 Downing Street", suggesting they did not have the authority to do so.
Asked whether the Government "blinked" and U-turned on the confidence vote over fears of losing it, he told Sky News: "I don't think that's a fair way of looking at it. I think what happened was that, late in the day, a junior official at 10 Downing Street sent a message through to the front bench that it was not a vote of confidence and nobody else was aware of that.
"The whips were not aware of that, I was not aware of that and most members thought that it was a vote of confidence. It was simply one of those unfortunate miscommunications that occasionally happens."
He added: "It's one of the issues you always face in government that people say they speak for Downing Street without having actually ever bothered to get the authority of the Prime Minister and unfortunately on this occasion it fed through immediately to the floor of the house."
The conversation about the vote continued on Thursday, culminating in Liz Truss's resignation.
More about this debacle will follow in my post on Monday.
After the gloomy opening of the Conservative Party Conference this year, dominated by U-turns, rebels and division, I promised good news.
Liz Truss's closing speech
Prime Minister Liz Truss gave an excellent closing speech and, despite the train strike that day, the conference hall in Birmingham appeared to be filled.
Her speech is 36 minutes long, but it went by very quickly indeed:
I watched a bit of GB News on Wednesday afternoon. One of their reporters interviewed Party members leaving conference. Nearly all said that they were 'pleasantly surprised' and reassured by what the new Prime Minister had to say.
Writing for The Telegraph, veteran journalist Patrick O'Flynn concluded, 'Liz Truss might just have rescued her premiership' (emphases in purple mine):
Strip away the depressing context surrounding Ms Truss's speech, of backbench rebellions and media pile-ons, and what we heard and saw was a well-crafted address that attempted to place her culturally on the side of "normal working people" – especially in the private sector. More notably, she has positioned herself firmly against an "anti-growth coalition" whose members she characterised as being driven from north London town houses to BBC studios to preach "more tax, more regulation, more meddling".
"They don't understand the British people. They don't understand aspiration," she said, adding: "The real heroes are the people who go out to work, take responsibility and aspire to a better life for themselves and their families and I am on their side."
This was an attempt to glue back together an old alliance between a female prime minister and her natural supporters: that which existed between Margaret Thatcher and "our people". So was a key message towards the end of the speech. Not the grandiose "the lady is not for turning" which had after all been made untenable by the U-turn on top rate tax, but the more sober phrase "we must stay the course".
Guido Fawkes has the transcript, excerpted below.
Truss began by thanking Andy Street, the Conservative mayor of Birmingham, which is the United Kingdom's second largest city. She praised Teesside's mayor, Ben Houchen, as he transforms the North East of England.
She acknowledged that we are in difficult days:
Together, we have mourned the death of Queen Elizabeth II, the rock on which modern Britain was built.
We are now in a new era under King Charles III.
We are dealing with the global economic crisis caused by Covid and by Putin's appalling war in Ukraine.
In these tough times, we need to step up.
I am determined to get Britain moving, to get us through the tempest and put us on a stronger footing as a nation.
I am driven in this mission by my firm belief in the British people.
She said she would not meddle in our personal affairs but resolve the concerns that unite us:
… I'm not going to tell you what to do, or what to think or how to live your life.
I'm not interested in how many two-for-one offers you buy at the supermarket, how you spend your spare time, or in virtue signalling.
I'm not interested in just talking about things, but actually in doing things.
What I'm interested in is your hopes and fears that you feel every day.
Can you get a good job locally?
Is it safe to walk down the high street late at night?
Can you get a doctor's appointment?
I know how you feel because I have the same hopes and fears.
I want what you want.
I have fought to get where I am today.
I have fought to get jobs, to get pay rises and get on the housing ladder.
I have juggled my career with raising two wonderful daughters.
I know how it feels to have your potential dismissed by those who think they know better.
She then related an anecdote from her childhood, which may over-40s will recognise:
I remember as a young girl being presented on a plane with a "Junior Air Hostess" badge.
Meanwhile, my brothers were given "Junior Pilot" badges.
It wasn't the only time in my life that I have been treated differently for being female or for not fitting in.
It made me angry and it made me determined.
Determined to change things so other people didn't feel the same way.
This I did not know:
I stand here today as the first Prime Minister of our country to have gone to a comprehensive school.
She gently reminded her audience that the Government has already addressed the fuel price crisis. The cap is £2,500:
Let's remember where we were when I entered Downing Street.
Average energy bills were predicted to soar above £6,000 a year.
We faced the highest tax burden that our country had had for 70 years.
And we were told that we could do nothing about it.
I did not accept that things had to be this way.
Around that point, two protesters waved a Greenpeace banner (Guido has the video):
They would have had to sign up to be Party members in order to get in, just as the protesters did who infiltrated the Party leadership hustings in July and August.
Conservative men quickly took the banner away. The women had a spare to unfurl. That too, was swifly removed.
Truss quipped:
Now later on in my speech my friends I am going to talk about the anti-growth coalition.
But I think they arrived in the hall a bit too early, they were meant to come later on.
We will get onto them in a few minutes.
She paused while security removed the women from the conference hall.
She concluded on the fuel price cap:
We made sure that the typical household energy bill shouldn't be more than around £2,500 a year this winter and next.
We followed up with immediate action to support businesses over the winter.
We are determined to shield people from astronomically high bills.
So much so, that we are doing more in this country to protect people from the energy crisis than any other country in Europe.
Our response to the energy crisis was the biggest part of the mini-Budget.
Later, she borrowed one of Michelle Obama's phrases from the 2008 presidential campaign:
We need to fund the furthest behind first.
And for too long, the political debate has been dominated by the argument about how we distribute a limited economic pie.
Instead, we need to grow the pie so that everyone gets a bigger slice.
That is why I am determined to take a new approach and break us out of this high-tax, low-growth cycle.
She also used John McCain's 'my friends' in addressing the audience, more than the transcript references. That, too, came from the 2008 presidential campaign:
When the government plays too big a role, people feel smaller.
High taxes mean you feel it's less worthwhile working that extra hour, going for a better job or setting up your own business.
That, my friends, is why we are cutting taxes.
We have already cut Stamp Duty, helping people on the housing ladder – especially first-time buyers.
We are reversing the increase in National Insurance from next month.
We are keeping corporation tax at 19%, the lowest in the G20.
We are helping 31 million working people by cutting the basic rate of income tax …
The fact is that the abolition of the 45p tax rate became a distraction from the major parts of our growth plan.
That is why we are no longer proceeding with it.
I get it and I have listened.
She reiterated pledges for post-Brexit and post-pandemic Britain.
She made a good point about Western complacency, something I have been saying for years:
One of the reasons we are facing this global crisis is because collectively the West did not do enough.
We became complacent.
We did not spend enough on defence.
We became too dependent on authoritarian regimes for cheap goods and energy.
And we did not stand up to Russia early enough.
We will make sure this never happens again.
She pledged continued support for Ukraine, which earned her a standing ovation.
Then it was time for her to talk about the anti-growth coalition — the metropolitan elite — which was lengthy. This was her opening:
I will not allow the anti-growth coalition to hold us back.
Labour, the Lib Dems and the SNP…
…The militant unions, the vested interests dressed up as think-tanks…
…The talking heads, the Brexit deniers and Extinction Rebellion and some of the people we had in the hall earlier.
The fact is they prefer protesting to doing.
They prefer talking on Twitter to taking tough decisions.
They taxi from North London townhouses to the BBC studio to dismiss anyone challenging the status quo.
From broadcast to podcast, they peddle the same old answers.
It's always more taxes, more regulation and more meddling.
Wrong, wrong, wrong.
Guido has the video:
She praised our unsung heroes:
My friends, does this anti-growth coalition have any idea who pays their wages?
It's the people who make things in factories across our country.
It's the people who get up at the crack of dawn to go to work.
It's the commuters who get trains into towns and cities across our country.
I'm thinking of the white van drivers, the hairdressers, the plumbers, the accountants, the IT workers and millions of others up and down the UK.
The anti-growth coalition just doesn't get it.
This is because they don't face the same challenges as normal working people.
She concluded:
We cannot give in to those who say Britain can't grow faster.
We cannot give in to those who say we can't do better.
We must stay the course.
We are the only party with a clear plan to get Britain moving.
We are the only party with the determination to deliver.
Together, we can unleash the full potential of our great country.
That is how we will build a new Britain for a new era.
A strong cross-party coalition, helped powerfully by the media, is clearly trying to do away with Truss's premiership.
These were her YouGov ratings before her speech:
Keep in mind that YouGov was founded by former Chancellor, Nadhim Zahawi, who was caretaker during the leadership contest over the summer.
Guido wrote:
If memory serves Guido correctly, [former Labour leader] Jeremy Corbyn managed a minus 60 net approval rating at his worst. Liz has a net approval rating of minus 59. Guido is told it is the lowest rating ever recorded of a Conservative Party leader. Her speech today needs to be the beginning of a turnaround.
Borrowing from the 1960s protest tune: all we are say-ing, is give Truss a chance …
Truss, with the help of Party whips, has finally been able to complete the rest of her parliamentary appointments.
Guido said:
The Government's reshuffle is finally coming to a close, as appointments to a number of Parliamentary Private Secretary (PPS) positions gave been confirmed. Co-conspirators will recall the whips had been experiencing some difficulty in recruiting enough parliamentary bag-carriers, though they have now managed to fill each position. Even if the vast majority are eager 2019ers…
The Government also seems to have granted whips greater individual responsibility for departments, with specific roles also listed. If recent trends are anything to go by, the government could use all the help to party discipline it can muster.
Having mustard keen 2019 MPs in on the act can only be a good thing. Most of them are from Red Wall seats, so their minds will be focused on growth and other Truss objectives, many of which dovetail with their own.
Other high points — Foreign Secretary Cleverly and Home Secretary Braverman
Other well-received speeches came from Foreign Secretary James Cleverly and Home Secretary Suella Braverman, both of whom appeared on Tuesday, October 4.
Here is a short clip from James Cleverly's speech:
Cleverly's speech is at the 2:05:00 mark in this video. Braverman's comes before, beginning at 1:35:00:
Suella Braverman said many of the same things that her predecessor Priti Patel did as Home Secretary. We can but wait and see what happens.
One of the big problems in processing migrants without papers, such as those who come across the Channel in dinghies, is that they are hard to trace to their true countries of origin.
Another issue is that many in the civil service who are assigned to the Home Office are pro-immigration. Patel tried her best to counter them, but they stood firm, citing EU laws under which we are still beholden. The Brexit process continues. There wasn't enough time to renegotiate everything we should have, e.g. the Dublin Agreement. As we are no longer in the EU, we are no longer subject to that agreement whereby migrants have to apply for asylum in the first safe country they are in — in our case, France. We have to draw up a new agreement along the same lines, which will require EU co-operation.
On top of that, during Theresa May's time as PM, a modern slavery law came into force in the UK. In short, anyone claiming to have been a modern slave is automatically allowed to stay here. No proof is required.
With that burden, we can also add human rights charities and their lawyers who effectively scuppered the first UK flight to Rwanda last summer. It never happened. Everyone's case was challenged before take-off, leaving an empty aircraft.
Euronews reported on that part of Braverman's speech:
In a Tuesday evening speech at the Conservative Party's autumn conference in Birmingham, immigration minister Suella Braverman said that people who arrive by unauthorised means should not be allowed to claim asylum in the UK and she doubled down on contentious plans to send some asylum-seekers on a one-way trip to Rwanda.
However, Braverman acknowledged that a legal challenge to the policy means it's unlikely anyone will be deported to the east African country this year. 
"We need to find a way to make the Rwanda scheme work," said Braverman.
"We cannot allow a foreign court to undermine the sovereignty of our borders," she continued, to cheers and applause from the audience.
"A few months ago the European Court of Human Rights in Strasbourg did just that. By a closed process, with an unnamed judge, and without any representation by the UK. A European Court overruled our Supreme Court. And as a result our first flight to Rwanda was grounded. We need to take back control."
She didn't say how the government intends to 'take back control'. The European Court of Human Rights is not part of the EU, and membership is not affected by Brexit …
Braverman said many migrants were "leaving a safe country like France and abusing our asylum system," adding that she wanted to work more closely with French authorities "to get more out of our partnership."
"We've got to stop the boats crossing the Channel," she said, to more applause.
So far this year, 30,000 migrants have crossed the Channel:
The one advantage that Braverman has over Patel is that she is a lawyer, so she will be finely attuned to legal turns of phrase.
Those interested can read more of her views in this article from The Telegraph.
Quentin Letts, The Times's political sketchwriter, concluded:
the day belonged to Braverman. As bids for popularity go, it wasn't particularly subtle or cerebral. Effective, though.
Proper membership cards make comeback
In an eco-friendly move under Boris Johnson, the Conservative Party began issuing paper certificates instead of plastic membership cards.
Thankfully, those days are over, for lifetime Party members at least:
Guido reports:
Tory party Chair Jake Berry has just confirmed the return of plastic membership cards for lifetime Tory members, replacing the much-maligned 'membership certificates' introduced by Amanda Milling back in 2020. At the time, Milling introduced the paper certificates to save the environment, or something like that. Even MPs were upset; Michael Fabricant complained the certificate wouldn't fit in his trinket box of membership cards and hair clips. Jane Stevenson pointed out they could just be made of card instead. Now the debate has been put to rest – Berry's bringing the real deal back, having just revealed the move at a fringe event this morning. Expect to see the cards' triumphant return from January.
That ends the positive conference news.
Kwarteng's U-turn U-turn U-turn
Chancellor Kwasi Kwarteng did a third U-turn on bringing forward his more detailed fiscal event plans.
It appears that he will be going ahead with presenting them to Parliament on November 23 after all:
Or is it October 23?
Mel Stride, who supported Rishi Sunak in the leadership contest and heads the Treasury Select Committee, says that it will be October 23. So did the Financial Times, apparently. They, too, supported Sunak.
Hmm. I sense mischief making.
Guido reports:
Except Kwasi later insisted on GB News that it definitely wasn't moving:
'Shortly' is the 23rd. People are reading the runes […] it's going to be the 23rd.
"People reading the runes" in this case including the Chair of the Treasury Select Committee. Liz herself later said it's coming in November, and Treasury Civil Servants were told in a team meeting this morning that anything to the contrary was just "press speculation". Guido understands, however, that the people reading the runes are onto something: the Treasury is still considering adjusting the date after all…
Kwasi must stick to his guns and stop the U-turns.
Rebel, rebel …
The rebels were active throughout the conference.
Michael Gove
On Wednesday's Dan Wootton Tonight show on GB News, panellists were split on whether Sunak-supporting Michael Gove should have the whip removed.
The Daily Express's Carole Malone said that Truss should have given Gove a Cabinet post so that he would have made less mischief. However, Wootton countered by saying that Gove always undermines the Prime Ministers he has worked for in Cabinet.
Someone who wasn't on the show and thinks Gove should have the whip removed is Nigel Farage. I fully agree with him. We saw the trouble that rebel Conservatives made for Theresa May and Boris Johnson in 2019 over Brexit. David Gauke was one of them. Boris had the whip removed and we did not see him again after the 2019 general election; his Conservative association deselected him:
Grant Shapps
Grant Shapps, another Sunak supporter, has been working in tandem with Michael Gove to thwart Truss's leadership.
He has made no secret of his threat to go to Sir Graham Brady, chairman of the 1922 Committee, with a letter of no confidence — not only from himself but other MPs:
On Tuesday, October 4, he told Times Radio:
I want Liz to succeed. So I'm hoping that she can turn us around, I think there is a window of opportunity for her to do it. I'm cheering her on, if you like, to succeed. Y'know, in the end I don't think members of parliament, Conservatives, if they see the polls continue as they are, are going to sit on their hands. A way would be found to make that change. You know, it's important, not for members of parliament, but for the country, still two years to go to another election, that we have good, stable, sensible, smart government in place doing things that are required for the people in this country. So of course that could happen. In the meantime, I hope Liz can turn this around.
'A way would be found' means urging Brady to change the rules whereby a PM could be ousted sooner than 12 months of assuming the Party leadership.
Shapps had the gall to suggest Truss had ten days to turn around her leadership!
Nadine Dorries
Nadine Dorries was the Secretary of State for Digital, Culture, Media and Sport while Boris was PM.
When he stood down as party leader, she was gutted. She had at least one defender:
She stayed loyal beyond the end of his premiership, perhaps embarrassingly so: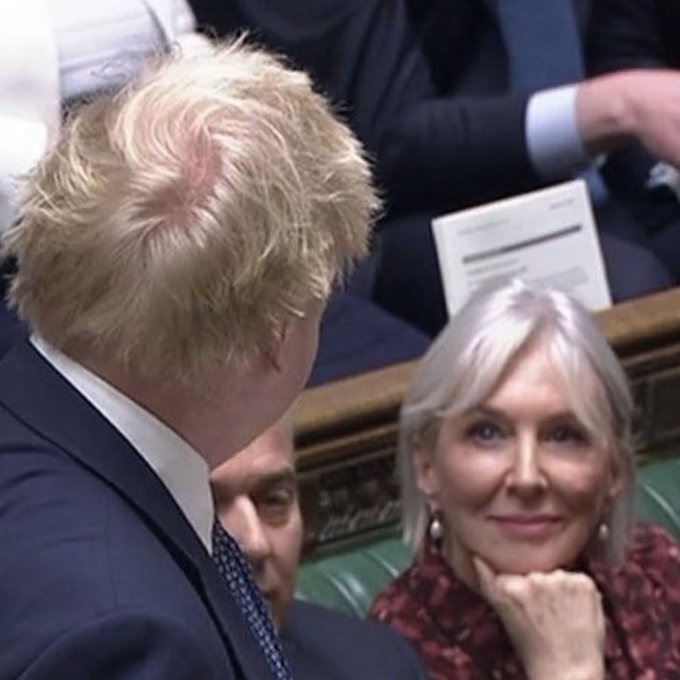 She had a lot to say when he stood down as Party leader:
In the end, she didn't run for Party leadership:
Dorries resigned from Cabinet on Tuesday, September 6. Boris was in his final hours as PM that day, when he and Truss flew separately to Balmoral to see the Queen.
Guido posted Dorries's letter to Boris, commenting:
She added that while Liz had offered her the chance to continue, she's stepping down anyway.
She is now unhappy that her Online Safety Bill might be kicked into the long grass. Millions of us certainly hope so. It is deeply embedded in censorship, principally the 'legal but harmful' clause.
On Monday, October 3, Dorries said that Truss should hold a general election. Utter madness, all because her censorship legislation is up for cancellation. Even madder is the fact that she was a Truss supporter.
The Spectator had the story:
To inspire one Nadine Dorries tweet may be regarded as a misfortune, to inspire two looks like carelessness. Less than 24 hours after the former Culture Secretary criticised Truss for appearing to blame her Chancellor for the 45p tax debacle, she's back at it again. Frustrated by Truss's decision to junk much of the Johnson agenda from 2019, the high priestess of online harms took to her favourite medium of Twitter to write:
Widespread dismay at the fact that 3 years of work has effectively been put on hold. No one asked for this. C4 sale, online safety, BBC licence fee review – all signed off by cabinet all ready to go, all stopped. If Liz wants a whole new mandate, she must take to the country.
The repeated criticisms are all the more interesting, given the importance of Dorries and other Johnson loyalists in ensuring that Truss made the final two earlier this summer. Dorries was something of an unruly attack dog, savaging Truss's opponent Rishi Sunak at ever opportunity …
Guido posted Dorries's tweet …
and wrote:
We appear to be at the "everybody losing their mind" stage of Conservative Party conference a day early.
The next day, she seemed to walk back what she said by citing Boris's support of Truss. This is a clip of her interview with LBC radio's Iain Dale:
Embarrassing.
Benefits rebels
Truss-backer Sir Iain Duncan Smith is now opposing her in wanting benefits increased in line with inflation:
Guido has the video:
Iain Duncan Smith has added his voice to the chorus of rebels piling on Liz to raise benefits with inflation. Speaking at a ConservativeHome fringe the former Work and Pensions Secretary argued giving to the poorest was a more efficient way of going for growth, as they would spend it quicker. He's had a quick change in tune since backing Liz for leader…
That sounds very cynical, indeed.
Kemi Badenoch
Trade Secretary Kemi Badenoch, the popular Party leadership candidate for British voters, openly opposed Truss's bid for even more migration.
It is hard to disagree with Badenoch. Even so, as a Cabinet minister, perhaps she should have held back from expressing them publicly.
She aired her views on Sunday evening:
At the IEA/TPA DrinkTanks reception last night, guest of honour Kemi Badenoch openly rebuked the PM's plans to let in more immigrants to boost growth. The Trade Secretary ignored any sense of collective responsibility as she told the assembled free marketeers:
Simply taking in numbers to boost GDP while GDP per capita falls is not the right way to do that. We need to look again at resolving our productivity issues and that means using capital better, not just getting cheaper and cheaper labour.
Kemi's brazen and deliberate speech last night all but confirmed The Times' article on Sunday reporting major Cabinet divisions over the plan, with Kemi and Suella Braverman at odds with the PM's preferred free market solution. Like Liz, Guido doesn't have a problem with skilled, legal immigration, it is the illegal immigration which is concerning. It seems Tory Cabinet ministers aren't even pretending to play happy families anymore…
45% tax rate rebels
Prominent Conservative Cabinet members disagree with Truss and Kwarteng over their Sunday night U-turn on abolishing the 45% upper tax rate.
Home Secretary Suella Braverman seemed to accuse Conservative MPs of forcing the change in plan, going so far as to claim it was 'a coup':
Guido has a photo of Braverman, along with Jacob Rees-Mogg and Simon Clarke, two other Cabinet members who want the upper rate abolished:
Simon Clarke agrees with Braverman's assessment of 'a coup':
Guido has more:
Jacob Rees-Mogg was also quick to voice his disappointment at the scrapped cut at a fringe event this afternoon, although he claimed to recognise the politics of the move. This all comes in the context of public cabinet battles over benefits, and Penny Mordaunt's attacks on government comms. Meanwhile backbench agitators continue briefing out plans to rebel, with some now even claiming they're holding "crisis" talks about Liz's leadership. Truss has been PM for 28 days. Not quite the honeymoon period she would've hoped for…
Wow. For Jacob Rees-Mogg to speak out about his disappointment is surprising. He is normally respectful of parliamentary boundaries and procedure.
There is a way to get rid of this tax rate. I will have more on that next week.
James Cleverly warns Cabinet rebels to 'shut up'
In much the same way that Welsh Secretary Robert Buckland did, Foreign Secretary James Cleverly warned Cabinet rebels to 'shut up':
On Wednesday, October 5, Guido reported:
James Cleverly has diplomatically warned Cabinet colleagues to shut up after yesterday's day of chaos, in which collective responsibility broke down on everything including the 45p u-turn, immigration numbers and uprating benefits in line with inflation. Speaking on the BBC this morning ahead of Liz's big speech, the foreign secretary warned:
All Cabinet colleagues ultimately are going to have to abide by collective responsibility… I think it's always better and easier to feed ideas, particularly when you're in government and have access to the Chancellor and the PM, feed your ideas directly into the centre of the system…
On TimesRadio he also implied yesterday's comments from Braverman, Mordaunt and Clarke – among others – were inappropriate. Guido hears Cleverly's speechwriter had to edit a swear word out of the Foreign Secretary's speech earlier this week; we can only imagine how many expletives Cleverly wanted to use in response to yesterday's farce…
Conclusion
Here endeth the news about the Conservative Party Conference.
MPs must give Truss a chance. She has gone through the hardest beginning to her premiership of any PM in known history.
She deserves time to lead us. With everyone against her, she must be doing something right.
She is representing British voters' interests. That is only right and fair.
This is the final instalment of my series on Boris Johnson's downfall.
Those who missed them can read parts 1, 2, 3, 4, 5 and 6.
Also of interest are:
Developing news: how long can Boris last as PM? (July 5-6)
Boris stays as PM for now but stands down as Conservative leader: 'When the herd moves, it moves' (July 6-7)
This post discusses two groups of people who are still wild about Boris: British voters and the Ukrainians.
British voters
On June 11, 2022, one week after Boris survived a vote of confidence by his fellow Conservative MPs, The Observer — the Sunday edition of The Guardian — posted the results of a poll they commissioned.
The findings were surprising for a left-wing newspaper (emphases mine):
Boris Johnson makes a better prime minister than Keir Starmer would despite Partygate, the cost of living crisis and the confidence vote in Johnson held by his MPs, according to the latest Observer poll.
Granted, the results were close, but Boris managed to come out on top, with the Conservatives two points behind Labour:
The Opinium figures, which will raise further concerns within Labour over the party leader's performance, shows that the prime minister has a two-point lead over his opponent. It also reveals that Starmer's party holds a narrow two-point lead, compared with a three-point lead in the last poll a fortnight ago. Labour are on 36% of the vote, with the Tories up one point on 34%. The Lib Dems are on 13% with the Greens on 6% …
While 28% think Johnson would make the best prime minister, 26% opted for Starmer.
On June 13, the i paper's Hugo Gye posted a few pages from the book Moonshot, by Pfizer's chairman Albert Bourla:
Two excerpts follow. These pertain to late 2020 and early 2021:
From my perspective, the UK was doing an exceptional job under tremendous pressure.
At that time, the UK was the only vaccinating so quickly that demand surpassed supply. As a result, we worked on a plan to meet the UK's needs …
Yet, in the UK, it was only the Conservatives and conservatives remembering Boris's efforts during that time period:
On June 14, the Mail's Alex Brummer wrote a positive article about the British economy, explaining why things weren't as bad as the media and pundits portray them:
So, yes, we face serious challenges. And yet I simply do not believe there is any justification for the gloom-laden interpretation by large sections of the broadcast media and fierce critics of Boris Johnson's government.
These Cassandras peddle a diet of relentless financial woe as they carelessly claim that the nation is in recession or heading for one.
But closer inspection shows not only that things are nowhere near as bad as they claim, but that there are serious grounds for hope in certain sectors, too.
Brummer explored the possibilities of what could happen either way:
True, the UK economy lost momentum recently, shrinking by 0.3 pc in April.
But what no one has mentioned is that this was largely down to a statistical quirk, and respected City forecasters are still actually predicting a 3.2 pc expansion of the UK economy this year, followed by 0.9 pc in 2023.
The big danger is that the constant barrage from the doom merchants could begin to influence events and destroy the resilience of consumers and enterprise — resilience which is still delivering for this country.
What is more, with a change of tack in the Government's approach, I believe the economy could be recharged.
Of course, the country will struggle if it is required to contend with inflation, rising interest rates and a mountainous tax burden all at the same time. If consumers and businesses are doubly squeezed by higher interest rates and higher taxes, household incomes will be devastated …
Brummer disagreed with Rishi's tax hikes:
The truth is that, with the nation close to full employment and the City of London and services — comprising more than 70 pc of national output — performing well, there was absolutely no need to urgently hike taxes, if at all.
Income tax, national insurance receipts, VAT and corporation tax receipts have all been flowing into the exchequer in record volumes. All that future rises will do is stymie spending and the willingness of companies to invest.
And the main reason for that fall in output of 0.3 pc in April? It is because the Government suddenly ended the NHS's Test and Trace operations — which had grown into a formidable industry, employing tens of thousands of people — as the country emerged from the pandemic.
In fact, April saw activity in consumer services jump by 2.6 pc. In spite of the £100-a-tank of petrol, the £8-a-pint of best IPA and rocketing food prices, a recession — defined as two quarters of negative growth — is unlikely.
Brummer did support Rishi's help to the neediest families:
Even if Rishi Sunak does not cut taxes, his £15 billion package of targeted support to help poorer households with the rising cost of living means incomes should now rise in the second and third quarter of the year. It is equal to nearly 2 pc of their earnings and will boost the country's spending power.
There were more reasons not to believe the doom-mongers, who, as I write in early September, are getting shriller and shriller:
What the doom-mongers fail to tell you is that investment bankers Goldman Sachs recently pointed out that consumer services are 'robust' and Britain's economy is 0.9 pc larger now than it was before the nation went into lockdown.
Economic activity in the crucial services sector, meanwhile, is 2.6 pc higher.
But it is not just the consumer activity — along with the £370 bn plus of pandemic savings in the current and savings accounts of households — propping up the economy.
New data just released shows that the drive towards the UK becoming a high-tech, high-value nation continues to make Britain prosper.
So far this year, the country has sucked in £12.4 bn of investment into the tech industry, the highest level of any country other than the United States.
And let no one blame Brexit:
As for the argument that Brexit has done for Britain, it is comprehensively rubbished by the City consultancy firm EY, which argues that, when it comes to financial services, 'six years since the EU referendum, we can be confident that Brexit has not damaged the UK's fundamental appeal'.
Since the financial and professional services are the biggest generator of income for HMRC, and the UK's most successful export to the rest of the world, this should surely be a source of national pride rather than Remoaner carping.
Indeed, wherever you look, the excellence of Britain's life sciences sector — as evidenced by the rapid development and distribution of the Oxford-AstraZeneca vaccine during the pandemic — continues to shine …
Ultimately, taxes do need to be cut:
But more needs to be done. And by that I mean Rishi Sunak must put an end to the tax hikes — or even reverse them …
… he froze personal tax allowances until 2025-6, along with the thresholds for capital gains tax.
… this will provide additional revenues to the Government of about £20.5 bn a year.
Sunak also opted to raise corporation tax from 19 pc to a whopping 25 pc next year. And to help pay for the NHS and social care, every employee and employer in the country is now paying a 1.25 pc surcharge on national insurance.
Together, all these measures (before inclusion of the windfall tax on oil production) mean that Boris Johnson's government is raising more tax from the British people and commerce than any UK government since the 1940s.
Such a position, given the precarious economic circumstances we face, is completely unsustainable. If the Johnson government wants to fight the next election with a healthy economy, taxes have to be cut with a decisive policy shift.
And if that happens, it could just be the magic pill for a Tory revival.
Meanwhile, Boris took a brief staycation in Cornwall while he helped campaign for the Conservative candidate in Neil 'Tractor Porn' Parish's constituency for the by-election, which, unfortunately, the Liberal Democrats won.
The Mail reported on Boris's schedule:
Boris Johnson has been pictured walking on a Cornish beach with his son Wilfred as he chose a staycation amid weeks of chaos at Britain's airports for millions desperate for a post-pandemic foreign break.
The Prime Minister has been in the West Country campaigning as he tries to win the Tiverton and Honiton by-election for the Tories on June 23, but is squeezing in a short family holiday.
And after a flying visit to the Devon constituency he headed to Cornwall to launch his food strategy at the wheel of a tractor before relaxing on the award-winning Porthminster beach, St Ives.
Unfortunately, on Wednesday, June 15, Lord Geidt quit as Boris's ethical adviser, which made all of his opponents question whether he should still be in office. This came a day after Geidt had appeared before a parliamentary select committee. I saw parts of that session. Geidt did not exactly inspire me with confidence.
Lord Geidt, a former private secretary to the Queen, announced his resignation in a 21-word statement the day after MPs accused him of "whitewashing" Johnson's conduct and questioned whether there was "really any point" to him.
Geidt, 60, came close to quitting last month after concluding that there were "legitimate" questions about whether the prime minister breached the ministerial code. He said that Johnson's fine for breaking coronavirus rules threatened to undermine his role and risked leaving the ministerial code open to ridicule.
He also received a "humble and sincere" apology from Johnson in January after the prime minister withheld critical messages from Geidt's inquiry into the refurbishment of his Downing Street flat.
A statement from Geidt published on the government website this evening said simply: "With regret, I feel that it is right that I am resigning from my post as independent adviser on ministers' interests."
In a bruising encounter with the public administration and constitutional affairs select committee yesterday, Geidt admitted that he had been "frustrated" by the prime minister's approach to the scandal.
William Wragg, the Conservative chairman of the committee, told The Times: "Lord Geidt is a person of great integrity, motivated by the highest ideals of public service. For the prime minister to lose one adviser on ministers' interests may be regarded as a misfortune. To lose two looks like carelessness."
Then again, William Wragg is not a fan of Boris's, prompting his supporters to think there was a stitch up, especially as Tony Blair had just been installed as a new member of the Order of the Garter.
Geidt's letter seems to be focused on Boris's fixed penalty notice for Partygate, but Boris's response, published in The Guardian, is about steel tariffs: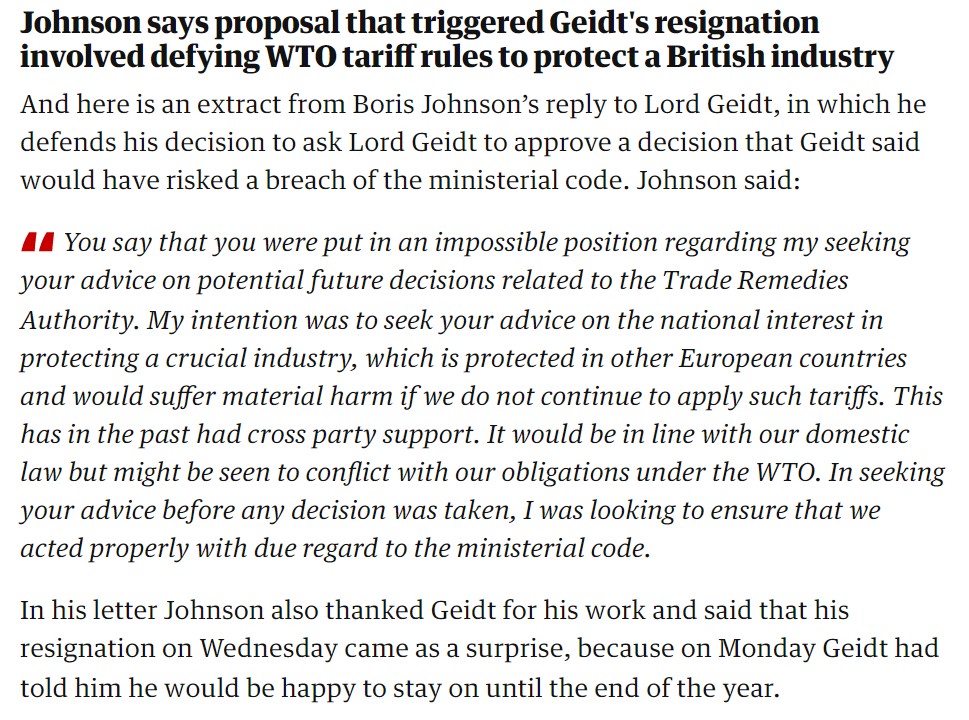 GB News's Patrick Christys explained this before going into Tony Blair's offences during his time as Prime Minister, including the Iraq War and letting IRA terrorists walk free. It's a shame the video isn't clearer, but the audio is compelling. After Christys introduced the subject, a panel debate took place:
Christys ran a poll asking if Boris is more unethical than Blair. Seventy per cent said No:
Blair's former adviser John McTernan said that, unlike Boris, Blair had been cleared of a fixed penalty notice (for an irregularity in paying London's congestion charge). But was Blair actually cleared? The BBC article from the time suggests that he wasn't:
On June 24, after the Conservatives lost Neil Parish's seat to the Lib Dems and the Wakefield seat to Labour, The Telegraph reported that the co-Chairman of the Conservative Party, Oliver Dowden MP, resigned. He seemed to blame the loss on Boris, although mid-term by-election victories often go to an Opposition party, something Dowden should have known:
Oliver Dowden has resigned as chairman of the Conservative Party after it suffered two by-election defeats, saying in a letter to Prime Minister Boris Johnson that "someone must take responsibility".
Mr Dowden's resignation came at 5.35am, shortly after the announcement of the two defeats. He had been scheduled to appear on the morning media round before he decided to step down.
In Tiverton and Honiton the Liberal Democrats overturned a 24,000 Tory majority to win, while Labour reclaimed Wakefield.
The contests, triggered by the resignation of disgraced Tories, offered voters the chance to give their verdict on the Prime Minister just weeks after 41 per cent of his own MPs cast their ballots against him.
Guido Fawkes posted Boris's generous letter of thanks to Dowden and his video explaining that mid-term by-election results often explain voters' frustration with the direction of the Government:
As usual, Blair's former spin doctor Alastair Campbell posted another inaccuracy, this time about Labour's by-election results:
At the time, Boris was away in Kigali, Rwanda, for CHOGM (Commonwealth Heads of Government Meeting). While there, he clarified sex and gender. The Times reported:
A woman cannot be born with a penis, Boris Johnson said last night, adding that there were "particular problems" around "issues of gender", but he said it was important to be "as understanding of everybody else as possible".
Asked whether a woman could be born with a penis, Johnson replied: "Not without being a man".
This has been an ongoing controversy for the past year. Neither Rishi Sunak nor Keir Starmer have been willing to answer that question. Boris met that challenge.
By the time Boris resigned on Thursday, July 7, millions of voters thought it was a stitch up.
Dan Wootton expressed our thoughts magnificently in his editorial that evening on GB News:
Excerpts from his transcript follow:
They won, folks.
They got him in the end.
Let's be honest for a moment, they were never going to stop until they'd secured Boris Johnson's head.
Since December, the campaign by the political establishment, the Remoaner elite, the civil service blob and – crucially – the country's biased broadcast media, notably BBC News, ITV News and Sly News, has been fever pitch.
Eventually, the Conservative Party decided it was impossible to govern while also fighting such dark and powerful forces.
These are deeply depressing times for British democracy.
Boris is the third Tory Prime Minister brought down in six years.
The febrile and hostile establishment and the MSM knows the power they have to bring political paralysis to the country.
And why were they so determined to destroy Boris?
Think about it.
He was a transformational Prime Minister.
A Prime Minister who stared them all down to finally deliver Brexit.
A Prime Minister who had vowed to cut the size of the civil service and demanded they return to their damned desks.
A Prime Minister who was going to scrap the hated BBC licence fee and sell the far-left Channel 4 News.
It's not hard to see why they would stop at nothing to discredit him.
I mean, last night the BBC quoted a source saying Boris Johnson "is now like Putin".
That's how deranged and determined his critics have become.
The celebration that broke out across the airwaves today – especially on the Boris Bashing Corporation once known as the BBC – blew up any final suggestion that we have an impartial broadcast media here in Britain …
I wanted to share with you part of a conversation I had earlier today with a source close to the Prime Minister.
They told me: "People had no interest in talking about the quite historic leadership achievements be that dragging us through a pandemic, a world leading vaccine programme rollout and a quite uniquely special performance in regards to that European war."
"Those people who wanted him gone never wanted to acknowledge that at any point. Never ever. It was always just the Westminster personality stuff. That was the only focus."
"Labour has had not one policy or grown-up policy discussion. It has been an out and out campaign to remove Boris. And you always have to ask yourself why. Why did they want to get rid of Boris so much? Why did sections of the media do that? Ultimately, wounded or not, he is the Conservative's best chance of winning an election" …

As the Daily Mail said today: "The truth is, Mr Johnson stands head and shoulders above almost all his assassins. Compared with the mountains he has scaled, their combined achievements are little more than molehills" …
To Boris Johnson, it was a project not completed, largely down to external forces.
But thank you for delivering us Brexit; that is an achievement for the ages that will go down in the history books.
It was a sad evening, indeed.
However, in time, there might be an upside. Maybe he could appear on GB News now and again:
Boris won that night's Greatest Briton accolade:
Wootton's focus on Brexit was confirmed by The Telegraph's Sherelle Jacobs the following day. She fears that Boris's resignation will give a lift to prominent Remainers:
… With the implosion of Boris Johnson, the Brexit war threatens to start anew. Tory Leavers must accept their vulnerability. The Prime Minister who ended the last battle by getting a Brexit deal done has just fallen in ignominious circumstances. Meanwhile, Remainers – who will never give up the fight – scent weakness.
While Andrew Adonis rallies against a "revolution which devours its children", Michael Heseltine has declared that "if Boris goes, Brexit goes". It might be tempting to dismiss all this as the hopeful rantings of bitter men. After all, Sir Keir Starmer has been at pains to reassure voters in recent days that Labour will not take Britain back into the European Union.
But even if the leader of the Opposition – a Remainer who voted six times against a Brexit deal – is genuine, he is powerless to stop the rejuvenation of the Remainer campaign. As support for Brexit in the polls has seeped away in recent months, in part because of the chaos that has gripped the Government, ultra-Remainers have been on manoeuvres. With the fall of Johnson, they think their time has almost come.
Over the next two years, they will likely proceed with a calculated mixture of boldness and caution. Already the public is being relentlessly bombarded with misinformation, which erroneously links every ill facing Britain with the decision to leave the EU. As the Tory party is distracted by internal dramas, negative Brexit sentiment will mount. This is already starting to happen, as critics in the business world become blunter in their criticisms – from the aviation industry to the CBI.
Meanwhile, some Tory MPs have been discreetly arguing in favour of a softer Brexit. Indeed, while the removal of the PM was by no means a Remainer plot, some of his internal enemies were motivated by a desire for greater alignment with EU rules – or at least by their opposition to what they consider to be an excessively aggressive attitude towards fixing the Northern Ireland protocol …
In truth, Conservative fealty to the Brexit cause has been disintegrating even under Boris Johnson, as the Blob has sapped the Government's will …
The great fear is that the Tory party now elects a closet Remainer who does not have the conviction to take all this on. That Brexit dies with a whimper, smothered by bureaucratic inertia and then finally strangled after the next election. If Brexiteers want to avoid this fate, they must think like war strategists once again. That means confronting the extent of their current weakness, and taking their opponents seriously.
Boris also shares that same worry and said so in Parliament on July 19, the day of his final Prime Minister's Questions:
Right after Boris's resignation, an online petition appeared: 'Reinstate Boris Johnson as PM'. It currently has over 23,000 signatures making it one of the top signed petitions on Change.org.
On Saturday, July 9, the i paper had an interesting report with several interviews:
The atmosphere sounded surreal:
"It was a bit weird", a source said of the Cabinet meeting Boris Johnson convened on Thursday just two hours after he said he would step down, effectively putting Britain on pause.
The Prime Minister was flanked by senior ministers, some of whom, less than 24 hours, had earlier led a delegation of men and women in grey suits to No 10 to urge him to quit …
Bill committees examining legislation line-by-line had to be cancelled, or they had newly resigned ministers sitting on them as backbenchers, while the whips who lacked the required specialist knowledge of the issues at stake were leading for the Government …
Contenders to take over as PM, when Mr Johnson does go, have been preparing for a contest months as the writing has slowly been scrawled on the wall of No 10.
Tom Tugendhat, Penny Mordaunt, and Jeremy Hunt were the most active hopefuls this week, contacting MPs and arranging meetings …
As the leadership contenders jostled, the Whitehall blame game began over Mr Johnson's spectacular fall from grace. The Prime Minister entirely overhauled his inner circle in February, after the initial "Partygate" allegations broke, and it is largely this team that will shepherd the Government through the final few months of his premiership …
The arrival of Guto Harri, one of Mr Johnson's oldest allies, as director of communications is seen by many as a contributor to the Prime Minister's downfall …
The spin chief had a habit of making up policies off the cuff, prompting advisers in other departments to joke about "the Guto special" when confronted with unexpected announcements from No 10. One Whitehall official concluded: "He is good for journalists, I'm not sure he's good for HMG [Her Majesty's Government]" …
But others pin the ultimate blame firmly at Mr Johnson's door.
One of Mr Johnson's closest former advisers told i that it "all went wrong for the PM" when he stopped listening to those from Vote Leave …
One of the former ministers who quit said on Thursday simply: "Everything is his fault. I spent months defending, or at least being generous about, his mistakes.
"Not after the last 24 hours. Appalling."
On July 12, Guido reported that Boris loyalist Jacob Rees-Mogg thought that the Prime Minister's name should be on the Conservative MPs' ballot (emphases his):
… he affirmed it was "unjust" to deny the Prime Minister the opportunity to fight for his position amongst Tory members. This comes in the context of his previous arguments for the growing presence of personal mandates in British political leaders. Unfortunately, Guido doesn't believe this strategy is quite in line with the contest rules…
I think this gave Boris's supporters false hopes:
People in Conservative constituencies began emailing their MPs:
With no result, the question then turned to whether Boris's name should be on the ballot for Conservative Party members.
On Saturday, July 16, The Times's Gabriel Pogrund and Harry Yorke posted an article: 'How the Tories turned the heat on Rishi Sunak'. In it, they introduced Lord Cruddas, who would go on to campaign for Boris's name to be on the members' ballot:
Both men were Eurosceptics who had supported the Vote Leave campaign when it might have been politically advantageous not to do so. Both were the beneficiaries of Boris Johnson's patronage. Cruddas had been given a peerage despite official objections. Sunak had been plucked from obscurity the previous year and made one of the youngest chancellors in history.
In 2021:
Sunak was the most popular politician in Britain and second only to Liz Truss in Conservative Home members' polls, having overseen the furlough and Eat Out to Help Out schemes. In the chamber, Cruddas gave his own vote of confidence, saying Sunak's budget "had established a clear path for the country to move from these difficult times", praising his "thoughtful" approach and arguing it would "not just to reinvigorate the economy post Covid but to help propel the post-Brexit opportunities".
By July 2022, everything had changed:
A week into the most toxic Tory leadership election in memory, the fact such comments were made feels inconceivable. Cruddas, 68, who remains close to Johnson, has shared posts on social media describing Sunak as a "rat", "a snake", a "little weasel", a "backstabber", "a slimy snake", a "treacherous snake", "Fishy Rishi", "Hissy Rishi", "Judas", "the traitor", "the Remainer's choice", a "sly assassin", a "Tory wet" promoting high taxes and the leader of a "coup" who "must be removed at all costs". Cruddas also retweeted claims about the financial affairs of Sunak's wife, Akshata Murty.
Tonight the peer said there had indeed been a "coup", adding: "I planned to donate a total of £500,000 this year but that is on hold and will not be paid unless the membership have a chance to vote on Boris being PM. I have no interest in Rishi who I deem to be not fit for high office due to his plotting and the orchestrated way he and others resigned to remove the PM." He also accused Sunak, 42, of setting up his leadership "before Christmas" and choreographing his resignation to inflict maximum damage.
The problem for Sunak is that such sentiment — especially the notion that he behaved improperly and cannot be trusted on the economy — is not confined to a fringe on social media. He might be the frontrunner but "Anyone But Rishi" reflects the opinion of Johnson and a coalition within the party. This includes cabinet ministers, staff inside Downing Street and Conservative Campaign Headquarters (CCHQ), Johnson's biggest donors, MPs opposed to higher taxes, and rivals for the leadership.
On July 22, The Telegraph's Christopher Hope added support for Boris's return and, in the meantime, addition to the ballot:
Tim Montgomerie, a former aide to Mr Johnson who has since been critical of him, said he had been told by sources close to the Prime Minister that he was convinced he would be back.
In a well-sourced post on social media, Mr Montgomerie wrote: "Boris is telling aides that he'll be PM again within a year" …
It comes as a row broke out among senior Conservatives about a campaign among party members to allow them a vote on whether Mr Johnson should continue as Prime Minister.
By Friday night, 7,600 members – all of whom have given their membership numbers – had signed a petition calling for the vote.
Lord Cruddas of Shoreditch, the former party treasurer who organised the petition, said "several MPs" had started to "make noises" about supporting his campaign …
Conservative MPs panicked:
The next day, The Times stirred the pot even more with 'Is Boris Johnson really planning another run at No 10?'
On Wednesday afternoon, moments after Liz Truss and Rishi Sunak were announced as the final two Conservative Party leadership contenders, a group of "red wall" MPs met on the House of Commons terrace to reflect on the result. "Is it too late to withdraw my resignation letter?" mused an MP, who held a junior ministerial role until the coup against Boris Johnson. "Shouldn't we just bring back Boris?" she said, leaving the question to hang in the air …
… Much like the Roman republic after Caesar's assassination, Whitehall is now riven by internecine warfare and a government paralysed by indecision …
For a man who just 18 days ago was brutally ousted from the job he has coveted his entire political life, Johnson appears to be living out his final days in Downing Street in a cheerful mood. Freed from the never-ending cycle of Westminster scandals, Johnson is relaxed and has spent the past few days hosting friends, relatives and other allies at Chequers and preparing a number of set-piece events leading up to his departure from No 10 in September …
Johnson, who allies claim remains furious with Sunak for his part in the coup, has sought to distract himself from the race to select his successor through media-friendly stunts …
Several MPs who helped oust Johnson have received a backlash from their constituents, stoking fears that they may face the same electoral retribution inflicted on Conservative MPs who ousted Margaret Thatcher. Backbenchers in red wall seats have been inundated with emails from voters who are furious at their role in ousting the prime minister.
They added that their postbag was filled with messages from newly converted Tory voters who have warned they will not vote for the party again now Johnson is gone. A colleague of Gary Sambrook, MP for Birmingham Northfield, claimed he had received hundreds of emails from constituents since he stood up in the Commons earlier this month and accused Johnson of refusing to accept responsibility for his mistakes …
Johnson leaves, aides say, with the air of someone with unfinished business. Whether this is the end of the Johnsonian project, or a precursor to his own Hollywood-esque sequel, remains to be seen.
On July 25, Christopher Hope wrote that the Boris petition had garnered 10,000 signatures:
Insiders say he is obsessed with delivering for the 14 million voters who voted Conservative in 2019, many for the first time because of him.
There are already stirrings of a revolt among the members. By Saturday night, 10,000 Conservative members had signed a petition organised by Lord Cruddas of Shoreditch, former Party treasurer, and David Campbell-Bannerman, former Tory MEP, demanding a say over his future.
The members want a second ballot to confirm MPs' decision to force his resignation, to run concurrently with the official leadership ballot between Liz Truss and Rishi Sunak.
That evening, Dan Wootton stated his belief that Boris's name should be on the members' ballot:
He asked his panel, which included Boris's father Stanley about it:
You can see relevant portions in these shorter extracts: Stanley supporting his son, Stanley verbally sparring with a journalist for the i paper as well as the opinion of former Boris adviser, Tim Montgomerie.
In the end, nothing happened. There was no Boris ballot.
Early this week, I heard one of the campaigners tell GB News that CCHQ are asking the organisers to do a sanity check on the signatories, confirming their Party membership number and clearing out any duplicates. If the number is still sizeable, CCHQ will discuss a possible changing of the rules for any future contests.
This is good news, in a way, but it will not help the Conservatives in the next general election. Boris's supporters are still angry.
Ukrainians
The Ukrainians will miss their biggest supporter.
They were saddened by his resignation:
Boris offered them his reassurance:
Volodymyr Zelenskyy even made a special announcement to the Ukrainian people about it:
Guido Fawkes wrote:
After leaving office Guido suspects Boris may end up reflecting more proudly on his work supporting Ukraine than even his Brexit legacy. Since the announcement of his resignation, Ukrainians have come out en masse to voice their sadness about his impending departure … Taking to Telegram late last night, Zelenksyy posted a touching video saying "Today, the main topic in our country has become the British topic – Boris Johnson's decision to resign as party leader and Prime Minister" …

Boris's hair has become a bit of an icon there (just as Trump's had in the United States). Guido has the images:
Boris's popularity among Ukrainians has already been well-reported since the outbreak of war. Streets have been named after him, as have cakes in a Kyiv patisserie. Yesterday Ukraine's national railways redesigned their logo to include an unmistakable mop of blonde hair, as did major supermarket Сільпо…
Boris once joked that the reason he'd left journalism for politics was because "no one puts up statues to journalists". It seems that, thanks to his efforts in Ukraine, he did manage achieved his wish for public deification – just not in the country in which he was elected…
On July 8, Ukraine's youngest MP made a video praising Boris:
Boris Johnson took a clear stand when so many others looked the other way.
In August, someone was inspired to paint a mural of Boris:
On August 24, Boris made his farewell — and surprise — visit to Ukraine on the nation's Independence Day:
Guido wrote:
Boris has made yet another surprise visit to Ukraine on its independence day — and the sixth month anniversary of its invasion. He used the visit, his last as PM, to announce a £54 million aid package to the country of 2000 state-of-the-art drones and loitering munitions …
Slava Ukraini…
Guido also posted this video:
GB News had more on the story:
Mr Johnson's visit came as Ukraine marked 31 years since its independence from Moscow's rule.
And it also came six months on from Russia's invasion of Volodymyr Zelenskyy's nation …
He said in Kyiv today: "What happens in Ukraine matters to us all.
"That is why I am in Kyiv today. That is why the UK will continue to stand with our Ukrainian friends. I believe Ukraine can and will win this war" …
The Prime Minister used his meeting with Mr Zelenskyy to set out a further package of military aid, including 2,000 drones and loitering munitions.
He also received the Order of Liberty, the highest award that can be bestowed on foreign nationals, for the UK's support for Ukraine.
Mr Johnson said: "For the past six months, the United Kingdom has stood shoulder-to-shoulder with Ukraine, supporting this sovereign country to defend itself from this barbaric and illegal invader.
"Today's package of support will give the brave and resilient Ukrainian armed forces another boost in capability, allowing them to continue to push back Russian forces and fight for their freedom."
The package includes 850 hand-launched Black Hornet micro-drones – smaller than a mobile phone – which can be used to provide live feeds and still images to troops, particularly important in urban warfare.
The support also includes larger drones and loitering weapons, which can be used to target Russian vehicles and installations.
The UK is also preparing to give mine-hunting vehicles to operate off the coast, with Ukrainian personnel being trained in their use in UK waters in the coming weeks.
Ukraine's ambassador to the UK Vadym Prystaiko marked the occasion by urging UK citizens to be "patient" as the war-torn country "cannot afford to lose your support".
He said: "You are playing a very important part in this fight. Ukraine will do what it takes to claim victory."
But will Britons continue to love Ukraine as much when the winter and higher fuel bills kick in?
Boris told us that we must do it, we must suffer, for Ukraine:
He has a point, but I do wonder how well this will play by the end of the year.
At least Boris got his Churchillian international claim to fame.
What next?
This week, Boris made a farewell tour of the UK, topped off with a dawn police raid of a house:
Guido has the video and explains the greeting:
This morning Boris accompanied the police on a home raid. Given we're now comfortably into the 21st century, it didn't take long for one of the occupants to realise the PM was in his home and film the experience, asking Boris 'wagwan'. Boris politely asked the filming resident "how you doing?". The Snapchatter could have at least offered Boris a cuppa…
It's rumoured that Michael Gove might be off to edit a newspaper:
Guido has the story and the audio of Gove's plans:
This morning Michael Gove laughed off the suggestion he's planning an imminent return to Fleet Street, insisting on the Today Programme he's "definitely planning to stay in Parliament" and won't be stepping down any time soon. Rumours have been building in SW1 that Gove had his eye on the editorship of, erm, one particular Murdoch-owned broadsheet, should a vacancy become available …
No, no. I think my first responsibility and duty is to my constituents in Surrey Heath. I'm going to stay on as MP, argue for them, and also argue for some of the causes in which I believe. I think it's vitally important that we continue to make the case for levelling up. I think Boris Johnson is absolutely right to focus on the need to provide additional support for overlooked and undervalued communities…
Gove added he still has "a reservoir" of affection for Boris despite being the only Minister the PM actually sacked in July. Boris is also rumoured to be sticking around until the next election. Could make for awkward small talk on the backbenches.
I predict they will stay on as MPs until the next election, just show up less often in the Commons.
As for Rishi, The Guardian said on Friday, September 2, that he was being compared with Michael Heseltine, one of the MPs who brought down Margaret Thatcher:
One of the most familiar refrains of the Conservative leadership contest was candidates earnestly inviting comparisons to Margaret Thatcher.
But after his resignation as chancellor brought down Boris Johnson's wobbling house of cards, a Tory insider said Rishi Sunak found himself with "the curse of Heseltine hanging round his neck".
Despite long having been talked of as a likely future prime minister, Sunak struggled to shed the parallel with the man who helped bring down Thatcher but failed in his own tilt at the top job – before coining the famous political cliche: "He who wields the knife never wears the crown."
I'll leave the final word to The Spectator's political editor James Forsyth, who muses on what politics will look like after Boris leaves:
His absence will reshape the political landscape because his presence defined it.
We will find out who Boris's successor is on Monday. The Guardian has a report on what we should expect:
The candidate who receives the most votes will be revealed on Monday by Sir Graham Brady, the chair of the 1922 Committee, a gathering of Conservative backbench MPs (not named after the average year of birth of its members but the year in which it was founded) …
The formal handover will take place on Tuesday. The Queen is recovering from the outgoing prime minister's tenure in her Scottish pile Balmoral and will appoint the new PM there, which will be a challenge as it requires the winner to leave Westminster.
Johnson is expected to make a farewell address outside 10 Downing Street at about 9am on Tuesday. It is not known whether he has written two versions of the speech, one based on staying, one based on leaving.
More next week as a new chapter in Conservative politics begins.
End of series
This is the penultimate instalment of Boris Johnson's downfall.
Earlier ones can be found here: parts 1, 2, 3, 4 and 5.
Before I get to the heart of the matter, one of Boris's former aides, Cleo Watson, wrote about her time in Downing Street for the September 2022 issue of the high society magazine Tatler: 'Exclusive: how PM's former aide had to "nanny" him through lockdown'.
Cleo Watson tells the story of how she went from working on Obama's 2012 campaign to the Vote Leave one that preceded the 2016 Brexit referendum. As she worked with Dominic Cummings on the latter, he asked her if she would like to work at Downing Street when Boris became Prime Minister.
She accepted but had no idea what fate awaited her. Who knew then about the pandemic, which she had to get Boris through: frequent coronavirus testing, recovering from his near-death viral experience with nourishing drinks rather than Diet Coke and putting up with his silly, schoolboy jokes.
Then there was Dilyn, his and Carrie's Welsh rescue terrier, which they acquired in 2019. Dilyn never was properly house-trained and left little surprises in Downing Street and at the prime ministerial weekend retreat, Chequers.
Watson has just finished writing her first novel, Whip!, a fictionalised account of what life is like in Downing Street. It is scheduled to be published in 2023.
One thing that struck me is just how pervasive Dominic Cummings was during his time there.
She describes what the penitential press conference he had to give in May 2020 after his forbidden trip to County Durham during lockdown was like (emphases mine):
Dom's 'eye test' itself led to moments of strange humour as we struggled to respond to the public anger it caused. Remember his press conference in the rose garden? What you didn't see was the group of advisers loitering behind the cameras, clutching ourselves with worry. Dom's natural sunny attitude …
'Sunny attitude'? Surely some sarcasm there, methinks:
… seemed to be waning, so halfway through I took to standing directly in his eyeline, bent over like a tennis linesman, gesticulating for him to sit up straight and, if not smile, be tolerant and polite when responding to the repetitive questions being fired at him.
She left around the same time as Cummings, in November 2020:
As so many in politics know, the end comes sooner or later – generally sooner, if you're employed by this prime minister. (Although I suppose he's had karma returned with interest recently.) The end for me came in November 2020, about two weeks after Dom's hurried departure.
These were her final moments with Boris:
The PM had been isolating after his latest 'ping' and he and I finally reunited in the Cabinet room, where we had an exchange that I am sure may have been familiar to many of his girlfriends. Him: 'Ho hum, I'm not sure this is working any more.' Me: 'Oh, OK, you seem to be trying to break up with me. I'll get my things.' Him: 'Aargh… I don't know… yes, no, maybe… wait, come back!' I suppose it went a little differently. He said a lot of things, the most succinct being: 'I can't look at you any more because it reminds me of Dom. It's like a marriage has ended, we've divided up our things and I've kept an ugly old lamp. But every time I look at that lamp, it reminds me of the person I was with. You're that lamp.' A lamp! At least a gazelle has a heartbeat. Still, he presumably knows better than most how it feels when a marriage breaks up.
So I left No 10 – without a leaving party, contrary to what has been reported. What actually happened is that we agreed to go our separate ways and I went to the press team to say goodbye. The PM, unable to see a group of people and not orate, gave a painful, off-the-cuff speech to a bewildered clutch of advisers and I left shortly after.
More work followed, then came a holiday in Barbados:
I was asked to work on the COP26 climate change summit (quite cleansing for the brand after Vote Leave and Johnson's No 10), which took place in Glasgow in November 2021. It was a brutal year, no less dogged by Covid than the previous one, and I was lucky enough to top it off with a recovery holiday in Barbados in December.
The sun, the sea, the cocktail bar… Welcome to paradise. Except something was off. I couldn't put my finger on it, but whenever I was indoors at Cobblers Cove, the lovely hotel my husband, Tom, and I were staying at, I had a strange, uneasy feeling that I'd been there before. Where had I seen muted green print on jolly green print on rattan before? The place had been revamped by none other than Lulu Lytle, of the Downing Street flat fame.
Downing Street stays with a person, not unlike memories of an ex:
It's often the way that looking at a period of your life later on can frame it as much happier than it really was. It's like remembering the good times with an ex. You'll smell or hear something that nearly knocks you over with a wave of nostalgia and before you know it, you're thinking: 'I wonder what they're doing now…'
I'm very fortunate in that I know exactly what they're doing and what I'm missing out on. Yes, you get the chance to serve the country and on an individual level you can change people's lives. But there is also the constant work that gets gobbled up by the news cycle. The gut-busting effort behind every speech that flops. The policy that gets torn to shreds. The constant lurk of an MP rebellion. From the moment you're awake, you're on your phone(s).
These days I'll be walking my dog (far too big to be used as a handheld prop now) and delighted – literally delighted – to be picking up after him rather than dealing with the latest catastrophe I can see playing out just a couple of miles away.
I've weaned myself off my phone, cancelled my newspaper subscriptions and studiously avoided social media. I've really understood what burnout means. It has taken months to recover …
Now on to the final weeks of Boris and his wife Carrie.
The thing that sticks most in my mind is that awful — and awfully expensive — refurb of the Downing Street flat.
The next occupant will want to rip it all out and start again with something quiet and tasteful.
Boris must have thought he would be there for years. Otherwise, why would he have agreed to it?
Another disappointment for them must have been not being able to use Chequers for their big wedding party.
The couple married in 2021 at Westminster Cathedral (Catholic), but because of coronavirus restrictions, could have only a small number back to Downing Street to celebrate.
They had looked forward to having a big party at Chequers. Unfortunately, once Boris resigned as Party leader, he became a caretaker PM and was refused permission.
Fortunately, Lord and Lady Bamford of construction equipment manufacturer JCB fame lent their sprawling Gloucestershire estate to the Johnsons:
On Wednesday, July 27, GB News reported:
The Prime Minister and his wife are said to be planning on hosting family and friends at 18th-century Daylesford House, in Gloucestershire, this weekend.
A huge white marquee topped with bunting had been erected in the property's expansive grounds on Wednesday, with staff going in and out amid apparent party preparations.
Owned by Lord Bamford, the Grade I-listed mansion has been found as a replacement to Chequers – where the Johnsons had originally planned to host the party.
The Tory peer, chairman of construction equipment manufacturer JCB, has donated millions to the Conservative Party …
Lord Bamford is covering at least some of the cost of the party, the Mirror reported, quoting unnamed sources.
No 10 declined to comment on the "private matter".
The Johnsons decided on a unique celebration.
Reporters from The Mail were on hand earlier on Saturday, July 30, to find out more:
Guests at Boris and Carrie Johnson's wedding party are set to dine in style on South African street food at the Cotswolds retreat of Tory mega-donor Lord Bamford today.
Caterers from eco-friendly BBQ eatery Smoke and Braai were spotted setting up shop on the grounds at Daylesford House on Friday in advance of the fanfare.
Around 200 guests including a dozen Conservative MPs will gather at the idyllic, Gloucestershire Grade I-listed mansion for drinks from 5.30pm.
Grass-fed locally sourced meat will be the mainstay of the food menu in line with Mrs Johnson's well-known commitment to green causes, The Telegraph reported.
At least three street food outlets were pictured arriving at the gorgeous countryside manor house on Friday afternoon, with helicopters heard amassing above …
Daylesford House is the 18th-century home of Lord Bamford, 76, the founder of construction giant JCB and one of the Conservative party's most prolific donors.
The billionaire Bamfords, who gave £4million to the party in the run-up to the 2019 general election, after handing £100,000 to the Vote Leave campaign, stepped in to fill hosting duties after furore surrounded the Johnsons' prior plans to hold their wedding party at Chequers.
Lady Bamford and Carrie, in particular, joined forces to orchestrate today's proceedings, the newspaper reported.
The South African street food menu is set to include lime and mint-infused pineapple, skin-on fries, cherry wood-smoked pork with honey and mustard slaw, and Aberdeen Angus ox cheeks.
South Africa's answer to the barbecue, a braai is typically the setting for an hours-long cookout in which all are welcome. 
The Telegraph told us that Steve Bray, the braying anti-Brexit chap from College Green near Parliament, was a short distance away. The article has a photo of him.
Caterers and entertainers could not miss him:
… they were greeted by Steve Bray, an activist known as the "Stop Brexit Man", who had positioned himself at one of the entrances holding a banner which read: "Corrupt Tory Government. Liars, cheats and charlatans. Get them out now."
The article told us more about the menu:
Rum punch is also available to guests, as well as barbecue chicken and beef with salad. Handmade ice-cream from a family run dairy farm in the Peak District is also being served, adding to the laid back atmosphere at Daylesford House, Gloucestershire …
Mrs Johnson is thought to have worked closely with Lady Bamford to organise the event and set the theme of a South African-style barbecue laid on by Corby-based Smoke and Braai, with the 200 guests served from eco-friendly street food trucks amid hay bale benches.
On the menu is grass-fed British beef braai boerewors rolls, masa corn tortilla tacos, smoked barbacoa lamb and what was described as "ancient grain salad" …
Adding to the festival atmosphere, for dessert there is ice-cream courtesy of Dalton's Dairy, a family-run dairy farm in the Peak District which produces handmade ice creams, including wild strawberries and cream, pineapple, and amaretto and black cherry.
The guest list included MPs, singers and millionaires:
The guests, who include several Conservative MPs, began to arrive at the estate at around 5pm. Australian actress and singer Holly Valance, who is married to British property developer Nick Candy, was also pictured arriving at the estate in a Rolls Royce.
Mr Johnson's younger sister, Rachel Johnson, was seen arriving via the back entrance, as did the Prime Minister's father, Stanley Johnson, who arrived alongside a female companion.
Nadine Dorries and Jacob Rees-Mogg were also among the first guests to arrive.
Other politicians in attendance included Ben Wallace, the Defence Secretary; Jake Berry, who previously served as minister for the Northern Powerhouse; Amanda Milling, the MP for Cannock Chase; and John Whittingdale, the former culture secretary.
More elusive and camera shy guests preferred to arrive by helicopter, landing on a helipad positioned in the grounds of the estate. They were then ferried to the garden party in a black Range Rover.
The Mail on Sunday had more, complete with lots of photographs:
Boris and Carrie Johnson danced the night away at their festival-style wedding party in the Cotswolds last night, with the bride wearing a £3,500 dress that was rented for £25. 
Carrie opted to stick to her sustainable fashion principles with the dress by designer Savannah Miller, the older sister of actress Sienna.
The floor-length, halter-neck gown named Ruby has an original price tag of £3,500 but is available for a day rate of £25 on London-based website Wardrobe HQ, which Carrie, 34, has been using for more than three years.
Meanwhile, the festivities started with Boris joining Carrie on the dancefloor for their first dance to Neil Diamond's Sweet Caroline – chosen because Carrie's full first name is Caroline. 
They were joined by friends and family at the picturesque venue that sits within 1,500 acres and boasts stunning amenities including a heart-shaped orchard, painstakingly manicured gardens, an 18th century orangery and a luxurious pool. 
For anyone wondering if this Daylesford is related to the eponymous organic food brand, it is, indeed:
Lady Carole Bamford OBE, became famous for launching Daylesford Organic Farm, based in the private village but with farm shops across London.
Daylesford House, which is just a mile from Lord and Lady Bamford's organic farm of the same name, boasts 1,500 acres of manicured gardens including pristine lawns, an 18th-century orangery and a secret garden – complete with octagonal swimming pool, shell grotto and alfresco pizza oven.
The article had more on the Bamfords and their involvement with the Conservative Party:
Downing Street has refused to comment on the occasion, stating it does not discuss private events which do not involve taxpayer funds or ministerial declarations.
Beyond cash handouts, the Tories have also benefited from repeated press conferences staged at JCB's Staffordshire headquarters.
Boris Johnson made his headline-grabbing Brexit stunt at the factory as part of his general election bid in 2019.
The global digger manufacturer paid him £10,000 just three days before he smashed through a brick wall in a JCB digger.
Beyond politics, the Bamfords hold sway with a long list of British elites, including their friends the Prince of Wales and Duchess of Cornwall.
Lady Bamford, whose precise age is unknown, sits on JCB's board of directors and was awarded in OBE in 2006 for services to children and families.
A former air hostess, Lady Bamford OBE married Sir Anthony in 1974.
They have four children and a haul of houses around the world in addition to a prolific car collection worth tens of millions of pounds.
The article beneath it, by Adam Solomons, had more about Steve Bray's presence. One photo shows a policeman seemingly asking him to leave. Bray alleged that his friend was arrested:
So-called 'Stop Brexit Man' Steve Bray flouted the tight guest list for Boris and Carrie Johnson's wedding party to conduct a solo protest yesterday after a friend and fellow campaigner was allegedly arrested nearby.
Photographer Sylvia Yukio Zamperini was taken away in a police car after turning up close to opulent party venue Daylesford House, Gloucestershire, Mr Bray claimed.
In a Facebook post this evening, he wrote: 'I was supposed to meet Sylvia […] but she called me. She was searched by Police.
'A police van and car passed me 20 minutes ago. She was crying and waving frantically from the back of the car. She's been arrested.'
He added in a subsequent tweet: 'Police using dirty tactics.'
Gloucester Constabulary did not respond to a MailOnline request for clarification or comment this afternoon.
The notorious Parliament demonstrator put out an appeal for urgent legal help on Sylvia's behalf.
Ms Yukio Zamperini has been Bray's right-hand woman throughout years of noisy campaigning in and around the parliamentary estate over the past six years.
Describing herself as a 'proud European', she often shoots footage of Bray's flags and banners.
Sylvia travelled to the gorgeous Cotswolds wedding venue from Birmingham, with Steve commuting from London. 
They were supposed to meet close to Daylesford House, but Sylvia had reportedly already been arrested. 
Bray also posted a video in which he spoke to a local police officer, who'd warned him that loud amplifiers set up to disrupt the party would be confiscated.
The unidentified officer, who Bray's followers noted was polite and respectful, said he was giving 'Stop Brexit Man' a 'pre-pre-warning' in the event he tried to sabotage the postponed wedding party.
The infamous campaigner tells the policeman: 'Look what these guys have done to our lives. I don't care if it's a wedding party.'
Guido Fawkes has a video of Boris and Carrie dancing to Sweet Caroline, which young Wilf interrupted. Carrie picked him up and swayed from side to side. Of Boris, Guido says:
Some questionable dad dancing moves from Boris there.
On August 6, The Telegraph's Gordon Rayner had more in 'Inside Boris and Carrie Johnson's secret wedding party':
The bride wore a gold mini dress, the groom wore a baggy cream suit and the guests wore expressions of mild bemusement.
At the Prime Minister's wedding celebration, Sweet Caroline had been chosen for the first dance as a romantic tribute to Caroline Johnson, better known as Carrie – but her husband seemed to think he was at an England football match, where the song has become a fan favourite.
His dad-dancing at the couple's wedding celebration last weekend was more "let's all have a disco", as sports crowds chant, than "how can I hurt when holding you", in the words of Neil Diamond's song.
The moment, however, was entirely in keeping with the eccentricity of the whole event, held in the middle of a field where guests had no escape from the speeches, the South African street food or the bitching about Rishi Sunak.
It featured slut-drops, congas, rum punch, hay bales, a steel band and Jacob Rees-Mogg, but without an actual wedding for the guests to attend, it was an event that appeared not to know quite what it was trying to be …
The Prime Minister, who had worn a charcoal suit on what was his third wedding day last year, struggled to pull off the Man From Del Monte look, wearing a cream suit with trousers that needed taking up and a jacket that appeared too long for his body.
Mrs Johnson, 34, had greeted guests earlier in the day wearing a £3,500 halter-neck Ruby wedding gown by Savannah Miller, the designer, which she had rented for £25 a day. However, by the time the first dance happened at 8.30pm, she had changed into a shimmering gold mini dress with a plunging neckline that was more disco diva than blushing bride.
Neither she nor the 58-year-old Prime Minister looked comfortable dancing in front of their guests. They may have been relieved when their two-year-old son Wilfred, dressed in a navy blue sailor suit, toddled across to them halfway through the dance and became the centre of attention, as he was twirled around on the hips of his parents …
The event officially ended at 11.30pm, although many guests, with long journeys home, had already left by then.
Ms Johnson said the party was held in "a magical flower-filled field", but other guests whispered that the party had the vibe of a failed pop festival, complete with portable lavatories …
Before the dancing, the guests were treated to a succession of speeches, starting with Ms Johnson, followed by Carrie Johnson – whose words were "full of affection" for her husband – and finishing with the Prime Minister himself, who stood with one hand in his trouser pocket and the other clutching A4 sheets of notes.
In a defiant and typically joke-filled speech, Mr Johnson told his guests that he had received "masses of letters to resign, mostly from my closest family", according to The Times.
He went on: "There are many opportunities, which lead to disasters, and disasters can lead to new opportunities, including to opportunities for fresh disasters."
He also described the mass ministerial resignations that forced him to resign as: "The greatest stitch-up since the Bayeux Tapestry."
The guest list was light on parliamentarians, partly because so many of them had turned on the Prime Minister only days before. Only the most ultra-loyal Johnsonites received an invitation.
As a former head of communications for the Conservatives, Mrs Johnson knows all about messaging. She was keen to put the word out that her dress was rented, because she is keen to promote sustainable fashion, and that the food on offer was eco-friendly because the catering firm buys its ingredients from local farmers.
But the messaging was somewhat undermined by the reality of the event. Guests arrived in a steady stream of Range Rovers, Rolls-Royces and other gas guzzlers, with some even arriving by helicopter.
By choosing to hold their party in such a rural location, the couple ensured that it had the largest possible carbon footprint. In only a matter of weeks, though, worrying about political mis-steps will cease to be much of a concern for them.
The party — especially with Bray's presence — would make a great film for television. You could not make this up.
On August 2, Telegraph reporter Rosie Green poured cold water on Carrie's renting of dresses. I'm including this as a caution for women thinking it's a failsafe solution: 'Renting a dress sounds like a good idea — until you face the logistics'.
She went through the process herself, which sounds tiresome:
I book appointments at the places offering "trying on" services (Front Row, Harrods and Selfridges) and let them know which dresses I would like to road test.
At the My Wardrobe HQ pop up concession at Harrods, although the manager was friendly and helpful, disappointingly only one of the four pieces I had requested was there. Then the dress I had loved on screen wouldn't do up. Hmm.
Thankfully I found another wonderful gown by the same designer which fits beautifully (the same size weirdly). But at £1,861 to buy and with a long train that looked perfect for stepping on I was worried about incurring damage. Another dress I loved had a broken zip …
I leave for my next appointment at Front Row to meet one of its founders and to try on a selection of dresses, but when I arrive at the showroom she is not there and the doors are locked. I am stumped. I can't get through on the phone. I later discovered she had her handbag snatched by a man on a motorbike. Front Row confirms they'll send the dresses to my home instead. In the meantime, I get a message from Selfridges saying my requested dress (the only one on the website I found suitable) is not available as it is being repaired. Hmm.
I head home to Oxfordshire a little dispirited. So I start delving deeper into By Rotation and discover that they act as a middle man between the renter and the owner. This means the clothes are kept by their owners and so effectively you are reliant on Sandra from Surrey or Carla from Cheshire posting you their gown. This makes me very nervous.
There's more, so I'll skip to the chase:
Then, on the day I'm expecting the My Wardrobe dress to arrive, I'm told I have to pick it up from Harrods. I have a minor heart attack. I tell them I live in Oxfordshire and not only is it impractical but the cost of the return train ticket to London would be more than the rental. They arrange for it to be couriered and it arrives the morning of the event.
According to UPS the Front Row dresses are stuck at the depot. Then they are officially AWOL. Renting has not been stress free. Buying my dress is now feeling like a much more attractive proposition …
… my advice if you're planning to rent would be to get your choices a few days before you need them. Try them on first, and always have a back-up plan.
Would I hire a wedding dress this way, like Carrie did? No way. My nerves couldn't take it.
On another cautionary note, provocative dance moves can prove difficult as one ages.
Guido Fawkes found a 2018 Celebrity Big Brother clip with Boris's sister Rachel boasting about how Liz Hurley taught her one of these dance moves then demonstrating it.
Unfortunately for Rachel, 56, things didn't go so well with it at her brother and sister-in-law's party, as she wrote in her Spectator diary of August 6:
The Season has ended and – apart from The Spectator's summer bash of course – the two bang-up parties of July were discos in the Cotswolds. They do things differently there. At Jemima Goldsmith's I danced so hard in high heels with a selection of her handsome young swains that I suspect the double hip replacement will be sooner rather than later. At Carrie and Boris's Daylesford wedding do in a magical flower-filled field we all busted out our best moves. I was taught the slut-drop by Liz Hurley years ago in Nick Coleridge's party barn in Worcestershire. She demonstrated how to collapse to the floor like a broken deckchair on the count of three. My problem at Daylesford was getting up again – not a challenge shared by my sister-in-law. She could win a Commonwealth gold hands-down in this particular high-risk dance move. I'd kicked off my shoes (to save on physio bills later) but still ripped off a big toenail during the conga. Conclusion: I can no longer slut-drop but I can still name-drop for Britain till the cows come home.
Sometimes I feel as if I live in another world.
Anyway, by early August, the party was over for Boris.
Although he surpassed Theresa May's tenure at No. 10 on August 5 …
… Boris faces a hearing by the parliamentary Privileges Committee in September, led by Labour's Harriet Harman.
Note that Boris's opposite number, Keir Starmer, gets away with multiple violations. Yet, Boris will be quizzed on whether he knowingly — rather than accidentally — misled Parliament over a piece of cake in a Tupperware container:
To make matters worse, Conservative MP Bernard Jenkin is on that committee. He is not one of Boris's biggest fans:
The topic came up on Dan Wootton's GB News show on August 8. Nearly 75% of his viewers thought the committee hearing would be a witch hunt:
Panellist Christine Hamilton agreed:
Boris's supporters among the general public were eager to get his name on the Conservative Party leadership ballot along with Liz Truss's and Rishi Sunak's. The fight on that still continues. The best they can hope for now is a change in the Conservative Party rules. I will have more on that in a separate post. The feeling for Boris continues to run deeply among many voters.
On Friday, August 12, a reporter asked Boris why he was not taking calls from Rishi Sunak:
Boris said:
That's one of those Westminster questions that doesn't change the price of fish…
He quickly deflected to move the discussion towards resolving the cost of energy crisis and said that the future would be very bright.
On Saturday, August 13, Jacob Rees-Mogg, Minister of State for Brexit Opportunities and Government Efficiency, gave an interview on GB News to two of his fellow Conservative MPs, Esther McVey and her husband Philip Davies.
In this segment, he explains why Boris has always had his support, dating back to 2016. His only criticism is that the Government could have handled the economy better post-pandemic:
As for Boris coming back as PM, Rees-Mogg said it was highly unlikely. The Telegraph reported:
"Nobody's come back having lost the leadership of the party since Gladstone," Mr Rees-Mogg replied. "And I just don't think in modern politics, the chance of coming back is realistic.
"Lots of people think they're going to be called back by a grateful nation which is why Harold MacMillan waited 20 years before accepting his peerage… Life just isn't like that."
Rees-Mogg also explained why Boris was hounded out of office:
In the interview, Mr Rees-Mogg claimed that Mr Johnson's downfall was partly the result of anti-Brexit campaigners – even though a number of Brexiteer MPs, such as Steve Baker, called for his resignation.
Mr Rees-Mogg said: "There's a lot of people who resent the fact we left the European Union. And therefore to bring down the standard bearer of Brexit was a triumph for them."
In August, Boris and Carrie took a summer holiday in Slovenia.
He no sooner returned than he jetted off again, this time to Greece, for reasons to be explored tomorrow.
My series on Boris Johnson's downfall continues.
Those who missed them can catch up on Parts 1, 2, 3 and 4.
Also of interest are:
Developing news: how long can Boris last as PM? (July 5-6)
Boris stays as PM for now but stands down as Conservative leader: 'When the herd moves, it moves' (July 6-7)
On July 8, Bloomberg had an interesting article: 'Boris Johnson's Downfall: The Inside Story of How His Government Collapsed'.
It states:
This account of how the Johnson administration unraveled is based on conversations with senior members of his inner circle, cabinet ministers, political advisers, civil servants and Tory MPs who were present at the key moments and spoke to Bloomberg News on condition of anonymity.
The journalists who wrote it say (emphases mine):
… the man that Johnson's inner circle blame for his downfall is Rishi Sunak, the former chancellor, who triggered that final, frantic act that ultimately forced the prime minister to quit.
Boris, being a survivor, stayed true to character. He survived a Conservative MP vote of confidence held the Monday after the Queen's Platinum Jubilee celebrations the first weekend in June 2022. Then the Chris Pincher groping scandal broke, but he was not worried. In early July:
Johnson had spent last weekend largely ignoring the latest scandal raging around him.
There was another slew of allegations in the newspapers, this time related to what Johnson had known about the claims of sexual harassment against an MP who the prime minister had promoted to a senior party post. 
But Johnson had grown accustomed to riding out controversy, from his efforts in November to extricate an ally who breached lobbying rules, to the lockdown parties, the investigation into whether he misled Parliament and the resignation of his own ethics adviser.
His judgment, and that of his No. 10 team, was that revelations relating to his former chief whip Chris Pincher, damaging and unseemly though they were, did not pose an existential threat. 
That Sunday evening, July 3, Boris headed next door:
to Sunak's flat in No. 11 Downing Street for one of their regular weekend dinners.
Johnson's team had been wary of a potential leadership challenge from Sunak for months and suspected that he would already have moved against the prime minister if he hadn't been fined over lockdown parties himself.
That night was businesslike, focused on plans for a new economic strategy and a joint speech. Sunak briefly mentioned his unease at the handling of the Pincher situation, but people close to both men said the meeting was good-natured and there was no hint of the coming storm.
Meanwhile:
Elsewhere in London though, Health Secretary Sajid Javid was discussing his own concerns about the Pincher case with his own advisers and starting to think he might decide to resign.
The week began normally:
No. 10 remained bullish throughout Monday despite the growing furor as Javid watched and waited.
On Tuesday, a Cabinet meeting took place (Bloomberg has a photo of it). There were signs that things could unravel quickly:
… there were ashen faces around the Cabinet table on Tuesday morning as ministers gathered to discuss Sunak's plans for tackling rampant inflation. Johnson uber-loyalist [and Culture Secretary] Nadine Dorries told the room that the "dogs of hell" would be unleashed if Johnson was removed.
One Cabinet minister who spoke to Bloomberg that day warned that Johnson might be in real trouble. He had had an unspoken contract with the Conservative Party since surviving a confidence vote among his own MPs in early June, the minister said: he could remain in place only if the scandals stopped.
That compact had lasted barely a month.
Later that day:
Around 5 p.m., at a meeting in the prime minister's office in Parliament, Javid told Johnson he was resigning. Johnson felt the announcement an hour later could be weathered by appointing a strong replacement.
But nine minutes after Javid published his resignation, Sunak also quit. And this blow came without warning.
Suddenly, Johnson was facing a rout.
A person with knowledge of Javid's plans said that his team had had no meaningful contact with Sunak's advisers before the double resignation, but they suspect that the then-chancellor got wind of what was coming and accelerated his own plans. A person with knowledge of Sunak's thinking said there had been no collusion.
Sunak had worked in the Treasury for Javid when the latter was Chancellor from 2019 to February 2020. They were good friends.
The resignations became a game of whack-a-mole:
As the prime minister rushed to replace two key ministers, a wave of more junior officials announced that they too were abandoning his government.
Nadhim Zahawi became the new Chancellor and Steve Barclay succeeded Javid as Health Secretary:
Nadhim Zahawi and Steve Barclay were recruited late on Tuesday to solve the most immediate problem and Johnson's advisers believed that both men were determined to take their jobs seriously. They understood that they had buy-in from Zahawi, the chancellor, for a new tax-cutting agenda to be announced imminently, though a person close to Zahawi says he made no such commitment.
All the same, as Johnson and his advisers surveyed the damage on Wednesday morning, they could tell that the situation was critical. 
That's when [Levelling-Up Secretary Michael] Gove demanded his meeting. To Johnson's aides, the timing seemed designed to inflict maximum pain.
Boris sacked Gove later on Wednesday, the only firing he made. He did it via a telephone call.
At that point:
the number of officials quitting his government climbed past 50.
That evening must have been a long one for Boris:
He returned to No. 10 after 6 p.m. for a series of meetings with his senior ministers.
Chief Whip Chris Heaton Harris advised Johnson that he no longer had the numbers to prevent Tory MPs from removing him, but that he would remain loyal. Trade Secretary Anne-Marie Trevalyan and arch Brexiteer Jacob Rees-Mogg also made clear they would stay supportive. Deputy Prime Minister Dominic Raab told Johnson he would not resign, changing for a formal white-tie event and then leaving via a side entrance.
Other meetings were more difficult.
Home Secretary Priti Patel had an emotional and teary meeting with the premier where she told him he had to go. A spokesman for Patel wasn't able to comment on the details of the conversation. 
Transport Secretary Grant Shapps, who kept a spreadsheet of Johnson supporters, agreed that the numbers were against them. Policing minister Kit Malthouse delivered a long monologue about how it was over. An exasperated Johnson told Malthouse that if he was going to resign, he should just do it. 
Malthouse had worked for Boris ever since the latter was Mayor of London.
Also:
Welsh Secretary Simon Hart was the only one who threatened to quit, handing Johnson a resignation letter and telling him that if he was not gone by the morning it would be published.
The most difficult meeting was with Zahawi who looked visibly awkward, according to one witness, as he told the prime minister that he too thought he should quit. The meeting left Johnson's aides suspecting that Zahawi had simply been preparing for his own tilt at the top job.
Correct. Zahawi did not get far with his campaign.
The meetings lasted into the night:
Towards the end of the night, Johnson gathered his closest aides in his office to assess the damage.
No. 10 policy chief Andrew Griffith was the most determined to battle on, along with Nigel Adams, a minister and old friend of Johnson. Heaton Harris, the party enforcer, had accepted the situation but was staying in the bunker to the end.
Together they rehearsed arguments for and against resigning, as they briefed the media that he would not quit and appoint a new Cabinet. The reality was that no one was accepting jobs.
Political commentators, eager for Boris to go, compared him with Donald Trump:
Johnson told his team that he didn't want to spark a constitutional crisis by clinging to office.
"I can't do this," he told them. "It's all too ghastly. It's not me."
Eventually, he went to the Downing Street flat to see his wife and retire for the night:
As he went up the stairs to his Downing Street flat to see his wife, Carrie, the decision was becoming clear in his mind. Carrie did not advise him either way and insisted it had to be his own decision, according to a person with knowledge of the conversation.
On Thursday, July 7:
Johnson woke early on Thursday and drafted a resignation speech to read out to his staff at their 7.30 a.m. meeting.
He announced his resignation in front of No. 10 early that afternoon.
That evening, The Spectator team held their annual garden party, a major highlight of the political year. Something always happens and this one was no different:
Johnson's communications chief Guto Harri got into a blazing and public row with Gove adviser Josh Grimstone, who accused Harri of briefing against his boss.
A Sunak aide spotted Harri and went over for a hug. According to people present, a smiling Sunak, standing next to her, asked Harri: "Don't I get one?"
"You want a hug?" Harri said in disbelief, knowing that the former chancellor had made no contact with Johnson since his shock resignation. Harri had spent his week fighting to save the prime minister, Sunak was aiming to replace him, and in front of London's political elite, the two men shared an awkward embrace.
Guido Fawkes has more (Guto Harri is on the right and the magazine's Katy Balls is in the background):
His post says the argument went all the way back to Gove's desertion of Boris in the 2016 leadership election, leaving Boris out of the race that year (emphases in the original):
… Leadership candidates Rishi Sunak, Nadhim Zahawi and Tom Tugendhat worked the crowd. Later in the evening as things were winding down the Spectator's Katy Balls mischeviously introduced Josh Grimstone, the newly unemployed former Special Adviser to Michael Gove, to soon-to-be unemployed Guto Harri, the Prime Minister's Director of Communications. Josh definitely had something to communicate to Guto about Gove's late night sacking the night before…
Josh firmly protested that his boss had been loyal to the PM, that he personally loved Boris and that both Gove and himself had been nothing but loyal. He accused Guto of sacking Gove out of spite and attempting, unfairly, to make it look like Gove had been sacked for disloyalty. Guto was sceptical about Josh's protestations of innocence and insistence that his boss had been loyal. The toing and froing went on in front of a silently listening audience that included Guido, Tim Shipman and Steve Swinford. Neither of the protagonists backed down from their position. Grimstone said Guto's behaviour was a "f***ing disgrace".
Guto eventually retorted that it was Gove's fault that in 2016, when he betrayed Boris, the country was as a result put into 3 years of dismal turmoil under Theresa May. Guto's stance seemed to be that even if it was true that he had been loyal of late, Gove had it coming to him for the 2016 trauma that he inflicted on the party and country. Unresolved and unreconciled Grimstone broke off leaving hushed onlookers uncertain that the summary justice of last night was entirely justified by recent events. Guto seemed relaxed and satisfied that it was amends for the sin of the past. 
But that wasn't the only verbal dust-up that evening.
On the BBC's Question Time, Tony Blair's spin doctor Alastair Campbell and The Telegraph's Tim Stanley, who once ran for MP as a Labour candidate, argued about who was worse in terms of being economical with the truth, Tony Blair for the illegal war in Iraq or Boris Johnson with a piece of cake during lockdown. Campbell is on the left in the photo:
Guido has the video:
A few days later on July 11, Stanley wrote an article about it for The Telegraph: 'My TV encounter showed everything that is wrong with the Left':
I'm not a friend of Boris Johnson: my most recent contact was a Christmas card that I'm sure was signed by someone else. This didn't stop Alastair Campbell from calling me part of the same "corrupt class" on Question Time, a grim experience I didn't enjoy but my editor says I've got to address.
Around the five-minute mark, I was invited to give my take on Boris's resignation – and Campbell butted in with the first of many attacks on my profession and character. Afterwards, a producer said: "How long have you known Alastair?" I replied: "I've never met him before." Given how he spoke to me, many people assumed we had a feud going back decades.
No, he was just horrible, and the nastiness was camera ready. Campbell was nice as pie before the recording; he gave me a cheery goodbye after. My conclusion is that he's an act. When he launched his on-air assault, I was shocked and considered walking off; I couldn't take a whole hour of this. Instead, I pulled a one-liner out of the bag, noting that the Blair government took us into a war that cost thousands of lives, while Boris ate some cake.
The point was that Boris might have been chaotic, but it's often the best organised regimes that make the biggest mistakes.
The line was hardly Oscar Wilde; the audience was furious that I appeared to make light of the Downing Street parties. I thought my career was over, and was wondering if Lidl might be hiring. But what I couldn't see till I watched the show back was that Campbell shrugged away the reference to Iraq as if it were mundane. It was an ugly moment. By not bursting into tears, I think I came out better.
What irritates me about some people on the Left is that they talk about mental health and kindness yet they treat their opponents like dirt, not giving a damn how it might make them feel – and if a Conservative hits back, they act like we have crossed a line that doesn't apply to them …
And I wasn't trying to defend Boris on Question Time, just explain his thinking. I have my own views, of course; but in that format I try to put both sides of a story, so the audience can make up its mind. I often find that Left-wing panellists can't process this. They claim to be empathetic yet have zero interest in how other people think. It will be the Tory party that will produce the first non-white prime minister and how will the Left respond? They'll call them a "racist".
That night on Dan Wootton's GB News show, opinions about Boris's successor flew in thick and fast.
Former Conservative Home Secretary and later Brexit Party MEP Anne Widdecombe was adamant that the next Party leader be firmly committed to completing the Brexit process. We still have the Northern Ireland Protocol and French fishing difficulties to deal with:
Opinions swirled around the time it should take Boris to vacate Downing Street.
Someone in the know told the Daily Mail that Theresa May — a Remainer — should be caretaker PM. GB News reported:
While Mr Johnson is expected to stay on until Prime Minister, he could choose to relinquish his duties with immediate effect.
In which case an interim Tory leader would be appointed, who would in turn also become the caretaker Prime Minister.
And former Prime Minister Ms May, who held office between 2016 and 2019, could reportedly make a dramatic return to No.10.
A report in the Daily Mail said: "She knows the ropes and the security stuff, she's a party woman through and through, she's definitely not interested in standing for it herself and would be credible.
"She is uniquely placed."
Thank goodness that didn't happen.
Another Remainer, former Conservative Prime Minister John Major, apparently told the 1922 Committee, headed by Sir Graham Brady, to get rid of Boris pronto. Edwina Currie, a former MP who served with him in Parliament at the same time and who was Major's mistress between 1984 and 1988, said that the former PM was being 'a bit of a prat':
The 2021 Conservative candidate for Mayor of London, Shaun Bailey, agreed. He would have made a great mayor, by the way:
However, biographer Tom Bower explained that Boris and Carrie had no other home, therefore, he would stay at Downing Street until such time as the couple buy a house:
And what about Carrie?
A lot of conservatives blame her for Boris going off the boil with a libertarian-Conservative manifesto to focus on damagingly expensive Net Zero policies, never mind the gaudy refurbishment of the Downing Street flat, allegedly paid for by a Party donor.
The day Boris resigned, The Telegraph's Celia Walden wrote 'The Carrie conundrum: What next for the Prime Minister's wife?'
Over the past two years and 11 months our outgoing First Lady has certainly garnered criticism – some unfair, some fair. And already commentators are saying that Carrie "helped blow it for Boris". But it is surely her husband's sociopathic behaviour over the past few days, weeks and months – and what has been described not as Boris's downfall but his "clownfall" – that will have been most brand-damaging. So how easy will it be for Carrie to rid herself of that toxicity, and what next for the Prime Minister's wife? …
Before Carrie became involved with Boris, and his special brand of bedlam, the daughter of Matthew Symonds, co-founder of the The Independent, and lawyer Josephine McAfee was described as "controlled" and "confident".
Politics may have seemed a world away from the creative fields she immersed herself in at the University of Warwick – where she studied theatre and art history – but after a stint working for Zac Goldsmith, who was MP for Richmond at the time, Carrie moved on to the Conservative party's press office, where she quickly rose through the ranks, working on her future husband's re-election campaign, when he ran for Mayor of London in 2012, before becoming the youngest director of communications for the party at just 29.
That a woman who forged a career in the business of public perception – and was credited with taking charge of the Prime Minister's image (and weight) after they first got together in 2019 – could go on to make the series of missteps Carrie made at No 10 remains baffling today.
It may always have been strenuously denied that the PM's wife played any part in the prioritising of dogs over humans for evacuation from Afghanistan, but it was without a doubt the First Lady who oversaw No 10's controversial maximalist redesign. It was she who picked out the infamous gaudy wallpaper estimated to cost £840 a roll and, as I write, Twitter is alive with memes about the one "burning question" that remains: "Now that the Prime Minister has finally resigned what happens to Carrie's gold wallpaper?"
Because of this, reports that the Johnsons planned to build a £150,000 treehouse for their son at Chequers (but were stopped when police raised security concerns) prompted some to interpret this as "yet more Carrie". Which might have been unfair. But then there was Carrie's involvement in partygate.
The Sue Gray inquiry was told that it was she who was keen to throw a party during the first lockdown and "offered to bring cake" – so these cannot be written off as "sexist", "misogynistic" slurs along with the rest. And while other First Wives have been busy out in Ukraine, shaking Zelensky's hand, Carrie has been notably low profile in recent months, presumably acting on advice from spin doctors.
… according to Craig Oliver, former director of politics and communications for David Cameron: "Leaving No 10 could be the making of Carrie. She's an intelligent woman, interested in a lot of issues. Being the PM's wife has an inevitable chilling effect on what you can do and say. She'll now be free to speak her mind." 
Lord Ashcroft, whose biography, First Lady: Intrigue at the Court of Carrie and Boris Johnson, was published in March, describes Carrie as "an impressive person – with a high-level career in politics and a record of campaigning on animal rights and the environment". Another political writer, meanwhile, assures me that any toxicity will be shrugged off with characteristic ease both by Boris and his wife. "He will be a very successful ex-Prime Minister. His star quality is shoulders above any of the others and he will become very rich on the back of it. So very shortly, everything will settle down, and she will be glad to have left the fishbowl."
… although Carrie is clearly a political animal, it seems likely that she'll choose to concentrate next on animal rights campaigning, perhaps deepening her involvement with The Aspinall Foundation, for whom she has worked as head of communications since 2021 – which in itself is in a period of transition. Every PR knows that charity work is the best "brand rehab" there is, and her passion for the cause isn't in doubt.
We can but see.
There was more to come with Mr and Mrs Johnson: their belated wedding celebration, which they weren't able to have earlier because of the pandemic.
More to come tomorrow.
After a few weeks' hiatus to cover the Conservative Party leadership contest, I am now able to conclude my series on Red Wall MP Marco Longhi, who represents Dudley North in the West Midlands.
Those who missed them might find Parts 1 and 2 of interest.
Boris tribute
Marco Longhi paid Boris Johnson a brief but heartfelt tribute during the Prime Minister's final PMQs on July 20, 2022:
A long time ago, when I trained as a pilot, I had the luxury of being able to fly around turbulent storms. I also had the ability to rely on a team who kept my aircraft airworthy. As the Prime Minister prepares his new flight plans, may I suggest that he resets his compass to true north and stops off in Dudley, where he will always be welcomed with open arms and sincere affection, and where he will be able to see his legacy?
Boris replied:
I thank my hon. Friend for that renewed invitation. I have spent many happy days with him in Dudley; let us hope that there are more to come.
The Archbishop of Canterbury on Rwanda
After the first scheduled deportation to Rwanda on June 14, 2022 proved to be a non-starter, the Archbishop of Canterbury made his views known yet again.
On June 15, The Express reported (emphases mine):
In a Tweet he wrote: "To reduce dangerous journeys to the UK we need safe routes: the church will continue to advocate for them.
"But deportations — and the potential forced return of asylum seekers to their home countries — are immoral and shame us as a nation."
This, rightly, elicited reaction from some Red Wall MPs:
Red Wall Conservative MPs were furious at the attack on Home Secretary Priti Patel and suggested that Welby give up his two palaces, which come with his Archbishopric, to house illegal migrants and use his personal wealth to pay for their needs.
Ashfield MP Lee Anderson said: "If the Archbishop of Canterbury truly believes that we should do more to keep illegal immigrants in this country and love thy neighbour as thyself then perhaps he should give up his two palaces and pay for all the accommodation costs.
"He can then instruct every Church in the UK that their vicarages should also be given up to illegal immigrants to stay in. These are practical measures he could take to assure the great British public that the Church is doing all it can during these difficult times."
The Archbishop's main residence is Lambeth Palace – south of the River Thames from the Houses of Parliament.
As well as numerous bedrooms the 800-year-old palace boasts extensive gardens, a large library, an atrium, "the pink drawing room" and a state dining room.
Meanwhile, his residence in Canterbury is the Old Palace or Archbishop's Palace, another grade I-listed 800-year-old building where one of the bedrooms was used by the Queen.
Marco Longhi echoed those sentiments:
In a personal message directed at the Archbishop, Dudley North MP Marco Longhi added: "Archbishop, as you appear to feel so strongly about this, will you give up two of your palaces for illegal migrants and pay for their accommodation?
"I note how it is the liberal privileged elite, unaffected by the impact of illegal immigration, whose moral outrage is loudest."
Well said.
Policing
When Boris won the December 2019 general election, increasing the numbers of police around England was a manifesto pledge.
On December 14, 2021, Longhi recognised the efforts the Government had made thus far in the West Midlands:
This Government value all our police officers. That is why, with our 11,053 extra police officers, we are not on target, but ahead of target to deliver our manifesto pledge of 20,000 new officers; there are 867 new officers already working in the West Midlands.
The financial settlement gave West Midlands police an inflation-busting 5.8% increase to its budget—a staggering £36 million. In addition, the rises in local tax that residents pay, together with council tax, put West Midlands police at the top of league tables across the country for precept increases; since 2012, a staggering increase of 79% has been imposed on people in Dudley North and across the West Midlands by the Labour police and crime commissioner.
Dudley people—and those across the West Midlands, I am certain—can see that effective policing is about more than just money. It is about local decision making and how that filters down from the chief constable and the police and crime commissioner.
Longhi was having a go at Labour for taxing West Midlands residents excessively but delivering little value for money with regards to policing. A Labour MP asked him to give way for an intervention, but he refused:
I would rather not, just now. The facts sadly speak for themselves. We need the right strategy for deploying all the new police officers we recruit, making the right decisions locally, and having the will and competence to deliver on them. The Labour police and crime commissioner has closed dozens of police stations, while spending more than £30 million on refurbishing plush offices at his headquarters in Lloyd House in Birmingham.
Another Labour MP asked to intervene, but Longhi refused to do so.
A commotion arose.
This took place in Westminster Hall, where niche debates take place rather than in the House of Commons. This one focused on West Midlands policing.
Sir Edward Leigh (Conservative) was the chair:
Order. Calm down. The hon. Gentleman does not have to give way if he does not want to.
Longhi continued, pointing out Labour's ability to rake in tax money then do nothing for local people:
Meanwhile, Dudley and Sedgley police stations have closed. Some hope was given to Dudley people when a new police station was promised in Dudley. It was hailed by my predecessor—the noble Lord Austin—as a new multimillion-pound station to replace the one in Brierley Hill. Several years later, we are still waiting for it. In 2019, it was announced that it would open in 2021, yet no detailed plans have been submitted by the police and crime commissioner to the council planning department.
Dudley is a major metropolitan town—I believe it is the largest town in the country that is not a city—and it has been without a central police station since late 2017. We are paying the price for no presence as a result of inaction and incompetence. Perhaps the Minister might inquire of the police and crime commissioner when Dudley people might see shovels in the ground and the promised new station.
I have great respect for a local police inspector in Dudley by the name of Pete Sandhu and his team. They are trying their utmost to make do with offices borrowed from Dudley Council that are, quite frankly, not fit for purpose. Inspector Pete Sandhu, the local police teams and PCSOs in Dudley town, the surrounding villages and those across the West Midlands not only deserve but need a station that is fit for purpose. Unfortunately, time and again, Labour police and crime commissioners have failed their constituents—including mine.
At the end of the debate, Kit Malthouse, the then-Minister of State for Crime and Policing, responded on behalf of the Government:
I have never shied away from those difficult financial decisions that have to be taken. Nevertheless, generations will pass, and maybe in 50 years the Labour party will stop talking about that period of austerity and talk about what is happening today. Today, I thought I was coming to a debate about the value of neighbourhood policing. However, it has become obvious that this is a pretty naked political manoeuvre in advance of some difficult financial decisions that the police and crime commissioner for the West Midlands will have to make as he moves towards setting his council tax. My hon. Friend the Member for Dudley North (Marco Longhi) has highlighted how significantly council tax has increased over the past few years …
… I find these debates a bit disheartening because of the lack of curiosity exhibited by Members about the performance in the West Midlands. For example, they never ask themselves why other police forces are doing better. Why is Liverpool doing better than the West Midlands? Why is Humberside doing better than the West Midlands? …
I will give way in a moment. Those Members are unwilling to acknowledge the reason, which is that decisions were made by the previous Labour police and crime commissioner that set the West Midlands back. They have to take responsibility for those decisions; they cannot, I am afraid, just come to this Chamber and keep saying that everything that goes wrong in the West Midlands is the Government's fault, and that everything that goes right is the Labour party's achievement. Nobody is buying that in Edgbaston, Selly Oak, or anywhere else in the West Midlands. They recognise that difficult decisions had to be made, and I urge the Labour party to acknowledge those difficult decisions.
David Jamieson was not all good, and he was not all bad. He had difficult things to do, and he made a set of choices that produced a particular outcome and a particular baseline in the West Midlands. I have no doubt that that was what he said in the elections that he won, and that the people of the West Midlands took him at his word and believed him. They have re-elected a Labour police and crime commissioner, so presumably they are happy with that performance, but complaining that everything that goes wrong is down to the Government seems a little naive to me.
Malthouse concluded:
… The West Midlands made a certain matrix of decisions that resulted in the outcome today. A number of forces around the country made different decisions. As a result, they will have more police officers than they had in 2010. That is something with which hon. Members will have to wrestle; I am afraid that is the plain truth.
On neighbourhood policing, I am pleased to hear that there is a thrust in the West Midlands to invest in neighbourhood policing, not least because the neighbouring Staffordshire force has been doing that for some years, to great effect. The police and crime commissioner and the former chief constable there took the decision to invest in neighbourhood policing and, interestingly, traffic policing, as the basic building blocks of an excellent delivery of service to their people. As a result, they saw significant reductions in neighbourhood crime. My hon. Friend the Member for Dudley North referred to the uplift number, which is 800-odd. I encourage exactly that kind of intervention. It is what lies behind our desire to expand the number of police officers in the country.
Fireworks
I strongly disagree with Marco Longhi's desire to see ordinary people banned from using fireworks.
It has only been in recent years that virtue signallers have made complaints about a splendid celebratory tradition that has been going on for centuries.
In England, at least, fireworks may be used only a few months during the year and, even then, only on certain days:
15 October to 10 November;
26 to 31 December;
3 days before Diwali and Chinese New Year.
However, not everyone obeys the rules. Furthermore, the rules are not enforced in equal measure.
So, Longhi took a survey of his constituents on the matter.
On November 8, 2021, a debate on fireworks took place in Westminster Hall. Although this debate has taken place often in recent years, this particular one was triggered by an online e-petition. The number of signatures required a parliamentary debate.
Longhi said:
There is no denying that access to fireworks in the UK is easy and that enforcement of existing legislation is poor. Although many of us have enjoyed firework displays over the last week to celebrate Diwali or to remember the foiled plot to blow up this House, many, if not more, are traumatised by fireworks. Last year, following scores of pieces of correspondence from constituents, I decided to open a public survey so that all my constituents could share their thoughts on fireworks and the impact they have. I received both positive and negative feedback, but I was truly shocked by the sheer volume of responses I received, many of which were overwhelmingly negative. Given the nature of the internet, the survey spread widely—some might say it went viral—and I found myself with well over 1 million hits on Facebook and well over a 100,000 survey returns.
We have heard about the trauma to pets and livestock. As we approach Remembrance Day, let us also spare a thought for our veterans and those suffering from PTSD, for whom loud and unexpected bangs and flashing lights can have a devastating effect on quality of life.
We have had many Australian influences on legislation over the years, and perhaps it is time for some more. At present in the UK, there is no legal requirement to have any form of licence or training in order to let off consumer fireworks. Fireworks can be sold at any time of the year and can be bought online. In Australia, it is illegal for someone to buy, possess or discharge fireworks unless they hold a pyrotechnician's licence or single-use licence. Authorities must be notified of all firework displays, and authorised events can be found using the authorities' fireworks display search.
One question that I would ask all Members in this room and those unable to join us today is this: should local authorities take the location of public displays into consideration when granting them a licence and should they require displays to be well publicised in the surrounding area? Furthermore, is it right to place greater restrictions on the sale, purchase and use of fireworks? If we agree, surely we can then find an agreeable compromise that protects those who are traumatised by fireworks.
I have already had discussions with my hon. Friend the Minister about this issue and I greatly appreciate his time, but it is time we had a wider debate and an honest discussion. This debate is had every year, but there are no real legislative changes. Surely the time is right for that to happen now.
Paul Scully, who was the Parliamentary Under-Secretary for Business, Energy and Industrial Strategy at the time, responded for the Government.
I agree with what he said:
… I am grateful to the members of the public who took the time to sign the e-petition that has brought us here to Westminster Hall to discuss this important matter, because it has received more than 300,000 signatures and calls on the Government to limit the sale of fireworks.
Therefore, I will take the time to outline and explain the Government's position on this matter, and to say, first of all, why we believe—although I understand that it is not the subject of this debate, as has been outlined—an outright ban on fireworks or an outright ban on their sale to the public is not the appropriate course of action.
We have concerns that banning fireworks in that way could have significant adverse and unintended consequences for public safety, particularly in leading to the emergence of a black market in illicit fireworks. There was a reason why there was not a 2019 debate on this issue. Yes, it was the year of a general election, but more importantly in 2019 the Petitions Committee conducted an inquiry on this issue, which I was a part of as a Member of the Committee, and the evidence given by interested parties aligned with the Government's current view. Those interested parties included both the National Police Chiefs' Council and the National Fire Chiefs Council.
The petition being debated today also highlights the concerns that some people have—understandably—about the impact of fireworks on vulnerable groups and animals. These are issues that I was only too pleased to discuss with my hon. Friend the Member for Dudley North (Marco Longhi) when we met back in July to discuss the fireworks survey that he had carried out in his constituency; as he said, it went somewhat viral. I really sympathise with those views, and I am always sorry to hear the stories of how some individuals and animals have been affected by fireworks. That is why the Government are committed to promoting the safe and considerate use of fireworks, and why we have been carrying out a programme of action on fireworks to ensure that those who use them do so safely and appropriately.
It is important to say that this is a highly regulated area, with a comprehensive regulatory framework already in place to control the sale, availability and use of fireworks. We believe that this framework strikes the right balance for people to enjoy fireworks while aiming to reduce risks and disturbances to people and animals. For example, current legislation sets an 11 pm curfew on the use of fireworks, with later exceptions only for the traditional firework periods of 5 November, Diwali, New Year's Eve and Chinese New Year.
A load of concerned Opposition MPs from Labour and the Scottish National Party piled on with interventions.
Scully replied on noise and trading standards questions:
There is a 120 dB noise limit on fireworks available to consumers. Retailers are restricted to only selling consumer fireworks during a limited period around each of the seasonal celebrations that I just referred to, and retailers may only supply fireworks to the public outside those periods if they obtain a licence from their local licensing authority. However, I fully appreciate that it is just as important to ensure that legislation is enforced effectively. We have heard of some issues where that has fallen short, but I will describe what powers and mechanisms are in place against the illegal sale and use of fireworks.
Local authority trading standards work with retailers to ensure that the fireworks that are sold are safe, and have powers to enforce against those who place non-compliant fireworks on the market. Trading standards and local fire and rescue authorities in metropolitan counties can also enforce against those selling fireworks without an appropriate licence—for example, outside of the normal selling period.
He also said, in response to Opposition MPs:
In our polling, the Government found that 11% of the population want a total ban on fireworks, 36% want a ban on the private sale of fireworks, and, from memory, 64% enjoy the use of fireworks and want to be able to enjoy them both privately and publicly. We came to similar conclusions from our evidence as were reached by the Petitions Committee in its 2019 inquiry. In the extensive report setting out its findings, the Committee concluded that introducing further restrictions on fireworks was not the appropriate course of action, due to the potential unintended consequences. That was just two years ago. We agree with that position.
We acknowledge the experience of people who believe that banning fireworks would push the market underground and make it more difficult to regulate and monitor. We also agree with the Committee's conclusion that such a ban would have a substantial economic effect on those who have built their livelihood in the fireworks industry. Restricting fireworks would probably also have dire consequences for community displays, which raise funds for good causes.
Due to those significant concerns, the Government believe that the most balanced course of action is to continue to pursue non-legislative measures on fireworks to complement existing legislation. That is the position we set out and committed to in our response to the Petition Committee's inquiry.
Leave our fireworks alone!
I've only ever bought sparklers, but I have no idea where my neighbours purchase their fireworks.
For years, our local superette used to have a large, locked counter filled with fireworks at the appropriate time of the year. They got rid of that over a decade ago.
Our neighbourhood's home displays of fireworks, which I used to be able to watch from the comfort of my living room and kitchen, have also decreased over the past few years.
I disagree with Longhi on this subject. However, it is good that he respected his constituents' wishes, conducted a survey and presented the results to the Government.
Business of the House questions
Marco Longhi and Lee Anderson seem to have struck up a friendship. I often see them sitting together in the Commons.
Perhaps Lee's Ashfield food bank brought them together.
This is from the Business Debate of November 25, 2021, when Jacob Rees-Mogg was still Leader of the House.
Anderson said:
Last Friday I was joined by my hon. Friends the Members for Stockton South (Matt Vickers), for Bassetlaw (Brendan Clarke-Smith) and for Dudley North (Marco Longhi) in a "Ready Steady Cook" event in Ashfield. With the help of the local food bank, the college and local top chef Dave Marshall, we were able to produce 175 meals for just 50 quid. This is our fight against food poverty. Does the Leader of the House agree that we need a debate in this place on food poverty, so we can help people to cook on a budget and feed the nation?
Rees-Mogg replied:
I commend my hon. Friend for his amazing achievement and his hard work. I have a friend who teaches people to cook on a budget and runs something called Bags of Taste, which is a very successful way of encouraging people to cook on a budget. My hon. Friend is leading by example.
In the same debate, Longhi raised a complaint about a group of Travellers who refused to move on when they should have:
Yesterday, I received a three-page letter from the leader of Dudley Council. A designated Traveller site in Dudley has been occupied by Travellers who have overstayed the terms of their licence. After due process was followed in the courts in co-operation with the police, the police commander refused to support the council to give cover to bailiffs, citing the European Convention on Human Rights, as Travellers may have rights.
Will the Leader of the House agree to look into the matter and arrange a statement from the relevant Minister? This sets a terrible precedent for councils across the country, which may find that they have wasted taxpayers' money by following legislation set out by this place to invest in designated sites. It can provide indefinite leave to stay illegally, with no protection for landowners. It implies that the police can "woke interpret" and choose to follow laws other than this country's and its courts' instructions. Does that not give further credence to the need to repeal the Human Rights Act, as I have been calling for for many months?
Rees-Mogg gave a theoretically correct reply on policing by consent, which, as we saw during the pandemic, no longer works as such.
He also seemed reluctant to condemn the European Convention on Human Rights, of which the UK is still a signatory:
My hon. Friend asks an excellent question. It is really important that we are all equal under the law, and it is fundamental that the law is carried out by the police. We police by consent; the police are us, and we are the police. For that to work, people have to have confidence that the law will be enforced. Having said that, I do not know the specific details of the case or the reasons for the police decision, but the Government are taking more action to deal specifically with the issues around illegal campsites and associated criminality. I will pass on my hon. Friend's comments to the Lord Chancellor, and I note with great interest what he has to say about the Human Rights Act.
A new Human Rights Act is making its way through the Commons, with the intention that it frees us from EU conventions. However, why we cannot use and enforce the original one, the 1688 Bill of Rights, puzzles me.
King Kong
To end on a lighter note, on January 28, 2022, the Cultural Objects (Protection from Seizure) Bill debate took place.
Suzanne Webb, the Conservative MP for Stourbridge, discussed little-known artefacts and the importance of taking good care of them.
This includes a replica of King Kong:
I now want to tell the tale of an artefact of great distinction and notoriety that resided in the Midlands: an 8 foot tall, 890 kg fibreglass statue commissioned for display in Birmingham in 1972, as part of the sculpture for public places scheme in partnership with the Arts Council of Great Britain. It was commissioned to make something city-oriented, and the sculptor chose King Kong—I do not know whether my hon. Friend the Member for Dudley North (Marco Longhi) remembers the King Kong that resided in Birmingham. I do not want hon. Members to do a quick Google now, as I will be told off by Mr Speaker, but when they leave the Chamber, they can see the incredible artefact that was in Birmingham and supposed to represent it. It was down to the sculptor's association with New York City, and he created it for their own petty reasons. It was displayed in the heart of the city for many years—imagine if it was actually seized! It was something of a notoriety, and I loved it as a child growing up. We used to drive round to look at it. Hon. Members will be pleased to hear that King Kong lives on, and is now retired in Penrith.
Longhi made no reference to King Kong in his speech, but commended the Bill as an important contribution to preserving our culture and history, good and bad:
It is a pleasure to follow my hon. Friend the Member for Vale of Clwyd (Dr Davies) and to speak about this straightforward and reasonable Bill, which has been designed in a specific and targeted way, and will only help to support a sector that, like so many others, has been affected during the pandemic.
Our museums and cultural institutions in the United Kingdom do an incredible job. They have the power to transcend barriers, to preserve and to educate. Our museums, galleries and cultural institutions teach us about the past—the good, the bad and the ugly. By learning about the past, we can be inspired for the future to do better or learn from past mistakes. They stimulate our brains and make us smarter.
My Dudley North constituents are lucky that we have many rich cultural institutions on our doorstep: the Black Country Living Museum, Dudley Zoo and Castle, the Wren's Nest site of special scientific interest, the Dudley Canal Tunnel Trust, nature reserves, our microbreweries and pubs, and our bowling greens and parks. The list really does go on.
——————————————————————–
I am pleased to say that Longhi supported Kemi Badenoch in the Conservative Party leadership contest.
All the best to him for a long and satisfying parliamentary career.