You are currently browsing the tag archive for the 'Jake Berry' tag.
Before going into Rishi's win in last weekend's leadership contest, a few items of current news follow.
Wednesday, October 26 saw Rishi at the despatch box for PMQs, which he handled well. Labour's Sir Keir Starmer was still going around in circles with his six questions, achieving nothing, as usual.
Home Secretary Suella Braverman's security breach dominated PMQs and Shadow Home Secretary Yvette Cooper asked an Urgent Question about it.
This morning's Telegraph editorial said (purple emphases mine):
There is something about Mrs Braverman that seems to drive the Left borderline hysterical. Her robust views on issues such as controlling the borders and tackling crime put her in the mainstream of public opinion. Somehow that is enough to earn her the sobriquet "hard-Right" among her Leftist critics.
In the Commons, Mr Sunak defended Mrs Braverman's return to the Home Office, saying that she had made an error of judgment but that she had recognised that and accepted her mistake. Her resignation last week also took place amid a row within government over immigration levels: Mrs Braverman is a firm advocate of cutting numbers.
Many Conservative voters will be reassured that she is back in office. Mrs Braverman has the right political instincts, taking a hard line for instance on the need to clamp down on disruptive climate protesters. In her previous roles, she has shown that she has the ability to master the details of complex policy areas, including on sensitive matters such as transgender rights. Now, she should be given the time and space to get on with the job.
A retired Squadron Leader wrote the Telegraph to say:
SIR – Congratulations to the new Prime Minister and to Suella Braverman on her return as the Home Secretary.
… The situation in the English Channel, with migrants entering Britain with impunity and without permission, at a cost of millions of pounds a day for hotel accommodation alone, cannot go on.
In 2021, 28,526 migrants landed in Britain without permission. This year, more than 38,000 migrants have arrived so far, with a projection of up to 50,000 by the new year.
Mrs Braverman would seem to have the answers to this problem. One can only hope that her return to the Home Office will make a difference, and quickly.
Another issue Braverman will have to deal with are alleged Chinese 'police stations' in two Glasgow restaurants.
Today — Thursday — the Times reported:
Ministers have been called on to intervene after China was accused of operating a "shadowy and chilling" secret police hub in the heart of Glasgow.
A report compiled by a human rights organisation claims that the Chinese government is operating a global network of undeclared "police stations", which are being used to intimidate and silence dissidents.
The Home Office said the claims were "very concerning" and would be taken "extremely seriously". A spokesman said: "Any foreign country operating on UK soil must abide by UK law. The protection of people in the UK is of the utmost importance and any attempt to illegally repatriate any individual will not be tolerated."
Safeguard Defenders, a Madrid-based civil liberties group, alleges one of the outposts is running from 417 Sauchiehall Street in central Glasgow, alongside two others in London. The address houses the premises of Loon Fung, one of the city's oldest and best-known Chinese restaurants …
A spokesman for Safeguard Defenders:
claimed the Scottish Fujian Chamber of Commerce, registered at the premises of Sichuan House, another Chinese restaurant based on Sauchiehall Street, also had links to the Chinese state.
The Times attempted to confirm the allegations:
The Chinese consulate in Edinburgh did not respond to a request for comment …
Loon Fung has strongly denied any involvement. "There's no secret police here," a spokesman said. Sichuan House did not respond to a request to comment. A man who answered a mobile number published online as being the contact for the Scottish Fujian Chamber of Commerce hung up when The Times introduced itself.
Returning to Braverman, on Wednesday night, Sir Jake Berry MP, the short-lived chairman of the Conservative Party under Liz Truss, gave an interview on TalkTV's Piers Morgan Uncensored, on which Nadine Dorries MP was a guest host, Morgan being on holiday.
The Times reported what Berry said, in part:
From my own knowledge, there were multiple breaches of the ministerial code …
That seems a really serious breach. The cabinet secretary had his say at the time. I doubt he's changed his mind in the last six days but that's a matter for the prime minister.
Also:
Asked whether Braverman had rapidly owned up to the mistake as she claimed, Berry replied: "I wasn't in the meeting but as I understand it the evidence was put to her and she accepted the evidence rather than the other way around" …

Berry's comments are likely to prompt further questions about the circumstances of Braverman's re-appointment as Sunak completes a reshuffle of the government's junior ranks.
Hmm. Interesting.
Berry's interview was up for discussion this morning in the House of Lords. Labour peer Baroness Smith of Basildon, leader of the Opposition, asked an Urgent Question about it. Baroness Neville-Rolfe, responding for the Government, gave a brief statement in support of the Prime Minister and the Home Secretary, which was met with audible groans from many of the peers. Several of them, including a Lord Spiritual (Anglican bishop), asked questions for several minutes.
Labour will continue to press this issue, it seems.
Guido Fawkes caught up with Sir Keir Starmer on Wednesday:
Guido wrote (emphases his):
Finding himself behind Keir Starmer in a coffee-queue this afternoon, Guido took the opportunity to ask the Leader of the Opposition about his future attack lines on the Government. The case of Suella Braverman, the Labour leader said, "wasn't going away."
It was a relatively inconspicuous item in his PMQs: "Have officials raised concerns about his decision to appoint her?" It caused a frisson among those who know how important process is, and how deadly the advice given by officials can be …
Obviously no PM is going to answer such questions, nor will he willingly surrender written advice given in ministerial confidence. However, there is a route to get it. By a Humble Address (a procedural device resurrected from ancient obscurity by the previous Speaker, John Bercow), documents of all sorts, including electronic, can be demanded by an Opposition Motion.
Labour has had next week's Opposition Day nicked by the SNP. But the issue will probably fructify rather than decay over time. It may be a little early in the new administration for 35 Tories to defy the Whip and vote for the  documents to be revealed – but if recent history is anything to go by …
Questions about Braverman continued in the House of Commons on Thursday during Cabinet Office Questions and, later, Business Questions to Leader of the House Penny Mordaunt.
A Telegraph article by Gordon Rayner said that recent Home Secretaries ended up doomed from the start:
Almost as soon as Rishi Sunak reappointed Mrs Braverman as Home Secretary, the civil service was letting it be known that there were "concerns" about whether she could be trusted with sensitive information. Simon Case, the Cabinet Secretary and head of the Civil Service, was "livid" about her appointment, sources said.
If the ultimate goal of the poisonous briefings by civil servants was to suggest the department cannot function with Mrs Braverman in charge, it will be a familiar scenario to previous holders of the post.
Priti Patel only just survived a concerted campaign to force her out by civil servants who accused her of bullying. Amber Rudd lasted two years before she was forced to resign for misleading a Commons committee, having been wrongly briefed by her department on deportation targets. As far back as 2006 Labour's John Reid declared the department "not fit for purpose".
In 2006, Labour was in power, by the way.
Gordon Rayner rightly includes Braverman's allies in his analysis:
Allies of Mrs Braverman say that her enemies in the Home Office, and on the Left, have used a technical breach of the ministerial code as a convenient excuse to attack a woman with whom their true battle lies over immigration.
Conservative Party members are likely to support Braverman:
As the current "queen of the Right" in the Government, every carping comment from a Labour MP or BBC commentator simply reinforces her popularity with Conservative Party members and a significant chunk of MPs.
Rishi Sunak reinstated her at the Home Office because he knows that to stand any chance of uniting his party, he needs a figurehead of the Right in a senior position, and in Mrs Braverman he has a former chairman of the European Research Group of Right-wing Eurosceptic Tories.
It is significant that Braverman backed Rishi last weekend:
If, as has been suggested, a return to the Home Office was the price she demanded for backing his leadership bid (and effectively killing off Boris Johnson's attempted resurrection) it simply proves the clout she now has within the Party.
Other news from Wednesday included a confirmed ban on fracking, overturning Liz Truss's decision to allow fracking in communities that overwhelmingly allow it.
——————————————————————————————————————
Now back to the leadership contest.
In the early hours of Friday, October 21, Boris Johnson was leading Rishi Sunak and Penny Mordaunt:
I left off yesterday with Stanley Johnson saying that morning that his son Boris was 'on a plane'.
Meanwhile, Liz Truss made a brief return to Downing Street, probably to collect something. The Guardian's photos show her in sportswear, a heretofore unseen Liz.
'Bring Back Boris'
Express readers opened their Friday paper to find an article by one of Boris's main backers, Sir James Duddridge MP, a champion of the Bring Back Boris, or BBB, campaign:
I was his Parliamentary Private Secretary and stayed with him right until the end. It was a mistake to force him out but now is the time to bring him back.
He is the only one who can unite the party after the turbulent last few weeks and I trust him to right the ship …
He always remained hugely popular with the party's grassroots and with large parts of the country.
There will always be socialists and angry Twitter mobs who rail against him but he is an election winner, twice in London as well as nationally.
My constituents regularly tell me they want Boris back and he still has a mandate from the country …
He has the star quality and inspirational leadership the country needs during the challenging months ahead.
It's time to Bring Back Boris.
Jacob Rees-Mogg, Truss's Business Secretary, declared his support for the former Prime Minister — 'Boris or Bust':
Pollster Matt Goodwin pointed out that while Rishi is more popular overall with British voters, Boris still leads those who voted in the 2019 election:
The video from 2012 showing Boris, who was then Mayor of London and promoting the Olympics that year, went viral: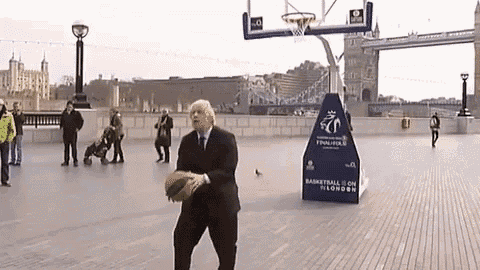 However, The Sun's Harry Cole reminded everyone that Boris still had the upcoming Privileges Committee investigation to deal with. If it goes badly, he might have to resign as an MP:
Conservative MPs could schedule a motion to cancel the investigation. That would have to be approved by the Commons, but as the Conservatives have a current majority of 71, it could still be overturned. This Sun reporter thinks it is unlikely, however:
Truss's Deputy Chief Whip Craig Whittaker requested that his name be removed from Guido's list of Boris supporters. His post requires impartiality:
Emily Maitlis, formerly of the BBC, reacted characteristically to news that Boris was running in the leadership contest:
Guido has the audio and reported:
Emily Maitlis meanwhile learnt the Boris news live on her News Agents podcast. You'll never guess her reaction…
Shouldn't hurt Boris's chances…
Rishi takes the lead
Maitlis needn't have worried.
By 11 a.m. on Friday, Rishi had just edged past Boris:
A half hour later, Rishi's momentum was beginning to build:
Boris backers hadn't lost hope, however. The fact that Ben Wallace, the Defence Secretary, supported him was an added fillip:
That afternoon, Opinium posted their snap poll on who the public supported. Rishi was the clear winner. Even Penny beat Boris:
Boris gained support from more of the Red Wall. Teesside mayor Ben Houchen is a Party member and not an MP. Simon Clarke was Truss's Levelling Up Secretary:
Guido excerpted their letter to the Telegraph …
Boris is the person we need to lead our country and our party. 
He won the greatest election victory for years on a mandate to unite and level up the UK, and inspired millions of people who had never voted Conservative before to get behind a generous, optimistic vision of what Britain can be.  
People on Teesside love Boris because he recognised that while talent is evenly distributed across the country, opportunity is not. Boris gave us that opportunity. 
…
Teesside has had difficult times and is now levelling up because of Boris. We know that for us, like Boris, the comeback will be greater than the setback.
… adding:
Houchen is a real loss for Rishi…
By 3:45, Rishi was well on his way to 100 backers. Boris was now lagging behind, and Penny was stuck:
In the early evening, an MP from the 2019 intake, Antony Higginbotham, representing the traditionally Labour constituency of Burnley, came out for Boris:
Two hours later, veteran MP Bill Cash also announced his support for Boris:
It seemed that most Boris backers were traditional Conservatives and Red Wall MPs.
Guido pointed out the Red Wall loyalty:
By contrast, Matt Hancock felt the need to produce a lengthy statement explaining why he was supporting Rishi:
Saturday's papers
Saturday's papers were a mixed bag.
Not surprisingly, the Financial Times said that investors were alarmed at the prospect of Boris's return:
The Telegraph reported that Rishi was expected to pass the threshold of 100 MPs:
The Star came up with an aubergine motif for Boris and couldn't resist featuring Lettuce Liz again:
Their Thought for the Day was:
Haven't we all suffered enough?
The lead paragraph reads:
Just when you thought all salad-based puns had been exhausted, posh aubergine Bozo Johnson has emerged as one of the favourites to replace Lettuce Liz as PM.
Rumours began circulating about joint talks between Rishi and Boris:
Two papers played to Boris supporters — the Express …
… and the Sun:
The paper's veteran Trevor Kavanagh explored both sides of the Boris equation in 'Boris Johnson is a political Humpty Dumpty with a giant ego who had such a great fall — but if he runs for PM, he'll win':
… Boris Johnson, the political Joker who makes half the nation smile while the rest are spitting chips, is gearing up for another pitch at the premiership.
He needs 100 MPs' votes and may well get more.
If he runs, he wins — that's my prediction for what it's worth in this tumultuous here-today, gone-tomorrow blur of Tory leaders, challengers and assassins.
And even if he doesn't win, what a pleasure to hear the screams of fury from Labour, Lib Dems and Scot Nats — amplified through the impartial BBC's 100-decibel speakers …
These puce-faced wets don't seem to realise they are fuelling the pro-Boris momentum which might propel him back into Downing Street and even produce another sensational election win.
Happily, their moans are drowned out by cheers from Red Wall Tory MPs who credit Boris with winning their seats in Parliament.
They want Boris back and so do millions of voters across the land.
It may be deeply irresponsible to say so, but this is diamond-studded 24-carat political entertainment and I for one am enjoying the ride.
Don't get me wrong — I am not ­watching BoJo: The Movie through rose-coloured glasses, or even suggesting that it makes sense.
Boris Johnson must take much of the blame for the catastrophic mess the country is in, politically and economically.
But he won his 2019 80-seat landslide majority fair and square.
It was an almost entirely personal achievement beyond the reach of any other politician.
He used that majority to achieve great things, ramming Brexit through Parliament, the Covid vaccination triumph and leading global support for Ukraine.
He also blew it as the "Greased Piglet" PM who believes rules are for little people, not him …
It was such casual conduct that handed Labour grounds for a kangaroo court trial for lying to Parliament — a hurdle still to be cleared.
But for such careless affronts to good governance, Boris Johnson would still be Prime Minister right now.
The Pound would be steady, mortgages manageable, inflation past its peak.
We would not have seen the eye- popping political convulsions which turned Britain into a global laughing stock.
The soap opera is not over yet.
Whoever wins next week must choose a new Cabinet and pick a way through the ruins.
If it is Boris, it should at least end the clamour — choreographed yesterday across all BBC networks — for a snap General Election.
Boris won't have to face the tricky ­question: "Who Voted for You?" …
Without Boris, the Conservative Party faces certain defeat by 2025.
Boris has the magical Heineken ability to reach voters other politicians cannot reach.
It's a gamble, a glitterball Who Dares Wins test of luck and daring.
Even Netflix couldn't make it up.
But for the Tories, it is the only game in town.
For the next 24 hours I had hope.
More on the contest will follow tomorrow.
Tuesday, October 25, 2022, was a historic day for the United Kingdom.
We have our first minority Prime Minister, Rishi Sunak — and, always remember, he is Conservative.
Labour, with all their waffling about equality and short-lists designed to produce the desired result, have not even come close to attaining what the Conservative Party has accomplished organically.
India cheers, on Diwali
When the 1922 Committee, which represents Conservative backbench MPs, announced on Monday, October 24, that Sunak was the winner of the leadership contest, India cheered.
Sunak's victory as the last man standing with an overwhelming amount of MPs' votes took place on Diwali.
The Times reported (emphases mine):
The prospect of Rishi Sunak being named as the UK's first British-Asian prime minister today has been headline news in India's media.
Newspapers and broadcasters pointed out that his likely victory in the Conservative leadership race would come on Diwali, the festival of lights marking the victory of light over darkness and the most important celebration in the Hindu religious calendar.
The former chancellor's mother and father are both Hindu Punjabis whose parents migrated from India to Tanzania and Kenya respectively before coming to the UK in the 1960s. But that has not stopped Indian journalists and commentators claiming him as one of their own.
India's press has not forgotten how then-Chancellor Sunak celebrated Diwali:
The Press Trust of India, a national news agency, noted that Sunak is a devout Hindu and a regular at the temple close to where he was born in Southampton. It reported that he had made history when he was the first chancellor of Indian origin by lighting Diwali lanterns at 11 Downing Street.
Sunak's rise to the premiership is important to India as it comes 75 years after the nation's independence in 1947:
The prominent Indian TV anchor Rajdeep Sardesai tweeted: "To think that on Diwali day, UK could have its first prime minister of Indian origin. That too in the 75th year of independence! Yeh hui na baat! [that's the spirit]" …

The former Bihar state government chief secretary MA Ibrahimi tweeted: "Revenge of history as well. Destiny." Another Twitter user, Ranjan Kumar, who described himself as a banker, joked: "Reverse colonisation."
Indian media also celebrated Sunak's wealth and billionaire in-laws:
Sunak is also married to Akshata Murty, the daughter of NR Narayana Murthy, the Indian billionaire and founder of Infosys, the information technology giant, who has a net worth of $3.2 billion. Many have noted that, through his family ties, Sunak is effectively richer than the King.
"Advantage Rishi Sunak: Narayana Murthy's son-in-law could be UK's next prime minister", read a headline in the Mint newspaper this morning.
Star adopts new motif: calendar PMs
The Star newspaper, having finished comparing Liz Truss's shelf life with that of a lettuce, put Sunak on the front page as their Prime Minister of the Month for October:
Their Tuesday Thought for the Day says:
Who'll be the PM for November? Stay tuned …
Liz Truss's final hours as Prime Minister
Although Liz Truss had not been Party leader after she resigned on Thursday, October 20, she did remain Prime Minister until she tendered her resignation to Charles III on Tuesday morning.
At 9 a.m., she held her final Cabinet meeting, as is customary on a Tuesday.
Meanwhile, a moving van arrived at No. 10 to remove the Truss family's belongings:
Most PMs use Bishop's Move removals company. Not so this time around. Liz Truss was always going to be different, and, if Harrow Green was her choice, it was further proof of her standing out in a crowd.
Various Cabinet members filed in through the front door of No. 10. It is likely that Chancellor Jeremy Hunt will keep his job under Sunak.
For the competent and calm Defence Secretary Ben Wallace, however, things could be different.
The Guardian's daily diary reported:
Wallace is very popular with Tory party members, but there is a good chance that he will be moved. In recent months people have been briefing papers on his behalf saying that he would resign if a new prime minister refused to stick to the plan to raise defence spending to 3% of GDP by the end of the decade. But Rishi Sunak is refusing to make that commitment.
The two also clashed when Sunak was chancellor, and in the summer Wallace publicly critcised Sunak's stance on defence spending. Wallace backed Liz Truss for the leadership.
Another capable MP, Welsh Secretary Robert Buckland, could be out, too:
In the summer leadership contest Buckland originally supported Sunak. But then, in a highly unusual move, he switched to backing Liz Truss. By that point she was the favourite, and Buckland's move raised a lot of eyebrows because MPs who pledge allegiance to one candidate almost never normally switch in public, because it makes them look inconsistent and opportunist.
Buckland kept his Welsh secretary job in Truss's first reshuffle (although if he was hoping for a return to his previous cabinet job, justice secretary, which was going to be vacant when Truss sacked Dominic Raab, he was disappointed). But this morning, Buckland may be thinking his summer Judas performance was not so wise after all.
Another MP who will probably be gone is the veteran Jacob Rees-Mogg, the current Business Secretary. Under Boris Johnson he was Leader of the House then the minister for Brexit efficiencies. He is very much a Boris loyalist:
Yesterday he said he would support Rishi Sunak as PM. But during the summer leadership contest he said he could never serve in a Sunak cabinet. He told Sky News in July:
I think as a chancellor, he made decisions that were of the left rather than on the right, that he was a tax increasing chancellor. I didn't support the decisions he made.
When asked whether he would serve in a Sunak government, he replied:
No, of course I wouldn't. I believe his behaviour towards Boris Johnson, his disloyalty means that I could not possibly support him. And he wouldn't want me in his cabinet anyway.
He will be sorely missed.
At 9:30, the Cabinet meeting ended.
Truss gave her final speech as Prime Minister at 10:15, before going to Buckingham Palace, to tell the King that she was standing down.
Her lectern appeared shortly before 10:00:
On GB News this morning, Darren McCaffrey explained that, starting 50 years ago, each Prime Minister has had his or her own podium. He showed us the various ones from Gordon Brown's to Truss's.
Liz Truss's has a terrible Zenga style to it, so I was relieved that McCaffrey said that Rishi Sunak would have his own lectern.
Truss's staff and closest MPs gathered off to one side of Downing Street:
At the appointed time, she left Downing Street for the final time, joined by her husband Hugh and daughters Frances and Liberty. The three stood off to one side of No. 10.
Truss approached the Zenga podium with a black folder.
On Monday, she pledged Sunak her full support:
However, her valedictory speech struck another tone, that her boldness and ideas were the correct ones.
This is the full transcript:
It has been a huge honour to be Prime Minister of this great country.
In particular, to lead the nation in mourning the death of Her Late Majesty The Queen after 70 years of service,
and welcoming the accession of His Majesty King Charles III.
In just a short period, this government has acted urgently and decisively on the side of hardworking families and businesses.
We reversed the National Insurance increase.
We helped millions of households with their energy bills and helped thousands of businesses avoid bankruptcy.
We are taking back our energy independence…
…so we are never again beholden to global market fluctuations or malign foreign powers.
From my time as Prime Minister, I am more convinced than ever we need to be bold and confront the challenges that we face.
As the Roman philosopher Seneca wrote: "It is not because things are difficult that we do not dare. It is because we do not dare that they are difficult."
We simply cannot afford to be a low growth country where the government takes up an increasing share of our national wealth…
and where there are huge divides between different parts of our country.
We need to take advantage of our Brexit freedoms to do things differently.
This means delivering more freedom for our own citizens and restoring power in democratic institutions.
It means lower taxes, so people keep more of the money they earn.
It means delivering growth that will lead to more job security, higher wages and greater opportunities for our children and grandchildren.
Democracies must be able to deliver for their own people…
We must be able to outcompete autocratic regimes, where power lies in the hands of a few.
And now more than ever we must support Ukraine in their brave fight against Putin's aggression.
Ukraine must prevail.
And we must continue to strengthen our nation's defences.
That is what I have been striving to achieve… and I wish Rishi Sunak every success, for the good of our country.
I want to thank Hugh, Frances, Liberty, my family and friends, and all the team at No10 for their love, friendship and support.
I also want to thank my protection team.
I look forward to spending more time in my constituency, and continuing to serve South West Norfolk from the backbenches.
Our country continues to battle through a storm.
But I believe in Britain.
I believe in the British people.
And I know that brighter days lie ahead.
Her speech was Johnsonian in so many ways. Like Boris, she had no apologies: good. After all, she'd made enough already. No backing down from her beliefs. Justification of her actions for her ideals. All good.
She was the first Prime Minister to thank her protection team: outstanding. More PMs should do so.
GB News criticised her for saying that brighter days lie ahead. It was her way of saying what President Lincoln did in the 1860s: 'This, too, shall pass'. In other words, don't give up hope.
As for Truss's future, being a backbench MP will be difficult for her, because she has had ministerial or Cabinet positions since the days of the Coalition government, dating from 2012. That's a decade ago. She began her Cabinet posts in 2014.
Perhaps she will find a continuing cause to champion:
Immediately after her speech, she and Hugh went in one vehicle and her daughters in another, escorted by police and special security detail to Buckingham Palace. Truss arrived shortly afterward.
At 10:56, GB News reported that Truss had tendered her resignation. At that point, King Charles was in charge of the UK, as we had no Government.
That sort of thing used to unnerve his mother, the late Queen, so she tried to make those time periods as brief as possible.
The King's conversation with Truss was lengthy.
After her motorcade left, it was time for Rishi Sunak to request the King's permission to form a new government.
The Queen received 15 Prime Ministers during her reign. King Charles, who ascended to the throne just days after Truss became Prime Minister, is already on his second.
Sunak's first hours as PM
Sunak's motorcade, also comprised of police and special security, arrived at the Palace immediately after Truss's left.
Sir Clive Alderton, principal private secretary to the king and queen consort, the monarch's equerry, Lt Col Jonny Thompson, and Sir Edward Young, joint principal private secretary to the king, PA Media reports.
Sunak also spent a long time with the King.
Just before 11:30, the monarch turned the Government over to Sunak. The King had been in charge of us for half an hour. With his mother, it was a matter of minutes. Fascinating.
Someone on GB News quipped that perhaps we should reconsider having an absolute monarchy.
Sunak was due to give his first speech at No. 10 at 11:35. In the event, it was closer to 11:50.
He and the King already know each other through a Prince's Trust event from a few years ago.
When Sunak arrived in Downing Street, he left his vehicle and immediately approached — thankfully — a new lectern.
There were no MPs around him. If there had, it would have been a phalanx, as he had the support of nearly half of them:
Sunak's speech lasted exactly five minutes.
It is possible that he knew what Truss had said in hers, because he wasted no time in blaming her for the mess he was about to land in:
I have just been to Buckingham Palace and accepted His Majesty The King's invitation to form a government in his name.
It is only right to explain why I am standing here as your new Prime Minister.
Right now our country is facing a profound economic crisis.
The aftermath of Covid still lingers.
Putin's war in Ukraine has destabilised energy markets and supply chains the world over.
I want to pay tribute to my predecessor Liz Truss.
She was not wrong to want to improve growth in this country. It is a noble aim.
And I admired her restlessness to create change.
But some mistakes were made.
Not borne of ill will or bad intentions. Quite the opposite, in fact. But mistakes nonetheless.
He warned of 'difficult decisions' to come:
And I have been elected as leader of my party, and your prime minister, in part, to fix [those mistakes – see 11.52am.].
And that work begins immediately.
I will place economic stability and confidence at the heart of this government's agenda.
This will mean difficult decisions to come.
But you saw me during Covid, doing everything I could, to protect people and businesses, with schemes like furlough.
There are always limits, more so now than ever, but I promise you this – I will bring that same compassion to the challenges we face today.
The government I lead will not leave the next generation – your children and grandchildren – with a debt to settle that we were too weak to pay ourselves.
I will unite our country, not with words, but with action.
I will work day in and day out to deliver for you.
This government will have integrity, professionalism and accountability at every level.
Trust is earned. And I will earn yours.
I hope so.
Then he paid tribute to Boris and said he would continue the 2019 manifesto:
I will always be grateful to Boris Johnson for his incredible achievements as prime minister, and I treasure his warmth and generosity of spirit.
And I know he would agree that the mandate my party earned in 2019 is not the sole property of any one individual. It is a mandate that belongs to and unites all of us.
And the heart of that mandate is our manifesto. I will deliver on its promise: a stronger NHS, better schools, safer streets, control of our borders, protecting our environment, supporting our armed forces, levelling up and building an economy that embraces the opportunities of Brexit, where businesses invest, innovate, and create jobs.
I understand how difficult this moment is. After the billions of pounds it cost us to combat Covid, after all the dislocation that caused in the midst of a terrible war that must be seen successfully to its conclusions, I fully appreciate how hard things are.
And I understand too that I have work to do to restore trust after all that has happened.
All I can say is that I am not daunted.
I know the high office I have accepted and I hope to live up to its demands.
But when the opportunity to serve comes along, you cannot question the moment, only your willingness.
So I stand here before you, ready to lead our country into the future.
To put your needs above politics.
To reach out and build a government that represents the very best traditions of my party.
Together we can achieve incredible things.
We will create a future worthy of the sacrifices so many have made and fill tomorrow, and every day thereafter with hope.
Hmm. That I will be interested to see.
Afterwards, Boris tweeted his congratulations. Better late than never:
He was just in time.
Emmanuel Macron tweeted his congratulations one minute later:
Cabinet resignations roll in
Afterwards, Sunak went to the Commons to meet with Cabinet members who he sacked or demoted.
The Guardian explains why this is not done in No. 10:
Prime ministers normally do the sacking element of the reshuffle in parliament because people losing their jobs can come and go without being photographed, or seen by journalists. Lobby journalists have access to some areas of parliament, but other parts are off limits and trying to doorstep the PM's office is definitely not allowed.
Sunak started from the lesser end of the spectrum and moved up the ladder:
According Sky's Beth Rigby, Wendy Morton, the chief whip, and Ranil Jayawarena, the environment secretary, have both been summoned. But were Truss acolytes who were seen as lightweight appointments to cabinet.
Chloe Smith was Truss's Work and Pensions Secretary:
Boris loyalist Kit Malthouse, who worked for him when he was Mayor of London, is out as Education Secretary. His brief stint at Education was under Truss. Prior to that, Malthouse was in charge of Policing:
It is customary for sacked MPs to write a resignation letter.
Jacob Rees-Mogg, a devout Catholic, dated his letter 'St Crispin's Day':
Here's Robert Buckland's:
Brandon Lewis pointed out that he had been one of the longest serving Cabinet members — under four Prime Ministers:
On a positive note, Suella Braverman could re-enter Cabinet:
The Guardian's Pippa Crerar has more news. Glad to see that Grant Shapps will not continue as Home Secretary. Business is better suited to him:
Commiserations to Jake Berry, a Red Wall MP and, however briefly, chairman of the Conservative Party. I wonder what Sunak has against Simon Clarke, though. He's been in the Treasury since Sunak was Chancellor. Hmm. Glad to see that James Cleverly, Ben Wallace and Thérèse Coffey could be staying. I hope that Coffey continues as Health Secretary:
Jake Berry tweeted:
For Foreign Secretary Cleverly, it looks like business as usual. If so, excellent:
With regard to Simon Clarke, it seems there's a bit of a back story there involving Liz Truss:
Simon Clarke has left his post as levelling up secretary. It is not clear from his tweet whether he was sacked, or whether he quit "voluntarily" to save face.
But it is no surprise that he has gone. He was one of Liz Truss's key allies, and during the Tory leadership contest in the summer he often criticised Rishi Sunak quite harshly on her behalf, at one point co-authoring an article accusing him of favouring "a Labour-lite economic policy".
On another point, he is very tall. When he walked with Rishi, he made sure he kept several paces behind so that no one would notice the difference in height.
ITV's political editor Robert Peston summed up the departures as follows:
Around 2:30, Sunak walked into Downing Street to applause. It is customary for staff to applaud the incoming Prime Minister.
New Cabinet appointments took place.
I'll leave it here — at 3:14 p.m.:
I'll have more tomorrow, particularly on the leadership contest that took place over the weekend.
Last week, I posted a series on the effect of London's metropolitan elite on England's voters in 2015 and 2019.
Those who missed it can read Parts 1, 2 and 3.
On December 12, 2019, a surprising number of staunch Labour voters in the North and the Midlands lent their votes to the Conservatives for the first time.
Those constituencies in England that switched from Labour to Conservative either for the first time or for the first time in decades are known as the Red Wall.
The Conservative MPs who represent them are local people familiar with the issues that concern their constituents.
These MPs are a far cry from the Sir Bufton Tuftons from days of yore.
When the new intake took their seats in the House of Commons, spirits were high on Conservative benches as the UK exited the European Union.
In debates in January 2020, we heard them discuss the hopes they had for Boris Johnson's levelling up plan concerning rail, roads and industry.
What follows is what is on the minds of Red Wall voters and their MPs.
Tax
Five days before Chancellor Rishi Sunak presented his dynamic budget to the House on Wednesday, January 16, 2020, a pollster surveyed Red Wall voters for their views on taxation.
Guido Fawkes has a graph and summary of the poll results: 36% wanted cuts to council tax; 29% wanted cuts to income tax and 22% wanted cuts on fuel duty.
However, Guido found that the voters surveyed contradicted themselves (red emphases in the original):
According to Opinium Research for Lansons, 42% of the famed 'Red Wall' new Tory voters state the priority measure they would like to see for this afternoon is a rise in their take-home pay being introduced in the Budget – an income tax cut in other words. That is because 41% of the new Tory voters think taxes are too high and errr, 40% of the same new Tory voters think government spending is too low. Workington, we have a problem….
If the coronavirus is an economic hit on the scale of the credit crisis, a temporary halving of VAT to 10% would incentivise spending, immediately and effectively….
Sadly, because of coronavirus, most of Rishi's budget had to be binned.
Levelling up
In September 2020, Conservative MPs created a taskforce to level up, i.e. reduce regional inequalities between the North as well as the Midlands versus the South.
The BBC reported that these poorer constituencies now have Conservative MPs:
A report produced for the taskforce says Conservatives now hold more seats in the lowest paid areas than Labour …
In the 2019 election the Conservatives won a number of seats across the Midlands and the north of England previously considered to be Labour strongholds, also known as 'the red wall' …
Now this new group, the "levelling up taskforce" – which includes many of the new "red wall" MPs – is urging the government to set itself three key tests as part of its drive to reduce geographical inequality.
It says those areas that have seen the lowest growth in earnings, should see earnings rise faster than they have in recent years; areas with the worst unemployment rate should converge with the national average; and areas with the lowest employment rate should also catch up with the national average.
It also calls on the government to set out geographical analysis of how tax and spending changes impact different areas …
Analysis produced by the Onward think tank for the new group found that of the bottom quarter of seats in Britain with the lowest earnings, more are now held by the Conservatives (77) than Labour (74).
The following month, Northern Red Wall MPs formed a new group to ensure that Boris Johnson keeps his campaign promises:
The BBC reported:
… the 35-strong Tory group say they want to ensure the government delivers.
It includes several MPs who won seats in traditional Labour heartlands – the so-called "Red Wall" – at last year's general election.
Paul Howell, who won Tony Blair's old seat, in Sedgefield, Simon Fell, the MP for Barrow-in-Furness and Sara Britcliffe, who at 24 became the youngest Conservative MP when she won Hyndburn, in Lancashire, are among those who have signed up to the group provisionally named the Northern Research Group.
Ms Britcliffe said: "I don't need to join a group to speak up for Hyndburn but I have also the responsibility of making sure that we do deliver on our promise."
The group's leader Jake Berry, who has been the Conservative MP for Rossendale and Darwen since 2010, said it was not "about giving government a bad time".
He told BBC Radio 4's The Week in Westminster: "There are arguments that we collectively as northern MPs make together, to create a compelling case for the government to invest in the north".
These include "making sure that this government delivers on its promise to 'level up' the north, deliver that Northern Powerhouse and create wealth across the north of England," he added.
"We don't form a government unless we win the north."
Mr Berry is the former minister for Northern Powerhouse, which was set up by former Chancellor George Osborne to redress the North-South economic imbalance, and to attract investment into northern cities and towns.
The problem with levelling up is that some of the local councils most in need of funds are Labour-run. As I have been writing this post on Friday afternoon, February 25, 2022, I have heard Philip Davies, who represents Shipley, tell his fellow MPs that Bradford Council has not even put together a bid in order to get levelling up funds from the Government. Other Red Wall MPs had similar complaints.
This took place during a Private Members' Bill debate on the Local Authority Boundaries Bill, urging reviews of local council boundaries and making such changes easier. Kemi Badenoch, the minister representing the Government, said that the bill would need significant rewording in order to be considered. She will work with Robbie Moore, also a Red Wall MP, to revise his proposed legislation.
Bradford Council is not the only Labour council that has been under the spotlight.
In October 2020, another Red Wall MP, Chris Clarkson, made known his concerns about Andy Burnham, the Mayor of Manchester.
That brought about a furious backlash from Angela Rayner on the Labour benches. She allegedly called him 'scum' …
… and was given a dressing down by Deputy Speaker Dame Eleanor Laing.
Paying for coronavirus
In March 2021, a pollster asked Red Wall voters how they wanted the Government to handle the cost of coronavirus.
Most Red Wall voters opposed higher taxes, preferring lower spending instead:
Guido's accompanying post says:
Research from Public First's Rachel Wolf has revealed that when asked to choose between higher taxes, borrowing, or spending cuts, a plurality of the public back spending cuts over the other options. Tax rises are most popular with high social status white collar 'AB' voters, and least popular with working class 'DE' voters, who overwhelmingly back spending cuts. Working class constituents in the red wall aren't typical Islington socialists…
Also:
The other finding is that people are less opposed to taxes they think they don't have to pay, and more opposed to taxes they think they do have to pay. In reality this translates to taxes they have to pay directly. Any tax that is indirect on business still has an economic cost that is borne in the end by individuals, for example dividend taxes reduce your pension income, business rates and carbon taxes increase consumer prices. The more taxes are understood, the less popular they become.
True. We have tax rises coming, so there will be dissatisfaction in these constituencies.
Net Zero
Another plan that will not go down well is the drive to reach Net Zero. The cost is upwards of £1.5 trillion:
This tweet from 2021 encapsulates the thinking of Red Wall MPs (ignore Michael Fabricant, who was commenting on the wrong thread). Click on the image to see all the comments, especially from Jackie Doyle-Price, who mentions the metropolitan elite:
Minimum wage
In November 2021, Rishi Sunak presented a more sombre budget as the nation was still grappling with coronavirus.
One of the more positive points was his commitment to raising the national minimum wage.
On the face of it, it would seem to appeal to Red Wall voters. However, The Spectator's Patrick O'Flynn was less sure, asking if Sunak understood them properly. Raising the minimum wage does not lift those in more responsible positions. In fact, the latter have been earning less over recent years (emphases in purple mine):
In his recent Budget, the Chancellor committed the government to several eye-catching policies, including a big uplift in the minimum wage, these days rebranded as the 'national living wage'. But something that went unremarked upon was reaffirmation of a target of raising the minimum wage as a share of average pay.
A 6.6 per cent uplift this year would, said Sunak, keep the government 'on track for our target of two-thirds of median earnings by 2024.' Many Tory MPs beamed with happiness, no doubt thinking this would further bolster the working-class parts of their new electoral coalition. But will it?
According to the OECD, the UK minimum wage was worth 34 per cent of mean earnings and 41 per cent of median earnings in the year 2000. It has since risen steadily as a share of these averages, hitting 48 per cent of mean earnings and 58 per cent of median earnings in 2020.
Think about how this must feel to workers on roughly median earnings. Two decades ago they earned two-and-a-half times as much as minimum wage workers. Now they earn less than twice as much. By 2024, Sunak has decreed that minimum wage workers in entry level roles will be earning two-thirds of the amount that median earners do. This will represent a massive compression of wages within a single generation.
For those working people who put in a lot of effort in their schooldays compared to their more idle classmates, or who perhaps underwent apprenticeships on very low earnings at the start of their careers, this is highly unlikely to feel like progress.
When you consider the extra responsibilities higher-earning working class jobs typically entail compared to minimum wage roles – and the fact that various welfare entitlements may further reduce the net advantage – this government policy is coming close to rendering the entire hardworking ethos pointless.
This issue of earnings relativities between different grades of workers has long been a highly sensitive one in industrial relations, often more so than the level of raw pay per se. Indeed, it was the cause of countless strikes in the 1970s.
Instead of anticipating a celebratory mood among new working-class Tory voters, ministers should be on the lookout for restlessness and resentment. Indeed, the former Downing Street pollster James Johnson has already spotted the first stirrings of this in focus groups with participants grumbling that too much help is being directed to those at the very bottom.
Sunak has no parallel policy of ensuring that median earnings catch up as a proportion of the top 10 or 1 per cent of earners. In other words, his approach defies logic. Those in the modest middle of the pay scale have every reason to feel victimised …
One can't help feeling that Margaret Thatcher and her advisers had an altogether better innate understanding of what makes the ambitious working classes and lower middle classes tick than Boris Johnson's administration. Which is why her flagship policy of bringing in the right-to-buy their council houses at a discount scored an electoral bullseye with aspirational voters …
If Tory MPs in red wall seats think this policy is going to delight many of their constituents then I predict that they are about to be disabused of that notion.
It is still too early to tell what most Red Wall voters think of a rise in the minimum wage, but Patrick O'Flynn's arguments make sense.
Guido Fawkes agrees with O'Flynn and thinks that Red Wall voters would benefit from a reduction in basic income tax rates. Guido took issue with an article in Politico. 'UC' stands for Universal Credit:
Sleaze
In November 2021, the then-MP for North Shropshire, Owen Paterson, faced accusations of sleaze via his lobbying. He was forced to resign the seat he had long held. A Liberal Democrat won the by-election.
Some Conservative MPs tried to save Paterson from a 30-day suspension. However, Red Wall MPs were not among them. They objected to having a whipped vote to give Paterson a reprieve. Some voted against the Government, and rightly so.
The rest of the nation also disapproved. This was the beginning of low polling results for Conservatives. It wasn't long afterwards that Labour began leading in the weekly polls. They still do.
Not only did Red Wall MPs disapprove, so did their voters, as the Daily Mail explained:
Boris Johnson is struggling to contain mounting fury on Tory benches today as a poll laid bare the damage inflicted by his bungled effort to save ally Owen Paterson from punishment for lobbying.
Research by YouGov carried out in the wake of the dramatic Commons vote to suspend the standards system showed the Tory poll lead plunging by five points.
The party is now just one point ahead of Labour, after dropping from 39 per cent to 36 per cent in a week, while Keir Starmer has seen a boost to 35 per cent, according to the survey in The Times.
Education Secretary Nadhim Zahawi tried to cool the growing backlash among MPs this morning, admitting that the government 'made a mistake' in retrospectively tying Mr Paterson's case to wider reforms.
Meanwhile, a blame game is in full swing over who was responsible for the meltdown – which culminated last night when Mr Paterson resigned from the Commons after the PM cut him loose. His exit was made official this morning when he was appointed Steward and Bailiff of the Manor of Northstead – the traditional way for MPs to quit the House.
As well as a wave of anger about Mr Johnson's lack of judgment, many Tories have been pointing the finger at chief whip Mark Spencer, saying he should have realised that the tactic would not 'fly'. One MP told MailOnline that Mr Spencer had not done his job properly. 
'If the PM was told about the extent of disatisfaction then he wouldn't have pushed it,' they said. 'You could tell there was a problem because the whips were literally running around the Commons.'
Mr Johnson's media advisers are thought to have warned that the tactics were high-risk, but those pushing the political benefits of shoring up Mr Paterson and reforming the standards regime won the internal argument.  
The premier is said to be 'p****d off' that the crisis has distracted from the progress being made on climate change at the Cop26 conference in Glasgow. Senior MPs said he was also 'livid' about triumphalist interviews by Mr Paterson in which he claimed he would not change anything about his past behaviour. 
One Conservative MP who spoke to The Mail said:
'I had two marginal male MPs from Red Wall seats in tears looking at their social media feed, looking at their emails coming in after the vote, going 'what the hell have we done?'.'
… 'The chat on the WhatsApp groups is that the whips can stick their whipping up their a***. It's now every man for himself,' they said.
Chief Whip Mark Spencer recently became the new Leader of the House as Jacob Rees-Mogg moved to a new Cabinet position for Brexit opportunities.
Latest news
Many Red Wall MPs were incensed to learn of the Downing Street parties during lockdown.
Some began joining forces on January 18, 2021, when Boris apologised to Parliament:
As someone tweeted, this could have been about damage limitation for themselves:
Boris met with his own MPs that evening:
Lee Anderson is a former Labour councillor. He often confronts Labour benches with their own dismal record in local and national government.
The Red Wall MPs' plot to write letters of no confidence to Sir Graham Brady became known as the Pork Pie Plot, because their alleged leader, Alicia Kearns, represents Rutland and Melton. Melton Mowbray is home to England's famous pork pies.
Steven Swinford, The Times's political editor, spoke with a member of Cabinet who found the rebellion a disgrace:
The Red Wall plot to remove Boris Johnson – with Tory MPs meeting to discuss submitting letters – is not going down well in Cabinet
'It's pretty sickening. They were only elected because of him. Most of them are a load of —-ing nobodies. It's nuts'
Hmm:
With the current situation in Ukraine, the Pork Pie Plot seems like a long time ago. Then again, a week is a long time in politics.
The next thing Red Wall residents can look forward to is a Northern branch of Conservative Party Headquarters in Leeds, which is not part of the Red Wall, but it's close enough. Pictured is Party chairman Oliver Dowden MP:
Guido Fawkes wrote that this had been a promise from Government since 2020:
The Tories look set to imminently boost their red wall presence – and given recent polling, not a moment too soon. A party source tells Guido that their long-awaited Leeds campaign headquarters – first announced by Amanda Milling way back in September 2020 – is set to open in mere weeks …
… staff are already at work following a prolonged recruitment drive and the project will get up to full steam when work-from-home guidance is lifted. Another source suggested given recent events the party will be keen for the moment to be noticed by the media. Guido looks forward to Dowden's forthcoming ribbon-cutting…
I will have more on the Red Wall coming soon: profiles of those MPs with the most spark.
Andrew Neil, veteran BBC journalist and chairman of The Spectator worldwide, hosted Episode 7 of The Week in 60 Minutes on Thursday, October 15, 2020:
A summary follows.
Not surprisingly, given events of the past week, coronavirus led the news.
Andrew Neil began with England's increasing number of regional lockdowns. It would seem that Prime Minister Boris Johnson is no longer following the science. The Labour and official Leader of the Opposition, Sir Keir Starmer, wants another national lockdown. The political editor of The Spectator, James Forsyth, said that, whatever coronavirus crisis measures Boris Johnson takes, he's 'damned if he does, damned if he doesn't' and has to deal with the damage of lockdowns.
Across the Channel in France, Emmanuel Macron has been following a similar strategy to that of Downing Street and is very concerned about COVID-19 in all respects. Neil asked about last week's contretemps in Ireland. Forsyth said that Ireland's dispute between their government and medical experts was played out in public; by contrast, in the UK, it was in private. In any event, he said that scientists are now in a position of 'negotiation'.
The magazine's deputy political editor, Katy Balls, was on next to discuss Labour's position on coronavirus. Labour MPs disagreed with Keir Starmer behind the scenes, a move which she said has united the Conservatives. That said, it seems England could well be heading towards a short 'circuit breaker', although that would be very difficult for Conservative MPs to stomach.
Forsyth said that this is a very dangerous time for the Government. Starmer could even emerge victorious. ('At some point', I might add, as Boris has a majority of 79 [from 80], and no general election is due before 2024.) At this stage, it's too soon to tell. He said that no one knows if a circuit breaker would actually work in England.
The Spectator's editor Fraser Nelson was up next. He said that Boris was pretty well on to the way to a national lockdown, adding that he lacks the way to fight off SAGE, having been  'outmanoeuvered'.
Neil asked about a recent poll showing approval for more coronavirus restrictions. Ben Page from IPSOS-Mori explained the polls, which showed that 62% of respondents thought that stricter measures should be taken. Page indicated that these were somewhat alarming results: 'quite astonishing in some ways … across the piece'.
Forsyth noted that 19% of Conservative voters in England oppose increased restrictions, which poses a problem for Boris because it creates a North-South divide. Ben Page countered that the polling support for Labour and Conservative has been fairly stable this year. Labour haven't been able to gain much ground since December 2019.
Jake Berry MP, a Conservative representing the northern constituency of Rossendale and Darwen in Lancashire, spoke next. He said that, although their regional lockdown had been relaxed recently, they are now on Tier 2. He said that people are largely ignoring the Government guidelines and will comply only with what they think is appropriate. He does not favour a national lockdown but supports a local circuit breaker 'based on the data', so that it becomes less political for the public. He believes that the Government could have 'handled the North better' and that recent weeks have proven a 'very dangerous moment for Parliament and the North'. That said, he added that Labour 'is in quite a lot of trouble over this as well' and said Starmer committed quite a big mistake this week when calling for a national circuit breaker.
Berry further advised that we need to give this new two-week regional lockdown the benefit of the doubt which might lead for in-and-out local lockdowns.
Neil then changed tack, moving across the Channel to France, with its local 10 p.m. coronavirus curfews (some of which are now at 9 p.m.) and a campaign against extremism.
Ayaan Hirsi Ali, speaking to the latter point, was the next guest. She was sceptical about any success against extremism. She said that extremists have convinced French immigrants they are living within another type of state to which they do not feel they naturally belong. She added that this is enough to subvert the French nation. She also said that the same narrative is going on in other Western nations, because leaders remain silent and refuse to admit what is really going on.
Talk then turned to Brexit arrangements, which were to have been concluded that day. James Forsyth said that the EU threw the ball into the UK's 'court'. That leaves the situation whereby Michel Barnier wants to carry on talks but neither side wants to back down.
Forsyth expects there will be a deal to be done 'but with a twist in the tail'. Fraser Nelson said that Boris and Macron communicate with each other quite closely and expected that Britain will budge over fishing rights. It will be, he predicted, one for revision: 'a process rather than an event'.
Forsyth said there could be a November deadline, even though neither side wants an early deadline because they do not want any changes to the deal. He predicted a last minute November 15 deal.
The last part of the programme concerned protecting the triple lock pension with Katy Balls affirming that Boris is 'committed to it'.
The panel noted Boris's 'unstrustworthiness' problem with voters. Questions from listeners followed for the last ten minutes. Ben Page said that the Labour Party is very unpopular even if Keir Starmer is popular in the polls.
Viewers are grateful to Charles Stanley Wealth Managers for sponsoring the programme.