You are currently browsing the tag archive for the 'James Forsyth' tag.
While this is a change to the previous schedule of analysing Liz Truss's premiership, more about which next week, there are references below as to why hers and Kwasi Kwarteng's plan was the right one for the UK.
Chancellor Jeremy Hunt delivered his Autumn Statement — a Labourite Conservative budget — on Thursday, November 17, 2022.
Compared with Kwasi Kwarteng's fiscal event of September 23, this will be a disaster for most middle class Britons.
It was clear that Hunt designed this budget to placate the all-hallowed — for whatever reason — OBR (Office for Budget Responsibility) and the markets. Stability is their watchword. Growth, regardless of what Hunt said yesterday, plays little part in our economy for the foreseeable future.
Unlike Kwarteng's, which did focus on growth, Hunt's statement had little to no consideration of the British taxpayer in a cost of living crisis.
What Hunt said
Before going into Hunt's address, Guido Fawkes has a brief summary and the full detail from the Treasury, a 70-page document.
Below are excerpts from Hunt's Autumn Statement to the House of Commons (emphases mine):
… today we deliver a plan to tackle the cost of living crisis and rebuild our economy. Our priorities are stability, growth and public services. We also protect the vulnerable, because to be British is to be compassionate and this is a compassionate Conservative Government.
Remember when then-Chancellor Rishi Sunak told us we did not have to worry about the cost of borrowing and borrowing itself during the pandemic? Well, now we have to worry:
Most countries are still dealing with the fallout from a once-in-a-century pandemic. The furlough scheme, the vaccine roll-out and the response of the NHS did our country proud, but they all have to be paid for.
Hunt paid homage to the Bank of England and had a poke at Kwarteng for not doing so:
So the Bank of England, which has done an outstanding job since its independence, now has my wholehearted support in its mission to defeat inflation and I today confirm we will not change its remit. But we need fiscal and monetary policy to work together, and that means the Government and the Bank working in lockstep.
He delivered a deeper attack on Kwarteng:
I understand the motivation of my predecessor's mini-Budget and he was correct to identify growth as a priority, but unfunded tax cuts are as risky as unfunded spending, which is why we reversed the planned measures quickly. As a result, Government borrowing has fallen, the pound has strengthened and the OBR says today that the lower interest rates generated by the Government's actions are already benefiting our economy and public finances. But credibility cannot be taken for granted and yesterday's inflation figures show we must continue a relentless fight to bring it down, including a rock solid commitment to rebuild our public finances.
He bowed before the all-powerful OBR, whose forecasts have not been terribly accurate over the past few years. Let us see if these come true in the coming months:
Richard Hughes and his team at the OBR today lay out starkly the impact of global headwinds on the UK economy, and I am enormously grateful to him and his team for their thorough work. The OBR forecasts the UK's inflation rate to be 9.1% this year and 7.4% next year. It confirms that our actions today help inflation to fall sharply from the middle of next year. It also judges that the UK, like other countries, is now in recession. Overall this year, the economy is still forecast to grow by 4.2%. GDP then falls in 2023 by 1.4%, before rising by 1.3%, 2.6% and 2.7% in the following three years. The OBR says higher energy prices explain the majority of the downward revision in cumulative growth since March. It also expects a rise in unemployment from 3.6% today to 4.9% in 2024, before falling to 4.1%.
This is Hunt's strategy, with the blessing of the OBR and borrowing Sunak's morality from the August leadership campaign about leaving debts to the next generation:
I also confirm two new fiscal rules. The first is that underlying debt must fall as a percentage of GDP by the fifth year of a rolling five-year period. The second is that public sector borrowing over the same period must be below 3% of GDP. The plan I am announcing today meets both rules.
Today's statement delivers a consolidation of £55 billion, and means inflation and interest rates end up significantly lower. We achieve this in a balanced way. In the short term, as growth slows and unemployment rises, we will use fiscal policy to support the economy. The OBR confirms that, because of our plans, the recession is shallower and inflation is reduced. Unemployment is also lower, with about 70,000 jobs saved as a result of our decisions today. Then, once growth returns, we increase the pace of consolidation to get debt falling. This further reduces the pressure on the Bank to raise interest rates, because as Conservatives we do not leave our debts to the next generation.
So this is a balanced path to stability, tackling inflation to reduce the cost of living and protect pensioner savings, while supporting the economy on a path to growth. But it means taking difficult decisions.
Hunt then discussed the fiscal drag elements of the budget. Fiscal drag means drawing the unsuspecting into paying new and more tax:
I start with personal taxes. Asking more from those who have more means that the first difficult decision I take on tax is to reduce the threshold at which the 45p rate becomes payable from £150,000 to £125,140. Those earning £150,000 or more will pay just over £1,200 more in tax every year. We are also taking difficult decisions on tax-free allowances. I am maintaining at current levels the income tax personal allowance, higher rate threshold, main national insurance thresholds and the inheritance tax thresholds for a further two years, taking us to April 2028. Even after that, we will still have the most generous set of tax-free allowances of any G7 country.
I was amazed he could talk about 2028 with a straight face. By then, we will probably have a Labour government. Oh well, he's done their work for them.
Continuing on tax rises, he said:
I am also reforming allowances on unearned income. The dividend allowance will be cut from £2,000 to £1,000 next year, and then to £500 from April 2024. The annual exempt amount for capital gains tax will be cut from £12,300 to £6,000 next year, and then £3,000 from April 2024. Those changes still leave us with more generous allowances than countries such as Germany, Ireland, France, and Canada.
Because the OBR forecasts that half of all new vehicles will be electric by 2025, to make our motoring tax system fairer, I have decided that from then electric vehicles will no longer be exempt from vehicle excise duty. Company car tax rates will remain lower for electric vehicles, and I have listened to industry bodies and will limit rate increases to 1 percentage point a year for three years from 2025.
At least he kept one thing from Kwarteng's statement:
The OBR expects housing activity to slow over the next two years, so the stamp duty cuts announced in the mini-Budget will remain in place but only until 31 March 2025. After that, I will sunset the measure, creating an incentive to support the housing market, and the jobs associated with it, by boosting transaction during the period when the economy most needs it.
He won't even be Chancellor then.
Moving on to businesses:
I now turn to business taxes. Although I have decided to freeze the employers national insurance contributions threshold until April 2028, we will retain the employment allowance at its new higher level of £5,000. That means that 40% of all businesses will pay no NICs at all. The VAT threshold is already more than twice as high as the EU and OECD averages. I will maintain it at that level until March 2026.
Then came the windfall tax:
Can I just say that any such tax should be temporary, not deter investment and recognise the cyclical nature of energy businesses? So, taking account of that, I have decided that from 1 January until March 2028 we will increase the energy profits levy from 25% to 35%. The structure of our energy market also creates windfall profits for low-carbon electricity generation, so we have decided to introduce, from 1 January, a new, temporary 45% levy on electricity generators. Together, those measures will raise £14 billion next year.
Business rates have been a thorn in the side of those enterprises on our high streets. Here, it would seem, Hunt offered some relief:
Finally, I turn to business rates. It is an important principle that bills should accurately reflect market values, so we will proceed with the revaluation of business properties from April 2023, but I will soften the blow on businesses with a nearly £14 billion tax cut over the next five years. Nearly two thirds of properties will not pay a penny more next year and thousands of pubs, restaurants and small high street shops will benefit. That will include a new Government-funded transitional relief scheme, as called for by the CBI, the British Retail Consortium, the Federation of Small Businesses and others, benefiting around 700,000 businesses.
Then he turned to people on benefits, proving that Sunak's furlough scheme during the pandemic was more than adequate:
… I am proud to live in a country with one of the most comprehensive safety nets anywhere in the world. But I am also concerned that we have seen a sharp increase in economically inactive working-age adults of about 630,000 people since the start of the pandemic. Employment levels have yet to return to pre-pandemic levels, which is bad for businesses who cannot fill vacancies and bad for people missing out on the opportunity to do well for themselves and their families, so the Prime Minister has asked the Work and Pensions Secretary to do a thorough review of issues holding back workforce participation, to conclude early in the new year.
Alongside that, I am also committed to helping people already in work to raise their incomes, progress in work and become financially independent. So we will ask over 600,000 more people on universal credit to meet with a work coach so that they can get the support that they need to increase their hours or earnings. I have also decided to move back the managed transition of people from employment and support allowance on to universal credit to 2028, and will invest an extra £280 million in the DWP to crack down on benefit fraud and error over the next two years. The Government's review of the state pension age will be published in early 2023.
He then discussed foreign spending:
… I salute the citizens of another country right on the frontline … the brave people of Ukraine. The United Kingdom has given them military support worth £2.3 billion since the start of Putin's invasion, the second highest contribution in the world after the United States, which demonstrates that our commitment to democracy and open societies remains steadfast. In that context, the Prime Minister and I both recognise the need to increase defence spending. But before we make that commitment, it is necessary to revise and update the integrated review, written as it was before the Ukraine invasion. I have asked for that vital work to be completed ahead of the next Budget and today I confirm that we will continue to maintain the defence budget at at least 2% of GDP to be consistent with our NATO commitment.
I was pleased to hear that overseas aid will stay at 0.5%:
Another important international commitment is to overseas aid. The OBR's forecasts show a significant shock to public finances, so it will not be possible to return to the 0.7% target until the fiscal situation allows. We remain fully committed to that target, and the plans I have set out today assume that official development assistance spending will remain around 0.5% for the forecast period. As a percentage of GNI, we were the third highest donor in the G7 last year, and I am proud that our aid commitment has saved thousands of lives around the world.
Net Zero is still going ahead:
I also confirm that, despite the economic pressures, we remain fully committed to the historic Glasgow climate pact agreed at COP26, including a 68% reduction in our own emissions by 2030.
He discussed schools, beginning with those in England:
… we have risen nine places in the global league tables for maths and reading in the last seven years.
… as Chancellor I want to know the answer to one simple question: will every young person leave the education system with the skills they would get in Japan, Germany or Switzerland? So, I have appointed Sir Michael Barber to advise me and my right hon. Friend the Education Secretary on the implementation of our skills reform programme.
… Some have suggested putting VAT on independent school fees as a way of increasing core funding for schools, which would raise about £1.7 billion. But according to certain estimates, that would result in up to 90,000 children from the independent sector switching to state schools, giving with one hand only to take away with another.
So instead of being ideological, I am going to be practical: because we want school standards to continue to rise for every single child, we are going to do more than protect the schools budget—we are going to increase it. I can announce today that next year and the year after, we will invest an extra £2.3 billion per annum in our schools.
He has asked a former Labour MP, Patricia Hewitt, to help him reform the NHS. Oh, my days:
I have asked the former Health Secretary and chair of the Norfolk and Waveney integrated care system, Patricia Hewitt, to help me and the Health Secretary to achieve that by advising us on how to make sure that the new integrated care boards, the local NHS bodies, operate efficiently and with appropriate autonomy and accountability. I have also had discussions with NHS England about the inflationary pressures on their budgets.
More money will be pumped into the system:
With £3.3 billion for the NHS and £4.7 billion for social care, there is a record £8 billion package for our health and care system. That is a Conservative Government putting the NHS first.
Barnett consequentials, which come from the hard-pressed English taxpayer, will also increase:
The NHS and schools in Scotland, Wales and Northern Ireland face equivalent pressures, so the Barnett consequentials of today's decisions mean an extra £1.5 billion for the Scottish Government, £1.2 billion for the Welsh Government, and £650 million for the Northern Ireland Executive. That means more resources for the schools and hospitals in our devolved nations next year, the year after and every year thereafter.
A new energy strategy will be forthcoming from the Business Secretary.
These are Hunt's infrastructure commitments:
… today I can announce that I am not cutting a penny from our capital budgets in the next two years, and I am maintaining them at that level in cash terms for the following three years. That means that although we are not growing our capital budget as planned, it will still increase from £63 billion four years ago to £114 billion next year and £115 billion the year after, and will remain at that level—more than double what it was under the last Labour Government.
Smart countries build on their long-term commitments rather than discarding them, so today I confirm that because of this decision, alongside Sizewell C, we will deliver the core Northern Powerhouse Rail, HS2 to Manchester, East West Rail, the new hospitals programme and gigabit broadband roll-out. All these and more will be funded as promised, with over £600 billion of investment over the next five years to connect our country and grow our economy.
Our national Conservative mission is to level up economic opportunity across the country. That, too, needs investment in infrastructure, so I will proceed with round 2 of the levelling-up fund, at least matching the £1.7 billion value of round 1. We will also drive growth across the UK by working with the Scottish Government on the feasibility study for the A75, supporting the advanced technology research centre in Wales and funding a trade and investment event in Northern Ireland next year.
He is bringing devolution to England in the form of mayoralties:
Our brilliant [Conservative] Mayors such as Andy Street and Ben Houchen have shown the power of civic entrepreneurship. We need more of this inspirational local leadership, so today I can announce a new devolution deal that will bring an elected Mayor to Suffolk, and deals to bring Mayors to Cornwall, Norfolk and an area in the north-east to follow shortly. We are also making progress towards trailblazer devolution deals with the Greater Manchester Combined Authority and the West Midlands Combined Authority, and soon over half of England will be covered by devolution deals. Taken together, that £600 billion investment in our future growth represents the largest investment in public works for 40 years, so our children and grandchildren can be confident that this Conservative Government are investing in their future.
Hunt is altering the Truss-Kwarteng investment zones to be more in line with Michael Gove's aspirations for levelling up:
I will also change our approach to investment zones, which will now focus on leveraging our research strengths by being centred on universities in left-behind areas, to help to build clusters for our new growth industries. My right hon. Friend the Levelling Up Secretary will work with Mayors, devolved Administrations and local partners to achieve this, with the first decisions announced ahead of the spring Budget.
The Truss-Kwarteng energy support plan remains in place until the end of March 2023:
I pay tribute to my predecessor, my right hon. Friend the Member for Spelthorne (Kwasi Kwarteng), and to the former Prime Minister, my right hon. Friend the Member for South West Norfolk (Elizabeth Truss), for their leadership in this area. This winter, we will stick with their plan to spend £55 billion to help households and businesses with their energy bills—one of the largest support plans in Europe. From April, we will continue the energy price guarantee for a further 12 months at a higher level of £3,000 per year for the average household. With prices forecast to remain elevated throughout next year, this will mean an average of £500 of support for every household in the country.
There is more help for the most vulnerable:
At the same time, for the most vulnerable, we will introduce additional cost of living payments next year of £900 to households on means-tested benefits, £300 to pensioner households and £150 for individuals on disability benefit. We will also provide an additional £1 billion of funding to enable a further 12-month extension to the household support fund, helping local authorities to assist those who might otherwise fall through the cracks. For those households that use alternative fuels such as heating oil and liquefied petroleum gas to heat their homes, I am today doubling the support from £100 to £200, which will be delivered as soon as possible this winter. Before the end of this year, we will also bring forward a new targeted approach to support businesses from next April.
But I want to go further to support the people most exposed to high inflation. Around 4 million families live in the social rented sector—almost one fifth of households in England. Their rents are set at 1% above the September inflation rate, which means that on current plans they are set to see rent hikes next year of up to 11%. For many, that would just be unaffordable, so today I can announce that this Government will cap the increase in social rents at a maximum of 7% in 2023-24. Compared with current plans, that is a saving for the average tenant of £200 next year.
Labour started a commotion at this point. Hunt then announced a rise in the minimum wage:
This Government introduced—[Interruption.] I thought they cared about the most vulnerable! This Government introduced the national living wage, which has been a giant step in eliminating low pay, so today I am accepting the recommendation of the Low Pay Commission to increase it next year by 9.7%. This means that, from April 2023, the hourly rate will be £10.42, which represents an annual pay rise worth over £1,600 to a full-time worker. It is expected to benefit over 2 million of the lowest-paid workers in our country, and it keeps us on track for our target to reach two thirds of median earnings by 2024. It is the largest increase in the UK's national living wage ever.
Benefits will increase by the rate of inflation:
… today I commit to uprating such benefits by inflation, with an increase of 10.1%. That is an expensive commitment, costing £11 billion, but it means that 10 million working-age families will see a much-needed increase next year, which speaks to our priorities as a Government and our priorities as a nation. On average, a family on universal credit will benefit next year by around £600. To increase the number of households that can benefit from this decision, I will also exceptionally increase the benefit cap by inflation next year.
Finally, I have talked a lot about the British values of compassion, hard work, dignity and fairness, but there is no more British value than our commitment to protect and honour those who built the country we live in, so to support the poorest pensioners I have decided to increase pension credit by 10.1%, which is worth up to £1,470 for a couple and £960 for a single pensioner in our most vulnerable households, but the cost of living crisis is harming not just our poorest pensioners but all pensioners.
The triple-lock stays:
Because we have taken difficult decisions elsewhere today, I can also announce that we will fulfil our pledge to the country to protect the pension triple lock. In April, the state pension will increase in line with inflation, an £870 increase, which represents the biggest ever increase in the state pension. To the millions of pensioners who will benefit from this measure, I say: "Now and always, this Government are on your side."
Hunt did not receive a jubilant reception from Conservative MPs, some of whom had concerns.
Dr Liam Fox asked about quantitative easing and interest rates:
I congratulate my right hon. Friend on a balanced and skilful statement prioritising fiscal stability. He will be aware that some of us believe that the Bank of England maintained monetary conditions that were too loose for too long, but that it would also be a mistake to maintain monetary conditions that are too tight for too long. Can he therefore confirm that the anti-inflationary measures that he has taken today will mean that the pressure to raise interest rates will be minimised, and that there is a much greater chance that they will fall earlier than would otherwise have been the case?
Hunt replied:
My right hon. Friend is absolutely right to focus on this issue, because every 1% increase in interest rates is about £850 more on the average mortgage, so it is hugely important to families up and down the country. The OBR has said that the measures that we have taken today will mean that inflation is lower than it would otherwise have been. That means that the Bank of England is under less pressure to increase interest rates, which for reasons that he knows are such a worry for so many families.
Sir William Cash was concerned about the ever-increasing costs of the HS2 rail project:
My right hon. Friend argued for sound money and sound foundations. Would he be good enough to explain how it is that High Speed 2 will continue beyond Birmingham at a verifiable cost of at least £40 billion, when every independent report on HS2 condemns the project and confirms that phase 2 will make rail services to all west coast destinations north of Birmingham much worse? I ask him to make a clear commitment to keep this matter under review at all costs; it is in the national interest.
Hunt said:
My hon. Friend is right that the increases in the budget for HS2 are disappointing, but a strong economy needs to have consistency of purpose, and that means saying we will make sure that we are a better connected country. The lack of those connections is one of the fundamental reasons for the differences in wealth between north and south, which we are so committed to addressing. There is a bigger issue about the way that we do infrastructure projects: it takes too long, and the budgets therefore get out of control. We are just not very good at it, and we have to sort it out.
Theresa Villiers rightly asked how soon we could move to a lower-tax economy if the forecasts are wrong. For me, this was the question of the day:
I thank the Chancellor for the announcement on schools funding, which, as he knows, is something that I raised with him as being crucial. Can he also confirm that, if current forecasts about economic recovery and inflation prove to be overly pessimistic, we will move more quickly than he has announced today towards delivering a lower-tax economy?
Hunt was non-committal:
My right hon. Friend is an immensely experienced colleague. She is right to point out that there is always inaccuracy in any forecast, and there is always variation from fiscal event to fiscal event, so we keep all those decisions under review in the round. I think it is still important to have forecasts—that is better than not to have them—but we keep all those decisions under review.
Virginia Crosbie from Ynys Môn in Wales asked how soon the new nuclear programme would begin:
This Government's commitment to Sizewell C and large-scale nuclear is welcome, and it was noted that Labour's shadow Chancellor failed to mention nuclear. When will the launch of Great British Nuclear be announced, and will its scope include large-scale gigawatt nuclear at sites such as Wylfa in my constituency, as well as small modular reactors?
Hunt was encouraging:
There is no more formidable advocate for big nuclear investment on Ynys Môn than my hon. Friend. Indeed, when I went on a family holiday to Ynys Môn this summer, she tried to persuade me to visit the potential site of a nuclear power station with my children. I apologise that I did not take her up on the offer, but it shows her commitment. My right hon. Friend the Business Secretary will be making an announcement soon on things such as the launch of Great British Nuclear—I hope before Christmas, but if not just afterwards—because we want to crack on with our nuclear programme.
Richard Drax was concerned about the burden on the taxpayer, another excellent question:
I have huge sympathy for my right hon. Friend. We are facing severe financial challenges for the reasons he explained so well, but Members on both sides of the House are promising to spend billions and billions more pounds. I remind the House that it is the private sector, and hardworking people through their taxes, who pay for Government expenditure. Does my right hon. Friend agree that raising taxes on both risks stifling the growth and productivity that he and I both want, and that would counter the recession we are now in?
Hunt defended his budget:
My hon. Friend is right to make the case for a lightly taxed dynamic economy, and I would like to bring taxes down from their current level. We are faced with the necessity of doing something fast to restore sound money and bring inflation down from 11%, which is why we have made difficult decisions today. But yes, my hon. Friend is absolutely right: there is no future for this country unless we get back on the path to being a lower taxed economy.
Mark Pawsey asked about small businesses:
My constituents in Rugby and Bulkington will not enjoy the tough decisions that the Chancellor has had to make today, but they will understand the need for sound finances after the huge expenditure that the country has made on the pandemic and supporting people with their energy costs as a consequence of the war in Ukraine. They will also want to know that businesses will continue to invest to grow and to create jobs. Will he speak about the incentives that still exist for businesses to do exactly that?
Hunt pledged his support:
I am happy to do that. My hon. Friend is quite right to raise those issues. We are doing a lot of short-term things, including help with energy bills as well as business rates. As we move to a new business rates system, we are freezing the levels at which business rates can increase and introducing a 75% discount next year for retail, hospitality and leisure businesses. Fundamentally, as a Conservative Government, we know that we cannot flourish as an economy without flourishing small businesses, and we will back them to the hilt.
Greg Smith asked what Hunt was doing about reducing fuel duty:
I absolutely agree with my right hon. Friend when he talks about the inflationary pressures coming from the aftershocks of the pandemic and the war in Ukraine. We see that at the fuel pumps and, more significantly, our haulage and logistics sector sees it with the enormous level of taxation on diesel in particular driving inflation to get food and goods on to our shelves. As he prepares for the March Budget, will he look at the inflationary impact of fuel duty on top of the high cost of diesel and see whether we can reduce it?
Hunt said he was looking at the issue:
I assure my hon. Friend that I will absolutely do that. We have a little time, and I know that fuel duty is an important issue to him and many other colleagues.
March 2023 — fuel duty hike
Hunt's answer to Greg Smith on the fuel duty hike sounded reassuring, but GB News's economic editor Liam Halligan uncovered a planned fuel duty hike of 23% for March 2023 from the OBR forecast. It would be the first since 2011:
Here's Liam Halligan talking about it:
Forbes noticed it, too, bringing the news to an even wider international audience: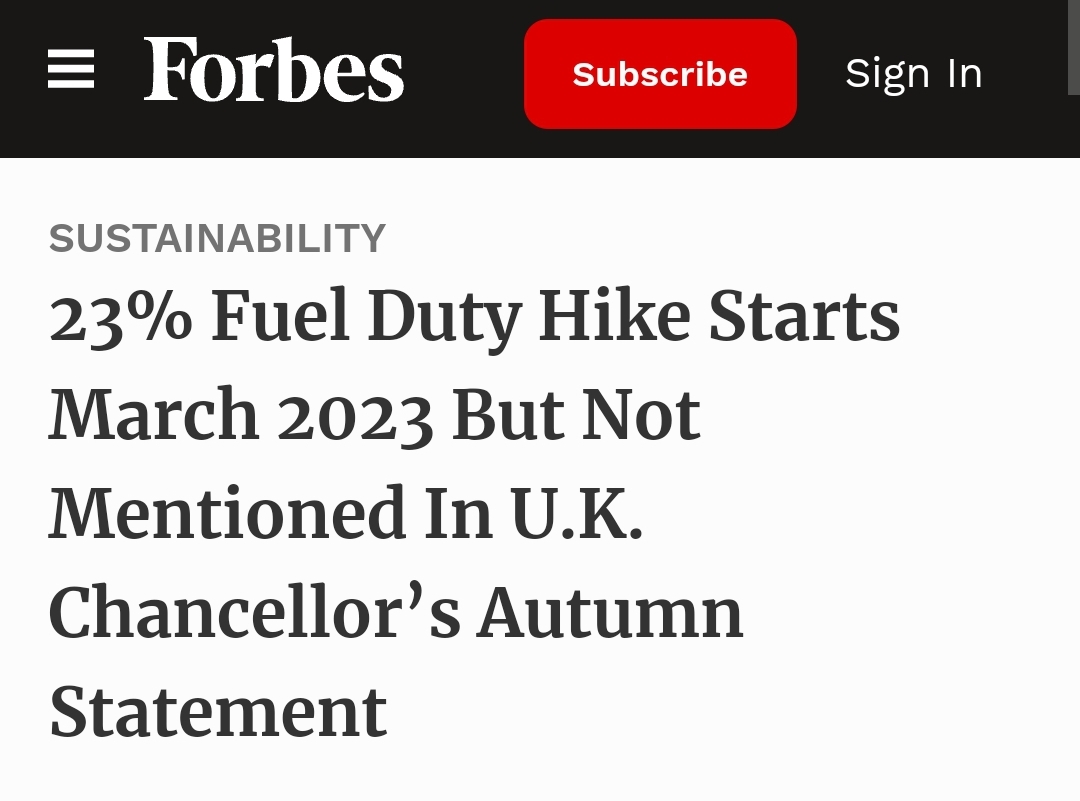 Fiscal drag
The Times had an article on the upcoming fiscal drag following Hunt's budget:
Disposable incomes, after adjusting for inflation, will fall by 4.3 per cent in 2022-23, which would be the largest fall since records began in the 1950s. It is set to be followed by the second largest fall — in 2023-24 — of 2.8 per cent.
… Despite the aspirations of Rishi Sunak to create a low-tax economy, Britain is on course for its biggest ever tax burden as hundreds of thousands of workers are dragged into higher income tax bands by the freezing of thresholds and allowances while businesses also face a jump in levies, including employment taxes.
The tax burden is set to rise to 37.5 per cent of GDP in the financial year ending 2025, reaching the highest level since records began shortly after the Second World War.
The level of taxation as a share of the national income will rise to 36.4 per cent of GDP this year and 37.4 per cent in the financial year ending 2024, breaking the previous record.
Recovery is not likely to begin until 2025, several months after the next general election. This is accurate only if Conservatives are still in power by then:
GDP is expected to rise by 4.2 per cent this year before falling by 1.4 per cent next year, only returning to pre-pandemic levels by the end of 2024. However, growth is expected to pick up to 2.6 per cent the following year and 2.7 per cent in 2026, following a recovery in real incomes, consumption and investment.
The Telegraph also had an article on fiscal drag:
Nearly a quarter of a million workers will be dragged into paying the 45p rate of income tax after Jeremy Hunt slashed the threshold at which it is charged.
The salary on which the additional rate is payable will be reduced from £150,000 to £125,140 effective next April, Chancellor Jeremy Hunt announced in the Autumn Statement, and frozen until 2028, forcing 232,000 workers into paying the top rate of tax for the first time and costing these quarter of a million taxpayers £620 on average, according to wealth manager Quilter.
The number of workers paying 45pc has more than doubled since the rate was first introduced in 2010 – rising from 236,000 to 629,000 today – as wage inflation has pushed more taxpayers into the highest income tax band.
Lowering the threshold will cost the 629,000 workers earning over £150,000 who are already impacted by the 45pc tax an additional £1,250 …
Just two months ago, then-Chancellor Kwasi Kwarteng promised that the top rate would be abolished altogether. But now the Government is hoping to earn £420m in 2023-24 by catching more taxpayers in the 45pc net, and almost double that – £855m – in 2027-28.
Neela Chauhan of accountancy firm UHY Hacker Young said the move was "a major attack" on higher earners.
She added: "It's going to bring in people into the upper rate who feel that they are far from being rich."
Tax firm RSM said that there are also unexpected consequences of slashing the additional-rate threshold and the Chancellor had opened the door to a new 67.5pc tax rate.
Taxpayers earning over £100,000 lose their personal allowance at a rate of £1 for every £2 of income.
This means for every £100 they earn between £100,000 and £125,140, a worker takes home just £40 – because £40 is lost to income tax and another £20 to the tapering of the personal allowance – creating a 60pc tax trap.
Dismal headlines
The Guardian has a breakdown of last Friday's front pages, which were bleak.
The Telegraph noted the austerity of George Osborne, Chancellor when the Conservative-Lib Dem coalition took over from in 2010, and the Labourite policies of his predecessor Gordon Brown. At the bottom of the page is an analysis from Lord Frost:
Lord Frost's analysis is pro-Truss/Kwarteng
Lord Frost points out that the OBR are predicting what Liz Truss did just a few weeks ago:
This was a very curious Autumn Statement. For the last month, we have been told that Britain needed to re-establish the confidence of the markets and put in place renewed fiscal discipline, supposedly so carelessly squandered by Liz Truss. "Eye-wateringly painful decisions" were coming for all of us …
… public spending will be at its highest since the 1970s and taxation the highest since the Second World War. Both only start to fall, gently, in the late 2020s, and then only because of some pretty heroic assumptions about growth. Indeed, under Liz Truss we were told that 2.5 per cent growth was impossible – yet the Office for Budget Responsibility (OBR) is predicting exactly that for 2025 and 2026.
How do we explain this?
To do so, I think, we have to go back to that extraordinary week in mid-October, when Truss's government blew up on the launch pad. 
She was levered out of Downing Street with the argument that she had been careless about the public finances, casual about fiscal discipline and had lost market confidence. An emergency correction was needed – tax rises or spending cuts, and probably both.
Yet on taking office, our current government will have found – as the OBR has now acknowledged – that we were already into a deepening recession. Tightening fiscal policy with growth collapsing and interest rates increasing globally would clearly have been an insane policy, one at variance with what virtually every economist would suggest. But, having destroyed the Truss administration for being insufficiently fiscally disciplinarian, the Government could hardly overtly change course itself.
That is why we got what we got. Keep growing spending, raise taxes now on unpopular groups, defer deficit reduction and everything else until 2025, and meanwhile talk a lot about austerity and discipline to disguise the reality that this is likely a similar fiscal policy to what Truss's would have been, just at higher levels of tax and spend. Then, after the election, if the Conservatives are still in power, it can all be looked at again …
… Taxes on business wreck investment and growth. Taxes on the (not very) rich destroy incentives. Britain's hard-won reputation for being a low tax country is permanently lost. And we all have less of our own money and are less free.
Another defence of Trussonomics
The Mail reminds us that the Truss plan was to cap energy prices for two years. Hunt has reduced this to the end of March 2023:
Average energy bills will rise to £3,000 a year from April as Chancellor Jeremy Hunt confirmed he was scrapping previous Government plans.
In his Autumn Statement to the House of Commons, Mr Hunt revealed changes to the 'Energy Price Guarantee' would leave Britons facing higher gas and electricity payments next year.
When former prime minister Liz Truss first announced the cost of living support in September, she outlined how average energy bills would be frozen at £2,500 a year for the next two years …
Delivering details of an altered plan today, Mr Hunt revealed the Energy Price Guarantee would now be set at a higher level of £3,000 a year for average households until April 2024.
Of course, those who use less energy at home might have less to pay:
The plan only caps the cost per unit that households pay, with actual bills still determined by how much is consumed.
Sarah Coles, senior personal finance analyst at Hargreaves Lansdown, said:
The fact that this comes on top of so many other price rises means life is going to get even tougher next spring.
More Trussonomics
The Spectator's editor Fraser Nelson wrote an analysis of the budget for The Telegraph, 'This could turn out to be the week that the Tories lost the next election'.
I noted above that some of what Hunt said points far into the future.
Fraser Nelson also observed that fact:
Suspiciously, almost all of this austerity is due to take place after April 2025, after the election. The Tory benches were very quiet during Hunt's speech, perhaps because they were piecing all this together. It was not just an Autumn Statement being written, but the next Conservative manifesto, too – with all the bad stuff saved for after the vote. Hardly the behaviour of a party expecting to win.
As one minister put it: "This was the day we lost the election." This is how some Tories see the Autumn Statement: a suicide note, wrapping a poison pill for a Keir Starmer government to swallow.
This is the alarming rate of borrowing today. Factor in the previous QE and the generous Sunak pandemic programmes when he was Chancellor:
Even now, the Government is borrowing £485 million a day – or £20,000 by the time you finish this sentence. It all needs to be repaid. And the interest we all have to pay for such debt is, broadly, treble what it was a year ago.
The new forecasts show a UK Government expecting to pay £484 billion in debt interest over the next five years – almost £300 billion more than was expected this time last year. This year alone it's £120 billion, twice last year's sum.
This extra £60 billion has had to come from somewhere. It's enough to double the size of the military, treble the police force or rebuild every school or hospital. But instead it is dead money, servicing an old debt – and things need to be squeezed to make room for it. For years, Tories wrote cheques, for HS2 and more, barely thinking about the cost. Now the bill has landed.
Nelson doesn't mention the number of times long-serving Conservative backbenchers warned Sunak over the past two years that the bill would come due, but I saw them in parliamentary debates being duly ignored. To Sunak, those men were mere Thatcherites, so last century. Rishi told us we could borrow with little consequence. Not so.
He created a lot of our current problems and campaigned in August that he would be the candidate to get us out of this situation.
Now he is No. 10, just as he wanted to be from the beginning:
Sunak can't be blamed for the debt interest. But he might have been expected to have better ideas of how to get out of the mess.
Of the Autumn Statement, Nelson writes:
Liz Truss said her message was "growth, growth, growth," but Sunak's seems to be "brace, brace, brace". A massive fiscal impact lies ahead, he says – and our mission is to recognise it, make our peace with it, and accept that talk about a low-tax future is futile. So his Autumn Statement did not kick-start a recovery. It was, instead, a requiem for growth.
Of the August leadership campaign, he reminds us:
During the leadership debate, Truss was asked what advice she would give to Sunak. Don't be so fatalistic, she told him. Don't go along with narratives of decline. She had a point. Groundless optimism ended her premiership very quickly, but groundless pessimism can also be deeply damaging.
Nelson wonders how a government can so quickly discount its people:
A million more Brits, for example, are expected to join the 1.7 million already claiming disability or health-related benefits over the next five years. They will, in turn, join the 3.5 million others on out-of-work benefits. Was it so unreasonable to hope that this number might go down, with people helped back to work? We've been promised a review into all this, but not much else.
Another assumption is that most of the 400,000 who have dropped out of the economy since the pandemic started, citing long-term sickness, will never work again. It's hard to find many other countries giving up so readily on such a stunningly large chunk of the population.
Is a uniquely British malady at work here? Or is the real problem a kind of Tory fatalism, where an exhausted governing party thinks the country is now too old, too sick or simply too workshy to get back to where it was in January 2020?
Many conservative voters said at the time that Rishi's furlough scheme was a bit too helpful — and we were paying for it.
Now we are paying even more for it.
Nelson concludes:
… the risk is that voters make up their mind now – and associate Toryism with chaos, broken promises and a general counsel of despair. Labour just needs to promise to do things better. As things stand, it's not a very high bar.
Feeling fleeced yet?
The Telegraph's editorial warned, 'Hard times ahead for British taxpayers':
Unlike the tumultuous response to Kwasi Kwarteng's unfunded growth measures in September, the market reaction was muted, which is precisely what Mr Hunt hoped for, even if the pound fell against the dollar amid forecasts of a year-long recession …
… benefits and the old age pension will rise in April by 10.1 per cent, the inflation rate in October.
This continues a trend of recent years whereby working people are expected to pay more in tax to protect social programmes that successive governments have been reluctant to reform. Although headline tax rates have not risen, the extended freeze on allowances at a time of double-digit inflation is a serious hit to the incomes of millions who will be dragged into higher bands. Some three million earners will pay income tax for the first time.
This year will see the sharpest fall in living standards on record, while the tax burden rises to its highest level as a share of GDP in decades. More than 47 per cent of national income will be spent in the public sector. In fact, spending will actually rise in real terms. The cuts are to planned budgets.
Rishi Sunak and Mr Hunt consider this social democratic approach to be fair and compassionate, closing off attack lines from Labour as a general election approaches. But there are consequences for the long-term well-being of the country if working people and businesses feel they are being fleeced to prop up failing public services and a benefit system in need of a drastic overhaul.
Essentially, the productive part of the economy is being squeezed to prop up the unproductive. The problem Mr Sunak faces is that, by 2024, the Conservatives will have been in office for 14 years and they need to offer voters a better slogan than "Labour will be worse". In fact, Labour would support many of the measures in the Autumn Statement, from loading more tax on the wealthy to increasing windfall taxes on the energy companies.
… ministers need to prepare for the worst and could proactively address the biggest drags on the economy, above all the NHS, social care and welfare benefits. The health service continues to soak up huge sums – with another £6 billion announced yesterday – and yet produces worse outcomes. Its shortcomings are causing problems throughout the economy, with treatment backlogs contributing to acute manpower shortages which the Government intends to fill by increasing immigration.
The Spectator's political editor James Forsyth, a close friend of Rishi Sunak's, explained in The Times why this recession is different to previous ones and why we need more people in the workforce. I hope his friend pays attention to this:
One bright spot amid the gloom is the unemployment rate, which is just 3.6 per cent, down from 3.8 per cent this year. This is close to historic lows. But even this glimmer is tarnished. The low unemployment number disguises how many people have left the labour force: one in five working-age Brits are economically inactive, meaning they are neither in work nor looking for it. More than five million are claiming out-of-work benefits.
The recession may last a year, perhaps two — but it will be different. Unemployment, as formally defined, won't exceed 5 per cent even during the worst of the downturn — in the 1980s it went into double digits. Seldom have there been more vacancies in the economy. It's an odd form of recession where almost anyone who wants a job can find one, but that's the situation we're in. Almost every month, the number of those not looking for work grows: it jumped by 169,000 in the three months to August. That is more than the population of Oxford.
This has consequences. The OBR thinks the cost of health and disability benefits will rise by £7.5 billion — quite a sum. A shrinking labour market is also one of the reasons why the Bank of England thinks potential growth is now a mere 0.75 per cent even in 2024-25. The Tories desperately need to get back to moving people from welfare into work — not just to reduce the welfare bill but also to boost the economy …
Alongside those not in work nor looking for it, there are 970,000 people on Universal Credit who are working very limited hours in an economy where employers are offering shifts. Hunt announced that about 600,000 of them will now be required to meet a work coach to try to increase their hours. This signals a return to Tory welfare reform …
… to ensure taxes don't need to keep going up indefinitely, two things are needed. The first is a renewed emphasis on public-sector reform. The Tory mantra used to be more for less from public services. But in recent years, it has felt like the opposite is the case. As the Institute for Fiscal Studies pointed out this week, the NHS has more money and more staff than it did before Covid yet is treating fewer people on the waiting list. This needs reversing if the tax burden is not to continue climbing ever higher.
The second is the economy needs to grow. Meat needs to be put on the bones of the growth agenda that Sunak and Hunt set out this week, with further incentives for businesses to invest.
After the debacle of the mini-budget, this autumn statement was always going to be about steadying the ship. Yet satisfying the markets is a necessary but not sufficient condition for a successful government. Sunak and Hunt must now deliver on public service reform, moving people from welfare into work and getting more out of the health and education budgets.
The Telegraph had more on the parlous state of the NHS, despite more taxpayer money being dumped into it, all for nought:
An analysis by the Institute for Fiscal Studies shows the health service in England carried out 600,000 fewer procedures in the first nine months of 2022, compared with the same period in 2019.
The NHS's budget rose from £123.7 billion in 2019-20 to £151.8  billion in 2022-23, with the extra funding tied to a target of increasing elective hospital activity by 30 per cent compared with pre-pandemic levels. This will not only be missed but matters have worsened. Why is no one being held to account?
Record sums have been poured in for years, yet there is now a waiting list of more than seven million patients. Working practices remain stuck in the past, with consultants complaining that hospitals are "like the Mary Celeste" at weekends, while most GP surgeries are only open on weekdays, pushing patients to overstretched A&E services.
The NHS unions are not helping in their demands for more money.
The article concludes:
There is something fundamentally wrong with the NHS which politicians must confront before it crashes and brings the rest of the economy down with it.
Hunt puts economic hope in migrants
It seems the OBR, a quango started by the Conservative Chancellor George Osborne and staffed by Labourites, has convinced Jeremy Hunt that he should increase our already heavy migration levels to boost the economy.
That's a left-wing idea that has never worked.
Home Secretary Suella Braverman will oppose that, but can she succeed? Only a few weeks ago, a 90-minute argument with Liz Truss and Hunt resulted in Braverman's resignation. Her security violations were a likely smokescreen for what really happened.
Jeremy Hunt is relying on a surge in net migration to more than 200,000 people per year to help deliver economic growth as he oversees a sharp rise in the tax burden to its highest ever peacetime level.
The Office for Budget Responsibility (OBR) predicted net migration – the numbers entering the UK minus those leaving – will be 224,000 next year, before gently declining to settle at 205,000 a year from 2026 onwards.
This is dramatically higher than the OBR's March estimate, when it predicted that net migration would be between 139,000 and 129,000 in the same years, some 80,000 lower.
It is also significantly higher than the long-term "ambition" of Suella Braverman, the Home Secretary, to reduce net migration to below 100,000 – similar to the target of Theresa May, one of her predecessors in the post.
The increase in migrant labour will help to buttress Britain's economy as Mr Hunt imposes higher taxes on earnings, jobs and investment. The OBR said that an increase in migration would help add to the potential size of the economy.
However, rising costs from tax are creating "growing disincentives to work", reduce business investment and depress wages, according to the OBR itself.
Business groups were even more damning. The Chancellor talked a lot about "hard work" and "fairness" in his Autumn Statement. But workers, entrepreneurs and businesses have been left to pick up the bill to keep Britain's welfare state on the road.
The OBR are being deeply irresponsible in advocating city-sized populations coming from abroad each year.
Where will these people live? How is our infrastructure — medical facilities, schools, water supply — increase to meet this demand year upon year?
Anyone travelling by Tube can pick up a copy of the Evening Standard to read about how many British twenty-somethings in London cannot find a room to rent. In many cases, there are 100 of them chasing every available room. The Standard interviews them. Their stories are heart-breaking. These young people are signed up to every rental app, to no avail.
Council tax increasing
On top of all of this, The Times reported that Hunt has given the green light to councils to increase council tax:
… the chancellor announced "more council tax flexibilities", enabling councils in England to raise council tax by 3 per cent a year (up from 2 per cent) from April 2023 and increase the adult social care precept by 2 per cent a year (up from 1 per cent) without having to hold a referendum — leaving councils free to raise the tax by up to 5 per cent next year.
Their article has charts of various council tax rates and offers this example:
If they decide to increase council tax by the full 5 per cent, council tax band D payments would rise by £115 from £2,300 to £2,415 a year in Rutland in the East Midlands — the local authority with the most expensive tax bills in England — while in Westminster in central London, the cheapest authority, they would increase by just £43 from £866 to £909 a year.
Short takes
The Telegraph has an article on winners and losers from the Autumn Statement. There are only two groups of winners: housebuyers and pensioners/benefits claimants.
The Guardian interviewed some of Hunt's constituents in leafy South West Surrey. They are unhappy with him as MP and are equally unhappy with the Government.
Guido Fawkes's sketchwriter summed up Hunt's announcement as follows:
What was the job of the day? To persuade the markets that all was under control. That debt-to-GDP would fall in reasonable time, that things would get back to normal in his cool, technocratic, managerial hands.
It's what we all need, to believe that someone knows how things work and that they know what they're doing. That there is such a thing as "sound money". That the great, communal hallucination of financial reality may be preserved.
In Guido's view, the Chancellor did exactly that. (Pound crashes, housing market collapses, the global financial architecture disappears into the Pacific Trench)
The readers' comments near the end of that post have to do with the raw deal Liz Truss got. Here's the exchange:
I find it impossible to believe that Liz Truss did so much damage in a couple of weeks with a mini budget which was never even enacted to require today's grotesque socialist budget. Hunt and Rishi must be following an ideological policy and using Truss as their excuse.
Yes, she's been made a convenient scapegoat by the WEF shills, to cover all their earlier and current mistakes and wrongdoings.
She went too far too fast and, by doing so, gave the one nation Tories and SunakHunts the opportunity to bring her down. The real villains are Sunak and Bailey [Bank of England governor] with their money printing and inflation denial. We are paying for their mistakes.
She didn't go too far too fast. That is the Conservative spin. The Socialist spin is that she crashed the economy. It was cautious and a promising start, a direction of travel being set, nothing more – except for that huge two year package on the gas bills which was pure socialism and not mentioned by anyone.
The true Conservative spin is that, as an experienced Cabinet minister, she didn't scan the political and financial hinterlands and underestimated the faux Conservative forces ranged against her. Once she u-turned she was done for.
On another of Guido's posts, a reader posited that this is all about reversing Brexit:
The champagne socialist billionaire Rishi Sunak and arch remainer narssisist Jeremy Hunt have nailed the final nails in the socialist party AKA as the Conservative party coffin. They will be wiped out at the next GE for a generation. They want to tank the economy and make everyone feel financial pain so they can say BREXIT didn't work. They will then seem to come to the rescue with every excuse on the planet and join us up first to the single market and customs union. Then kicking and screaming back into the EU. Why do you think they staged this remainer coup and got rid of Truss? The Truss budget of low tax, high wages, high growth, low government spend and the scrapping of the 2300-3000 EU laws retained on the UK statue book would have taken advantage of BREXIT and boosted the economy. They could not allow that to happen. They want to ditch plans to scrap the EU laws as that will make it harder to leave. They have folded on the NI Protocol and leaving the Jurisdiction of the ECHR. Why? Because they want to rejoin. We now are having forced on us a low wage, high tax, low growth, high government spend economy that will cripple most people financially and small businesses. Who wants to invest in the UK now?
On that note, another reader posted a photo of Hunt and Sunak sharing a laugh, with this fictitious caption:
Hunt: Told you you didn't need the support of the members.
Sunak: Yes, it was so easy to stab Truss in the back, too. Who needs democracy?
What taxpayers can do
All is not lost for taxpayers. There are ways to mitigate the effects from Hunt's statement.
Anyone who needs to cut back on food costs, protein in particular, should start eating eggs, which are cheap and the best source of protein around. Supposedly, they're in short supply, but I bought a dozen only yesterday.
The Telegraph has an excellent article on various egg preparations, whether sweet or savoury. It's well worth reading.
The paper also has a helpful article about what taxpayers can do to mitigate Hunt's raid on their money. Some will require advice from a financial planner. The most important tip is to get one's capital gains in order and start liquidating shares or funds to put into an ISA — a process called 'bed and ISA' — without exceeding the CGT thresholds. This has to be started well before the end of the 2022-23 tax year in April, when the current capital gains threshold of £12,300 expires and becomes £6,000 for one year, then £3,000 the year after that.
Good luck!
In case you've missed the earlier posts in this series, here they are: parts 1, 2, 3 and 4.
The best known of the minority MPs from David Cameron's premiership — 2010 to 2016 — is Rishi Sunak, who is Chancellor of the Exchequer.
He represents the Richmond constituency in Yorkshire.
Early years
Rishi Sunak's grandparents moved from the Punjab province of India to East Africa. Rishi's mother Usha was born in Tanzania. His father Yashvir was born in Kenya. Both are Hindus.
Both sets of grandparents migrated to the UK in the 1960s.
After marriage, Usha and Yashvir settled in Southampton, on the southern coast of England. Usha worked locally as a pharmacist. Yashvir was a general practitioner.
The couple have three children: Rishi, another son Sanjay, who is a psychologist, and a daughter Raakhi, who works on COVID-19 strategy for the Foreign, Commonwealth and Development Office.
Rishi Sunak went to the renowned public (private) school Winchester College, founded in 1382, where he was head boy and editor of the student newspaper.
He then went to Lincoln College, Oxford, where he graduated with a First in 2001 in PPE, which is nothing to do with hospital gowns, rather Philosophy, Politics and Economics. Whilst at Oxford, he did a brief stint at Conservative Campaign Headquarters.
During summer holidays he worked at a curry house in Southampton.
Sunak began his career at Goldman Sachs, where he worked as an analyst from 2001 to 2004.
He then decided to study for an MBA at Stanford University in California, where he met his wife, Akshata Murthy, the daughter of the Indian billionaire N. R. Narayana Murthy, the man behind Infosys. The couple married in 2005. Sunak, a Fulbright Scholar, completed his MBA in 2006.
Sunak and his wife settled in England and have two young daughters.
Prior to entering politics, Sunak worked for two hedge funds and was also the director of one of his father-in-law's companies, Catamaran Ventures.
Political career
Former Conservative Party leader William Hague represented Richmond, which has been a safe seat for the party for over a century.
Rishi Sunak was elected comfortably to his first term with a majority of 19,550 (36.2%). Once in Parliament, he was appointed to the Environment, Food and Rural Affairs Select Committee.
Sunak was also committed to Brexit and was an early advocate of free ports, having written a report on the concept in 2016, the year of the referendum.
In 2017, with Theresa May as Prime Minister, Sunak won re-election with an even greater majority of 23,108 (40.5%). In Parliament, he continued to support Brexit, voting for Theresa May's deal and against a referendum on a final withdrawal agreement in 2019.
That year, Theresa May stood down as PM. Sunak supported Boris Johnson in the ensuing leadership contest.
That autumn, during the general election campaign, he appeared on a television debate, representing the Conservatives:
I am sure Sunak did better than Iain Dale gave him credit for:
He also participated in a seven-way debate on ITV.
On December 12, Sunak further increased his margin of victory at the polls to 27,210 (47.2%).
The coronavirus Chancellor — and some inside scoops
Then, in February 2020, Prime Minister Boris Johnson replaced Sajid Javid with Rishi Sunak as Chancellor:
He gave his first budget less than a month later, on Wednesday, March 11, which I wrote about at the time.
The following Monday, March 16, Boris announced social distancing rules and the closure of pubs, restaurants and events venues. Rishi spoke at one of Boris's televised coronavirus briefings with news of a generous financial package:
Guido Fawkes posted the full video and remarked (emphasis in the original):
You wouldn't guess he's only been in the job for five weeks…
Full details are here. Sunak also issued a Twitter thread with a summary:
Then lockdown came a week later on Monday, March 23.
A few days later, Boris was struggling with his bout of coronavirus, as was Health Secretary Matt Hancock:
The Conservatives soared to record approval ratings in the polls:
Early in April, Boris was quietly rushed to St Thomas' Hospital in London. Rishi did another coronavirus briefing to reassure an anxious nation:
The well-spoken, gentle Sunak appealed greatly to the folks at home. The Independent did not like that one bit.
Society magazine Tatler began running articles on Sunak in March. They could see he would quickly become a cult personality.
On March 18, the magazine posted an article by Annabel Sampson, 'Everything you need to know about Britain's new Chancellor, Rishi Sunak'.
It begins with this (emphases mine):
The virtues of 39-year-old Rishi Sunak have been extolled many times over; for his charming demeanour, his razor sharp brain and his acute financial sense. Now the man who has come to be recognised as the 'Maharaja of the Dales', thanks to his Indian ancestry and Yorkshire home, has been appointed to the highest office in the country, to Boris Johnson's Cabinet in the role of the Chancellor of the Exchequer, the second biggest government job; and the second youngest person ever to take the position.
The appointment follows the 'Cabinet Reshuffle' that occurred in February when Savid Javid, the former Chancellor, resigned when he was asked to get rid – reportedly a request linked to Dominic Cummings – of his closest aides. Rishi Sunak's star has been rising for some time now, so his appointment to the position will have baffled few.
The article has several photos, including one of Sunak in the Yorkshire countryside and one with his dog, which resembles Boris Johnson's Welsh rescue pup, Dilyn.
Sunak and his wife had a traditional Indian wedding:
Rishi and Akshata were married in her hometown of Bangalore, in a two-day ceremony attended by 1,000 guests.
Akshata is a working mother:
Akshata runs her own fashion label Akshata Designs and is also a director of a venture capital firm founded by her father in 2010. Her designs are wonderful; she's been profiled by Vogue India and been credited for creating clothes that are 'vehicles to discovering Indian culture' – comprised of chic silhouettes with bold, Indian design.
Did we know that the Sunaks throw great parties? We do now:
With their combined wealth, they understandably have a generously sized home in Northallerton, North Yorkshire (in Sunak's constituency). The Daily Mail reports that their annual summer garden party is a county highlight; where uniformed staff loft around serving ice cold champagne and canapés (no doubt prepared by the prestigious Yorkshire Party Company).
Sunak is a natural at politics:
According to the Daily Mail, 'While many MPs stutter and trundle their way through their maiden speech in the Commons, Mr Sunak's at-ease manner provided a glimmer of what was to come'. One ally in parliament told the Telegraph: 'He's ferociously intelligent and thoroughly decent at the same time' …
He was one of the few Conservatives who were let loose on the air waves (14 times in total) and allowed to make public appearances during the election campaign last year. He has even been dubbed the 'Prime Minister-in-waiting', we'll see. His first big challenge was the March budget; and now he is juggling the unprecedented complexity of the impact of the coronavirus on the economy. The UK are in safe hands.
The article also has a photo of him supporting Yorkshire County Cricket at Edgbaston.
Early in July, Tatler's Ben Judah travelled to Sunak's home town of Southampton and reported his findings in 'Inside the world of Rishi Sunak'.
Naturally, Judah went to the curry house where Sunak worked during his summer holidays:
The kitchen at Kuti's Brasserie, not far from Southampton docks, was not the sort of place, in August 1998, you would have gone looking for a future hedge funder, son-in-law of a billionaire and Conservative chancellor.
That summer – the summer of the France 98 World Cup and the Omagh bombing – Kuti Miah, the eponymous restaurateur behind the curry house, went to have a word with one of his waiters. 'You're going to be someone, Rishi,' he said. The future UK chancellor flashed his famous smile. He was, adds Miah, 'a brilliant talker'. Rishi Sunak, then 18, was about to go to Oxford, but that holiday he waited tables for Miah, a close family friend, to earn some pocket money. 'I saw him grow up,' says Miah. 'His father used to bring him in his carry cot.'
Miah was fast friends with Yashvir and Usha Sunak, both Hindu Punjabis born in colonial Kenya and Tanzania respectively, whose parents had migrated from India. After India's independence, both families left East Africa for Southampton in the mid-to-late 1960s. Yashvir and Usha met in Britain and married. He became a local GP and she ran a pharmacy. They were 'brilliant conversationalists' and 'very strong believers' who 'worked very, very hard', according to Miah, who also recalls that they were 'passionately British'.
Rishi, the eldest of their three children, was cut from the same patriotic cloth. Not only did the young Sunak fall in love with the game of cricket, he fervently supported England over India at any opportunity. His career, too, has followed one of the most traditional and storied of England's paths to power. Like five chancellors of the exchequer before him, Sunak was schooled at the ancient and distinguished Winchester College; and like three of those same Wykehamist chancellors, he went on, as was expected, to study at Oxford.
The article includes a photo of Sunak with his wife and in-laws.
Ben Judah had met Rishi Sunak before, in 2015, just before the general election that year. They met up in Northallerton, North Yorkshire:
We were a long way from London – from where Sunak had been 'parachuted in' for the seat. During the interview, I had a distinct sense of being the only person in the cafe who knew that this slight man in a Barbour jacket was running for parliament. 'I tell this story when I'm out and about,' he said, coffee in hand, 'that you can come to this country with very little… My grandparents came with very little from a village in northern India, and two generations on, their grandson has this enormous privilege of running as a candidate for parliament. For my family, the route was education.'
Well said.
Sunak's candidacy in 2015 raised some eyebrows:
He was vying for a seat once presided over by Tory grandees William Hague and Leon Brittan. But I had spent days in Richmond and the surrounding area, reporting on the resentment his sudden arrival had stirred up among certain local Tory notables, who felt the seat in the Dales was rightfully theirs. 'There was a very acrimonious constituency battle,' claimed one source, with a lot of hostility to an outsider coming in.
Sunak's wife had also met with some resistance on the campaign trail, says Judah.
However, Sunak's father-in-law enthusiastically flew to England where he helped to campaign:
Sunak's billionaire father-in-law, NR Narayana Murthy, however, has been so enthusiastic about Sunak's parliamentary career that he'd flown in, and had even been leafleting on his behalf, wearing a Rishi sweatshirt. 'To be honest,' said Sunak in Costa Coffee that day, 'I think it's patronising to assume minorities should only run in minority seats.'
The article discusses Sunak's property profile:
On 7 May 2015, Sunak won, with more than 50 per cent of the vote (a Ukip vote of 15 per cent had appeared from nowhere). He put down roots in his new constituency of Richmond, North Yorkshire, augmenting a £10 million property portfolio (metropolitan digs in London – a Kensington mews house, a flat on Old Brompton Road – and a place in California) with a £1.5 million Georgian manor in Yorkshire set across 12 acres, including an ornamental lake. Here, he now entertains the constituency membership with lavish summer parties at which uniformed staff serve champagne and canapés. He has been repeatedly dubbed by newspapers the 'Maharajah of the Yorkshire Dales'.
The general public know less about those details. Nonetheless, Rishi Sunak has become a household name:
In a swift few years, Sunak has become known as many things: Dishy Rishi to the tabloids; one of the richest MPs in Westminster; the second-youngest-ever chancellor of the exchequer, presiding over a £350 billion package to boost the economy (the largest ever recorded in peacetime); and a former hedge funder whose profile has risen faster than stocks in a vaccine manufacturer.
However dazzling all of this is now, things were very different when Sunak entered Winchester College as an adolescent:
… Winchester would come at a price for the Sunaks. No sooner was he accepted than Rishi's good fortune immediately foundered: he missed out on the expected scholarship. Desperate not to let the opportunity go to waste, his parents decided to take on the high fees themselves, picking up extra work and making what the chancellor has called considerable 'sacrifices'. His brother would later follow.
One of his classmates discussed Sunak and described Winchester in the mid- to late 1990s:
Tim Johnson, now a lawyer, was in the boarding house next door. 'Rishi was a good chap, in boarding-school idiom,' he recalled. Sunak, he said, was a 'reasonable cricketer', who stood out in friendliness; and he was a solid, but never number one, student. 'Rishi was always expected to do something,' Johnson remembered. But exactly what, beyond Winchester, was vague. 'He was always expected to be head boy as he was clever enough, reasonable enough and well behaved enough.' This became Sunak's thing – hard work and attainment, becoming the first Winchester head of school from an Indian background.
Sunak was different to other sixth formers in Winchester: a lifelong nondrinker, he wasn't distracted by the allure of the pub. But there was something else that marked him out from the herd. He was a conservative in every sense: not only in his outlook and demeanour but in his religious attitudes, too – a practising Hindu who avoided beef. At school, where few boys were political, Sunak was clearly 'associated with the Tories', said Johnson. It was 1997, The Chemical Brothers were topping the charts and the mood was rebellious. Counterculture, New Labour and ripped jeans were in; the Conservatives were out. 'That wasn't his intellectual jam. Rishi didn't play that game,' Johnson explained.
'Everyone was chipper about it when Blair won,' Johnson said. But not Rishi. His family's story was closer to Margaret Thatcher's than that of his bourgeois Labourite classmates. Watching the early results of the landslide on election night 1997, Sunak sat down to write a gloomy article for the school magazine, The Wykehamist, lamenting the news. His main complaint: Europe. 'He revels in the label of a patriot,' he complained of Tony Blair, 'but has plans for the possible break-up of the United Kingdom and membership of an eventual European Superstate.' The seeds of Brexit were already in his mind.
'Already,' fretted Sunak, 'the New Labour rhetoric sounds worryingly pro-European and avid pro-Europeans are being sent to Brussels' …
Later, at Oxford, Sunak had a low profile, unlike his predecessor as MP, William Hague:
He was nothing like the young William Hague, who arrived at Oxford fêted and almost a Tory celebrity, or the young Boris Johnson, the blond beast who tore apart the Oxford Union. At Oxford, Sunak was a nobody, much like Tony Blair.
He continued to eschew strong drink:
Oxford acquaintances remember him as a nerdy teetotaller who was 'just very clearly going into business'. He would 'make this big thing' out of drinking Coke in the pub. 'Rishi was unknown to the student politicians, that gossipy overlapping world, who all knew each other,' said Marcus Walker, then-president of the Oxford University Conservative Association, now a clergyman. Sunak was never a member.
It is hard to remember how irrelevant and demoralised Tory circles felt after 1997, but some do recall Sunak as a 'Thatcherite' and 'Eurosceptic'. 'That was absolutely par for the course,' said Walker. 'If you were still a Tory after 1997, you were a Eurosceptic. That was all you had left.'
Nevertheless, Sunak did develop a network from his Winchester College and Oxford days. Graduates from Winchester are called Old Wykehamists:
These days, socially, Sunak has been placed by some in Westminster's Spectator set. He was best man to his lifelong friend and fellow Old Wykehamist James Forsyth, political editor of The Spectator, at Forsyth's politician-studded wedding in 2011, to Allegra Stratton, the national editor at ITV News – and gave what one guest recalled was 'one of the most touching best man's speeches I've ever heard'. (In fact, Stratton has recently announced she's leaving ITV News for a job with Sunak at the Treasury. Some have seen this as very Cameron-esque in its 'chumocracy'.)
Allegra Stratton, also a good friend of ITV's Robert Peston, now works for Boris Johnson as his notional press secretary, although she has not yet begun to give press briefings, probably because of coronavirus.
Imagine the son of immigrants having ties to Britain's two oldest — ancient — magazines: The Spectator and Tatler. Wow.
Tatler's Ben Judah also spoke with people who had worked with Sunak during his hedge fund days. They painted a similar character portrait of the Chancellor:
After two years in California completing a CV-topping MBA, he returned to London and Mayfair in 2006, where a new type of boutique finance was booming: hedge funds. He was hired by Sir Chris Hohn at The Children's Investment Fund (TCI). It was a dream job: a big role at an activist firm off Berkeley Square at the peak of their fame. 'He appears to have been trusted,' said a source. Indeed, Sunak was made a partner two years later. Contemporaries remember him ever-ready to meet and greet; a mixture of a junior, deputy and a bag carrier; the perfect foil to Hohn's bolshy swagger. 'Ridiculously nice.' 'Affable.' 'Approachable.' 'Charming.' These are the words that come up again and again among Mayfair types who knew Sunak. The charm was of a particular kind: 'There are two kinds of people at hedge funds,' said one source. 'Handsome and thin smooth-talkers who are always on the phone or going out to lunch with clients, getting them to part with their money. And then quants in the back room with their shirts buttoned up badly.'
Sunak was one of the smooth-talkers, his charm honed on calls to investors, getting them on board with whatever drastic moves the fund wanted to make. The kind of charm that prizes clarity and persuades people to part with their money. It worked: but hedge-fund charm is designed to hide as much as it reveals. The atmosphere at TCI was buccaneering and bold; it both led and profited from a controversial banking raid that eventually meant a £45.5 billion public bailout of the Royal Bank of Scotland. (The Treasury and TCI say Sunak was not involved in the deal.) He left when TCI split in 2009, and joined the breakaway hedge fund Theleme Partners. His new firm's reputation took a knock when its founder was revealed to have used a notorious tax avoidance scheme. The Labour Party researched Sunak's past during the 2019 election. 'But he was too little known for us to use it,' said one source …
His reasons for entering Parliament are equally obscure. Those who know him have different opinions as to why. One thing that everyone agrees on is his penchant for order:
Many in Westminster see his motivation as status. 'He's not an ideologue,' said one Tory source. 'He wanted to enter politics in that old-fashioned way, because it was seen as the good thing to do.' Good, as in socially ambitious. Whether that's true is another matter, because first came a stint at Policy Exchange, leading a unit researching black and minority ethnic attitudes. The scruffy but influential Conservative think tank world is seen as a de facto holding pen for future special advisers, but it was nonetheless an unexpectedly technical way into Westminster for someone with means.
Sunak quickly made an impression. 'He's got that Blair-like ability to hold your eye,' says Nick Faith, who worked with him there. Sunak cut a snappy figure amid slovenly suits. 'He's into his clothing.' His is not the fusty establishment Rees-Mogg or Nicholas Soames style, but more the wiry Emmanuel Macron look. Everything Sunak wears, many remarked, is immaculate, even at the end of a Treasury work day, and fits perfectly. Faith says that 'everything, from how Rishi dresses to how he structures his life, is very well organised'. Sunak's elegant house in London, with a touch of Indian decor, reflects that. 'Nothing is out of place. For someone with two small kids, that's quite an achievement.'
Having learned from his background in finance, Sunak also knows how and when to place his bets:
'His mind works in Excel,' said one City contemporary. But like all hedge funders, it also works in bets: and the two biggest bets that Sunak has made in his career have paid off spectacularly – Brexit and Boris. David Cameron knew the gravity of his predicament when Sunak came out for Leave. 'If we've lost Rishi, we've lost the future of the party,' he reportedly said. The same thing played out in reverse in June 2019 when Sunak came out for Boris in The Times with two other MPs during the party leadership elections. This was widely seen in Westminster as a decisive turning point: the one where Johnson won over 'the sensibles' and pivoted the backbenchers. The PM seems to agree: all three have been handsomely rewarded.
In Parliament, he keeps a low profile but, to those who know him, is loyal:
'He's unknown in parliament,' said one MP. 'He doesn't play the parliamentary game at all.' Tory Remainers are sceptical of him. 'It's Star Wars,' said one MP, referring to the chancellor's strange and classically 'geek-chic' hobby for minutely detailed models of spaceships and video games. 'Most of his political philosophy comes out of the Star Wars trade wars that are about the independence of various kingdoms from the Empire. He's not someone intellectual.' Loyalty has been his strongest suit. Sunak is a No 10 man. 'He's a grown-up,' said one MP. 'The only grown-up in Downing Street, despite him being 20 years younger than them.'
… At the height of tensions over Brexit last year, he was cheerfully going around Westminster saying he would back 'no deal' if push came to shove. He struck the right note, in the right place, at the right time. Tensions between Boris Johnson and Sajid Javid's teams exploded in February, when the then-chancellor resigned after refusing to fire his own special advisers and submit to an unprecedented joint team with Downing Street, effectively under the stewardship of Dominic Cummings. It was Sunak, with high skills and no clear agenda or faction behind him in parliament, whom Downing Street turned to. He quickly agreed to the joint team, once again becoming the perfect foil for an outsized boss. 
Even now, it's still too early to say whether Rishi Sunak will become a future leader of the Conservative Party and, as such, a possible prime minister. A week is a long time in politics.
When Boris's erstwhile special adviser Dominic Cummings broke coronavirus rules in travelling from London to Durham and back during Boris's time in hospital, Sunak tried to calm the ever-turbulent waters surrounding Cummings, who was never popular with the Remainer media. He tweeted this after Cummings's lengthy press conference in May:
In June, Sunak was tactful about the reopening of shops and businesses in Britain after the first coronavirus lockdown:
He also warned that his generous financial package could not go on indefinitely:
A few weeks later, in early July, pubs were allowed to reopen:
The Government launched the Enjoy Summer Safely campaign. Pictured below is Piccadilly Circus:
On July 8, he issued a Summer Economic Update, with financial help continuing (more here):
This included the launch of his Eat Out To Help Out plan, which lasted to the end of August:
A lot of Labour MPs didn't like the plan. I don't know why. Leftists own restaurants, too.
He cut VAT for the hospitality industry, too.
He also issued a detailed jobs plan, including an apprentice scheme:
Some men in the media were taking a shine to Dishy Rishi, including the leftist Owen Jones of The Guardian and Channel 5's Jeremy Vine:
At that time, the attention being given to Sunak and Boris Johnson got the better of Conservative MP Caroline Dineage, a Culture minister, who was questioned on masks, which were strongly suggested (mandatory only on public transport) but still optional in what now look like heady days. This was from a BBC interview:
… asked why the Prime Minister and Chancellor Rishi Sunak had not worn one in public, she snapped: "You'd have to ask the Prime Minister and the Chancellor that, with respect.
"But it is something that is advised and we keep it under review."
At the end of September 2020, the coronavirus crisis dragged on. Talk intensified about a winter lockdown.
On September 24, Sunak issued a Winter Economy Plan, about which I wrote at the time. When he presented it in the House of Commons, he advised all MPs to live 'without fear'.
By October 6, Sunak was being blamed for an uptick in coronavirus 'cases' (positive test results, not necessarily hospital admissions) for the Eat Out to Help Out scheme:
A US study, which did not cover Britain, showed that hospitality venues were shown to be responsible. However, the study did not cover workplaces or hospitals. Nonetheless, it is still a contentious point even to this day.
The Sun's Harry Cole rightly, in my opinion, defended the Chancellor's restaurant promotion.
Then talk of hospitality curfews emerged. Fellow Conservative MP Matt Vickers defended the Chancellor's Eat Out to Help Out programme, which had come to an end five weeks earlier.
The calls for a winter lockdown grew. The Chancellor rightly opposed them:
By then, more areas of England had moved into tiers, indicating more coronavirus cases. Sunak increased financial support to those cities and counties. He also offered more help to businesses, including the self-employed.
By November, some thought a storm was truly brewing between Boris and Rishi. Despite all the talk from the Government about people being able to meet loved ones at Christmas — for the first time in months, for many — a pessimistic undercurrent, which turned out to be accurate, seemed to be part of every news cycle.
Rumours circulated that Sunak was ready to resign. However, on November 1, the Daily Mail reported:
A source said there was a 'collective decision' to back a second lockdown, and that Mr Sunak 'accepted it' – and he did not threaten to resign, as some whispers around Westminster were suggesting yesterday.
The November lockdown was supposed to prevent a Christmas lockdown, but that was not to be. There was a brief re-opening before Christmas, and on December 19, the hammer fell once more.
Interestingly, the minority MPs in Cabinet shared Sunak's concerns.
By the middle of December, Sunak was clearly worried about how long the borrowing could go on. On Saturday, December 19, the day when Boris announced Christmas was cancelled, The Spectator reported what the Chancellor said about borrowing and quantitative easing (QE):
'Are you or anyone else going to guarantee me that, for the duration of this parliament, rates might not go back to 1 per cent?' he asks, pointing out that this almost happened in March, before the Bank of England started printing money to bring rates back down. 'There is this very large QE thing that's going on. No one has done that before. There are plenty of smart investors who are also thinking about the risks of inflation over the next 12 months. Because we are now so levered, small changes have huge cash implications. If I have to come up with £10-£20 billion a year in a few years' time because things have changed — well, that's a lot of money.'
To Sunak, it's not just an economic problem but a political one. 'If we [Tories] think borrowing is the answer to everything, that debt rising is fine, then there's not much difference between us and the Labour party,' he says.
The media criticised him for going to his constituency of Richmond for Christmas. To be fair, he did work while he was there, visiting a local hospital and a vaccine centre. He did not rush back to London.
On February 3, 2021, Sunak rightly accused scientists advising the Government of shifting the goalposts regarding lockdown:
This might be causing a rift in Boris's Cabinet:
On a brighter note, Time magazine has included Rishi Sunak on its list of 100 'emerging leaders'. On February 17, the Daily Mail reported:
Under the 'leaders' category, Chancellor Rishi Sunak landed a spot on the list, being described as the 'benevolent face of the government's response to the COVID-19 pandemic' by Times reporter Billy Perrigo.
The Chancellor's profile piece discussed the furlough scheme, describing how he approved 'large handouts' for people whose jobs had been affected by coronavirus.
The piece also paid respect to Sunak's Eat Out to Help Out scheme, which the magazine described as an attempt to 'revive the economy' by subsidizing dining out at restaurants.  
Although his profile acknowledges that Sunak bears more responsibility than most for his calls to ease lockdown restrictions, Time's profile for the Chancellor admits he has earned himself a 'legion of fans'.
Sunak's accompanying profile points to a YouGov poll showing him to be the nation's most popular politician and even tips him to be the bookmakers' favourite as the next Prime Minister.  
Again, a week is a long time in politics. We shall see about the future as and when it happens.
For now, Sunak is focussing on the budget, to be delivered on March 3. He is asking industry leaders for their thoughts.
Michelin-starred chef Gordon Ramsay was one of those leaders:
If Rishi Sunak ever tires of being an MP or Chancellor, a job in media awaits.
He is an excellent interviewer and researched Gordon Ramsay well. The 15-minute video is worth watching.
The list of minority Conservative MPs continues. All being well, more tomorrow.
So far, Israel, the UK and the United States (President Trump) have had the greatest success in procuring and distributing coronavirus vaccines.
This must have been painful for a German newspaper to publish:
Guido Fawkes has more from the article that appeared in Bild and additional commentary about Germany (emphases in the original):
The loss of German confidence was not helped when the first German vaccinated was vaccinated in England. This humiliation is reconfirmed in the breathless copy of Peter Wilke, Bild's UK reporter, exclaiming that whilst he had not received a vaccination appointment in his home town of Mühlheim, he was shocked to get an SMS text from the NHS, "Suddenly I got a vaccination appointment in England!"
Guido has not seen any British media reporting of the Kremlin's statement that on a call this week between Putin and Merkel "Cooperation in the fight against the coronavirus pandemic was discussed , with particular attention to the possible prospects for joint vaccine production".  Desperate times make allies of necessity…
Here's the message that the Bild's journalist received for a vaccination (and a response):
Absolutely. Couldn't agree more.
Kelsall, by the way, is in Cheshire, in the north-West of England.
United States
President Trump's business acumen and America First policies made vaccine procurement and distribution to individual states a given.
Unfortunately, not all states are rolling out their vaccines as quickly as they should be. Massachusetts, despite its Republican governor Charlie Baker, is among them. Baker, incidentally, is an anti-Trump RINO, which explains a myriad of things, including his lockdown and mask policies.
Never let it be said that President Trump did not do the right thing. From the beginning of the coronavirus crisis, he made sure states had funding and equipment as soon as it was available. Every nation suffered from a PPE shortage until after the first wave. After that, it was — rightly — up to the governors to make sure their states used the distributions responsibly and promptly.
Israel
Israel also puts its own people first, and rightly so.
Last week, Prime Minister Benjamin Netanyahu shared his vaccine strategy with those attending Davos virtually:
Netanyahu adopted practical policies, including telling his 'bureaucrats' (his word) to 'cut the c—' (which he was at pains to leave unspoken) and get on with it. Pricing, supply, efficacy and payment were all part of what has turned out to be a truly world-beating strategy:
As Guido Fawkes commented:
Essentially, pay up, move fast. Whereas the EU haggled about the price, moved slow and did not sign contracts. Political vanity which will cost European lives…
Guido is referring to the EU, which is now trying to interfere with the UK's long-agreed upon supplies from Belgium, although a Belgian lawyer disputes that move:
Fernand Keuleneer, Brussels attorney, tweets…
"From the published contract between the EU Commission and AstraZeneca I cannot conclude that the Commission has the contract and therefore the right on its side. Rather the opposite."
More here, from Guido.
United Kingdom
Being halfway out the door of the EU in 2020 made a huge difference to the United Kingdom's ability to procure and distribute vaccines.
Although I am deeply dismayed with Boris Johnson's and Matt Hancock's handling of coronavirus restrictions, one cannot fault the Conservatives for seizing the opportunity to be independent of EU policies and become self-sufficient.
James Forsyth, political editor of The Spectator, wrote an excellent article for The Times, dated January 28: 'Covid has taught the UK the importance of self sufficiency'.
An excerpt about the British strategy towards coronavirus follows (emphases mine):
The last year has shown that even in this globalised age the nation state trumps the market. You could see this in the scramble for personal protective equipment (PPE) last spring when countries stopped firms from honouring contracts until they were sure their domestic needs had been met. The same dynamic is beginning to assert itself on vaccines.
Just look at how the German government is pushing for EU export controls on vaccines. Today the EU will set out how companies must provide notification before exporting vaccine out of the bloc. It is expected that these rules will allow exports to be blocked in certain, supposedly rare circumstances. The British government remains confident there will still be vaccine deliveries from the Pfizer factory in Belgium.
These new headwinds pose a particular risk for Brexit Britain, a country stuck between two large economies with protectionist tendencies, the United States and the European Union.
When Oxford came to the government last year to make sure it was happy with arrangements for production of its vaccine, Whitehall said it wanted the NHS to have first access. But when ministers saw Oxford's proposed contract with a non-UK pharmaceutical firm they saw it went little further than promising best efforts. Alok Sharma, the business secretary, and Matt Hancock, the health secretary, insisted on a legally binding promise to serve Britain first. They eventually received such a pledge from the UK-headquartered AstraZeneca.
Hancock's worry was over waiting for imports, which raised the prospect of delay, even expropriation. There was particular concern about Trump invoking the Defence Production Act to secure all the vaccine supply for the US. This was why billions were spent helping various British-based companies to buy the facilities needed to mass-produce vaccines.
There are only a few dozen large-scale bioreactors in the world. Six are now based here, which is what is allowing vaccines to be made at such pace.
At the time it was a bet: huge sums were being spent on a vaccine that had not been approved. Even more was being spent to protect Britain against the theoretical risk of vaccine nationalism. But both bets paid off.
Too often in modern British history industrial strategy has meant trying to keep a dying industry or company going for a few more years. Even in this crisis the government's attempt to develop a contact tracing app that didn't use Google or Apple technology failed spectacularly.
Nor has the £22 billion test and trace scheme been a resounding success. But the vaccine was an example of the government successfully bringing together academia and business and using taxpayers' money to help seed a new industry in Britain.
In the same way that the Second World War left politicians with a desire for food security, the Covid crisis has prompted a desire for self-sufficiency in medical supplies. Already around two thirds of PPE is being manufactured domestically; a dramatic change from the situation pre-pandemic when only 1 per cent was produced here.
And another UK vaccine is on its way, albeit somewhat delayed. Nonetheless, there is every reason to be happy:
Guido Fawkes has more:
A clearly delighted Kate Bingham, chair of the UK's vaccine task force, appeared on the Today programme this morning following last night's brilliant news of a new vaccine from Novavax showing 90% efficacy against the new Kent variant; the UK having ordered 60 million doses, all of which will be made in Teesside.
While there's lots to be excited about, government sources emphasised to Guido last night that the jab will not roll out until the latter half of the year, with MHRA approval set to take weeks. Bingham explained to Today listeners that scale-up is already underway in Teesside and going well "but it just takes time, we are growing up mammalian cells from low volumes up to the high thousand-litre volumes and it's very complicated".
Novavax, a single-dose vaccine, is made by America's Johnson & Johnson in the US, but Janssen handles European production in Belgium. The UK has already purchased doses:
Furthermore, Livingston, Scotland, has opened a new vaccine production facility for the international pharmaceutical company Valneva that Boris visited on January 29 (start at 1:08):
Conclusion
Self sufficiency is the way forward.
No nation — including an EU nation — can fully rely on another to supply its needs in a time of crisis.
Well done to the three countries who put their own people first. Long may it continue.
Episode 14 of Andrew Neil's Spectator TV was broadcast on Thursday, December 3, 2020.
He interviewed Trevor Phillips, past head of the Commission for Racial Equality and chairman of the Equality and Human Rights Commission (EHRC), the succeeding organisation. Since then, Phillips has held a number of other appointments in human rights, the arts and retail. He is currently managing director of Webber and Phillips, a data analytics provider.
Neil also interviewed Mark Harper, one of my favourite Conservative rebel MPs, who has spoken out against coronavirus lockdown and restrictions. Harper has served as the MP for the Forest of Dean constituency in Gloucestershire since 2005. He has also served as a junior minister in the Cabinet Office, an Immigration Minister and Minister for Disabled People. He was the Chief Whip for the Conservatives in the House of Commons between May 2015 and July 2016. His tenure as Chief Whip ended when Theresa May became Prime Minister.
Emily Gray, managing director of Ipsos MORI Scotland, also appeared on the programme:
By the time the show aired, the mass purchase of the BioNtech/Pfizer coronavirus vaccine was finalised, announced and is now on its way to the UK.
A vote on the new tier restrictions after England's second national lockdown was held on Tuesday, December 1. Mark Harper was one of the rebels who voted against the Government.
Conservative rebels
The Spectator's political editor James Forsyth said that the rebels' vote against the Government, while not toppling the final result, 'was the biggest of Boris Johnson's premiership'. Had the Opposition (i.e. Labour) not supported the Government, Boris and his Cabinet would have lost.
Forsyth pointed out that the number of Conservative rebels 'has been rising consistently'. There will be a vote in January on renewing the tier restrictions. Currently, many English constituencies that started out in Tier 1 before the national lockdown are now, arbitrarily, in Tier 2. (Kent is a good example: communities closer to London have higher coronavirus infection rates than those along the east coast of the county.) If these discrepancies are resolved for in a local way — splitting counties into two different tiers — Forsyth sees more Conservative MPs voting against the Government next year.
He said that vaccine roll out might help to quell the rebellion if it's efficient. However, if the roll out is 'bumpy' and restrictions persist, the rebellion will increase.
Deputy political editor Katy Balls came on next. She said the Government tried to reduce the rebellion, through a Zoom call asking for unity, but that did not succeed as Prime Minister Boris Johnson, who hosted the call, had hoped.
Economics editor Kate Andrews summarised the retail losses — up to £2 billion a week — coupled with retailers Debenhams and the Arcadia Group going into administration was a real problem. Pubs are in severe difficulty, too; only two per cent of them are in Tier 1.
Forsyth thought that the Government might make the tier classification more local but said post-Christmas restrictions present real concern, including the return of university students.
Forsyth did not see any easing of the rebellion until February or March 2021.
Mark Harper, leader of the Covid Recovery Group, was on next. He did not think that the Government had been as 'transparent and open' as they should have been. He has questions as to why hospitality was singled out as a danger sector but has received few answers. He wonders if it makes sense to have a lockdown, then a relaxation over Christmas only to be followed by further restrictions for a month.
Harper said that he wants to support the Government but cannot do so right now.
However, he has noted a change in the tone from the Prime Minister. Letters to the Covid Recovery Group have been more 'collegiate'.
That said, there is nothing of substance in them, e.g. clinical evidence and a 'coherent narrative'. He noted that the scientific experts' opinions differ to those of the Government.
Neil asked Harper what policy change he would like to see. Harper said that the impact of the first lockdown and the recession it caused would have a worse impact on quality of life years (QALYs) than the coronavirus deaths themselves.
Harper says he sees no balance from the Government between health and economic issues during the crisis.
While he appreciates that this is a difficult time with 'no easy answers', he is frustrated with the lack of openness from Government ministers on how they arrive at their decisions.
He hopes that the Government will start showing the criteria on which they base their decisions and 'a proper roadmap' by the end of January 2021.
Scottish independence
The latest support for Scottish independence has risen to 56%.
Emily Gray from IPSOS Mori showed a series of slides demonstrating that Nicola Sturgeon's Scottish National Party (SNP) is far and away the most popular of any political party north of the border.
While Scots admire Sturgeon's handling of the coronavirus crisis, Brexit is another factor in the preference for independence. Scots trust the SNP on all major issues, from the two that I named through to the NHS and education.
Conservatives and Unionists are not doing well in Scotland. Part of the reason for this, she said, was that they were not making a compelling argument for the Union, i.e. being better off together than as separate nations.
Neil pointed out that the SNP have not done well in terms of equality in health and education. Gray said that Sturgeon's ratings have remained high throughout the pandemic. She has calmed their fears; therefore, any shortcomings are not in the forefront of people's minds.
The Scots voted two-to-one to remain in the European Union. Brexit is deeply unpopular there. Neil said that some Scots would vote for independence as revenge for Brexit. Forsyth acknowledged that such a point of view is a problem.
Gray, however, made it clear that the pandemic was a greater factor in the yearning for independence than Brexit.
James Forsyth said that the SNP will win the local 2021 elections handily.
He added that Boris Johnson will have to address this issue of independence sooner or later. Perhaps the Unionists have to wait for 'something to turn up' in order for them to make their case. They would do well to 'buy time', he said.
Katy Balls agreed with Neil when he said that Boris does not 'poll well' north of the border, however, Rishi Sunak does. She said that a Labour government would have a easier time dissuading the Scots from voting for independence.
Forsyth said that a successful UK government vaccine roll out might change Scots' minds against independence. Visiting relatives in different parts of the UK this Christmas might also help to reinforce the benefits and commonality of the Union.
Equality
Equality was the last topic of conversation when Neil interviewed Trevor Phillips.
Critical race theory — yes, Neil used those exact words — was the topic of conversation.
Phillips did not deny the use of critical race theory and said that he, too, was sceptical of the term, saying that it serves only to feed white nationalism.
He also says that it downgrades education. It is, he said, based 'on anecdote, narrative, "my feelings" … none of which will change a single thing for people of colour'.
He called it a 'scam'.
He said it is wrong to make the issue of race 'entirely about white people' with people of colour as 'bystanders'.
Neil, somewhat apologising for his skin colour, pointed out that much progress has been made in race relations but that the theory does not acknowledge any of that progress.
Phillips said that Neil did 'not have to apologise for being white'.
Phillips said that the UK is not the United States. He noted that a number of families in Britain have bi-racial antecedents or parents since the Second World War. He said that no other nation in the world has that number of black and white familial unions. Britain, however, does.
Neil objected to the modern treatment of the telling of American independence, which he said purported to promote slavery. Phillips agreed, calling it 'complete drivel'. Phillips then brought up slavery in the US — tobacco and cotton-based — versus slavery on the Caribbean plantations, which he said was much larger, on a 'factory level'.
Phillips said we should think of the current movement as we do Extinction Rebellion. He noted that Cuba, with all its black residents, has never had a black leader. He said the current movement is a front to 'overthrow things as they are'. He said that, if they want to change things, 'do it honestly'.
Neil asked if Malcolm X would have been a supporter. Phillips doubted it, because he would have disliked 'the indiscipline of the movement'. However, he acknowledged that, he might have done in the middle of his life. Later, Phillips said, Malcolm X dropped the idea that 'whites are intrinsically bad'.
————————————————————–
Charles Stanley Wealth Managers sponsored the programme.
Episode 13 of Andrew Neil's Spectator TV aired on Thursday, November 26, 2020.
As you can see, the main topics were coronavirus and Brexit:
I haven't tuned into the episodes following the US election, because everyone is so anti-Trump.
The Chancellor's spending review
Andrew Neil opened the programme with the UK Government's spending review.
We are heading towards a national debt of £3 trillion and a budget deficit of nearly £420 billion.
There will be few spending cuts but tax rises will help to fill the gaps.
Kate Andrews gave us more information about Chancellor Rishi Sunak's statement. She had updated data from the Office for Budget Responsibility (OBR). The economy is set to contract by 11.3%, the biggest fall in 300 years. I wrote about that earlier this year, so it came as no surprise.
We will not even start to recover until 2022. Andrews said that some believe this is too pessimistic, even if the OBR says they took into account that we would have a vaccine. Well, we have that vaccine now (the week after the programme aired), which means that we could reopen our economy by the middle of next year. That said, we do not know how long the vaccine programme will take. Unemployment will rise by 3.5% to 7.5%, 2.5 million people.
Even by 2025, our deficit will still be around £100 billion. There will be a £15 billion increase in social spending, but Rishi will have to start to raise money. We won't find out how until early next year, possibly at the end of the year.
Andrew Neil said that, so far, the Chancellor has 'kept his powder dry'. James Forsyth, political editor of The Spectator, said there is too much up in the air right now to make any firm predictions.
Katy Balls, The Spectator's deputy political editor, said that a few areas of the statement have raised questions. However, Rishi's decisions might look more reasonable next year. Some cuts, e.g. foreign aid, will be popular with Conservative voters, including those in the North of England.
Forsyth said that as we spend more on defence, it is logical that something will have to be cut: foreign aid (which, in reality, is not being cut by that much).
The 2019 intake of Conservative MPs have formed the One Nation Caucus, who could rebel against the Government, but, as Katy Balls noted, there are various shades of conservatism that do not automatically amount to mass rebellion.
Andrew Neil asked Kate Andrews about the OBR's four scenarios, especially the most optimistic one. She said that we do not know how effective the vaccine will be and how quickly the roll out will go.
Neil asked her about the lack of specifics from the Treasury. Andrews said that he is probably looking at all the options, especially positive ones that might prevent higher unemployment next year.
Forsyth said we will know how much more we need to spend on COVID-19 compensation plans by March 2021, but the Chancellor will have to decide on policy by 2022, well in advance of the next election in 2024. He added that the Chancellor will have to put clear water between the Conservatives and Labour on spending. Currently, there isn't much difference.
Coronavirus tiers in England
Coronavirus tiers came up next. England was still in its final days of the second national lockdown, which ended on December 2.
Only Cornwall, the Isles of Scilly and the Isle of Wight are in Tier 1. That wasn't known at the time of broadcast, but it was already expected because of indications from the Prime Minister and our national medical experts who warned that most areas in Tier 1 before lockdown would end up in Tier 2.
Neil asked Forsyth whether a relaxation over Christmas for family celebrations wouldn't start bumping up contagion rates. Forsyth said that, in Canada, after their Thanksgiving in October, rates started to soar. He also mentioned the warnings going on in Scotland: be sensible and try not to take advantage of Christmas celebrations.
Katy Balls talked about the backbench Conservative rebels on lockdown, particularly about the new tier classification. Many counties with low rates are in Tier 2. However, those rebels are not of large enough number to cause the Government to lose a vote on further restrictions. That vote was held on Tuesday, December 1. Balls said that Boris has Labour's votes on his side, so he will win now and in future.
Coronavirus vaccines
Neil announced that the Government had pre-purchased doses of various vaccines so that two-thirds of the population could achieve 'herd immunity'. Dr Stuart Ritchie, a behavioural scientist at Kings College London, gave his views on the subject.
Neil asked Ritchie about vaccine scepticism. Ritchie said that more and more Britons were sceptical about taking a vaccine. He found the polls 'worrying'. He said that there is a new term replacing 'anti-vax', which is 'vaccine hesitancy'. He said that people are rightly worried, especially when they perceive a political element to vaccination. The rapidity of the vaccine development is one factor, the lack of information about it being another. He admitted that there are things we just do not know yet until the vaccine is rolled out.
Neil asked about mandatory vaccinations. Ritchie said that France has several vaccines that are mandatory, as do the US and Australia. Ritchie does not think this will be a question in the UK, because, despite the polls, there is still an eagerness among the public for vaccination. He thinks the Government should pay people around £200 to get vaccinated as an incentive.
Changing people's minds could be less successful, he admitted. Neil pushed Ritchie on no admittance to restaurants or on flights. Neil clearly is gung-ho on this, sadly. Ritchie agreed, saying that people would feel safer if mandates such as these were added to our everyday lives. (Pathetic.)
Forsyth said that the Government wants 75% of target groups to be vaccinated but added that scepticism would be a problem. Ritchie said making it compulsory would only make people more suspicious. That said, he purported that the vaccine was truly safe.
Ritchie looks very young to me and he was most enthusiastic on vaccination. I would like to see him as a 60+ giving such views.
Katy Balls said the vulnerable as well as front line health workers will be at the top of the vaccination priority list. However, she does not doubt that Conservative rebels will be on the case, depending on the vaccination issue of the day.
She said that one poll showed that the public would be more likely to take the vaccine if their MP took it first. (Excellent idea.)
Ritchie said that vaccine efficacy will determine future uptake.
Brexit
The final topic was Brexit. Neil spoke with Sir Ivan Rogers, the UK's permanent representative to the EU between 2013 and 2017. He worked closely with former Prime Ministers David Cameron and Theresa May on this issue. Neil asked Rogers about Brexit talks as they stand. Rogers said they were 'very fraught'. Time is running out, and decisions now have to be made. Rogers thought the markets were too optimistic on the EU and UK arriving at a deal.
Rogers said that Boris's government is not 'classically Conservative', meaning Thatcherite. He added that we are also in the coronavirus crisis, which has added another dimension to EU-UK negotiations.
Neil said that British politicians never considered how difficult Brexit would be to negotiate. Rogers said that ministers knew about the difficulty and discussed it privately during his time. He agreed that ministers did not have a vision as to how they wanted to negotiate an exit. He added that he had real doubts from the beginning about Theresa May's deal, which he never thought would succeed.
Then there were disagreements about what a 'Canada+' deal actually meant. He said there were 'huge misreadings' on both sides. He warned about the '++' element for that reason. The final deal will be much stronger on goods than on services, he thinks, which is a centuries-old priority.
Neil asked if these negotiations could go on and on in smaller ways, even with a deal. Rogers thinks there will be modifications in the years to come. Some of these are already under discussion, he said, which is making a final deal more evasive at this time.
After the interview, Forsyth said that fishing is the biggest issue right now, especially as the French — Emmanuel Macron, specifically — baulking at the UK's reclaiming our national territories.
Forsyth stated that, even with a deal, future EU-UK negotiations will continue 'for the rest of our lifetimes'. He said these will be a 'constant for the rest of our working lives'.
——————————————————————–
Thanks to Charles Stanley Wealth Managers for their sponsorship of the programme.
Below is Episode 10 of Spectator TV's The Week in 60 Minutes, broadcast on Thursday, November 5, 2020:
As per their YouTube blurb, Andrew Neil's special guests are:
David Spiegelhalter, Winton Professor of the Public Understanding of Risk at the University of Cambridge [and] Ece Temelkuran, a Turkish journalist who was fired from her publication for criticising the government.
Andrew Neil began with the US election. Neil clearly loathes Trump. This is why I have not listened to or posted the previous two broadcasts.
He did mention that the state legislatures have a big part to play in deciding whether their election counts are legal or if they can take other action. Political Editor James Forsyth said this was not the predicted Blue Wave Democrats and pollsters predicted. As such, the Republican-dominated Senate will put a check on how much Biden, should he become president, could do.
Economics Correspondent Kate Andrews, who is American, said that to Trump supporters, the incumbent represents 'normality'. She is not a Trump fan, by the way. She said that Trump will not go down without a fight in the courts, especially after the Democrats have dogged him since 2015. She also pointed out how wrong the polls were.
Neil said that the Democrats never seem to learn their lessons, beginning with Hillary Clinton in 2016. He also said that Biden made a mistake in offering a huge concert featuring Lady Gaga; it looked to 'Flyover Country' as if he were pandering to multi-millionaires.
Forsyth pointed out that there is still deep division in the way that Americans think. Neil mentioned the upcoming litigation from Team Trump and mentioned voter fraud, including mail-in ballots. Forsyth said that Establishment Republicans, e.g. Mitch McConnell, will not want him to move into the territory of 'vexatious lawsuits'.
Neil noted that Democrats are hardly triumphant, particularly because of Biden's age: 78. Kate Andrews replied that their mandate will be unclear for a one-term president. [They are both assuming Joe's going to last for four years.] She disagreed with Forsyth about coronavirus being the reason Trump didn't get more votes; she thinks that Trump came on too strong in the first debate. [The presidential debates are supposed to sway the undecided.]
Andrews think that Biden will 'work across the aisle' if he becomes president. However, she says there's a long road ahead before the president is decided.
Forsyth says that chances are good that Republicans will continue 'Trumpism without Trump', building more links with the working class and those on lower incomes. He thinks Democrats have more work to do here than Republicans.
Neil said that the Midwest could take the coastal areas over as the deciding region in future elections — for both parties. Andrews said that people there really appreciated the 2017 tax breaks. The economy, from what she has seen in exit poll issues, was much more important than coronavirus.
Neil said that if Biden becomes president, he will face a Republican-controlled Senate and a majority-conservative Supreme Court. [Neil and Andrews haven't allowed for him to stack the Supreme Court.]
At that point, both Neil and Forsyth started showing their vulnerabilities as pundits on US politics. So, I'll move on to the next topic.
The next topic of discussion was the second coronavirus lockdown in England, paralleling the one in Wales and something similar in Scotland. It started the day of the broadcast.
The Spectator's editor, Fraser Nelson, talked about the 'debacle' of spurious data from SAGE that appeared at the press conference on Saturday, October 31, which 15 million people watched. He pointed out that there are nowhere near 4,000 daily deaths from coronavirus. The magazine has been tracking the data daily.
Nelson also mentioned Sir Patrick Vallance's exaggerated projections from September, which were not at all true. Nelson said that it looks — even before lockdown — as if the Government's localised tier system is working. Liverpool's case numbers decreased by 48%, he said, in the second half of October. He concludes that the Government pushed lockdown based on modelling rather than reality, i.e. 'scary charts'. [I couldn't agree more.]
Prof David Spiegelhalter appeared remotely. Neil asked him about these strange statistics and scary scenarios. Spiegelhalter, a statistician, said that he would be speaking personally, not professionally. He said that the '4,000 deaths' were 'completely unnecessary' to make a case for a second lockdown. He pointed out that, in more moderate areas of the country, e.g. the south-West, cases are going up. He said that, even as R is decreasing, we are only stabilising the situation temporarily. The situation we are in now is still putting pressure on the NHS to carry out routine treatments. That could have been explained and that would have been reason enough for the public to accept a second lockdown.
Nelson broke in to say that he thought showing alarmist statistics to an early evening audience nationwide on a Saturday was irresponsible. Spiegelhalter agreed, saying that the graph was 'inappropriate'. He added that it had been produced under earlier, out-of-date assumptions — and was never part of an official document.
Nelson asked for a more balanced view with regard to public statistics. He was also concerned about false-positive test results. Spiegelhalter replied that the true false-positive result is very low. However, we are moving on from the PCR (swab) test we have been using. [A trial with a new test in Liverpool started a few days ago.] He said that the new tests would need to be further evaluated for false-positive rates.
Neil has been talking to the True Blue (Conservative) faithful and they have been growing increasingly 'hostile' towards Boris Johnson's premiership. James Forsyth said there could be a vote on a third lockdown later in the winter. He predicted that there would be an even bigger Conservative backbench rebellion than there was on Wednesday, November 4, when the new lockdown was voted in. Andrews said that the public have not seen enough done during the summer to prevent a further coronavirus crisis. They are also edgy and frustrated about an ever-extended furlough scheme, recently extended to the end of March 2021.
Talk then turned to the ongoing disagreement between France and Turkey, which saw two terrorist incidents in France recently. Ece Temelkuran, an award-winning Turkish journalist and author, was the final interviewee. Neil asked her if Turkey's President Erdogan was an 'authoritarian'. She replied, 'Definitely'. However, she added that the move away from secularism started in the 1980s with members of the military and went on from there. She explained that part of that move was against the Cold War. After the Berlin Wall fell, the military leaders were 'jobless' and looked for something with which they could occupy their time. Twenty years ago, after 9/11, Turkey became the 'model, the exemplar country' for 'moderate Islam', which emerged after 2001, and became stronger advocates for the cause.
She does not think that Erdogan has a plan, that he merely wants power. She says that Erdogan perceives — along with some Turks — that the 'West has lost its moral superiority' with the refugee crisis that began in 2015.
She said that Erdogan is increasing his control over various Turkish institutions, ongoing over the past four years. She said that things will get worse before they get better.
Charles Stanley Wealth Managers sponsored the programme.
Andrew Neil, veteran BBC journalist and chairman of The Spectator worldwide, hosted Episode 7 of The Week in 60 Minutes on Thursday, October 15, 2020:
A summary follows.
Not surprisingly, given events of the past week, coronavirus led the news.
Andrew Neil began with England's increasing number of regional lockdowns. It would seem that Prime Minister Boris Johnson is no longer following the science. The Labour and official Leader of the Opposition, Sir Keir Starmer, wants another national lockdown. The political editor of The Spectator, James Forsyth, said that, whatever coronavirus crisis measures Boris Johnson takes, he's 'damned if he does, damned if he doesn't' and has to deal with the damage of lockdowns.
Across the Channel in France, Emmanuel Macron has been following a similar strategy to that of Downing Street and is very concerned about COVID-19 in all respects. Neil asked about last week's contretemps in Ireland. Forsyth said that Ireland's dispute between their government and medical experts was played out in public; by contrast, in the UK, it was in private. In any event, he said that scientists are now in a position of 'negotiation'.
The magazine's deputy political editor, Katy Balls, was on next to discuss Labour's position on coronavirus. Labour MPs disagreed with Keir Starmer behind the scenes, a move which she said has united the Conservatives. That said, it seems England could well be heading towards a short 'circuit breaker', although that would be very difficult for Conservative MPs to stomach.
Forsyth said that this is a very dangerous time for the Government. Starmer could even emerge victorious. ('At some point', I might add, as Boris has a majority of 79 [from 80], and no general election is due before 2024.) At this stage, it's too soon to tell. He said that no one knows if a circuit breaker would actually work in England.
The Spectator's editor Fraser Nelson was up next. He said that Boris was pretty well on to the way to a national lockdown, adding that he lacks the way to fight off SAGE, having been  'outmanoeuvered'.
Neil asked about a recent poll showing approval for more coronavirus restrictions. Ben Page from IPSOS-Mori explained the polls, which showed that 62% of respondents thought that stricter measures should be taken. Page indicated that these were somewhat alarming results: 'quite astonishing in some ways … across the piece'.
Forsyth noted that 19% of Conservative voters in England oppose increased restrictions, which poses a problem for Boris because it creates a North-South divide. Ben Page countered that the polling support for Labour and Conservative has been fairly stable this year. Labour haven't been able to gain much ground since December 2019.
Jake Berry MP, a Conservative representing the northern constituency of Rossendale and Darwen in Lancashire, spoke next. He said that, although their regional lockdown had been relaxed recently, they are now on Tier 2. He said that people are largely ignoring the Government guidelines and will comply only with what they think is appropriate. He does not favour a national lockdown but supports a local circuit breaker 'based on the data', so that it becomes less political for the public. He believes that the Government could have 'handled the North better' and that recent weeks have proven a 'very dangerous moment for Parliament and the North'. That said, he added that Labour 'is in quite a lot of trouble over this as well' and said Starmer committed quite a big mistake this week when calling for a national circuit breaker.
Berry further advised that we need to give this new two-week regional lockdown the benefit of the doubt which might lead for in-and-out local lockdowns.
Neil then changed tack, moving across the Channel to France, with its local 10 p.m. coronavirus curfews (some of which are now at 9 p.m.) and a campaign against extremism.
Ayaan Hirsi Ali, speaking to the latter point, was the next guest. She was sceptical about any success against extremism. She said that extremists have convinced French immigrants they are living within another type of state to which they do not feel they naturally belong. She added that this is enough to subvert the French nation. She also said that the same narrative is going on in other Western nations, because leaders remain silent and refuse to admit what is really going on.
Talk then turned to Brexit arrangements, which were to have been concluded that day. James Forsyth said that the EU threw the ball into the UK's 'court'. That leaves the situation whereby Michel Barnier wants to carry on talks but neither side wants to back down.
Forsyth expects there will be a deal to be done 'but with a twist in the tail'. Fraser Nelson said that Boris and Macron communicate with each other quite closely and expected that Britain will budge over fishing rights. It will be, he predicted, one for revision: 'a process rather than an event'.
Forsyth said there could be a November deadline, even though neither side wants an early deadline because they do not want any changes to the deal. He predicted a last minute November 15 deal.
The last part of the programme concerned protecting the triple lock pension with Katy Balls affirming that Boris is 'committed to it'.
The panel noted Boris's 'unstrustworthiness' problem with voters. Questions from listeners followed for the last ten minutes. Ben Page said that the Labour Party is very unpopular even if Keir Starmer is popular in the polls.
Viewers are grateful to Charles Stanley Wealth Managers for sponsoring the programme.
Andrew Neil's Spectator TV posted its sixth episode of The Week in 60 Minutes on Thursday, October 8, 2020:
Guests included Prof David Nabarro, World Health Organization special envoy for Covid-19; Andy Preston, mayor of Middlesbrough; Pat Leahy, political editor of the Irish Times and a few Spectator journalists.
The programme began with the status of coronavirus measures in Ireland.
Pat Leahy, political editor of the Irish Times, says that the Irish government was surprised by the recent recommended lockdown which they ultimately rejected. The Irish government were highly critical of the proposed measures, privately and publicly. Leahy explained that the head of the public health advisers has been off work because of compassionate leave, then, last Sunday, he returned and recommended another lockdown. The Irish government took it as, he says, a 'power play'.
The government objected to the health experts' very quick meetings amongst themselves and with government officials. Leahy said that the government were 'annoyed'.
The government did not disagree with the recommended measures per se, but there was a fine balance to be achieved. The minister of finance warned of employment and social consequences, because a number of jobs would not be coming back. He and his staff needed to consider if other measures could be taken instead.
Neil mentioned today's minimal COVID-19 deaths in Ireland. Leahy agreed and said that the so-called second wave has much less severe than the first. That said, the admissions to hospitals have been rising dramatically. So, there is a question about whether the second wave is different from the first. The Irish government felt they could weigh the statistics, adopting a wait-and-see approach. Leahy said that Dr Leo Varadkar, a physician who was formerly the prime minister and is now the deputy prime minister, essentially threw the nation's chief medical officer Tony Holohan 'under the bus'.
Leahy said that the part of Ireland's problem was assigning decisions to scientists and doctors in the first wave earlier this year. Currently, scientific advice 'is only one factor' in the decision making process that the Irish government will take with regard to coronavirus measures. Leahy said that time will tell whether the public will back the government. The economic factors are such that things could change in the weeks to come.
Katy Balls was up next, advocating Swedish models that a number of Conservative MPs back. A number of backbenchers disapprove of Drs Whitty and Vallance.
Conversation then turned to the WHO's Prof David Nabarro who says we are still in a bit of the first wave and we're not over it, so we need to learn how to live with the virus without lockdown and the 'closing down of economies'. What he calls 'the middle path' requires holding the virus at bay while allowing the economy to resume in order to make certain we can put safeguards in place, so that we can stop the virus whilst getting local 'actors', as well as testing and tracing, involved as much as possible and a common commitment to each other to keep everything as safe as possible. He said that lockdowns serve only to give a health service some breathing space.
Nabarro said that is what South East Asian countries are doing, also Germany and Canada. As lockdown lifts, nations can deal with increased cases 'elegantly'.
As for Ireland, Nabarro sided halfway with the Irish government and halfway with the scientific advisors. He did caution that public buy-in was necessary for any success.
Nabarro predicted many more weeks of uncertainty but that we would feel 'much more comfortable' in the New Year.
Neil asked Nabarro about Prof Sunetra Gupta's views on a milder lockdown. Nabarro said that the WHO do not advocate lockdowns as an absolute principle. (UK government: please take note!) He cited the damage done to the Caribbean and Pacific tourist industry. As a result, many more people could lapse into poverty.
Neil brought up Scotland's coming lockdown and a possible one in the North of England.
Kate Andrews had current statistics, comparing them to Sir Patrick Vallance's alarming case graph from the third week of September. So far, we are not close to Vallance's projection, but the UK is higher than France's and Spain's cases, respectively.
The effect of local lockdowns showed a skyrocketing in positive tests ('cases').  According to statistics, it is possible that Leicester should have already been taken out of lockdown.
Kate Andrews showed graphs that revealed that hospitality was responsible for a very low number of cases: around four per cent, not dissimilar to this pie chart, which I cited last Friday.
Nabarro intervened, saying he preferred 'local integrated responses', because breaking the virus involves input from every institution, be it a factory or a house of worship. He praised Leicester for its diversity, holding it up as a model for the world.
The Spectator's political editor, James Forsyth, came on to comment about the former Labour 'Red Wall' in the North. Much of that Red Wall voted for Conservatives in December 2019. Forsyth said that lockdown will be viewed as flooding has been in recent years: even if measures taken are not political, they look as if they ARE political. Northerners see that London and the surrounding Home Counties will not be locked down, and, as a result, will suffer fewer socio-economic casualties.
Andy Preston, the Independent mayor of Middlesbrough, was the next guest. He has been positively incandescent about lockdown. The transmission is a bit choppy, but Preston said that many of his residents didn't personally know many people who had or died of COVID-19. He added that Middlesbrough's residents have paid more in tax whilst losing out locally. He felt that 'the Government is doing stuff to us'.
Preston has asked for a temporary ban on in-house socialising but supports frequenting restaurants. He said that local government and the UK government need to work together on measures.
Preston said that he thought there was an 'inside group' of advisers to the government, with no one from Middlesbrough involved.
He said that this type of decision making could go 'very badly wrong for the country'.
Talk then turned towards the American vice presidential debate. Freddy Gray covered this segment. He said that Mike Pence is 'a very accomplished performer', 'intelligent and he spoke very fluently'. He disclosed that he has never been a Pence fan but predicted that he could be the next Republican nominee in 2024.
Neil said that a Trump-Biden virtual debate would not be the first. Nixon broadcasted in 1960 from Los Angeles. Gray said that no one knew what is going on in Trump's mind and said that the American president had gone 'full gonzo'.
Viewers' questions came next.
The first had to do with successful measures against COVID-19. Nabarro commented on coronavirus success in South East Asia, which he attributed to community buy-in and no delay in taking action, which can result in more problems later.
Another viewer said that England's mayors needed to come together with regard to England's lockdown. Andy Preston said he would back Manchester's Andy Burnham, a former Labour MP.
A third viewer wondered about the vote coming up this week on England's 10 p.m. curfew. Katy Balls said she doubted whether Labour would oppose the vote, but Conservative rebels might have their chance in the weeks to come to succeed in voting against the Government. (Personally, I don't think it will happen. Most of the Opposition support lockdown measures and restricting civil liberties.)
James Forsyth says that half the Conservative MPs really detest the Government's coronavirus restrictions. He cited the communications surrounding them and questioned what the £12bn poured into the 'test and trace' programme has actually achieved. He said it was 'not delivering'.
Andrew Neil asked about the Great Barrington Declaration, which Prof Sunetra Gupta and many other physicians signed a week ago in Massachusetts. Kate Andrews said that Prime Minister Boris Johnson said there would be a 'game changer' with no social restrictions a year from now. As such, time is not a big deal for Boris. Neil said that Boris sounded like Chauncey Gardiner. I don't like saying this, but I tend to agree with his assessment. Boris seems off the rails right now.
Leahy had the final word, measuring the rising positive tests with closed pubs and other measures. The Irish government, he says, needs to give these new measures time to work, including buy-in from the public to avoid another lockdown. He predicts another two to three weeks.
The final question came to Nabarro about the origin of the virus. He said, in short, that there was no definitive answer. 'You [have to] bring in independent actors', therefore, the WHO would need 'to bring in other staff to help'.
Hmm. Interesting.
Then, in an abrupt change of tone, Nabarro sounded a blast at certain countries, including Belarus and Spain, saying that a second wave could come soon and that no nation should be complacent.
Hmm.
Charles Stanley Wealth Managers sponsored this week's programme. For that, we are most grateful. Agree or disagree, Spectator TV is manna in a desert of dry, one-way MSM broadcasts.
Below is Episode 5 of Spectator TV's The Week in 60 Minutes, which aired on Thursday, October 1, 2020:
It was another hour of informative television, hosted by Andrew Neil.
Discussion points prove that a week is a long time not only in politics but also where coronavirus is concerned.
Although the first segment is now dated, as thousands of extra 'cases' (positive test results, for the most part) were discovered missing from English coronavirus stats last Friday, The Spectator's economics correspondent Kate Andrews reviewed Chief Scientific Officer Sir Patrick Vallance's alarming graph from two weeks ago. The English stats were flat when Andrews gave her commentary.
This is a graph from October 6, showing actual data plotted against Vallance's:
This is also worth noting, including the comparison of hospitalisations from earlier in the year:
Kate Andrews said that France and Spain are levelling out. Nearly one week on, that is continuing. Spain's positive test numbers/cases are falling noticeably:
In any event, Andrews rightly pointed out that COVID deaths are still far fewer than flu or other causes. In fact, she said, 51% of Britons now worried about the economy, particularly in light of lockdowns across a growing swathe of England in the North and the Midlands.
Spectator editor Fraser Nelson thinks Boris has created some space to evaluate COVID measures, as he will now be meeting with Vallance and Chief Medical Officer Dr Chris Whitty once a week.
The magazine's political editor, James Forsyth, said that the hotspots are more regional now and that Tory MPs from regions with lower positive test rates will ask for easing lockdown restrictions with more focus on improving the economy. That has happened in Parliament but not to a great enough extent to make a difference when it comes to voting on coronavirus restrictions. The Government won the vote on the Rule of Six hands down this week.
Kate Andrews says economists now think recovery will take longer because of new restrictions.
They are absolutely correct. A lot of businesses in the hospitality and entertainment sectors are likely to suffer during the winter months. Restaurant and banqueting venue owners do not know whether they should take bookings for Christmas parties. Businesses — their customers — are also loath to make large Christmas bookings. At the weekend, Boris predicted that the coming months would be 'bumpy' through Christmas 'and possibly beyond', perhaps 'until Easter'. Boris and much of his Cabinet are banking on a vaccine appearing on the market by that time. Oh, dearie, dearie me.
The best part of the interview was the segment with Prof Sunetra Gupta, an infectious disease epidemiologist and a professor of theoretical epidemiology at the University of Oxford. Last weekend, Prof Gupta signed the Great Barrington Declaration in western Massachusetts, opposing the current form of Western lockdowns. Those who wish to watch that segment separately can tune in below:
She doubted the validity of Vallance's graph which, she said, still applies to the first, rather than a second, wave. She said that what we are seeing is in line with the way viruses work in the autumn. She thinks that governments and scientists should move away from lockdowns because of other equally urgent issues involving human life. She also said that lockdowns serve only to delay more COVID-19 cases. She believes that we need to learn to live with the virus and added that it should settle down eventually, as with the flu. She says this is called endemic equilibrium. She told Neil that she recently met with Prime Minister Boris Johnson. Unfortunately, she said, Boris told her he disagrees with her scientifically reasoned request to return to normality.
That makes it even more obvious that Boris is all in for a vaccine, nothing less. How sad.
Talk turned to the appointment of a new chairman of the BBC. Charles Moore, a long-time conservative journalist and former Spectator editor, was thought to be the likely candidate last week. Andrew Neil interviewed Claire Fox from the Institute of Ideas, who spoke about Charles Moore and the BBC, which many Britons believe is biased against conservative ideas. Claire Fox said that we have to have a national discussion and 'shake up' about what we expect from the media, because people think there is a one-sided narrative and 'groupthink at their core'.
Fraser Nelson said that conservatives don't really play that game, to their detriment.
In the days that followed, Charles Moore indicated that he would not apply for the job at the BBC (more here from The Telegraph):
Andrew Neil discussed the US election debate, which had taken place earlier last week. Matt Purple of The American Conservative, probably the only anti-Trump journalist at that publication, said it was 'a Chernobyl', largely because Trump does not correct his errors. He said that Biden is ahead in the polls. Neil asked about the undecided voters watching the debate. Purple said that Trump's 'temperament' is the issue. He also thinks that independent voters see Joe Biden as a 'better package'. He added that incumbents have a record to defend and that Trump 'burned the most'.
I find it incredible that Matt Purple thinks Trump is a bad president. I wonder why he works for The American Conservative, which Rod Dreher, a solid conservative, edits.
In any event, Purple's words were music to Andrew Neil's ears. Like most middle- and upper-class Britons, he loathes Trump, for whatever reason.
Neil asked Kate Andrews, an American, whom she preferred. She said that, although she is conservative, she was leaning towards Joe Biden. No surprise there.
Neil said that Trump is going to lose both the popular and Electoral College vote. He mentioned a plethora of court cases to be settled afterwards.
Looking into American history, Neil mentioned the controversy surrounding Rutherford Hayes's election in 1876, which took four months to resolve. Purple agreed, predicting more violence in the streets.
Andrew Neil ended the hour by reading out questions from viewers.
John Prescott (not the retired politician) asked about coronavirus metrics. Gupta said that health officials need to look at deaths and the correct number of cases versus the number of tests then benchmark those data against other infections.
Roger Murphy asked about reversing lockdown. James Forsyth said that we will see in a fortnight, because this is the first time we have seen local pushback to lockdowns. Fraser Nelson said that Boris is missing the point. Lockdown, he added, will not help strengthen the Red Wall that the Conservatives won in the North last December. Locking down London is another possible sticking point.
No doubt this week's Spectator TV broadcast, to be filmed on Thursday, will cover Boris's speech at the Conservative Party conference and rebel Conservative MPs who want lockdown rules to be changed. I'll post that video soon.
There are two more increasingly popular Spectator TV videos to view, brilliantly presented by Andrew Neil.
Each of the episodes below is one hour long, but it is unlikely that those seeking real news and analysis will be bored.
As a supporter of President Trump, I was somewhat less impressed with Episode 3, from September 17, which downplayed his chances for re-election as well as his foreign policy, as many of us consider it a peacetime triumph:
Sweden's state epidemiologist Anders Tegnell was the first to be interviewed about his nation's handling of coronavirus. As we know, they had no lockdown.
Tegnell regretted not having controlled the many deaths in care homes — similar to those in other Western nations. There were also other lives that could not be saved because of co-morbidities. He said that a lockdown would not have saved them.
The problem in the care homes related to their separation from a national health care system, again, not dissimilar to the tragic result seen in other nations, particularly the United Kingdom and the Netherlands.
He indicated that Sweden wanted to ensure that care home fatalities were resolved going forward as well as those among minority populations. He said that an EU commission was looking into those challenges.
Neil asked why Sweden was one of the few countries that ignored the projections from Imperial College London earlier this year. Tegnell replied that Imperial's models were 'quite extreme' and 'doubtful'. He added that models are not made 'for prognosis' because 'you don't really know' what is going to happen.
He said, 'This is not a competition' and expressed his desire for more international collaboration and discussion to find a common pathway towards fighting the a second wave of the pandemic as well as agreement on testing.
He said that Sweden had been conducting 80,000 tests a week with no recent deaths.
Good for Sweden. They did well considering they bucked all the odds.
In case the interview is difficult to listen to because Tegnell is on a train, here is another transmission:
Episode 4 of Spectator TV, from Thursday, September 24, covered a multitude of health, economic and political topics:
Kate Andrews talked about the broadcast that Dr Chris Whitty and Sir Patrick Vallance made about coronavirus last week. Rishi Sunak, Chancellor of the Exchequer, gave a statement last week on a winter economic programme. It focussed on a change from furlough, which expires in October, to a jobs subsidy for viable employment. She said that there is no doubt that unemployment will rise in the UK in the coming months.
James Forsyth echoed that and said that Rishi Sunak's plan is to retain as many current jobs as possible but also to create many more.
On that note, Katy Balls said that there is some tension between 10 and 11 Downing Street. Boris errs on the side of health and personal safety. Rishi is more focussed on the economic numbers in order to keep Britain afloat.
With regard to coronavirus, Dr Flavio Toxvaerd, an economic epidemiologist from Cambridge University, said that epidemiologists do not have a good estimation of human behaviour. He did not believe that we were likely to see the latest coronavirus predictions from Whitty and Vallance's graphs come true. That said, there is a delicate balance to be struck between health and the economy in dealing with COVID-19. Both are critical at this time. Neither can be viewed in isolation.
With regard to his eponymous amendment anticipated to be brought before the House of Commons, Sir Graham Brady said he felt confident that any future coronavirus-related statutory instruments would have to be brought before the House of Commons for debate and a vote prior to implementation.
Questions have been raised as to Boris Johnson's future as Prime Minister. Katy Balls and James Forsyth both thought that he would not be gone by the end of the year, as many have predicted over the past several days. Leaving the EU, they predicted, will put fuel in the tank for 2021, so to speak.
Turning to the upcoming US elections, Dominic Green said that a Biden administration would favour the EU more than the United Kingdom emerging from Brexit. Again, this assumes that Joe Biden will win the election. Green rightly warned that polls are unreliable. (We saw the same situation four years ago with the polls and the 'Trump can't win' theme. We are seeing it again now.)
Thousands of us are grateful to the NatWest Group for sponsoring these useful broadcasts.