You are currently browsing the tag archive for the 'Japan' tag.
News events from the past ten days have been strange, indeed.
That they are happening all at the same time shows that truth is stranger than fiction.
This is like something out of a dystopian film.
Neil Oliver's editorial
On Saturday, July 2, Neil Oliver presented his weekly editorial on GB News:
He said that the supposed new world utopia is not working. He discussed possible Chinese social credit scores coming to the West and the increasing government control over our lives. He talked about racism from progressives towards their perceived 'wrong kind' of minorities who believe in conservatism, such as Justice Clarence Thomas on the overturning of Roe v Wade. He showed us the clip of Boris Johnson and Justin Trudeau joking about the size of their jets at a time when Western governments are discouraging their citizens from flying — anywhere. He looked at the hypocrisy of the Glastonbury music festival, with environmentalist youths leaving behind them a load of plastic rubbish all over the massive field where it was held. He talked about how people were increasingly unable to put food on the table and asked why this was in the 21st century, a time when we have never been so advanced as a society:
It makes no sense.
He said that the elites want:
the poor to become poorer, the hungry to become hungrier and the cold to become colder.
He concluded:
… here's the hardest pill to swallow: it's not supposed to make sense. This is planned, done on purpose. It's supposed to make us do what we are told. It's supposed to make us stop asking impertinent questions and just submit to The Man. It's supposed to divide us, one from another, until everyone feels alone. It's supposed to make us scared, angry, cold, hungry and sick to death. 
Sri Lanka
Sri Lanka has turned into a dystopia, the kind that Neil Oliver spoke of in his editorial.
The Express summarised the situation, caused by a debt crisis (emphases mine):
Unrest has been ongoing for several months over a debt crisis that has crippled the economy.
Reserves have been drained to minimum levels and the country has defaulted on several debts, meaning it is now struggling to secure essential imports like medicines and fuel.
The south Asian nation has been plagued by sky-high inflation, rolling blackouts and mile-long queues to secure essential goods.
Sporadic protests began in late March, but have since galvanised huge support from the wider public.
Last week, after months of shortages of nearly everything in the country, protesters stormed the presidential palace and the prime minister's residence, both of which are in the capital Colombo:
The homes of President Gotabaya Rajapaksa and Prime Minister Ranil Wickremesinghe have been occupied by local people furious with their leadership for throwing them into a staggering economic crisis …
They have since occupied the building, making themselves at home by using the pool and kitchen.
Sri Lankan police had attempted to use tear gas and water cannon to disperse the crowds, but they have remained defiant and are still refusing to leave.
The Express has several pictures of protesters occupying the presidential palace.
Although the president and prime minister have since resigned, protesters remain sceptical:
some are sceptical of the legitimacy of the resignations.
In a late-night announcement on Saturday, President Rajapaksa said he will step down on Wednesday.
But under Sri Lanka's constitution, his resignation can only formally be accepted when he resigns by letter to the Speaker, which has not happened yet.
Protesters have said they will continue to occupy official buildings until both have officially stepped down.
The country's political parties have resolved that, once both the president and the prime minister formally step down, the speaker would take the role of acting president before parliament votes for a new president on July 20.
On Monday, July 11, Dan Wootton discussed the situation, saying that much of the unrest had been sparked by green policymaking. The president's drive to turn Sri Lanka into an organic-only country with no fertiliser has led to widespread food shortages. The pertinent part is in the first minute and a bit of this video:
Dutch farmers
Meanwhile, another chilling news story emerged, this time from the Netherlands, that of farmers protesting against possible confiscation of their land.
This, too, bears out what Neil Oliver discussed on July 2.
The EU has decreed that nitrogen emissions must be cut. They blame farmers.
Dutch farmers have been protesting against their government's latest policy on nitrogen emission reductions, which, if Prime Minister Mark Rutte gets his way will put many of them out of business.
This was the scene on Friday, July 8:
Below are some of the replies to that tweet:
The Dutch, like most European peoples, are unarmed. The authorities prefer it that way:
Imagine if the government took away the land that you and generations before you had farmed, with either dairy cows or crops. It's unthinkable, but it is a real threat for these men and women:
In reality, there is no emissions problem in the Netherlands. This is about something else — control:
How interesting that the BBC hasn't covered it:
On July 7, Tucker Carlson interviewed the Dutch lawyer Eva Vlaardingerbroek, who is also a regular guest on GB News.
The Vigilant Fox has the video of her talking to Tucker as well as a transcript.
She said:
what this is about is the Dutch government stealing our farmers' land, and they're doing this under the guise of the made-up nitrogen crisis. And that is basically going to put most of these farmers completely out of business.
And thankfully, the Dutch farmers aren't having it. So they're going out in the streets, they're blocking distribution centers, they've blocked the high roads, they are fighting back! And they're right to do so; this is their life's work. They're really at their wit's end. They're devastated by what the government is doing, and it's very clear that the government is not doing this because of a nitrogen crisis, they're doing this because they want these farmers' land, and they want it to house new immigrants.
They also want it because the farmers are obviously standing in their way of The Great Reset plans that they have for us. Farmers are hard-working, God-fearing, and especially self-sufficient people that are just standing in the way of their globalist agenda. And it's driving a lot of these farmers even to something like suicide. So really, there's only one term that we can use for the things that our government and their Premier Mark Rutte is doing right now, and that is communism.
Scary.
Tucker, like most of us, tried to wrap his head around this:
So messing with the food supply tends to cause food crises and then famines. You're seeing this in the developing world, thanks to climate activism and the war in Ukraine. Are normal Dutch citizens who aren't farmers worried about what happens when you shut the farms down?
Eva said that the Dutch public understand what is happening:
Absolutely! They understand it. 'No farmers, no food,' and that's why the farmers have blocked these distribution centers because within a matter of a couple of hours, we saw that the supermarkets were empty, and ordinary citizens understand this.
She says the Dutch government either doesn't understand the consequences of what is happening or they really do want to destroy farming:
The problem is that the state doesn't seem to understand this, or it's what they want. And the police have responded in an incredibly violent way. So as you guys have seen, now, they have even shot at a 16 year-old-boy. These are not things that you should see in free Western countries, especially not targeted towards peaceful protesters, but it's happening.
She explained the red handkerchief she was wearing and said that similar nefarious events could happen in other Western nations:
Everyone around the world, and especially you in America, should be supporting our Dutch farmers because this could be happening to you. It's actually the very reason why I'm wearing this handkerchief right now. It's become the symbol of these farmers' resistance, and they're doing it so courageously, and they have the manpower to do it, so they really deserve your full support.
This Dutch farmer agrees with the assessment that the Dutch government wants the land. He says that it is in order to make the whole of the Netherlands one urban sprawl. You could not make this up:
It seems this is a World Economic Forum idea:
Eva gave an interview to Rebel News and confirmed the link with the WEF:
Once farmland is built on, it cannot easily be reclaimed for crops or grazing:
It sounds like fascism — corporations aligning with governments for control over the people:
Unfortunately, the British government — Conservative! — is trying the same thing in England by politely offering to buy farmers' land. Amazing, at a time when we have so little food security:
On Monday, June 11, Neil Oliver appeared on Dan Wootton's GB News show to discuss the unrest both the Netherlands and Sri Lanka.
Oliver said that Sri Lanka has also been affected by green policies which have been responsible for shortages plunging the country into crisis. He surmises that the governments have been told what to do. He doubts whether politicians will listen to the people and referenced Canada's trucker protests earlier this year as a case in point. Trudeau froze some protesters' bank accounts in response. Wootton responded by saying that the media were ignoring what has been going on in both Sri Lanka and the Netherlands. Oliver said that this will become so big in time that the media can no longer ignore it.
To be fair, the replies to this tweet do indicate that the BBC and Sky News have been covering these stories for the past few days.
Allow me to point out that the World Economic Forum had big plans for Sri Lanka, predicting an economic boom by 2025:
These green policies are hurting people, and it is time they were stopped:
On Monday, June 11, Patrick Christys of GB News spoke to Jeroen Van Maanen of the Dutch Dairy Farmers' Association. Van Maanen has been on GB News a lot over the past few days. He said that the government has different emissions targets, depending on the region. If this law is not stopped, he, for one, will not be able to continue farming. He also said that the government forbids using technological innovations to reduce emissions. Unbelievable. Like Eva, he stated that this is about the government buying land to house refugees:
Christys then spoke to energy analyst Andy Mayer, who said that misguided green policies are going to become problematic across Europe first, then other Western nations. Mayer said that the EU law on emissions originated in the UN. Like Tucker Carlson, Christys had a hard time wrapping his head around governments that seemingly wanted their farmers to go out of business. Mayer said that political leaders are so obsessed with reaching environmental targets that they are making terrible decisions. He said that the Netherlands exports £100m of farm products per year. Here in the UK we get a lot of produce from the Dutch all year round. Mayer says the grand plan is to have food in the West grown in other countries. Sheer madness, when we can see the result of this right now in Ukraine as Putin has prevented their grain from being harvested:
Returning to the Netherlands, it is heartening to see the farmers protest into the night:
Eva also spoke with Mark Steyn on Monday evening. Well done, GB News, for keeping this story going:
Shinzo Abe assassination
When it wasn't governments controlling their people, it was a madman settling an imagined score last week.
On Friday, July 8, Japan's former prime minister Shinzo Abe, 67, was campaigning for a political candidate in his party and was shot in the city of Nara:
He died soon afterwards:
What happened with security at the event?
Donald Trump's supporters remember how close he was to Abe:
Boris Johnson also admired Abe:
When Abe's death was announced, Boris sent a message of condolence in English and Japanese:
Abe had a long relationship with the UK. Here are photos of him with our past three Prime Ministers:
The gunman had served in the Japanese navy.
The Express reported:
A number of makeshift weapons were said to have been discovered at the home of Tetsuya Yamagami, 41, who was arrested after the attack.
The navy veteran was thought to have had improvised devices, including the one used in Friday's killing, by taping steel pipes together.
The gunman held Abe responsible for his (the gunman's) mother's bankruptcy. She happened to belong to South Korea's Unification Church, the Moonies, and gave them a large donation. The gunman believed that Abe had connections to the same group. Apparently, he thought that Abe somehow influenced his mother to give her large donation.
Hmm. There is no information about security at the event, only about it being heightened in the days that followed, culminating on July 10:
The assassination has shaken Japan – a country where political violence is rare and gun ownership tightly controlled.
Mr Abe was speaking during an event for his former party, the Liberal Democrats, ahead of upper house elections.
Security was heightened as voters went to the polls yesterday and party leaders avoided mingling with crowds during their final hours of campaigning.
Abe's traditional funeral ceremony, the tsuya, was held on Monday, July 11. It was a small gathering, led by his tearful widow Akie, 60, and attended by former prime ministers and American officials.
Boris Johnson's ousting
Finally, at the beginning of last week, Boris Johnson was abruptly and unexpectedly ousted as leader of the Conservative Party, although he remains Prime Minister for now.
On Saturday, July 10, Neil Oliver had a pertinent editorial on Boris, saying that our MPs do not care about us, we the people. We are in their way. We count for nothing in their eyes. He was appalled by the party atmosphere surrounding Boris's resignation and took exception with former Prime Minister John Major's suggestion that Boris should be removed immediately from No. 10. He also criticised another former Conservative MP, Michael Heseltine, for saying that, with Boris's departure, Brexit is now over. (Brexit was the largest plebiscite in British history.) He then went on to rightly criticise MPs for the damage done to British society with lockdown and Net Zero policies. They are now our masters, no longer our servants:
I will have more on what allegedly happened to Boris and profiles of Conservative MPs who are campaigning to succeed him as leader.
Dystopian events
That so many strange events could happen at the same time strikes me as dystopian.
I've never experienced a news cycle like last week's.
Let us hope this is not a regular occurrence.
It used to be that vaccines prevented infection.
Coronavirus has changed all that. The double-vaxxed are ending up infected:
Andrew Doyle, who hosts Free Speech Nation for GB News, has it, and he's taken his shots.
ITV's Robert Peston, also double-vaxxed, has it, too:
Peston was supposed to be in Aberdeenshire in Scotland but had to cancel:
I hope he recovers soon.
Meanwhile, in the UK, the debate rages on as to whether children over the age of 12 should receive the vaccine and whether older adults should have a booster shot this autumn.
British supporters of vaccines for children say that such programmes in the United States and France have been highly successful. Hmm.
Dr Robert W Malone is an American physician as well as an inventor of mRNA vaccines and RNA as a drug. He directs his readers to an article in LifeSiteNews about possible coercion being used in high schools:
Meanwhile, the WHO is urging countries wishing to vaccinate their children to donate those doses to Covax instead for wider use around the world. The reply to this tweet includes a statement from Britain's JCVI (Joint Committee on Vaccines and Immunisation) which recommended against children's vaccinations on Friday, September 3:
The WHO also disagrees with booster shots in Western countries, again recommending donating those doses to poorer countries:
The UK also wants to roll out vaccine passports by the end of the month. If we can catch the virus despite two jabs, what is the point? It seems as if we are all back at Square One, only that we are susceptible to milder cases rather than death.
Speaking of deaths, the UK figures for 2021 are on a par with other years since the vaccine rollout began. I saw this graphic on another site with no attribution. Note the bright green line up to Week 33: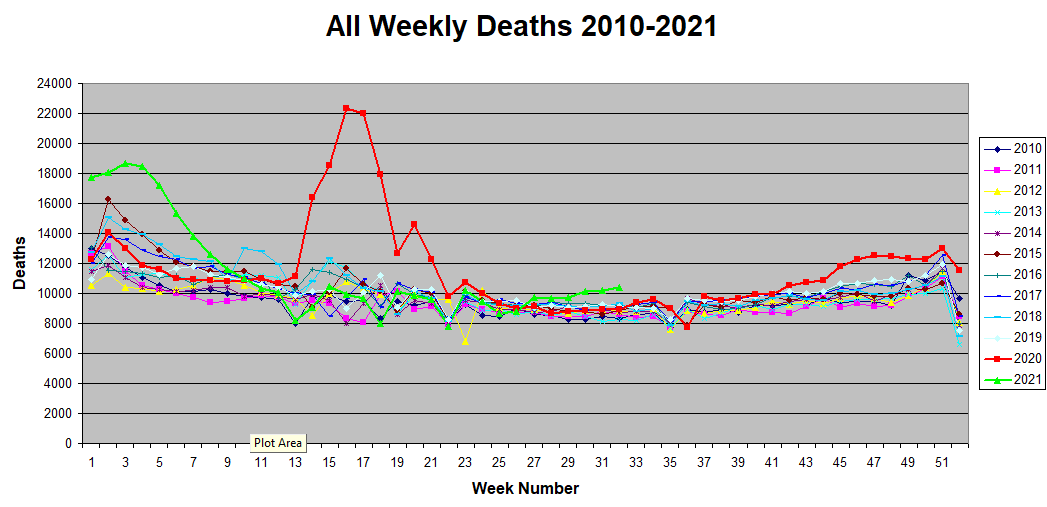 Moving to poorer countries now, not every nation has shown signs of infection or deaths:
Dr Malone says that Peru had a preventive programme of giving its citizens doses of ivermectin until a new president scrapped it. At that point, fatal infections began rising dramatically:
Since the pandemic began, ivermectin for humans has been taken off the market in several Western countries or is restricted on a prescription-only basis for certain conditions, excluding the virus. In many first-world countries, ivermectin is now used solely on animals for various diseases. The current formulation is made for their consumption.
Yet, in Peru and Africa, the formulation for humans is still available. It is inexpensive and is used to cure a variety of diseases as the following Twitter thread about Africa tells us.
The countries in blue are where ivermectin is used on humans. Note the differences in coronavirus cases and deaths:
Ivermectin, sold under the trade name Mectizan, is used to treat river blindness, a common and highly painful disease. It is not unusual to see people with a pair of eyebrow tweezers on a chain around their necks. Among other things, river blindness inflames the eyelash follicles. The only way to relieve the intense pain is to carefully pluck the offending eyelash. It is an ongoing pain until the disease is cured:
The Japanese have looked at sub-Saharan data and have recommended ivermectin to the government as a treatment for coronavirus:
It seems that the Japanese government rejected the use of ivermectin in combatting coronavirus. The updated statistics for Africa are in the second tweet:
Another big supporter of ivermectin is Karl Denninger of The Market Ticker.
On December 18, 2020, he wrote that by giving Americans two tablets of ivermectin, coronavirus could be stopped in one week in the United States. Two tablets in total is all it would take (emphases in the original):
… Why the hell are you not only letting them get away with it but willing to stand in line and take a not-fully-tested shot when a $2 alternative that does the same thing and has been proved safe over more than 30 years of time is available, and it also has a remarkable record of preventing serious disease and death.   This has been known for months.
We can stop Covid-19 in ONE WEEK.
One.  Not five, six, eight or ten as promised by Dr. Redfield with his "masks" who, I remind you, lied.  Covid-19 did not stop even though he got what he wanted.
The science and the CDC's own data says this will work in ONE WEEK.
And the risk if it doesn't work as the science and math says it will?
STATISTICALLY NONE; the drug in question has had over 3.5 billion doses dispensed worldwide and, on the data, is safer than Tylenol and the number of pills you must take is two.
Not two per day.
Two.
Ivermectin will receive broad media coverage only when it's too late. What a pity.
The UK-EU deal deadline looms.
With fewer than 100 days left, October is a decisive month:
On October 8, The Independent reported (emphases mine):
So what are the chances of a Brexit trade deal between the UK and EU before the end of 2020? Michael Gove told MPs on Wednesday the chances were around "66 per cent" – while No 10's negotiator also sounded relatively upbeat.
But EU officials are sceptical about the shift in tone from Downing Street, claiming the UK side was "pushing a sense of positivism and momentum, but we just don't see it".
One Brussels official has told Politico: "We are seriously questioning their tactic and why they are sending these kinds of messages as there is no deal in sight at all at this point.
"There's clearly a spin that the UK wants to get out there: a deal is within reach, only fish is still a problem. That's complete nonsense, as a deal on none of the EU's red lines is nowhere in sight at this stage."
Well, we'll see.
This is what our chief negotiator David Frost had to say on September 13:
On Friday, October 2, he issued a statement after Round 9 of the negotiations:
These were constructive discussions conducted in a good spirit.
In many areas of our talks, although differences remain, the outlines of an agreement are visible.  This is true of most of the core areas of a trade and economic agreement – notably trade in goods and services, transport, energy, social security, and participation in EU programmes.  This has however been true for some time.
I am also encouraged that progress has been possible on a law enforcement agreement and that there has been convergence on the structure of the overall partnership.
In other areas familiar differences remain. On the level playing field, including subsidy policy, we continue to seek an agreement that ensures our ability to set our own laws in the UK without constraints that go beyond those appropriate to a free trade agreement.  There has been some limited progress here but the EU need to move further before an understanding can be reached.  On fisheries the gap between us is unfortunately very large and, without further realism and flexibility from the EU, risks being impossible to bridge.  These issues are fundamental to our future status as an independent country.
I am concerned that there is very little time now to resolve these issues ahead of the European Council on 15 October.
For our part, we continue to be fully committed to working hard to find solutions, if they are there to be found.
In any event, by now, 'no deal' might not be such a big deal, given the replies to this tweet from a London Assembly member:
One wonders if the UK and EU negotiators are aware of the following:
On Tuesday, September 29, the third reading of the Internal Market Bill passed the House of Commons:
It then went to the House of Lords:
Most of the Lords are Remainers, so what happens if they reject it?
The first reading of the Internal Market Bill in the House of Lords, a brief formality, took place on Wednesday, September 30.
The following day, Ursula von der Leyen, the president of the EU Commission, said that legal proceedings against the UK were underway:
This is not unusual:
The bill's second reading in the Lords, which includes a debate, takes place on October 19.
On October 6, news emerged that European leaders want Prime Minister Boris Johnson to get involved in talks:
There's a Boris alert in tweet 3:
Things are tricky at the moment:
The thread ends with another call for Boris to get involved:
However, another commentator thinks that the request for Boris to get involved reveals the EU's panic:
On September 17, Guido Fawkes explained what would happen in the worst case scenario involving EU negotiations and rejection of the Internal Market Bill in the Lords (emphases in the original):
There it faces not only opposition from a lawyer-stuffed house dominated by non-Tory remainers Peers, but also Brexiteers like Michael Howard who have today refused to accept the compromise. One Lords source tells Guido that after the Commons won a concession the Lords will expect something now too…
In reality, the Government is considering a likely defeat. A senior source tells Guido that in the event the Bill is rejected by the Lords then the Government would have to convene a new session of Parliament in order to 'Parliament Act' the legislation through without the Lords' consent. To convene a new session the Government would have to prorogue Parliament again (Because it went so well last time)…
If the EU fails to engage constructively by Boris's 15th October deadline, talks will be cut off. After that date, heading for no FTA, the UK will either seek to escape the jurisdiction of the Withdrawal Agreement by declaring the EU did not act in good faith, or act more decisively to start a new session of Parliament to get the Internal Market Bill past the Lords. Or both.
Meanwhile, on the upside, Marshall Aerospace has won a huge contract with the United States Marine Corps:
On September 30, the UK and Norway reached an important agreement on fishing.
DEFRA (Department for Environment, Food and Rural Affairs) announced:
The UK has today signed an historic fisheries agreement with Norway – the UK's first since leaving the EU and first as an independent coastal state in 40 years.
The Fisheries Framework Agreement signed today by Environment Secretary George Eustice and Norwegian Fisheries Minister Odd Emil Ingebrigtsen will mean that the UK and Norway hold annual negotiations on the issues of access to waters and quotas.
It is a significant step forward as the UK prepares to leave the EU's Common Fisheries Policy at the end of December. Leaving the EU means the UK is able to decide who can access its waters and on what terms, in the best interest of its marine environment and its seafood and fishing sectors.
The agreement demonstrates the shared will of the UK and Norway to cooperate as independent coastal states and seek effective and sustainable management of their fisheries. The treaty incorporates the same principles that the UK is currently seeking with the EU – a framework agreement which reflects the UK's and Norway's rights under international law.
The Norwegian government was equally enthusiastic:
– This is a great day! I am pleased that we have reached an agreement with the United Kingdom, which will be an important coastal state and partner from January 2021, says the Norwegian Minister of Fisheries and Seafood Odd Emil Ingebrigtsen.
Arrangements for reciprocal fishing access and the exchange of fishing quotas will be made through annual fishing agreements, as today. Other parts of the fisheries cooperation in the North Sea will, however, need to be regulated by a separate tripartite agreement between the EU, Norway and the United Kingdom.
– I am glad that we now have an agreement that provides a framework for extensive fisheries cooperation with the UK, which is an important country for Norway. The agreement is consistent with our obligations under the law of the sea to cooperate with other coastal states on the joint management of shared fish stocks, in line with modern sustainable management regimes, an ecosystem-based approach and the precautionary principle. We will also maintain our close cooperation with the EU on fisheries in the North Sea. We look forward to putting in place a trilateral agreement between Norway, the UK and the EU on the management of joint fish stocks in the North Sea, once Brexit becomes a reality, said Minister of Foreign Affairs Ine Eriksen Søreide.
The City of London is well positioned as a leading global financial centre:
On September 25, Guido reported (highlights in the original):
London has managed to significantly close the gap on New York in the competition to be the leading global financial centre, gaining 24 points in the latest Global Financial Centres Index and leaving the capital just four points behind the Big Apple. Despite Brexit and Corona…
The 24 point jump is by far the largest of the top 20 index, with Shenzhen seeing the second-highest rise of 10 points to 9th place. On top of London's triumph, Edinburgh has also risen two points 14th place. The best the EU can muster is Luxembourg in 12th place and Paris in 18th. Shanghai, which remains in 3rd place, was previously only 2 points behind London, however has now opened up a -18 gap…
On September 23, Labour leader Sir Keir Starmer told ITV's Robert Peston that he sees no reason to delay Brexit.
The new leader of the Liberal Democrats, Sir Ed Davey, found that the Britons he spoke with had no appetite to delay our departure. I wonder if he was surprised. A year ago at this time, the Lib Dems were desperate to reverse Brexit and made that the focus of their general election campaign:
On September 13, the UK finalised a trade deal with Japan:
And there's a bit more good news about British beef and the prospect of our joining the Pacific Rim trading bloc:
I truly hope that we do exit from the EU once and for all on December 31, 2020.
That would be a real treat — and accomplishment — in what has been, for the most part, a dreadful year.
President Trump had a busy schedule at the end of May 2019, which included a return trip to Japan.
This time it was a State Visit.
As he and First Lady Melania would be out of the country on Memorial Day weekend, they visited Arlington Cemetery before their departure:
On May 25, the first day of the State Visit to Japan, Trump met with that nation's business leaders, too many to list here:
Prime Minister Shinzo Abe and his wife Akie hosted the Trumps for dinner that night. Abe had not forgotten his guest's favourite dessert:
Abe was delighted to welcome back his friend:
The next day, the two world leaders played golf:
Their wives toured the Mori Building Digital Art Museum:
The QTree explained the significance of the following day's welcome by the new Emperor and Empress of Japan — a first for both couples:
… our President and FLOTUS become the first guests of Japanese Emperor Naruhito and Empress Masako at the Imperial Palace.
There are three components to the state visit: (1) The guest arrival and formal greeting by the Emperor and Empress. (2) The ceremonial anthems of both nations and the presentation of the imperial guard.  (3) A "state call" or discussion of diplomatic matters between the Emperor, Empress and their honored guests.
During the official state call component there is an exchange of gifts.
1) Formal greeting by the Emperor and Empress …

2) The ceremonial anthems of both nations and the presentation of the imperial guard.
The 'inside palace' greeting and introduction was not covered by international media. However, due to the significance of the visit (first of imperial era of Reiwa) it was broadcast on local Japanese media (below).
Body language and facial expressions can't be faked. They are all VERY PLEASED AND HONORED to meet one another. Such a proud moment for both nations.
(3) A "state call" or discussion of diplomatic matters between the Emperor, Empress and their honored guests in video below.
Then, there was the customary exchange of gifts. The Japanese emperor is an accomplished violin and viola player, as evidenced below in this video from 2007:
The accompanying press pool report states (emphases mine):
The President presented the Emperor an American-made viola in a custom case and a signed photo of American composer Aaron Copland. This vintage 1938 viola was handmade in Charleston, West Virginia. The President also presented the Emperor with a signed and framed photo of the President.
The First Lady presented the Empress with a custom White House desk set featuring a pen made of Harvard tree wood. The Empress herself studied Economics at Harvard. This fountain pen was handcrafted from a red oak tree that still stands in Old Harvard Yard. The First Lady also presented the Empress with a signed and framed photo of the First Lady.
The Emperor presented the President with a traditional Japanese pottery and porcelain bowl as well as a signed and framed photo of His Majesty the Emperor.
The Empress presented the First Lady with an ornamental Japanese lacquer box with traditional design as well as a framed and signed photo of Her Majesty the Empress.
Note: It is long-standing custom of the Imperial Palace that their Majesties the Emperor and Empress exchange signed, framed photographs with their guests on the occasion of a State Visit.
Afterwards, Trump and Abe held discussions on trade and security:
Their wives attended a cultural presentation:
Upon his return, Trump tweeted:
While the Trumps were in Japan, on May 25, actor Jon Voight tweeted:
The president faces the same threats as Lincoln did. He is in danger every day from people who desperately want to remove him from office, either by death or by impeachment. Speaker of the House Nancy Pelosi says Trump belongs in prison.
The Mueller Report left the door open to more scheming by Democrats.
The coup is not yet over.
Therefore, on May 30, the Revd Franklin Graham issued a national appeal for prayer for the president on Sunday, June 2:
That day, another friend of the president's explained to Fox News that this appeal had nothing to do with politics but the real fight of good versus evil:
Other pastors on social media had to remind their detractors that they had prayed for past presidents, too:
On Friday, May 31, a mass shooting took place in Virginia Beach. After golfing on Sunday, June 2, the president visited the Revd David Platt's McLean Bible Church in Virginia, where he joined congregants in praying silently for the victims of the shooting.
The New York Post reported:
While he did not talk during the service, Trump stood behind pastor David Platt as he offered a prayer for the 12 killed in Friday's mass shooting.
The president was there to "visit with the Pastor and pray for the victims and community of Virginia Beach," said Judd Deere, the White House's deputy press secretary.
Trump arrived at about 2:20 p.m. and his motorcade left a little over 15 minutes later.
DeWayne Craddock, 40, slaughtered 12 at Virginia Beach's municipal building Friday — just hours after quitting his job as a civil engineer.
In turn, Platt prayed for the president:
I do not know where Platt stands on his stance of private redistribution of wealth he was promoting back in 2012, but I am grateful that he prayed for President Trump.
Considering the prayers, the threats that the president endures daily and Jon Voight's comparison of him with Lincoln, it was amazing that he and the first lady went to Ford's Theatre that night for an awards presentation. Ford's Theatre was the site of Lincoln's assassination:
I am very glad I was out of the country at the time. Otherwise I would have been worried about his safety.
Yet, thankfully, God continues to watch over President Trump, who flew to London that night with the first lady and his family (apart from Barron).
More on that trip tomorrow.
Brazil's new president, Jair Bolsonaro, posted this short YouTube video on Sunday, January 13, 2019:
It is all about the effect of the Left on state education in Brazil.
Interestingly, state education in Brazil is in the same doldrums as it is in Western nations.
I urge everyone — parent or not — to please watch this short video. At the end, he explains why he is wearing a Japan football (soccer) shirt:
In Japan, kids with six/seven years of age can solve math problems our college students CAN'T.
Bolsonaro says that leftist educators emphasise topics — sexual identity — that really should not be part of the school curriculum. He points out that the topic showed up in Brazil's national high school examination.
He says that it is high time to return to the three Rs so that people can learn to get themselves out of welfare, poverty and misery.
Tropical Trump, as he is popularly known, speaks the truth.
In 2017, our household received a free bottle of tonic water with a drinks order.
It was a 200ml bottle of Merchant's Heart Hibiscus tonic water.
The Japanese drinks giant Suntory makes Merchant's Heart mixers. In addition to Hibiscus, they also have a floral tonic and a pink peppercorn one.
Merchant's Heart mixers went on sale in 2015, but I'd not heard of them until last year. This was at the time that hibiscus and yuzu flavours were becoming more popular in the UK.
Suntory's website explains that they recruited a team of bartenders from the UK to help develop the product line:
A collective of world-leading drink-makers from the UK's best bars were invited to help devise the ultimate spirit enhancers: the mixers they dreamed of adding to the best spirits in their collections.
And they continue to craft the collection, suggesting new flavours and variations according to their experience of working with Merchant's Heart in their bars, and serving it to their customers.
Cool!
The product line's name came from Suntory's founder himself (emphasis in the original):
In 1899, Suntory founder Shinjiro Torii had a vision: he wanted to bring western drinking experiences to his native Japan. He made it his life's work to make and sell outstanding drinks, and deliver exceptional drinking experiences.
Torii's passion for his product saw him graduate from modest beginnings as a small wine-maker to becoming the Taisho – or chief – of a luxury drinks brand with world renown. But his mantra remained characteristically humble:
'We may have grown from shop to company, but we must always be a tradesman; we must never forget our merchant's heart'.
So, what was it like?
Merchant's Heart Hibiscus is a delicate pink colour with a distinctive flavour, with added extracts of safflower, lemon and apple:
Delicate and fruity sweetness with a soft bitterness and a gentle rose tint. Excellent with citrus gin, vermouth and white rum.
It's something the ladies will love, and as we are nearing holiday season, it's time to be thinking about interesting mixers for spirits.
I also enjoyed reading the bottle, which says:
Made with Bikan Yuso
which means:
A sense of beauty and playful imagination
Pros: It works equally well with vodka or gin, transforming a pleasant everyday drink into an unforgettable one. It's perfect just before dinner.
Cons: I had two drinks out of the bottle, one before and one after dinner. The flavour profile changed dramatically. For those who need to eat while they're drinking, Hibiscus is not the mixer. That lovely floral-citrus taste turns rather rough with food.
Conclusion: Suntory's 'spirit enhancers' are not cheap. They sell at the supermarket for £1 to £1.35 each. Therefore, I would reserve them for connoisseurs only.
Yesterday's post discussed developments that immediately followed the US-North Korea Singapore Summit held on Monday, June 12, 2018.
Much went on with Secretary of State Mike Pompeo's trip to South-east Asia and the US-Chinese trade war early in July.
Keep in mind this explanatory graphic about the relationship between North Korea and China from The Conservative Treehouse:
On July 7, the US state department's impression of the two nations' talks was different to that of North Korea, according to an unnamed North Korean official who called them 'regrettable'. Townhall reported:
Just hours after Secretary of State Mike Pompeo said that his talks during the past two days with the North Korean government were "productive" and beneficial regarding "central issues," the communist nation's Foreign Ministry categorically disagreed, calling the meetings in Pyongyang "regrettable."
The Associated Press reports that an "unnamed North Korean Foreign Ministry spokesman" claims that the United States "betrayed the spirit of last month's summit between President Donald Trump and North Korean leader Kim Jong Un by making unilateral demands" regarding denuclearization of the Korean peninsula. 
The North Koreans issued a lengthy official statement along those lines, which ended with this:
If the objective situation does not stand in favor of the denuclearization against our wills, this would rather cast a heavy cloud over the atmosphere of developing bilateral relations which had shown its good movement in its beginning.
Should the headwind begin to blow, it would cause a great disappointment not only to the international society aspiring after global peace and security but also to both the DPRK and the U.S. If so, this will finally make each side seek for another choice and there is no guarantee that this will not result into yet another tragedy.
We still cherish our good faith in President Trump.
The U.S. should make a serious consideration of whether the toleration of the headwind against the wills of the two top leaders would meet the aspirations and expectations of the world people as well as the interests of its country.
The Conservative Treehouse pointed out (emphases mine):
Keep in mind that Secretary Pompeo was not permitted to meet with Kim Jong-un.  If our ongoing thesis is accurate it is likely Red Dragon (Chairman Xi) is positioning the DPRK for maximum trade and economic leverage.  It would be against Chinese Chairman Xi Jinping's interests for Pompeo and Kim Jong-un to have a public display of agreement.
Until there is an empirical or factual reason to counter what seems like an obvious geopolitical strategy, we should consider all events through the prism that the primary leadership within the DPRK, the officials controlling Kim, are under the control of China.
The trade confrontation is China's biggest geopolitical risk.  The primary weapon China holds toward demanding terms from the U.S. would be their ability to change the dynamic in North Korea at any given moment.  From this frame-of-reference things begin to make more sense.
On the surface it appears the U.S. is negotiating terms for a denuclearized North Korea; however, under the surface the bigger issue is the ongoing economic confrontation between the U.S. and China.   The DPRK is Red Dragon leverage.
That day, Mike Pompeo had left North Korea for Japan:
He also met with foreign ministers Kong and Kang, from China and South Korea, respectively:
The US-China trade war also attracted attention.
US tariffs on Chinese goods went into effect on July 6. To mask what was really going on in their economy, the Chinese maintained that Americans did not support this policy:
In fact, the truth is that most Americans want tariffs on foreign goods:
The Rasmussen survey of March 12 says:
… 89% of American Adults believe it is at least somewhat important for the United States to have a major manufacturing and industrial base, including 63% who believe it is Very Important. Only eight percent (8%) say it is not very or Not At All Important to keep a manufacturing base at home. (To see survey question wording, click here.)
On July 6, White House Office of Trade and Manufacturing Policy Director Peter Navarro appeared on Fox Business to explain the American view of trade with regard to China. As The Conservative Treehouse explained:
Almost all of the financial media and economic punditry are intentionally obfuscating the underlying nature of China's economic model.
China is a communist central government controlled economic system. Free-market principles do not apply when dealing with China; therefore trade strategies based on 'free markets' cannot succeed against the centralized planning of a communist regime.
Charlie Kirk, founder and president of Turning Point USA, active on university campuses, put it bluntly:
On July 8, Mike Pompeo met with Taro Kono, Minister for Foreign Affairs of Japan and Kang Kyung-wha, Minister of Foreign Affairs of the Republic of Korea in Tokyo. The full State Department transcript of their press conference is here. Interestingly, some of the media correspondents there asked about the 'abductions' by the North Koreans of the Japanese (emphases in the original, video here):
FOREIGN MINISTER KONO: (Via interpreter) …
Now on the question of abduction, from Secretary Pompeo this time around the issue was raised, and I'd like to thank him for raising the issue at the meeting. Regarding the reaction from North Korea, I will refrain from making any comment.
As far as Japan is concerned, the U.S. and North Korean negotiations should advance furthermore, and we'd like to work in tandem with the international community so that Security Council resolution-based sanction can be solidly implemented regarding North Korea.
FOREIGN MINISTER KANG: … On the abduction issue, yes, my president has also raised this in two rounds of discussions with Chairman Kim, and we urge them to engage in bilateral discussions with Japan on this issue. After all, it's a bilateral issue. We also have a couple of our nationals detained in North Korea, so it's an issue that concerns us as well. 
SECRETARY POMPEO: … I did raise the issue of the abduction of Japanese. I've done it at each conversation I've had with my North Korean counterparts, whether it was on my first two trips with Chairman Kim or on this trip with Kim Yong-chul. I've raised it repeatedly. I won't go into any of the details about particular parts of that element of our discussion. Know that it is important to the United States; it's part of our discussions each and every time we interact with our North Korean counterparts. 
Pompeo and US officials also met privately with Kono and his delegation:
On July 9, the South China Morning Post reported that China responded to the imposition of tariffs by the United States with tariffs on American goods going into the country. The main thrust of the article, however, was that the Chinese government thought it would be a good idea to go easy on Trump (emphases mine):
After answering Washington's 25 per cent levy on US$34 billion of Chinese goods with equivalent tariffs on US products, Beijing has directed state media to watch how they report on US President Donald Trump, mainland media sources said.
"It's been said that we should not use aggressive language for Trump," said one of two sources who declined to be named because internal directions often are regarded as confidential information.
Even though Chinese officials and state media have attacked the trade policies of the Trump administration, so far they have not laid blame on the US president or his officials – a move seen as an attempt to avoid antagonising Trump and further complicating negotiations.
While the Beijing directive may not have been issued across the board – two other state media sources said they were not instructed how to write about Trump with regards to trade – it mirrored one of the guidelines on an official propaganda instruction widely circulated on social media.
The edict called on media outlets not to make vulgar attacks on Trump to avoid "making this a war of insults".
Breitbart had more. One way the Chinese are able to criticise Trump is by quoting Westerners:
Reuters' sources also said they were "instructed not to mention the impact of the trade war on Chinese companies" because they don't want to give the impression pressure against China might be working …
"China might need to restrict the market access of American companies. But to purge American companies that are already operating in China might be a very bad idea. Those companies generate jobs and revenue for China. Most Apple products are made in China. To do something to harm American firms that are already operating in China would be very stupid," ventured trade expert Wang Jiangyu of the National University of Singapore.
The Communist Party People's Daily provided an interesting example of the tightrope walked by Chinese media on Wednesday, publishing an article that attacked Trump for accusing China of sabotaging talks with North Korea but using a few Westerners plucked from Twitter at random to do it, rather than editorializing against Trump directly or quoting Chinese social media users.
That day, the tension surrounding Pompeo's meetings with North Korea was still in play. Trump tweeted:
CNBC reported that, after leaving south-east Asia, Pompeo made an unscheduled trip to Kabul, Afghanistan, where he told the media:
"We still have a long ways to go. But that commitment that the North Koreans made, frankly that Chairman Kim personally made to President Trump, remains as when reinforced," he said.
Pompeo also stressed that North Korea's remarks were "mixed," and represented an expression of Kim's continuing "desire to complete the denuclearization to which he is so committed."
Meanwhile, the North Koreans were still committed to strengthening ties with their fellow travellers:
On July 12, Trump received a gracious letter from Kim Jong Un …
… which Big Media ignored:
On July 15, the US and North Korea held meetings to discuss the return of American soldiers' remains, the first since 2009:
Korean media reported:
The North Koreans agreed to transfer the remains already in their possession to the United States on:
July 27, which is the 65th anniv of the Armistice Agreement …
This was another result:
The Premium Times said that the head of the North Korean government occasionally grants amnesty. The last time was in 2015. This year's is part of marking North Korea's 70th anniversary:
The Communist Leadership in Pyongyang would grant amnesty to those convicted of crimes against the state in light of North Korea's 70th anniversary, the state-run KCNA reported on Monday …
Similar to other instances in which amnesty has been granted, it remained unclear exactly which groups the announcement applied to and how many prisoners would be affected.
The following day, the Trump – Putin Helsinki Summit of July 16 included discussions about North Korea and China.
Two days later:
Trump tweeted:
He enjoys solving problems:
His 2020 campaign manager made an excellent point:
Tomorrow's post will cover the most recent developments between the United States, North Korea and China.
The Singapore Summit took place in June 2018.
Before then, the historic Inter-Korean Summit took place on April 27.
How far things progressed over the past six months!
This post covers the events and negotiations that led to the Inter-Korean Summit.
On December 28, 2017, President Trump tweeted his disappointment that China was 'allowing oil to go into North Korea'.
Who can forget this tweet from the New Year in 2018?
Four days later:
A week later, Trump rightly took the Wall Street Journal to task for misquoting him:
… I said "I'd have a good relationship with Kim Jong Un," a big difference. Fortunately we now record conversations with reporters…
Then he began consulting with geopolitical veterans, including Henry Kissinger:
On March 5, Reuters reported (emphases mine):
Feeling the pressure of sanctions, North Korea seems "sincere" in its apparent willingness to halt nuclear tests if it held denuclearization talks with the United States, President Donald Trump said on Tuesday as U.S., South Korean and Japanese officials voiced skepticism about any discussions …
Word of possible talks was delivered by a South Korean delegation on its return from a first-ever meeting with North Korean leader Kim in Pyongyang on Monday.
The following day, the AP reported that talks between North and South Korea would be scheduled for April:
Chung Eui-yong, the South Korean official who spoke after participating in talks with Kim in Pyongyang, also said the North Korean dictator had agreed to meet with South Korea's president at a border village in late April.
North Korea didn't announce what South Korea on Tuesday described as agreements between the rivals. But the North's state media earlier reported Kim had "openhearted" talks with South Korean envoys, expressed his willingness to "vigorously advance" North-South relations and made a "satisfactory" agreement on the inter-Korean summit talks.
On March 7, the AP featured a timeline article on progress, including this:
South Korea also said North Korea has agreed to halt tests of nuclear weapons and missiles if it holds talks with the United States on denuclearization.
The Conservative Treehouse (CTH) said that this had been in the works since at least August 2017 — when Charlottesville occurred — and that other countries, particularly China, were involved:
All of this was generally under-reported and took place months before President Trump arrived in Asia last year.  The U.S. media was busy pushing racism and Charlottesville narratives.  More importantly this quiet activity took place while President Trump directed US Trade Rep Robert Lighthizer to begin a section 301 trade investigation (Intellectual Property theft) into China.
President Trump was ramping up the economic pressure on Chinese President Xi Jinping; but more specifically Lighthizer's action was targeting Beijing's command and control economy along with the behavior of North Korea.
China -vs- U.S. moves have been taking place in Europe, Russia, Afghanistan, Pakistan, Cuba, Venezuela, India, Libya as well as Mexico, Canada and ASEAN nations.  When dragon puts a footprint in Mexico, eagle puts a footprint in Vietnam.   When eagle puts a print in India, dragon puts a print in Pakistan…. this has been going on for well over a year, well beyond the media horizon, and almost no-one's paying attention.
On March 9, BT.com reported that Trump and Kim were to meet in May:
North Korean dictator Kim Jong Un and Donald Trump plan to meet in May for nuclear disarmament talks …
It would have been an unthinkable suggestion just a few months ago, when the insults were at their peak — Mr Trump was a "senile dotard" and Mr Kim was "Little Rocket Man".
Trump officials had received a briefing in Washington from the South Koreans beforehand.
Even normally critical media pundits acknowledged that Trump's 'madman approach' to North Korea was working.
The South Koreans issued an affirmative statement. The South China Morning Post reported:
South Korea's national security adviser Chung Eui-yong made the announcement of Kim's offer in Washington on Thursday (Friday morning Hong Kong time).
Chung said Kim was "committed to denuclearisation" and would refrain from any further nuclear and missile tests.
He said Kim wanted to meet Trump as "soon as possible" and that Trump said "he would meet Kim Jong-un by May to achieve permanent denuclearisation" of the Korean peninsula.
The White House posted Chung Eui-yong's full statement, including this:
Kim pledged that North Korea will refrain from any further nuclear or missile tests. He understands that the routine joint military exercises between the Republic of Korea and the United States must continue …
The Republic of Korea, along with the United States, Japan, and our many partners around the world remain fully and resolutely committed to the complete denuclearization of the Korean Peninsula. Along with President Trump, we are optimistic about continuing a diplomatic process to test the possibility of a peaceful resolution.
The Republic of Korea, the United States, and our partners stand together in insisting that we not repeat the mistakes of the past, and that the pressure will continue until North Korea matches its words with concrete actions.
A video of his announcement can be found here.
That Sunday, March 11, the news shows were abuzz with analysis of the upcoming US-North Korea talks, including perspectives from John Bolton and Mike Pompeo.
Even the anti-Trump Independent in the UK had praise for the American president:
… during a recent, daily grumble about The Donald, I got thinking; if you look past the ridiculous Twitter pronouncements, and the President's general veneer – what has he actually done? How bad has the 45th President of the United States actually been for the country?
The answer, it might surprise you, is not that bad at all.
Stock market up, unemployment down. After plateauing for much of 2015 and 2016, numbers of manufacturing jobs have been on the rise since Trump's inauguration …
On foreign policy, he's been brash and unpredictable, but successful. He can't take full credit for the defeat of Isis in their traditional strongholds, but they have been defeated. He can't take full credit for defusing tensions with North Korea – but under President Trump, Kim Jong-un is becoming more receptive to talks with South Korea, and even sent a team to the Winter Olympics. His "quirky" style of diplomacy has led to, in the past few days, talk on the denuclearisation of the Korean peninsula and the closest thing to a peaceful North Korea we've seen in years. On Friday it was even announced that Trump will be meeting with Kim Jong-un …
On Wednesday, March 14, news emerged that North Korea was involved with Syria. The Washington Free Beacon reported:
Regional reports have begun to surface indicating North Korea has neared completion of the construction of an underground military base located near Qardaha in Syria, the hometown of embattled Syrian President Bashar al-Assad.
"According to … satellite images and a military source the underground facility has been under construction for seven years, started by the beginning if the Syrian revolution in March 2011," Zaman Al Wasl, a Syrian news outlet, reported earlier this month. "The high level of secrecy and tight guard in the North Korean base raise speculations whether it's a nuclear facility or overseas depot for North Korean weapons."
U.S. officials told the Washington Free Beacon they are monitoring these reports and efforts by North Korea to help Assad rebuild Syria's chemical weapons factories.
"We are aware of reports regarding possible DPRK [Democratic People's Republic of Korea] assistance to Syria to rebuild its chemical weapons capabilities," a State Department official, speaking on background, told the Free Beacon. "We take these allegations very seriously and we are working assiduously to prevent the Assad regime from obtaining material and equipment to support its chemical weapons program."
The Trump administration has been engaged in efforts to counter North Korea's proliferation in Syria, particularly its efforts to supply Assad with chemical weapons.
On Friday, March 23, Legal Insurrection reported that Trump signed the Omnibus Bill with North Korea — and Iran — in mind:
Why the need for government funding for at least 6 months? That could have waited for another short term funding bill, some more muddling through, perhaps even muddling through until the November elections.
What was the rush to sign a bill with increases in authorized military spending NOW?
While Trump ran as someone who wasn't looking at foreign policy as his reason for election, his presidency and attention increasingly are turning to foreign potential conflicts. In the next couple of months Trump will be dealing with two major potential conflict areas: North Korea and Iran.
As to North Korea, Trump is gearing up for talks with "Little Rocket Man." As to Iran, Trump is facing fights both with the Europeans and the Iranians as to whether Obama's Iran Nuclear deal survives. Trump already has made moves to strengthen the U.S. posture. Adding John Bolton as National Security Advisor sends a get-tough signal, a message that Trump will not repeat the appeasement mistakes of Obama-Kerry.
As Trump approaches potential conflict with North Korea and Iran, he could spend the prior months rolling through one "shutdown" after another, one-month spending bills, an inadequate military budget held hostage by Democrats, and the prospect of months more such turmoil at least through the midterm elections.
Alternatively, Trump could approach the North Koreans and Iranians with government funding in place including substantial increases for the military.
Do you think the North Koreans and Iranians care about the domestic spending fights that now occupy media coverage? I doubt it. I do think they care about a Trump focused on rebuilding the military and a U.S. military which has just been given additional resources. Trump wants to be the strong horse, a dramatic change from the Obama administration posture. Add to this increased military aggressiveness by Russia and China.
Elsewhere, speculation returned to a soundbite from the end of 2017 about 'freeing 25,000,000 slaves worldwide'. Was it about human trafficking or was it about North Korea, as Q commented? (Image below courtesy of Reddit's Q-oriented GreatAwakening)
On March 28, Trump tweeted:
Press Secretary Sarah Sanders had this to say:
That day, the KORUS trade agreement between the US and South Korea was agreed upon in principle:
On March 29, the AP announced that a highly historic summit between North and South Korea would take place on April 27:
Summit meeting will be only the third time leaders of the divided Koreas have met in the 65 years since the end of the Korean War.
On April 9, WND interviewed Peter Schweitzer, author of Secret Empires: How Our Politicians Hide Corruption and Enrich Their Families and Friends, who said that China was a huge part of the North Korea picture:
"My view has always been that absent China skirting the rules and going fast and loose with commercial ties, North Korea would be on the brink of collapse," Schweizer told WND in an interview.
"I think that's the opportunity that Trump has, to go to the Chinese and say: 'Look, the bottom line is you need to deal with this. You need to cut off trade, you need to cut off commercial ties to help us deal with North Korea. Nobody else is in the position to do it the way that you are.'"
Schweizer said critical sectors such as minerals and energy "are what keeps North Korea bumping along while the people are starving."
"You take that stuff away and the regime has a massive, economic problem," he said.
On April 17, just days before the summit between the two Koreas, CNBC reported:
North and South Korea are in talks to announce a permanent end to the officially declared military conflict between the two countries, daily newspaper Munhwa Ilbo reported Tuesday, citing an unnamed South Korean official.
Ahead of a summit next week between North Korean premier Kim Jong Un and South Korean President Moon Jae-in, lawmakers from the neighboring states were thought to be negotiating the details of a joint statement that could outline an end to the confrontation …
Pyongyang and Seoul have technically been at war since the 1950-1953 Korean conflict ended with a truce — and not a peace treaty. Geopolitical tensions have occasionally flared up since the armistice, although to date both countries have managed to avoid another devastating conflict.
CTH's TheLastRefuge — aka Sundance — pointed out the change in 12 months:
That day, Trump welcomed Japan's prime minister Abe to Mar a Lago along with a delegation. CTH told us:
The formal bilateral meeting began shortly before 4 p.m. POTUS Trump and PM Abe together with translators and delegations. The U.S. side: Deputy Secretary of State John Sullivan, Chief of Staff John Kelly, National Security Adviser John Bolton, US Ambassador to Japan William Hagerty and National Security Council Asia director Matthew Pottinger.
Prime Minister Shinzo Abe said their one-on-one meeting was productive. On North Korea, "for the first time in the history of the world there will be a summit meeting between the United States and North Korea", Abe said. Prime Minister Abe said "Trump has applied maximum pressure on the North and credited it for leading to the direct talks."
Trump described their meeting as 'great'.
The next day, we found out that Mike Pompeo had already been in North Korea on secret talks:
The White House declined further comment.
On April 19, South Korea's president Moon Jae-in was optimistic about the upcoming summit. NBC reported:
Moon said big-picture agreements about denuclearization, establishing a peace regime and normalization of relations between the two Koreas and the United States should not be difficult to reach through summits between the North and South, and between the North and the United States.
"I don't think denuclearization has different meanings for South and North Korea," Moon said during a lunch with chief executives of Korean media companies. "The North is expressing a will for a complete denuclearization."
"They have not attached any conditions that the U.S. cannot accept, such as the withdrawal of American troops from South Korea," he continued. "All they are talking about is the end of hostile policies against North Korea, followed by a guarantee of security."
On April 21, Yonhap News Agency reported:
North Korean leader Kim Jong-un has announced that the country will suspend nuclear and missile tests and shut down a nuclear test site in the northern area, state media said Saturday.
"From April 21, North Korea will stop nuclear tests and launches of intercontinental ballistic missiles," the Korean Central News Agency said.
Even CNN had to acknowledge this was yuge news — ha ha — on Wolf Blitzer's show no less. Mediaite has a report and video:
CNN's Will Ripley, one of the few journalists who regularly reports from the repressive Hermit Kingdom, phoned in to Wolf Blitzer's show on Friday night to cover the breaking news …
"Wolf, I have to say, I am really almost speechless here at the pace at which North Korea has done this U-turn," Ripley reacted. "This all started with Donald Trump agreeing to sit down with a summit with Kim Jong Un."
Meanwhile, Mike Pompeo was able to guarantee North Korea's release of three American citizens that day. They returned home on May 10.
On April 22, Treasury secretary Steven Mnuchin met with the South Koreans:
Productive discussion with South Korean DPM KIM Dong-Yeon. The US remains committed to the complete denuclearization of the Korean Peninsula.
That day, we found out more about Mike Pompeo's secret trip to Pyongyang from the Korean Noon news agency:
Mike Pompeo met with KJU 3-4 times during his 3-day stay in Pyongyang per Asahi Shimbun. KJU reportedly said he's on the same wavelength with Pompeo: "This is the first time I'm meeting someone who has the same fire in the belly as I do" (loose translation)
Also:
Per Asahi, KJU conveyed to Pompeo NK could "completely denuclearize" and that USFK would not have to leave. KJU wants full diplomatic relations with US and easing of UNSCR & bilateral sanctions in return. Pompeo went with 5 CIA staff and was aided by NIS
Pompeo first met with Kim on April 1:
The meetings were very successful per Asahi. Pompeo first met KJU on April 1 and that's when he was told about "complete denuclearization". Pompeo was aided by NIS chief Suh Hoon, who has formed working relationships with both Pompeo and NK's Kim Yong-chol
Not everything was 100% successful:
But there are still differences: Asahi says while KJU may have expressed "willingness to denuclearize," he was reluctant to include specific, time-based clauses as part of summit agreement, while calling for diplomatic relations and easing of sanctions.
Noon also told us of an ongoing CIA presence in North Korea:
CIA employees in Pyongyang? You don't have to travel that far down the memory lane to realize this happened before: Avril Haines and Michael Morel were both in Pyongyang in 2012 during Obama's term but they didn't get to meet KJU. But they've had contacts
Pompeo was finally confirmed as Rex Tillerson's replacement at State on April 26:
The historic Inter-Korean Summit between the two Korean leaders took place as planned on April 27 (videos here, here and here):
Kim walked across the border to South Korea for the summit, which was held in Panmunjom in the DMZ.
Kim wrote this message in the guest book at Peace House:
'new history starts now; age of peace, from the starting point of history'
The leaders issued a joint statement:
The description for that video reads, in part:
During the Friday summit, the first between the two Koreas' leader in more than a decade, Kim was accompanied by his sister and confidante, Kim Yo-jong, and the 90-year-old nominal head of the North Korean state, Kim Yong-nam.
During the meeting, the South Korean president expressed hope for achievement of a "bold agreement."
The White House sent this message:
On the occasion of Republic of Korea President Moon Jae-ins historic meeting with North Korean leader Kim Jong Un, we wish the Korean people well. We are hopeful that talks will achieve progress toward a future of peace and prosperity for the entire Korean Peninsula. The United States appreciates the close coordination with our ally, the Republic of Korea, and looks forward to continuing robust discussions in preparation for the planned meeting between President Donald J. Trump and Kim Jong Un in the coming weeks.
By the end of the day (full video here):
The Korean leaders then shared dinner together.
Ambassador Chris Hill summed up the first day as follows:
President Trump sent his congratulations. The South Korean foreign minister remembered Trump in an interview with CNN's Christine Amanpour:
South Korea's Foreign Minister tells me in Seoul that "clearly credit goes to President Trump" for bringing North Korea to the negotiating table. "He's been determined to come to grips with this from day one," Kang Kyung-wha says.
The Straits Times published the full text of the Panmunjom Declaration for peace, prosperity and unification of the Korean Peninsula which resulted from the Inter-Korean Summit. Excerpts follow:
1) South and North Korea affirmed the principle of determining the destiny of the Korean nation on their own accord and agreed to bring forth the watershed moment for the improvement of inter-Korean relations by fully implementing all existing agreements and declarations adopted between the two sides thus far.
2) South and North Korea agreed to hold dialogue and negotiations in various fields including at high level, and to take active measures for the implementation of the agreements reached at the summit.
3) South and North Korea agreed to establish a joint liaison office with resident representatives of both sides in the Gaeseong region in order to facilitate close consultation between the authorities as well as smooth exchanges and cooperation between the peoples.
4) South and North Korea agreed to encourage more active cooperation, exchanges, visits and contacts at all levels in order to rejuvenate the sense of national reconciliation and unity.
5) South and North Korea agreed to endeavour to swiftly resolve the humanitarian issues that resulted from the division of the nation, and to convene the Inter-Korean Red Cross Meeting to discuss and solve various issues, including the reunion of separated families.
6) South and North Korea agreed to actively implement the projects previously agreed in the 2007 October 4 Declaration, in order to promote balanced economic growth and co-prosperity of the nation.
The two leaders agreed, through regular meetings and direct telephone conversations, to hold frequent and candid discussions on issues vital to the nation, to strengthen mutual trust and to jointly endeavour to strengthen the positive momentum towards continuous advancement of inter-Korean relations as well as peace, prosperity and unification of the Korean Peninsula.
In this context, President Moon Jae In agreed to visit Pyongyang this fall.
Tomorrow's post will feature analysis and the events that led to the Singapore Summit, which President Trump attended after the G7 in mid-June.
On Sunday, November 12, 2017, President Donald Trump left Vietnam for the Philippines.
The ASEAN summit in Manila, including a meeting with President Rodrigo Duterte, was Trump's final event prior to his return to Washington DC.
Mrs Duterte gave President Trump a warm welcome. Duterte is characteristically less expressive:
This video shows the reception going on while every attendee was personally welcomed and had a photo op with the Dutertes.
Later, a group photo was taken:
The men are wearing barongs, the traditional Philippine shirts for men. Many of the women — see the lady on the right — are wearing a terno dress or jacket. The pointy shoulders are traditional for Philippine women.
Toasts were made. Trump was seated next to Duterte:
A lavish dinner followed. Trump, apparently, asked Duterte to sing:
The Conservative Treehouse has a good post on the importance of ASEAN and Trump's objectives:
Those who have walked in the deep weeds of geopolitical strategy know the emphasis the Trump administration has placed on ASEAN (Association of South-East Asian Nations) as a counter-balance (control leverage) to the Chinese trade and military expansion.
The ongoing trade and security relationship between the U.S. and India, as well as other regional partners, is a large part of the overarching dynamic. The ASEAN Summit in Manila[,] Philippines is an opportunity for President Trump to expand the conversations; enter into deeper discussions surrounding the terms of partnership; and deepen commitments toward larger U.S. international objectives.
The ASEAN (Association of Southeast Asian Nations) region including India, comprises a combined population of 1.85 billion people, one-fourth of the global population.
Here is a graphic of all the attendees:
India's Prime Minister Narendra Modi was delighted to renew his friendship with President Trump:
NDTV reported:
Prime Minister Modi is likely to reassert India's push to create a global approach to deal with terrorism. He will also pitch steps to boost regional trade. One of the more significant meetings will be Prime Minister Narendra Modi's meeting with US President Donald Trump.
India Today has more on the geopolitical situation in Asia and with the Trump administration.
Here is a photo from the gala dinner that night. Stephen Miller, adviser and speechwriter, is on the left (Trump's personal assistant John McEntee is next to him, followed by Press Secretary Sarah Sanders). On the right are General HR McMaster and Communications Director Hope Hicks:
Meanwhile, elsewhere in Manila, violent anti-Trump protests broke out. Sky News Australia reported:
Hundreds of leftist activists, farmers and students have burned an effigy of US President Donald Trump in the shape of a swastika after clashes with anti-riot police in Manila left at least 16 people injured.
Police used water cannons on the demonstrators as they marched along Taft Avenue, about 6 kilometres away from the venue of the leaders summit of the Association of South-East Asian Nations (ASEAN).
Six of the 16 injured were police officers.
The ASEAN summit opened on Monday, November 13 with a welcome ceremony, group photo and customary group handshake:
Here is a video of the photo op:
Modi was delighted with the opening ceremony's entertainment:
This was Trump's schedule for the rest of the day (emphases in the original):
10:15am / 9:15pm THE PRESIDENT participates in a bilateral meeting with Prime Minister Malcolm Turnbull of Australia – Sofitel Philippine Plaza, Manila, Philippines. [Duration 1 hr]
11:50am / 10:50pm THE PRESIDENT participates in a bilateral meeting with President Rodrigo Duterte of the Philippines – Philippine International Convention Center, Manila, Philippines (Host of ASEAN) [Duration 1 hr]
12:55pm / 11:55pm THE PRESIDENT attends the 5th U.S.-ASEAN Summit – Philippine International Convention Center, Manila, Philippines.
3:30pm / 2:30pm THE PRESIDENT participates in a bilateral meeting with Prime Minister Narendra Modi of India – Sofitel Philippine Plaza, Manila, Philippines.
5:00pm / 4:00am THE PRESIDENT participates in an embassy meet and greet, Manila, Philippines.
In a historic move, representatives from the US State Department met with officials from India's Ministry of External Affairs, Australia's Department of Foreign Affairs and Japan's Ministry of Foreign Affairs. This was the first time these countries had met since 2007. The time gap was because of objections from the Chinese and Obama.
Part of the State Department's announcement reads as follows:
The officials examined ways to achieve common goals and address common challenges in the region, such as: upholding the rules-based order in the Indo-Pacific, including freedom of navigation and overflight, respect for international law, and the peaceful resolution of disputes; increasing connectivity consistent with international law and standards, based on prudent financing; coordinating on counterterrorism and maritime security efforts in the Indo-Pacific; and further cooperating to curtail the DPRK's nuclear and missile programs and unlawful acts. The quadrilateral partners committed to deepening cooperation, which rests on a foundation of shared democratic values and principles, and to continue discussions to further strengthen the rules-based order in the Indo-Pacific region.
Trump included Japan's Shinzo Abe in his meeting with Australia's Malcolm Turnbull:
The three leaders met with the press. An excerpt from the transcript follows (emphases mine):
PRESIDENT TRUMP: Thank you very much. It's great to be with Prime Minister Turnbull and Prime Minister Abe of Australia and of Japan. You know them well; I know them well.
We've had many meetings. We're having another one right now, primarily focused on trade, North Korea, other subjects. But we're very far along. The dialogue has been very good, I think, for all countries. And we look forward to the continuation of that dialogue.
Mr. Prime Minister, would you like to say something?
PRIME MINISTER TURNBULL: Thank you, Mr. President. It is great to be with you and Prime Minister Abe. We're working very closely together. We've got the same values and the same focus on ensuring that the North Korean regime comes to its senses and stops its reckless provocation and threats of conflict in our region.
Peace and stability have underpinned the prosperity of billions of people over many decades, and we're going to work together to ensure we maintain it.
PRIME MINISTER ABE: (As interpreted.) So for three of us, the immediate challenge is the issue of North Korea. And also, three very close partners with each other — Japan, the United States, and Australia — share fundamental values, as well as strategic interest.
So I do hope that we are going to have a meaningful discussion, particularly on the issue of North Korea so as to ensure regional peace and stability.
And also, I think the key for us is to ensure very close trilateral cooperation so as to bring peace and stability on the ground. So I do look forward to having a very productive discussion with the two leaders.
PRESIDENT TRUMP: In addition, a lot of things are happening on trade. And I'll be announcing pretty much what happened here, and also with other meetings, including China and South Korea and lots of other places. We'll be announcing that, for the most part, in a statement. I'll make it from the White House, as opposed to from here. We'll probably do that on Wednesday …
Sky News Australia reported that Turnbull is beset by domestic problems but is intent on working to resolve the dangerous situation with North Korea and also terrorism:
'These are dangerous times that we live in our region,' Mr Turnbull told reporters in Manila, adding it was his job to keep Australians safe.
'The threats to our peace and stability are greater than they have been for many many years.'
Turnbull understands the strategy for North Korea:
Trump met with Duterte. Beforehand, Duterte made a brief announcement to the media, absent at that point:
Duterte: "We will be discussing matters that are of interest to both the Philippines and…with you around, guys, you are the spies."
"Hah, hah, hah," Trump said laughing.
"You are," Duterte repeated.
[Duterte's reference was to "spies" (i.e. the media), not "spice."]
Once the media showed up, Duterte wanted them gone:
PRESIDENT DUTERTE: (In progress.) But on the whole, I think I have so many things to say about (inaudible). I will just summarize (inaudible).
We are your ally. We are an important ally. (Inaudible.)
And I will request everybody to — after you've taken the shots, with the best angles that you would like — kindly go out.
I cannot discuss the things that they want to say. You may want to make an — just a statement so that the media is going to have something to go back home.
Trump picked up on the 'spies' joke:
I will say this: The media was a little bit late, and you actually missed the best part of the President's statement. (Laughter.) I think he should make it again, but it was good.
But we've had a great relationship. This has been very successful. We have many meetings today with many other leaders. And the ASEAN conference has been handled beautifully by the President in the Philippines and your representatives. And I've really enjoyed being here …
But we very much appreciate the great treatment you've given us …
Then:
Later, Trump addressed ASEAN (General HR McMaster is on the left and Secretary of State Rex Tillerson on the right):
The full transcript is here. Excerpts follow. Notice how Trump refers to the region not as Asia-Pacific but as Indo-Pacific:
PRESIDENT TRUMP: President Duterte, distinguished leaders, friends and partners: I'm honored to represent the United States of America at this U.S.-ASEAN Commemorative Summit. We gather today at a time of great promise and great challenge.
I speak to you on behalf of 350 million Americans with a message of friendship and partnership. I'm here to advance peace, to promote security, and to work with you to achieve a truly free and open Indo-Pacific, where we are proud and we have sovereign nations, and we thrive, and everybody wants to prosper.
This year we mark 40 years of friendship and cooperation between the United States and this organization. It's a long time. I also want to congratulate ASEAN on 50 years of promoting peace and prosperity and stability in Southeast Asia and in the broader Indo-Pacific region.
Rodrigo, I would like to commend you on your success as ASEAN chair at this very critical moment in time and in the association's history — such an important event. And I want to thank you for your incredible hospitality …
I also want to thank Prime Minister Najib of Malaysia for the excellent job you've done as coordinator, and I appreciate it very much. I really appreciate it. You have coordinated so well with us …
The United States remains committed to ASEAN's central role as a regional forum for total cooperation. This diplomatic partnership advances the security and prosperity of the American people and the people of all Indo-Pacific nations …
So we want our partners in the region to be strong, independent, and prosperous, in control of their own destinies, and satellites to no one. These are the principles behind our vision for a free and open Indo-Pacific.
So again, I wish you all the best of luck. It's an honor to be here. And, Rodrigo, thank you very much for the way you treated all of us. Thank you. (Applause.)
Afterwards, Trump met with Narendra Modi:
Then it was time to visit the US Embassy:
That evening, Trump had dinner with Malcolm Turnbull.
Afterwards:
On Tuesday, Trump was scheduled to attend more ASEAN sessions, however, as they were running late, he asked Rex Tillerson to attend the plenary session in the afternoon on his behalf. During his brief conversation with the media on the way home, Trump told the press that he was able to make his closing remarks at lunch.
It was time to return to Washington. Air Force One made a refueling stop at Hickam in Hawaii:
Thanks to a favourable jet stream, he arrived at the White House two hours earlier than expected Tuesday night. The tarmac at Joint Base Andrews, oddly, was unlit.
A short time later:
Before leaving the Philippines, Trump expressed his delight with the hospitality he received:
Later on, social media director Dan Scavino received this anime of Ivanka:
Once back at the White House, Trump tweeted:
It is a pity that Western media did not cover those 12 days better. They are historic. Trump has built solid relationships among the principal players: Abe, Xi and Modi. He also emphasised national sovereignty, which one hopes will be a game-changer for the region.
On Friday, November 3, 2017, President Donald Trump and First Lady Melania Trump began their first tour of Asia.
Their first stop was Hawaii, where they stayed overnight before flying to Japan.
The Conservative Treehouse has an excellent report on the visit. Their agenda for the first day was as follows:
♦ 1:10pm local / 7:10pm Eastern THE PRESIDENT and THE FIRST LADY arrive in Hickam, HI – Hickam Air Force Base
♦ 1:45pm local / 7:45pm Eastern THE PRESIDENT participates in a United States Pacific Command briefing, Aiea, HI
♦ 5:25PM local / 11:25pm Eastern THE PRESIDENT and THE FIRST LADY participate in a tour of the USS Arizona Memorial, Aiea, HI
Upon arrival, the Trumps were greeted in true Hawaiian fashion (emphases mine below):
The President and First Lady were greeted with leis by Hawaii Gov. David Ige and his wife, Dawn Ige along with US Navy Admiral Harry Harris, commander of the US Pacific Command, his wife, Bruni Bradley; and Mikayla Webb, the daughter of Adm. Harris' aide.
President Trump was given a brightly colored orange and yellow lei decorated with Maile & Ilima flowers, a combination traditionally presented to royalty on the island. The first couple spent about 15 minutes shaking hands with a group of greeters, a mix of troops and civilians at the airport:
President Trump participated in a United States Pacific Command briefing, Aiea, HI:
The Trumps then toured the USS Arizona memorial in Honolulu. The Daily Mail has an outstanding set of photographs and a brief report.
They placed a memorial wreath at the monument remembering American soldiers who died nearly 80 years ago in the attack on Pearl Harbor. The Trumps also threw hibiscus flowers on to the sea in memory of the fallen.
The First Lady was visibly moved:
They arrived in Japan on Sunday, November 5 as guests of Prime Minister Shinzo Abe and Mrs Akie Abe.
The Conservative Treehouse has the day's schedule:
♦ 10:45am (local) / 9:45pm (EST) THE PRESIDENT and THE FIRST LADY arrive in Tokyo, Japan.
♦ 11:00am (local) / 10:00pm (EST) THE PRESIDENT and THE FIRST LADY participate in a Yokota Air Base troop event. – Yokota Air Base, Japan
♦ 12:05pm (local) / 11:05pm (EST) THE PRESIDENT has lunch with Prime Minister Shinzo Abe of Japan and professional Japanese golfer Mr. Hideki Matsuyama. – Kasumigaseki Country Club, Kawagoe, Japan
♦ 12:45pm (local) / 11:45pm (EST) THE PRESIDENT golfs with Japanese Prime Minister Abe and Mr. Hideki Matsuyama. – Kasumigaseki Country Club, Kawagoe, Japan
♦ 7:35pm (local) / 5:35am (EST) THE PRESIDENT and THE FIRST LADY have dinner with Prime Minster Abe and Mrs. Akie Abe – Ginza Ukai Tei, Tokyo, Japan
Reuters reported that this was the longest presidential trip to Asia since George H W Bush's in 1992.
Security throughout the country was tight as bomb threats had been made in several cities.
These two videos show some of Saturday's events — arrival in Tokyo and the president's address to the troops at Yokota Air Force Base:
The Trump and Abe delegations ate lunch together:
While their husbands discussed official business, Mrs Abe and Mrs Trump spent time together meeting schoolchildren, who sang to them:
President and Mrs Trump met with some very special people that day:
They were most grateful:
Prime Minister Abe and President Trump met privately before holding a joint press conference:
The two couples ended the day with dinner at Ginza Ukai Tei, the flagship of the upmarket Ukai restaurant chain in Tokyo. The restaurant's speciality is teppanyaki:
Bloomberg reported that Ukai Co. stock soared on Monday. As for the menu:
The guests were served a "special menu," which included grilled Hokkaido scallop, the restaurant's "best quality" steak and a chocolate sundae, according to a spokeswoman for Ukai.
On Monday, President Trump and First Lady Melania Trump were greeted by Emperor Akihito and Empress Michiko at the Imperial Residence in Tokyo at about 11:03 am for a 30-minute meeting. The Conservative Treehouse has excellent photos of their meeting each other for the first time.
Here is a tweet from elsewhere:
Trump did not say he didn't bow to anyone. The caption refers to his predecessor:
The Trumps returned to Akasaka Palace, where the Abes gave them a welcome ceremony. Trump and Abe also reviewed the troops. Lunch followed.
Afterwards, Abe and Trump fed koi carp. Contrary to what you saw on the mainstream news, Trump followed Abe's example:
That evening, the Abes hosted a state dinner for the Trumps at Akasaka Palace:
The lady below is the glamorous White House Communications Director Hope Hicks, who used to work for Ivanka Trump before her father whisked her (Hicks) away to work on his presidential campaign. (If you understand the CNN reporter's humour, please let me know.)
Prime Minister Abe addressed the guests, followed by President Trump (here is another view):
The White House provided a transcript of their remarks, most of which follow:
PRIME MINISTER ABE: (As interpreted.) …
Yesterday's golf diplomacy between Donald and me attracted so much attention, and we actually made everything public, except for the score. And, through golf, we could demonstrate to the world how strong the bond is between Japan and the United States.
But Donald and I are not the first to promote this unique golf diplomacy. Just 60 years ago, my grandfather, Prime Minister Kishi, and President Eisenhower are the ones who initiated this tradition. And after the golf match, President Eisenhower shared two lessons with my grandfather. One, once you become a President of the United States, you need to be at a table with a group of people whom you don't like to hang out. Second, when it comes to playing golf, you can play golf only with those who you really, really like to hang out.
But speaking of my relationship with President Trump, that is not enough. If I may add another lesson to the legacy of Prime Minister Kishi and President Eisenhower, I would say it like this: When you play golf with someone not just once, but for two times, the person must be your favorite guy.
So, yesterday, we had the pleasure of playing golf together with Mr. Hideki Matsuyama. And, tonight, we are so honored to have the participation of Mr. Isao Aoki, who is a pioneer in Japanese golf. (Applause.)
Speaking of the First Ladies, I understand that my wife Akie and Madam First Lady had a chance to try Japanese calligraphy. Each wrote one Chinese character, or kanji: "hei" by Madam First Lady, which means being smooth and calm; and "wa" by my wife Akie, which stands for harmony. And when combined, these two letters literally mean "peace." And I think their wonderful joint work represents our alliance very nicely.
Under our alliance, Japan and the United States work hand-in-hand to contribute to regional and global peace.
For two days, President Trump and I spent many, many hours together, and had an in-depth discussion on various global challenges. And I'm particularly grateful for President Trump and Madam First Lady, who kindly spent their time with a former abductee and the family members of those who had been abducted by North Korea.
Last but not least, let me share with you my honest impression about President Trump's visit to Japan this time. As I said, this was the very first visit by President Trump and it was indeed a historic visit. And I do hope that you will enjoy your last night in Tokyo as you wish. And also, I sincerely hope that you will have a really successful trip to Asia this time, which started here in Japan.
So with that, I now would like to propose a toast wishing all the best to President Trump and Madam First Lady, and also wishing for the further development of the friendship between Japan and the United States.
(A toast is offered.) (Applause.)
PRESIDENT TRUMP: Prime Minister and Mrs. Abe, this has been a really wonderful two days. We have to spend more time together because I have enjoyed every minute of it, even though he's a very, very tough negotiator. And, Melania, a real friend of yours now is Mrs. Abe. And I know you enjoyed it with me. You enjoyed it in Florida and you enjoyed it here, and maybe even more so. But I want to thank you for the royal welcome.
And it was really a — very much a working holiday, even on the golf course. So we can call it a couple of days off, but it wasn't. It was full work. Even as we played golf, all we did was talk about different things. (Laughter.) We better not go into it. But I have to tell you, we did, and we made a lot of progress on a lot of fronts.
I do want to congratulate Mr. Aoki. He was one of the great putters — probably still is. They say you never lose your putting. When you're a great putter, you never lose your putting …
And I spoke yesterday with the great Matsuyama, who is doing great, right? He's going to be a big star, and he's going to be great. I don't even know if he's with us tonight. I don't think he's with us tonight. But he does want to get together in New York, and we're going to get together …
So my relationship with Shinzo got off to quite a rocky start because I never ran for office, and here I am. But I never ran, so I wasn't very experienced. And after I had won, everybody was calling me from all over the world. I never knew we had so many countries. (Laughter.)
So I was now President-elect. But I didn't know you were supposed to not see world leaders until after you were in office, which was January 20th. So you were just not supposed to because it was considered bad form. It was not a nice thing to do, and I understand that from the standpoint of the President whose place you were taking.
So you can only take so many calls from world leaders — because, you know, everybody was calling. But Japan, you take. And some others — we took Germany, we took Russia, we took China, we took — we took your Prime Minister.
So it's November, and he said to me, "Congratulations on your victory, it was a great victory, I would like to see you. I would like to see you as soon as possible." And I said, "Anytime you want, just come on in, don't worry about it." But I was referring to after January 20th. (Laughter.) So I said, don't worry about it. Anytime you want, I look forward to seeing you. Just give us a call, no problem, anytime you want. And all of the sudden, I get a call from, actually, Japan press. And they said that our Prime Minister is going to New York to meet with the President-elect.
So the press is going crazy because the Prime Minister of Japan is coming to see me. I think it's absolutely fine, but I didn't really mean now. I meant some time in February, March, or April. Meaning, you have a very aggressive — very, very aggressive, strong, tough Prime Minister. That's a good thing, by the way — not a bad thing. (Laughter.)
So then the New York media started calling me, and I was getting all sorts of signals from Hope and Sarah, in a different position, and everybody. And they're going crazy. They're saying, "You cannot see him. It's so inappropriate. It looks bad." I say, "What's wrong?" They said, "It's a bad thing to see him. You have to wait until after, in all fairness, Barack Obama leaves office." And I said, "What do I do?" And they said, "Let's call."
So I called him, and he wasn't there. He was on the airplane flying to New York. (Laughter.) And I said, "You know what? There's no way he's going to land and I'm not seeing him."
So I saw him, and it worked out just fine. Do you agree with that? (Laughter.) And he actually brought me the most beautiful golf club I've ever seen. It was a driver that's totally gold. Right? It's gold. (Laughter.) And I looked at it — I said, "If I ever use this driver — me — to use that driver at a golf club, I will be laughed off every course I ever go onto." But it is the most beautiful weapon I've ever seen, so I thank you for that.
But we had a great meeting. It lasted forever. It was a very long meeting in Trump Tower. And for some reason, from that moment on, we had a really — and developed a really great relationship. And here we are today and better than ever, and we're going to work together. And it's going to get more and more special, and we're going to work out problems of Japan and problems of the United States. And it's going to be something very, very special for both countries.
And I just want to finish by saying that Melania and I today visited the palace. This is a beautiful, beautiful place. And we met two very beautiful people, the Imperial Majesties, the Emperor and the Empress, and spent a long time talking to them today. And there was a lot of love in that room for all of you people — I can tell you — from everyone from Japan. They love the people of Japan, they love this country dearly, and they have great, great respect for your Prime Minister. And they truly think that your Prime Minister did very, very well when he decided to marry — or she decided to marry him, Mrs. Abe. But they have great, great respect — I can tell you that.
And I just want to conclude by saying that our two great countries will have incredible friendship and incredible success for many centuries to come — not years, not decades, but for many centuries to come.
And again, it's an honor to have you as my good friend, and I just want to thank you and Mrs. Abe. This is a very, very special two days. We will not forget, and we will be back soon. Thank you very much. Thank you. Thank you very much, everybody. Thank you.
(A toast is offered.) (Applause.)
President Trump toasted with cola.
The dinner was the last event of the Trumps' visit to Japan:
Trump tweeted:
There may well be some significance to +++, which I think relates to the Storm (draining the Swamp) rather than Japan. See this 4chan/pol/ post.
Tomorrow's post will cover Korea.