You are currently browsing the tag archive for the 'Jean-Claude Juncker' tag.
On Saturday, March 6, 2021, Nigel Farage announced that, after nearly 30 years, he is leaving the world of politics:
That photo was taken in the EU Parliament on the last day in that British MEPs participated in proceedings.
Guido Fawkes points out how extraordinary Nigel Farage is:
Granted, Farage was an MEP for South East England for just over a decade — 1999-2020 — and his was probably the only MEP's name anyone in Britain knew. Yes, we voted for them, but it was all a bit of a forgettable side show. I could never remember who our regional MEP was.
1994 by-election
Nigel Farage did run for Parliament, however, and only once. That was in 1994, in Eastleigh, which is in Hampshire.
Eastleigh's Conservative MP, Stephen Milligan, had died suddenly at the age of 45. It transpired that the cause of his death was autoerotic asphyxiation. The story made the papers and LBC (the only talk radio station in England at the time). People talked about it for days: 'Is this really a thing?' Apparently so, among some people back then. We were bemused and astonished.
Milligan's secretary found his body.
From Wikipedia (emphases mine):
Milligan was found dead in his house at 64 Black Lion Lane, Hammersmith, London, by his secretary Vera Taggart on 7 February 1994. Milligan had failed to appear in the House of Commons as expected, and so Taggart went to look for him.[4] Milligan's corpse was found naked except for a pair of stockings and suspenders, with an electrical flex tied around his neck, a black bin liner over his head and an orange in his mouth.[5][4] The coroner concluded that he had died in the early hours of 7 February.[4] The pathology report into Milligan's death discounted the possibility of murder, lending weight to the belief that he died accidentally as a result of autoerotic asphyxiation. No drugs or alcohol were found in his blood, and no substances were found to have contributed to his death.[4][6]
Farage was one of the candidates in the by-election, which was held on June 8 that year. Farage represented UKIP at the time. David Chidgey, a Liberal Democrat, won the by-election. Farage came fourth. Chidgey had come in second to Milligan in the prior election. Chidgey is now in the House of Lords and holds a life peerage. His full title is Baron Chidgey of Hamble-le-Rice in the County of Hampshire.
Eastleigh currently has a Conservative MP, Paul Holmes.
European Parliament
In 1999, Farage was elected as an MEP for the South East England region. He was re-elected three subsequent times, until the UK left the EU. We were no longer allowed to participate once we began our Brexit transition period.
On Thursday, June 23, 2016, Britain voted to leave the EU in the biggest plebiscite in our history. People who hadn't voted for years went to polling stations across the land, especially in England and in Wales, to vote Leave. I remember the day well. It poured buckets all day long. Glastonbury, our biggest music festival, was the next day. Between the weather and Glasto, a lot of young adults who would have voted Remain either stayed home or were on their way to the festival. Leave won by 52% to 48%.
On Tuesday, June 28, 2016, Farage spoke in the EU Parliament, satisfied that, after having been trying since 1992, his life's work was being realised:
You all laughed at me. You're not laughing now, are you?
This short clip of his speech is worth watching. Many Britons have seen it, and it's always great viewing it again. Guy Verhofstadt and Jean-Claude Juncker appear in it, too:
In October 2019, Guy Verhofstadt objected to Prime Minister Boris Johnson's deal, calling it a 'virtual' withdrawal agreement and a 'blame game' against the EU. He then called Boris 'a traitor'. By then, the UKIP MEPs were representing the Brexit Party, Farage's new party incarnation.
In addition to Verhofstadt, this 15-minute video shows a left-wing British MEP denouncing Boris as a 'toe-rag', to which a Conservative MEP objected, Brexit Party MEPs Richard Tice and Claire Fox (now Baroness Fox in the House of Lords) as well as, of course, Farage himself (at the 13-minute point). Farage struck out at Michel Barnier, who was our negotiator for the EU, and a Remainer MEP (14-minute point). He called her a 'patronising stuck up snob'.
I saw this when it happened — a must-watch:
In 2019, with our departure from the EU becoming a reality, the Brexit Party became the Reform Party, devoted to reforming British institutions.
This brings us to the present day.
March 2021
On Saturday, Nigel Farage announced that, having worked for 30 years on getting Britain out of the EU, his work in the political sphere has been fulfilled. He added that it is more than most MPs can say about their parliamentary careers. He is right.
In his 10-minute video, he runs through his struggle for Brexit, expresses his hope that the current teething problems will be worked out and says that he will now devote himself to special personal 'projects' of his, which include shining a light on China and the British education system as well as planting trees to improve the environment:
Richard Tice, a successful businessman, will now head the Reform Party.
On Sunday, March 7, Farage reposted his video and added that he will become Honorary President of Reform UK:
He said that, if asked, he would help Richard Tice in campaigning in the run up to our May 2021 local elections.
Nigel Farage says that we have not heard the last from him and that he will continue to have a strong social media presence, including on YouTube.
He's done fantastic work for the nation.
I was delighted to have heard him speak in person several years ago as well as chat one-on-one with him briefly at that event. During intermission, members of the audience submitted written questions anonymously. I submitted three, and he kindly answered all of them! Thank you, Nigel!
After a slow news period post-'inauguration', everything accelerated again to the point where there is too much to cover in one week.
At the end of January 2021, the EU tried to block the UK's coronavirus vaccine supply, specifically to the AstraZeneca vaccine developed in Oxford!
The EU poked at the softest, most vulnerable part of the UK-EU agreement post-Brexit: not to create division between Northern Ireland and the Republic of Ireland, covered by Article 16.
However, the EU, being short of coronavirus vaccines, briefly invoked the sacrosanct Article 16 on Friday, January 29, 2021, despite Jean-Claude Juncker's old commitment to Ireland that there would be no hard border with a post-Brexit EU-UK trade agreement. This debate in the Irish parliament took place long before coronavirus. What a sloppy dress code:
Then, just less than a month after the UK made a full Brexit with a trade agreement, the EU did this:
On Friday, January 29, Guido Fawkes reported (emphases in the original):
As part of its plot to block vaccine exports to the UK, the EU has invoked Article 16 of the Northern Ireland Protocol. This has effectively removed Northern Ireland from the EU's customs. In plain English, Article 16, the so-called safeguard clause, allows both the EU and the UK to unilaterally suspend part of the Northern Ireland Protocol (which keeps Northern Ireland in the EU's customs territory) in specific circumstances.
Most discussion around this particular article had been how or whether the UK would use it. The fact that the EU has implemented it less than a month after coming into effect could set a big precedent.
Practically this new EU-imposed hard border won't make a huge difference as Northern Ireland will receive their jabs via Great Britain, but this political move is extraordinary, after a week of terrible news for the Union. After years of arguing to keep Northern Ireland in its customs territory, the EU has just merrily kicked it out.
However, such an action threatened the long-standing peace agreement between North and South.
EU Commission president Ursula von der Leyen's action managed to unite Britain's — and Ireland's — Right and Left for the first time in years:
Guido's article says of the centre-right Democratic Unionist Party:
UPDATE: The DUP have, not unsurprisingly, slammed the EU's decision as "an incredible act of hostility". Arlene Foster says:
"This is an incredible act of hostility. By triggering Article 16 in this manner, the European Union has once again shown it is prepared to use Northern Ireland when it suits their interests but in the most despicable manner — over the provision of a vaccine which is designed to save lives.
At the first opportunity the EU has placed a hard border between Northern Ireland and the Republic of Ireland over the supply chain of the Coronavirus vaccine.
With the European Union using Article 16 in such an aggressive and most shameful way, it is now time for our Government to step up. I will be urging the Prime Minister to act and use robust measures including Article 16 to advance the interests of Northern Ireland and the rest of the United Kingdom."
As for Labour:
UPDATE II: Labour join in with the EU condemnation: Louise Haigh MP, Labour's Shadow Northern Ireland Secretary, commenting on the European Union's decision to invoke Article 16 of the Northern Ireland Protocol:
"This move is deeply destabilising and undermines the huge efforts being made to make the Protocol work.
Unilateral actions like this do nothing to aid the stability in Northern Ireland which the Protocol was designed to preserve.
The European Union must remember the Protocol depends on joint working and they share a responsibility to uphold that. They must think again, and revoke this action."
Later that day, Guido recapped the previous five days of hassle for AstraZeneca and vaccine supply. CEO Pascal Soriot insisted that the company never made a hard and fast commitment to the EU. AstraZeneca made what are contractually known as best reasonable efforts to supply to the EU. Guido's article has a copy of the contract, which you can read at the link:
AstraZeneca has committed to use its Best Reasonable Efforts (as defined below) to build capacity to manufacture 300 million Doses of the Vaccine, at no profit and no loss to AstraZeneca, at the total cost currently estimated to be [REDACTED] Euros for distribution within the EU [REDACTED] (the "Initial Europe Doses"), with an option for the Commission, acting on behalf of the Participating Member States, to order an additional 100 million Doses (the "Optional Doses").
The ball was then in von der Leyen's court:
Guido reported von der Leyen's response:
No. There are binding orders and the contract is crystal-clear. AstraZeneca has expressly assured us in this contract that no other obligations will stand in the way of fulfilling the contract.
However, Guido explained:
The key obligation in the agreement is in Section 5.1, which "silos" production for the doses to go to the EU, making clear that the AZ obligation is only to use best reasonable efforts to manufacture the initial doses within the EU. If they are manufacturing doses outside the EU that's irrelevant to that obligation. Has the EU just shot itself in the foot?
Guido's founder Paul Staines is based in Waterford, Ireland. He thinks that, for the good of relations between North and South, the UK should share their AstraZeneca doses with the Republic:
He was not alone. The Scotland editor for The Spectator agreed:
Fine. Let's make sure that Britons get their share first. That's why the deal was set up in the first place.
By the end of last Friday, right, left, centre and the Church of England opposed the EU action:
The Archbishop's intervention seemed to have a huge impact in Britain, which is surprising for such an atheistic nation:
The strange thing about Article 16 is that the British EU-lovers assumed that the UK Government would implement it first against the EU. That was the big stink around the Internal Market Bill, which gives the UK leeway to back out of parts of the trade agreement if the EU becomes threatening.
In the end:
Late that evening, the EU president conceded:
Boris made no mention of it on his Twitter feed.
More on the UK's coronavirus vaccine success will follow on Monday.
For now, here's the next EU-UK drama, which also started on Friday, January 29 — international travel:
Macron's probably upset because the Institut Pasteur vaccine failed this week. Because of that failure, he rubbished the AstraZeneca vaccine:
As Guido said:
The French haven't been able to produce a vaccine, and the Germans couldn't do it without American corporate help. No wonder voices in the EU were so keen to hit out, falsely, at the success of Brexit Britain's Oxford vaccine. Poor Little EU.
Oh, boy. Politics, politics.
2021 will be a doozy of a year.
A week is a long time in politics, as the saying goes.
Much happened during the past five days, beginning with the Queen's Speech and culminating with Boris's new Brexit deal.
Promises made — and kept
But, first, delivering a new Brexit deal was what Prime Minister Boris Johnson pledged on Tuesday, September 10, 2019. Please watch the first six minutes:
This week, he delivered on that pledge.
Queen's Speech
From the end of September to last weekend, the anti-Boris brigade wondered whether the Queen's Speech would go ahead on Monday, October 14:
Much to Remainers' dismay, it did indeed take place:
With regard to the Queen not wearing the Imperial Crown, this is why:
You can read the full text of proposed legislation for the next (now current) session of Parliament — including supporting facts — here. Preserving the Union and getting Brexit done are the top two priorities. Proposed legislation for this session involves the NHS, the environment, policing and the railways, among other issues. The BBC has a good summary.
It should be noted that the government — political party — in power writes the speech for the monarch.
Advance copies are issued, but they have to remain under embargo until afterwards. Therefore, media pundits pretend they do not know what the Queen is going to say as they have to create a news story for the folks at home:
On the day, Black Rod goes to the House of Commons to summon MPs to the House of Lords for the speech:
MPs are summoned by a House of Lords official, known as Black Rod. Before entering the Commons, Black Rod has the doors shut in their face, symbolising the chamber's independence from the monarchy.
During the speech, the Queen sets out the laws the government wants Parliament to approve. By convention, it is announced by the monarch in the presence of MPs, peers and other dignitaries in the House of Lords.
Afterwards, the House of Commons then needs to vote on whether to accept the contents of the speech. MPs normally spend five days debating whether to approve it. It is thought that they will vote on Monday or Tuesday next week.
I watched this week's tiresome 'debates', which were dominated by opposition MPs' petty speeches. One railed on about the cost of school uniforms and said that a proposed subsidy should have been included in the speech. For that reason, she does not want to approve it.
Five days of 'debate' over a 1,073-word speech that took around ten minutes to deliver. The mind boggles.
Brexit negotiations
Last week, Boris spent time in meetings with Ireland's Taoiseach — Prime Minister — Leo Varadkar:
Many MPs, including some Remainers, were optimistic.
The Democratic Unionist Party (DUP), with whom the Conservatives have had a confidence and supply agreement since the 2017 election, because of Theresa May's decreased majority, were cautiously optimistic:
Brexit Secretary Steve Barclay met with our EU negotiator Michel Barnier last Friday:
On Monday, the day of the Queen's Speech, Barclay's optimism continued:
Intensive rounds of meetings ensued this week:
Barclay returned to London on Wednesday to provide an update:
Then, it was back to the Continent for more meetings that lasted into the morning of Thursday, October 17.
At 9 a.m. (BST), there was finally a Brexit breakthrough, after Boris spoke to Cabinet members about it:
It was made public just after 10:30:
Jean-Claude Juncker said there was no need now for 'prolongation':
Boris was allowed to address EU leaders before they began their summit:
He also gave a joint press conference with Juncker:
I watched the news last night (a rare occurrence, but this was a historic moment). All the film clips showed the EU leaders greeting Boris as if he were a hero — hugs, hearty handshakes, the lot. See the 6:49 mark in the following video:
EU leaders approved the deal after he left:
A 'Tournedos Rossini of a deal'
When Parliament's session began yesterday morning, Leader of the House Jacob Rees-Mogg gave an enthusiastic speech about Boris's deal, calling it a 'Tournedos Rossini of a deal':
He also said (emphasis mine):
It takes out the undemocratic backstop, delivers on what the Prime Minister promised he would do. In 85 days achieved something that could not be achieved in three years.
Every single member who stood on a manifesto saying that they would respect the will of the people in the referendum can support this with confidence.
I believe him.
Unfortunately, the DUP will not be voting for it on Saturday, unless, by the time you read this, something or someone has changed their minds:
To compound the situation, hardcore anti-Boris and anti-Brexit Remainers have tricks up their sleeves.
Saturday's session in the Commons will not be easy. I suspect that this week's EU negotiations will appear like a walk in the park by comparison.
More next week.
Interestingly, whilst the Conservatives were at their annual party conference, the opposition benches were largely empty.
Strange. Last week, they voted against proroguing Parliament from Monday through Wednesday because they had serious work to get on with.
Or so they said.
As it turned out, only a handful of the diligent, hardworking opposition MPs showed up on those days.
On Tuesday, October 1, a Brexit-related session headed by George Eustice, the minister for DEFRA (Department for Environment, Food and Rural Affairs) covered the draft Common Agricultural Policy from July 24 which would be used for Brexit. The end of the debate is here. It's a pity that only the opposition agricultural ministers and a couple of other MPs attended:
On Wednesday, October 2, Foreign Minister Dominic Raab headed PMQs — Prime Minister's Questions — as Prime Minister Boris Johnson gave his rousing speech in Manchester to the party faithful.
That morning, the Labour Whips issued a directive to their MPs not to ask Urgent Questions that day:
It was even worse when the afternoon's proceedings began.
Recall — as if we could forget — that the opposition claim to be the champions of the vulnerable, especially women.
So, it was particularly galling to see that very few of them turned up for the second reading of the Domestic Abuse Bill:
Only a few Liberal Democrat MPs attended that afternoon. Labour produced more, but could have done much better.
Good grief.
Apparently, this bill and some others have been carried over post-Queen's Speech on October 14:
Therefore, if this is true, the opposition knew full well that they could have easily prorogued for three days during the Conservative Party Conference but chose not to out of sheer spite. Ditto the Supreme Court when they cancelled Boris's prorogation.
The main and most moving speech of the debate was that of Labour MP Rosie Duffield. Her testimony of a recent relationship is well worth sharing with your daughters or nieces.
Women cannot be too careful when getting involved in a long-term relationship. If this can happen to an MP, it can happen to anyone. Please watch:
This bill is Theresa May's. She brought it forward as a backbencher, therefore, before she became Prime Minister in 2016. How slowly the wheels of legislation turn.
Theresa May also gave an impassioned speech for the bill near the end.
Debate continues after October 14.
Attendance improved when Boris appeared on Thursday, October 3, to discuss a new proposal for Brussels, sent to Jean-Claude Juncker the day before:
Note the final paragraph about the Northern Ireland backstop on the first page: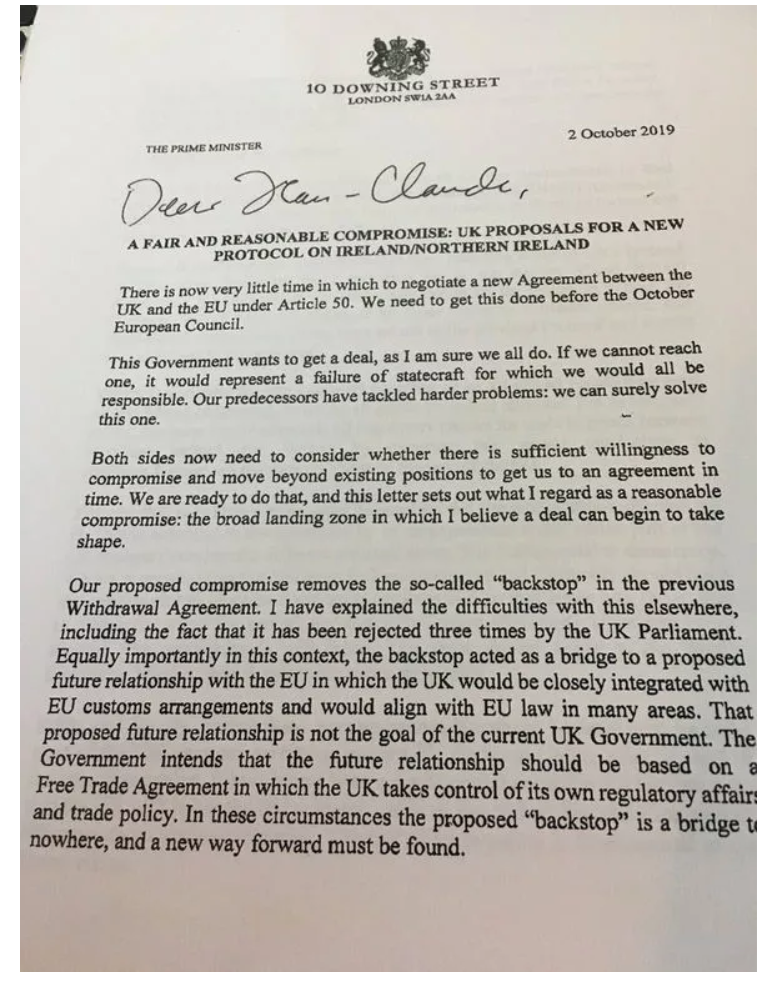 This is the European Commission's announcement about the letter (click on the image to enlarge text):
Many MPs who offered comments following Boris's address commented positively. Even most Remainers accepted the proposal, albeit with a request for more details, which will be forthcoming. Only two or three diehard Remainers spoke out against it.
Several MPs hoped that the EU commissioners were watching the positive reaction.
Guido Fawkes has more, including this video of Boris's speech:
Guido gives us the transcript of Boris's five elements concerning the abolition of the proposed backstop, the crux of the leaving date delay thus far (italics in the original):
In the first place all our actions are based on our shared determination to sustain the Belfast (Good Friday) Agreement, the fundamental basis of governance in Northern Ireland the protection of which is the highest priority of all.

And from this follows the second principle – namely that we shall of course uphold all the longstanding areas of co-operation between the UK and our friends in Ireland including the rights of all those living in Northern Ireland, North/South co-operation and the Common Travel Area, which predates both the Good Friday Agreement and the European Union itself.

Third, we propose the potential creation of a regulatory zone on the island of Ireland covering all goods, including agri-food. For as long as it exists, this zone would eliminate all regulatory checks for trade in goods between Ireland and Northern Ireland.

But fourth, unlike the so-called backstop, such a regulatory zone would be sustained with the consent of the people of Northern Ireland, as expressed through the Assembly and Executive. They will give their consent during the transition period as a condition for these arrangements entering into force. Thereafter, the Assembly will vote again every four years – and if consent were withheld, these arrangements would then lapse after one year.

Fifth, it has always been a point of principle for this government that at the end of the transition period, the UK should leave the EU Customs Union whole and entire restoring sovereign control over our trade policy and opening the way for free trade deals with all our friends around the world.
In short: no hard border between the Republic and Northern Ireland. Instead, there would be a regulatory zone covering all goods, including foodstuffs. Northern Ireland's Assembly and Executive would vote on the arrangements in the near future and every four years after that. (I do not know how that will work if Stormont is not sitting, but, no doubt, the government can find a way.)
I'm guardedly hopeful that Boris is onto something positive with this. It won't please Brexit Party members, but we were never going to get an absolute No Deal. I'm hoping that David Davis's Canada ++ arrangement can be revived. Theresa May insisted that his plans be superseded by her Withdrawal Agreement in July 2018, no ifs, ands or buts. Davis resigned as Secretary of State for Exiting the European Union on July 8 that year. It was all downhill from there.
Davis has not tweeted his reaction, but another staunch Leave MP, John Redwood, offered his thoughts on Boris's proposal:
Unfortunately, the Twitter replies to that were very angry, indeed.
It is essential to keep in mind that trade and other agreements will be in transition once we leave the EU.
It's not as if everything will change dramatically on November 1 (God willing) or whenever we leave.
The transition period is likely to last anywhere from two to four years, depending on negotiations.
As for prescription drug shortages, some of which are occurring now in the UK and being blamed on Brexit: several EU countries have been experiencing similar shortages of essential medication for several months now. France and the Netherlands are among those nations. We cannot blame Brexit for that.
As it is with President Trump, so it is with Prime Minister Johnson.
The more the Left in their various guises attack these men, the more popular they become in the eyes of the people.
If this is true about the US president, it seems to also be true about our Prime Minister. British voters are beginning to understand that the elites despise them:
On Sunday, September 15, 2019, a Liberal Democrat prospective parliamentary candidate (PPC), Kirsten Johnson (no relation to Boris), seemed to smear Leave voters in her proposed constituency in Devon:
Well observed. Kirsten Johnson's accent is indeed American; she was born in Virginia but has dual US/UK nationality. Her husband is English. It's a shame she went on the offence against voters in her adopted country.
She gave an interview to the BBC Radio 4's Ross Hawkins on The World This Weekend. Guido Fawkes has the excruciating soundbite.
The North Devon Gazette covered the story and local political reaction (emphases mine, outside of the Conservative MP's name):
When asked about North Devon being an area that voted to leave the EU, she said: "Demographically it's 98 per cent white. We don't have a lot of ethnic minorities living in North Devon. People aren't exposed to people from other countries."
North Devon MP Peter Heaton-Jones has called on her to make 'an immediate and unreserved apology to local people following her disgraceful comments', saying they were 'highly offensive'.
On the show, interviewer Ross Hawkins asked what the number of ethnic minority votes had to do with it and Dr Johnson said: "I didn't mean to mean that it has anything to do with it at all – just saying that when I speak to people I am hearing comments to me….when it….it refers to race. You've got….you've got me in a corner here."
Dr Johnson then referred to the rise of hate crimes and was asked if she linked leave voters to hate crime.
She responded: "No I do not link all leave voters to hate crime, not at all, I need to make that absolutely clear."
The awkward radio segment continued and eventually concluded with Mr Hawkins saying: "There she trailed off, and I'm not sure I ever did really understand her point."
In a statement, Mr Heaton-Jones called the remarks 'appalling and unacceptable'.
Dawn Westcott, The Brexit Party's PCC, who also appeared on the same programme, voiced her 'sense of shock' at Johnson's remarks:
This is not the London bubble. This is the countryside and there's a sense of shock that the Liberal Democrats are no longer representing the views of North Devon.
The Green Party PPC was equally offended. Their PPC, Robert Mack, said:
I can't believe the disdain for North Devon residents from the Lib Dem PPC, Kirsten Johnson.
This statement clearly pits their party against the electorate here. We need to trust people to make decisions and this is why I back a people's vote. We need to listen to people from all sides of the debate, without prejudice.
Mark Cann, chairman of the North Devon Labour Party, expressed it best:
These distasteful comments from Kirsten Johnson just go to show how little she understands the people of North Devon. Despite our differences on Brexit, no one should be branding those with a different view as racist or lacking an understanding of the issues. We should respect all views on Brexit no matter how we might differ in our opinions. That is why Labour is committed to a Peoples Vote and will respect its outcome.
Too right.
That said, I disagree with the call for a People's Vote from the Greens and Labour. We had a people's vote in 2016: the EU referendum.
In the end, Kirsten Johnson tweeted an apology the day after the interview:
Voters were unimpressed:
The timing of this episode was bad, as the Lib Dems party conference was going on in Bournemouth at the time:
You get the idea. I hope she loses bigly, as President Trump would say, when the general election comes around.
Now on to Boris.
Many of us appreciate the short videos that No. 10 issues two or three times a week. They keep up our morale.
Last week, Boris — which is how we referred to him as Mayor of London — gave us an optimistic update on his travels in the North of England as well as his meeting with Ireland's Taoiseach — Prime Minister — Leo Varadkar. He then discussed his — our — enemies in Parliament, saying that it was inexplicable why they would not agree to a general election:
Some Remainer MPs know they would lose, especially when they campaigned to uphold the 2016 referendum result in 2017's general election. Here are two polls from last weekend.
The first shows Conservatives and Labour neck and neck:
The second shows the Conservatives ahead by a comfortable margin:
On Monday, September 16, the PM went to Luxembourg to meet over lunch with Jean-Claude Juncker, outgoing President of the European Commission, and then on to a meeting with the tiny nation's prime minister, Xavier Bettel.
This was the lunch menu. 'Bio' means 'organic' and chicken oysters refer to the oblong tender pieces just in front of the thigh, along the back of the chicken:
Downing Street released the following communique afterwards. From The Guardian:
The prime minister and President Juncker had a constructive meeting this lunchtime. The Brexit secretary [Stephen Barclay] and Michel Barnier [the EU's chief Brexit negotiator] were also in attendance.
The leaders took stock of the ongoing talks between the UK's team and taskforce 50. The prime minister reconfirmed his commitment to the Good Friday/Belfast agreement and his determination to reach a deal with the backstop removed, that UK parliamentarians could support.
The prime minister also reiterated that he would not request an extension and would take the UK out of the EU on the 31st October.
The leaders agreed that the discussions needed to intensify and that meetings would soon take place on a daily basis. It was agreed that talks should also take place at a political level between Michel Barnier and the Brexit secretary, and conversations would also continue between President Juncker and the prime minister.
The European Commission's statement read:
President Jean-Claude Juncker and Prime Minister Johnson had a working lunch today in Luxembourg. The aim of the meeting was to take stock of the ongoing technical talks between the EU and the UK and to discuss the next steps.
President Juncker recalled that it is the UK's responsibility to come forward with legally operational solutions that are compatible with the withdrawal agreement. President Juncker underlined the commission's continued willingness and openness to examine whether such proposals meet the objectives of the backstop. Such proposals have not yet been made.
The commission will remain available to work 24/7. The October European council will be an important milestone in the process. The EU27 remain united.
President Juncker was accompanied by the European commission's chief negotiator, Michel Barnier.
President Juncker will travel to Strasbourg later today and will address the plenary session of the European parliament on Wednesday morning.
However, the Financial Times reported that Juncker said Monday was the first time the Prime Minister appeared to understand the meaning of a single [EU] market. Really?
The managing director for Europe of the Eurasia Group says we should be on guard against statements coming from Brussels (Bxl) which contrast with those from European capitals, e.g. Berlin and Paris:
After lunch, a group of people began booing the Prime Minister:
Then there was the failed press conference with Luxembourg's PM Xavier Bettel. Bettel spoke, but a rent-a-mob was there to harass our PM. Consequently, he refused to speak outdoors under those circumstances:
Interestingly, in the days before the Luxembourg meeting, No. 10 asked if any press conference could be held indoors, but Luxembourg officials said there was no room large enough. Seems hard to believe, as Luxembourg is a very important location for EU officials and meetings. Hmm.
Britain's media — left and right — took a swipe at the PM for not appearing at the press conference. However, the British public viewed the situation differently:
That is true, as confirmed by a reporter for the Independent, not known to be a pro-Boris news outlet:
No. 10 made a short video of Boris's private remarks in Luxembourg — for the British public, not protesters or the EU:
The Irish border 'backstop' is the big fly in the ointment between now and October 31. However, on last Thursday's BBC Question Time, Dr Catherine Barnard, Professor of EU Law at Cambridge University, said that the backstop does not even come into effect until the transition period comes to a close in several months' time — after we leave the EU. Therefore, surely, we have time to negotiate. No one wants the return of a hard border between the two countries, including Boris Johnson.
Boris Johnson is quickly becoming a people's hero. I wish him the best of luck in the weeks ahead.
The past seven days in Britain have proven further the old adage that a week is a long time in politics.
Last Saturday, September 7, Conservative MP Amber Rudd (Hastings and Rye) resigned from Prime Minister Boris Johnson's cabinet. Her resignation is not a huge loss, as she is a Remainer, however, the optics were potentially damaging to the new PM.
She was upset about the 21 Conservative MPs who had the whip removed last week. (The PM's brother Jo had resigned from Cabinet days before for the same reason.) Fair enough. However, she allegedly told The Sunday Times about her resignation before she notified the PM, according to Buzzfeed's Alex Wickham:
On Monday, September 9, talk revolved around Boris's 'unfair' prorogation. A few weeks ago, Conservative MEP Daniel Hannan reminded us of the facts:
Before prorogation took place, however, former Conservative-now-rebel MP Dominic Grieve put forward a Humble Address procedure in Parliament on Monday afternoon. He wants every detail of correspondence behind prorogation as well as the emergency Brexit procedures contained in Project Yellowhammer. The Guardian has this summary of this extraordinary measure with regard to prorogation correspondence (emphases mine):
Grieve's demand for the release of all written and electronic contact about the temporary suspension of Parliament and Operation Yellowhammer documents since July 23 to be released was approved by MPs by 311 votes to 302 on Monday.
It asked for all correspondence and communications, formal or informal, including WhatsApp, Telegram, Signal, Facebook Messenger, private email accounts, text messages, iMessage and official and personal mobile phones connected to the present Government since July 23 relating to prorogation.
It listed key individuals of Mr Johnson's Government, including senior adviser Dominic Cummings and director of legislative affairs Nikki da Costa.
Grieve was Attorney General just a few years ago, so, apparently, this move is legal, even though one wonders about the legality of requesting private correspondence given EU data protection rules. An update follows below.
That was followed by Speaker of the House John Bercow's announcement that he would be relinquishing his post by October 31. A standing ovation from Opposition MPs followed, at which point most Conservative MPs left the chamber. Then, a 90-minute verbal floral tribute followed to the Remainer from a variety of Opposition MPs, also Remainers. And these are the people who complain they lack adequate time to debate Brexit!
That evening, as MPs continued to sit in session, the PM once again put forward his motion to hold a general election. His prior attempt had been defeated a week earlier.
Once again, Boris was defeated. Those who voted Aye were in the majority, but he needed two-thirds of all sitting MPs to vote for it.
Still, no one can rightly call him a dictator.
Recalcitrant MPs should have listened to Gina Miller. This is probably the one time I agree with her — and that is only with the second sentence in this tweet:
Gina's case on illegal prorogation was rejected, but it goes before the Supreme Court next week on appeal. Former Conservative PM John Major (pictured in the background) piggybacked his own anti-prorogation case onto Miller's:
It's a bit rich for Sir John to complain about Boris's prorogation:
Around the time Parliament was preparing for prorogation, a poll was released saying that the British public do not want another extension to Brexit:
In the early hours of Tuesday morning, all hell broke loose in the House of Commons.
Black Rod, the Lady Usher in the House of Lords and Queen's representative for the prorogation ceremony, entered the House. She was there to prorogue Parliament and summon all MPs to the House of Lords where they had to listen to a very long list of all the achievements of their Parliament. It took ages.
I stayed up to watch everything on BBC Parliament, but the following video has better views of a few other scenes in the Commons. The noise that Opposition MPs made was terrible. Then, a vexed Black Rod, who stood on the red line designating the governing party's boundary in the House, glared at the Speaker as he made some great peroration, to borrow the word he uses against those with whom he disagrees. He then barked at two Conservative MPs telling him to get on with it and leave the chamber. One Labour MP climbed on top of Speaker Bercow to prevent him leaving!
This video is around six and one half minutes long and is well worth watching:
Here is a potted version with subtitles of the proceedings:
It was part of Bercow's job to silence the chamber and allow Black Rod to speak.
Here are a few more scenes:
The 'SILENCED' signs were rich, considering these MPs are thwarting Brexit at every turn. A Leave supporter did a nice Photoshop of the Speaker's chair:
All of the MPs were supposed to follow Black Rod to the House of Lords, but only the Conservatives and a handful of Opposition MPs did.
The rest stayed behind to film themselves in the Commons — not allowed — and to sing songs, such as The Red Flag!
The Labour MP crawling on top of Bercow was re-enacting a similar prorogation scene in Parliament from 1629:
After Bercow returned from the House of Lords, he received a second standing ovation, largely from the Opposition:
On Wednesday, September 11, The Guardian reported that Cabinet minister Michael Gove wrote Dominic Grieve in response to his aforementioned Humble Address procedure requesting private correspondence on prorogation. The government — rightly — will not hand over said documents:
A letter from Michael Gove addressed to former Attorney General Dominic Grieve states that the request would breach the rights of those named in the communications – including civil servants and special advisers.
This is an unprecedented, inappropriate, and disproportionate use of [the Humble Address] procedure. To name individuals without any regard for their rights or the consequences of doing so goes far beyond any reasonable right of Parliament under this procedure.
These individuals have no right of reply, and the procedure used fails to afford them any of the protections that would properly be in place. It offends against basic principles of fairness and the Civil Service duty of care towards its employees.
Excellent move, excellent reasoning.
However, the government did release more information about Operation Yellowhammer, which looks a lot like what we saw reported in the media earlier this year in anticipation of the original March 29 departure date:
We have enough to go on at this time. Why release procedures that could compromise national security?
Michael Gove explained that Yellowhammer details what to do in a worst case scenario. Those scenarios might never happen. They are contingency plans:
That day, three Scottish Appeal Court judges declared that the PM's prorogation is unlawful, as they believe it is intended to stymie Parliament:
The case goes to the UK's Supreme Court next week. The Guardian reported:
The three judges, chaired by Lord Carloway, Scotland's most senior judge, overturned an earlier ruling that the courts did not have the power to interfere in the prime minister's political decision to prorogue parliament.
Lawyers acting for 75 opposition MPs and peers argued Johnson's decision to suspend parliament for five weeks was illegal and in breach of the constitution, as it was designed to stifle parliamentary debate and action on Brexit.
The judges failed to issue an interdict, or injunction, ordering the UK government to reconvene parliament, prompting a row over whether the decision meant MPs could go back to the House of Commons.
The court issued an official summary of its decision declaring the prorogation order was "null and of no effect", but Carloway said the judges were deferring a final decision on an interdict to the UK supreme court, which will hold a three-day hearing next week.
Conservative MP Nigel Evans reiterated the PM's position:
A hypocritical Labour MP showed up alone for PMQs (Prime Minister's Questions) late that morning, following the Scottish judges' declaration. Too bad he did not spend that energy in a vote for a general election:
On Thursday, a High Court judge in Belfast dismissed a legal challenge against a No Deal Brexit. A BBC article says:
One of the three cases brought was by the victims' campaigner Raymond McCord who plans to appeal the decision.
The court heard arguments that a no-deal would have a negative effect on the peace process and endanger the Good Friday Agreement.
But the judge said the main aspects of the case were "inherently and unmistakeably political".
Lord Justice Bernard McCloskey also excluded a challenge against the suspension of Parliament because the issue formed the "centrepiece" of proceedings in England and Scotland.
As the week draws to a close, a reporter for The Times (paywall) says that the EU regrets alliances with Labour and other Remainers over their incoherent policies on Brexit. Labour's Keir Starmer is on the left in the photo, with party leader Jeremy Corbyn on the right:
As far as the government's negotiations in the EU, Boris has made a largely favourable impression, although his negotiator David Frost is seen to be driving a hard bargain in some areas. This thread comes from the Director of the Centre for European Reform, who confirms that, to date, no firm proposals have been presented to the EU. That said, he says some EU nations believe that Boris wants to make a deal before October 31:
Elsewhere in Brussels news, Guy Verhofstadt's wine from his estate in Tuscany is reportedly very good. Perhaps that was what he poured in this documentary clip about the EU's Brexit Steering Group:
On Monday, September 16, the PM will meet over lunch for Brexit talks with Jean-Claude Juncker in Luxembourg.
More to follow anon as this sorry saga continues.