You are currently browsing the tag archive for the 'Jeremy Corbyn' tag.
Before discussing the latest developments among the candidates for Conservative Party leader, let's look at the weather here in England.
The weather presenters have been going on for a week about how hot it's going to get here. From the beginning, they forecasted 40°C temps, roughly 100°F. Weather maps have been given a deep red colour, as if we're going to burn alive.
Monday and Tuesday were going to be the hottest days of the week. Monday's high was 38°C, reported in only five places, two of which were airports, so I discount those.
The other three were Cambridge University Botanical Gardens, Cavendish, Suffolk and a village called Sancton Downham.
One of Guido Fawkes's readers posted a photo of the Cambridge location, which makes it suspect. The first photo shows the area when the weather station was first installed. The photo on the right shows what the area looks like today: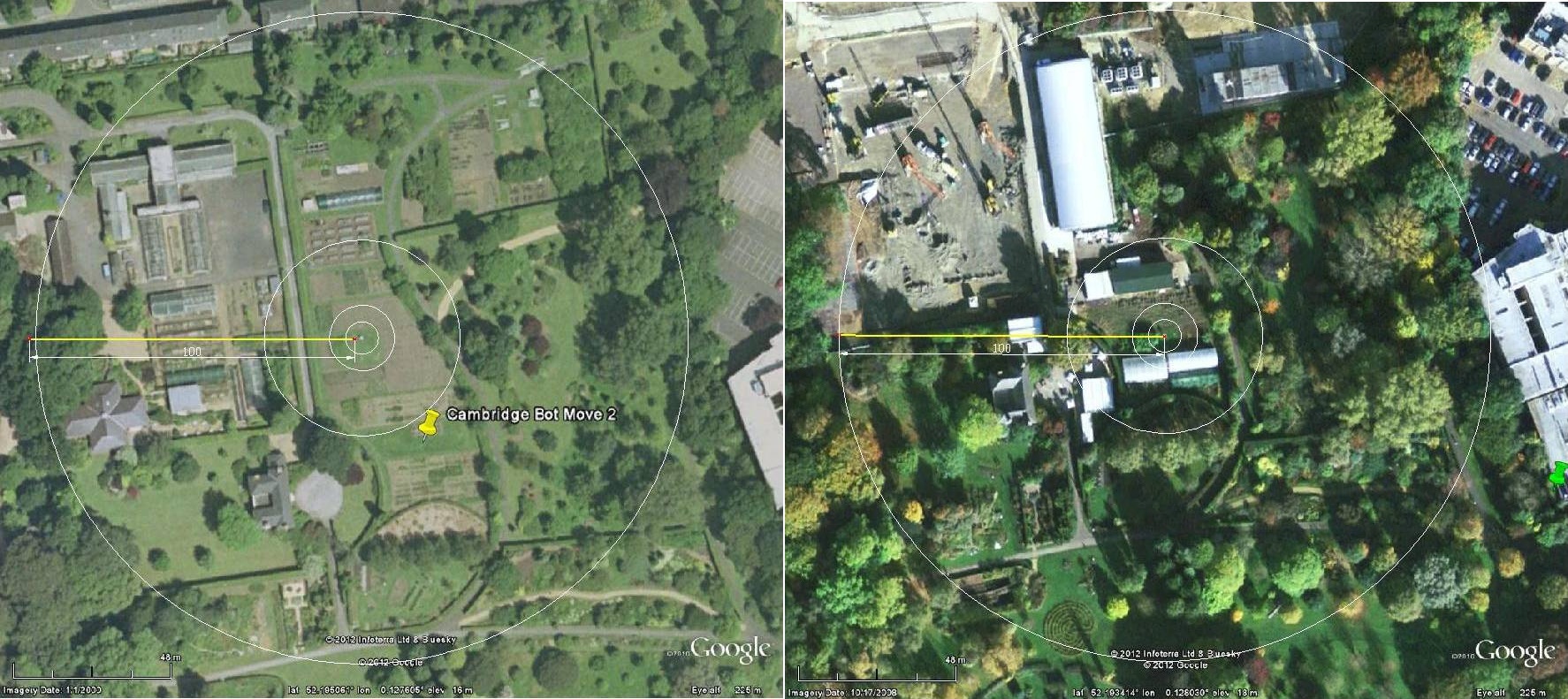 Guido's reader commented (emphases in purple mine):
… the siting of Stevenson screens is crucial when recording temperature change. As I type the Cambridge station is now recording the highest temperature in the UK but it has been surrounded by new buildings which invalidates its scientific accuracy. It certainly must not be used to claim all time highs.
The unit and sensors should also be positioned in open space away from any nearby potential sources of heat such as buildings, airports and brick walls, where free circulation of air can occur, and over a natural surface, grass is recommended as other surfaces such as concrete can cause significant error leading to all time high temperatures being recorded inaccurately.
Was it warm yesterday? Yes.
Was it pleasant? Of course. I did some heavy duty gardening.
I do not understand why the British panic over summer temperatures, especially since most of them go to scorching hot climes on holiday. This graphic sums it up well: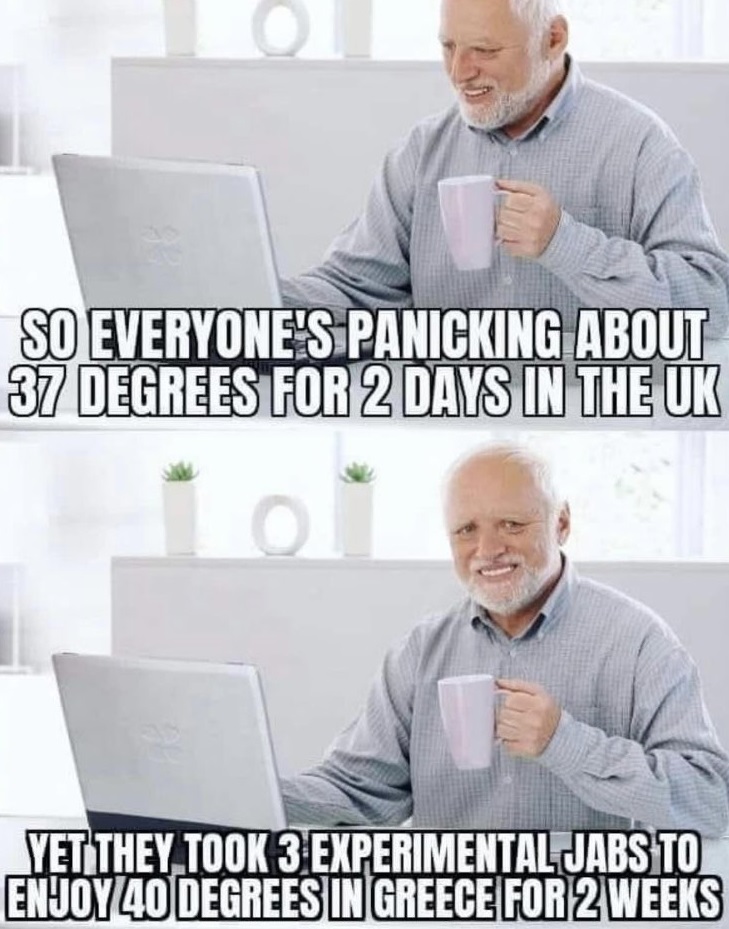 It's hard not to agree with this university lecturer, who wonders how ever created an Empire when we are such Moaning Minnies about heat. Were the British made up of sterner stuff in the 18th and 19th centuries? Perhaps so:
Now on to the Conservative Party leadership contest.
Monday's vote: Tugendhat's out
Conservative MPs voted again on Monday, July 18, 2022.
Tom Tugendhat, our Army superhero, was eliminated from the contest:
Was this his mode of transport home?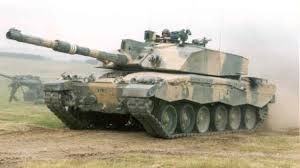 Here's Tom in an Army sweater:
He made a video thanking his supporters:
Guido Fawkes gives us Tom's main statement:
I have been overwhelmed by the response we have received across the country. People are ready for a clean start and our party must deliver on it and put trust back into politics.
No doubt the ladies at Mumsnet enjoyed it:
The final four
Going into Tuesday, these were the final four candidates:
Guido has Monday's vote tally. Results went down as well as up (red emphases his):
Rishi Sunak – 115 (+14)

Penny Mordaunt – 82 (-1)

Liz Truss – 71 (+7)

Kemi Badenoch – 58 (+9)

Tom Tugendhat – 31 (-1)

OUT
Penny's lost support, Kemi is still in contention. Liz is now second favourite at the bookies. All to play for…
Guido had more analysis later in the day:
Whilst tonight's leadership vote-off is unsurprising in that sense, the way the votes have gone for the remaining candidates are much more interesting.
Penny has gone down one vote, totally stalling. While she still leads Liz Truss, this trajectory will kill her momentum. Kemi has done very well; gaining nine backers to Truss's seven. While tonight's result in terms of eliminating Tugendhat may have been predictable, the remaining results make the final two more uncertain than ever. Though Rishi is now guaranteed a space in the final two…
The next vote took place on Tuesday afternoon. I will have an analysis of the results on Wednesday.
Conservative Party members see things differently
After Conservative MPs whittle their choices down to two candidates, the Party will send ballots out to members to vote for their choice, with a new leader — and new Prime Minister — to be in place by September 5, when Parliament reconvenes.
Note the latest polling from the Grantham and Stamford Conservative Association, which I featured last week. Kemi Badenoch was — and is — still in the lead. Rishi Sunak comes in a rather distant third:
Guido says:
The slick Rishi machine has to move the dial with the membership in a big way…
Rishi Sunak
Rishi is in a bit of a pickle, which gives Labour a lot of ammunition should he be our next Prime Minister.
The pandemic turned a lot of Britons into supporters of big state government, as Lord Hannan points out:
On May 26, the then-Chancellor announced a handout of £400 to all households in order to help them with rising energy costs:
The financial support has now been distributed.
Is it a good plan? Guido reported on the reaction from various think tanks.
The one from Taxpayers' Alliance resonated with me most:
The TaxPayers' Alliance isn't impressed either, claiming the move is "little more than the government taking with one hand and giving with the other". Chief Executive John O'Connell said:
Taxes are the single biggest bill families face and these huge handouts will see politicians hoovering up the incomes of struggling taxpayers, creating a cost of government crisis. If the chancellor wants to boost growth and help households, he can deliver both right now by bringing forward the planned income tax cut and slashing costly levies on energy bills.
But that was not all.
Rishi outlined other plans, altogether resulting in a £15bn bailout:
Guido has a summary:
As expected, Rishi has fired up the money printer once again to combat inflation. The Treasury claims it'll cost £15 billion, with £5 billion a year supposedly coming from the newly-announced windfall tax "energy profits levy". Here's what to expect:
Windfall tax on oil and gas companies.

Projected to raise £5 billion a year.
One-off 'cost of living payment' of £650 to approximately 8 million means-tested households.

 Two lump sum payments directly to bank accounts.
Households already receiving winter fuel allowance will also get a one-off payment of £300.
Those on disability payments will also get of £150.

Many of those in receipt of this payment will also be eligible for the £650 sum, bringing their total support to £800.
Universal grant of £400 to all households.

 Doubling the £200 energy bill loan, and turning it into a full grant.
Rishi boasted when making the announcement that his plan is more generous than that proposed by Labour's Rachel Reeves. The levy will raise £5 billion a year, and this will cost £15 billion. The difference will have to be financed by borrowing repaid by taxpayers…
People were shocked.
Labour won this round.
In Parliament, Shadow Chancellor Rachel Reeves said:
We pushed for the windfall tax. They've adopted it.
We said the buy now pay later scheme was wrong. Now they've ditched it.
This government is out of ideas, out of touch and out of time.
When it comes to the big issues facing the country, Mr Speaker, the position is now clear:
We lead. They follow.
Former Labour leader Jeremy Corbyn, who was Boris's opponent in the 2019 general election, was also pleased:
This was Jeremy Corbyn's plan in Labour's 2019 manifesto. It included a windfall tax:
Taxes in Britain are now at a 70-year high. Who was Prime Minister then? Labour's Clement Attlee:
Lord Hannan, a former MEP, fears this will be a permanent development. He might well be right, unfortunately:
The plan made two front pages:
Cabinet members reacted the following day, including Jacob Rees-Mogg:
According to The Times, Rees-Mogg raised concerns in Cabinet yesterday, suggesting "the package would be better funded by reducing government spending on infrastructure projects." The paper puts BEIS Secretary Kwasi Kwarteng in this camp as well, with him telling allies he's particularly concerned by BP's announcement that it's reviewing its plans to invest in the North Sea. Guido agrees with the anonymous cabinet minister who said "The politics of this is just so bad. We voted against it, we marched the whole party up the hill and are now taking them back down again. It looks like we're being dictated to by Labour"…
Conservative MP John Redwood said that taxation does not equal prosperity:
On May 28, Lord Hannan wrote an excellent editorial for The Telegraph, 'The Tories have almost wholly given up on conservative principles. What a tragic waste'.
Excerpts follow:
The Tories have almost wholly given up on conservative principles. They used to argue that lower taxes stimulate growth and so lead, in the long run, to higher revenue; that countries, like families, should live within their means; that individuals spend their money more wisely than state bureaucrats; that arbitrary and complicated taxes are as much a deterrent to investment as high taxes. Not any more …
When George Osborne imposed a one-off tax on energy firms in 2011, the Treasury Red Book predicted that it would bring in £2 billion. Instead, oil companies cut their North Sea investments and tax revenues fell.
Again, Johnson and Sunak know this. As recently as three months ago, the Chancellor was telling us that the "obvious impact of a windfall tax would be to deter investment". Both men understand that the only way out of our present predicament is through growth. Both understand that the way to achieve higher growth is to cut spending, scrap regulations, remove trade barriers, and ensure sound money. But these things are usually unpopular in the short term, and that seems to be their chief consideration.
We are thus in a negative feedback loop. When voters see the Conservatives, supposedly the party of fiscal responsibility, spraying cash around, they conclude that there must be plenty of depth left in the Government's reservoir. When they see a Tory Chancellor promising to bring in extra revenue by hiking corporation tax – despite the experience of cutting corporation tax rates from 2011 and seeing revenues surge – they naturally believe him. All this then heaps pressure on ministers to spend even more …
It was all so unnecessary. Outside the EU, Britain could have become freer and more competitive. We had a Conservative Government with an 80-seat majority, for Heaven's sake. We could have scrapped Brussels regulations, flattened and simplified taxes, embraced global markets, slimmed the civil service, decentralised powers and broken cartels. We could, in short, have made this the most attractive place in the world to do business.
Yes, the pandemic was an unforeseeable distraction – though, even then, some reforms could have been pursued. But nearly a year has passed since the end of the restrictions in Britain, and it is now depressingly clear that there is no plan to make use of our opportunities. After all their talk of buccaneering Britain, our leaders have shied away from almost every difficult economic decision. What a waste. What a tragic, needless waste.
Of course, Nadhim Zahawi is our current Chancellor. For how long remains to be seen. However, it will be difficult for him or his successor to roll back on Rishi's plan. Labour won't allow it. Either way, it will play to Labour's advantage between now and the next general election.
Let us look at more recent developments.
When Rishi resigned as Chancellor, the press gathered outside the Sunak mews house in Kensington, London.
The Infosys heiress Mrs Sunak, in the tradition of other politicians, brought reporters mugs of tea:
One reporter expressed his appreciation:
Boris Johnson had only just stood down as Party leader when Rishi declared his candidacy to succeed him. Note that Channel 4's poll participants still wanted Boris to stay in No. 10:
'Ready for Rishi' launched on July 8, complete with a video on his family's arrival in Southampton on the southern coast of England. Rishi was born there:
Not surprisingly, Rishi's promo did not include this clip from a 2001 documentary he participated in as a student at Winchester, one of the nation's top public (very private) schools. This is from the BBC's Middle Classes: Their Rise and Sprawl, shown in March 2001.
Rishi glibly says he doesn't know any working class people. His father looks on admiringly:
Bim Afolami MP, who is one of Rishi's supporters, defended his friend's quick launch. Afolami said that all the video clips were there for his team to sort through and compile in 24 hours. Afolami said that it was not unusual that Rishi arranged for his campaign website in …. 2020:
Staunch Boris loyalist Nadine Dorries told Dan Wootton on GB News that Rishi was able to launch his campaign because he wasn't at work:
Wootton asked whether Rishi was 'too duplicitous' to be PM:
Ninety-two per cent of those responding to his poll said YES:
Patrick Christys added to the doubt that many have about Sunak, from the timing of his campaign launch to his Boris backstabbing:
At the launch of the candidates' contest, the public reacted negatively to Rishi.
One person was incredulous that both Boris and Rishi received Fixed Penalty Notices for Partygate, yet Boris had to resign only for Rishi to run as his successor:
Another predicts that the Conservatives will lose the next general election. The Opposition will fire too much ammunition Rishi's way:
This chap objects to all of the top candidates:
I will leave it there for now.
More to come tomorrow, including an analysis of Tuesday's vote.
As I discussed in Parts 1 and 2 last week, it is no accident that the Conservatives won the general elections of 2015 and 2019 thanks to the left-leaning metropolitan elite.
In 2015, this is what people wanted from MPs (emphases mine):
Here's what we require of our politicians:
(1) honesty
(2) probity
(3) the ability to listen to their constituents
(4) the ability to put the needs of their constituents before the interests of big business, the aristocracy or the establishment.
Tick all four boxes and I don't care where you were born, where you were schooled or where you live. The problem is finding anybody who'll tick those boxes.
The comment came from a Guardian article from May 20, 2015 on the metropolitan elite. It was published two weeks after the general election, which David Cameron won comfortably.
In my first two instalments of this series, I posted several comments from the article.
Here is one more of note, remarking that the metropolitan elite are driving Labour supporters into voting Conservative, or Tory:
The left just suffered the biggest defeat in a generation. A left largely run– in fact almost exclusively run- by university educated professional metropolitan people or "metropolitan elites".
You would have thought this would be a time for humility a moment of reflection on why they lost. Nope, just back to banging the same drum we were right everyone else was wrong. This is the kind of attitude that drives people into the arms of the Tory party, the under current of contempt for the people the left claim to speak out for.
And you call other people narrow minded.
It's this astonishing hubris which will drive the left into the ground over the coming years. If this election hasn't taught them a lesson nothing will.
By December 12, 2019, those two comments proved to be prophetic.
Something revolutionary happened: the transformation of the Red Wall (former Labour) seats, or constituencies, in England.
That transformation gave Prime Minister Boris Johnson a most unexpected 80-seat majority in the House of Commons.
It was so stunning that it caught the eye of at least one American commentator:
On Friday, December 13, the day after the election, the Daily Mail reported:
Boris Johnson hailed the political 'earthquake' that has given him a 'mandate to get Brexit done' today as he marched his new blue-collar Tory army towards a staggering election landslide.
After laying waste to Labour's 'red wall' of Leave-backing strongholds, the PM said he had been given a 'powerful' vote of confidence by the British people and vowed to 'rise to the challenge' …
In England the Conservatives polled 47.1 per cent to Labour's 34.3 per cent, and in Wales they were supported by an impressive 36.1 per cent.
By contrast Mr Corbyn [Jeremy Corbyn, Labour leader] looks to have stewarded his party to its worst performance since 1935 and plunged it into a seething civil war – despite his allies vainly claiming earlier that high turnout might have helped him pull off a surprise. 
In an address to staff at CCHQ afterwards, Mr Johnson said: 'We must understand now what an earthquake we have created. 
'The way in which we have changed the political map in this country. 
'We have to grapple with the consequences of that. We have to change our own party. We have to rise to the level of events. We have to rise to the challenge that the British people have given us.' 
The Conservatives pulled off a massive coup by securing the symbolic swing constituency of Workington, overturning a 3,000 majority to triumph by 4,000 votes with a 10 per cent swing. 
They also overturned an 8,000 majority to rip the former mining area of Blythe Valley in Northumberland from Labour's grip for the first time ever. The party's candidate won by 700 votes after securing an incredible 10.2 per cent swing in what was theoretically only 85th on the target list. 
There were jaw-dropping gains in Bishop Auckland – which had never elected a Conservative MP in 134 years – and Tony Blair's old stronghold of Sedgefield.
Left-wing 'Beast of Bolsover' Dennis Skinner was ejected from the seat he has held since 1970, as Mr Johnson flipped huge swathes of the country from deep red to Tory blue.  
Other fortresses to fall included Leigh, Darlington, Wakefield, Stockton South, Redcar – which saw a 15.5 per cent swing – Peterborough, Wrexham and the Vale of Clywd. 
As the political map was redrawn in a few tumultuous hours, places like Jarrow, Houghton & Sunderland South, Sunderland Central, and Newcastle Upon-Tyne Central saw enormous movements from Labour to the Conservatives – although the party clung on. 
A pattern was emerging of Brexit Party candidates draining votes from Labour in its northern heartlands, while Tory support held steady …

After the Blythe Valley result was declared, flabbergasted ex-chancellor George Osborne said: 'We never thought we'd get Blythe Valley …
'There's a Conservative candidate in Hexham who I heard a couple of days ago saying 'we are going to win Blythe valley' and I thought he was always a bit optimistic, this guy. But he was right and that is a pretty spectacular win.' 
Ian Levy, the mental health worker who won the seat for the Tories, said in his victory speech: 'I would like to thank Boris.' 
The first big Labour scalp claimed by the Tories was shadow environment secretary Sue Hayman, who lost Workington. 
Labour's Gareth Snell predicted his own defeat ahead of the result in another former stronghold, Stoke-on-Trent Central, saying: 'I'm going to lose badly and this is the start of 20 years of Tory rule.' 
All the Tory Remainer rebels who stood as independents, including David Gauke and Dominic Grieve, failed to win seats.
And Labour defectors to the Lib Dems Chuka Umunna and Luciana Berger fell short. 
Former Labour MP John Mann was correct when he said that his party had lost because they did not listen to their supporters. This is from The Sun:
Mr Mann said the Labour leader had "arrogantly" taken for granted Labour voters in the Red Wall of its traditional strongholds in the North and Midlands …
He said what happened in his old seat of Bassetlaw, a Labour seat since 1935 that now has a Tory MP, sums up what he claimed was the "arrogance" of those around Corbyn.
"They didn't let a local candidate stand, they then removed candidate that was selected, they imposed their own Corbynite candidate and he got humiliated – incredibly predictable.
"That sums up their arrogance – they've taken working class voters in the North and Midlands for granted."
Mr Mann said it was time for Labour to start listening and to elect a leader who understands the party's traditional voters.
"People have made their mind up and if Labour doesn't learn their lesson, the Labour party might as well not exist," he said.
"It's going to require a leader that understands where people are coming from and understands the issues and then starts talking to those people.
"If that doesn't go Labour is finished as a political force in this country and it needs a leader who understands that."
Very true. It is unclear as to whether Sir Keir Starmer is that leader.
Former Labour party member and current Mail on Sunday columnist Dan Hodges — the son of actress and former Labour MP Glenda Jackson — predicted a strong Conservative majority, even though pollsters had not. Hodges said, 'Labour lost because the Corbynites hated working Britain':
On Tuesday, December 17, a new electoral map appeared. Its caption says, 'The "Red Wall" is now a pile of rubble':
From the start, many of the Red Wall MPs showed how different they are from the conventional Conservative backbenchers. They are feisty, prepared to speak out and have a good memory for Labour disasters — local, regional or national.
Some of these new MPs grew up on council estates. None has an Oxbridge degree. Some were the first in their families to attend university.
Some have prior experience of running a business. Similarly, others worked in the private sector. Unlike the metropolitan elite, they did not go into politics or the civil service straight from university.
One thing has been clear from 2019 onward: they want to help their constituents by responding to their needs and concerns. Furthermore, they are local — not parachuted in from London.
One of the Red Wall MPs, Ben Bradley, who represents Mansfield — and was elected in the 2017 general election — explained why the Conservatives won so handily:
Bradley says that Labour have turned their attention from working for a living to giving handouts to their constituents, something that a lot of Britons don't want to see happen. Bradley is correct, because this is the line that Labour take in Parliament — nothing about jobs, only money:
Bradley is correct to say that people want hope — and, may I add, the dignity that goes with being self-sufficient in working for a living:
He also points out that Labour criticised Leavers in the Brexit referendum:
Bradley concludes by saying the Conservatives have a lot of work ahead of them to hold onto these votes:
The Red Wall seats defined a new source of Conservative support, more evidence that the English are moving away from Labour. A 2021 Intelligence Squared debate put forward the following proposal (H/T to one of my readers):
'We've lost the trust of working people.' Those were the words of Labour leader Keir Starmer in early May, neatly summing up the reason his party lost the Hartlepool by-election as well as many of the local elections across the country. Labour MP Khalid Mahmood promptly quit the front bench, complaining that the party has been captured by 'a London-based bourgeoisie'. Former Labour prime minister Tony Blair joined in the chorus of despair, saying that the party is being 'defined by the "woke" Left'. Labour, it is clear, is now completely out of touch with its traditional voters – older, working-class people without degrees, who live in small towns and industrial heartlands and want to see a more robust defence of their country, its history and culture. They feel Boris Johnson and the Tories better understand their values and concerns. Without the support of these voters Labour can never win power again.
Although Labour have been more popular in the polls over the past three months with Boris's lockdown parties at Downing Street, there is still no guarantee that people will actually vote for them in the next general election.
Voters should not forget this photo from June 2, 2020, showing Keir Starmer and his deputy Angela Rayner:
Millions of us would do well to remember that photo in future. Bookmark it and save it for the day when the next general election is declared in a couple of years' time.
Although this series ends here, I will have a separate set of posts on the most dynamic Red Wall MPs.
Stay tuned. They don't do boredom.
Yesterday's post discussed the first three days of the Conservative Party Conference.
Today's entry will look at Prime Minister Boris Johnson's speech on Wednesday, October 6, 2021.
It was still content-light, but at least he explained what 'levelling up' is. More on that below.
But first, let's look at what happened the night before, the last opportunity for MPs and the party faithful to get together on the dance floor.
Tuesday, October 5, after hours
Pensions minister Thérèse Coffey had a great time as the temporary £20 Universal Credit boost came to an end.
A cold fish at the despatch box at the best of times, Coffey showed us a different side of herself as she, a chemist by training, belted out 'Time of My Life' from Dirty Dancing (video credit to the Daily Mail):
The Mail reported (emphases mine):
The cabinet minister in charge of Universal Credit was slammed today for belting out Time of My Life at a boozy Conservative party Conference karaoke bash hours before cutting payments to six million people.
Work and Pensions Secretary Therese Coffey enthusiastically belted out the 1987 power ballad from the film Dirty Dancing in a duet with fellow Will Quince – a former welfare minister.
It came as a £20-per-week Covid uplift payment was removed from UC for families across the UK.
The Government has pressed ahead with the cut despite concerns – including from Tory backbenchers – that hundreds of thousands of people will be plunged into poverty.
From today, no assessments will include the uplift, meaning that from October 13 – a week later – no payments will be received that include the extra money.
I don't know what I think about removal of the £20 uplift. The Government always said in Parliament that it was temporary and stated months ago that it would end in October 2021. I feel for those families. On the other hand, the last thing I want to see is Universal Basic Income, and if this £20 were maintained, it would have been a slippery slope along that road.
Furthermore, there are plenty of job vacancies and salaries are going up. Note the decrease in people clicking on the vacancies, however. Hmm:
Two other MPs, Levelling Up minister Michael Gove, in the process of divorcing his wife, and Tom Tugendhat, danced together. Guido referred to this season's Strictly Come Dancing:
It was only a few weeks ago that Gove spent the early hours of one morning dancing in a nightclub in Aberdeen, his home town.
The Mail reported:
Michael Gove has been spotted rocking the dance floor again – this time busting moves to Whitney Houston's I Wanna Dance With Somebody and belting out Bonnie Tyler's Total Eclipse Of The Heart at the Tory party conference. 
One hilarious clip shows the Levelling Up Secretary, 54, arm in arm with Tom Tugendhat as he throws his finest shapes to a cover of the 1987 hit while wearing a suit and tie – just a month after his infamous night out in Aberdeen.  
Newly-single Mr Gove, and Mr Tugendhat, MP for Tonbridge and Malling, are seen taking turns to spin each other as they go all out at the gathering – which is not usually known as a hotbed of hedonism. 
In a second clip shared by The Sun, Gove can be seen passionately singing along to Bonnie Tyler's hit 1983 anthem with his mouth wide open, hands interlocked with an unidentified woman in front of him.
Meanwhile, at another Conference party event, Liz Truss danced to Beyonce (video credit to Guido Fawkes):
Wednesday, October 6
Wednesday was Boris's big day.
He abandoned his diet temporarily:
Guido Fawkes has the calorific coffee order:
Sat in the conference exhibition hall ahead of Boris's speech Guido was astonished to overhear the Speccie's Katy Balls being told by a barista that Boris's aides turned up at his stall yesterday to fetch the boss a coffee. The coffee order in question was a stomach-churning triple shot flat white, with extra caramel syrup with three sugars – an astonishing departure from the diet Carrie supposedly put him on after his Covid hospital trip.
Later, an appreciative crowd gave their Party leader a standing ovation:
Guido has the full text of Boris's speech, which was not much shorter than Keir Starmer's last week but was delivered in half the time: 45 minutes compared with 90.
Before going into Boris's speech, Keir Starmer's speechwriter dived in to say that his went on 'absolutely' too long:
Guido reported that Philip Collins, Starmer's speechwriter (and Tony Blair's), said the policy sections were 'a bit baggy' (red emphases in the original, purple one mine):
Philip Collins, the man who drafted Sir Keir's epic 90-minute address at Labour Conference last week, has admitted the speech "absolutely" went on too long – and even claimed the sections on policy (such that they were) were "a little bit baggy" and yes, "boring". This is a speech he wrote only a week ago…
Speaking on Politico's Westminster Insider Podcast, Collins said:
"It's always the same bits […] the policy bits are very, very difficult to bring to life. If you don't include them, everybody will write that you have nothing to say, that you're empty […] those bits, if I'm critical, could have been tighter, could have been more compressed. I think they were a bit long, a little bit baggy."
Which in view of criticisms of Boris that his conference speech was light on policy detail, suggests he made the right call. Collins, who was also Tony Blair's wordsmith, goes on to say that while he thought Starmer handled the inevitable heckles well, the interruptions and subsequent applause ("people enjoyed it far too much!") contributed to the running time, claiming Starmer "was getting standing ovations for things that were just basically boring lines that were meant to just take you to the next stage of the speech". "It got ridiculous", Collins said…
Returning to Boris, Guido also has videos of his speech.
It was clear that Boris, a former journalist, penned the words himself.
He opened with an amusing put-down of former Labour leader Jeremy Corbyn, recalling the 2019 election:
Isn't it amazing to be here in person, the first time we have met since you defied the sceptics by winning councils and communities that Conservatives have never won in before – such as Hartlepool. In fact it's the first time since the general election of 2019 when we finally sent the corduroyed communist cosmonaut into orbit where he belongs …
Then he threw in a joke about Michael Gove:
The Mail was on hand to give us Gove's reaction:
Prime Minister Boris Johnson later referenced Mr Gove's disco moves at his conference speech today, branding him 'Jon Bon Govi' – prompting the minister to turn bright red.
Here's Guido's video:
Boris said:
… for months we have had one of the most open economies and societies and on July 19 we decided to open every single theatre and every concert hall and night club in England and we knew that some people would still be anxious, so we sent top government representatives to our sweatiest boîtes de nuit to show that anyone could dance perfectly safely and wasn't he brilliant my friends? Let's hear it for Jon Bon Govi, living proof that we, you all, represent the most jiving, hip, happening and generally funkapolitan party in the world.
Tom Harwood, a Guido alum now working for GB News, gives us tweeted highlights.
Despite the rise in National Insurance tax, Boris insisted that Britain would move towards a low-tax economy:
Boris then had a go at Labour:
He then went on to slam Insulate Britain, which had blocked the roads for ten consecutive days at that point (12 as I write):
He discussed immigration from Afghanistan and Hong Kong …
… adding:
We are doing the right and responsible thing and, speaking as the great grandson of a Turk who fled in fear of his life, I know that this country is a beacon of light and hope for people around the world, provided they come here legally, provided we understand who they are and what they want to contribute, and that is why we took back control of our borders and will pass the borders bill, because we believe there must be a distinction between someone who comes here legally and someone who doesn't, and, though I have every sympathy with people genuinely in fear of their lives, I have no sympathy whatever with the people traffickers who take thousands of pounds to send children to sea in frail and dangerous craft. And we must end this lethal trade. We must break the gangsters' business model.
He made reference to 2022's general election in France and the newly-conservative outlook on the EU and immigration from our Brexit negotiator:
And is it not a sublime irony that even in French politics there is now a leading centre right politician calling for a referendum on the EU. Who is now calling for France to reprendre le controle?? It's good old Michel Barnier. That's what happens if you spend a year trying to argue with Lord Frost, the greatest frost since the great frost of 1709.
Boris then illustrated what he means by 'levelling up'. Different areas of England will get solutions to their specific needs:
I will tell you what levelling up is. A few years ago they started a school not far from the Olympic park, a new school that anyone could send their kids to in an area that has for decades been one of the most disadvantaged in London. That school is Brampton Manor academy and it now sends more kids to Oxbridge than Eton. And if you want proof of what I mean by unleashing potential and by levelling up, look at Brampton Manor, and we can do it.
There is absolutely no reason why the kids of this country should lag behind, or why so many should be unable to read and write or do basic mathematics at the age of 11. And to level up – on top of the extra £14 bn we're putting into education and on top of the increase that means every teacher starts with a salary of £30k – we are announcing a levelling up premium of up to £3000 to send the best maths and science teachers to the places that need them most.
And above all we are investing in our skills, skills, folks. Our universities are world beating. I owe everything to my tutors and they are one of the great glories of our economy, but we all know that some of the most brilliant and imaginative and creative people in Britain – and some of the best paid people in Britain – did not go to university. And to level up you need to give people the options, the skills that are right for them. And to make the most of those skills and knowledge and to level up you need urgently to plug all the other the gaps in our infrastructure that are still holding people and communities back.
As I've been saying over this wonderful conference to you when I became leader of this party, there were only, can you remember, what percentage of households had gigabit broadband when you were so kind as to make me leader? 7 percent, only 7 percent, and by the new year that will be up to 68 per cent. Thanks to Rishi's super-deduction the pace is now accelerating massively as companies thrust the fibre-optic vermicelli in the most hard to reach places.
On that topic, he had a witty go at Scotland's Ian Blackford MP, a multi-millionaire who gives the impression he has nothing. This bit is about the remote video connections Parliament had during the pandemic:
It's wonderful, for years SNP leader Ian Blackford has been telling the Commons that he is nothing but a humble crofter on the Isle of Skye. Well, now we have fibre optic broadband of very high quality that we can inspect the library or is it perhaps the billiard room of Ian Blackford's croft. And that is levelling up in action.
Boris wants to get Britons back in the office:
And my friends it is not good enough just to rely on Zoom. After decades of ducked decisions, our national infrastructure is way behind some of our key competitors.
It is a disgrace that you still can't swiftly cross the Pennines by rail, a disgrace that Leeds is the largest city in Europe with no proper metro system, a waste of human potential that so many places are not served by decent bus routes. Transport is one of the supreme leveller-uppers and we are making the big generational changes shirked by previous governments.
We will do Northern Powerhouse rail. We will link up the cities of the Midlands and the North. We will restore those sinews of the union that have been allowed to atrophy: the A1 north of Berwick and on into Scotland, the A75 in Scotland that is so vital for the links with Northern Ireland and the rest of the country, the North Wales corridor. And we will invest in our roads, unblocking those coagulated roundabouts and steering-wheel-bending traffic lights, putting on 4000 more clean green buses made in this country, some of them running on hydrogen.
And as we come out of Covid, our towns and cities are again going to be buzzing with life because we know that a productive workforce needs that spur that only comes with face to face meetings and water cooler gossip.
If young people are to learn on the job in the way that they always have and must, we will and must see people back in the office. And that is why we are building back better with a once in an a century £640bn pound programme of investment.
And by making neighbourhoods safer, by putting in the gigabit broadband, by putting in the roads and the schools and the healthcare, we will enable more and more young people everywhere to share the dream of home ownership, the great ambition of the human race that the left always privately share but publicly disparage.
And we can do it.
He discussed rewilding Britain:
We are going to re-wild parts of the country and consecrate a total of 30 per cent to nature. We are planting tens of millions of trees.
Otters are returning to rivers from which they have been absent for decades. Beavers that have not been seen on some rivers since Tudor times, massacred for their pelts, and now back. And if that isn't conservatism, my friends I don't know what is.
Build back beaver.
And though the beavers may sometimes build without local authority permission, you can also see how much room there is to build the homes that young families need in this country.
He talked about the housing crisis and the importance of home ownership, especially for the young:
He praised the success of the coronavirus vaccine rollout and the contribution of private enterprise:
He wittily criticised Labour's reluctance to accept the Government's pandemic strategy:
Boris discussed the Labour Party conference and Sir Keir Starmer. This is classic Boris:
Did you see them last week, did you watch them last week in Brighton? Hopelessly divided I thought they looked.
Their leader looked like a seriously rattled bus conductor, pushed this way and that by, not that they have bus conductors any more, unfortunately, like a seriously rattled bus conductor pushed this way and that by a Corbynista mob of Sellotape-spectacled sans-culottes or the skipper of a cruise liner that has been captured by Somali pirates desperately trying to negotiate a change of course and then changing his mind.
He discussed getting a trade deal with the United States, especially our export of British beef:
He touched on AUKUS …
… and Labour's opposition to that alliance:
He also addressed political correctness, which, frankly, has only worsened under this Government. He really does need to tackle it, so I hope he means what he says here. On a lighter note, he mentioned Michael Gove again:
We are led by our values, by the things we stand for. And we should never forget that people around the world admire this country for its history and its traditions. They love the groovy new architecture and the fashion and the music and the chance of meeting Michael in the disco. But they like the way it emerges organically from a vast inherited conglomerate of culture and tradition. And we Conservatives understand the need for both and how each nourishes the other. And we attack and deny our history at our peril. And when they began to attack Churchill as a racist I was minded to ignore them. It is only 20 years ago since BBC audiences overwhelmingly voted him the greatest Briton of all time, because he helped defeat a regime after all that was defined by one of the most vicious racisms the world has ever seen.
But as time has gone by it has become clear to me that this isn't just a joke. They really do want to re-write our national story starting with Hereward the Woke. We really are at risk of a kind of know-nothing cancel culture, know-nothing iconoclasm. And so we Conservatives will defend our history and cultural inheritance, not because we are proud of everything, but because trying to edit it now is as dishonest as a celebrity trying furtively to change his entry in Wikipedia, and its a betrayal of our children's education.
He closed by paying tribute to England footballers, Emma Radacanu and Team GB's Olympians and our Paralympians, who did so well this year:
The spirit of our Olympians. It is an incredible thing to come yet again in the top four, a formidable effort for a country that has only 0.8 per cent of the world's population … but when we come second in the Paralympics as well – that shows our values, not only the achievement of those elite athletes but a country that is proud to be a trailblazer.
To judge people not by where they come from but by their spirit and by what is inside them.
That is the spirit that is the same across this country, in every town and village and city that can be found. That can be found in the hearts and minds of kids growing up everywhere.
And that is the spirit we are going to unleash.
The crowd loved every minute:
Tom Harwood interviewed party members afterwards, all of whom gave Boris's speech rave reviews:
I could go into the pundits' analyses, but why bother? So many are disgruntled Remainers, still licking their wounds over Brexit, which means that they will attack any Conservative policy.
As a former boss of mine used to say: 'Onwards and upwards!'
As I wrote last week, the fawning media coverage of Prince Philip's death, especially by the BBC, was appalling in its hypocrisy.
They were rarely nice and respectful to him during his long life. It was disgusting to see BBC reporters suddenly in black, notionally fighting back tears. For decades, they and other media outlets treated this man terribly, so much so that, for many years, I wondered why the Queen had married the Prince. No one I knew could explain why. Eventually, I had to do my own research to learn more about him.
Re media knavery, here's a case in point. In 2019, the BBC's veteran radio presenter and, more recently, host of Mastermind, John Humphreys told of his slanging match with Prince Philip in 1975 during a Royal visit to Mexico. There was a mix-up over what vehicle each was to have been travelling in. That's what he remembered about Prince Philip.
Humphreys then proceeded to voice his regret about not having an exclusive interview with the Queen. The Sun (link above) reported (emphases mine):
John, who left Radio 4's Today last month, was speaking to BBC colleague Justin Webb at an event organised by Intelligence Squared.
The retired newshound, famous for his tough grillings, also admitted he twice begged the Queen, 93, to do an interview — but said she replied: "Nope."
She also told him that if she was ever to do such a chat, it would "certainly not be with you".
John said: "I have wanted to sit there and say, 'With me this morning is Her Majesty The Queen.'
"She has probably met more powerful people than anyone else. And there's the gossip, you know what I mean?"
Good for the Queen for seeing through John Humphreys. Such an interview would have been all about him.
Last week, MPs and Peers in Westminster spent time remembering Prince Philip. So did representatives in the devolved assemblies in Scotland and Northern Ireland.
One young MLA from Northern Ireland said that she 'never really appreciated' Prince Philip until he died, at which point she discovered all sorts of interesting details about his life that she had never heard before.
Well, yes, the media hid all that from the British public.
The only time Prince Philip was in the news was when he made one of his famous 'gaffes' on a trip. News presenters would ask the royal reporters if said gaffes would cause a diplomatic incident or harm trade relations with the country in question.
The satirical magazine Private Eye referred to the Prince as Phil the Greek. One would expect that from a satirical magazine. However, the news media were no better.
Even on May 4, 2017, when the 95-year-old Prince announced he would be standing down from public life, coverage was lukewarm, including in The Telegraph.
These are the principal facts from the article, mixed in with the usual negatives:
The Duke of Edinburgh is Patron, President or a member of over 780 organisations, with which he will continue to be associated, although he will no longer play an active role by attending engagements …
The Duke of Edinburgh has spent 25 days so far this year carrying out public engagements – more than the Duke and Duchess of Cambridge and the Queen.
Philip's appearances out and about with the monarch in the public eye since the start of 2017 have ranged from feeding an elephant at ZSL Whipsnade Zoo to attending the unveiling of a national memorial on Horse Guards Parade.
Solo engagements by the 95-year-old also included opening the new Warner Stand at Lord's Cricket Ground in London on Wednesday and meeting actor Tom Cruise at a Buckingham Palace dinner to mark the 75th anniversary of the Outward Bound Trust in March.
The article also had a section called 'The Prince in numbers':
Here are some facts about Prince Philip:
Total number of solo engagements – 22,191
Total number of solo overseas visits – 637 (Commonwealth countries – 229 visits to 67 countries / other countries 408 visits to 76 countries)
Total number of speeches given – 5,493
Total number of patronages – 785 organisations
Presentation of colours – 54
Number of service appointments – 32
Number of books authored – 14
Oddly, the best tribute that day came from Jeremy Corbyn MP, who led the Labour Party at that time. Corbyn is hardly known for his royalist sentiments, but he recognised the Prince's service over so many decades:
I would like to pay tribute to Prince Philip following his decision to retire from public service.
He has dedicated his life to supporting the Queen and our country with a clear sense of public duty.
His Duke of Edinburgh's Award scheme has inspired young people for more than 60 years in over 140 nations.
We thank Prince Philip for his service to the country and wish him all the best in his well-earned retirement.
On July 8, 2020, CheatSheet listed the Prince's most famous 'gaffes' and pointed the finger at him for his globalist perspectives regarding overpopulation, complete with a video:
Back in 1988, the duke brought up overpopulation when speaking to the German news agency Deutsche Press Agentur about reincarnation.
"In the event that I am reincarnated, I would like to return as a deadly virus, to contribute something to solving overpopulation," The Telegraph quoted Philip saying at the time.
A few different versions of the quote have circulated during the coronavirus outbreak. Another published version claims the queen's husband said: "If I were reincarnated I would wish to be returned to earth as a killer virus to lower human population levels."
Prince Philip has never shied away from his feelings about overpopulation. In 2008, he said he believed it was one of the biggest challenges in conservation before offering his thoughts on what should be done about it.
And prior to that, the Duke of Edinburgh told People Magazine: "Human population growth is probably the single most serious long-term threat to survival. We're in for a major disaster if it isn't curbed–not just for the natural world, but for the human world. The more people there are, the more resources they'll consume, the more pollution they'll create, the more fighting they'll do…If it isn't controlled voluntarily, it will be controlled involuntarily by an increase in disease, starvation, and war."
It was left to ordinary people — not journalists — to tell the world about the Prince and his life. Did you know, for example, that Prince Philip held the Queen's hand while she gave birth to Prince Edward in 1964? Very, very few fathers did that in the 1960s.
This is an excellent Twitter thread about his life on the occasion of his 99th birthday last June:
Last Monday, a number of MPs said that they had participated in the Duke of Edinburgh's Award Scheme when they were young. A few of them said that the programme — comprised of arduous Bronze, Silver and Gold levels — gave them the confidence to run for public office. It also encouraged physical activity and spurred Lady (Tanni) Grey-Thomas to become an award-winning Paralympian — now a crossbench life peer in the House of Lords. She explains the programme in more detail in this short video:
The residents of the South Pacific island of Tanna must have been sad to know that the man whom they viewed as their messiah had departed this mortal coil. They believed that he would settle among them:
What we did not know was that Prince Philip, once he found out he was so revered, kept in touch with the islanders, sent them gifts and also met privately with a delegation of them at Windsor Castle.
On Sunday, April 18, The Telegraph reported on this unusual story, excerpted below:
In the Sixties, when Vanuatu was an Anglo-French colony known as the New Hebrides, it is believed that tribesmen would have set eyes on a portrait of Prince Philip alongside the Queen (whom he had married in 1947) hanging in various official buildings – and decided that this handsome young man in the Naval uniform was the very same ancestor of their god.
This belief that the Duke was a prodigal son of the island was reinforced when coincidentally he and the Queen made an official visit to the New Hebrides in 1974. A warrior named Chief Jack Naiva, who died in 2009, was one of the paddlers of a war canoe that greeted the Royal Yacht Britannia.
"I saw him standing on the deck in his white uniform," Chief Jack is on record as saying. "I knew then that he was the true messiah."
Ever since, villagers have prayed to the British monarch daily. They ask for his blessing on the banana and yam crops they grow in the fertile volcanic soil and have held on to the fervent belief that one day he will return to the island and unite the nations of England and Tanna …
Largely cut off from the world with limited electronic communications, the islanders were only made aware of the Duke of Edinburgh's death last Friday when a worker from a nearby spa resort made a journey on Saturday afternoon to break the news to them. It was reported that one tribeswoman immediately burst into tears, while the men fell silent as they tried to comfort their children.
When the Duke retired from public duties in May 2017, villagers only found out several days later after a visit by a Reuters journalist. The village chief Jack Malia said then that the islanders were still holding on to the hope that the Duke would visit.
"If he comes one day, the people will not be poor, there will be no sickness, no debt and the garden will be growing very well," he said through an interpreter at the local Nakamal – a traditional meeting place where the tribesman gather at night to swap stories and drink highly intoxicating kava.
The same drink was cracked open to celebrate the 89th birthday of the Duke of Edinburgh on June 10, 2010 – the date he was initially prophesied to return to the island and live alongside villagers in a straw hut, hunting the wild pigs that are abundant on the island and adopting the local traditional dress which, for males, is nothing but a large grass sheath …
Discovered in 1774 by Captain James Cook, in 1906 the islands became the New Hebrides, jointly administered by Britain and France until independence in 1980. Even after his visit in 1974, the Prince was not aware of the legend surrounding him until John Champion, the British Resident Commissioner in the New Hebrides, told him a few years later.
Ever since, he has always taken the esteem with which he is held by the people of Tanna extremely seriously. Over the years he has exchanged various gifts with the islanders. Tanna elders once sent Prince Philip a "nal nal" wooden hunting club. He in turn sent them back a photograph of himself holding the club – which has become a cherished religious icon on the island alongside other photographs of the Duke.
In 2007, a delegation of five islanders visited Britain in the hope of an audience with Prince Philip as part of a Channel 4 documentary called Meet the Natives. The filmmakers took the men to stay with Prince Philip's friend Sir Humphrey Wakefield at Chillingham castle in Northumberland. Sir Humphrey, whose daughter Mary Wakefield is married to Boris Johnson's former chief advisor Dominic Cummings, took the Tanna tribesmen on a hunting trip and invited them to various black tie dinners.
At one of the dinners where another friend of the Duke, Lord Haddington, was in attendance, he assured the visitors: "If he had a moment, he would love to meet you, I'm sure."
The Duke was good to his word and eventually hosted the men for a private reception at Windsor Castle, which the film crew was not invited to attend. Once they had returned to Tanna, the delegation relayed the somewhat cryptic message they said they had been given by the Duke of Edinburgh to their chief – "When it is warm, I will send a message. At the moment, it is cold in England."
… In 2018, the Prince of Wales followed in his father's footsteps and visited Vanuatu where he was made an honorary high chief. During the ceremony, he was presented with local gifts and garlands of flowers and took a sip of specially brewed Royal Kava, which had last been consumed when Prince Philip visited in 1974.
In the tradition of the Malvatumauri Council of Chiefs, the heir to the throne took part in a series of rituals before being given the high chief name of Mal Menaringmanu.
In closing, on April 18, the leader of Sinn Féin apologised for the IRA's assassination of Prince Philip's uncle, Lord Mountbatten, in 1979. He is shown on the left in this photo, standing next to his nephew:
The Independent reported that party leader Mary Lou McDonald told Times Radio:
My job, and I think that Prince Charles and others would absolutely appreciate this, my job is to lead from the front, now, in these times.
I believe it is all our jobs to ensure that no other child, no other family, no matter who they are, suffers the same trauma and heartbreak that was all too common on all sides of this island and beyond.
I have an absolute responsibility to make sure that no family faces that again and I am happy to reiterate that on the weekend that your Queen buried her beloved husband.
Better late than never, but not surprising in timing.
One does wonder if this apology — take it for what it is — would have been made sooner had media coverage of the Prince been more positive while he was alive.
Nonetheless, even left-leaning nationalists in the Stormont assembly in Northern Ireland praised the Queen and Prince Philip for their visits and for helping to reconcile both sides of the political aisle to bring peace to what is still a troubled nation.
Tomorrow's post, all being well, will cover the highlights of the Prince's funeral.
On Saturday, May 16, 2020, a fractious protest against Britain's coronavirus lockdown in Hyde Park ended with arrests.
Piers Corbyn, brother of former Labour leader Jeremy Corbyn, was one of the speakers:
Corbyn is well known in the UK for his subscription-only weather forecasts. He also believes that changes in the sun are responsible for climate change, not mankind.
He makes a convincing argument for it, too.
It seems he also makes a convincing argument for the rather odd 5G-coronavirus theory, because after he appeared in protest in Glastonbury recently, that town's council voted down 5G. David Kurten is a Brexit Party councillor serving on the Greater London Assembly:
However, although Piers Corbyn supports Brexit — as does his brother, allegedly — he is not a conservative.
This is what he thinks about coronavirus:
A Press Association reporter filmed what happened on Saturday, May 16, near Speaker's Corner:
The police were out in force (pun intended). Isn't there any crime fighting to do?
This was the scene from the centre of operations:
They social distanced by holding on to each other's vests.
Shoulder to shoulder distance was less clear:
The Guardian reported (emphases mine):
The brother of the former Labour leader Jeremy Corbyn was one of 19 protesters arrested on Saturday, as small demonstrations against the coronavirus lockdown took place across the country.
Protesters gathered on green spaces across the UK holding placards describing the lockdown rules as unlawful and claiming that the government measures were suppressing civil rights.
In Hyde Park, London, about 50 people defied social distancing guidelines to gather close together at Speakers' Corner holding placards with slogans including "anti-vax deserves a voice" and "freedom over fear".
Dozens of police officers, including some on horseback, patrolled the protest, issuing 10 on-the-spot fines and making 19 arrests.
Corbyn's brother, Piers, was taken away after using a megaphone to declare that 5G and the coronavirus pandemic were linked and branding the pandemic as a "pack of lies to brainwash you and keep you in order".
He also said "vaccination is not necessary" and that "5G towers will be installed everywhere", adding: "5G enhances anyone who's got illness from Covid, so they work together."
The article gave the reason for Piers Corbyn's and others' arrests:
Corbyn was taken away after declining to leave when asked by a police officer and refusing to give his details when asked.
A flyer advertising the protest called for "no to mandatory vaccines, no to the new normal, and no to the unlawful lockdown" …
Deputy Assistant Commissioner Laurence Taylor said: "With the easing of restrictions we fully expected open spaces to be busy this weekend.
"It was disappointing that a relatively small group in Hyde Park came together to protest the regulations in clear breach of the guidance, putting themselves and others at risk of infection.
"Officers once again took a measured approach and tried to engage the group to disperse.
"They clearly had no intention of doing so, and so it did result in 19 people being arrested, and a further 10 being issued with a fixed-penalty notice."
The protest attracted a mixed social group:
David Samson, 50, a finance worker, who attended the protests told the Press Association news agency: "I never thought I'd see in my generation the suppressing of civil rights [over a] fake virus. This is nothing compared to what's coming."
There was a large round of boos whenever protesters were arrested, and repeated shouts of "jail Bill Gates".
Another demonstrator, 62-year-old Catharine Harvey, said she was defying the rules to highlight the "devastation this lockdown has caused".
The shop owner said: "Developing countries will have no trade, no tourism. I have had to close my shop on Columbia Road flower market. The effects of the lockdown are far, far worse than the virus – mental health, domestic violence, shops are closed, theatres, cinemas, restaurants. It's unnecessary."
Protests also took place on the southern coast of England in Southampton:
A separate protest in Southampton saw about a dozen protesters gather on Southampton Common, holding placards saying "Stop the Lies", "Say no to tyranny" and "Fight 4 Freedom".
One protester, Dee, who did not wish to give her surname, said her job in the hair and beauty industry had been hit by the crisis. She said: "I am here because I am worried about civil liberties being taken away.
"Reading the Coronavirus Act that has gone through parliament, it seems there are changes being made which infringe our freedom. And I am worried the media has run away with the Covid-19 thing and blown it all out of proportion."
And in Belfast, where police monitored:
a crowd of about 20 people who had gathered in Ormeau Park to denounce the lockdown measures. Officers warned participants to socially distance and they complied. The gathering dispersed without incident after an hour.
Another took place in Glasgow:
… on Glasgow Green in Scotland, with estimates of about 40 to 50 people taking part. People at the event reportedly chanted "experts lie – people die", "don't listen to the media, listen to the people", "Nicola Sturgeon is a traitor" and "we are not livestock".
However, Britain was not the only European nation to see protests. They took place in other countries, too:
Demonstrations also took place across Europe. In Germany the death toll from the virus has been lower than most of its European neighbours with some lockdown measures already relaxed.
However, protests against the measures that Chancellor Angela Merkel insists are needed to slow down the outbreak have grown with demonstrations held for a second weekend.
I certainly hope that this is not the 'new normal'.
Personally, I think it is a bit late to protest lockdown. We're coming out of it now.
However, as it has often been said, attributed to Voltaire but probably more accurately to in Evelyn Beatrice Hall (pseud. S. G. Tallentyre) in the biography The Friends of Voltaire (1906):
I disapprove of what you say, but I will defend to the death your right to say it.
By now, surely, with all the freedom of 'lifestyle' we currently have, we can still assemble to speak our minds when necessary?
Perhaps not, in the 'new normal'. Heaven forfend.
The Queen's Chrismas Day message to the nation was as thought-provoking as ever:
The Express has a transcript. Note that the Queen says that 2020 is the start of a new decade — not 2021, as pedants say (emphases mine):
as we all look forward to the start of a new decade, it's worth remembering that it is often the small steps, not the giant leaps, that bring about the most lasting change.
The new decade, beginning in a few days' time, is further confirmed on Twitter:
Contrary to what the media has reported this month, she kept family issues out of the speech.
On Christmas Eve, the Mail's Richard Kay wrote:
After so many broadcasts the Queen, of course, is comfortably familiar in front of the camera, but even so this year she will quite possibly deliver her most difficult, her most painful and perhaps, from the monarchy's point of view, her most crucial Christmas message ever.
Sure.
In reality, the Queen focussed on the notable anniversaries in 2019:
As a child, I never imagined that one day a man would walk on the moon. Yet this year we marked the 50th anniversary of the famous Apollo 11 mission.
As those historic pictures were beamed back to Earth, millions of us sat transfixed to our television screens, as we watched Neil Armstrong taking a small step for man and a giant leap for mankind – and, indeed, for womankind. It's a reminder for us all that giant leaps often start with small steps.
This year we marked another important anniversary: D-Day. On 6th June 1944, some 156,000 British, Canadian and American forces landed in northern France. It was the largest ever seaborne invasion and was delayed due to bad weather …
Since the end of the Second World War, many charities, groups and organisations have worked to promote peace and unity around the world, bringing together those who have been on opposing sides.
On that subject, The Express reported her words and what lay behind them:
"It was the largest ever seabourne invasion and was delayed due to bad weather.
"I well remember the look of concern on my father's face.
"He knew the secret D-Day plans but could of course share that burden with no one."
This subtle nod to her father also seems to reflect on the burden of loneliness which wearing the crown can entail at times.
Mentions of family were happy ones:
Two hundred years on from the birth of my great, great grandmother, Queen Victoria, Prince Philip and I have been delighted to welcome our eighth great-grandchild into our family.
The broadcast included a clip of Prince George stirring up Christmas pudding:
As Defender of the Faith in the United Kingdom, the Queen always mentions the Reason for the Season, dispensing pragmatic wisdom when speaking of our Lord:
Of course, at the heart of the Christmas story lies the birth of a child: a seemingly small and insignificant step overlooked by many in Bethlehem.
But in time, through his teaching and by his example, Jesus Christ would show the world how small steps taken in faith and in hope can overcome long-held differences and deep-seated divisions to bring harmony and understanding.
Many of us already try to follow in his footsteps. The path, of course, is not always smooth, and may at times this year have felt quite bumpy, but small steps can make a world of difference.
As Christmas dawned, church congregations around the world joined in singing It Came Upon The Midnight Clear. Like many timeless carols, it speaks not just of the coming of Jesus Christ into a divided world, many years ago, but also of the relevance, even today, of the angel's message of peace and goodwill.
It's a timely reminder of what positive things can be achieved when people set aside past differences and come together in the spirit of friendship and reconciliation. And, as we all look forward to the start of a new decade, it's worth remembering that it is often the small steps, not the giant leaps, that bring about the most lasting change.
And so, I wish you all a very happy Christmas.
The broadcast, which airs at 3 p.m. GMT every year, closed with the choir at Windsor Castle singing the famous carol, accompanied by a military band.
I wonder if outgoing Labour leader Jeremy Corbyn saw the speech, which he said was broadcast in the morning:
On Christmas Day at Sandringham in Norfolk, the Royal Family look forward to a church service and family lunch.
Normally, the Royal children do not attend the service. However, Princess Charlotte and Prince George made their first appearance this year (top photo on the left in the second tweet):
I hope that the Queen's cousin, Princess Alexandra, had a very happy birthday:
This year's Christmas speech by the Queen proved the media wrong once again. Why do we lean on their every word?
Instead, let us heed her words about small steps being significant in creating great transformation.
Thursday, December 12, 2019 was the day the Conservatives won their biggest victory since 1987, when Margaret Thatcher was Prime Minister.
By contrast, Labour suffered their worst drubbing since 1935.
Even though he was re-elected in London's Islington, Jeremy Corbyn will be resigning — at some point:
The leader of the Liberal Democrats, Jo Swinson, lost her seat in Scotland:
As such, she had to resign:
In Northern Ireland, the DUP's Nigel Dodds lost his seat to, of all parties, the polar opposite: Sinn Fein.
As for Nigel Farage's Brexit Party, they got 2.0% of the vote and no parliamentary seats. The man is a spent force now, and he should retire from political life.
So, on to Boris's big night out. He defeated his Labour opponent comfortably in the constituency of Uxbridge and South Ruislip in west London:
Contrary to what the leftist media predicted, he increased his majority over Labour:
He returned to central London to give a speech there:
He thanked everyone who voted Conservative as well as volunteers and candidates:
Nationwide, the Conservatives won some traditional Labour seats:
London, meanwhile, largely remained Labour, although Felicity Buchan managed to return Kensington to the Conservatives:
The biggest news was Conservative Mark Fletcher's defeat of Labour's Dennis 'Beast of Bolsover' Skinner. Even Margaret Thatcher couldn't do that:
Another huge Conservative win was Sedgefield, Tony Blair's former constituency:
Boris now has a comfortable majority not only to stave off calls for a second Brexit referendum but also to leave the EU early next year.
Whilst it is too early to wish everyone a happy Brexmas, yesterday might as well have been called Boris Day. Guido Fawkes has a montage of Boris's greatest video clips. Some of these go back to when he was Mayor of London. He admirably hosted the 2012 Olympics:
I wish Boris Johnson all the best as he continues his stay in No. 10 presiding over what he now calls The People's Government.
May his vision last summer of 'sunlit uplands' come true for all of us in Great Britain.
The charges of anti-Semitism that have dogged Labour since Jeremy Corbyn was elected leader in 2015 beggar belief.
Labour has the highly dubious distinction of being the only other political party than the BNP to be formally investigated by the Equality and Human Rights Commission for anti-Semitism.
It is unclear why anti-Semites within Labour have felt so free to be so open with their hatred.
The front page article in The Sunday Times from December 8 has chilling content (click on image to read it in full):
Few are saying Jeremy Corbyn himself espouses the same hate, but he seems to be doing little about it. This is what he said on the last debate of the campaign on Friday, December 6:
Yet, the diversity campaign video that Labour issued on Saturday, November 30, mentions every ethnic and religious group in some way — except the Jews!
The Daily Mail has the story along with the video (emphases mine below):
Mr Corbyn posted the one minute and eight second video about diversity on Twitter on Saturday with the words 'this is our strength'. 
The video uses a speech by shadow equalities secretary Dawn Butler as a voice over in which she lists various different groups and insists 'a Labour government will value you'.
But the video does not refer to British Jewish people in a move which has sparked fury and risks worsening Labour's existing anti-Semitism crisis. 
The party remains under formal investigation by the Equality and Human Rights Commission over its handling of allegations of anti-Semitism …  
Ms Butler said in her speech: 'If you are in social housing, if you are LGBT+, if you are straight, if you are a traveller, if you struggle to pay the rent, if you wear a hijab, turban, cross, if you are black, white, Asian, if you are disabled, if you are old, if you are young, if you don't have a trust fund.
'If you didn't go to Oxbridge, if you are working class, if you are under 18, if you are aspirational, if you work, if you are a carer, if you feel you won't live beyond 25, if you have ever ticked the 'other box'. 
'You have a future and you are worthy. Worthy of equality, worthy of dignity and worthy of respect and a Labour government will value you. Just be your authentic self.'
The video ends with a statement on screen which reads: 'Our diversity is our greatest strength. Let's unite and unleash the potential of all our people'.
The situation has been serious for at least a year. Yet, it would appear as if most of our main media outlets are purposely ignoring it.
Imagine if the Conservatives had this problem. It would have been headline news, front and centre, all year long.
How did I find out about it earlier this year? Via Guido Fawkes.
In looking through my bookmarks, however, I found a few Press Association articles from 2018:
'Corbyn sorry for "pain and hurt" caused by anti-Semitism in Labour' prior to a protest by Jewish leaders in front of Parliament (March 25)
'Corbyn faces renewed calls to tackle Labour anti-Semitism' (April 1)
'Shadow minister "frustrated" over Labour's slowness to tackle anti-Semitism' which features a protester holding a sign saying 'For the many, not the Jew' and mentions Labour MP Thangham Debbonaire being criticised by her Bristol constituency Labour Party for attending the aforementioned rally against anti-Semitism (April 8)
Things went quiet until July 2019, when the BBC's Panorama investigated charges of anti-Semitism against Labour. This was just after the the Equality and Human Rights Commission had begun their formal investigation. Guido Fawkes's team distilled the hour-long documentary into a video just under nine minutes long:
Labour's Disputes team, comprised of a handful of people, was in charge of investigating claims of anti-Semitism. Then, Corbyn appointed a new party General Secretary. Under her leadership, few suspensions were issued. Instead, letters were sent reminding offending members of the party's code of conduct. One by one, the longer-serving members of the Disputes team resigned. One had a nervous breakdown. Another seriously considered committing suicide.
One Labour MP interviewed said that things started to go downhill once Corbyn made his pro-Palestinian views more widely known. It appears that pro-Palestinian party members thought they had licence to abuse the notional enemy, with Jewish members suffering verbal abuse for their faith.
On August 2, Guido Fawkes posted 'Labour Anti-Semitic Incidents Hit Record Numbers', which says in part (emphasis in the original):
A damning report published by the Community Security Trust – the charity set up to protect Jews from antisemitism – has shown that there have already been 100 incidents of anti-Semitism which are "examples of, or related to arguments over, alleged antisemitism in the Labour Party" in the first half of this year alone …
Alarmingly, there was a spike of 55 incidents in February and March alone – when several Labour MPs including Luciana Berger left the party over its endemic anti-Semitism. Almost 20% of anti-Semitic incidents across the whole UK were linked to the Labour Party in March, with the CST report noting that Labour's anti-Semitism crisis "clearly has an important bearing" on the record-high number of incidents recorded. All the while Corbyn continues to dismiss it as just a case of a few members occasionally 'dipping' into antisemitic language…
The MP mentioned, Luciana Berger, joined the Liberal Democrats.
One month later, a Brexit-supporting Labour MP stood down to work for the Conservative government under Prime Minister Boris Johnson:
On September 12, Guido Fawkes posted a schedule of fringe meetings for the Labour Party conference, 'Labour's Anti-Semitic Conference Line-Up', which ends with this:
The problem for Labour is surely within their party these views are no longer fringe…
On October 16, a Labour MP from Liverpool, Dame Louise Ellman, resigned her party membership. She is featured in the BBC Panorama video above:
More former Labour MPs began to denounce Jeremy Corbyn's leadership.
The next was Ian Austin, who was an independent MP before Parliament dissolved on November 6:
Former Home Secretary David Blunkett — now Lord Blunkett — was next:
Charles Falconer — Baron Falconer — served as Lord High Chancellor of Great Britain under Tony Blair. On November 26, he gave the BBC his thoughts on the Chief Rabbi's condemnation of Labour:
Britain's former most senior civil judge is also deeply concerned about anti-Semitism in Labour:
Former Labour MP Ivan Lewis is calling on voters to back Boris:
Yet, the anti-Semitism continues. The bookmarks I have are too numerous to include here.
Going back to The Sunday Times of December 8, referenced above, little is actually being done about anti-Semitism at Labour HQ (paywall):
Moving on to other topics, it has been said that Jeremy Corbyn wants to do away with MI5 and specialist law enforcement.
This happens to be true, as evidenced by these photos of the December 1979 issue of the Socialist Organiser featuring Jeremy Corbyn. Click on any of the tweets below to see the full thread. Click on any of the images themselves to see the full text:
Former leftist and veteran political pundit Rod Liddle succinctly summarised historical reasons not to vote Labour — Corbyn in particular — on Thursday. This is from a recent BBC Question Time programme in Bishop Auckland:
Reports have emerged saying that Hamas are actively supporting Corbyn's election on Thursday:
Then there is Brexit. Corbyn has been very non-committal on where he personally stands. Historically, he has been thought a Leaver, but, as his party supports either Remain or Leave as a member of the Customs Union — worse than remaining as a full EU member — interviewers could not get him to make a commitment either way.
We also have the outrageous spending pledges from Labour.
This is a long but interesting thread debunking them. Highly recommended:
A shorter thread follows. Even this leftist says that we can't take these pledges seriously:
Kate Hoey, a Brexit supporter and, most recently, Labour MP for Vauxhall in south west London, urges Bournemouth West voters to back Boris by voting for the Conservative candidate, Conor Burns:
These are only some of the many reasons not to support Labour, especially on Thursday, November 12.
Watford, England, a quick ride from London, was the setting for the 70th anniversary of NATO.
Prime Minister Boris Johnson was the host and, despite a few squabbles, everything went well.
Watford residents were probably the most consterned, not to mention inconvenienced.
On November 13, Hertfordshire Police began warning about the residents' inability to circulate fully between Monday and Wednesday this week. The BBC reported (emphases mine):
Police in Hertfordshire are suggesting people work from home to avoid disruption caused by a meeting of world leaders in Watford next month.
Heads of state will congregate at the Grove Hotel on Wednesday, 4 December as part of Nato's 70th anniversary summit.
Several roads and footpaths will be shut and the Grand Union Canal will be closed to both boats and pedestrians.
The force said it aimed to keep the impact to an "absolute minimum".
The meeting is part of the London anniversary summit which Nato said will be "an opportunity for leaders to address current and emerging security challenges".
Hertfordshire Constabulary has been liaising with the Metropolitan Police and other agencies to take measures to "minimise the impact on the community".
Closures will be in place for all, or some, of the time between 06:00 GMT on 2 December and 20:00 GMT on 4 December but there will be access for emergency and essential services.
I heard from someone who has friends there that Watford 'looked like a war zone' with concrete bollards at the end of certain streets. Thankfully, it's all over now.
On Monday, December 2, the Watford Observer reported on the road closures in town and included photos of security at The Grove, where Bilderberg met a few years ago in June. The Grove was once home to the Earls of Clarendon. Today, it is a pricey hotel and conference centre with a golf course.
One Observer reader commented:
I hope Herts tax payers aren't paying for the extra security. The Bilderberg meeting cost us half a million.
The skies were busy:
As Conservative Party leader, Boris is in the midst of an election campaign. Voting day is Thursday, December 12. Therefore, given President Donald Trump's universal unpopularity here, journalists believed that Boris would minimise his appearances and private meetings with him.
President Trump had his own concerns, as Democrats continued impeachment hearings on December 4:
This week it is the turn of the House Judiciary Committee:
Returning to NATO, The Sun has a good summary of the participants in and schedule for this year's summit.
Boris interrupted his attendance with a few election campaign appearances:
This is a great photograph from Wednesday, December 4:
Before the summit began, The Spectator encapsulated the contentious tone that French president Emmanuel Macron had established:
This week is seminal for Boris Johnson and Emmanuel Macron. Boris, in Watford, is hosting one of the most important Nato summits for years. Its significance is not because it marks the Alliance's 70th anniversary, but because of President Macron's 'disruptive' and trenchant criticism of the Atlantic Alliance as close to 'brain dead', which has touched a nerve. The French President went on to reiterate his remarks at an Elysée press conference, with a visibly uncomfortable Nato Secretary General, three weeks later. Macron attacked the 'strident and unacceptable disconnection' from world threats during the last two Nato summits as being 'uniquely devoted', in his sarcastic words, 'to finding solutions to how to lighten the United States' financial costs'. All this, says Macron, while major strategic questions such as relations with Russia, Turkey and 'who is the enemy?' remain unanswered.
The Trumps arrived early Monday morning at Stansted Airport in Essex, not far from London. The Daily Mail has several photos of the Trumps' arrival.
Ambassador Robert 'Woody' Johnson hosted the couple at Winfield House in Regent's Park, the US ambassador's palatial residence. American heiress Barbara Hutton had the neo-Georgian mansion custom built in 1936. After the Second World War, she sold it to the US Government for one dollar.
This was the scene on Monday night as the Trumps returned to Winfield House after a reception at No. 10 Downing Street. Amazingly, an NHS lorry just beat the motorcade. The ongoing false accusations of Labour against Boris planning on 'selling the NHS' to the United States made this all the more ironic:
President Trump has been rightly exercised over the refusal of nearly all NATO nations to pay their share, leaving the US to largely foot the bill:
In January, NATO's secretary general, Jens Stoltenberg agreed with Trump's strategy:
Even James Mattis, who left the Trump administration as he and the president did not see eye to eye, admits that his former boss has improved NATO:
On Tuesday morning, the US president hit the ground running, beginning by co-hosting a breakfast at Winfield House with Jens Stoltenberg for principal NATO leaders and cabinet members:
He gave an extensive interview afterwards, covering 17 topics. Sky News has a good summary, some of which is excerpted below.
On the upcoming British election, he said:
On the NHS, he said:
I have nothing to do with it. Never even thought about it, honestly.
I don't even know where that rumour started.
We have absolutely nothing to do with it, and we wouldn't want to. If you handed it to us on a silver platter, we'd want nothing to do with it.
On Jeremy Corbyn:
I know nothing about the gentleman.
On France and, indirectly, Emmanuel Macron:
Nobody needs NATO more than France.
France is not doing well economically at all, they are struggling. It's a tough statement to make when you have such difficulty in France.
You look at what happened with the Yellow Vests, they've had a rough year, you can't go around making statements like that about NATO. It's very disrespectful.
That's why I think when France makes a statement like they do about NATO that's a very dangerous statement for them to make.
On upcoming US and French taxes:
Well look, I'm not in love with those companies – Facebook, Google and all of them, Twitter – though I guess I do pretty well with Twitter on the other side – but I'm not necessarily in love with those companies. But they're our companies, they're American companies, I want to tax those companies.
They're not going to be taxed by France. So France is going to put a tax on, it was totally out of the blue, they just had an idea, Emmanuel had an idea, let's tax those companies, well they're American companies. I'm not going to let people take advantage of American companies because if anyone's going to take advantage of American companies it's going to be us, it's not going to be France.
And so we're taxing, as you know, we're taxing their wines, and everything else and we have a very, very big tax to put on them. Plus we have a tax going on on Airbus and that would be a good thing for Boeing but we're only going to do that if it's necessary.
But they're American companies. I don't want France taxing American companies. If they're going to be taxed it's going to be the United States that will tax them.
On North Korea and Kim Jong-Un:
Likes sending rockets up, doesn't he? That's why I call him rocket man.
We have a very good relationship and we'll see what happens. It may work or not. But in the meantime, it's been a long time. President Obama said it's the number one problem and it would have been war. You'd be in a war right now if it weren't for me.
If I weren't president, you'd be in a war right now in Asia. And who knows where that leads? That brings in a lot of other countries."
On Mr Kim, he added: 'You know my relationship with Kim Jong Un is really good but that doesn't mean he won't abide by the agreement we signed. You have to understand, you have to go look at the first agreement that we signed. It said he will denuclearise. That's what it said. I hope he lives up to the agreement but we're going to find out.'
ZeroHedge had another remark from the US president on his French counterpart:
'I do see France breaking off. I'm looking at him and I'm saying he [Macron] needs protection more than anybody and I see him breaking off, so I'm a little surprised at that,' Trump said.
Returning to the NHS, here's a video of Trump saying he's not interested:
Labour supporters continue to circulate an old video saying he is. If the video you see does not look like the one immediately above, then it's old — and obsolete.
Late Tuesday afternoon, the Prince of Wales and the Duchess of Cornwall welcomed the Trumps to Clarence House for tea.
They then went to Buckingham Palace, where the Queen hosted a reception for NATO leaders:
The Daily Mail has extensive photos of both the reception and tea at Clarence House.
I cannot help but feel sorry for Her Majesty being squashed by Jens and Boris. Why could they not have given her some breathing room?
During the reception, Justin from Canada made his views known about Trump. He later admitted that he was talking about his meeting with the US president, which ended up being 40 minutes late because of the extended press conference:
Labour leader Jeremy Corbyn, also in attendance, hoped to corner Trump to tell him not to engage in any trade negotiations regarding the NHS. In the event, Corbyn was on one side of the room and Trump on the other. They never met.
Meanwhile, several dozen radical protesters demonstrated outside:
Then it was on to No. 10, where Boris hosted a reception for NATO leaders. Some news reports said that Boris wasn't there to greet them, but other news accounts said that he had been delayed by ten minutes in returning from Buckingham Palace.
In any event, since when does the Prime Minister personally open the door? It's always a policeman or woman who handles that.
The Trumps looked ill at ease when they arrived, despite a choir singing Christmas carols in the background. Had they already found out about Justin from Canada's hot mic moment at Buckingham Palace?
On Wednesday morning, Trump arrived at The Grove for the final day of the summit:
It is said that the president left early. He was there for the photo op. Perhaps he simply cancelled a second press conference. What more did he have to say?
The US president had his own hot mic moment that day:
In another NATO hot mic moment, President Donald Trump was recorded saying it was "funny" when he called Canadian Prime Minister Justin Trudeau "two-faced."
Interestingly, Boris's key adviser, Dominic Cummings, was spotted sitting on the sidelines that day:
No doubt the residents of Watford were happy to see the sun go down that day, heralding a return to normality for them:
The summit went well, as the Estonian and Dutch prime ministers respectively tweeted:
President Trump was happy, too:
Back in the UK, later that day, questions for Boris still persisted about the NHS:
Politics aside, our Prime Minister can be pleased with his role in hosting the 70th NATO summit, which took place without incident.