You are currently browsing the tag archive for the 'Jo Gideon' tag.
'No one is remotely indispensable'.
So were the words of Boris Johnson as he stood in front of Downing Street in the early afternoon of Thursday, July 7, 2022, to announce that he was standing down as Conservative leader. He said that he planned to stay on as Prime Minister until a new leader is chosen.
Boris's resignation speech
The Prime Minister's speech is just over six minutes long:
Knowing how quickly the leadership contests moved in 2016 (David Cameron to Theresa May) and in 2019 (May to Johnson), we are likely to see a new party leader in place before Parliament's summer recess. Regardless of what news outlets say, it no longer takes two or three months. The timing — i.e. summer resignations in all three cases — will accelerate because of recess.
Guido has the transcript of Boris's speech, excerpts of which follow (I've put in punctuation, paragraphs and emphases):
It is now clearly the will of the parliamentary Conservative party that there should be a new leader of that party and, therefore, a new Prime Minister and I have agreed with Sir Graham Brady, the chairman of our backbench MPs [the 1922 Committee], that the process of choosing that new leader should begin now and the timetable will be announced next week.
And I have today appointed a cabinet to serve – as I will – until a new leader is in place.
So I want to say to the millions of people who voted for us in 2019 – many of them voting Conservative for the first time — thank you for that incredible mandate, the biggest Conservative majority since 1987, the biggest share of the vote since 1979.
And the reason I have fought so hard for the last few days to continue to deliver that mandate in person was not just because I wanted to do so but because I felt it was my job, my duty, my obligation to you to continue to do what we promised in 2019, and of course I am immensely proud of the achievements of this government …
He went on to list Brexit, the coronavirus vaccine rollout, coming out of lockdown the earliest of any other Western nation and showing leadership with regard to Ukraine.
He clearly regretted that he had to stand down:
If I have one insight into human beings it is that genius and talent and enthusiasm and imagination are evenly distributed throughout the population but opportunity is not, and that is why we need to keep levelling up, keep unleashing the potential of every part of the United Kingdom. And if we can do that in this country, we will be the most prosperous in Europe.
And in the last few days I have tried to persuade my colleagues that it would be eccentric to change governments when we are delivering so much and when we have such a vast mandate and when we are actually only a handful of points behind in the polls, even in mid term after quite a few months of pretty unrelenting sledging, and when the economic scene is so difficult domestically and internationally. And I regret not to have been successful in those arguments and, of course, it is painful not to be able to see through so many ideas and projects myself.
But as we've seen at Westminster, the herd is powerful and when the herd moves, it moves and,
my friends, in politics no one is remotely indispensable.
And our brilliant and Darwinian system will produce another leader equally committed to taking this country forward through tough times, not just helping families to get through it but changing and improving our systems, cutting burdens on businesses and families and – yes – cutting taxes, because that is the way to generate the growth and the income we need to pay for great public services.
And to that new leader I say, whoever he or she may be, I will give you as much support as I can and, to you the British people, I know that there will be many who are relieved but perhaps quite a few who will be disappointed. And I want you to know how sad I am to give up the best job in the world, but them's the breaks.
I want to thank Carrie and our children, to all the members of my family who have had to put up with so much for so long. I want to thank the peerless British civil service for all the help and support that you have given, our police, our emergency services and, of course, our NHS who at a critical moment helped to extend my own period in office, as well as our armed services and our agencies that are so admired around the world and our indefatigable Conservative Party members and supporters whose selfless campaigning makes our democracy possible.
I want to thank the wonderful staff here at Number Ten and, of course, at Chequers and our fantastic protforce detectives – the one group, by the way, who never leak.
And, above all, I want to thank you the British public for the immense privilege you have given me.
And I want you to know that from now until the new Prime Minister is in place, your interests will be served and the government of the country will be carried on.
Being Prime Minister is an education in itself. I have travelled to every part of the United Kingdom and, in addition to the beauty of our natural world, I have found so many people possessed of such boundless British originality and so willing to tackle old problems in new ways that I know that even if things can sometimes seem dark now, our future together is golden.
Thank you all very much.
Boris delivered his speech in a normal, matter-of-fact way, which was good, especially given the circumstances.
Now that he has resigned from the Conservative leadership, some ministers are willing to come back into Government for the interim period.
As such, Boris held a Cabinet meeting at 3 p.m. today:
Those who read my post from yesterday will recall that I had not expected to cover this development until next week at the earliest.
However, yesterday afternoon into this morning was pure political carnage.
Wednesday, July 6
Junior ministerial resignations continued to pour in throughout the day, into the night.
Mid-afternoon, Boris held a second online meeting with Conservative MPs:
Guido has the story (emphases in red his):
In a sign of a continuing effort to hold on to his job, the PM has held a second meeting of Tory MPs in his parliamentary office, just 19 hours after his last meeting. Last night's turnout was said to be around 80 – today's turnout is said to have fallen to around 30. A loyalist MP spins that the PM was in a "buoyant mood and keen to get on with the job". Presumably he was just happy his PMQs slagging was over and done with…
Boris apparently pointed to polls narrowing to "about five points" and left his reduced coterie of supporters under no doubt that "he's going nowhere… no chance of stepping aside". We'll see what the 1922 Committee has to say about that this evening…
Guido's mole concluded that "Basically the current challenge is all about personality and not policy. It's a coup attempt before recess" The timetable observation is, at least, objectively correct…
At 3 p.m., Boris appeared for 90 minutes before the Liaison Committee, which is comprised of all the MPs who head Select Committees.
They grilled him on his performance and whether he would resign.
I've never seen anything like it. You can watch the proceedings using the link below:
These were the topics of discussion and the names of the MPs questioning him. Sir Bernard Jenkin chaired the session. Conservative MPs Tobias Ellwood and Jeremy Hunt might have their eyes on the leadership. Boris defeated Hunt in the 2019 contest:
All were brusque, including Bernard Jenkin, sadly.
That said, in May, Jenkin did write to the Leader of the House, Mark Spencer, to express his disappointment that some Government ministers were not appearing as scheduled before Select Committees:
The Liaison Committee were vipers. They were on the attack relentlessly.
Boris stood his ground. He reminded one MP that, in 2019, he had more than doubled the number of sitting Conservative MPs:
He also stated that he did not want another unnecessary general election when he had a clear mandate from the electorate to carry out. You can see how nasty Bernard Jenkin got in this short exchange:
Huw Merriman went so far as to send Sir Graham Brady, Chair of the 1922 Committee, a letter of no confidence during the session:
Meanwhile, Guido Fawkes and his team were busy updating Wednesday's list of resignations.
The 1922 Committee was — perhaps still is — considering a rule change allowing for more than a 12-month gap between votes of confidence in a Prime Minister. Pathetic.
Guido has the story (purple emphases mine):
There are some reports that the 1922 Committee may move in the next 24 hours-or-so to dispose of the PM. Bloomberg is reporting that "The Tory backbench 1922 Committee will meet at 5 p.m. Wednesday and will discuss changing the rules to allow another party-leadership ballot. If there is a majority opinion in favor, a ballot could be held as soon as next week." James Forsyth of the Spectator reports rule change or not, a senior committee member tells him "they now favour a delegation going to Johnson to tell him that it is over and that they will change the rules to allow another vote if he doesn't quit".
Guido's post has a list the 1922's executive members and whether or not they favour this rule change.
Later on, the 1922 decided not to change the rules — for now — because they will be holding their executive election on Monday, July 11:
Guido reported:
Surprisingly the 1922 executive has decided against changing the rules to allow a second vote of no confidence in the PM. Instead executive elections will go ahead on Monday, 2pm to 4pm. 
Critics of the prime minister are organising a slate of candidates who are expected to win a majority of places, given most backbenchers voted to oust Johnson in last month's vote. They are then expected to endorse a rule change.
During the afternoon, it was rumoured that the Chief Whip, Chris Heaton-Harris, was going to tell Boris that time was up.
Boris was hemhorrhaging support. The resignations were coming thick and fast from junior ministers. This is how it is done. The same thing happened when Labour wanted rid of Jeremy Corbyn as leader:
I used to like most of the Conservative MPs. Given what happened yesterday, I am not so sure anymore.
Those who have gone down in my estimation include former Equalities Minister Kemi Badenoch; Lee Rowley; Liam Fox; Red Wall MPs Dehenna Davison, Jacob Young and Jo Gideon; Ed Argar and former Welsh Secretary Simon Hart.
And that's not counting the rest of them that Guido has named, including those from Tuesday.
The only one I'm willing to give a pass to is Lee Anderson.
The hubris and hypocrisy got worse.
Attorney General Suella Braverman appeared on Robert Peston's show on ITV that night to announce her withdrawal of support for Boris. I really had expected better of her, especially as Peston has been anti-Boris for years. To add insult to injury, she went on to announce on his show that she would be running for leader:
Cabinet members visit Boris
Just before 5 p.m. a small Cabinet delegation visited Boris in Downing Street.
Guido wrote:
A Cabinet delegation of Nadhim Zahawi, Grant Shapps, Brandon Lewis, Simon Hart and Michelle Donelan are currently waiting in Downing Street to tell Boris the jig is up, and it's time for him to step down. Kwasi Kwarteng has also reportedly lost confidence. Beginning of the end…
Note Michelle Donelan's name in that list. Boris had just made her Education Secretary after Nadhim Zahawi moved into the Chancellor's role.
What did Michelle Donelan do? She resigned after 36 hours in the role:
Yes, of course, she got a pay out — one of £16,876.25:
The others got pay outs, too. I read that the total for ministers who resigned is over £120,000.
That's not a Conservative plan, by the way.
That's how the system works.
The caboose
Just before midnight, the final resignation of the day rolled in, that of Gareth Davies, making him the 35th that day. There were ten more from Monday as well as Michael Gove, summarily sacked. It's hard to disagree with the person comparing this to Trump:
Michael Gove
It was time for this duplicitous man to go. I never trusted him and never will.
When he turned from supporting Boris in the 2016 leadership campaign to start his own before supporting Theresa May, he stabbed him in both the front and the back.
One thing we have learned during Boris's premiership is that he — Boris — is one to forgive.
He made Gove part of his Cabinet in various high profile roles.
On Wednesday, Gove decided to tell Boris to resign:
Gove, most recently the Levelling Up minister, was conspicuous by his absence in the House of Commons. He missed Prime Minister's Questions:
News emerged at 9:30 that Boris sacked Gove — via a telephone call:
I will be very disappointed if Gove returns to a Government role. He is a Scot who, in my opinion, is too young at the age of 54 to appreciate the Union fully, and he does not have the Englishman's best interests at heart.
I've never heard him say anything about England other than to do away with English Votes for English Laws (EVEL) in 2021. As the then-Chancellor of the Duchy of Lancaster, he deemed it unnecessary in Parliament. It was a quick, quiet moment in the Commons. I do wonder why it went unchallenged by English MPs.
Yet, the English are the ones who have been overlooked the most over the past 25 years, beginning with Tony Blair, a quasi-Scot who pumped our Government and media full of many more Scots, e.g. Gordon Brown, to name but one. My apologies to Scottish readers, whom I admire greatly, but it is true.
Christian Calgie from Guido's team explains that Boris might have sacked Gove because, unlike the Cabinet secretaries who had descended upon him earlier, Gove allegedly told Boris to resign:
By the end of Wednesday, it became clear that Boris was not about to leave:
Guido reported:
Guido has had it confirmed by a PM ultra loyalist that Boris Johnson is not resigning tonight, and is understood to be planning a reshuffle. The news will spark further senior cabinet resignations…
According to reports, Boris sat down individual members of the Cabinet – including those involved in the coup – and cited his 2019 mandate, as well as the belief the government needs to spend the summer focusing on the economy and not a leadership election …
I watched four hours of analysis on GB News on Wednesday, beginning with Nigel Farage …
… and concluding with Dan Wootton, who had a great interview with Boris's father Stanley Johnson (see the 1 hour 15 mark, or, if the GB News clock shows, 10:21). Stanley is a big supporter of his son, which was heartening to see:
Thursday, July 7
Conservative ministers continued to resign en masse on Thursday morning, July 7.
Guido has a timeline of resignations and other events of the day.
Just before 9 a.m., Chancellor Nadhim Zahawi sent Boris a formal letter requesting his resignation.
Just after 9 a.m., Defence Secretary Ben Wallace — also thought to be a candidate for Conservative leader — tweeted MPs to say that they should make use of the 1922 Committee to get rid of Boris:
At 9:07 a.m., news emerged that Boris agreed to resign as Conservative Party leader. I agree that the next demand from the braying hypocrite hyenas in the media will be a call for a general election. Disgusting:
Guido reported:
Chris Mason has been told the PM has agreed with Graham Brady that he will resign, allowing a Tory leadership race to take place ahead of the Tory Party conference in October. A letter has been written. He'll quit as Tory leader today. Guido's frankly not sure how Boris can stay on for the summer with so many ministerial holes in his government…
Perhaps we can get by with fewer ministers, as someone said in Parliament this morning.
I hope that Boris's Cabinet meeting at 3 p.m. went well.
Not everyone has been happy with the coup so far. Former Conservative Prime Minister John Major is fuming. It's interesting he never reacted like that about David Cameron or Theresa May:
In brighter news, Boris's loyal friend from Ukraine rang him with his condolences and thanks:
1457: PM has spoken to Zelensky on the phone. Finished the call by praising him: "You're a hero, everybody loves you."
Yes, well, I wished our MPs loved Boris as much as President Zelenskyy does.
Ladies and gentlemen, this was a coup.
It was for a ridiculous reason, too: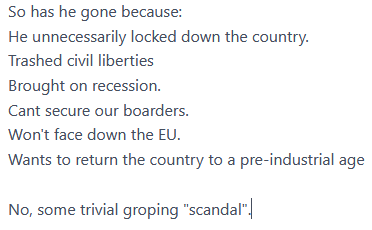 Don't forget: this was ALL ABOUT BREXIT.
More to follow next week.
Continuing my series on Red Wall parliamentarians, this week's MP is Jo Gideon, who represents Jonathan Gullis's neighbouring constituency of Stoke-on-Trent Central.
Stoke-on-Trent Central, like Gullis's Stoke-on-Trent North, was created in 1950. 2019 was the first time a Conservative had been elected to represent the constituency when Jo Gideon narrowly defeated Labour's Gareth Snell on December 12 that year.
Gideon, 69, had made two previous unsuccessful attempts to unseat Labour MPs. The first was in 2015, when she lost to Labour in Scunthorpe. The second was in 2017, when she lost to sitting Labour MP Melanie Onn in Great Grimsby. Gideon was third time lucky nearly three years ago.
Her maiden speech, which she delivered on January 23, 2020, was a triumph.
She told us in detail about The Potteries, part of which she represents (emphases mine):
I am absolutely determined to focus on the economy and jobs in Stoke-on-Trent Central, and I am extremely grateful to have been called to speak today.
Stoke-on-Trent is on the up—confident about Brexit, proud of our industrial heritage and committed to a manufacturing future. It is an incredible honour to represent the people of Stoke-on-Trent Central, and I thank them for sending me to this House. The city is, as my predecessor Gareth Snell rightly put it in his own maiden speech, "vibrant, welcoming and proud". I pay tribute to him for championing the ceramics industry and its continued place at the heart of the Potteries' economy. Gareth was always protective of the industry in this House, at every stage of the process—from bringing in the clay by freight train, to getting the finished product out into the world so that plate turners everywhere could flip their tableware and see the uniquely reassuring back stamp, "Made in Stoke-on-Trent". There will be no change there from me.
Stoke-on-Trent is six historic market towns in one. Tunstall and Burslem are ably represented by my hon. Friend the Member for Stoke-on-Trent North (Jonathan Gullis), and Longton and Fenton by my hon. Friend the Member for Stoke-on-Trent South (Jack Brereton). Stoke-on-Trent Central is made up of Stoke-upon-Trent, commonly known as Stoke town or simply Stoke, and Hanley, which is often seen as the city centre, although not necessarily by everyone in Tunstall, Burslem, Longton, Fenton or Stoke. Our city is polycentric and rich with history, a fascinating place to visit and a wonderful place to live. The last time that either Hanley or Stoke town were in Conservative hands was back in the 1930s, and then only for one term. Much as I am proud to follow in the footsteps of Harold Hales and Ida Copeland in being a Conservative elected by the people of Stoke-on-Trent, I shall be looking to replicate the success of my hon. Friend the Member for Stoke-on-Trent South in being re-elected by the people of Stoke-on-Trent.
She talked about her constituents' support of Brexit and what it could do for the local economy:
The House may think that this was a Brexit election, but it was not just a Brexit election. It was a "Brexit and" election; it was a "Brexit so that" election. We are not just going to get Brexit done. We are going to invest in our NHS, schools, police, roads and infrastructure. With the right support, we can make Stoke-on-Trent an even better place to live and to visit. To do that, we must relentlessly improve education standards and skills, and revolutionise the public transport provision to cut ​congestion. Productivity is too low, exports do not match comparable cities such as Coventry and the city does not quite do what it says on the tin. We need more Stoke and we need more Trent.
Stoke town needs every penny of the heritage high streets money it has been promised, and it needs clearer and more direct pedestrian routes to Stoke-on-Trent railway station. I will work with anyone who can preserve our heritage while taking us forward. For too much of its course through the city, you would not know the River Trent was there. I will learn lessons from anywhere as to how to improve public access to watercourses. Although I welcome the Government's fund for new pocket parks, I will lobby relentlessly to get more funds into historic parks too.
She told us more about the ceramics industry in this treasured part of Staffordshire:
Our identity as a city is closely linked to the ceramics industry, and preserving the authentic Potteries landscape must be part of our tourism offer, but the ceramics industry itself must always be allowed to move into the newest processes at the cutting edge of technology. I want to see the successful Ceramic Valley enterprise zone expanded, and the plan for an international research centre for advanced ceramics to materialise in my constituency. This would allow for the expansion of world-class innovation by companies such as Lucideon, where I recently learned about advancing sintering, which is a process that enables materials to handle the heat—something that we know all about in this House. In fact, on Friday I saw some scintillating sintering in Stoke with the Secretary of State for International Trade. The research centre will also be supported by Staffordshire University, the world's leading centre for masters level ceramics and the successor body to the Burslem and Hanley schools of art that gave the Potteries such pioneers as Susie Cooper, Edith Gater and Clarice Cliff. Still today, international ceramicists who could base themselves anywhere in the world choose to locate in Stoke-on-Trent because it is the authentic capital of ceramics, and it must remain so.
However, as the ceramics industry has been in long decline, the local high streets of The Potteries have suffered:
Stoke-on-Trent is increasingly a centre for the logistics industry, and over many years retail has been important to the six market towns. But the internet is threatening to harm our marketplaces and high streets even more than they have already been harmed by 1960s traffic schemes and 1970s architects. We need radical reform of retail business rates, and we need to make the high street a more relevant and attractive place to be, with more local residents living in town centres and more international tourists and buyers exploring our city.
She also spoke of the importance of realising one's personal aspirations:
The entrepreneurial spirit that made the Potteries great must be unleashed again—unleashed and nurtured.
I set up and ran my own business from scratch. I did not have a business background, which probably helped me because I did not worry about the unknown—rather like the feeling I had when I first set foot in this place as the Member of Parliament for Stoke-on-Trent Central. Enterprise has no educational barriers, only barriers of self-belief. It must be the business of Government to enable more people to have the opportunity to pursue their dreams, and we need to include enterprise in the school curriculum. Ambition must be encouraged, supported and rewarded, and your background should never hold you back. Let us back those who have no family history of setting up a business, let us nurture those in business who have never yet exported a product ​and let us encourage those entrepreneurs who are yet to be employers to take on their first member of staff. For my part, I will gently encourage the Government at every turn to invest in the infrastructure and services of Stoke-on-Trent.
She discussed the need for better bus and rail transport. A mid-1960s rail network redesign by Richard Beeching saw many stations and branch lines close. A few of these closures are now being reversed across Britain:
Most urgently, that means nothing short of a transport revolution across the city to cut congestion for private vehicles and speed up services for bus and rail users. Beeching did not so much swing an axe in Stoke-on-Trent as wield a chainsaw. Too many branch lines were lost and too many stations were closed—and it got worse still. As late as 2005, the Strategic Rail Authority shut Etruria station, and dug it up completely in 2008. Stoke-on-Trent is crying out for better public transport. We need a big share of the transforming cities fund, the bus fund, the reverse Beeching fund, and more, to make up for the decades of under-investment in Stoke-on-Trent when we missed out on our fair share. I really hope that we will be a pilot scheme for the superbus project, as our geography of six towns in one city can offer best practice for places elsewhere.
Jo Gideon has participated in many House of Commons debates.
In a debate on geothermal energy on September 15, 2021, she discussed how and why The Potteries developed and how their energy system could be used today:
This topic is really important to me as the Member of Parliament for Stoke-on-Trent Central. We are a pioneer city, at the forefront of exploring the geothermal option. I am delighted that this debate places a spotlight on geothermal, which is more environmentally friendly than conventional fuel sources, provides a more reliable clean energy source than other renewable options and offers an operational lifespan of more than 100 years. In addition, geothermal supports the transferability of skills and jobs from the oil and gas sector and provides development opportunities in regions such as the Midlands, bringing new jobs and investment to areas that do not currently benefit from renewables such as wind power.
Crucially, the technology supports our transition to net zero. As we look to reduce our carbon footprint through a circular economy based on the principles of reducing, reusing and recycling, it is fitting that Stoke-on-Trent is at the forefront of this movement. The Potteries, home of pots and pits, retains a huge underground maze of former mine tunnels. The coal from those mines fired the kilns and the steelworks, and blackened the skies across the city at the height of its heavy industrial past. We are now powering our city up again, but this time as part of a new green industrial revolution, reducing pollution by investing in improved public transport, growing our nature recovery network, reusing the infrastructure of a former polluting industry to deliver new, clean energy, and recycling the hot water within the mine tunnels through our district heat networks.
Several factors make Stoke-on-Trent an ideal location for the development of this technology. First, the area has ideal geological conditions. Its geothermal gradient, which shows how much the temperature increases as we dig deeper, is greater than expected due to an ancient volcano deep beneath the surface providing untapped potential. We are leading the way with the Stoke-on-Trent district heat network. I thank the Government for providing £20 million for this pilot project. The district heat network features 18 km of piping and has led to affordable and clean energy for a community in the city and the first dedicated skills academy.
The project led by GT Energy to develop a deep geothermal heat plant in Etruria Valley in the city already has planning permission. The development would be the first of its type in the UK and would comprise the initial drilling of two deep exploration boreholes to a depth of approximately 4,000 metres. I believe it will be the first in the world to feed into a district heat network. The proposed development has the potential to bring a host of benefits to the local area, including creating green economy skills and jobs, reducing carbon emissions by 11,000 tonnes per year and generating heat equal to the energy needs of around 4,000 homes.
At the end of the debate, the minister replying on behalf of the Government said that work could begin in 2022 — with funding available now, in fact:
I thank all Members who have spoken today and who continue to bring their enthusiasm and passion to the debate. Stoke-on-Trent is extremely well represented by amazing advocates in my hon. Friends the Members for Stoke-on-Trent North (Jonathan Gullis) and for Stoke-on-Trent Central (Jo Gideon)—the latter is a fantastic saleswoman who sees Stoke as the potential centre for the new geothermal revolution that is coming. We were hard-pressed not to know her passion, and I thank her for that …
In answer to the question from my hon. Friend the Member for Stoke-on-Trent Central, geothermal heat projects are expected to be in scope for the £270 million green heat network fund that will open in April next year. I hope that that helps those who are looking to bid in that space to get going now.
Gideon is also concerned about animal welfare, not only concerning domestic pets but also livestock standards. This is what she had to say on February 4, 2022 about Andrew Rosindell's (Conservative, Romford) Private Member's Bill on the subject:
I fully support the aims of the Bill, which will mean that penalty notices can fill the enforcement gap between taking no action and seeking criminal prosecution. I am delighted that today's debate provides us with the opportunity to discuss how we can go further to improve animal health and welfare in this country.
Several of my constituents selflessly volunteer at Animal Lifeline in Stoke-on-Trent. It is a fantastic charity that has cared for dogs for more than 40 years, with approximately 100 dogs in care at any one time. Each year, the charity rescues and rehomes around 300 dogs and puppies and it has saved more than 11,000 over the years.
A volunteer recently shared with me concerns that have arisen as a result of covid. The pandemic has hit animal charities hard financially due to charity shops having to close and kennels not being able to hold their usual open day fund-raising events. Animal charities across Stoke-on-Trent and the county have had to take in more animals than usual …
I praise local animal charity staff, who have been amazing. Many have taken cuts in wages and found innovative ways to reduce costs. The cost of living challenges are also pushing up the cost of essentials such as dog food, vet bills, utility bills, fuel and wages. With all that in mind, we should all consider the options to provide sufficient support to charities to ensure that they can continue to provide a vital service to our local communities.
I have been involved in the national food strategy. Within that, we look at a range of recommendations for improving animal welfare with regards to food production. The Government are looking at that at this time. Thankfully, the UK already leads the world in animal welfare and livestock husbandry. The same cannot be said of many of the countries that we import from. Allowing cheap imports from such countries not only undermines our own standards, but undercuts our farmers. This is an issue that many people feel strongly about, with 94% of the public wanting existing food standards to be maintained in future trade deals.
The national food strategy argues that, when making new trade deals, the Government should only agree to cut tariffs on products that meet our core standards. As such, I am pleased that the Government recently launched a new Trade and Agriculture Commission, which will inform parliamentarians and the public about how new free trade deals are consistent with UK laws on animal welfare. The Government must go further, however, and draw up a list of core minimum animal welfare standards that they will defend in future trade deals. I am pleased that when they announced the Australian deal, they said that they would include measures to protect our standards. It is reassuring that the deal contains a chapter on animal welfare, and I urge the Government to come forward with more details as soon as possible to allow Parliament to sufficiently scrutinise that part of the deal.
Again, I congratulate my hon. Friend the Member for Romford on bringing forward the Bill, which I am delighted is fully supported by the Government and the Opposition. I look forward to continuing my support for this legislation as it passes through the House, in addition to championing animal welfare causes in years to come, whether by calling for more support for local animal charities or for more animal welfare protection in future trade deals.
On that topic, she expressed her concern about diet and obesity in her constituency on February 8, 2022:
There are plenty of fast food outlets in Stoke, but it is quite difficult to find nutritious options. It is not about eliminating all unhealthy choices or making us feel guilty about eating them: it is about increasing the choices available and ensuring that everyone can easily find and afford good food. I am reminded of the words of Lord Woolton, the Conservative party's food Minister in the 1940s. He said:
"Feeding is not enough, it must be good feeding."
Those words are as true today as they were back then.
Many colleagues have commented that my social media includes many posts of me eating a variety of what Stoke has to offer, from oatcakes—which are an important part of our culture and heritage—to healthy Sunday roasts. I have been surprised how popular the posts are. I do them to show food choices in our city and to promote local businesses and organisations through the medium of food. Food is central to our society, communities and daily lives. Food brings us together and allows us to share stories, ideas and cultures, and build wonderful memories, but food should not make us sick.
Currently, four out of five leading risk factors for disability, disease and death are related to poor diets. In other words, the British diet is making us sick. While the average percentage of adults living with obesity or excess weight is 62% in England, it is 72.8% in Stoke-on-Trent.
She wants to see a national food strategy as part of the Government's levelling up plan. Her perspective sounds a bit nanny state-ish, although one can appreciate the importance of good food at a reasonable cost:
This must set out a bold, brave and ambitious set of immediately actionable policies to help everyone in Britain to eat well. The six non-negotiable actions include the "eat and learn" recommendation that includes mandatory accreditation for food served in school to ensure that high-quality and nutritious food is not a postcode lottery; school curriculum changes such as reinstating the food A-level and Ofsted inspection of such lessons; and mandatory reporting for large food producers and manufacturers so that we know the proportion of healthier versus unhealthy food that companies are selling, as well as other metrics such as food waste.
We need to look at the sugar and salt tax. We need to look at public procurement so that those in our public sector buildings get the healthy food that they deserve. We need to introduce a good food Bill. We need to ensure that all these strategies feed into each other making sure that we are the healthiest we can be. That is absolutely part of levelling up.
Well, she can start by visiting school canteens in France, if that's allowed. They have excellent menus in schools, most of which read like lunches made by one's grandmother.

In another debate on February 4 this year, she extolled the importance of meaningful employment for people with Down syndrome:
I would like to mention a very interesting and important project that I was involved with a few years ago in a very isolated community in the Brecon Beacons [Wales] called Myddfai. The challenge was to create sustainable employment and regenerate a very isolated village. As part of the project, we created a trading company, and within that trading company we were able to employ a number of young people. I am glad to say that, eight years on, there are still young people employed there today, some of whom have Down syndrome. Members can see if they look on the website, myddfai.com, how happy they look in the photographs. It is really satisfying to see how the right employment can fulfil.
On January 25, in a debate on a trade union levy, she responded to Labour's John Spellar, whose contributions I normally like but think he went a bit over the top with this remark. However, this was when details emerged of lockdown parties in Downing Street. In response, Boris's advisers launched Operation Red Meat, a series of policies designed to keep Conservative voters on side:
I declare that I have been for 50 years a member of the Unite union and its predecessors—in that time, I have been a branch chair, a branch secretary, a delegate to the trades council and a national officer of the union—and I am proud to be a trade unionist today …
One of the questions we have to address is, "Why now?" Why, particularly, is this coming up now? It has been four years or so in the making. Is this part of Operation Red Meat to throw something to the rabid, foaming Back Benchers of the Tory party, whose leitmotif—one of their articles of faith—is their hatred of trade unions to the benefit of employers, because they know that workers organised will recognise that they need to advance through politics too?
Jo Gideon intervened to say that she, too, had been a member of Unite:
I would like to challenge the statement "hatred of trade unions". My hon. Friend the Member for Stoke-on-Trent North and several other hon. Friends have already spoken about their massive support for trade unions, and I declare that in a previous role I was a member of Unite and was supported fantastically through that union. Making statements like that does not help us to have this discussion in a professional manner.
However, her most illuminating contribution was to highlight the criminal aspect of waste disposal, which she said on February 1, is more lucrative than the trade in illegal drugs and people trafficking:
I welcome the opportunity to speak in this vital debate secured by my parliamentary neighbour, my hon. Friend the Member for Newcastle-under-Lyme (Aaron Bell). He has made a strong and clear case for the need for more action to tackle the blight of criminal activity in the waste industry. This appalling activity is putting tens of thousands of lives at risk across the country.
In my constituency, I have been fighting for a lasting solution to one such waste crime, which had the potential to be a national disaster. Yet, as the site in question is being cleared, up and down the country unscrupulous criminals are filling warehouses or plots of land next to residential properties and littering our countryside with waste that presents a real threat to the health and safety of surrounding communities.
I wrote to the Prime Minister and multiple Departments last year to highlight the urgency of clearing a site that has been a significant risk in Stoke-on-Trent Central since 2014, and I am delighted that my campaign has resulted in clearing the Twyford House site of an excess of 30,000 tonnes of illegal and combustible commercial waste. I thank the Minister for her support in making that happen, so that the danger that has been there since 2014 can finally be removed.
My hon. Friend's tireless work to tackle the environmental disaster at Walleys Quarry landfill is an example to us all. Although the quarry is in his constituency, the consequences of the activities at that site are suffered by my constituents too, and I have also been persistently raising their concerns with the Environment Agency and Ministers. The pace of progress to resolve the problem has been a frustration to us all. Does the Minister agree that there is a clear need for the separation of regulation and enforcement authorities?
The current approach to the regulation of more than 180,000 waste carriers, brokers and dealers is leading to record levels of crime, which may well spike later this year when the increased cost of red diesel will mean many looking to cut corners to make savings, for example through the use of exemptions codes. It is a sad fact that waste crime is more lucrative on the basis of risk-to-reward ratios than human trafficking or drug dealing.
This is not a victimless crime. Public health and public safety are dependent on stopping the serious waste industry criminals. We must have better regulation and tougher sentences.
Wow. Who knew?
One of the things I like most about Jo Gideon is her ladylike demeanour. Although most female Conservative MPs conduct themselves in a similar manner, Jo Gideon stands out in her dignified, poised and professional presentation of various issues being debated in the House of Commons.
I wish her well and hope that she is re-elected at the next general election.