You are currently browsing the tag archive for the 'Jo Swinson' tag.
Continuing on Scotland's upcoming election, I have been astonished by some of the articles and social media messages appearing north of the border.
Scottish women — and sensible Scotsmen — are increasingly concerned by the encroaching activism of a small minority of Scots with regard to certain aspects of gender recognition, including self-identification.
The SNP do not seem to care, and no one knows how the new Hate Crime legislation will work against anyone who is worried about a man wandering into a ladies' room or a women's changing room.
In a guest post for Wings Over Scotland on March 31, 2021, Margaret Lynch a long-time activist, first for Labour, then for the SNP and now for the Alba Party, wrote about the topic in 'Why women want Alba' (emphases mine):
The inability of the SNP leadership to accept the simple distinction between sex and gender has led them into very troubled waters and has done real harm. It has led to vulnerable women in prisons being subjected to sexual assault by men who "identify" as women, to a local authority adopting a "gender neutral" approach to domestic violence which saw funding removed from Women's Aid groups because they refused to admit men to refuges or work with perpetrators.
Lastly and perhaps most ludicrously it's seen a situation arise where crossdressers – but not real women – are protected by a Hate Crimes Bill which omits misogyny from the list of prejudices it seeks to prohibit.
The response of the SNP leadership to those women who did try and constructively engage within the SNP around these issues was genuinely shocking. They stood by and watched prominent female SNP elected representatives be hounded and abused, and said nothing. They colluded in attempts to prevent the selection of gender critical candidates using all manner of chicanery.
Alex Salmond of the new Alba Party has spent the past few years defending his reputation against SNP smears, so there is a certain irony that a man falsely accused of preying on women now appears to be their defender in Scotland, at least where pro-independence parties are concerned:
The irony of Alex Salmond presenting a solution to our problems has not escaped me. Some feminists think this is a bridge too far. But what I know is that Alex Salmond's political survival now depends on him demonstrating at all times and to all people that he can be trusted in women's company and to defend women's rights.
Nicola [Sturgeon], who I have long admired and liked, has demonstrated over and over again that she CANNOT be trusted to defend women's rights – and in fact would throw them under a bus in a heartbeat to gain the support of the fanatical youth wing of the party, and the Greens who appear to care less about the environment than they do about bedding down Queer Theory in Scotland's political institutions.
What drew me to join Alba was the tactical opportunity it presented:
– to ensure that there's a party which will protect women's rights in Scotland, and provide a safe harbour for those of us who want independence to cast our votes in the coming election without betraying our sex.
– to act as a countermeasure to the malign forces which have propelled the SNP leadership towards an agenda which is dismantling women's rights, to speak out on the matters which affect us, and to retain safe spaces and representation.
That same day, Wings Over Scotland featured another guest post by a former SNP member, Morag Kerr, who explains why she has cancelled her party membership. Her article is called 'To the National Secretary'. Excerpts follow:
During the first 25 years of my membership I made many friends and had many wonderful experiences. I never imagined for a moment that I would leave the party before independence day.
However the past four years have been an entirely different experience and that time has now come. I cannot remain a member of the SNP for the following reasons.
1. Lack of any progress towards independence since 2015, including the lack of preparation of the infrastructure that will be needed by an independent country.
2. Failure to capitalise on the very real opportunities which arose between 2016 and 2019 in the run-up to Brexit.
3. The explicit ruling-out of viable routes to independence, and the imposition of conditions which would stand in the way of viable routes to independence.
4. The insulting dangling of "vote SNP for a new indyref" when an election was at hand, followed by the inevitable kick into the long grass soon afterwards.
5. The lack of rebuttal of unionist attacks and talking-points, combined with currying favour with the unionist mainstream media while attacking and indeed monstering pro-independence online media. The donation of a substantial sum of public money to prop up the Unionist print press was absolutely inexplicable.
6. The fitting-up of Alex Salmond on false allegations of sexual assault intended to prevent his returning to politics to do something about points 1 to 5 …
9. The appalling Hate Crime Bill which will criminalise simple disagreement if someone simply chooses to take offence at it, and the exclusion of women as a protected category while including men in drag on their way to a stag night.
(I can't believe I'm even writing that, and [Justice Secretary] Humza Yusuf's sneering jibe that a woman would be protected in the event she were mistaken for a transwoman was simply the last straw.) …
13. The rewriting of the rules with the obvious express purpose of preventing Joanna Cherry from being considered as a candidate in the Holyrood election …
20. Promotion of highly unsuitable sex education material to young children.
On April 6, an Edinburgh blogger, Calton Jock — hardly a political conservative — wrote about the close alliance between certain gender/lifestyle identity organisations and the Scottish government:
LGBT Youth Scotland was formerly called the Stonewall Youth Project and is mainly funded by the state (in other words us), with over 75% its annual income coming from the Scottish Government, local councils and the National Health Service. (Scottish schools to get updated guidance on supporting transgender pupils).
Bear in mind that the co-founder of Stonewall, Simon Fanshawe, broke away from the organisation and condemned its "extreme" position on transgender rights. Yet we have the Scottish Government determined to change the Gender Reform Act (GRA) and to continue to permit children to be given permanently damaging puberty blockers, despite a ruling in the English courts that this has to stop. (Letters to the Times) …
The Scottish Government and opposition parties have agreed to continue talks about freedom of expression elements of the hate crime bill.
It follows concern about the impact of some of the amendments proposed to the legislation on the transgender community.
The Justice Committee considered stage two amendments to the Hate Crime and Public Order (Scotland) Bill'.
Justice Secretary Humza Yousaf had originally proposed an amendment seeking to protect "discussion or criticism of matters relating to transgender identity", provided the behaviour was not threatening or abusive …
People are questioning the influence of "Stonewall" on Scotland's civil service after it emerged that controversial policies have been introduced in alignment with Stonewall's political aims. These include a compulsory "Diversity Objective" for all staff to make the Scottish Government "a more diverse and inclusive place to work", training on "intersectionality" and "unconscious bias", and the use of gender-neutral language. The Civil Service is also included on Stonewall's "Diversity Champions Index" …
The Deputy Director for Public Affairs at The Christian Institute said:
"The extent of Stonewall's influence on the Civil Service is alarming, particularly given the controversial nature of some of its political aims. Stonewall's stance on trans issues is strongly opposed by women's organisations, medics and faith groups. Yet, the Civil Service appears to endorse it wholesale. How does this fit with the Service's duty to remain politically impartial? Staff are encouraged to attend training sessions on "intersectionality" and "unconscious bias". These controversial ideas are disputed in wider society. So it's concerning that they are written into the training schedule for Civil Service employees. The compulsory "Diversity Objective" also raises questions. What happens to staff members who hold religious beliefs which differ from those championed by Stonewall? Are they marked down? This could constitute direct discrimination on the grounds of religious belief."
Gender identity activism also affects the Liberal Democrats as Calton Jock explained in an April 6 post, 'The Threat to Women is a Real and Present Danger'. He discovered that this goes back to 2019 when then-party leader Jo Swinson put gender identity into the party manifesto before the general election that December. To think that most of us saw her — and her party's candidates — as being anti-Brexit. No, there was much more.
Calton Jock has an image of one of Swinson's tweets before the election. It reads, in part:
Introduce an 'X' gender option on passports and extend equality law to cover gender identity and expression …
Thank goodness she lost her seat as an MP. So did many other Lib Dems. There are only 11 of them now in the House of Commons.
Calton Jock explains why the Lib Dems have these policies:
Assisting their efforts with donations exceeding £1.3million, is Ferring Pharmaceuticals a company that markets drugs used in gender-identity clinics to delay puberty.
The party has already upset feminists, who worry that the "extreme trans-ideological" policies in its manifesto will put vulnerable women at risk.
The company is owned by the Swedish billionaire Frederik Paulsen and markets the drug, which is used to block puberty among adolescents.
The Lib Dem manifesto pledges "complete reform of the Gender Recognition Act to remove the requirement for medical reports, scrapping fees and recognition of non-binary gender identities" …
A Drugs company owned by a Swedish billionaire philanthopist and explorer, who is an honorary Russian consul and lives in Switzerland, has given nearly £500k to the Liberal Democrats.
Frederik Paulsen, who lives in Lausanne, is worth an estimated £3bn and owns Ferring Pharmaceuticals. The company is ultimately controlled from Curacao, a Caribbean tax haven.
Electoral Commission records show that the British arm of the company, based in West Drayton, west London, gave four donations to the Liberal Democrats between December 2013 and June 2014. Three of them exceeded £100,000.
The British arm of Ferring Pharmaceuticals was set up in 1975. Ferring said the company had made the donations because it supported Liberal Democrats policy on Europe. (Sunday Times)
Comment: And the Lib/Dems had the hard neck to criticise Alex Salmond for broadcasting his show on RT!!!
Paulsen was personally awarded an "Order of Friendship" medal by Putin himself. The Vlad acolyte who has poured huge amounts of cash into Russia, was given the gong by the Russian Foreign ministry, and is an honorary Russian citizen …
On April 9, an Alba Party member, Denise Findlay, wrote about the lack of political will in standing up for protecting women: 'Life begins on the other side of despair', a guest post on Yours For Scotland.
An excerpt follows:
It has been a hard few years for the women who support Scottish independence. The women have endured vicious bullying, name calling, doxing and rape threats simply for trying to stand up for their rights. All from those who are meant to on the same side in the independence debate. Women have now struggled for years against their own party and movement. Many honourable men have joined the debate giving women their support but still truckloads of abuse are heaped on the women's heads every day.
Women's concerns have not been heard. All parties in the Scottish Parliament are signed up in varying degrees to gender ideology.
The Greens and LibDems are irretrievably anti-women in hock to an ideology which is dangerous to the health and well being of women and girls. Andy Wightman resigned from the Greens due to their intolerance of any discussion of women's rights claiming party leader Patrick Harvie is captured by Queer Theory.
Labour is unfortunately losing three MSPs who actually backed women; Johann Lamont, Jenny Marra and Elaine Smith and Anas Sarwar the new Labour leader is unwilling to take on the gender ideologues within his own party.
The Conservatives although they voted against the Hate Crimes Bill that was because of its general infringement of the right to freedom of expression and it is a sad day when it is the Conservatives who are our only slim hope.
The SNP leadership is fully signed up to the gender ideology and have a number of policies that are dangerous to women.
Just before recess the Scottish Parliament passed the Hate Crimes Bill (HCB). This bill does not give protection to women who as a sex have been ignored by this bill. A man dressed as a woman has more protection against hate than a woman. But it does pose significant danger and risk to women.
The bill introduces a new offence of 'stirring up hatred' which requires that behaviour must be judged "abusive or threatening" by a "reasonable" person.
Define 'Reasonable' when using the word 'female' can be judged transphobic. When our own justice secretary can't say if there are two sexes and a judge in England ruled that belief in two sexes was 'not worthy of respect in a democratic society'. When many women's accounts have been suspended or banned from social media for stating biological fact.
During the passage of the bill amendments that would have given women a small measure of protection, were withdrawn due to an outcry by the trans lobby.
There is little doubt that women arguing on the basis of sex will be reported to the police, this coupled with doubts over the independence of the crown office will have a chilling effect of women's freedom of expression.
One would have thought that, with all the equality legislation in the UK, including Scotland, these issues should not have arisen. But, no. Things have become worse:
In the new parliament the SNP intends to reform the Gender Recognition Act (GRA) which would allow a man to legally change his sex to female purely on his own say-so. The GRA was introduced prior to same sex marriage, it was to allow people who suffer from gender dysphoria – which at that time was a mental illness – and have changed their bodies to legally become the opposite sex in order to marry.
At the time it was understood that it impacted women's rights because women's sex-based rights are necessarily exclusive as they exclude males. But the European Court of Human Rights decided that the numbers were so small women could just accommodate them.
Over time same sex marriage was made legal which negated the original need for a GRA. A further ruling of the European Court of Human Rights meant that people would not have to change their bodies to obtain a GRA and the World Health Organisation (WHO) determined that gender dysphoria was not a mental illness.
This greatly increased the number of men who could claim to be women and the trans umbrella is now large, it includes men with gender dysphoria who have changed their bodies but also cross-dressers, men who have a sexual fetish about being a woman or being accepted as a woman, exhibitionists and men who believe they have a lady brain. As well as the increase in the number of men now considered trans and who feel they are entitled to access women only spaces and services there is also an issue of abuse of the system.
With self-id there is no gate-keeping so this opens it up to the risk of predatory men taking advantage. Male sexual offenders are identifying as women and being housed in women's prisons, this is already happening in Scottish prisons.
The ramifications of self-id for women's sex-based rights are considerable, already mixed sex toilets in schools are causing teenage girls to miss school in particular when they have their period, there are mixed sex changing rooms, mixed sex hospital wards, women's refuges and rape crisis centres. All places where women are vulnerable and predatory men or men indulging their sexual fetishes can take advantage.
Denise Findlay concludes:
The very real prospect of the complete loss of women's rights in Scotland and the risk of a criminal prosecution if we complain.
Then into this hopeless situation strode hope.
Hope in the form of the Alba Party who just might save the rights of Scottish women and girls, while gaining us our independence.
This weekend it is the Alba Party Women's Conference. Women will have a voice. All is not yet lost. We still have Hope.
The Alba Party Women's Conference was held online. It was well attended and watched by hundreds of women in Scotland.
One of the more disturbing revelations from the Women's Conference was news from a guest speaker that gender activists in Scotland want the age of consent lowered to the age of 10.
The Rev. Stuart Campbell of Wings Over Scotland has more on this development in 'The Paedophile Charter':
ILGA World –  the International Lesbian, Gay, Bisexual, Trans and Intersex Association – is an organisation that we hadn't heard of until today. Just over a year ago they released, as part of a 200-member caucus of other groups, something called "The Feminist Declaration". It's a mostly-innocuous document of demands about women's rights, but buried in the middle of it is a very disturbing section.
The section, a screenshot of which is in his post, encourages a de-stigmatisation of adolescent sexuality.
Campbell continues (emphases his):
The World Health Organisation defines "adolescents" as people aged from 10 to 19.
So the only possible interpretation of "end the criminalization of adolescents' sexuality" is a reduction in the age of consent to 10 years old. Indeed, a slightly earlier paragraph of the Declaration is more explicit about it:
"Eliminate all laws and policies that punish or criminalize same-sex intimacy, gender affirmation, abortion, HIV transmission non-disclosure and exposure, or that limit the exercise of bodily autonomy, including laws limiting legal capacity of adolescents, people with disabilities or other groups to provide consent to sex"
While it doesn't go into more detail, one would like to imagine that the intent would be to remove laws limiting capacity for consent only within that age group, ie to make it legal for all adolescents to have sex with each other, rather than to let older people have sex with them. But it doesn't actually say that anywhere.
Even if it did, alert readers will note that that would still make it legal for 19-year-olds to have sex with 10-year-olds, and to put it very mildly that seems a somewhat controversial position.
So who are the organisations signing up to this "feminist" demand under the ILGA umbrella? On its list of member organisations, sure enough, appear the names of LGBT Youth Scotland and Stonewall Scotland.
Just 12 years ago LGBT Youth Scotland was at the centre of Scotland's biggest ever paedophile scandal, with its chief executive James Rennie sentenced to life imprisonment for a string of offences …
It appears that it's entirely true – the SNP are indeed paying lobby groups with your money to try to reduce the age of consent in Scotland to 10.
We wish we could be confident that the danger of that actually happening was only theoretical.
Stonewall Scotland disputed the Wings Over Scotland claims, but Rev. Stuart Campbell stood by his post and responded in 'If it hit you in the eye':
So the only possible thing about adolescent sexuality that could currently be decriminalized in Scotland, England or Wales is the requirement for both of the participants to be at least 16, or at a minimum over 12. Or put more simply, the reduction of the age of consent.
(It offers no alternative definition of the word to the widely-agreed ones already in existence saying it starts at 10.)
And as Stonewall Scotland are (through ILGA) signatories to that declaration, then there is simply no interpretation possible other than that they're calling for a reduction in the age of consent. If they didn't MEAN to do that, they need to withdraw their membership of ILGA, or get ILGA to withdraw its signature from the Declaration, or immediately have the document rewritten to remove that sentence. Because that is unambiguously and unequivocally what it demands.
But notably, they haven't done that. They've just angrily asserted that it doesn't say what it says. That isn't a denial of the material facts, it's a denial of language and a denial of the entire concept of reality.
He returned to the subject in 'What you find under rocks'. He concluded as follows, issuing an important disclaimer (purple highlight mine):
Paedophiles have a long and well-documented history of trying to infiltrate and hijack LGBT groups, and Scotland is no exception. Indeed, it has very disturbing recent history. Observing that fact does not amount to an accusation and it absolutely certainly does NOT imply any intrinsic link between homosexuality and paedophilia. Wings is not aware of any statistical predilection of homosexual people towards paedophilia compared to heterosexual people.
But anyone who reacts with outrage and evasion and deflection to a basic minimum of scrutiny and vigilance about the safeguarding of 10-year-olds (and especially if, as with ILGA and LGBT Youth Scotland, they've had previous and very severe problems with paedophile infiltration) is probably someone over whom there should be rather MORE scrutiny and vigilance, not less.
The prospect of a lower age of consent was also a topic among some Unionists. George Galloway of Scotland's fledgling All For Unity party is a married father of six. On April 11, he tweeted about the possibility of home schooling:
An article from 2020 in Scottish Review discusses Scotland's education curriculum in this regard. Bruce Scott's article, 'The crisis of consent in Scottish schools' is detailed and well worth reading. He made Freedom of Information requests of the Scottish government, which he said were not answered satisfactorily. With regard to faith groups and home schooling he says (emphases mine):
I also enquired what faith groups had been consulted as part of their working group/implementation group (e.g., Muslim, Jewish, Christian, Hindu, etc). So far, it seems that the wide variety of faith groups in Scotland have not been consulted on the Scottish Government's LGBT Inclusive Education proposals.
One thing I have gleamed from my inquiries is that contrary to some reports, the LGBT Inclusive Education in Scotland is not mandatory; parents are within their rights to withdraw their children if they wish. Further, all schools have to implement the LGBT Inclusive Education curriculum in consultation with parents of children at the school and tailor it to their needs. This is not common knowledge. But, and it is a big but, as the LGBT focus is going to be disseminated throughout all aspects of the curriculum, the only option for parents who object to this curriculum would be withdraw their child from the school completely; a fait accompli on the part of the Scottish Government. I predict they will come for those who decide to home school next.
A supporter of gay and lesbian rights also spoke out against a lower age of consent:
She is not wrong. This Twitter thread — which contains photos not to be shared with children or the vulnerable — explains how Scotland arrived where it is today. The gender issue started in 1974 in Edinburgh. Less than 20 years later, ILGA was an international NGO recognised by the United Nations and remains so today. Graham Linehan, creator of several hit sitcoms in the UK, wrote an article based on the Twitter thread: 'If you say so'. Linehan is also deeply concerned about protecting women's and children's rights.
In closing, The Scotsman reported that the speaker at the Alba Party Women's Conference came under fire for discussing the possibility of a lower age of consent (emphases mine):
Responding to a request for comment, an Alba spokesperson said the women's conference was a "great success" and defended Ms Lynch's statement.
They said: "The organisations referenced have both signed up to this demand, and both have received substantial amounts of Government funding. These are reputable organisations that make a positive impact on the lives of many in Scotland.
"If the organisations do not support what they have signed up to it is for them to say or provide clarification, it is not for women that attended our women's conference to defend concerns that women have raised based on fact."
The Alba Party manifesto makes a clear commitment to protecting women's rights (item 8):
One wonders if this situation will have an impact on Scottish voters next Thursday, May 6.
When it comes to women in leadership — the theme of International Women's Day 2021 (March 8) — Britain's Conservative Party is decades ahead of Labour.
Below are the first women to lead political parties in the United Kingdom.
Look at the lag time after Margaret Thatcher. Then look at Labour, which has never had a woman leader:
In 1992, 17 years after the Conservatives elected Margaret Thatcher as leader, the Greens voted for Jean Lambert.
In 2012, Leanne Wood became the leader of the Welsh Nationalists.
In 2014, Scotland's SNP elected Nicola Sturgeon to lead them. She is still the First Minister in that devolved nation.
In 2015, Northern Ireland's DUP followed with Arlene Foster.
In 2016, Diane James led UKIP briefly.
In 2019, Jo Swinson led the Liberal Democrats for a few months, until she lost her seat in Scotland in the December general election that year. Nicola Sturgeon was thrilled.
As for left-wing Labour? That day will have to wait.
Labour have no business telling Conservatives that they are behind the times. The Conservatives have had two women Prime Ministers. Labour's never even had a female party leader.
Ironically for Labour, International Women's Day has Socialist origins. The Communists adopted it later.
These days, nearly every nation observes this day. The UN decides the annual theme.
Thursday, December 12, 2019 was the day the Conservatives won their biggest victory since 1987, when Margaret Thatcher was Prime Minister.
By contrast, Labour suffered their worst drubbing since 1935.
Even though he was re-elected in London's Islington, Jeremy Corbyn will be resigning — at some point:
The leader of the Liberal Democrats, Jo Swinson, lost her seat in Scotland:
As such, she had to resign:
In Northern Ireland, the DUP's Nigel Dodds lost his seat to, of all parties, the polar opposite: Sinn Fein.
As for Nigel Farage's Brexit Party, they got 2.0% of the vote and no parliamentary seats. The man is a spent force now, and he should retire from political life.
So, on to Boris's big night out. He defeated his Labour opponent comfortably in the constituency of Uxbridge and South Ruislip in west London:
Contrary to what the leftist media predicted, he increased his majority over Labour:
He returned to central London to give a speech there:
He thanked everyone who voted Conservative as well as volunteers and candidates:
Nationwide, the Conservatives won some traditional Labour seats:
London, meanwhile, largely remained Labour, although Felicity Buchan managed to return Kensington to the Conservatives:
The biggest news was Conservative Mark Fletcher's defeat of Labour's Dennis 'Beast of Bolsover' Skinner. Even Margaret Thatcher couldn't do that:
Another huge Conservative win was Sedgefield, Tony Blair's former constituency:
Boris now has a comfortable majority not only to stave off calls for a second Brexit referendum but also to leave the EU early next year.
Whilst it is too early to wish everyone a happy Brexmas, yesterday might as well have been called Boris Day. Guido Fawkes has a montage of Boris's greatest video clips. Some of these go back to when he was Mayor of London. He admirably hosted the 2012 Olympics:
I wish Boris Johnson all the best as he continues his stay in No. 10 presiding over what he now calls The People's Government.
May his vision last summer of 'sunlit uplands' come true for all of us in Great Britain.
Life looked rosy for the Liberal Democrats at their party conference in September 2019.
Buoyed by her election as leader, Jo Swinson, a Scot, appeared on the Andrew Marr Show on September 15. The Daily Mail reported on the programme and the party's policies on Brexit:
The clear stance on Brexit was cemented when members at the Liberal Democrat conference in Bournemouth voted overwhelmingly to support a motion to revoke Article 50 it the party gains a majority in a general election.
The move would stop Brexit in its tracks without the need for a second referendum.
"The policy we are debating at conference today is very clear," Ms Swinson told the BBC's Andrew Marr Show.
"If the Liberal Democrats win a majority at the next election, if people put into government – as a majority government – the 'Stop Brexit' party, then stopping Brexit is exactly what people will get. Yes, we will revoke Article 50."
The East Dunbartonshire MP added: "We have argued that a specific Brexit deal should be put to a People's Vote to give clarity.
"We still argue for that. But if we end up at a general election then I think we need to be straightforward with people and give them an option for all this Brexit chaos to stop.
"I recognise not everyone agrees with the Lib Dems on this. (But) it is genuinely what we think is right for the country."
Is cancelling a referendum result 'liberal' or 'democratic'?
Some voters did not think it was:
Tweets began appearing about her voting record as an MP in David Cameron's and Nick Clegg's coalition government (2010-2015). Swinson voted with the Conservatives more often than the leading Conservative MPs of the day:
She went further than most.
However, those were but minor distractions that never hit the media. On September 19, the Daily Mail reported (emphases mine):
Jo Swinson's party jumped from 19 per cent to 23 per cent to leapfrog Jeremy Corbyn's bitterly divided outfit, according to the YouGov vote tracker. 
It came after the party used its annual conference at the weekend to vow to revoke Article 50 and keep the UK in the EU if it won a general election.
Meanwhile former prime minister Tony Blair said today that UK political parties should be worried about the Lib Dems as there is a 'great level of frustration' about the direction Labour and the Tories are taking.
Ms Swinson used the speech to lashed out at 'insular, closed and selfish' Brexiteers as she branded Brexit 'the fight of our lives for the heart and soul of Britain'.
This was the polling result published that day:
London's Evening Standard published an exclusive interview with Tony Blair that afternoon. The former Prime Minister told the interviewer 'you're making me feel under-dressed' and gave his thoughts on the Lib Dems:
… the dangers to Labour if its leader blunders into "a Brexit election" have increased following Jo Swinson's first conference as Liberal Democrat leader this week. Her promise of a "very, very clear revoke" could be "attractive" and he thought a "resurgent" centre party could squeeze Labour.
On September 30, Twitter activists had researched Swinson's husband, who works for a pro-EU organisation called Transparency International:
On October 9, Swinson went to Brussels to meet with EU politicians, including Guy Verhofstadt, who has travelled to England to participate in a few Lib Dem events, including their 2019 party conference:
Here is a bit more about Swinson's visit. Lib Dem MP Tom Brake is in the far left photo:
She also met our EU negotiator Michel Barnier that day. He negotiates with the government, not opposition MPs. She has some brass neck, but, then, again, she wasn't the only one bending the ears of EU officials:
On Wednesday, October 30, Swinson appeared on the BBC, where veteran journalist Andrew Neil gave her a grilling for insisting she could become Britain's next Prime Minister. I watched it. It was a breathtaking half hour. The Express reported the principal soundbite around which the rest of the interview revolved:
Speaking on BBC Two's the Andrew Neil Show, Ms Swinson said: "I'm standing as a candidate to be Prime Minister, Andrew."
He interjected: "No one stands as a candidate to be Prime Minister. You're standing as a candidate in East Dunbarton."
Ms Swinson continued: "I'm standing as the leader of the Liberal Democrats.
"You're right, we have a parliamentary democracy system and the leader of the party who secures the most or majority of MPs becomes Prime Minister."
Oh, my!
She dug herself in deeply during that half hour:
Only two weeks later — one week into the general election campaign — Swinson's delusions of becoming PM were dashed:
Her approval ratings haven't budged since.
At the party's manifesto launch on November 20, Swinson pledged to save Britain's children from a 'boiling planet'. You cannot make this stuff up:
Some found her rhetoric unconvincing:
Two days later, Home Secretary Priti Patel took strong exception to Swinson's illiberal and undemocratic approach to Brexit, based on what she had said on the BBC's Question Time:
Swinson had said on more than one occasion, the first time in an ITV interview, that she would revoke Article 50 on Day 1 of her premiership, because that is within the remit of the Prime Minister.
The BBC's Andrew Marr decided not to ask her about that statement. The Mail on Sunday's Dan Hodges, Glenda Jackson's son, wanted to be sure:
That day, Hodges had written a columm for the Mail on Sunday about how Swinson was 'killing the Liberal Democrats', particularly in the south west, where they always do well:
True. And the slogan on the Lib Dem leaflets is:
STOP BREXIT
in large upper-case letters.
Negative slogans are nearly always the least persuasive.
She began turning off voters in earnest:
Many men have said, rather politely, that Swinson would do well to wear, as one put it, 'more business-like attire'. Where do one's eyes go when looking at her? We would like to look more at her face without the other obvious distraction, which women have noticed, too. A Chanel-style jacket would certainly help.
She also made a huge mis-step by putting a huge photo of her face on the side of the Lib Dem battle bus:
Then Andrew Neil chimed in. Oh, boy, did Neil nail it:
On Wednesday, December 4, she made a second appearance on Andrew Neil's show. She seemed more realistic but, by now, it no longer matters for her or for the Lib Dems. They have sunk like a stone:
She'll be lucky if they pick up one more MP.
Neil quizzed her on her past voting record, which she now admits was a mistake. He then asked if we couldn't trust her to make good judgements in the past, how could we do so now? Fair point, well made:
ITV's political editor Robert Peston sounded the death knell for the Lib Dems on December 5:
This is the latest polling. Lib Dems are down three points:
Of course, all of us pontificating on and projecting their result next week could be wrong, but, somehow, I doubt it.
Lib Dems: same as they ever were, Jo or no Jo.
On Tuesday, November 19, 2019, ITV showed the first debate of the election campaign.
Supporters of smaller political parties criticised ITV for inviting only Prime Minister Boris Johnson and Labour's Jeremy Corbyn, but, in reality, only one of the two will be Britain's next PM:
At that point, a week before Remembrance Day (hence the poppies), the Liberal Democrats' Jo Swinson was confident she had a real chance at becoming PM:
Although Conservatives believed Boris should have been harder hitting on Labour policies, he probably pulled back because a) this was early in the campaign and b) he wanted to help convince undecided or low-information voters that Conservatives have the better policies.
Afterwards, ITV News reported on the highlights (emphases mine):
In the opening exchanges, the prime minister warned the UK faced more "dither and delay" under a Labour government.
He said a vote for the Conservatives would be a vote to finally "get Brexit done".
"If you vote for us, we have a deal that is ready to go. Approved by every one of the 635 Conservatives candidates standing at this election," he said.
"As soon as we can get that deal through Parliament, as we can in the next few weeks, we can get on with the people's priorities."
But Mr Corbyn retorted that he could not deliver on what he was promising.
"That idea that the Prime Minister Boris Johnson' deal can be dealt with and finished by the end of January is such nonsense," he said.
"What he is proposing is a trade deal which will take at least seven years to negotiate whilst at the same time saying he will negotiate a special trade deal with the European Union.
"The two things are actually incompatible."
Also:
Mr Corbyn's shifted focus onto the NHS, claiming the service would be part of trade negotiations with the US.
Mr Corbyn accused the prime minister of conducting "secret meetings" with the US about the NHS and a future trade deal.
The Labour leader said: "What we know of what Mr Johnson has done is a series of secret meetings with the United States in which they were proposing to open up our NHS markets as they call them to American companies."
To this claim, Mr Johnson replied: "I'm amazed how often this comes up."
Mr Johnson insisted: "This is an absolute invention, it is completely untrue, there are no circumstances whatever that this Government or any Conservative Government would put the NHS on the table in any trade negotiations."
That was the week after Prince Andrew's disastrous interview on the BBC, which had aired the previous Saturday evening. Moderator Julie Etchingham asked the two leaders about the monarchy. I have highlighted what the PM said, because it has been often misquoted since:
Asked if the monarchy is fit for purpose, Mr Corbyn simply replied: "It needs a bit of improvement."
Mr Johnson answered: "The institution of the monarchy is beyond reproach,"
Ms Etchingham then asked if Prince Andrew is fit for purpose.
Mr Corbyn highlighted how sympathies should be with Jeffrey Epstein's victims, which Mr Johnson echoed.
Boris never said the monarchy was beyond reproach, meaning individual royals. He remarked on the institution itself.
Corbyn, who has been repeatedly accused of downplaying anti-Semitism in his party, which, oddly, has been rampant since he took over as leader in 2016, brought up Jeffrey Epstein. As everyone following the scandal knows, his surname is pronounced 'Ep-steen', but Corbyn deliberately pronounced it 'Ep-shtein', putting real emphasis on it.
The former editor-in-chief of The Independent, Simon Kelner, wrote an editorial about it for the i paper, 'Conscious or not, Jeremy Corbyn's mispronunciation of Jeffrey Epstein's name matters to British Jews'. Too right it does:
The question, which we can be sure will never be answered, is this: did Corbyn do it, consciously or unconsciously (they're both as bad as each other, by the way), to make Epstein sound just a little more sinister and foreign and, relevantly in the context, more Jewish? It's hard to come up with an answer that doesn't make the Labour leader appear either malevolent or incompetent. Given the wall-to-wall media coverage devoted to the scandal over recent days, it stretches credulity to suggest that Corbyn hadn't heard Epstein's name pronounced correctly multiple times.
… it was a very emphatic delivery – is something else entirely, and Corbyn had to go out of his way to summon up the mittel-European pronunciation …
I am more of a pedant than I am an anti-Semite hunter, but my synapses were twitching on both counts. I have a high threshold for anti-Semitism, and I have never thought that there was a prima facie case against Corbyn in this respect. In fact, I share some of his views on the politics of the Middle East. But this definitely pulled me up short. Having just watched his epically short-tempered interview with Krishnan Guru-Murthy on Channel 4, which was filmed in 2015 but went viral this week, it made me wonder whether Corbyn might just be, to borrow [the BBC's] Eddie Mair's epithet about Boris Johnson, a nasty piece of work.
While the mispronunciation of Epstein's name may not be viewed by the majority of viewers as overtly anti-Semitic, it definitely had a nasty edge. No one is offended on Epstein's behalf (that would be ludicrous), but if I found it offensive, many, many other Jewish people would have found it more so …
Whether I am reading too much into a slip of the tongue is open for debate. But what is not in question is that Jeremy Corbyn should be doing all he can to persuade Jewish voters that, on anti-Semitism, he doesn't just talk the talk. And what he did here was, apart from anything else, very bad politics.
More on this follows below.
Members of the audience were allowed to ask questions:
The debate ended with a hypothetical question from an audience member about what Christmas presents the two leaders would give each other:
Before their closing remarks, the prime ministerial hopefuls were asked what Christmas presents they would buy for each other.
Mr Corbyn said: "I know Mr Johnson likes a good read, so what I would probably leave under the tree for him would be A Christmas Carol by Charles Dickens and he could then understand how nasty Scrooge was."
Responding, Mr Johnson said: "I would probably leave a copy – since you want a literary reference – a copy of my brilliant Brexit deal."
Pressed by host Ms Etchingham to give a non-political answer, Mr Johnson said: "Mr Corbyn shares my love of plants and trees. I think maybe some damson jam," to which Mr Corbyn said: "I love damson jam."
At that point, Boris walked over to Corbyn and invited him to shake hands. It was a spontaneous moment, and it's a pity that ITV did not report on it. Viewers could see Corbyn backing away from Boris with his outstretched hand. After seconds of hesitation, he extended his own for a limp handshake. Boris's was much heartier.
What did the general public think? Interestingly, the result was similar to that for the Brexit referendum, which was 52% to 48%:
Leaders of the two main parties take part in debates like tonight's, in part, to try to win over undecided voters.
A YouGov snap poll suggested 51% of Britons believed Mr Johnson won the debate compared to 49% for Mr Corbyn.
Those who answered "don't know" were removed from the result, with YouGov adding the figures are so close as to be within the margin of error.
ITV's political editor Robert Peston told news presenter Alastair Stewart that Jeremy Corbyn needed this debate to present a positive game-changer for Labour, who were trailing in the polls then and continue to do so now. Peston said that it was a draw. People who want Brexit done will vote for Boris. People who are worried about the NHS will vote for Corbyn:
Tom Harwood, who works for Guido Fawkes, said that Labour missed a trick with their claim that the Conservatives would 'sell the NHS' to President Trump:
Interestingly, our EU negotiator for Brexit, Michel Barnier, noticed another of Harwood's tweets — and 'liked' it:
Dear me. Whatever next?
Well, the Labour-supporting newspaper, The Mirror, did not exactly go overboard in favour of Corbyn's performance. Then, again, Prince Andrew was still making the headlines:
At the weekend, the polls remained static. More than one person thought this was because of the anti-Semitism in the Labour Party. They are the only other political party other than the extreme British National Party to be investigated for it. Shameful:
One week later — Tuesday, November 26 — Corbyn appeared on the BBC for an evening interview with veteran broadcaster Andrew Neil. He looked tired, 'low energy' (to borrow a Trumpism) and cranky. Neil took him to town on anti-Semitism, forcing him to admit nearly everyone in Britain would be poorer under Labour as well as false claims about the Conservatives wanting to sell the NHS to Trump:
It was generally agreed that, only days after Prince Andrew managed to give one of the all-time worst interviews on television, Corbyn managed to rival him:
This is how bad it was:
These were some of the newspaper headlines on Wednesday:
Andrew Neil began by asking Corbyn if he thought a particular statement about 'Rothschild Zionists' was anti-Semitic. Corbyn refused to say, until after the fourth time Neil repeated it:
Guido Fawkes said (emphasis in the original):
Jeremy Corbyn had to be asked four times before admitting 'Rothchild Zionists run Israel and world governments' is an anti-Semitic trope. This'll undoubtedly put the minds of 80% of British Jews to rest…
Corbyn offered no apology for the anti-Semitism in sections of the Labour Party. This video is subtitled:
Andrew Neil grilled Corbyn on taxing everyone more, not just the wealthy:
Neil exposed the fact that Labour's costings make no sense. Where's the money coming from? The reply is not an actual Corbyn quote, by the way:
Labour supporters accused Neil of interrupting Corbyn, but:
The Sun has an excellent summary of the interview:
The next morning, ITV's Piers Morgan picked up Corbyn's daft comment on ISIS:
The interview got very good ratings:
With regard to the NHS, Neil scored points there, too.
Even Barry Gardiner, the erudite, effete veteran Labour MP — technically a Labour candidate, now that we are approaching the election — couldn't defend his leader to Andrew Neil with regard to his questionable statements about the Conservatives wanting to sell the NHS to the United States. This interview took place 24 hours later:
Guido Fawkes commented:
The second excruciating Andrew Neil interview Labour has had to go through took place last night, when Shadow Trade Secretary Barry Gardiner was shown up over Jeremy Corbyn's blatant fibs to the electorate. Labour are banking on people not being bothered to read the 451 pages they produced. Unfortunately for them, Guido has…
With this and snapping at a journalist for mentioning anti-Semitism, Gardiner has not been having a good media round…
Those interested can follow Guido's link in his first paragraph to see the documents in question.
Jeremy Corbyn is talking a lot of nonsense not only on the NHS but everything else his party proposes.
One thing is for certain: so far, he has been a gift to the Conservatives.
On Friday, November 22, 2019, a special two-hour Question Time was broadcast.
Fiona Bruce, the show's host, moderated a discussion involving questions from a live audience put forward to the four main party leaders in half-hour segments.
The programme began with Jeremy Corbyn. Nicola Sturgeon of the SNP followed. The last two were Jo Swinson of the Liberal Democrats and Boris Johnson of the Conservative Party.
It was really sad to see that Boris Johnson's Conservatives are the only political party running on a pro-Brexit platform. Labour favour a watery Brexit with a second referendum. Jo Swinson said in a previous interview on ITV last week that in the (unlikely) event she became Prime Minister, she would revoke Article 50 all by herself on the first day. The SNP are all about Scottish independence and only the Scots can vote for them. They, too, oppose Brexit and would appeal to the EU to allow Scotland to join as a separate nation.
Who won?
On Saturday, November 23, The Express reported on a poll it conducted among readers. Not surprisingly, most participants thought that Boris won (emphases mine):
A total of 50 percent of people believed the Conservative leader stole the show, with less than a quarter of readers (23 percent) convinced Jeremy Corbyn won.
Of the 22,368 people who voted in the poll, 11,307 believed Boris Johnson won – versus just 4,816 people. who voted for Mr Corbyn.
Of the four candidates, Jo Swinson seemed the least popular, with just eight percent – 1,776 people – believing she won the debate.
In fact, more people said they didn't know who won – with this option being chosen by 1,924 people.
Coming third was Nicola Sturgeon, who teased a "less formal" arrangement with Labour to stop Brexit and end austerity, with 2,545 votes for the SNP leader.
One commenter, 'fitz', said the Prime Minister managed to "scrape through" after a tough start.
They said: "Boris had a tough job, but he scraped through ok at the end.
"I do not have any doubts that he will win the election with a modest majority of MPs who will support him."
I hope that proves to be the case.
Nicola Sturgeon
Nearly all the leaders received tough questions from the audience. Nicola Sturgeon seemed to receive fewer:
I was hoping someone would ask her more about Scotland being financially self-sufficient post-independence without English money provided through what is called the Barnett Formula and what plans she would have for a Scottish currency. The SNP believe they can continue to use the British pound!
But I digress.
Sturgeon was adamant that Scots alone could decide the fate of the Union, which has existed since 1707:
Sturgeon relaxed with a book on the way back to Scotland:
Jo Swinson
Jo Swinson got a verbal blast from a Brexit supporter. The Express reported on the exchange:
Catherine, the audience member, asked: "Is revoking Article 50 confirming to 17.4 million people that you think we're stupid and don't know what we voted for?"
The Lib Dem leader said: "You cannot accuse us of not being upfront about wanting to stop Brexit. We have been crystal clear about that from the very beginning.
"Not for one second do I think that means you or anyone like you is stupid. I think it means we disagree.
"I really want us to be in a situation in this country where we can disagree with each other, Catherine."
Ms Swinson continued: "That means that you want to leave, and I don't think that makes you a bad person.
"I want to remain in the EU and I hope you think that doens't make me a bad one."
The audience member shot back: "You can disagree with me but you lost.
"You don't get to keep disagreeing with me."
Well said, Catherine.
On Saturday morning, Chuka Umunna, former Labour MP, now a Lib Dem parliamentary candidate, was asked on a BBC radio programme about Swinson's Question Time performance and the Lib Dem's anti-Brexit policy. The Express reports:
Mr Umunna, who standing in the cities of London and Westminster constituency on December 12, insisted the Liberal Democrat position to revoke Article 50 was not a mistake, despite Ms Swinson facing a tough grilling by furious audience members on the special leaders debate last night. The Labour-turned-ChangeUK-turned-Lib Dem politician told BBC Radio 4's Today Programme: "No, there's been no mistake made on this policy."
Mr Umunna added: "It's absolutely clear – you can't save the NHS and address the issues in it at the same time as not seeking to stop Brexit, not least because 10 percent of our doctors come from the EU, and 7 percent of our nurses come from the EU."
What no one from any party has addressed is WHY we have so few British doctors and nurses these days. I do not have an answer myself.
Anyway, The Express article related another audience member's blast at Swinson on the Question Time special:
Ms Swinson faced yet another awkward encounter when another audience member branded the plan to stop Brexit "undemocratic".
An audience member said: "You are not saying we will go back to the people, you are unilaterally saying 'Revoke it.'
"It's undemocratic from somebody who wishes the last three and a half years had never happened."
A startled Ms Swinson responded by saying the Liberal Democrats had campaigned for a so-called people's vote for the past three years without getting the support in the House of Commons.
Swinson also received a grilling about her voting record when she was an MP in the Conservative-Lib Dem coalition government from 2010-2015. Swinson voted 'Aye' to more Conservative policies than Conservative MPs did during those years:
The woman asking that question was no ordinary member of the general public. To some viewers, her face seemed very familiar. They were not wrong. The woman is an actress:
That did not go down well with some viewers, and, in my humble opinion, rightly so:
Returning to Jo Swinson, the questions did no favours for the Lib Dems:
Jeremy Corbyn
Right at the outset, Jeremy Corbyn received a verbal smackdown from a long haired, bearded man:
Then, one of Corbyn's supporters chimed in:
Corbyn's position on Brexit has been rather nebulous, so, someone asked him about it:
This is what Corbyn said:
Boris Johnson
Boris confirmed to Fiona Bruce and the audience that he had been watching the programme backstage.
The Left have been hammering at Boris for an alleged lack of integrity. Yet, I cannot think of a single politician who has told the truth 100% of the time. Anyway:
As in the United States with the 2016 election, the Left are alleging that Russia interfered in the Brexit referendum campaign. Before Parliament was dissolved, Boris declined to release an official report about it, saying that, customarily, the Prime Minister reviewed such documents over a matter of weeks rather than days:
Someone brought up former Conservative MP, Dominic Grieve, a muckraking Remainer:
Boris got many more difficult questions.
He handled them well. Here he is on education:
And on Brexit:
Many of the questions and remarks were not fair, because he was not a sitting MP for most of the time the Conservatives have been in government. He was Mayor of London during several of those years, a fact that he put forward to the audience. He also said that he has been Prime Minister for only 120 days!
Overall, he managed a conversational tone with everyone, no matter how obnoxious they were:
Nearly everyone is upset over the blatant bias that Fiona Bruce and Mentorn Productions show on Question Time. Therefore, people overall — outside of Leftist activists — empathised with Boris, such as this journalist:
Boris also got a boost from this viewer:
And these:
The Prime Minister was gracious afterwards:
Conclusion
Outside of the usual bias, the Question Time Leaders Special was good, because it is probably be the only time in this election campaign when party leaders will take questions from a live audience.
For those who would like to read more about the programme as it happened, see the Daily Mail (here and here) as well as The Guardian.
The 2019 Conservative Party conference began on Sunday, September 29.
As has been the case for the past few years, it is taking place in Manchester.
Guido Fawkes has the perfect caption:
I reported on Friday that MPs voted NOT to adjourn during these three days, despite the fact that the House of Commons did not meet for the Liberal Democrat and the Labour Party conferences. A great many Leavers fear that mischief could be afoot during the Conservatives' absence.
The Mail on Sunday reported that No. 10 Downing Street is investigating possible 'foreign collusion' on the part of Remainer MPs. It was the paper's front page story (click here and here for easier reading, as well as the website link to the article):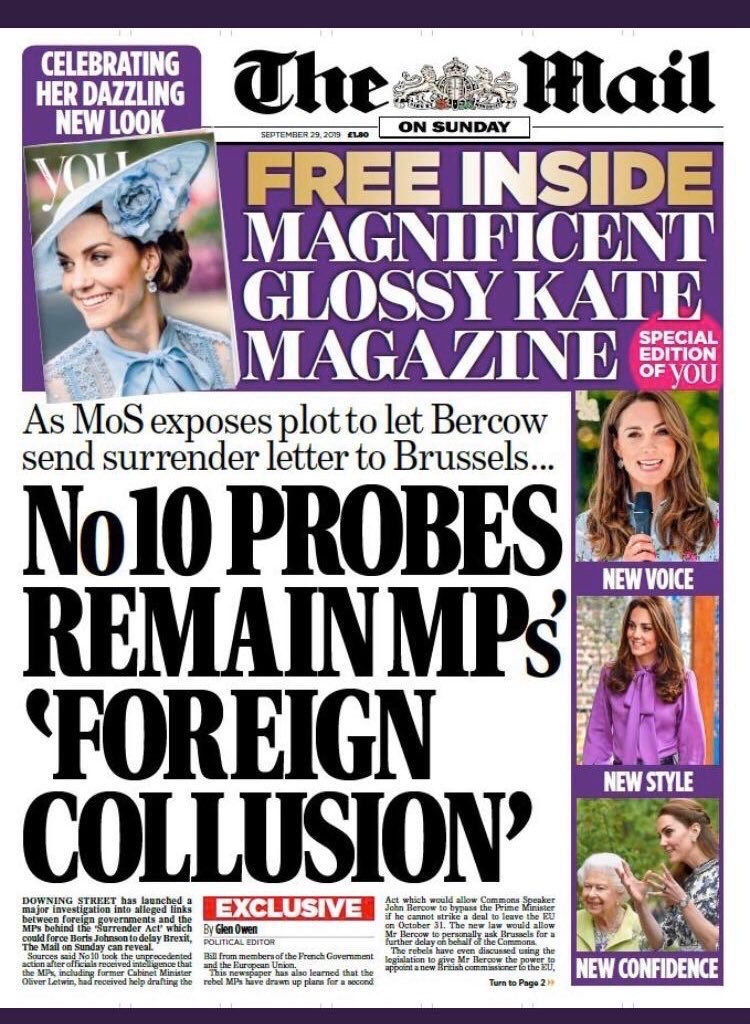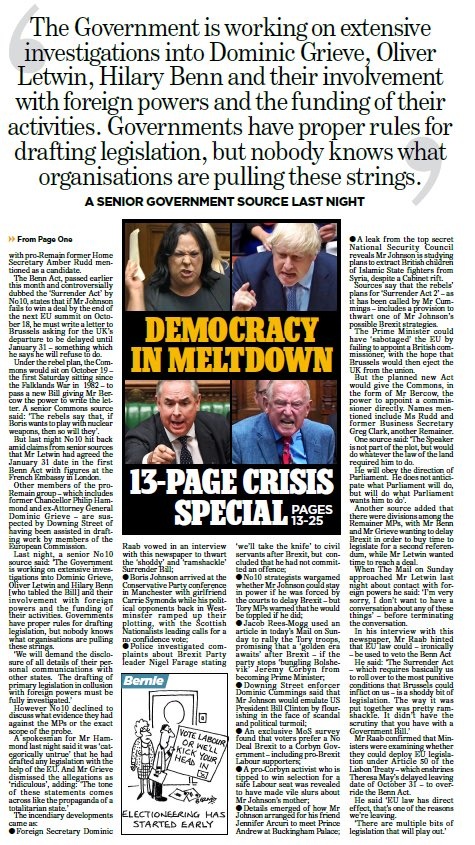 I am not sure whether anything quite like this has ever happened on this scale in Britain. It certainly hasn't in modern history, meaning the last century, at least.
If true, this is serious stuff, especially if Speaker of the House John Bercow can get involved acting as the Prime Minister. What the heck?
I did not know this about sedition. If true, sedition is not a crime anymore in the UK. Good grief. How can that be?
Note that we are talking about turncoat Conservatives here, those who have had the party whip withdrawn and are now classified as Independent MPs.
David Gauke is now an Independent MP. I agree that these are serious accusations, but he appears to be digging a hole for himself:
Hmm, with all the complaints from last week, which ran into the weekend, about Boris Johnson's language, one wonders:
As if that isn't bad enough, Labour's Jeremy Corbyn convened a meeting with the Liberal Democrats' Jo Swinson on Monday to put forward a VONC — Vote of No Confidence — against Boris Johnson. Nicola Sturgeon, the leader of the Scottish National Party (SNP), is herself not an MP but has MPs representing the party in the House of Commons. Talks are continuing:
And, the Labour vote for 16-year-olds could be scheduled during the Conservatives' absence. It is doubtful that Speaker Bercow would stop it. This is the Shadow (Labour's) Education Secretary Angela Rayner. She was on Andrew Marr's BBC show on Sunday:
As for Speaker Bercow, Guy Verhofstadt really likes him:
Bercow might be standing down at the end of October, but he can wreak a lot of havoc before then.
The other big question at the weekend was whether Boris would feel compelled to resign. The media were full of scaremongering stories. I hope this is true:
The flowchart below looks accurate:
A majority of the British public backs Boris.
Lord Ashcroft conducted a poll on Brexit for the Mail on Sunday:
My latest research, published today, looks at the fundamentals: how voters have reacted to the drama not just of the past few weeks but the years since the EU referendum, and how this week's events fit into the longer story.
For many people, and not just among those who backed Leave in the increasingly distant 2016 referendum, that story is one of frustration and failure – or, worse, deliberate actions to delay Brexit for as long as possible or stop it altogether.
Here is a key graphic from the poll: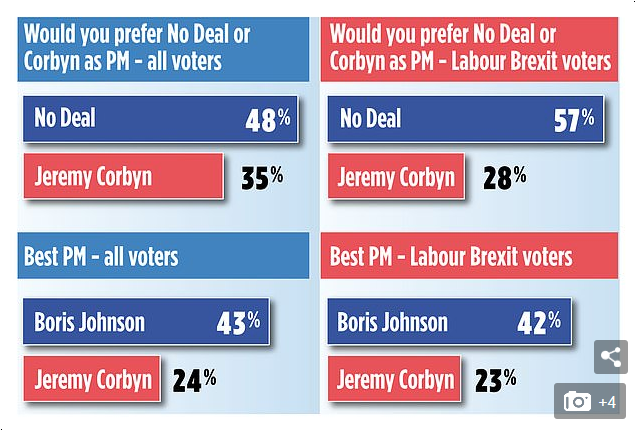 It is hard to know what to make of it all.
One thing is for sure. Even though opposition MPs are whining about the absence of democracy, their masks have slipped.
We now know they do not care one jot for 17.4m Britons who voted to Leave in 2016 — and won: 52% to 48%.
More on the latest Brexit and Boris developments to follow tomorrow.