You are currently browsing the tag archive for the 'jobless' tag.
In the UK, the annual budget statement is the Parliamentary event of the year for the British public.
This year, it took place on Wednesday, March 3:
In the old days, many people bought a newspaper the following day for the details on taxes.
Now everything is online and many more people are tuning in to one of the two Parliamentary channels to watch proceedings.
Why is this so important? As Chancellor of the Exchequer Rishi Sunak says, this involves taxpayers' money. It's not the government's, it's ours:
This year, he held the first-ever press conference on the budget:
Here is a bit of history on the UK budget:
In modern times, the Chancellor displays his ministerial red box for an obligatory photo op before going to Parliament:
Despite what the Opposition said on Wednesday, Rishi Sunak put in a lot of work, including television interviews:
He held an online meeting with those most affected by the coronavirus lockdown and the loss of income:
No one could have imagined that when he gave his first budget, on March 11, 2020, one that was full of optimism and big plans, how things would change within one year:
By the way, the projected coronavirus spending for this year should fall dramatically compared with 2020:
On the day the Chancellor lays out the budget, the Chairman of the Ways and Means committee presides, rather than the Speaker of the House.
Since last year's budget, Dame Eleanor Laing, also a Deputy Speaker of the House, was appointed to head this committee:
In the next video, the delightful Dame Eleanor explains what the budget is and how it is debated in Parliament after the Chancellor presents it:
Coronavirus has brought its own challenges. Normally, every MP packs into the Commons for the budget. This year, socially distancing was enforced. Most MPs participated in the initial debate virtually:
Here she is with her team. Masks are obligatory on the Parliamentary estate these days:
This is the video of the coverage as it happened. Click to watch it:
Below are the highlights.
Much of it concerns economic recovery from the pandemic:
Most taxes are frozen for now as well as personal tax thresholds:
There will also be a new taskforce to help prevent fraud in coronavirus claims:
These are designed to fit around Prime Minister Boris Johnson's roadmap to exit the coronavirus crisis:
There will be help for small-to-medium businesses:
And help for technology businesses:
There is a new visa programme to attract the brightest and best talent:
I do hope that our education system is improved so that we do not need to keep looking abroad for talent. Only 30 years ago, Britain's schools were among the best in the world. How times have changed.
You can get more detail about the budget from The Telegraph. One thing to note is that the inheritance tax threshold has not changed since 2009. It is still £325,000 per person.
Finally, in an exciting post-EU development, the Chancellor announced eight new Freeports, where favourable customs rules and tax reliefs will apply, furthering trade with other nations:
Teesside will also be the new 'campus' for the UK's treasury, just up the road from the Chancellor:
The hospitality industry, which has been closed since December — and longer in some places with regional lockdowns — welcomed the budget measures:
The director-general of the Confederation of British Industry (CBI) was also satisfied:
I am cautiously optimistic, but I felt so much happier with the 2020 budget, when we were on top of the world.
For Labour and the SNP, the spending didn't go far enough. However, as Margaret Thatcher, Britain's first female Prime Minister and a Conservative, said in 1983: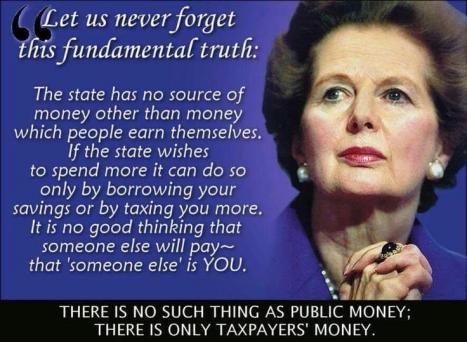 Rishi Sunak is attempting to navigate Britain's worst financial crisis since the early 1700s.
Let's hope his plan works.
In case anyone missed them, here are Parts 1, 2, 3 and 4 of this series about the British public's suspicion over the continuing coronavirus lockdown.
The June protests vexed Britons who were trying to do the right thing: staying at home and social distancing when outdoors.
All of a sudden, that flew out the window. Protesters had pride of place, yet, the rest of us still had to obey the social distancing guidelines.
That rankled, especially as we had been told we were selfish because we wanted to hug our loved ones who didn't live with us. Think of grandparents and grandchildren.
What about people who just needed to get outdoors in the fresh air by themselves?
What about children who longed to see their friends? This former barrister and co-editor of Conservative Woman nails it:
And what about the people who freaked out over a very limited reopening of schools on Monday, June 1?
What about the average law-abiding person?
Yes, those people are 'the problem'. We are made to feel guilty through no fault of our own.
The frustrating hypocrisy of it all:
Then we had Piers Morgan taking issue with Boris's top adviser for trying to care for his little boy and with Labour MP Barry Gardiner for attending the demonstrations. Yet, Piers applauded his own son for taking part in the protests:
But I digress.
There was no social distancing during the protests. In fact, some police officers in London were assaulted.
However, even though Health Secretary Matt Hancock advised that the rules be kept in place over the weekend of June 6 and 7:
… the lack of social distancing was acceptable:
It was for a cause.
Health 'experts' said so — 1,200 of them, in fact:
Tucker Carlson had an excellent editorial on this on Friday, June 5. Anyone complaining about social distancing and protests is 'the problem', not the protesters and rioters. Well worth a watch. You could not make this up:
But what about the people told to leave London parks because they were sunbathing by themselves? What about Piers Corbyn who was arrested twice for advocating against lockdown? Where were the Metropolitan Police during the protests? On hand, but either taking a knee or standing by doing nothing:
Boris didn't do anything, either. We have a Home Secretary. He could have got in touch with her.
This is what he issued on Saturday, June 6, the day of yet another protest in London over an American who died on home soil in Minneapolis, Minnesota:
'The evils of fascism'. Don't make me laugh, Prime Minister.
Things were no better in Northern Ireland …
… or Scotland, where thousands were expected to attend a protest on Glasgow Green:
The Labour leader, Sir Keir Starmer, was a bit slow on the riots. Didn't he know that American cities were being destroyed and shops across the country looted? President Trump never stopped peaceful assembly:
Anyway, there is some good news in all of this. More people in the public eye have noticed that continuing lockdown in the UK is a bad idea:
Unfortunately, a number of 'senior figures' from the NHS do not see it that way, primarily because of the close proximity of protesters in early June. That is not the fault of the British public and is likely to make them even angrier. They were not among the protesters. They are eager to get back to work.
In fact, said 'senior figures' will probably make the British public all the more suspicious about the protests. Were they timed to prevent lifting of lockdown? We'll never know.
In any event, this concludes this series with a few key points to keep in mind:
It's going to be a long, hot, tense summer here in the UK.
See Parts 1 and 2 of this series before reading more about Britain's silent majority who are angry about lockdown.
At present, here we are, unable to shop, get our hair cut and must still practice two-metre social distancing. Masks are optional except on public transport:
Whether we are old or young, we are treated like dirt:
And what if this coronavirus were dirt, rather than a virus?
If that is true — and I'm not saying it is — what then?
It couldn't be, could it? After all, the First Minister of Northern Ireland, the DUP's Arlene Foster, has briefed the Queen on COVID-19:
But what about all the deaths in care homes and the lives lost?
What about people's businesses going to ground?
Thank goodness for the government's generous furlough, but …
And what about travel?
This is going to be dire:
No more on board delicious dining for you:
What if you cannot reasonably travel with a face covering?
What about everything else in life?
Who wants to live like that?
This is turning the apolitical into political activists:
Is this ever going to end?
If so, how?
Perhaps it is a giant reset.
After all, we are told this is (shudder) the 'new normal':
The 'new normal' could be green:
Didn't we all enjoy the bluer skies on those sunny May days? We could keep them. 'Fewer holidays for you', the government could say:
One does have to wonder about government advisors from the public sector:
These people do not encounter the everyday man or woman. They live in their own scientific, misanthropic bubble.
They do not care what happens to us. After all, they have a guaranteed salaries and gold-plated pensions.
To be continued next week.
Jamie Oliver presents himself as a man of the people, although he does come across as being holier than thou.
Yet, the reality is a bit different.
On May 21, 2019, he made headlines as his restaurant chain went into administration. One thousand jobs are at risk.
On May 22, the BBC reported that staff were less than pleased with the way his managers terminated their employment in Glasgow (emphases mine):
… staff at Jamie's were still hopeful that a turnaround was on the horizon.
"We knew it wasn't doing as well as we'd want it to be," says Lucy, who worked at the Glasgow branch for more than three years.
Staff, she says, were led to believe that a refit was around the corner, and that taps offering Brewdog beer would soon be installed.
Instead, they got a simple email.
"My partner was meant to be on shift this morning," says Lucy, who asked for her real name not to be used.
"He was told at the last minute not to come in as the locks were being changed.
"We were then invited to join a conference call and told we had all been made redundant, effective immediately."
Lucy and her partner, who worked at Jamie's for five years, say they feel there was a lack of transparency at the firm.
"I wish they hadn't said to us that it was fine, when it obviously wasn't," she says.
Oliver says his restaurants were 'effectively franchises', meaning that he was not involved with their day to day running. Even so, I am surprised he did not insist that the franchise holders show truth and compassion in informing employees of their situation.
In his documentaries, Oliver has been very critical of people and politicians who do not do right by the ordinary citizen. I thought he would practise what he preaches. Apparently not.
Oliver's restaurants are not the only British restaurant chain in trouble. Many others are.
I am amazed when I go into London and see shopfront after shopfront occupied by these chains. It isn't at all sustainable.
There was a time three years ago when we were at the top of the worldwide restaurant boom. No longer.
The aforementioned BBC article says:
Once seen as competitors to Jamie's, Italian chain Strada is down to just three branches, while Carluccio's has been forced to close approximately a third of its restaurants, after losing tens of millions of pounds.
Burger brand Byron, French cuisine chain Cafe Rouge, and pizza outlet Prezzo aren't faring much better.
Lucy says the writing is on the wall for restaurant chains:
The market for chain restaurants is dying – there are loads of places you can go in Glasgow that are cheaper.
That's great news, because I prefer eating at family-owned restaurants. London used to have a lot, but rising rates and leases put many out of business.
Family-owned establishments often try harder. Their lives depend on it.
Comments temporarily off
On Monday, March 6, 2017, Fox News host Tucker Carlson was one of the speakers who addressed the International Association of Fire Fighters at their annual legislative conference in Washington, DC.
Fox 10 Phoenix has the entire 34 minute video — recommended viewing:
For decades, average Americans have wondered why there is such a gulf between Washington and most of the United States.
Carlson explains the DC disconnect.
Starting with Trump's surprise win in 2016, Carlson said that the middle class was simply fed up with the DC elite ignoring their cries for help regarding immigration and trade.
He said that the DC elite are oblivious to average Americans. Washington DC has full employment and more people working as housekeepers than ever before. Conversation revolves around the theoretical, e.g. economic theory, rather than reality.
He explained that two things that people in DC love are immigration and free trade. Immigration is great because DC residents can get servants very cheaply. In some cases, he said, they are paid a child's allowance as a salary. DC residents then feel they are being virtuous towards the less fortunate.
However, what works for DC doesn't work for the rest of the nation. The middle class tried time and time again to point that out to the elite, who dismissed them as being racist and stupid.
The same scenario occurred with trade. The middle class are losing their jobs. The elite in DC do not care.
This broad swathe of dissatisfied Americans took to the ballot box in November 2016. They mounted a peaceful revolution by electing Donald Trump to the White House.
Carlson talked about the rabid hate of Trump in Washington, where 90%+ of voters plumped for Hillary Clinton. Carlson said that, out of three million government employees, only 50 actually like Trump. Whether that is numerically accurate is beside the point. Trump faces an uphill climb.
Furthermore, as much as Democrats loathe Trump, it's even more entrenched on the Republican side.
He said that Trump can come up with the most sensible policies — buying cheaper drugs from Canada — and politicians simply shut him out. They cannot hear what he is saying. I call that Trump Derangement Syndrome. The term was used about Bush and Obama's opponents in their time.
Carlson said that nothing in this world is 100% good. Immigration and market-driven trade are two of these things. They work well for the top one per cent but are disastrous for everyone else. He pointed to other examples of where people have noticed and vote accordingly: the UK, with Brexit, and France, with Marine LePen (doing well in the polls).
Carlson spoke about the disaster coming from mass unemployment, particularly among men. Unemployment, he said, drives men crazy. Men need to work in order to feel that they have value and purpose in life.
He said that the current immigration model — and this is true for other Western countries — is predicated on a large manufacturing base. Unfortunately, that manufacturing base no longer exists. Therefore, immigration policy must change accordingly to fit reality.
This also holds true with regard to war and trade. Trump opposes needless American intervention in other nation's affairs. Trump supports trade deals that will help, not hinder, America.
Carlson also warned about driverless vehicles. Once again, all of Washington waxes lyrical about how 'cool' these are. Yet, they will put 8 million people out of jobs overnight if they become reality on the nation's roads. Carlson pointed out that the most popular occupation among recent high school graduates is driving a truck.
If truck drivers — and taxi drivers — become obsolete, what are they going to do for work? Carlson correctly surmised that they won't be retraining to become computer programmers. He said that the Trump administration should ban them outright. I agree, in part. They should be banned for commercial use, at least.
He also talked about the Tea Party, which failed, in his estimation, because it lacked a leader. The Tea Party, he explained, was a way for conservative Republicans to express their dissatisfaction with the Republican Party, which clearly does not share their interests.
Then along came Donald Trump. Carlson found it interesting that Trump has never really issued a concise statement about what his movement or ideology stands for. Yet, he struck a chord with millions of Americans who felt he spoke for them.
I'll conclude with something that Carlson opened with. He said that Republicans and Democrats must really take in and understand what upsets Americans and why they voted for Trump. He said that serious soul searching must take place in the two main political parties. Unfortunately, he noted, that has not yet begun.
As for what Trump's ideology is with regard for America, I predict we will all be able to articulate it by 2020.
I nearly forgot to mention Carlson's opinion of the media: 'dumb', except for his colleagues at Fox. He told the fire fighters that he has worked for every cable news network and knows whereof he speaks. He said that no one with an ounce of intelligence goes into media. (That should tell us something about students in Media Studies.)
Carlson's speech was great. He spoke for 13 minutes then took three questions from the audience, for the next 20. He's much livelier giving a speech than he is in interviews on Tucker Carlson Tonight. And rightly so. This address shows a different side to his personality.
Regardless of whether one smokes tobacco, it is instructive to read of the effects smoking bans have on the leisure industry.
The Pub Curmudgeon has a tally of the numbers of pubs which have closed since July 1, 2007, the date England's smoking ban came into effect. As I write, the number of defunct pubs now totals 14,192.
Now there are those who do not go to pubs, however, when one thinks how one piece of legislation could cripple such an inherent part of English life and culture, it beggars belief. Think of all the jobs lost through this draconian law.
To be sure, there are other factors, and the Pub Curmudgeon explores these — such as drink drive laws as well as large pub companies' arrangements with their tenants — but, there is no question that the smoking ban is killing our pubs.
The Pub Curmudgeon says (emphases mine):
This is not a beer blog. It's a view of life from the saloon bar, not entirely about the saloon bar – which of course is a metaphorical place as well as a physical one. It is as much about political correctness and the erosion of lifestyle freedom as it is about pubs and beer. And, while I enjoy cask beer, I don't assume that it is the only alcoholic beverage worth consuming.
I'm a non-smoker, but not an antismoker. I believe the owners of private property should be entitled to choose whether or not smoking is permitted on their premises. If any supporter of pubs still thinks the smoking ban was a remotely good idea, just look around at all the pubs that have closed since 1 July 2007. The smoking ban is what prompted the creation of this blog back then and, while it touches on many other topics, it remains essentially its core theme. However, there remains much to be enjoyed and celebrated in pubs despite the effects of the ban.
I condemn drunken driving, but there is no evidence that driving after consuming a small quantity of alcohol is dangerous, and the campaign to discourage driving even within the British legal limit has been a major cause of the decline of the pub trade in recent years. Reducing the current legal limit – a proposal fortunately rejected by the Coalition government – would lead to the closure of thousands more pubs and would not necessarily save a single life. In my view, this is at least as much a threat to pubs as the smoking ban.
When Labour MPs discussed the smoking ban on news programmes, many cited how well local, then afterwards, statewide bans worked in California. Hmm. Not many Britons would compare our climate to California's.
However, the California comparison seems to have been used in the US as well. Yet, whereas it's relatively easy to spend time outdoors on a bar or restaurant terrace there for a smoke, the rest of the United States has a variable climate depending on where one lives. This makes the California comparison particularly disingenuous.
The Federal Reserve Bank of St Louis has a few articles on the impact of smoking bans by state or region, including their effect on casino revenue.
In 2009, the St Louis Fed noted that Illinois was the only state at that time which extended the smoking ban to casinos. 'No Ifs, Ands or Butts: Illinois Casinos Lost Revenue after Smoking Banned' states:
In the first year after the smoking ban took effect, revenue at Illinois casinos fell sharply from the previous year.4 As shown in the figure, the decline in revenue stands in sharp contrast both to the growth of recent years and to the performance of casinos in nearby states.
The Illinois Casino Gaming Association, they say, disputes that and says the economic downturn was responsible.
I'm not a huge casino fan, but I do have empathy for people who may have lost their jobs there during that time. Casinos have gift shops and restaurants, too. They also generate a lot of tax, some of which gets put back into schools and communities.
The Fed's chart shows that Illinois — in contrast to Indiana, Iowa and Missouri — experienced a huge drop in revenue in 2008:
Using our estimates of revenue losses and declining attendance at each of the casinos in Illinois, we find that the tax loss was more than $200 million in 2008. For the local communities, the total loss in tax revenue amounted to over $12 million.
The economic effects of the Smoke-Free Illinois Act—specifically with regard to casino revenue and government tax receipts—represent only part of the act's overall impact. In a full analysis, these costs need to be considered alongside other costs and benefits, including the public health benefits of the legislation. But as policymakers in Illinois and elsewhere ponder the implications of the Illinois smoking ban, the impact on revenue, attendance and taxes should not be ignored.
It's quite easy for people who live downstate to go to St Louis. Those in the Chicago area can spend an hour or less travelling to Indiana. Iowa is a stone's throw away for many in western Illinois.
However, back to the California comparison. Another St Louis Fed article from 2008, 'Clearing the Haze? New Evidence of the Economic Impact of Smoking Bans' tells us:
A previous article in The Regional Economist ("Peering Through the Haze," July 2005) described some early evidence on the economic impact of smoke-free laws and suggested that the findings were far from conclusive.1
As more communities have adopted smoke-free laws and more data have been gathered, economists have discovered new, significant findings. As an earlier article suggested, economic costs often focus on specific business categories—those that smokers tend to frequent.
They cite research saying that bar employment has gone down between 4 and 16 per cent. Restaurants have experienced less of a decline, however, it depends on where they are located and whether the majority of their clientele are smokers.
However, the real issue is climate:
Restaurants in warm climates fared better than those in cooler climates. The authors suggest that the reason for this might be that restaurants in warmer climates can more easily provide outdoor seating where smoking is not prohibited … Restaurants that suffered the dual curse of being in regions with colder climates and a high prevalence of smokers suffered statistically significant employment losses, on average.
California, therefore, cannot be used as a template for everywhere else in the Northern Hemisphere.
The article features an item about the effects of the smoking ban on restaurants in Columbia, Missouri. It says, in part:
Since January 2007, all bars and restaurants in Columbia, Mo., have been required to be smoke-free. Only some sections of outdoor patios are exempt from the requirement.
Some local businesses have continued to oppose the Columbia Clean Air Ordinance, circulating petitions to repeal the law by ballot initiative. According to local press reports, owners of at least four establishments have cited the smoking ban as a factor in their decision to close their doors in 2007.
Recent data from the city of Columbia show a distinct decline in sales tax receipts at bars and restaurants. After rising at an average rate of 6.8 percent from 2002 through 2006, tax revenue declined at an annual rate of 1.3 percent over the first seven months of 2007. (See graph.) Although the data are still preliminary, initial analysis suggests a 5 percent decline in overall sales revenue at Columbia dining establishments since the implementation of the smoking ban. This estimate takes into account past trends, seasonal fluctuations in the data and an overall slowdown in sales tax revenue in Columbia. 6
Of course, as is true everywhere else, the answer is outdoor patio space:
One owner was quoted as saying, "You have to have a patio to survive."7 The expenses associated with these renovations may help buffer the sales revenue of these establishments, but they also represent profit losses that are above and beyond the measured sales declines.
Two things are certainly true of smoking bans: they harm business and create unemployment.
In 2011, Jacob Sullum, who writes for the libertarian site Reason, explored the unofficial ban on hiring smokers in the United States.
It's peculiar that employers choose non-mind-altering nicotine as a target. Tobacco Control refer to smokers as helpless addicts who must be punished, first by ever-escalating taxes (75% to 80% of the price of a pack of 20 cigarettes) then by unemployment or protracted job searches.
Sullum notes the disconnect of Tobacco Control's arguments:
Anyone who has paid any attention to anti-smoking propaganda over the years could tell you that smokers are the enemy whenever it's convenient. They are portrayed as victims in product liability suits and pleas for limits on tobacco advertising but villains in campaigns for higher cigarette taxes and ever-more-comprehensive smoking bans. If anti-smoking activists truly believed that smokers are helpless nicotine slaves, why would they support policies that "punish an addiction" through punitive, regressive taxes and restrictions that make it increasingly difficult for these addicts to get their fix (for example, by banning separate smoking rooms in workplaces and smoking near the entrances of office buildings)?
As far as employing smokers is concerned, Sullum says it should be the employer's right to choose, although this would apply equally to non-smokers.
It is a mystery that, if this is such an overwhelming issue, why more employers just don't say at the outset that a smoker might have to contribute to his own company-provided health insurance above the premium the employer pays for a non-smoker. If Company XYZ pays $100 per non-smoker and a smoker's premium were $125, then, the employer could ask that the excess amount be deducted each month from the smoker's pay, take it or leave it.
As for the oft-mentioned 'smokers take more sick days', I have noticed over my working years that most people taking sick days had never touched tobacco in their lives. Smokers showed up nearly every day, many of them starting early. They also seemed to have much more energy throughout the day and applied greater concentration to the work at hand. In the days of smoking lounges, many smokers held work-based discussions or took a report to read.
Unlike non-smokers, my smoking colleagues weren't running off to the tea room every 20 minutes or sitting down to gossip with a colleague. How much do non-smokers lose a company in productive time?
Sullum's main complaint is where this prohibition of employment and 'public health' campaigns are taking Western society and government:
The real slippery slope threat comes not from increasingly nosy employers but from an increasingly intrusive government that considers promoting "public health" part of its mission and interprets that concept broadly enough to encompass everything people do that might increase their own risk of disease or injury. That totalitarian tendency is reinforced by the government's ever-expanding role in health care, which transforms a moralistic, pseudo-medical argument into a fiscal imperative by giving every taxpayer a stake in his neighbor's lifestyle. A smoker or fat guy turned away by one employer can always look for work elsewhere, but citizens subject to the state's coercive health-oriented interventions cannot easily pick a different government.
He has a point, although that still doesn't cover the basic problem, which is that smokers — no matter how clean they are or few cigarettes they have — face increasing discrimination in the workplace.
The most egregious aspect of hiring policy is the complete prohibition of tobacco for employees, not just at work but at home, too. Even worse, there have also been reports of non-smoking employees' spouses being targeted by a wife or husband's employer! One example is Weyco Inc., located in Michigan (emphases mine below):
Weyco Inc., now part of health-benefits manager Meritain Health, had not only a no-smoking policy that included mandatory tobacco testing of workers, but a no-smoking policy for spouses as well. No Michigan statute prohibits that kind of action, [attorney Lewis] Maltby says.
Talk about an employer owning family life. It's lifestyle slavery.
Ex-smokers on nicotine substitutes also face problems. In 2012, USA Today carried an article on the subject stating that even someone who wants to kick the habit might find getting a job difficult:
More job-seekers are facing an added requirement: no smoking — at work or anytime.
As bans on smoking sweep the USA, an increasing number of employers — primarily hospitals — are also imposing bans on smokers. They won't hire applicants whose urine tests positive for nicotine use, whether cigarettes, smokeless tobacco or even patches.
Such tobacco-free hiring policies, designed to promote health and reduce insurance premiums, took effect this month at the Baylor Health Care System in Texas and will apply at the Hollywood Casino in Toledo, Ohio, when it opens this year.
Fascism at work.
In a recent interview with the Australian Broadcasting Network, trends analyst and financial forecaster Gerald Celente said (emphases mine):
I would say, since I've been doing this work, over 30 years ago, I've never been more concerned than I am right now.
According to Dominique de Kevelioc de Bailleul of Beacon Equity, who summarises the interview:
Twenty-two months of hysteria of an impending European financial collapse, starting with Greece in March of 2010, will finally come to an end in 2012, according to the founder of Trends Research Institute, Gerald Celente.
Celente's latest forecast, 'The First Great War of the 21st Century—Prepare, Survive, Prevail', predicts more turmoil for the Middle East, North Africa and Europe.
And — things are set to become even worse in the United States, to be covered in a moment.
Meanwhile, Celente voices his concerns about Europe:
"If you live in Greece, you're in a depression; if you live in Spain, you're in a depression; if you live in Portugal or Ireland, you're in a depression," Celente said. "If you live in Lithuania, you're running to the bank to get your money out of the bank as the bank runs go on. It's a depression. Hungary, there's a depression, and much of Eastern Europe, Romania, Bulgaria. And there are a lot of depressions going on [already]."
Celente advises us not to expect China to come to the rescue (quite rightly):
… China will then likely slow its imports of materials from countries which have been supplying mined product during the commodities boom, leading to a vicious spiral of increased unemployment and declining economic activity—a scenario strongly intimated by Dow Theory Letters author Richard Russell in his latest letter to investors (excerpts posted on King World News). Russell, too, expects a steepening U.S. depression, with 25 percent unemployment in the America as his target at the bottom of the depression.
"This whole thing is connected," Celente explained. "China isn't going to have the money to throw around to losers anymore than loan shark would give a gambler who can't pay his old debts back and has a bad gambling habit another loan to gamble . . . They [Chinese] have their own problems to deal with."
As for the United States, Celente's home country:
The Panic of '08; you have the Great Recessions—Great Depressions going on. Oh, by the way, real estate prices in the United States, they're at a steeper decline than they were during the Great Depression. Foreclosures continue to mount. It's taking people over 40 weeks, who lose jobs to find another job, and then finding one at a fraction of what they lost the old one at.
He hasn't changed his mind about imminent war, either, which, as students of history know, is the established answer to a prolonged economic downturn:
"So then you look at the trade wars that they're now talking about," Celente said. "And, as I said, when you add them up, you have the beginnings of a great war going on already. Oh, and now, and now, they're talking about, hey, we did such a great job in Iraq and Afghanistan, why don't we bomb Iran? Have you heard the presidential candidates of the United States, with the exception of Ron Paul, that all want to go to war against Iran? So you can see where it's going.
Celente said the kickoff to a global meltdown and a call to war could "spiral out of control" some time "by the first quarter of 2012" as the European crisis worsens to the point of a crack up. "There's no way to bail out the European nations," Celente said forcefully.
And the build up to social unrest, calamity and possible civil war can be seen a mile away, said Celente, who segued into another one of the trends he sees for 2012: Safe Havens (escaping the United States).
Celente also mentioned the NDAA (National Defense Authorization Act) in the interview, which allows for American citizens to be unconstitutionally held with no charge and without trial.  Although he offers no clear solutions for Americans wishing to escape this possibility:
enacted … expansion plans suggest the U.S. may enter a crisis on par with the lead up to the U.S. Civil War of 1861-5.
To find out how Celente's 2011 predictions worked — very well, by the way — continue reading here.
Whilst I do not wish to alarm anyone unnecessarily, Celente is often, shall we say, on the money.
Early in October, I featured a few Gerald Celente videos for your delight and delectation.
One of his more recent interviews appeared on December 2, 2011. Russia Today interviews the American trends and economic forecaster who has an uncanny ability to discern the future:
Celente says that Americans should not become optimistic over the latest unemployment figures, which are low-paid, seasonal jobs. There is no reason to become elated about a cyclical, annual increase in help between Thanksgiving and the New Year in retail, hospitality and other sectors which are often busy at this time.  However, more critical are the numbers of people who are no longer looking for work or those who have gone from full-time to part-time employment.
He also predicts an 'economic 9/11' in 2012 with a possible extended bank holiday.  Celente recently had a severe surprise anomaly with his gold futures account, one which was substantial and ample enough to cover his trades. Celente first started trading gold in 1978, so he has a steady record of transactions and a comfortable cushion of funds to cover them.  You can hear more in this Lew Rockwell interview:
Celente's point in mentioning that recent — and unusual incident — is to tell us that if it can happen to him, it can happen to any of us.  He then goes into the history of why people began storing money in their mattresses at home.  It seems unlikely that he will go that far, but if you have the time over Christmas and New Year, it's an interesting discussion. Lew Rockwell also relates his own family's story from the Depression in the 1930s.
Both links are well worth your time, but if you're in a hurry, the eight-minute interview with Russia Today will give you the general gist of what to expect in 2012.
After the 2008 election, I continued to read blogs and sites on which Hillary Clinton's PUMAs (Party Unity My A–) posted their thoughts and observations.
On one site, one PUMA featured a video by a man unknown to me: Gerald Celente.  Think back to the sudden economic crisis of October that year which cost John McCain — for whom at least a quarter of the PUMAs voted — the election.  He stopped his campaign temporarily to return to Washington, DC; Obama continued with his and said that he was on the other end of the phone if needed. To this day, it is difficult to tell if events were engineered to trigger at that moment. It was a peculiar chain of events, just when McCain and Palin were riding high in the polls.  More than one person has suggested machinations by George Soros.  Nothing would surprise me.
However, on a larger scale, suddenly a number of Americans became concerned about the economy and, for a number of people, Gerald Celente is the man to watch for geo-political analysis and economic predictions.  What follows are a number of his videos.  I can appreciate that not everyone has broadband — or cares about economic collapse (true!) — but, if you do, I would highly recommend adding Celente to your list of informed resources.
Before I go into the Celente videos, I would also commend Karl Denninger, whom I found out about at the same time — again, thanks to the PUMAs.  He, too, offers incredible insight and predictions about the economy and financial markets.  I would encourage you to read his Market Ticker (see my last section of sites) at least once a week.  Whereas Celente explains things in an Everyman style, Denninger is more geared towards the finance and economics professional.  Take your pick — preferably a bit of both.
I have also added Zero Hedge to my last section of sites in the left-hand column.  This is geared towards people who actually work as traders and in investment banks. It might not be to everyone's style (some comments are a bit ripe) but the information therein is useful for people who are trying to make sense of what's happening.  I read it often and have a bit better understanding of the ups and downs taking place not only in the US but also Europe.  Worshipping the golden calf?  Hardly!  Just making sure I can safeguard my savings as best as possible!
Now onto Gerald Celente, based in Kingston, New York, with the accent to match.  He used to be on CNN and Fox quite a bit, now he's on Russia Today, Yahoo! financial shows and some radio programmes.  I can appreciate that these sources might not impress you.  However, what Celente has to say will.
2008: This was the first Celente video I ever saw (time: 4:51).  It really gave me pause for thought.  Watching it actually prepared me for what he said about the next four years — so, 2011 and 2012.  Consequently, this past summer's downturn did not come as a surprise.  Scout's motto: Semper paratus (or parata)!  Be prepared!
I would recommend watching the first minute or so, which includes the predictions, then skip to 2:30 for analysis outside of the 2008 Christmas season:
2009: In this 11-minute, out-of-synch interview with Russia Today from February, Celente tells us that career growth — albeit poorly paid — will be in health care.  He also give us an insight into the sociological collapse that the coming recession / depression will bring.  Celente adds that he is a 'political atheist', as we can trust no politician to bring us through this unscathed.  He predicts over the next few years that taxes will continue to increase until people revolt:
2011: He gave this interview to an ABC (American Broadcasting Corporation) affiliate in February.  He predicted 'food riots'.  What happened in August of this year in the UK? General riots, looting and mayhem, mainly in greater London but also elsewhere in England. He still predicts a tax revolt, which he sees as giving rise to a third political party.  He also says that we should save as much as possible because what we will see in 2012 will be a depression that will dwarf the Great Depression.  We're up to our eyeballs in debt, which we weren't then:
2011: In this radio interview from July, Celente warns us not to expect miracles from Washington.  He also tells us why the price of gold will continue to rise and why the dollar and euro are being devalued — he says that what is happening is not inflation, just flooding the system with money.  He also explains why the jobs being created aren't the type to lift American spirits:
2011: On September 16, for Yahoo's Daily Ticker, Celente says that a war is being planned. (He's been saying this before; some of the preceding videos might point to it.) We will see a rise in crime because of the economy.  He mentions the UK and Greece, warning us not to be fobbed off by terms like 'flash mobs'.  He reminds us of the riots that occurred during the Great Depression and how the Second World War brought us out of it; this is not a course he endorses — he's just pointing out the machinations.  In the meantime, be prepared for manufactured fear and hysteria, whilst world economies and societies are breaking down.  He recommends that nations have more referenda with direct democracy on the part of voters:
2011: On September 21, Celente discusses the latest US economic news with Russia Today (8:34). Celente says that he made his first gold purchase in 1978 ($187.50 / oz.) and started his own company in 1980.  There is no gold bubble, he says, unlike the real estate market — he explains more.  He says that Nouriel Roubini's prediction of a topping out of gold has not happened; the price keeps going up.  Meanwhile, the only way the elites can keep going is to get nations to keep printing more money.  And the price of gold will climb ever higher:
Even if you find what Celente says depressing, his clear, matter-of-fact interview style will keep you tuning in for more.