You are currently browsing the tag archive for the 'jobs' tag.
On Wednesday, June 23, 2021 — the five year anniversary of the Brexit referendum — The Spectator had a good article about how wrong Project Fear's predictions were.
Excerpts from 'Five of the worst Remain predictions five years on' follow (emphases mine).
The sources for these are then-Chancellor George Osborne, the banks, an international accounting firm, then-Prime Minister David Cameron and the EU's Donald Tusk.
George Osborne
George Osborne and the Treasury peddled three Project Fear disasters: impoverished households, huge job losses and what The Spectator calls a 'punishment budget'.
On households, using Treasury figures, he predicted that each household in Britain would be poorer by £4,300 in 2030. Even the Remainer BBC had a problem with that. Their fact check said that the figure was:
questionable and probably not particularly helpful.
In reality, the opposite has happened:
records from the Office for National Statistics (ONS) show in the five years since that real disposable income per head has risen from £5,177 in the second quarter of 2016 to £5,354 at the end of 2020. 
On the jobs front, Treasury figures predicted 500,000 job losses across Britain.
In reality, early in 2020, before coronavirus hit, the employment rate was at a record high:
a million jobs were added by the time Covid hit, with the employment rate for those aged between 16 to 64 rising from 74.5 per cent in June 2016 to 76.6 per cent in January 2020 – the highest level since 1971.
Before the 2016 referendum, Osborne told BBC Radio 4's Today programme that the UK would leave the EU with no economic plan, therefore, a punishment budget of higher taxes and public spending cuts would have to be implemented.
In reality, after Cameron resigned at 9:30 a.m. on June 24, 2016, Osborne left his post as Chancellor. Philip Hammond, his successor, said that no such budget would be implemented.
As a result:
Hammond's first budget was described as a 'low-key package' that increased national insurance contributions for the self-employed and enjoyed stronger-than-expected tax receipts since the EU referendum. Britain even finished the year as one of the fastest growing economies in the G7.
The banks
Goldman Sachs predicted a British recession by early 2017.
Nomura and Credit Suisse predicted falls in GDP: 1.3% and 1%, respectively.
JP Morgan predicted that Scotland would leave the Union and create their own currency.
In reality, Scotland is still yearning to break free with no plan on how to do it:
with the British economy growing up until the first quarter of 2020 when Covid struck with 1.7 per cent annual GDP growth in both 2016 and 2017 followed by 1.3 per cent in 2018 and 1.4 per cent in 2019.
Big accounting firm
PricewaterhouseCoopers predicted a loss of up to 100,000 financial services jobs.
EY (Ernst & Young) came closer to the true figure:
Rivals EY estimated last month that PWC's figure had overestimated such losses by a factor of nine, with just 7,600 going overseas as of March 2021.
Donald Tusk and David Cameron
The EU's Donald Tusk predicted the loss of:
Western political civilization in its entirety.
David Cameron predicted a Third World War.
In reality:
it appears that the greater threat to the EU is in fact its own leaders, given the ongoing debacle of the vaccine rollout in the face of public dismay. Western political civilisation meanwhile has somehow remained intact.
Ordinary citizens — the 52% who voted to Leave — can discern the situation on the ground better than the experts — our notional betters — can.
Thanks again to all Britons who voted Leave on that rainy, miserable day five years ago.
We're out and, together as a Union, we are putting the 'Great' back into Britain. Our coronavirus vaccine rollout has been spectacular, surpassing the EU's by a country mile. More great accomplishments for us lie ahead.
When it comes to the EU, better out than in.
In the UK, the annual budget statement is the Parliamentary event of the year for the British public.
This year, it took place on Wednesday, March 3:
In the old days, many people bought a newspaper the following day for the details on taxes.
Now everything is online and many more people are tuning in to one of the two Parliamentary channels to watch proceedings.
Why is this so important? As Chancellor of the Exchequer Rishi Sunak says, this involves taxpayers' money. It's not the government's, it's ours:
This year, he held the first-ever press conference on the budget:
Here is a bit of history on the UK budget:
In modern times, the Chancellor displays his ministerial red box for an obligatory photo op before going to Parliament:
Despite what the Opposition said on Wednesday, Rishi Sunak put in a lot of work, including television interviews:
He held an online meeting with those most affected by the coronavirus lockdown and the loss of income:
No one could have imagined that when he gave his first budget, on March 11, 2020, one that was full of optimism and big plans, how things would change within one year:
By the way, the projected coronavirus spending for this year should fall dramatically compared with 2020:
On the day the Chancellor lays out the budget, the Chairman of the Ways and Means committee presides, rather than the Speaker of the House.
Since last year's budget, Dame Eleanor Laing, also a Deputy Speaker of the House, was appointed to head this committee:
In the next video, the delightful Dame Eleanor explains what the budget is and how it is debated in Parliament after the Chancellor presents it:
Coronavirus has brought its own challenges. Normally, every MP packs into the Commons for the budget. This year, socially distancing was enforced. Most MPs participated in the initial debate virtually:
Here she is with her team. Masks are obligatory on the Parliamentary estate these days:
This is the video of the coverage as it happened. Click to watch it:
Below are the highlights.
Much of it concerns economic recovery from the pandemic:
Most taxes are frozen for now as well as personal tax thresholds:
There will also be a new taskforce to help prevent fraud in coronavirus claims:
These are designed to fit around Prime Minister Boris Johnson's roadmap to exit the coronavirus crisis:
There will be help for small-to-medium businesses:
And help for technology businesses:
There is a new visa programme to attract the brightest and best talent:
I do hope that our education system is improved so that we do not need to keep looking abroad for talent. Only 30 years ago, Britain's schools were among the best in the world. How times have changed.
You can get more detail about the budget from The Telegraph. One thing to note is that the inheritance tax threshold has not changed since 2009. It is still £325,000 per person.
Finally, in an exciting post-EU development, the Chancellor announced eight new Freeports, where favourable customs rules and tax reliefs will apply, furthering trade with other nations:
Teesside will also be the new 'campus' for the UK's treasury, just up the road from the Chancellor:
The hospitality industry, which has been closed since December — and longer in some places with regional lockdowns — welcomed the budget measures:
The director-general of the Confederation of British Industry (CBI) was also satisfied:
I am cautiously optimistic, but I felt so much happier with the 2020 budget, when we were on top of the world.
For Labour and the SNP, the spending didn't go far enough. However, as Margaret Thatcher, Britain's first female Prime Minister and a Conservative, said in 1983: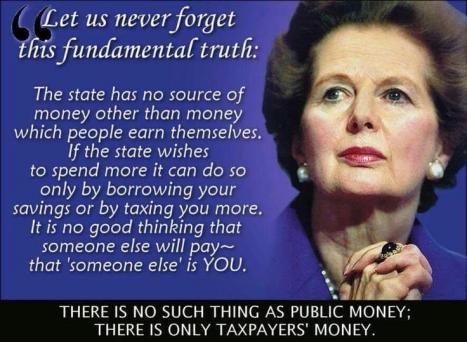 Rishi Sunak is attempting to navigate Britain's worst financial crisis since the early 1700s.
Let's hope his plan works.
Chancellor Rishi Sunak has done incredibly well since he was hastily appointed Chancellor of the Exchequer earlier this year, coming up with a budget that was sound and sensible.
Of course, the coronavirus crisis put paid to his well-crafted plans.
He put together and presented a balanced furlough package, which he said more than once at the time 'could not save every job'.
HMRC (Her Majesty's Revenue and Customs) had to be able to act accurately and quickly without having to investigate thousands of individual cases. As such, some freelancers and self-employed were not on the list of those who could be helped financially through the furlough scheme. They had to go through the usual government income support schemes.
The furlough scheme expires in October. On Wednesday, September 24 presented a new plan to help workers in his Winter Economy Plan.
Before I cover that, he implemented other more economic initiatives.
In July, he gave a Summer Statement. He cut VAT from 20% to 5% for the hospitality and tourism sectors, which will now run through March 31, 2021. He also announced a stamp duty holiday that month on the purchase of a home. It applies to all sales taking place before March 31, 2021.
On July 15, the Treasury Committee, which, like all Select Committees, are comprised of MPs, interviewed him about the furlough scheme and whether he could target it more specifically by sector:
During his Summer Statement, Sunak also announced the Eat Out to Help Out plan for restaurants.
The Eat Out to Help Out plan ran every Monday, Tuesday and Wednesday of August. Diners at participating restaurants received a discount of 50% — up to a maximum of £10 — on their meals. The plan excluded take-aways, alcohol and private parties.
It did well from the start:
It was a great success, as Sunday Times columnist Robert Colvile tweeted:
Yes, I know of two small restaurant chains that extended the scheme to run through September.
It was a gimmick that worked:
On September 2, he launched the Kickstart Scheme for new apprentices, an initiative he previewed on July 8 during his Summer Statement:
The Kickstart Scheme subsidises six-month work placements for young people between the ages of 16 and 24 who are on Universal Credit and in danger of falling into long-term unemployment.
He also addressed the new intake of backbench Conservative MPs that day. Guido Fawkes has the text:
We will need to do some difficult things, but I promise you, if we trust one another we will be able to overcome the short term challenges. Now this doesn't mean a horror show of tax rises with no end in sight.
But it does mean treating the British people with respect, being honest with them about the challenges we face and showing them how we plan to correct our public finances and give our country the dynamic, low tax economy we all want to see.
We cannot, will not and must not surrender our position as the party of economic competence and Sound finance. If we argue instead that there is no limit to what we can spend, that we can simply borrow our way out of any hole then what is the difference between us and the Labour Party.
Three weeks later it was time for him to present his Winter Economy Plan (WEP). He got mixed reviews from Twitter users to this tweet:
Last Wednesday, he had his photo taken with two women — Frances O'Grady from the Trades Union Congress and Carolyn Fairbairn from the Confederation of Business Industry:
The Hansard record of the WEP is here.
Guido Fawkes has a short version with the highlights of Rishi's statement in the House of Commons, excerpted below:
– £12bn spent on Test and Trace so far;
– a warning that the economy will be undergoing 'a more permanent readjustment';
– a new six-month Job Support Scheme focussing on 'viable' jobs will replace furlough, as some furloughed jobs are now gone for good; targeted at SMEs, people must work 1/3 of their normal hours and the government will cover 2/3 of the pay they normally would have received;
– the grant to the self-employed is extended, running along the same terms as the aforementioned new jobs scheme;
– the business loan schemes deadline has been extended to the end of 2020; a new scheme will come into force in January;
– there are two business loan schemes: one involves bounceback loans, including the new Pay As You Grow, which can be extended from six to ten years with the flexibility of pausing payments or making interest-only payments; the other, coronavirus business interruption loans, now have an extended government guarantee, which is up to ten years;
– the lower 5% VAT rate for hospitality and tourism extended to March 31, 2021.
The Sun has an excellent guide on the new Job Support Scheme that replaces furlough.
The paper also has an article explaining what constitutes a 'viable job'.
Sunak has a delicate balancing act. We have good news and bad:
Guido has more on borrowing, tax receipts and unemployment.
Be afraid. Be very afraid. Lockdown was a dangerous idea. May we never repeat it.
Sunak ended his WEP with the following (emphases mine):
We have so often spoken about the virus in terms of lives lost, but the price our country is paying is wider than that. The Government have done much to mitigate the effects of those awful trade-offs between health, education, and employment, and as we think about the next few weeks and months, we must bear all those costs in mind. As such, it would be dishonest to say that there is now a risk-free solution, or that we can mandate behaviour to such an extent that we lose any sense of personal responsibility. What was true at the beginning of this crisis remains true now: it is on all of us, and we must learn to live with it, and live without fear. I commend this statement to the House.
Yes! Thank you!
The Daily Mail's Simon Walters wrote an excellent analysis of Sunak's statement: 'The day Rishi Sunak ripped up the truce in Downing Street'.
Walters begins with thoughts on the words 'live without fear':
They were the three words which spoke volumes about the rift between the Prime Minister and his Chancellor.
Closing his statement to the Commons on his new Covid jobs-rescue package yesterday, Rishi Sunak defiantly gave us a new slogan: 'Live Without Fear.'
He was telling us that we have to learn to live with the virus – and stop the country and our benighted economy from total collapse.
His approach is much different to that of his boss, Prime Minister Boris Johnson, who seems afraid to reopen the nation. Walters offers this analysis:
Yesterday, Mr Sunak declared there was another way to deal with the crisis.
Tellingly, Mr Johnson chose not to be at the Chancellor's side in the Commons yesterday, preferring to visit Northamptonshire Police HQ instead. It was the sort of routine visit prime ministers make on a Friday, when nothing much happens in the Commons.
But yesterday, a lot was happening in the Commons. Perhaps beleaguered Mr Johnson could not bring himself to sit alongside his Downing Street neighbour.
The day before, Boris gave a press conference saying that draconian coronavirus measures will stay in place for the foreseeable future:
It could not have been more different to the hollow cod-Churchillian rhetoric of Mr Johnson in a television broadcast on Wednesday.
Don't go to work, beware soldiers on the streets, don't stay out after 10pm at night and don't break the rules or you'll be fined £10,000, he said, jabbing his finger at millions of viewers.
In short: Live With Fear. Number 10 insisted it had cleared Mr Sunak's speech in advance, and approved of the last three words.
Walters thinks that Sunak might be a proxy for Boris to reassert his own libertarian instincts at a time when he feels incapable of so doing:
Some Tory MPs suggested the Prime Minister, shackled by medics and boffins forcing him to play safe, had cleverly 'licensed' the Chancellor to act as a proxy for his own libertarian instincts.
The harsh reality, however, is that if it was an act of defiance, such is sinewy Sunak's burgeoning political muscle, Johnson would not be able to gag him. 
There also appears to be a Cabinet split on coronavirus measures. Part of this is because of their orientation as Conservatives:
With rumours swirling in Westminster – fiercely denied by Downing Street – that Mr Johnson is fed up, hard up, even planning to up stakes and leave No 10 in the new year, Covid has become the focus of a power struggle between two Cabinet factions.
When Mr Johnson was agonising last week over introducing the new six-month coronavirus crackdown, Cabinet Office minister Michael Gove and Health Secretary Matt Hancock urged him to impose a Covid 'circuit breaker' including shutting pubs and restaurants for two weeks. They thought they had won him over.
But they had reckoned without Mr Sunak. Backed by Home Secretary Priti Patel and Business Secretary Alok Sharma, the Chancellor intervened. He demanded to speak to Mr Johnson and bluntly told him the fiercely ambitious Gove and Hancock were wrong.
Mr Sunak made clear that any new lockdown could lay waste to business and jobs, just when there were signs that the coronavirus-battered economy was picking itself up from the floor.
Mr Johnson was reduced to a political 'piggy in the middle', forced to tread a delicate balancing act between the two Cabinet Covid tribes. Although neither Mr Gove nor Mr Hancock are old-fashioned 'silver spoon' Tories, they, like Mr Johnson, have treated politics as a ruthless game since their debating days at Oxford. 
They have all modelled themselves as post-Thatcher Tories. Sunak, Patel and Sharma, who all have Indian parents who emigrated to Britain, are not ashamed to call themselves Thatcherites.
Oh, boy.
Walters says that the photo above with the heads of the TUC and CBI, representing both sides of the spectrum, was no accident. It is meant to send the right visual message:
In a slick piece of political choreography, Mr Sunak showed he is more than a 'son of Thatcher' by posing on the steps of No 11 before his Commons statement, flanked by CBI director general Carolyn Fairbairn, and, remarkably, TUC General Secretary Frances O'Grady.
A Tory Chancellor with the respected leaders of both the biggest bosses and union organisations standing at his side, both of them pillars of support.
There have been many calls for a wartime style government of national unity to fight the pandemic. Here was Sunak's version.
The fact that both those 'pillars' are succesful modern women made it all the more striking.
Although Walters acknowledges the rumours that Boris might leave No. 10, he says that they are premature.
I agree.
My own view is that Boris is great at dealing with issues such as Brexit. Coronavirus, on the other hand, is a health issue, and I don't think that is his forte.
Walters says that Boris needs to rediscover his sense of conviction, upon which he won an 80-seat majority in December 2019.
I think Boris will do that, once we get closer to leaving the EU.
For now, I'm grateful we have a Chancellor who can tell us the truth about the economy in light of coronavirus — and help vulnerable people in the meantime.
There are two more increasingly popular Spectator TV videos to view, brilliantly presented by Andrew Neil.
Each of the episodes below is one hour long, but it is unlikely that those seeking real news and analysis will be bored.
As a supporter of President Trump, I was somewhat less impressed with Episode 3, from September 17, which downplayed his chances for re-election as well as his foreign policy, as many of us consider it a peacetime triumph:
Sweden's state epidemiologist Anders Tegnell was the first to be interviewed about his nation's handling of coronavirus. As we know, they had no lockdown.
Tegnell regretted not having controlled the many deaths in care homes — similar to those in other Western nations. There were also other lives that could not be saved because of co-morbidities. He said that a lockdown would not have saved them.
The problem in the care homes related to their separation from a national health care system, again, not dissimilar to the tragic result seen in other nations, particularly the United Kingdom and the Netherlands.
He indicated that Sweden wanted to ensure that care home fatalities were resolved going forward as well as those among minority populations. He said that an EU commission was looking into those challenges.
Neil asked why Sweden was one of the few countries that ignored the projections from Imperial College London earlier this year. Tegnell replied that Imperial's models were 'quite extreme' and 'doubtful'. He added that models are not made 'for prognosis' because 'you don't really know' what is going to happen.
He said, 'This is not a competition' and expressed his desire for more international collaboration and discussion to find a common pathway towards fighting the a second wave of the pandemic as well as agreement on testing.
He said that Sweden had been conducting 80,000 tests a week with no recent deaths.
Good for Sweden. They did well considering they bucked all the odds.
In case the interview is difficult to listen to because Tegnell is on a train, here is another transmission:
Episode 4 of Spectator TV, from Thursday, September 24, covered a multitude of health, economic and political topics:
Kate Andrews talked about the broadcast that Dr Chris Whitty and Sir Patrick Vallance made about coronavirus last week. Rishi Sunak, Chancellor of the Exchequer, gave a statement last week on a winter economic programme. It focussed on a change from furlough, which expires in October, to a jobs subsidy for viable employment. She said that there is no doubt that unemployment will rise in the UK in the coming months.
James Forsyth echoed that and said that Rishi Sunak's plan is to retain as many current jobs as possible but also to create many more.
On that note, Katy Balls said that there is some tension between 10 and 11 Downing Street. Boris errs on the side of health and personal safety. Rishi is more focussed on the economic numbers in order to keep Britain afloat.
With regard to coronavirus, Dr Flavio Toxvaerd, an economic epidemiologist from Cambridge University, said that epidemiologists do not have a good estimation of human behaviour. He did not believe that we were likely to see the latest coronavirus predictions from Whitty and Vallance's graphs come true. That said, there is a delicate balance to be struck between health and the economy in dealing with COVID-19. Both are critical at this time. Neither can be viewed in isolation.
With regard to his eponymous amendment anticipated to be brought before the House of Commons, Sir Graham Brady said he felt confident that any future coronavirus-related statutory instruments would have to be brought before the House of Commons for debate and a vote prior to implementation.
Questions have been raised as to Boris Johnson's future as Prime Minister. Katy Balls and James Forsyth both thought that he would not be gone by the end of the year, as many have predicted over the past several days. Leaving the EU, they predicted, will put fuel in the tank for 2021, so to speak.
Turning to the upcoming US elections, Dominic Green said that a Biden administration would favour the EU more than the United Kingdom emerging from Brexit. Again, this assumes that Joe Biden will win the election. Green rightly warned that polls are unreliable. (We saw the same situation four years ago with the polls and the 'Trump can't win' theme. We are seeing it again now.)
Thousands of us are grateful to the NatWest Group for sponsoring these useful broadcasts.
This week, the UK government's scientific advisers and Prime Minister Boris Johnson said that new, stricter coronavirus measures would come into effect on Thursday, September 24.
On Monday morning, Chris Whitty and Sir Patrick Vallance presented their latest figures, which looked as if they must have come (once again) from Prof Neil Ferguson, they are that exaggerated. You can see the graph further down in my post:
This is utter madness, reminiscent of the WMD days when Tony Blair told us that a WMD could reach our shores within 45 minutes:
Their presentation, given against a No. 10 backdrop, had the purpose of preparing the public for Boris Johnson's announcements on Tuesday. They took no questions.
They showed graphs of where Spain and France are, with an uptick in 'cases'. Again, that means positive test results, most of which do not require hospitalisation.
Strangely enough, the Rule of Six only came in on Monday. Let's let it bed in for a few days, fellas, before taking more measures. They're doing exactly what they did in March, though. On March 16, new measures came in. On March 23, we had lockdown.
The Rule of Six is a Belgian tactic that SAGE thought would work in England. As such, they recommended it to the Government.
Perhaps this is the reason the two scientists did not mention Belgium once in their presentation:
I am glad someone will be tracking the progress of the projections over the next few weeks:
On Tuesday, Boris addressed Parliament and gave a short address that evening, televised to the nation.
In short:
– Pubs and restaurants must close by 10 p.m.
– They must offer table service only.
– All retail workers in hospitality settings must wear masks, along with customers, unless they are eating or drinking.
– Fines for breaking the Rule of Six or not wearing a face covering will result in an initial fine of £200, up from £100, for a first offence.
– Indoor five-a-side football matches have been banned.
– Wedding attendance has been reduced from 30 to 15; funeral attendance remains capped at 30.
– Police are allowed to call the military to fulfil office duties and/or to guard protected sites, leaving the police more capacity to fight crime.
– The plan to return a limited number of fans to sports stadia on October 1 is now postponed indefinitely.
The Daily Mail has a comprehensive article, including Boris's transcript, on the scathing reactions from police and business owners, particularly publicans. Sir Andrew Lloyd Webber said that this could sound the death knell for commercial theatre.
The Telegraph's Matt has this take on Army assistance:
The chances of that happening are very low:
The sad thing is that only five per cent of COVID-19 infections occur in a hospitality environment!
The Government and SAGE know this — yet they pressed on with restrictions!
The Daily Mail reported (emphases mine):
Public Health England data reveals that of the 729 outbreaks in the week to September 13, only five per cent occurred in food outlets such as restaurants and pubs – 45 per cent were in care homes, 21 per cent in schools and 18 per cent in places of work.
Wetherspoons founder Tim Martin said: 'The curfew doesn't even stand up to five minutes consideration by an intelligent person because if you look at the stats… there are relatively few transfers of infections in pubs.
Kate Nicholls, chief executive of trade body UK Hospitality, urged the Government to heed its own statistics because the curfew could take a sledgehammer to the industry which is already 'on its knees'.
She said this morning: 'People will think it's not that significant, but it really will have a big economic impact on jobs, not just on pubs, but also for cafes and restaurants.'   
Martin Wolstencroft, head of Arch Inspirations, which runs 17 bars and restaurants in Leeds, Manchester, York and Newcastle, said the curfew will not make it viable to open some of his venues.
Ironically, August was the month of discount lunches in Chancellor Rishi Sunak's successful initiative, Eat Out to Help Out, which the hospitality industry welcomed.
The Government's new restrictions will largely destroy any uplift participating restaurants received from it.
What on earth is going on?
Toby Young, who was at Oxford with Boris, says that something has changed — and not for the better. Note that Prince Charles approves of military intervention for climate change. Scary:
It's entirely possible that these ruinous measures have no basis in scientific fact, devastating people's livelihoods and families:
Conservative backbench MPs sounded off.
On Tuesday, Sir Desmond Swayne, who has commented both in and outside the House of Commons, tweeted:
His blog post states, in part:
Flu kills all year round – In the last weeks of July it killed 1000 of us (where Covid-19 killed only 200)- but it is seasonal: it certainly kills a lot more of us in the winter. Equally, we should stop talking about another wave of Covid-19 and instead, like flu, start expecting its annual season.
Having peaked in April Covid-19 abated over the summer. Inevitably it will get worse in winter. It may also be worse this winter than might otherwise have been the case. This is because we carried on with a number of restrictions on normal social life during the summer, reducing our ability to acquire and share herd immunity and wasting the opportunity provided by the weakest period for the virus.
My contention remains, as I have said many times over the last months, that our over-reaction to the disease has done much more lasting economic damage, and, counter-intuitively, even more damage to our health than the disease itself.
The current strategy merely kicks the can down the road. If the measures work and reduce the spread, the virus will simply reappear later.
Of course, we could be lucky and get a vaccine or a cure, or even 'moon-shot' daily tests to enable us to return to normality, but none of these are certain.
One day there may be a virus that threatens our whole way of life – but this isn't it, even if we are behaving as if it were.
Sir Desmond retweeted a neurologist's comment on the outrageous graph of projected 'cases' this autumn — in reality, positive tests:
Today, Sir Desmond gave an interview to the BBC about the continuing and questionable restrictions on civil liberties:
Richard Drax rightly predicted economic disaster, ruining the lives of millions:
Lucy Allan also spoke out on Twitter.
She tweeted Monday's graph from SAGE:
She rightly opposes putting everyone on restrictions when we should be protecting those most at risk:
She retweeted an open letter from Profs Sikora, Heneghan and several other leaders in British medicine:
She also called for the precise definition of a 'case':
That's probably why Whitty and Vallance didn't take questions.
Sir Edward Leigh also had a lot to say on this week's announcements:
He is rightly concerned about the blind faith we place in authority and the gradual erosion of civil liberties:
I couldn't agree more:
At least 1,000 people die in the UK every day.
Below are the causes of death per day in September.
Note where COVID-19 is: second from the bottom, dwarfed by heart disease and cancer.
There were nearly twice as many suicides than deaths from the Chi-vi: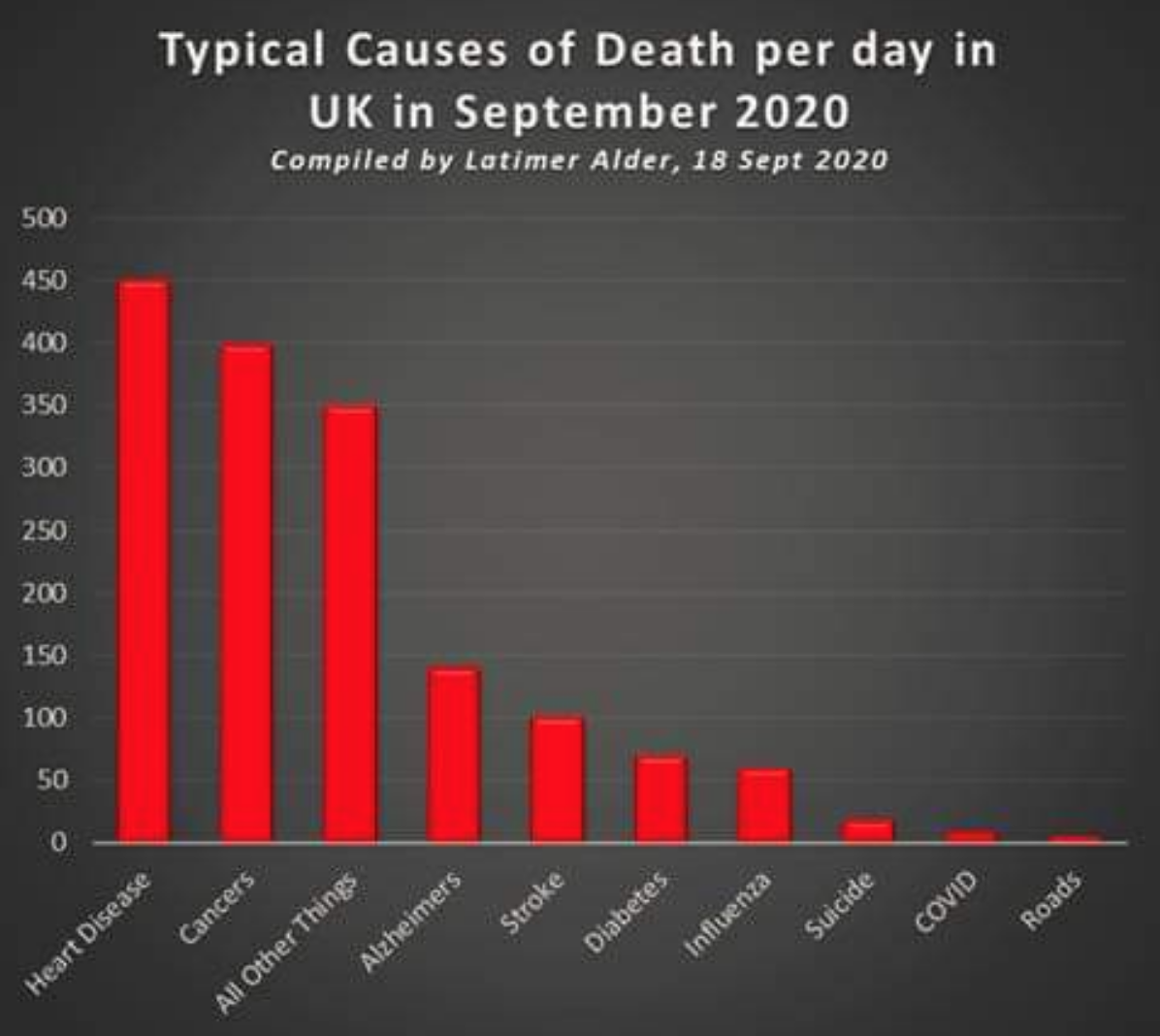 Steve Baker is also concerned about the restrictions bypassing Parliament:
Wow. Sir Graham Brady could pit a load of Tory rebels against the government. Good show:
The article from The Critic says:
Unless Matt Hancock finds a workable accommodation with Sir Graham Brady, the chairman of the 1922 Committee of Tory backbench MPs, the government faces the prospect of defeat next Wednesday when the Coronavirus Act 2020 comes up for its six-monthly renewal in the House of Commons.
The scale of backbench unhappiness is such that according to Steve Baker, who is working alongside Sir Graham, "the magic number was exceeded with 24 hours" of his beginning to canvas support for an insurrection among fellow Conservative MPs. Victory would require Labour and SNP MPs to seize on the opportunity to inflict a humiliating defeat on the government by voting with the Tory rebels. Indications increasingly suggest that this could happen. An increasingly dispirited Whips Office, which feels ignored and disrespected by Downing Street, is especially concerned at the sight of the former ERG "Spartans" leader, Baker, at Westminster furiously tapping away on his phone – a colliery canary of trouble ahead.
The government is equally concerned that the rebellion is being led by Sir Graham Brady, whose role as chairman of the 1992 Committee makes him the most authoritative channel of backbench opinion. In a sign of how seriously Downing Street management is taking the senior shop steward's challenge, on Monday evening the prime minister privately went to see the 1922's executive committee.
The primary complaint is that the government is using powers granted to it under the 1984 Public Health Act and 2020 Coronavirus Act to enact previously unconscionable measures without any prior debate in the Commons. Brady has condemned ministers who "have got into the habit of ruling by decree."
MPs were prepared to cede considerable authority to the government in March in a period of acute crisis when there appeared to be only weeks if not days to "flatten the sombrero" to save the NHS from being overwhelmed. But Boris Johnson's admission in his statement to Parliament today that the latest curtailments (which include further restrictions on hospitality opening hours and the number of people who can congregate at weddings, funerals and other public, private and sporting functions), would likely last at least six months has alerted MPs to the reality that government by decree may last until a vaccine is approved. If, indeed, a vaccine is approved. This is a war that will not be over by Christmas.
Far from persuading potential rebel MPs that a new crisis is looming, the performance of the government's chief medical and scientific officers, Chris Whitty and Sir Patrick Vallance, at their press conference yesterday has heightened consternation that the government is over-reliant on advice predicated upon worst case scenarios that is trumping competing economic and civil liberty considerations.
The likelihood of executive mission creep was foreseen back in March by David Davis and Steve Baker who pushed the government into adopting an amendment reducing from two years to six months the period in which the powers of the Coronavirus Act must be renewed by parliament. That renewal debate will now take place next Wednesday.
I remember that debate from March and also wondered if the Government were as good as their word.
Whilst they are unlikely to call for a wholesale repeal of the Coronavirus Act, Sir Graham Brady could call for a scrutiny clause appended to the Act so that every new statutory instrument connected to the legislation would have to go through Parliament first. To date, many of them have not. Therefore:
Rebels are pinning their hopes on this prospect. They may find a friend in the The Speaker, Sir Lindsay Hoyle, who has already made clear his intense irritation with Matt Hancock's disregard for informing parliament first of major legal changes like the "rule of six" and for the government's brusque imposition of restrictions in his own Chorley constituency …
The appeal of such a mechanism is obvious to Tory backbenchers concerned that laws are being made without scrutiny and are difficult to repeal. But there is no in-principle reason why Opposition parties need object to such a parliamentary safeguard either. Hence the likelihood of a rebellion having the numbers to succeed next Wednesday.
I can hardly wait.
Iain Duncan Smith is also airing his views. Note what he says and compare it to the death graph above:
Brexit better be more than BRINO, otherwise that prediction about the Conservatives could come true.
Former Brexit Party MEP and owner of England's greatest smoked salmon business, Forman's, said:
How true.
Unfortunately, at today's PMQs, Boris said that restrictions will continue until a vaccine is found! Dangerous.
Last week proved to be another emotive and passionate one in the House of Commons with regard to coronavirus and Brexit.
This post concerns coronavirus.
On Monday, September 14, Prime Minister Boris Johnson's Rule of Six, which he announced on September 9, came into effect. It sounds rather Chinese.
It means that people living in England cannot meet in groups of greater than six, indoors or outdoors. If we do, according to him, we 'will be breaking the law'.
He also introduced a new platoon to keep us in line: COVID marshals, to remind us of existing coronavirus rules in England — 'hands, face, space'.
Recall that Boris said after the December 2019 election that we now have the People's Government. Hmm.
The UK government is copying a Belgian idea. The Rule of Six reduced their second spike.
Increasingly, Britons have been looking back at Sweden, which refused to lock down. Fraser Nelson is the editor of The Spectator. Chris Whitty is our Chief Medical Officer; in May, he said that coronavirus was harmless for most people and most of us would never get it:
Michael Gove MP, a Cabinet minister and Chancellor of the Duchy of Lancaster, made matters worse when he confirmed that under-12s were part of the Rule of Six, unlike in Scotland and Wales, where under-12s are not. With life getting back to normal as school has started again, this came as a blow to many families:
The Telegraph reported that the Cabinet was split on the proposals (emphases mine):
… one senior Tory source said that "half the Cabinet" had doubts about the so-called 'rule of six', and it was "pretty hard to find a Conservative member of Parliament who agrees with all of this".
The COVID marshals are also a problem for police and local councils:
Meanwhile, Mr Johnson's plan for coronavirus marshals to help enforce the six-person rule was unraveling as police derided them as "Covid Wombles" and councils said they were a "gimmick".
Downing Street admitted councils would not be given any money to pay for the marshals, suggesting volunteers could do the job, and said it would be up to individual local authorities to decide whether they actually wanted them.
It got worse, as curfews were mooted:
The Government has discussed going even further with new lockdown restrictions, and has drawn up "a well-developed proposal" for a nationwide curfew which was discussed at ministerial level.
My head spun.
Then the ministerial snitch crowd appeared on weekend news programmes to say that people must tell on their neighbours if they are seen to be violating the Rule of Six:
Political journalist Isabel Oakeshott rightly responded:
I couldn't agree more. This is supposed to be the People's Government, isn't it?
History will not look kindly on 2020 with regard to the measures taken to combat the virus:
I was wrong.
Home Secretary Priti Patel said that people should not even talk when they see friends in the street, even at a distance (audio here, thanks to Guido Fawkes, and there's video, too):
Yebbut, if you DO report what appears to be criminal activity, allegedly, the police do not want to know. Here is a printscreen of a set of comments on a Guido Fawkes thread. I call your attention to the last two. Police would rather pick on mums and their children. Ironically, that was posted on the anniversary of the Battle of Britain. Go figure.
A mild-mannered man from Buckingham called talkRADIO to say he would not comply with the Rule of Six because the Government had gone too far.
So did a lady from Brighton, saying that the Rule of Six was about:
control. They're trying to see how much they can get away with.
Another talkRADIO host, Julia Hartley-Brewer, had a go at Roy Lilley, former NHS Trust chairman. She said:
We are being scared into thinking we have to give up our civil liberties when that won't save lives. Being sensible will save lives.
The Telegraph's Salley Vickers wrote of the restrictions on her and her loved ones:
I would rather risk dying and have the joy of their company than lose that vital contribution to my own happiness.
With the festive season only several weeks away, the Daily Mail's Peter Hitchens told talkRADIO's Mike Graham that the Rule of Six has:
made Christmas an arrestable offence.
Another Daily Mail journalist, Bel Mooney, wrote an editorial for Conservative Woman saying that she was surprised at the amount of resistance she received when she wrote that she would be defying the Rule of Six at Christmas:
… in response to Matt Hancock's sudden, arbitrary and illogical 'rule of six' diktat, I wrote a strong opinion piece (at the request of my newspaper) headlined 'NO, NO, NO! I'm having Christmas for 14 – and no puffed-up Covid marshal will stop me'.
As you might expect, there was a huge response. I never look online, and am not on Twitter (I expect there was a lot of poison swilling around out there). I am talking about emails to me and the newspaper. What interested me was the fact that, if I am to be honest, the antis outnumbered the pros. I didn't expect that from Mail readers.
You can never tell with Mail readers, though. They're a tricky lot.
Oxford University's Professor Carl Heneghan and honorary research fellow Tom Jefferson wrote an article for The Spectator against the Rule of Six, saying that Boris must bin it:
At Oxford University's Centre for Evidence Based Medicine, we have spent years trawling through the scientific evidence on the effects of measures such as distancing on respiratory viral spread. We are not aware of any study pointing to the number six. If it's made up, why not five or seven? …
Northern Ireland has taken a more measured approach and not announced any changes to how many people can meet. These disagreements in policy reveal how decisions are being made without evidence. It seems that somebody in government sat in a cabinet office room and said six is a good idea and nobody disagreed …
The problems with policy stem from the current cabinet's vast inexperience: the Health Secretary has been in post for just over two years now; the PM and the Chief Medical Officer a year. The Joint Biosecurity Centre is overseen by a senior spy who monitors the spread of coronavirus and suppresses new outbreaks. Add to this mix the new chair of the National Institute for Health Protection, who similarly has little or no background in healthcare. Our leaders amount to little more than a Dad's Army of highly paid individuals with little or no experience of the job at hand.
This inexperience leads to rash decisions and arbitrary policies.
One example is that entire areas can be locked down if they have 50 cases per 100,000 people. Yet the recognised alert threshold for 'regular' acute respiratory infections is 400 cases per 100,000.
Lord Sumption, who has been speaking out against lockdown this year, said that the Rule of Six will be unenforceable. I hope he is right:
Tom Tugendhat (Tunbridge and Malling, Con) expressed his concerns about the new rule and rightly wanted MPs to vote on it and similar measures:
It's unlikely that the House of Lords can help, either. They already have a full schedule. We should thank Lord Lamont for raising the issue of consulting the public, however. 'SI' means 'statutory instrument':
Monday, September 14
Behind the scenes and well outside of Parliament, an email emerged dated May 23, wherein Chief Scientific Adviser Sir Patrick Vallance stated he had pushed the most for March's lockdown:
Guido Fawkes has the full text of the email. I am not sure how Sir Patrick thinks that a vaccine will achieve herd immunity, though.
In the first of the debates on the Brexit-related Internal Market Bill, Charles Walker MP (Broxbourne, Con) prefaced his comments by expressing his dismay about the Rule of Six, the lack of consultation with Parliament and the fining of Jeremy Corbyn's brother Piers at the anti-lockdown rally on Saturday, September 12.
Thank you, Charles Walker:
This is short and well worth watching:
Tuesday, September 15
Secretary of State for Health and Social Care Matt Hancock poled up to make a statement to MPs about the Rule of Six and testing.
Excerpts follow:
There are signs that the number of cases in care homes and the number of hospitalisations is starting to rise again, so last week we acted quickly, putting in place new measures—the rule of six, which came into force yesterday. We do not do this lightly, but the cost of doing nothing is much greater.
Testing also has a vital part to play. Everyone in this House knows that we are doing more testing per head of population than almost any other major nation, and I can tell the House that we have now carried out over 20 million tests for coronavirus in this country. As we expand capacity further, we are working round the clock to make sure that everyone who needs a test can get a test. The vast majority of people who use our testing service get a test that is close to home, and the average distance travelled to a test site is now just 5.8 miles —down from 6.4 miles last week; but the whole House knows that there are operational challenges, and we are working hard to fix them.
We have seen a sharp rise in people coming forward for a test, including those who are not eligible.
Jonathan Ashworth (Leicester South, Lab/Co-op), speaking for the opposition, said:
I am grateful for advance sight of the Secretary of State's answer. That was decent of him.​
Yesterday LBC revealed that there were no tests available in covid hotspots, including Rochdale, Pendle and Bradford. Over the weekend in Bolton, where infections are the highest in the country, a mobile testing centre failed to turn up. Meanwhile, in Bury hundreds queued for five hours for a test. In Walsall, a father with his sick child travelled 76 miles to an appointment in Wales, only to find on arrival that tests had run out. Increasing numbers of teachers and pupils are not in school. In hospitals, operations are cancelled while NHS staff are stuck in limbo, waiting for tests.
The Secretary of State blames increased demand, but when tracing consistently fails to reach 80% of contacts, when less than 20% of those with symptoms self-isolate properly and there is a lack of financial security, infections rise. When schools reopen and people return to workplaces and social distancing becomes harder, infections rise. Extra demand on the system was inevitable. Why did he not use the summer to significantly expand NHS lab capacity and fix contact tracing?
Just as demand is increasing, the ability to process tests is diminishing. Post-graduate students working in the Lighthouse labs are returning to university, so why did the Secretary of State not plan for the inevitable staff shortages in the Lighthouse labs? Those commercial pillar 2 labs, The Sunday Times revealed at the weekend, have a huge backlog of 185,000 tests. Thursday's data revealed that 65,709 test results were not returned by the end of the week. Care home residents now wait an average of 83 hours for their result. The Prime Minister promised us a 24-hour turnaround for results, so what is going on? What is the current backlog and what is the timeframe for clearing it?
We were promised a world-beating system, so why are we sending tests to Germany and Italy for processing? But, most importantly, people want to know when they will get a test and when this mess will be fixed. Today there will be thousands of ill people trying to book a test, only to be told none is available. When will people be able to book a test online again, or has the online booking system been deliberately disabled? When will ill people no longer have to travel hundreds of miles for a test that should be available on their doorstep? When will pupils and teachers out of school get access to testing, so they can get back to school? When will NHS staff have access to regular testing, so they can focus on their patients and not be sitting at home?
We are at a perilous moment. Imperial College estimates the virus is doubling every seven to eight days. We all want to avoid further restrictions or another national lockdown, but when testing and contact tracing break down, the growth of the virus cannot be tracked. The Prime Minister promised us whack-a-mole, but instead his mallet is broken. The Secretary of State is losing control of the virus; he needs to fix testing now.
Many MPs — from both Opposition and Conservative benches — said that their constituents could not get tests.
Even the Speaker of the House tweeted that his constituents were having similar problems:
The testing situation is shocking — as Terry-Thomas used to say in the Boulting Brothers films: 'An absolute shower!'
On the upside, the British coronavirus jobs situation is improving, thank goodness (more from Guido here):
Wednesday, September 16
Deputy Labour Leader Angela Rayner (Ashton-under-Lyne) stood at the Opposition despatch box for Prime Minister's Questions (PMQs), as Sir Keir Starmer was self-isolating:
She did a good job.
She began by saying:
Many people in the Chamber will think that the battle of Britain is today, but actually we marked the 80th anniversary of those veterans yesterday, and I want to put on record our thanks to all those who fought for our country in the past.
I want to start by reading to the Prime Minister a message that I have received from a man called Keir. Keir was not able to go to work today and his children could not go to school because his family had to wait for their coronavirus test results, despite the Prime Minister's promise of results within 24 hours. Keir was able to do the right thing and self-isolate and work from home, but other people are not in this position, and many of them are the very people who were getting us through this crisis, such as the care workers, who I used to work alongside before I was elected to this House. The Prime Minister once earned £2,300 an hour; can he tell us the average hourly rate of a care worker in this country?
Boris was singularly unimpressed, although he had a neutral expression on his face, even when discussing Starmer:
I congratulate the hon. Lady on her elevation. She speaks of the constituent Keir, and I can tell her that—allegedly, apparently—he has had a negative test, and I do not know quite why he is not here. But 89% of those who have in-person tests get them the next day, and we are working very fast to turn around all the test requests that we get. I think that most people looking at the record of this country in delivering tests across the nation will see that that compares extremely well with any other European country. We have conducted more testing than any other European country, and that is why we are able to deliver tests and results in 80% of cases where we know the contacts.
The hon. Lady asks about care homes, and I can tell the House that today we are launching the winter care home action plan. She is right to raise the issue of care homes, and we are concerned about infection rates in care homes, but we will do everything we can to ensure that care homes and their workers are protected.
On the hon. Lady's final point, I am proud that it is this Government who have instituted the national living wage to ensure that every worker in this country, including care home workers, is paid substantially more, thanks to the care and the work of the people of this country.
Boris listened attentively and responded sensitively to all the points that Angela Rayner raised until this point, which came several minutes in, when she said:
Infections are rising. The testing system is collapsing. When you are the Prime Minister, you cannot keep trying to blame other people for your own incompetence. We have the highest death toll in Europe, and we are on course for one of the worst recessions in the developed world. This winter, we are staring down the barrel of a second wave, with no plan for the looming crisis. People cannot say goodbye to their loved ones. Grandparents cannot see their grandchildren. Frontline staff cannot get the tests that they need. And what was the top priority for the covid war Cabinet this weekend? Restoring grouse shooting.
I suppose that is good news for people like the Prime Minister's friend who paid for a luxury Christmas getaway to a Caribbean island and funded his leadership campaign, and just so happens to own two grouse moor estates. So Prime Minister, is this really your top priority?
The Prime Minister answered:
While the Labour Opposition have been consistently carping from the sidelines throughout this crisis and raising, frankly, issues that are tangential, if not scare stories about what is going on, we are getting on with delivering for the British public. We are not only massively ramping up. She has not contested any of my statistics today about the extent to which this country is now testing more than any other European country.
She has not disputed the massive acceleration in our programme. [Interruption.] I will answer the substance of her question, thank you very much. We are getting on with delivering on the priorities of the British people: getting us through this covid crisis; delivering on making our country safer, bringing forward measures to stop the early release of dangerous sexual and violent offenders, which I hope she will support; strengthening our Union, which in principle Opposition Front Benchers should support; and building more homes across this country and more affordable homes across this country, which she should support. That is in addition to recruiting more doctors and more nurses, and building more hospitals.
I do not think anybody is in any doubt that this Government are facing some of the most difficult dilemmas that any modern Government have had to face, but every day we are helping to solve them, thanks to the massive common sense of the British people, who are getting on with delivering our programme and our fight against coronavirus. It is with the common sense of the British people that we will succeed, and build back better and stronger than ever before.
If only.
That day, news of an upcoming curfew in London emerged.
Apparently, the British people don't have much common sense, after all.
Currently, London has some of the fewest new coronavirus cases (i.e. positive tests, little hospitalisation):
Guido rightly wrote (emphases in the original here):
If this afternoon's splash from the Evening Standard is true, it is a step too far. The London director of Public Health England (yes, the organisation is still limping on for now, despite the Health Secretary announcing its abolition back in August) has issued a "curfew alert" to the capital through the newspaper, saying residents could face a mandatory curfew if Covid cases continue to rise. A ridiculous suggestion that should be forcefully opposed.
Shutting pubs, bars, restaurants, and just about everything else at an arbitrary hour will obviously do nothing to stop the spread of coronavirus. If anything, the move will be counter-productive – compressing the same number of customers into a shorter time and making social distancing harder still. Or pushing social gatherings into homes not bars, which are thought to be more likely to spread the virus. This no doubt ineffective PHE [Public Health England] nannying should have been dumped when the organisation was. The government need to remember there is a limit to people's compliance. This might just hit it.
As I write early on Tuesday, September 22, Boris is planning to bring in an England-wide curfew for pubs and restaurants on Thursday. As if the virus will know the difference between a 10 p.m. closing time versus the usual one of 11 p.m. The mind boggles.
Thursday, September 17
Matt Hancock appeared again with another update on coronavirus.
This time, it was about measures taken on lockdown in the North East of England. This includes strict adherence to household bubbles, table service only in hospitality venues and a curfew between 10 p.m. and 5 a.m.:
Once again, he was straining every sinew, an expression he has been using since March:
The battle against coronavirus is not over, and while we strain every sinew to spring free of its clutches, with winter on the horizon we must prepare, bolster our defences and come together once again against this common foe.
Then he announced upcoming plans to make everyone using A&E (Accident and Emergency) departments to make a booking! Good grief:
… we are working to get patients the right care in the right place, by expanding the role of NHS 111. During the peak of this pandemic, we saw millions of people using NHS 111, on the phone or online, to get the best possible advice on coronavirus, helping them to stay safe and, where possible, to stay out of hospital, where they could have unknowingly spread the virus. It is crucial that, ahead of winter, we use this window of opportunity to seek out what worked and build on it, so we provide a better service for patients and protect the NHS. Of course, no one will ever be turned away from our emergency departments in the most serious of cases; however, we have worked with the royal colleges, the NHS and others to develop a better, quicker and more clinically appropriate service for patients by using NHS 111 first.
This is how it works. We will invest £24 million to increase call-handling capacity and to make sure there are more clinicians on hand to provide expert advice and guidance, and we will build on our trials to make NHS 111 a gateway to the emergency care system, providing a first port of call for patients. In future, rather than having to queue in an emergency ward, we are testing that people should call NHS 111 first to book an appointment with whoever can give them the most appropriate care, whether it is a GP, a specialist consultant, a pharmacist, a nurse or community services. Of course if they need to go to the emergency department, NHS 111 will be able to book them into an appropriate time slot. We want to see this approach lead to shorter waiting times and better availability of appointments for patients. We will consult on how its performance is best measured, and, with successful pilots, we will roll out NHS 111 First to all trusts from December.
This is the bit that galled me the most:
The purpose of 111 First is to improve access, including in terms of inequalities in the NHS, by ensuring that people get the right treatment in the right place and easier access if they do need to go to an emergency department, because the emergency ​department will know that they are coming. It is commonplace now in almost every part of our life to let people know that we are coming. If we are going to do something as important as visit an emergency department, it will help both the patient seeking treatment and the NHS to let them know that they are coming first. That is the principle behind 111 First. It sits alongside 999, which anybody should call in a serious incident.
'People's government', my eye.
Nor is the NHS the people's health service.
If you have a serious injury, you or your loved ones could be losing life- or limb-saving time by calling 111 or 999.
Based on what I read during the March lockdown, calling 111 was life-threatening. Children calling on behalf of elderly parents were told, 'If your relative is not turning blue, do the best you can.'
Calling the ambulance service on 999 generally produced this result: 'We're overloaded. If you can take your relative to hospital yourself, please do so.'
Over the past few months, I have heard NHS senior executives give testimony to Select Committees. They do not want patients coming in to a hospital, to a GP surgery — anywhere on NHS property.
An absolute shower!
Speaking of absolute showers, Baroness Harding — Dido Harding, a former jockey and failed business consultant/corporate director — gave testimony to a Select Committee, the Commons Science and Technology Committee, led by Greg Clark MP (Tunbridge Wells, Con).
Wow. It was car-crash television on BBC Parliament.
Baroness Harding is, inexplicably, the director of NHS Test and Trace programme.
Greg Clark is no slouch. He pressed and pressed the same question. Did she not anticipate the increase of demand for tests after lockdown lifted?
Finally, she gave the answer.
The Independent reported:
Demand for coronavirus tests is three to four times the number available, the director of NHS test and trace has admitted.
Baroness Dido Harding, who told MPs there was capacity to carry out 242,817 tests a day, said the "sizeable" rise in demand had been unexpected.
Boris Johnson has pledged to raise capacity to 500,000 by next month – but Baroness Harding's estimates suggest that even that figure would not be enough to satisfy demand.
Even then:
despite images of queues outside Covid-19 drive-in centres, the testing tsar said: "I strongly refute that the system is failing."
She put the blame on SAGE …
Baroness Harding insisted current capacity had been based on modelling provided by the government's Scientific Advisory Group for Emergencies (Sage) and suggested that around a quarter of those seeking tests did not have symptoms.
… and the testing laboratories:
Quizzed by the committee chair and former Tory minister Greg Clark on the current issues in the system, she said that the "constraint" in the testing was in processing and laboratories.
On Friday, Sir Jeremy Farrar, a SAGE member and director of the Wellcome Trust, hit back.
The Telegraph reported:
Sir Jeremy Farrar, the director of the Wellcome Trust, who sits on the Government's Scientific Advisory Group for Emergencies, said the body had given "clear advice" that a fully functioning test, track and trace system should be in place …
Responding to her comments on social media, Sir Jeremy said he had personally warned that a growing testing crisis was looming.
"Interesting to be blaming Sage," he wrote on Twitter. "Has been clear, and in the advice, that the UK faced an inevitable increase in community transmission and cases after the summer and needed a fully functional and trusted test, track and trace in place."
Sir Jeremy posted his comments from a BBC interview with Andrew Marr in June, in which he warned of a "nasty rebound" if steps were not taken to improve testing. He also re-posted an article from May in which he warned that lifting restrictions was difficult even with a fully working testing programme in operation.
The testing crisis deepened on Friday when it emerged that children at four out of five schools are staying at home because they cannot get a test …
This coronavirus business will only get worse. Watch and wait.
Part 2 concerns the Brexit-related Internal Market Bill.
Thank you, Sir Edward Leigh, for speaking out against mandatory face coverings.
Yesterday's post reported that Sir Desmond Swayne MP spoke out during Health Secretary Matt Hancock's announcement about masks on July 14.
On Thursday, July 16, 2020, Sir Edward Leigh MP (Conservative, Gainsborough) made a forceful statement during Leader of the House Jacob Rees-Mogg's Business Statement. Leigh said that mandatory masks in shops should have merited a debate in the Commons. It is no small step, especially for a Conservative government. No true Conservative cares what other countries do in this regard. This is England:
Rees-Mogg brushed Leigh's objections away with a reply that a debate will be held in 'due course', which means in September or October. Parliament's last day before summer recess is Wednesday, July 22:
One consolation for today's Commons schedule was the Second Reading of the Non-Domestic Rating (Public Lavatories) Bill. Many have closed over the past several years because local councils can no longer afford them. This bill is designed to help councils out in this regard by giving rate (property tax) relief:
Back now to masks.
Sir Edward Leigh received supportive replies to his tweet.
The first concerns Lincolnshire:
The others are more generalised:
The mask controversy extends to London, too.
The Telegraph's Head of Culture, Serena Davies, wrote about her and her daughter's experience at the National Gallery in Trafalgar Square: 'How "mask rage" ruined my trip to the National Gallery'.
She thought that, as few people would be out and about, now would be a good time to take her nine-year-old daughter to see some of the most important paintings in history.
They sanitised their hands upon entry. Ms Davies asked about masks, which the Gallery 'encourages' but does not yet make mandatory. She and her daughter went without.
They went through rooms with Renaissance art. Davies's daughter marvelled at seeing the paintings in person. As they continued, they stopped in front of Titian's Poesies. Then, things took a nasty turn (emphases mine):
A tall, skinny, crow-like man wearing a black mask that seemed to cover most of his head lurched well within two metres of our periphery just as we'd sat down on a bench.
"Is there a reason for that?" he spat (into his mask).
I thought he had a problem with us sitting down. "How do you mean?" I asked.
"Masks!" he growled.
Constance and I weren't wearing them. I'd checked with the guard on arrival, and she'd said that it was optional, if "encouraged". I conveyed this to the man, who had no riposte and stalked off to glare at us from Perseus and Andromeda.
But the damage was done. "Why was the man so cross?" asked Constance in front of the Tintorettos. "That man was really quite nasty wasn't he?" she said as we peered at a De Hooch.
I said some people just start off the day with a bit of horrid to get out, and the mask thing was only an excuse.
"Do you think the man might be cheered up by a yo-yo?" she asked in the shop. We bought a yo-yo – to cheer up Constance.
Poor girl:
The rooms of paintings were simply thrilling to see, and easier to enjoy than during any other point in my lifetime, yet the masked vigilante scared my child so much he ended our fun right there.
Nasty Man will get his way on July 24, at least with regard to shops.
Coronavirus has changed the way the Western world operates.
In London, commuter levels have been at unheard of lows in recent memory. On July 16, The Telegraph's business correspondent, Allister Heath, sounded a warning: 'The death of the commuter is an extinction-level event for London'.
This means fewer railway passengers. Until mid-March, commuter trains going in and out of the capital were jam packed. Much less so now, he says, including London Underground:
The Greater London Authority, and Transport for London, its main asset, are, in effect, bankrupt, with nearly empty Tubes meaning fare revenues are in freefall, reliant on handouts from the Government.
Heath paints us a picture of an empty capital city, even now that many attractions have reopened and people have been encouraged to return to their offices:
The private sector, for its part, is facing gargantuan structural losses: the economics of offices and retail is predicated on mass commuting and tourism. The former won't fully come back; the latter will take a year or two. The arts, luxury, fashion, transport, hospitality, restaurant and many service industries face decimation. It's a full-on biotic crisis: London's economic ecosystem is suffering an immense decline in diversity. Lower-paid jobs, in particular, are being culled; the population could fall, with tens of thousands returning to Europe.
No doubt London will recover. It always does.
However, this just shows how ill-advised Matt Hancock's decision to make masks mandatory in shops is.
We can only hope that Chancellor Rishi Sunak encourages him to reverse it in the months to come.
If people feel more comfortable with masks, they are welcome to wear them.
However, shops have gone to great expense to accommodate social distancing.
Let's encourage common sense instead.
And, where masks are optional, let's stop criticising each other if people choose not to wear them.
In case anyone missed them, here are Parts 1, 2, 3 and 4 of this series about the British public's suspicion over the continuing coronavirus lockdown.
The June protests vexed Britons who were trying to do the right thing: staying at home and social distancing when outdoors.
All of a sudden, that flew out the window. Protesters had pride of place, yet, the rest of us still had to obey the social distancing guidelines.
That rankled, especially as we had been told we were selfish because we wanted to hug our loved ones who didn't live with us. Think of grandparents and grandchildren.
What about people who just needed to get outdoors in the fresh air by themselves?
What about children who longed to see their friends? This former barrister and co-editor of Conservative Woman nails it:
And what about the people who freaked out over a very limited reopening of schools on Monday, June 1?
What about the average law-abiding person?
Yes, those people are 'the problem'. We are made to feel guilty through no fault of our own.
The frustrating hypocrisy of it all:
Then we had Piers Morgan taking issue with Boris's top adviser for trying to care for his little boy and with Labour MP Barry Gardiner for attending the demonstrations. Yet, Piers applauded his own son for taking part in the protests:
But I digress.
There was no social distancing during the protests. In fact, some police officers in London were assaulted.
However, even though Health Secretary Matt Hancock advised that the rules be kept in place over the weekend of June 6 and 7:
… the lack of social distancing was acceptable:
It was for a cause.
Health 'experts' said so — 1,200 of them, in fact:
Tucker Carlson had an excellent editorial on this on Friday, June 5. Anyone complaining about social distancing and protests is 'the problem', not the protesters and rioters. Well worth a watch. You could not make this up:
But what about the people told to leave London parks because they were sunbathing by themselves? What about Piers Corbyn who was arrested twice for advocating against lockdown? Where were the Metropolitan Police during the protests? On hand, but either taking a knee or standing by doing nothing:
Boris didn't do anything, either. We have a Home Secretary. He could have got in touch with her.
This is what he issued on Saturday, June 6, the day of yet another protest in London over an American who died on home soil in Minneapolis, Minnesota:
'The evils of fascism'. Don't make me laugh, Prime Minister.
Things were no better in Northern Ireland …
… or Scotland, where thousands were expected to attend a protest on Glasgow Green:
The Labour leader, Sir Keir Starmer, was a bit slow on the riots. Didn't he know that American cities were being destroyed and shops across the country looted? President Trump never stopped peaceful assembly:
Anyway, there is some good news in all of this. More people in the public eye have noticed that continuing lockdown in the UK is a bad idea:
Unfortunately, a number of 'senior figures' from the NHS do not see it that way, primarily because of the close proximity of protesters in early June. That is not the fault of the British public and is likely to make them even angrier. They were not among the protesters. They are eager to get back to work.
In fact, said 'senior figures' will probably make the British public all the more suspicious about the protests. Were they timed to prevent lifting of lockdown? We'll never know.
In any event, this concludes this series with a few key points to keep in mind:
It's going to be a long, hot, tense summer here in the UK.
See Parts 1 and 2 of this series before reading more about Britain's silent majority who are angry about lockdown.
At present, here we are, unable to shop, get our hair cut and must still practice two-metre social distancing. Masks are optional except on public transport:
Whether we are old or young, we are treated like dirt:
And what if this coronavirus were dirt, rather than a virus?
If that is true — and I'm not saying it is — what then?
It couldn't be, could it? After all, the First Minister of Northern Ireland, the DUP's Arlene Foster, has briefed the Queen on COVID-19:
But what about all the deaths in care homes and the lives lost?
What about people's businesses going to ground?
Thank goodness for the government's generous furlough, but …
And what about travel?
This is going to be dire:
No more on board delicious dining for you:
What if you cannot reasonably travel with a face covering?
What about everything else in life?
Who wants to live like that?
This is turning the apolitical into political activists:
Is this ever going to end?
If so, how?
Perhaps it is a giant reset.
After all, we are told this is (shudder) the 'new normal':
The 'new normal' could be green:
Didn't we all enjoy the bluer skies on those sunny May days? We could keep them. 'Fewer holidays for you', the government could say:
One does have to wonder about government advisors from the public sector:
These people do not encounter the everyday man or woman. They live in their own scientific, misanthropic bubble.
They do not care what happens to us. After all, they have a guaranteed salaries and gold-plated pensions.
To be continued next week.
Before I get to coronavirus and the economy, here's a clip from Season 22 of The Simpsons. I read elsewhere that this was about the zika virus outbreak, but it hasn't aged a day. This is worth a watch for a laugh and for its uncanny accuracy:
Interesting, because:
It seems that humans can pass coronavirus to cats, but not vice versa.
I found that Simpsons clip in the replies to Newsmax's John Cardillo's tweet, which is bang on the button:
The same goes for every other nation doing a shutdown.
Coronavirus strategies adopted in most other countries — those with lockdowns — will prove fatal:
Everyone talking about 'wartime' and 'we must do our part' really needs to have the following graphic put in front of them for eight hours a day. Those idiots, especially among our notional betters, should be forced to memorise it:
Please pay special attention to the abortion number.
Then revisit the COVID-19 figure.
Even a healthcare worker agrees the shutdowns are harmful:
So does someone at 'high risk':
More here:
It's no wonder that people with two synapses rubbing together suspect that a) something is amiss or b) underfoot:
I'm disappointed in Donald Trump. I'm disappointed in Boris Johnson. As for other world leaders, I'm not surprised they plumped for a shutdown.
I don't often agree with Lord Sumption, but he nails it here:
This is what we're looking at with regard to shutdown length:
This is what Market-Ticker's Karl Denninger has to say on the matter:
He's got a set of coronavirus figures that he explains. I won't go into them here, but I do highly recommend you read them.
He concludes (all emphases in the original):
That's 50 days, approximately, or roughly two months.  In other words, roughly what they're talking about doing, right?
(For the pedantic folks that's not exact because there is some repression from already-infected in both of those sequences — but not a statistically significant amount, and it's a lot easier to follow without it.)
What did we get?  15 days (three viral infection cycles) worth of not doing it.
What do you think happens when you relax the lockdowns? R0 goes back to what it was because there's still no herd immunity.
The shutdowns will have been useless in eradicating coronavirus:
You have to get the last case in the entire country and isolate it.  You also have to prevent anyone from anywhere in the world from coming back in and re-infecting your population.  Which you can't and won't.  Only twice in the history of mankind has actual eradication been accomplished — one of which was smallpox, and that one came about by forced vaccination.  Smallpox was fatal about 30% of the time, there were many outbreaks before the vaccine was developed and while there were quarantines and forced isolation events actually preventing more outbreaks repeatedly failed until that vaccine became available and herd immunity was achieved.
Oh, and for comparison, smallpox had an R0 not too far removed from this virus — best estimates are that it was around 3.5 …
The premise that somehow "flattening the curve" means the total number of people will get this virus will be smaller is a lie.
There are exactly three ways that happens: 1) The virus is hard enough to get and easy enough to identify before contagion, which is what happened with SARS and made it possible to contain it; 2) There is a vaccine and thus we can use that to obtain herd immunity to suppress the effective R0 below 1.0 or; 3) Enough people get the virus that R0 is suppressed via natural herd immunity.
That's it.
If you suppress a virus with these measures you do not change this fact.  You only change timing, and in addition you take all the economic and social damage from those mitigation measures.  You do not change the total number of infections and, where medical interventions in the most-severe cases are ineffective 85-90% of the time, you also don't change outcomes either.
On April 3, Denninger covered the economic outlook. Be afraid, be very afraid:
Folks, there's now way to sugarcoat this: 30% of small businesses are gone.  They will never reopen.  We are not only destroying their cash flow the incessant prattle of fear has turned people against the premise of ever setting foot in a place where you may be within 6′ of another person — ever again.
If we do not stop that right now you could reopen every single bar and restaurant and they would have no customers.  It doesn't matter whether the sign reads "open" or "closed" if nobody comes through the door to spend money.  Loans, forgiven or not, do exactly nothing if there are no customers.
This threatens to be a problem that will not go away for a generation.  When the Depression came through it altered behavior for nearly 50 years.  This isn't that bad yet but it will end up that way if we don't cut this crap out right now.
Not in a month, not in three weeks, not at some indeterminate point when some model says it's ok, now.
Further, the collapse in health care I warned we were at risk of seeing is going to occur if we don't cut this crap out.  There will be little or no warning when that comes; a demand spike into collapsing employment in the sector, and thus no people to take care of you means you will die if you have an ordinary heart attack.
The only recourse — even though we're already in economic trouble — is to reopen for business:
Next month is going to print 10+ million jobs lost  The internals in this jobs report say it might print as high as 20 million.  It will break every record.  The only way to stop it is to reopen the economy right now and take whatever mitigating steps we can for those who are at high risk, which we know are identified — they are the deadly co-factors in the NY death data.  Specifically, those who have Diabetes, Lung Disease, Cancer, Immunodeficiency, Heart Disease, Hypertension, Asthma, Kidney Disease or Liver Disease, either singly or in combination, should self-isolate and not live with anyone who isn't willing to do so with them.  That means your groceries and such are ordered for pickup, you drive to the WalMart or wherever and the bags get loaded in the trunk, then you go back home.
Those people may also choose to take their chances and use HCQ as a prophylaxis.  It may work and it may not.  Some people cannot do so because of other drugs that interact badly with it, but the dose required for prophylaxis is likely similar to that for malaria, which is a once-a-week pill.  Will that stop all high-risk people from getting it and potentially dying?  Nope.  In fact it might not help much at all.  Some people will be forced off it by side effects.  We don't know.  But it's the best we have and the best we're going to have in the next few weeks, so you fight the war with the army you've got.  We cannot sit locked down for even another three to four weeks, and you know that claims is a lie; there's no date being given, the Administration already lied once and tripled its original claimed time while some governors have even issued orders all the way out into June already.
We now have governors, mayors and others that are literally placing people under house arrest — more than 3/4 of the nation's population is under such orders and some, including in Kentucky, are literally putting ankle bracelets on ordinary citizens to compel compliance.  Walton County in Florida just banned families from sitting in their yard on property they own.
This is not theoretical any more.  It is not a "inconvenience."  It has destroyed consumer confidence and if we don't cut it out now it will destroy a huge percentage of economic activity on a permanent basis.  You cannot fix this by handing people "money" that we do not have; more debt is the last thing this nation and its citizens need.
By June the economy will be a smoking hole in the ground from which we will not recover.  We will have so-ingrained people with fear that it will not matter what you do or when you do it.  That fear will last years, even decades and we absolutely must not have that happen.
Period.
We must keep people out of the hospitals that are high risk.  We cannot, as a society and economy, accept the path being put forward by people on the Gates' Foundations board and their models.  Their models, which are the predicate for every single one of the shutdowns thus far have already proved wrong in the case of NY; they claimed the city would need far more hospital beds and ICU beds than on this day are actually required.  In fact they're so far off they're laughable yet all the so-called "experts" are still setting policy with those models.  Remember, NY is the worst thus far in the US and yet the models predicted that by now it would be three times worse than it actually is.  There has only been an 0.4-0.5 change in transmission rates (from ~2.7-2.2) and that is consistent, within a tenth, between NY and nationally as a whole.
I understand the fear — it's palpable — this is a sniper attack; you can't see him but he can kill you without warning.
I get it.  It's why snipers scare the living hell out of people; a guy shooting at you who you can see is still scary, but much less-so than a gunshot that comes out of nowhere.
We must overcome the fear; we must stare it down and power through it.  We have no choice.
I fully agree. I always opposed the shutdowns, for economic and libertarian reasons in equal measure.
The statisticians advising our world leaders are dangerous characters. I'm rewording Mario Puzo's quote about a lawyer with a briefcase to say (emphasis mine):
A statistician with a spreadsheet can steal more than a thousand men with guns.
Who will make the first move to save the global economy? Donald Trump? (I think Boris Johnson will wait and see what the United States does.)
Please, President Trump, reopen for business by the end of April.