You are currently browsing the tag archive for the 'John Donne' tag.
Shall we not call our late Queen Elizabeth the Good?
While everyone has been calling her Elizabeth the Great, historian David Starkey was right to point out last week on GB News that 'the Great' belongs to rulers who won great wars.
Our Queen has also been referred to as Elizabeth the Dutiful and Elizabeth the Faithful.
Yet, it seems we should find a monosyllabic word.
Therefore, Elizabeth the Good seems fitting.
Someone on GB News suggested that very briefly, and only once. It is a good suggestion.
Yesterday's post was about the Queen's state funeral in London, the first since Winston Churchill's in 1965.
Monday, September 19 concluded with her committal service at St George's Chapel at Windsor Castle.
The funeral cortege left London for Windsor, where the public viewing area was full of mourners. You could hear a pin drop.
The procession was smaller and made its way up the Long Walk to the castle.
The Queen's favourite pony stood quietly on the side to watch his mistress pass by one last time. Her two corgis were nearby and able to watch it. They were very well behaved. Do animals sense death? It would seem so.
Prince Andrew is now the keeper of the corgis.
The Times reported (emphases mine):
The Queen's corgis waited in the Quadrant at Windsor Castle as the funeral procession made its way to St George's Chapel.
Muick and Sandy — one on a red lead and one on a blue lead — were brought out on to the steps by two pages in red tailcoats for the arrival of the Queen's coffin.
Emma, the Queen's fell pony, was standing in a gap in the floral tributes lining the Long Walk as the procession moved towards the castle. Emma was among the Queen's favourites and is said to be still going strong at 24 years old.
The two corgis will now be looked after by the Duke of York and his ex-wife Sarah, Duchess of York.
Muick (pron. 'Mick') is named for one of Prince Philip's favourite places in Scotland, Loch Muick.
This video shows the crowds, the procession and her favourite animals:
The pallbearers carefully carried the Queen's casket, which, as it is lined with lead, weighs around 700 pounds. An even procession upwards mandates that all the pallbearers be the same height. The officer in charge gave them instructions on negotiating the steps of St George's Chapel as they progressed:
Around 800 invited mourners filled the chapel. That said, this was a more private service for those who live and work on the estate as well as for foreign royals, other dignitaries and for members of the military.
The Order of Service for the Committal is here:
The service began at 4:08 p.m., eight minutes later than scheduled. The procession in London took slightly longer than anticipated.
Senior members of the Royal Family, including young Prince George and Prince Charlotte, processed behind the casket in the chapel.
The full service is below. Access it via their tweet:
My far better half preferred the Committal Service to the one in the Abbey because it dealt with her instruments of state and her being lowered into the vault at the end.
I immediately noted the more modern English used in the prayers and the spoken readings.
Highlights of the service follow.
The pallbearers brought the Queen's casket up in front of the altar, over the lift that would take her down into the vault at the end. This also happened at Prince Philip's funeral:
The minister from Crathie Kirk near Balmoral joined the Chapel clergy and the Archbishop of Canterbury:
The service will be conducted by the Right Reverend David Connor, Dean of Windsor, with prayers said by the Rector of Sandringham, the Minister of Crathie Kirk and the Chaplain of Windsor Great Park and the blessing pronounced by the Lord Archbishop of Canterbury, The Most Reverend Justin Welby.
The Choir of St George's Chapel will sing during the Service, conducted by Director of Music James Vivian.
The choir sang Psalm 121:
I will lift up mine eyes unto the hills: from whence cometh my help.
My help cometh even from the Lord: who hath made heaven and earth.
He will not suffer thy foot to be moved:
and he that keepeth thee will not sleep.
Behold, he that keepeth Israel: shall neither slumber nor sleep.
The Lord himself is thy keeper: the Lord is thy defence upon thy right hand;
So that the sun shall not burn thee by day: neither the moon by night.
The Lord shall preserve thee from all evil:
yea, it is even he that shall keep thy soul.
The Lord shall preserve thy going out, and thy coming in:
from this time forth for evermore.
Then the choir sang The Russian Kontakion for the Departed, also sung at Prince Philip's funeral in 2021. He had been raised Greek Orthodox.
The musical arrangement was the Kiev Melody, in a nod to Ukraine.
These are the lyrics:
Give rest, O Christ, to thy servant with thy Saints:
where sorrow and pain are no more; neither sighing but life everlasting.
Thou only art immortal, the Creator and Maker of man:
And we are mortal, formed of the earth, and unto earth shall we return:
For so thou didst ordain, when thou createdst me, saying,
Dust thou art, and unto dust shalt thou return.
All we go down to the dust; and, weeping o'er the grave we make our song:
Alleluya, alleluya, alleluya.
Give rest, O Christ, to thy servant with thy Saints:
Where sorrow and pain are no more; neither sighing but life everlasting.
The Dean of Windsor recited the Bidding Prayer:
We have come together to commit into the hands of God the soul of his servant Queen Elizabeth. Here, in St George's Chapel, where she so often worshipped, we are bound to call to mind someone whose uncomplicated yet profound Christian Faith bore so much fruit. Fruit, in a life of unstinting service to the Nation, the Commonwealth and the wider world, but also (and especially to be remembered in this place) in kindness, concern and reassuring care for her family and friends and neighbours. In the midst of our rapidly changing and frequently troubled world, her calm and dignified presence has given us confidence to face the future, as she did, with courage and with hope. As, with grateful hearts, we reflect on these and all the many other ways in which her long life has been a blessing to us, we pray that God will give us grace to honour her memory by following her example, and that, with our sister Elizabeth, at the last, we shall know the joys of life eternal.
The Dean of Windsor, who is also the Register of the Most Noble Order of the Garter, for it is at St George's Chapel where the Garter ceremonies are conducted, read Revelation 21.1-7:
I saw a new heaven and a new earth: for the first heaven and the first earth were passed away; and there was no more sea. And I, John, saw the holy city, new Jerusalem, coming down from God out of heaven, prepared as a bride adorned for her husband. And I heard a great voice out of heaven saying, Behold, the tabernacle of God is with men, and he will dwell with them, and they shall be his people, and God himself shall be with them, and be their God. And God shall wipe away all tears from their eyes; and there shall be no more death, neither sorrow, nor crying, neither shall there be any more pain: for the former things are passed away. And he that sat upon the throne said, Behold, I make all things new. And he said unto me, Write: for these words are true and faithful. And he said unto me, It is done. I am Alpha and Omega, the beginning and the end. I will give unto him that is athirst of the fountain of the water of life freely. He that overcometh shall inherit all things; and I will be his God, and he shall be my son.
The minister of Crathie Kirk participated in the clergy prayers. These included one for the Royal Family and another for the Queen and her fellow Companions of the Order of the Garter:
Lord God Almighty, King of creation, bless our King and all Members of the Royal Family. May godliness be their guidance, may sanctity be their strength, may peace on earth be the fruit of their labours, and their joy in heaven thine eternal gift; through Jesus Christ our Lord. Amen.
God save our gracious Sovereign and all the Companions, living and departed, of the Most Honourable and Noble Order of the Garter. Amen.
The choir sang the prayer from John Donne that was also part of the Westminster Abbey service.
Then the drama began. I cannot think of a better word, so, please excuse me.
The Telegraph describes how the Queen's instruments of state were ceremonially removed from her coffin and placed on the altar. This was written beforehand, hence the future tense:
Queen Elizabeth II will finally part company with the Imperial State Crown, orb and sceptre as the final hymn is sung at her committal ceremony, in what is likely to be one of the most moving moments of today's funeral …
They will only be removed in the final moments before the public sees its last images of the monarch's coffin.
Before the final hymn is sung in St George's Chapel during the ceremony that begins at 4pm today, Mark Appleby, the Crown Jeweller, will remove the crown, orb and sceptre from the coffin, with the help of the Bargemaster and the Serjeants-at-Arms – royal servants who guard the regalia during state occasions. They will pass them one by one to the Dean of Windsor, who will place them on the high altar.
While the crown represents the sovereign's power over her subjects, the orb, made up of a cross above a globe, represents Christ's earthly dominion and symbolises the monarch's status as God's mortal representative. The sceptre, which holds the world's largest cut diamond, the Cullinan I, represents equity and mercy. They will be presented to the King at his coronation in 2023.
They are now back safely at the Tower of London.
Watching this ceremony, I was reminded of 1 Timothy 6:7:
For we brought nothing into this world, and it is certain we can carry nothing out.
Each instrument of state had its own purple cushion on the altar. The orb has a golden spike on the bottom to keep it anchored. Its cushion is specially designed with a metal recipient in the centre.
King Charles then had a role to play. He was sitting where the Queen used to sit.
He rose and stood before his mother's coffin to:
place a military flag on top of the coffin which, according to the Army, will be placed inside her coffin before she is interred.
The Grenadier Guards Queen's Company Camp Colour – a small flag which normally adorns the Company Captain's bunk designating his place of work – is unique to each sovereign and ceases to be used when they die …
The Grenadier Guards are the most senior of the Foot Guards regiments, and the Queen was their Colonel in Chief.
The full-sized version of the flag was draped at the foot of the Queen's coffin as she lay in state.
After that took place, the King took his place and the Lord Chamberlain, the Royal household's most senior member, broke his wand of office and placed it on top of the coffin. The wand is designed such that there is a break point in the middle, surrounded by metal on either side.
The Lord Chamberlain broke his wand because, with the Queen's death, his work has now ended — unless the King decides to reappoint him.
Here are photos of the instruments of state, King and the Lord Chamberlain:
The Queen's coffin was then lowered into the vault (see the 1:42:00 point in the Royal Family video). The complete lowering is never shown to the public.
While that took place, the Dean of Windsor recited Psalm 103:13-17 in traditional language:
Like as a father pitieth his own children:
even so is the Lord merciful unto them that fear him.
For he knoweth whereof we are made:
he remembereth that we are but dust.
The days of man are but as grass:
for he flourisheth as a flower of the field.
For as soon as the wind goeth over it, it is gone:
and the place thereof shall know it no more.
But the merciful goodness of the Lord endureth for ever and ever
upon them that fear him:
and his righteousness upon children's children.
He then recited a committal prayer, again in traditional language:
Go forth upon thy journey from this world,
O Christian soul;
In the name of God the Father Almighty who created thee;
In the name of Jesus Christ who suffered for thee;
In the name of the Holy Spirit who strengtheneth thee.
In communion with the blessèd saints,
and aided by Angels and Archangels,
and all the armies of the heavenly host,
may thy portion this day be in peace,
and thy dwelling in the heavenly Jerusalem.
Amen.
Then, the Queen's Piper, Pipe Major James M. Banks — the one who played the lament at Westminster Abbey — appeared in a side aisle to play another lament.
As he was ending, viewers could see him pass the doorway near the altar and vanish as the pipes faded away into silence.
You won't want to miss this:
The service was about to end but not before the Dean prayed for the King:
Let us humbly beseech Almighty God to bless with long life, health and honour, and all worldly happiness the Most High, Most Mighty and Most Excellent Monarch, our Sovereign Lord, now, by the Grace of God, of the United Kingdom of Great Britain and Northern Ireland and of His other Realms and Territories King, Head of the Commonwealth, Defender of the Faith, and Sovereign of the Most Noble Order of the Garter. God Save The King.
The Archbishop of Canterbury gave the blessing:
Go forth into the world in peace;
Be of good courage, hold fast that which is good,
render to no one evil for evil; strengthen the fainthearted,
support the weak, help the afflicted, honour all people,
love and serve the Lord, rejoicing in the power of the Holy Spirit;
And the blessing of God Almighty,
the Father, the Son, and the Holy Spirit
be among you and remain with you always. Amen.
The congregation sang one verse of the National Anthem.
They then processed out in order:
All remain standing as The King and The Queen Consort, preceded by the Archbishop of Canterbury and the Archbishop of York and accompanied by the Dean of Windsor, move to the Galilee Porch. At the Galilee Porch the Archbishop of York, the Archbishop of Canterbury and the Dean of Windsor take their leave.
Other members of the Royal Family, escorted by the Canons of Windsor, move to the Galilee Porch, where the Canons, the Archbishop of York, the Archbishop of Canterbury and the Dean of Windsor take their leave.
Members of Foreign Royal Families, Governors Generals and Realm Prime Ministers, escorted by Gentlemen Ushers, move to the West Doors.
The Choir and Succentor leave the Quire by way of the Organ Screen. The Clergy leave by way of the North Quire Gate. The Congregation sits.
His Majesty's Body Guard of the Honourable Corps of Gentlemen at Arms and The King's Body Guard of the Yeomen of the Guard move by way of the Centre Aisle, the North Nave Aisle and the North Quire Aisle to the Cloisters.
The Congregation will be asked by the Stewards and the Ushers to leave the Chapel.
However, the day was not yet finished for the Queen's children.
At 7:30 p.m., they returned to enter the tiny King George VI Memorial Chapel, which holds only six people maximum, to inter their beloved mother and father:
whose coffins will be moved from the royal vault to be interred alongside the Queen's parents and her sister Princess Margaret.
According to Royal experts, George VI often said to his wife and daughters before the Queen married, 'It's only the four of us'.
Here is a family portrait of them with the Duke of Edinburgh:
With the interment came the end of Operation London Bridge, which went brilliantly. It is likely to have been the first and the last occasion of its kind.
Well, the Queen was the first and last of her kind, too:
The Royal Family have another week of mourning. Until now, they have had no chance to grieve privately:
Visitors to Royal palaces should be aware that some exhibitions and tours will be closed, some for the rest of the year:
In closing, many of us will feel like this corgi, rather bereft:
My next post will analyse the significance of the funeral services and the past two weeks.
On Monday, September 19, 2022, the United Kingdom held its first state funeral since the death of Winston Churchill in 1965.
The public viewing of the Queen's casket at Westminster Hall ended at 6:30 a.m.:
I am certain that more than 250,000 people filed past in four days in London, because in 2002, 200,000 filed past her mother's coffin in three days. I was one of them. It was an unforgettable experience.
The Sky News article had more numbers before the Queen's funeral at Westminster Abbey began:
The Mayor of London's office said an estimated 80,000 people were in Hyde Park, 75,000 in ceremonial viewing areas and 60,000 on South Carriage Drive.
Overall numbers will be much higher as crowds formed on virtually the entire route to Windsor, where Thames Valley Police said 100,000 people had turned out.
The Telegraph reported much higher numbers for Westminster Hall. These seem more realistic to me:
The four-day lying-in-state ceremony has seen more than a million mourners packing the banks of the Thames, waiting in a queue which, at its peak, took 24 hours and stretched 10 miles, beyond London Bridge to Southwark Park.
On the final day, Westminster Hall was attended by dozens of foreign leaders and royals who have arrived in London ahead of the state funeral, which starts at 11am.
They included Joe Biden, the US President, Emmanuel Macron, the French leader, Olena Zelenska, the First Lady of Ukraine, President Jair Bolsonaro of Brazil and his wife Michelle, King Felipe and Queen Letizia of Spain, and King Phillipe and Queen Mathilde of Belgium.
On Sunday morning, the Government warned people not to travel to the queue "to avoid disappointment".
Another Telegraph article had more statistics about the Elizabeth Line (emphases mine):
At an average queueing time of 12 hours – perhaps even more – they had clocked up a total of 4.8 million hours between them as they shuffled forward, uncomplainingly, in the sunshine, and in the cold, and in the dark. It means that since the late Queen's lying in state began last Wednesday, her people had spent a cumulative 550 years saying their final thank you.
And if each of them entered the winding, folding queue at its end in Southwark Park, they would have walked 4 million miles between them, the equivalent of 153,846 marathons.
The fact that all of them knew how arduous the wait would be, having been given ample warning, is an even more reliable measure of how much Queen Elizabeth meant to them.
From children in push-chairs to pensioners and even global celebrities, they patiently waited their turn to spend only a few minutes in the presence of the late Queen's coffin, almost all of them pausing to bow or curtsy, many of them turning away in tears.
As one of my readers, dearieme, pointed out, this shows the trust our Queen had in her subjects and foreign visitors:
How often in the history of civilisations would governments, here or elsewhere, have allowed – even encouraged – huge mobs of the public to congregate, and trust largely to their natural instincts to keep themselves in order?
I think the answer might be "rarely".
Douglas Murray pondered all of the above in his Telegraph article: 'Our late Queen's final act was to bring her nation and the world deeply together'.
Excerpts follow:
The passing of Elizabeth II is remarkable for many reasons. But just one of them is the way in which the Queen's final act seems to have been to bring her nation deeply together.
There is the literal way in which that has happened, with the mini-nationalists across Britain ceasing – for a moment at least – their relentless task of trying to tear our country apart. The Scottish nationalists observed the death of our monarch without a series of "buts". Even Sinn Fein paid tribute and passed condolences to the Queen's son and heir – an act that would have been unthinkable beforehand.
People have rightly remarked on the way in which hundreds of thousands of people have queued to pay their own personal respects to the late Queen. But almost as remarkable is the way in which other nations around the world, as well as their media, have mourned her death …
The Queen leaves behind a Commonwealth that has been united in mourning – hardly the expected reaction if she had been the cruel tyrant of the New York Times's imagination.
What is more, although the dissenters have received an extraordinary amount of attention, more extraordinary by far is how united the world's response has been.
France, for instance, is not a country known for its love of monarchy. But on the death of Queen Elizabeth the French political and media class were united in paying tribute to her. She was honoured on the cover of almost every French magazine and periodical, as she was across the European and world media.
This reaction is largely a tribute to a reign of unparalleled length and dignity, a life given to the service of the country and the deepening of alliances with our friends and allies. But it also serves as a reminder of the way in which Britain is regarded around the world. With the exception of a few raucously noisy malcontents, we find that most people do not regard Britain as some terrible tyrannical power, either now or in history. Most see us, rightly, as having been among the fairer, certainly more benign, world powers …
This is the Britain that is still influential both in its impact abroad and also in the lives of its citizens. I doubt that there has been a figure in history whose death has led to such a voluntary outburst of feeling. There may have been despots whose death had to be mourned by their citizens and subjects, but there can have been few, if any, who have ever produced such willing devotion.
And there is a lesson in this for our institutions, and for institutions and nations around the world: people are loyal to institutions that are loyal to them. Break any part of that pact and you break the whole; sustain it and you sustain the whole.
Queen Elizabeth II swore an oath to this country as a young woman, and it was an oath she kept until her dying day. That loyalty is what is being honoured and mirrored today: the respect of people around the world for a life of service and duty. Something to remember, certainly. But something to emulate and live up to as well.
On the subject of tributes from abroad, a Belgian created this inspired photo montage of the Queen:
The next two short videos are well worth watching. The first is about Elizabeth II's 'Queenhood', probably written by the poet laureate with footage from her coronation. The second is a film montage of her entire life from beginning to end:
Operation London Bridge — the Queen's funeral plan — was now in its final phase in the capital and at Windsor Castle.
A military procession arrived at Westminster Hall to take the Queen for her final time to Westminster Abbey.
A new bouquet of pink and purple flowers with foliage and herbs — rosemary for remembrance and myrtle from the plant which supplied the sprigs for her wedding — replaced the white wreath for her lying in state:
Eight pallbearers from the military carefully placed her coffin onto a gun carriage. Naval ratings holding onto ropes in front and in back guided the gun carriage on its way.
This tradition began with Queen Victoria's funeral, which took place in January 1901. Horses were supposed to transport the gun carriage, but part of it snapped off in the cold, thereby making it impossible. Prince Louis Battenberg, who was Prince Philip's grandfather, came up with the solution, which, he said, had operated satisfactorily during the Boer War:
If it is impossible to mend the traces you can always get the naval guard of honour to drag the gun carriage.
The tradition continued throughout the 20th century:
The gun carriage is part of the materiel of the King's Troop, commanded for the first time by a woman, Captain Amy Hooper. She told The Telegraph that she was in Canada when the Queen's death was announced:
"BRIDGE, BRIDGE, BRIDGE," the text stated. "Operation LONDON BRIDGE has been activated. Initiate telephone cascade. All personnel are to return to camp" …
She was in Calgary when the news broke, along with soldiers exercising alongside Canadian mounted units. The British party was flying back to the UK within five hours …
Soldiers as far away as Turkey and America had to cancel their family holidays and return to the UK …
On Monday, she will be leading the gun team in Hyde Park for the Queen's funeral.
King's Troop, a unit of about 160 soldiers with an equal split of men and women, has one of the most important ceremonial roles in the British armed forces.
Their six 13-pounder quick-fire guns, built between 1913 and 1918, all of which have seen active service in the First and Second World Wars, are used regularly for royal salutes in Hyde Park, Green Park or Windsor Great Park for State Occasions and to mark royal anniversaries and royal birthdays …
The gun carriage is known as the George Gun Carriage, and carried King George VI's coffin from Sandringham Church to Wolferton Station in February 1952. It was also used in the funeral of the Queen Mother in 2002.
Queen Elizabeth's funeral had more troops and regiments than had ever been gathered at one time.
These included troops from around the Commonwealth, particularly Canada and Australia:
The soldiers walked at a 75 beat per minute pace, which is slow and difficult to sustain.
The Times reported on the use of a metronome, mimicked on the day by drum beats to ensure proper timing:
Military chiefs have been told to "up their game" for the Queen's funeral today and listen to a metronome at 75 beats per minute to ensure the right pace during the procession.
Admiral Sir Tony Radakin, the chief of the defence staff, admitted to nerves but said an enormous amount of planning for the event had gone on for "a very long time". He said more than 10,000 soldiers, sailors and airmen and women would perform their "last duty" to the Queen during the day's events.
Queen Elizabeth wished to have her funeral at Westminster Abbey because she had been married and crowned there.
The last monarch to have a funeral at the Abbey was George II on November 13, 1760. The other monarchs had theirs at St George's Chapel at Windsor Castle.
The Queen's children along with Princes William and Harry walked in the procession to the Abbey.
Meanwhile, heads of state and dignitaries took their places inside. Charity workers also were seated.
The Queen Consort and the Princess of Wales arrived with Prince George, 9, and Princess Charlotte, 7:
The procession arrived at the Abbey and the pallbearers carefully carried the Queen's coffin inside:
You can find the Order of Service here:
The Times has an excellent article on the service.
You can see the procession from Westminster Hall and the full funeral service. As with the other Royal Family YouTube links I have posted, if you get a message saying it cannot be viewed, click on 'Watch on YouTube' or this tweet:
The Queen chose the music, which held particular significance to her and to the Abbey:
Pardon the irreverence, but this is an aerial view of the seating plan in the transept. Look how far back Joe Biden was. Apparently, his Beasts and motorcade got caught up in traffic, although he arrived before the service began. By contrast, the dignitaries who took the white coaches in the 'podding' system got there on time. Even if he hadn't been late, he would still have been seated in the same place.
The altar is to the left and, out of shot, to the right are more seats for guests: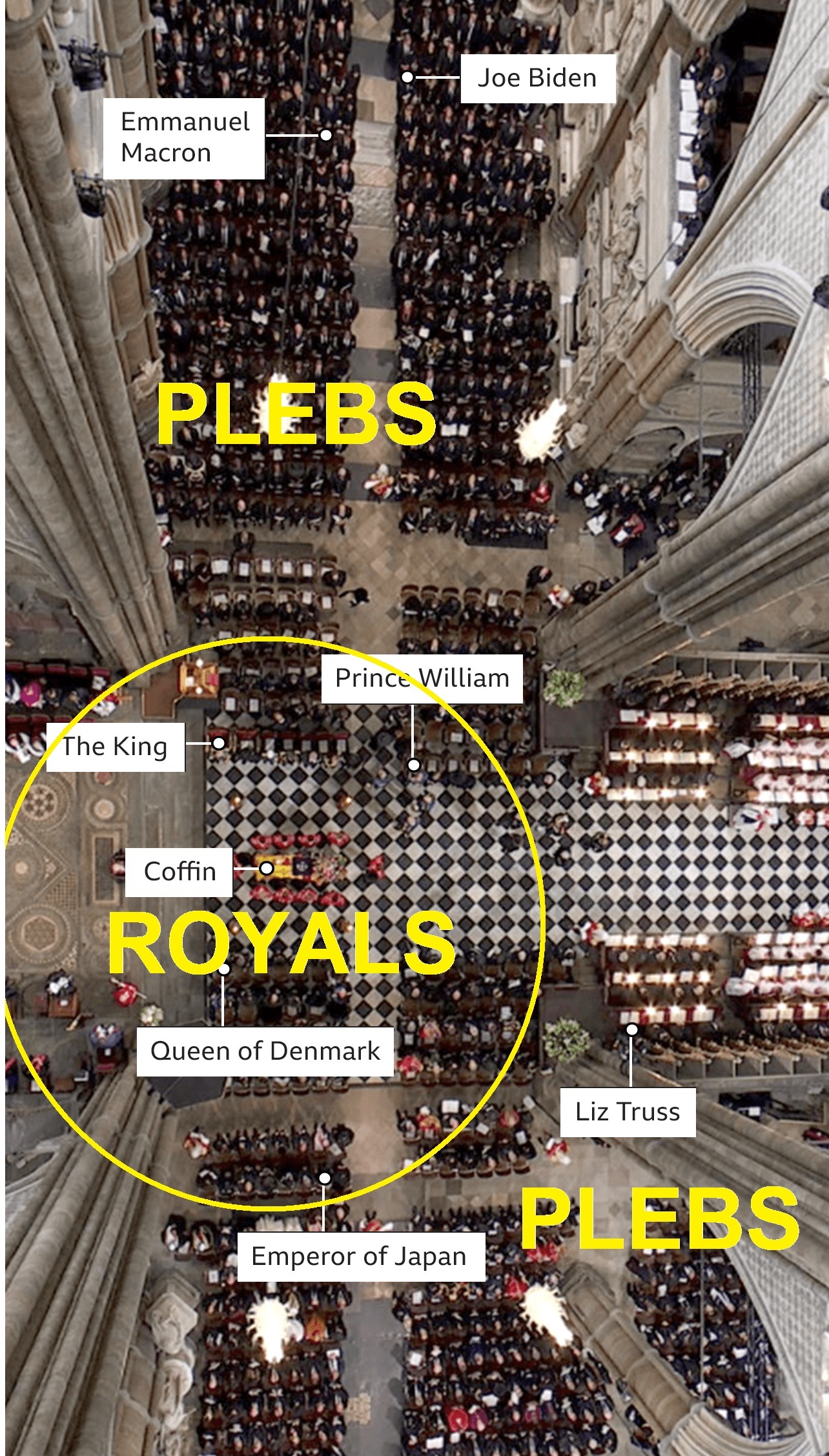 Likely sitting out of shot was, ironically, The Guardian's editor, Kath Viner:
Guido Fawkes has a quote from one of her recent editorials. I cannot bear to cite it in full, so here are the first and last sentences:
Royal rituals are contrived affairs meant to generate popular attachment to a privileged institution and to serve as reminders of a glorious past … How much Britain will be changed once this moment floats past the country is as yet unknown.
Guido commented (emphasis his):
Of course that didn't stop the Guardian's editor Kath Viner accepting a ticket to the funeral from the "privileged institution" herself. Maybe she's sentimental…
Another hypocrite turned up, Scotland's First Minister Nicola Sturgeon, she of the second independence referendum.
The Times has a photo of her and her husband, Peter Murrell, along with a few quotes:
Nicola Sturgeon has said it was an "honour to represent Scotland" as leaders from across the world joined the royal family and other mourners at the state funeral.
The first minister was among some 2,000 mourners at Westminster Abbey along with leaders of the other main Scottish political parties. She spoke of a "final and poignant goodbye to a deeply respected and much-loved monarch".
As I listened to the liturgy, I could not help but think that this is the last time we will hear language from the King James Version of the Bible and the 1662 Book of Common Prayer at a service for the Royals. How I will miss it. I hope I am wrong.
There was one prayer from an even earlier version of the Book of Common Prayer, Archbishop Cranmer's, from 1549. This was put to music. The choir did it full justice:
THOU knowest, Lord, the secrets of our hearts; shut not thy merciful ears unto our prayer; but spare us, Lord most holy, O God most mighty, O holy and most merciful Saviour, thou most worthy Judge eternal, suffer us not, at our last hour, for any pains of death, to fall from thee. Amen.
This was the Bidding Prayer:
O MERCIFUL God, the Father of our Lord Jesus Christ, who is the resurrection and the life; in whom whosoever believeth shall live, though he die; and whosoever liveth, and believeth in him, shall not die eternally; who hast taught us, by his holy Apostle Saint Paul, not to be sorry, as men without hope, for them that sleep in him: We meekly beseech thee, O Father, to raise us from the death of sin unto the life of righteousness; that, when we shall depart this life, we may rest in him, as our hope is this our sister doth; and that, at the general Resurrection in the last day, we may be found acceptable in thy sight; and receive that blessing, which thy well–beloved Son shall then pronounce to all that love and fear thee, saying, Come, ye blessed children of my Father, receive the kingdom prepared for you from the beginning of the world. Grant this, we beseech thee, O merciful Father, through Jesus Christ, our mediator and redeemer. Amen.

The entire liturgy was a lesson about faith and salvation. Even an unbeliver could not miss it.
I pray that it works on the hearts and minds of those in attendance who are indifferent.
The Queen always liked Psalm 42 for its reference to the hart, which reminded her of Scotland:
LIKE as the hart desireth the water–brooks : so longeth my soul after thee, O God.
My soul is athirst for God, yea, even for the living God : when shall I come to
appear before the presence of God?
My tears have been my meat day and night : while they daily say unto me, Where is
now thy God?
Now when I think thereupon, I pour out my heart by myself : for I went with the
multitude, and brought them forth into the house of God;
In the voice of praise and thanksgiving : among such as keep holy–day.
Why art thou so full of heaviness, O my soul : and why art thou so disquieted within
me?
Put thy trust in God : for I will yet give him thanks for the help of his countenance.
Prime Minister Liz Truss read the second Lesson, John 14:1-9a:
LET not your heart be troubled: ye believe in God, believe also in me. In my Father's house are many mansions: if it were not so, I would have told you. I go to prepare a place for you. And if I go and prepare a place for you, I will come again, and receive you unto myself; that where I am, there ye may be also. And whither I go ye know, and the way ye know. Thomas saith unto him, Lord, we know not whither thou goest; and how can we know the way? Jesus saith unto him, I am the way, the truth, and the life: no man cometh unto the Father, but by me. If ye had known me, ye should have known my Father also: and from henceforth ye know him, and have seen him. Philip saith unto him, Lord, shew us the Father, and it sufficeth us. Jesus saith unto him, Have I been so long time with you, and yet hast thou not known me, Philip? He that hath seen me hath seen the Father.

After Psalm 23 was sung, the Archbishop of Canterbury's sermon followed:
Near the end, clergy from the main Christian denominations recited their own prayers in thanksgiving for the Queen's long reign of service.
The Abbey's Precentor then recited a prayer from John Donne (1573-1631):
BRING us, O Lord God, at our last awakening into the house and gate of heaven, to enter into that gate and dwell in that house, where there shall be no darkness nor dazzling, but one equal light; no noise nor silence, but one equal music; no fears nor hopes, but one equal possession; no ends nor beginnings, but one equal eternity; in the habitation of thy glory and dominion, world without end. Amen.
After the blessing, the State Trumpeters of the Household Cavalry sounded The Last Post:
The congregation sang two verses of the National Anthem.
The funeral service closed with a poignant military lament, Sleep, dearie, sleep, performed by the Queen's Piper, Warrant Officer Class 1 (Pipe Major) Paul Burns. He stood on a balcony overlooking the congregation. Words cannot describe it.
This video has brief highlights from the funeral:
After the funeral ended, the Queen's coffin resumed its place on the gun carriage for a procession past Whitehall, down The Mall, then past Buckingham Palace, finishing at Wellington Arch on Constitution Hill.
A gun salute also took place:
The Royals walked with the military, as before. This was a long walk.
Every person in this procession has seen active military service. I put that in bold, because some living overseas think that these are 'toy soldiers', as it were. They are anything but.
Here they are in front of Buckingham Palace. Note that the Queen's household are standing in front of the gates in their normal working clothes to pay their respects:
The horses leading the procession were gifts to the Queen from the Royal Canadian Mounted Police (RCMP), or the Mounties. The Queen was their honorary commissioner.
George, Elizabeth, Darby and Sir John are the latest in a long line of horses given by Canada to the Queen and ridden by senior royals, including King Charles and the Princess Royal, during the annual ceremony of Trooping the Colour …
In 1969, the RCMP presented her with Burmese, a seven-year-old black mare who went on to become the Queen's favourite horse.
She rode her at Trooping the Colour for 18 years, including in 1981 when Marcus Sarjeant, then 17, shot six blank rounds at the Queen as she was travelling down The Mall to the parade that marks her official birthday.
Although Burmese was briefly startled, the horse won praise for remaining calm due to her RCMP training, in which she had been exposed to gunfire.
Burmese, who died in 1990, was the first of eight horses given to the Queen by the Mounties. George was given to her in 2009. Now 22, he has been ridden each year at Trooping the Colour by Charles.
Elizabeth, now 17, named in honour of the Queen Mother, was a gift to mark the Queen's Diamond Jubilee in 2012 …
Sir John, 14, was a 90th birthday present for the Queen and is ridden at Trooping the Colour by Princess Anne, a former Olympic equestrian.
Darby, a 16-year-old Hanoverian gelding, was one of two horses received by the late monarch in 2019.
[Sergeant Major Scott] Williamson is one of four RCMP officers who will ride at the front of tomorrow's funeral procession after the Westminster Abbey service.
It will travel up Whitehall and along The Mall, passing Buckingham Palace before ending at Wellington Arch. Here, the Queen's coffin will be transferred from the state gun carriage to a hearse for her final journey to Windsor.
I will cover the committal service at Windsor in tomorrow's post.
John Donne wrote an excellent sermon which is a good meditation for Easter: 'The Sedulity of the Devout Women'.
'Sedulity' means 'diligence'. Those women were most sedulous in going to the tomb where Christ lay.
Donne takes for his text Mark 16:2:
And very early in the morning the first day of the week, they came to the sepulcher at the rising of the sun.
This is Donne's sermon, which encourages us to be as devoted and diligent towards Christ as these ladies were (emphases mine):
Consider their sedulity — sedulity that admits no intermission, no interruption, no discontinuance, no indifference in religious offices. Consider we therefore their sedulity, if we can. I say, if we can; because if a man should sit down at a beehive or an ant hill, and determine to watch such an ant or such a bee in its work, he would find that bee or that ant so sedulous, so serious, so various, so concurrent with others, so contributory to others, as that he would quickly lose his marks and his sight of that ant or that bee. So, if we fix our consideration upon these devout women, and the sedulity of their devotion, as the several evangelists present it to us, we may easily lose our sight, and hardly know which was which, or at what time she or she came to the sepulchre. "They came, in the end of the Sabbath, as it began to dawn toward the first day of the week," says St. Matthew; "they came very early in the morning, the first day of the week, at the rising of the sun," says St. Mark; "they prepared their spices, and rested the Sabbath, and came early the next day," says St. Luke; "they came the first day when it was yet dark," says St. John. From Friday evening till Sunday morning they were sedulous, busy upon this service; so sedulous, that thinks these women came four several times to the sepulchre, and that the four evangelists have relation to their four comings, and argues that this variety is no sign of untruthfulness in the evangelists, but testifies the sedulity of the women they speak of, going and coming, and unwilling to be far distant or long absent from their devout exercise. Beloved, true devotion is a serious, a sedulous, an impatient thing. He who said, "I fast twice in the week," was but a Pharisee; he who can reckon his devout actions is no better; he who can tell how often he has thought upon God today, has not thought upon Him often enough. It is St. [unknown] 's holy circle, "to pray that we may hear sermons profitably, and to hear sermons that we may learn to pray acceptably." Devotion is no marginal note, no interlineary gloss, no parenthesis that may be left out; it is no occasional thing, no conditional thing: "I will go if I like the preacher, the place, the company, the weather;" but it is of the body of the text, and lays upon us an obligation of fervour and continuance.

(John Donne, D. D.)

Donne points out the truth of our failings in our Christian walk. So often, for myself included, it has been one of occasion — and, yes, dependent on the celebrant or the weather — when it should rightly be one of constancy.
We can apply the same obligation of sedulity, or diligence, to our reading of Scripture and particularly of prayer. Donne is so right in saying that if we know how many times a day or a week we are doing these things, we haven't done them nearly enough.
The women wanted to be near their Lord, hence their diligent devotion to Him, even as He lay in the tomb. They, like the other disciples, were not to immediately understand that Jesus would vanquish death and rise on the third day, even though on more than one occasion He said that He would. On that day, they were 'terrified' to find the tomb empty, according to Luke 24:5.
As the women acted towards Jesus in death, let us behave towards Him more reverently and diligently as He lives and reigns as the Risen Christ forever.
Of everything in our lives, He is the most worthy of our sedulity, so let us practice unending, diligent devotion towards Him.
Anyone interested in reading more of Donne's sermons can find a selection of them at Bible Hub.
Last week, I profiled John Donne, who made an incredible personal journey from a handsome rake to devoted husband and father to the Dean of St Paul's Cathedral.
Most of us remember his poetry from English Literature class.
Although digital collections of his sermons exist, only one — and a partial one at that — is in an easily accessed format categorised by Scripture. Thank you, BibleHub.
John's Gospel has the most detailed account of Jesus's final teaching at the Last Supper, which we remember on Maundy Thursday.
John Donne was inspired to write an entire sermon on John 14:20 alone. Excerpts follow, emphases mine.
First, let's look at John 14 in its entirety. Jesus spoke these words while He and the Apostles were in the upper room at the Last Supper. Judas Iscariot had already left. The Judas referred to in verse 22 is Jude Thaddeus, who wrote the shortest book in the Bible, Jude:
I Am the Way, and the Truth, and the Life
14 "Let not your hearts be troubled. Believe in God;[a] believe also in me. 2 In my Father's house are many rooms. If it were not so, would I have told you that I go to prepare a place for you?[b] 3 And if I go and prepare a place for you, I will come again and will take you to myself, that where I am you may be also. 4 And you know the way to where I am going."[c] 5 Thomas said to him, "Lord, we do not know where you are going. How can we know the way?" 6 Jesus said to him, "I am the way, and the truth, and the life. No one comes to the Father except through me. 7 If you had known me, you would have known my Father also.[d] From now on you do know him and have seen him."
8 Philip said to him, "Lord, show us the Father, and it is enough for us." 9 Jesus said to him, "Have I been with you so long, and you still do not know me, Philip? Whoever has seen me has seen the Father. How can you say, 'Show us the Father'? 10 Do you not believe that I am in the Father and the Father is in me? The words that I say to you I do not speak on my own authority, but the Father who dwells in me does his works. 11 Believe me that I am in the Father and the Father is in me, or else believe on account of the works themselves.
12 "Truly, truly, I say to you, whoever believes in me will also do the works that I do; and greater works than these will he do, because I am going to the Father. 13 Whatever you ask in my name, this I will do, that the Father may be glorified in the Son. 14 If you ask me[e] anything in my name, I will do it.
Jesus Promises the Holy Spirit
15 "If you love me, you will keep my commandments. 16 And I will ask the Father, and he will give you another Helper,[f] to be with you forever, 17 even the Spirit of truth, whom the world cannot receive, because it neither sees him nor knows him. You know him, for he dwells with you and will be[g] in you.
18 "I will not leave you as orphans; I will come to you. 19 Yet a little while and the world will see me no more, but you will see me. Because I live, you also will live. 20 In that day you will know that I am in my Father, and you in me, and I in you. 21 Whoever has my commandments and keeps them, he it is who loves me. And he who loves me will be loved by my Father, and I will love him and manifest myself to him." 22 Judas (not Iscariot) said to him, "Lord, how is it that you will manifest yourself to us, and not to the world?" 23 Jesus answered him, "If anyone loves me, he will keep my word, and my Father will love him, and we will come to him and make our home with him. 24 Whoever does not love me does not keep my words. And the word that you hear is not mine but the Father's who sent me.
25 "These things I have spoken to you while I am still with you. 26 But the Helper, the Holy Spirit, whom the Father will send in my name, he will teach you all things and bring to your remembrance all that I have said to you. 27 Peace I leave with you; my peace I give to you. Not as the world gives do I give to you. Let not your hearts be troubled, neither let them be afraid. 28 You heard me say to you, 'I am going away, and I will come to you.' If you loved me, you would have rejoiced, because I am going to the Father, for the Father is greater than I. 29 And now I have told you before it takes place, so that when it does take place you may believe. 30 I will no longer talk much with you, for the ruler of this world is coming. He has no claim on me, 31 but I do as the Father has commanded me, so that the world may know that I love the Father. Rise, let us go from here.
John Donne's sermon on John 14:20 is called 'Christ's Legacy'. Most of it follows below:
I. THE LEGACY ITSELF: Knowledge. "Ye shall know." God delivered the Jews to some extent from ignorance by the law, which was their schoolmaster. But in the gospel we are graduates, and know as a matter of history and experience what was only previously known in prophecy and type, in the manifestation of Christ, and the presence of the Spirit …
II. THE TIME WHEN THIS LEGACY ACCRUES TO US. "At that day."

1. The word itself affords cheerfulness. When God inflicted the greatest plague on Egypt it was at midnight; and when He would intimate both deaths at once He says, "Thou fool, this night," etc. Against all supply of knowledge He calls him fool; against all sense of comfort in the day He threatens night.

2. It was a certain day: "That" — and soon. For after Christ had made His will at this supper, and given strength to His will by His death, and proved His will by His resurrection, and left the Church possessed of His estate by His ascension, within ten days after that He poured out this legacy of knowledge.

3. On that day the Holy Ghost came as a wind to note a powerful working; filled them, to note the abundance; and gave them utterance, to infer the communication of their knowledge to others. But He was poured forth for the benefit of all. The prophets, high as their calling was, saw nothing without the Spirit; with the Spirit simple man understands the prophets.

III. OUR PORTION IN THIS LEGACY — the measure of the knowledge of those mysteries which we are to receive. When Felix the Manichaean would prove to that was the Holy Spirit who should teach all truth, because Manes [Mani] taught many things of which men were ignorant concerning the frame and nature of the heavens, Augustine answered, "The Holy Ghost makes us Christians, not mathematicians." This knowledge is to know the end and the way — heaven and Christ. Now, in all our journeys, a moderate pace brings a man most surely to his journey's end, and so does a sober knowledge in the mysteries of religion. Therefore, the Holy Ghost did not give the apostles all kind of knowledge, but knowledge enough for their present work, and so with us. The points of knowledge necessary for our salvation are three.

1. The mystery of the Trinity. "I am in My Father." tells us that the principal use of knowledge is to know the Trinity. For to know that there is one God, natural reason serves our turn. But to know that the Son is in the Father I need the Scriptures, and the light of the Holy Spirit on the Scriptures, for Jews and Arians have the Bible too. But consider that Christ says, "ye shall know," not "ye shall know how". It is enough for a happy subject to enjoy the sweetness of a peaceable government, though he knows not the ways by which his prince governs, so it is enough for a Christian to enjoy the working of God's grace, though he inquire not into God's unrevealed decrees. When the Church asked how the body of Christ was in the sacrament we see what an inconvenient answer it fell upon. Make much of that knowledge with which the Spirit hath trusted you, and believe the rest. No man knows how his soul came into him, yet no man doubts that he has a soul.

2. The mystery of the Incarnation — "Ye in Me." For since the devil has taken manhood in one lump in Adam, Christ to deliver us as entirely took all mankind upon Him. So that the same pretence that the devil hath against us, "You are mine, for you sinned in Adam," we have also for our discharge, we are delivered, for we paid our debt in Christ.

3. The assurance of this grows from the third part of our knowledge the mystery of our redemption, in our sanctification. "I in you." This last is the best. To know that Christ is in the Father may serve me to convince another who denies the Trinity; to know we are in Christ may show that we are more honoured than angels. But what worth is this if I know not that Christ is in me. How then is this? Here the question is lawful, for it has been revealed. It is by our obedience to His inspiration, and by our reverent use of His sacrament, when the Spirit visits us with effectual grace, and Christ marries Himself to our souls.

What stood out for me were four things:
First, Donne clearly understood Paul's epistles about the shortcomings of the law in the Old Covenant. It could not — and cannot — save. Note that Donne calls the law the Jews' 'schoolmaster'. How true.
Secondly, the Holy Spirit is available to all, not just a select few. Furthermore, St Augustine said that the primary purpose of the Spirit is to help us to live a Christian life. Donne makes it easy to grasp by saying that the Spirit enables simple man to understand the prophets. One does not need a university degree to understand the Bible.
Thirdly, if the devil tempts us by telling us we are doomed, we should keep in mind that Christ paid our debt in full. We are no longer slaves to sin.
Finally, Christians are not required to understand how the holy mysteries work, only to believe, through the workings of the Holy Spirit, that they exist, e.g. the Triune God, one in three Persons. Donne wisely noted the ancient controversy in the Church that took place over what happens during the consecration of bread and wine, still a contentious subject today.
————————————————
Readings, exegeses and other observations about Wednesday of Holy Week, or Spy Wednesday, as it is traditionally known, follow:
Readings for Wednesday of Holy Week — Spy Wednesday
Wednesday of Holy Week — Spy Wednesday (2017, Henry and MacArthur on Judas: bad hombre)
The other week I read a profile of a senior Anglican clergyman, more about whom tomorrow.
At the weekend I read an article in The Telegraph about a long-deceased past Dean of St Paul's Cathedral, John Donne (1572-1631), whom his biographer Katherine Rundell describes as 'the greatest writer of sex in the English language'.
The article was timely, as the Anglican Communion remembers the poet and preacher on March 31.
It is difficult to know where to begin and where to stop with John Donne (pron. 'Dun'). One could easily write about him every day for a year. Many of us read at least one of his poems in English class many moons ago. However, he was more than a poet. He was also a womaniser, a scholar, a lawyer, and an adventurer. Later on, he was ordained and had a tremendous following in London for his powerful preaching.
Katherine Rundell's article about her new book on Donne begins with this (emphases mine):
The power of John Donne's words nearly killed a man. It was the late spring of 1623, on the morning of Ascension Day, and Donne had finally secured for himself celebrity, fortune and a captive audience.
He had been appointed the Dean of St Paul's Cathedral two years before: he was 51, slim and amply bearded, and his preaching was famous across the whole of London. His congregation – merchants, aristocrats, actors in elaborate ruffs, the whole sweep of the city – came to his sermons carrying notebooks and ink, wrote down his finest passages and took them home to dissect and relish, pontificate and argue over. He often wept in the pulpit, in joy and in sorrow, and his audience would weep with him. His words, they said, could "charm the soul".
That morning he was not preaching in his own church, but 15 minutes' walk across London at Lincoln's Inn, where a new chapel was being consecrated. Word went out: wherever he was, people came flocking, often in their thousands, to hear him speak. That morning, too many people flocked. "There was a great concourse of noblemen and gentlemen," and in among "the extreme press and thronging", as they pushed closer to hear his words, men in the crowd were shoved to the ground and trampled. "Two or three were endangered, and taken up dead for the time."
There's no record of Donne halting his sermon; so it's likely that he kept going in his rich voice as the bruised men were carried off and out of sight.
That year, he had a serious illness inspiring him to write a poem about it, a way of self-treatment that he employed throughout his life.
The Poetry Foundation tells us more. Note the language Donne employed, recalling his time as an adventurer at sea during the era of the world's great explorers:
A serious illness that Donne suffered in 1623 produced a still more startling poetic effect. In "Hymn to God, my God, in my Sickness" the poet presents his recumbent body as a flat map over which the doctors pore like navigators to discover some passage through present dangers to tranquil waters; and he ponders his own destination as if he himself is a vessel that may reach the desirable places of the world only by negotiating some painful straits:
Is the Pacific Sea my home? Or are
The eastern riches? Is Jerusalem?
Anyan, and Magellan, and Gibraltar,
All straits, and none but straits, are ways to them.
By this self-questioning he brings himself to understand that his suffering may itself be a blessing, since he shares the condition of a world in which our ultimate bliss must be won through well-endured hardship. The physical symptoms of his illness become the signs of his salvation: "So, in his purple wrapped receive me Lord, / By these his thorns give me his other crown." The images that make him one with Christ in his suffering transform those pangs into reassurance.
He was most conscious of his sin and the necessary repentance needed to reach union with Christ. He also used his surname as a pun with the word 'done' as we can see in this religious poem, again employing a maritime reference:
In Donne's poetry, language may catch the presence of God in our human dealings. The pun on the poet's name in "done" registers the distance that the poet's sins have put between himself and God, with new kinds of sin pressing forward as fast as God forgives those already confessed: "When thou hast done, thou hast not done, / For, I have more." Then the puns on "sun" and "Donne" resolve these sinful anxieties themselves:
I have a sin of fear, that when I have spun
My last thread, I shall perish on the shore;
But swear by thy self, that at my death thy son
Shall shine as he shines now, and heretofore;
And, having done that, thou hast done,
I fear no more.
For this poet such coincidences of words and ideas are not mere accidents to be juggled with in jest. They mark precisely the working of Providence within the order of nature.
Ten years earlier, in 1613, two years before he took Holy Orders, he wrote a meditation about Good Friday as he journeyed from one friend's house to another for Easter. Again, repentance looms large:
A journey westward from one friend's house to another over Easter 1613 brings home to Donne the general aberration of nature that prompts us to put pleasure before our due devotion to Christ. We ought to be heading east at Easter so as to contemplate and share Christ's suffering; and in summoning up that event to his mind's eye, he recognizes the shocking paradox of the ignominious death of God upon a Cross: "Could I behold those hands, which span the poles, / And turn all spheres at once, pierced with those holes?" ("Good Friday, 1613. Riding Westward"). An image of Christ's degradation is directly imposed upon an image of God's omnipotence. We see that the event itself has a double force, being at once the catastrophic consequence of our sin and the ultimate assurance of God's saving love. The poet's very journey west may be providential if it brings him to a penitent recognition of his present unworthiness to gaze directly upon Christ:
O Saviour, as thou hang'st upon the tree;
I turn my back to thee, but to receive
Corrections, till thy mercies bid thee leave.
O think me worth thine anger, punish me,
Burn off my rusts, and my deformity,
Restore thine image, so much, by thy grace,
That thou mayest know me, and I'll turn my face.
Now that we have the measure of the man in his later years, let us look at his life's journey.
John Donne was born into a good family with good connections, even though, for many years, he and his wife lived in penury with a house full of children.
Donne was born on January 22, 1572, to John Donne and Elizabeth Heywood, both of Welsh descent.
Biography tells us:
His mother, Elizabeth Heywood, was the grand-niece of Catholic martyr Thomas More.
Donne was a middle child, the third of six children.
The Donnes were Catholic. During the Elizabethan era, it was dangerous to be anything but Anglican. Donne's father was a wealthy merchant who was a warden of the Ironmongers Company, one of the Guilds in the City of London. He kept a low public profile because of his Catholicism. He died when young John was only four years old.
Approximately six months later, Elizabeth remarried. Her new husband, Dr. John Syminges, was a wealthy physician with three children of his own. He, too, had been widowed.
John was privately educated. At the age of 11, he went up to Oxford University, to Hart Hall, which is now Hertford College.
After spending three years at Oxford, he went up to Cambridge, where he studied for another three years.
He left both universities with no degree. This was because he refused to take the Oath of Supremacy, because of his Catholicism.
In 1591, he was accepted to the Thavies Inn law school, which was associated with Lincoln's Inn, one of the Inns of Court. He was admitted to Lincoln's Inn the following year.
1593 proved to be an alarming and pivotal year for John Donne. Elizabeth I issued a statute against Catholics, 'An Act for restraining Popish recusants', for not participating in Anglican worship. It had a drastic effect on the Donne family. One of John's brothers, Henry, who was a university student at the time, was arrested and imprisoned for harbouring a Catholic priest, William Harrington.
Henry died in Newgate Prison of bubonic plague. At that point, John began to question his Catholic faith. At the time, illness was still connected — as it had been for time immemorial — with a judgement from God.
Donne was known as Jack in those years. He began writing love poems, circulated to a small group of friends and never intended for widespread publication.
Biography says:
During the 1590s, he spent much of his inheritance on women, books and travel. He wrote most of his love lyrics and erotic poems during this time. His first books of poems, "Satires" and "Songs and Sonnets," were highly prized among a small group of admirers.
Katherine Rundell's article for The Telegraph features and discusses a portrait Donne had commissioned, which now hangs in the National Portrait Gallery in London. (Image credit: Wikipedia/BBC News)
When Jack was 23, he:
sat for a portrait. The painting was of a figure who knew about fashion; he wore a hat big enough to sail a cat in, a big lace collar, an exquisite moustache. He positioned the 
pommel of his sword to be just visible, an accessory more than a weapon. Around the edge of the canvas was painted in Latin, "O Lady, lighten our darkness"; a not-quite-blasphemous misquotation of Psalm 17, his prayer addressed to a lover. And his beauty deserved walk-on music, rock-and-roll lute: all architectural jawline and hooked eyebrows …
To call anyone the "best" of anything is a brittle kind of game – but if you wanted to play it, Donne is the greatest writer of desire in the English language. He wrote about sex in a way that nobody ever has, before or since: he wrote sex as the great insistence on life.
Here is one of his verses from that period, in which he compares a lover to the New World:
License my roving hands, and let them go
Behind, before, above, between, below!
O my America! My new-found land!
My kingdom, safeliest when with one man manned!
There is also 'The Flea':
The speaker watches a flea crawl over the body of the woman he desires:
Mark but this flea, and mark in this
How little that which thou deny'st me is;
Me it sucked first, and now sucks thee,
And in this flea, our two bloods mingled be.
The sort of love he wrote about was not merely about the union of a man and a woman, but of a transcendent relationship.
Here we encounter some very 21st century language, which I will highlight in bold below.
Rundell says:
There is the meat and madness of sex in his work – but, more: Donne's poetry believed in finding eternity through the human body of one other person. It becomes akin to sacrament. Sacramentum is the translation in the Latin Bible for the Greek word for mystery: and Donne knew it when he wrote, "We die and rise the same, and prove/ Mysterious by this love." He knew awe: "All measure, and all language, I should pass/ Should I tell what a miracle she was." And in "The Ecstasy", love is both a mystery and its solution. He needed to invent a word, "unperplex", to explain:
"This ecstasy doth unperplex,"
We said, "and tell us what we love…"
But as all several souls contain
Mixture of things, they know not what,
Love these mixed souls doth mix again,
And makes both one, each this and that.
"Each this and that": his work suggests that we might voyage beyond the blunt realities of male and female.
In 1596, eight years after the sinking of the Spanish Armada, Donne began two years on the high seas. He fought alongside the Earl of Essex and Sir Walter Raleigh against the Spanish at Cadiz that year, and, in 1597, the Azores, where he witnessed the sinking of the San Felipe.
Donne also went to Italy. He immersed himself in the culture of the countries he stayed in during those years.
His earliest biographer, Izaak Walton, wrote:
… he returned not back into England till he had stayed some years, first in Italy, and then in Spain, where he made many useful observations of those countries, their laws and manner of government, and returned perfect in their languages.
In 1597, he returned to London, prepared for a diplomatic career.
Soon after that, Sir Thomas Egerton, the Lord Keeper of the Great Seal, hired Donne to be his chief secretary. He was based at Egerton's home, York House, close to the seat of power, the Palace of Whitehall, the main residence of the English monarchs.
Like Donne, Egerton had also been a Catholic. He became an Anglican in 1570 in order to continue his career.
Egerton was a widower. His second wife was Elizabeth Wolley, a widow. Her maiden name was More. I am intrigued to know if she was also related to Thomas More, as was Donne's mother.
In any event, while Donne was working for Egerton, he met his employer's niece, Anne More, who ended up being his grand passion.
Anne More was a teenager at the time she and Donne met. He was in his twenties.
Katherine Rundell provides us with the love poem Donne wrote for her, which says that if he loved her in wintertime, he loved her even more during Spring. I have excerpted it below:
You cannot claim a man is an alchemist and fail to lay out the gold. This, then, is an undated poem, probably written for the woman he married, Anne More, some time in his 20s, known as "Love's Growth":
I scarce believe my love to be so pure
As I had thought it was,
Because it doth endure
Vicissitude and season as the grass;
Methinks I lied all Winter, when I swore
My love was infinite, if Spring make't more …
If as in water stirred more circles be
Produced by one, love such additions take;
Those, like to many spheres, but one heaven make,
For they are all concentric unto thee;
And though each Spring do add to love new heat –
As princes do in times of action get
New taxes, and remit them not in peace –
No winter shall abate the spring's increase.
Anne's father, George More, was the Lieutenant of the Tower of London.
Both he and Egerton strongly disapproved of the love match.
Regardless, the couple decided to marry in secret in 1601. Anne would have been 16 or 17 at the time. An Anglican priest, Samuel Brooke, a contemporary of Donne's, conducted the ceremony.
When Egerton and More found out about the wedding, Donne lost his job and was sent to Fleet Prison, along with Brooke. When Egerton and More satisfied themselves that the marriage was valid, they had Donne released from prison. Donne then had Brooke and another man involved released.
Donne's earliest biographer, his contemporary Izaak Walton, tells us what the poet wrote to his wife upon his release:
John Donne, Anne Donne, Un-done.[14]
Indeed, he was undone, because the next several years were wintry for him and his young wife. They lived in penury while she bore him a child every year.
The Donnes were despatched to the Surrey countryside to a small house that Anne's cousin, Sir Francis Wolley, owned. They lived there until 1604.
In 1605, they moved to Mitcham in South London. There they lived in another small house, unfit for a growing family.
In 1602, Donne was elected as an MP for a Northamptonshire constituency, Brackley. However, as MPs were not paid in that era, he had to search for whatever work he could get. He performed poorly paid law work and also wrote commissioned poems for wealthy patrons. Regardless, the family were only just getting by.
In 1603, Elizabeth I died. James I (James VI of Scotland) succeeded her.
It wasn't until 1609 when George More reconciled with Donne and gave him Anne's dowry.
In 1610, Donne met the man who would become his chief patron, Sir Robert Drury of Hawsted, who gave Donne and his family rooms in his house in Drury Lane, London.
That year, Donne wrote Pseudo-Martyr, a tract which encouraged Catholics to take the Oath of Allegiance to the King. Donne made his points about obedience reliant on Scripture and natural law.
Biography notes:
This won him the king's favor and patronage from members of the House of Lords.
In 1614, Donne was elected as MP once more, this time for Taunton, in Somerset. Although he received five parliamentary appointments, he made no speeches that were recorded.
In 1615, James I encouraged Donne to take Holy Orders. Soon afterwards, he became Royal Chaplain.
The Poetry Foundation tells us that it was a difficult decision for Donne, who felt unworthy. Yet, once ordained, he became a true vicar of Christ:
Donne took holy orders in January 1615, having been persuaded by King James himself of his fitness for a ministry "to which he was, and appeared, very unwilling, apprehending it (such was his mistaking modesty) to be too weighty for his abilities." So writes his first biographer, Izaak Walton, who had known him well and often heard him preach. Once committed to the Church, Donne devoted himself to it totally, and his life thereafter becomes a record of incumbencies held and sermons preached.
Sadly, in 1617, the love of Donne's life, his dear wife Anne, died in childbirth. Wikipedia tells us about her married life. After her death, Donne, despite his post as Royal Chaplain, seriously contemplated suicide:
Anne gave birth to twelve children in sixteen years of marriage, (including two stillbirths—their eighth and then, in 1617, their last child); indeed, she spent most of her married life either pregnant or nursing. The ten surviving children were Constance, John, George, Francis, Lucy (named after Donne's patron Lucy, Countess of Bedford, her godmother), Bridget, Mary, Nicholas, Margaret, and Elizabeth. Three (Francis, Nicholas, and Mary) died before they were ten. In a state of despair that almost drove him to kill himself, Donne noted that the death of a child would mean one mouth fewer to feed, but he could not afford the burial expenses. During this time, Donne wrote but did not publish Biathanatos, his defense of suicide.[15] His wife died on 15 August 1617, five days after giving birth to their twelfth child, a still-born baby.[2] Donne mourned her deeply, and wrote of his love and loss in his 17th Holy Sonnet.
Biathanatos is Greek for 'life and death'.
However deeply Donne agonised over Anne's death, God blessed him with the power of religious oratory and as the Dean of St Paul's Cathedral.
Of this period, Biography says:
His elaborate metaphors, religious symbolism and flair for drama soon established him as a great preacher …
In 1621, Donne became dean of St. Paul's Cathedral. During a period of severe illness, he wrote "Devotions upon Emergent Occasions," published in 1624. This work contains the immortal lines "No man is an island" and "never send to know for whom the bell tolls; it tolls for thee." That same year, Donne was appointed Vicar of St. Dunstan's-in-the-West and became known for his eloquent sermons.
The Poetry Foundation says that Donne's sermons moved the hardest of hearts:
160 of his sermons have survived. The few religious poems he wrote after he became a priest show no falling off in imaginative power, yet the calling of his later years committed him to prose, and the artistry of his Devotions and sermons at least matches the artistry of his poems.
The publication in 1919 of Donne's Sermons: Selected Passages, edited by Logan Pearsall Smith, came as a revelation to its readers, not least those who had little taste for sermons. John Bailey, writing in the Quarterly Review (April 1920), found in these extracts "the very genius of oratory … a masterpiece of English prose." Sir Arthur Quiller-Couch, in Studies in Literature (1920), judged the sermons to include "the most magnificent prose ever uttered from an English pulpit, if not the most magnificent prose ever spoken in our tongue."
Over a literary career of some 40 years Donne moved from skeptical naturalism to a conviction of the shaping presence of the divine spirit in the natural creation. Yet his mature understanding did not contradict his earlier vision. He simply came to anticipate a Providential disposition in the restless whirl of the world. The amorous adventurer nurtured the dean of St. Paul's.
Katherine Rundell tells us that Donne invented words for his sermons. These are very 21st century:
A few years before his own death, Donne preached a funeral sermon for the poet George Herbert's mother Magdalen, who would "dwell bodily with that righteousness, in these new heavens and new earth, for ever and ever and ever, and infinite and super-infinite forevers". In a different sermon, he wrote of how we would one day be with God in "an infinite, a super-infinite, an unimaginable space, millions of millions of unimaginable spaces in heaven". He loved to coin formations with the super- prefix: super-edifications, super-exaltation, super-dying, super-universal, super-miraculous. It was part of his bid to invent a language that would reach beyond language, because infinite wasn't enough.
John Donne died on March 31, 1631, hence the reason the Anglican Communion remembers him on that day. A large memorial stone statue of him was erected in the old St Paul's Cathedral. Donne appears in his glorified body wearing the Crown of Life. His memorial started the trend for such church monuments during the 17th century.
He was buried in the old St Paul's Cathedral, which the Great Fire of London destroyed in 1666. Incredibly, the stone statue of Donne survived the fire and is now displayed in the current St Paul's Cathedral.
How can one summarise John Donne in one sentence? It would be impossible, for he was a man who was able to combine the earthy with the divine and make both sublime, as God intended them to be.
The Poetry Foundation says:
The transformation of Jack Donne the rake into the Reverend Dr. Donne, dean of St. Paul's Cathedral, no longer seems bizarre. To impose such clear-cut categories upon a man's career may be to take too rigid a view of human nature. That the poet of the Elegies and Songs and Sonnets is also the author of the Devotions and the sermons need not indicate some profound spiritual upheaval. One reason for the appeal of Donne in modern times is that he confronts us with the complexity of our own natures.
Katherine Rundell concludes:
Sometime religious outsider and social disaster, sometime celebrity preacher and establishment darling, John Donne was incapable of being just one thing. He reimagined and reinvented himself, over and over: he was a poet, lover, essayist, lawyer, pirate, recusant, preacher, satirist, politician, courtier, chaplain to the King, dean of the finest cathedral in London. It's traditional to imagine two Donnes – Jack Donne, the youthful rake, and Dr Donne, the older, wiser priest, a split Donne himself imagined in a letter to a friend – but he was infinitely more various and unpredictable than that …
And then there was the transformation of himself: from failure and penury, to recognition within his lifetime as one of the finest minds of his age; one whose work, if allowed under your skin, can offer joy so violent it kicks the metal out of your knees, and sorrow large enough to eat you. Because amid all Donne's reinventions, there was a constant running through his lifeand work: he remained steadfast in his belief that we, humans, are at once a catastrophe and a miracle …
He believed our minds could be forged into citadels against the world's chaos: "be thine own palace, or the world's thy jail". Tap a human, he believed, and they ring with the sound of infinity. Joy and squalor: both Donne's life and work tell that it is fundamentally impossible to have one without taking up the other.
In the 21st century, Donne's imagination offers us a form of body armour. His work is protection against the slipshod and the half-baked, against anti-intellectualism, against those who try to sell you their money-ridden vision of sex and love. He is protection against those who would tell you to narrow yourself, to follow fashion in your mode of thought.
It's not that he was a rebel: it is that he was a pure original. They do us a service, the true uncompromising originals: they show us what is possible.
God broke the mould when he made John Donne. We are blessed to have his poems, essays and sermons as a legacy that withstands the test of time.
Tomorrow, in Part 2, we discover more about an Anglican clergyman who is quite the opposite.