You are currently browsing the tag archive for the 'John F Kennedy' tag.
Sadly, Prince Philip, the Duke of Edinburgh, died on Friday, April 9, 2021, exactly two months short of his 100th birthday:
The Queen has lost her best friend. My deepest sympathies to her for the unimaginable loss of her long-time husband and daily confidant. My condolences also go to the Royal Family in their grief.
Young love
The couple first met in 1934, and began corresponding when the Prince was 18 and a cadet in the Royal Navy. Princess Elizabeth was 13 at the time.
She was smitten with him from the start.
Prince Philip served with distinction during the Second World War in the Mediterranean and Pacific fleets.
After the war ended, he could have had a stellar career in the Royal Navy. His superiors praised his clear leadership skills.
However, love intervened and the rest was history.
Born Prince Philip of Greece and Denmark, he renounced his foreign titles and took British citizenship before he and Princess Elizabeth were engaged. He took the surname of his maternal grandparents: Mountbatten.
He and Princess Elizabeth were engaged in July 1947. They married on November 20 that year. Shortly before the wedding, George VI gave him the titles of Duke of Edinburgh (created for him), Earl of Merioneth and Baron Greenwich.
Prince Philip remained in the Royal Navy until July 1951. He retired with the rank of Commander.
Royal succession — and surname
In January 1952, he and the Queen began a tour of the Commonwealth countries. They were in Kenya when news reached them that the Queen's father, George VI, died on February 6 that year.
Although she became Queen immediately upon her father's death, her coronation took place in 1953, as it had to be planned meticulously.
On Coronation Day, he knelt before her, clasped her hands and swore an oath of allegiance to her:
He also had to touch her crown and kiss her on the cheek.
He never had a constitutional role, nor was he ever formally given the title of Royal Consort. The courtiers did not like him, nor did they trust him. They believed his personality to be brash and unbecoming of the Royal household. They shut him out of as much decision making as possible.
When Elizabeth became Queen, the question about her family name arose. Prince Philip suggested that the Royal Family be known as the House of Edinburgh. Upon discovering that suggestion, Queen Mary, Elizabeth's grandmother, wrote to Prime Minister Winston Churchill, who advised the young monarch to issue a royal proclamation saying that the Royal Family would continue to be known as the House of Windsor.
In his inimitable style, Prince Philip complained privately:
I am nothing but a bloody amoeba. I am the only man in the country not allowed to give his name to his own children. [57]
The Queen did nothing until eight years later, in 1960, 11 days before she gave birth to Prince Andrew. She issued an Order in Council declaring that the surname of her and her husband's male-line descendants who are not styled as Royal Highness or titled as prince or princess would be Mountbatten-Windsor.
Pater familias
Prince Philip had to carve a role out for himself. He became the pater familias and, through the years, his role expanded to cover not only his four children but his grandchildren. He listened to their concerns, shared their joys and gave them advice. He knew everything that went on in their lives.
Although the public knew him for speaking as he saw — rather bluntly, on occasion — behind closed doors Prince Philip was known to be a warm, loving man.
He also favoured a more transparent Royal Family. According to the BBC, it was he who encouraged the Queen to make a multi-episode documentary on their daily lives, including those of their four children. It was broadcast in the late 1960s. I remember seeing it in the United States.
When Princess Diana died on August 31, 1997, Prince Philip was the one who kept an eye on the public mood that fateful week. He, the Queen and Princes William and Harry were at Balmoral in Scotland for their summer holiday. When the young princes wanted to attend church, their grandparents took them to the Sunday service on the day of their mother's death. Later in the week, it was Prince Philip who encouraged the boys to walk behind the funeral procession the following Saturday. He said:
If you don't walk, I think you'll regret it later. If I walk, will you walk with me? [93]
One cannot imagine what he thought of Prince Harry's departure for the United States to live a life separate from his closely knit family. I did read that the Royal Family shielded information about the Oprah interview from him.
John F Kennedy's funeral
Prince Philip was in Washington for John F Kennedy's funeral in 1963.
He had a friendly encounter with John Jr, who was still a toddler and known as John-John at the time. The child wondered where his father was, as he had no one with whom to play. The Prince stepped in to fill that gap. In 1965, the British government gave an acre of land at Runnymede to the United States for use as a memorial to JFK:
Funeral arrangements
Prince Philip was self-effacing and did not like a fuss to be made over him.
Therefore, the funeral arrangements will respect his wishes, which is rather convenient, as coronavirus restrictions are still in place. Up to 30 people will be allowed at his funeral, in line with legislation across the nation:
The funeral is scheduled to take place on Saturday, April 17:
It is interesting that Prince Harry will be able to attend when we have a 10-day quarantine in place for arrivals into the UK under coronavirus regulations.
The Sunday Mirror reported on Prince Harry's return to the UK:
He could also be released from quarantine if he gets a negative private test on day five, under the Test to Release scheme.
Given his status as a member of the Royal Family travelling to support the Queen, Harry might be considered exempt from travel restrictions.
Wow. It's nice to know we have a two-tiered quarantine system in place /sarc.
A championship boxer remembers the Prince
Former WBC Heavyweight Champion Frank Bruno MBE posted his memories of meeting Prince Philip. He is at the top left in the following photo:
An Anglican priest remembers the Prince
The Revd Peter Mullen, an Anglican priest, recalled his encounters with Prince Philip for Conservative Woman on April 10 in 'A personal recollection'.
He first met the Prince during his schooldays:
The first time I met the Prince was in connection with his Duke of Edinburgh's Award Scheme which gave a leg up to youngsters from what would now be called the less privileged parts of the country. He paid a visit to the Leeds branch of the Church Lads' Brigade of which, aged fourteen, I was a member. We were in the church hall making things. My task was to make a table lamp. I was hopeless at it.
The Duke got hold of my half-finished creation, held it up to one eye and said, 'I suppose this hole is where the flex goes?'
'I think so, Sir.'
'You think so? I was never any good at this sort of thing either!'
And he was off . . . 
As an adult, Mullen met him on more than one occasion thanks to the Honourable Company of Air Pilots. The Prince was its Grand Master. Mullen served as chaplain.
He recalls:
The Company gave a lunch for him to mark his 80th birthday and I recall how jovial he was, making light of his years: 'I believe I have lasted so long because you people are always toasting my good health, but I don't want to live to be a hundred. Things are dropping off already!'
At another luncheon one of our Liverymen who had his own port wine business presented the prince with Bottle Number One, the first fruits, so to speak. As he left, the duke handed the bottle to me: 'You have this, Peter. Our house floats on the bloody stuff.'
'Well, Sir, now I don't know whether to drink it or frame it.'
'Gerrit down ya neck!'
Prince Philip on MPs
Guido Fawkes came up with a good quote from one of the Prince's trips to Ghana. It concerns MPs. His Ghanaian hosts told him the country had 200 MPs. Prince Philip replied:
That's about the right number. We have 650 and most of them are a complete bloody waste of time.
Incidentally, Parliament will be recalled one day early from Easter recess. On Monday, April 12, MPs and Lords paid tribute to the Prince in their respective Houses:
That afternoon, the House of Commons reconvened to pay their tribute — from 2:30 p.m. until 10 p.m. (good grief).
Speaker Sir Lindsay Hoyle spoke first:
Prime Minister Boris Johnson had this to say:
Boris Johnson, who was invited to the funeral but declined so that another member of the Royal Family can attend, said that he would forego a pint when pub gardens reopen on April 12, out of respect for the Prince. Guido Fawkes, however, thinks that the Duke of Edinburgh would have wanted us to toast his memory, especially at a pub that bears his title in Brixton, south London:
Guido had a second tweet on the subject with another quote from the Prince:
Agreed.
Prince Philip on Australia
This is too funny. For those who are unaware, Australia was established as a place where Britain could send convicts. That was a long time ago, but the nation's original purpose was to serve as a prison: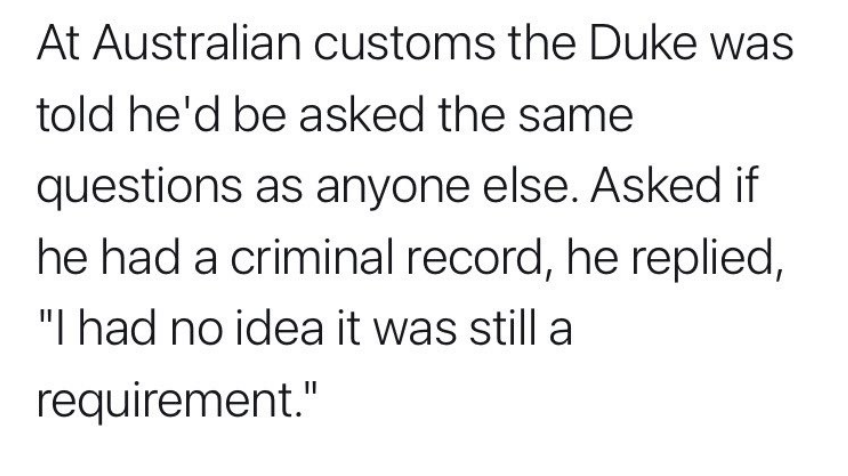 Prince Philip on civil liberties
On a serious note, the 12-minute interview below from 1984 is well worth watching, especially in the coronavirus era.
Prince Philip firmly supported the rights of the individual and believed that the state should serve the individual, not, as in our times, the other way around.
This is from a Thames Television programme originally broadcast on ITV:
I have posted the video below in case the tweets are deleted:
The Prince also said that certain subjects are out of bounds, such as the media and the NHS.
He said that the media are incapable of taking a joke about themselves and, as for the NHS, well, one cannot say anything against it. He didn't necessarily dislike the NHS but thought it was held in too high a regard. Nothing is perfect in this world.
We have been travelling a long road towards the point where we are at present: ruled by the media (they clamoured for coronavirus restrictions) and worship of the NHS. This is how Health Secretary Matt Hancock, Prime Minister Boris Johnson and SAGE have been able to rule our lives. It's been at least 40 years in the making.
BBC coverage on Friday
I was watching BBC Parliament early Friday afternoon, around 1:15, when the programme was interrupted by a broadcast from the BBC News Channel.
I checked the schedule an hour later, which said that the programme would last until 4 p.m. It was still going when I was preparing dinner at 5 p.m.
The final of MasterChef was to have been broadcast that night on BBC1. This was a clip from Thursday's programme:
Pictured are the hosts and judges, chef/restaurateur John Torode on the left and former greengrocer, now television presenter, Gregg Wallace on the right:
BUT:
The BBC News channel was simulcast all afternoon and all night long, not only on BBC Parliament but also on BBC1, to the dismay of MasterChef fans (myself included), and BBC2. BBC4 was suspended for the evening.
I read on social media that the BBC also broadcast continuous coverage of Prince Philip on their radio stations, including Radio 2, knocking out Steve Wright's drive-time show on Friday afternoon.
A friend of mine said that most of the BBC's employees were probably rubbing their hands with glee because it meant an early weekend for them. It's a cynical perspective that could well turn out to be true. We'll find out when someone writes his or her memoirs.
Everyone with a television set receives the BBC News channel. It comes into our homes at no extra charge. There was no need for the BBC to take over every channel for hours on end. By the way, if one had watched two hours of the Prince Philip coverage, as I did, one would have seen and heard everything in its entirety.
The BBC braced themselves for a plethora of complaints; they took the relevant page down on Sunday. Good. I am sure Prince Philip would have objected, too.
As much as I love the Queen, I hope they do not try this when her day comes. God willing, may it be long into the future.
Record-beating prince
Prince Philip established two records as consort to the Queen. He was the longest-serving royal consort in British history. He was also the longest-lived male member of the British royal family.
May he rest in eternal peace with his Maker.
May our gracious Lord grant the Queen, Defender of the Faith, His infinite peace and comfort in the months ahead. May He also bless the Royal Family during this difficult time.
The Revd Billy Graham departed this mortal coil on February 21, 2018, aged 99.
Only the good Lord knows how many people he converted or awakened to Christianity. If he spoke in person to 250 million people around the world during his ministry, imagine the hundreds of millions of people watching his televised Crusades and specials or listening to him on radio. What he accomplished over his 80 years as a preacher was so extraordinary that it might not be repeated for generations to come.
CBS News reported that Graham was (emphases mine):
the most widely heard Christian evangelist in history …
Spokesman Mark DeMoss said Graham, who long suffered from cancer, pneumonia and other ailments, died at his home in North Carolina on Wednesday morning.
Tributes from American presidents
President Donald Trump tweeted and followed up with a formal statement later that day:
President Trump's statement reads as follows:
Melania and I join millions of people around the world in mourning the passing of Billy Graham. Our prayers are with his children, grandchildren, great-grandchildren and all who worked closely with Reverend Graham in his lifelong ministry.
Billy's acceptance of Jesus Christ around his seventeenth birthday not only changed his life—it changed our country and the world. He was one of the towering figures of the last 100 years—an American hero whose life and leadership truly earned him the title "God's Ambassador."
Billy's unshakeable belief in the power of God's word to transform hearts gave hope to all who listened to his simple message: "God loves you." He carried this message around the world through his crusades, bringing entire generations to faith in Jesus Christ.
In the wake of the September 11th attacks in 2001, America turned to Billy Graham at the National Cathedral, who told us, "God can be trusted, even when life seems at its darkest."
Reverend Graham would be the first to say that he did not do it alone. Before her passing, his wife Ruth was by his side through it all—a true partner, a wonderful mother, and a fellow missionary soul. He also built an international team and institution that will continue to carry on Christ's message.
Melania and I were privileged to get to know Reverend Graham and his extraordinary family over the last several years, and we are deeply grateful for their love and support.
Billy Graham was truly one of a kind. Christians and people of all faiths and backgrounds will miss him dearly. We are thinking of him today, finally at home in Heaven.
George H W Bush also issued a statement:
Billy Graham was America's pastor. His faith in Christ and his totally honest evangelical spirit inspired people across the country and around the world," Bush said. "I think Billy touched the hearts of not only Christians, but people of all faiths, because he was such a good man. I was privileged to have him as a personal friend. He would come to Maine to visit with Barbara and me, and he was a great sport. He loved going really fast in my boat. I guess you could say we had that in common. Then we would come home and talk about life. He was a mentor to several of my children, including the former president of the United States. We will miss our good friend forever.
It's true. There was never a whiff of scandal around Billy Graham. God blessed him abundantly, and the Holy Spirit worked through him until the end.
CBS News discussed the long line of past presidents Graham met with:
from Harry Truman to Barack Obama, but always denied any role in setting policy saying, "I don't advise them, I pray with them," CBS News reported. Lyndon Johnson looked up to his close friend, the pastor. Richard Nixon asked for his counsel during Watergate. The elder Bush called Graham to the White House the night before he launched the first Gulf War. Younger President Bush has credited Graham with turning him away from drinking and towards embracing God.
These are the names of those 12 past presidents from at least the early 1950s through to the present day: Harry S Truman, Dwight D Eisenhower, John F Kennedy, Lyndon Baines Johnson, Richard M Nixon, Gerald R Ford, Jimmy Carter, Ronald Reagan, George H W Bush, William J Clinton, George W Bush, Barack Obama. That's a mighty long list.
And he met with President Trump.
That's 13 presidents in all.
Obama was the first sitting president to visit Graham at his home in North Carolina. That was in 2010, three years after Graham's wife Ruth went to her heavenly rest.
CBS reported that Graham also became friends with Martin Luther King Jr about a decade before the civil rights movement took root:
In 1952 he stopped segregating his crusades and began a friendship with Dr. Martin Luther King, Jr.
"All the problems of America tonight and of the world stem from the fact that we as the human race have sinned against Almighty God," he said in May 1997.
Such was the impact of Billy Graham's life that flags flew at half mast in Washington DC from February 21 to March 2, the day of his funeral and burial:
Tributes from clergy
Cardinal Timothy Dolan, the Archbishop of New York, remembered his family's respect for Graham's ministry:
As anyone growing up in the 1950's and 1960's can tell you, it was hard not to notice and be impressed by the Reverend Billy Graham," Dolan said in a statement. "There was no question that the Dolans were a Catholic family, firm in our faith, but in our household there was always respect and admiration for Billy Graham and the work he was doing to bring people to God. Whether it was one of his famous Crusades, radio programs, television specials, or meeting and counseling the presidents, Billy Graham seemed to be everywhere, always with the same message: Jesus is your Savior, and wants you to be happy with Him forever. As an historian, my admiration for him only grew as I studied our nation's religious past, and came to appreciate even more the tremendous role he played in the American evangelical movement. May the Lord that Billy Graham loved so passionately now grant him eternal rest.
One of Graham's grandsons, the Revd Tullian Tchividjian, noted his grandfather's universal appeal:
My granddad wasn't just Christian-famous, he was famous-famous, he was crossover famous.
Unfortunately, Tchividjian succumbed to temptation in his own ministry. He resigned his pastorate at Coral Ridge Presbyterian Church in Fort Lauderdale after admitting to an extramarital affair. The Presbyterian Church in America (PCA) deposed him from their South Florida Presbytery as being 'unfit for Christian ministry'. A subsequent pastorate and outreach ministry also failed because of more sexual impropriety. In 2015, Tchividjian divorced his first wife Kim after 21 years of marriage. He married his second wife Stacie the following year. Hmm. What a contrast to his grandfather.
Honour of lying in state in Capitol Rotunda
Billy Graham was honoured greatly prior to his funeral:
This is a good photo of the exterior of the Capitol Building from Billy's son's — Franklin Graham's — Samaritan's Purse ministry:
A memorial service took place. Pictured is one of Lyndon Baines Johnson's daughters, Lynda Bird. I remember when she and her husband married in 1967:
President Trump spoke at the service:
What follows is the text of President Trump's address. It's very moving — probably written by the incomparable Stephen Miller — and really expresses not only who Billy Graham was but how much he appealed to his audiences. I remember watching his Crusades when I was a child. During the first one I watched at the age of seven, I approached the television set when he made his call for people to come forward!
11:21 A.M. EST
THE PRESIDENT: Thank you, Speaker Ryan and Leader McConnell. And, most importantly, thank you to the entire Graham family for honoring us with your presence here today. Thank you.
In the spring of 1934, Billy Graham's father allowed a group of Charlotte businessmen to use a portion of the family's dairy farm to gather for a day of prayer.
On that day, the men prayed for the city. They prayed that, "Out of Charlotte, the Lord would raise up someone to preach the Gospel to the ends of the Earth."
We are here today, more than 80 years later, because that prayer was truly answered.
Billy Graham was 15 years old at the time. Just a few months later, he accepted Jesus Christ as his Lord and Savior.
That choice didn't just change Billy's life — it changed our lives. It changed our country, and it changed, in fact, the entire world.
The North Carolina farm boy walked out of those fields, into a great and beautiful history.

And I remember that, because my father said to me, "Come on, son" — and, by the way, he said, "Come on, mom. Let's go see Billy Graham at Yankee Stadium." And it was something very special.
But Americans came in droves to hear that great young preacher. Fred Trump was a big fan. Fred Trump was my father.
In London, Tokyo, Seoul, Bogota, Moscow, New Delhi, Saigon, Johannesburg, and scores of other places all over the world, Reverend Graham shared the power of God's word with more than 200 million people, in person, and countless others through television and radio where people loved to watch and listen.
In 1978, with the support of the Catholic Bishop who would soon become Pope John Paul II, Reverend Graham went to Poland and spoke of the meaning of the cross to a people suffering under the soulless oppression of communism.
Billy Graham carried his message around the world, but his heart, as Franklin will tell you, was always in America.
He took his message to the poorest places, to the downtrodden and to the brokenhearted, to inmates in prison, and to the overlooked and the neglected. He felt a great passion for those that were neglected.
Everywhere he went, Reverend Graham delivered the same beautiful message: God loves you. That was his message. God loves you.
We can only imagine the number of lives touched by the preaching and the prayers of Billy Graham –- the hearts he changed, the sorrows he eased, and the joy he brought to so many. The testimony is endless.
Today, we give thanks for this extraordinary life. And it's very fitting that we do so right here in the Rotunda of the United States Capitol, where the memory of the American people is enshrined.
Here in this room, we are reminded that America is a nation sustained by prayer. The painting to my left is of the pilgrims as they embarked for America, holding fast to the Bible and bowing their heads in prayer.
Along these walls, we see the faces of Americans who prayed as they stood on the Lexington Green, who prayed as they headed west, prayed as they headed into battle, and prayed as they marched for justice, and always marched for victory.
Around us stand the statues of heroes who led the nation in prayer during the great and difficult times, from Washington to Lincoln to Eisenhower to King.
Thank you. God bless you. And God bless America. Thank you very much.
END
11:28 A.M. EST
That evening, President Trump and First Lady Melania Trump hosted a dinner for the Grahams. Franklin Graham is sitting to the left of Mrs Trump (her right):
The funeral
Billy Graham's funeral took place in his hometown of Charlotte, North Carolina, on Friday, March 2.
His grandson Roy provided the story behind the evangelist's simple wooden casket. Recommended video:
This was the scene under a tent at the Billy Graham Library before the funeral:
The Trumps and the Pences walked together:
The Charlotte Observer reported:
His funeral service under a massive tent at the Billy Graham Library in his hometown of Charlotte drew more than 2,000 guests, including President Donald Trump, Vice President Mike Pence, governors, senators, religious leaders, celebrities and longtime Graham family friends. It was the kind of star-studded turnout that would have made Graham blush, suggested some of the speakers, who lauded this pastor to presidents and everyday people for always trying to steer the attention away from himself and toward Jesus Christ.
Family members escorted Graham's plain wooden casket into the 28,000-square-foot tent, which was meant to harken back to Graham's 1949 crusade in a "canvas cathedral" in downtown Los Angeles that shot him to national attention.
The service lasted the planned 90 minutes. Franklin Graham, who heads the Billy Graham Evangelistic Association — BGEA — as well as his own Samaritan's Purse, gave the address:
"My father's greatest longing has been granted," the younger Graham said. "He's in the presence of God" …
Franklin Graham recalled his father's love of his late wife, Ruth, his sense of humor and joy in his grandchildren. "The Billy Graham that the world saw on TV, and in the big stadiums, is the same Billy Graham we saw at home," he said. "There weren't two Billy Grahams."
But Graham said the late evangelist also believed in heaven and hell, and in the Bible as the infallible word of God: "He didn't understand it all, but he sure believed it all."
In an era of political correctness, he added, some "want you to believe there are many roads to God. It's just not true.
"Daddy, I won't see you on this earth again," he ended, gazing at the casket before him, "but I will see you again, and maybe soon."
The article concludes by stating that the Graham family and the BGEA consider the funeral to be the Last Crusade. They hope it will stimulate new interest in the Gospel.
The videos of the funeral service follow:
More on Billy Graham to follow.
Earlier this week, I posted about an anti-Christmas message from 2014 that the Washington Post recycled this year.
There is more news about WaPo to tell.
A WaPo reader is upset
Jean-Marie Simon, who has read WaPo for 20 years, gave the paper information about her Christmas flight on United. Simon had bought a first-class ticket — seat 1A — only to find that she had been bumped by congresswoman Sheila Jackson Lee (D-Texas).
The Daily Mail has the full story with photos and Simon's relevant Facebook posts. It is not surprising that WaPo did not want to cover it. What is surprising is that Simon, a schoolteacher, thought they would do so (Facebook post courtesy of Reddit):
Here's another — albeit facetious — view of the situation. Courtesy of 8chan:
One wonders if Simon will continue to read WaPo after this.
Perhaps this incident red-pilled her.
The Post
In other WaPo news, a movie — The Post — made its debut before Christmas. The New York Post gave it three out of four stars.
This film documents how WaPo increased its national prominence as a newspaper.
The story is about the Pentagon Papers, which was a huge exposé in 1971 about how Lyndon Johnson's administration lied about the Vietnam War. Daniel Ellsberg was the Edward Snowden of his day. He had worked on the papers, a study officially called United States – Vietnam Relations, 1945–1967: A Study Prepared by the Department of Defense.
Ellsberg and a friend, Anthony Russo, photocopied the pages in 1969 and approached a few political luminaries to see if they would be interested in disclosing it. Henry Kissinger, who was Richard Nixon's national security adviser at the time, declined. So did two Democrat legislators.
In 1971, Ellsberg approached a reporter at the New York Times, giving him 43 volumes the following month. These were not published until June 13 that year. The excerpts were dubbed The Pentagon Papers.
The Nixon administration quickly tried — but failed — to stop the NYT from publishing another excerpt on June 14. Although one would have thought Nixon — a Republican — would have relished this as Johnson was a Democrat, Henry Kissinger told him that allowing the excerpts to continue would be dangerous, as nothing would prevent newspapers from publishing dirty laundry from his administration.
Oh, the irony — think Watergate, which WaPo broke with daily coverage from Bob Woodward and Carl Bernstein.
Furthermore, the Nixon administration argued that Ellsberg and his friend Russo were guilty of a felony because they were circulating classified documents.
Attorney General John Mitchell and Nixon obtained a federal injunction forcing the NYT to stop publication after three articles. The NYT appealed and the case New York Times Co. v. United States (403 U.S. 713) quickly ended up in the Supreme Court.
Meanwhile, Ellsberg had given other portions of the study to WaPo reporter Ben Bagdikian, who took them to the paper's legendary editor, Ben Bradlee. WaPo began publishing the excerpts on June 18.
Assistant Attorney General William Rehnquist asked WaPo to stop publishing, but WaPo refused. Rehnquist tried — but failed — to get an injunction issued in US district court.
Ultimately, the NYT won the case in the Supreme Court on June 30, 1971. Fifteen other newspapers began publishing parts of the Pentagon Papers. In 1973, all charges against Ellsberg and Russo were dismissed — because of theft and bribery by the Nixon administration with regard to the case.
The Post shows how WaPo decided to publish the Pentagon Papers with all the drama involved.
The film also shows the male-dominated world of Katharine Graham, the only female publisher of a notable newspaper at the time. She was WaPo's publisher from 1969 to 1979. She then became chairman of the board and CEO before relinquishing the latter position in 1993. She continued to serve as chairman of the board until her death in 2001 at the age of 84.
Graham wisely put investigative reporting front and centre in a successful effort to ensure the NYT would not grab all the big Washington stories, such as the Pentagon Papers and Watergate.
The New York Post's review says that, when this film was made, a female occupant of the White House was envisioned for 2017.
So much for that.
The present occupant makes much out of fake news, predominant in today's WaPo and the NYT.
Philip Graham
Katharine Meyer Graham rose to the top at WaPo because she succeeded her husband Philip. Also of note is that her father, Eugene Meyer, bought the paper in a bankruptcy auction in 1933. Philip Graham succeeded his father-in-law as publisher in 1946.
Philip Graham (1915-1963) was an interesting character with a lot of Deep State connections. Spartacus Educational has a well-researched entry on him. Do read it all, including the footnotes. A summary with excerpts follows.
He was born in a small town in South Dakota. His parents relocated to Florida during his childhood. Graham ended up attending Harvard Law School and edited the Harvard Law Review.
He married Katharine Meyer in 1940, during which time he was a law clerk for the famous Supreme Court Justice Felix Frankfurter. Graham joined the Army Air Corps in 1942. He worked for the head of the Office of Strategic Services (OSS), William Donovan. In 1944:
Graham was recruited into the "Special Branch, a super-secret part of Intelligence, run by Colonel Al McCormick". He later worked under General George Kenney, commander of the Allied Air Forces in the Southwest Pacific. Graham was sent to China where he worked with John K. Singlaub, Ray S. Cline, Richard Helms, E. Howard Hunt, Mitchell WerBell, Jake Esterline, Paul Helliwell, Robert Emmett Johnson and Lucien Conein. Others working in China at that time included Tommy Corcoran, Whiting Willauer and William Pawley.
From this, we can see that he was incredibly well-connected to power.
After the war, as the publisher for WaPo, he expanded his network further with a group of men known as the Georgetown Set. They included:
Frank Wisner, George Kennan, Dean Acheson, Richard Bissell, Desmond FitzGerald, Joseph Alsop, Stewart Alsop, Tracy Barnes, Thomas Braden, David Bruce, Clark Clifford, Walt Rostow, Eugene Rostow, Chip Bohlen, Cord Meyer, James Angleton, William Averill Harriman, John McCloy, Felix Frankfurter, John Sherman Cooper, James Reston, Allen W. Dulles and Paul Nitze.
Whilst this is showing my age, I grew up hearing and reading a lot of those names.
It is likely that Graham already knew some of those men from the war. Allen Dulles, to name but one, ran the New York OSS office.
Dulles headed the CIA during Dwight Eisenhower's presidency. Richard Bissell worked with him. Cord Meyer was in the CIA. Meyer was involved with Project, or Operation, Mockingbird, which used big media outlets to drive a government narrative:
According to Katherine Graham, her husband worked overtime at the Post during the Bay of Pigs operation to protect the reputations of his friends who had organized the ill-fated venture.
By the time of the 1960 presidential campaign, Graham did what he could to get Lyndon Johnson in the vice presidential slot for John Kennedy:
Graham met Lyndon B. Johnson in 1953. Graham believed that one day Johnson would make a good president. Graham told Johnson that his main problem was that he was perceived in Washington as someone under the control of the Texas oil and gas industry. Graham added that his attitude towards civil rights was also hurting him with liberals in the North. He was advised to go a "bit beyond (Richard) Russell and yet far short of (Hubert) Humphrey".
Graham was a supporter of the Democratic Party and did what he could to get Johnson the nomination in 1960. When John F. Kennedy defeated Johnson he sent Clark Clifford to ask Stuart Symington to be his running-mate. Symington accepted the post but said: "I bet you a hundred dollars that no matter what he says, Jack will not make me his running mate. He will have to pick Lyndon".
In the background Graham and Joseph Alsop were attempting to persuade John F. Kennedy to appoint Lyndon B. Johnson instead. Despite the objection of Robert Kennedy and other leading advisers, Kennedy decided to replace Symington with Johnson.
Once Kennedy was in the White House, Graham succeeded in persuading him to appoint his (Graham's) buddies to administration positions: Douglas Dillon as Secretary of the Treasury, Arthur Schlesinger (former OSS) as a presidential adviser and David Bruce as ambassador to London.
Graham was able to expand the Washington Post Company by purchasing a radio and a television station as well as Newsweek and two prominent art magazines:
The main person involved in arranging Graham's takeover of other media companies was Fritz Beebe. He ran the law firm Cravath, Swaine, & Moore. This was the company owned by Al McCormick, who Graham met during the war. Averell Harriman was another one involved in these negotiations.
Behind the scenes, things were less rosy, Even before Eugene Meyer died in 1959, a rift was growing between Philip and Katharine — Kay, to her friends. Graham's mental state was not very good, either. Meyer wondered whether he should turn the company over to his son-in-law:
The Post publisher took a mistress, Robin Webb, whom he set up in a large house in Washington and a farm outside of the city. A heavy drinker who reportedly had manic-depressive tendencies, Graham, in some respects, was his own worst enemy, stridently abusive to his wife, both privately and publicly.
Katharine Graham's biographer, Deborah Davis, posited that Graham was beginning to bother the CIA. After his second nervous breakdown he talked openly about how troubling he found Operation Mockingbird in terms of manipulating journalists:
He said it to the CIA… He turned against the newsmen and politicians whose code was mutual trust and, strangely, silence. The word was that Phil Graham could not be trusted. Graham was actually under surveillance by somebody. Davis has noted that one of Graham's assistants "recorded his mutterings on scraps of paper."
Others suggest that Graham had been damaged from undergoing CIA and other psychiatric treatments involving mind-altering drugs.
Graham told one of his close friends, WaPo attorney Edward Bennett Williams, that he wanted a divorce and planned on rewriting his will to leave everything — including the Washington Post Company — to his mistress instead of to Kay.
Williams was able to delay a divorce, but Graham rewrote his will three times in the spring of 1963. The last version omitted Kay altogether.
Then, Graham addressed a newspaper publishers convention in Arizona in a tirade about the CIA and Washington:
even to the point of exposing his friend John Kennedy's affair with Mary Meyer, the wife of a top CIA official, Cord Meyer (no relation to Katharine Graham).
Katharine heard about it and flew to Phoenix:
and snatched up her husband who was captured after a struggle, put in a straitjacket and sedated. He was then flown to an exclusive mental clinic in the Washington suburb of Rockville, Md.
On the morning of Aug. 3, 1963, Katharine Graham reportedly told friends that Philip was "better" and coming home.
Suicides
That day in 1963, Philip Graham killed himself at home while Katharine was napping upstairs. The New York Post gives us this detail that other media outlets often suppress. He:
committed suicide at age 48 by shooting himself with a 28-gauge shotgun in 1963, days after being released from a psychiatric hospital following six weeks of treatment.
As he was not of sound mind when he died, his will was declared invalid. As he died intestate, Katharine assumed control of the Washington Post Company.
On December 20, 2017, one of the Grahams' sons, William, 69, also committed suicide. He did not work at WaPo. He was a lawyer and law professor at UCLA. In later life, he turned to philanthropy. He died at his home in Los Angeles.
WaPo reported:
The cause was a self-inflicted gunshot wound, said his brother Donald E. Graham, a former Post publisher and chief executive.
Like Philip, William also left behind a wife and grown children. I hope they find comfort in the months ahead.
William did not live to see the national release of The Post.
On Thursday, October 26, 2017, President Donald Trump authorised the release of approximately 2,800 documents concerning the assassination of John F Kennedy. These are available on the National Archives site.
Over 1,000 documents are pending review, being withheld for up to six months, as they are sensitive either to national security or persons who are still alive. The White House announcement stated (emphases mine):
The remaining records will be released with agency-proposed redactions on a rolling basis in the coming weeks. The President has demanded unprecedented transparency from the agencies and directed them to minimize redactions without delay. The National Archives will therefore release more records, with redactions only in the rarest of circumstances, by the deadline of April 26, 2018.
Many people have wondered if this was the right time. This date was mandated by the President John F. Kennedy Assassination Records Collection Act, signed into law on October 26, 1992, in the last few months of Bush I's (George Herbert Walker Bush's) presidency. Wikipedia tells us:
The Act requires that each assassination record be publicly disclosed in full and be made available in the collection no later than the date that is 25 years after the date of enactment of the Act (which was October 26, 2017), unless the President of the United States certifies that: (1) continued postponement is made necessary by an identifiable harm to the military defense, intelligence operations, law enforcement, or conduct of foreign relations; and (2) the identifiable harm is of such gravity that it outweighs the public interest in disclosure.
It is worth remembering that Bush I was CIA director under Ronald Reagan. He is probably the only person alive who knows what actually happened on November 22, 1963. It is ironic that the act passed under his administration, however, the year before — 1991 — Oliver Stone's JFK was shown in cinemas around the world. It posited that the CIA and FBI conspired to assassinate Kennedy. The influence of Stone's film was huge:
The final report of the Act's Assassination Records Review Board (ARRB) partially credited the conclusions in Oliver Stone's 1991 film JFK with the passage of the Act.[2]
The day the files were released, The Guardian published an article by Philip Shenon, a former Washington and foreign correspondent for the New York Times, who wrote A Cruel and Shocking Act: The Secret History of the Kennedy Assassination. Excerpts from 'Files will shed light on a JFK shooting conspiracy – but not the one you think' follow.
I was a young child when the assassination occurred. Unlike Bush I, who seems to be the only American who does not remember what he was doing when he heard the news, I recall exactly where I was. I also remember the cast of characters that poured out of the woodwork in the months that followed. My parents and their friends spent a lot of time talking about these people popping up in the news.
The Warren Commission did not clear anything up. This is why the conspiracy theory has persisted. We are now getting some answers, thanks to President Trump's authorisation. As Philip Shenon notes:
The authors of the 1992 JFK Assassination Records Collection Act said they were alarmed, in particular, by the cloud of suspicion kicked up by Stone's film …
Thanks to other files that the US government has declassified over the years, people discovered that a cover up started almost immediately:
The first act came on Sunday 24 November, the day [Jack] Ruby gunned down [Lee Harvey] Oswald at Dallas police headquarters, when an FBI agent in the bureau's field office across town was ordered to destroy a threatening handwritten note that Oswald had hand-delivered to the office earlier that month – apparently a protest over the FBI's aggressive surveillance of his family.
Shenon tells us what happened to the note:
… the agent took the note into the men's room, tore it into pieces and flushed it down the toilet. Years later, the agent admitted to congressional investigators that he and his supervisor had panicked at the thought that the note would been seen as proof that that the FBI had botched the opportunity to save the president's life.
Details surrounding the assassination have tied people in knots for 54 years. But Shenon says those are nothing compared to:
the well-documented, proven conspiracy within the highest reaches of the US government – a criminal conspiracy from the start, involving the destruction of top-secret documents and photographs, the silencing of witnesses and whistleblowers, and the wholesale suborning of perjury – to cover up the truth about what the government had known in advance about Oswald and the clear threat he had posed to one man: President Kennedy.
The word "cover-up" is not hyperbole. Remarkably enough, it is the word that the CIA itself applies to what happened immediately after the assassination. In a once-classified internal report that became public in 2014, the spy agency's in-house historian acknowledged that the CIA had engaged in a "cover-up" (albeit a "benign cover-up", he insisted) to hide evidence from the Warren commission and later government investigations. The cover-up was intended to keep investigators focused exclusively on evidence that proved "what the Agency believed at the time was the 'best truth' – that Lee Harvey Oswald, for as yet undetermined motives, had acted alone in killing Kennedy".
Shenon looked into what the Warren Commission did:
I was saddened and surprised by a central conclusion that I reached by the end of my research: the Kennedy assassination did not have to happen. It could have been prevented – easily – if the CIA and FBI had just acted on the intelligence in their own files in November 1963. Yes, Oswald was a violent, delusional misfit. But he was not the pure "lone wolf" portrayed by the initial government accounts of the assassination – the image that the government was desperate to present after Kennedy's murder, since it suggested nothing could have been done to stop him.
He tells us:
Both agencies had strong reason to believe that Oswald, a self-proclaimed Marxist who had years of rifle practice in the Marine Corps, would be a danger when Kennedy's motorcade passed through Dallas on 22 November 1963.
Shenon's position on Oswald and the shooting is more or less along government lines. He thinks that it was a 'horrifying coincidence' that Oswald just happened to be a rather new employee at the Texas School Book Depository.
Shenon says it is distressing that the agencies did not act on the information they had on Oswald. Yet, JFK said he wanted to break the CIA into 'a thousand pieces and scatter it to the winds'. My post the other day discussed other aspects of what was going on in Washington DC at the time, including the scandals surrounding Lyndon Baines Johnson, who was close to being indicted. JFK planned to drop him from his re-election ticket in 1964.
The KGB thought that LBJ was behind the assassination:
Unions did not seem too fond of JFK. One of the released documents is a communication dated November 26, 1963, concerning union officials in San Juan, Puerto Rico (full version here). It reads in part:
Ana Maria Del Valle, Secretary – Treasurer, HRWU, was approached by Miguel Cruz, Organizer for Local 901, Teamsters Union (TU), who made a statement "Now that we've taken care of President Kennedy, we'll have no trouble in taking over things."
… Details: at SJ, PR. Possible connection between Jack Ruby and Teamsters Union (TU).
An FBI memo from May 1963 states that a trial involving a union took place there. Jimmy Hoffa, head of the Teamsters at the time, was going to sit in and had made hotel reservations.
I will post more on the JFK files — past and present releases — this week.
This week, President Donald Trump is due to open files to the public regarding the John F Kennedy assassination on November 22, 1963:
The 'further information' in that sentence refers to any information that might jeopardise America's national security or have an adverse impact on someone who is still alive, in which case secrecy would override public disclosure.
Recently, I saw an excellent — and short — video wherein Dick Morris, now a Republican but formerly an advisor to Bill Clinton, explains the political context of the JFK assassination. I did not know some of the details Morris discusses below:
Lyndon Baines Johnson (LBJ) — serving as vice president at the time — was being investigated for having bribed senators during his time as Senate majority leader and for shady business deals in Texas involving oilmen as well as television and radio station licences in the Austin market.
The Senate had been investigating both scandals and was ready to indict Johnson. It is likely he would have gone to prison.
Had JFK not been shot, Time magazine had planned a cover story for that week with the vice president's picture and the caption 'Johnson in Trouble'.
JFK's personal secretary, Evelyn Lincoln, said later that the president was planning to drop Johnson for the 1964 presidential election. Johnson, no doubt, already knew that while the Senate was investigating him.
Was Johnson somehow involved behind the scenes? Morris, who has read a great deal on the subject, says that LBJ had close organised crime — mob — connections in Dallas and New Orleans. He also had good relationships with the police in those cities. Therefore, the possibility of collusion exists.
Morris says the assassination could have been one of the earliest and most 'virulent' manifestations of the Deep State.
In his presidential farewell address in January 1961, Dwight D Eisenhower warned the American public that the military industrial complex could get out of control. I wrote about it earlier this year. Eisenhower spoke of the:
unwarranted influence, whether sought or unsought, by the military-industrial complex …
The Deep State did not like JFK. He was starting to roll back their influence, particularly in the Cold War. He signed a nuclear test-ban treaty with Russia and wanted rapprochement. Had he lived to run for re-election, one of his campaign positions was pulling out of Vietnam.
LBJ was much more amenable to Deep State objectives.
After the assassination, LBJ set up the Warren Commission, which was supposed to find and reveal the truth behind it. Unfortunately, that did not happen. The commission concluded that Lee Harvey Oswald acted alone. Yet, there were likely to have been multiple shooters that day, possibly three, perhaps four.
Morris posits that the output of the Warren Commission was probably driven by the CIA and FBI. If the truth had come out, Morris says, there might have been severe public unrest in the United States, maybe even a revolution.
So, all being well, we should find out more about the assassination on Thursday, October 26, 2017.
I pray that the American people get closure on this subject. I hope the information is readable with minimal redactions.
Yesterday's post looked at Dwight D Eisenhower's two inaugurations in 1953 and 1957.
Today's explores John F Kennedy's inauguration on January 20, 1961. To date, he is the only Roman Catholic to have ever been president. He was the youngest man to ever be elected president, aged 43. There are more firsts below.
In his farewell address, Eisenhower spoke of the 'unwarranted influence, whether sought or unsought, by the military-industrial complex' (8:55):
We still do not know whether the military-industrial complex was involved in Kennedy's assassination in Dallas on November 22, 1963, but it was a very sad time for millions of Americans.
This is the measured interview Eisenhower gave on that fateful occasion. It's only five minutes long and well worth watching. Note how he evades sensational questions from the media:
It should be noted that the reference to Kennedy's presidency as Camelot came after his brutal death. His widow, Jacqueline Bouvier Kennedy (later Onassis), came up with it. Camelot was her favourite musical. It was written by one of her late husband's classmates at Harvard, Alan Jay Lerner.
Weather
Kennedy was not as fortunate as his predecessor for inaugural weather.
A strong nor'easter blew through Washington, DC — as well as much of New England and the mid-Atlantic states — on January 19. It was a Category 3 — major — storm.
In Washington, temperatures were cold: 20 °F (−7 °C). A total of eight inches of snow fell that day. Travel was severely disrupted, preventing Herbert Hoover from attending the inauguration.
Prospects looked grim for the Inauguration Day parade, however, Wikipedia states that clearing the snow began as soon as possible:
The U.S. Army Corps of Engineers was put in charge of clearing the streets during the evening and morning before the inauguration, and were assisted by more than 1,000 District of Columbia employees and 1,700 boy scouts.[6] This task force employed hundreds of dump trucks, front-end loaders, sanders, plows, rotaries, and flamethrowers to clear the route.[6] Over 1,400 cars which had been stranded due to the conditions and lack of fuel had to be removed from the parade route along Pennsylvania Avenue.[6]
Inauguration ceremony
On the morning of January 20, Kennedy attended Mass at Holy Trinity Catholic Church near his home in Georgetown.
Afterwards, he made his way to the White House to have coffee with the Eisenhowers and the Nixons.
Once the ceremony began at the Capitol building, the invocation and prayers took a total of 28 minutes. Cardinal Richard Cushing gave a 12-minute invocation. Additional prayers were given by Archbishop Iakovos of the Greek Orthodox Church, the Revd Dr John Barclay of the Central Christian Church in Austin, TX and by Rabbi Nelson Glueck. He gave the blessing.
The internationally renowned black contralto Marian Anderson sang The Star Spangled Banner, as she had done for Eisenhower in 1957. Although the new president mouthed the words, he neglected something which raised the ire of a television viewer (emphases mine below):
Kennedy could be seen mouthing the words to the second verse, but that was not good enough for Eugene Hunt, of Dallas, who sent a telegram to the White House that day demanding to know: why wasn't your hand over your heart during the playing of the star-spangled banner? Some things never change.
Leonard Bernstein of West Side Story fame composed a special piece called Fanfare for the Inauguration of John F. Kennedy, which was then played.
Kennedy's was the first inauguration to be televised in colour. It was also the first to feature a poet.
After Lyndon Baines Johnson was sworn in as vice president, Robert Frost recited a special poem which Kennedy had asked him to compose for the occasion. Unfortunately, the 86-year-old had a difficult time reading it because of the glare from the sun on the snow. Johnson tried to shield the glare with his top hat, but Frost rejected his help. Realising that time was of the essence, Frost instead recited his famous poem The Gift Outright. He later gave his handwritten inauguration poem to Stewart Udall, the incoming Secretary of the Interior, with a request for him to type the text. Udall duly obliged. These are the closing lines from For John F. Kennedy His Inauguration which aptly sum up the mood of much of the nation at that time:
The glory of a next Augustan age
Of a power leading from its strength and pride,
Of young ambition eager to be tried,
Firm in our free beliefs without dismay,
In any game the nations want to play.
A golden age of poetry and power
Of which this noonday's the beginning hour.
Kennedy took his oath of office on a closed family Bible.
He gave his famous inaugural address which was only 1364 words long and took just under 14 minutes to deliver. The whole world knows lines such as the following:
And so, my fellow Americans: ask not what your country can do for you; ask what you can do for your country.
With that responsible outlook, I doubt Kennedy would have been allowed to be a Democrat today.
He and speech-writer Ted Sorenson crafted the address with input from close friends of the president.
This line was nearly identical to the one suggested by Harvard economist John Kenneth Galbraith:
Let us never negotiate out of fear. But let us never fear to negotiate.
This one came from a suggestion by Adlai Stevenson II (Eisenhower's Democratic rival in 1952 and 1956):
If a free society cannot help the many who are poor, it cannot save the few who are rich.
Kennedy took office at the height of the Cold War. Echoing Eisenhower's warning in his aforementioned speech, he talked about the dangers of combining an escalating arms race with nuclear power. In another nod to his predecessor, who advocated helping other nations in constructive ways, Kennedy said he would maintain good international relations and help the impoverished in less fortunate nations.
Kennedy was also keenly aware of civil rights. A Vanity Fair article from 2011 has a fascinating account of the inauguration, complete with interviews with people who were there. On this topic:
Harris Wofford, Kennedy's civil-rights adviser, was listening intently to see if any of the language he and his colleague Louis Martin had suggested to reflect concern for civil rights had made it into the final draft. Six crucial words had. As Kennedy proclaimed himself "unwilling to witness or permit the slow undoing of those human rights to which this nation has always been committed, and to which we are committed today," he added the phrase "at home and around the world."
"I was very happy he'd put it in," Wofford, now 84, recalls. "And it made a considerable difference with the civil-rights constituency …"
Now onto a more mundane topic: hats. I wrote that Eisenhower traded the top hat for a homburg. Kennedy reverted to the more traditional silk top hat on Inauguration Day.
However, in everyday life, Kennedy went hatless. American men followed his example. For this reason, Kennedy was said to be the man who put paid to the hat industry. It might have been true. LBJ also eschewed hats, including at his inauguration in 1965.
Parade
The weather remained bitterly cold. Despite that, the inaugural parade was three hours long!
President Harry Truman joined the new president and first lady on the reviewing stand. Former first ladies Edith Wilson and Eleanor Roosevelt were also present. Wikipedia tells us:
Sixteen thousand members of the US armed forces marched with displays of modern weaponry like the Minuteman missile and the supersonic B-70 bomber. A further sixteen thousand marchers were civilians ranging from federal and state officials to high school bands and Boy Scouts, accompanied by forty floats.[43]
In more recent inaugurations, floats have not made an appearance. More's the pity. I used to enjoy them as a child. Many other people did, too.
Inauguration Day newsreel
This seven-minute newsreel gives an excellent summary of events, complete with subtitles:
Kennedy's image
After eight years of Eisenhower, Kennedy marked a big change in the presidency. As stated above, he is still the youngest to have been elected to that office. Furthermore, his predecessor was, at that time, the oldest to leave the White House. He was 70. It is interesting that Donald Trump has just been sworn in at that age. Reagan is currently the oldest president to leave office. All being well, Trump will surpass him.
The American public were highly aware that Eisenhower was a general during the Second World War while Kennedy was serving on a PT boat.
ABC News provided an interesting retrospective on Kennedy in 2011, the 50th anniversary of his inauguration. The article, complete with video, tells us:
Those close to him also remember him as an amiable, funny president, a marked departure from his predecessor, Dwight D. Eisenhower.
"President Kennedy, the first time he met you he asked your name and he never forgot it. The second time, he asked your wife's name and your children's names, and he was personable with the agents and very much a free spirit compared to President Eisenhower," said Gerald Blaine, a Secret Service agent in Eisenhower and Kennedy's security detail and co-author of the "The Kennedy Detail: JFK's Secret Service Agents Break Their Silence."
"It was such a contrast because he was so young and was totally different."
Kennedy also brought youth and intrigue to the White House. His fashionable and glamorous wife, Jackie Kennedy, and two young children, captured the fancy of Americans in a way that no other first family had done before.
"To have that after the years of Eisenhower and Truman and Roosevelt, suddenly to have this young energetic family was just a complete shot of adrenaline into the city, and tons and tons of young people came to town to participate in government," [reporter Cokie] Roberts said.
The ABC article explains that Cokie Roberts was a college freshman at the time and, because of the weather, couldn't make it to the inauguration. However, she has been a reporter ever since I can remember. So have other news broadcasting veterans such as CBS's Bob Schieffer, who appeared during the 2016 election to offer his opinion and a historic perspective.
Although Schieffer was working at the Fort Worth Star-Telegram during Kennedy's presidency, his career evolved on the day of the assassination in Dallas. A woman who asked him for a ride to the scene turned out to be Marguerite Oswald, Lee Harvey Oswald's mother. Through her, he also met Oswald's wife Marina. The scoops kept coming and coming that day and he received his first major journalistic recognition. Later, he was promoted to the Star-Telegram's television station. He joined CBS in 1969.
It's also worth noting that Kennedy's Peace Corps attracted no end of volunteers, hopeful that they could effect positive change in the poorest countries.
Jackie's image
Jackie Kennedy captivated not only the international media but millions of women around the world.
Not many people alive today know that on Inauguration Day she was still recovering from the caesarian birth of her son John, born late in November 1960. As a result, Kennedy attended several events before and after the inauguration on his own.
The following interview, which Jackie gave two months after the inauguration, gives us a glimpse into this young first lady, only 30 years old. On the one hand, she has a breathy, girly voice. On the other, she clearly understands art, antiques and the history of the White House. She tells the interviewer, Sandur Vanocur (another household name of the day), that she would like to make 'a museum' out of what she rightly called the people's house. He asks her why there are so few antiques. She tells him that the first pieces were destroyed in the War of 1812. Subsequent presidents auctioned off furniture at the end of their terms. It was only in 1902 that Theodore Roosevelt put a stop to the practice (1:50):
On February 14, 1962, she gave an update on her work, which comprised an hour-long documentary. Her voice is less breathy, now velvety smooth. Her hairstyle and attire also changed. Enjoy this tour, complete with old photographs as well as antiques:
Inaugural balls
John F Kennedy attended all five inaugural balls. Because of her poor health at the time, Jackie only made it to two.
Business Insider has a photo of her with the president looking captivating in a gown and cape she co-designed with the designer. Melania Trump did the same in 2017.
Jackie wore the gown not only to the inaugural balls on January 20 but also to one held the night before, given by Frank Sinatra and actor Peter Lawford, John Kennedy's brother-in-law. Both were members of the Rat Pack, who were closely associated with the Kennedys, much to the chagrin of pious Protestants.
Kennedy's father, Joseph, also held a ball that night, which his son attended. Jackie did not, again, for health reasons.
Sinatra's ball was considered one of the biggest parties ever held in Washington. It was held at the DC Armory, the prime venue for inaugural balls. Sinatra recruited big celebrities of the day and tickets were priced to garner as much money as possible to pay off the debt of the Democratic Party campaign. Wikipedia says:
With tickets ranging from $100 per person to $10,000 per group, Sinatra hoped to raise $1.7 million ($13.6 million in today's dollars) for the Democratic Party to eliminate its debt brought on by a hard-fought campaign.[3][4]
Vanity Fair notes:
It was an only-in-America blend of high culture and low comedy, of schmaltz and camp, and it may have marked the moment when popular entertainment became an indispensable part of modern politics.
Quite possibly. Carl Anthony at carlanthonyonline.com writes in  'Inauguration Swinging-Sixties Style: LBJ's Big Day, 1965' that Lyndon Baines Johnson had many celebrities at his inauguration celebrations.
Returning to Sinatra's ball, Vanity Fair says:
The bill was thoroughly integrated. Five of the two dozen performers were black: Sidney Poitier, Harry Belafonte, Mahalia Jackson, Nat King Cole, and Ella Fitzgerald.
The magazine gives us yet another first for Kennedy's inauguration. On January 20:
J.F.K. would become the first president to dance with black women at an inaugural ball.
Celebrities
I cannot think of an inauguration that had as many well known people in such diverse fields as Kennedy's.
At the inauguration ceremony, Robert Frost was not the only poet in attendance. Carl Sandburg was also there. Authors John Steinbeck and Ernest Hemingway attended. Artist Mark Rothko showed up. So did Mr and Mrs T Reed Vreeland. If that name looks familiar, Diana Vreeland was soon to become the editor of Vogue, a post she held for many years.
Vanity Fair introduces 'From That Day Forth', their article on the Kennedy inauguration, as follows:
Washington was bracing for what became perhaps the biggest and best political party of the 20th century—a "gilt-edged, mink-lined, silk-hatted, 10-gallon, 100-proof" celebration, as a greenhorn Washington Post reporter named Tom Wolfe summed it up at the time. Everyone who was anyone in Democratic politics was there, or wanted to be. The president-elect and his elegant wife, Jacqueline, had made a special point of inviting not only the usual hacks and flacks but also a select group of scholars, artists, writers, and thinkers …
That is what characterised not only the inauguration — more pictures here — but the short-lived Kennedy White House. I can understand why it captivated my parents and how these names first entered my consciousness.
Even though I was a little nipper, no White House has come close to matching the magic of the Kennedys'.
Coming soon: the Trump inauguration
As Americans gather together to celebrate their independence, may we recall this timely quote from the late President John F Kennedy:
Wherever you are today, have a safe, happy — and considered — celebration of American independence. Men fought, died and went bankrupt to make it possible in 1776.
Freedom and liberty involve sacrifice. Sometimes it is financial. Sometimes it involves the loss of life or reputation.
May Americans never view liberty as a trivial matter.
Once lost, it is rarely recovered.
(Graphic courtesy of Crayfisher.)
A few days ago, James Higham — the co-founder of the British site Orphans of Liberty — featured a quote from John Fitzgerald Kennedy, shortly before his assassination.
November 22, 2013, marks the 50th anniversary of that fateful day. I was in nursery school at the time and will never forget the expression on my mother's face. It seemed the world would end. She passed a quiet word to my teacher, whose face went ashen at the news.
Ten days before his brutal slaying in Dallas, Kennedy spoke before an audience at Columbia University in New York City. There, he allegedly warned, not unlike his predecessor, Republican Dwight David Eishenhower (emphases mine):
The high office of President has been used to foment a plot to destroy the Americans' freedom, and before I leave office I must inform the citizens of this plight.
Eisenhower's wording was more oblique — a warning about the 'military-industrial complex'. Heavens, we have certainly seen the results of that come to pass in our lifetimes.
On November 2, 1963, the South Vietnamese leader Ngo Dinh Diem — a Roman Catholic — was overthrown and executed. It would seem that the CIA were working with their peers in the military to effect his removal.
It is interesting that Kennedy was surprised by these events. He had not asked for Diem's removal, despite the latter's disdain for the native South Vietnamese Buddhist faith and practice.
Maxwell Taylor, a Kennedy administration insider, recalled:
that Kennedy "rushed from the room with a look of shock and dismay on his face."[148] He had not approved Diem's murder.
Yet, other Kennedy advisors attempted to assuage the president's anguish by saying that his removal would shorten the Vietnam conflict.
Kennedy would live for only another 20 days. Were people out to get him? It was a perfect assassination in that we'll probably never know the truth.
James Higham has researched other aspects of statecraft during that period, including the story of popular music relating to Los Angeles's Laurel Canyon, which I covered the other day. Unfortunately, since the author of that saga, David McGowan, has since published a book on it, most of the links have been removed.  It was a compelling read.
Nonetheless, Higham has presented us with another dimension of statecraft and national power, courtesy of one Democrat president and representatives from the Council on Foreign Relations (CFR). Quotes follow from his post:
On June 28, 1945, President Truman said:
"It will be just as easy for nations to get along in a republic of the world as it is for us to get along in a republic of the United States." On October 24, 1945, the United Nations Charter became effective.
On July 1948, Sir Harold Butler, in the CFR's "Foreign Affairs," saw "a New World Order" taking shape:
"How far can the life of nations, which for centuries have thought of themselves as distinct and unique, be merged with the life of other nations? How far are they prepared to sacrifice a part of their sovereignty without which there can be no effective economic or political union?"
On Feb. 7, 1950, International financier and CFR member James Warburg told a Senate Foreign Relations Subcommittee:
"We shall have world government whether or not you like it – by conquest or consent."
On Feb. 9, 1950, the Senate Foreign Relations Subcommittee introduced Senate Concurrent Resolution #66 which began:
"Whereas, in order to achieve universal peace and justice, the present Charter of the United Nations should be changed to provide a true world government constitution."
Perhaps this is what Eisenhower and, sadly, Kennedy were referring to. Perhaps Eisehnower, because of his more temperate verbiage, was left alone. Perhaps also it was because he was no longer the leader of the free world.
We don't know.
That said, may we remember these words, for better or worse. May we also be diligent in watching what our leaders — our elected servants — say and do, and vote accordingly.
That is the only voice we have.